Outdoor Profile: Andrew Leonard, iTrekNepal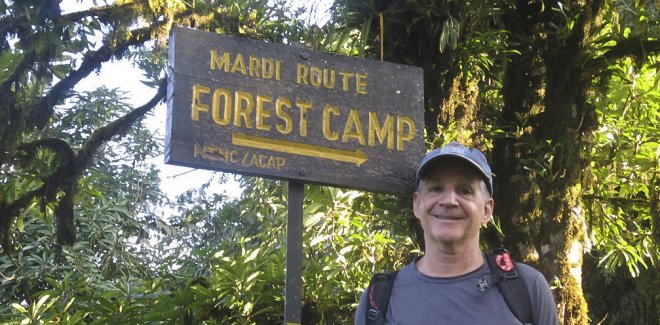 Outdoor Profile: Andrew Leonard, iTrekNepal
Andrew Leonard is the Director for iTrekNepal and oversees their daily operations. After a distinguished career in the computer industry, he moved on to pursue his love for travel, the outdoors, and the people and mountains of Nepal. I first met Andrew in 2008 while stranded in a monsoon in the mountains of Northern Vietnam and caught up with him recently to discuss Nepal's trekking industry. 
 
Tell me about your first trips to Nepal and how you got into the business?
I was trekking about 10 years ago during the Maoist rebellion, and there were almost no trekkers in the country at the time. Our original idea then was to help get the trekking in Nepal started again. It's great to see things booming now because there was hardly anybody trekking in Nepal back then.
An ex-pat living in Asia asked me if could help run the international sales and marketing for iTrek when it was being launched. For the last 6 years I've worked part time in Oregon and part time in Nepal. We are based in Bhaktapur, a World Heritage city outside Kathmandu, which is more authentic and friendly, and only 20 minutes outside of the city. We are actually the only trekking company in the region based in Bhaktapur, which has become a very unique and positive aspect of our business.
 
Explain your relationship with local guides and porters. What efforts does your company make to keep revenue generated by trekking in Nepal?
The vast majority of companies are either local or international, but iTrek is both. We are incorporated in Nepal and very local in our degree of independence, but we also apply international standards to the way we manage things.
Regarding revenue, the first priority is to make sure everything is in place for the guests. We give the option of paying on arrival like a local company or in advance like an international company. Next we pay the staff, guides, and bonuses. Whatever is left goes to our operations in the U.S.
This framework is the opposite of how most international trekking companies operate. Many companies contract out, take their share first, and then give whatever is left to the local people. We make sure our staff, guides and porters are well taken care of. Our focus is on Nepal.
 
How does a trip with a company like iTrek differ from one through a local company in Kathmandu?
Flexibility. We offer the best of both local and international capaibilities. A lot people hold on to booking a trip until the last minute for flexibility by going with Nepali companies. Local is less expensive, but you don't know what you're going to get. The quality standards usually aren't there. There are some really good local companies but those tend to run like international companies with very large group sizes and an impersonal approach. 
We are one of the most flexible international companies. Not everybody wants to pay for their trek ahead of time, so we allow people to pay when they arrive in Nepal. Also, even during the trekking season we are seeing more weather related issues. If the weather is bad in Everest , we are flexible and will try our best to move you over to Annapurna or another region. People come from around the world to trek and don't want to get stuck. We have the capability to to shift guests on a moment's notice to other places. So even though problems occur they've still had great treks.
 
International companies tend to run larger trips. What is your typical group size?
We actually run more private trips than group trips and our fixed departure groups are relatively small. Private treks are our specialty. In order to cut down on costs or for companionship, some people ask us if others might be available to join their trek. We are usually able to create very compatible groups and we continue to look for ways to improve our systems for managing this. Our maximum open group size is 8 trekkers and we strongly believe that smaller groups are best.
 
A lot of people ask about safety. Is Nepal a safe place to travel and trek?
Generally Nepal is a very safe place for tourists; however the most common problem people have is dysentery and other stomach ailments. In Nepal you have to be very careful with drinking water and what you eat. We are the only trekking company I know that provides guests with special filter water bottles to use during their treks.
With high altitude treks, the number one problem is altitude sickness. Our trek schedules tend to be longer to prevent altitude sickness and our guides carefully assess individual capabilities to set the ideal trek pace. Our guides carry Diamox and are educated about altitude sickness. We never have had a severe problem. I think we've had two evacuations due to stomach issues, and it's hard to tell whether it was food or altitude related. We've never had anything really serious happen. No serious falls. It's mostly about the right pace, and insuring that our guests always have access to clean water and good food.
We also do lots of blogging and e-mail correspondence with guests on how to prepare for your trek. People usually get hurt while descending—they slip and sprain an ankle. We focus on training to descend well, such as building your quadriceps, and we recommend exercises for that.
 
What are your thoughts on the Annapurna Circuit?
The Annapurna region in general is being inundated by roads. You can't deny that it's good for the local people to get goods and services more easily, but it's not good for tourism. All sides of the Circuit are going to have more roads encroaching on the trails. To counter this problem for trekkers there are some initiatives gaining momentum to keep the region pristine, particularly past Manang.
Now it's important  for us to find and develop new trekking routes. The Great Himalaya Trail has made progress in that regard. Also, the Mardi Himal and Mardi Khola Valley (Machepuchere Model Trek), the next valley over from Annapurna Base Camp, which now has just rough tea houses and camping will be one of the best treks in the next 5 to 10 years.
 
For those choosing between treks, what are two of your easier treks and what are two of the most difficult?
The easiest treks would be the Annapurna Villages, which is 4 days trekking out of Pokhara, and the Everest Short Trek to Tengboche which takes 6 days. The more difficult ones would be the Annapurna Base Camp and Everest Base Camp treks. For those up for a real challenge we recommend Gokyo-Ri and the Cho La Pass over to Everest Base Camp.