Waterproof cameras are ideal for warm-weather vacations and allow for great photographs during outdoor activities from scuba diving and snorkeling to surfing, kayaking, whitewater rafting, skiing, and snowboarding. Below are our picks for the best waterproof cameras of 2014, including important specifications like waterproof depth, megapixels, zoom, and weight. You can expect to spend anywhere from $150 to $350 on a waterproof camera (or more for Nikon's mirrorless model), and they offer from 30 to 82 feet of underwater protection. Additional features like Full HD 1080p Video and wireless connectivity are becoming increasingly common as well.
Olympus has been making great rugged and waterproof cameras for years, and the Tough TG-3 is the company's latest model. The TG-3 is waterproof down to 50 feet, dustproof, freezeproof, and crushproof (all to an extent, of course). But perhaps the biggest selling point of this camera is the 25-100mm f/2.0-4.9 lens, which gives it a versatile zoom range and the best low light performance of any waterproof camera on this list (keep in mind that a many underwater photos don't have as much natural light to work with as on land). There are some fun underwater add-ons for the TG-3 as well, including a fisheye lens and LED light.
Waterproof depth: 50 ft.
Megapixels: 16
Zoom equivalent: 25-100mm
Weight: 8.7 oz.

Canon upped the ante with the new PowerShot D30, which is waterproof to a depth of 82 feet—currently the deepest of any compact waterproof camera. For scuba divers and others who plan on reaching the depths, the D30 is a terrific waterproof camera option. But for those who won't need more than the 30 to 50 feet of waterproof protection that the other cameras on this list have to offer, the Canon D30 has fewer megapixels than the Olympus TG-3 above and isn't as quite as good in low light. For a nice value in a waterproof camera, the Canon PowerShot D20, a 2013 model with similar optical performance and a waterproof depth of 50 foot, is now available for under $250.
Waterproof depth: 82 ft.
Megapixels: 12.1
Zoom equivalent: 28-140mm
Weight: 7.7 oz.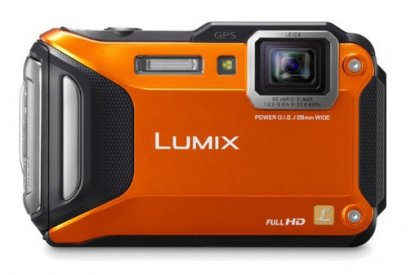 Panasonic Lumix DMC-TS5 ($299)
The Panasonic DMC-TS5 is another quality waterproof camera from Panasonic that boasts just about every feature that consumers want in this category. It has a 16.1-megapixel image sensor (up from 12.1 on its predecessor), a 28-128mm Leica zoom lens, Full HD 1080p Video, Wi-Fi connectivity, and even a "Torch Light" function to better illuminate your underwater subject. One downside of the TS5 is its maximum aperture range of f/3.3-5.9, which struggles a bit at the telephoto end of the spectrum and can't compete with waterproof camera models like the Olympus Tough TG-3. For underwater photos, the TS5 struggle sat times if the conditions aren't overly bright. For other outdoor activities and everyday use, it's a fantastic little waterproof camera.
Waterproof depth: 39 ft.
Zoom equivalent: 28-128mm
Megapixels: 16.1
Weight: 7.5 oz.

The AW120 is Nikon's leading waterproof point-and-shoot camera, boasting a 16-megapixel image sensor, a fast 24-120mm lens that is the widest on this list, and Full HD 1080p video capability. It also comes with built-in GPS, mapping, and an electronic compass function. On paper, the Nikon AW120 compares well with other waterproof cameras in its price range, including a waterproof depth of 59 feet and a shockproof and freezeproof body. However, a number of users have had issues with the wireless functionality, and the camera doesn't feel quite as tough as some other models. If you don't mind spending up for a Nikon waterproof camera, check out the high-end 1 AW1 below.
Waterproof depth: 59 ft.
Zoom equivalent: 24-120mm
Megapixels: 16
Weight: 7.5 oz.

Waterproof Cameras Under $200
Purely from an image quality standpoint, there's a strong argument that the Sony DSC-TX30 leads the pack of waterproof cameras. With an 18.2-megapixel sensor and Carl Zeiss f/3.5 lens, the Sony DSC-TX30 packs a serious punch while only weighing 4.9 ounces. So what are its shortcomings? First, it has a waterproof depth of 33 feet, which is plenty for snorkeling or playing in the pool but not enough for deep water diving. It also isn't as easy to grip as some of the cameras— the body of the Sony DSC-TX30 is more reminiscent of a normal point-and-shoot than a "rugged" model (this is probably where Sony saved some weight). However, it's still a quality waterproof camera and considerably cheaper than other comparable models.
Waterproof depth: 33 ft.
Zoom equivalent: 26-130mm
Megapixels: 18.2
Weight: 4.9 oz.

Fujifilm has taken a step back from past 50-foot waterproof models like the XP200 to focus on less expensive options that don't go quite as deep but cover the other important bases. The FujiFilm XP70 comes in a variety of bright colors and is waterproof to 50 feet, shockproof, dustproof, and freezeproof. With a 16.4-megapixel CMOS sensor and zoom equivalent of 28-140mm, this is a nice waterproof and rugged camera that won't break the bank. We also like that it's easy to grip and comes with wireless connectivity for sharing and transferring images. If you like Fujifilm design and functionality and want more depth, the older XP200 is discontinued but still available until it sells out.
Waterproof depth: 33 ft.
Zoom equivalent: 28-140mm
Megapixels: 16.4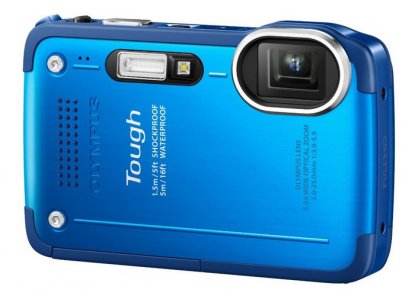 Olympus TG-630 iHS (from $185)
For budget-conscious shoppers out there, we wanted to include a leading waterproof camera that isn't one the newest and most expensive on the market. The Olympus TG-630 iHS, which was released in 2013 and has since been replaced by the TG-850, is waterproof to a depth 16 feet. This covers all normal uses around the pool, at the beach, and for activities like whitewater rafting and snorkeling. The TG-630 iHS also is shockproof, freezeproof, dustpoof, and shoots 1080p Full HD Video. If you don't care about a waterproof depth meant for scuba divers or extras like Wi-Fi, the Olympus TG-630 iHS is available for under $200. That's significantly less than many of the higher-end rugged cameras that can run well over $300.
Waterproof depth: 16 ft.
Zoom equivalent: 28-140mm
Megapixels: 12
The First Waterproof Mirrorless Camera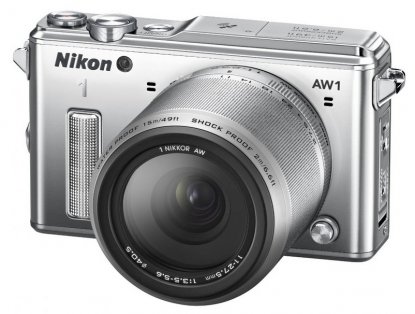 Nikon 1 AW1 ($747 with 11-27.5mm lens)
All of the other cameras on this list are point-and-shoots, which have long dominated the waterproof market. Nikon, however, has taken it to the next level with the release of the 1 AW1, a waterproof mirrorless interchangeable-lens camera (for those who don't know, mirrorless cameras have much larger sensors than point-and-shoots without the bulk of a DSLR). The Nikon 1 AW1 is waterproof, shockproof, and freezeproof like the cameras above but boasts a considerably bigger sensor. It also shoots fast at up to 15 frames-per-second and has a beefed-up autofocus. The downsides of the 1 AW1 are its cost and weight—the camera body alone weights approximately 12.6 ounces, plus an additional 6.5 ounces for the kit lens or 4.2 ounces for the 10mm prime, the other waterproof option to pair with the 1 AW1. This equates to a much bulkier set-up than a point-and-shoot but also noticeably better image quality. For most consumers, the Nikon 1 AW1 is more than they need in a waterproof camera. But for enthusiasts who have been clamoring for a high-end waterproof option, it officially has arrived.
Waterproof depth: 49 ft.
Zoom equivalent: 30-74mm (11-27.5mm lens); 27mm (10mm lens)
Megapixels: 16.4
Waterproof Housing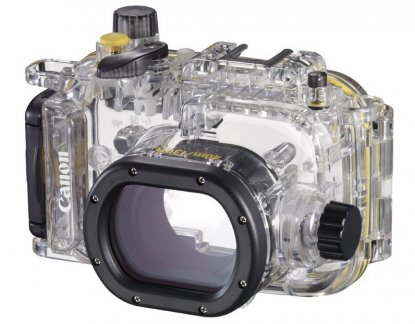 If you already have a nice point-and-shoot or need to dive deeper than the depths listed, another option is waterproof housing (an advanced waterproof case for non-waterproof cameras). Housing is expensive but can yield better photos both in and out of the water. An example of a nice waterproof camera set-up is the popular Canon S120 with the Canon S120 waterproof case ($239), which can reach depths up to 130 feet. Canon manufacturers their own waterproof housing for a range of cameras for point-and-shoots to DSLRs (Nikon to a lesser extent), and third-party company Ikelite makes quality waterproof housing across brands.