Otago Rail Trail
Otago Rail Trail
Not long ago the small towns of New Zealand's gold country were all but dead—the luster from the gold rush of the late 1800's had long faded and the railroad between the mining communities had grown obsolete. With dwindled economic might and the rise of modern trucking, the line between Dunedin and Central Otago was shut down altogether in 1990.
Three years later in 1993, the Department of Conservation displayed keen foresight by purchasing the corridor as a recreational reserve. During the following seven years, the Central Rail Trail Charitable Trust and the DOC worked to transform the former rail beds into an exquisite 150 kilometer long trail for cycling and walking. The Otago Central Rail Trail officially opened in 2000, extending from Clyde to Middlemarch through beautiful, wide-open country, endearing towns, and the heart of New Zealand's gold mining past.

Biking the Rail Trail
The Rail Trail is completed in its entirety as a 3 or 4 day bicycle trip, although many people bike or walk shorter sections. Roughly a dozen small mining towns are situated along the route—a highlight of the journey is the once-decaying historic buildings renovated into bed and breakfast style accommodations for travelers. The Lauder Store, for example, served as the town general store, butchery, and post office in the early 1900's, and is now a handful of comfortable, exposed-brick guest rooms. There are former schoolhouses, taverns, farms, and a stone flour mill, among others, all offering unique places to stay. With the growing popularity of the Rail Trail, an increasing number of old buildings are being converted for this purpose.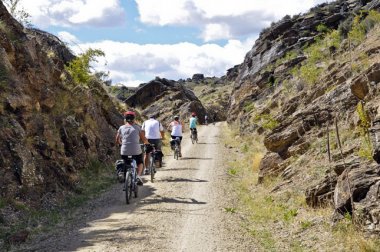 The Rail Trail feels old-fashioned, but a handful of outfitters run a well-oiled system of bicycles rentals, lodging, baggage transfer, car storage, and transportation at the end of the trip (both do-it-yourself and guided options are available). The Trail itself is mostly flat (it starts at an elevation of 200 meters and peaks at 618 meters) and well groomed, making it suitable for all levels of experience. Pedaling 150 km on a bicycle isn't easy no matter the terrain, but the full spectrum of ability is out and about on the Rail Trail enjoying the ride.