Location: Interior Alaska, approximately 235 miles and five hours driving north of Anchorage
Size of Denali National Park: Over 6 million acres, roughly the size of Vermont
Access: There is one road into Denali National Park (92-mile Park Road); private vehicles are not allowed more than 15 miles into the park
Tours: Park buses and fly-over tours
Lodges: Five private lodges are located near the end of Park Road in the Kantishna area
Camping: Six public campgrounds administered by the Park Service are spaced out along Park Road
Denali is the crown jewel of the Alaska Range, which forms a boundary between Alaska's harsh interior and the south-central coastal region. Denali (also known as Mt. McKinley) is the highest mountain in North America at 20,328 feet, rising abruptly out of the plains with little in the way of foothills. On clear days, Denali can be seen from Anchorage more than 130 miles to the south.
Denali National Park was established in 1917 to protect Dall sheep that roamed the foothills from bounty hunters. Today, the park is a mecca for wildlife viewing, hiking, and backcountry skiing. Whether you tour the park on the green and white school buses or venture into the backcountry among the grizzlies, Denali's is one of the last truly wild frontiers and its rugged grandeur is unmatched.

Things to Do in Denali
Only one road leads into Denali National Park: the 92-mile "Park Road" ending at the former mining camp of Kantishna. Private vehicles are not allowed more than 15 miles into the park. Visitors to Denali have the option of taking a bus (tour bus or shuttle bus) or a fly-over tour.

Tour Buses and Shuttle Buses
Denali's famous green and white tour buses cover the length of Park Road and stop for wildlife viewing and restrooms along the way. Tour buses have a park ranger onboard to provide narration and passengers are limited to the bus on which they originally started. Shuttle buses are designed to move visitors throughout the park; they don't provide narration and passengers can get off and on as they please. For more, see our page on Denali National Park Tours.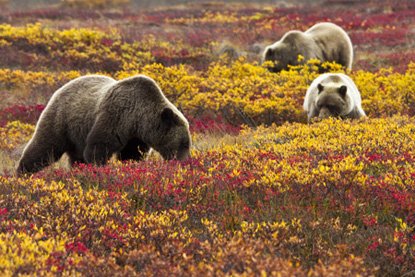 Fly-Over Tours
Local aviation companies that fly climbers to Denali basecamp also offer fly-over sightseeing tours or "flightseeing". The planes are small (3–6 seats) single-engine aircrafts that can navigate the tight passes, turbulent weather, and glacier landings required in Denali (the flying alone is an experience!). You can also opt for a glacier landing to see Denali basecamp.

Hiking and Backpacking
Designated trails in Denali National Park are limited and concentrated near the park entrance. Hiking trails further toward the park interior include the Savage River drainage (Park Road miles 13-15), Eielson Visitor Center (mile 66), and Wonder Lake region (mile 85). Backcountry hiking and backpacking are popular ways to experience the park; for more information visit the Wilderness Access Center or Backcountry Information Center.
About Denali National Park
Terrain
The rolling terrain of Denali National Park is covered in tundra, brush, bogs, and a smattering of spruce-poplar forests. Permafrost dominates many areas of the park with only a thin layer of topsoil available to support life. The low Alaska tree line starts around 3,000 feet.

Climate
The most popular time to visit Denali National Park is summer when average high temperatures reach a comfortable 50–70°F. The optimal time for land tours is mid to late June when skies are clearest and there is a high likelihood of seeing Mt. McKinley. July and August tend to be buggier and rainier, with the weather stabilizing again in September. The fall is a great time to visit when the colors turn the land into a kaleidoscope of yellows, oranges, and reds.
Denali National Park is mostly in the interior of Alaska and gets very cold. The winters are long and dark, starting in October with first snowfall and ending in May or June when constant daylight melts the last snowdrifts. The Northern Lights are best in the dead of winter (January and February), making it a popular time to visit the park despite the harsh weather. Climbing season begins in late April and ends in early July when warmer weather brings low-pressure systems and precipitation.
The weather in Denali is notoriously unstable year-round—if possible, give yourself a few days to explore the park and increase your chances of good views.

Plant and Animal Life
Denali National Park is a haven for plant and animal life. Many people come to see the bears; the park is home to large populations of grizzlies and black bears. Other large mammals in Denali include caribou, moose, wolves, and Dall sheep, which inspired the creation of the park. Over 650 flowering plant species are found in Denali including the Forget-me-not, the Alaska state flower.