Bindings are often the last piece of ski gear you choose, but remain a very important one. As the connection between boot and ski, they play a fundamental role in power transfer, responsiveness and safety. We've separated the best bindings of 2016 into three categories: traditional alpine bindings, alpine touring bindings, and tech bindings. All the makes come in different DIN ranges. A heavier, expert skier will tend to go with a high DIN binding, while a less advanced or lighter weight skier can save money and go with a lower DIN option. And should you require a deeper dive into the world of ski bindings, checkout our buying advice below the picks.

Alpine Ski Bindings
These are traditional downhill bindings and all that most skiers need. They provide the most security for skiing in a resort and are the least expensive. The heel is fixed, so you cannot tour with these, however, plenty of people hit resort's sidecountry zones (like Jackson Hole) on alpine bindings that only require a short traverse or bootpack to access.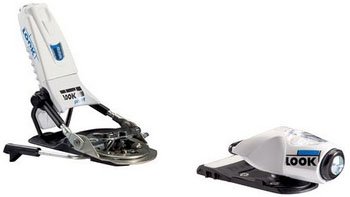 DIN: 5-14
What we like: Great pop between turns and for ollie-ing your skis in the park.
What we don't: Limited adjustment range: if you get new boots you may need to remount.
The Look Pivot series bindings are classics in the world of alpine skiing, and for good reason. Look nailed the mechanics on the Pivot heel when they designed it over a quarter-century ago: it gives the binding a short footprint on the ski, which allows for natural flex, and it has industry-leading elastic travel to help prevent knee injuries. This binding has served some of the world's best skiers for decades, and continues to be a solid choice for intermediate to advanced level skiers. The brakes are not swappable on the Pivot's heel, so make sure you purchase the correct width for the ski it will be paired with. The Pivot comes in an all-metal 18-DIN version as well and is the same as all Rossignol FKS bindings. For lighter weight and women skiers, try the 12-DIN version.
See the Look Pivot 14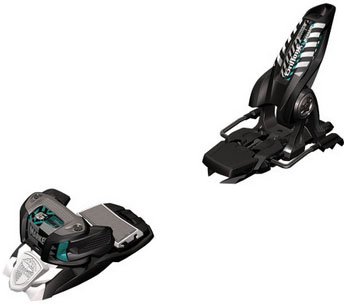 DIN: 4-13
What we like: Solid reputation and performance.
What we don't: Not much, for the right skier they are perfect.
Quality bindings are safe, reliable and transfer energy supremely well. The Marker Griffon does all of that with aplomb and remains the top choice for lighter weight skiers of nearly all ability levels. With a respectable DIN range from 4-13, this binding is a great option for aggressive expert female skiers as well. With a wide footprint, the Griffon has built a solid reputation for excellent power transfer even on today's wider skis. The brakes are easily swappable for varying ski widths and available in sizes that should accommodate the vast majority of all-mountain skis. They have a confidence inspiring "ka-chunk" when stepping in and are an easy, no-nonsense option for resort rippers. Larger, more aggressive skiers should take a look at the Marker Jester and Jester Pro, which is essentially the same binding in a 16-DIN version.
See the Marker Griffon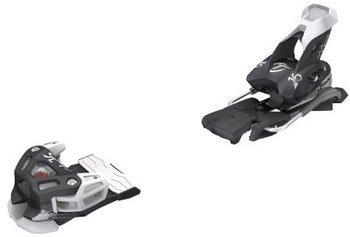 DIN: 4-13
What we like: 180-degree release toe protects knees well in backwards falls.
What we don't: Despite being solid bindings they look plasticy.
In the past, Tyrolia has repackaged their world-cup race bindings to sell to big-mountain and park skiers. Not any longer. The aptly named Attack 13 has features like a metal AFD for durability and the lowest stand height on this list at 17mm, keeping your boots close to the ski for better responsiveness. Tyrolia also made the toe quite a bit more compact from years past, which helps keep down weight and the swing weight when mounted on the ski. With a 180-degree release in the toe, these bindings are both safe and have a great feel from the park to the peaks. Seriously aggressive skiers or those that need a higher DIN should look into the AAAttack 16.
See the Tyrolia AAAttack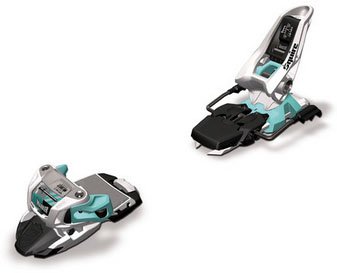 DIN: 3-11
What we like: Value and performance from a trusted name.
What we don't: Lacking top-end performance.
Very reasonably priced, the Marker Squire is a no-brainer for beginners to advanced intermediates putting together a new ski package. The lightweight toe is strong enough for most and contributes to a very playful feel, and its wider platform is well suited for modern skis. Indeed, Marker engineered the Squire to have excellent transmission of lateral forces despite its compact design, which aids in ski performance and control. These are still not for powerful skiers trying to extract every last ounce of performance from their setup, but for the vast majority of resort goers (both men and women), the Squires are a solid pick. Offered in a wide range of color options, it should be a cinch to match these bindings to nearly any ski deck design.
See the Marker Squire
Alpine Touring Bindings
This is a fairly new category pioneered by the Marker Duke, and born out of the desire to have a binding with touring abilities that was as secure and responsive as an alpine binding on the way down. With all major alpine binding manufacturers now offering multiple alpine touring options, this is a popular category for those who want to do it all with one ski/binding combo. The downside is they are fairly heavy for touring—pure backcountry enthusiasts usually opt for a tech binding.


DIN: 7-16
What we like: Versatile and accepting of all types of boots.
What we don't: Climbing bar can be difficult to operate.
With only a couple of seasons on the scene, the Tracker is well liked for its low stand height that keeps the boot close to the ski for optimal downhill feel. It also is able to transition between ski and tour mode without stepping out via a switch near the back. The flat front on the toe of the Tracker makes for a 90-degree range of motion in the touring mode. The "MNC" in the name stands for "Multi-Norm Certified"—this means the Tracker will safely accept a normal alpine ski boot sole or the lugged, rockered sole of a touring boot. Of note, the Atomic Tracker 16 MNC is the same binding as the Salomon Guardian series and both are available in a cheaper 13-DIN version for smaller skiers.
See the Atomic Tracker 16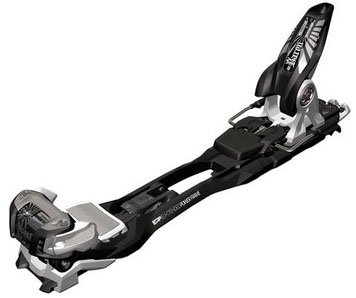 DIN: 4-13
What we like: Time-tested downhill performance.
What we don't: Stand height is higher than most.
The Baron is the little brother of the legendary Marker Duke, and all but the most aggressive skiers should find that it sufficiently suits their needs. When locked into ski mode, this is a thoroughly alpine binding making a solid connection between the skier and ski going downhill. Flip a switch in the middle of the ski, throw on skins, and you are ready to tour beyond the boundaries for fresh snow. A three-position climbing bar can be flipped up to aid when terrain gets steep. The Baron is a great entry-level alpine touring binding for anyone aspiring to more backcountry adventure. The aforementioned Duke is for those a bit more accomplished and looking to get the most downhill performance out of their touring setup. The good news is you can't go wrong either way.
See the Marker Baron 13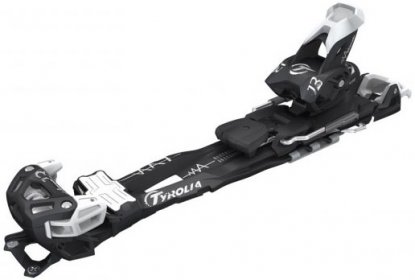 DIN: 4-13
What we like: Great all-around performance for the price.
What we don't: Snow and ice collects underfoot while touring.
A big reason to choose an alpine touring option is downhill performance, and the Tyrolia Adrenalin does a fantastic impression of a dedicated frontside binding. As with the Atomic's above, this is another alpine touring binding that will accept alpine or touring boot soles safely, adding to versatility. When going downhill the Adrenalin is responsive and solid, and going uphill a three-height climbing bar will be there no matter how steep the terrain gets. The Adrenalin 13 also has a 180-degree release toe, which could be the little feature that saves your knees in a backwards fall. The Tyrolia Adrenalin series is the same as the 4FRNT and Fischer Adrenalin series and comes in a 16-DIN version as well.
See the Tyrolia AAAdrenalin
Tech Bindings
Tech bindings are much lighter and preferred nearly universally by the touring crowd these days. Even some aggressive big-mountain pros, like Eric Hjorleifson, ride them whether they are banging in-bounds laps or doing multi-day tours. Recently, tech bindings have received major upgrades to make them feel much more like an alpine binding going downhill. They were always fine in soft snow conditions, but when things got icy they had a very rigid feel. Newcomers like the Marker Kingpin and Dynafit Beast are changing the market landscape.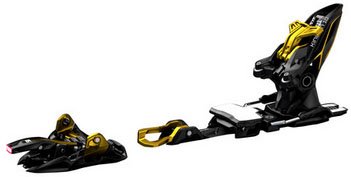 DIN: 6-13
What we like: Unbeatable combination of power, safety and weight.
What we don't: Unknown long-term durability.
While growing in popularity in recent years, tech bindings have always been cast aside as insufficient for the hard charging types. And while the Dynafit Beast below was a big step forward at the time of its release, the Marker Kingpin brings it all together. Fully DIN certified, unlike other tech bindings on this list, the Kingpin has the paperwork to stamp its place in the market. You get the safety and secure feeling of a quality 13-DIN alpine binding that releases both vertically and laterally at the heel, but at a 26-ounce weight that is downright competitive in the tech binding sphere—and far lighter than the 33.5-ounce Beast below. There will inevitably be another binding that comes along to leapfrog the Kingpin as technology continues to advance, but in the meantime, it's the best of the best.
See the Marker Kingpin 13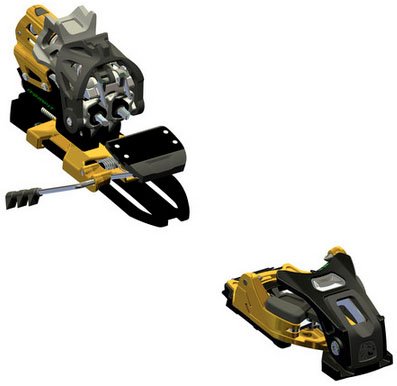 DIN: 6-16
What we like: Phenomenal power for a tech binding.
What we don't: Very expensive.
Before the release of the Marker Kingpin, the Dynafit Beast was the best tech binding on the market, independent of its astronomical price. And it remains top dog if you need a 14 or 16-DIN touring binding. What made the Beast so exciting is its ability to emulate the feel of a strong and capable downhill binding. The Beast is just that, with the elasticity and feel in the toe and heel that has thus far been mostly absent within this category. A 16-DIN version of the Beast is also available, which is incredibly strong (and expensive at $850). For true backcountry users that are out to drop serious weight, a time-tested standard like the Dynafit Radical FT is a great choice. Just steer clear of any big-mountain descents.
See the Dynafit Beast 14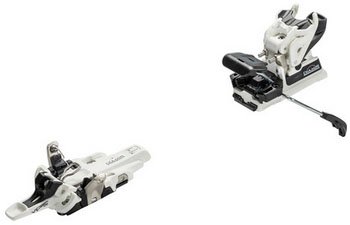 DIN: 5-12
What we like: Lightweight and releases like an alpine binding.
What we don't: Not as suitable for aggressive skiers.
The Vipec is Fritschi's first foray into tech bindings and has been heralded as a success. The most notable thing about the Vipec is a two-stage release in the toe unit, which gives it an alpine binding feel. This has been a major point of emphasis in the binding market of late and Fritschi nails it here. The toe will also release while in touring mode—an important safety feature in the event of an avalanche while going uphill. The extra safety measures put it ahead of other lightweight tech bindings for us, and add in a surprising amount of elasticity—a rarity in a tech binding—and you have a real winner.
See the Fritschi Diamir Vipec
Ski Binding Buying Advice
Ski Binding Types
Alpine (Downhill) Bindings
Alpine bindings are for your classic downhill skier. They have a simple entry—slide your toe in and press down your heel to lock in—and can accommodate the soles of all traditional downhill ski boots. Exiting is just as easy, usually accomplished by pressing the binding's heel piece downwards. A lower weight isn't a be-all and end-all requirement in alpine bindings, so they have the benefit of substantial construction that has excellent power transmission. Additionally, their low stand height helps better connect a skier to their skis. And should you crash, the release is consistent and typically very safe. High-end bindings like the Look Pivot 14 are well known for their elasticity in the release as the heel piece actually rotates prior to letting go. This gives you a chance to push your skills without an accidental early release, but when it does go, it's pretty smooth and the extra give reduces your risk of injury.
Best for: Anything and everything on a resort day.

Alpine Touring (AT) Bindings
Alpine touring bindings are a crossover category that aims to take the best attributes from both alpine and backcountry offerings. Their framed design offers excellent power transmission for bombing downhill, but when switched into touring mode, the free heel and climbing bars makes them an efficient climber. Another advantage of this binding design is that it can accommodate a wide range of boots. Most alpine touring bindings are able to handle either standard downhill boots or touring boots that have rockered soles. But don't start thinking you can take any old boot out and convert your setup from alpine to AT with a simple binding swap. You still need the added mobility and range of motion of a boot that's been designed for backcountry use. Weight is the price you pay for this dual functionality, and as a result, we don't recommend them for longer tours.
Best for: Powerful backcountry skiers that cover moderate distances uphill or those that split their time between touring and resort skiing.

Tech Bindings
While weight of the binding is at least a consideration when choosing an alpine setup, dropping ounces becomes a necessity when you're spending hours traveling uphill. Hence the popularity of what is referred to as a tech binding. These ultralight bindings replace the traditional alpine toe piece with two pins that lock into tech-compatible ski boots. This is an important distinction as standard alpine and touring boots are not compatible with tech bindings. These bindings share a similar intent as the alpine touring category above with the option to release the heel for climbing. You'll also see low profile climbing bars that can be deployed on steep slogs to reduce calf fatigue. The drop in weight does come at the sacrifice of power transfer, and as a result, they're better suited for backcountry specialists that are out to cut weight, however, strong and slightly heavier newcomers like the Marker Kingpin and Dynafit Beast are blurring category lines.
Best for: Multiday or long distance ski touring and occasional in-bounds use.

What is DIN and How Much Do I Need?
In the binding world, DIN, which is short for Deutsches Institut für Normung, (you can see why it's shortened), refers to a standardized test that defines the amount of force at which a binding will release a locked-in boot. The numbers range from 1 to 18, and the higher you go, the longer the binding will hold you. Understandably, this is a very important number to get right as a binding that releases either prematurely or too late can have pretty serious safety ramifications—not to mention impacting performance. While you'll see a DIN range provided for every make and model of binding in the industry, not every binding has actually been DIN certified from the folks in Germany, including nearly all tech bindings. That's why the Marker Kingpin is seen as such a big sign of progress in the market.
For DIN recommendations, let us start by clarifying that even the charts put together by respected retailers like Evo, Skis.com or Backcountry are not a replacement for going into a ski shop. Our take is that if you're not qualified and it's a safety item, let the pros take care of it for you. Snowsports retailer Evo has put together a helpful chart that breaks down DIN settings by weight and ability, and when shopping for your right setup, it's a great idea to use this to ballpark your necessary DIN range. And as mentioned in this article by Evo, it's best to choose a binding that doesn't put you at the maximum DIN setting right off the bat (e.g., don't get a 12-DIN binding if you're planning on setting it at 12). It's better to have a little wiggle room to make adjustments once you spend some time on your new sticks.

Brake Width
Sometimes the small details can bite you in choosing ski gear, so make sure not to overlook the brake width of your bindings. There will often be a number of sizes to choose from (listed in millimeters) for a particular model, and it's a good idea to get a width that closely matches the waist width of your skis—part of the reason it's always a good idea to select your skis prior to picking a binding. There are not hard and fast rules about what width to choose, but we recommend choosing one that is at a minimum the exact waist width of your skis, and not any less. While ski shops may be able to bend the bars ever so slightly, it's really not a great idea. On the flipside, you also want to avoid a brake that is too wide as it may drag if you're carving on hardpack. The typical recommendation is to choose a binding that is no more than 10-15mm wider than your ski's waist.

Matching Your Bindings to Skis and Boots
Realistically, bindings will be towards the end of your ski gear search. The flashy and fun stuff is the skis themselves, so get that part squared away before moving to boots and bindings. Outside of basic compatibility issues between boots and bindings that we touched on above, it's important to choose a setup with all parts complimenting one another. Don't throw a tech binding on a heavy downhill focused ski—it's just a waste of a lot of cool technology (and cash). To help in the process, see our top picks for all-mountain skis and downhill boots, and feel free to ask questions in the comments section below.
And as a final note, the bindings found on this list are focused on an intermediate to advanced crowd. Skis and bindings for beginners are often a single system and do not accommodate the bindings listed above. Instead, beginner skis come straight from the manufacturer with a plate bonded to the deck that can accommodate a specific binding. If you're looking for either a more budget friendly or entry-level ski, checkout our best skis for beginners article.
Learn More About Ski Gear