Beginner skis offer great value and an easy platform for learning the basics of turning, balance, and control. In short, they make it easier to learn proper technique in less time. Beginner models come either as an integrated system with bindings or as a flat ski that requires you to purchase the bindings separately (we indicate if they come with bindings in the product title and our comparison table). For our top picks for the 2023-2024 season, we've covered both cheap, entry-level models to get you out of rental gear up to all-mountain designs for the athletic or ambitious first-timer. For background information to get started, see our buying advice. And to complete your setup, we've also written about the best beginner ski boots.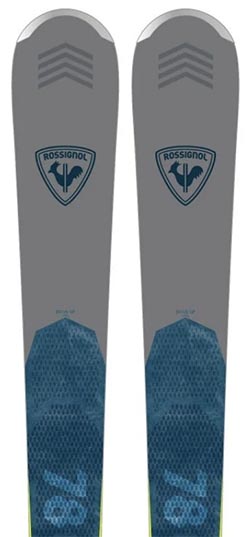 Dimensions: 125-78-111mm
Turn radius: 13m
Ability level: Beginner to intermediate
What we like: Well-built and plenty capable for beginners up to solid intermediates.
What we don't: Narrow for all-mountain use.
A beginner design that you'll grow out of in a season isn't a great buy, which is why our top pick is the well-rounded Rossignol Experience 78 Ca. This ski has all the important characteristics of a great beginner setup—smooth turn initiation, a low weight, and an easy-to-manage width—with the stability to progress and carve at speed. The "Ca" in the name is for the carbon insert, which, combined with the poplar wood core, delivers the right amount of power without compromising turnability and control. Coming in at $580 with a pair of well-respected 11-DIN bindings from Look, the Experience also is a solid all-around value.
In terms of build, the entry-level Experience 78 borrows heavily from Rossi's higher-end models, including its sidecut shape and mixed rocker and camber design. Like its pricier sibling, the Experience 82 Ti, the 78 has a moderate amount of tip rocker that makes it eager to turn and helps the ski stay planted in chopped-up snow. And as your confidence increases, the Experience has very good edge hold for a beginner-friendly build. You can save $50 or more with some of the true entry-level models below (and Rossi does offer a more basic Experience 76 for $480), but the higher performance ceiling of the Experience 78 earns it our top spot for winter 2023-2024.
See the Rossignol Experience 78 Ca  See the Women's Rossignol Experience 78 Ca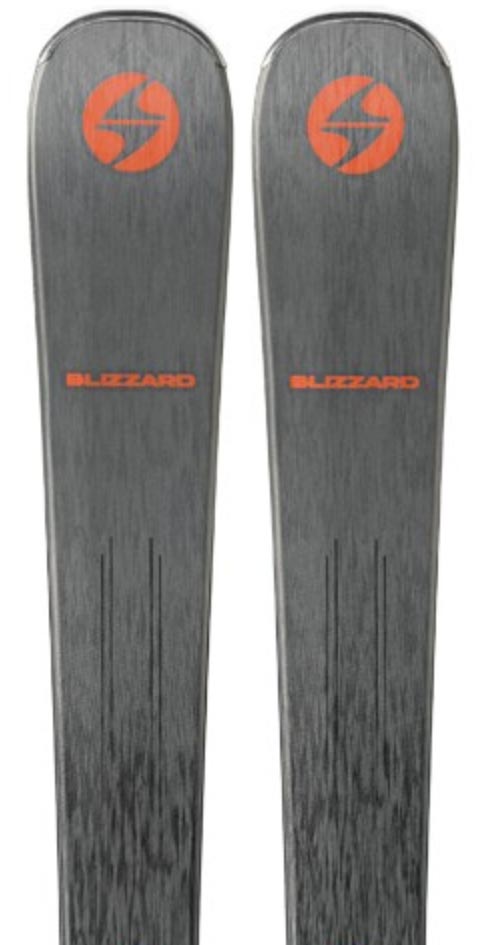 Dimensions: 121-72-104mm
Turn radius: 13m
Ability level: Beginner
What we like: Low price for a light and easy-to-control ski.
What we don't: Foam core and low performance ceiling.
The Rossignol Experience above balances the needs of progressing beginners and intermediates, but true first-timers likely will be better off with the Blizzard Thunderbird SP 7.2. The ski's standout characteristic is its forgiving nature: The rockered front end is soft enough that it won't bite back in the middle of a tentative turn, and the narrow 72-millimeter waist is extremely easy to manage. Plus, Blizzard has done a good job keeping weight to a minimum, so it's easy to pivot and move the ski around even at low speed. Priced at $500, the Thunderbird is a solid value and the most affordable binding-equipped setup to make our beginner list for this season.
The reason we have the Blizzard ranked below the Rossignol, however, is its low performance ceiling. The foam construction is quite flexible and out of sorts once you get up to speed, and it's hard to get the Thunderbird on edge to truly carve a turn (it's more inclined to slide and surf). For $80 more, we think the moderately stiffer Experience is the better long-term investment. But for those who want to start out on a brand-new pair of sticks rather than renting or scouring local ski swaps, the Thunderbird is a fine choice.
See the Blizzard Thunderbird SP 7.2  See the Women's Blizzard Phoenix 7.2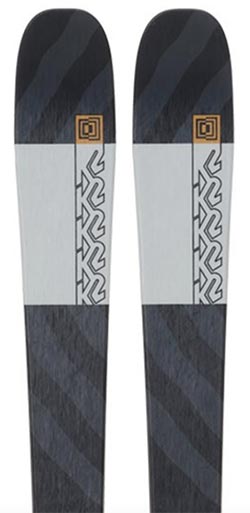 Dimensions: 130-85-113mm
Turn radius: 13.3m
Ability level: Beginner to advanced
What we like: Great option for those who live in areas with consistently good snow.
What we don't: Drop in hardpack performance.
K2's Mindbender all-mountain ski line goes as wide as 116 millimeters, but we love the narrowest 85 as an introduction to soft snow. Compared to our top pick, the Mindbender's wider shape and increased rocker in the tip give it more flotation and a comfortable platform on groomers. It's a little less willing to change direction quickly, however, which can be a detriment to those just starting out. But for cruising green and blue runs, the K2 is buttery smooth and relatively effortless.
At $450 without bindings, the Mindbender 85 is a step up in cost compared to the integrated design of the Experience 78 above (note: the Mindbender is available with Marker's Squire 10 bindings for $600). Another downside is that the ski is a little soft for our tastes as a frontside carver, so it's best for those who live in areas with consistently good snow or who plan to explore the untracked parts of the mountain down the road. And for those with big-time powder ambitions, it's worth considering investing in an even wider ski like the Salomon QST 98 (98mm at the waist) below.
See the K2 Mindbender 85  See the Women's K2 Mindbender 85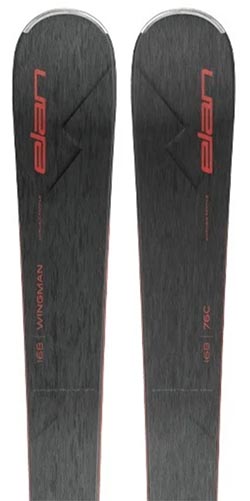 Dimensions: 125-78-104mm
Turn radius: 13.1m
Ability level: Beginner to intermediate
What we like: Great on-trail performance that grips well while turning.
What we don't: Similar price as the Experience 78 above but with some downgrades.
Elan flies a little under the radar in the U.S. market, but they consistently impress with a quality lineup of playful and quick-reacting skis. At the bottom of their on-trail-focused Wingman collection is the $600 78 C, which includes a couple of the brand's signature design elements. One is their asymmetrical setup—there are dedicated right and left skis—that allows them to tailor the rocker/camber profile. On the outside, there's more rocker for easy turning, and on the inside, you get a bit more camber for improved precision and grip while on edge. The net result is one of the best groomed-run performers in this entry-level segment.
How does the Wingman compare with Rossi's Experience above? Both skis have fairly similar dimensions, are sturdy enough for intermediates, and include some carbon in the construction for a little extra pop. Additionally, they share a preference for quick and snappy turns, which is great as you build up your confidence and on- and off-trail abilities. We do prefer the longer-lasting full wood core of the Rossignol—the Wingman uses a cheaper mix of foam and wood in the construction—and the Experience's performance threshold is a bit higher, too. As a result, we give the slight edge to the Rossignol.
See the Elan Wingman 78 C  See the Women's Elan Wildcat 76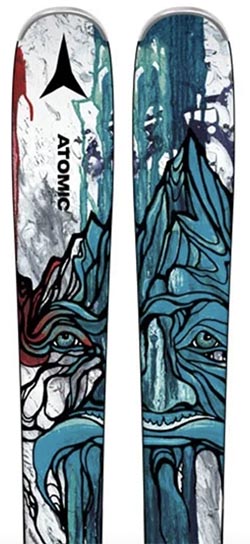 Dimensions: 117-85-109mm
Turn radius: 14.5m
Ability level: Beginner to intermediate
What we like: Good price for a fun and playful setup; eye-catching topsheet design.
What we don't: A little more freestyle-oriented than the typical beginner ski.
As prices have shot up at the mid-tier and high-end of the all-mountain market, there have been a growing number of "entry-level" variations released. These designs follow a basic formula: simplified core constructions, softer flexes, and narrower dimensions for frontside use. Atomic's Bent 85 here checks all of those boxes but with a twist: It's based on the legendary Bent Chetler 120, which is our current favorite powder ski. Trimmed down to an 85-millimeter waist, this ski retains its high-end sibling's playful feel and willingness to turn in just about all conditions. And with the most fun and vibrant topsheet design on this list, the Atomic is a treat to look at, too.
Who is the Bent 85 best for? If you're a beginner, the ski's rocker profile makes it easy to pivot and control at low to moderate speeds. But we think its ideal pairing is someone who plans to get out a lot and will be exploring more of the mountain right away, including the terrain park where its twin-tip layout allows you to ride switch. Keep in mind that the more affordable price does come with some downsides. In particular, we don't love the hybrid wood/synthetic core that sacrifices a little of the natural flex and longevity of an all-wood design. But for the price, it's hard to nitpick too much, and we fully expect this creative design to be a top choice among beginner and intermediate riders.
See the Atomic Bent 85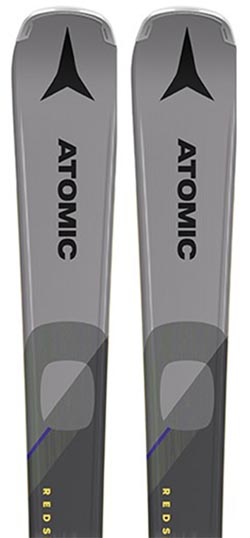 Dimensions: 123.5-76.5-107mm
Turn radius: 15.3m
Ability level: Intermediate
What we like: Full camber profile delivers speed and impressive carving abilities.
What we don't: Less forgiving and versatile on soft snow.
The hardpack-focused Atomic Redster Q5 is a great choice for aspiring East Coast or Midwest rippers. Atomic makes an even cheaper version of the Redster (the "Q4"), but stepping up to the 5 gets you a boost in energy, pop, and stability with an additional layer of Titanal above the core (to complement the other layer of Titanal under the wood/foam core). This added stiffness pushes it to the upper end of the beginner category, making it a good match for skiers confident enough in their turns to start ramping up the speed. More than any model to make our 2023-2024 list, the Redster can really rail through the bends with a willingness to get (and stay) on edge.
Where the Redster breaks from the Elan Wingman and Rossi Experience above is its less versatile construction. The ski has a full camber profile (there's only a slight rise at the tip and a flat tail), which gives it good energy and edge grip for carving but leads to less confidence and a tendency to dive in soft snow and powder. The ski also takes more muscle and commitment to turn and slide at low speeds, and the front end can get knocked around in crud. These are fair trade-offs for fast learners who want to stick to groomers, but the Atomic is more of a one-trick pony compared to the Wingman and Experience.
See the Atomic Redster Q5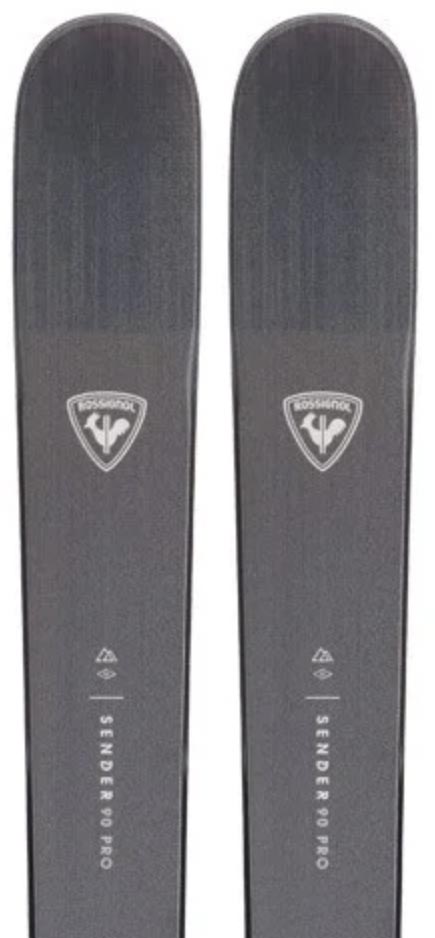 Dimensions: 118-90-108mm
Turn radius: 19m
Ability level: Beginner to intermediate
What we like: Great price for an all-mountain-ready design.
What we don't: Slow to turn; too wide for many beginners.
Rossignol's Sender 90 Pro (formerly known as the Black Ops Smasher) is a bit of an anomaly in the sub-$500 ski market. It's wide for an entry-level model at 90 millimeters at the waist (most are 80mm or less), has a soft and flexible construction, and boasts extended rocker at the tip that makes it easy to control off-piste. For beginners looking for an introduction to freeriding—the lightweight build and wide range of lengths available line up nicely for teenagers—it's an intriguing option. And at just $480, which includes quality 10-DIN Look Xpress bindings, it's a darn good value, too.
With only minimal camber underfoot, the Sender Pro is clearly tuned for soft snow. And with a wide turn radius, the ski is much lazier on hardpack than an alternative like Elan's Wingman or Rossignol's own Experience above. On the other hand, it's perfectly content sliding through a turn, and its playful design is fun for mixing groomer runs with a lap or two in the park. The concept clearly has downsides for those wanting to dial in their carving technique, but as a budget option for riders wanting to explore the whole mountain, we think the Sender is a winner.
See the Rossignol Sender 90 Pro  See the Women's Rallybird 90 Pro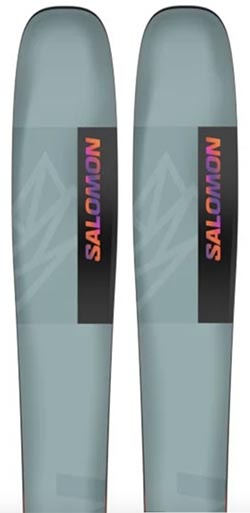 Dimensions: 132-98-120mm
Turn radius: 16m
Ability level: Intermediate to expert
What we like: A true all-mountain option for quick learners who want to explore off trail.
What we don't: Pricey and too much ski for most beginners.
As we touched on above, the term "beginner" can mean different things to different people. And for athletes who expect to progress quickly, it's worth skipping the starter concept completely. Stepping up to the Salomon QST 98 gets you a ski that's sufficiently wide at 98 millimeters in the waist to perform well on and off trail while retaining enough of the qualities of an entry-level model to pick up proper techniques along the way. The QST is light and poppy but also can put the power down with a poplar wood core and a layer of bended carbon and flax for stiffness and energy. The net result is the only ski on this list that can keep up with you from the beginner lifts to the back bowls.
The price for this high-quality of a ski is, well, its price. At $650 without bindings, the Salomon QST 98 is hard to justify for most folks who are just starting out, and it's best to think long and hard about your plans before taking the plunge. Additionally, its wide platform and moderately stiff construction do require a fair amount of confidence to push into a turn (it is forgiving enough, however, to slarve). But the reward is a very satisfying, performance-oriented ski that excels in just about every environment.
See the Salomon QST 98  See the Women's QST Stella 98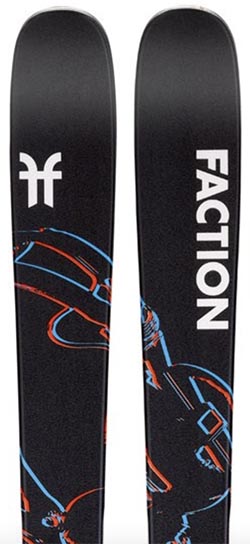 Dimensions: 117-85-109mm
Turn radius: 15m
Ability level: Beginner
What we like: Great pop and easy to handle.
What we don't: Flexy and lacking in edge grip.
It may come as a surprise that a freestyle, park-oriented ski made our list, but the Faction Prodigy 0 is light and easy to handle for beginners. The ski is soft in the tip and tail for generating good pop off of jumps, which translates to smooth and easy transitions between turns. And there's plenty of rocker in the twin-tip construction to avoid catching an edge (a common issue, particularly for beginners on an overly stiff design). Pair it with a decent set of bindings like Marker's Squire 10 ($190), and you have a full system for a little over $600.
The primary downside to such a light and flexy construction is that it'll feel flimsy and underpowered for more capable skiers. And while it's easy to maneuver, the twin tips prefer sweeping, lower-speed turns and don't have a lot of grip once the skis get on edge. Its limited performance potential puts it at the bottom of our list, but if you have ambitions of dabbling in the terrain park or just like the idea of starting on this type of ski, the Faction Prodigy 0 is a nice option.
See the Faction Prodigy 0  See the Women's Faction Prodigy 0X
Beginner Ski Comparison Table
Beginner Ski Buying Advice
What is a Beginner Ski?
Beginner skis are defined by a few shared characteristics: a softer flex for easier turn initiation, a lower price point that typically denotes value-oriented materials in the construction, and narrower dimensions because most skiing will be done on groomed runs. In addition, you often get an integrated binding. Skis, almost more than any other gear type, can be broken into simple categories purely by price, and for beginner skis, the ski packages (including skis and bindings) should run about $500-$650 or close to it.
The best option for you, however, is more nuanced and can reach well into what's considered an intermediate-level model. For those starting out that are athletic or will be spending a lot of time on the mountain, it's often worth foregoing the true beginner category altogether. The more capable skis that made our list, including the K2 Mindbender 85 and Salomon QST 98, have the forgiving characteristics that make them relatively easy to learn on but are also plenty capable at speed and for all-mountain use. The more advanced construction will cost you more, and you often don't get integrated bindings, but you'll save money in the long run because you won't have to replace your skis as quickly. For more intermediate to advanced ski options, check out our articles on the best intermediate skis and best all-mountain skis.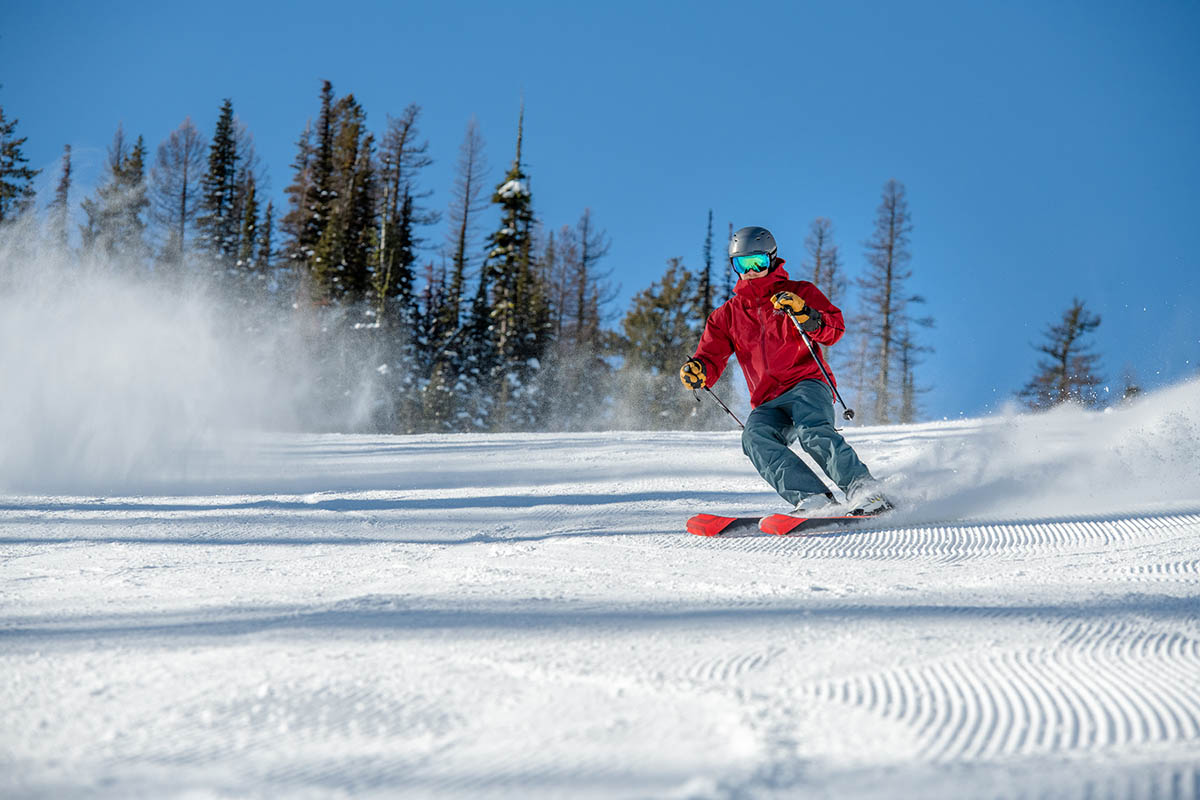 Waist Width
Ski width measurements are given in a set of three numbers, listed in order of the tip, waist, and tail of the ski. And for an indication of performance in varying snow conditions, identifying the waist width of a ski is quite helpful. While all beginner skis are designed for groomed runs, not all groomed runs are created equal. Some areas are prone to icy conditions where a narrow ski is a great match, while others get so much snow that powder inevitably accumulates throughout a ski day. And should you test your developing skills in the trees, a model like the Atomic Bent 85 with a little more waist width can be helpful.
There is not as large a range in waist widths for beginner skis as what you'll find in more advanced all-mountain or powder ski categories, but here is a good guideline to use:
70mm to 80mm: Tuned for on-trail performance. Not too wide to be inhibiting while practicing basic turns, but still offering a stable base.
80mm to 90mm: More all-mountain capabilities but without compromising on groomed runs. Will often be associated with more expensive, intermediate skis.
90mm+: Intermediate to advanced level skis designed for mixed on- and off-trail use.
 
Ski Profile
The profile of a ski can be broken into three main categories: camber, rocker, and mixed rocker/camber. There are others, including skis with a flat bottom shape, but the three listed below are the most popular—and for good reason. Each has their own strengths and weaknesses for skier and snow type, and we detail those below.
Camber
Camber is the traditional groomer ski design. The profile has a half moon-like shape that peaks right underneath your boot and contacts the ground towards the tip and tail of the ski. While skiing, your weight presses the ski into the snow, and when you lift coming out of the turn, you get a satisfying pop that propels you into the next turn. The design has been popular for many years because it provides even contact with the snow and superior edge control when carving down a groomed slope. As a result, camber is a common choice for beginner skis (Atomic's Redster Q5 has this profile); however, the benefits of rocker technology are changing the market landscape.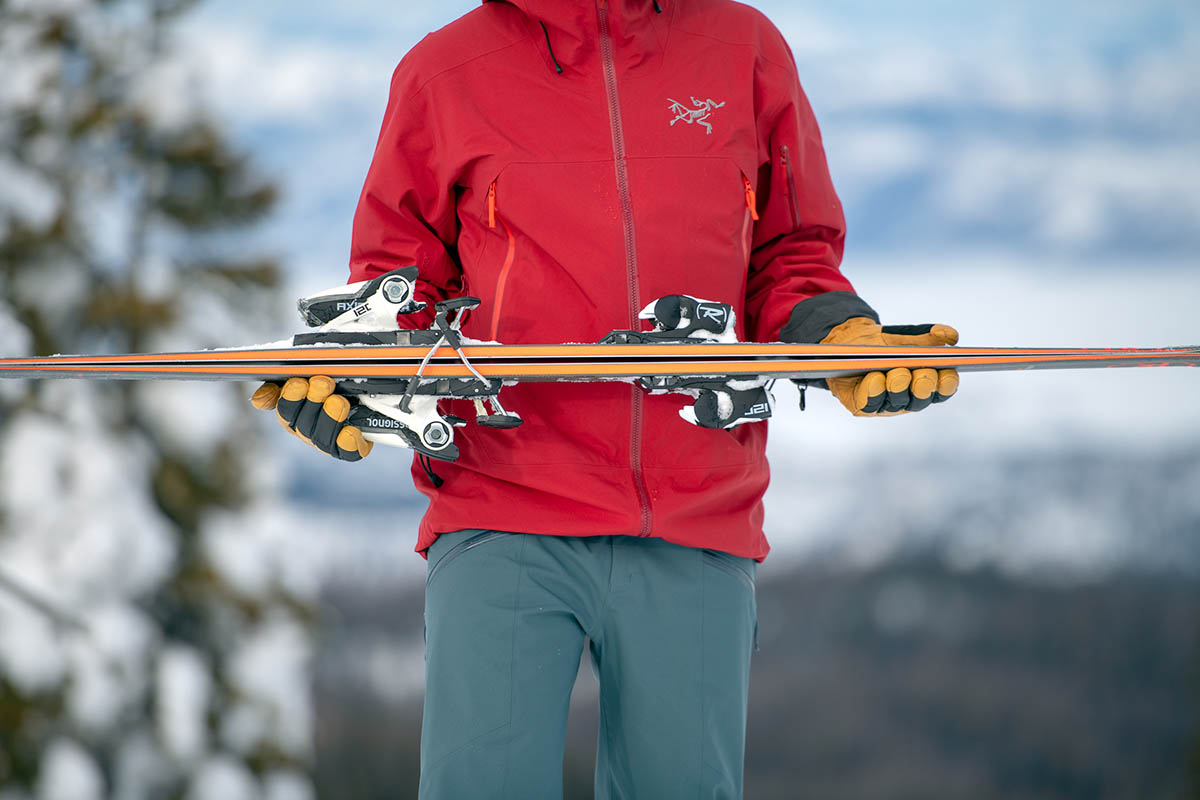 Rocker
Also known as reverse camber, rocker is when the tips of the skis are raised on either end, creating a sort of banana shape to the ski profile. This design came about originally for its benefits in deep powder, but it has become popular on beginner skis because the raised tip of the skis makes it much easier to initiate a turn—oftentimes a challenge for beginners. We do not suggest getting a full rocker ski, however, as it just doesn't hold an edge like traditional camber. Instead, the ultimate beginner ski puts together the two designs with a mixed rocker/camber.

Mixed Rocker/Camber
The most popular ski profile nowadays is the mixed camber/rocker. This is another place where entry-level skis have benefited from earlier advances in technology, but with adaptations to suit casual cruising. There are variations in exactly how manufacturers utilize this mix, and for beginners, our favorite is a modest tip and tail rocker with a traditional camber underfoot. This allows a ski like the Rossignol Experience 78 to turn easily, but also retain good edge hold and natural flex underfoot.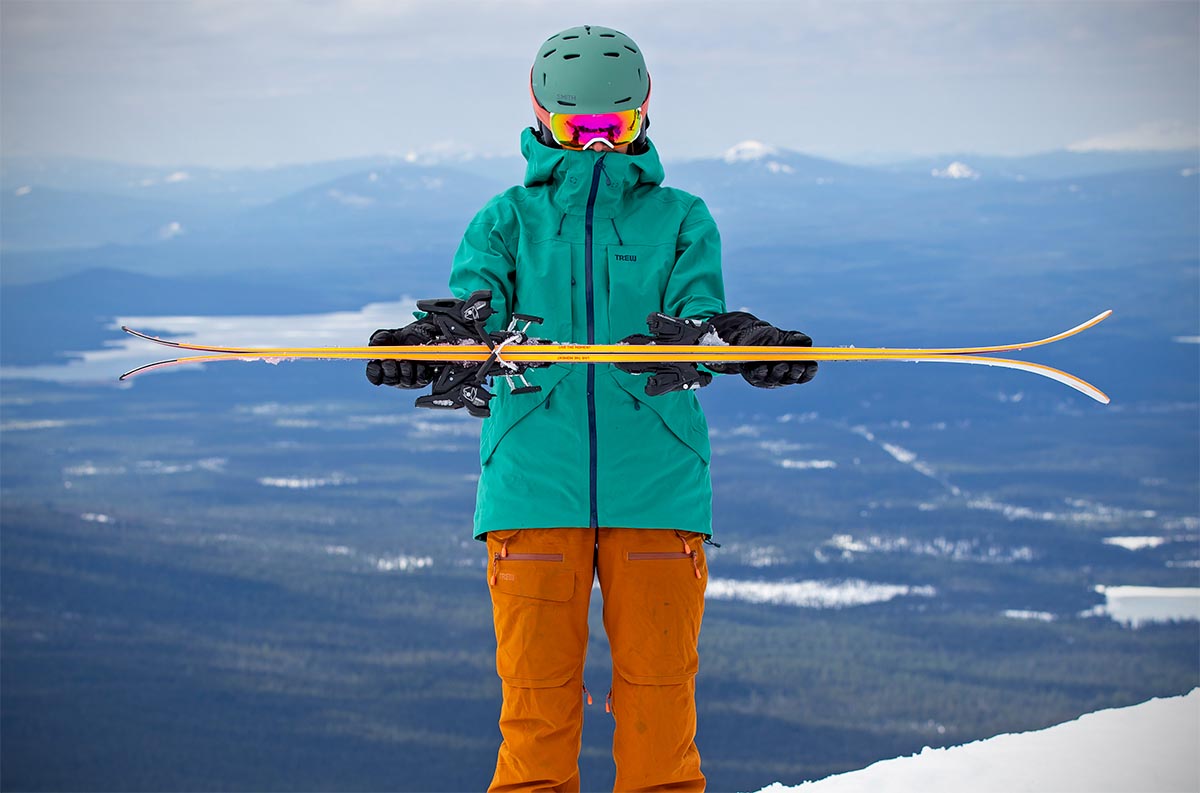 Turn Radius (Sidecut)
As your skills advance and you transition your weight into a turn, you'll feel the skis naturally rotate at a certain angle. And depending on the ski turn radius (also known as sidecut), this can either be a long sweeping turn or something a little tighter. Turn radius is measured in meters, and the lower the number the tighter the turn. The number itself is based off of the shape of the ski, moving from the tip to the tail. Most modern skis have an hourglass arc to them, and you get a lower sidecut number with a more dramatic the shape (much wider at the tip and tail compared with the waist). For most beginners, a lower turn radius is a good idea because you likely will not be all the way out on your edges in a turn. When you have a lower turn radius, even a more tentative turn can be reasonably tight. Below are some parameters for beginner skis:
Carving: Less than 15 meters
All-around: 15-20 meters
Sweeping turns in powder: 20+ meters
Keep in mind that a longer version of the same ski will often increase the turn radius, so if you're weighing two ski lengths know that the shorter option will probably be more inclined to turn a little sharper (at the sacrifice of some top-end speed and flotation).

Ski Construction: Core Materials
In line with their relatively cheap price tags, beginner-friendly skis stick to the basics in their construction. Options for core material fall into two general camps: foam and wood. Starting with foam (also referred to as composite), these designs are associated with the cheap models you often find at the rental counter. They're typically very flexible, offer decent vibration control, and are best at low speeds. Stepping up to a wood core gets you far better energy and pop as you connect turns, greater stability at speed, and a boost in lifespan. As such, almost all of the skis that made our list for 2023-2024 feature wood in their cores (the Elan Wingman has a mix of foam and wood). We think if you're making the investment in new skis, it's worth getting a set that can last more than a season or two.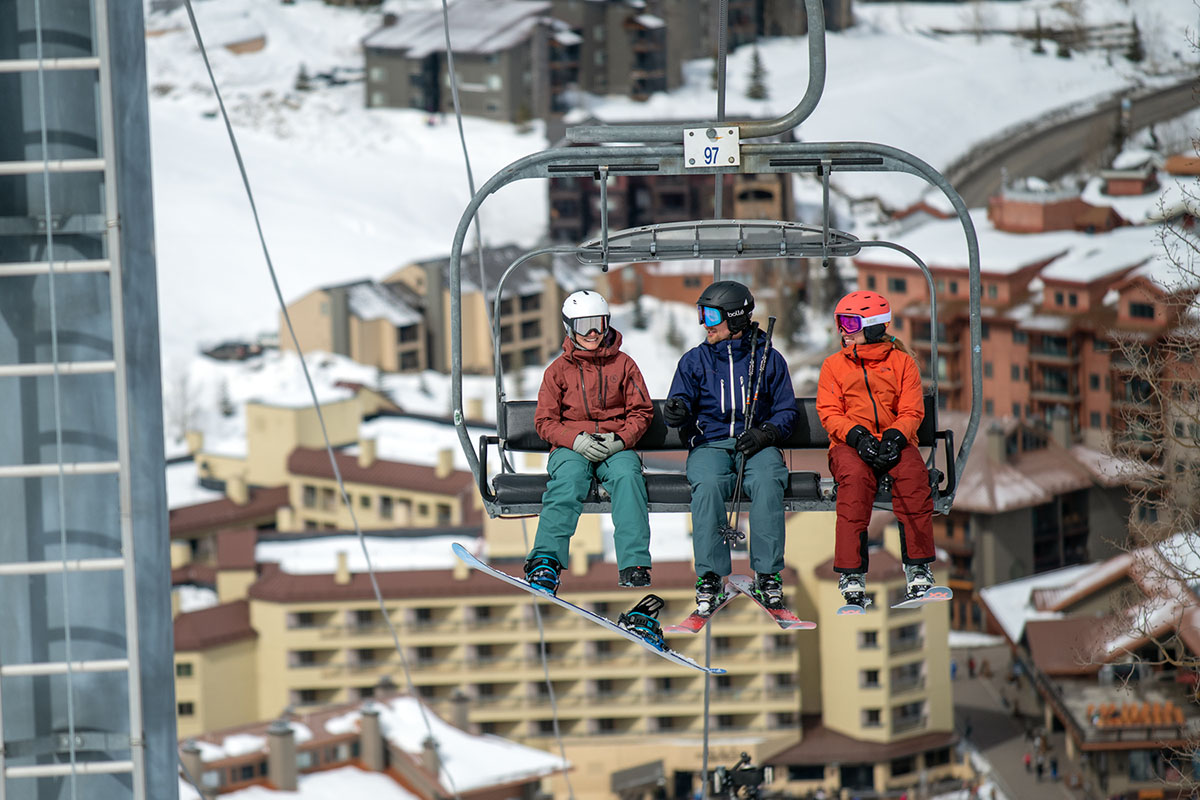 Choosing the Proper Ski Length
Picking your ski size used to a pretty simple process, and could be done simply by knowing your height (the center of the forehead was a common match for a ski). Those days are long gone, replaced by more of a scientific process. Now, ski manufacturers are basing their recommendations on height and weight. This allows you to maximize the ski's potential with proper amounts of flex and power transfer. Other considerations are skiing style and ability: shorter skis are easier to handle for beginners and turning faster, while longer skis float better and are more stable at high speed. In the end, the right skis might only come to your chin or they may reach the top of your head, so all your height should do is give you a good ballpark. We've found the ski sizing guide from Evo to be helpful for baseline information.

Integrated Bindings
As we touched on above, most entry-level skis come as an integrated system of skis and bindings. And while they'll still need to be mounted and tuned at a ski shop or at the resort before your first run, you don't have to worry about binding-to-ski compatibility issues. What about the quality of these bindings? Most have a plastic-heavy construction as a result of being focused on a price point. For casual use, the more basic designs are completely fine and should still offer multiple seasons of good use, and a properly tuned binding should release safely. You will miss out on a longer-lasting metal construction and advanced technology that rotates the bindings prior to releasing your boot in a fall, which can help reduce knee injuries. Beyond that, an entry-level binding remains a reliable option for resort use.
Should you choose a ski that does not include a binding, check out our article on the best ski bindings for our list of recommendations.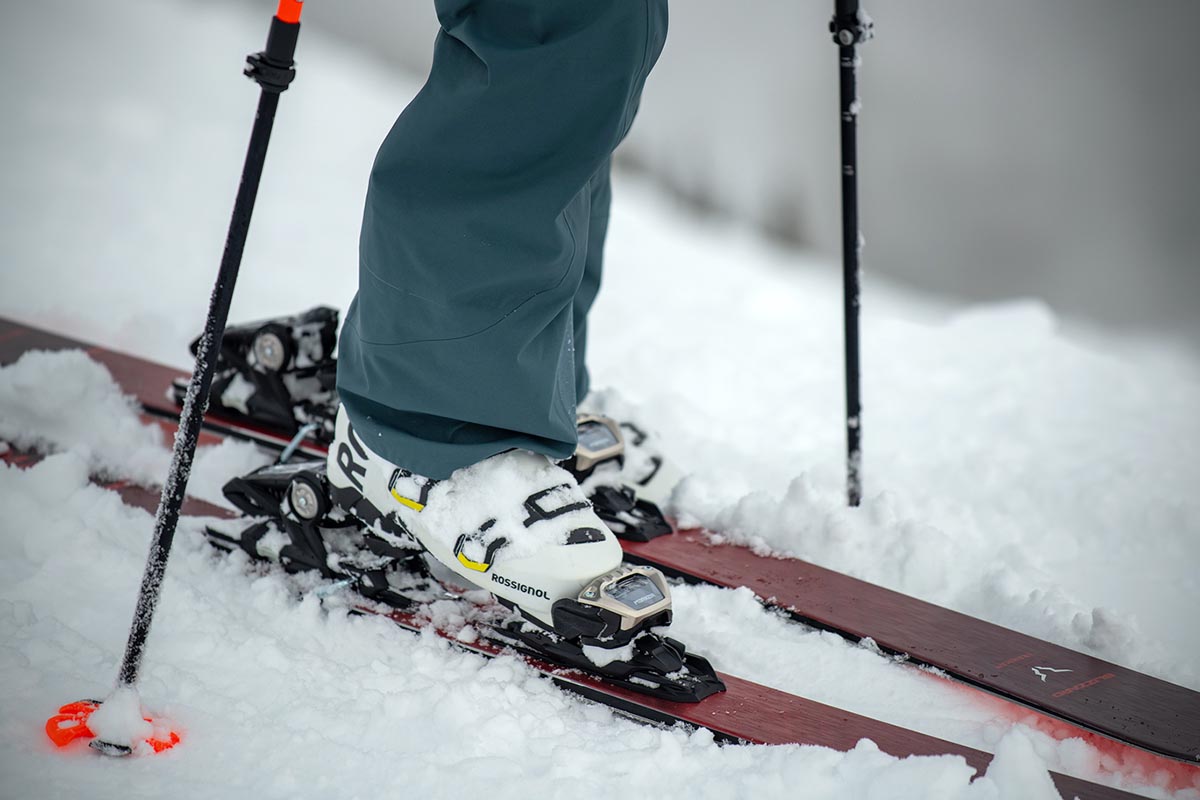 Ski Binding DIN Setting
You will see a DIN setting given to all integrated ski systems, and this refers to the amount of force at which a binding will release a locked in boot. The numbers range from roughly 1 to 18, and the higher the number, the longer the binding will hold prior to letting go. Understandably, beginner bindings won't hold you as long and are more inclined to release even at a slower speed to avoid injury, and intermediates will have a higher DIN rating. Skier weight also plays an important role in the binding release, and a higher setting will correspond with a larger skier.
For DIN recommendations, let us start by clarifying that even the charts put together by respected retailers are not a replacement for going into a ski shop. Our take is that if you're not qualified and it's a safety item, let the pros take care of it for you. Snowsports retailer Evo has put together a helpful chart that breaks down DIN settings by weight and ability, and when shopping for your right setup, it's a great idea to use this to ballpark your necessary DIN range. And as mentioned in this article by Evo, it's best to choose a binding that doesn't put you at the maximum DIN setting right off the bat (e.g., don't get a 10-DIN binding if you're planning on setting it at 10). It's better to have a little wiggle room to make adjustments once you spend some time on your new sticks.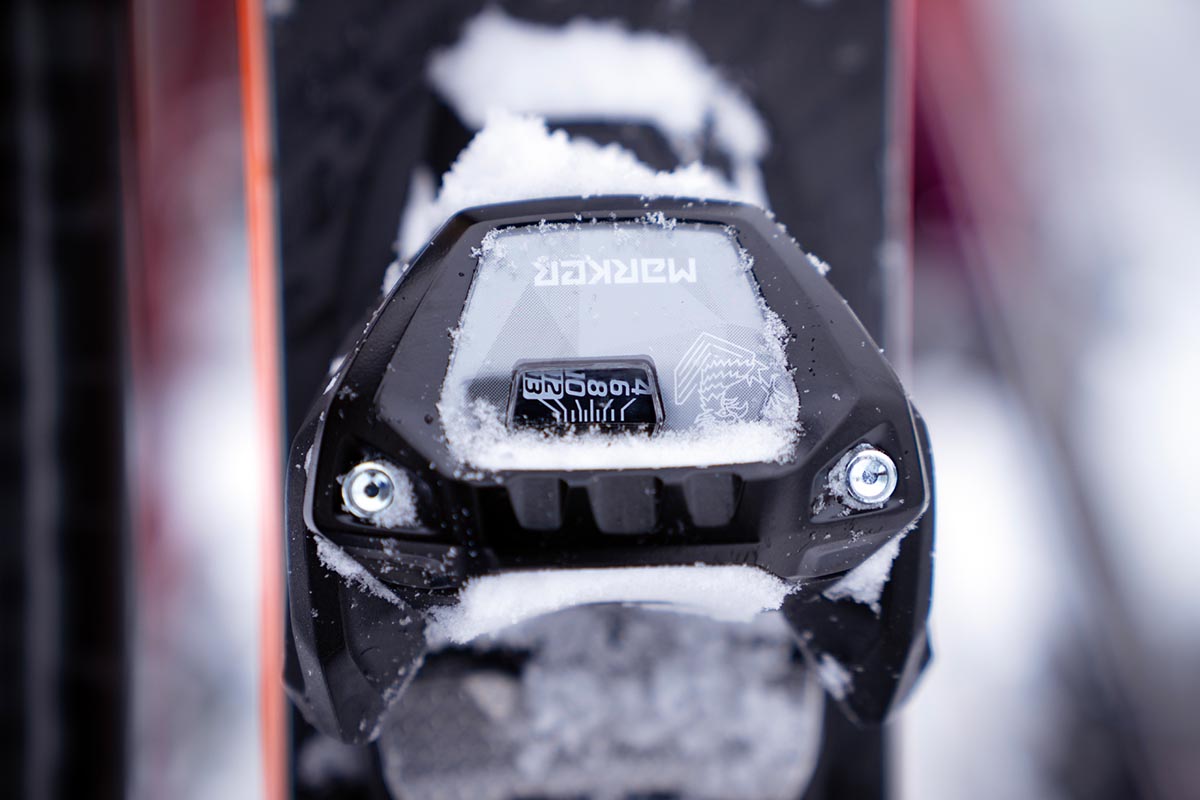 Where to Find Discounted Skis
Skis are expensive even at the beginner end of the spectrum, but there are deals to be found. The good news is that changes in technologies aren't typically groundbreaking from year to year, so if you're willing to forego the latest colors, you can sometimes save a bundle. For searching online, we've found Evo's Ski Sale selection to typically be the best, including prior season's models and even lightly used gear. The House, Backcountry, and REI also have their fair share of discounted skis and ski packages. It's important to know that things get picked out rather quickly as the winter progresses, so you'll have the best luck purchasing early, but we think it's always worth checking the sale section to avoid paying full MSRP.
 
Beginner Ski Boots
Don't start to think that because you're just starting out skiing that any old boot will do. Trust us, having a nicely fitting and comfortable boot can be the difference between making this a lifelong sport and hucking the whole setup into a dumpster. A beginner boot has a more forgiving feel that flexes rather than a rigid boot that transmits every slight input to your skis. And much like a beginner ski and binding, the softer setup does dull performance, which is why we don't advise a beginner boot for skilled skiers. To help put together a suitable beginner ski package, we have an article covering our favorite beginner ski boots with the best options for men and women.
Back to Our Top Beginner Ski Picks  Back to Our Beginner Ski Comparison Table
Learn More About Ski Gear