Spacious, user-friendly, and feature-rich, camping tents are made for a relatively luxurious experience in the outdoors. Many of these behemoths offer enough room to set up cots or even chairs and a table for card games on a rainy day. For car campers who take a couple trips each year during the summer months, even the cheapest tents on this list should perform fine. For tougher weather conditions or more frequent use, it's worth spending up for better materials and interior space. Below we break down the best camping tents of 2021. For more background information, see our comparison table and buying advice below the picks.

Best Overall Camping Tent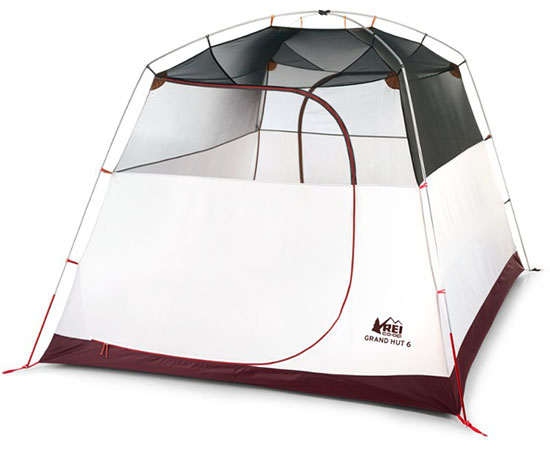 Floor area: 83.3 sq. ft.
Peak height: 78 in.
Capacities: 4P, 6P
Weight: 16 lbs.
What we like: Very roomy interior at a great price.
What we don't: Not a stalwart in truly wet and windy weather
In the world of camping tents, REI gets it. Their designs are well-made, rich with features, and competitively priced, and the Grand Hut 6 is a shining example. We particularly love the open, cabin-like shape and tall peak height of 78 inches, which translate to impressive livability, even for taller adults. Price is another big selling point: at $349, the Grand Hut undercuts most other similarly sized, premium options below—including The North Face Wawona, Marmot Limestone, MSR Habitude, and REI's own Kingdom—by $100 or more. Plus, its pre-bent poles and hubbed pole system make it quick and easy to set up and take down. For anything from car camping to beach trips and music festivals, the Grand Hut is a thoughtfully built and affordably priced option from REI.
We previously had REI's Kingdom 6 ranked here, but the Grand Hut dethroned that model for a few reasons. In addition to a considerable $150 difference in price, the Grand Hut is 3 inches taller, has the same amount of floor area, and boasts more vestibule space (38 sq. ft. vs. 29 for the Kingdom). Our only major gripes relate to protection: the concavity in the fly above the door tends to collect rain and can dump water inside if you're not careful (it's best to give it a shake before unzipping after a storm), and wind resistance is pretty poor due to the upright walls and simple X-shaped pole design (both the Kingdom and Base Camp below use stronger, crisscrossing poles). It also has a bit less storage than the Kingdom and isn't compatible with that tent's optional vestibule add-ons. But no tent is perfect, and the Grand Hut's mesh-heavy build, expansive interior, and reasonable cost earn it our top billing for 2021.
See the REI Co-op Grand Hut 6
A Close Second (With Better Weather Protection)
Floor area: 84 sq. ft.
Peak height: 74 in.
Capacities: 4P, 6P
Weight: 20 lbs. 10 oz.
What we like: Sturdy, weather-worthy structure and ease of use.
What we don't: Not as roomy as the Grand Hut 6.
For a step up in price from the Grand Hut, REI's Base Camp 6 takes cues from mountaineering designs for a sizable boost in weather-worthiness. The dome shape and overlapping five-pole system mean the walls aren't as vertical as the Grand Hut's, but it's still very easy to move around inside, and the reward is far better resistance against strong gusts (it's rated for 3+ season use, meaning the tent can hold its own). And the rest of the design is equally up to snuff with an excellent mix of quality materials and design features, including two roof vents, functional organization, and even reflective detailing to help you see the tent in the dark.
The $469 Base Camp splits the difference between the aforementioned Grand Hut above ($349) and Kingdom below ($499) in REI's lineup. It's far and away the most weather-ready option of the bunch, but it uses less mesh than both of those tents (read: less ventilation) and, despite a similarly sized floor area, feels noticeably less roomy due to the lack of vertical walls. In the end, we'd break it down as follows: the Grand Hut is the value leader and plenty of tent for most family campers, the Base Camp is best for those that plan to take their tent into relatively rough and rowdy weather, and the Kingdom is the most luxurious, fully featured option for those looking for the ultimate home-in-the-woods experience... Read in-depth review
See the REI Co-op Base Camp 6
Best Budget Camping Tent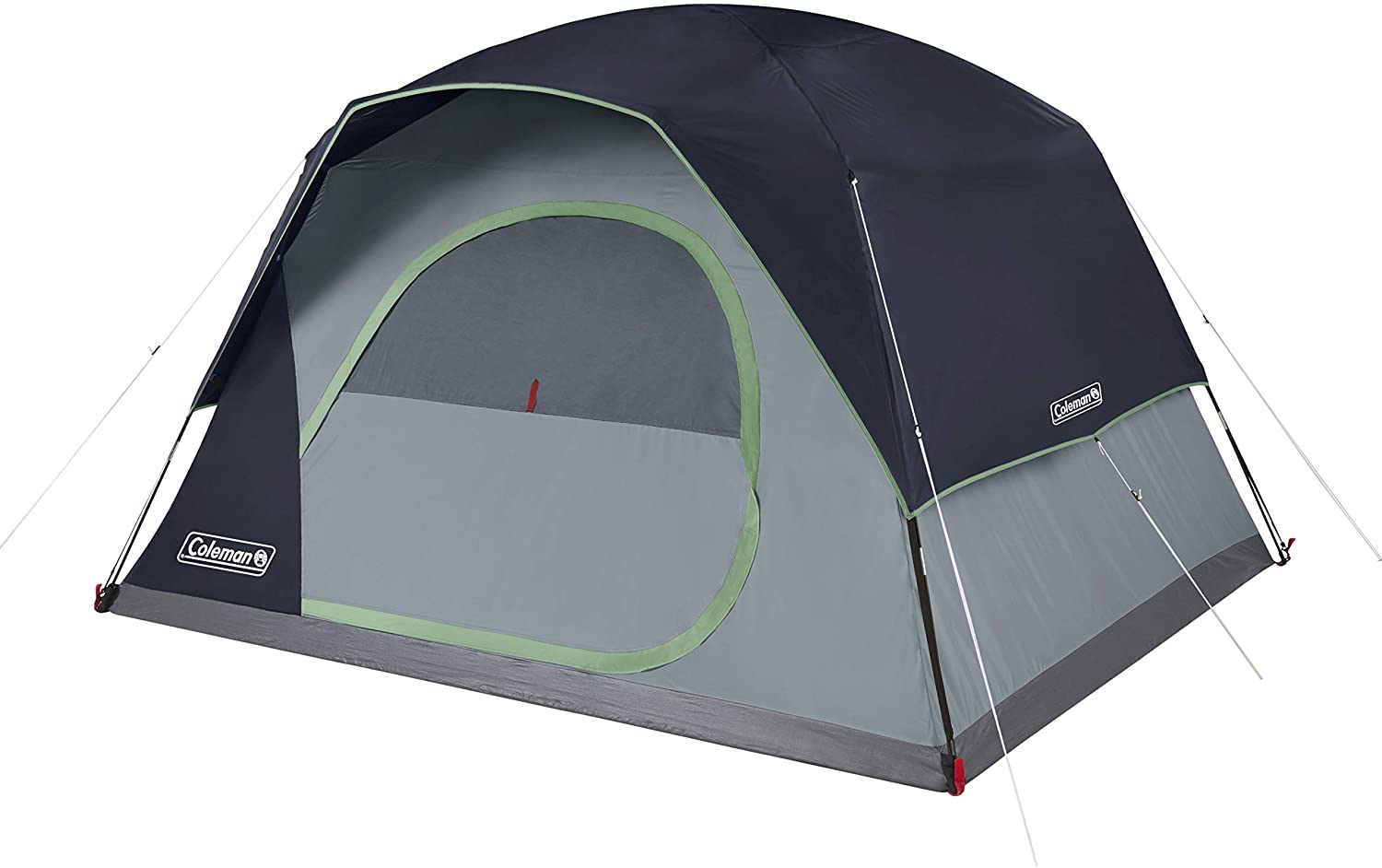 Floor area: 85 sq. ft.
Peak height: 72 in.
Capacities: 2P, 4P, 6P, 8P
Weight: 19 lbs. 5.4 oz.
What we like: Quick set-up and big interior at a budget-friendly price.
What we don't: Only one door and the fiberglass poles aren't very durable.
Coleman is practically synonymous with affordably priced camping gear, so it comes as little surprise that their Skydome 6 slots in as our top budget pick this season. What is surprising to us, however, is how modern this tent looks and feels. In stark contrast to Coleman's fairly dated and cheap-feeling Sundome below, the Skydome is far more weather-worthy with a full-coverage rainfly (the Sundome's leaves most of the sides exposed) and uses pre-bent poles and more vertical walls that open up the interior in a big way. We also love that the poles are pre-attached to make set-up a breeze, and the wide door and generously sized vestibule really help boost overall convenience.
Diving deeper into the differences between the two Coleman models, the Skydome boasts 15 fewer square feet of floor area, but the aforementioned pole structure and vertical walls go a long way toward maximizing livability. In terms of value, both tents cost around the same on Amazon at the time of publishing, but we think the modernized Skydome is a better buy for those that get out even just a few weekends each year. It's true that the Skydome has only one door and uses cheaper materials than the more premium options on our list—including fiberglass poles that aren't as hardwearing as aluminum—but the quick set-up and roomy interior are a winning combination.
See the Coleman Skydome 6P
 

Best Crossover Camping/Backpacking Tent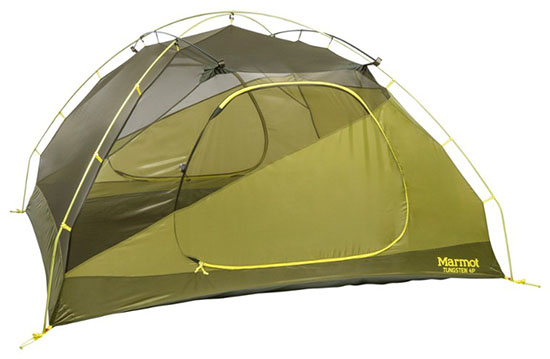 Floor area: 58.3 sq. ft.
Peak height: 52 in.
Capacities: 1P, 2P, 3P, 4P
Weight: 8 lbs. 7 oz.
What we like: A proven crossover option at a good price.
What we don't: Quite a bit less spacious than a dedicated camping tent.
Most of the tents on this list are strictly of the car-camping variety, meaning they're heavy enough that you won't be carrying them more than a few steps from your vehicle. However, there are a handful of crossover options that can pull double duty should you want to venture into the backcountry. Marmot's Tungsten 4P is case in point: for car camping, the Tungsten can accommodate multiple sleeping pads side-by-side and has a peak height of 52 inches, which is enough for sitting up, changing, or playing a game of cards. Moreover, the pole design does a nice job stretching the walls to be nearly vertical at the bottom, giving the interior a relatively open feel. At just under 8.5 pounds, the Tungsten isn't a featherweight by any means, but it's perfectly serviceable for camping and short backpacking trips (especially if you can divvy up the carrying responsibilities). 
However, as with nearly all crossover tents, the Marmot Tungsten has its fair share of compromises. For those who strictly car camp, a dedicated camping tent is far superior in terms of livable space and durability (the Marmot uses thinner materials to cut weight). On the other end of the spectrum, those who are more serious about backpacking may want a lighter and more compressible design like Big Agnes' Copper Spur (the 4P model shaves off around 3 lbs. and packs down much better than the Tungsten, although it costs a whopping $650). For smaller families or couples, Marmot also makes this tent in two- and three-person versions, which bring the weight down considerably.
See the Marmot Tungsten 4P
Best of the Rest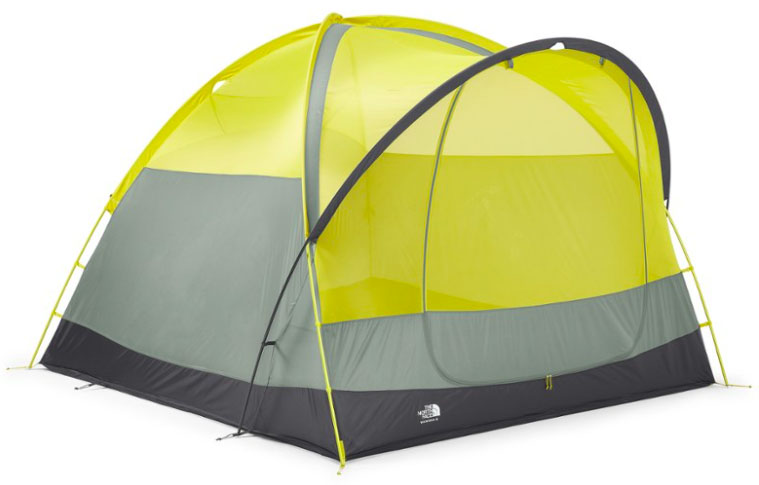 Floor area: 86.1 sq. ft.
Peak height: 80 in.
Capacities: 4P, 6P
Weight: 20 lbs. 15 oz.
What we like: Open interior and massive vestibule at a good value.
What we don't: Time-consuming to set up, partial-coverage rainfly, and mesh door is draft-prone.
The North Face can be hit or miss in the camping market, but they have a winner in their Wawona collection. Updated for 2021, the biggest shift was to a hybrid double-wall construction (the prior generation used a less breathable single-wall build), and they also retooled the pole structure to make setup easier. Offered in four- and six-person capacities, the tunnel-like design is reminiscent of REI's Kingdom 6 below and provides a generous amount of livable space, including around 3 more square feet of floor area and an additional 5 inches of peak height—all for $50 less. And we love the massive front vestibule (44.7 sq. ft.) that easily doubles as a seating area—to achieve the same versatility with the Kingdom, you'll have to purchase the aforementioned Mud Room ($100) separately. Added up, the Wawona is an excellent all-around value.
That said, despite the updated pole structure, we still found the Wawona to be considerably time-consuming and tedious to set up. The vestibule in particular must be guyed out tightly to stay upright, and the unique pole structure took some time to get taut and secure. The upside is that the hybrid double-wall build vents considerably better than a single-wall tent like the Nemo Wagontop below, and it's also less prone to collecting moisture in humid or rainy weather. Final nitpicks include the rainfly, which doesn't cover the lower portion of the tent, and the all-mesh door can be a source of serious heat loss and drafts in the cold. But from a livability and features standpoint, there's a whole lot to like. And smaller families should check out The North Face's Sequoia 4, which is around $50 pricier than the Wawona 4 but adds another door and is taller by 7 inches.
See The North Face Wawona 6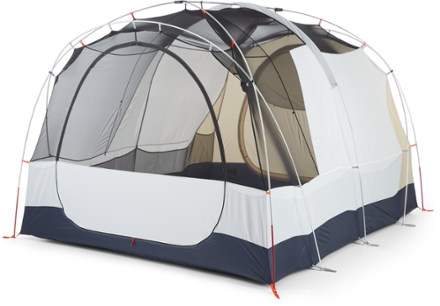 Floor area: 83.3 sq. ft.
Peak height: 75 in.
Capacities: 4P, 6P, 8P
Weight: 21 lbs. 6 oz.
What we like: Huge interior with lots of storage; high-quality fabrics and poles.
What we don't: Large footprint and high price tag.
REI's Grand Hut 6 above hits a better balance of price and roominess, but their Kingdom 6 is legendary and wins out in terms of features. This luxurious tent is highlighted by near-vertical walls, lots of mesh for ventilation and stargazing, and a tunnel-like shape that delivers fantastic livability. For families and larger groups, the six-person variation is excellent: there's plenty of room to spread out, the large vestibule and pockets lining the interior help keep everything in order, and a center divider allows you to separate sleeping from daytime areas. It's true the Kingdom is expensive at $499, but it undercuts competitors like Marmot's Limestone and MSR's Habitude below without compromising on material quality or durability.
One thing to keep in mind with the Kingdom is that its rainfly doesn't fully cover one of the doors. You can leave it as is—REI beefed up the protection on this side, so it's still reasonably weather-resistant—or add the Kingdom Mud Room ($100) or Kingdom Porch ($199). The Mud Room is the more functional option and adds 50 square feet of storage space but tacks on another 103 inches to the tent's already-substantial footprint (the 6P and 8P variations can be hard to fit on smaller tent pads). It's also important to note that the Kingdom's upright shape isn't a standout in foul weather, and it's a good idea to use all the guylines to increase protection in a storm. A final complaint is that the fly vents can allow water in during heavy rain (even when securely closed), which we experienced recently during an overnight deluge. Those that prioritize stalwart weather-worthiness should check out REI's Base Camp above or Cabela's Alaskan Guide below... Read in-depth review
See the REI Co-op Kingdom 6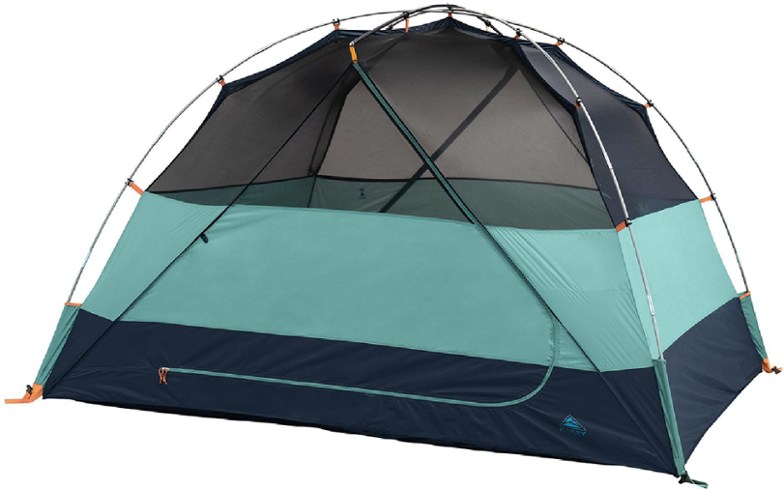 Floor area: 59 sq. ft.
Peak height: 59 in.
Capacities: 2P, 4P, 6P
Weight: 11 lbs. 14 oz.
What we like: A great price for a nice overall design.
What we don't: Materials are a step down from the pricier tents on this list.
Not everyone needs or wants to splurge for a massive six-person tent, and for smaller families or couples that like to sprawl out while camping, Kelty's Wireless 4 is a standout value. As with many of Kelty's designs, they've done a nice job balancing quality and price: the Wireless is affordable at $180 but includes several upgrades compared to cheaper tents like the Coleman Skydome above and Sundome below. Namely, you get two doors and vestibules (both Colemans only have one), along with a full-coverage rainfly for rainy and windy conditions (the Sundome's covers just the top). Kelty also uses more mesh in the construction, making it easier to keep cool in the summer heat. Throw in a decently roomy interior (4 sq. ft. more than REI's Trail Hut 4 below) with a center ridgepole that stretches the walls up and away (the REI lacks this), and you have one heckuva value.
What do you sacrifice with the Kelty Wireless? First, the floor material and mesh are thinner than the more expensive options on this list. This does help keep weight reasonable, but it means that the tent will be less durable over time. Second, the fiberglass poles won't hold up as well as aluminum in rough weather. Finally, the Wireless is a very popular budget option, and you may have a hard time getting your hands on one—at the time of publishing, only the two- and four-person models are in stock. Nitpicks aside, the Wireless 4 is a well-rounded and budget-friendly option for those that don't need the castle-like build of the 6-person behemoths above. And for another good value from Kelty, check out their Discovery series.
See the Kelty Wireless 4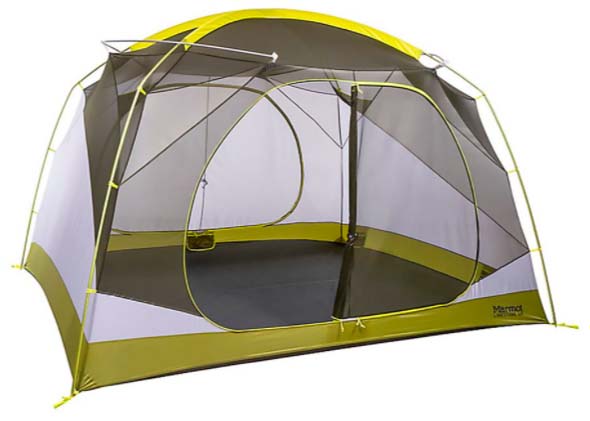 Floor area: 83 sq. ft.
Peak height: 76 in.
Capacities: 4P, 6P, 8P
Weight: 17 lbs. 9 oz.
What we like: High-quality construction and enough tent for most campers.
What we don't: Not as storm-ready as the Marmot Halo.
The livability of the REI Grand Hut and Kingdom above are tough to beat, but Marmot offers another quality set-up in the Limestone. This camping tent includes ample sleeping space for six (or four if you like to spread out), is easy to pitch, and is reasonably weather-resistant thanks to a full-coverage rainfly and taut DAC pole design. And in addition to its tall 76-inch peak height (the Grand Hut and Kingdom are 78 and 75 in. respectively), the Marmot's poles also effectively stretch the walls outwards to create an even roomier-feeling interior. It's true that the Limestone is the priciest of the trio at $545, but it's a better performer when the wind picks up.
For those who camp only on warm summer days, which is a high percentage of folks, the Limestone is ideal: its mesh-heavy design, vents, and near-vertical walls make it comfortable even with the fly on. That said, those looking for an even more storm-ready design should check out Marmot's Halo. That tent has a beefed-up pole structure, features less mesh in the tent body, and costs an additional $98 for the 6P version, but it will stand up to the elements much better. In the end, both are solid options from one of our favorite camping brands, but the Limestone gets the edge as a superior value for fair-weather campers.
See the Marmot Limestone 6P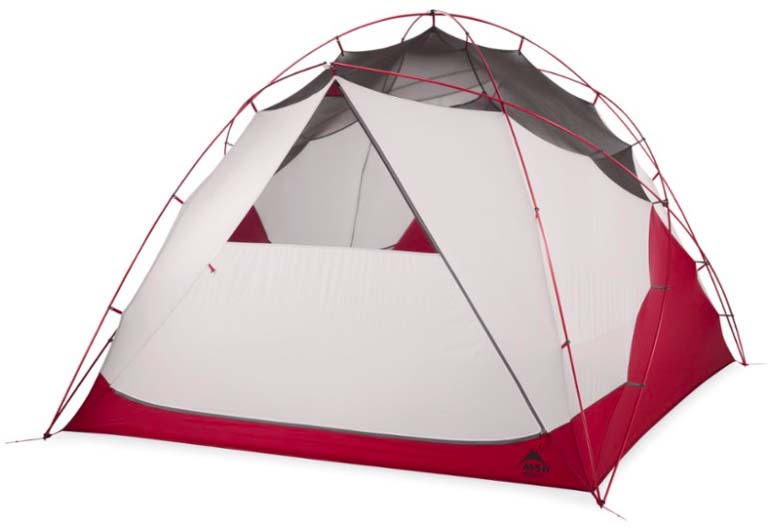 Floor area: 83 sq. ft.
Peak height: 77 in.
Capacities: 4P, 6P
Weight: 14 lbs. 
What we like: Standing-height interior and vertical sidewalls make this a great option for families.
What we don't: Pricier and less durable than the Kingdom 6; only one door.
Released last year, MSR's Habitude series takes direct aim at ultra-premium options like the REI Kingdom and Marmot Limestone above. Similar to both of those tents, the MSR is an excellent pick for families with a standing-height interior, generous floor space, and full feature set including ample interior storage. MSR is known for their tough builds, and the Habitude follows suit with a noticeably sturdy pole structure and polyurethane coating for added protection against moisture. The walls aren't as vertical as the Kingdom or Limestone (or our top-ranked Grand Hut), which translates to a little less roominess inside, but the tradeoff is increased stability in strong gusts.
Stacked up against the similarly built and intentioned Kingdom 6, the Habitude boasts a similar floor area and peak height but is lighter by more than 7 pounds, is slightly more weather-worthy with a full-coverage rainfly, and includes an integrated porch light to make entry and exit in the dark easier (a small but thoughtful touch). That said, we rank the Kingdom higher because it's more durable, boasts two doors and vestibules (the Habitude only has one of each), and costs a considerable $100 less. All in all, both are excellent options for families, and a final decision will come down to how you prioritize price, weight, and livability.
See the MSR Habitude 6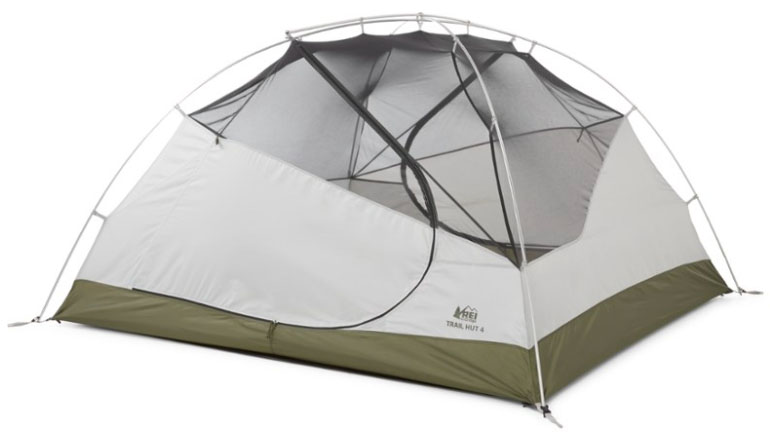 Floor area: 55 sq. ft.
Peak height: 48 in.
Capacity: 2P, 4P
Weight: 8 lbs. 1.6 oz.
What we like: A viable crossover option for around $70 less than the Tungsten above.
What we don't: Can't match the Marmot's very open shape.
The fourth REI model to make our list is their Trail Hut 4, which goes head-to-head with Marmot's Tungsten 4P above as a viable crossover car camping and backpacking option. Stacked up against the Tungsten, the Trail Hut is lighter by around 6 ounces and cheaper by $67. The Marmot has a 4-inch-taller peak height, a few more square feet of floor space, and a more open shape that boosts its appeal for families (the REI's pole structure is decidedly basic and doesn't do much to stretch the walls up and away), but the Trail Hut is yet another excellent value from the Seattle-based brand.
As we touched on above, there are some inherent downsides to using one tent for both camping and backpacking. For the former, the Trail Hut is far less roomy and comfortable to spend time in than taller and more premium options like the four-person variation of our top-rated Grand Hut above or Nemo's Wagontop 4P below (it wouldn't be our top pick for waiting out a storm). And for trips into the backcountry, you can go much lighter with a targeted backpacking option like the aforementioned Big Agnes Copper Spur, Nemo Dagger, or MSR Hubba Hubba NX. REI does make a lighter-weight alternative in their Half Dome SL series, although capacity maxes out at "3+" (50.1 sq. ft. of floor area; 5 lb. 15.7 oz.). But if you love camping and are looking for an affordable way to dip your toes into the backpacking world, the Trail Hut is a perfectly workable entry-level option.
See the REI Co-op Trail Hut 4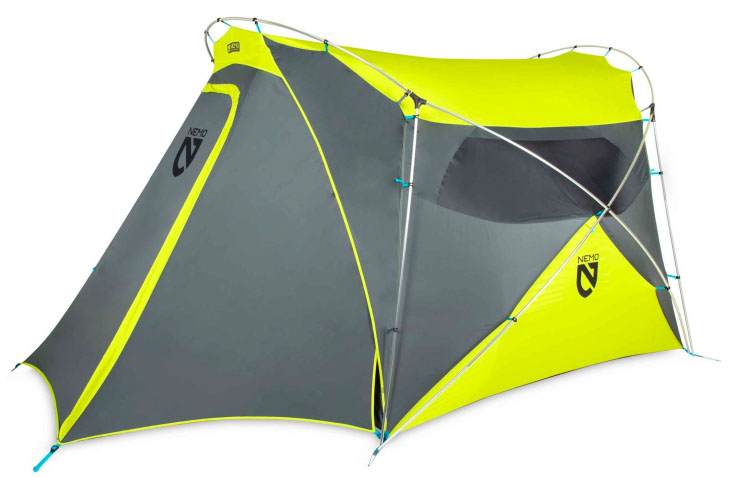 Floor area: 69.4 sq. ft.
Peak height: 80 in.
Capacities: 4P, 6P, 8P
Weight: 20 lbs. 1 oz.
What we like: A well-thought-out and fun design with lots of room.
What we don't: Pricey and not a standout in high winds.
New Hampshire-based Nemo Equipment always seems to come out with thoughtful and creative tent designs, and for camping, we like their Wagontop. Updated last year, this tent has excellent interior space with a standing-height ceiling at the entrance (this unique design beats out dome-shaped tents in terms of headroom), a hubbed pole structure with near-vertical walls, and an optional garage accessory for even more storage. Throw in fun panoramic windows and add-ons like a Victory Blanket that matches the tent floor dimensions, and you have a fun and fully featured camping tent.
What are the downsides of the Nemo Wagontop? To start, the four-person version is rather expensive at $500 (a significant $200 more than our top pick, the REI Grand Hut above), and the price jumps up to a whopping $650 for the six-person version (compared to the $349 Grand Hut 6). Second, the vertical design means that the Wagontop is not an ideal tent for nights with high winds (a tent like the REI Basecamp would be a better bet for that). Last but not least, the Wagontop has a single-wall build that is easy to set up but won't ventilate quite as well as its double-wall counterparts (the large windows do help in this regard). But for those who camp mostly in good summer conditions without heavy winds, the Nemo is a great option.
See the Nemo Wagontop 4P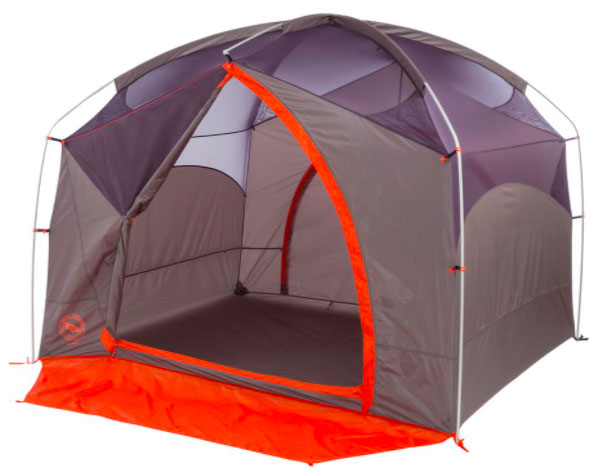 Floor area: 83 sq. ft. 
Peak height: 81 in.
Capacities: 4P, 6P
Weight: 16 lbs. 7 oz.
What we like: Tall walls and airy feeling inside.
What we don't: Less weather-worthy than the competition.
Aptly named, the Big Agnes Big House offers excellent interior space at a fairly competitive price. With 83 square feet of floor area and a host of high-end features including ample storage, a front door mat for stowing dirty shoes, and a convenient "shelter" mode for providing shade on hot days, the Big House goes head-to-head with premium designs like the REI Kingdom 6, Marmot Limestone 6P, and The North Face Wawona 6 above. And the Big House is impressively tall, with the sidewalls sloping upward aggressively to a peak height of 81 inches in the six-person model. Keep in mind that this extra real estate can create a sail-like effect in the wind, so make sure to stake the tent out completely and use the included guylines.
Offsetting mesh and polyester ripstop panels on the tent body make the Big House a good ventilator, and with two doors on all versions, the tent is a solid value at $450 for the 6-person and $380 for the four-person. However, you do miss out on a vestibule on both models as the standard rainfly does not cover the front door (for extra storage, you can pick up the vestibule as an accessory for an extra $140). Overall, we prefer the more weather-worthy designs from REI, MSR, The North Face, and other brands above, but the Big House is a compelling tent for those who camp in mild conditions and prioritize interior space. And for a cheaper camping tent option from Big Agnes, the Dog House 6 has a single-wall build and only one door but saves you a significant $100. 
See the Big Agnes Big House 6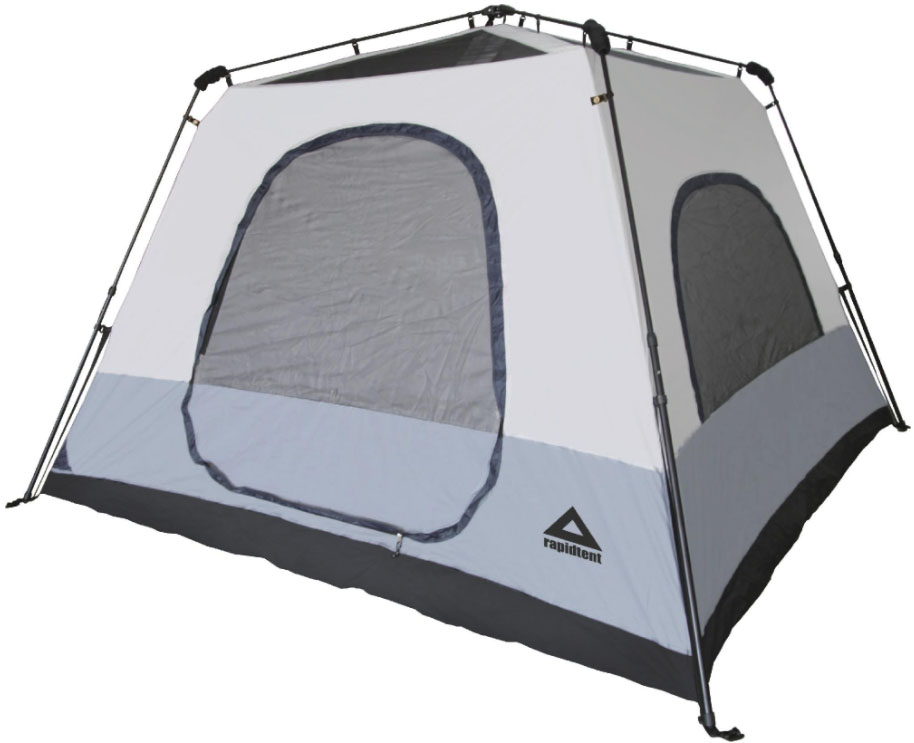 Floor area: 100 sq. ft. 
Peak height: 80 in.
Capacity: 6P
Weight: 25 lbs. 8 oz.
What we like: Fast set-up and quality materials.
What we don't: Only partial-coverage rainfly and very large packed size.
For those that want a fast set-up, tents that have the poles permanently attached can cut down on the total time substantially. Caddis isn't the only company to use this quick-pitch design, but we think it's the best on the market. Unlike the popular Instant Tent from Coleman (not included here), the hallmark feature of the Rapid 6 is the quality of materials. True, the poles are heavy steel, but everything else stacks up very well at this price point. It's also massive inside, with 100 very usable square feet thanks to near-vertical walls.
What's not to like with the Rapid 6? The most significant is the rainfly, which only provides full coverage on two sides and doesn't have any vestibule space. For fair-weather camping, however, this shouldn't be an issue for most people. Another downside is the very large packed size, and at 50 inches in length, it can be a challenge fitting into a full trunk. But if you want a tent with a fast set-up and few compromises, the Rapid 6 is a great choice.
See the Caddis Rapid 6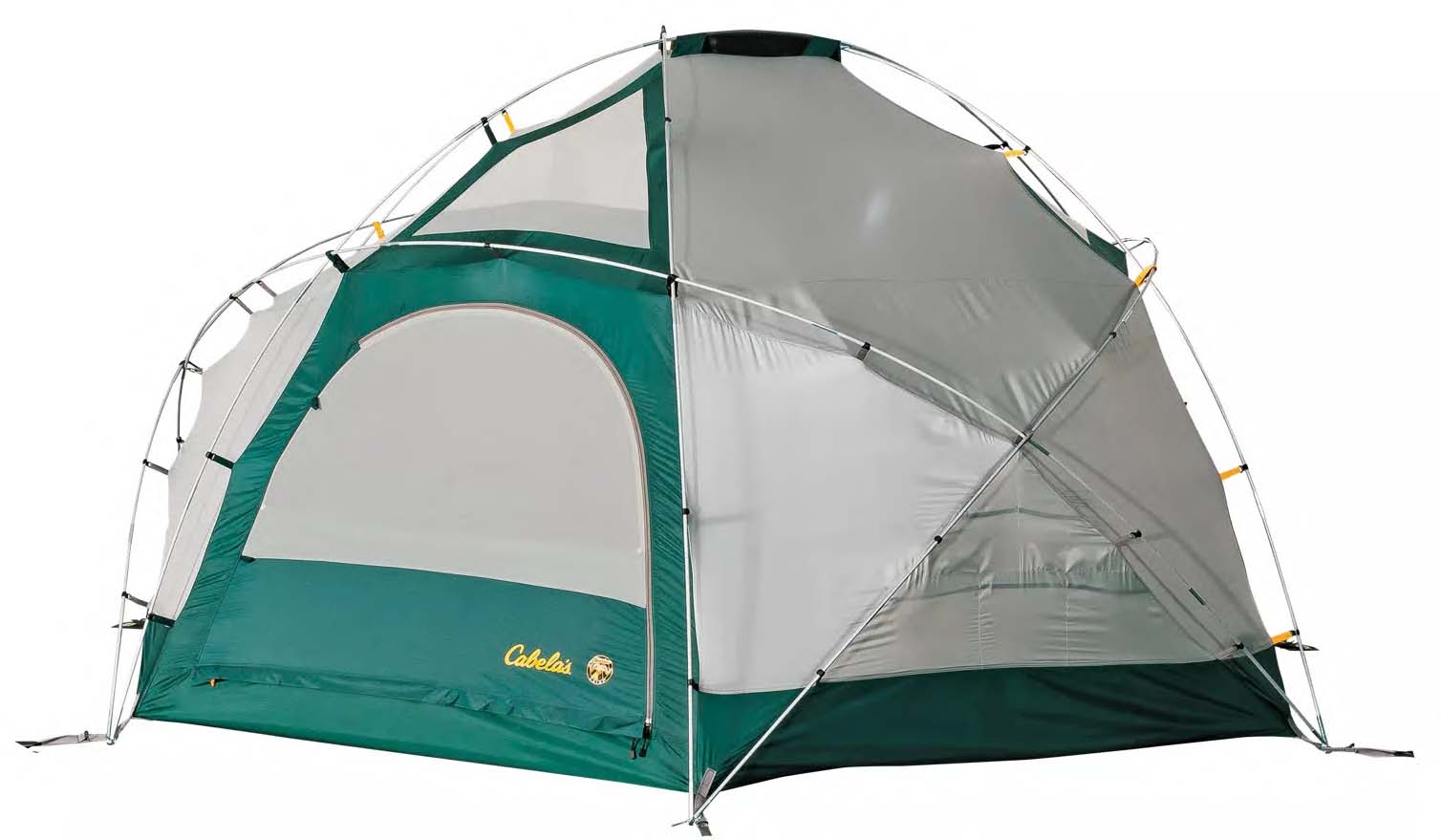 Floor area: 90 sq. ft.
Peak height: 73 in.
Capacities: 4P, 6P, 8P
Weight: 33 lbs.
What we like: A very strong, weather-worthy design.
What we don't: Heavy and not a class leader in livable space.
For camping in rough weather, Cabela's Alaskan Guide Model is a proven winner. With a strong six-pole hexagonal design, full-coverage rainfly, thick polyurethane floor and fly coatings, and tough fabrics, the tent is capable of handling brutal wind (it's rated for 50 mph gusts), rain, and even snow. Importantly, it's also comfortable in mild temperatures and rich in features. Mesh vents and windows can be opened to encourage airflow, the front vestibule is generously sized, and you get enough pockets along the interior to keep gear organized. The REI Kingdom above has better organization and more mesh for warm weather, but the Alaskan Guide is the better option for hunkering down in a storm.
What are the downsides of Cabela's Alaskan Guide tent? First, its hexagonal floor design doesn't use space as efficiently as the tunnel-shaped Kingdom. Further, at this $450 price point, we'd prefer to see it offered with aluminum poles rather than fiberglass. The tent's burly construction should limit durability issues, but fiberglass is more prone to breaking under stress than aluminum (it's worth noting that Cabela's does sell replacement poles if you need them). The Alaskan Guide also is very heavy at 33 pounds, but it's a reasonable tradeoff if you need a weather-worthy build for 4-season camping adventures.
See the Cabela's Alaskan Guide Model 6P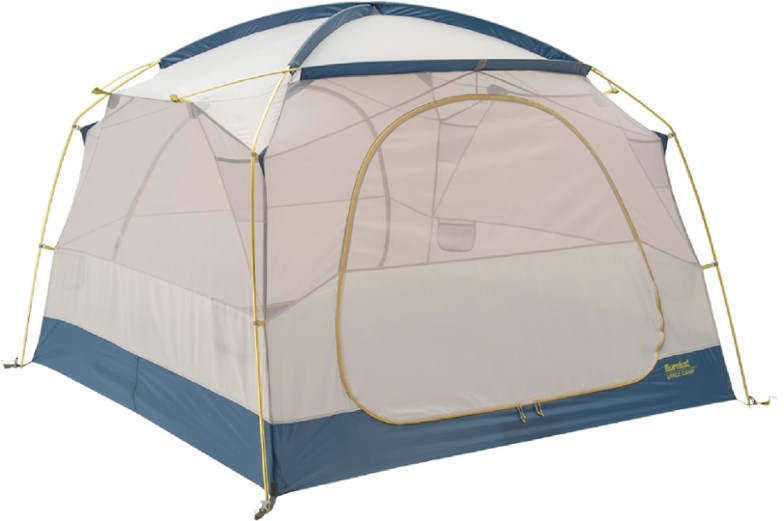 Floor area: 83 sq. ft.
Peak height: 76 in.
Capacities: 4P, 6P
Weight: 16 lbs. 1 oz. 
What we like: Good protection, durable build, and well-executed venting system.
What we don't: Pricier than the Grand Hut above and less roomy than many other 6P tents. 
New York-based Eureka has been in the outdoor gear game for over a century (including wagon covers for horse-drawn carriages in the late 1890s). From their current lineup, we like the Space Camp 6, which combines a livable interior with reliable weather protection and durability. Storage and ventilation are two other hallmarks, including 10 total pockets and Eureka's Air Exchange System that allows you to tweak airflow at the top and bottom of the tent depending on conditions. And unlike REI's Grand Hut above, the Eureka uses crisscrossing poles to better absorb strong gusts. The Space Camp does cost $71 more than the Grand Hut while falling a little short in both floor area and peak height, but it's a solid value for what you get.
It's worth noting that we had Eureka's Copper Canyon LX 6 model ranked here previously, which undercuts the Space Camp in price ($300 for the 6P model) and boasts more generous dimensions, including a 100-square-foot interior and taller 84-inch peak height. However, the Space Camp wins out in weather-worthiness with a full-coverage rainfly (the Copper Canyon's only covers the mesh roof) and lower-profile design that's more stable in blustery conditions. You also get an additional door with the Space Camp, which we appreciate for maximizing convenience (entering and exiting a packed tent is much easier). Both models offer a nice balance of price and quality, and a final decision will come down to how you prioritize outright spaciousness (the Copper Canyon wins out) versus protection and reliability (the Space Camp gets the nod).
See the Eureka Space Camp 6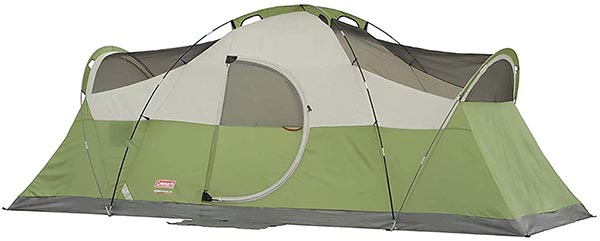 Floor area: 112 sq. ft.
Peak height: 74 in.
Capacities: 6P, 8P
Weight: 25 lbs.
What we like: Spacious interior at a great price.
What we don't: Weather protection and build quality come up short.
Many budget-oriented tents compromise in interior livability, but that's certainly not the case with Coleman's Montana 8P. This model stretches a substantial 16 feet in length, has a tall 74-inch peak height (the side rooms are shorter), and includes near-vertical walls that maximize the usable space. A single side door is placed right in the center, which does limit ease of entry/exit, but the sheer size of the thing makes it a nice match for groups of four to six people.
Who should buy the Montana 8P? Families that get out a couple times a year in fair weather are the best candidates. The tent is surprisingly sturdy in the wind thanks to a number of included guylines for anchoring it down, but its minimalist rainfly and cheaper build is vulnerable to letting in rain (particularly when it's coming at the tent sideways). In addition, you miss out on a vestibule—the front "porch" provides some coverage but doesn't hide your gear and isn't expansive enough to rely on in a storm. In the end, as long as you set reasonable expectations—you can often pick one up for less than $200—the Montana 8P provides a very enticing mix of roominess and price. 
See the Coleman Montana 8P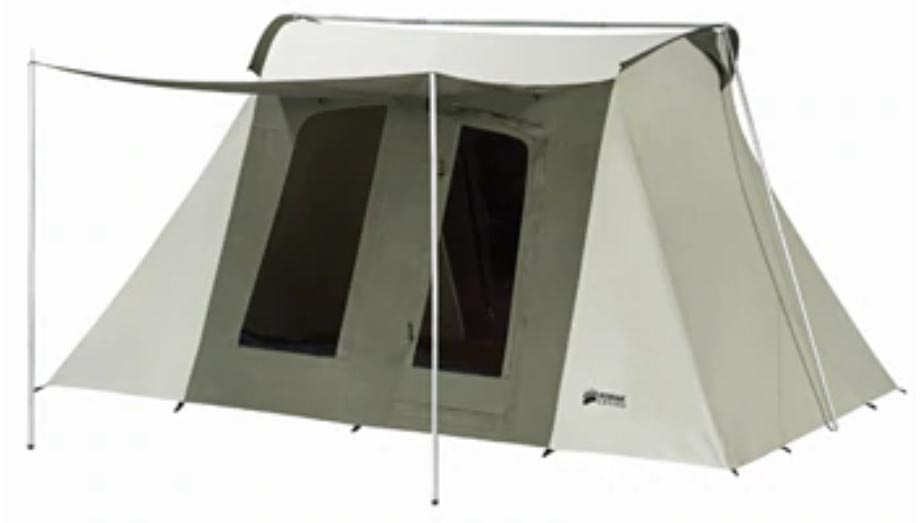 Floor area: 140 sq. ft.
Peak height: 78 in.
Capacities: 4P, 6P, 8P
Weight: 79 lbs.
What we like: The canvas build is ultra-tough and weather-resistant.
What we don't: Expensive, extremely heavy, and overkill for most casual campers.
All of the other tents on this list are made with varying thicknesses of nylon and mesh, but the Kodiak Flex-Bow takes it to the next level with a unique canvas build. What does this mean for you? Canvas is known for being super tough: it can withstand heavy winds (the steel frame on this tent helps too), serious precipitation, and rough handling. Further, it does a good job of both trapping warmth when it's cold and breathing when it's warm. The Kodiak is also nicely appointed with large doors on each side, a relatively high 78-inch peak height, and decent ventilation. Simply put, the Kodiak Canvas Flex-Bow is a very solid all-season camping tent that can hold its own in most conditions.
There are, however, a few notable downsides to canvas. First and foremost, this eight-person tent weighs a hefty 79 pounds and will take up a ton of space in your trunk or truck bed. It's also the most expensive tent on this list at a steep $700. Given these drawbacks, the Kodiak Flex-Bow certainly isn't for everyone. That said, the tent is a favorite among the hunting crowd in particular, which makes sense given its build and feature set. But considering its roomy interior and weatherproof design, it's an intriguing option for families and base campers too.
See the Kodiak Canvas Flex-Bow Deluxe 8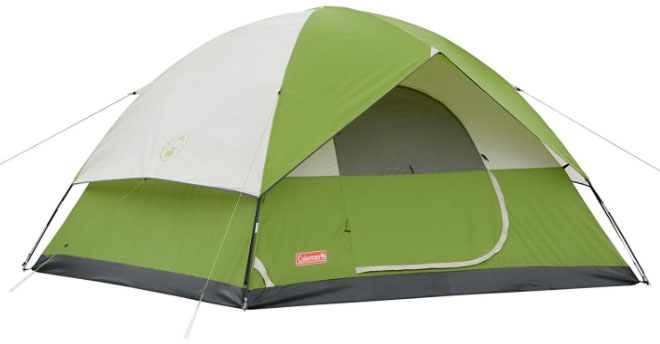 Floor area: 100 sq. ft.
Peak height: 72 in.
Capacities: 2P, 3P, 4P, 6P
Weight: 16 lbs. 10 oz.
What we like: Bargain-basement price.
What we don't: Questionable build quality and limited rainfly coverage.
Realistically, a healthy number of people only go camping once or twice a summer in good conditions and don't need all the bells and whistles of the tents above. If this sounds like you, it's worth giving some consideration to Coleman's Sundome 6, which isn't made from the fanciest fabrics but likely will got the job done. The main draw for many is price, which often hovers around $100 on Amazon (it's currently a little more at the time of publishing) and is a steal compared to some of the fully featured tents on this list that cost four or five times that much.
What do you sacrifice by going with such an inexpensive tent? We've found the materials feel noticeably cheap, including everything from the clips and poles to the tent walls. Additionally, the rainfly covers the main portion of the tent body but leaves part of the sides exposed. This shouldn't be an issue in mild conditions, but we do prefer full coverage—like what you get with Coleman's more modern and better-built Skydome above—for even moderate rain and blowing winds. The fact that you can currently pick up the Skydome for around the same price pushes the Sundome to the very bottom of our list, but the combination of roominess and price is undeniably appealing for occasional and fair-weather campers on a strict budget... Read in-depth review
See the Coleman Sundome 6
Camping Tent Comparison Table
| Tent | Price | Floor | Height | Capacities | Weight | Packed Size | Doors |
| --- | --- | --- | --- | --- | --- | --- | --- |
| REI Co-op Grand Hut 6 | $349 | 83.3 sq. ft. | 78 in. | 4P, 6P | 16 lb. | 24 x 10 x 10 in. | 2 |
| REI Co-op Base Camp 6 | $469 | 84 sq. ft. | 74 in. | 4P, 6P | 20 lb. 10 oz. | 24 x 11 in. | 2 |
| Coleman Skydome 6P | $130 | 85 sq. ft. | 72 in. | 2P, 4P, 6P, 8P | 19 lb. 5.4 oz. | 27 x 10 in. | 1 |
| Marmot Tungsten 4P | $366 | 58.3 sq. ft. | 52 in. | 1P, 2P, 3P, 4P | 8 lb. 7 oz. | 24.5 x 9.5 in. | 2 |
| TNF Wawona 6 | $450 | 86.1 sq. ft. | 80 in. | 4P, 6P | 20 lb. 15 oz. | 32 x 10 in. | 2 |
| REI Co-op Kingdom 6 | $499 | 83.3 sq. ft. | 75 in. | 4P, 6P, 8P | 21 lb. 6 oz. | 25 x 16 x 9 in. | 2 |
| Kelty Wireless 4 | $180 | 59 sq. ft. | 59 in. | 2P, 4P, 6P | 11 lb. 14 oz. | 24 x 8 x 8 in. | 2 |
| Marmot Limestone 6P | $545 | 83 sq. ft. | 76 in. | 4P, 6P, 8P | 17 lb. 9 oz. | 28 x 10 in. | 2 |
| MSR Habitude 6 | $600 | 83 sq. ft. | 77 in. | 4P, 6P | 14 lbs. | 23 x 10 in. | 1 |
| REI Co-op Trail Hut 4 | $299 | 55 sq. ft. | 48 in. | 2P, 4P | 8 lb. 1.6 oz. | 8.3 x 28.5 in. | 2 |
| Nemo Wagontop 4P | $500 | 69.4 sq. ft. | 80 in. | 4P, 6P, 8P | 20 lbs. 1 oz. | 27 x 10 x 10 in. | 1 |
| Big Agnes Big House 6 | $450 | 83 sq. ft. | 81 in. | 4P, 6P | 16 lb. 7 oz. | 26 x 15 x 7 in. | 2 |
| Caddis Rapid 6 | $300 | 100 sq. ft. | 80 in. | 6P | 25 lb. 8 oz. | 50 x 9 in. | 1 |
| Cabela's Alaskan Guide 6 | $450 | 90 sq. ft. | 73 in. | 4P, 6P, 8P | 33 lb. | 31 x 9 x 11 in. | 1 |
| Eureka Space Camp 6 | $420 | 83 sq. ft. | 76 in. | 4P, 6P | 16 lb. 1 oz. | 25 x 10 in. | 2 |
| Coleman Montana 8P | $130 | 112 sq. ft. | 74 in. | 6P, 8P | 25 lb. | 28 x 9 x 9 in. | 1 |
| Kodiak Canvas Flex-Bow | $700 | 140 sq. ft. | 78 in. | 4P, 6P, 8P | 79 lb. | 48 x 21.5 in. | 2 |
| Coleman Sundome 6 | $137 | 100 sq. ft. | 72 in. | 2P, 3P, 4P, 6P | 16 lb. 10 oz. | 28 x 9 x 9 in. | 1 |
Camping Tent Buying Advice 
Camping Tent Types
The camping tent market generally falls largely into two categories: premium designs that utilize high-end materials and prioritize livability and comfort, and more affordable models that stick to the basics and typically cost less than $200. Below we detail the pros and cons of each type, as well as breaking down additional options like crossover camping/backpacking models.

Premium Camping Tents
Premium camping tents sit at the top of the heap pricewise but have all the trimmings we'd expect of a home away from home. To start, options in the mid- and high-end category (usually $350 and up for a 6-person model) make the most of their livable space: near-vertical walls, dividers, and spacious vestibules are a few examples. Liberal use of mesh in the tent body ventilates well in warm or muggy weather, and built-in vents in the rainfly help keep moisture from collecting inside. In addition, most of these tents can withstand the elements far better than budget options. Nearly all premium models have a full-coverage rainfly (or at least the option) and strong, aluminum pole designs. It's true that some can be prohibitively expensive (for example, the REI Kingdom 6P is around $500 while the 8P is $579), but for the family or group that heads out a number of times a year, even in bad weather, the long-term investment may be worth it.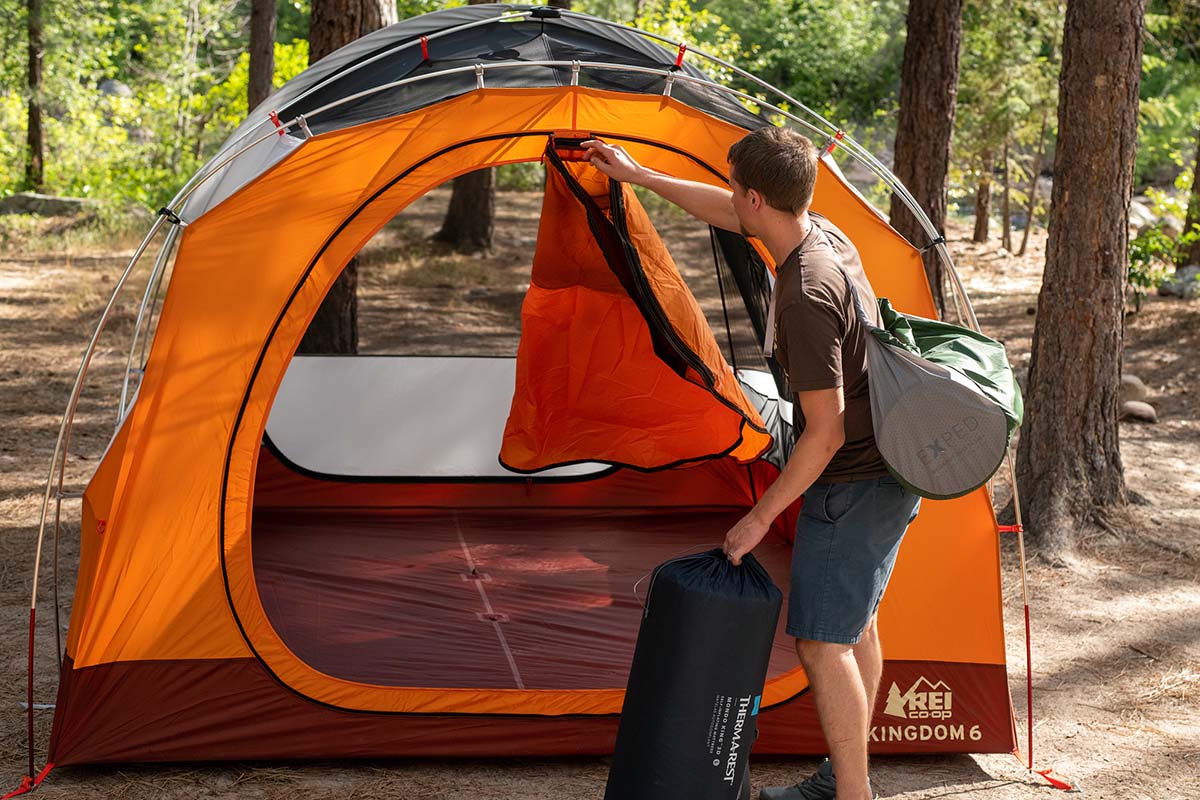 Budget Camping Tents
In theory, camping is a way to simplify life and just disconnect for a while. In that spirit, budget camping tents are basic but fully functional options for fair-weather campers. There isn't a clear line where a tent goes from mid-range to budget, but we've found for six-person options, it happens around $200. Typical budget tents use heavier fabrics, which make them bulky and adds weight to the bottom line, but they're also durable and resist moisture. Weather protection is their downfall. When a storm blows through the campsite, more often than not, the budget tents are the ones with soaked interiors or are in a heap of broken poles. If camping is a new thing or you keep it casual in the summer, a budget tent will serve your needs just fine. Just don't expect anything heroic if the weather turns sour.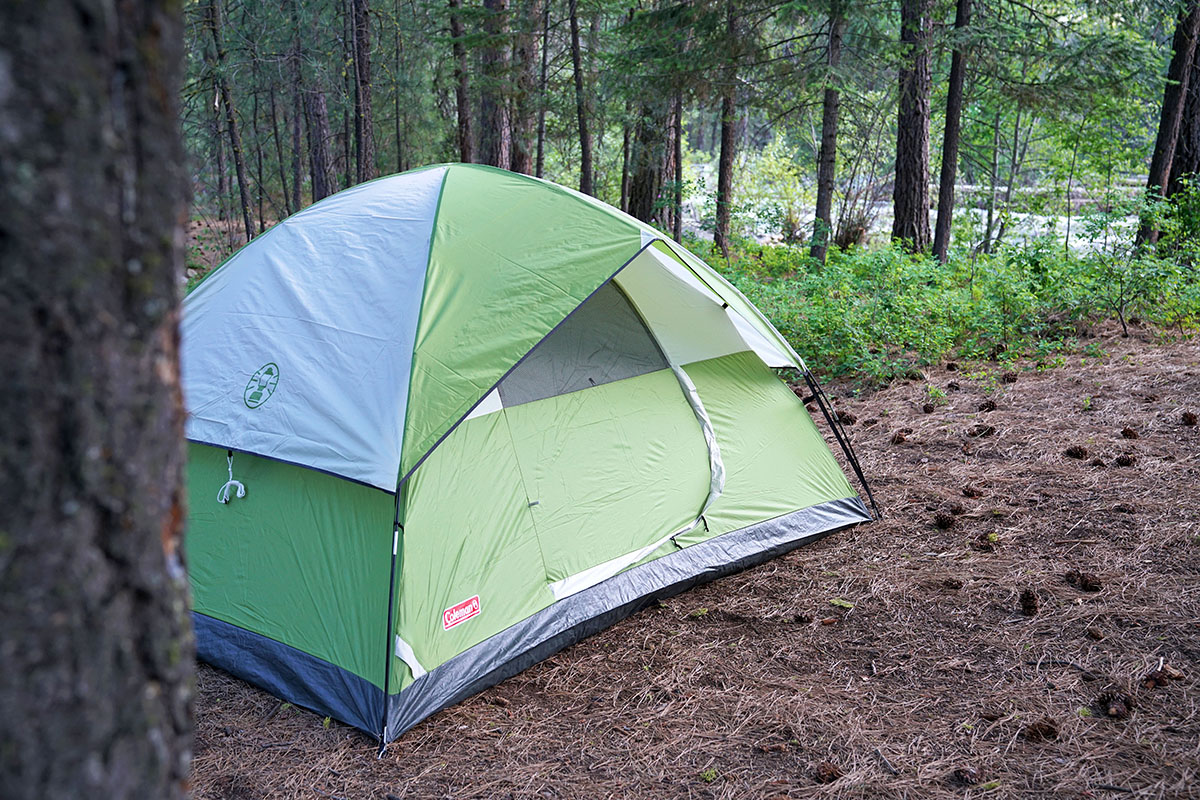 Crossover Camping and Backpacking Tents
Even tents in the budget category can be a significant investment, so for those who plan on both camping and backpacking with the family, it may be worth considering a crossover model. Although much less spacious than a dedicated camping tent, designs like the Marmot Tungsten 4P and REI Co-op Trail Hut 4 can fit four 20-inch-wide pads side-by-side. Both tents are small and light enough to manage on an overnight backpacking trip (especially when divvyed up among group members) but still have enough space to make most campers happy. That said, keep in mind that these models are built with less durable fabrics to make them easier to pack down, and they're not the most comfortable for spending considerable time in. But if you need something to pull double duty, a crossover option can be a good compromise.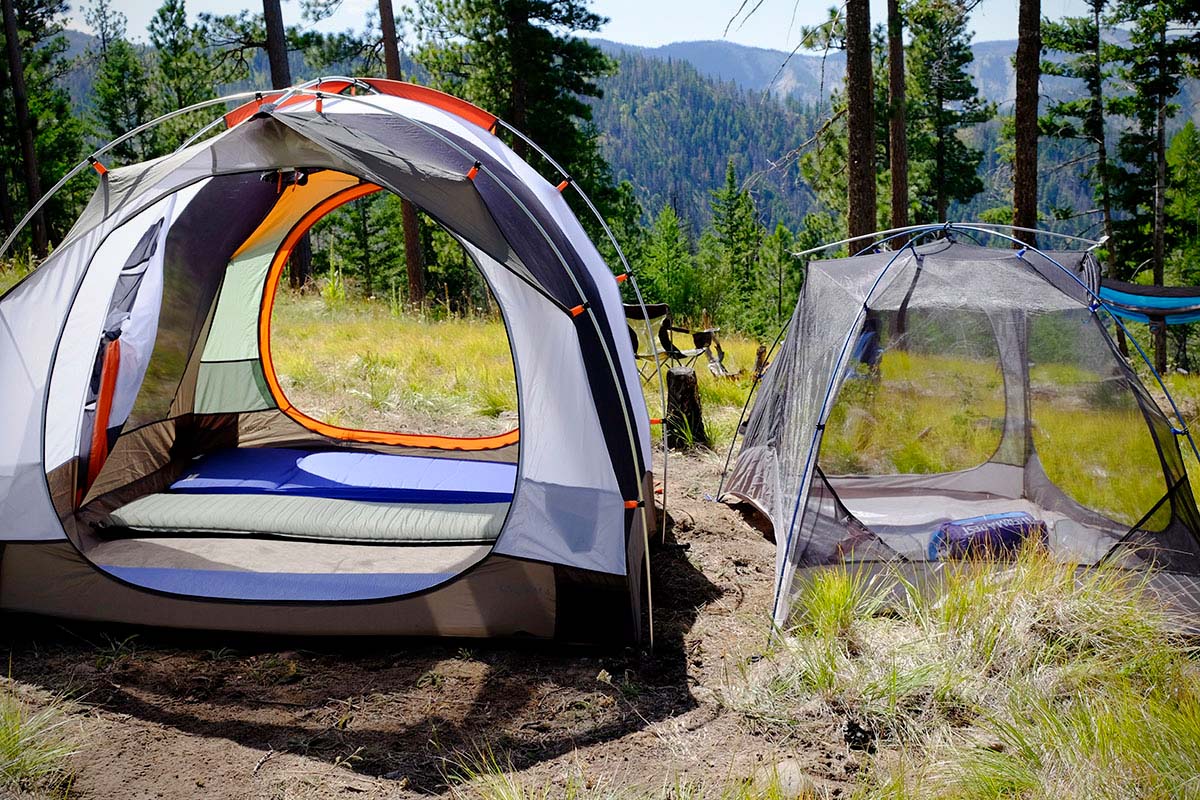 Floor Area
Nearly every tent on the market will provide information about floor dimensions (or floor area), which is a key indicator of overall livability. In general, tents with similar sleeping capacities will have similar total floor areas (80 to 90 square feet for a six-person model). For example, the REI Kingdom 6 boasts 83.3 square feet of floor area, the Marmot Limestone 6P has 83 square feet, and REI's Base Camp 6 has 84 square feet. There are a few roomier six-person models on our list, including the Coleman Sundome 6 and Caddis Rapid 6 (both 100 sq. ft.), but those are more budget-oriented builds with only partial-coverage rainflies, and the Sundome in particular has a dome-style shape that makes it harder to move around inside. In other words, floor area is an important spec to consider, but it doesn't tell the whole story and should be looked at in conjunction with peak height and pole structure (outlined below) to determine overall spaciousness.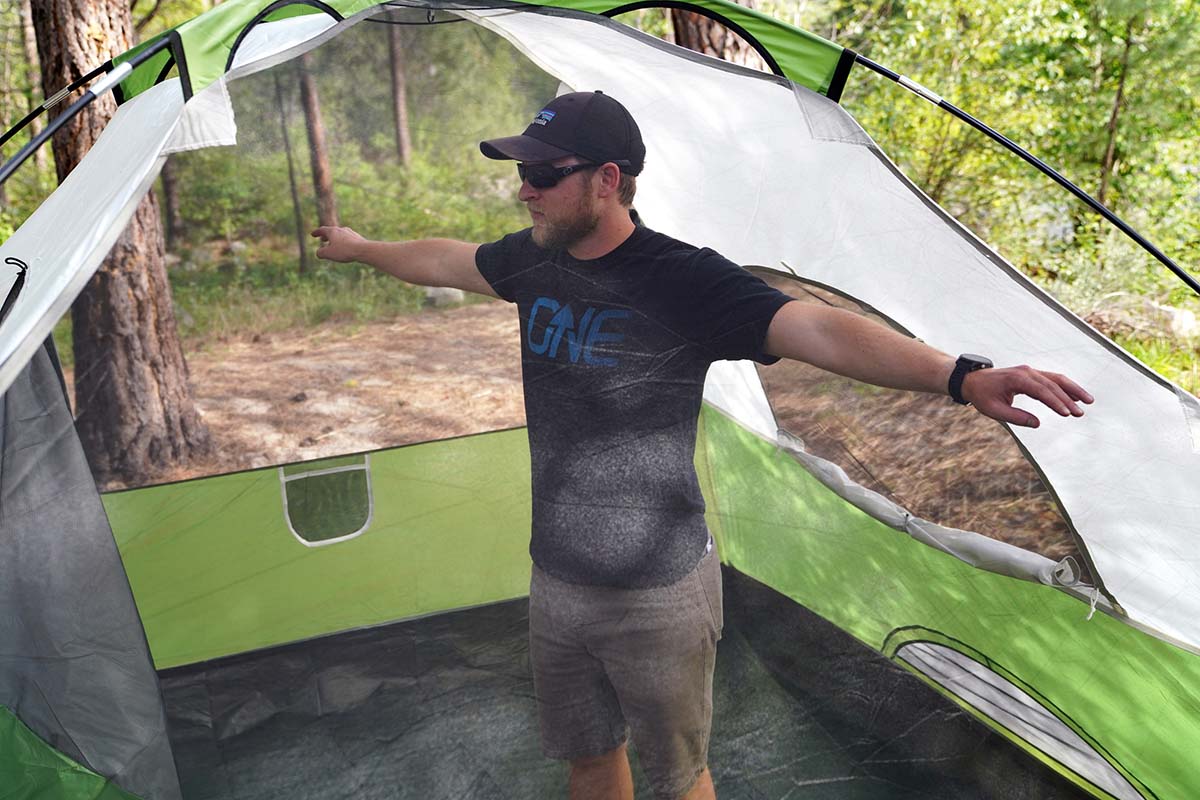 Peak Height and Pole Structure
In addition to floor area, peak height and pole structure make a big impact on overall livability. Peak height in particular is an indication of whether or not you'll be able to stand upright, and most car camping-style tents have a peak height of around 72 inches. However, this number is just part of the equation, and it's important to also look at the slope of the walls and pole design. Dome tents with simple, X-shaped pole structures only allow you to enjoy that peak height at the middle of the tent. On the other hand, a tent with a more advanced pole system can create nearly vertical walls for walking around. This is one of the main reasons we love the REI Kingdom and Marmot Limestone: both ends of the tents have vertical walls, and the pole designs truly opens up the interior. The cabin-style REI Grand Hut, The North Face Wawona, and Big Agnes Big House are other standouts in maximizing interior space.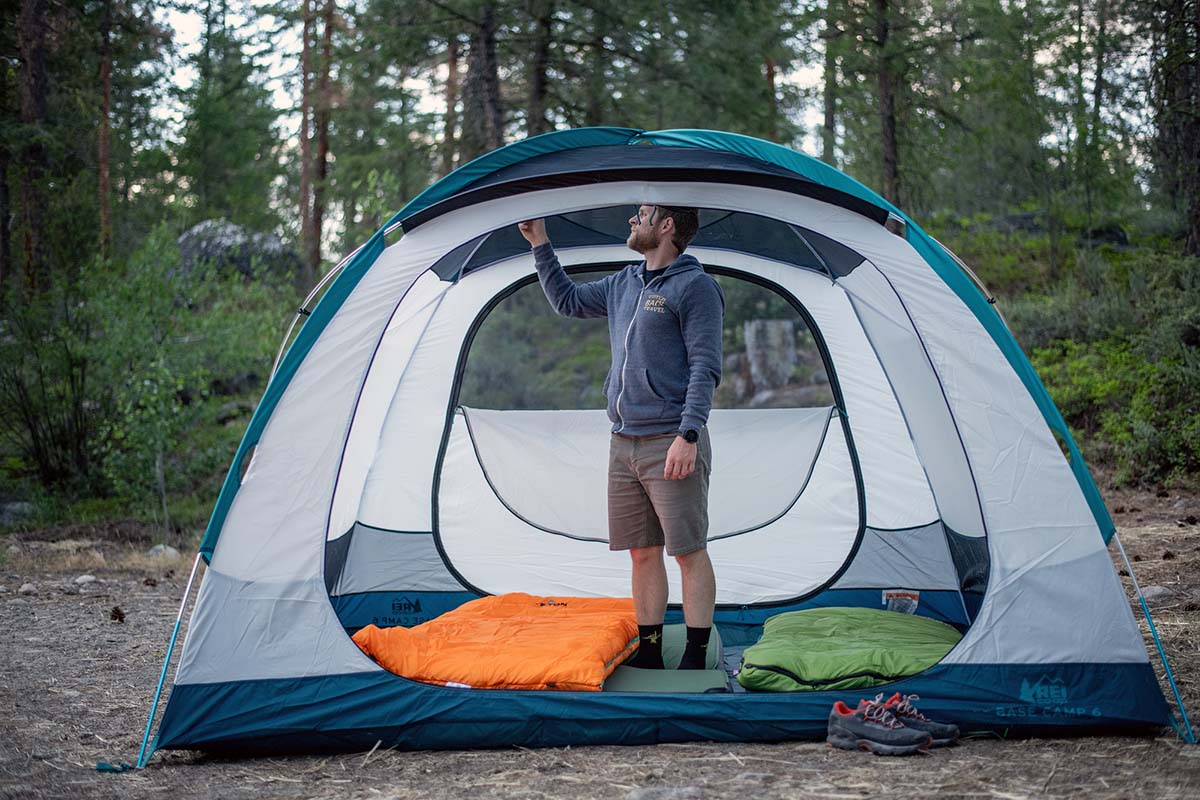 Capacity: How Many People Actually Fit in These Tents?
The tents above are given a "_ person" capacity, which typically ranges from four to eight people. This listing is based on the number of standard adult sleeping pads that can be laid (usually side-by-side) inside the tent. For example, the six-person REI Co-op Grand Hut is 120 inches long, so six standard pads (20-inches wide) technically will fit. But this doesn't mean you necessarily want to max out your tent.
If you use wide, 25-inch+ sleeping pads or air mattresses, or just want a little space to move around, we highly recommend sizing up. From our experiences, nobody wants to sleep in a tent that is jammed to capacity, so it's best to order a slightly larger size than the actual number of people you have in your party. For example, a group of four should sleep comfortably in a six-person tent, leaving enough living space for playing cards, waiting out a storm, and spreading out while sleeping. And many couples and those with pets prefer a four-person model, which gives you plenty of room to stretch out.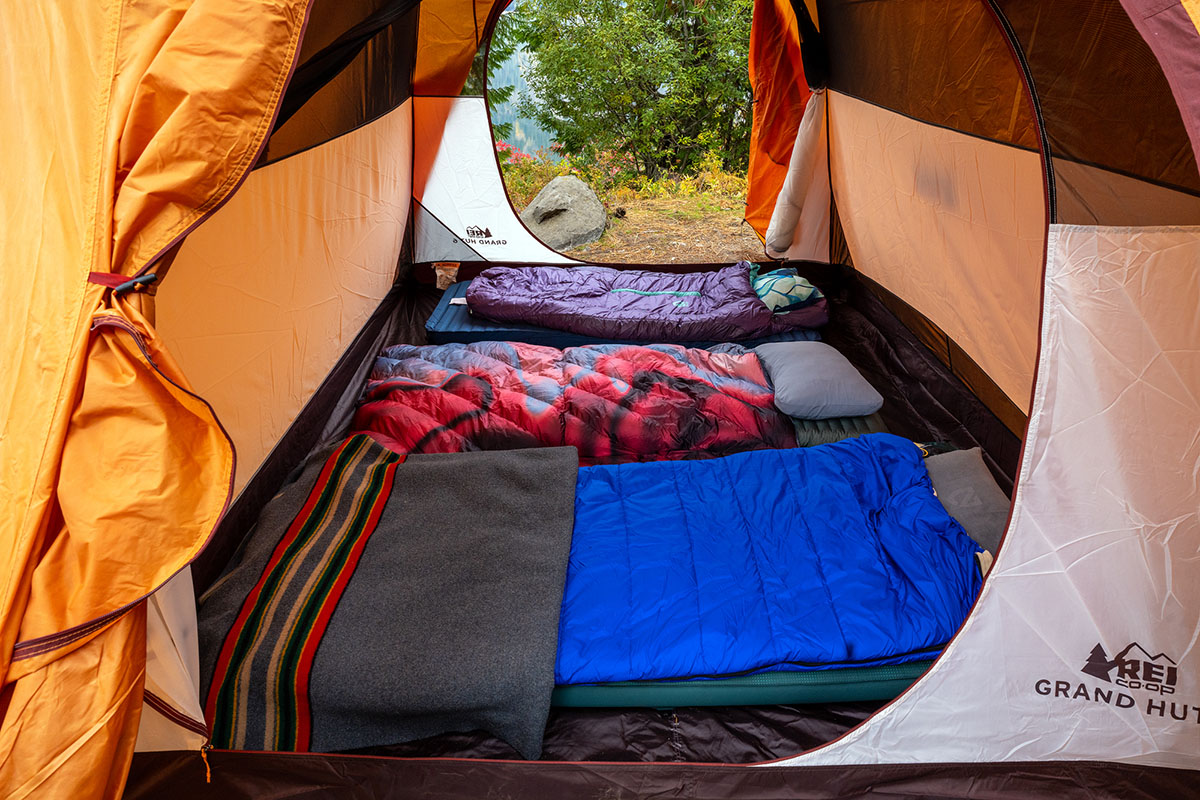 Number of Doors
For a large-capacity camping tent, we unabashedly prefer two doors. The additional access is convenient if you have a full house, and zipping it open is another way to encourage airflow in summer heat. A single-door build is one of the notable downsides of budget models like the Coleman Skydome and Sundome, and even some higher-end options like the MSR Habitude 6 only have a single entryway. Put simply, stumbling and crawling over your tent mates in the middle of the night isn't the best way to keep everyone happy. The very large openings on these tents do alleviate a little of the annoyance, but it's still a compromise that's worth considering when looking at an inexpensive tent.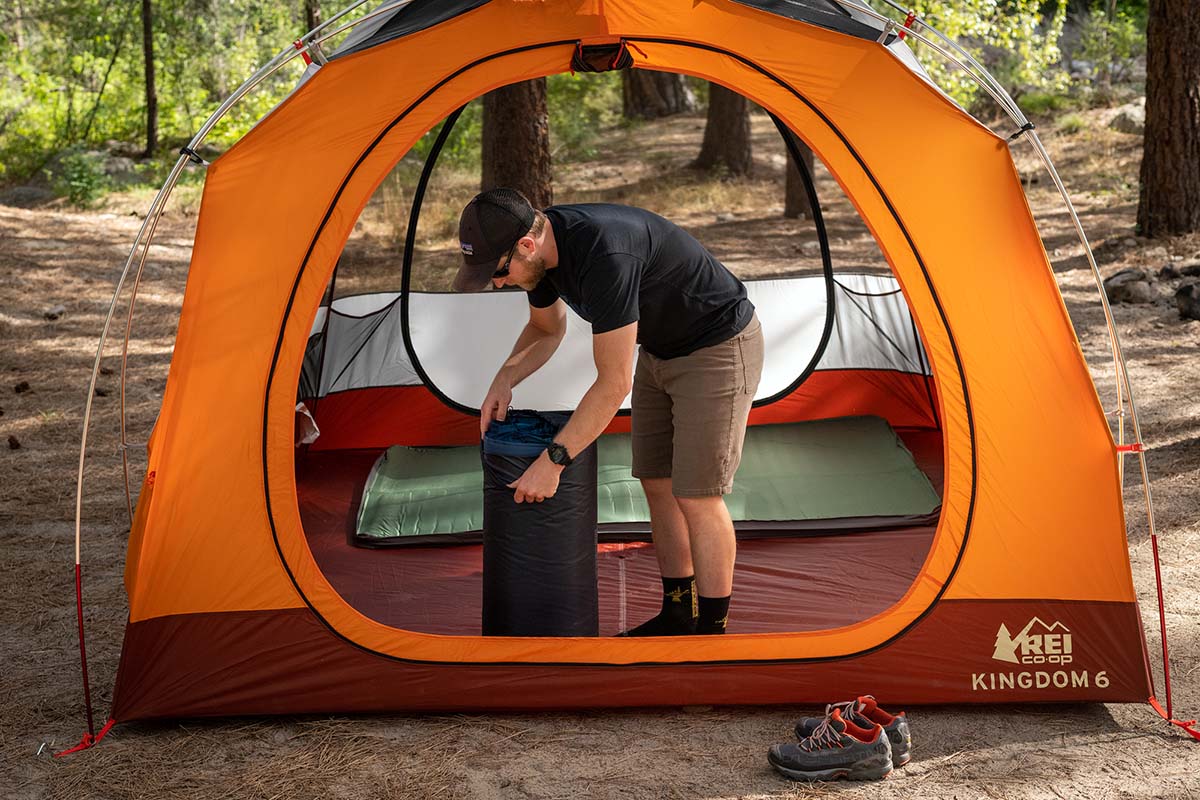 Storage Space: Pockets, Vestibules, and Garages
Storage is a crucial consideration for many campers, starting with interior pockets. As expected, premium options like the REI Kingdom and MSR Habitude include ample space for stowing items like headlamps, maps, books, and other items inside your tent, while budget offerings generally are more barebones. As far as exterior storage goes, a full-coverage rainfly that protects the door(s) of a tent creates a space in front of those doors, referred to as a vestibule. We've found a wide range of uses for a vestibule, but a few highlights include a spot to store gear away from rain and putting on/taking off shoes. If you don't have a car close by to store your stuff, a vestibule should be on your must-have list. And note that vestibules most often come with mid-range and premium camping tents (budget tents with partial rainflies go without).
Taking the concept of a vestibule to the extreme is REI's Kingdom Mud Room. The palatial, pole-supported structure extends out for an additional 61 square feet of space, enough for a card table or area to store bikes. Also, you can zip up the entry door and roll up the sides to create an open and airy shelter from the sun or light rain. On extended camping trips or in large groups, this is a valuable add-on. And it's worth noting that The North Face's Wawona 6 above boasts a similar design that comes included with the tent, which adds a healthy 44.7 square feet at the front for stowing gear or use as an additional seating area.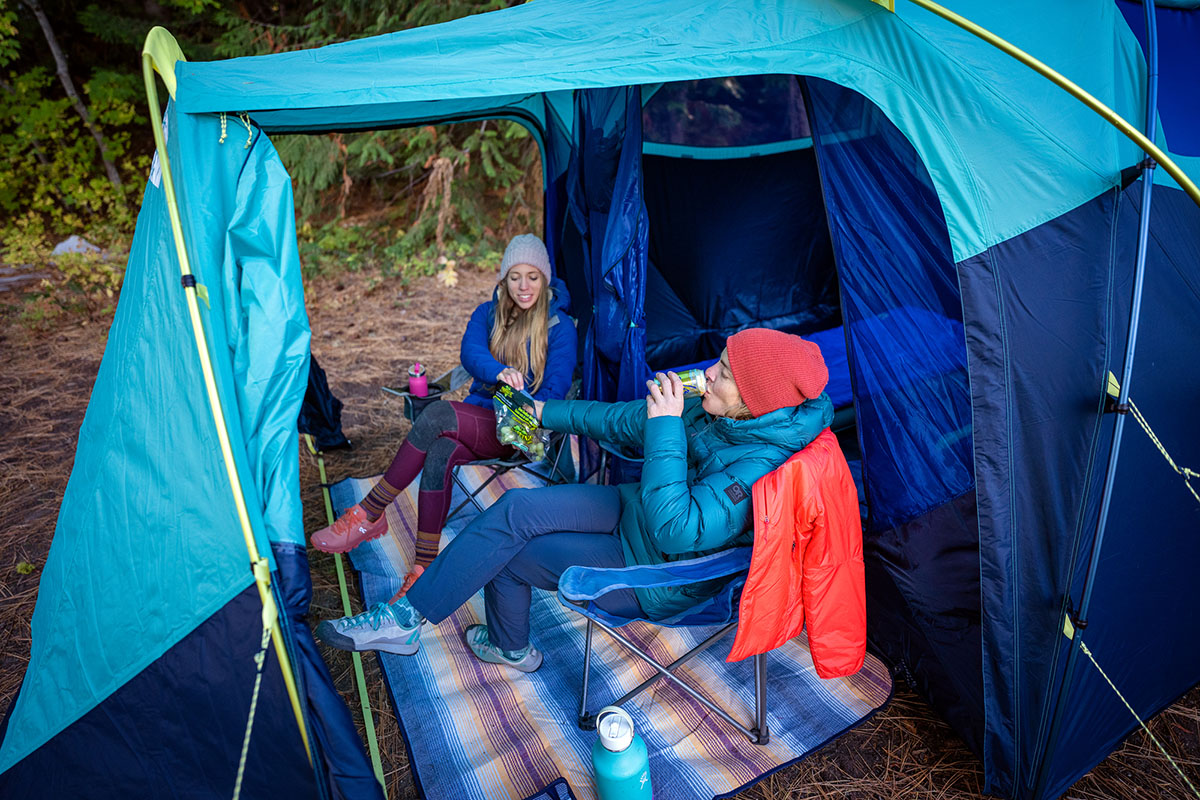 Weather Resistance
As we touched on in the section above, a weather-worthy tent is one of the main reasons to upgrade to a premium camping model. In most cases, the pole materials (aluminum is better than fiberglass) and designs are more robust, seam sealing and waterproof fabrics improve in quality, and the inclusion of full-coverage rainflies help keep out blowing rain. It's good to keep in mind that the weather can still get plenty rowdy in the summer, particularly in the mountains (and some national parks).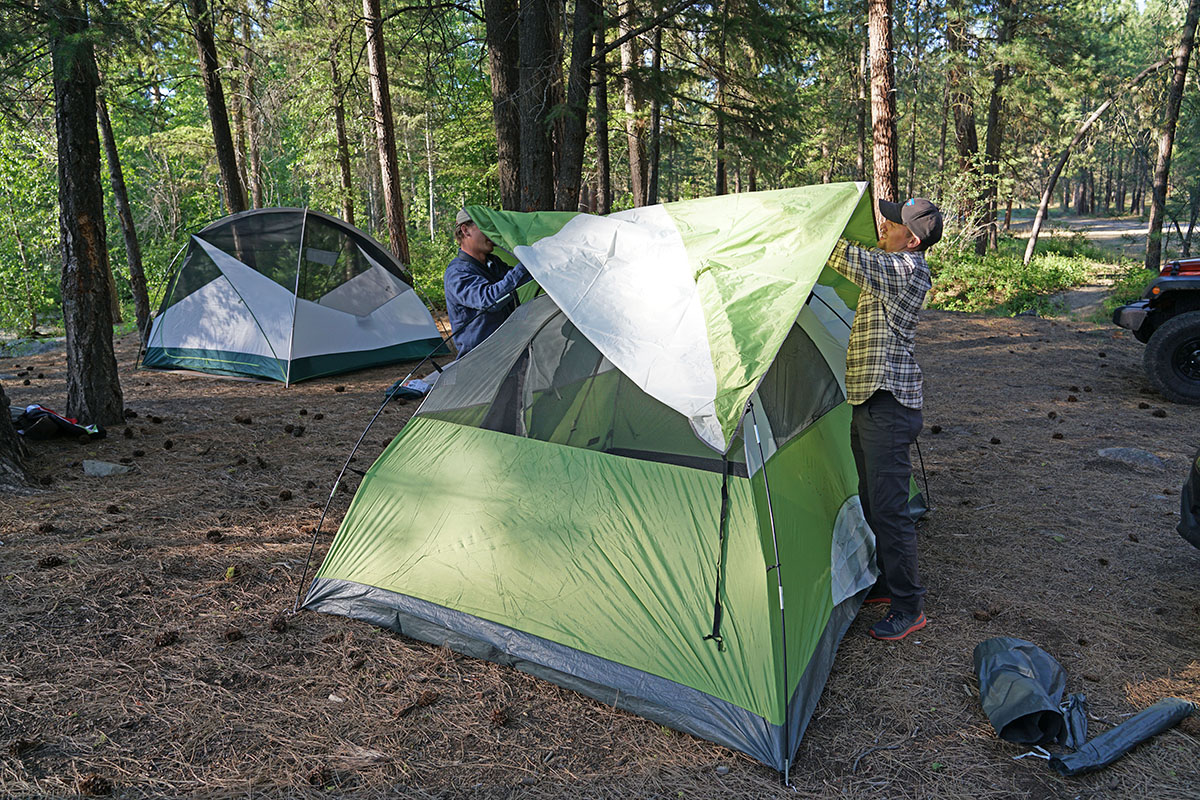 Two of the strongest tents on the list are the REI Co-op Base Camp and Cabela's Alaskan Guide Model, which utilize advanced pole designs that are inspired from mountaineering tents. The Cabela's can even be used for snow camping in less extreme conditions (for designs meant to withstand serious winter weather, check out our article on the best 4-season tents). For most 3-season trips, any premium tent should do the trick, as long as it's been properly staked out (and if the wind picks up, take the time to align the tent and guylines to brace against the wind).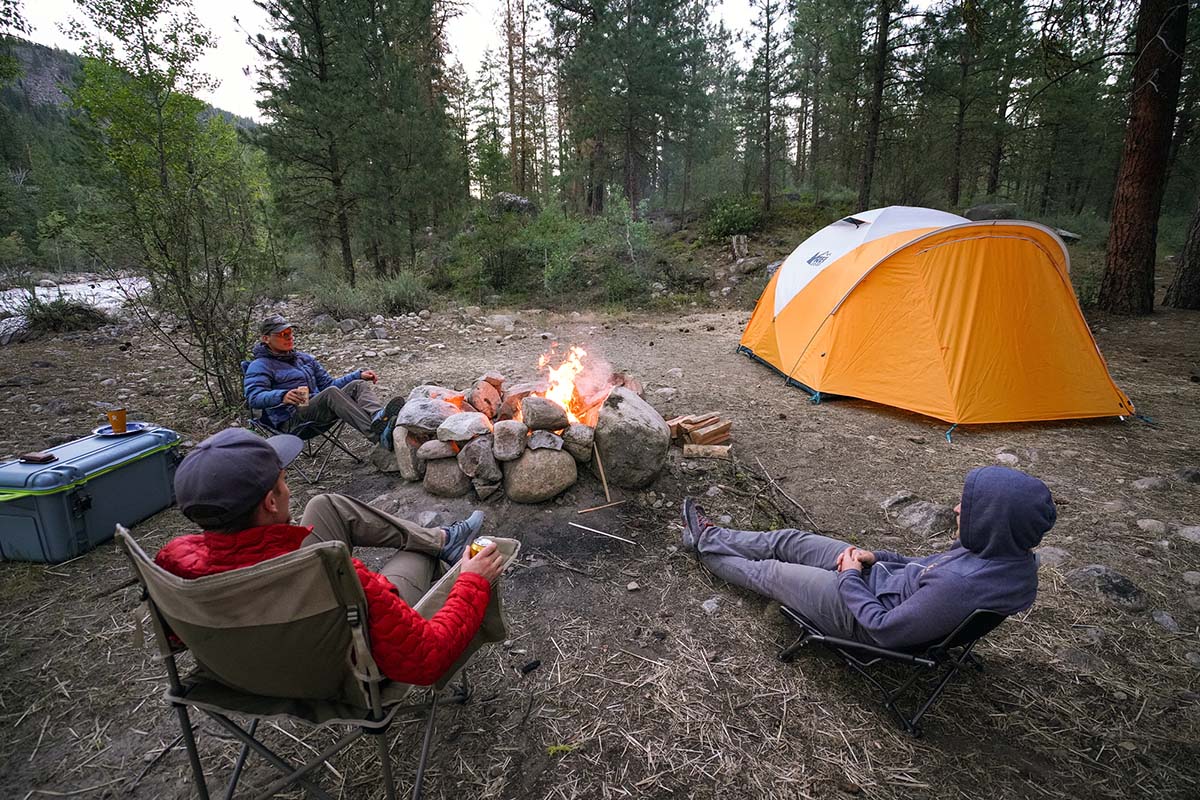 Ventilation
Many campers head out in the warm summer months, which means a tent's ventilation design is a key consideration. And in general, performance is closely tied to price tag. Many premium models utilize a double-wall construction (the outer rainfly is separate from the inner tent body) and lots of mesh, which help keep things reasonably cool and limits moisture build-up. In addition, deployable vents are often incorporated into the rainfly as a way to encourage more airflow, and some tents like REI's Kingdom have adaptable rainflies that can be rolled up partway in mild conditions.
On the cheap end of the spectrum, you get less mesh and fewer options to get air flowing without opening up doors or windows (thereby compromising weather protection). In addition, some entry-level designs like Coleman's Sundome include single-wall panels (this means there's just one layer of fabric to protect you from the elements), which can lead to a muggy interior on warm days and more condensation in the night. In the end, many campers are willing to compromise in ventilation given the large price gap between designs, but it's undoubtedly another feather in the premium tent market's cap.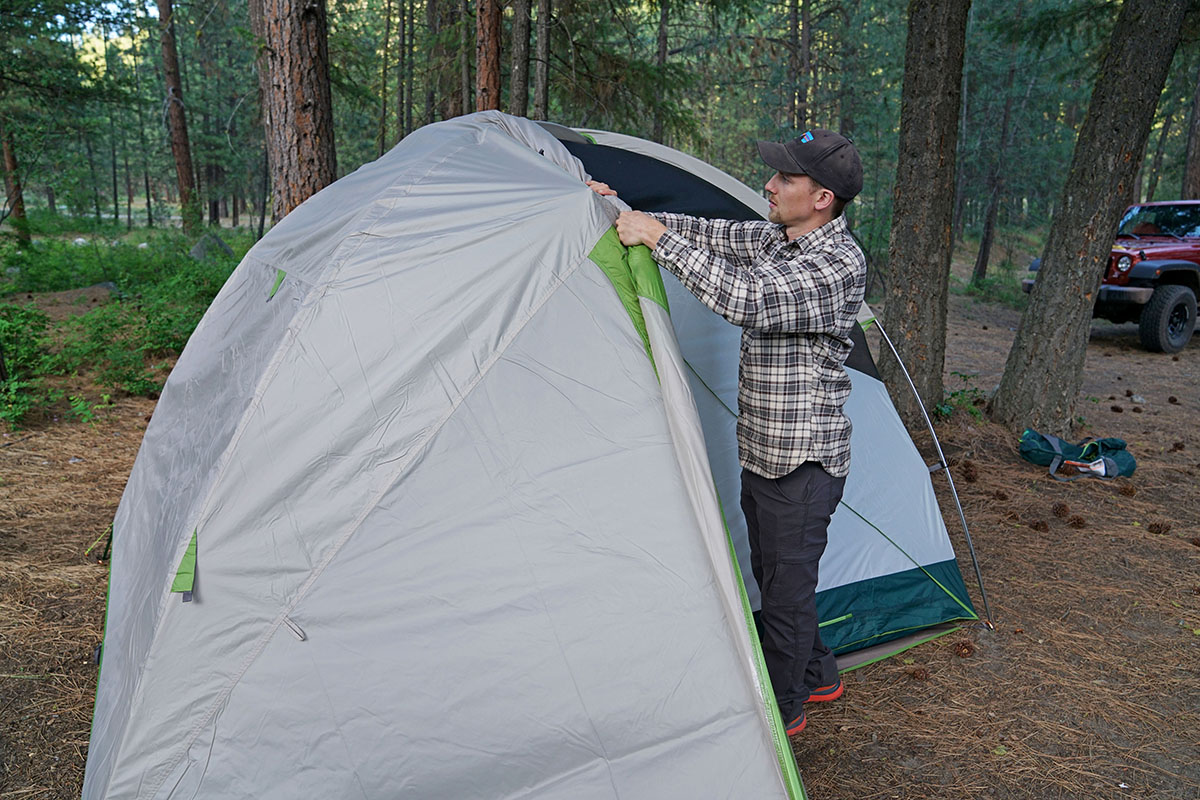 Build Quality and Durability
Simply put, the differences in build quality are noticeable between budget and premium camping tents. Spending more gets you higher-quality materials that are stronger relative to their weight, and in theory, should have a longer lifespan. If you only make it out once or twice a year (and mostly in good weather), you absolutely can get away with a budget model like the Coleman Sundome. That said, if you camp a lot, are looking for a long-term investment for multiple seasons, or simply prefer quality gear, we recommend splurging for a higher-end camping tent. Upgraded features like a full-coverage rainfly, large vestibules and lots of interior pockets for gear storage, and strong aluminum poles increase a tent's functionality and weather resistance. A tent like the REI Co-op Kingdom is the whole package—we have a first-generation Kingdom that has been through the wringer and still is going strong.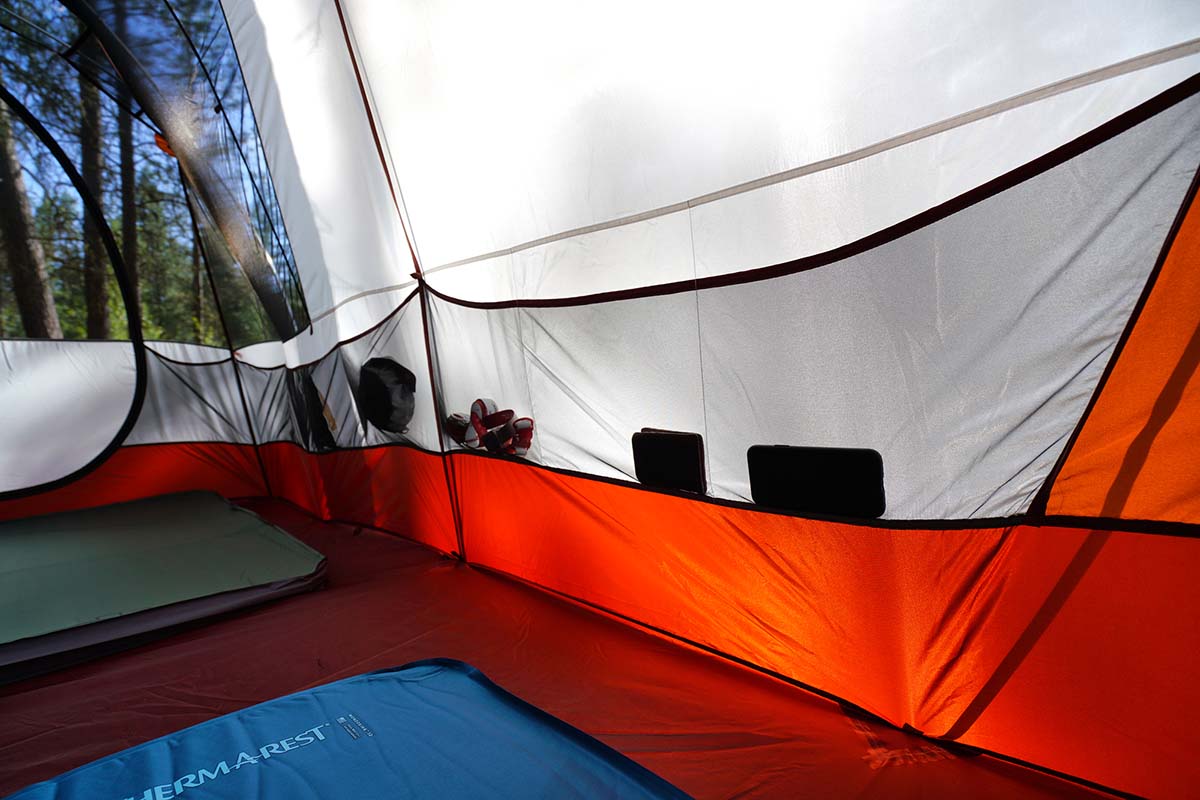 Another factor to consider in gauging a tent's lifespan is durability, and big factors include the thickness of the canopy, floor, and rainfly fabrics. Floor thickness is particularly important, as it will have direct contact with rocks, roots, and other potentially sharp objects at camp. In comparing the models above, the difference can be significant: the crossover REI Trail Hut 4, for instance, shaves weight by using lighter materials throughout, including a 66-denier (D) floor. This isn't thin by ultralight standards (targeted backpacking designs go down to around 10 or 15D), but dedicated camping designs like REI's own Grand Hut and Kingdom (both 150D) use much more robust fabrics, which boost weight considerably but will stand up much better to long-term use. Many camping tents fall somewhere in the middle and are decently hardwearing, but if you're typically tough on your gear, make sure to factor this into your buying decision.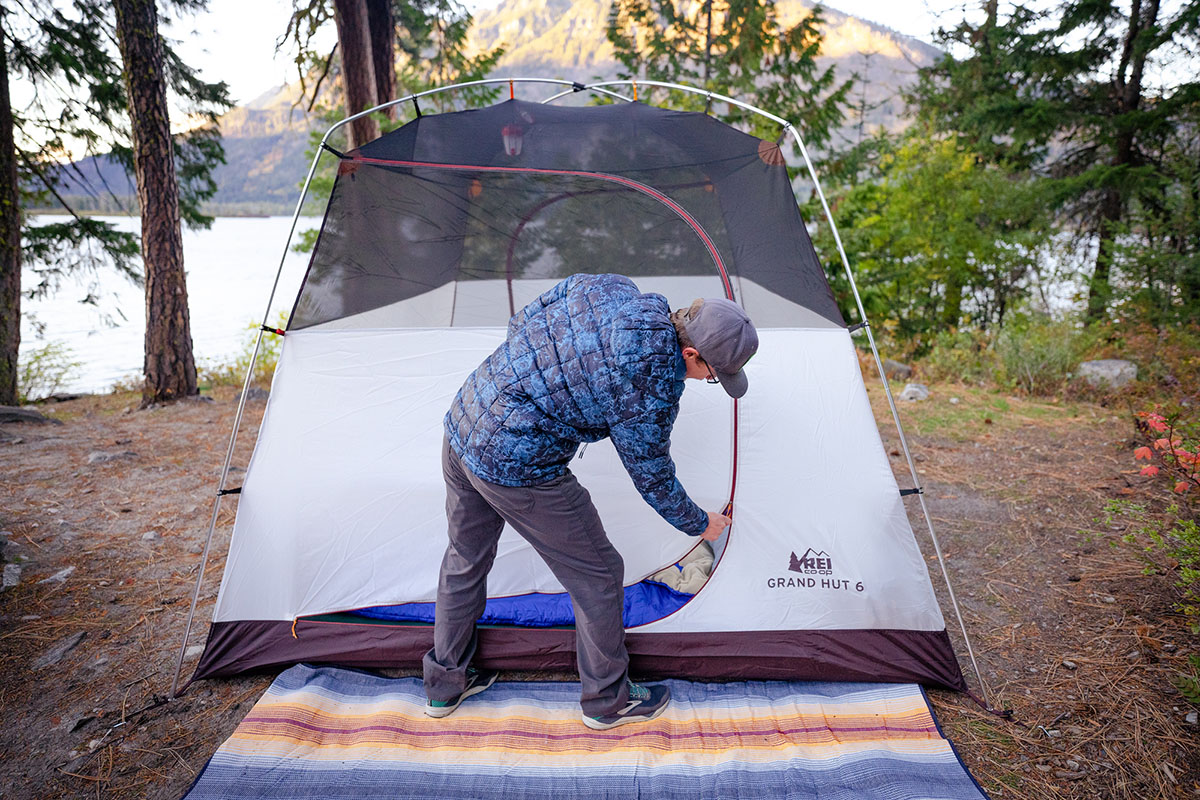 Set up and Take Down
Given their large dimensions and multiple parts (tent body, rainfly, poles, and stakes), it shouldn't come as a surprise that camping tents can be a bear to set up. It's always best to do a test run at home to figure out the process, plus this gives you a chance to verify you have all the necessary pieces. In general, we recommend setting up a car camping tent with a partner (some smaller four-person models can be done fairly easily by a single person) and you can expect it to take 10 minutes or more to fully deploy (tear down often is a bit faster). One exception to this rule is "instant" tents like the Caddis Rapid and Coleman's Instant model, which streamline the process by having the poles permanently connected to the tent body. This design does add some weight and bulk, but some campers will find the tradeoff in convenience worth it.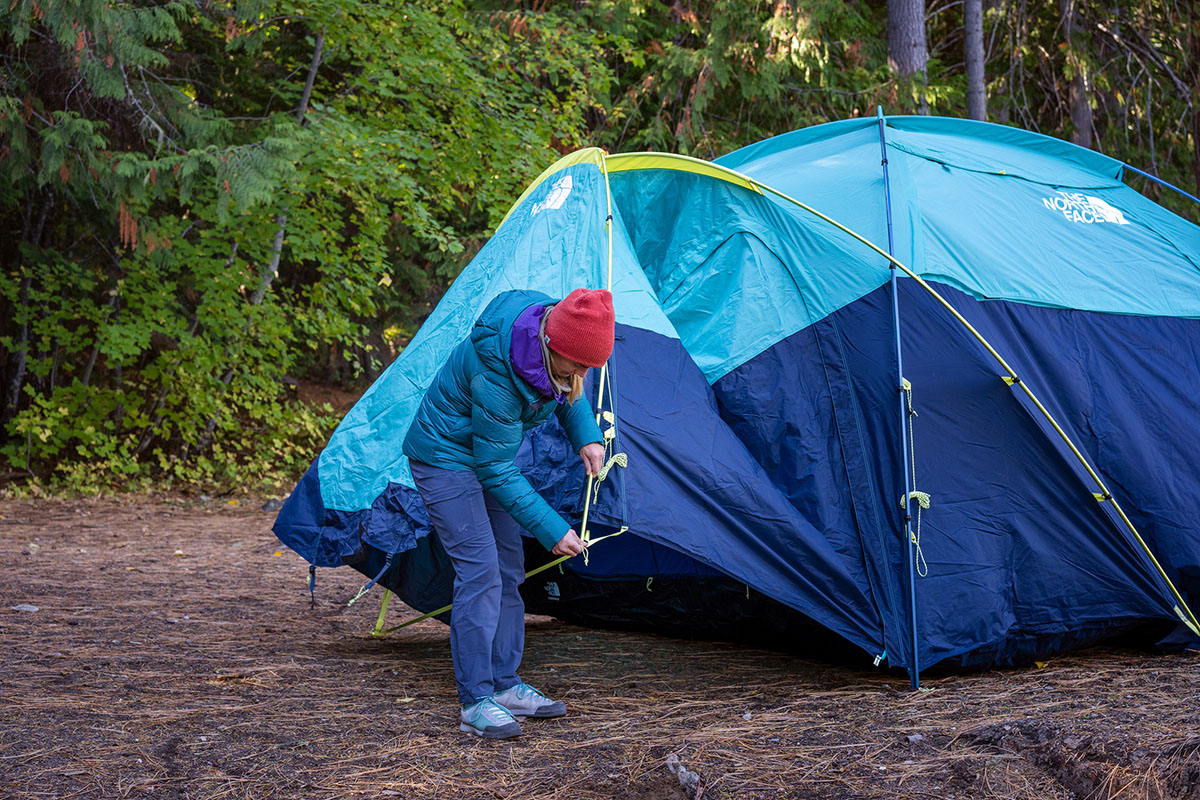 Ground Dimensions
When choosing between tent models, it's a good idea to take the total footprint or ground size of the tent into account—some of the six and eight-person models are absolutely massive. Factoring in some of the large vestibules or "garages" that can be tacked on to the end of a tent, there's a strong likelihood that it will extend beyond the size of the raised pads at some national parks or campgrounds. If you come from a backpacking background, many car camping tents require a much larger swath of space.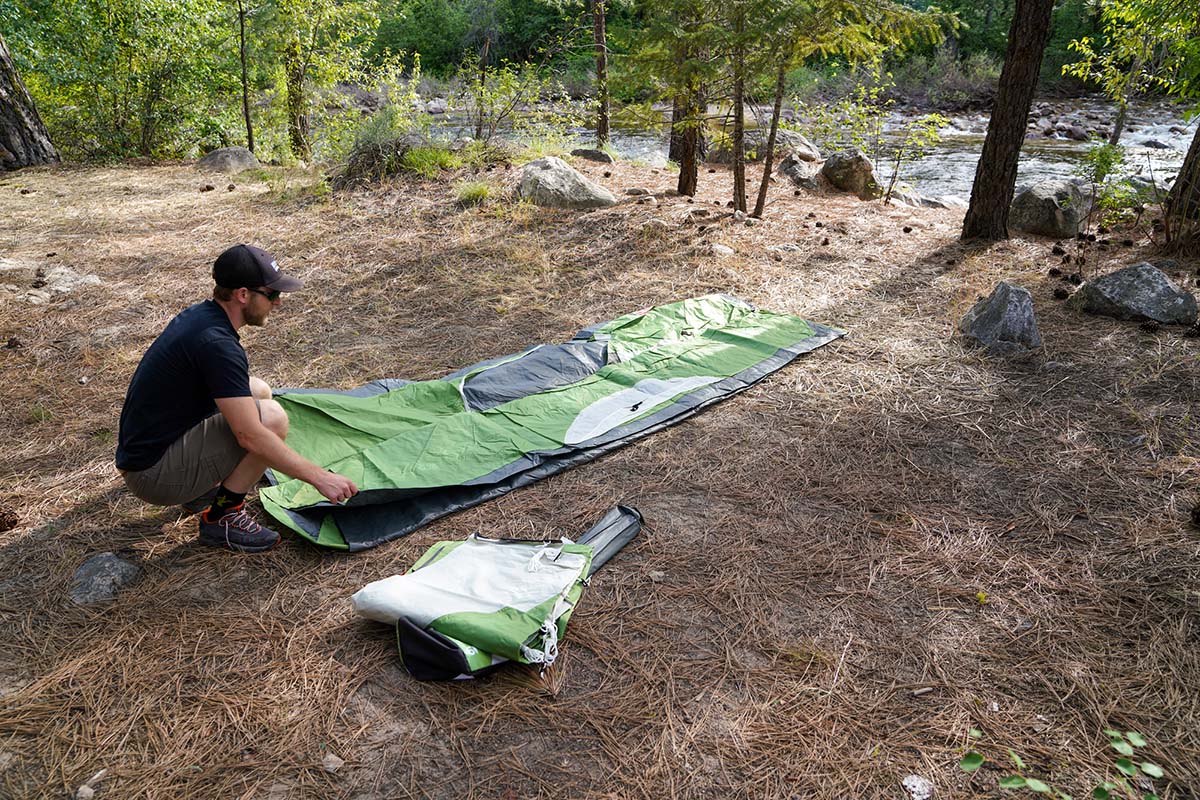 It's not uncommon for a raised camping pad to be 10 or 11 feet long, which is a tight squeeze for a tent like the REI Kingdom 6 (10 feet not including the vestibule). Typically, however, most locations have large pads available, so we wouldn't recommend downsizing your tent out of fear of not finding a suitable space. But it's not a bad idea to check out the dimensions of the campsites you plan on visiting and upgrade to a bigger space if possible. And if you have any doubts or want to use your tent in smaller spots, we recommend going with a crossover or backpacking model that has a smaller footprint.

Weight and Packed Size
A quick look at the table above shows a wide range in the total weight of our recommended camping tents. On the "lightweight" end are crossover car camping and backpacking designs, including the Marmot Tungsten 4P (8 lbs. 7 oz.) and REI Co-op Trail Hut 4 (8 lbs. 1.6 oz.), which we've found to be an acceptable amount of weight for casual weekend or overnight backpacking trips (especially when divided up between a couple people). On the other hand, many large six- or eight-person camping models easily break 20 pounds. For car camping, the extra weight doesn't mean a whole lot (exceptions include the 79-lb. Kodiak Canvas Flex-Bow), but if you're unable to drive all the way up to your campsite, it's worth considering total weight. 
The packed size of the tent typically will align with its weight. Crossover backpacking and camping tents pack down the smallest (the aforementioned Tungsten measures 9.5 x 24.5 in. when packed), while a tent like the Caddis Rapid 6P (9 x 50 in.) will fill up an extra-large duffel bag and take up a good portion of a car trunk. Again, if you have the space to store it and haul it around, this isn't a big downside. But if either are at a premium, we recommend a more compact crossover design.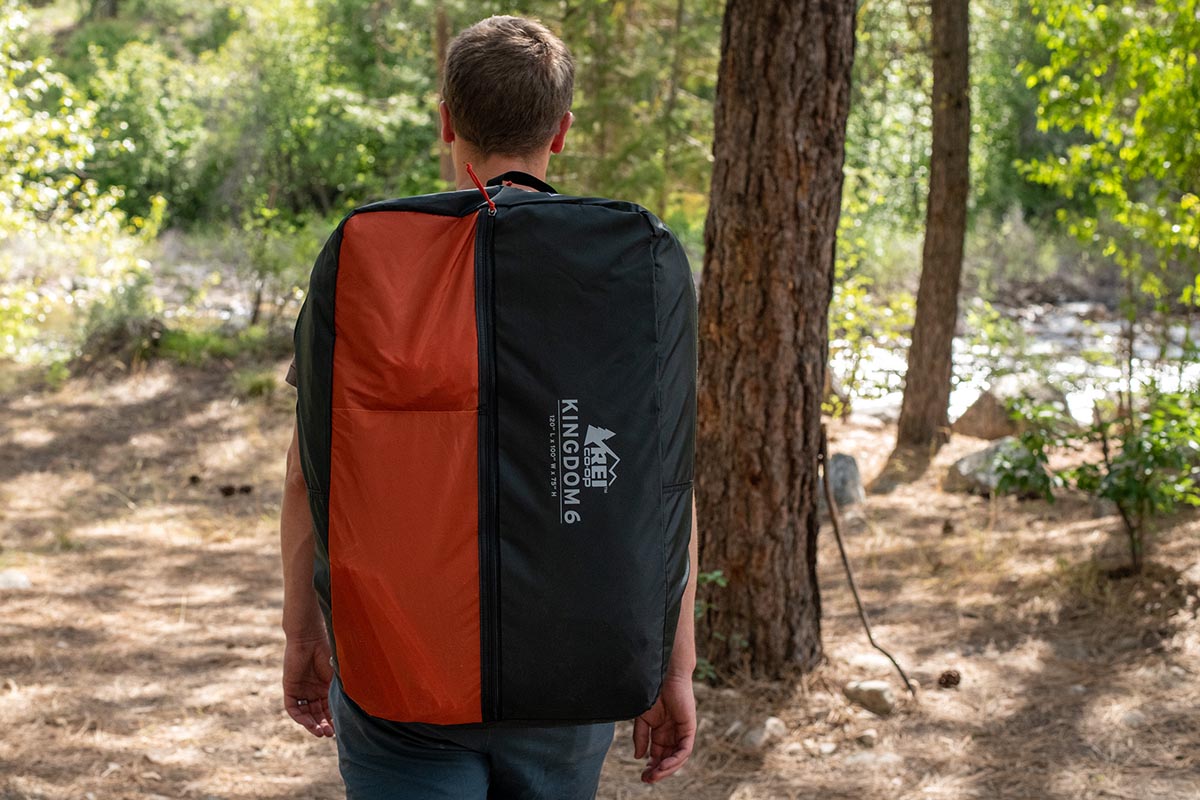 Footprints
While not a requirement, it's often a good idea to use some type of footprint or ground cloth when camping. The extra layer makes it easier to clean up if you're camping on dirt or mud and protects the tent's floor from damage (thus extending the tent's overall lifespan). But do you need to spend the big bucks and get the one specifically made for the tent? Oftentimes those are upwards of $50, which feels like a lot for a single sheet of fabric and some webbing. The advantage of using the footprint specifically designed for the tent is that it's precut to the proper dimensions and the grommets will attach to the tent poles directly. It's an integrated system that you don't need to worry about. 
Alternatively, a decent tarp can suffice for ground protection as long as there's still space to store it in your vehicle. They are typically quite large, and if you don't want to cut them up, you'll need to layer or stuff the excess material under the tent floor, creating some uncomfortable lumps. Another popular choice for making a generic ground cloth is picking up bulk Tyvek. This relatively thin and packable material is cheap and offers sufficient protection. No matter your choice, if you decide to trim the ground cloth, make sure to measure in a few inches in all dimensions to guarantee you don't have fabric hanging out the sides of the tent floor. This extra material sticking out can collect and pool rain water and compromise your waterproof shelter.

What About Rooftop Tents?
We didn't include any rooftop tents on our list above due to their notably different designs, but they're nevertheless an up-and-coming category in the car camping world and worth a mention here. The concept is fairly simple: a folded tent attaches directly to the roof rack system on top of your vehicle or pickup bed, and when you arrive at your destination, you simply unfold it, climb the ladder, and go to sleep. Compared to standard camping tents, rooftop designs get you off uneven ground, make it easier to set up camp just about anywhere, and often include a cushy built-in mattress. That said, these models are very expensive (often $1,000 or more, not including a rack system), and storage can also be an issue. The Thule Tepui Explorer Kukenam 3, for example, weighs 131 pounds and is wider than a full-size mattress. But for those who prioritize convenience and don't mind the added cost, rooftop tents have a lot of appeal. For a full list of our favorite options, see our round-up of the best rooftop tents.

The Rest of Your Camping Kit
Since you're essentially setting up a home away from home, camping can be heavy on gear. Tents are typically your biggest purchase—both in price and size—followed by items like camping pads or mattresses and sleeping bags. Depending on where you'll be camping and for how long, other essentials include a gas-burning stove, cooler, and camping chairs. The beauty in all of this is that the same principles that apply to camping tents transfer to the rest of your gear. You can go cheap and still have a great time, but you'll rarely regret spending extra for added comfort, performance, and longevity.
Back to Our Top Camping Tent Picks  Back to Our Camping Tent Comparison Table
Learn More About Outdoor Gear