No matter where your travels take you, from national parks to backwoods to back porches, a camping sleeping bag remains a trusty companion. Since space and weight are not at a premium when you can drive to your destination, the comfort dial can get turned way up. There's no need to suffer through the night in a constricting mummy bag, so options in this category tend to lean more towards a traditional rectangular shape or a roomier mummy. Below we rank our top picks for 2023, and if you need some background information, our comparison table and buying advice dive into topics like fill type and temperature rating. To complete your camping kit, we've also tested and written about camping mattresses and camping tents.
 
---
Our Team's Camping Sleeping Bag Picks
---

Best Overall Camping Sleeping Bag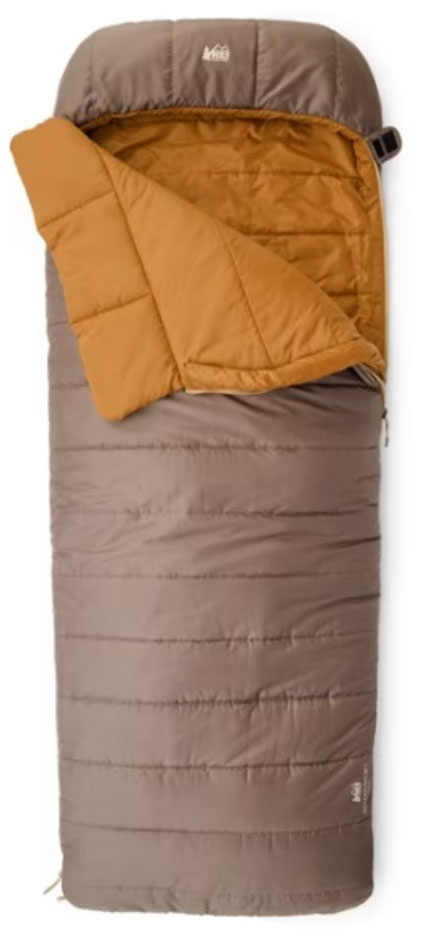 Shape: Rectangular
Temperature rating: 20°F
Fill: Synthetic
Weight: 3 lbs. 10.7 oz.
What we like: Solid comfort, warmth, features, and build quality at a good price.
What we don't: Heavier and less compressible than mummy bags (although it's a nice improvement from the past model).
Mummy bags are popular for both camping and backpacking, but rectangular bags are roomier and can offer an even better sleeping experience. Our top pick in this category is REI Co-op's Siesta Hooded 20, which replaces the Siesta 25 for 2023. For a reasonable $139, you get a high-quality bag with a useful 20-degree temperature rating, which is great for three-season car camping in a variety of conditions. Unlike many other rectangular bags, the Siesta also comes with a hood to boost warmth and secure your pillow, and the interior stash pocket is helpful for stowing items like a cell phone or headlamp that you might want to keep close at night. Finally, we love the handy zipper system that includes a full zip on one side and partial zipper on the other for airing things or transforming the bag into a quilt in warm weather (you can also now connect two single bags to form a double, which you couldn't do with the prior version). Added up, the Siesta is comfy, well appointed, and a fantastic value.
Keep in mind that a rectangular bag is heavier than a mummy for the warmth and doesn't pack away nearly as small, so the Siesta isn't intended for traveling far from your car or stuffing down into a pack. To be fair, the 3-pound-10.7-ounce build—a significant 11.3 ounces lighter than its predecessor—stacks up well to the competition and undercuts alternatives like the Teton Sports Celsius (5 lbs.) and The North Face Wawona Bed 20 (4 lbs. 8 oz.) below, the latter of which omits a hood. Many will also appreciate the thoughtful warmth-trapping extras, including a draft collar and tube to seal out cold around the neck and drawstring cinches to snug things down. Again, it's not the lightest or most compressible, but the Siesta checks all the boxes we look for in a quality camping sleeping bag at an affordable price point. For an even cheaper option from REI, their new Trailmade 20 costs just $100 but has a narrower mummy shape and is a sizable step down in overall quality and comfort.
See the REI Co-op Siesta 20
Best Double Sleeping Bag for Camping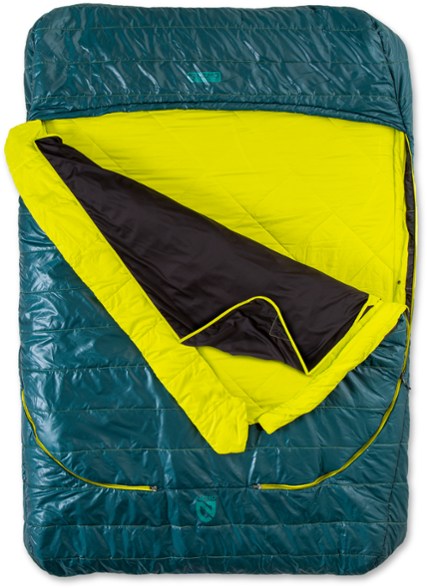 Shape: Rectangular (double)
Temperature rating: 30°F
Fill: Synthetic
Weight: 8 lbs. 15 oz.
What we like: A super comfortable and fully featured option for two campers; temperature rating feels generous.
What we don't: Heavy and bulky to stuff down; can't be separated into two single bags.
Car camping can be all about luxury, and for two people who don't mind getting cozy, a double sleeping bag makes a whole lot of sense. Our favorite here is NEMO's Jazz 30 Double, which combines premium fabrics with generous dimensions and a functional feature set for two. The built-in bedsheet is one highlight: It's exceptionally soft and comfortable, easy to remove with snaps at the sides, and machine-washable. In addition, the massive pillow pocket can fit two standard-sized pillows, the opening is wide with smooth-operating zippers, the integrated pad sleeve keeps things in place during the night, and the Blanket Fold draft collar effectively traps warmth. Finally, unlike many sleeping bags we've tested, the Jazz's 30-degree rating actually feels pretty conservative–most couples should find it comfortable down to freezing or a little below (the large hood helps).
What are the shortcomings of the NEMO Jazz 30 Double? The most glaring is the steep $350 price tag, although the luxurious build does come with a lot of tangible benefits (especially when paired with a high-end camping mat like NEMO's Roamer Double). Like most two-person bags, the Jazz is also bulky and heavy at nearly 9 pounds, which is more than double many single rectangular bags. And unfortunately, you can't separate the Jazz into two single bags like you can with Exped's MegaSleep Duo below, although the top can be zipped fully down for airing things out quickly on balmy nights. Alternatives to consider in this category include the Kelty Tru.Comfort, Alps Mountaineering Spectrum 20, aforementioned MegaSleep Duo, and The North Face's Dolomite One Duo (we describe the single-person, down-filled version below), but the NEMO is our top pick for its hard-to-beat combination of comfort, build quality, and overall performance.
See the NEMO Jazz 30 Double
Best Budget Camping Sleeping Bag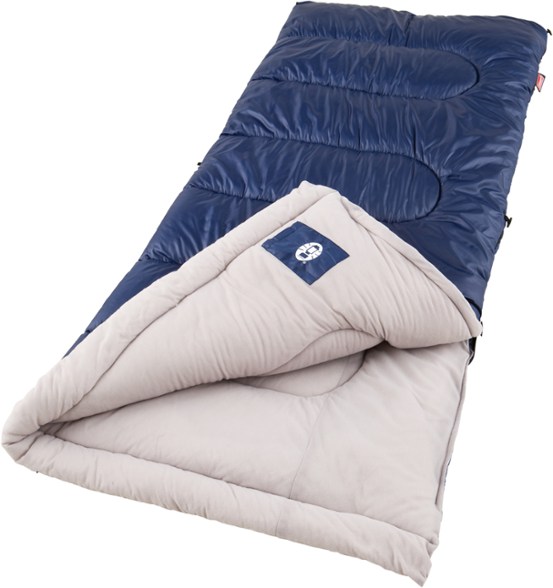 Shape: Rectangular
Temperature rating: 20°F
Fill: Synthetic
Weight: 6 lbs. 15.2 oz.
What we like: A great price for a relatively warm and comfortable bag.
What we don't: Hefty, bulky, and materials are on the cheaper end.
At the budget end of the spectrum, Coleman makes a nice lineup of basic three-season sleeping bags for camping. We previously had their longstanding Green Valley ranked here, which is rated to 30 degrees and decently comfortable in warm weather. However, their Brazos 20 offers a modest bump in warmth for about $20 less (on Amazon at the time of publishing), earning it our endorsement as the top budget pick this year. For around $50, the Brazos checks most of the boxes for casual campers: It's relatively cozy with a soft, flannel-like tricot lining and draft tube along the zipper to seal in warmth, and the thick outer shell should stand up well to long-term use. As long as you set reasonable expectations, the Brazos should get the job done on cool to moderate summer and shoulder-season nights.
Cost and quality usually go hand in hand, and the Coleman Brazos' build quality and materials are a step down from many of the other picks on our list. In terms of insulation, the bag is rated to keep you warm in 20- to 40-degree temperatures, but you'll probably need some long underwear (and maybe an extra liner) at the lower end of that range. The Brazos is also noticeably hefty and bulky at just under 7 pounds and takes a good deal of effort to compress back into its stuff sack, and the zipper has been plagued by reports of stickiness and catching on the fabric. But we keep coming back to value: The Brazos outperforms its price tag and is all most recreational campers need (and nothing they don't). 
See the Coleman Brazos 20
Best Crossover Camping and Backpacking Bag

Shape: Semi-rectangular
Temperature rating: 22°F
Fill: Synthetic
Weight: 2 lbs. 14 oz.
What we like: A nice mix of comfort, weight, and packability.
What we don't: Pricey for a synthetic-insulated bag.
For campers looking for a sleeping bag that can pull double duty on the occasional backpacking trip, we like NEMO's Forte. With a 22-degree temperature rating, sub-3-pound weight, and decently packable build (it even includes a compression stuck sack), the Forte is fully serviceable for short forays into the backcountry. Just as importantly, it's supremely comfortable for camping thanks to its unique "spoon" shape, which resembles a mummy bag but with a noticeable boost in space around the knees and elbows. This makes it less restrictive inside, particularly for side sleepers and those prone to tossing and turning. You do pay a premium compared with our top picks at $200, but we think the Forte hits a great middle ground for mixed car camping and backpacking use.
In addition to its spoon shape, NEMO included a number of creative features on the Forte. One of our favorites is the two zippered "gills" along the top of the bag that can be opened on warm nights to keep you from overheating. Further, there's a small blanket built into the collar that can be folded out or tucked in and around your neck depending on nighttime temperatures. It's true that the Forte isn't a perfect all-in-one answer—it's overkill for car camping in hot weather, and dedicated backpackers may want something even lighter and more compressible—but we love the balanced and adaptable design. For a slightly more premium option from NEMO, check out their Tempo 20 ($160), which is 12 ounces heavier but more durable and roomier with a "relaxed" spoon shape that's wider at the hips and knees.
See the NEMO Forte 20  See the Women's NEMO Forte 20
Best Camping Sleeping Bag for Cold Weather

Shape: Mummy
Temperature rating: 5°F
Fill: Synthetic
Weight: 5 lbs. 1 oz.
What we like: Excellent price for the level of warmth.
What we don't: We don't advise pushing the temperature limit; heavy and bulky.
Most of the picks on our list are geared toward three-season use, but for campers who like to get out year-round, a cold-weather bag is essential. In this category, REI Co-op's Frostbreak 5 stands out for its excellent warmth at a very reasonable price. In contrast to the rectangular Siesta above, the Frostbreak has a narrower "relaxed mummy" shape that trims away material at the shoulders, hips, and feet to minimize cold spots while still providing enough room to comfortably roll around during the night. Other functional additions include a well-insulated hood, draft tube, and differentiated drawcords (one round and one flat) that make it easy to adjust the aperture in the dark. Added up, the Frostbreak is an excellent value for casual winter adventurers.
That said, the REI does have some notable limitations for heart-of-weather use. As with most bags on the market, we wouldn't recommend taking the Frostbreak all the way down to its minimum temperature rating (it's best to add a 10-degree buffer). Given the synthetic build, it's also noticeably heavy and bulky at just over 5 pounds for the "regular" size. If you're a backpacker headed deep into the wilderness, you'll likely want to spend up for a down-insulated bag that's lighter and more compressible. But for car camping in subfreezing conditions, the Frostbreak is perfectly viable and won't break the bank, which is a winning combination for many.
See the REI Co-op Frostbreak 5
Best of the Rest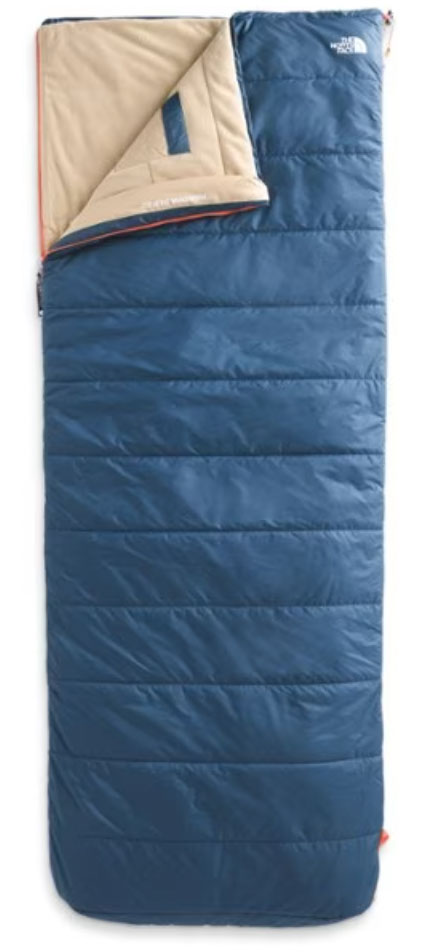 Shape: Rectangular
Temperature rating: 20°F
Fill: Synthetic
Weight: 4 lbs. 8 oz.
What we like: A viable competitor to the Siesta above in comfort and warmth.
What we don't: Heavier, less packable, and doesn't include a hood.
Like REI's Siesta 20 above, The North Face's Wawona Bed 20—which replaces their popular Eco Trail Bed 20 for 2023—is a well-rounded rectangular bag that nicely balances warmth, comfort, and cost. For $9 less than the Siesta, the Wawona Bed boasts a three-season-friendly temperature rating of 20 degrees, which will keep you comfortable down to around freezing if you factor in our recommended 10-degree buffer (just make sure to wear a beanie). The bag also has an impressively soft interior with a fleece-like lining towards the top and includes nifty details like a full-length zipper that opens it up for use as a blanket (bonus: You can zip two Wawona Beds together to form a double bag). Taken together, it's an affordable but well-built design that will keep you cozy on most shoulder-season and summertime trips.
Despite costing a little less than the REI Siesta 20, The North Face Wawona Bed 20 falls slightly short in most other areas. Specifically, the REI includes a hood, weighs nearly a pound less, and packs down smaller. Further, while the past-generation Eco Trail Bed was a little longer than the REI bag at 78 inches for the "regular" size, the latest Wawona Bed now has identical dimensions to the Siesta. In the end, the REI's advantages in features and weight make the Wawona Bed seem a little less competitive in today's market, but both are quality designs from leading manufacturers. For mid-summer trips, The North Face also offers the bag in a 35-degree version that costs $10 less (we think the 20-degree model here is the better all-rounder for most).
See The North Face Wawona Bed 20

Shape: Mummy
Temperature rating: 21°F
Fill: 550-fill down
Weight: 2 lbs. 10 oz.
What we like: Great crossover bag; down insulation at a value price.
What we don't: Too snug for comfort seekers; no longer uses hydrophobic down.
Kelty's popular Cosmic Down 20 has been a mainstay in their lineup for years and remains a popular choice among campers and backpackers alike. For starters, you get a respectable weight of 2 pounds 10 ounces, which is the lightest three-season option on our list (Kelty's own Galactic 30 below weighs around the same but is far less versatile). Along with a healthy dose of 550-fill down, the bag offers cozy warmth and good compressibility. And considering the typical price of a down bag, the Cosmic Down's $165 MSRP really stands out.
It's worth noting that Kelty's previous version of the Cosmic Down 20 was a little more competitive overall. With the latest version, down quality dropped from 600-fill-power to lower-quality 550-fill, and it no longer boasts Kelty's hydrophobic treatment for added assurance against moisture. Weight also jumped a few ounces, although the current bag still packs down reasonably small, features a PFC-free DWR coating on the shell, and is cheaper by $15. The Cosmic collection also includes a synthetic version of the bag, which costs less at $105 but is heavier and less compressible. All in all, the Cosmic Down is a great choice for almost any three-season trip, and we consider it a better option than the Forte above if you'll be backpacking more than 1-2 times a year or want to travel light.
See the Kelty Cosmic Down 20  See the Women's Kelty Cosmic Down 20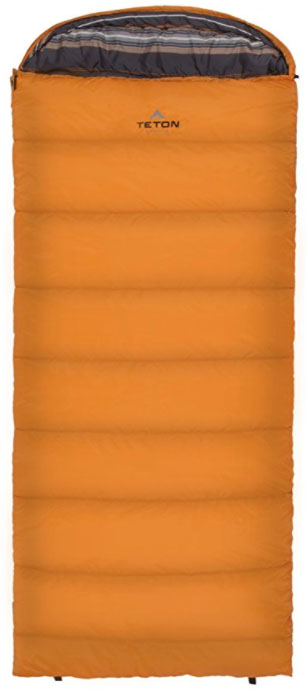 Shape: Rectangular
Temperature rating: 0°F
Fill: Synthetic
Weight: 5 lbs.
What we like: Mummy hood increases warmth in cold temperatures.
What we don't: Cheap build quality.
Teton Sports is a value-oriented brand, and their camping-ready Celsius offers a lot of bang for your buck. For around $80 on Amazon at the time of publishing, you get a 0-degree temperature rating and a unique construction that attaches a mummy bag's hood to a rectangular bag. And while the temperature rating is very generous—depending on how warm or cold you run, it may not even be comfortable around freezing—the Celsius does an admirable job sealing out the cold with insulation around your head and a drawcord at the top.
As expected at this price point, the Teton Sports Celsius falls short of more expensive bags in build quality and overall comfort. To start, the shell fabric feels cheap and the zipper can be finicky to use. Further, the polyester fill does not compress well, and it can be a real pain trying to stuff it back into the included storage bag. But it delivers on warmth, which is why it's a top seller year after year. Just be aware that the Celsius runs consistently short, and we needed to go up a length to get a proper fit. For another cold-weather option from Teton, check out their Deer Hunter collection, which includes bags rated all the way down to -35 degrees (although again, temperature ratings can be subjective, and it's important to add in a sizable buffer).
See the Teton Sports Celsius

Shape: Rectangular
Temperature rating: 20°F
Fill: 600-fill down
Weight: 3 lbs. 12 oz.
What we like: Great comfort and full feature set with higher-quality down than the Cosmic above.
What we don't: Heavier and pricier than the Kelty.
REI Co-op consistently does a great job at providing a lot of bang for your buck (as evidenced by their Siesta and Frostbreak above), and their HunkerDown 20 is another shining example. For a reasonable $199, you get a quality bag with 600-fill-power down insulation, excellent comfort and roominess thanks to the soft fabrics and rectangular shape, and a full suite of functional features. We especially like the oversized hood that can accommodate a standard pillow (bonus: It folds down when not in use) and wraparound zipper that allows you to open the bag up for use as a quilt in warm weather. Finally, we appreciate the brand's ongoing commitment to sustainability, including the use of RDS-certified insulation and bluesign-approved materials.
How does the REI HunkerDown stack up to Kelty's Cosmic Down above? Both bags provide good three-season warmth with 20-degree temperature ratings, but the REI uses slightly higher-quality 600-fill-power down compared to the Kelty's 550-fill insulation. The Kelty is the better crossover option for those who like to throw backpacking into the mix with a lighter weight (by a considerable 1 lb. 2 oz.), but the mummy shape is much narrower and more restrictive than the generously sized REI (the shoulders and hips are wider by 3.8 in. and 8.1 in. respectively). Finally, the Cosmic Down strikes us as the better value at $34 cheaper than the REI, but a final decision will come down to how you prioritize weight, packability, and comfort. For those who regularly camp with a significant other, REI also makes a double version for $329.
See the REI Co-op HunkerDown 20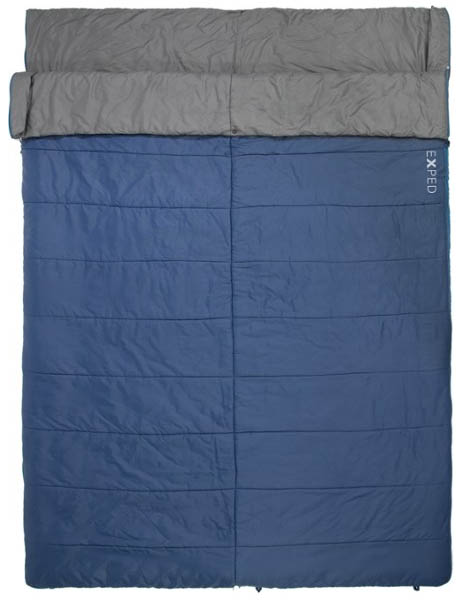 Shape: Rectangular (double)
Temperature rating: 25° and 40°F
Fill: Synthetic
Weight: 4 lbs. 6.2 oz.
What we like: A reasonably light and compact double bag that can transform into two singles.
What we don't: Not that warm.
There aren't a ton of innovative ideas cropping up in the camping sleeping bag market, but we like Exped's creative MegaSleep Duo 25. In short, this design addresses our main complaint about double bags: versatility when you need to sleep solo. Exped accomplishes this by including what amounts to two separate sleeping bags (one with a 40°F rating and the other with a 25°F rating). And for trips when you want the double bag functionality, it's easy to connect the Duo's two pieces for a cozy and comfortable setup.
However, as with most rectangular models, the MegaSleep Duo lacks warmth-trapping features like a tapered cut and cinchable hood for sealing out the cold. In other words, the 25-degree rating should suffice for most summer camping trips, but not much beyond that. On the bright side, it's reasonably light (4 lbs. 6.2 oz. for the "Medium Double") and packable for the size, measuring a relatively compact 27.6 x 22.8 x 11.8 inches when compressed. If you're looking for a dual camping and backpacking option, a bag like the Kelty Cosmic 20 above wins out with better warmth for the weight. But with the ability to sleep with a partner or on your own, the MegaSleep Duo gets a spot on our list for 2023.
See the Exped MegaSleep Duo 25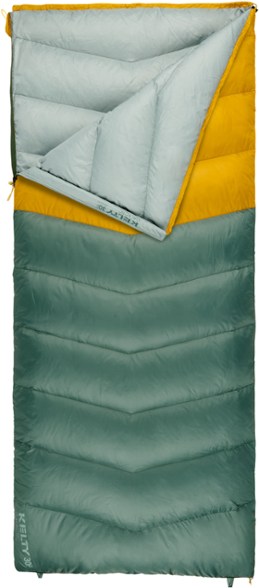 Shape: Rectangular
Temperature rating: 30°F
Fill: 550-fill down
Weight: 2 lbs. 11 oz.
What we like: Cozy down insulation and a roomy rectangular shape.
What we don't: Less versatile than the Cosmic Down above.
Colorado-based Kelty has been in the camping business for a long time, and we like what they've come up with in the Galactic 30. What makes this bag unique is its combination of quality 550-fill-power down with a rectangular shape. Most traditional camping bags stick to synthetic fill for cost savings, but lofty down clusters offer a premium feel and warmth that polyester just can't match. And as we've come to expect from Kelty, the Galactic is solidly built and priced pretty affordably at $170, which is around $30 less than REI's similarly intentioned Hunkerdown above.
What are the downsides in choosing the Galactic 30? First off, the latest Galactic no longer has a hydrophobic treatment on the down, which we appreciated on the past model for added wet-weather protection. Further, unlike REI's Hunkerdown above, the Galactic omits a hood, which is extremely useful for maximizing warmth. Finally, the rectangular shape and 30-degree temperature rating mean that it isn't viable for most backpacking trips, which is one of the main reasons to go with a packable and lightweight down bag. As a result, the mummy-shaped Kelty Cosmic Down above is a more versatile crossover camping/backpacking option (for $5 less to boot), but we still love the recipe of cozy down warmth in a roomy and affordable package.
See the Kelty Galactic 30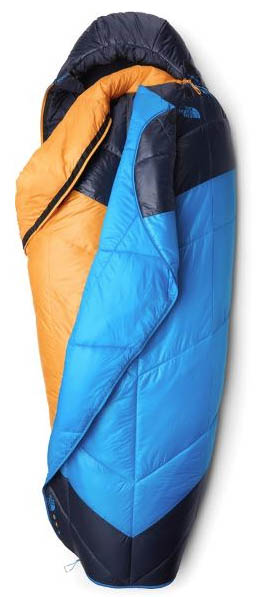 Shape: Mummy
Temperature rating: 5°, 20°, and 40°F
Fill: Synthetic; 800-fill down
Weight: 3 lbs. 13 oz.
What we like: Three sleeping bags in one.
What we don't: Expensive.
For a fun take on warmth regulation and year-round comfort, The North Face's One Bag features a unique layering system that allows you to swap between three different temperature ratings. During summer months or warm nights, you can use the basic synthetic-insulated bag with its 40-degree limit. Then, as the temperature drops, zip on the 800-fill goose down midlayer (to 20°F) or add the third section on top for winter camping (5°F rating). At less than 4 pounds with all layers connected, the One Bag is streamlined, lightweight, and reasonably packable. The rest of the design is equally premium, including a water-resistant YKK main zipper, roomier-than-average hood, and fleece-lined compression sack that can pull double duty as a pillow.
What are the drawbacks of this all-in-one system? For starters, at $350 (a notable $50 price increase for this spring), The North Face One Bag is very expensive for camping use. Further, the zippers can be finicky and difficult to use—in other words, switching between layers isn't an entirely seamless process. And although relatively lightweight, the One Bag is on the heavy end for backpacking (it will do the trick for short trips, however). All things considered, The North Face One Bag is a well-executed and highly versatile option for year-round adventuring. For similar adaptability without breaking the bank, check out Coleman's All-Weather Multi-Layer bag and Teton Sports' Polara 3-in-1, both of which are considerably cheaper but less premium. A final option to consider is The North Face's own Dolomite One, which is a synthetic take on the One Bag that's heavier and less warm but half the price.
See the The North Face One Bag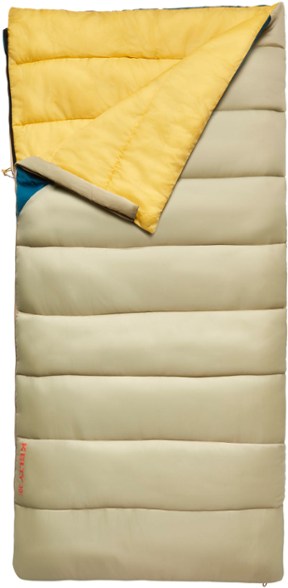 Shape: Rectangular
Temperature rating: 30°F
Fill: Synthetic
Weight: 3 lbs. 15.6 oz.
What we like: A budget design that's a step up in build quality from the Coleman and Teton Sports bags above.
What we don't: Barebones feature set.
Kelty's Galactic 30 above is a nice value for those who prefer the cozy warmth and compressibility of down, but you can go much cheaper with their Catena 30. Rather than down, the Catena utilizes synthetic fill that adds weight and bulk but won't clump up and lose its insulating abilities if it gets wet. Another big benefit is cost: At just $60, the Catena is around 1/3 the price of the Galactic while providing comparable warmth. And stacked up against similarly priced options like the Coleman Brazos and Teton Sports Celsius above, the Catena has a noticeably more premium feel with a durable but soft taffeta shell and smooth polyester liner that's both quiet and comfortable against the skin.
Why do we have the Kelty Catena 30 ranked here? Despite the clear advantage in overall quality, the Kelty is still on the heavier and bulkier end at nearly 4 pounds and lacks creature comforts like a hood, draft tube, and drawcords for trapping warmth and sealing out cold. For around $10 more, the aforementioned Teton Sports Celsius offers a sizable boost in warmth with a 0-degree rating, mummy hood, and cinchable collar. On the flip side, the Kelty wins out in all-around comfort and is all most summer-time recreational campers need. At the same price point, Kelty offers another good value in their Mistral 40, which is lighter and more packable thanks to its narrower mummy shape.
See the Kelty Catena 30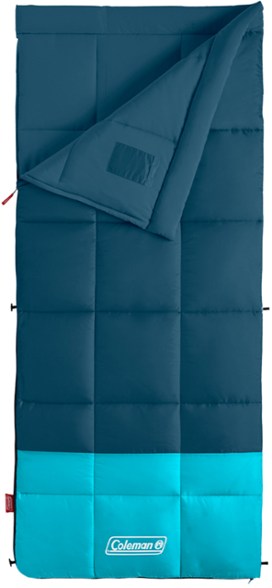 Shape: Rectangular
Temperature rating: 20°F
Fill: Synthetic
Weight: 5 lbs. 12.8 oz.
What we like: Another good value from Coleman with a focus on compressibility.
What we don't: Surprisingly hefty given its packability and lacking in attention to detail.
Synthetic sleeping bags are a dime a dozen in 2023, but Coleman continues to stand out for their strong focus on value. The Kompact 20 here is no exception, combining the affordability that Coleman is known for with many of the features we look for in a quality three-season bag. These include soft yet durable fabrics, an insulated draft tube to seal in warmth, and a roomy rectangular shape that's comfortable and not restrictive. And as its name suggests, the Kompact packs down pretty well for a 20-degree synthetic bag, measuring 9.8 x 15.7 inches when compressed into its stuff sack (for comparison, The North Wawona Bed 20 above is larger at 11 x 20 in.).
That said, you do make some concessions by saving with the Coleman Kompact 20. Attention to detail is one area of weakness, including numerous reports of snagging zippers, an interior pocket that's prohibitively small, and less warmth than the 20-degree temperature rating would suggest (it's best to add in a sizable buffer). Additionally, despite the decent packability, the Kompact is one of the heaviest single-person bags on our list at nearly 6 pounds (even REI's four-season-ready Frostbreak 5 above is lighter at 5 lbs. 1 oz.). But these downsides do little to detract from the Coleman's value, and it's a considerable step up in build quality compared to their 20-degree Brazos above (which is also heavier at 6 lbs. 15.2 oz.).
See the Coleman Kompact 20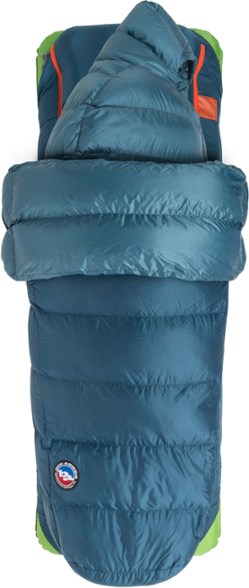 Shape: Semi-rectangular
Temperature rating: 15°, 35°, and 50°F
Fill: 650-fill down
Weight: 2 lbs. 13 oz.
What we like: A highly adaptable and fully featured system that crosses over well for backpacking.
What we don't: The priciest bag on our list without enough to show for it.
Similar to The North Face's One Bag above, Big Agnes' Lost Ranger 3N1 uses an innovative layering system for adapting to shifting conditions. In this case, you get two down-filled bags (the One Bag has a synthetic outer bag and down midlayer) that can be paired together on cold nights or separated in warmer temps. The outer bag has a roomy semi-rectangular shape (similar to NEMO's Forte above) that's wider at the shoulders than The North Face, while the inner bag mimics the brand's Sidewinder, which targets side sleepers with a cocoon-style shape that's relaxed enough for moving around. With both bags combined, the Lost Ranger is four-season-ready with a 15-degree temperature rating (there's a warmer 0-degree variation available), while the inner and outer bags on their own provide warmth down to 35 and 50 degrees respectively. At 2 pounds 13 ounces all in, it adds up to a highly versatile system that crosses over nicely for backpacking, too.
Big Agnes didn't skimp on the details with the Lost Ranger 3N1: Both bags have two-way zippers for airing things out in balmy weather, and the Pad Cinch System makes it easy to secure a sleeping pad underneath with a self-equalizing drawcord to prevent sliding around throughout the night. You also get a scuba-style hood on the inner bag for sealing in heat, while the outer bag features a thick draft collar and pockets near the top for warming your hands or stashing small valuables. These additions do come at a cost, however, and in this case, it's a steep $400, making the Lost Ranger the most expensive option here. For $50 less, the aforementioned One Bag is slightly warmer with 5-, 20-, or 40-degree temperature ratings depending on the configuration. The Big Agnes is lighter by a pound and packs down smaller, making it the better match for those who plan to add backpacking to the mix. But for strictly car camping, we struggle to justify the added expense.
See the Big Agnes Lost Ranger 3N1 15°

Shape: Mummy
Temperature rating: 15°F
Fill: Synthetic
Weight: 3 lbs. 6 oz.
What we like: Everything you need in an affordable mummy bag from a respected brand.
What we don't: Not as versatile as the Kelty Cosmic Down or NEMO Forte above.
The camping sleeping bag market certainly is packed in 2023, but Marmot's Trestles is another proven option at a good price. This synthetic sleeping bag pretty much has it all: a 15-degree temperature rating for true three-season warmth, a DWR finish to help keep you dry, and a quality feel and build that Marmot is known for. The mummy shape is narrower and more restrictive than many of the rectangular and semi-rectangular bags on our list, but the tradeoff is far less weight and bulk. At just over $100, that's a whole lot of sleeping bag for your car camping adventures.
All that said, the Trestles simply doesn't stand out enough in today's competitive market. For crossover camping and backpacking use, we'd stick with the Kelty Cosmic Down or NEMO Forte above, the latter of which boasts a spoon-like cut that's far less restrictive and more comfortable in general than the Marmot's standard mummy fit. In addition, both the Kelty and NEMO are lighter and more compressible, which will likely be the deciding factor for adventurers that spend considerable time in the backcountry. It's true the Trestles is the cheapest of the bunch and a fine choice for campers who prefer a true mummy design, but it falls short for those wanting to dip into backpacking.
See the Marmot Trestles 15
Camping Sleeping Bag Comparison Table
Camping Sleeping Bag Buying Advice
Sleeping Bag Shapes: Rectangular vs. Mummy
Camping sleeping bags fall into two general categories: rectangular bags that offer plenty of room to roll around and pared-down mummy designs. Most campers stick to the more spacious rectangular shape: These versatile bags can often be completely unzipped down one side and the bottom to be used as a large blanket for two. There isn't any insulation covering your head, so plan your sleepwear accordingly when taking them outside their summer comfort zone. Also, most rectangular bags are heavy and don't pack down small, so if you are looking for an all-in-one option for camping and backpacking, we recommend choosing a mummy-style bag instead.
Mummy sleeping bags trim away material in the shoulders, hips, and feet for a shape that mimics your body. The advantage of having a tapered cut is there is little extra space for cold spots to creep in. And with a quality hood cinched around the top of your head, you can really maximize the temperature rating potential. If you find yourself at higher elevations or in colder temperatures, a mummy bag is a great option.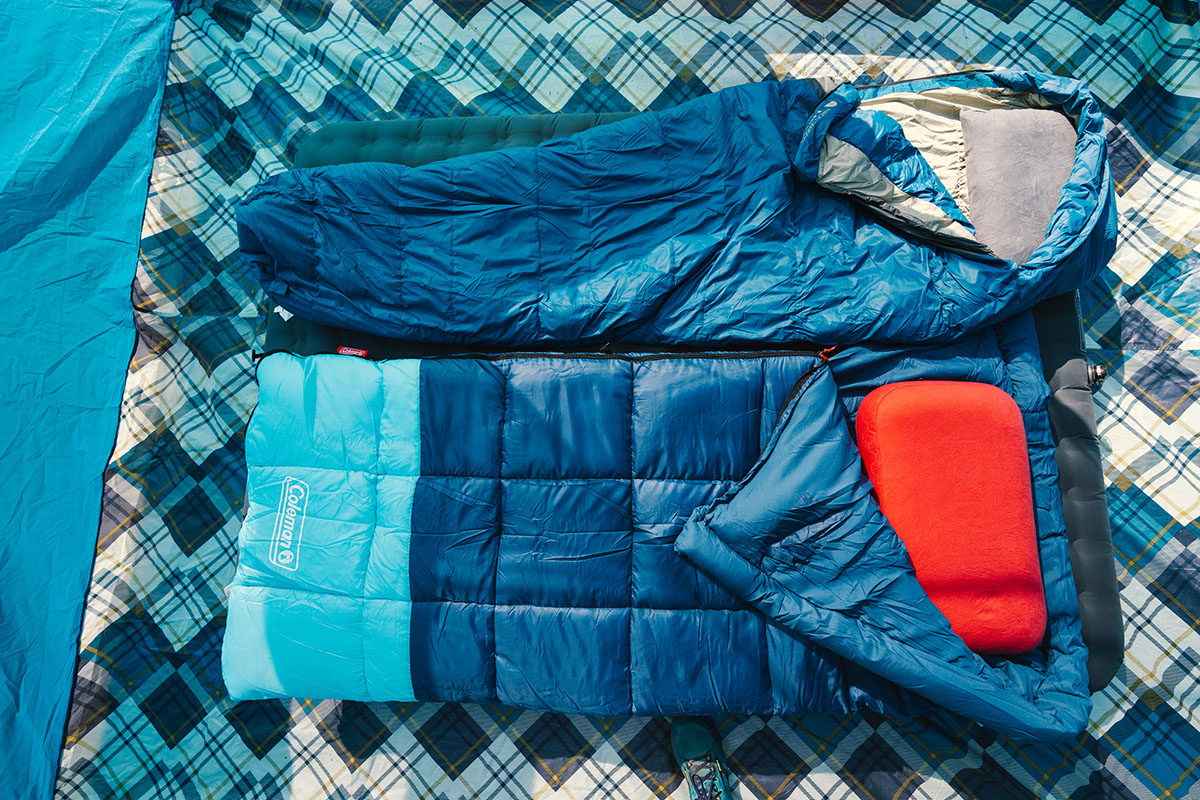 A final shape worth mentioning is the semi-rectangular bag, which—as the name implies—shares commonalities with both rectangular and mummy designs. In terms of dimensions, they're typically roomier than standard mummy bags (particularly at the shoulders and hips) but not overly generous like some rectangular models. All in all, semi-rectangular bags typically offer a good mix of comfort and weight, shaving away excess material while still providing enough space to roll around during the night. For instance, NEMO's Forte 20 has a roomier fit than most traditional mummy bags, with a noticeable boost in space around the knees and elbows.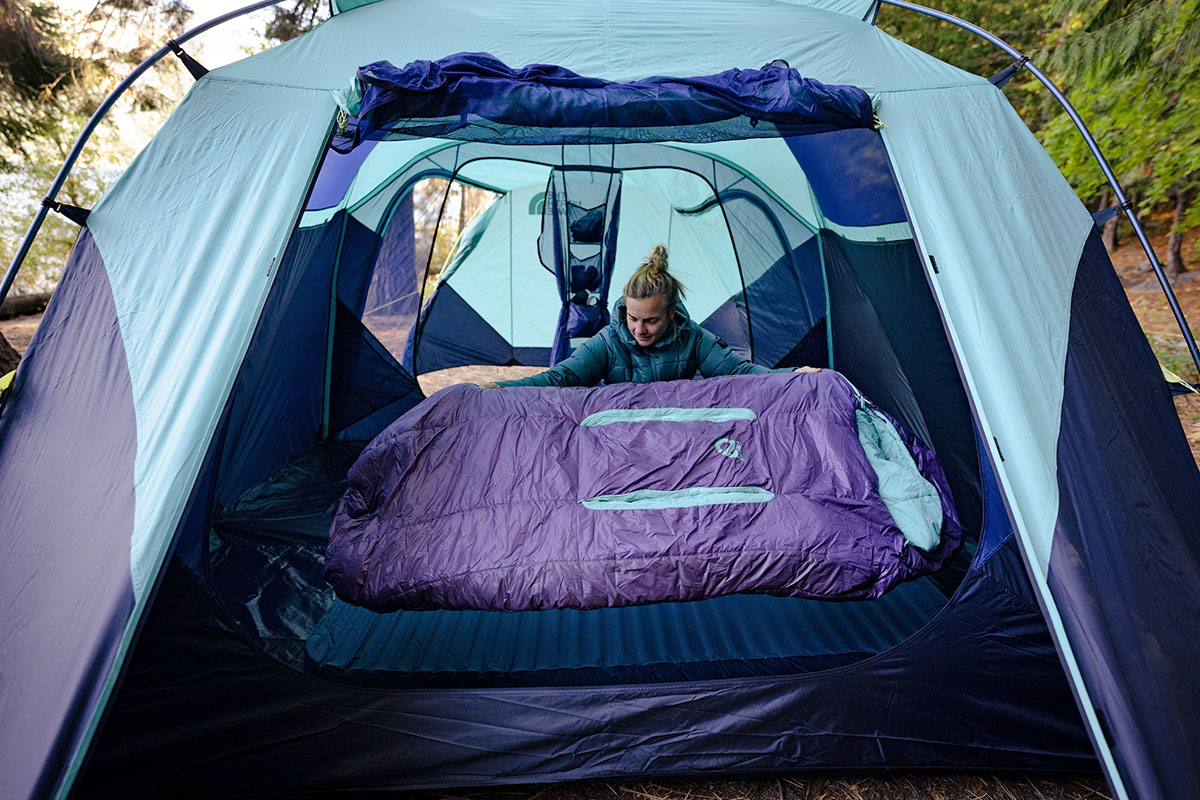 Temperature Rating
Let's make this clear right off the bat: It's important not to treat sleeping bag temperature ratings as hard truth. Unlike backpacking bags, which are mostly assigned a rating through a standardized process (EN rating system), individual manufacturers assign the ratings for the majority of camping bags. As such, there are some major discrepancies once you have them out in the real world. One reason for this is due to the shape of many camping bags. A rectangular bag that has a wide opening on one end will not retain heat in the same way a sealed off mummy bag can.
In the end, the temperature rating does have value and you should use it as a basic guideline. In choosing the proper approximate rating, try to get an idea of the very coldest temperature you'll be experiencing overnight. Once you have that number, it's a good idea to build in a little buffer (we like an extra 10-15 degrees) to avoid getting cold. And keep in mind the temperature rating is closer to a survivability rating rather than being comfortable and warm. Other factors to consider are your age—people typically don't sleep as warm the older they get—and whether you are a cold or warm sleeper. Most campers stick to the warmer months for their outdoor adventuring, and as a result, most of the sleeping bags on this list are rated in the 25-40 degree range.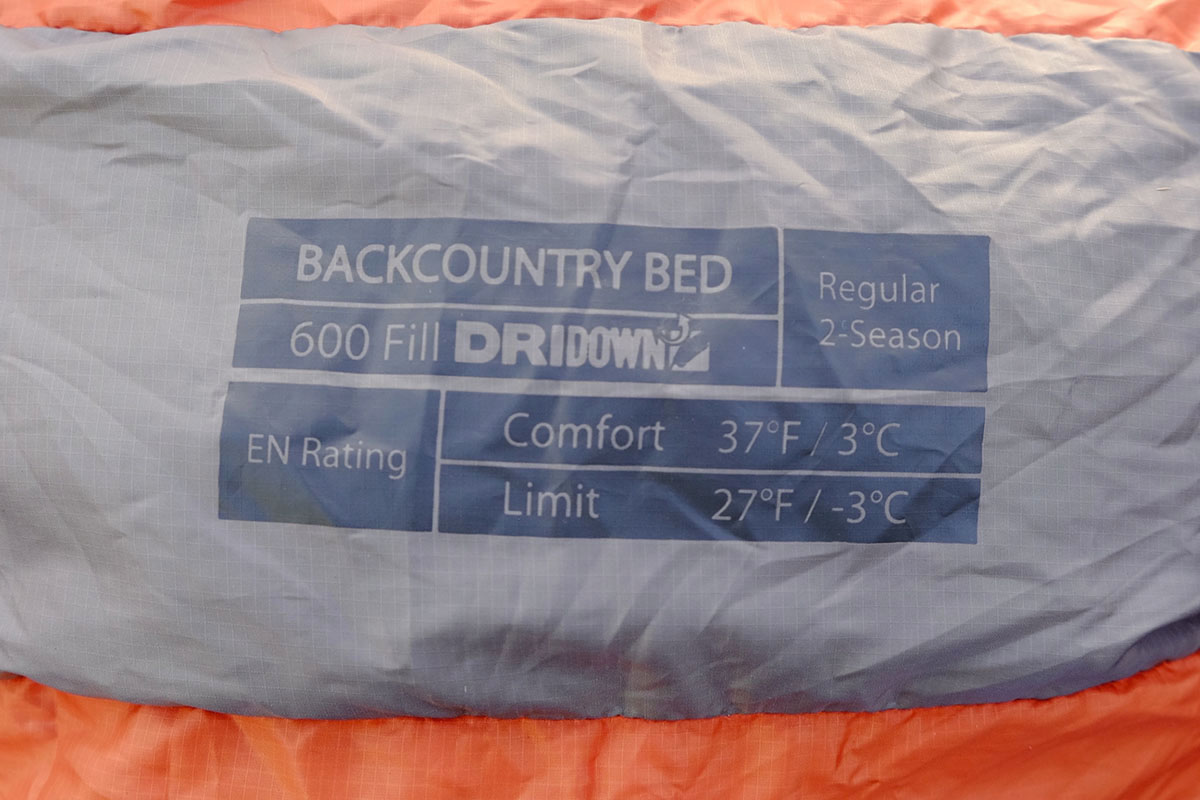 Down vs. Synthetic Insulation
There are two types of insulation used for camping sleeping bags: manmade synthetic fibers and down insulation made up of clusters of duck or goose feathers. Down offers the ultimate warmth-to-weight ratio along with excellent packability, which is why it's highly valued for backpacking sleeping bags. For camping bags, however, weight and a compact stuffed size usually aren't major considerations. In addition, down is much more expensive that synthetic insulation. For instance, even a "budget" down sleeping bag like the Kelty Cosmic Down 20, which uses lower-quality down (550-fill), costs around $30-$50 more than an equivalent synthetic option like the Marmot Trestles. And the gap is much larger for premium down bags, which can cost $400 or more.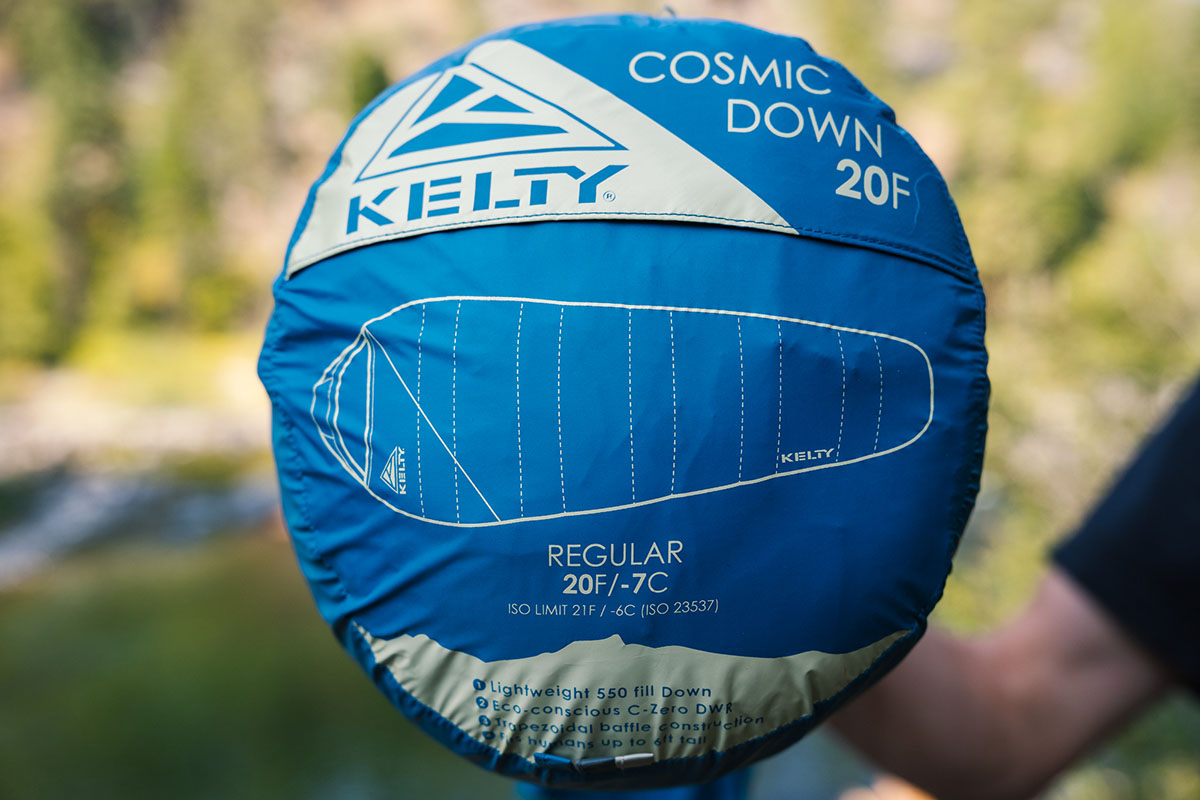 Synthetic insulation dominates the camping sleeping bag category because of its affordability and practicality—12 of the 16 bags on this list have synthetic insulation (including The North Face's One Bag, which uses both synthetic and down fill). The compromises in choosing the cheaper fill type are relatively minimal for camping. With a car or camper to transport all of your gear, the larger stuffed size and extra weight are much less of a concern than when your sleeping bag has to be crammed into a pack and carried on your back. And should the insulation get wet, synthetics continue to keep you warm, unlike down feathers. For a full explanation of the two insulation types, see our article on down vs. synthetics.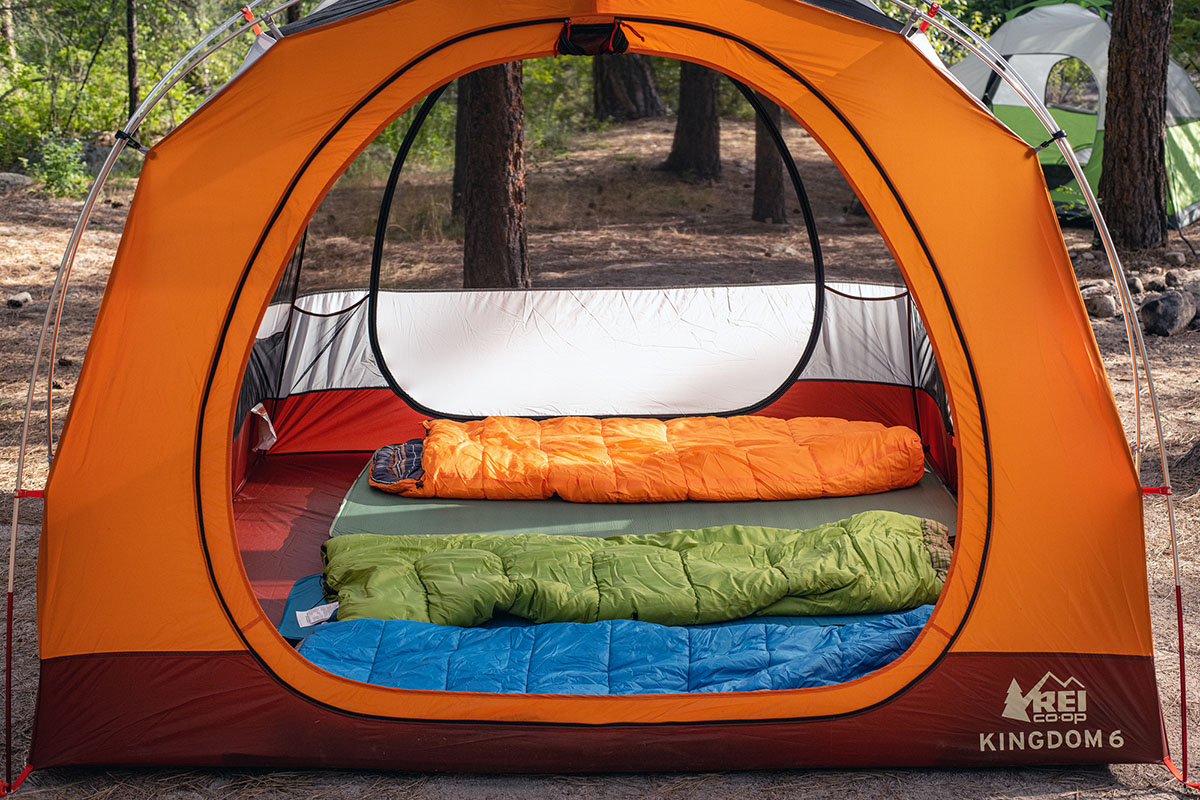 Price
Camping has a sweet simplicity to it, and one of the great things about driving (or walking a short distance) to your campsite, is that you don't need anything too special from your camping sleeping bag. Realistically, you can get a great sleeping bag for under $100. Spending extra brings features like a softer touch liner and shell fabrics and a lighter overall weight, which is worth it for some, but most campers will be happy with a tough nylon shell, a healthy dose of synthetic fill, and a cozy flannel interior. The Teton Sports Celsius, which can be found on Amazon for around $80, is a great example: It's plenty warm, comfortable, and tough enough to keep using year after year. At the other end of the spectrum are ultra-premium designs like The North Face One Bag ($350), which use down insulation and come with a host of features (but again, many campers will be perfectly happy saving toward the cheaper end).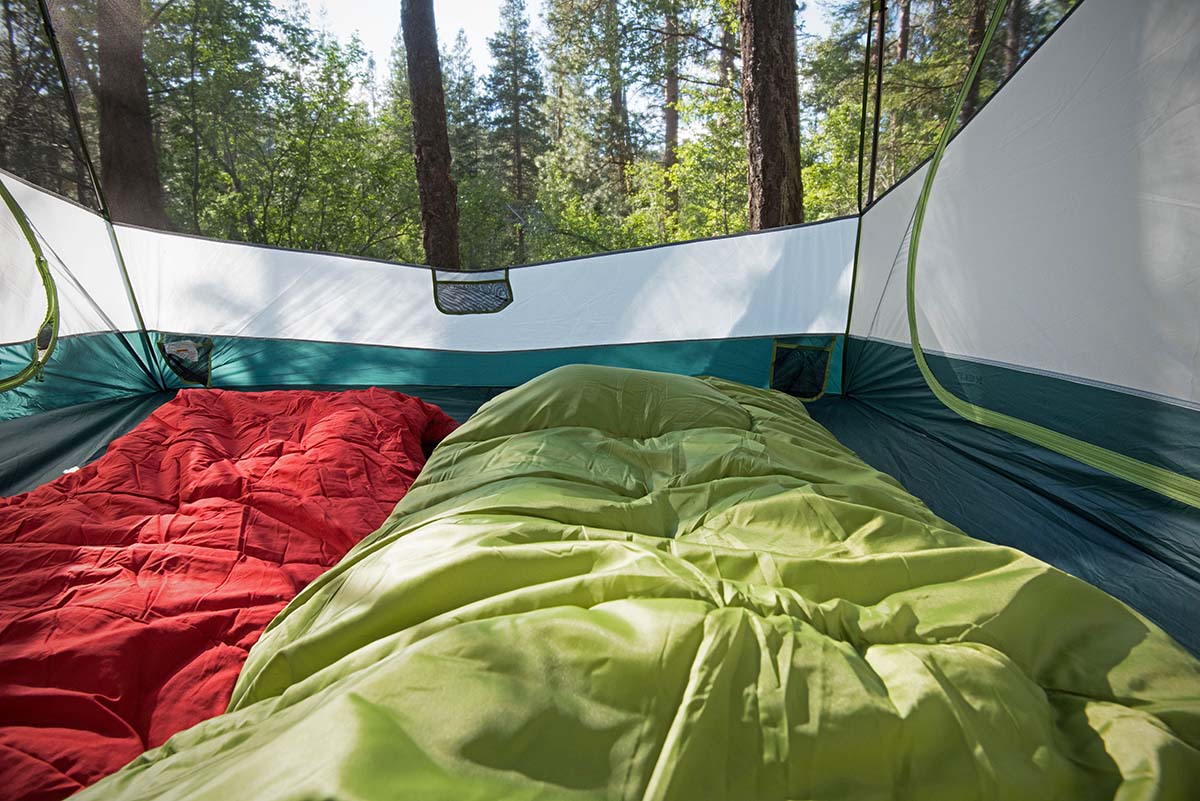 Weight and Packability
For most, the primary weight and packability consideration for a camping bag is whether or not it can be carried from the garage to the car, squeezed in with the rest of your stuff, and then moved from the trunk to the tent. That said, we still recommend checking the weight and stuffed size that will be listed in the product specifications to get an idea of just how large and heavy the bags are. Synthetic bags are typically made with thicker fabrics and require more insulation to provide sufficient warmth, which can add up to a surprising amount of bulk. And if you're considering a double bag (covered in more detail below), you're talking about packed dimensions listed in feet rather than inches. If weight and packed size become important, a crossover backpacking/sleeping bag like the still-roomy NEMO Forte reduces both.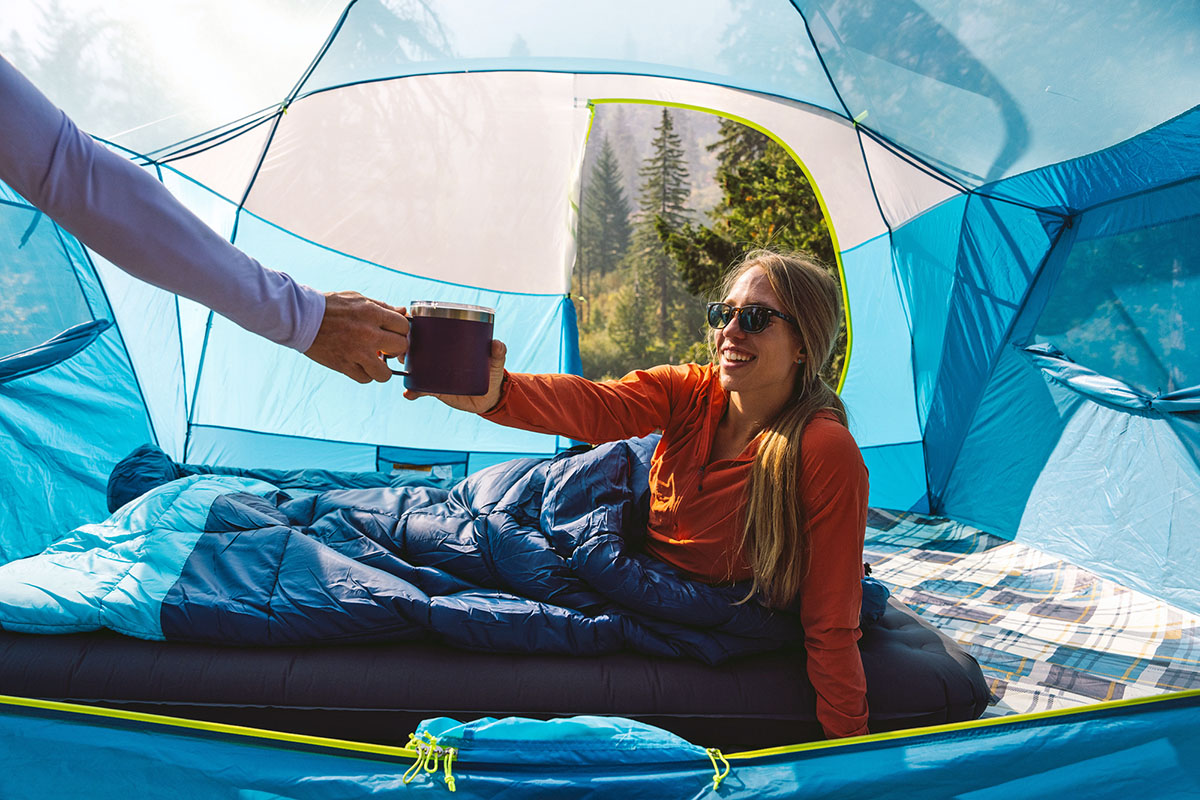 Sleeping Bag Lining and Comfort
The interior of a sleeping bag varies quite a bit between designs, but one general rule of thumb is that comfort correlates closely with price. Comparing two of our top picks, Coleman's cheap Brazos 20 uses a tricot lining that's reasonably cozy but less soft than The North Wawona Bed (especially the smooth fleece-like panel along the top of the Wawona's interior). Some campers won't mind missing out on the plush feel for the substantial cost savings (about $75 separates The North Face and Coleman options), but a well-made bag is undoubtedly a nice place to slip into at the end of the day. For those who plan to get out a lot, opting for an upgraded design may be worth it.

Zippers: ¾ Zip, Full Zip, No Zip
Mummy bags typically have a ¾-length side zip that requires some wriggling to get in and out of and can't be opened up completely should you want to zip the sleeping bag together with another compatible bag. That's why for camping, we prefer a bag that fully unzips. Not only is it easy to create a large and comfortable space for two if you zip it to another bag, but unzipping the bag on its own opens it up for use as a blanket. And if the bag has a tough exterior shell, you can use it as an outdoor picnic blanket in a pinch.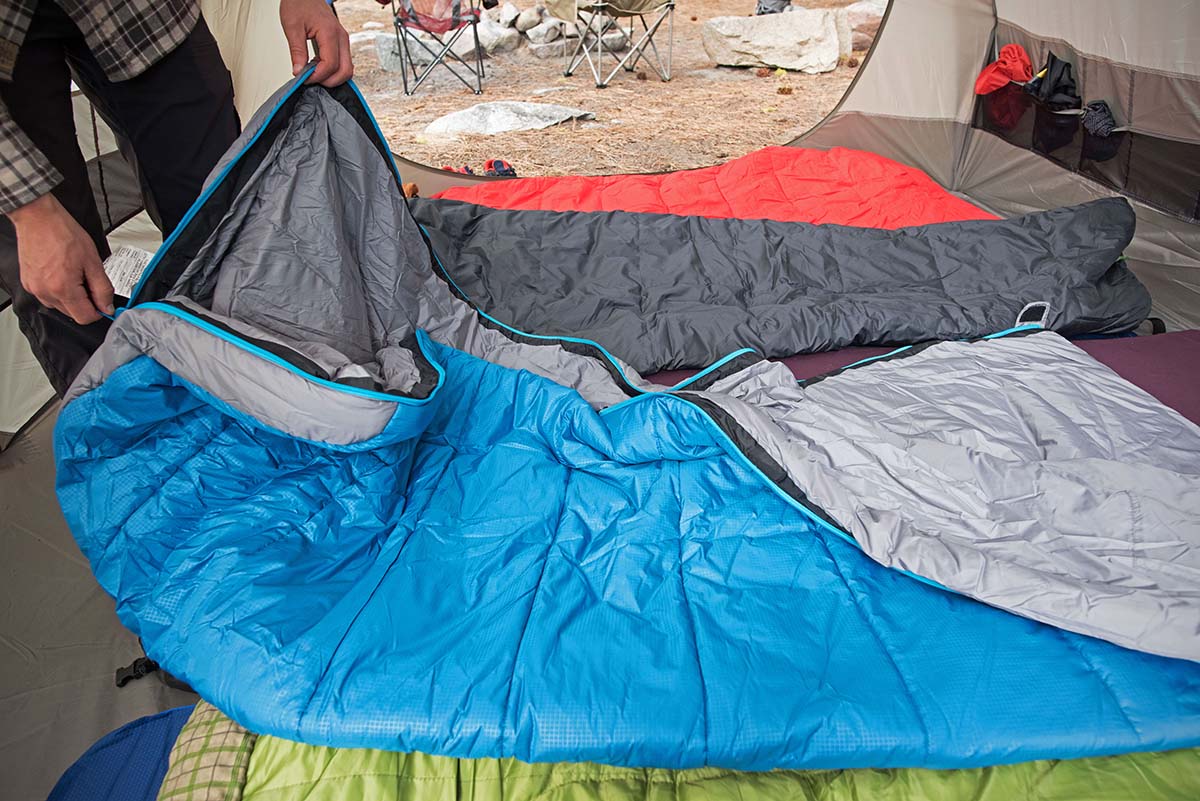 A third type is the no-zip style, which is limited to a couple designs (none of which made our list), including a handful from Sierra Designs. The large oval opening requires some modest flexibility and patience to get out of, but going zipper-less can be nice. There's no fumbling in the night for the zipper pull, and you don't have to worry about snags or heat loss (if the bag lacks a good draft tube). But in the end, we don't see the zipper-less concept completely taking over the market. Put simply, the in-and-out convenience and ability to use the bag as a blanket with a full-zip sleeping bag is the better answer for most campers.
Sleeping Bag Features
Sleeping bags inherently are barebones, but we've seen an uptick in available features on many mid-range and high-end models of late. Notable extras worth calling out are built-in pillows or pillow sleeves (the NEMO Forte boasts the former), which are a nice luxury for those annoyed by camp pillows that tend to move in the night. Additionally, integrated blankets, interior pockets for stowing small items like a headlamp, and draft tubes at the collar for trapping warmth are becoming more common.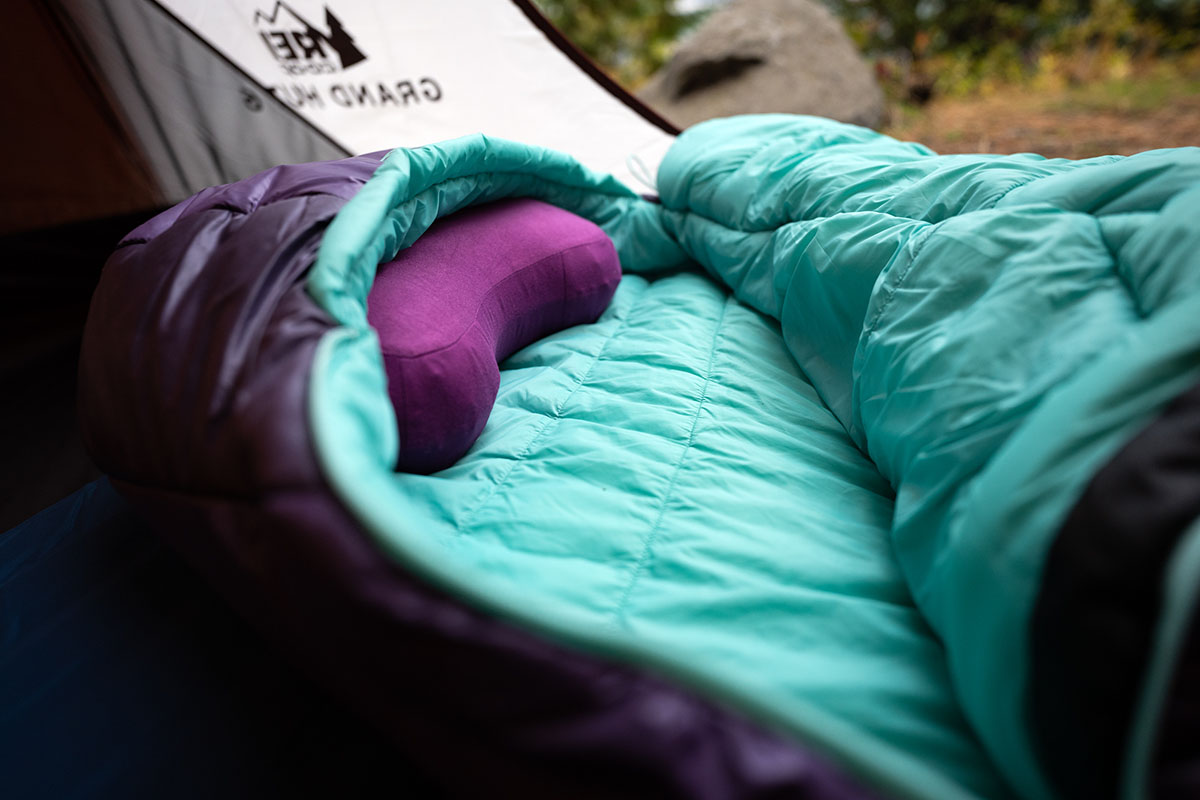 Some bags, like The North Face's One Bag, feature unique warmth-tailoring systems that allow you to customize the amount of insulation depending on conditions. And venting options are nice if you tend to run warm, including full-length zippers that allow you to use your bag as a quilt, "gills" along the top of the bag that can be opened up to release some heat (NEMO's Forte includes these), and footbox zippers for sticking just your toes out. To be sure, most of these additions won't be deal-breakers for many, but they can be helpful in deciding between similar models (and we've called them out in the write-ups above whenever possible).
 
Crossover Camping and Backpacking Sleeping Bags
It's not cheap outfitting an entire camping setup, and for those who plan to add backpacking into the mix, the cost can get out of hand quickly. If this sounds like you, choosing a crossover camping/backpacking bag is a viable way to save. A few models above can pull double duty for both activities with few compromises, including the NEMO Forte 20 and Kelty Cosmic Down 20. Both bags weigh less than 3 pounds, compress reasonably small for stuffing into a pack, and offer enough warmth for most three-season adventures. 
That said, the all-in-one answer comes with some compromises. Crossover designs typically are less roomy than true camping bags to shave weight and bulk (the NEMO's "spoon" shape bucks this trend by increasing the width in important areas like around the elbows and knees), and they often use thinner fabrics that require added care and are more prone to tears. Finally, dedicated backpackers can go much lighter with more targeted models that use ultra-premium down and even more compromised shell materials, but cost goes up considerably (for a full list of options, see our article on the best backpacking sleeping bags).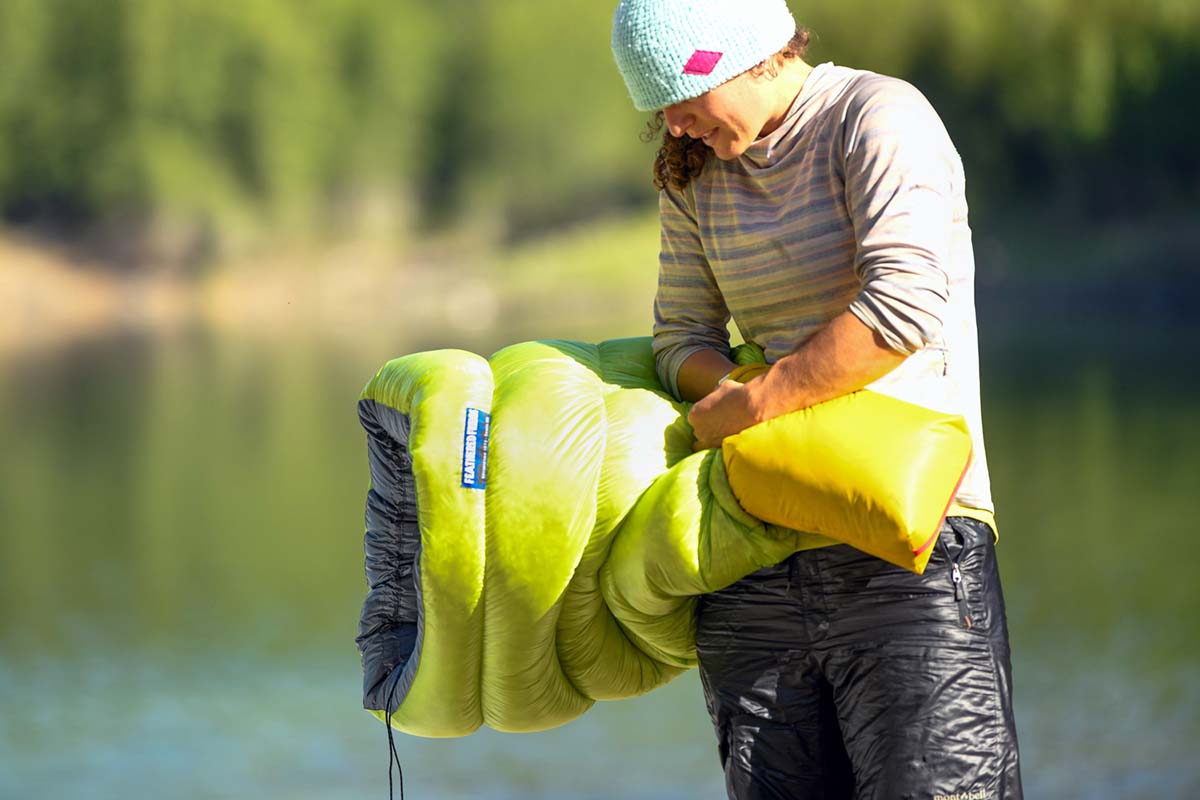 Double Sleeping Bags
A double sleeping bag is simply a standard sleeping that has doubled in width to accommodate two campers sleeping side-by-side. These bags are often an effective selling point to get a reluctant partner to finally try out camping. But is it worth getting the double bag as opposed to just zipping together two compatible sleeping bags? Our simple take is: typically not. While they're undoubtedly spacious and a touch cheaper than getting two single bags, we've never been in a scenario where zipping two bags hasn't worked just as well—and it gives you the flexibility to camp solo as well (Exped's MegaSleep Duo is one of the few to address this issue). But who are we to tell you not to get a traditional double bag? And if you find it's what you want, we recommend the aforementioned Exped MegaSleep or NEMO's luxurious Jazz 30 Double. Not only is the former a double, but it has enough room inside for an adult on each side and a storm-frightened toddler (or dog) in the middle.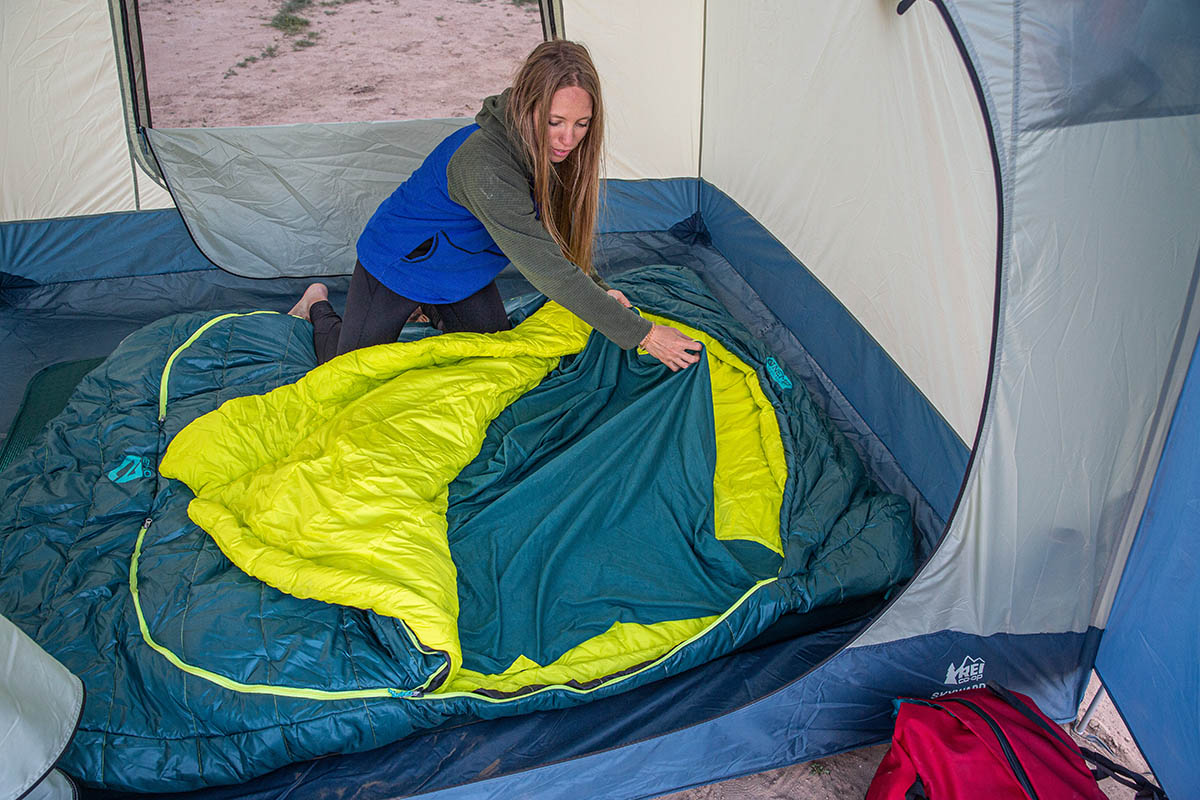 Kids' Sleeping Bags
If you have a little kiddo or are shopping for one, we highly recommend picking up a sleeping bag that is sized proportionally. Unless you only camp in areas with very warm overnight temperatures, a 4.5-foot person in a sleeping bag designed for a 6-footer is a recipe for cold and uncomfortable nights. They just can't heat all of that extra space. To keep from having to replace sleeping bags every couple years as your little camper grows up, consider getting a sleeping bag that has an adjustable length, like the Big Agnes Duster 15. And a final note: Kids' bags are often made in a bunch of fun colors, which sure doesn't hurt in getting them excited for some time spent outdoors.

Sleeping Bag Liners
As we touched on above, temperature ratings tend to be fairly generous and often require adding a sizable buffer to ensure you'll stay warm throughout the night. For those who run cold or simply want to bring their bag into lower temperatures, adding a sleeping bag liner can help keep you cozy without breaking the bank. Liners are made of soft materials like fleece, wool, polyester, or silk and typically add around 5 to 15 degrees to the warmth rating of your bag. They also serve as a barrier between you and your bag's interior, which can help boost lifespan (you can wash the liner after use rather than getting your bag dirty). Liners typically cost between $30 and $60, and a couple of our favorite options are Sea to Summit's Thermolite Reactor for mummy bags and their Silk-Cotton Blend Liner for rectangular models. To be clear, liners are totally optional and not everyone needs one, but they do offer added warmth and comfort and help keep your bag in good shape.
 
Don't Forget A Mattress or Pad
If you've ever had a pad deflate or slept directly on the ground in cold weather, you know firsthand the importance of an insulated pad beneath you. Further, when you lay on a sleeping bag, you compress the insulation, which impacts its ability to warm you (this is particularly true for down fill, but does impact synthetic as well). As a result, it's important to choose a sleeping mattress or pad that will protect you from the ground if you'll be camping in cooler temperatures (typically under 50-60 degrees).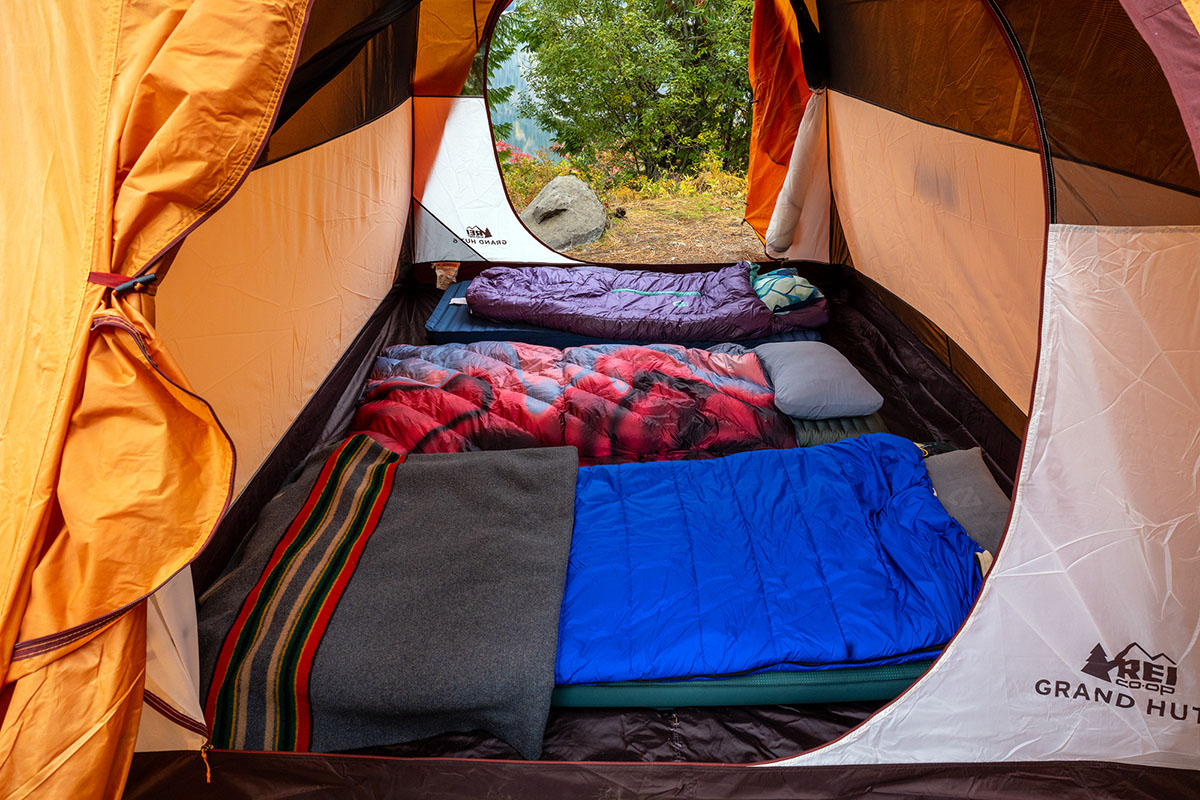 For summer camping where it stays warm at night, you can use a large, uninsulated airbed, but if it's cold, get a sleeping pad with some form of insulation (most often synthetic or foam). Sleeping pads are given an R-value rating, and the higher the number, the better it insulates you from the cold. As a general guideline for three-season use, we recommend a rating between 2.5 and 4. Summer campers can get away with less, while winter adventurers will want something that exceeds 5 (and may want to consider adding a second pad for additional protection). Check out our favorite camping sleeping mattresses for a breakdown of our top picks as well as buying advice.
Back to Our Top Camping Sleeping Bag Picks  Back to Our Sleeping Bag Comparison Table