Most hikers know the value of a quality pair of hiking pants, but for midsummer conditions or particularly active days on the trail, we turn to hiking shorts. In addition to being more breathable and quicker to dry, most of our favorite modern hiking shorts are impressively durable, boast functional storage, and have handy adjustments at the waist for dialing in fit. From technical and performance-ready softshell designs to everyday-friendly options that wear well both around town and outdoors, below are our favorite hiking shorts of 2023. For more information, see our comparison table and buying advice below the picks. Of note: Most of the testing and information below is focused on men's designs, but we've also written a dedicated round-up on the best women's hiking shorts.
 
---
Our Team's Hiking Short Picks
---

Best Overall Hiking Short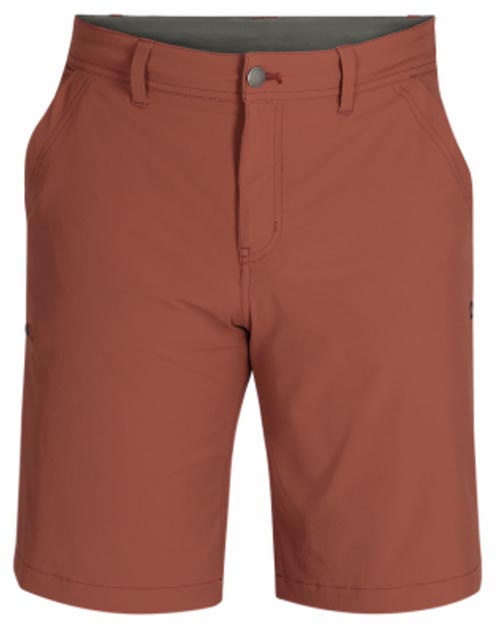 Inseam: 7, 10, 12 in.
Materials: 86% nylon, 14% spandex
Waist: Button, drawcord, & fly
What we like: Light and breathable but impressively tough; functional storage layout.
What we don't: Internal drawcord is less effective at dialing in fit than a built-in belt.
Outdoor Research can be hit or miss in the performance department, but their Ferrosi collection is a real winner. We have a lot of experience with the namesake fabric—we've worn several variations of Ferrosi pants and softshell jackets over the years—and the shorts were similarly quick to impress. In sum, they're lightweight, breathable, and stand up very well to long-term use. The generous amount of spandex in the design helps with durability (the fabric "gives" rather than tearing under pressure) and adds a nice dose of stretch and mobility for movement-dependent activities like hiking and backpacking. Finally, we love the versatile length and regular cut: The shorts fall just above the knees on our 5'9" tester, providing decent coverage without feeling too long or baggy.
What's not to like with the Outdoor Research Ferrosi Shorts? First, the internal drawcord on the 10-inch inseam model isn't as effective at dialing in fit as a built-in belt like you get with the prAna Stretch Zion II below, although the loops make it easy to add one (note: The 7-in. variation comes with a belt). Second, some may prefer a little more storage, although we personally love the simple yet practical layout that includes zippered pockets at the right hip and rear, as well as a drop-in left back pocket and hand pockets. Prior versions of the Ferrosi had reports of the waistband loosening over time, but OR addressed the issue during a recent update, and we haven't had any problems with security to date. And importantly, the retooled fabric now uses recycled nylon (46%) without compromising on quality, looks, or overall performance. It's always a risk updating such a popular line, but we think OR did a great job this time around, making the latest Ferrosi our favorite overall design this season.
See the Men's OR Ferrosi Shorts 10"  See the Women's OR Ferrosi Shorts 7"
Best Budget Hiking Short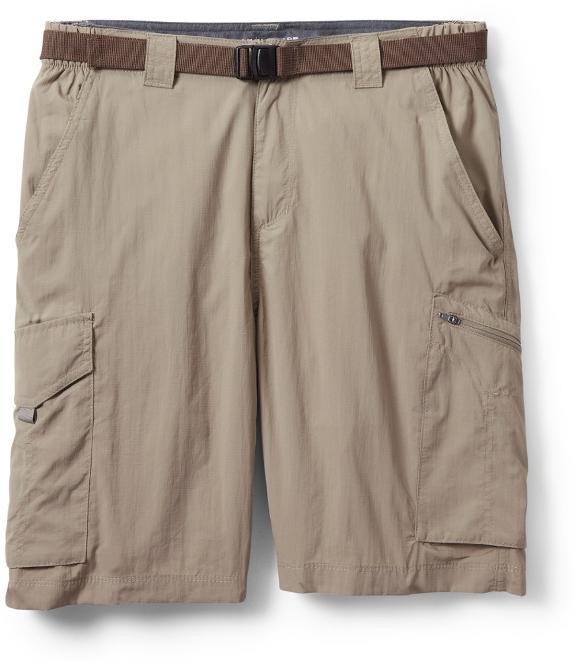 Inseam: 10, 12 in.
Materials: 100% nylon, polyester mesh panels
Waist: Built-in belt & fly
What we like: Great comfort and performance for the price.
What we don't: No added stretch and runs small.
The Outdoor Research Ferrosi Shorts above are an undeniably premium and well-built design, but the $85 price tag will likely deter many budget-conscious shoppers. Enter the Columbia Silver Ridge Cargo Shorts, which will save you a considerable $35 while still offering good all-around performance. The 100% nylon construction is breathable and dries quickly, making them a great option for hikers and travelers alike. Storage is another highlight, including deep and easily accessible hand pockets, three massive cargo-style pockets (two at the back and one on the right leg), and a zippered security pocket on the left thigh. All told, for casual summer hiking and backpacking, the Silver Ridge is well appointed and a standout value. 
What do you sacrifice by saving with the Columbia Silver Ridge Cargo Shorts? The most glaring omission is the lack of built-in stretch, which is a notable downside for mobility. By comparison, the Ferrosi above includes 14% spandex for a sizable boost in freedom of movement, although we appreciate that Columbia included a gusset to help when squatting or bending over. In addition, the zippers certainly aren't the smoothest we've used, and the cheaper materials won't hold up as well as the more premium designs here. Finally, some users report issues with the fit, including tightness around the hips and waist that's particularly noticeable when ascending steep slopes. But you'd be hard-pressed to find better overall performance for less, which is why we've included the Silver Ridge here.
See the Men's Silver Ridge Cargo Shorts  See the Women's Silver Ridge 2.0 Shorts
A Durable Short with Great Storage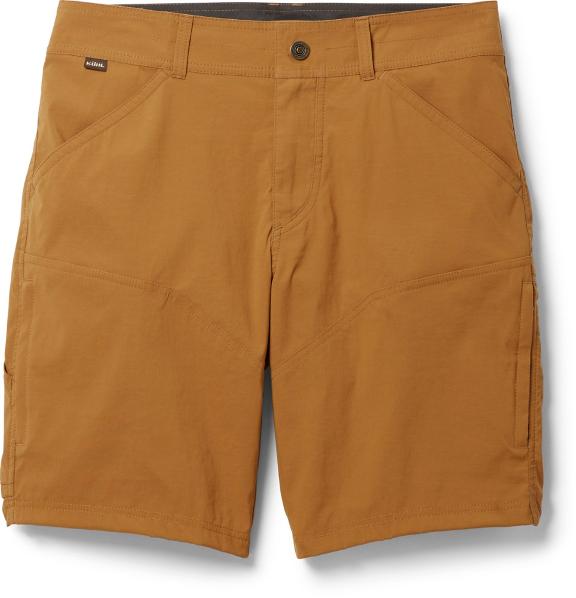 Inseam: 8, 10, 12 in.
Materials: 95% nylon, 5% spandex
Waist: Snap & fly
What we like: Top-notch build quality and very generous storage.
What we don't: We prefer simpler and more streamlined designs.
KUHL has made a name for themselves in the hiking apparel space with their distinctive utilitarian styling, which isn't for everyone but does add a nice technical slant. Another KUHL hallmark is their excellent build quality, which is readily apparent in the Renegade Short: The closure system includes a sturdy metal snap and oversized fly zipper, the length is practical with coverage down to the knee, and the fabric is stretchy yet tough with a noticeably high-end feel (it's reminiscent of Patagonia's Quandary below but a little thicker and tougher). And those who prioritize generous storage will be very pleased by the eight-pocket layout, including two hand pockets, two rear pockets, and two zippered side pockets that don't get in the way like traditional cargo designs. Rounding out the build are drop-in-style pockets at the back/side of the leg, which don't work well for valuables due to the lack of zippers but are great for items like snacks that you'll want quick access to.
The KUHL Renegade is decently streamlined considering the number of pockets, but there's no denying that it's bulkier and busier than many other options here. Some won't mind this tradeoff for the bump in storage, but we personally like a little more simplicity in our hiking shorts, especially on long day hikes and other mileage-heavy objectives. And at this price point, we prefer the stretchier and softer fabric that you get with OR's Ferrosi above. But both are well-made and capable hiking designs, and the Renegade's smart mix of durability and storage makes it very popular year after year.
See the Men's KUHL Renegade Short 
Best Quick-Drying Hiking Short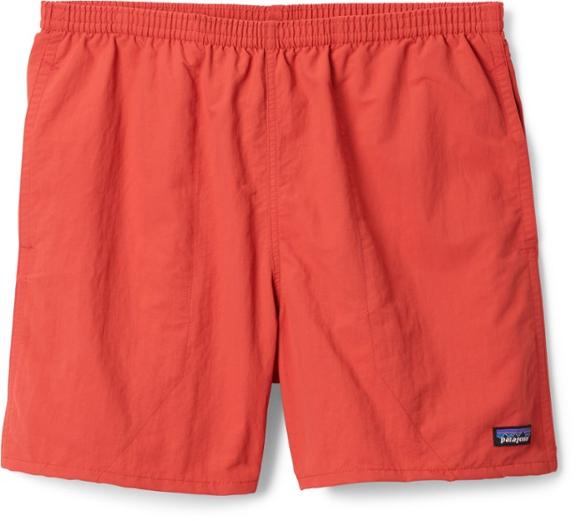 Inseam: 5, 7 in.
Material: 100% nylon
Waist: Elastic & drawcord
What we like: A capable and good-looking multi-sport short with a nice sustainability slant.
What we don't: Vibrant styling, short inseam, and looser cut won't work for everyone.
Patagonia's Baggies may look relatively unassuming at first glance, but there's much more to these shorts than meets the eye. First is versatility: The Baggies fit the part for everything from hiking and water sports to everyday use, with specialized features for swimming like a hanging mesh liner and vertical pockets to limit drag. The all-nylon construction is also fast to dry yet surprisingly tough—great for quick dips along the trail during hot summer hikes. The elastic waistband is simple but decently comfortable with an interior drawcord for snugging things down, and we love the remarkable range of vibrant colorways and designs (22 on Patagonia's website at the time of publishing), including a couple retro-looking two-tone options. All told, the Baggies hit a nice balance between style and performance, making them a classic choice for both in and out of the water.
What are the downsides? While we personally like the Baggies' relaxed fit, some won't love the looser cut for hiking. To be sure, the 5" inseam version here will be less prone to swishing than our 7" Baggies Longs, but the shorter length won't work for everyone. The bright and board-short-like styling may also seem a little flashy, especially if you're used to more traditional designs like the KUHL Renegade above. If that's the case, The North Face's Rolling Sun Packable Shorts below are similarly quick to dry but have more standard and subdued looks (plus zippered storage, which the Baggies forego). Finally, the Baggies are a little stiff and lack the soft feel of designs like the Ferrosi above, but the laid-back fit and timeless styling have made them a summertime classic. Bonus: With a recent update, the Baggies are now built with Patagonia's NetPlus fabric that's made with nylon from recycled fishing nets. Other quick-drying and water-ready options to consider include REI's Trailmade Amphib and Adidas' Terrex Multi Shorts.
See the Men's Patagonia Baggies 5"  See the Women's Patagonia Baggies 5"
Best of the Rest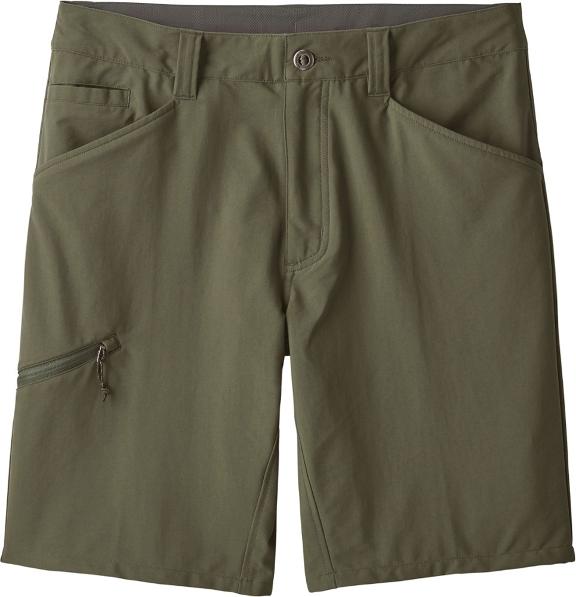 Inseam: 10 in.
Materials: 94% nylon, 6% spandex
Waist: Button, drawcord, & fly
What we like: A close competitor to the Ferrosi above for a little less.
What we don't: A small step down in comfort; only offered in one inseam length.
Next up is another Patagonia offering to consider: their Quandary Shorts, which go head-to-head with the Outdoor Research Ferrosi above as a lightweight and simple design with widespread appeal. Like the Ferrosi, the Quandary has a fairly streamlined but functional storage layout that comprises two drop-in-style hand pockets, two rear pockets (the left one has a zipper), and an additional zippered pocket at the right thigh. The fit adjustment system is similar, too, including an internal drawcord at the front to dial in tautness at the waist and loops for adding a belt if needed. The Ferrosi wins out in stretch and has a more softshell-like feel, but the difference is relatively minor, and the Quandary's gusseted crotch (which the OR lacks) is a notable perk when hiking and scrambling.
That said, we still consider the Ferrosi the better-built design. As with a lot of lightweight Patagonia products we've tested, the Quandary's zippers aren't super confidence-inspiring and don't operate as smoothly as some of the competition, including the Ferrosi above and prAna Stretch Zion II below. It's not a major difference, but they do have a slightly cheaper and flimsier feel. As we touched on above, the OR also wins out in comfort with its softer and more pliable materials, although the Quandary's nylon-heavy build has a cleaner look that some will prefer for travel and everyday wear. Finally, the Quandary is only sold in one inseam length (10 in.) compared to three (7, 10, or 12 in.) for the Ferrosi. Added up, the OR gets the slight edge over the Quandary in terms of performance, but the Patagonia is no slouch and crosses over for daily use a little better.
See the Men's Patagonia Quandary Shorts  See the Women's Quandary Shorts 7"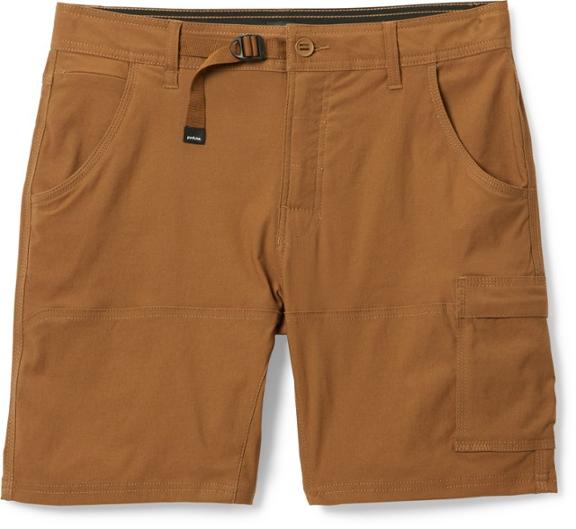 Inseam: 8, 10, 12 in.
Materials: 95% nylon, 5% elastane
Waist: Built-in belt, button, & fly
What we like: Thicker and more protective than the Quandary and Ferrosi above with a nice sustainability focus.
What we don't: Less competitive than the past-generation Stretch Zion.
Right away, we'll note that the original prAna Stretch Zion short—as well as its extremely popular pant sibling—used to be our go-to hiking option. However, we have to admit we're a little let down by the follow-up II that was released last year. As far as positives go, the latest ReZion fabric is more sustainable than ever with 95% recycled nylon while still hitting a nice mix of toughness and stretch. For reference, it's thicker than both the Quandary and Ferrosi above and a bit more protective as a result (and importantly, it still breathes reasonably well). Further, the built-in belt is fairly unique in the hiking short market, and we've found the simple design to be very effective at quickly dialing in a fit and fine-tuning adjustments throughout the day. Finally, unlike the Stretch Zion Pant II, we think the shorts fit great and are quite comfortable. 
Now for the downsides: The latest ReZion fabric has an odd and somewhat cheap and shiny look to it—it's especially noticeable in the sun—and we question prAna's decision to swap the old metal button closure for a flimsier webbing/plastic design (it strikes us as more prone to failure over time). You also miss out on a zippered back pocket, which we like for travel and securing valuables. You do get a full cargo pocket on the left leg that can be accessed from either the top or side, but we're not sold on the dual access since it requires securing both sides to prevent items from spilling out. To be clear, the Stretch Zion II still is a solid hiking short—and has plenty of appeal if you like the thicker and more substantial build—but we can't help but feel like it's a step back from the original.
See the Men's prAna Stretch Zion II  See the Women's prAna Halle II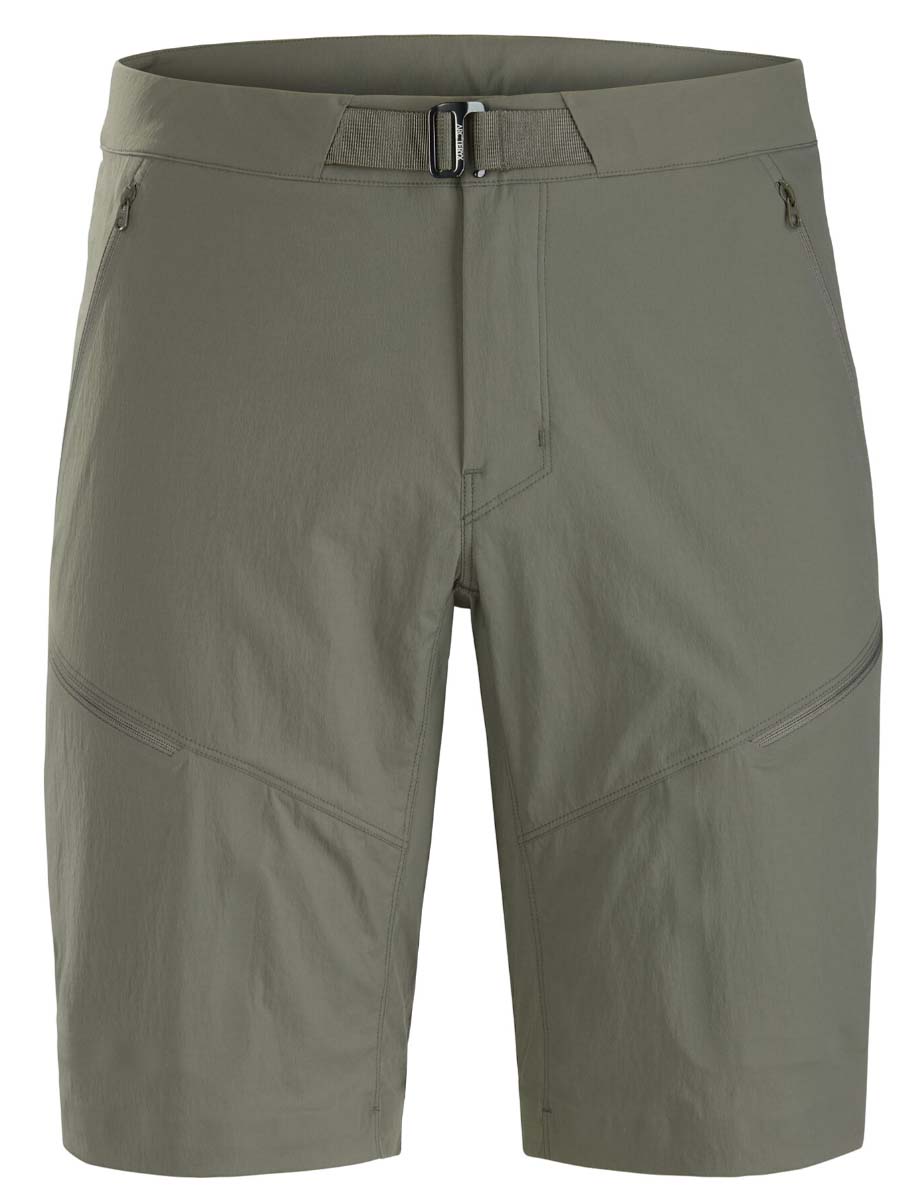 Inseam: 9, 11 in.
Materials: 94% nylon, 6% elastane
Waist: Built-in belt & fly
What we like: Fabric is thin and fast to dry but still highly durable and wind-resistant.
What we don't: The most expensive shorts on our list. 
We've tested a lot of Arc'teryx's technical hiking pants over the years, and many have been heavy and almost softshell-like in feel. Their Gamma Quick Dry Short bucks that trend, combining thin and quick-drying fabrics (hence the name) with practical storage and the premium fit and finish we've come to expect from the brand. All of the Gamma's five pockets have zippers, which is pretty uncommon in the hiking short market, and we love Arc'teryx's streamlined but functional integrated belt (as long as your pack's hipbelt rides above the waistband, which has never been an issue for us). And despite their light and airy feel, the shorts are good at blocking wind and surprisingly durable to boot.
All in all, the Arc'teryx Gamma Quick Dry Shorts are a purpose-built option for warm-weather hiking—and a very high-quality one at that. However, $130 for a pair of hiking shorts is a tough sell, especially when you can get similar levels of performance and durability with cheaper options like the $85 OR Ferrosi, $79 Patagonia Quandary, and others above. The Ferrosi is a particularly strong alternative with comparable breathability and more stretch (14% vs. 6% for the Gamma)—although it doesn't have a belt and is a little less premium-feeling—and the Quandary will cost you around 2/3 as much. In the end, the Gamma's value (or lack thereof) pushes it slightly down our rankings, but we still think it's a fantastic all-around option.
See the Men's Arc'teryx Gamma Quick Dry Short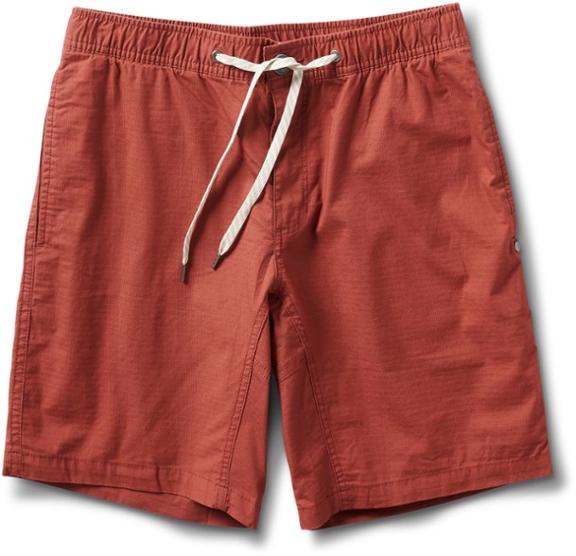 Inseam: 9 in.
Materials: 98% cotton, 2% elastane
Waist: Elastic w/ button, drawcord, & fly
What we like: Tough, comfortable, and one of the most stylish options here.
What we don't: Cotton-heavy build limits the shorts' backcountry appeal.
Athleisure brand Vuori is a relative newcomer to the outdoor scene, but many folks (ourselves included) love the balance of fashion and function. True to form, their Ripstop Short here is easily one of the most stylish options on the market, combining super durable materials and practical storage (two zippered pockets) in a modern and good-looking package. In a departure from standard nylon and polyester constructions, the Ripstop's cotton-heavy build does limit its backcountry appeal—we don't advise bringing the shorts along on multi-day outings into the wilderness or into unpredictable weather (Colorado's notorious mid-day thunderstorms, for instance). But the Ripstop Short excels as a summer day hiker and easily pulls double duty for everyday wear (the shorter 9-in. inseam helps), which is a winning combination for many.
Comfort is another highlight of the Vuori Ripstop Short's design (and many cotton pants in general). It can't match the mobility of performance options like the Patagonia Quandary, prAna Stretch Zion, or Outdoor Research Ferrosi above, but the touch of elastane (2%) and gusseted crotch offer enough give for most activities. We also found the unique waistband design—including a button, zippered fly, exterior drawstring, and elastic along the perimeter— to be very functional for dialing in fit. The biggest deterrent for many will be the lack of performance chops: Cotton doesn't breathe all that well and holds onto moisture when wet, which is a bad combination for high exertion and warmer temperatures. But the Ripstop Short has its place as a casual option that can hold its own on easy to moderate day hikes, and we certainly appreciate the toughness and confidence-inspiring build quality.
See the Men's Vuori Ripstop Short  See the Women's Vuori Vintage Ripstop Short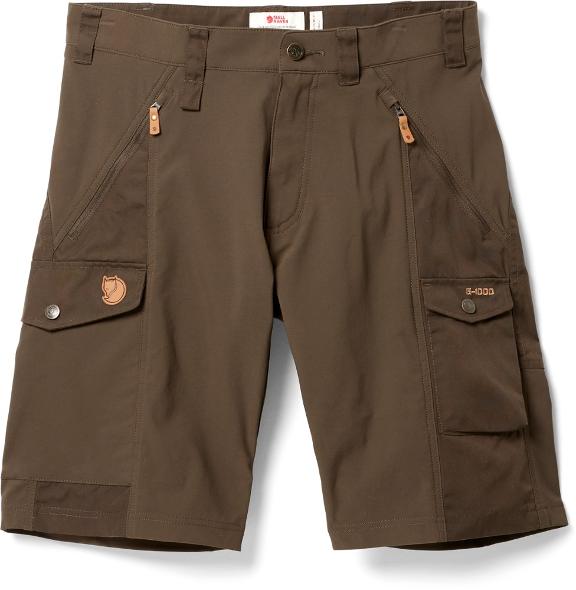 Inseam: 11 in.
Materials: 65% polyester, 35% cotton
Waist: Button & fly
What we like: Top-notch build quality and attention to detail for serious outdoor use.
What we don't: Pricey and overkill for more casual adventures.
We fell in love with women's Fjallraven Abisko Trekking Tights last summer and have used them extensively for everything from hiking and backpacking to multi-pitch rock climbing. While decidedly less technical, their Abisko Shorts are equally well executed with the premium workmanship we've come to expect from the Scandinavian brand. The headliner here is Fjallraven's legendary G-1000 fabric, which uses a mix of polyester and cotton to effectively balance durability, moisture-wicking, and comfort. Another unique feature is the waist design, which is slightly lower at the front and higher in the back to maximize comfort when carrying a pack. Added up, the Abisko Shorts are one of the most purpose-built options here and highly capable for hiking, backpacking, and even climbing.
As with most Fjallraven products we've tested, all of the Abisko's details are well sorted, too: You get extra fabric at the crotch to minimize rubbing, sturdy metal hardware, and functional storage including flap-protected cargo pockets at each side and hipbelt-friendly hand pockets with zippers, the latter of which is a rarity in the hiking short market. Fjallraven products don't come cheap—at $110, the Abisko Shorts are the second-priciest option on our list after the $130 Arc'teryx Gamma Quick Dry above—but that's certainly not a knock on quality or overall craftsmanship. And we also want to touch on the Abisko Hike Shorts ($120), which are similarly technical but thinner and more ventilated for true hot-weather use. We haven't tested the new "Hike" model, but plan to do so this summer and will update this guide accordingly.
See the Men's Fjallraven Abisko Shorts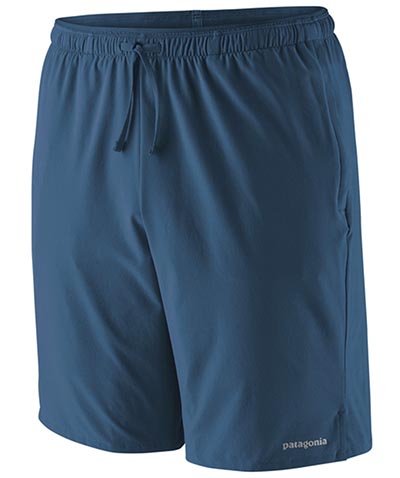 Inseam: 8 in.
Materials: 90% polyester, 10% spandex
Waist: Elastic & drawcord
What we like: Super light and airy feeling; zippered front pockets.
What we don't: Can't match the durability of a standard hiking design.
Running shorts are commonplace for hikers and thru-hikers thanks to their light and airy feel, but most designs fall short in features and durability, which makes Patagonia's Multi Trails an intriguing option. Building off a standard trail running short—complete with a built-in boxer-brief liner—Patagonia incorporated some thoughtful hiking-focused features, including a fairly generous 8-inch length (many running shorts are much shorter) and beefed-up polyester shell fabric. Additionally, while many running shorts are lacking in storage, the Multi Trails sports two zippered pockets at the front and a snap pocket at the back (that back pocket doubles as a stuff sack for the shorts). In practice, the zippered storage has proven invaluable on the trail and eliminated any concerns about securely stashing valuables and essentials.
What pushes the Multi Trails lower in our rankings is its tweener status: It's not a standout everyday running option, nor is it a versatile pick for hiking. For running, we prefer a little more stretch in the fabric—the shorts don't necessarily bind or restrict movement, but they're certainly stiffer than your average running design. And on the trail or while scrambling, the polyester blend can't match the outright toughness and weather resistance of the nylon models that dominate this list. In the end, it's a solid all-around effort, but as with many designs that aim to do it all, the Multi Trails is a master of none.
See the Men's Patagonia Multi Trails  See the Women's Patagonia Multi Trails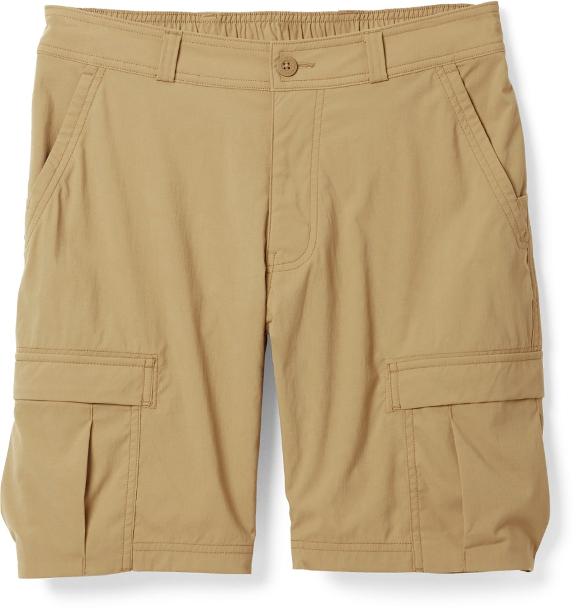 Inseam: 9 in.
Materials: 96% nylon, 4% spandex
Waist: Elastic w/ button & fly
What we like: Better build and material quality than the Columbia Silver Ridge Cargo above.
What we don't: The details aren't as well sorted.
REI's Sahara collection is their flagship hiking bottoms line, and the Cargo Shorts here are a nice reflection of the brand's focus on value. For just $10 more than the Columbia Silver Ridge Cargo Shorts above, the Sahara uses noticeably higher-quality materials, including a small dose of spandex (4%) for improved mobility (the Columbia is 100% nylon). The fabric itself is soft and supple—on par with pricier alternatives like the Patagonia Quandary above—and the shorts have the light, airy, and breathable feel that we love for hot-weather hikes. Storage isn't bad either, including dual cargo pockets (one with a flap and one with a zipper) as well as standard hand and rear pockets. Taken together, the Sahara Cargo Shorts are another well-rounded REI design at a good price.
In this case, however, the devil is in the details. Specifically, the Sahara Shorts have a loose fit in the legs that's comfortable but does give them a slightly less modern look than much of the competition (of course, this part is subjective). Additionally, while we appreciate that the hand pockets are deep, they extend all the way into the cargo pocket space and can create some awkward overlap when both pockets are in use. The belt loops are also noticeably tiny and couldn't accommodate my Arcade belt (a pretty classic hiking choice), and the plastic button closure isn't very confidence-inspiring with thin thread holding it in place. Again, the Sahara Cargo Shorts do feel more premium and durable than the Columbia Silver Ridge above, but we were admittedly disappointed by the finer details. 
See the Men's REI Sahara Cargo Shorts  See the Women's Sahara Bermuda Shorts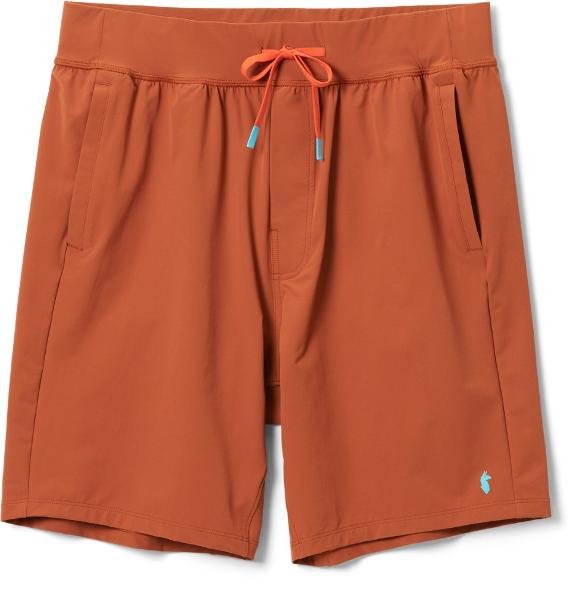 Inseam: 8 in.
Materials: 85% nylon, 15% spandex
Waist: Elastic & drawcord
What we like: Standout comfort and stretch.
What we don't: Closure system could be better.
Cotopaxi's bright and vibrant styling put them on the map, and we now count on the brand for good-looking but functional outdoor apparel. Their Veza Adventure Short is case in point, combining a modern and clean design with practical, hiking-ready details. Overall comfort and mobility are excellent thanks to the healthy dose of spandex—at 15%, the Veza is the most stretch-heavy option on our list—while the nylon provides some toughness without compromising ventilation. You also get a gusset at the crotch for added range of movement, as well as a hidden zippered pocket on the right for stashing small valuables. Added up, the Veza Adventure Short is capable for everything from short jogs and day hikes to afternoons on the water, and the sleek and streamlined styling transitions nicely for après activities. 
All that said, Cotopaxi is less of a performance leader than many of the brands above, and that's readily apparent when looking closely at the Veza's details. Many users have problems with the drawstring in particular: Once you tighten the shorts for the first time, the material stretches and doesn't return to its original shape, which can make it tough to dial in fit (plus, the long cord can hang low and get in the way while hiking). Additionally, the elastic waistband is thick and offers little give compared to designs like the Vuori Ripstop Short above (it's best to try the Veza on before buying to ensure it will work). And finally, we'd prefer an additional zippered pocket at this price point. But there's no denying the smart mix of comfort and performance, making the Veza a versatile pick for both casual and outdoor use (although it trends more toward the former). 
See the Men's Cotopaxi Veza Adventure Short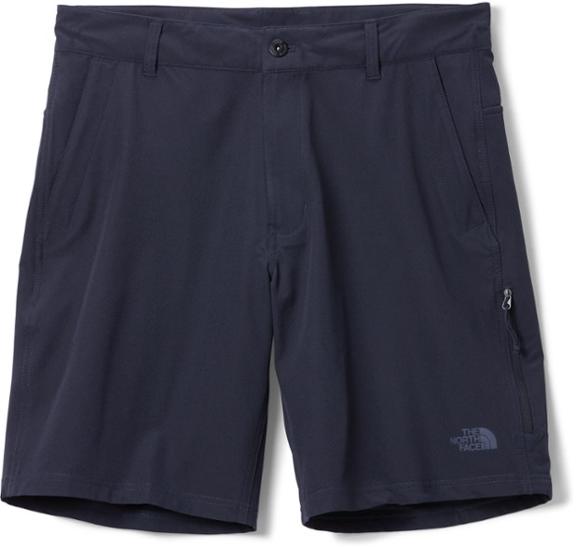 Inseam: 7, 9 in.
Materials: 89% polyester, 11% elastane
Waist: Button, drawcord, & fly
What we like: Highly compressible and more versatile than the Patagonia Baggies above. 
What we don't: Soft fabric is lacking in durability.
Patagonia's Baggies above are the classic choice for mixed hiking and water activities, but The North Face's Rolling Sun Packable Shorts are arguably the more versatile option. The lack of hanging liner is a plus for traditional hikers, and the thin fabric with its unique textured interior dries out very quickly after a soaking. The shorts are also extremely soft and stretchy, and the styling crosses over well for everyday use. You can even pack them into their own pocket, which is great for travel or stuffing away into a pack on a longer backpacking trip that may involve some lake dips. Finally, the Rolling Sun offer more coverage than the Baggies with a 9-inch inseam (there's also a 7-in. version available) while undercutting them in price by $5.
Why the last-place finish for The North Face Rolling Sun Packable Shorts? While we like how soft and stretchy the fabric is, the tradeoff is that it's not all that tough. In fact, it's a pretty clear step down from the burlier Patagonia Baggies and noticeably less durable than the rest of our top picks above. In practice, this means the shorts have been more prone to scuffs and damage from contact with rock, which greatly limits their backcountry appeal. To be fair, the Rolling Sun Shorts are a solid option for warm-weather hiking and as a backup short for swimming on backpacking trips, but the drop in durability and abrasion resistance is a significant and undeniable drawback—especially for those who are hard on their gear.
See the Men's TNF Rolling Sun Packable Shorts

Hiking Short Comparison Table
| Hiking Short | Price | Inseam | Materials | Waist | Pockets |
| --- | --- | --- | --- | --- | --- |
| OR Ferrosi Shorts | $85 | 7, 10, 12 in. | 86% nylon, 14% spandex | Button, drawcord, fly | 5 |
| Columbia Silver Ridge Cargo | $50 | 10, 12 in. | 100% nylon, mesh panels | Built-in belt & fly | 6 |
| KUHL Renegade Short | $79 | 8, 10, 12 in. | 95% nylon, 5% spandex | Snap, fly | 8 |
| Patagonia Baggies 5" | $65 | 5, 7 in. | 100% nylon | Elastic, drawcord | 3 |
| Patagonia Quandary Shorts | $79 | 10 in. | 94% nylon, 6% spandex | Button, drawcord, fly | 6 |
| prAna Stretch Zion Short II | $75 | 8, 10, 12 in. | 95% nylon, 5% elastane | Built-in belt, button, fly | 6 |
| Arc'teryx Gamma Quick Dry | $130 | 9, 11 in. | 94% nylon, 6% elastane | Built-in belt, fly | 5 |
| Vuori Ripstop Short | $74 | 9 in. | 98% cotton, 2% elastane | Elastic, button, drawcord, fly | 5 |
| Fjallraven Abisko Shorts | $110 | 11 in. | 65% polyester, 35% cotton | Button, fly | 5 |
| Patagonia Multi Trails | $79 | 8 in. | 90% polyester, 10% spandex | Elastic, drawcord | 3 |
| REI Sahara Cargo Shorts | $60 | 9 in. | 96% nylon, 4% spandex | Elastic, button, fly | 6 |
| Cotopaxi Veza Adventure | $75 | 8 in. | 85% nylon, 15% spandex | Elastic, drawcord | 3 |
| The North Face Rolling Sun | $60 | 7, 9 in. | 89% polyester, 11% elastane | Button, drawcord, fly | 5 |
Hiking Short Buying Advice

What Defines a Hiking Short?
There's certainly no rulebook on hiking attire, and in 2023, people hit the trail in everything from running shorts to quick-drying, water-ready designs. Depending on the conditions and day's objective, one of those might even be your best option. That said, there's also a cadre of shorts purpose-built for hiking, which tout features like durable and breathable fabrics, functional storage, extended coverage, waistbelts that fit securely and ride comfortably underneath a backpack hipbelt, and more. If you're looking for the best-performing and longest-lasting tool for the job, hiking shorts are a great place to start. And the good news is that the market is extremely varied, from technical, performance-ready offerings to more casual designs that look just as good in town as they do on the trail.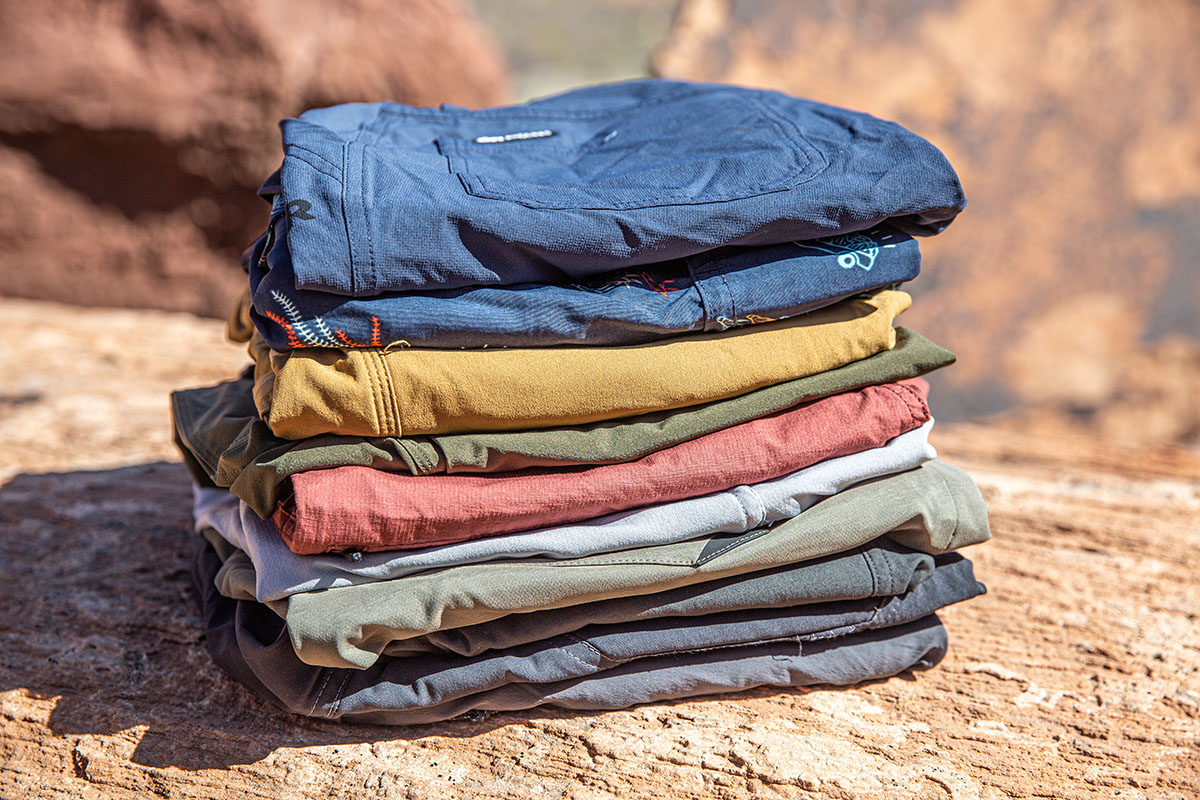 Wearing Running Shorts for Hiking 
We'll be honest: We often wear running shorts while hiking. In terms of benefits, they're lightweight, offer great comfort and freedom of movement, and dry quickly—they're especially great for unseasonably hot days or when mixing some running in on your hike. However, there are several clear downsides. For one, storage is lacking: Some running shorts have no pockets, while others have just one or two small pouches for a set of keys or pair of earbuds. Due to their thinner constructions, running shorts also won't hold up well to trail abuse, and dollar for dollar, hiking shorts will certainly provide a lot more value over time. Finally, with short inseams and minimal fabric, running shorts offer very limited protection from the sun, wind and cold, pesky bugs, and sharp branches. But we do love the comfort they provide and think that hiking shorts could take some cues from running shorts when it comes to simple yet comfortable waistbands and free-flowing designs.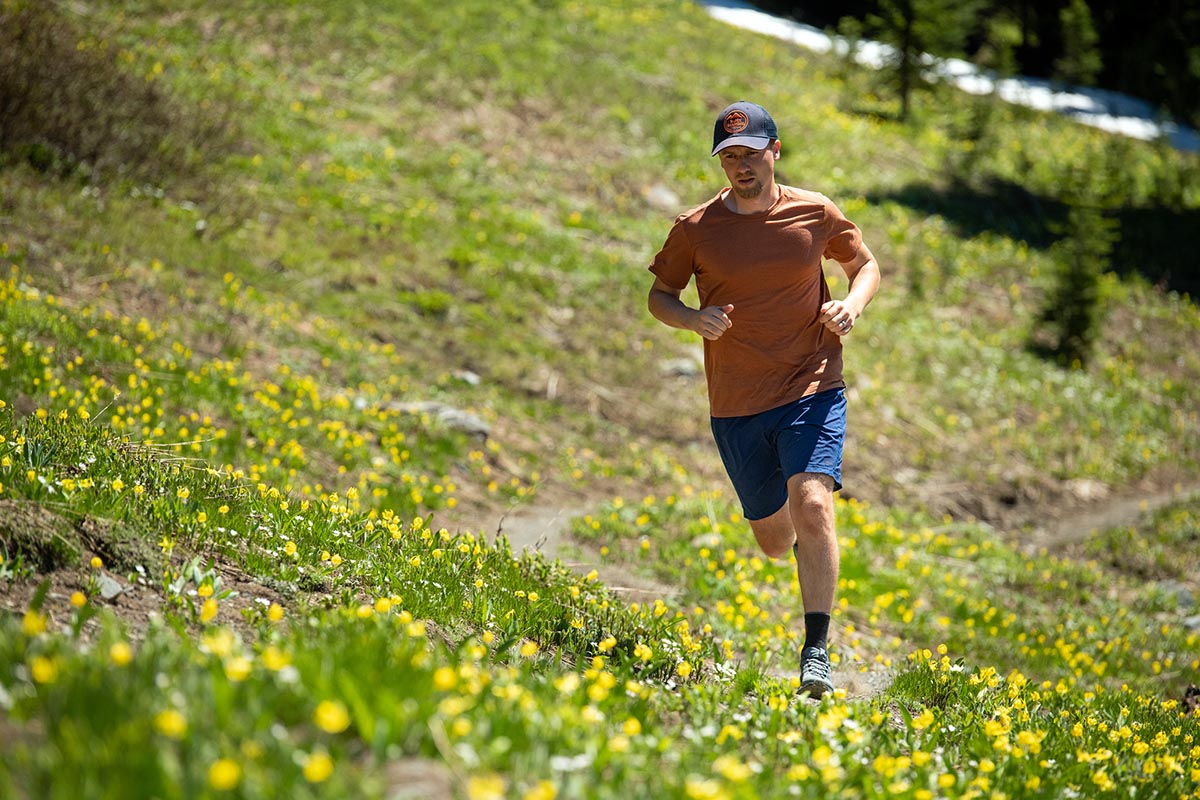 For those who like the idea of hiking in a running short, there are a few designs that stand out to us as more capable than others. We like Patagonia's Multi Trails collection in particular, which combines features from both trail running and hiking designs. From the former, you get light and airy fabrics along with a built-in boxer-brief liner, but like the latter, you get the longer inseam, multiple zippered pockets, and beefed-up polyester shell fabric. It's certainly not the most versatile option—we prefer a little more stretch for running, and standard nylon hiking pants offer better toughness and weather resistance. That said, some may find those tradeoffs worth it for the added mobility, ventilation, and comfort of the Multi Trails and other running-focused designs.

Hiking Short Materials
Like hiking pants, most hiking shorts are made of nylon or polyester. These materials are reasonably durable, breathable, good at wicking moisture, and offer great freedom of movement due to their lightweight makeup. Many designs—like our top-ranked Outdoor Research Ferrosi Shorts and prAna Stretch Zion II—also incorporate some elastane or spandex for added stretch, which is a real boon for everything from high-stepping over logs to setting up camp. The added give and thickness also make these shorts among the most durable here, great for brushing up against rock and branches, sitting on rough surfaces, and withstanding the wear and tear of a heavy backpack.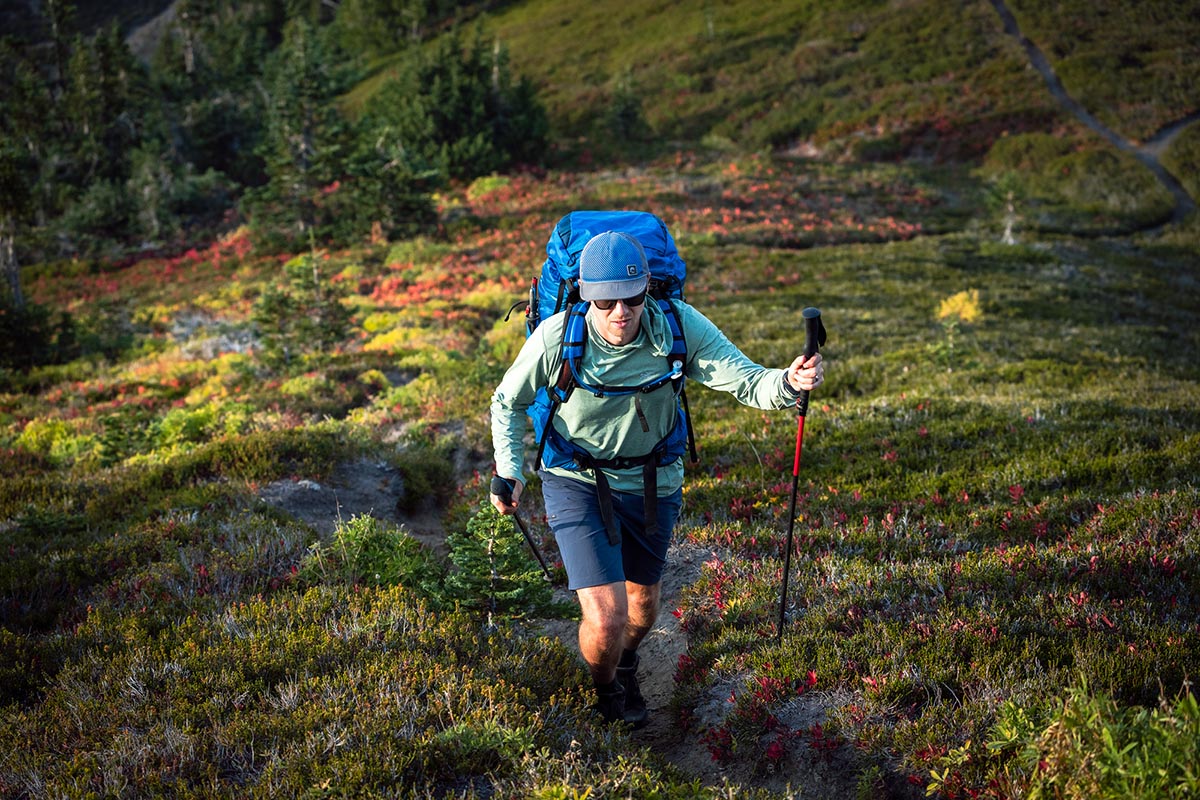 We've also included a handful of outliers on this list. The Vuori Ripstop Short, for example, is made with 98% cotton, a rarity these days in outdoor clothing. In general, cotton lacks the durability and mobility of nylon or polyester, and unlike synthetic blends, it absorbs water, meaning it's not as quick-drying and can get heavy when wet. The upside is that the Ripstop Short is impressively comfortable and stylish, which is all some hikers need for casual days on the trail. In the end, it's a good idea to tailor your hiking short choice to your objective: We prefer stretch-nylon blends for serious hiking, 100% nylon shorts for water sports, and cotton or fitted designs for more casual days out.

Thickness and Durability
One of the headlining features of a hiking short is durability, especially when compared to casual or running-specific designs. Hiking shorts are meant to take a beating on the trail and around camp and ideally should last you multiple seasons of use. However, we still see a lot of variation within the category. As mentioned above, nylon and polyester shorts are generally more robust than cotton styles, and (in most cases) thicker designs are more resistant to abrasion. We've also found that some—but not too much—added stretch can increase durability, allowing a fabric to give rather than tear when stressed.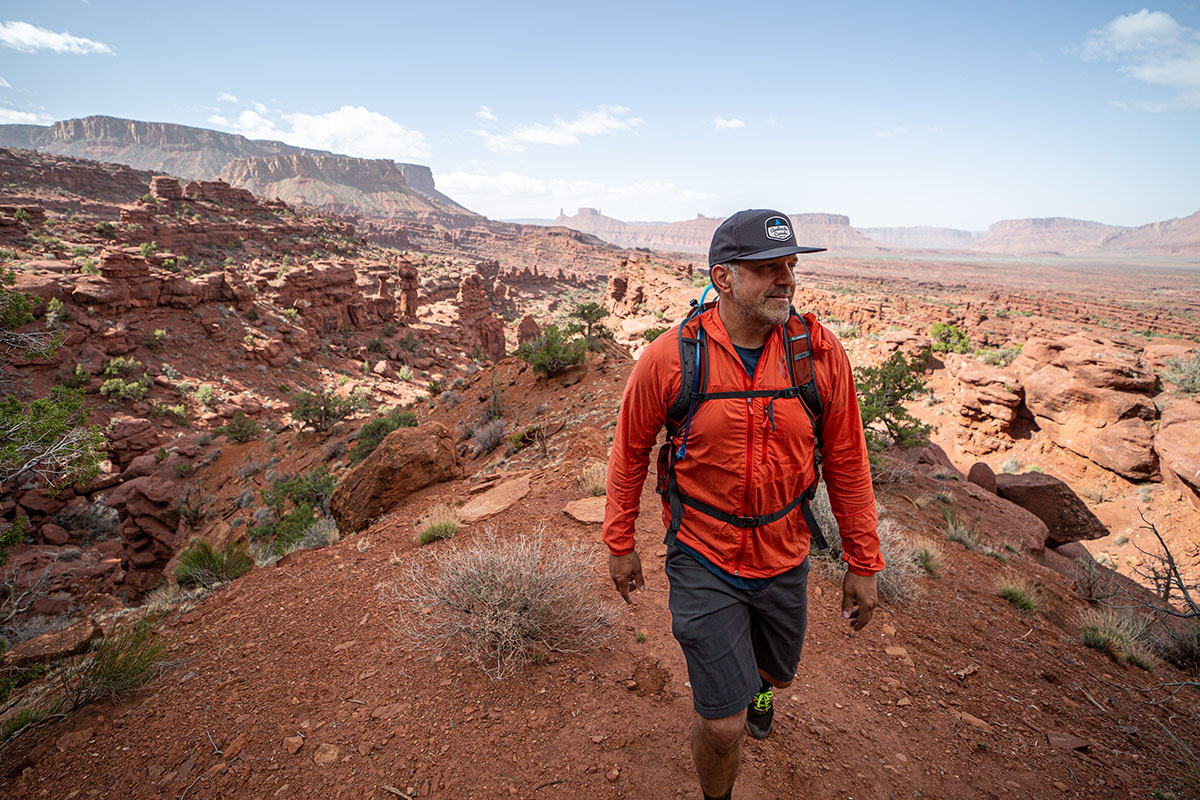 Considering the factors above, one of the most durable shorts here is the KUHL Renegade, which uses a mix of 95% nylon and 5% spandex that provides a nice balance of stretch and toughness. And it's also worth noting that there are some exceptions to these rules: The Vuori Ripstop Shorts (98% cotton), for example, feature a strong Teflon coating for tear and stain resistance that far exceeds most cotton designs. On a similar note, one of our testers wore a pair of Patagonia Baggies (relatively thin nylon with no stretch) for over five seasons of mountain guiding without sustaining a single hole or tear.

Quick-Drying Hiking Shorts
When you're hiking in the heat of summer, nothing beats a refreshing dip in a trail-side lake or stream. Most of the hiking shorts above will dry out fairly quickly in warm and sunny conditions, but thin, nylon designs like the Patagonia Baggies are the best tool for the job (The North Face's polyester Rolling Sun Packable Shorts are similarly quick to dry). On the other hand, thicker synthetic options like the Fjallraven Abisko Shorts and those with more added stretch tend to absorb more water, and cotton is the worst culprit of all. Many shorts will also add a durable water-repellent finish to keep water from penetrating the fabric, but keep in mind that this can degrade over time (you can always revive it by applying a new treatment like Nikwax's TX.Direct Spray-On). In the end, if you're looking for a quick-drying short for trail-side swimming and other water-based activities, your best bet is a thin, nylon design with relatively short inseam, mesh pockets, and not too much added bulk at the waist (running shorts work well, too).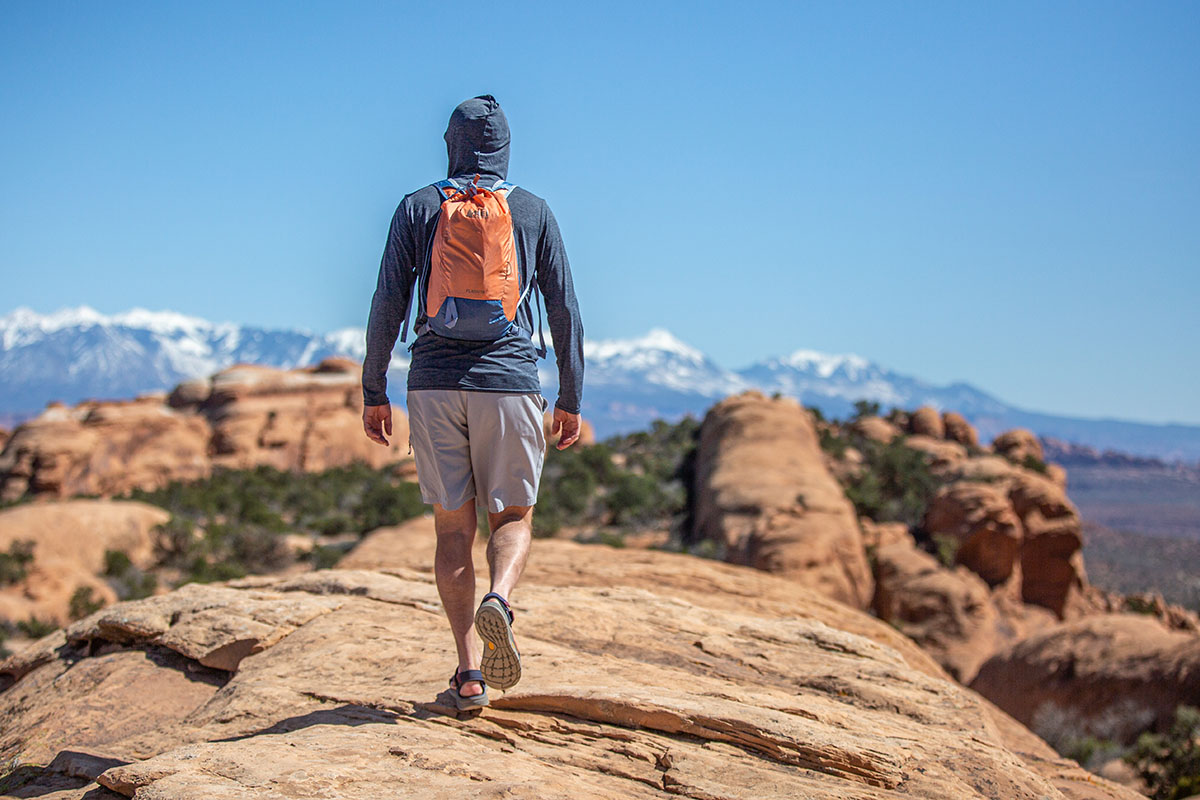 Waistband Styles
Finding a pair of hiking shorts that fits well can be a daunting task, but the good news is that there are a wide variety of waistband designs on the market for fine-tuning fit. Starting at the basic end of the spectrum are standard button-and-fly closures with belt loops (like the KUHL Renegade and Fjallraven Abisko), while others come with elastic waistbands, integrated belts, and/or drawstrings. There are inherent pros and cons to each style, and a final decision will come down to personal preference and your intended uses.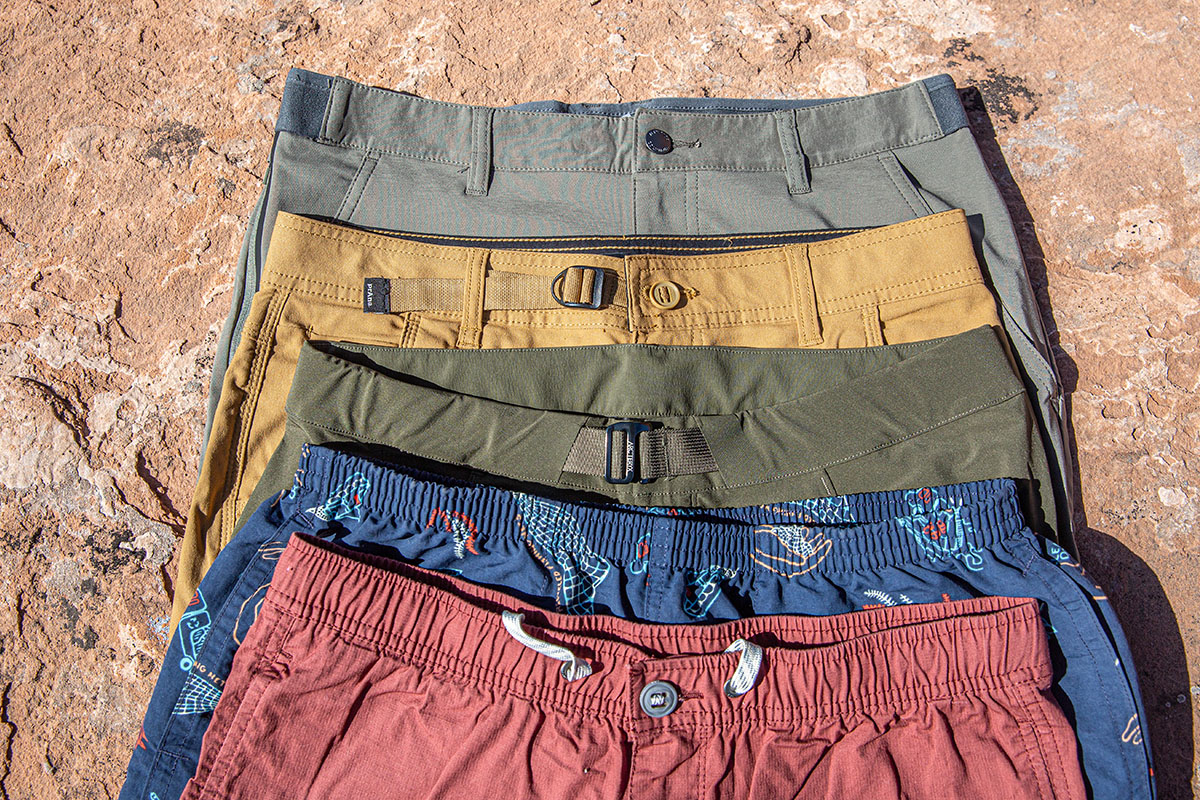 As we mentioned, designs with standard button-and-fly closures frequently come with belt loops. You'll have to provide the belt separately, but it should be pretty easy to get a customized fit all around. On the flip side, some shorts already come with integrated belts or drawstrings for dialing in fit right out of the box. That said, you'll want to make sure they're fairly low-profile if you're wearing a backpacking pack or harness, as any excess material or bulk can get in the way and cause discomfort. Shorts like the Patagonia Multi Trails and Baggies and Vuori Ripstop Short also build a strip of elastic into their waistbands, which adds a nice dose of comfort and stretch around the waist. In the end, there's no all-encompassing solution, and you'll want to go with what works and feels best for you: Some prefer the sleekness of belt-free waistbands, while others care more about fit customization than additional bulk under a hipbelt.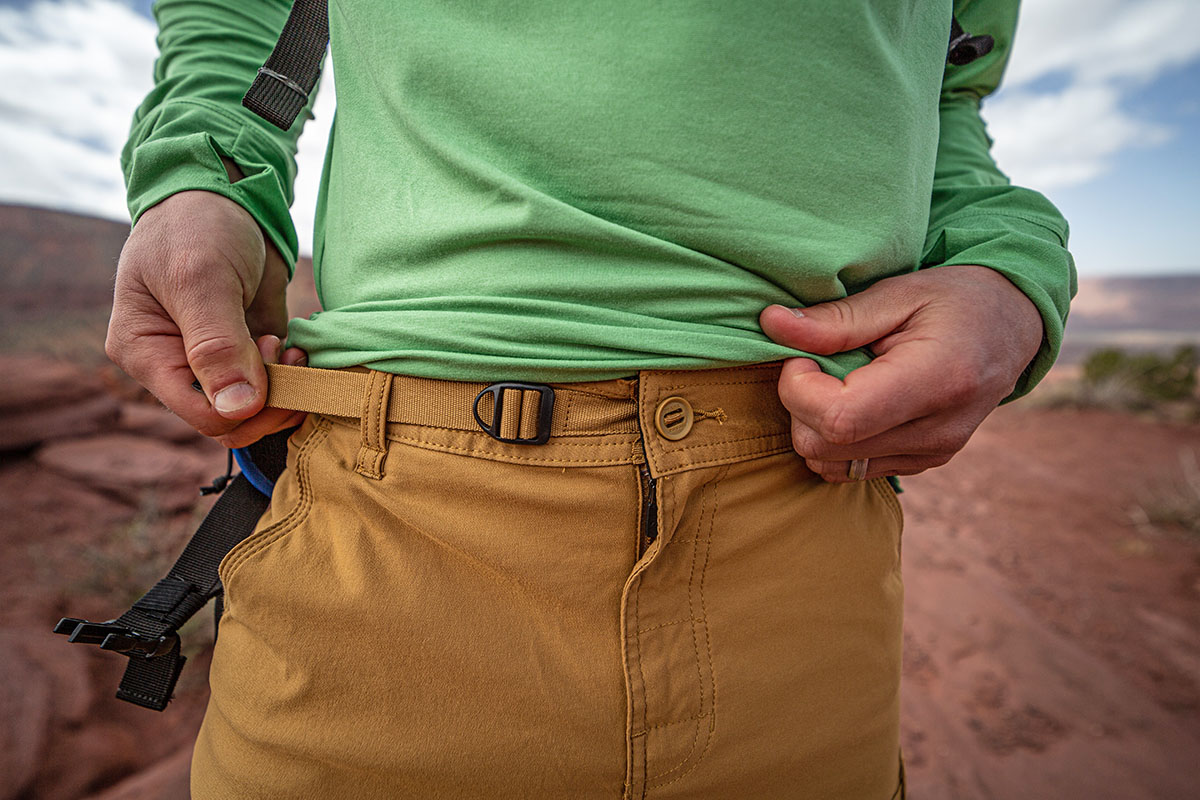 Pockets
Functional storage is a key consideration for many hikers (ourselves included). Ideally, we want a pair of shorts to be able to fit a smartphone in at least one of its pockets and secure items like a key or lip balm in another zippered pocket. Unfortunately, these features aren't always present, and if storage is important to you, you'll have to shop discriminately. That said, all of the shorts listed above include at least one pocket, and many sport upwards of four or five: two on the front, two at the back, and perhaps one on the side (keep in mind though, these aren't always super functional). Given that the topic of pockets and storage is so important to us, we make sure to call it out in the write-ups above.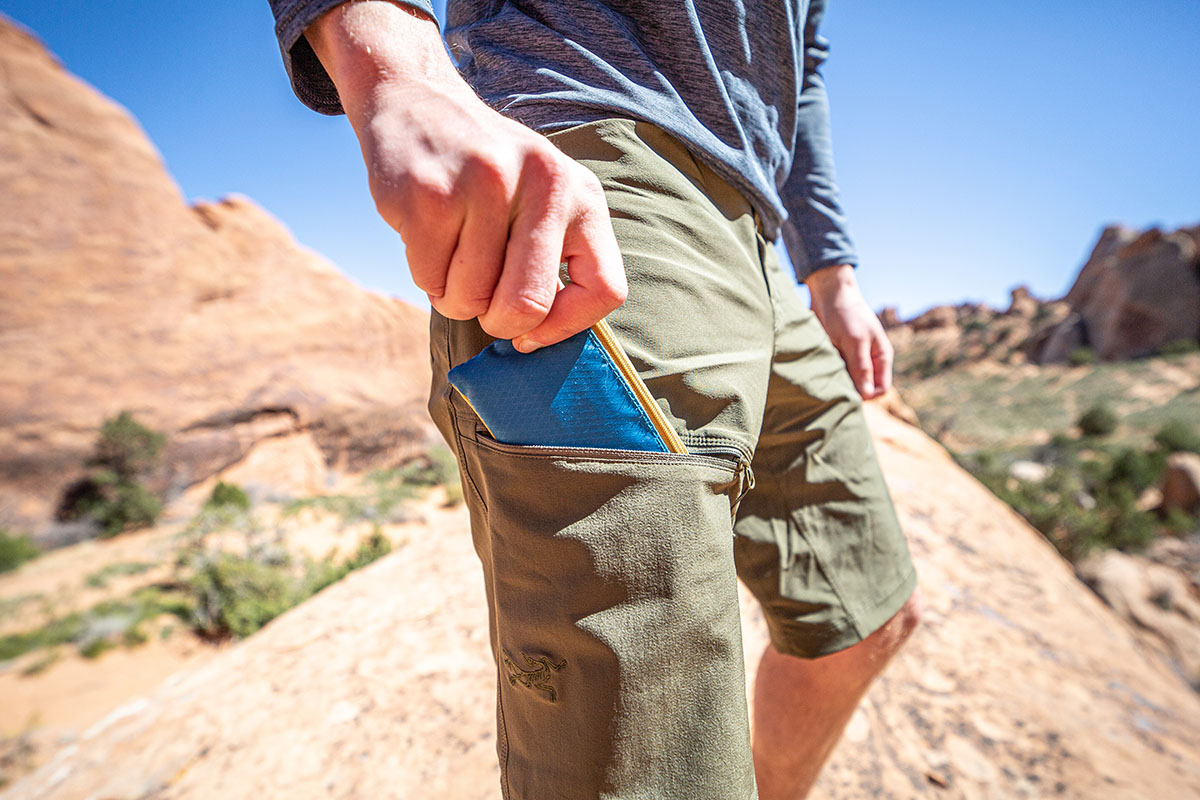 Inseams and Length
The hiking shorts on our list come in a range of lengths, which is most commonly measured in terms of the inseam (the length from the crotch seam to the hem). These span from the Patagonia Baggies (5 in.) to the Arc'teryx Gamma Quick Dry and Fjallraven Abisko Shorts (both 11 in.). We also often see shorts offered in multiple inseam options, such as the OR Ferrosi Shorts (7, 10, or 12 in.), Columbia Silver Ridge Cargo Shorts (10 or 12 in.), and many other picks above. Exceptions include the Patagonia Quandary and Multi Trails, Vuori Ripstop Short, Fjallraven Abisko, and REI Sahara Cargo.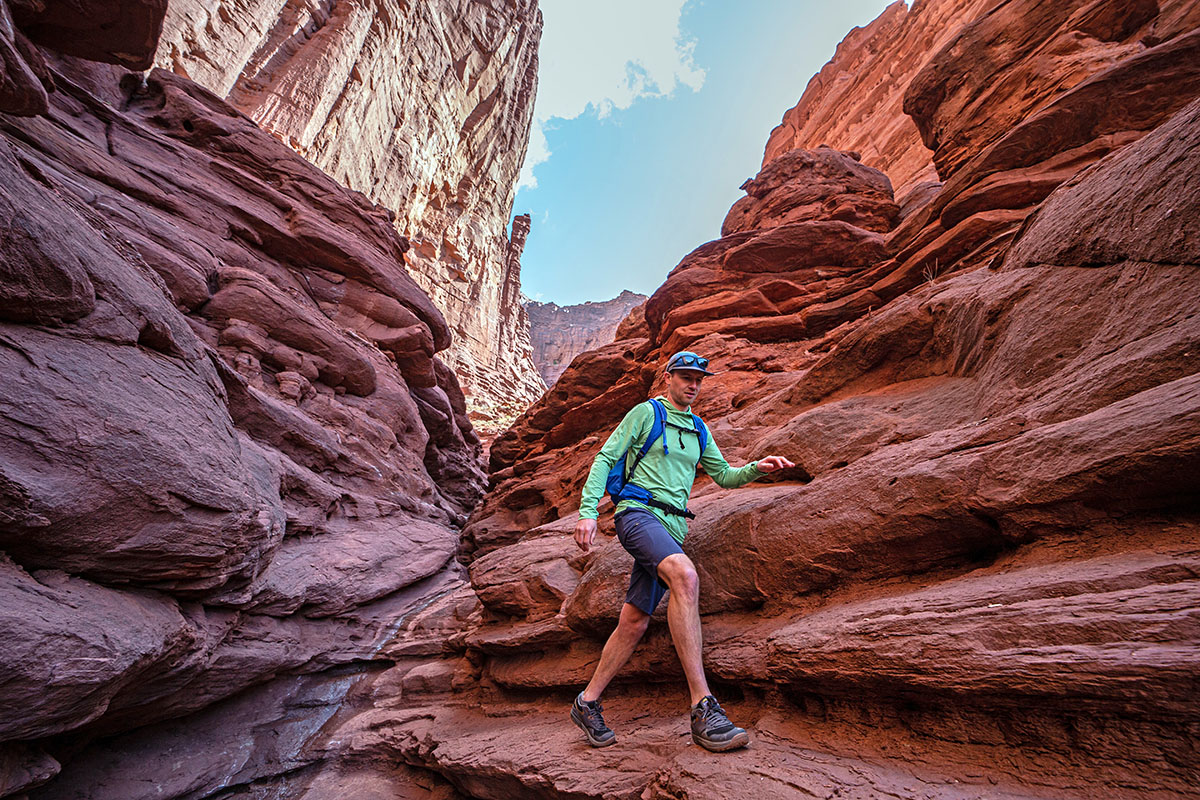 The length of short you choose will predominantly come down to a matter of personal preference, although it's important to acknowledge that longer shorts do offer more protection from both the sun and sharp objects like branches and boulders (on the other hand, shorter designs generally provide more freedom of movement and ventilation). Finally, keep in mind that some manufacturers also list an outseam measurement, which specifies the length from the waist to the hem. This is far more common for women's-specific designs and boardshorts but nevertheless can be helpful for giving you an idea of how high-waisted the short might be, which many hikers will appreciate for added coverage when bending over and high-stepping over trail obstacles.

Sizing and Fit
We've put up with our fair share of baggy, ill-fitting hiking shorts over the years, but the good news is that the market has improved significantly of late, incorporating stretchy fabrics and features like sleek elastic waistbands and gussets for better range of motion. Many brands have also expanded their lineups to include a range of plus-sized options, which we're happy to see (REI Co-op and KUHL are leaders in this movement). And as we mentioned above, it's fairly common for a short to come in multiple inseam lengths—the prAna Stretch Zion II, for example, is offered in 8, 10, and 12-inch lengths, while the women's Halle II comes in 5- and 7-inch options. As with hiking pants, it's best to try on several shorts before you buy, but we do our best to call out fit and sizing discrepancies in the write-ups above to help online shoppers.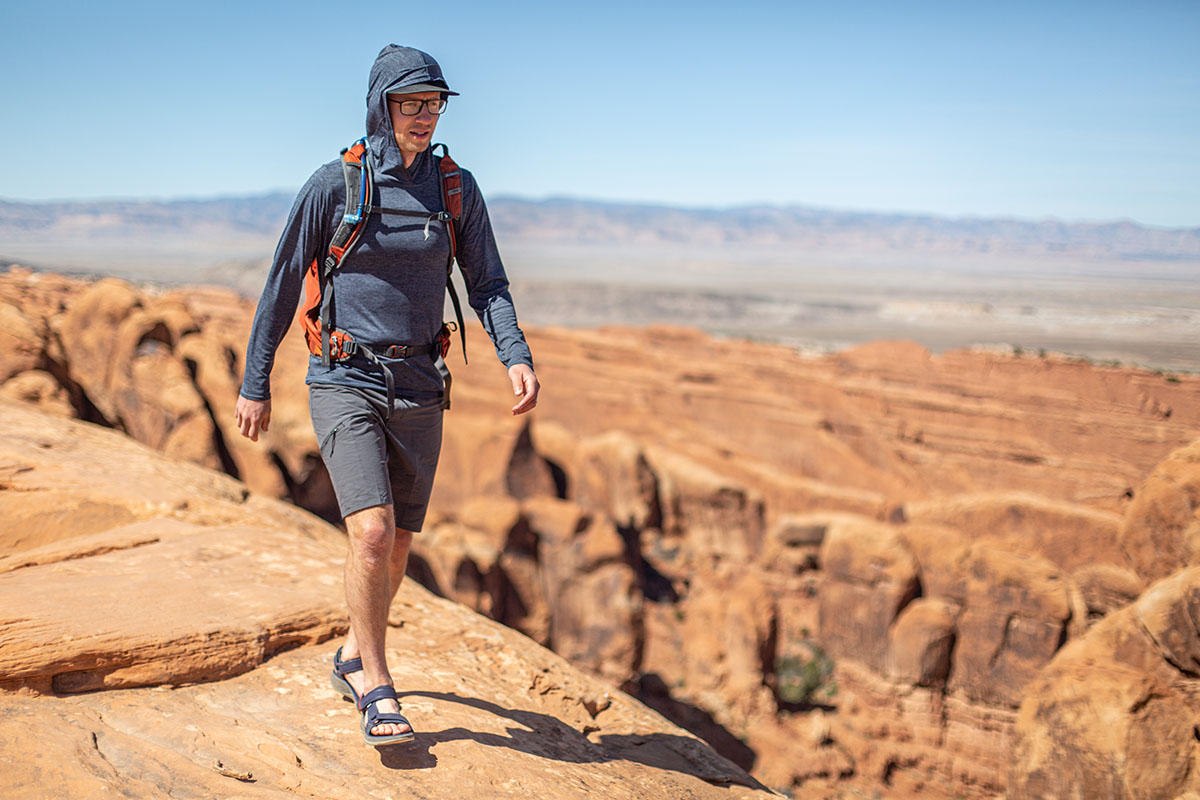 UPF and Sun Ratings
Some hiking shorts boast a UPF rating, which is a measurement of their ability to block harmful UV sun rays. A couple examples include the Outdoor Research Ferrosi Shorts and REI Sahara Cargo Shorts (both UPF 50+). Keep in mind, however, that the lack of leg coverage does detract from shorts' sun-blocking ability. In other words, unlike with full-coverage hiking pants, you'll likely still need to apply sunscreen to your lower legs. As usual, it will help to identify what you'll be using your shorts for before determining if you want or need UPF protection.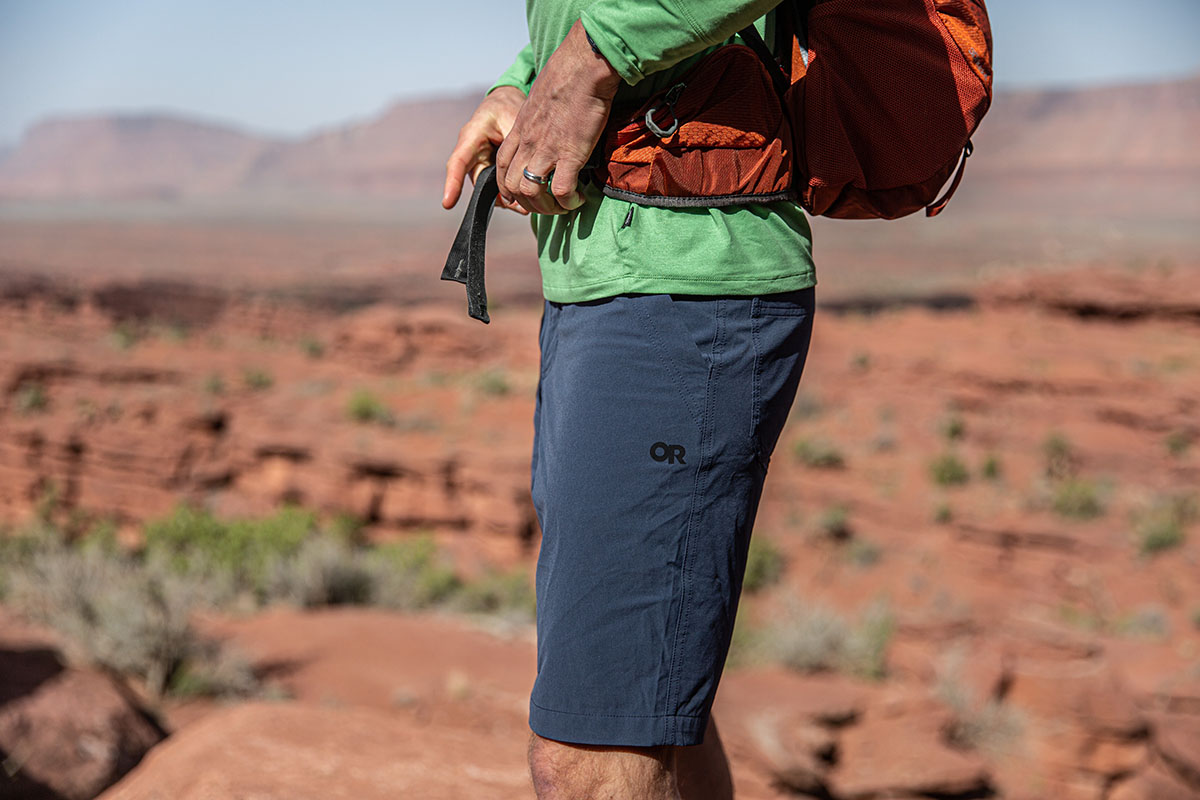 Sustainability
The outdoor industry has seen a big jump in sustainable practices and eco-friendly materials of late, and hiking shorts are no exception. In this case, common measures include the use of recycled fabrics and bluesign-approved materials, the latter of which indicates they're safe for the environment, workers, and consumers. Finally, some shorts—including Patagonia's Baggies collection—also use PFC-free DWR coatings that forgo the use of harmful perfluorocarbons.
REI Co-op, prAna, and Patagonia are three leaders in the sustainability realm, as evidenced by the Sahara Cargo Shorts (96% recycled nylon and bluesign-approved fabrics), Stretch Zion II Shorts (95% recycled nylon and bluesign-approved fabrics), and Multi Trails Shorts (90% recycled polyester and also bluesign-approved). The Multi Trails also tack on a Fair Trade Certification, indicating that Patagonia put extra money into production to ensure that workers have access to fair compensation, healthcare and childcare programs, and more. And their Baggies are made with nylon from recycled fishing nets, which is an innovative step toward reducing ocean plastic pollution. In the end, we appreciate when brands go the extra mile in being eco-conscious and transparent about their practices (and particularly when it doesn't compromise quality and performance).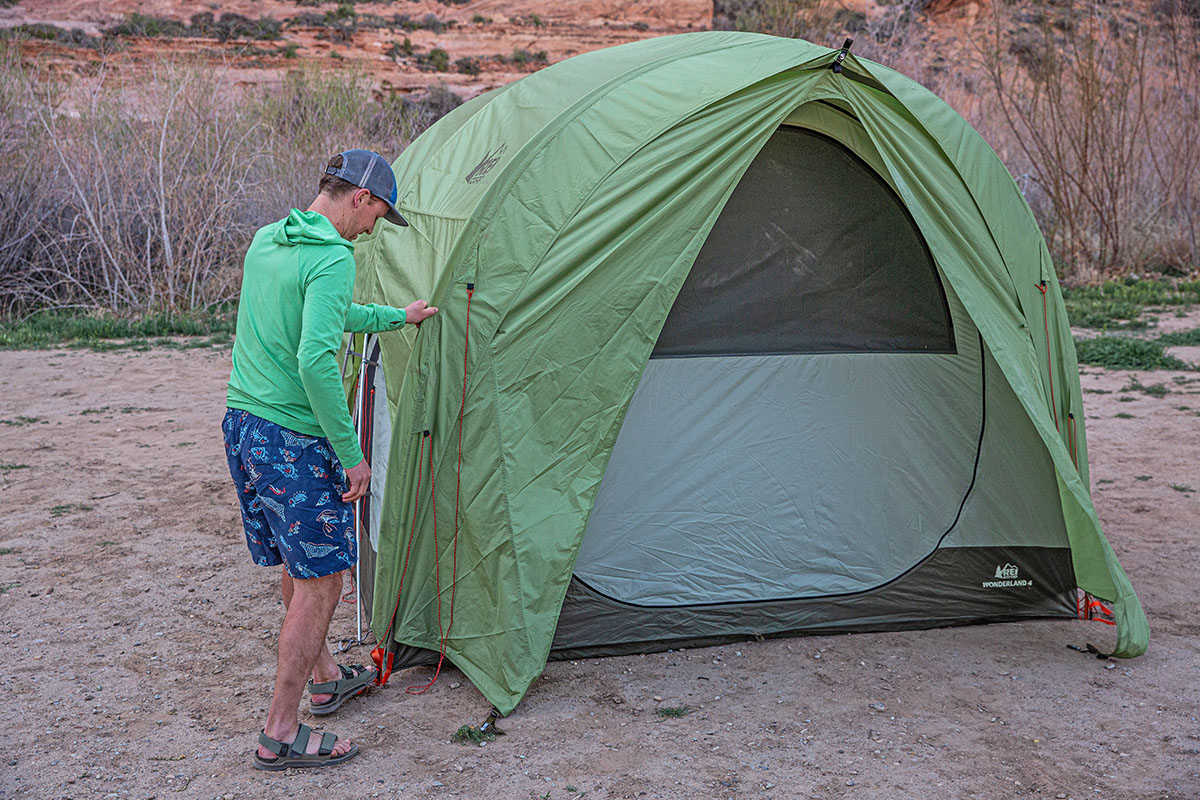 Women's-Specific Hiking Shorts
Our picks above were selected primarily based on the experiences of male-identifying testers, although you'll notice we link to both the men's and women's versions whenever available. Additionally, due to this category's noteworthy variation in styles, we've also tested and compiled a unique round-up of the best women's hiking shorts where you'll find many of the same models here (names and colorways sometimes differ) as well as a variety of women's-specific hiking shorts.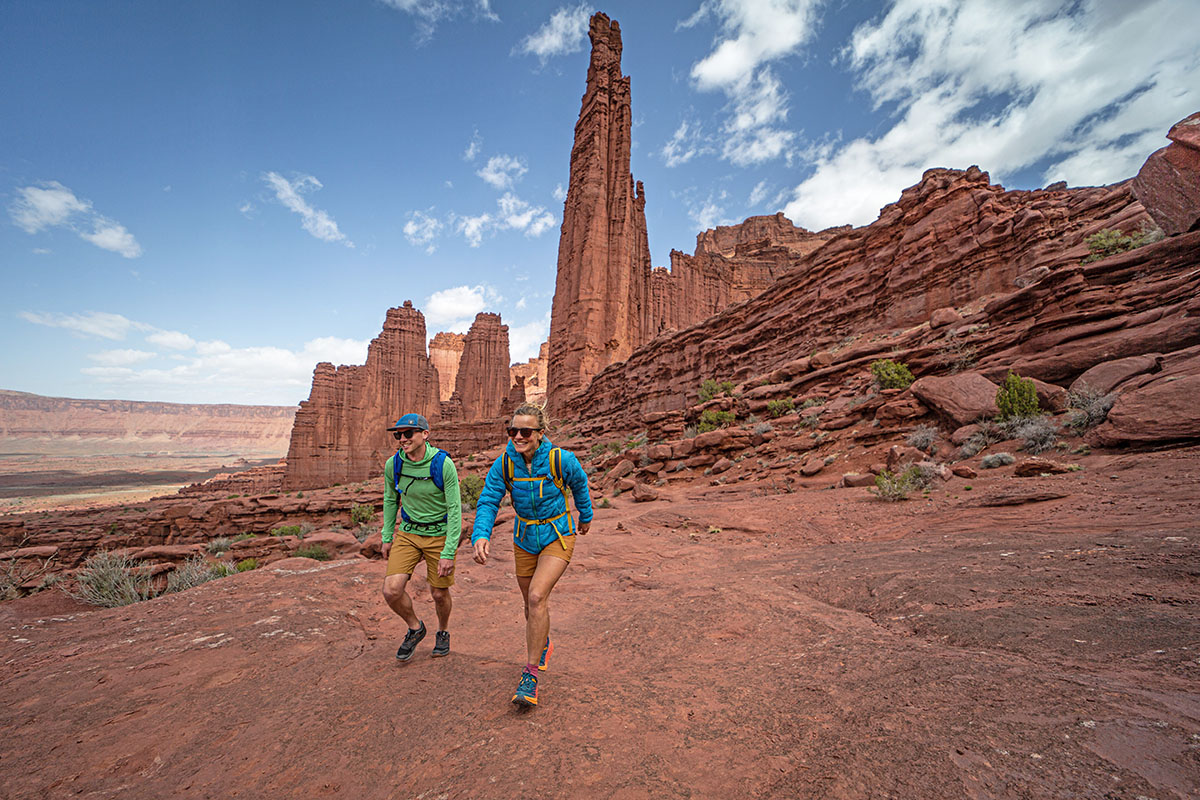 Hiking Shorts vs. Hiking Pants
If you're hitting the trail in mild to hot conditions, you'll be faced with the decision of whether to wear a pair of hiking pants or shorts. With pants, you get significantly more protection (from sun, sharp objects, and bugs), and if temperatures drop or the wind picks up, your legs will be better insulated against the elements. Pants generally offer more storage as well, don't bunch up when worn underneath a harness, and can guard against debris getting into your hiking shoes or boots. In short, they're the more high-performance design and generally our choice for variable days, mountain environments, or when we want maximum protection.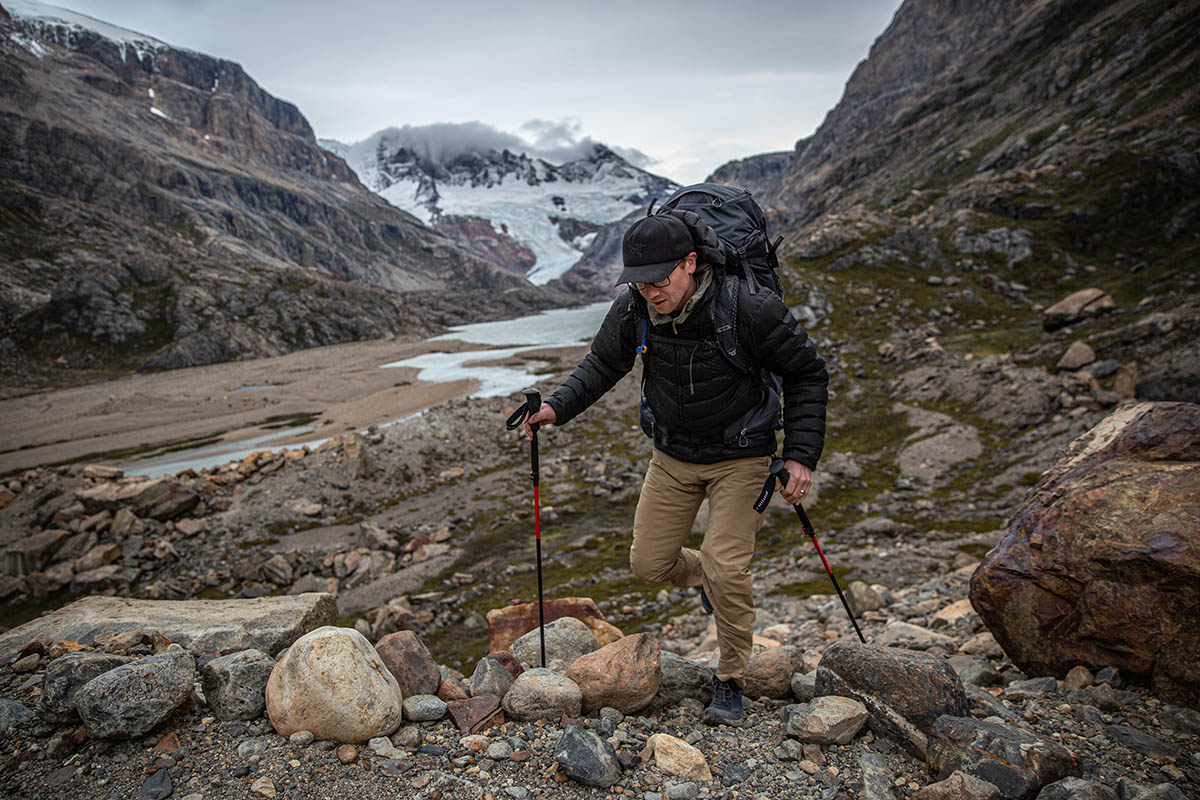 On the flip side, shorts are by far the more breathable choice, and they also tend to dry out more quickly after getting wet thanks to their more minimalist builds. We generally prefer them on hot days or when we know we'll be playing in or around water (or needing to ford rivers). They're also the better choice if you're mixing in a little running with your hiking: With less fabric, shorts won't weigh you down as much as pants, and you won't have to deal with the legs brushing up against each other with each stride. Oftentimes, we'll bring shorts for the hiking portion of our day and pack a pair of pants for our destination, whether it's a climbing route, a campsite, or an exposed mountaintop. For the most versatile option, convertible pants (like the Patagonia Quandary Convertible Pants) zip off at the knee and convert to shorts, but the design is polarizing and certainly not for everyone.
Back to Our Hiking Shorts Picks  Back to Our Hiking Shorts Comparison Table
Read More From Switchback Travel