If you're searching for that elusive one-ski quiver, this is the category to find it. The definition of "all-mountain" varies by manufacturer and retailer but typically includes skis from 80 to 105 millimeters underfoot that can both carve on hardpack and provide float in fresh snow. In general, those who ski primarily on the East Coast or in the Midwest should look in the 80- to 95-millimeter range, and those who ski out West will want a waist width from 90 to 105 millimeters. It's a crowded all-mountain field, but below we've picked the best models for the 2023-2024 season. For more information on choosing the right ski, see our comparison table and buying advice below the picks.
 
---
Our Team's All-Mountain Ski Picks
---

Best Overall All-Mountain Ski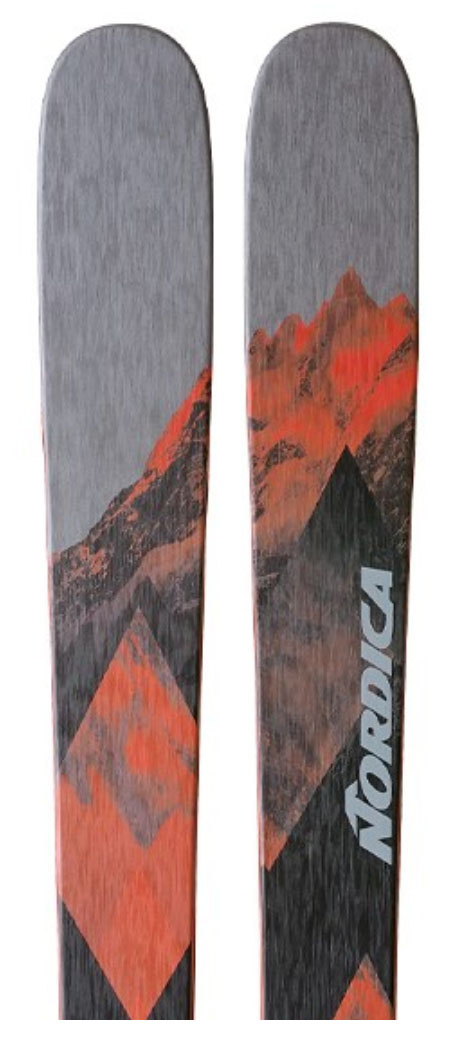 Category: All-mountain
Ability level: Intermediate to expert
Dimensions: 127-94-115.5mm
Other widths: 88, 100mm
What we like: About as well-rounded and versatile as it gets in the all-mountain category.
What we don't: A little narrow for powder days.
Updating a top-selling model is risky business, but we think Nordica nailed the latest Enforcer line. The mid-width "94" is our favorite of bunch for all-mountain use thanks to its sturdy yet fun personality. Notable tweaks to the design, including greater use of carbon fiber and a lighter-weight front end that features less plastic and more wood, increased versatility. The result is that the ski has lots of pop as you combine turns on and off trail, grips exceptionally well on hardpack, and still can put a lot of power down with two sheets of metal. In a very crowded field of all-mountain options, the Enforcer's do-everything character puts it at the top of our 2023-2024 rankings.
In testing the ski, one standout trait we kept coming back to was its natural and predictable performance. From the very first run, we felt completely comfortable: The ski is surprisingly easy to turn, excels at a range of speeds, and hits a sweet spot in width for true coast-to-coast appeal. Unless you spend your days searching out powder stashes—during a late-season storm cycle, we did find ourselves wishing for the wider 100-millimeter model, or even the lighter and more playful 104 Free—the Enforcer 94 is a great match. It's worth noting that Nordica also offers their popular women's Santa Ana collection, which we found delivers similarly well-rounded performance at a lighter weight... Read in-depth review
See the Nordica Enforcer 94  See the Women's Nordica Santa Ana 93
 

Best Ski for Hard Chargers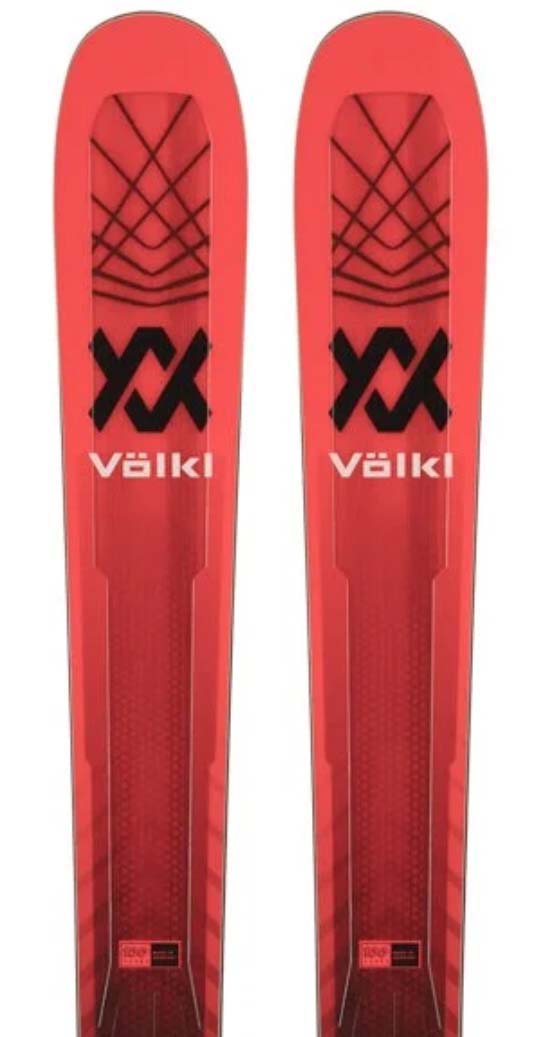 Category: All-mountain
Ability level: Intermediate to expert
Dimensions: 135-96-119mm
Other widths: 102mm
What we like: Sturdy and fast with versatile dimensions for all-mountain hard chargers.
What we don't: Requires a strong pilot; not a very playful ski overall.
On the heels of the extremely successful and well-loved M5, Völkl didn't rock the boat too much with the latest M6 Mantra. It remains an extremely powerful and precise all-mountain option that's perfectly happy in the hands of hard chargers at speed. Völkl did make some adjustments to the Titanal Frame construction: Shorter skis now have less metal and are a little softer, while longer options are stronger with more metal. You also get the brand's 3D Radius (also found in the Kendo below), which effectively gives the ski three different turn radii. In practice, it's pretty impressive, and the M6 feels comfortable at everything from tight and quick turns to wide GS sweepers.
It's a close call between the M6 and Nordica Enforcer above, and both are versatile, standout models. In parsing out the differences, the Mantra is noticeably wider at the tip (by 8mm), and its stiffer build gives it the advantage in terms of stability. But the Nordica is more comfortable in tight spaces with its nimble, easier-to-manage flex (this also makes it a better option for intermediate-level skiers). Both are excellent one-quiver options for riders that spend the majority of their time on groomers or in regions with moderate snowfall. We think the Nordica is a bit more well-rounded, but if you prioritize unflappable performance in nearly all conditions, the M6 Mantra is hard to beat.
See the Völkl M6 Mantra  See the Women's Völkl Secret
 

Our Favorite Playful All-Mountain Ski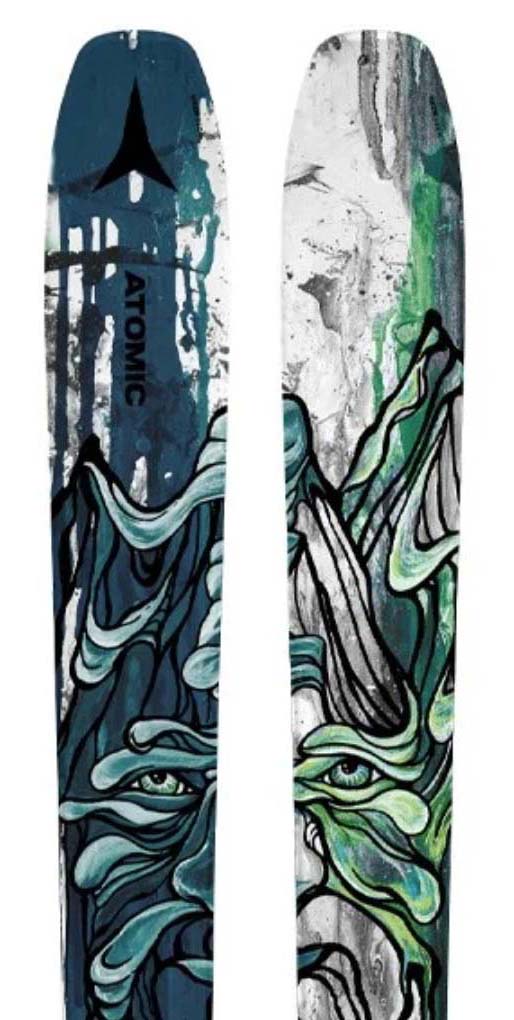 Category: All-mountain
Ability level: Intermediate to advanced
Dimensions: 129.5-100-120mm
Other widths: 85, 90, 110, 120mm
What we like: Light, quick, and a whole lot of fun all over the hill.
What we don't: No metal in the build translates to a less damp ride.
Atomic released an all-mountain variation of their legendary, powder-slaying Bent Chetler 120 a couple seasons back, and it was met with near-universal praise. The Bent 100 hits the sweet spot in so many ways: Its width is ideal for many of those riding in the West; the lightweight, no-metal build gives it a playful feel that few skis in this category can match; and the gorgeous topsheet design is a true work of art. For skiers who prioritize fun—it dances well in the trees, down the occasional zipper line, and isn't afraid of some air—the Bent 100 has quickly become a go-to. And aggressively priced at $650, it's arguably one of the best values on the market.
Similar to popular collections like the Enforcer, Mantra, Kore, and QST, the Bent is quickly gaining legions of fans. But it's equally important to set realistic expectations for performance on hardpack and less-than-ideal snow. You do have a healthy amount of camber underfoot to help lay into a turn, but the no-metal construction and relatively soft flex translate to less stability and dampness as you ratchet up the MPH or run through a section of chundery snow. Expert riders who still want to keep things light and fun may prefer Blizzard's Rustler 10 below, which tacks on some Titanal while retaining a surfy ride off trail. But as a pure fun machine, the Bent 100 gets our nod, and the lightweight setup works great if you want to throw on a hybrid downhill/backcountry binding like the Salomon Shift. One final note: While the 100 floats quite well in soft snow, those needing more ski real estate should opt for the similarly built Bent 110. 
See the Atomic Bent 100
Best All-Mountain Ski for Carving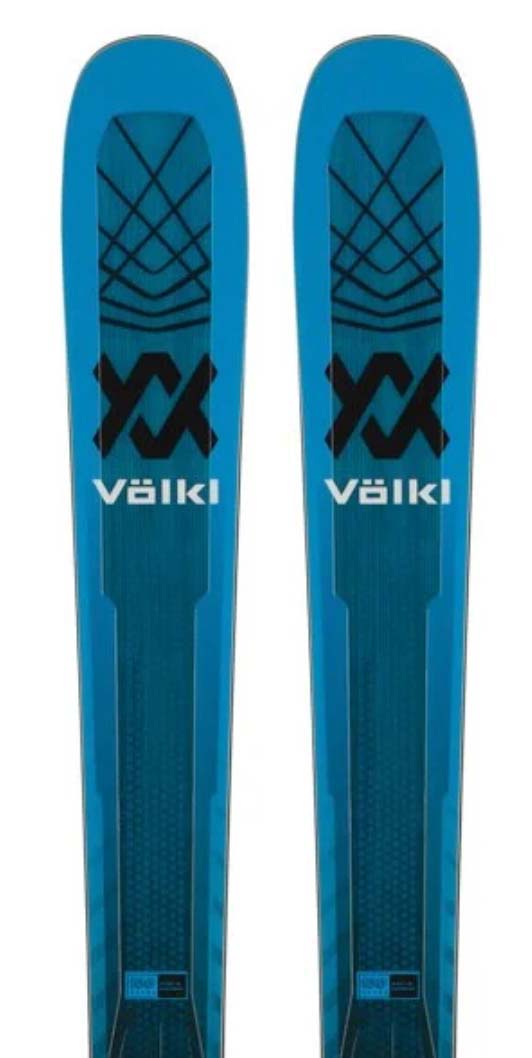 Category: All-mountain front
Ability level: Intermediate to expert
Dimensions: 129-88-113mm
Other widths: None
What we like: Great mix of precise and smooth carving with all-mountain versatility.
What we don't: It's not a playful ski; narrow for areas with even moderate annual snowfall.
Völkl's Kendo 88 needs little introduction at this point, but if you aren't already acquainted, here goes: For frontside skiers who want a smooth, precise, and agile carver, it's a top choice year after year. On a groomed trail, the ski absolutely comes alive with quick reactions to inputs, a very reliable and solid edge hold, and a satisfying amount of pop between turns. Like the Mantra M6 above, you get Völkl's 3D Turn Radius, which lends a natural feel for everything from tight, short turns to wide and high-speed sweepers. And at 88 millimeters underfoot, the Kendo is decently versatile, too, with enough width to hold its own for dipping into the trees after a good storm. 
Past versions of the Kendo were criticized for being too unforgiving for intermediate riders, but Völkl loosened things up a bit with the current model. The big news is that they trimmed away some weight by using their Titanal Frame construction—shared with the M6 Mantra above—and now tailor the amount of metal in the ski according to length. Sizing up will get you more metal, stiffness, and stability, while shorter lengths will be lighter and easier to handle for less powerful skiers. Combined with the refined shape, the ski can be enjoyed by ability levels ranging from intermediate to expert. As a frontside specialist or an all-rounder in areas with limited snowfall, you can't ask for much more.
See the Völkl Kendo 88  See the Women's Völkl Kenja 88
Best All-Mountain Ski for Powder
Category: All-mountain back
Ability level: Advanced to expert
Dimensions: 139-106-126mm
Other widths: 92, 98mm
What we like: Great flotation and capabilities in soft snow.
What we don't: Unsurprisingly, its groomer performance comes up a bit short.
Transitioning to a ski that loves pow, Salomon's QST 106 is a wide and fun freeride design. An industry favorite over the past few generations, Salomon focused on improving off-piste turnability, flotation, and playfulness with the latest model. To pull it off, they made some relatively small tweaks—a little more rocker in the profile, a revised and more tapered shape, and modest changes to the layup. What you get is a grin-maker that's particularly well suited for those who spend their days on the outer edges of the resort. The ski exceeds even lofty expectations in soft snow (the 106 is a borderline powder ski), is super predictable and a smooth operator in chop, and the improved control makes the latest QST impressively easy to pivot in tight spots. For the all-mountain wide category, that checks pretty much all the boxes.
Predictably, these design changes don't translate to standout performance on groomers. And while the QST has made notable progress over the years in terms of turn-in and edge hold, the ski can't match the picks above at speed—the front end can feel overly light and doesn't like being driven hard on icy groomers. As a result, the QST is less of an all-rounder when compared with the Mantra and Enforcer but is a legitimate all-mountain option in places that see a lot of powder (think West Coast, Colorado, or Utah). And for the lucky few who experience even more of the fluffy stuff throughout the season, Salomon offers the 112-millimeter-wide QST Blank.
See the Salomon QST 106  See the Women's Salomon QST Stella 106
Best All-Mountain Ski for Beginners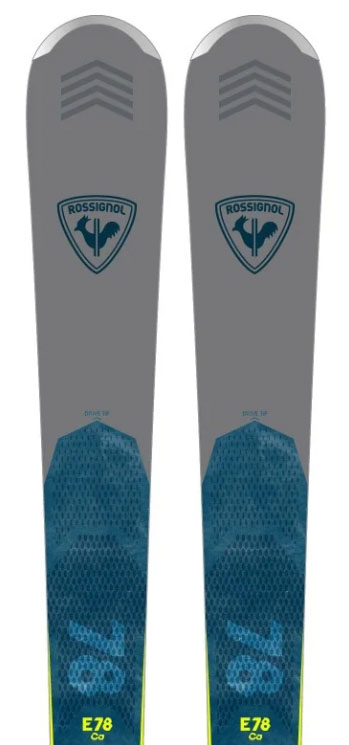 Category: All-mountain front
Ability level: Beginner to intermediate
Dimensions: 125-78-111mm
Other width: 80mm
What we like: Good value for a quality beginner-friendly ski.
What we don't: Fast learners should avoid this entry-level category altogether.
The skis above are tuned for advancing intermediates to expert riders, but true beginners have a different set of requirements. For one, a narrower build that's easy to manage on groomed and chopped-up hardpack is a must-have. Further, a soft and lightweight construction that's willing to turn even with only moderate input greatly improves chances for progress on those early ski days. And a package deal that comes with a pair of reliable bindings attached also simplifies the process.
A good number of the major ski brands make an entry-level model—often it's a toned-down version of their core all-mountain design—and we think Rossi's Experience 78 checks all the right boxes. Sharing a similar shape as the Experience 86 below, the 78 swaps the 86's strong underpinnings for less width and more flexibility. Overall, its build is extremely user-friendly and plenty good for season-long use on green and blue runs, plus the attached Look bindings are a quality, proven set. But what makes the Rossis most appealing for us is that you won't outgrow them as quickly as a pair of full-on entry-level and noodly skis. That said, fast learners or those planning to get out a lot will still be better off with a higher-end design like the Atomic Bent above.
See the Rossignol Experience 78 Carbon  See the Women's Rossignol Experience 78
Best of the Rest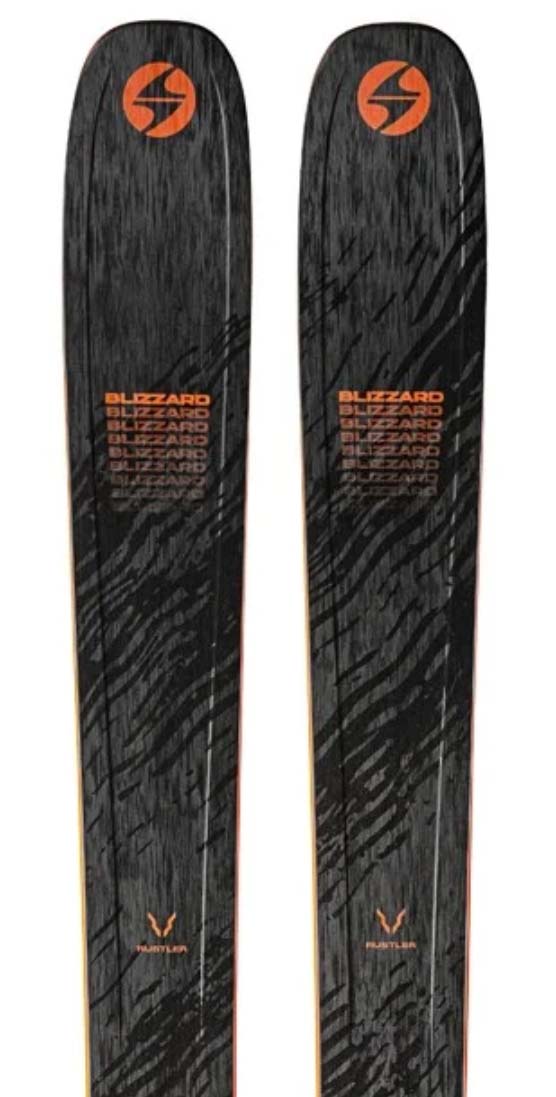 Category: All-mountain
Ability level: Intermediate to expert
Dimensions: 134-102-123mm
Other widths: 96, 112mm
What we like: An excellent do-everything ski that's stable on hardpack, floats in soft snow, and plows through crud.
What we don't: A little more demanding and less playful than the original Rustler.
Blizzard's Brahma and Bonafide have been mainstays in their lineup for their aggressive performance on hardpack, but we have to admit preferring the softer Rustler for true all-mountain use. Offered in three widths that go as wide as 112 millimeters (the Rustler 11) and as narrow as 96 millimeters (Rustler 9), we like the middle-ground "10" because it highlights the ski's do-everything nature. At 102 millimeters underfoot and with a balanced mix of rocker, camber, and stiffness in the construction, the new 2024 model excelled as our everyday ski last winter. In fact, it won us over by the end of the first lap: The Rustler was rock-solid on groomers, a standout in boot-top powder, and offered a level of maneuverability that belied its moderately wide dimensions. As a single ski for those who like to explore the whole mountain on a given day—it was on our shoulder countless times heading into the sidecountry—the Rustler 10 is hard to beat.
The prior-generation Rustler used to occupy our top "playful" pick, but Blizzard buttoned things down a little with the latest model. They upped the amount of Titanal—it runs the perimeter of the ski, including the tip and tail—which translates to better edge grip and high-speed stability. Thankfully, they kept weight in check, and there's enough flex in the tip to be forgiving in soft snow and for intermediates to pilot. That said, skiers who take the creative line down the mountain will miss the flickable, freestyle fun of the original (those riders will be better off with the Atomic Bent 100 above). But the trade-off is a fantastic West Coast all-rounder—and particularly for those who spend a good amount of time off trail... Read in-depth review
See the Blizzard Rustler 10  See the Women's Blizzard Sheeva 10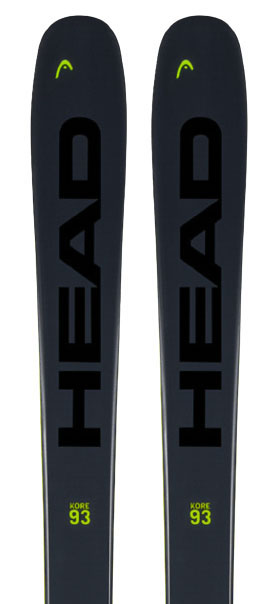 Category: All-mountain
Ability level: Advanced to expert
Dimensions: 133-93-115mm
Other widths: 87, 99, 105, 111, 117mm
What we like: Smoother and more versatile than the prior generation yet light and agile.
What we don't: Still not a leader in top-speed stability and dampness.
We've had mixed feelings about the popular Kore in the past—it was undeniably light and powerful, but it was pretty unforgiving and lacked the fun-to-drive, natural feel that we value in an all-mountain ski. That said, we think Head has landed on a true winner with the latest design. The ski is still super light and stiff enough to keep strong pilots happy, but it now has more of a poppy personality that makes it very satisfying to ski at a variety of speeds both on and off trail. The 93-millimeter model highlights these do-everything traits, with a good dose of precision on hardpack and plenty of quickness and easy turnability in light powder.
The Kore's revised construction now includes two layers of carbon fiber, a karuba/poplar wood core, and a chamfered design that rounds off the top of the ski. This emphasis on trimming weight does mean that it can't match a metal-heavy design like the M6 Mantra in all-out stability. The lighter build will get kicked around in chopped-up snow, and it lacks the super strong grip of a sturdy build like the Mantra or Rossi's Experience. In the end, if a damp ride is your cup of tea, the Kore isn't for you, but its mix of stiffness and flickability earn it a spot as one of our favorite all-rounders for 2023-2024... Read in-depth review
See the Head Kore 93  See the Women's Head Kore 91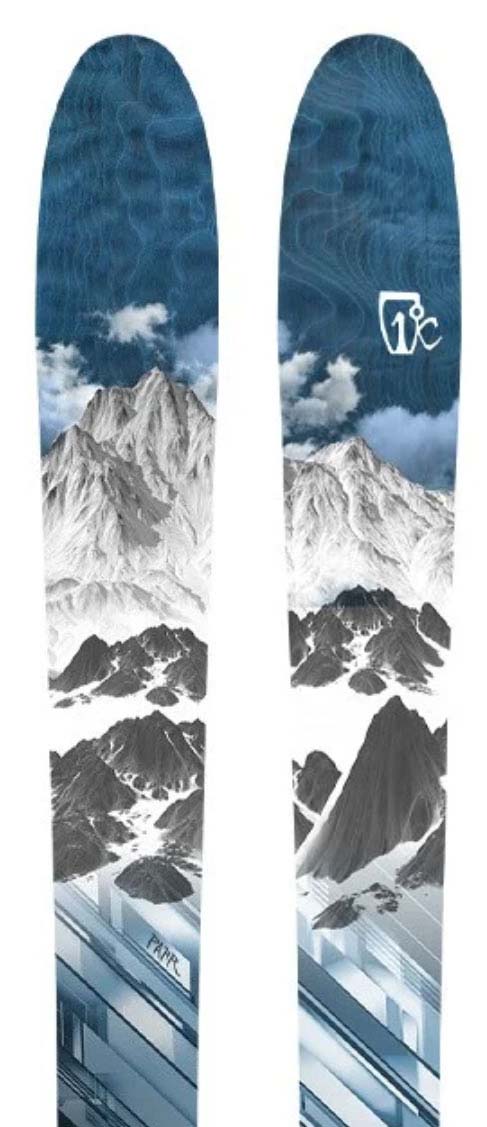 Category: All-mountain
Ability level: Intermediate to advanced
Dimensions: 131-96-118mm
Other widths: 86, 109mm
What we like: Pivots very well through the trees and bumps.
What we don't: Lacking in high-speed stability.
If your ideal day includes skiing moguls, making tight turns through trees, and taking the occasional lap through the terrain park, Icelantic's Pioneer 96 should be on your short list. With springy rebound thanks to 5 millimeters of camber underfoot and fast edge-to-edge transitions for making powerful, tight turns, the Pioneer performs well all over the mountain but truly shines on the frontside, where it's quick to pivot on hardpack and through the bumps. It's not the most stable ski at high speeds, but the tradeoff is excellent control and maneuverability. Finally, as we've come to expect from Icelantic, the Pioneer is a great-looking ski with a beautiful, mountain-inspired topsheet design (each year's artwork is unique) that's sure to stand out. 
While the 96-millimeter Pioneer is the most versatile option in the collection, this ski also comes in 86- and 109-millimeter widths. As expected, the 86-millimeter Pioneer provides better edge-to-edge performance on groomers, making it a great choice for East Coast skiers (especially those who love the bumps). On the other hand, the Pioneer 109 is the better choice for more aggressive, hard-charging riders or those who prefer a wider setup for plowing through crud or floating on softer snow. Regardless of which option you choose, Icelantic's Pioneer is an impressively nimble and responsive design for those who love to dance.
See the Icelantic Pioneer 96  See the Women's Icelantic Riveter 95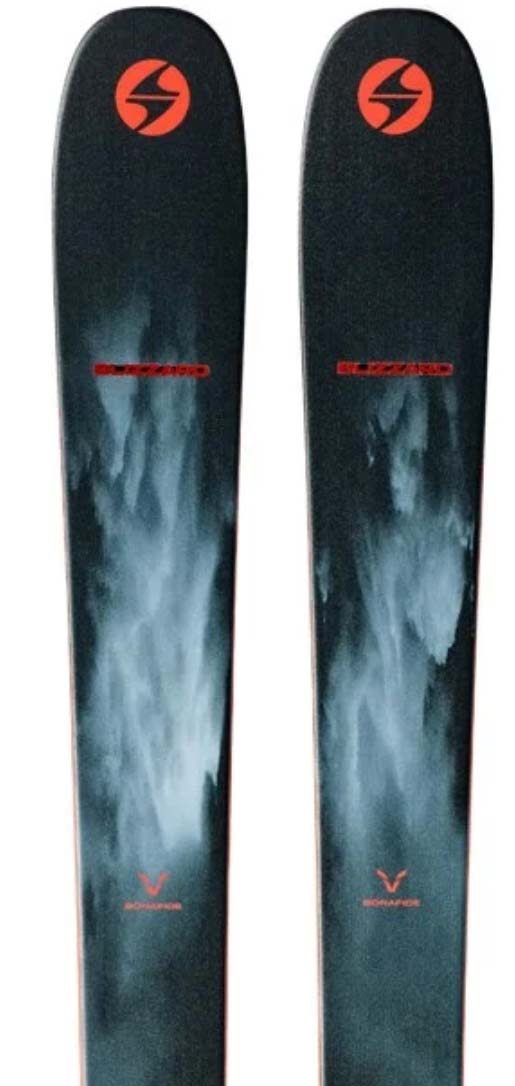 Category: All-mountain
Ability level: Advanced to expert
Dimensions: 136.5-97-118.5mm (177cm length)
Other widths: None
What we like: Fast and powerful on hardpack but with impressive versatility in mixed conditions.
What we don't: It's still a frontside ski that requires some muscle to control.
Blizzard's Bonafide has been a long-time favorite among advanced and expert all-mountain skiers, and they gave the design a significant rethink a couple seasons ago. Everything from the hybrid wood core to the flex pattern and dimensions saw changes, but as we found, the ski still rips. Featuring sturdy beech wood underfoot and two sheets of metal, the Bonafide has tons of power on tap, but strips of lighter poplar in the tip and tail soften the build slightly to make it a little less grabby and easier to release from a turn. In truth, this ski is best paired with a capable pilot, but it's less fatiguing and more approachable in general than its popular predecessor.
At $800, the Bonafide isn't a standout value, but you get quite a bit of customization for the price, including a flex pattern that changes by width: Sizing up gets you more rigidity, while going down gets you softer and easier-to-manage performance. In addition, the rocker shape changes based on size, and Blizzard offers the Bonafide in 6-centimeter length increments (many skis vary by 7 or 8cm) to make it easy to get an ideal fit. And finally, there's a women's variant, the Black Pearl 97, which matches the Bonafide in width and shares the hybrid wood concept (but with a unique wood mix) in a slightly softer build for lighter skiers... Read in-depth review
See the Blizzard Bonafide 97  See the Women's Blizzard Black Pearl 97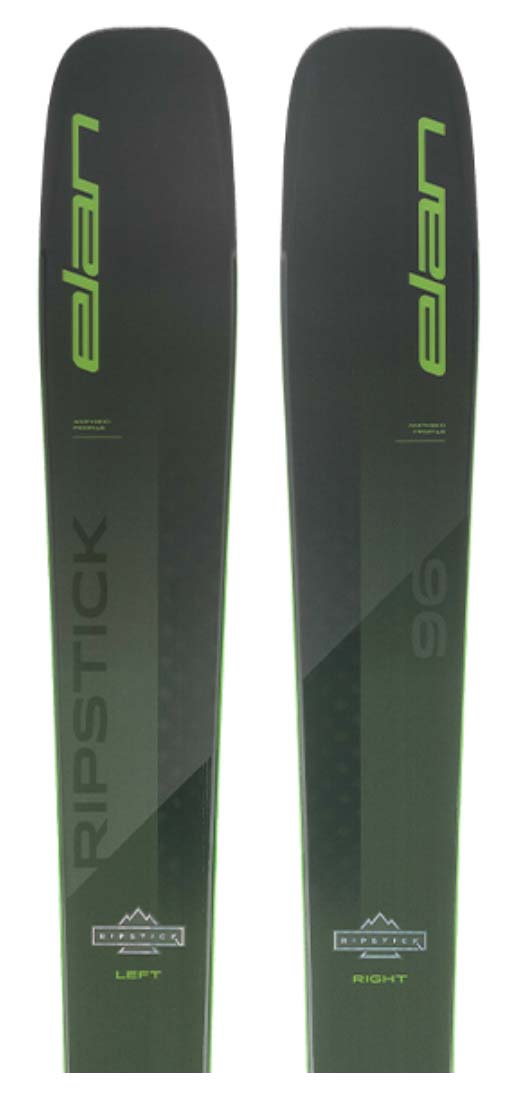 Category: All-mountain
Ability level: Intermediate to advanced
Dimensions: 136-96-110mm
Other widths: 88, 106mm
What we like: Very light, quick, and a blast to ski.
What we don't: Middling dampness and precision.
Easily one of the lightest all-mountain designs on the market, Elan's Ripstick 96 is a ski that puts an emphasis on fun. The freeride-oriented build floats well in the soft stuff and is super quick in tight spaces like trees or bumps. Credit the unique construction for these characteristics: There are dedicated right and left skis that feature more camber along the inside edge and rocker at the outside. This makes the skis buttery smooth and pretty easy to control in the vast majority of conditions, and it still can hold an edge through a high-speed turn (although it prefers a more playful skiing style). And paired with a touring binding like Salomon's Shift, you can easily venture outside the ropes with the Ripstick.
The downsides of the Elan pretty closely mirror Atomic's Bent above and Völkl's Blaze below. The clear priority was making the ski playful and nimble, which comes at the sacrifice of top-end stability. Those wanting more edge hold and precision for high-speed carving or a good amount of dampness and security for plowing through crud will want to stick to a burlier (read: heavier) ski like the M6 Mantra. But if you prefer an easy turner at a manageable width that is fully freeride (or backcountry) ready, the Ripstick 96 should be on your short list.
See the Elan Ripstick 96  See the Women's Elan Ripstick 94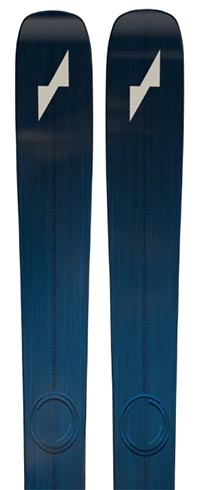 Category: All-mountain
Ability level: Intermediate to expert
Dimensions: 128-98-116mm 
Other widths: 78, 88, 104, 110mm
What we like: Approachable performance, impressive versatility, and a premium build.
What we don't: No longer a good value after the price jump for this winter. 
Leave it to Bode Miller to nail the launch. Brand-new ski brand, Peak, has hit the ground on an absolute tear, and credit goes to top-notch tech and the backing of some of the most trusted and recognizable names in the sport. And the good news is it's far from just marketing hype—their current ski collection covers everything from fast on-trail rippers (the narrow Peak 78 by Bode) all the way up to lightweight sidecountry/touring designs (Peak 104 by Dav). The common feature on all the models is the brand's KeyHole Technology, which in short means they cut out an oval-shaped piece from the top metal layer in front of the bindings. On snow, this cutaway helps soften the front end and make the ski easier to turn—a plus for intermediates or if you're in dicey conditions—without compromising power underfoot and carving ability. 
Within the all-mountain market, Peak's 98 by Bode is the logical fit here. The dimensions and shape will work well for season-long use in most of the U.S. (there are 88mm and 104mm variations, too), and the semi-stiff ski has broad appeal for ability levels ranging from intermediate to expert. Stacked up to the popular options above, the Peak offers superior edge control compared to Blizzard's Rustler but without the always-on demands of a ski like Volkl's Mantra M6. One area where it doesn't have the upper hand, however, is price. Last season the Peak 98 was right in line with its core competitors, but a jump to $1,090 for winter 2024 puts it in the upper echelons on the market and out of reach for many. But with lots of accessible power on tap and a high-end look and feel, we fully expect to see more and more of these skis on the hill going forward.
See the Peak Skis 98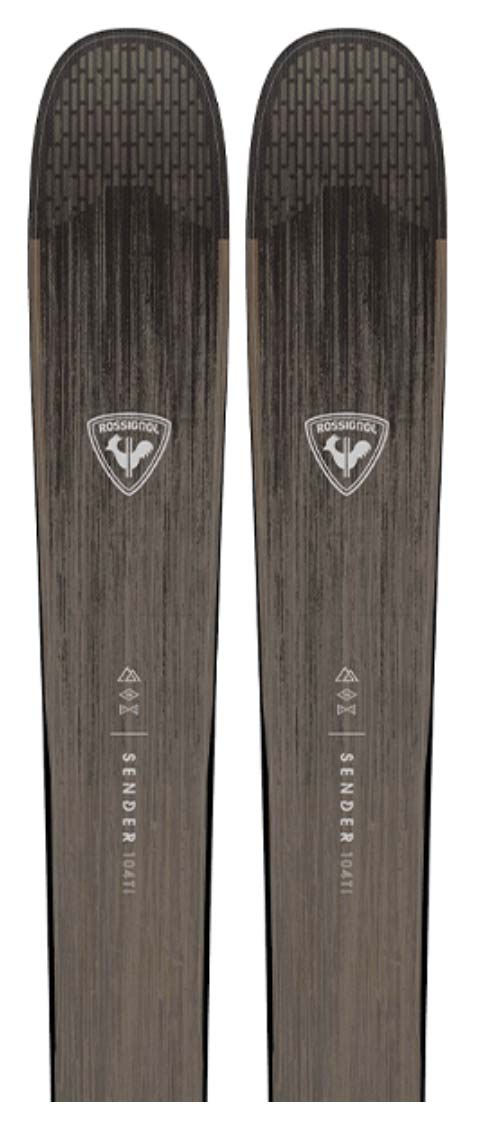 Category: All-mountain back
Ability level: Advanced to expert
Dimensions: 138-104-128mm
Other widths: 94, 106mm
What we like: Well-rounded and capable design for regions with plenty of soft snow.
What we don't: Lacks the discontinued Soul 7's easy drivability.
When Rossignol announced the discontinuation of their legendary "7" line, it was met with obvious surprise. The signature Soul 7's yellow tips were a common sight at the resort and in the backcountry, and the replacement, the Black Ops Sender (since simplified to Sender Ti), was a pretty significant departure in terms of design and all-around performance. But here's the good news: The Sender is a seriously great ski that has better hardpack hold while retaining a good dose of the Soul's soft-snow flickability. At 104 millimeters underfoot, the Sender Ti is still best as an all-mountain choice in regions that get a lot of powder days, but it's an impressively versatile option.
How does its performance stack up to the iconic Soul 7? The main sacrifice is that it's not as easy and natural to drive, requiring more focus and experience in tricky sections off trail (intermediates likely won't be as happy with it as the old model). To be fair, the ski is more forgiving and less of a hard charger than alternatives like Völkl's Mantra 102, but you do lose some of that user-friendly feel. On the other hand, the Sender is faster, grips better, and is more of an all-rounder for advanced skiers, and they've done a nice job keeping weight in check. For a slightly softer and more freeride-oriented option, there's also the Black Ops collection, which is offered in 98- and 118-millimeter widths.
See the Rossignol Sender 104 Ti  See the Women's Rallybird 104 Ti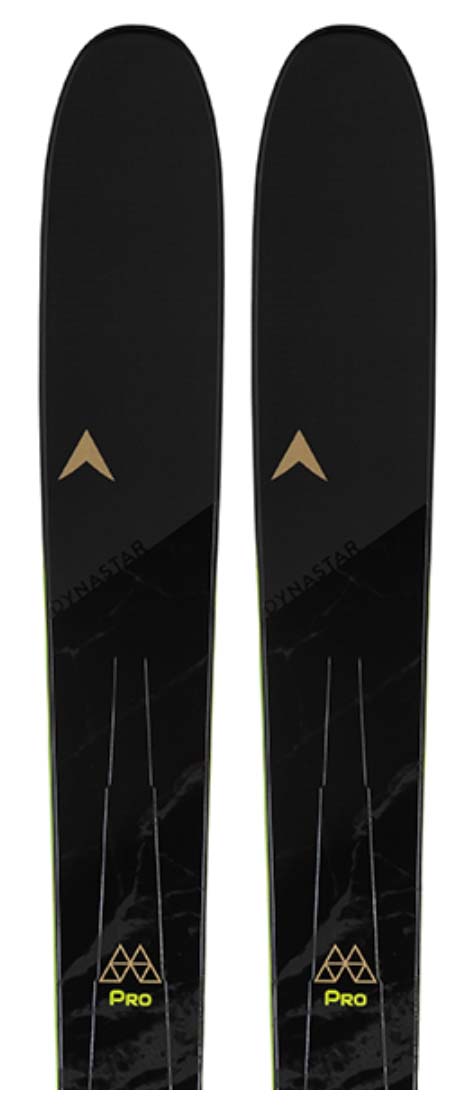 Category: All-mountain back
Ability level: Intermediate to advanced
Dimensions: 127-99-117mm
Other widths: 84, 90mm
What we like: Nice balance of quickness and stability.
What we don't: Has a lower performance threshold compared with class leaders.
Dynastar's old Legend X was a somewhat polarizing design, but their thoroughly modern M-Pro 99 takes direct aim at the core all-mountain/freeride market. Whereas the Legend X was light enough for occasional alpine touring duty and quick to turn, the M-Pro retains some of that nimble feeling with a healthy dose of edge hold and strength. Key to this upgrade in performance is their unique hybrid core, which relies heavily on polyurethane (it covers a large section of the outer edges) for dampness and stability. The M-Pro still is easy to control in tight spots and at lower speeds, but it's now more capable across a wide range of snow conditions.
Despite the improvements, the M-Pro 99 has some limitations for expert skiers. The trimmed-down design can't plow through chop and rough snow like the Mantra or Bonafide above, and it's a little less planted with more tip flap through wide and sweeping turns. For those who don't like to back off the throttle, the ski may come up short. On the other hand, it's a really nice option for intermediates who are progressing quickly or advanced riders who aren't always charging. In other words, the M-Pro lines up nicely with a good portion of the all-mountain market.
See the Dynastar M-Pro 99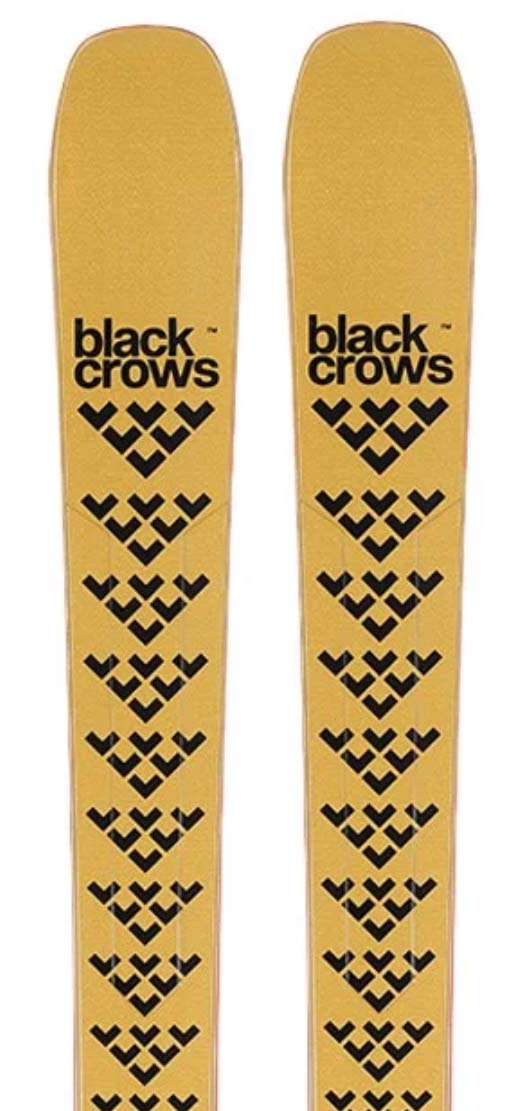 Category: All-mountain back
Ability level: Advanced to expert
Dimensions: 138-100-123mm
Other widths: None
What we like: Playful, fast, and easy to turn for its width.
What we don't: Dimensions and rocker profile favor soft snow conditions.
In a short time, Black Crows has gone from a relative unknown to a big-time player in the U.S. market (the company is based in France). Their skis have earned a reputation for being poppy yet seriously capable in areas with pucker-worthy terrain like Jackson Hole. Our favorite among their all-mountain offerings is the 100-millimeter-wide Justis, which in many ways replaces their popular Daemon (a design that made our all-mountain list in previous years). Like the Daemon, the ski has a lot of tip and tail rocker, so it floats well and is easy to turn. But they've added some camber underfoot (the Daemon was pure rocker), which gives the Justis a more traditional and predictable feel on hardpack.
Who is the Black Crows Justis best for? It hits a pretty nice middle ground of power and playfulness, and the wider dimensions means it'll line up nicely for those in regions with consistently good snowfall. On the other hand, the ski is a bit wide and rocker-heavy to be a daily driver on groomers if you go long stretches between storms. And in terms of ability level, the construction is fairly stiff, so it's best in the hands of strong advanced or expert riders. For a softer and even more fun alternative that works nicely with intermediates, check out Black Crows' 97-millimeter-wide Camox.
See the Black Crows Justis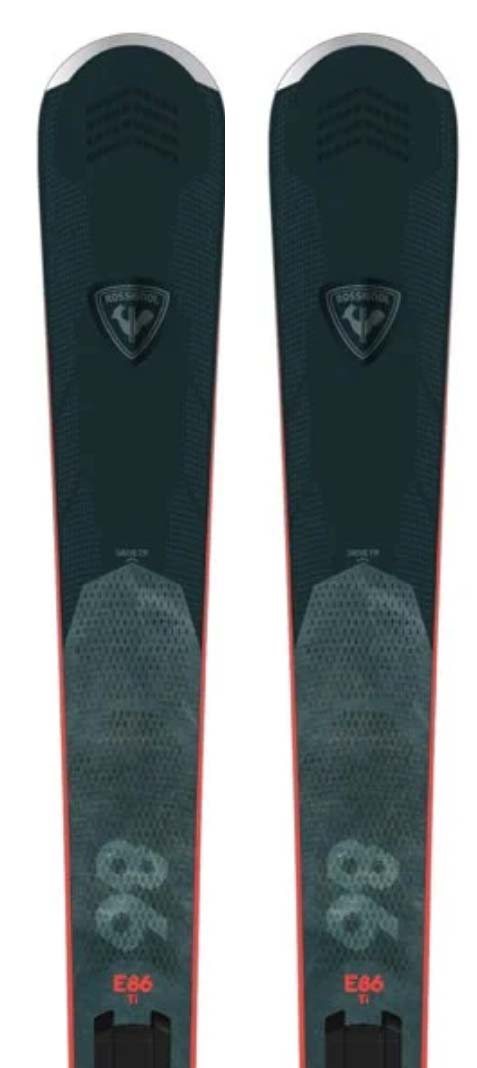 Category: All-mountain front
Ability level: Advanced to expert
Dimensions: 132-86-120mm
Other width: 82mm
What we like: Fast, powerful carver, and extremely smooth on trail.
What we don't: Not nearly as comfortable off trail or in powder.
The Experience line has been a longtime favorite for its impressive groomer performance, and the latest model is a real treat on hardpack. The 86 Ti version hooks up easily and is very solid on edge, has the right amount of stiffness for most advanced- and expert-level skiers, and feels buttoned-down at speed. We also found it to be exceptionally smooth: The two layers of metal and moderate tip rocker combine to plow confidently through midday chop, and the ski is especially satisfying and precise on medium-width, arching turns. As an on-trail specialist for those with a full ski quiver or as an all-mountain choice in areas with limited snowfall, the Experience 86 is a fantastic choice.
One significant shift with the latest Experience is that the 86-millimeter model is now the widest offering. And in soft snow, we found the ski is lacking in floatation, and the moderately stiff build isn't all that playful or nimble (even the prior-generation 88 Ti was more at home in these conditions). As such, those on the search for a frontside all-rounder will be better off with the Völkl Kendo above. The Völkl is a little wider at the waist and easier to control off trail while still having great carving chops. But if you take a lot of pride in laying trenches in corduroy and want a damp and powerful machine, the Experience should be at or near the top of your list... Read in-depth review
See the Rossignol Experience 86 Ti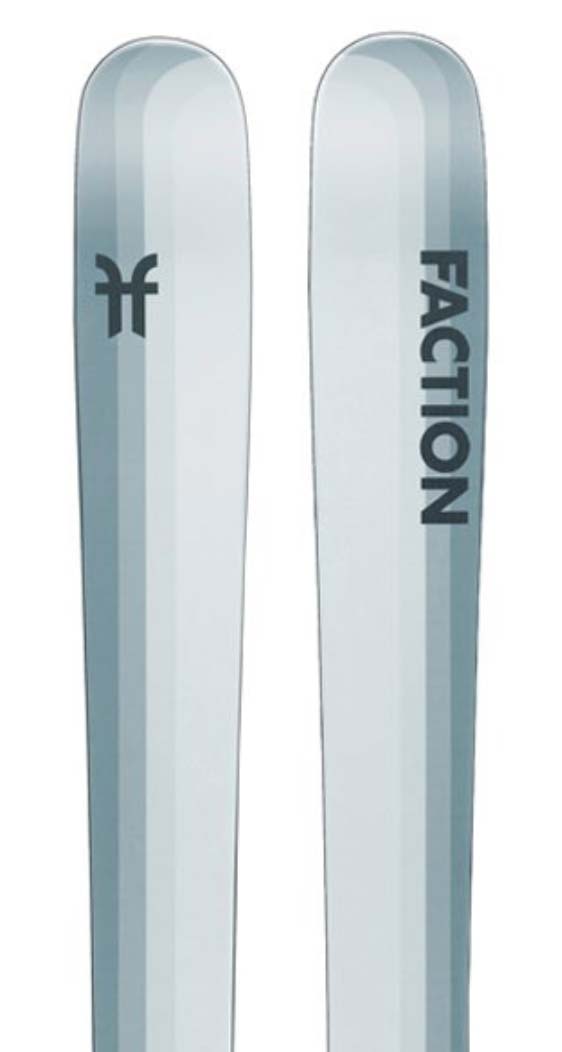 Category: All-mountain
Ability level: Advanced to expert
Dimensions: 127-96-117mm
Other widths: 86, 106mm
What we like: Stable at speed and powerful through crud.
What we don't: It'll sink on deeper days.
Lightweight and energetic, the Faction Dancer 2 (formerly known as the Dictator) is a top choice among hard-charging riders looking for a fun but composed ride. The ski features dual Titanal layers that give it the strength and dampness to blast through crud and the stability to hold an edge at top speed, while the flat tail (a hallmark of freeride designs) maximizes grip through turns. The Dancer also boasts a longer turn radius underfoot and shorter radii at the tip and tail (Faction calls this their "Elliptical" sidecut) along with a lively poplar wood core. The result: The Faction is responsive and powerful, happy to hop-turn in a steep couloir, and still has loads of edge hold to carve arcing turns on corduroy.
That being said, the Faction Dancer 2 requires a strong skier at its helm and will be challenging for timid and apprehensive riders to control. Additionally, it's not a top choice for powder days: While the 96-millimeter-wide ski has enough strength to drive through heavy chop and excels on hardpack, we've found it's a bit cumbersome to maneuver in fresh snow of around 6 to 8 inches or more. As such, the Faction lacks the versatility of many of our top all-rounders above (including designs like the Nordica Enforcer and Blizzard Rustler), but it certainly has appeal for expert-level skiers who like to ride at full tilt.
See the Faction Dancer 2  See the Women's Faction Dancer 2X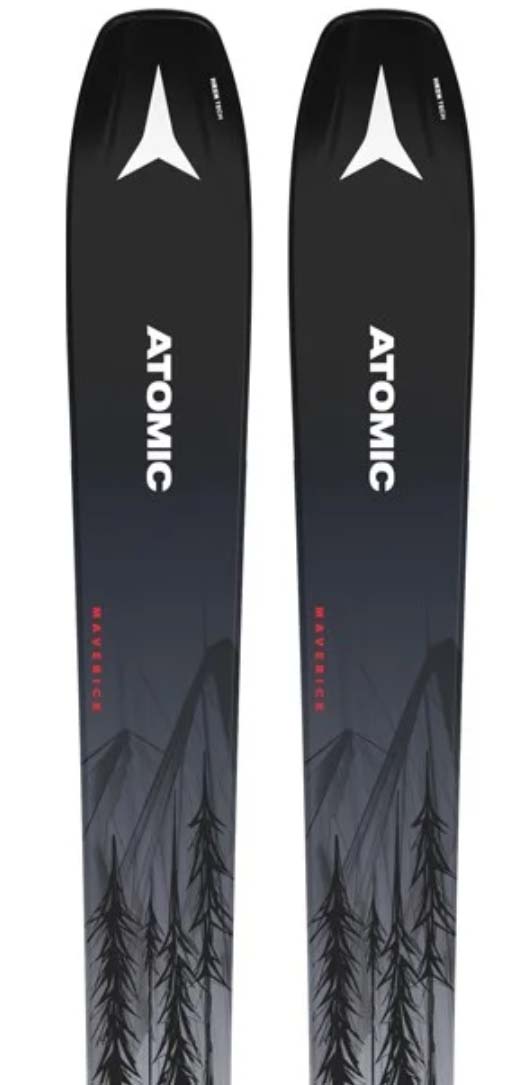 Category: All-mountain
Ability level: Advanced to expert
Dimensions: 129-95-113mm
Other widths: 88, 100mm
What we like: Quick and nimble with true all-mountain abilities.
What we don't: A step behind the Head Kore in poor snow conditions.
Like the prior-generation Head Kore, Atomic's now-discontinued Vantage Ti was never a favorite of ours: Its light yet super stiff build was unforgiving and could be downright harsh in the right (or wrong) conditions. But Atomic clearly went back to the drawing board with the latest Maverick and came back with a far more refined performer. It's still a light and quick-feeling ski, but it now doesn't require as much constant attention to keep from getting bounced around. And like the old Vantage, the ski is still quite fast and can hold a very solid edge in the bends (the Maverick's two layers of metal certainly help here).
Why isn't the Maverick rated any higher on our list? The main issue is there are a whole bunch of quality options, and we think others have pulled off the light-yet-powerful concept a bit better. In chopped-up and poor snow, the Kore 93 above is easier to trust, and a progressing intermediate will still find the Maverick to be a touch too demanding. And as expected, those desiring smoothness and a damp personality will want to look elsewhere. But despite the complaints, the Maverick is a quality build that mixes a tree-dodging personality with a legitimate backbone for groomer days.
See the Atomic Maverick 95 Ti  See the Women's Atomic Maven 93 C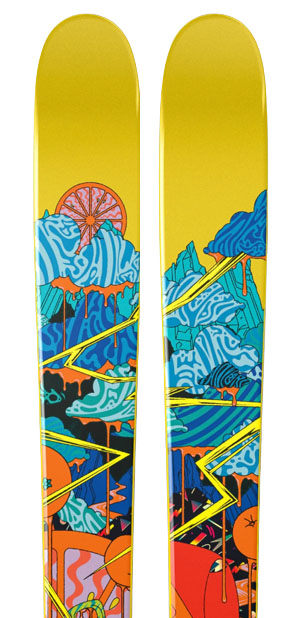 Category: All-mountain
Ability level: Intermediate to advanced
Dimensions: 122-97-118mm
Other widths: 90 (The Joyride), 104mm (The Vacation)
What we like: A very fun all-mountain ski that's also at home in the park.
What we don't: More playful than buttoned-down and fast.
J Skis does things differently. Launched in 2013 by the founder of Line Skis, their lineup of eight core models is handmade and ever-changing with batches of limited-release graphics. For our all-mountain round-up, we like the aptly named The Allplay best. This ski has tons of personality: It's equally fun to flick around on groomers and in powder, but it really comes to life in the park or when hitting natural features on the mountain. Importantly, the construction is top-notch with a high-quality maple core and strategic use of carbon fiber. Finally, because J Skis only sells directly through their own website, The Allplay is a solid value at $699.
The playful nature of The Allplay does come with some downsides. For one, it's not an ideal choice for hard chargers or those that spend more time bombing groomers than hitting jumps. It also doesn't hold an edge as well as our top picks, although intermediate riders that prefer surfing through turns likely won't notice. But for a ski that just puts a smile on your face—in both its unique look and child-like personality—The Allplay is an absolute winner. For a higher-stability model from J Skis, check out The Masterblaster.
See the J Ski The Allplay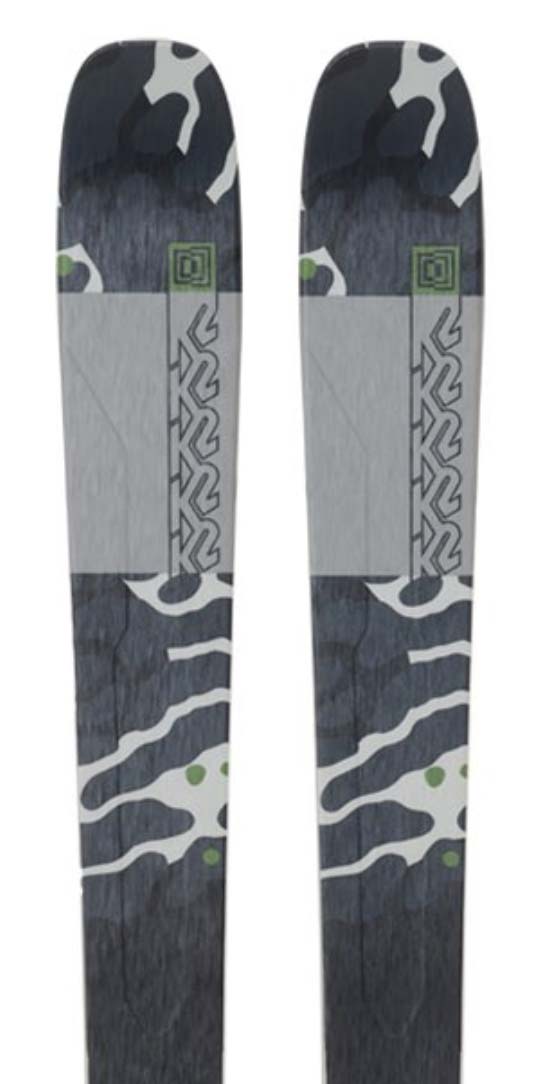 Category: All-mountain
Ability level: Advanced to expert
Dimensions: 138-99-123mm
Other widths: 90, 108mm
What we like: Impressive performance upgrade from the outgoing Pinnacle Ti.
What we don't: Intermediate skiers should look elsewhere.
As K2's core all-mountain sticks, the Mindbender collection has coast-to-coast appeal with widths ranging from 90 to 108 millimeters. We prefer the middle-of-the-road 99Ti for its Pacific Northwest-ready versatility: The ski is wide enough to offer sufficient float on moderate powder days, the Y-shaped metal layer underfoot gives it excellent stability, and the planted design powers comfortably through choppy, midday conditions. For hard chargers looking for a one-ski quiver, the Mindbender 99Ti deserves a serious look.
In many ways, the Mindbender falls in between the M6 Mantra and Enforcer above in performance. Compared with the Mantra, it's a little more forgiving and lacks the Völkl's top-end stability and power. And on the other hand, it can't match the natural feel and flickability of the Enforcer (even progressing intermediates will likely find it too difficult to control). The K2 is undoubtedly a solid ski, but its "master of none" personality pushes it down our rankings. Of note: K2 also makes the Mindbender in a flexier "C" version that eschews metal in its construction.
See the K2 Mindbender 99Ti  See the Women's K2 Mindbender 99Ti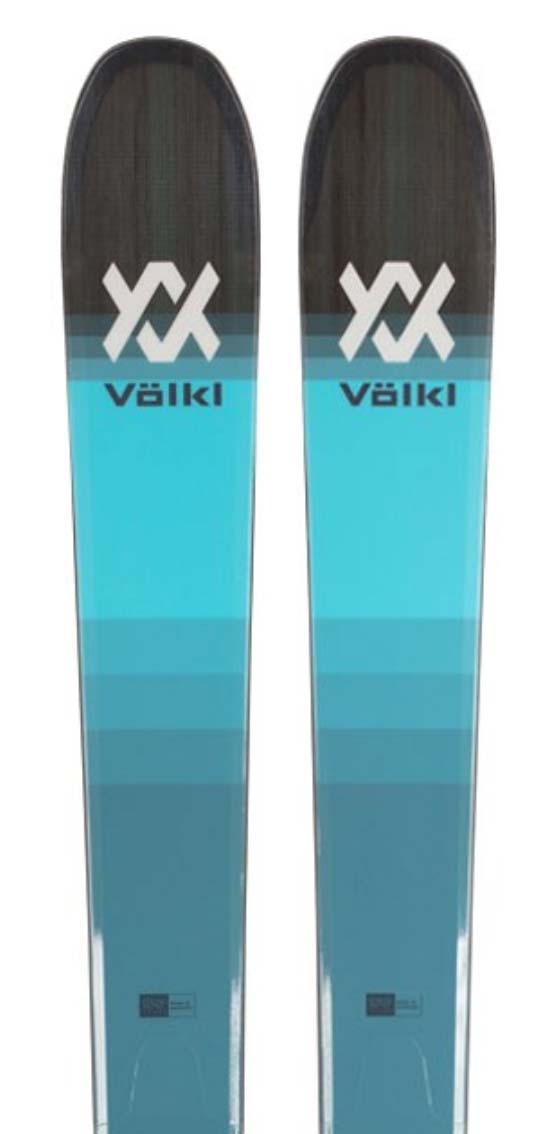 Category: All-mountain back
Ability level: Intermediate to advanced
Dimensions: 146-106-128mm
Other widths: 86, 94mm
What we like: Lightweight and playful; a fun all-mountain/powder ski or mixed touring option.
What we don't: So-so edge hold and prone to chattering on hardpack.
In a significant departure from their smooth and powerful all-mountain skis like the Kendo and Mantra above, Völkl released the Blaze a few winters ago (replacing the old 100 series). Available in 94- and 106-millimeter widths, the latter option strikes us as the better match considering its nimble and off-trail-friendly build. Völkl kept things fairly simple with the construction, which utilizes a hybrid beech/poplar core and metal only around the binding. Combined with a sidecut that's fairly narrow at the waist, you get a ski that feels quick underfoot, pivots nicely in the bumps, and is easy to control all over the mountain.
What's not to like with the Blaze? Even at moderate speeds, the tip was prone to a fair amount of chatter on hardpack. In addition, while it's energetic and poppy in the turns, the ski falls well short of the precision on edge that you get with Völkl's more serious offerings. As a result, unless you spend more than half your time in the trees and powder, it shouldn't be a top choice among advanced or expert riders. On the other hand, its approachable build is great for intermediates, and the lightweight construction means it's fully capable as a hybrid backcountry/resort choice... Read in-depth review
See the Völkl Blaze 106  See the Women's Völkl Blaze 106

Category: All-mountain
Ability level: Advanced to expert
Dimensions: 133-96-119mm
Other widths: 86, 106mm
What we like: Hard-charging experts rejoice: metal is back with the latest model.
What we don't: Loses a little of the flickable and friendly nature of the prior version.
With big-time power, performance-oriented skiers love Kastle's FX collection. These skis are well-known for their frontside dominance, and the latest version hones in on stiffness and stability without saddling you with extra weight. Offered in 88, 96, and 102-millimeter widths, the middle child is predictably the best for all-mountain riders. This ski has two sheets of metal (more on this below) and a lightweight wood core that mixes a number of varieties—including beech, poplar, and paulownia—to cut weight but keep things poppy and fun. This combo makes it a great do-everything option for those out West, and expert riders will be especially pleased with how it smooths out bumps while going Mach-looney on a groomer or through cut-up powder.
The discontinued FX96 HP, which the 96 Ti replaces, didn't have any metal in the construction and was lauded for its approachable feel that still had plenty of grunt. The change back to Titanal (pre-2020 FX skis had metal) will be a welcome addition for aggressive and heavier skiers that drive hard through turns. But we can't help but miss some of the flickability that's lost with the latest design. On the plus side, Kastle's ZX line brings a whole host of playfulness to the table, with a freeride, surfy feel. It can't hold an edge like the FX on hardpack or in ice, but those that take the creative route down the hill may prefer the ZX.
See the Kastle FX96 Ti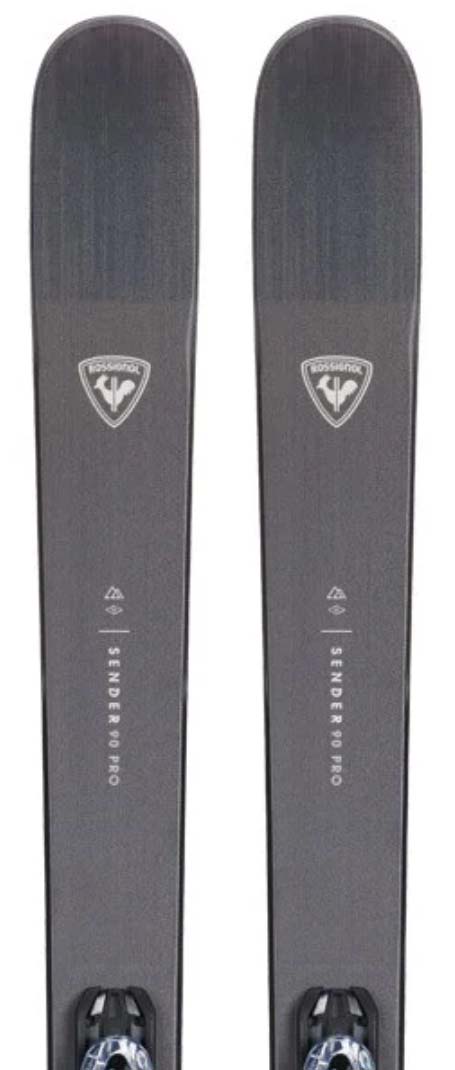 Category: All-mountain
Ability level: Beginner to intermediate
Dimensions: 119-92-109mm
Other widths: None
What we like: Great value; fun design for adventurous beginners and young skiers.
What we don't: Fast learners may outgrow its abilities quickly.
Rossignol's Experience 78 above is tailored for beginners who plan to stick to hardpack, while the Sender 90 Pro truly is all-mountain-ready. Sitting at the bottom of the formidable Sender line, the Pro 90 has the cheapest price ($480 including 10-DIN bindings), softest feel, and narrowest width. But the ski shares a similar personality with the pricier models, combining decent energy and pop for connecting turns with a lightweight tip and tail. And at 92 millimeters wide (for the 170cm length), it's one of the most off-trail-oriented beginner skis on the market.
In truth, we're not completely sold on the tweener nature of the Rossi Sender 90 Pro. It's forgiving enough and offered in lengths as low as 150cm (great for younger riders), but the ski is overmatched at any decent speed on a groomer, which means fast learners may outgrow it (the Experience 78 is the better choice for this crowd). On the other hand, its off-piste abilities are great for those that plan to head to the soft stuff right off the bat, but that's not a top priority for many first timers. In the end, the Pro 90 certainly isn't for everyone, but its approachable price and unique wide width earn it a spot on our list.
See the Rossignol Sender 90 Pro  See the Women's Rallybird 90 Pro
All-Mountain Ski Comparison Table
All-Mountain Ski Buying Advice
What Is an All-Mountain Ski?
By definition, an all-mountain ski should be adept at just about anything you'll encounter during a day on the slopes (the commonly used term is "quiver of one"). This isn't a hard-and-fast category and has trended wider over the years, but generally encompasses skis from 80mm to 105mm underfoot that are best for the front side of the mountain and skiing in bounds (at least most of the time). At the narrow end are focused, on-trail groomer skis and at the wide end are designs that can handle back bowls and powder just fine.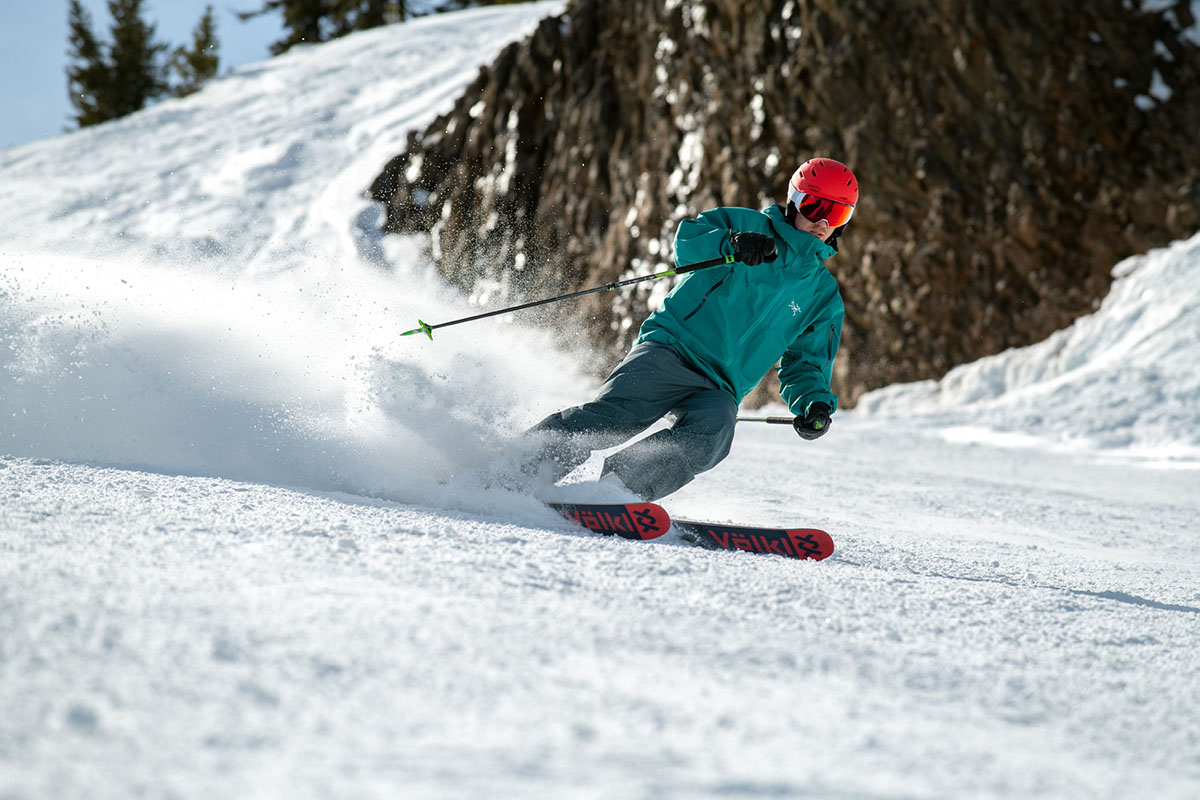 It's equally important to understand the limitations of this ski type. All-mountain skis are not ideal for deep powder or ex-racers wanting a dedicated carver. In addition, they're often heavy for uphill travel (for alpine touring options, see our article on the best backcountry skis), although this is changing as materials continue to improve. What they do offer is that all-in-one functionality: For anything from crusty hardpark to bluebird soft snow days, there's an all-mountain ski that fits the bill. Logically, it's not as simple as just choosing any old all-mountain model and calling it good. The decision should involve local snow conditions, skiing style, and ability level. We cover these important considerations below.

Ski Waist Width Explained
Waist width is a measurement taken from the center of the ski at its narrowest point and is a key element in narrowing your search. Within the all-mountain market, you'll find options ranging from approximately 75 millimeters up to about 110, and everything from your skiing style to local terrain and snowfall will dictate your ideal range. It's also worth noting that many popular lines of skis are made in varying widths. Atomic's Bent collection, for example, is available in 85, 90, 100, 110, and 120-millimeter sizes, which covers nearly the full gamut of all-mountain styles.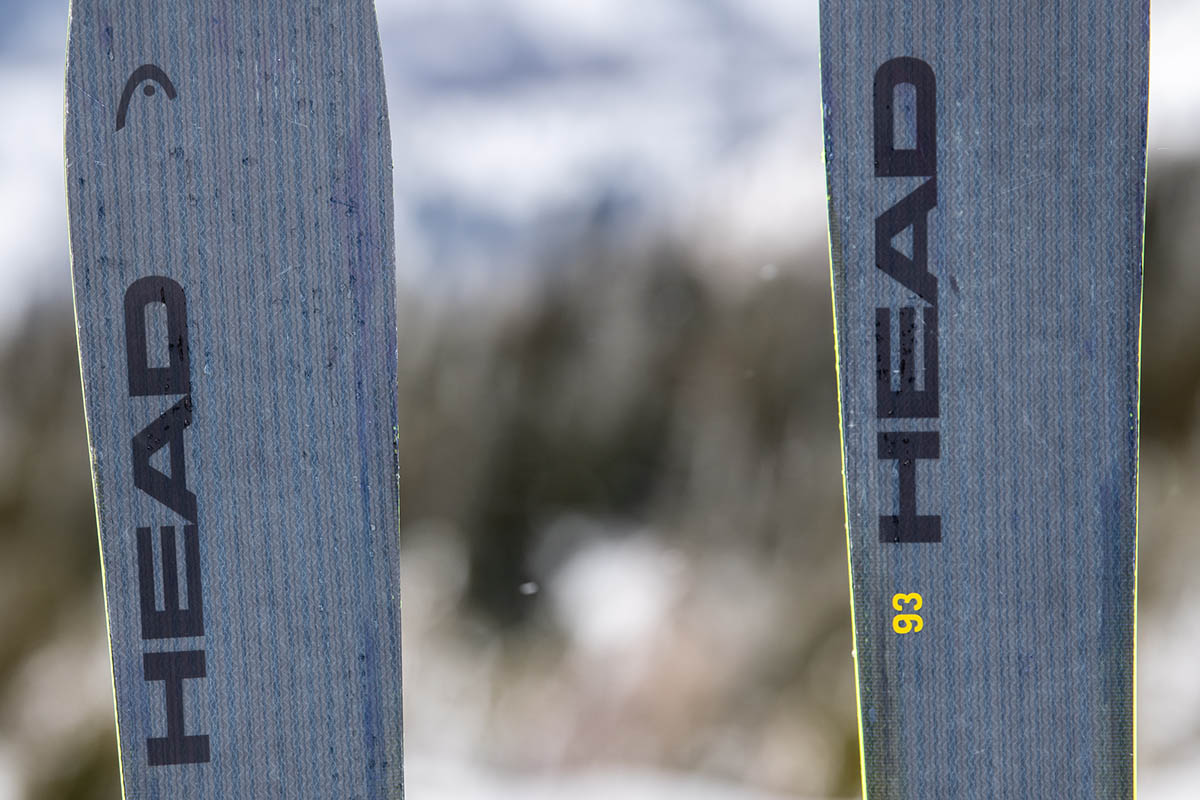 For width recommendations, skis on the lower end of the spectrum like Rossignol's Experience 78 are best suited for hardpack and firm snow conditions. They're typically easy to control and grip well in the turns but are prone to getting bogged down in powder. Stepping into the 88- to 100-millimeter range is the core of the all-mountain market, and these skis hit a nice balance of flotation for moderate snowfall (depending on the design, up to around 6 in. of powder) with reliable on-piste performance. Once you clear 100 millimeters at the waist, you get a borderline powder ski, which makes compromises in on-trail grip for excellent surf-ability in the deep stuff. Below are some general recommendations based on terrain and region, and for a deeper look at topic, see our article on Choosing the Right Ski Waist Width.
All-Mountain Groomer Skis: 75mm to 90mm
All-Mountain East Coaster: 80mm to 95mm
Heart of the All-Mountain Range: 88mm to 100mm
All-Mountain Rocky Mountains/West Coaster: 90mm to 105mm
All-Mountain Powder Skis: 100-110mm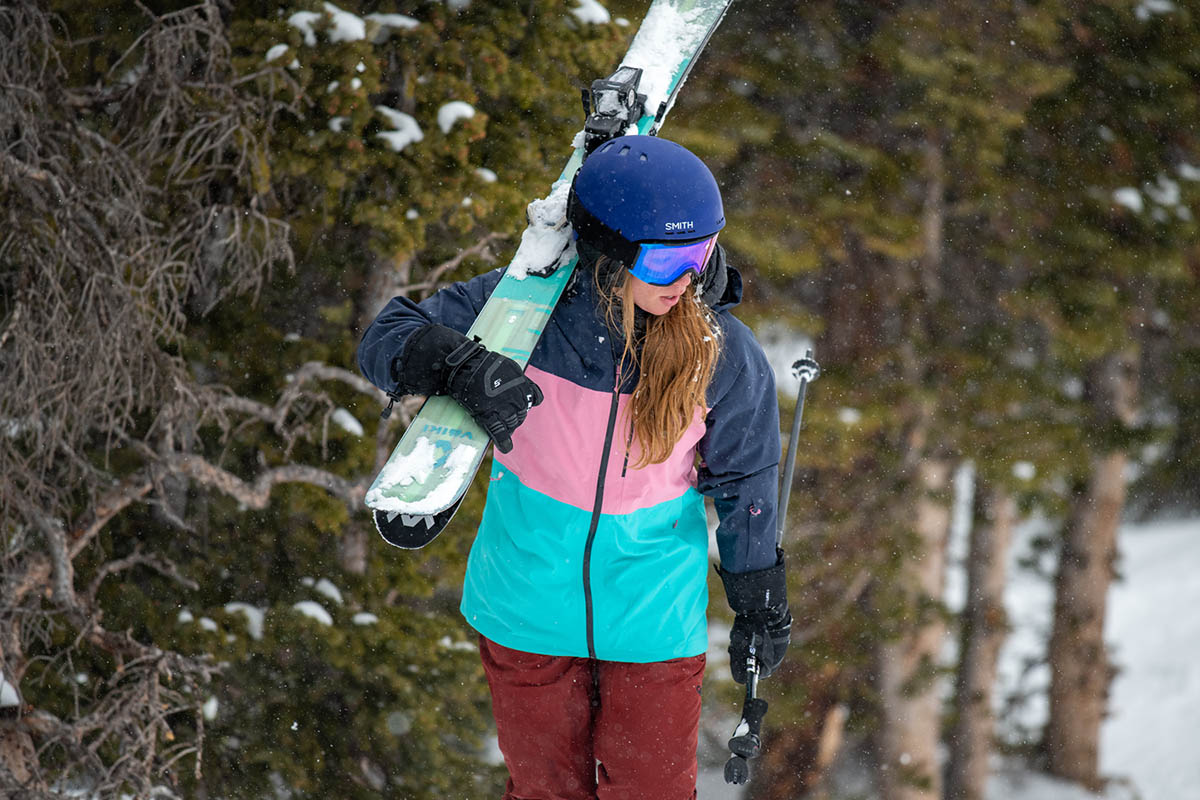 All-Mountain Front vs. All-Mountain Back
The all-mountain category tries valiantly to cover a very wide range of skiing styles and terrain, but, as we cover in the waist width section above, there are significant differences between models. As such, we've found it helpful to refer to the skis with an on-piste focus as "all-mountain front" and off-trail-oriented as "all-mountain back." Skis that perform reasonably well on both groomed runs and powder are categorized simply as "all-mountain."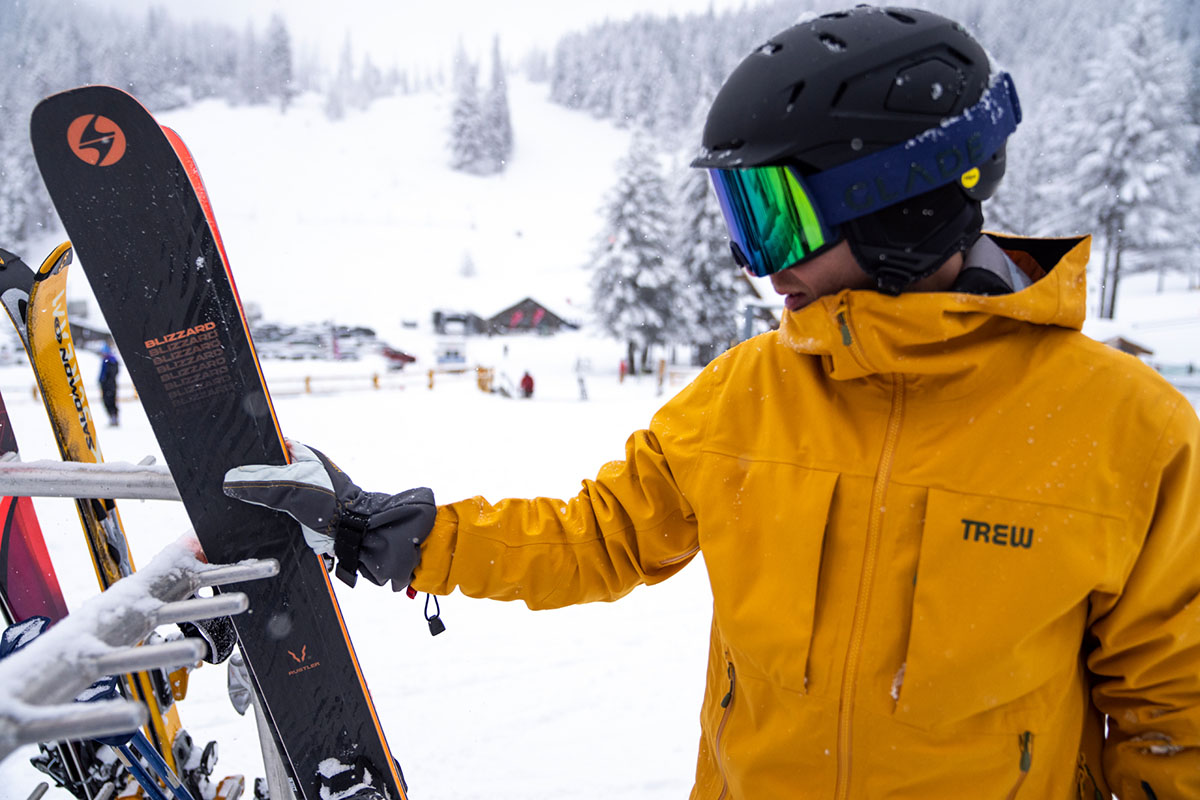 In short, an all-mountain front ski is best for tackling groomed runs. It has a narrower width, semi-stiff to stiff construction, and ski profile (covered below) that's tuned for stability and good edge hold on hardpack. Some of our favorite all-mountain front skis are the Rossignol Experience 86 Ti and Völkl Kendo 88. All-mountain back skis on the other hand are wider, softer, and built to float in deep snow. These are just shy of a powder ski, (but are more planted if you have to ski on-piste) with examples including the Salomon QST at 106mm in width. They aren't as fun for carving and can be less stable at speed, but they remain a suitable option for skiers that spend about 50% or more of their time off trail. The rest of the pack balances traits from both categories, with enough stability for moving fast and a medium width (often between 90mm and 100mm) for soft snow use.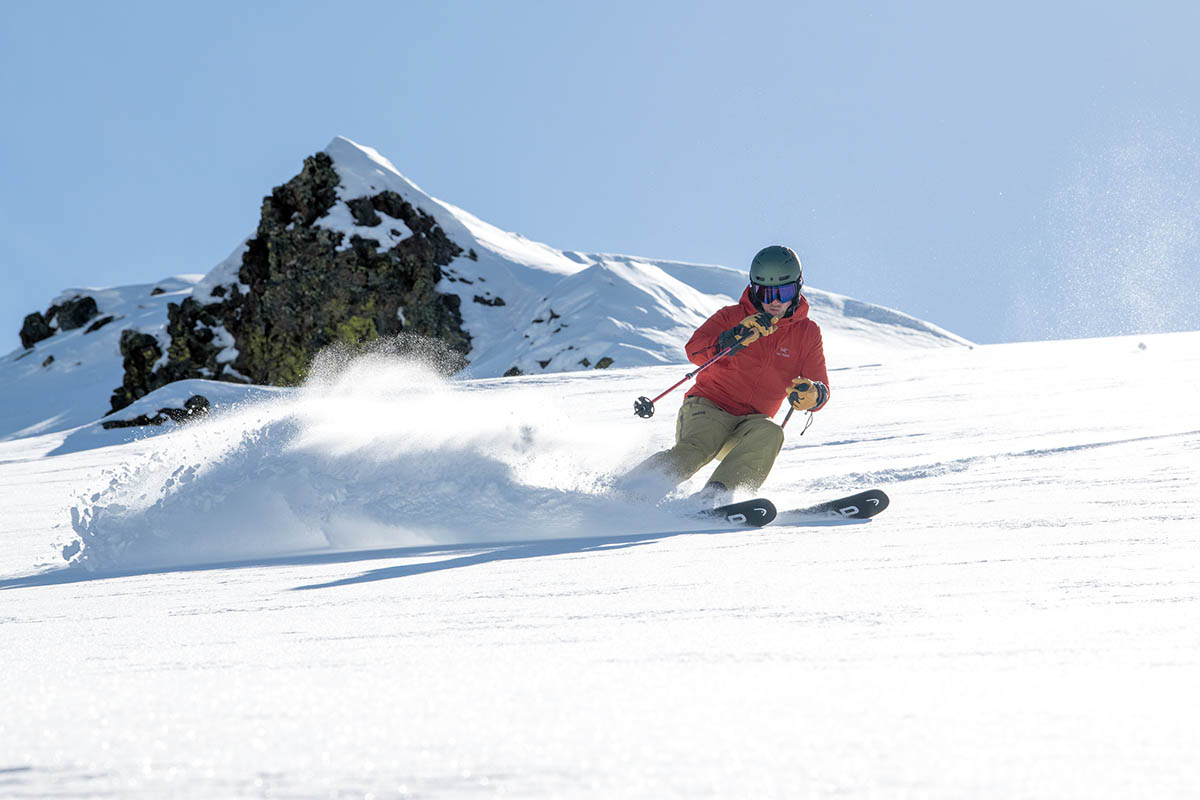 Ski Profile: Camber and Rocker
The profile of a ski can be broken into three main categories: camber, rocker, and mixed rocker/camber. There are others, including skis with a flat bottom shape, but the three listed below are the most popular—and for good reason. Each has their own strengths and weaknesses for skier and snow type.

Camber
Camber is the traditional groomer ski design and provides maximum contact and edge hold while carving down groomed slopes. Visually, it's the part of the ski that is raised off the snow if the unweighted ski is laid flat on the ground (alternatively, if you hold two skis together vertically with their bases against each other, camber is where they arc away from each other). When a cambered ski becomes weighted during the middle of a turn, the ski's edge grips the snow surface. As the skier exits the turn, camber helps the skier pop and propels them into the next turn.
Full camber used to dominate the all-mountain category, but now it's become a rarity. This is largely due to the increased popularity of rocker and mixed camber/rocker designs, which are less susceptible to nose-diving and getting bogged down in soft or choppy snow. However, traditional camber remains a great choice for those who like to ski aggressively on groomed runs (and don't mind some performance compromises in deeper snow).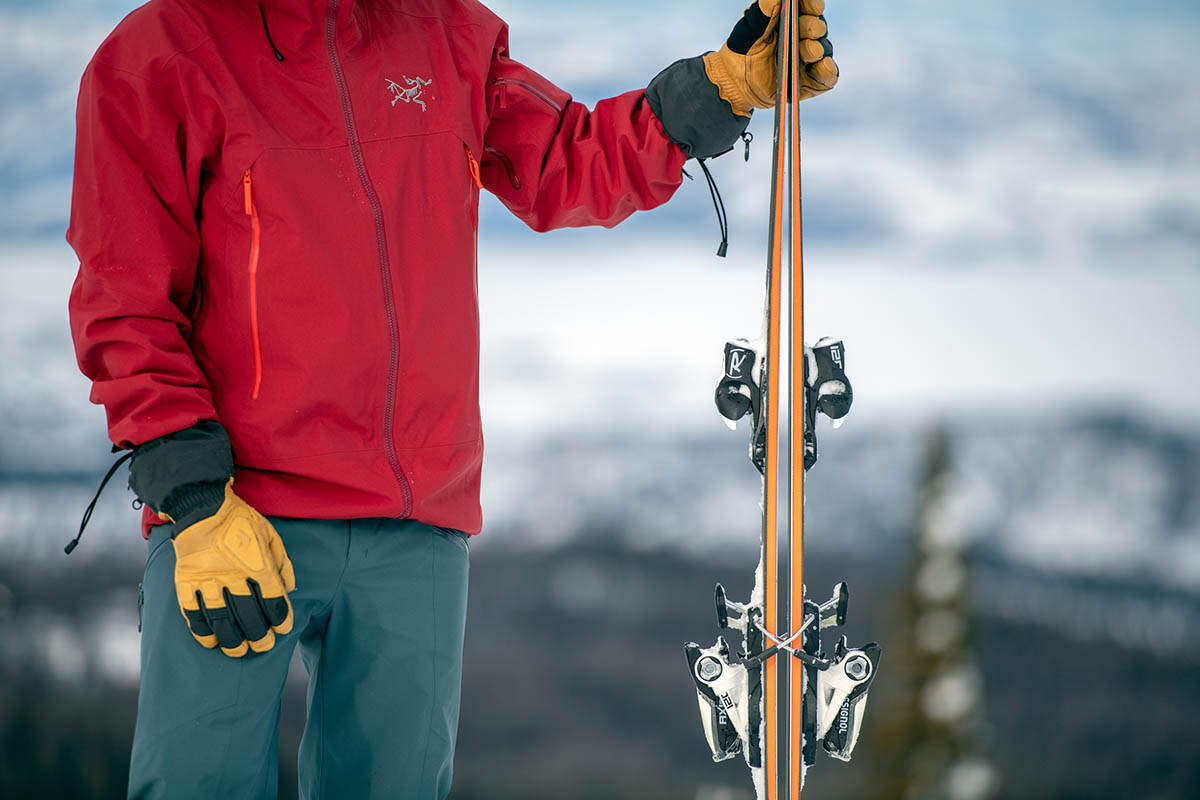 Rocker
Rocker, also known as reverse camber, is when the tips of the skis are raised on either end, creating a sort of banana shape to the ski profile. This design came about originally for its benefits in deep powder. And even just a few years ago, rocker was mostly resigned to powder skis, but the design has come on strong in all-mountain setups of late. Our take is that a full rocker setup, rising at both the tip and the tail, is still best for those that like to spend more of their time off trail. The downside of a pure rocker ski is the flat surface underfoot has a tendency to be more skittish when carving on hardpack. Although it turns easily, it just doesn't hold an edge like traditional camber. From this issue was born a third category: mixed rocker/camber.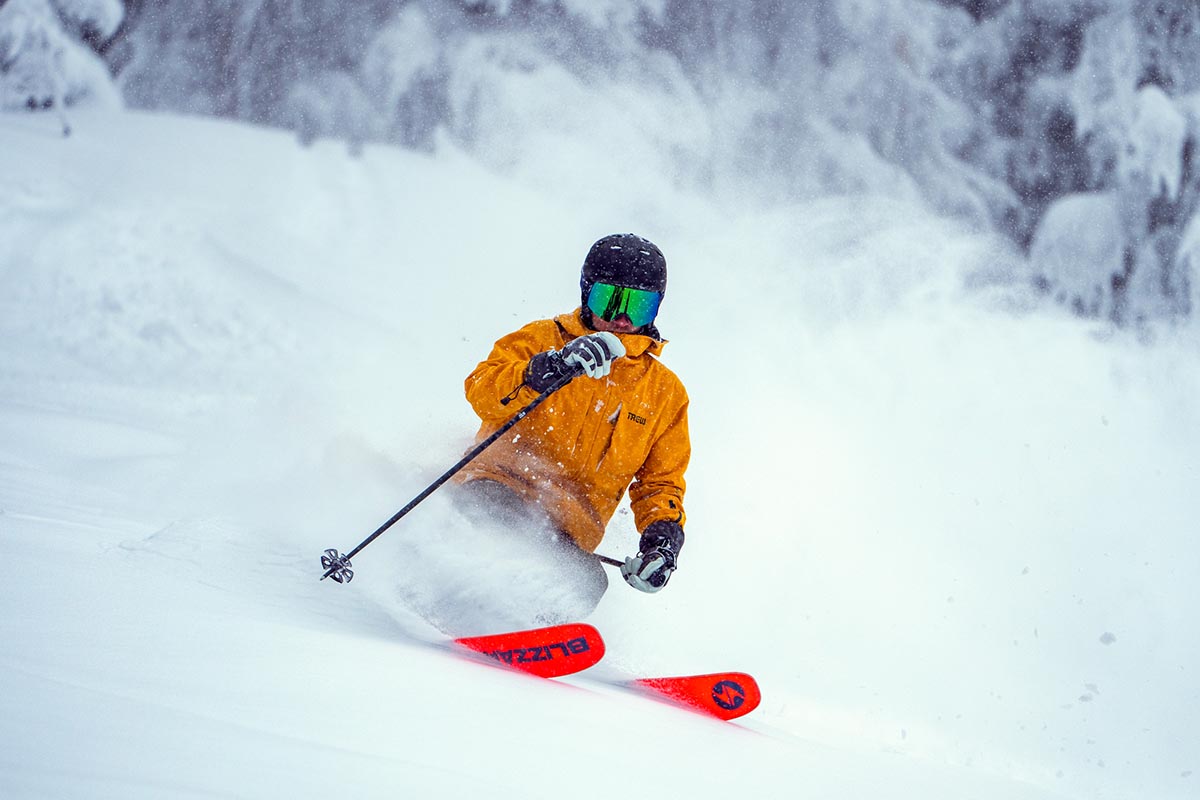 Mixed Camber/Rocker
With both rocker and camber providing real world benefits enjoyed by skiers of just about any ability level, manufacturers have turned their attention recently to mixed camber. In theory, it should provide the best of both worlds: the edge control of a traditional camber ski and the crud busting and easy cruising in deep powder that you get with rocker. And reality isn't that far off. There are variations in how manufacturers pull off this mix: Some go with a tip-only rocker while others go for tip and tail (the latter is great for those that spend some time riding switch). If you're a skier that tries to cover all of the mountain, a mixed camber/rocker setup is a great pairing.
For visual learners, snow sports retailer Evo has put together a helpful video explaining the various profile types.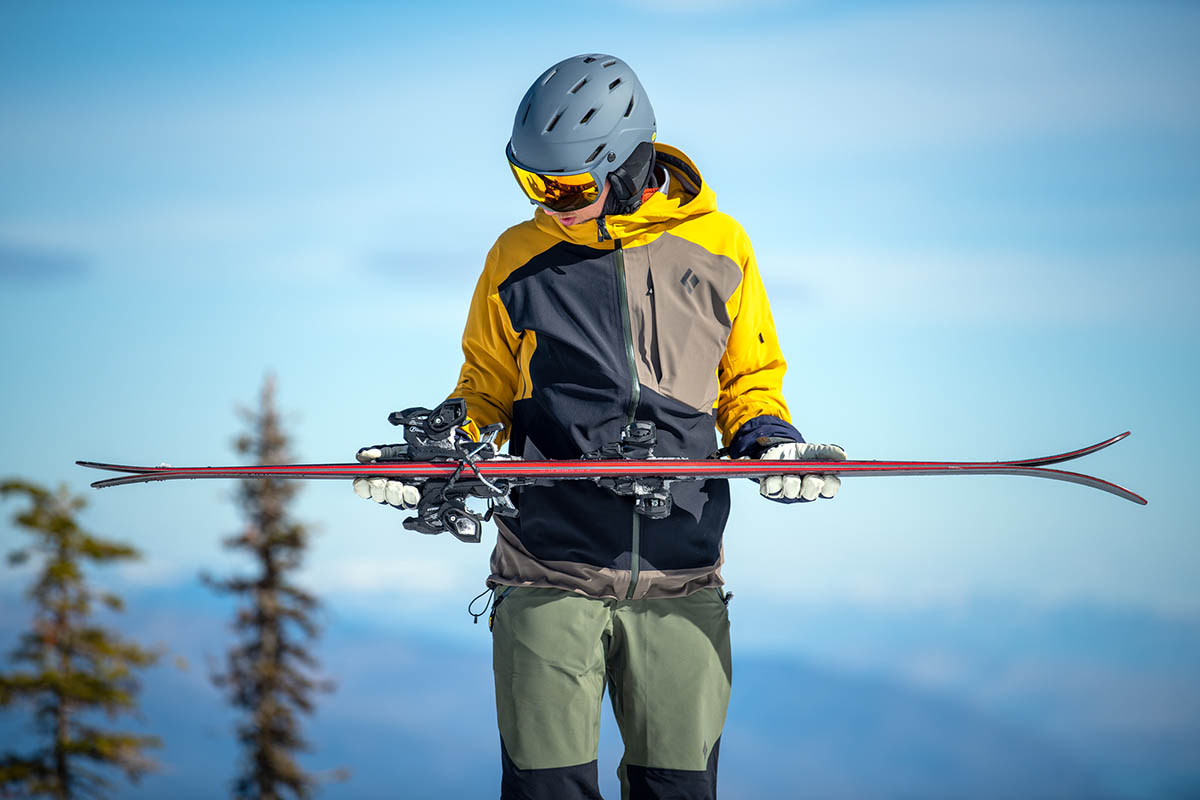 Turn Radius (Sidecut)
The rocker/camber section above covers the side profile of the ski, while the turn radius (or sidecut) refers to its shape. The measurement is based off the tip, waist, and tail dimensions and is listed in meters. Skis that have a very pronounced hourglass shape that's much wider at the tip/tail than the waist will have a short turn radius. On the slopes, this often translates to a quick and nimble feel—a plus in tight spaces or moguls—and a ski that wants to turn sharply on edge. For reference, Head's Kore 93 has one of the shortest turn radii on our list at 16.4 meters and measures 133 millimeters at the tip, 93 millimeters underfoot, and 115 millimeters at the tail. As the radius increases, the designs will feel more stable bombing a run at high speed or through wider, sweeping turns.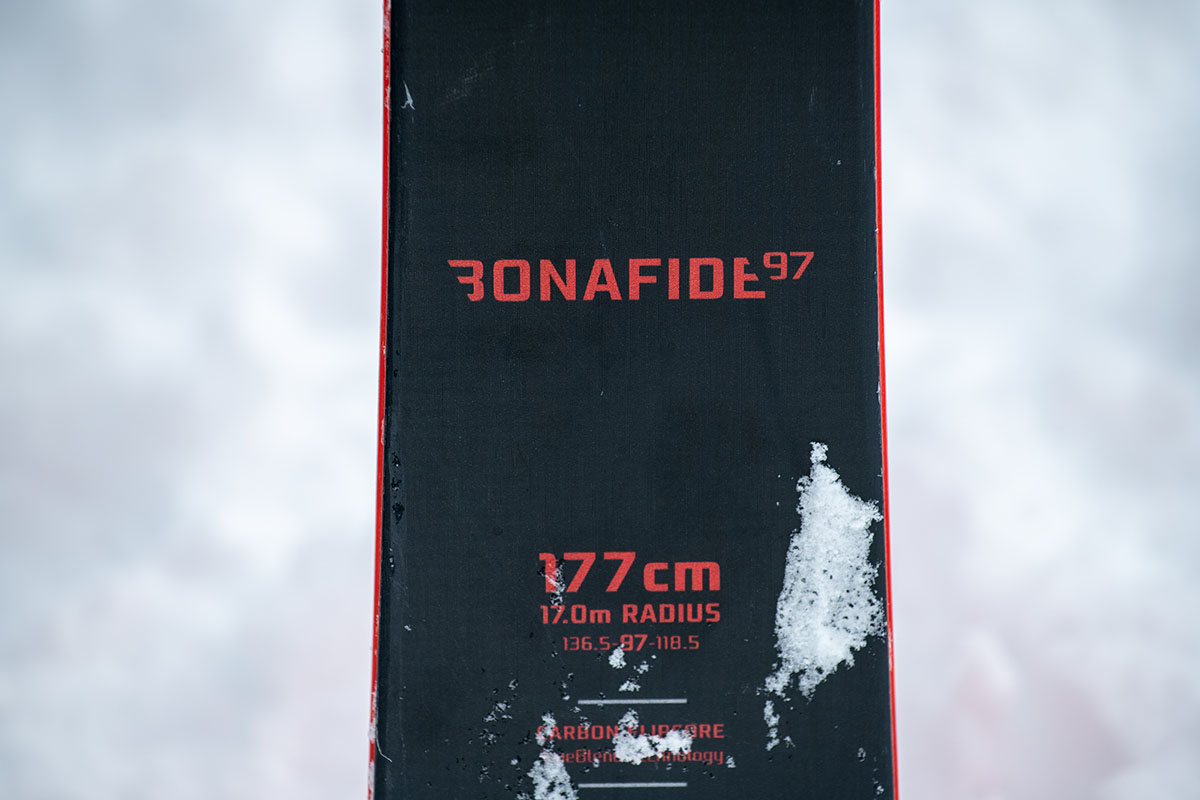 It's important to note that the sidecut won't always perfectly reflect a ski's personality. Other factors like rocker/camber and stiffness play a role, but the turn radius number is a valuable piece of the puzzle. Below we list how the various radii typically perform.
Carving: Less than 16 meters
All-around: 16-20 meters
Wide and sweeping turns: 20+ meters
 
Ability Level and Flex
The stiffness of a ski is one of its defining features and a clear differentiator between beginner and advanced-level models. A rigid design is stable at speed and has the highest performance potential, but a beginner or less confident pilot will lack control and may find it difficult to turn. On the flipside, getting a ski that is too soft can lower the ceiling of your top-end performance and leave an advanced (or advancing) skier wanting more. Many of our favorite models land somewhere in the middle, balancing power for driving the skis with enough flex to be forgiving and maneuverable when moving at a slower clip.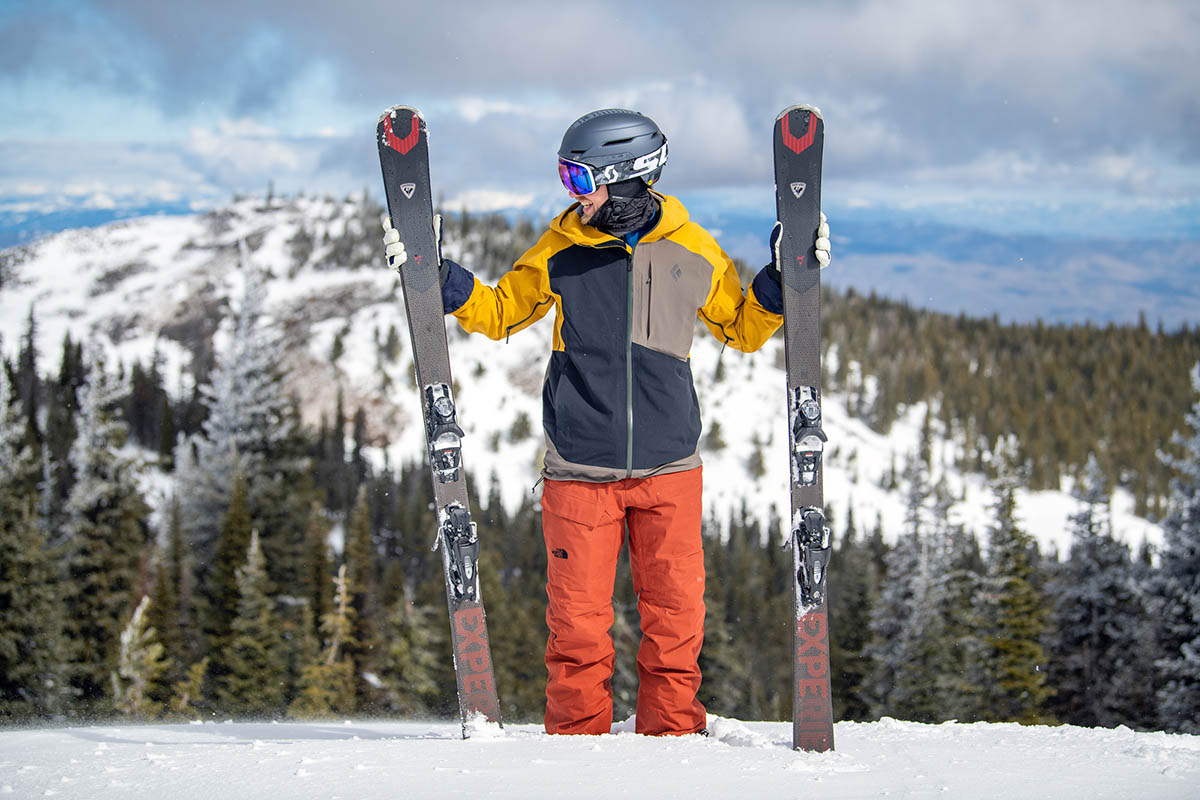 A ski's stiffness is the result of its material mix, and key indicators include how much metal (if any) the manufacturer is using. Commonly, a stiff ski will have two layers of Titanal (a strong alloy) that runs the full length and width of the ski. While it adds weight, the metal increases stability, and expert-level models like the Blizzard Bonafide utilize this type of construction. On the other end of the spectrum is a softer ski like the J Skis The Allplay, which goes without metal completely. The focus is less on speed and more on a playful nature, which makes it a better match for off-piste exploring, milder speeds, and intermediate riders. And finally, skis that find the sweet spot of performance and flex are some of the most popular on the market, including the Nordica Enforcer 94 and Dynastar's M-Pro 99.
 
Ski Construction: Materials, Cores, and Laminates
Modern all-mountain skis are packed with high-end materials and proprietary technologies (often with fun-sounding but confusing names), which makes it challenging to accurately analyze their constructions without putting them to the test. The good news is that the modern market is flush with quality options, and each year we see incremental improvements. Poplar and aspen are two lightweight and high-energy woods commonly used in the core to reduce weight while maximizing pop and responsiveness. Paulownia is another lightweight option that's often slightly more durable, while denser woods like maple will boost power, stability and durability but add some heft. Outside the wood core, ski manufacturers also often use some metal or composite materials—including graphene, carbon, Titanal, or proprietary blends—to increase a ski's strength and stiffness.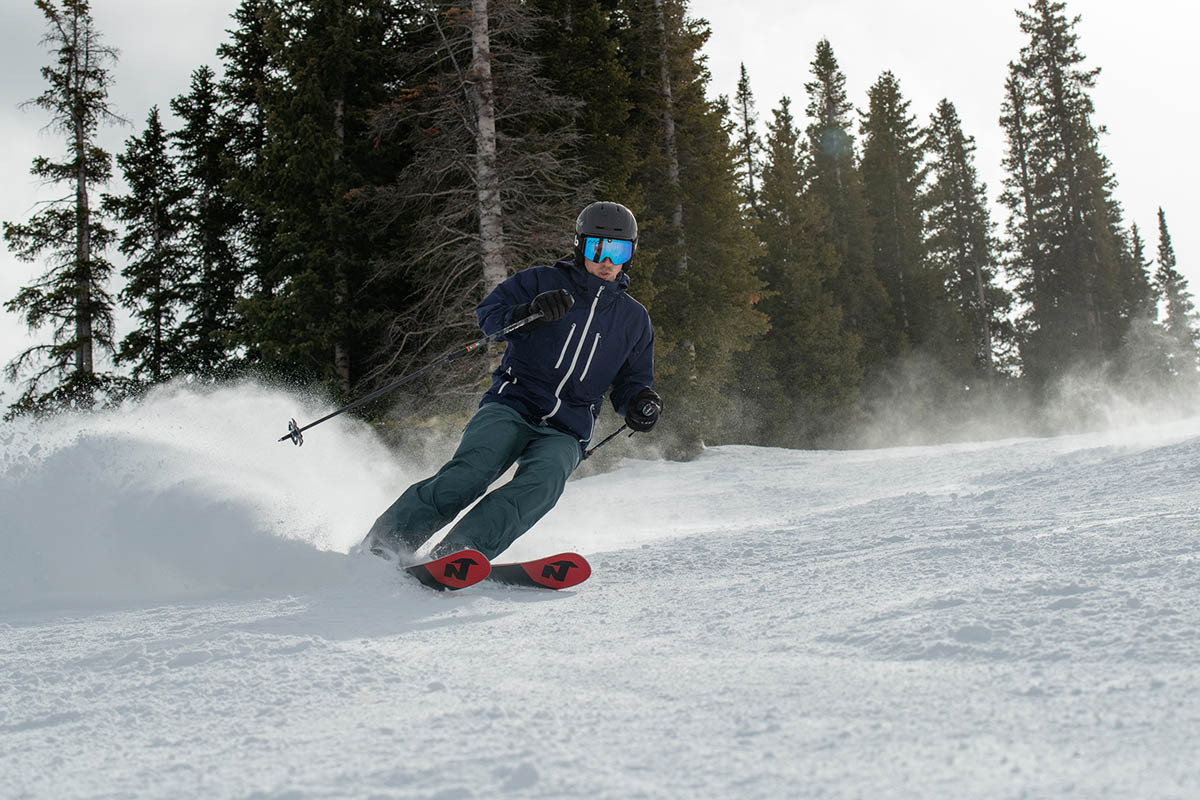 If you're looking for a top-end ski, these types of materials are well worth having on your radar. But don't limit yourself by setting too many parameters. It's hard to pinpoint performance simply based on a ski's construction, and there are a wide variety of ways to make a capable design. When researching your next ski purchase, pay attention to how the manufacturer describes overall performance, but remember to take big claims with a grain of salt. If possible, it's always helpful to demo skis with varying materials and constructions (and even in varying lengths) to see how they feel under your feet.
 
Women's-Specific Skis
For many years, a women's-specific ski essentially was the men's version in a shorter length, softer flex, and different colorway. The technology is evolving, however, and a number of ski manufacturers now are taking into account more advanced design elements. In recent years, many women's-specific models have moved the recommended mounting points slightly forward (this better accommodates how an average woman balances on skis compared to an average man), along with a lighter overall weight. Softer flexes still are common, but many brands are now making skis to accommodate hard-charging women (Blizzard's Black Pearl is an excellent example).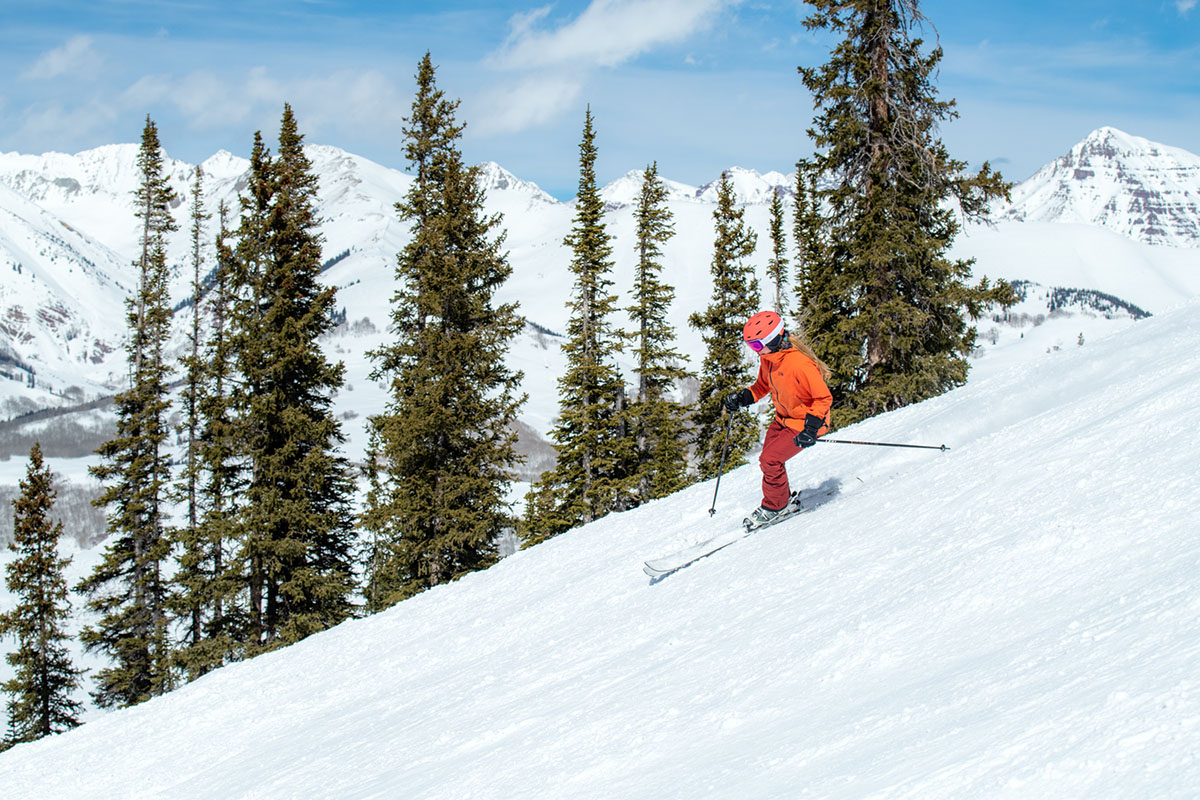 Which ski type should you buy? Keep in mind that the primary version of a ski isn't a "men's" version but instead unisex in nature. When a women's-specific version is available, we've included a link to that option as well (for a full breakdown of the market, check out our article on the best women's all-mountain skis). The choice comes down to personal preference, and most importantly, the quality and characteristics of each model. Some women use unisex skis, some favor women's-specific models, and many serious skiers have a quiver that includes both. We recommend getting whichever ski fits and feels best.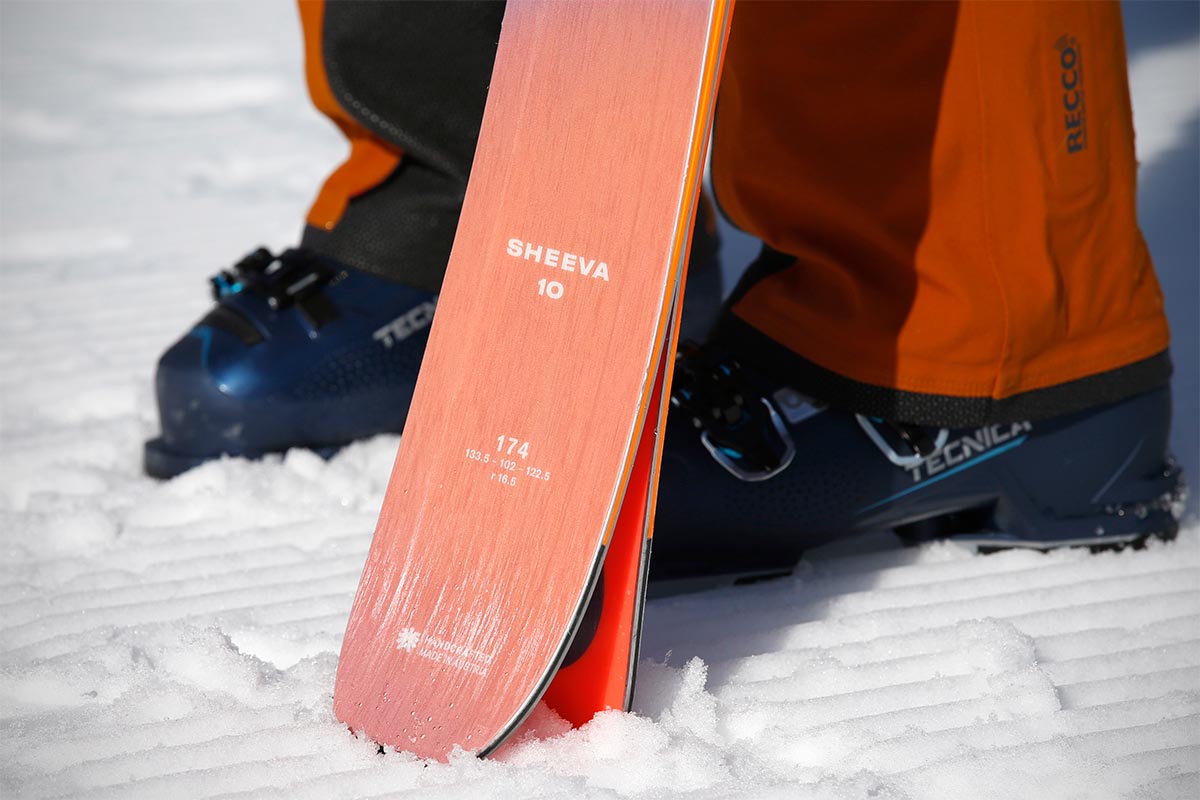 Choosing the Right Ski Length
Picking skis used to a pretty simple process, and could be done simply by knowing your height (the center of the forehead was a common match for a ski). Those days are long gone, replaced by more of a scientific process. Now, ski manufacturers are basing their recommendations on height and weight. This allows you to maximize the ski's potential with proper amounts of flex and power transfer. Other considerations are skiing style: Shorter skis are easier to handle for beginners and turning faster, while longer skis float better and are more stable at high speed. In the end, the right skis might only come to your chin or they may reach the top of your head, so all length should do is give you a good ballpark. We've found the sizing chart on Evo to be helpful as baseline information.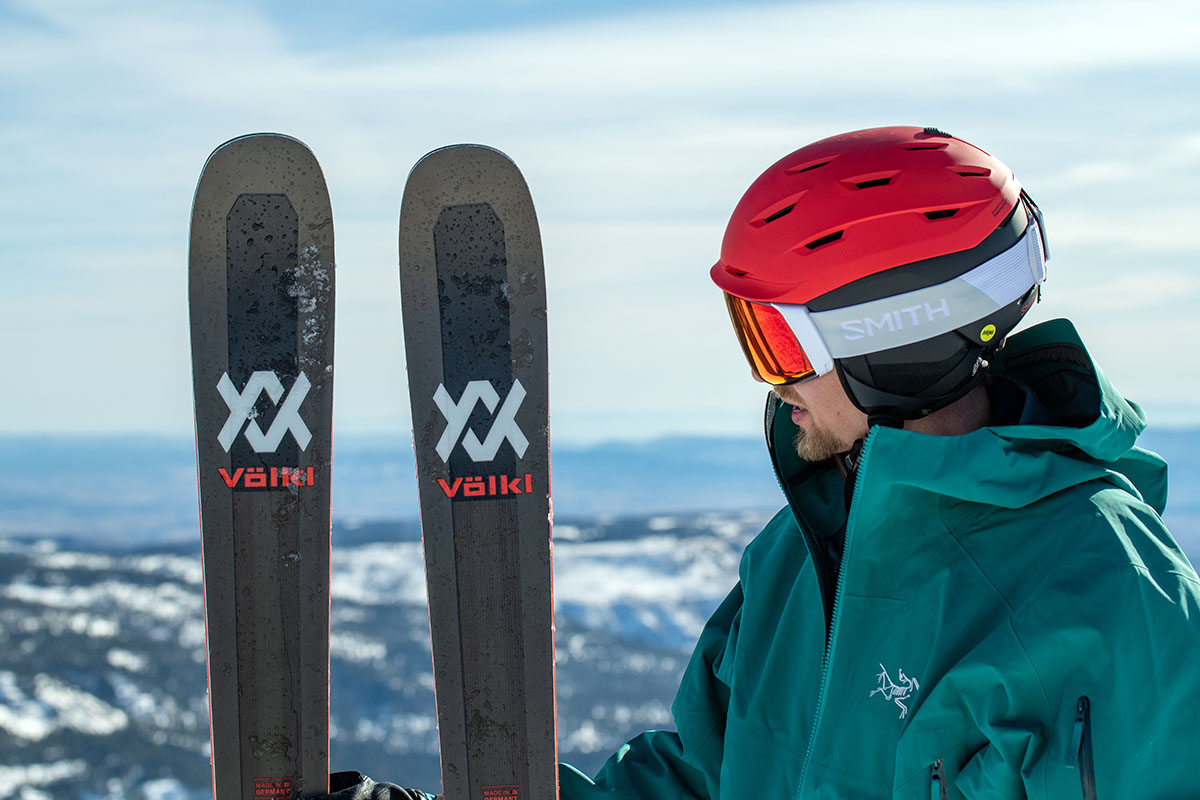 All-Mountain Mogul Skis
For skiers that plan to spend some of their time in the bumps, there are a few key design characteristics to look for. The first is a fairly soft and light shovel, which will help absorb some of the impacts and limit the harshness of an overly stiff design. In addition, a medium to slim waist width and shorter turn radius will make it easier to pop between turns, and a firmer tail provides both power and stability. For sizing, it's best to avoid going too long, and those just starting out will want to err on the shorter side to maximize control. Some of our favorite mogul-friendly ski collections include Icelantic's Pioneer and Salomon's QST.

Finding the Right Ski Boots and Bindings
Of utmost importance in choosing a ski setup is to realize how interconnected each piece is. Boot, binding, and skis need to be all working in concert to maximize the performance potential of your gear as well as to maximize your enjoyment. Skimping on one will impact the performance of everything else. As an example, if you have a stiff, performance-oriented boot, you're going to waste its abilities with a slow and cumbersome entry-level ski and binding. Alternatively, if you have a beginner, flexible boot with an advanced ski and binding set, you won't be able to transfer enough power to really carve your way down the slopes. To help guarantee you end up with a proper match, our ski binding and downhill boot recommendations breakdown the categories in a similar fashion as all-mountain skis: tailoring picks to ski conditions and ability level.
Ordering Skis Online
It goes without saying that purchasing a pair of skis is a significant investment and one that requires a good deal of research. Ideally you'll have a chance to get your hands on the skis before taking the plunge, but that isn't a reality for everyone and ordering them online is a pretty seamless process these days. Most major retailers offer free and surprisingly fast shipping, which makes it a very attractive option.
Once you get your skis, you'll need to get your bindings mounted. Just about any ski shop will do the work for you, with the average cost ranging from about $40 to $70. Many of REI's 180+ stores also have a ski shop with good discounts on mounting services. Prices vary by store, but the rate at the flagship in Seattle last season was $60 for an alpine mounting (we will report back once they reopen for the 2023-2024 season). Importantly, members get 20% off shop services, and you'll also receive a discount if you purchase the skis, boots, or bindings from REI. Evo and Backcountry also offer mounting services at their stores, although they're few and far between compared to REI.
Back to Our Top All-Mountain Ski Picks  Back to Our All-Mountain Ski Comparison Table
Learn More About Ski Gear