If you're searching for that elusive one-ski quiver, this is the category to find it. The definition of "all-mountain" varies by manufacturer and retailer, but generally includes skis from 85 to 105 millimeters underfoot that can both carve on hardpack and provide float in fresh snow. In general, those who ski primarily on the East Coast or in the Midwest should look in the 85- to 90-millimeter range, and those who ski out West will want a waist width from 90 to 105 millimeters. It's a crowded all-mountain field, but below we've picked the best models for 2020. For more information on choosing the right ski, see our comparison table and buying advice below the picks. 
 
Best Overall All-Mountain Ski
Category: All-mountain
Ability level: Intermediate to expert
Dimensions: 134-96-117mm
Other widths: 102mm
What we like: A strong reboot of an all-mountain classic.
What we don't: A little wide for some skiers.
The fourth-generation Mantra was a bit polarizing with its aggressive, fully rockered profile, but Volkl returned to form with the M5. The big news was the switch to camber underfoot, which greatly expanded its appeal as a groomer-friendly, everyday driver. Along with a moderate flex and low rise tip and tail rocker, the ski's turnability greatly improved: it loves everything from fast GS-style sweepers to quick and snappy moves in the bumps. As the nameplate that is widely recognized for kicking off the modern all-mountain design, it's great to see the Mantra return to the top of the pack.
It's a close call between the M5 and Nordica Enforcer below, and both are versatile, standout models. In parsing out the differences, the Mantra is noticeably wider at the tip (by 8 mm) and has a little extra surface area throughout for floating in the soft stuff. But the Nordica is a bit easier to control in tight spaces with its nimble, easy-to-manage flex. Both reward capable pilots through variable snow at speed. If you like a wider ski and live in an area that can justify its 96-millimeter waist, the M5 Mantra is a fantastic choice. It's worth noting that similar to Head's Kore 99, Volkl leveraged the Mantra's popularity with a wider 102-millimeter option for this season... Read in-depth review
See the Volkl M5 Mantra  See the Women's Volkl Secret
Best All-Mountain Ski for Groomers
Category: All-mountain front
Ability level: Intermediate to expert
Dimensions: 127-88-117mm
Other width: 94mm
What we like: An excellent mix of performance and fun on firm snow.
What we don't: Not as comfortable in powder. 
The Experience 88 has been a longtime favorite for its impressive groomer performance, and Rossi gave it a full revamp last season. We'll start by saying that despite a laundry list of notable changes, the ski still is a treat on hardpack. It hooks up easily and is very solid on edge, has the right amount of stiffness for most advanced-level skiers, and feels nearly unflappable at speed. Where the latest model ups the Experience's appeal is its fun factor: the metal laminate strip down the middle of the ski provides strength (hence the "Ti" in the name), but there's noticeably more pop and a willingness to turn more quickly than with the older version.
The 88-millimeter waist and small amount of metal in the ski's construction means the Experience isn't as versatile in soft snow as the Mantra above or Enforcer below, nor is it as appealing for ex-racers that demand a lot of power. But its rockered tip holds its own through crud and on light powder days, making it a fantastic all-mountain front option for places like the East Coast (or a groomer ski just about anywhere). If you prefer a more planted, wider design, the Experience Ti also is available in a 94-millimeter version... Read in-depth review
See the Rossignol Experience 88 Ti  See the Women's Rossignol Experience 88 Ti
Best All-Mountain Ski for Powder
Category: All-mountain back
Ability level: Advanced to expert
Dimensions: 138-106-124mm
Other widths: 85, 92, 99, 118mm
What we like: Great flotation and capabilities in soft snow.
What we don't: Unsurprisingly, its groomer performance comes up a bit short.
Transitioning from the groomer-oriented Experience Ti above to one that loves pow, Salomon's QST 106 is a wide and fun freeride design. An industry favorite over the past few years, Salomon revamped the ski for 2019-2020 with an emphasis on improving stability while retaining its excellent floatation and playful nature. To pull it off, they smoothed out the side cut for more predictable turn-in, stiffened up the build with more carbon woven into the mesh laminate, and added cork in the tip for improved dampening (the old Koroyd tips were light but chattery). Overall, if your resort days are about hunting out secret stashes and free refills, the QST 106 is worth a serious look.
Despite the notable performance upgrades, the new Salomon still can't match the picks above at speed—the front end can feel overly light and doesn't like being driven hard on icy groomers. As a result, the QST is less of an all-rounder when compared with the Mantra, but is a legitimate all-mountain option in places that see a lot of powder (think Colorado or Utah). And for the lucky few that experience even more of the fluffy stuff throughout the season, Salomon offers a super-wide QST 118 that floats well even on the deepest days.
See the Salomon QST 106  See the Women's Salomon QST Stella 106
Best Budget All-Mountain Ski
Category: All-mountain
Ability level: Beginner to advanced
Dimensions: 127-88-111mm
Other widths: 94, 104, 114mm
What we like: Solid value for a fun ski.
What we don't: Not built for hard chargers.
It's not groundbreaking news that quality all-mountain skis are expensive, but there still are good values to be had. Case in point is Line's Sick Day 88, which is literally hundreds of dollars cheaper than the options above. The entire Sick Day lineup was updated a couple years ago, but the all-mountain-friendly 88 is what caught our eye. Despite the on-piste focused dimensions, this is a solid all-round option with a lot of tip rocker and enough flex to be playful just about anywhere on the hill. In addition, the softer construction makes it a viable choice for progressing beginners that want to skip an overly cheap, entry-level design.
What are you giving up with the Sick Day 88 at its budget-friendly price? The ski isn't built for getting too far on an edge and won't be as comfortable on hard, unforgiving snow (experts should shop elsewhere). Plus, tip flap and chatter can be an issue at top speed. But its soft snow sensibilities, lightweight feel, and focus on fun puts it high up on our list. The $400 price is the cherry on top.
See the Line Sick Day 88
Best of the Rest
Category: All-mountain
Ability level: Intermediate to expert
Dimensions: 126-93-114mm
Other widths: 88, 100mm
What we like: Very well-rounded; peppy in the bends.
What we don't: A little narrow for powder days.
One of the more well-rounded skis on the market, Nordica's Enforcer (and women's Santa Ana) has been a top all-mountain option since its release a couple years ago. Coming on the heels of the successful Enforcer/Santa Ana 100, the slimmer 93 is a standout in terms of frontside performance while retaining enough quickness and maneuverability to get off trail. But most of all, this is an all-mountain ski that loves turns: the unique hammerhead tip is a great initiator, and a medium flex with two layers of metal means the Enforcer is fun but can really rail through corners. Importantly, the ski is equally friendly at sane speeds and a great choice for everyone from progressing intermediates to experts.
Stable and confidence-inspiring, the Enforcer 93 feels comfortable in just about all conditions except powder days out West. In soft snow, the narrower waist comes up short in flotation compared with alternatives like the Mantra above, and its stiffer build is a little trickier to surf and slarve. For those that are lucky enough to have consistently deep snow, Nordica also offers an Enforcer/Santa Ana 100 and the lighter Free collection. And of note: Nordica is revamping the line for 2020-2021, and the 93 will be replaced by a 94-millimeter model that features a few tweaks to the core materials as well as its shape.
See the Nordica Enforcer 93  See the Women's Nordica Santa Ana 93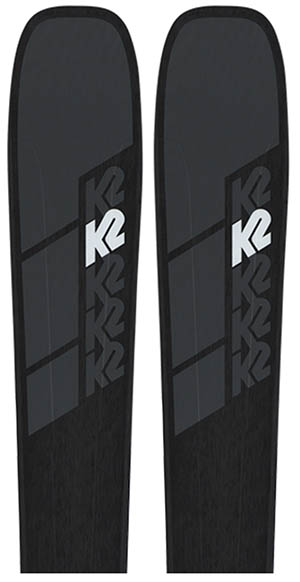 Category: All-mountain
Ability level: Advanced to expert
Dimensions: 138-99-123mm
Other widths: 90, 108mm
What we like: Impressive performance upgrade from the outgoing Pinnacle Ti.
What we don't: Intermediate skiers should look elsewhere.
K2's Mindbender Ti arguably is the biggest ski release for the 2019-2020 season. Taking the place of the very popular Pinnacle, these new all-mountain sticks have coast-to-coast appeal with widths ranging from 90 to 108 millimeters. We prefer the middle-of-the-road 99Ti for its Pacific Northwest-ready versatility: the ski is wide enough to offer sufficient float on moderate powder days, the Y-shaped metal layer underfoot gives it excellent stability, and the planted design powers comfortably through choppy, midday conditions. For hard chargers looking for a one-ski quiver, the Mindbender 99Ti deserves a serious look.
How does the Mindbender 99 compare to the outgoing Pinnacle 95? Both play well in soft snow, although the new model is wider at the tip (by 6mm), waist (4mm), and tail (7mm). Further, the Mindbender is noticeably stiffer, which gives it a higher performance threshold but also makes it more challenging to control in tight spaces off-piste. As such, we don't recommend it for progressing intermediates—like we did with the Pinnacle—but strong skiers seeking a well-balanced design likely will be happy with the changes. It's worth noting that K2 also makes the Mindbender in a flexier "C" version that eschews metal in its construction.
See the K2 Mindbender 99Ti  See the Women's K2 Mindbender 98Ti Alliance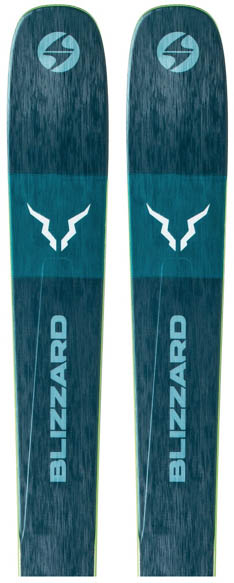 Category: All-mountain
Ability level: Intermediate to advanced
Dimensions: 127.5-94-117mm
Other widths: 102, 112mm
What we like: It's fun all over the hill.
What we don't: A little soft and chattery at speed.
Blizzard's Brahma and Bonafide have been mainstays in their lineup for their aggressive performance on hardpack, but we have to admit preferring the softer Rustler for true all-mountain use. Offered in three widths that go as wide as 112 millimeters (the Rustler 11), we like the narrowest "9" (94mm) because it highlights the ski's do-everything design. It feels reasonably light underfoot to dance between turns yet has enough strength to lay on its edge for medium-width sweepers. But where the Rustler really comes alive is popping on and off trail where its playful, easy-to-manage nature shines.
For its construction, the Rustler has metal underfoot, but the Titanal tapers towards the tip and tail, which has an impact on high-speed stability. At full tilt, the Rustler can't match the Brahma or Bonafide, but the tradeoff is worth it in the bumps and off-piste. The lightened and softened front end is snappy and easy to control, which encourages all sorts of shenanigans. It's worth mentioning that the narrowest Rustler can get overwhelmed in deep snow, although its rockered tip and tail help it outperform expectations. In the end, if you put a premium on a truly fun build, the Rustler should be high on your list.
See the Blizzard Rustler 9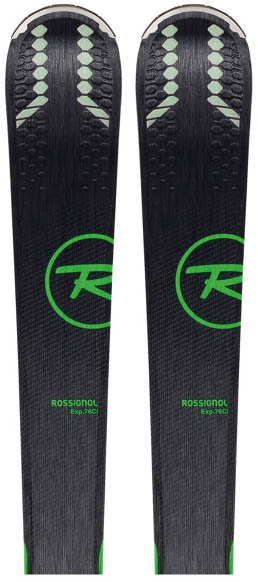 Category: All-mountain front
Ability level: Beginner to intermediate
Dimensions: 123-76-109mm
Other width: 80
What we like: Good value for a quality beginner-friendly ski.
What we don't: Fast learners should avoid this entry-level category altogether.
With the exception of the Line Sick Day 88, all of the skis above are tuned for advancing intermediates to expert riders. But true beginners have a different set of requirements. For one, a narrower build that's easy to manage on groomed and chopped-up hardpack is a must-have. Further, a soft and lightweight construction that's willing to turn even with only moderate input greatly improves chances for progress on those early ski days. And a package deal that comes with a pair of reliable bindings attached also simplifies the process.
A good number of the major ski brands make an entry-level model—often it's a toned-down version of their core all-mountain design—and we think Rossi's Experience 76 checks all the right boxes. Sharing a similar shape as the Experience 88 above, the 76 swaps the 88's strong underpinnings for less width and more flexibility. Overall, its build is extremely user-friendly and plenty good for season-long use on green and blue runs, plus the attached Look bindings are a quality, proven set. But what makes the Rossis most appealing for us is that you won't outgrow them as quickly as a pair of full-on entry-level and noodly skis. That said, fast learners or those planning to get out a lot will still be better off with a higher-end design like the aforementioned Sick Day, Blizzard Rustler above, or Nordica Navigator below.
See the Rossignol Experience 76 CI  See the Women's Rossignol Experience 76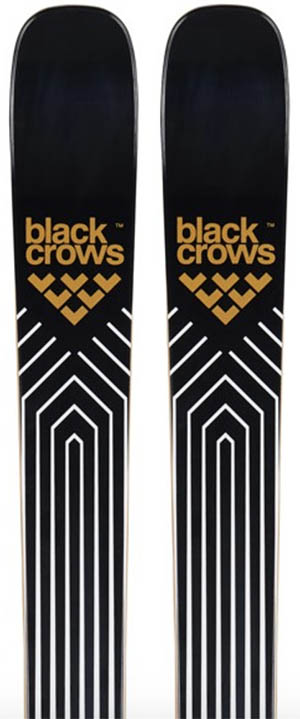 Category: All-mountain back
Ability level: Advanced to expert
Dimensions: 132-99-120mm
Other widths: None
What we like: Playful, fast, and easy to turn for its width.
What we don't: Reverse camber profile is polarizing. 
In a short time, Black Crows has gone from a relative unknown to a big-time player in the U.S. market (the company is based in France). Their skis have earned a reputation for being poppy yet seriously capable in areas with pucker-worthy terrain like Jackson Hole. Our favorite among their all-mountain offerings is the 99-millimeter-wide Daemon, which bucks current trends by utilizing a reverse camber profile. This banana-shaped design is more popular among powder sleds, but its fast and effortless turn initiation is a nice attribute on hardpack. Plus, Black Crows included enough Titanal to keep it planted at speed, and the Daemon's raised tip and tail largely avoid getting knocked around in crud. Among backside-oriented all-mountain skis, the Daemon stands out as a nimble, fun, and unique option. 
We applaud the out-of-the-box thinking by Black Crows, but there are reasons that reverse camber isn't a common ski profile. For one, it doesn't get on edge and power out of a turn like the traditional camber of the Volkl Mantra above. Moreover, its surfy personality and relatively soft front end takes some time to get used to—especially if you're never been on this style of ski in the past. But the Daemon has a lot of appeal for advanced to expert skiers that prioritize maneuverability and want to try something a little different. For a more traditional all-mountain option from Black Crows with a rocker-camber-rocker construction, check out their 97-millimeter-wide Camox.
See the Black Crows Daemon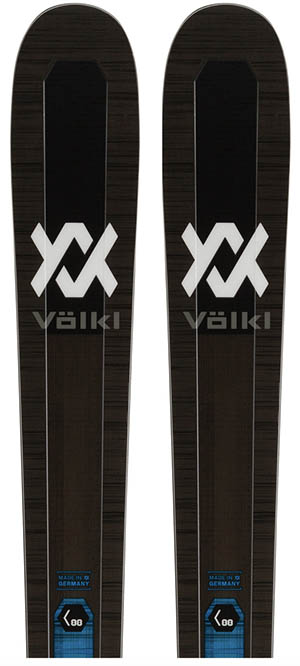 Category: All-mountain
Ability level: Intermediate to expert
Dimensions: 129-88-111mm
Other widths: None
What we like: One of the most versatile designs on the market.
What we don't: It's not a playful ski.
For skiers that mostly stick to the frontside on the resort but want the ability to hit the back bowls and get off-piste on occasion, the Volkl Kendo is a nice choice. At 88 millimeters underfoot, it's a highly versatile ski that is narrow and stiff enough to carve well and take on groomed runs at a variety of speeds, but wide enough to not be out of sorts after a good storm. With ample metal in the construction to put the power down, the men's Kendo and women's Kenja trade the playfulness you get with the QST above for quickness and rock-solid stability.
Past versions of the Kendo have been criticized for being too unforgiving for intermediate riders, but Volkl has loosened things up a bit with the current 2019-2020 model. The big news is that they trimmed away some weight by using their Titanal Frame construction—shared with the M5 Mantra above—which incorporates metal along only the perimeter of the skis. Combined with a refined shape, the ski is easier to flick around on- and off-piste. The end result is a true all-rounder that's fantastic for hardpack and light powder days. 
See the Volkl Kendo 88  See the Women's Volkl Kenja 88
Category: All-mountain front
Ability level: Intermediate to advanced
Dimensions: 124-85-109mm
Other width: 80mm
What we like: Fantastic performance for the price.
What we don't: A little lacking at the top-end.
Nordica revamped its lineup last year with the Navigator replacing the NRGY. This frontside-focused all-mountain ski takes an interesting hodgepodge of design elements—including the general profile of the old NRGY and the Enforcer's tip shape—and the end result is a surprisingly polished ski. It's forgiving enough for intermediates but not out of sorts once you get up to speed. And at $550, Navigator is one of the best values on the all-mountain market.
In saving $100 or more compared with most of the skis above, there are a couple compromises with the Navigator 85. For one, top-end performance falls a little short compared with the Enforcer or Kendo, so expert-level skiers will want to look elsewhere. And the 85-millimeter width just isn't enough for deep snow. But with plenty of performance for the majority of skiers and in most resort conditions, the Navigator has earned a spot on our list.
See the Nordica Navigator 85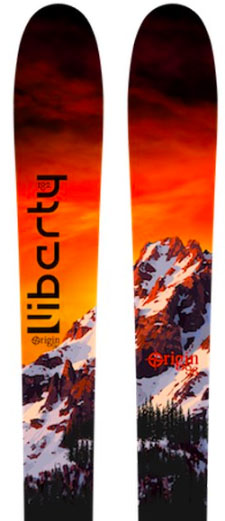 Category: All-mountain
Ability level: Intermediate to advanced
Dimensions: 130-96-118mm
Other widths: 106, 112mm
What we like: A good price for a well-made, versatile, and playful ski.
What we don't: Like the Rustler 9 above, it's not as planted at speed.
Similar to Black Crows above, Liberty is an independent ski manufacturer with a lot of recent momentum. Their collection covers an impressively wide range of prices and styles, but the true Goldilocks design is the Origin 96. Featuring a versatile 96-millimeter waist and a fair amount of tip rocker, the ski is well-suited for areas in the western United States that see a fair amount of snowfall (no surprise given they're based out of Colorado). And with a unique construction that includes bamboo in the core, the Origin has a light and poppy personality that really comes to life hitting natural features and exploring off-piste.
The downsides of the Origin 96 pretty closely resemble Blizzard's Rustler 9 above. The clear priority was making the ski playful and nimble, which comes at the sacrifice of some stability. Those wanting more dampness and security for plowing through crud or whatever else is in their way will want to stick to a burlier ski like the M5 Mantra. But if you want an easy turner at a manageable width that is fully freeride-ready, the Origin 96 should be on your short list.
See the Liberty Origin 96  See the Women's Liberty Genesis 96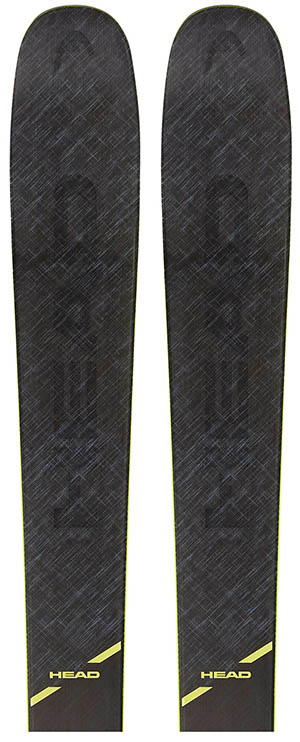 Category: All-mountain
Ability level: Intermediate to expert
Dimensions: 133-93-115mm
Other widths: 99, 105, 117mm
What we like: Light but very capable.
What we don't: Lacks the personality of our top-rated skis.
When it was released, Head's Kore made a big splash with its experimental-looking construction that eliminated the traditional plastic topsheet. The result is one of the lightest all-mountain skis on the market that doesn't compromise stiffness and high-speed stability for expert riders. It's not as planted when going all-out as a ski like the Kendo above, but it's not far off. Further, at 93-millimeters underfoot and with a generously wide shovel, the Kore hits a pretty ideal all-mountain shape.
The Kore 93 inevitably will be compared to the Enforcer 93 above, which is a match in terms of width and intended use. Where the Kore excels is its lighter weight that makes bootpacks or sidecountry explorations that much easier. But the Kore is noticeably lacking in personality compared with the Enforcer: it's not nearly as poppy and fun. We've also found the unique topsheet doesn't age that well, showing scrapes and scars more easily than a plastic design. But we fully expect it to be another top seller, especially with the addition of the Kore 99 and 117. For 2020-2021, be on the lookout for an updated version that trades metal for Karuba wood in the core for a damper ride.
See the Head Kore 93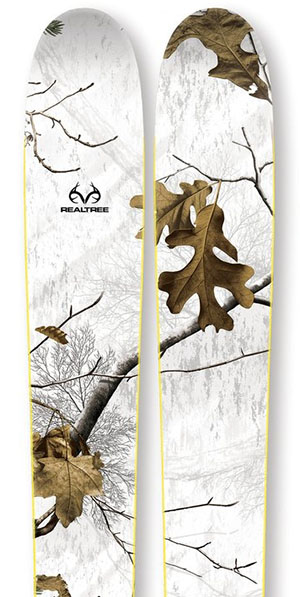 Category: All-mountain
Ability level: Intermediate to advanced
Dimensions: 120-98-117mm
Other widths: None
What we like: A very fun all-mountain ski that's also at home in the park.
What we don't: More playful than buttoned down and fast.
J Skis does things differently. Launched in 2013 by the founder of Line Skis, their lineup of six core models is handmade and ever-changing with batches of limited release graphics. For our all-mountain round-up, we like the aptly named Allplay best. This ski has tons of personality: it's equally fun to flick around on groomers and in powder, but it really comes to life in the park or hitting natural features on the mountain. Importantly, the construction is top-notch with a high quality maple core and strategic use of carbon fiber. Finally, because J Skis only sells directly through their own website, the Allplay is a solid value at $599.
The playful nature of the Allplay does come with some downsides. For one, it's not an ideal choice for hard chargers or those that spend more time bombing groomers than hitting jumps. It also doesn't hold an edge as well as our top picks, although intermediate riders that prefer surfing through turns likely won't notice. But for a ski that just puts a smile on your face—in both its unique look and child-like personality—the Allplay is an absolute winner. For a higher-stability model from J Skis, check out their Masterblaster.
See the J Ski Allplay
Category: All-mountain back
Ability level: Advanced to expert
Dimensions: 133-98-123mm
Other widths: 89, 108mm
What we like: Strong and fast.
What we don't: Not the best ski for short, tight turns.
With two layers of metal, carbon fiber and Kevlar stringers, and a medium-wide& turn radius, the Armada Invictus is built for speed and straight lining runs. These skis are super stable and plenty stiff for the expert rider, and at 99 millimeters at the waist (there's also a 108mm version) they're very capable all-mountain skis in most conditions. To reduce chatter when running at full tilt, Armada combines the stiff construction with traditional camber underfoot and a modest tip rocker.
Where the Invictus falls a little short is in the trees or over bumps where a faster turning machine is a better match. Further, intermediates who like to take it easy will be best served by choosing something like the less intense J Skis Allplay above. In the end, it's not one of our favorite all-rounders, but aggressive all-mountain riders that will value the wide platform should give the Invictus 99 Ti serious consideration.
See the Armada Invictus 99 Ti  See the Women's Armada Victa 97 Ti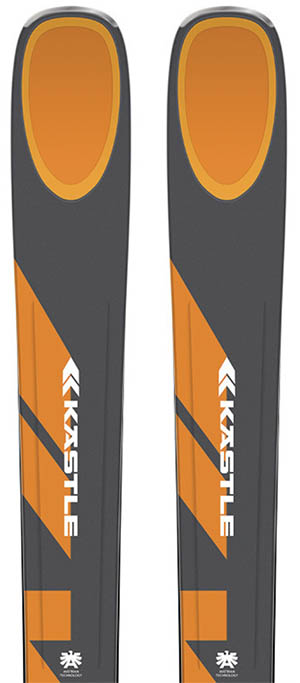 Category: All-mountain
Ability level: Intermediate to expert
Dimensions: 133-96-119mm
Other width: 105mm
What we like: Latest version ditches metal without compromising performance.
What we don't: Only pros can justify paying for it.
With big-time power, performance-oriented skiers love Kastle's FX96 HP. All Kastle skis feature a unique hollow construction tip to reduce swing weight and chatter through variable snow, but they took things further with the new HP by removing the classic metal construction. Instead, carbon and fiberglass sit in its place, which help make the ski a nimble, off-piste joy. But just like the prior version, the ski simply does an amazing job of smoothing out bumps while going Mach-looney on a groomer or through cut-up powder.
The older version of this ski (the FX95 HP) was associated with being a difficult ride for non-experts, but the current design is more approachable and can be enjoyed even when you're not muscling it around. Of course, price is the biggest barrier to entry here, and the improvements from other models on this list are incremental at best. But for those who truly get the most out of their skis, the FX96 HP is worth the extra dough.
See the Kastle FX96 HP
Category: All-mountain back
Ability level: Advanced to expert
Dimensions: 136-106-126mm
Other widths: None
What we like: It's a classic all-mountain wide choice.
What we don't: Too wide and soft for those that stay on-piste.
Yes, 106 millimeters is quite wide for the all-mountain category, but Rossignol's 7 series has garnered so much praise in the past few years that it's nearing legendary status. The Soul 7 is the flagship all-mountain offering and, as you would expect, does pretty much everything well. It's light and fun tackling an open bowl, but can button down for hitting technical and steep terrain at speed. Two years ago, Rossignol improved the ski's frontside performance with a redesigned Air Tip that is stiffer and not as prone to chatter.
The Soul 7 HD is a better on-piste ski than in years past, but it's still happiest in soft snow. The ski is smooth and easy to navigate in powder, but will wander and resist getting too far on an edge or digging into ice. This is an easy compromise for those that live in powder country, however, where the Soul 7 is an all-mountain dream. In a surprise move, Rossi is discontinuing the 7 series for 2020-2021 (replacing it with their Black Ops collection), so now is a good time to pick up a Soul 7 on discount while supplies last.
See the Rossignol Soul 7 HD  See the Women's Rossignol Soul 7 HD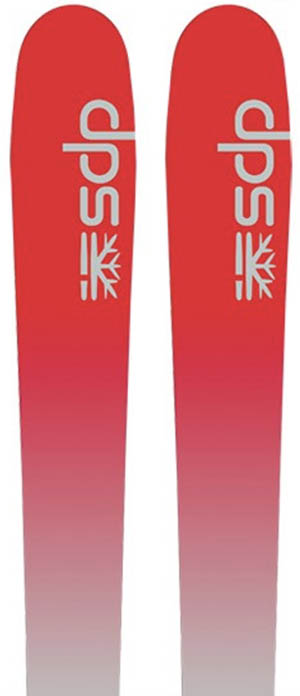 Category: All-mountain front
Ability level: Intermediate to advanced
Dimensions: 125-87-107mm
Other widths: 82, 95
What we like: Premium build that's smooth and predictable.
What we don't: A little soft for strong, demanding skiers.
DPS's powder skis get all the love, but don't overlook their all-mountain Cassiar collection. Sharing a similar shape as the popular Wailer touring model in a trimmed-down width, the Cassiar F87 is a smooth operator on the hill. Its lightweight wood and carbon Foundation construction (hence the "F" in the name) makes it forgiving enough for intermediate riders, but the ski offers a satisfying edge hold and good energy transfer to flick between trees or moguls. Additionally, despite its modest dimensions, the F87 floats and surfs surprisingly well on light powder days. To be clear, the Cassiar isn't as stiff or fast as the Experience 88 or Enforcer 93 above, but it's more versatile and easier to handle as you venture off trail. 
Like the entire DPS lineup, you pay a premium for the Cassiar F87 (and women's-specific Uschi F87). Its price tag isn't out of place in the market at $799, but the softer flex and lower performance ceiling does hurt its value. That said, the attention to detail—including the gorgeous topsheet and very durable base—truly is impressive. And a final note: expert-level riders should consider upgrading to the stiffer carbon Alchemist version (known as the Cassiar A87), although that ski does come with a very hefty $500 increase in cost. 
See the DPS Cassiar F87  See the Women's DPS Uschi F87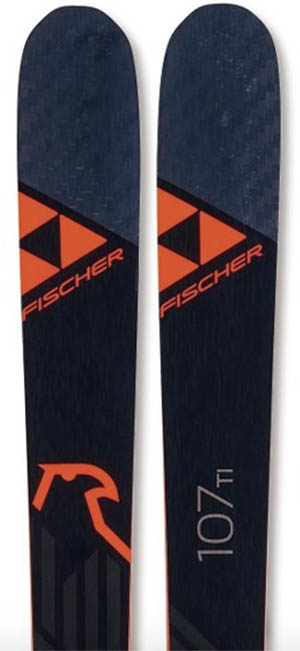 Category: All-mountain back
Ability level: Expert
Dimensions: 139-107-131mm
Other widths: 92, 99mm
What we like: Burly big mountain ski that handles hardpack better than most.
What we don't: Non-experts will find it overly stiff and difficult to control. 
The Ranger 107 Ti is Fischer's premium all-mountain weapon and one of the more serious skis to make our list. Updated for 2019-2020, the design is strong and very stiff from tip to tail with metal underfoot and carbon in the shovel, which translates to excellent power and high-speed performance. The wide dimensions make it come to life in back bowls and off-piste, but it also outperforms expectations on groomers with good dampness and the ability to slice wide, arching turns. All told, the Ranger is a very intriguing option for hard chargers who really like to fly.
East coast or Midwest rippers will be happy to know that a narrower 92-millimeter version of the Ranger Ti is available, and we'd put that model right up there as strong competition to the sturdy Blizzard Brahma. In addition, the tweener Ranger 99 Ti lines up nicely for a one-quiver Pacific Northwest set-up. What all three widths have in common, however, is an unforgiving personality. Skiers who like to occasionally sit back and let their foot off the gas will be better served with a softer, suppler ski like the Salomon QST or Rossignol Soul 7 above.
See the Fischer Ranger 107 Ti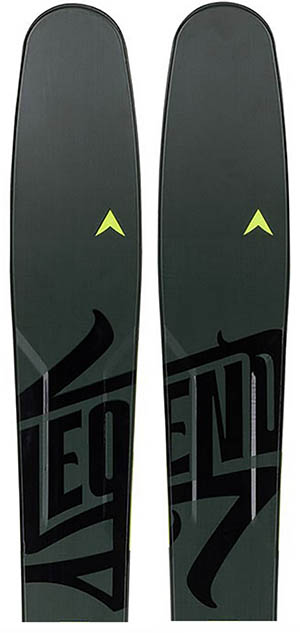 Category: All-mountain
Ability level: Intermediate to advanced
Dimensions: 132-96-112mm
Other widths: 84, 88, 106mm
What we like: Quick turning and lightweight.
What we don't: Too expensive.
Dynastar shook up their all-mountain lineup with the Legend X 96. While not an exact replacement to the outgoing Cham 2.0, the Legend effectively replaced it as a lightweight ski that mixes all-mountain and backcountry characteristics. What stands out is the ski's willingness to turn quickly—it excels in the trees with quick responses and a feathery but impressively stable personality. And the Legend X's 96-millimeter width and wide shovel are comfortable tackling both corduroy and powder.
The Legend X lands near the bottom of our list mostly because it doesn't live up to its steep price. Skis in the $700 range typically are more powerful and tuned to expert riders, but the Dynastar is best for advancing intermediates. If you want snappy turning from a frontside ski, you can get something like the Nordica Enforcer 88 and save $50 (and the 85-millimeter width Nordica Navigator saves you another $100). But the Legend X 96 is wider and a little more versatile than those skis, and it's still a good choice for backcountry riders that want to throw on a pair of lightweight touring bindings.
See the Dynastar Legend X 96
Category: All-mountain front
Ability level: Intermediate to advanced
Dimensions: 123-86-112mm
Other widths: 79, 82mm
What we like: Fantastic frontside performance.
What we don't: Limited versatility.
Many of the skis on this list try to toe the line between on- and off-trail use, but the Atomic Vantage 86 TI is a decidedly frontside beast. Right off the bat, it's important to note the seemingly high $870 price actually is a good deal: the 86 TI comes as an integrated setup with the highly regarded Warden MNC 13-DIN bindings. These bindings retail for $270 and are a great match for the rock solid feel of the Vantage.
The clear downside is that the Vantage 86 TI has been tuned to rail hardpack almost exclusively. The ski is nearly faultless at speed, turns smoothly, and is easy to trust on the edge. Venture off trail, however, and it can't hide its 86-millimeter width (although it can dance in the trees if the snow isn't too deep). If you're willing to compromise in versatility and just love a powerful ski, we recommend checking out the Vantage 86.
See the Atomic Vantage 86 TI
All-Mountain Ski Comparison Table
All-Mountain Ski Buying Advice
What Is an All-Mountain Ski?
By definition, an all-mountain ski should be adept at just about anything you'll encounter during a day on the slopes (the commonly used term is "quiver of one"). This isn't a hard-and-fast category and has trended wider over the years, but generally encompasses skis from 85mm to 105mm underfoot that are best for the front side of the mountain and skiing in bounds (at least most of the time). At the narrow end are focused on-trail groomer skis and at the wide end are skis that can handle back bowls and powder just fine.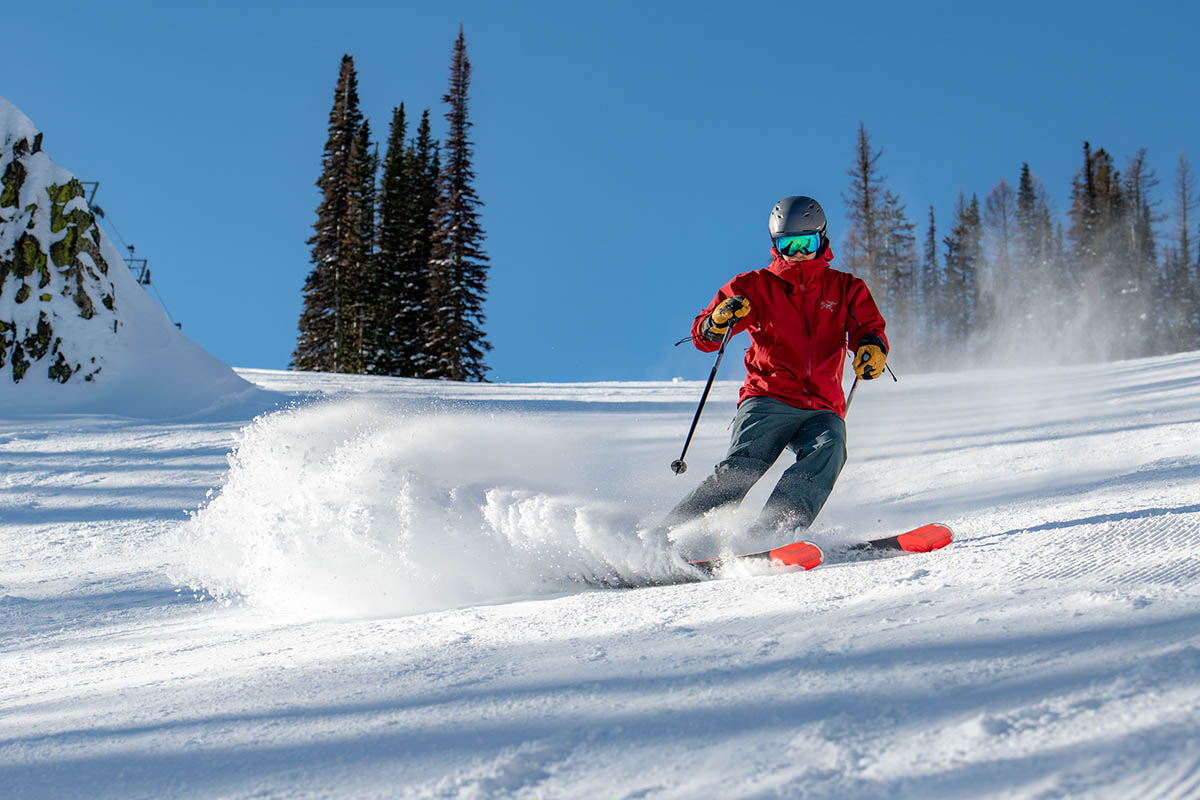 It's equally important to understand the limitations of this ski type. All-mountain skis are not ideal for deep powder or the backcountry (for alpine touring options, see our article on the best backcountry skis). In addition, they're often heavy for uphill travel, although this is changing as materials continue to improve. What they do offer is that all-in-one functionality: for anything from crusty hardpark to bluebird soft snow days, there's an all-mountain ski for that. Logically, it's not as simple as just choosing any old all-mountain ski and calling it good. The decision should involve local snow conditions, skiing style, and ability level. We cover these important considerations below.
 
Ski Waist Width Explained
The width of the very middle of the ski is the key measurement in choosing a proper all-mountain setup. You'll see the waist width measured in millimeters, also referred to by the term "underfoot." Skis nowadays are fairly wide for improved stability and control in soft snow. If you line up a current all-mountain ski with one from 15 years ago, the change in waist width is dramatic. Here is where things stand for 2020, and for more information on this topic, see our full article on choosing the right ski waist width. 

80mm to 90mm: Groomer Skis
As folks on the East Coast are aware, powder days can be few and far between. And when a snowstorm blows through overnight, it's best to lay first tracks as those couple of inches probably won't make it to lunchtime. If you're from an area like this or stick primarily to groomed runs, a ski in the 80mm to 90mm waist width range will be an ideal pairing. In other words, don't be seduced by a wide powder ski, no matter how amazing it looks. The Rossignol Experience 88 Ti is a very popular groomer ski and one of our top all-mountain picks for 2020.

90mm to 100mm: All-Rounders
An all-around ski can handle anything from early season groomer days to occasional off-track powder runs. As a result of the universal appeal, this is the core of the all-mountain category. Ideal waist widths vary from about 90 to 100mm and a more universal profile is preferred (light tip/tail rocker to limit tail flap). If you had to pick one ski for the entire season's worth of conditions, this would be it. Our top pick, the Volkl M5 Mantra, sits squarely within this range.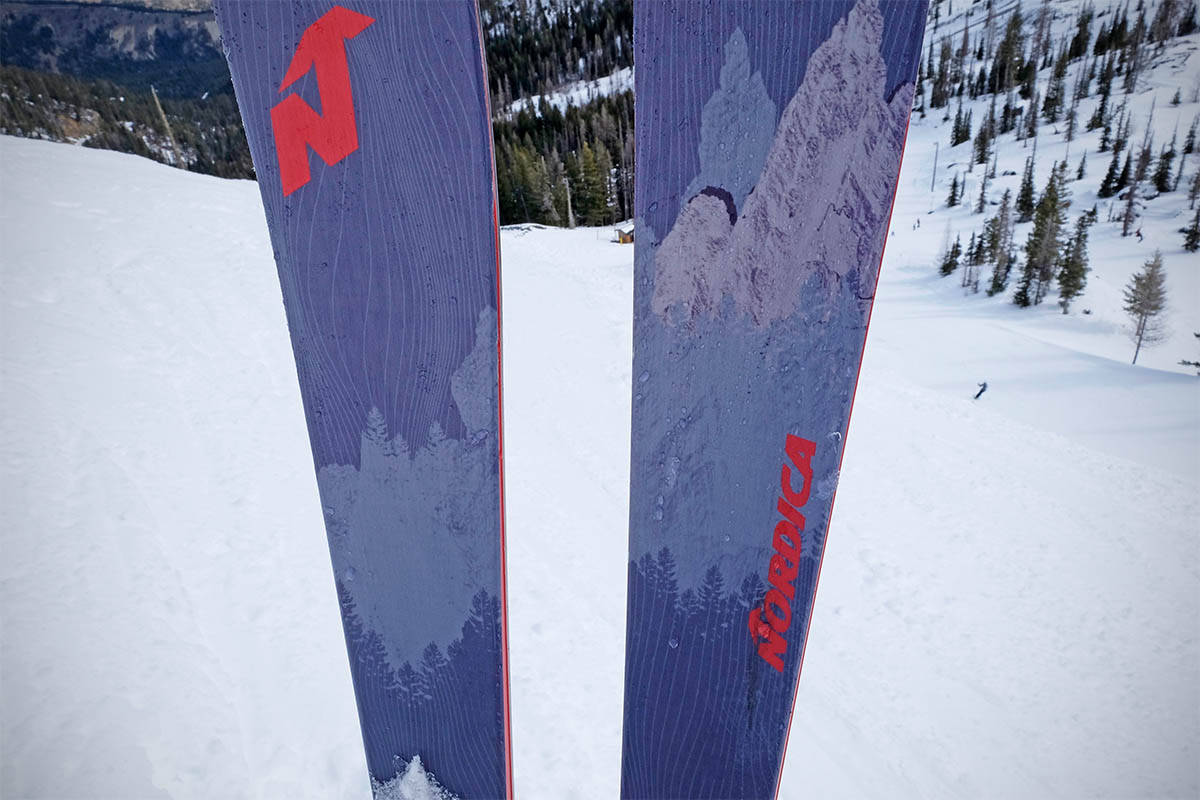 100mm+: Powder Sleds
Places like Colorado and Utah are blessed with frequent dumps of glorious powder. The dry and light stuff that falls in these Western States have made them a skier's paradise. So what's the best all-mountain ski for these conditions? To start, it's best to acknowledge that a one-ski quiver is insufficient for backcountry powder hounds—those folks will be best served with a dedicated powder ski (or multiple skis) that can stay afloat in the deep stuff. But should you stick to lift assisted skiing and don't get too lost in the trees, a ski with a width of 100-110mm should be just right. A nice powder ski that still hits the all-mountain category is the Rossignol Soul 7 HD. 
In sum, moving to a wider ski increases flotation in powder. With a wider base along with rocker technology (covered below), the greater surface area means you can ski more easily and aggressively. But it's not all good news with fat skis. Wider skis generally make wider turns, and the benefits are mostly appreciated by those that ski off trail or live in powder-rich areas. We've seen too many skiers suffering on hardpack with skis that are too wide and cumbersome. So don't get caught up in the wider is always better mantra—make sure you'll be able to appreciate the benefits that wider skis provide.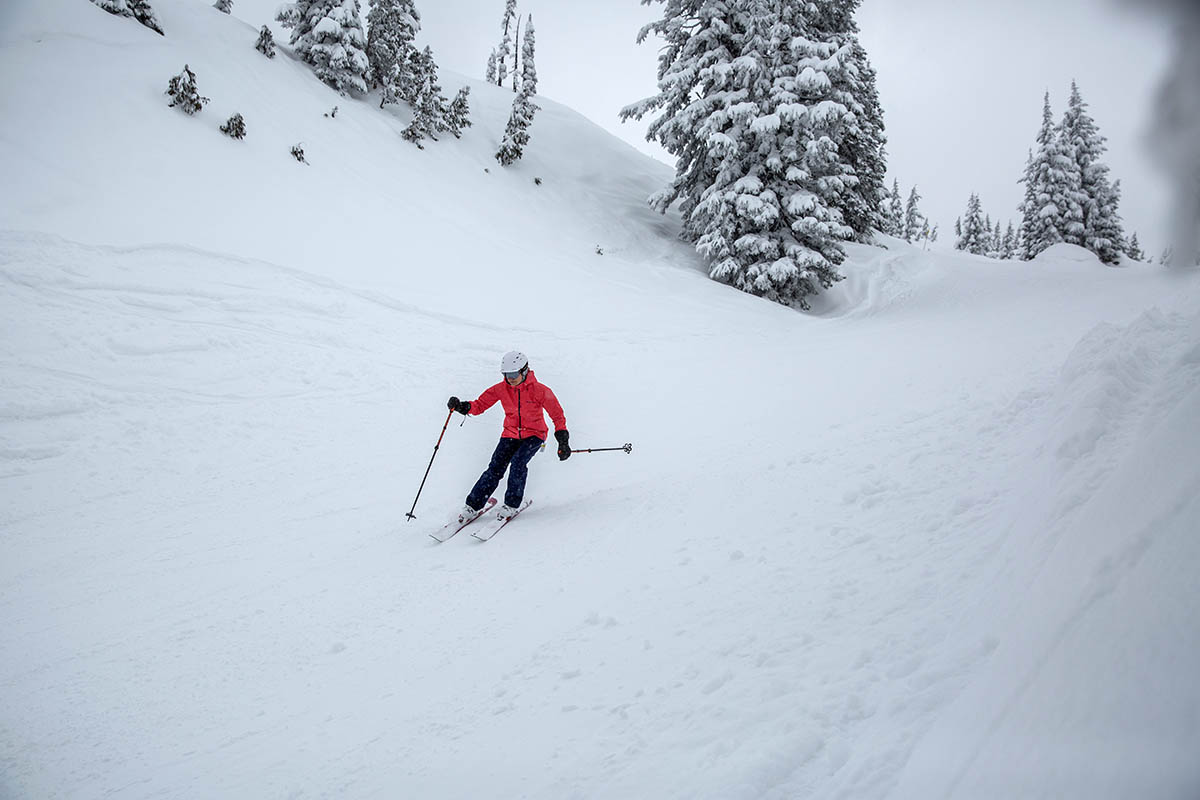 All-Mountain Front vs. All-Mountain Back
The all-mountain category tries valiantly to cover a very wide range of skiing styles and terrain, but, as we cover in the waist width section above, there are significant differences between models. As such, we've found it helpful to refer to the skis with an on-piste focus as "all-mountain front" and off-trail-oriented as "all-mountain back." Skis that perform reasonably well on both groomed runs and powder are categorized simply as "all-mountain."
In short, an all-mountain front ski is best for tackling groomed runs. It has a narrower width, semi-stiff to stiff construction, and ski profile (covered below) that's tuned for stability and good edge hold on hardpack. Some of our favorite all-mountain front skis are the Rossignol Experience 88 Ti and Blizzard Brahma. All-mountain back skis on the other hand are wider, softer, and built to float in deep snow. These are just shy of a powder ski, (but are more planted if you have to ski on-piste) with examples including the Salomon QST at 106mm in width. They aren't as fun for carving and can be less stable at speed, but they remain a suitable option for skiers that spend about 50 percent or more of their time off trail. The rest of the pack balances traits from both categories, with enough stability for moving fast and a medium width (often between 90mm and 100mm) for soft snow use.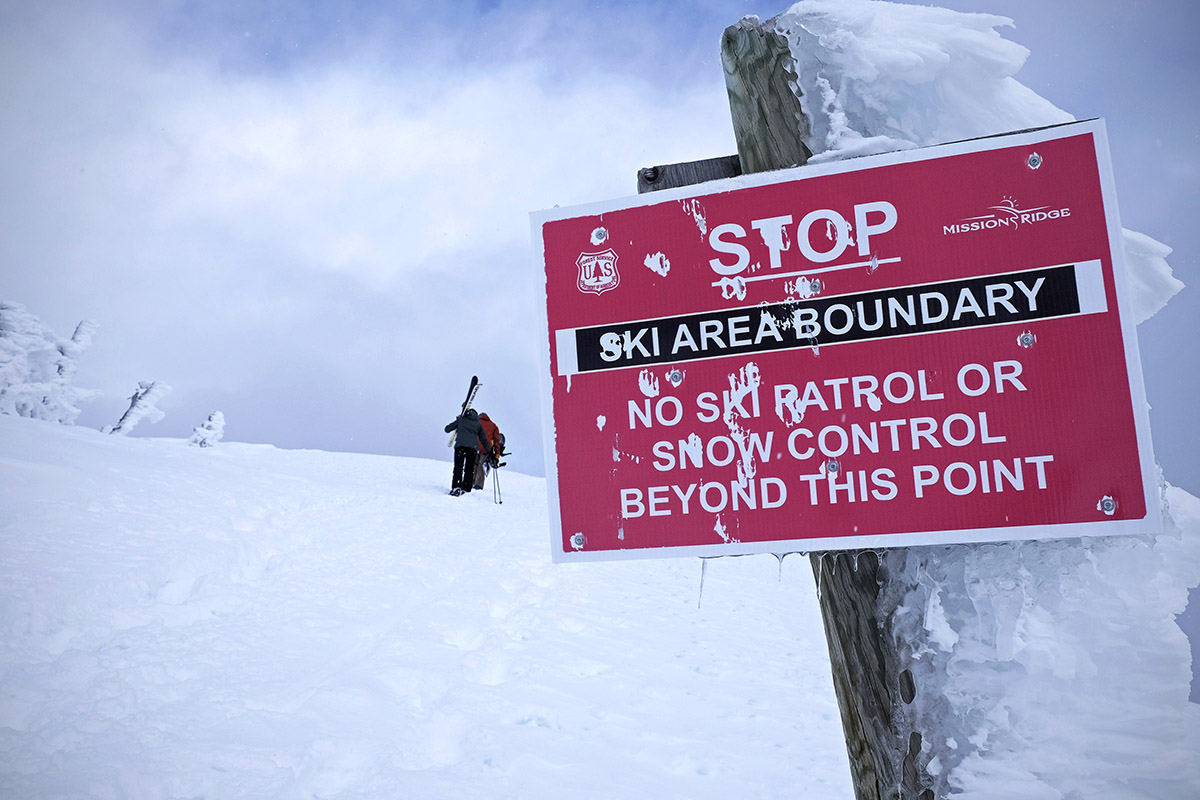 Ski Profile
The profile of a ski can be broken into three main categories: camber, rocker, and mixed rocker/camber. There are others, including skis with a flat bottom shape, but the three listed below are the most popular—and for good reason. Each has their own strengths and weaknesses for skier and snow type.

Camber
Camber is the traditional groomer ski design. The profile has a half moon-like shape that peaks right underneath your boot and contacts the ground towards the tip and tail of the ski. While skiing, your weight presses the ski into the snow, and when you lift coming out of the turn, you get a satisfying pop that propels you into the next turn. The design has been popular for many years because it provides even contact with the snow and superior edge control when carving down a groomed slope.
Camber used to dominate the all-mountain category, but now it's become a bit of a rarity. So why has traditional camber fallen out of favor? In short, because the industry fell in love with the new kid on the block: rocker (and then mixed camber/rocker). But traditional camber remains a great choice for those that like to ski aggressively on groomed runs. Don't buy the marketing hype that pure camber is dead.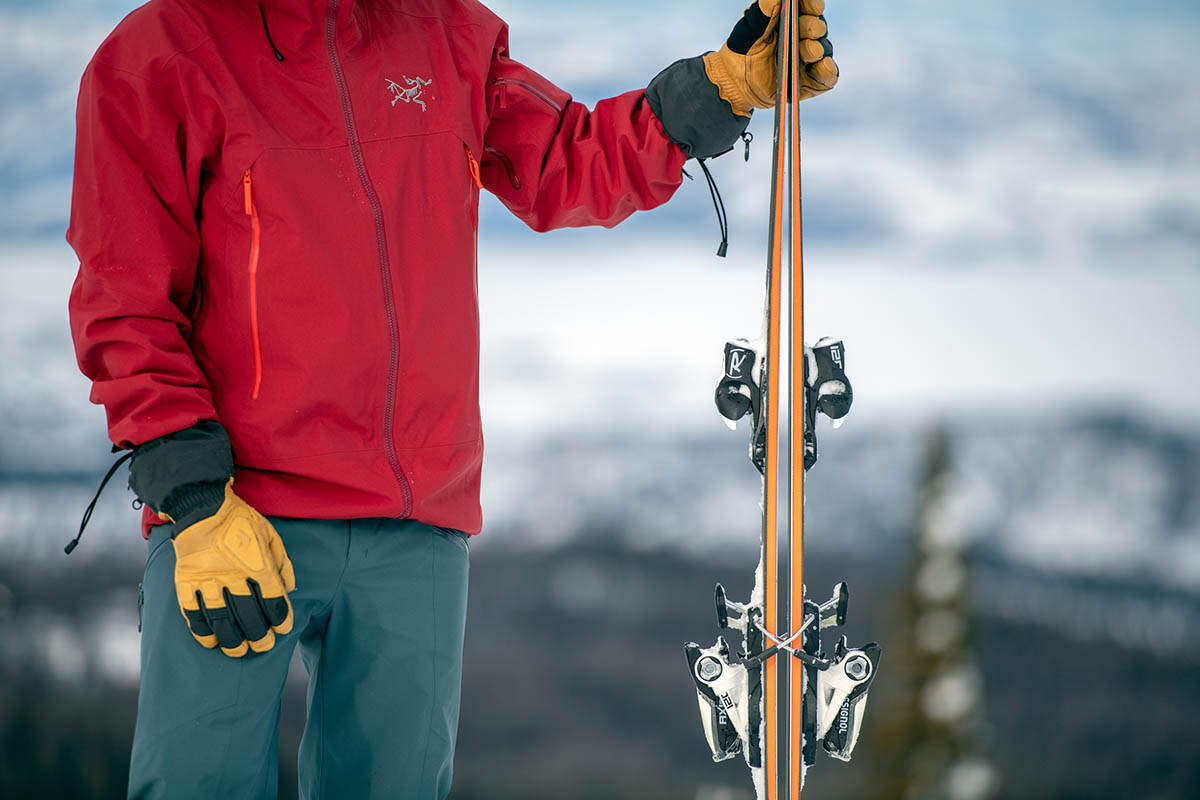 Rocker
Rocker, also known as reverse camber, is when the tips of the skis are raised on either end, creating a sort of banana shape to the ski profile. This design came about originally for its benefits in deep powder. And even just a few years ago, rocker was mostly resigned to powder skis, but the design has come on strong in all-mountain setups of late. Our take is that a full rocker setup, rising at both the tip and the tail, is still best for those that like to spend more of their time off trail (it's notable that Volkl's popular Mantra switched from full rocker to mixed camber/rocker for this year). The downside of a pure rocker ski is the flat surface underfoot has a tendency to be more skittish when carving on hardpack. Although it turns easily, it just doesn't hold an edge like traditional camber. From this issue was born a third category: mixed rocker/camber.

Mixed Camber/Rocker
With both rocker and camber providing real world benefits enjoyed by skiers of just about any ability level, manufacturers have turned their attention recently to mixed camber. In theory, it should provide the best of both worlds: the edge control of a traditional camber ski and the crud busting and easy cruising in deep powder that you get with rocker. And reality isn't that far off. There are variations in how manufacturers pull off this mix: some go with a tip-only rocker while others go for tip and tail (the latter is great for those that spend some time riding switch). If you're a skier that tries to cover all of the mountain, a mixed camber/rocker setup is a great pairing.
For visual learners, snow sports retailer Evo has put together a helpful video explaining the various profile types.
 
Turn Radius (Side Cut Radius)
Side cut radius is a helpful measurement of the turn radius of your ski. In general, a ski with a higher number makes wide sweeping turns, while a lower number means tighter turns. A tight turn radius is great for moguls or cutting in and out of trees, but trimming away materials also means it doesn't float as well in the soft stuff. Below are basic ski parameters:
Carving: Less than 16 meters
All-around: 16-20 meters
Sweeping turns in powder: 20+ meters
Keep in mind that a longer version of the same ski will increase the side cut radius, so if you're weighing two ski lengths know that the shorter option will be more inclined to turn a little sharper (at the sacrifice of some top-end speed and flotation).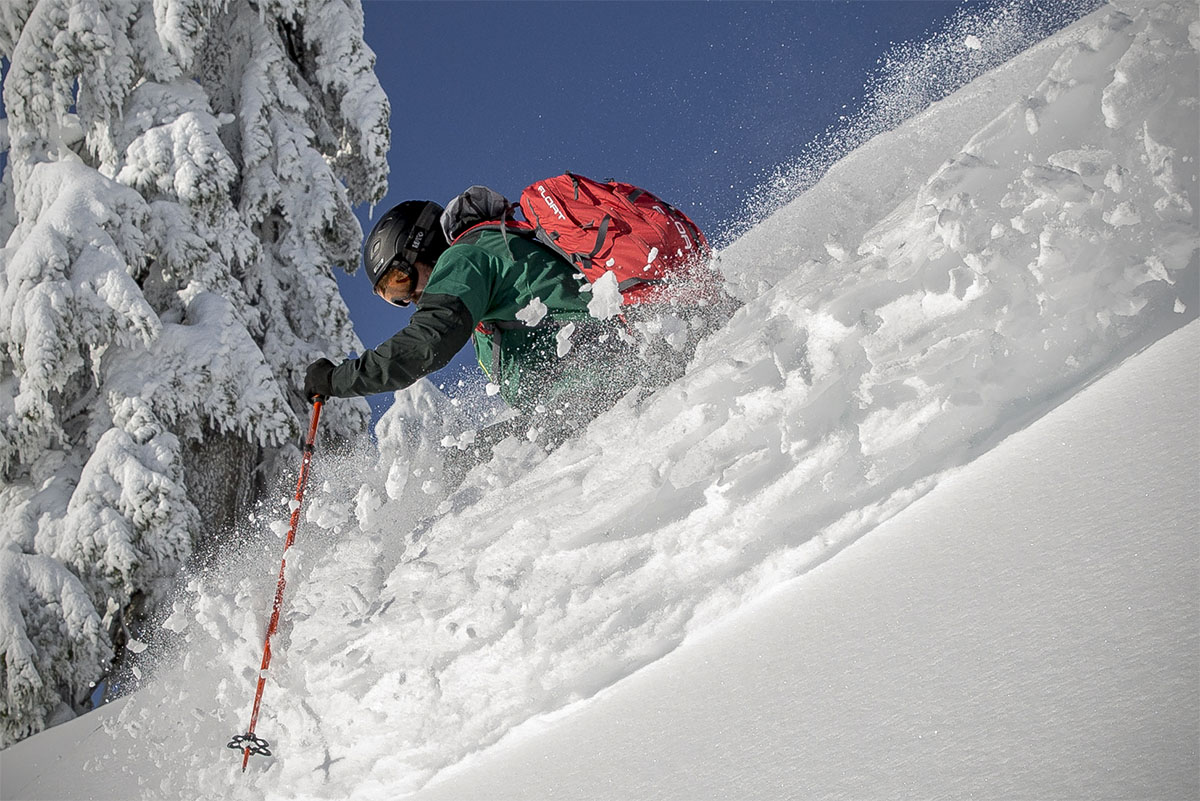 Stiffness
The stiffness of a ski is one of its defining features and a clear differentiator between beginner and advanced-level models. A rigid design is stable at speed and has the highest performance potential, but a beginner or less confident pilot will lack control and may find it difficult to turn. On the flipside, getting a ski that is too soft can lower the ceiling of your top-end performance and leave an advanced (or advancing) skier wanting more.
A ski's stiffness is the result of its material mix, and key indicators include how much metal (if any) the manufacturer is using. Commonly, a stiff ski will have 2-layers of Titanal (a strong alloy) that runs the full length and width of the ski. While it adds a little weight, the metal increases stability, and expert-level skis like the Fischer Ranger Ti utilize this type of construction. On the other end of the spectrum is a softer ski like the J Skis Allplay, which goes without metal completely. The focus is less on speed and more on a playful nature, which makes it a better match off-piste and at milder speeds.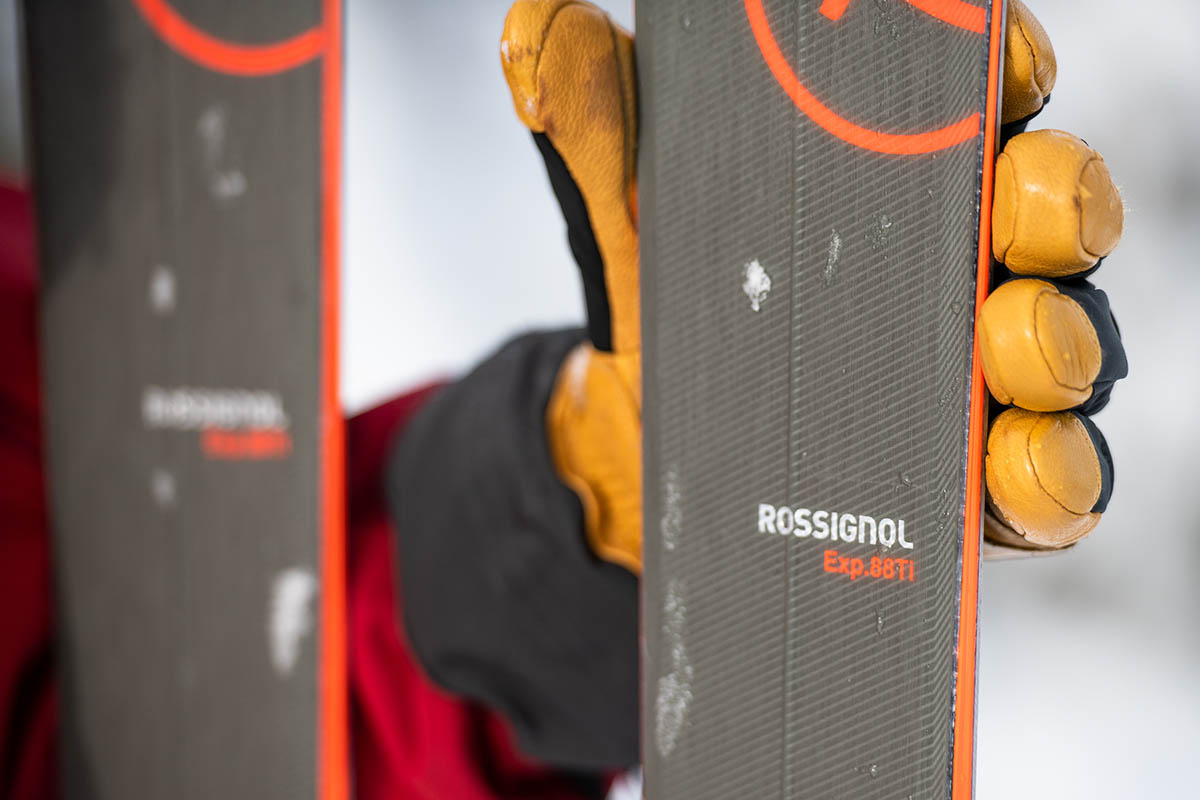 Women's-Specific Skis
For many years, a women's-specific ski essentially was the men's version in a shorter length, softer flex, and different colorway. The technology is evolving, however, and a number of ski manufacturers now are taking into account more advanced design elements. For 2020, many women's-specific models have moved the recommended mounting points slightly forward (this better accommodates how an average woman balances on skis compared to an average man), along with a lighter overall weight. Softer flexes still are common, but many brands are now making skis to accommodate hard charging women. A great example is the updated Nordica Santa Ana 93, which now features two layers of metal for strong top-end performance.
Which ski type should you buy? Keep in mind that the primary version of a ski isn't a "men's" version but instead unisex in nature. When a women's-specific version is available, we've included a link to that option as well. The choice comes down to personal preference, and most importantly, the quality and characteristics of each model. Some women use unisex skis, some favor women's-specific models, and many serious skiers have a quiver that includes both. We recommend getting whichever ski fits and feels best. 
 
What's with the Carbon Craze?
Almost without fail, brand new or updated skis are promoting their use of carbon fiber in the construction. The material is light and strong—two excellent characteristics for skis, which benefit from a lighter weight and stiffer construction. But carbon is best used as a secondary or complimentary material as it lacks the natural feel and durability of a wood core.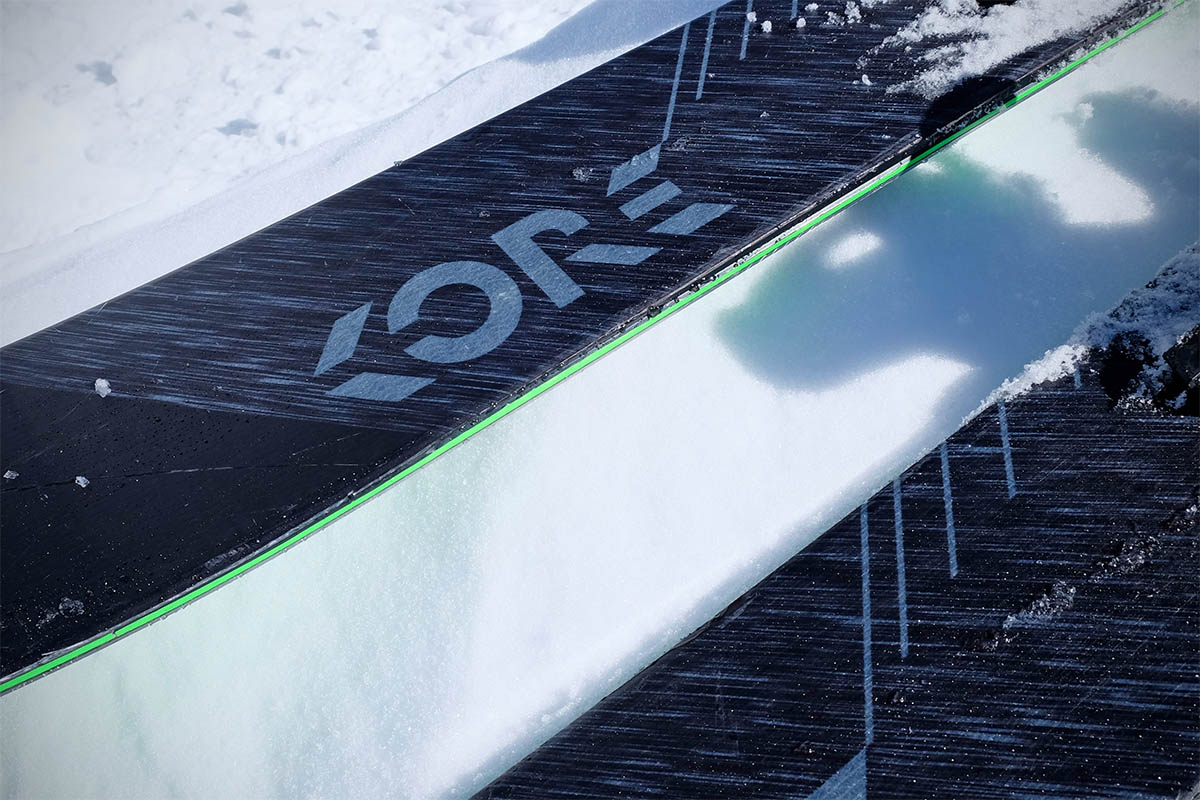 Fischer's Ranger Ti is a great example of the benefits of carbon fiber. With extensive use of the material in the tip, swing weight is reduced but tip chatter is kept to a minimum thanks to the thin but rigid construction. Just don't assume any application of carbon is automatically beneficial. Some manufacturers seem to throw it in for good measure, and limited use of carbon probably won't make a lick of difference in either weight or performance.
 
Choosing the Right Ski Length
Picking skis used to a pretty simple process, and could be done simply by knowing your height (the center of the forehead was a common match for a ski). Those days are long gone, replaced by more of a scientific process. Now, ski manufacturers are basing their recommendations on height and weight. This allows you to maximize the ski's potential with proper amounts of flex and power transfer. Other considerations are skiing style: shorter skis are easier to handle for beginners and turning faster, while longer skis float better and are more stable at high speed. In the end, the right skis might only come to your chin or they may reach the top of your head, so all length should do is give you a good ballpark. We've found the sizing chart on Evo to be helpful as baseline information.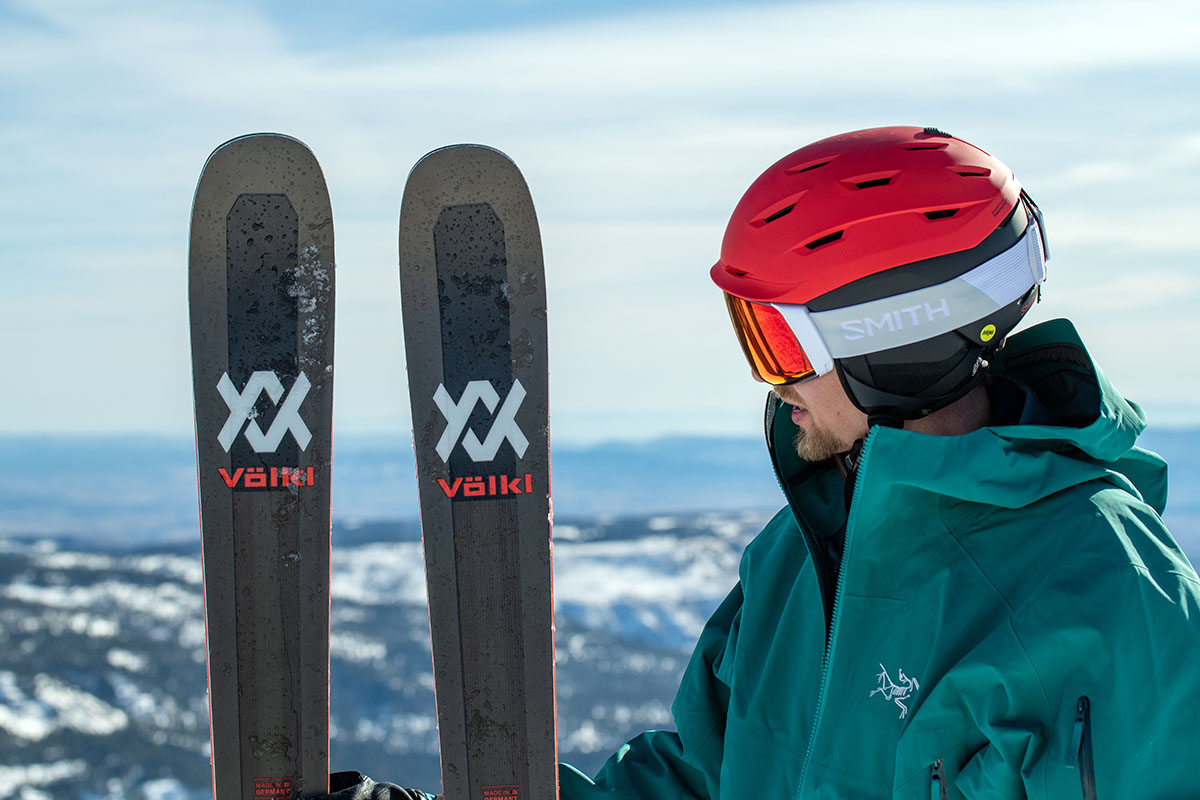 Finding the Right Ski Boots and Bindings
Of utmost importance in choosing a ski setup is to realize how interconnected each piece is. Boot, binding, and skis need to be all working in concert to maximize the performance potential of your gear as well as to maximize your enjoyment. Skimping on one will impact the performance of everything else. As an example, if you have a stiff, performance-oriented boot, you're going to waste its abilities with a slow and cumbersome entry-level ski and binding. Alternatively, if you have a beginner, flexible boot with an advanced ski and binding set, you won't be able to transfer enough power to really carve your way down the slopes.
To help guarantee you end up with a proper match, our ski binding and downhill boot recommendations breakdown the categories in a similar fashion as all-mountain skis: tailoring picks to ski conditions and ability level. Should you have additional inquiries, feel free to fire away in the discussion section below.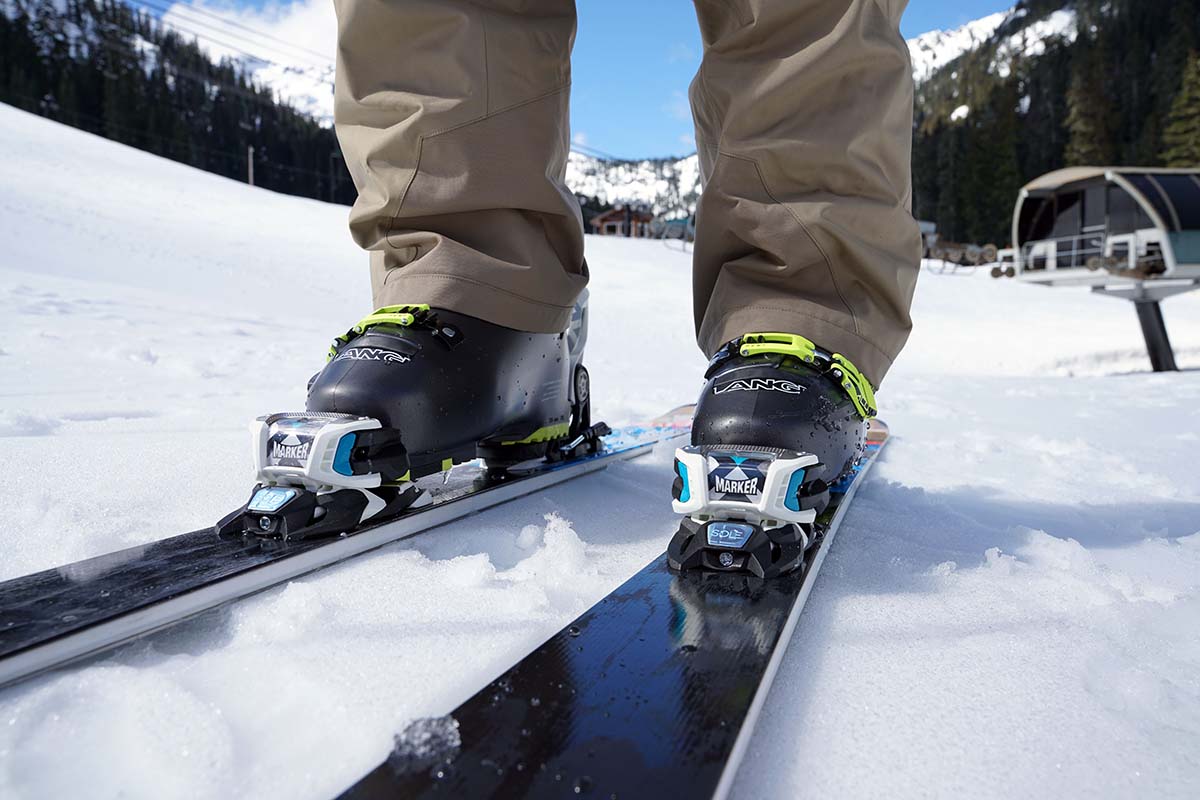 Ordering Skis Online
It goes without saying that purchasing a pair of skis is a significant investment and one that requires a good deal of research. Ideally you'll have a chance to get your hands on the skis before taking the plunge, but that isn't a reality for everyone and ordering them online is a pretty seamless process these days. Most major retailers offer free and surprisingly fast shipping, which makes it a very attractive option.
Once you get your skis, you'll need to get your bindings mounted. Just about any ski shop will do the work for you, with the average cost ranging from about $40 to $70. Many of REI's 154 stores have a ski shop and they offer a good discount on the mounting service. Prices vary by store, but we checked with the flagship in Seattle and the cost is $25 for an alpine mounting. The price goes go up to $50 if you didn't purchase the skis, boots, or bindings from them (all you need to do is buy one of the three to get the discount). Evo and Backcountry offer mounting services at their stores, but that's limited to Salt Lake City (Backcountry), and Seattle, Denver, Portland, and Whistler (Evo). 
Back to Our Top All-Mountain Ski Picks  Back to Our All-Mountain Ski Comparison Table
Learn More About Ski Gear