Comfort is the number one consideration for many campers (ourselves included), and a quality camping blanket can go a long way toward keeping you warm and cozy in the wilderness. These simple yet endlessly versatile items typically feature a durable shell and synthetic insulation, although there are a number of down-filled alternatives that offer a boost in warmth-for-the-weight and a smaller packed size. Rounding out the market are some long-lasting, classic wool and fleece options. Below are our top picks for 2023, with a detailed comparison table and buying advice below to help you choose the best blanket for your adventures.
 
---
Our Team's Camping Blanket Picks
---

Best Overall Camping Blanket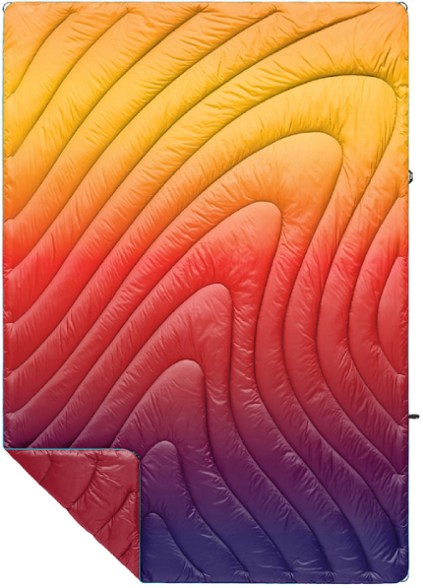 Insulation: Synthetic
Weight: 2 lb. 1.6 oz.
Shell: 30D
What we like: An iconic camping blanket that's durable, cozy, and comes in a variety of fun patterns and colorways.
What we don't: Not as warm and packable as a down design.
Founded in 2014, Rumpl is a relative newcomer to the outdoor scene, but make no mistake: This Oregon-based brand helped define the modern camping blanket as we know it. Their flagship model is the Original Puffy, which checks all the boxes we look for in a quality and versatile design. You get thick synthetic insulation that's great for three-season use, a reasonably hardwearing 30-denier shell with a durable water-repellent (DWR) coating to shed light rain and snow, and an excellent selection of vibrant patterns and colorways (including fun "Artist Division" and National Park collections). The features are nicely sorted too, including a "Cape Clip" that allows you to secure the blanket around your shoulders to go hands-free, and corner loops to anchor it down in wind. All told, it's a thoughtfully built and highly functional design that will keep you cozy on chilly evenings outside.
The Rumpl Original Puffy Blanket is decently roomy at 75 inches long by 52 inches wide, but taller campers or those with larger builds might want to step up to a bigger option like Kelty's Cordavan below (76 x 66 in.) to maximize coverage. On the other hand, you can get more warmth for the weight with a down-insulated alternative like Rumpl's own Featherlite Down (not included here) or Down Puffy Blanket below, but we like the wet-weather assurance of synthetic fill—not to mention the cheaper price point (the down models cost significantly more at $400 and $250 respectively). In the end, the Original Puffy here has the widest appeal—it fits the part whether you're tailgating, camping, or just curling up with a book—earning it our top spot for 2023.
See the Rumpl Original Puffy Blanket
Best Budget Camping Blanket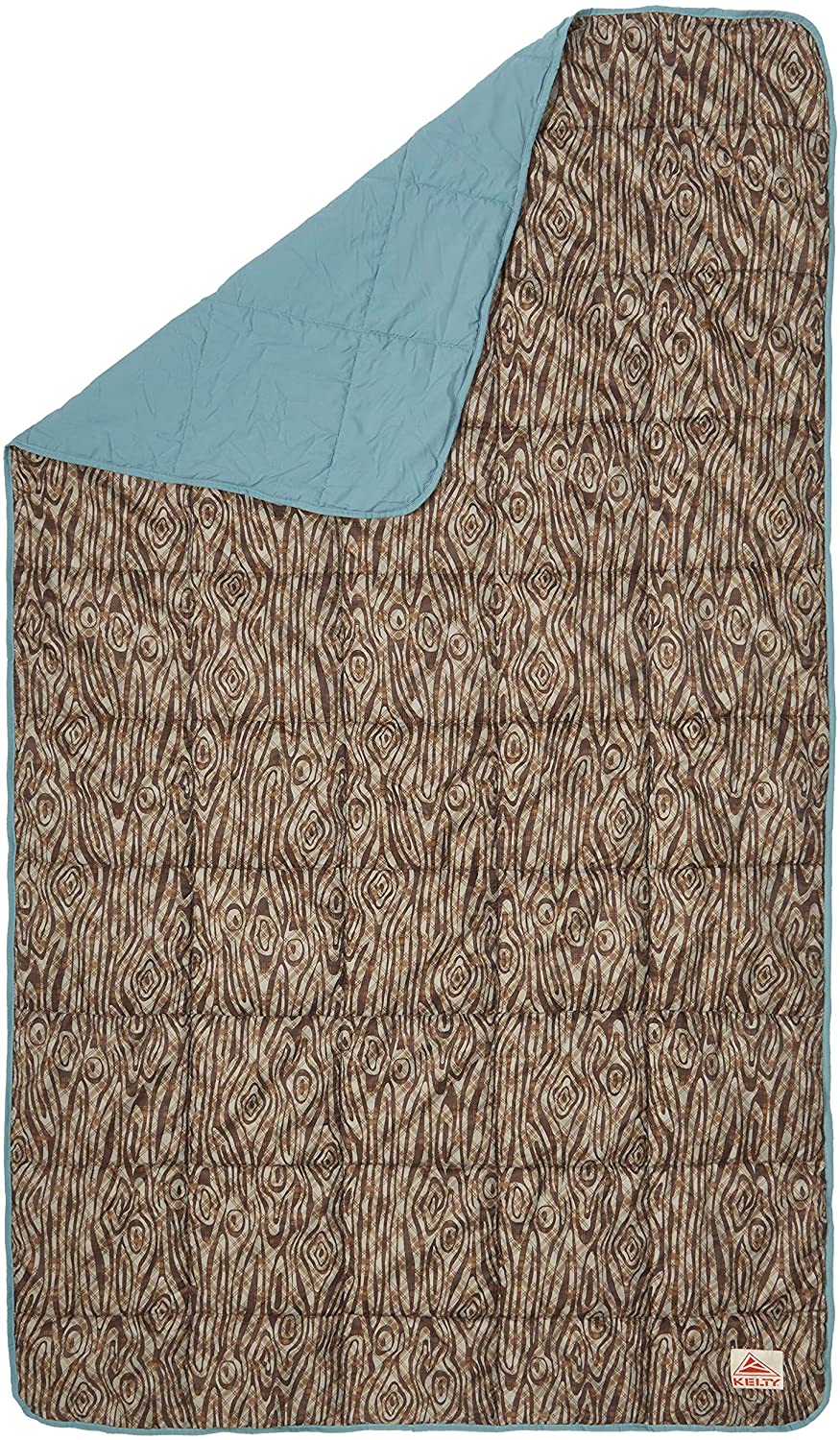 Insulation: Synthetic
Weight: 1 lb. 8.6 oz.
Shell: 75D
What we like: Great durability and fun prints at a very low price point.
What we don't: A step down in warmth, size, and overall quality from many designs here. 
Premium camping blankets typically cost upwards of $100 or more, but Kelty's Bestie Blanket stands out as a well-rounded option at an impressively low price point. For just $30 (a considerable $95 less than our top-ranked Rumpl), the Kelty boasts a cozy synthetic build with soft-brushed fabrics on both sides that surprised us with great next-to-skin comfort. The 75-denier shell is also noticeably thick and confidence-inspiring for use around dogs (we've thoroughly tested this), sharp gear, and rocks, and the colorway selection—while not up to Rumpl's standards—comprises a few fun designs and patterns, including two tree-inspired options that look the part outdoors. Added up, the Bestie is a comfortable and hardwearing blanket that easily outperforms its price tag. 
What do you sacrifice by saving with the Kelty Bestie Blanket? In addition to being thinner and less warm than lofty designs like the Rumpl Original above, the Kelty is on the narrower end at just 42 inches wide (compared to 52 in. for the Rumpl). In practice, we found it roomy enough for covering most of our upper body and legs while sitting around the campfire, but for sleeping, any slight movement can result in exposed skin. In addition, you miss out on extras like a clip for securing the blanket cape-style. But you'd be hard-pressed to find better performance for less, making the Kelty an easy choice for budget-conscious shoppers looking for a versatile outdoor blanket. 
See the Kelty Bestie Blanket
Best Two-Person Camping Blanket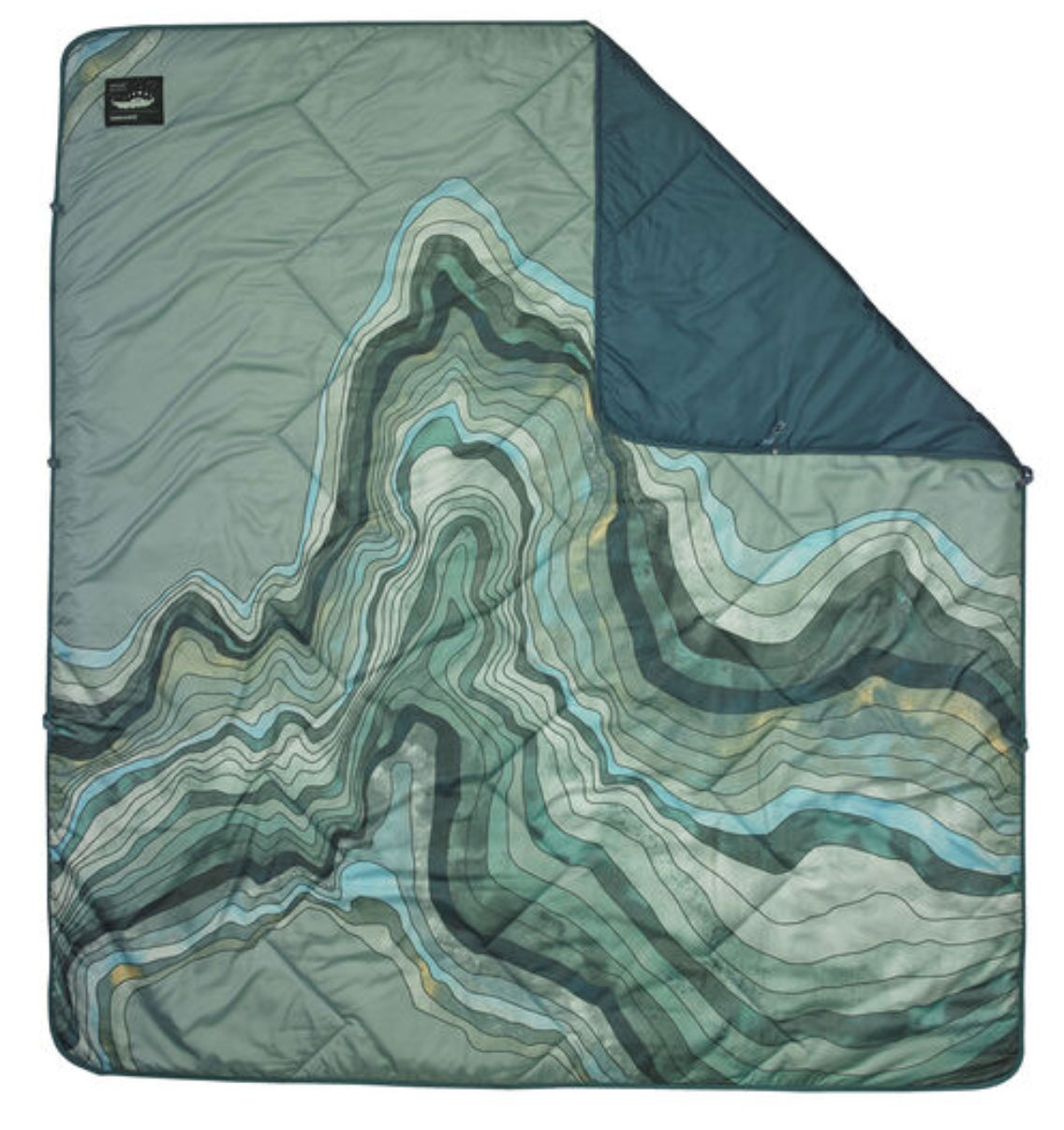 Insulation: Synthetic
Weight: 1 lb. 10 oz.
Shell: 30D
What we like: Generous dimensions for two and functional warmth-trapping features for a reasonable price.
What we don't: Noticeably thinner and less insulated than most of the competition.
For those who regularly camp as a pair, a double blanket can be a fun and practical alternative. Therm-a-Rest's Argo is our favorite option in this category, combining a low price with generous dimensions for two (its 78 x 72 in. build is nearly the size of a king bed) and functional warmth-trapping features. Specifically, the drawcord at the bottom is great for keeping the blanket in place and minimizing drafts at your feet, and snap loops at the sides allow it to pair with another Therm-a-Rest blanket or quilt. We also appreciate the built-in stuff pocket, which can double as a pillow and reduces the risk of losing a separate sack. And despite the roomier build and fairly large 14 x 17-inch packed size, Therm-a-Rest managed to keep weight impressively low at just 1 pound 10 ounces, which undercuts many of the single-person blankets on our list. 
In keeping weight to a minimum, however, Therm-a-Rest did have to sacrifice some warmth. To be clear, the Argo is a viable option for summer evening use, those who run warm, or as a supplement to a quality sleeping bag in the shoulder seasons, but it's noticeably thinner and less insulated than loftier designs like the Rumpl Original Puffy above. But you won't find a better value (the double version of the Rumpl is $220), and a two-person quilt is a bit more about friendship than function to begin with (plus, sharing body heat can offer a considerable boost in warmth). Other more insulated double models to consider include Rumpl's two-person NanoLoft Puffy ($279) and Therm-a-Rest's own down-insulated Ramble ($350). And for an even cheaper but less premium two-person design, check out Kelty's $50 Biggie Blanket.
See the Therm-a-Rest Argo Blanket
Best Down-Insulated Camping Blanket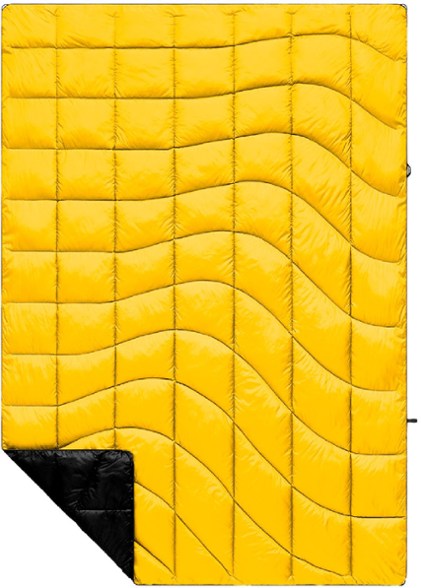 Insulation: 600-fill-power down
Weight: 1 lb. 3.2 oz.
Shell: 30D
What we like: Lofty down insulation is very warm and highly compressible.
What we don't: Not the best value. 
Rumpl's Original Puffy Blanket above is impressively well rounded and versatile (hence our ranking), but it's not the lightest or most packable design on the market. Enter Rumpl's Down Puffy Blanket, which swaps the standard model's synthetic fill for loftier and more compressible 600-fill-power down. In addition to providing similar warmth for around a pound less, the Down Puffy packs down much smaller for storing in a backpack or travel bag (we found it's about 1/3 the size of the Original Puffy in its stuff sack) while offering a modest boost in coziness. Rumpl also addressed two of down's biggest pitfalls—lack of wet-weather protection and propensity to leak feathers—by equipping the Down Puffy with hydrophobic down, a quality DWR coating, and a decently tough 30-denier shell. A final highlight is the focus on sustainability, including a 100% recycled shell and traceable down insulation that's a byproduct of the food industry (i.e., no live plucking).
All in all, the Rumpl Down Puffy Blanket is pretty well balanced for its light and premium build, but it's still a steep investment at $250. For half the price, the Kelty Galactic Down below uses only slightly lower-quality 550-fill down (although it's not hydrophobic) and has a significantly thicker 50-denier shell that will stand up better to long-term outdoor use. You do make noticeable compromises in weight (the Kelty comes in 9.4 oz. more) and packed size, and the Galactic Down's lining and shell fabric feel decidedly less premium. Those tradeoffs may be worth it for budget-focused campers looking to save, but if you can bite the bullet, the Rumpl's high-end finishes and impressive warmth-to-weight ratio are undeniably enticing. For an even lighter and more compressible option from Rumpl, their top-end Featherlite checks in at a scant 1 pound and packs down to just 5 x 8 inches but has a concerningly thin 10-denier shell and is eye-wateringly expensive at $400.
See the Rumpl Down Puffy Blanket
Best Wool Camping Blanket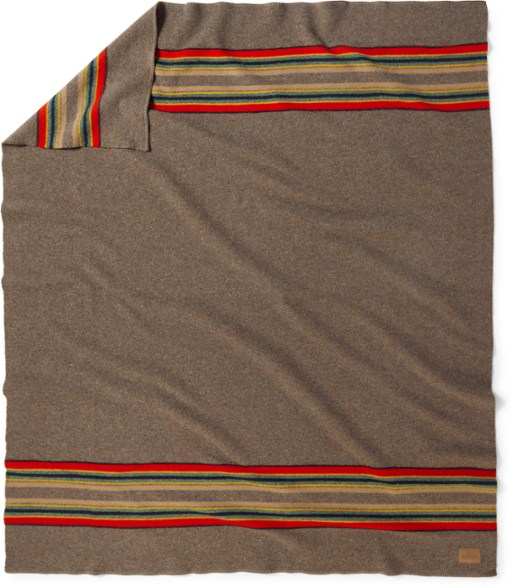 Insulation: Wool (86% wool, 14% cotton)
Weight: 5 lb. 4.3 oz.
What we like: A beautiful wool blanket with Pendleton's exceptional craftsmanship.
What we don't: Heavy, expensive, and less versatile than many designs here.
Pendleton has been weaving quality wool blankets since the early 1900s, and their classic designs and excellent craftsmanship are hard to beat. We've been long-time owners of their Yakima Camp Blanket, which is a proven option for everything from backyard gatherings to vanlife and weekends at the cabin. Rather than synthetic or down, the Pendleton utilizes the company's hallmark wool construction, which adds a little cotton for a soft next-to-skin feel. The wool is durable, naturally odor-resistant, and warm, and the blanket has a high-end look and feel with a classy striped design and nature-inspired colorways.
However, despite wool's softness and warmth, it's not our favorite insulator for camping blankets. The biggest drawback is weight: At 5 pounds 4 ounces, the Yakima Camp blanket is the second-heaviest option on our list (right behind the waterproof YETI Lowlands below) and doesn't pack down well for stuffing in a duffel or full trunk. It's also dry clean-only, so we recommend leaving it inside the tent on camping trips to avoid collecting dirt and grime. All in all, the Yakima isn't the most versatile option here, but it's a warm, comfortable, and exceptionally well-built alternative to down and synthetic blankets. And if it isn't already obvious, a final bonus is that the Pendleton looks great around the house too. For another stylish wool option that's both lighter and cheaper (albeit thinner), check out Sackcloth & Ashes' Mountain Blanket.
See the Pendleton Yakima Camp Blanket
Best Waterproof Camping Blanket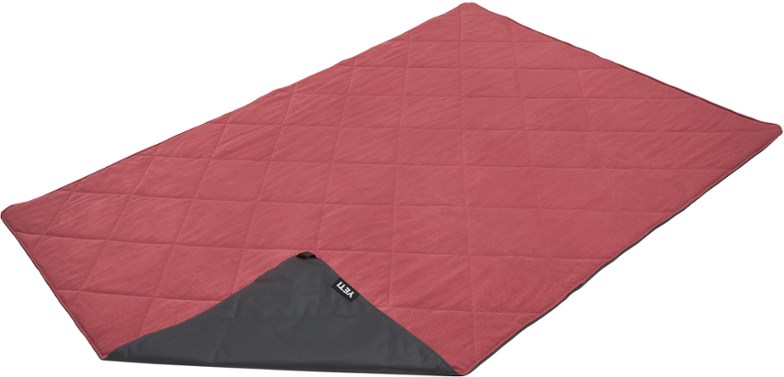 Insulation: Synthetic
Weight: 5 lb. 12.8 oz.
What we like: A waterproof and highly durable option that can be used as both a blanket and ground tarp.
What we don't: Noticeably hefty and lacks the all-out comfort of standard camping blankets.
Cooler giant YETI is well known for their premium take on camping gear, and the Lowlands Blanket carries the torch. In a departure from the more traditional designs here, the Lowlands is essentially two blankets in one: The interior is nicely padded with synthetic insulation, while the exterior boasts a durable and waterproof layer that effectively sheds moisture, pet hair, and other debris. For reference, we spilled a full water bottle on the blanket during testing, and the droplets quickly beaded up and rolled off the top without soaking into the fabric. Dirt buildup is a similar story: even with a wet dog lying on top for hours, the Lowlands looked surprisingly fresh at the end of the day. To be clear, this blanket is too stiff and large to cozy up with around the fire—it's best used as a premium ground cloth—but the soft and insulated top layer adds some versatility if you want to roll up the sides around your legs for warmth.
YETI isn't the only brand to offer a design like this, and the Lowlands certainly isn't the cheapest. For a considerable $50 less (for the XL size), NEMO's popular Victory Picnic Blanket also sports a waterproof bottom and adds functional extras like a stash pocket and integrated straps that keep it neatly wrapped up when packed down. It's also considerably lighter, although it's uninsulated and doesn't offer the same two-in-one versatility as the Lowlands. Again, the YETI stands out for its functional multi-purpose build, which is excellent for camping, concerts, tailgates, and other activities when you want both ground protection and insulation. If you can justify the cost, it's an exceptionally made and functional all-around design.
See the YETI Lowlands Blanket
Best of the Rest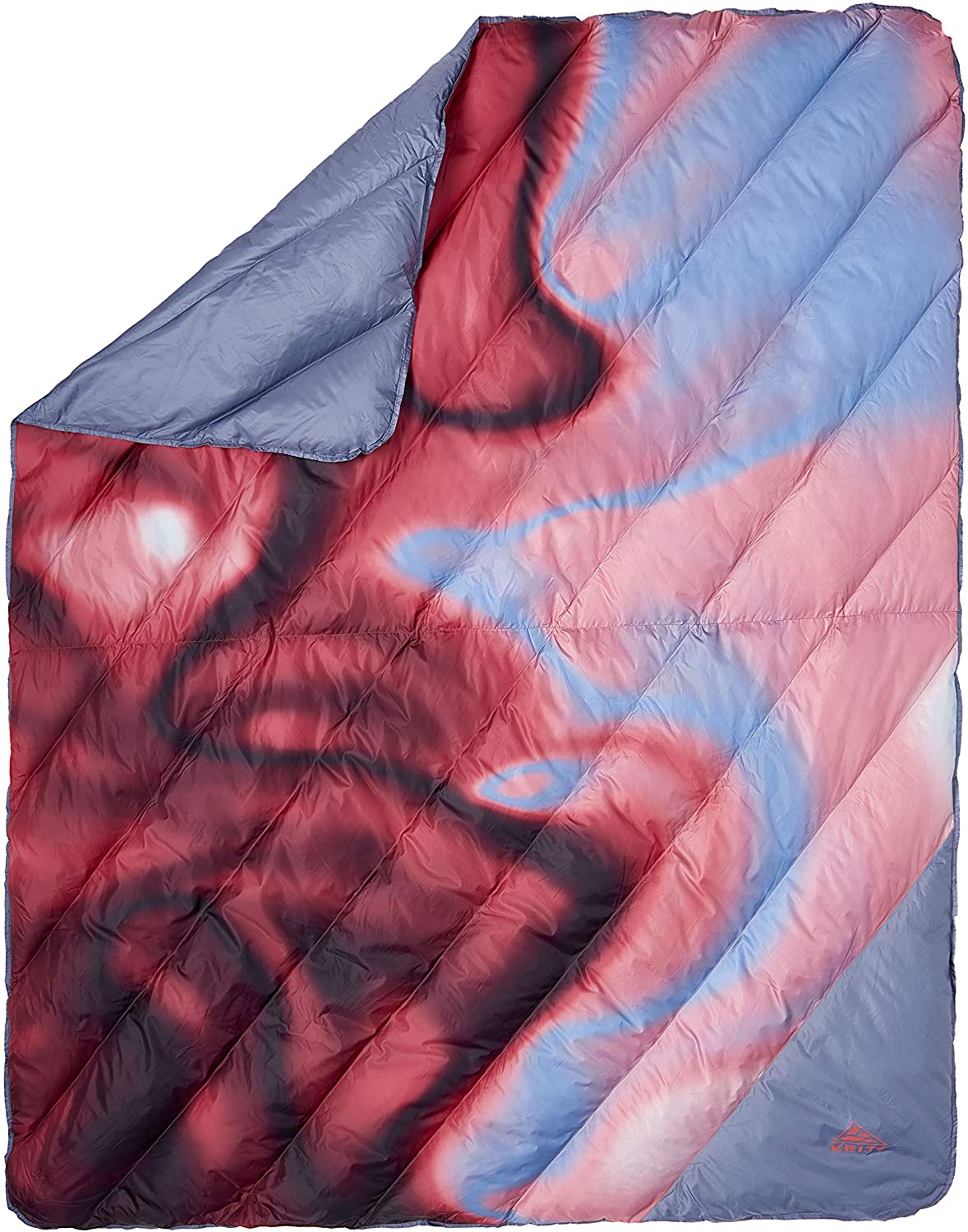 Insulation: 550-fill-power down
Weight: 1 lb. 12.6 oz.
Shell: 50D
What we like: Excellent price for a durable, down-insulated camping blanket.
What we don't: Fairly heavy due to the lower-quality insulation.
Down camping blankets are an expensive bunch—as evidenced by the $250 Rumpl Down Puffy above—but budget leader Kelty offers a nice value alternative in their Galactic Down Blanket. To keep costs low, Kelty utilizes average-quality 550-fill-power down, which is much less compressible than the Rumpl's 600-fill variety and weighs considerably more to achieve similar levels of warmth. For reference, the Galactic clocks in at a fairly hefty 1 pound 12.6 ounces, which is heavier than many synthetic alternatives on our list. But it packs down reasonably small and is noticeably robust with a thick 50-denier shell (compared to 30D for the Down Puffy) that will stand up much better over the long haul. For $125 full MSRP and often available for less on Amazon, that's a whole lot of bang for your buck.
If you're on a budget and prefer lofty down over synthetic, the Kelty Galactic has a lot of appeal. That said, for the same price, we prefer the top-ranked Rumpl Original Puffy, which weighs a few ounces more but adds a nice dose of wet-weather assurance—during some mid-October testing in the Pacific Northwest, the Kelty's down fill clumped up from exposure to dew, while the Rumpl remained lofty. The Galactic also has a cheaper feel overall and lacks the cozy softness of the Rumpl. But it packs down smaller, is more durable thanks to its slightly thicker shell fabric, and is also 3 inches wider (length is around the same). Whether or not these advantages are worth the tradeoffs in comfort and wet-weather assurance is up to you, but the Kelty nevertheless is a decently warm and lofty down blanket at an excellent value.
See the Kelty Galactic Down Blanket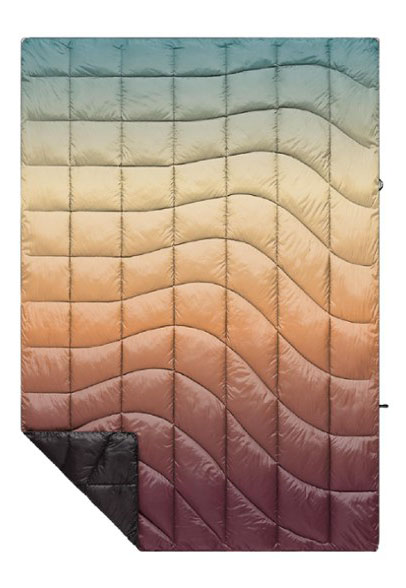 Insulation: Synthetic
Weight: 1 lb. 12.8 oz.
Shell: 30D
What we like: NanoLoft insulation does a nice impression of down's warmth and compressibility.
What we don't: Hard to justify the price jump over Rumpl's Original Puffy above.
Synthetic insulation can't match the warmth-to-weight ratio or impressive packability of down, but some varieties come pretty darn close. NanoLoft is one standout, and Rumpl utilizes a healthy dose of it in their namesake NanoLoft Puffy Blanket. Stacked up against the lower-quality synthetic used in their Original Puffy above, the more premium NanoLoft variation is noticeably thicker and loftier, which results in similar warmth at a lower weight (by around 4 oz.) and significantly reduced packed size (6 x 14 in. vs. 7 x 16 for the Original Puffy). For weight- and space-conscious campers that don't want to spend an arm and a leg on a premium down model, the Rumpl NanoLoft is a practical alternative that also gets the clear edge in weather resistance. 
However, the NanoLoft's slight advantages in weight and packability are inconsequential for most campers. For $55 less, the Original Puffy above offers similar overall performance with only minor tradeoffs in heft and bulk, and the NanoLoft doesn't come with any additional features. But the NanoLoft insulation does a really good impression of down for a significant $70 less than their Down Puffy above, which will be enough of a draw for some (although the Down Puffy gets the clear edge in weight at 1 lb. 3.2 oz.). Finally, it's worth noting that the NanoLoft collection also includes a smaller and more packable Travel variation, as well as the NanoLoft Flame Blanket, which uses a proprietary fire-resistant shell for fending off holes from flying embers. However, the Flame is much smaller at 52 x 38 inches and lacks the soft and cozy feel of the standard model, which limits its overall appeal.
See the Rumpl NanoLoft Puffy Blanket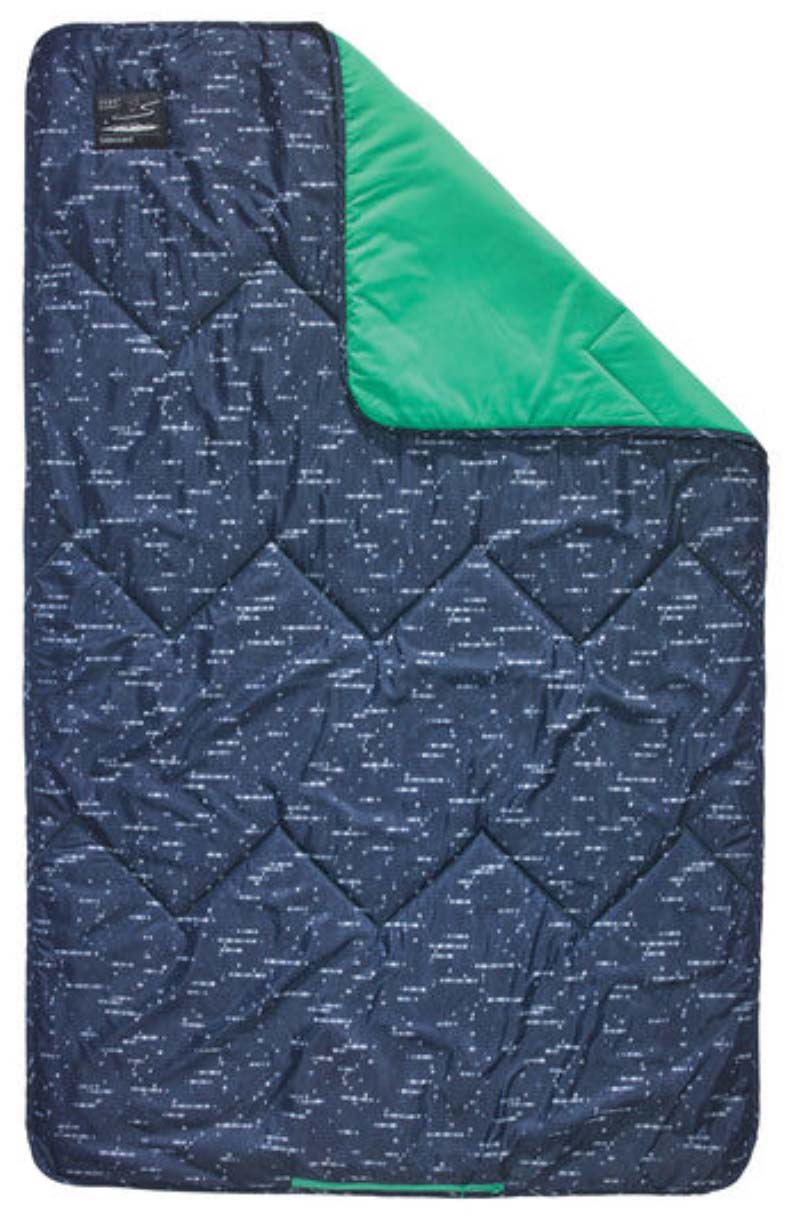 Insulation: Synthetic
Weight: 13.5 oz.
Shell: 30D
What we like: The lightest blanket on our list. 
What we don't: Minimally insulated and less roomy than the competition.
Rumpl's Down Puffy Blanket above is competitively light and packable thanks to its down fill, but $250 is a steep price to pay for a camping blanket. Enter Therm-a-Rest's Juno Blanket, which checks in at a scant 13.5 ounces (5.7 oz. less than the Rumpl) and swaps the premium down fill for a cheaper synthetic variety to keep costs low. In testing the Juno, we found the polyester lining to be very soft and cozy against the skin, and snaps along the edge make it easy to fasten around your shoulders to go hands-free. It's not quite as packable as the Down Puffy at 9.5 x 11 inches when stuffed down (the Rumpl is 5 x 10 in.), but it squeezes into its own pocket and takes up very little space in a car or duffel bag. 
What's not to like about the Therm-a-Rest Juno? For starters, it's not very roomy at 72 inches long and 45 inches wide. For reference, both the Rumpl Down Puffy and top-rated Original Puffy (both 75 x 52 in.) provide noticeably better coverage around the upper body and legs when sitting down. Additionally, the Juno prioritizes weight over all-out warmth, meaning it's not the best option for cooler temperatures (although it's great on mild summer and shoulder-season nights). But at just $85, the Juno is another excellent value from Therm-a-Rest and feels a lot like their $15-pricier Stellar Blanket, which is roomier (75 x 56 in.) but heavier (1 lb. 6 oz.).
See the Therm-a-Rest Juno Blanket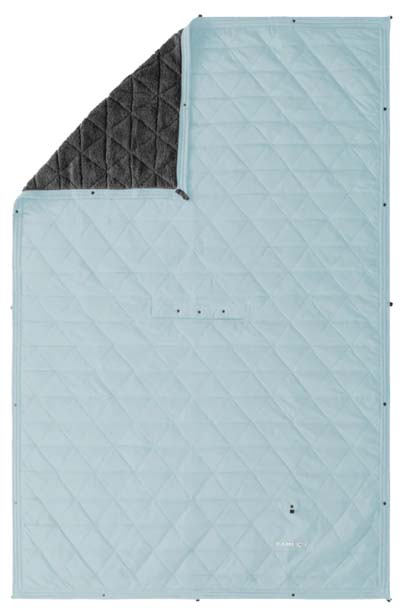 Insulation: Fleece
Weight: 4 lb. 6 oz.
Shell: 40D
What we like: Roomy dimensions, water-resistant build, and snap loops allow for multiple configurations.
What we don't: Thick fleece and large build add heft and bulk.
Most of the blankets above are roomy enough to keep you covered while sitting around the campfire, but Kammock's Mountain Blanket stands out as one of the largest single-person options here. For reference, at 84 x 50 inches, it's even longer than Therm-a-Rest's two-person Argo (78 x 72 in.) above, making it a great match for taller campers and those who run cold. With four snap loops and a small opening at the center, the Mountain also easily transforms into a wraparound poncho when you need to go hands-free and can even pull double duty as a minimalist sleeping bag (bonus: There's a hidden pocket for keeping your hands warm). Alternatively, you can connect it to other Kammock blankets or use it as a top quilt in their Roo hammock. A final highlight is the cozy and weather-ready build: The Mountain is insulated with thick, soft fleece that gives it a very plush and lofty feel, and both the shell and insulation are treated with water-resistant coatings to fend off light moisture.
That said, while we love the Kammock Mountain's large and feature-rich build, it does come at the cost of weight and bulk. At 4 pounds 6 ounces, the Mountain is noticeably heavier than alternatives like Rumpl's Original Puffy (2 lb. 1.6 oz.) and NanoLoft Puffy (1 lb. 12.8 oz.) above, both of which are shorter than the Kammock at 75 inches long but 2 inches wider. It's also substantially larger when packed down, measuring a bulky 9.5 x 15.5 inches (the Rumpls are 7 x 16 in. and 6 x 14 in. respectively). The Mountain's shell fabric is a little thicker at 40D (both Rumpl blankets are 30D) for a small boost in durability, but you'll still want to be careful around flying campfire embers. To be sure, we love the Mountain's generous dimensions and versatile snap system, but the drawbacks in weight and compressibility are enough to push it to a mid-pack finish.
See the Kammock Mountain Blanket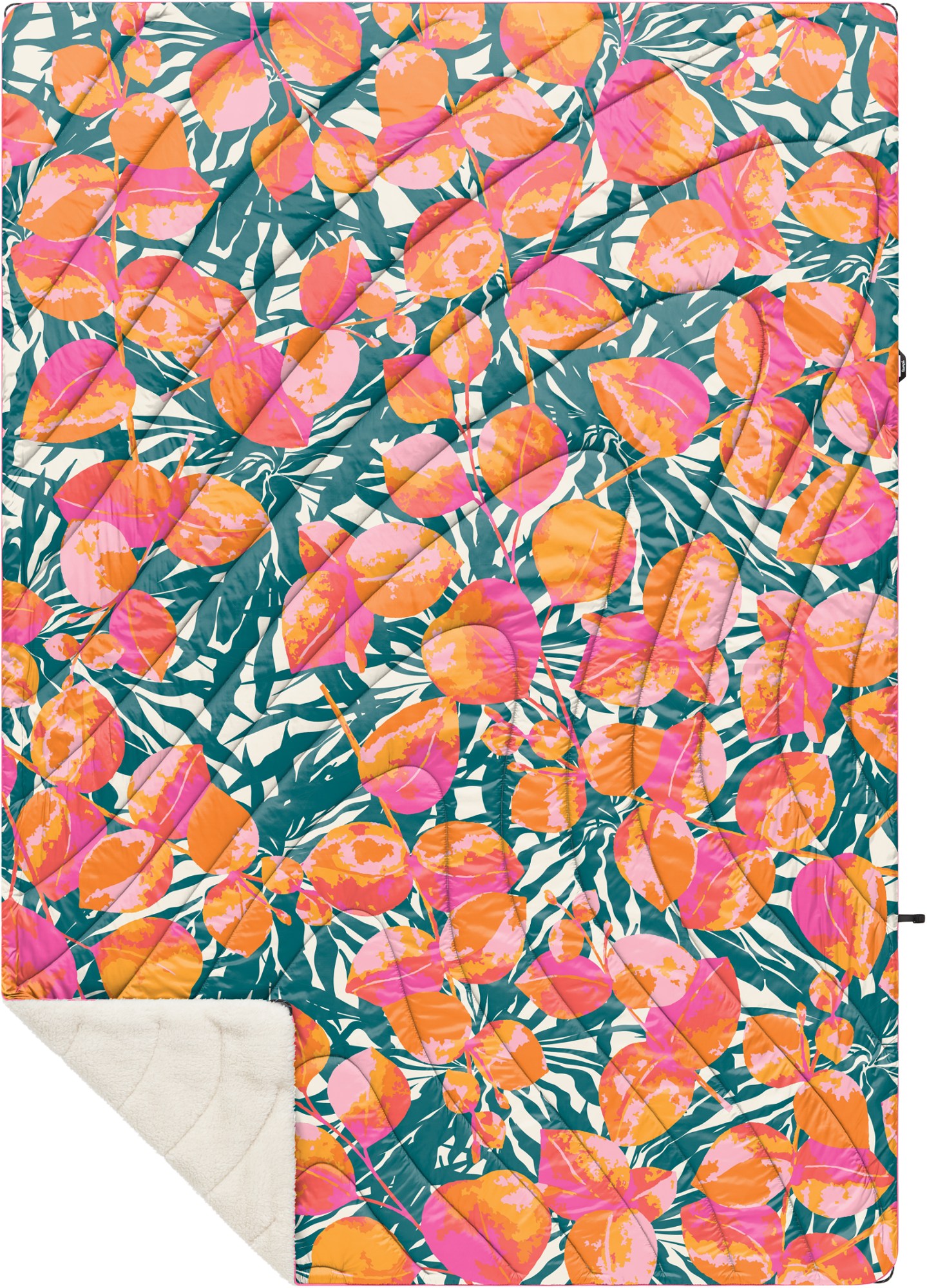 Insulation: Fleece
Weight: 2 lb. 14.4 oz.
Shell: 30D
What we like: Extremely cozy; hybrid design makes it easy to tailor warmth.
What we don't: The white fleece will require added care outdoors.
The fourth and final Rumpl design to make our list this season is their Sherpa Puffy Blanket, which takes the top-rated Original Puffy and adds a fleece lining on one side for a sizable boost in comfort. The thick fleece is supremely soft and cozy against the skin, quieter than the Original Puffy's all-polyester design, and helps keep the blanket in place throughout the night (smooth shells tend to slide around). On balmy nights, you can flip the blanket over and enjoy the cooler polyester side instead. Like all the Rumpl blankets here, the Sherpa Puffy also includes the brand's useful Cape Clip and corner loops, as well as a handy carry strap. Finally, we love that the Sherpa Puffy looks the part both at camp and around the house, which isn't the case with many other designs above.
All that said, fleece does come with some inherent downsides. First is weight: At nearly 3 pounds, the Rumpl Sherpa Puffy is almost a full pound heavier than the Original Puffy above while offering comparable warmth. As expected, packability is also less competitive at a fairly bulky 9 x 18 inches in its stuff sack, and fleece isn't as protective in wind or wet weather as synthetics (although the Sherpa's DWR coating will handle light moisture just fine). A final downside—and one that's specific to the Sherpa—is the white fleece lining, which will require added care to avoid stains and wear from regular outdoor use. But for car camping, weekend cabin getaways, and throwing on your couch between trips, the Sherpa Puffy Blanket is easily one of the coziest options on the market.
See the Rumpl Sherpa Puffy Blanket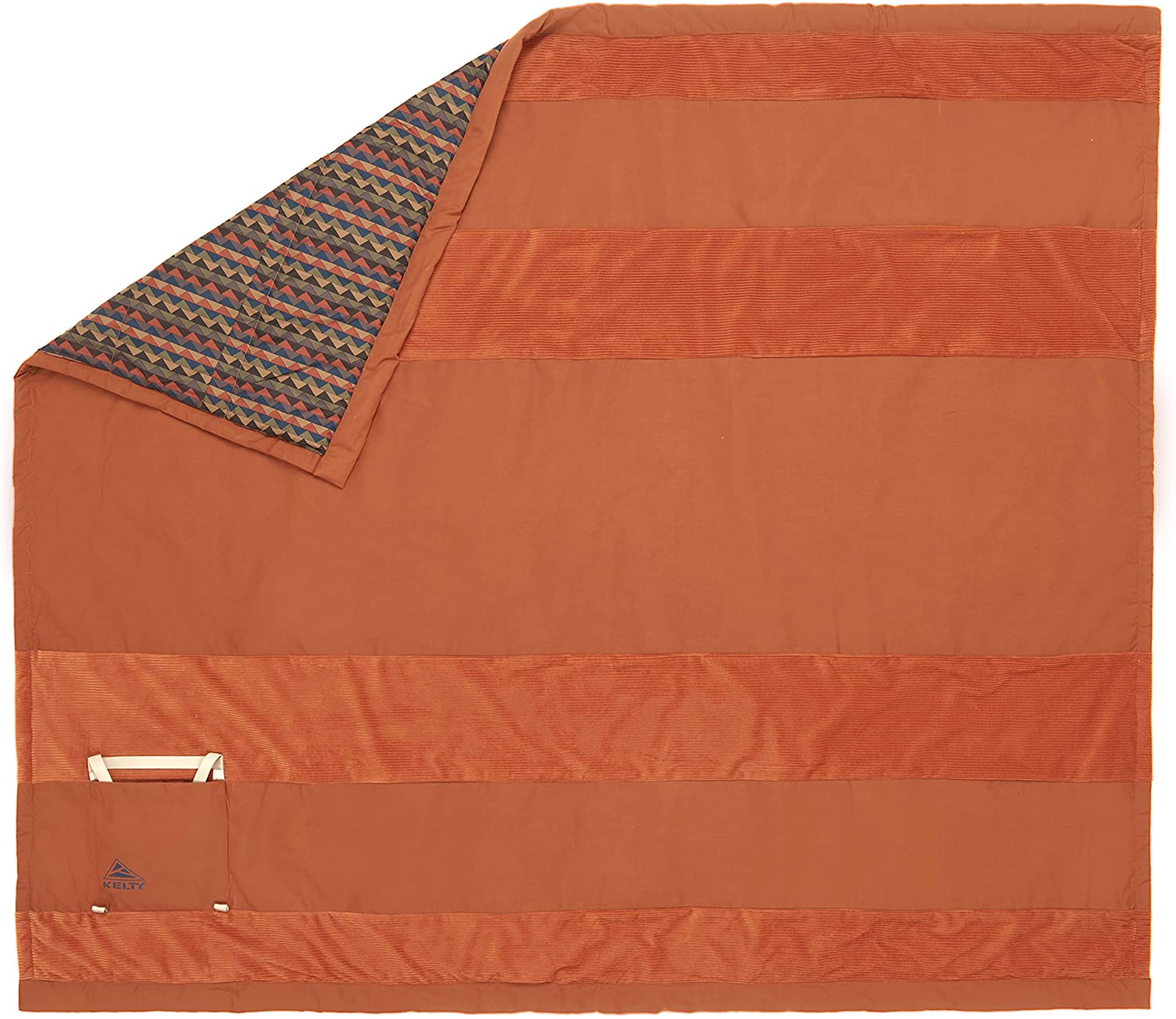 Insulation: Synthetic
Weight: 4 lb. 3 oz.
Shell: 50D
What we like: Throwback styling in a warm and highly durable package.
What we don't: Heavier and bulkier than much of the competition.
Most blankets here have polyester shells to resist wear and fend off light moisture, but Kelty's Cordavan Blanket bucks the trend with a unique fabric mix to boost comfort without compromising on durability. The top of the blanket is a combination of polyester canvas and strips of corduroy, while the bottom utilizes a soft-brushed fabric. Taken together, the Cordavan has decidedly throwback styling that looks the part around camp or at the cabin. It's also very thick and rugged, and the canvas and corduroy materials will resist holes from flying campfire embers better than standard polyester. Finally, many will love the oversized dimensions: At 76 x 66 inches, the Cordavan is considerably wider than most other single-person options here (with the exception of the Pendleton Yakima above) and designed to pair well with Kelty's popular two-person Loveseat chair.
All told, we love the Cordavan's mix of comfort, styling, durability, and roominess, but it's certainly not the lightest or most streamlined option on the market. The thick materials add considerable heft and bulk, and at 4 pounds 3 ounces, it's noticeably heavier than all of the synthetic- and down-filled competitive above. For reference, Kelty's own Bestie Blanket above uses the same CloudLoft insulation for warmth and checks in at just 1 pound 8.6 ounces, although it's much smaller than the Cordavan at 76 inches long and 42 inches wide. And on the bright side, the Cordavan does roll up nicely for storage with buckles to keep it reasonably compact. Weight aside, the Cordavan is an intriguing option for car campers and vanlifers who want a comfortable and good-looking design that will last a long time.
See the Kelty Cordavan Blanket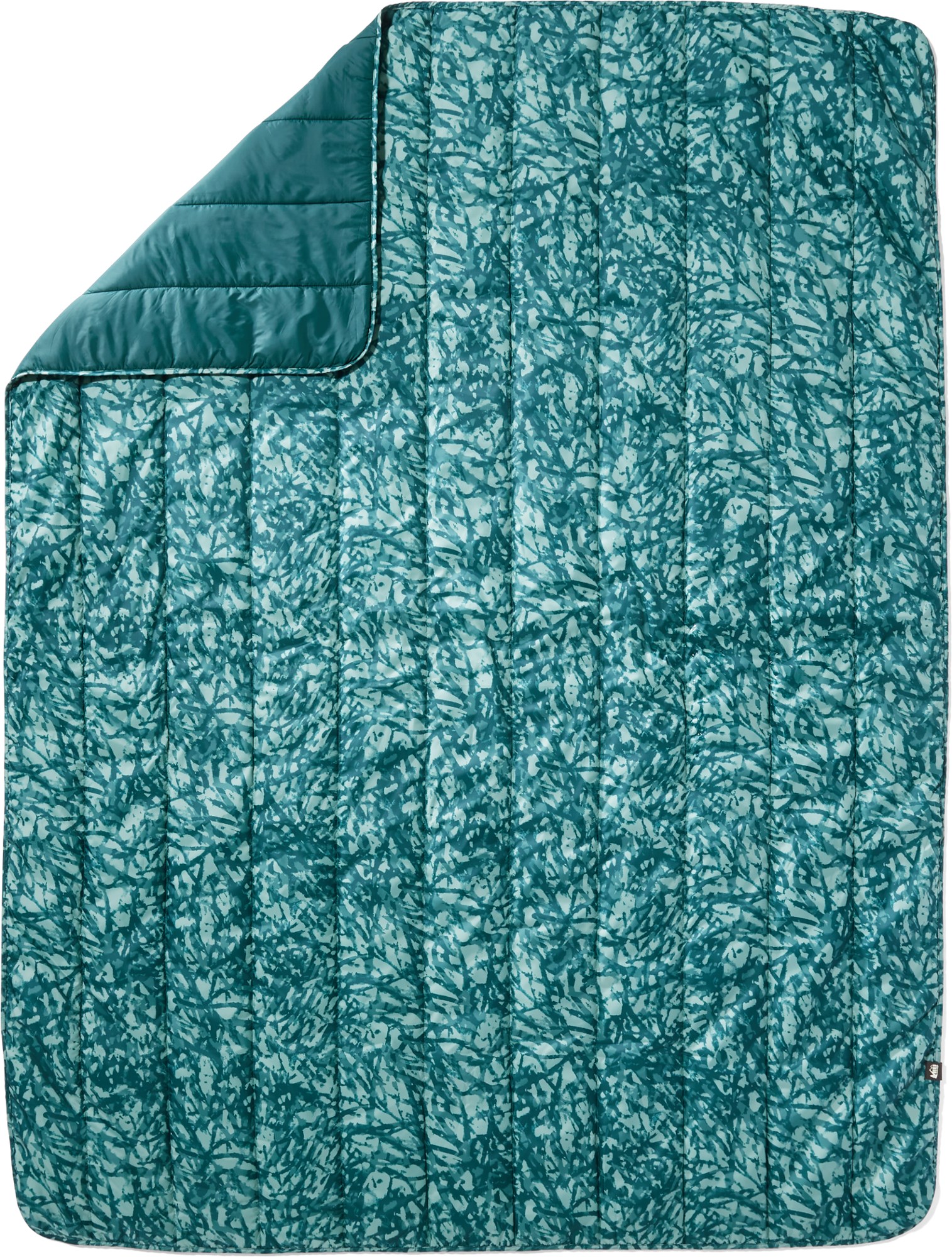 Insulation: Synthetic
Weight: 1 lb. 6 oz.
What we like: Good comfort for the price and packs down small.
What we don't: Barebones feature set and not a warmth leader.
REI Co-op consistently provides good bang for your buck, and their popular Camp Blanket is case in point. For $25 less than the Rumpl Original Puffy above, the Camp Blanket utilizes a similar synthetic build with a quilted construction to keep the insulation in place and minimize cold spots. Weight and packability are also pretty competitive, with the REI checking in at a reasonable 1 pound 6 ounces and measuring just 7 x 9 inches when stuffed down, which is noticeably smaller than the 7 x 16-inch Rumpl. It's undeniably less lofty and warm, but we've found it nevertheless to be a great thin layer for around-the-campfire use or as a backup to keep young kids warm while sledding.
In addition to being on the thinner and less insulated end of the spectrum, the Co-op's Camp Blanket also falls noticeably short in another key area: features. It lacks everything from a hands-free cape clip to loops for securing it to the ground or another blanket. For around the same price, the Original Puffy is the better design: It's warmer, longer by 5 inches, and tacks on a variety of helpful features. But if you can use your member dividend or snag one during one of REI's several sale periods throughout the year, the Camp is great to have as a supplemental or backup blanket. For an even cheaper alternative, REI's $50 Outdoor Blanket uses soft microfleece on one side with a durable (150D) polyester bottom but is even thinner than the Camp Blanket.
See the REI Co-op Camp Blanket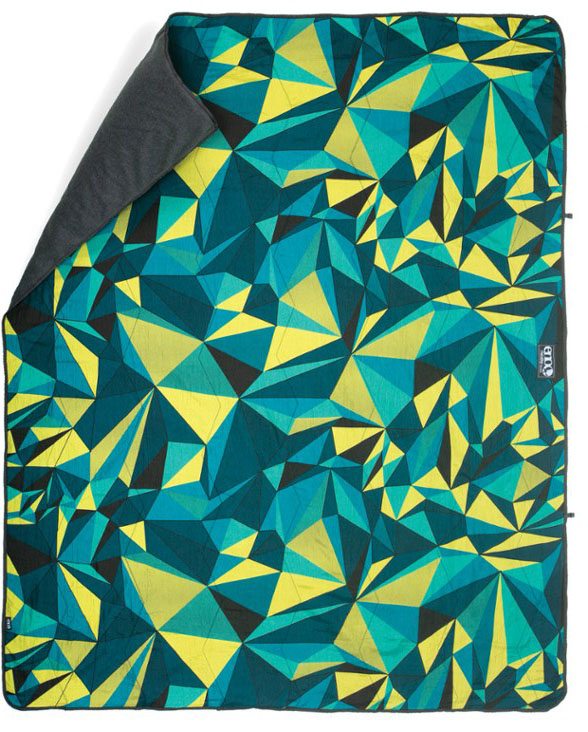 Insulation: Fleece
Weight: 2 lb. 9 oz.
Shell: 70D
What we like: Fleece lining is very soft and cozy.
What we don't: Fleece doesn't pack down as well as synthetic or down.
ENO (short for Eagles Nest Outfitters) is best known for their hammocks, but they've made a solid foray into the camping accessory market. Rather than synthetic or down insulation, their FieldDay here utilizes a fleece build that offers cozy warmth at an affordable price (fleece is well loved as an insulator for its soft next-to-skin feel). From a durability standpoint, the quilted construction and thick nylon exterior are confidence-inspiring for use around camp (you don't have to worry about fill escaping through small holes) and boasts a water-resistant finish for fending off light moisture and debris. And like the Rumpl blankets above, the ENO sports functional buckles that allow you to go hands-free with the blanket wrapped around you.
All that said, there's a reason that most of the competition utilizes synthetic or down fill for warmth. Both are more expensive than fleece but offer improved warmth relative to their weight and packed size—the ENO is on the heavy end at over 2.5 pounds and isn't very compressible (we have similar complaints about the fleece-insulated Kammock Mountain above). Synthetic also gets the slight edge in water resistance, although fleece will still keep you warm when damp. Whether or not the advantages are worth the tradeoffs will come down to your priorities and preferences, but there's no denying the ENO's comfort and durability, which make it a great choice for camping with small children or dogs. For a cheaper but smaller fleece option that adds flannel on one side for better durability and tear resistance, check out REI's Flannel/Fleece Blanket below.
See the ENO FieldDay Blanket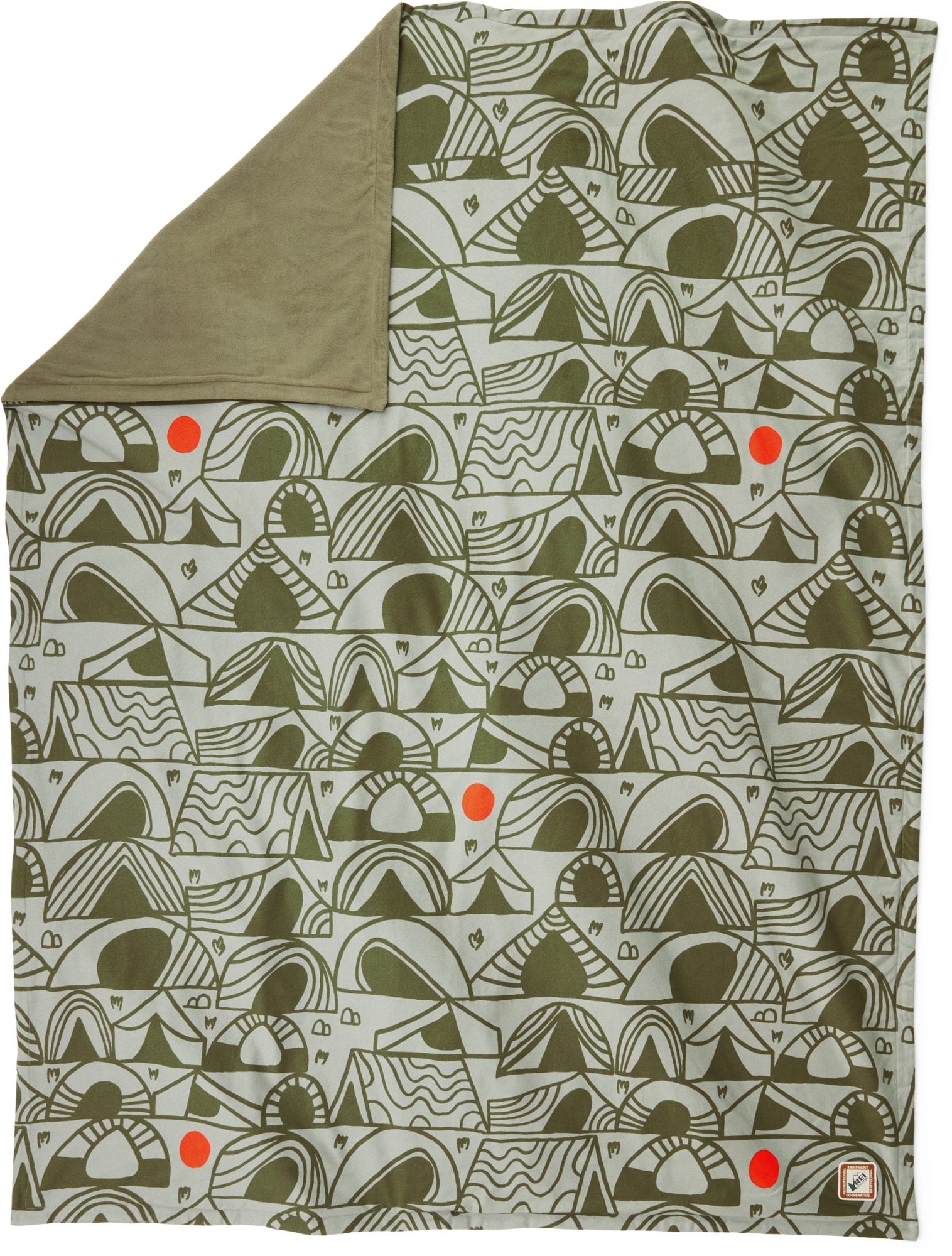 Insulation: Flannel/fleece
Weight: 2 lb. 2 oz.
What we like: Cozy materials at a budget-friendly price.
What we don't: Fairly small and not built for inclement weather.
A final camping blanket to have on your radar is REI Co-op's Flannel/Fleece. Like the ENO FieldDay above, the REI utilizes soft fleece on one side but adds flannel on the other for a boost in durability and tear resistance. All of the materials have a very cozy and plush feel, and the lack of outer shell makes it far less susceptible to tears or snags (it's great for campers with pets). At just $60, the Flannel/Fleece Blanket is another nice value from the brand and versatile for everything from summer campouts to fall football games, outdoor concerts, picnics, and more. 
Why do we have the REI blanket ranked at the very bottom of our list? The biggest drawback is the lack of weather resistance: You don't get a DWR coating for light rain and snow, and wind will cut through the basic flannel and fleece construction. In addition, it lacks the lofty and cozy warmth of synthetic or down and is noticeably thinner than most of the picks above. Finally, at 70 x 54 inches, the REI is smaller than much of the competition, including the 72 x 58-inch ENO FieldDay above. To be fair, it's perfectly serviceable in warm summer months and also has appeal for vehicle-based adventurers and overlanders who already have quality bedding for sleeping. But on its own, it can't hold a candle to thicker and pricier designs and is best as a supplementary option in cooler temperatures.
See the REI Co-op Flannel/Fleece Blanket
Camping Blanket Comparison Table
Camping Blanket Buying Advice

Camping Blanket Insulation Types
Synthetic
We see more camping blankets use synthetic fill than any other form of insulation, and the benefits are clear: Compared to down plumage that tends to clump up and stop insulating when wet, synthetic retains its loft and will continue to keep you warm. This gives it the clear edge for year-round use when your blanket might be exposed to moisture or dew from the ground. Synthetic fill is also more affordable (in most cases) and a bit better in terms of durability: If your blanket springs a leak, it won't scatter as easily as down feathers. It's true they're not weight leaders and don't pack down as small as down-filled blankets, but for car camping and other frontcountry uses, we think the benefits far outweigh the tradeoffs. Some of our favorite synthetic-insulated models include Rumpl's Original Puffy and NanoLoft Puffy and REI Co-op's Camp Blanket.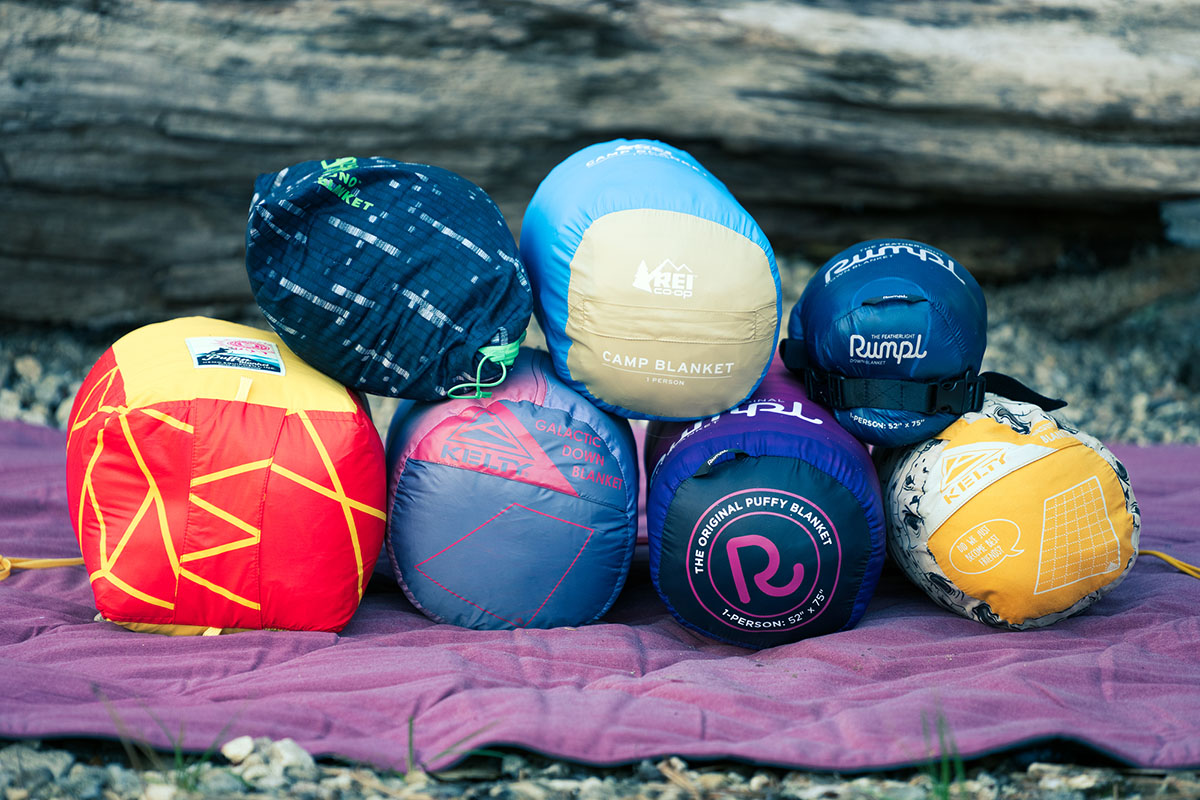 We'd be remiss not to mention down-mimicking synthetics here, which have seen notable advancements in recent years and come closer and closer to matching the packability and warmth-to-weight ratio of down. One standout is Rumpl's NanoLoft, which does an excellent impression of down: It's lofty, offers great warmth for minimal weight, and compresses down reasonably well. These insulations still can't match down's naturally light and compressible properties and generally cost more than cheaper synthetic varieties, but they're a nice man-made alternative and often save you a good chunk of change compared to premium down models. 

Down
As we mentioned above, down holds the warmth-to-weight crown, packs down very well, and is typically very cozy and soft. Down quality is measured in terms of fill power, with higher-fill-power varieties offering excellent warmth at a very low weight and packed size. For example, Rumpl's top-end Featherlite Blanket (not included here) boasts lofty 800-fill-power down, checks in at a scant 1 pound, and compresses down to just 5 x 8 inches when packed (ideal for stuffing into a pack and heading into the backcountry). Blankets with lower-fill-power down—like the 600-fill in Rumpl's Down Puffy and 550-fill in Kelty's Galactic—require more insulation (i.e., more weight) to achieve similar levels of warmth, are less lofty, and don't stuff down as small, but they still get the edge over most synthetics.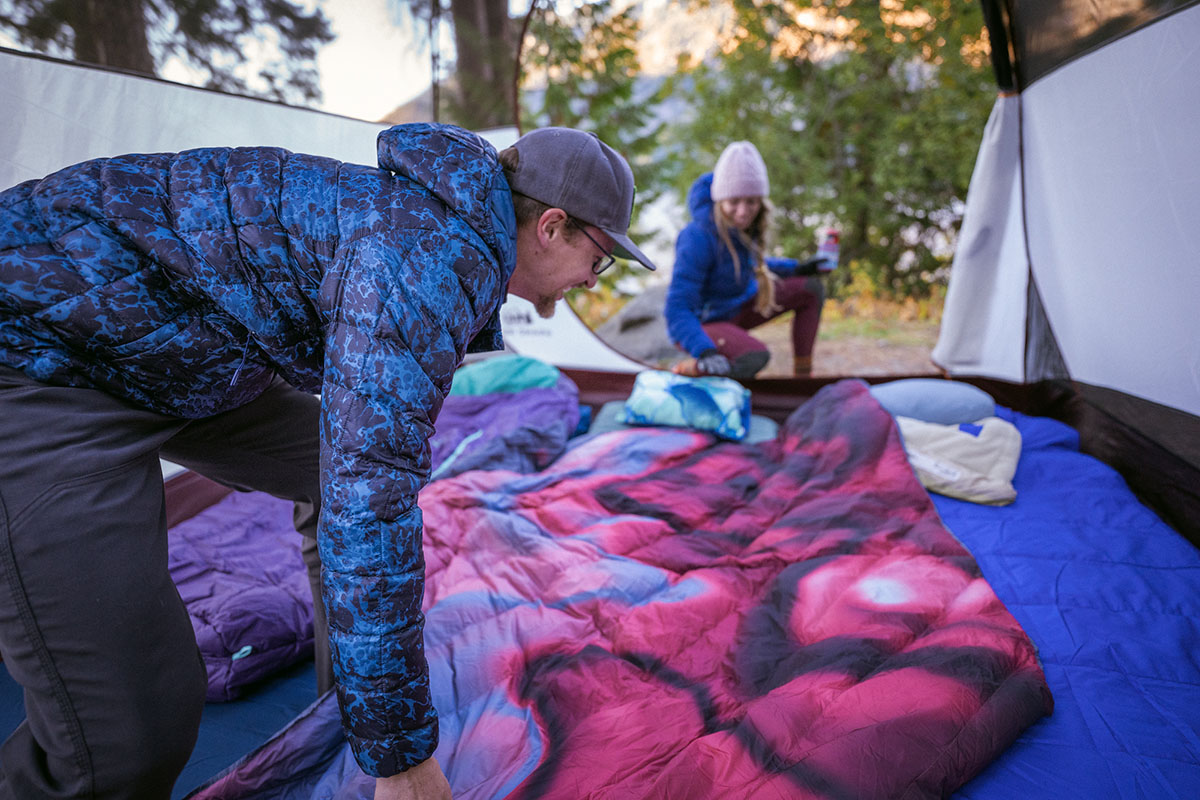 The biggest sacrifice in opting for a down-insulated blanket is the lack of wet-weather assurance. Down tends to clump up and stop insulating when wet, which is a notable drawback for those who camp in damp climates. That said, some higher-end designs—like Rumpl's Featherlite and Down Puffy Blanket—add a hydrophobic treatment to the insulation, which allows it to resist moisture better than untreated down and maintain much of their loft and insulating properties when wet. A final drawback is that down blankets have more of a tendency to leak over time and slowly lose their warmth. If you go the down route, it's important to exercise caution to avoid snagging or tearing the shell and massage any protruding feathers back into place rather than pull them out. In the end, unless weight and packability are top considerations, we'd recommend against down fill—the pros simply don't outweigh the cons.

Wool
In addition to synthetic and down, wool is another—albeit far less popular—insulation type for camping blankets. We included just one wool-insulated design on our list (the Pendleton Yakima Camp Blanket), but there are some clear benefits to consider. Namely, wool is naturally resistant to odors, wicks moisture well, and is very soft and comfortable next-to-skin. Most importantly, it's really warm. But unlike synthetic or down fill, wool isn't lightweight or lofty, doesn't stuff away into a small packed size, and can be a pain to clean (the aforementioned Pendelton is dry clean-only). We keep a Pendleton blanket in our van at all times, but its bulky build means it wouldn't be our first choice when packing for a camping trip or weekend at the cabin.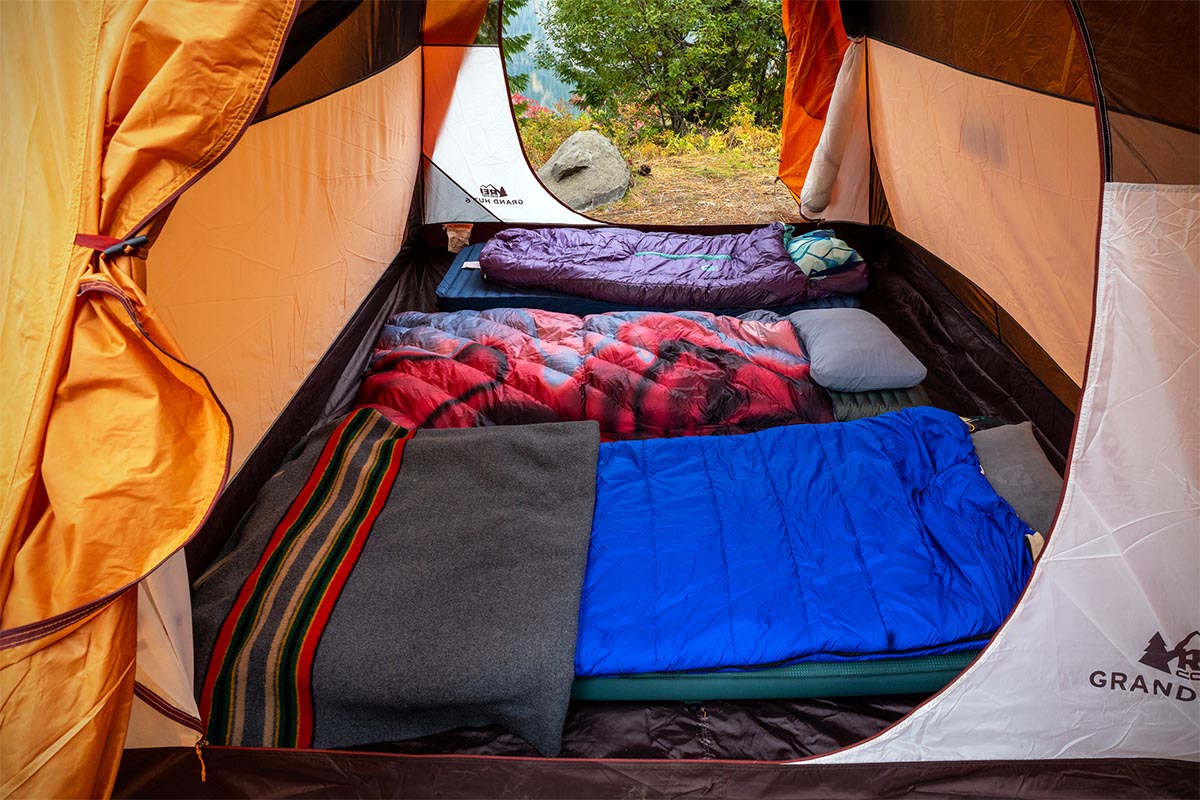 Fleece
A final insulation type to consider is fleece, which is used in designs like the Kammock Mountain, Rumpl Sherpa Puffy, ENO FieldDay, and REI Flannel/Fleece blankets above. The biggest draws here are comfort and affordability: Fleece has an inherently soft and supple feel and typically costs considerably less than most synthetic and down insulations (the Sherpa Puffy is one exception at $149 compared to the $125 Original Puffy). In terms of downsides, fleece isn't as light or packable as the competition and falls well short of synthetics in wind and wet-weather protection. Most fleece blankets–including both the ENO and REI mentioned above–are also on the thinner end of the spectrum and offer minimal warmth (they're suitable for summertime use or as a supplement to a quality sleeping bag). But for fair-weather and budget-oriented campers who don't want to sacrifice comfort, fleece blankets have their place.

Blanket Dimensions
All of the camping blankets above offer enough coverage for most average-sized adults, but some are more generously sized than others. Kelty's Cordavan is one standout at around 76 inches long by 66 inches wide, which makes it easy to wrap fully around your shoulders and body. Rumpl's Original Puffy Blanket, on the other hand, is a little smaller at 75 x 52 inches, although it's still plenty big for most campers and we've had no issues with coverage. On the other hand, Kelty's Bestie is one of the narrowest options on our list with just 42 inches at the shoulders (it's around 75.6 in. long) and is noticeably harder to wrap around your upper body to trap warmth. If you're on the taller end or have a broader build, these could be important specs to consider. We call out any major deviations in the write-ups above, and we've also listed the dimensions in our comparison table to make it easy to compare between models.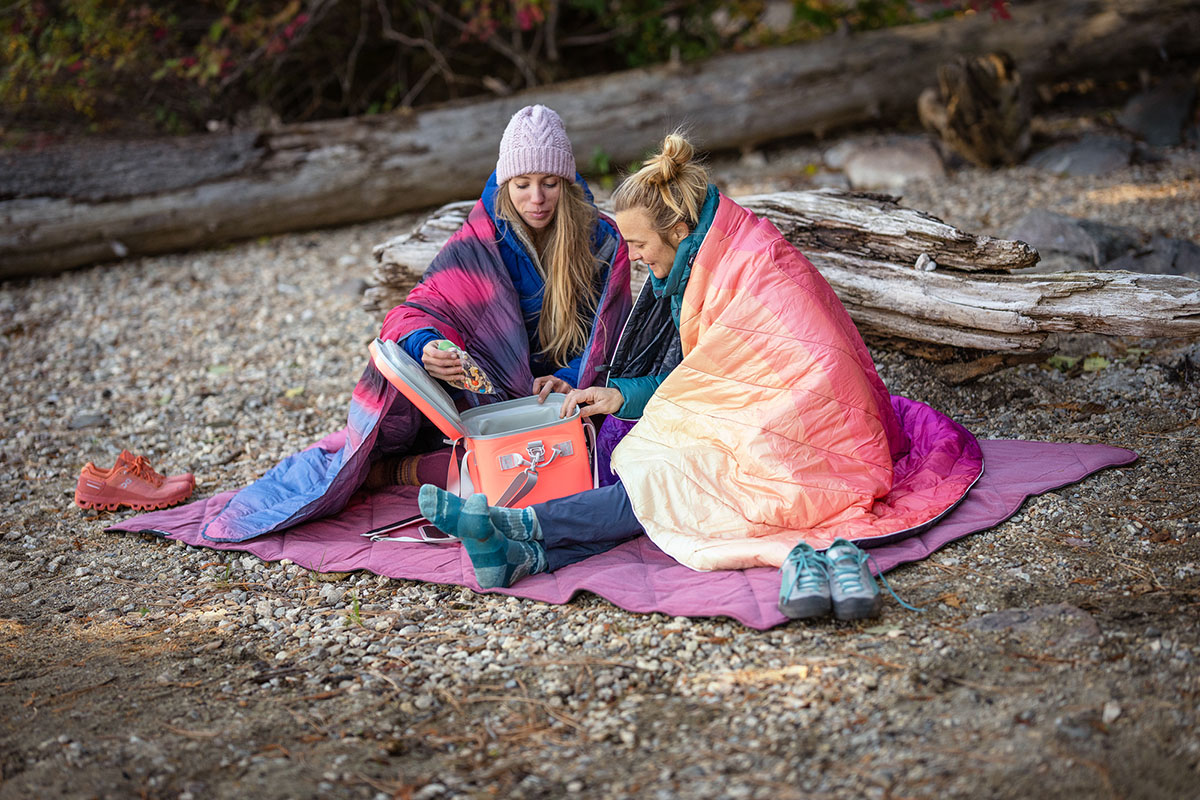 Double (Two-Person) Blankets
For those who regularly camp with a partner or significant other, it may be worth considering a roomier double camping blanket like Therm-a-Rest's Argo, which measures 78 inches long by 72 inches wide and offers excellent coverage for two. Rumpl also makes two-person variations of all four of their offerings above: the Original Puffy, NanoLoft Puffy, Down Puffy, and Sherpa Puffy. In the end, double blankets have their appeal for those who frequently get out with a partner and/or appreciate the extra coverage when sleeping, but they're generally heavier, less packable, and cost more than one-person models. In most cases—whether you're lounging by the fire, sitting on a tailgate, or wrapped up on the porch—a camping blanket is a personal item and a single-sized version is all you need.

Blanket Warmth
Camping blankets vary considerably in terms of warmth, ranging from thin and lightweight fleece designs to lofty down-insulated models. That said, it can be tough to get an accurate idea of warmth from the specs alone. Given their more casual slant, most blanket manufacturers don't provide fill weight (which indicates how much down is in a given blanket), and even the synthetic options lack a g/m2 spec. This can make it hard to get a realistic comparison between models, but we use overall weight and personal experience to call out any obvious warmth discrepancies in our write-ups above (when comparing blankets of similar fill types, more weight generally means more warmth). For example, the 2-pound-1.6-ounce Rumpl Original Puffy packs in significantly more insulation than the 1-pound-8.6-ounce Kelty Bestie (both blankets use synthetic fill).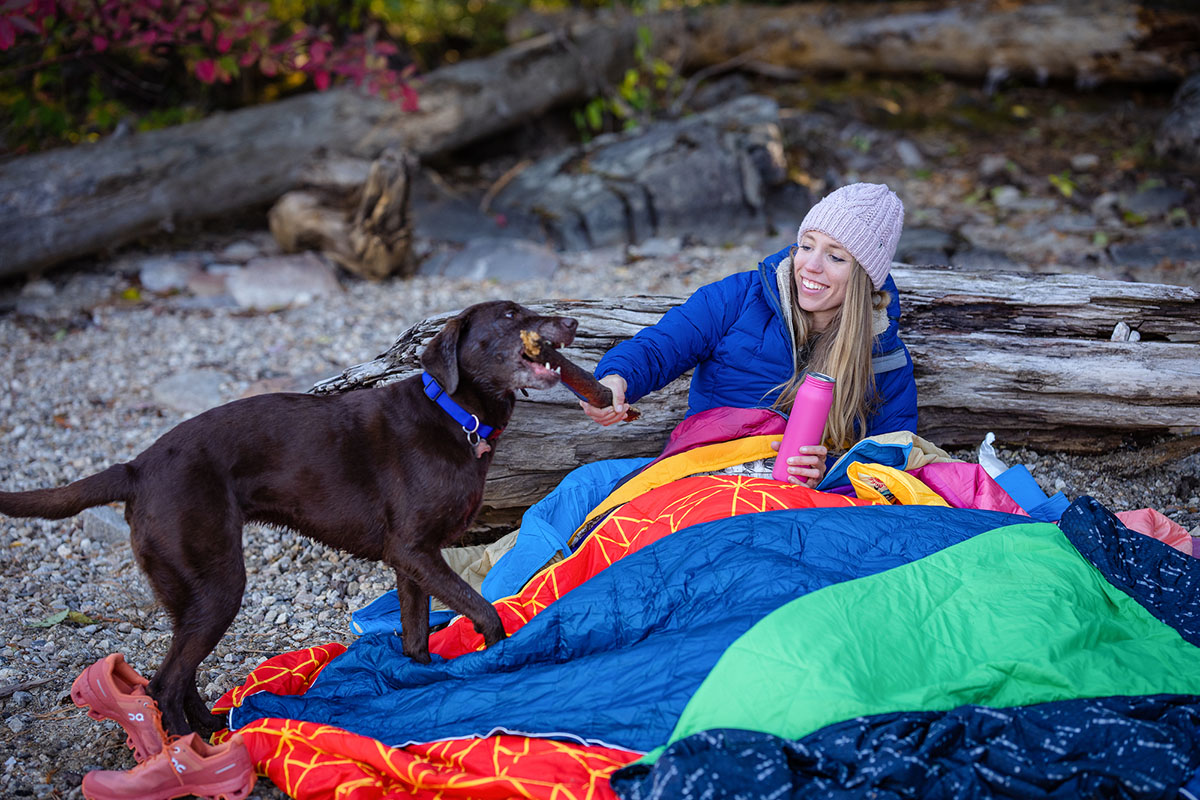 Comfort
Comfort is largely subjective, but there are undeniable differences in hand feel between budget and premium designs. For instance, Kelty's Bestie costs just $30 but uses decidedly cheaper-feeling materials that lack the soft, supple coziness of pricier picks like Rumpl's Original Puffy and NanoLoft Puffy (we have all three, and it's telling that we reach for the Rumpls most frequently). As we touched on above, down tends to be cozier and loftier in general, with higher-fill-power varieties boasting impressive loftiness and a pillowy-soft feel. Fleece is also naturally soft and supple, but blankets like the REI Flannel/Fleece and ENO FieldDay are thin and provide minimal warmth. And wool designs like the Pendleton Yakima are also highly comfortable but lack the cozy warmth and sleeping bag-like feel of synthetics or down. The lesson here: Spending up will almost always translate to better comfort, but where you draw the line is entirely a matter of personal preference.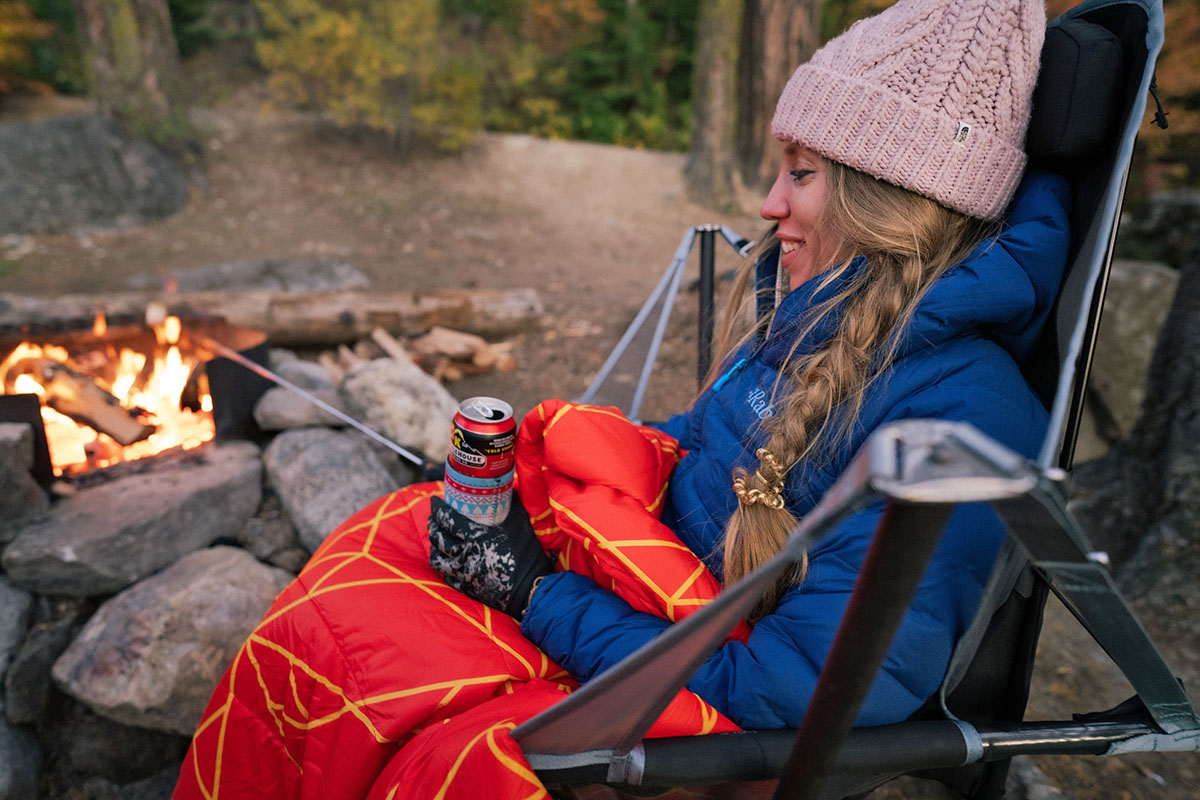 Weight and Packability
Unless you're bringing your camping blanket along on your next backpacking or bikepacking adventure, weight and packability are of little concern. That said, there's still a fairly wide spread between models, and some camping blankets are noticeably less bulky and cumbersome to haul around than others. For reference, the lightest blanket on our list is Therm-a-Rest's Juno Blanket, which clocks in at a scant 13.5 ounces and measures a respectable 9.5 x 11 inches when packed down. On the flip side, burly wool and waterproof builds like the Pendleton Yakima and YETI Lowlands easily exceed 5 pounds and will take up a considerable amount of space in your duffel bag, gear bin, or vehicle. Most options fall somewhere in the middle (1-2 lb. and roughly the size of a loaf of bread), which is entirely manageable for most uses.

Shell Thickness (Denier) and Durability
The vast majority of camp blankets have a shell fabric protecting the insulation, and the thickness of this fabric is measured in denier (technically it's the thickness of the individual threads, but the two are directly correlated). We've included this spec in our table above, and the models on our list range from 30 to 75 denier ("D" for short). At the minimalist and fragile end of the spectrum are designs like the Rumpl Featherlite, which boasts a 10-denier shell that's concerningly thin and susceptible to tears and snags from branches, rocks, and pets (hence our decision to leave it off the list above). These blankets are exceptionally light and packable, but the sacrifice in durability is a noteworthy concession and limits their overall appeal and versatility.
On the flip side, budget models like the Kelty Bestie Blanket (75D) and ENO FieldDay Blanket (70D) are far more hardwearing and confidence-inspiring for rough use, and we feel much more comfortable throwing them haphazardly in our tent or the back of our vehicle. YETI's premium Lowlands is another standout here, with a decidedly robust and waterproof build that works well for use as a ground tarp. Again, the tradeoff is added weight and bulk, but those penalties may be worth it for campers that tend to be rough on their gear. In the end, the weight-versus-durability equation isn't entirely clear-cut and comes down to a matter of personal preference, but we've found the sweet spot of toughness and packability to be around 20 to 50 denier. And regardless of thickness, you'll want to be especially careful when using your blanket around the campfire, as flying embers and sparks can quickly burn through even the thickest of shells (more on this below).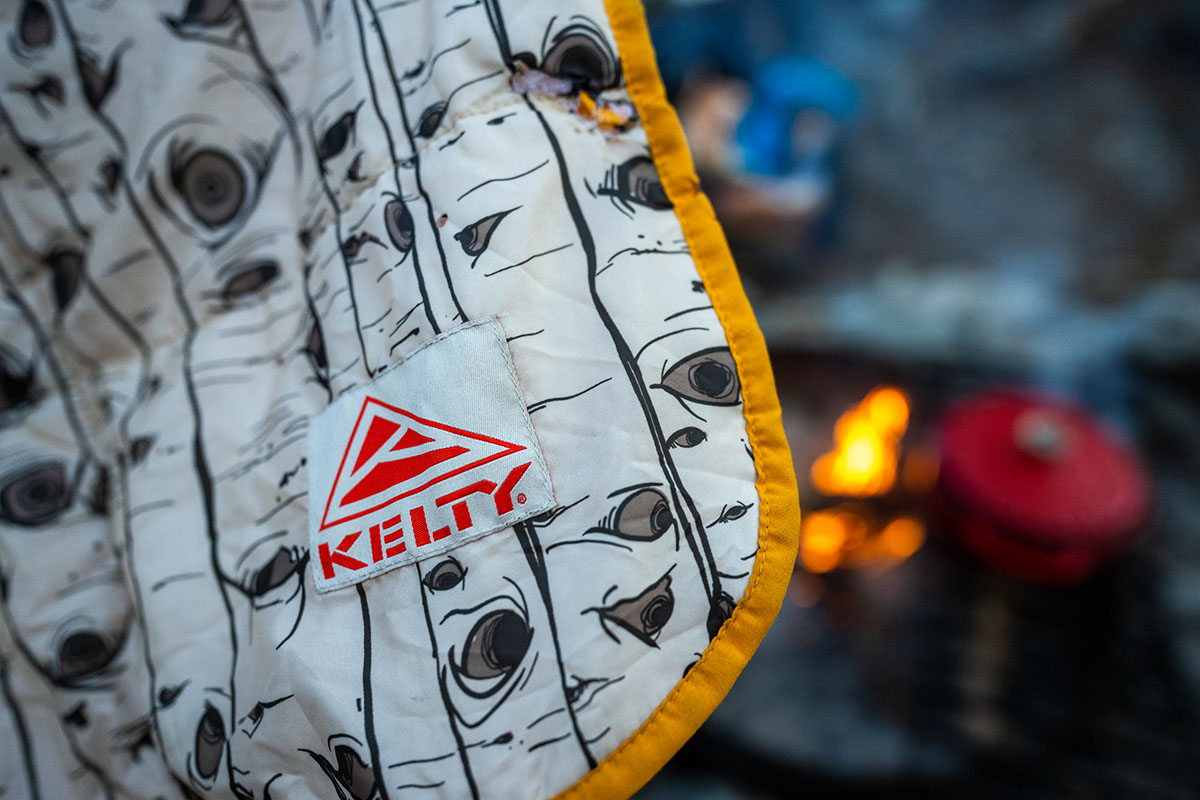 Fire Resistance
As we touched on above, most camping blankets are susceptible to holes from flying embers, and it's important to exercise caution when sitting by the campfire to avoid burning through the shell fabric. That said, certain models are better equipped to handle the abuse than others. Kelty's Cordavan Blanket, for example, uses thick, rugged canvas and corduroy materials that fend off holes from embers better than standard polyester. Rumpl takes it a step further with their new NanoLoft Flame Blanket (mentioned in the NanoLoft Puffy write-up above) with a proprietary fire-resistant exterior, although it's noticeably less soft and comfortable than the standard version. Whether or not that tradeoff is worth it is up to you, but we've managed to keep most of our blankets—even the thinner and more delicate ones—in good shape with a little extra vigilance and attention when sitting around the campfire.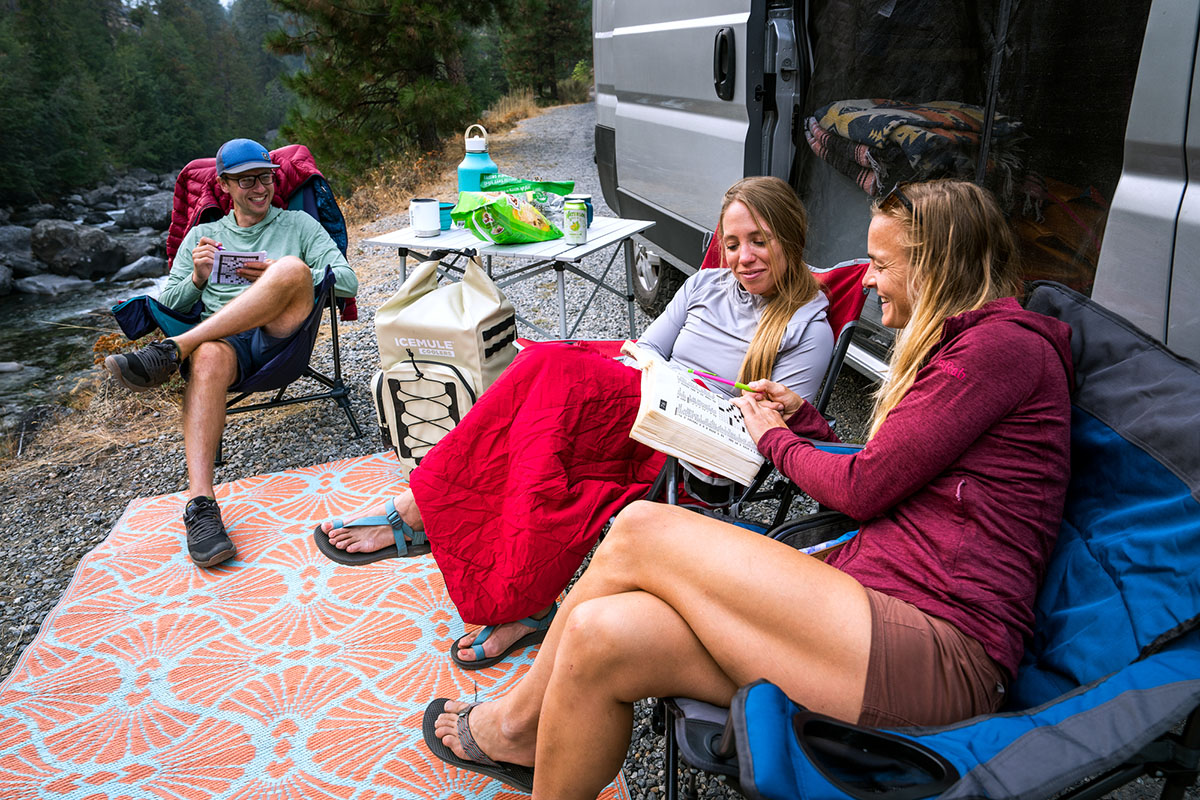 Weather Resistance
As we covered in the insulation section above, synthetic is the clear leader in weather protection and will keep you warm even if it gets wet. Wool and fleece also insulate when wet, but if they lack a shell fabric for protection (like the Pendleton), they'll soak up moisture pretty rapidly. Down, on the other hand, clumps up when exposed to moisture and can quickly lose its insulating properties, which we experienced firsthand with Kelty's Galactic Down Blanket after laying it on the ground in damp morning dew.
If you'll be occasionally out in the wet—such as winter tailgating or some après ski activities—it's a good idea to select a blanket that has a durable water repellent (DWR) coating on its shell, which helps keep light rain and snow from absorbing into the fabric. And this goes almost without saying, but no blanket will stand up to truly inclement conditions or deluges, so it's best to minimize exposure to moisture regardless of which design you choose.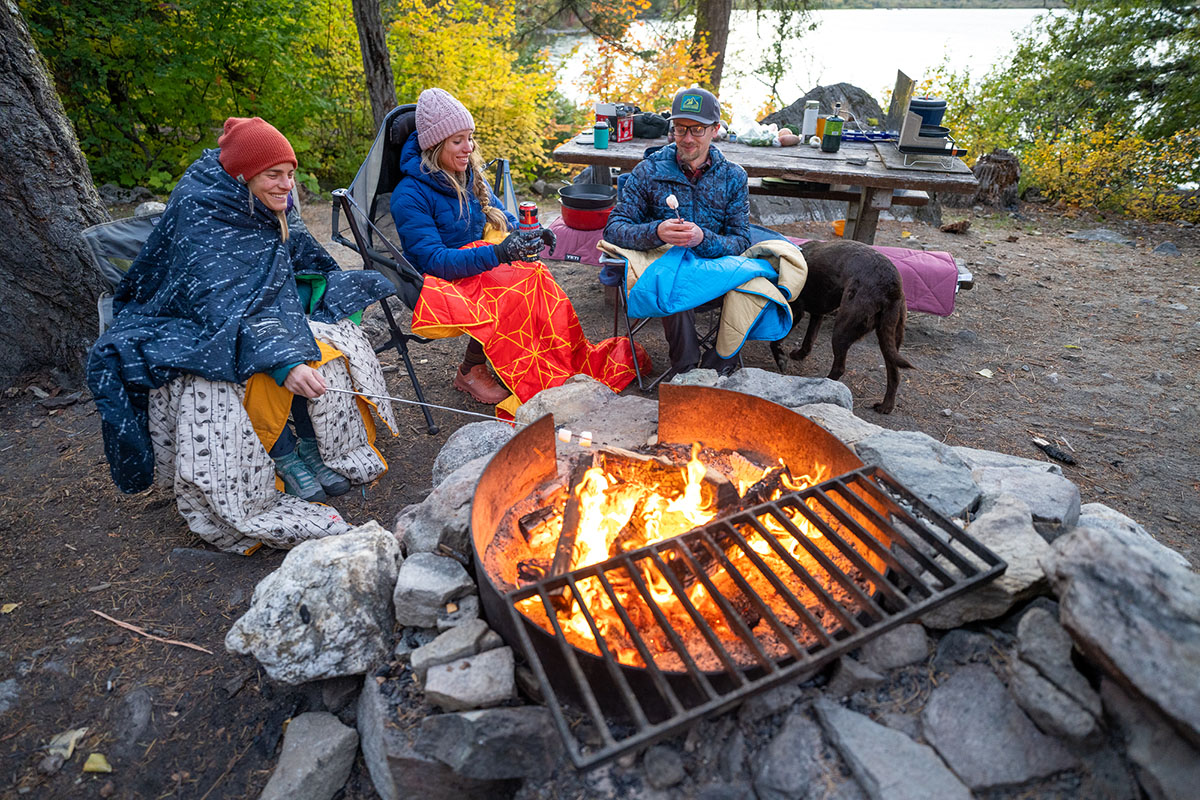 Waterproof Camping Blankets
Water-repellent treatments are relatively standard among mid-range and premium camping blankets, but some designs take it a step further with fully waterproof constructions. YETI's Lowlands is one example, with a durable and waterproof base and highly water-resistant top that easily shrugs off moisture, pet hair, and other debris. This makes it an excellent option for use as a ground tarp or picnic blanket in damp weather, but its stiff build is less cozy to wrap around yourself. NEMO's Victory Picnic Blanket (not included here) is another design that sports a waterproof bottom, although it's uninsulated and lacks the two-in-one versatility of the Lowlands. In the end, our take is that full waterproofing has its place for protecting you from cold and wet ground, but most campers will be better off with a traditional and far suppler non-waterproof design.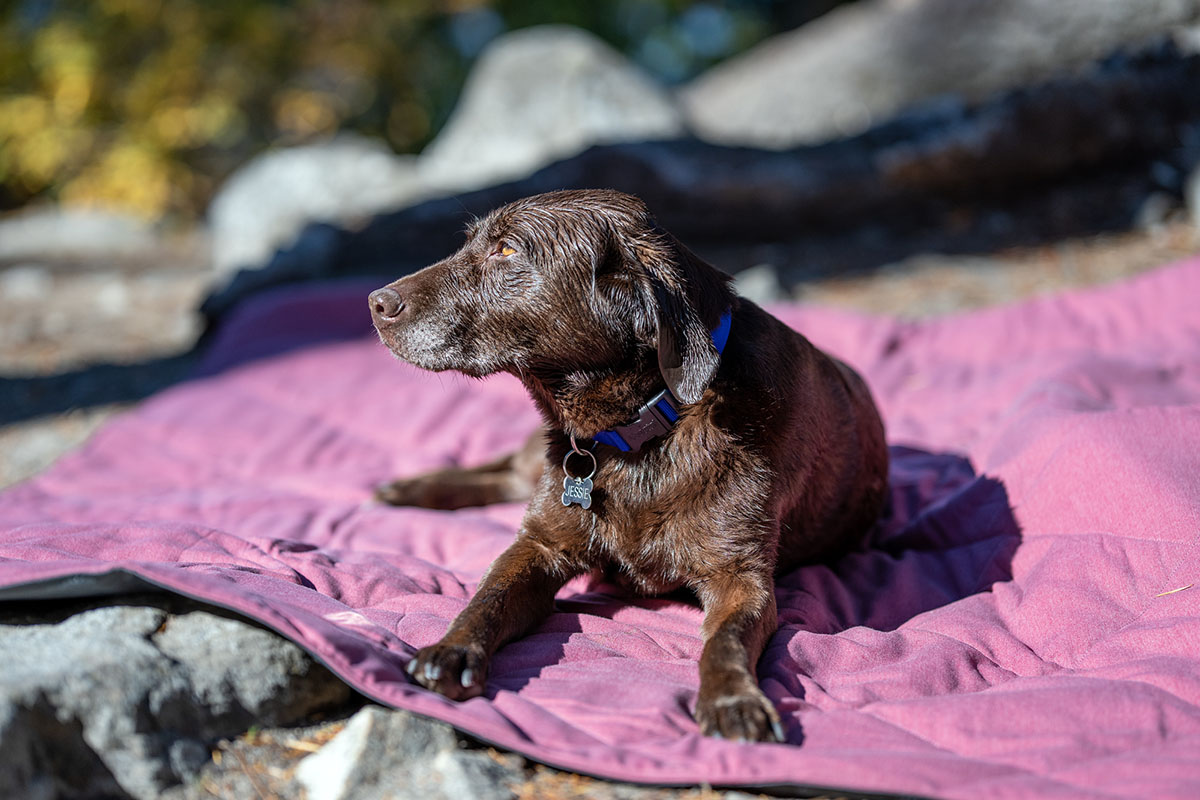 Camping Blanket Features
Modern camping blankets are a fun bunch, with many of our favorite picks boasting functional warmth-trapping features. We especially love buttons or snaps that allow you to go hands-free with the blanket wrapped around you, which Rumpl utilizes on all of their offerings above and make it easy to quickly secure the blankets around you while performing camp chores. Most also include loops at the corners to tether down inside a tent or on blustery days. A final feature worth calling out is Therm-a-Rest's attachment system on their Argo and Stella blankets, which consists of drawcords at the feet and perimeter snap loops to secure to another Therm-a-Rest blanket or quilt.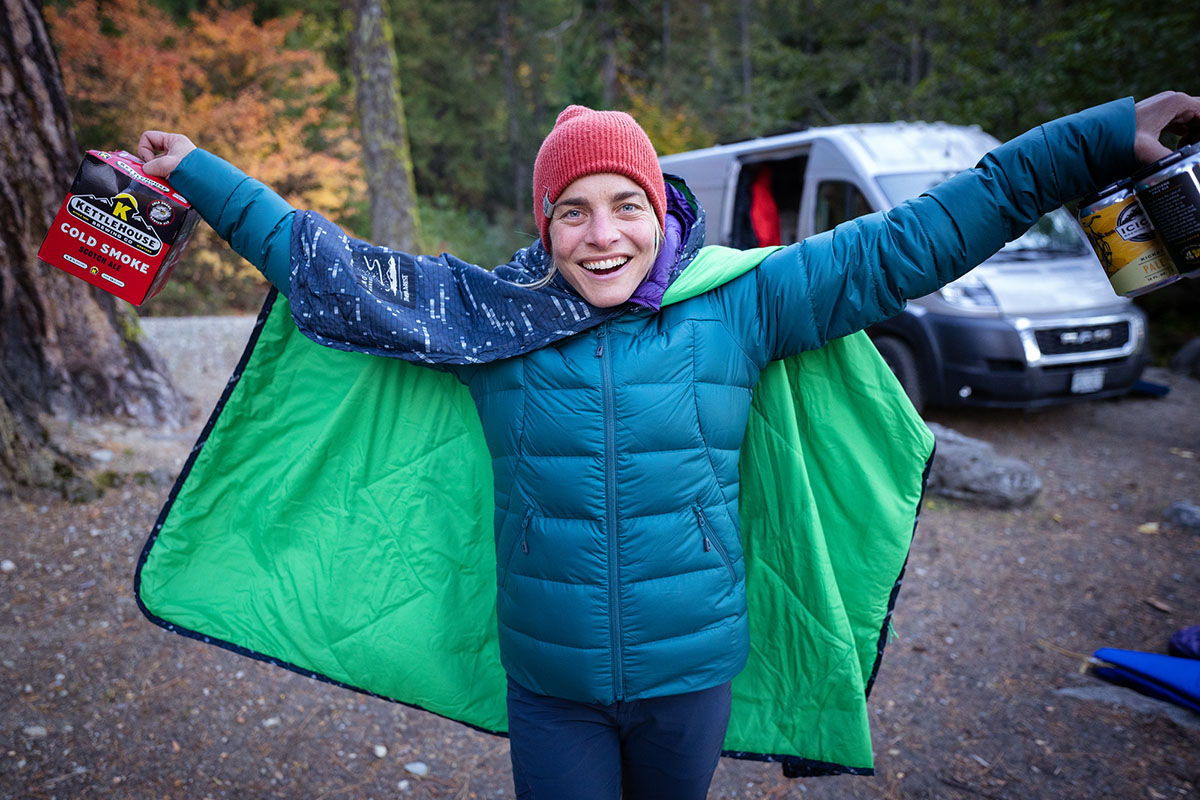 Sustainability
We've seen a sizable uptick in the use of sustainable practices among outdoor brands of late, and many modern camping blankets are made with the environment in mind. Rumpl is a clear leader in this realm: Their Original Puffy Blanket is made using recycled plastic bottles, and their Down Puffy uses sustainably sourced duck down that's a byproduct of the food industry (read: no live plucking) and certified to the Fair Trade standard. REI is another brand that's been at the forefront of the sustainability push, and their Camp Blanket utilizes bluesign-approved materials that have been deemed safe for workers, consumers, and the environment. It's worth noting that many other outdoor products now use PFC-free DWR coatings that forgo the use of harmful perfluorocarbons, but we haven't seen that shift in the camping blanket market yet.

Washing and Care
Most of the camping blankets above are machine-washable (the dry clean-only wool Pendleton is one exception) and can be dried with your other laundry, which makes caring for them quick and easy. That said, we always recommend checking the manufacturer's care instructions before throwing your blanket in the washer or dryer, and it's best to use "delicate" settings whenever possible. For down blankets in particular, we've found that adding tennis balls into the dryer can help revive the thick, lofty feel. And if you see any feathers poking out, you'll want to massage them back in to minimize the risk of reducing warmth.
As far as storage goes, it's best to remove your camping blanket from its stuff sack when you return and keep it unstuffed in your gear bin or garage. This is because compressing the insulation for long periods can considerably reduce its loftiness and insulating properties. This is more of a consideration for down, but high-loft synthetics like Rumpl's NanoLoft can also pack out over time if left compressed for extended stretches.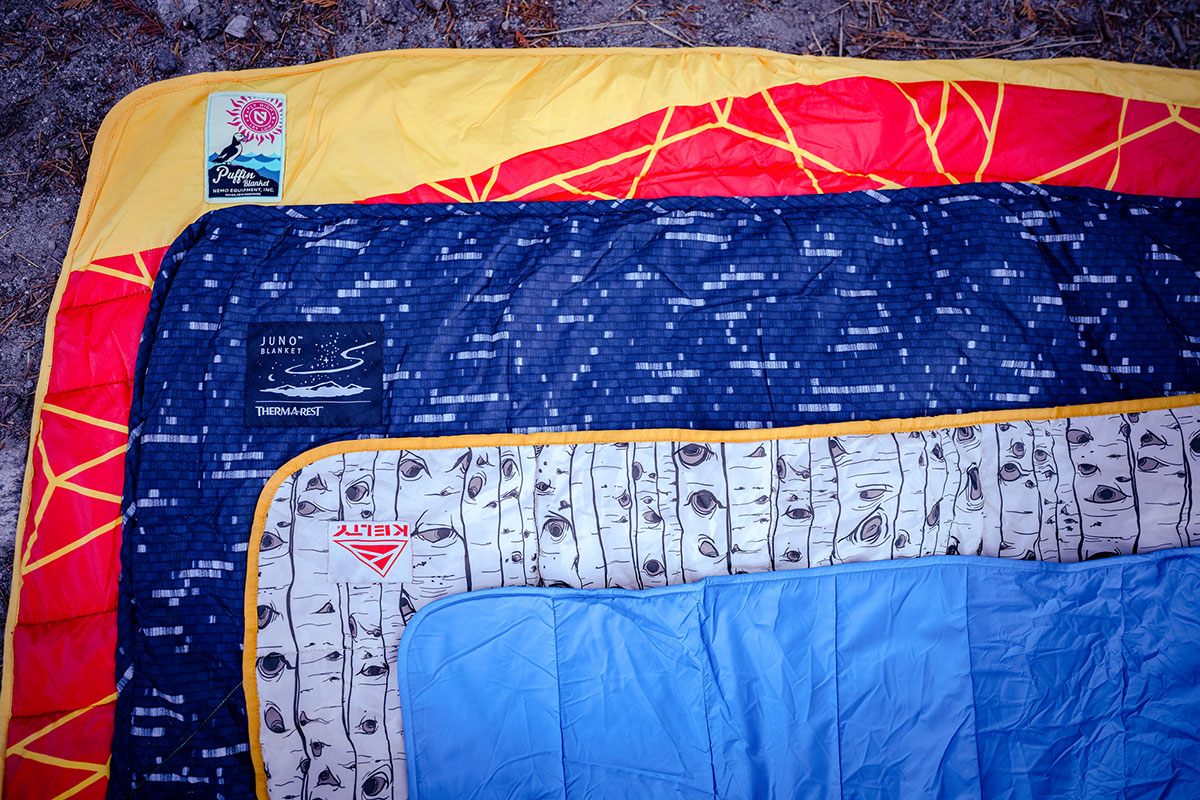 Camping Blankets vs. Sleeping Quilts
A blanket can be a fun and functional addition to your camping, vanlife/camper, or cabin kit, but most designs are too heavy and bulky and lacking in practical features to use in the backcountry. For those aiming to travel fast and light, an ultralight sleeping quilt is a better choice. These designs forego the hood and back of standard sleeping bags, but many sport critical warmth-trapping features like rear closures that allow you to secure them around you, foot boxes that close shut with a zipper or snaps and bottom drawstring, and useful attachments to secure to your sleeping pad. Further, many top designs utilize high-fill-power down that's lofty and warm at a minimal weight, highly packable, and will keep you comfortable in most three-season conditions (down to around 20 degrees Fahrenheit). High-end models are undeniably pricey with many easily exceeding $300, but for committed backpackers and thru-hikers, the investment may be worth it. For a full list of options, see our article on the best ultralight sleeping bags and quilts.
Back to Our Top Camping Blanket Picks  Back to Our Blanket Comparison Table
Read More From Switchback Travel