If your mountain biking gear budget has been stretched thin and you're tempted to skimp on the helmet, don't. Skip that extra bit of carbon instead. It's true, mountain bike helmet prices are creeping up, but we find little reason to complain. For hurtling over rocks and dodging trees, spending a little extra on a good lid is a sound investment. Fit and retention systems continue to improve, and safety advances like the Multi-Directional Impact Protection System (MIPS) aim to reduce the chances of a serious injury. For a breakdown of these important considerations, check out our comparison table and buying advice. Below are our top mountain bike helmets of 2021.
 
Best Overall Mountain Bike Helmet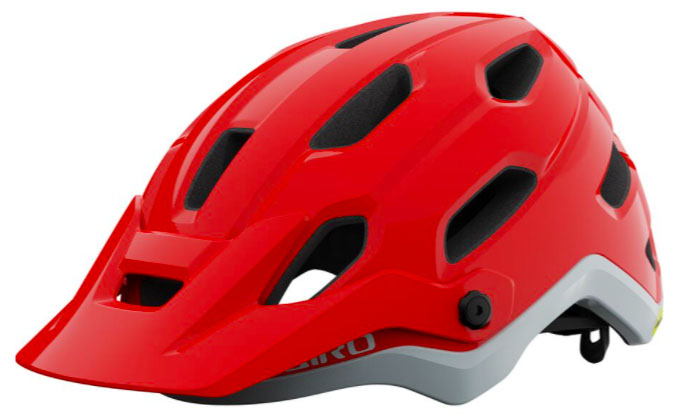 Category: Trail/XC
Weight: 12 oz.
Vents: 16
What we like: Safety, comfort, and performance at a great price.
What we don't: Light on features and a small step down in ventilation.
Giro's new Source MIPS nabs our top spot for 2021 by proving you don't have to spend a ton to get a safe, comfortable, and lightweight mountain biking helmet. For starters, it has fantastic coverage for trail riding, a low-profile MIPS liner, and plenty of padding and decent ventilation for long days over variable terrain. Moreover, the helmet boasts features typically found on more expensive models: the visor is large enough to shield the sun but also adjusts to accommodate glasses and goggles, and the fit system is secure and easy to use even with gloves on (don't let its small diameter dial fool you). Overall, the Source delivers what the majority of riders need at a great price.
The Giro's value is what makes it so appealing, but there are a couple design compromises. For one, you get smaller vents than some of the high-end models on this list, including the Troy Lee Designs A2 below. It's still an improvement from the discontinued Chronicle, but the Source isn't a standout in this regard (XC riders in hot regions may prefer a more ventilated option). Further, you miss out on extras like a magnetic buckle and integrated light mount. To be clear, these are very minor complaints, and wearing the helmet back to back with designs that cost nearly twice as much hasn't revealed any significant differences. This impressive all-around performance at a discount is what makes the Source our current go-to MTB helmet.
See the Giro Source MIPS  See the Women's Giro Source MIPS
A Close Second (With Better Ventilation)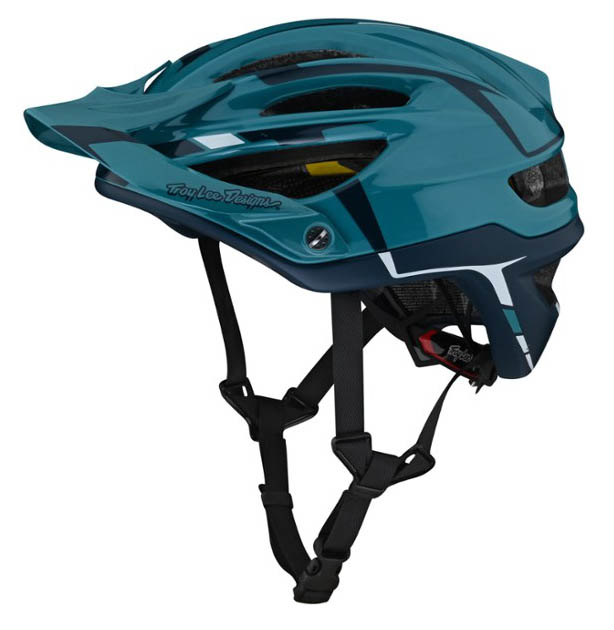 Category: Trail/XC
Weight: 13.3 oz.
Vents: 13
What we like: Premium build and a very comfortable fit.
What we don't: Pricey and limited visor adjustability.
Building on the successful and popular A1, the Troy Lee Designs A2 retains that helmet's high levels of comfort with a few notable upgrades. To start, ventilation is improved with wide channels at the front and expansive openings at the back. Also, the A2's safety suite has been modernized, making it a great match for aggressive bikers. The helmet uses an innovative design with two types of foam: EPS, which is found in most bike helmets for absorbing impacts at high speed, and tough EPP for low-speed crashes. Along with a MIPS liner and breakaway hardware on the visor, the A2 is built for techy climbs and rowdy descents.
In terms of fit, we found that the A2 has a deep, wide, and very adjustable interior that was a favorite among our group of testers. Comfort is near the top of the pack with a minimalist but smart design with thicker padding around the forehead. One issue we ran into is that the visor doesn't slide high enough to fit a goggle, which is a letdown at this steep price. Nitpick aside, for serious trail and enduro riders, we think the A2's premium build and performance are worth the extra cash. And it's worth noting that TLD has recently released the A3 MIPS, which we are in the process of testing. Key updates include a small increase in coverage, a reworked (and goggle-friendly) visor, and a decent jump in price to $220.
See the Troy Lee Designs A2
Best Budget Mountain Bike Helmet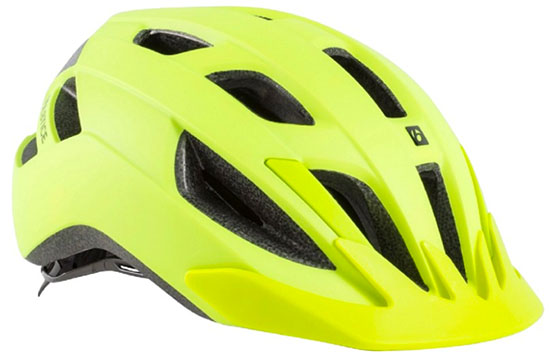 Category: XC
Weight: 11.8 oz.
Vents: 17
What we like: Nice combination of comfort, style, and price.
What we don't: Not a standout in coverage and only offered in two sizes.
Bontrager's Solstice is our top budget helmet, combining MIPS technology and modern styling at a price that significantly undercuts the picks above. For $65, you get the aforementioned slip plane liner, surprisingly good ventilation from 17 total openings, and a simple but effective twist-style adjuster at the back. Further, Bontrager incorporated premium touches like a magnetic buckle for easy on and off as well as soft padding along the interior. Available in a wide range of colors, the Solstice is a solid option for those just getting into the sport or riders that stick mostly to non-technical terrain.
As with any budget product, the Bontrager Solstice has a few shortcomings when compared with premium models. To start, you only get a modest amount of coverage, particularly at the back of the lid (more serious options like the Giro Source above protect more in this area). If you'll be riding rough and rowdy trails with rocks and roots, it's best to upgrade to an all-mountain-ready model. In addition, the Solstice MIPS is only offered in two sizes (most pricier designs are made in three), so it can be a little harder to dial in a perfect fit. That being said, we think Bontrager nailed the Solstice's mix of features, safety, comfort, and style for the price.
See the Bontrager Solstice MIPS
Best Lightweight XC Helmet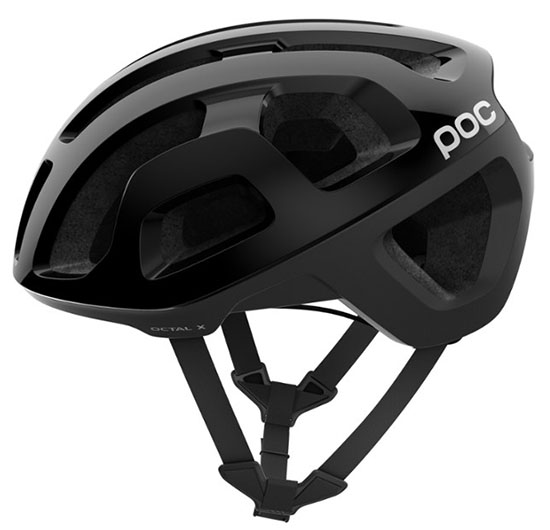 Category: XC
Weight: 9.4 oz.
Vents: 21
What we like: Excellent ventilation and low weight.
What we don't: Extremely expensive.
For a long, hilly days in the saddle, a lightweight and well-ventilating helmet is a priority. And among the numerous options on the market, POC's Octal X SPIN is a standout. Its feathery 9.4-ounce weight, generously sized 21 vents, and nice touches like a place to store your glasses when not in use check off all the right boxes. In terms of safety, the high-end Octal features POC's own SPIN technology (similar to MIPS) and includes Aramid reinforcements on the EPS liner for increased protection—features not found on the vast majority of helmets that weigh so little.
At $250, the obvious downside with the Octal X SPIN is its very steep price. POC targets the serious rider in general—the $220 Tectal Race below is similarly expensive—and the quality and attention to detail are without a doubt impressive. But its appeal is likely limited to competitive riders that get out a lot and will appreciate the superlight build and aerodynamic shape. For a much more affordable XC alternative, check out Giro's $130 Artex MIPS.
See the POC Octal X SPIN
Best Full-Face Mountain Bike Helmet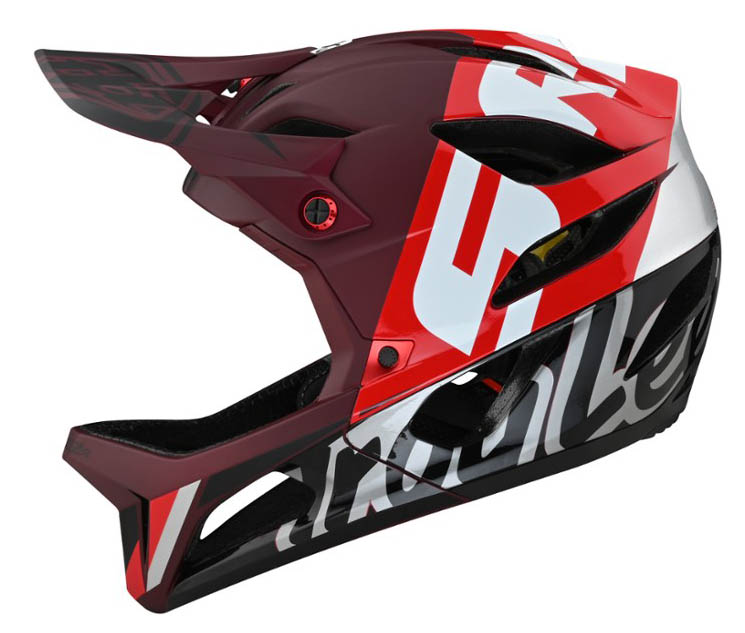 Category: Downhill/trail
Weight: 1 lb. 8 oz.
Vents: 25
What we like: Light, well-ventilated, and great protection.
What we don't: Pricey and not as burly as some full-face designs.
Troy Lee Designs has been in the mountain bike helmet game for a long time and is known for making very comfortable lids. So it should come as no surprise that their first foray into building a lightweight full-face helmet is pretty darn impressive. Coming in at a scant 1 pound 8 ounces, the Stage MIPS is one of the lightest downhill-certified full-face helmets on the market. And it doesn't sacrifice in terms of features: 25 well-placed vents maximize airflow, a MIPS liner increases protection, and a magnetic Fidlock system makes buckling quick and easy. If you're an enduro racer or someone wanting to upgrade in protection from a standard half shell, we think the TLD should be at or near the top of your list.
The Stage packs a lot of the features into a good-looking helmet, but it's certainly not a value leader. At $299, it's around $30-$40 more than popular competitors like Giro's Switchblade and Fox's Proframe below. The good news is that it's another quality TLD product, and the comfort is top-notch. Further, the Stage MIPS includes extra interior pads to help customize the fit, which factors into the added cost. It's worth noting that the Stage does prioritize weight and ventilation, and there are burlier options out there for dedicated park and very rough downhill use (including TLD's own D4). But in the end, we think the Stage hits a great middle ground of build quality, protection, and comfort.
See the Troy Lee Designs Stage MIPS
Best of the Rest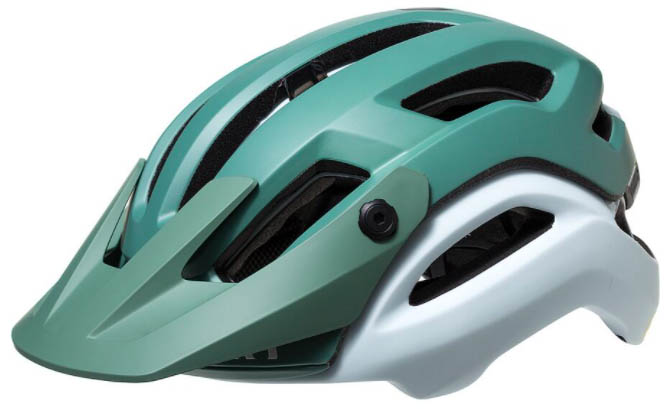 Category: Trail
Weight: 12.2 oz.
Vents: 19
What we like: The whole package of protection, ventilation, comfort, and features.
What we don't: Polarizing looks and more than double the price of the Source above.
Giro's Manifest was released last year with relatively little fanfare, but we think it's a real winner. It's been our primary lid for the past few months, and we have yet to identify a true weakness. The open and wide interior fits great, offers excellent all-around coverage, and has a just-right amount of padding. And safety is a real hallmark of the design: featuring Giro's innovative Spherical Technology (developed alongside MIPS), the shell is essentially made up of two pieces, which allows the top portion of the shell to move independently of the lower in a crash (minimizing rotational forces on the brain). And by building this into the shell's design—rather than using a separate liner like most MIPS lids—you also get fantastic ventilation. Taken together, we think the Manifest is the best all-around trail helmet available.
What's keeping the Giro from taking our top spot? Unfortunately, that do-everything feature set—which also includes niceties like a magnetic buckle and highly adjustable fit system—comes with a steep $260 price. At more than double the cost of Giro's own Source above, it's a hard pill to swallow for riders that don't get out a lot or who won't mind a mildly warmer build. The Manifest also has fairly polarizing styling—particularly in colorways that highlight that two-piece set-up—but that's mostly a matter of personal preference. If you can swing the steep cost, we think the Manifest is a market standout.
See the Giro Manifest Spherical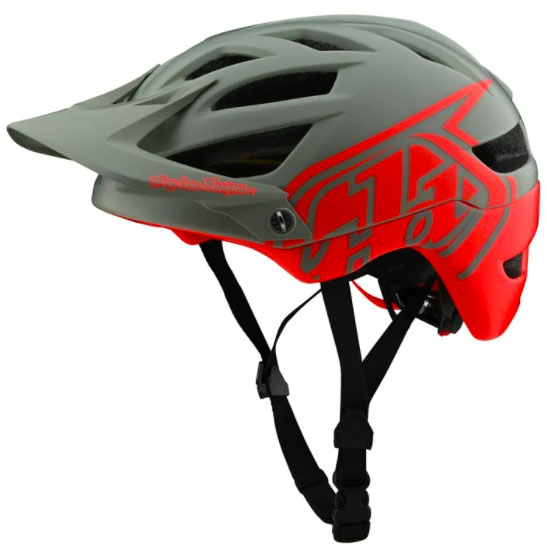 Category: Trail
Weight: 12.6 oz.
Vents: 16
What we like: Very comfortable design and good all-around value.
What we don't: Ventilation falls short of the A2.
While the A2 above has overtaken the A1 on our list, the original Troy Lee Designs is still one of the best mountain biking helmets on the market. The biggest reason this design has been widely lauded is its excellent fit. It's the kind of helmet that has that perfect feel the moment you slip it on, and the large opening and secure closure system are accommodating for most head shapes. In addition, you get high-quality, plush padding that holds up well over the long-term and plenty of coverage for trail riding.
The reason there is a Troy Lee Designs A2, however, is that there was some room for improvement with the A1. The primary complaint was its lack of ventilation, and this is still its Achilles' heel. And the addition of a MIPS liner only increased the issues with pushing hot air out. All that said, the A1 saves you $24 compared with the newer model with zero compromises in terms of comfort, which makes it a great value considering the durable and long-lasting build. 
See the Troy Lee Designs A1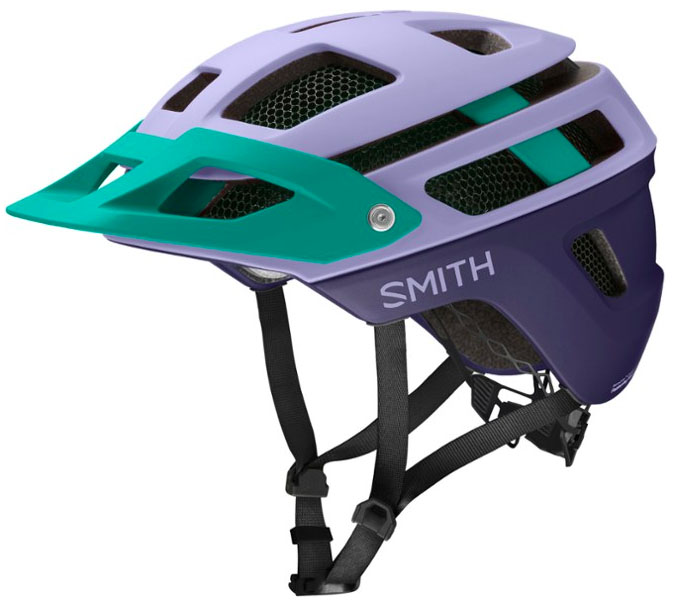 Category: Trail/XC
Weight: 13.4 oz.
Vents: 20
What we like: Lightweight; comfortable fit.
What we don't: Fairly disappointing ventilation for the price.
Sitting atop Smith's mountain bike helmet collection is the $240 Forefront. What immediately jumps out about the design is its innovative build, which combines layers of EPS foam and Koroyd—a unique material that looks like a bunch of plastic straws glued together. The claimed benefit is a 30 percent improvement in absorbing low-speed impacts, plus the cutouts help make the Forefront among the lightest trail lids on the market. Just as importantly, we think they nailed the finer points with top-notch materials that are holding up great after two seasons of use and excellent all-around comfort.
Unfortunately, all of the small holes around the head do little for ventilation, and the Forefront 2 is among the warmer premium half-shell options. Even with some design tweaks for the second generation, it can't match alternatives like the Troy Lee Designs A2 above or Leatt DBX 3.0 below in this regard. If you ride consistently in cool weather, this shouldn't be a deal-breaker, but even in the Pacific Northwest, it's important to have good ventilation for long climbs. The rest of the design is commendable, however, albeit very pricey... Read in-depth review
See the Smith Forefront 2 MIPS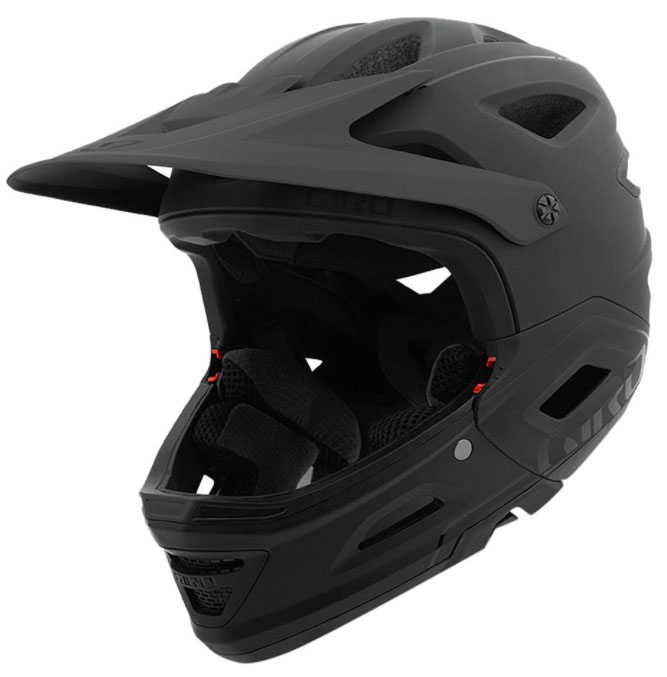 Category: Trail/downhill
Weight: 2 lbs. 6 oz.
Vents: 20
What we like: Removable chinbar helps keep you cool on the climb.
What we don't: Very heavy.
Giro's original Switchblade, complete with removable chinbar, first made its debut over two decades ago but never really caught on. In more recent years, as bikes have become more capable and riders push the limits, Giro decided it was time to bring it back. The current model shares the original's removable chin-piece concept, but ties in modern touches like a MIPS liner and superior all-around protection. The unique design means the Switchblade is essentially two helmets in one—take the front piece off to stay comfortable for the climb or on tame sections of trail, but snap it into place before dropping into a gnarly descent.
The Switchblade is not without its faults, however, and there's a reason we have TLD's Stage ranked higher. In full-face mode, we found that the Giro moves slightly forward on the head, which in turn pushed down Giro's own Blok goggles. This restricted both vision and breathing through the nose—neither of which you want while racing. Further, the Switchblade is quite a bit heavier than the Stage above and Fox's Proframe below when factoring in the chinbar. That said, if you're able to get a good fit and the weight isn't a deterrent, the Switchblade is one of the most versatile helmets available.
See the Giro Switchblade MIPS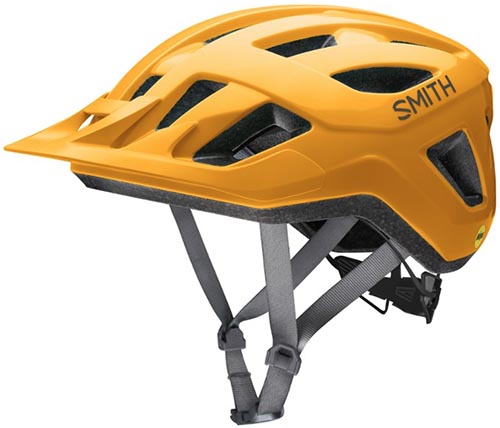 Category: XC
Weight: 11 oz.
Vents: 20
What we like: Great price for Smith quality; available in multiple sizes.
What we don't: Not a standout in coverage or comfort.
As mountain bike helmet prices trend higher each year, it's nice to see a quality yet budget-friendly option like Smith's Convoy pop up. For $75, you get a solid lid for recreational riding that's highly adjustable (you can tweak the fit both up and down and forward and backward), offers decent ventilation with a total of 20 large vents, and includes a MIPS liner. There's nothing fancy about the design, and you do miss out on premium touches like soft and highly absorbent padding, but the Convoy is a nice option for those who don't venture out on big rides or into the gnarliest of terrain.
How does the Smith stack up to Bontrager's Solstice above? Both helmets excel for occasional riders and cross country-style trails with their moderate coverage, non-adjustable visors, and fairly simplistic interiors. On the other hand, the two designs are lightweight, reasonably airy, and can pull double-duty for road or gravel use. The Smith is a little easier to dial in a snug and comfortable fit thanks to its three available sizes (the Bontrager only comes in two), but the Bontrager doesn't make any other concessions and gets the edge in price at $65. As a result, for those looking to save without compromising on quality, we give the slight advantage to the Solstice.
See the Smith Convoy MIPS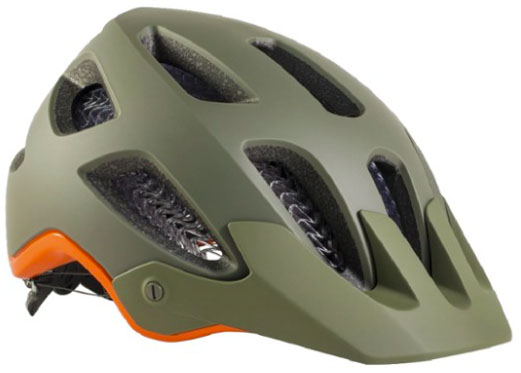 Category: Trail
Weight: 14.1 oz.
Vents: 13
What we like: WaveCel tech in an affordable and well-sorted package.
What we don't: Not a weight or ventilation leader.
Coming on the heels of Bontrager's high-end Blaze (listed below) is the mid-range Rally. Like the Blaze, this model incorporates Bontrager's impact-absorbing WaveCel tech, which is touted to help limit rotational forces on the brain in certain types of crashes. But the big news with the Rally is its affordable $150 price tag, which happens to be half the cost of the Blaze. Importantly, they've still managed to keep features like trail-ready coverage around the back and sides of the head, an adjustable visor, Boa dial for tweaking the fit, and a nicely padded interior. Finally, like all Bontrager helmets, the Rally comes with their excellent one-year crash replacement warranty.
What do you give up with the more affordable Rally WaveCel lid? Bontrager swapped out the Blaze's easy-to-use magnetic Fidlock buckle for a traditional pinch-release design, and you miss out on the built-in mounting point for lights or an action camera (also magnetic). Plus, the padding along the interior is a little more basic and lacks the siliconized strip at the front to limit sweat from dripping down the front of your face. All told, we think these are very easy tradeoffs given the substantial cost difference and consider the Rally the far superior value.
See the Bontrager Rally WaveCel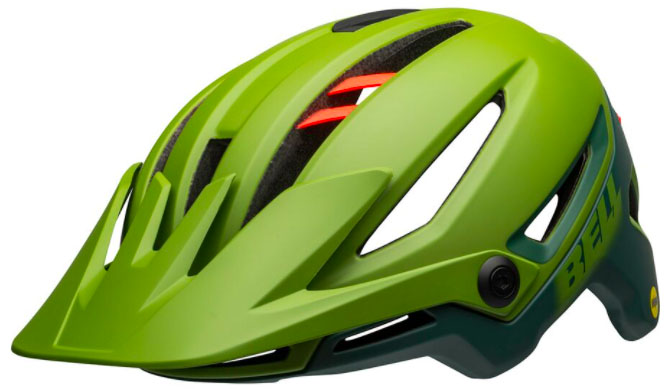 Category: Trail
Weight: 14.5 oz.
Vents: 26
What we like: Impressive combination of comfort and performance.
What we don't: A little heavier than the competition.
A couple years ago, Bell replaced its popular Super 3 helmet with the Sixer MIPS. We were surprised they changed the name after three successful generations, but the updated lid quickly has developed a similar following. Importantly, Bell got the details right with the Sixer: the helmet has a modern, low-profile shape that doesn't look or feel bulky, the padding along the interior is high-quality, and a total of 26 well-designed vents keep air flowing around your head. This versatile build means the Sixer MIPS is perfectly capable on anything from quick after-work rides to long, cross-country grinders.
For riders putting on a lot of miles, especially in the hot summer months, the Sixer has a lot of appeal. However, it's heavier than the A2 above and includes extras like an action camera mount that many people don't need. We also think the Giro Source is the better all-around deal at $50 less, but stepping up to the Sixer does get you better ventilation and nice touches like a rubberized material at the back to keep goggle straps in place. For a simplified version of the Sixer with a step down in venting and features, check out Bell's 4Forty MIPS for $110. 
See the Bell Sixer MIPS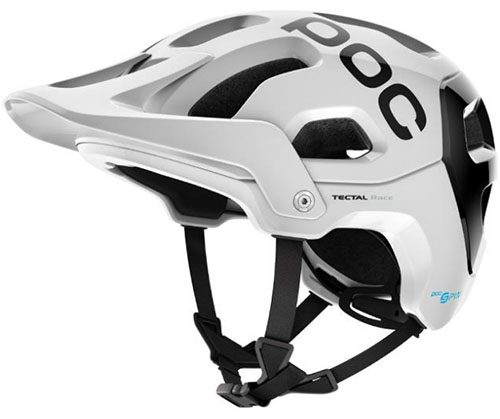 Category: Trail/XC
Weight: 12.5 oz.
Vents: 15
What we like: Innovative safety technology in a great all-around design.
What we don't: Expensive and not a ventilation leader.
Still a young brand, POC is at the forefront of helmet safety. A few years ago, they released their slip plane technology called SPIN, and have since added it to a range of models including the Octal above and popular Tectal Race here. Like MIPS, SPIN is intended to reduce rotational forces on the brain in an angled impact, but the key difference is that POC's design simply uses the pads on the helmet's interior. We love the elegant solution, which integrates seamlessly, and that alone makes the Tectal Race one of the best helmets on the market.
What pushes the Tectal down our rankings is its big price tag and relatively limited ventilation. At nearly double the cost of the Giro Source above and $50 more than the Sixer MIPS, it's among the most expensive trail options. The protective build also has a negative impact on ventilation, making the POC one of the warmer half-shell models to make our list. The good news is that the lid is otherwise well-rounded with a comfortable interior, good coverage along the back of the head, and POC's signature clean styling and attractive colorways. We just wish it were a little more affordable.
See the POC Tectal Race SPIN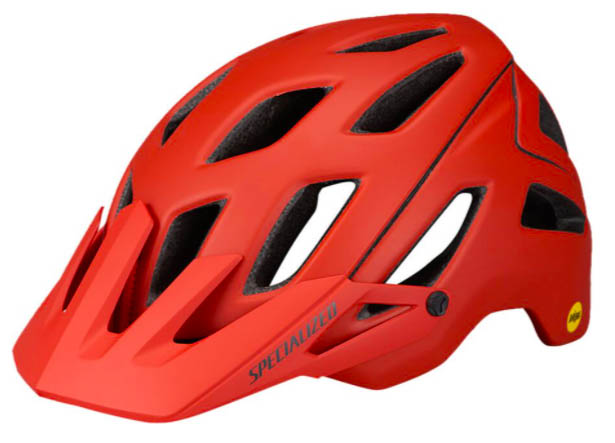 Category: Trail/XC
Weight: 12.4 oz.
Vents: 20
What we like: ANGi Bluetooth tech provides a nice bump up in safety.
What we don't: Finicky fit and unproven technology.
Specialized has made its name by producing high-quality bikes for decades, but they offer an impressive lineup of gear and apparel as well. The big story with the Ambush is their Bluetooth crash sensor, named ANGi, which provides live tracking information to emergency contacts and notifies them in the event of an accident. You do need to download and use their Specialized Ride app—each helmet purchase comes with a lifetime subscription—but we think it's a small concession for a big bump up in safety and peace of mind. Specialized may not be the first to use this technology (POC helmets featured a similar device back in 2013), but they've certainly helped to streamline it.
While the Bluetooth ANGi tech is the main draw, the Ambush is nicely designed in general. Beyond the extended coverage in the rear, lightweight feel, and 20 vents that do a great job of keeping your head cool, Specialized partnered with MIPS to create a new product (MIPS SL). In place of the large, plastic liner that inhibits airflow on other models are small pieces placed underneath each pad, which help to improve airflow and drop weight without sacrificing protection. The main hang-up with the Ambush is its cushioning, which is a bit too minimalist for our tastes (especially at the back). Finally, the shape of the interior lacks the wide and open feel of our top picks, making it harder to be confident in its comfort without trying on first. 
See the Specialized Ambush w/ ANGi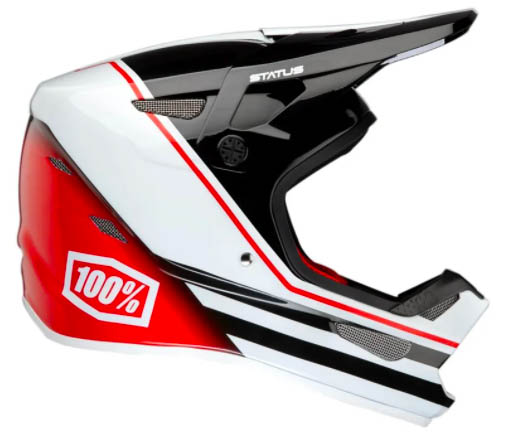 Category: Downhill
Weight: 2 lbs. 1.5 oz.
Vents: 14
What we like: Quality construction and a very good price.
What we don't: Prioritizes protection over ventilation.
100% may not be a household name like Fox, Giro, or Troy Lee Designs, but their background in the motorsports industry has given them years of helmet safety experience. For mountain biking, their Status full-face helmet immediately impressed with its reasonable weight, good looks, and affordable price. The fiberglass lid tips the scales at 2 pounds 1.5 ounces, which undercuts popular competitors like the Troy Lee Designs D3 by about 7 ounces, and its supportive padding provides excellent all-around comfort. Along with a modern look and a wide range of colorways, the 100% Status is a top choice for downhill riding.
Considering its approachable $175 price that beats most of the competition by $50 or more, it's hard to be disappointed with the Status. But its ventilation system does fall short of hybrid enduro/downhill options like the Troy Lee Designs Stage above or Fox Proframe below. For warm summer riding, even on lift-assisted days, this can lead to a sauna-like effect. That said, it's the price you pay for complete coverage and protection. If you're looking for a dedicated downhill lid, the 100% Status provides a lot of bang for your buck.
See the 100% Status
Category: Trail/XC
Weight: 12.7 oz.
Vents: 18
What we like: Another well-made trail helmet.
What we don't: A bit pricey for the feature set; sits a little high on the head.
South Africa-based Leatt has earned accolades for their full-face helmets and neck braces, and they've jumped into the trail-riding world with the DBX line. Their mid-range 3.0 is offered in either a standard half shell or convertible full-face/half shell like the Giro Switchblade above, but the design is centered around the brand's proprietary 360° Turbine Technology. Another alternative to MIPS, these 10 small and flexible turbines are distributed throughout the liner. Their aim is to both absorb impact to reduce the risk of a concussion and help with rotational energy around the brain. This does make the DBX 3.0 a little bulkier than many MIPS or SPIN helmets (it sits a bit high on the head in general, which exacerbates the bulky look), but the difference is less noticeable than the ODS design on 6D's ATB-1T below.
Aside from fit and safety, the rest of the Leatt DBX 3.0 gets high marks. You get a large and adjustable visor (we had no issues fitting a goggle underneath it), a smart ventilation system that even draws air around the brow, and all-day comfort from the cushy interior. The only remaining question for us is long-term performance, and in a crowded field, this model just doesn't have the track record of alternatives from Troy Lee Designs, Smith, and Giro. But all signs are positive, and a DBX product easily could make its way higher up this list in the future.
See the Leatt DBX 3.0 All-Mountain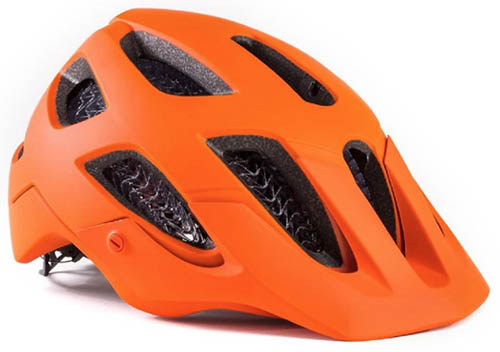 Category: Trail
Weight: 15.5 oz.
Vents: 14
What we like: Big claims of increased safety and overall head protection.
What we don't: Very expensive and quite heavy.
With a high price tag, bold claims in concussion reductions, and polarizing looks, Bontrager's Blaze WaveCel helmet certainly made a splash when it hit the market. The big story was that Bontrager was touting the lid was up to 48 times more effective at preventing concussions when compared to a standard EPS helmet (they've since adjusted that to 5x based on a follow-up study and for "certain cycling accidents"). While we personally don't have a way of testing this, here's what we do know: the Blaze is among one of the most comfortable helmets we've ever worn, the magnetic Fidlock system found on the chinstrap is very user-friendly, and the included Blendr accessory mount makes using a light or action camera a seamless experience. If those happen to be your top priorities, then we have no problem recommending the Blaze WaveCel.
To be sure, the biggest downside to the Bontrager helmet is the super-steep $300 price tag, which makes it the most expensive model on this list. Another issue is its weight: compared to the more affordable POC Tectal Race SPIN (12.5 ounces) and Smith Forefront 2 (13.4 ounces), the Blaze WaveCel comes in significantly heavier at 15.5 ounces (and the difference is noticeable on the trail). In the end, while the premium build has its merits, we recommend saving with the brand's Rally WaveCel above. At half the cost, you get similar safety tech and only compromise on some of the optional extras (like the Fidlock chinstrap and Blendr mount). 
See the Bontrager Blaze WaveCel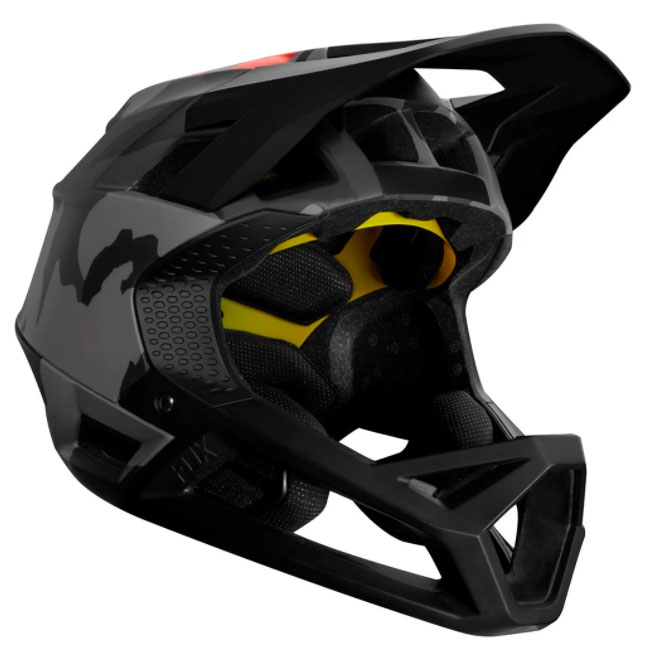 Category: Trail/downhill
Weight: 1 lb. 10.5 oz.
Vents: 24
What we like: Massive vents and full-face protection.
What we don't: Non-adjustable visor and bulky looks.
Fox released their take on the growing lightweight full-face category a couple years ago with the Proframe MIPS. It's a helmet we've started to see more and more of on the trails of the Pacific Northwest due to its appealing combination of protection, weight, and features. The massive vents dominate the styling and keep you decently cool (by full-face standards), and the MIPS liner adds a bit of security for a high-speed crash. Weight-wise, the Proframe is a couple ounces more than the TLD Stage helmet above, but easily undercuts Giro's Switchblade (although it doesn't have that design's removable chinbar).
With similar venting as the Stage and a lower weight than the Switchblade, the Proframe hits a desirable middle ground in the market. But it comes with a number of limitations, including a non-adjustable visor. Fox claims this is intended to optimize airflow, but omitting this feature is a deal breaker for some riders. The Proframe is also quite bulky-looking compared with the sleek Stage, and the bulbous shape is rather noticeable on the trail. In the end, the Proframe falls a little short as a best-of-both-worlds concept. It can't match the Switchblade's versatility, and the TLD Stage has the better all-around feature set.
See the Fox Proframe MIPS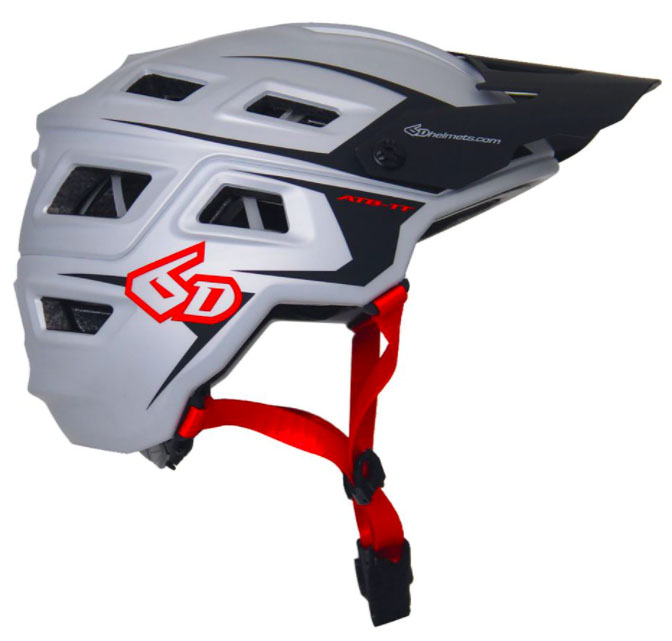 Category: Trail
Weight: 1 lb. 1.5 oz.
Vents: 15
What we like: Great coverage and innovative two-piece shell.
What we don't: Bulky and heavy.
In terms of safety tech, MIPS has the market almost fully covered—even POC is going to discontinue their SPIN lining and convert to MIPS in the coming years. But one holdout is 6D and their ODS (for "Omni-Directional Suspension") construction. In short, the design utilizes two separate foam liners that are connected by a series of rubber dampers. The goal is to work like a bike suspension and lessen the severity of an impact on your head. As with MIPS, SPIN, and Bontrager's WaveCel, there isn't an established method to quantify their claims, but ODS has a strong legion of supporters in both the mountain biking and motocross worlds.
6D's trail lid is the acronym-filled ATB-1T Evo, and it packs a number of high-end features: magnetic Fidlock buckle to ease the on/off process, wide and open shape with excellent coverage along the back of the head, and simple size adjustments. Where the 6D comes up noticeably short, however, is weight and bulk. The second foam layer and accompanying hardware make it one of the heaviest trail models on the market (it's about 4 oz. more than competitors like the Troy Lee Designs A2), and the ATB-1T is awkwardly large and sits pretty far off the head. For long trail days, this could be a deal-breaker, but the safety-first build means it should be on the radar for aggressive riders and those that occasionally hit the bike park.
See the 6D Helmets ATB-1T EVO
Mountain Bike Helmet Comparison Table
Mountain Bike Helmet Buying Advice
Helmet Categories: XC, Trail, and Downhill
Cross-Country (XC)
One of the most significant shifts in mountain bike helmet design is the amount of head coverage real estate. Only a few years ago, reducing weight was the ultimate goal for most riders (and the big focus of manufacturers), so thin and open XC designs were the rage. Still today, when you're covering a lot of ground and aren't tackling anything too sketchy, airflow and a feathery feel win out over absolute protection. That's when a helmet like the POC Octal X SPIN is an excellent choice. It's ultralight, airy, and still provides enough protection for less extreme conditions.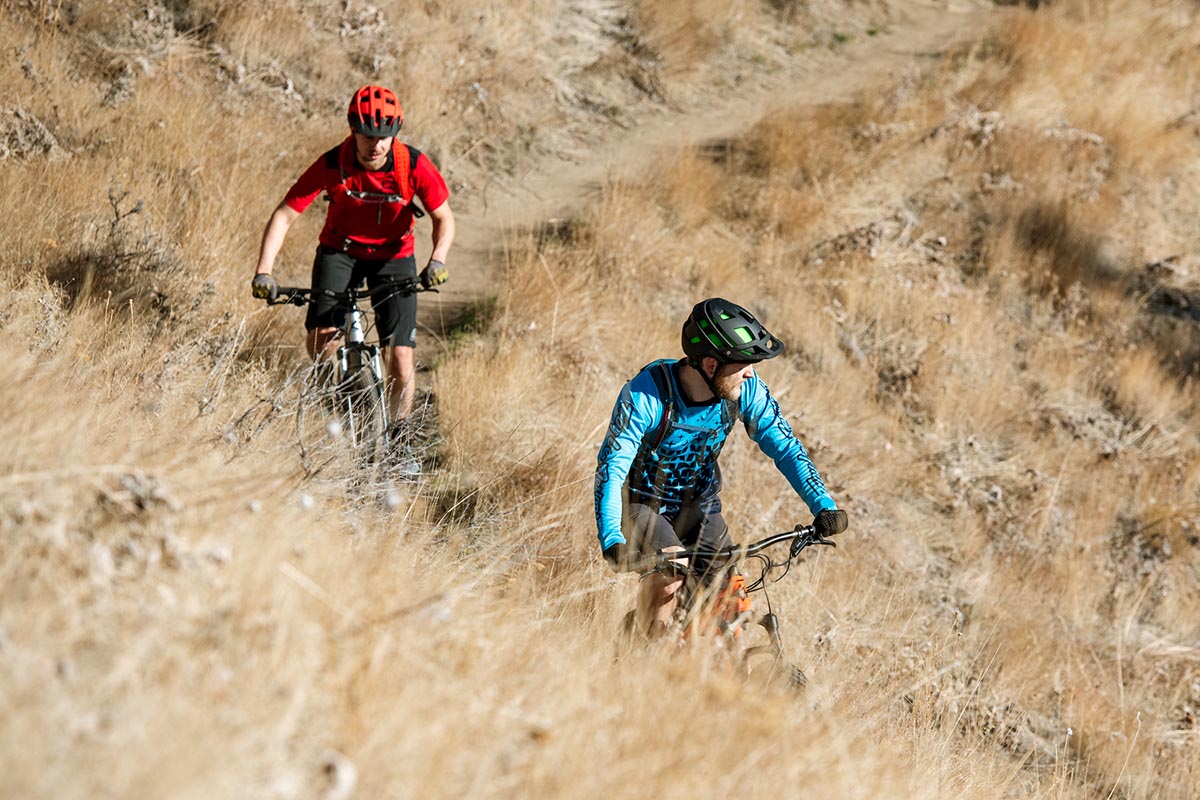 Trail
The more technical demands facing trail and enduro riders require a step up in protection from the XC category above. The ideal mix here is enough coverage around the temples, sides, and back of the head but with plenty of openings to move all that hot air on a climb. The Giro Source is a great example of reaching nearly XC helmet levels of lightness but with a noticeable bump in safety. Additional shared characteristic in the trail grouping include large visors, soft interior padding, and often price tags of $100 or more. This category is quickly growing in popularity, and most of the top designs on the market land here, including the Troy Lee Designs A2, Giro Manifest, and Bell Sixer.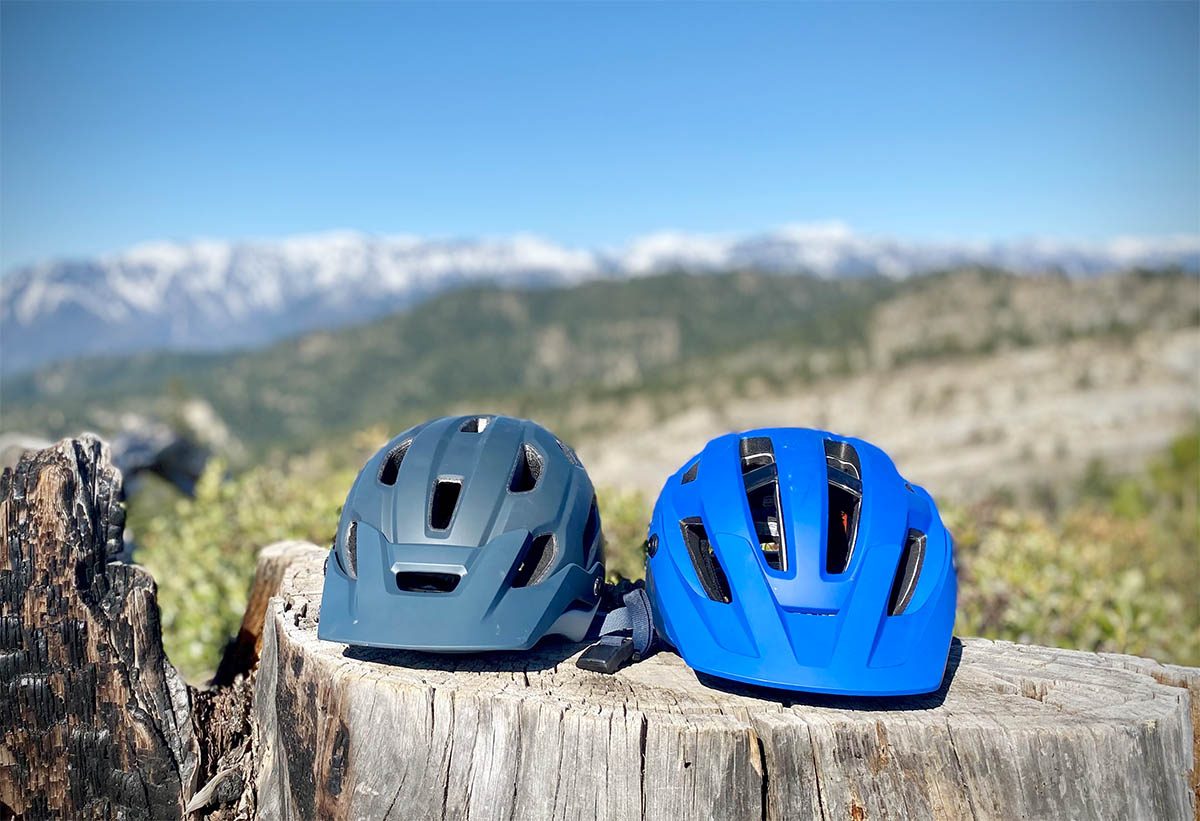 Downhill
If you'll be seeing a lot of aggressive downhill time, we highly recommend erring on the side of a lot of coverage. At the extreme end are full-face helmets, which are great for enduro, downhill, and racing but turn into an absolute sauna if you have to do pretty much any pedaling. The Giro Switchblade MIPS with its removable chin guard is a nice hybrid option, but it still falls short in terms of ventilation with most other half-shell trail helmets (the same goes for Fox's Proframe). For most riders, a full-face downhill lid won't be your primary helmet, but it can be a useful secondary option for park days and racing. Our favorites include the aforementioned Switchblade and Proframe as well as the burly 100% Status and well-balanced Troy Lee Designs Stage.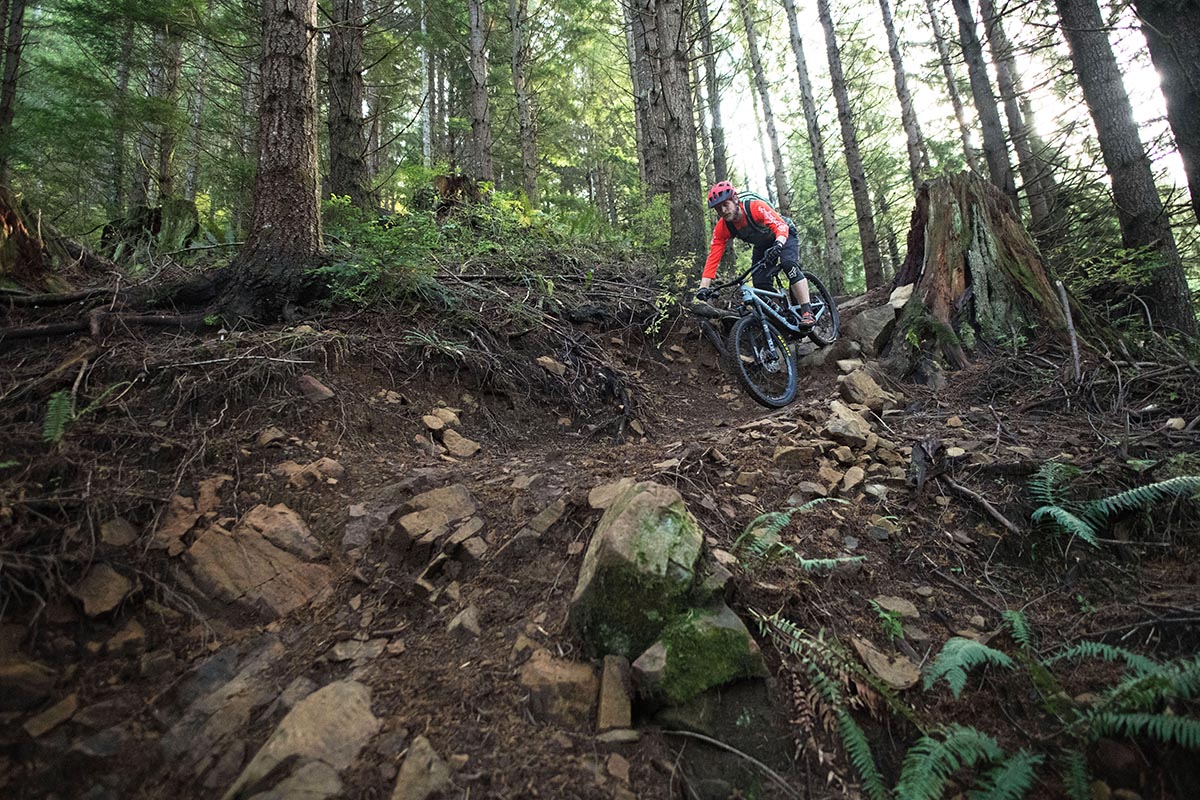 Helmet Weight
A lightweight helmet that you hardly notice on a long ride is a beautiful thing, but you do pay more for the barely-there feeling. It's unfair to simply compare helmets by weight—old XC styles will win out just about every time—but when they offer similar protection, it's a useful spec. The core trail market is full of options in the 12- to 14-ounce range, which is a great match for most riders. And on either end of the spectrum, XC helmets are typically a couple ounces lighter, while downhill and full-face models can exceed 2 pounds. Further, how heavy the helmet actually feels on your head can be another thing altogether. In the case of the very light POC Octal (9.4 oz.), both the listed weight and feel are the same, but the similarly lightweight Bontrager Solstice can feel a bit more ungainly and heavier.
 
Ventilation
Nearly all forms of mountain biking require good ventilation. Even at lift-assisted parks, you can work up a good sweat on a pump track or pedaling on the flats (not to mention holding on for dear life on the downhill). Ventilation isn't as simple as looking at the number of vents—although it's a good place to start. A quality design will work as a system, moving air from the front to back. And this system should include the padding and slip-plane liner (such as MIPS) inside the helmet, both of which have the potential to interrupt the flow. In terms of top performers, we've found the Troy Lee Designs A2 and Giro Manifest (for trail riders) and very open POC Octal SPIN (XC) are class leaders.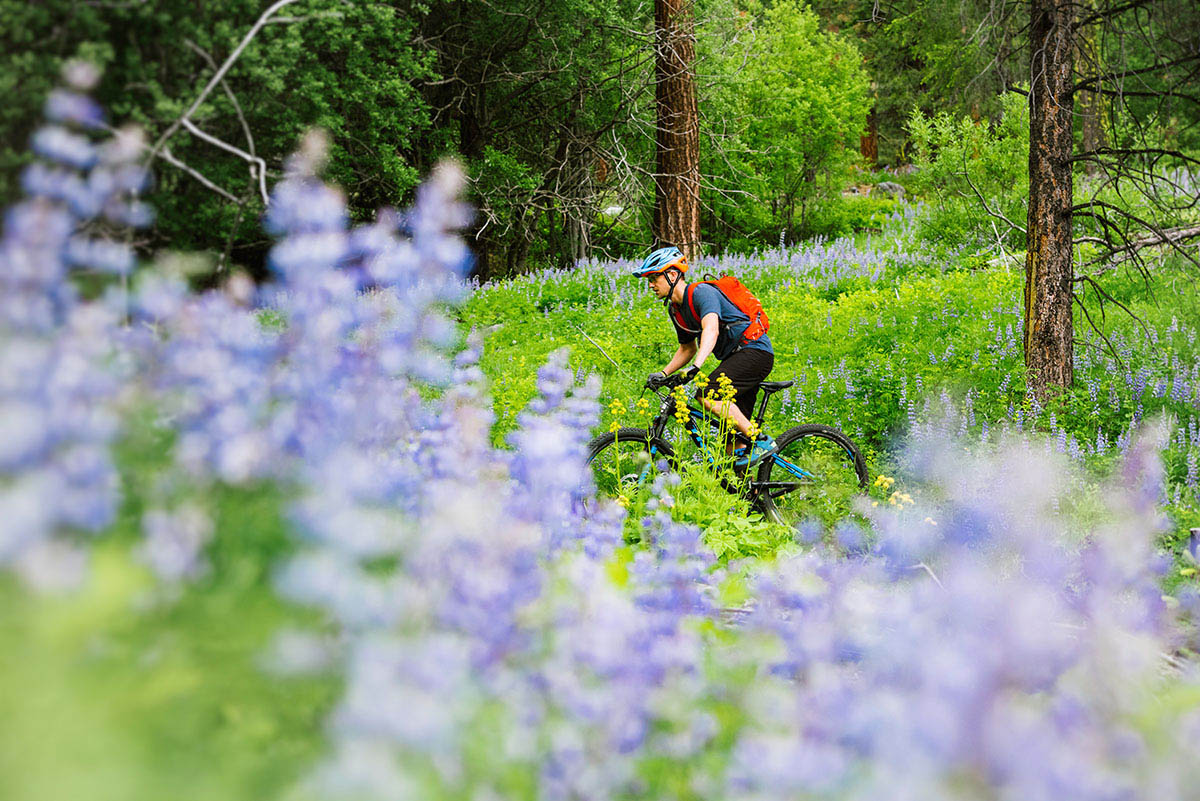 Helmet Fit
Fit is the single most important factor in a helmet purchase. When standing on your pedals and grinding up a hill, you don't want the helmet to be constrictive and give you a headache at the end of the day. You also don't want it to be so loose that it's flopping around when trail roots and rocks make for a rough ride. Fortunately, helmets and their respective fit systems have made great gains. A single turn of the adjuster at the back of most helmets progressively cinches the fit around the head. Giro's current Roc Loc and the ubiquitous Boa dial are standouts in terms of ease of use, with small but glove-friendly dials, as well as security. The goal is to click it in place and leave it alone until you wrap up your ride.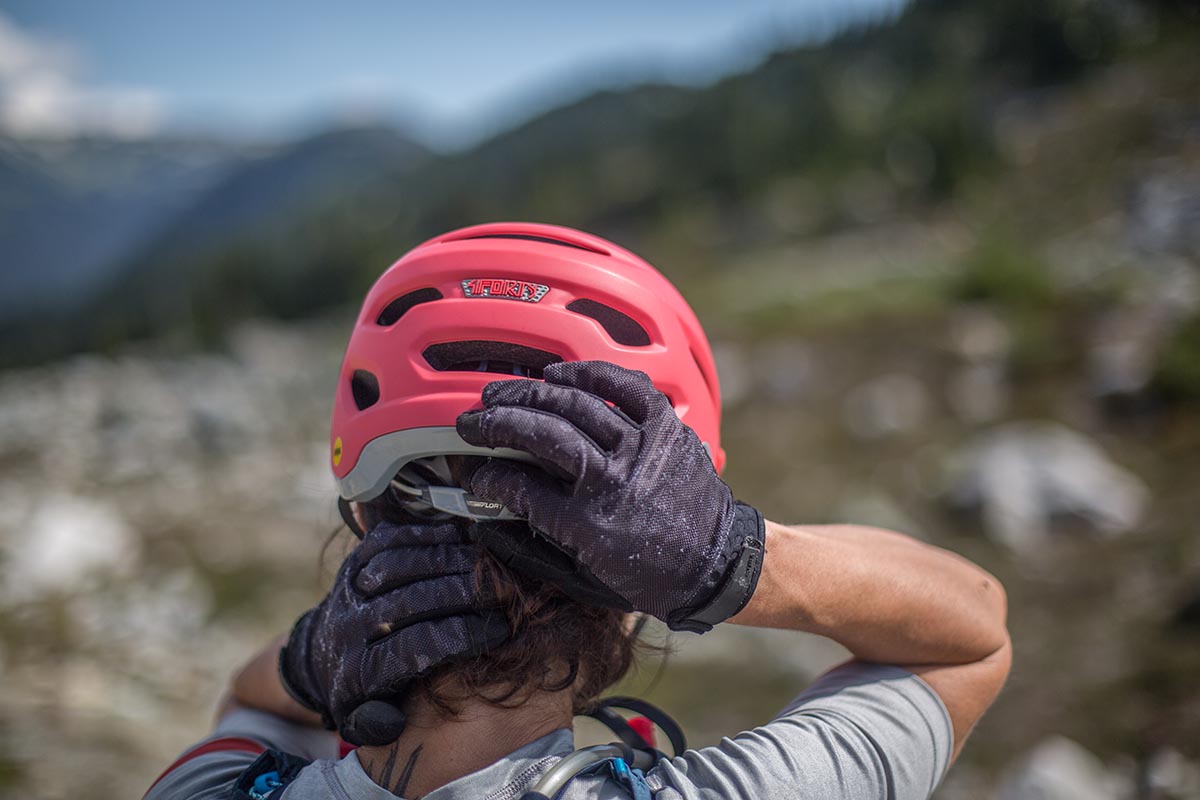 Another factor is shell size: upgraded models come in a variety of sizes to better match the overall shape of the helmet to a person's head. Base styles will be one-size-fits-all, at least theoretically, which typically means the fit is good enough for casual use but not great for those who need serious performance. Those with larger heads are okay with these one-size helmets because the shell has to be large to fit everyone. But if you'll be on your bike a lot or plan to push your limits, we recommend spending the $60+ that it costs to get a helmet that comes in multiple sizes.
 
Women's-Specific Helmets
Most of the helmets we have listed above are considered unisex and are intended for both men and women. There are, however, some women's-specific designs that are differentiated by smaller-diameter sizes, unique colorways, and sometimes a different name. Also, some women's helmets are ponytail-compatible, which is an important consideration for some riders. Giro has long been known to incorporate this feature, and we've found the design on the Montara MIPS is particularly functional. Importantly, the safety technology, pricing, and basic shape of the shell do not change with a women's-specific build. Fit is what matters most in getting a helmet, so start by measuring your head circumference and then make your decision between unisex or women's-specific after. When available, we have included a link to the women's version of the helmet in the product specifications.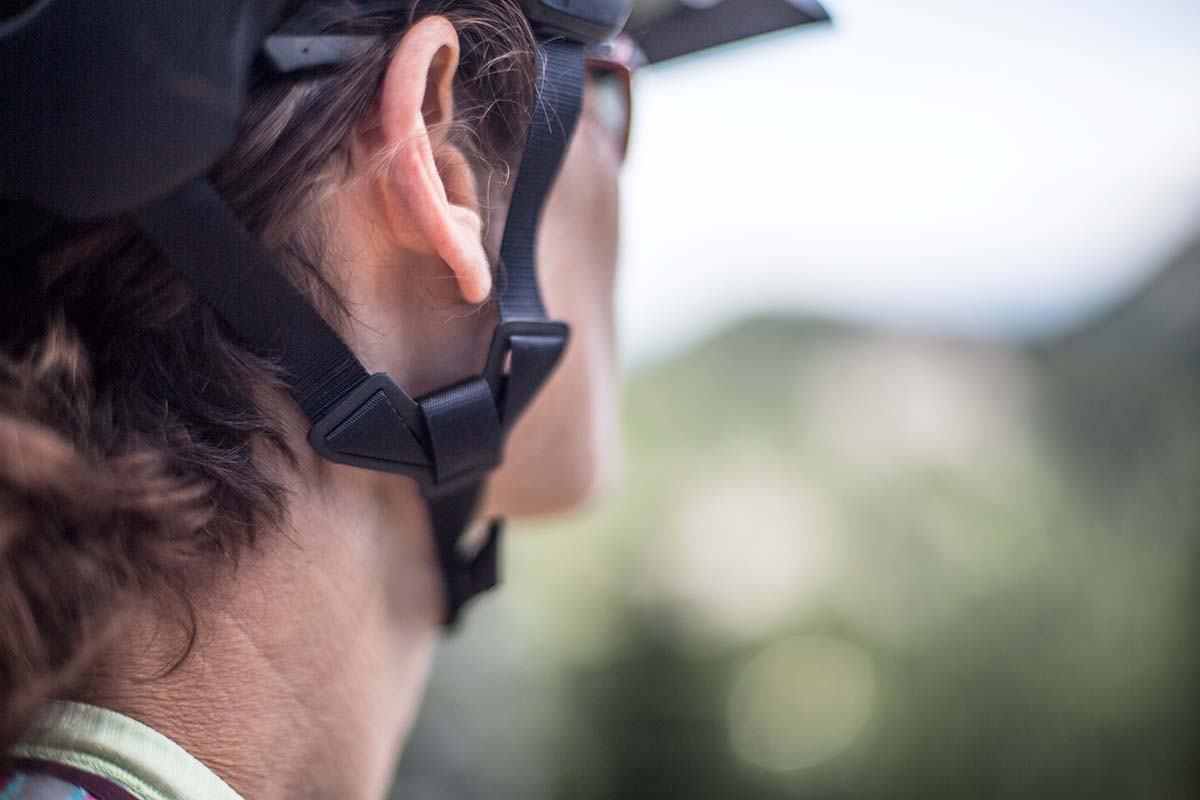 Padding and Comfort
Getting a properly sized helmet is most important, but the padding along the interior plays a big role in overall comfort. And we've found the quality of the cushioning correlates closely with price, with more expensive models even including multiple sizes of pads for a custom-tailored fit (Troy Lee Designs' Stage helmet is a perfect example of this). Cheap helmets lack the plush feel and can lead to occasional skin irritation over time. On the other hand, a soft interior like Leatt's DBX 3.0 has fantastic cushioning, allowing you to nearly forget about the helmet altogether while riding. Another benefit of premium padding is sweat absorption: more expensive pads do a better job taking in sweat while on the trail. Finally, one feature shared across price points is that you can remove your liner for occasional cleaning. While some brands claim that you can machine wash them, we recommend gently hand washing to reduce the chance of breakdown of the material.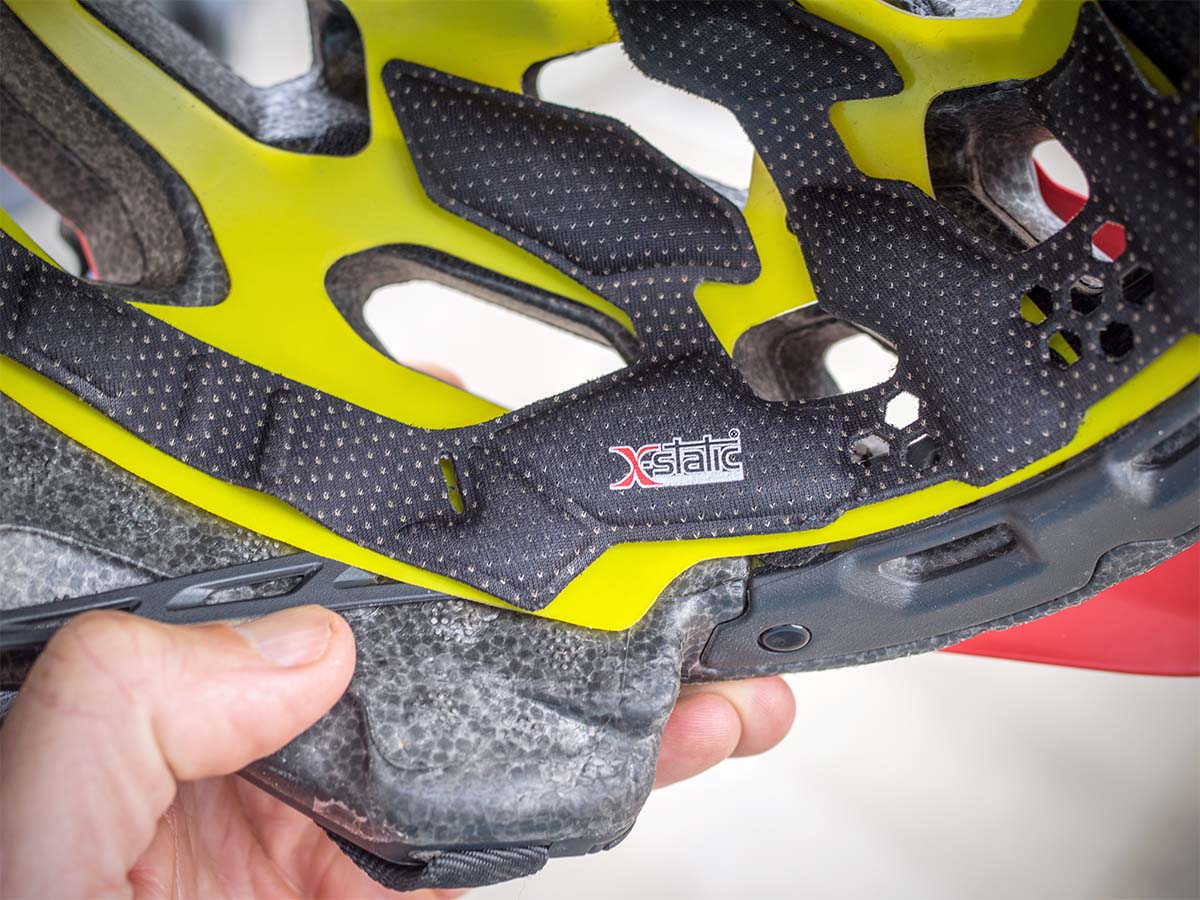 In-Mold Helmet Construction
In-mold technology is found on nearly all mountain biking helmets. It combines a thin shell (often polycarbonate) with an EPS foam liner right from the start, and they're molded together. What you get is an integrated piece that reduces weight, allows for cutouts for ventilation, and lets the helmet work as a single unit to absorb impacts (the densities of foam can vary, however, to address both low- and high-speed impacts). Some manufacturers, including POC, further beef up the in-mold helmet by inserting a grid of Armamid fibers into the core. The benefit of the synthetic material is extra durability and protection in a crash. Additionally, there are more outside-of-the-box construction techniques available, including Smith's Aerocore that incorporates a layer of honeycomb-like Koroyd along the interior (it retains an external layer of EPS foam). But the majority of the market utilizes in-mold thanks to its great combination of impact absorption and venting capabilities.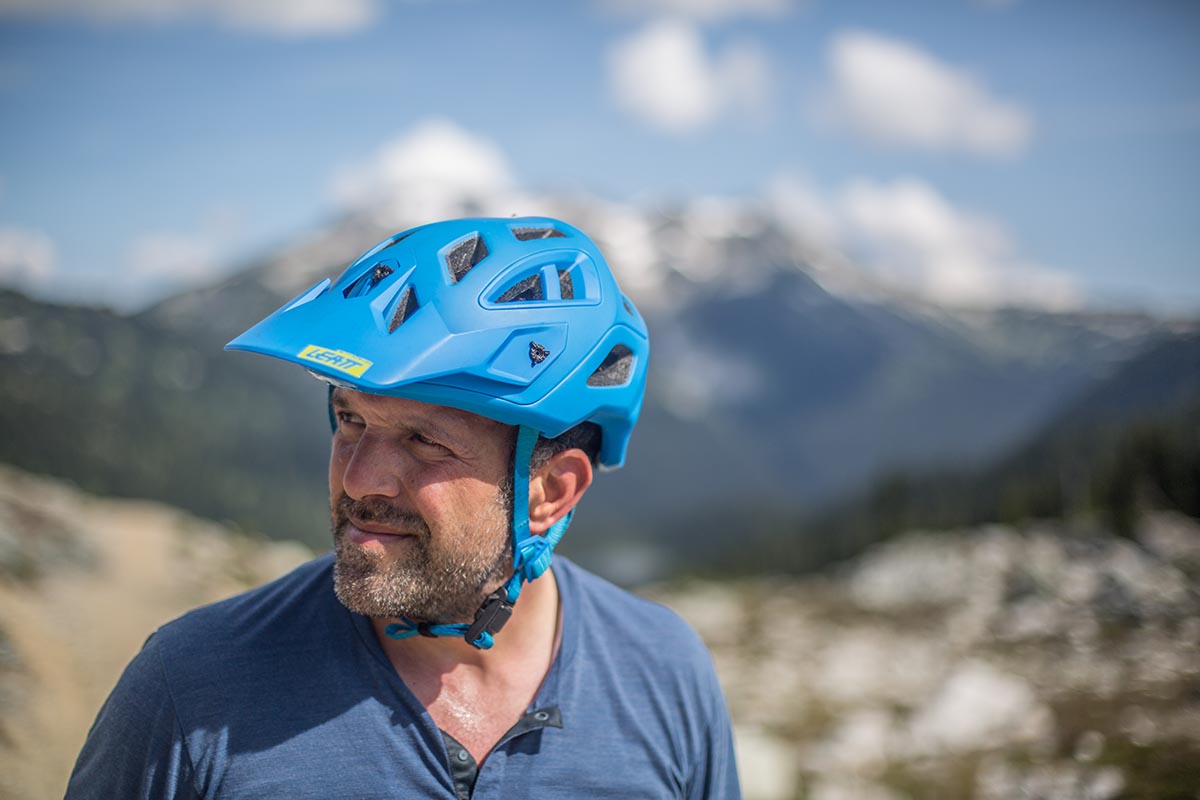 Helmet Safety: MIPS, SPIN, Turbines, and More
You'll find MIPS (Multi-directional Impact Protection System) listed on many helmet models like the Giro Source, along with a price hike of about $20 to $30. What are you getting for the extra cash? Extra noggin protection for angled hits is the claim. MIPS technology works by creating a low-friction layer between the helmet's shell and soft liner. We've removed our MIPS liners and it's impressively simple: there's one thin plastic layer that connects to the helmet with a few small tabs. When hit at an angle, the MIPS layer in theory lets the shell move just enough to help relieve the rotational forces on the head and brain.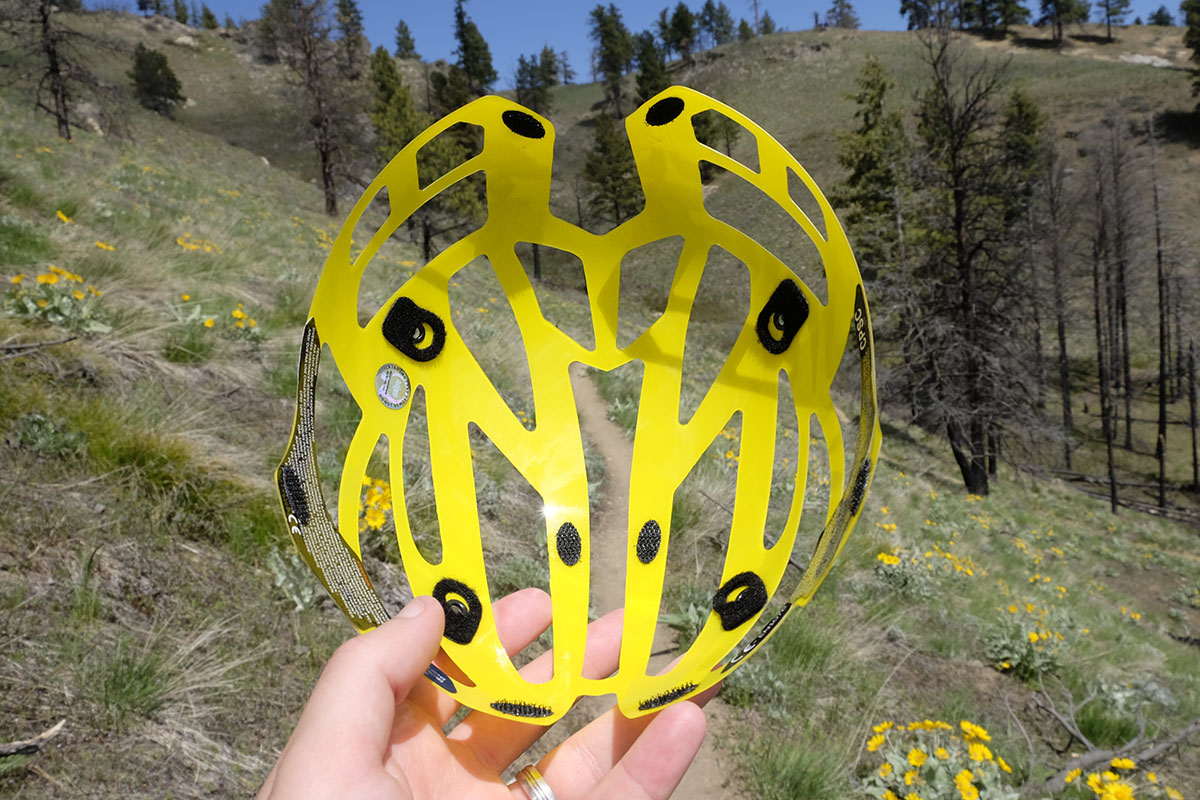 MIPS put slip-plane technology on the map, but a growing number of alternatives have emerged over the past couple years. From the list above, POC's latest Tectal Race helmet features SPIN. This system is beautifully simple, using the pads on the interior to reduce rotational forces on the brain. Leatt's DBX 3.0 has 360° Turbine Technology, which inserts circular flexible pads into the liner that both absorb energy and help with angled impacts. And most recently, Bontrager has released their WaveCel, which shakes up the market with big concussion prevention claims and a unique look. As with MIPS, it's tough to say that one design is safer than the other—or even to definitively prove that the technology is worth it. But the science is continuing to mature, and we're happy to see more companies investing in this important safety research.
As mentioned above, current safety standards just tell us whether or not a helmet passes their tests (every helmet on our list does), but they don't go beyond that. There are independent safety tests, such as Virginia Tech's Bicycle Helmet Ratings, but it's still a developing field. And the topic of MIPS is hotly contested among industry experts. How often MIPS technology is a safety benefit is difficult to quantify, and we haven't found any solid evidence-based research, but indications point to it being an extra safety measure to protect your head (how much that's worth is up to you). For more information on MIPS, we've found this article by the Bicycle Helmet Safety Institute to be an interesting resource.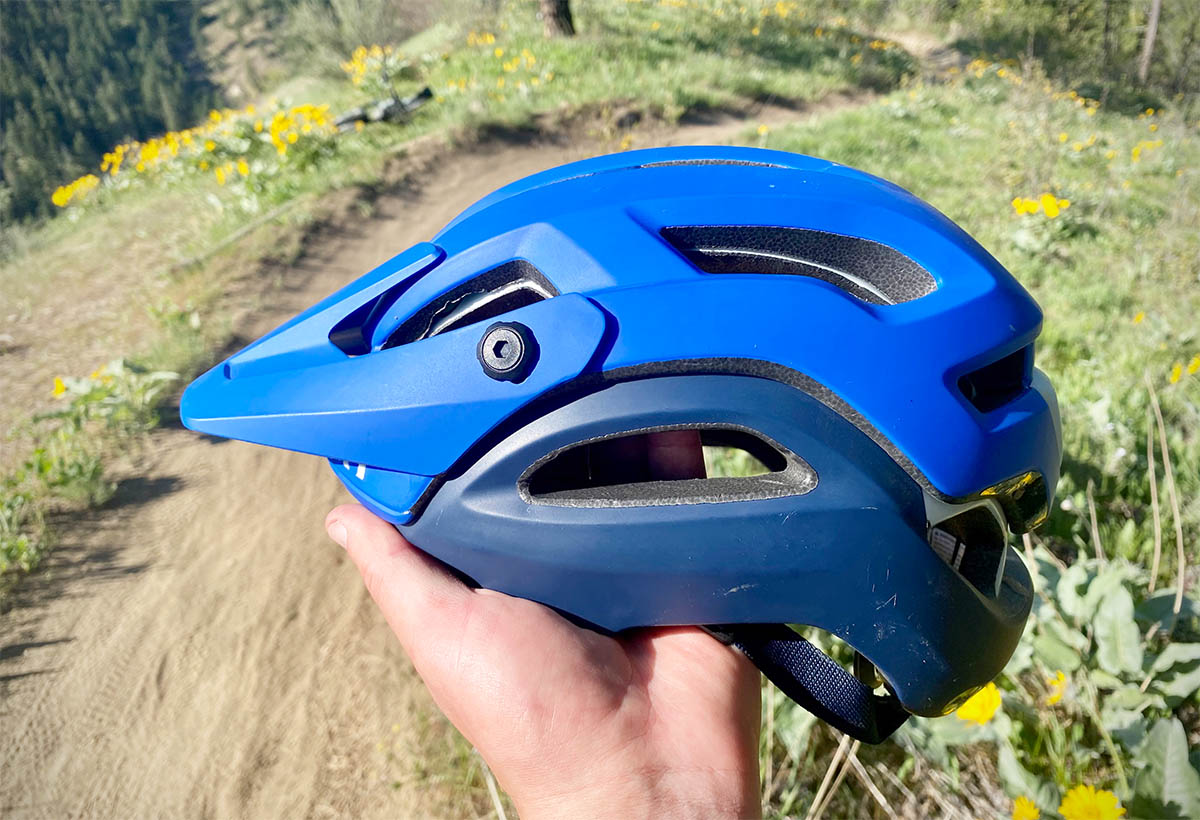 Mountain Bike Helmet Features
Visor
Mountain bike helmets are differentiated from road biking models by their greater head coverage and the addition of a visor. Regarding the latter, a large visor is great for keeping the sun out of your eyes and offers extra protection from rain and even low-hanging branches. There are differences in the shapes—Troy Lee Designs' A2 visor is wide and relatively short while that on Leatt's DBX 3.0 is narrow and long—but large moto-inspired bills that stick out nearly as far as a baseball cap are becoming the norm.
The second feature with a visor is adjustability. The benefit of this style of visor is that you can push it out of the way if you want completely unobstructed views of the trail or need to store your goggles on the helmet when not in use. This is a common feature on trail helmets, but less so on XC-focused designs (including the Smith Convoy). It's important to note that not all helmets with an adjustable visor have the same amount of adjustability—Troy Lee Designs' A2 slides up and down but doesn't leave enough space for goggles. Whether or not this is an important feature is a personal decision, but the differences are worth considering when choosing your next helmet.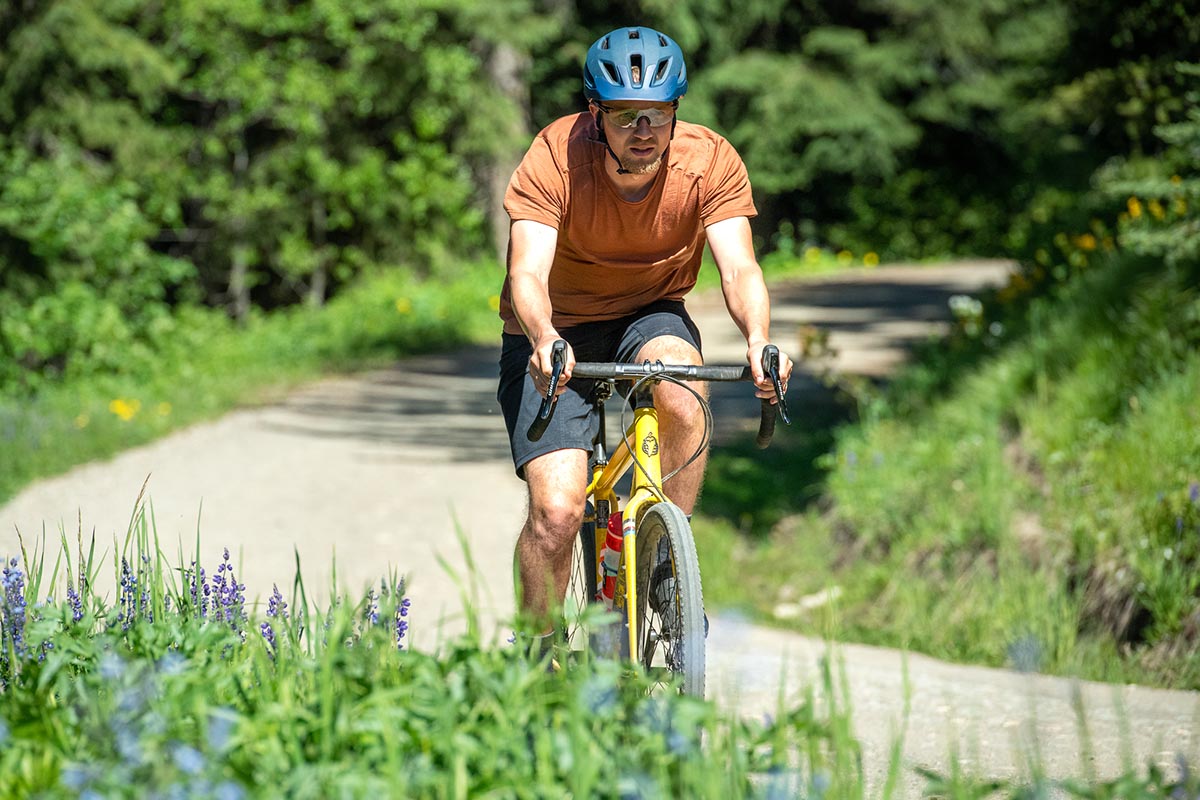 Goggle Compatibility
Standard glasses are the most common type of eyewear for mountain bikers, but the increased coverage and protection you get with goggles are popular with enduro and downhill racers. To start, you don't necessarily need a bunch of features to ride with goggles—if they fit under the bill of the helmet and the shape of the shell does a good job keeping the straps in place, you can wear them just fine. Troy Lee Designs' A2 is a great example of a helmet that isn't technically optimized for goggles but still works well.
There are a couple helmet features, however, that can make it easier to accommodate goggles. To start, a highly adjustable visor makes it simple to place your goggles at forehead height when not in use (such as on a long climb). Moreover, some trail and downhill helmets include a retainer strap or system at the rear of the helmet to keep the goggle straps in place. Note: it's best not to assume a trail helmet will have these features as some popular models like the Troy Lee Designs A2 doesn't have a very adjustable visor. One helmet that puts it all together is Bell's Sixer MIPS: the visor can be quickly moved out of the way and there is a rubberized piece on the back of the helmet to keep the straps in place.

Accessory Mounts
Mountain biking is closely linked to the rise in the action camera market, and a helmet mount offers a fun, first-person perspective. Most action cameras like the various GoPro models include a sticky mount that can attach directly onto helmets with a smooth space at the front. Heavily ventilated helmets may need a little modification to work, but GoPro, Sony, and others sell strap systems that slot through the vent openings to hold everything in place.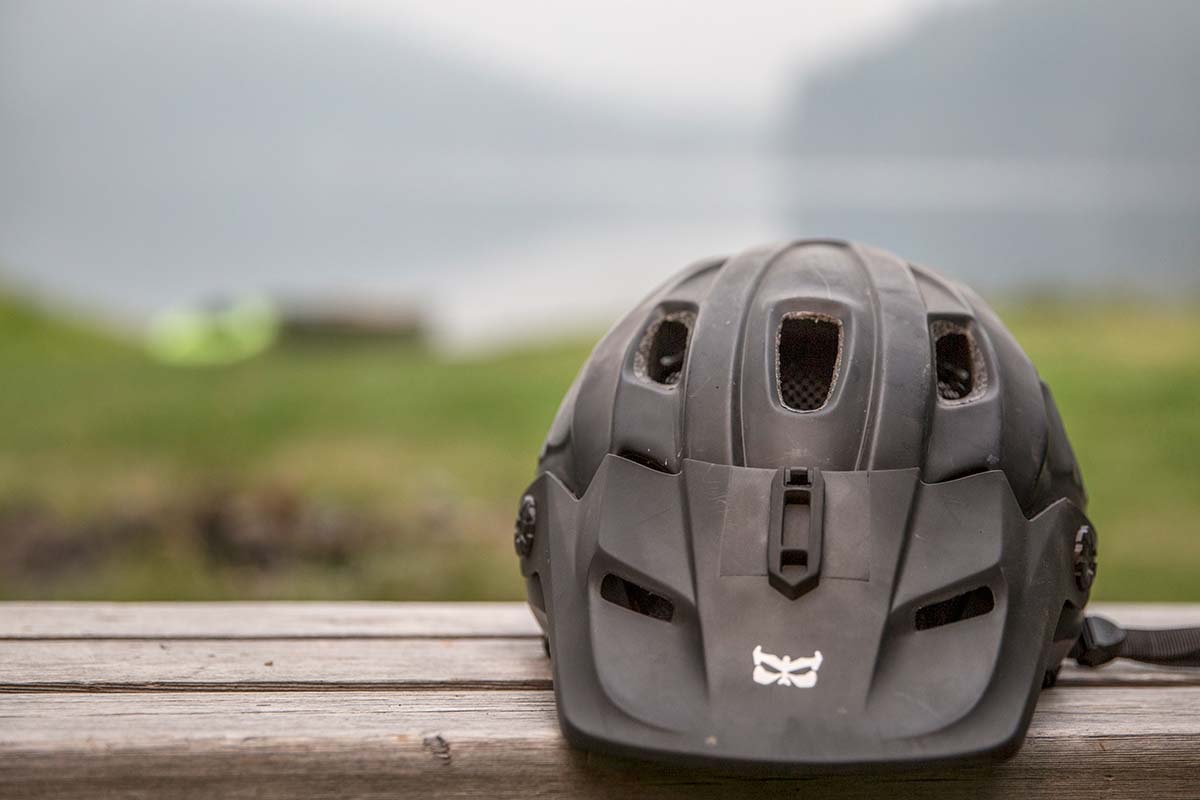 Taking this a step further, some high-end helmets have a built-in action camera mount. This takes some of the guesswork out of getting the ideal camera angle and saves you from having to use one of your sticky mounts. The system on Bell's Sixer MIPS is stable and designed to break away in a crash. We certainly wouldn't make our helmet choice just based on this feature—keep in mind that you can attach an action cam to your handlebars or use a chest mount—but they are an unobtrusive and smart solution for those willing to pay a little extra.
Similar to the above considerations involving cameras, mounting a light to your helmet is a great way to extend your riding season. For these purposes, we prefer models with built-in mounts, like the Bell Sixer MIPS or the Blendr set-up on Bontrager's Blaze. In general, we've found they provide a more secure fit and are the easiest to attach. Many helmets over $150 include an adapter or integrated mount, but there are exceptions (including Smith's Forefront 2, which requires purchasing a $15 mount kit). Another way to attach a bike light is feeding the straps that come with most lighting systems through the vents of your helmet. Depending on the size and location of the openings, this can be a fairly tedious but still effective way of securing a light. 
 
When to Replace Your Helmet
The decision to replace an old helmet isn't always a clear one—and there are still debates to this day about when's the perfect time. To start, helmets do have a shelf life, so it's never a good idea to grab your old lid that's been collecting dust for the past decade without at least taking a good look at it. It's a good idea to start with the following: can you see any cracks in the foam? Are there any signs of deterioration on the outer shell or inner lining? If anything looks questionable, we recommend erring on the side of caution and replacing it.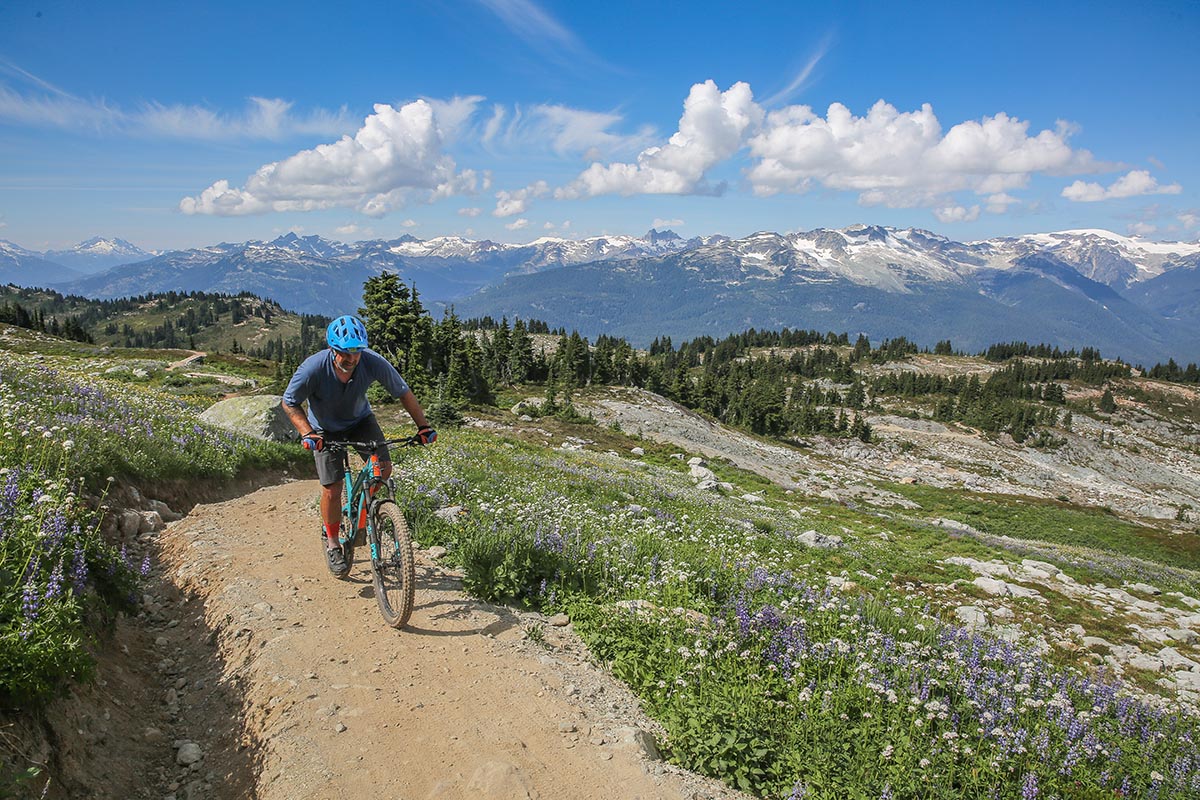 For the nitty-gritty answer, there have been a number of tests done to pin down the ideal lifespan. And while there isn't a hard-and-fast rule, most manufacturers stick to 3 to 8 years. If you ride a lot, there's a good chance you'll be replacing it towards the earlier end. For the helmet that's been sitting for a while, considering the changes in fit and safety technology, buying a new helmet will surely be an upgrade even if your old one still is technically functional.
The rule for replacing a helmet after a crash is far simpler. If you crashed and the impact is significant, the foam inside will be compromised, which diminishes its performance for future crashes. So replace it. In all seriousness, it's not worth making excuses to avoid replacing a helmet. If it's old or has been knocked around, get a new one.
Back to Our Top Bike Helmet Picks  Back to Our Bike Helmet Comparison Table
Learn More About Outdoor Gear