With a wide variety of insulated jackets on the market, the classic fleece still is the most comfortable and affordable. These polyester jackets have been providing cozy warmth for years from campsites and ski resorts to the streets and restaurants of mountain towns. Fleeces run the gamut from casual to breathable performance pieces for serious adventures. Below are our picks for the best fleece jackets of 2023, with options from leading outdoor brands across a range of price points. For more background, see our fleece jacket comparison table and buying advice below the picks. Of note: This article includes picks for both men and women, but we've also written a dedicated round-up on the best women's fleece jackets.
 
---
Our Team's Fleece Jacket Picks
---

Best Overall Fleece Jacket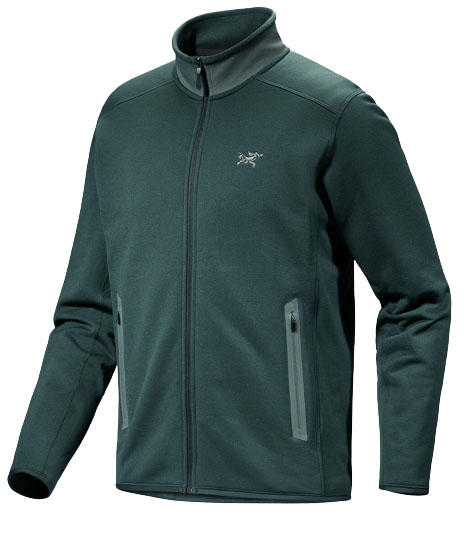 Category: Performance/casual
Weight: 13.8 oz.
Fleece weight: Light/midweight
What we like: Comfortable, highly mobile, breathable, and versatile for both casual and performance use.
What we don't: No chest pocket; slightly technical appearance.
For the top all-around fleece on the market, we give the nod to the sleek Kyanite from Arc'teryx. With equal appeal as a midlayer or standalone jacket, the Kyanite is a fantastically versatile piece that places a premium on performance. The Power Stretch Pro fleece is one of our all-time favorites in terms of comfort: It offers an impressive amount of stretch, has a smooth face (great for layering) and brushed liner that's soft against the skin, and maintains a high-end fit and finish throughout its lifespan. It excels at temperature regulation, too, with enough warmth for spring and fall weather and the ability to effectively dump heat during high-output activity. All told, the Kyanite fits the bill as a premium fleece for everything from daily use to resort skiing, shoulder-season backpacking, and more.
What are the downsides of the Kyanite? While undeniably versatile, we'd recommend looking farther down the list if you have a particular end use in mind—a more sweater-like fleece (like Patagonia's popular Better Sweater) will be a better match for professional settings, while skiers and climbers might want a more weather-resistant or lightweight option. Pilling has also been an issue with the Kyanite, although you'd be hard-pressed to find a fleece that doesn't show wear over time. And finally, the jacket doesn't include a chest pocket, which can be a handy spot to store a phone or other valuables while skiing. But minor nitpicks aside, you won't find a better quiver-of-one fleece, giving the Kyanite our top billing for 2023.
See the Men's Arc'teryx Kyanite  See the Women's Arc'teryx Kyanite
Best Performance Fleece Jacket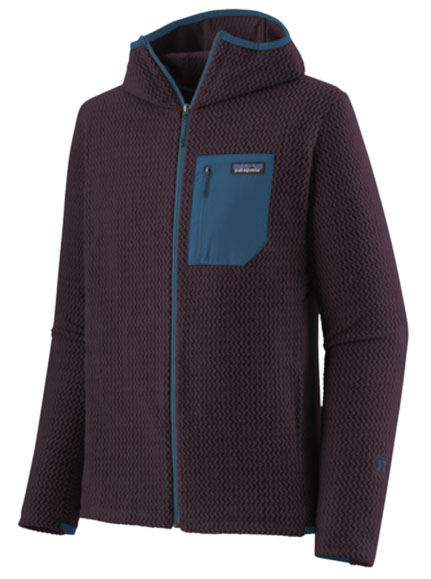 Category: Performance
Weight: 12.9 oz.
Fleece weight: Lightweight
What we like: Combination of warmth and breathability makes this an excellent midlayer for performance use.
What we don't: Fabric loses its loft and softness over time.
Patagonia's Regulator (R) collection fleeces are high on performance, from the standard R1 pullover (our favorite climbing midlayer for years) to the TechFace series below. The R1 Air is a relatively recent addition that's lighter and more breathable than the original, thanks to a new material that uses hollow-fiber yarns and zig-zag patterning to trap heat when you want it and dump it when you don't. We've worn the R1 Air for everything from shoulder-season backpacking to backcountry skiing and winter climbing and have found its combination of warmth and breathability to be superior to most fleeces. And with three streamlined zip pockets, off-shoulder seams for comfort while carrying a pack, and a low-profile hood, it's fully functional as a standalone piece, too.
Our biggest gripe with the R1 Air is that its fabric deteriorates over time—it starts out super soft (so cozy that we wore it every day for a month) but packs out and gets slightly abrasive after a bit of wear and washing. What's more, not everyone will love the look and feel of the raised zig-zags—for comparison, the Kyanite above has a much sleeker exterior that fits the part for standalone use and layers smoothly under a shell. But it's hard to beat the R1 Air's lightweight and breathable construction for activities like skiing, climbing, and backpacking, and our hoody has held up decently well over two years of solid use despite the fabric changes. The design has become so popular, in fact, that Patagonia offers the R1 Air in zip-neck, crew, and henley versions, too.
See the Men's Patagonia R1 Air Hoody  See the Women's Patagonia R1 Air Hoody
Best Budget Fleece Jacket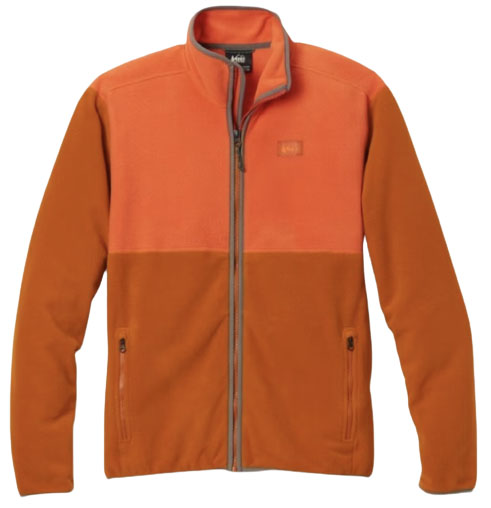 Category: Casual
Weight: 12.7 oz.
Fleece weight: Midweight
What we like: Comfortable, inexpensive, and fun.
What we don't: Sightly inferior build quality and fit.
Let's face it: many people want a fleece as a basic layering piece to stay cozy around the cabin or out by the campfire, and they don't want to spend $200 to get it. If this sounds like you, the REI Trailmade Fleece is a quality option that truly outperforms its budget-friendly $60 price tag. It's decently lightweight and relatively easy to squeeze into a pack on a day hike or bike ride, yet built well enough to last through a few seasons of wear. Tack on zippered handwarmer pockets and availability in a range of sizes (including men's tall sizes and eight options for women), and there's a lot to like about REI's relatively new Trailmade. 
What do you sacrifice by going with a fleece like the REI Trailmade? The jacket is built reasonably well but its recycled polyester is a notable step down in quality compared to more premium options from Patagonia and Arc'teryx. In addition, overall fit and finish fall short, and the feature set is fairly basic (you don't get a chest pocket or thumb loops). But the Trailmade nevertheless is an excellent value and can be worn for everything from outdoor use to travel, which is why it's ranked here. And we gotta hand it to REI: It's decently stylish for a budget piece (especially compared to the Columbia below), with fun colorways, thoughtful accent stitching, and contrasting elastic at the cuffs and waist.
See the Men's REI Co-op Trailmade  See the Women's REI Co-op Trailmade
Best Weather-Resistant Fleece Jacket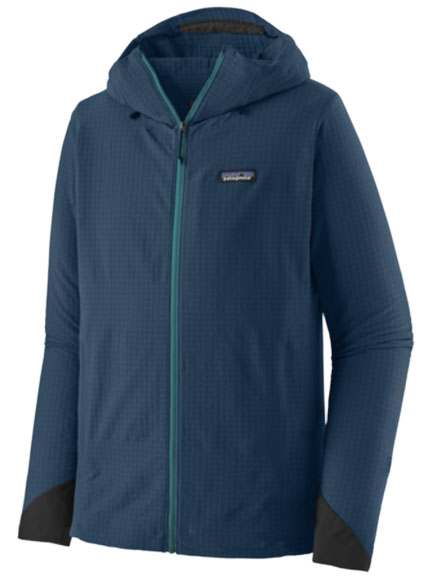 Category: Performance
Weight: 13.8 oz.
Fleece weight: Lightweight
What we like: Cozy yet tough and weather-protective.
What we don't: Design is on the technical side for daily wear.
A softshell or synthetic-insulated jacket is a common choice for aerobic activities in cool weather, but performance fleeces are on the rise and some can give those jackets a run for their money. In this category, the Patagonia R1 TechFace Hoody is a phenomenal piece of gear and performs as an excellent outer layer for backcountry skiing, ice climbing, and other winter pursuits. Like most fleeces, the R1 TechFace breathes well, but it goes the extra mile with a tough and weather-resistant face fabric and 3-way adjustable hood with a laminated brim for standalone use in inclement conditions. When a hardshell is too much jacket but you still need some amount of protection, the R1 TechFace is a solid bet. 
With a soft, pliable fleece liner, the R1 TechFace Hoody offers great next-to-skin comfort, especially relative to the slippery nylon of many synthetic insulated jackets. But compared to other fleeces here it has a noticeably technical feel, and you give up some breathability with the durable shell. Depending on your style, the R1 TechFace might be a bit overkill for casual use—but for the right user, it's the complete package. Patagonia no longer makes the R1 TechFace for women, but their R1 CrossStrata features a very similar material mix and design, alongside a variety of fun two-tone colorways. And for a bump in warmth, check out the R2 TechFace, which comes in jacket and hoody versions for both men and women... Read in-depth review
See the Men's Patagonia R1 TechFace  See the Women's Patagonia R1 CrossStrata
Best Heavyweight Fleece Jacket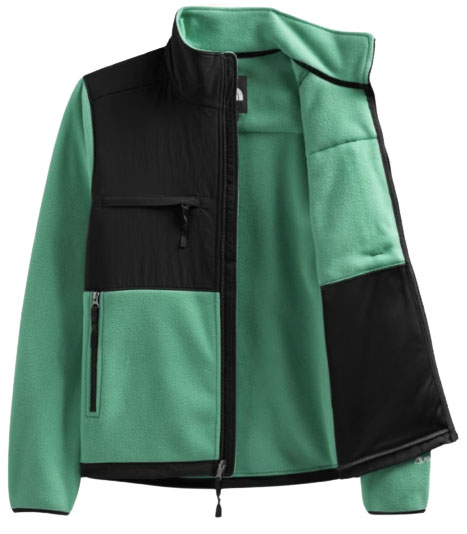 Category: Casual
Weight: 1 lb. 0.9 oz.
Fleece weight: Heavyweight
What we like: Warm and tough.
What we don't: Fit is a little baggy for our taste.
The Denali line from The North Face has been on the market for years and is right up there with the Patagonia Synchilla in terms of its iconic status (it's particularly popular for urban use in cold climates like the East Coast of the United States). The most recent version, which features a slightly thicker fabric than previous models, provides the most warmth and wind protection of any jacket on this list. The fleece is thick and made to last, and the shoulders, hood, and chest feature nylon panels that resist light wind and moisture. For moderate fall and early winter days, the Denali can be your only outer layer.
Keep in mind The North Face Denali is one of the heaviest and bulkiest fleeces on this list. Additionally, the jacket is lacking in any real compression abilities, meaning that it is not easily stowed away in a pack. But most people don't buy the Denali for the backcountry, and it makes a really nice fleece for walking around the city, blocking wind, and providing warmth where others on this list will not. If you're looking for a substantial and tough fleece jacket from a respected brand, this is it. 
See the Men's The North Face Denali  See the Women's The North Face Denali
Best Pullover Fleece Jacket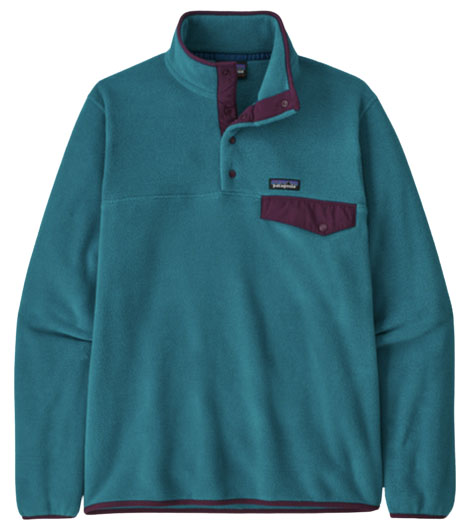 Category: Casual
Weight: 14.3 oz.
​Fleece weight: Midweight
What we like: Very cozy and warm.
What we don't: No features: this is fleece and nothing more.
It's hard to move very far down this list without including the Synchilla Snap-T. This pullover is pretty much synonymous with the word "fleece," and despite its simple appearance, can be a pretty versatile piece of gear. The Synchilla is easy to throw on before heading out for a walk or bike ride, and perfect for wearing out on the town after a day of skiing. It's definitely not performance-oriented in any way, but the masses have had no problem embracing its casual slant.
Don't expect a whole lot of features on the Patagonia Synchilla. The lack of pockets is one potential issue—aside from the famous snap chest pocket, of course—and you don't get panels of fancy stretch fabrics or adjustments like some of the technical pieces. But it's the fleece that matters here: soft, two-sided, extremely cozy fleece. Of the two available Synchilla versions, we like the lightweight best, which is about 4 ounces less than the regular but surprisingly thick and warm. And keep in mind that the Synchilla Snap-T has a fairly roomy fit, much more so than the Better Sweater below. For a few more stylish options from Patagonia, it's worth checking out their Retro Pile and Classic Retro-X.
See the Men's Patagonia Synchilla Snap-T  See the Women's Patagonia Synchilla Snap-T
Best of the Rest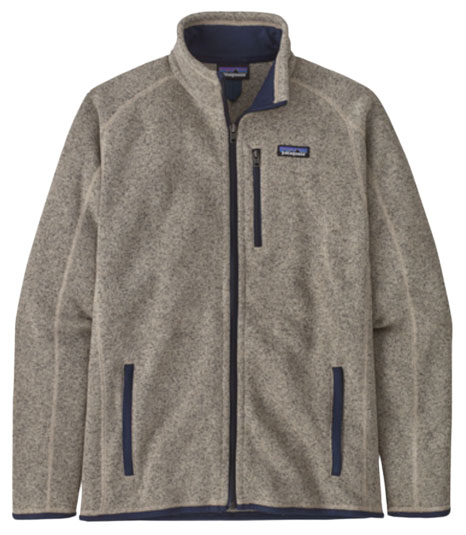 Category: Casual
Weight: 1 lb. 6.5 oz.
Fleece weight: Midweight
What we like: Classy looks and versatile performance.
What we don't: Thick and bulky; can feel a bit restrictive.
Patagonia has more fleece options than just about any other gear company, ranging from the casual Synchilla Snap-T to the performance Regulator (R) series. Sitting conveniently in the middle is the popular Better Sweater, which can be used for anything from daily wear to light outdoor activities (it's a great midlayer for resort skiing). Most of the colorways feature a muted heathered-knit aesthetic— earning the "sweater" in the name—but the Patagonia tacks on a lot of function compared to your standard cardigan, including interior and exterior pockets and an easy-to-launder polyester build that's 100% recycled. If you're in the market for an everyday fleece and the Kyanite above is a bit too techy for your liking, the Better Sweater is a trusted and good-looking alternative.
Style is largely subjective, but in our opinion, the Better Sweater looks a lot more at home during the commute to the office than post-hike at the brewery (if it says anything, our 30s-something tester didn't love it, but it's now her mom's favorite fleece). The thick fabric can also feel a touch restrictive, and it doesn't help that the jacket runs a little small (you might need to size up). But if you want the performance of a fleece without looking like you just stepped out of the campground, it doesn't get much better than the Better Sweater. And for the full suite of options, Patagonia also offers the design in hoody, 1/4-zip, and vest varieties... Read in-depth review
See the Men's Patagonia Better Sweater  See the Women's Patagonia Better Sweater
Category: Casual
Fleece weight: Light/midweight
What we like: Retro styling and unique colorways.
What we don't: Not warm enough for most winter uses.
Performance fleeces can offer serious midlayer warmth for skiing and hiking, but sometimes you just want to throw on a casual fleece and feel cozy. In this category, we really like the Teca Fleece Full-Zip, which combines Polartec Micro Fleece with Cotopaxi's hallmark retro style. Cotopaxi uses all repurposed materials for the Teca, meaning that every production run results in different colorways, and each design is a limited edition. To round out the build, two handwarmer pockets give you functional storage for daily tasks or outdoor pursuits, and elastic binding at the cuffs and hem provide a nice seal against the elements.
At just $110, the Cotopaxi is a nice alternative to the Patagonia Lightweight Synchilla Snap-T above for those looking for a fun fleece for around-town use (the Teca also comes in a hooded full-zip and both hooded and non-hooded pullover versions). You can certainly wear it while hiking, skiing, climbing, biking—or whatever your adventure of choice—but the Cotopaxi isn't as warm as many of the alternatives here, and it doesn't stuff down super small, either. In terms of build quality, Cotopaxi doesn't quite measure up to brands like Arc'teryx and Patagonia, but their products get the job done for casual use, and we love that they're made with repurposed materials. Finally, the Salt Lake City-based company recently announced that they're 100% carbon neutral, which is big news that sets a high standard for the outdoor industry.
See the Men's Cotopaxi Teca Fleece  See the Women's Cotopaxi Teca Fleece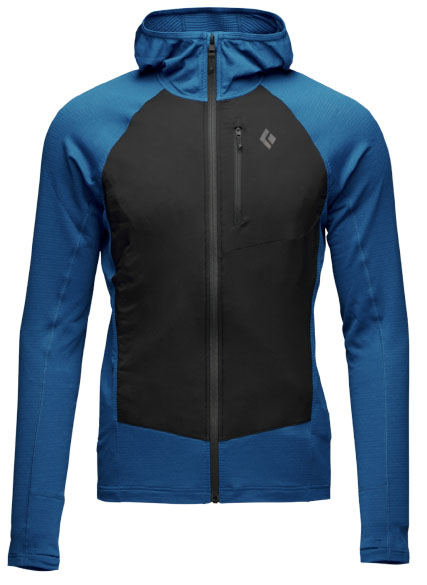 Category: Performance
Weight: 7.2 oz.
​Fleece weight: Lightweight
What we like: A snug-fitting and breathable performance fleece with an extra dose of warmth and wind protection at the chest.
What we don't: Thin back material is vulnerable to wind.
Black Diamond's popular Coefficient is a warm yet snug-fitting layer for performance use, akin to the Patagonia R1 mentioned above. But the real treat in the Coefficient lineup is the LT Hybrid, which thins out the Polartec Power Grid fleece fabric significantly (119 gsm vs. the standard Coefficient's 180) and adds a sleek layer of Primaloft Silver synthetic fill at the chest (covered in stretch-woven nylon). The result is the feel and warmth of a sleek fleece in the back and arms, with an added boost of wind resistance and insulation at the front. Tack on a fairly slim fit, under-the-helmet hood, and zippered chest pocket, and the Coefficient LT Hybrid has become our jacket of choice for hiking and rock climbing on mild shoulder-season days.
Hybrid performance fleeces are becoming standard in our personal repertoires (the Patagonia Nano Air Light Hybrid and Arc'teryx Delta Hybrid Hoody are other favorites)—they're breathable yet weather resistant (at the front), and cozier than a straight synthetic jacket. They also generally have a snugger fit than standard fleeces, which is a boon for performance use and great for layering as well. It is worth noting that the Coefficient LT Hybrid's thin back material can be very vulnerable to wind (especially if you're not wearing a backpack), but it's perfect for dumping heat during moderate- to high-output activity. If you're looking for something a little different than the average fleece, Black Diamond's hybrid is a great place to start.
See the Men's BD Coefficient LT Hybrid  See the Women's BD Coefficient LT Hybrid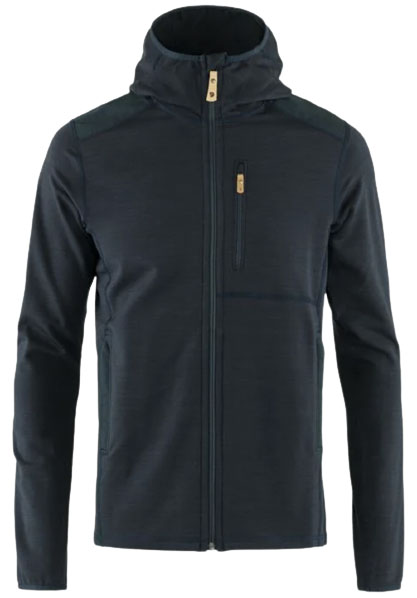 Category: Casual/performance
Weight: 1 lb. 2 oz.
Fleece weight: Midweight
What we like: Quality materials and good looks.
What we don't: Pricey and a little overbuilt for everyday wear.
If you've worn Fjallraven apparel in the past, you may be drooling over the Keb Fleece. In typical fashion, this jacket has a high-end look and feel that few brands are able to emulate. For the build, Fjallraven uses a unique polyester and wool blend that does a nice job at keeping you warm while still retaining a decent amount of moisture-wicking ability and stretch. We also like the simple but effective storage layout, including two nicely sized hand pockets and one smaller chest pocket. The end result is a very comfortable and functional fleece that also looks the part.
Like many Fjallraven products, the Keb Fleece toes the line between casual and performance use. The fleece blend, reinforced G-1000 shoulder panels (it wouldn't be Fjallraven without some G-1000 in the mix), and aggressive hood are built for the outdoors, but the clean design and attractive colorways wear decently well in the city too. It doesn't have the outright casual appeal of designs like the Patagonia Synchilla or REI Trailmade above (fit is decidedly on the athletic side), and you're certainly paying a steep premium at $195. But there's no denying that the Keb is another classy piece of gear from the Swedish company. For a lighter-weight option from Fjallraven with similar styling, check out their $45-cheaper Abisko Trail Fleece.
See the Men's Fjallraven Keb Fleece  See the Women's Fjallraven Keb Fleece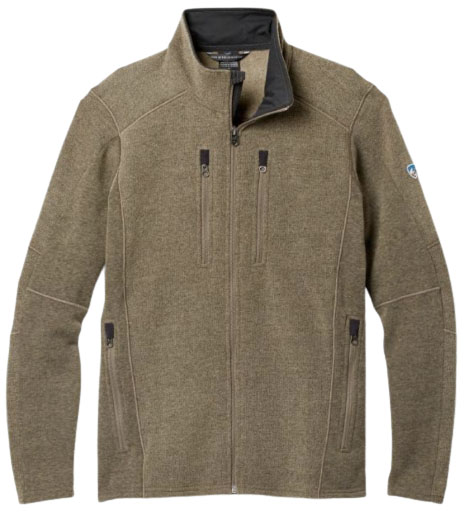 Category: Casual
Weight: 1 lb. 3.2 oz.
​Fleece weight: Midweight
What we like: A great value for a quality full-zip fleece.
What we don't: Build quality can't quite match the Arc'teryx or Patagonia models above.
We were immediately impressed when trying on the Kuhl Interceptr, which feels like a more economical sibling of the Patagonia Better Sweater above (it has more technical features too). For a very reasonable $139, you get an athletic-fitting fleece jacket with tons of storage (four pockets in total) and handy features like articulated five-panel sleeves with thumbholes at the end to keep your hands warm and the sleeves in place.
The Interceptr does great in mild fall and spring conditions, but don't expect much in the way of wind resistance or warmth when the temperature really drops. For just $20 more, the Patagonia Better Sweater offers more warmth in a similar style. Plus, we don't love the dual chest pockets of the Interceptr, especially for a casual layer. But if you've tried Kuhl products in the past and like the brand and styling, the Interceptr is a solid value. For an even cheaper option from Kuhl with a trimmed-down feature set, see their popular Revel Quarter-Zip.
See the Men's Kuhl Interceptr Fleece Jacket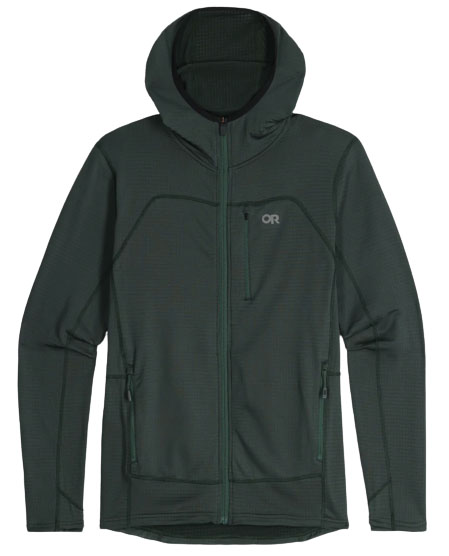 Category: Performance
Weight: 12.6 oz.
Fleece weight: Lightweight
What we like: Stretchy and breathable for high-output use.
What we don't: Not very warm or versatile for wearing around town.
Lightweight performance fleeces are a growing trend, and we like what Outdoor Research has come up with in the Vigor Grid. This trim-fitting midlayer slips nicely over a thin baselayer and provides a great combination of stretch, breathability, and modest warmth. In terms of construction, the OR uses a polyester/spandex mix and tacks on an ActiveTemp treatment, which helps keep you cool and dry while sweating. In practice, we found the Vigor Grid to be a nice companion for cool-weather backpacking and expect it to be a great match for activities like running and backcountry skiing this winter, too.
Where the Vigor Grid comes up short is versatility. The jacket isn't all that warm for low-output pursuits and has very little appeal as a casual piece. In fact, the trim fit makes it feel a lot like a souped-up baselayer, although its smooth face is more durable than the exposed jacquard of the R1 Air above (we've found it to be a nice standalone jacket for cool-weather rock climbing). And whether it's seen as a strength or weakness, the jacket runs very long—great for coverage, but expect it to poke out under the hem of your outer layer. Gripes aside, the Vigor Grid Fleece is a highly functional midlayer and comes complete with thumb holes, a flat-seam construction to minimize chafing, and useful chest and handwarmer pockets.
See the Men's OR Vigor Grid Hoodie  See the Women's OR Vigor Grid 1/4 Zip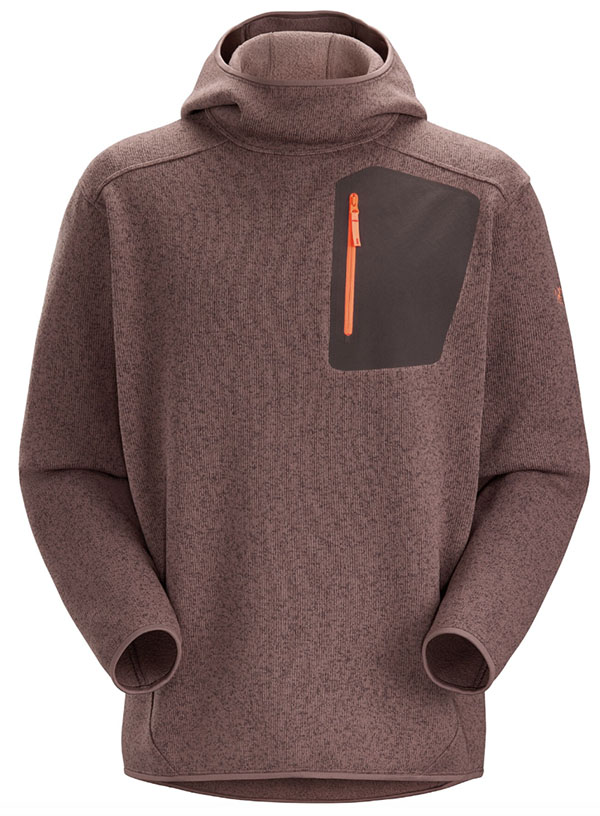 Category: Casual
Weight: 1 lb. 1.6 oz.
Fleece weight: Midweight
What we like: A stylish sweatshirt fleece with performance chops.
What we don't: Baggy design is not great for layering; no stretch.
Arc'teryx's Kyanite above is a versatile fleece for both performance and casual use, but for more style points, check out their everyday-minded Covert collection. The Covert Pullover here is a souped-up version of your favorite cotton hoodie: It's comfortable, warm, roomy, and adds a nice dose of class with subdued colorways and a wool-like appearance. What's more, the 100% polyester build doesn't grow heavy when wet, so it can easily pull double duty for cool-weather hiking or as a midlayer for resort skiing in mild temperatures. 
But at $180, you'll have to be a real fan of the style to spring for the Covert Pullover Hoody. The baggy fit also isn't ideal for layering (although an oversized ski or snowboard jacket will slide over just fine), and we've read reports of the neck being on the tight side. What's more, there's virtually no stretch in the material, and—like many fleeces—it has a tendency to pill. For a jacket more akin to the Better Sweater above, Arc'teryx does offer the Covert in a classic cardigan design for the same price, along with a 1/2-zip jacket, full-zip hoody, and simple crew neck for women.
See the Men's Arc'teryx Covert Pullover  See the Women's Arc'teryx Covert Pullover Hoody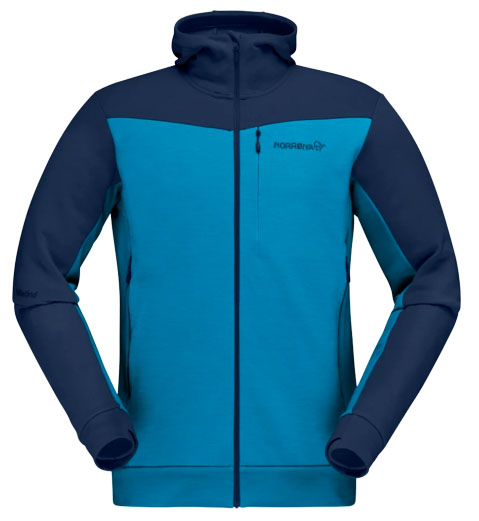 Category: Casual/performance
Weight: 1 lb. 3.8 oz.
Fleece weight: Midweight
What we like: Durable, warmth without bulk, and premium fit and finish.
What we don't: Expensive.
Norrøna might fly a little under the radar this side of the Atlantic, but the Norwegian outdoor clothing brand gives names like Patagonia and Arc'teryx a run for their money. From their Falketind mountaineering collection, the Warmwool2 is a high-quality midweight fleece hoody built with a stretchy blend of wool and polyester. Unlike many jackets here, you get a smooth, abrasion-resistant face fabric that makes for a durable outer layer, but the fleecy inside is still cozy and soft next-to-skin. And we particularly love the fit of the Warmwool2, which features a long cut that sits securely at the hip and a high, snug collar for a nice seal around the neck.
With 18% wool in the construction, the Warmwool2 gets a boost in warmth and temperature regulation without adding on the extra bulk typical of fully synthetic fleeces. You'll likely overheat in mild temperatures or during high-output activities, but the Falketind is ideal for cold-weather resort skiing or casual use around town. And in truly wintery conditions, we really appreciate the added security of the scuba hood. It's a big investment at $249, but the Warmwool's premium fit and finish and performance both on and off the mountain will be well worth it for many.
See the Men's Norrøna Falketind Warmwool2  See the Women's Norrøna Falketind Warmwool2
Category: Performance
Weight: 14.1 oz.
Fleece weight: Light/midweight
What we like: Stretchy side panels add mobility and venting.
What we don't: Lacks the durability and weather resistance of a brushed-back fleece design.
U.K.-based Rab makes some of our favorite down jackets and hardshells for demanding backcountry use, so it comes as little surprise that their fleece jackets are impressively well built and competitive. From their collection, the new Capacitor is a high-performance pick that offers a modern take on the classic midweight design. Like the much-loved (but now discontinued) Patagonia R2, this jacket features 200-weight fleece, stretchy side panels for added mobility and venting, and a flattering shape. Tack on a low-profile brushed finish and trim-fitting hood that slides easily underneath a climbing helmet, and the result is a decently warm yet breathable performance piece built for action.
For activities like winter hiking or skiing, the Capacitor is a nice step up from a jacket like the OR Vigor Grid above—its midweight designation makes it a better option for cold weather, while the large side panels, trim fit, and scuba hood keep performance high. We do have a slight preference for the brushed-backed design of the OR for performance use, as the smooth exterior tends to be slightly more durable and weather resistant. Further, keep in mind that not everyone will prefer a hood for midlayer use—they can get in the way under a hardshell—and Rab only offers a hoodless pull-over version of the Capacitor for men, while the Vigor comes in a variety of hoodless designs. But for $140, the Capacitor is one of the best-priced midweight fleeces here, and it has a lot going for it both in and out of the mountains.
See the Men's Rab Capacitor Fleece  See the Women's Rab Capacitor Fleece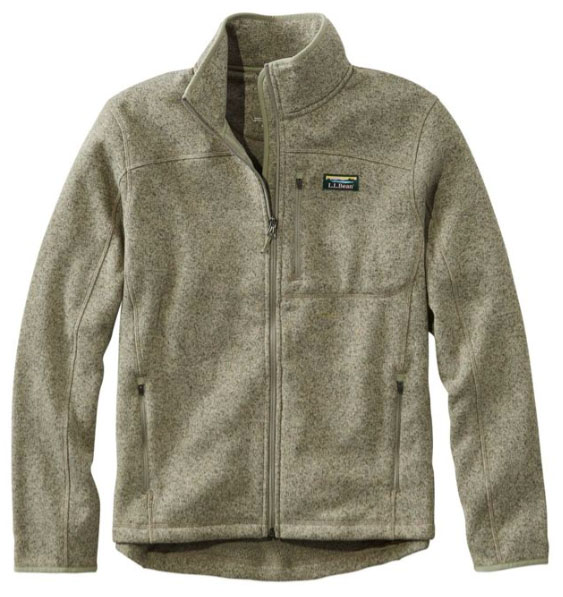 Category: Casual
Fleece weight: Light/midweight
What we like: Nice looks and great price.
What we don't: Not as well-made or versatile as the Patagonia Better Sweater.
It doesn't get much more classic than the L.L. Bean Sweater Fleece Full-Zip. From the throwback logo on the chest to the knit exterior and wide range of muted colorways, the jacket is an everyday staple. The middle-of-the-road fit (L.L. Bean calls it "slightly fitted") slides easily over a long-sleeve baselayer or dress shirt, although it is a bit bulky for wearing under a rain shell. And you don't get a waist cinch for truly sealing out the cold, but the light-to-midweight insulation, drop hem, and lined hand pockets make the Sweater Fleece a nice match for many spring and fall days.
In many ways, this L. L. Bean is a budget alternative to Patagonia's Better Sweater above. Both have a timeless look, similar pocket layouts, and a lot of around-town appeal with their moderate levels of warmth. Where the Patagonia gets the edge is its very cozy interior, which uses higher-quality fleece, plus it's longer-lasting and less prone to pilling excessively over time (this is especially valuable if you'll be wearing the jacket for activities like downhill skiing). But for a substantial $60 savings, it's hard to argue with the simple L.L. Bean for daily use.
See the Men's L.L. Bean Sweater Fleece  See the Women's L.L. Bean Sweater Fleece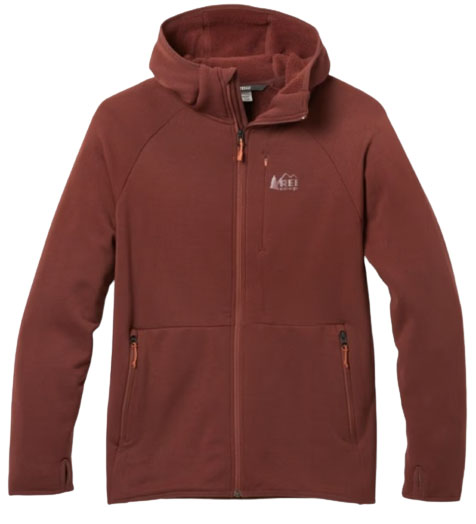 Category: Performance/casual
Weight: 15.8 oz.
Fleece weight: Midweight
What we like: A performance Polartec fleece at a reasonable price.
What we don't: Overkill for casual use.
Seattle-based REI knows a thing or two about the importance of a good fleece—they're useful in the Pacific Northwest about 9 months a year. But breaking in tradition from more basic fleeces like the Trailmade above, the Co-op has put together a surprisingly modern and performance-oriented design in the Hyperaxis 2.0. It's true that $149 is expensive for an REI in-house product, but with this fleece you get premium Polartec Power Stretch Pro fabric, low-profile seams, and even features like thumb loops. The result is a good-looking, well-built, and versatile jacket.
In many ways, the REI Co-op Hyperaxis 2.0 does a pretty darn good impersonation of pricier jackets like the Patagonia R1 TechFace above. All three performance fleeces use a stretchy and moisture-wicking shell fabric and are built to breathe during high-intensity movement. But with the Patagonia, you get a bit more weather protection by way of a robust shell with a DWR finish. All in all, it's tough to beat the looks and quality of these premium brands, but the more affordable Hyperaxis 2.0 isn't far behind. 
See the Men's REI Hyperaxis 2.0  See the Women's REI Hyperaxis 2.0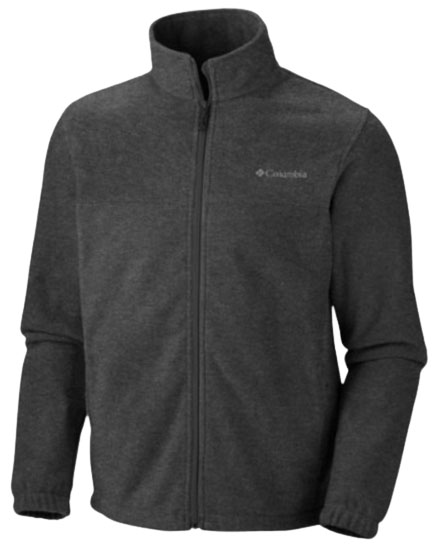 Category: Casual
Weight: 1 lb. 0.6 oz.
​Fleece weight: Midweight
What we like: Tons of colors and sizes.
What we don't: Durability is questionable.
Soft, inexpensive, and offered in a ton of sizes and colors, the Steens Mountain is a very popular budget fleece. First and foremost, this is a very simple jacket: The fabric is basic and you don't get any features to speak of. But it provides decent warmth and styling and a hefty portion of coziness, especially for the price (you can often find the Steens Mountain on sale for $45 or less).
It's a good idea to set reasonable expectations for a fleece in this price range. For its weight and bulk, the Steens Mountain does very little to trap warmth or keep out wind, nor is it super breathable. It's also not trim-fitting and layers poorly under a hardshell. To put it simply, the Steens Mountain won't be your workhorse for any kind of serious outdoor use. But if you're looking for an inexpensive layering piece to wear around town, Columbia's bottom-shelf offering should get the job done.
See the Men's Columbia Steens Mountain  See the Women's Columbia Benton Springs
Fleece Jacket Comparison Table
| Fleece Jacket | Price | Category | Weight | Fleece | Pockets |
| --- | --- | --- | --- | --- | --- |
| Arc'teryx Kyanite Jacket | $180 | Performance/casual | 13.8 oz. | Light/mid | 2 hand |
| Patagonia R1 Air Full-Zip Hoody | $179 | Performance | 12.9 oz. | Lightweight | 2 hand, 1 chest |
| REI Co-op Trailmade Fleece | $60 | Casual | 12.7 oz. | Midweight | 2 hand |
| Patagonia R1 TechFace Hoody | $189 | Performance | 13.8 oz. | Lightweight | 2 hand, 1 chest |
| The North Face Denali | $180 | Casual | 1 lb. 0.9 oz. | Heavyweight | 2 hand, 2 chest |
| Patagonia Lightweight Synchilla Snap-T | $139 | Casual | 14.3 oz. | Midweight | 1 chest |
| Patagonia Better Sweater | $159 | Casual | 1 lb. 6.5 oz. | Midweight | 2 hand, 1 chest |
| Cotopaxi Teca Fleece Full-Zip | $110 | Casual | Unavailable | Light/mid | 2 hand |
| Black Diamond Coefficient LT Hybrid | $180 | Performance | 7.2 oz. | Lightweight | 1 chest |
| Fjallraven Keb Fleece Jacket | $195 | Casual/performance | 1 lb. 2 oz. | Midweight | 2 hand, 1 chest |
| Kuhl Interceptr Fleece Jacket | $139 | Casual | 1 lb. 3.2 oz. | Midweight | 2 hand, 2 chest |
| Outdoor Research Vigor Grid Fleece | $120 | Performance | 12.6 oz. | Lightweight | 2 hand, 1 chest |
| Arc'teryx Covert Pullover Hoody | $180 | Casual | 1 lb. 1.6 oz. | Midweight | 1 chest |
| Norrøna Falketind Warmwool2 Hood | $249 | Casual/performance | 1 lb. 3.8 oz. | Midweight | 2 hand, 1 chest |
| Rab Capacitor Fleece Hoodie | $140 | Performance | 14.1 oz. | Light/mid | 2 hand, 1 chest |
| L.L. Bean Sweater Fleece | $99 | Casual | Unavailable | Light/mid | 2 hand, 1 chest |
| REI Co-op Hyperaxis 2.0 Hoody | $149 | Performance/casual | 15.8 oz. | Midweight | 2 hand, 1 chest |
| Columbia Steens Mountain 2.0 | $65 | Casual | 1 lb. 0.6 oz. | Midweight | 2 hand |
Fleece Jacket Buying Advice
What is Fleece?
Fleece is a man-made material designed to mimic wool, first created in the late '70s or early '80s by a wool-apparel company called Malden Mills (fun fact: Malden Mills went bankrupt in the 2000s and re-emerged as Polartec—the current industry giant). Fleece is made from petroleum that is formed into strings, which are then woven into fabric. Although it's synthetic, fleece shares a number of properties with wool: It traps air and is thus very insulative, naturally repels water (making it quick-drying and fairly water-resistant), and is very breathable. And unlike wool, fleece is machine-washable and hypoallergenic—and, of course, it's vegan too.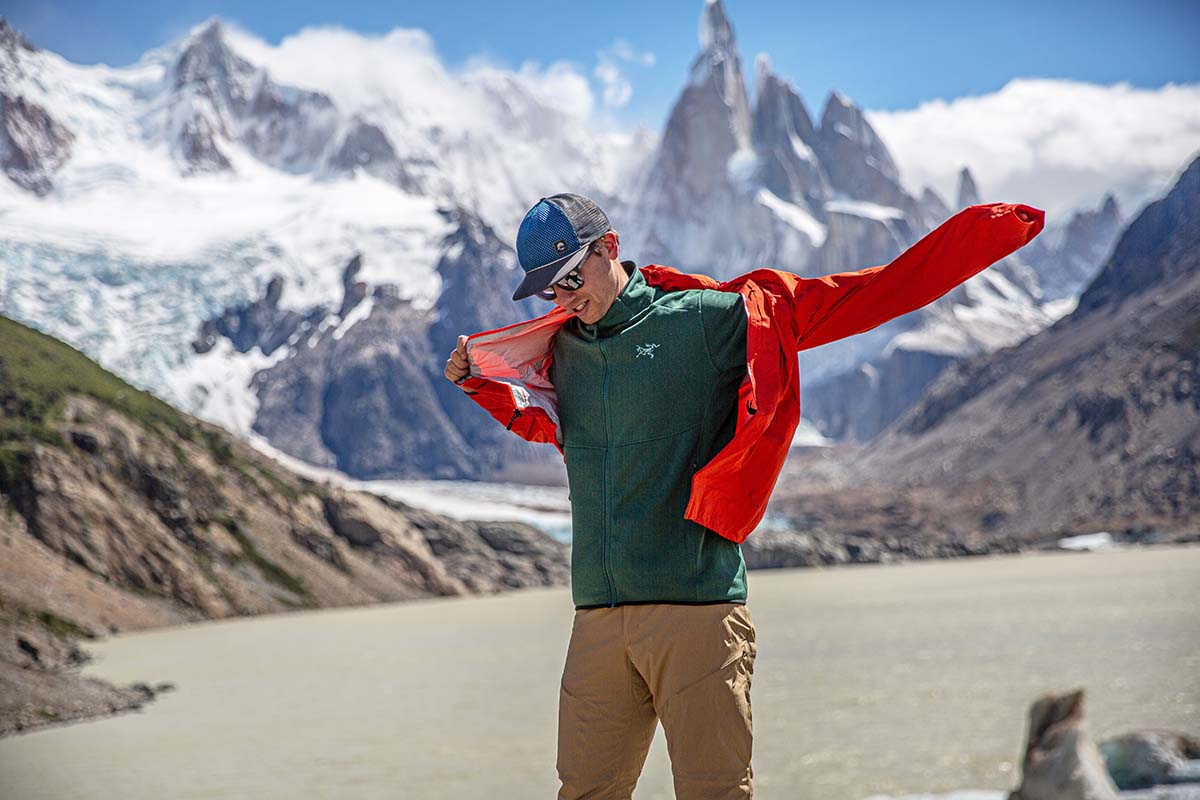 As an outerwear material, fleece is fairly distinct from other insulators such as down and synthetic fill. For one, it's less expensive, and despite its tendency to pill, can be fairly durable, too (just don't get it too close to a flame—it will melt). It's also cozier and significantly more breathable, which has massive benefits as a midlayer or an insulator in casual and performance settings alike. But fleece can't quite match the warmth-to-weight ratio of down especially, and it's not as water-resistant as synthetic insulation (most synthetic jackets feature a nylon shell with a DWR finish). There's certainly a time and place—we love our fleeces for resort skiing, rock climbing (particularly hybrid designs), hiking, and of course casual use—but they're not our first choice for fast-and-light missions or serious endeavors when we want maximum warmth efficiency or weather resistance.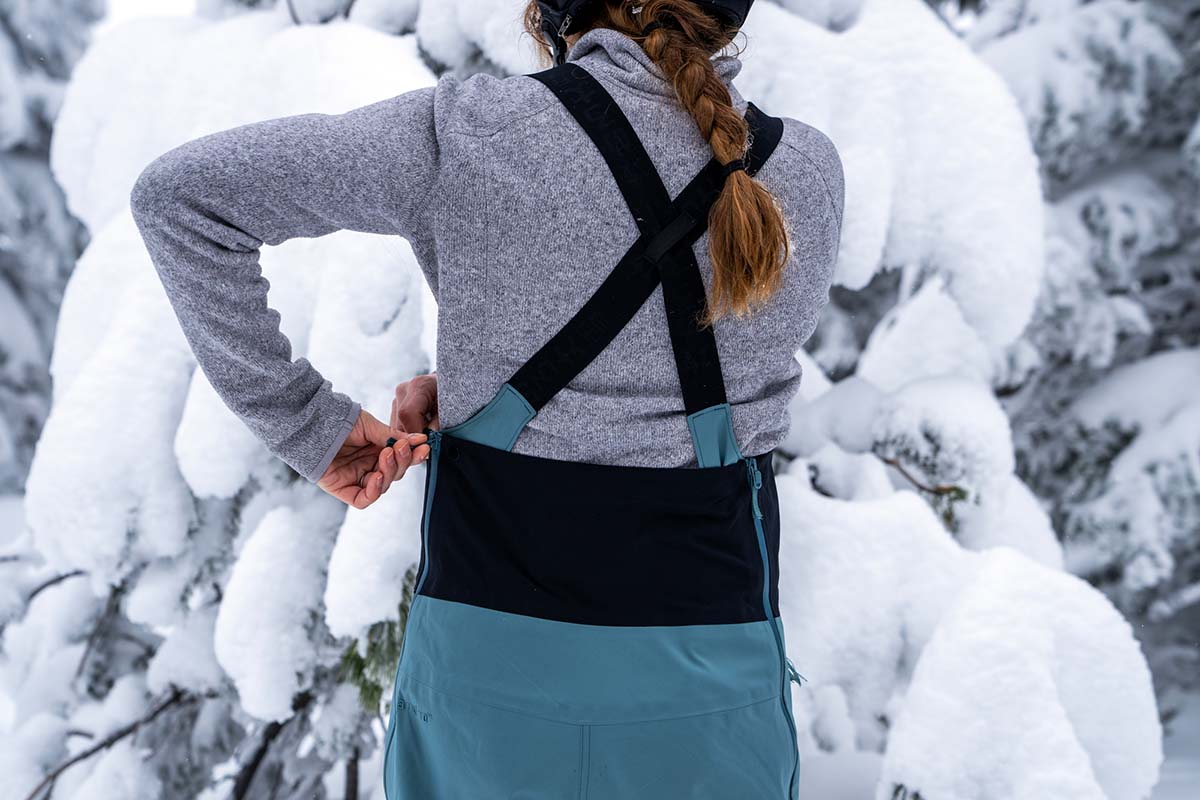 Fleece Types
Fleece was originally designed to mimic a sheep's hide and wool, meaning traditional varieties had a high-pile exterior and smooth interior. But given its fully synthetic makeup, the category has now evolved into a variety of forms, from thick sherpa fleece to sleek grid-backed fabrics. Really, the sky's the limit—if you want an example of how many different styles of fleeces there are in 2023, check out the fabrics section on Polartec's website. Below, we break down the fleece types displayed in the jackets above (our list is by no means comprehensive).

Polar Fleece
Imagine a thick fleece jacket, akin to The North Face's Denali, and you've got polar fleece: A simple, double-sided fabric that's warm, cozy, and more prone to pilling than most. Polar fleece is such a staple that its name was co-opted by the brand Polartec, responsible for high-end fleeces like Polartec Alpha and Polartec Power Stretch Pro. Polar fleece is very simple compared to more tech-savvy fabrics: You don't get any windproofing or water resistance, no special breathability or weight-saving measures, and no gridded patterns. But it still hits all the features that we look for in a fleece and is affordable to boot. Note: In thinner varieties (less than 200 gsm), polar fleece is often referred to as microfleece.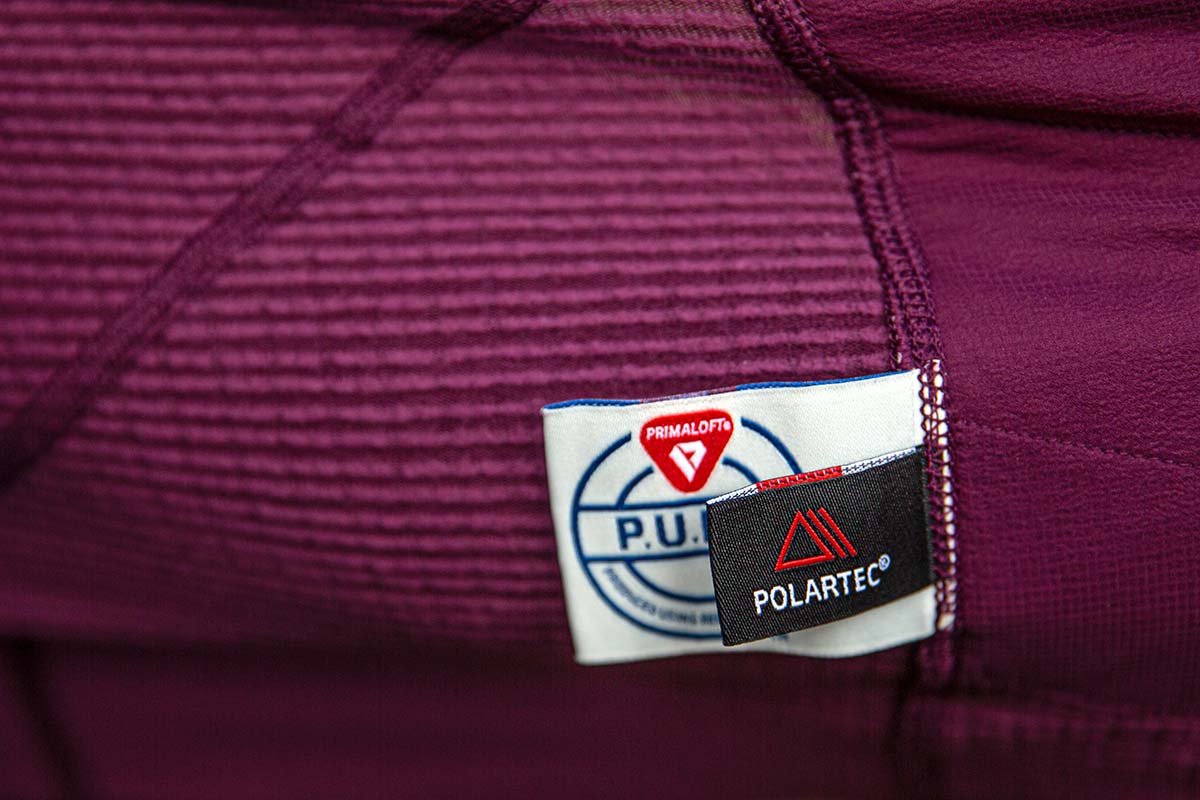 Knit Fleece
Knit fleece, or sweater-knit fleece, is epitomized by jackets like the Patagonia Better Sweater and Arc'teryx Covert, which feature a heathered knit face fabric (reminiscent of wool) alongside a cozy, brushed interior that acts and feels like traditional fleece. Jackets with knit fleece are prized for their classy looks, pill resistance, and warmth, and are great alternatives to wool cardigans or jackets. On the other hand, their fairly thick and bulky build means they're not an ideal choice for serious outdoor use.

Gridded Fleece
Whereas sweater-knit fleece is a very casual material, gridded fleece (also known as waffle or thermal fleece) goes the opposite direction with a high-performance slant. Characterized by fleeces like the classic Patagonia R1 (which uses Polartec's Power Grid) and Outdoor Research Vigor Grid, the interior of a gridded fleece features patterns of raised fleece (squares, circles, or hexagons, for example) with channels in between for air to flow. On the exterior, you often get a smooth surface that distributes moisture to speed up evaporation. The result is maximum warmth and breathability with minimal weight and bulk—the difference in breathability is particularly palpable compared to other types of fleece. Note: While the Patagonia R1 Air is technically defined as a jacquard fleece (meaning that a raised pattern is woven into its material), for all intents and purposes, it fits into the gridded fleece category.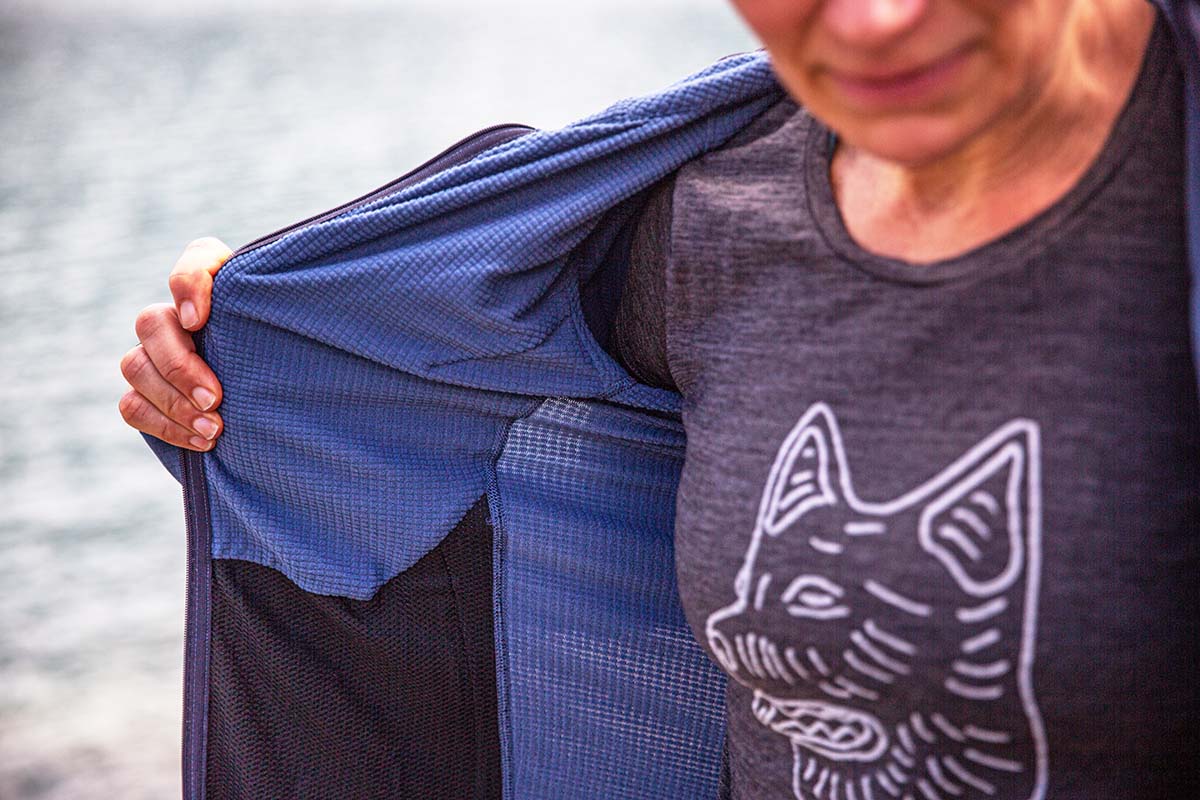 Sherpa/Faux-Shearling Fleece
Sherpa fleece is about as close as you can get to fleece's origin story without dipping into shearling wool (for this reason, it's also commonly called faux-shearling fleece). On one side, you get a smooth knit backer (if we're drawing comparisons, this would be the sheep's hide); on the other, you get a lofty, high-pile fleece that's reminiscent of unprocessed wool. We don't include any sherpa fleece jackets on our list above, but the Patagonia Retro Pile Fleece is a popular design with double-sided shearling (the faux-wool material is both on the interior and exterior). Sherpa fleece is bulky and decidedly casual, but if you're looking for the epitome of cozy, this is it.

Other Dual-Surface Fleeces
Many gridded and sherpa fleeces feature a smooth side and a fleecy side (ironically, gridded fleeces generally place the fleecy side next to skin, while sherpa fleeces do the opposite), but they're not the only types of fleece that fall into the dual-surface category. Here we want to specifically highlight Polartec's Power Stretch Pro material, which is almost sweatshirt-like in nature with a soft polar fleece on the interior and smooth, low-friction exterior. With this construction, Power Stretch Pro and other similar blends retain all the benefits we love about fleece while adding excellent range of motion, shape retention, and durability. For a closer look at this technology, check out offerings like the Arc'teryx Kyanite and Norrøna Falketind Warmwool2 above.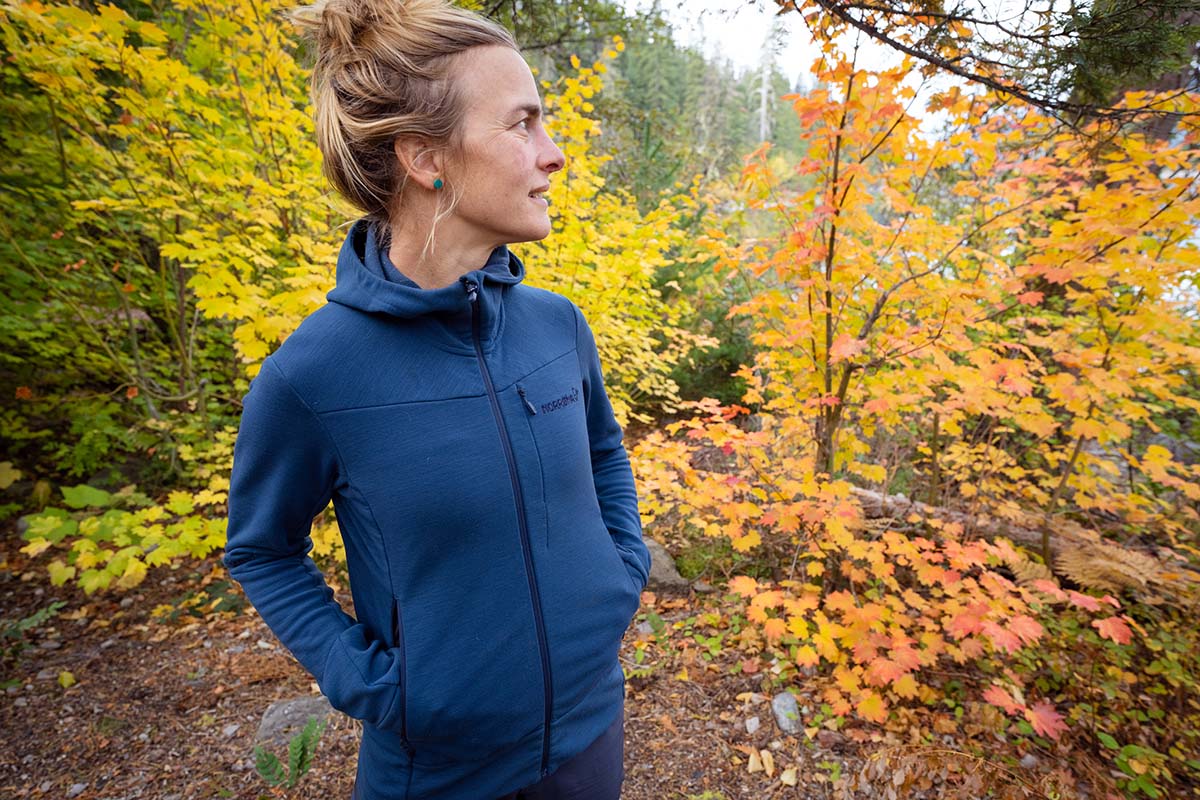 Fleece Categories: Casual vs. Performance
In general, we can organize fleeces into two main categories: casual and performance. Casual fleeces provide an unbeatable combination of coziness and warmth for everyday use. They are terrific for layering on chilly evenings, wearing around the cabin, and daily commutes. Our favorite casual fleeces range from sweater-knit designs that dress up nicely (the Patagonia Better Sweater, for example) to basic pieces that are little more than the fabric itself. And while many fleeces on our list are intended for performance use, in reality, they can all be worn in casual settings (when we first got our R1 Air, we never wanted to take it off). That's the glory of fleece: Unlike many pieces of activewear, fleece's hallmark features of warmth, comfort, and breathability cross over seamlessly for daily wear.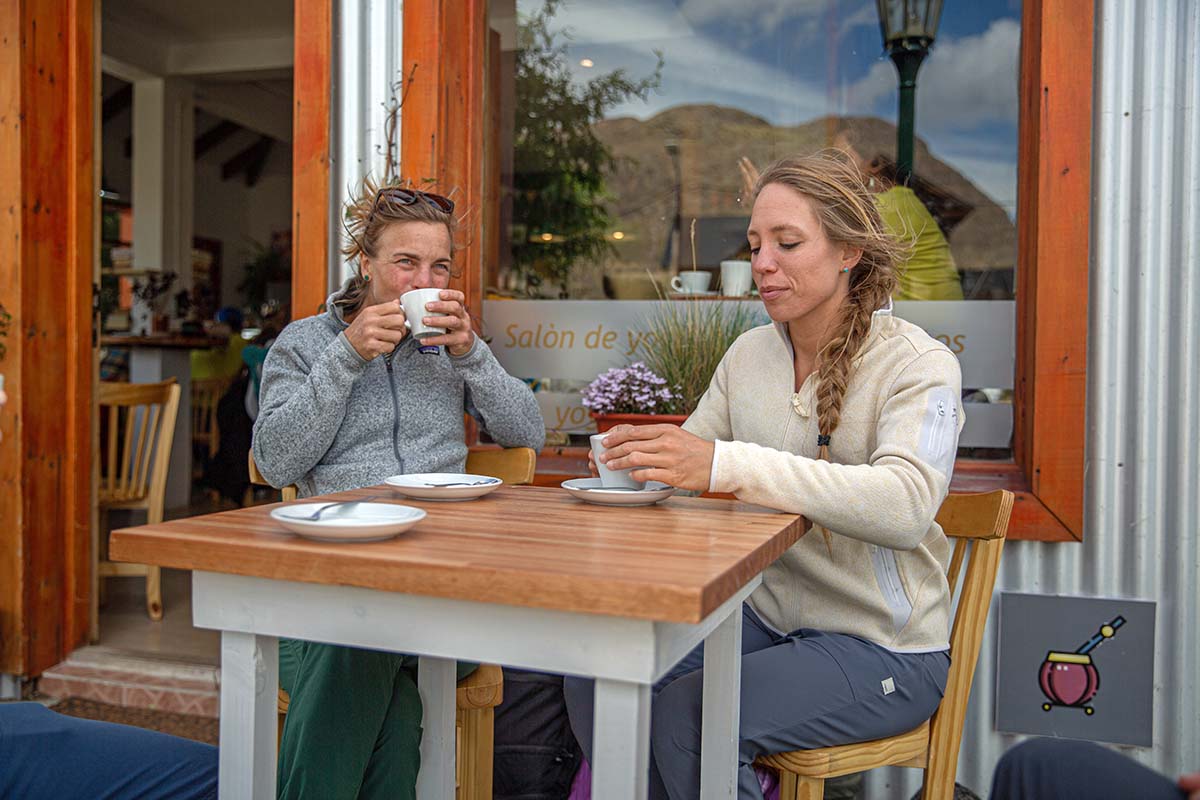 Performance fleeces have a number of common attributes: They're snug-fitting (unlike many casual offerings, which can be on the boxy side) and stretchy, feature high-tech fabrics like Polartec Power Stretch Pro and Alpha, and often include hoods and thumb loops. Hybrid fleece/synthetic jackets also fall into the performance category (more on these below), in addition to fleeces with weather-resistant face fabrics (such as Patagonia's TechFace collection). When deciding on a performance fleece, it's worth thinking about your needs in terms of weather protection, mobility, warmth, and packability. There's virtually something for everyone.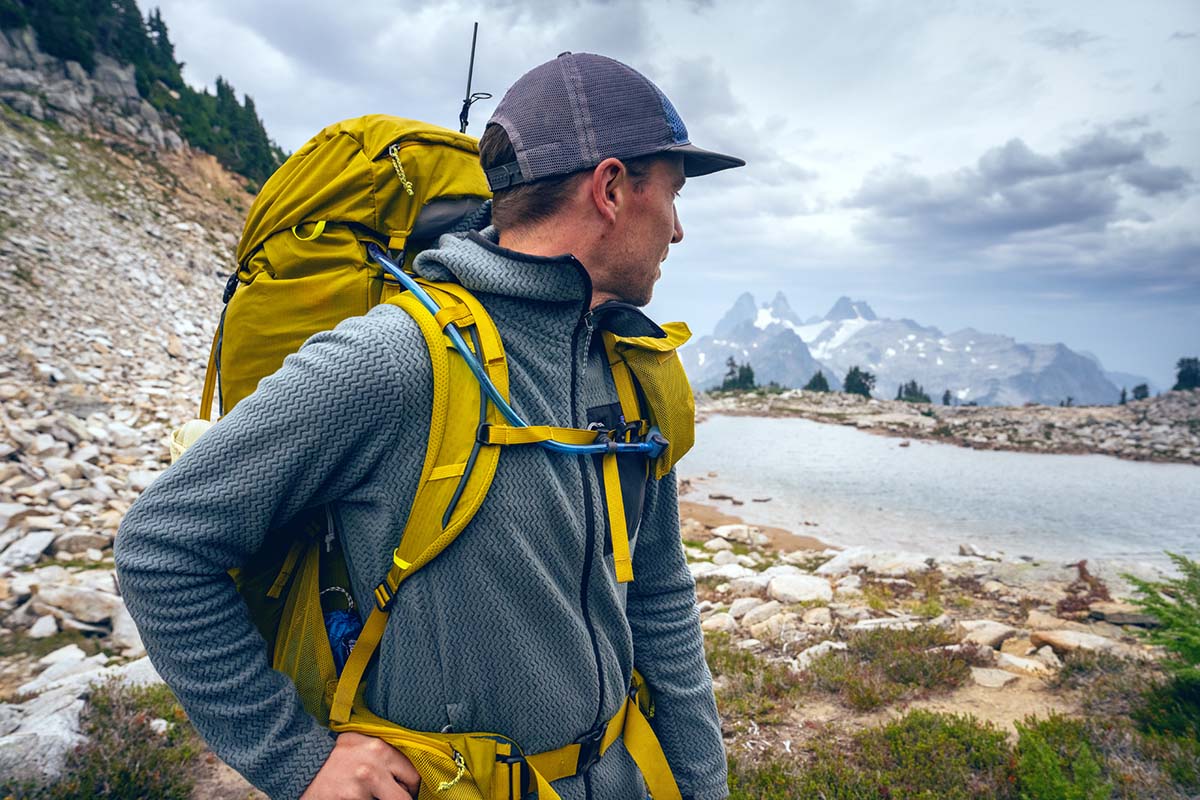 Fleece Weight and Warmth
For an idea of how warm a particular fleece will be, some jackets list the fabric thickness or fleece weight. This is often expressed in terms of grams per square meter—100, 200, and 300-gram, for example—and some brands have come up with their own rating system (Patagonia's R1 and R2, for instance). In its lightest form, a fleece is only a small step up in terms of insulation from a baselayer (the Black Diamond Coefficient LT Hybrid is one example) and ideal for high-output activities when breathability wins out over maximum warmth. Midweight or 200-weight fleeces are warmer and make a great pairing for fall and spring or mild-weather days on the slopes. Heavy fleeces of the 300-weight variety are warm and can insulate when temperatures dip below freezing, but their bulk often comes at the cost of mobility and breathability. 
As more companies have moved toward designing their own in-house fleeces and Polartec has diversified their offerings, the demarcation isn't quite as simple as explained above. But it's still helpful when available, and in general, the weight of the fleece correlates with its warmth. The heavier a jacket is, the more likely it will be able to keep you warm and block wind from entering.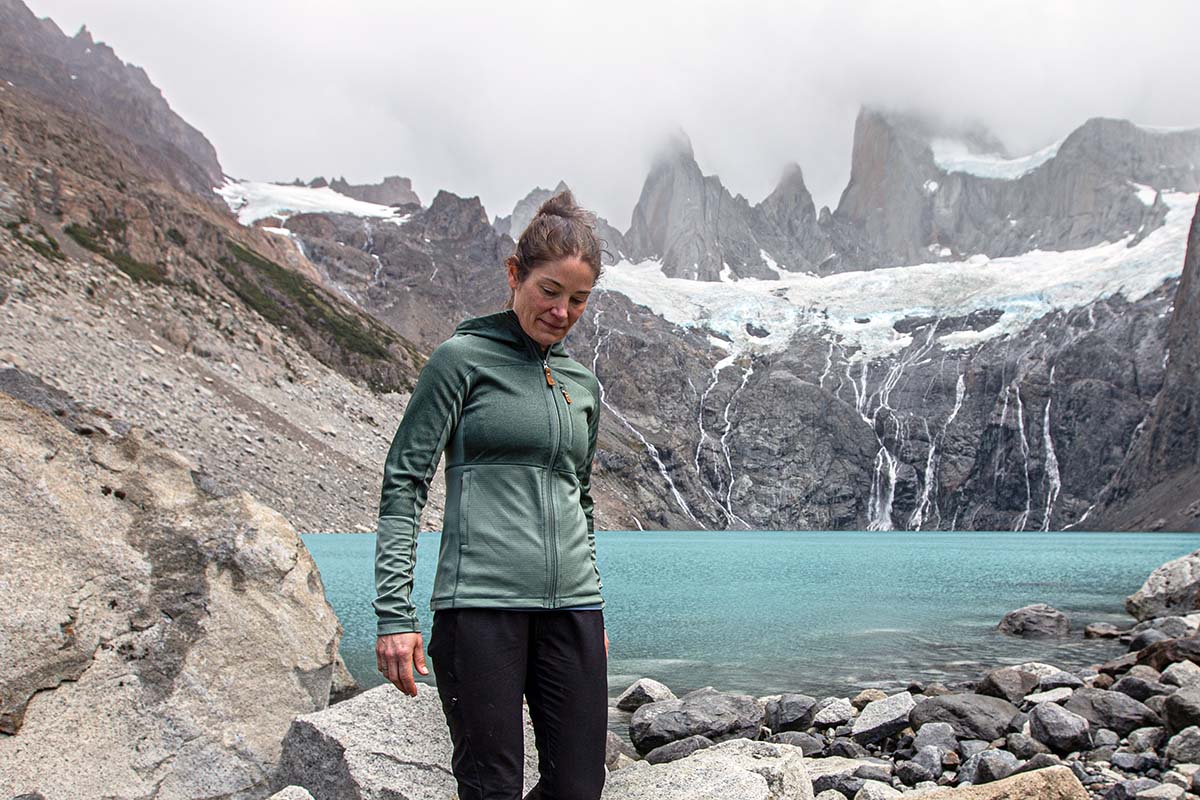 Wind and Water Resistance
Although often worn as standalone pieces, fleece jackets are not intended to combat heavy wind or rain. The synthetic fabric itself is hydrophobic (i.e., it won't absorb moisture), but wind and water can make their way through the porous construction rather easily. What's more, unlike down or synthetic jackets, fleeces—even dual-surface designs with low-friction exteriors—do not feature a durable water repellent (DWR) finish. Some, like the classic The North Face Denali and Cotopaxi Teca, incorporate non-fleece nylon panels that can repel light amounts of precipitation, but these only cover a few inches across the chest.
We'll sometimes see manufacturers add a tough, weather-resistant shell to boost the wind and water protection of fleece. The Patagonia R1 TechFace Hoody, for example, pairs gridded fleece with a woven softshell exterior. This style—which we call hard-face fleece—is a great alternative to a full-blown softshell, and its cozier, too. But while hard-face fleeces are impressively wind-resistant and can fend off light moisture—great for PNW commutes and shoulder-season days in the mountains—we don't recommend them for all-out rain. In truly wet weather, you'll still want a more reliable rain jacket or hardshell.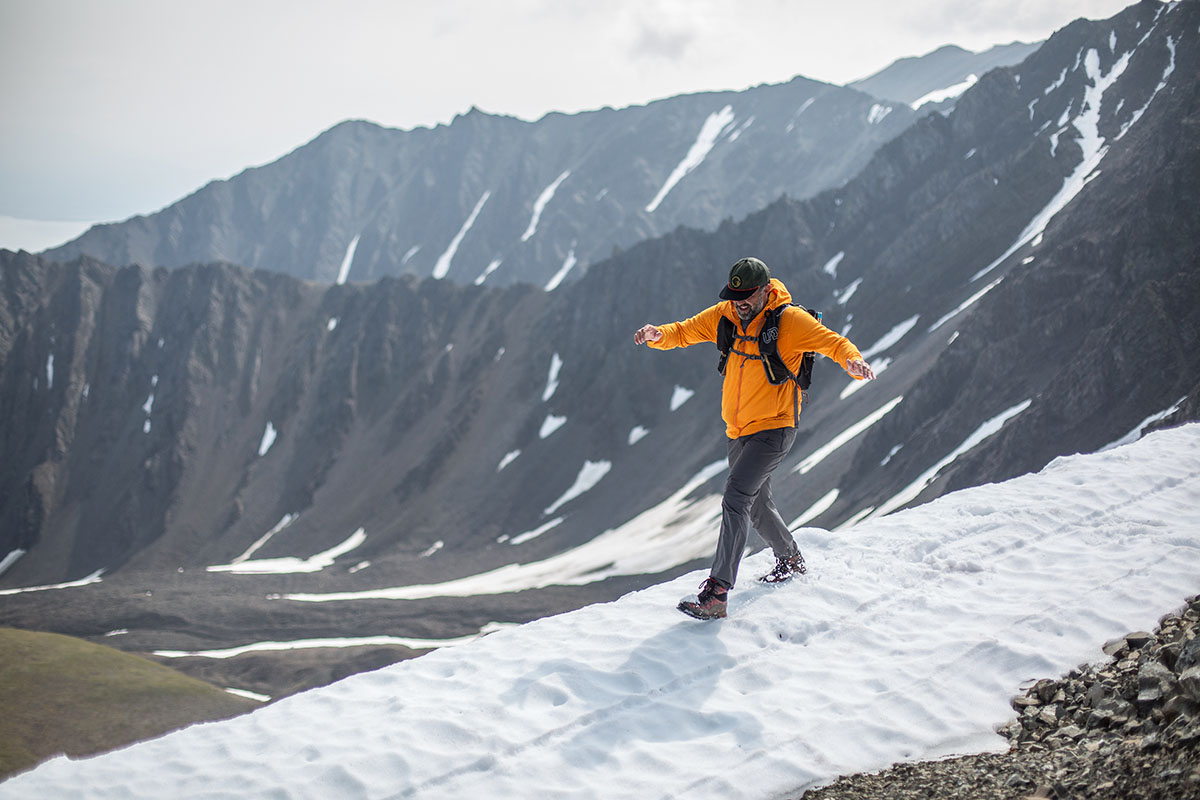 Breathability
A notable upside to fleeces is their breathability, which is one of the primary reasons that they work so well as a midlayer. Compared to a softshell, down, or synthetic insulated jacket, a fleece is dotted with tiny openings—hold up a fleece into the sun and you'll see light streaming through—which helps a great deal with airflow. And of course, the thinner the fabric, generally the more breathable the fleece will be. On the other hand, it also contributes to their shortcomings as a true outer layer in the cold and wind. As we mentioned above, some hybrid fleeces include wind-resistant fabrics, making them less permeable to air—but keep in mind that while these styles offer more protection against the elements, breathability takes a back seat. If we know we're venturing out in inclement weather, we usually prefer to pair a baselayer with a windbreaker jacket, or wear a softshell or synthetic insulated jacket with wind-blocking fabric instead.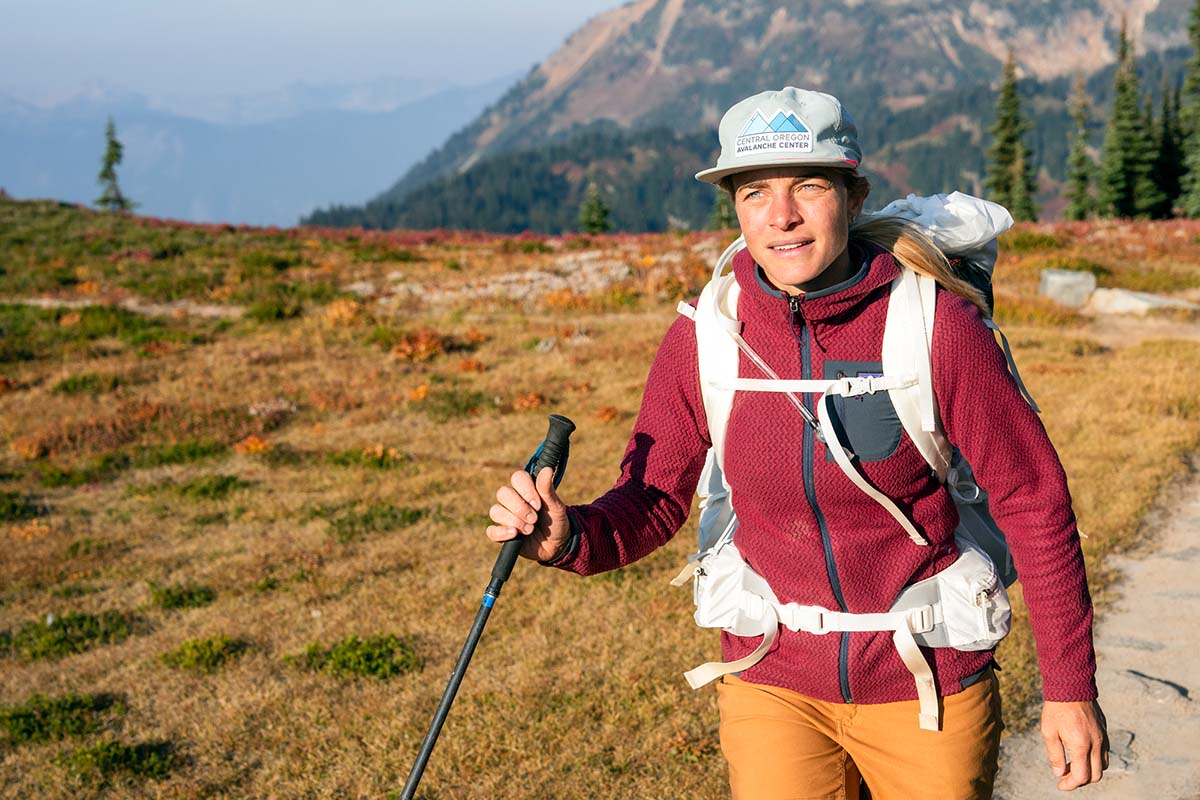 Fit and Sizing
Fleece jackets range widely in terms of fit, and it's important to look into the jacket's intended use to make sure it aligns with your own. Performance pieces (like the Outdoor Research Vigor Grid) have a trim cut that is designed to remove excess fabric for added mobility and efficient ventilation. While very effective on the mountain, the style doesn't always translate well to urban life. If you're in search of a jacket adept at both, something like the Arc'teryx Kyanite may the ideal choice, with enough room to be comfortable but not so loose as to be useless in the backcountry. For casual wear, a roomier fit option like the Patagonia Synchilla Snap-T or one of the other budget options may be the ticket.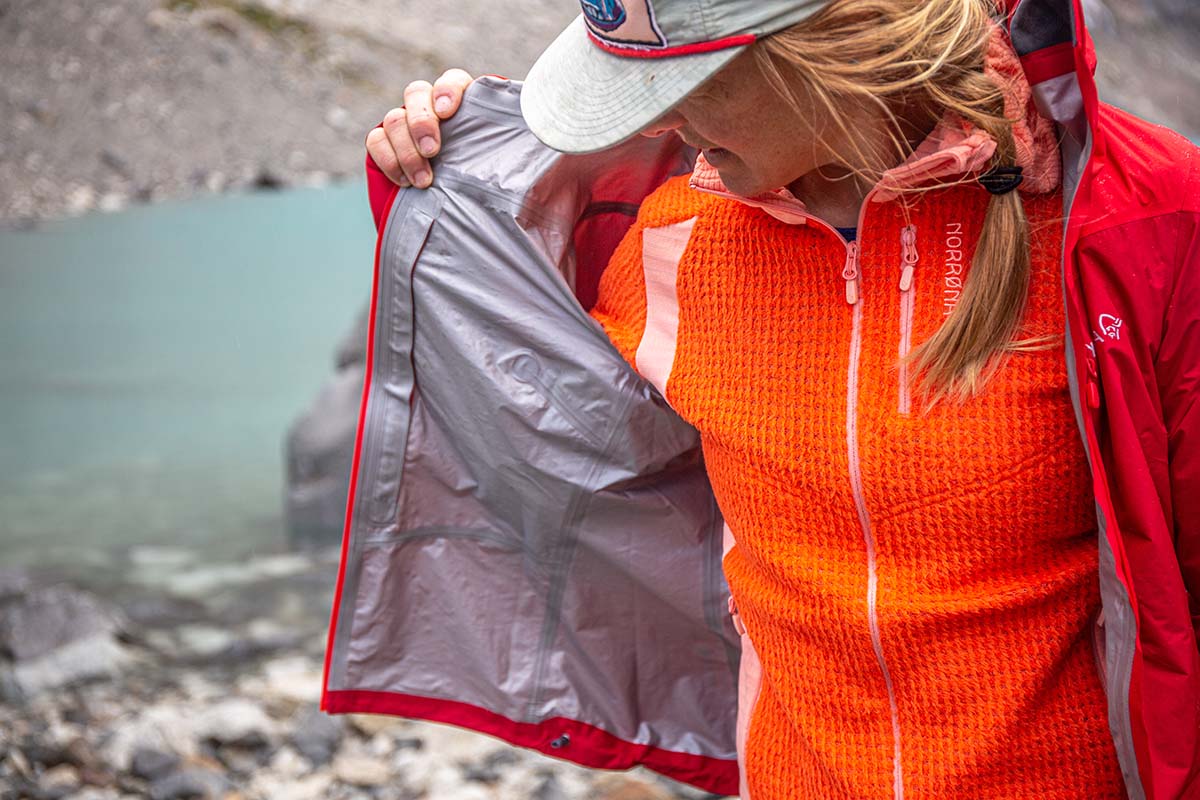 Fleece Jacket Features
Hood
Many fleeces are offered in either hooded or non-hooded varieties. For use as a classic midlayer, we typically lean towards a non-hooded option, as even a low-profile hood can get in the way underneath your shell (unless you always use both hoods). And for pairing under a ski jacket, it's a no-brainer to go with a non-hooded model. Alternatively, a hood is a welcome addition in colder conditions, and many are nicely fitted and stay in place even while exercising. For climbing and backcountry skiing—and particularly if you're planning on wearing your fleece as an outer layer—a hood can be a really nice feature, and we appreciate both under- and over-the-helmet varieties.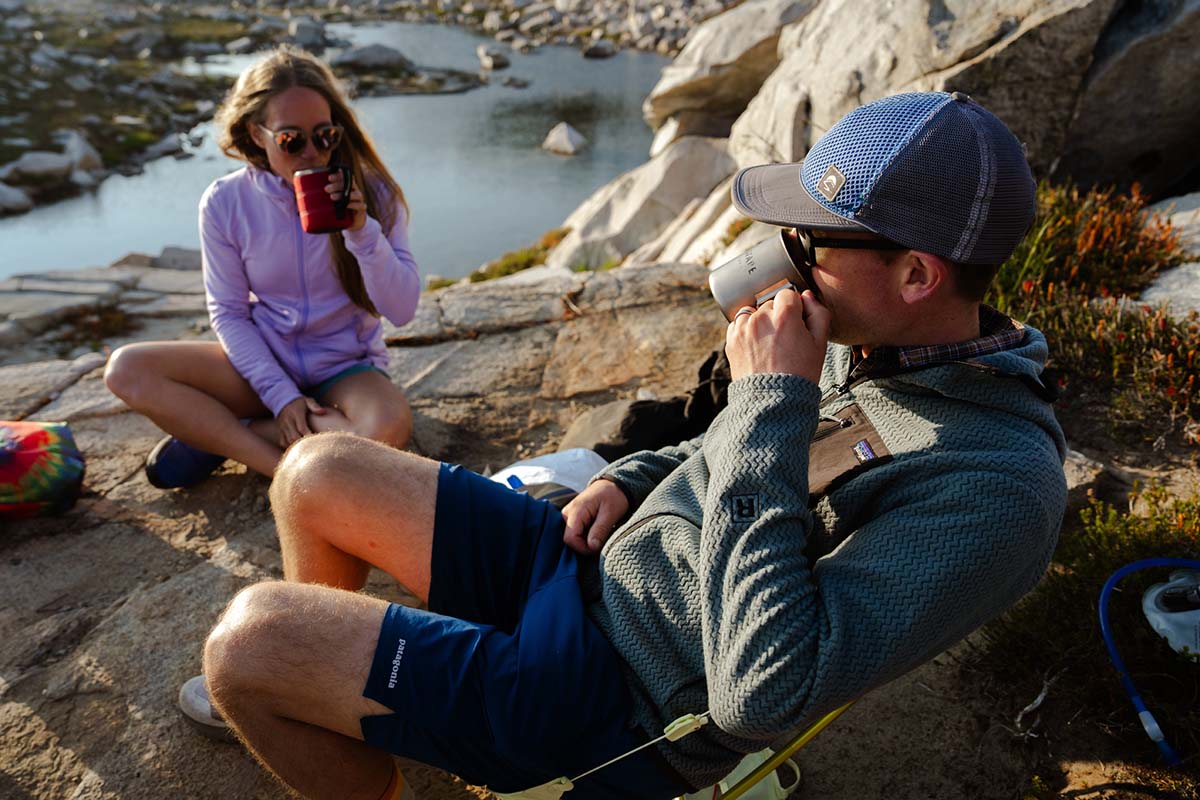 Thumbholes
Performance fleeces designed for activities like running or cross-country skiing will occasionally have thumbholes built into the sleeves. While serving as an opening for cold air to sneak in when not in use, the openings work well for keeping the sleeves in place during high effort activities or when taking on and off layers. User tip: If you're eyeing a jacket that has this feature, we recommend checking to make sure the fabric around the thumbhole has some stretch so it doesn't feel like your thumb is being yanked around when you extend your arms.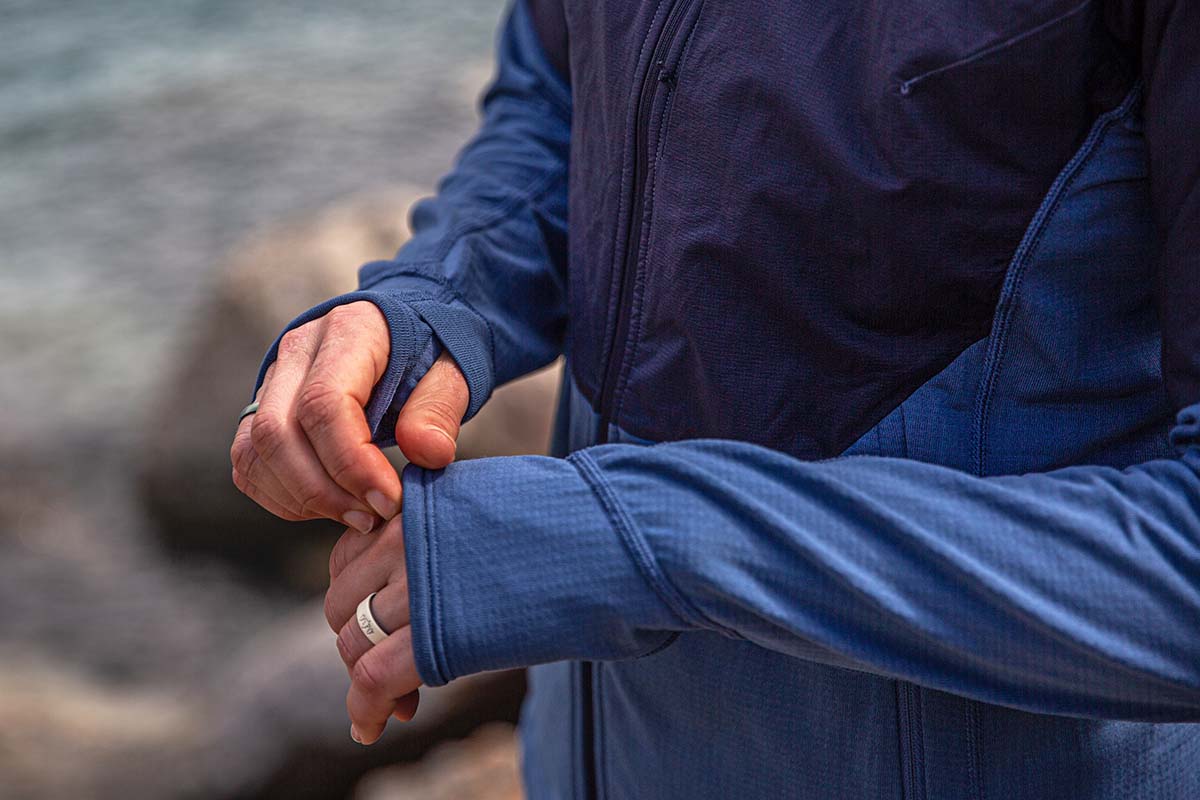 Full-Zip vs. Pullover
Most of the jackets toward the top of this list are of the full-zip variety, which gives you maximum versatility and are easy to slip on and off. Full-zip models tend to have more features like hand pockets and stretchy side panels, whereas pullovers are more basic and function like a sweatshirt (albeit a very comfy one). The upside of fleece pullovers is that they weigh slightly less, pack down smaller, and generally are cheaper. The Patagonia Lightweight Synchilla Snap-T is an extremely popular fleece pullover that in many ways defines the category.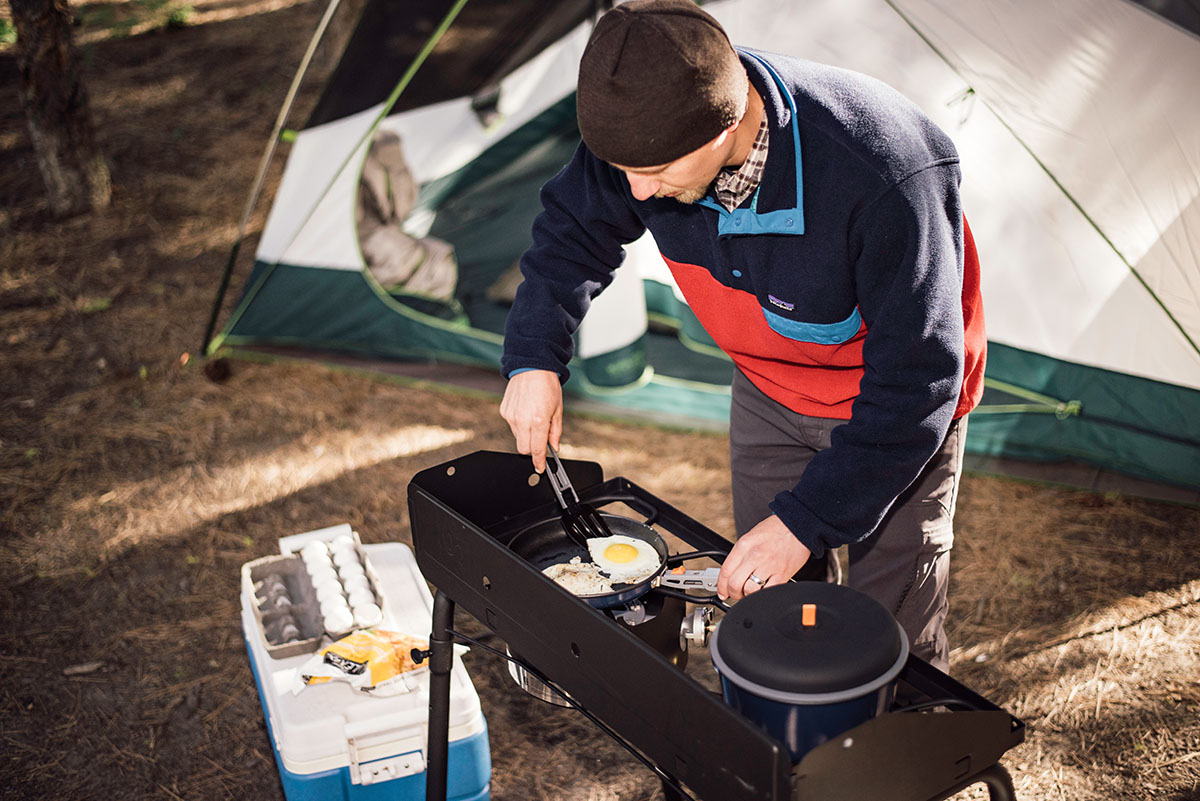 Hybrid Fleece/Synthetic Jackets
Building off the fleece types above, it's become more and more common to see fleece paired with synthetic insulation—a combination known as a "hybrid" jacket. Most commonly, these jackets feature a fleece back with a synthetically insulated front (often finished with a nylon or polyester shell), which maximizes breathability alongside warmth and weather protection. The breathable back is especially nice when wearing a backpack, and we love the added tech at the front for wind-generating activities like trail running, backcountry skiing, and nordic skiing. High-quality examples of this design include the Black Diamond Coefficient LT Hybrid, Patagonia Nano-Air Light Hybrid, and Arc'teryx Delta Hybrid Hoody.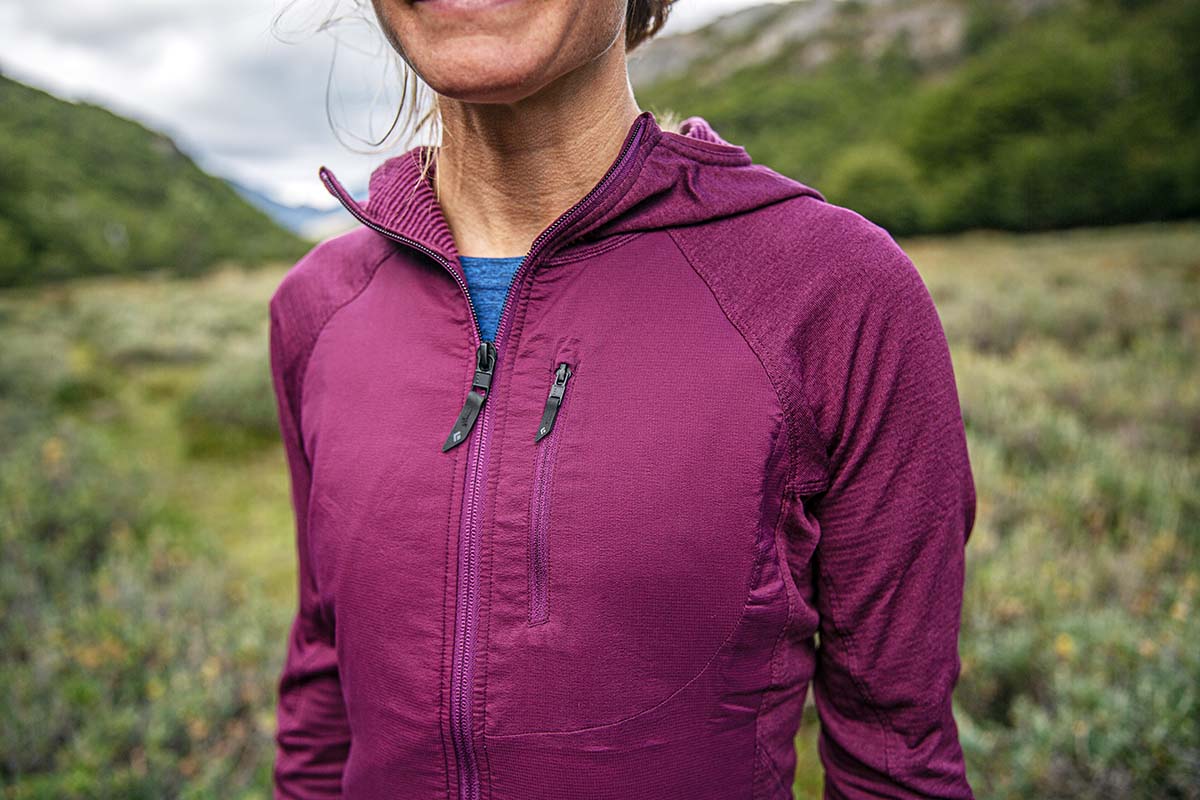 Is Fleece Sustainable?
Animal-derived insulators like down and wool get a bad rap from environmental advocates (and in many cases, rightly so), but fleece isn't without blame either. Polyester fleece is a synthetic, petroleum-based material, which means a few things. For one, it's plastic—in fact, it's made up of the same stuff as those single-use plastic bottles many of us try to avoid. Second, unlike sustainably produced natural materials like cotton or down, the production of fleece can result in greenhouse gas emissions and potentially unsafe work environments. And finally, fleece sheds throughout its lifetime, littering microplastics in its wake—as multiple studies have shown, one single fleece jacket can release thousands of fibers into wastewater with each wash. Given the current state of plastics in our oceans, this is not good news.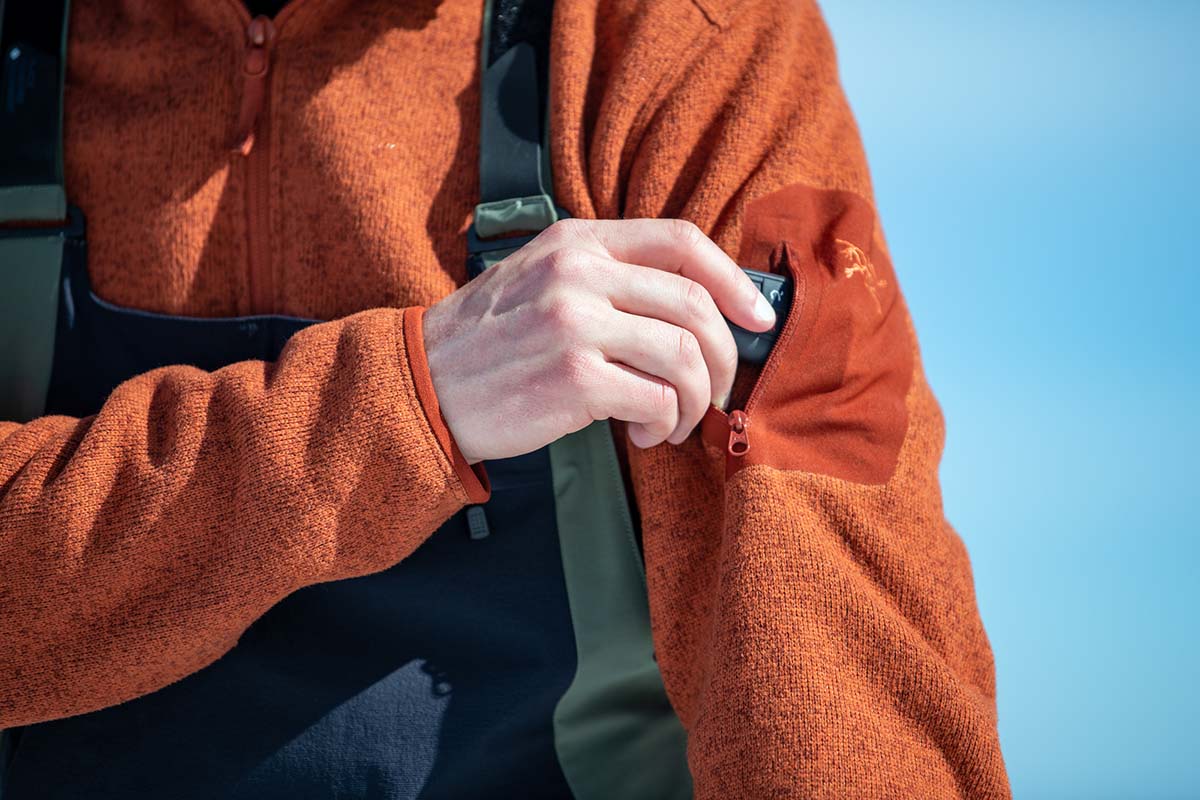 But there are steps we can take to address this issue. Companies like Patagonia and Polartec produce most of their polyester fabrics (including fleece) from recycled plastic bottles, which both reduces emissions and repurposes materials that might otherwise end up in a landfill. At the time of publishing, 95% of Patagonia's polyester fabrics are derived from recycled materials. We're also seeing manufacturers increase their use of natural fabrics—yes, even in fleece—including hemp, lyocell, wool, and bamboo. Unlike polyester fleece's microplastics, fibers that shed from these materials actually biodegrade. And then that leaves you, the consumer. You can do your part by following the three R's (reduce your consumption, reuse what you have, buy products made with recycled materials), and when you can, seek out clothing made with natural—rather than synthetic—fibers. Finally, consider purchasing a wash bag (like this one from Guppyfriend), which will keep your fleece's microplastics out of your washing's wastewater.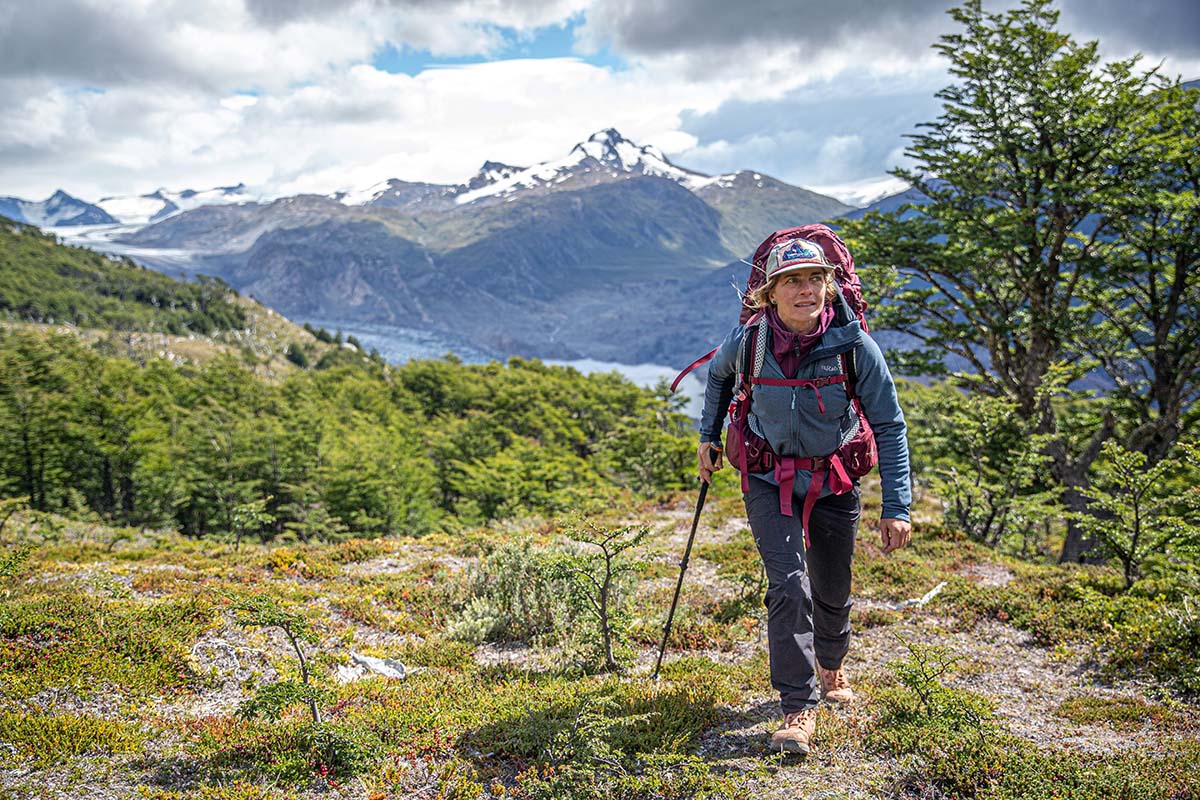 Caring for a Fleece Jacket
Pilling is one of the downsides of a low-quality fleece, and even a nicer option can start losing fleece over time. Once a jacket starts pilling up, it's difficult to reverse the process, so prevention is key here. One of the best ways to extend the life of your fleece is keeping it clear of a drier. Line drying or at least tumble-drying on low will do wonders, and some have had success washing their fleeces on the delicate wash cycle. Also, while fleece jackets are a popular choice for hanging around the campfire, do your best to keep it clear of the flames. The plasticky construction will melt when exposed to extreme heat. Beyond those considerations, fleeces are easy to maintain and should give you years of comfy service.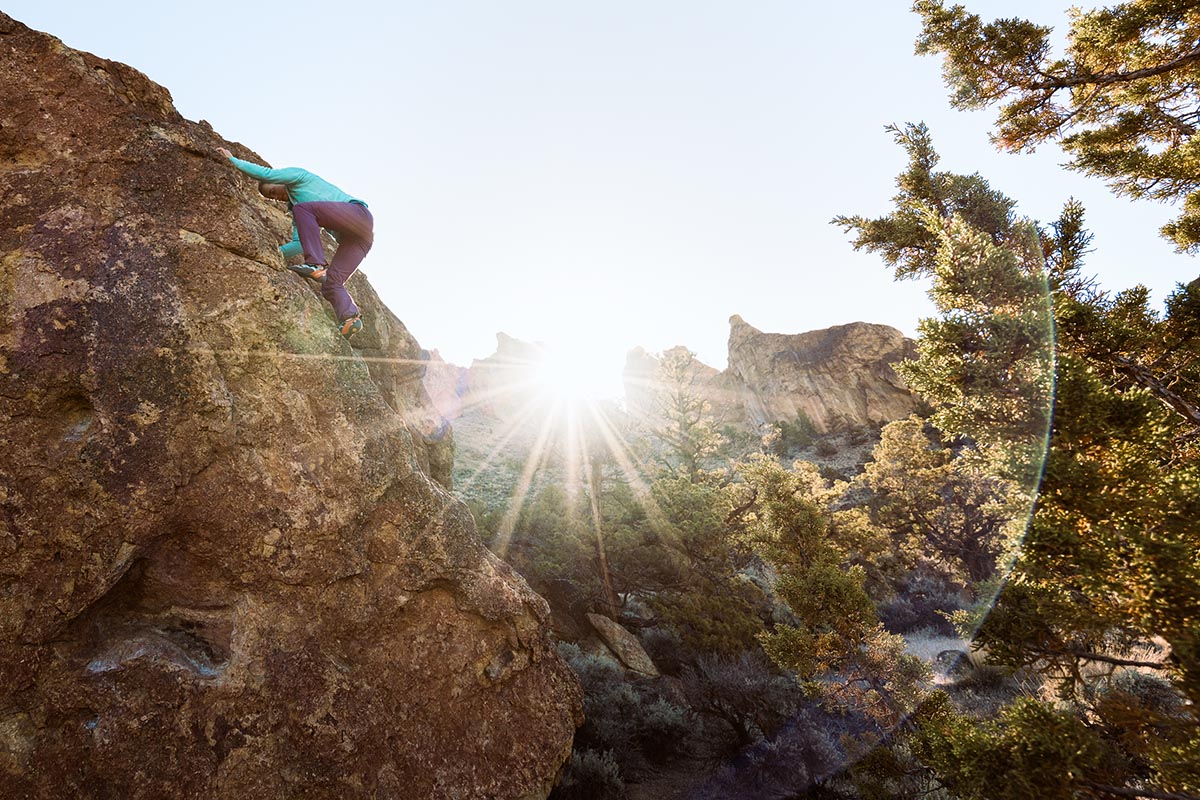 Fleece vs. Synthetic and Down Insulation
The midlayer market is chock full of options, and fleece's two primary competitors are synthetic jackets and down jackets. Both are more expensive than a fleece but offer improved warmth relative to their weight and are far more packable. Further, synthetic jackets provide better protection against wind and rain (although some modern fleeces aren't far behind). But if breathability and a soft next-to-skin feel are at the top of your list, a fleece remains our go-to choice. Synthetic and down jackets require a lining and outer shell to hold the insulation, which impacts comfort and the ability to pull away sweat and hot air. As a result, the fleece excels at aerobic activities when bulk isn't as much of a concern, such as resort skiing and day hiking. But in the end, none are the end-all-be-all insulating layer, which is why it is common for people to own one (or more) of each.
Back to Our Top Fleece Jacket Picks  Back to Our Fleece Jacket Comparison Table
Read More About Outdoor Gear