A quality ski sock gets the basics right: a close but not restricting fit, soft-touch materials that don't itch, and enough cushioning to keep you on the slopes all day. Every sock that made our "best of" list for 2021 accomplishes this and more. The current top dog in sock construction is merino wool. It's not scratchy like wool socks of old—in fact it's quite soft and comfortable—and repels odor extremely well. Modern ski socks also are thinner than in the past—boot liners have improved so that you no longer need an ultra-thick sock to be comfortable. You can expect to spend around $25 for merino down to $10 for a basic wool/stretch nylon blend. Below are our favorites for the ski season. For more background, see our ski sock comparison table and buying advice below the picks.
 
Best Overall Ski Sock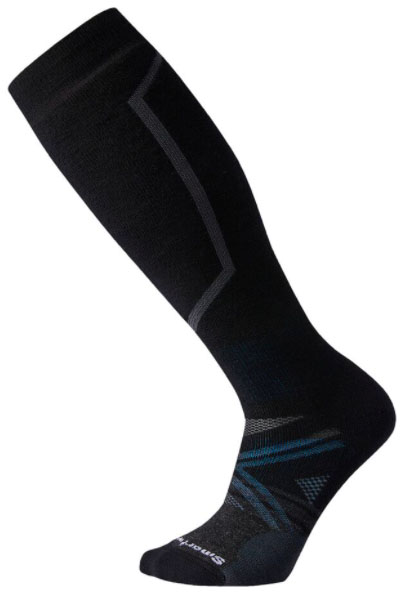 Materials: 64% merino wool, 34% nylon, 2% elastane
Thickness: Medium
What we like: Great fit and performance.
What we don't: Can't match Darn Tough's warranty, and not everyone needs this much cushioning.
Put simply, Smartwool dominates the ski sock market, and our favorite model for the 2021 season is their PhD Ski Medium. Like many Smartwool products, this sock is soft and comfortable, fits and performs extremely well, isn't prone to loosening (you can wear it multiple times between washes), and looks good to boot. Within the PhD line, the snug fit over the top of your foot and under the instep and arch is unparalleled in support, and that intentional shape keeps the sock in place for anything from bombing laps downhill to ski touring.
It's worth noting that Smartwool falls short of Darn Tough below in both durability and warranty (two years vs. Darn Tough's lifetime guarantee). However, their Indestructawool technology—a dense wool blend added to high-wear areas like under the heel and toes—has given them a nice boost in longevity. And the midweight option listed here is good for those that run cold, but modern ski boots are meant to fit snugly and have quality liners that do a lot of the insulating work for you. If your boots are already tight or you prefer less cushioning, Smartwool's PhD line also includes light and ultralight models in various prints and styles.
See the Smartwool PhD Ski Medium  See the Women's PhD Ski Medium
A Close Second (With Standout Durability)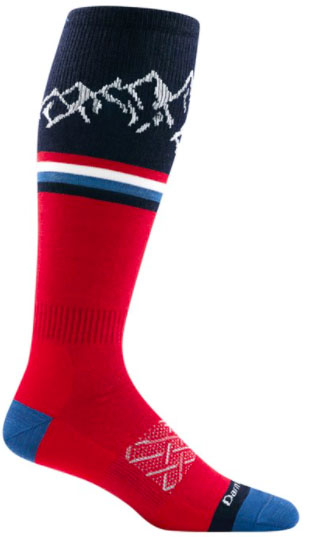 Materials: 56% merino wool, 42% nylon, 2% lycra
Thickness: Light 
What we like: Quality and durability are hard to match.
What we don't: Not the softest on the market, but it's not far off.
In addition to Smartwool, Darn Tough makes some of the best socks on the market: they're constructed mostly of merino wool, made in Vermont, and come with a lifetime warranty to back them up. But what truly sets them apart is the level of durability: in all our testing, we still haven't had a rip or tear happen even after extensive use. For this winter, our top pick from their lineup is the Alpenglow Over-the-Calf Light, which hits a nice middle ground in cushioning and warmth for season-long resort use. 
The merino/nylon combination of the Over-The-Calf Light is reasonably soft to the touch yet tough, and the seamless design helps to avoid irritation against your foot from a long day on the mountain. Further, the sock has just enough cushioning to offer moderate warmth and protection when leaning hard into your boots. We ranked the Smartwool higher because we prefer its slightly snugger fit, and the Darn Tough socks are a little more prone to loosening if you don't wash/dry them after every outing. But the quality and durability nevertheless are top-notch, and you really can't go wrong with either brand.
See the Darn Tough Alpenglow Over-The-Calf Light
Best Budget Ski Sock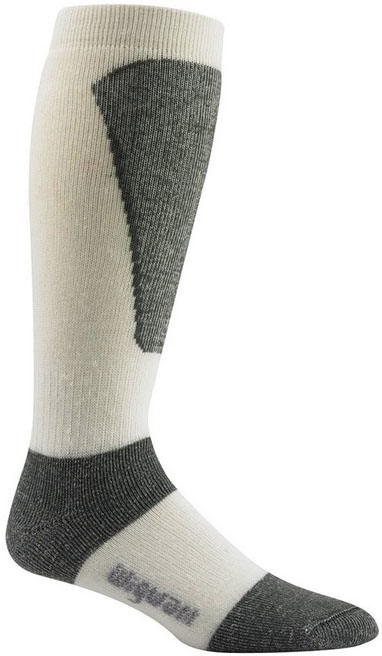 Materials: 60% wool, 30% stretch nylon, 9% stretch polyester, 1% spandex
Thickness: Medium
What we like: Great cushioning and price.
What we don't: Bulky and loses its shape over time.
If you're struggling with the idea of spending $20 or more on a pair of ski socks, the good news is that there are deals out there to be had. Our favorite value option is the Wigwam Sirocco, which is around $15 less than the Darn Tough and Smartwool options above yet still offers plenty of warmth and comfort for a typical day on the slopes. Keep in mind that the Sirocco is prone to losing its shape over time, but the mix of wool and nylon is cozy and soft, and the medium-thickness cushioning can help fill out a pair of loose-fitting rental boots.
It's important to note that the Wigwam Sirocco is not ideal for performance-oriented skiers as the sock is a little thick and doesn't hug your foot as well as the pricier models above. On the plus side, it offers similar levels of warmth (and Wigwam recently added more wool to the build), and we've found it as cheap as $10 even in the heart of the winter buying season. That's a downright bargain for weekenders who want a reliable pair of ski socks on a budget.
See the Wigwam Snow Sirocco
Best Ultralight Ski Sock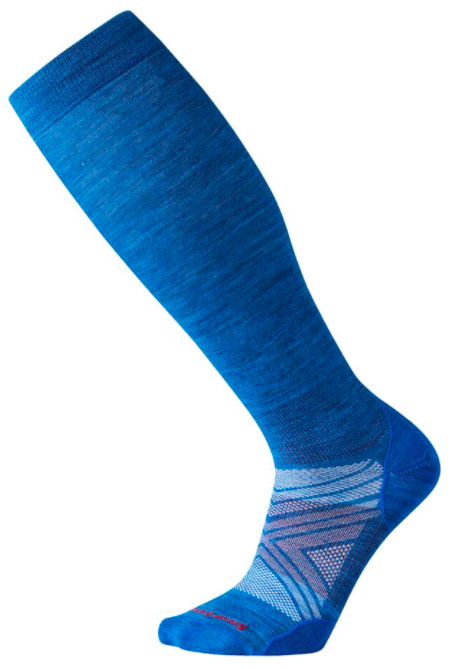 Materials: 53% merino wool, 43% nylon, 4% elastane
Thickness: Ultralight
What we like: Less padding means a closer fit and better performance from your ski boots.
What we don't: Durability falls short of the light- and midweight competition.
Ultralight ski socks can be a great option for those with snug-fitting and performance-oriented ski boots—again, your liner does most of the insulating work—and the Smartwool PhD Ski Ultra Light is our favorite option in this category. The close, minimally padded fit keeps you close to your boots for added precision and feel on the slopes, and you get the same level of comfort and odor-fighting power that Smartwool is known for. We've worn the Ultra Light for years and found that it fits well all around and offers excellent breathability—a great combination for high-output uses like ski touring and exploring the sidecountry.
In choosing an ultralight sock like this one, you do sacrifice some durability. The thicker Smartwool and Darn Tough models above will last much longer, and we don't recommend wearing the Ski Ultra Light for anything other than skiing (keeping them on around the house or in town will add unnecessary wear to the thin build). But for backcountry skiers and those who demand a lot of their set-up, the Ultra Light is a well-executed and comfortable performance option at a good price.
See the Smartwool PhD Ski Ultra Light  See the Women's Smartwool PhD Ski Ultra Light
Best Compression Ski Sock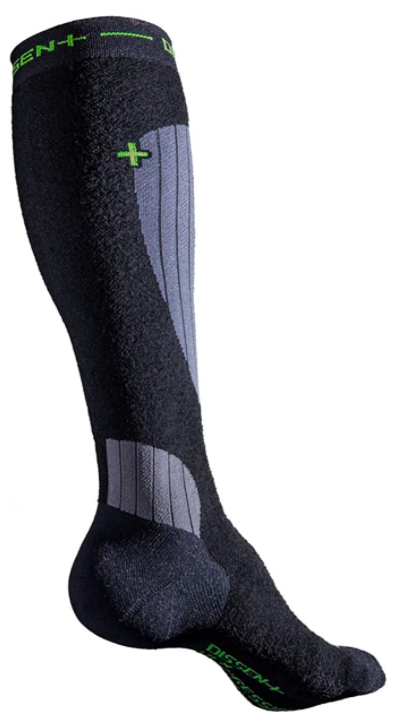 Materials: Synthetic blend
Thickness: Light
What we like: Excellent compression design for ski touring.
What we don't: Very expensive.
Dissent Labs may not be on everyone's radar, but they've developed a loyal following among the ski touring crowd. What stands out with their GFX Compression model is its complete feature set: you get compression for a snug, reliable fit, padding in strategic areas for comfort on the up and downhill, and a synthetic build that breathes well and dries quickly. All told, it's a great option for discerning backcountry skiers that have had a tough time finding a well-fitting sock.
The biggest impediment by far with the GFX Compression is price. At $50, it's right up there with the CEP Ski Ultralight below (also a compression sock) as the most expensive, non-heated option on our list by a good margin. And most resort and backcountry skiers will be just fine with a sock like the Smartwool or Darn Tough options above that come in at less than half the Dissent Lab's price. The sheer expense is what hurts it in our rankings, but you can't fault the GFX's quality and performance.
See the Dissent Ski GFX Compression
Best of the Rest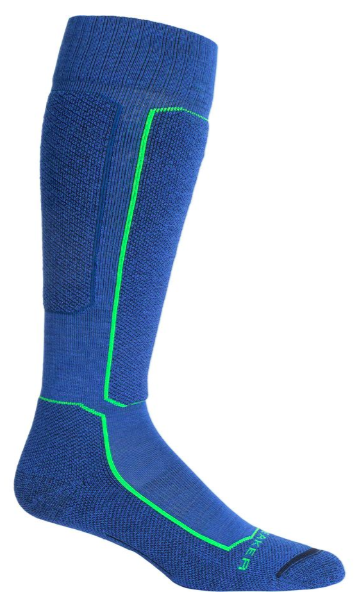 Materials: 55% merino, 42% nylon, 3% lycra
Thickness: Light
What we like: Warm and comfortable.
What we don't: Pills up over time.
New Zealand-based Icebreaker is one of the top manufacturers of merino wool outdoor apparel, and we particularly like their Ski+ Light. Combining a healthy dose of wool with the company's deft ability to make merino feel silky smooth, and you have perhaps the comfiest ski sock available. The fit also is excellent and Icebreaker is the only one here that makes socks specifically for your left and right foot (although in our experience, the Smartwool socks above fit just as well). It's worth noting that Icebreaker recently changed the recipe by reducing the amount of merino (from 70 to 55%) and upping the nylon in the Ski+ Light, which helps with durability and shape retention.
With light padding to protect the bottom of your foot and leg, these socks are warm and wick moisture extremely well. One downside is that they're prone to pilling up after a few runs through the washer (try and avoid drying them if you can), although the recent boost in nylon should help. Given the similarity in price between these socks and the Darn Tough and Smartwool socks above, it's a very close call and you can't go wrong with any of these brands.
See the Men's Icebreaker Ski+ Light  See the Women's Icebreaker Ski+ Light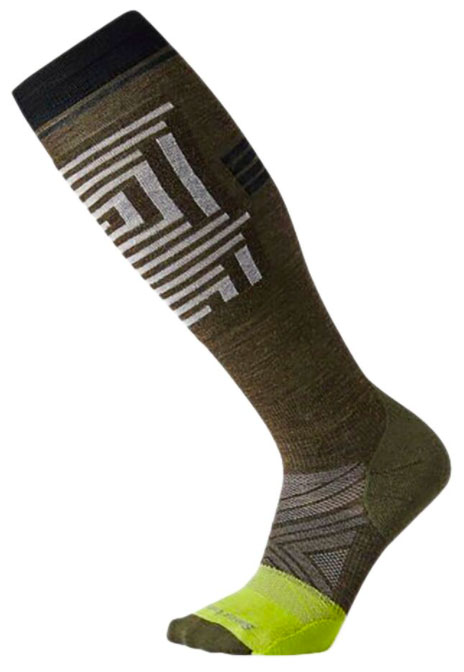 Materials: 57% merino wool, 40% nylon, 3% elastane
Thickness: Light
What we like: A nice alternative to compression models for considerably less.
What we don't: Still pricey.
The third Smartwool model to make our list is the most performance-focused of the bunch: their PhD Pro Freeski. Like the medium and ultralight versions above, the Pro Freeski features the brand's Indestructawool technology for added abrasion resistance and durability, a snug, foot-hugging fit, and a healthy amount of merino (57%) that boosts comfort and fends off stink. And the light cushioning provides that Goldilocks level of support: just enough to be comfortable but not overly bulky for sliding into tight ski boots. 
The PhD Pro Freeski is the priciest non-compression (and non-heated) option on our list at $31 per pair, but we consider it a nice alternative to the Dissent GFX above and CEP Ski Ultralight below (both around $50 per pair). Like the Dissent, you get targeted padding in key areas like the shin and ankle, as well as a performance fit for support and warmth (albeit not as tight as the true compression designs). That said, the Darn Tough above boasts a similar mix of materials (56% merino, 42% nylon, 2% lycra) for $6 less per pair, which is why we have the Smartwool ranked here (and again, the lifetime warranty is hard to beat). But the PhD Pro Freeski undeniably is a high-quality alternative that will hold its shape a bit better over time. 
See the Smartwool PhD Pro Freeski  See the Women's Smartwool PhD Pro Freeski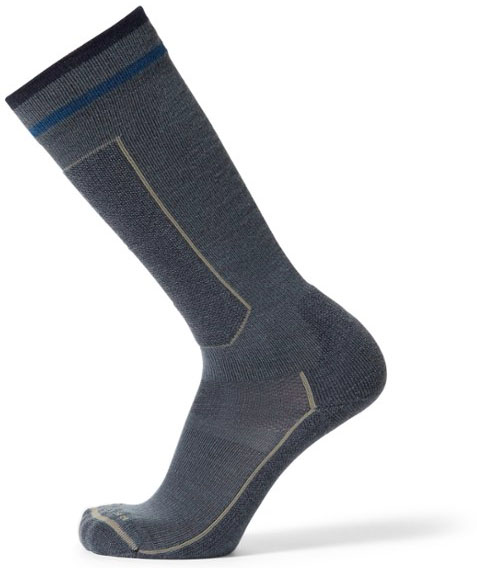 Materials: 49% nylon, 48% merino wool, 3% spandex
Thickness: Medium
What we like: A quality merino option for less than the competition.
What we don't: Lacks the foot-hugging fit of our top options.
REI consistently hits an excellent balance between price and performance, and their Powderbound ski socks are no exception. First and foremost, you get high-quality merino wool (certified to the Responsible Wool Standard), added cushioning at the heels and toes to boost durability and comfort, and a seamless toe to prevent irritation and abrasion. But the real selling point is price: at $22, the Powderbound undercuts midweight models from Smartwool and Darn Tough by around $5 per pair, which is no small feat given its similar overall construction. 
All that said, the step down in cost does come with a slight decrease in performance. As with their hiking models we've tested, the Powderbound ski socks feature spandex around the arch that can loosen after extended use. Another downside is the amount of merino: at 48%, it's far less than our top-rated Smartwool, which gives it a less cozy feel. But for casual resort-goers and those looking for a good value, the Powderbound is a well-made and comfortable sock at a great price. 
See the REI Co-op Powderbound Midweight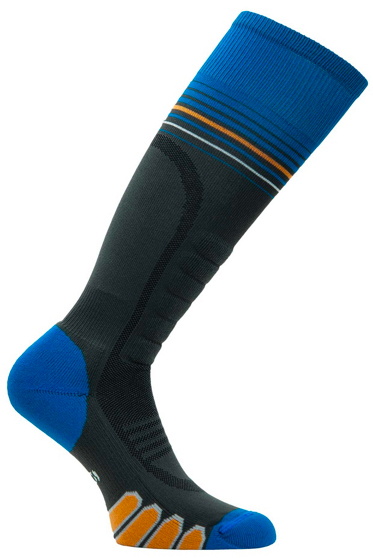 Materials: 70% Silver Drystat, 15% Microsupreme, 10% nylon, 5% lycra
Thickness: Light
What we like: The best synthetic sock available.
What we don't: Slightly less comfy and smellier than a merino option.
One of the only synthetic models on our list, the Eurosock Silver Ski Supreme OTC offers a performance fit and good value. Made up primarily of Silver Drystat, these socks are designed to combat the biggest complaint of synthetic socks: stink retention. While a merino wool sock usually can last a couple days before needing a wash, most synthetics smell rather ripe by lunch. The Eurosocks do an admirable job in this department, falling just a little short of merino.
Although the Silver Supreme is listed at $25, we often see them online for less, so they undercut the competition in price while still delivering fit and performance that compares rather well to the options above. Editor's note: the supreme moniker here aligns with competitor's lightweight options. If you require less cushioning and shin padding, we recommend the Eurosock Silver Ski Light.
See the Eurosock Silver Ski Supreme OTC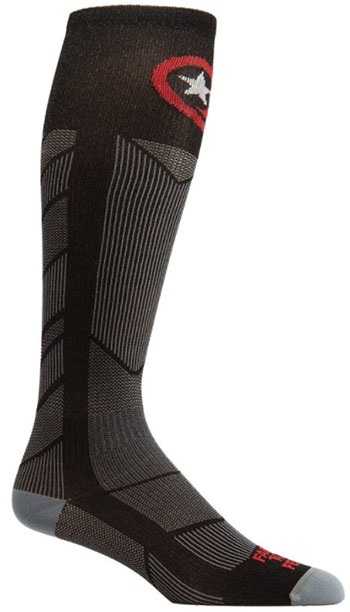 Materials: 47% PTFE-coated nylon, 45% nylon, 8% lycra
Thickness: Ultralight
What we like: Durable and a great fit.
What we don't: Too thin for most skiers.
North Carolina-based Farm to Feet have quickly made a name for themselves with their 100% U.S.-sourced and manufactured socks. From their growing lineup, the Jackson is a standout with its ultralight but durable nylon construction and super snug fit. Further differentiating the design, nearly half of the sock has a PTFE coating—similar to what's applied to non-stick pots and pans—which reduces friction and improves comfort. For uses like backcountry touring or downhill racing, the Jackson is a great choice.
Stacked up against the lightweight models at the top of our list, the ultralight Farm to Feet Jackson offers less protection and comfort for the majority of skiers. The lack of merino wool and thin construction also means it's not a great option for frigid days on the slopes. But with a great fit and impressive durability—along with Farm to Feet's excellent warranty—the Jackson sock earns a spot on our list.
See the Farm to Feet Jackson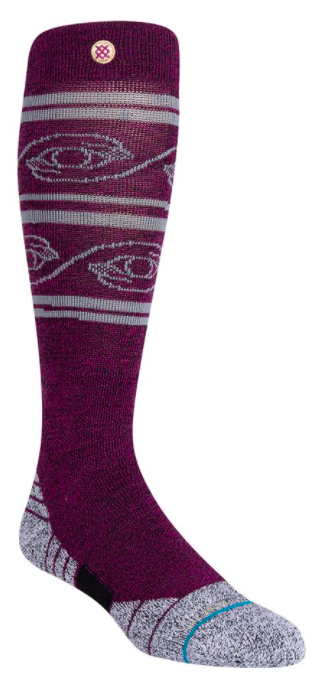 Materials: 33% nylon, 32% merino wool, 32% polyester, 3% elastane
Thickness: Medium
What we like: A well-made sock from one of our favorite underdogs. 
What we don't: It's hard to stand out in such a competitive field.
Like FITS below, Stance hasn't been around long and doesn't have the name recognition of the top brands on our list, but their socks have been quick to win us over. After trying a pair for running, we came away very impressed by the fit and build quality and started incorporating more into our hiking repertoire. For winter, their moderately cushioned, over-the-calf models (including the Holding Snow listed here) are a well-made bunch: they're available in fun patterns and designs, and the midweight thickness helps boost protection, durability, and comfort for long days on the slopes.
However, competing against the likes of Darn Tough and Smartwool, it's simply hard to stand out. The Holding Snow contains a similar recipe including merino and nylon, although you're getting considerably less wool than our top picks without saving any money (the $25 Darn Tough Alpenglow, for example, contains 56 percent merino). But Stance is doing a good job at making a name for themselves, and we'll continue putting their socks to the test in the meantime. For backcountry skiers or those who prefer less padding underfoot, Stance also makes The Grand, JC 2, and Baux with ultralight cushioning for $30.
See the Stance Holding Snow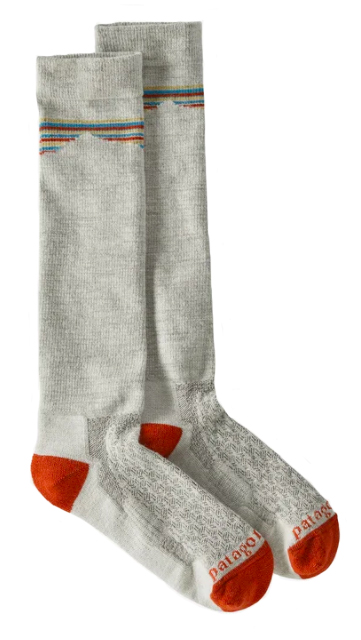 Materials: 58% merino wool, 39% nylon, 3% lycra
Thickness: Light 
What we like: Premium build quality and great versatility.
What we don't: Lacks the targeted cushioning and performance fit of the ski-specific options on our list.
Patagonia is a mainstay in the outdoor industry, and their sock collection is fairly modest but undeniably well-made. For winter adventuring, the Lightweight Merino Performance Knee Socks are a standout: you get premium materials including 58 percent merino wool certified to the Responsible Wool Standard, along with a thoughtful construction, classy styling, and knee-height cut for all-day comfort while wearing boots. All in all, these socks are soft, well-built, and embody the brand's typical attention to detail.
We rank the Patagonia Lightweight Merino mid-pack on our list because of its multi-purpose intentions. In other words, you don't get the targeted cushioning of many ski-specific models, nor do you get an ultra-snug fit (the Patagonia will feel a little bulkier in a ski boot). On the flipside, some will prefer the less constrictive feel, and the plushness makes these socks a great daily option for winter activities like snowshoeing, hiking, shoveling the driveway, and more. Backcountry skiers and those looking to maximize performance will likely prefer Smartwool's PhD collection, but the Patagonia gets the clear edge in versatility.
See the Patagonia Lightweight Merino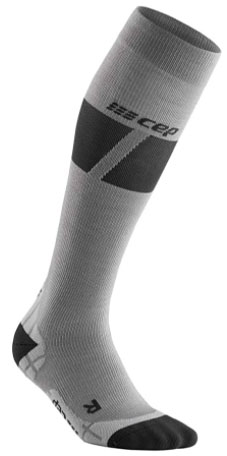 Materials: 66% polyamide, 17% merino, 17% spandex
Thickness: Ultralight
What we like: A high-performance option from a company built around compression.
What we don't: Only for those with finicky cold feet.
CEP is a compression-focused company that makes socks for activities like running, hiking, cycling, and more. From their ski lineup, we think the Ski Ultralight is a winner. Made with a quality mix of nylon, merino wool, and spandex, these socks are for those that suffer from cold feet or want to get a leg up on muscle recovery. The high price tag is due to the graduated compression technology that gently squeezes muscles in the lower leg to promote blood flow for warmth and recovery. While not everyone will like the snugness, it nevertheless adds a boost in support for those who need it.
With comparatively little merino in the build, the CEP Ski Ultralight isn't as soft as the wool-intensive builds above, plus you don't the same level of odor-fighting ability. And as is the case with most compression models, the CEP is around double the cost of our top picks. In the end, here's our take: if you're struggling with cold feet or just really prefer the secure fit, the CEP Ski Ultralight is a nice option and one of the most performance-focused designs on our list. Otherwise, we think it's worth saving with one of the merino-heavier socks above.
See the Men's CEP Ski Ultralight  See the Women's CEP Ski Ultralight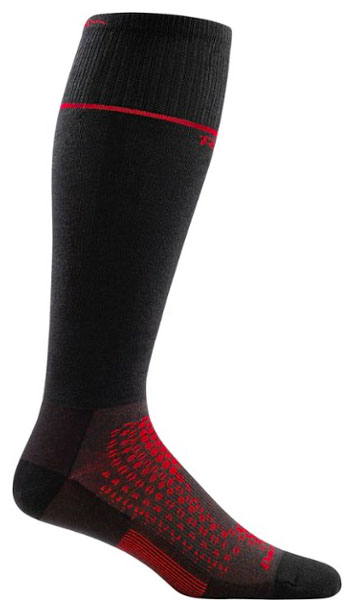 Materials: 55% nylon, 42% Thermolite polyester, 3% spandex
Thickness: Ultralight
What we like: More durable than merino.
What we don't: Still nearly as expensive.
Many of the socks on the list are made with merino wool, and most of the time it's the main actor. In this case, however, the Darn Tough Thermolite RFL is made with nylon and polyester for a low-profile, breathable, and lightweight ski sock. If your boots run small (we're thinking of you, ski racers) or you just want minimal loft in your socks for high-output activities like sidecountry hikes or touring, the Thermolite RFL offers Darn Tough quality in an all-synthetic package.
There are a few downsides to bypassing merino. Synthetics build up stink more quickly, so you'll want to wash these socks after every day on the slopes. Second, they don't offer quite the same next-to-skin softness as merino, although Thermolite still is reasonably comfortable. Finally, you don't get much in the way of cost savings here. With baselayers, for example, going with a synthetic can save you as much as 50 percent over merino, which makes them very attractive. Here, you're only saving a couple bucks, but synthetics do tend to last much longer, which adds value in the long run. All in all, we like the Thermolite RFL and it also comes in a cushioned version, but we still give the nod to merino, and especially at a similar price point.
See the Men's Darn Tough Thermolite RFL  See the Women's Darn Tough Thermolite RFL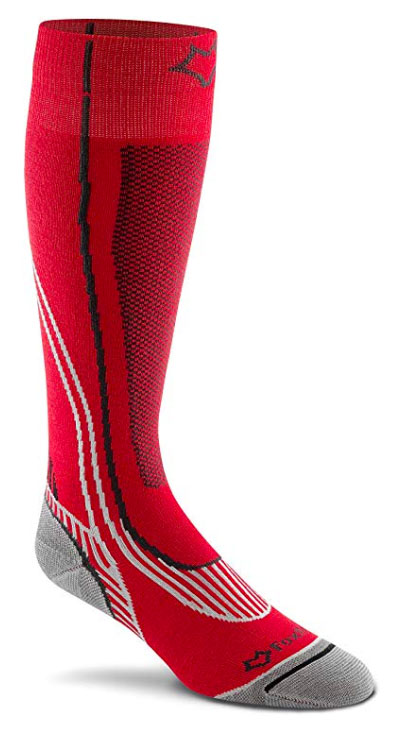 Materials: 46% nylon, 25% merino wool, 25% acrylic, 2% polyester, 2% spandex
Thickness: Light
What we like: Great price for merino wool.
What we don't: Less merino means less warmth and comfort than our top picks.
Merino wool socks don't come cheap, so it's notable that the Fox River Arapahoe Lightweight OTC comes in at only $16. And while the Arapahoe uses a much smaller percentage of the high-end material (25 percent), you still get many of the good properties: superior comfort, temperature regulation, and less of a tendency to smell bad. The Arapahoe is Fox River's lightweight model and hits a nice balance of cushioning and warmth (Fox River also makes an ultralight version for $15 per pair).
In saving the roughly $10 from our top picks, the Arapahoe Lightweight OTC does compromise in a few areas. Most importantly is fit: the cheaper construction won't retain its shape as well over time, and the fit around the forefoot is prone to getting loose. Further, the lower concentration of merino does make the Arapahoe a little less warm and plush than what you get from the Darn Tough, Smartwool, or Icebreaker. But $10 is nothing to scoff at, and the Arapahoe is our top budget merino pick.
See the Fox River Arapahoe Lightweight OTC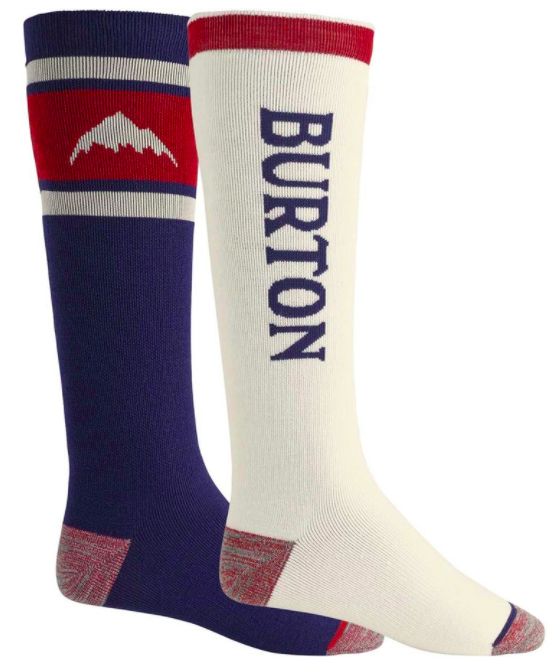 Materials: 80% acrylic, 18% nylon, 2% spandex
Thickness: Medium
What we like: Excellent value and very warm.
What we don't: Prone to bunching.
Originally intended for snowboarding, the Burton Weekend is a great crossover option for downhill skiing. To start, it's a fantastic value—Burton typically sells these in a two-pack, which means you can get all the socks you'll need for the season for about $30 (or, only $9 more than one pair of the Darn Tough Thermolite above). Moreover, these over-the-calf synthetic socks are some of the warmest to make our list with a midweight thickness throughout.
What you give up in using a thicker snowboard sock in a ski boot is a foot-hugging fit. The cushioning on the Weekend is great for comfort in a more accommodating snowboard boot, but is prone to bunching in the toes and heel of a snug ski boot. And if you have a performance-oriented, low-volume design, the sock can be restrictive, uncomfortable, and actually less warm than a thin sock that fits better. As the price would suggest, the Weekends are best for beginner skiers that may be wearing a roomier boot and will value the extra padding and warmth. Anyone above intermediate-level should stick to the downhill-specific designs above.
See the Men's Burton Weekend Socks  See the Women's Burton Weekend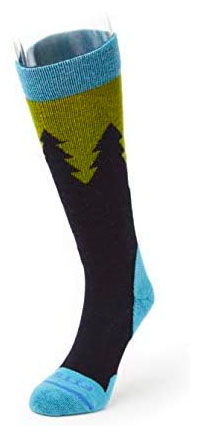 Materials: 66% merino wool, 26% nylon, 6% polyester, 2% lycra
Thickness: Light
What we like: The highest percentage of merino on our list.
What we don't: Not as proven as Smartwool or Darn Tough.
FITS doesn't have the same cachet as Smartwool or Darn Tough, but they're quickly making a name for themselves in the hiking and ski sock realms. What stands out most about their Light Ski sock listed here is the amount of merino: at 66%, it's the highest percentage on our list (even 2% more than the noticeably thicker Smartwool PhD Ski Medium above), which translates to excellent comfort and odor-fighting ability. And like our top-rated picks, you get strategically placed padding and a snug fit for all-day comfort.
Why do we have the FITS ranked here? Simply put, this brand still is a relative newcomer to the ski sock market and lacks the time-tested track record of the brands above. It's true that FITS socks undercut the competition by around $1 per pair, but that's not enough for us to recommend them over a more proven option from Smartwool or Darn Tough. But so far, all signs are positive that FITS will continue to impress, and this sock might see a jump in our rankings in the not-so-distant future.
See the FITS Light Ski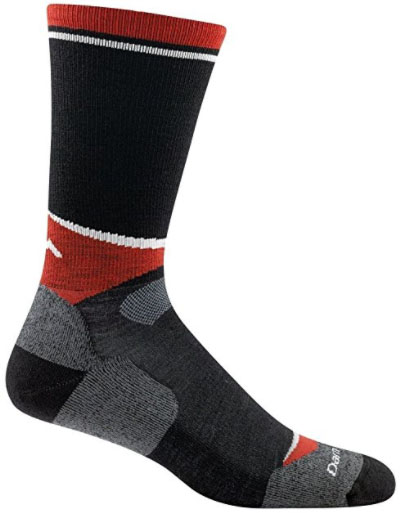 Materials: 53% merino wool, 43% nylon, 4% lycra
Thickness: Light
What we like: Purpose-built for cross-country skiing.
What we don't: Too low for downhill.
Every other sock on the list is geared toward downhill or backcountry skiing, so we wanted to include at least one option for cross-country and snowshoeing. What differentiates the Lars Nordic Boot Light from the pack? With this sock you get a lower cut (Nordic boots end much lower on the leg than downhill boots), more cushioning around the foot due to the constant motion, and no padding in the shin because it's not necessary. We've used regular ski socks and even hiking socks for cross-country skiing in the past, but the Lars Nordic is a really nice purpose-built option that will help maximize your performance.
With this sock you also get the same upsides as our #2 Darn Tough pick: a nice blend of comfort and durability, good moisture and stink management, and a made-in-the-U.S.A. build that comes backed by a lifetime warranty. Another possibility in this category is the Smartwool PhD Nordic, but we prefer the toughness and build quality of Darn Tough. Outside of cross-country skiing, both are viable options for winter activities like snowshoeing, ice skating, and everyday wear under winter boots.
See the Darn Tough Lars Nordic Boot Light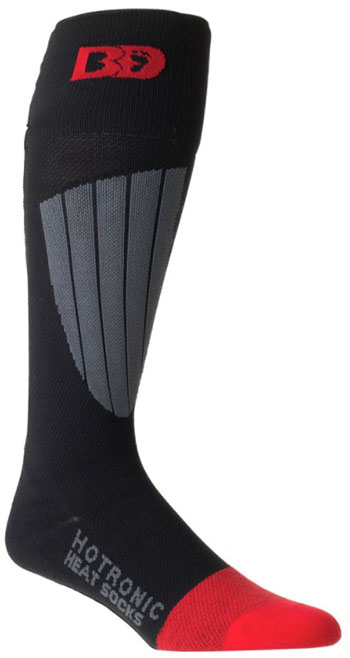 Materials: 70% nylon, 20% spandex, 10% merino wool
Thickness: Lightweight
What we like: Heated sock design that isn't too obtrusive.
What we don't: Incredibly expensive, and only for those that truly need it.
Hotronic is best known for their heated ski boot insoles, and they've applied that expertise to ski socks in the XLP One. Powered by a lithium-ion battery pack, a heating element along the exterior of the sock provides direct warmth to the heel, toes, and ball of the feet. The entire design is fairly unobtrusive as Hotronic kept cords to a minimum, and the low-profile battery pack attaches to the cuff of the sock. With four levels of heat to choose from, the XLP is a great way for those with chronically cold feet to enjoy a day on the hill.
Clearly, the Hotronic XLP One has limited appeal for everyday skiers. Improvements in synthetic insulation have made modern ski boots surprising warm, and many issues with cold feet can be resolved with a visit to an experienced boot fitter. If, however, you've exhausted all other options or need the boost in heat for comfort or medical reasons, the Hotronic XLP One may be worth the investment.
See the Hotronic XLP One + PFI 50 Heated Socks
Ski Sock Comparison Table
| Sock | Price | Materials | Thickness | Padding |
| --- | --- | --- | --- | --- |
| Smarwool PhD Ski Medium | $27 | 64% merino wool, 34% nylon, 2% elastane | Medium | Yes |
| Darn Tough Alpenglow OTC Light | $25 | 56% merino wool, 42% nylon, 2% lycra | Light | No |
| Wigwam Sirocco | $10 | 60% wool, 30% nylon, 9% polyester, 1% spandex | Medium | Yes |
| Smartwool PhD Ski Ultra Light | $25 | 53% merino wool, 43% nylon, 4% elastane | Ultralight | No |
| Dissent Ski GFX Compression | $50 | Synthetic blend | Light | Yes |
| Icebreaker Ski+ Light OTC | $28 | 55% merino, 42% nylon, 3% lycra | Light | Yes |
| Smartwool PhD Pro Freeski | $31 | 57% merino wool, 40% nylon, 3% elastane | Light | Yes |
| REI Co-op Powderbound Midweight | $22 | 49% nylon, 48% merino wool, 3% spandex | Medium | Yes |
| Eurosock Silver Ski Supreme | $25 | 70% Silver Drystat, 15% Microsupreme, 10% nylon, 5% lycra | Light | Yes |
| Farm to Feet Jackson | $20 | 47% PTFE nylon, 45% nylon, 8% lycra | Ultralight | No |
| Stance Holding Snow | $25 | 33% nylon, 32% merino wool, 32% polyester, 3% elastane | Medium | No |
| Patagonia Lightweight Merino | $25 | 58% merino wool, 39% nylon, 3% lycra | Light | No |
| CEP Ski Ultralight | $55 | 66% polyamide, 17% merino, 17% spandex | Ultralight | Yes |
| Darn Tough Thermolite RFL UL | $23 | 55% nylon, 42% Thermolite polyester, 3% spandex | Ultralight | No |
| Fox River Arapahoe Lightweight OTC | $16 | 46% nylon, 25% merino wool, 25% acrylic, 2% polyester, 2% spandex | Light | Yes |
| Burton Weekend Socks | $32 | 80% acrylic, 18% nylon, 2% spandex | Medium | Yes |
| FITS Light Ski | $25 | 66% merino wool, 26% nylon, 6% polyester, 2% lycra | Light | Yes |
| Darn Tough Lars Nordic Boot Light | $24 | 53% merino wool, 43% nylon, 4% lycra | Light | No |
| Hotronic XLP One Heated Socks | $279 | 70% nylon, 20% spandex, 10% merino wool | Light | No |
Ski Sock Buying Advice
Sock Materials
Merino Wool
Despite a higher cost, merino remains the most popular and our most recommended ski sock material for a number of reasons: excellent fabric feel that's soft and comfortable, odor resistance, and superior temperature regulation. In other words, merino socks are able to keep your feet warm when the mercury drops, but you should also remain cool when spring rolls around. All told, it's the full meal deal for your sock needs (we cover this information in greater detail in our article: Merino Wool: Is It Worth It?).
Granted, merino wool socks are rarely pure merino. A blend of fabrics, usually including some nylon for toughness and elastane or spandex for stretch, is required to provide a supportive fit that stays in place. Additionally, the fabric weave and construction is an important consideration, because some brands like Darn Tough prioritize long-term durability over supreme softness with a dense weave, while others like Icebreaker sacrifice a little on lifespan for coziness.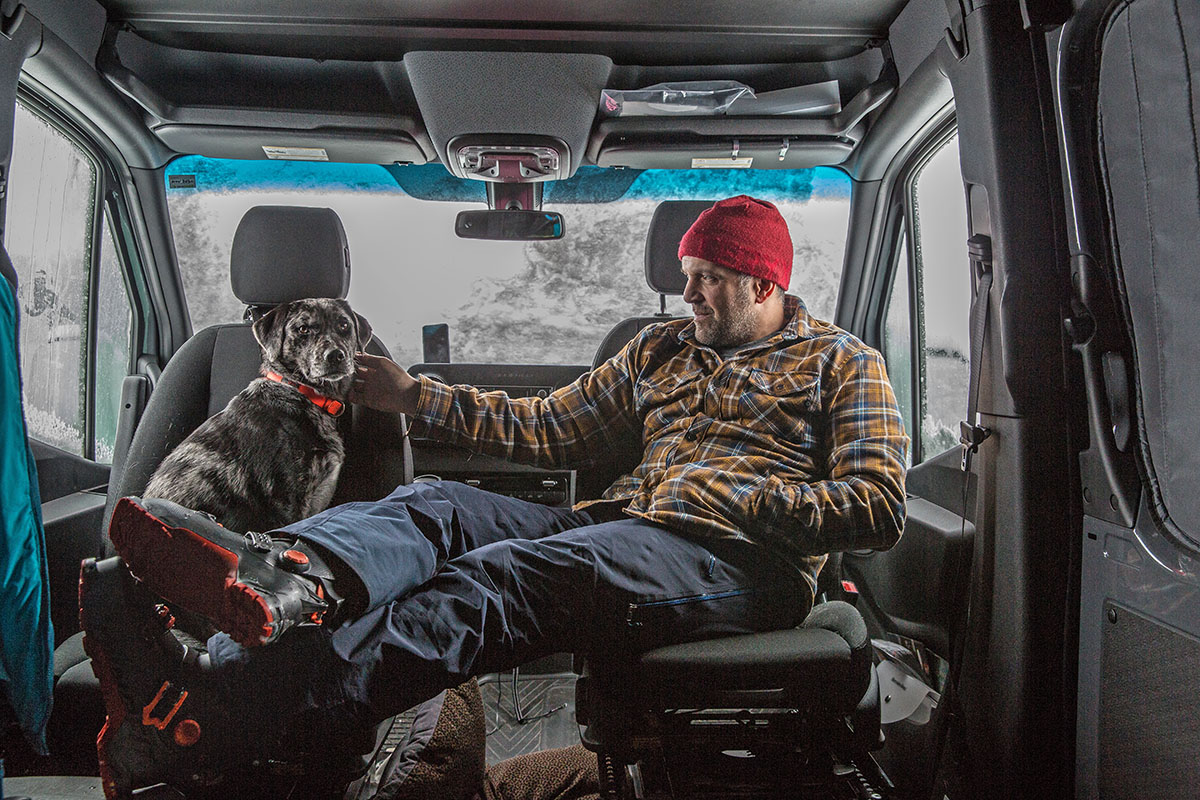 Synthetic
Most of our top picks are made with merino. However, not everyone is totally smitten with the higher price tags. For a more cost-effective alternative, you can turn to a synthetic option. The designs will vary depending on brand, but some common features in synthetic socks are a performance fit and superior moisture-wicking properties. Keep in mind you're not going to experience amazing breathability inside a ski boot—the hard shell of the boot prevents that—but these synthetic socks do manage to pull sweat away from your feet as efficiently as possible. The downsides are warmth and stink prevention, although some brands have worked very hard to combat the latter complaint. Silver Drystat in the Eurosock Supreme is an example of a synthetic that does a decent job at keeping the smells to a minimum.

Nylon
Merino and synthetic are the two most common materials used in sock construction, while nylon is a secondary fabric that boosts durability and gives the socks a consistent shape. Ski socks are designed to fit snugly and not bunch up or slide around (we cover this more in the "fit" section below), and this is where nylon and spandex come into place. The elastane or spandex lets the fabric flex, while nylon gives the sock a structure that retains its shape even after being stretched, and supports your foot, ankle and lower leg. We list the fabric construction for each product on this list and you'll notice a theme: 15-50% nylon. More nylon is usually associated with a performance fit that should retain its shape and avoid sagging over time.

Sock Thickness, Cushioning, and Warmth
Ultralight
Amazingly, a super-thin ultralight sock can be a suitable option even in cold conditions—as long as you've spent big bucks on a nice pair of modern ski boots. Boot liners insulated with products like microfiber Thinsulate are able to trap hot air against your feet far better than ever before. As long as your liner fits you well and you don't go out in positively frigid conditions, an ultralight sock is perfectly suitable. The closer, streamlined fit also improves contact with the boots for improved performance.
Regarding durability, ultralight socks fall short of the other options simply by the thickness of their design. We wouldn't suggest wearing them too much out of the boots. These ultralight options, including the Smartwool PhD Ski Ultra Light, are most popular with those that work hard—hiking or ski touring. Those that require a little extra cushioning or warmth may want to look at the more all-around friendly lightweight category below.

Lightweight
For standard downhill skiers, the lightweight category is a great place to be—with enough cushioning around and under your foot to be comfortable but not so thick and bulky that it feels awkward inside your boot. Those that like to run an ultralight sock for average conditions or for ski touring may want to have a slightly thicker, lightweight option for those chilly days. Some of our favorite options include the Darn Tough Alpenglow OTC Light and Icebreaker Ski+ Light OTC.
Midweight
Ski socks of old used to fall into this category, but the changes in ski boot technology have made a thicker sock far less important. The benefit of a midweight sock, like our top-rated Smartwool PhD Ski Medium, is added cushioning inside a boot, and for those that run cold no matter what, it may be worth having a midweight option. But keep in mind, boot liners are meant to fit snug, so a sock that is too thick can actually restrict blood flow and make your feet even colder. Be sure to dial in your fit just right if you plan to run a thicker, midweight sock. If your boots are too big or you've packed out your liners, it could be a viable option.

Shin Padding
We usually recommend choosing a ski sock with some degree of padding along the shin for all-day comfort and to take the sting out of shin-bang (or when landing a jump). It's something that is enjoyed by casual and performance skiers in both the resort and backcountry, and is especially helpful for skiing on hardpack when your stance is more forward (as opposed to powder, when you're more upright). Most often, ski-specific socks with more cushioning underfoot also include a healthy amount of shin protection. There are, however, a few ultralight padded options out there that combine a non-cushioned design with some shin protection. And a final point here: one notable downside of choosing a crossover ski and snowboarding sock like the Burton Weekend is the loss of targeted cushioning around the shin.
 
Moisture-Wicking Properties
Ski socks have a few simple tasks: keep you warm, fit well and stay in place, and wick moisture. A sock's wicking ability is particularly important for backcountry skiers or those prone to working up a sweat. If the sock gets wet and stays wet, your feet can become cold pretty quickly. This is where merino wool shines—not only does it wick moisture well, but it continues to insulate even when wet (unlike cotton). And while synthetic materials dry quickly, they can't retain as much of the moisture as merino and working up a sweat will make them smell bad. The thickness of the material also plays a role, and thinner merino wool socks, like the Icebreaker Ski+ Light, are standouts in this category.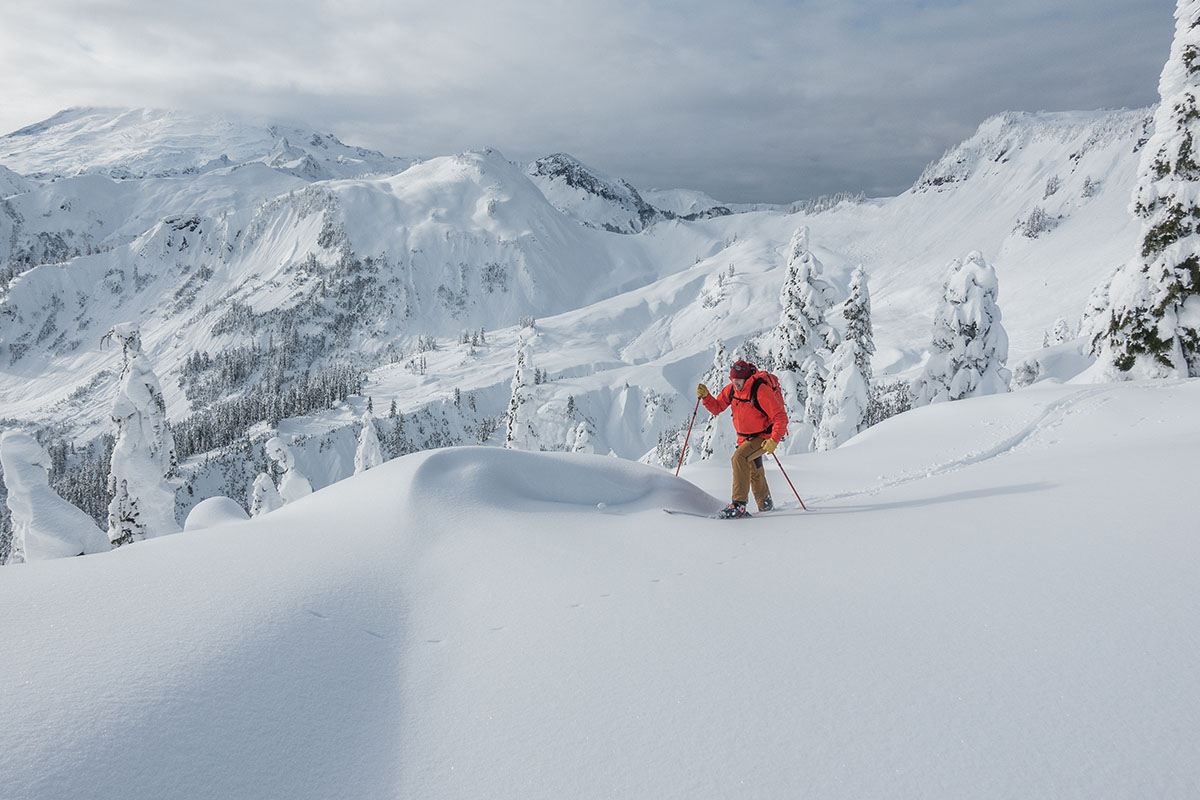 Compression Socks
Following trends in running and performance gear, ski socks brands have been offering up more and more compression options. The goal of a compression sock is improved blood flow. In a ski sock application, the goal is to leverage this improved blood flow to boost warmth as well as possibly reducing muscle fatigue. While it's a difficult thing to prove, in our experiences with compression socks, we've found them to have a very close fit that just may offer a slight increase in warmth. What we can say definitively is compression socks do offer a very supportive fit that performance skiers should enjoy.
A compression sock fits exactly as you'd expect: very tightly. Enough so that it can require a bit of strategy to slide them on the first time. The downside of a design like the CEP Ski Ultralight is a substantial bump in price, which can be nearly double the cost of a comparable standard ski sock. The average skier absolutely does not need a compression sock, and only those that are looking for a very tight and secure fit, and perhaps a slight improvement in recovery time and warmth, should consider spending the $30 to $60 for a pair of socks.
 
Fit
More so than nearly any other application, having a proper fitting sock for skiing is essential. Make sure your socks feel tight around your toes, ankle, and shin without being restrictive. Any excess material can spell trouble when pinched in between your foot or leg and boot liner. This can create hot spots or worse, blisters. You also shouldn't have to peel the socks off (compression options are the exception). Look to the sock fit range for sizes, and if you're right on the fence, we recommend sizing down.

Ski Sock Height
From the list above, you'll notice that almost all of the socks (with the exception of the cross country-focused Darn Tough Lars Nordic Boot Light) fall just below the knee. This is to account for the height of ski boots, which typically rise to the mid or high shin. Any sock that falls below the top of your boot can create serious discomfort and rubbing against the skin, so it's important to have a little wiggle room. The main takeaway: it's best to choose a ski-specific model (as opposed to a hiking sock or other type of sock) to ensure you're getting enough coverage.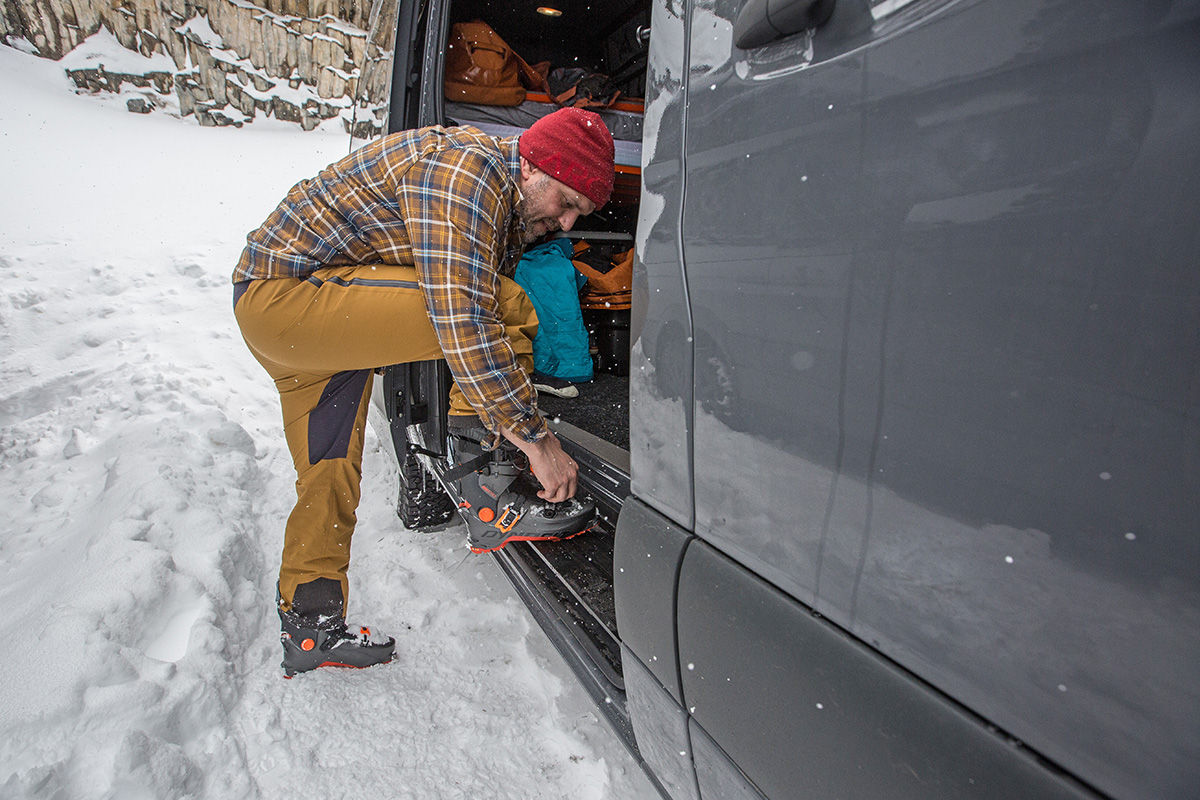 Women's, Men's, and Unisex Ski Socks
Many ski socks are sold as unisex, but some on our list offer women's-specific versions. These models are often a bit shorter—for example, the Smartwool PhD Ski Medium men's sock is 14 inches, while the women's version is only 13. Why? Women's legs, on average, are a bit shorter than men's, and the difference is meant to provide a better, more tailored fit. All that said, we consider pretty much any sock gender-neutral—go with what feels best. 

Cross-Country Ski Socks
Eighteen out of 19 picks on our list above are downhill-oriented ski socks (we include the multi-purpose Patagonia in that grouping), but we made a point of including one cross-country sock: the Darn Tough Lars Nordic Boot Light. Most cross-country designs have a similar construction with a lower cut that falls about mid-calf, added cushioning around the foot, and no padding in the shin due to differences in boot design and foot movement. We also find that these socks cross over nicely for other winter activities like snowshoeing and ice skating. While regular ski or hiking socks will work just fine, XC models are much more purpose-built and will help maximize comfort and performance.

Durability and Care
The advanced construction and materials used for ski socks do not lend themselves to being particularly durable. The nylon and merino wool blends are focused on a low profile fit that sits well in your boot, and are prone to developing holes over time. As such, we recommend taking good care of your expensive ski socks. And, if you'll be skiing a lot, it may be worth investing in a more expensive pair that comes with a warranty. Darn Tough stands out here with their amazing lifetime guarantee, and Icebreaker also comes with a 100% satisfaction guarantee (with no time restriction).
For sock care, it's always best to follow the instructions given by the manufacturer. What we've found to be most successful is to turn them inside out and wash in cool or warm water—and use tech wash occasionally to help get out any lingering smells. To avoid pilling and premature wear, we always suggest avoiding the drier and line drying them instead.
Back to Our Top Ski Sock Picks  Back to Our Ski Sock Comparison Table
Learn More About Ski Gear