Hardshell jackets are designed for the alpine: they're highly windproof, waterproof, breathable, and durable. This is the outer layer you turn to for ultimate protection while backcountry and resort skiing, mountaineering, alpine climbing, and 4-season trekking. Below we break down our top hardshell jackets of 2018, from minimalist models for those who want to move fast and light to burly jackets made to withstand the worst winter conditions. For more information, see our hardshell comparison table and buying advice below the picks. And for lighter weight and more compressible jackets for everyday use and hiking, see our article on the best rain jackets.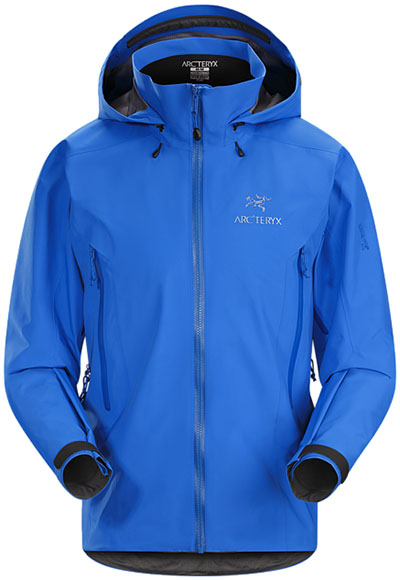 Category: All-around
Weight: 16.2 oz.
Waterproofing: Gore-Tex Pro
Denier: 40D & 80D
What we like: Excels in just about every category.
What we don't: Expensive, and not ideal for fast and light trips.
Hands down, Arc'teryx makes our favorite hardshell jackets. You pay a premium over the competition, but nothing else on the market matches the combination of performance, fit, and craftsmanship. Their Beta AR jacket is the quintessential do-all hardshell and our top pick for 2018. If we were to choose a single shell for all uses, this is the one. It's plenty tough to withstand brutal alpine conditions without compromising on comfort and breathability for ski trips or backpacking.
The Beta AR's top-end Gore-Tex Pro fabric offers a high level of performance, but it's the detailing that sets the jacket apart. The shell is thoughtfully designed for mountain use with a tall collar, fantastic hood, and just-right fit for mobility and layering. And it's downright comfortable for a hardshell with lightweight 40-denier fabric on the body. The 80-denier Gore-Tex on the shoulders may add weight, but it's built to handle backpack straps and rain or snowfall. The Alpha SV is tougher and has a longer cut, and you can save weight by choosing one of the thinner options below, but for all-around backcountry use the Beta AR stands out as best in class... Read in-depth review
See the Men's Arc'teryx Beta AR  See the Women's Arc'teryx Beta AR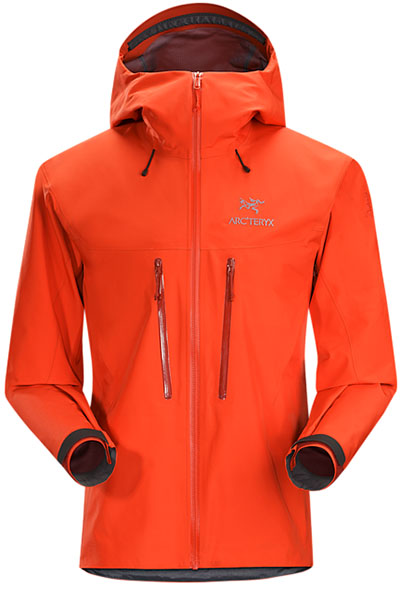 Category: Alpine/all-around
Weight: 17.3 oz.
Waterproofing: Gore-Tex Pro
Denier: 100D
What we like: Bombproof shell, fantastic detail work.
What we don't: Very expensive.
For the toughest alpine conditions—think piercing wind, driving rain, sleet, and snow—you won't find a tougher shell than the Arc'teryx Alpha SV. The jacket sits at the very top of the Arc'teryx lineup in both weather resistance (the SV is for Severe Weather) and price, and its performance while ski touring and mountaineering has not disappointed. Arc'teryx updated the jacket this winter with a sturdier face fabric, new zipper design, and reduced weight. We've had zero issues with the durability of the substantial 100-denier Gore-Tex Pro—the highest denier fabric to make our list. Given the strong build, it's impressive that the Alpha SV is only about 1 ounce heavier than the Beta above and slightly less packable. Nor is it lacking in any features: you get pit zips, plenty of interior and exterior pockets, and trustworthy zippers.
There is literally nothing negative we can say about the weather protection or durability, but its high price is a significant downside. $749 is an eye-popping total, and for the average backcountry explorer, the Alpha SV's tank-like design is more than you'll ever need. You can save money and weight with the Beta AR above, but if you're looking for the toughest hardshell, this is it... Read in-depth review
See the Men's Arc'teryx Alpha SV  See the Women's Arc'teryx Alpha SV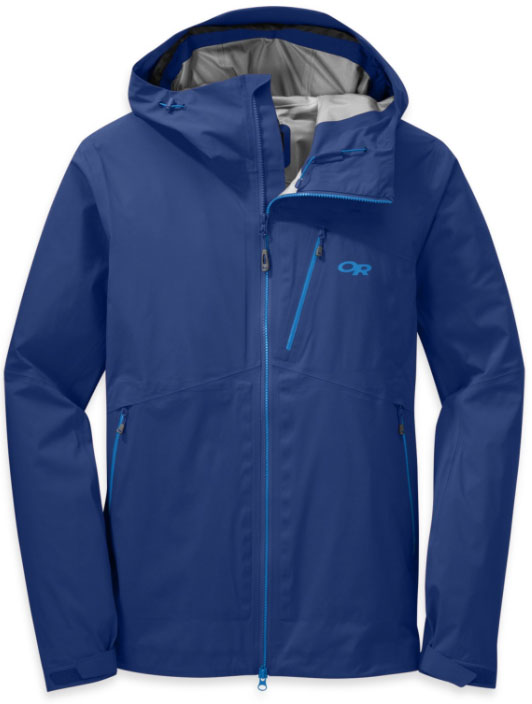 Category: Minimalist/all-around
Weight: 14.2 oz.
Waterproofing: Gore-Tex Active
Denier: 30D
What we like: Lightweight, stretchy fabric, and excellent breathability.
What we don't: Less durable than the options above.
At just under half the price of the Alpha SV above, the Outdoor Research Axiom is an excellent value for a quality hardshell. The jacket is built with Gore's breathable "Active" membrane, and weight is kept nicely in check for overnight trips without compromising on the feature set. The stretchy face fabric gives it a comfortable feel, and we think the trim fit is just right for wearing either with only a baselayer or a lightweight puffy. While we would prefer pit zips, you can open the front pockets to generate a little airflow in mild conditions.
The primary downside of the Axiom is durability. Even with the change in 2017 from 20 to 30-denier, the fabric and Gore-Tex Active membrane put a premium on weight and breathability, and aren't as tough as the jackets above. For alpine use in and around sharp gear like crampons and skis, this can be a cause for concern. Fit and finish also falls a little short of the Arc'teryx picks above, but the clear benefit is the approachable cost. Despite a $10 increase, the Axiom is priced right for 4-season fun.
See the Men's Outdoor Research Axiom  See the Women's Outdoor Research Clairvoyant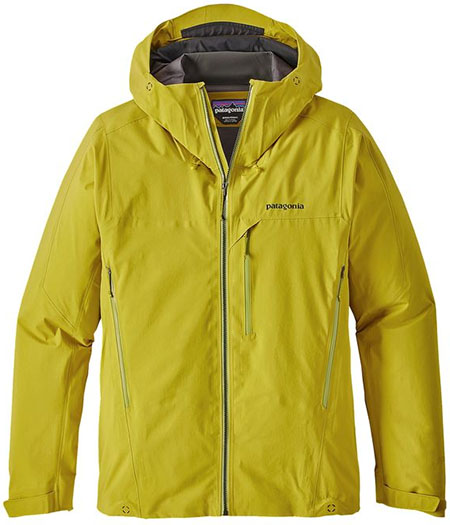 Category: All-around/minimalist
Weight: 14.6 oz.
Waterproofing: Gore-Tex Pro
Denier: 40D
What we like: High levels of performance and comfort.
What we don't: A step down in durability compared to the Beta AR above.
Patagonia has been surprisingly lacking in the high-end hardshell market of late, but they're back in a big way with the Pluma. This new jacket is the real deal: you get top-end Gore-Tex Pro, a cozy micro grid liner for exceptional comfort and sweat absorption, and pit zips, all at under 15 ounces. In keeping weight in check, we like that Patagonia didn't skimp on features with 3 large exterior pockets, a zippered interior chest pocket, and a highly adjustable helmet-compatible hood. All told, the Pluma checks off all the boxes for high mountain adventures where weight and comfort are the priorities.
With a 40-denier face fabric and 15-denier backer, the Patagonia Pluma is on the thin side for an alpine shell. Compared with the Beta AR above, the Patagonia lacks the beefed-up panels of 80-denier nylon for protection against ski equipment or pack straps. The upside is that the Pluma is 1.6 ounces lighter and has some modern features that the older Beta AR is missing like easy-to-use Coehesive cord locks for the hem and hood. As a result, the Beta AR may be a moderately better all-rounder, but the new Pluma's weight, comfort, and features make for an appealing package.
See the Men's Patagonia Pluma  See the Women's Patagonia Pluma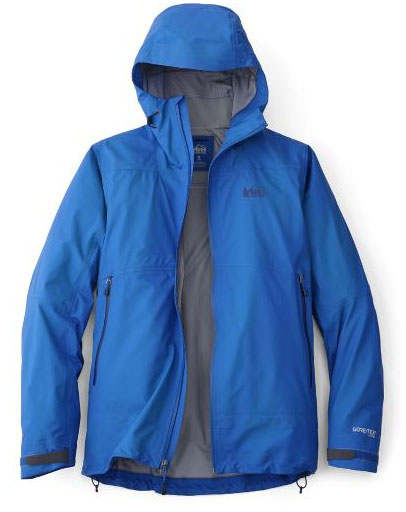 Category: Minimalist
Weight: 10.5 oz.
Waterproofing: Gore-Tex Active
Denier: 20D
What we like: Lightweight, breathable, and an excellent value.
What we don't: Designed more for hiking than skiing or climbing.
REI recently received a Gore license and has jumped into the hardshell category in a serious way. As we've come to expect, their new lineup delivers big-time value considering the performance and quality. The $249 Drypoint is a top-notch jacket that undercuts the competition by $100 or more: you get 3-layer Gore-Tex Active, a light and flexible shell, and nice detailing like hipbelt-friendly mesh-lined pockets that double as core vents for staying cool. This isn't your hardcore alpine piece—the hood won't fit over a helmet and the jacket is pretty thin overall—but the Drypoint GTX is a great option for year-round backpackers.
At 10.5 ounces, the Drypoint is one of the lightest hardshells on our list, but it's also one of the least durable. Gore-Tex Active prioritizes breathability and comfort over toughness—at least compared to premium Gore-Tex Pro—and the 20-denier face fabric won't hold up as well to scrapes against rock or sharp gear as the pricier Outdoor Research Axiom or Arc'teryx Alpha FL. But for its intended uses as a backpacking shell, it's just about perfect—we wore the Drypoint extensively on a trek in Patagonia and it shed rain, high winds, and even a little snow with ease... Read in-depth review
See the Men's REI Co-op Drypoint GTX  See the Women's REI Co-op Drypoint GTX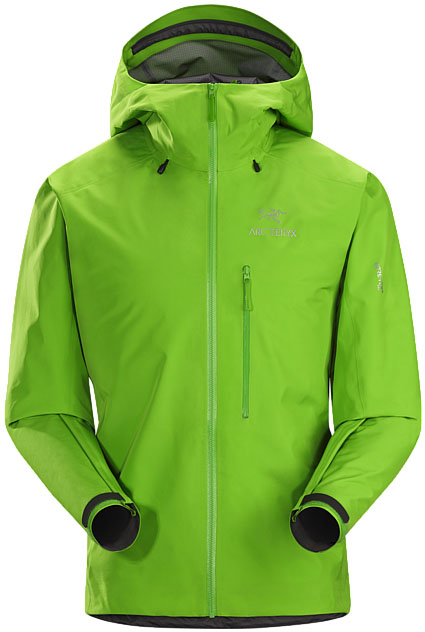 Category: Minimalist/all-around
Weight: 11.5 oz.
Waterproofing: Gore-Tex Pro
Denier: 40D
What we like: It's just about perfect for minimalist climbers.
What we don't: No pit zips.
The Arc'teryx Alpha FL is one of the few hardshells on the market to successfully mix alpine-worthy protection and low weight. From the specs, it's clear the jacket is a standout: durable and high-end 40-denier Gore-Tex Pro, 11.5-ounce weight, and price tag of just over $400. For reference, the Axiom above and Refugitive below use lower quality and less durable shell materials and weigh more. For weight-conscious alpinists, it's hard to beat the Alpha FL.
We drop the Alpha FL in our rankings, however, because it lacks the universal appeal of the jackets above. To start, the FL only has a single chest pocket and no pit zips, which are limiting factors for use as a backcountry skiing or mountaineering shell. And given its climbing intent, we're surprised that Arc'teryx did not follow OR's lead with the Axiom and include a two-way main zipper. But the Alpha FL still is winner: you get Arc'teryx's fantastic trim fit and detailing in a stripped down and packable design... Read in-depth review
See the Men's Arc'teryx Alpha FL  See the Women's Arc'teryx Alpha FL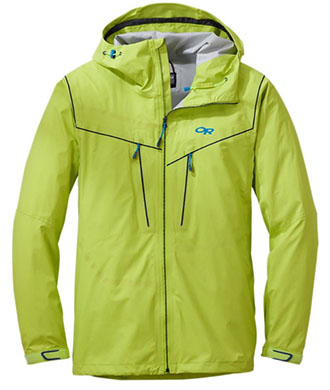 Category: Minimalist/all-around
Weight: 10.9 oz.
Waterproofing: Outdoor Research AscentShell
Denier: 20D
What we like: Softshell-like comfort and excellent weather resistance.
What we don't: A little thin and less burly than a standard hardshell.
The Outdoor Research Realm isn't your typical hardshell—in fact, some retailers mistakenly refer to it as just a rain jacket—but its performance has earned it a spot on our list. We've taken the Realm fat biking and packrafting through torrential rain in Southeast Alaska and backcountry skiing and ice climbing in Colorado, and it's more than held its own. Unlike the Gore-Tex builds above, the Realm uses a stretchy 3-layer AscentShell fabric. The design is one of the best in-house efforts we've seen: the lining is very comfortable and the stretch face fabric offers fantastic mobility while keeping price in check.
What are the downsides of the Realm jacket? The most significant is the thin materials. To be fair, we haven't had any failures despite hard use and an extended 6-month test period, but the fabric is more delicate than a traditional hardshell (OR has released a burlier version of the jacket last year, the Bolin, which uses 70-denier nylon on the hood, shoulders, and arms). More, the Realm has a pretty minimalist build that doesn't include hand pockets (there are 2 chest pockets) or pit zips. But as a hardshell jacket that performs in many ways like a comfy softshell, the Realm is a fantastic lightweight and packable option... Read in-depth review
See the Men's Outdoor Research Realm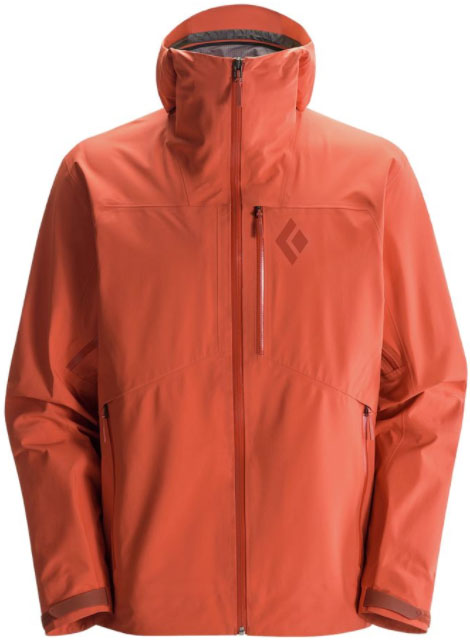 Category: All-around/alpine
Weight: 16 oz.
Waterproofing: Gore-Tex Pro
Denier: 70D
What we like: Classy looks, premium feel and performance.
What we don't: We prefer the hood designs from Arc'teryx.
Black Diamond is relatively new to apparel, but quickly has put together a strong, performance-oriented lineup. Their flagship Sharp End hardshell does a fine impression of an Arc'teryx piece with a great fit, premium materials and construction, and a clean, technical look. With a 16-ounce weight, burly 70-denier fabrics, and features like pit zips and harness-compatible pockets, the jacket is well rounded for both serious alpine climbing and casual uses like resort skiing.
At this price point and intended high mountain use, the Beta AR above is the natural competitor to the Sharp End. The BD makes a strong case with a nearly identical weight, Gore-Tex Pro build, and slightly cheaper price tag. We do give the slight edge to the Beta for its more adaptable hood—the Sharp End doesn't squeeze over all ski helmets—and Arc'teryx has a longer track record in long-term durability. But it's hard to fault Black Diamond for just getting started, and their Sharp End jacket is proof they likely are here to stay.
See the Men's Black Diamond Sharp End  See the Women's Black Diamond Sharp End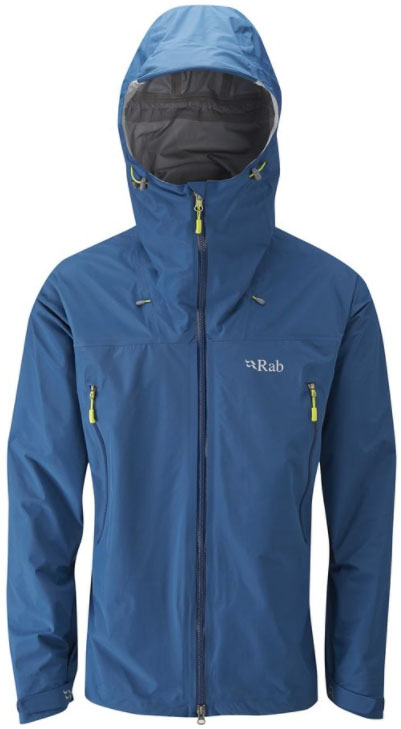 Category: All-around/alpine
Weight: 18 oz.
Waterproofing: eVent
What we like: eVent breathability and massive pit zips.
What we don't: Heavy.
Rab has been an alpine-oriented brand since its inception, so it's little surprise that they make an excellent hardshell. Among eVent designs, their Latok Alpine is one of the best we've seen. Featuring massive pit zips that extend far up the sleeves—you can even slip your arms out of the sleeves without removing the jacket to cool off—the shell has phenomenal ventilation, and the eVent membrane lives up to its billing as one of the best designs on the market in terms of breathability. Rab also nailed the little details like a piece of Velcro at the back of the neck for rolling and securing the hood when it's not needed.
Where does the Latok Alpine fall short? The focus on features has added a fair bit of weight and bulk, and at 18 ounces it's among the heaviest hardshells on our list. More, the eVent fabric isn't as tough as Gore-Tex's Pro, so you're not getting a super durable jacket even with the extra ounces. But for activities like ski touring where ventilation and features really matter, the Latok Alpine is a great option. And at $400, we also think it's a fantastic value. 
See the Men's Rab Latok Alpine  See the Women's Rab Latok Alpine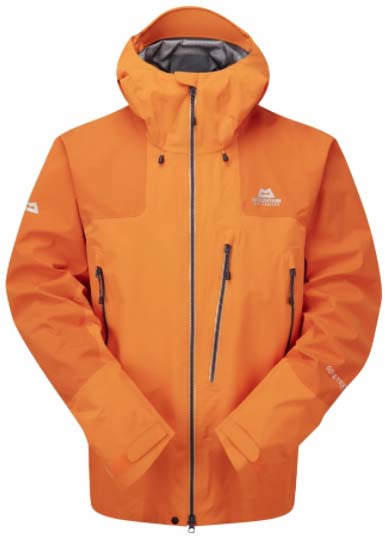 Category: Alpine/all-around
Weight: 18.7 oz.
Waterproofing: Gore-Tex Pro
Denier: 40D & 80D
What we like: Proven weather protection and a great fit.
What we don't: A bit heavy and bulky for an all-rounder.
U.K.-based Mountain Equipment isn't a household name in the U.S., but it's starting to gain traction. One of the reasons is they make a great product—their Lhotse jacket can stand up to just about anything in terms of weather protection and build quality. This shell is designed as an all-rounder for various uses like mountaineering, skiing, and winter trekking, and features a familiar mix of 40 and 80-denier Gore-Tex Pro, a helmet-compatible hood with a tall collar, and pit zips. In addition, the Lhotse is known for having a great fit: it's cut long to accommodate a harness and offers plenty of space for layering without impacting mobility.
Despite its one-jacket quiver intentions, the Lhotse is less of an all-rounder than our top picks. The durable sections of 80-denier fabric and 3 large zippered pockets all add bulk and weight, and at 18.7 ounces, the jacket even outweighs the 100-denier Alpha SV above. And a downside for those in the U.S. is availability: there aren't nearly as many retailers selling Mountain Equipment as competitors like Arc'teryx, Outdoor Research, and Marmot. But given the quality of their product, we're hopeful that changes soon.
See the Men's Mountain Equipment Lhotse  See the Women's Mountain Equipment Manaslu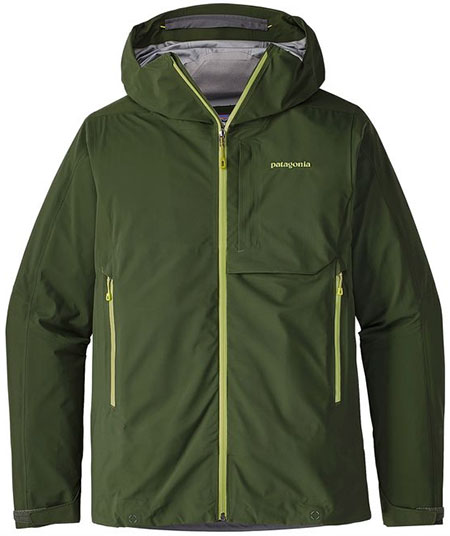 Category: All-around
Weight: 15 oz.
Waterproofing: Gore-Tex w/C-Knit Backer
Denier: 30D
What we like: Comfortable; typical Patagonia quality.
What we don't: Lower levels of durability and breathability.
The big news for 2018 from Patagonia is the new Pluma above, but this does not mean that their premium Refugitive shell is an afterthought. This Gore-Tex jacket is among the most comfortable to make our list with panels of built-in stretch and a smooth Gore C-Knit liner. The jacket's great fit and mobility, along with features like a RECCO reflector and snap system that connects to Patagonia snow pants, makes it an excellent hardshell option for resort and backcountry skiing.
We like the addition of the C-Knit backer on the Refugitive, which has a soft feel and isn't as crinkly as a standard hardshell, but this isn't Gore's highest performing laminate. The Gore-Tex "Pro" models above beat it in durability and the "Active" models are better breathers. But if you're looking for a shell primarily for use on the slopes—and the occasional backcountry foray—the Refugitive offers high levels of comfort and a quality Patagonia build.
See the Men's Patagonia Refugitive  See the Women's Patagonia Refugitive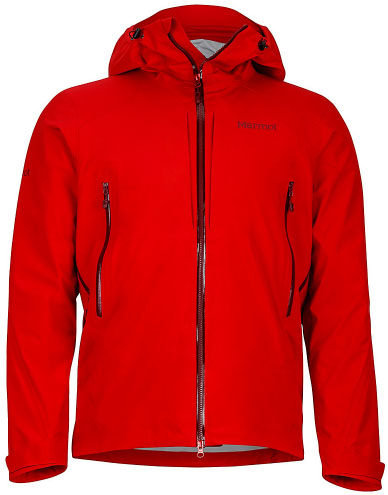 Category: All-around/minimalist
Weight: 16.2 oz.
Waterproofing: NanoPro
What we like: Nice mix of comfort and price.
What we don't: Not as durable compared to Gore-Tex Pro.
Marmot's Essence rain jacket impressed us with its innovative NanoPro shell that was superlight, stretchy, and lacked the clammy feeling you often get with a minimalist waterproof jacket. For this winter they've released the Dreamweaver, which expands that concept into a 3-layer mountain-ready build. The Dreamweaver is stacked with features like a two-way main zipper, harness and backpack-compatible pockets, adjustable cuffs, and a large hood. And sticking with the in-house NanoPro membrane helps keep price in check at $375.
Durability wasn't the hallmark of the Essence jacket, and the Gore-Tex Pro designs above still are our preferred options over the Dreamweaver for high alpine missions. The jacket is more at home on mild weather ski tours or shoulder season climbing trips where its stretchiness and minimalist feature set excel. It's also a little early to be sure how well the waterproof design will hold up over time. But we love the value proposition of the Dreamweaver, which undercuts Marmot's own Alpinist Gore-Tex Pro shell by a whopping $225.
See the Men's Marmot Dreamweaver  See the Women's Marmot Dreamweaver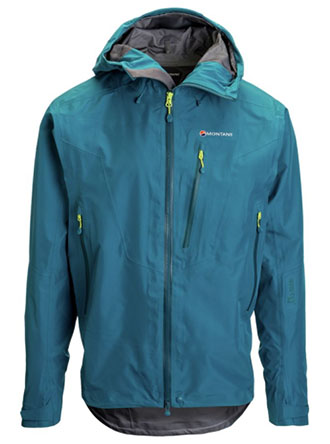 Category: All-around/minimalist
Weight: 14.8 oz.
Waterproofing: Gore-Tex Pro
Denier: 40D
What we like: High-end build and reasonable weight.
What we don't: Drop-in pocket doesn't fit a ski goggle; hood is a little small.
In only a couple years, Montane has quickly assembled a number of fantastic Gore-Tex shells. The one that caught our eye was the Alpine Pro, which uses Gore-Tex Pro and a 40-denier face fabric for a great mix of performance and packability. Through a season of testing, the Alpine Pro has gone about its business as a solid shell for backcountry skiing, winter camping, and cold-weather climbing. It has fantastic mobility and a thoughtful feature set that includes a two-way zipper for use as a belay shell.
We like to think of the Alpine Pro as an Arc'teryx Alpha FL with a more complete feature set—high praise, indeed. The Montane adds pit zips, hand pockets, and a drop-in mesh pocket on the interior with only a 3-ounce weight penalty. This makes the Montane better as an all-around shell, although we were disappointed to find that the drop-in mesh pocket is too small to comfortably fit a ski goggle and the hood didn't fit over our ski helmet (it does fit a climbing helmet). In the end, we think the Alpha FL is better for the fast and light alpinist, but we heartily recommend checking out the Montane if you value the extra features. The biggest challenge may be tracking one down as the brand is only sold through a few online retailers in the United States... Read in-depth review
See the Men's Montane Alpine Pro  See the Women's Montane Alpine Pro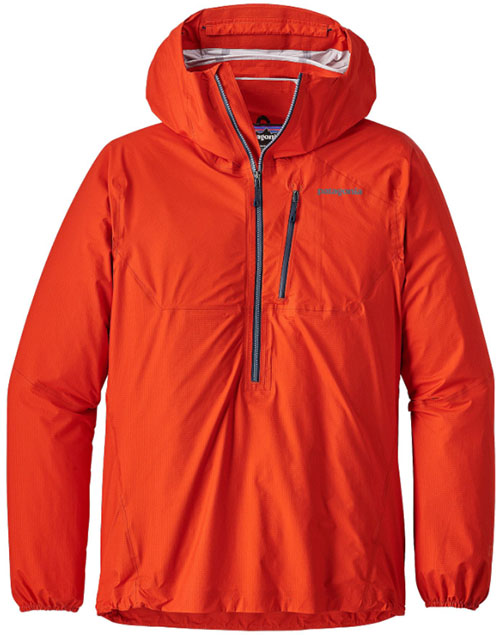 Category: Minimalist
Weight: 7 oz.
Waterproofing: Patagonia H2No
Denier: 12D
What we like: Light and extremely packable for a hardshell.
What we don't: Only available in an anorak style; drop in durability.
The Patagonia M10 has had a strong following among climbers and backpackers for its minimalist build and easy packability. Surprisingly, the standard jacket version has been discontinued. We're hopeful it'll return soon, but the good news is that Patagonia has kept the Anorak half-zip. At just 7 ounces and with 12-denier fabrics, it's the lightest and thinnest hardshell to make our list by a good margin. The M10 also is competitively priced at under $400—something we rarely say about Patagonia apparel. Part of the explanation is their proprietary H2No fabrics, which are slightly cheaper than a like-for-like Gore-Tex build, but still have a quality feel and impressive breathability.
In many ways, the M10 straddles the hardshell and emergency shell categories—for better and for worse. On the plus side, the pullover jacket offers solid performance considering its weight and compresses easily into its chest pocket. But if you're getting into really tough mountainous conditions, a jacket with better protection may be warranted. The shell on the M10 doesn't have the substance of a 40-denier or even 20-denier face fabric in sustained moisture or high winds, and the simplistic hood design isn't as easy to dial in a secure fit. For lower elevations and less extreme weather the M10 is a standout, but we think there are better lightweight hardshell options above.
See the Men's Patagonia M10 Anorak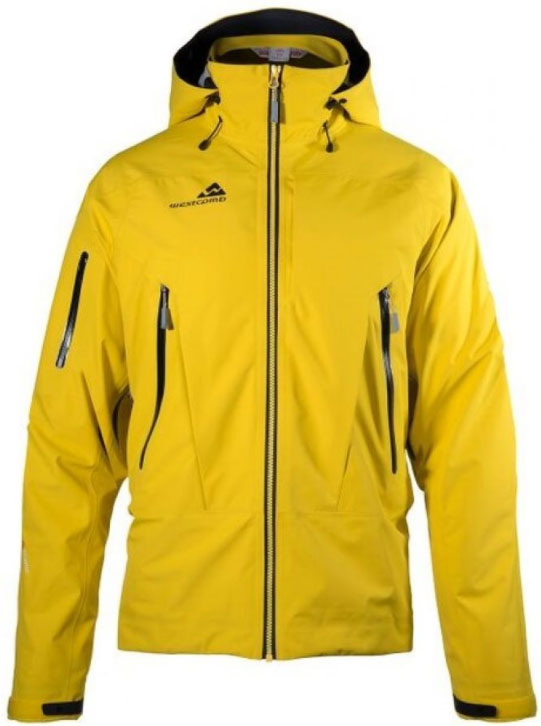 Category: All-around/alpine
Weight: 17 oz.
Waterproofing: Polartec NeoShell 500
Denier: 50D
What we like: Excellent breathability and stretch.
What we don't: Bulky fit.
Polartec's NeoShell waterproof breathable laminate is one of our favorites on the market: it is air permeable so it keeps you cool better than standard Gore-Tex, and the fabric is stretchy and comfortable. There aren't as many NeoShell hardshells offered as we'd hoped when the technology was released in 2010, but the Westcomb Apoc is a fantastic choice for high-output work in rough conditions. Its durable face fabric, quiet materials, and excellent breathability make it a great pairing for backcountry skiing.
There is a lot to like about the Apoc, but we still prefer the Gore-Tex Pro competition for their proven reliability and more abrasion resistant feel. Our other complaint with the Apoc is its fit. For one, the jacket runs big—depending on how you plan to layer under the shell, you may need to size down—and it lacks the precise tailoring that you get with Black Diamond, Arc'teryx, and Patagonia. Overall, the Apoc is a good choice and we hope a sign of more quality NeoShell jackets to come.
See the Men's Westcomb Apoc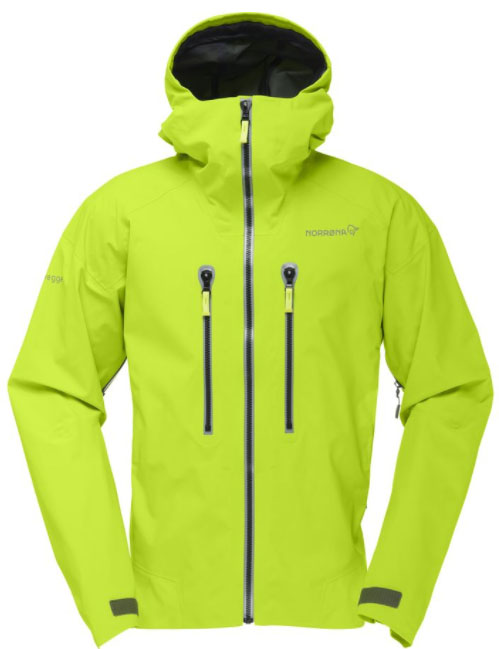 Category: Alpine
Weight: 20.5 oz.
Waterproofing: Gore-Tex Pro
Denier: 80D
What we like: Burly, alpine-ready shell.
What we don't: Falls short of the Alpha SV above in most categories.
Norrøna may not be on everyone's radar, but the Norway-based outdoor company has a serious lineup of quality hardshells. Their flagship model is the Trollveggen, which goes head-to-head with top-end models like the Alpha SV above. The Trollveggen is meant for high alpine adventure with a burly 80-denier Gore-Tex Pro shell and feature-rich build.
With a top-end price tag comes really high expectations, and we think the Trollveggen comes up short when compared to the Alpha SV. To start, the Arc'teryx shell is even more durable with its 100-denier shell fabric, yet undercuts the Norrøna in weight by over 3 ounces. More, the Trollveggen can't keep up with the Arc'teryx in premium fit and finish and just-right tailoring. That being said, the Trollveggen is an impressive fortress of a jacket for serious alpine use. If the price were to undercut the Alpha SV, we'd be more than willing to move it up our list. But at $750, we give the nod to Arc'teryx.
See the Men's Norrøna Trollveggen Gore-Tex Pro
Category: Minimalist/all-around
Weight: 11.8 oz.
Waterproofing: Gore-Tex Active
Denier: 20D
What we like: Breathable fabric and small pack size.
What we don't: No pit zips; less durable than the Alpha FL above.
La Sportiva is one of the few brands to focus almost exclusively on hardcore athletes. And that's particularly true in their line of ski gear and apparel—it seems to be serious backcountry or nothing. From their fast and light line is their updated Storm Fighter 2.0 GTX jacket, which appeals to minimalists that want a shell they can stuff in a pack for quick ascents or multi-day tours.
At less than 12 ounces and with a lightweight backcountry skiing and alpine climbing intent, the Storm Fighter is a natural competitor to the Arc'teryx Alpha FL above. Both jackets keep things simple with a single chest pocket and trim fit. And they share the same complaint: we want pit zips, despite the small penalty in weight and packed size. In the end, we prefer the Alpha FL to the Storm Fighter because the 40D Pro face fabric is tougher than La Sportiva's 20D Active shell and easier to trust in the alpine without any real difference in weight. The La Sportiva is still a great shell, but we'd gladly spend the extra $46 for piece of mind... Read in-depth review
See the Men's La Sportiva Storm Fighter 2.0 GTX
Hardshell Jacket Comparison Table
Hardshell Jacket Buying Advice
What Is a Hardshell Jacket?
To be clear, there isn't a perfect and universally accepted definition of a hardshell, but there are a number of common features that define this non-insulated jacket type. The most important is weather resistance: hardshell jackets offer high levels of waterproofing and windproofing for sustained exposure in harsh conditions. More, hardshells share a common 3-layer construction type that bonds an interior liner and exterior face fabric to a waterproof and breathable membrane. This differentiates them from rain jackets, which commonly use 2 or 2.5 layers as a way to cut costs and weight.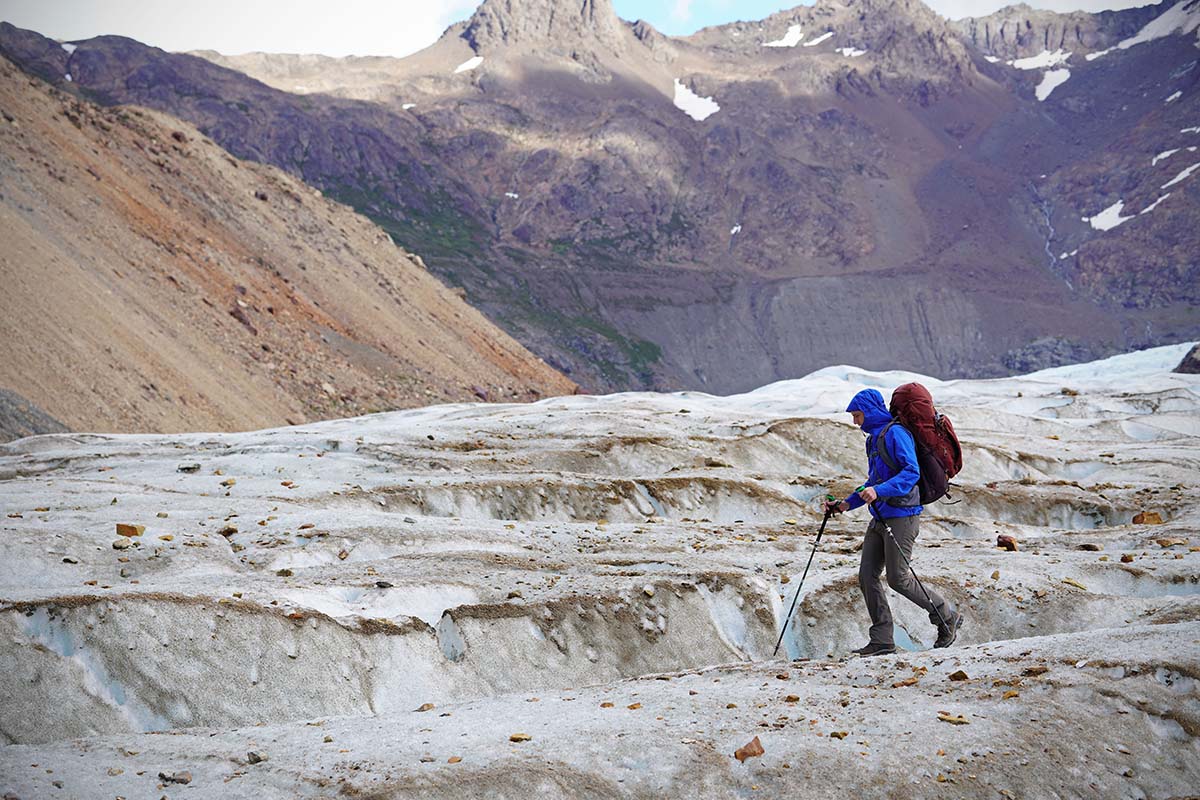 The combination of durability, weather protection, and breathability makes hardshell jackets popular for downhill and backcountry skiing, mountaineering, alpine and ice climbing, and 4-season hiking. The construction doesn't come cheap: the most affordable jacket to make our list is the $249 REI Co-op Drypoint, and you can easily spend upwards of $500 on a quality shell. But these jackets are made to last and are the kind of apparel you rely on when Mother Nature gives you her worst.
 
Hardshell Categories: Alpine, All-Around, and Minimalist
All hardshells do share a basic design and construction, but we've separated them into 3 general categories: alpine, all-around, and minimalist. Moving from alpine to minimalist, the jackets lose weight, features, and weather protection. Alpine shells are the most expensive and built for the extremes. From our list, the Arc'teryx Alpha SV and Norrøna Trollveggen are alpine shells. They're heavy, durable, and capable of withstanding brutal high mountain conditions.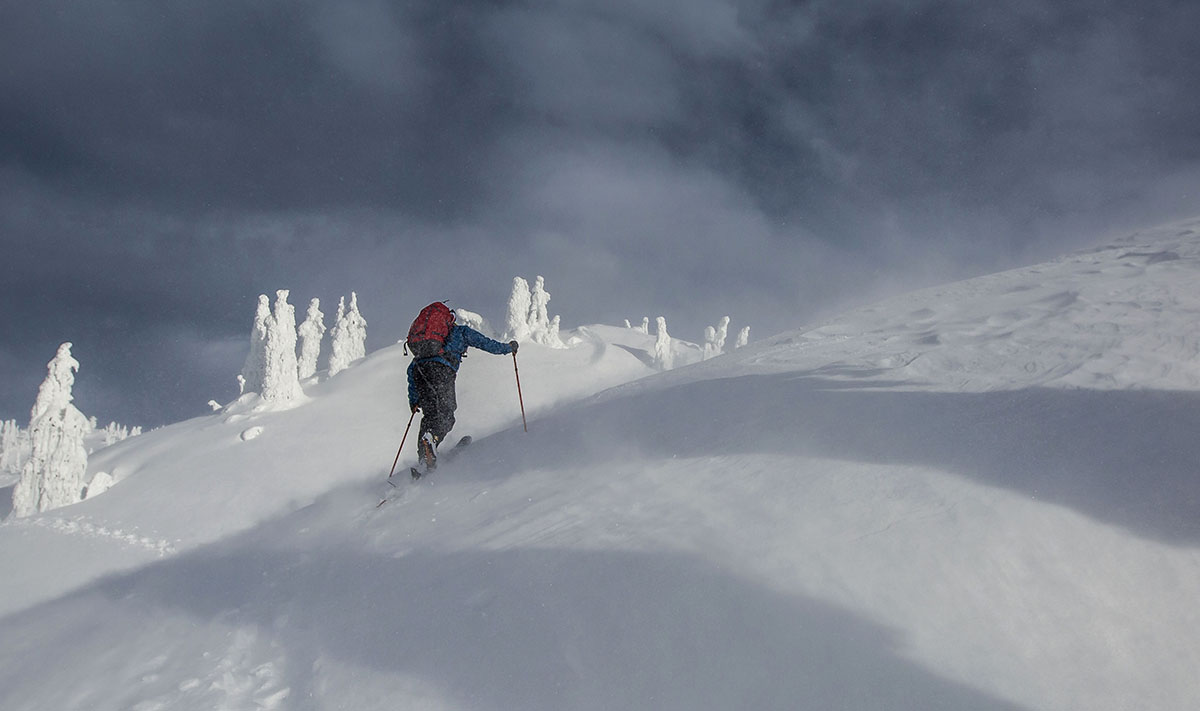 If we were to pick a single shell for all backcountry uses, however, we would go with an all-around jacket. These designs balance the alpine and minimalist categories with enough creature comforts to work well in most conditions. They're usually more durable than a minimalist design and feel less compromised with a full array of pockets. As the name implies, the jackets have a wide range of uses, from hiking to ski mountaineering.
At the lightweight end of the spectrum, minimalist hardshells are streamlined with very few features (they typically omit pit zips and hand pockets) to keep weight and pack size to an absolute minimum. They're a great choice for milder activities like backpacking or climbing when weight is a top priority, but generally lacking in durability and weather protection compared to heavier models.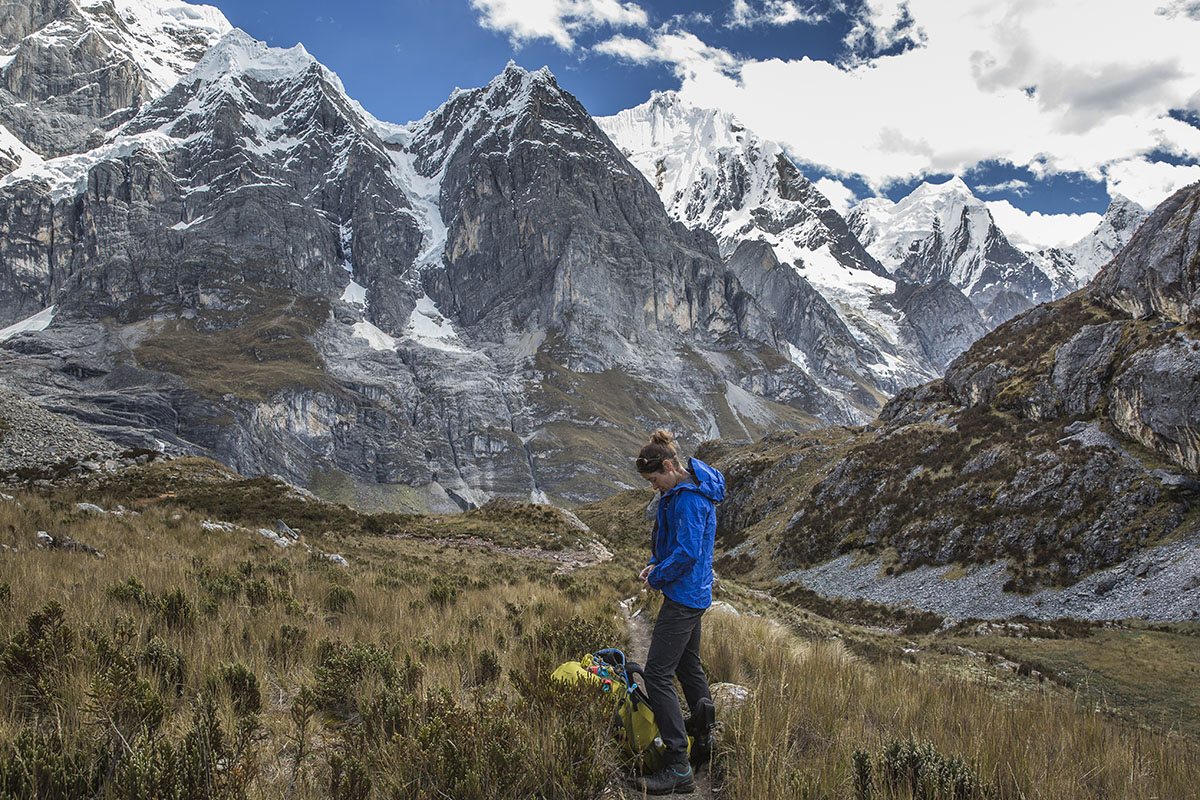 Waterproofing Designs: Gore-Tex, NeoShell, eVent, and More
The quality and performance of a hardshell's waterproof laminate is this jacket type's defining feature. Gore-Tex still dominates the market—it's no coincidence you'll see their name on 10 of the 17 jackets that made our list. For top-of-the-line performance, Gore's "Pro" laminate is the class leader. It balances high mountain durability with waterproofing and breathability better than anything on the market, but does come with a significant increase in price. Gore's "Active" shell isn't as hard wearing as the "Pro" models, but it's their most breathable membrane (plus it isn't as crinkly) and is becoming popular for high-output activities like backcountry skiing and hiking.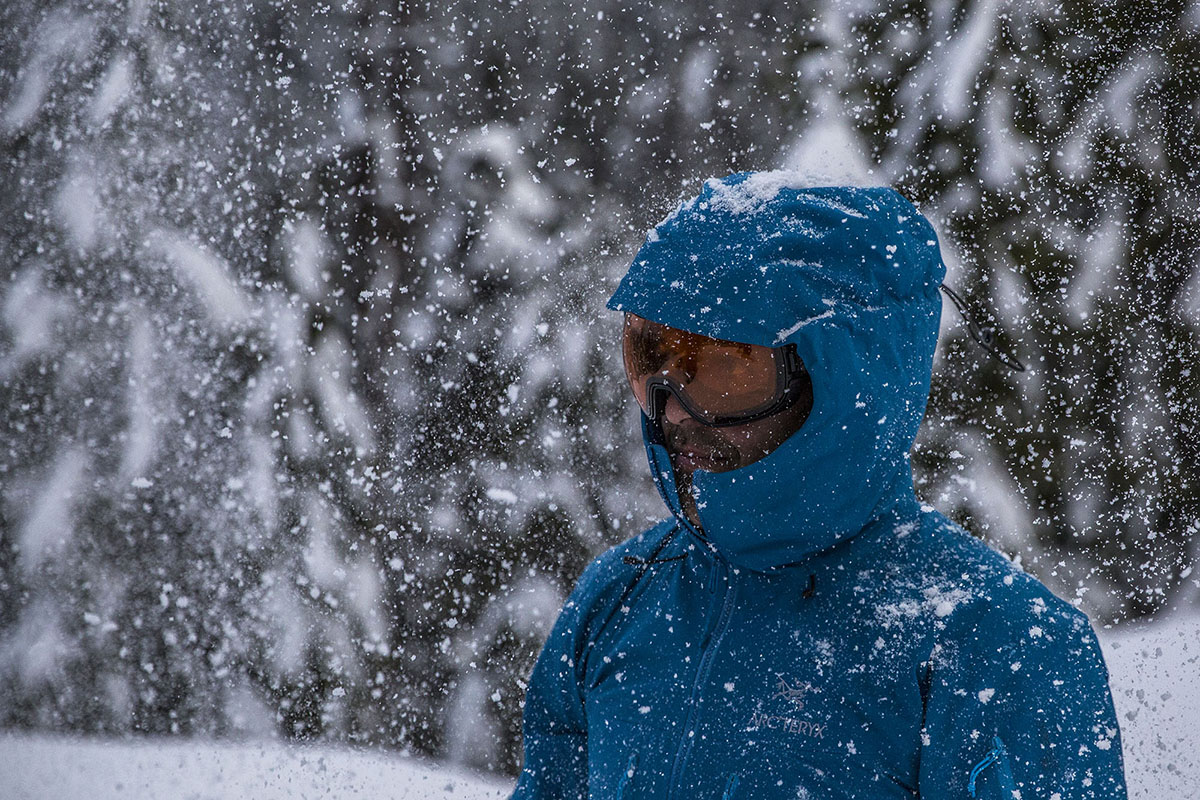 We've found that eVent, NeoShell, and Outdoor Research's Ascentshell all are formidable competitors to Gore-Tex. eVent was one of the first to really break through with their direct venting design. An eVent jacket like the Rab Latok Alpine is highly wind and water resistant, with a noticeable bump in breathability over standard Gore-Tex. The downside is durability and all-out weather protection. Polartec NeoShell and Outdoor Research's AscentShell also use an air permeable 3-layer build to encourage airflow. And these jackets come with the added bonus of a stretchy, softshell-like construction. Overall, while there aren't as many options on the market that utilize these 3 waterproofing designs, they are all worth considering if breathability is a priority.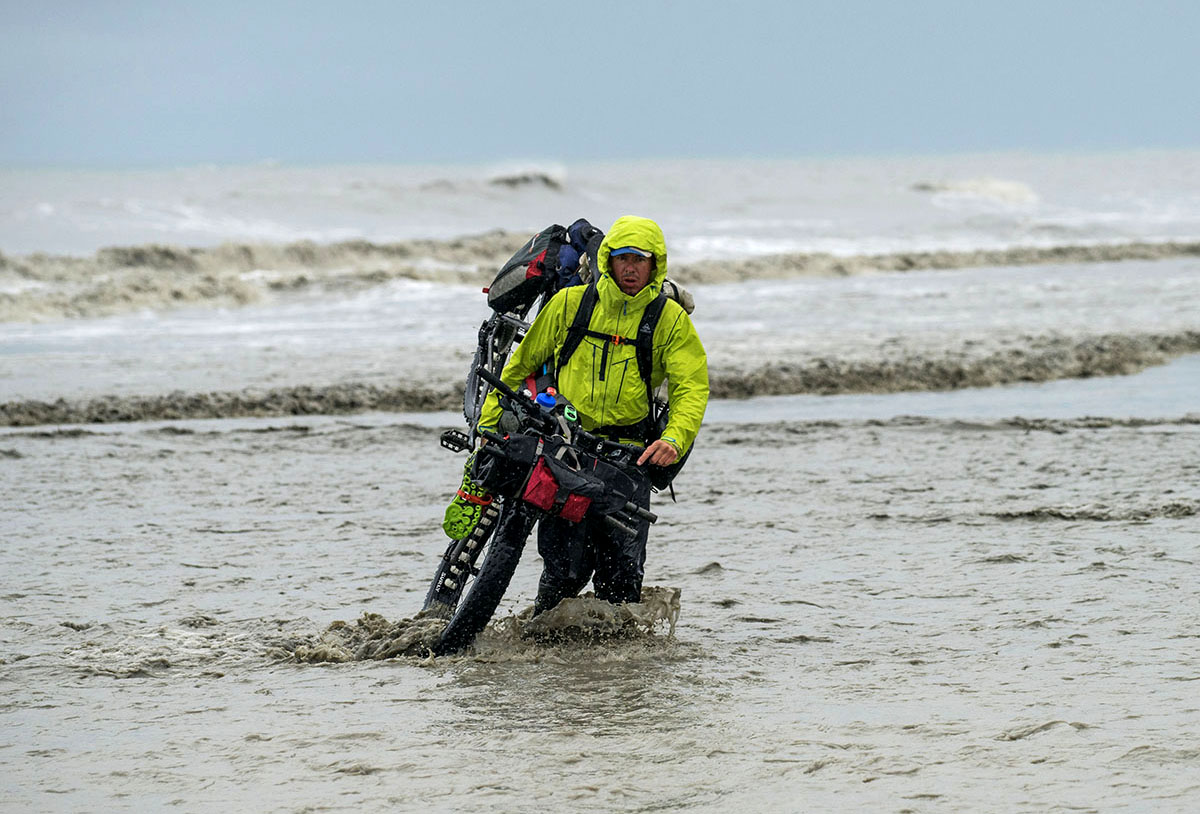 Fabric Thickness and Durability (Denier)
There are a number of factors that impact a jacket's durability, but denier is a helpful indicator of strength. Denier is a measurement of fabric thickness, and the higher the number the thicker the thread. Most all-around jackets for alpine climbing and skiing fall in the 30 to 80-denier range. Low denier jackets usually weigh less and are slightly less durable, while high number shells won't pack down as small but can handle more abuse. Jackets that fall outside of the range above are more specialized: the very thin 12-denier Patagonia M10 is best for fast and light climbing missions or when weight is very important, and the 100-denier Arc'teryx Alpha SV is absolutely bomber but comes with a very high price tag.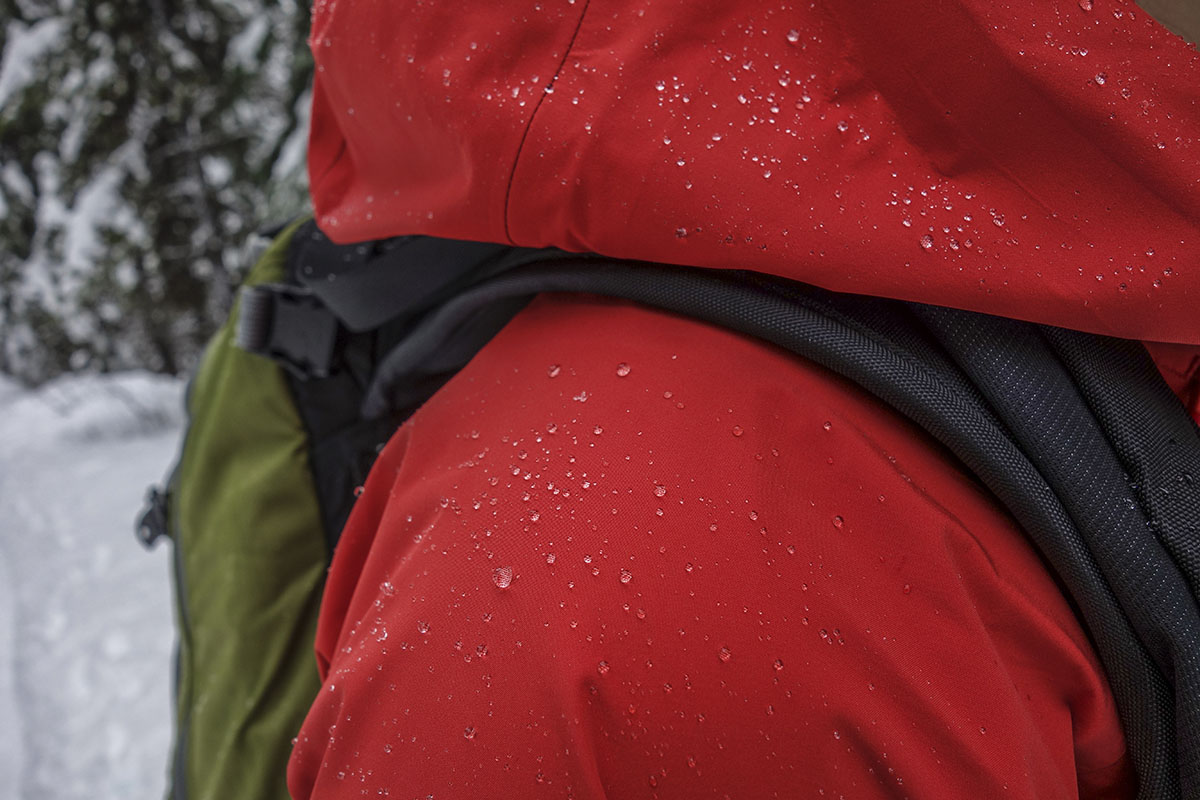 Weight and Pack Size
Depending on how a hardshell will be used, weight and pack size may or may not be a priority. In most cases, we're willing to carry a little extra weight into the alpine for an added sense of security. As an example, there have been very few instances where we've regretted packing our 17-ounce Alpha SV on a trip. On the other hand, for multi-day tours or if you're traveling in mild conditions, it may be worth choosing a lightweight hardshell. The lightest and most compressible option from the list above is the Patagonia M10—it's simplistic design and thin shell makes it nearly as packable as a rain jacket.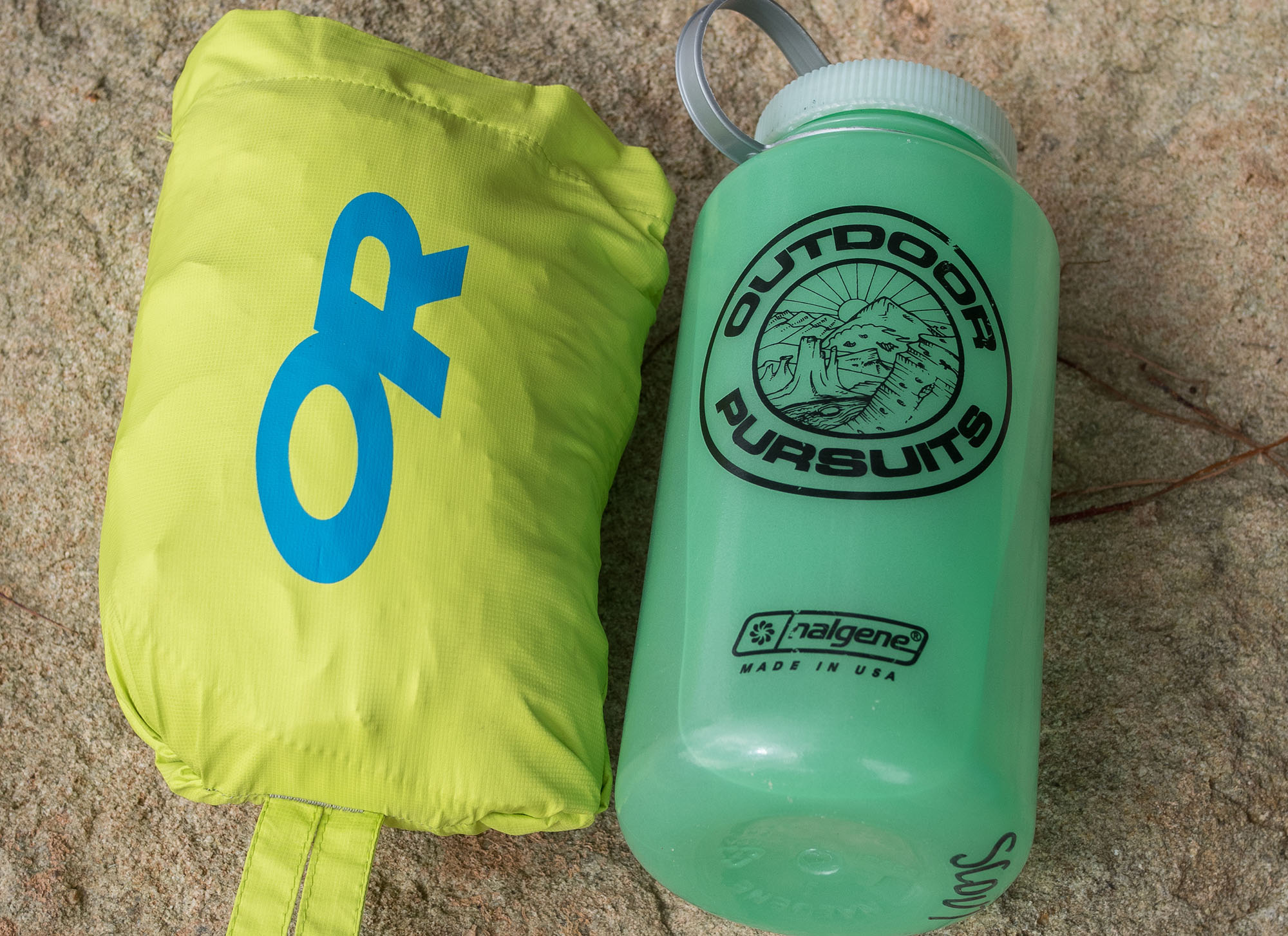 Fit
In ranking the jackets above, we placed a high priority on a quality fit. A good hardshell should be relatively trim but without becoming restrictive if you throw on a puffy underneath. In particular, we aim to avoid a boxy fit: those jackets have excess fabric that inhibits movement and flaps in the wind. Within the hardshell landscape, Arc'teryx consistently has our favorite fit—the time and effort that's gone into the design and tailoring of their shells is immediately apparent when you slip them on. They're comfortable with or without a midlayer jacket, and fit most body types very well. This is a primary reason that many professional mountain guides and serious outdoorspeople are willing to spend up for Arc'teryx.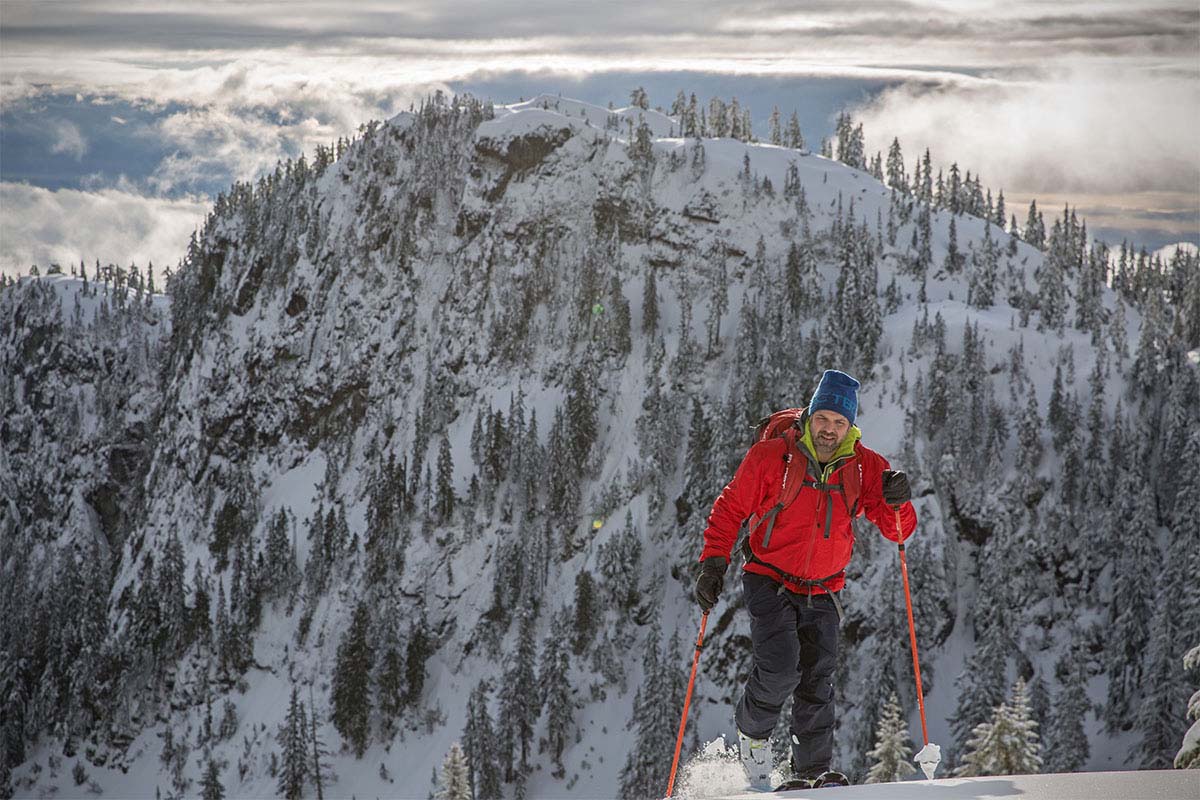 Comfort: Crinkly Hardshells
Some of the biggest complaints of hardshell jackets are their rigid feel and crinkly sound. And the criticisms are typically warranted—the tough face fabric isn't as flexible as a rain jacket and can be pretty noisy for activities with a lot of movement like skinning, belaying, or hiking. It's a compromise we're willing to accept, but there are some jackets that are less noisy and more comfortable than others. In particular, jackets made with Polartec NeoShell and AscentShell membranes, and Gore-Tex's Active and C-Knit backer designs are reasonably flexible and quiet.
 
Helmet-Compatible Hoods
A hood that can fit over your helmet is a pre-requisite for alpine use. When the wind is really blowing, throwing on a hood is your best form of protection. Almost all of the jackets on the list above include a hood that can fit over a climbing helmet (the REI Co-op Drypoint is one exception, and it really has a hiking focus). If you'll be skiing with the jacket, you'll need a hood that's even larger to fit the bulkier shape of a ski helmet. Most manufacturers list the jackets only as being "helmet compatible," so we've called out hoods that run a little small—such as the Montane Alpine Pro—in our write-ups above. Our favorite hoods consistently come from Arc'teryx: they're highly adjustable, easy to use, and don't feel ungainly when you're not wearing a helmet.
Pit Zips and Breathability
If you'll prone to running hot or need a waterproof shell for high-output activities, we recommend choosing a jacket with pit zips. Even the best waterproof breathable membrane will make you overheat in mild temperatures on the skin track, and we value the ability to quickly dump heat. We also prefer pit zips to ventilated chest pockets, because the location under the arms is better protected from falling rain or snow. There are some cases where you may want to pass on the feature—such as for fast and light trips—but we're usually quite willing to accept the extra ounces and slightly larger pack size.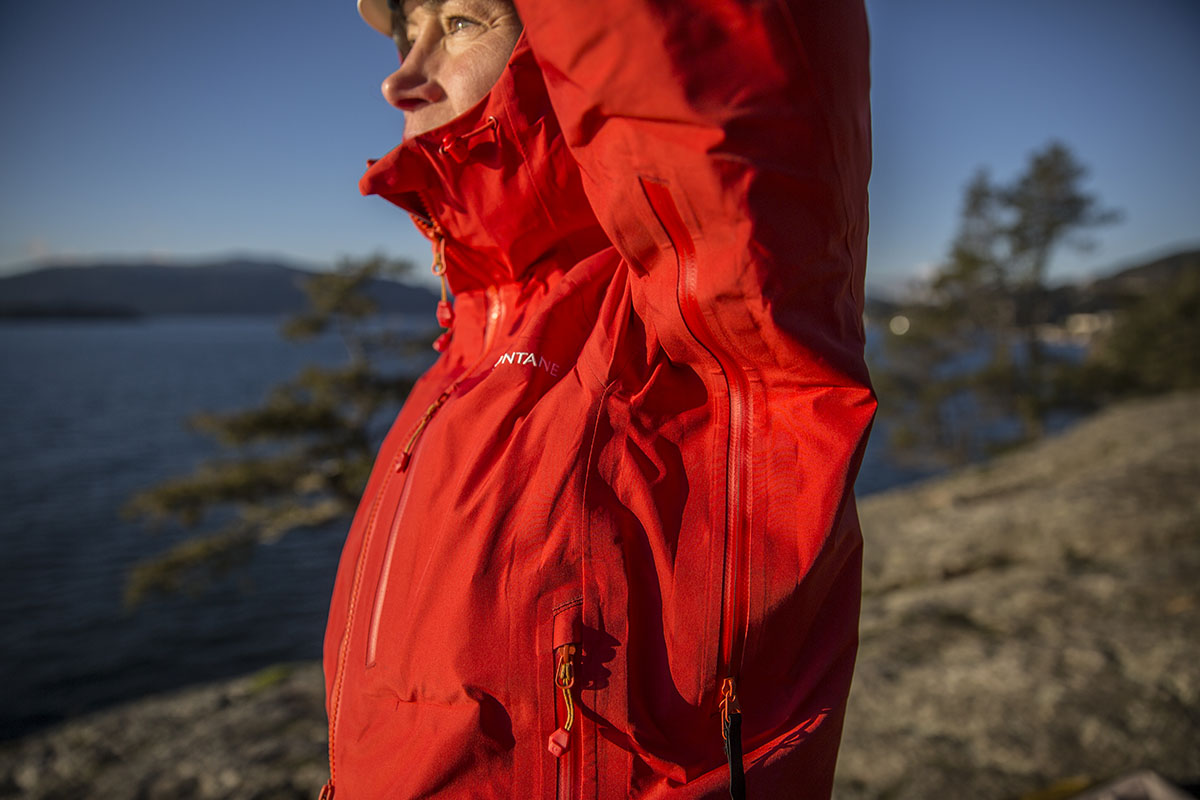 Harness and Backpack-Friendly Pockets
Most hardshell jackets have hand pockets placed midway up the torso to accommodate a backpack hipbelt or climbing harness. The high placement means you can open and close the pocket without needing to pull up on the jacket or unclip the belt. The end result is that the pockets are slightly less comfortable—the location isn't as natural of a resting place for your hands—but it's something we're willing to tolerate to make the pockets usable. Some of the lightweight hardshell options, including the Arc'teryx Alpha FL and Outdoor Research Realm, forego hand pockets altogether. You lose a little storage and don't have a place to put your hands going this route, but many weight-conscious backcountry adventurers are happy to make the trade.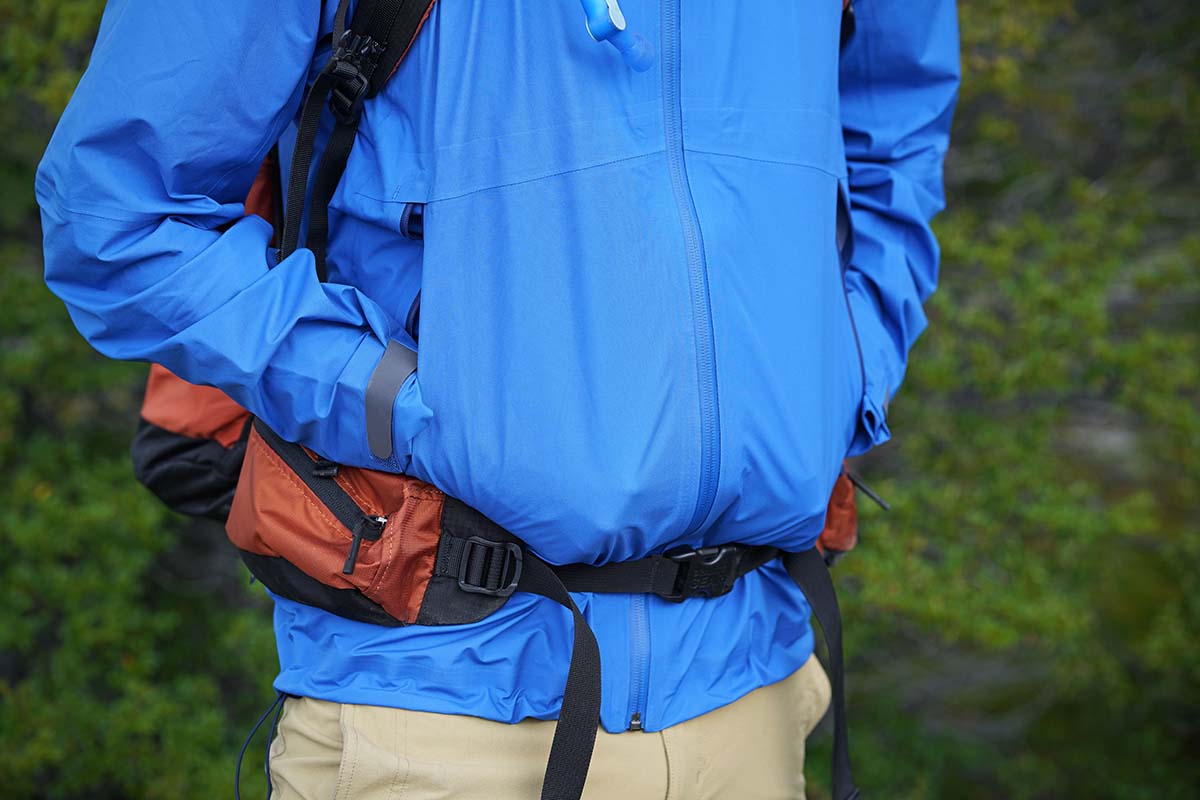 Hardshells vs. Rain Jackets and Softshells
There are three general options for an outer layer: rain jackets, softshells, and hardshells. As the name indicates, rain jackets provide good water and wind protection. Compared with a hardshell, rain jackets are less durable and won't breathe as well, but are quite a bit cheaper (prices range from approximately $80 to $200), lighter weight, and compress smaller for packing. We prefer rain jackets for daily wear, on summer backpacking trips, or as emergency shells when bad weather isn't in the forecast. But if you're headed to the alpine or are out in winter conditions, we turn to a hardshell.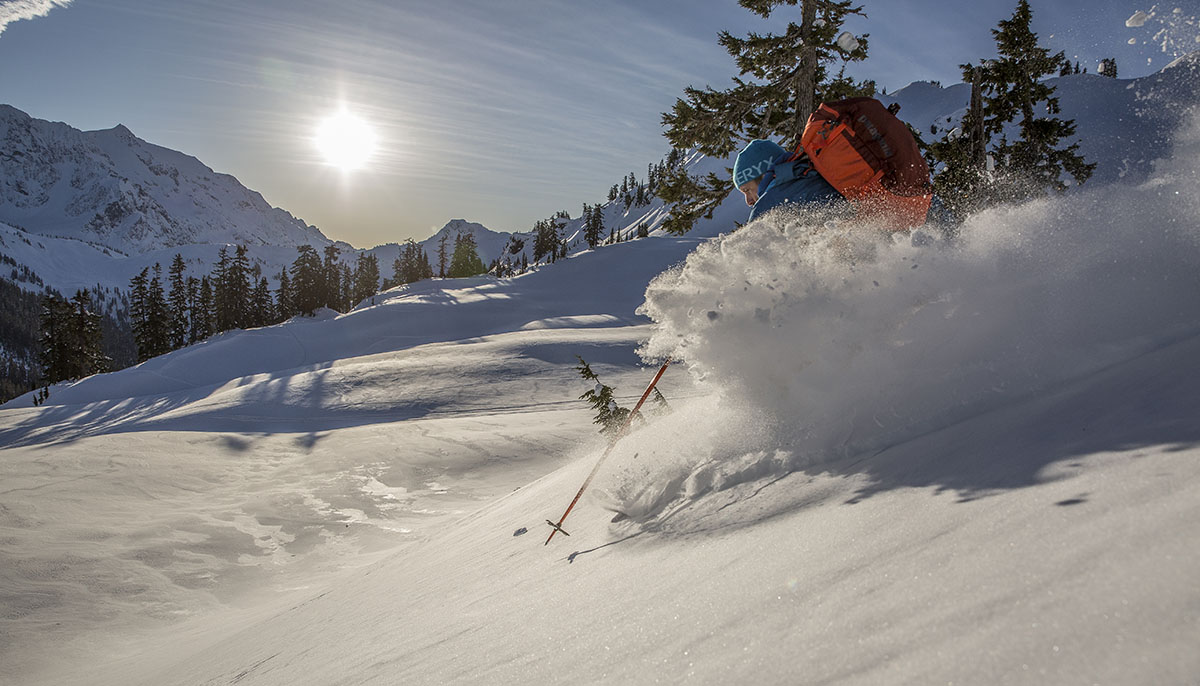 As the names indicate, softshell and hardshell jackets are differentiated by the type and feel of their face fabrics. Softshell jackets are pliable, stretchy, and soft to the touch (especially on the interior), while hardshells are smooth and more rigid. In terms of weather resistance, it isn't even close—even waterproof softshell jackets don't offer nearly the same level of protection. Many softshells are only water and wind resistant instead of waterproof, instead focusing on breathability for working hard in mild conditions. We prefer a softshell in good conditions or on the climb up at lower elevations, but if weather really moves in, there's no replacement for a quality hardshell.
Back to Our Top Hardshell Jacket Picks  Back to Our Hardshell Jacket Comparison Table
Learn More About Outdoor Gear