Hardshell jackets are designed for the mountains: they're highly windproof, waterproof, breathable, and durable. This is the outer layer you turn to for ultimate protection while backcountry and resort skiing, mountaineering, alpine climbing, and 4-season trekking. Below we break down our top hardshell jackets for 2023, from minimalist models for those who want to move fast and light to burly jackets made to withstand harsh conditions. For more information, see our hardshell comparison table and buying advice below the picks. And for lighter-weight and more compressible jackets for everyday use and hiking, see our article on the best rain jackets.
 
---
Our Team's Hardshell Jacket Picks
---

Best Overall Hardshell Jacket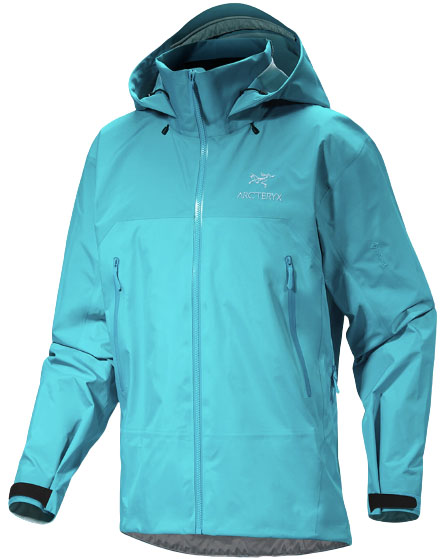 Category: All-around
Weight: 1 lb.
Waterproofing: Gore-Tex Pro
Denier: 40D & 80D
What we like: Excels in just about every category.
What we don't: Expensive, and not ideal for fast-and-light trips.
Hands down, Arc'teryx makes our favorite hardshell jackets. You pay a premium over the competition but nothing else on the market matches the combination of performance, fit, and craftsmanship. Among the many options in their extensive lineup, the Beta AR is the quintessential do-all hardshell and our top pick for this winter. The proven design is plenty tough to withstand brutal alpine conditions without compromising on comfort and breathability for everything from ski hut trips to backpacking. And Arc'teryx honed things in even further last year with improved durability and a RECCO reflector for avalanche scenarios.
The Beta AR's top-end Gore-Tex Pro fabric offers a high level of performance, but it's the detailing that sets the jacket apart. The shell is properly outfitted for mountain use with a tall collar, fantastic hood with easy adjustability, and just-right fit for layering and mobility. And it's downright comfortable for a hardshell with lightweight 40-denier fabric on the body. The 80-denier Gore-Tex on the shoulders may add weight, but it's built to handle backpack straps and rain or snowfall. It's true that the Alpha SV below is tougher and has a slimmer and longer cut, and you can save weight by choosing one of the thinner options below, but for all-around backcountry use, the Beta AR is best in class. Editor's note: Arc'teryx also makes the Beta AR StormHood, which features a streamlined hood design that reduces the weight to 14.9 ounces... Read in-depth review
See the Men's Arc'teryx Beta AR  See the Women's Arc'teryx Beta AR
Best Budget Hardshell Jacket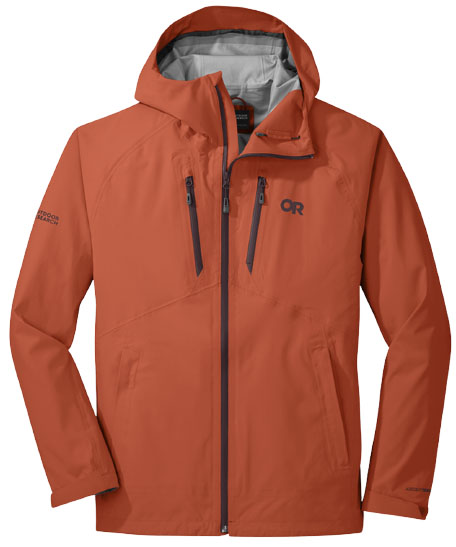 Category: Minimalist/all-around
Weight: 14.6 oz.
Waterproofing: AscentShell
Denier: 20D x 45D
What we like: Softshell-like comfort and excellent weather resistance for just $279.
What we don't: Thinner and less refined than the premium competition.
Most hardshells start their bidding around $400, so Outdoor Research's $279 Microgravity is a really nice option to have on your radar. OR keeps the price low by using their in-house AscentShell membrane rather than Gore-Tex, in addition to a relatively thin build and run-of-the-mill feature set. But that's not to say the Microgravity doesn't hold its own: We took the jacket hiking in the stormy Cerro Castillo range of Patagonia, and were impressed with its performance, comfort, and breathability. All told, OR's AscentShell is one of the best in-house efforts we've seen, with soft next-to-skin lining, stretchy face fabric for comfort and mobility, and a price that won't make your head spin.
Our biggest gripe with the Microgravity is fit: We found it to be pretty darn trim (even for a hardshell), and especially tight in the waist when worn over layers. In addition, the hood design could use some work: When tightened down over a ballcap, the cinch cord sits awkwardly and uncomfortably right over the ears (on a positive note, the hood is helmet-compatible with climbing and skiing lids). And in terms of weather protection and durability, the jacket's relatively thin shell (20D x 45D) falls short of full-on winter hardshells. But AscentShell has proven itself to be an exceptional breather (we've worn it in a variety of jackets at this point, including the Realm, Skyward, and Interstellar), making the Microgravity a suitable jacket for shoulder-season activities like hiking or backcountry skiing. For less than half as much as the competition, it's a great option for penny pinchers or those just starting out... Read in-depth review
See the Men's OR Microgravity  See the Women's OR Microgravity
Best Performance Hardshell for Extreme Conditions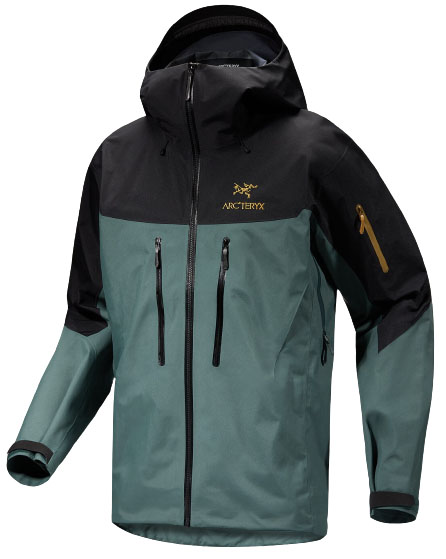 Category: Alpine
Weight: 1 lb. 2 oz.
Waterproofing: Gore-Tex Pro
Denier: 100D
What we like: Bombproof shell, fantastic detail work.
What we don't: Very expensive.
For the toughest alpine conditions—think piercing wind, driving rain, sleet, and snow—you won't find a tougher shell than the Arc'teryx Alpha SV. The jacket sits at the very top of the Arc'teryx lineup in both weather resistance (the SV is for "severe weather") and price, and its performance while ski touring and mountaineering has not disappointed. Arc'teryx recently updated the jacket with Gore's latest "Most Rugged" Pro construction and a RECCO reflector with only a minimal increase in weight. Given the strong 100-denier build (the most substantial on our list), it's impressive that the Alpha SV is only 2 ounces heavier than the Beta AR above and slightly less packable. Nor is it lacking in features: you get pit zips, plenty of interior and exterior pockets, and trustworthy zippers.
There is literally nothing negative we can say about the Alpha SV's weather protection or durability, but its high price is a significant downside. That $900 is an eye-popping total, and for the average backcountry explorer, the Alpha SV's tank-like construction is more than you'll ever need. Moreover, you do lose out on hand warmer pockets with the alpine-focused design. In the end, you can certainly save money and weight with an alternative like the Beta AR above, but if you're looking for an iconic mountain hardshell that can handle some of the world's worst weather, this is it... Read in-depth review
See the Men's Arc'teryx Alpha SV  See the Women's Arc'teryx Alpha SV
Best Ultralight and Packable Hardshell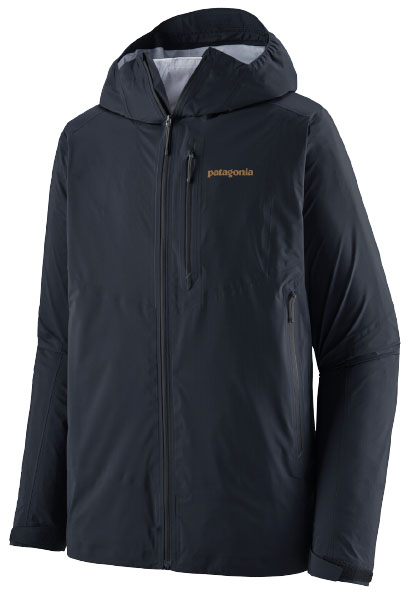 Category: Minimalist
Weight: 8.3 oz.
Waterproofing: H2No Performance
Denier: 20D
What we like: Alpine-centric features and 3-layer protection in a minimalist package.
What we don't: Thin shell fabric and no pit zips.
It's nice to have the all-out security of a jacket like the Alpha SV or Beta AR above, but for weight-conscious missions like backpacking and alpine climbing, you can get away with a lot less. The Patagonia Storm10 is a minimalist hardshell at its finest, packing 3-layer waterproof and breathable protection into an 8.3-ounce design that stuffs down into its own chest pocket. Further, it comes well-equipped for technical endeavors, thanks to a helmet-compatible hood, hand pockets that are accessible over a harness or hipbelt, and a slim fit. For an emergency layer or lightweight shoulder-season protection, it doesn't get much better.
Of course, there are some compromises to opting for such a streamlined jacket. The Storm10 sheds most of its weight with a very thin shell fabric (20D)—it feels more like a rain jacket than a hardshell—and a design that forgoes pit zips. On particularly wet or windy days, you'll certainly notice the step down in protection, especially compared to a bombproof shell like the 100-denier Alpha SV above. Further, the Patagonia's fit is so trim that you probably won't be able to fit much more than a lightweight insulated jacket underneath, and the somewhat sticky interior places function first and comfort second. But the Storm10 is nevertheless a reliable companion for day trips and quick overnight excursions, and it's hard to argue with the weight... Read in-depth review
See the Men's Patagonia Storm10  See the Women's Patagonia Storm10
Best of the Rest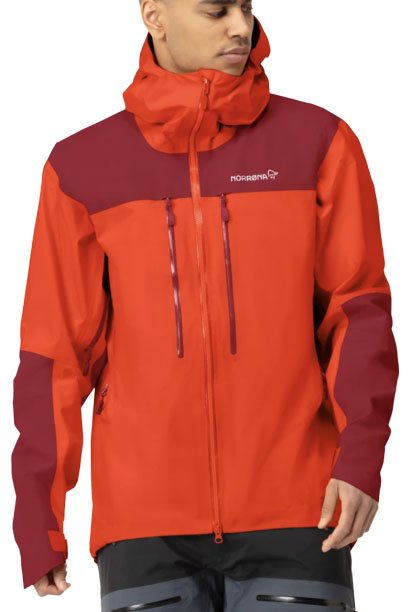 Category: All-around
Weight: 1 lb. 0.3 oz.
Waterproofing: Gore-Tex Pro
Denier: 40D & 70D
What we like: Top-notch weather protection and build quality in a light and compressible design.
What we don't: No hand pockets and especially long cut.
Norrøna may not be on everyone's radar, but the Norway-based outdoor company has a serious lineup of quality hardshells. From their flagship Trollveggen series is the Gore-Tex Pro Light, which goes head-to-head with top-end designs like the Arc'teryx Beta AR above. This Gore-Tex Pro shell is meant for high-alpine adventure with a long cut, 40-denier face fabric with burly 70-denier reinforcements, helmet-compatible hood, and tall collar. But Norrøna kept weight intentionally low with the "Light," which gives it versatility for weight-conscious activities like hiking and backpacking. And with large pit zips and a two-way main zipper, you can customize airflow for all manner of activities and conditions.
Where does the Trollveggen Light come up short? In our opinion, Norrøna took the alpine-focused build one step too far when they designed the jacket without hand pockets—instead, you get just two external chest pockets and one internal zippered stash. What's more, the jacket features a very long cut, which is great for coverage but slightly polarizing for casual use. In contrast, the Beta AR has a more standard length and convenient hand pockets, which are situated high enough to access under a hipbelt or harness. Both are exceptionally built and highly protective shells, but the Beta AR's more versatile design might be the deciding factor for many. Finally, the Trollveggen's sizing runs a little small, and we wound up going up a size... Read in-depth review
See the Norrøna Trollveggen GTX Pro Light  See the Women's Norrøna Trollvegen GTX Pro Light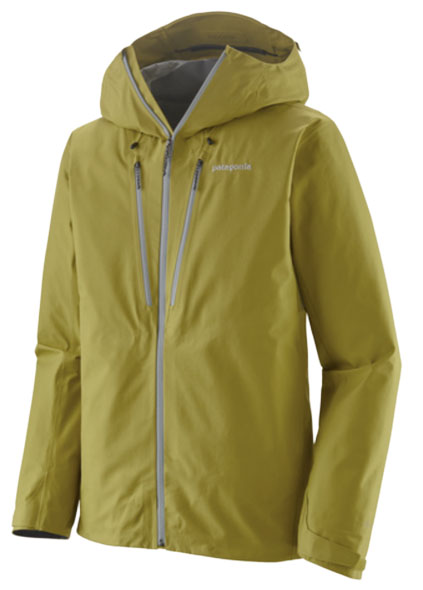 Category: All-around
Weight: 1 lb. 2 oz.
Waterproofing: Gore-Tex
Denier: 75D
What we like: A solid and trustworthy Gore-Tex shell at a reasonable price. 
What we don't: Fairly heavy; fits and feels a little too much like a ski jacket.
It's easy to get excited about all the fun tech working its way into the hardshell world, but there's something to be said for a simple 3-layer Gore-Tex jacket. Patagonia's Triolet is just that, and offers a lot in its no-nonsense package. The jacket's 75-denier face fabric and standard Gore-Tex membrane are plenty burly for alpine use, four exterior zippered pockets (plus a drop-in interior pocket) offer great organization, and two-way pit zips dump heat in a hurry. Plus, the Triolet excels as a ski jacket thanks to its extended cut and regular fit that easily accommodates a midlayer underneath, embedded RECCO reflector, and loop at the back for attaching to compatible Patagonia snow pants. All in all, that's a lot of features and versatility for $449.
With a light update for the 2023-2024 season, the Triolet now features Gore-Tex's PFC-free membrane along with a slightly thinner shell (the updated version is 1.4 oz. lighter) and minor changes to the fit. But despite the changes, the jacket still comes up short for high-output activities or fast-and-light missions: The thick shell can't match the breathability of thinner alternatives or more advanced waterproof membranes (like Gore-Tex Pro), and its 1-pound-2-ounce weight can be a burden to carry for extended stretches. Further, the Triolet's substantial build and regular cut have a negative impact on mobility (it feels more like a ski jacket than alternatives like the Beta AR above). But despite its shortcomings, the Triolet's trustworthy design makes it a go-to hardshell option for a wide range of winter sports at a good price... Read in-depth review
See the Men's Patagonia Triolet  See the Women's Patagonia Triolet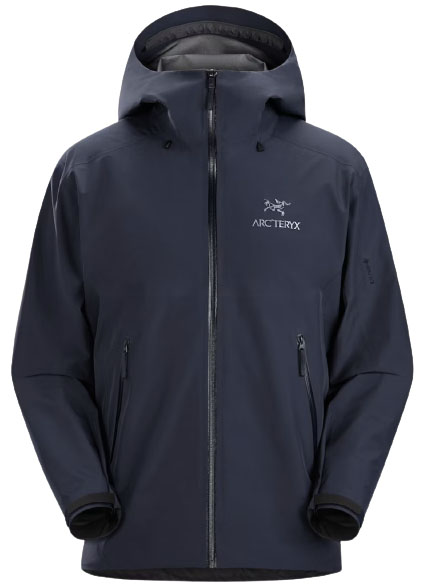 Category: All-around/minimalist
Weight: 13.9 oz.
Waterproofing: Gore-Tex
Denier: 40D
What we like: A streamlined version of the Beta AR for $150 less.
What we don't: Less winter-ready than the AR.
After a short hiatus, Arc'teryx released an updated version of their Beta LT hardshell last spring. A more streamlined version of our top-ranked Beta AR, the LT offers a great combination of weight-savings and protection, ideal for backcountry skiers, backpackers, and more. You get a 3-layer Gore-Tex build along with a 40-denier shell, and the LT doesn't skimp on the details, including pit zips, two handwarmer pockets, and an adjustable and helmet-compatible StormHood. Ideal for shoulder-season missions, it offers a nice middle ground between bombproof winter-ready hardshells and fully minimalist jackets like the Patagonia Storm10 above. 
To help you get a better idea of Arc'teryx's hardshell line-up, let's take a look at how the LT compares to the AR. Along with the thinner fabrics and less premium Gore-Tex waterproofing mentioned above, the LT features a "trim" cut (the AR's is regular), resulting in great range of motion but less room for layering underneath (the jackets' center back lengths are nearly identical). Further, you get considerably more above-the-shoulders protection with the AR's DropHood, which features a separate collar that shields the face regardless of whether or not you're wearing the hood. And finally, the AR tacks on an internal chest pocket for slightly more storage. But for $150 less, the LT is still a very protective and high-quality shell and will be the more practical pick for many... Read in-depth review
See the Men's Arc'teryx Beta LT  See the Women's Arc'teryx Beta LT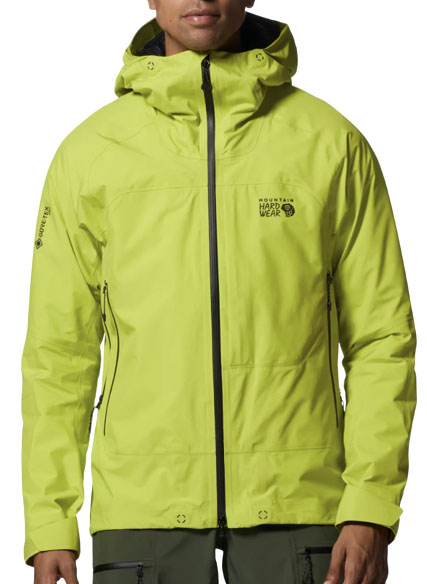 Category: All-around
Weight: 1 lb.
Waterproofing: Gore-Tex Pro
Denier: 40D
What we like: A solid competitor to the Arc'teryx Beta AR above, with a two-way front zip.
What we don't: Lacks the Beta's 80D reinforcements and premium DropHood design.
A fresh addition to their lineup in 2023, Mountain Hardwear's Dawnlight is purpose-built for demanding mountain conditions. With a Gore-Tex Pro membrane wrapped into a 40-denier shell, it represents the epitome of premium, lightweight waterproofing (by design, GTX Pro cannot be paired with fabric thinner than 40D). In terms of features, you get a two-way center front zip, helmet-compatible hood with adjustment on both the back and sides, glove-friendly zipper pulls, and a pair of both internal chest pockets and external handwarmer pockets (harness-compatible). It all adds up to a capable shell for everything from resort and backcountry skiing to winter mountaineering.
The Dawnlight goes head to head with our top-ranked Beta AR in virtually every department—both check in at 1 pound even, retail for $600, and use Gore-Tex's highest-end waterproofing. But the Beta AR wins out in terms of protection, with burly 80-denier reinforcements on the shoulders and over an inch more coverage down the back. We're also huge fans of Arc'teryx's DropHood, which features a separate collar that shields the neck and face whether you're wearing the hood or not. On the other hand, the Beta does lack the Dawnlight's two-way front zip, which can come in particularly handy when wearing a harness. Comparisons aside, Mountain Hardwear has put a good foot forward with their newest hardshell, which is a great option for all manner of backcountry use.
See the Men's Mountain Hardwear Dawnlight  See the Women's Mountain Hardwear Dawnlight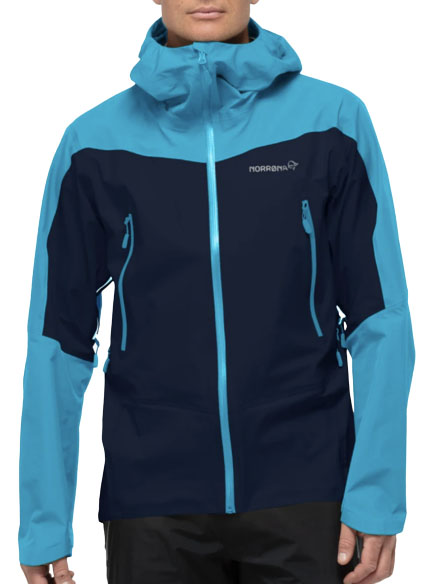 Category: All-around/minimalist
Weight: 14.5 oz.
Waterproofing: Gore-Tex
Denier: 30D
What we like: A boost in coverage and comfort compared to the Arc'teryx Beta LT.
What we don't: Pricey and lacks the crossover appeal of Arc'teryx shells.
Jackets in Norrøna's Trollveggen collection offer the best in weather protection for demanding alpine objectives, while their Falketind lineup tones it down a bit with lightweight yet durable designs for all-around use. The Falketind Gore-Tex Jacket here is a quality technical shell, featuring a 30-denier face fabric with standard Gore-Tex waterproofing and a soft C-Knit liner. Pit zips help you dump heat during high-output endeavors, and the handwarmer pockets are accessible while wearing a backpack or harness. It's less of a stalwart defense against the elements compared to the Trollveggen above, but the Falketind offers lightweight 4-season performance for everything from hiking and backpacking to backcountry skiing.
Norrøna often gives Arc'teryx a run for its money in the jacket space, and the Falketind fills an interesting gap between the Beta LT and AR models above. Standard construction is similar to that of the LT (although the Arc'teryx is slightly thicker at 40D), but the Falketind tacks on a softer C-Knit liner (the LT's tricot is a bit less plush), an internal chest pocket, a noticeably longer hem, and a taller and more protective collar (similar to that of the AR), which arguably makes it a better pick for skiing. And for hiking, we really like the way its cuffs extend over the back of the hands for added coverage. But the Norrøna's technical look is no match for Arc'teryx's sleek fit and finish, and at $519, we're not sure these distinctions justify the price increase from the Beta LT ($450). 
See the Men's Norrøna Falketind GTX  See the Women's Norrøna Falketind GTX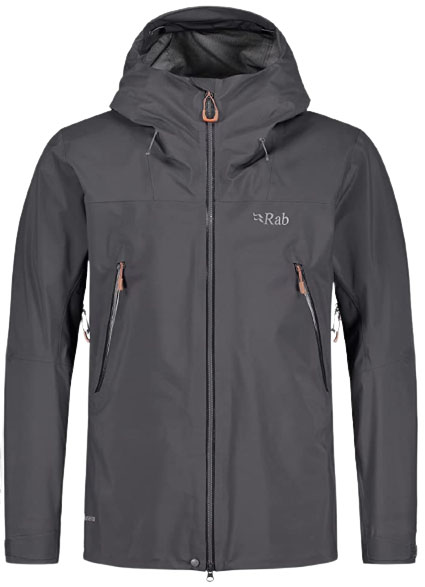 Category: All-Around
Weight: 1 lb. 2.5 oz.
Waterproofing: Gore-Tex
Denier: 70D
What we like: A well-priced and versatile Gore-Tex hardshell for backcountry use.
What we don't: Main zipper is not water-resistant; length is a bit overkill for backpacking and hiking.
U.K.-based Rab is no stranger to variable alpine conditions, offering a full lineup of hardshells for everything from winter mountaineering to fast-and-light missions. And good news for value seekers—their outerwear is often priced for considerably less than the competition, without any real drop in quality. The popular Kangri GTX is no exception: For just $425, it's fully prepared for bad weather, with a Gore-Tex membrane and burly, 70-denier recycled-nylon shell. You also get a full suite of features that holds little back, including a two-way center front zip, glove-friendly zipper pulls, large harness-compatible hand pockets, and two-way pit zips. We appreciated the Kangri's protection while backpacking in Patagonia's always-inclement weather, but it's also a well-rounded choice for backcountry skiing, mountaineering, winter alpinism, and even around-town use.
The Kangri is far from minimalist, and Rab shows a clear prioritization of price over weight with the choice of an internal storm flap behind the front zip rather than a water-resistant zipper. What's more, the generous coverage struck us as a bit overkill for hiking and backpacking, and actually impacted mobility when bending over to tie boots, filter water, etc. But compared to other jackets with similar construction (like the Patagonia Triolet, OR Archangel, and Helly Hansen Odin 9 Worlds) the Kangri does feel a lot less like a ski jacket, and checks in for about an ounce less, too. In the end, we think it's best suited for backcountry activities in the cold, whether you're a casual snowshoer or a serious peak bagger. For a toned-down version for shoulder-season use, Rab now offers the Kangri Gore-Tex Paclite Plus ($350), which features a 2.5-layer membrane and 40-denier nylon and weighs just 13.3 ounces.
See the Men's Rab Kangri GTX  See the Women's Rab Kangri GTX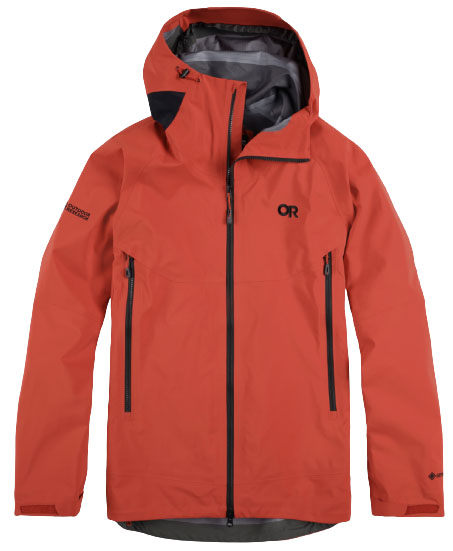 Category: Alpine
Weight: 1 lb. 3.4 oz.
Waterproofing: Gore-Tex Pro
Denier: 70D & 40D (stretch panel)
What we like: Gore-Tex Pro construction with stretch improves range of motion and comfort.
What we don't: Climbing-focused build impacts versatility.
When Gore released a stretch variation of its Pro membrane, Outdoor Research's Archangel was one of the first products to feature the material. This hardshell incorporates a large, stretchy panel along the upper back of the jacket for improved freedom of movement and comfort (the rest of the shell is standard Gore-Tex Pro). The added "give" is most valuable when reaching up, so OR has tailored the Archangel for activities ranging from ice climbing to ski mountaineering with a trim cut and extended back length. Plus, it's harness and backpack hipbelt-friendly with raised hand pockets and a two-way main zipper. Added up, the Archangel is a capable and mobile option for rugged alpine use.
Among premium hardshells, the Archangel makes a strong case by mixing stretch with Gore's bombproof Pro membrane. That said, the build is pretty focused on climbing, which impacts its versatility for backcountry and downhill skiing. You can save weight and get a more layering-friendly fit with the Beta AR above, and the Alpha SV and Patagonia Triolet win out in durability. It's also worth noting that the stretch panel uses a relatively thin 40-denier face fabric, making it less ideal for extensive wear under a heavy pack. But for those looking for a premium alpine climbing shell, the Archangel is a well worth a look. 
See the Men's Outdoor Research Archangel  See the Women's Outdoor Research Archangel
Category: All-around
Weight: 1 lb. 2.3 oz.
Waterproofing: Eco-Shell
What we like: Sophisticated performance; great comfort and style with a soft and stretchy shell.
What we don't: Too heavy for backcountry use; side vents are strange.
Known for stylish yet high-performance products that bridge the gap between the mountains and the city, Swedish based Fjallraven nailed the formula with their Keb Eco-Shell hardshell. This jacket is ready for the elements, with a stretchy, hardwearing polyester and Fjallraven's in-house Eco-Shell membrane. Water-resistant zips, sleek Velcro cuffs, and a helmet-compatible hood further help to batten down the hatches, and side vents open wide when heat starts to build. Of course the Keb doesn't come up short on style points, either, with an array of non-traditional colorways (we loved the chestnut), attractive chest pockets and pulls, and a classy Fjallraven patch on the left arm. And in contrast to the crinkly, rigid nature of many hardshells, it features a soft and stretchy face fabric, which lends a lot of comfort and versatility for casual environments. 
The Keb Eco-Shell was our go-to jacket throughout the winter, ideal for everything from snowy walks to the office to powder days at the resort. However, for weight-conscious activities like backcountry skiing or backpacking, it's heavy at 1 pound 2.3 ounces and not particularly packable—we generally take along a lighter jacket like the Arc'teryx Beta LT instead. Further, the side vents aren't a win for us: Their low placement makes you much more vulnerable to the elements (it's for good reason that pit zips are hidden underneath your arms), and we constantly mistake them for pockets. In the end, $500 is a lot to spend on a casual hardshell, but for frontcountry activities and the odd day at the resort, the Keb offers great weather protection and is one of the best-looking designs here... Read in-depth review
See the Men's Fjallraven Keb Eco-Shell  See the Women's Fjallraven Keb Eco-Shell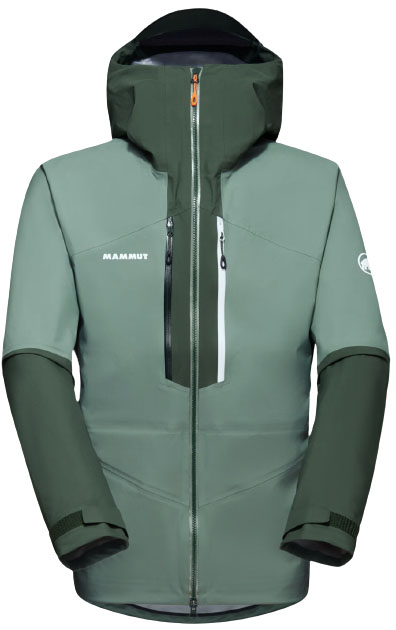 Category: All-around/minimalist
Weight: 14.8 oz.
Waterproofing: Mammut Drytechnology Pro
Denier: 30D
What we like: An affordable and lightweight hardshell from a trusted brand.
What we don't: In-house membrane isn't as reliable as Gore-Tex.
Not many outdoor brands have been in the business for as long as Mammut, which got its start making climbing ropes back in 1862. Over a century and a half later, the Swiss company is still committed to creating durable outerwear and gear for serious mountain adventures. We've long been a fan of their climbing ropes, harnesses, and ski backpacks, but have only recently started to see Mammut apparel hit the shelves this side of the Atlantic (they're one of the biggest brands in Europe). Their Taiss HS got our attention this year: With a versatile all-rounder design and one of the lowest price tags here ($385), it's well deserving of a closer look.
The Taiss goes head-to-head with a design like the Norrøna Falketind GTX above. Both jackets are ideal pairings for fast-and-light travel or springtime conditions, with lightweight builds (the Mammut is only 0.3 oz. heavier), supple 30-denier shells, and pit zips. But while the Falketind features a premium Gore-Tex membrane with soft liner, the Taiss cuts costs with an in-house Drytechnology Pro waterproof membrane (which we have yet to test). It's certainly a less premium option, but Mammut has a strong track record for quality and you simply won't find Gore-Tex at this price point. For a step up in protection for true winter weather, check out the Taiss Pro HS ($559), which features a 70-denier shell and Mammut's Dry Expedition membrane.
See the Men's Mammut Taiss HS  See the Women's Mammut Taiss HS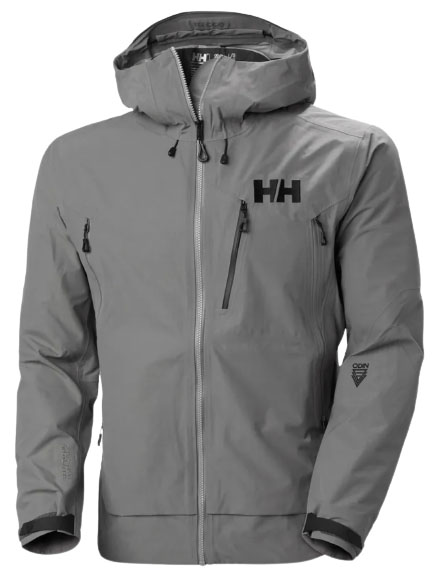 Category: All-around
Weight: 1 lb. 6.9 oz.
Waterproofing: Helly Tech Professional
Denier: 70D
What we like: Sustainably built; long front pockets offer a lot of storage.
What we don't: Too thick for most backpackers; trim fit isn't ideal for layering.
Helly Hansen might not have the flashy branding of names like Patagonia and Arc'teryx, but the Norwegian company is an outerwear stalwart. Their best-selling hardshell is the Odin 9 Worlds 3.0, which features a clean silhouette and keeps prices relatively low by way of an in-house Helly Tech Professional waterproof breathable membrane. A robust, 70-denier face fabric serves as a great defense against wind and rain, and underarm vents keep air circulating during high-output activities. You also get large front pockets that extend virtually from armpit to waist, which use two-way zippers so you can access one end without opening the entire length (particularly helpful when wearing a backpack or harness). And from a sustainability standpoint, the Odin 3.0 checks the right boxes, with a 68%-recycled shell (made from ocean-sourced plastics) and PFC-free DWR. 
At 1 pound 6.9 ounces, the Odin is one of the heaviest jackets here and far too thick for summer backpacking or fast-and-light adventures (it's even a significant 4.9 oz. heavier than the Alpha SV above). But with thick 70-denier nylon and features like a RECCO reflector, large front pockets, and helmet-compatible hood, it's a great choice for backcountry skiing or other winter endeavors, particularly if you prefer a burly, durable jacket. Keep in mind that the Helly Hansen does run on the trim side, so those who wear a lot of layers might want to size up. Within this category, we rank the Triolet higher thanks to its premium Gore-Tex membrane and lower price point. But the Odin is nevertheless a high-quality design for those in the market for a heavy-duty hardshell for four-season use... Read in-depth review
See the Men's Helly Hansen Odin 9 Worlds 3.0  See the Women's HH Odin 9 Worlds 3.0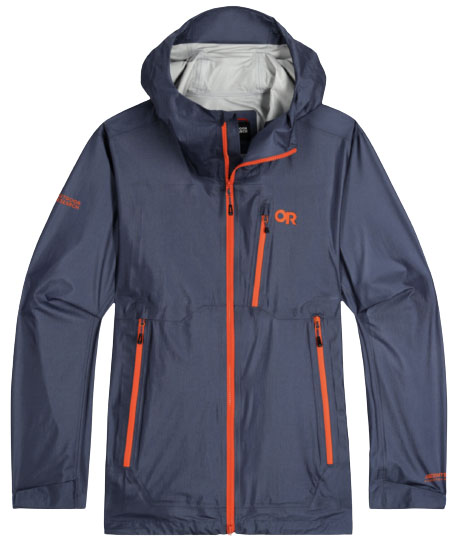 Category: Minimalist
Weight: 11.5 oz.
Waterproofing: AscentShell
Denier: 30D
What we like: Punches well above its weight in protection, durability, and features.
What we don't: Odd, baggy fit in the torso and waist; no pit zips.
Outdoor Research's Helium jacket has long been one of our go-to emergency shells, offering decent rain protection at a very low weight. The Helium AscentShell keeps the ultralight ethos of the name but upgrades just about everything else, resulting in a real-deal hardshell that falls into the same category as lightweight all-rounders like the Arc'teryx Beta LT above. We're overall quite impressed by OR's latest effort, which uses their in-house waterproof membrane and a premium Pertex shell to offer exceptional durability and weather protection alongside stretch and breathability—all for the low weight of just 11.5 ounces (our men's medium checked in at 11.3 oz.). And compared to most minimalist hardshells, storage is excellent, with internal dump pockets (great for storing skins and gloves), massive hand pockets (awkwardly sized, in our opinion, but accessible with a pack on), and interior and exterior chest pockets.
Our main gripe with the Helium AscentShell is fit: The shape is extremely boxy, resulting in a baggy torso and waist on our tester (on the other hand, OR's Microgravity fit him well). Further, the jacket doesn't vent as well as most AscentShell models we've tested due to the more robust makeup of the shell material and liner, and the design does not feature pit zips. And finally, $449 feels like a lot of money for this shell: The orange-colored model we tested would be easy to confuse with a plasticky rain jacket upon first glance, and it certainly can't compete with the Beta LT's sleek aesthetic. But you do save a few ounces with the Helium AscentShell, which is undoubtedly an impressively featured and high-performance jacket for the weight. 
See the Men's OR Helium AscentShell  See the Women's OR Helium AscentShell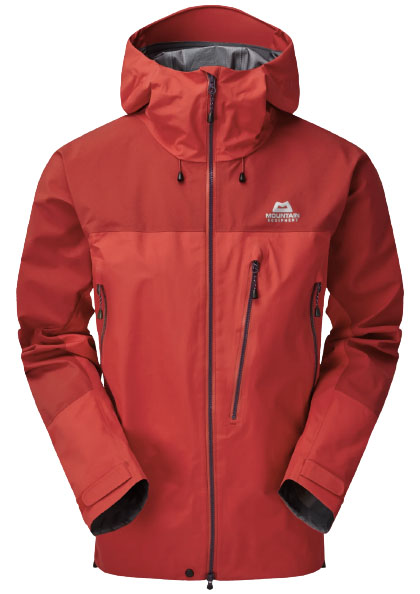 Category: Alpine
Weight: 1 lb. 1.6 oz.
Waterproofing: Gore-Tex Pro
Denier: 40D & 80D
What we like: Proven weather protection and a great fit.
What we don't: A bit heavy and bulky for an all-rounder.
U.K.-based Mountain Equipment isn't a household name in the U.S., but it's starting to gain traction. One of the reasons is they make a great product—their Lhotse jacket can stand up to just about anything in terms of weather protection and build quality. This shell is designed as an all-rounder for various uses like mountaineering, skiing, and winter trekking, and features a familiar mix of 40- and 80-denier Gore-Tex Pro, a helmet-compatible hood with a tall collar, and pit zips. In addition, the Lhotse is known for having a great fit: it's cut long to accommodate a harness and offers plenty of space for layering without impacting mobility.
Despite its one-jacket-quiver intentions, the Lhotse is less of an all-rounder than our top picks. The durable sections of 80-denier fabric and three large zippered pockets add bulk and weight, and we think there are better values to be had (even Arc'teryx's premium Beta AR will save you almost $150). And a downside for those in the U.S. is availability: there aren't nearly as many retailers selling Mountain Equipment as competitors like Arc'teryx, Outdoor Research, and Patagonia. But given the quality of their product, we're hopeful that changes soon.
See the Men's Mountain Equipment Lhotse  See the Women's Mountain Equipment Manaslu
Category: All-around/minimalist
Weight: 14.9 oz.
Waterproofing: Proflex
Denier: 20D
What we like: Softshell-like stretch and breathability with the light weight and weather protection of a hardshell.
What we don't: Weather protection can't match that of a dedicated hardshell; no pit zips.
If you're in the market for something a little different, it's worth taking a closer look at Rab's popular Kinetic Alpine 2.0. This hybrid jacket marries all of the features we look for in a hardshell—including a waterproof membrane, full seam taping, and helmet-compatible hood—with the stretchy knit face fabric of a softshell. The end result is fantastic comfort, mobility, and breathability for hiking and climbing, alongside decent protection from wind and rain. For just $310, that's a lot of performance packed into one jacket, and a trim fit and simple feature set keep weight low at 14.9 ounces.
Like many hybrid soft/hardshell pieces, one of the primary compromises with the Rab is outright weather protection. In general, you can expect the face fabric to wet out sooner than a standard hardshell, making it less reliable in sustained and heavy downpours. But the Kinetic Alpine 2.0 is a top performer in heavy winds, and nevertheless offers better moisture protection than standard wind jackets and softshells. We do wish Rab had added pit zips to the design, and the trim fit makes it difficult to layer anything more than a light jacket or baselayer underneath. But for all-day comfort with a respectable dose of weather protection, the Kinetic Alpine 2.0 will be a useful addition to many quivers... Read in-depth review
See the Men's Rab Kinetic Alpine 2.0  See the Women's Rab Kinetic Alpine 2.0
Hardshell Jacket Comparison Table
Hardshell Jacket Buying Advice
What Is a Hardshell Jacket?
To be clear, there isn't a perfect and universally accepted definition of a hardshell, but there are a number of common features that define this non-insulated jacket type. The most important is weather resistance: hardshell jackets offer high levels of waterproofing and windproofing for sustained exposure in harsh conditions. In addition, hardshells share a common 3-layer construction type that bonds an interior liner and exterior face fabric to a waterproof and breathable membrane. This differentiates them from rain jackets, which commonly use 2 or 2.5 layers as a way to cut costs and weight.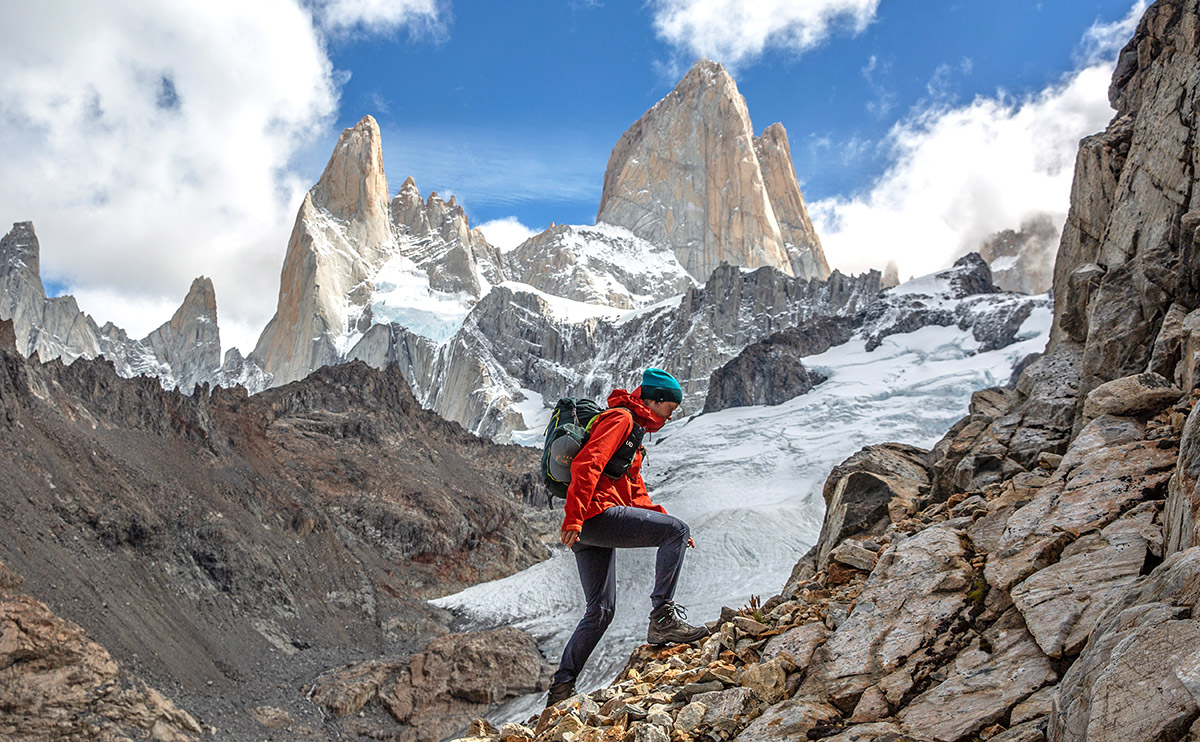 The combination of durability, weather protection, and breathability makes hardshell jackets popular for downhill and backcountry skiing, mountaineering, alpine and ice climbing, and 4-season hiking. The construction doesn't come cheap: the most affordable jacket to make our list is the $279 Outdoor Research Microgravity, and you can easily spend upwards of $800 on a quality shell. But these jackets are made to last and are the kind of apparel you rely on when Mother Nature gives you her worst.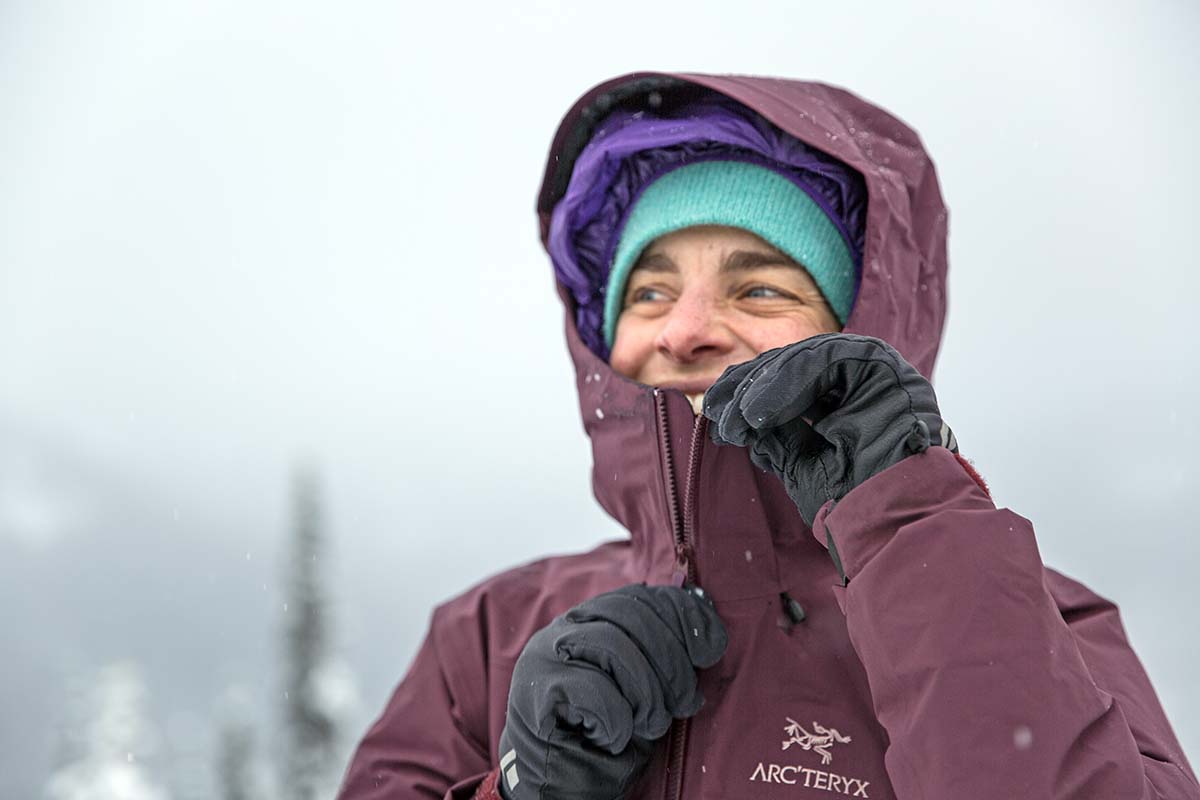 Hardshell Categories: Alpine, All-Around, and Minimalist
All hardshells share a basic design and construction, but we've separated them into three general categories: alpine, all-around, and minimalist. Moving from alpine to minimalist, the jackets drop weight, features, and weather protection. Cost can vary—lightweight yet protective materials are often very pricey, meaning that many minimalist shells (like Arc'teryx's $450 Beta LT) will be more expensive than standard models. Most people will go with an all-around shell, but our alpine and minimalist categories fill in the gaps for those with more specific needs.

Alpine
Alpine shells are built for the extremes. Currently, most of the designs in our alpine category feature Gore-Tex's most premium "Pro" membrane, which is just about as protective as it gets. They're also built with heavy-duty fabrics (anywhere from 40D to 100D) and feature protective hoods for withstanding brutal high-mountain conditions. These shells are also the most expensive here, ranging from $699 for the Outdoor Research Archangel to $900 for the Arc'teryx Alpha SV.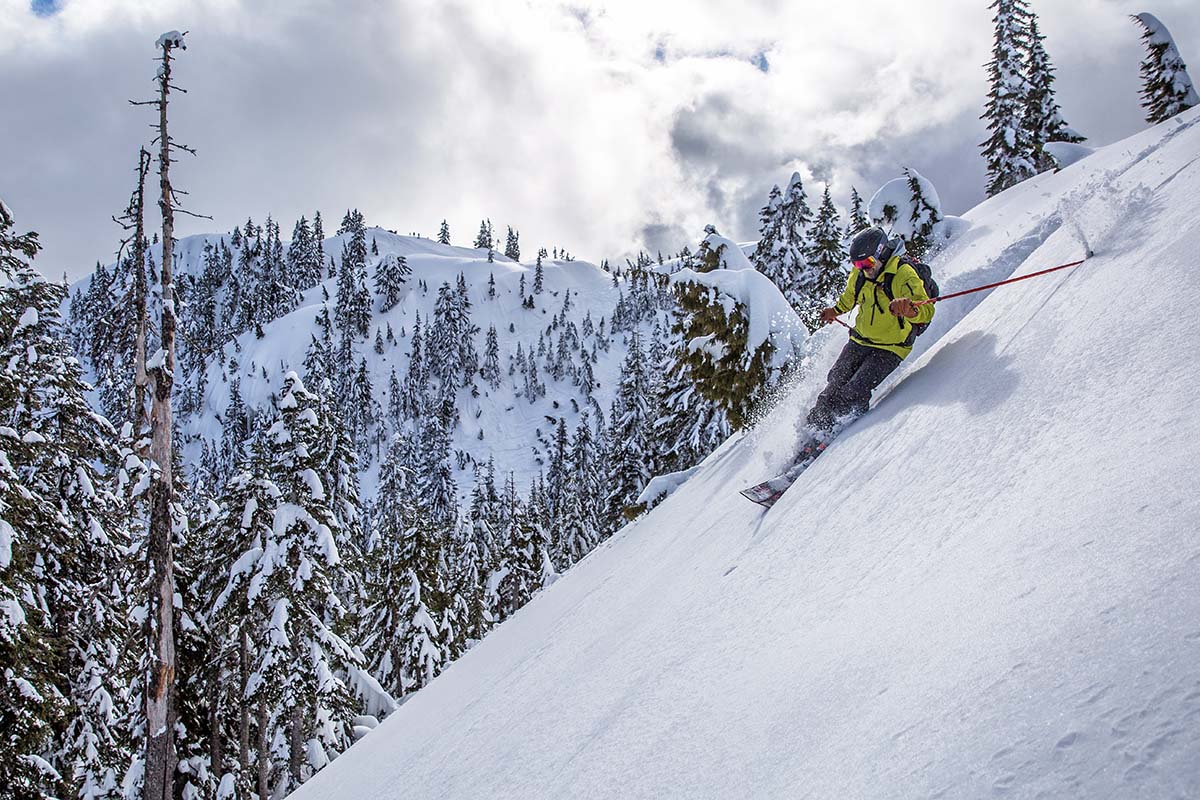 All-Around
If we were to pick a single shell for all backcountry uses, we would go with an all-around jacket. These designs have a wide range of uses, from hiking to ski mountaineering, and generally slide in between alpine and minimalist shells in terms of weight, fabric thickness, features, and cost. In addition, most of the all-around designs on our list feature regular fits great for both mountain and around-town use (alpine and minimalist shells are often trim-fitting), and are fairly uncompromised with a full array of pockets. The Arc'teryx Beta AR (featuring premium Gore-Tex Pro) is our favorite all-around hardshell for years running, but you can save a lot of money with a standard Gore-Tex model like the Patagonia Triolet.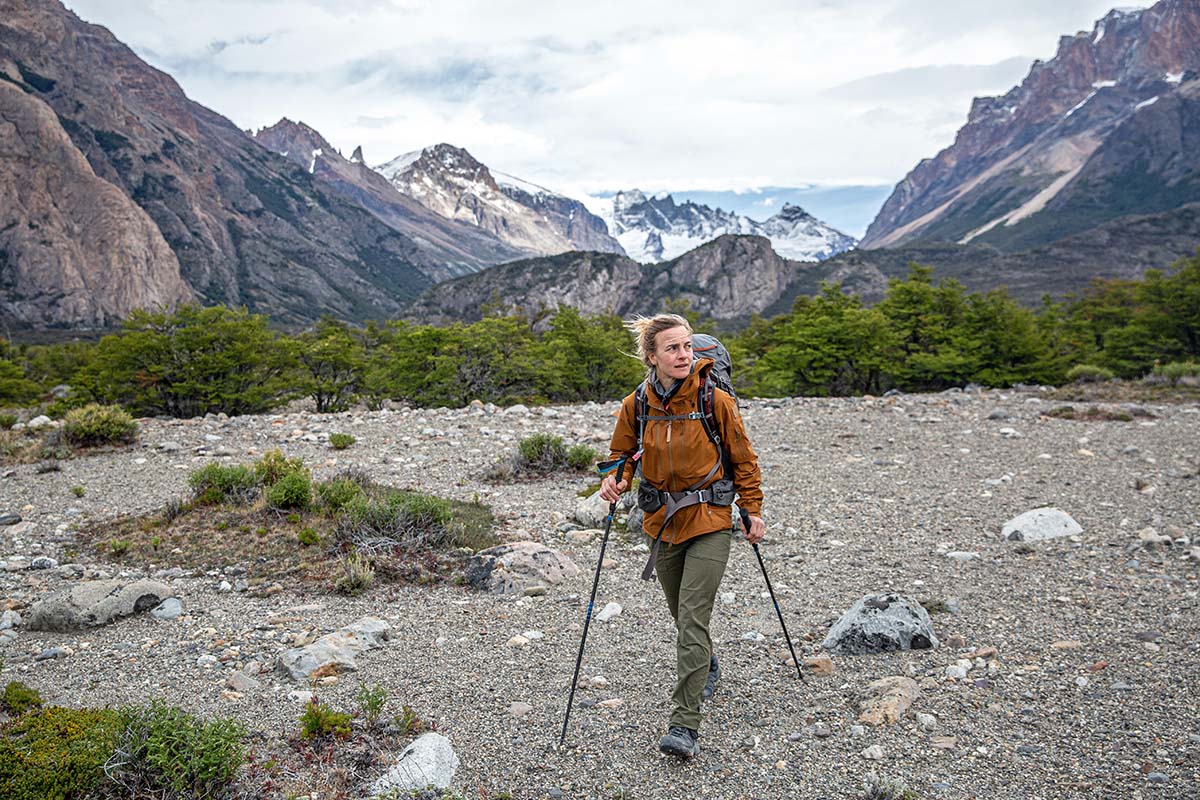 Minimalist
At the lightweight end of the spectrum, minimalist hardshells are built with the goal of keeping weight and packed size to an absolute minimum. They are generally trim-fitting, feature thin shell fabrics, and have very few bells and whistles (often omitting pit zips and hand pockets). Minimalist shells are a great choice for shoulder-season activities like backpacking or climbing, and also serve as a great emergency layer. However, with thin fabrics they don't measure up to the rest of the hardshell competition in terms of durability and weather protection—we particularly don't recommend minimalist shells for true winter weather. Within this category, the Arc'teryx Patagonia Storm10 is the lightest on our list, while designs like the Arc'teryx Beta LT and OR Microgravity are a bit more well-rounded.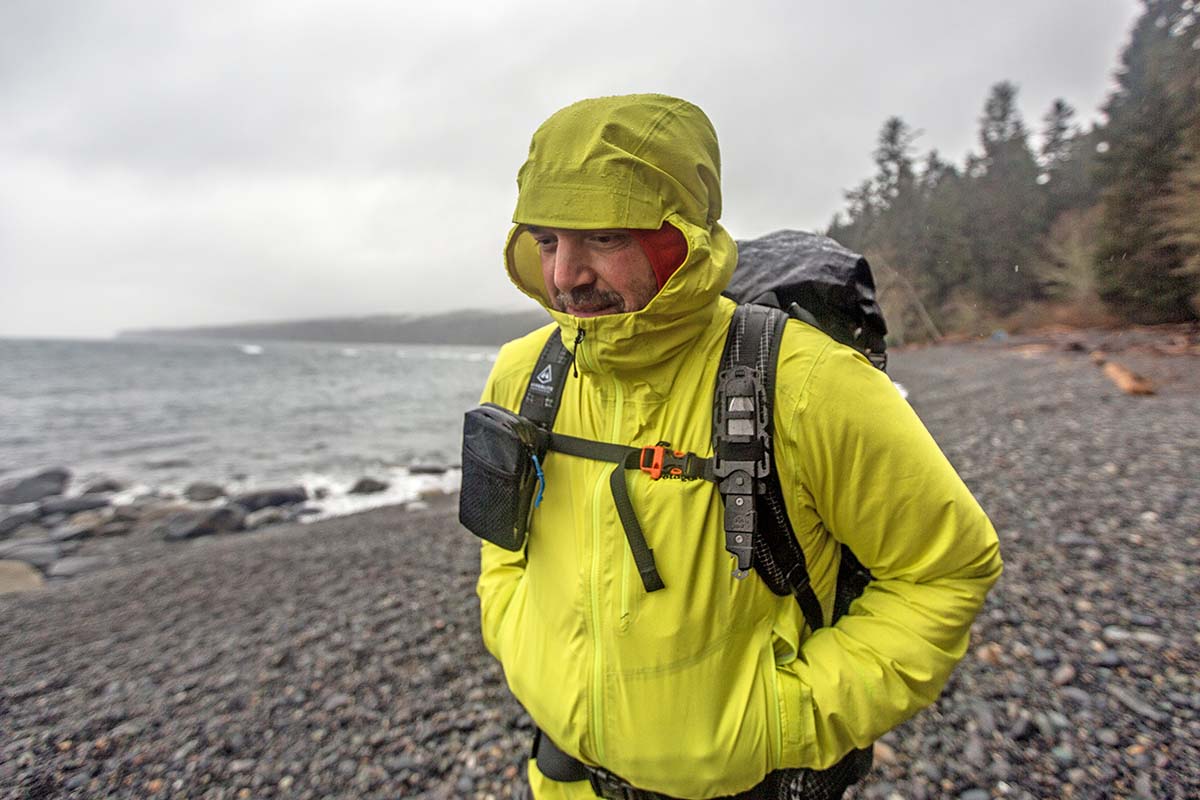 Waterproofing Technologies: Gore-Tex, AscentShell, H2No, and More
The quality and performance of a hardshell's waterproof laminate is this jacket type's defining feature. Gore-Tex still dominates the market—it's no coincidence you'll see their name on most jackets that made our list. For top-of-the-line performance, Gore's "Pro" laminate is the class leader. It balances high-mountain durability with waterproofing and breathability better than anything on the market, but does come with a significant increase in price. Gore's standard shell isn't as hardwearing as the "Pro," but it can be used with much lighter fabrics, resulting in more minimalist pieces great for fast-and-light endeavors.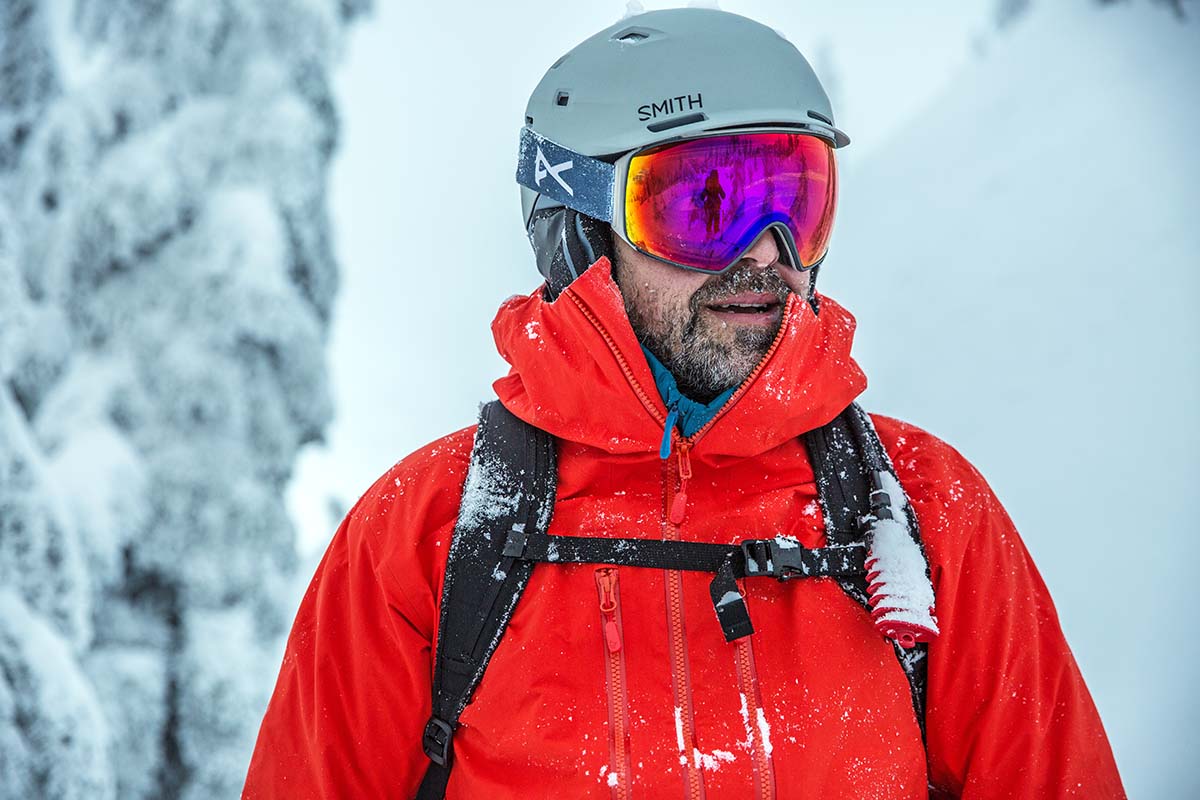 We've found that Outdoor Research's AscentShell, Patagonia's H2No Performance, and eVent all are formidable competitors to Gore-Tex. eVent was one of the first to really break through with their direct venting design, and these other technologies follow suit with air-permeable 3-layer builds to encourage airflow. Further, AscentShell (along with certain types of Patagonia's H2No) comes with the added bonus of a stretchy, softshell-like construction. Overall, while there aren't as many options on the market that utilize these waterproofing designs, they are all worth considering if breathability is a priority.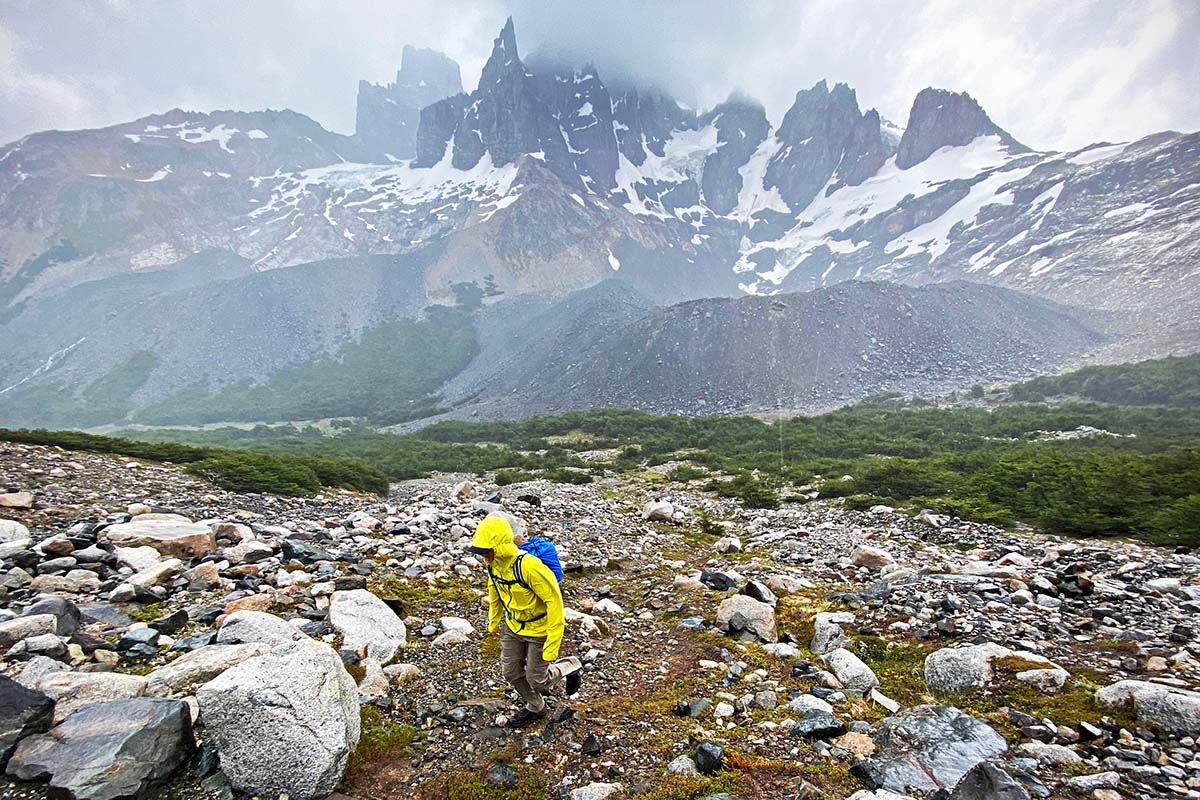 Durable Water Repellent Finish (DWR)
In addition to the 3-layer waterproof construction, another key piece of a hardshell's protection and breathability is its durable water repellent finish (commonly referred to as DWR). This coating is applied to the exterior of every jacket that made our list above to prevent moisture from absorbing into the face fabric by beading up the droplets. A fresh DWR is an impressive thing and can offer sufficient protection and maximize a membrane's ability to ventilate in light to moderate conditions. That said, heavy and sustained rain and snowfall will eventually overwhelm the coating, which is where the waterproof membrane and seam sealing come into play. Over time, the DWR finish will wear down, although you can keep it fresh by washing and drying the shell or reapplying a new coating (Nikwax's TX.Direct Wash-In is our personal favorite).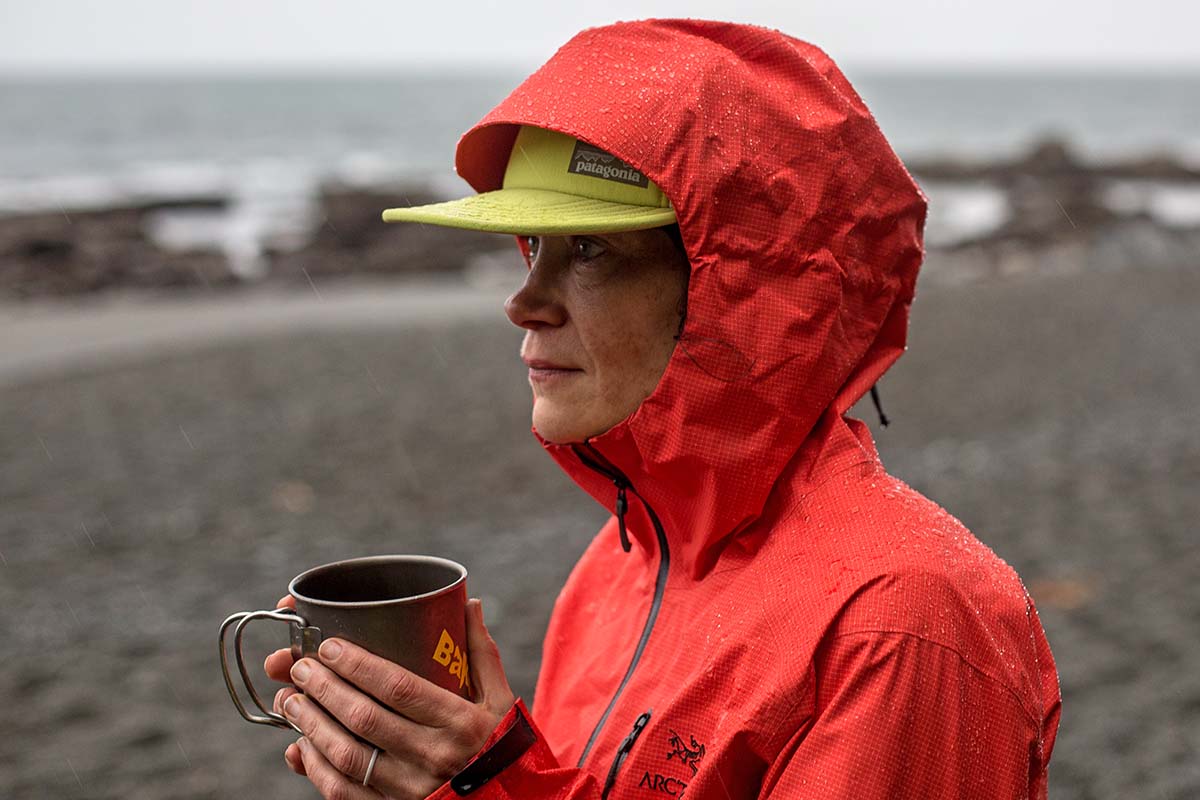 Fabric Thickness and Durability (Denier)
There are a number of factors that impact a jacket's durability, but denier is a helpful indicator of strength. Denier is a measurement of fabric thickness, and the higher the number the thicker the thread. Most all-around jackets for alpine climbing and skiing fall in the 30- to 80-denier range. Low-denier jackets usually weigh less and are slightly less durable, while high-number shells won't pack down as small but can handle more abuse. Jackets that fall outside of the range above are more specialized: the thin 20-denier Patagonia Storm10 is best for lightweight backpacking or when weight is very important, and the 100-denier Arc'teryx Alpha SV is absolutely bomber but comes with a very high price tag.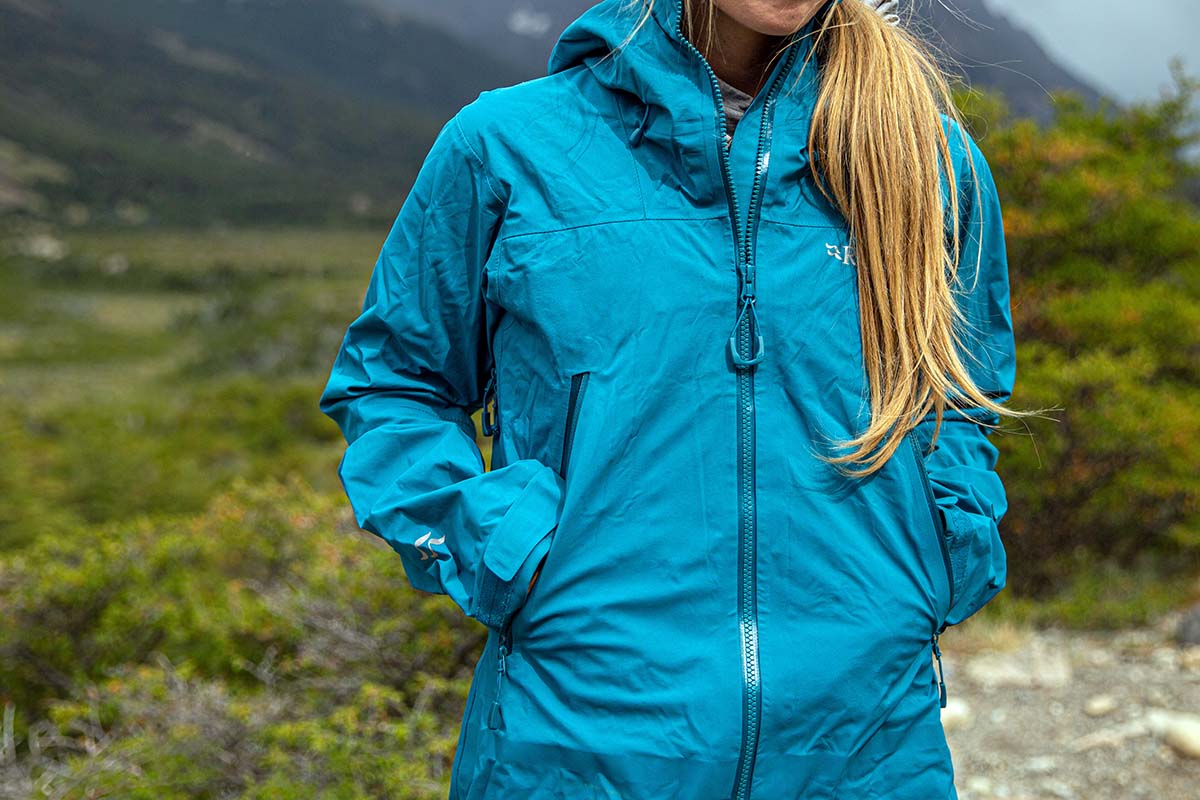 Weight and Packed Size
Depending on how a hardshell will be used, weight and packed size may or may not be a priority. In most cases, we're willing to carry a little extra weight into the alpine for an added sense of security. As an example, there have been very few instances where we've regretted packing our 1-pound-2-ounce Alpha SV on a trip. On the other hand, for multi-day tours or if you're traveling in mild conditions, it's best to leave a heavyweight like the 1-pound-7-ounce Norrøna Trollveggen at home and instead bring a trimmed-down hardshell. The lightest and most compressible option from the list above is Patagonia Storm10—its simplistic design and thin materials make it as packable as a rain jacket. The compromise, of course, is durability and rough weather protection. Jackets that nicely balance weight and toughness include Arc'teryx's Beta LT and the Mountain Hardwear Dawnlight.
Fit
A jacket's fit often has a lot to tell you about its intentions. Most hardshells in our all-around category have a "regular" fit, allowing ample room for layering while providing great coverage and a stylish look that looks great on the mountain and in town. Oftentimes, minimalist and alpine jackets will be more trim-fitting, which saves weight and minimizes bulk but isn't as versatile for casual use. Within the hardshell landscape, Arc'teryx consistently has our favorite fit—the time and effort that's gone into the design and tailoring of their shells is immediately apparent when you slip them on. They're comfortable with or without a midlayer jacket and fit most body types very well. This is a primary reason that many professional mountain guides and serious outdoorspeople are willing to spend up for Arc'teryx. But it's not a one-horse race, and brands like Norrøna, Rab, and Mammut are similarly impressive.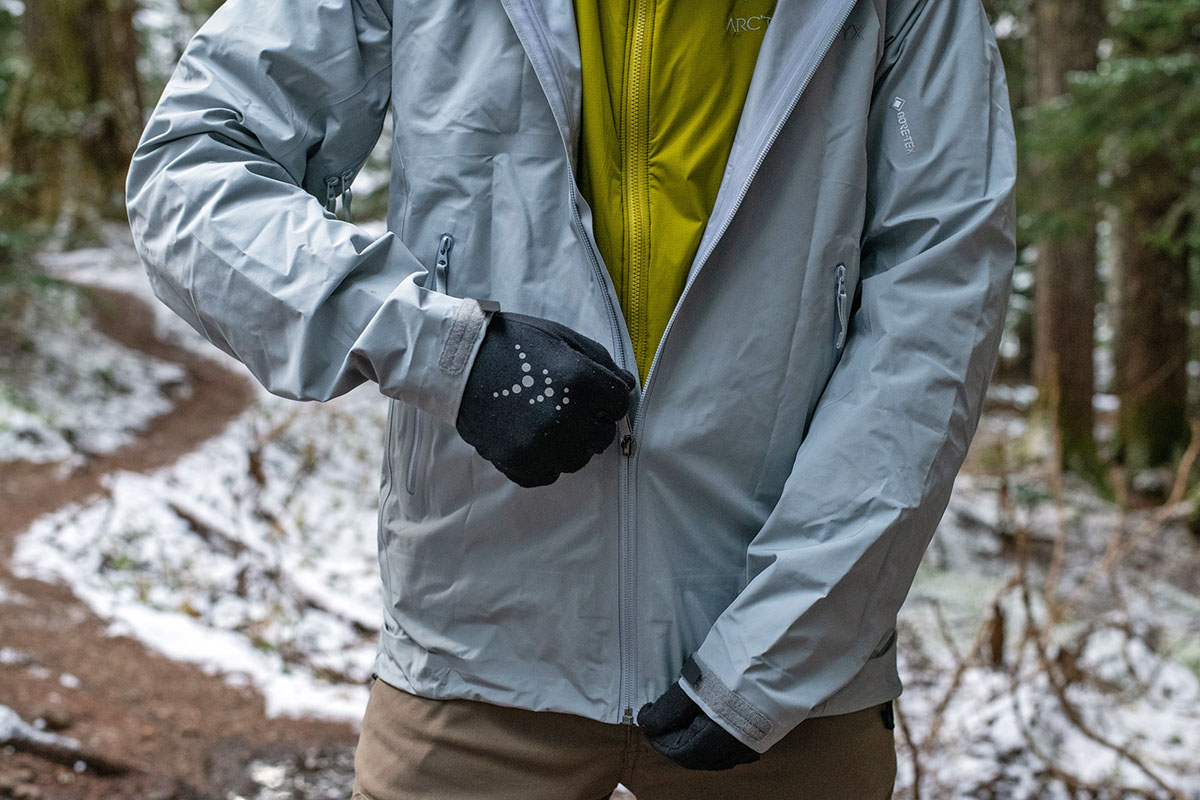 Comfort: Rigid vs. Stretchy Hardshells
Some of the biggest complaints of hardshell jackets are their rigid feel and crinkly sound. And the criticisms are typically warranted—the tough face fabric (up to 100D) isn't as flexible as thinner blends and can be pretty noisy for activities with a lot of movement like skinning, belaying, or hiking. Not only are they loud, but rigid hardshells can also impede movement, making them an onerous choice for high-mobility activities like alpine climbing and backcountry skiing. However, it's a compromise many are willing to accept for the all-out weather protection that these robust shells provide.
That said, we've begun to see more and more stretchy hardshells hit the market, which address both issues mentioned above. Outdoor Research's Microgravity is a great example of this style, with a softshell-like face fabric and supple lining, in addition to a relatively thick shell (20D x 45D) and 3-layer construction typical of a hardshell. We've worn the Microgravity while hiking and backcountry skiing, and it's proven to be both quiet and highly mobile, even while reaching high overhead. Other stretch-infused jackets include the Rab Kinetic Alpine 2.0 (above), Patagonia Upstride, and Outdoor Research Skytour, the latter two of which are purpose-built for backcountry skiing.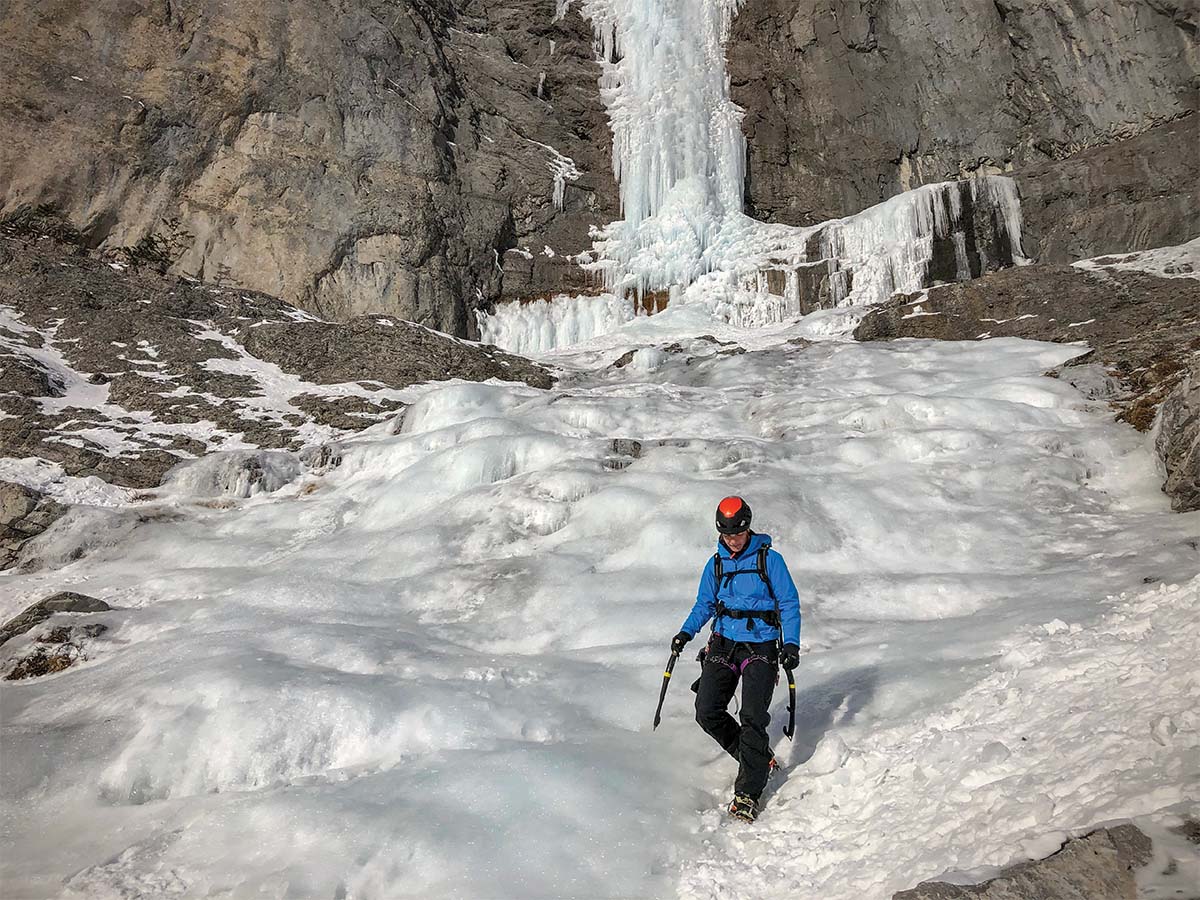 Helmet-Compatible Hoods
A hood that can fit over your helmet is a pre-requisite for alpine use. When the wind is really blowing, throwing on a hood is your best form of protection. Almost all of the jackets on the list above include a hood that can fit over a climbing helmet. If you'll be skiing with the jacket, you'll need a hood that's even larger to fit the bulkier shape of a ski helmet. Most manufacturers list the jackets only as being "helmet-compatible," so we've called out hoods that run a little small in our write-ups above. Our favorite hoods consistently come from Arc'teryx: they're highly adjustable, easy to use, and don't feel ungainly when you're not wearing a helmet.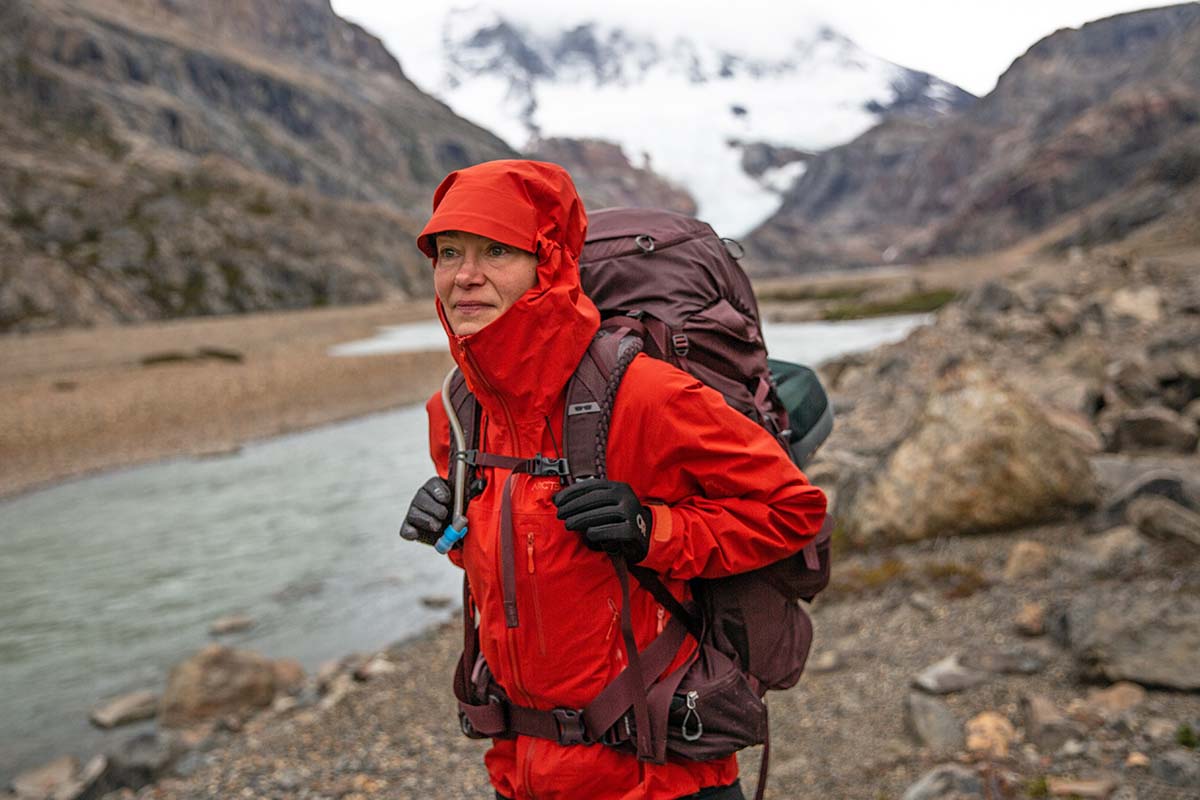 Pit Zips and Breathability
If you'll prone to running hot or need a waterproof shell for high-output activities, we recommend choosing a jacket with pit zips. Even the best waterproof breathable membrane will make you overheat in mild temperatures on the skin track, and we value the ability to quickly dump heat. We also prefer pit zips to ventilated chest pockets, because the location under the arms is better protected from falling rain or snow. There are some cases where you may want to pass on the feature—such as for fast-and-light trips—but we're usually quite willing to accept the extra ounces and slightly larger packed size.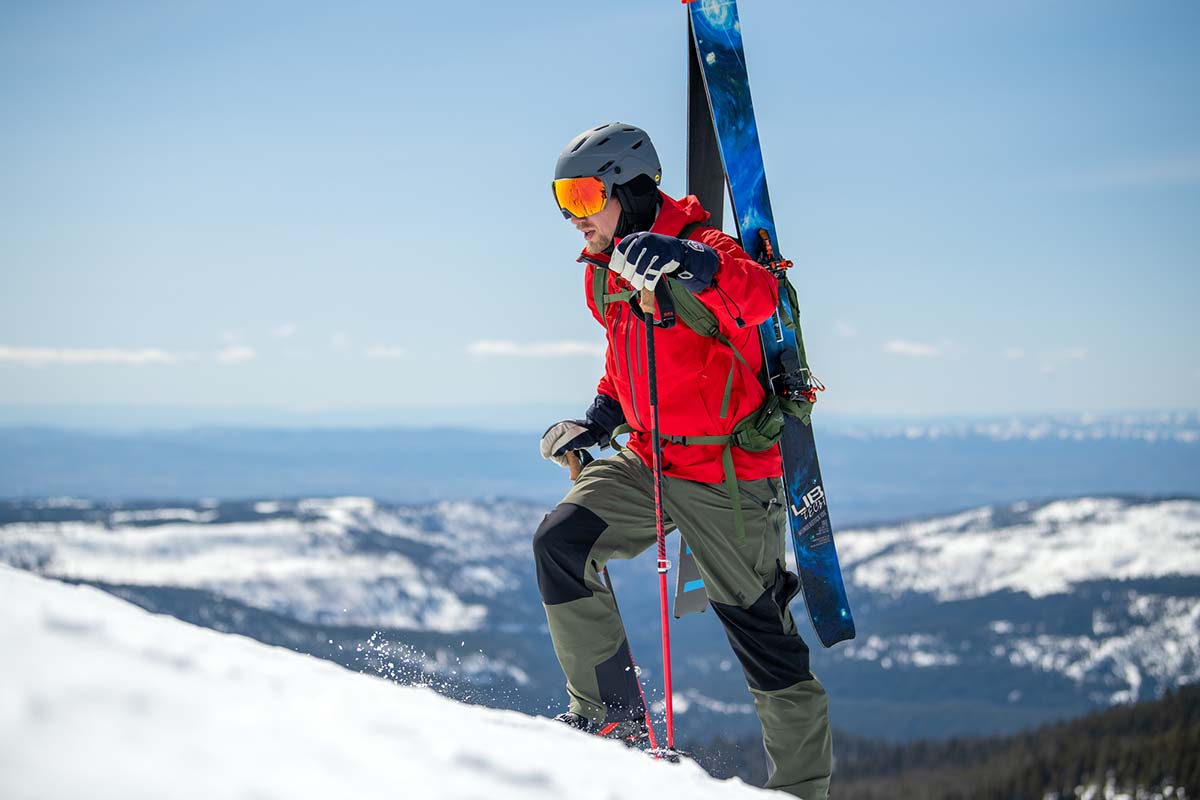 Harness- and Backpack-Friendly Pockets
Most hardshell jackets have hand pockets placed midway up the torso to accommodate a backpack hipbelt or climbing harness. The high placement means you can open and close the pocket without needing to pull up on the jacket or unclip the belt. The end result is that the pockets are slightly less comfortable—the location isn't as natural of a resting place for your hands—but it's something we're willing to tolerate to make the pockets usable. At the extreme end of the spectrum are designs like the alpine-focused Arc'teryx Alpha SV, which foregoes hand pockets altogether and instead boasts dual chest pockets. You lose a little storage and don't have a place to put your hands going this route, but many weight-conscious backcountry adventurers are happy to make the trade.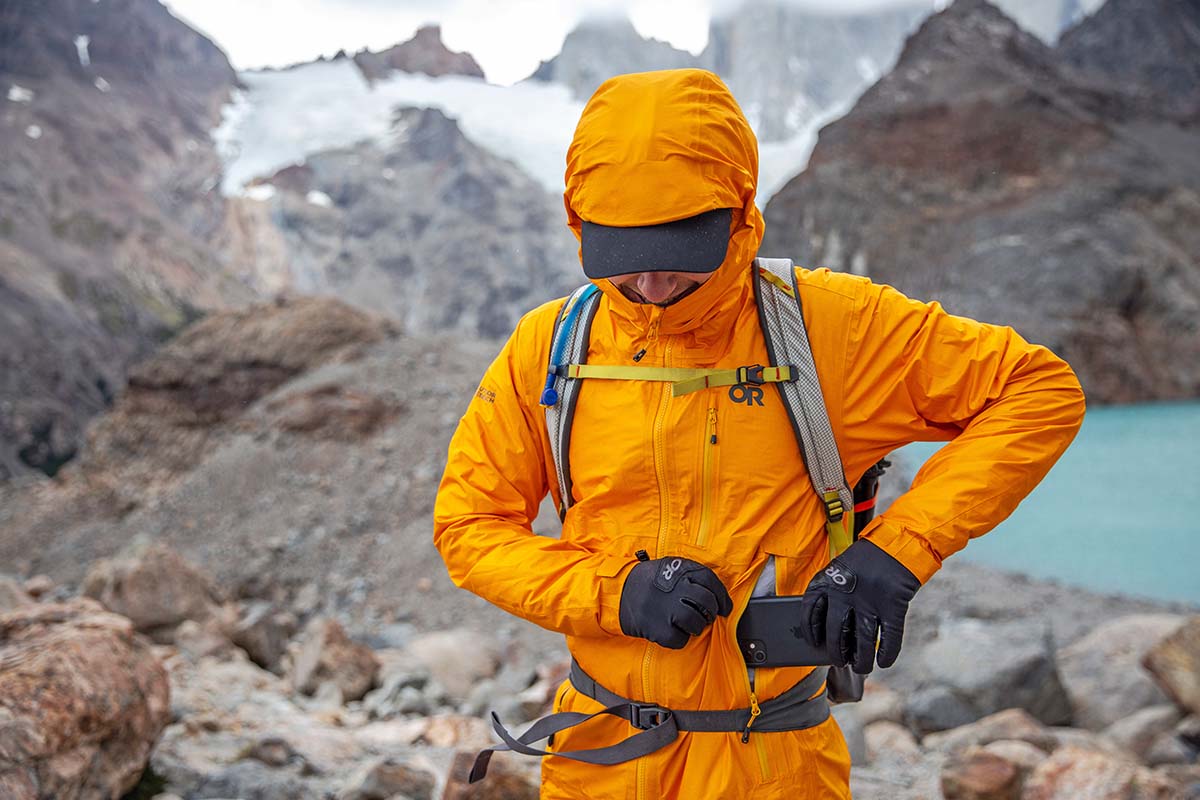 Sustainability
In 2023, one of the primary ways we see manufacturers innovating is through the use of more sustainable materials. In terms of hardshells, this means recycled face fabrics, more responsible production practices (including the elimination of harmful chemicals from water repellent finishes—aka PFC-free DWR), and an emphasis on the ethical treatment of workers. Many companies also utilize the bluesign system for sourcing materials responsibly. Patagonia is a clear leader in the sustainability movement, but brands like Outdoor Research, REI, Arc'teryx, and Black Diamond have also made a sizable effort to reduce their footprint. And while we encourage you to shop sustainably, we're also big advocates of lowering consumption by reusing old gear. Many brands offer repair programs and used marketplaces for their offerings, and gear consignment stores can be treasure troves for like-new items.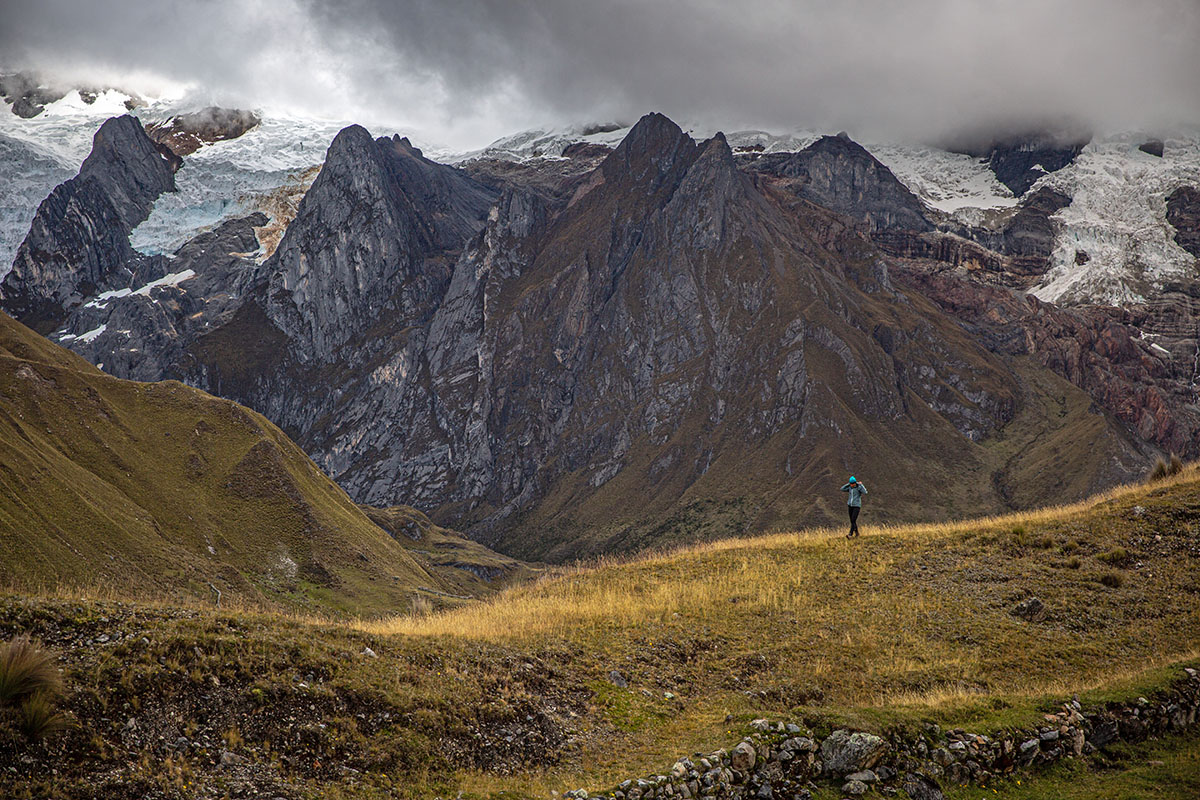 Hardshells vs. Rain Jackets and Softshells
There are three general options for an outer layer: rain jackets, softshells, and hardshells. As the name indicates, rain jackets provide good water and wind protection. Compared with a hardshell, rain jackets are less durable and won't breathe as well, but are quite a bit cheaper (prices range from approximately $150 to $300), lighter-weight, and compress smaller for packing. We prefer rain jackets for daily wear, on summer backpacking trips, or as emergency shells when bad weather isn't in the forecast. But if you're headed to the alpine or are out in winter conditions, we turn to a hardshell.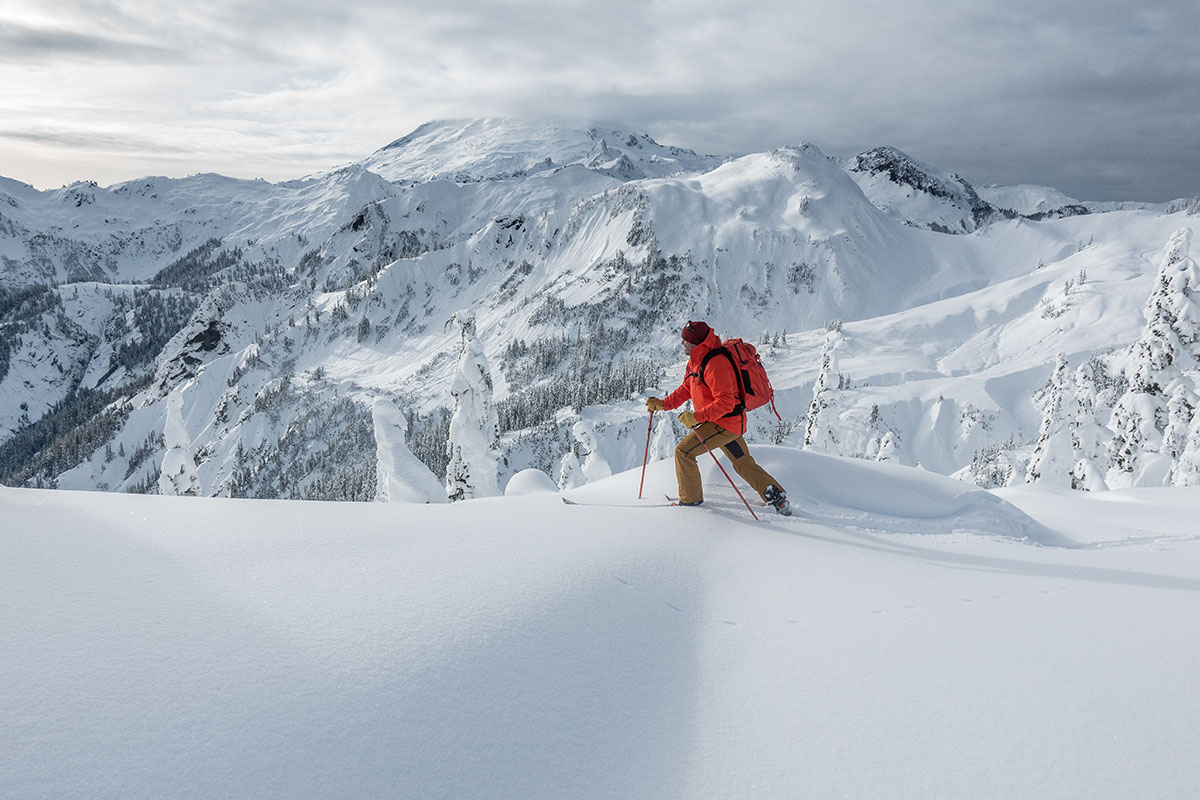 As the names indicate, softshell and hardshell jackets are differentiated by the type and feel of their face fabrics. Softshell jackets are pliable, stretchy, and soft to the touch (especially on the interior), while hardshells are smooth and more rigid. In terms of weather resistance, it isn't even close—even waterproof softshell jackets don't offer nearly the same level of protection. Many softshells are only water- and wind-resistant instead of waterproof, instead focusing on breathability for working hard in mild conditions. We prefer a softshell in good conditions or on the climb up at lower elevations, but if weather really moves in, there's no replacement for a quality hardshell.
Back to Our Top Hardshell Jacket Picks  Back to Our Hardshell Jacket Comparison Table
Learn More About Outdoor Gear