Gravel bikes—also known as adventure or all-road bikes—are built to handle terrain ranging from forest service roads to pavement, dirt, and even mellow singletrack. In essence, they are more capable than road bikes yet more efficient than mountain bikes, transitioning nicely from daily commutes to weekend adventures. While the definition of these dirt-focused models still is up for debate, they share a few key design features including a more upright seating position for added comfort over long distances, high-volume tires to help smooth out rough roads, and multiple mounting points for extra water and gear. From leading budget options to range-topping carbon rigs, below are the top gravel grinders of 2019. For more background information, see our gravel bike comparison table and buying advice below the picks.

Best Overall Gravel Bike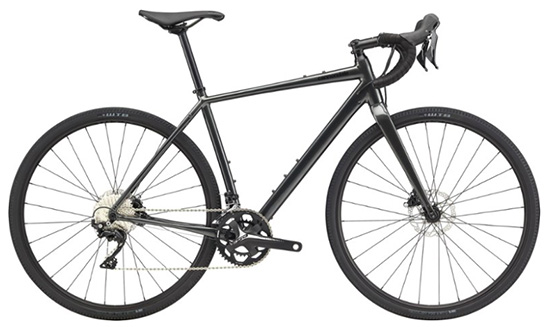 Frame: Aluminum
Gears: 2 x 11
Tires: 700c x 37mm
Brakes: Hydraulic disc
What we like: Quality components and impressive versatility at a good price.
What we don't: A bit heavy for weight-conscious riders.
We'll start by saying that we didn't anticipate our top gravel bike pick being an aluminum-frame rig, but the Cannondale Topstone 105's versatility, smart build, and competitive price tag won us over. In terms of design, the Topstone features a Shimano 105 drivetrain complete with hydraulic disc brakes, proven WTB Riddler 37-millimeter tires and appropriately wide wheels, and the bike soaks up bumps impressively well. The cherry on top: the Topstone manages to undercut much of the competition in price at a reasonable $1,750. From weekend gravel rides to daily commutes, the Cannondale Topstone is an excellent option.
The aluminum frame doesn't come without compromises, however. At 22.5 pounds without pedals and set up tubeless (on our scale in a size medium), the Topstone certainly isn't the lightest gravel bike on the market and likely won't be the first choice of speed-focused riders (if this sounds like you, check out the carbon Giant Revolt Advanced 2 below). Further, we recommend taking a very close look at the size chart before buying. Our medium had a 56.1-centimeter top tube length, which ended up being a bit on the large side for us. However, these are relatively small concerns about an otherwise impressive all-around gravel bike. Kudos to Cannondale for hitting that sweet spot between price and performance. 
See the Cannondale Topstone 105  See the Women's Cannondale Topstone
A Close Second (With a Carbon Frame)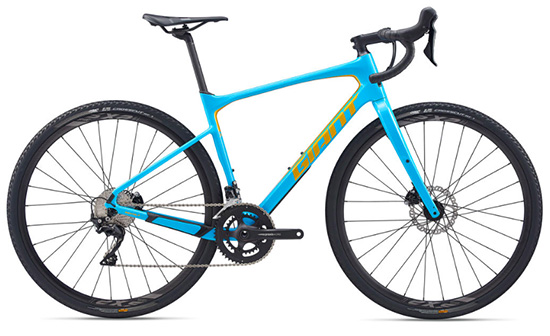 Frame: Carbon
Gears: 2 x 11
Tires: 700c x 38mm
Brakes: Hydraulic disc
What we like: Lightweight carbon frame and Shimano 105 drivetrain at a reasonable price point.
What we don't: For some, the carbon frame may not be worth the price increase over the Topstone above.
Giant has built a reputation around producing high-quality bikes at affordable prices, and their Revolt Advanced 2 is a shining example. For $2,450, you get a light and compliant carbon frame, a smooth-shifting Shimano 105 drivetrain, hydraulic disc brakes, and ample clearance for tires up to 45 millimeters wide for damping rough roads. Other thoughtful features include a rubber downtube protector to ward off high-speed rock impacts and a chainstay guard to help keep the chain quiet on bumpy rides. Added up, you'd be hard-pressed to find a similarly equipped carbon design in this price range.
Why do we have the Giant Revolt Advanced 2 ranked below the Cannondale? Both are top-notch gravel bikes, but the simple answer is that we don't think the $700 bump in cost is worth it for most riders. The bikes share the same Shimano 105 drivetrain, and we found the aluminum Cannondale to be surprisingly comfortable. But if you're more interested in gravel races than mellow rides, the lighter carbon-framed Revolt Advanced 2 is well worth a look. And for a hardcore racing bike, see the Trek Checkpoint SL 5 below.
See the Giant Revolt Advanced 2
Best Budget Gravel Bike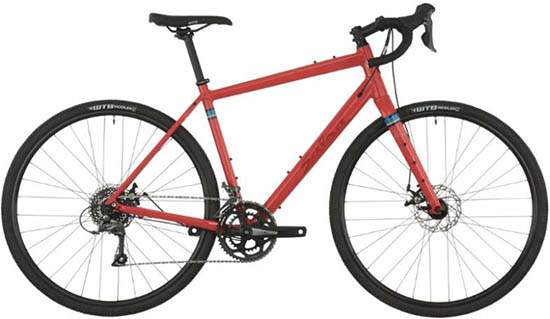 Frame: Aluminum
Gears: 2 x 8
Tires: 700c x 38mm
Brakes: Mechanical disc
What we like: Extremely versatile and offered in multiple configurations and sizes.
What we don't: Components are less impressive at this price point.
Just because you can spend thousands of dollars on a race-ready carbon gravel bike doesn't necessarily mean you should. For budget-oriented riders interested in casually exploring backroads or taking the scenic route to work, Salsa's Journeyman Claris 700 should be plenty of bike. For a palatable $949, the Journeyman includes a quality aluminum frame, ample mounting locations for accessories, water, and gear, and a dependable Shimano Claris drivetrain. Best of all, there's no shortage of variety with nine models of varying handlebar types and wheel sizes to choose from. Salsa has been a leader in the adventure bike category since its inception, and the Journeyman Claris is a testament to their expertise.
As with any budget offering, the Journeyman Claris 700 has its fair share of compromises. Compared to the Cannondale above, the Claris is a significant downgrade in both components and features. Most notably, it forgoes thru-axles (which add stiffness and inspire confidence during fast descents) in favor of the quick-release style, uses wire-bead, non-tubeless tires which add weight (26 pounds), and sports mechanical disc brakes rather than hydraulic. For $300 more, we recommend checking out Cannondale's Topstone Sora, which addresses some of these issues and features a more premium carbon fork and drivetrain. But for those hoping to stay under $1,000, Salsa's Journeyman Claris is a stellar value... Read in-depth review
See the Salsa Journeyman Claris 700
Best Gravel Race Bike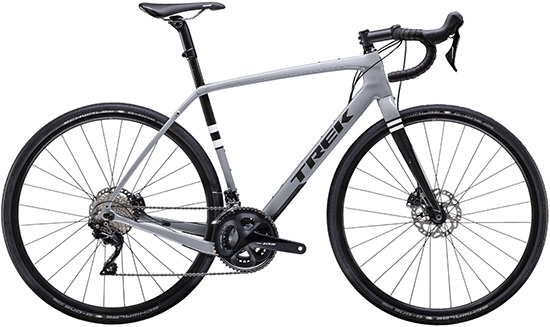 Frame: Carbon
Gears: 2 x 11
Tires: 700c x 40mm
Brakes: Hydraulic disc
What we like: Rear decoupler does a great job of soaking up bumps.
What we don't: The Giant Revolt Advanced 2 above is a better value.
While small, niche bike companies have dominated the gravel race scene for years, this growing category has more recently started to attract the big players. With decades of racing experience under their belt, Trek throws their hat into the ring with the Checkpoint SL 5. The biggest news with the Checkpoint is its IsoSpeed, which functions similarly to the rear suspension on a mountain bike. By decoupling the top and seat tubes, this technology effectively reduces vibrations and creates a less jarring, smoother ride. If you've ever spent time cruising washboard roads at speed, you'll understand why this is so important.
This unique tech and impressive performance does come at a cost. For example, you can score the similarly spec'd Giant Revolt Advanced 2 above for a notable $450 less, which shares the same Shimano 105 drivetrain and is plenty capable for most speed-focused riders. In the end, if your cycling goals include winning the Dirty Kanza 200, we wholeheartedly recommend spending up for the Trek and its more forgiving ride. But for most racers and those on a tighter budget, you can get away with paying less.
See the Trek Checkpoint SL 5
Best of the Rest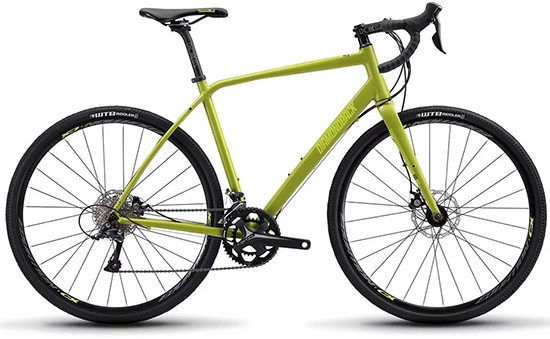 Frame: Aluminum
Gears: 2 x 9
Tires: 700c x 37mm
Brakes: Mechanical disc
What we like: Approachable price point for a quality do-everything ride.
What we don't: Fewer mounting location and size options than the Salsa Journeyman above.
Diamondback is best known for their budget-friendly bikes sold at big-box stores, but being value-driven isn't necessarily a bad thing. In the gravel realm, we especially like their Haanjo 3, which is nicely spec'd and very competitively priced at $1,000. This entry-level ride features a 2 x 9 Shimano Sora drivetrain (which should provide a large enough range for most cyclists), and its mechanical disc brakes are easy to operate and provide consistent stopping power. To be sure, the Haanjo 3 can't match the performance or low weight of pricier models on the list, but it's a capable companion for those who do a little bit of everything—including commuting, cruising mellow doubletrack, and exploring forest service roads.
With an upgraded drivetrain and only a $50 price increase over Salsa's Journeyman above, you might be wondering why the Haanjo 3 didn't earn our spot for the top budget gravel bike. First, the Salsa features additional mounting locations for extra water and gear, which is crucial for longer and more remote rides. We also like that the Journeyman comes in six different sizes compared to the Diamondback's four, ensuring that every rider finds a suitable fit. And finally, we appreciate the expertise and adventure-by-bike experience that Salsa brings to the table. But it was a close call and Diamondback does a really nice job at targeting budget-conscious riders with the Haanjo 3.
See the Diamondback Haanjo 3  See the Women's Diamondback Haanjenn 3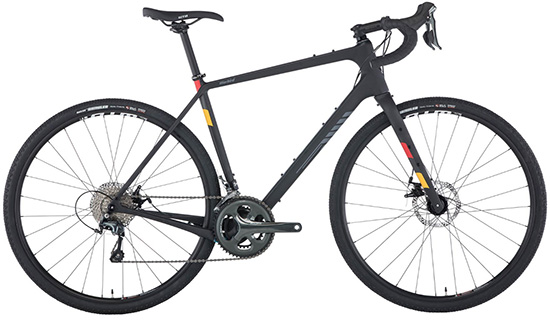 Frame: Carbon
Gears: 2 x 10
Tires: 700c x 40mm
Brakes: Mechanical disc
What we like: Excels at racing but can still carry gear for overnight trips.
What we don't: At this price, we expect hydraulic disc brakes and slightly better components.
We'd be remiss not to include Salsa's venerable and highly sought-after Warbird on this list. Originally launched in 2013, the Warbird saw a host of changes this year: the geometry was tweaked slightly for improved stability at speed, additional mounting locations were added to the frame, and the bike is now compatible with 650b wheels and tires up to 2 inches wide (a couple of models even come stock with this tire size). We especially like the new Waxwing fork, which features three-pack mounts that add versatility for storing water bottles or shuttling overnight gear. All told, Salsa's fourth-generation Warbird is an enviable gravel race bike that happily pulls double duty as a lightweight bikepacking rig for weekend trips.
Our biggest complaint about the Warbird Tiagra is cost. At $2,400, we think there are better deals to be had in the gravel bike category. For example, the Giant Revolt Advanced 2 above comes in around the same price and features a more premium drivetrain. And while the Warbird's high-performing TRP Spyre mechanical disc brakes are one of the better options on the market, they simply can't match the ease of use or stopping power of the hydraulic version on the Giant. However, the Warbird's additional storage spots on the frame and fork make it better-suited to all-day epics and backcountry adventures. If versatility is a key consideration, we think it's a nice choice.
See the Salsa Warbird Tiagra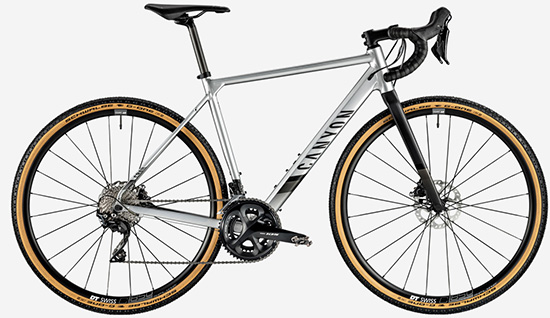 Frame: Aluminum
Gears: 2 x 11
Tires: 700c x 40mm
Brakes: Hydraulic disc
What we like: Good looks and quality components at a reasonable price.
What we don't: Buying consumer-direct has its own set of challenges.
Germany-based Canyon might not have the name recognition of other brands on this list, but their Grail AL 7.0 adventure bike certainly is worth a look. In short, it ticks most of the important boxes in this category, including a high-quality aluminum frame, lightweight carbon fork, and newly updated Shimano 105 2 x 11 drivetrain. The Grail's proven and tubeless-ready DT Swiss wheels also are wrapped in one of our favorite gravel tires at the moment: Schwalbe's 40mm G-One Bite, which transition nicely from tarmac to trail. Finally, if appearance is a consideration for you, we think the silver and black version is one of the classiest-looking gravel bike designs on the market.
Compared to the Cannondale Topstone 105, the Grail AL 7.0 has a similar price but comes up slightly short in a couple key areas. First and foremost, buying from a consumer-direct company like Canyon sometimes can be a pain—we've heard reports of poor customer service, plus you don't get the convenience of walking into your local bike shop to get replacement parts or ride the bike before buying. Further, Cannondale's lifetime frame warranty is more impressive than Canyon's six years, and we prefer the Topstone's slightly easier gear range on the mountainous terrain that we frequent in the Pacific Northwest. But the Grail AL 7.0 is a solid value nevertheless, which is one of the biggest perks of buying consumer-direct.
See the Canyon Grail AL 7.0  See the Women's Canyon Grail AL 7.0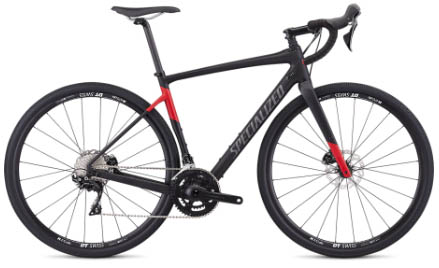 Frame: Carbon
Gears: 2 x 11
Tires: 700c x 38mm
Brakes: Hydraulic disc
What we like: Lightweight carbon frame and front suspension do a great job of taking the edge off while descending.
What we don't: Pricier than the similarly equipped Giant Revolt Advanced 2 above.
California-based Specialized is one of the biggest names in cycling, so it should come as no surprise that they offer a winner in the gravel-focused Diverge Sport. Similar to Trek's Checkpoint SL 5 above, the most noteworthy component on the Diverge is its suspension that delivers a relatively high 20 millimeters of travel. But unlike the Trek, the Specialized bike focuses its shock absorption at the front rather than the rear. For those who spend a lot of time descending rough washboard roads, this feature will considerably dampen your ride and reduce arm fatigue.
What pushes the Diverge Sport down to a mid-pack finish? Simply put, you can get an almost identical drivetrain and similarly lightweight carbon frame for $350 less with the Giant Revolt Advanced 2 above. That said, you do forego the Diverge's impressive front suspension, which should be a key consideration if you frequent rough and rocky roads more often than smooth gravel bike paths. And an added bonus of going with a heavy hitter like Specialized: the Diverge lineup is incredibly extensive, starting at $1,100 and going all the way up to $10,000, so most riders should be able to find exactly what they're looking for.
See the Specialized Diverge Sport  See the Women's Specialized Diverge Sport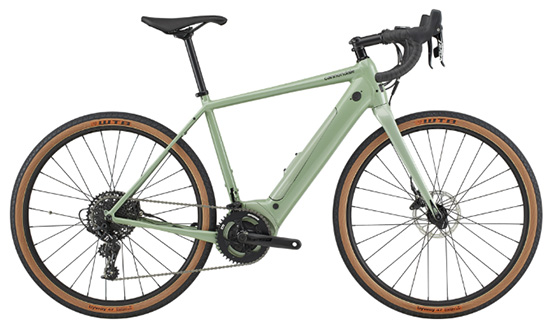 Frame: Aluminum
Gears: 1 x 11
Tires: 650b x 47mm
Brakes: Hydraulic disc
What we like: E-bikes are a blast to ride.
What we don't: They're also very expensive and very heavy.
Love them or hate them, electric bikes are here to stay, and Cannondale's first go at a gravel-focused model is a huge success in our opinion. After spending some time on the Synapse NEO SE, we came away extremely impressed by the bike's smooth acceleration, confidence-inspiring ride, and quality build. While the electric Synapse will only assist up to 20 miles per hour (similar to all class 1 e-bikes), this was enough of a grin-maker for even the most skeptical riders among us. You do pay a steep premium for the Bosch drive unit and 500Wh battery, but it's a boon for daylong enjoyment on remote backroads.
As is the case with all e-bikes, the Cannondale's battery and motor are very heavy (the Synapse NEO SE weighs in at a hefty 39 pounds). If you plan to transport your e-bike with any regularity, it's important to consider the weight limit of your rack and your ability to lift and load the bike. Another issue is power: if you run out of juice on the trail, it'll be a slow and difficult ride back to your car. And finally, e-bike laws still are evolving and changing, so it's important to know the rules before you head out. But none of these issues are specific to the Synapse, and if you're set on an electric model, we think it's a true standout.
See the Cannondale Synapse NEO SE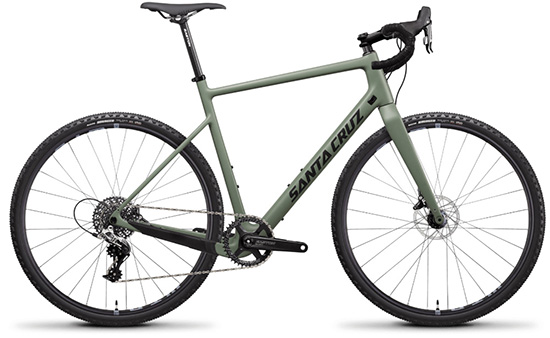 Frame: Carbon
Gears: 1 x 11
Tires: 700c x 40mm
Brakes: Hydraulic disc
What we like: Typical Santa Cruz craftsmanship and attention to detail.
What we don't: Not the best value.
Santa Cruz is lauded within the mountain biking community for their quality frames and remarkable attention to detail, and that reputation holds true with the gravel-oriented Stigmata Rival. For 2019, the Stigmata saw a complete redesign including additional clearance for tires up to 45 millimeters wide (as well as 650b tires), updated geometry with a slightly longer head tube that translates to a more upright and comfortable riding position, and internal routing for dropper seat post compatibility. What does all this mean for you? In short, the versatile Stigmata is now just as at home on the cyclocross course as it is on far-off backroad adventures.
Where does the Stigmata Rival fall short? Like all Santa Cruz bikes, the gravel rig is pricey at $3,599. In the same price range, Giant's top-of-the-line Revolt Advanced 0 ($3,650) features similar ride characteristics but you get major upgrades to both its drivetrain (2 x 11 Shimano Ultegra) and wheels (carbon). But buying from Santa Cruz involves paying a premium for the brand's exquisite finish and hard-to-rival bike expertise, and whether that's worth the added expense is up to you.
See the Santa Cruz Stigmata Rival  See the Women's Juliana Quincy Rival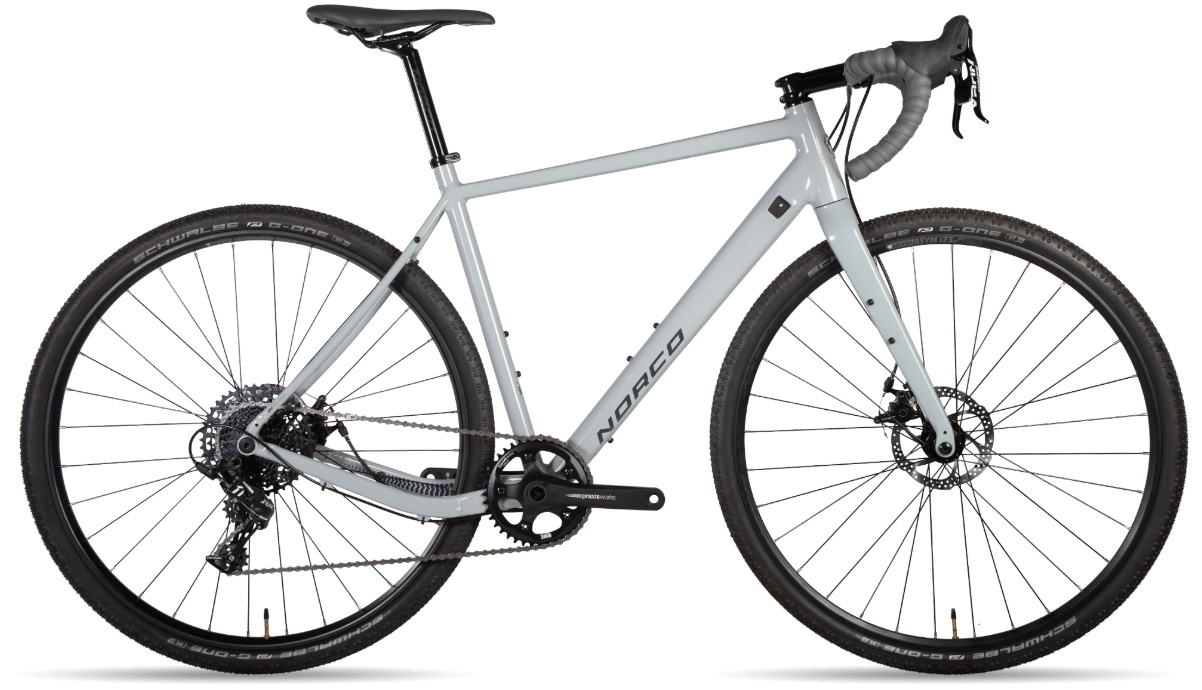 Frame: Aluminum
Gears: 1 x 11
Tires: 700c x 38mm
Brakes: Mechanical disc
What we like: Good overall performance for a palatable price.
What we don't: Gear range is lacking for mountainous terrain.
Better known for their extensive lineup of mountain bikes, British Columbia-based Norco did a nice job with the dirt-focused Search XR Aluminum Apex 1. For a reasonable $1,599, you get a quality aluminum frame, SRAM Apex 1 x 11 drivetrain that works well across most terrain, and healthy selection of mounting locations for racks, bottles, and gear. Further, the Schwalbe G-One Bite tires roll fast on pavement yet still provide ample grip on everything but the deepest and loosest of gravel. While it can't match the race-ready pedigree of the Trek Checkpoint SL 5 or versatility of the Topstone 105 above, the Search XR nevertheless is an impressively capable companion for everything from backroad exploring to daily commutes.
At this price point, however, the Search XR can't quite stand up to the all-around performance of our top pick, the Cannondale Topstone 105 above. For $150 more, the Cannondale features hydraulic disc brakes (the Search uses mechanical brakes) that are easier to use and engage. Additionally, the Topstone 105's wider gear range outperforms the Search XR's 1x system on both steep and arduous climbs and long and fast descents. These issues aside, the Norco is another well-built and versatile gravel bike and a good value.
See the Norco Search XR Aluminum Apex 1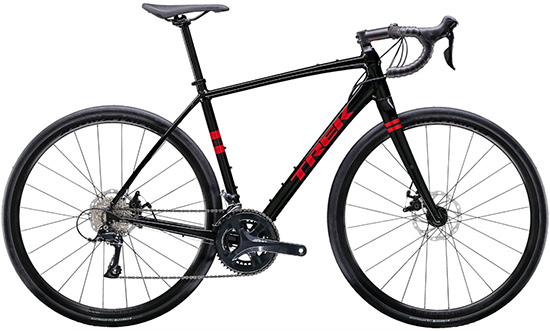 Frame: Aluminum
Gears: 2 x 9
Tires: 700c x 32mm
Brakes: Mechanical disc
What we like: A solid budget option that excels at everything from gravel rides to commuting.
What we don't: Narrow 32mm tires aren't great on super rough roads.
Sitting at the entry-level end of Trek's gravel bike lineup is the Checkpoint AL 3. For $1,200, it's one of the most affordable gravel grinders on our list that doesn't require making many major sacrifices. The rig features a dependable Shimano 2 x 9 Sora drivetrain, mechanical disc brakes for consistent stopping power, and tubeless-ready wheels for better traction and helping to smooth out choppy sections of road and trail. The Checkpoint AL 3 doesn't deliver the same lightweight and suspended ride of its pricier sibling, the SL 5 above, but it's a quality multi-purpose option for a significant $1,700 less.
What do you give up with the budget-friendly Checkpoint AL 3? Compared to the SL 5, it's designed more for casual cruises and cross-town commutes than all-out racing with its hefty 23-pound weight, and the bike's 32-millimeter tires are narrow for its class and better suited to tarmac than loose gravel. If you plan to spend the majority of your time off-road and are looking to stay in the $1,000 price range, we recommend checking out Diamondback's Haanjo 3 above. But for a reliable commuter that can double as a casual weekend adventurer, the Checkpoint AL 3 can get the job done.
See the Trek Checkpoint AL 3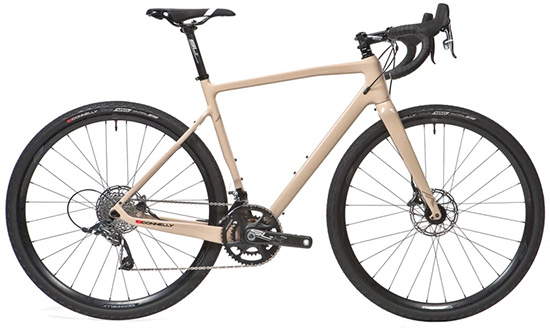 Frame: Carbon
Gears: 2 x 11
Tires: 700c x 40mm
Brakes: Hydraulic disc
What we like: Race-inspired design and geometry; premium build.
What we don't: Not a great all-rounder.
If you've never heard of Donnelly Cycling, you're not alone. Formerly Clement, this niche and adventure-oriented company made its name in the tire arena, but in 2018 decided to shift its focus to dedicated cyclocross and gravel bikes. The G//C Force listed here is purpose-built to own gravel roads with a race-oriented ethos, smartly spec'd build kit, and high-quality, tubeless-ready wheels and tires made by Donnelly themselves (the bike comes stock with 700c wheels, but it can also accommodate 650b). All told, there's a lot to like about the speed-hungry G//C Force.
If you're looking for a capable all-rounder, however, you'll likely be better served by a bike like Salsa's Warbird Tiagra above. With additional mounting locations for food, water, and gear, the Warbird more effectively moonlights as a backcountry adventure machine. Alternatively, those consistently tackling long, steep grades likely will prefer the Giant Revolt Advanced 2's wider gear range (although the G//C Force is perfectly adequate for riding rolling terrain). For a step down in price, check out Donnelly's G//C Rival, which shares the same carbon frame and wheel compatibility as the Force but with a slightly downgraded drivetrain.
See the Donnelly G//C Force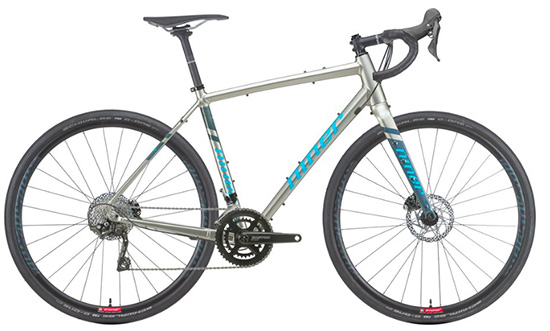 Frame: Aluminum
Gears: 2 x 10
Tires: 700c x 40mm
Brakes: Hydraulic disc
What we like: Classic old-school looks and off-road features.
What we don't: Cannondale's Topstone 105 performs better across most categories.
Niner may not be a familiar name to many road cyclists, but this Colorado-based company has been pushing out quality dirt-focused models for almost 15 years. From their lineup, we like the RLT 2-Star best: it features a mix of Shimano Tiagra and GRX400 components (new gravel-specific parts from Shimano) and hydraulic disc brakes, can fit up to 700c x 50mm tires, and includes mounting locations for racks and fenders (the carbon fork even has additional spots for storing extra water on those all-day rides). Not to mention, we can't help but love the old-school look of the RLT's raw aluminum frame.
Compared to the top-ranked Cannondale Topstone 105 above, the Niner RLT 2-Star comes in $450 more expensive yet sees a substantial downgrade in the drivetrain department (the Cannondale features a Shimano 105 build kit). Not only does this include a wider gear range, but it also shifts more smoothly and saves weight compared to the RLT's Tiagra parts. Within the Niner lineup, you can upgrade to a SRAM Rival drivetrain with the RLT 3-Star model, but that will cost you a whopping $2,900.
See the Niner RLT 2-Star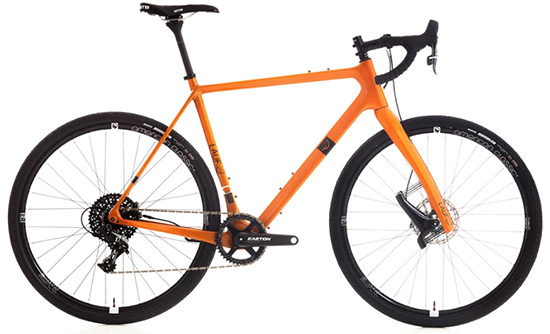 Frame: Carbon
Gears: 1 x 11
Tires: 700c x 40mm
Brakes: Hydraulic disc
What we like: Lightweight carbon frame and leaf-spring fork make for a very fast ride.
What we don't: Pricey and purpose-built for racing.
Iceland-based Lauf Cycling is a relative newcomer to the biking world, but they've already got a winner on their hands with the True Grit Race. In this case, it's the company's namesake leaf-spring suspension fork that sets the True Grit apart from the competition. By delivering 30 millimeters of front travel (10mm more than the Specialized Diverge Sport above), Lauf created a capable partner for those who like to venture off the beaten path and push the boundaries of what a drop-bar bike can handle. On the flip side, it's also a great companion for long days in the saddle where low weight and comfort are crucial.
While many casual riders might wish for a wider gear range, strong racers should find the 1 x 11-speed drivetrain to be a great match for most terrain. And the rest of the build kit is what you'd expect from a top-notch race rig: a lightweight 17-pound build, quality DT-Swiss wheels and Maxxis tires (which easily can be converted to tubeless), and carbon bars and seat post that shave weight and increase comfort. The nearly $5,000 price tag certainly is steep, but you often get what you pay for. In this case, that's a quality, race-ready setup that won't hold you back on the course. The True Grit lineup also includes the less purpose-built Weekend Warrior ($3,690) that should meet the needs of more casual cyclists.
See the Lauf True Grit Race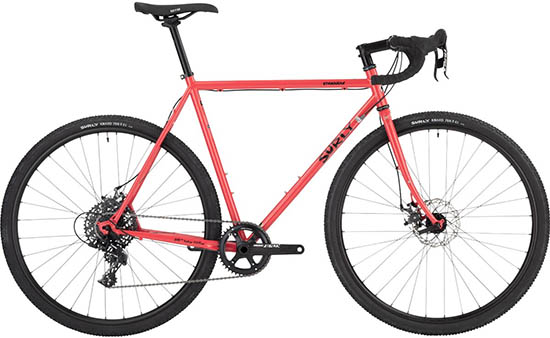 Frame: Steel
Gears: 1 x 11
Tires: 700c x 41mm
Brakes: Mechanical disc
What we like: Quality steel frame and versatile geometry.
What we don't: Heavier and more expensive than aluminum models.
One of only two steel-framed designs on our list, the Surly Straggler is a gravel bike with a do-it-all personality. Although quite a bit heavier than the carbon and aluminum models above, the Straggler's smooth-riding steel frame and classic design are ideal for those who prioritize comfort and durability over speed and new tech. Other notable features include a 1 x 11 drivetrain for ultimate simplicity, multiple mounting spots for racks and gear, and fender mounts for rainy-day commutes. From all-out touring to weekend gravel rides and everything in between, the Straggler makes for a solid one-bike quiver.
What pushes the Straggler toward the bottom of our list? For $100 more, Cannondale's Topstone 105 is lighter, has a wider gear range, features better stopping power with hydraulic rather than mechanical disc brakes, and includes thru-axles for a more efficient ride. All that said, there's a reason behind the saying "steel is real." In short, it's hard to ignore the ride characteristics, burly feel, and long-term durability of a steel build. If you take care of the Straggler, it should last for many years to come.
See the Surly Straggler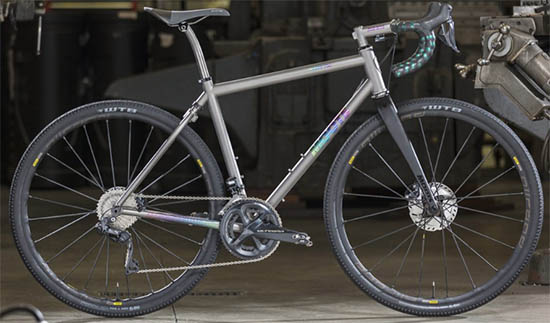 Frame: Titanium
Gears: 2 x 11
Tires: 700c x 40mm
Brakes: Hydraulic disc
What we like: Titanium softail frame and large tires are great for rugged roads.
What we don't: The most expensive gravel bike on the list.
Moots' Routt lineup has been around for years, but it's the new-for-2019 YBB version that really caught our eye. The "softail" design—first used on the company's mountain bikes in the 90s—delivers 20 millimeters of rear micro-suspension that really takes the edge off on rough roads. Combined with a smooth-riding titanium frame and beefy 40-millimeter Mavic tires, this is a true backroads rig that's ready to handle just about anything you throw at it. Further adding to the elite-level build (and price) is the crisp shifting of Shimano's electronic Ultegra Di2 drivetrain. Simply put, if price were no issue and we could only ride one gravel bike for the rest of our lives, it almost certainly would be the Routt YBB.
Now it's time to address the elephant in the room. At well over $8,000, the Routt YBB is reserved for committed cyclists who ride often and ride hard (and have deep pockets). On the flip side, titanium undoubtedly is pricey, but Moots uses a high-quality, U.S.-made version that's welded in-house at the company's headquarters. In other words, it's hard to put a price on such excellent craftsmanship. For those on a tighter budget who don't want to make big sacrifices in ride quality, Trek's Checkpoint SL 5 above is roughly one-third the price and features similar bump-absorbing tech with its rear IsoSpeed.
See the Moots Routt YBB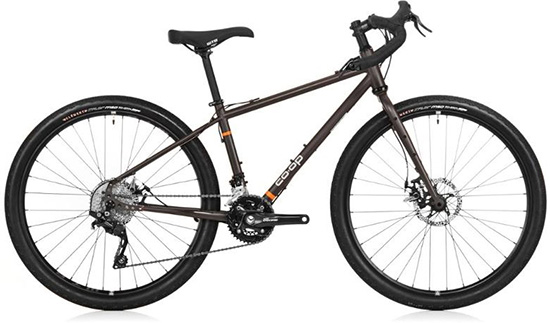 Frame: Steel
Gears: 2 x 10
Tires: 650b x 50mm
Brakes: Mechanical disc
What we like: Steel frame and large tires make for a comfortable ride.
What we don't: They also add a lot of weight.
REI's in-house bike brand, Co-op Cycles, isn't known for pushing the envelope in terms of frame design or technology, but what they offer is a major focus on value. The steel-framed ADV 3.1 is a prime example: for $1,399 (and often marked down further during sales), the ADV is a solid all-rounder that can confidently tackle adventures ranging from gravel road exploration to extended weekend bikepacking outings. And with a comfortable upright seating position and mounting locations for racks and panniers, it makes for a solid commuting and touring companion too.
Why isn't the Co-op Cycles ADV 3.1 ranked higher? The steel frame and wide 650b x 50mm tires make for a comfortable ride, but they also add a lot of weight. At 27.4 pounds, the ADV is the heaviest bike on our list (not including Cannondale's Synapse e-bike, which really is a different category). If the goal is covering ground quickly, we recommend checking out Trek's Checkpoint AL 3 above, which cuts over 4 pounds of weight and features more performance-oriented geometry for $200 less. All that said, the ADV 3.1 has its place for easygoing and leisurely outings.
See the Co-op Cycles ADV 3.1
Gravel Bikes Comparison Table
| Bike | Price | Frame Material | Gears | Tires | Brakes |
| --- | --- | --- | --- | --- | --- |
| Cannondale Topstone 105 | $1,750 | Aluminum | 2 x 11 | 700c x 37mm | Hydraulic disc |
| Giant Revolt Advanced 2 | $2,450 | Carbon | 2 x 11 | 700c x 38mm | Hydraulic disc |
| Salsa Journeyman Claris 700 | $949 | Aluminum | 2 x 8 | 700c x 38mm | Mechanical disc |
| Trek Checkpoint SL 5 | $2,900 | Carbon | 2 x 11 | 700c x 40mm | Hydraulic disc |
| Diamondback Haanjo 3 | $1,000 | Aluminum | 2 x 9 | 700c x 37mm | Mechanical disc |
| Salsa Warbird Tiagra | $2,400 | Carbon | 2 x 10 | 700c x 40mm | Mechanical disc |
| Canyon Grail AL 7.0 | $1,799 | Aluminum | 2 x 11 | 700c x 40mm | Hydraulic disc |
| Specialized Diverge Sport | $2,800 | Carbon | 2 x 11 | 700c x 38mm | Hydraulic disc |
| Cannondale Synapse NEO SE | $4,500 | Aluminum | 1 x 11 | 650b x 47mm | Hydraulic disc |
| Santa Cruz Stigmata Rival | $3,599 | Carbon | 1 x 11 | 700c x 40mm | Hydraulic disc |
| Norco Search XR Aluminum Apex 1 | $1,599 | Aluminum | 1 x 11 | 700c x 38mm | Mechanical disc |
| Trek Checkpoint AL 3 | $1,200 | Aluminum | 2 x 9 | 700c x 32mm | Mechanical disc |
| Donnelly G//C Force | $4,000 | Carbon | 2 x 11 | 700c x 40mm | Hydraulic disc |
| Niner RLT 2-Star | $2,200 | Aluminum | 2 x 10 | 700c x 40mm | Hydraulic disc |
| Lauf True Grit Race Force1 | $4,990 | Carbon | 1 x 11 | 700c x 40mm | Hydraulic disc |
| Surly Straggler | $1,650 | Steel | 1 x 11 | 700c x 41mm | Mechanical disc |
| Moots Routt YBB Ultegra Di2 | $8,670 | Titanium | 2 x 11 | 700c x 40mm | Hydraulic disc |
| Co-op Cycles ADV 3.1 | $1,399 | Steel | 2 x 10 | 650b x 50mm | Mechanical disc |
Gravel Bike Buying Advice
What is a Gravel Bike?
As their name suggests, gravel bikes are designed to be ridden on surfaces like gravel trails, doubletrack, and forest service roads. While people have been taking their road bikes onto unpaved roads for decades, this emerging category has a number of thoughtful design features that make the experience much more enjoyable. In general, you should look for frame clearance to accommodate up to 700c x 45mm tires, multiple mounting locations (three or more) for water bottles and food, longer wheelbases that are more stable at high speeds, and disc brakes to handle long descents over varying road conditions. Put simply, gravel bikes can continue on when traditional roads bikes are forced to turn around, and they can easily handle the daily commute to work too.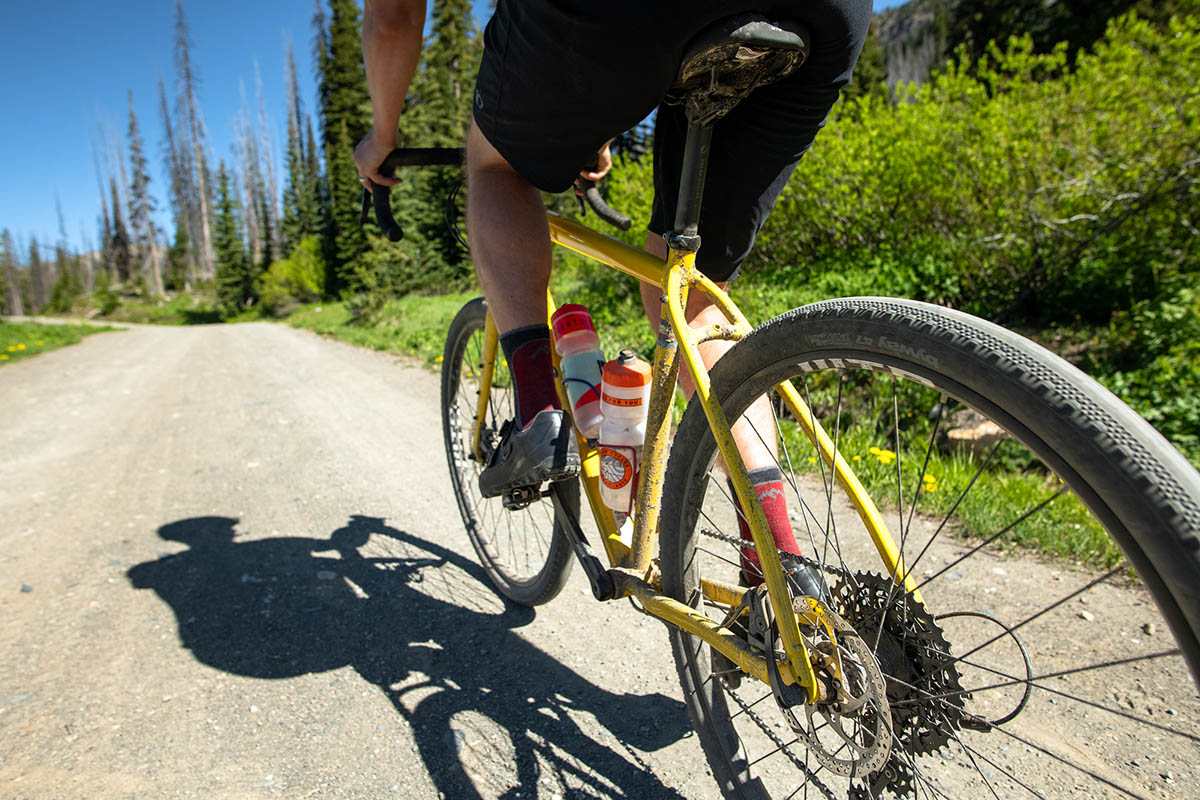 Frame Material: Carbon vs. Aluminum
From the list above, you'll notice that carbon and aluminum are by far the most popular materials for gravel bike frames. You also might come across steel (including the Surly Straggler and Co-op Cycles ADV 3.1 ) or titanium (like the Moots Routt YBB), but these are far less common. Carbon is the lightest material of the bunch and often the choice among gram-counters and speed-focused riders. Additionally, because carbon bikes are made with molds instead of welds, companies are able to better "tune" their ride characteristics, making them more compliant for comfort or stiffer for better power transfer and efficiency. Salsa's Warbird, for example, has been through many iterations over the years in search of that perfect balance.
All that said, carbon bikes are quite pricey, and you can often get a similarly equipped aluminum model for hundreds of dollars less. Although heavier than carbon, aluminum typically is more durable, and even heftier steel and titanium rigs will stand up to years of use and abuse. For the majority of casual cyclists, we recommend sticking with an aluminum gravel bike simply to get the best bang for your buck.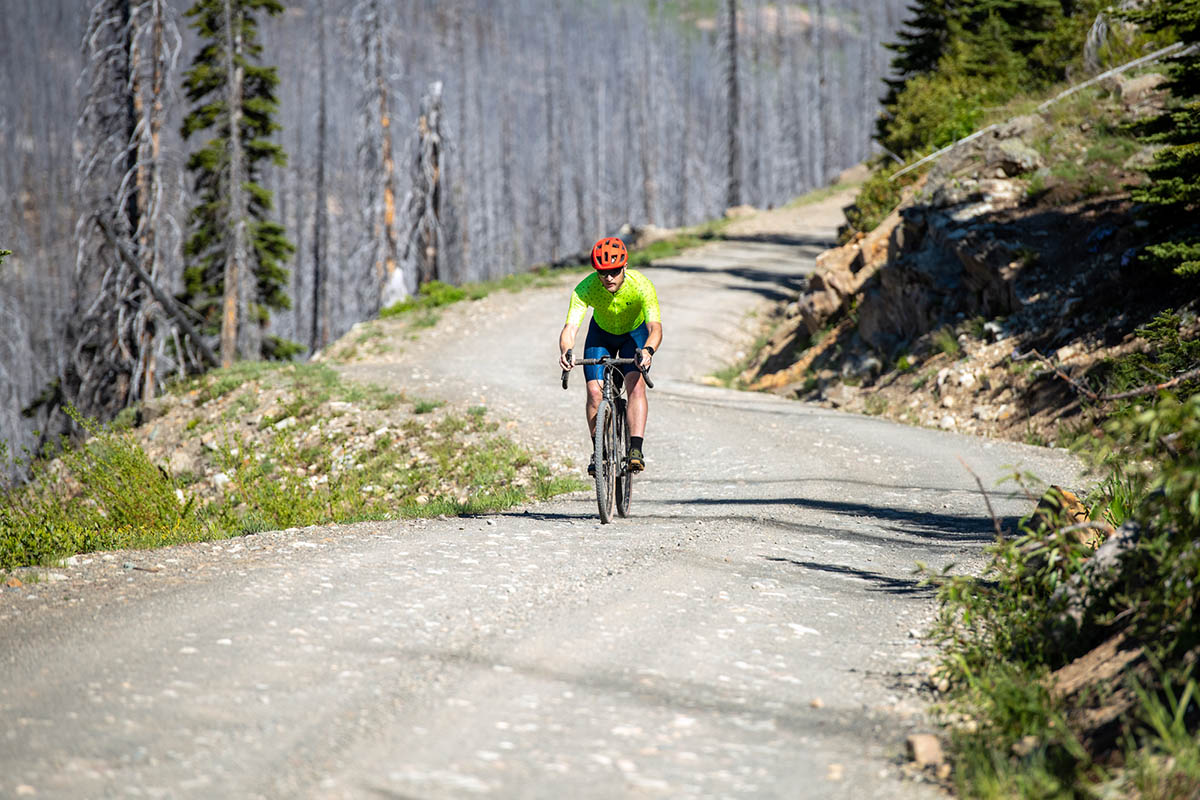 Drivetrain and Gears
Most gravel bikes come with one of two popular drivetrain options: 1x (which features a single front chainring and fewer overall gears) or 2x (which has two front chainrings and more gear options). We love 1x drivetrains for their simplicity, ease of use, and generally lower weight. And because of the fewer gears (typically 11-12 vs. the 16-22 found on 2x systems), we think they're a great match for fit riders and those whose frequent rolling terrain as opposed to steep climbs and descents. That said, we prefer 2x setups for more mountainous terrain. Although they generally weigh a bit more than 1x drivetrains, 2x systems (like the 2x11 included on the Cannondale Topstone 105) typically offer the rider both an easier gear for the uphill and a harder gear for the flat sections. Of course, it's possible to modify a 1x system with a larger-range cassette, but we prefer the convenience of sticking with the original components.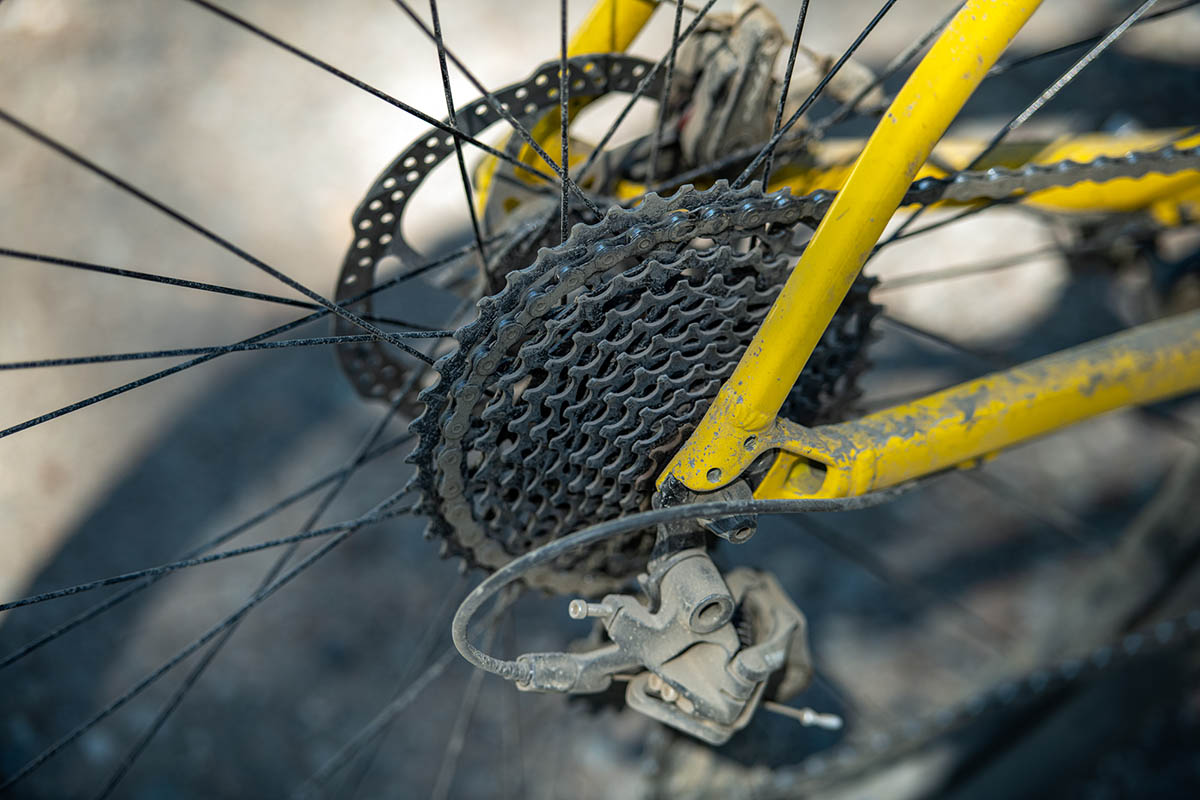 Wheel Size: 700c vs. 650b
700c
In general, 700c wheels and tires offer the best overall performance for mixed-terrain riding, and they continue to be the most common option for gravel bikes. 700c tires are narrower than 650b options, usually weigh less, and roll faster on tarmac and most gravel paths. Further, when the time comes to replace your tires (or you simply need a different tread pattern that better suits your local terrain), there are significantly more options available in the 700c size. In the end, unless you spend the vast majority of your time on exceptionally rough gravel, we think 700c tires and wheels are the best choice for all-around riding.
650b
Alternatively, if comfort is your main priority or you spend almost all of your time on gravel, then a 650b tire and wheel combo makes a lot of sense. Although they are heavier and roll slower than 700c wheels, the larger footprint and lower air pressure allows them to float over obstacles much more smoothly. The bigger contact patch with the ground also translates to increased traction, which can be especially helpful on soft or loose sections of road. As gravel riding expands into increasingly rugged terrain, 650b tires are becoming more and more common. However, if you consistently frequent pavement and mellow trails, you'll probably be better served by 700c wheels described above.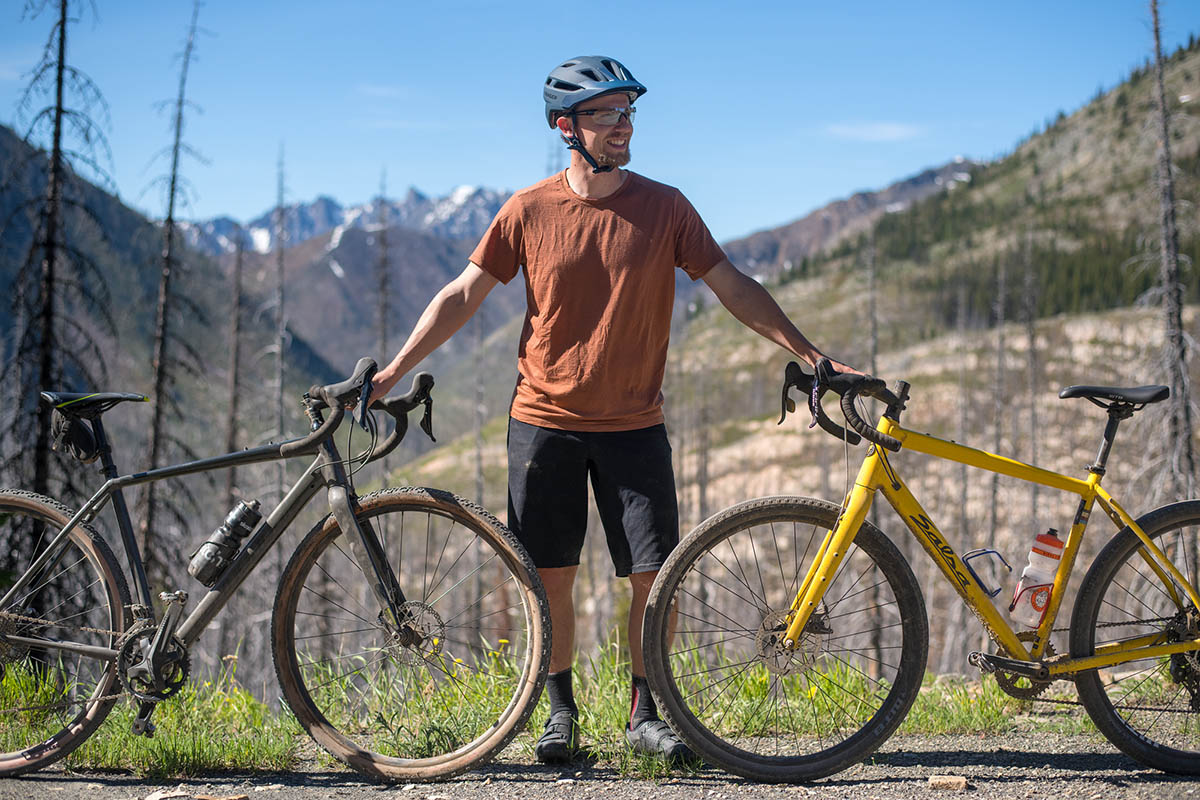 Brakes: Hydraulic Disc vs. Mechanical Disc
Another choice you'll have to make when choosing a gravel bike is whether you want hydraulic or mechanical disc brakes. In short, the main differences between the two relate to power and ease of use. Mechanical brakes, as their name implies, use a cable system to actuate the brakes and slow you down. Hydraulic disc brakes, on the other hand, use fluid rather than cables to initiate the brakes. This means that hydraulic brakes provide better stopping power with less effort, are easier to control and fine-tune, and can't get clogged with trail debris and mud (mechanical brake cables can easily get dirty and rust over time). In the end, the choice often comes down to cost: hydraulic brakes come with a bump in price, while mechanical brakes can be found on most budget-friendly models.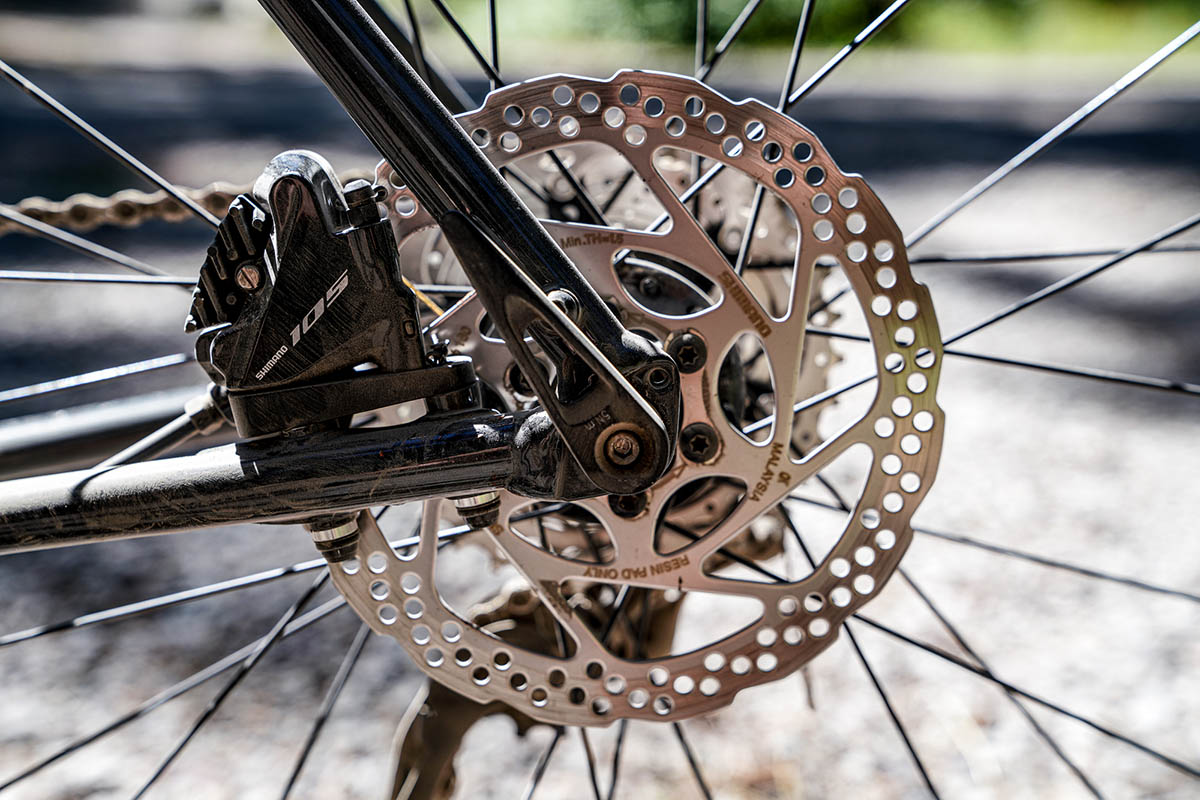 Tires
Tires are an often-overlooked component, but as the only thing connecting you to the ground, are an important consideration for gravel riding. There is no one-size-fits-all tire, but we do have some recommendations regarding tread patterns, sizes, and widths. For those who spend the majority of their time on pavement but like to explore the occasional gravel road or path, we'd pick something in the 30- to 32-millimeter range with a slick or herringbone tread pattern. In short, they roll fast on tarmac, weigh very little, and provide an ample amount of comfort and traction. Tires in the 35- to 38-millimeter range are more versatile and a great choice for those who split their time evenly between pavement and gravel. Tires in this size come in a variety of tread patterns which cover everything from smooth slicks to knobby options (resembling mini mountain bike tires). In this category, we really like Schwalbe's fast-rolling and surprisingly grippy 700c x 38mm G-One.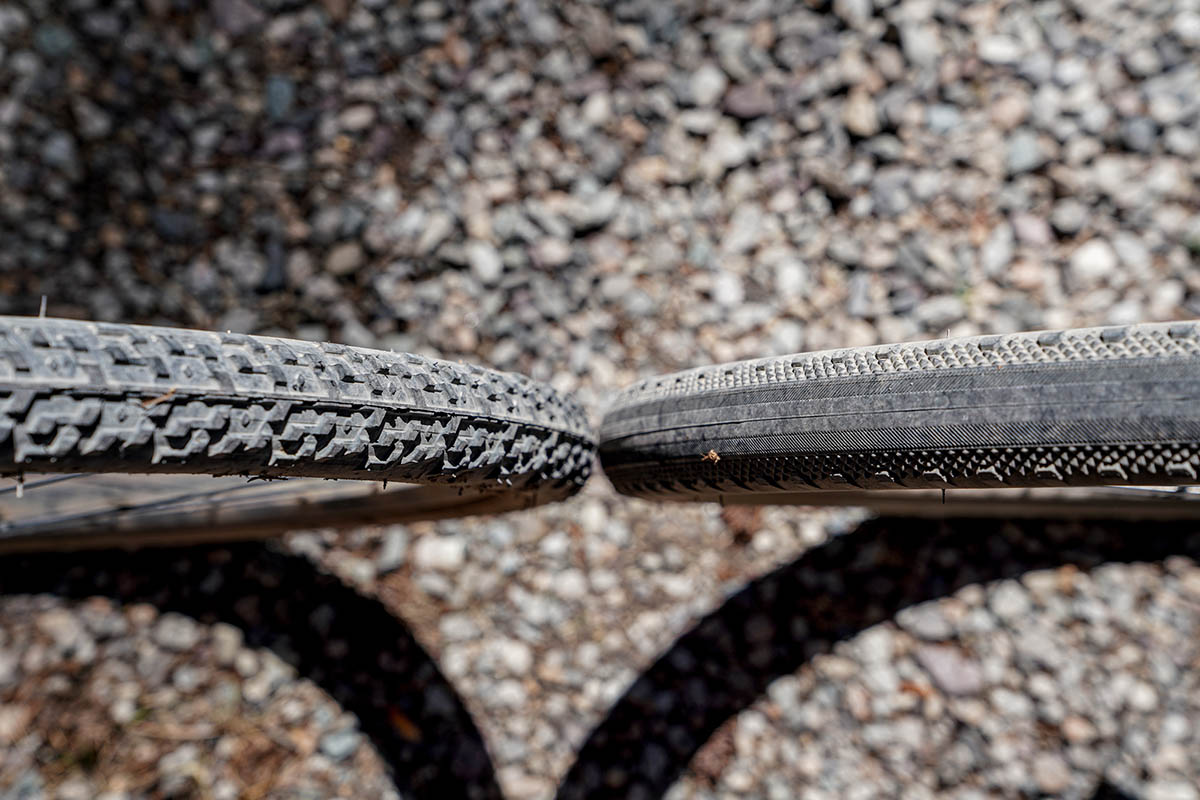 Last but not least, if you frequent gravel more than pavement, we recommend opting for a tire that is 40 millimeters or wider. While these larger sizes will be heavier and roll slower on pavement than the skinnier options above, the added comfort and traction they provide off-road is well worth the tradeoff. We're particularly fond of two tire manufacturers at the moment: WTB and Donnelly. Both brands offer a solid lineup of sizes and tread patterns that cover everything from smooth road tires to aggressive gravel options. And one final note: if you're upgrading or replacing tires on an existing bike, it's important to make sure you have enough room for these larger sizes. At a minimum, we like 3 to 4 millimeters of clearance to account for mud and debris between the tire and frame.

Proper Tire Air Pressure (PSI)
One of the most important parts of bike setup is properly adjusting tire pressure, which is measured in pounds per square inch (psi). Too much pressure will result in bouncing down the path or road and feeling every little bump along the way. Too little pressure, on the other hand, will make you feel as though you're riding with the brakes on and can result in flat tires or bottoming out your rims on rocks. The ideal tire pressure lies between these two extremes, but unfortunately, there's no universal number—there simply are too many factors to account for, including rider weight, tire width, surface type, and riding style.
All that said, we do have some general advice on how to find an appropriate psi. To start, inflate your tires to the maximum pressure labeled on the sidewall. Next, lay an object larger than a pencil in your driveway or on the sidewalk—a wooden dowel or mixing spoon handle works great—and ride over it at a comfortable speed (about 10mph). You'll likely feel the object beneath you. Lower your tire pressure by 3 to 5 psi and repeat this process again until you barely feel the item. Make note of this pressure and take your bike for a real ride. During your outing, think about how your tires feel and consider any adjustments that you might want to make (this goes for every outing, not just your first). While experienced cyclists might balk at this method, it's a great way for new riders to understand and learn to adjust pressure based on conditions, terrain, and other factors. And a final note: we recommend running anywhere from 3 to 8 psi less in your front tire than the back as most of your weight is over the rear.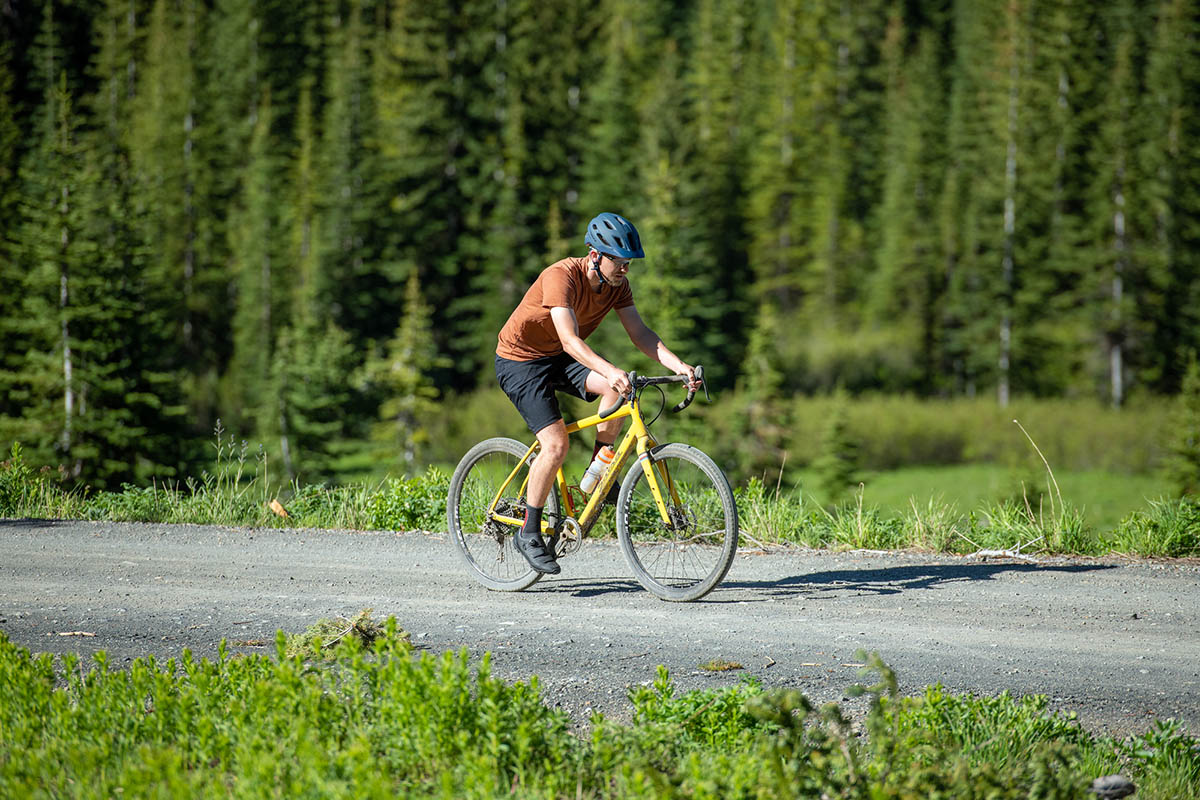 Suspension
Suspension isn't common on gravel bikes, but it's nevertheless important to explain for riders looking for a smoother and more comfortable ride. From the picks above, the Trek Checkpoint SL 5, Specialized Diverge Sport, and Lauf True Grit Race all feature some sort of suspension-like technology or dampers to help take the edge off big potholes and washboard roads. We particularly like Trek's IsoSpeed on the Checkpoint SL 5, which decouples the top tube and seat tubes to create a less jarring ride. Alternatively, Specialized focuses their tech at the front of the Diverge Sport (they call this "Future Shock Progressive suspension"), which they equate to about 20 millimeters of suspension travel. If you spend a good amount of time on exceptionally rough roads, it may be worthwhile to consider one of the models listed above.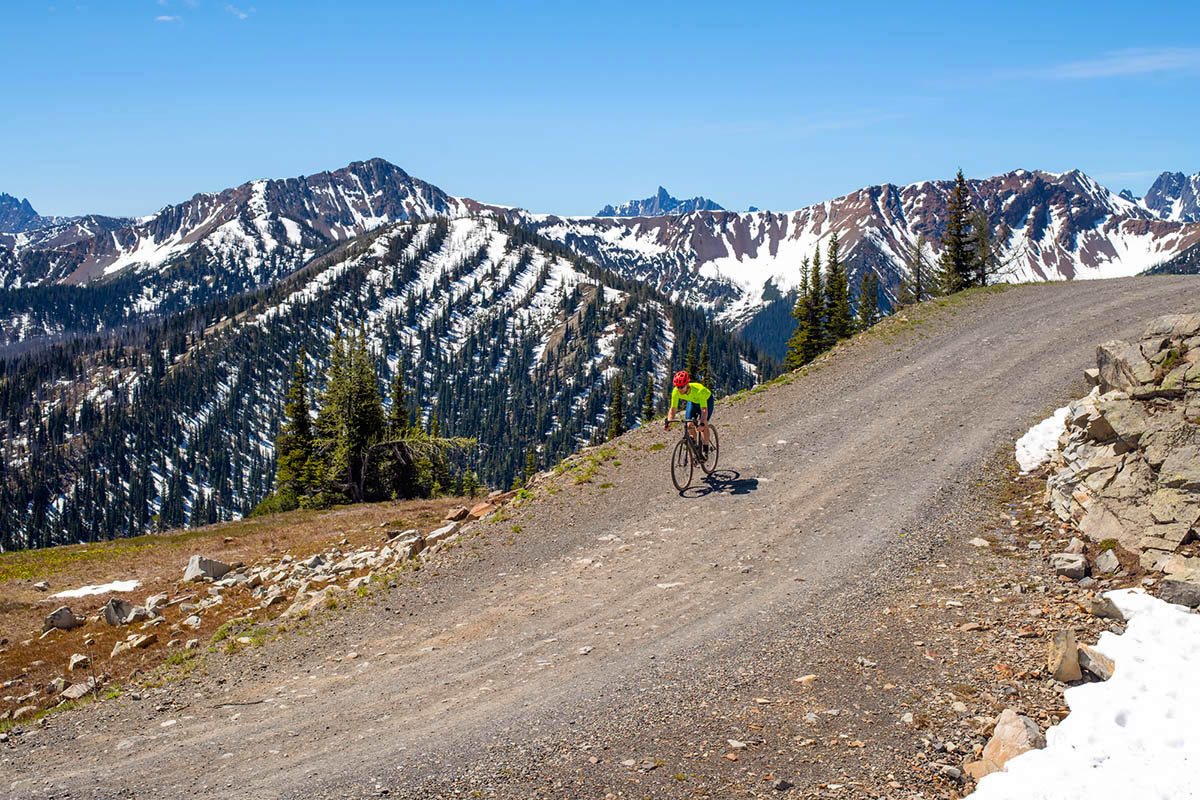 Weight
It almost goes without saying that a lighter bike will feel sprightlier and more responsive than a heavier rig on the road or path. Not only does it make the uphills more bearable, but it also allows you to cover ground more quickly with less effort. And performance benefits aside, we always welcome lifting less weight onto our rack. However, weight often correlates directly with cost: the more you spend on a bike, the less it will weigh. For example, the $949 Salsa Journeyman Claris 700 tips the scales at around 25 pounds, while Santa Cruz's top-of-the-line carbon Stigmata ($9,899) weighs just over 17 pounds. We think the sweet spot is in the 21-pound range for most riders, which will usually set you back about $2,500. Race-focused cyclists likely will be willing to spend up for less weight.
Going Tubeless
One of the best and least expensive upgrades you can make to your bike is upgrading to tubeless tires. The biggest benefit is the ability to run lower tire pressures, meaning the tires are better able to absorb impacts without increasing the risk of a pinch flat. This also translates to a larger contact patch with the ground, making them ideal for off-road use. Plus, eliminating tubes in favor of sealant can drop a little rotational weight from your kit.
All that said, it can be a challenge converting your bike to tubeless. While installation has become significantly easier over the last few years due to improvements in the technology, you still get the occasional tire-and-rim combination that just doesn't want to inflate. You'll also have to replace the sealant a couple of times per year—it has a tendency to dry and become ineffective at sealing small holes. And finally, tubeless setups can be a bit of a mess should you ever need to put a tube in your tire. If you don't feel comfortable with the initial installation, we recommend asking your local bike shop for help.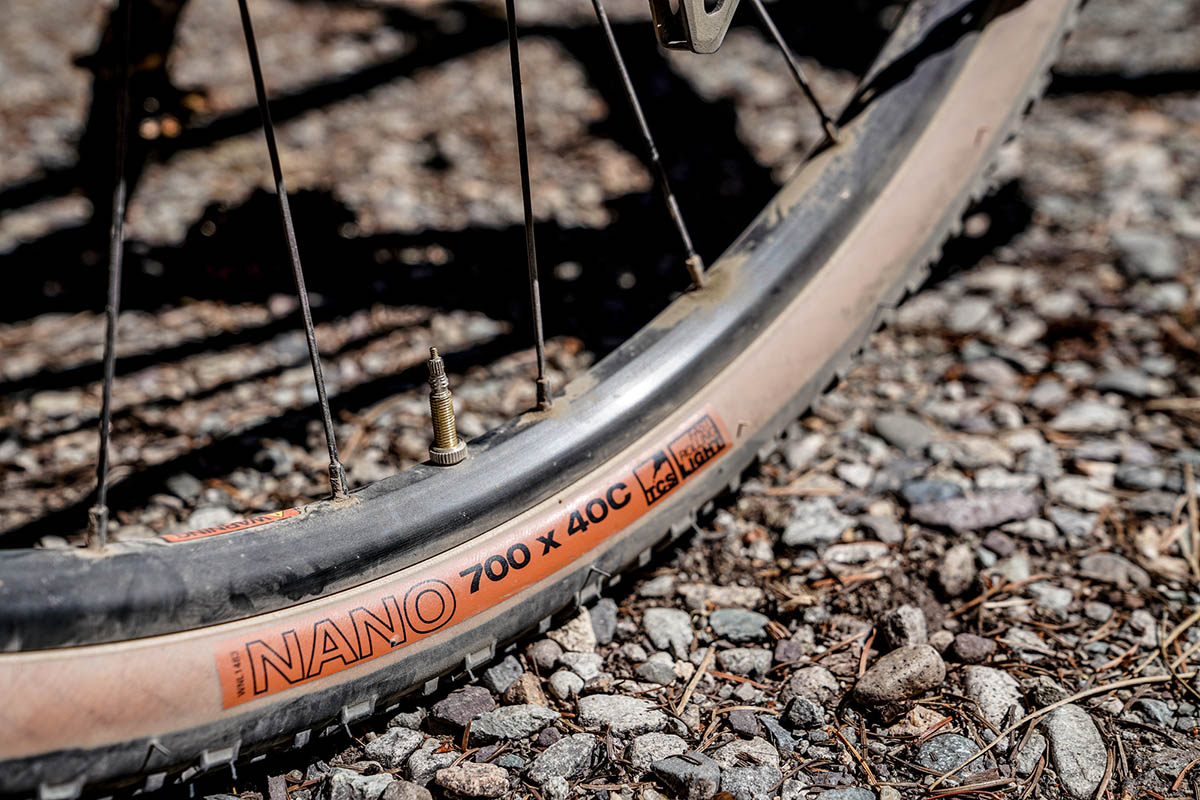 Shoes and Pedals for Gravel Bikes
In general, we prefer cross-country shoes and pedals on our gravel rigs. Why? While gravel bikes share a lot in common with road models, pavement-oriented shoes typically have smooth and flat outsoles that make walking on gravel uncomfortable and cumbersome. Alternatively, XC pedals and shoes still are lightweight yet feature a much more walkable and more comfortable outsole. For pedals, we like Shimano's clipless 520 SPD in particular—we've put over 5,000 miles on ours and have been very impressed. In terms of shoes, we recommend an option like Giro's Privateer R or Shimano's ME3—they're light, affordable, stiff enough for efficient power transfer, and still very comfortable for time spent off the bike. For a complete list of options, see our article on the best mountain bike shoes.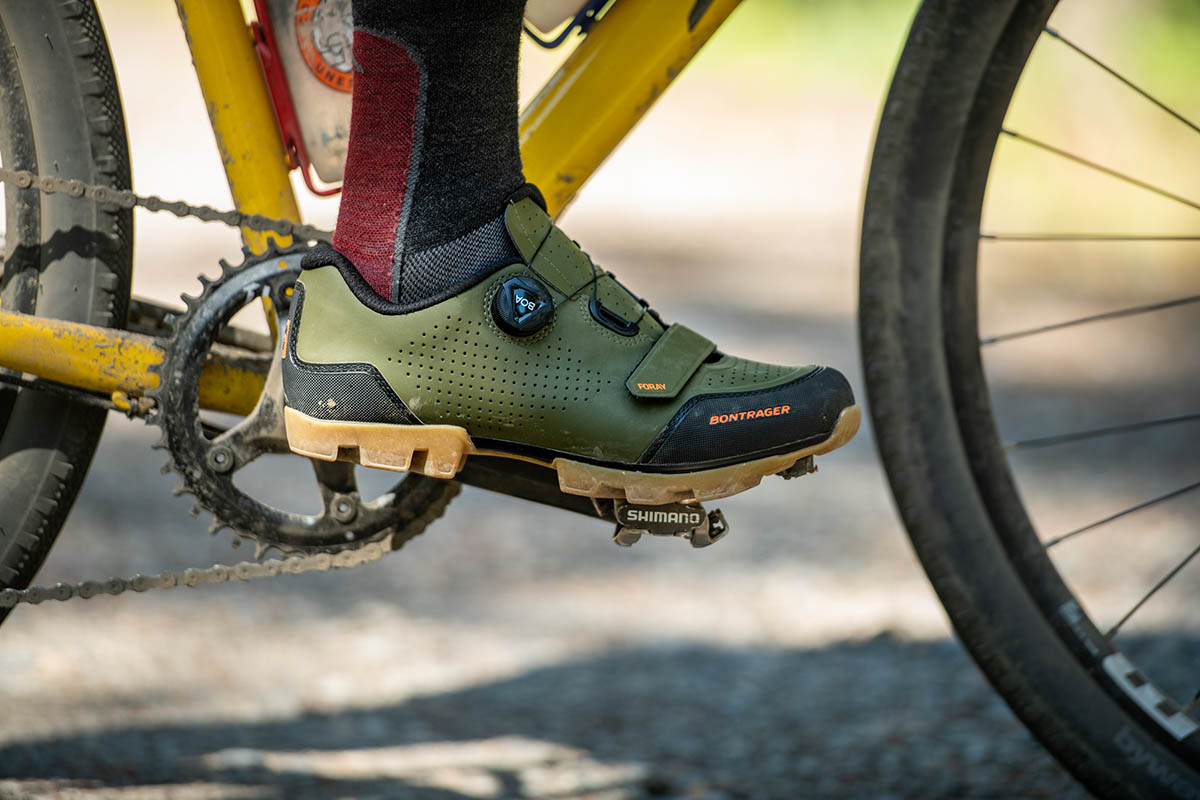 Gravel, Road, and Cyclocross Bikes: What are the Differences?
Tire Clearance
While gravel bikes bear a strong resemblance to both cyclocross and road bikes, there are a number of key differences to point out. For starters, while most modern road bikes max out at about 30-millimeter tires and cyclocross bikes at around 40 millimeters, gravel bikes typically are able to accommodate up to 700c x 45-millimeter or 650c x 50-millimeter tires (Salsa's Warbird, for example, can accommodate both). The main advantage to these beefier tires is their ability to run lower air pressure, which results in a more forgiving ride and greater traction. What are the downsides? They're quite a bit heavier than something in the 28c range (often found on road bikes), but significantly more comfortable and confidence-inspiring on rough roads.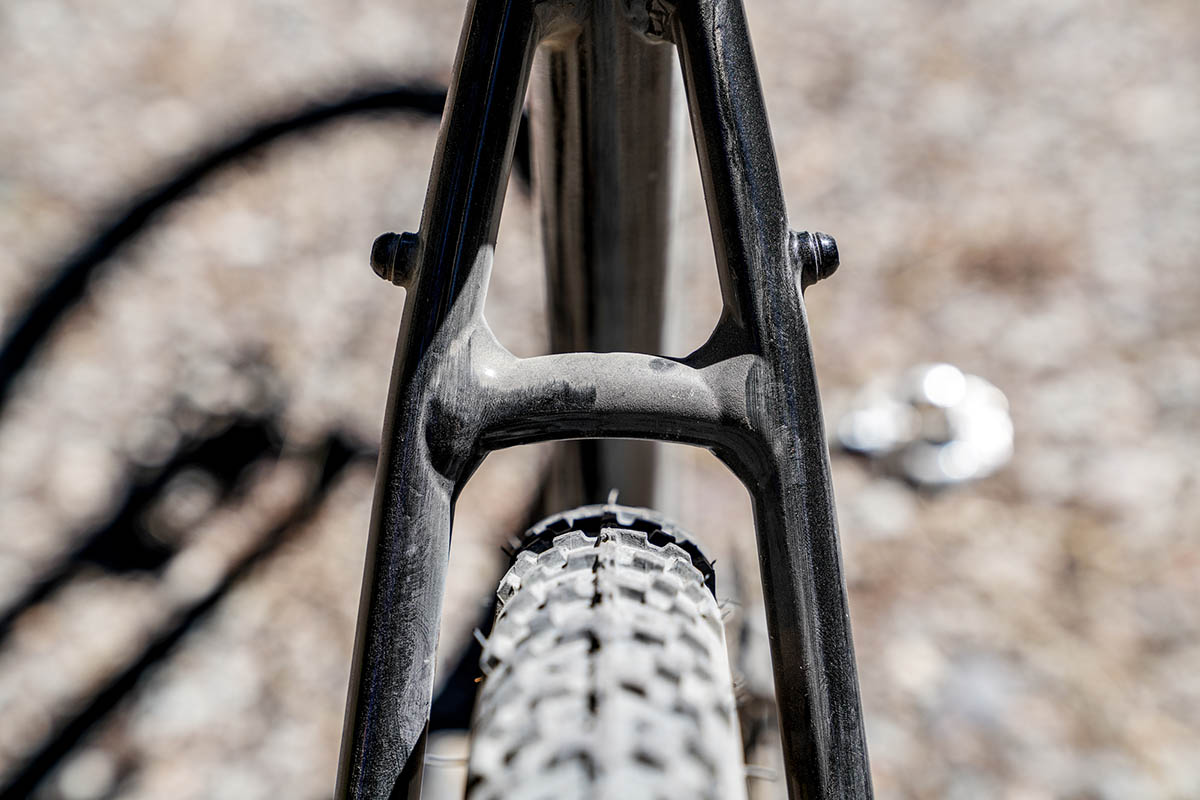 Geometry
Another key difference between these types of bikes is their geometry, or the measurements of the frame. Cyclocross models tend to have high bottom brackets to clear race course obstacles and shorter wheelbases for easier maneuverability at slower speeds. Gravel rigs, on the other hand, tend to be lower and longer for increased stability during fast-paced descents. Compared to traditional road bikes, expect to find slacker head tube angles as well as longer wheelbases, which again translate to increased confidence and stability while exploring rough roads with bumpy descents.
Mounts
Compared to road and cyclocross bikes, gravel grinders feature significantly more mounting locations for extra water bottles, bags, and gear. In general, long gravel rides pass through far fewer service areas, meaning you'll need to stock up on food, water, and other gear before heading out. To put this into perspective, Cannondale's popular Synapse road bike includes two mounting locations, while their gravel-focused Topstone (our number one pick) features four. Cyclocross bikes are typically stripped of additional braze-ons for fenders or racks, both of which you'll likely find on a gravel bike.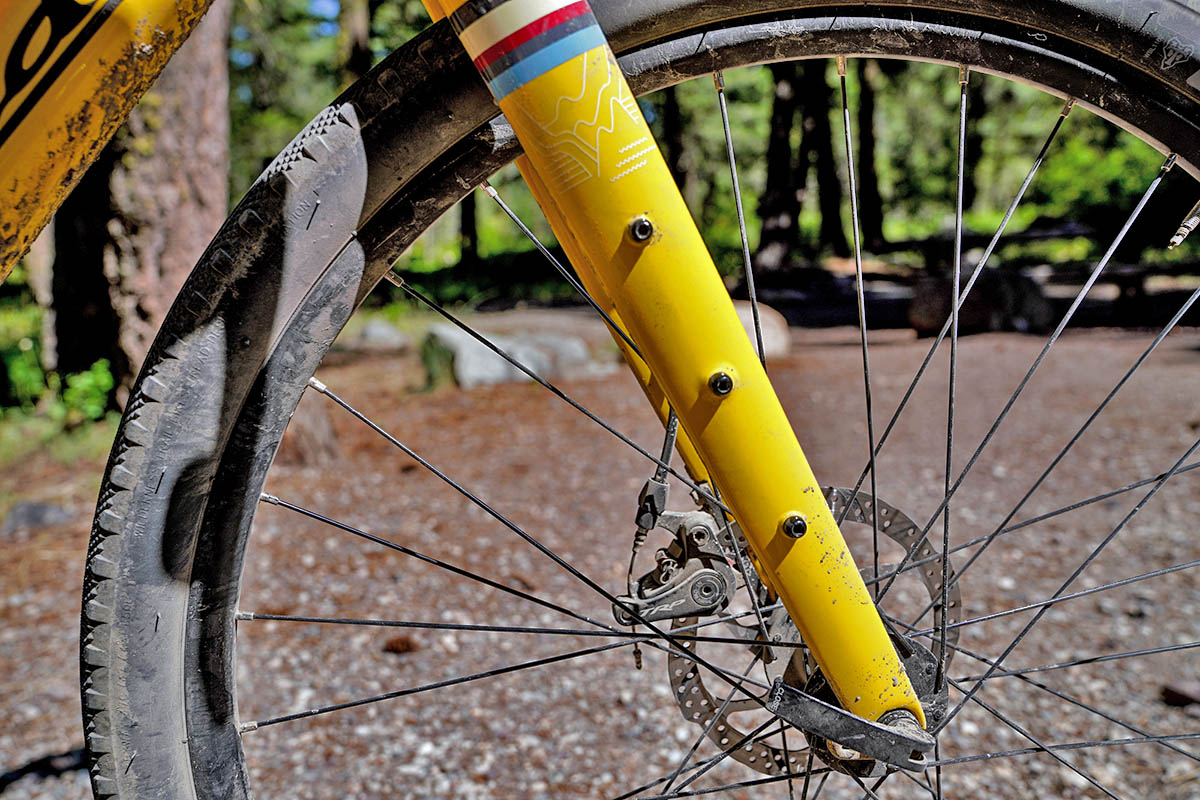 What About Hardtail Mountain Bikes on Gravel?
Those who already own a hardtail might be wondering: "Can't I just ride my mountain bike on gravel roads instead of purchasing something new?" And the answer is a resounding "yes." In fact, we actually encourage riders to use what they already have whenever possible. After all, people have been riding all sorts of bikes on dirt roads for decades—long before the advent of this niche category. 
All that said, there are many benefits to purchasing a true gravel-focused bike. For example, models like Trek's Checkpoint SL 5 are significantly lighter than mountain bikes, the drop bars offer multiple hand positions for all-day comfort, and you get more mounting locations for food, water, and gear. Gravel bikes also feature a wider gear range for the varied terrain you can expect on forest service and backroads. While a hardtail with skinny tires certainly will do the trick (we did this for quite some time), for those who plan on spending a lot of time on pavement and gravel, it's hard to ignore the performance differences. There's good reason why this is one of the fastest-growing bike categories.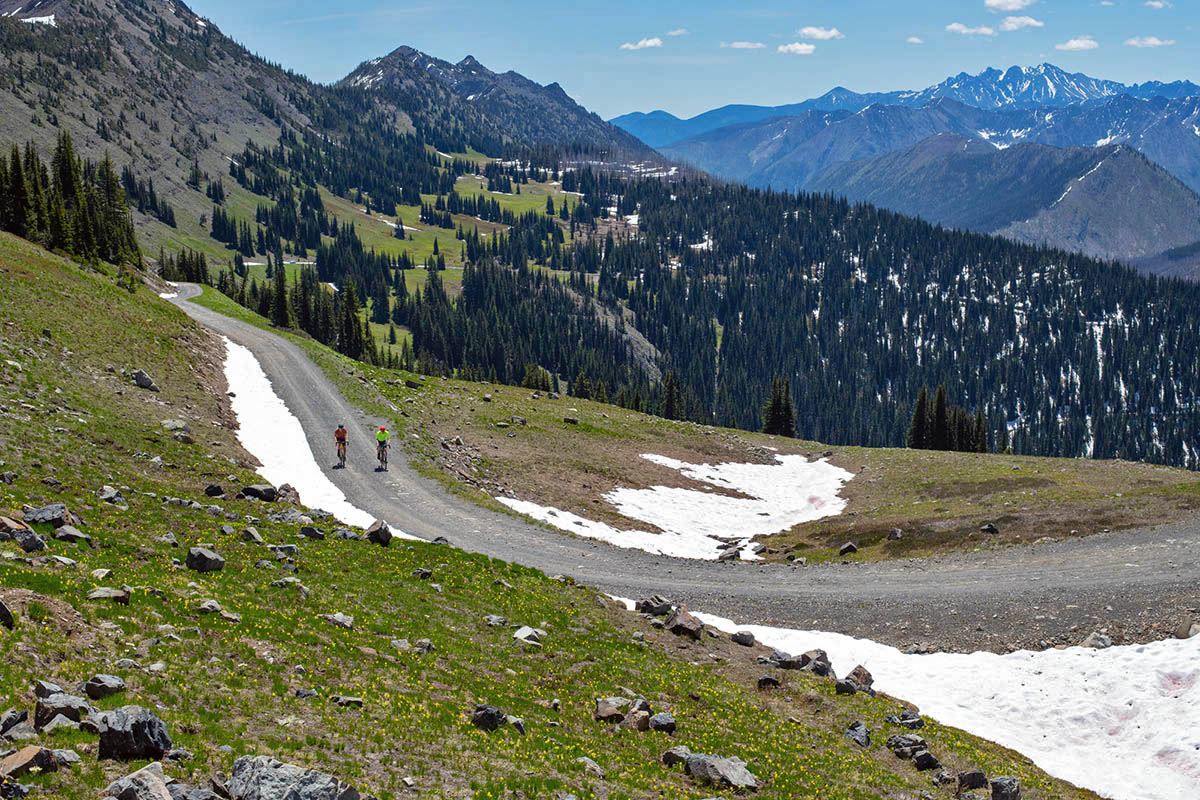 Buying a Gravel Bike: In-Store or Online?
First and foremost, we fully encourage you to shop at your local bike shop whenever possible. There's just no replacement for a great local shop, the bike and trail advice that goes with it, and the ability to ride a certain model beforehand and easily get replacement parts and service. Having said that, buying online certainly has its benefits. It's incredibly easy to compare specs, prices, and parts online, and bike selection and shipping has improved dramatically in recent years.
There are a few key questions you should ask yourself before beginning your search. Do you know which size bike you need? Are you comfortable with some assembly? How much will shipping cost? Starting with fit, it can be challenging—and especially for first-time buyers—to determine the right-sized bike from the comfort of your couch. To help, many major online retailers such as REI Co-op and Backcountry provide geometry charts and size recommendations for most of their models. Others, like Competitive Cyclist, also feature bike-fit tools that should help you determine your correct size.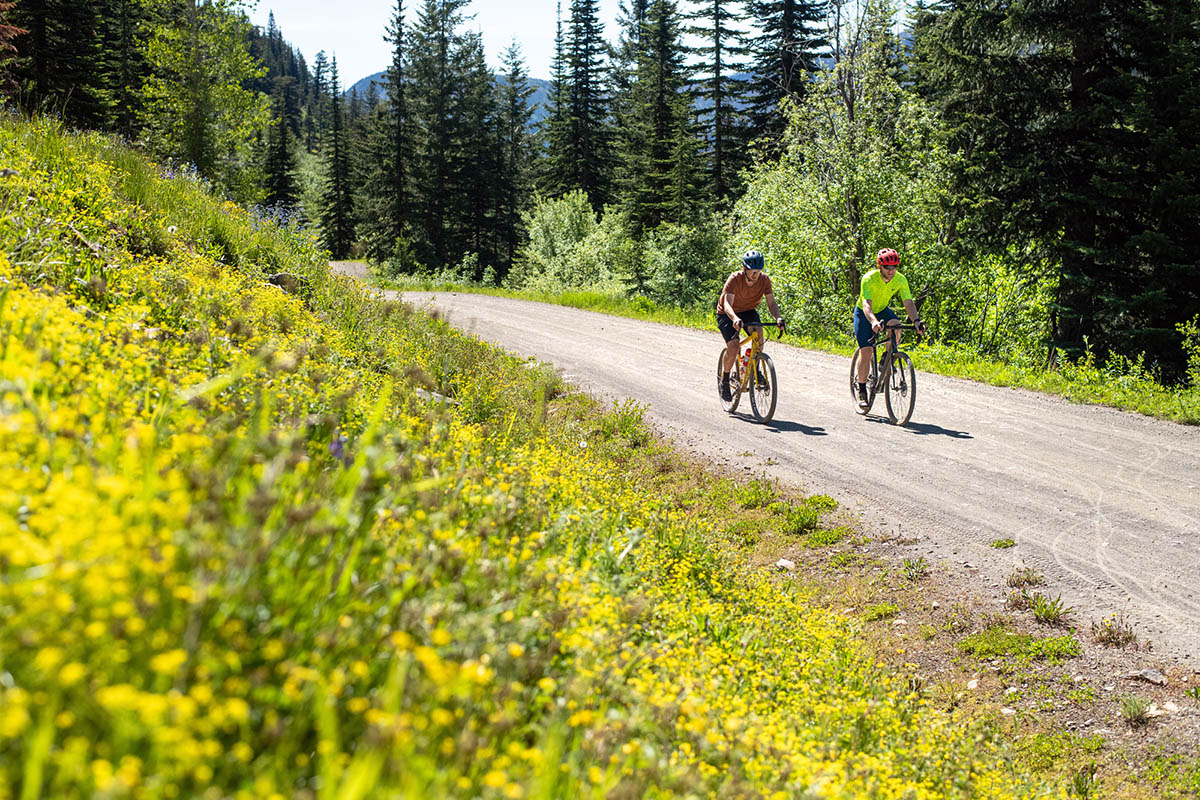 If you choose to go the online route, most bikes shipped to your home will require some assembly. Some simply require throwing on the front wheel and pedals, but others will need an extensive amount of work before they're ready to ride. This can include cutting the steerer tube, installing drivetrain parts, and carefully adjusting components for proper alignment. It's also not uncommon to pay an "oversized" shipping fee. For example, Backcountry and REI often have an additional charge for shipping a bike, although REI offers a free ship-to-store option, which is a great alternative for buyers who want the added benefit of employee advice and expertise. In the end, it depends on how comfortable you are choosing, sizing, and assembling a bike.
Back to Our Top Gravel Bike Picks  Back to Our Gravel Bike Comparison Table