With a wide and stable footprint and solid underfoot traction, snowshoes open up your favorite summer hiking and running trails for winter fun. Below we break down the best models for the 2020 winter including recreational snowshoes, backcountry snowshoes, and running/racing models. The majority of people stay on groomed trails or moderate rolling terrain, and recreational shoes will do just fine for that. If you plan on getting off-trail in deeper snow, you'll want a longer and grippier backcountry shoe. The good news is that there are a number of great options across the board from brands like MSR, Atlas, Tubbs, Crescent Moon, and more. For background information, see our snowshoe comparison table and buying advice below the picks. 
 
Best Overall Snowshoe

Category: Backcountry/trail
Lengths: 22, 25, and 30 in. (5-inch tails optional)
Weight: 4 lbs. 5 oz. (25 in.)
What we like: Well-rounded design with best-in-class traction and comfort.
What we don't: Pricey.
A favorite snowshoe of ours for years, MSR's Lightning Ascent puts it all together: comfort, traction, durability, and ease of use. Built around a quality steel frame and nylon decking, this snowshoe is light, doesn't get in your way while hiking, and feels nimble underfoot. In addition, its traction system is best-in-class with a sturdy crampon and rails running both length- and width-wise that confidently bite into anything from ice to soft snow. For this winter, MSR addressed our primary complaint with the old model: the binding system. With one large piece of rigid mesh covering the foot and a single strap around back, the modern design is easier to use and more comfortable without compromising foot hold and packability.
In terms of lengths, the Lightning Ascent is offered in 22-, 25-, and 30-inch variations. Your local snow conditions will dictate which version is best (go longer for more flotation), but we prefer the shortest option. Its trimmed-down shape and reasonable 4-pound 2-ounce weight make it well-suited for everything from quick walks over rolling terrain to checking off some winter peak bagging goals (flip the heel bars up on extended climbs to help with calf fatigue). And for deep snow, we throw on the optional 5-inch Lightning Tails ($60) that provide a big boost in flotation. The biggest impediment with the Lightning Ascent is its high price tag, but if you want the top all-around snowshoe design on the market in 2020, this is the one to get.
See the MSR Lightning Ascent  See the Women's MSR Lightning Ascent
Best Budget Snowshoe

Category: Trail/backcountry (with tails)
Length: 23 in. (6-inch tails optional)
Weight: 3 lbs. 9 oz.
What we like: A nice balance of price and performance.
What we don't: Binding system isn't very comfortable on long hauls.
MSR has a very solid reputation in the snowshoe industry, and their affordable Evo is a capable recreational option for beginners and intermediates (it's what we often recommend to friends and family interested in mostly casual use). For under $150, you get durable hard plastic decking, impressive traction with solid toe crampons, and side rails made of steel. The snowshoes are on the short side for powder at 23 inches, but optional 6-inch tails can be attached to the back to improve performance in softer snow.
What complaints do we have about the MSR Evo? Spending up can get you a better binding system with more than two straps across the top of the foot for superior comfort and holding power (it's worth noting that only the Lightning Ascent and Revo Ascent got MSR's new Paragon binding this winter). And although the plastic decking is tough enough to handle most scrapes, it's noisy when walking on hardpack and potentially can break if someone steps on it the right (or wrong) way. But all in all, the Evo is a light, capable, and reasonably priced snowshoe—it's no wonder it remains a top seller year after year.
See the MSR Evo Snowshoe
Best Option For Deep Snow

Category: Backcountry
Lengths: 25, 30, and 36 in.
Weight: 4 lbs. 11 oz. (25 in.)
What we like: Awesome grip and flotation.
What we don't: Getting a little heavy for long distances.
Of any snowshoe on this list, the Tubbs Mountaineer is the best for breaking new trails. And if you opt for the long 36-inch model, you can make your way through some pretty deep powder. Looking underneath, it may not appear the crampons and traction are much of an upgrade from standard Tubbs models, but trust us, there's real performance there. The deep and strong (and appropriately named) Anaconda crampons feature 8 teeth under your toes and ball of your foot. And the 36-inch version can handle up to 300 pounds (depending on snow conditions), the most in the backcountry category.
Weight is starting to creep up with the Mountaineer model: both the 30 and 36-inch models are over 5 pounds, which can make for some tired legs during longer treks. If weight is a significant concern, we suggest checking out the Lightning Ascents above. But for those that venture deep into the fluffy stuff, the Tubbs Mountaineer is in a class of its own.
See the Tubbs Mountaineer
Best of the Rest

Category: Backcountry/trail
Length: 27 in.
Weight: 4 lbs. 7 oz.
What we like: Great price for what you get; intuitive binding system.
What we don't: Average traction and heel lifters cost extra.
Crescent Moon operates a little differently than most outdoor gear manufacturers, and that's not necessarily a bad thing. This Boulder-based company specializes in snowshoes, assembles them in the U.S.A. with top-end materials, and has a standout repair and warranty policy. From their lineup, the Gold 9 offers solid versatility: its rockered shape and 27-inch length balance walkability with flotation in soft snow, the binding system provides a secure and comfortable hold, and the steel traction is sturdy and reliable. Tack on a reasonable price of $200—a significant $69 drop for this winter—and you get a very well-rounded snowshoe.
What are the limitations in the Gold 9's construction? First, its claw-like crampons grip reasonably well in soft snow and hardpack, but for steep slopes or sketchy traverses, they lack the aggressive bite that you get from MSR's Lightning Ascent above. Second, a heel lifter for reducing calf fatigue on extended climbs is not included, although you can purchase one as an accessory directly from Crescent Moon for $25. Finally, we've seen that online availability varies throughout the season and it occasionally can be difficult to track down a pair. That said, the Gold 9's compelling mix of price, build quality, and on- and off-trail performance earn it a high spot on our list.
See the Crescent Moon Gold 9  See the Women's Crescent Moon Gold 13

Category: Backcountry/trail
Lengths: 20.5, 23.5, and 27 in.
Weight: 4 lbs. 5 oz. (23.5 in.)
What we like: Impressive combination of comfort, traction, and stability.
What we don't: Narrow profile isn't great in soft snow.
France-based TSL still is a relative unknown in the U.S. market, but their Symbioz snowshoes should change that. We have a season of use under our belt with the 23.5 and 27-inch models, and came away very impressed with the super stable feel, reliable traction, and high level of comfort. The plastic decking flexes naturally and absorbs impact very well, but where the TSL truly shines is its unique binding system. Like an alpine touring frame binding, there is a plate under your entire foot that moves with you as you walk. The result is rock solid support and fantastic technical abilities for steep terrain in a range of snow conditions.
What are the downsides of the Symbioz Elite? The 23.5-inch model has a narrow profile that doesn't provide as much flotation as the Lightning Ascent or Gold 9 above in deep snow (opting for the 27-inch model does help with that). Further, the binding system takes some time to set up properly—we don't recommend doing it for the first time out in the frigid cold like we did. And because the plate has to match the length of your boot sole, it can be a pain to adjust if multiple people share the snowshoe. But these are small complaints about an otherwise outstanding design that is both comfortable and performs extremely well. 
See the TSL Symbioz Elite Snowshoe

Category: Trail/backcountry
Lengths: 25, 30, and 35 in.
Weight: 4 lbs. 6 oz. (25 in.)
What we like: Grippy and comfortable.
What we don't: Binding can loosen over time.
We are big fans of Atlas—the brand offers solid snowshoes at reasonable prices. The Montane 25 lines up as a great mid-range option for everything from trail use to the backcountry. We like the traditional teardrop shape, and the Spring-Loaded Suspension is a nice technical inclusion that allows for added movement and stability (one downside is it's prone to flipping snow up your back when walking quickly). The bindings are relatively simple but tighten down evenly over the feet, and everything else feels high quality on this snowshoe.
One point of comparison between the Atlas Montane and other mid-range snowshoes are the crampons. Instead of one or two small claws, the Montane has a large claw under the foot and long traction bars down the sides. This makes it better at handling both steep and icy conditions than other shoes in the price range. But we do wish the binding system was more secure—it's not uncommon to have to re-tighten it during a long hike. For deeper snow and heavier loads, the Montane also is available in 30-inch and 35-inch versions.
See the Atlas Montane  See the Women's Atlas Elektra Montane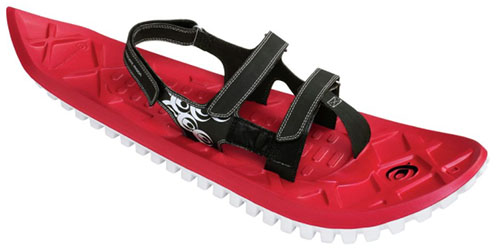 Category: Trail
Length: 24 in.
Weight: 3 lbs. 8 oz.
What we like: Easy to use with an intuitive binding system and comfortable foam construction.
What we don't: Does not excel on steep or technical terrain. 
A couple years ago, the big news in the snowshoe industry was Crescent Moon's Eva all-foam model. Unlike the hard plastic or aluminum-framed designs that dominate the market, the unique Eva is built with two layers of EVA foam. The top is relatively soft to provide cushioning, while the bottom is a denser and tougher variety for traction and durability. The flexible construction, Velcro binding system, and rockered shape make these snowshoes comfortable and easy to handle. With the addition of six small "Icespikes" on the bottom of each shoe, the current Eva technically adds metal to the mix, but we like the improvements and overall concept.
All thing considered, the Eva performs best on relatively flat terrain and for more casual snowshoeing adventures. The Icespikes are a positive change as the old model lacked bite, and we can't help but appreciate the simplicity and ease of use, including the bindings. In addition, we were pleasantly surprised with the durability of the foam, which was one of our biggest initial concerns. However, the Eva isn't as adept at tackling tough terrain or deep powder as many of the models above. Having said that, it's a great snowshoe for easy to moderate terrain, and at a reasonable price to boot. 
See the Crescent Moon Eva Snowshoe
Category: Trail
Lengths: 24 and 28 in.
Weight: 4 lbs. 6 oz. (24 in.)
What we like: Nimble, light, and good fit with the Boa system.
What we don't: Feels a little narrow underfoot.
Boa closure systems have become increasingly popular on snowboard boots and are now hitting the snowshoe market. The one-dial cable system tightens the entire binding with a few simple turns. Accordingly, the VRT is the easiest snowshoe on this list to put on (at least for us), and therefore a top pick for those who love simplicity. It's also very comfortable and cinches evenly around the foot without creating any pressure points.
Aside from the binding, the 24-inch length of the Flex VRT and narrow footprint means it doesn't have great flotation in the deep stuff. The flipside is you get better mobility and the snowshoes don't feel as clunky underfoot. For those who want easy-to-wear snowshoes or people that don't venture into powder too often, the Tubbs Flex VRT is a terrific, albeit pricey, option.
See the Tubbs Flex VRT

Category: Trail 
Lengths: 25 and 30 in.
Weight: 3 lbs. 15 oz. (25 in.)
What we like: Simple and inexpensive.
What we don't: Limited traction and not made for steep terrain.
A lot of snowshoers like to stick to flat ground near the cabin or established trails, which makes all of the advanced traction and binding systems of the expensive designs above overkill. With the Xplore, Tubbs aims to please the casual crowd, and we think they have a winner. The snowshoe isn't anything fancy, but it offers an easy-to-use binding system, a lightweight and reliable aluminum frame, and sufficient comfort for short winter walks. And at $130, the Xplore is priced right for people that only get out on occasion.  
On the flip side, the Xplore falls short if you plan on venturing outside in a serious way. The binding system is very simple and won't be super comfortable over long stretches, and the thin metal on the crampon and basic traction overall is not built for hanging onto steep slopes. For beginners that want a full setup, Tubbs also offers the Xplore in a starter kit, which includes the snowshoes, a pair of poles, and gaiters for $180.
See the Tubbs Xplore  See the Women's Tubbs Xplore

Category: Trail
Length: 32 in.
Weight: 4 lbs. 2 oz.
What we like: Lightweight and a quality build.
What we don't: Aluminum crampons.
Crescent Moon has two main lines of snowshoes, Gold and Silver, with the biggest difference being that the latter uses aluminum crampons instead of steel. There's a good argument that $189 is a lot to pay for an all-aluminum snowshoe, but Crescent Moon hits everything else just right with the Silver 10. This snowshoe is light at just 4 pounds 2 ounces for the pair, fits well with a comfortable footbed and single-pull binding, and should be durable enough to last you many seasons to come.
Keep in mind that the Crescent Moon Silver 10 is their value-oriented design. Flotation is good given its 32-inch length, but its aluminum crampons aren't as durable and more prone to bending compared with steel. Another consideration is that the Silver Series has a 2-year warranty whereas the Gold is lifetime. But for those who value quality and an environmentally friendly build, the Silver 10 is a solid choice.
See the Crescent Moon Silver 10

Category: Backcountry/trail
Lengths: 25 and 30 in.
Weight: 4 lbs. 3 oz. (25 in.)
What we like: Lightweight and includes a Boa closure.
What we don't: Not a great value.
Updated for this winter, Atlas's Treeline snowshoe combines a sturdy aluminum frame with a comfy binding system and Boa closure. Compared with the brand's Montane above, the Boa design is noticeably faster and easier in terms of getting the snowshoe on and off, you save a little weight (5 ounces for the 25-inch model), and price goes up by $50. In addition, the two have different suspensions: the Montane uses their spring-loaded SLS design as opposed to the mellower Light-Ride System (RLS) on the Treeline. Overall, we prefer the SLS thanks to its energetic feel, although the Treeline's RLS is a fine performer for flat and rolling terrain and isn't as prone to flipping snow up your back while on the go. 
What pushes the Treeline down our list is that it's expensive for a pretty standard aluminum snowshoe. Outside of the Boa closure, the Atlas isn't markedly better than the Crescent Moon above, which undercuts it by about $50 in price (and the Gold 9's binding system doesn't give up much in terms of ease of use). Don't get us wrong: the build quality is there and either the 25-inch or 30-inch version is suitable for everything from quick trips outside the cabin to all-day adventures, but the Treeline comes up a little short in value.
See the Atlas Treeline  See the Women's Atlas Elektra Treeline

Category: Run/trail
Length: 22 in.
Weight: 2 lbs. 9.3 oz.
What we like: Nimble, light, and fun.
What we don't: Built for running and therefore not a true all-rounder.
The snowshoes above are bulky and cumbersome for jogging or moving fast on firm snow, which is where the Atlas Run comes in. This streamlined construction strips away any excess: the profile is narrow and relatively short at 22 inches, the BOA binding system has no frills but is easy to cinch around a pair of low-top waterproof shoes, and it has an aggressive stance that feels natural at speed (or at least as natural as you can be while running in 22-inch shoes).
The downside of a running snowshoe is that it can't match a traditional design for hiking use. The narrow shape is optimized for hardpack or light amounts of powder, and the springy construction is prone to kicking up snow as you walk. If you want a single pair of snowshoes, one of the all-rounders above will be your best bet. But for those looking to expand your running season into the winter months, this Atlas deserves a serious look.
See the Atlas Run Snowshoe

Category: Trail/backcountry
Lengths: 22 and 25 in.
Weight: 3 lbs. 14 oz. (25 in.)
What we like: Traction from the Lightning Ascent with a tough plastic build.
What we don't: There are more comfortable options for the price.
MSR's Revo was released a few years ago as a hybrid that combined the traction of their high-end Lightning with the price-conscious plastic decking of the Evo. Right off the bat, we'll admit this isn't our favorite design from the Seattle-based company. The Lightning Ascent above is more comfortable and a stronger performer in the backcountry, and the Evo is a better match for casual users and those on a budget. But the Revo does a fairly good job mixing those two snowshoes' strongest attributes—most notably, the rugged side rails provide more grip than any model under $200.
As we mentioned above, we think there are more well-rounded mid-range options than the MSR Revo. The Atlas Montane, for example, is a little more expensive at $200 but comes with worthwhile upgrades like flexible decking with superior shock absorption, a more comfortable binding, and a heel lift. It's worth noting that the Trail is the entry-level version of the Revo, but stepping up to the Explore and Ascent models pushes them too close in price to the superior Lightning lineup.
See the MSR Revo Trail  See the Women's MSR Revo Trail

Category: Run
Length: 21 in.
Weight: 1 lb. 11.7 oz.
What we like: Ultralight snowshoes for serious runners. 
What we don't: Limited flotation and thin materials. 
For those who want to continue running long after the snow starts falling, give the Course from Louis Garneau a serious look. Made with a thin aluminum frame and Boa cinch system, the Course is a nice option for aspiring snowshoe racers (hence the name). Impressively, it comes in at well under 2 pounds for the pair, which is considerably lighter than the Atlas Run above at the same price point. 
What do you sacrifice with the Course? At just 21 inches in length and with ultralight materials throughout, these snowshoes offer limited flotation and their long-term durability is questionable. But what you lose in flotation you gain in mobility: these shoes really can move on hard pack. In terms of competition, the running snowshoe market is shrinking and Crescent Moon has discontinued their "Composite Kilo Run" and "The Rocket" models, creating a two-way competition between Atlas and Louis Garneau. 
See the Louis Garneau Course Boa Arc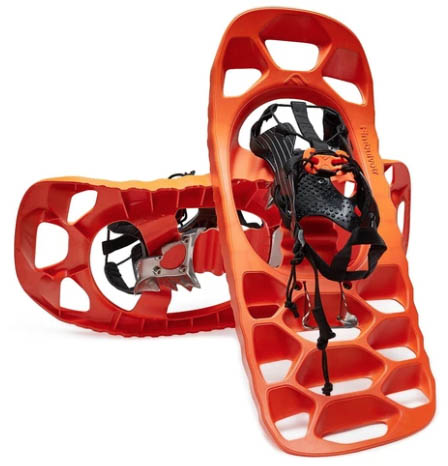 Category: Trail/backcountry
Length: 24 in.
Weight: 4 lbs. 11 oz.
What we like: Great in powder.
What we don't: Limited grip, wide shape, and mediocre bindings. 
You won't find anything like the Fimbulvetr Hikr in your parents' gear room. These strikingly unique snowshoes were released a few years ago out of Norway (Fimbulvetr means "great winter" in Old Norse). The goal was to recreate and not simply improve on snowshoe design, and recreate they did. Right off the bat, you'll notice the bright, all-thermoplastic decking, which is a flexible and highly durable material found in things like shock absorbers. The floating all-direction hinge is great for agility and these snowshoes are streamlined with limited components (that's a good thing). If one were to dream up a modern snowshoe, this would be it. 
How about the performance of the Fimbulvetr Hikr? The large, open design is great for flotation and excels in powder. However, the grip is disappointing with only two small claws plus any additional traction provided by the thermoplastic bottom itself. And the Hikr has other notable shortcomings: the wide platform had us walking with a funny gait to avoid hitting the snowshoes, the thin lacing in the binding system doesn't inspire much confidence over the long term, and the flexible hinge can turn your ankle in uncomfortable directions while traversing steeper slopes. If you prioritize flotation, the Hikr certainly is a viable option, but we think there are better designs on the market.
See the Fimbulvetr Hikr X

Category: Trail
Lengths: 25, 30, and 35 in.
Weight: 4 lbs. 13 oz.
What we like: Boa closure system at a reasonable price.
What we don't: Heavy. 
For recreational snowshoers and those new to the sport, we think the Boa closure system is the easiest to use on the market. You simply slide your foot into the bindings, turn the nob, and the binding tightens down evenly over your boot. And the cheapest snowshoe with Boa to make this list is the Massif from cycling specialist Louis Garneau (the Boa-equipped Tubbs Flex VRT above is $260, for example).
Aside from Boa technology, Louis Garneau has made some nice advancements. Last season we had the mostly plastic Boreal II here, but the Massif offers a sturdier aluminum frame, decently sized carbon steel crampons, and a design that should handle flat terrain and moderate inclines well (the snowshoe lacks a heel riser for the steeps). Keep in mind that the Massif is fairly heavy given its capabilities and feature set, but it's a nice all-rounder that is extremely easy to use.  
See the Louis Garneau Massif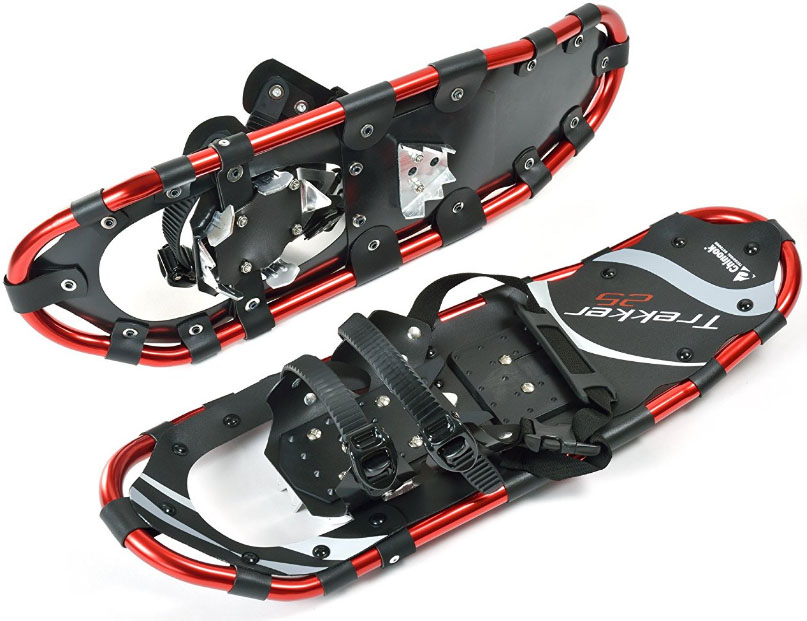 Category: Trail
Lengths: 19, 22, 25, 30, and 36 in.
Weight: 4 lbs. 5 oz. (25 in.)
What we like: Cheap price tag.
What we don't: Questionable build quality, particularly the bindings and crampons.
For those on a budget, we heartily recommend going with a superior entry-level snowshoe like the $140 MSR Evo above. Yes, it costs quite a bit more, but will perform significantly better and last longer. However, you can't argue with the price of the Chinook Trekker, which has a low $75 MSRP and often is available for even less. These are basic, inexpensive snowshoes that will work fine for short jaunts in the snow. If you're new to the sport and want to give it a try, the Chinook Trekker is just about the cheapest viable option you'll find.
As expected, virtually all of the components on the Trekker are of the budget variety. The bindings in particular don't offer a lot of comfort, and particularly on long winter hikes. And the crampons on the bottom are aluminum instead of steel, which will bend and break more easily. We would grab the Evo and have them for years to come, but the Trekker is a decent value option.
See the Chinook Trekker
Snowshoe Comparison Table
| Snowshoe | Price | Category | Length(s) | Weight | Crampon | Climb |
| --- | --- | --- | --- | --- | --- | --- |
| MSR Lightning Ascent | $320 | Backcountry/trail | 22, 25, 30 in. | 4 lbs. 5 oz. | Steel | Yes |
| MSR Evo | $140 | Trail/backcountry | 23 in. | 3 lbs. 9 oz. | Steel | No |
| Tubbs Mountaineer | $270 | Backcountry | 25, 30, 36 in. | 4 lbs. 11 oz. | Steel | Yes |
| Crescent Moon Gold 9 | $199 | Backcountry/trail | 27 in. | 4 lbs. 7 oz. | Steel | No |
| TSL Symbioz Elite | $280 | Backcountry/trail | 20.5, 23.5, 27 in. | 4 lbs. 5 oz. | Steel | Yes |
| Atlas Montane | $200 | Trail/backcountry | 25, 30, 35 in. | 4 lbs. 6 oz. | Steel | Yes |
| Crescent Moon Eva | $159 | Trail | 24 in. | 3 lbs. 8 oz. | N/A | No |
| Tubbs Flex VRT | $260 | Trail/backcountry | 24, 28 in. | 4 lbs. 6 oz. | Steel | Yes |
| Tubbs Xplore | $130 | Trail | 25, 30 in. | 3 lbs. 15 oz. | Steel | No |
| Crescent Moon Silver 10 | $189 | Trail | 32 in. | 4 lbs. 2 oz. | Aluminum | No |
| Atlas Timberline | $250 | Trail/backcountry | 25, 30 in. | 4 lbs. 3 oz. | Steel | Yes |
| Atlas Run | $250 | Run | 22 in. | 2 lbs. 9.3 oz. | Aluminum | No |
| MSR Revo Trail | $180 | Trail/backcountry | 22, 25 in. | 3 lbs. 14 oz. | Steel | No |
| Louis Garneau Course | $250 | Run | 21 in. | 1 lbs. 12 oz. | Aluminum | No |
| Fimbulvetr Hikr X | $269 | Trail/backcountry | 24 in. | 4 lbs. 11 oz. | Steel | Yes |
| Louis Garneau Massif | $175 | Trail | 25, 30, 36 in. | 4 lbs. 13 oz. | Steel | No |
| Chinook Trekker | $75 | Trail | 19, 22, 25, 30, 36 in. | 4 lbs. 5 oz. | Aluminum | No |
Snowshoe Buying Advice
Snowshoe Categories
The most important decision you make when purchasing a snowshoe is the category: trail, backcountry, or run. Trail or recreational snowshoes are great for most moderate hiking trails that fall somewhere between groomed and knee-deep in powder. These shoes are shorter than backcountry models and have simpler traction because you will be tackling rolling hills and not mountains. Popular trail designs include the MSR Evo, Atlas Montane, and Crescent Moon Eva.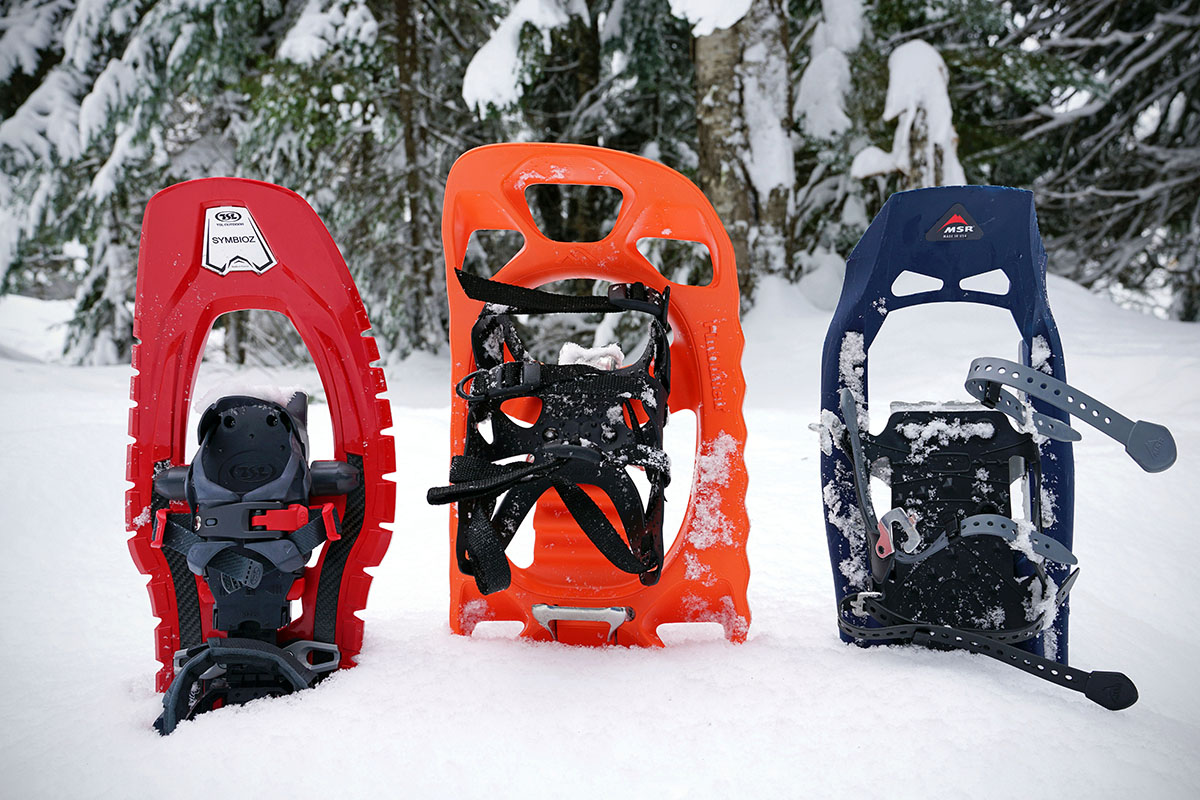 Backcountry snowshoes, like the Tubbs Mountaineer, are longer in length for more float in deep powder, and light enough that you can cover serious ground without feeling like you're wearing a ton of bricks. You'll also see increased traction and features like heel lifts for steep terrain. Run or race snowshoes are self-explanatory: they are used for trail running or jogging in the winter. Running snowshoes place a premium on lightweight materials, comfortable bindings, and special traction designed to keep you moving. Below is a quick rundown of the type of terrain and the corresponding category of snowshoe.
Groomed and flat terrain: Trail (entry-level) or Run
Moderately sloping terrain: Trail/backcountry (mid-range)
Deep snow or steep terrain: Backcountry
 
Snowshoe Length and Your Weight
Once you get an idea of the snowshoe category you want (trail or backcountry), choosing a length is the next step in making a successful purchase. This will allow you to stay afloat and avoid sinking too deeply into the snow with each step (known as "postholing").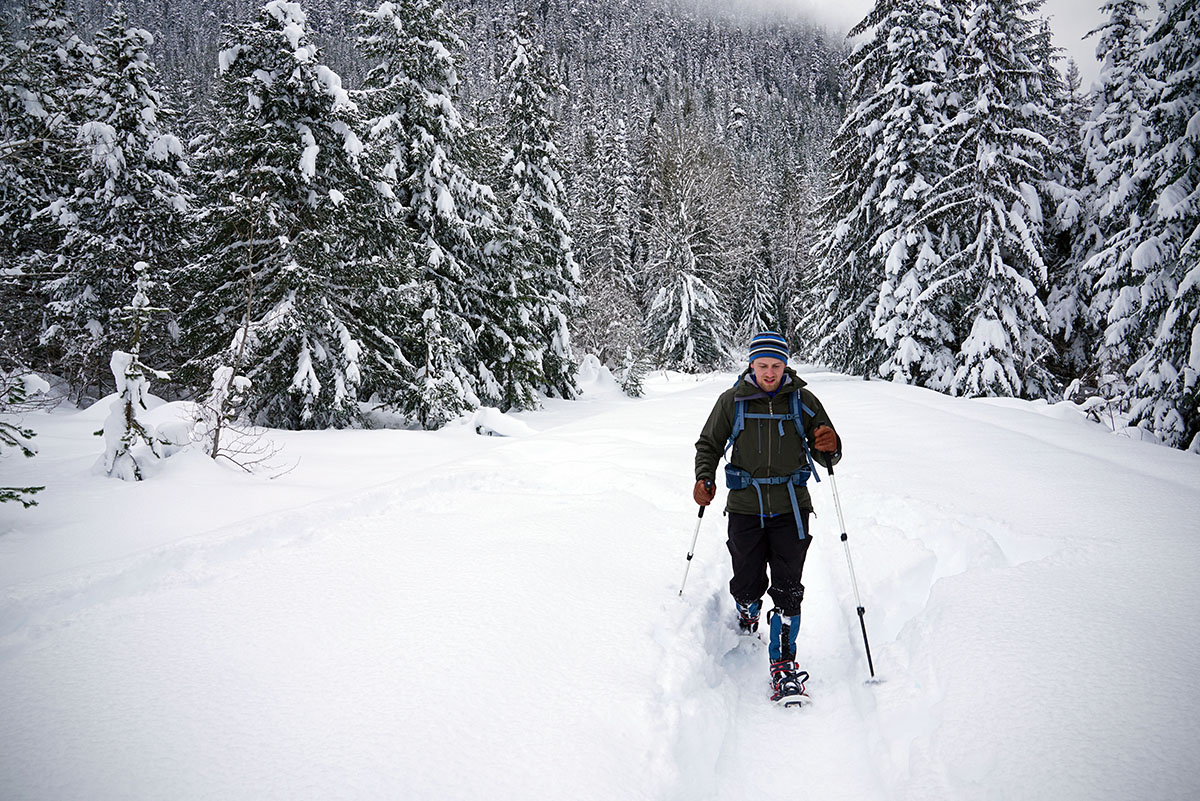 The adult snowshoes on the list range from 23 inches at the short end (MSR Evo) up to 36 inches at the long end (Tubbs Mountaineer). Generally, shorter snowshoes are best for on-trail use and longer models are ideal for deep snow and the backcountry. However, your weight plays an important role in the decision too. Snowshoe manufacturers often list a recommended weight range for each shoe, also called "recommended load" (this means body weight plus anything you'll be carrying, such as a backpack). Heavier people need longer snowshoes to stay afloat, so try to pick a length that best hits your weight with gear. Some snowshoes have optional tails to add length depending on the user and conditions
A final pitfall in choosing the proper snowshoe length is relying purely on the weight ratings without taking snow type into account. In the United States, the crusty hardpack you'll find in the East contrasts sharply with deep powder in the West. Then there are areas like the Midwest and Pacific Northwest, which get a mix of the two. Longer snowshoes provide better flotation in soft snow, so if you're planning on getting off-trail in Colorado or Utah, a longer snowshoe is better. If you'll be primarily on hardpack, less flotation is required and you can go shorter.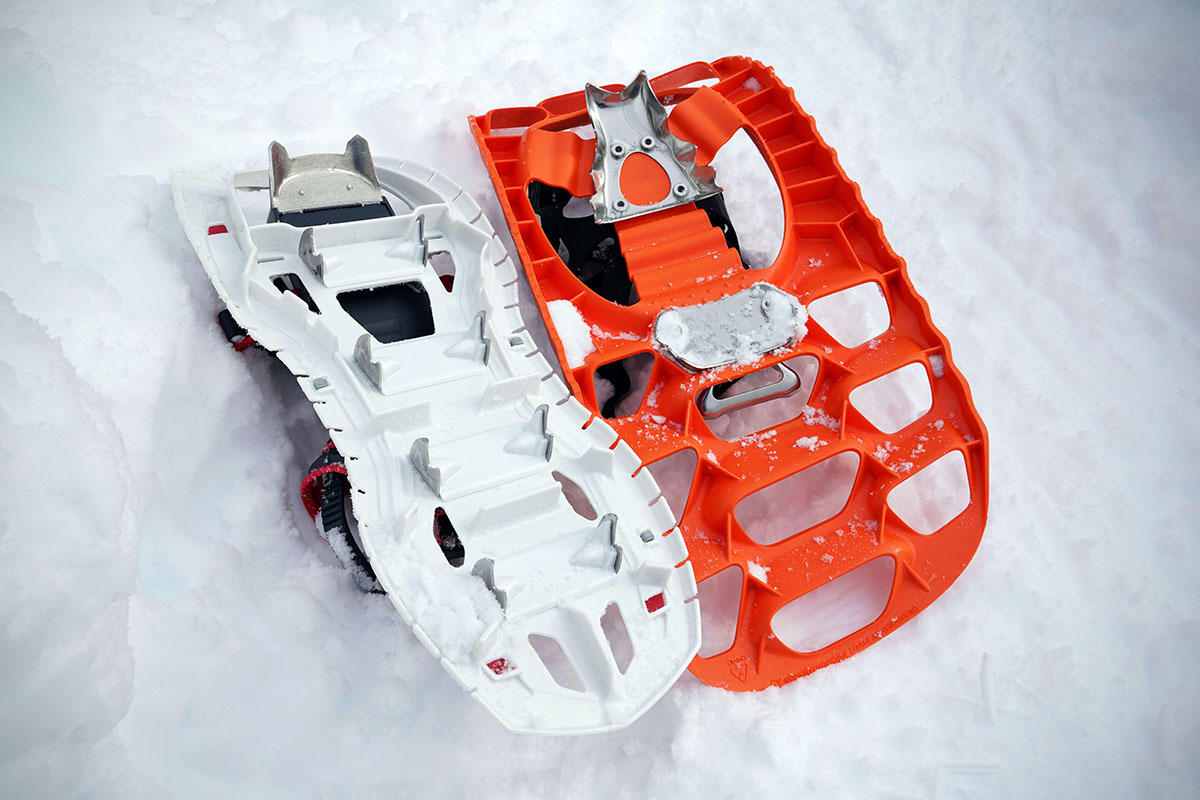 Bindings
The binding system is your link to trail comfort and also plays a significant role in stability. A good binding should comfortably hold your feet for hours on the trail without requiring constant re-adjustments. Interestingly, the various systems are one of the few places where manufacturers differentiate significantly from one another. One commonality you will find is that no matter the brand, comfort and adjustability improve as the price goes up.

Multiple Straps or Single-Pull
The most common binding styles are either a plastic wraparound binding that is secured by a series of crisscrossing webbing or individual straps that are secured over the foot and around the heel. Atlas and Tubbs utilize the more traditional binding and webbing design for their core models, while MSR has stuck with the strap systems. Crescent Moon has a binding system that shares characteristics of both, but its single pull loop system falls more into the traditional binding category.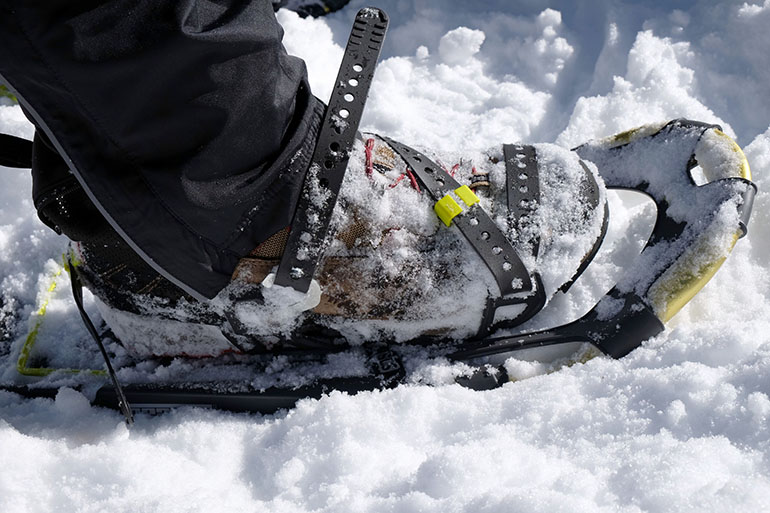 What's revealing in breaking down the systems is that, despite the vital importance of a comfortable design, the binding isn't always directly correlated with overall snowshoe quality. MSR makes absolutely bomber snowshoes, but we think their bindings fall short (excluding the new Paragon binding on the Revo and Lightning Ascents). Part of the reason is their commitment to a strap cinch system. The logic behind the design is that the bindings can lay completely flat to easily haul along in a pack, but the result is that everything from their entry-level to high-end strapping systems are merely average in comfort and holding power. While it hasn't kept them from being a standout in the industry, this weakness has always left us a bit perplexed.

Boa
A third binding design gaining some serious traction is Boa. This system utilizes a pretty traditional wrapped binding, but the traditional webbing is replaced with wiring that is tightened with the turn of a dial (the entire system cinches down on you simultaneously for impressive evenness and comfort). The technology was made popular by snowboard boots, but nowadays you'll find it on a growing number of models of snowshoes from Atlas, Tubbs, Louis Garneau, and more. Getting a snowshoe like the Atlas Run on and off is incredibly easy and quick, particularly when compared with the 3 or 4-strap systems you'll find with MSR. Their main limitation is that with a single adjuster (and occasionally two) you can't fine-tune the fit should you need to cinch down in one place and loosen another. It's all or nothing. For most folks, however, that's a non-issue.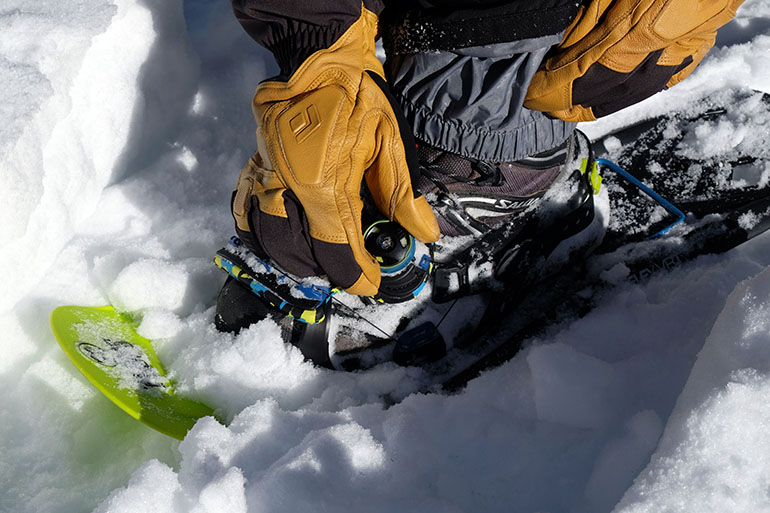 Traction
Needless to say, it's important to check the bottom of the snowshoes you're considering to make sure they've got real traction. The amount of traction varies dramatically by model and price. Low cost models commonly have a small steel crampon under your toes, additional cleats around the middle of your foot, and that's about it. While reasonable for casual walking on flats, it can be overmatched on hills or snowy conditions.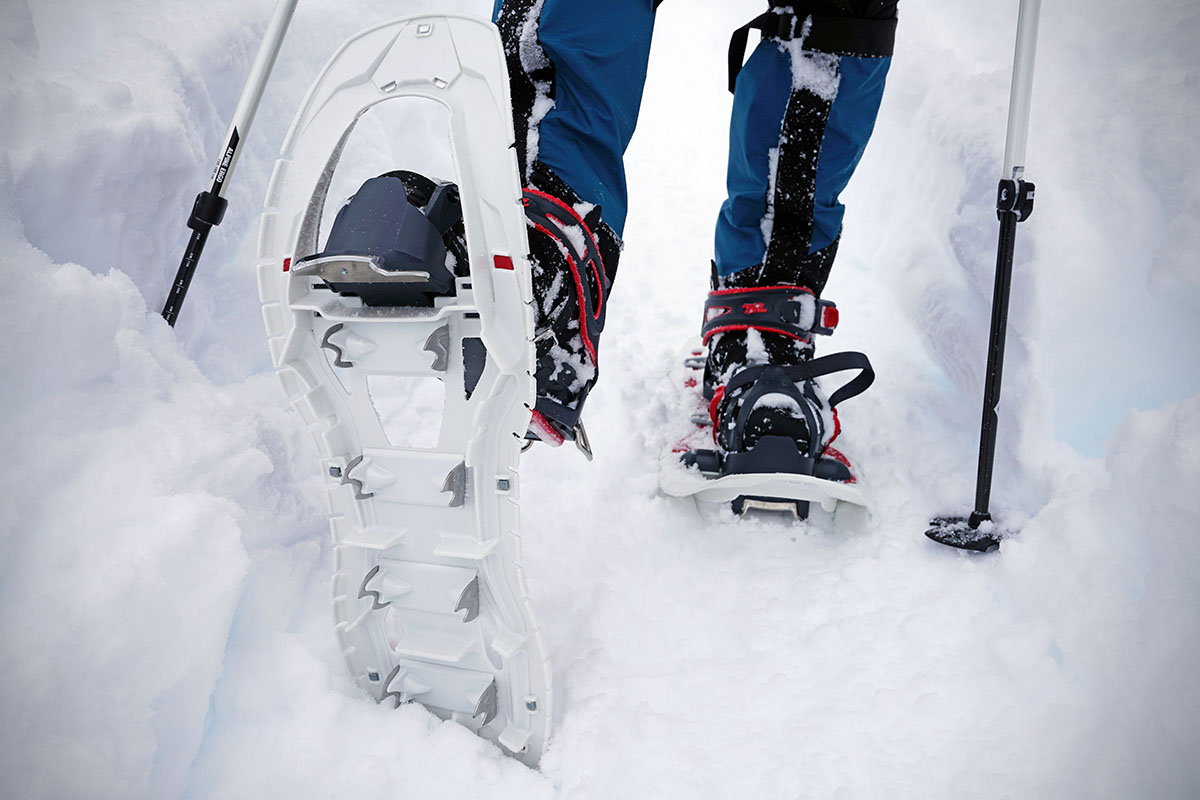 Frame rails run length-wise along the sides of snowshoes and are a source of excellent lateral stability should you find yourself traversing a slope. They're also helpful when maximum traction is needed on an ascent or descent, biting in for that extra level of grip. You'll most often find frame rails on backcountry snowshoes like the MSR Lightning Ascent, but folks that hike in icy conditions will appreciate them as well.
Keep an eye on the material and depth of your snowshoe traction. Occasionally manufacturers will look to save some money and use lower grade aluminum teeth that aren't quite as burly or tough over the long haul. Stainless steel bindings are found on most shoes, and the deeper and more aggressive the teeth, the better the grip.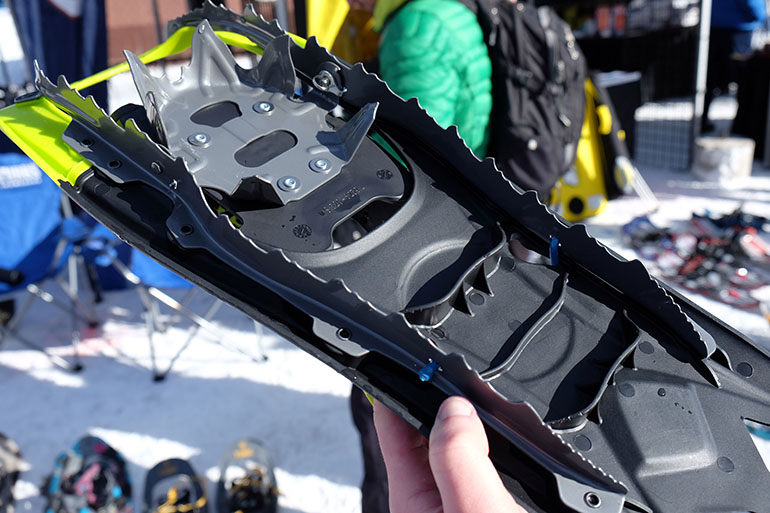 Frame and Decking
There are two general types of snowshoe: an aluminum outer frame with flexible nylon decking, and a frameless solid deck made of plastic or composite. Recently, hybrid models have popped up that use a partial aluminum frame toward the front of the snowshoe with a plastic tail.

Aluminum
Traditional aluminum-framed snowshoes are what most people are familiar with. It's a very functional design, with a strong frame protecting you from trail hazards and a pliant but tough deck that makes covering long distances comfortable. The disadvantage is traction. Although some high-end models do a great job of incorporating as much traction as possible, they still fall short compared to plastic, particularly relative to their weight. Moreover, the decking materials are more vulnerable to tears and the occasional rivet can come out of the nylon decking. But those are rarities from the quality brands we've listed in our picks above, and plastic can break too.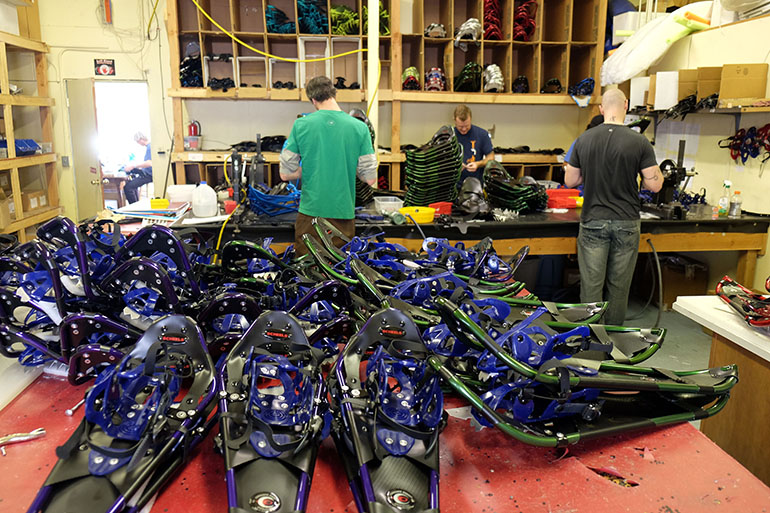 Plastic or Composite
The principle advantage of plastic or composite decking is cost—strong aluminum isn't cheap—and the ability to more easily incorporate traction along the sides. The MSR Lightning Ascent is an exception to this rule, as this snowshoe has a nylon decking but the aluminum outer frame has traction all around. The downsides of plastic are that it can break—we've had an unfortunate front lip of an MSR Evo get torn off when stepped on—and they're noisy over crusty snow. Much more than with a traditional snowshoe, plastic has a harsher and louder heel impact when your foot comes down on hard pack. To summarize, plastic is cheaper and easier to attach traction to, but louder and slightly easier to damage.

EVA Foam
Crescent Moon made waves last year with the introduction of an EVA foam snowshoe. Unlike hard plastic or aluminum frame models, the unique Eva is built with two layers of foam—a softer compound on the top for shock absorption and a firm layer on the bottom for toughness. We did have some initial concerns about durability, but our pair has held up well through a year of rough use. The design is geared towards beginners and the lack of a crampon underfoot does impact traction, but it has a nice cushioned feel that is noticeably quieter than a traditional snowshoe when walking on firm or icy snow. Overall, we think Eva's foam build has a lot of promise and could be a sign of things to come in the industry.
Snowshoe Features and Accessories
Heel Lift (Climb) Bars
Most high-end recreational and nearly every backcountry and mountaineering snowshoe come with a heel lift. The feature is exactly as it sounds: a single metal bar under your heel that can be raised and locked into place for climbs. The raised bar plays the role of a rigid mountaineering boot, keeping you from dropping your heel while climbing up a sustained grade. The benefit of this feature is reduced calf fatigue, but is it really worth it? Some companies like Crescent Moon were reluctant to include them in their lineup because they determined that most users don't really need them. But customer demand has remained strong, so Crescent Moon has acquiesced and has added the functionality to their lineup.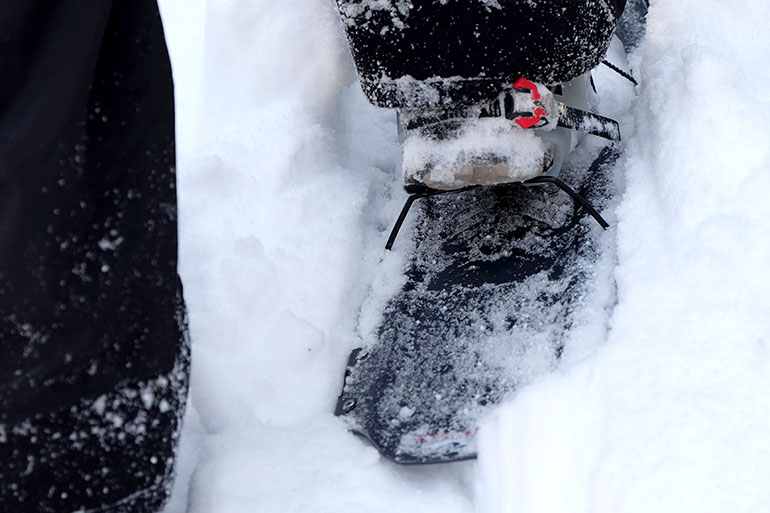 From our use, heel lift bars have come in handy a couple of times during long climbs, say a spring snowshoe to Camp Muir on Mount Rainier. But for most uses we don't bother. Unless the hill is steep and will remain steep, it's just not worth the effort to reach down to raise and lower the bar. A grippy snowshoe and poles play a much greater role in making climbing easier, and therefore we feel that this feature is overrated. Helpful on occasion: yes. Imperative: certainly not.

Flotation Tails
One of our favorite snowshoe accessories—and an underrated one at that—are the additional snowshoe tails offered with MSR snowshoes. These add-ons are available on their Evo, Revo, and Lightning lines and are a great way to get all-in-one functionality out of a single pair of snowshoes: throw on the tails for greater flotation in the soft stuff and stuff them away in your pack when you get back to the hard pack. They're ideal for places like the Pacific Northwest or Colorado when snow conditions can vary dramatically throughout the season, so it's no surprise that Seattle-based MSR is leading the charge.
 
Do I Need Poles?
The short answer: yes. Poles make uphill and downhill travel on snowshoes much easier and increase stability. Even though snowshoes themselves have a wide base, it's easy to get off balance and take little tumbles. Most snowshoers also hike, so it's fairly common that they already own a pair of quality trekking poles for those purposes.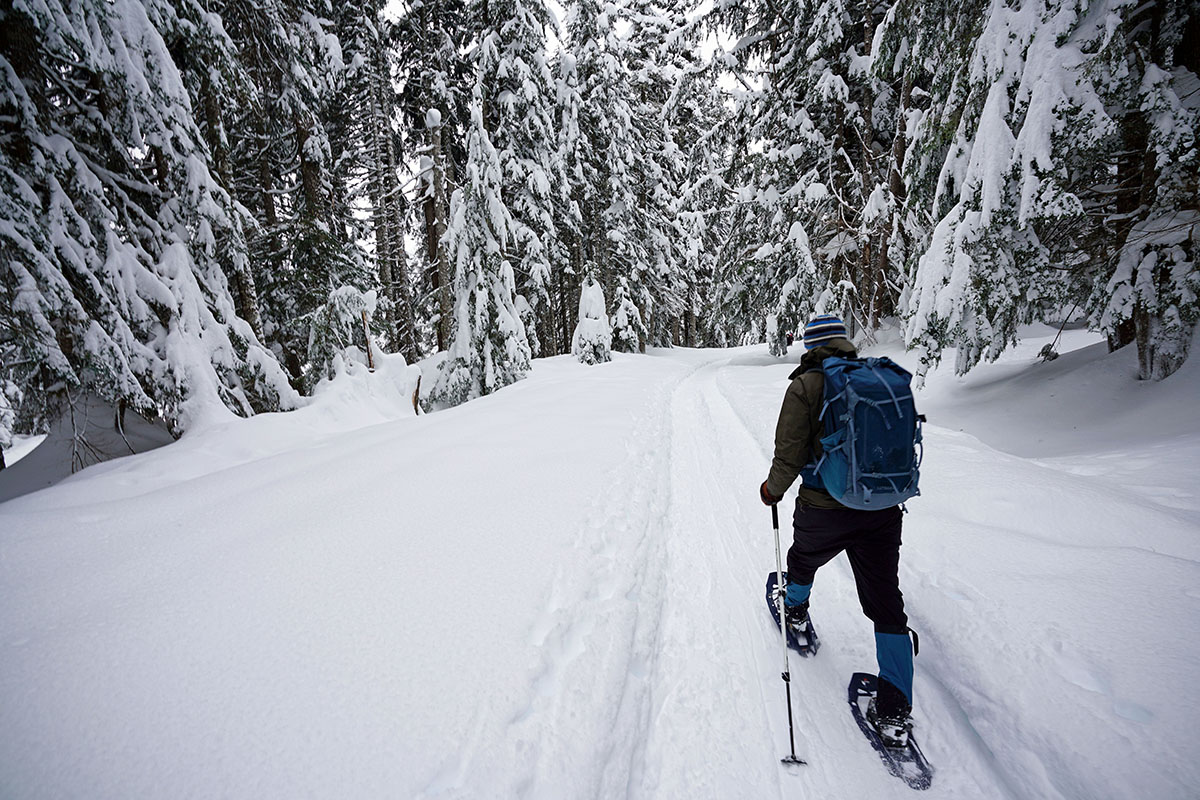 If you already have trekking poles, it's easy to pick up separate snow baskets that are specifically designed to fit with your make and model. If you need new sticks, we're big fans of Black Diamond and MSR, and our favorite is the DynaLock Ascent Carbon, which includes both trekking and powder baskets for year-round use. Should you want a more affordable option or prefer to do some further research, we've compiled a complete list of the best trekking poles.
 
Best Footwear for Snowshoeing
Most snowshoers will be comfortable with their regular waterproof hiking boots and a pair of warm wool socks (think medium thickness rather than your lightweight summer hikers). If you're looking at the running models, then a pair of waterproof trail-runners should do the trick. With high levels of exertion in moderate temperatures in the 20s and 30s Fahrenheit, these types of footwear are all that most people need. But if you're snowshoeing in truly cold conditions (or are prone to running a bit cold), the alternative is a lightly insulated winter boot. The men's and women's Salomon X Ultra Winter CS is a fine choice for these purposes. We don't recommend using a full-on winter boot like the Sorel Caribou for anything except covering very short walks. They're too cumbersome and often far too warm.
 
Don't Forget Gaiters
Outside of poles, one of the most common snowshoe accessories that folks overlook is the trusty gaiter. Typically associated with mountaineering, these waterproof and tough leg protectors are in fact great for snowshoeing. Not only do they keep snow from sneaking through the opening between your pant leg and your boots, they also help protect your pants should you catch a crampon or other sharp object. For most uses a mid-range model should treat you really well. Our favorites are the Outdoor Research Verglas for their tough and waterproof yet lightweight design. And for serious backcountry use, look to OR's Crocodile gaiters.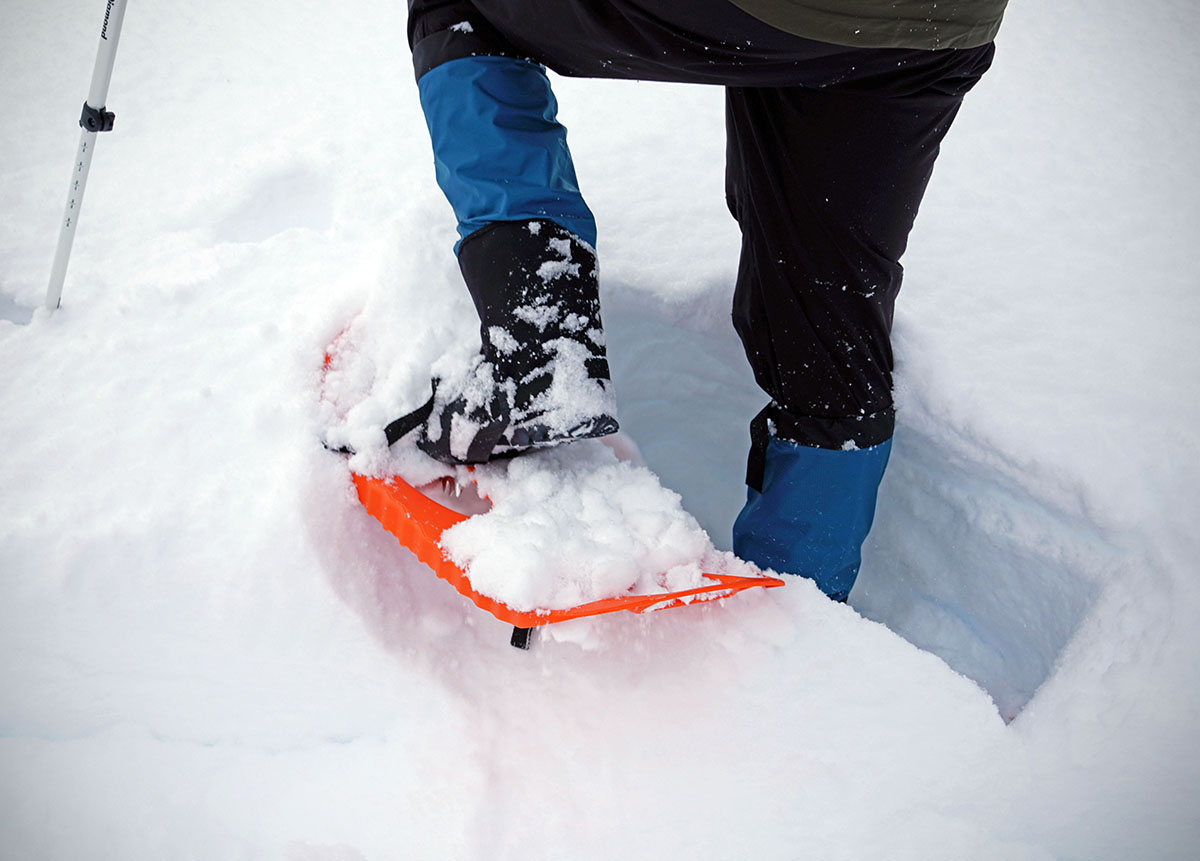 Women's-Specific Snowshoes
Most snowshoe manufacturers make a unisex model and a corresponding women's version that may appear to be the same exact snowshoe with a splash of color. But take heart: these models have undergone some changes. First and foremost, women's snowshoes are shorter. Rather than a 25-inch being the standard starting length for a snowshoe, women's models are about 23 inches. The shape also is different, tapering in at the back of the snowshoe to accommodate a woman's stride that typically is a little shorter. Finally, the bindings are designed to accommodate smaller footwear. It all adds up to a more customized fit that will suit most women better than opting for the unisex (men's) model.
 
Snowshoes for Kids
Thankfully, snowshoeing is an easy activity to pick up, so there are a number of great kid's snowshoes on the market to make sure the little ones don't miss out. Kid's snowshoes are low on features but plenty capable for short walks and exploring around the cabin. We recommend the MSR Tyker (which is essentially a shrunken MSR Evo). It's relatively cheap but should last and is easy to take on and off. As with the adult models, you'll find weight recommendations for picking a size.
Back to Our Top Snowshoe Picks  Back to Our Snowshoe Comparison Table
Learn More About Outdoor Gear