If you're looking for a jacket that offers solid warmth at a good value, synthetic insulation is the way to go. You don't get quite as high of a warmth-to-weight ratio as down, but synthetic jackets resist moisture, can breathe better, and are more cost efficient. With the choice of both types in our gear closet, we find ourselves consistently reaching for our favorite synthetic jackets for just about everything but lightweight backcountry pursuits where every ounce counts. Below are our picks for the best synthetic jackets of 2019, from lightweight pieces designed for cool fall and spring weather to winter parkas that can handle the toughest four season conditions. For more background, see our comparison table and buying advice below the picks. 
 
Best Overall Synthetic Jacket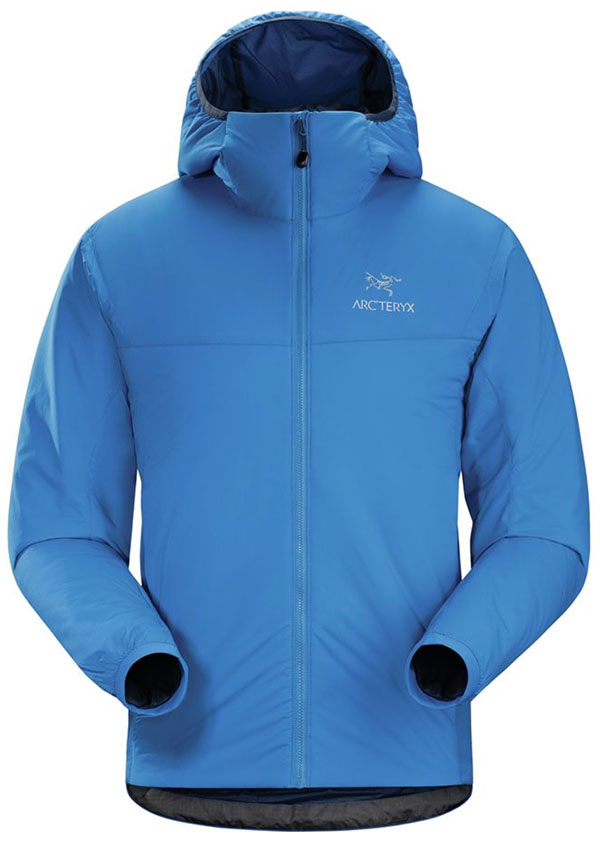 Weight: 12.7 oz.
Insulation: Coreloft (60g)
What we like: Great mix of warmth, mobility, and comfort.
What we don't: Breathability could be better.
Arc'teryx makes some of the top jackets and shells on the market, and the Atom LT Hoody is perhaps their most well-known model. Despite being around for a number of years, the Atom LT remains extremely popular because it absolutely nails the essentials: impressive warmth for the weight, supreme comfort, and a useful feature set. Unlike the Patagonia Nano-Air below that has a softer shell and interior fabric, the Atom LT is tougher and shows less wear over time.
We've worn the Atom LT during all kinds of outdoor activities from hiking and biking to cross-country skiing. It isn't quite as breathable as the Nano-Air, The North Face Ventrix, and other performance-centric synthetic jackets, but the Coreloft insulation and stretchy fleece side panels still work well for active use. Most of all, we love the versatility: the Atom LT works great as an outer layer or midlayer, and it's one of the best options on this list for everyday wear. For a similar jacket with more warmth, the Arc'teryx Atom AR uses thicker 120g Coreloft insulation around the core... Read in-depth review
See the Men's Arc'teryx Atom LT Hoody  See the Women's Arc'teryx Atom LT Hoody
A Close Second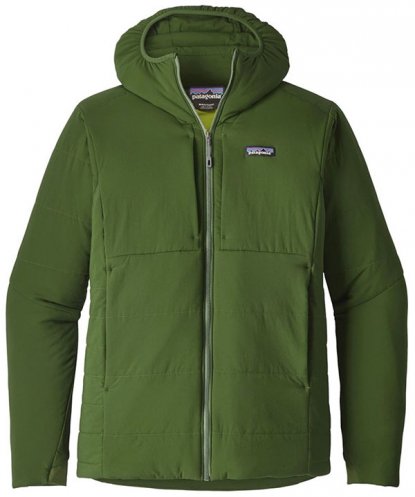 Weight: 14 oz.
Insulation: FullRange (60g)
What we like: Best-in-class comfort and breathability.
What we don't: Pilling can occur over time.  
The Nano-Air from Patagonia may not be our top overall pick, but it wins outright in one important category: comfort. This pillowy synthetic jacket is extremely soft, stretchy, and breathable—it feels like a combination of a high-end performance piece and your favorite sweatshirt. Climbers and active folks love its ability to move and breathe (the FullRange insulation and stretchy shell is noticeably more breathable than the Atom LT above), and you won't find a cozier piece for travel or daily use.
We knock the Nano-Air down a notch because it isn't as durable as we would like for the price. The super soft interior and exterior fabrics that define the jacket and make it so comfortable have a tendency to pill with heavy use, particularly around the back of the neck and sleeves. That being said, Patagonia has upgraded the shell to a stronger 30-denier nylon (from 20D), so we're optimistic it will hold up better over time. Either way, the Nano-Air still is one of our favorite all-around synthetic jackets and a first-rate midlayer. Of note: the Patagonia Nano-Air is being updated for fall of 2019, and we currently have the new version out for extended testing... Read in-depth review
See the Men's Patagonia Nano-Air Hoody  See the Women's Patagonia Nano-Air Hoody
Best Budget Synthetic Jacket
Weight: 12.3 oz. 
Insulation: PrimaLoft Gold with Cross Core (60g)
What we like: A super versatile jacket for everything from casual use to hiking and skiing.  
What we don't: Fit runs a bit trim. 
It's tough to pin down the Packaway Jacket. On one hand, it looks fairly unassuming and L.L. Bean is known for trending toward the casual end of the spectrum. On the other, it uses high-end PrimaLoft Gold with Cross Core, a brand-new technology that is claimed to be 15% warmer without adding extra weight. The result is a jacket that is warm, packable, performs well in the wet and wind, and looks the part for everyday use and travel. Given the very reasonable $159 price tag, that's a whole lot of bang for your buck. 
It's worth noting that the Packaway Jacket was redesigned for winter 2019, including the new PrimaLoft insulation described above, an updated baffle design, and the use of 100% recycled materials (this is a growing trend in the outdoor industry that is catching on in a big way this year). Taking into account all of the features including pockets (two hand, one chest, and one internal), a waist cinch for adjustability, and the ability to stuff down relatively small, in many ways the Packaway resembles the popular Patagonia Nano Puff, only cheaper.
See the Men's L.L. Bean Packaway  See the Women's L.L. Bean Packaway
Best of the Rest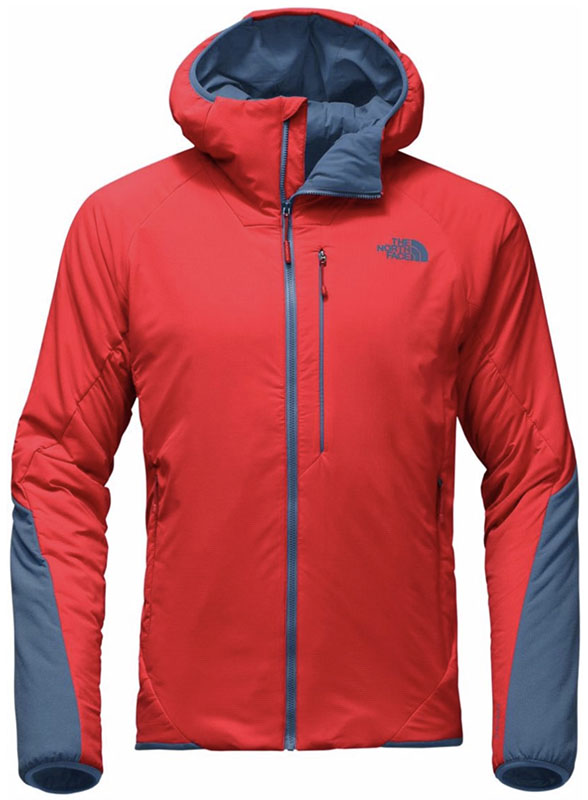 Weight: 15.5 oz.
Insulation: Ventrix (80g)
What we like: Warmer and cheaper than the Patagonia Nano-Air above.
What we don't: Not quite as much everyday appeal as the Nano-Air.
We'll be the first to say that we haven't loved a number of recent products from The North Face, but that changed with the Ventrix. This synthetic jacket is warm, comfortable, and built for high-output activities. The design and stretchy feel is reminiscent of the popular Patagonia Nano-Air above, except the Ventrix costs a significant $79 less for the hooded version. Add in a nice, athletic fit that we prefer over the boxy ThermoBall below, and you have one of our favorite synthetic jackets for 2019.
In comparing the jacket's performance to the Patagonia Nano-Air, the Ventrix is warmer, a little more wind resistant, and has a couple of techy features like thicker forearm panels that boost durability for climbing or working your way through the backcountry. The reason we have the Nano-Air ranked higher is its everyday appeal (it's always tough to match Patagonia in this regard). The Nano-Air has a slightly cleaner look for casual wear, and it breathes a bit better for mild weather and indoor use. But we still love the Ventrix, and it's quickly earned one of the top spots on this list. For even more technical prowess, The North Face has released a Summit L3 version of the Ventrix... Read in-depth review
See the Men's The North Face Ventrix  See the Women's The North Face Ventrix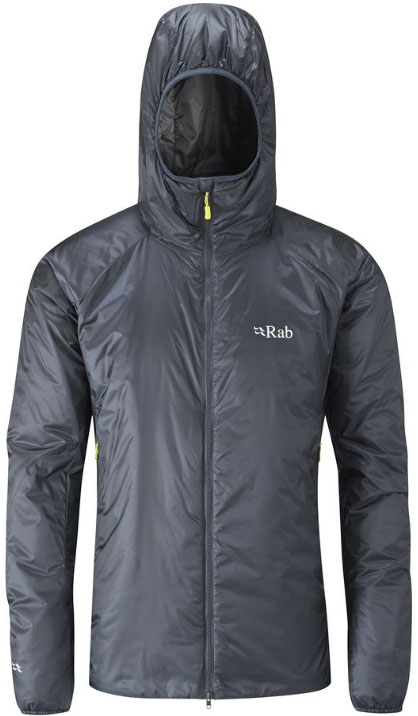 Weight: 14 oz.
Insulation: PrimaLoft Gold (60g)
What we like: Excellent wind protection and warmth for the weight.
What we don't: Performance slant isn't ideal for casual use.
The Xenon X from UK-based Rab is an ideal synthetic for serious climbers and hikers. First, you get a healthy amount of PrimaLoft Gold Active insulation, which provides excellent warmth for the weight and breathes well—better than older versions of the Xenon X that had PrimaLoft One or Gold but not the "Active" version. Second, the Pertex Quantum shell material does a really nice job of cutting the wind (this helps add some warmth in the process). Finally, the jacket packs down relatively small into its own chest pocket, which isn't true of either the Arc'teryx Atom LT or Patagonia Nano-Air above.
Why isn't the Xenon X ranked higher? Its performance slant suits hardcore adventurers well, but the everyday appeal isn't at the same level as the options above. Moreover, the jacket only comes in a hooded version, limiting its utility as a midlayer for activities like resort skiing. It still works great, however, as an outer layer in fall and in mild winter conditions... Read in-depth review
See the Men's Rab Xenon X  See the Women's Rab Xenon X
Weight: 11.9 oz.
Insulation: PrimaLoft Gold Eco (60g)
What we like: Lightweight feel and great for casual use.
What we don't: Will have trouble withstanding serious cold or wet.
Before the Nano-Air there was the Nano Puff. This versatile synthetic jacket is a nice choice for hiking on crisp days, as a midlayer for skiing, and for use around town. Similar to The North Face ThermoBall below, it feels like a lightweight down jacket but with better wet weather performance and a lower price. This combination has made it one of Patagonia's best-selling jackets year after year.
For those deciding between the Nano Puff and the Nano-Air, the former isn't quite as performance oriented with less stretchiness and breathability. And although the Nano Puff also is known for comfort, the shell and lining are more slick than soft. But the Nano Puff's lightweight and comfortable feel have made it extremely popular, particularly for daily use and travel... Read in-depth review
See the Men's Patagonia Nano Puff  See the Women's Patagonia Nano Puff
Weight: 15.5 oz.
Insulation: PrimaLoft ThermoBall (13g)
What we like: The puffy feel of a down jacket.
What we don't: Much heavier than the Nano Puff above.
Synthetic-insulated jackets have long aspired to mimic down, and the popular ThermoBall jacket from The North Face is one of the best efforts yet. Created in partnership with insulation wizards PrimaLoft, ThermoBall technology is an efficient insulator thanks to small round clusters of PrimaLoft thermal fibers housed inside the jacket's baffles. This gives the jacket a look and feel that emulates a lightweight puffy but at a lower cost and with superior performance when wet.
The North Face recently updated the ThermoBall, and the most notable change is its quilting design. The new "bottleneck" pattern greatly reduces the amount of stitching on the jacket, thereby giving it a modest boost in warmth. Unfortunately, the 2019 model is quite a bit heavier than the prior version (in a men's medium, it jumped from 12.7 oz. to 15.2 oz.), so it can no longer compete in terms of weight with the 11.9-ounce Patagonia Nano Puff above. That said, the ThermoBall's smooth styling makes it a strong option for daily wear, and we've found it both warm and comfortable as a midlayer while skiing.... Read in-depth review
See the Men's North Face ThermoBall  See the Women's North Face ThermoBall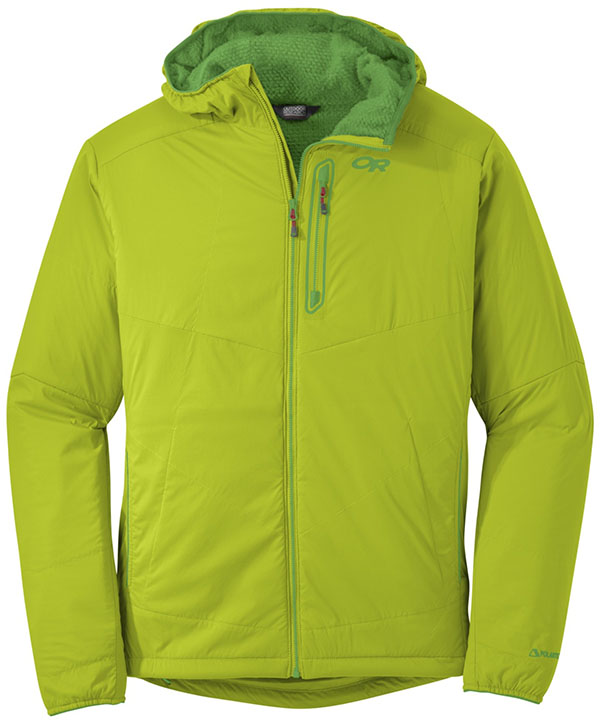 Weight: 13 oz.
Insulation: Polartec Alpha Direct (95g)
What we like: Lighter and less expensive than the Uberlayer. 
What we don't: Open knit insulation is unique and shell fabric is relatively thin.
We were very excited when the Uberlayer was released a couple of years ago, which was Outdoor Research's most competitive performance synthetic jacket to date. But despite the innovative design, it ended up being too heavy (19.9 oz.) and expensive ($299) for our tastes. Enter the OR Ascendant, which was new last year and offers similar upsides as the Uberlayer but with notable improvements. This jacket is excellent is terms of breathability and warmth, but with Polartec Alpha Direct insulation and a less substantial shell fabric, the Ascendant weighs in at just 13 ounces. It's a great active piece for skiing, cold weather hiking and biking, and even travel.
What are the downsides of the OR Ascendant? The exposed Polartec Alpha Direct insulation on the interior has a unique open knit style that is almost yarn like in feel, and the 20D shell is less durable than the Uberlayer (30D) or Winter Ferrossi (90D) below. Moreover, the hand pockets are open and do not have closure systems. This seems like a strange omission for a technical jacket, but one that almost certainly was done in the name of cutting weight. Yet it's hard to argue with the formula here: the Ascendant performs well, is lightweight, comfortable, and looks good to boot... Read in-depth review
See the Men's Outdoor Research Ascendant  See the Women's Outdoor Research Ascendant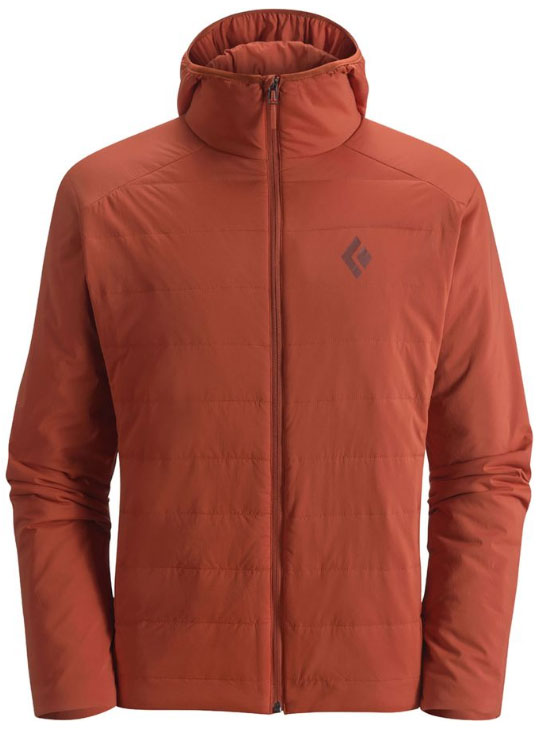 Weight: 18 oz.
Insulation: PrimaLoft Silver Active (60g)
What we like: Tough on the outside and inside.
What we don't: Heavier than the jackets above.
You knew Black Diamond wouldn't enter the market lightly, and they made quite a splash with the First Light Hoody. We like their heavyweight Stance Belay Parka for cold weather, but the First Light is a much more active synthetic that can be worn in a range of conditions and as an outer layer or midlayer. To be sure, the designers have ski touring and climbing in mind—they call the First Light Hoody an ideal "start-stop" piece and its build and feature set agree.
In the mold of Arc'teryx's Proton line, the First Light has a softshell-like outer that can take some use and abuse. Black Diamond also added a relatively strong nylon liner that should resist wear better than other models (we've looking at you, Patagonia Nano-Air). Sacrifices come with a few ounces of added weight and PrimaLoft Silver Active instead of the more efficient Gold Active like the Rab Xenon X. For casual wear, we prefer the Atom LT or Nano-Air, but for serious backcountry skiers and climbers, the First Light Hoody is a top-notch synthetic jacket... Read in-depth review
See the Men's BD First Light Hoody  See the Women's BD First Light Hoody
Weight: 9.3 oz.
Insulation: PlumaFill (65g)
What we like: Warm, light, and packable.
What we don't: Expensive for a synthetic jacket and has a thin shell.
Few synthetic jackets, if any, have received the hoopla of the Micro Puff from Patagonia. As has been attempted many times in the past, the jacket's PlumaFill insulation tries its best to mimic the loftiness and warmth of down. Patagonia has done an excellent job here, and the Micro Puff lives up to its billing: it's warm, light at just over 9 ounces, well-built, and comfortable. We also like that it packs down small for a synthetic, much like your favorite down jacket would.
Our issues with the Micro Puff are that it's expensive and not super versatile. For $300, you could buy a premium down jacket like the Feathered Friends Eos that is similar in weight but warmer, and there aren't all that many cases where the moisture resistance of synthetic insulation comes into play (we always carry a shell into the backcountry). Additionally, the thin 10D shell fabric makes it the most fragile synthetic jacket on this list and limits its everyday appeal. But we do love the warmth and packability of the Micro Puff, and it's a fun lightweight piece for the right uses. It's worth noting that Patagonia recently announced the new Macro Puff (available in August of 2019,) which will have a much more substantial 135g insulation in the body and 90g in the sleeves... Read in-depth review
See the Men's Patagonia Micro Puff  ​See the Women's Patagonia Micro Puff
Weight: 11.3 oz.
Insulation: Octa Loft
What we like: Noticeably more breathable than the Atom LT and better for high-output activities.
What we don't: Limited warmth and lacking in everyday appeal. 
One knock we have against our top-ranked Atom LT is breathability, which Arc'teryx's more performance-oriented Proton line seeks to remedy. The new and ultralight Proton FL has a thin layer of Octa Loft insulation, providing that small dose of warmth when a baselayer alone just won't cut it. As expected from Arc'teryx, you also get a premium finish and fit, excellent mobility, and a stretchy face fabric that is both comfortable and surprisingly durable. For adventurers on the go, this sleek and streamlined synthetic jacket is a nice option. 
Why is the Arc'teryx Proton FL ranked here? At the end of the day, it's a specialty piece designed for high-output activities such as climbing, biking, hiking, running, and cross-country skiing. But with barely-noticeable insulation and air-permeable fabric, it's not very warm or weather resistant (it's certainly not an everyday jacket like the Atom LT or many other models on this list). And for $259, the Proton FL is a fun option if you can afford it, but the lack of versatility is real. For those who want similar breathability with more warmth, Arc'teryx also makes the midweight Proton LT ($299 and 14.1 oz.) and burly Proton AR ($349 and 15 oz.)... Read in-depth review
See the Men's Arc'teryx Proton FL  See the Women's Arc'teryx Proton FL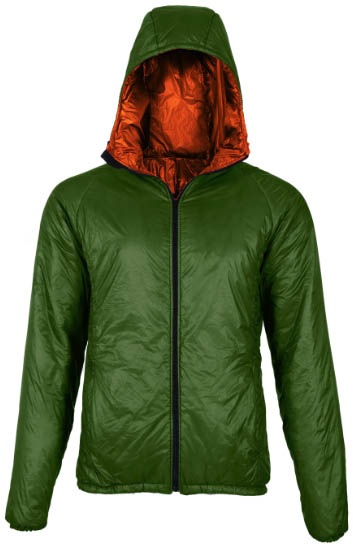 Weight: 8.4 oz.
Insulation: Climashield Apex (65g)
What we like: Ultralight, warm, and reasonably priced. 
What we don't: Lack of storage, no cord adjustment in the waistband, and the jacket takes weeks to ship. 
The majority of the jackets on this list aim to balance performance and casual use, but the Enlightened Equipment Torrid Apex is an outlier. Simply put, this is a true ultralight synthetic-insulated jacket built with serious thru-hikers in mind. It weighs just 8.4 ounces for the hooded version in a men's medium, is filled with 65g Climashield Apex insulation, and has a 10D shell fabric with a DWR finish (to cut even more weight, a 7D fabric option is available). You won't get fancy logos or much in the way of everyday appeal, but the Torrid Apex is beloved by long-distance hikers. 
Another interesting ultralight synthetic jacket comes from Utah-based Nunatak with the Skaha Apex Pullover. The customization options are endless, from back and sleeve length to pockets and the actual amount of insulation (yes, you can customize and differentiate the insulation in the body and sleeves/hood, too). The Nunatak is warmer and heavier than the Torrid and built to handle tougher conditions, and both use continuous filaments for added durability. In terms of competition, that mostly comes from ultralight down jackets like the Mountain Hardwear Ghost Whisperer and various Montbell models, but the Enlightened Equipment and Nunatak prove that synthetic insulation is a real option for hardcore hiking and backpacking.
See the Enlightened Equipment Torrid Apex  See the Women's EE Torrid Apex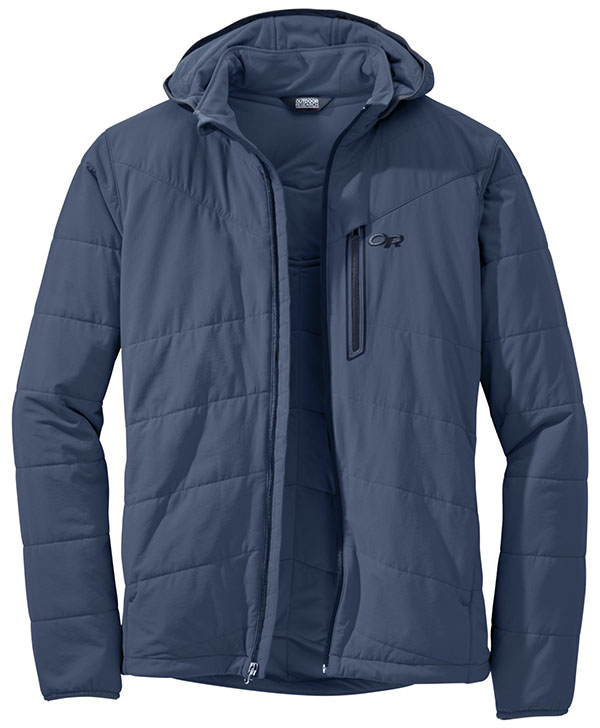 Weight: 28 oz.
Insulation: Thermore (80g)
What we like: Super tough and great range of movement.
What we don't: Heavy and limited packability.
The regular version of the Ferrosi has a cult-like following among climbers and ski tourers for it's combination of comfort, breathability, and the ability to block wind, but in the cold most people throw it over a jacket. Outdoor Research wised up and recently launched the Winter Ferrosi with the addition of Thermore insulation. The result is an absolute beast of a synthetic jacket that is among the warmest and toughest on this list. If you like to head out in the winter without worrying much about the elements, we really like this jacket.
The Achilles Heel of the Winter Ferrosi is bulk. The burly 90D shell and healthy amount of insulation put it among the heaviest on this list and it won't stuff down small in your pack. If you know you will be wearing the Winter Ferrosi most of the time (on a cold weather hike or bike ride, for example), it's a great choice. But for those carrying their belongings in a pack for extended periods, we prefer a lighter and less substantial piece.
See the Men's OR Winter Ferrosi  See the Women's OR Winter Ferrosi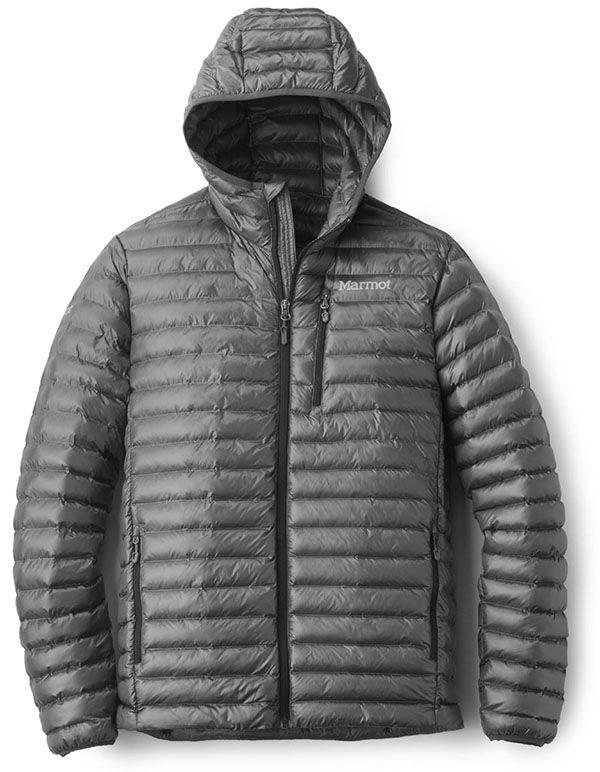 Weight: 17 oz.
Insulation: 3M Thinsulate Featherless
What we like: This isn't a down jacket? Fooled us.
What we don't: Limited breathability and decently pricey.
A number of gear companies keep chasing the dream of mimicking the warmth and fluffiness of down with synthetic insulation, and the Avant from Marmot is one of the best attempts yet. Looking at this jacket, you would be hard pressed to figure out that it isn't a down puffy: the design and baffles look very similar to Marmot's popular Quasar lightweight down jacket. The key is 3M's loose-fill Thinsulate Featherless insulation, which is claimed to offer similar warmth as 700-fill down. Of course, the jacket will outperform down in wet conditions and breathes a bit better too.
Our main concerns with the Avant jacket relate to warmth and breathability. With a total weight of just over 1 pound and using the 700-fill down comparison, the Avant can be a nice outer layer in cool weather or midlayer for skiing, but it's not going to be your cold weather workhorse. Further, the jacket's smooth lining prioritizes weather protection over ventilation and quickly overheats when you're working hard. But this is fine for casual use and a whole lot of fall and mild winter days, and we do really like the Avant's concept and design. It's one of the most convincing down impersonations we've seen to date. 
See the Men's Marmot Avant  See the Women's Marmot Avant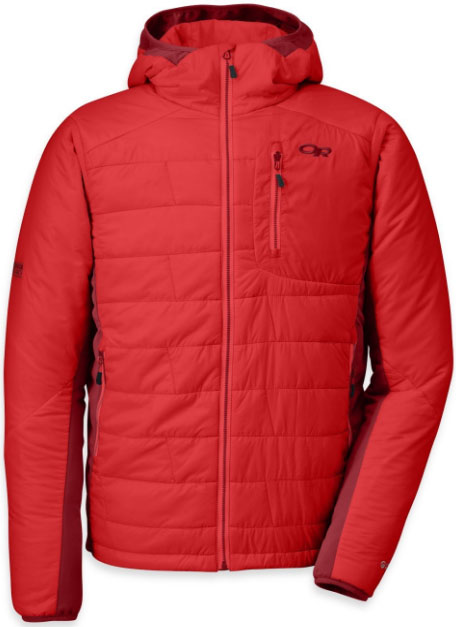 Weight: 13 oz.
Insulation: PrimaLoft Gold (60g)
What we like: A great value.
What we don't: Styling isn't as slick as Arc'teryx or Patagonia.
The Outdoor Research Cathode earns a spot on our list for one main reason: value. Don't mind the $199 MSRP—you often can find the Cathode on sale for as low as half that. If so, the Cathode is all the synthetic jacket that many people need and nothing they don't. You get PrimaLoft Gold insulation along with nice stretchy side panels under the arms that are reminiscent of the more expensive Arc'teryx Atom LT above.
Despite the reasonable price, the Cathode's feature set works well for ski touring, climbing, and backpacking. We don't love the Cathode as much at the full $199 because the build quality and breathability fall short of the options from Patagonia and Arc'teryx above, but on sale it's an awesome synthetic jacket.
See the Men's Outdoor Research Cathode  See the Women's Outdoor Research Cathode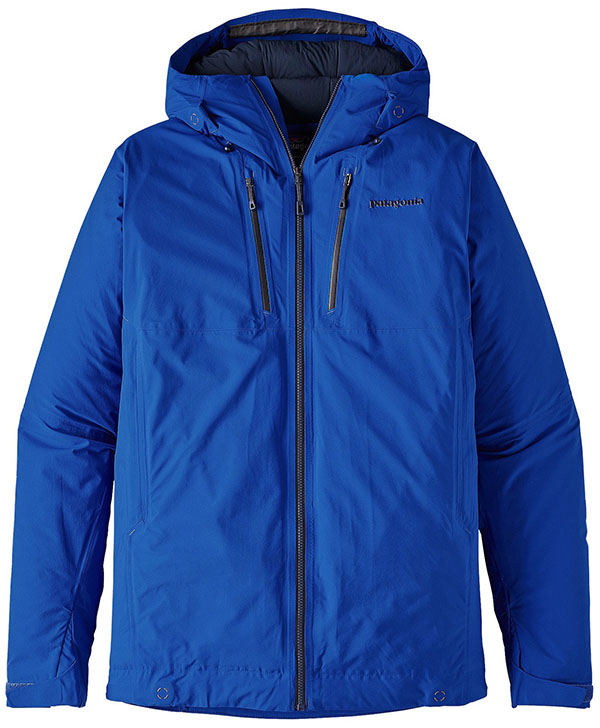 Weight: 20.5 oz.
Insulation: FullRange (60g)
What we like: Waterproof and extremely versatile.
What we don't: Doesn't pack down very well. 
It's difficult to even categorize Patagonia's Stretch Nano Storm, but that's probably a good thing. It's definitely a synthetic, with the same 60g FullRange insulation as the Nano-Air above. And it's legitimately a rain jacket, with Patagonia's waterproof H2No shell fabric. Throw in a significant amount of stretch and a number of alpine-centric features like pit zips and a helmet-compatible hood (alpine, not ski), and you have yourself one heckuva Swiss Army Knife piece that can work for climbing, skiing, and a whole lot more.
The most obvious downside of the Stretch Nano Storm is cost: $449 can get you a very nice down jacket and it's the most expensive model on this list. In addition, the Stretch Nano Storm does not pack down well, which somewhat limits its backcountry appeal. Finally, we like the athletic fit, which is less baggy than a traditional ski jacket, but means that it won't take on layers quite as easily. But for serious adventurers who get out a lot of the winter, the Stretch Nano Storm is a very versatile piece to have in your quiver. 
See the Men's Patagonia Stretch Nano Storm  ​See the Women's Stretch Nano Storm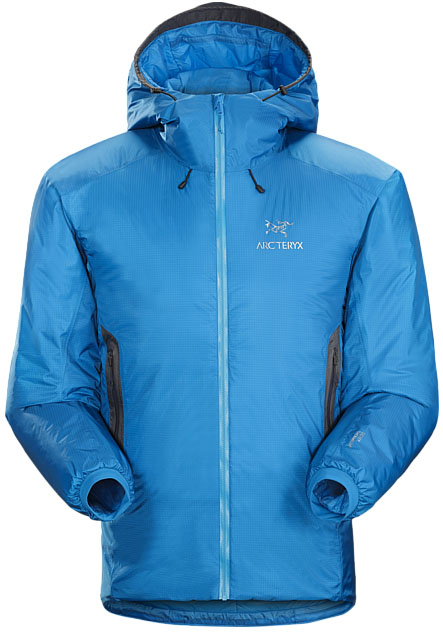 Weight: 16.2 oz.
Insulation: Coreloft (100g and 40g)
What we like: Warm and durable.
What we don't: A two-way zipper would be nice.
Many of the synthetic jackets above fall into the "lightweight" category—they should keep you cozy down to about 40 degrees Fahrenheit (4 degrees Celsius), depending on factors like layering and activity level. Enter the Arc'teryx Nuclei AR, which offers considerably more warmth along with impressive breathability and water resistance. It's a true midweight synthetic for those who want more warmth than the Atom LT but the same level of Arc'teryx quality.
Calling the Nuclei AR just a belay jacket would be limiting. Our testers have used it for backcountry skiing, winter hiking, and ice climbing, among other things. The jacket sheds water and moisture well and packs down quite small for the warmth it provides. In terms of durability, we put it through the wringer and have had no issues. All in all, it's a Swiss Army Knife synthetic jacket for cold and wet winter conditions... Read in-depth review
See the Men's Arc'teryx Nuclei AR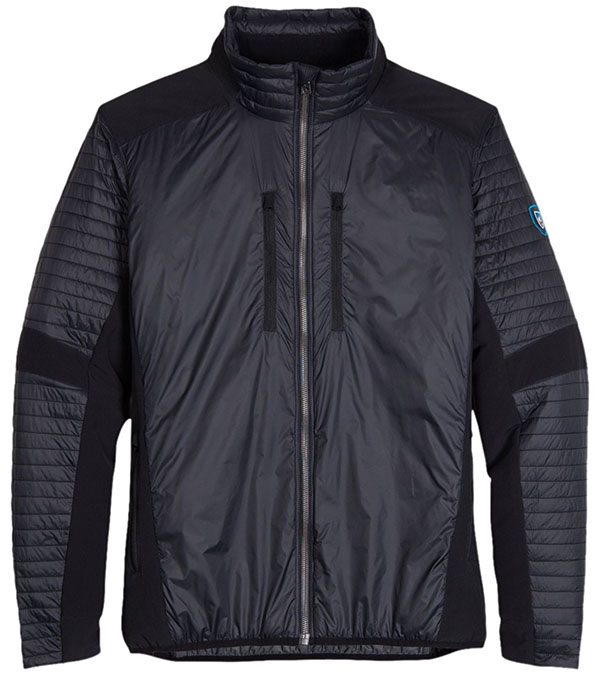 Weight: 17.6 oz.
Insulation: PrimaLoft Gold/PrimaLoft Gold Active (60g)
What we like: Nice crossover appeal.
What we don't: Styling isn't for everyone.
Most Kuhl products are more casual than performance oriented, but the Firefly does a pretty decent job at both. On the surface, this jacket looks sleeker than many of its puffier counterparts above. The nylon fabric on the torso is almost shiny with very small baffles along the arms that don't scream hardcore outdoor use. But when you look under the hood, the Firefly has performance chops too, including high-end PrimaLoft Gold insulation, reinforced shoulders, articulated sleeves, and a good amount of stretch. With its warmth, breathability, and styling, the Firefly can be your outer layer on a cool day and also works as a midlayer under a shell or winter jacket.
As is the case with other Kuhl gear, the styling can be a bit polarizing. You either like Kuhl and it fits your motif, or some people find it to be a little too much. One final consideration: the Firefly is relatively inexpensive at $190 and you shouldn't expect it to last forever under heavy use. Kuhl build quality can vary, and although the shell fabrics on the Firefly are sourced from "a superior Japanese mill," don't expect Patagonia or Arc'teryx quality.
See the Men's Kuhl Firefly  ​See the Women's Kuhl Firefly
Synthetic Jacket Comparison Table
Synthetic Jacket Buying Advice
Types of Synthetic Insulation
The shape and texture of synthetic insulation varies significantly. Some are sheet-like in appearance with a continuous filament pattern, creating a buffer of warmth like a blanket. Other newer versions mimic the shape and loft of actual down clusters but with added water resistance. Below we break down some of the most common synthetic insulation types on the market in 2019.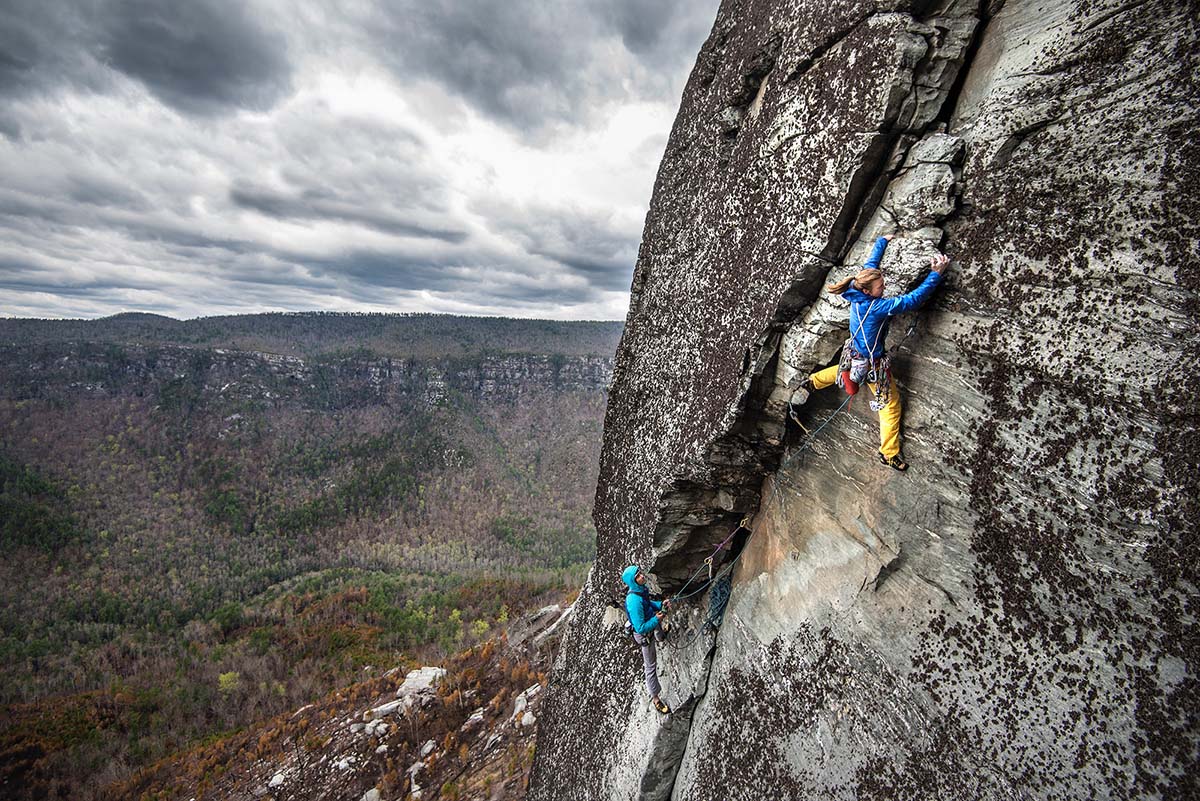 PrimaLoft
Much of the surge in synthetic insulation can be credited to PrimaLoft. It was well known for years that down insulation struggles when wet, but there wasn't a product that could compete in packability and warmth for the weight. PrimaLoft changed that, and the brand became synonymous with lightweight warmth on popular jackets like the Patagonia Nano Puff. The PrimaLoft lineup has increased substantially in recent years, so much so that it's hard to keep track of all the options. PrimaLoft Gold is the current standout, with numerous adaptations within that category (Active, Eco, Luxe, etc.). The company also makes Silver and Black, and all types share core benefits of compressibility, breathability, and good warmth for the weight.

Thermoball
This type of insulation actually is a variation of PrimaLoft, but in a unique application made by The North Face. Rather than a flat sheet of insulation, Thermoball uses PrimaLoft synthetic in clusters to mimic down insulation. It does a really nice job of doing this, with heating efficiency equally a claimed 600-fill-power down jacket. It's also decently compressible and lightweight, which has made The North Face Thermoball jackets a popular choice for hiking, skiing and travel—not to mention for daily wear.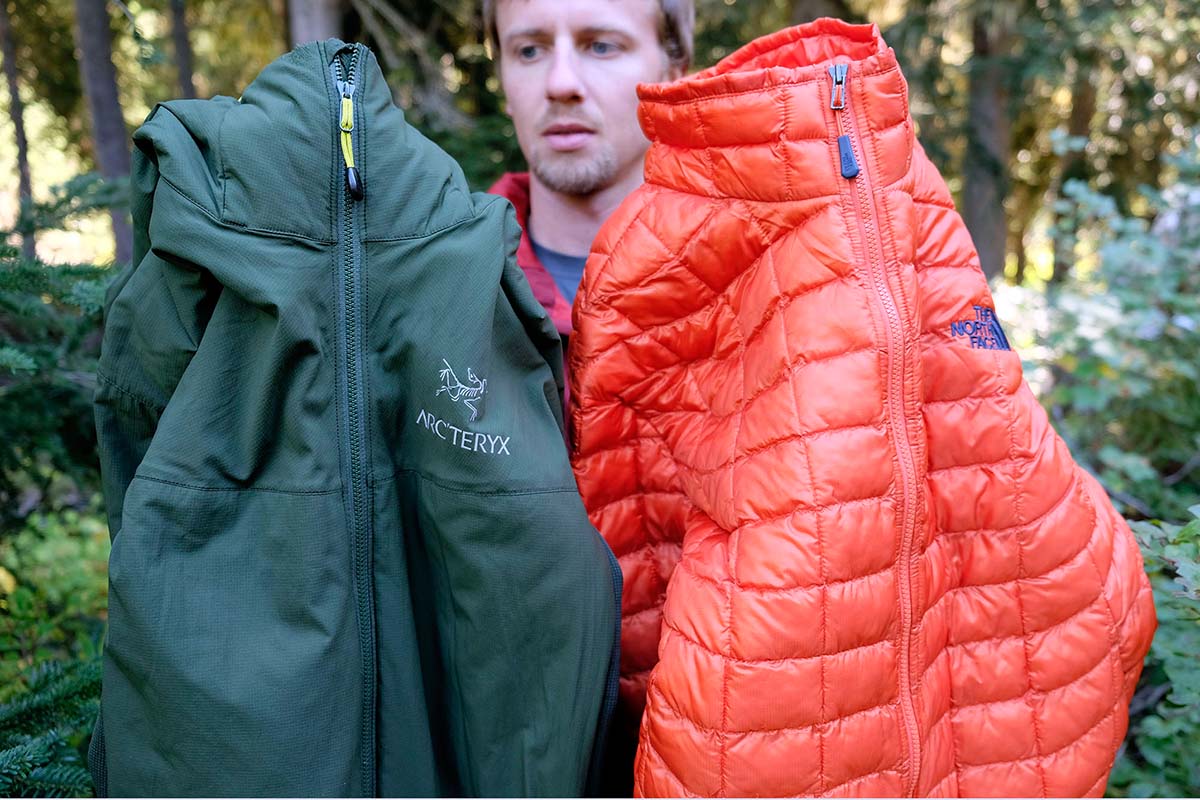 Coreloft
Most proprietary synthetic technologies are decent, not top performers, but Arc'teryx has a real winner in their Coreloft fill. Found in everything from their all-world Atom LT jacket to areas vulnerable to moisture in their creative down/synthetic hybrid Cerium LT, Coreloft is a staple for lightweight, hydrophobic warmth. Arc'teryx are purists in that they don't buy into hydrophobic down, and their consistent use of synthetic insulation in insulated wet weather gear is a testament. This past year they've expanded the line to include Coreloft Continuous, which stacks up well to FullRange and Polartec Alpha in terms of breathability.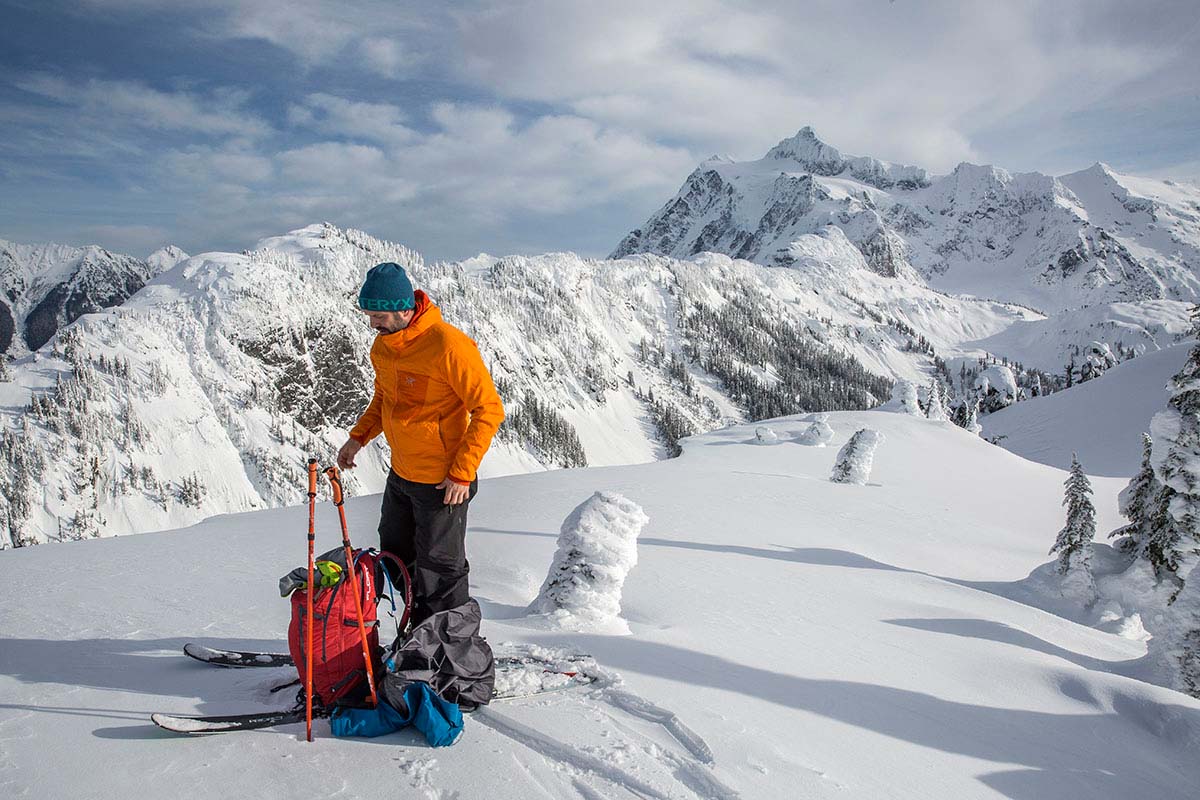 FullRange and Polartec Alpha
Although they are different brands, FullRange by Patagonia and Polartec Alpha are direct competitors in performance synthetics. They share a common goal: high breathability for high-output activities. And they're both quite successful at it, despite having slightly different technologies. The downside of both types of insulation is they don't keep you as warm when you're not moving. More air moving through the insulation means less heat retention. We recommend FullRange and Polartec Alpha for activities like climbing, ski touring, and light mountaineering when you're most prone to overheating.

Ventrix
New synthetic technology often gets a lot of hype, but The North Face delivered with the Ventrix. Released last year, Ventrix has a lot in common with Patagonia's FullRange used in the Nano-Air: it's stretchy, warm, breathable, and extremely comfortable. The North Face plays up the tiny pores in the insulation, which are designed to stretch and open during movement and close during inactivity for added warmth. It's hard to confirm or deny the role that the pores play, but we really like Ventrix overall and the Hoodie quickly has become one of our go-to jackets.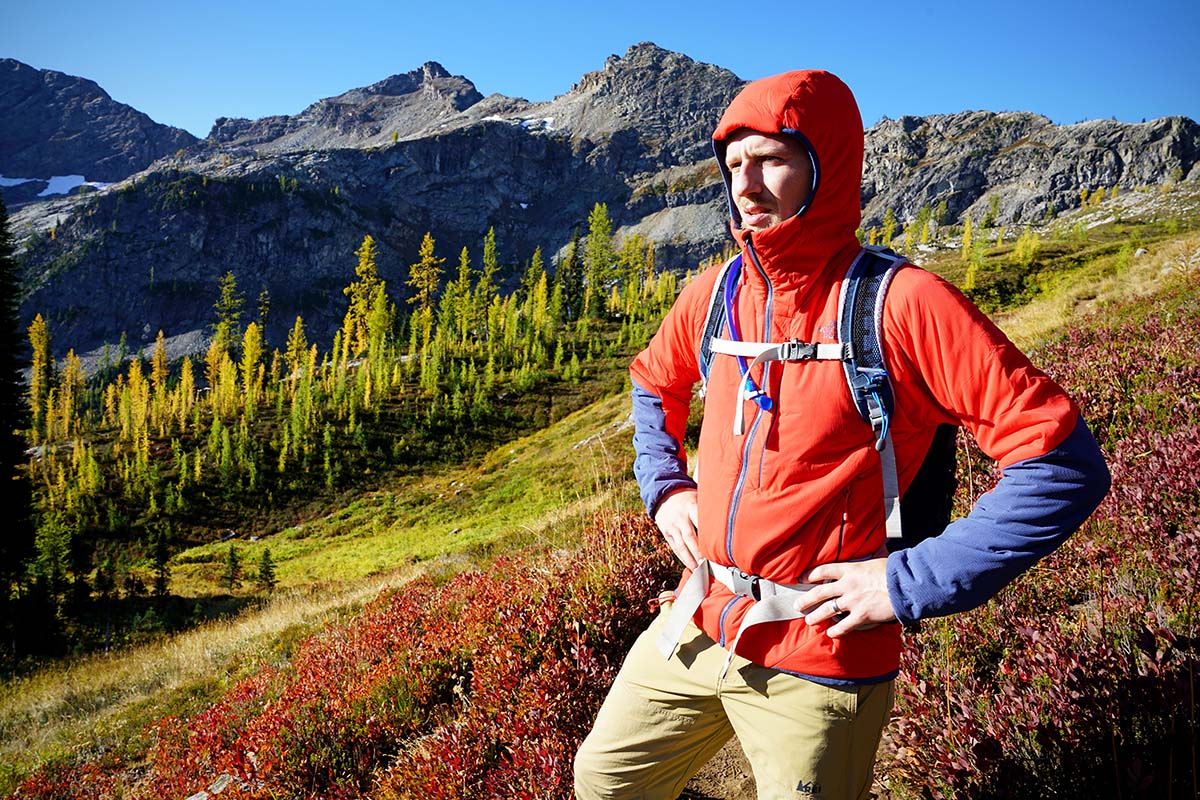 PlumaFill
Another big synthetic jacket release was Patagonia's Micro Puff jacket, which uses PlumaFill insulation. We'll start by saying that we were impressed with PlumaFill—Patagonia claims it offers the best warmth-to-weight ratio of any jacket they've created, down or synthetic. That's a tall order, but PlumaFill certainly is among the lightest, warmest, and most packable synthetics on the market in 2019. It's worth noting that Patagonia currently only uses PlumaFill in its Micro Puff, which we like but is a backcountry-focused piece with a thin 10D shell. We hope Patagonia continues to use this unique insulation type in other pieces in the future.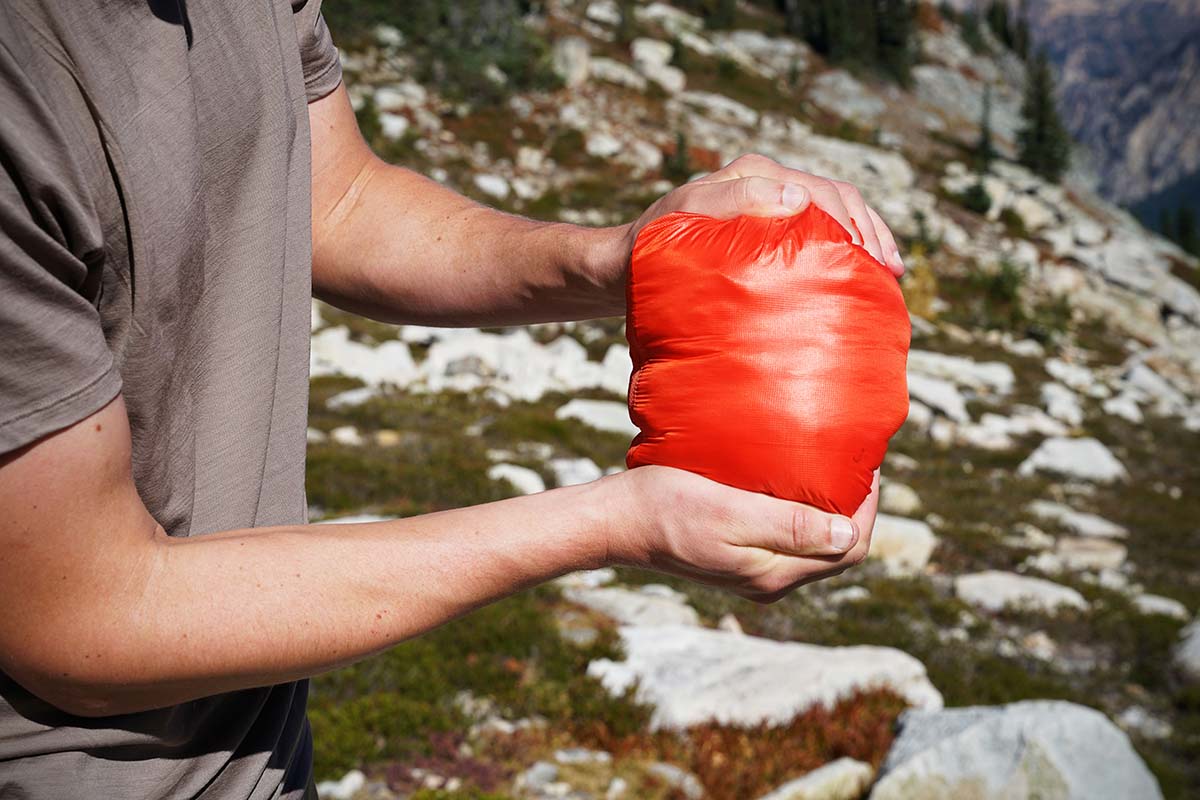 Water Resistance
The single biggest selling point of synthetic fill over down fill is that it retains its ability to insulate when wet. With a down jacket, prolonged exposure to rain or snow will eventually lead to soaked feathers, causing them to lose their loft and warmth-creating potential. Even new hydrophobic down technologies eventually give in to sustained moisture. A wet down jacket is heavy, won't keep you warm, and takes much longer to dry out than a synthetic one. Synthetic insulation resists moisture and water instead sits between the fibers, allowing them to retain their shape, continue to insulate, and dry more quickly. The degree to which synthetic insulation resists water varies by type, but all synthetics repel moisture much better than down.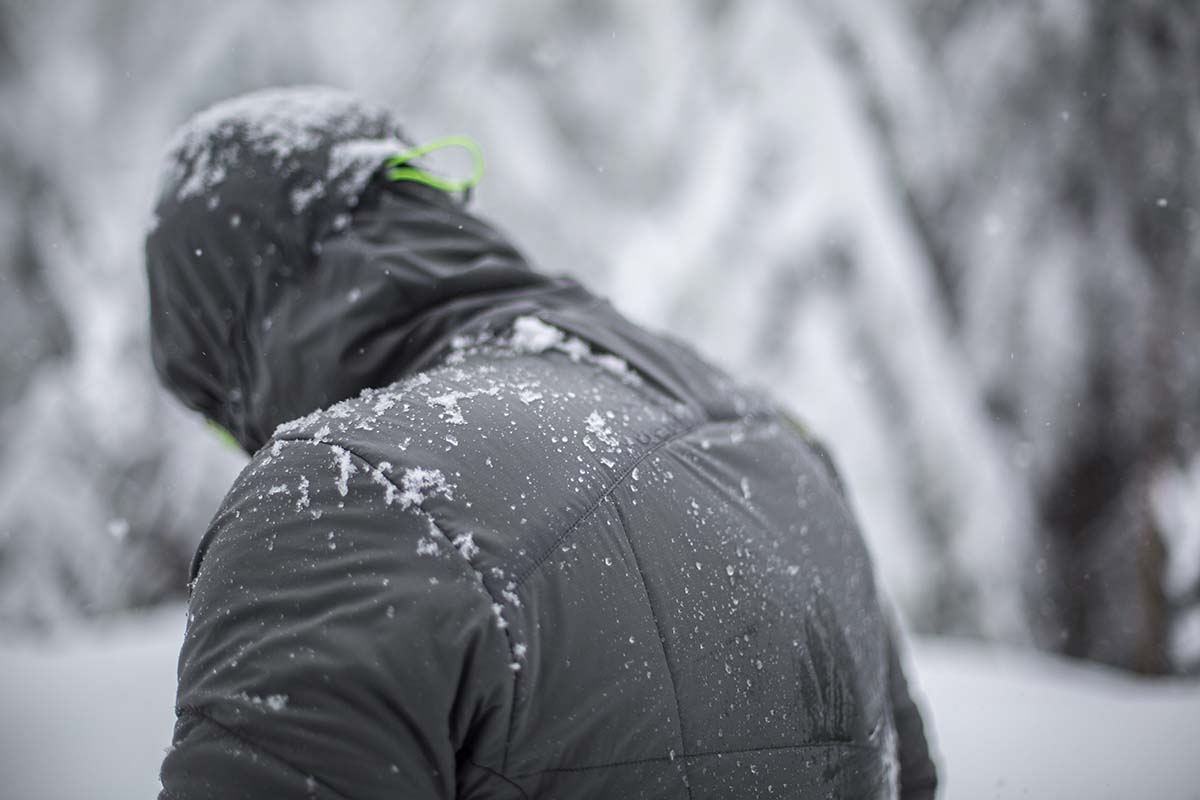 On both sides of the aisle, gear manufactures are commonly adding a DWR (Durable Water Resistant) treatment to insulated jackets. This helps water bead off the shell instead of collecting and eventually soaking through to the interior of the jacket. DWR treatments do a pretty good job at repelling light to moderate precipitation, but by no means waterproof the jacket. Synthetic jackets do a much better job than down in wet conditions, but for prolonged exposure you will want to consider a rain shell.
 
Warmth
Synthetic insulation creates less warmth for its weight than down. For example, you can expect that a 12-ounce down jacket will be noticeably warmer than a 12-ounce synthetic jacket. However, synthetics still do a pretty respectable job in this department and are only getting better. Gear manufacturers continue to innovate with new and improved "down-like" synthetics hitting the market year after year.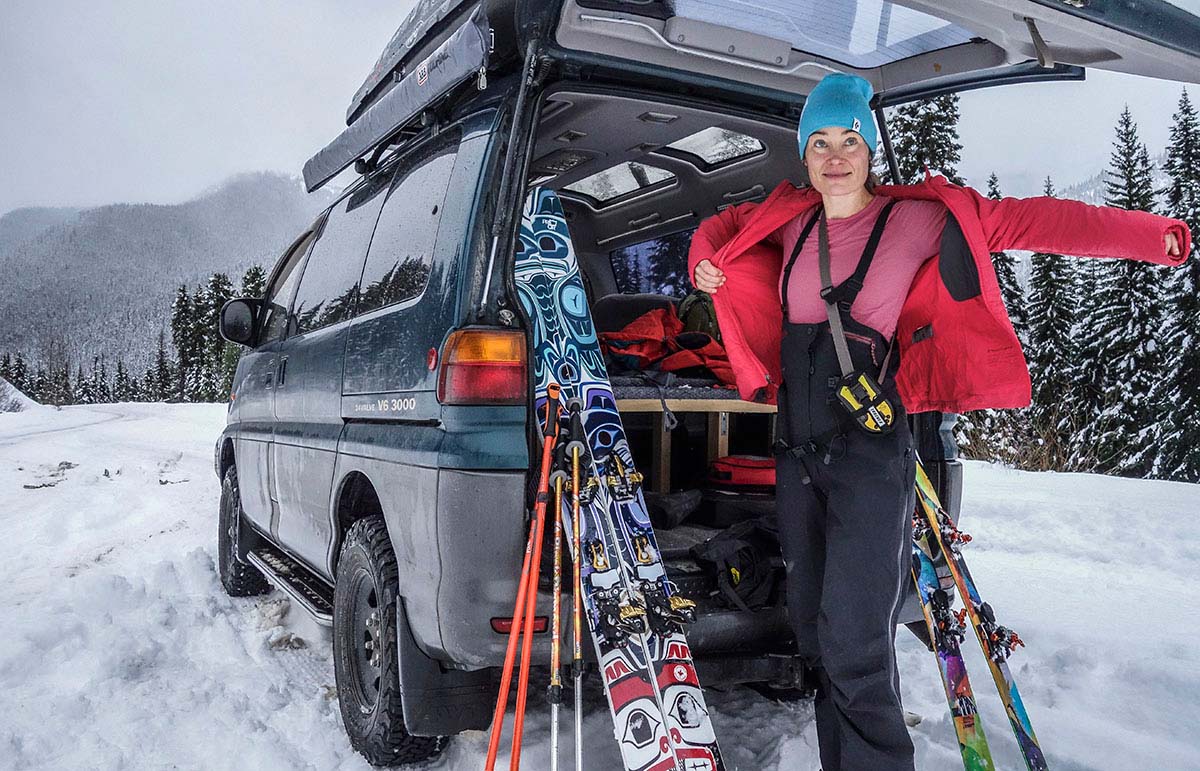 There is a significant amount of variation in the warmth of our synthetic jacket picks above. Popular models like the Patagonia Nano Puff, The North Face Thermoball, and Arc'teryx Atom LT fall into the lightweight category; all weigh around 12 ounces and are designed for cool weather fall and spring use. Jackets like the Black Diamond First Light weigh approximately 20 ounces and are more midweight pieces. For freezing winter conditions, parkas like the Arc'teryx Nuclei AR and Patagonia's upcoming Macro Puff are true winter-weight synthetic jackets. And although these jackets are quite warm, the vast majority of our picks for the best winter jackets have down fill.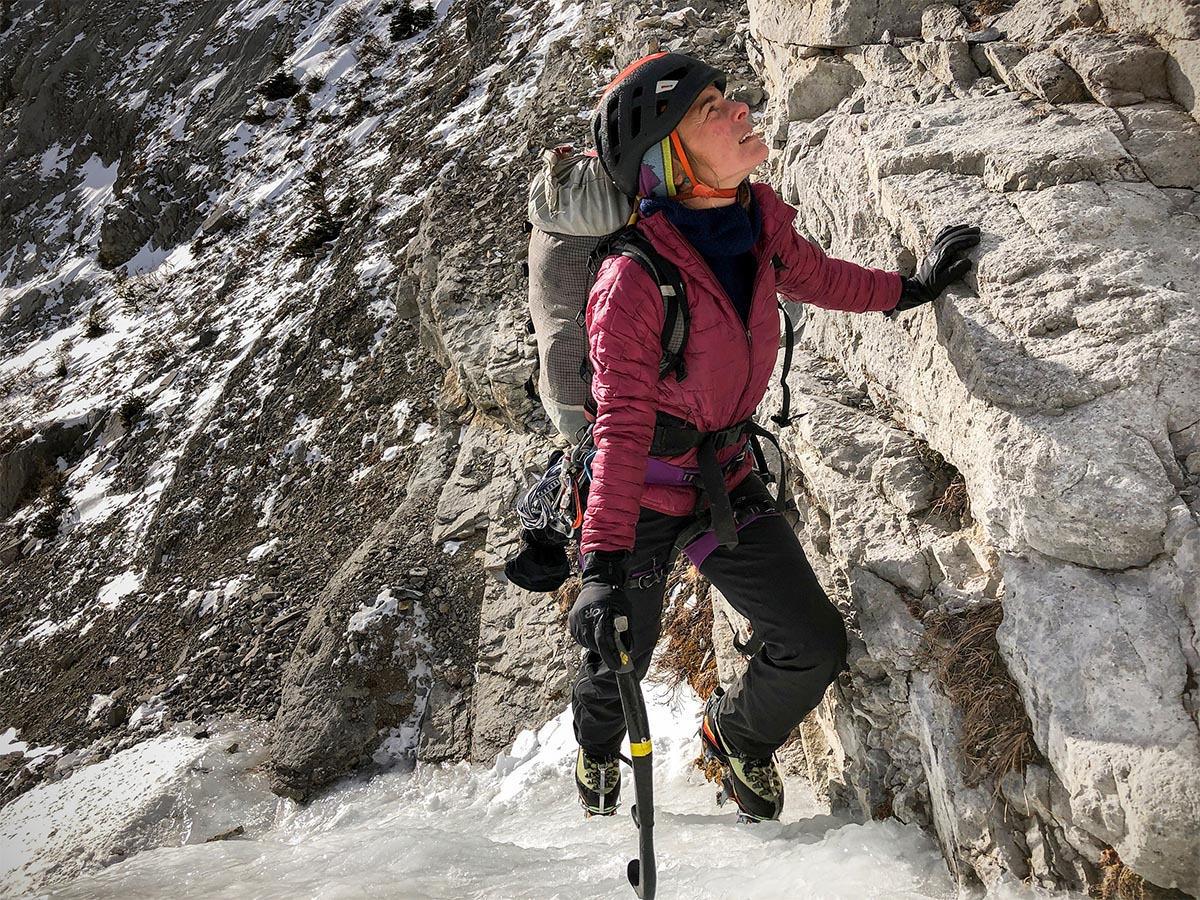 It's tough to gauge exact temperature ranges as comfort is relative and depends on factors like layering, humidity, and even the age and circulation of the person wearing the jacket, but our estimates are as follows: lightweight synthetic jackets are great for temperatures from around 40 to 65 degrees Fahrenheit with little in the way of layering (you can buy yourself some more warmth by adding a cozy baselayer). Midweight jackets can take you down to about 20 degrees Fahrenheit, particularly if you're active and getting some blood flow. Heavyweight parkas can handle the toughest conditions down to well below freezing.
 
Breathability
Down fill has relatively average breathability, and given its warmth-to-weight ratio, a down jacket can cause you to overheat during high exertion activities. Further, when you are sweating inside a down jacket, you are actually hurting its insulating properties as your water vapor comes into contact with the down feathers.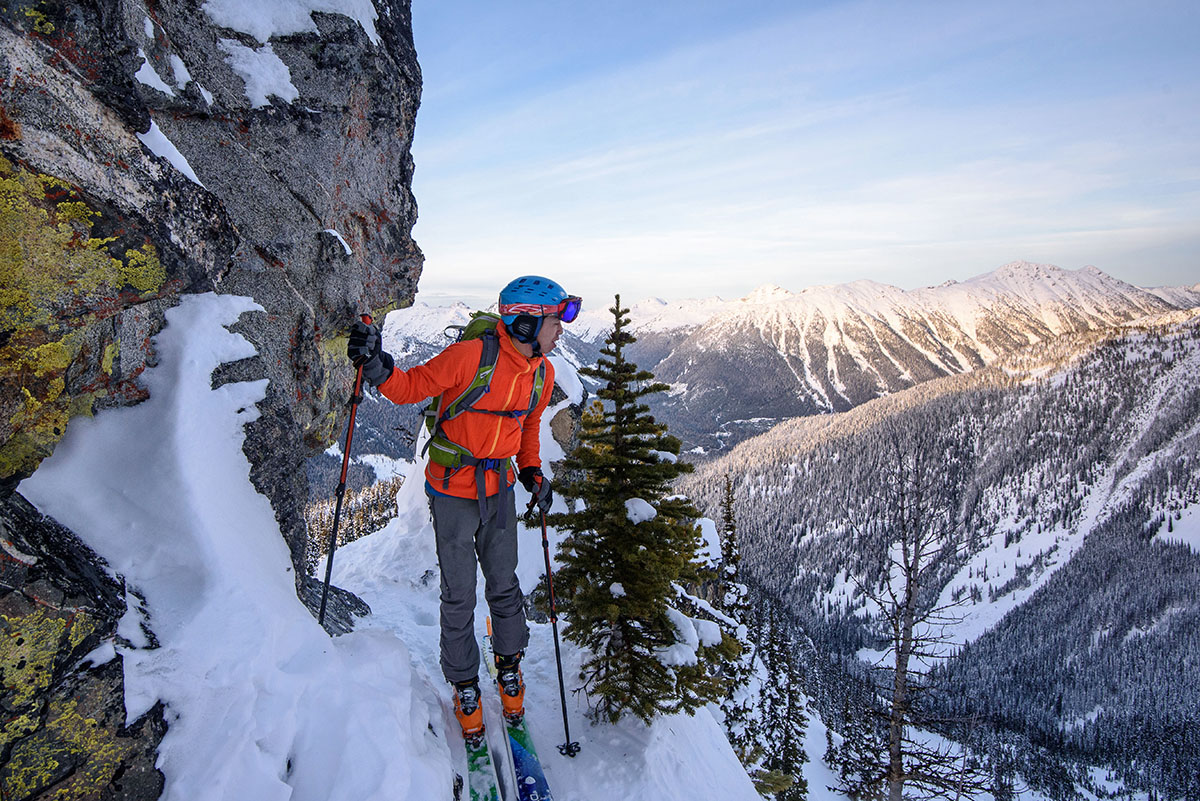 In terms of synthetic insulation, breathability varies but newer breeds are really excelling in this category. For example, the FullRange insulation on the Patagonia Nano-Air is extremely impressive in terms of its breathability and we've loved it as a piece for activities like winter running and cross-country skiing. The Outdoor Research Ascendant and its Polartec Alpha insulation is another jacket that trumpets breathability. And because synthetic jackets generally are less fragile and less prone to leakage than down jackets, a wider variety of breathable shell fabrics can be used.
If the purpose for your jacket involves movement, the Nano-Air and Ascendant are great choices and will far outperform down. Some other types of synthetic insulation like standard Coreloft and PrimaLoft don't breathe as well as those performance jackets, but their hydrophobic nature, which helps pull moisture away from the fibers, means they remain a better choice as active wear. And the parkas on this list are meant for belaying or hunkering down in cold weather, not for highly active use.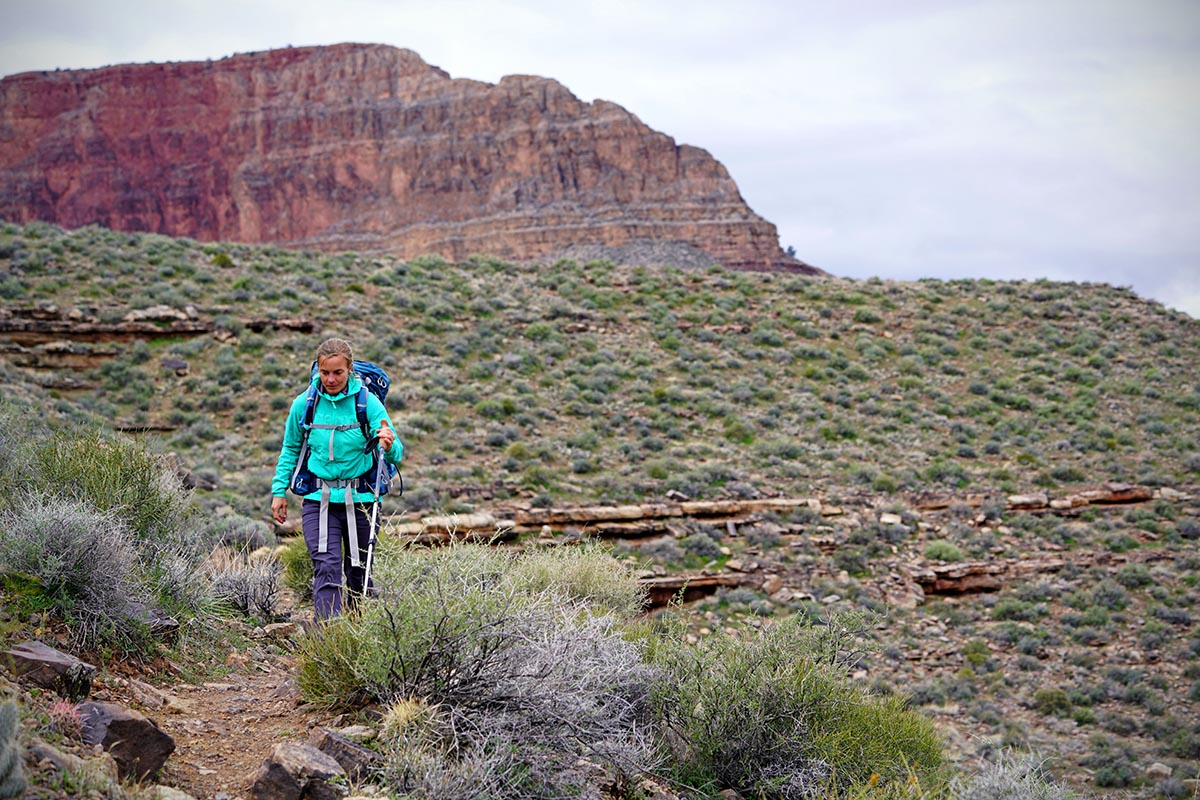 Packability
Unfortunately synthetic insulation doesn't compress as tightly as down (along with warmth, this is one of its big selling points). This means that folks like thru hikers and ultralight ounce counters favor down jackets for their ability to stuff down extremely small in the bottom of a pack and bounce back quickly when opened. However, many of the synthetic jackets on this list either pack down into a pocket or have a separate stuff sack that makes them reasonably small. They won't be as small as down in nearly all cases (Patagonia's Micro Puff is one exception), but for casual use and adventuring when space isn't at an absolute premium, synthetics will pleasantly surprise you with their packability.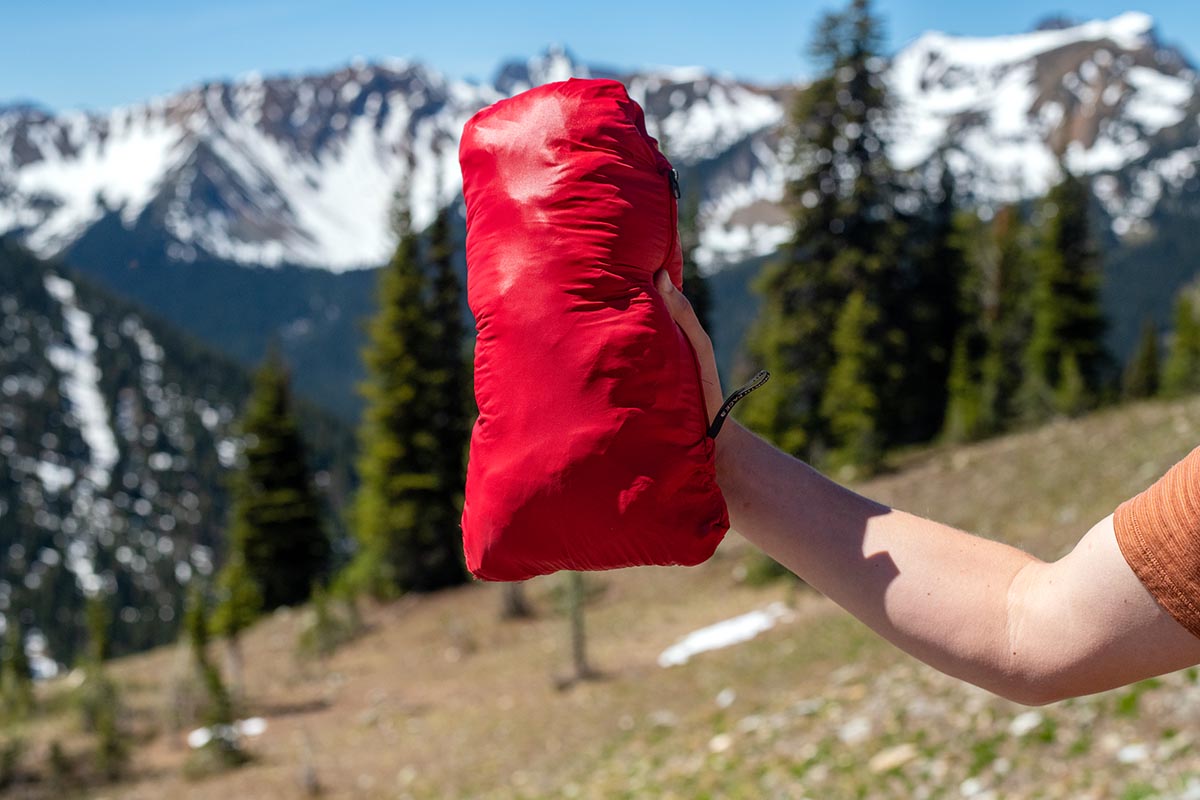 Comfort
Synthetic jackets are comfortable thanks to their ability to regulate your body temperature. They're the kind of mid or outerlayer that you can be wearing out in the cold and not have to immediately peel off as you come indoors. The same is true when used as an active piece. You'll find yourself keeping it on for far longer than an equivalent down jacket.
For example, here in Seattle I often put on a jacket like the Arc'teryx Atom LT or Patagonia Nano-Air when I leave the house and can wear it literally all day. I can walk the dog in 45-degree weather, then move indoors to the office without missing a beat. These synthetics are incredibly comfortable and breathe well enough even for indoor use—you feel like you are wearing your favorite hoody or fleece. If I were to put on a comparable down jacket like the Arc'teryx Cerium LT or Patagonia Ultralight, they would be too warm for physical activity or sitting indoors. So although down undoubtedly is warmer, I save it for uses like backpacking when I really value the warmth-to-weight.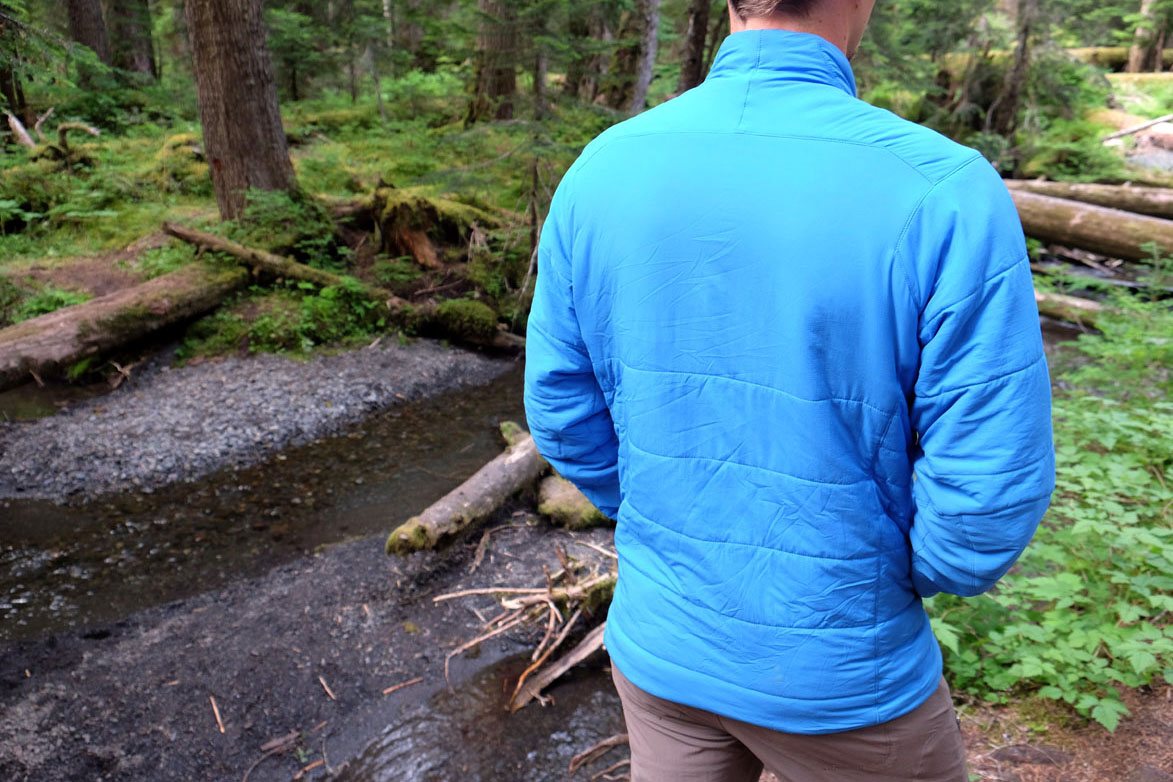 Hood or No Hood?
Many of our top-ranked synthetic jackets are offered in either a hoody or non-hoody style. What's best for you will come down to use: we reach for an insulated vest or non-hooded jacket as a midlayer while skiing or around town, and the hoody is great as an outerlayer or if it's really cold. For stop-and-go cold weather activities like fall hiking, ski touring, or snowshoeing, a hoody is nice to have for keeping you warm while taking a break. Expect to pay $20 to $50 extra for the hoody version of the same piece. A down jacket purchase shares many of the same considerations, and we've covered this question in greater detail in the article: Does Your Down Jacket Need a Hood?
Durability and Care
A great thing about synthetic jackets is that they are easier to care for than down jackets. First, you don't have to worry as much about moisture and they don't lose feathers, meaning that you don't have to be as vigilant about keeping a close eye on your jacket. Synthetic insulation will break down over time, but it's certainly not as fragile at the outset. Second, most synthetic jackets are machine washable and don't require special supplies and care for cleaning. We do not recommend drying your synthetic jacket on high heat no matter what it says on the instructions, but this process goes a whole lot more smoothly than with down.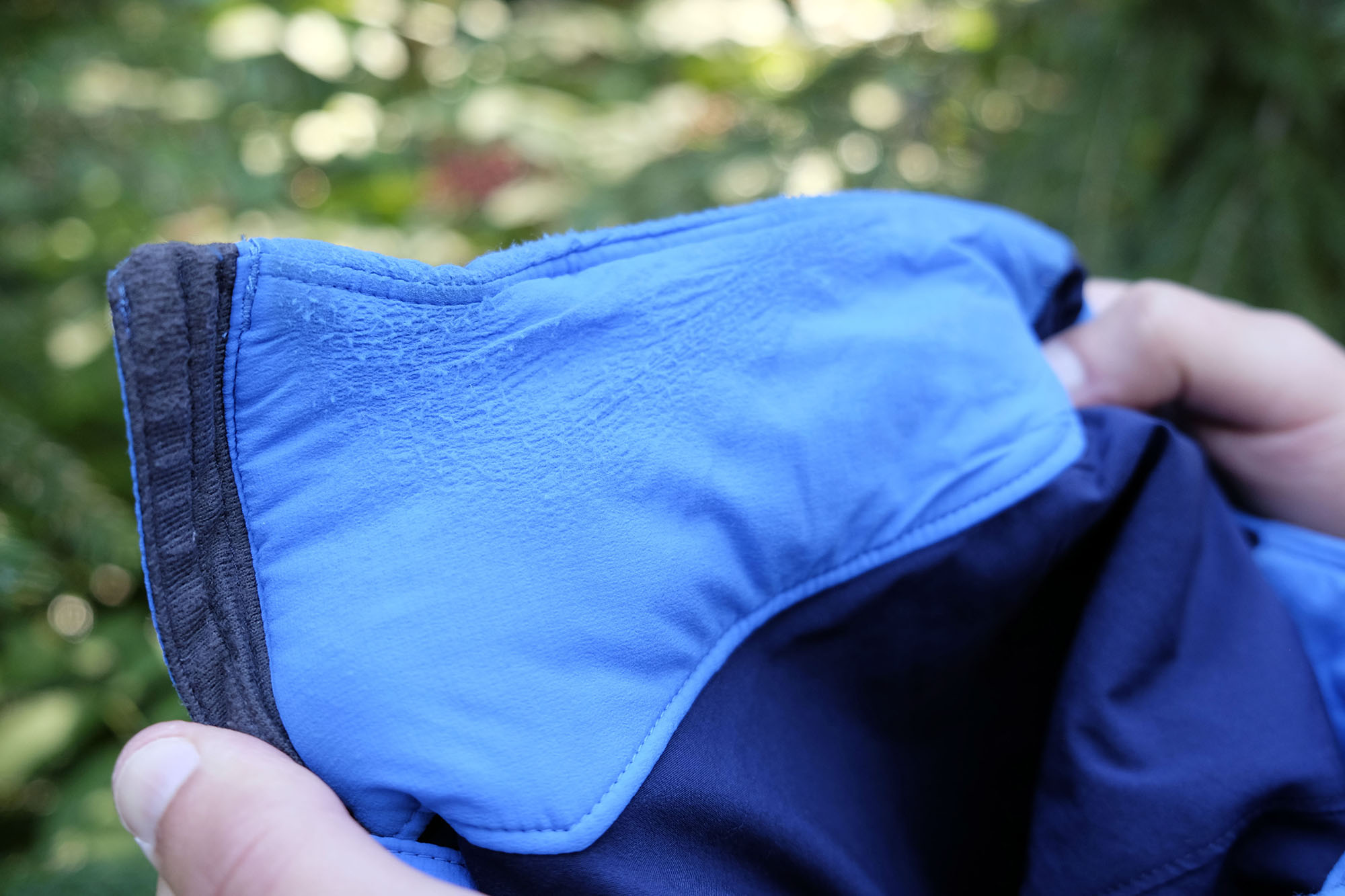 Cost
Last but certainly not least, you get more bang for your buck with synthetic insulation. New synthetic jackets from top brands like Arc'teryx and Patagonia are still pricey, but synthetic insulation is cheaper to produce and this is reflected in the price tag. The cost of goose down has been going up, further incentivizing gear manufacturers to come up with new and sustainable down alternatives. No one has created a true down alternative yet that can replicate the warmth and compressibility, and for these reasons, down remains in high demand and therefore more expensive. Look for the synthetic market to continue to evolve, pushing ever closer to a true down replacement at a lower cost. 
Back to Our Top Synthetic Jacket Picks  Back to Our Synthetic Jacket Comparison Table
Learn More About Outdoor Gear