Synthetic jackets are hot-ticket items these days, and the buzz was particularly strong around Patagonia's Micro Puff. Taking the polyester fill game in a different direction than their Nano-Air, which is a highly breathable performance piece, the Micro Puff sets out to emulate all the benefits of a down jacket. The results are mixed: the hoody is lightweight, packs small, and even has the lofty feel of down, but it falls short in terms of durability and is rather pricey at $299. Below are our experiences with the women's Micro Puff. To see how it stacks up to the competition, see our articles on the best synthetic insulated jackets and best midlayers.
 
---
Table of Contents
---

Performance
Weight and Packability
A jacket must be light to be considered a true down alternative, and the Patagonia Micro Puff Hoody delivers in this regard. The women's model weighs in at 8 ounces (and on our scale, the men's hoody in a medium size is 9.2 oz.), which frankly is pretty amazing. For reference, Patagonia's popular synthetic Nano Puff Hoody is 10.8 ounces, and their top lightweight down jacket, the Down Sweater Hoody, checks in at 13.1 ounces. Widen the field to the larger synthetic market, and it's clear the Micro Puff is in a league of its own—leading hooded options like the Arc'teryx Atom LT (11.3 oz.), Patagonia's own Nano-Air (10.2 oz.) and DAS Light Hoody (9.7 oz.), and Norrøna's Falketind Thermo60 (10.9 oz.) don't come close. To be sure, Patagonia nailed the warmth-to-weight part of the equation.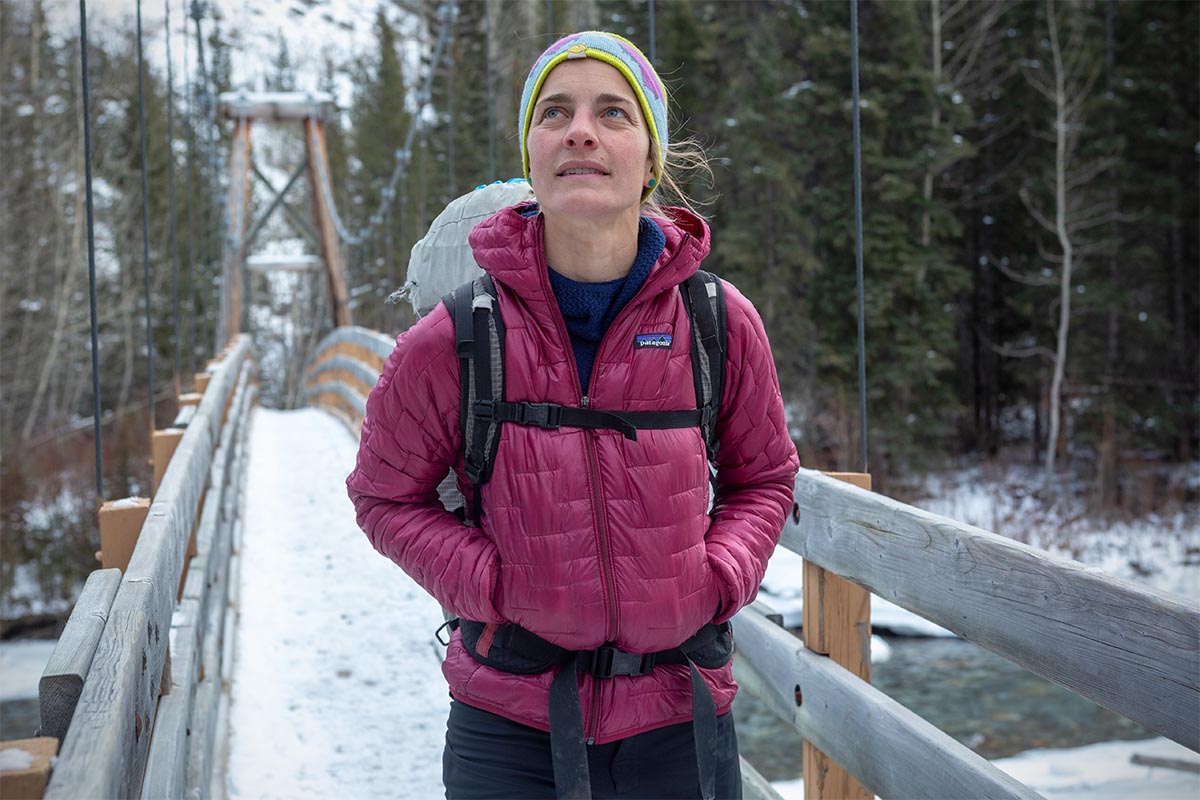 The Micro Puff also wins in terms of packability. The jacket stuffs easily into its left hand zippered pocket and can be scrunched to an even smaller size when squeezed into a loaded backpack or with a compression sack. Its built-in carabiner loop makes it equally convenient to hang on a harness for use as a belay jacket on multi-pitch climbs. Again, the Micro Puff's a standout in the synthetic market where limited compressibility often means that these jackets get left at home on fast-and-light trips. You technically could compress a superlight, premium down jacket to a smaller size, but you're risking damaging the down clusters in the process—and for many, down is just too finicky for mountain environments due to concerns over wet-weather performance. Realistically, the packed size of the Micro Puff should please even the most discerning ULers and climbers.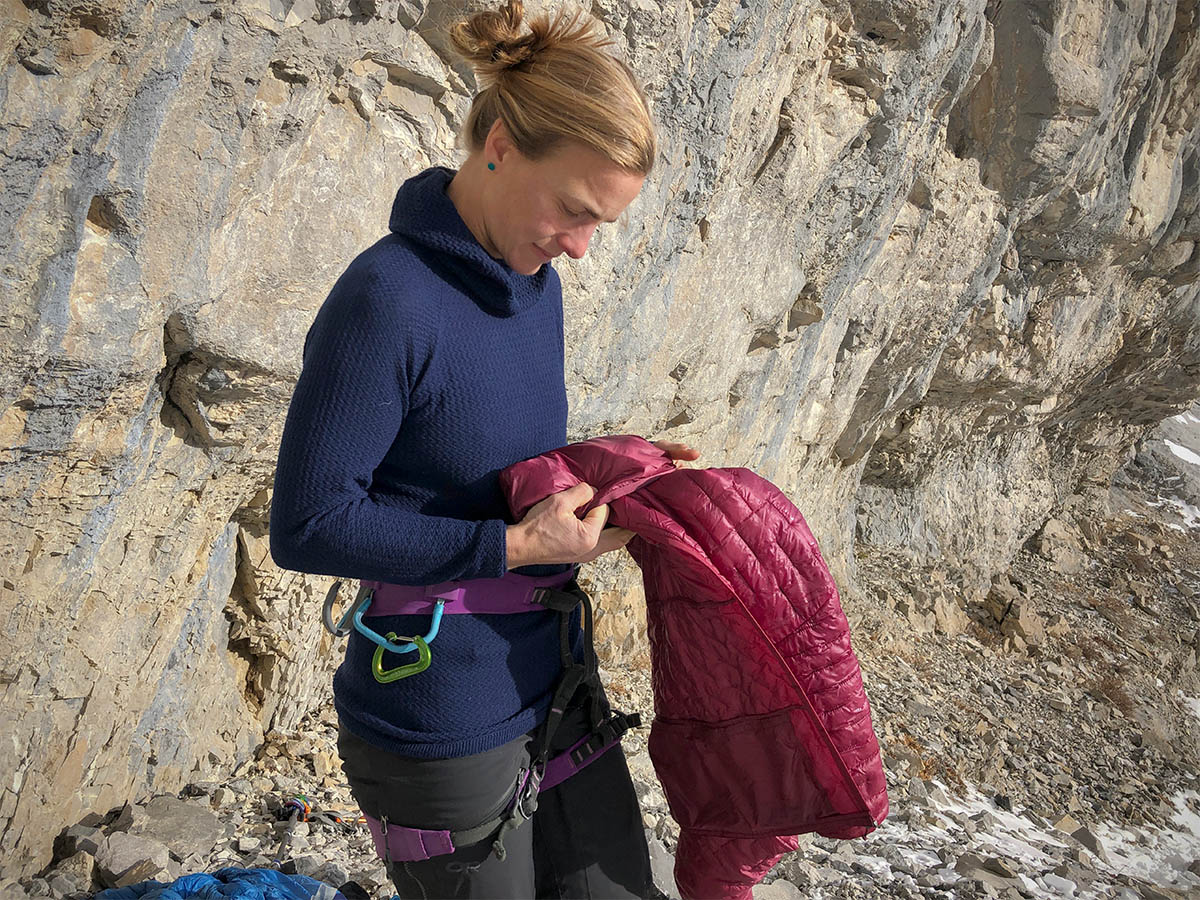 Warmth
Our initial impressions of the Patagonia Micro Puff were very strong, but we were a little less enthused once it came to cold-weather testing. Wearing it back-to-back with a range of jackets, including the The North Face Ventrix, Patagonia's Nano-Air and Nano Puff, and a host of lightweight down pieces, the Micro Puff offered decidedly less insulation. The 65-gram PlumaFill synthetic has the puffy feel of premium goose down or duck clusters, but you just don't get nearly the same cozy warmth. For comparison's sake, we rank the jacket's overall warmth at a little less than the Patagonia Nano Puff, which features 60-gram PrimaLoft. And held up to the standards of down jackets like the Arc'teryx Cerium LT or Feathered Friends Eos, the warmth of the Micro Puff comes up well short.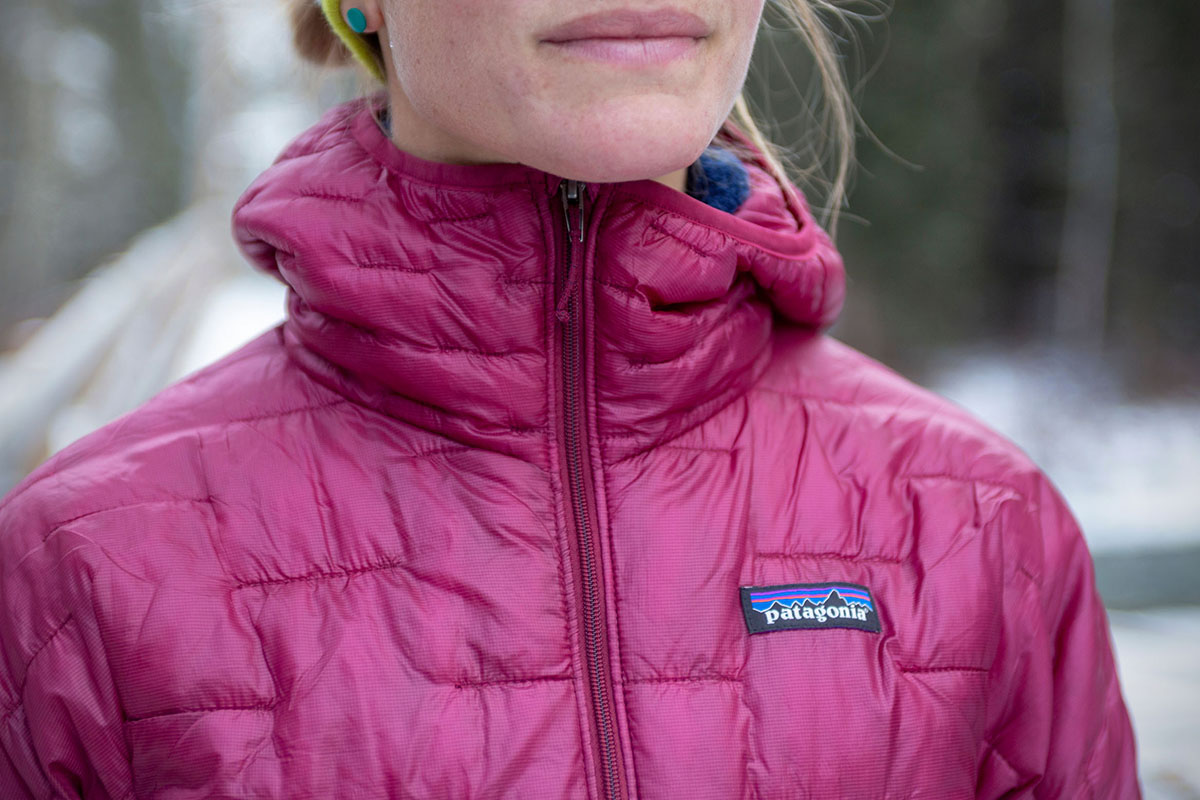 It's always difficult to assign a temperature range for an insulated piece, but we found the Micro Puff kept us reasonably comfortable into approximately the mid 40s Fahrenheit with a thin baselayer underneath. This makes it a suitable option for use around camp on lower-elevation summer backpacking or biking trips, as a belay jacket for summer alpine climbing, and some mild-weather shoulder-season adventures. In theory, you could wear the Micro Puff in colder temperatures when working hard, but for a true leave-it-on active layer, the Patagonia Nano-Air is a far more breathable option. In short, for everything but the most light-and-fast endeavors, we would trade another ounce or two in total weight for a boost in warmth.
That said, fast-and-light endeavors are the bread and butter of the Micro Puff, and the reason for its creation. Despite our qualms about its warmth, it is important to remember that the Micro Puff is dramatically lighter and far more packable than the competition. Quite simply, its warmth-to-weight ratio is unparalleled by all but ultralight down jackets, which are unrecommended for the rigors of wet alpine environments. As proof, we know of experienced climbers whose layering system for the mountains consists of two Micro Puffs (no hardshell or heavier down layer)—a true testament to the jacket's warmth-to-weight prowess, as well as its weather protection (more on this below).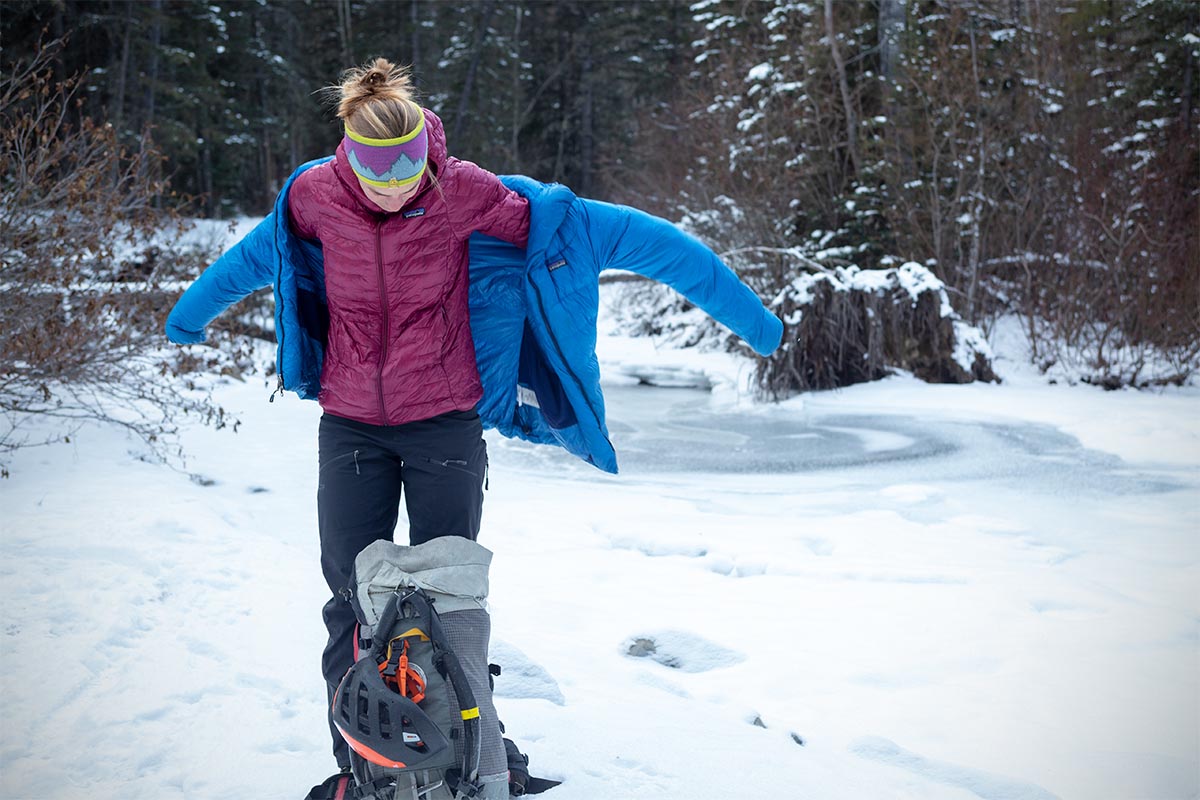 Weather Protection
One advantage of synthetic insulation over down is its ability to insulate when wet. The Patagonia Micro Puff Hoody has a leg up on a down jacket in this respect, and it also includes a shell with a DWR coating that sheds light to moderate rainfall surprisingly well. We even gave the Mirco Puff the shower test and it was quite impressive. The DWR is fresh, so that certainly helped, but we can see why so many brands turn to Pertex fabrics. Wind protection also is strong, aided by the windproof nylon Pertex Quantum, minimalist stitching, and continuous insulation design that limit vulnerabilities for gusts to cut through.
The Micro Puff is not, however, a full-on rain jacket. In heavy rain or on backcountry jaunts, we'd be reaching for a waterproof shell to stay dry whether we were wearing the Micro Puff or a down insulator. But if you like the security blanket of synthetic fill, then this is one of the Micro Puff's biggest upsides over a down piece. It feels like down, yet won't soak up water in the same way.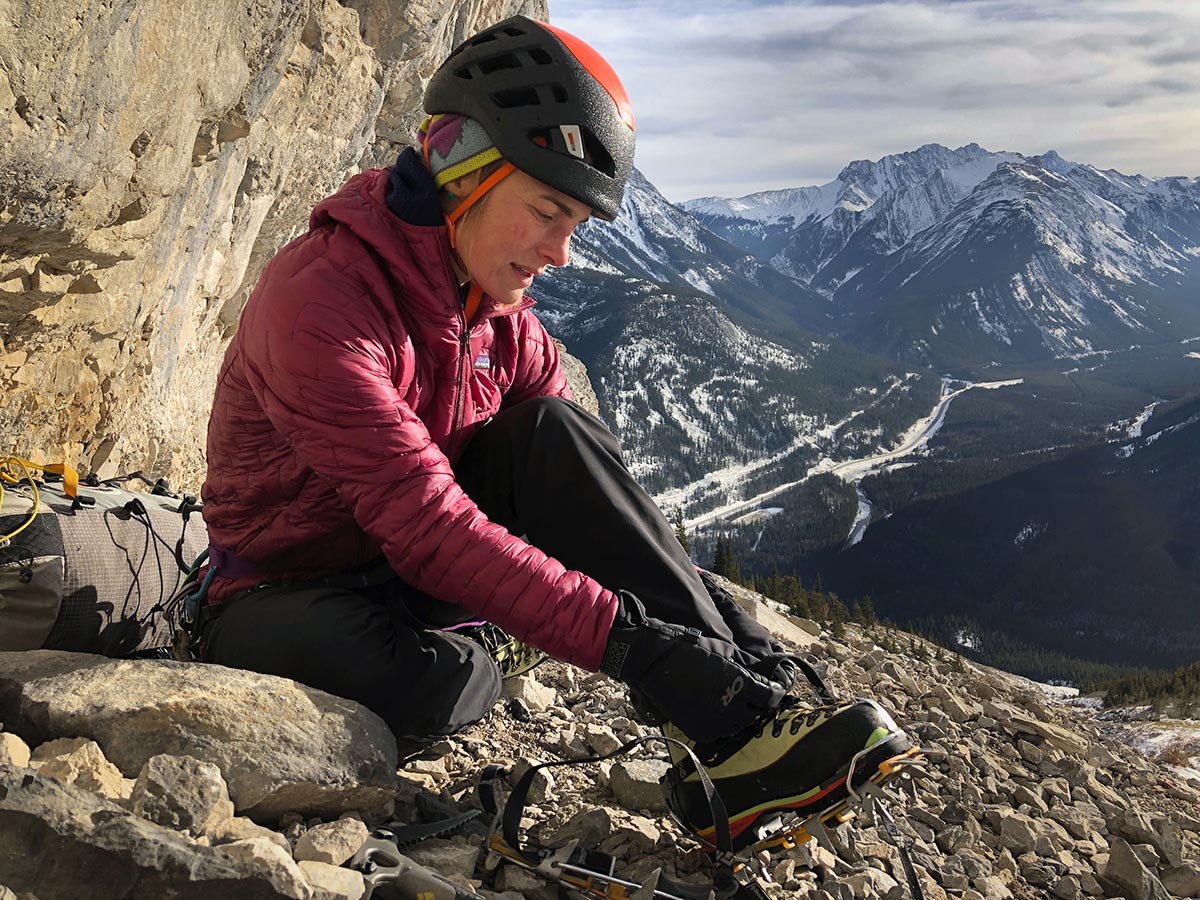 Features: Pockets and Hood
From a features standpoint, we really like the decisions Patagonia has made with the Micro Puff. You get two handwarmer pockets that are comfortable, generously sized, and offer warmth and wind protection, along with two simple drop-in style pockets along the interior. The pockets mirror each other in size and share stitching to keep weight to a minimum. Those that love big chest pockets may be disappointed, and we're honestly surprised Patagonia didn't place the handwarmer pockets a bit higher to make them more accessible while wearing a backpack or climbing harness. Other than those small gripes, we have little else to complain about with respect to storage.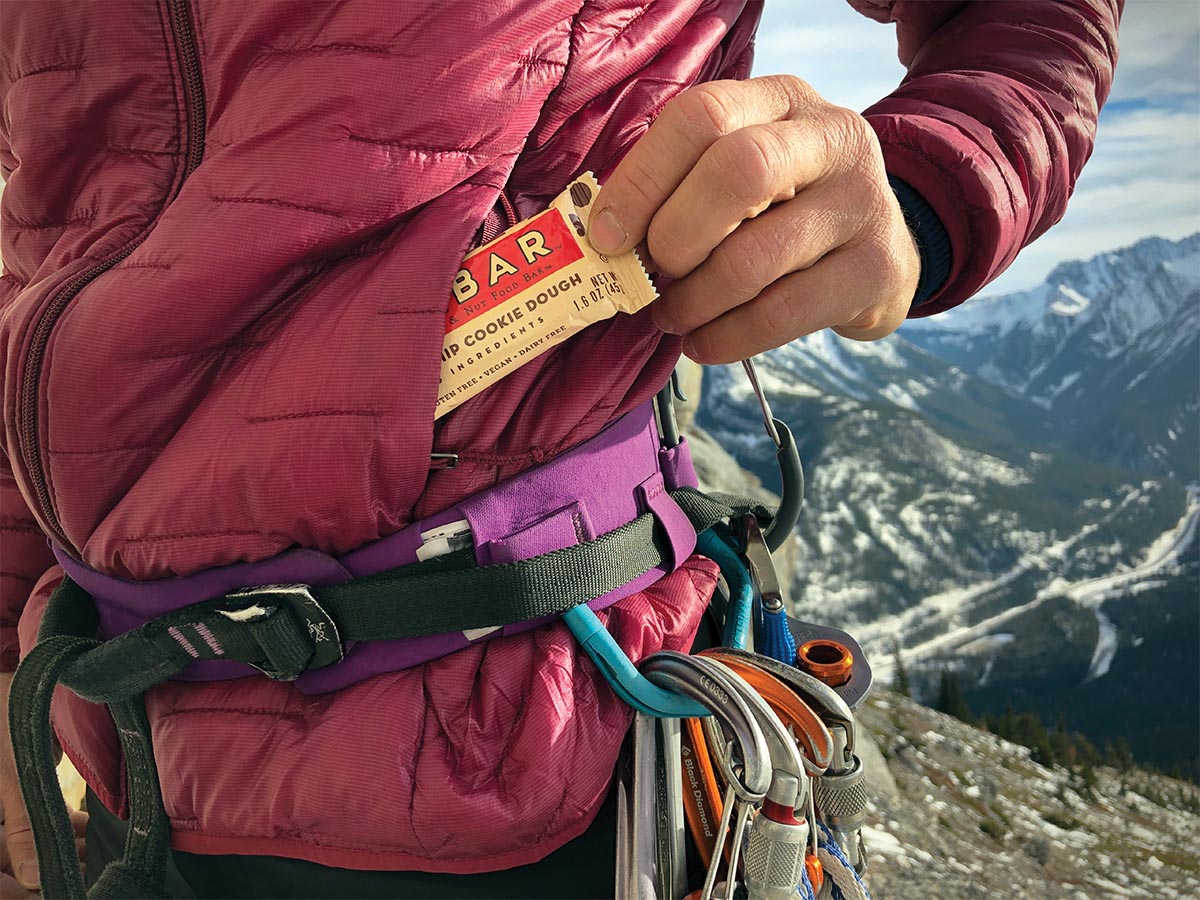 The hood also is functional and thoughtfully designed. While it doesn't include a rear cinch to make adjustments, you get excellent coverage along the sides of the face and top of the forehead, and the elasticized band and tall collar keep everything securely in place. For climbers and skiers, we've found the hood fits nicely underneath a helmet without bunching, and stays in place surprisingly well when stretched overtop a helmet too. Going without a toggle and cord on the hood often is a red flag for windy conditions, but we think Patagonia pulled this off very well.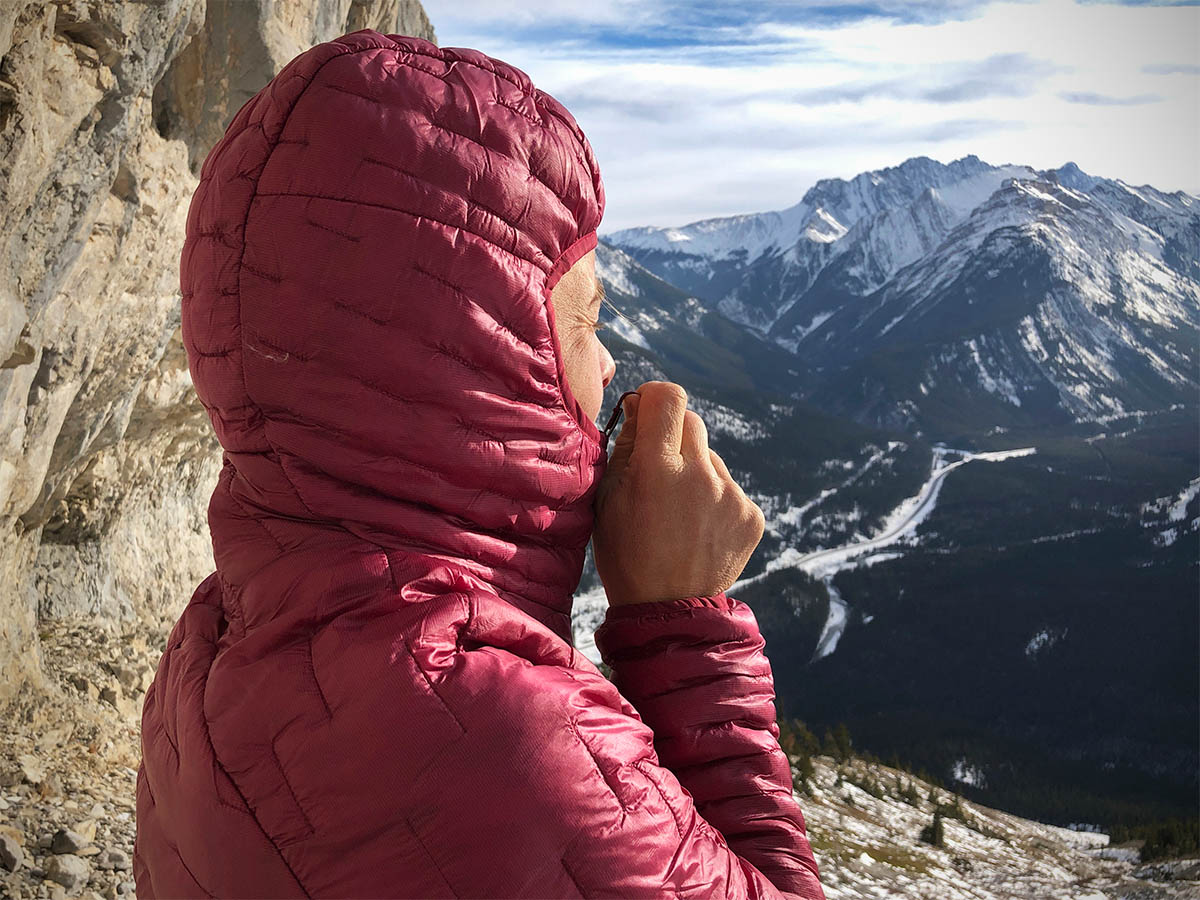 Durability and Everyday Use
Every piece of ultralight gear or apparel compromises in durability, so it shouldn't be shocking that the 8-ounce Patagonia Micro Puff has a thin and delicate shell and lining. We've had varying experiences with this fabric—our hiking testers found the 10-denier Pertex Quantum fabric to be reasonably strong relative to its weight, while our rock climbing tester is convinced that it tears just within the presence of granite. But the proof is in the pudding: after a year of climbing with the Micro Puff, our tester's jacket now sports more than 30 patches keeping the synthetic fill from exiting the jacket's myriad abrasions. As a layer designed for the rigors of alpine climbing, we're overall disappointed in the shell fabric's lack of durability.
We love insulated layers that can be worn every day of the week, but the Micro Puff simply isn't one of them. At first glance, the jacket fits the bill for wearing around town—plenty of storage, smooth and comfortable fabric, good Patagonia looks and comfort, and a nice fit—but upon closer look it is a true niche piece. The limited durability of the paper-thin shell has a large impact on usability, in addition to the concerningly flimsy front zip. Those who don't mind a heavily patched jacket will find no reason to be economical with its use, but for most, this expensive jacket is likely to be kept on a hanger in between backcountry trips.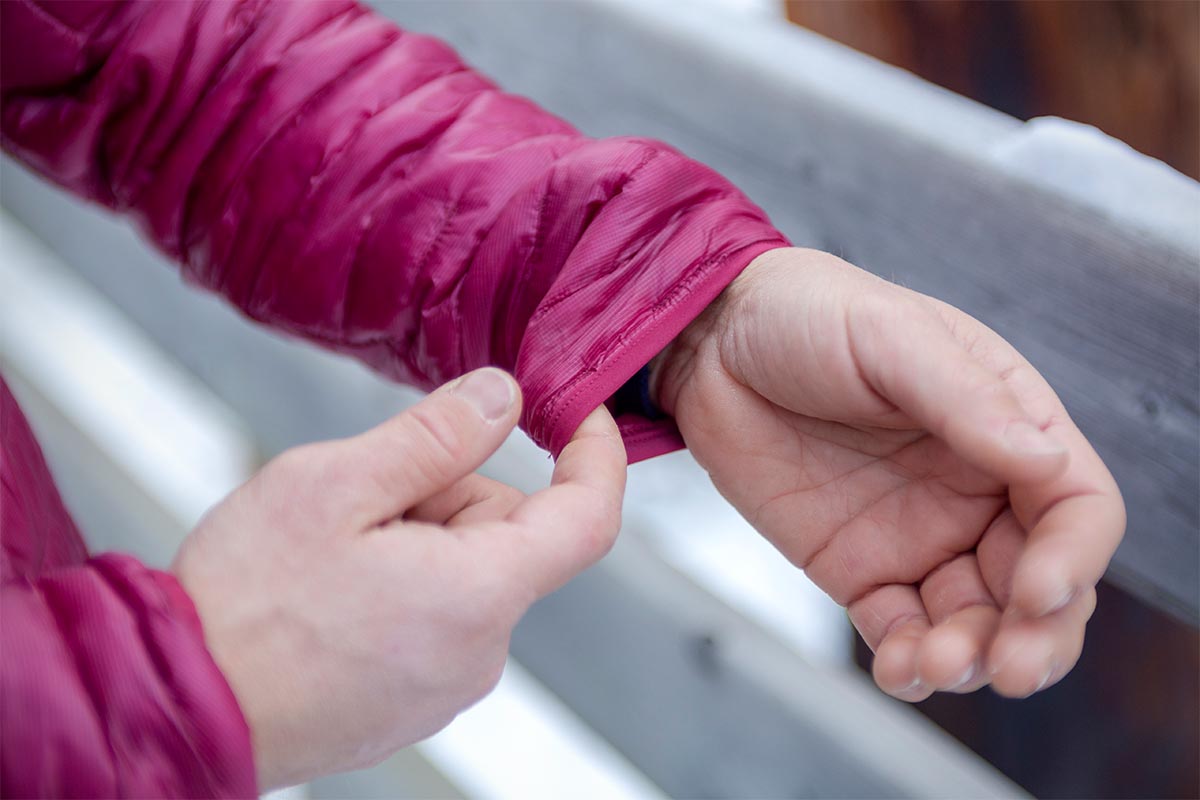 Fit and Sizing
A number of insulated Patagonia jackets leave something to be desired from a fit perspective, but we like what they've done with the Micro Puff. Our two testers got their typical sizes and found the Micro Puff wasn't as bulky in the shoulders or midsection as the Nano Puff or Down Sweater. And while it's not slim like many Arc'teryx midlayers, it hits a happy medium that allows for good range of motion and enough space to wear a thick baselayer underneath. The hem isn't adjustable, but the jacket is plenty long, stays put under a harness, and the stretchy waistband has a lot of give. And as touched on above, the hood is well-designed and provides excellent coverage.

Sustainability
Like much of Patagonia's lineup, the Micro Puff Hoody incorporates sustainability measures that boost its all-around appeal. Specifically, the jacket utilizes 100-percent-recycled materials for the shell, lining, and insulation. It's also bluesign-approved and Fair Trade Certified sewn, indicating that the chemicals used during production are safe and that workers are compensated fairly and have good working conditions. There's certainly room for improvement—including switching over to a PFC-free DWR coating like they did with their Nano Puff—but we appreciate the measures that Patagonia has taken thus far.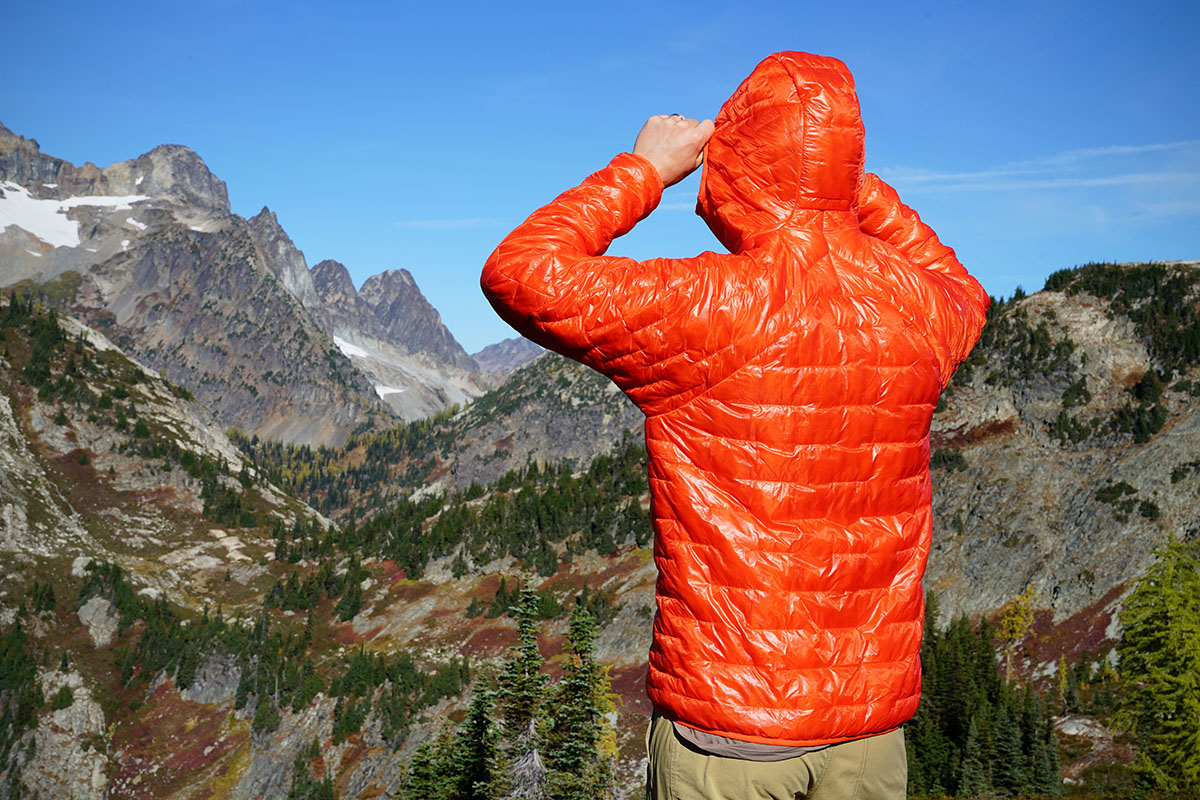 Other Versions of the Patagonia Micro Puff
We tested the women's and men's versions of the Micro Puff, both in hoody form. Patagonia since has expanded the lineup to include an ultralight vest (5 oz. for the women's) and standard, non-hooded jacket (7.3 oz.). All three options are thin at 10D and use 65-gram PlumaFill synthetic insulation for warmth. Of the trio, we think the hoody still makes the most sense considering the Micro Puff's goal of maximizing warmth relative to weight, but the vest and non-hooded jacket are easier to layer under a shell

What We Like
Amazing warmth-to-weight ratio: about 3 to 5 ounces less than comparable lightweight synthetic hoodies.
Packs down as small as a down jacket but offers more protection and warmth in inclement weather.
Great-fitting hood and a well-rounded feature set for performance and everyday use.
Nice fit that trims some of the boxiness away from other Patagonia pieces.

What We Don't
Less warm than a down jacket of a similar price and weight.
The thin shell fabric tears very easily.
Expensive at $299 for the level of warmth and usability.


Comparison Table

The Competition
The Micro Puff is one of the lightest and most packable synthetic jackets on the market, and much of the competition comes from within Patagonia's own lineup. Another popular option is the Patagonia Nano Puff, which is cheaper at $249 and more practical for everyday use. It does outweigh the Micro Puff at 10.8 ounces for the women's hoody version and is much less packable, but that comes with a slight boost in durability (the Nano Puff has a 20D shell compared to the Micro Puff's 10D) and the addition of an adjustable hem for dialing in fit. In the end, the Micro Puff is our preferred insulator for backpacking or climbing trips as it's lighter and stuffs down smaller, but the Nano Puff has more everyday appeal for the casual crowd and light outdoors use.
As its name suggests, Patagonia's Macro Puff Hoody offers a bump in warmth compared to its Micro Puff sibling. To accomplish this, the Macro Puff uses 135-gram PlumaFill in the body and 90-gram along the sides and in the sleeves (compared to the Micro Puff's 65g all around). Like the Micro Puff, the Macro Puff is similarly thin with a 10-denier shell, but it has a longer and roomier cut for layering and includes climbing-specific features like a helmet-compatible hood (for more, see our in-depth Macro Puff review). The clincher for us, however, is price: the Macro Puff is $100 more expensive at $399, which is getting up there in the synthetic jacket realm, but it is more of a cold-weather piece.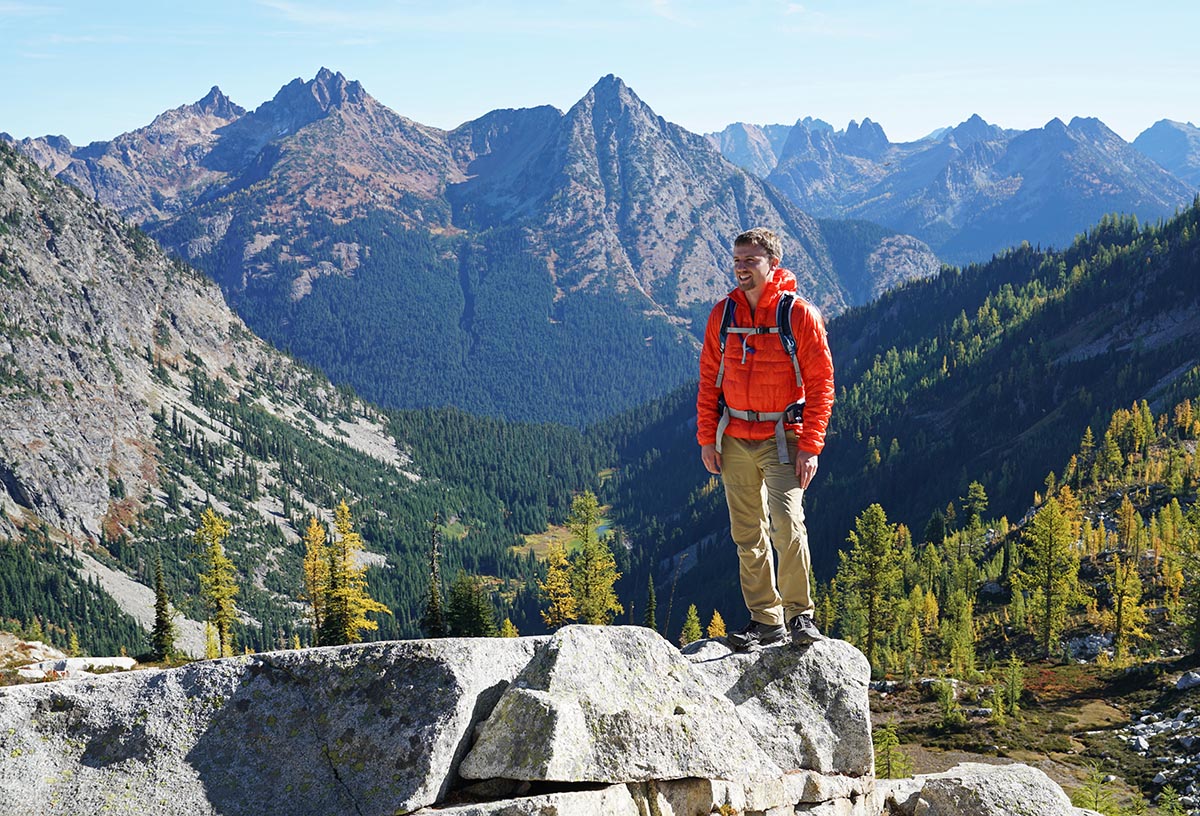 A final Patagonia option to consider is their DAS Light Hoody, which was released last year. Designed as both a midlayer and standalone piece for activities like climbing and skiing, the DAS has a similar recipe of 65-gram PlumaFill insulation inside a quilted design but adds a hung face fabric to maximize loft and minimize stitching. In other words, this jacket traps warmth extremely well. And the DAS wins out in durability and weather protection too, with a Pertex Quantum Pro shell and polyurethane coating on the outer fabric (both jackets are thin at 10D, however). You also get adjustability at the hood, a two-way zipper, and more storage with the DAS, although weight goes up to 9.7 ounces. Weight-focused explorers may will still opt for the Micro Puff, but for less than 2 ounces more, the DAS Light strikes us as more well-rounded and the better match for inclement weather (for more, see our DAS Light review).
Stacked up against other leading synthetic jackets, the Micro Puff makes a pretty strong case for weight-conscious outdoorspeople. For example, Arc'teryx's Atom LT Hoody is similarly warm with 60-gram Coreloft Compact but around 3 ounces heavier at 11.3 ounces and not nearly as compressible. If you're set on synthetic fill and want the lightest option around, the Micro Puff could very well be the ideal choice. But it does come at a premium price: at $299, the Micro Puff is $40 more than the already-spendy Atom LT, and it doesn't have the cozy, stretchy feel or everyday functionality. Add in the thin shell of the Patagonia, and we prefer the versatility of the Arc'teryx for most non-alpine pursuits.
The ultimate test of the Micro Puff is within the lightweight down jacket category. There are a number of quality options, including the Arc'teryx Cerium LT and Feathered Friends Eos. The Micro Puff wins out in weight, packed size, comfort, and price (barely), and it gets the advantage in wet-weather performance with its synthetic fill. But it just can't compete in terms of warmth—the Arc'teryx and Feathered Friends options weigh less than 2 ounces more than the Micro Puff, but are far more practical for keeping you comfortable in the cold. In the end, we found the Micro Puff to be a great study in the potential for a light, packable, and warm synthetic, but it hasn't knocked down jackets off their pedestal just yet.
If you're thinking about buying gear that we've reviewed on Switchback Travel, you can help support us in the process. Just click on any of the seller links above, and if you make a purchase, we receive a small percentage of the transaction. The cost of the product is the same to you but this helps us continue to test and write about outdoor gear. Thanks and we appreciate your support!
Depending on the seller, most products ship free in the United States on orders of $50 or more. International shipping availability and rates vary by seller. The pricing information on this page is updated hourly but we are not responsible for inaccuracies.
Learn More About Outdoor Gear