Synthetic jackets are hot ticket items these days, and the buzz has been particularly strong around Patagonia's new Micro Puff. Taking the polyester fill game in a different direction than their Nano-Air, which is a highly breathable performance piece, the Micro Puff sets out to emulate all the benefits of a down jacket. The results are mixed: the new hoody is lightweight, packs small, and even has the lofty feel of down, but it falls a little short in terms of warmth and is rather pricey at around $300. Below we break down the Micro Puff's weight and packability, warmth, weather protection, durability, fit, and more.
 
Performance
Weight and Packability
A jacket must be light to be considered a true down alternative, and the Micro Puff Hoody delivers in this regard. On our scale, a men's medium weighs in at 9.2 ounces, which frankly is pretty amazing. For reference, Patagonia's popular synthetic Nano Puff Hoody is 13.5 ounces, and their top lightweight down jacket, the Ultralight Hoody, checks in at 10.5 ounces. Widen the field to the larger synthetic market, and it's clear the Micro Puff is in a league of its own—leading hooded options like the Arc'teryx Atom LT (12.7 oz.) and The North Face ThermoBall (13.8 oz.) don't come close. You have to sacrifice warmth significantly with a design like the Arc'teryx Atom SL (9.2 oz.) to match it. To be sure, Patagonia nailed the weight part of the equation.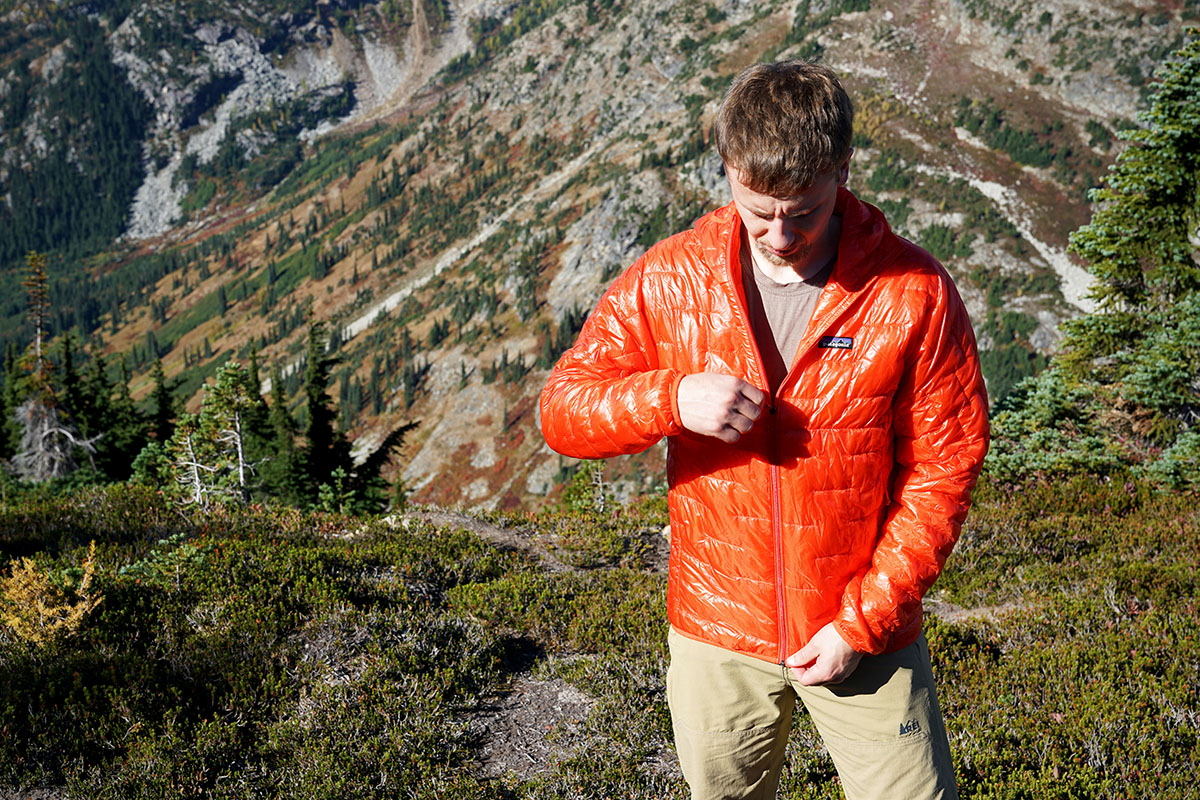 The Micro Puff also wins in terms of packability. The jacket stuffs easily into its left hand zippered pocket and can be scrunched to an even smaller size when squeezed into a loaded backpack or with a compression sack. Its built-in carabiner loop makes it equally convenient to hang on a harness for use as a climbing belay jacket. Again, the Micro Puff's a standout in the synthetic market where limited compressibility often means that these jackets get left at home on fast and light trips. You technically could compress a superlight, premium down jacket to a smaller size, but you're risking damaging the down clusters in the process. Realistically, the packed size of the Micro Puff should please even the most discerning ULers.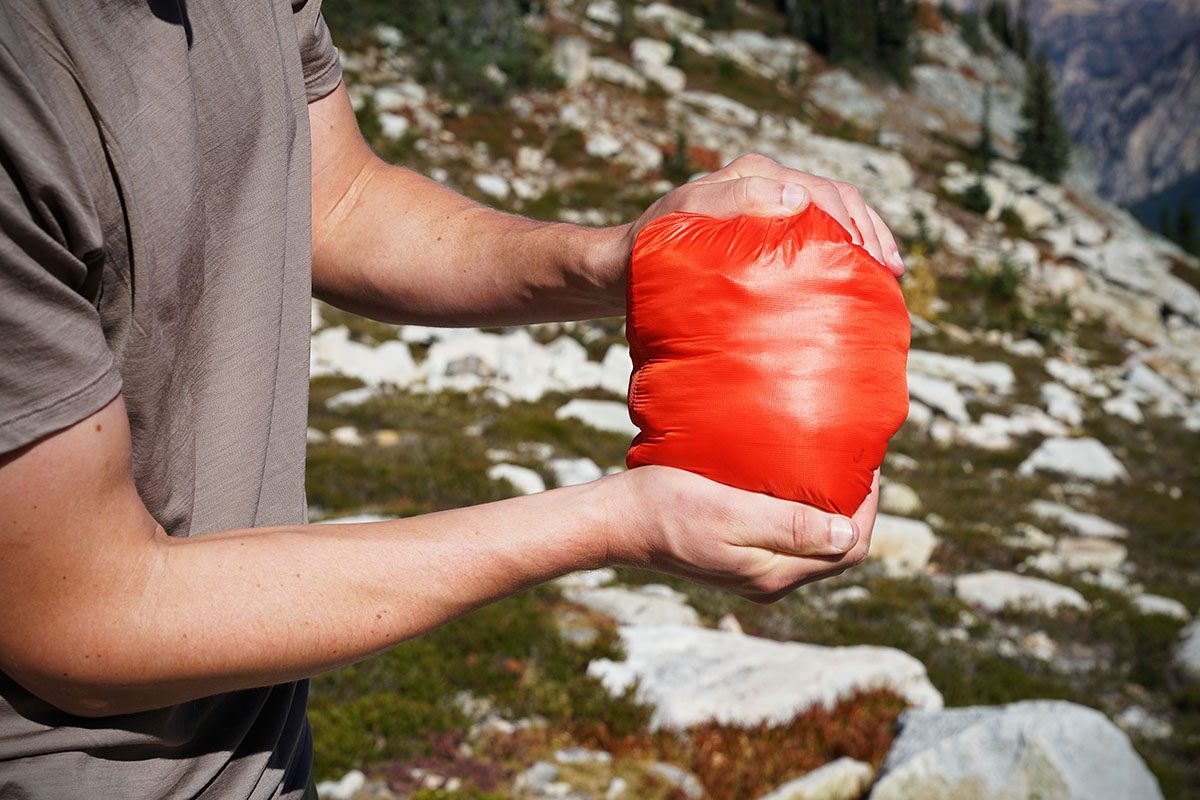 Warmth
Our initial impressions of the Patagonia Micro Puff were very strong, but we were a little less enthused once it came to cold weather testing. Wearing it back-to-back with a range of jackets, including the new The North Face Ventrix, Patagonia's Nano-Air and Nano Puff, and a host of lightweight down pieces, the Micro Puff offered decidedly less insulation. The 65-gram PlumaFill synthetic has the puffy feel of premium goose down or duck clusters, but you just don't get nearly the same cozy warmth. We rank the jacket's overall warmth at a little less than the Patagonia Nano Puff, which features 60-gram PrimaLoft. It is important to note that the Micro Puff is 4.3 ounces lighter than the Nano, so this is a notable accomplishment. But held up to the standards of down jackets like the Arc'teryx Cerium LT or Patagonia Ultralight, the Micro Puff comes up well short.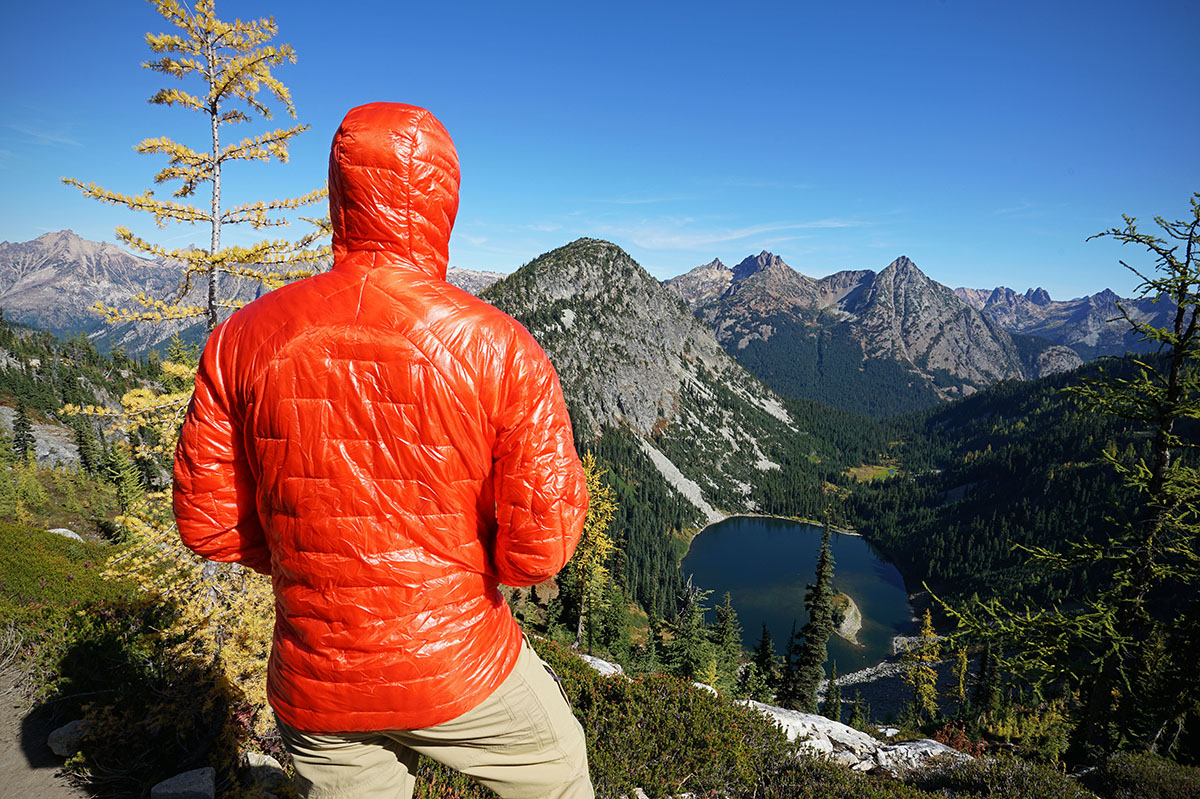 It's always difficult to assign a temperature range for an insulated piece, but we found the Micro Puff kept us reasonably comfortable into approximately the mid 40s Fahrenheit with a thin baselayer underneath. This makes it a suitable option for use around camp on lower elevation summer backpacking or biking trips, as a belay jacket for summer alpine climbing, and some mild weather shoulder season adventures. In theory, you could wear the Micro Puff in colder temperatures when working hard, but the shell and insulation don't breathe all that well—we found ourselves quickly overheating even in temperatures below freezing. Its strengths are for staying comfortable during times of relative inactivity—just like a down jacket—but we would trade another ounce or two in total weight for a boost in warmth.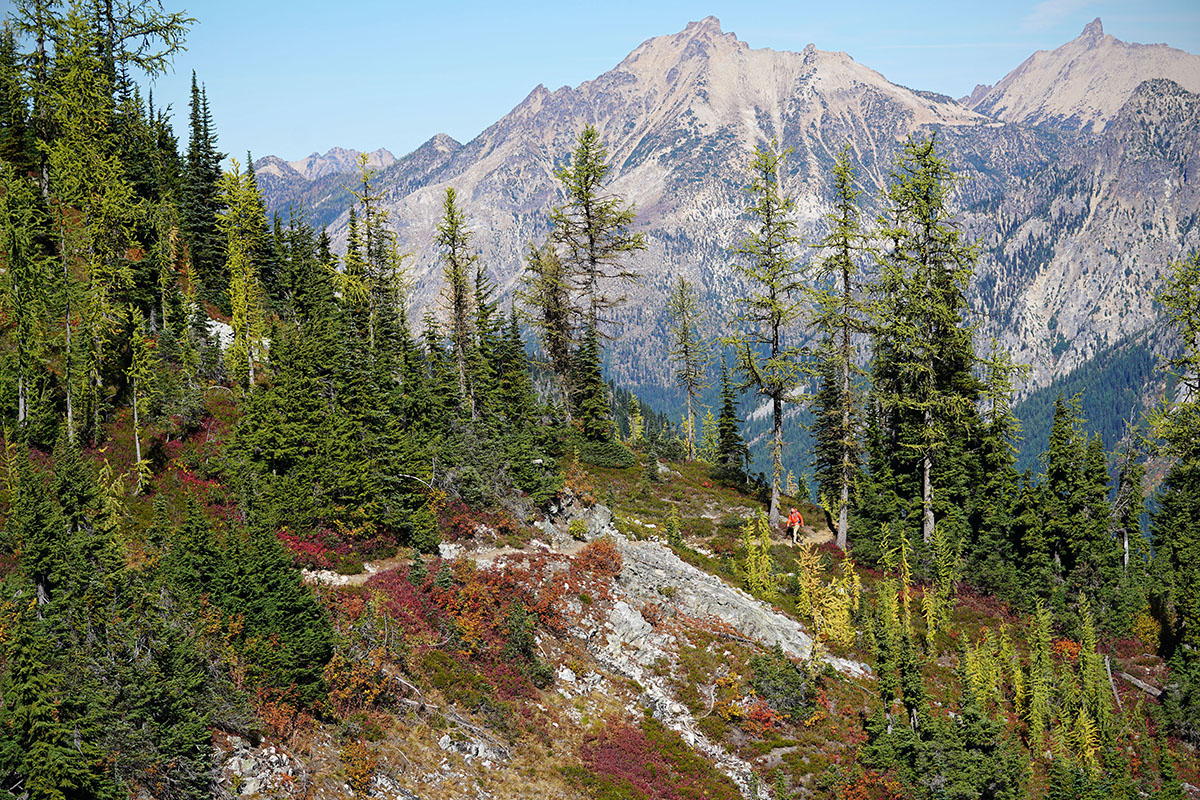 Weather Protection
One advantage of synthetic insulation over down is its ability to insulate when wet. The Micro Puff Hoody has a leg up on a down jacket in this respect, and it also includes a shell with a DWR coating that sheds light to moderate rainfall impressively well. We even gave the Mirco Puff the shower test and it was quite impressive. The DWR is fresh, so that certainly helped, but we can see why so many brands turn to Pertex fabrics. Wind protection also is strong, aided by the windproof nylon Pertex Quantum, minimalist stitching, and continuous insulation design that limit vulnerabilities for gusts to cut through.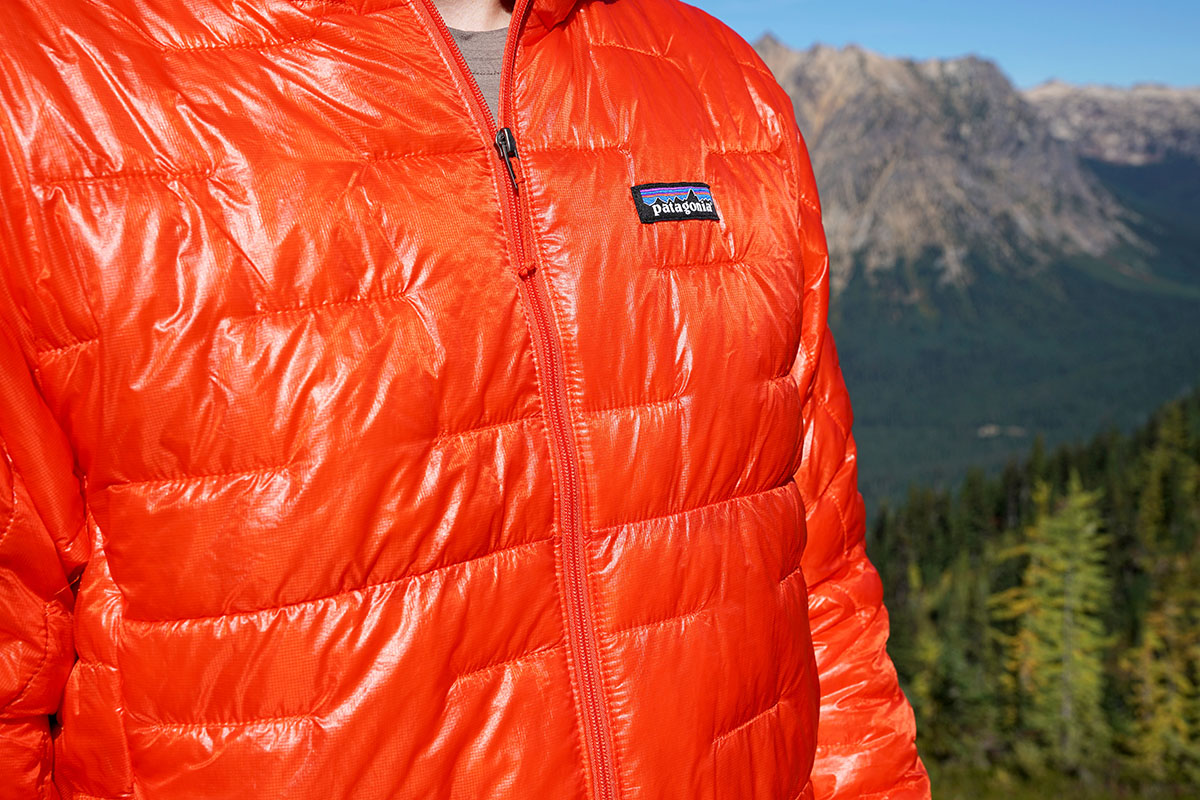 That being said, the Micro Puff is not a rain jacket. In heavy rain or on backcountry jaunts, we'd be reaching for a waterproof shell to stay dry whether we were wearing the Micro Puff or a down insulator. However, if you like the security blanket of synthetic fill, then this is one of the Micro Puff's biggest upsides over a down piece. It feels like down, yet won't soak up water in the same way.
 
Features: Pockets and Hood
From a features standpoint, we really like the decisions Patagonia has made with the Micro Puff. You get two hand warmer pockets that are comfortable, generously sized, and offer warmth and wind protection, along with two simple drop-in style pockets along the interior. The pockets mirror each other in size and share stitching to keep weight to a minimum. Those that love big chest pockets may be disappointed, but we have little else to complain about with respect to storage.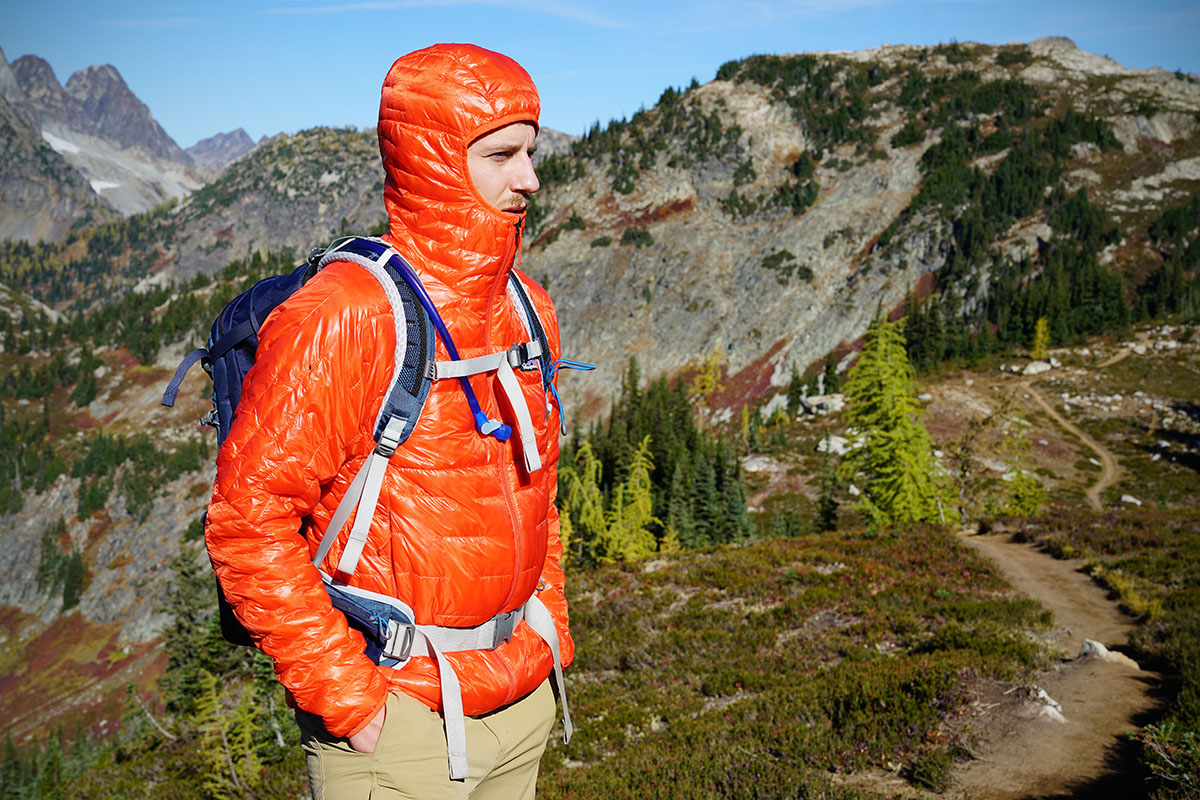 The hood also is functional and thoughtfully designed. While it doesn't include a rear cinch to make adjustments, you get excellent coverage along the sides of the face and top of the forehead, and the elasticized band and tall collar keep everything securely in place. For climbers and skiers, we've found the hood fits nicely underneath a helmet without bunching. Going without a toggle and cord on the hood often is a red flag for windy conditions, but we think Patagonia pulled this off very well.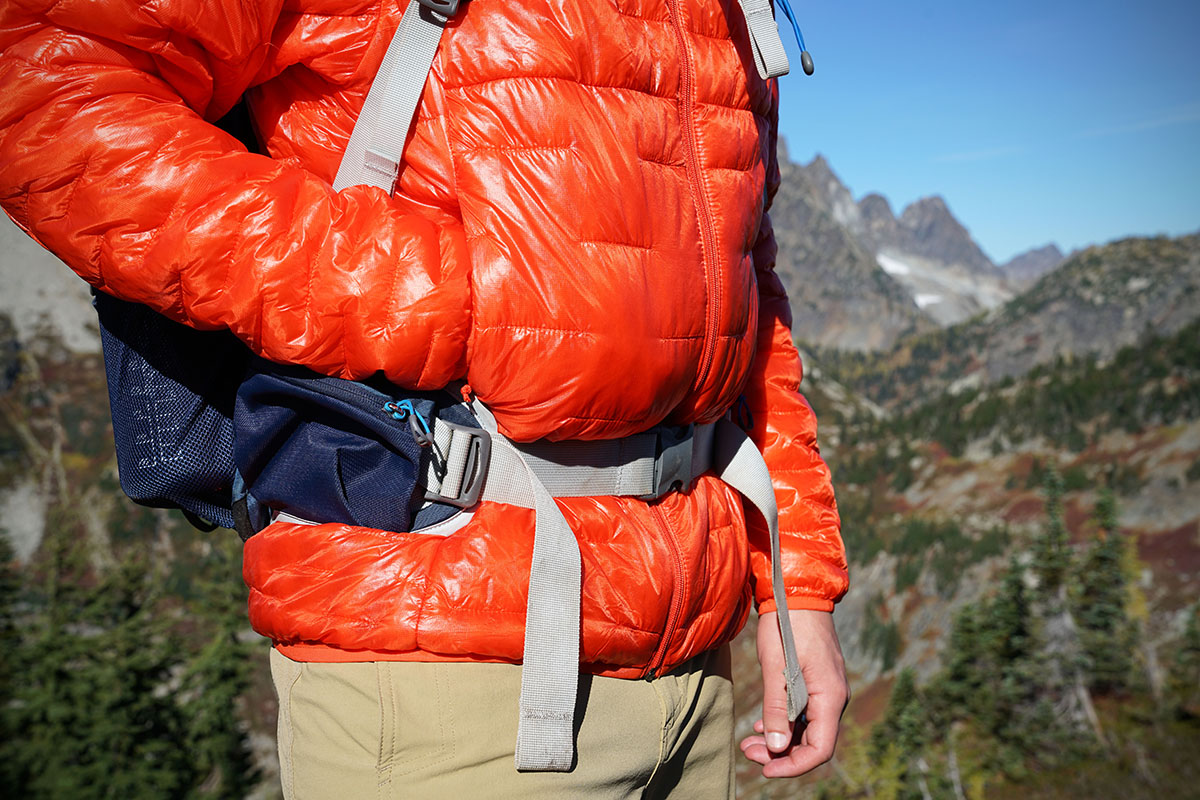 Durability and Everyday Use
Every piece of ultralight gear or apparel compromises in durability, so it shouldn't be shocking that the 9.2-ounce Micro Puff has a thin and somewhat delicate shell and lining. Patagonia uses 10-denier Pertex Quantum for the exterior and interior, which is the same smooth and comfortable fabric but in a thinner build than the now discontinued 15-denier Ultralight Down Hoody. The ripstop material is rather shiny in appearance—particularly in our orange-colored model—but strong and tear resistant relative to its weight. "Relative" is the key term here, and this definitely is a jacket you'll want to be careful with around rocks, branches, and sharp gear.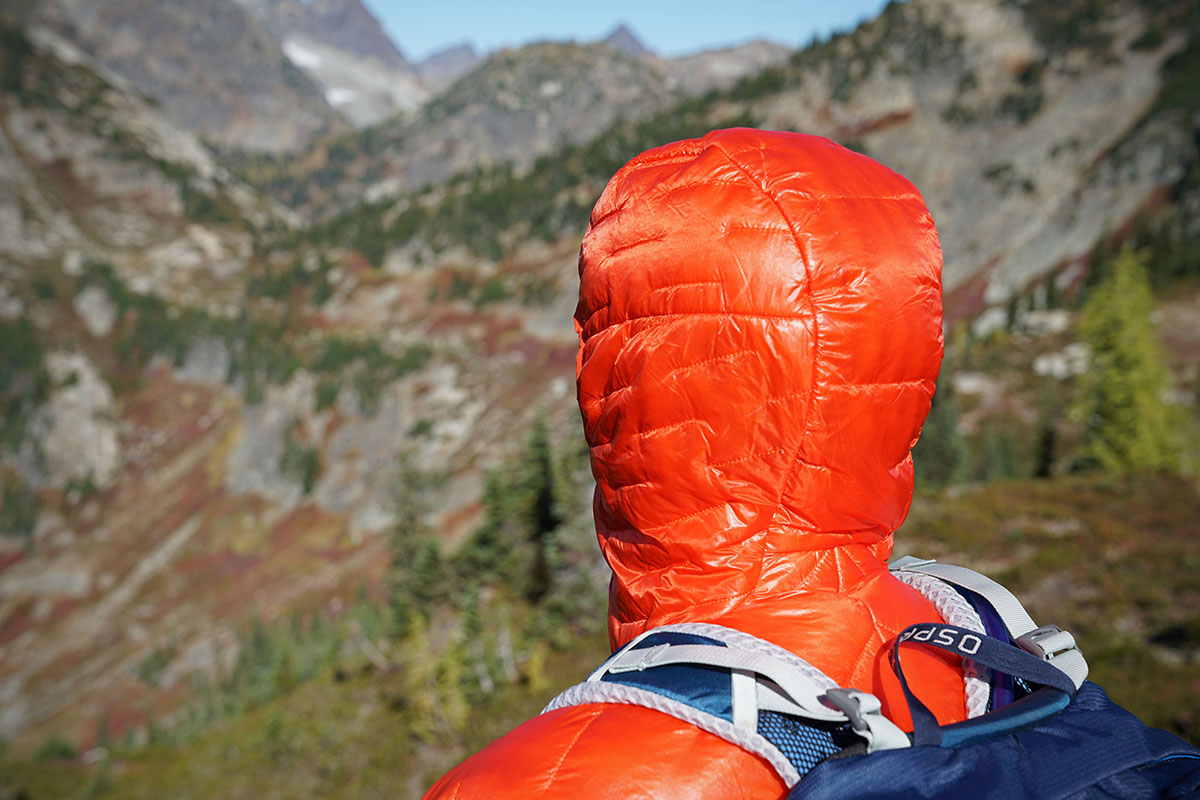 We love insulated layers that can be worn every day of the week, and the decision to go with such a paper-thin shell does have an impact on usability. The rest of the jacket fits the bill for wearing around town—plenty of storage, high quality and smooth operating zippers, good Patagonia looks and comfort, and a nice fit—but the limited durability means this expensive jacket likely will be kept on a hanger in between backcountry trips.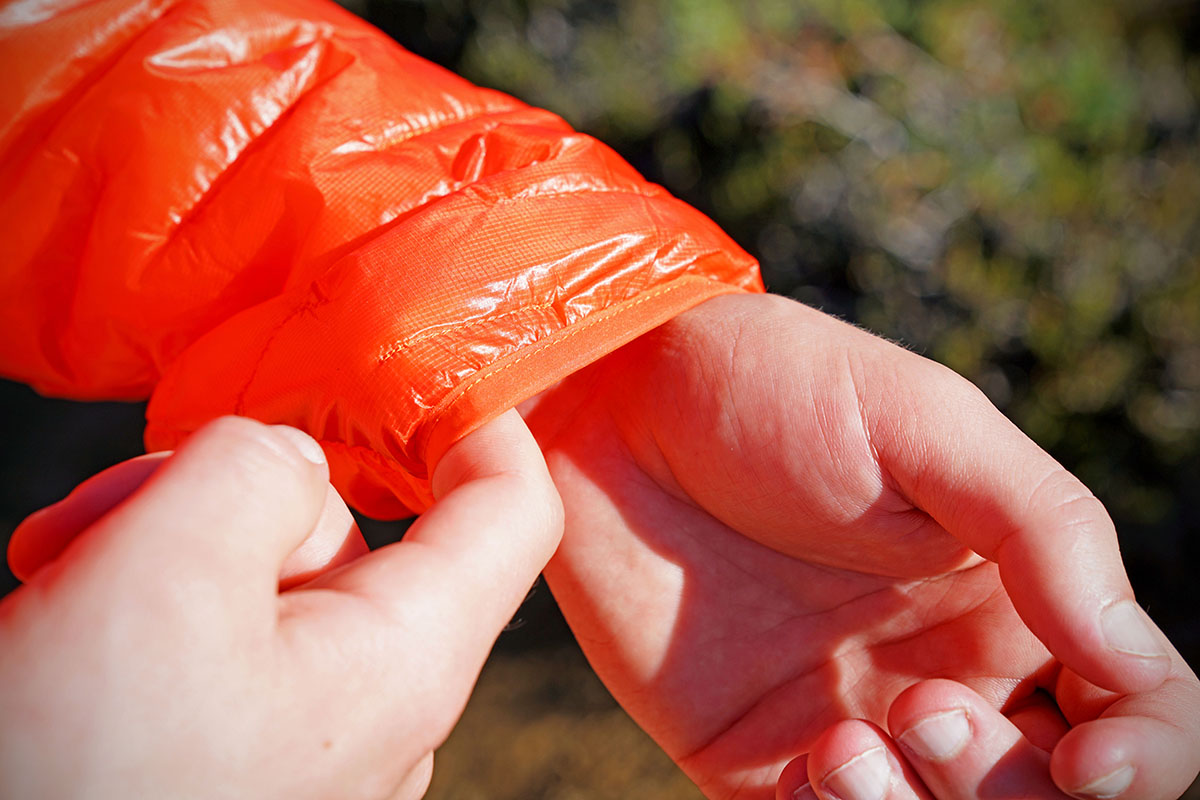 Fit and Sizing
A number of insulated Patagonia jackets leave something to be desired from a fit perspective, but we like what they've done with the Micro Puff. We got our typical medium size and found it wasn't as bulky in the shoulders or midsection as the Nano Puff or Down Sweater. It's not slim like many Arc'teryx midlayers, but hits a happy medium that allows for good range of motion and enough space to wear a thick baselayer underneath. The hem isn't adjustable, but we didn't miss the feature as the jacket is plenty long and the stretchy waistband has a lot of give. And as touched on above, the hood is well designed and provides excellent coverage.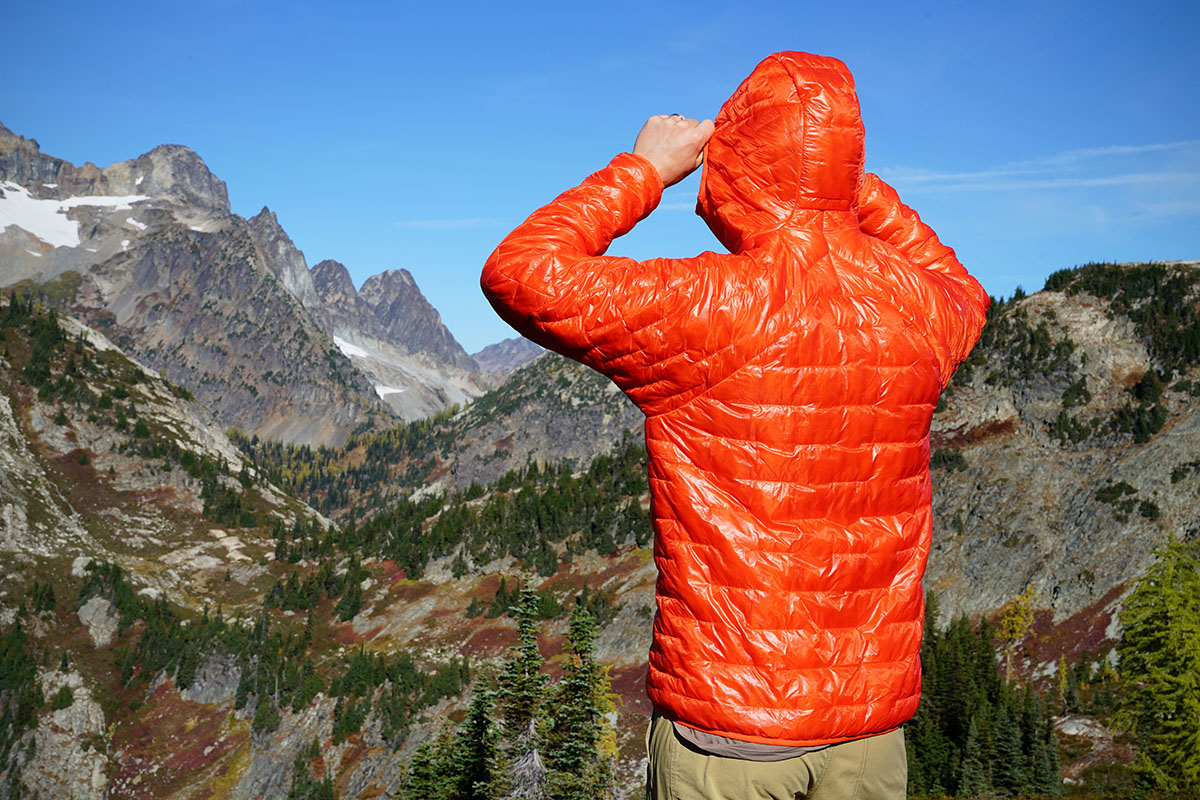 What We Like
Crazy light at 9.2 ounces on our scale, which is about 3 to 5 ounces less than most other lightweight synthetic hoodies.
Packs down very small for a synthetic and is competitive with down jackets in this respect.
Great fitting hood and a well-rounded feature set for performance and everyday use.
Nice fit that trims some of the boxy-ness away from other Patagonia pieces.

What We Don't
Less warm than a down jacket of a similar price and weight.
The shell is really thin and has a shiny finish (opting for a subtler color than our orange definitely will help).
Expensive at $299 for the level of warmth and usability.


Comparison Table

The Competition
Patagonia's latest addition to their impressive fleet of insulated jackets is likely their most interesting yet. The Nano Puff set the standard for lightweight synthetics years ago, and the more recent Nano-Air was a big jump in active insulation technology. The Micro Puff is impressive in a lot of ways, but it's not our favorite option from the brand. The Nano Puff is more affordable and practical for everyday use—although the Micro Puff's slimmer cut is a nice upgrade—and the Nano-Air is the one we'd wear while working up a sweat in the mountains. More, the Ultralight Down Hoody is similar in weight but warmer, making it our preferred insulator for backpacking or climbing trips.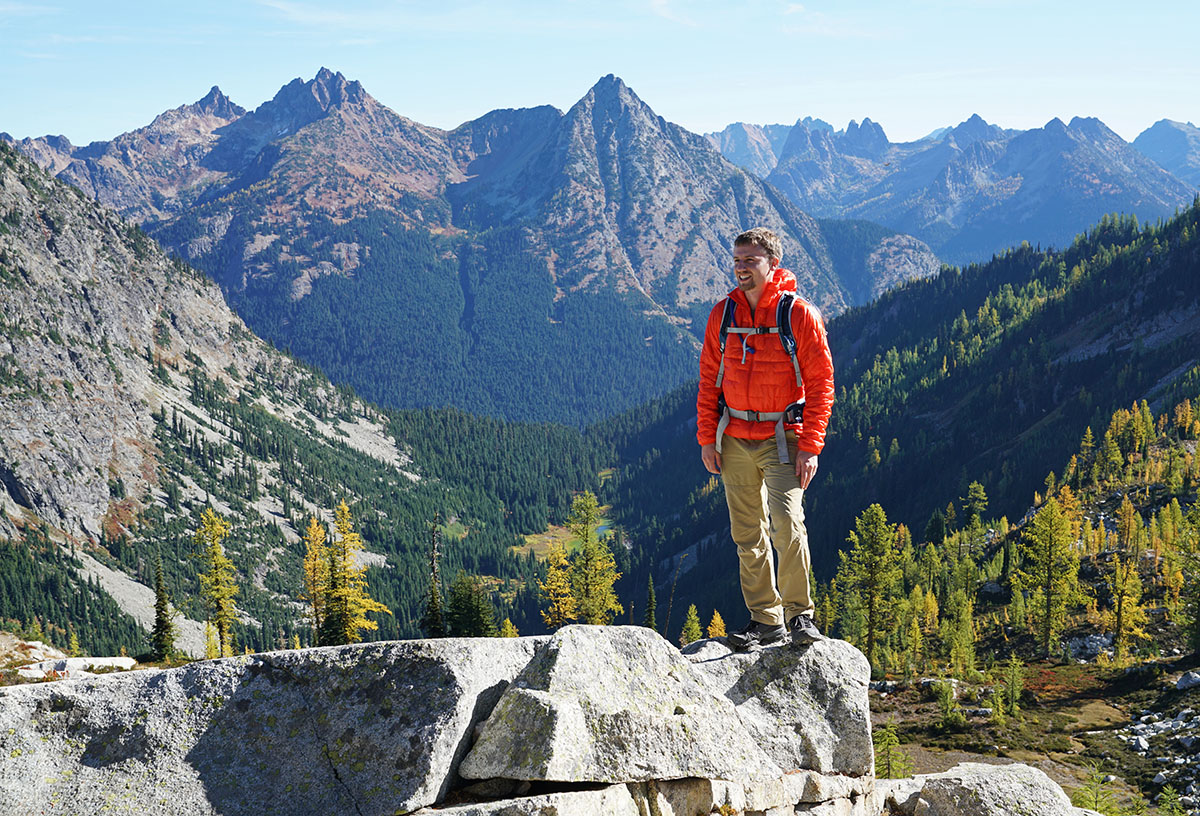 Stacked up against leading synthetic jackets, the Micro Puff makes a pretty strong case for weight-conscious outdoorspeople. Models like the Arc'teryx Atom LT Hoody, The North Face ThermoBall, and Rab Xenon X are mildly warmer but 3 to 5 ounces heavier and not nearly as compressible. If you're set on synthetic fill and want the lightest option around, the Micro Puff could very well be the ideal choice. But it does come at a premium price—at $299, the Micro Puff is $40 more than the already spendy Atom LT and it doesn't have the cozy, stretchy feel or everyday functionality of that Arc'teryx piece.
The ultimate test of the Micro Puff is within the lightweight down jacket category. There are a number of quality options, including the Arc'teryx Cerium LT and Feathered Friends Eos. The Micro Puff wins out in weight, packed size, comfort, and price (barely), and it gets the edge in wet weather performance with its synthetic fill. But it just can't compete in terms of warmth—the Arc'teryx and Feathered Friends options weigh less than 2 ounces more than the Micro Puff, but are far more practical for keeping you comfortable in the cold. In the end, we found the Micro Puff to be a great study in the potential for a light, packable, and warm synthetic, but it hasn't knocked down jackets off their pedestal just yet.
If you're thinking about buying gear that we've reviewed on Switchback Travel, you can help support us in the process. Just click on any of the seller links above, and if you make a purchase, we receive a small percentage of the transaction. The cost of the product is the same to you but this helps us continue to test and write about outdoor gear. Thanks and we appreciate your support!
Depending on the seller, most products ship free in the United States on orders of $50 or more. International shipping availability and rates vary by seller. The pricing information on this page is updated hourly but we are not responsible for inaccuracies.
Learn More About Outdoor Gear