Patagonia Micro Puff Hoody
Price: $329
Weight: 9 oz. (women's)
Insulation: PlumaFill (65g)
What we like: Excellent warmth-to-weight ratio, packs down small, and more durable than the previous version.
What we don't: Expensive for a synthetic jacket and not versatile for everyday use.
See the Women's Patagonia Micro Puff  See the Men's Patagonia Micro Puff
Patagonia's synthetic Micro Puff made headlines when it was first released a few years ago, touted for its down-like weight and packability. In 2022, the Ventura, Calif.-based company released an update to the popular jacket, with the main highlight being a new NetPlus shell made from recycled fishing nets. We've worn the revamped Micro Puff throughout the spring and summer, and—as with the first version—our reviews are mixed: The hoody is lightweight, packable, and more durable than the outgoing model, but it still lacks versatility and is now even pricier at $329. Below are our experiences with the women's Micro Puff Hoody. To see how it stacks up to the competition, see our articles on the best synthetic insulated jackets, best women's synthetic insulated jackets, and best midlayers.
 
---
Table of Contents
---

Performance
Weight and Packability
A synthetic jacket must be lightweight to be considered a true down alternative, and the Patagonia Micro Puff Hoody delivers in this regard. The women's model checks in at 9 ounces, which—although 1 ounce heavier than the outgoing version—is ridiculously light compared to the down and synthetic competition. For reference, Patagonia's popular synthetic Nano Puff Hoody weighs 10.8 ounces, and their top lightweight down jacket, the Down Sweater Hoody, checks in at 12.1 ounces. A few relatively new synthetic jackets do come close, including the Outdoor Research SuperStrand LT Hoodie (9.6 oz.) and Patagonia's own DAS Light Hoody (9.7 oz.), but the Micro Puff nevertheless maintains its crown as the undisputed ultralight champion.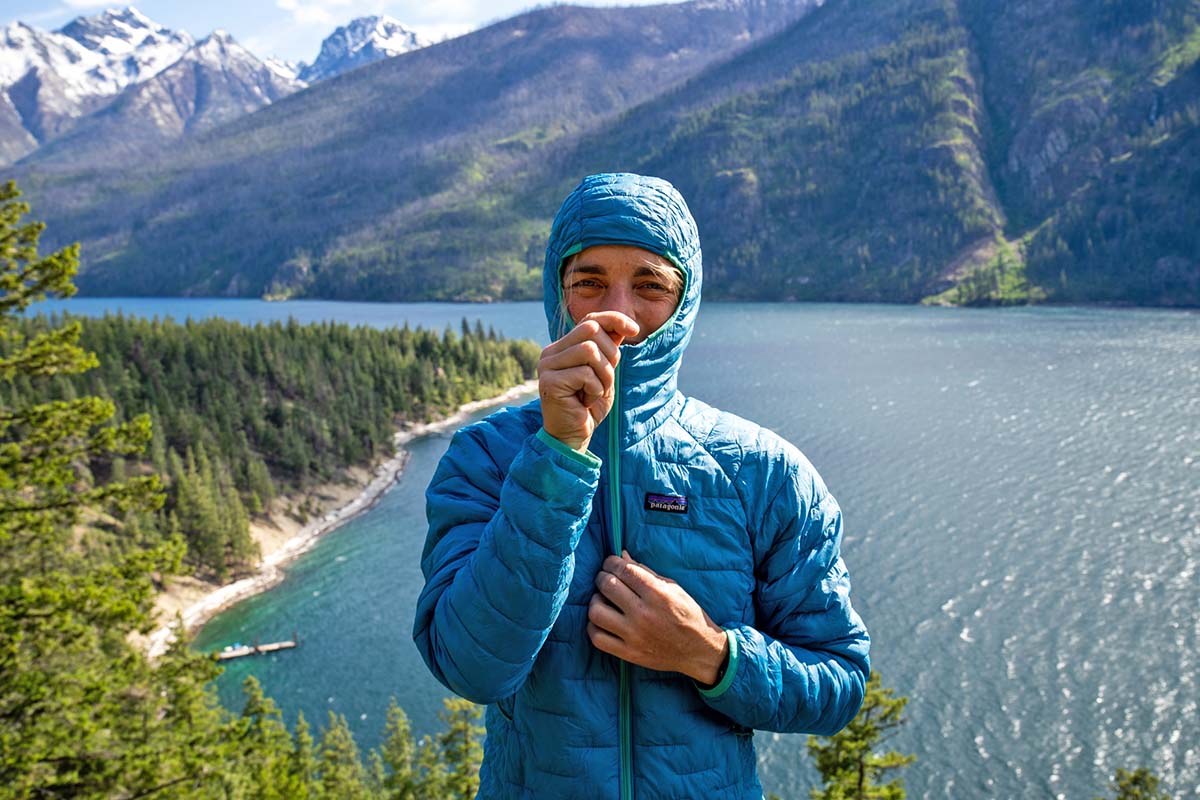 The Micro Puff also excels in terms of packability: The jacket stuffs into its left hand pocket and can be scrunched to an even smaller size when squeezed into a loaded backpack or dedicated compression sack. Further, its built-in carabiner loop makes it convenient to hang on a harness for use as a belay jacket on multi-pitch climbs. For comparison, the aforementioned Outdoor Research SuperStrand LT packs down equally small (but is no match for the Micro Puff in terms of warmth and build quality), and the DAS Light Hoody is slightly bulkier and much more difficult to stuff into its included pocket. It's true that you could compress a super light, premium down jacket to a smaller size than the Micro Puff, but for many, down is just too finicky for mountain environments due to concerns over wet-weather performance. Realistically, the packed size of the Micro Puff should please even the most discerning ULers and climbers.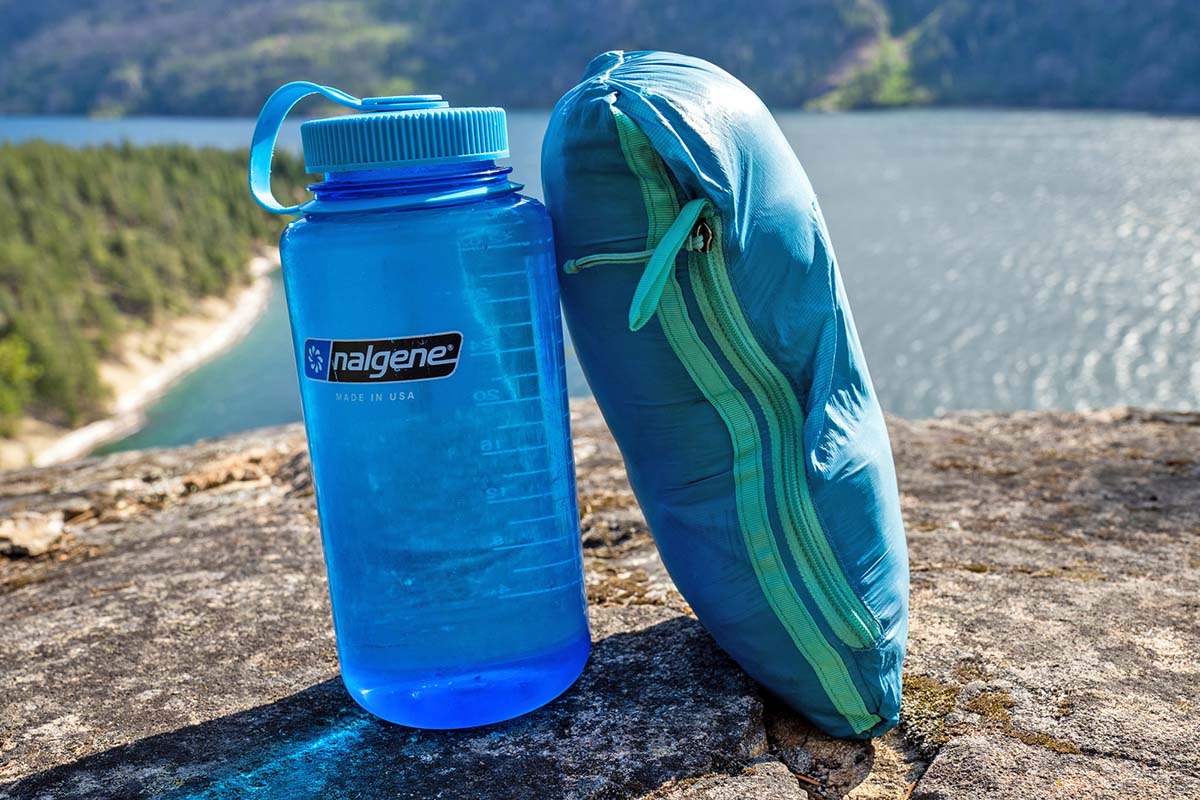 Warmth
The Patagonia Micro Puff Hoody offers suitable warmth for most fair-weather adventures, but we were a little less enthused during cold-weather testing. Wearing it back-to-back with a range of jackets, including the The North Face Ventrix, Patagonia's Nano-Air and Nano Puff, and a host of lightweight down pieces, the Micro Puff offers decidedly less insulation. The 65-gram PlumaFill synthetic fill has the puffy feel of premium down clusters, but you don't get nearly the same cozy warmth. We also rank the Micro Puff's overall warmth at a little less than the Patagonia DAS Light Hoody, which features identical 65-gram Pluma Fill but tacks on a more water- and wind-resistant shell. And again, held up to the standards of down jackets like the Arc'teryx Cerium (formerly the Cerium LT) or Feathered Friends Eos, the warmth of the Micro Puff comes up well short.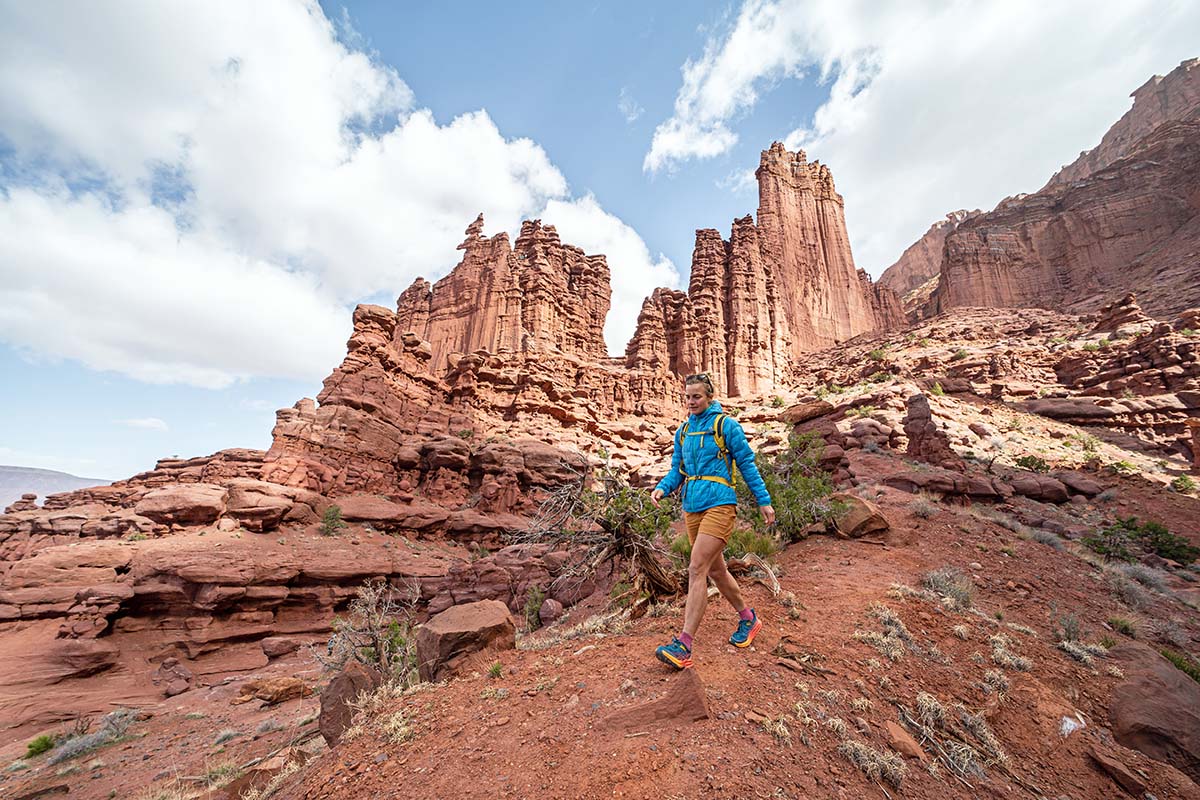 It's always difficult to assign a temperature range for an insulated piece, but we found the Micro Puff kept us reasonably comfortable into approximately the mid 40s Fahrenheit with a thin baselayer underneath. This makes it a suitable option for use around camp on summer backpacking or biking trips, as a belay jacket for summer alpine climbing, and during mild shoulder-season adventures. In theory, you could wear the Micro Puff in colder temperatures when working hard, but for a true leave-it-on active layer, the Patagonia Nano-Air is a far more breathable option. In short, for everything but the most light-and-fast endeavors, we would trade another ounce or two in total weight for a boost in warmth.
That said, fast-and-light endeavors are the bread and butter of the Micro Puff and the reason for its creation. Despite our qualms about the jacket's warmth, it's important to remember that the Micro Puff is dramatically lighter and far more packable than the vast majority of the competition. Along with the aforementioned DAS Light Hoody, its warmth-to-weight ratio is unparalleled by all but the most ultralight of down jackets (which are not recommended for the rigors of wet alpine environments). And in cold weather, we've even known alpine climbers to layer one Micro Puff over another rather than opt for one heavier-weight jacket.

Weather Protection
One of the main advantages of synthetic insulation over down is its ability to insulate when wet (down loses its loft when wet and thus no longer insulates). The Patagonia Micro Puff Hoody has a leg up on a down jacket in this respect, and it also includes a Pertex Quantum shell with a PFC-free durable water repellent (DWR) coating that sheds light to moderate rainfall surprisingly well. Thanks to Pertex Quantum's windproof nature, wind protection is also strong, and the minimalist stitching and continuous insulation design also limit vulnerabilities for gusts to cut through. In short, one of the main reasons we'd recommend the Micro Puff over a lightweight down jacket is its more reliable performance in wet weather.
The Micro Puff is not, however, a full-on rain jacket. In heavy rain or on backcountry jaunts, we'd be reaching for a waterproof shell to stay dry whether we were wearing the Micro Puff or a down insulator. But if you like the security blanket of synthetic fill, then this is one of the Micro Puff's biggest upsides over a down piece: It feels like down but won't soak up water in the same way.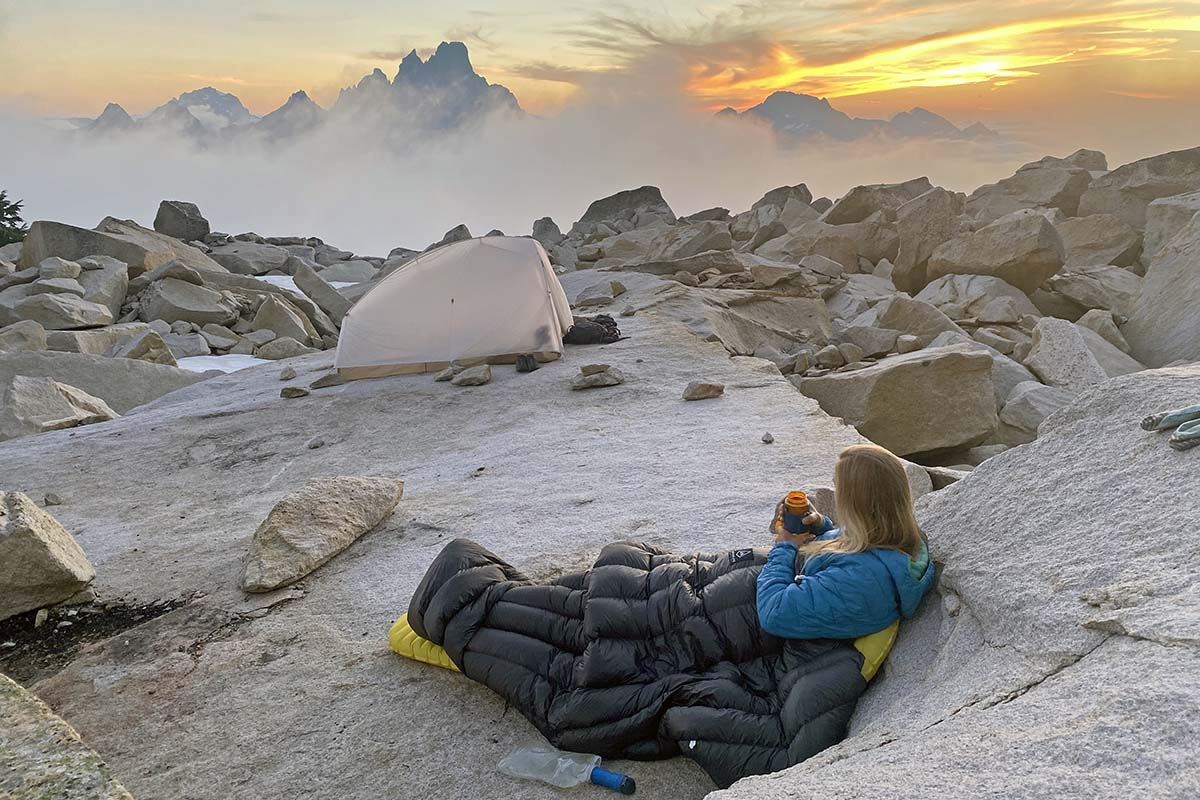 Features: Pockets and Hood
From a features standpoint, we really like the decisions Patagonia made with the Micro Puff. You get two handwarmer pockets that are comfortable, generously sized, and offer warmth and wind protection, along with two simple drop-in-style pockets along the interior. The pockets mirror each other in size and share stitching to keep weight to a minimum. Those who love big chest pockets may be disappointed, and we're honestly surprised Patagonia didn't place the handwarmer pockets a bit higher to make them more accessible while wearing a backpack or climbing harness. But other than those small gripes, we have little to complain about with respect to storage.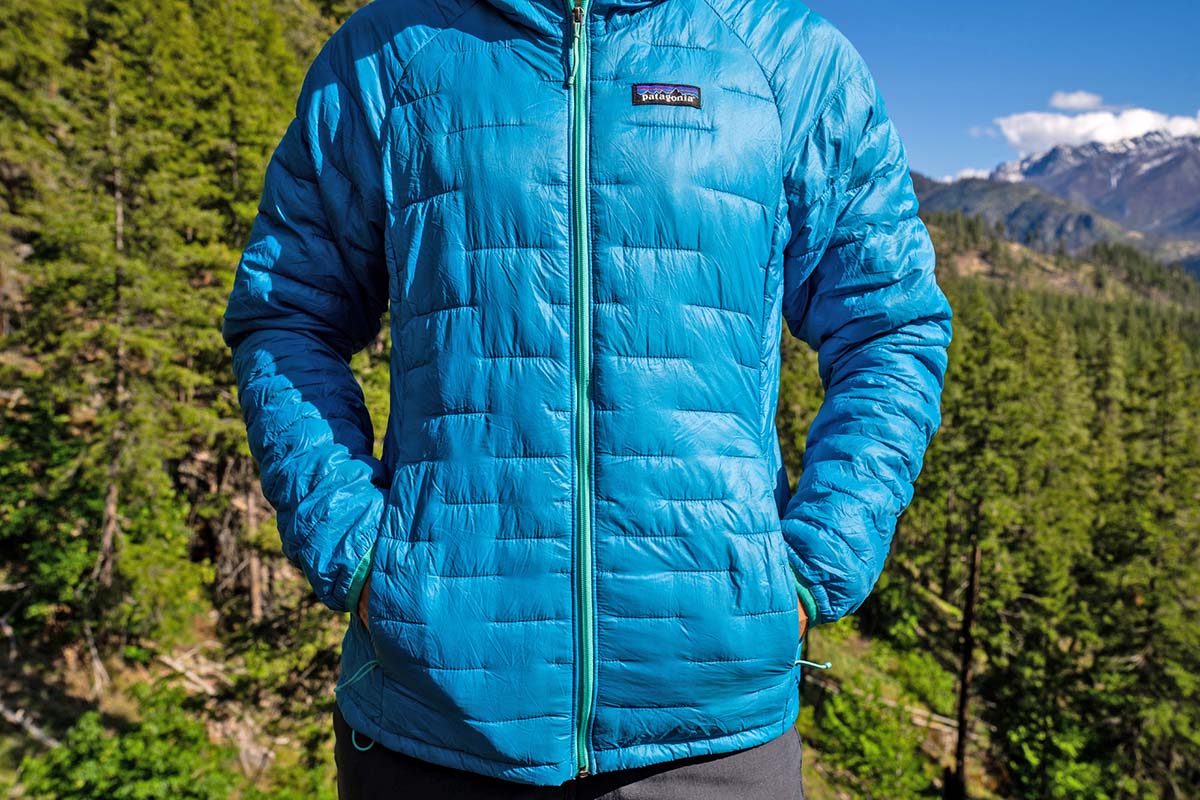 The hood also is functional and thoughtfully designed. While it doesn't include a rear cinch to make adjustments, you get excellent coverage along the sides of the face and top of the forehead, and the elasticized band and tall collar keep everything securely in place. For climbers and skiers, we've found the hood fits nicely underneath a helmet without bunching and stays in place surprisingly well when stretched over a helmet, too. Going without a toggle and cord on the hood is often a red flag for windy conditions, but we think Patagonia pulled it off quite well.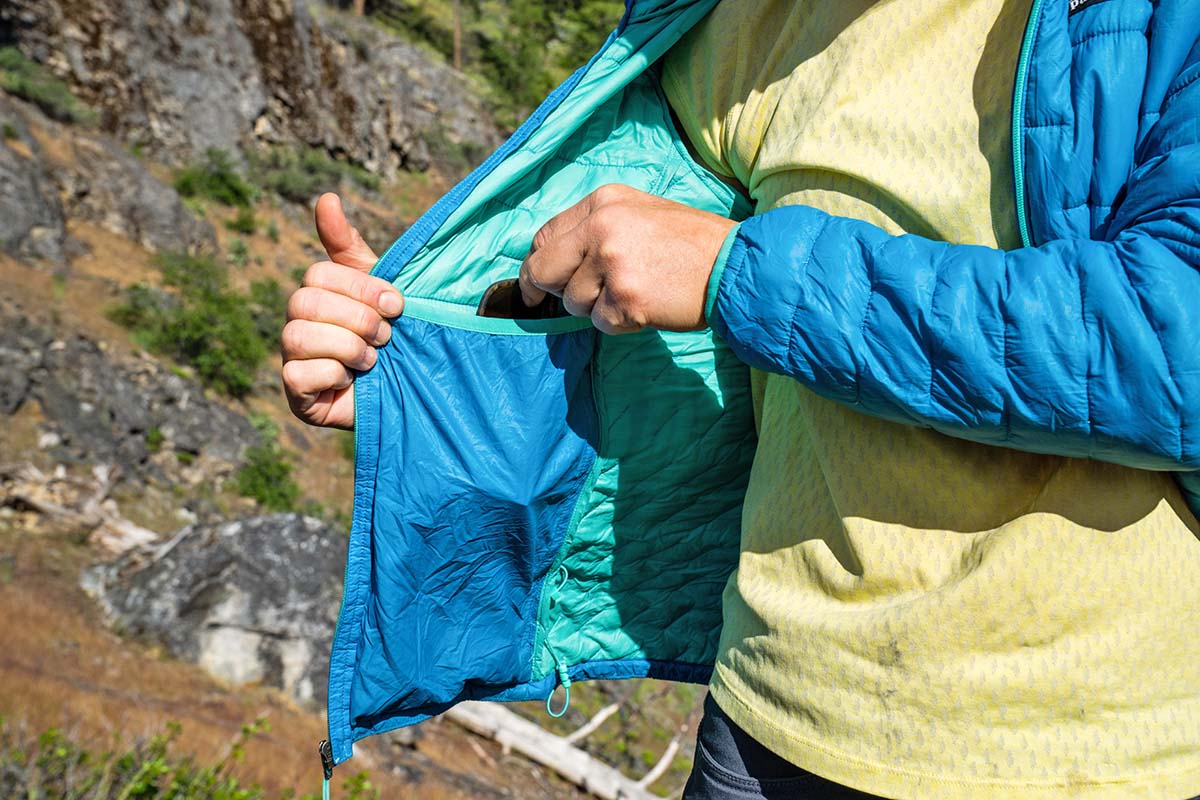 Durability and Everyday Use
Historically, durability has not been one of the Micro Puff Hoody's strong suits. That said, we've been pleasantly surprised by the updated model, which features Patagonia's proprietary NetPlus shell made from recycled fishing nets. The shell is still thin at 10-denier (D), but it has a much stronger feel that's proven to be more abrasion-resistant throughout testing. For reference, I put over 30 holes in the previous version of the jacket while rock climbing, while the current model has suffered just a few tears after a week on the rock. And while it might just be a matter of appearance, the updated jacket's matte finish inspires more confidence when compared to the outgoing model's glossy shell.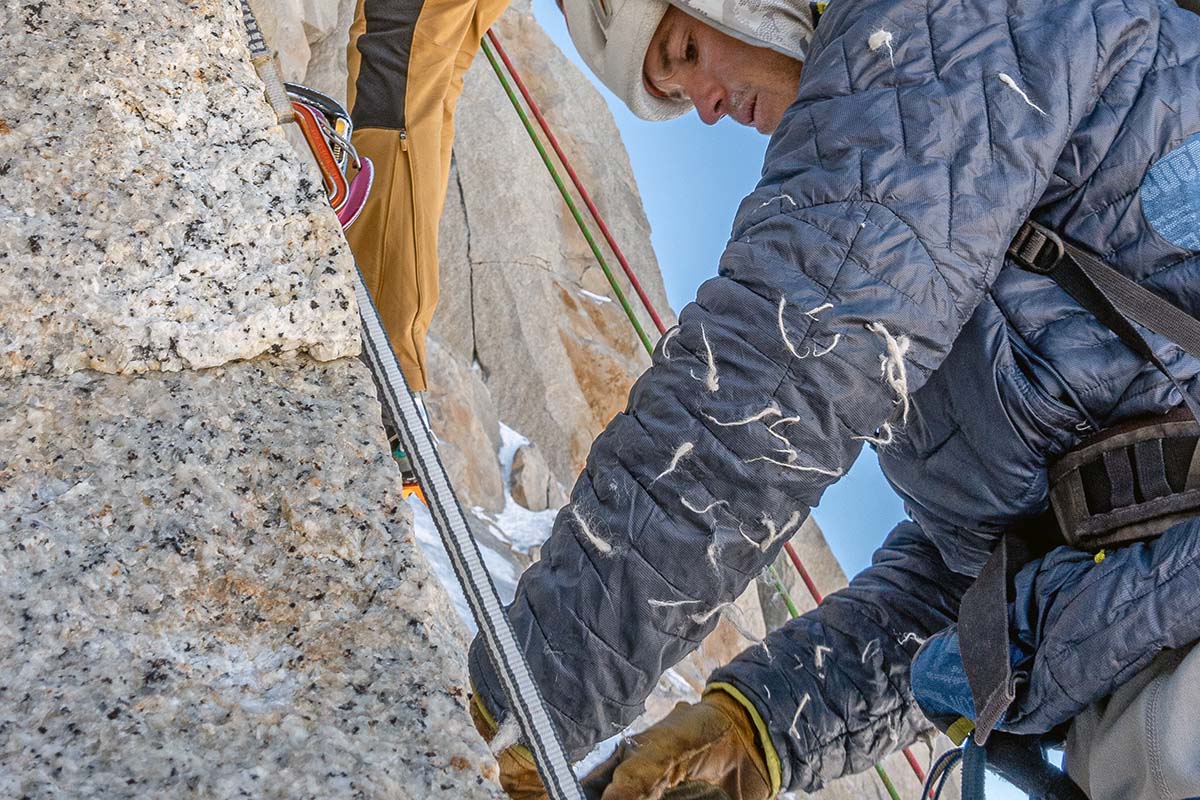 However, despite its more robust design, the updated Micro Puff still lacks the durability we look for in a versatile jacket for everyday use. The 10D shell is thin no matter how you slice it, and the jacket's zippers are smaller and more fragile than most (although they have yet to cause any issues). Most people in the market for a synthetic insulator will want to stick with a tougher design like the Arc'teryx Atom Hoody (formerly the Atom LT) or Patagonia Nano-Air (both of which are more affordable to boot), and we've even found the 10D DAS Light Hoody (which features a Pertex Quantum Pro shell) to be much more tear-resistant. But for climbers, backcountry skiers, or backpackers who place a high priority on weight-savings, the Micro Puff has no equal and is surprisingly durable for an ultralight design.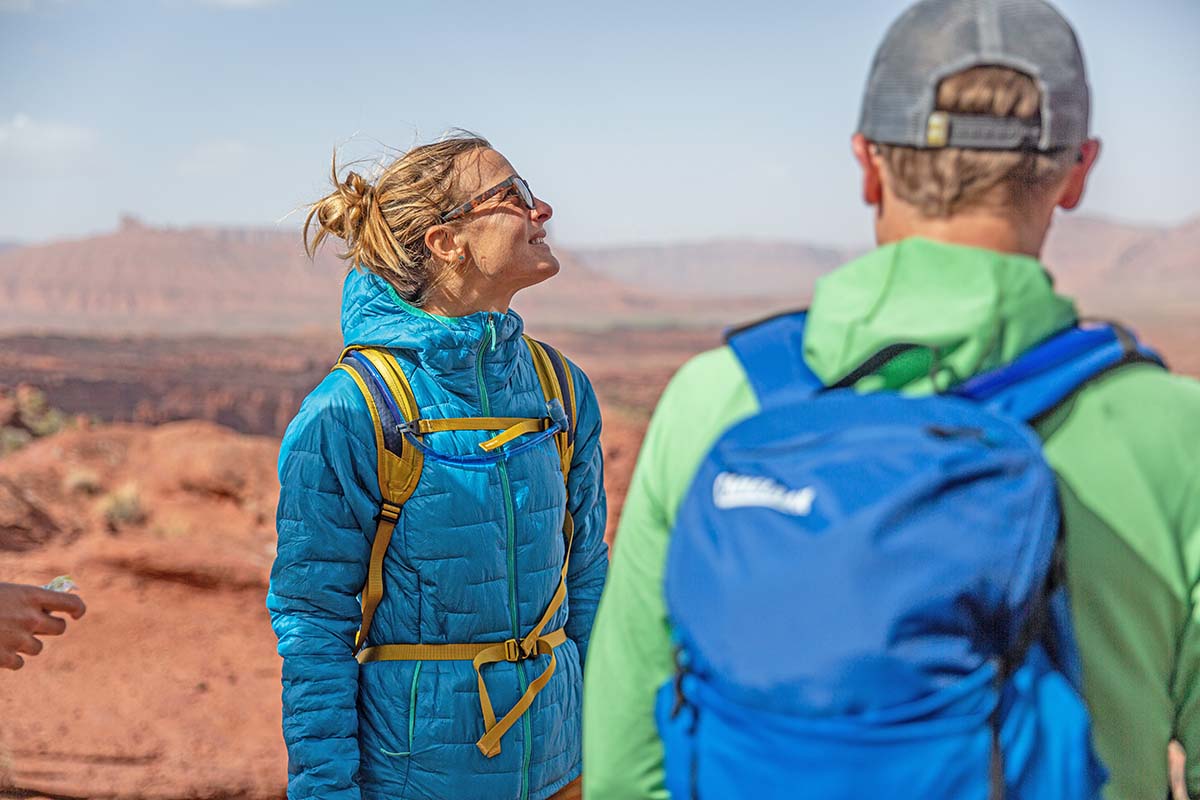 Fit and Sizing
Designed for performance use, the Micro Puff has a trim fit that prioritizes freedom of movement and is easy to layer over a light baselayer or underneath a hardshell or rain jacket (my standard women's small fit true to size). As we've come to expect from Patagonia, the articulated patterning is very well executed, and the newest version offers even better mobility with a retooled shoulder construction. The updated Micro Puff also tacks on an adjustable hem so that you can modify its fit and seal out the elements. That said, keep in mind that this jacket is not styled for everyday use—a jacket like the Nano Puff has a more contoured fit, while the roomier Down Sweater offers a lot more room for layering underneath.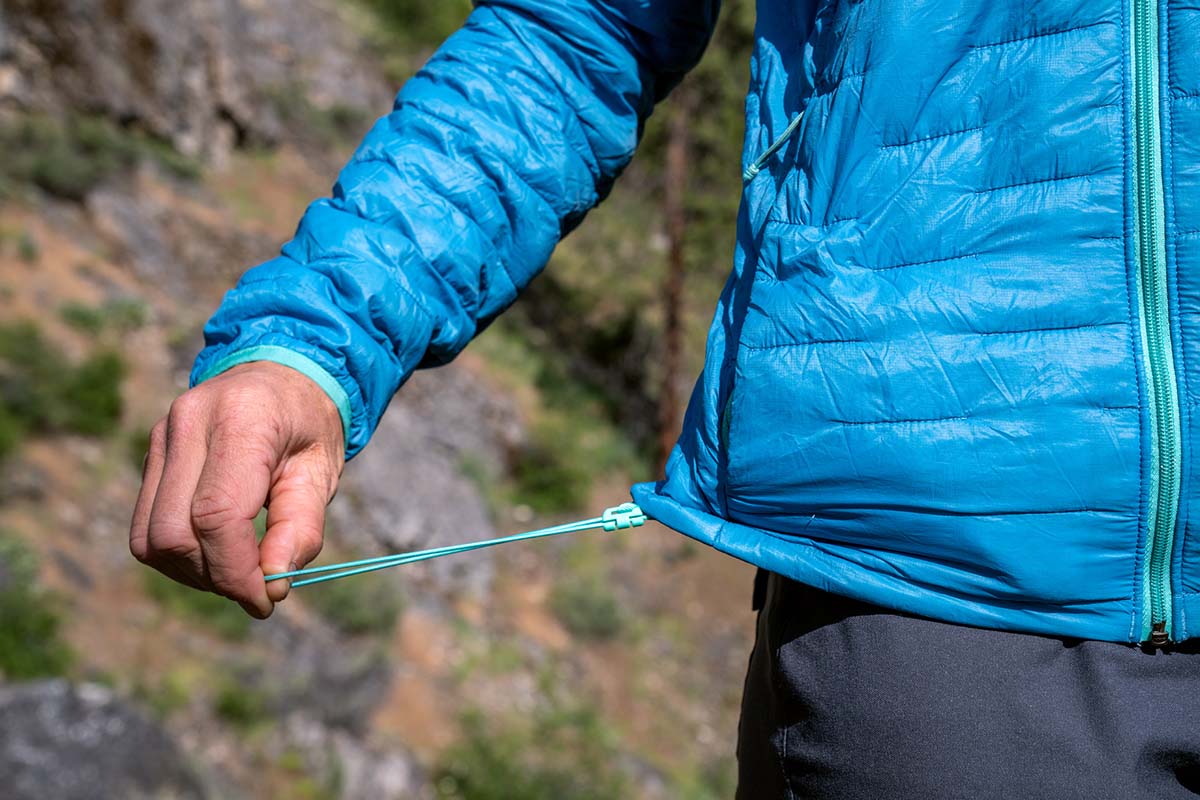 Sustainability
Like much of Patagonia's lineup, the Micro Puff Hoody incorporates sustainability measures that boost its all-around appeal. Specifically, the jacket utilizes 100% recycled materials for the shell, lining, and insulation. The latest version goes a step further with Patagonia's NetPlus shell—made from 100% recycled fishing nets—and a PFC-free DWR finish. It's also bluesign-approved and Fair Trade Certified, indicating that the chemicals used during production are safe and that workers are compensated fairly and have good working conditions. It all adds up to one of Patagonia's most intentionally built and environmentally conscious offerings to date.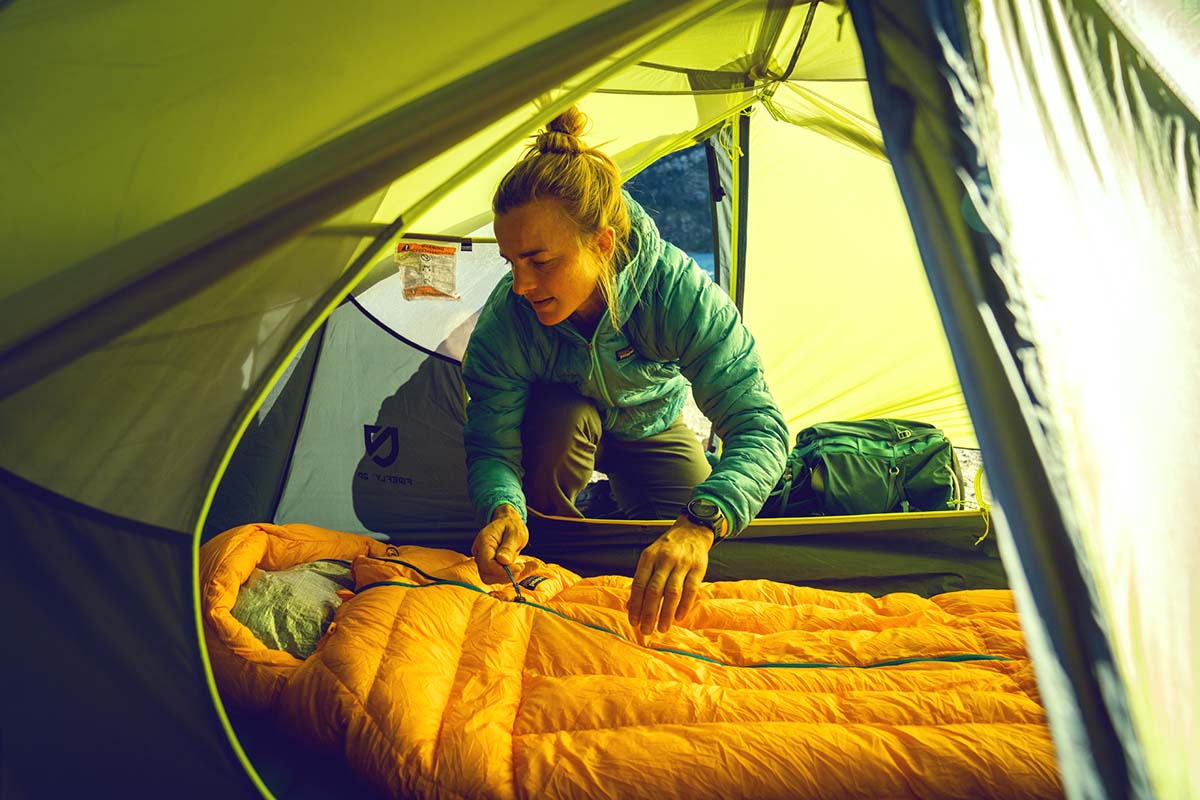 Other Versions of the Patagonia Micro Puff
We tested the women's and men's versions of the Micro Puff, both in hoody form. The lineup also includes a non-hooded jacket for both men and women (10.4 and 8.9 oz., respectively), which is a bit cheaper at $279. It's worth noting that Patagonia used to offer a vest variation, but they haven't released an updated version yet. All of the jackets are thin at 10D and use 65-gram PlumaFill synthetic insulation for warmth. Among the options, we think the hoody still makes the most sense considering the Micro Puff's goal of maximizing warmth relative to weight, but the non-hooded jackets are easier to layer under a shell.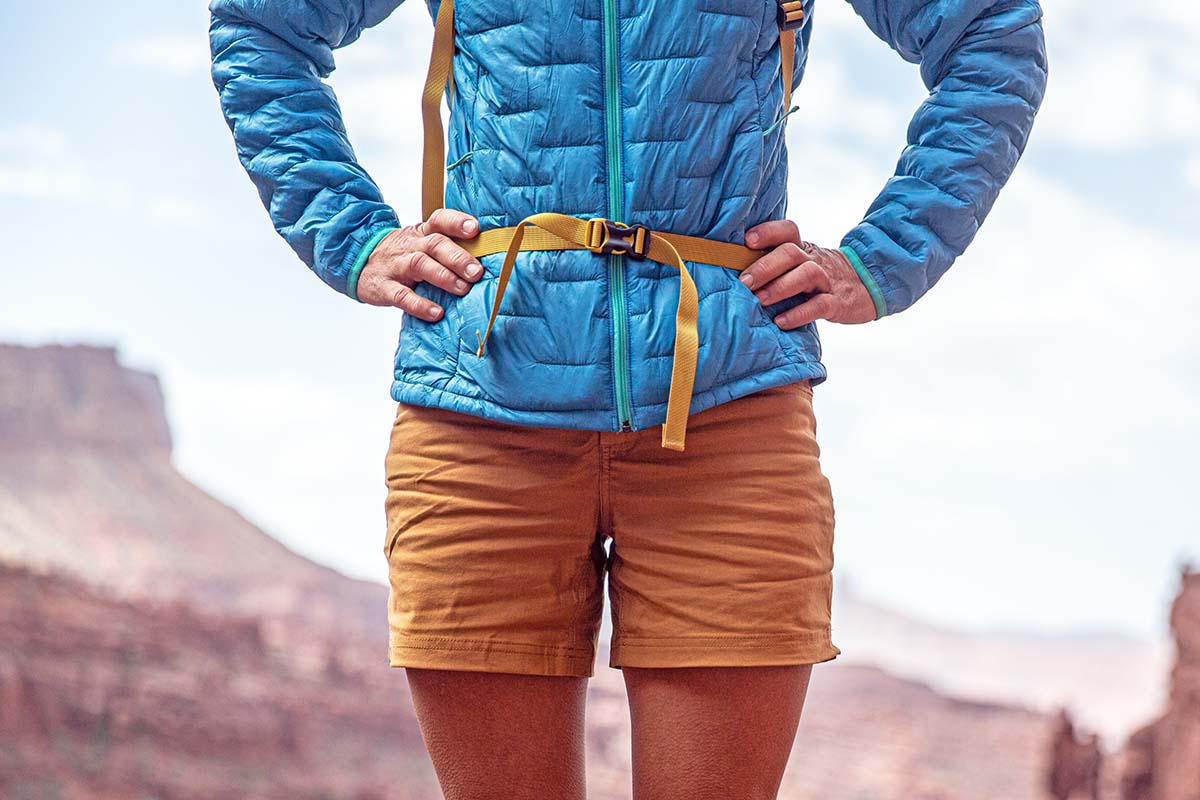 What We Like
Amazing warmth-to-weight ratio: The Micro Puff is insulated enough for use in most mild conditions while weighing 1 to 3 ounces less than many synthetic alternatives.
Down-like weight and packability with the reliable weather resistance of synthetic fill.
Great-fitting hood and a well-rounded feature set for performance use.
Nice fit that trims some of the boxiness away from other Patagonia pieces.

What We Don't
Not as warm as a down jacket of a similar price and weight.
Expensive at $329 for the level of warmth and usability.
Trim fit and thin 10D shell lack versatility for everyday use.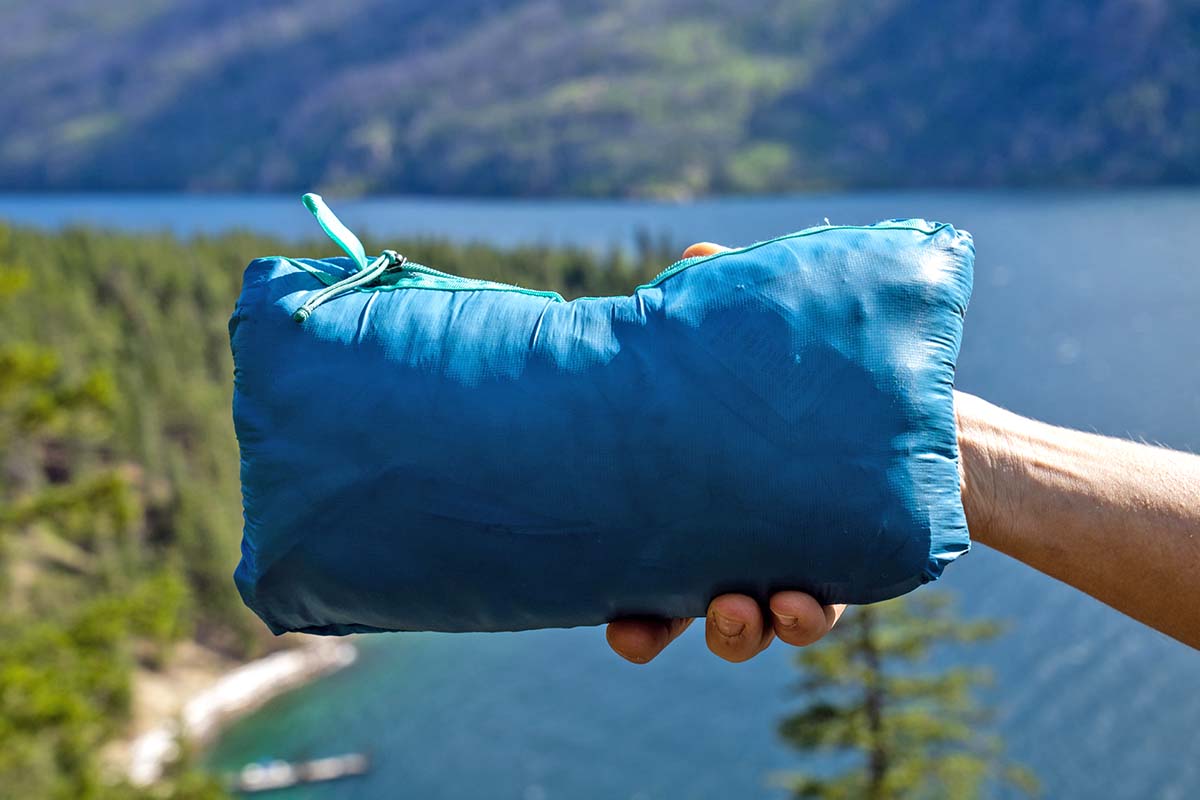 Comparison Table

The Competition
Much of the Micro Puff's competition comes from within Patagonia's own lineup, and for serious outdoor use, the DAS Light Hoody is arguably the better option. Designed as both a midlayer and standalone piece for activities like climbing and skiing, the DAS has a similar recipe of 65-gram PlumaFill insulation inside a quilted design but swaps the Micro Puff's baffled exterior for a hung face fabric (read: no external stitching) to maximize wind resistance and warmth. It wins out in durability and moisture protection, too, thanks to a Pertex Quantum Pro shell (a step up from the Micro Puff's Pertex Quantum) with polyurethane coating. The DAS Light also offers a more well-rounded feature set, including adjustability at the hood, a two-way zipper, and a chest pocket (it notably lacks internal dump pockets). Weight-focused explorers may still opt for the Micro Puff (it's a slightly better breather, too), but for just 0.7 ounces more, the DAS Light strikes us as the better all-around jacket, especially for adventuring in inclement weather.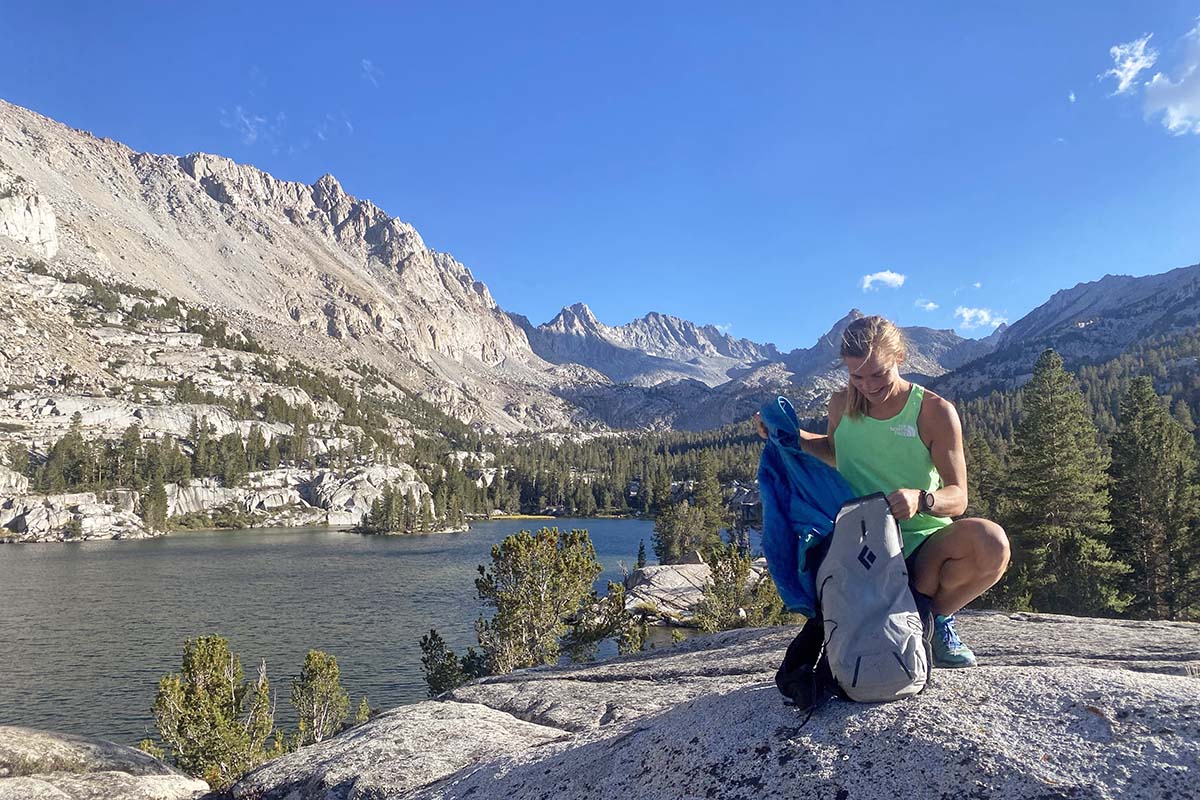 Another popular synthetic jacket is the Patagonia Nano Puff Hoody, which is cheaper at $279 and more practical for everyday use. It does outweigh the Micro Puff at 10.8 ounces for the women's hoody version and is a bit less packable, but that comes with a boost in durability (the Nano Puff has a 20D shell compared to the Micro Puff's 10D) and slightly longer cut. The Nano Puff is also more form-fitting with less bulk (it uses a sheet of dense insulation rather than the Micro Puff's loftier PlumaFill) and a more pronounced waist. In the end, the Micro Puff is our preferred insulator for backpacking or climbing trips due to its lighter and more packable build, but the Nano Puff has more everyday appeal for the casual crowd and light outdoor use.
A final Patagonia option to consider is their Nano-Air Hoody, which prioritizes breathability and comfort with a stretchy, sweatshirt-like shell. We love this jacket as a wear-all-day midlayer for skiing or winter hiking, and it dumps heat much better than the Micro Puff with its air-permeable shell. What's more, the Nano-Air's soft and cozy build and durable 33D face fabric make it far more versatile for everyday use. But it's heavier than the Micro Puff at 10.2 ounces and doesn't pack down nearly as small, and we don't recommend the Nano-Air as an outer layer even in light rain (the shell has a tendency to absorb moisture). In the end, we'll stick with the Micro Puff for weight-conscious missions like alpine climbing and backpacking, but the Nano-Air nevertheless is a great active insulator and everyday piece.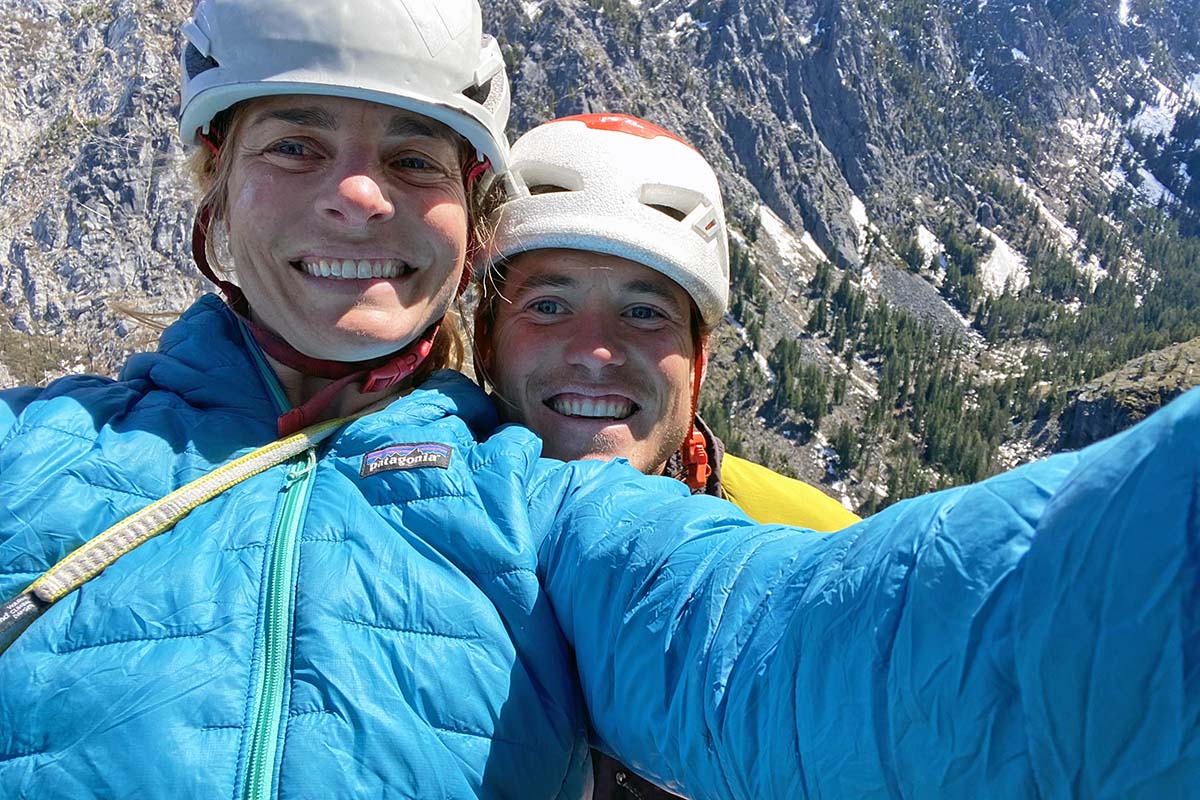 Price often goes up as weight and bulk decrease, and the Micro Puff is undeniably expensive at $329. For a more budget-friendly but still lightweight solution, we really like the Outdoor Research SuperStrand LT Hoodie. At over $100 less than the Patagonia, the OR achieves a similarly light and packable design, checking at just 9.6 ounces for the women's hoody and stuffing into its left-hand pocket. But the SuperStrand does fall short in just about every other metric: It's noticeably less warm than the Micro Puff, lacks features like a hem adjustment or wind flap behind the front zipper, and is quick to wet out in a light rainfall. What's more, despite its marginally thicker shell (12D), our OR has formed holes faster than the Patagonia, and the synthetic fill has a tendency to creep out through the seams. But for a considerable savings, the SuperStrand is a nice alternative for budget seekers or those shopping for an emergency layer.
The ultimate test of the Micro Puff is within the lightweight down jacket category. There are a number of quality options, including the Arc'teryx Cerium Hoody (previously called the "Cerium LT") and Feathered Friends Eos. The Micro Puff wins out in weight, packed size, comfort, and price, and it also gets the advantage in wet-weather performance with its synthetic fill (although the Cerium does include synthetic in moisture-prone areas). However, the Patagonia just can't compete in terms of warmth—the Arc'teryx (10.2 oz.) and Feathered Friends (10 oz.) options weigh a little over an ounce more than the Micro Puff but are far more practical for keeping you comfortable in the cold. In the end, we found the Micro Puff to be a great study in the potential for a light, packable, and warm synthetic, but it hasn't knocked down jackets off their pedestal just yet.
If you're thinking about buying gear that we've reviewed on Switchback Travel, you can help support us in the process. Just click on any of the seller links above, and if you make a purchase, we receive a small percentage of the transaction. The cost of the product is the same to you but this helps us continue to test and write about outdoor gear. Thanks and we appreciate your support!
Depending on the seller, most products ship free in the United States on orders of $50 or more. International shipping availability and rates vary by seller. The pricing information on this page is updated hourly but we are not responsible for inaccuracies.
Learn More About Outdoor Gear