Merging features from Patagonia's winter-weight DAS Parka and their fast-and-light-focused Micro Puff, the new-for-2020 DAS Light Hoody might just be the best of both worlds. Billed as an "ultralight belay hoody," the DAS Light has quickly earned a spot in our quiver thanks to its robust and weather protective shell, great warmth for the weight, and climbing-focused features. Following over two months of almost daily testing, below are our experiences with the Patagonia DAS Light Hoody. To see how it stacks up to the competition, see our articles on the best synthetic insulated jackets and best women's synthetic insulated jackets.
 
---
Table of Contents
---

Performance
Warmth
The new-for-2020 Patagonia DAS Light Hoody is a lightweight synthetic jacket that functions both as a midlayer (under a hardshell or rain jacket) or as a standalone piece for activities like climbing and skiing. The DAS Light features Patagonia's proprietary 65-gram PlumaFill insulation, which has been praised for its down-like warmth, weight, and packability (in fact, Patagonia claims their PlumaFill-insulated Micro Puff offers the best warmth for weight of any jacket they've made). The DAS Light takes the quilted design of the Micro Puff—which helps to keep the insulation evenly distributed and lofted throughout the jacket—and pairs it with a highly weather-resistant shell (more on this below), adding an extra dose of insulation by keeping the elements at bay. In the end, it's one of the few synthetic jackets to offer warmth on par with down jackets of its weight.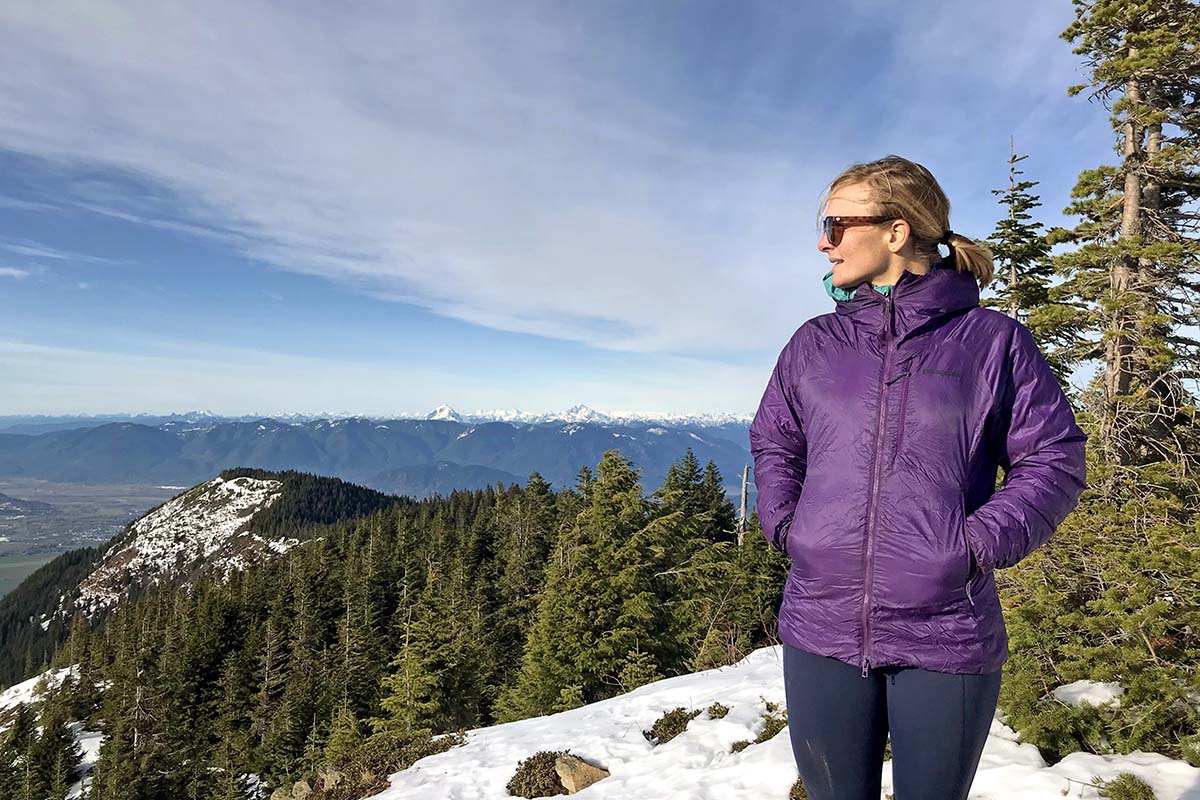 I wore the DAS Light Hoody throughout a chilly central Oregon fall, and it became my jacket of choice for temperatures as low as about 40 degrees Fahrenheit. You can certainly push it into colder conditions with a heavyweight baselayer or if you're on the move—it was the ideal companion on a recent hike with a below-freezing windchill (although I wished for more jacket during my lunch break). Held up to other lightweight synthetic jackets, the DAS Light Hoody offers slightly more warmth than popular models like the Arc'teryx Atom LT Hoody and Rab Xenon, and impressively does so at a lighter weight.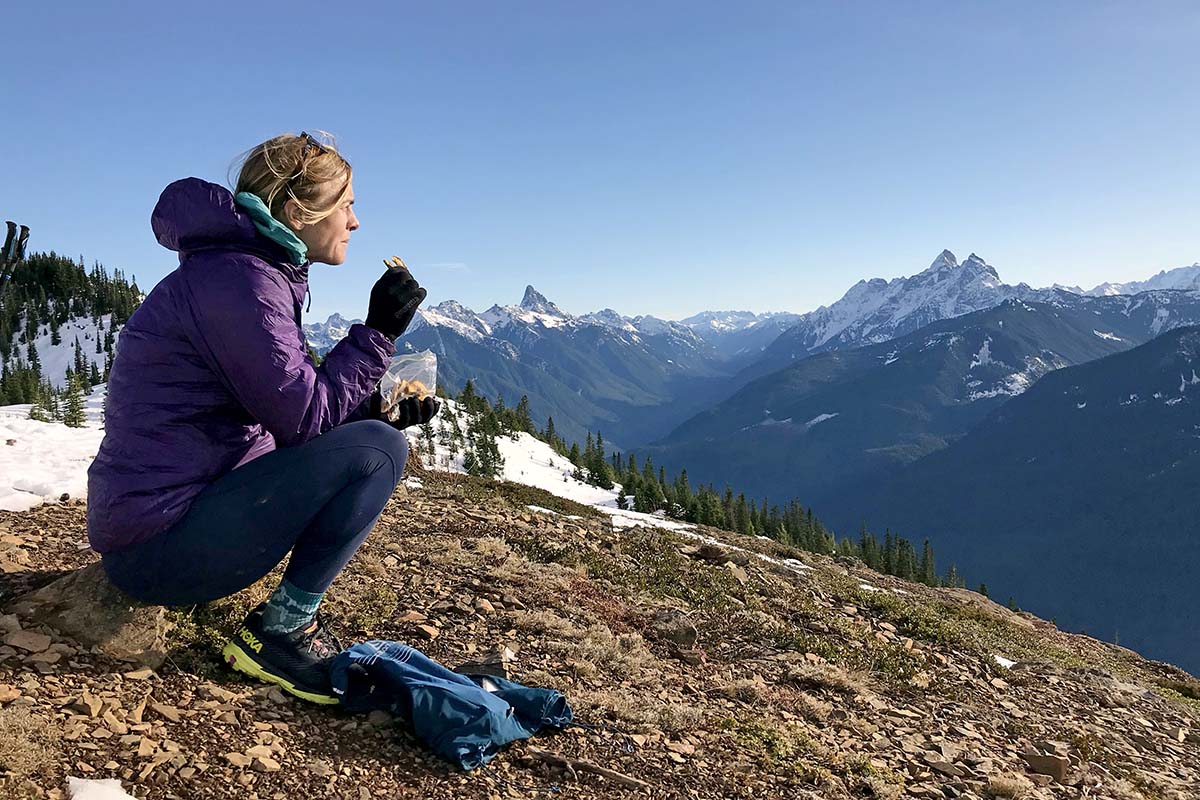 Wind and Water Protection
Climbers, skiers, and winter hikers often prefer synthetic insulation over down due to its ability to insulate when wet, and the DAS Light's PlumaFill is a solid performer. But more noteworthy is the jacket's baffle-less Pertex Quantum Pro shell, which is one of the most wind- and water-resistant materials we've tested (among non-waterproof options, that is). Quantum Pro is Pertex's premium fabric for "extreme conditions," featuring a polyurethane coating and a DWR finish that causes water to bead up and roll off rather than soaking through. To top it off, you also get a Pertex Quantum liner fabric (no "Pro"), similar to the shell fabric used on the Micro Puff. The end result is one of the most weather-resistant synthetic jackets on the market, on par with offerings like the alpine-ready Patagonia DAS Parka and Arc'teryx Nuclei FL and head and shoulders above competitors such as the Patagonia Micro Puff and Arc'teryx Atom LT.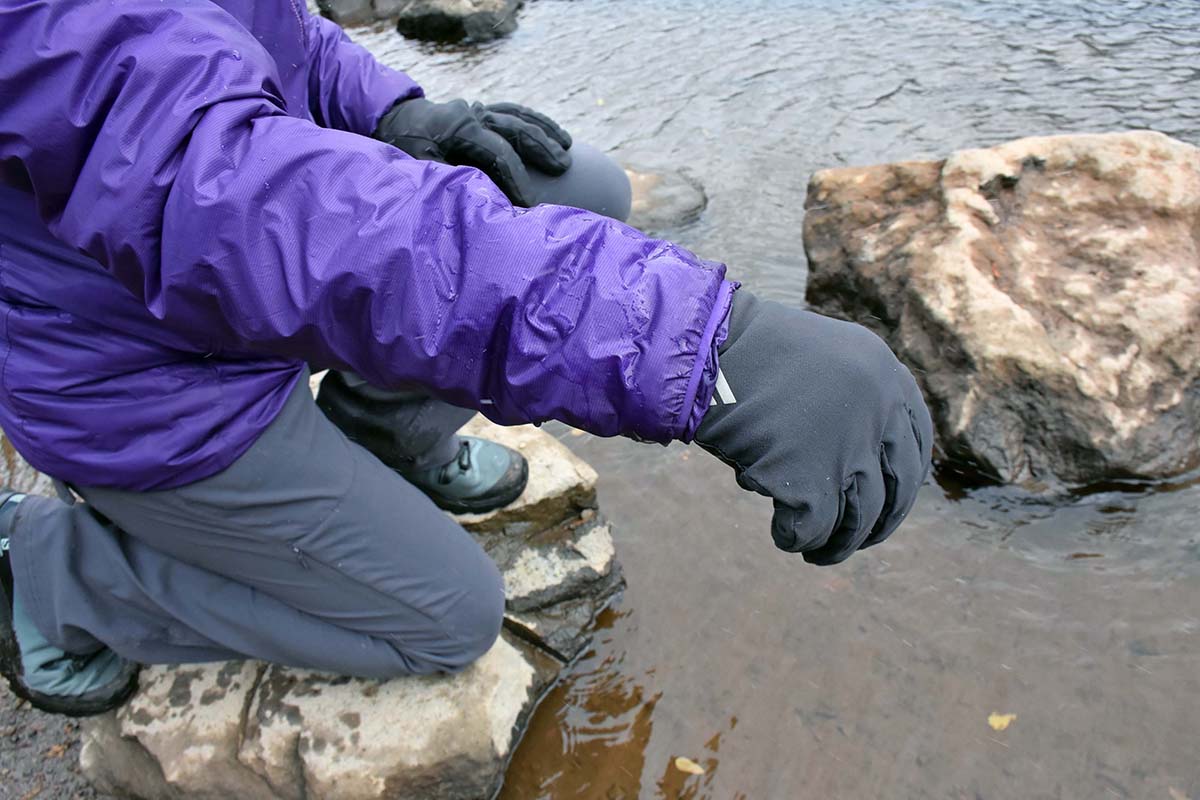 Throughout a fall of testing, I've been very impressed with the performance of the DAS Light Hoody in both wind and rain. Though only 10 denier, the DAS Light's shell has a substantial feel and I've learned to trust it for light moisture and in lieu of a windbreaker jacket. In fact, I was caught in a soaking rain on a recent hike, and the moisture never seemed to make its way past the shell to the insulation. But if you anticipate heavy precipitation or expect to be out for awhile, this jacket is no substitute for a waterproof rain jacket or hardshell (although it will layer nicely underneath).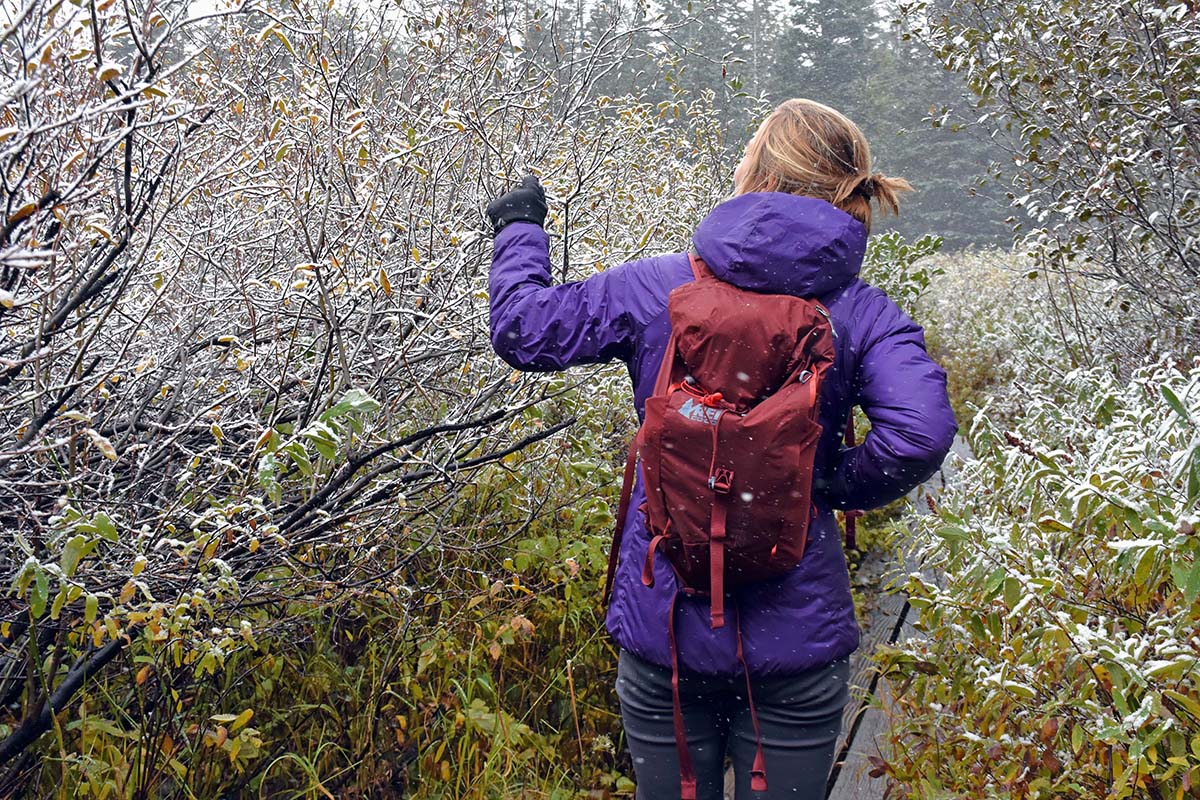 Breathability
Synthetic insulated jackets can be a mixed bag in terms of breathability, with models like the Patagonia Nano-Air (debuted with the slogan "put it on, leave it on") leading the charge and more weather-ready designs bringing up the rear. True to form, the DAS Light Hoody is not particularly breathable due to its wind- and water-resistant shell and liner. I've worn this jacket cross-country skiing, during brisk hikes, and even rock climbing, and have had to remove it when my heart rate rises and my body begins to build heat. If you're looking for a jacket that you can wear during activity, the less weather-resistant Patagonia Nano-Air and Arc'teryx Atom LT are better options.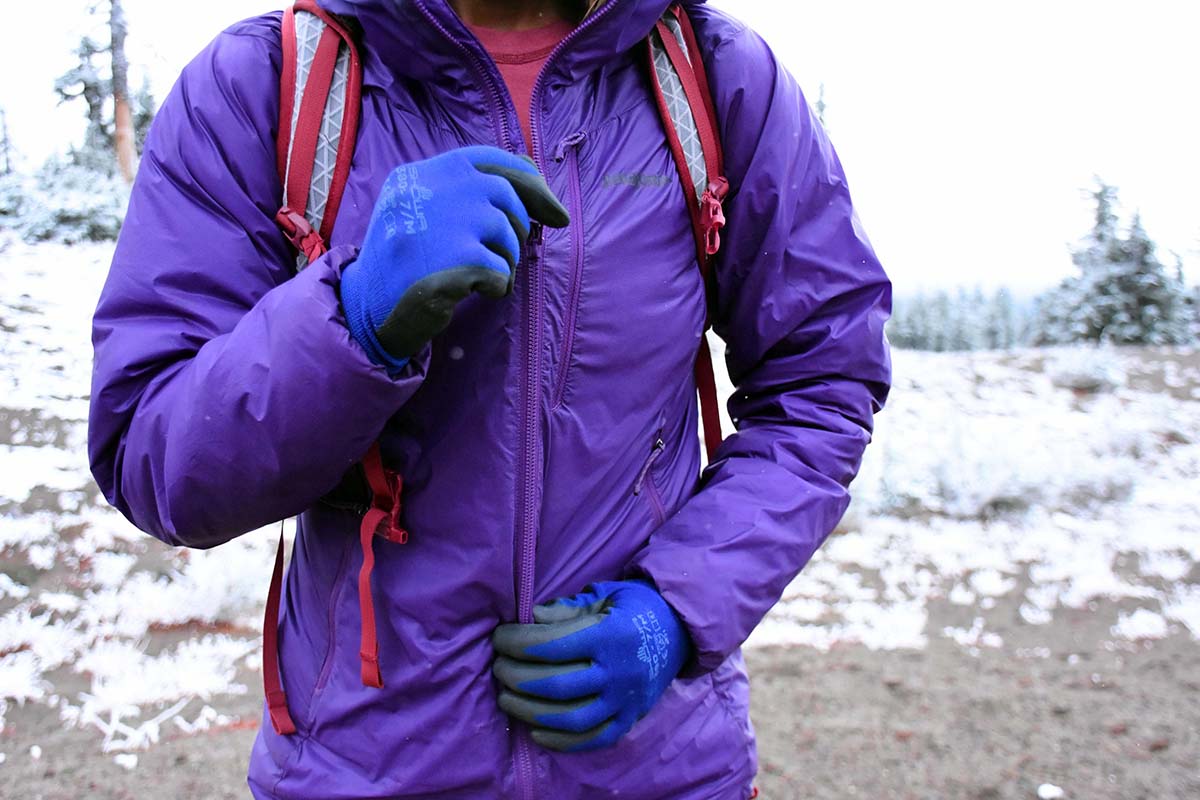 Weight and Packability
The DAS Light Hoody clocks in at 9.7 ounces for the women's version (11.3 oz. for the men's), which puts it on the lighter end of the spectrum among synthetic jackets of similar warmth. For comparison's sake, the ultra-minimalist Micro Puff Hoody weighs 8 ounces for the women's version, and popular jackets like the Patagonia Nano-Air Hoody and Arc'teryx Atom LT Hoody tip the scales at 10.2 ounces and 11.3 ounces, respectively (keep in mind that none of these models can match the weather protection of the DAS Light). You could shave more weight with a less protective fabric, slimmer fit, and fewer features (like the Micro Puff), but we think that the DAS Light Hoody strikes a nice middle ground between weight-savings and functionality.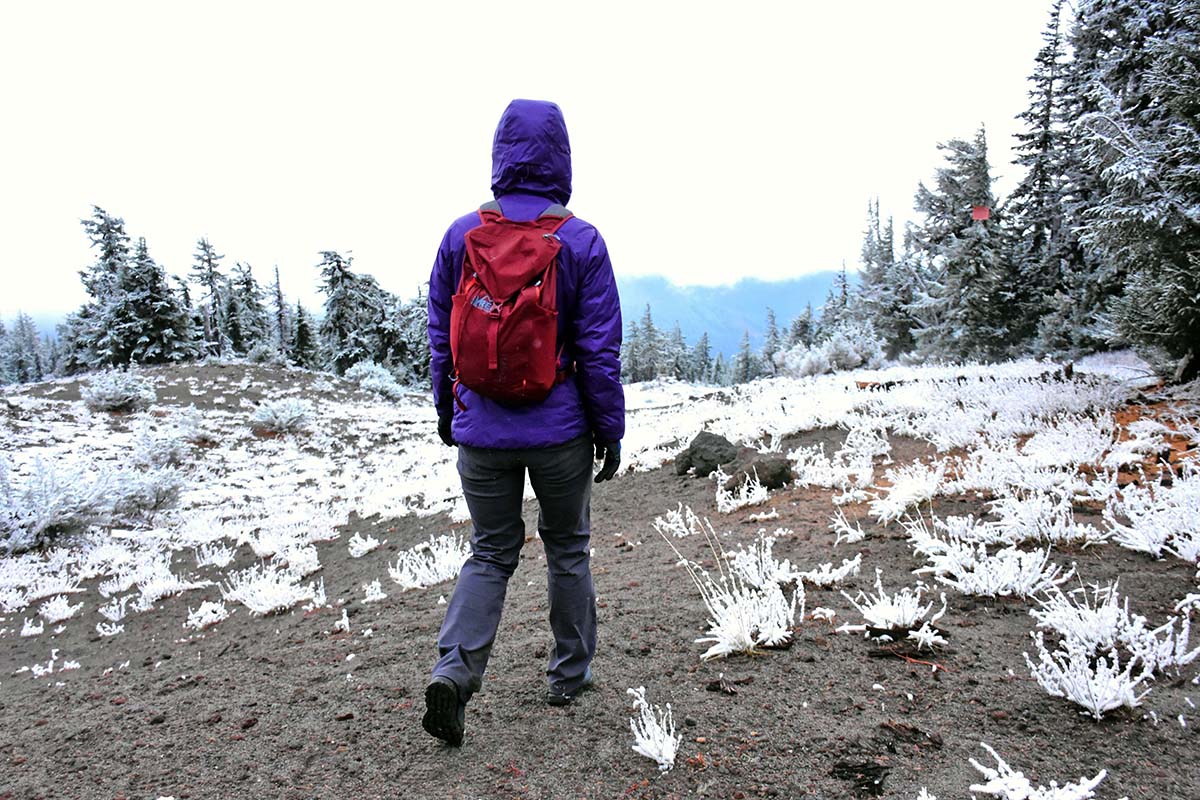 In terms of packability, the DAS Light Hoody is designed to stuff into its left handwarmer pocket, but unfortunately the pocket is prohibitively small. Try as I might, I can't pack the entire jacket in and get the zipper closed, which is a big bummer for climbers who like to attach their belay parka to their harness (we've checked with others who own the DAS Light, and their experience is the same). But despite this flaw the jacket is still quite compressible (its packed size is roughly the shape of a 32-ounce Nalgene), and easily disappears into a corner of my backpack. For comparison's sake, the Nano-Air and Arc'teryx Nuclei FL pack up to about the same size and the Micro Puff is slightly smaller.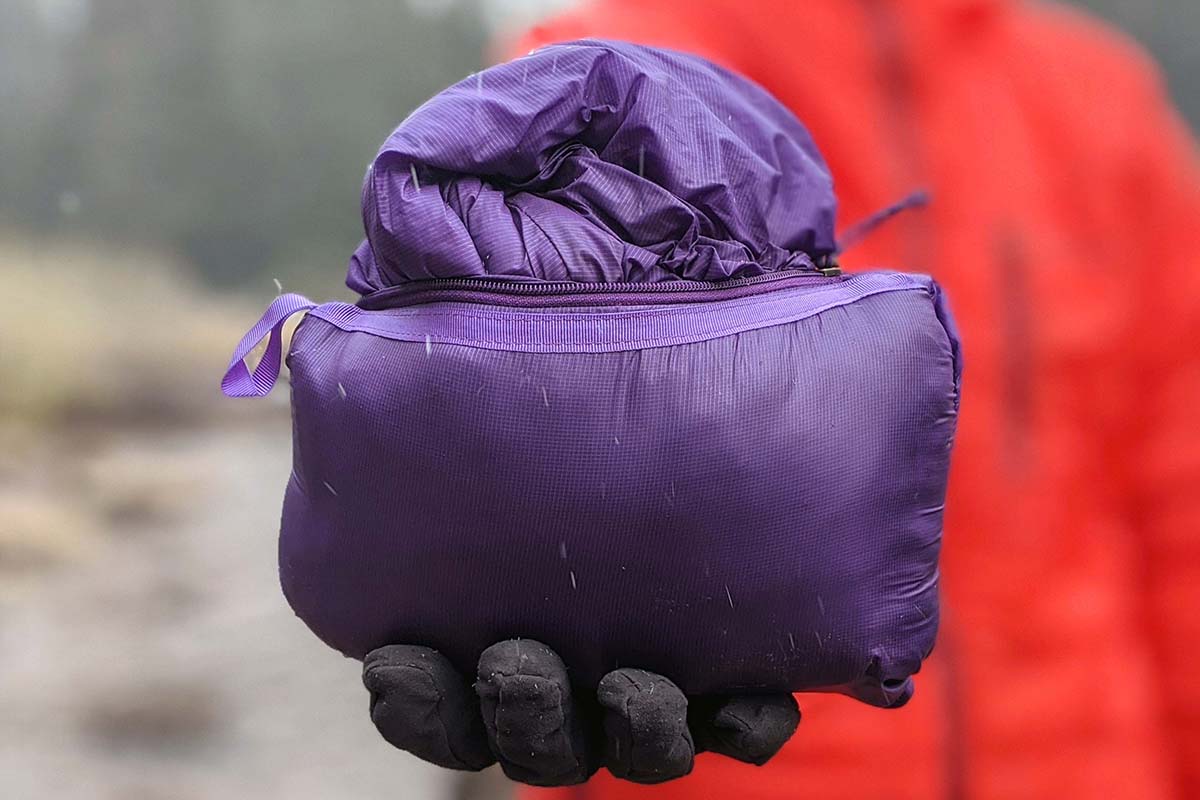 Features
With the DAS Light Hoody, Patagonia set out to make a jacket that was both ultralight and fully functional as a belay parka, which can be a tall order. In the end, the design strikes us as incredibly intentional yet with a few large omissions. First off, the DAS Light features an adjustable, helmet-compatible hood, which most climbers will find to be a massive improvement from the Micro Puff Hoody. The hood secures to the head via a simple rear pull, and I especially love the elastic gasket that keeps cold air out at the front. You also get low-profile, elasticized cuffs, three external zippered pockets (two handwarmer and one chest), and an extremely handy two-way front zip with an internal wind flap. I find the two-way zip almost indispensable when wearing the jacket with a harness, and am happy to see that Patagonia included it in the DAS Light's design.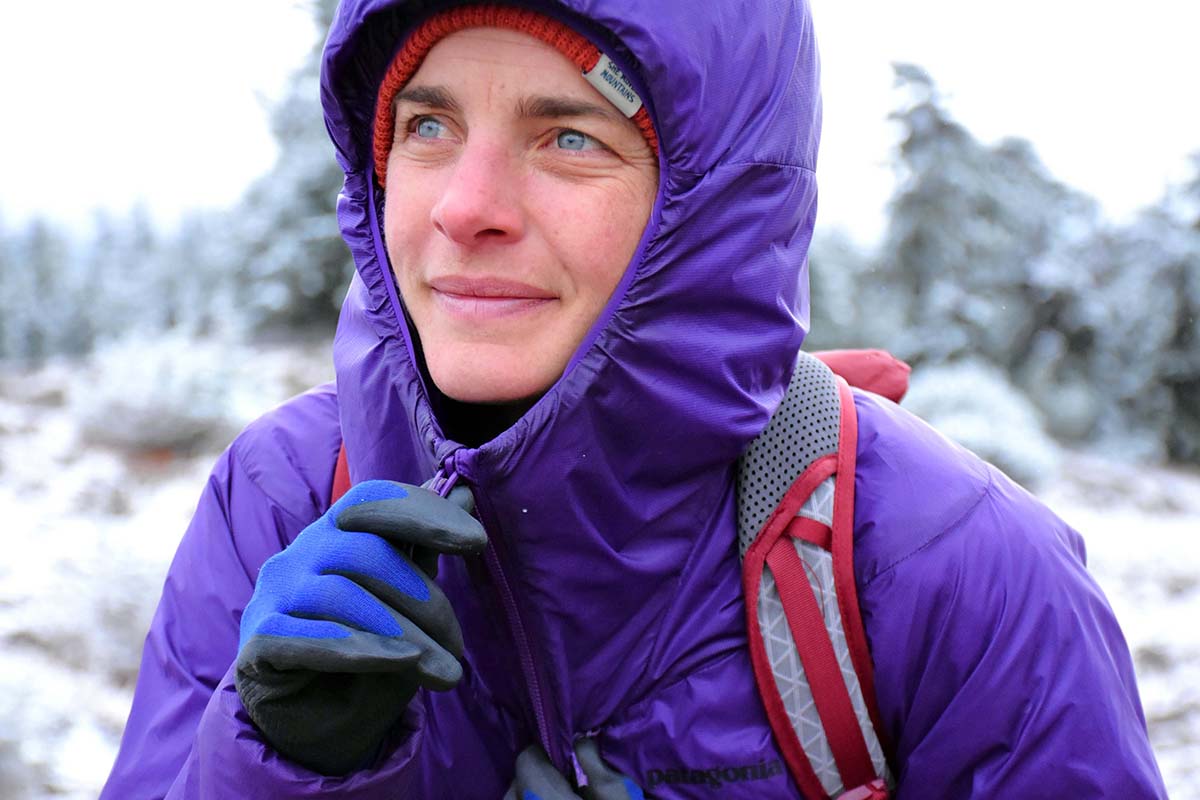 But in my opinion, the DAS Light Hoody is missing two main features: internal dump pockets and an adjustable hem. While rock climbing or ice climbing, dump pockets are essential for warming gloves or climbing shoes close to the body, and I catch myself consistently reaching into the jacket to store items only to be disappointed. As for the hem, the DAS Light features only a small piece of elastic that does very little to keep the jacket close to the body (the Micro Puff's waistband is similar but ends up sitting closer due to the trimmer fit). So, while the jacket does an exceptional job of keeping wind out via the shell, it lets in a noticeable amount at the waist (having a backpack or harness on overtop helps). We expect the DAS Light to be in Patagonia's lineup for awhile, and hope to see slight improvements on the design in future years.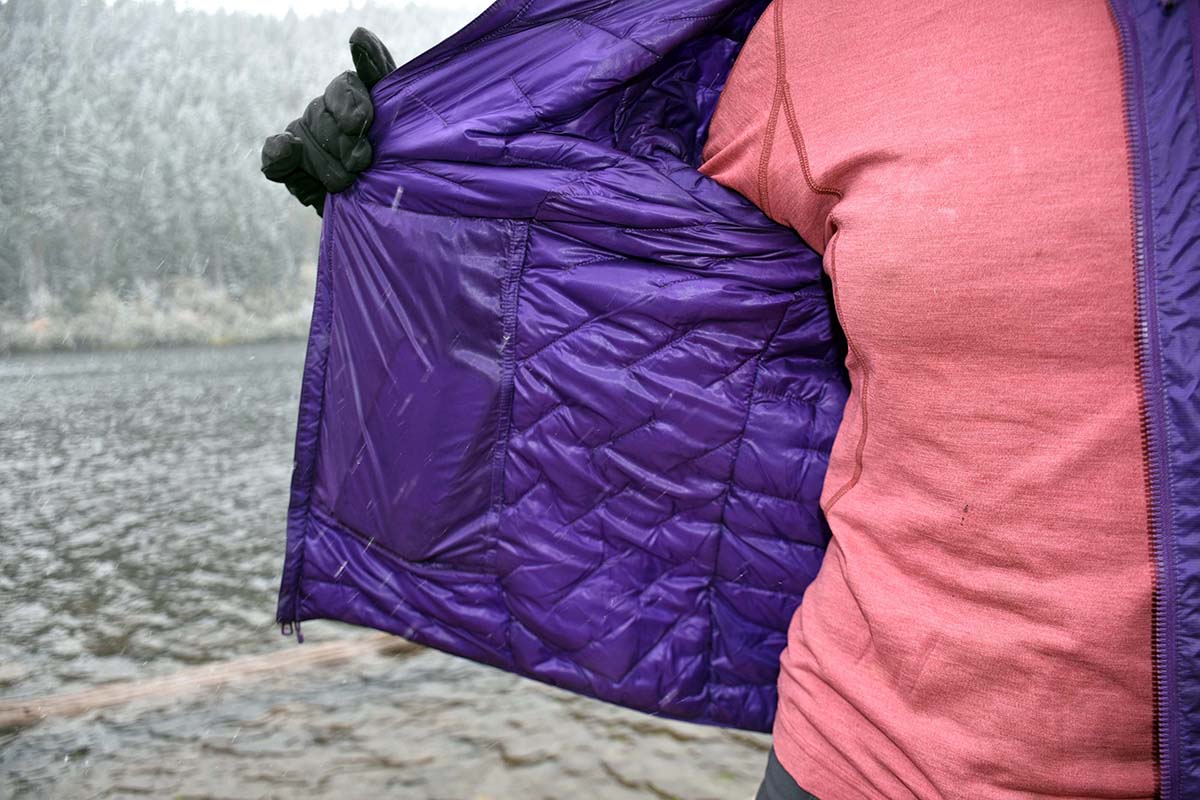 Build Quality and Durability
Like everything that Patagonia makes, the DAS Light Hoody is constructed with premium materials and built with a keen attention to detail. The jacket features a sleek 10-denier Pertex Quantum Pro shell (with a polyurethane coating for extra abrasion resistance) and a 10-denier Pertex Quantum quilted liner (similar to the external construction of the Micro Puff). While thin (most synthetic jackets use 20D or thicker shell fabrics), the DAS Light feels sturdy, and after over two months of almost daily use (around sharp rocks and equipment to boot), I have yet to put a hole or tear in the shell. We've been impressed with Pertex's Quantum Pro on the whole, and expect the DAS Light to hold up very well over time.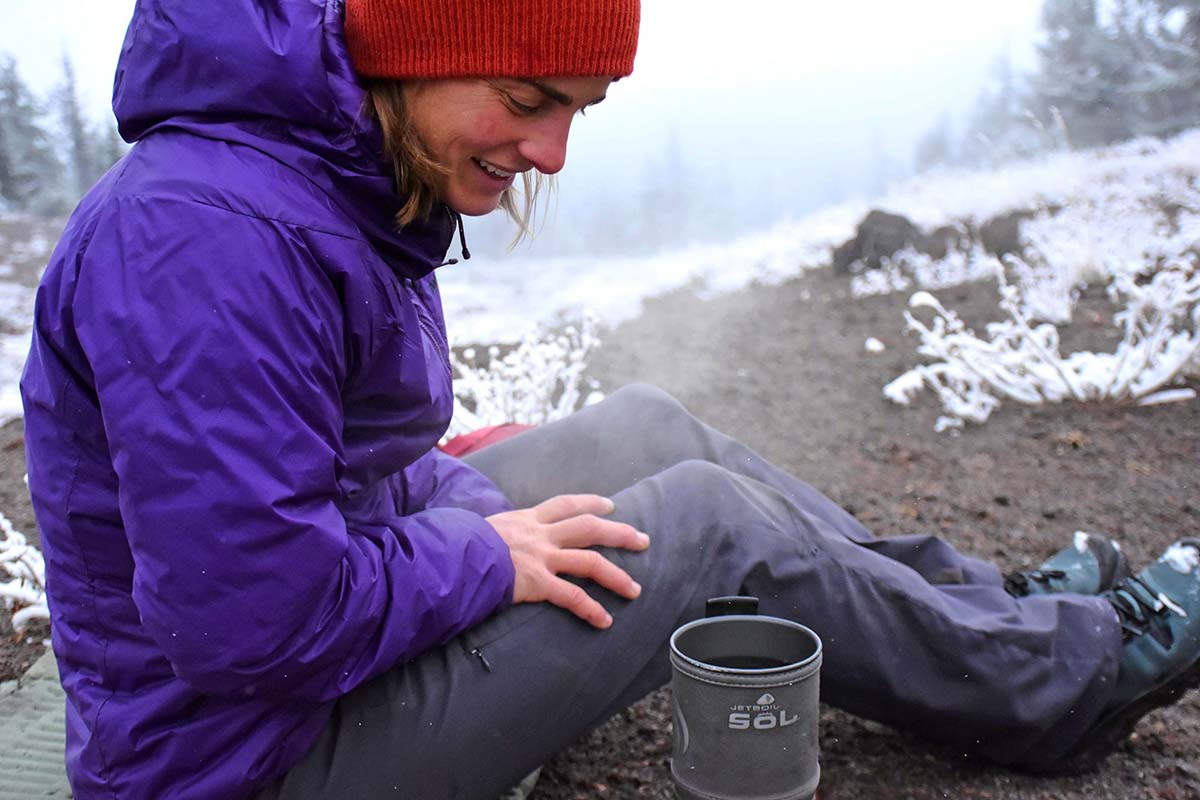 Fit and Sizing
Despite its ultralight intentions, the DAS Light Hoody features a relatively relaxed fit. I am a standard size small in jackets from brands like Arc'teryx, REI, and Black Diamond, and the Patagonia here is no exception. With great freedom of movement, the DAS leaves ample room for a baselayer or fleece jacket underneath, yet is still sleek enough to layer underneath a hardshell or rain jacket. It also features a generous hem length that falls nicely below my hips and offers great coverage when bending over or wearing over a bulky climbing harness.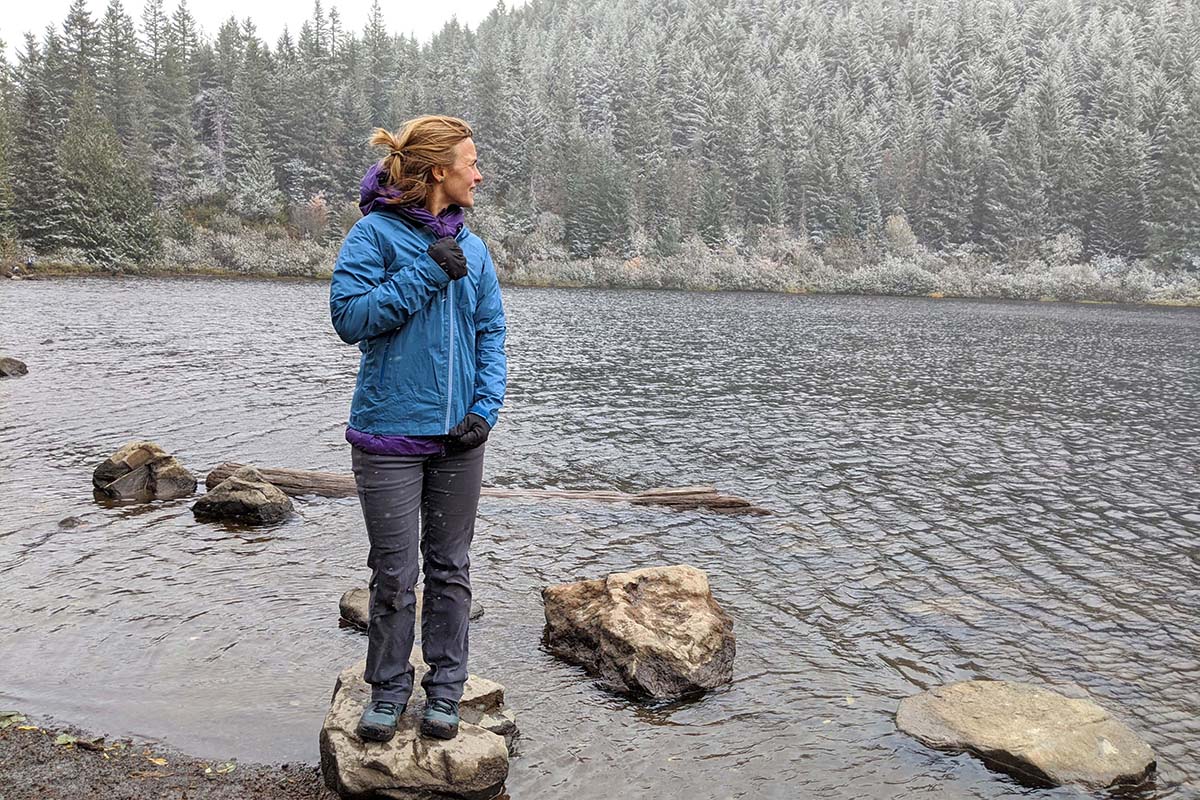 Sustainability
Like most of Patagonia's products, the DAS Light Hoody is made with an attention to ethical and environmentally friendly sourcing and production. The jacket is sewn in a Fair Trade Certified factory, which means that workers are treated fairly and paid living wages. Second, the PlumaFill insulation is built using 100-percent recycled polyester. Finally, while the DAS Light features a standard DWR finish, Patagonia is making progress towards creating a DWR that's free of perfluorocarbons (PFCs), which we look forward to testing in the future.

Other Versions of the DAS
For this review we tested the women's Patagonia DAS Light Hoody, but Patagonia also makes a men's version. The men's DAS Light Hoody is identical to the women's jacket in terms of price, materials, and features, and is available in four colorways at the time of publishing (the women's comes in three). It's also worth noting that the DAS Light is a spinoff of Patagonia's classic DAS Parka, a winter-weight belay jacket that features a similar shell but tacks on a few features (including internal dump pockets and an adjustable hem) and includes a generous dose of 133-gram PrimaLoft insulation for more warmth and loft. The women's DAS Parka (reviewed here) tips the scales at 1 pound 1.4 ounces and retails for $449.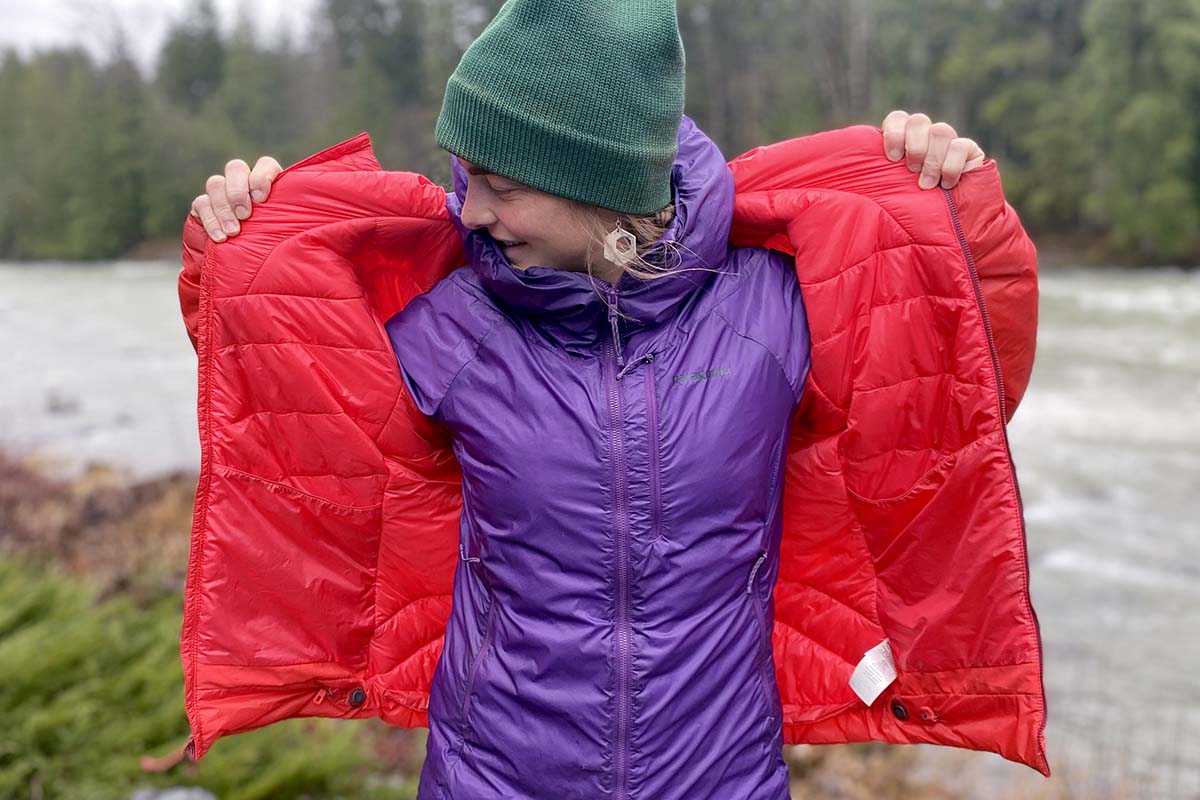 What We Like
The DAS Light strikes a great balance of weight-savings and functionality with warm yet lightweight PlumaFill insulation, a weather-resistant shell, and a climbing-centric feature set (including a helmet-compatible hood and two-way zipper). 
The baffle-less and highly protective exterior provides an exceptional barrier against wind and rain.
Despite being thin at just 10 denier, the Pertex Quantum Pro shell with polyurethane coating is impressively durable and abrasion resistant.
 
What We Don't
Due to the very wind- and water-resistant shell, the DAS Light is not a very breathable jacket.
Lacks internal dump pockets and an adjustable hem to keep cold air at bay.
The stuff pocket is too small to fit the jacket, which is bad news for climbers hoping to tote the jacket on their harness.
Expensive at $329.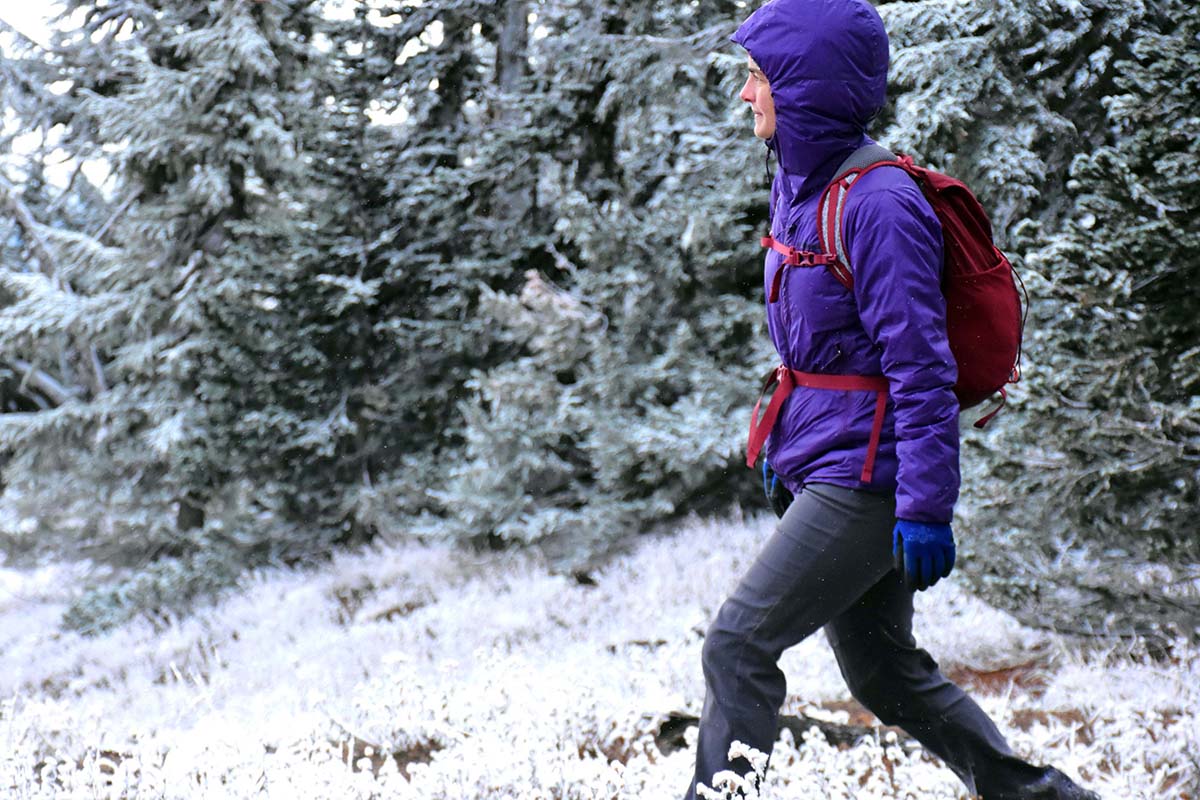 Comparison Table

The Competition
Patagonia describes the DAS Light Hoody as an ultralight belay hoody, placing it within a small class of climbing-focused synthetic insulated jackets. Its biggest competition comes by way of Arc'teryx's Nuclei FL, which features a similarly lightweight design at 10.1 ounces and rivals the DAS Light in terms of warmth, packability, and wind protection. The Nuclei FL's 65-gram Coreloft Continuous offers similar warmth for weight as Patagonia's PlumaFill, and the jacket also tacks on an adjustable hem and internal drop pockets (two of our biggest complaints with the DAS Light). But we give the edge to the Patagonia for its Pertex Quantum Pro shell, which offers an extra dose of water resistance and durability compared to the Arc'teryx's Arato (10D) shell. If you're a rock climber and rarely venture out in wet conditions the highly wind-resistant Nuclei could save you $30 (keep in mind it doesn't come with a two-way zipper), but most alpine and winter climbers will opt for the more water-resistant DAS Light Hoody.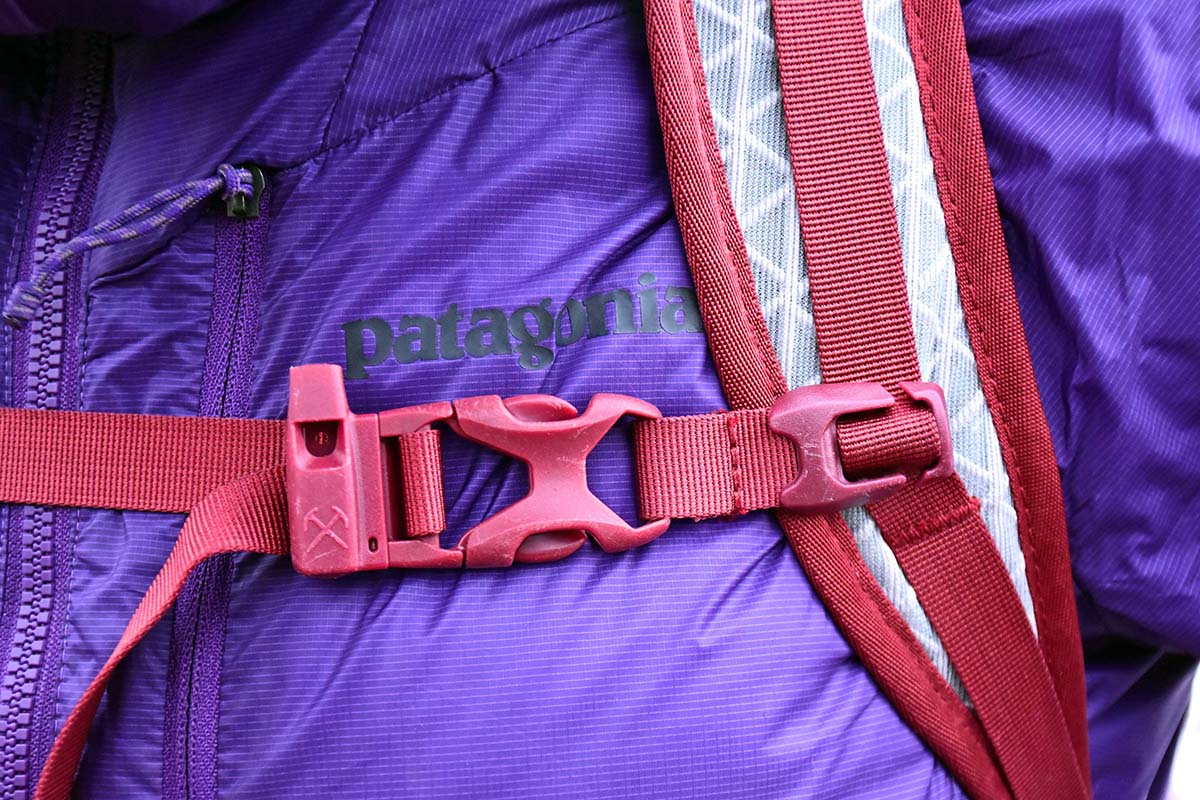 Another jacket to consider is the Rab Xenon, which also features a sleek shell with minimal stitching and a lightweight build (10 oz.). On paper, the Xenon is a bit more robust than the DAS Light with a 20-denier Atmos exterior (Rab's proprietary fabric), but in our experience it feels thinner and more fragile and lacks the exceptional water-resistance of the Patagonia's Pertex Quantum Pro. Further, the Xenon can't match the warmth of jackets like the DAS Light and Nuclei FL, and its build is roomy and not great for technical pursuits (we've snagged the extra fabric on rocks). But for only $195 the Rab is nearly half the cost of the Patagonia, and a nice budget option for those looking for a synthetic jacket with a slight step up in weather protection from models like the Atom LT and Nano-Air (below).
We'd be remiss not to mention the Patagonia Micro Puff Hoody here, which feels like a predecessor to the DAS Light in many ways. The Micro Puff is an ultralight synthetic jacket with the best warmth-to-weight ratio in Patagonia's lineup—but it's a wildly minimalist piece. You get roughly the same amount of PlumaFill insulation as the DAS Light in an 8-ounce package, but the Micro Puff lacks the DAS' durability and weather protection with its quilted Pertex Quantum (no "Pro") shell. It's also very streamlined in terms of features, with a non-adjustable hood that fits best underneath a helmet, two handwarmer pockets (no chest pocket), and two internal dump pockets. The Micro Puff might still appeal to the most weight-conscious of climbers, but for just $30 and less than 2 ounces more, the DAS Light Hoody is a much more well-rounded jacket, especially for wet and windy conditions.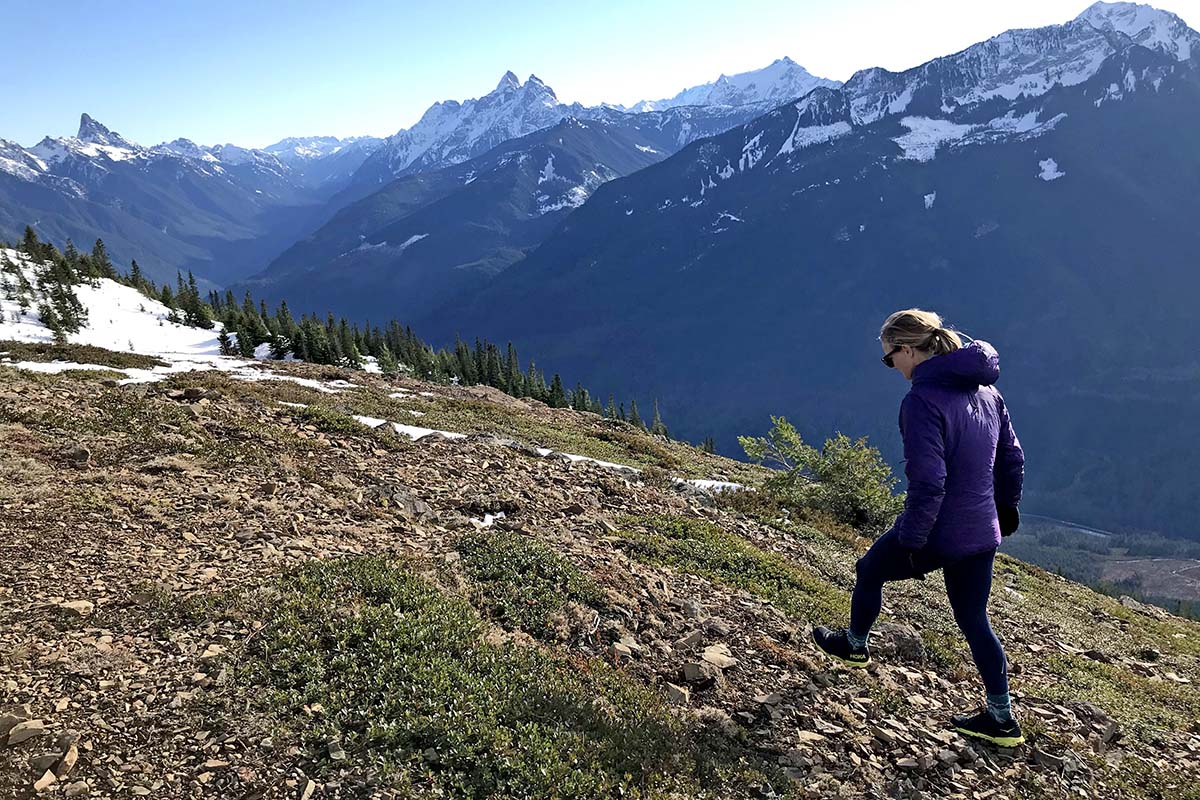 Trending toward the casual end of the spectrum, Arc'teryx's Atom LT Hoody is hard to beat. With a softer shell fabric and stretchy fleece side panels, the Atom LT excels in the comfort department and works well for everyday use. It's also a good breather, making it a better choice than the DAS Light for activities like hiking, snowshoeing, and cross-country skiing (in clear weather). While the two jackets are fairly similar in terms of warmth, the Atom LT's 20-denier shell is not built to resist moisture like the DAS Light's and its side panels make it more permeable to wind. Further, at 11.3 ounces and with a less packable design, it's not a great choice for weight-conscious missions like climbing, skiing, or even backpacking. But the Atom LT is hard to beat for less technical uses and casual wear, and it doesn't hurt that it's $80 cheaper than the Patagonia.
Finally, the Nano-Air is another synthetic jacket from within Patagonia's own lineup. Like the Arc'teryx Atom LT, the Nano-Air prioritizes comfort and breathability over the weight-savings and weather protection of the DAS Light. With a durable yet air-permeable 33-denier shell, the Nano-Air Hoody is even more breathable than the Atom LT and keeps weight low at just 10.2 ounces (not to mention it packs into its chest pocket to about the same size as the DAS Light). This makes it a great option for a variety of activities, including climbing (but keep in mind that you don't get features like a helmet-compatible hood, two-way zipper, or internal dump pockets). In the end we'd reach for the Nano-Air if we want a breathable, highly mobile layer that we can put on and keep on (during cold-weather activities), but prefer the DAS Light for more technical pursuits and when the weather goes south.
If you're thinking about buying gear that we've reviewed on Switchback Travel, you can help support us in the process. Just click on any of the seller links above, and if you make a purchase, we receive a small percentage of the transaction. The cost of the product is the same to you but this helps us continue to test and write about outdoor gear. Thanks and we appreciate your support!
Depending on the seller, most products ship free in the United States on orders of $50 or more. International shipping availability and rates vary by seller. The pricing information on this page is updated hourly but we are not responsible for inaccuracies.
Read More From Switchback Travel