Combining the features of hiking shoes, climbing slippers, and even mountaineering boots, approach shoes are in a category of their own. For climbers, they're an essential piece of footwear that provides stability and traction on rock but comfort for miles on the trail. And because approaches can take on so many different forms—from walking to the crag to scrambling fourth or fifth class or embarking on a multi-day slog—approach shoes are a diverse bunch. Below we break down the top approach shoes of 2023, including comfortable crag and trail shoes, nimble climbers, and mid-height waterproof models. For more information, see our comparison table and buying advice below the picks.
 
---
Our Team's Approach Shoe Picks
---

Best Overall Approach Shoe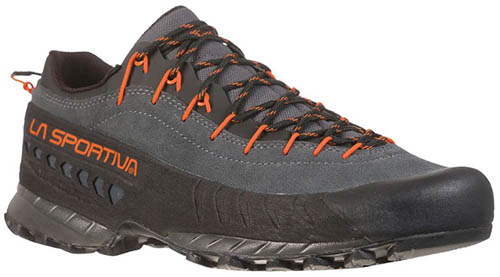 Category: All-around/scrambling
Weight: 1 lb. 10 oz.
Upper: Leather
What we like: Leather upper fits well and is impressively durable.
What we don't: In hot summer conditions, breathability can be limited.
La Sportiva's popular TX series combines features from climbing shoes, mountaineering boots, and mountain running shoes, ranging from the superlight TX2 to the burly TX4 Mid GTX below. Of this venerable grouping, we like the balanced TX4 best. It offers a standout combination of protection, low weight, and durability, and is suitable for everything from toting up a climb on your harness to long hikes with heavy loads. The Vibram rubber is super high-quality and among the stickiest we've tested for both scrambling and hiking. Further, the TX4 (along with the mesh TX3) is made with a wide toe box for exceptional comfort on the trail, which is something we love to see in an all-around approach shoe.
We used to have the TX3 in our top spot, which features a breathable mesh upper in lieu of the TX4's leather. However, such a lightweight material comes at the expense of protection and durability. We love our TX3s but have bored holes in the mesh on three pairs in two years, and we hesitate to bring them along for approaches involving significant snow. It's true that the leather on the TX4 is slightly less breathable and may soak up water during extended exposure to the elements, but it's also much tougher while only adding an ounce of weight to the equation. Both are top-notch approach shoes and the TX3 is ideal for summer missions, but overall, we give the slight nod to the more versatile TX4. And fresh this year, Sportiva also makes the TX4 R, which features fun throwback styling and a new resoleable platform... Read in-depth review
See the Men's La Sportiva TX4  See the Women's La Sportiva TX4
Best Lightweight Approach Shoe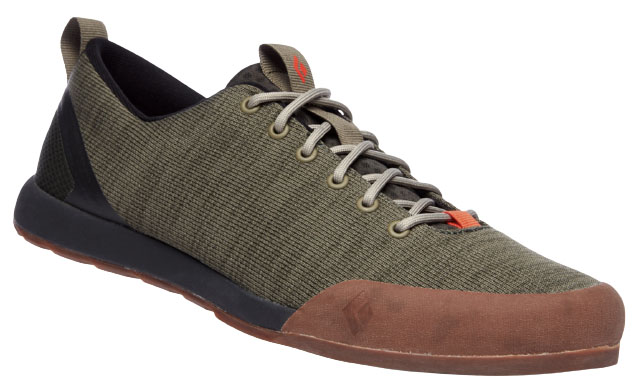 Category: Cragging/all-around
Weight: 1 lb. 2 oz.
Upper: Knit
What we like: Streamlined weight and bulk is great for toting up and over a climb.
What we don't: Not enough protection or cushion for long approaches or descents.
If you climb a lot of routes that have walk-off descents, do yourself a favor and get a really lightweight approach shoe. Whether you're toting your approach shoes on your harness or carrying them in your backpack, the difference of a few ounces (and some bulk) can make a world of difference on a long climb. Within this category, the Black Diamond Circuit is an easy go-to option: It's super lightweight at just over a pound for the pair, has a webbing loop at the rear for carabiner attachment, and offers decent performance with BD's BlackLabel-Street sticky rubber and a wrap-around rubber rand at the toe. And when you're at the crag, the heel folds down for easy slip-on convenience.
Of course there's a tipping point with a shoe like this—while it will get the job done in areas with relatively short approaches (like Joshua Tree or Squamish), you'll likely want more protection, cushion, and traction in mountainous zones or for involved hikes like those in Red Rock. Arc'teryx's Norvan SL 3 ($160) is an intriguing alternative that we see a lot of climbers (especially in Squamish) use: It's part of the brand's running shoe lineup but is a secret weapon for approaching and descending, with a ridiculously low 12-ounce weight (for the pair), Vibram Megagrip outsole, and built-in carabiner clip-in points at each heel. Finally, the La Sportiva TX2 Evo (below) is another popular lightweight option. But at just $110, the Black Diamond Circuit is in a league of its own in terms of value and—like the Session below—looks pretty good around town, too.
See the Men's Black Diamond Circuit  See the Women's Black Diamond Circuit
Best Approach Shoe for Technical Scrambling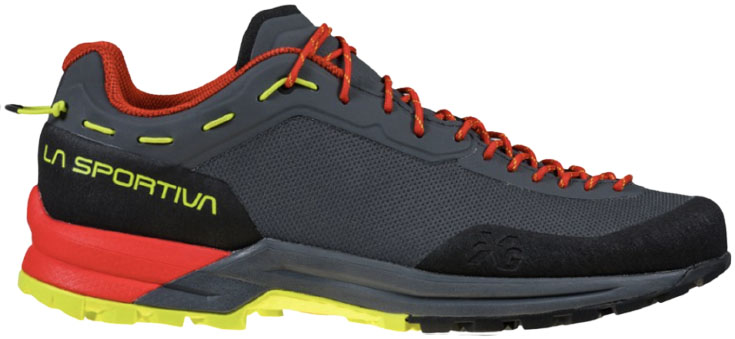 Category: Scrambling/all-around
Weight: 1 lb. 8.6 oz.
Upper: Mesh
What we like: A high-performance shoe for technical climbing and mountain scrambling.
What we don't: Expensive and less durable than the TX4.
If you've been around climbing for long enough, chances are you remember the La Sportiva Ganda. A favorite of experienced climbers and guides, the streamlined Ganda was the shoe to wear while climbing 5th-class rock. Now, after a multi-year hiatus, the TX Guide brings a high-tech approach shoe back into Sportiva's lineup, and we like it a lot. Compared to the TX4 above, the Guide is lighter, leaner and more sensitive, and stickier too—in other words, it's a far better option for technical climbing and scrambling. Remarkably, it's also soft and flexible (touted as having the cushioning of a mountain runner), which is great for comfort and speed on the trail.
It's important to note that the TX Guide is built on a different last than other models in the TX lineup, which is considerably narrower in the toe box. Further, you do give up some durability with the mesh upper (Sportiva also makes a slightly heavier leather version), and the Guide's sticky sole won't hold up quite as well as stiffer rubber compounds. But these tradeoffs make it wildly impressive on technical rock: We forgot to pack our climbing shoes for a six-pitch 5.10+ in Washington State's alpine, and the Guide proved to be a surprisingly capable substitute. Not everyone needs such a high-performance shoe (or will want to pay for it either), but if you're inclined to long days of mountain scrambling with some technical climbing and fast hiking mixed in, the TX Guide is our top choice this year. 
See the Men's La Sportiva TX Guide  See the Women's La Sportiva TX Guide
Best Approach Shoe/Trail Runner Hybrid
Category: All-around
Weight: 1 lb. 9 oz.
Upper: Mesh
What we like: Great protection and grip paired with excellent long-distance comfort.
What we don't: Mesh upper has a much shorter lifespan than leather.
More and more climbers are turning to trail running shoes, and the trend makes sense: They're decently lightweight, comfortable for miles of hiking, and provide serviceable traction on rock. Compared to rigid and clunky approach shoes, they're also a lot easier on your feet, especially during long outings. And while it's true that you can get by with any old pair for short and easy approaches, you'll want a fairly beefed-up trail runner for mountain terrain. The Ultra Raptor—one of the most longstanding shoes in Sportiva's mountain running category—sticks close to this definition and offers a nice solution for those traveling fast and light.
One of our favorite features of the Ultra Raptor II is its Vibram FriXion XF 2.0 outsole (aka FriXion white), which offers incredible traction on rock—arguably more than the MegaGrip used in the TX series. Alongside the generous protection at the toe and heel, you also get running-shoe levels of cushion and flexibility, which is great for long days on the trail. We've used the Sportiva for missions that include running, off-trail travel, glacier crossings (it pairs well with the popular Petzl Leopard crampon), and low fifth-class scrambling, and found it to be an incredibly capable tool for the job. Keep in mind that you give up a good deal of durability (we don't love the shoe for crack climbing), and the breathable mesh upper won't protect your feet from cold and wind quite like leather. But for full-value summer days in the mountains, the Ultra Raptor is hard to beat... Read in-depth review
See the Men's La Sportiva Ultra Raptor II  See the Women's La Sportiva Ultra Raptor II
 

Best Approach Shoe for Mountain Terrain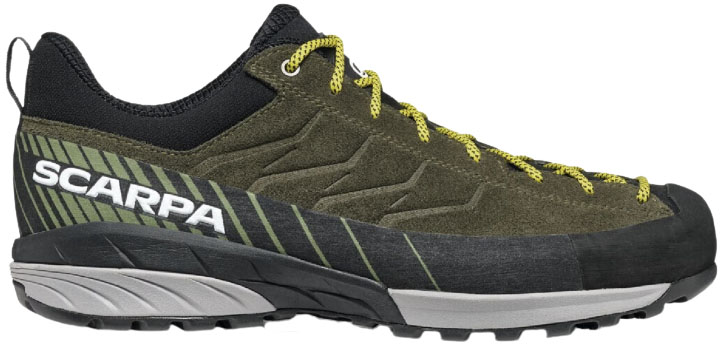 Category: Mountain/all-around
Weight: 1 lb. 12.2 oz.
Upper: Suede
What we like: A highly durable and protective shoe for demanding mountain travel.
What we don't: Expensive, heavy, and rounded lugs aren't super aggressive on soft terrain.
We've included a lot of La Sportiva shoes in our top picks but would be remiss to overlook the other Italian footwear giant: Scarpa. Their popular Mescalto is purpose-built to tackle demanding mountain objectives, bucking the lightweight trend with a durable suede upper, generous wraparound rand, and supportive TPU shank. Underfoot, the Vibram Megagrip sole features rounded rectangular lugs that are versatile for both rock and soft terrain, along with a climbing zone at the front for precision while edging and smearing on rock. It all adds up to one seriously tough shoe that offers standout support and protection for your feet, whether you're picking your way across a talus field or kicking steps up steep snow.  
The Mescalito is a go-to choice for mountain guides and serious climbers who get out a lot, but it's not our recommendation for most climbers. First, at $229, it's one of the most expensive shoes here, and you don't get the Gore-Tex waterproofing of models like the Salewa MTN Trainer or TX4 Mid below (although you can treat the suede with a waterproof finish). Further, the Mescalito can feel brick-like and heavy on casual, on-trail approaches, and the jack-of-all-trades tread isn't particularly aggressive on loose terrain like mud, snow, and scree. But for serious forays into the mountains, you won't find a burlier or more tailor-made design.
See the Men's Scarpa Mescalito  See the Women's Scarpa Mescalito
Best Approach Shoe with Everyday Appeal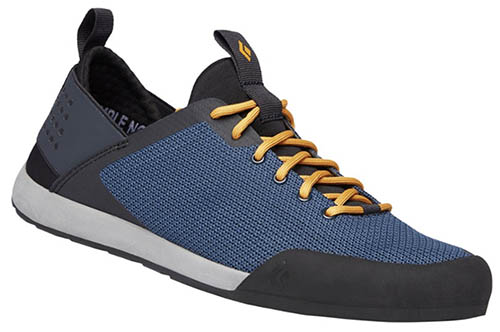 Category: Cragging/all-around
Weight: 1 lb. 4 oz.
Upper: Knit
What we like: A casual and comfortable approach shoe with a unique bootie-like fit.
What we don't: Outsole rubber is not super sticky.
Approach shoes have become so ubiquitous amongst climbers that it's common to see them not just at the crag, but at the brewery, the gym, and everywhere in between. But models like the TX4 above and Mtn Trainer below can be fairly overbuilt (read: uncomfortable) for daily use. Black Diamond's Session, on the other hand, is built with casual intentions, combining urban styling and a soft, bootie-like upper with all the features we look for in an approach shoe. The result is a wildly comfortable and easy-wearing shoe that both looks good and plays hard. And in addition to the original knit version featured here, Black Diamond also offers the shoe in a more hardwearing suede model.
One of our favorite features of the Session is the heel, which includes an elastic stretch that makes the shoe easy to pull on and off without bothering with the laces. The heel also folds down for use as a slip-on, which is a great feature for gym climbing, bouldering, and myriad around-home uses. And the Session holds its own among approach shoes too, with a durable rubber sole, protective toe caps, and webbing loops at the heel for tagging up a climb. Keep in mind that Black Diamond's BlackLabel-Street rubber is designed for use on pavement, so the Session is built to last but offers less grip on rock than more performance-oriented shoes.
See the Men's Black Diamond Session  See the Women's Black Diamond Session
Best of the Rest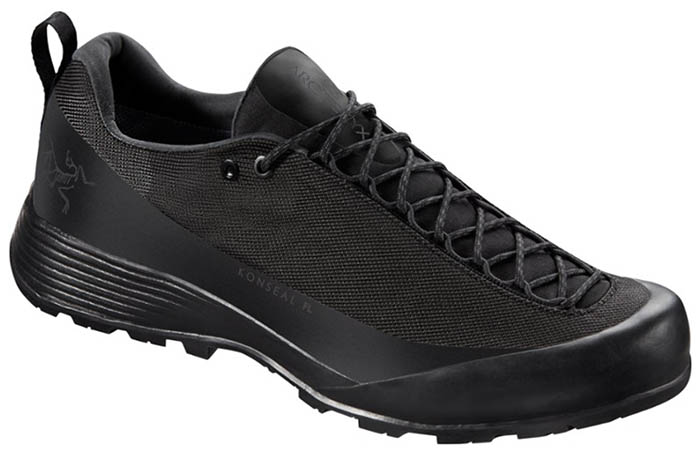 Category: All-around/scrambling
Weight: 1 lb. 5.8 oz.
Upper: Ripstop mesh
What we like: Great performance and support despite the light weight.
What we don't: Lacks the precision fit and durability of a leather shoe.
British Columbia-based Arc'teryx is a top performer when it comes to technical mountain gear and apparel, and their Konseal FL approach shoe is case in point. Similar to the La Sportiva TX Guide above, the Konseal FL 2 features a hybrid design that combines the support, traction, and close fit of an approach shoe with the agility and comfort of a trail runner. The net result is an excellent all-rounder for alpine missions that involve a mix of trail miles, cross-country travel, and scrambling. You get a Vibram Megagrip sole similar to that on La Sportiva's TX4, along with an updated lug pattern that offers even better performance across a variety of terrain. Tack on a springy foam heel, mesh upper (more breathable and pliable in the "2"), and low 1-pound-5.8-ounce weight, and the Konseal is nimbler and lighter than most approach shoes here. 
Despite the Konseal FL's thoughtful construction, there are still inherent downsides in going with such a lightweight design. We've been fairly impressed with the mesh upper throughout testing (especially compared to the Sportiva TX3), but it doesn't offer the same durability, waterproofing, or precise fit as a leather shoe. Further, the streamlined toe box might feel too narrow for some (especially after miles of hiking). But for up-and-over ascents and mountain scrambling, it's hard to beat the mix of weight and performance. Finally, it's worth noting that the Konseal is also available in a leather GTX model ($220), which is significantly heavier (1 lb. 12 oz.) but very durable and protective.
See the Men's Arc'teryx Konseal FL 2  See the Women's Arc'teryx Konseal FL 2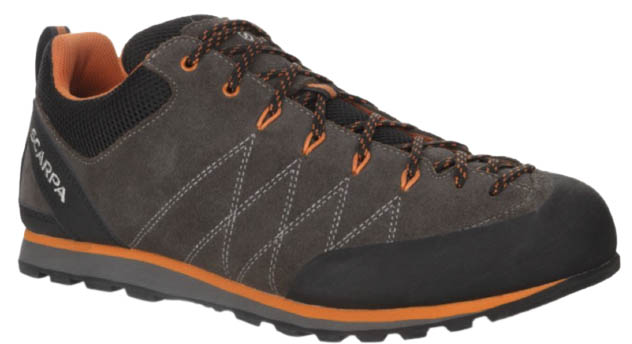 Category: All-around
Weight: 1 lb. 10.8 oz.
Upper: Suede
What we like: A comfortable, inexpensive, and lightweight all-rounder.
What we don't: Not our favorite outsole design.
The Crux is Scarpa's classic all-around approach shoe, built to handle miles of hiking and the occasional off-trail scramble. With a suede upper and Kevlar webbing that connects the laces to the midfoot, you get the snug fit of a leather shoe but without too much stretch—in our experience, the Crux has a lot more structure than the similarly intentioned La Sportiva Boulder X below. And while a generous dose of cushioning underfoot means the Crux isn't the strongest edging platform, it's a very comfortable hiking shoe and has performed well for us on everything from heinous side-hill slogs to moderate climbs such as the classic Wolf's Head in the Wind River Range.
In terms of outsoles, we give the edge to the dotted design of the La Sportiva TX4 above, which grips better to rock and is stiff enough to provide a stable platform on small edges. But the Crux's sharp tread bites into wet leaves and snow, and as we mentioned above, the relatively flexible and cushioned sole is by far the more comfortable pick for miles of easy trail hiking. However, at 13.4 ounces per shoe, the Scarpa can't match the more nimble feel of the modern competition. But for casual approaches where you don't need to carry your shoes on your harness, it's a comfortable and durable choice... Read in-depth review
See the Men's Scarpa Crux II  See the Women's Scarpa Crux II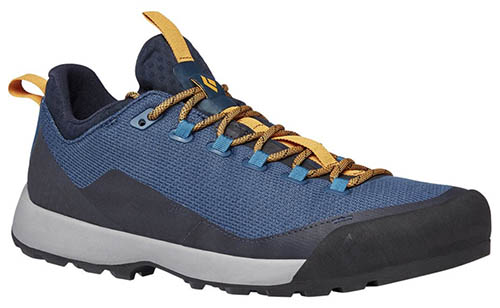 Category: All-around
Weight: 1 lb. 6 oz.
Upper: Knit
What we like: Breathable and lightweight without sacrificing on-trail protection.
What we don't: Sock-like liner makes it difficult to get on.
Black Diamond's approach shoe lineup is giving La Sportiva and Scarpa a run for their money, with a growing assortment of shoes to meet climbers' various demands. The versatile Mission LT is a breathable, comfortable workhorse made for long days of hiking and easy rock scrambling. On the bottom of the shoe, you get a rockered sole (great for ease of walking) and a tread that balances rock traction in the forefoot with sharper lugs in the back for wet and loose terrain. We also love the Mission LT's one-piece EnduroKnit upper and have been surprised with its durability (especially compared to the mesh TX3), although you'll get a bit more abrasion resistance and water resistance with the Konseal FL's ripstop mesh (one of our favorite synthetic uppers).
One unique design feature of the Mission LT is its sock-like liner, which we've come to both love and hate. On one hand, you get a close fit and great overall protection from sand and debris. The downside, however, is that the shoe is a bear to get on, giving us pause in wearing it on shorter missions to the crag or boulders. But for full days of hiking when you're not removing your shoes between every pitch, the Mission LT shines and is more trail-ready than most. Further, at a competitive 1-pound-6-ounce weight, it's a great shoe to throw in your backpack or attach to your harness for the long walk down. Finally, Black Diamond also makes the Mission in a leather version (the Mission XP Leather) for those who want the additional durability and protection... Read in-depth review
See the Men's Black Diamond Mission LT  See the Women's Black Diamond Mission LT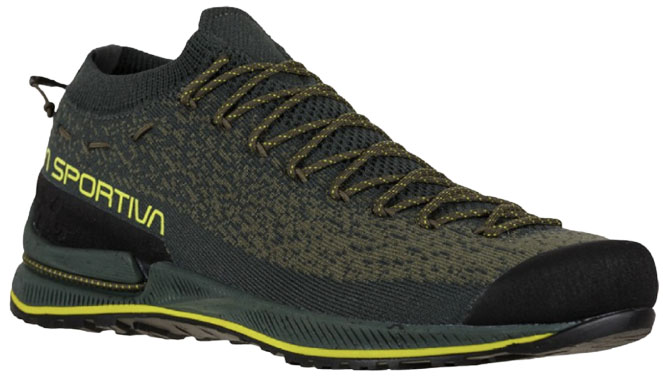 Category: Cragging/all-around
Weight: 1 lb. 4.4 oz.
Upper: Knit
What we like: A great shoe for toting up walk-off routes.
What we don't: Minimal support, lacking in durability.
The TX2 Evo is not only the lightest member of the La Sportiva TX family—it's one of the lightest models on our list. At just 10.2 ounces per shoe, the minimalist design packs in a surprising number of thoughtful features. The flat sole, rigid toe box, and sticky Vibram Idrogrip rubber lend themselves to excellent performance on technical rock, and you get a snug fit by way of the pliable knit upper and customizable lacing system. Breathability is excellent for hot summer days, and the TX2 will also drain and dry quickly following a river crossing. And with an elastic loop that combines the shoes for streamlined carry on your harness, they're our hands-down favorite for hauling up climbs with walk-off descents. 
The knock against the TX2 Evo is that it isn't particularly durable, especially when pushed to its limits. It's true that Sportiva designed the latest Evo version to be easily resoled, but in our experience with the first-gen TX2, the upper was the first component to fail. Further, with a flat sole and little in the way of support or cushion, the shoe falls short for long days on the trail. But for short approaches, easy scrambles, and toting up rock climbs, it doesn't get much better. For a more durable option, Sportiva also makes the TX2 Evo Leather, which is cheaper ($149) and only slightly heavier at 1 pound 4.8 ounces.
See the Men's La Sportiva TX2 Evo  See the Women's La Sportiva TX2 Evo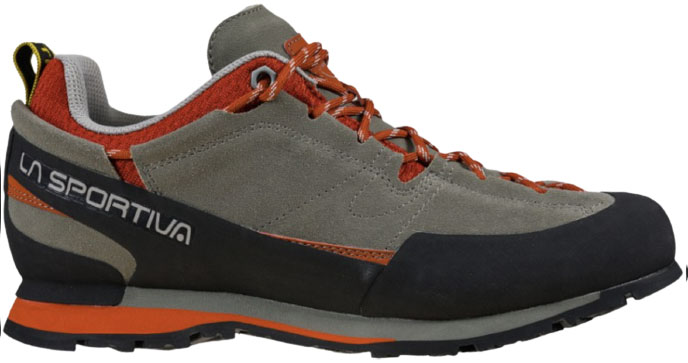 Category: All-around
Weight: 2 lbs. 2 oz.
Upper: Leather
What we like: Sticky rubber and a great price.
What we don't: Heavy and bulky.
For climbers that are just starting out, or old hands looking for a value option, look no further than the La Sportiva Boulder X. This shoe is extremely comfortable, excels on the trail, climbs third and fourth class well, and boasts insanely sticky rubber. And don't be fooled by the price tag—these shoes can often be found online for as little as $120.
What are the downsides of the Boulder X? The shoe is too heavy to carry on a harness, doesn't edge well on 5th-class terrain, and the bulky soles don't take aluminum crampons well. Moreover, the leather upper stretches so much when wet that we've had issues with our feet twisting in the toe box, resulting in a tear where the rubber rand meets leather. That said, if you have wide feet and want an entry-level shoe that is a beast on the trail, the Boulder X should be near the top of your list.
See the Men's La Sportiva Boulder X  See the Women's La Sportiva Boulder X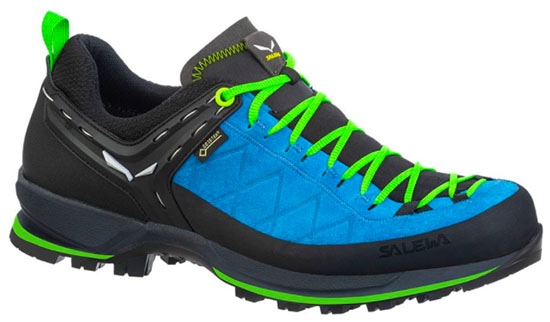 Category: Mountain
Weight: 2 lbs. 2.8 oz.
Upper: Suede
What we like: Powerful and durable shoe for mountain environments.
What we don't: Narrow fit isn't great for everyone; too heavy and clunky for climbing.
Straight out of Montebelluna, Italy—otherwise known as the boot-making capital of the world—Salewa's Mtn Trainer 2 GTX is an approach shoe truly designed for the mountains. With the wraparound protection of a full rubber rand, a waterproof Gore-Tex membrane, and durable Vibram sole, the Mtn Trainer is more akin to a tank than a race car, and a great shoe to have on your feet for off-trail travel involving talus slopes, kicking steps in snow, boulder-hopping, and more. Even for non-climbers interested in exploring the alpine with a lighter and more form-fitting shoe, the Salewa Mtn Trainer 2 is an excellent choice.
How does the Mtn Trainer compare to the Scarpa Mescalito above? At 2 pounds 2.8 ounces it's significantly heavier, but the extra heft does get you a waterproof membrane (the Mtn Trainer 2 is also available in a non-GTX version for $200). The Scarpa is overall a much better scrambling shoe, with rounded tread and a firm edging platform, while the Salewa has sharper lugs that make it a better choice for wet and soft terrain like mud and snow. Keep in mind that the latest Mtn Trainer (the "2") is very narrow, and an integrated stretch gaiter at the tongue makes it difficult to slip on. But for the right environments or as a lightweight substitute for a mountaineering boot, it's hard to beat the durability and protection the Salewa provides.
See the Men's Salewa Mtn Trainer 2 GTX  See the Women's Mtn Trainer 2 GTX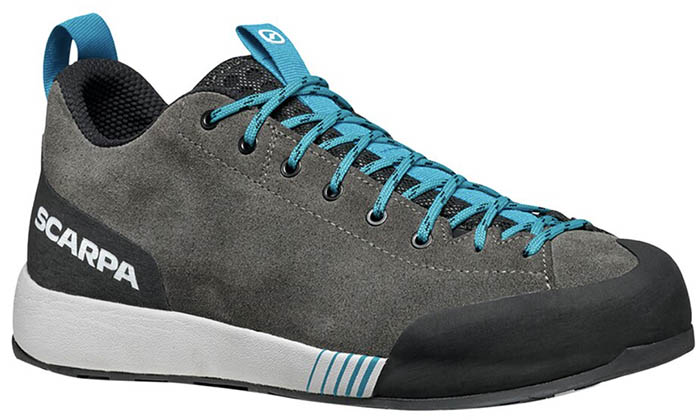 Category: Scrambling/all-around
Weight: 1 lb. 6.6 oz.
Upper: Suede
What we like: A technically minded approach shoe that's offered in both suede and synthetic versions.
What we don't: Stiff build isn't ideal for long approaches.
Scarpa's goal with the Gecko was to make a slimmed-down but precise approach shoe that excels on technical terrain. Overall, we think they did a pretty good job: The slip-lasted toe box is designed with climbing in mind and boasts a sensitive feel, over-the-toe rubber for jamming in cracks, and an aggressive outsole for smearing and technical edging. To balance things out, the heel is board-lasted (read: stiffer) for stability, and a cushioned EVA midsole adds comfort for the trail (as long as your load isn't too heavy or your approach too long). If the La Sportiva TX Guide above caught your eye, the Gecko is well worth a closer look, too.
The standard Gecko features a suede upper, which offers a long lifespan, custom fit (leather stretches to the shape of your foot over time), and modest water resistance—especially when treated with a leather conditioner. It's worth noting that Scarpa also offers the Gecko LT ($169), which mimics the original design but swaps out the suede upper for a lighter and but still durable ripstop synthetic fabric. The result is a slightly lower-profile feel, which translates to better precision on technical terrain. Synthetic uppers have become increasingly durable (the TX Guide and Konseal are prime examples), and they're often the best option for climbers looking for high performance. Regardless of which model you choose, both Geckos are stellar approach shoes intended for those who spend a lot of time on technical terrain.
See the Men's Scarpa Gecko  See the Women's Scarpa Gecko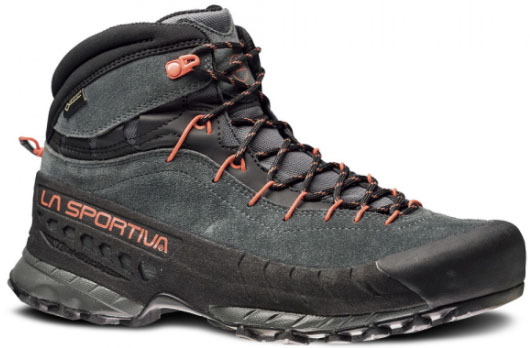 Category: Mountain
Weight: 2 lbs. 0.4 oz.
Upper: Leather
What we like: Big-time support and protection at a reasonable weight.
What we don't: No heel welt and less versatile than a low-top approach shoe.
Like the Salewa Mtn Trainer 2 GTX above, the La Sportiva TX4 Mid is a great option when you want the support and protection of a mountaineering boot but aren't willing to carry the weight. Perhaps you're climbing a route like the Beckey-Chouinard in the Bugaboos, which requires hauling a heavy load miles to basecamp, kicking steps in steep snow on the approach, toting your shoes up the rock climb, and descending steep snow to return back to camp. A mountaineering boot would be ideal for the job, but with a shoe like the TX4 Mid GTX, you can have similar performance in a lighter package.
The TX4 Mid is roughly the same weight as the Mtn Trainer 2 above but tacks on a mid-height cut for more support on tricky ground. In the end, it's a better shoe on rock but the Salewa gets the edge for us when it comes to wet terrain like mud and snow. Compared to the low-top TX4, the Mid's Gore-Tex insert adds a great deal of protection, although the non-waterproof shoe breathes a bit better and dries out faster. Further, the Mid is 6.4 ounces heavier for the pair. Both TX4 models are plenty tough for most backcountry uses, but if you prefer an even more capable boot, including a heel welt for attaching a semi-automatic crampon, check out the La Sportiva Aequilibrium Speed below. And while we haven't had the chance to test it yet, we've heard great things about Black Diamond's relatively new Mission Leather Mid WP ($190), which offers a $19 savings compared to the Sportiva here.
See the Men's La Sportiva TX4 Mid GTX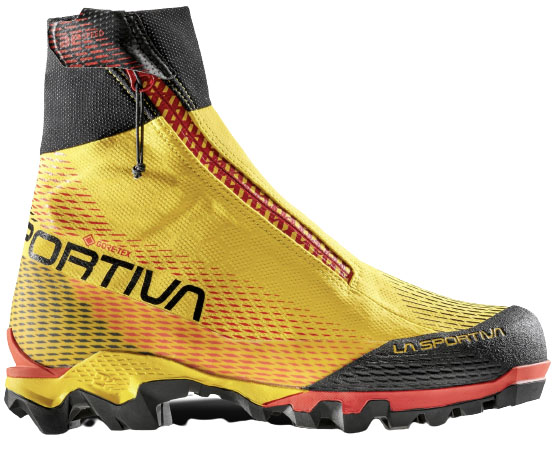 Category: Mountain
Weight: 2 lb. 5.4 oz.
Upper: Synthetic
What we like: Great for snowy approaches; heel bail takes semi-automatic crampons.
What we don't: Heavy and lacks the precision of traditional approach shoes.
Climbers love to push the limits of approach shoes, but some terrain—think the North Cascades, early-season Tetons, or Patagonia—quite simply demands more from your footwear. It's no easy feat finding a boot that's capable (and comfortable) on easy trail, glacier, and rock, but La Sportiva's Aequilibrium Speed GTX checks the boxes better than most. Like an approach shoe, it's flexible and cushioned enough to retain good comfort mile after mile, and the lightweight build won't weigh your pack down too much on the climb. On the other hand, with a mid-height cut and heel bail, the Aequilibrium Speed offers the best stability and crampon compatibility of any approach shoe here. 
The Aequilibrium Speed's tall collar and significant bump in weight mean it's too heavy and bulky for most summer objectives, especially when you're carrying your gear up and over a climb. Additionally, with the Gore-Tex lining, you'll compromise on breathability compared to a non-waterproof shoe like the TX4 above. And finally, with such lightweight construction, the Speed suffers in terms of durability when held up against comparable mountaineering boots. But for mixed conditions or long snowy approaches to alpine rock, the Aequilibrium Speed could be Sportiva's best solution yet.
See the Men's La Sportiva Aequilibrium Speed  See the Women's La Sportiva Aequilibrium Speed
Approach Shoe Comparison Table
Approach Shoe Buying Advice

What is an Approach Shoe?
An approach shoe is a specialized type of footwear for climbers, mountain scramblers, and hikers who often find themselves on rocky terrain. They are stiffer than a hiking shoe or trail runner, closer-fitting to boost precision, and have generous rubber rands for protection. But most importantly, they're designed with ultra-sticky rubber soles (similar to a climbing shoe) for great grip on rock. In short, no other style of shoe comes close to the level of protection, traction, and stability that an approach shoe provides on more technical terrain.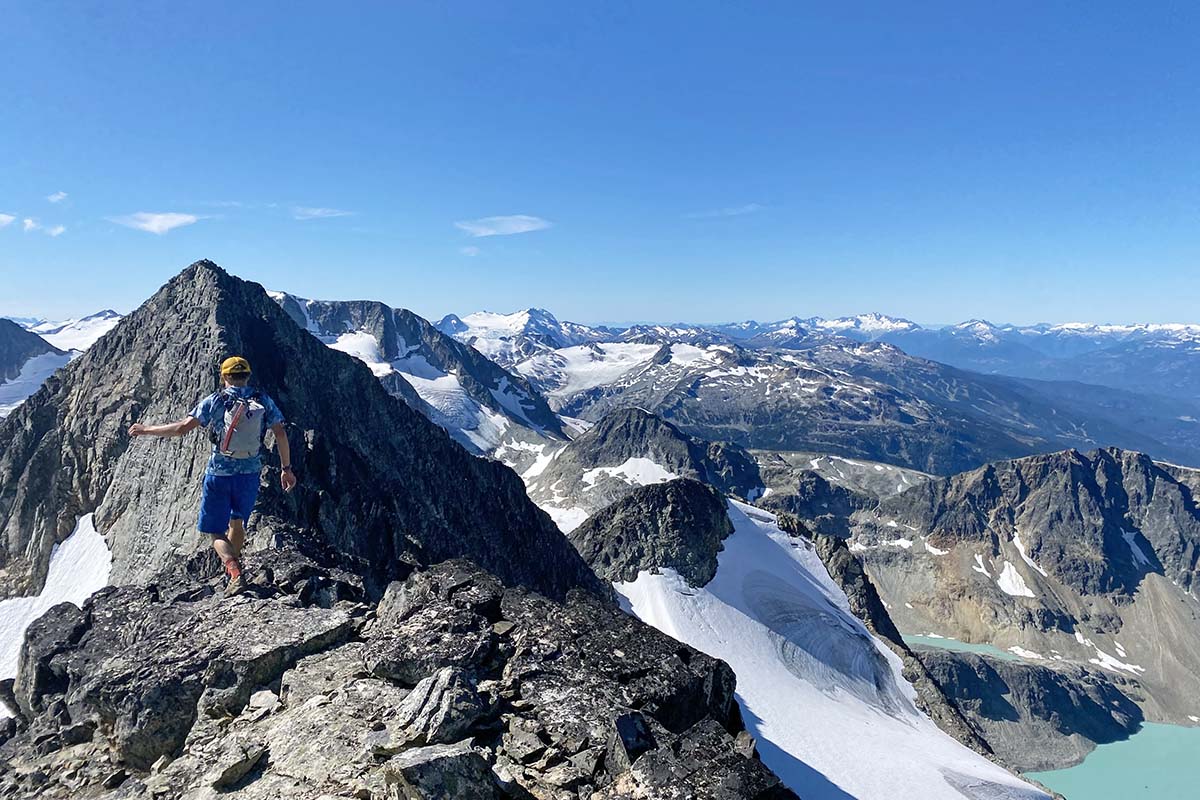 All that said, just because you're a climber doesn't necessarily mean you need an approach shoe. For short, easy walks to the crag, you can get away with a pair of trail running shoes or sandals. Heck—at a crag like Rifle, you can practically belay from your car. But for long approaches to the crag, adventurous multi-pitch missions, or big treks into the alpine, approach shoes are an indispensable addition to your climbing kit.
 
Approach Shoe Categories
With climbing becoming a more and more diverse discipline (including everything from alpine scrambling and rock climbing to bouldering and gym climbing), approach shoes have followed suit. Some designs are stiffer, more streamlined, and more protective for performance on technical rock, while others prioritize breathability and flexibility for the trail. Others still are made specifically for cragging, light descents, or everyday use. We've broken down the market into four main categories: all-around, climbing, cragging, and mountain.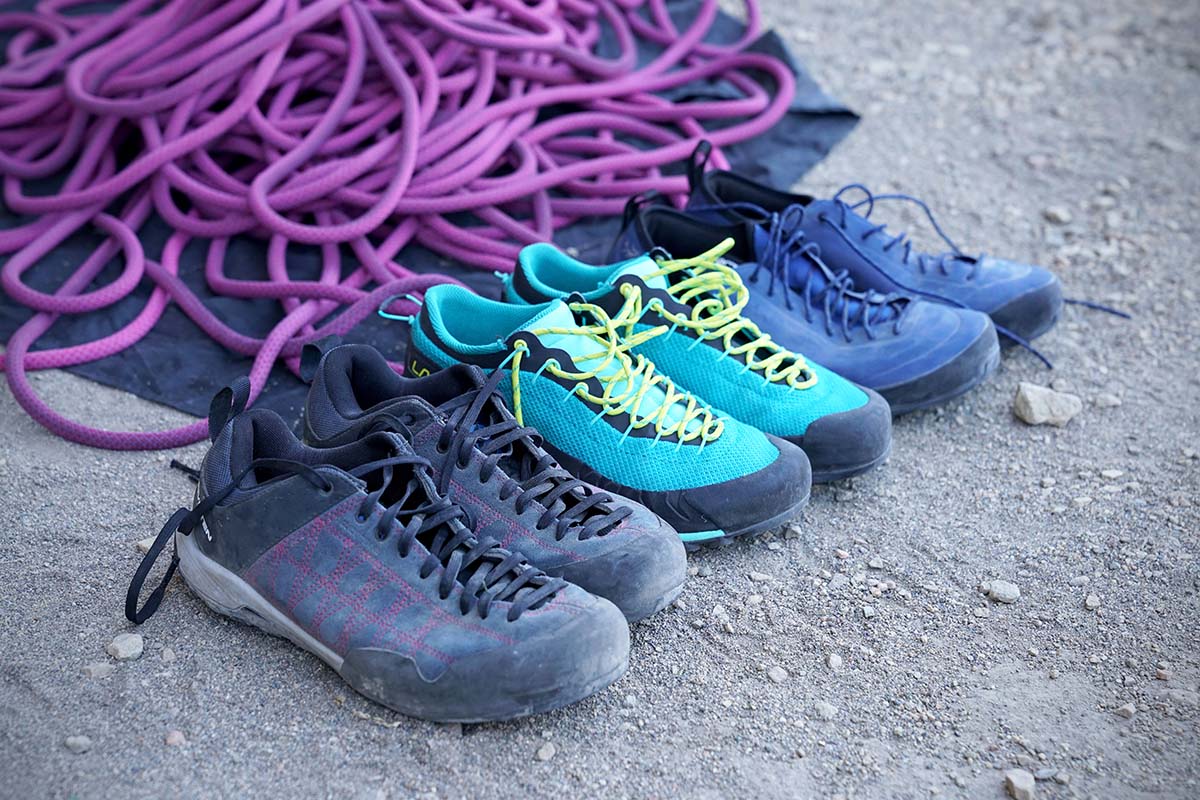 All-Around
All-around approach shoes are your standard designs, built to tackle the mix of trail and rock that stands between you and your climbing objective. These designs are comfortable and supportive for long days of hiking, offer traction on both rock and wet terrain, and are roomy enough to accommodate foot swelling. While many shoes in this category can hold their own on technical rock (for these features, see our "Scrambling" category below), their design prioritizes performance on the approach—this is most epitomized in the sole, which often features a versatile combination of a climbing zone, smooth lugs, and aggressive heel. All-around shoes come in both leather and synthetic (often knit or mesh) uppers, so you can decide whether you want to prioritize durability or breathability. And finally, if you'll be hauling your shoes up a multi-pitch climb for the descent, it's worth considering this category's more lightweight options. Some of our favorite all-around shoes include the La Sportiva TX3 and TX4, Scarpa Crux II, and Arc'teryx Konseal FL 2.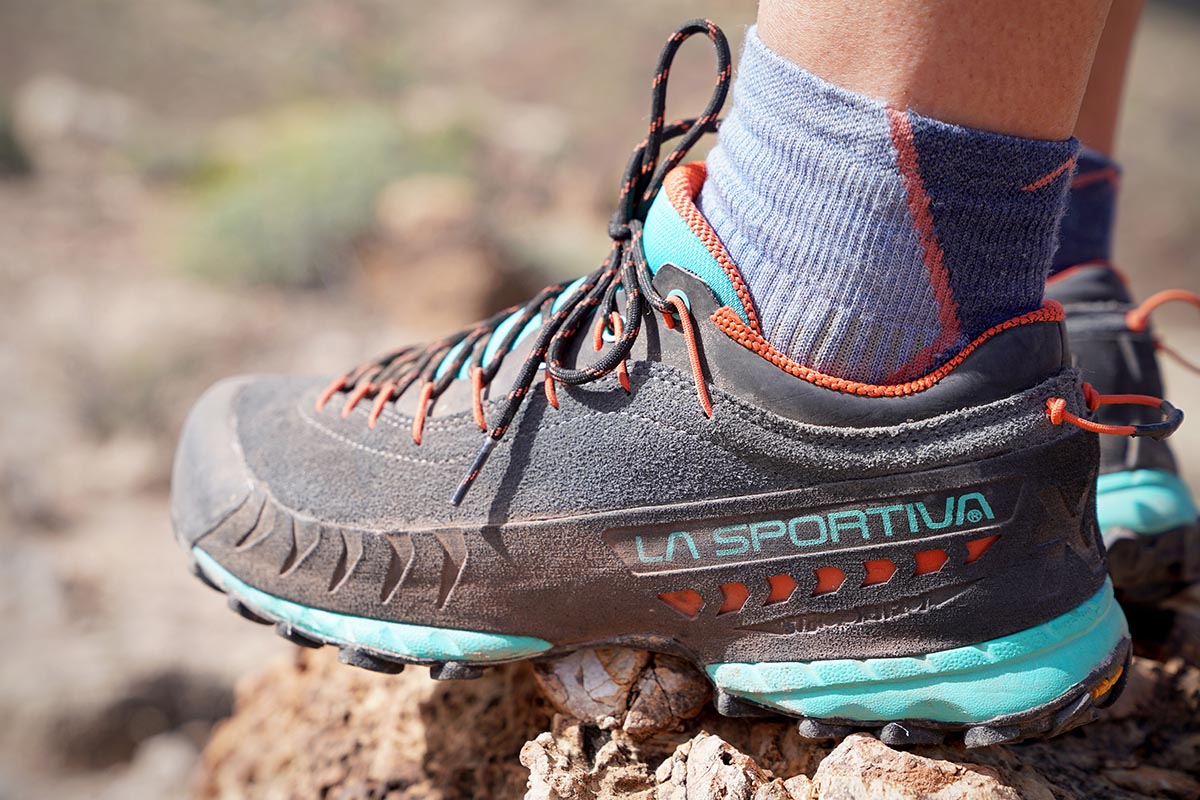 Scrambling
Some climbers favor an approach shoe over a climbing shoe for easy-to-moderate climbing like scrambling in the Flatirons, guiding clients up mid-fifth-class routes, or moderate ridgelines in the alpine. More comfortable than a climbing shoe but more precise than a standard approach shoe, designs in our scrambling category place a priority on technical-rock performance with low-profile builds, flat and stiff soles with dotted rubber (often forgoing a heel brake), and a precise toe edge that provides delicate connection with the rock. Because they carry many of the features of a climbing slipper, scrambling shoes lack support, comfort, and traction for long sections of trail, and aren't our first choice for those looking for a one-quiver option. Popular approach shoes in this category include the La Sportiva TX Guide and Scarpa Gecko.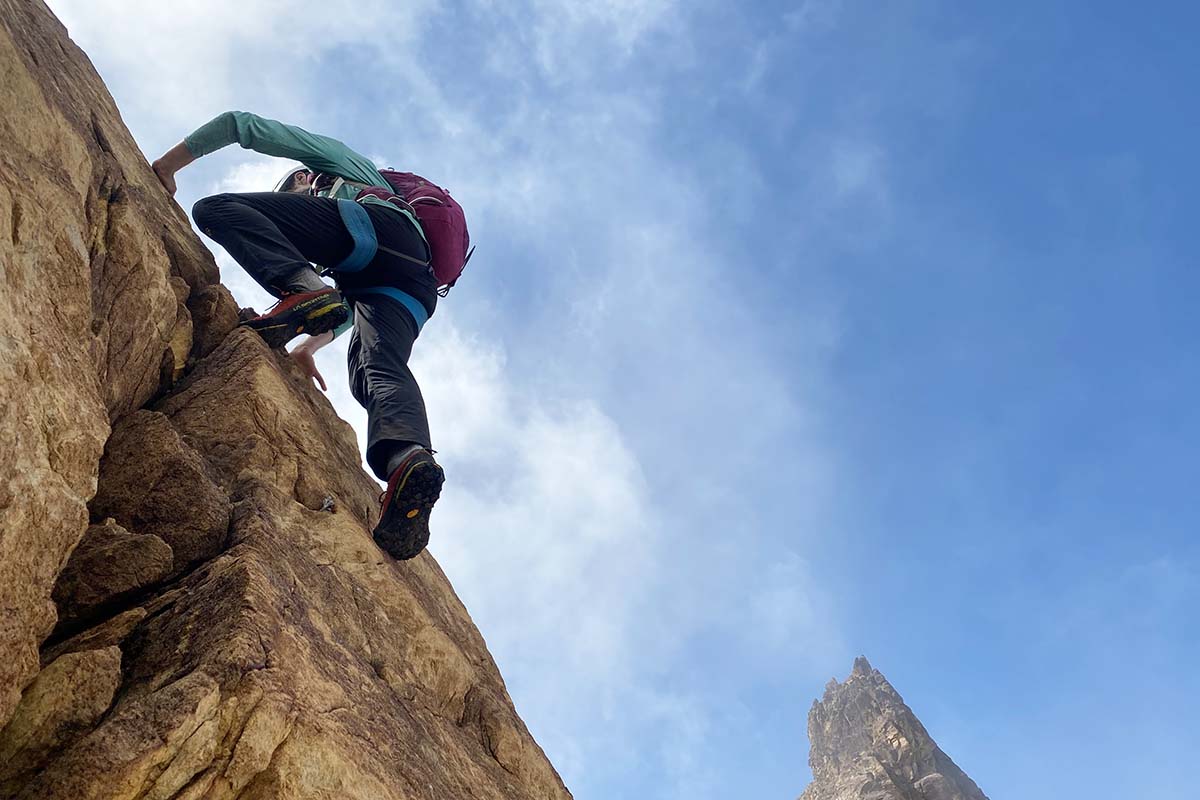 Cragging
For most climbers, heading to the crag or boulders means a short walk on a trail, followed by a day of climbing in one location. The sticky rubber sole and stiff build of an approach shoe might come in handy for rock hopping, but once you're at your destination you'll want a comfortable shoe that's easy to get on and off (we'll often bring a pair of flip flops to the crag for this very reason). As such, approach shoes in our cragging category (also ideal for bouldering) are on the more casual side, with features like a knit upper, microfiber liner for comfort against bare feet, and a heel that folds down for a quick slipper. Cragging shoes can also be a good fit for multi-pitch climbs when you want a lightweight shoe to haul up the climb for use on the descent. The Black Diamond Session and Circuit are two of our favorite cragging-specific approach shoes.

Mountain 
If you're headed to an alpine climbing area such as the Bugaboos or the North Cascades, you'll want an approach shoe that can handle snow and technical cross-country terrain. Many of the shoes in our all-around category can get the job done, but dedicated designs will provide better stability and protection with beefier leather uppers, sharper tread and deeper lugs, mid-height builds, and built-in waterproofing. Further, those using strap-on crampons will want a relatively stiff sole and upper (leather is better than mesh), and a raised collar will provide more comfort and security. Approach shoes in our mountain category include the Salewa Mtn Trainer, La Sportiva TX4 Mid, La Sportiva Aequilibrium Speed GTX.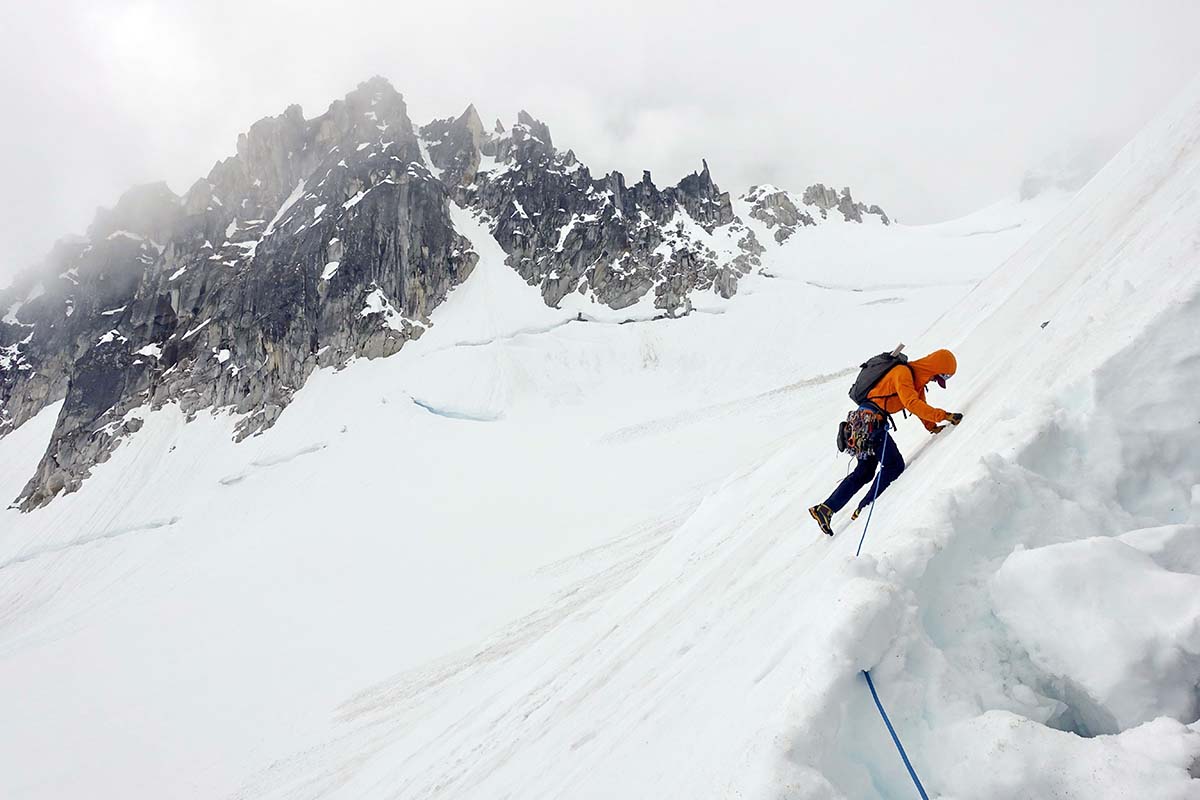 Outsoles and Traction
The sole of an approach shoe can tell you a lot about what it's designed for. There are three main areas to an approach shoe sole: the toe box, the midfoot, and the heel brake area. Starting with the toe box, most approach shoes have a large rubber rand that surrounds the front, sides, and top of the toes, mimicking a climbing shoe. And approach shoes that are made to edge and smear well will have a smooth patch on the sole underneath the toe, allowing for close and responsive contact with the rock.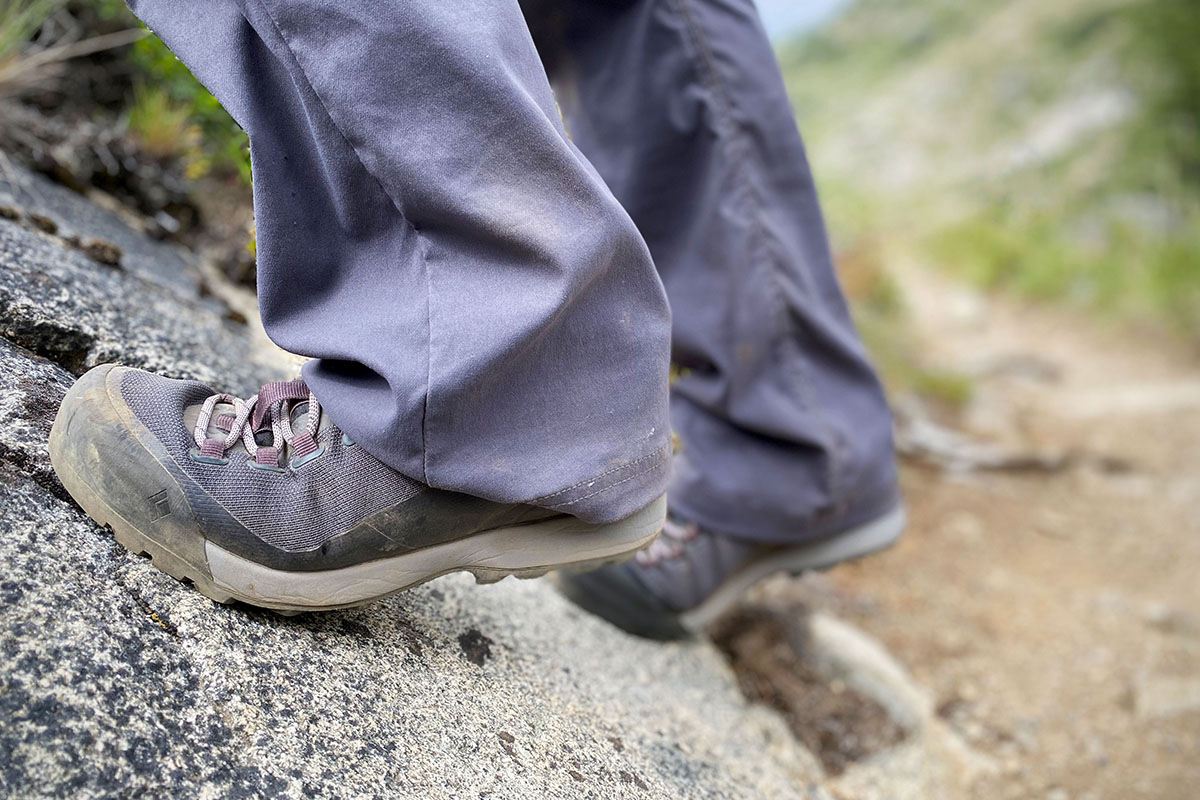 Moving to the midfoot and heel brake, the outsole design here can vary quite a bit between models. Generally, the dotty style found on shoes such as the La Sportiva TX4 provides great surface area on rock, but fails to perform on wet or snowy terrain. On the other hand, models with sharper tread, like the Salewa Mtn Trainer 2, are made to provide a high amount of traction on wet and snowy terrain, but are generally more clunky on technical rock. Lastly, most approach shoes will have a heel brake, made of thin strips of sticky rubber for traction and downhill braking. Some shoes lack a heel brake, some lack a technical patch on the toe, and all will have slight variations in the midfoot rubber. Pay attention to each of these features to make sure you purchase an approach shoe that meets your specific needs.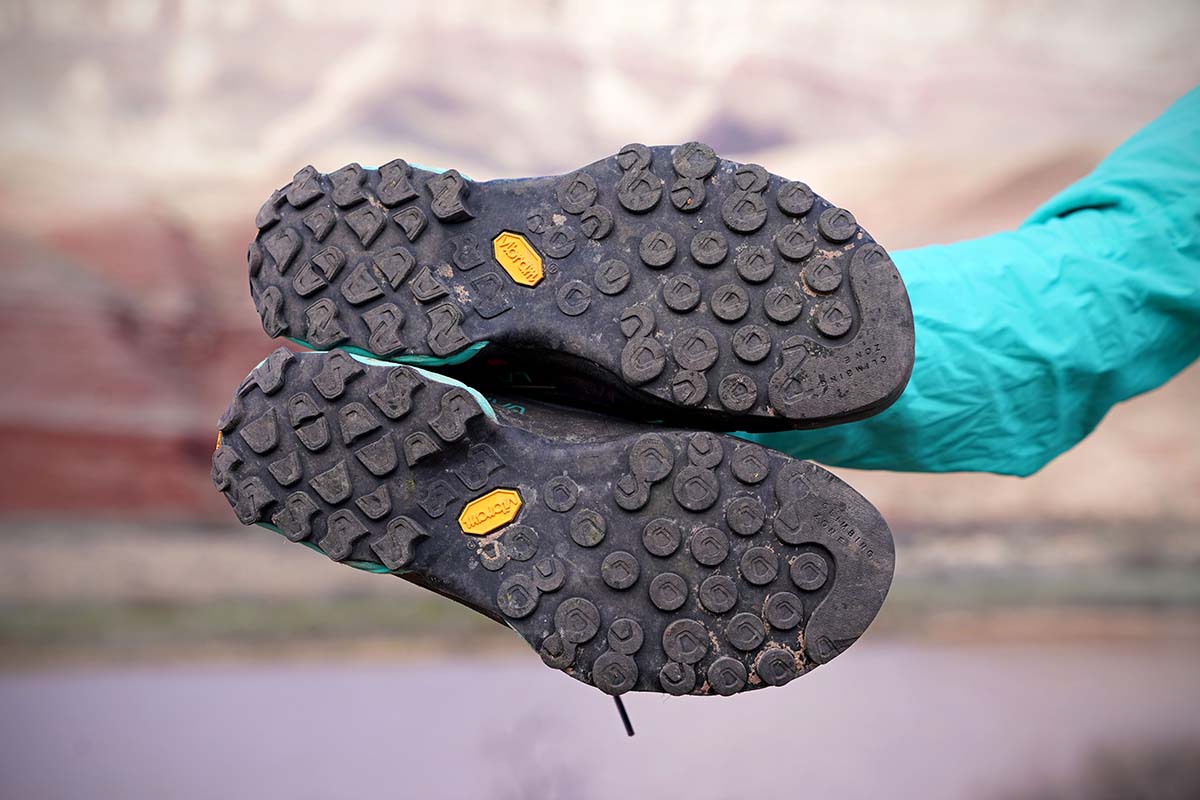 Edging
For the majority of users that wear their approach shoes exclusively for hiking and moderate scrambling, edging is a non-issue. But for those who are proficient enough to climb technical terrain in the same shoes they hike in, a stable edging platform is essential. Most shoes in this category have a flat rubber patch under the big toe, providing a smooth and responsive platform for edging. Not only that, but climbers will want to look for models where the rubber rand comes flush to the sole (as seen in the Arc'teryx Konseal FL and Scarpa Gecko). This provides a seamless, stiff edge like that of a climbing shoe. Even to the uninformed eye, this edge will look different from one that is made up of layers of cushioning, like that of La Sportiva's Boulder X or Scarpa Crux II.
Waterproofing
With a few exceptions, climbers generally limit their endeavors to days when conditions are dry and warm. In the world of approach shoes, breathability is a far more important factor than waterproofing. However, waterproofing is a nice security blanket if your climbing takes you into the mountains. The extra protection that comes with a waterproof and breathable membrane inserted into the shoe is great for creek crossings, surprise rainfall, or crossing snow. However, the extra layer adds weight and impacts breathability pretty significantly, hence why there are very few Gore-Tex models on our list. If you know you're looking for a waterproof approach shoe, however, we've found GTX models to work consistently well, including the La Sportiva TX4 Mid GTX and Salewa Mtn Trainer 2 GTX.
Recently we've seen an increase in the use of synthetic materials for approach shoe uppers, with models like the La Sportiva TX2 and TX3, Arc'teryx Konseal FL, and Black Diamond Mission LT. Although you get very little water resistance from these shoes, it's important to remember that their mesh and knit uppers wick water far better than leather and do not grow heavy when wet. As a result, they also dry out more quickly after a full dousing. For this reason, we think synthetic materials are a great option for summer travel when wet feet aren't a threat to your safety. That said, we still opt for leather shoes (like the TX4) for most approaches in the mountains.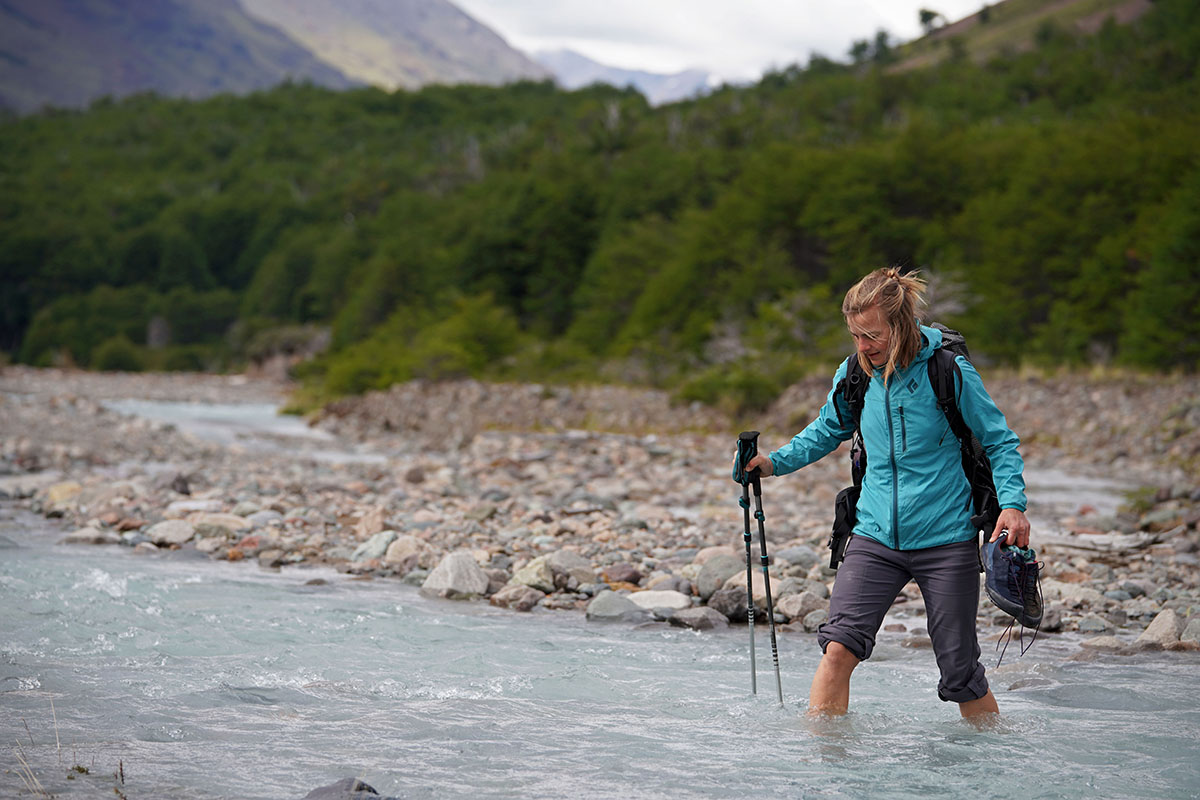 Breathability
In terms of breathability, approach shoes constructed with a mesh or knit upper are going to breathe better than suede or leather versions, and far better than GTX models. There certainly is a tradeoff, however: highly breathable shoes (like the La Sportiva TX2 Evo) are not as durable or protective as their leather counterparts (the La Sportiva Boulder X, for example), although this notion has recently been challenged by technologies such as Black Diamond's EnduroKnit and Arc'teryx's ripstop mesh (as seen on the Konseal FL). These two materials in particular have impressed us with their combination of breathability and abrasion resistance.
Additionally, shoes with a mesh upper are far more permeable to small particles such as sand, dirt, and snow. This will depend on the size of the holes in the mesh, however, and a shoe like the mesh TX3 will be much more vulnerable than the mesh Konseal FL. Further, additional features like a sock-like liner (as seen on Black Diamond's Mission LT)—or even the addition of a short gaiter—will aid in keeping trail debris at bay. Long story short: mesh shoes are your best bet for warm-weather approaches, but some models will be more compromised than others. And if you're truly looking for the best in protectiveness and durability, we'd recommend a shoe with a leather or suede upper.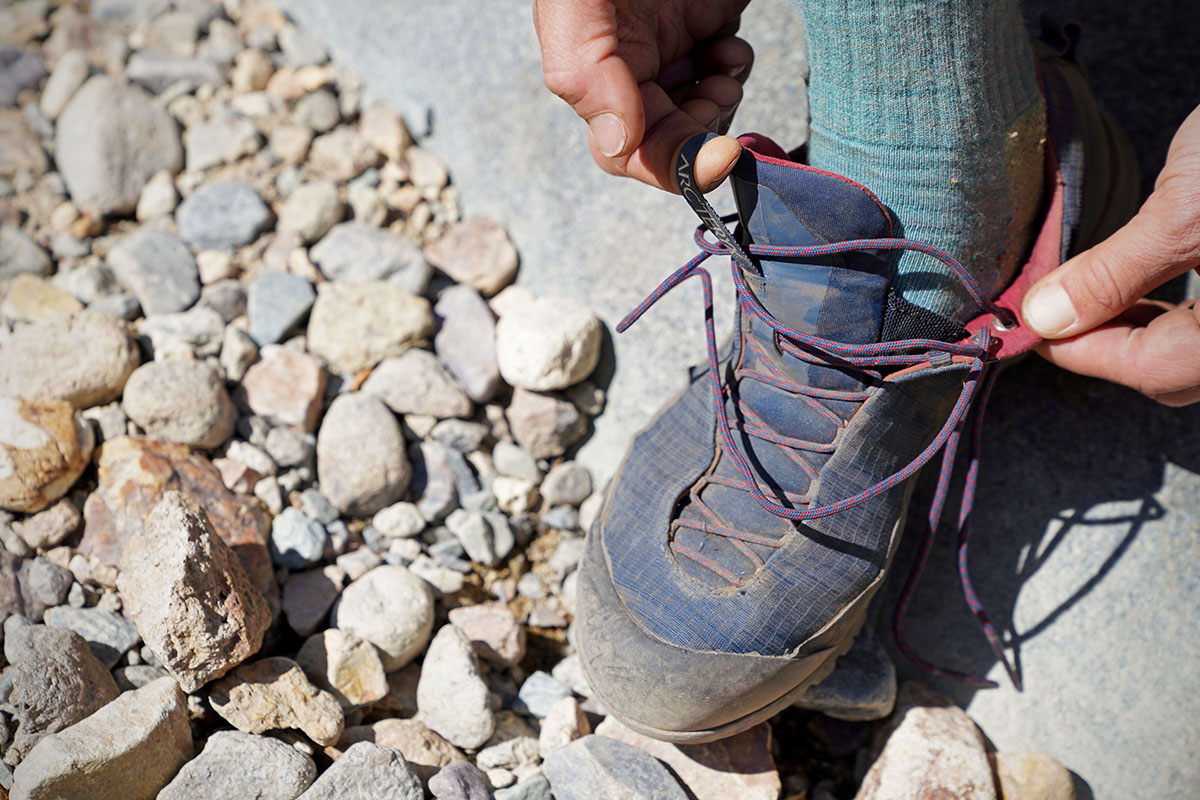 Weight
The weight of an approach shoe matters both when it's on your foot and when it's in your climbing pack or hanging on your harness. Hiking mile after mile with less than a pound on each foot is going to feel far less strenuous than if you had a two-pound boot on each foot, and the same goes for carrying the shoes.
Consider the weight of an approach shoe especially if you're spending just as much time carrying them as wearing them on your feet. Most likely, the more this ratio tends towards carrying over hiking, the lighter a shoe you should consider (the La Sportiva TX2 Evo or Black Diamond Circuit, for example). However, there are always trade-offs in shaving weight. The lighter your approach shoe, the less protection, stability, and durability it likely offers. If your approaches require a high amount of performance from your shoes, don't streamline too much.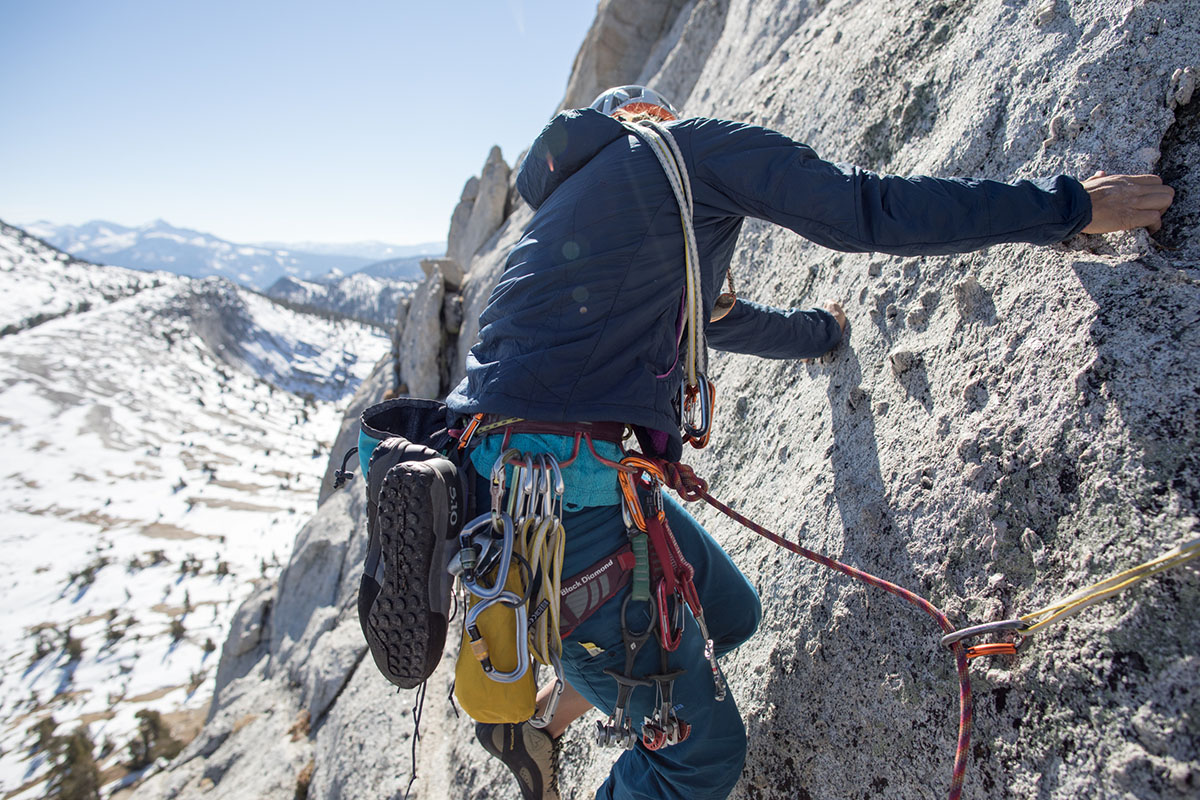 Fit and Sizing
There always is a compromise when choosing the size of your approach shoe. Many designs in our scrambling category are made to fit snugly so that they are responsive and stable on technical rock. Shoes in our all-around and mountain categories should fit more like a hiking shoe, with a bit of room for the toes to move around for downhill slogs and over long distances as the feet swell.
Most approach shoes are constructed with a to-the-toe lacing system, so it is possible to provide your toes with more or less room depending on the activity. Because of this, we recommend sizing your shoe comfortably with the ability to cinch the laces down tightly. Additionally, make sure you buy a model that fits the width of your foot well. Different brands or models fit differently. For example, La Sportiva's TX3 and TX4 are known to be rather wide, whereas the Scarpa Gecko has a snug fit.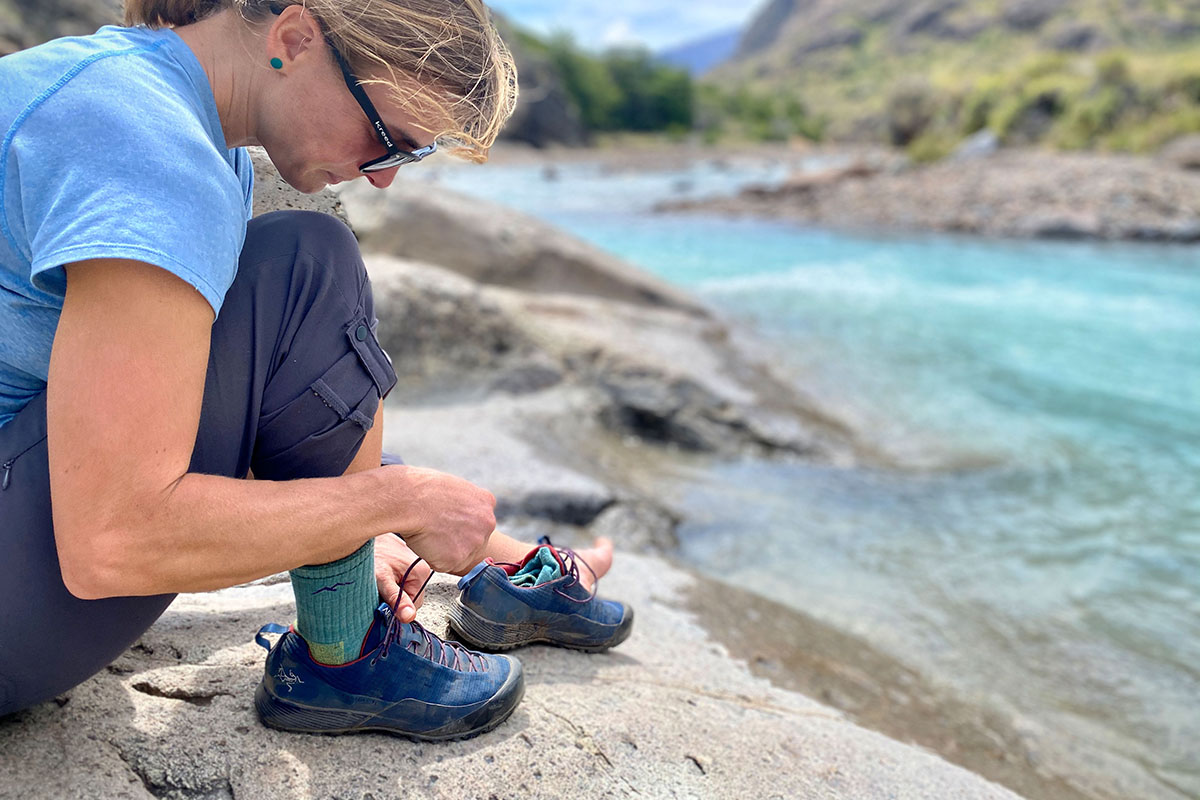 Stiffness and Stability
Most approach shoes have built-in shanks or internal supports to provide a degree of stiffness. This construction differentiates these shoes from light trail runners, though they are a far cry from the full shank of a mountaineering boot. In general, the more technical your terrain, such as snow, scree, or steep trail, the more you will benefit from a stiffer approach shoe (examples include shoes in our mountain category like the Salewa Mtn Trainer 2 GTX). A stiff shoe will be less comfortable on easy trail and during high mileage days (it's for this reason that we hesitate to recommend approach shoes to hikers), but on uneven terrain it will keep your foot from flexing and straining to support itself.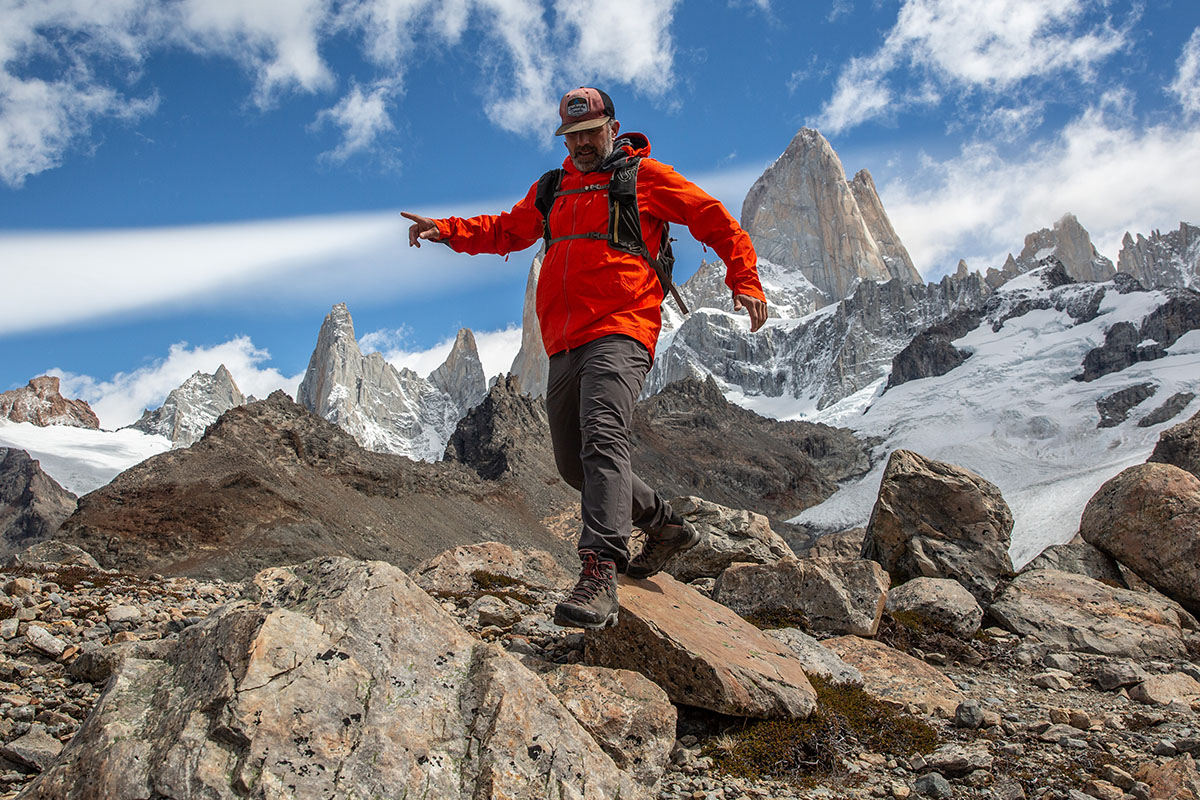 Additionally, the stiffer an approach shoe is, the better it will perform on technical rock (within reason, of course). To illustrate this point, imagine edging on a small hold while wearing a pair of running shoes. In our mind's eye, the soft cushioning compresses, the shoe doesn't hold its form, and your foot scrapes off the hold. Now, perch on that same edge with a stiffer, more precise approach shoe. The rubber doesn't compress much and the sole maintains a solid platform. For this reason, many of the shoes in our scrambling category (the La Sportiva TX4 and Scarpa Gecko, to name a few) have rigid midsoles and soles. Again, you'll have to find the right balance for your needs as stiff shoes can feel clunky and onerous on the trail for many.
 
Toe Protection
The majority of shoes on our list—including the lightweight Black Diamond Circuit—have a rand that extends over the toe box, providing protection from stubbed toes and additional traction on rock. Many of these shoes have full, wraparound rands, extending this level of protection and traction around the entire foot. The larger the rand—both in height and in area covered around the foot—the more durable the shoe and the better it will perform in cracks and on rocky trails.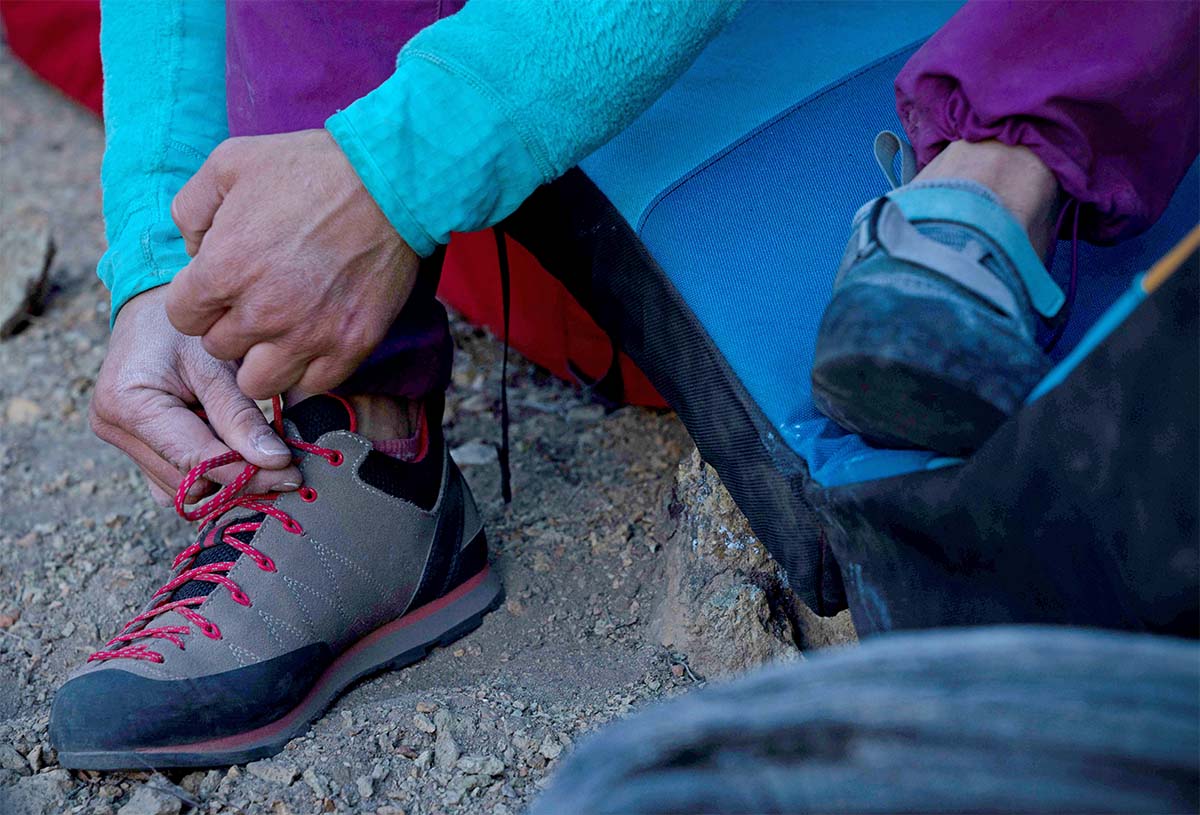 Upper Materials
The type of material used in a shoe's upper—the fabric that connects to the rubber outsole—correlates directly with its durability, water resistance, and breathability. Most often, a shoe will be made with synthetic mesh or knit material, leather, or a mix. Below we spell out the pros and cons for the most common materials used in approach shoes.
Synthetic
Mesh-woven nylon, open mesh panels, and knit uppers are becoming increasingly common in approach shoe construction as manufacturers seek to shave weight from their models. These airy synthetic uppers certainly aid in breathability and cutting weight, but detract from the waterproofing, durability, protection, and climbability of the shoe. In the end, we love mesh or knit shoes during the summer months, but they're not ideal for wet or snowy terrain or particularly technical climbing.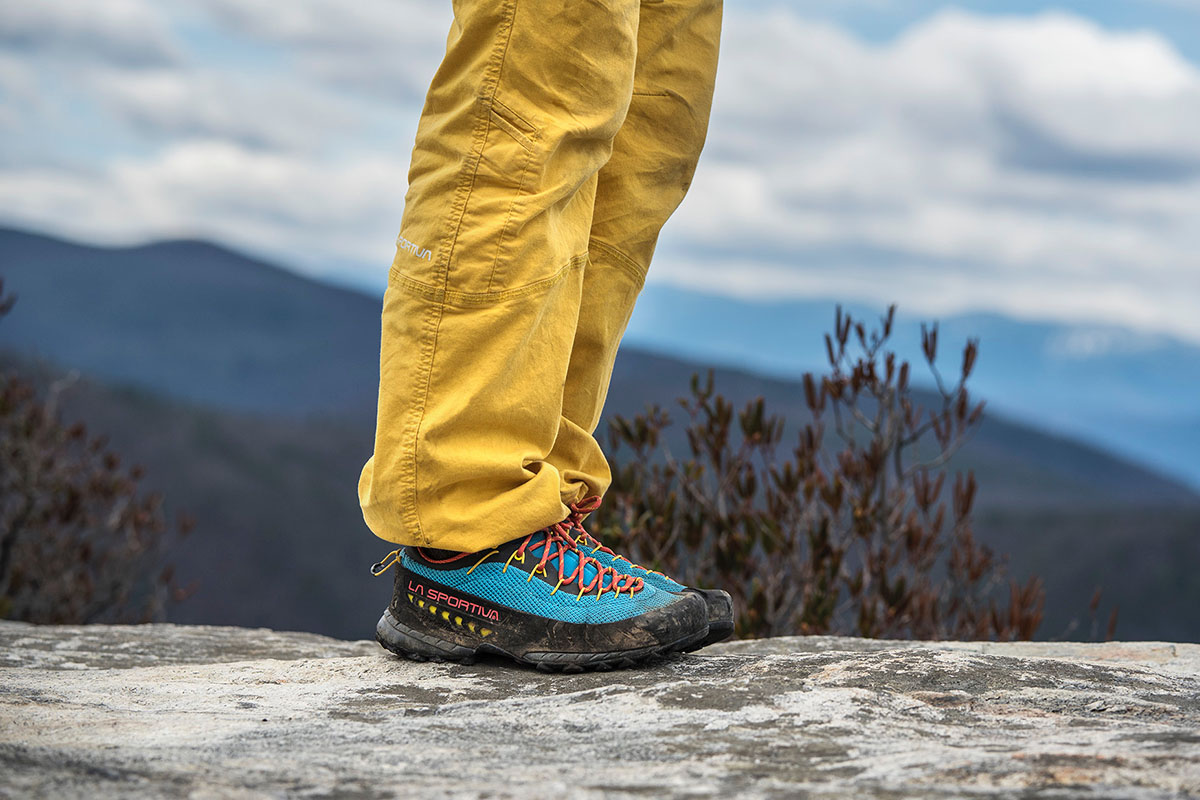 However, as we've mentioned a few times above, there are some synthetic uppers that manage to achieve many of the benefits of leather while maintaining a high degree of breathability. Particularly, Black Diamond's EnduroKnit (as seen on the Circuit, Session, and Mission LT) and Arc'teryx's ripstop mesh (on the Konseal FL) are impressively durable and protective, so much so that we've come to think of these shoes as being in the same class as leather shoes like the La Sportiva TX4 and Scarpa Crux II. They also come with the added benefit of being able to wick water and dry out quickly, whereas leather can grow heavy when wet. 

Leather
The majority of approach shoes, similar to climbing shoes, are made with a leather upper. Without getting too deep into technicalities, suede, leather, and Nubuck are all derived from the same material and generally perform similarly. On approach shoes, this leather will be lighter and more flexible than the typical glossy full leather you might see on an old hiking boot. Of all upper materials, leather will provide the most protection, durability, and water resistance. However, it's the least breathable. Occasionally, as in the case of the Scarpa Gecko, leather and mesh will coexist to provide both breathability and durability.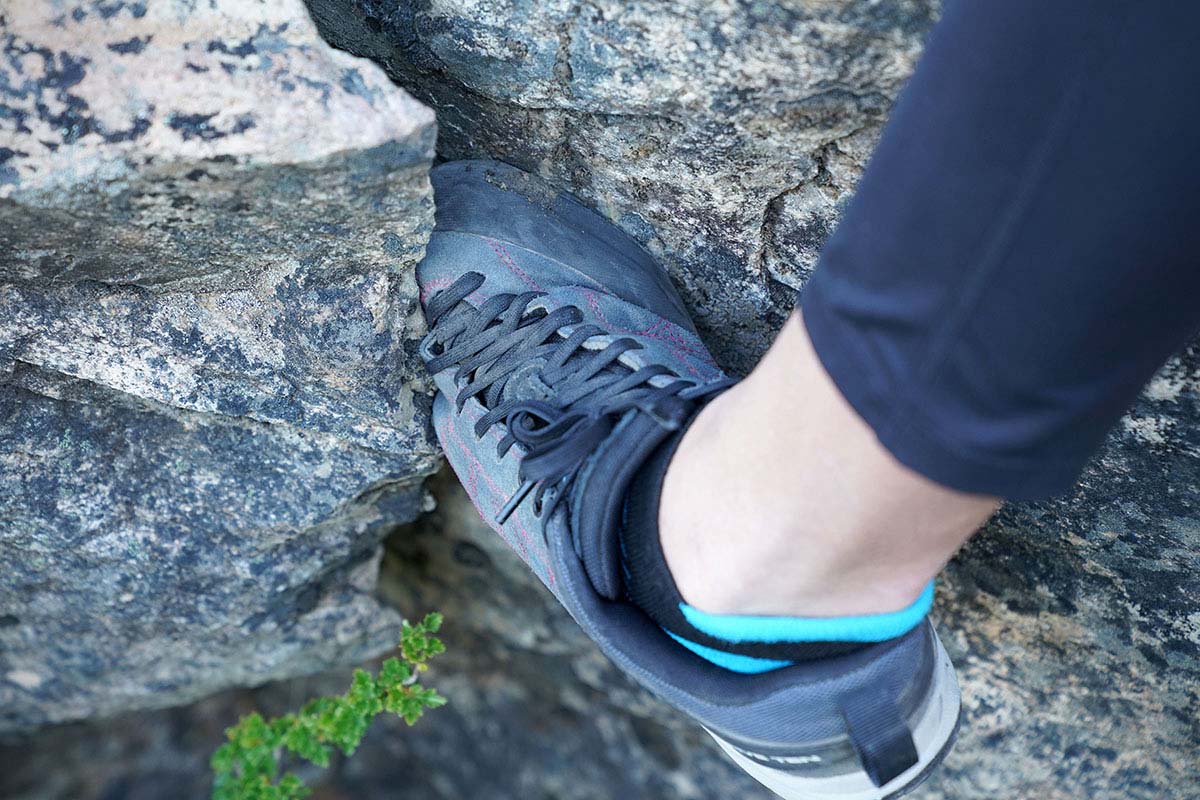 Leather also tends to stretch. Because approach shoes aren't sized as tightly as climbing shoes, approach shoes will not stretch as noticeably. However, especially when wet, full leather models such as the La Sportiva Boulder X certainly will expand, leading to a less supportive fit. On the flip side, as these all-leather models dry, they will conform more to the size of your foot (if they dry while on your foot), and fit even better.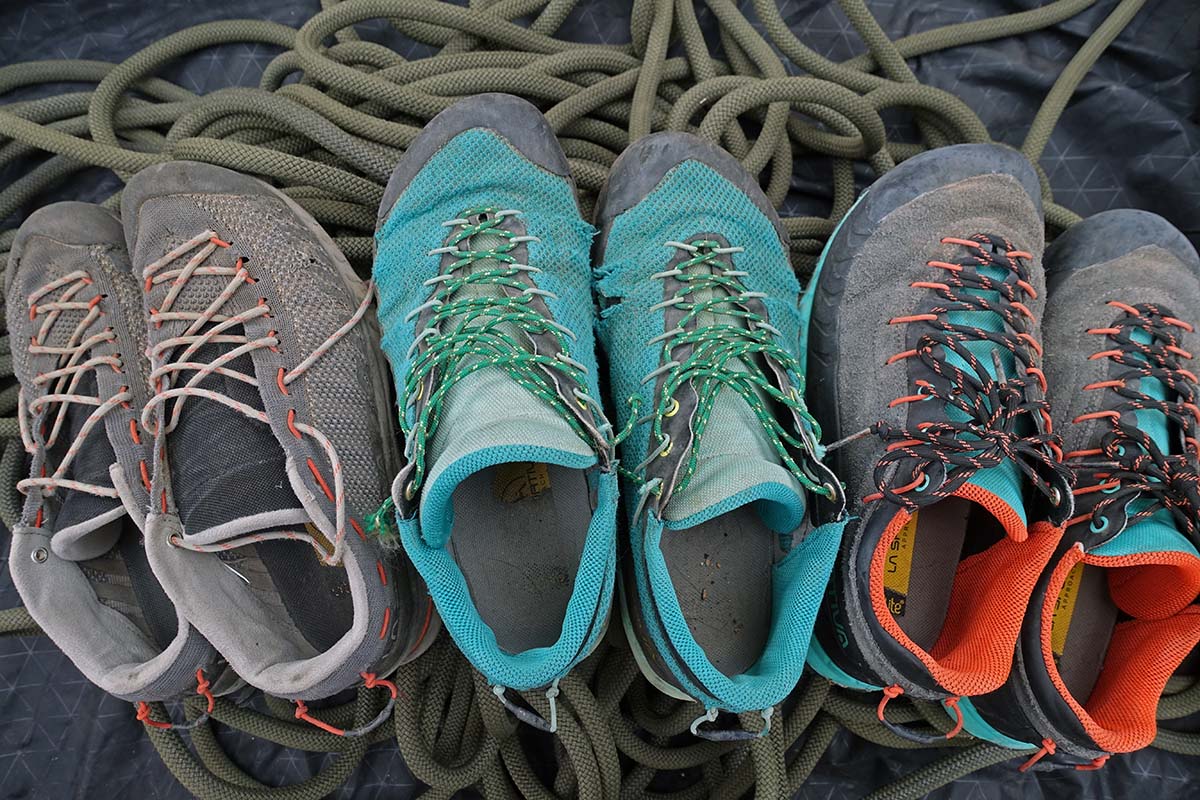 Approach Shoe Care
Approach shoes aren't cheap, and much can be done after purchase to ensure their longevity and performance. Below, we offer three suggestions for shoe care.

Keep Them Clean
Your shoes are getting you through some tough environments, and mud, bits of sand or dirt, and wet terrain can all add up. At the end of a day out, feel free to give the shoes a spray down with the hose if need be, leaving them out to dry completely. Turn your shoes on their sides and stuff them with newspaper to speed up drying. Additionally, throughout the day or at the day's end, take out the insole and give your shoes a good shake—all that sand and dirt can accumulate and abrade the material quickly if not taken care of.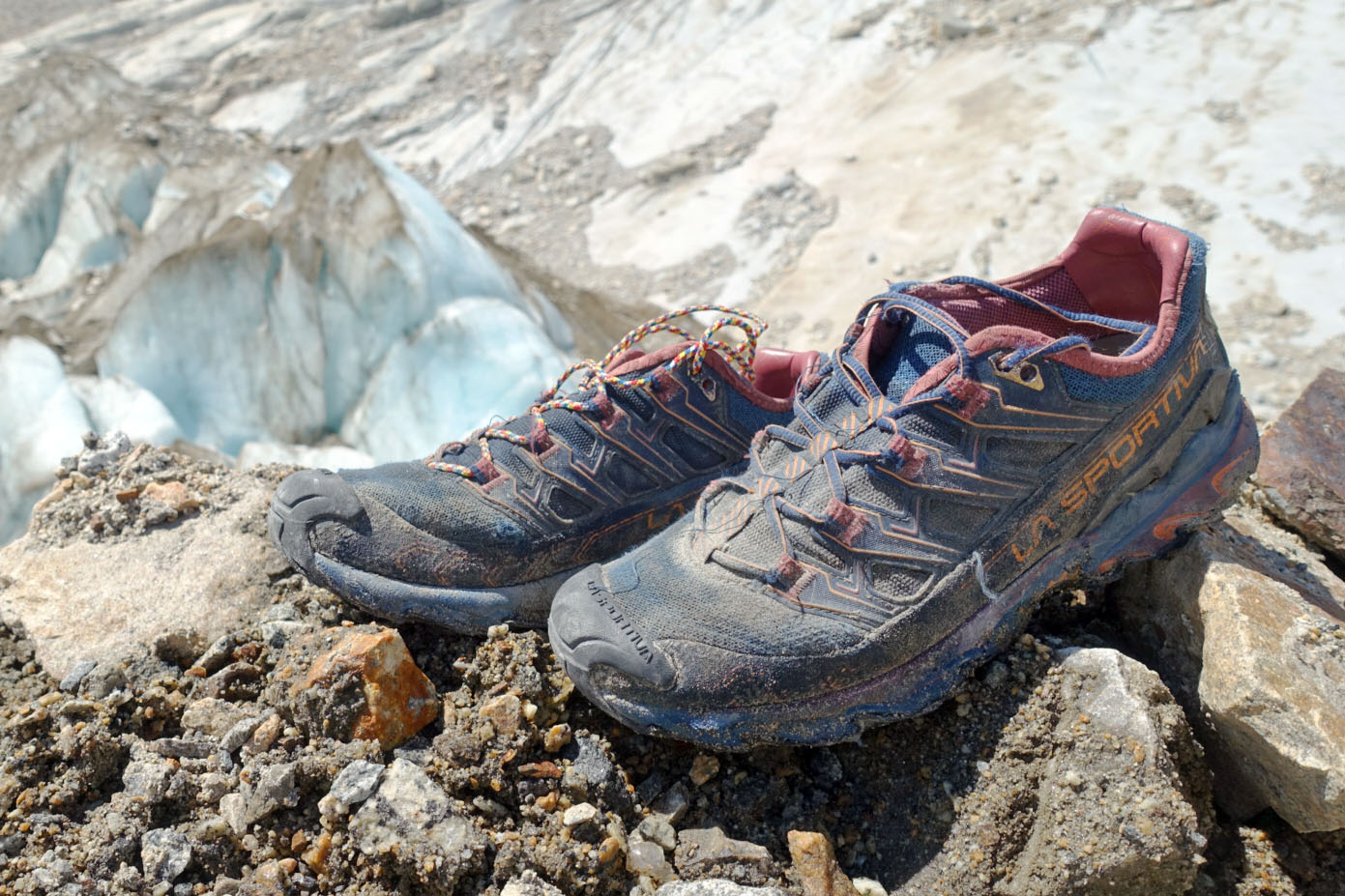 Conditioning/Waterproofing
If you have approach shoes with a leather upper, it is wise to treat them with a leather conditioning/waterproofing product. If not treated, leather can absorb water, making it heavy and more prone to stretch and shrink. Nikwax and Gear Aid both have a full line-up of products that will do the trick.

Seam Gripping the Seams
Climbers often apply seam grip to the seams of their climbing shoes (over the stitching and where the rand meets the leather) to reinforce them against abrasion from cracks. This simple practice drastically increases the lifespan of a pair of climbing shoes. You can perform the same practice with approach shoes, especially if you're planning on using the shoes for scrambling or technical climbing. Additionally, when aid climbing, expect your shoe's toes to blow out extremely quickly if not reinforced. Gear Aid products such as Seam Grip or Freesole can be applied to these wear-and-tear areas upon purchase and many times thereafter.
 
The Mid-Height Approach Shoe
Approach shoes are specifically designed for climbers as a replacement for hiking boots, so what's with the mid-height approach shoe? Climbers may opt for a mid-height model for a variety of reasons. Perhaps you need more ankle stability or protection, whether you're carrying heavy loads over tricky terrain or preventing ankle rolls. Perhaps you want a lightweight hiking boot but crave the sticky rubber of an approach shoe. Perhaps you plan on traveling over snow a great deal and want more coverage along with a sturdy attachment for a pair of crampons. Or perhaps you're a big wall climber who needs more support when standing in aiders for days on end.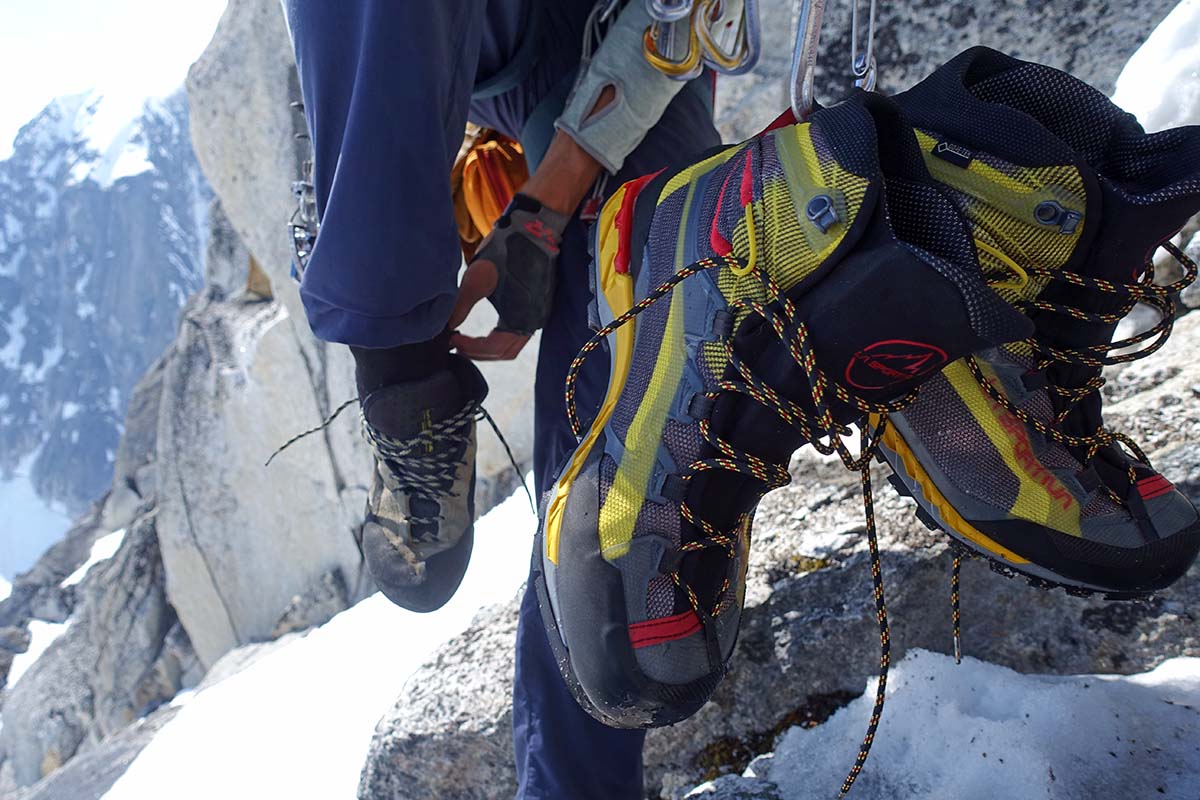 The mid-height approach shoe can be used to level up—both weight-wise and stability-wise—from a typical approach shoe, or level down from a hiking boot. When the hiking is technical and weight is less of an issue (i.e. you're not planning on carrying your boots on a climb), the mid-height shoe is an excellent choice. Approach shoes in this category include the La Sportiva TX4 Mid and La Sportiva Aequilibrium Speed GTX (which, granted, is more of a mountaineering boot than an approach shoe).
Back to Our Top Approach Shoe Picks  Back to Our Approach Shoe Comparison Table
Learn More About Climbing