The momentum in hiking footwear is moving away from bulky boots toward lightweight shoes and even trail runners that are faster and more comfortable. You do lose some ankle support when carrying a heavy pack or traversing rocky trails, but the weight savings and feathery feel are worth it for many. Below are our favorite hiking shoes of 2017, from ultralight options for fast and light trips to more supportive models for carrying a full pack. For more background information, see our comparison table and buying advice below the picks. If you prefer an over-the-ankle style, check out our article on the best hiking boots.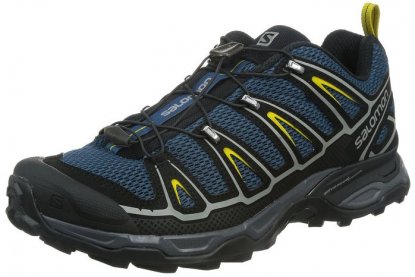 Type: Hiking shoe
Weight: 1 lb. 10 oz.
Waterproof: No (GTX available)
What we like: Great mix of lightness, durability, and on-trail performance.
What we don't: Rough trails can lead to tired feet.
The Salomon X Ultra 2 GTX is our top lightweight hiking shoe of 2017, combining a feathery feel with impressive on-trail performance. It has the traction, stability, and protection needed for day hikes, quick summits, and lightweight overnights. For durability, the Salomon X Ultra 2 is built on an EVA midsole and trusty Contragrip rubber. Inspiration for the design came from Salomon's well-known trail runners, so the shoe features their single-pull speed laces, aggressive stance, and multidirectional lugs.
The lightweight construction does mean you'll feel the ground underneath you a bit more than with stiffer hiking shoes like the Lowa Renegade or La Sportiva FC Eco below, but your feet still have sufficient protection with a rubber toecap. Deftly balancing the support of a hiking shoe with the agility of a trail runner has made the X Ultra's a huge hit, spawning a range of waterproof and mid-height models... Read in-depth review
See the Men's Salomon X Ultra 2 See the Women's Salomon X Ultra 2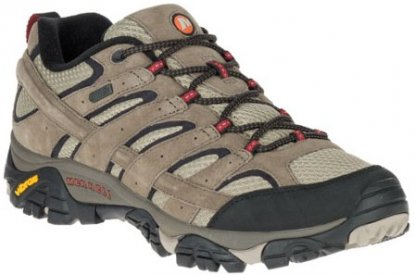 Type: Hiking shoe
Weight: 2 lb. 1 oz.
Waterproof: Yes (non-WP available)
What we like: Very comfortable and a great price.
What we don't: It's not a shoe for technical terrain.
These may not be your long distance or ultra-rugged hiking shoes, but there is a lot to like about Merrell's flagship Moab. Updated to the "2" for 2017, Merrell stuck with what has made the shoe so popular over the years: a lightweight but planted feel, a comfortable fit, and a value price. Changes include a more durable upper and greater cushioning in the heel of the footbed. The Moab 2's still are a great value at $120 for the waterproof model, and the non-waterproof Vent shoe is only $100.
What are the downsides of the Merrell Moab 2? On rocky and muddy trails, we found that traction and stability fall short of a burlier shoe like the Salomon X Ultra 2 above. And despite a competitive 2-pound 1-ounce weight for a pair, the shoe feels a little slow and cumbersome compared with some lighter weight models. But these are small complaints about an otherwise fantastic shoe, and we highly recommend the Moab 2's for day hikes and lightweight backpacking... Read in-depth review
See the Men's Merrell Moab 2 See the Women's Merrell Moab 2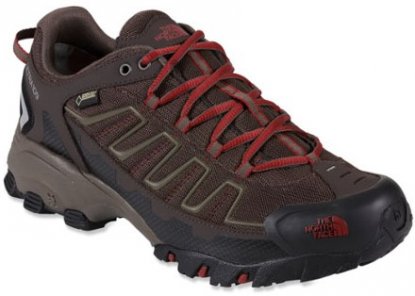 Type: Hiking/trail-running shoe
Weight: 1 lb. 15 oz.
Waterproof: Yes
What we like: Lightweight but stable while hauling a pack.
What we don't: Treads wear relatively quickly.
The North Face may list the Ultra 109 GTX as a trail-running shoe, but we think it checks all the boxes for a quality lightweight hiker: it has a stable platform, excellent traction, and good foot protection. The midsole even has a shank and rock plate, which serve to not only dampen harsh impacts but also increase stiffness. We've used the shoe for both day hiking and backpacking—with a load up to 40 pounds—and have found it to be very comfortable.
The only way that the Ultra 109 reminds us of a trail runner is tread life, and the relatively short lugs are starting to wear after only a couple months of use on rocky and rough trails. The rest of the shoe is holding up well, however, and with a price tag of $120, the Ultra 109 is one of the best values on this list.
See the Men's North Face Ultra 109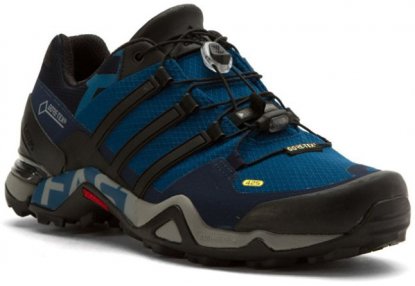 Type: Hiking/trail-running shoe
Weight: 1 lb. 11.2 oz.
Waterproof: Yes (non-GTX available)
What we like: Strong and capable.
What we don't: Very expensive.
Adidas has expanded its hiking footwear line substantially in recent years, and the Terrex Fast R is nimble, strong, and, you guessed it, fast. The single-pull lacing system and sleek, modern design may appear plucked from Salomon, but where the Terrex stands out is its athletic nature. The shoe is lighter than the Gore-Tex version of the X Ultra above and a little stiffer for greater stability. For mixed use as an off-trail hiking and running shoe, or just for feeling confident while moving quickly, the Fast R is one of the best options on the market.
Price is by far and away the biggest downside of the Fast R. This Gore-Tex version retails for $185, which is a significant jump of $40 over the X Ultra 2 GTX. As a true performance shoe, the Terrex gets the edge compared with the Salomon, but we prefer the comfortable lining and all-around nature of the X Ultra in most cases. For a more affordable hiking alternative from Adidas in a slightly less aggressive design, check out their popular Terrex Swift R.
See the Men's Adidas Terrex Fast R See the Women's Adidas Terrex Fast R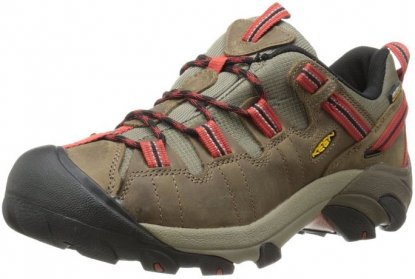 Type: Hiking shoe
Weight: 1 lb. 15 oz.
Waterproof: Yes
What we like: You get a lot of shoe for the price.
What we don't: Middle of the pack performance.
Not to be confused with any other brand, the Keen Targhee II mix a casual look with reliable performance. The shoes feature a leather upper, Keen's signature wide forefoot, and prominent toe protection. At just under 2 pounds, the shoes are not the lightest on paper, but they do have a nimble feel. Overall performance is in-line with the Moab above, although the leather uppers should hold up better to rough use.
The comfort that Keen is well known for is evident right out of the box, and only gets better over time with the moldable footbed. Beefy lugs on the outsoles are middle of the pack performers and do well in both wet and dry conditions. Tack on a great price that's often available for a discount, and you can easily understand why Targhee II's have been so popular for so long. Sizing runs a little small, and Keen rightly suggests going up ½ size for this style.
See the Men's Keen Targhee II See the Women's Keen Targhee II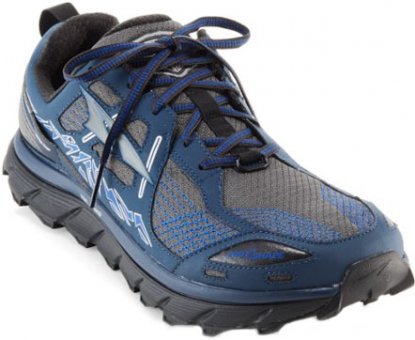 Type: Trail-running shoe
Weight: 1 lb. 4.8 oz.
Waterproof: No (water resistant NeoShell available)
What we like: Very light with plush cushioning.
What we don't: Wide fit isn't great for difficult terrain.
Running-centric brand Altra quickly has established itself as a go-to footwear option for hikers, with a strong lineup of heavily cushioned but lightweight zero-drop shoes. Their flagship trail runner is the Lone Peak—a shoe line with loyalists in the thru-hiking and minimalist trekking communities for its combination of comfort and weight. And for summer of 2017, Altra released the "3.5." The main changes include stronger, reinforced upper materials and drainage ports for creek crossings. We've found that the Lone Peak is suitably tough for trail use, has excellent traction, and the thick cushioning isolates you from harsh impacts underfoot.
There are a few important things to keep in mind when choosing a trail-running shoe for hiking. First, the shoe flexes more than a traditional hiker and won't be as comfortable on long, steep climbs. Second, you get less protection at the toe and along the sides of the foot. And specific to the Lone Peak 3.5, this shoe has a wide fit. If you have narrow feet, it's probably a good idea to look elsewhere on this list as the shoe definitely is roomy and therefore may be hard to control on uneven terrain.
See the Men's Altra Lone Peak 3.5 See the Women's Altra Lone Peak 3.5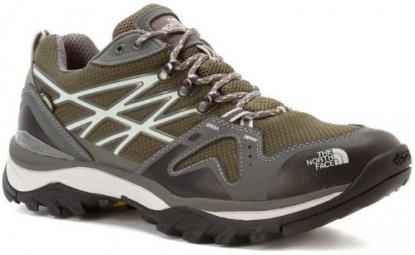 Type: Hiking shoe
Weight: 1 lb. 14 oz.
Waterproof: Yes (non-GTX available)
What we like: Reasonably light, stable feel.
What we don't: Despite the name, not the best for the ambitious fastpacker.
Fastpacking is at the core of the lightweight footwear movement: it's all about covering as much ground as possible while carrying the least possible weight. The North Face isn't shy about targeting this group, with their Hedgehog Fastpack shoes. Is the Hedgehog best for fastpacking? We'd say no. But the shoe is very nicely made and actually has a wider appeal to the general hiking crowd with a stable feel, good underfoot support, and Gore-Tex waterproofing. The mix of leather and mesh is quite durable as well.
If your focus is an ultralight overnight trip, we still prefer the performance of our top-rated Salomon X Ultra 2 over the Hedgehog. More, The North Face's own Ultra 109 is better as a versatile day hiker. But the Hedgehogs are well made, offer good traction in mud with their aggressive Vibram rubber, and are plenty tough for long days on the trail.
See the Men's North Face Hedgehog See the Women's North Face Hedgehog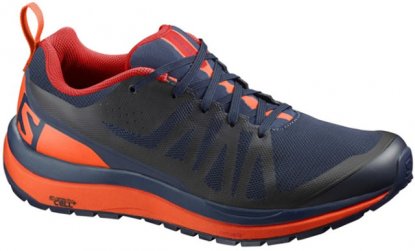 Type: Hiking/trail-running shoe
Weight: 1 lb. 7.2 oz.
Waterproof: No
What we like: Great mix of trail running and hiking shoe characteristics.
What we don't: Low on traction.
New for 2017, the Salomon Odyssey Pro aims to harness the benefits of a trail runner—lightness, cushioning, and comfort—in a capable hiking shoe package. From our early test, they may have pulled it off. The shoe feels extremely light, and the bouncy midsole has the energy and comfort that we love in a shoe like the Lone Peak above. More, the Odyssey Pro appears ready for abuse with durable uppers and stronger lateral support than a typical running shoe.
While the initial impressions have been strong, we hesitate to move the Odyssey Pro any further up our list just yet. As we pack on miles, we'll get better insights into how the cushy midsole breaks down and if the fabric can hold up to extended wear and tear on the trail. One complaint is that the traction falls short of a standard hiking shoe as well as most trail runners we've tested. But overall we will say the shoe has left a strong impression and seems to be a fantastic marriage of hiking and trail-running shoe designs... Read in-depth review
See the Men's Salomon Odyssey Pro See the Women's Salomon Odyssey Pro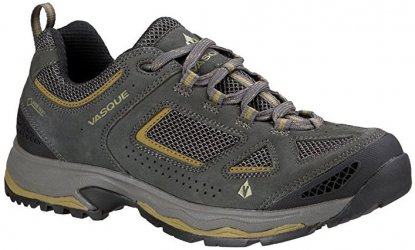 Type: Hiking shoe
Weight: 2 lb. 3 oz.
Waterproof: Yes (non-GTX available)
What we like: Tough build, comfortable underfoot.
What we don't: Lacing system could use an upgrade.
With a stable but nimble platform, the Vasque Breeze 3.0 is a thoroughly modern hiking shoe. The Vibram rubber is a big contributor, providing excellent traction without a clunky feel. And as we've come to expect from Vasque, construction, fit, and comfort are all excellent.
Mesh panels have been creatively distributed throughout the shoe's upper for impressive breathability, despite the Gore-Tex construction. It's still not cool in the summer, but they've clearly made an effort for it to be tolerable. Vasque also manages to retain a lot of protection for the toes and heel—plenty sufficient for established trails and even mild off-trail use. Our biggest complaint is that the lacing system isn't up to the same caliber as the rest of the shoe and doesn't secure very well over the top of the foot, nor are the eyelets as strong as many of their competitors. Fix that, and this otherwise solid shoe will quickly move up the list.
See the Men's Vasque Breeze 3.0 See the Women's Vasque Breeze 3.0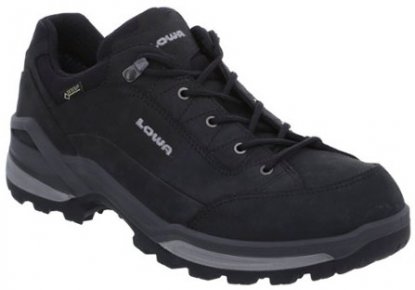 Type: Hiking shoe
Weight: 1 lb. 15 oz.
Waterproof: Yes
What we like: PU frame brings great support at a low weight.
What we don't: MSRP feels too expensive.
Cutting the top off the legendary Lowa Renegade boots, the Renegade GTX Low hiking shoes retain the excellent weight-to-support ratio in a trimmer package. Retailing for over $200, they are unquestionably expensive, and, honestly, we recommend trying to get them on sale. For the extra dough, you do get a polyurethane frame, which acts like an exoskeleton, bringing added rollover stability. You also get a fully leather upper, which is tough and water resistant. Breathability, however, does fall short as the Gore-Tex bootie and leather construction do restrict airflow. Overall, with great support at a sub-2 pound total weight, the Renegade Low's are a nice lightweight option for hikers. But there isn't anything exceptional here to justify the big price tag.
See the Men's Lowa Renegade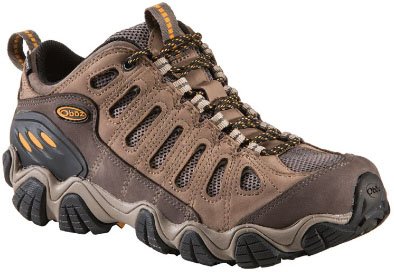 Type: Hiking shoe
Weight: 2 lb. 1.4 oz.
Waterproof: Yes (non-WP available)
What we like: Sturdy, grippy, and quite comfortable.
What we don't: A little slow and ungainly in this crowd.
Based in Bozeman, Montana, it shouldn't come as a surprise that Oboz footwear is noted for its stability and traction. Their Sawtooth Low shoe, which is also offered in a mid-height boot, is clearly built for the rough trails you'll find in the Rockies. It's not the lightest shoe around and isn't recommended for the fast hiker, but we've found it to be a great solution for folks looking to upgrade in stiffness and support from their Merrell Moabs.
Part of this sturdiness can be attributed to their proprietary heel counter, which holds its shape well and keeps you steady even over off-camber and rough terrain. Available in either the waterproof BDry model or a non-waterproof version for $30 less, breathability is decent as long as the temperatures don't get too hot, thanks to offsetting panels of mesh and leather. Overall, the Sawtooth may not be sprightly, but it's well-built, has a solid platform, and feels secure on your feet.
See the Men's Oboz Sawtooth See the Women's Oboz Sawtooth
Type: Trail-running shoe
Weight: 1 lb. 9 oz.
Waterproof: No
What we like: Supremely light; long-distance comfort.
What we don't: A step down in stability and toe protection from a true hiking shoe.
Years ago, I decided to take a chance on the La Sportiva Wildcat's as my daily trail runners. Quickly, I transitioned them to their better usage—fast-moving summer day hikes—thanks to the excellent shock absorption and breathability. I'm not alone, as the Wildcat has garnered a lot of praise over the past few years, helping propel trail-running shoes fully into the hiking footwear market. The outsole design, optimized for trail running over varied and rough terrain, is equally at home on the rocky and rooty hiking trails in the Cascades. Notably, we've also seen the shoes on a number of PCT thru-hikers.
One warning in turning to a true trail-runner style for hiking: the minimalist toe cap does not offer nearly as much protection as a traditional hiking shoe. For us, the sacrifice has been worth it, despite a few sore toes, and we continue to turn to our trusty Wildcats for trail runs and day hikes throughout the summer months.
See the Men's La Sportiva Wildcat See the Women's La Sportiva Wildcat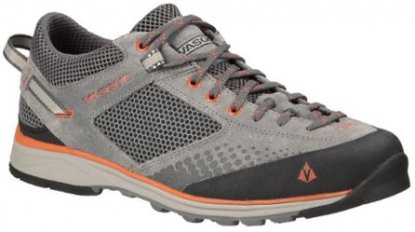 Type: Approach/hiking shoe
Weight: 1 lb. 10 oz.
Waterproof: No
What we like: Versatile for hiking and scrambling.
What we don't: Not as durable as a typical approach shoe.
Most hikers turn to either hiking shoes or trail runners, but an approach shoe can make a lot of sense on rocky and steep terrain. This type of footwear mixes climbing and hiking shoe attributes: grippy rubber and sturdy construction with a traditional shape and fit. For hiking use, our favorite approach shoe is the Grand Traverse: it's reasonably light, grips exceptionally well on rock, and is quite comfortable. More, the Vasque is reasonably flexible and breathes well with heavy use of mesh along the shoe's upper.
Among our grouping of lightweight hikers, the Grand Traverse does have a few notable downsides. While traction is brilliant on rock, it falls short if the trail is wet and muddy. Also, the thin upper material is not all that durable, although it does stack up well compared with the trail runners on our list. And in general, approach shoes tend to be stiffer than hiking shoes or trail runners, which can impact comfort on longer hauls. But if you like to mix scrambling or low grade climbing into your hiking adventures, give the Vasque Grand Traverse a serious look... Read in-depth review
See the Men's Vasque Grand Traverse See the Women's Vasque Grand Traverse
Type: Hiking shoe
Weight: 1 lb. 12 oz.
Waterproof: Yes (non-WP available)
What we like: Lighter and better traction than the Moab 2.
What we don't: Not nearly as comfortable on long trail days.
In addition to the update of the flagship Moab 2, Merrell expanded the Moab line this year with the FST. We tested both Moab shoes and were struck with their differences—despite having a similar style, the FST takes a much more modern, performance-oriented route. The end product left us with a mixed opinion, but what we liked most about the FST was the lighter feel and increase in traction—it weighs 5 ounces less for a pair and has strong lugs that dig in better than the Moab 2 in mud and rock.
We do, however, feel that the Moab 2 is the better shoe for most hikers. The FST trades the accommodating and very comfortable fit we love for a snug cut that's particularly tight in the toe box. More, the shoe's support and underfoot comfort fall short and can lead to sore feet on longer days and when carrying a heavier daypack. Unless you'll appreciate the change to the fit, we recommend sticking with the tried and true (and less expensive) Moab 2.
See the Men's Merrell Moab FST See the Women's Merrell Moab FST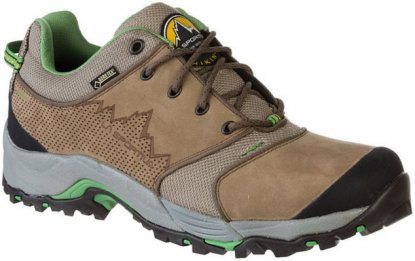 Type: Hiking shoe
Weight: 2 lb. 1 oz.
Waterproof: Yes
What we like: Casual looks but serious traction.
What we don't: May be too stiff for some.
Don't be fooled by the casual looks or long name: the La Sportiva FC Eco 2.0 GTX is a capable hiking shoe. Standing out in this crowd of muted colors and utilitarian designs, these boots are downright stylish, mixing a mostly tan leather upper with some splashes of color and mesh paneling. That 100% recycled nylon mesh in the uppers helps with breathability, but as with most waterproof leather hiking shoes, it's still sauna prone in warmer weather. Vibram River outsoles deliver solid traction, and a lug design shared with La Sportiva's excellent trail-runners works great on steep descents.
Where the FC Eco 2.0 falls short on this list is its dated feel. The shoe is a bit of a clunker compared with the modern and nimble designs of pretty much every option above. You can plan on a little break-in period for the stiff leather construction, but that's not all bad news, because the Eco 2.0 GTX is perfectly acceptable as supportive daily wear.
See the Men's La Sportiva FC Eco See the Women's La Sportiva FC Eco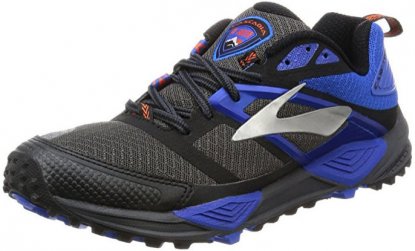 Type: Trail-running shoe
Weight: 1 lb. 8.2 oz.
Waterproof: No
What we like: Super comfortable footbed.
What we don't: Low ankle height is tricky on rocky terrain.
Already in its 12th generation, the Brooks Cascadia trail shoe has developed a loyal following among trail runners and hikers alike. Some models have been better received than others (the 10th generation, for example, had its share of detractors), but the plush and cushioned underfoot feel and long-lasting traction make the Brooks a compelling hiking shoe.
The Cascadia 12's natural competitor on this list is the La Sportiva Wildcat above, and between the two, we prefer the Wildcat for its comparable performance and $20 savings. For the extra money, the Cascadia does get you a more durable upper at the compromise of a little breathability. And our Cascadia's haven't had the tread wear issues that occasionally crop up with the Wildcat. In the end, the Cascadia is a great shoe for day hikes (and is still relatively popular with thru-hikers), but we think there are better options out there.
See the Men's Brooks Cascadia 12 See the Women's Brooks Cascadia 12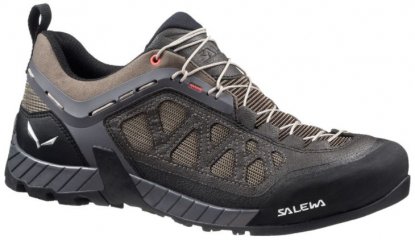 Type: Approach shoe
Weight: 1 lb. 11.6 oz.
Waterproof: No (GTX available)
What we like: Durable and fantastic for scrambling or rocky climbs.
What we don't: Not as comfortable for extended hiking.
Salewa has built a reputation around burly footwear and gear intended for harsh alpine environments. So it was fitting that we took their newest approach shoe, the Firetail 3, on a trip over the brutal terrain of southeast Alaska. Through rocky scrambles and rough, off-trail hiking, the shoe proved to be exceptionally durable and stable. And the climbing-style laces that extend all the way to the toes give it a secure and excellent fit. We tested the Gore-Tex version of Firetail 3, but consider the non-waterproof model the better option for most hiking with its improved breathability and lighter weight.
Compared with the Grand Traverse above, the Salewa Firetail is more of a traditional approach shoe in style and performance. The shoe has superior grip on rock and excellent foot protection, but the stiff build can feel heavy and unyielding compared with the light and more flexible Grand Traverse. For easier approaches, moving fast, and well-maintained trails, we prefer the Grand Traverse. But for a burly hiker that can haul heavy loads of ropes and climbing gear over difficult terrain—as well as tackle modest climbs like Telluride's Via Ferrata—the Firetail 3 is an excellent choice... Read in-depth review
See the Men's Salewa Firetail 3 See the Women's Salewa Firetail 3
Type: Approach/hiking shoe
Weight: 2 lb. 0 oz.
Waterproof: Yes (non-GTX available)
What we like: Super tough with great breathability for a waterproof shoe.
What we don't: Overbuilt for day hikes; traction favors rocks over muddy trails.
Throwing out the book on how shoes are built, the Arc'teryx Acrux FL GTX is generating a lot of buzz for its outside-the-box design. Rather than being constructed as a single item, the shoes have two parts: a soft liner and tough outer shell. The liner is essentially a waterproof sock and delivers unparalleled levels of fit and glove-like comfort. Technically the Acrux FL are approach shoes, but they earn a spot on this list as great day hikers with superior traction over the rocky stuff.
Waterproofing duties fall to the liner, and the combination of very limited seams and a Gore-Tex membrane means they're top performers in terms of water protection and ventilation. Springing for the Acrux2 allows you to remove the liners, but that model costs you another $50. Either shoe is pricey and overkill for some, but the Acrux sits atop our list in terms of sock-like comfort and innovation for a waterproof hiking shoe.
See the Men's Arc'teryx Acrux FL See the Women's Arc'teryx Acrux FL


Hiking Shoe Comparison Table
Hiking Shoe Buying Advice
Lightweight Hiking Footwear Types​
Hiking Shoes
For the vast majority of day hikers, and even a good number of backpackers and thru hikers, a hiking shoe that falls just below the ankle is the perfect match. Shoes like our top-rated Salomon X Ultra 2 are stiffer and more substantial than a trail runner for carrying a light load over mixed terrain, but not feet draggingly heavy like a full-on boot. More, hiking shoes often have a tougher construction than trail runners, with increased use of leather and durable nylons as opposed to mesh. Protection from obstacles like rocks and roots come courtesy of rubber toe caps and medium-stiff midsoles. Hiking shoes also are great options for folks needing a substantial shoe for daily wear, just be aware that the outsoles will wear faster on pavement.

Trail-Running Shoes
If moving fast trumps all else, choose a trail runner. These shoes are gaining popularity for being the ultimate lightweight option, even becoming a common sight on the PCT and AT. In fact, one trail runner, the Brooks Cascadia, became so popular on the PCT at one point that fellow thru hikers would look for the signature tread pattern to verify which path to follow.
But these types of shoes are really not intended as backpacking footwear, and even Brooks made an effort to clarify the Cascadia was not designed for thru-hiking. Trail runners are flexible and super comfortable, but don't provide much ankle support when you're carrying a heavy load, and have minimal toe and underfoot protection. For fast day hikes or for experienced minimalist trekkers, however, a trail runner remains an excellent option. We've included a couple great hybrid trail running and hiking options in this article, but you can check out our favorite trail-running shoes for a complete breakdown.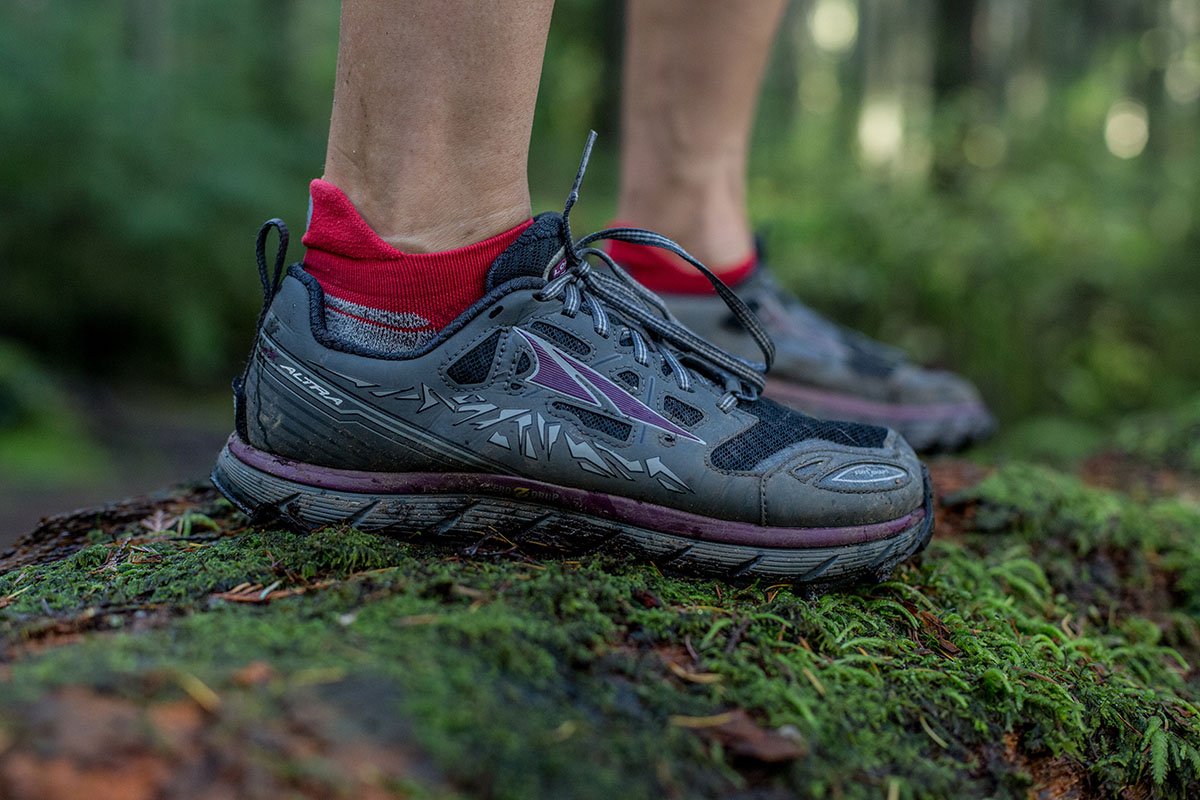 Approach Shoes
The third option has a relatively narrow focus: climbers or hikers that need a grippy shoe to tackle steep rocky terrain. Many rock climbers will use an approach shoe on the hike in (hence, the "approach" name), and swap out to a true climbing shoe when the going gets vertical. Approach shoes are easy to spot: they have a large rubber toe rand and a sticky, low profile rubber compound underfoot for maximum grip on rock. The shoes can be plenty comfortable on day hikes, especially a crossover style like the Arc'teryx Acrux FL, but aren't what we typically recommend as a daily driver. The treads aren't as secure on muddy hiking trails and they're not as comfortable underfoot for long trail days. If, however, your day hikes include a lot of scrambling or low grade rock climbing, an approach shoe is an excellent choice.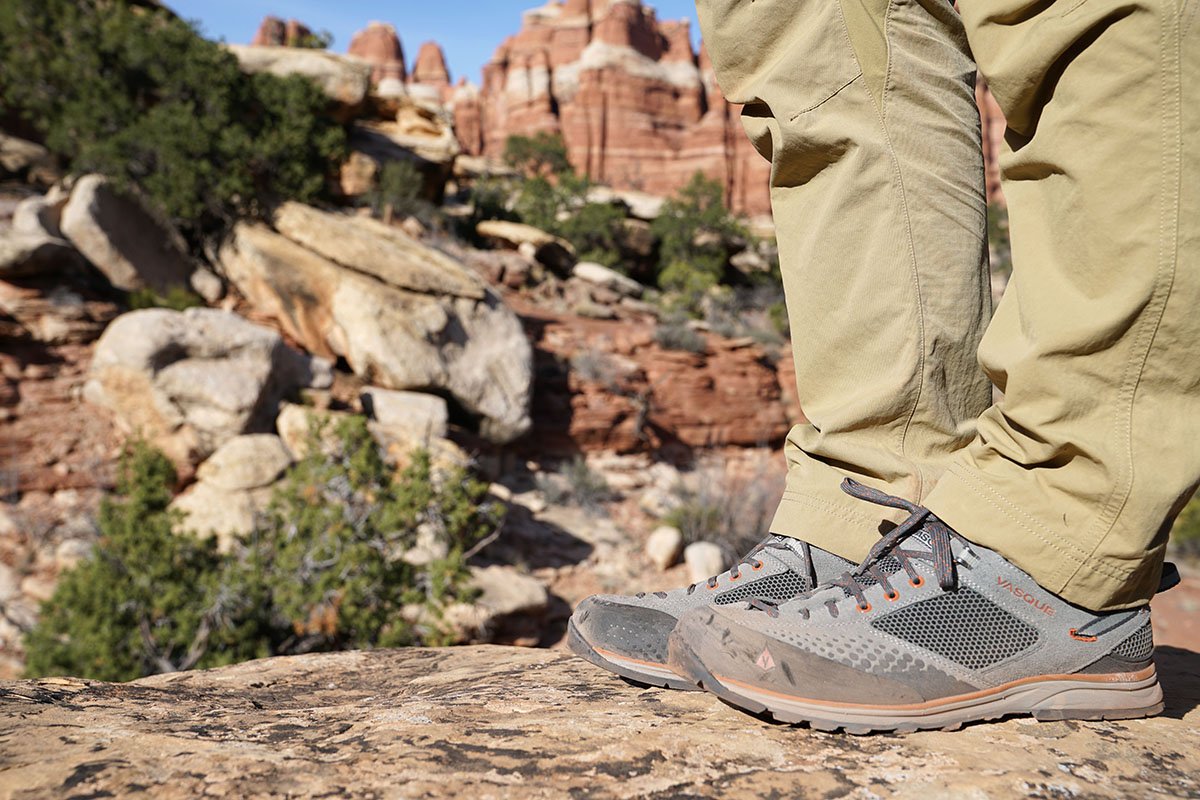 Weight
Arguably, the most important change in modern hiking shoe technology is the movement to lightweight designs. Tough but thin fabrics and a shift from over-the-ankle boots to low-top shoes have made putting on major miles a lot easier. It's no surprise most thru-hikers now choose a hiking shoe over a traditional leather boot. Many of the shoes on our list weigh 2 pounds or less for a pair—by comparison, a backpacking boot like the Asolo TPS 520 tips the scales at nearly 4 pounds. And on your feet, the weight is even more apparent. True, the drop in ounces sometimes impacts long-term durability, but there are still a number of compelling hiking boots for traditionalists and those needing the extra support. For most, a lightweight shoe is a much better partner for day hikes, peak bagging and minimalist overnighters. And as long as the rest of your gear is equally light, there are very few sacrifices.

Stability and Support
As a reflection of the push for lighter gear in all facets, hiking shoes are moving away from the traditional stiff construction of a hiking boot in favor of flexibility and a nimble feel. All hiking footwear (excluding some minimalist trail runners) does retain a degree of stiffness thanks to built-in shanks or internal supports. These features are part of what separate a hiking shoe (and approach shoe) from a super flexy cross trainer or road running shoe.
For day hikes on flatter or less technical terrain, we can't recommend a lightweight and semi-flexible hiking shoe enough. Shoes like the Keen Targhee II or even the La Sportiva Wildcats are standouts for these uses. As your trips get longer and your pack gets heavier, a more substantial shoe still wins out for us. Look to the Lowa Renegade GTX Low or Salomon X Ultra 2 for great all-around options that are equally adept at conquering summit peaks and multi-day backpacking.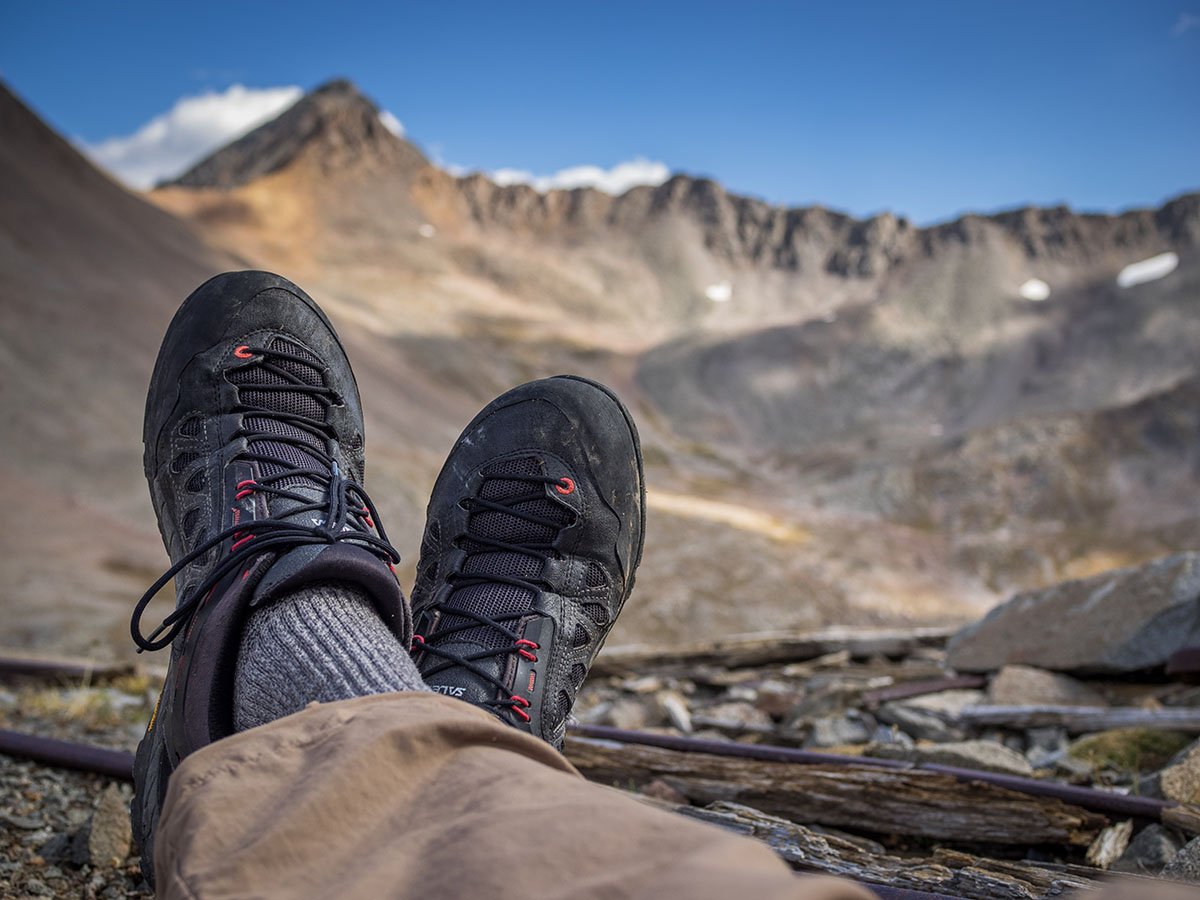 Waterproofing
Once you narrow your hiking footwear search, you may be considering the GTX question: do I need waterproofing or not? In theory, waterproofing is a nice security blanket if you'll be hiking in the mountains. The extra protection that comes with a waterproof and breathable membrane inserted into the shoe is great for creek crossings, surprise rainfall or if you hit snow on an early season trek. But the extra layer adds weight, impacts breathability pretty significantly (discussed below), and the designs aren't always perfect. We've found Gore-Tex models to work consistently well, and many in-house designs perform similarly keeping water out (breathability is a different story), including the Merrell and Keen shoes on this list.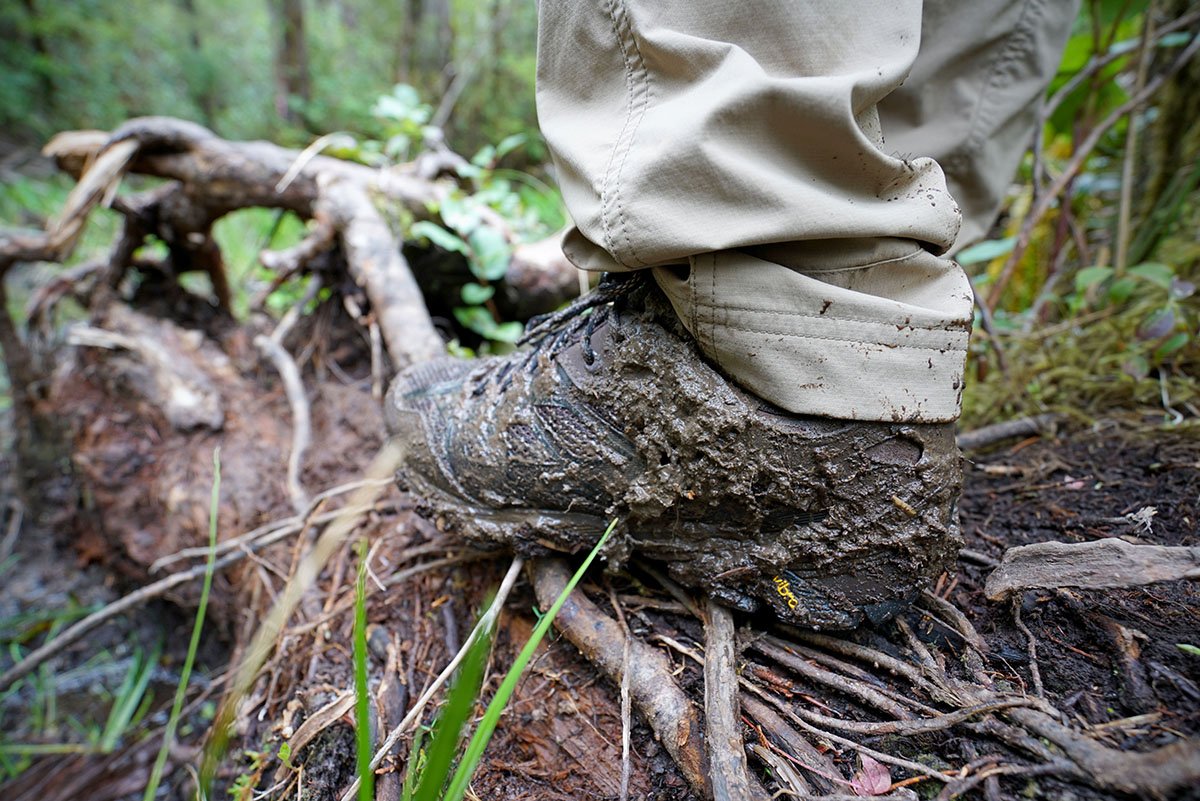 Whether or not you need waterproofing often comes down to a personal choice. Are you a summer-only hiker or live in a warm and dry area? We'd recommend a non-waterproof shoe in most cases, and some of the best ventilating shoes are the Vasque Grand Traverse and Merrell Moab 2 Vent. But if you get into the alpine regions or would benefit from the added protection and modest insulation waterproofing provides, we'd lean the other way. The great news is that most shoes on our list are offered in both varieties. Expect to pay about $20 to $30 more for the addition of waterproofing.

Breathability
The truth about waterproof liners, even expensive Gore-Tex booties, is that they don't breathe well—just as a waterproof jacket won't be as breathable as a comparable non-waterproof version. Simply put, waterproof and breathable membranes restrict a shoe's ability to pull moisture away from your sweaty feet as efficiently as a non-waterproof upper. Not all non-waterproof shoes should be treated equally, however. Footwear that features thinner fabrics and a lot of mesh will increase moisture transfer and airflow, which will keep feet less sweaty in hot weather as well as dry out soggy socks far more quickly.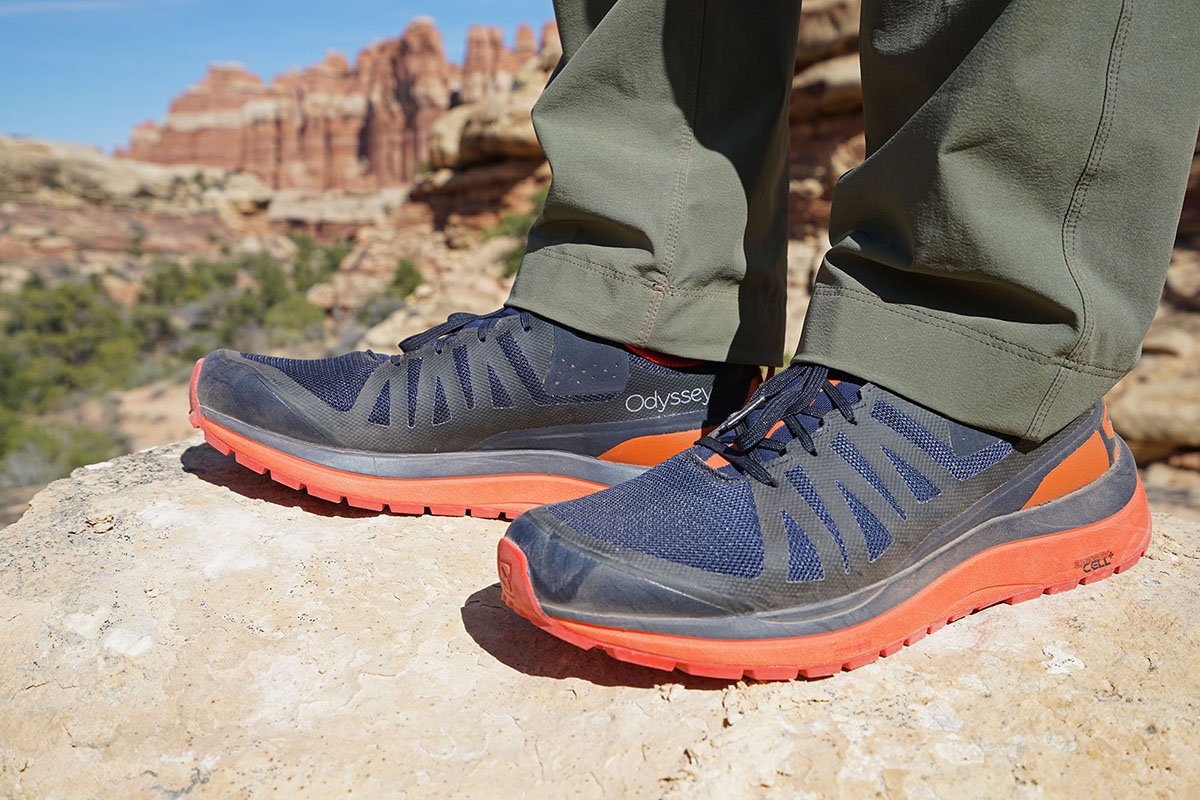 Gore-Tex Surround, which is designed to bring 360 degrees of breathability by venting out the insole of the shoe, is an intriguing, if expensive, concept. It's been well received in a few models, including the La Sportiva Synthesis, but performance will always fall short of a shoe made mostly of mesh. No matter your final decision, we encourage you to at least give non-waterproof footwear a thought before selecting your next pair of hiking shoes.

Lacing Systems
Easily overlooked, laces, as well as the lacing system of hooks and eyelets, play an essential role in fit and comfort. If a shoe has a poor lacing system that is prone to loosening, you'll find yourself having to readjust constantly on the trail. If the system itself doesn't secure your heel very well, the up and down walking motion will create hot spots and blisters. If the culprit is just the laces themselves, it's an easy fix: there are a number of good quality replacement laces available. But if the system design doesn't hold your foot very well, we recommend looking elsewhere.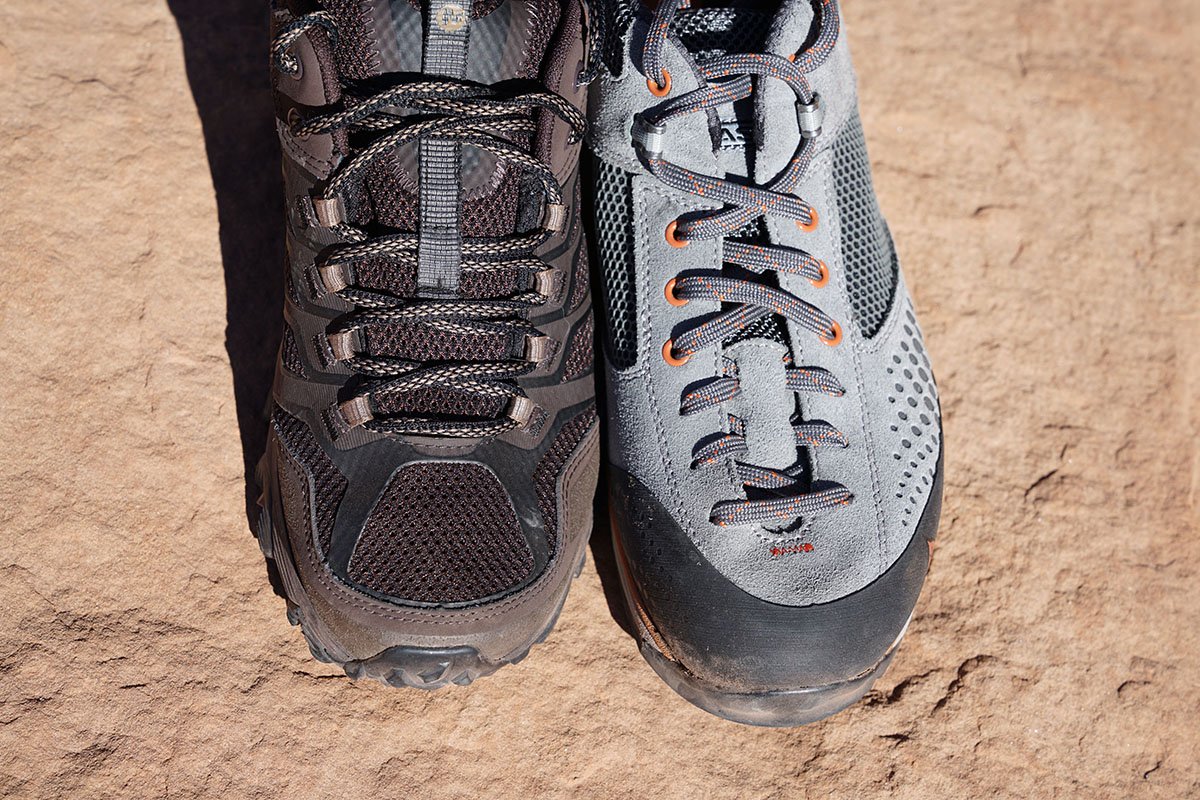 Some models, including the Salomon X Ultra 2 and Adidas Terrex Fast R, have a single-pull lacing system. The design is totally convenient and we've had no more issues with durability than a traditional lace. One thing to keep in mind, however, is that you aren't able to adjust the fit between eyelets, so the fit will be equally tight across the entire foot. Those with finicky feet that need to fine tune their laces to be comfortable may be best served avoiding quick lace designs.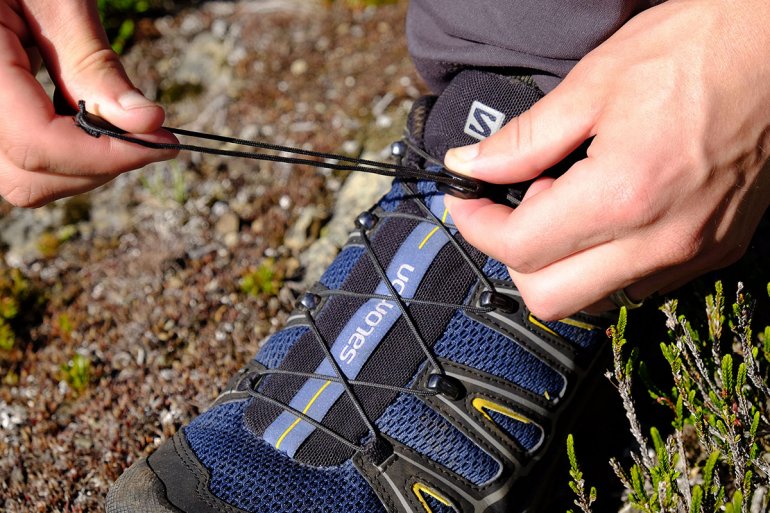 Hiking Shoe "Upper" Materials
Hiking shoe upper material is not the most exciting topic, but checking the construction can give helpful insights into its performance. The type of material used will correlate directly with a shoe's durability, water-resistance, and ability to breathe. Most often, hiking and trail shoes are made with a mix of nylon, mesh, and leather to balance cost and longevity. Arc'teryx is one brand that breaks from the mold completely with a two-piece design that has a separate rigid thermolaminated outer and a flexible inner liner (we gave their mid-height Bora2 hiking boots a full test). Below, we spell out the pros and cons for the most common materials used for hiking footwear.

Synthetic Nylon and Mesh
Woven synthetic (often nylon) as well as open synthetic mesh panels are commonly used to aid breathability. These materials are not as well known for their durability, but they do a great job of cutting weight. Exceptions include the Salomon X Ultra 2, which is made of tightly woven synthetic upper that has comparable levels of durability to some Nubuck leathers.

Nubuck Leather
Made of full grain leather, but given a brushed finish that has a suede-like feel, Nubuck leather is a common sight on heavier duty hiking shoes. The softer touch leather is lighter and more flexible than traditional, glossy full-leather options, and is more durable than most nylons. It does fall short in breathability, however. As a result, it's common to find a mix of Nubuck leather and nylon mesh for abrasion resistance and breathability, including the Merrell Moab and La Sportiva FC Eco 2.0 GTX.

Midsoles and Cushioning
Digging a little deeper into the shoe's construction, we'll look at midsole construction next. Its importance lies in cushioning your feet, working as a shock absorber from impacts, and providing an additional layer of protection from sharp rocks. Depending on the design, midsoles vary from very thin (minimalist trail runner) to stiff and substantial (burly hiking shoe). Most include EVA, TPU, or a combination of both in their construction.

EVA
Foam EVA midsoles are a common site on running and hiking footwear. The cushy soft material takes some of the sting out of your heel or midfoot impacts and is also extremely lightweight. While nearly all shoes on this list use some sort of EVA, the proprietary versions can vary from super soft to mildly stiff. For logging serious miles on tougher terrain, we prefer a firm and supportive midsole as opposed to too much cushioning. Those overly soft midsoles also have a tendency to breakdown overtime, much like a road running shoe. In general, you pay more for an improved midsole design and a higher quality EVA compound.

TPU
Thermoplastic polyurethane, (mercifully) shortened to TPU, is a durable plastic commonly found in performance-oriented light hikers like the Lowa Renegade GTX Low. Shoes that use TPU underfoot are often less cushy than those with only EVA but will last longer and better handle a heavier load. In addition, they'll keep their shape longer and won't be prone to compressing like EVA. Because both midsole types have valid applications and TPU is more expensive, it's common for a manufacturer to use a TPU frame or shank for stability and toughness and add in EVA underfoot to increase comfort.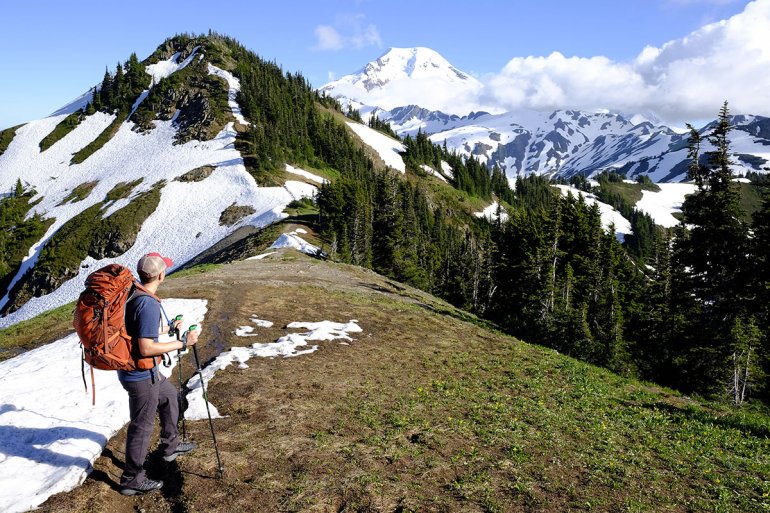 Outsoles and Traction
One of the main reasons to upgrade from a flimsy cross trainer to a true hiking shoe is for improved traction. In a way that more casual footwear can never match, hiking and trail-running footwear is leaps and bounds better when the going gets rocky, slippery, and steep. And much in the same way that Gore-Tex dominates the market for mid to high-end waterproofing, Vibram inhabits a similar space for outsoles. Their name is synonymous with solid grip and traction in a variety of terrain. Not all Vibram models should be treated as equals, however, as the rubber manufacturer tailors their designs for the specific footwear and brand. Some have much larger lugs underfoot for serious grip in mud, and others prioritize sticky rubber for scrambling over rocks. There are also more entry-level options that just do well on easier trails, like the lugs you'll find on the bottom of the Merrell Moab 2 boots and shoes.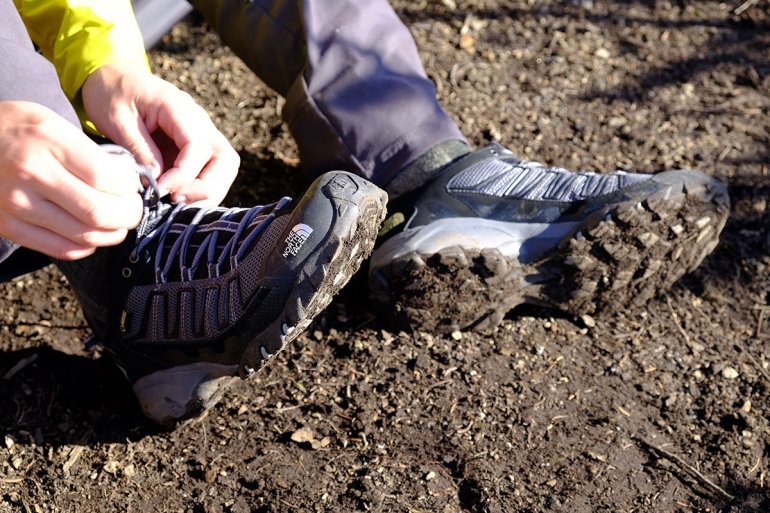 Salomon is one brand that doesn't outsource their traction needs. Instead, they use their in-house ContraGrip brand for all of their hiking and trail-running models. We've found the level of quality and performance is in-line with the Vibram offerings across the board, from anything from their fast-and-light X Ultra 2 hiking shoes to the burly Salomon Quest 4D 2 backpacking boots.

Toe Protection
Hiking trails, even well maintained ones, are full of rocks, roots and other potential hazards, so we almost always recommend a hiking shoe with some type of toe cap. Lacking any protection on the front of your shoes can lead to a trip ruining impact when you inevitably look up from the trail to enjoy the scenery. Hiking shoes typically have a full rubber toe cap, but trail runners sometimes have a trimmed down version or none at all—one of the compromises in opting for a minimalist shoe. Approach shoes, on the other hand, have exceptional toe protection with their wraparound rubber rand at the front of the shoe.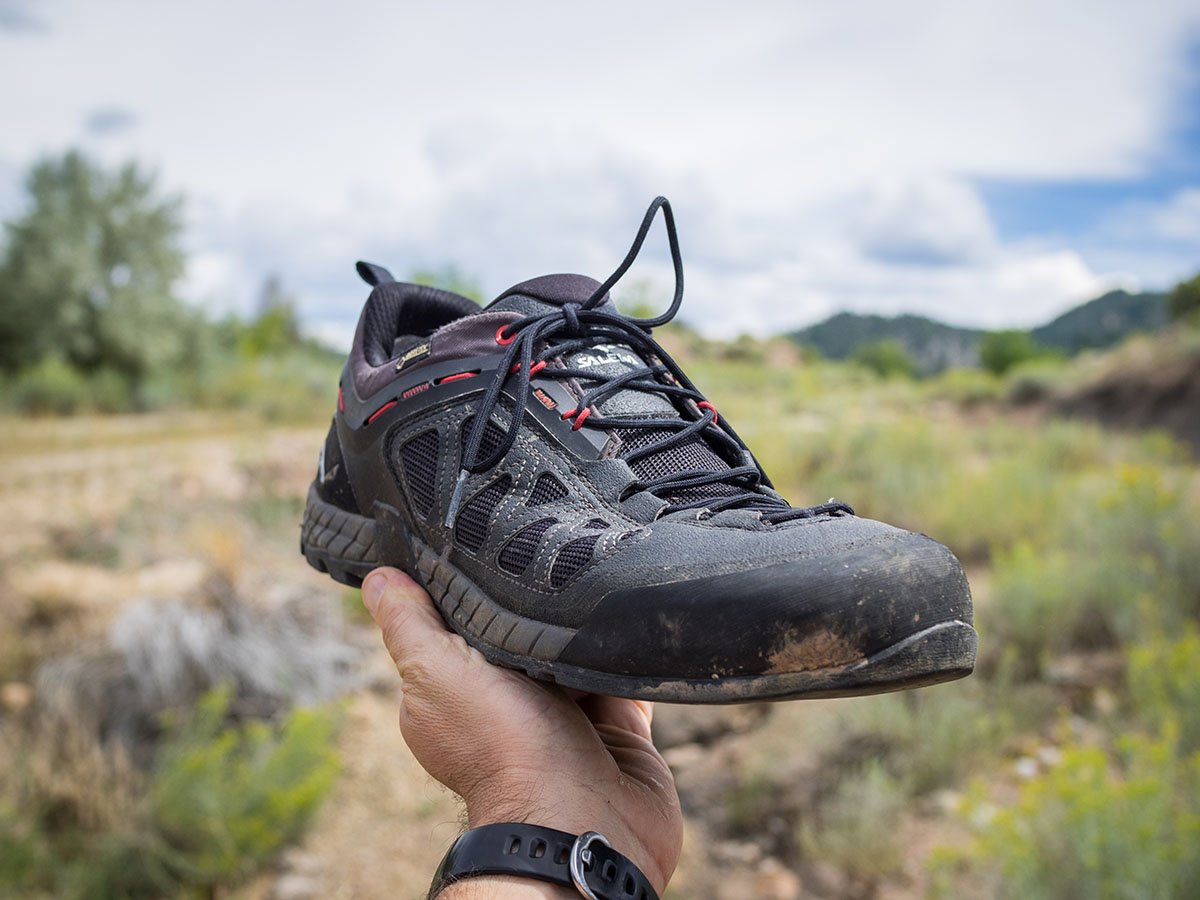 Insoles
Just like with running shoes, the stock insoles that come with nearly every hiking shoe generally are cheap. For some, this might not make a difference, but for others it's what separates comfort from misery. Thankfully, removing your insoles is super easy, and replacing them with an aftermarket model that's specific to your foot size and shape can remedy most shoe maladies. New insoles can provide more or less volume to fill out the shoe, improve the fit under the arch, and increase or decrease the cushion and impact shock. We recommend checking out Superfeet insoles for their wide selection of options and trusted reputation in daily shoes, ski boots and hiking footwear.

Hiking Shoes vs. Hiking Boots
Perhaps the biggest point of differentiation between hiking shoes and boots is height: shoes have a low-top fit, while boots generally sit above the ankle. Hiking shoes excel on smooth trails where rolled ankles are less of a possibility, if you keep your pack weight down, and for those want to move fast with less on their feet. Tradition tells us that hiking boots are the better choice for heavy packs and rough trails, and in most cases that holds true today. The tall height, along with laces that hold the shoe snugly around your ankle, offer a more secure fit, greater stability, and more protection. Given the choice, we most often select a hiking shoe for their light feel, but both are viable options for day hiking, backpacking, and non-alpine peak bagging.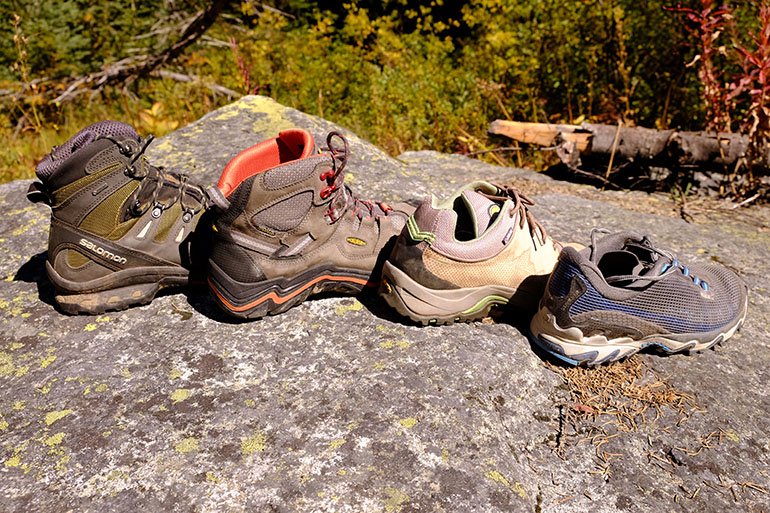 In 2017 and beyond, we see the lines between hiking shoe and boot categories continuing to blur. They still will be separated by height—although some modern boots only cover part of the ankle—but fewer and fewer boots resemble the heavyweight leather clunkers of old. One example is the over-the-ankle version of our top-rated Salomon X Ultra 2. It's the exact same shoe with the same defining characteristics—feathery feel, aggressive stance, and supportive fit—but the "Mid" sits slightly higher on the ankle, weighs a couple more ounces, provides a little more protection, and perhaps a modest increase in rollover prevention. Since most folks stick to defined trails, the push for this type of light and fast footwear will continue to dominate to take over the market.
Back to Our Top Hiking Shoe Picks Back to Our Hiking Shoe Comparison Table
Learn More About Hiking Gear