No piece of gear is more critical to summiting high peaks than footwear. A great mountaineering boot fills countless roles: it must offer support while carrying heavy loads, grip confidently over slick rock and snow, keep your feet warm when the mercury dips, and allow for the attachment of crampons and skis. But most importantly, it must instill trust and confidence. Our picks for the best mountaineering boots of 2021 below are broken down into three categories: extreme cold/high-altitude boots for the world's tallest mountains, 4-season technical alpine boots for keeping your feet warm while moving fast and light, and lightweight mountaineering boots for less technical and lower-elevation routes. For more background information, see our buying advice and comparison table below the picks.
 
Best Overall Mountaineering Boot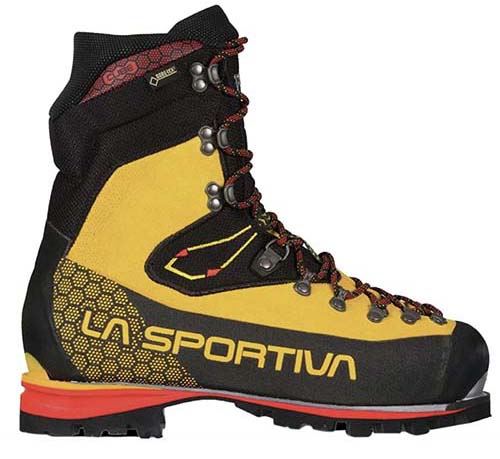 Category: 4-season technical alpine
Body design: Single leather
Weight per pair: 3 lbs. 15 oz.
Crampon: Automatic
What we like: A highly versatile and remarkably comfortable boot that is lighter than competing models; comes in both men's and women's sizing.
What we don't: Leather absorbs water more readily than synthetic boots, and weight savings come at the expense of durability. 
La Sportiva's Nepal line has been the standard-bearer for technical single mountaineering boots for nearly two decades. There have been several iterations over the years, but the concept has stayed largely the same: a durable leather boot that excels across the spectrum of mountaineering. These boots have kept guides' feet warm on Mount Rainer, are more than sufficient for all but the coldest days of kicking up dry ice in the Northeast, and should perform just fine on late April and May trips to the lower peaks in the Alaska Range. You can even bust out a few rock moves when needed thanks to the rubber toe. 
The Cube GTX retains the classic Nepal EVO's technicality and jack-of-all-trades prowess, but with a few notable differences. For one, we love the addition of a removable tongue, which can be moved up or down (or even removed entirely) to add padding or make more space. Secondly, the Cube comes in at 8 ounces lighter for the pair, which—while certainly a bonus over long slogs—results in less durability in the sole and midsole. If durability or cost is your most important consideration, we would instead recommend the EVO ($525, 4 pounds 7.4 ounces) or Scarpa Mont Blanc Pro GTX below ($549, 3 pounds 15.5 ounces). Otherwise, the Nepal Cube GTX will give you the warmth and support you need in a premium, time-tested package.
See the Men's La Sportiva Nepal Cube  See the Women's La Sportiva Nepal Cube
Best 3-Season Mountaineering Boot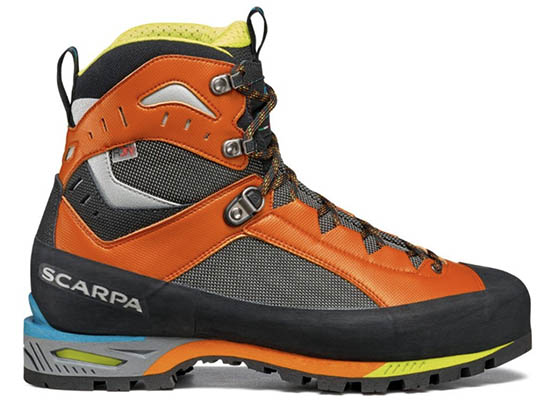 Category: Lightweight mountaineering
Body design: Single synthetic
Weight per pair: 3 lbs. 6.4 oz.
Crampon: Semi-automatic
What we like: Great price point, rocker is suited for long approaches, lightweight, comes in both men's and women's models.
What we don't: Not super durable or warm due to the lightweight fabrics.
The Scarpa Charmoz HD is a go-to option when you need one piece of footwear to get you from the car to the summit. From long approaches through treeline to crossing glacier-polished granite slabs and cramponing up icy summit pyramids, the Charmoz will keep your feet dry and agile. It is decidedly a 3-season boot—the light insulation, quasi-flexible sole, and high rocker mean that the Charmoz is not an ideal choice for technical ice climbing or mountaineering in cold conditions. But for spring and fall weekend missions into the Cascades, Bugaboos, Rockies, or Sierra, it is an excellent boot.
At over 3 pounds for the pair, the Charmoz HD is slightly heavier than the La Sportiva Trango Cube GTX below but feels a little more durable. And for just $325, the Charmoz is $74 cheaper than the Trango Cube, although it does utilize Scarpa's new HDry waterproof membrane (hence the "HD") instead of a more proven Gore-Tex insert. As with many boots in this weight class, the lack of a toe welt means that the Charmoz will not take step-in crampons, although it is compatible with semi-automatic crampons. On a recent climbing trip to Nepal, our tester was very satisfied with how well the Charmoz hiked on trails and kicked up scree on a 5,200-meter pass. If covering miles and vertical versatility are what you are looking for, this is our favorite lightweight boot.
See the Men's Scarpa Charmoz HD  See the Women's Scarpa Charmoz HD
Best Boot for Technical Ice Climbing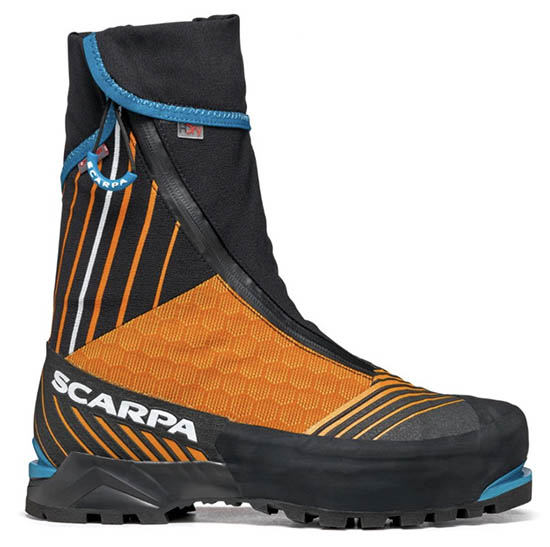 Category: 4-season technical alpine
Body design: Single synthetic w/gaiter
Weight per pair: 3 lbs. 3.2 oz.
Crampon: Automatic
What we like: Great warmth-to-weight ratio, waterproof, highly technical.
What we don't: Not warm enough for high-altitude endeavors.
Scarpa's entire Phantom line looks so similar that it can be hard to tell the Tech apart from the 6000 and 8000. In sum, the Tech is the race car of the Phantom family and one of the most popular boots among ice climbing guides. And it was completely reworked for this year, with a number of upgrades that result in a lighter, warmer, and more comfortable and durable boot. Most significantly, Scarpa trimmed down the outsole, swapped out the OutDry waterproof membrane with their new HDry, and replaced the previous wraparound zipper with a simpler design along the outside that interferes less with the foot's flex. And it doesn't hurt that the Phantom Tech is now $50 less to boot.
In terms of competition, the Phantom Tech is similar to the Arc'teryx Acrux AR and La Sportiva G5 below in warmth, weight, and features. All of these boots prioritize precision and performance for technical ice climbing. The G5, however, does not have a waterproof zipper, which can make a big difference on approaches where you have to splash across creeks or on warm days when snow and ice take on a wetter quality. All in all, for a technical climbing boot that is warm, durable, and performs extremely well on steep terrain, the Phantom Tech is a great choice.
See the Scarpa Phantom Tech
Best High-Altitude Mountaineering Boot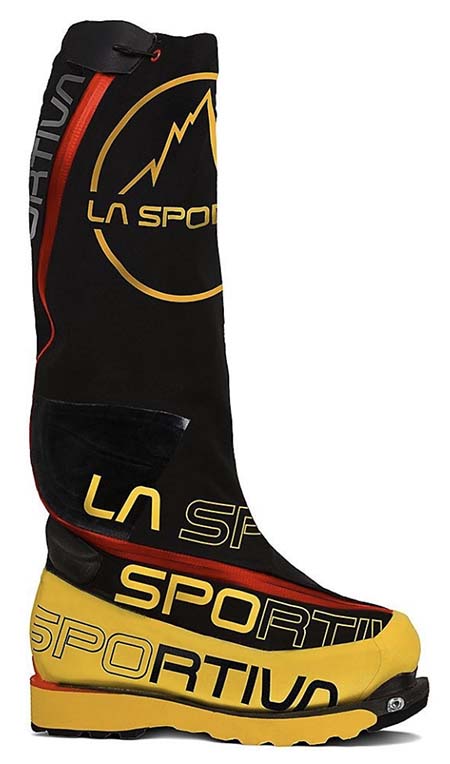 Category: Extreme cold/high-altitude
Body design: Double synthetic
Weight per pair: 4 lbs. 10 oz.
Crampon: Automatic
What we like: A premium and time-tested high-altitude boot that is like an oven for your feet.
What we don't: Wildly expensive.
The La Sportiva Olympus Mons is perhaps the most popular double boot on the market for extreme cold. It's the go-to model for mountaineers looking to stay warm in extreme places like Denali's West Buttress, Mount Everest, and Antarctica's Mount Vinson. The uber-comfortable, heat moldable inner boot accommodates a wide range of foot sizes, and the outer boot's dual Boa closures (which tighten the lower and upper halves separately) can be adjusted with one hand and don't require any tying (perfect when you're wearing bulky gloves or mittens). On top of it all, a durable, wrap-around zipper and Velcro strap seal off your feet from the frozen elements of the world's biggest mountains.
The La Sportiva Oly Mons was updated to the "Cube" this year, and the improvements were significant. One of our biggest complaints about the last iteration was the soft rubber on the sole, which has been replaced with a more durable Vibram Litebase compound. Impressively, the updated boot also is significantly lighter to a tune of almost 2 pounds per pair. The new Oly Mons Cube also features tech fittings on the toe (compatible with most backcountry ski bindings), meaning that if you're approaching your objective on skis, you won't have to bring a separate pair of ski boots (this will be wildly helpful for some, and not at all for others). All these updates come at no small price—the Oly Mons Cube is $200 more than the previous version at $1,199—but for a bombproof boot made to withstand the worst weather on earth, you probably won't regret the investment.
See the La Sportiva Olympus Mons Cube
Best of the Rest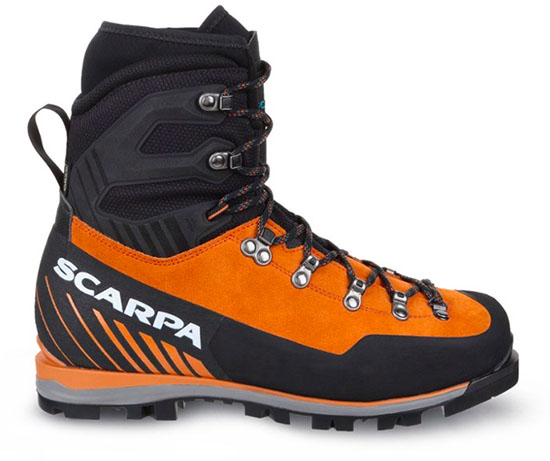 Category: 4-season technical alpine
Body design: Single leather
Weight per pair: 3 lbs. 15.5 oz.
Crampon: Automatic
What we like: Cheaper and more performance-oriented than its La Sportiva counterpart, the Nepal Cube GTX.
What we don't: Fit will be too wide for some.
If you're in the market for a jack-of-all-trades mountaineering boot, it's a tough call between our top-ranked Nepal Cube GTX and Scarpa's Mont Blanc Pro GTX. Both boots are ideal one-quiver options for low-altitude mountaineering and technical winter climbing: they walk well, climb ice confidently, and are warm enough to trust for all-season endeavors. Their single leather upper designs are durable without adding too much bulk, and welts on the toe and heel offer secure automatic crampon attachment (unlike a boot like the Scarpa Charmoz above). 
The main distinctions between the two boots come in price, fit, and technical performance. With a recent update, the Scarpa has a more precise outsole which offers better climbing ability on particularly technical snow and ice. And for $50 less, it gets the price advantage as well. Some find the La Sportiva to be a warmer boot, but we haven't noticed a difference. And if you're still torn between the two, we'd recommend making a decision based on fit: as with most of their boots, the Scarpa will have a wider fit and the La Sportiva a bit narrow. 
See the Men's Scarpa Mont Blanc  See the Women's Scarpa Mont Blanc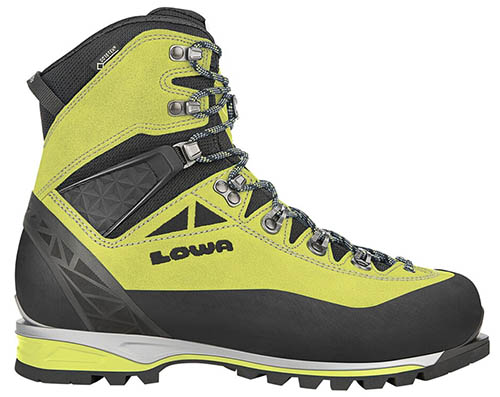 Category: Lightweight mountaineering
Body design: Single leather
Weight per pair: 3 lbs. 13.4 oz.
Crampon: Automatic
What we like: A versatile and durable boot for everything from basic mountaineering to technical climbing.
What we don't: Slightly less rocker than other lightweight boots.
The Lowa Alpine Expert GTX could be considered a classic, and we don't mean that in a negative way. Other boots in its class shed weight by using lighter materials, often resulting in less durability and a higher price tag. New features and technological advances are great, but sometimes you just want something that is hard to kill and can get the job done. Without sporting features like built-in gaiters, fancy lacing systems, or ultralight foam rands and insulation, the Alpine Expert GTX is an excellent do-all lightweight mountaineering boot that still manages to be gentle on your wallet (comparatively at least). 
Although the Lowa isn't the absolute lightest of the automatic-crampon-compatible single boots here, it is one of the least expensive (second to the La Sportiva Makalu below). And price aside, the Alpine Expert is a reliable choice for a wide range of activities from basic mountaineering to technical ice and mixed climbing. Not only can it take a beating, but its stiffness underfoot—while still allowing for ankle articulation—means it can also tackle steep ice and precision footwork on hairy mixed leads. You do get slightly less rocker than other boots in the lightweight category—meaning the Lowa is a bit less comfortable on the approach—but we like the price and performance overall.
See the Mens's Lowa Alpine Expert GTX  See the Women's Lowa Alpine Expert GTX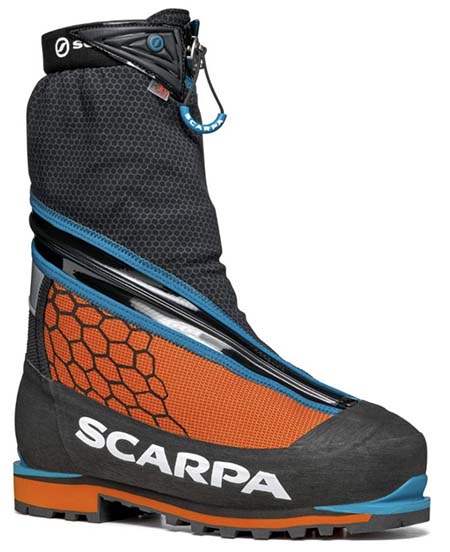 Category: 4-season technical alpine
Body design: Double synthetic
Weight per pair: 4 lbs. 6 oz.
Crampon: Automatic
What we like: Simple but effective lacing system, watertight zipper, technical fit.
What we don't: For those with narrow feet, the wider fit in the heel and toe box may reduce the boot's technical prowess.
Of all the technical double boots on this list, the Scarpa Phantom 6000 offers the best performance, construction, and feel. This is Scarpa's go-to model for giant ice routes in the Canadian Rockies and technical Alaska ascents, and we feel confident in saying that it's also a great option for many mid-season Denali climbers (Scarpa's Phantom 8000 is even warmer, but significantly heavier). At only 4 pounds 6 ounces for the pair (size 42), the Phantom 6000 is the lightest in its class—a hair lighter than the La Sportiva G2 SM, and more than 1 pound lighter than La Sportiva's technical machine, the Spantik.
In terms of construction, a PrimaLoft Micropile insulated liner provides ample padding and warmth, and the carbon fiber insole with EVA insulation are a great defense against cold ground. On the outside, burly Schoeller, Kevlar, and Cordura fabrics offer bombproof protection for your foot from weather and sharp objects alike. And although the wraparound zipper concept can feel weird at first, we appreciate the fact that this design almost entirely protects the zipper from being scuffed by the passing point of a crampon. Lastly, the Phantom 6000 only comes in full sizes, and many might find the heel pocket to be noticeably broad. Although Scarpa's footwear is known for being wider than La Sportiva, we felt that these boots fit very similar to the La Sportiva G2 SM.
See the Scarpa Phantom 6000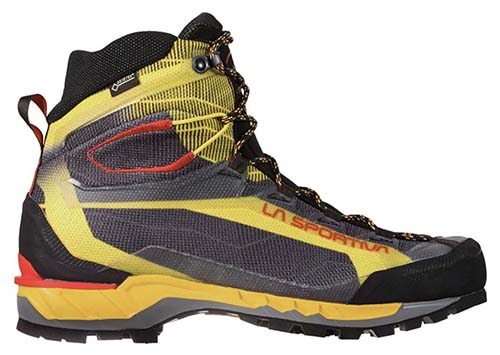 Category: Lightweight mountaineering
Body design: Single synthetic
Weight per pair: 2 lbs. 11.6 oz.
Crampon: Semi-automatic
What we like: Exceptionally lightweight but still protective, waterproof, and able to accommodate a semi-automatic crampon. 
What we don't: Lacks durability and versatility; not built for all-day snow objectives.
One of the newest additions to La Sportiva's lineup, the Trango Tech is by far the lightest—and most affordable—mountaineering boot we feature. You won't be wearing this boot for ice climbing or high-altitude mountaineering, but for many objectives in the Lower 48, it's worth a close look. With a streamlined build and flexible sole, the Trango Tech is akin to an approach shoe or hiking boot. That said, its waterproof upper and heel welt make it surprisingly capable in steep snow. Put it all together, and Sportiva's new hybrid offering is an ideal mix for fast-and-light objectives in regions like the Cascades or Patagonia, where a route might contain equal parts trail, snow, ice, and rock. In fact, the Tech all but replaces the Trango Cube GTX (below) as a summer mountaineering boot for ounce-counting alpinists.
We thought the Trango Tech made a perfect companion for climbing in Alaska's Little Switzerland, where snow patches near the summits of rock routes required that we carry our boots along for the climb. Unfortunately, the boots do make compromises in terms of warmth, stability, and durability. Even in mid-summer on the glacier we suffered from cold feet from time to time, and on firm snow approaches we found ourselves wishing for more boot (for these two reasons, we don't recommend the Tech for snow-dominant routes like Mount Rainier). Further, after just 10 days of use, our crampons and snowshoes had abraded patches on the outside of each boot (for a durable alternative, Sportiva now makes the Trango Tech Leather GTX for $249 and a minor weight penalty). But for the right setting, the Trango Tech fills a much-needed niche for the most weight-conscious of alpinists... Read in-depth review
See the Men's La Sportiva Trango Tech  See the Women's La Sportiva Trango Tech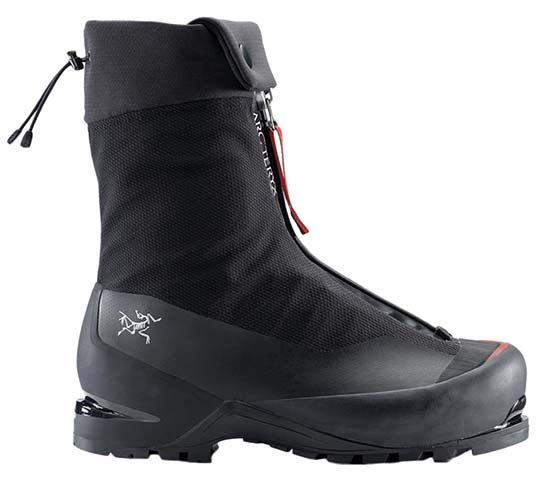 Category: 4-season technical alpine
Body design: Double synthetic
Weight per pair: 4 lbs. 2 oz.
Crampon: Automatic
What we like: Low-profile design for such a warm double boot.
What we don't: Narrow design may not accommodate wide feet as well as other brands.
When Arc'teryx designs something, they typically go bold, and the Acrux AR mountaineering boot is no exception. Sleek and black with just a slight hint of red, the Acrux AR looks like it could kick a mountain to pieces and come away without a scratch—of all the options on this list, it may be the most durable. The Acrux AR has very few seams, which are known to be points of weakness in mountaineering boots. A fully waterproof zipper protects the Gore-Tex-lined inner boot, which resembles a thick and stretchy sock. We were somewhat surprised by the simple lace design (a pull-down cinch design would be nice), but a lateral Velcro strap provides some additional stiffness above the ankle.
In terms of best uses, the Acrux AR will excel at everything from ice climbing in the Canadian Rockies to alpine-style ascents of lower mountains in the Alaska Range. Although Arc'teryx calls the Acrux AR a double boot, it's less so than the Scarpa 6000 or La Sportiva Spantik. In fact, this boot is closer in warmth, weight, and technicality to the La Sportiva G5 and Scarpa Phantom Tech. We also found the Acrux AR has a narrower fit than the G5. Overall, if the Acrux AR fits your foot and price range, we feel confident that this stealth boot will propel you across wide glaciers, up steep drips, and onto many remote summits.
See the Arc'teryx Acrux AR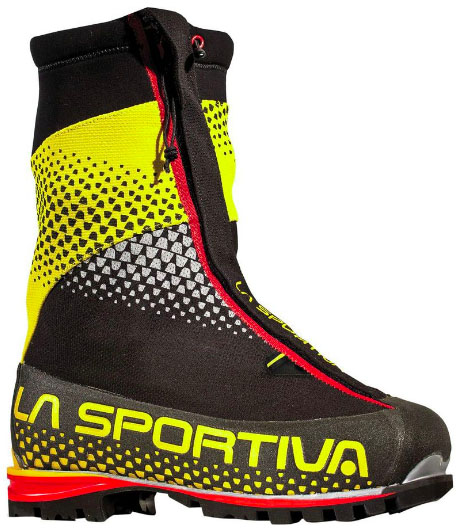 Category: 4-season technical alpine
Body design: Double synthetic
Weight per pair: 4 lbs. 8.2 oz.
Crampon: Automatic
What we like: Very warm and comfortable; lighter than the Spantik.
What we don't: Noticeably less stiff, less technical-feeling, and less durable than the Spantik/Phantom 6000; Boa system is hard to repair in the field.
The G2 SM was a radical shift in the lineup of La Sportiva double boots, shaving an impressive 8 ounces per boot from the already light and technically charged Spantik (the G2 SM did not replace the Spantik, but was introduced several years later as an ultralight and even warmer alternative). La Sportiva went with a dual Boa lacing system (one on the ankle to secure the foot and another on the shin), which allows for quick tightening and adjustments without dealing with tying laces in the extreme cold. And the built-in super gaiter keeps your inner boot dry and toasty.
Compared to the Spantik below, the G2 SM is warmer but not nearly as stiff or technical-feeling. Even when tightened down, it has a lot more forward flex than the Spantik. This, along with a wider toe box, takes away from the precision fit needed for mixed climbing. And in terms of durability, the G2 SM seems to be slightly less durable than the Spantik or Scarpa Phantom 6000, though neither boot can match its light weight. Overall, the G2 SM excels at cold and high-altitude mountaineering on 5,000- to 7,000-meter peaks and is still perfectly capable of climbing highly technical terrain. If weight savings and warmth are your main concerns, the G2 SM will not disappoint.
See the La Sportiva G2 SM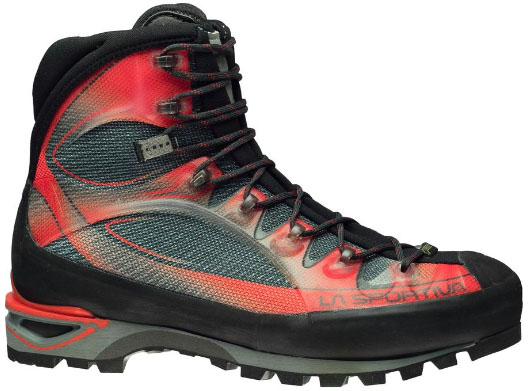 Category: Lightweight mountaineering
Body design: Single synthetic
Weight per pair: 3 lbs. 2 oz.
Crampon: Semi-automatic
What we like: Great for long approaches and Lower 48 climbs.
What we don't: Not incredibly warm, and the 3/4 shank not is meant for technical ice climbing.
The La Sportiva Trango Cube GTX—or "the little red boot" as it has often been called—has been a staple of low-altitude mountaineering for years. Like the Trango Tech above, the Cube can be thought of as a glorified hiking boot: it excels at thrashing through miles of backcountry trails, doubling as a rock shoe on low-5th-class terrain, and then kicking up the final snow slopes to some Cascadian summit. The heel welt means you get semi-automatic crampon compatibility for ample stability during glacier travel, and a climbing zone on the toe offers great traction on rock. Taken together, it's an ideal do-all boot for summer mountaineering in the Lower 48.
However, we said it above and we'll say it again here: the introduction of the Trango Tech could make the Trango Cube obsolete. Both boots have similar intentions and feature sets (waterproof upper, heel welt, climbing zone), but the Trango Cube comes in at 6.4 ounces (and $130) more for the pair. You will get slightly more durability and protection from the Cube, which is worth considering if weight is not your top concern (for even more durability, check out the La Sportiva Trango Tower). But even the Cube's build is compromised when compared to more burly boots like the Nepal Cube or Scarpa Mont Blanc Pro. Finally, the Cube comes in both red (or "mint" for women) and "Highlander" camo, so hunters or hikers wanting an earthier tone can be a little less flashy than their climber brethren.
See the Men's La Sportiva Trango Cube  See the Women's La Sportiva Trango Cube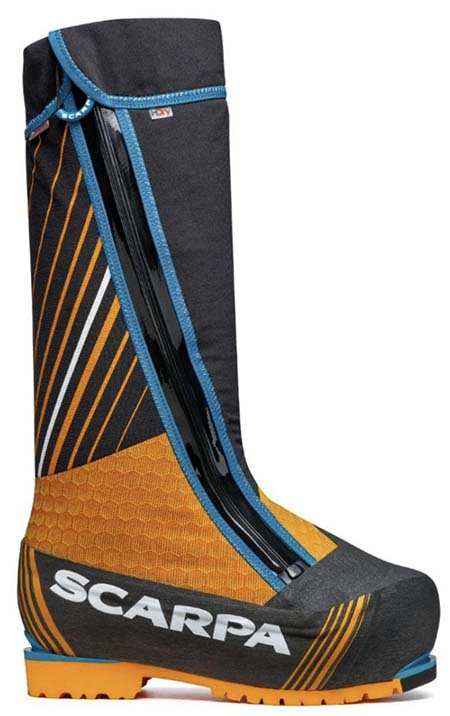 Category: Extreme cold/high-altitude
Body design: Double synthetic
Weight per pair: 5 lbs. 13.5 oz.
Crampon: Automatic
What we like: More affordable than the Oly Mons; great quality and warmth.
What we don't: Heavier than the Oly Mons and the lacing system isn't as secure.
The Phantom 8000 is the durable workhorse for extreme cold in Scarpa's line. From the ground up, Scarpa designed a serious boot here, and a recent upgrade means it's now warmer, lighter, and $250 cheaper. You get a waterproof, PrimaLoft 200-lined gaiter as the first line of defense, while a PrimaLoft 600-insulated liner with a simple pull-down speed lace keeps your foot tight and toasty. The Vibram Zero Gravity Lite sole can stand up to the abuse of kicking up scree, and Aerogel (used in space boots) keeps you warm from the ground up. Finally, zippers always are a cause for concern—it only takes one misstep with sharp crampons to shred a zipper—but Scarpa's new placement on the outside of the foot should help alleviate that issue.
If you're looking for the best high-altitude mountaineering boot, it's a close call between the Scarpa Phantom 8000 and the La Sportiva Olympus Mons Cube above. Both boots are extremely warm and well made with huge attention to detail. But the Phantom 8000 is over a pound heavier for the pair, we much prefer the dual Boa closure on the Oly Mons (we've experienced slipping with Scarpa's lacing system), and La Sportiva's new tech binding compatibility could tip the scales for some. In the end, you can't go wrong with either boot (it doesn't hurt that the Scarpa is $200 cheaper), and your final decision likely will come down to fit.
See the Scarpa Phantom 8000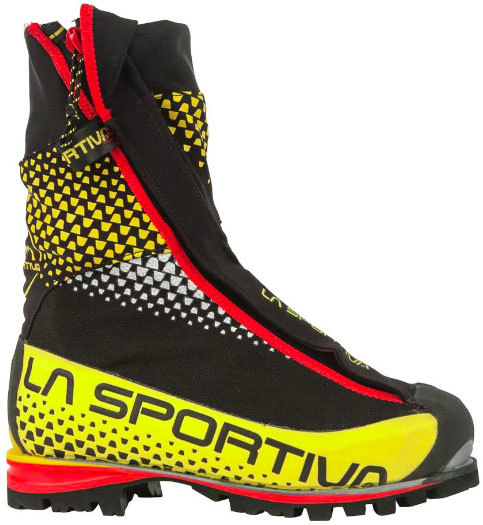 Category: 4-season technical alpine
Body design: Single synthetic w/ insulated gaiter
Weight per pair: 3 lbs. 12 oz.
Crampon: Automatic
What we like: A warm and versatile alternative to the Scarpa Phantom Tech.
What we don't: Less waterproof, heavier, and more expensive than the updated Scarpa Tech.
When the La Sportiva Batura hit the market, it was instantly one of the most popular pieces of footwear for ice and technical alpine climbing. The G5 replaced the Batura 2.0 in 2017, shedding nearly 8 ounces from its predecessor, and is a highly technical boot that excels at steep ice and mixed climbing. The Nepal last provides stiffness and support with a Vibram Matterhorn sole for great traction in slick conditions. Like the G2 SM, the G5 uses the Boa lacing system to tighten the boot, and a Velcro strap cinches down above the ankle for additional stiffness. Ultimately, the La Sportiva G5 has a tremendous amount of dexterity and ankle articulation for precision placement while climbing.
The G5 undoubtedly is a technical machine and quite warm for its weight, thanks in large part to the insulated gaiter. But it does offer less upper ankle support than boots like the La Sportiva Nepal Cube GTX or Scarpa Mont Blanc Pro GTX, both of which extend higher above the ankle for more rigidity. That said, many technical climbers appreciate the additional ankle flex that is present in this lower profile (similar to the Scarpa Phantom Tech). And the La Sportiva G5 is a significant step up in warmth from the Trango Ice Cube GTX. Further, we don't love the Boa lacing system (it's difficult to repair in the field), and many testers find the heel pocket to be on the wide side. In terms of sizing, our tester found that (like the La Sportiva G2 SM) he had to drop down one-half size from his normal La Sportiva boot size to achieve a good fit. 
See the La Sportiva G5 Boot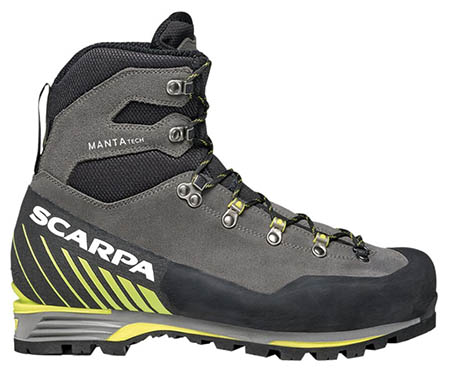 Category: Lightweight mountaineering
Body design: Single leather
Weight per pair: 3 lbs. 12.6 oz.
Crampon: Semi-automatic
What we like: A well-built, durable leather boot at an affordable price.
What we don't: The Charmoz HD above is a lighter and more breathable.
The Manta has been around Scarpa's lineup for decades and is a reliable performer for 3-season mountaineering objectives. This year the Manta Tech replaces the bygone "Pro," adding warmth to the build with 200-gram synthetic insulation but keeping the same last and fit. The new Manta also features less stitching on the upper for an increase in longevity, and a TPU heel insert replaces the rubber rand for a modern look and added toughness. In the end, this is another solid boot from Scarpa, fitting the bill for spring and fall ascents in the Cascades and snowy missions in the Rockies.
At only $349, the Manta Tech is one of the most affordable boots here, and only slightly undercut by the Scarpa Charmoz HD above. Both the Manta and Charmoz are built for lightweight mountaineering, but the Manta is warmer and will last you many more years with its leather build (the Charmoz features a synthetic upper). On the other hand, you'll save over 6 ounces with the Charmoz and $24. In the end, your decision will come down to your goals in the mountains: the more nimble Charmoz is our top choice for summer mountaineering, while we'd recommend the Manta Tech more for shoulder-season ice and mixed pursuits. 
See the Men's Scarpa Manta Tech GTX  See the Women's Scarpa Manta Tech GTX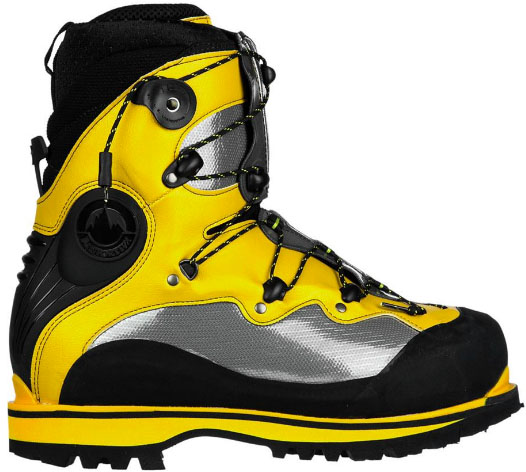 Category: 4-season technical alpine
Body design: Double synthetic
Weight per pair: 5 lbs. 9 oz.
Crampon: Automatic
What we like: Superbly technical-feeling boot, easy lacing system, walks great on flat ground but stiffens up for technical climbing.
What we don't: Not as durable as the Phantom 6000, and the liner takes a long time to dry compared to all-foam liners.
The Spantik was a revolutionary boot when it came out almost 10 years ago, and it remains a favorite among technical alpinists and cold-weather mountaineers. The boot has the feel of a technical single boot wrapped up in a super warm double design (it was created before zippers were really popular and instead has a wraparound closure system on the outer shell). In terms of ability, these boots climb like a dream (for double boots, that is). Compared to the G2 SM, they have a precision fit, and the narrower toe box really allows you to feel your crampons as an extension of your toes. Furthermore, the one-hand lacing systems on both the inner and outer boot mean that you don't even have to take off your mitten to batten down the hatches.
In terms of construction, the outer boot is composed of a leather upper and synthetic lower. Soft foam on the midsole lowers weight and adds warmth but also reduces durability in one key zone: the heel welt. Unfortunately, the 2-millimeter plastic heel welt (where the crampon lever secures) is built onto this weak, soft foam foundation, and our tester actually had his completely break off while on a climbing trip in Alaska. That said, it's worth noting that he loved the design of the Spantik enough to purchase a replacement pair.
See the La Sportiva Spantik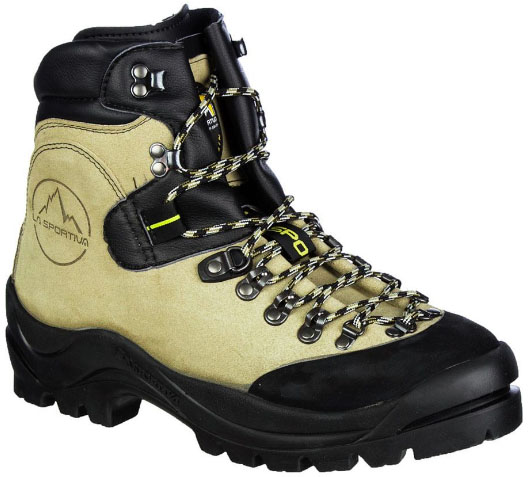 Category: Lightweight mountaineering
Body design: Single leather
Weight per pair: 4 lbs. 5.1 oz.
Crampon: Automatic
What we like: Classic design for general mountaineering, no frills, extremely durable, cheap.
What we don't: Limited to basic mountaineering and heavier than similar boots.
The La Sportiva Makalu is the essence of a traditional mountaineering boot: it's burly, supportive, and extremely durable. Neither flashy nor technical, this classic design works well for basic mountaineering and possibly as your first real boot. For example, the Makalu is a favorite for National Outdoor Leadership School students since it serves as a combination heavy-backpacking-and-light-mountaineering boot. It can trek the length of the Pacific Crest Trail and climb Mount Hood or Mount Saint Helens along the way.
Like the La Sportiva Trango Cube GTX, the Makalu is not meant for serious cold-weather mountaineering, nor does it offer high-tech materials like Gore-Tex. But it is built to withstand years of abuse on scree slopes and in alpine environments. A Vibram toecap protects the front of the boot when kicking up rocky flanks, and the full-shank sole pairs securely with step-in crampons (for semi-automatic crampon compatibility, check out the similar Karakorum). At $305, this boot still offers an impressive all-around feature set. You won't be pushing the limits of technical climbing in the Makalu, but that isn't its purpose.
See the La Sportiva Makalu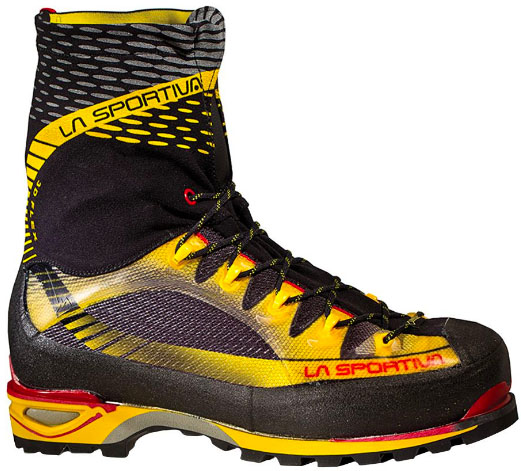 Category: 4-season technical alpine/lightweight mountaineering
Body design: Single synthetic
Weight per pair: 3 lbs. 3.3 oz.
Crampon: Automatic
What we like: Highly technical boot in a lightweight package.
What we don't: Plastic eyelets are prone to breaking, thin sole and narrow toe bail are lacking in toughness. 
On paper, there is a lot to like about the La Sportiva Trango Ice Cube GTX, which is the latest iteration of the classic "Silver Bullet" Trango Extreme (and the insulated and gaitered sister of the Trango Cube GTX). Compared to the older model, the Ice Cube GTX is a lighter, Gore-Tex-lined precision boot with a lower profile and even more technical prowess. Despite all of this firepower, this boot tips the scales at just over 3 pounds, which is an incredible feat. This makes the Ice Cube GTX a popular choice for technical alpine routes on coarse granite in places like the Cascades, Rockies, and Patagonia. And if you only plan to use this boot with crampons on snow or ice, it also handles the alpine exceptionally well.
The Achilles' heel of the La Sportiva Trango Ice Cube GTX is durability. Our tester trusted his old Trango Extremes to summit Fitz Roy in Patagonia, climb grade 6 waterfalls in Canada, and stay warm on overnight technical ascents in Alaska. He recently put the Ice Cube GTX to the test on Nemesis, a classic Canadian Rockies WI6 ice climb, and although they climbed even better than the Trango Extremes, they were not quite as warm and their lifespan fell tragically short. The gaiter felt like a shoddy afterthought, making entry into the boot awkward. The thin sole and toe welt showed wear, and the fixed gaiter zipper broke after one short trip. And on top of that, La Sportiva substituted plastic shoelace hooks for the previous metal. We want to like the Ice Cube GTX, but these durability concerns are unacceptable for a $550 boot, no matter how light. Until La Sportiva makes some improvements, we recommend considering a boot like the Scarpa Rebel Pro GTX instead.
See the La Sportiva Trango Ice Cube GTX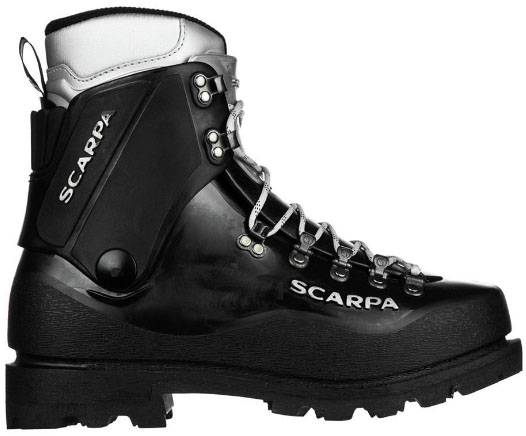 Category: 4-season technical alpine
Body design: Double synthetic
Weight per pair: 5 lbs. 8 oz.
Crampon: Automatic
What we like: Cheap, nearly indestructible, and time-tested in cold environments.
What we don't: Clunky and not nearly as technically capable as the sleek modern double boots above; stock liner takes a long time to dry.
If the Scarpa Phantom Tech is the race car of mountaineering boots, the Inverno is the tank. Plastic double boots largely have fallen out of favor over the last five years, but you can't beat them for durability—your feet will wear out before the boot does. The Inverno is far less technical in nature than an option like the Spantik or Phantom series, but it will outlast them all. That, and there's little chance the plastic shell will let moisture seep in.
If you plan to use this boot for a cold-weather mountain like Denali, we highly recommend that you splurge for the warmer and lighter Intuition liner (keep in mind that this is best done at a specialized mountaineering shop, but many shops will only custom-fit boots that were purchased at their store). It's also highly recommended that you add a Forty Below Purple Haze neoprene overboot if climbing a cold mountain like Denali. When these two aftermarket features are added, the cost-benefit analysis between this system and a boot like the La Sportiva Spantik above becomes a little less discernible. Regardless, if you aren't planning on spending much time at freezing altitude or are on a tight budget, the Inverno may be the boot for you.
See the Scarpa Inverno
Mountaineering Boot Comparison Table
Mountaineering Boot Buying Advice
Mountaineering Boot Categories
Extreme Cold/High-Altitude
Mountains come in all shapes, sizes, and levels of technical difficulty, therefore it's imperative that your footwear is best suited for the conditions. For the highest and coldest mountains in the world—7,000 and 8,000-meter Himalayan peaks, Denali, and Antarctica—warmth is the utmost consideration. Extreme cold/high-altitude boots are heavy, warm, and commonly take the form of double or even triple boots (with a shell, liner, and fixed gaiter). Combining high quality construction with some of the most bombproof materials in outdoor gear, boots in this category (like the La Sportiva Olympus Mons Cube) are all incredibly impressive, and your final decision will likely come down to one of fit.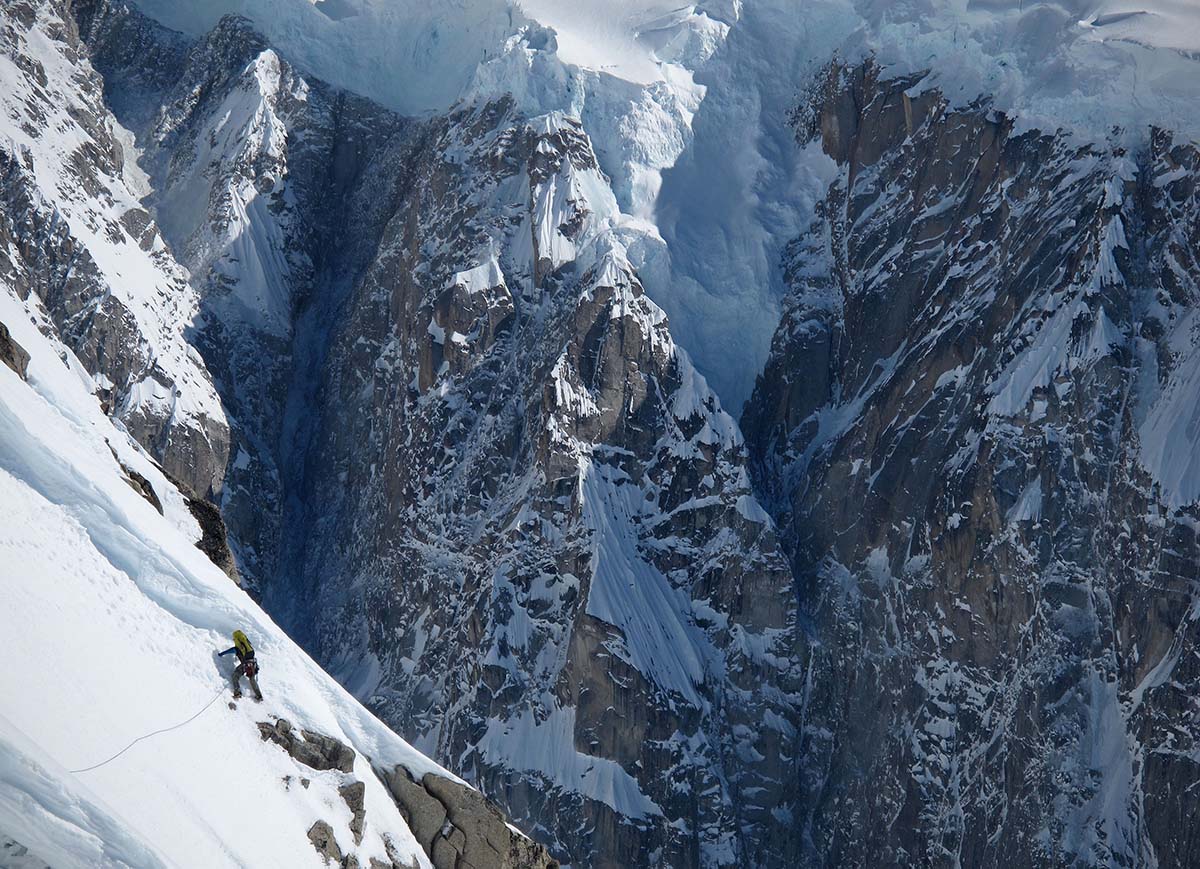 4-Season Technical Alpine
For giant ice routes in the Canadian Rockies, alpine-style ascents of lower mountains in the Alaska Range, and even mid-season climbs of Denali, a 4-season technical alpine boot may be your best bet. These boots come in double and single varieties and are made for both walking and technical ice climbing (some excel at one better than the other), with the commonality being that they sacrifice the highest levels of warmth for technical prowess (they can handle the cold, just not extreme cold). Leading models in this category include the Scarpa Phantom 600 and La Sportiva G5.

Lightweight Mountaineering
For lower-elevation climbs and more moderate temperatures, lightweight boots should do the trick. These boots are a technical step up in construction from a hiking boot and built to handle long approaches. Lightweight single boots are commonly used for trips such as Cascade peaks and volcanoes or a car-to-summit adventure starting below treeline and ending with basic to moderate mountaineering. Most are 3-season boots with light insulation, a quasi-flexible sole, and high rocker, which means that they are not an ideal choice for technical ice climbing or frigid conditions. Popular lightweight mountaineering boots include models like the Scarpa Charmoz HD and La Sportiva Trango Tech GTX.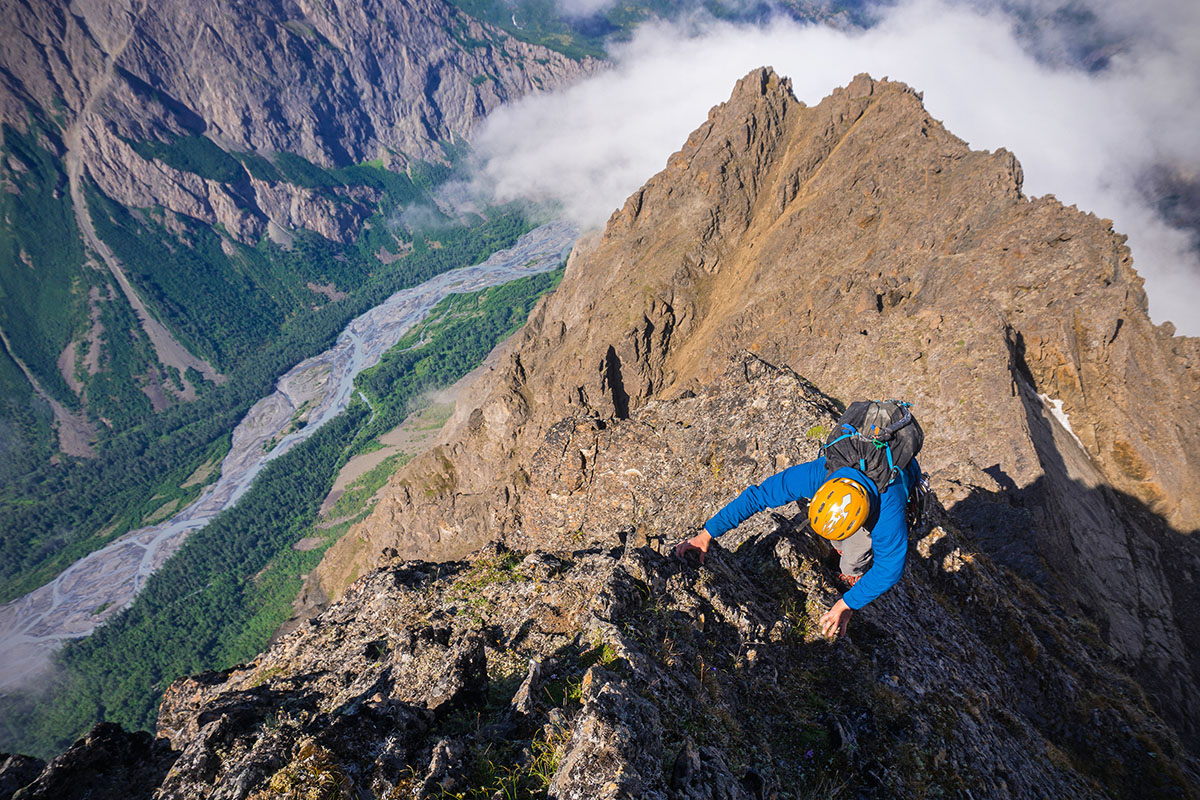 Double Boots vs. Single Boots
Nothing is more frustrating or potentially dangerous than cold feet, and toes can go from cold to numb to frostbitten in a matter of minutes. That is why it's imperative to have the proper boot design for your objective. Single boots lack a removable liner and therefore are the lightest and least warm type of mountaineering footwear. Double boots, on the other hand, have more insulation along with a removable liner, making them warmer and better suited for multi-day trips. The ability to remove the liner and dry it out at night is imperative on big mountains—nothing is worse than shoving your feet into frozen boots in the frigid, pre-dawn darkness of an alpine start.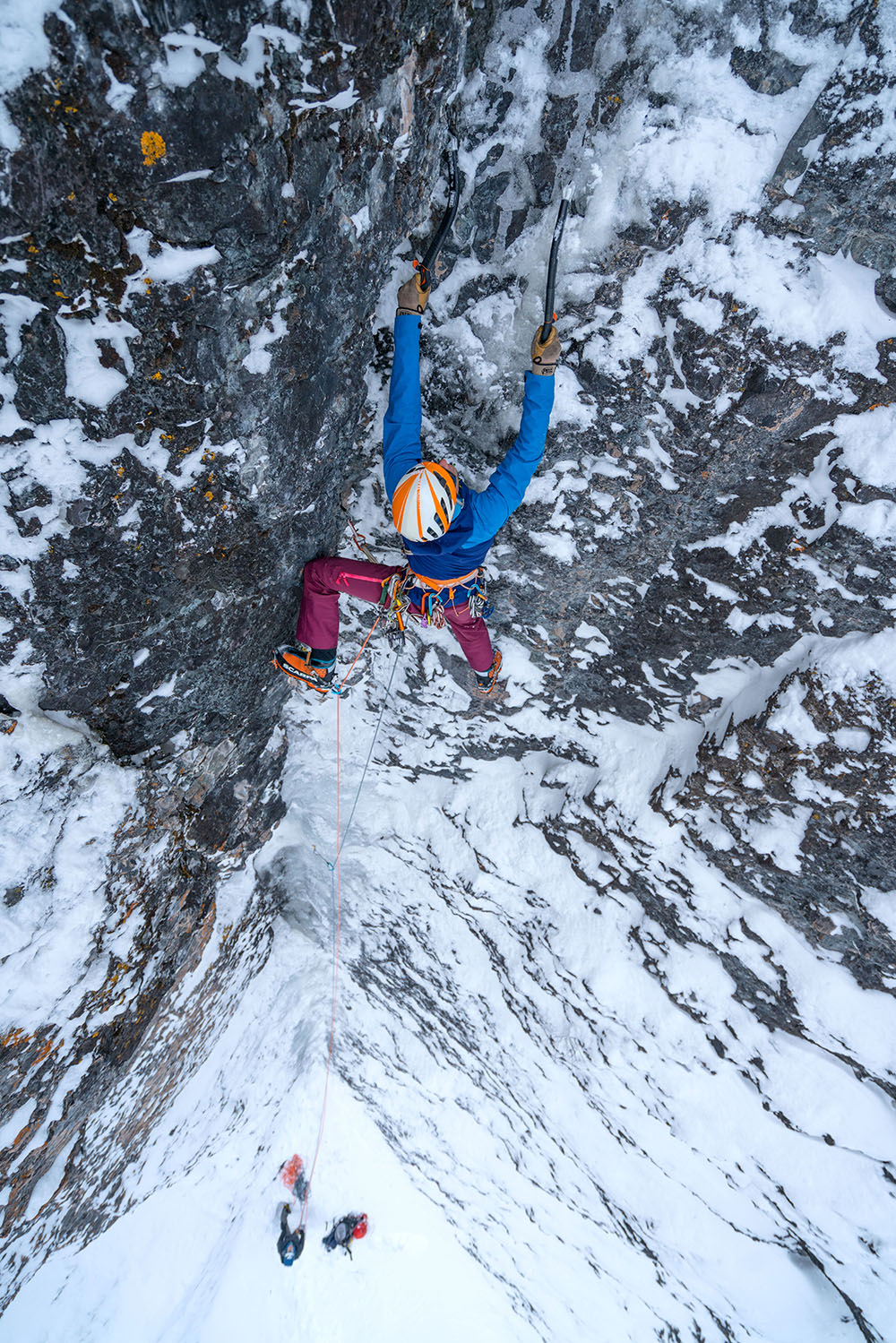 For spring and summer ascents in lower altitude ranges like the Cascades or Canadian Rockies, a single boot should provide enough warmth. It will be light enough to wear on a lengthy approach, but offer enough support to keep your feet comfortable under the weight of a heavy pack. Single boots almost always have more of a next-to-skin feel, meaning they feel more technical and lower profile than their double-walled brethren.
Double boots are built for cold weather, multi-day expeditions, and climbing the world's highest peaks. They often are significantly heavier than single boots and less sensitive overall, but some models like the Scarpa Phantom 6000 and La Sportiva Spantik offer a nice combination of the two (reasonably lightweight boots with technical features). For the tallest peaks and coldest climates—think places like the high Himalaya, Antarctica, and Denali—look toward the top of each brand's collection. The La Sportiva Olympus Mons and Scarpa Phantom 8000, for example, are built specifically for these types of places.
Boot selection is not always a cut and dry choice, and depends as much on your objective and style of ascent as it does on conditions. For example, during a recent austral summer in Patagonia, one of our testers attempted Cerro Torre in single boots but found that weren't adequate for the icy flanks of that impressive tower. They were, however, completely sufficient on his ascent of the nearby Fitz Roy a few weeks later (different aspect, different weather, moderate rock climbing vs. ice climbing), and offered more of the streamlined build and rock prowess that he needed. If it's a toss-up, we do recommend erring on the side of warmth, and the good news is that many modern boots offer great insulation alongside performance.

Shell Materials: Synthetics, Leather, and Plastic 
The shell is your first line of defense against the harsh conditions of a mountain environment. It needs to be durable (able to stand up to abrasion from rocks, crampons, and skis), and also must keep out snow, water, and mountain grit. In addition, much of a boot's stiffness comes from the shell, which is important when it's time to ice climb or do a little survival skiing on the way down. The vast majority of boot shells are now entirely synthetic or a combination of synthetics and leather. 
Many climbers prefer modern synthetic boots, namely because they weigh less, offer more precision with less bulk, and don't stretch out of shape like leather. However, the downside comes in the form of durability—almost without exception, leather boots will last longer. For example, our La Sportiva Trango Tech GTX took a beating during a two-week traverse in the Alaska Range, whereas a leather model might have just started to feel broken in. If you do opt for a leather boot (such as the La Sportiva Nepal Cube GTX or Scarpa Mont Blanc Pro GTX), we recommend adding an aftermarket snow and water seal to keep moisture from soaking through and weighing you down.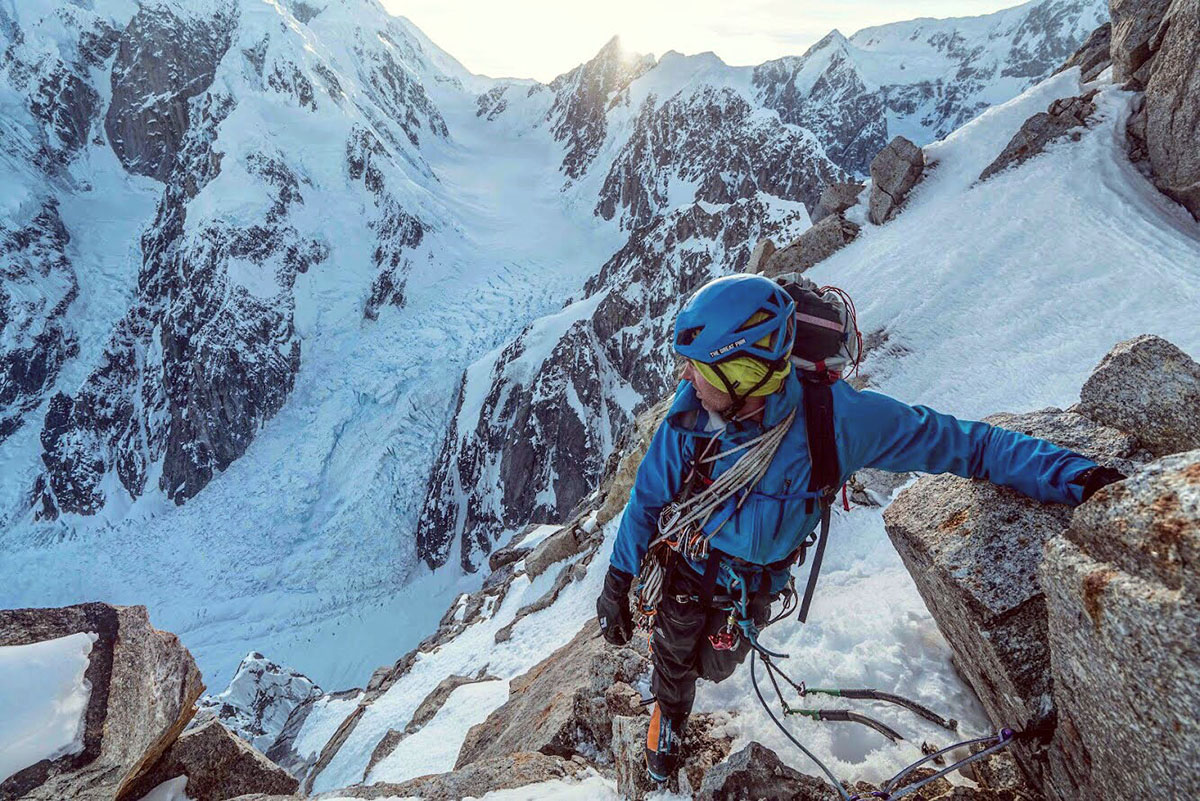 Ten years ago, plastic boots were a popular way to go. Compared to soft leather or synthetics, plastic feels more clunky and less precise when technical footwork is needed. But it does have its benefits: not only is plastic significantly cheaper, it's also much more durable. If you are an occasional mountaineer on a budget or only intend to climb a few mountains, plastic may be a good option. Adding a Denali Intuition liner ($176 plus potential custom molding fees) will make them warmer while dropping almost a pound of weight in the process. For big mountains like Denali, a Forty Below Purple Haze overboot ($180) will be necessary as well, which may require that you purchase a different crampon to fit over the boot. In 2021, however, you will see very few plastic boots, and the leather and synthetic alternatives are far superior. Further, if you customize your plastic boot as described above, it will end up costing between $700 and 750, which is roughly the price of a high-end synthetic double boot of equal warmth and superior technical precision.

Weight and Size
Big mountains require big boots, often with a big price tag. Some of the extreme cold/high-altitude models on the list like the Scarpa Phantom 8000 are over 5 pounds for the pair and take up a decent chunk of your duffel bag. On the other end of the spectrum, you can go with a lightweight single boot like the La Sportiva Trango Tech GTX for just 2 pounds 11.6 ounces total. To be sure, it's harder to move fast with more weight, but serious mountaineering typically does not involve highly technical climbing for extended stretches. It's more steep walking and basic ice/rock moves, so shaving ounces is not as important as warmth. If your aim is technical climbing—pitch after pitch of near vertical climbing—size and weight will likely be a deciding factor in your boot purchase.
The good news is that high-end mountaineering boots have cut excessive frills, and although still heavy and bulky, are lighter than even a decade ago. A few ounces or grams may not seem like a big deal, but imagine post-holing through steep snow for 20,000 steps. To quantify this comparison, a 1-ounce difference in boot weight means that each leg will lift an additional 1,250 pounds during that time. The old adage that "ounces makes pounds and pounds are heavy" is especially true in regard to your feet.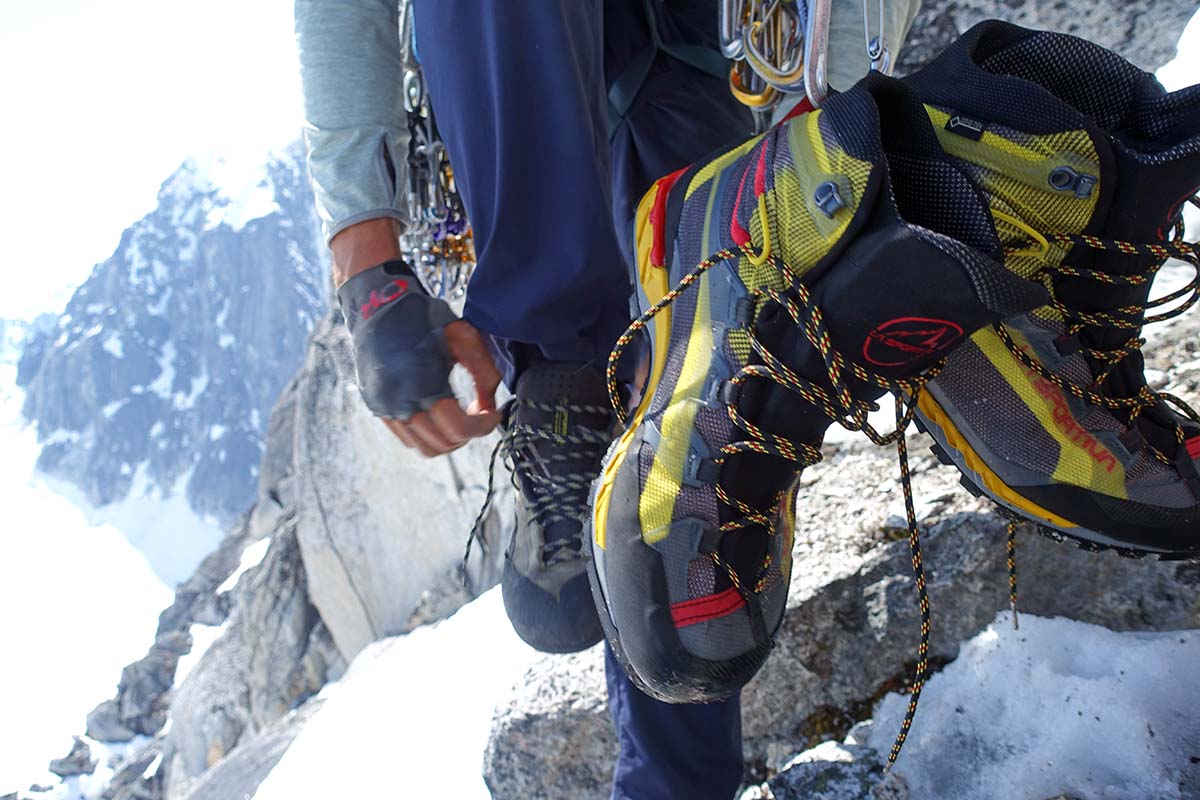 Warmth
The only thing worse than losing feeling in your toes is the shooting pain that comes when they warm up. Selecting a boot that will keep your feet warm during the coldest conditions you will encounter is key. Double boots like the La Sportiva Olympus Mons Cube and Scarpa Phantom 8000 are the warmest on the market and will protect your feet on the world's highest mountains. At the same time, these boots will be overkill at the Ouray Ice Park (but still may work if that's the only boot you have). On the other hand, Scarpa's Phantom Tech or Lowa's Mountain Expert GTX Evo will excel at climbing ice at moderate temperatures but are not meant for extremely cold weather.
The truth is, if you plan to do a wide range of climbing from cold and high-altitude peaks to technical summer scrambling, you ultimately will want to invest in at least two pairs of boots. The difference is tremendous between double or triple boots built for 8,000-meter peaks and lightweight models that essentially are beefed-up hikers. All have their purposes—and some do a pretty good job at doing it all—but like many types of outdoor gear, having a quiver of options is ideal.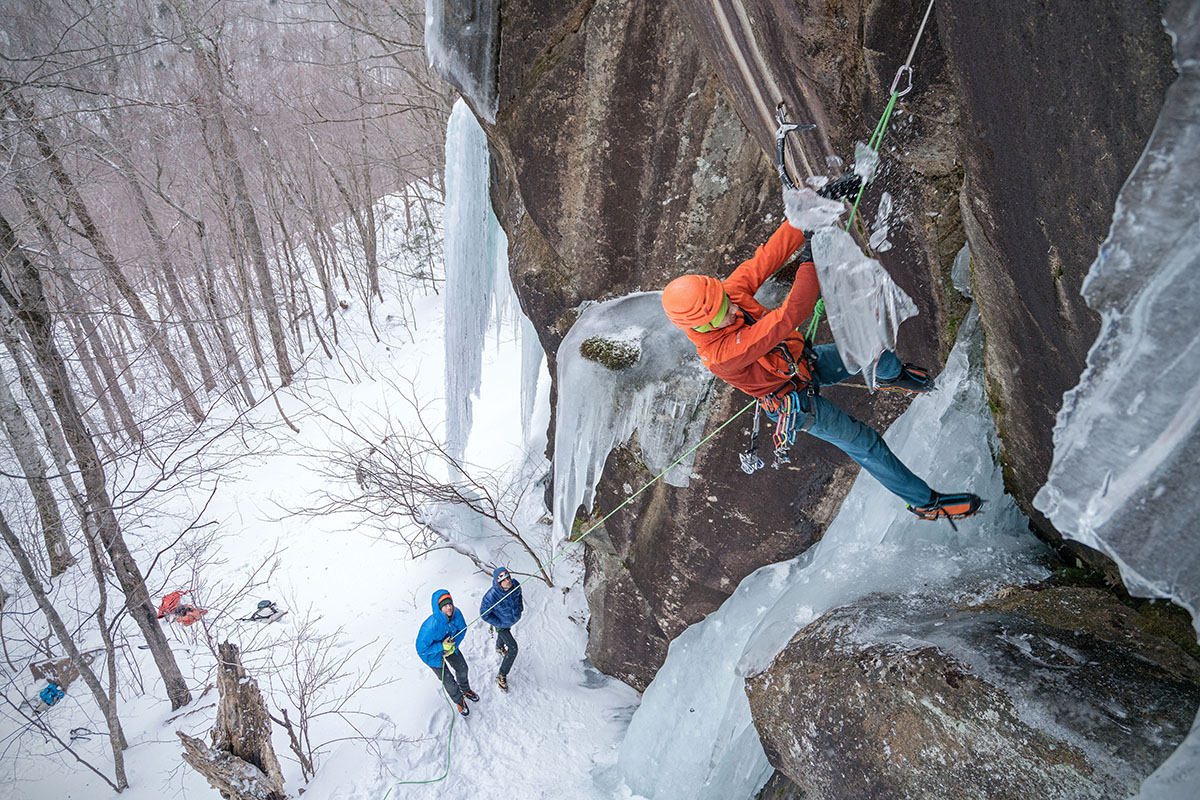 Liner Construction
Depending on the double boot (remember that single boots don't have removable liners), liners may provide a significant portion of a boot's warmth and support. This is the part of the boot that you will want to remove at night during a multi-day trip, and the ability to dry the liner by stuffing it into your jacket or sleeping bag is imperative. Heavy, thick liners made of water-absorbing materials will not dry completely throughout an alpine evening, which is why most modern boot liners are constructed of hydrophobic materials like closed-cell foam.
Single boots are built with an insulated and often waterproof liner. The most common design by far is a Gore-Tex bootie, although some Scarpa models include an HDry membrane that is bonded directly to the upper material of the boot. Both designs will allow some breathability, but not nearly as much as a boot without a waterproof liner.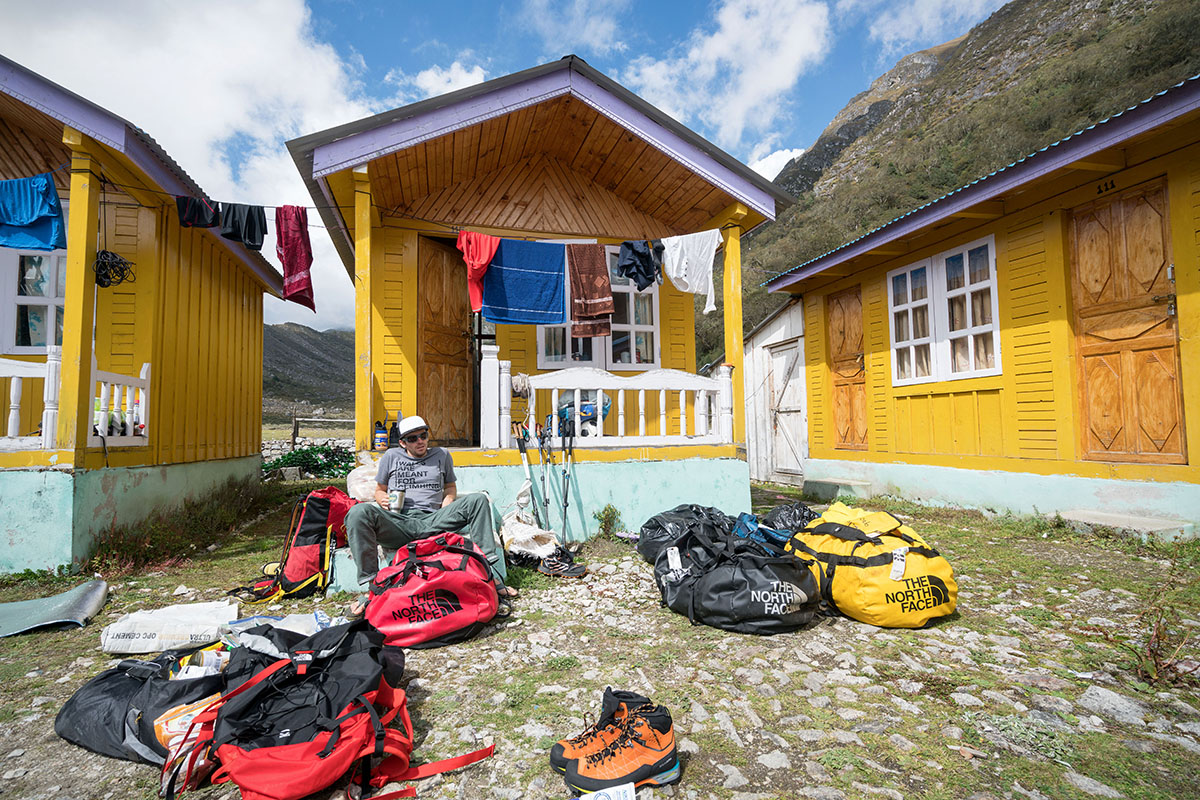 Stiffness: Upper and Sole
In some ways, mountaineering boots need to do their best impersonation of a "quiver of one" type of footwear. In addition to the warmth and protection they provide, they need to be part rock climbing shoe, part hiking boot, and even maybe an occasional ski boot. Having the ability to tighten the boot down when ice climbing or skiing and then loosening it when hiking is essential. Mountaineering boots don't have lock-down modes like backcountry ski boots, but many now feature an upper and lower lacing system to isolate tightness to specific parts of the boot (like the La Sportiva Oly Mons Cube).
Sole stiffness, or stiffness underfoot, also is an important factor to consider—different types of climbing require varying sole stiffness. For low-altitude mountaineering where you won't be technical ice climbing, you may want a boot with a ¾ shank sole (one that has some flex). These boots will feel like a stiff hiking boot and are better suited for long approaches, technical scrambling, or lower fifth-class rock climbing (like the Cascade's classic Torment-Forbidden Traverse, for example). On the other size of the spectrum, full shank soles (with no flex) are optimal for technical ice climbing and advanced mountaineering with a step-in/automatic crampon.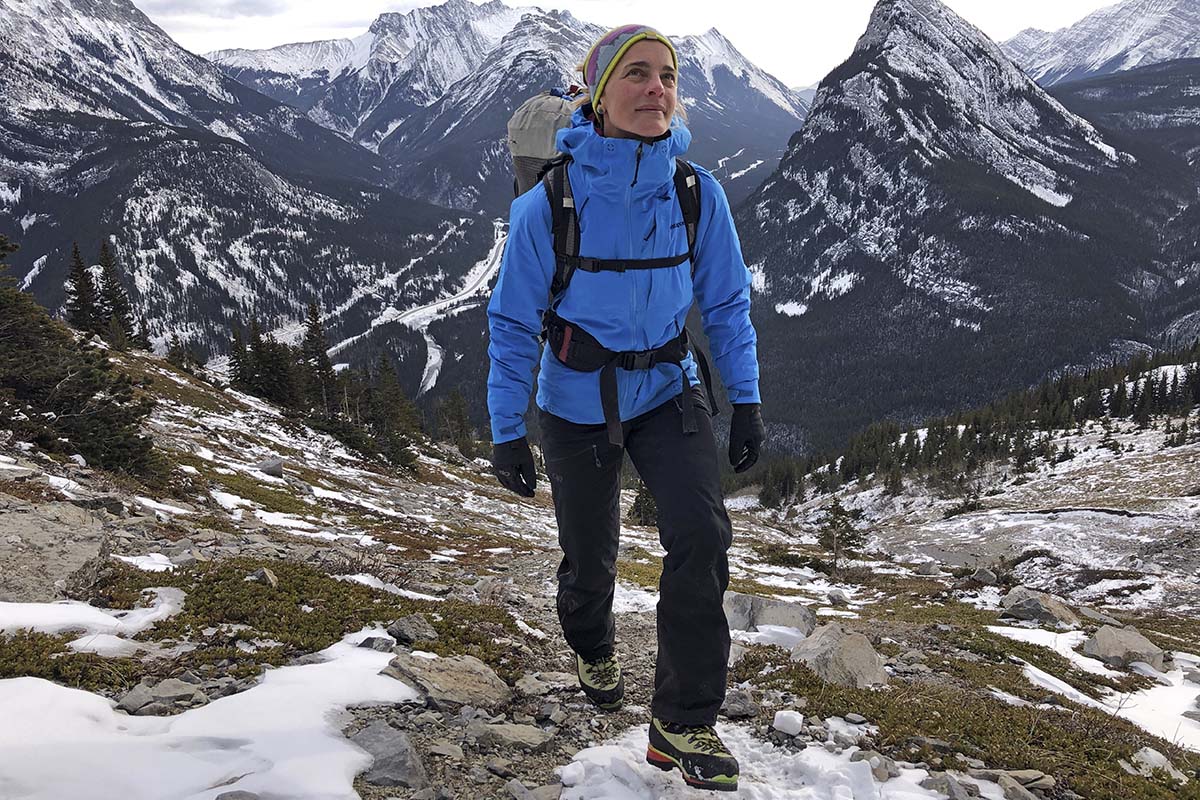 Lacing Systems
Tightening your boots down doesn't just involve basic laces anymore. Modern boots have a wide array of tightening systems including standard tie laces, pull-down cinch laces, or even the high-tech Boa lacing system. Many companies have moved away from standard laces because they are hard to tie and untie in extreme weather. In addition, having the ability to easily tighten or loosen your boots (maybe with only one hand) while wearing thick gloves or mittens is critical. Lacing systems should be simple, but efficient. The Boa system probably is the easiest to use, but it may be the most susceptible to breaking in an alpine environment (because of this, we love that Sportiva integrated dual Boa closures into their new Oly Mons Cube—when one goes, your entire boot functionality doesn't go with it). Luckily, Boa sells repair kits for very cheap and they can be reinstalled in about the same amount of time as it would take to replace a shoelace.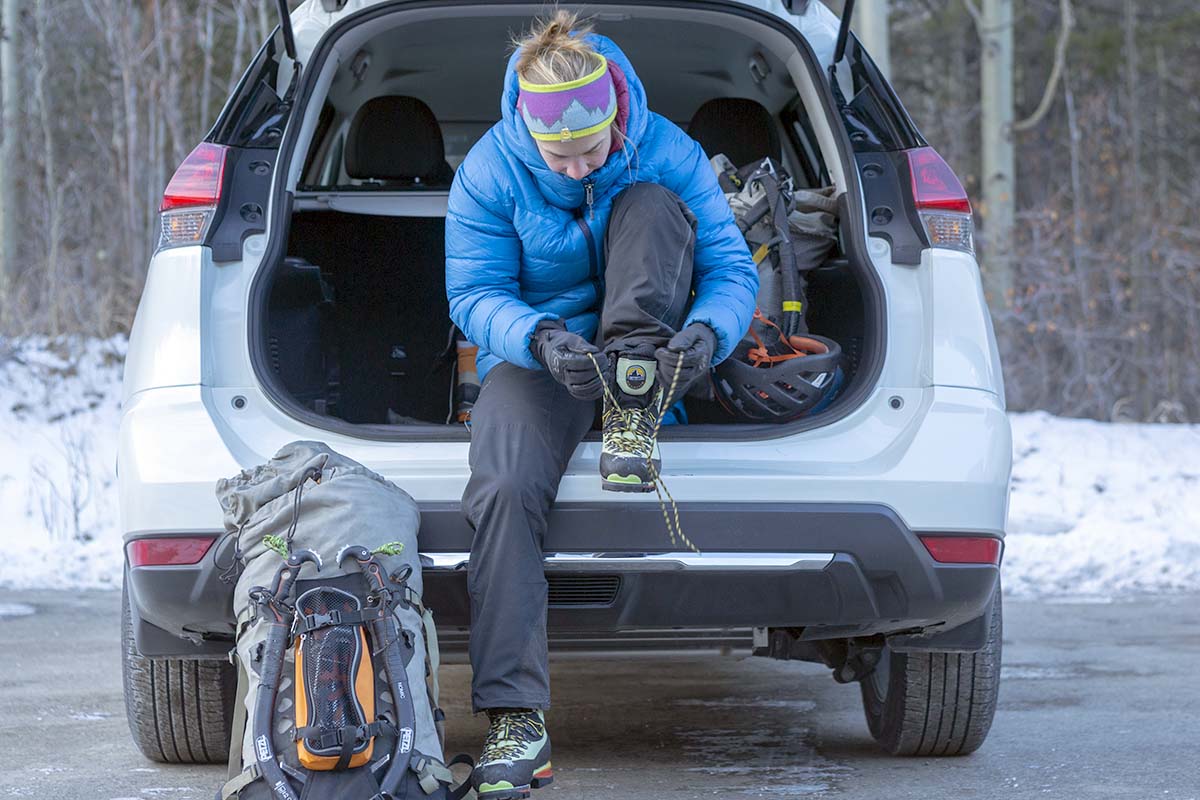 Crampon Compatibility
Automatic (Step-In) Crampons
For each boot, we've specified whether or not it is compatible with an automatic crampon. An automatic crampon—also known as a step-in crampon—uses a wire toe bail and heel clip to provide the most secure attachment, ideal for ice climbing or technical mountaineering (the Grivel G20 Plus, for example). If we're climbing anything that is remotely approaching vertical, we want an automatic crampon. In order to be compatible with this style of crampon, a boot must have toe and heel welts and a fairly stiff build that provides a stable structure for the crampon. Every double boot on this list is compatible with an automatic crampon.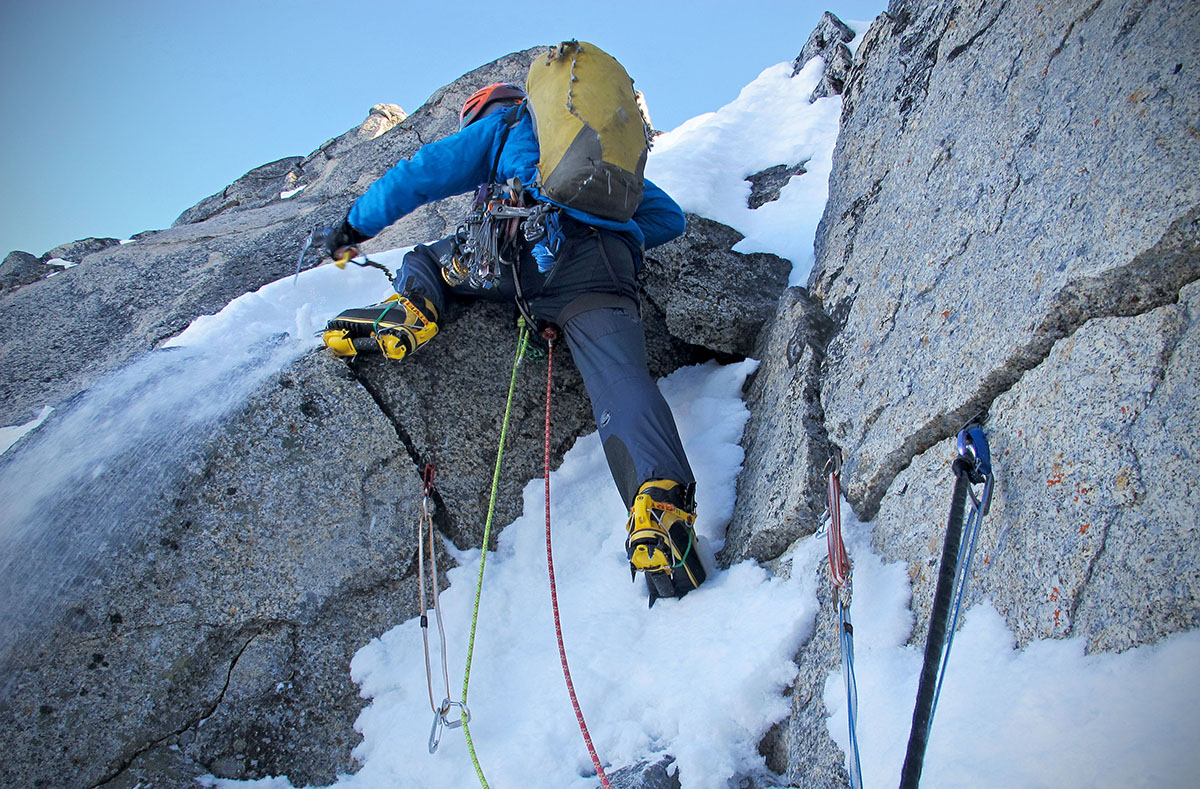 Semi-Automatic (Hybrid) Crampons
More flexible, streamlined single boots often forgo the toe welt and otherwise shave weight by having a thinner last. The majority of these models—such as the La Sportiva Trango Cube GTX—still have a heel welt, which is essential for compatibility with a semi-automatic crampon (also known as a hybrid crampon). A semi-automatic crampon combines the front plastic loop of a strap-on crampon (see below) and the heel clip of a step-in crampon. While less secure than a step-in crampon, semi-automatic crampons are a far better choice for lightweight or flexible boots as they have more of an ability to move with the boot.
Strap-On Crampons
The last type of crampon is a full strap-on crampon (plastic loops in front and back with webbing to tighten). Strap-on crampons are highly adaptable, and even are capable of fitting on lightweight approach shoes. They do have limited technical performance, however, as they do not secure as tightly to the boot as a step-in or semi-automatic crampon. Strap-on crampons can be attached to any sort of boot, although they would have very compromised functionality when paired with a stiff build, and are not appropriate for ice climbing or technical mountaineering. The lesson here is: make sure your boot can accommodate the type of crampon you need, and don't forget to check compatibility and fit before any big trip.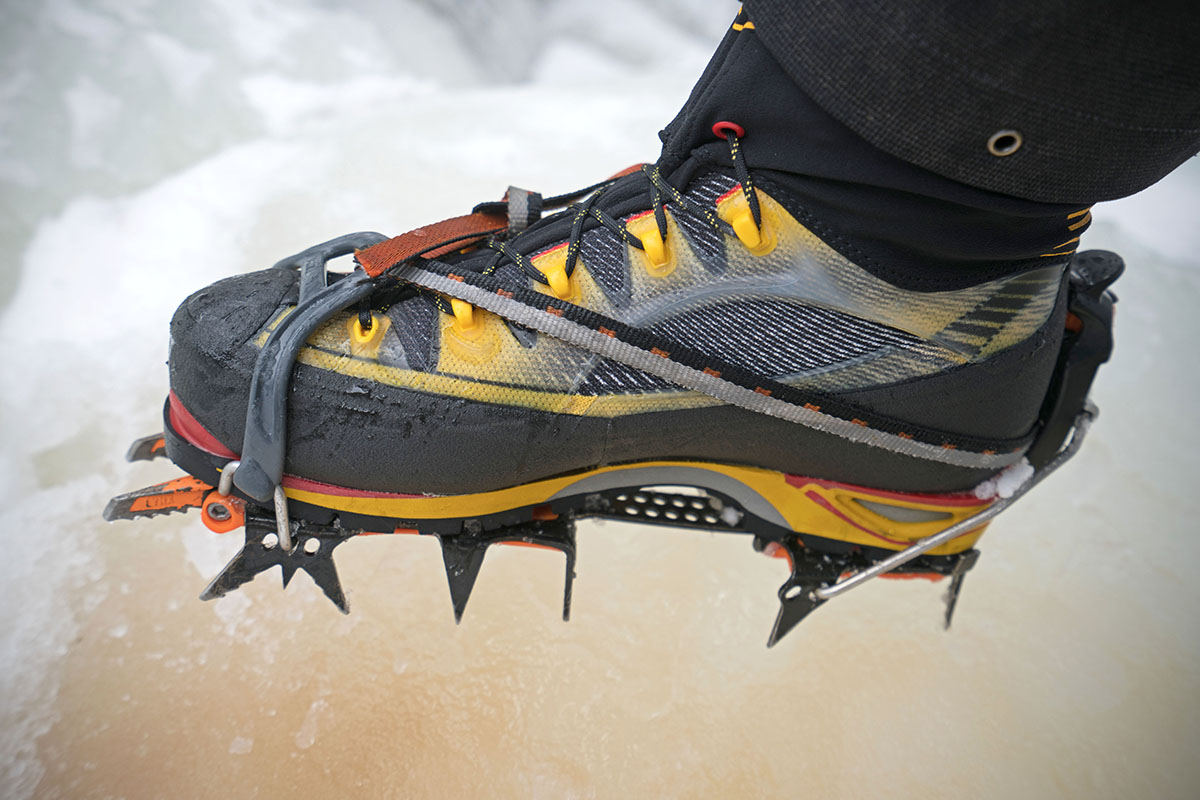 Ski Compatibility
If you ever plan on climbing a mountain like Denali where you may use your mountaineering boots with skis (utilizing bindings such as the Silvretta 500), it's essential that your boot has both a heel and toe welt. These are the same flat rails on the front and back of the boot that serve as the connection point for automatic crampons (see above). Bindings like the Silvretta aren't made for aggressive skiing, but they do allow you to use skis (skinning tends to be faster than snowshoeing) without needing to bring along your ski boots. And in 2021, mountaineers approaching on skis have a whole new option in the La Sportiva Olympus Mons Cube, which features tech fittings at the toe for compatibility with pin bindings (standard on most backcountry skis).

Mountaineering Boot Fit and Sizing
Different companies use different lasts for their mountaineering boots. Some tend to be slightly narrower (La Sportiva and Arc'teryx) while others routinely have a slightly boxier feel (Scarpa). Just because you wear a size 44.5 street shoe doesn't mean that it will translate directly into a big mountaineering boot. You may be a 44.5 in La Sportiva, a 44 in Scarpa, and a 45 with a thick insole in Arc'teryx, for example. And every boot has a unique fit and it can take some work to dial it in. Always try on your boots well before a trip—a little extra heel room quickly can develop into a show-stopping blister that keeps you from reaching the summit. Or a tight toe box can restrict blood flow and lead to frostbite. Your feet swell as you stand on them, so we recommend trying boots on in the afternoon after you have been walking around for a few hours.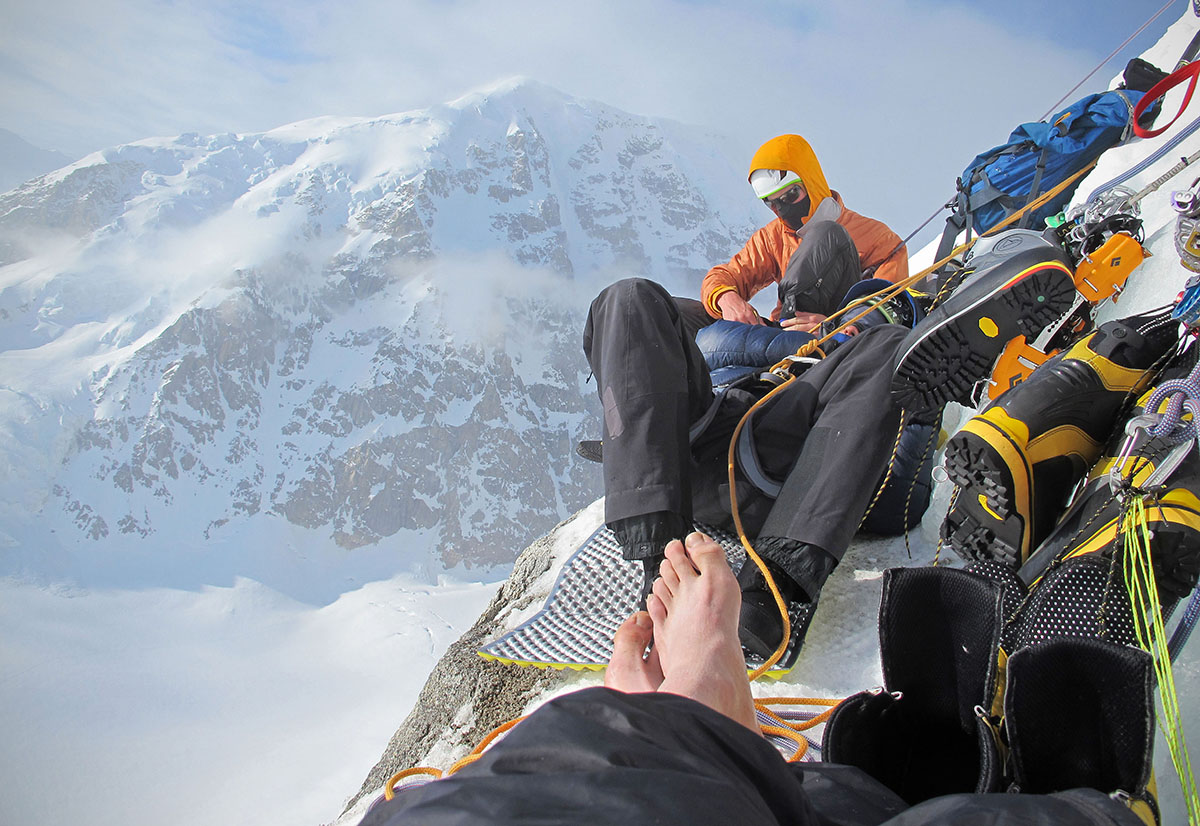 Mountaineering involves long days (often back to back for a week or more) carrying heavy packs and using your feet in dynamic ways. Accordingly, an insole is the first line of support in your boot. Custom boot fitters will say, "If you buy a $1,000 boot, throw away the $0.10 insole." Often that is true, although companies like La Sportiva and Scarpa seem to have taken note. Many of their boots now come with quality insoles that not only offer support and comfort, but a bit of additional warmth as well. A good insole should support your foot, both in terms of supporting your arch and cupping your heel.
If the included insole doesn't work for you, consider spending another $40 to 50 for a heat-molded insole from a reputable brand like Sole or Superfeet. Aside from providing additional warmth, these insoles come in a variety of thicknesses that can take up space if there is a little too much room (or even work out tight spots). And when making a boot purchase, it's always better to go slightly bigger as opposed to going too tight—it's easier to take up room than to make it.

Women's-Specific Boots
As with other types in climbing footwear, the most important thing in choosing a mountaineering boot is fit. Most of the models listed above technically are unisex, while a few like the La Sportiva Nepal Cube GTX, Scarpa Charmoz, and Scarpa Mont Blanc Pro GTX also come in women's-specific versions. It's extremely common for women to wear unisex boots—again, it's all about fit and only a handful of models are even available in women's versions. It's also worth noting that La Sportiva and Arc'teryx tend to run narrow, which—at least in theory—should be more akin to the shape of a women's-specific design.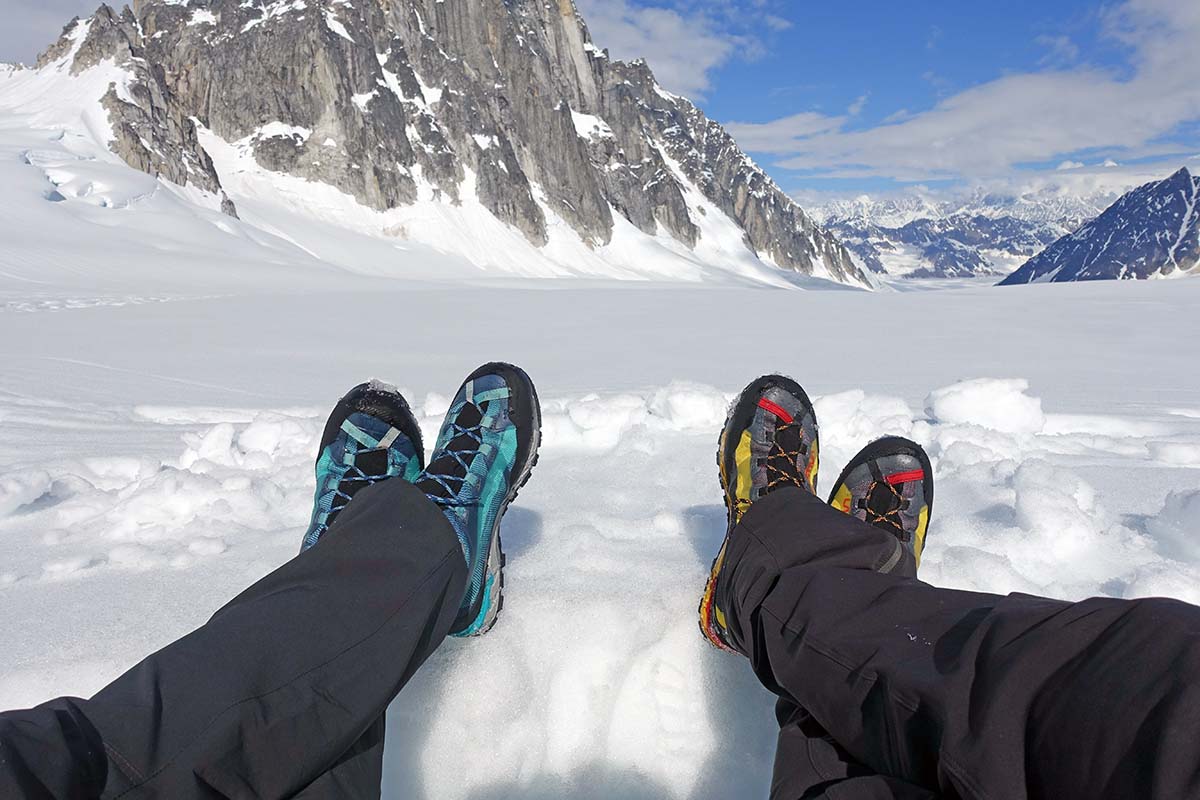 Durability
There's an old adage in the outdoor gear world: "between light, durable, and cheap, you can pick two of the three." Over the last decade or so, mountaineering boots have seen a tremendous jump in precision and technical design, while also cutting some weight. Unfortunately, this has come at the expense of durability to some extent. Plastic boots were almost indestructible, but they could feel rather clunky at the same time. New-age double boots like the Scarpa Phantom series or La Sportiva Spantik are technical climbing machines with rock shoe-like precision and a high level of warmth. This is attained by using ultralight polyurethanes, foam, and synthetic fabrics, but these materials are much less durable than the plastic boots of old.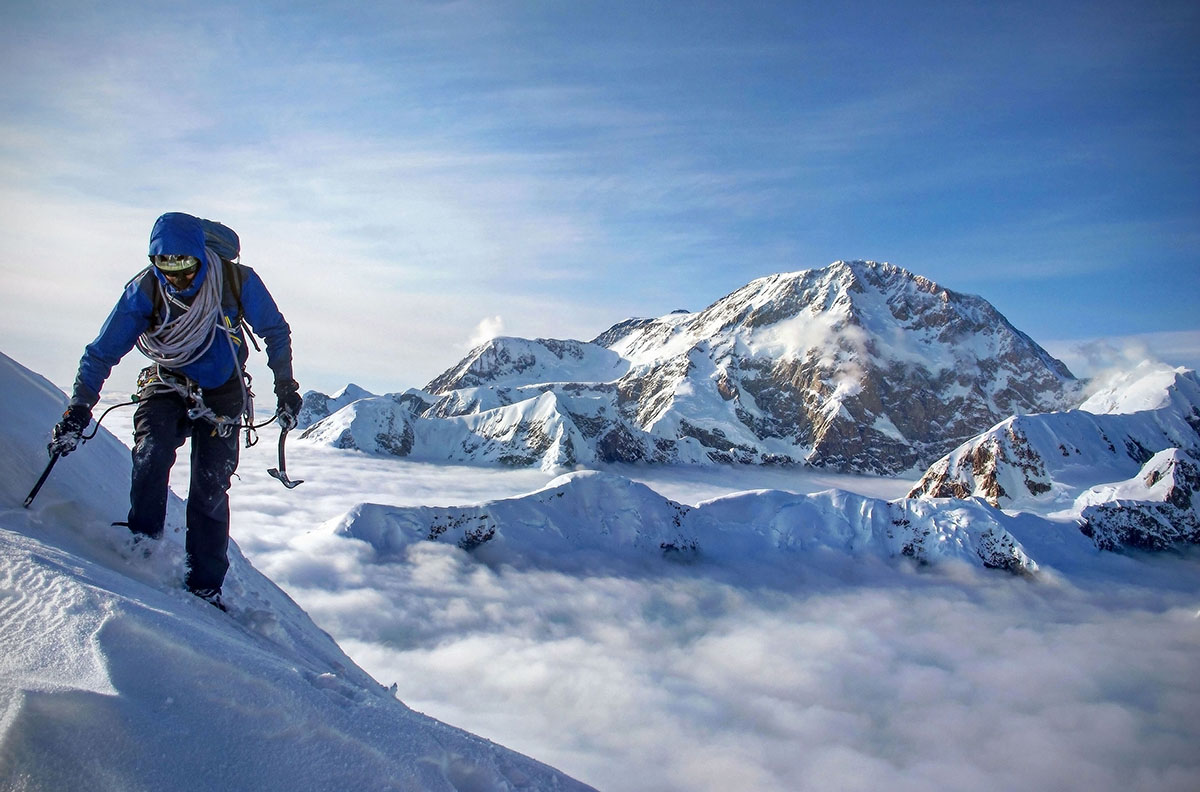 One of our Alaska testers has found that his high-altitude technical double boots last him about three years (but he averages 60 days of abusive use per year). Is the tradeoff of less durability and a higher price for lower weight and more technicality worth it? We think so. The average mountain climber will get many years of use out of their boots. If you practically live in your boots, you will appreciate the greater flexibility, technical prowess, and lower weight. And for those who prize durability above all else, there's always a trusted workhorse and plastic double boot like the Scarpa Inverno.
Back to Our Mountaineering Boot Picks  Back to Our Boot Comparison Table
Learn More About Outdoor Gear