Peru's Ausangate Trek is epic, and we aren't throwing that term around lightly. The region is loaded with glacier-capped peaks that reach over 20,000 feet in elevation, yet despite good infrastructure, remains remote and empty for the most part. Aside from a brief crossing of the popular Rainbow Mountain trail, llamas and alpacas rule the land with the occasional farmer waving hello as you pass. Throw in the fact that you sleep in remote alpine lodges with a warm fire to end your day, and we can't imagine a better way to experience the Peruvian Andes. 
Below we provide a day-by-day breakdown of the trek, along with information on difficulty and altitude, the Andean Lodges, trekking seasons and weather, gear, and more. It's important to note that we were invited on this trip by REI Adventures along with a small group of media to celebrate the launch of their new Ausangate Lodge-to-Lodge Trek. We did the exact same itinerary as anyone else who would book the trip, including day-to-day activities and accommodations, and all opinions presented here are our own. 

Day-By-Day Ausangate Trek Breakdown
Day 1: Peruvian Big Sky Country
The first day includes your departure from Cusco, a stop at the old temple of Checacupe, and a drive up through the rice-terraced valley of Pitumarca to the starting point of the trek. At Japura, you have a short day of hiking through a beautiful, open valley to the village of Osifina and the first lodge at Chillca Tambo (14,272 feet). We did get snowed on during our hike this day, but overall, it's a nice introduction to the trek and a great way to get over 14,000 feet for the first time with only moderate exertion.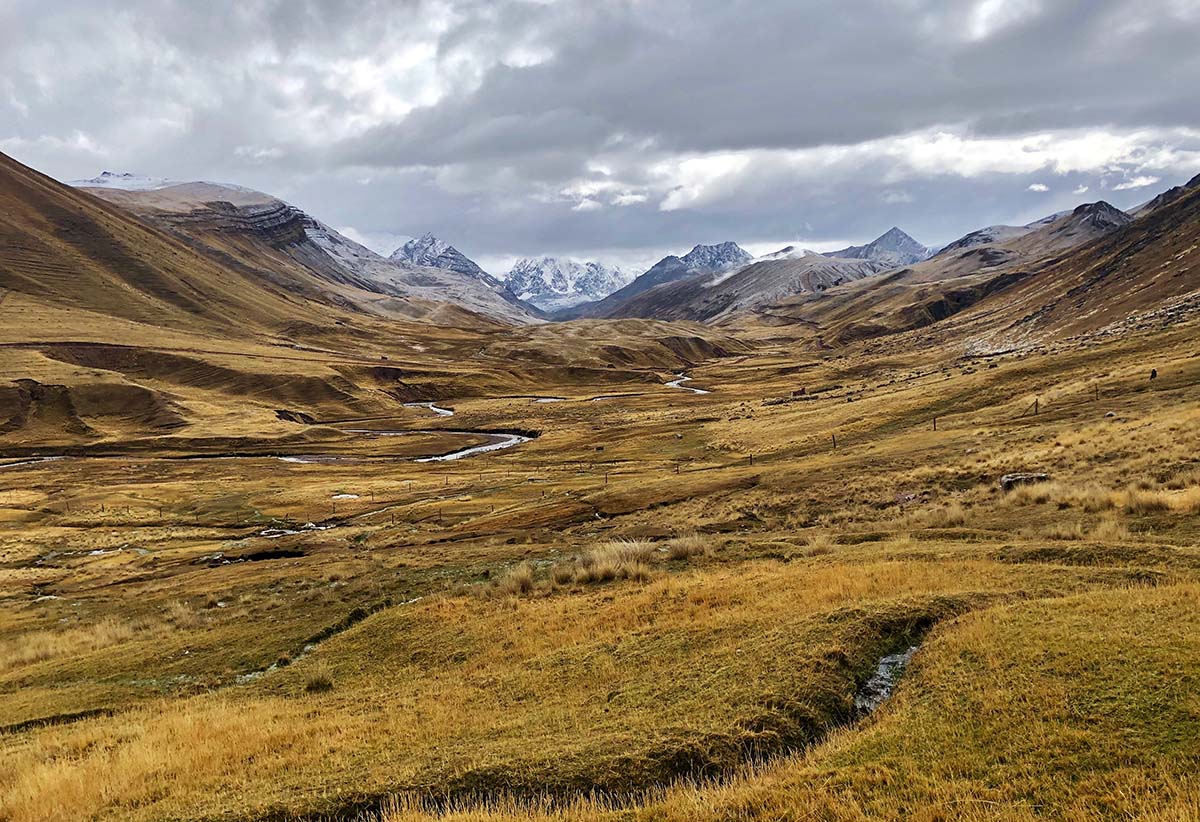 Day 2: Into the Alpine
The second day is long and steadily upward into the alpine with beautiful views of Ausangate, neighboring Mariposa, and numerous other Andean peaks on the approach. After leaving Chillca Tambo, you hike along the glacier valley of Phinaya, past the Pjachaj waterfall, and up to the stunning Machuraccay Tambo lodge. At 15,846 feet, it's claimed to be the highest full-service mountain lodge in the world, situated below the Trek's namesake mountain Ausangate at 20,945 feet, and beside an incredible red glacial lake tinted by the sediment. It didn't feel great to put the hiking boots back on for the late afternoon scramble to the lake, but it was well worth it in the end. For those who pass on the extra excursion for more time resting by the fire, you do get a good view of the lake the next day on the hike over the pass.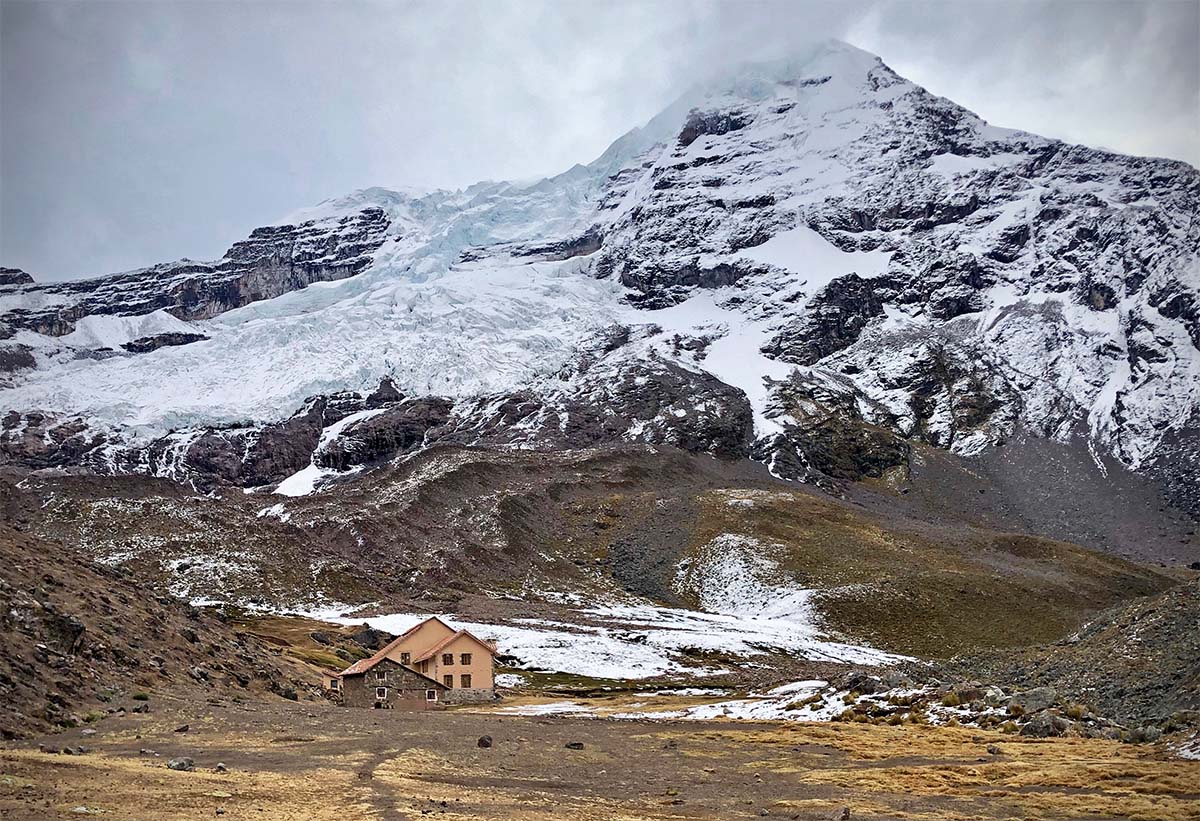 Day 3: Thin Air and Palomani Pass at 17,000+ Feet
From the lodge at Machuraccay Tambo, you start by immediately heading up and over a number of smaller hills until the big enchilada: Palomani Pass at 16,941 feet (5,165 meters). However, the best viewpoint on the trek is to the left via a series of three small ridges to the actual highpoint at 17,300 feet. From here, you get 360-degree views of Ausangate and Mariposa, the colorful hills of the Rainbow Mountain region, and Andean peaks and lakes in all directions as far as the eye can see. From there, we glissaded down a thin snowfield and hiked the rest of the way to the lodge at Anantapata Tambo (15,584 feet). Day three is the hardest of the trek due to the altitude and time on the trail.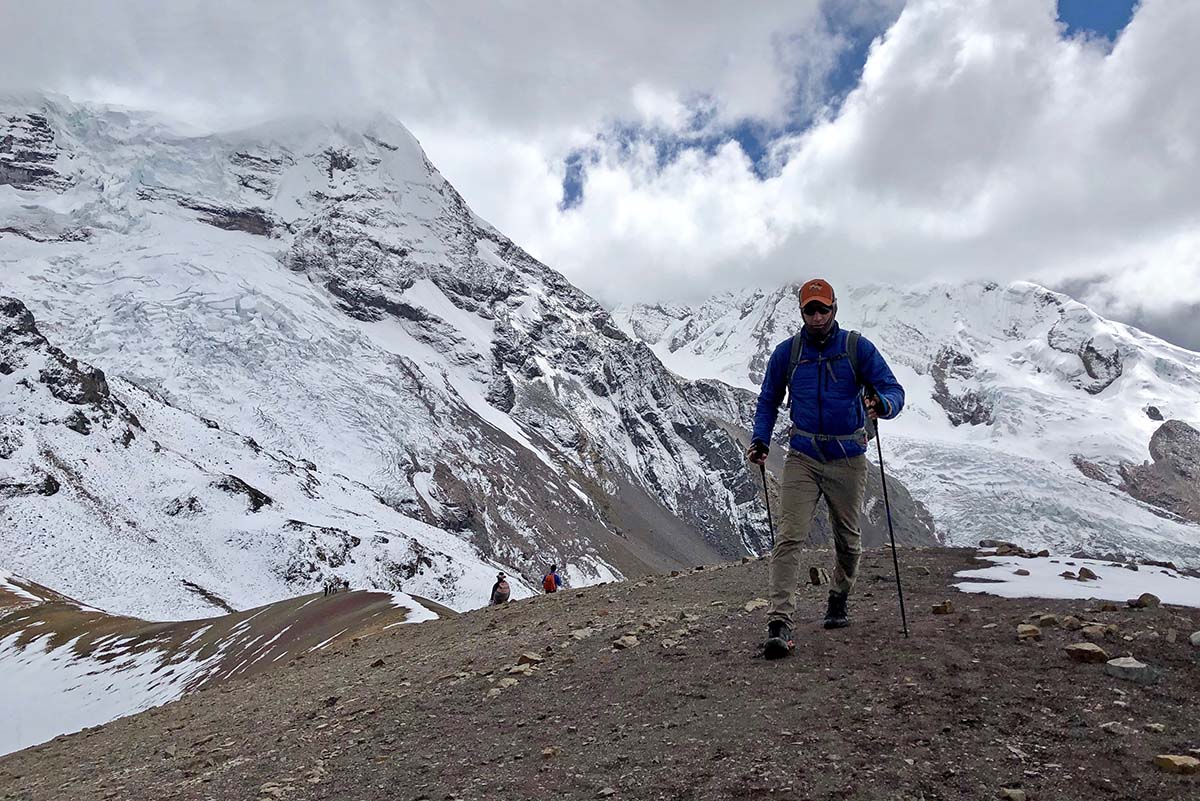 Day 4: Rainbow Mountain and Beyond
This was our earliest morning with a 4:30am wake-up call to potentially beat the crowds to the popular Rainbow Mountain crossing. It wasn't early enough, however, as there were already close to a hundred people there at 9:30am when we arrived (the sunrise hiking did make it well worth it though). Rainbow Mountain itself is stunning, but the good news is that the colors continue on well past that. Within just a few minutes of leaving the masses, we were once again hiking all alone among beautiful red, orange, and yellow-tinted mountains. And the cherry on top: this day is a shorter day than the previous one—we arrived at the lakeside Huampochocha Tambo lodge (15,748 feet) early in the afternoon for plenty of time to rest.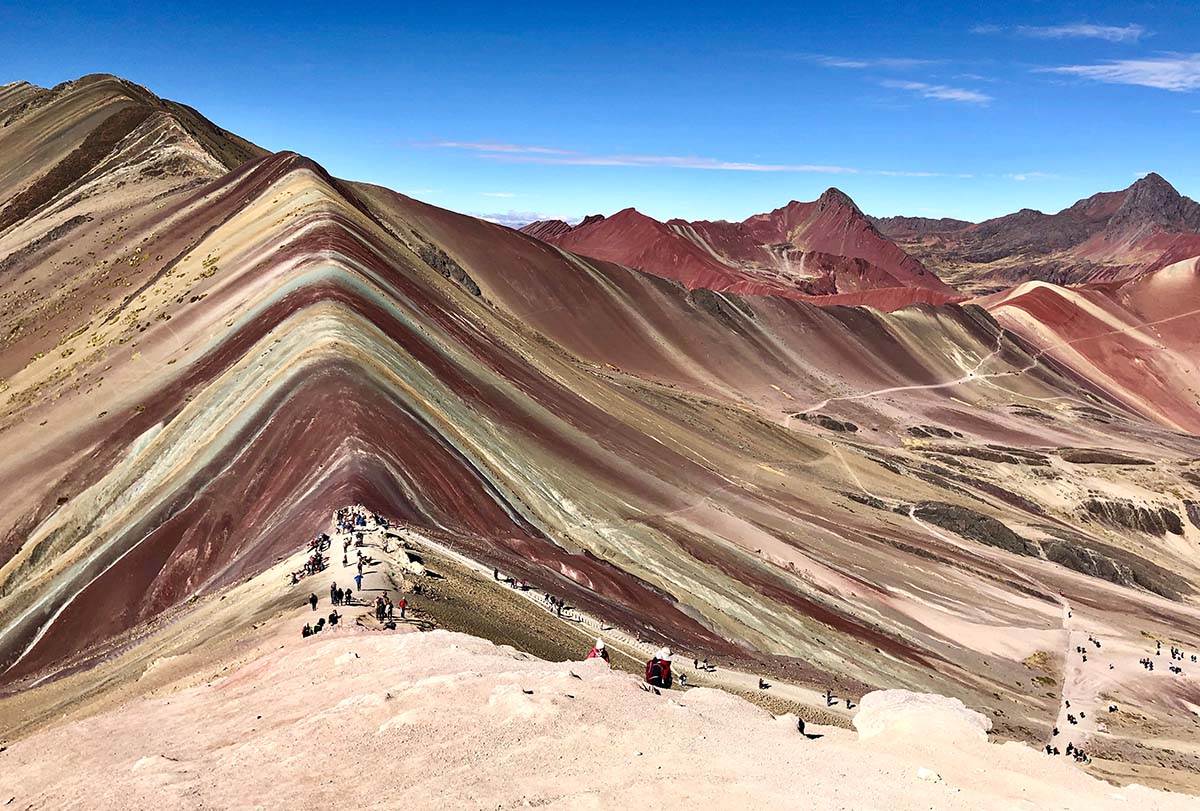 Day 5: Down You Go
After four days above 14,000 feet and much of the time higher than that, you may be ready to head downhill for higher levels of oxygen. But first are two more uphill sections along with some flats. Eventually, as the trail heads lower, the air begins to feel thicker, trees remerge on the mountainsides, and the high-alpine scenery begins to fade away. Along the end of the trail is a Karst limestone rock forest, one last picnic lunch, and the eventual end at Trapiche. We were at the van by around 1pm and back in Cusco before dinner. What a trek!
 
Difficulty and Trekking at Altitude
Firmly categorizing the difficulty of the Ausangate Trek is a bit challenging. In terms of the actual hiking, it's fairly moderate: the trek is 43 miles in distance with approximately 13,000 feet in total elevation gain and loss (depending on which side trails and spurs you take). Over the course of five days, that isn't an ultra-challenging route, at least on paper.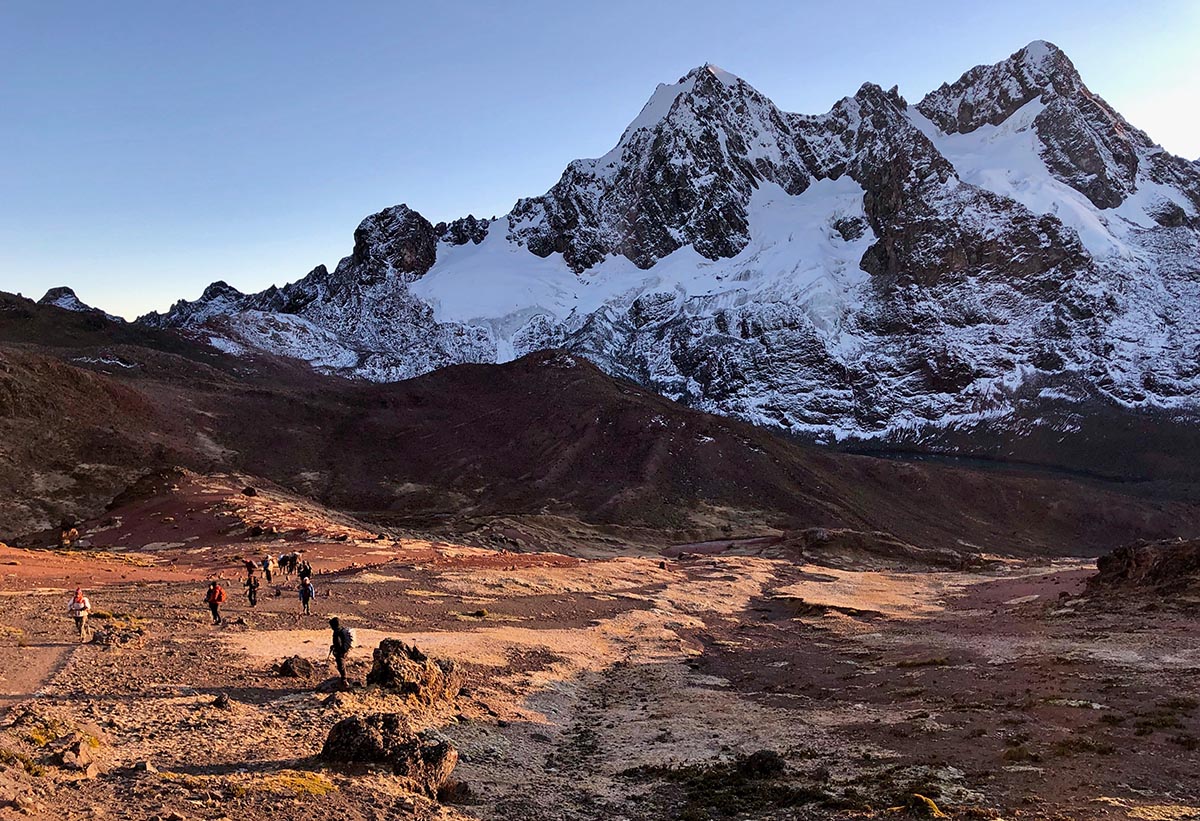 What gets you is the elevation—and the average elevation—which is relentless. The first day of hiking is short but ends at over 14,000 feet, and you then stay above that threshold for nearly the entire trip. There are two mountain passes over 16,000 feet, the highest of which (Palomani) gets up to approximately 17,300 feet via the side trail mentioned above. Throw in the fact that you sleep at two of the highest mountain lodges in the world (Machuraccay at 15,846 feet and Huampococha at 15,748 feet), and there is little reprieve from the lack of oxygen. You hike high, you sleep high, and it eventually takes a toll on almost everyone.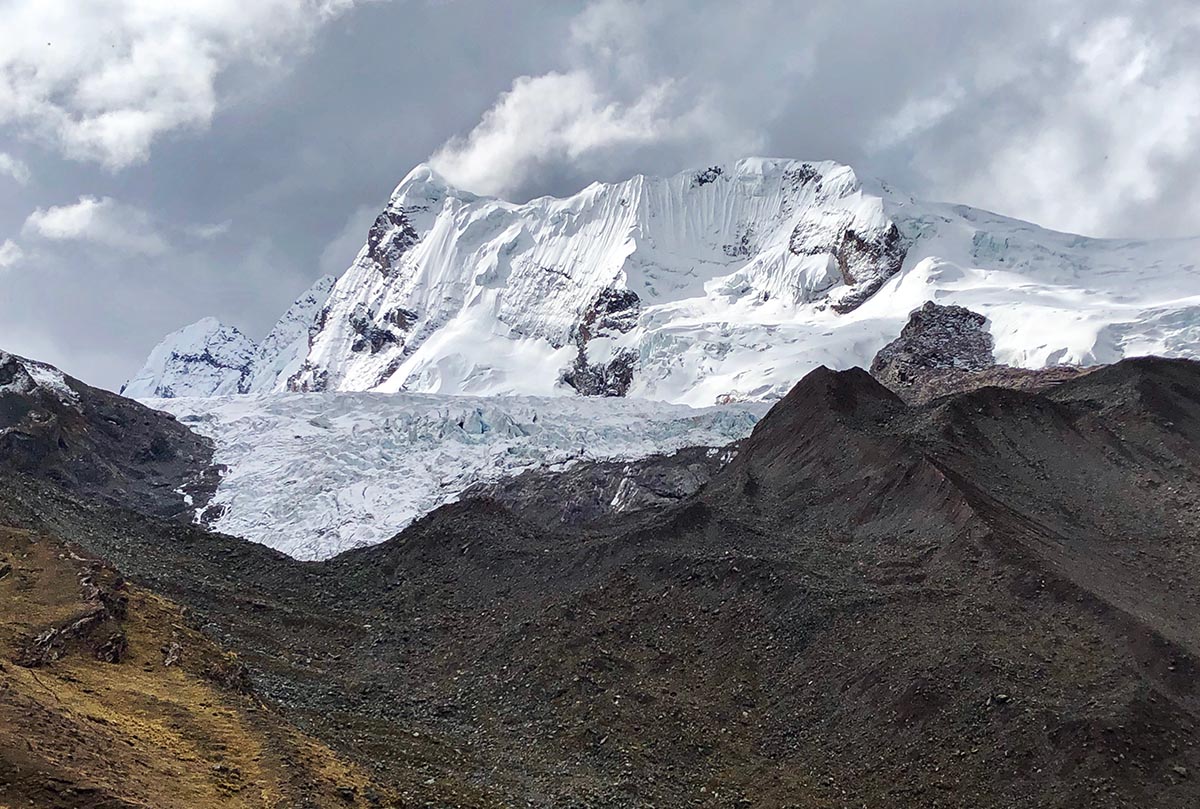 We'll stop short of providing any actual medical advice or a full article on trekking at altitude (that's been done many times over), but below are some tips that should help make your Ausangate Trek more successful:
Acclimatize as much as possible beforehand. Fortunately, the city of Cusco (where most travelers connect to from Lima) is located at 11,152 feet. In reality, one of your toughest days may be coming from your hometown (ours was Seattle at sea level) and landing in Cusco. If you plan on spending a few days there or at Machu Picchu, the jump to 14,334 feet and the first lodge on the trek feels more manageable. 
Drink as much water as possible, and as often as possible. Hot water for tea is readily available at the mountain lodges and you should take advantage frequently, plus it warms you up in the cold air at high elevations. I had two liters of water in my daypack and a cup of tea or hot water in my hand almost the entire trip. 
Avoid alcohol or be very moderate with your intake. Admittedly, we enjoyed a small celebratory pisco (or two) at the lodges after a long day on the trail, but it certainly isn't going to help your body deal with the altitude. 
Consider seeing a physician before your trip. A number of people on our trek were prescribed Diamox (acetazolamide) to help prevent the symptoms of altitude sickness, and medications are available in Cusco as well. 
Listen to your body and act quickly if there is a problem. Altitude sickness comes on fast (one person on our trip was hit hard but recovered), and you shouldn't be afraid to communicate any issues to your guide or fellow trekkers. Your guides may be carrying supplemental oxygen (ours were), and if issues persist, get to lower elevations as quickly as possible. 

The Andean Lodges
One of the most unique and memorable aspects of the Ausangate Trek are the four high-mountain lodges, run by the local Peruvian company Andean Lodges. For travelers, they are a unique sanctuary that you'll be hard-pressed to find on any other trek (we certainly haven't come across anything comparable in our travels). With prime locations below high peaks and often lakeside, the lodges are rustic yet provide just about everything you need: a warm fire, flush toilets, solar showers (you get a maximum of five minutes and it has to be before the sun goes down), home-cooked Andean meals, and even the occasional singing performance by the local staff accompanying you on your trek. There is no heating aside from the fireplace and it's quite cold in the mountains (often dipping below freezing at night), but your bed is made each night with two large hot water bottles in the sheets for added warmth. Again, the lodges may be rustic by lowland standards, and there's no power (aside from solar for the kitchen) or cell reception, but they feel like high luxury at nearly 16,000 feet.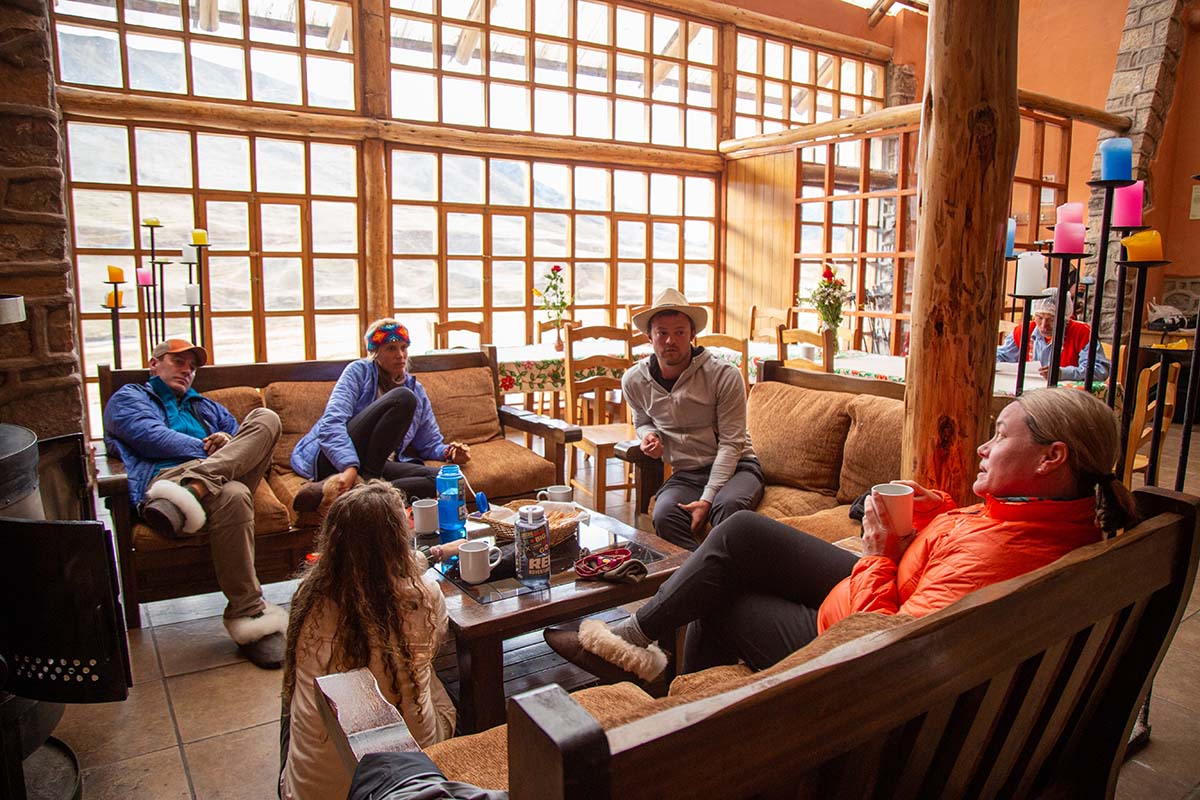 The story behind the lodges is even better, which is centered around sustainability at the local level. The communities helped to construct the lodges, currently own the land, salaries are paid to the workers, and profits are reinvested in the form of schools and other initiatives. The road hasn't always been easy: it took four years to construct the lodges and another four to reach profitability, and local people eventually began to cast doubt on whether trekkers would ever show up. But the picture is rosier now, and having a company like REI Adventures partnering for their Ausangate Trek certainly is a big deal. After spending five days with our wonderful guides and staff, seeing the lodges, and learning about what the Ausangate route has been able to provide for the local communities, this experience was one of the highlights of the trek.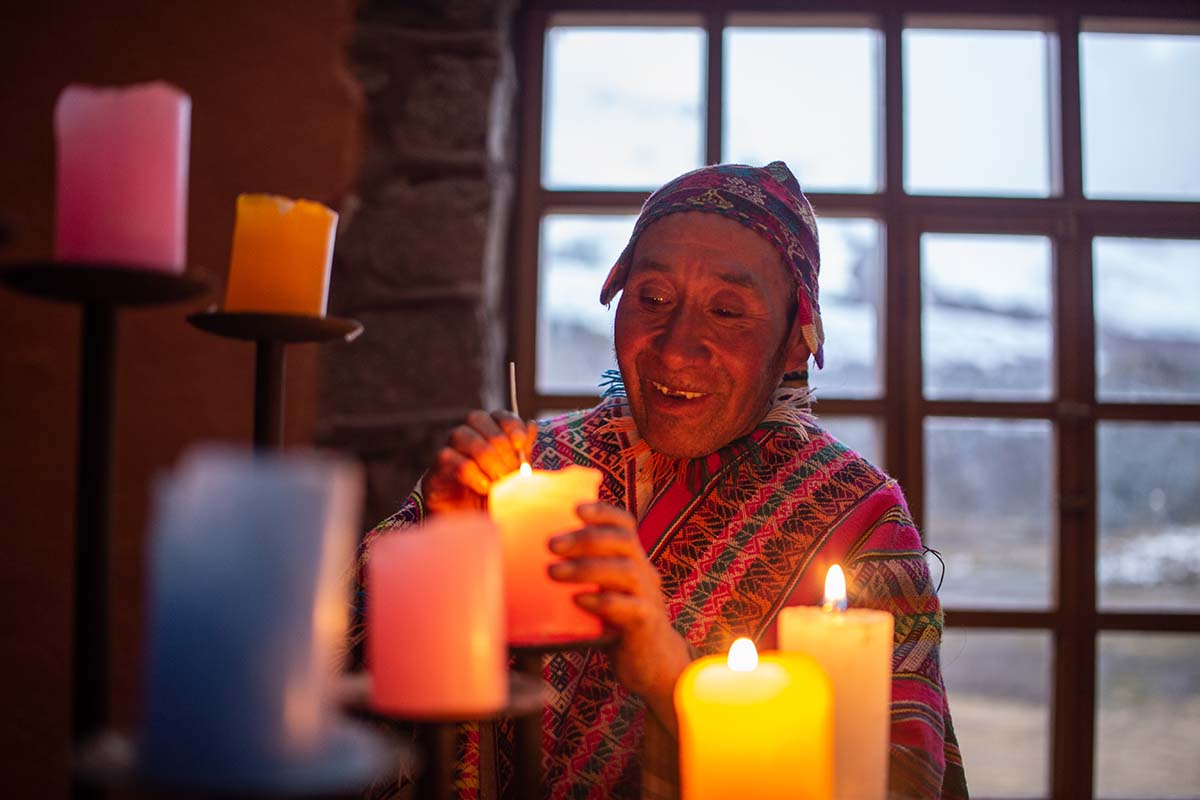 In terms of booking, our four nights at the lodges and five days of trekking were included as part of our 10-day Ausangate itinerary with REI. You also can book directly with Andean Lodges—they offer three different fixed-departure trips ranging from three to six days on the trail. For reference, here are the names and elevations of the four lodges:
Night 1: Chillca Tambo - 14,272 feet (4,369 meters)
Night 2: Machuracay Tambo - 15,846 feet (4,815 meters)
Night 3: Anantapata Tambo - 15,584 feet (4,750 meters)
Night 4: Huampochocha Tambo – 15,748 feet (4,800 meters)

Peru Trekking Season and Weather
Instead of the usual summer and winter, trekking in Peru is defined by two periods: the dry season and the wet season. The heart of the dry season runs from May to September, and this is the best time to visit the high mountains with less precipitation and clearer views. We did experience rain and even snow during our trek in July, which is to be expected at these altitudes, but the conditions were good overall. April and October are considered to be the shoulder seasons, and in these months you still have a pretty good chance of nice weather. Rainy season runs from November through March.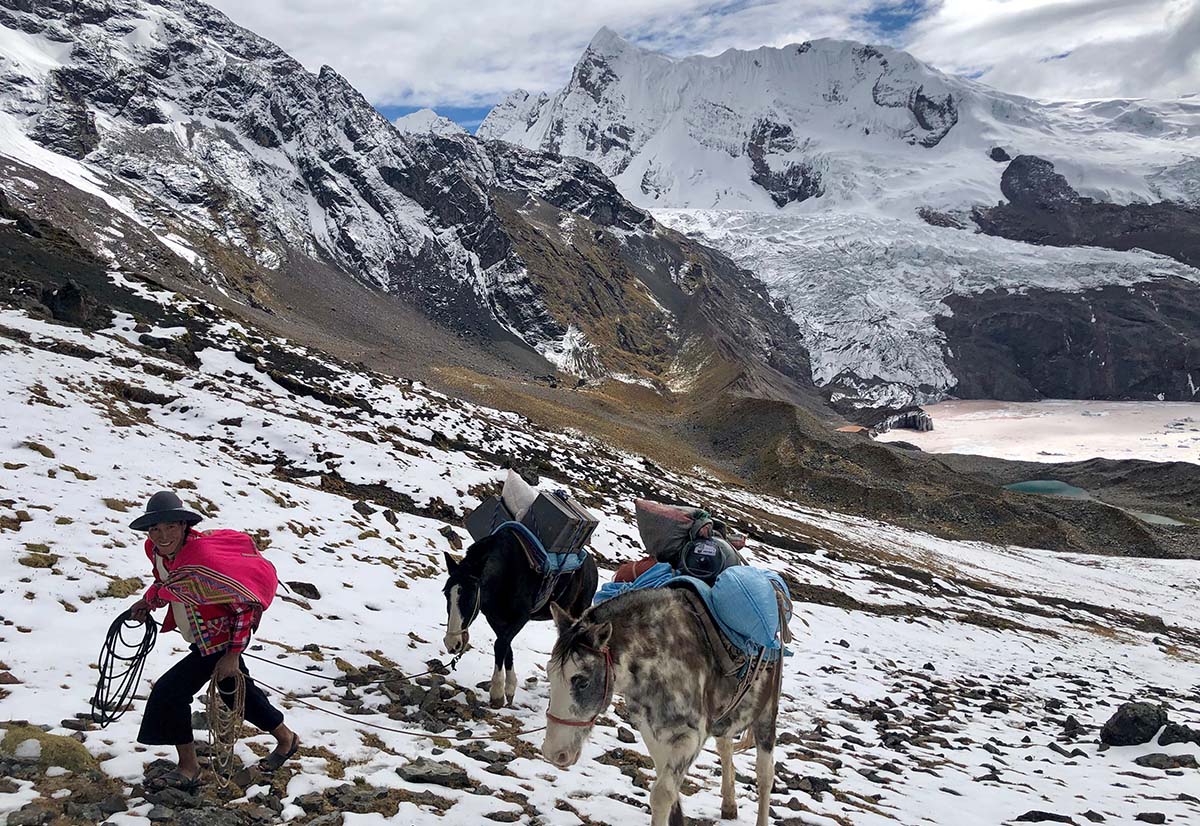 On the Ausangate Trek, you will experience a wide range of temperatures. Given the high elevations, it doesn't get hot (on our trip it reached into the 70s Fahrenheit) but the sun is extremely strong and that's the biggest battle. At night and depending on which lodge you are staying at (remember that two are near 16,000 feet), the temperatures often drop down to freezing and below. For information on key items to bring and a link to a complete packing list, see our gear section below.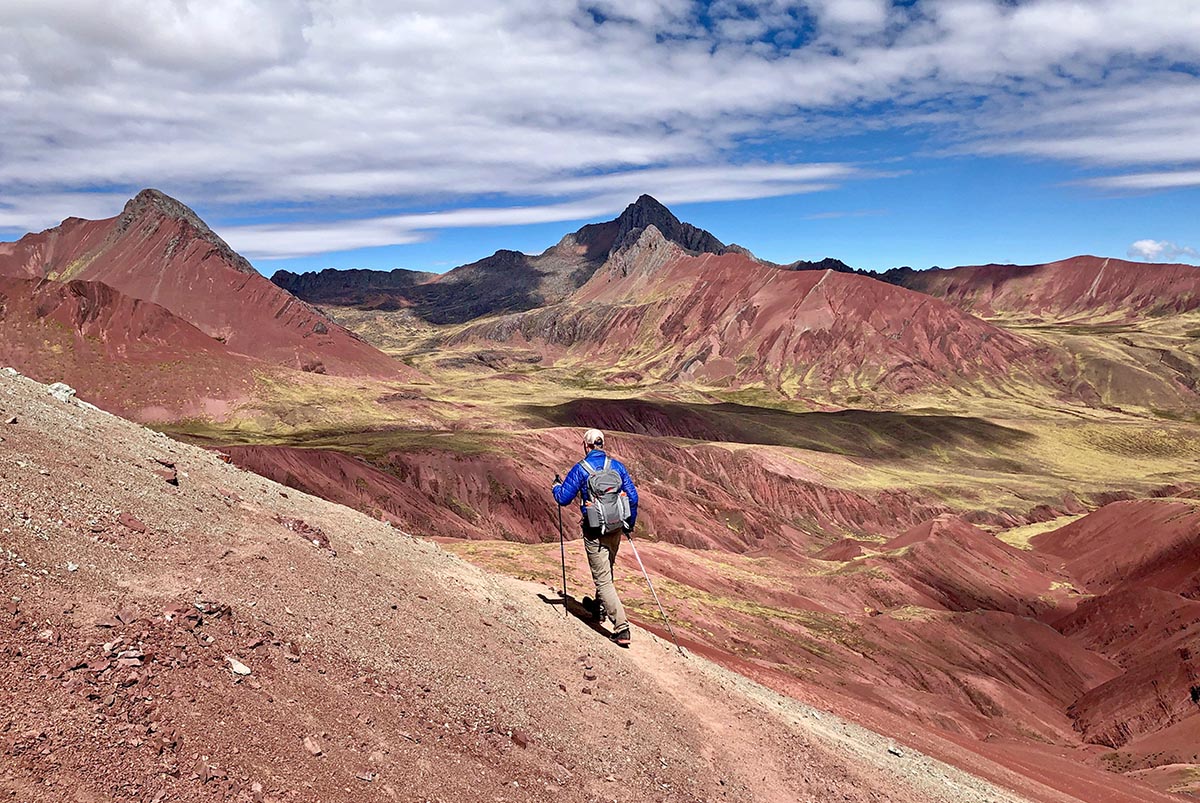 Gear for Ausangate
The Ausangate Trek is the real deal and you should bring everything you need for the high mountains and big swings in temperatures. Two key factors do aid in making your life easier: first, staying in the lodges means that you don't need to bring a tent, sleeping bag, cooking equipment, or food. Second, your trekking party will have its own group of llamas to carry your overnight gear in a large dry bag provided by Andean Lodges before departure. You will carry a daypack with essentials for each day on the trail (rain jacket, sunscreen, camera, snacks, water, etc.), but the rest will be waiting at the lodge upon arrival. And we'd be remiss not to mention the super cozy llama slippers provided by Andean Lodges, which is one of the great small perks of the trip. 
In terms of the most important gear items for the trek, it starts with footwear. Given that moisture on the route is limited and there are no river crossings, we opted for lightweight hiking shoes, and those who want more support can opt for traditional hiking boots. Make sure to bring a down jacket or synthetic-insulated jacket for the high passes and sitting around the lodge at night, along with a rain shell in case of precipitation. You'll always appreciate having a comfortable pair of hiking pants, which round out the big items for successful days on the trail.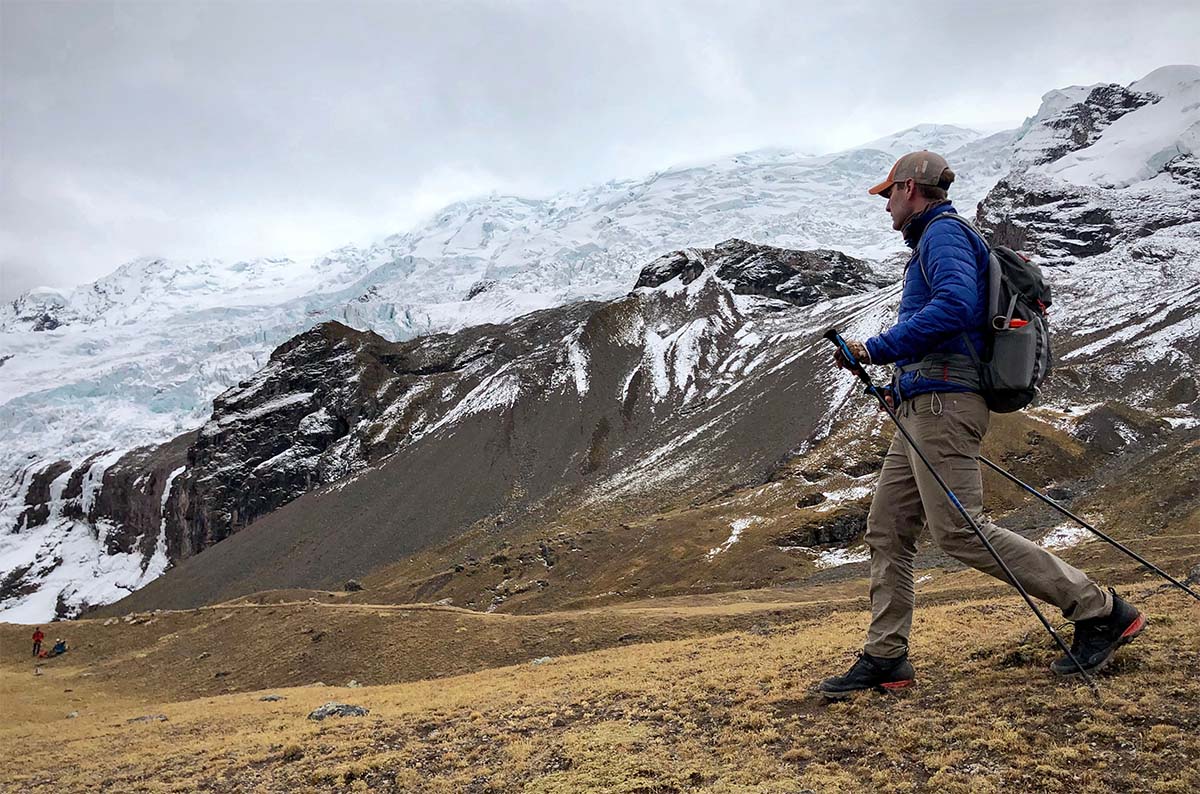 Sun is strong and constant in the Peruvian Andes. Bring a healthy amount of your favorite sunscreen, lip balm, sunglasses, and I was glad to have a buff that both protected my head and neck and helped block the wind. The Andean Lodges crew will provide potable water at the lodges and along the trail, but we really appreciated having Nuun tablets to improve the flavor (and some have a bit of caffeine and salt added, which was a nice touch). When traveling, it's always smart to bring a small medical kit with things you might need (Advil can help with the elevation, Pepto Bismol for upset stomachs, etc.), along with any personal items. For a complete packing list, see REI's detailed Ausangate Gear List. 

Rounding out Your Peru Trip
Peru is best known for Machu Picchu, which gets the lion's share of the tourism attention and certainly doesn't disappoint. Almost all travelers end up wanting to visit Machu Picchu and the Sacred Valley, for which there are a wide range of options. We'll say this: on our Ausangate itinerary, we thoroughly enjoyed our full-day hike into Machu Picchu, which included organically coming down through the Sun Gate in the late afternoon when many of the crowds had left for the day. We had almost two hours where we felt like we had Machu Picchu to ourselves.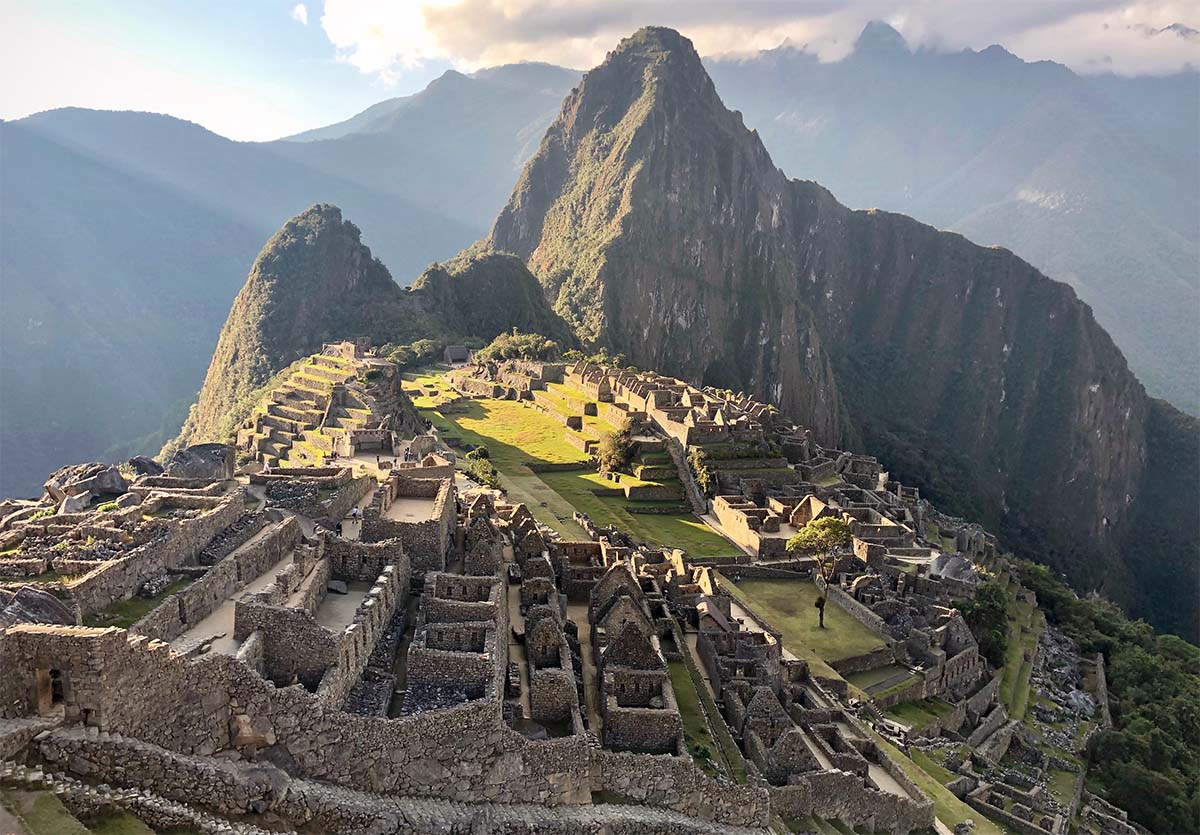 The next morning, we joined the masses for the 5am breakfast, chaotic bus line in Aguas Calientes (although apparently less chaotic than in the past), and windy bus ride up the mountain to meet our required entry time. That day was much less enjoyable, at least for me. If time and your group dynamics allow, I would heartily recommend doing some form of a hike into Machu Picchu (the options range from one day to multiple days with camping). The Inca settlements you visit on the way are extremely impressive in their own right (more are being unearthed to this day), there are far fewer people, and the late afternoon Sun Gate entrance is a lifetime memory.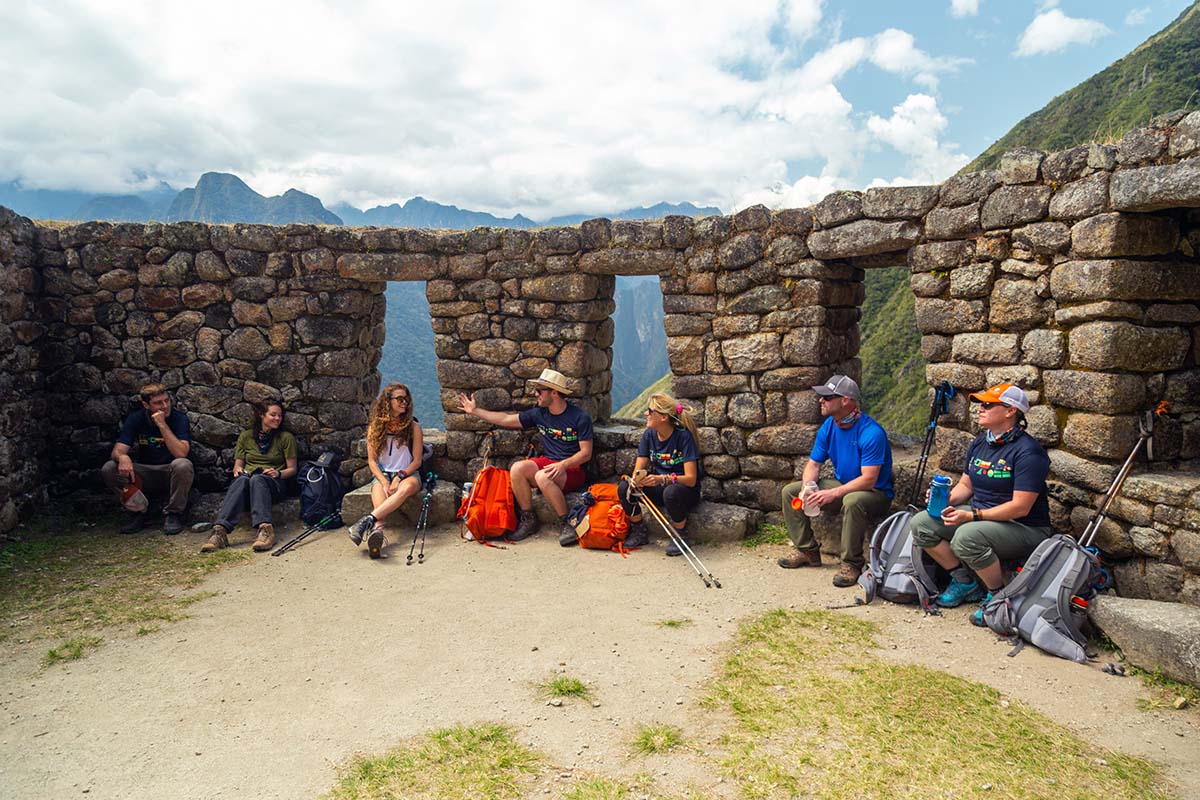 Our REI Adventures itinerary included exactly that: a couple of days in Cusco and the Sacred Valley, a full-day hike into Machu Picchu and back up the next day, capped off by the five-day Ausangate Trek. It's a great itinerary that I thought was nearly perfect for a Peru trip, but those with less time certainly can consider the Ausangate Trek a la carte.   

Final Thoughts on the Ausangate Trek
I've been lucky to do a number of world-class treks, and without a doubt, Ausangate was one of the very best. It offers superb alpine scenery, a challenging route, very few people, a strong cultural component, and a beautiful country that exceeded my already lofty expectations. For those who like hiking and mountains, it's an epic trip.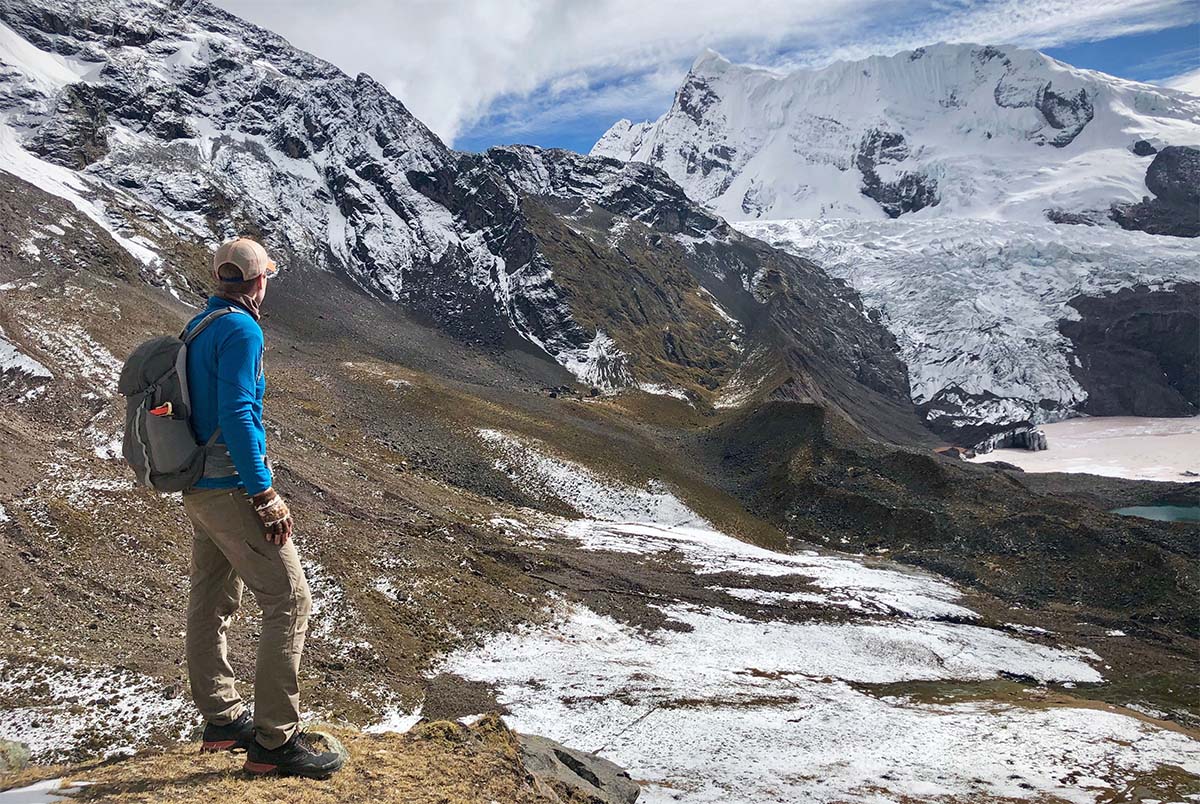 Comparisons to other travel experiences are tricky and I often avoid them, but a few may be helpful here in providing some context. With dramatic, glacier-capped mountains that reach over 20,000 feet in elevation, the Ausangate Trek has a similar feel as Nepal. It's true: the Himalayas are unparalleled as the world's highest mountain range, but Ausangate gets you as high as those treks and just as close (if not closer) to the mountains. Plus, there is no multi-day approach through the jungle here: you drive from Cusco to up over 12,000 feet and spend the entirety of the trek in prime mountain scenery. Add the easy travel from Cusco (it's about three hours on each end), the rustic lodges, and lack of people, and this trek is as good as it gets in my opinion. 
I do hope that Ausangate is able to retain its character as interest increases. The challenging nature of the trek along with the altitude inherently will keep most people out, but this region is stunningly beautiful and virtually empty aside from the hoards at the Rainbow Mountain crossing. The lodges have enough rooms along with a healthy focus on environmental sustainability, but we can't help but think that Ausangate will continue to be discovered and the numbers will grow. Let's all do our part in keeping it pristine.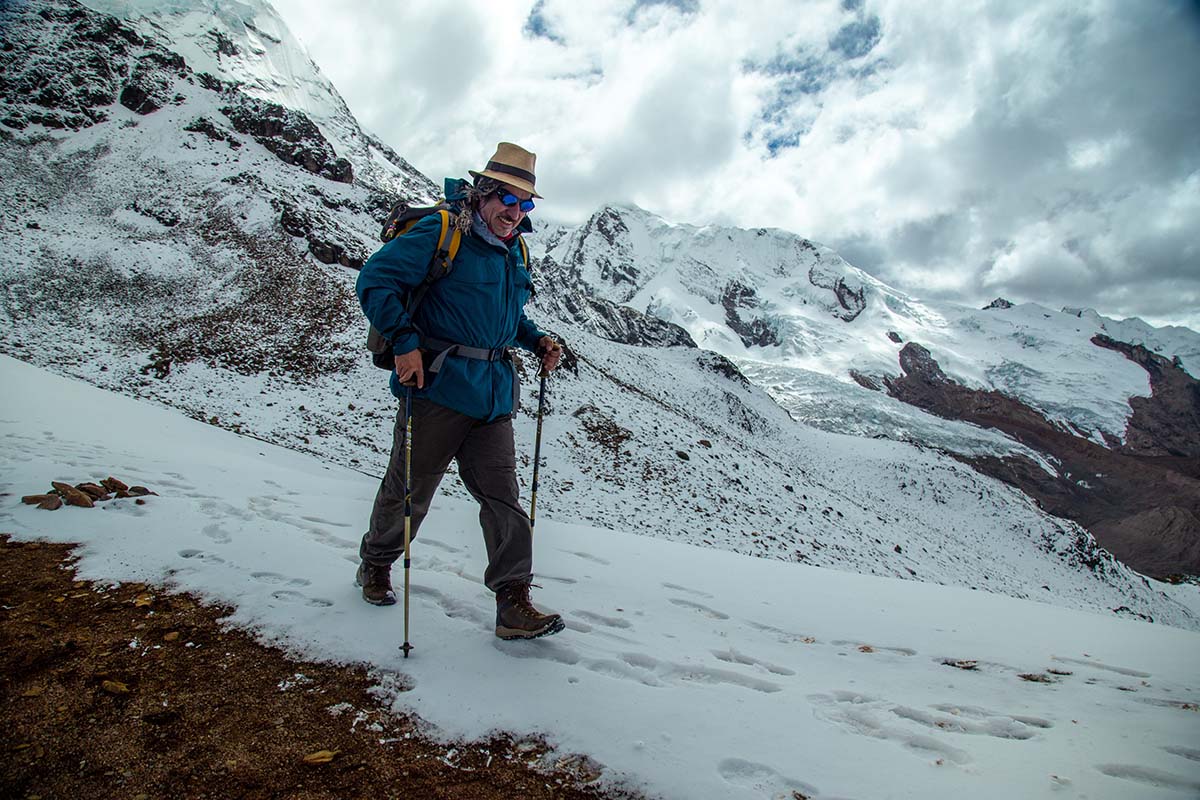 A short story to end on: We were fortunate to have former Minister of Tourism and Culture Roger Valencia along on our trip, and his knowledge of Peru and the mountains was seemingly endless. In addition to fireside chats and trail talk, a couple of things he did really resonated. First, he always would stop and chat with the local people he walked by, no matter who they were. Community is paramount in Peru and these valleys in particular, and the congeniality was palpable. Second, as we hiked the length of the route, Roger often would quietly wander off the trail and pick up plastic bottles and any other small pieces of trash he noticed. He didn't do it for show, nor did he ever say a word about it—not to mention we all were exhausted at the high altitudes, so his energy was impressive. But it's clear that the Peruvian people care about their mountains and act accordingly, which is something we all can abide by and learn from.
Read More From Switchback Travel