Winter traction devices go by a variety of names—including microspikes, snow grips, ice cleats, and more—but the goal is the same: to provide reliable and consistent grip on snowy and icy surfaces. Traction designs range from deep spikes to lower-profile coils and studs, each of which has its strong suits for certain types of terrain and activities. From ubiquitous and everyday-friendly Yaktrax to technical, crampon-like offerings for more demanding backcountry pursuits, we break down the top traction devices of the 2023 season. For more background information, see our comparison table and buying advice below the picks.
 
---
Our Team's Winter Traction Device Picks
---

Best Overall Winter Traction Device
Category: Hiking/running
Weight per pair: 11.9 oz.
Traction: 12 stainless steel spikes (0.38 in.)
Harness: Elastometer
What we like: Tough, packable, and standout traction on steep and icy terrain.
What we don't: Sharp spikes are overkill for use around town; soft and wet snow tends to cake up.
For many hikers, the best winter traction devices balance reliable grip, toughness, and compressibility for stuffing away in a pack, and Kahtoola's MICROspikes check all those boxes emphatically. The 12 stainless steel spikes are moderately deep, burly enough to withstand regular use and abuse, and offer standout traction on steep and icy terrain. Grip is fantastic while hiking and trail running—we were even able to cross a huge log coated in wet ice below a waterfall with full confidence. And despite a fairly middling weight of just under 12 ounces per pair, the MICROspikes pack away quite small and easily disappear into a daypack.
That said, there are a few compromises with the Kahtoola's more aggressive design. First and foremost, the crampon-like build is best used in the backcountry and is overkill for around-town wear. Further, the spikes are so sharp that running can be a little scary, especially if you're prone to clipping your inside heel with the other foot on occasion (we tend to do this on longer runs when we're tired). And despite the moderately wide chains connecting the spikes, soft and wet snow still has a tendency to ball up underfoot. We've found it pretty easy to stomp off, but it's nevertheless an annoyance and fairly common in sloppy conditions. These gripes aside, the MICROspikes put it all together better than most, which is what earns them our top billing for the 2023 season. For another capable all-rounder with a strap over the forefoot for added stability, check out Hillsound's Trail Crampons.
See the Kahtoola MICROspikes
Best Budget Winter Traction Device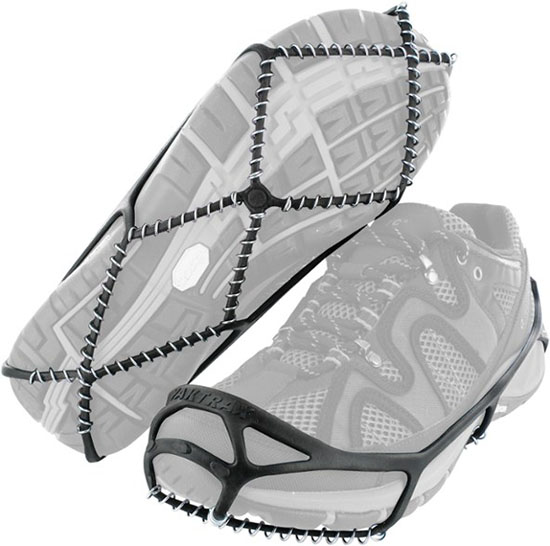 Category: Daily use
Weight per pair: 4 oz.
Traction: 1.2mm steel coils
Harness: Polyelastometer
What we like: An affordably priced and easy-to-use option for casual use.
What we don't: Lacking in versatility and durability.
The MICROspikes above are an excellent performance option for intrepid winter hikers, but the aggressive spikes are overkill for more casual activities like running errands around town or shoveling the driveway. Enter the Yaktrax's flagship Walk snow grips, which trade spikes for low-profile steel coils that stretch across the bottom of your shoe or boot. The design is very light at just 4 ounces per pair, easy to get on and off with a stretchy polyelastometer harness, and affordably priced at just $25. Added up, the Walk is a great all-around value, even if you only wear them once or twice a season.
The biggest tradeoffs to the Walk's budget-friendly design are lack of versatility and durability. The coils bite decently well into harder surfaces like ice and packed snow and are less prone to clogging up than the MICROspikes above, but they're not built for covering technical terrain or navigating steep slopes. A number of hikers have also reported premature deterioration—particularly along the rubber netting underfoot (most designs use metal)—which gives us pause in recommending them for anything more than light around-town and daily use. But buying a few pairs of Yaktrax will cost you the same as just one pair of MICROspikes, which is appealing for casual and occasional users.
See the Yaktrax Walk
Best Traction Device for Winter Running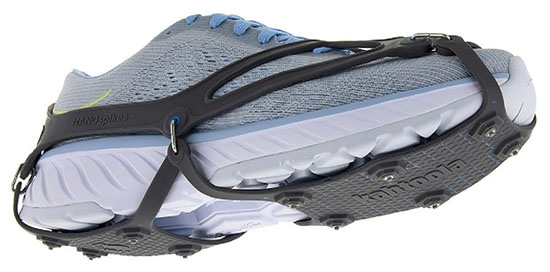 Category: Running/daily use
Weight per pair: 8 oz.
Traction: 10 tungsten carbide studs (0.21 in.)
Harness: Elastometer
What we like: Low-profile studs provide excellent bite on flat, icy surfaces.
What we don't: Grip falls short on steep terrain and in snow.
Winter runners require reliable and confidence-inspiring grip for moving quickly over slippery terrain, and Kahtoola's NANOspikes are well suited for the job. Despite the name, the NANOspikes utilize 10 shallow tungsten carbide studs underfoot rather than true spikes, which helps them bite into frozen-over pavement and other flat, icy surfaces. To aid in preventing slippage, the TPU toe bail also keeps the toe nicely in place to minimize unwanted play at the front, and the large rubber platform underfoot maximizes contact with the ground. We've worn the NANOspikes immediately after freezing rainstorms in the Pacific Northwest and have been consistently impressed by how well they dig into slick ground.
That said, it's important to clarify that the NANOspikes are not grippy enough to take into steeper and more unpredictable terrain. They can handle undulating and hilly city streets and sidewalks, but they struggle on rocky and rougher surfaces typical of many trail networks. And while the aforementioned rubber section at the bottom does help with staying connected to the ground, it also means you lose out on some grip in fresh snow. Finally, our pair is starting to show considerable wear, although we've gotten a few solid years of use out of them. All told, the NANOspikes fall short for more intensive uses like trail running and hiking, but they're an excellent choice for dedicated road runners who stick to well-maintained paths and pavement.
See the Kahtoola NANOspikes
Versatile Design for City and Trail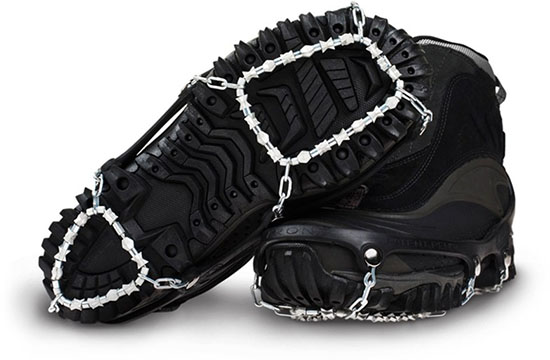 Category: Daily use/hiking
Weight per pair: 11.9 oz.
Traction: Steel alloy beads
Harness: Rubber
What we like: A sizable step up in all-around performance from the Walk above.
What we don't: Yaktrax aren't known for their durability.
We covered Yaktrax's coil-equipped Walk device above, but their pricier ICEtrekkers Diamond Grip uses a slightly different design for better traction over a wider variety of surfaces. In this case, Yaktrax utilized steel alloy "beads" strung across steel cables, forming a wide platform made up of hundreds of sharp edges that nicely bite into hardpack and ice. In addition to being a nice option for light winter hikes, we also like the ICEtrekkers for everyday uses like shoveling and commuting, and they've proven to be especially helpful for snow-blowing steep driveways. All told, if you're looking for a pair of ice grips for both daily and light performance use, the Yaktrax ICEtrekkers Diamond Grip are a versatile and still affordably priced pick.
Many Yaktrax models have been plagued by reports of durability and fit issues over the years, and the ICEtrekkers Diamond Grip is no exception. Specifically, there's no safeguard at the heel or toe to prevent the device from slipping off your shoe, which makes it easy to lose on the trail if you're not paying close attention (the tradeoff is that they're very quick and simple to put on). Some have also experienced the steel cable breaking and after just a handful of outings, which seems to be especially probable when walking over trickier terrain like thick ice. To be fair, there are many happy Yaktrax users (ourselves included), but it's important to recognize their limitations and stick to easier hikes and daily use.
See the Yaktrax ICEtrekkers Diamond Grip
Best Non-Technical Crampon for Alpine Use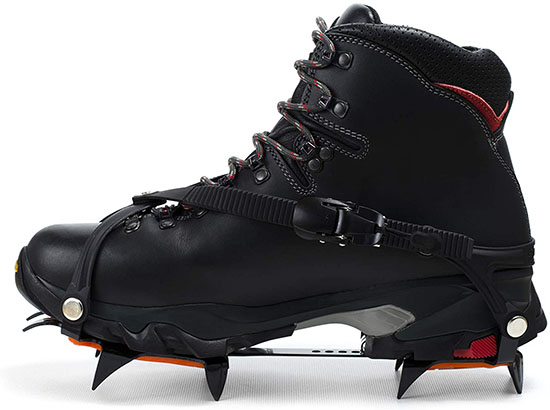 Category: Hiking
Weight per pair: 1 lb. 7.5 oz.
Traction: 10 carbon steel spikes (0.75-1-in.)
Harness: Plastic ratcheting system
What we like: A nice middle ground between microspikes and mountaineering crampons.
What we don't: Not durable enough for true technical ascents.
Hillsound doesn't have the name recognition of brands like Yaktrax or Kahtoola, but they offer some of the highest-performing and most well-made traction devices on the market. Sitting at the very top of their lineup is the Trail Crampon Pro, which is purpose-built for aggressive winter backcountry pursuits like high-alpine trekking. The design is essentially a mix between a traditional crampon and standard pair of microspikes, with an easy-to-adjust ratcheting system that fits over most boots and 10 ultra-deep (0.75-1 in.) carbon steel spikes—including two at the front—for digging into thick ice and packed snow. If your winter hiking objectives involve crossing ice sheets, low-angle snow fields, or slippery boulder fields, the Trail Crampon Pro is a great tool for the job.
However, don't mistake the Trail Crampon Pro for a true mountaineering crampon. It's an excellent choice for days when microspikes aren't enough, but it's not designed for technical ascents or ice climbing. In particular, the Hillsound's plastic adjustment system is much less robust and won't stand up well to more demanding and vertical alpine pursuits, and it's not built to accommodate mountaineering boots (automatic crampons have wire toe bails and heel clips for more secure attachment). However, for low- to medium-grade backcountry ascents that don't quite warrant the use of a true crampon, the Trail Crampon Pro is a lighter alternative and a nice compromise. In this category, it's also worth checking out Kahtoola's K 10 Hiking Crampons and Hillsound's cheaper Cypress6, which is a bit less aggressive with no front spikes.
See the Hillsound Trail Crampon Pro
Best of the Rest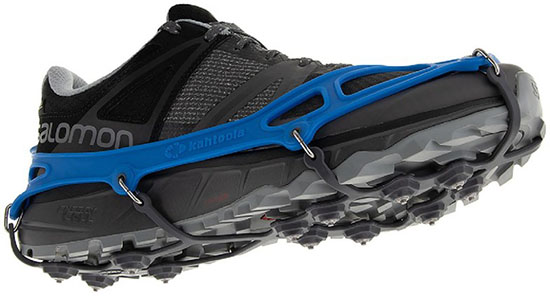 Category: Running/hiking
Weight per pair: 7.3 oz.
Traction: 12 tungsten carbide studs (0.29 in.)
Harness: Elastometer
What we like: A versatile option for trail running and light hiking.
What we don't: Not as packable or performance-focused as the MICROspikes above.
Splitting the difference between the MICROspikes and NANOspikes above are Kahtoola's EXOspikes. In this case, you get 12 tungsten carbide studs for grip, which are slightly deeper than those on the NANOspikes above (you also get two more of them). But the biggest difference is that the EXOspikes have a more open design between the metal tips, which allows them to shed snow more readily and promotes better flexibility underfoot (it also means you can still get some traction from your shoes' tread). For trail runs and winter hikes that don't require aggressive bite, the EXOspikes are a well-built and versatile option.
Like many designs that aim to do it all, however, the EXOspikes strike us as a jack of all trades but master of none. For reference, the NANOspikes' lower-profile tread and larger swath of rubber are a better match for flat urban settings like streets and pavement. And compared to the top-ranked MICROspikes, the EXOspikes pack down noticeably larger, which is a slight downside for hauling in a running pack (although they're a considerable 4.6 oz. lighter per pair). Finally, we've experienced a good amount of slippage and instability on steep descents, particularly over hard ice. In the end, the EXOspikes are a solid all-rounder for trail running and light hiking, but they fall short for serious outings in more challenging conditions (the MICROspikes win out here) and road running in urban settings (we'd go with the NANOs).
See the Kahtoola EXOspikes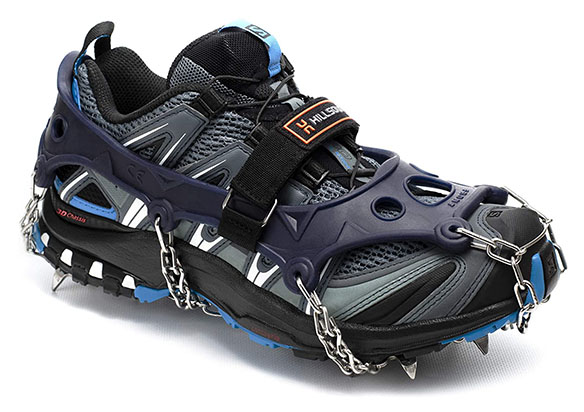 Category: Hiking/running
Weight per pair: 14.3 oz.
Traction: 18 stainless steel spikes (0.5-0.67 in.)
Harness: Elastometer w/ Velcro
What we like: Velcro strap across the forefoot offers a nice boost in security; great grip on ice and hardpack.
What we don't: Heavier and bulkier than the MICROspikes above.
Hillsound's top-end model is their alpine-ready Trail Crampon Pro above, but for a step down in performance and price, the Trail Crampon Ultra here wins out in versatility. The overall design is very similar to Kahtoola's MICROspikes above, with deep stainless steel spikes for digging into steep and icy ground. In parsing out the differences, the Trail Crampon Ultra's spikes are more aggressive (0.5-0.67 in. compared to the Kahtoola's 0.38-in. depth), and you get 18 versus the MICROspikes' 12 per foot. But perhaps the most notable difference is the Hillsound's Velcro strap across the forefoot, which locks the device in place and provides a considerable boost in security—especially helpful when covering more treacherous ground. This does add another step to the on and off process, but the Trail Crampon Ultras nevertheless are quick to adjust, dig very well into ice and hardpack, and are quite runnable due to their light but secure feel.
The Trail Crampon Ultra is a highly capable pick for winter hiking and crosses over well for short runs, but it's not a  weight leader at 14.3 ounces per pair. The Hillsounds also have a noticeably larger packed size than Kahtoola's similarly built MICROspikes above—in their storage bags, the Trail Crampon Ultras are nearly twice the size of the Kahtoolas, although the Hillsound's bag is substantially thicker and more abrasion-resistant. In the end, we feel the upgrades in durability, traction, and fit are worth the weight penalty for most uses, but the added bulk remains a notable downside for fast-and-light objectives. And if you're looking for something a little less aggressive for moderate trail use, check out Hillsound's popular (and $24-cheaper) FreeSteps6.
See the Hillsound Trail Crampon Ultra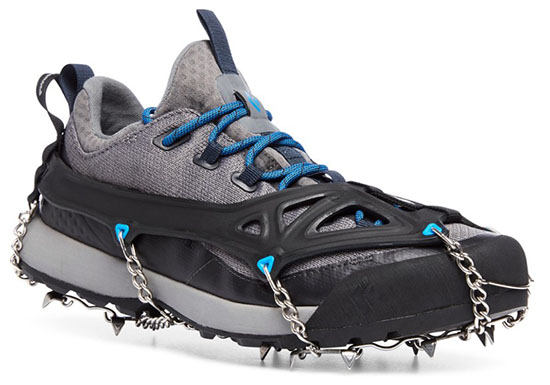 Category: Hiking/running
Weight per pair: 8.8 oz.
Traction: 14 stainless steel spikes (0.31 in.)
Harness: Elastometer
What we like: A more aggressive and lighter alternative to the MICROspikes above.
What we don't: Also pricier and more fragile.
Black Diamond is one of the biggest names in technical mountain equipment, so it comes as little surprise that they make some great traction devices. Our current favorite in their collection is the Access Spike, which goes head-to-head with Kahtoola's MICROspikes above. With 14 stainless steel spikes, including one at the front for maintaining grip on steep slopes, the BD is a slightly more aggressive alternative to the Kahtoola (which has 12 spikes) while checking in around 3 ounces lighter per pair. Throughout testing, we've found the Access Spike to be secure, very easy to get on and off (the webbing loop at the heel is a nice touch), and plenty grippy for demanding hikes and icy trail runs.
Why do we rank the MICROspikes higher? Despite costing the same, the Kahtoolas have a better track record when it comes to longevity. This is likely due to the Access Spike's lighter-weight build, and the chain and spikes in particular feel noticeably thinner and less robust. We haven't experienced any durability issues to date after a full winter of use, but we've been careful to avoid stepping on rocks and other dry sections of trail. But if you take reasonable care, the Access Spike should have a decently long lifespan.
See the Black Diamond Access Spike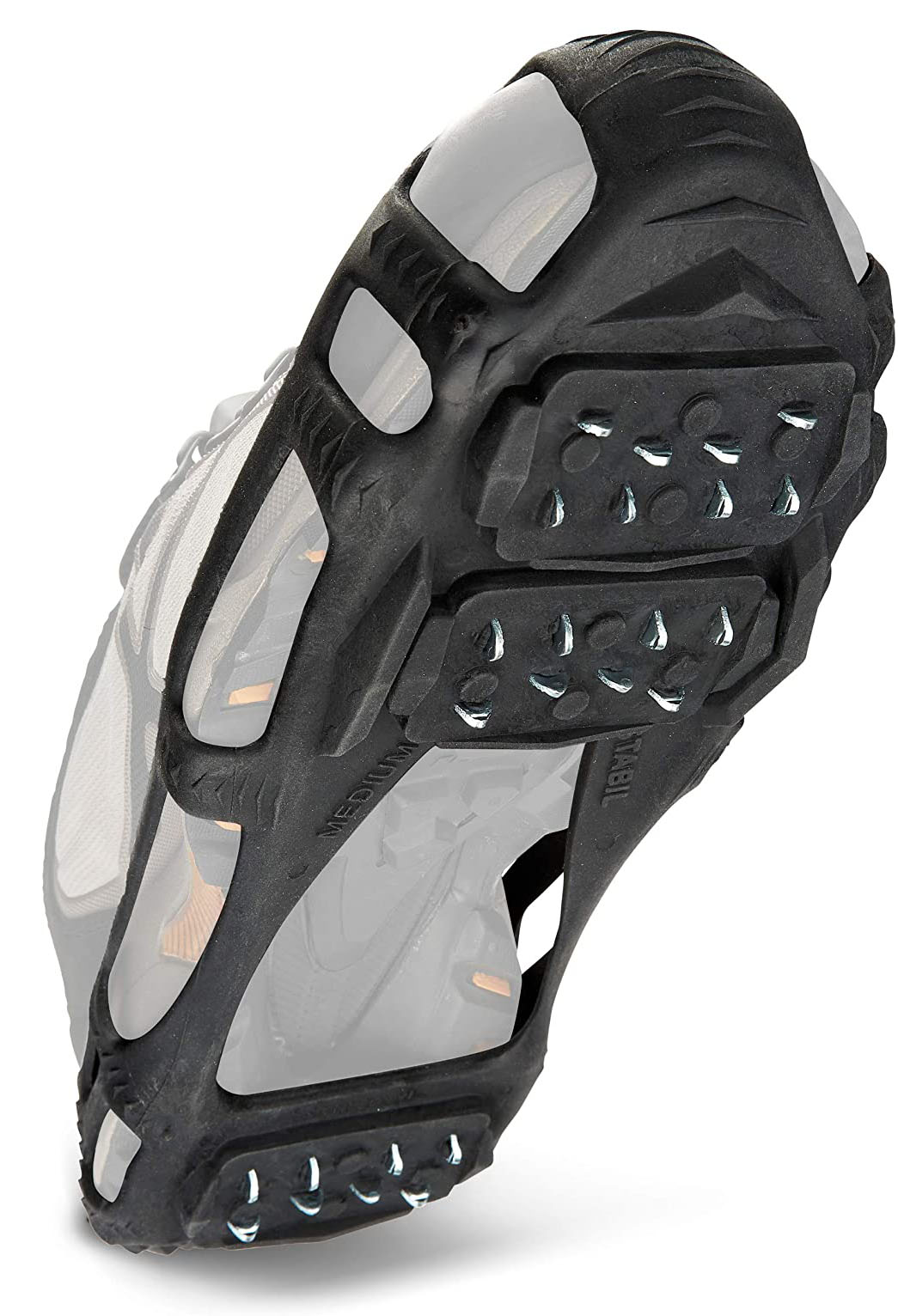 Category: Daily use
Traction: Multi-directional spikes
Harness: Elastometer
What we like: Additional boot-like lugs maximize contact with the ground.
What we don't: Not a performance option and runs very small.
STABILicers' Walk takes a slightly different approach to traction than the models above. In this case, you get three panels of multi-directional "cleats" (essentially shallow spikes) covering the bottom of the device—including two at the forefoot and one at the heel—with an open section in the middle exposing some of your shoe's tread. The sides and front of the Walk also boast additional boot-like lugs to maximize grip, providing a bit of added contact with the ground. The net result is good all-around grip on icy streets, driveways, and other flatter, smooth surfaces.
If it isn't already obvious from looking at the STABILicers Walk, this is not a high-performance option. The small spikes won't bite well into thick ice or snow, and we wouldn't advise attempting to navigate any steep inclines or rough terrain. Another big issue is fit: Many users report that the Walk runs extremely small, so we recommend trying them on in person or purchasing from a reputable retailer with a well-documented return policy. If you can nail the sizing, however, the Walk is an affordably priced and perfectly serviceable pick for around-town use, running errands, or shoveling the driveway.
See the STABILicers Walk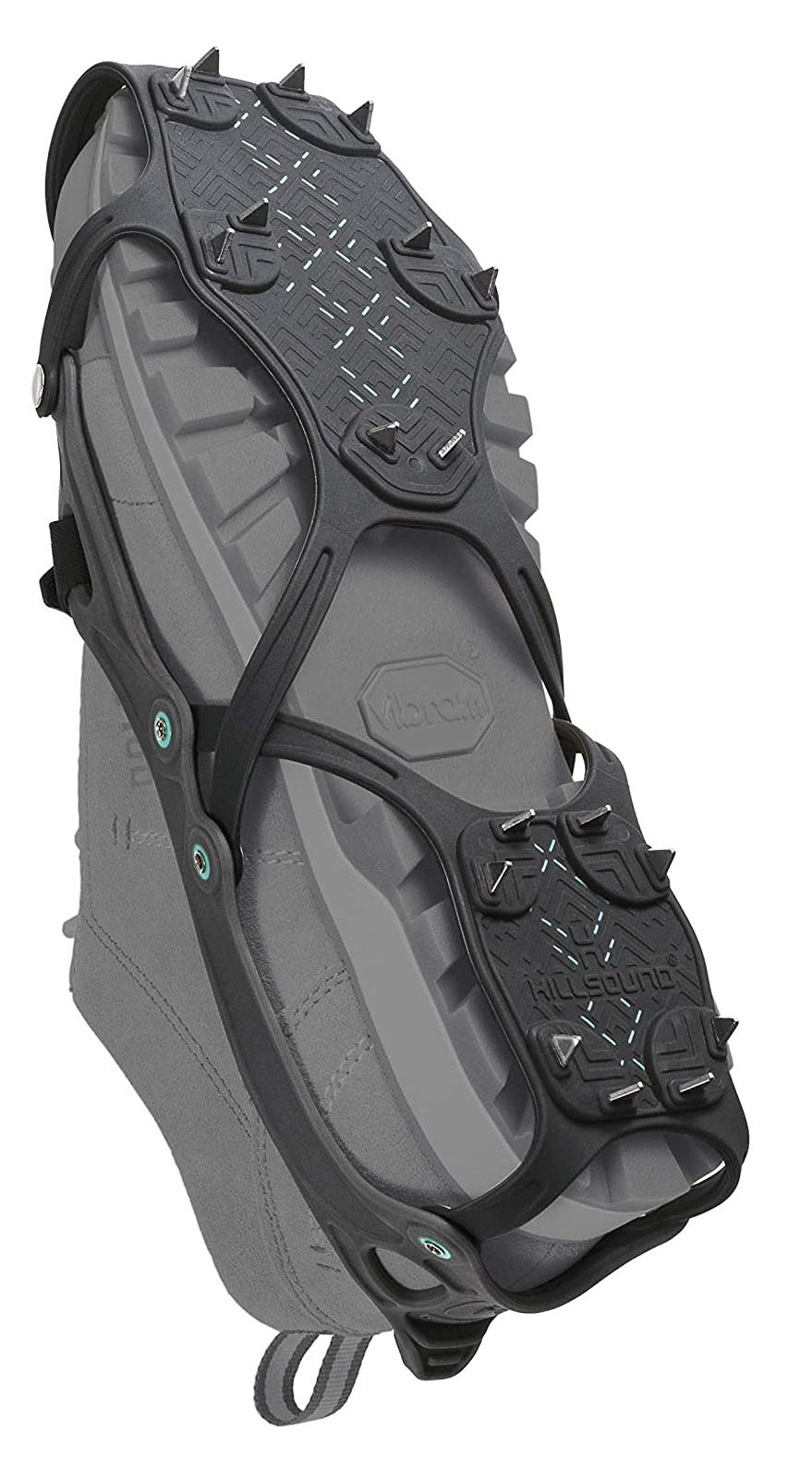 Category: Daily use/hiking
Weight per pair: 12.3 oz.
Traction: 18 stainless steel spikes (0.25 in.)
Harness: Elastometer w/ Velcro
What we like: Chain-free system can accommodate a wide variety of footwear styles.
What we don't: It's also more prone to caking up in wet snow.
Hillsound's Trail Crampon Pro and Ultra above are built for serious outdoor use, but those looking for a daily pair of ice grips for walking or shoveling will likely find the FlexSteps here more appealing. The bottom of the device looks a little different than most other models on our list, with a chain-free system that's designed to accommodate a wider range of footwear styles, from low-profile casual shoes and trail runners to burly hiking boots. The 18 stainless steel spikes aren't particularly aggressive at only 0.25 inches long, but they bite well on icy roads and pavement, and the namesake flexible spike plates promote a natural, comfortable gait.
That said, while we appreciate that the FlexSteps will work with pretty much any shoes or boots, the lack of openness at the bottom—combined with the fairly shallow spikes—means that the device is more prone to caking up in wet and heavy snow. The FlexSteps are perfectly fine on packed snow, ice, and other harder surfaces, but having to stop and clean them off frequently isn't ideal if conditions turn warm and soggy mid-day. This issue is enough to push the Hillsound to a midpack finish, but it's nevertheless a viable option for those who want a capable daily driver with a secure and accommodating fit.
See the Hillsound FlexSteps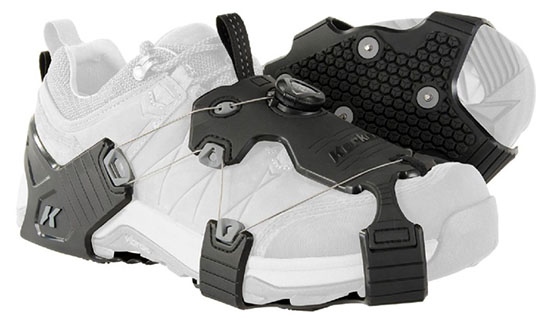 Category: Daily use
Weight per pair: 10 oz.
Traction: 11 steel studs
Harness: Boa L6 lacing system
What we like: Boa adjustment system makes it quick and easy to dial in fit.
What we don't: Replaceable studs tend to pop out; only compatible with low-profile shoes.
On first glance, it's pretty easy to see that Korkers' Ice Walker looks a little different than the devices above. The most obvious distinction is the Ice Walker's thick rubber upper with a Boa cinch at the top, which allows you to quickly and easily dial in tightness with the twist of the knob to create a snug, custom fit. Underfoot, the Ice Walker is similar to Kahtoola's NANOspikes above, with 11 steel studs spread across a wide rubber platform. As the name suggests, they're built more for walking and daily wear than running (the design is decidedly bulky and far from streamlined), but overall grip nevertheless is excellent on flat, icy ground.
Our biggest gripe with the Ice Walker is that the steel studs have a tendency to pop out. We appreciate that Korkers sells replacement tips (a 12-pack costs $10), but the push-through design makes it very easy for them to get lost. Another issue is shoe compatibility: Given the tension-based system, the Ice Walker is only designed to work with low- to mid-volume running shoes, and those planning to wear burlier hiking or winter boots might run into fit issues. Finally, as we saw with the NANOspikes above, the Ice Walker doesn't do well in fresh snow due to the full-coverage platform. All that said, if you've struggled to get a good fit with standard elastometer and rubber models, it's worth giving the Boa-equipped Ice Walker a try. For a cheaper offering from Korkers with similar adjustability but fewer studs, check out their Ice Commuter.
See the Korkers Ice Walker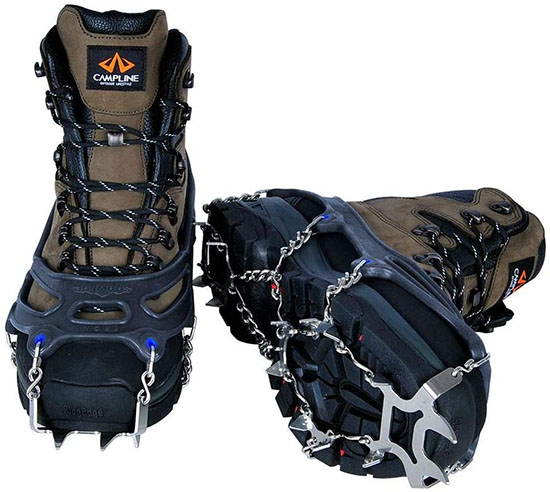 Category: Hiking
Weight per pair: 13.1 oz.
Traction: 14 stainless steel spikes
Harness: Elastometer
What we like: Robust and confidence-inspiring bite on more technical trails.
What we don't: Decidedly overkill for most moderate winter hikes and daily use.
Snowline's Chainsen series runs the gamut from the minimalist and everyday-friendly City model to the aggressive and performance-focused Ultra listed here. Right off the bat, we'll note that it's relatively expensive at $80 (behind the $89 Hillsound Trail Crampon Pro above and $100 BD Distance Spike below) and not ideal for daily use, but on-trail performance is hard to beat. The design features burly stainless steel spikes, two of which jut out horizontally at the front (similar to a crampon) for kicking steps and toeing in on steep slopes, and the elastometer harness is equally confidence-inspiring and robust. For those who demand a lot out of their spikes and aren't easy on their gear, the Chainsen Ultra is impressively hardwearing and well built.
We've worn the Chainsen Ultra for a number of more technical hikes, including descending a steep trail into the Grand Canyon on an early spring backpacking trip and hiking up and down one of Colorado's Fourteeners in late-season snow, and it's proven to be a great tool for the job. However, not everyone needs—or will want to pay for—such high levels of performance. For a $5 savings, slightly less aggressive options like the Kahtoola MICROspikes and BD Access Spike above provide similar grip on most terrain while coming in lighter. And if you plan to use your snow grips for activities like shoveling the driveway or commuting, we'd recommend picking up a cheap pair of Yaktrax so that you don't wear down the Chainsen's deep spikes. From a performance perspective, however, we have very few complaints with the Snowline.
See the Snowline Chainsen Ultra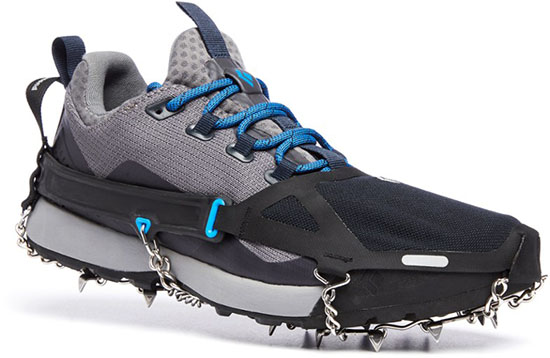 Category: Hiking/running
Weight per pair: 7.8 oz.
Traction: 14 stainless steel spikes (0.31 in.)
Harness: Softshell (toe), elastometer (heel)
What we like: A slightly lighter alternative to BD's Access Spike above.
What we don't: Pricier than the competition with little to show for it.
Black Diamond's Access Spike above is appealing for mountain athletes who need reliable traction for hiking and icy trail running, and their Distance Spike here retains most of that model's capabilities in a slightly lighter and more compressible package. Underfoot, both ice cleats utilize 14, 0.31-inch spikes for digging into ice and packed snow, but the Distance forgoes a standard elastometer harness for a hybrid softshell/elastometer design. This keeps weight low (it's 1 oz. lighter per pair than the Access) while still managing good all-around security. For weight-conscious missions like peak-bagging and FKT attempts, the Distance Spike delivers a nice mix of lightness and on-trail performance.
Why do we have the Distance Spike ranked here? The biggest reason is lack of value: For a considerable $25 less, the Access Spike above provides very similar levels of performance at a negligible weight penalty. Unless you're counting ounces (literally), the difference won't be noticeable for most hikers, trail runners, and other winter adventurers. And although we haven't had any issues to date, the Distance Spike's softshell material at the front strikes us as more susceptible to tears and snags. To be clear, the Distance Spike is a fully capable and well-made design, but it's simply hard to justify the added cost in such a competitive market.
See the Black Diamond Distance Spike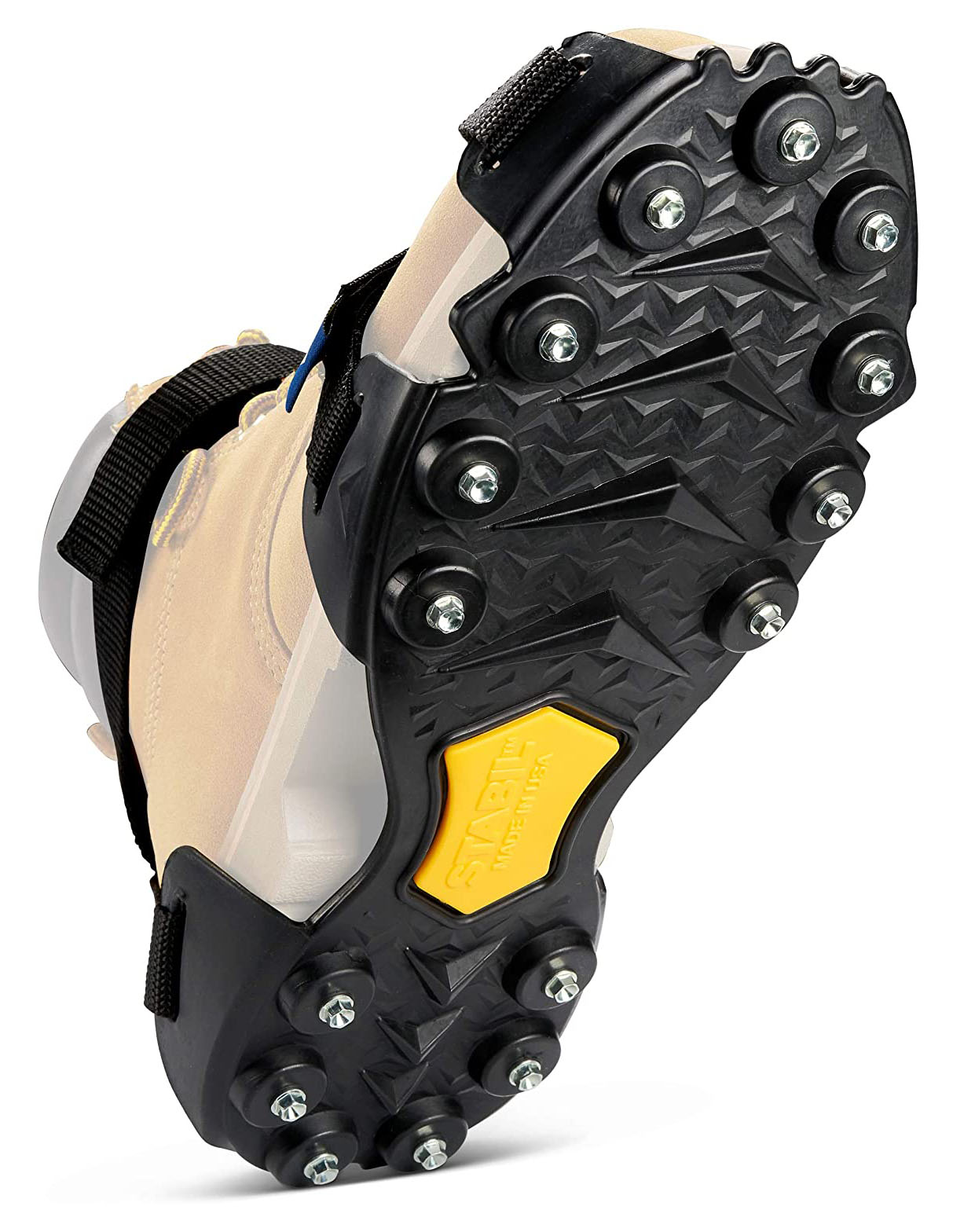 Category: Daily use
Traction: 15 stainless steel studs
Harness: Velcro straps
What we like: Ultra-durable and secure fit for professional use.
What we don't: Limited appeal for recreational users.
STABILicers Maxx 2 is purpose-built for those who work outside in the winter, such as postal carriers, delivery drivers, and rescue professionals. As such, it prioritizes durability and an ultra-secure fit more than most other options here, with thick stainless steel studs for traction and multiple Velcro straps to lock in the toe, forefoot, and ankle. Unlike many other designs, the device also covers the entire sole of your boot to maximize surface contact, with additional tread in the middle to supplement the cleats along the edges.
Given its professional slant, the STABILicers Maxx 2 has limited appeal for most recreational users. The full-coverage sole in particular is fairly rigid and therefore not a great option for hiking (which requires flexibility for navigating undulating terrain), and the platform-style design doesn't allow much room for error when it comes to sizing. This can cause compatibility issues if you plan to swap between different styles of footwear, such as trail runners and winter boots. These constraints limit the Maxx 2's overall appeal, but there's a reason they're so popular among those who work in the outdoors in the winter, and they can easily pull double-duty for labor-intensive chores like shoveling, snowblowing, chopping wood, and more.
See the STABILicers Maxx2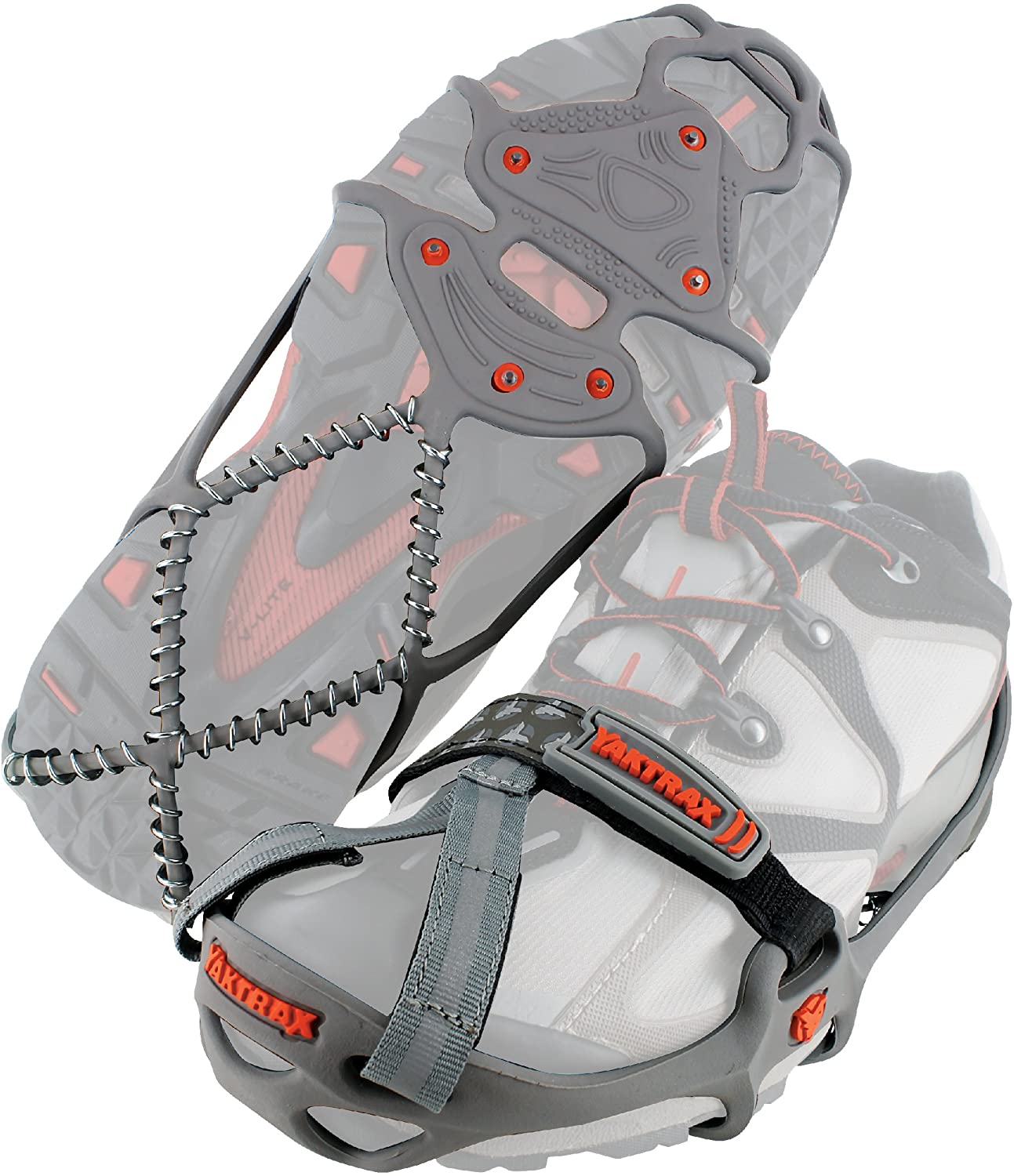 Category: Running
Weight per pair: 11.7 oz.
Traction: 1.4mm steel coils w/ 6 carbide steel studs
Harness: Rubber
What we like: Unique hybrid traction layout combines studs and coils to maximize grip.
What we don't: Studs are pretty shallow and susceptible to falling out.
Yaktrax's naming scheme might not be the most creative, but we appreciate that they take the guesswork out of the equation. As its name suggests, their Run is purpose-built for winter runners, with a unique traction layout that combines six removable carbide steel studs under the forefoot with steel coils (similar to their Walk model above) at the heel. In theory, this hybrid design is meant to maximize the performance benefits of both styles, combining good grip at the front with a wider surface area at the rear for maintaining contact with the ground as your foot strikes.
In practice, however, the Yaktrax Run falls short of more traditional offerings like Kahtoola's NANOspikes and EXOspikes above. Yaktrax doesn't list the depth of the studs, but they look and feel noticeably shallower and less aggressive than those on both the NANO (0.21 in.) and EXOspikes (0.29 in). Additionally, as we saw with the Korkers Ice Walker above, the removable design means they aren't all that secure and are susceptible to falling out, especially on harder surfaces like pavement or glare ice. But if you're careful and stick mostly to packed snow, the Yaktrax Run should hold up reasonably well and will save you some cash over the Kahtoola models.
See the Yaktrax Run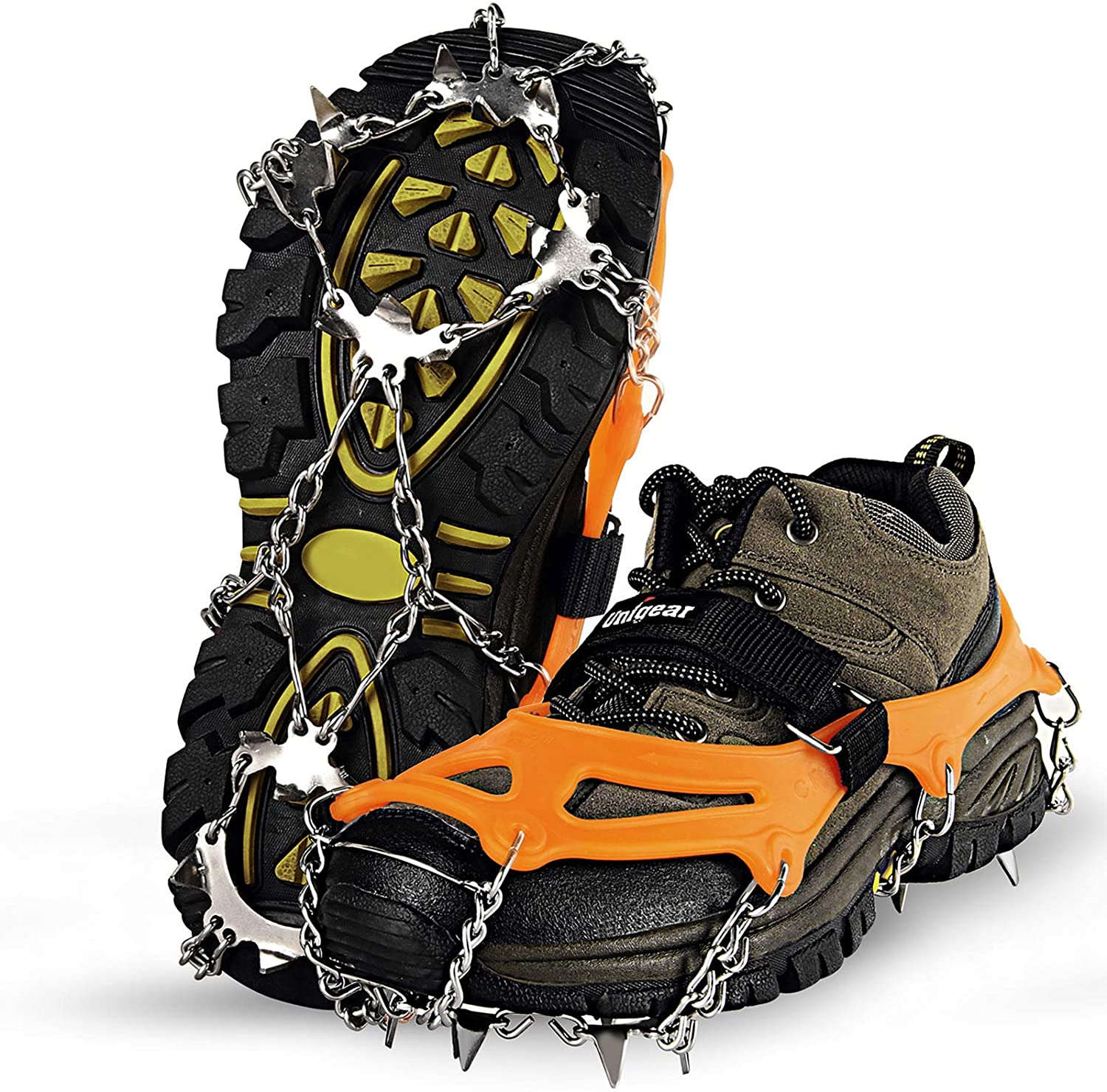 Category: Hiking
Traction: 19 stainless steel spikes (0.51-0.61 in.)
Harness: Elastometer w/ Velcro
What we like: A much cheaper alternative to the Trail Crampon Ultra above.
What we don't: They also look and feel cheaper.
Boasting a strikingly similar look and feature set to Hillsound's Trail Crampon Ultra above are Unigear's Traction Cleats. Both models feature generous and burly tread (the Unigear has one additional spike per device), offer a secure and confidence-inspiring fit with a Velcro strap around the forefoot, and have double-link side chains for added durability and strength. The most obvious (and compelling) difference is price: At just $28 and often available on Amazon for less, the Traction Cleats are tied for the second-cheapest option on our list (right behind the much less capable Yaktrax Walk) and undercut the Trail Crampon Ultra by a significant $51.
That said, despite the undeniably enticing savings, the Unigear falls short of the Trail Crampon Ultra in one key area: build quality. Cutting costs almost always comes with compromises, and in this case, the Unigear's components look and feel noticeably cheaper than the Hillsound's, and many have experienced premature issues with the harness and chain breaking down after just a few outings. If you're an avid winter hiker and regularly rely on your ice cleats to navigate steep and technical trails, we'd encourage spending the added cash for the more trustworthy and time-tested Trail Crampon Ultra. But if you only get out occasionally and stick to mild to moderate trails, the Unigear Traction Cleats have a lot of positive reviews to their name.
See the Unigear Traction Cleats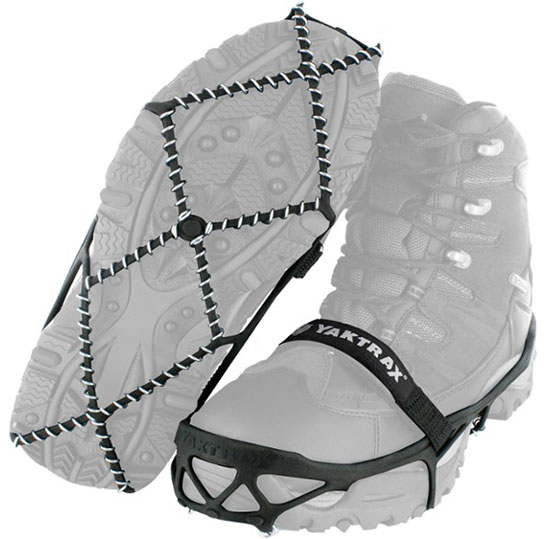 Category: Daily use/hiking
Weight per pair: 7.6 oz.
Traction: 1.4mm steel coils
Harness: Rubber w/ Velcro
What we like: A slightly more performance-ready option than the Walk above.
What we don't: Rubber netting has a tendency to snap under pressure.
The fourth and final Yaktrax model to make our list is their Pro device, which is built similarly to the cheaper Walk above but with a couple key differences. Namely, the Pro utilizes slightly thicker steel coils (1.4mm vs. 1.2mm for the Walk) and adds a Velcro strap across the top of the foot for better hold and a more customizable fit (bonus: It's removable). The Pro does cost $10 more than the Walk and comes with a 3.6-ounce weight penalty per pair, but the burlier coils and extra security add a nice bump in all-around performance for around-town activities and light outdoor use.
Despite these additions however, the Yaktrax Pro still falls short of the competition in both versatility and durability. As with the Walk above, the Pro uses thin rubber netting underfoot to connect the coils rather than more robust chains, which are much more susceptible to tearing and snapping under pressure. This can lead to the coils coming loose and jutting out at the corners of the device, which can then snag on trail obstacles like rocks or roots (or even your other foot). Again, if you set reasonable expectations and use them infrequently, the Pro is an affordable and perfectly viable option. But for those who use their ice grips regularly, we'd spend up for a more hardwearing and trustworthy model.
See the Yaktrax Pro
Winter Traction Device Comparison Table
Winter Traction Device Buying Advice
What Are Winter Traction Devices?
Winter traction devices—also known as microspikes, ice cleats, and snow grips (among other designations)—stretch across the sole of your shoe or boot and are designed to provide added grip on slick winter surfaces like ice or snow. Designs vary widely, from budget-friendly models for around-town use to aggressive options for hiking over steep and icy terrain. There are many factors that contribute to a device's best use, but the most telling is the traction itself: In general, deep, aggressive spikes typically provide the most reliable bite into thick ice and steeper slopes, while shallower studs and wider-spaced coils perform better on flatter and softer surfaces like snow. The difference is pretty apparent when looking at models at the opposite ends of the spectrum, like the Hillsound Trail Crampon Pro (technical) and Yaktrax Walk (casual).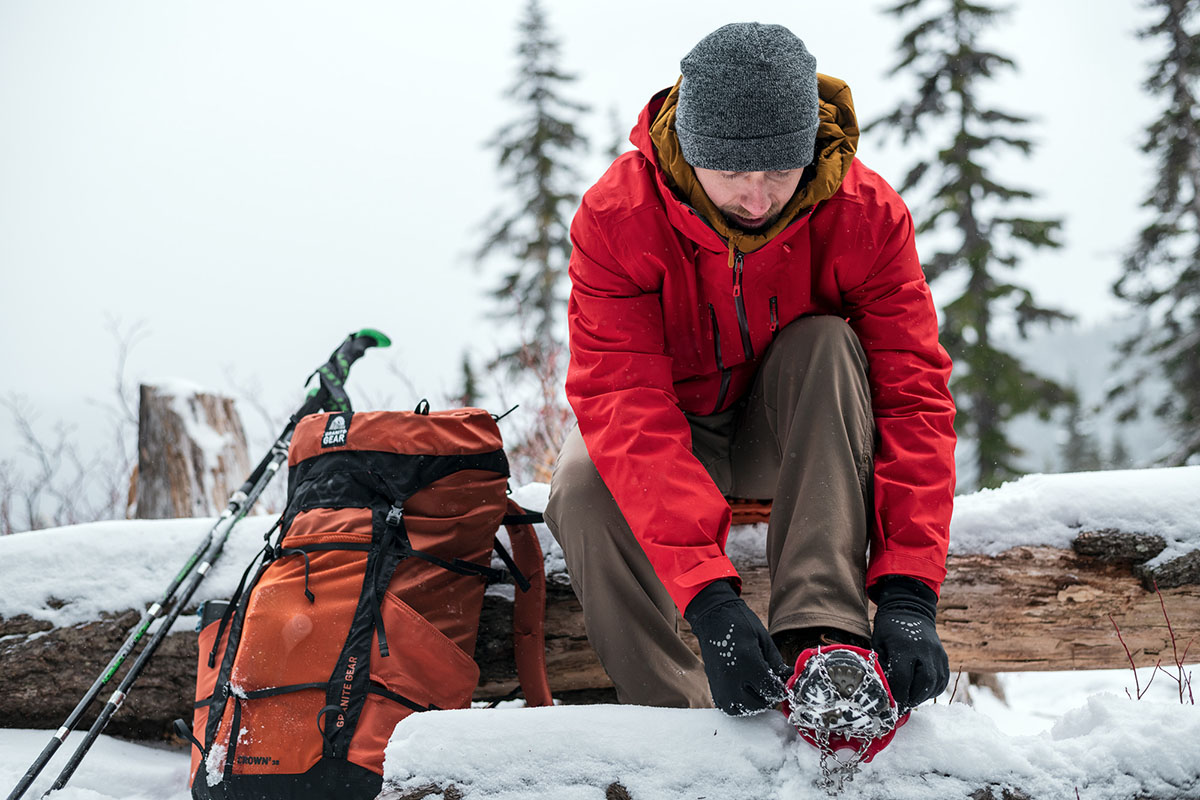 Winter Traction Device Categories
Daily Use
Traction devices that fall into our daily use category are designed to be worn for fairly casual and low-intensity activities like walking the dog, running errands around town, commuting, shoveling the driveway, etc. Compared to models in our hiking and running categories, ice grips made for everyday wear typically cost less than performance offerings and have the least aggressive traction in the form of coils or shallow spikes (typically fewer than microspikes built for hiking). Some of our favorite options in this category include Yaktrax's simple and cheap Walk, their more capable ICEtrekkers Diamond Grip, Korkers' Ice Walker, and STABILicers' Walk. A few more performance-focused designs can also pull doubly duty for daily wear, including Kahtoola's NANOspikes. In the end, if you don't plan to do any hiking or running in your spikes and simply want a pair for navigating icy city streets, an option in this category should be perfectly serviceable.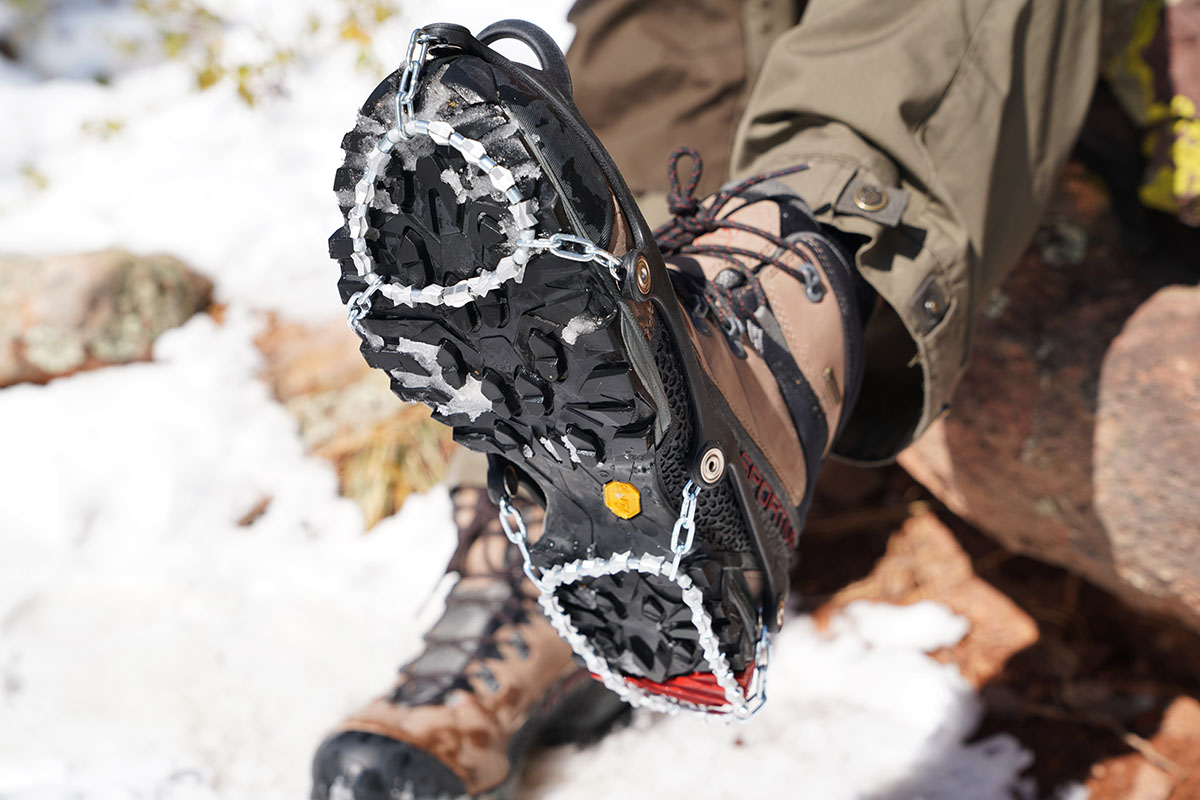 Hiking
For a sizable step up in all-around performance, we turn to traction devices in the hiking category. Ice cleats that hike well often have deep and fairly aggressive spikes (and plenty of them) and durable constructions to withstand regular trail use, including robust chains and elastometer harnesses. Our top pick in this category is Kahtoola's MICROspikes, which checks all those boxes with 12 deep stainless steel spikes for biting into steep and icy terrain and a premium design that can take a licking. Other favorites include Black Diamond's Access Spike and Hillsound's Trail Crampon Ultra, both of which also offer exceptional grip on mixed surfaces. Hiking models see a jump in price compared to those built for daily use, but for avid hikers and other backcountry enthusiasts, the boost in on-trail capabilities is considerable and worth the added investment.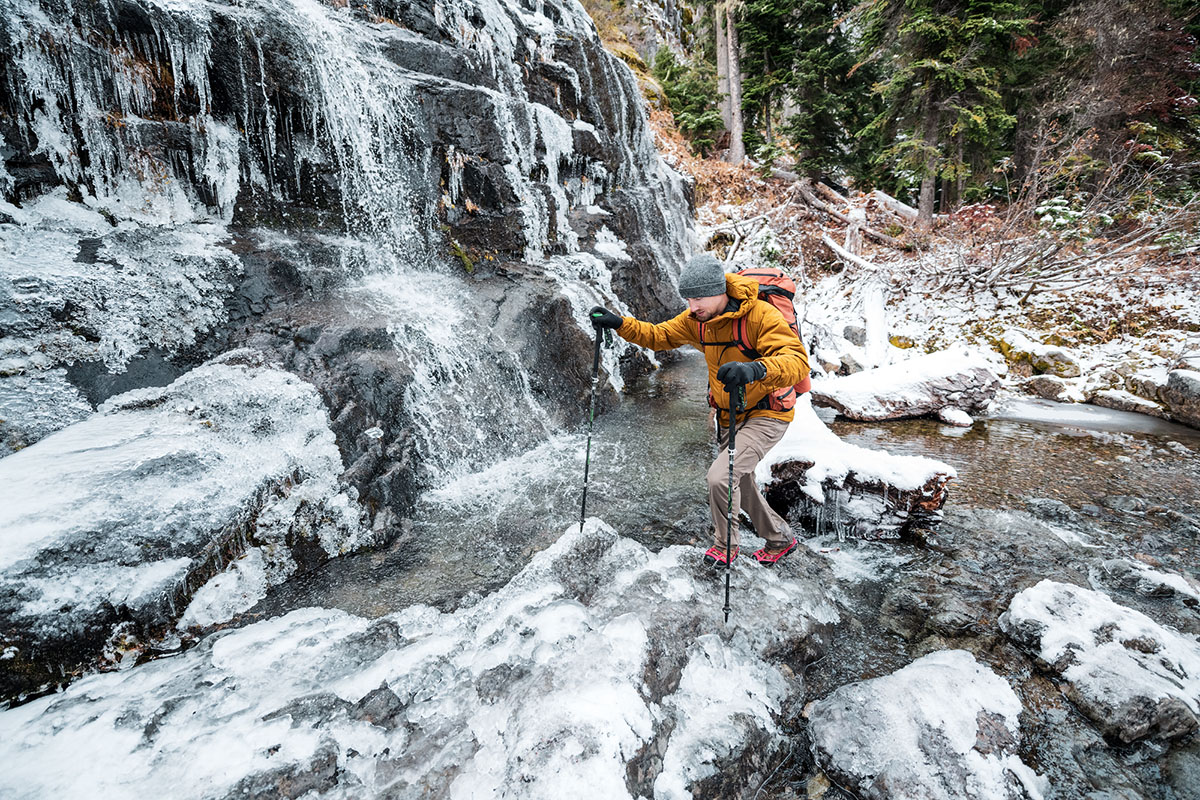 Running
Microspikes built for running are often characterized by a flatter surface underfoot to maximize ground contact and the use of studs rather than spikes or coils. Kahtoola's NANOspikes are a prime example, with 10 tungsten carbide studs spread across a large rubber platform. This layout is great for flatter, iced-over terrain like pavement, but it does fall short on steeper slopes and rougher surfaces (it also sacrifices grip in fresh snow). Kahtoola's EXOspikes and Yaktrax's Run are two other options in this shoe traction device category and vary slightly: The EXOspikes have an open design between the studs, while the Run uses coils at the heel with studs just at the forefoot.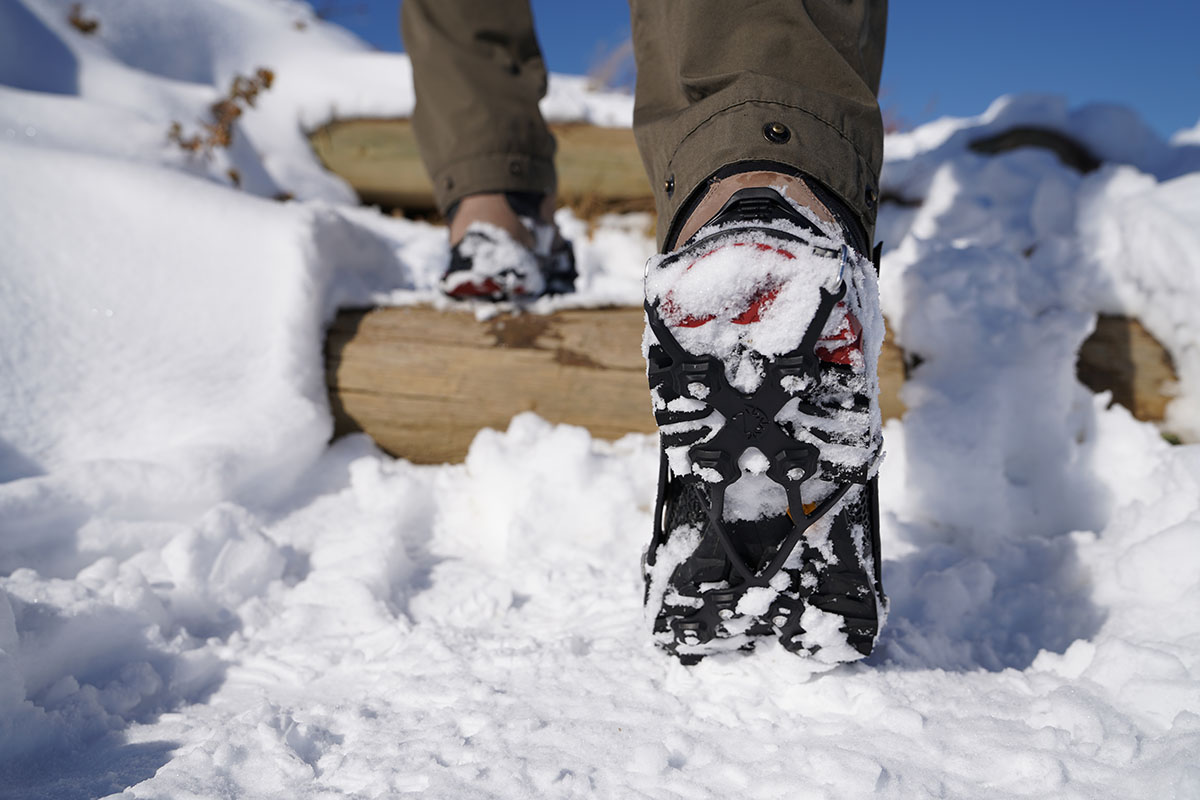 Finally, for those tackling challenging terrain, it may be worth upgrading to a more capable design, including Kahtoola's MICROspikes and Black Diamond's Access and Distance Spike. They're typically heavier than road-running models, but the additional bite from the deeper spikes is appealing for trail and mountain runners that expect to encounter trickier surfaces. We've included a number of capable running options in our picks above, but for a dedicated look at the market, check out iRunFar's piece on the Best Winter Running Traction Devices.

Traction Types: Spikes, Studs, and Coils
As we touched on above, traction comes in the form of spikes, studs, or coils (or a combination) and largely correlates to a traction device's intended use. For instance, the ubiquitous Yaktrax Walk has a steel coiled design that bites decently well into hard surfaces like ice and packed snow and therefore is great for most around-town uses. But the lack of aggressive tread means it doesn't grip well on steeper slopes or mixed terrain. Spikes (typically made of steel) are irrefutably the best option for navigating tricky and technical ground typical of trails, including off-camber slopes, mixed ice and snow, and obstacles like slippery rocks and roots. Finally, studs (often a carbon compound called carbide) are usually found on running-focused models and are noticeably lower-profile and shallower than spikes, which helps them bite into flat, frozen ground but won't dig into thicker ice or snow like spikes do.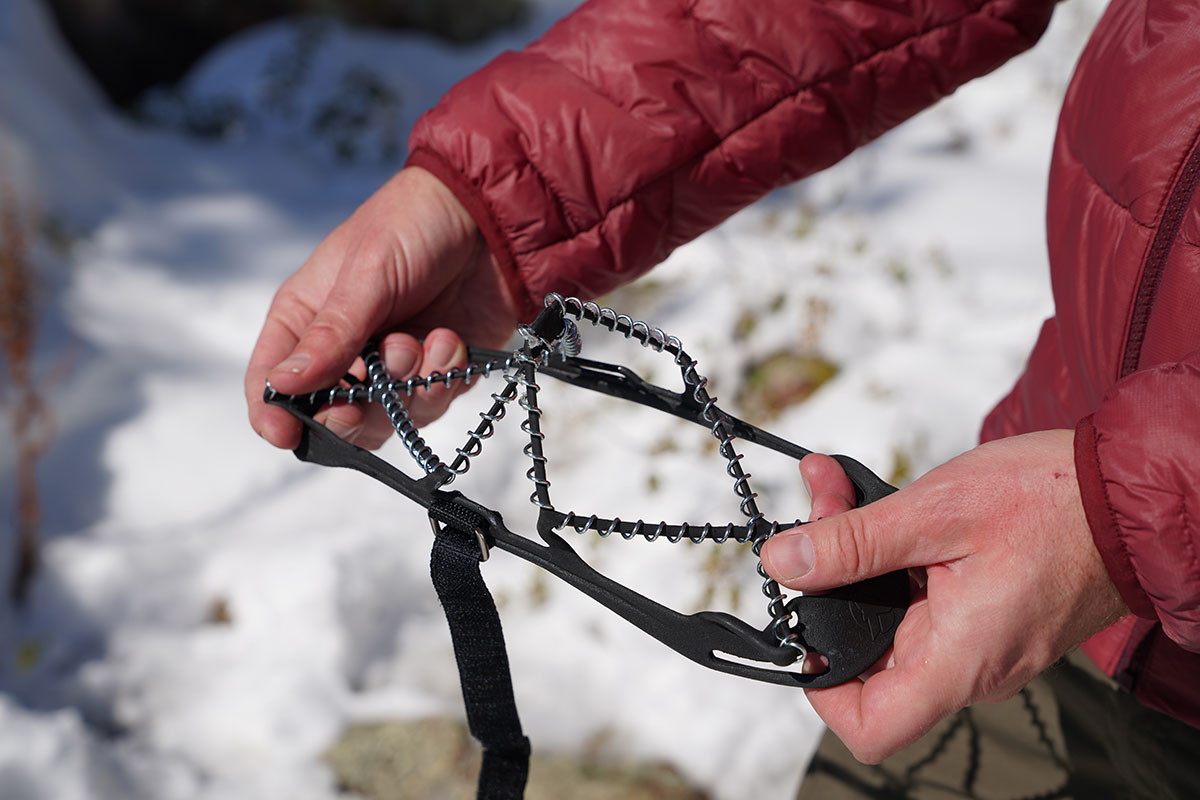 Number and Length of Spikes
All else being equal, having more spikes will translate to more traction. However, spike length is arguably the even more important spec when it comes to measuring aggressiveness. For instance, Hillsound's burly Trail Crampon Pro utilizes 10 spikes that are 3/4- to 1-inch deep, while Kahtoola's MICROspikes boast 12 spikes that are 0.38 inches in length. While the MICROspikes win out in quantity, they're decidedly less confidence-inspiring for navigating more technical alpine terrain like ice sheets and snow fields, where the Trail Crampon Pro's longer spikes can dig in deeper and offer a sizable boost in security. In the end, it comes down to your objectives, but most winter hikers will be perfectly happy with all-rounders like the MICROspikes or Black Diamond's Access Spike. And if you frequent particularly steep trails, consider a model with dedicated spikes at the front, such as Snowline's Chainsen Ultra or the aforementioned Access Spike.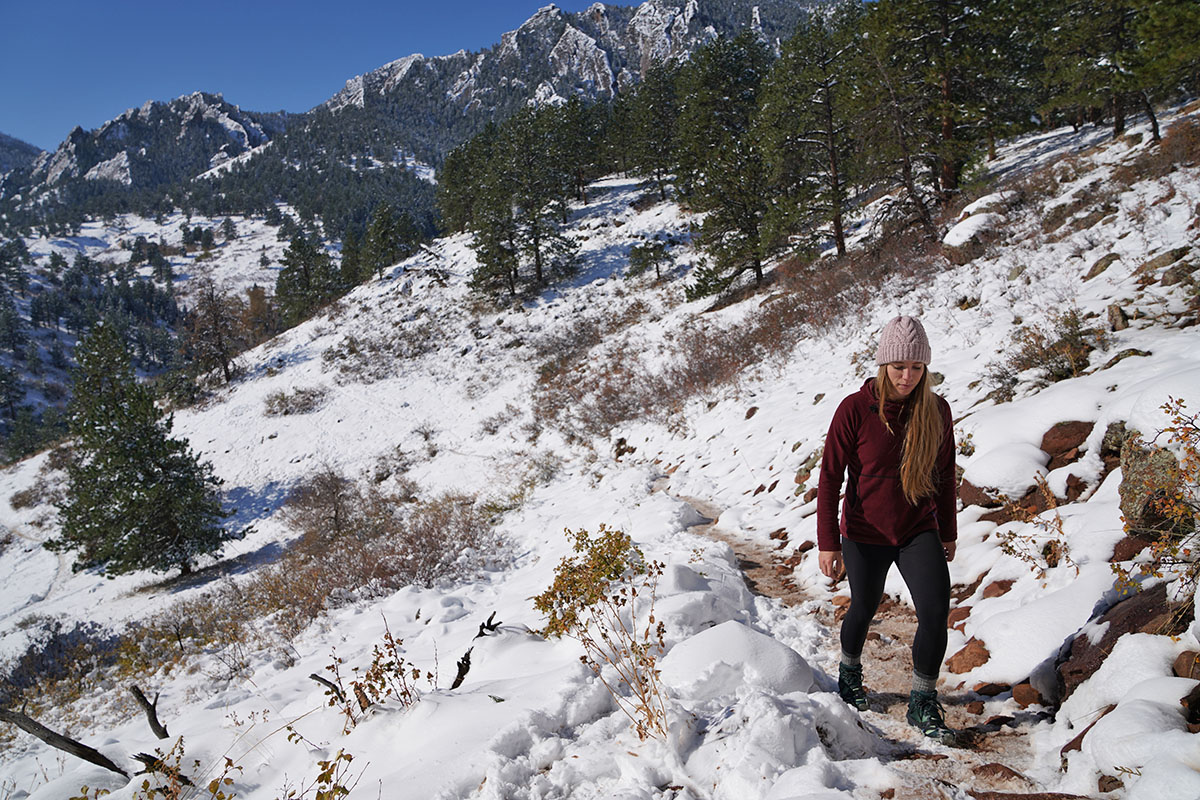 Harness Construction and Security
A traction device's harness is what secures it to your foot, including the rear and front bands that stretch over your shoe and any adjustment points at the top of the foot. The gold standard in the world of microspikes is the elastometer harness, which is a thermo-plastic material that combines the flexibility of rubber with the durability and light weight of plastic. In general, these are easy to get on and off, stay in place, and can accommodate a wide range of foot sizes and shapes. Most of the more premium options on our list feature this type of harness, while some cheaper designs like Yaktrax's ICEtrekkers Diamond Grip and Run utilize standard rubber, which is equally stretchy but less durable. A few offerings also include an additional Velcro strap across the forefoot, including Hillsound's Trail Crampon Ultra and Unigear's Traction Cleats, which adds a nice dose of security. Finally, a couple models on our list use unique adjustment systems like ratchets or Boa closures, which we cover in our "Fit" section below.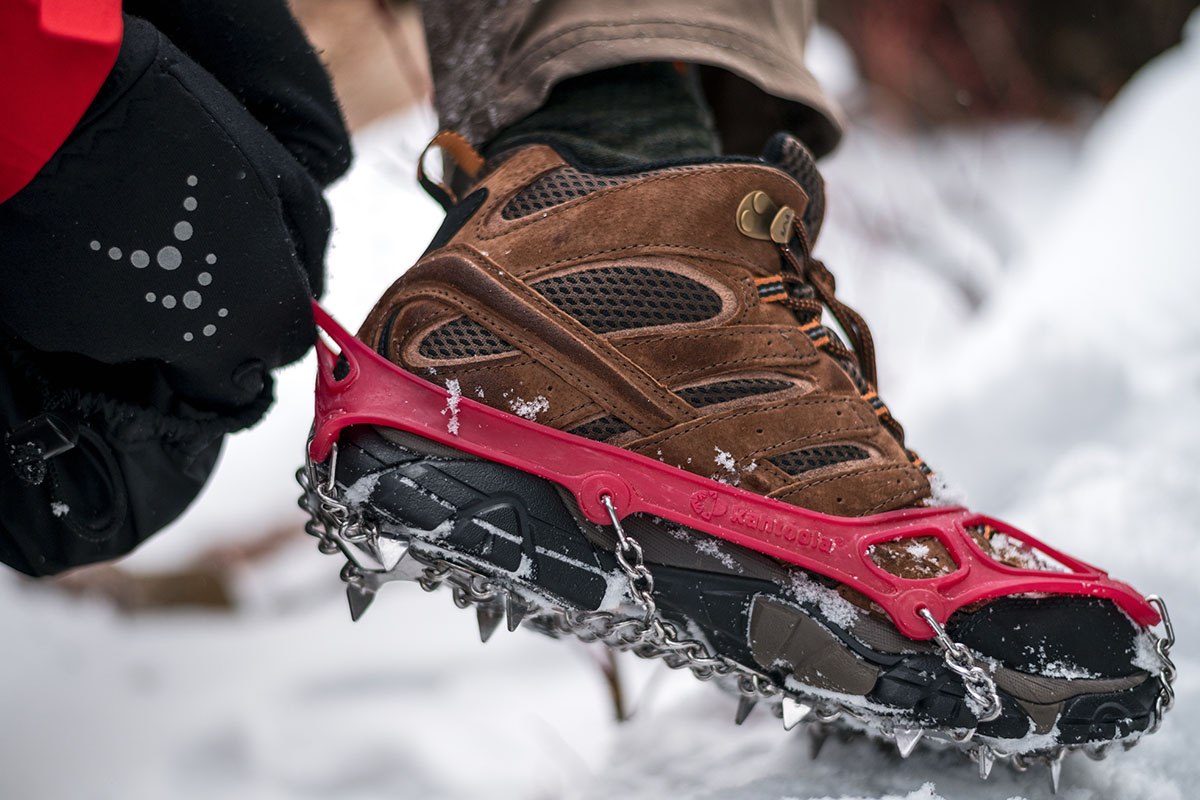 Weight and Packed Size
Traction device weight varies widely, from minimalist running-focused designs to burly backcountry-ready offerings built to withstand rigorous use and rough terrain. On our list above, the spread ranges from a scant 4 ounces per pair for the basic Yaktrax Walk to a whopping 1 pound 7.5 ounces for the alpine-ready Hillsound Trail Crampon Pro. The sweet spot for hiking use is in the 8- to 12-ounce range, including popular models like Kahtoola's MICROspikes (11.9 oz.) and Black Diamond's Access Spike (8.8 oz.). Ice grips made specifically for running typically check in a little lighter, as evidenced by options like Kahtoola's NANOspikes (8 oz.) and EXOspikes (7.3 oz.). Importantly, however, shaving weight almost always comes with sacrifices in durability, so it's crucial to consider that balance before making a purchase. For instance, we tested a pair of Black Diamond's 4-ounce Blitz Spike (not included here) that tore just a few miles into our first hike.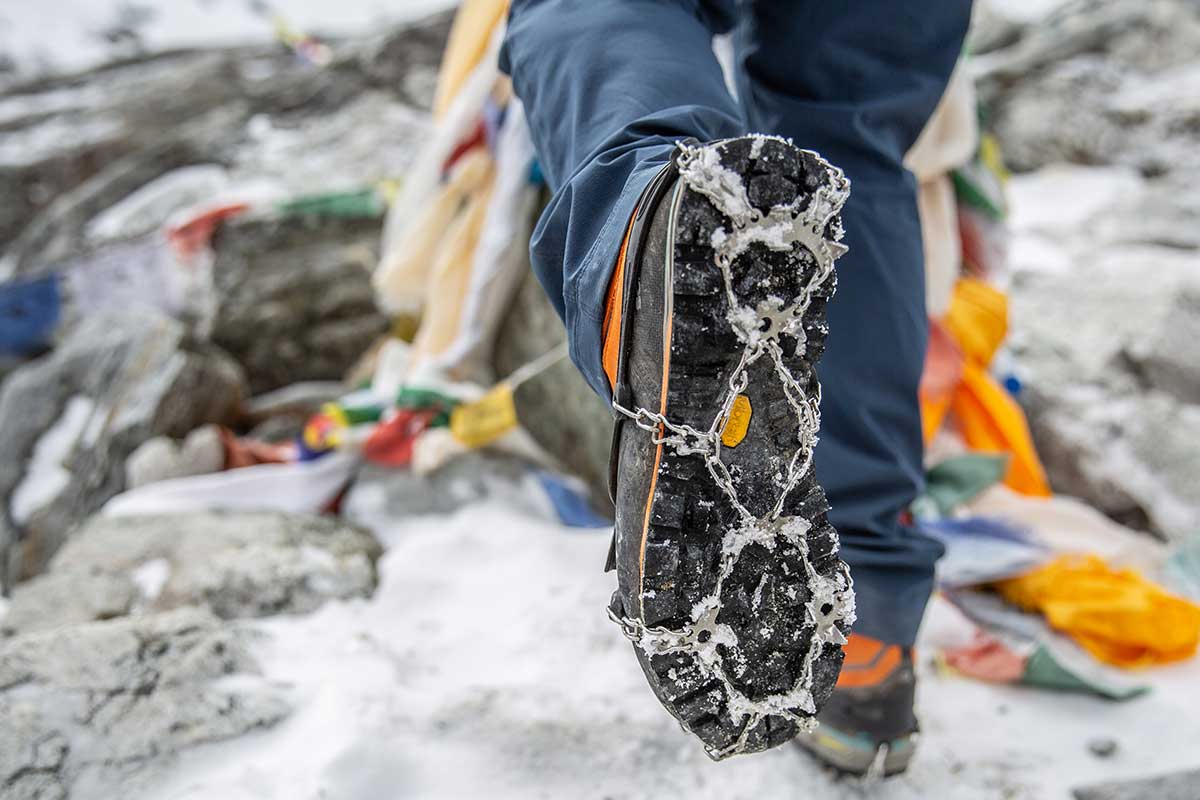 Weight and packed size frequently go hand in hand, but it's not always a direct correlation. For example, despite a fairly middling weight of just under 12 ounces per pair, the Kahtoola MICROspikes pack away quite small and easily disappear into a daypack. But as a general rule, weight is a good indicator of how tiny a pair of microspikes will pack down. Whether or not these factors matter to you will depend on your objectives and intended use(s). If your goal is attempting an FKT (fastest known time) on a local peak, weight and compressibility will likely be big considerations (and many mountain athletes are willing to trade longevity for minimizing their kit). If you only plan to wear your traction devices while shoveling the driveway, you can likely get away with more heft and bulkiness.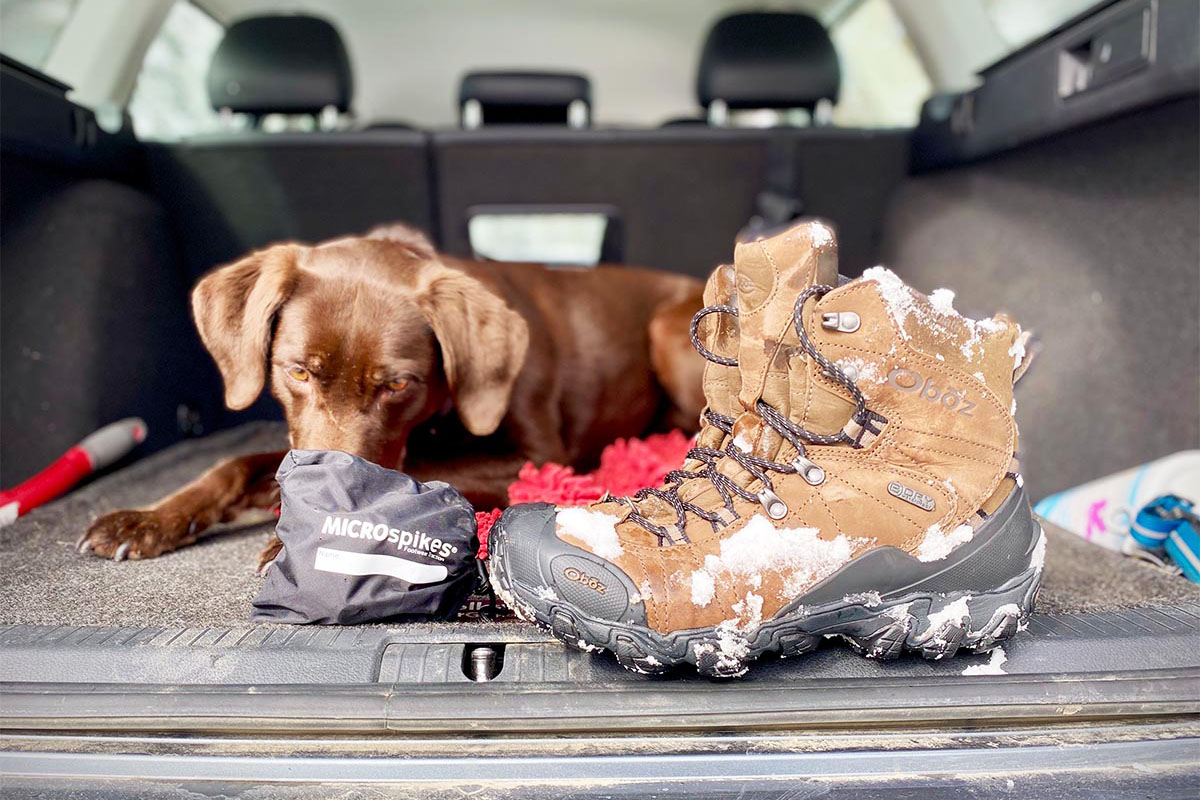 Fit, Sizing, and Adjustability
As we mentioned when discussing harnesses above, most ice cleats utilize stretchy elastometer or rubber harnesses that are easy to use, secure, and can accommodate a wide range of foot sizes and shapes. That said, you'll still need to do some research before buying, as most devices are offered in multiple sizes (typically small to extra large) depending on your shoe size. To help in choosing the right option, sizing charts are fairly easy to track down from manufacturers, and REI also provides helpful sizing info at the bottom of each product page. If you're unsure or between sizes, trying on before you buy with the shoes or hiking boots (or much bulkier winter boots) you plan to wear most often is the most effective way to ensure a good all-around fit.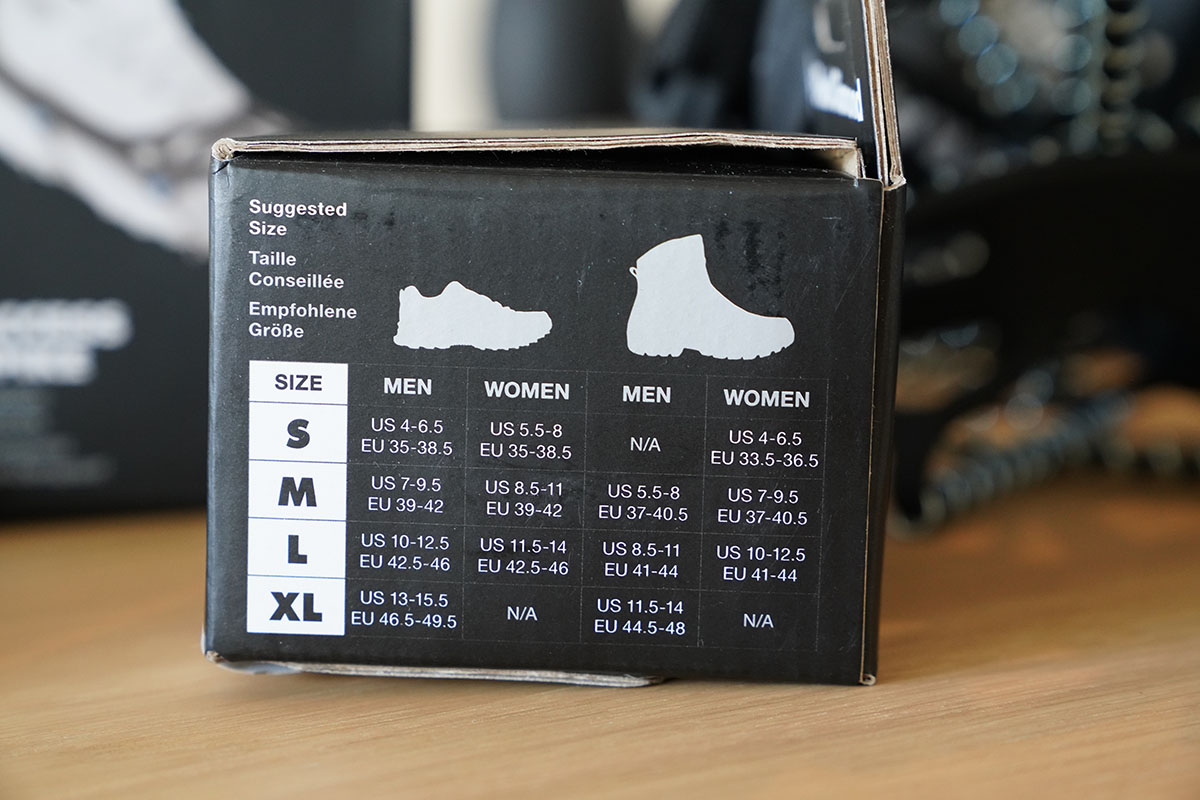 Most traditional elastometer and rubber harnesses don't provide any means of adjustment, but some devices, including Hillsound's Trail Crampon Ultra and Yaktrax's Run, do come with additional Velcro closures to provide a snugger and more custom fit at the top of the foot. Hillsound's Trail Crampon Pro and Korkers' Ice Walker are two unique offerings and offer even more adjustability in the form of ratcheting buckles and a Boa dial (respectively), both of which make it very quick and easy to dial in fit. However, keep in mind that these components can fail over time, and we typically prefer fewer moving parts to minimize the risk of encountering durability issues on the trail.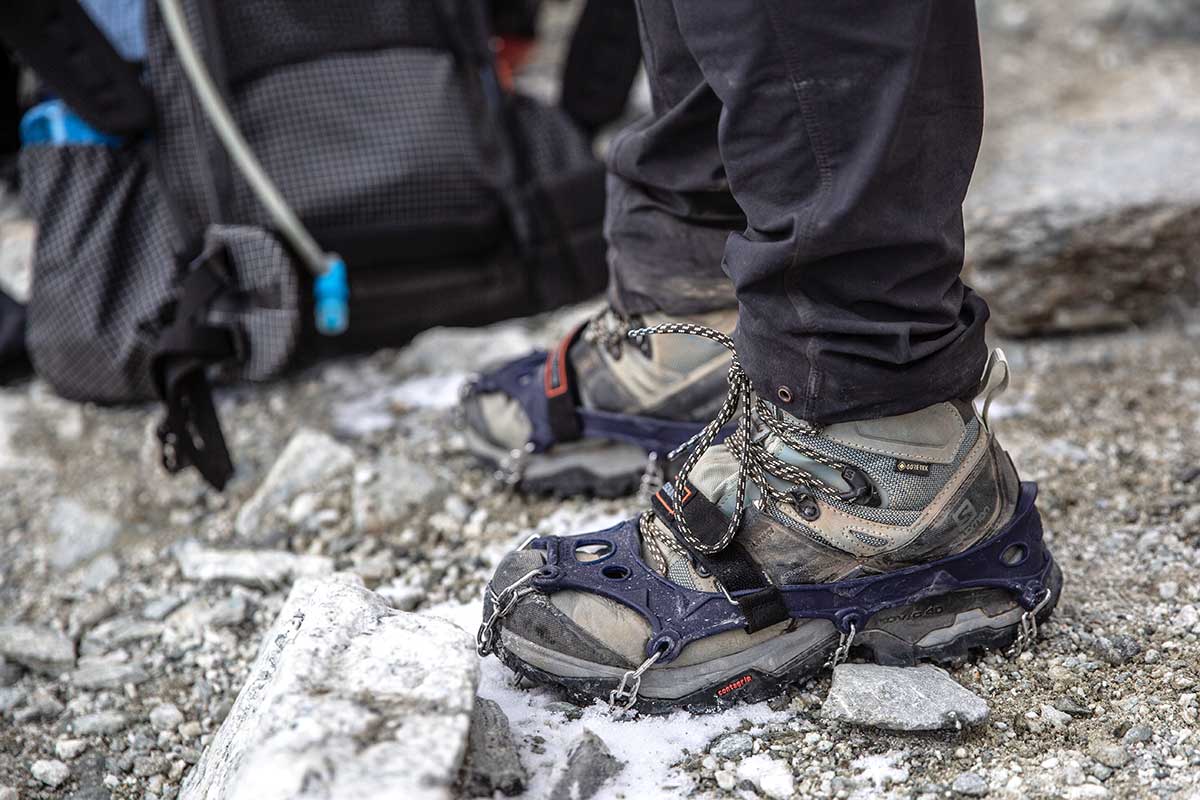 Durability
Winter traction devices are designed to withstand harsh winter weather and conditions, so most are reasonably hardwearing. That said, some models are noticeably better-built and more robust than others. As we mentioned above, weight can often be a decent indicator of overall durability. For instance, the thin rear rubber strap on our Black Diamond Blitz Spike (4 oz. per pair) tore just a few miles into our first hike with the set, while our Kahtoola MICROspikes (11.9 oz.) have withstood multiple seasons of fairly rigorous trail use without issue.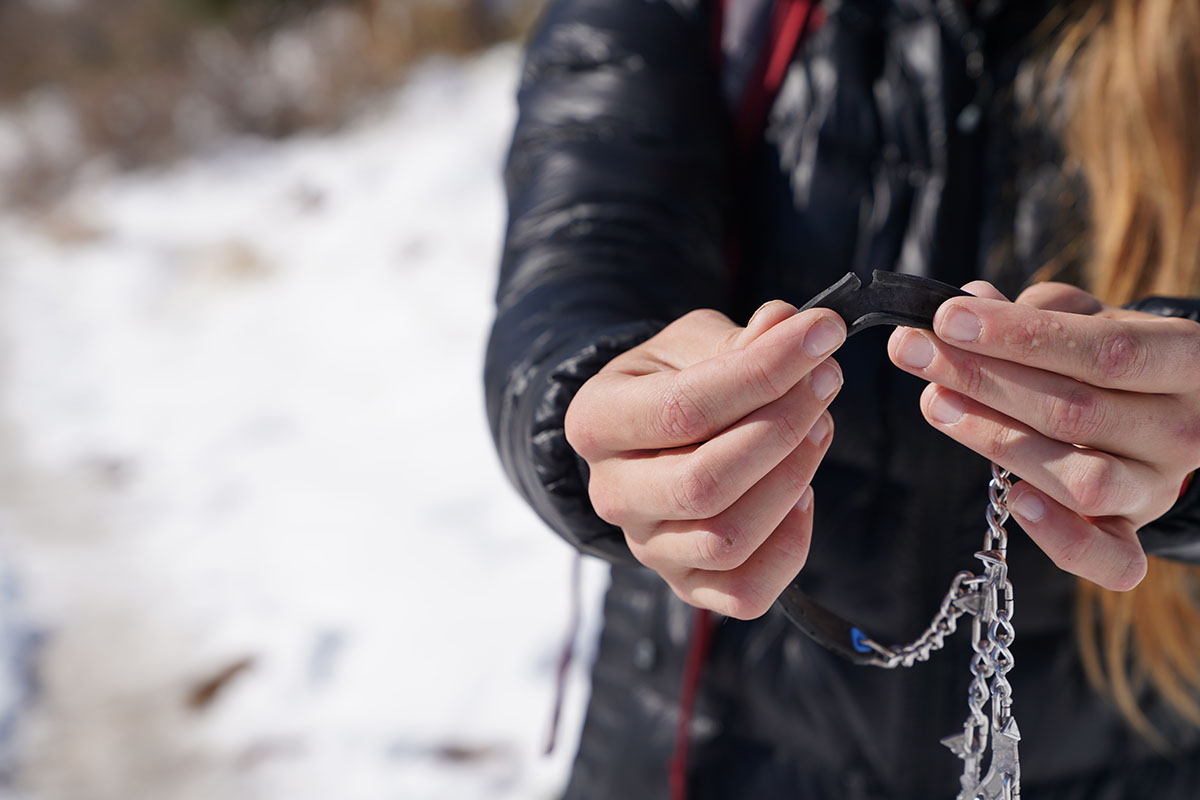 Price can also be a good way to gauge potential lifespan, with cheaper offerings typically utilizing lower-quality materials. For instance, many Yaktrax models have been plagued by reports of premature wear, broken straps, and other durability-related complaints, many of which are related to the rubber (rather than metal) band connecting the coils underfoot. Finally, keep an eye out for removable studs on designs like the Korkers Ice Walker and Yaktrax Run—while it might seem like a nice option to be able to replace them down the road, they do have a tendency to fall out.

Temperature Ratings
We'll start by noting that all of the models above are made to withstand true wintertime conditions, and most users will never come close to experiencing temperatures below their spikes' listed rating. That said, if you plan to bring your grips into extreme weather (or want the option to in the future), it can be a helpful spec to consider when available. For example, Kahtoola's MICROspikes, NANOspikes, and EXOspikes are rated to -22 degrees Fahrenheit (this is the point to which the harness will remain supple), Yaktrax's Run can be worn down to -41 degrees, and Unigear's Traction Cleats are rated to -49 degrees. These numbers don't necessarily correlate with any other performance metrics (e.g., don't expect the Traction Cleats to last longer than the MICROspikes), and we advise taking them with a grain of salt given the lack of standardized testing. But for those who experience below-zero temperatures regularly, it's nevertheless another piece to consider.

Care and Storage
Traction devices are pretty low-maintenance pieces of gear, but there are a couple of measures you can take to maximize their lifespan. It's good practice to dry your spikes after each use using a microfiber or towel to prevent premature rusting. If you've walked on salted roads, rinse them in warm water and make sure to wipe away any remaining salt or residue along the spikes and chains, as it can degrade the metal components over time. In terms of storage, most snow grips come with a dedicated case for stowing them when not in use, which is helpful both when stuffing them in your pack mid-hike and keeping them protected when you stash them away for the summer.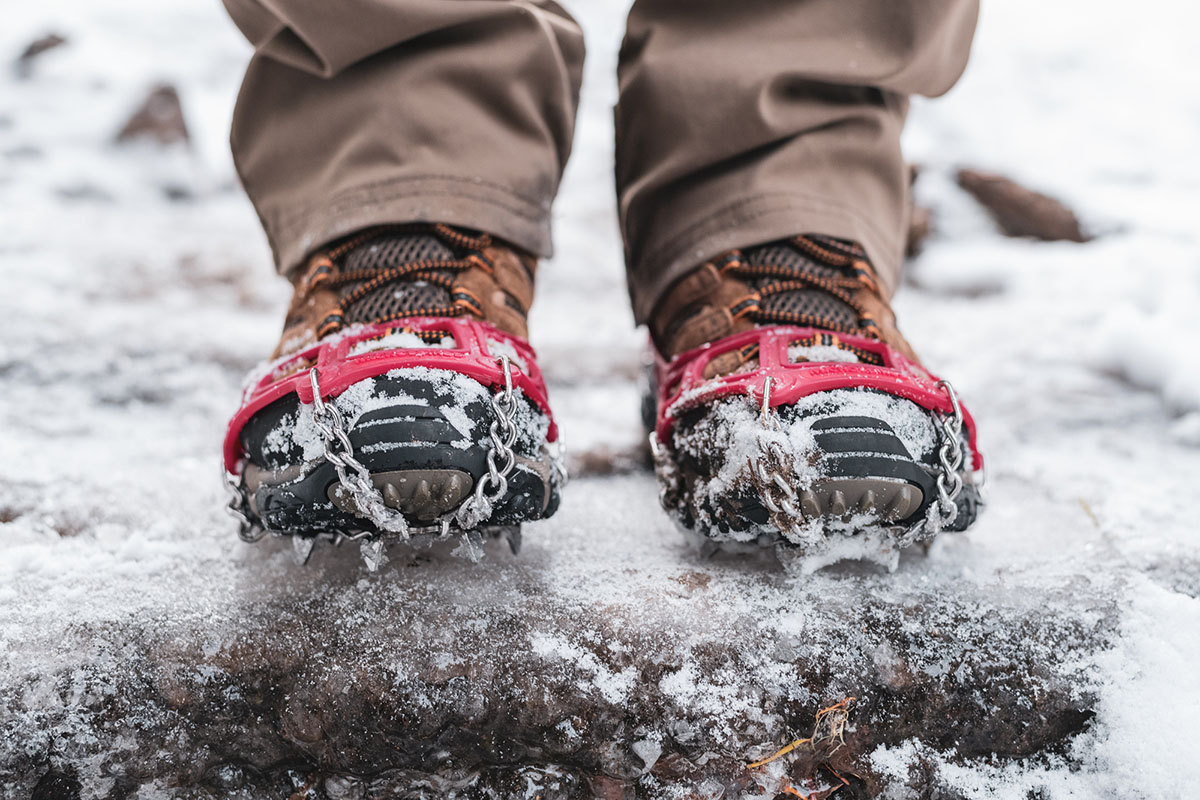 Traction Devices vs. Snowshoes and Crampons
Winter traction devices are designed to provide grip on low- to medium-grade packed snow, ice, and other harder surfaces, but they're not built for navigating deep powder or more vertical slopes. This is where we turn to snowshoes and full-on crampons, respectively. Snowshoes provide a wider platform underfoot for staying afloat in soft snow, while crampons boast burlier constructions, dedicated front spikes, and compatibility with mountaineering boots for more technical alpine pursuits and ice climbing. Some models above, including Hillsound's Trail Crampon Pro and Snowline's Chainsen Ultra, have crampon-like spikes at the front for toeing in on steep slopes and kicking steps—but they're no match for true crampons in high-altitude and extreme environments. In the end, if you're planning a more technical ascent that involves the use of an ice axe or ice tools, it's best to opt for a dedicated semi-automatic or automatic crampon.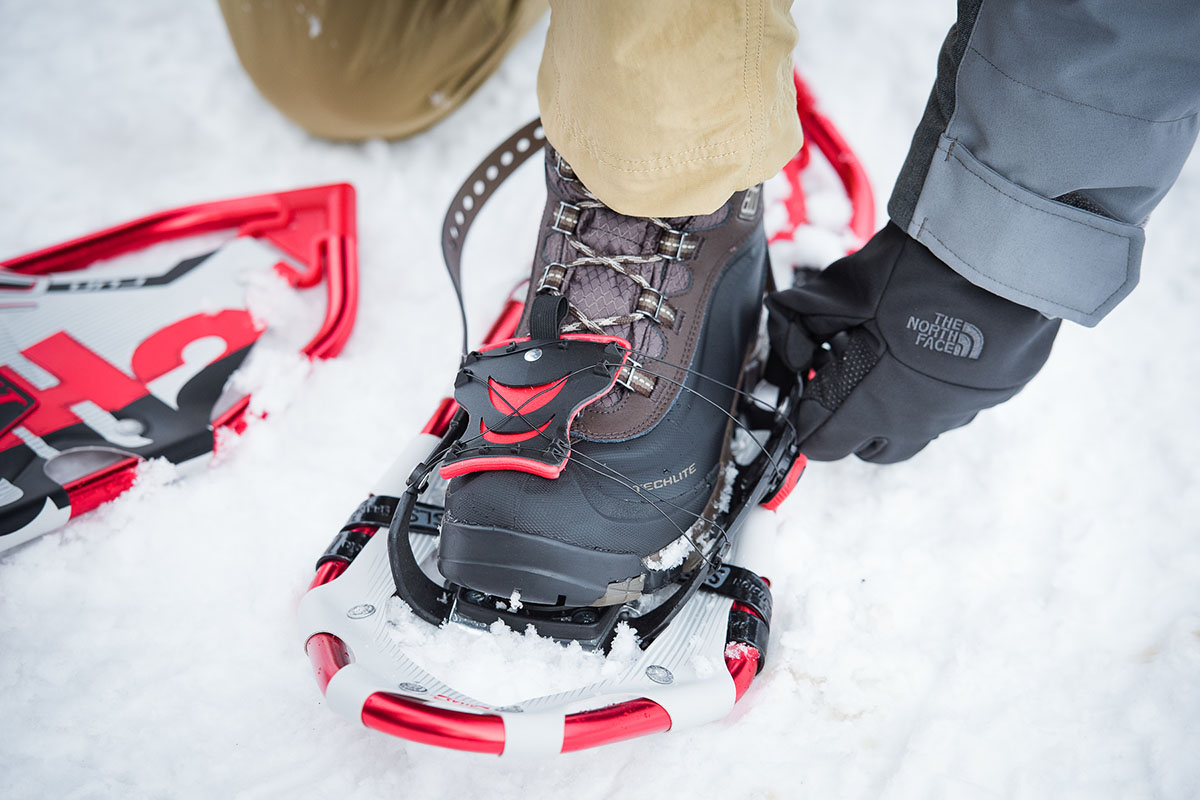 Other Winter Traction Options
In addition to the traditional designs above, there are a number of unique traction options on the market in 2023. For those unintimidated by a DIY project, La Sportiva's AT Grip Hobnails are particularly intriguing: Essentially, you make your own traction device by screwing 18 studs into any rubber-soled shoe or boot (all tools and hardware are included). Yaktrax also offers an innovative alternative in their QuickTrax, which is a low-profile, stud-equipped band that stretches over just the front of your shoe. Finally, for skiers, Seirus' Cat Tracks attach to the bottom of ski boots and provide added grip when walking across parking lots or gravel on your way to the lift.

Do You Need Winter Traction?
From personal experience, we went years without winter traction devices and remained injury-free, but there were some very slippery moments and close calls on frozen-over trails and icy sidewalks. And once we purchased our first pair of microspikes, we never looked back: We were immediately able to hike faster and with more confidence, and we now keep a backup pair in our vehicle all winter long just in case the city streets are especially slick. For many, that added peace of mind and feeling of security is worth the $20-$40 investment for a basic pair, and backcountry explorers in particular are often willing to spend up for a more premium and aggressive design. In the end, only you can decide whether or not the cost is justifiable (it could come down to how mild winters are where you live), but we feel it's a small price to pay for a sizable boost in safety.
Back to Our Top Traction Device Picks  Back to Our Traction Device Comparison Table
Read More From Switchback Travel