Intermediate-level skis hit a sweet spot in the market: strong enough for carving but reasonably light and easy to control. They're a great match for a wide swath of skiers, from those with a few seasons' experience who can confidently link turns on most groomed terrain to fast learners progressing their off-piste powder and variable snow skills. Additionally, these mid-range designs have similar appeal for lifelong skiers who prefer relaxed cruising over a more aggressive style. Below we break down our favorite intermediate skis for the 2023-2024 season, which include on-trail carvers, versatile all-mountain models, and floaty designs for soft snow. For more information on choosing the right ski, see our comparison table and buying advice below the picks.
 
---
Our Team's Intermediate Ski Picks
---

Best Overall Intermediate Ski
Ability level: Intermediate to advanced
Dimensions: 119-90-109mm (175cm)
Other widths: 85, 100, 110mm
What we like: An extremely versatile ski that's light, easy to turn, and has great all-mountain performance.
What we don't: The all-wood core sacrifices some stability.
Atomic's Bent line is a classic, tracing its roots to the legendary Bent Chetler powder ski. At the narrower, all-mountain end of the spectrum is the Bent 90, which is an extremely approachable ski that appeals to emerging intermediates all the way up to seasoned freeriders. The secret sauce is its lightweight construction, easy-to-drive nature, and versatile profile and waist width that excel in most snow conditions. On groomed runs, the rockered tip and tail require minimal effort to initiate and release from a turn, but there's plenty of camber underfoot for reliable edge grip to carve your way down the hill. With no metal in the construction and a poplar wood core, the ski is lightweight and playful—great attributes for those dipping their toes into the trees or soft snow. Tack on a very approachable $550 price tag, and the Bent 90 is a standout all-rounder for intermediates.
The Bent 90 is a great option for on- and off-trail skiers who prioritize turnability, control, and a low weight, but the lack of metal in the ski's core will be a limiting factor for more aggressive riders. The Bent can feel a little skittish at high speeds, and the low weight means it can get knocked around a bit in chopped-up or bad-snow conditions. If you have ambitions of laying down GS-style turns or blasting through crud, a sturdier design like the Völkl Kendo 88 (great for groomers) or Blizzard Rustler 10 (a wider all-mountain ripper) below are better options. But those cons arguably apply more to advanced or expert-level skiers. As a first "real" pair of skis, the Bent 90's highly versatile nature and reasonable cost make it truly hard to beat.
See the Atomic Bent 90
Best Ski for Progressing Intermediates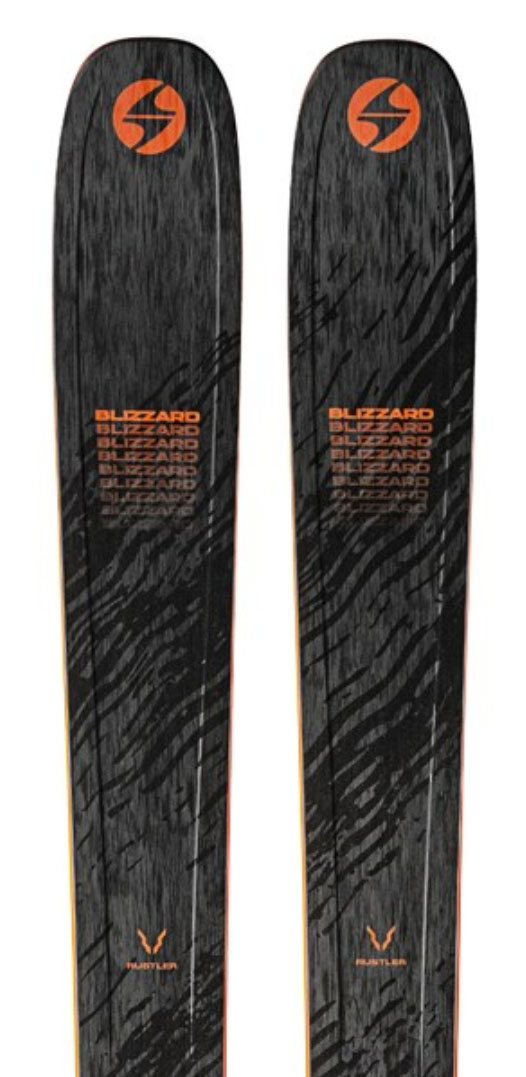 Ability level: Intermediate to expert
Dimensions: 134-102-123mm (180cm)
Other widths: 96 (Rustler 9), 112mm (Rustler 11)
What we like: An excellent do-everything ski that's stable on hardpack, floats in soft snow, and plows through crud.
What we don't: Not as forgiving or easy to drive as the Bent above; pricey.
The intermediate category is wide-ranging, and for more aggressive riders who are committed to progressing their skills—on both groomed runs and in soft snow—the Blizzard Rustler 10 is a fantastic design. Revamped for 2024 with greater precision and stability, the latest Rustler can charge on hardpack thanks to Titanal in the tip, tail, and perimeter and a relatively long effective edge. However, it's also impressively light and has enough flex to make slow, cruisey turns feel smooth and intuitive. Off trail, the Rustler 10 floats nicely in boot-top powder and is nimble through the trees. Additionally, the women's version of the ski, the Blizzard Sheeva 10, has a similar build and performance as its unisex counterpart, with 2024 updates including a slightly lighter and more flexible construction (not to mention a beautiful topsheet).
Despite its approachability, the Rustler 10 is not a beginner ski and requires a strong driver in the bumps and chop. It's also a pretty wide design at 102 millimeters at the waist (a significant 12mm more than our top-rated Bent 90) and can feel ungainly in tight spots if you're not skiing with confidence. And then there's the price: $800 is the going rate of a top-quality ski these days, and the Rustler has a high performance threshold, but it's still a significant investment within the intermediate category. Of note: Blizzard also makes the Rustler 9 ($750), which has a similar construction as the 10 but in a trimmed-down width (96-98mm depending on length) and with a little more of a hardpack slant for high-speed carving... Read in-depth review
See the Blizzard Rustler 10  See the Women's Blizzard Sheeva 10
Best Carving Ski for Intermediates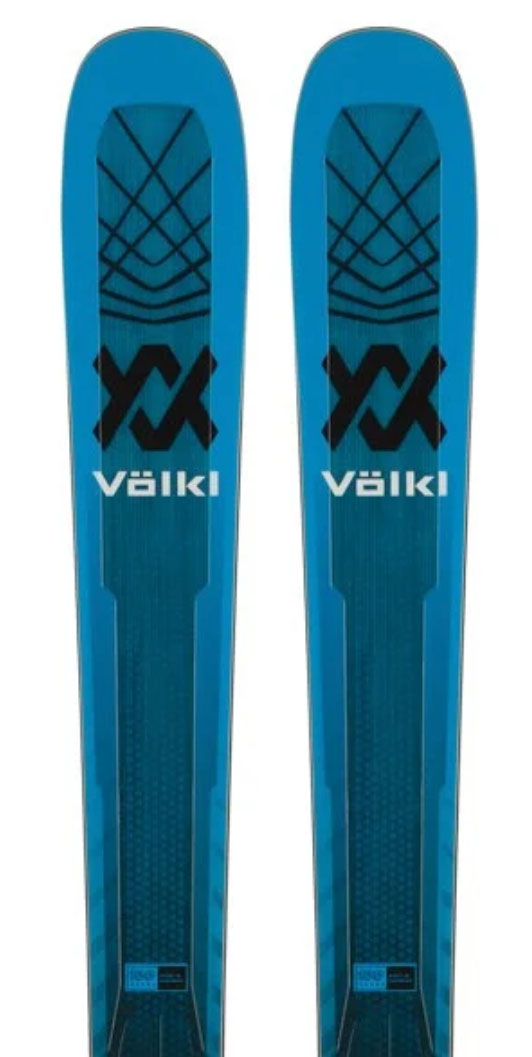 Ability level: Intermediate to advanced
Dimensions: 129-88-113mm
Other widths: None
What we like: Extremely smooth on groomers with a great balance of stiffness and control.
What we don't: A little narrow for areas with significant snowfall.
Skiers on the East Coast and those who mostly stick to groomed trails out West will find a lot to love with the Völkl Kendo 88 and its women's-specific counterpart, the Kenja 88. Although the popular ski has been criticized in the past for being quite stiff and unforgiving, Völkl addressed this with the current version. They now tailor the Titanal (metal) content in the ski according to length, which means that longer skis have more Titanal and are therefore stiffer, heavier, and better-suited to bigger and more powerful skiers. Meanwhile, shorter lengths have less Titanal, which makes them lighter and easier to handle for smaller, lighter, or less powerful riders (great for intermediates). And on a groomed trail, the Kendo and Kenja are an absolute treat, reacting quickly to inputs, holding a very reliable edge, and offering a satisfying amount of pop between turns.
While the Kendo has some all-mountain versatility, with a relatively wide shovel and early rise in the tip and tail, it's best suited for those who are primarily skiing groomed trails. Despite having a similar waist width as the Bent 90 above and K2's Mindbender 90C below, the Kendo has a more buttoned-down construction that can't match those skis' light and surfy personalities. That said, the Kendo is hard to top when it comes to frontside performance at just about any speed. If you live in an area with relatively low annual snowfall or anticipate putting in most of your time on trail—and want a ski that you can grow into and perfect your carving technique—the Kendo 88 is a top choice.
See the Völkl Kendo 88  See the Women's Völkl Kenja 88
Best Powder Ski for Intermediates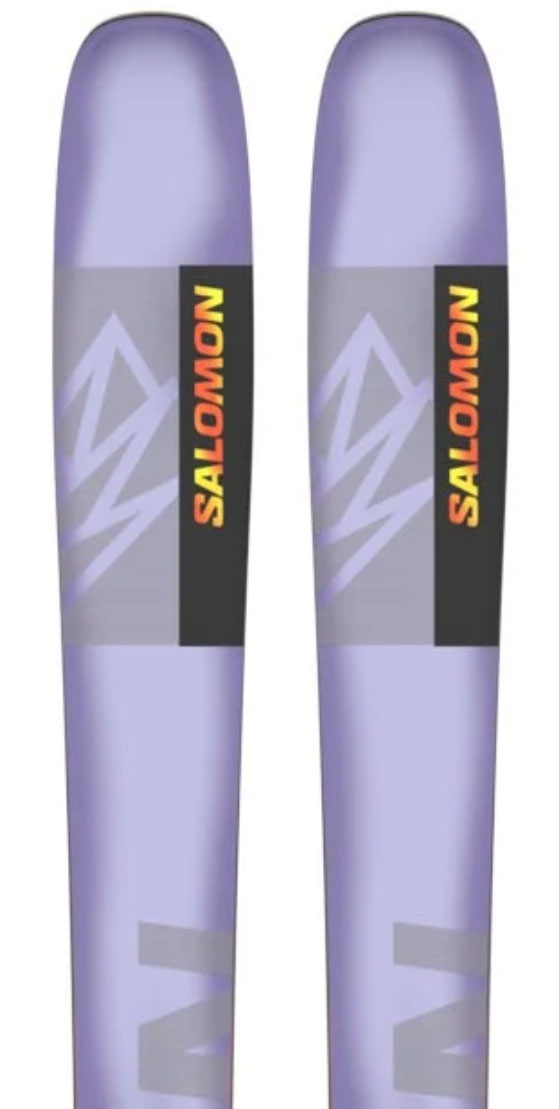 Ability level: Intermediate to advanced
Dimensions: 138-106-125mm (173cm)
Other widths: 92, 98mm
What we like: An all-mountain powder ski that thrives off piste.
What we don't: Too wide for those who mainly stick to groomed runs. 
Transitioning from a carving specialist to a powder hound, Salomon's QST 106 has been a longtime favorite of ours in the soft stuff. If you're based in the Western U.S. and seeking a single ski that spans the all-mountain and powder ski categories, look no further. The QST is constructed with a poplar wood core, with a layer of woven carbon and flax to add stability and dampness while keeping the ski light. Additionally, a Titanal insert underfoot enhances power transfer and edge-to-edge control when carving turns on firm snow. The result: A ski that's a blast in fresh pow, can power through crud, and will hold its edge if you drop onto a slope that's firmer than you were expecting. To sum it up, the QST can serve as a powder ski if you already have a narrower go-to for groomer days, or it can be your daily driver if you're consistently skiing fresh snow.
Of course, with a 106-millimeter waist, this ski won't offer the same edge-to-edge performance as a narrower design like the Völkl Kendo above. Additionally, while the QST is appropriate for advanced intermediate skiers, it's too much ski for those who are just beginning to venture off trail. If that's you, we recommend the Salomon QST 92 as a more forgiving all-mountain option or the Atomic Bent 90 above (or wider Bent 100) that's plenty playful but more versatile. Finally, while the QST 106 is a unisex ski, Salomon offers a women's-specific version in the QST Stella 106, which features the same build and shape but with different graphics and available lengths.
See the Salomon QST 106  See the Women's QST Stella 106
Best Women's-Specific Intermediate Ski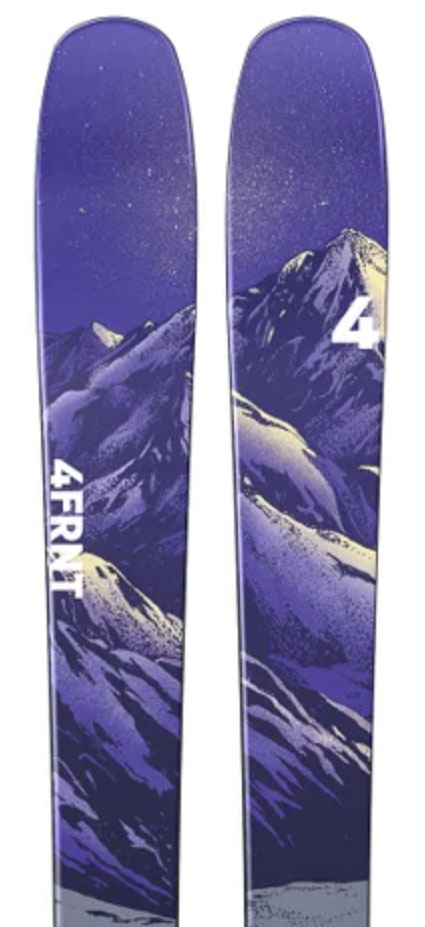 Ability level: Intermediate to advanced
Dimensions: 132-99-121mm (165cm)
Other widths: 91, 107mm (unisex)
What we like: Intuitive feel is confidence-inspiring regardless of ability level.
What we don't: A bit limited to Western U.S. frontside slopes.
A popular women's-specific design, 4FRNT's MSP CC is a daily driver that performs at its best on groomed runs and when you're dipping on and off the trail. The "CC" in the name is short for Contour Core technology: 4FRNT included a small stabilizer toward the rear of the ski to match the way most women generate power through a turn (via their hips, compared to men who typically drive from the torso). This makes it easier to put pressure on the shovel of the ski, allowing riders to initiate turns more easily and with more control. Combined with a layer of Titanal on each side of the wood core and a relatively short turn radius (16m for the 165cm length), the MSP CC offers very poppy and intuitive performance that inspires confidence all over the mountain.
Given the 4FRNT MSP CC's broad appeal and loyal following, we wish it were offered in more lengths. To be clear, the current sizing options (159, 165, or 171cm) cover a decent range, but adding a couple more lengths in the mid to upper 170s and low 150s would better accommodate tall and short riders, respectively. It's also worth noting that the CC model here is only made with a 99-millimeter waist, although the unisex MSP (without the women's-specific core technology) is sold in widths down to 91 millimeters for those who spend most of their time on trail. 
See the Women's 4FRNT MSP CC  See the 4FRNT MSP 99
Our Favorite Playful Intermediate Ski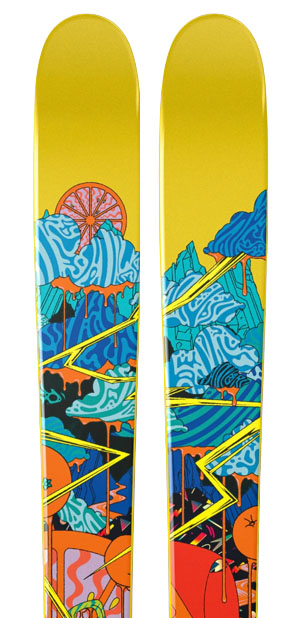 Ability level: Intermediate to expert
Dimensions: 122-97-118mm
Other widths: 90 (The Joyride), 104mm (The Vacation)
What we like: A super playful ski that's been updated for improved carving performance.
What we don't: Limited-edition skis sell out quickly; not built for hard charging.
Like many skiers, we've been fans of J Skis' The Allplay for years and especially love the ski's playfulness all over the mountain (hence its name)—in the park, on natural terrain features, and surfing or smearing in soft snow. The second ski company founded by Jason Levinthal (he also started Line Skis), this unique and relatively new brand focuses their energy on small batches of limited-edition, eye-catching topsheets that are created in collaboration with artists. Once the season's offerings are sold, they're unavailable until the following year (or gone forever). J Skis offers three collections (for charging, playing, and touring) that include nine different models, plus a ski blade—which is a category and topic all its own. Within the "Play" collection, the brand's flagship ski, The Allplay, sits at the center with a middle-of-the-road 97-millimeter waist. 
Intermediate through advanced skiers who truly love to smear, slide, and surf rather than charge will have little to complain about with The Allplay. This is a premium ski constructed with a maple wood core, aspen at the tips and tails for reduced swing weight, and fiberglass and carbon fiber that add pop and energy return. And updates for 2024 include a slightly narrower waist and refined profile to improve the ski's on-piste performance. That said, if you're more focused on dialing in your carving technique, want a ski that can hold a solid edge, and prefer to keep chatter to a minimum, it's best to look to the other options on our list.
See the J Skis The Allplay
Best of the Rest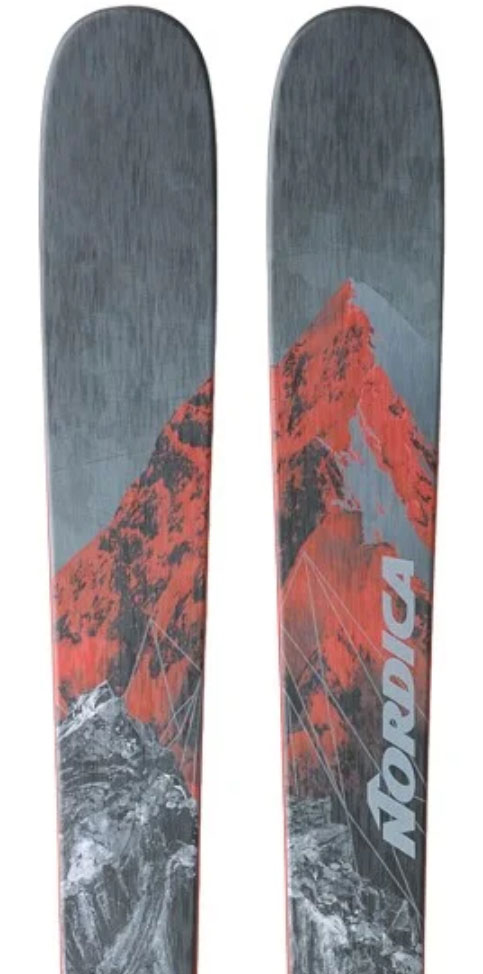 Ability level: Intermediate to expert
Dimensions: 127-94-115.5mm (179cm)
Other widths: 88, 100mm
What we like: Stable at speed and confidence-inspiring in a wide range of conditions.
What we don't: Requires a confident skier at the helm.
A Switchback favorite, Nordica's Enforcer 94 and women's-specific Santa Ana 98 are both currently ranked at the top of our all-mountain ski guides. Those with an eye for identifying topsheet designs in the lift line can attest that they're all over the hill, and for good reason: The skis are poppy and powerful, stable at speed, and provide outstanding grip and control on firm snow. Both the Enforcer and Santa Ana lines offer a range of widths, with sub-90-millimeter options that are better suited for carving and wider, 100-plus-millimeter skis (the Santa Ana maxes out at 98mm) that feel floatier and more playful in powder. As with many of the skis in this guide, we selected the well-rounded Enforcer 94 as our coast-to-coast pick for intermediates who enjoy both on- and off-trail forays. 
For a high-end ski with a fair amount of metal in the construction, we've been really happy with the Enforcer's versatility. Its most recent update removed heavy plastic in the build and extended the wood core into the tip and tail to lighten it and make it easier to turn. For an intermediate rider, this translates to smoother turn initiation and only highlights the skis' impressively intuitive and predictable nature. That said, this ski requires a confident pilot who's willing to drive it, especially as you get into more variable snow. Compared with others on this list like the Atomic Bent above and Völkl Blaze below, the Enforcer is a relatively heavy and powerful design that could overwhelm a timid skier. Therefore, we recommend it primarily for quickly progressing intermediates looking for a long-term investment... Read in-depth review
See the Nordica Enforcer 94  See the Women's Nordica Santa Ana 93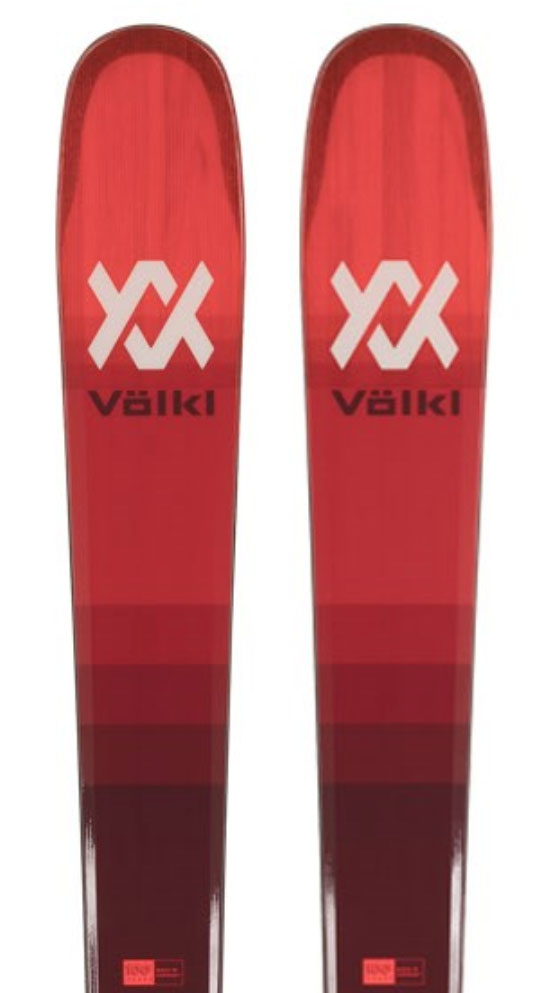 Ability level: Intermediate to advanced
Dimensions: 129-86-111mm
Other widths: 82, 94, 106, 114mm
What we like: A fun and versatile ski that has appeal for every type of skier.
What we don't: Too narrow to be a daily driver on the West Coast.
A much lighter option than the Nordica Enforcer above (by about 3 lb. for the pair) is the Völkl Blaze 86, which doubles as a suitable crossover ski for both inbounds and touring. The Blaze is built with a simple ethos: You get a poplar and beech wood core that extends from tip to tail, a layer of glass underfoot, and an elastic TPU material at the ends for added stability and control. Additionally, while most skis have a single turn radius, the Blaze features Völkl's 3D radius sidecut that's longer at the tip and tail and shorter in the center. This translates to a nimble and agile ski that can smoothly transition between long, medium, and small tight turns at just about any speed.
The primary limitation to the Blaze 86 is its narrow waist, especially for West Coast skiers (stepping up to the 94mm model is a good bet and will get you similar on-trail performance at the cost of some added weight). Additionally, the very light build gives it a chattery and unreliable feel when the speed ramps up and the snow conditions worsen. It's hard to really dig into the edges in firm snow and ice, and the ski can get tossed around in chunder. In the end, the Atomic Bent 90 above gets the edge as the superior all-rounder while remaining similarly agile. But the Blaze is undoubtedly a fun option that's particularly appealing if you want to mix in the occasional inbounds ski tour.
See the Völkl Blaze 86  See the Women's Völkl Blaze 86
Ability level: Beginner to advanced
Dimensions: 132-90-117mm
Other widths: 85, 96, 106, 116mm
What we like: An approachable and forgiving all-mountain ski at a great price.
What we don't: So-so stability on hardpack.
Part of the brand's freeride collection, the K2 Mindbender 90C (available in both unisex and women's versions) is a confidence-builder for intermediates who are skiing on and off the trail. Built with carbon and wood—and lacking metal laminates—this ski has a lightness and flexibility that make it maneuverable without making you work or think too hard. K2 also uses a fiber braiding design that places more rigidity underfoot (helpful for precision and control) and greater flexibility in the tip and tail for easier turn initiation and release. There is a stiffer version of the Mindbender available—the Ti Series, which is built with metal and offers more stability—but that ski loses the forgiving nature of the 90C that we like so much for progressing beginners and intermediates.
As with many core all-mountain collections, the Mindbender series includes several waist widths, starting with an entry-level 85-millimeter option. At $450, it's a great price for a first setup, although you miss out on the carbon reinforcements of the $100-pricier 90C. As such, we think it's a better choice for beginner skiers who are getting the hang of linking parallel turns and just starting to explore ungroomed terrain (which is why you'll find it on our beginner skis round-up). At the other end of the spectrum, 96- and 106-millimeter Mindbender Cs round out the all-mountain category. Note: As width increases, intermediate skiers will be increasingly challenged with edge-to-edge control, as well as the power and confidence required to wield a larger ski, which is why we landed on the 90C as the best middle ground.
See the K2 Mindbender 90C  See the Women's K2 Mindbender 90C

Ability level: Intermediate to advanced
Dimensions: 121-86-108mm
Other widths: 96, 109mm
What we like: Among the best for bumps and tight turns.
What we don't: Less versatile out West and pricey for the width (although it's handmade in CO).
If your ideal winter day involves quick, tight turns and lapping bump lines, the Icelantic Pioneer 86 should be high on your list. This is a ski that's built for frontside power and edge-to-edge control. It's constructed with a lively poplar core and fiberglass for added stiffness and reduced chatter, as well as steel edges that will prove durable if you're hitting rails in the park. With a relatively narrow waist and 5 millimeters of camber underfoot, the Pioneer has pop and rebound that come to life in moguls and while carving on firm snow. It's a nimble ski and an ideal choice for both the East Coast and West Coast frontside, though it's less stable than the Nordica Enforcer 94 above at speed and won't float off piste as well as a wider and more flexible design.
Icelantic makes their skis by hand in their shop in Golden, Colo., and their topsheet designs are always showstoppers with beautiful, eye-catching artwork. You do pay a premium—at $729, the Pioneer is nearly as pricey as many wider and more all-mountain-friendly designs—and the length options are a bit limited and more spaced-out than we prefer (166, 174, and 182cm). But if you can get a good fit, many will find the high-end look worth the extra cost. Rounding out the Pioneer collection, there are two additional widths: The Pioneer 96 will give you more all-mountain versatility while sacrificing some stability on piste, while the 109-millimeter width will float the best in powder (at the cost of edge-to-edge precision and nimble maneuvering on piste). Finally, Icelantic's Riveter collection is their women's-specific all-mountain line with comparable constructions and shape profiles.
See the Icelantic Pioneer 86  See the Women's Icelantic Riveter 85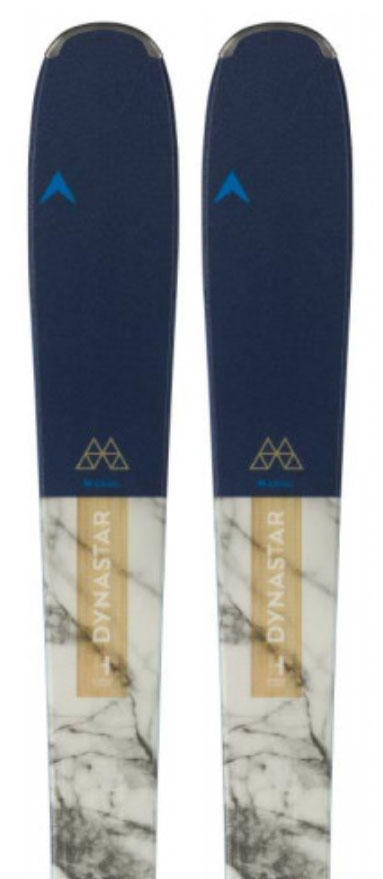 Ability level: Beginner to intermediate 
Dimensions: 124-78-110mm
Other widths: 82, 88mm
What we like: A great value for emerging intermediates who are sticking to the trails.
What we don't: Lower performance ceiling than the pricier options on the list.
New for 2024, Dynastar launched its M-Cross series to fill the gap between their all-mountain freeride and race-inspired frontside collections. We like the forgiveness and uncompromising grip of the M-Cross 78 Xpress, which is the narrowest option in the line and one that's specifically designed for the beginner-intermediate skier. With more rocker in the tip, less metal, and less weight than Dynastar's Speed 4x4 series, the M-Cross is easy for intermediate skiers to turn and maneuver. On the flip side, it has more edge grip than the brand's all-mountain M-Pro line, thanks to the ski's directional rocker profile and flat tail. The result is a frontside carver that's less demanding and more approachable to a wide range of intermediate skiers. Finally, like the Rossi Experience 80 Carbon below, this ski comes with Look Xpress 11 GW bindings included.
Although more skilled skiers will find the M-Cross 78's narrow waist and short 13-meter turn radius (for the 164cm length) limiting off trail, it's an ideal tool for building confidence. And at $500 for the ski and binding set, it's a great value and a nice step up from a standard rental kit. In the end, a final decision should come down to current ability level, where you plan to spend most of your time on the hill, and whether or not you're aiming for a long-term purchase—you'll likely grow out of the M-Cross 78 as you move beyond the intermediate level. And a final note: Dynastar's E-Cross collection is similarly built but with women's-specific geometry.
See the Dynastar M-Cross 78 Xpress  See the Women's E-Cross 78 Xpress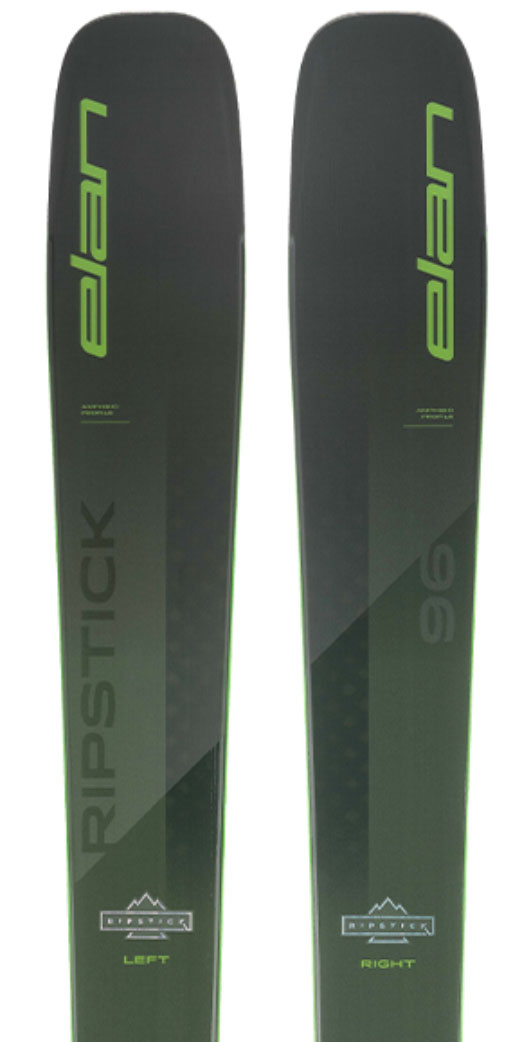 Ability level: Intermediate to advanced
Dimensions: 136-96-110mm
Other widths: 88, 106, 116mm
What we like: Versatile, playful, and more forgiving than the Enforcer 94 and Rustler 10 above.
What we don't: Less stable in hardpack and crud than the Enforcer and Rustler.
When it comes to fun and playfulness across the entire mountain, few deliver face-cramping grins better than the Elan Ripstick 96. This is a ski that loves to smear buttery turns in soft snow and can hold its own in boot-top powder (see also: Blizzard's Rustler 10 above). Built with a lightweight wood laminate and two carbon tubes in its core, the Ripstick offers power and agility in an incredibly light package—light enough, in fact, to double as a touring ski if you opt for a hybrid binding like the Salomon Shift. Unique to the Ripstick, dedicated left and right skis are shaped with camber on the inside and rocker on the outside, which is what gives them such a buttery feel through each turn. 
As we hinted above, these skis closely compare to the Blizzard Rustler, and like that ski, the Ripstick gives you playfulness and springiness at the cost of stability on hard snow and through crud. While these skis carve like a dream on soft groomers and spring corn, they will chatter in firmer conditions. The Rustler is the heavier of the two and feels a little more planted in general, plus we love the 102-millimeter waist for all-mountain use out West (it's nitpicking, but the Ripstick jumps from the 96 to a wide 106mm model). If Elan were to offer a Ripstick 100, we'd strongly consider moving it up our rankings.
See the Elan Ripstick 96  See the Women's Elan Ripstick 94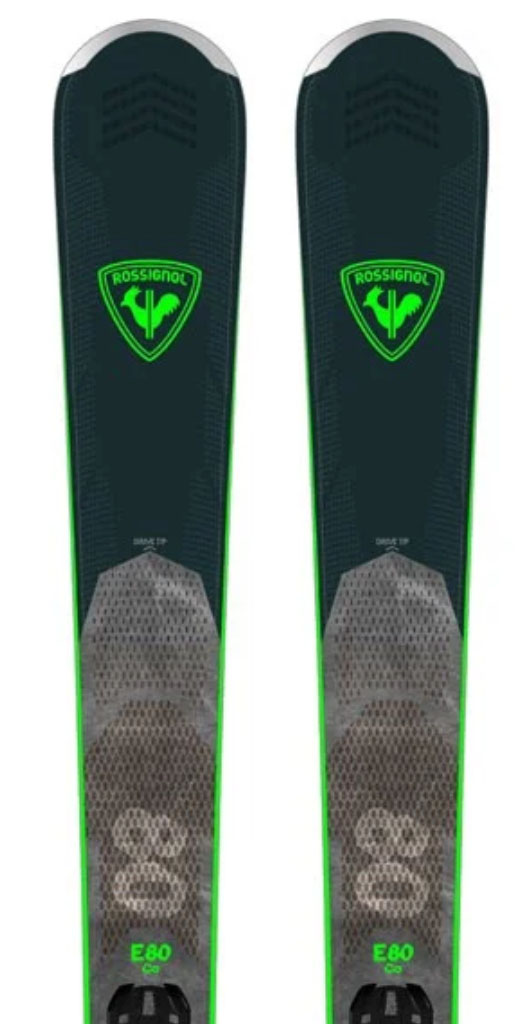 Ability level: Intermediate
Dimensions: 125-80-113mm
Other width: 78mm
What we like: A frontside ski that can progress with you; decent price with the included bindings.
What we don't: Very much an on-trail ski.
The entry-level Rossignol Experience 78 Carbon has topped our beginner ski list for a few years thanks to its balanced and forgiving design, and the slightly wider 80 Carbon represents a modest step up in all-around performance. With a short turn radius, the aforementioned 80-millimeter waist, and a lightweight paulownia and carbon build, this ski is easy to manage whether you're slashing corduroy or navigating midday chop. At the same time, its rectangular sidewalls, directional rocker, and flat tail deliver confidence-inspiring edge hold and stability in firmer—and even dreaded icy—conditions. The result is a combination of smooth turn initiation and surprisingly solid carving. Additionally, these skis come with high-quality Look Xpress 11 GW bindings, which is a great package deal. 
While the Experience 80 Carbon is a great ski for building frontside confidence, its unidirectional design and carving-specific shape limit its off-trail performance. With a flat tail, you get better stability on hardpack but sacrifice float and the ability to slide easily through a turn (the narrow waist doesn't help in powder, either). A wider ski with more tail rocker like the Atomic Bent 90 or K2 Mindbender 90C above will offer more versatility to those looking for a true all-mountain design. All that said—and despite being at the bottom of our rankings—the Experience 80 Carbon could easily be the ideal match for an intermediate-level skier who lives in an area with relatively limited snowfall or simply plans to stick to the groomed stuff.
See the Rossignol Experience 80 Carbon  See the Women's Experience 80 Carbon
Intermediate Ski Comparison Table
Intermediate Ski Buying Advice

Defining Ability Level: What is an Intermediate Skier?
Generally, skier ability levels are broken down into four categories: beginner, intermediate, advanced, and expert. However, there aren't clearly defined distinctions between each grouping, and skiers tend to land somewhere on a sliding scale. Within the intermediate range but closer to the beginner end of the spectrum, an "emerging" intermediate skier is someone who can link parallel turns of varying sizes (short, medium, long) and ski in control on all green and most blue runs. This category can also include skiers who are confident on blue runs, use the pole planting technique most of the time, and can piece their way down bump (mogul) lines.
Moving toward the more advanced end of the spectrum, a "progressing" intermediate skier is someone who can do all of the above and also link parallel turns in shallow powder or other ungroomed snow, adjust their technique on steeper terrain or moderate moguls, and effectively pole plant. For clarity, we've included an "ability level" spec in the product listings and comparison table above. Emerging intermediates will want to avoid a ski that reaches the expert end of the scale (like Blizzard's Rustler), as those designs will likely be too stiff and harder to control, while more aggressive riders will want to steer clear of a ski that crosses over into the beginner space.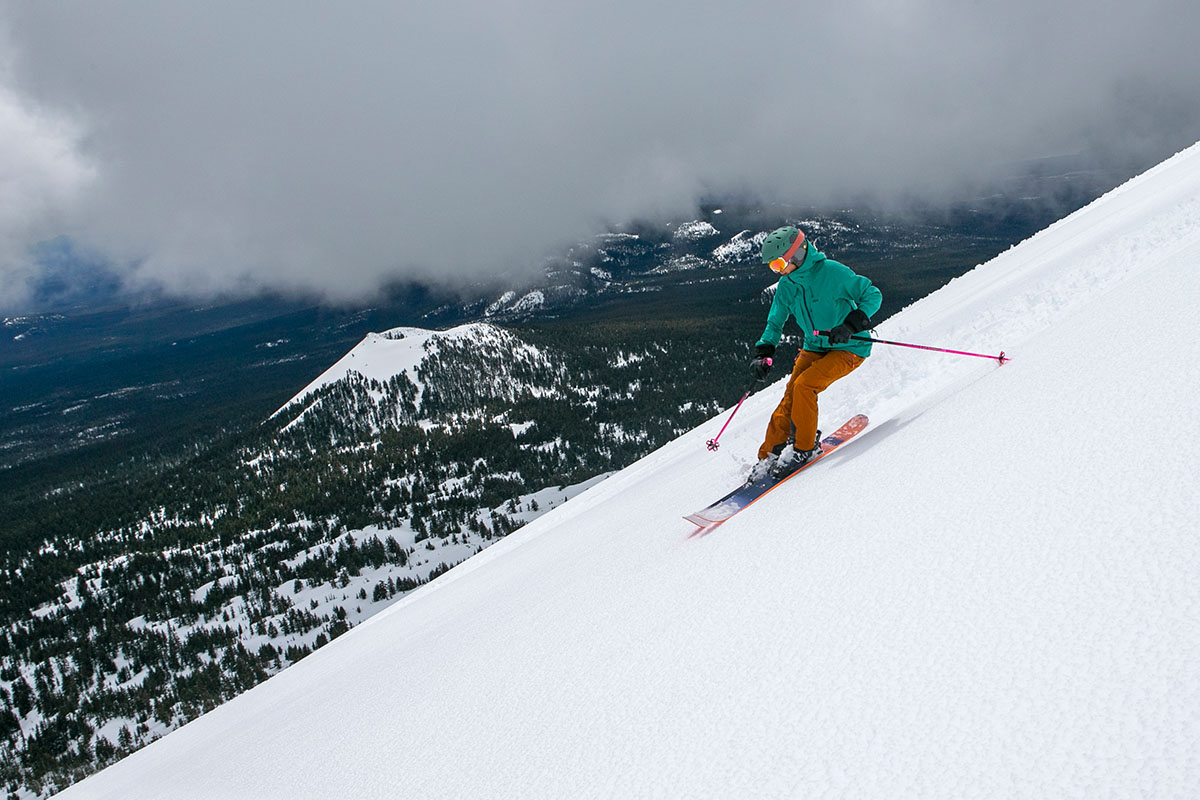 Intermediate-Level Skis
Understandably, intermediates cover a good portion of the resort-skiing public, and the intermediate ski category aims to meet skiers where they are and allow them to progress. While beginner skis are soft, flexible, and very narrow, this type of ski won't feel stable enough to an intermediate rider who's linking parallel turns and learning to ride faster while maintaining control. At the same time, a ski that's too heavy and rigid will be challenging for an intermediate skier to manage, especially as they venture into a wider variety of terrain. As a result, the best intermediate skis typically land in the middle and strike a balance that's stable and powerful yet reasonably light, predictable, and easy to turn. Their price also lands in the mid-range, and you can expect an MSRP of roughly $500 to $800 (ski bindings are usually not included).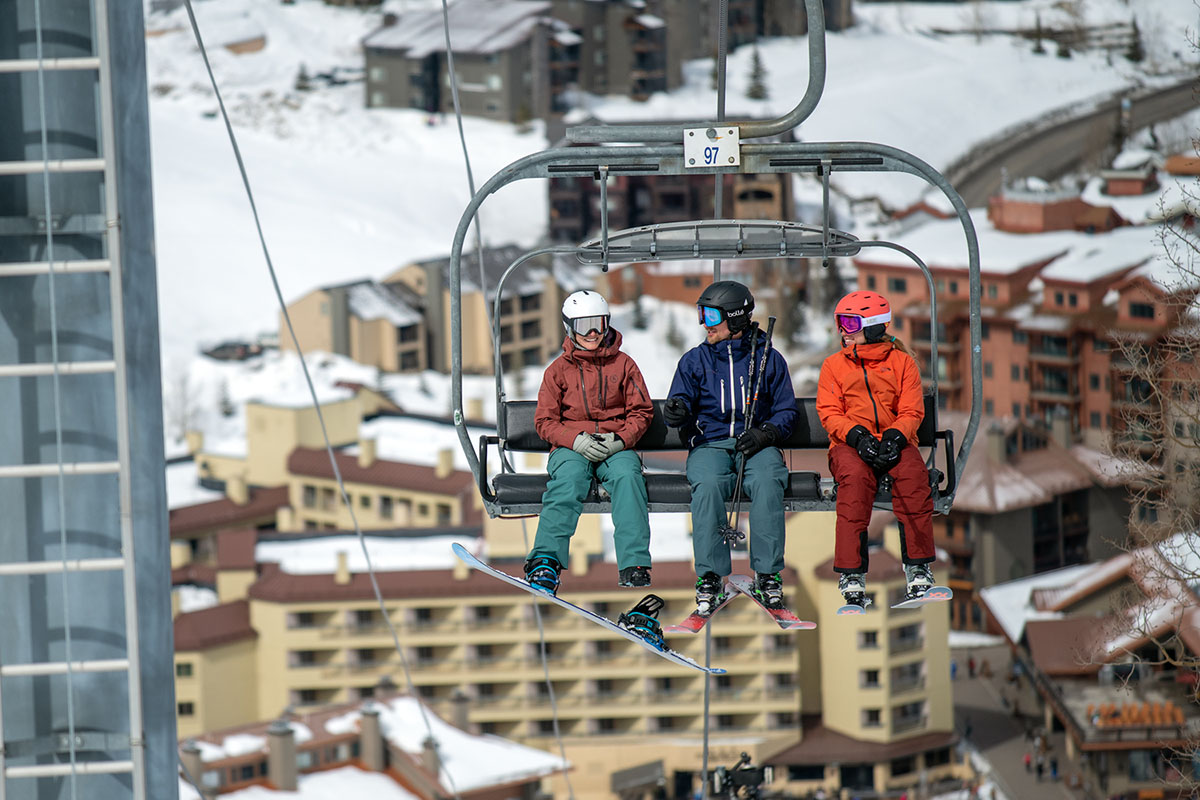 Ski Waist Width
Waist width is a measurement taken from the center of the ski at its narrowest point and is a key element in honing your search. Within the intermediate ski market, you'll find options ranging from approximately 75 millimeters up to about 110 (our picks above range from 78 to 106mm underfoot), and everything from your skiing style to local terrain and snowfall will dictate your ideal range. It's also worth noting that many popular lines of skis are made in varying widths. Atomic's Bent collection, for example, is available in 85, 90, 100, and 110-millimeter widths (plus the 120mm Bent Chetler powder ski), which covers nearly the full gamut of all-mountain styles.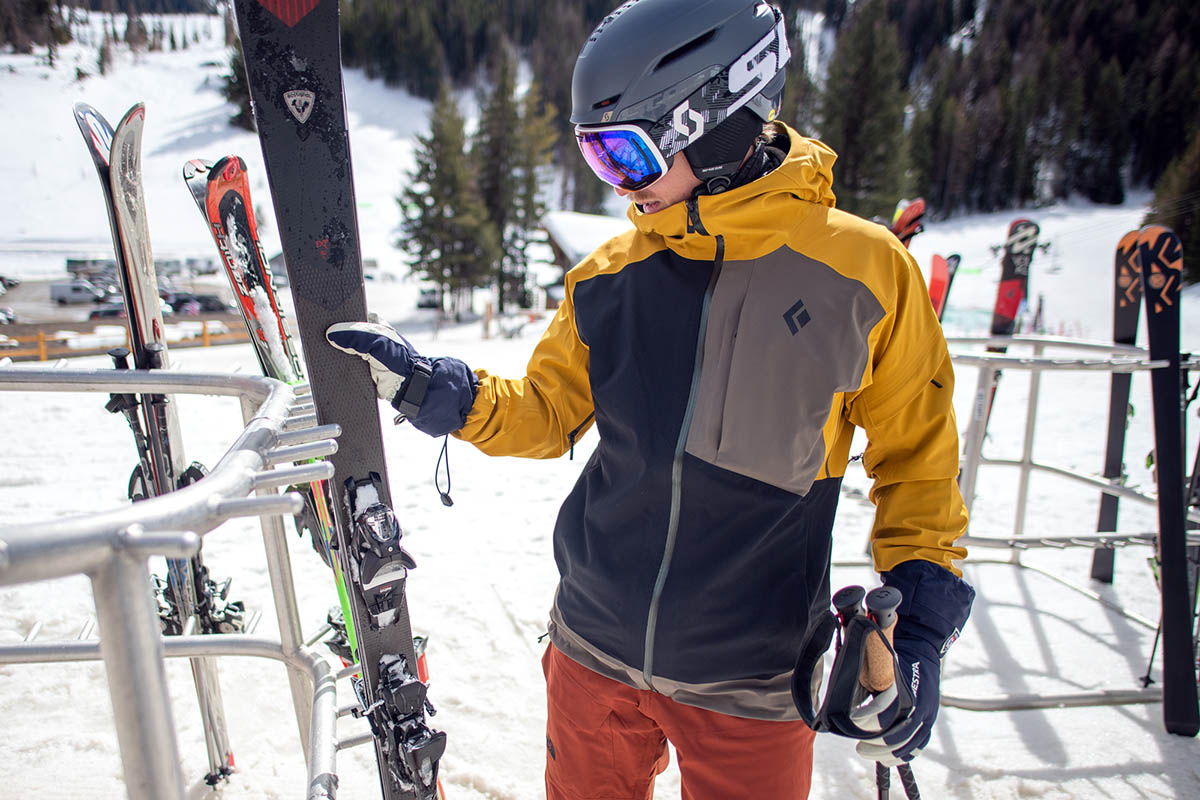 For width recommendations, skis on the lower end of the spectrum like Rossignol's Experience 80 Carbon (80mm underfoot) are best suited for hardpack and firm snow conditions. They're typically easy to control and grip well in the turns but are prone to getting bogged down in powder. Stepping into the 88- to 100-millimeter range is the core of the intermediate-level all-mountain market: These skis hit a nice balance of flotation for moderate snowfall (depending on the design, up to around 6-10 in. of powder) with reliable on-piste performance. Once you clear 100 millimeters at the waist, you get a borderline powder ski, which makes compromises in on-trail grip for excellent surfability and playfulness in the deep stuff. Below are some general recommendations based on terrain and region. For a deeper look at topic, see our article on Choosing the Right Ski Waist Width.
All-Mountain Groomer Skis: 75mm to 90mm
All-Mountain East Coaster: 80mm to 95mm
Heart of the All-Mountain Range: 88mm to 100mm
All-Mountain Rocky Mountains/West Coaster: 90mm to 105mm
All-Mountain Powder Skis: 100 to 110mm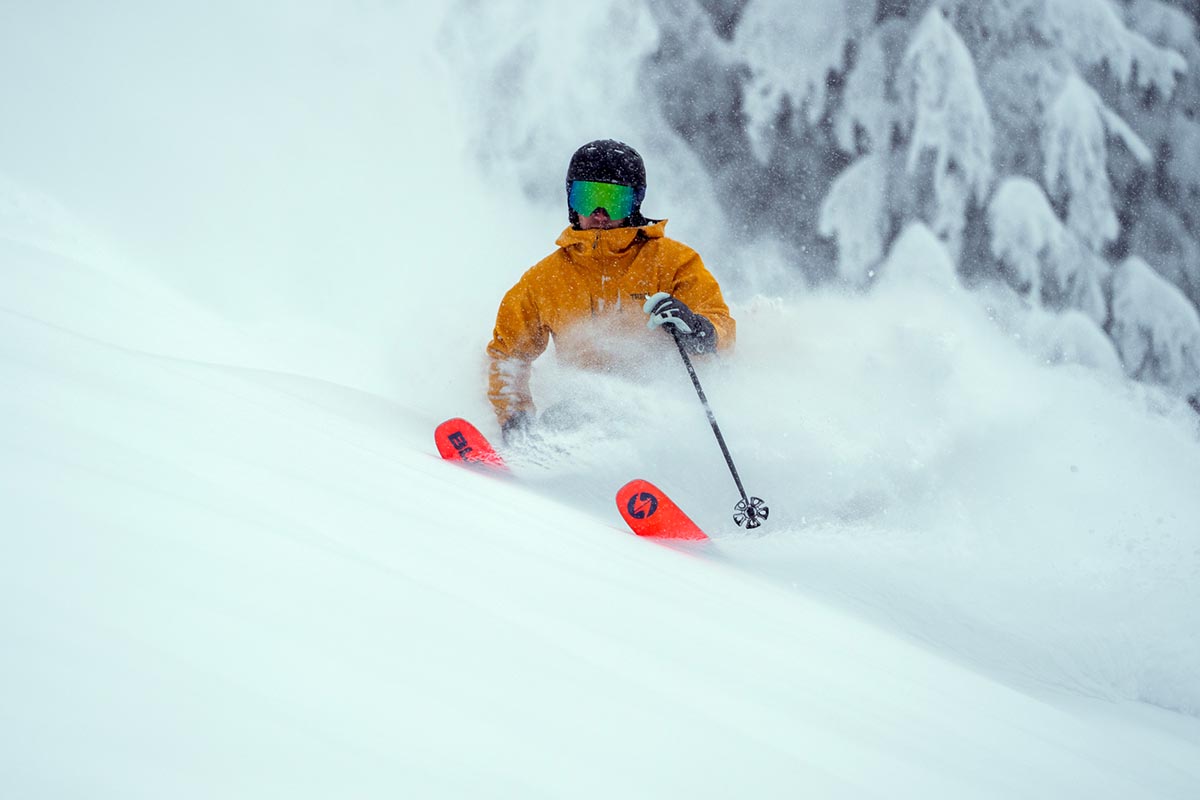 Ski Profile: Camber and Rocker
Another key indicator of performance is a ski's profile, which is determined by camber and rocker. Camber is a slight arc in a ski that peaks underneath the foot. Visually, this is the part of the ski that is raised off the snow if the unweighted ski is laid flat on the snow surface. The purpose of camber is to help skiers maintain edge control while carving turns. When the cambered ski becomes weighted during the middle of a turn, the ski's edge grips the snow surface. As the skier exits the turn, the camber helps the skier pop and propels them into the next turn. The more camber a ski has, the more it will pop the skier out of their turn. However, too much camber (without the balance of rocker) will cause skis to feel flat and dead—and will also cause them to nose-dive in soft or choppy snow.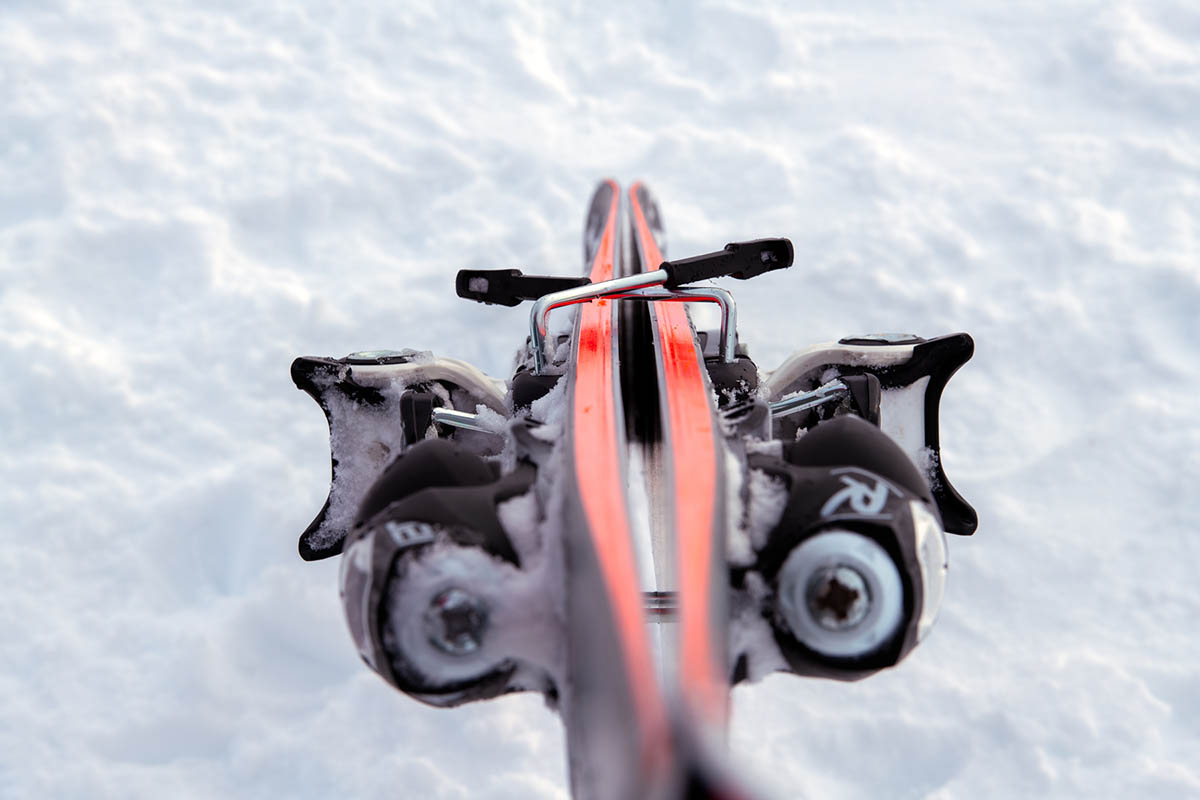 Rocker, also called reverse-camber, is exactly that: camber in reverse, curving downward from the top of the ski instead of up from the bottom. These days, rocker is mostly found in a ski's tip and tail, and it helps the skier initiate and exit the turn. The raised ends also help the ski float in powder or punch through choppy snow. On the other hand, rocker shortens the amount of the ski's length that remains in contact with the snow (this is referred to as a ski's effective edge). Therefore, the more rocker a ski has, the more it sacrifices edge grip. 
Within the intermediate ski category, most of the skis you'll find will utilize a mix of camber and rocker. Skis that are intended for off-trail use will have more rocker, while on-trail-focused designs have less. In terms of product listings, you will commonly see a ski described as having rocker/camber or rocker/camber/rocker. The former example has rocker in the tip, camber in the middle of the ski, and a flat tail (good for groomed runs and maximizing edge grip), while the latter has a raised tail (better off trail).
Turn Radius (Sidecut)
The rocker/camber section above covers the side profile of the ski, while the turn radius (or sidecut) refers to its shape. The measurement is based off the tip, waist, and tail dimensions and is listed in meters. The narrower a ski's waist is relative to its tip and tail width, the deeper its sidecut and smaller its turn radius. For example, skis like the Dynastar M-Cross 78 (14m in the 172cm length) and Völkl Blaze 86 (14.9m in the 173cm length) are crafted for carving small, tight turns and have an hourglass shape that's wider at the tip and tail and much narrower at the waist. This allows for good responsiveness and nimble turning, making it a nice option for skiing bumps, as well.
On the other hand, a ski with a more uniform width across its tip, waist, and tail has a shallower sidecut and a longer turn radius. As radius increases, skis will feel more stable bombing a run at high speed or through wider, sweeping turns. Models in the intermediate category typically have a short to medium turn radius of around 13 to 19 meters, hitting a nice balance of maneuverability with control at speed.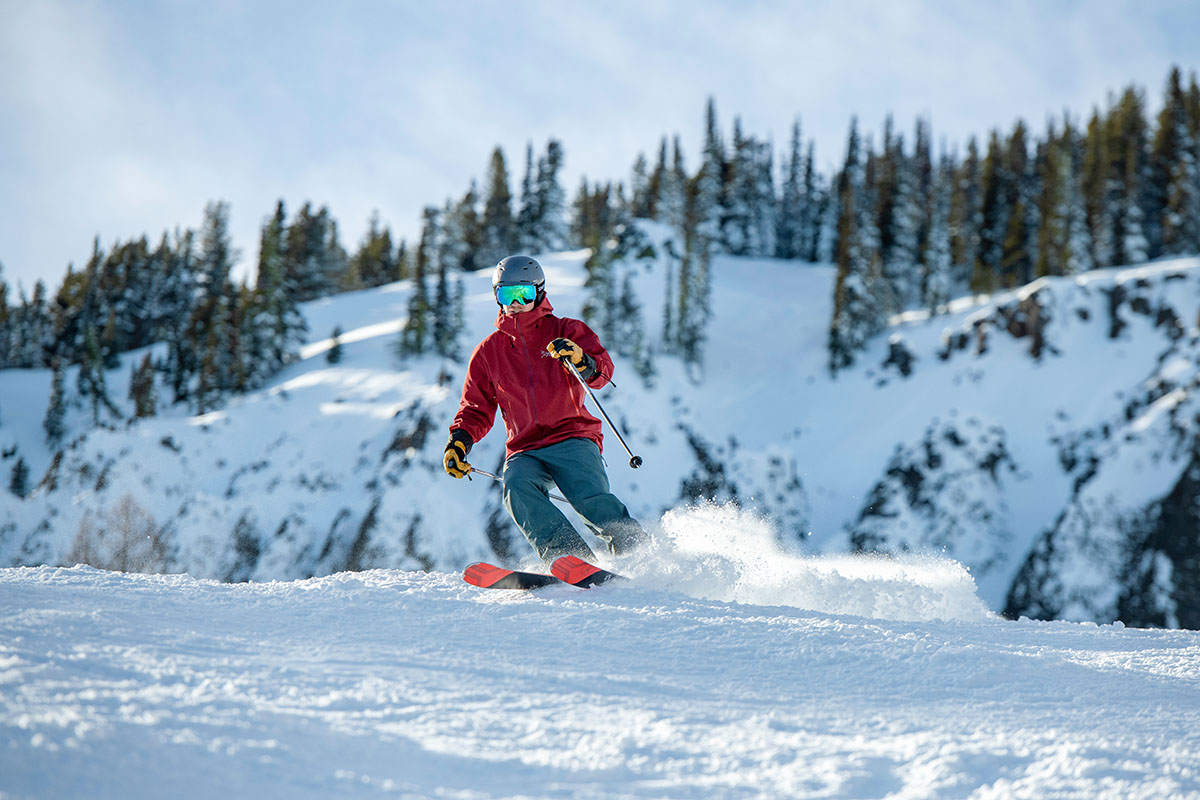 All that said, it's important to note that sidecut doesn't always perfectly reflect a ski's personality. Other factors like rocker/camber and stiffness play a role, but the turn radius number is a valuable piece of the puzzle. Below we list how the various radii typically perform.
Carving: Less than 16 meters
All-around: 16-20 meters
Wide and sweeping turns: 20+ meters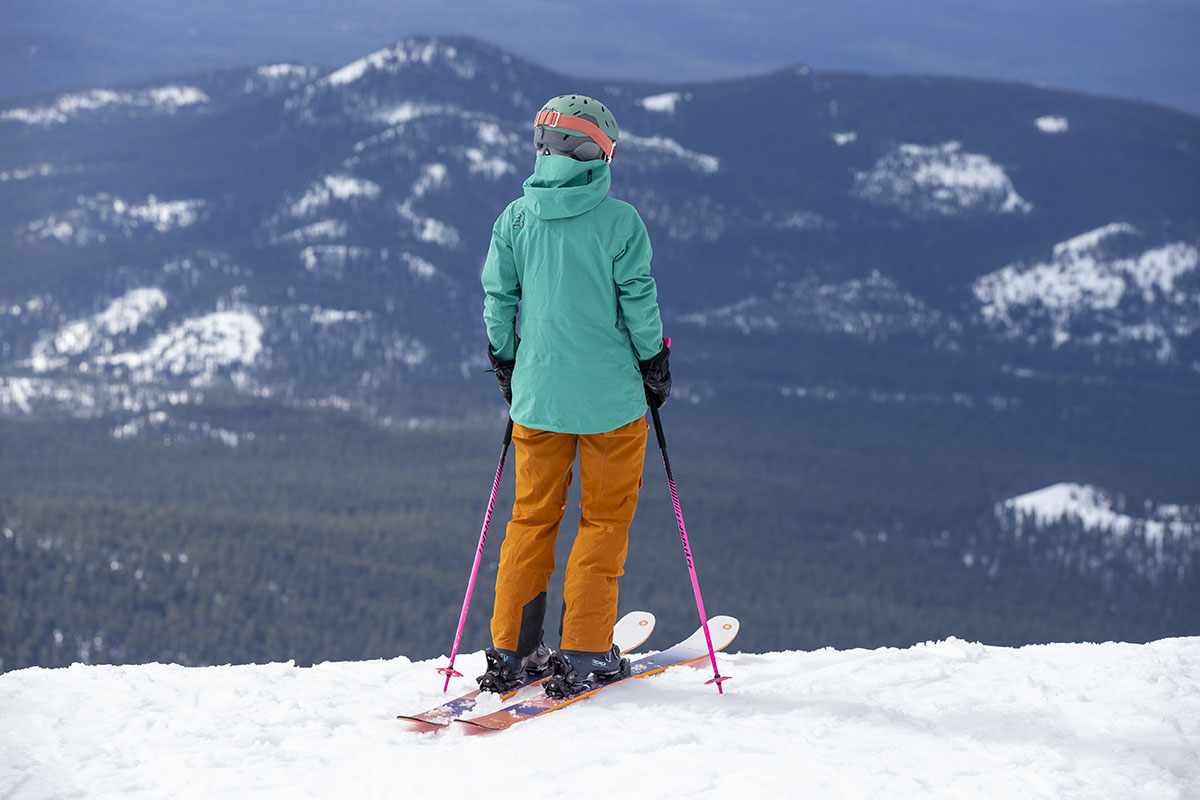 Ski Stiffness and Flex
A ski's flex indicates how soft or rigid the ski is through its length and is an important consideration for intermediate skiers. A ski that's stiffer, more rigid, and less flexible will be more stable at higher speeds and better at blasting through chopped-up snow. That said, these types of designs likely include metal (usually Titanal) in the construction and are heavier and more difficult for a lighter-weight or beginner/intermediate skier to turn and control in variable conditions. As such, burly skis often fall into the advanced or expert category, although there are some designs, like the Nordica Enforcer 94, that work well with progressing and confident intermediates.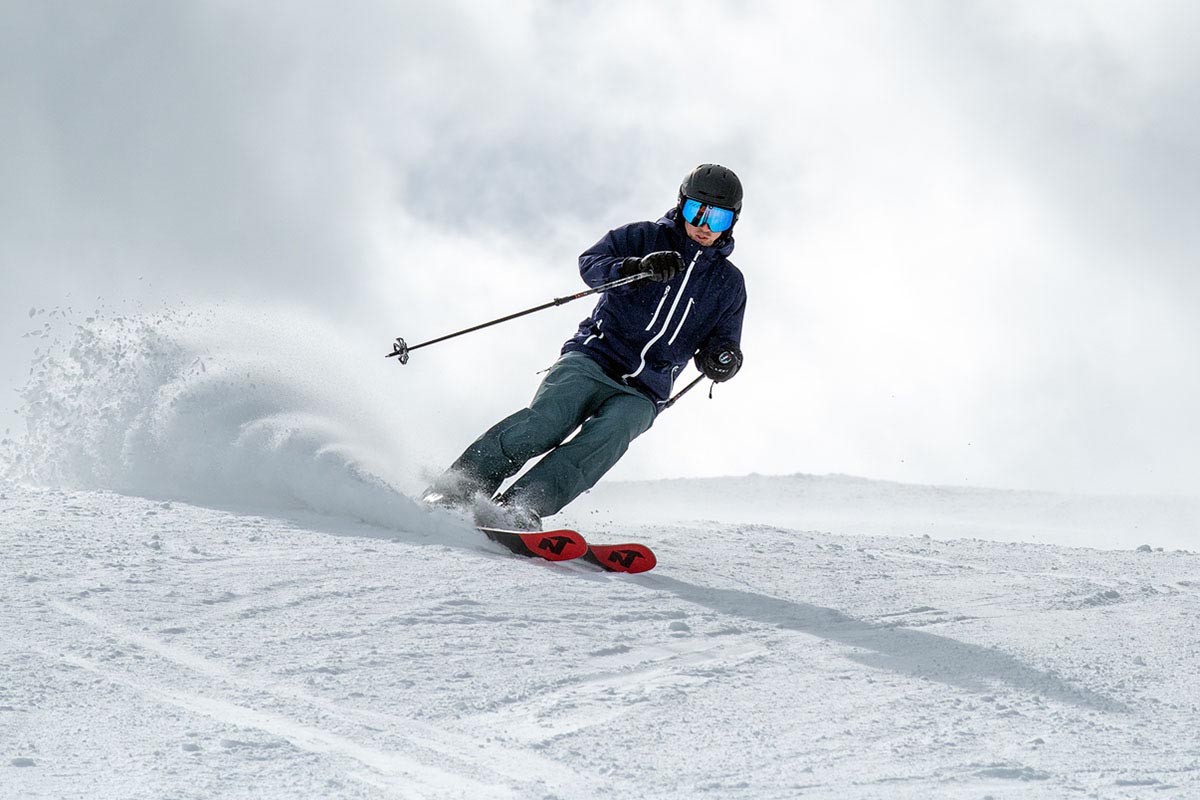 Most intermediate skiers, however, will be better off with a design that lands in the middle in terms of flex. A softer, lighter, and more flexible build—still with enough backbone to allow for you to ramp up speed—offers a good balance of smooth turn-in and control both on and off trail. It won't have the same top-end stability as a stiff ski, but popular designs like the Atomic Bent 90 and K2 Mindbender 90C hit this desirable middle ground.
Ski Weight
An average intermediate-level ski weighs in at about 3.5 to 4 pounds (per ski in a mid-170cm length). For use at the resort, weight is not likely a deciding factor in choosing skis, although a heavier—and often wider—design logically can be more difficult for lighter and less powerful skiers to manage. Skis that trend lighter will be easier to drive, turn, and control in tight spaces like bumps or trees. If you plan to dabble some in the backcountry—and potentially put a pair of hybrid bindings like Salomon's Shift on your skis—then weight becomes a much bigger consideration. Most of the skis listed above are best for downhill-only use, but one popular hybrid resort/touring ski to consider is Völkl's Blaze, which comes in at about 3 pounds 2 ounces per ski (in the 173cm length). But again, most of the designs that made our list fall roughly within a similar weight range.
Ski Construction: Materials, Cores, and Laminates
While it can be easy to get bogged down in techy language, a ski's materials and construction will be the best indicators of performance and durability—and more importantly, whether it will be the right ski for you. Starting with the core, all of the skis on our intermediate list are made from one or more types of wood. Poplar and aspen are two lightweight and high-energy woods commonly used to reduce weight while adding pop and snappy responsiveness. Like aspen and poplar, paulownia is another type of wood that's used to keep a ski's weight down without sacrificing durability. Denser woods like maple—which is found in J Skis' The AllPlay—will add to the ski's power, stability, and durability.
In addition to wood, ski manufacturers use a variety of metals and composite materials (such as graphene, carbon, Titanal, or proprietary blends) to increase a ski's strength and durability, manage its overall weight and flex, and otherwise improve its performance. When you're researching your ski purchase, pay close attention to the ski materials and construction and how the ski manufacturer describes the ski's performance (using words like poppy, snappy, responsive, and stable; or words such as light, nimble, and forgiving). Better yet, take advantage of any opportunity to demo skis with slightly different materials and constructions and see how they feel under your feet. We've included insights from our testing in the descriptions above, but finding the right pair of skis is still a personal decision, and it's hard to beat trying them firsthand.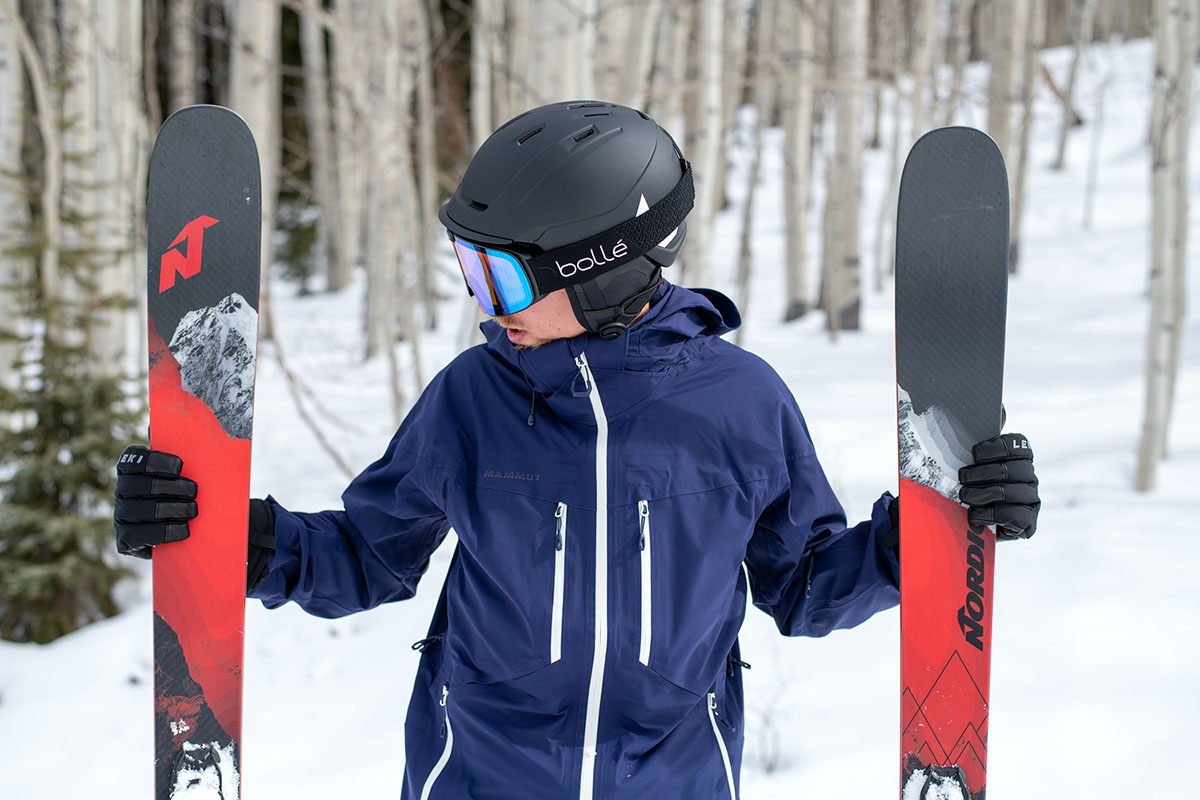 Choosing Ski Length
Most ski manufacturers offer a size guide that can be found on the product page for a given ski. It's typically based on height, weight, and ability level. If you're between sizes, a shorter ski will be easier to turn but will give you less stability at speed and less control in choppy or variable snow. On the other hand, if you end up on a ski that's too long, it will be hard to turn. For intermediate skiers, a good rule of thumb is to choose a length that's equal to or slightly shorter than your height. That said, we recommend following the manufacturer's guidelines whenever possible to choose the best length. And if you're just looking for a general baseline of how long a ski to get, Evo's size chart tool is a useful resource.
Women's-Specific Skis
For many years, a women's-specific ski simply was the men's version in a shorter length, softer flex, and different colorway—and with some models today, this is still true. The technology is evolving, however, and a number of ski manufacturers now are taking more advanced design elements into account. One example is that many of today's women's-specific models have moved the recommended mounting points slightly forward since this better accommodates how an average woman balances on skis compared to an average man, along with a lighter overall weight. Softer flexes still are common, but many brands are now making skis to accommodate hard-charging women, including the Nordica Santa Ana 93 on our list above.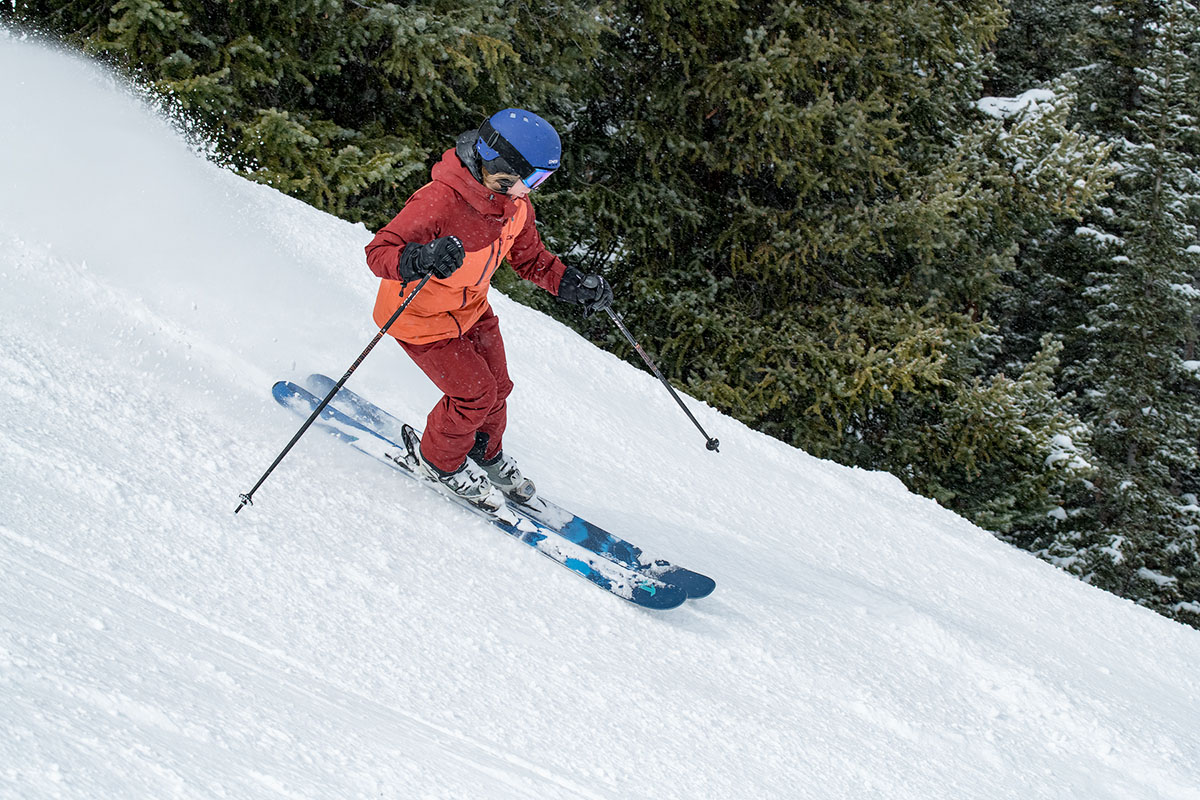 Which ski type should you buy? Keep in mind that the primary version of a ski isn't a "men's" version but instead unisex in nature. When a women's-specific version is available, we've included a link to that option, as well. The choice comes down to personal preference and, most importantly, the quality and characteristics of each model. Some women use unisex skis, some favor women's-specific models, and many serious skiers have a quiver that includes both. We recommend getting whichever ski fits and feels best.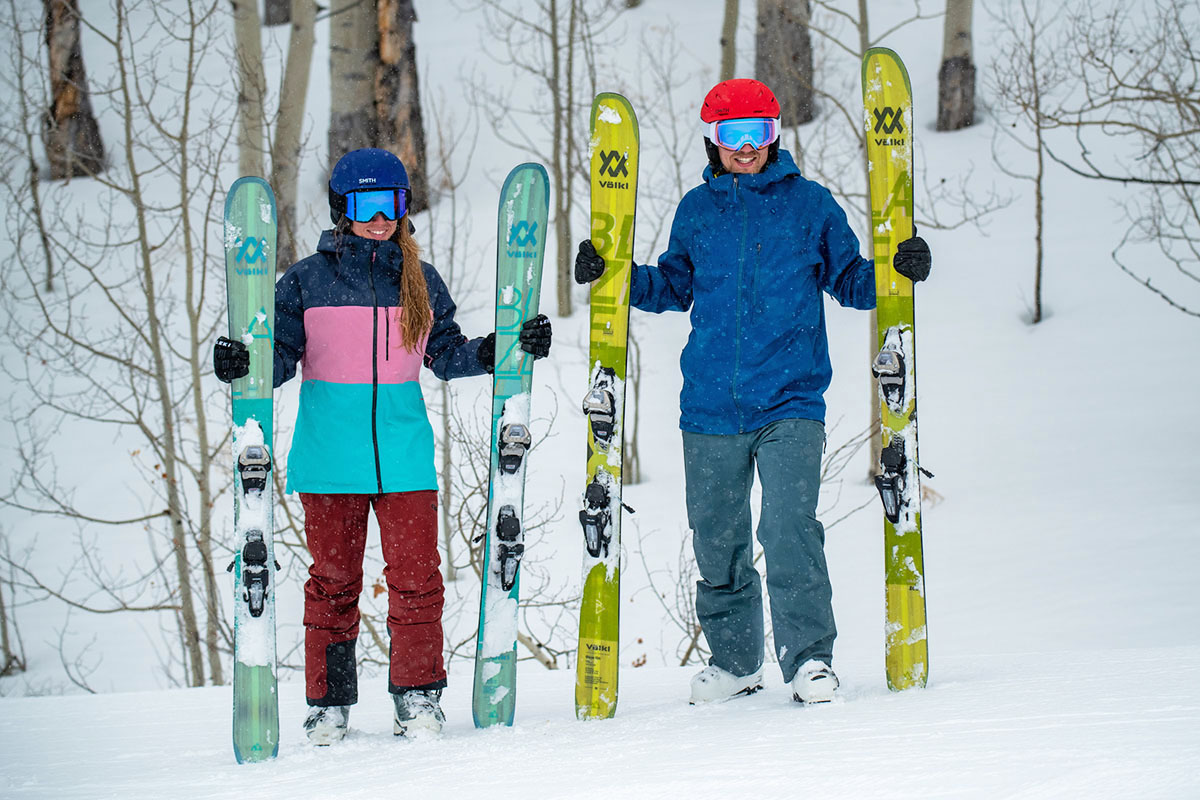 Boots and Bindings
When choosing skis, it's important to understand how interconnected all the components of your setup are. Your boots, bindings, and skis all need to be working in concert to maximize the performance potential of your gear, as well as your overall enjoyment on the slopes. If you have a boot that still matches your beginner ski/binding kit and is quite soft, you'll struggle to control a stiffer and more capable set of intermediate skis. On the other hand, if you end up with a softer ski and pair it with a stiff boot, your boots are essentially adding nothing to your performance (and likely making your feet unnecessarily uncomfortable in the process). To help you nail down the best match, take a look at our ski binding and downhill boot recommendations, which break everything down according to ski conditions and ability level.
Ordering Skis Online
It goes without saying that purchasing a pair of skis is a significant investment and one that requires a good deal of research. Ideally, you'll have a chance to get your hands on the skis (and hopefully even demo them) before taking the plunge, but that isn't a reality for everyone. The good news is that ordering online is a pretty seamless process these days, with most major retailers offering free and surprisingly fast shipping. Many also have reasonable return policies should you order the wrong size, although it's important to do your research ahead of time—most sites require the skis to be unmounted and in their original packaging in order to qualify for a full refund.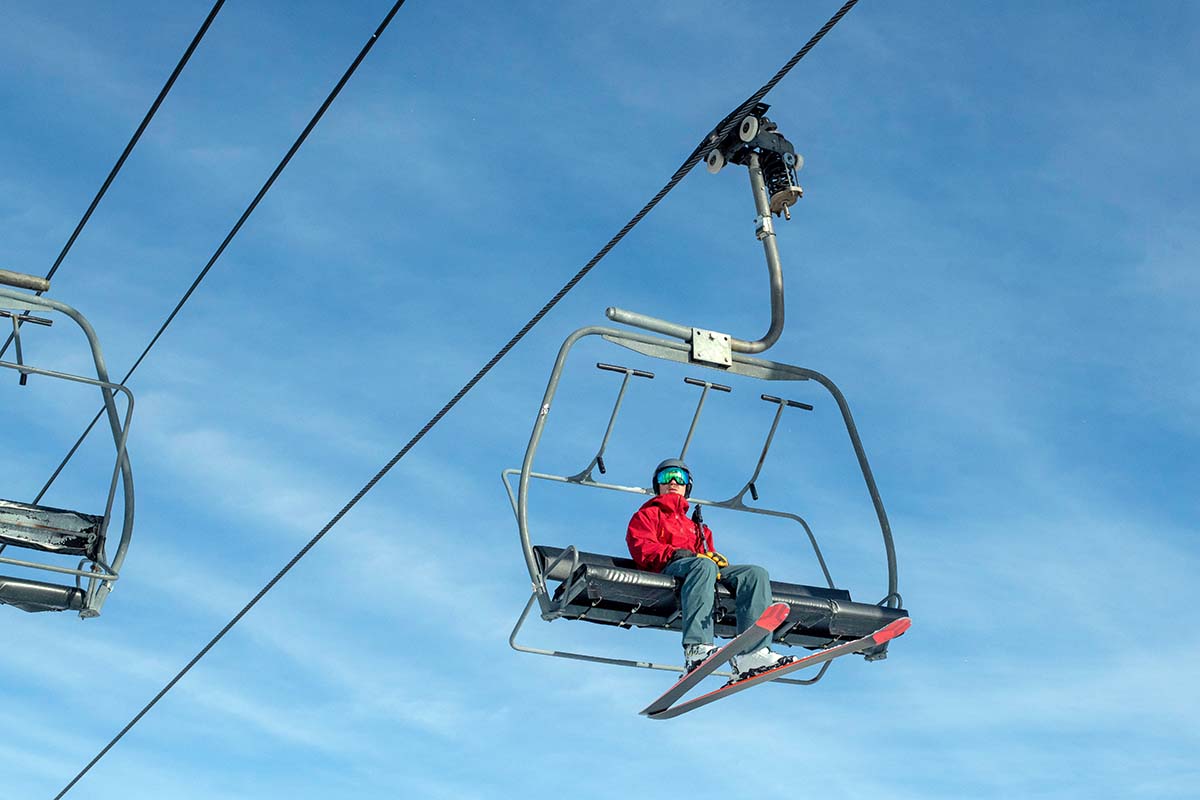 Once you get your skis, you'll need to have your bindings mounted. Just about any ski shop will do the work for you, with the average cost ranging from about $40 to $70. Many of REI's 180+ stores also have a ski shop with good discounts on mounting services. Prices vary by store, but the rate at the flagship in Seattle last season was $60 for an alpine mounting (we will report back once they reopen for the 2023-2024 season). Importantly, members get 20% off shop services, and you'll also receive a discount if you purchase the skis, boots, or bindings from REI. Evo and Backcountry also offer mounting services at their stores, although they're few and far between compared to REI (you can see a list of Backcountry's retail locations here and Evo's stores here).
Back to Our Top Intermediate Ski Picks  Back to Our Intermediate Ski Comparison Table
Learn More About Ski Gear