We love quickdraws. Few pieces of climbing protection can transform feelings of uncertainty and discomfort into peace and happiness as quickly and authoritatively. And yet, trying to shop for quickdraws can be as challenging as any other piece of climbing equipment. This article will help you navigate the large field of choices and come up with the ideal draw for your climbing needs. Below we break down the best quickdraws of 2023. For more background information, see our comparison table and buying advice below the picks.
 
---
Our Team's Climbing Quickdraw Picks
---

Best Overall Climbing Quickdraw

Best use: Sport climbing
Weight: 89-104 g
Lengths: 11, 17, 25 cm
What we like: Great handling and comfortable clipping.
What we don't: A bit pricey and not versatile.
It should come as no surprise that Petzl's tried-and-true Spirit comes in at the top of this list. What's not to like about this Cadillac of a quickdraw? The carabiners are super smooth, the dogbones are stable-feeling, and these things are, quite simply, really fun to clip. All the materials are ridiculously strong and durable, including the rubber grommet that keeps the rope-side carabiner from flipping over. The Spirit is equally easy to stick clip or grab when the good holds run out, and the whole unit is so rigid that you can hold onto the bottom end of the draw and still clip an out-of-reach bolt. 
Petzl recently updated the carabiners on the Spirit Express, dropping 4 grams per draw with a few cutouts in the metal, in addition to slightly smaller dimensions. But despite the updated version's lighter weight, the Spirit is still too heavy and bulky for multi-pitch climbing. In fact, we'd be surprised if a Spirit Express has ever made it into the alpine, and we certainly wouldn't want to clip it to a direction-dependent nut. But for a sport climbing draw, either for redpointing or leaving on a project for an extended period, this is the best model money can buy.
See the Petzl Spirit Express
Best Ultralight Draw for Multi-Pitch Climbing

Best uses: Alpine, trad climbing
Weight: 53 g
Length: 12 cm
What we like: Versatile, lightweight, and affordable.
What we don't: Non-keylocking design, not easy to clip to reachy bolts.
Black Diamond's HotForge and HotWire below are great options for sport climbers, but for trad climbers looking to streamline their setup, the MiniWire is one of our favorite quickdraws. MiniWire carabiners are a relatively new addition to Black Diamond's lineup, combining a sub-1-ounce weight with a generous 21-millimeter gate opening. And instead of the rigid dogbone design of many draws here, the MiniWire has a thin, flexible build. All in all, it's a great pick for longer routes when it's more important to have a lightweight rack than a robust draw for hangdogging.
With a 12-centimeter dogbone, the MiniWire clocks in at a lightweight 53 grams. It's also relatively affordable (when you're buying 12 draws, the cost quickly adds up), and the large carabiners are easy to operate. You do get what you pay for though—the MiniWire does not have a keylock closure (on the flip side, this matters less when you're clipping cams instead of bolts), and the dogbone isn't super stiff, making it more difficult to reach a far-off bolt. For a nice middle ground, it's worth considering Black Diamond's LiteWire Quickdraw ($20; 73 g), which combines a similarly streamlined dogbone with slightly bigger carabiners, making it a better ultralight option for those with large hands.
See the Black Diamond MiniWire
Most Durable Climbing Quickdraw

Best use: Sport climbing
Weight: 118-124 g
Lengths: 12, 18 cm
What we like: The most durable, high-quality draw on the market.
What we don't: Overkill for most uses.
If the Petzl Spirit Express is the Cadillac of quickdraws, the Edelrid Bulletproof might be the Hummer. It has all of the features we look for in a top-of-the-line sport draw, plus extra durability and strength in the form of a small steel insert on the rope-end carabiner. Steel is heavier than aluminum but much more durable, so Edelrid got smart by adding it only where it counts. If you use quickdraws for top-roping anchors or want one burly draw for the first clip (this one sees the most wear from the rope), the Bulletproof is the most, well, bulletproof draw there is.
Even if it weren't for the steel insert, this is an incredible draw. The nose is narrow for easy clipping, the carabiners are large, the dogbone is nice and thick, and the whole thing screams quality. But given the Bulletproof's heft and price tag, we'd only recommend using the draw where it really counts. To put it another way: every rack of quickdraws could benefit from two or three Bulletproofs, but any more is overkill. And if you want to save your money, keep in mind that you can achieve the same function with a cheap steel biner on a sling. 
See the Edelrid Bulletproof
Best Budget/Workhorse Quickdraw 
Best use: Sport climbing
Weight: 107-113 g
Lengths: 12, 17 cm
What we like: Very affordable for a quality Petzl quickdraw.
What we don't: Heavy and bulky.
Petzl dominates the high end of the market, but they also make our favorite workhorse quickdraw—the Djinn. At just $15 to $16, this quickdraw is a total steal: You get Petzl's premium build quality, two large keylock carabiners, and a rubber tab at the lower carabiner, meaning it'll always be correctly oriented for that spicy clip. Really, you shouldn't need much more for warming up, hanging project draws, and redpointing. And as an added bonus, the Djinn now comes in flashy blue and purple colors rather than the standard Petzl grey and orange.
The Djinn is an excellent value for those who spend time at the crag, but it's much too heavy for multi-pitch climbing—especially when you can cut weight in half with a draw like the Black Diamond MiniWire. Further, the carabiners are a little bit bigger than those on the Spirit—which you'll either like or dislike depending on the size of your hands—and the bent gate on the rope side isn't quite as aggressive and slightly harder to clip. But these are relatively minor gripes for the majority of sport climbers; with a combination of Petzl quality and a bargain-basement price, the Djinn is our favorite workhorse draw of the year.
See the Petzl Djinn Axess
Best Premade Alpine Draw

Best uses: Alpine, trad climbing
Weight: 80 g
Length: 60 cm (sling length)
What we like: Putting together your trad kit just got a bit easier and cheaper.
What we don't: Not the lightest set-up.
Quickdraws in this article range from dedicated sport climbing models to light and stripped-down versions for trad or alpine use. Unless you're a fan of killer rope drag, trad climbers will want the majority of draws in their rack to be "alpine draws"—essentially a quickdraw made with a 60-centimeter sling strung between two lightweight carabiners. All in all, it's a highly versatile set-up: you can also fold the sling in thirds for a compact draw (here's a great how-to) or extend it so that the rope runs in a more direct line between you and your belayer.
You can purchase all the components of alpine draws (carabiners and slings) separately and construct them yourself, but it's actually a bit cheaper to buy a pre-made set. The Phase Alpine comes with a durable 11-millimeter sling and two lightweight (30 g) Phase carabiners, which are a great size and shape for clipping. And as a nice bonus, you get one bent-gate carabiner (for the rope end) and one straight-gate carabiner, each a separate color so you know which end to clip. You can certainly go lighter—Black Diamond's MiniWire Alpine Quickdraw ($25) features an 8-millimeter runner and 23-gram biners—but for new trad climbers, we like the durability and foolproof color-coding of the Trango.
See the Trango Phase Alpine
Best of the Rest

Best uses: Sport climbing
Weight: 103-108 g
Lengths: 12, 16 cm
What we like: Affordable and keylock on both biners.
What we don't: A good-looking quickdraw, but run-of-the-mill in actual use.
Black Diamond is synonymous with quality climbing equipment, and their lineup of quickdraws is no exception. Balancing performance and price, the HotForge is their premium design for sport climbers. It features keylock carabiners on both sides of the dogbone, making for easy clipping and unclipping all the way around. Essentially, it's everything we look for in a sport climbing draw and not too heavy to tote up the onsight burn either.
The HotForge replaced Black Diamond's old Positron quickdraw, with redesigned carabiners that manage to both shave off a few grams and increase the surface area for smoother rope handling (similar to the improvements with the HotWire above). That said, you don't get any more gate clearance (the bottom biner actually has a 2-millimeter-smaller opening), and compared to the competition, there's nothing about this draw that truly stands out. But for just a bit over $20, it's all most climbers need, and we even like it for trad pursuits. Finally, if you like the feel of a wiregate on the rope side but don't want to give up the functionality of a keylocking biner on the bolt side, Black Diamond also makes the HotForge Hybrid for $20 - $21.
See the Black Diamond HotForge

Best uses: Trad, alpine, sport climbing
Weight: 63-78 g
Lengths: 10, 17 cm
What we like: Gate design is a revolutionary way to cut weight.
What we don't: Design takes some time to get used to.
Petzl's Ange Finesse represents one of the biggest advances in carabiner technology to date. The single-bar, keylocking gate not only is lighter than more conventional designs but also makes for incredibly smooth clipping, both on the bolt and rope sides. In short, you'd be hard-pressed to find another quickdraw that offers this kind of performance at such a low weight. For this reason, the Ange Finesse is a superb one-quiver draw and one of our favorite models for longer routes and onsight single-pitch sport climbing alike. Its small nose fits into old bolt hangers and small pins too, which is great for climbing in areas like Yosemite or Joshua Tree.
Our biggest hang-up with the Ange Finesse is price: although Petzl recently lowered the MSRP of their Spirit and Djinn, the Ange stayed in the upper-$20 range. In addition, we do know of some climbers that don't like the feel of clipping with this particular draw—the gate is so different that it may require some practice. But overall, the Ange Finesse has a premium, confidence-inspiring design at an impressively low weight, which makes it one of our top picks for demanding alpine and multi-pitch climbing. Finally, it's available in a number of configurations, including your choice of large or small carabiners and 10 or 17-centimeter dogbones.
See the Petzl Ange Finesse

Best use: Sport climbing
Weight: 112-122 g
Lengths: 12, 18, 25 cm
What we like: Great-feeling dogbone; perfect clipping carabiners.
What we don't: Expensive and heavy.
On one end of the price spectrum we have the $15 Mammut Crag below, and on the other lies the luxury DMM Alpha Sport. Consider it the polar opposite of cheap and ordinary. The Alpha Sport features noticeably easy-clipping, keylock carabiners, and a dogbone reminiscent of the original Petzl Spirits. The handling is superb (like all DMM products), and you can expect the materials to last.
So what gives? At well over 100 grams, the Alpha Sport is among the heavier draws on our list, making it less versatile than others. And in the category of sport climbing-specific draws, the Petzl Spirit is the undisputed classic and a much better value. That said, you might really like the unique shape of the carabiners on the Alpha Sport, and the dogbone is undeniably premium. Plus, it's also made in a 25-centimeter version, which some sport climbers will appreciate. All in all, this is one of the top sport draws in the game—if you're willing to stomach the cost.
See the DMM Alpha Sport

Best uses: Trad, alpine climbing
Weight: 65-66 g
Lengths: 10, 15 cm
What we like: Lightweight and minimalist, but still great for sport climbing.
What we don't: Not quite as premium as Wild Country's Helium.
On a recent sport climbing trip to Spain, we racked up with the bulky (but totally plush) Petzl Spirits, while our European friends took out their set of Wild Country Astros. Over 20 Spirits maxed out our harness for the 40-meter warmup, so we ended up borrowing a dozen Astro quickdraws to lighten the load. While such a feathery wiregate draw might not be most sport climbers' first pick, the Astros ended up being a boon for onsights, with a compact size, easy clipability, and hooded nose that minimizes the risk of hooking the bolt when cleaning.
If you're primarily a sport climber, you'll want to weigh the pros and cons between beefy sport-specific quickdraws and more streamlined all-rounders. Do you hang your draws on your project and keep them on the wall all day? Or perhaps you're more of an onsight climber, repeatedly racking up for new routes. And then you'll have to consider location—long routes are the norm in some areas (Europe), but not in others. Lightweight, wiregate draws like the Astro might not offer the smoothest handling, but they do have their upsides for certain climbers and uses. For a more premium offering, Wild Country also makes the Helium quickdraw, which features a no-hook gate (similar to the Petzl Ange above) and costs $27 for the 10-centimeter version.
See the Wild Country Astro

Best uses: Alpine, trad climbing
Weight: 79 g
Length: 15 cm
What we like: Lightweight and inexpensive.
What we don't: Not as easy to handle as some of the beefier draws above.
Based right outside of the sport climbing mecca of Smith Rock, Oregon, Metolius is a small company that specializes in climbing gear for all disciplines. And we'd be remiss not to include their Bravo II quickdraw on this list. Similar to designs like the Black Diamond MiniWire and Wild Country Astro, the Bravo II is a highly versatile piece that can pull double duty at the crag or in the mountains. On the rope end, a rubber keeper locks the carabiner into place for easy clipping (a feature we love in a sport draw), and the flexible and minimalist dogbone keeps things lightweight for long pitches in the alpine.
For a full season, we toted a rack of both Petzl Spirits and Bravo IIs to the crag and found ourselves routinely reaching for the Spirits when it came to leading sport routes. By comparison, the Bravo has a flimsy feel, isn't as smooth to clip, and lacks a keylocking carabiner on the bolt end. However, when racking up for trad pitches, we always opted for the Metolius, which speaks to their more flexible, lightweight design. The key takeaway: we like the Bravo II for trad and alpine routes but will stick with a more rigid draw with a keylocking biner for sport leads. 
See the Metolius Bravo II

Best use: Sport climbing
Weight: 104 g
Length: 10, 15 cm
What we like: Affordable and great dogbone.
What we don't: Not as widely available as some of its competitors above.
Don't let the ranking fool you—the Mammut Crag Wire Indicator Express is a solid quickdraw, with a rigid structure and generous dogbone that provide great handling for sport climbers. You get a keylocking carabiner on the bolt side and, similar to Black Diamond's HotForge Hybrid, a wiregate on the rope side for weight-savings and reduced gate flutter. Finally, the sling incorporates an indicator (hence the name) that shows red when it's ready to retire, meaning you can rest assured that the Mammut will keep you safe throughout its entire lifetime.
At just $15, the Crag is one of the most affordable draws on our list. Sure, you can spend over $10 more on a quickdraw like the DMM Alpha Sport or Camp Dyon, but casual climbers won't benefit much from these premium models (and when you're buying a dozen draws, the cost adds up quickly). In deciding between the HotForge Hybrid and the Crag Indicator here, the real clincher for us is availability: while the BD can easily be found in both its 12- and 16-centimeter versions, we're generally only able to track down Mammut's 15-centimeter length. But these are minor nitpicks, and Mammut's Crag is another high-quality yet affordable option for sport climbers.
See the Mammut Crag Wire Indicator Express

Best uses: Sport, trad climbing
Weight: 82-88 g
Lengths: 11, 18 cm
What we like: Premium quality with two keylocking wiregate biners.
What we don't: Do you really need a $35 quickdraw?
If you read the entirety of this article, you'll pick up on a few things. Wiregate carabiners are lighter than solid gate carabiners. Wiregate carabiners are slightly safer than solid gate carabiners (no gate flutter). And third (their main downfall), wiregate carabiners are much less likely to have a keylock closure. With all that in mind, consider the Camp Dyon Express quickdraw, with not one, but two wiregate, keylocking carabiners. If you think this sounds like the best of both worlds, you're right.
This quickdraw is lightweight, safe, functions well, and has an exceptionally high-quality feel. What's not to love about the Dyon Express? The most obvious answer is price: at $35 for the 11-centimeter version, this is by far the most expensive quickdraw on our list. In the majority of settings, using these draws will be akin to owning a Porsche and driving it 30 mph in town. Further, $14 less will get you a size-large Petzl Ange Finesse draw, with large carabiners for impressive handling and a similar wiregate keylocking design. We're certainly curious about the Dyon Express, but you won't see us ordering a dozen for our rack anytime soon.
See the Camp Dyon Express KS

Best uses: Sport, trad climbing
Weight: 100-103 g
Lengths: 12, 16 cm
What we like: Good quality at a very affordable price.
What we don't: Heavy and no keylocking carabiners.
Black Diamond's budget quickdraw, the HotWire manages to hover right around $20 and dips even lower when bought in a pack of six. The HotWire is BD's replacement to the FreeWire quickdraw, featuring an updated carabiner shape that wears less on your rope and a dogbone that secures the bottom biner for hassle-free clipping. It's nothing fancy, but the HotWire will catch your fall similar to any other quickdraw on this list.
Is the Black Diamond HotWire the best quickdraw on the market? No. Is it lightweight? Not particularly. Is it as easy to clean as one of its keylock brethren? Certainly not. But it does cost a lot less than many of the other quickdraws on this list and still should get the job done. All in all, the low price tag, plus the versatility from sport to trad rack, is enough for us to recommend the BD HotWire as a solid budget quickdraw. For another $1 per draw, the Black Diamond HotForge Hybrid adds a keylocking carabiner on the bolt side for smoother clipping.
See the Black Diamond HotWire

Best uses: Trad, sport climbing
Weight: 80 g
Length: 10 cm
What we like: Lightweight with a keylocking carabiner on the bolt end.
What we don't: Dogbone and carabiners are lacking in quality.
The Mad Rock Super Light is an affordable quickdraw that hits a nice middle ground between models like the minimalist Metolius Bravo II and burlier Black Diamond HotForge above. With a keylocking carabiner on the bolt side and a wiregate on the rope end, you get great sport climbing performance alongside a lightweight build. In use, the Mad Rock Super Light is versatile and effective for both trad and sport climbing, making it a great quiver-of-one choice for beginning climbers. 
Keep in mind that this no-frills quickdraw isn't particularly pretty, and it probably won't be your favorite piece of climbing gear. For example, there's no rubber positioner to keep the lower carabiner in place, it's only available in one length, and overall quality is a slight step down from the draws above. But at only 80 grams, the Super Light lives up to its name. And for half the price of some models here, it's super cheap too. If the price tag on the similarly versatile Petzl Ange Finesse has you cringing, this is a fine option for about $10 less per draw.
See the Mad Rock Super Light

Best uses: Trad, alpine climbing
Weight: 69-72 g
Lengths: 11, 18 cm
What we like: Lightweight and versatile.
What we don't: There are a number of issues with the carabiners.
On paper, the Camp Photon Wire Express is everything we could ask for. This draw is lightweight, has large carabiners, a streamlined Dyneema dogbone, and a rubber carabiner keeper, all for $20. Heck, if it's the real deal, it should be up there with the Petzl Ange Finesse as one of our favorite versatile draws. So what gives?
A lot of things, actually. For one, we've found that Camp carabiners often are amazing on paper but underwhelming in practice. The gate tension tends to be soft, and we've had numerous Camp biners where the gate flat-out stopped closing after a few months of use. This fact alone is enough to have us shaking our heads. In addition, many of Camp's non-keylocking biners have huge hooks that catch gear and bolts more than most. We've personally experienced both of these issues with the Photon Wire Express. Camp is a good company and we expect quality from them, but these quickdraws in particular lag behind the competition. 
See the Camp Photon Wire Express
Quickdraw Comparison Table
| Quickdraw | Price | Best Uses | Weight | Lengths | Keylock | Gate Opening |
| --- | --- | --- | --- | --- | --- | --- |
| Petzl Spirit Express | $24-25 | Sport | 89-104 g | 11, 17 cm | Yes | 21 / 24 mm |
| Black Diamond MiniWire | $19 | Alpine, trad | 53 g | 12 cm | No | 21 mm |
| Edelrid Bulletproof | $37 | Sport | 118-124 g | 12, 18 cm | Yes | 20 mm |
| Petzl Djinn Axess | $15-16 | Sport | 107-113 g | 12, 17 cm | Yes | 27 / 24 mm |
| Trango Phase Alpine | $27 | Alpine, trad | 80 g | 60 cm (sling) | No | 23 (S), 26 mm (L) |
| Black Diamond HotForge | $22-23 | Sport | 103-108 g | 12, 16 cm | Yes | 22 / 24 mm |
| Petzl Ange Finesse | $27-28 | Trad, alpine, sport | 63-78 g | 10, 17 cm | Yes | 23 (S), 26 mm (L) |
| DMM Alpha Sport | $29-30 | Sport | 112-122 g | 12, 18, 25 cm | Yes | 25 / 22 mm  |
| Wild Country Astro | $20-21 | Trad, alpine | 65-67 g | 10, 15 cm | No | 24 mm |
| Metolius Bravo II | $18 | Alpine, trad | 79 g | 15 cm | No | 19.5 mm |
| Mammut Crag Wire Indicator | $15 | Sport | 104 g | 10, 15 cm | Yes (bolt) | 21.5 / 30 mm |
| Camp Dyon Express KS | $35-36 | Sport, trad | 82-88 g | 11, 18 cm | Yes | 26 mm |
| Black Diamond HotWire | $19-20 | Sport, trad | 100-103 g | 12, 16 cm | No | 25 mm |
| Mad Rock Super Light | $19 | Trad, sport | 80 g | 10 cm | Yes (bolt) | 21 / 23 mm |
| Camp Photon Wire Express KS | $20-21 | Trad, alpine | 69-72 g | 11, 18 cm | No | 26 mm |
Quickdraw Buying Advice
What to Know if You're Just Getting Started
When you're just starting out, there's no need to stress about most of the info below. Bent vs. straight gates, keylocking and non-keylocking carabiners, sizes and weights—it gets complicated very quickly. Before you get too far in the weeds, our recommendation is to start simple. In short, the best quickdraw will probably be the one on sale. Better yet, opt for a six-pack (you'll save a little by buying bulk) or go for something like Trango's $230 Sport Climbing Package, which will get you everything you need to head to the crag, including 10 draws and two anchors with locking carabiners. Once you know you're committed to climbing and have a better idea of what you want, you can invest in some of the more premium models here. For reference, we've been climbing for over a decade and have gone through four cycles of quickdraw sets, not to mention a plethora of alpine draws.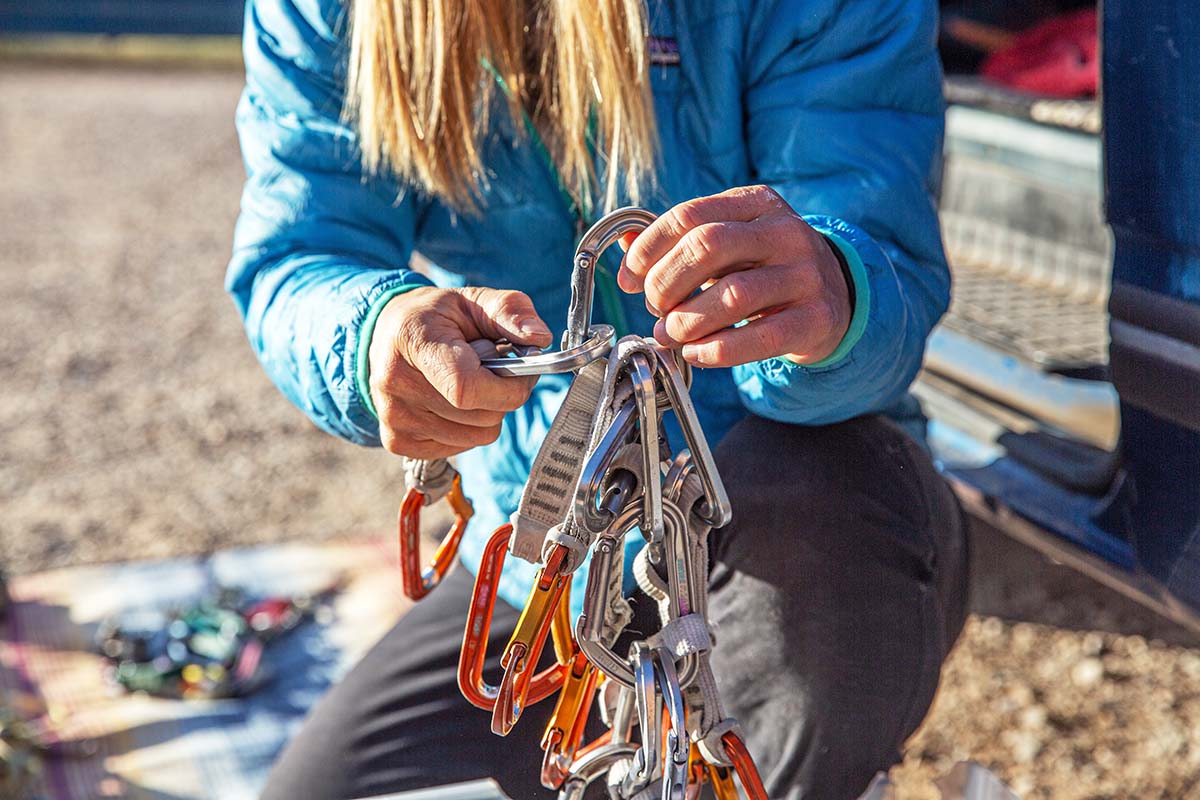 Best Uses: Sport, Trad, and Alpine
Quickdraws are predominantly used in sport climbing environments, but they can be a nice piece of gear to have for trad and alpine climbing too. Depending on the style of climbing they're designed for, quickdraws will differ in terms of weight, size, rigidity, type of carabiners, and more. To help you pick, we've noted the best uses for each quickdraw above.
Quickdraws designed for sport climbing will prioritize ease of handling above all else. When you're clipping mid-crux or grabbing a draw while sussing out the moves, you'll be grateful for a quickdraw with a generous and rigid dogbone, large carabiners with sizeable gate openings, and a rubber "keeper" on the rope end to keep the carabiner oriented correctly. Most sport climbing quickdraws also feature a keylocking carabiner on the bolt end so you don't catch the nose while cleaning the draws (more on this below). On the other hand, trad climbers will want a draw that focuses less on quick clipping and hangdogging performance and more on weight-savings and versatility. These draws will typically feature a streamlined and supple dogbone and smaller carabiners with wire gates. Finally, alpine draws are the lightest of the bunch and often forgo some convenience in order to cut weight (some gates are so small they can be difficult to clip).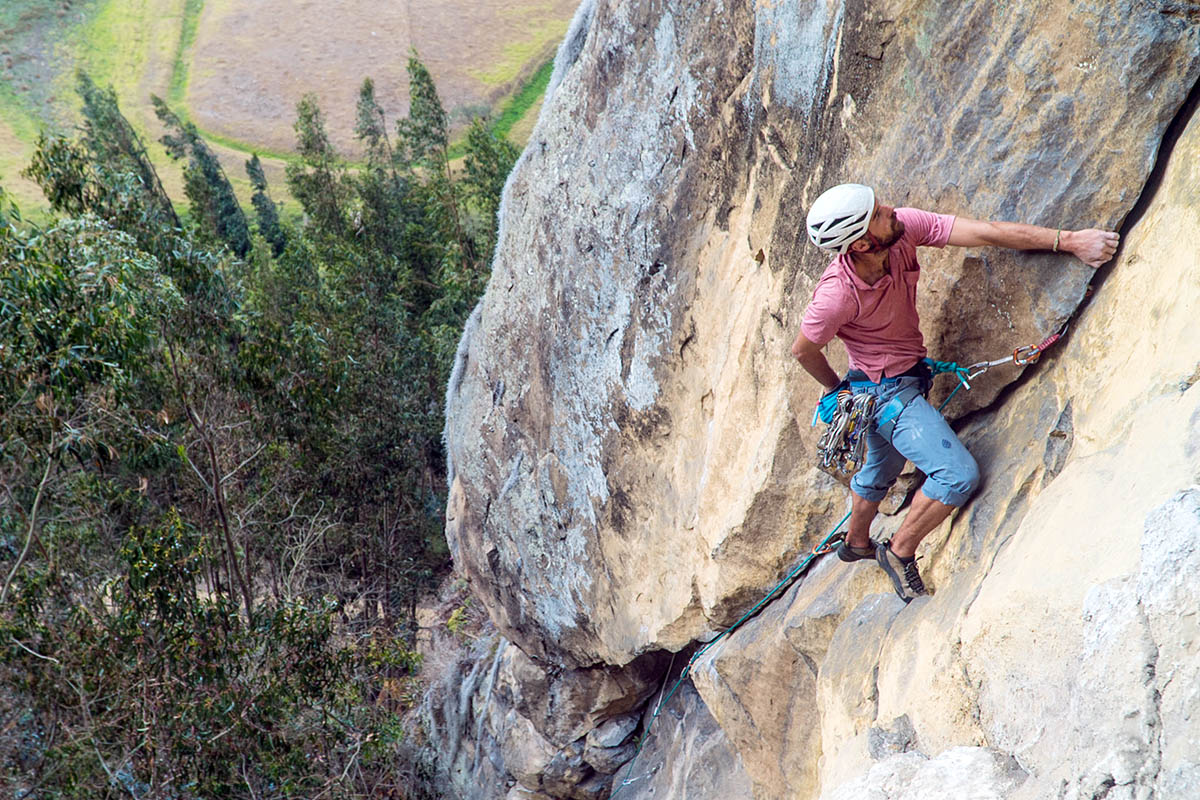 Some quickdraws are versatile enough for most scenarios (like one of our top picks, the Petzl Ange Finesse), while most remain specific to one discipline. If you're after an all-rounder, know that you'll likely be sacrificing at least a bit of functionality on either end. And regardless of your style of climbing, it's always a good idea to keep a few alpine draws on your rack (two carabiners attached to a doubled-over, shoulder-length sling). While not as easy to clip, alpine draws are great tools for extending a clip or mitigating rope drag (serious sport climbers might opt instead for a 20cm draw like the Metolius Bravo Long Draw). 

Keylocking Carabiners
Any carabiner will have some sort of mechanism for "latching" the gate closed, and we're not talking about the lock on a locking carabiner. Take a good look at a non-locking carabiner—any old one will do. A spring mechanism holds the gate closed, but there's always a little bar or tooth, an inset groove, or a keylock feature on the nose of the carabiner that allows the gate to settle nicely and smoothly into place. When force is applied across the long axis of the carabiner, it is this feature that holds the gate close to the nose. And this is important: a closed carabiner typically retains about three times the strength of an open one.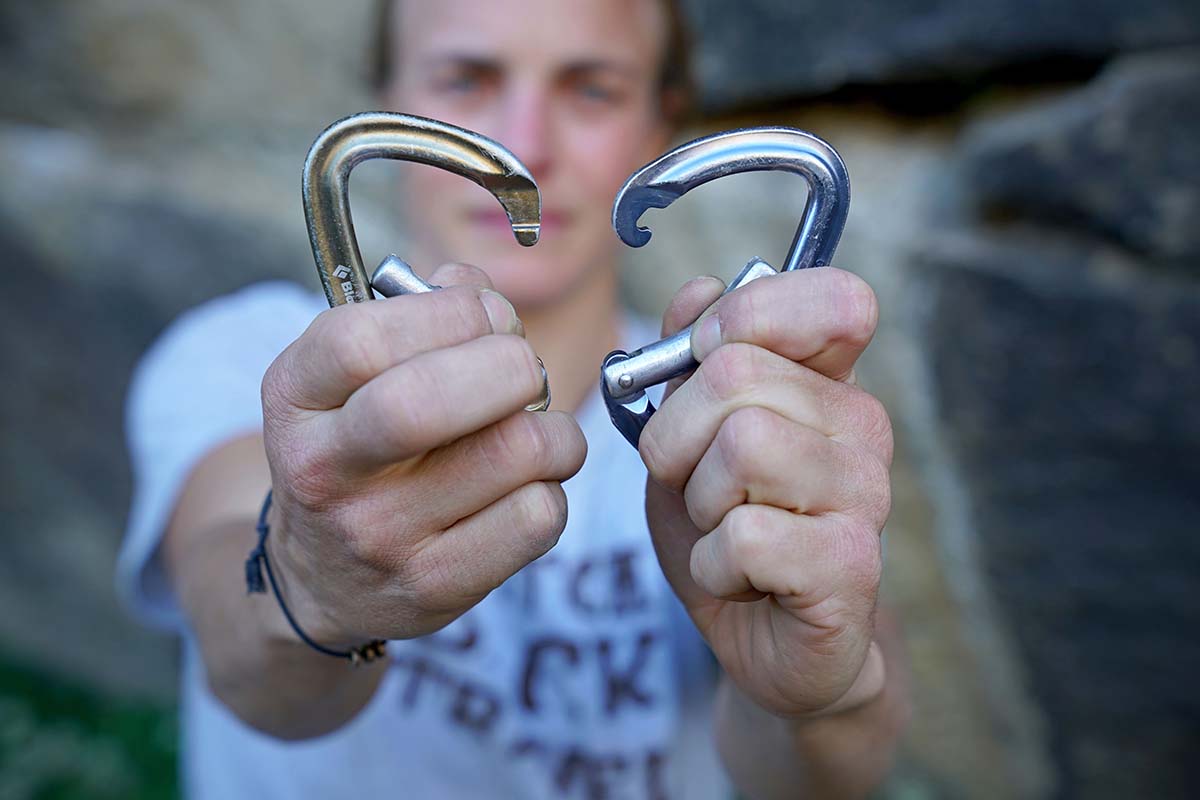 There are two ways manufacturers create this catch, and they result in either a keylock or non-keylock closure. We won't go into the technicalities too much, but a keylock design has a smooth nose, and a non-keylock design has a notch, or hook, in the nose. The keylock design is considered superior, particularly in sport climbing, because it is far easier to unclip from bolt hangers, pitons, or your harness. If you've ever attempted to clean an overhanging sport route, you know exactly what we're talking about. You pull in hard to the wall, generate a touch of slack, open the carabiner, and try to pull it off the bolt—only to have that pesky tooth snag on the hanger. It's super annoying and can make for some interesting rope shenanigans if you're not practiced in this delicate art.
Instead of playing the "please give me my quickdraw back" game, it's a good idea for sport climbers to invest in a set of quickdraws where, at the very least, the bolt-side carabiner has a toothless latch system. It can be a solid inset keylock like the Black Diamond HotForge or a unique wiregate application like the Petzl Ange Finesse—just so long as there's no hard-edged tooth when you open the carabiner. Keylock carabiners tend to be a little more expensive, but for sport climbing, it's completely worth the investment.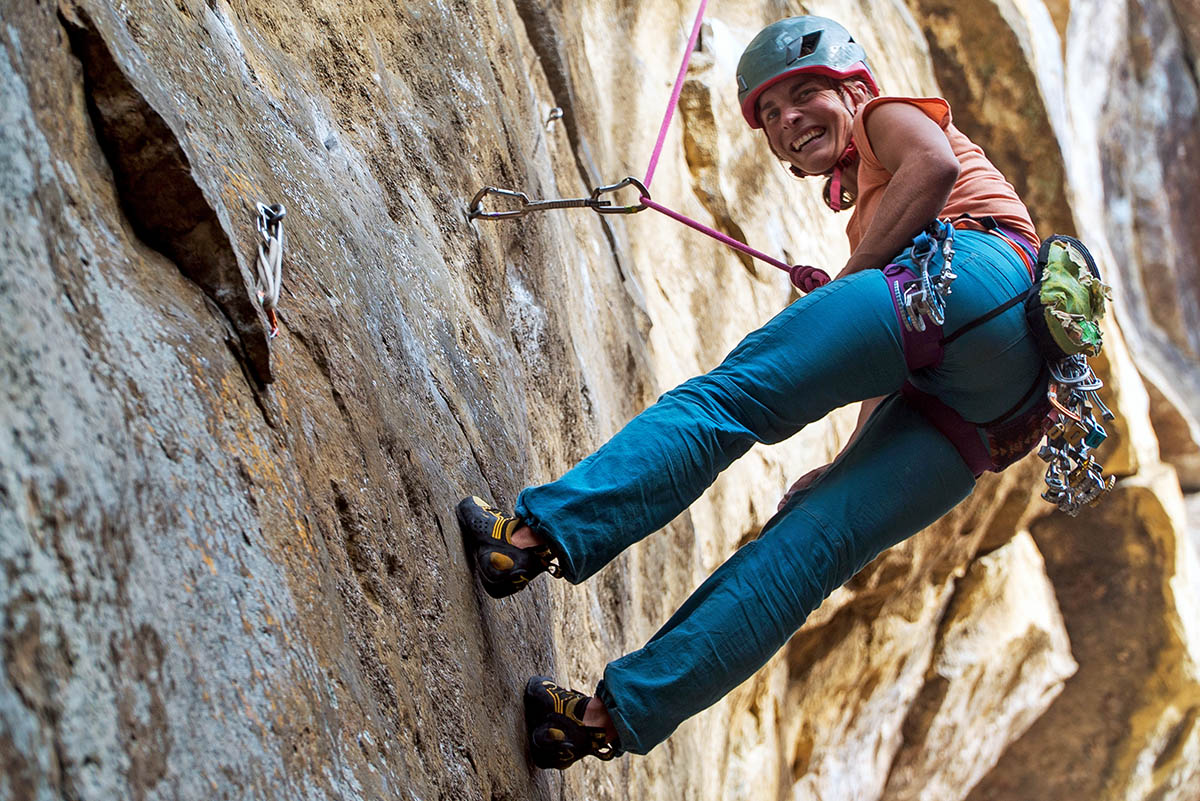 Carabiner Gates
The gates of the carabiners on your quickdraws come in all sorts of shapes and sizes. They can be wire gates or solid, bent gates or straight. They can range in size from miniature to jumbo (not the technical terms, but we'll get to that). Each has its advantages and disadvantages, so let's just run through them all quickly.
Wiregate vs. Solid Gate
A carabiner gate comes in one of two main styles: wire or solid. Whereas a solid gate features roughly the same shape and build as the rest of the carabiner, a wiregate is composed of a thin metal, which reduces weight and bulk. Wiregate carabiners are lighter than their solid-gate counterparts and tend to shed snow and ice better, making them a popular choice for alpine and winter pursuits. Their reduced weight also minimizes gate flutter (when the gate of a carabiner opens and closes slightly during a fall), which makes them a touch safer than solid-gate carabiners. On the other hand, solid-gate carabiners are more likely to have keylocking functionality and are much easier to clip. As a result, the majority of premium sport climbing draws here feature solid gates.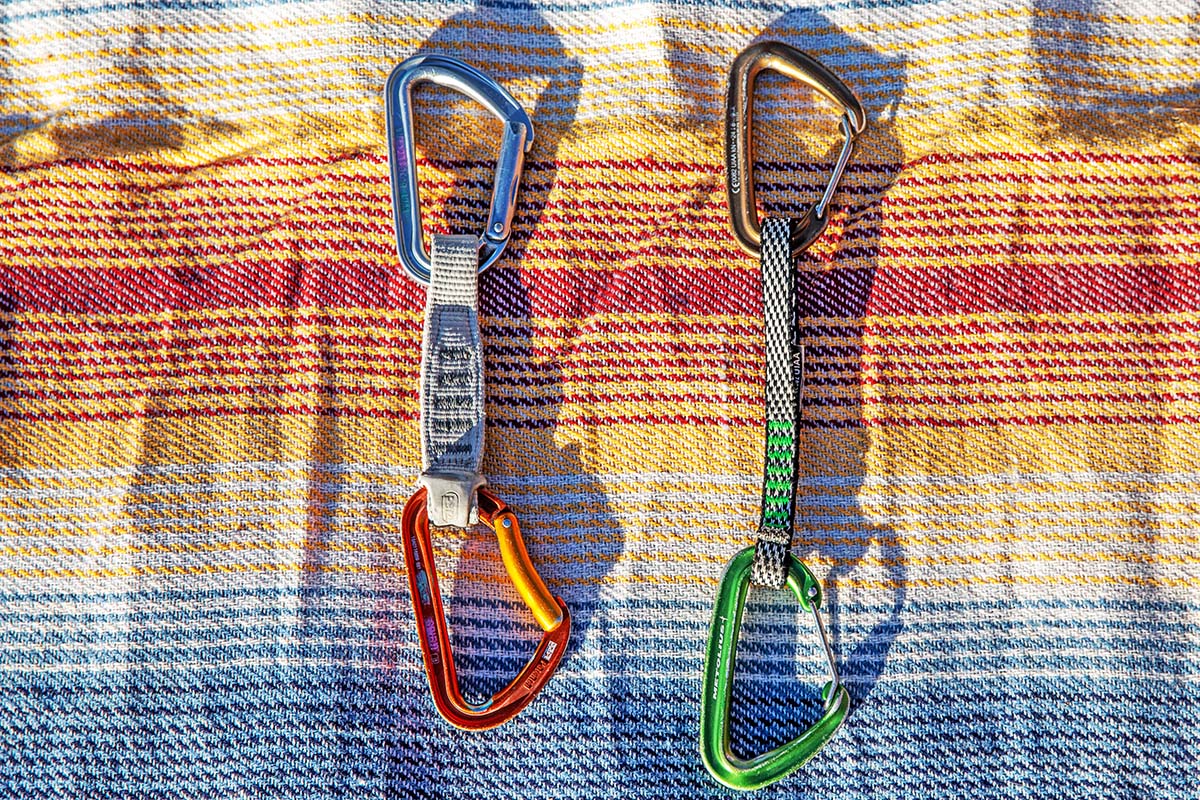 There's one key exception to this rule, which we see in high-end and versatile models like the Petzl Ange Finesse and Camp Dyon Express. Both of these quickdraws feature wiregate carabiners with keylock closures, which is the best of both worlds in terms of weight-savings and performance (although most will still find a solid-gate carabiner easier to clip). Aside from these examples, however, quickdraws with wiregate carabiners tend to be a bit more affordable. For example, the $22 Black Diamond HotForge (12-cm version) features two solid-gate carabiners, while the HotForge Hybrid swaps in a wiregate carabiner on the rope end, resulting in a draw that's 4 ounces lighter and $2 less. Finally, the $19 Black Diamond HotWire, features two wiregate carabiners.

Straight vs. Bent Gate
Another way to differentiate between carabiner gates is shape: some are straight, while others are bent. Straight-gate carabiners are ideal for clipping bolts, while bent-gate carabiners lend a much more premium feel on the clipping end of the quickdraw (their more ergonomic shape facilitates the gate opening and acts as a guide for the climbing rope). The downside to bent-gate carabiners is cost: they're slightly more expensive because of the extra step during production. As a result, it's common for budget quickdraws to have two straight-gate carabiners, while high-end models use a bent gate on the rope end. In the end, while we certainly prefer the ease of clipping a bent-gate carabiner, we don't think this should be a deal-breaker for novice climbers (it's taken us over a decade of climbing to develop a strong preference).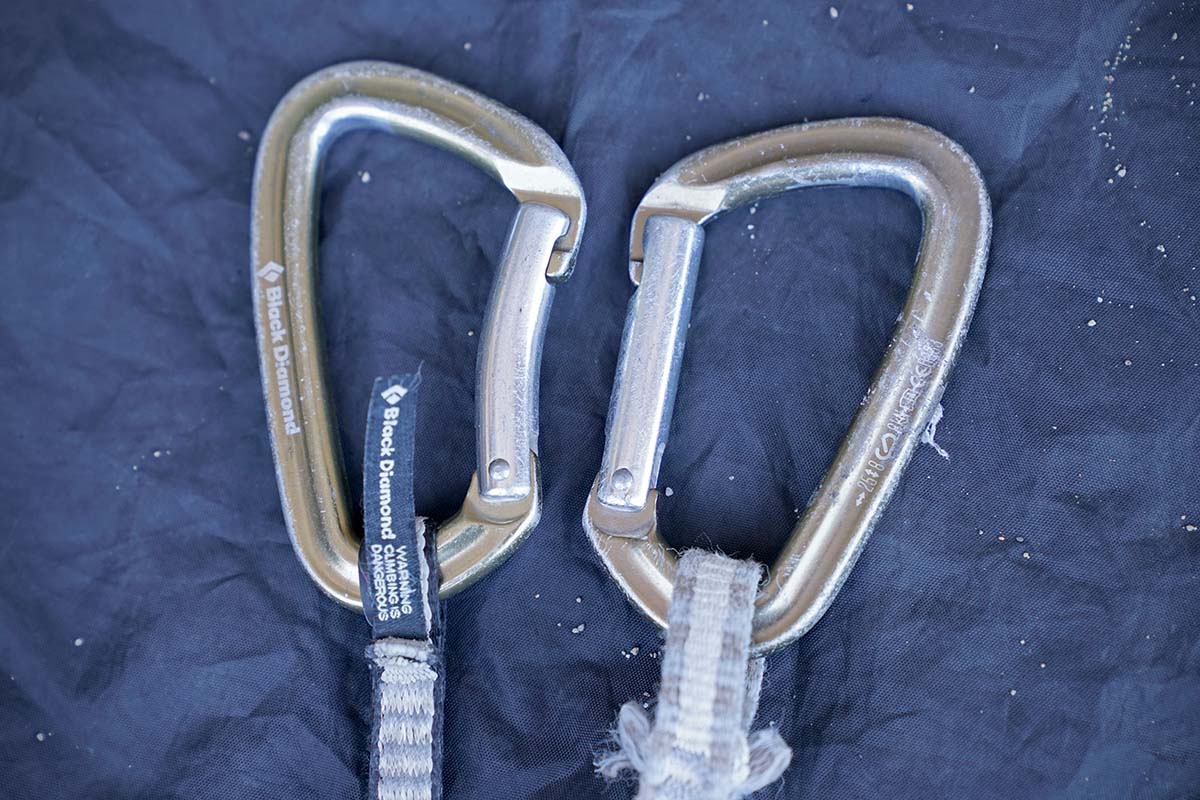 Carabiner Size
Carabiners on quickdraws come in a variety of sizes, from miniature to massive. The spec that we reference when looking for the size of a carabiner is the "gate opening." While this measurement refers to the distance between a carabiner's nose and the fully open gate—not simply the width or length of the carabiner—it correlates with the carabiner size (the smaller a carabiner, the smaller the gate opening). Thus we use the measurement of the gate opening on our comparison chart to delineate the size of each carabiner.
Generally, the smaller the carabiner, the lighter it will be. But it's worth noting that small carabiners dramatically compromise convenience. We know many climbers, and especially large-handed ones, who refuse to use some of the smallest quickdraws (the size-small Petzl Ange Finesse, for example) because they are so difficult to clip.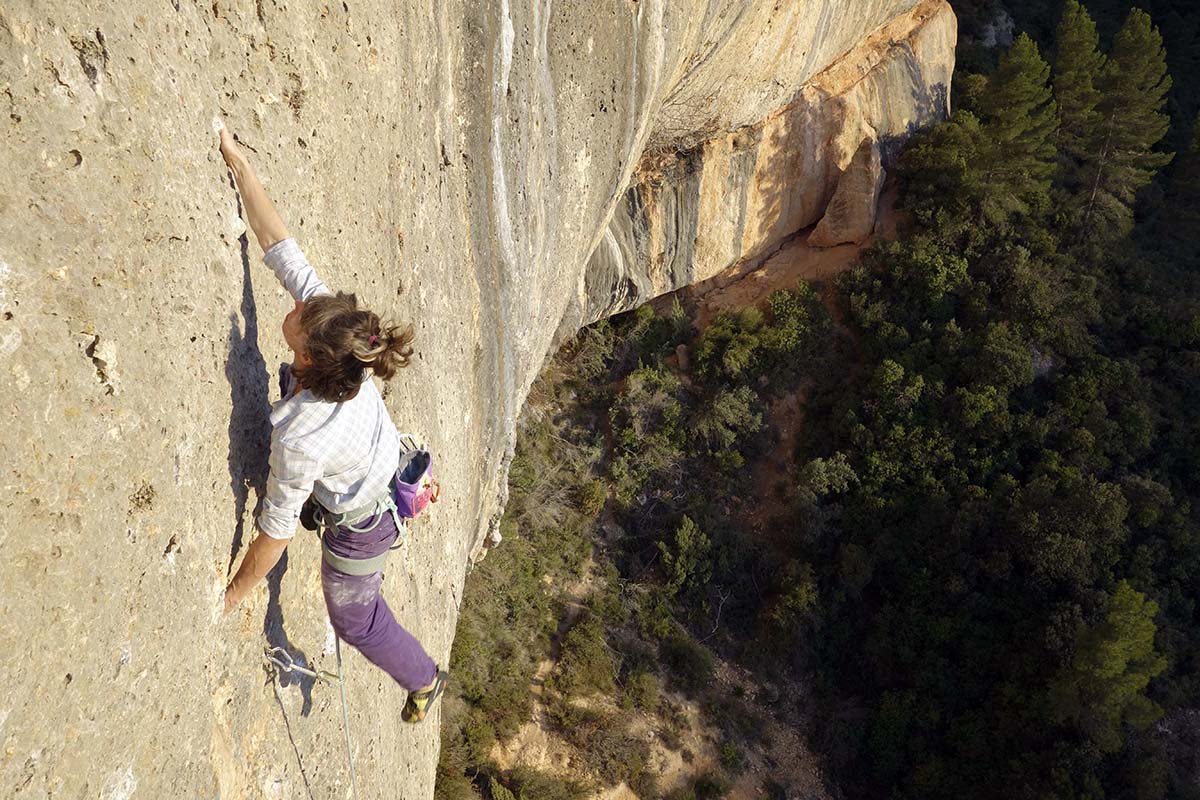 Carabiner Metal: Aluminum vs. Steel
The vast majority of climbing carabiners are made with aluminum, including almost all of those sold on quickdraws. Although less durable, aluminum is lighter and still plenty strong. And the reality is that most quickdraws will need to be retired because of wear on the dogbone long before the carabiners reach the end of their life. That said, a few gear manufacturers make quickdraws with one steel (or partially steel) carabiner, such as the Edelrid Bulletproof. In general, we think these are overkill and unnecessary, but if you're toproping a lot on quickdraws or just using your steel draw on the first clip (where the most rope wear takes place), the steel sure doesn't hurt your cause.
 
Dogbones
The dogbone is the sewn soft good that connects the two carabiners in a quickdraw. Most dogbones tend to be made of Dyneema (light and skinny) or sewn nylon or polyester webbing (fat and heavy). Again, there is a pretty clear demarcation between different types of climbing here. Fatter, more rigid sewn-webbing dogbones are preferable for sport climbing, with lighter and skinnier Dyneema dogbones being the choice for alpine and trad climbing.
The major advantage of fat and heavy dogbones is that they are easier to handle, maintain, and grab onto when you're about to whip on a sport route. For alpine and trad climbing, most of us are thinking less about grabbing a draw on a bolt, and more about simply maintaining a light rack for a full day's climb. That's not to say there can't be crossover. We've used fat sport draws for trad and skinny trad draws for sport. In the end, it's not that big a deal. That said, most will agree that it's still nice to have the most effective tool for the job.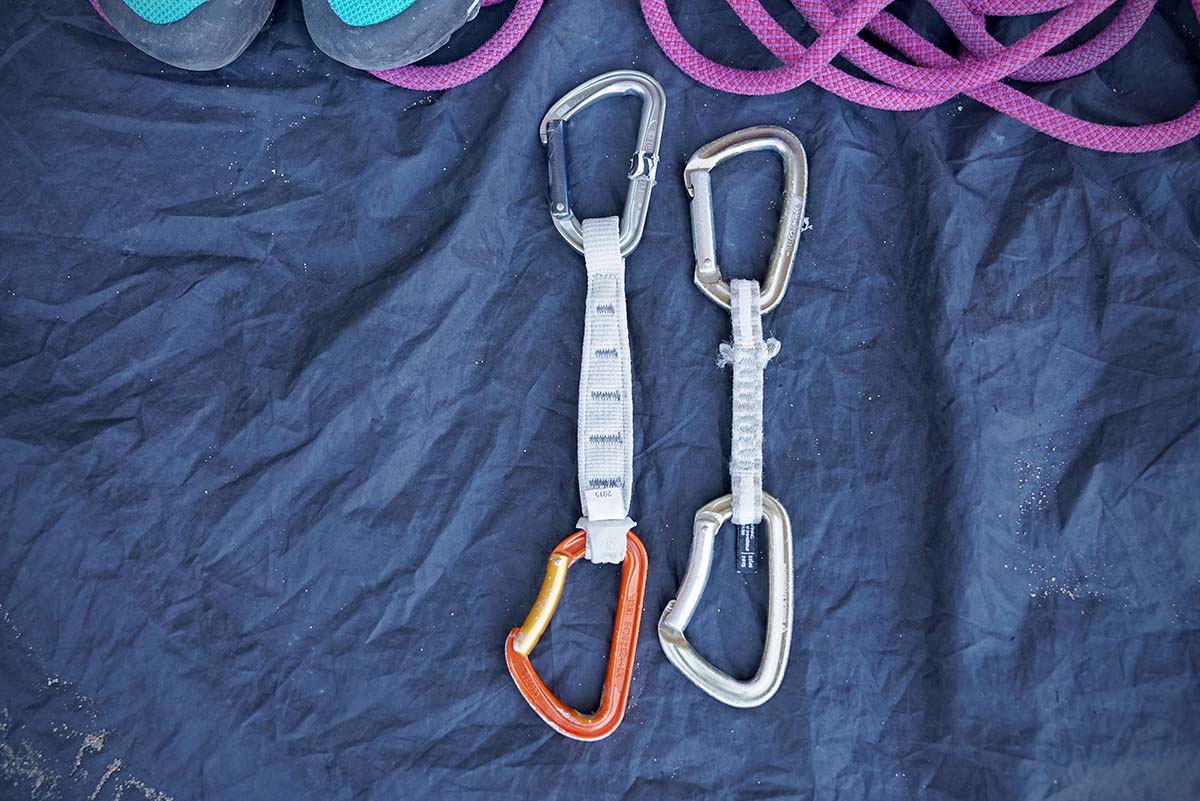 Quickdraw Length
The quickdraws on this list come in lengths from 10 to 25 centimeters, often with different options for each product (keep in mind, this specifies the length of the dogbone). There is no hard-and-fast rule on quickdraw length. Some climbers like them shorter, others like them longer. The benefit of a longer quickdraw is that it reduces rope drag—even just a difference of a few centimeters will add up over 12 bolts. That said, a 25-centimeter quickdraw may feel awfully long and cumbersome on your harness, and is probably better used for projecting overhanging sport routes. On steep overhangs, your body hangs further out from the wall, so it's nice to have a longer draw that hangs out as well so less energy is wasted pulling in to clip it.
If you tend to climb vertical or slabby sport routes on rock that is so featured that the line goes straight up with little deviations, shorter draws will be a better choice. In the end though, it's nice to have a handful of each. Sometimes a longer draw can make a tough clip a little bit easier, while a shorter draw can help keep you off the deck on low cruxes.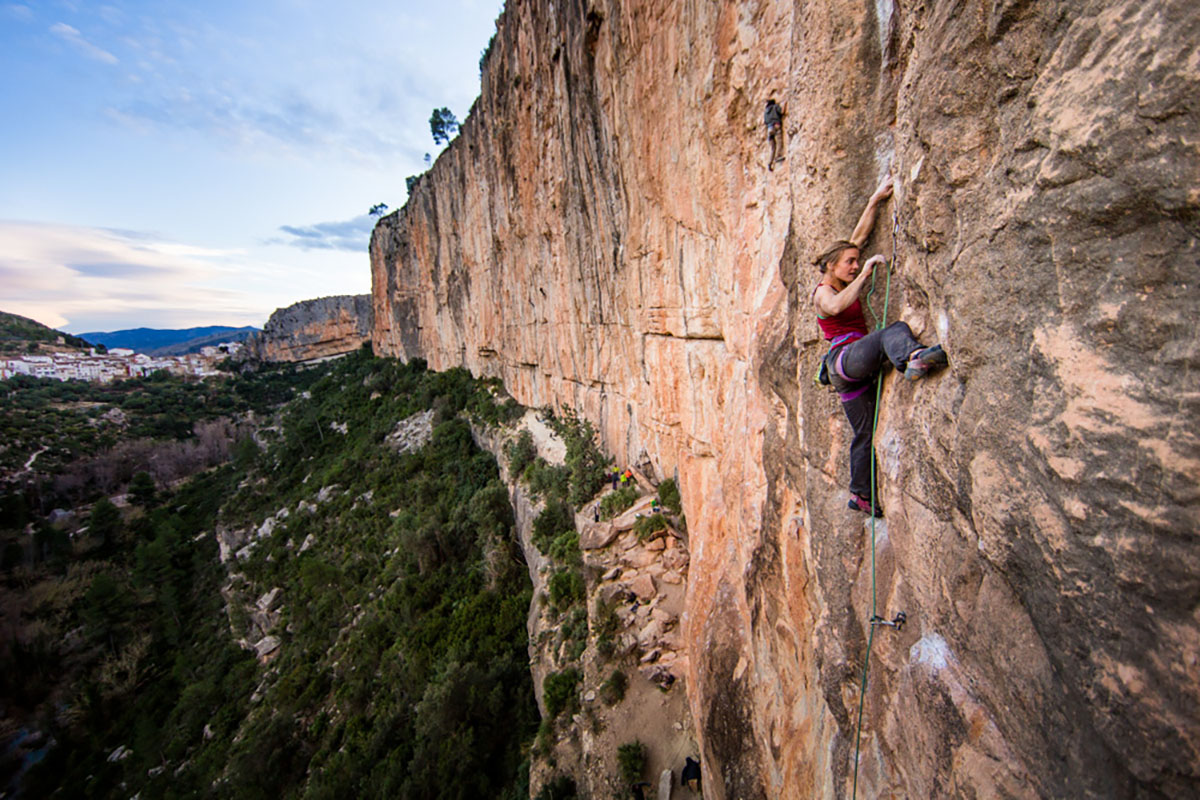 Quickdraw Weight
For the most part, sport climbers couldn't care less about the weight of their quickdraws (the one exception might be an onsight burn in which they're hanging the draws). And as a rule, alpine climbers will consider the number of ounces above most other specs. Thus, a quickdraw like the Petzl Spirit Express—one of the heavier and bulkier models on our list—is an all-time favorite among sport climbers but rarely gets carried into the alpine. There's a substantial difference between having 10 rigid and heavy Petzl Spirits hanging from your harness and 10 lightweight and streamlined Black Diamond MiniWires. In general, size is a predictor of weight, as is aluminum vs. steel carabiners and Dyneema vs. nylon dogbones. And like most categories of outdoor gear, the lighter the weight, the less durable the quickdraw likely will be over time.
 
Strength and Safety
On virtually all quickdraws sold by major gear companies, both the carabiners and the dogbone must pass UIAA and CE standards for strength. While the dogbone's strength is simple to grasp, the strength of a carabiner is rated in three separate ways: over the major axis (lengthwise), over the minor access (sideways), and with an open gate (with the force coming over the major axis). When used correctly, the force will be applied over the major axis of a carabiner with a closed gate, but in the event of user error, carabiners provide a safety net by having respectable open gate or minor axis strengths. Most carabiners will list all three of these strengths on their spine. While all quickdraws are rated to hold multiple falls, in general, the larger a carabiner or thicker a dogbone, the longer its life.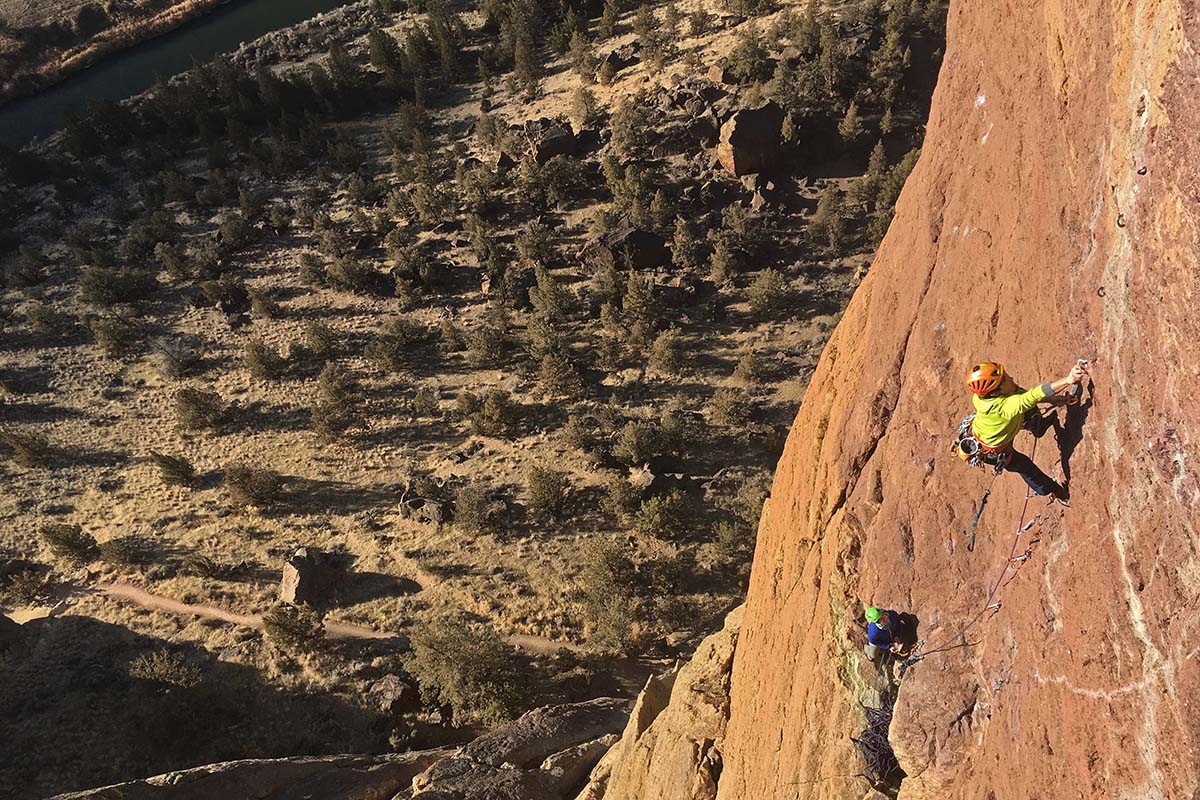 When to Retire a Quickdraw
There are two main weight-bearing components to a quickdraw that should be consistently monitored for safety: the carabiners and the dogbone. On the carabiner, look for cracks, chips, deep grooves where the rope runs (that often form sharp points), and make sure that the gate closes completely (a carabiner with an open gate is drastically weaker). As for the dogbone, detecting wear can be slightly more ambiguous. Some wear is obvious—nicks, runs, large frays, or extreme sun bleaching—while some is completely undetectable. For example, soft goods that are exposed to solvent, bleach, harmful vapors, or even urine can be significantly weakened. And though they're certainly erring on the side of caution, manufactures generally recommend replacing Dyneema products every three years and nylon products every five.
Back to Our Top Quickdraw Picks  Back to Our Quickdraw Comparison Table
Learn More About Climbing