Smith Forefront 2 MIPS
Price: $240
Weight: 13.5 oz. (medium)
Vents: 20
What we like: Lightweight, comfortable fit, and good safety tech.
What we don't: Expensive and ventilation is surprisingly subpar.
See the Smith Forefront 2
Smith's foray into the world of mountain bike helmets began in 2014 with the release of the lightweight Forefront. Four years later, they introduced the "2" with notable updates, including a lower-profile design, improved ventilation, and wider, more accommodating fit. Following a couple years of testing, we found the Forefront 2 MIPS offers a nice balance of premium features, comfort, weight, and protection. That said, it's not a value leader and the ventilation design still needs some work. Below we break down our experiences with the Forefront 2. To see how it stacks up to the competition, see our article on the best mountain bike helmets.
 
---
Table of Contents
---

Performance
Comfort
A helmet's fit and comfort go hand in hand, and I found the Smith Forefront 2 MIPS is a great match for my slightly round head. While its padding falls on the minimalist side, it's been plenty sufficient for full days in the saddle. In fact, the Forefront has a similar "barely there" feeling as my current favorite model: Troy Lee Designs' A2. The interior is plenty deep and wide, so the helmet fits around rather than on top of your head, and the chin strap has proven to be exceptionally smooth and supple. I've also been very happy with the level of coverage, which extends to just above my ears and down to the base of my head—ideal for all-mountain riding.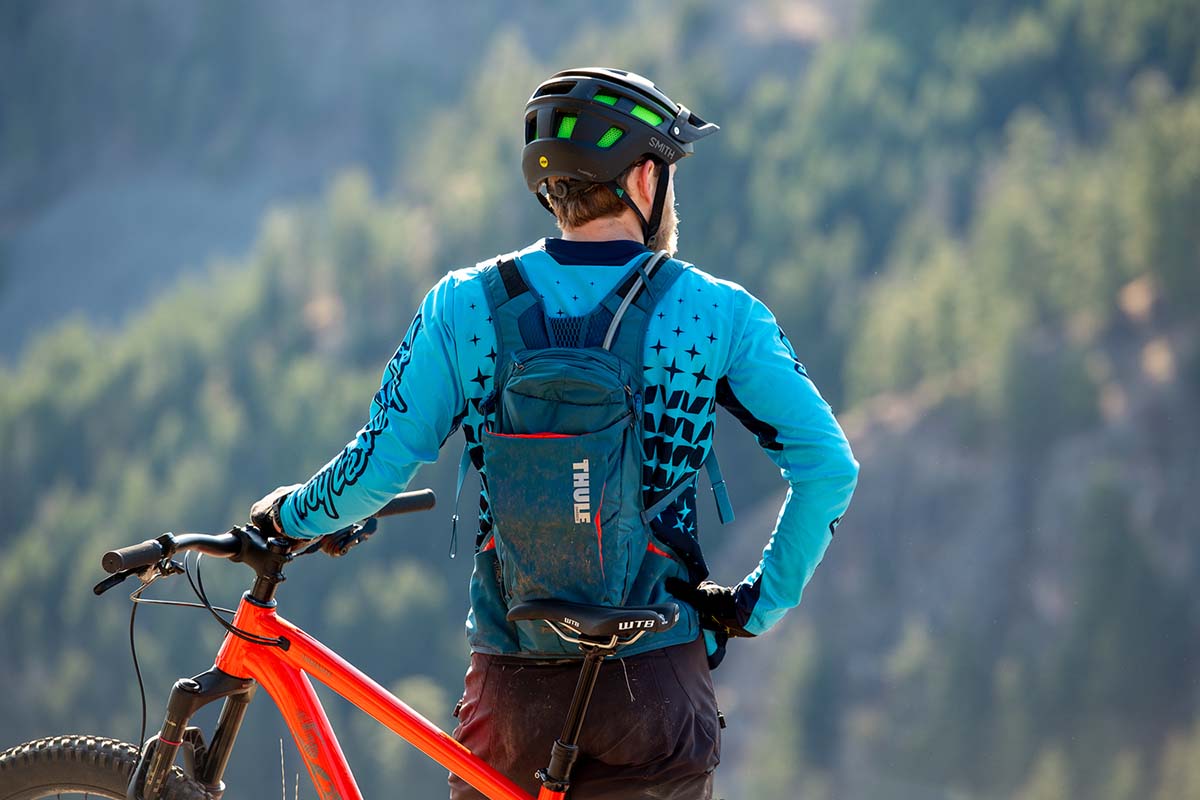 One nitpick is that I feel a small amount of pressure around my temples when I cinch the helmet down at the start of a ride. That said, this minor discomfort is something that always goes away after just a few minutes on the trail (and other testers in our group haven't experienced this issue). Overall, I still give the edge to the slipper-like fit and slightly plusher feel of my A2, but the Forefront gets high marks from me in terms of comfort.

Ventilation
Ventilation is a key consideration for almost all forms of mountain biking. Even at lift-assisted parks, it's easy to work up a sweat pedaling on the flats and hurtling downhill. And while the original Forefront lacked the ventilation we expect in premium mountain bike helmets, Smith made obvious improvements the second time around. Most notably, they broadened the vents and removed the tube-like Koroyd material from underneath the center openings, helping air flow more freely from front to back. But despite its generous 20 vents, 17 are still obstructed by the Koroyd, which was particularly noticeable on long uphill slogs. Even when temperatures were quite moderate (around 65 degrees), I was sweating more in the Smith helmet than I'd prefer. For those who consistently ride in cool weather, this shouldn't be much of a deal-breaker (and might even be a plus), but it's worth noting that other models—including Giro's Manifest, Bell's Sixer, and Troy Lee Designs' A2—are much better breathers.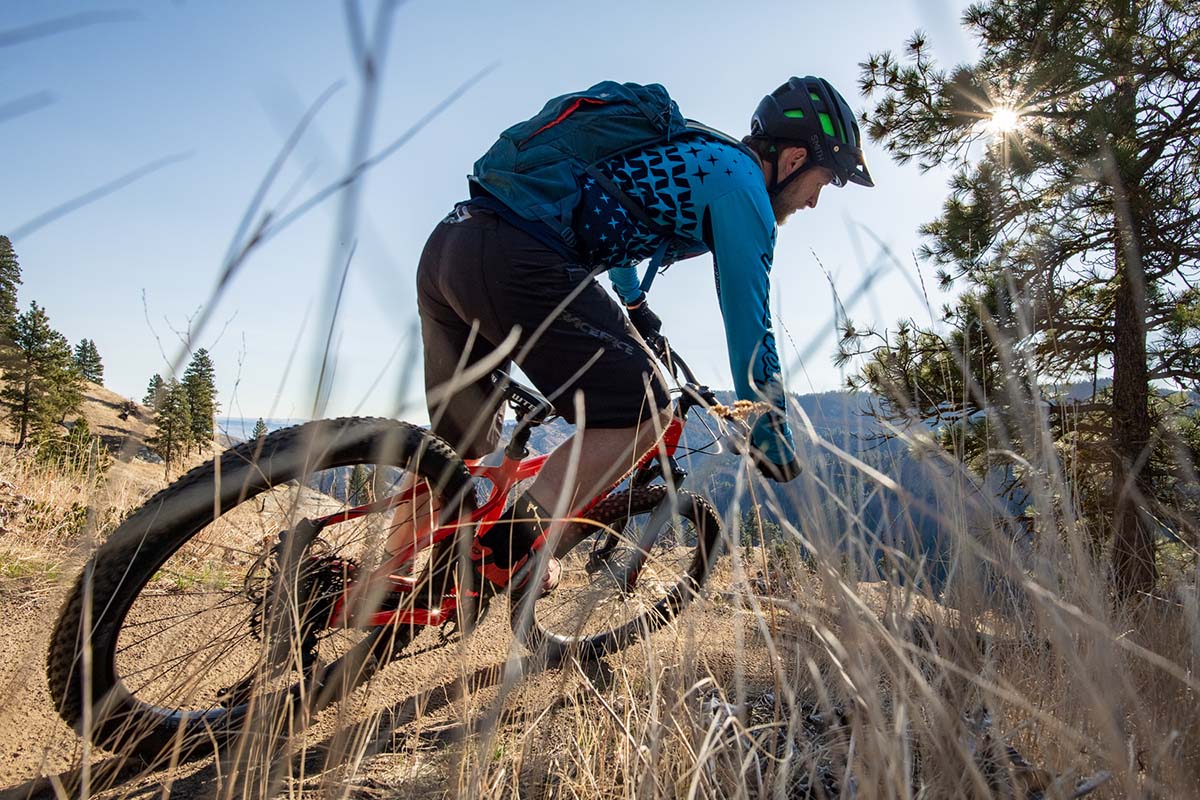 Features
MIPS Liner
Safety technology is a hot topic in the mountain bike helmet world, thanks in large part to the widespread adoption of MIPS (Multi-directional Impact Protection System). This liner, which sits between a rider's head and the helmet, moves independently from the outer shell and is designed to reduce damage to the brain in angled impacts (unfortunately, its effectiveness is difficult to determine because no standardized test exists). Some MIPS-equipped helmets we've tested appear to fit slightly smaller as a result of the added layer, but this wasn't the case with the Forefront. Overall, the liner is well-integrated and has no noticeable effect on the comfort and performance of the lid.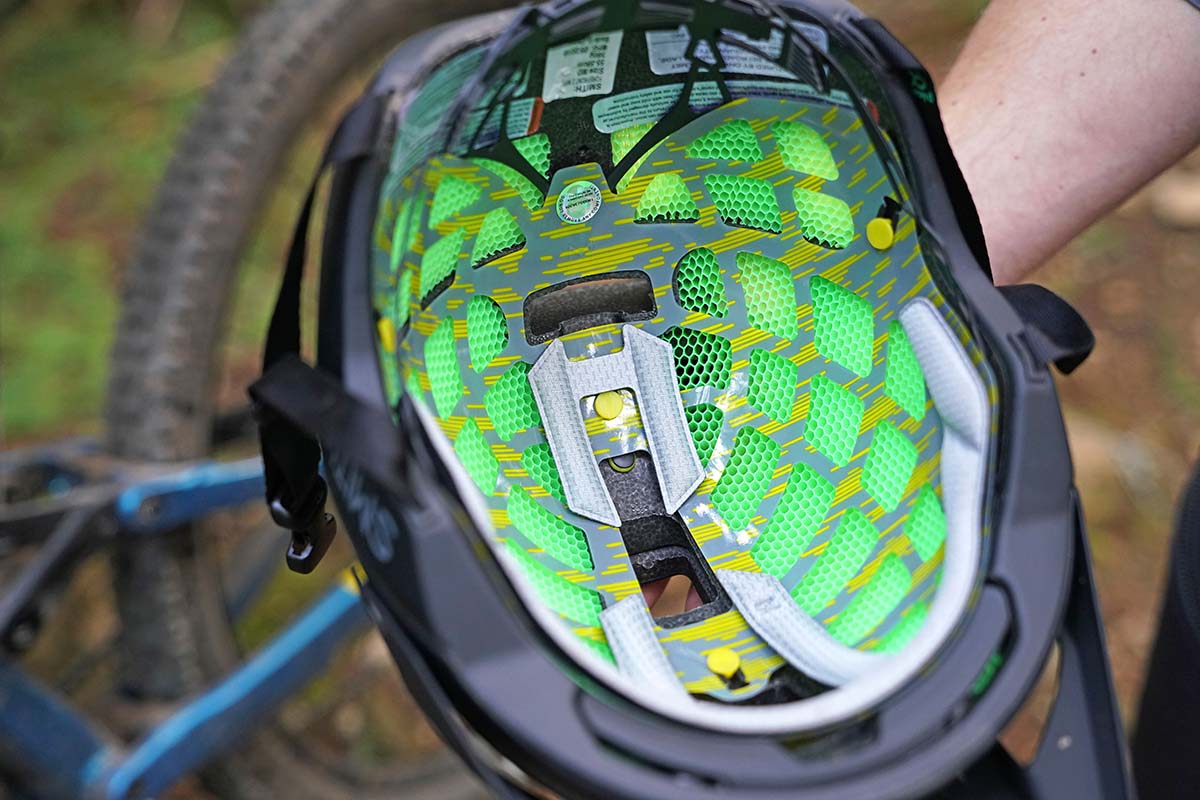 Aerocore Construction
Another distinctive safety feature of the Forefront 2 is the honeycomb-like Aerocore construction that can be seen inside the helmet and through the vents. By combining EPS foam and Koroyd, a material made up of tiny tubes bonded together, the system is designed to provide increased protection by absorbing more energy in a crash—Smith claims it is 30 percent better at absorbing low-speed impacts. The straw-like tubes are also made to increase airflow, but as mentioned above, I found ventilation was lacking. Safety-wise, it's hard to gauge the value and effectiveness of these features, but I appreciate that they don't impact weight or the helmet's low-profile shape.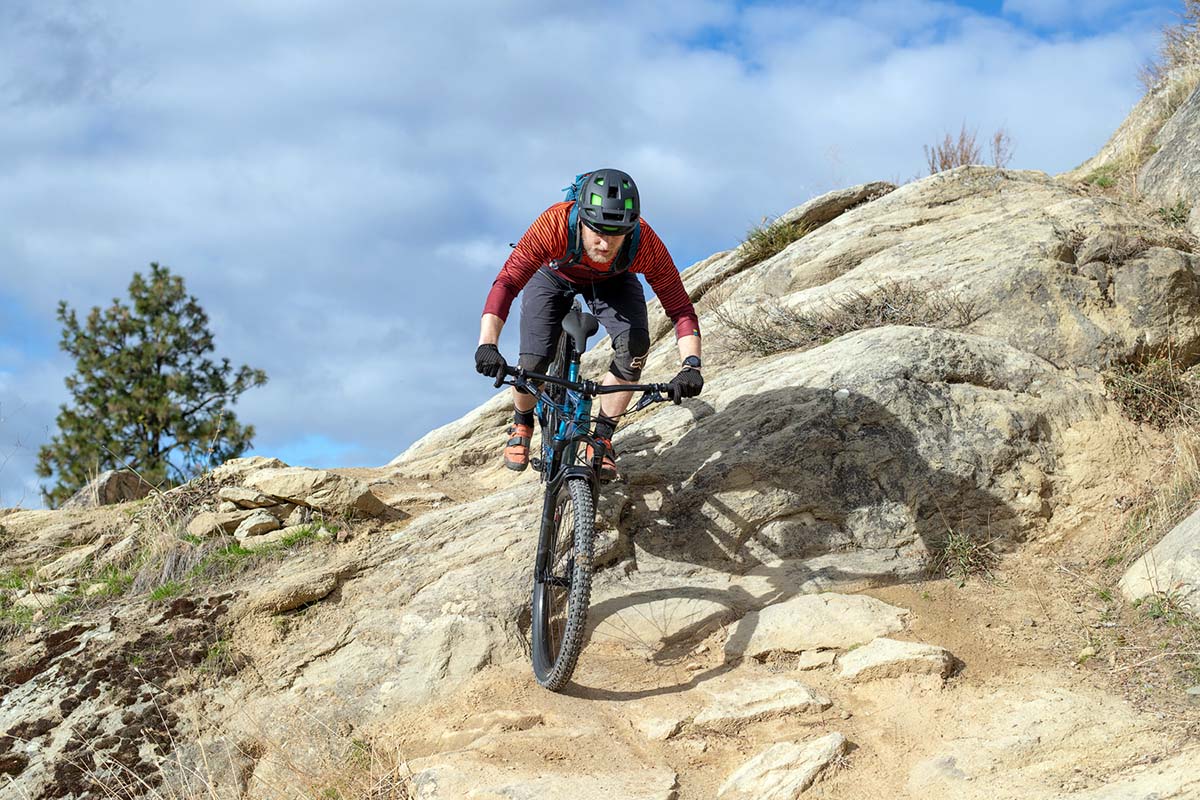 VaporFit Adjustable Fit System
As mentioned above, comfort and fit stand out as the most important considerations when choosing a helmet. And I'm happy to report that Smith's VaporFit retention system is simple to use, offering quick and easy adjustments. The circular dial on the back of the helmet is coated in rubber and easy to operate while wearing gloves, and I find the solid "clicking" both reassuring and precise as I'm making adjustments. It's not quite as smooth as the retention system on the Troy Lee Designs A2 or Giro Manifest, but I haven't had any notable issues fine-tuning the fit during rides.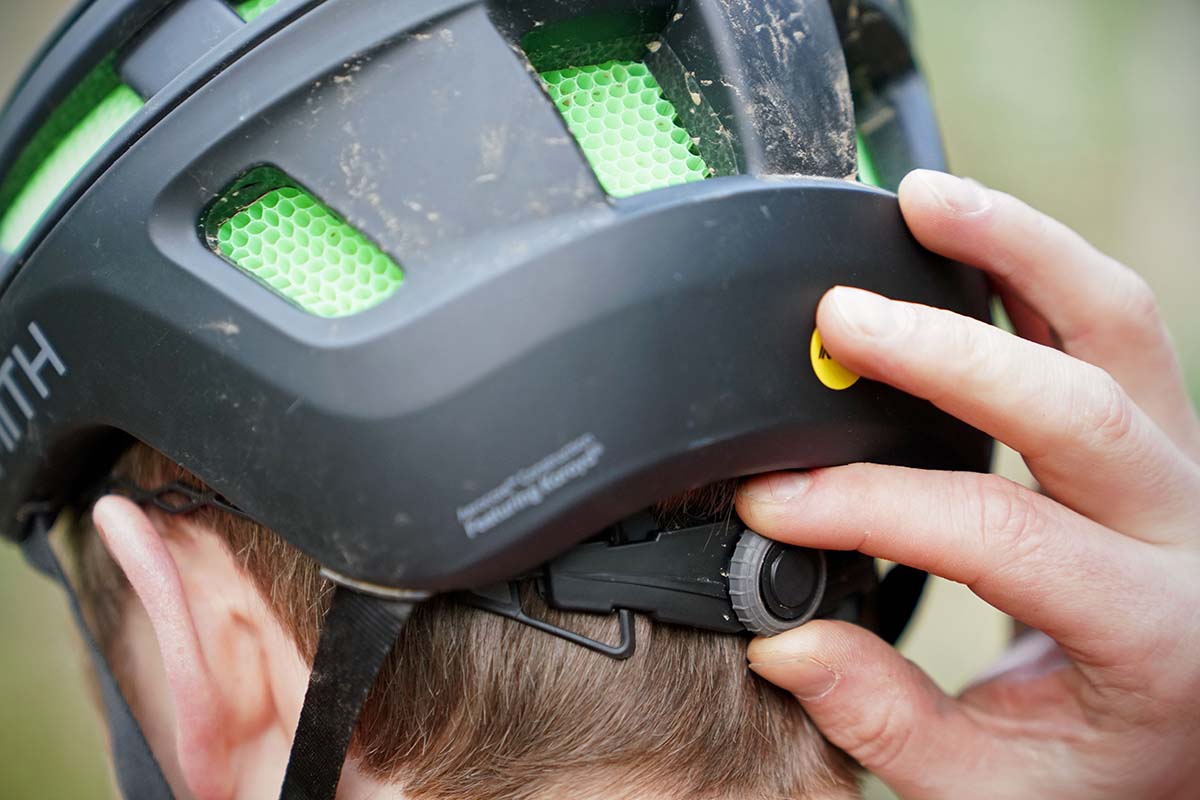 Visor
A visor is a sneaky-important feature for some riders, and Smith has come up with a good design on the Forefront. To start, it's sized right to block mid-day sun on exposed climbs and descents but isn't too large to block your view ahead. Further, the plastic visor has large openings that help with ventilation without compromising its solid feel (we didn't notice any excess movement even on rowdy trails). And finally, its three adjustment points cover a wide range—pushing it all the way up clears enough space to store goggles (something the Troy Lee Designs A2 can't accommodate).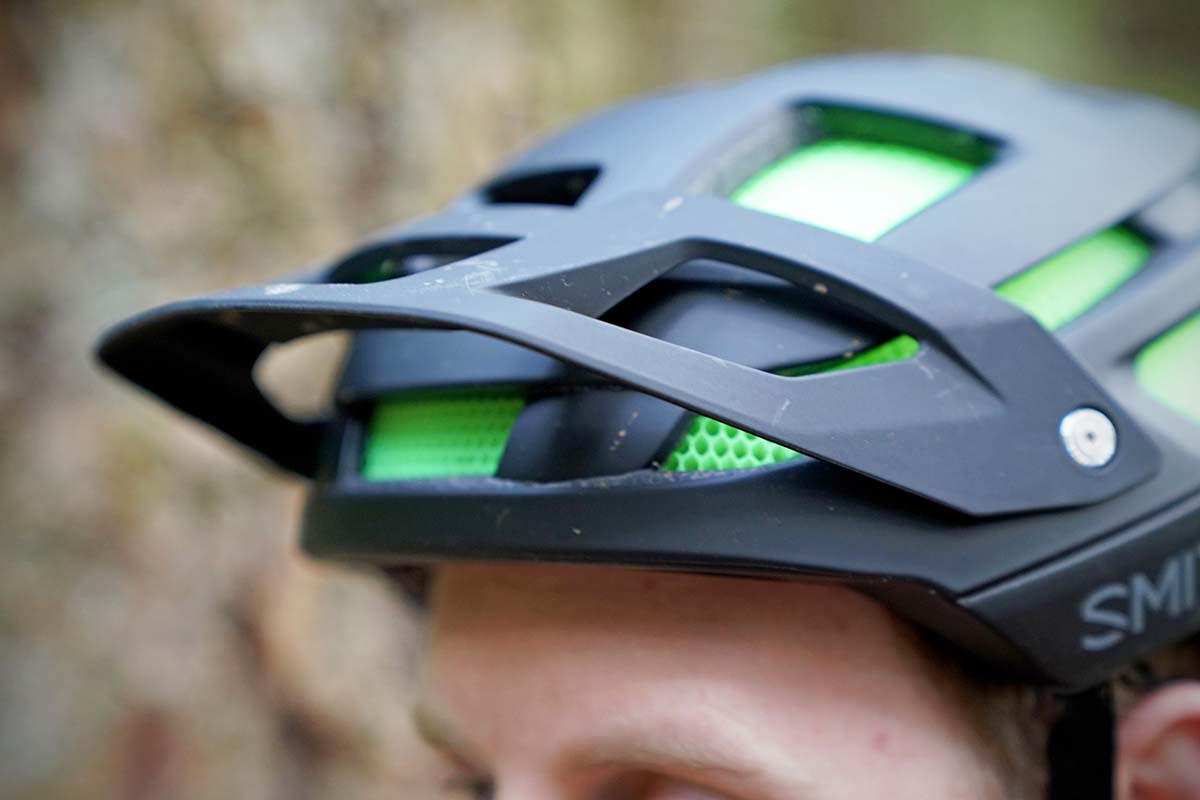 Weight
Weighing in at 13.5 ounces in our size medium (Smith lists it at 13.4 oz.), the Smith Forefront 2 is about average in the all-mountain helmet landscape. For comparison, POC's Tectal Race SPIN and Giro's Manifest Spherical, which are very similar to the Forefront in both features and price, come in slightly lighter at 12 and 12.2 ounces respectively. Two of our other top picks, the Giro Source MIPS (12 oz.) and Troy Lee Designs A2 MIPS (13.3 oz.), are also quite close in weight (and wearing them back-to-back, the differences are essentially imperceptible). It's possible to find helmets in the sub-10-ounce category—like POC's XC-ready Octal Spin X (9.4 oz.)—but you'll forgo convenient features like an adjustable visor and sacrifice some head coverage.

Build Quality and Durability
Over the past couple years, we've worn the Forefront in everything from hot and dusty late summer rides to sub-freezing winter adventures, and the helmet is showing no signs of significant wear. The retention system works just as well as the day we received it, the webbing has remained supple with no fraying, and the shell has shrugged off all branches and dirt that have come its way (with only light scuffs to show for it). It has also spent a lot of time on garage floors and rolling around the inside of vans, all without issue. As long as you avoid a crash—something we've pulled off in this test—the Forefront should have a good lifespan.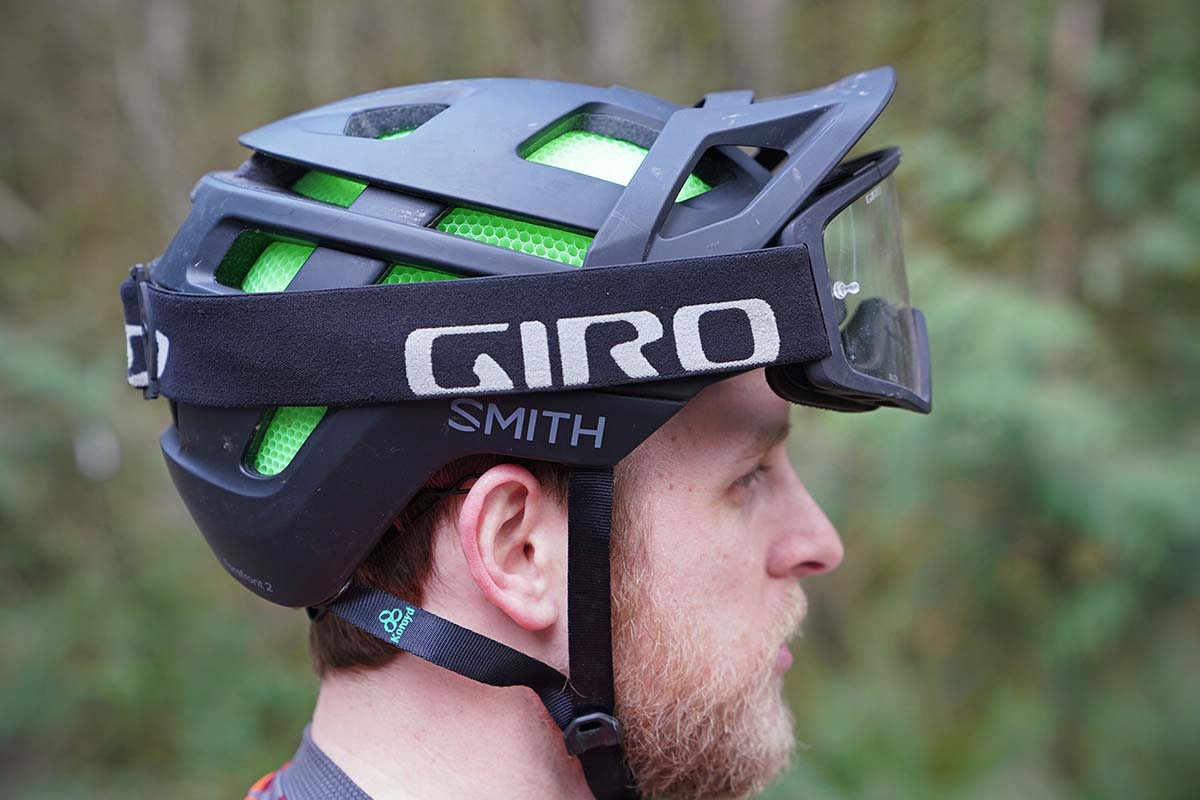 Fit and Sizing
Finding a helmet that fits snugly without any pressure points can be a difficult undertaking. It took me a number of years to find one that perfectly cradles my head (the Troy Lee Designs A2), but the Forefront 2 fits me well nonetheless. With a 57-centimeter head circumference, I landed in the middle of Smith's size medium (55-59 centimeters), and it feels true to size. The helmet sits comfortably around my slightly round head, and I have no real pressure points (as mentioned above, the slight discomfort around my temples hasn't been an issue). Fit is a very personal thing, so for reference, most medium-size Giro and Troy Lee Designs lids work well for me, but I haven't had luck with Bell models. They don't sit comfortably around my head, and I have consistent issues with them feeling excessively tight when cinched down.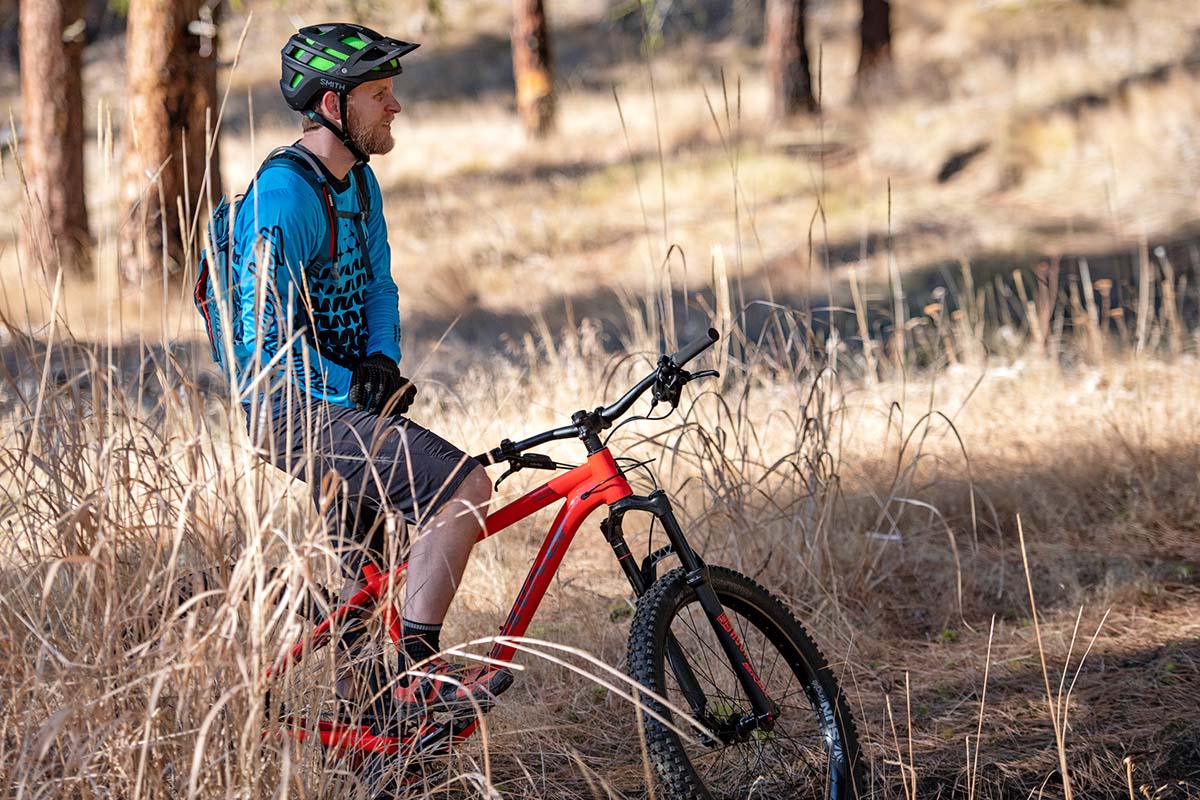 What We Like
The Forefront 2 is lightweight and very comfortable for my slightly round head.
Safety features, including MIPS and an Aerocore construction, are well-integrated into the design.
Adjustable fit system is easy to use and keeps the helmet secure.
Visor is goggle-friendly and offers a wide range of adjustments.
 
What We Don't
Although better than the original Forefront, ventilation is still lacking.
It's far from a value leader at $240.
The padding is fairly minimalist, and there are plusher options available (including Giro's Manifest and Troy Lee Designs' A2).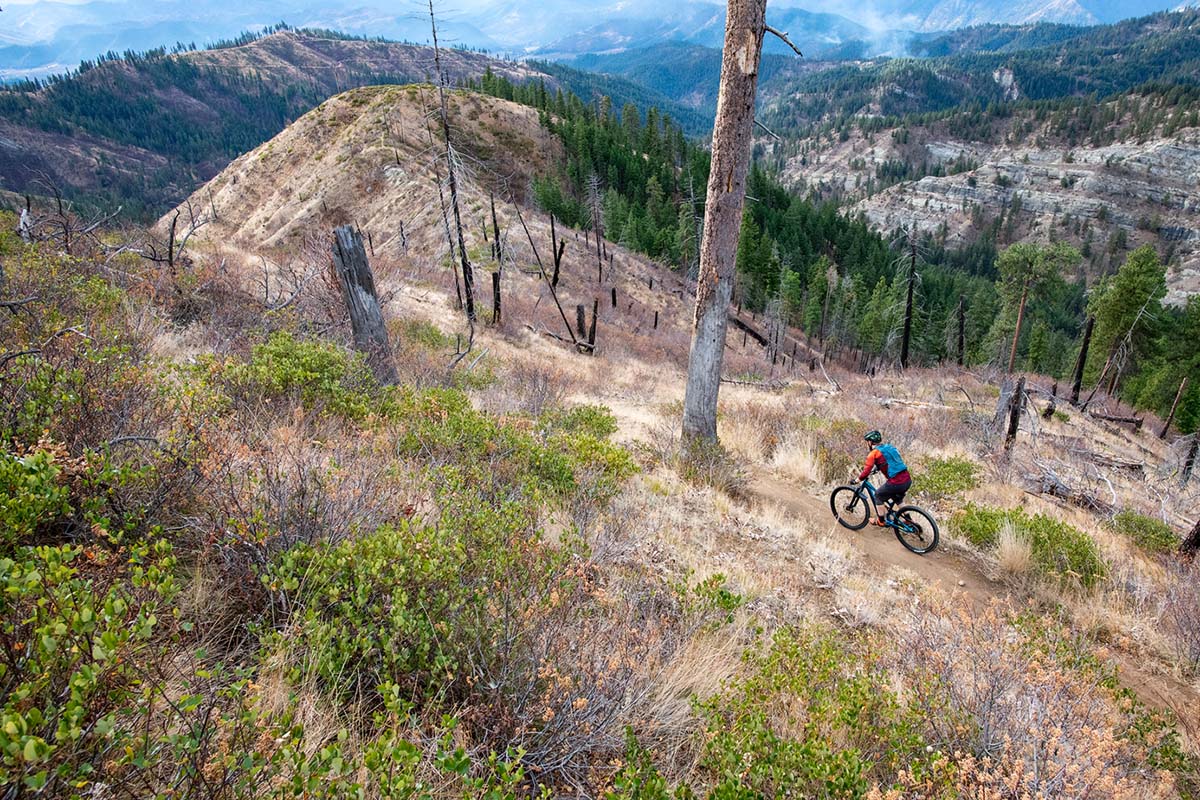 Comparison Table

The Competition
The mountain bike helmet market is a competitive space, but Smith's Forefront holds its own in terms of comfort, safety, and feature set. One of the Forefront's strongest challengers is one that I've referred to throughout this review: Troy Lee Designs' A2. In testing, we've found that both helmets offer excellent all-around comfort and are plenty light for all-day rides. The Smith has the edge with its visor that lifts high enough to accommodate your goggles and sweeping vents that double as storage for glasses—both features the A2 lacks. That said, the TLD has slightly nicer padding and keeps you much cooler thanks to its wide-open vents. But what gives the A2 the win for us is value—at $169, it undercuts the Smith by a significant $71.
A second helmet to have on your radar is Giro's Manifest Spherical. It's one of the few on the market that's pricier than the Forefront at $260, but we think it's money well spent. With a unique two-piece shell, the Giro offers a standout mix of ventilation, comfort, and features among trail-ready designs. And its innovative shell construction offers safety benefits: like a standard MIPS liner, it will shift on impact to potentially reduce rotational forces on the brain. The look is admittedly a bit polarizing, but the Giro's clear advantage in ventilation and little upgrades like a magnetic buckle and plusher interior make it our preferred premium option.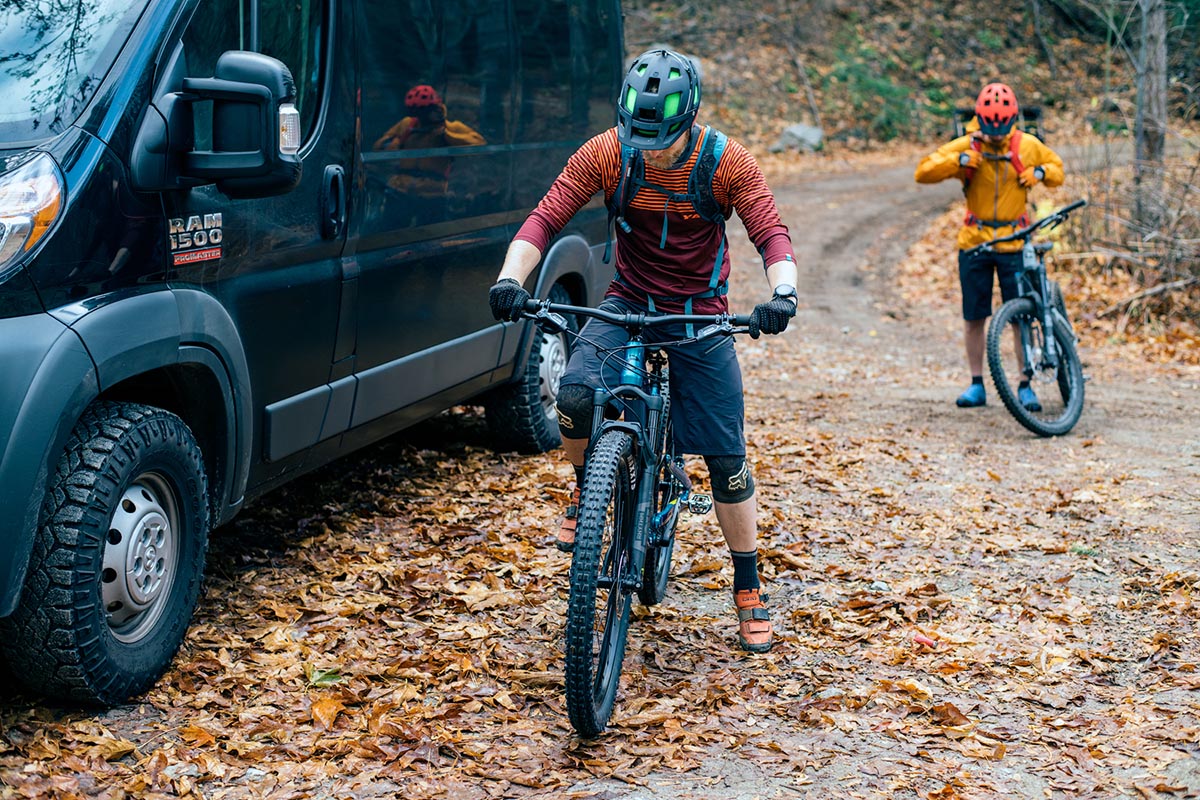 The POC Tectal Race SPIN is another favorite and stacks up similarly to the Forefront 2 in features and price. Both helmets sport great coverage and integrated safety tech. However, although POC's proprietary SPIN system—like MIPS—aims to reduce rotational force in angled impacts, the design is a little better integrated into the helmet by only utilizing the padding. On the other hand, POC's design adds a bit of bulk, and the Tectal Race doesn't have the same low-profile look as the Smith (the loud branding on the side doesn't help either). In addition, its fit isn't as universally friendly as the Forefront and the adjustment system isn't as refined. With that in mind, we give the nod to the Smith.
A final helmet to consider is Smith's own Session MIPS. At first glance, the two have a lot in common: an Aerocore construction, optional MIPS liner, and adjustable visor. As far as ventilation goes, the Session has five fewer vents but the openings are wider and not as many are obscured by the Koroyd material, pointing to better airflow (at the cost of some of the energy-absorbing protection). The Session also has a more traditional look and feel, but its fit is a little disappointing: it runs smaller than the Forefront and sat higher on our heads as a result. Despite the significant cost savings, we think the Forefront's upgrades in protection and fit are worth the extra $90.
If you're thinking about buying gear that we've reviewed on Switchback Travel, you can help support us in the process. Just click on any of the seller links above, and if you make a purchase, we receive a small percentage of the transaction. The cost of the product is the same to you but this helps us continue to test and write about outdoor gear. Thanks and we appreciate your support!
Depending on the seller, most products ship free in the United States on orders of $50 or more. International shipping availability and rates vary by seller. The pricing information on this page is updated hourly but we are not responsible for inaccuracies.
Read More From Switchback Travel