Synthetic insulation is a bit of a miracle material: It's breathable, it's water-resistant, and modern blends come impressively close to matching the loft and light weight of down. We'll lounge around in our down jacket any day, but for performance use it's all synthetic (almost) all the time, whether we're building heat on the trail or throwing on a layer halfway up an alpine rock climb. Below are our picks for the best women's synthetic jackets of 2023, including casual offerings, minimalist down-mimicking designs, and active insulators built for breathability. For more background, see our comparison table and buying advice below the picks.
 
---
Our Team's Women's Synthetic Jacket Picks
---

Best Everyday Women's Synthetic Jacket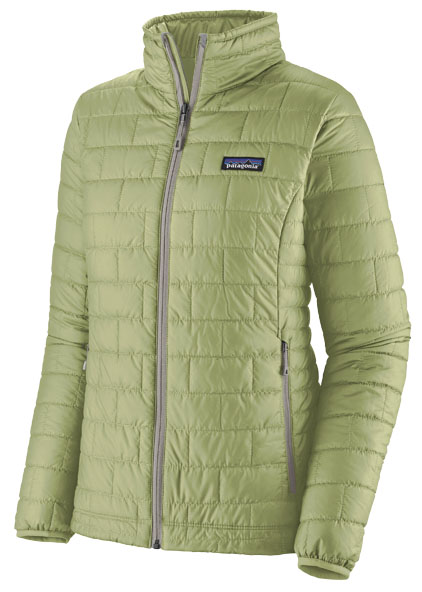 Category: Casual
Weight: 10 oz.
Insulation: PrimaLoft Gold Eco (60g)
What we like: A timeless classic for everyday and casual backcountry use.
What we don't: Not particularly breathable or weather resistant.
For a versatile synthetic jacket that gets the job done both on and off the mountain, it doesn't get any more classic than the Patagonia Nano Puff. The Nano Puff looks and feels similar to a down jacket with a shiny baffled shell and lofty PrimaLoft Gold Eco insulation, but offers all the strengths of synthetic fill, including better wet-weather performance and breathability, along with a lower cost. And with two handwarmer pockets, an internal chest pocket, roomy yet lightweight build, and the choice between hooded ($279) and non-hooded designs, it has all the trimmings of a functional everyday jacket.
Scroll down the list below, and you'll notice a number of other offerings from Patagonia. Within their synthetic jacket collection, the Nano Puff is by far the most popular, but it's certainly not the most technically savvy. For active use, we'd reach instead for the stretchier and more breathable Nano-Air or Nano-Air Light Hybrid; for weight-conscious activities or alpine conditions, the lighter, more packable, and more weather-resistant DAS Light Hoody is our go-to. But for everyday use with a bit of backcountry mixed in—think casual hiking or backpacking, resort skiing, or cragging—the Nano Puff is a well-balanced, do-all jacket. 
See the Patagonia Nano Puff
Best Synthetic Jacket for Backcountry Use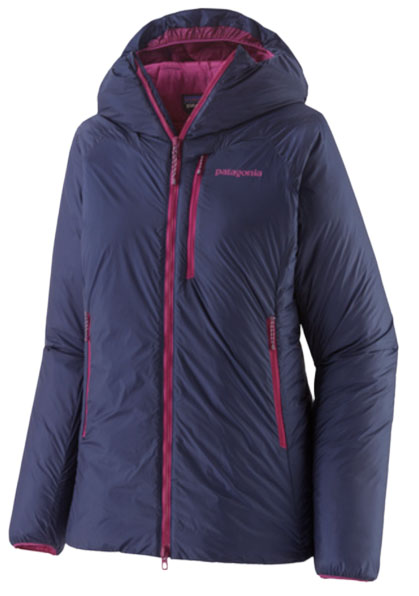 Category: Performance
Weight: 9.7 oz.
Insulation: PlumaFill (65g)
What we like: Incredible warmth and weather resistance for the weight.
What we don't: Pricey and not super breathable.
For weight- and space-conscious activities like multi-pitch climbing, backcountry skiing, and ultralight backpacking, you'll want a lightweight and packable jacket; within this category, the Patagonia DAS Light is our runaway favorite. At just 9.7 ounces, the DAS Light offers some serious warmth thanks to Patagonia's down-mimicking PlumaFill insulation, and its packed size is competitive with that of a down jacket of similar weight. But it's not just about minimalism: The DAS Light also features an incredibly durable Perfex Quantum Pro shell with a baffle-free design that can hold its own in inclement weather, along with features like a two-way zipper and three external pockets. Added up, it's an impressive amount of performance for weight-conscious climbers and skiers who get out in a variety of mountain conditions.
But despite its chart-topping weather resistance and warmth-to-weight ratio, the DAS Light isn't the ideal jacket for everyone. Breathability is compromised due to the windproof shell, which also lacks the sweatshirt-like comfort of active insulators like the Proton or Casaval below. And for all our praise, the DAS Light isn't Patagonia's lightest synthetic jacket—that prize goes to the 9.3-ounce Micro Puff Hoody. But after extensive testing of both, we think the DAS Light is by far the better jacket of the two, with increased weather resistance and more well-rounded feature set (it is worth noting that the Micro Puff has a hem cinch, while the DAS Light does not). If you know you'll be using it as a midlayer, the Micro Puff is more svelte and breathable; but for standalone use in mountain conditions, the DAS Light is in a class of its own... Read in-depth review
See the Patagonia DAS Light Hoody
Best Active Insulator for High-Output Use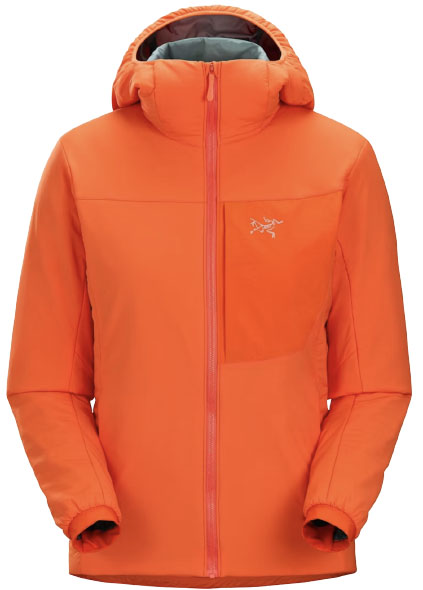 Category: Performance
Weight: 11.3 oz.
Insulation: Coreloft Compact (80g & 60g)
What we like: So breathable, stretchy, and cozy, you won't want to take it off.
What we don't: Much too warm for high-output use in mild conditions.
If you're shopping around for a synthetic jacket, chances are you've come across the term "active insulation" in your research. In contrast to down-mimicking pieces like the Nano Puff and DAS Light above (which feature thin ripstop shell fabrics and offer competitive warmth for the weight), active insulators use stretch-infused shells and air-permeable insulation that prioritize mobility and breathability. They're not particularly lightweight or wind resistant, but they're by far the more ideal insulator for heat-generating activities like cross-country skiing, ski touring, winter running, cold-weather backpacking, and more. The Proton Hoody headlines this category, with a premium materials set, a "fitted" silhouette that won't get in the way of your movements, and a strong track record for success.
The Proton Hoody is one of those put-it-on, never-take-it-off kind of jackets—so soft, stretchy, and breathable that you'll have no problem leaving it on during a workout (and if you're anything like us, you'll want to wear it around the house, too). What's more, the stretchy Fortius face fabric can really take a beating, which is especially helpful around sharp objects like skis or ice tools, climbing gear, and gritty alpine rock. But while it's our top active insulator for winter conditions, keep in mind that the Proton will be too much jacket for mild temperatures or real-deal redlining—we much prefer the Proton Lightweight for truly high-output days on the skin track. It's also worth checking out Arc'teryx's Proton Hybrid Hoody ($350), which uses a thicker shell fabric (50D vs. 20D) and windproof Gore-Tex Infinium at the yoke and hood for a boost in weather protection.
See the Arc'teryx Proton Hoody
Best Lightly Insulated Jacket for Mild Conditions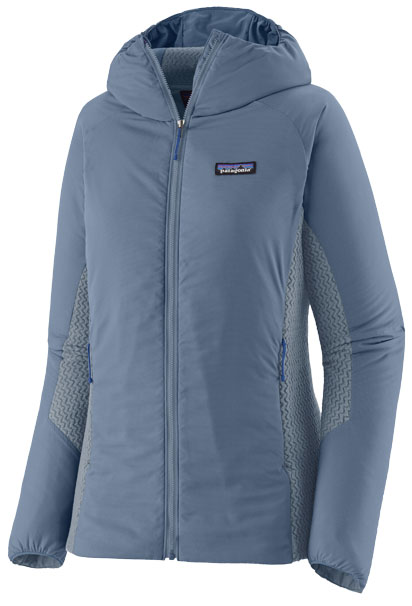 Category: Performance/casual
Weight: 9.8 oz.
Insulation: FullRange (40g)
What we like: Best-in-class comfort and breathability for shoulder season conditions.
What we don't: Not as warm as most jackets here.
Whether it's early fall, late spring, or a summer evening, sometimes cutting the chill requires only a touch of insulation. In these conditions, the trim-fitting Nano-Air Light Hybrid has become one of our new favorite jackets, with an intelligent combination of lightweight synthetic fill (40-g FullRange) at the front and cozy fleece at the back, sides, and underarms. Patagonia's Nano-Air face fabric has evolved over the years, and the Light Hybrid represents their best effort yet: It's 100% recycled, soft yet durable (previous blends were prone to pilling), and impressively air permeable. It all adds up to a delightfully soft, highly mobile, and very breathable jacket, great for shoulder season climbing, backpacking, ski touring, and more.
The Nano-Air Light Hybrid isn't as insulative as most jackets here—the 40-gram FullRange is thinner than the more standard 60-gram fill, and the panels of fleece don't do much to keep out the wind—but it's a good example of less is more. This design is ideal for when jackets like the Proton or DAS Light above are just too much, and we're big fans of the breathable back when adventuring with a backpack. Keep in mind that the Nano-Air Light Hybrid is meant to fit particularly snug, and some might want to size up. Within this category, it's also worth checking out the Arc'teryx Proton Lightweight (mentioned above), and you can go even lighter with the Black Diamond Coefficient LT Hybrid or Arc'teryx Delta Hybrid Hoody.
See the Patagonia Nano-Air Light Hybrid Hoody
Best Budget Women's Synthetic Jacket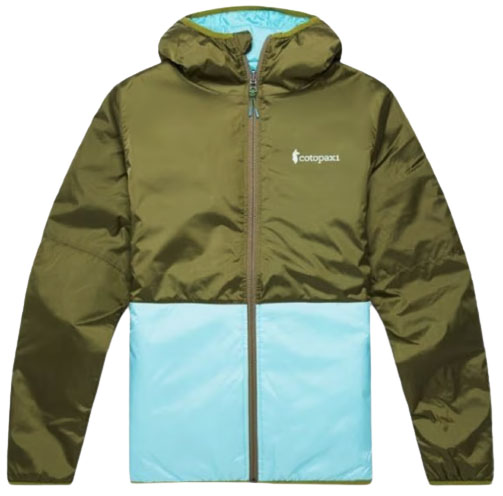 Category: Casual
Weight: 12.3 oz.
Insulation: Polyester (60g)
What we like: An unbeatable combination of price, style, and performance; reversible design gives you two jackets in one.
What we don't: Other jackets are lighter, warmer, and more breathable.
You can spend upwards of $350 on a synthetic jacket, but there are a number of high-quality budget options from brands like Cotopaxi, Rab, and REI Co-op that are also worth considering. The Cotopaxi Teca Cálido stands out above the rest, with a ridiculously low price tag, vibrant color blocking, classy fit and finish, and reversible design that effectively gives you two jackets in one (we particularly love the solid interior that's reminiscent of an old-school puffer jacket). We have a lot of synthetic insulated jackets in our closet, but still reach for the Teca Cálido nine times out of ten for wearing around town. It's fun, it's durable, and it's enough to keep us warm on shoulder season days and cool summer evenings.
The Teca Cálido certainly isn't trying to compete with performance-oriented designs—it's heavy at 13.2 ounces, not particularly breathable (although it still beats out most down jackets), and wets out fairly quickly in light rain. But this jacket offers a simply unbeatable combination of price, style, and performance—we recommend it to everyone who asks, although it usually just speaks for itself (we've received more compliments wearing the Teca Cálido than virtually any other jacket). If you're looking for a stylish, everyday insulated jacket that won't break the bank, your search can stop here. For a bit more performance at a similarly low price, check out the Rab Cirrus Flex 2.0 below.
See the Cotopaxi Teca Cálido
Best of the Rest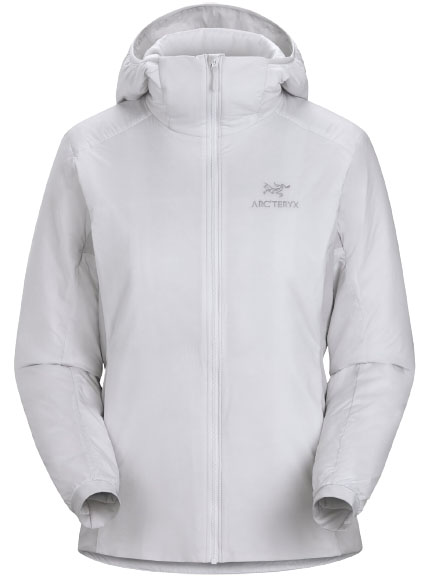 Category: Casual/performance
Weight: 10.9 oz.
Insulation: Coreloft Compact (60g)
What we like: A durable yet comfortable jacket for both front- and backcountry use.
What we don't: Does not excel in any particular performance category.
Arc'teryx's Proton above is their high-performance active insulator, but if you don't need class-leading breathability, the Atom has a lot to offer. This synthetic hoody strikes a nice balance for both casual and performance use, with a durable yet soft 100% nylon shell, stretchy fleece side panels for comfort and ventilation, and Arc'teryx's celebrated Stormhood, which is helmet compatible and comes complete with a small brim. You don't get the super supple face fabric and air permeability of the Proton, but the result is a more hardwearing jacket that can stand up to heavy use both on and off the mountain. 
The Atom Hoody was our first ever synthetic jacket way back in the early 2010s, and it still has a place in our hearts as a versatile, durable, and comfortable mid- and outer layer. For comparison's sake, the Atom's face fabric cuts wind and resists wear a bit better than that of the Proton and Nano-Air, and it's certainly softer and cozier than a down-mimicking piece like the Nano Puff above. That said, it is a bit bulky for light-and-fast missions, and you don't get quite the level of weather resistance as the DAS Light above. If you're looking for a lighter option for summer adventuring, the Atom also comes in a Lightweight version ($230), which uses 40-gram Coreloft insulation and features uninsulated sleeves.
See the Arc'teryx Atom Hoody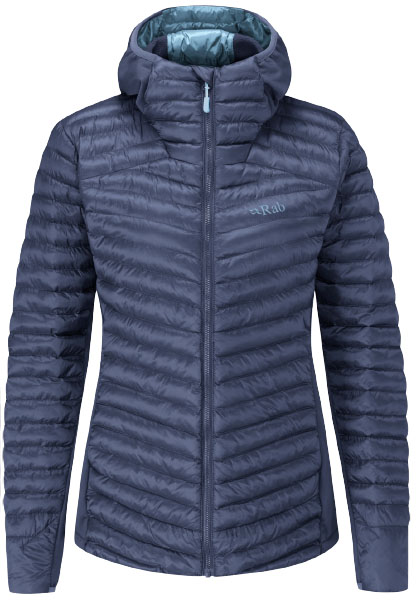 Category: Performance
Weight: 9.9 oz.
Insulation: PrimaLoft Silver Luxe (90g)
What we like: A versatile and mountain-ready synthetic jacket at a great price.
What we don't: Not super weather resistant.
U.K.-based Rab is no stranger to variable alpine conditions, and their Cirrus Flex 2.0 is a great companion for serious mountain-goers. This mid-range jacket combines thick PrimaLoft Silver Luxe fill (90g) with a durable 20-denier Pertex Quantum shell, resulting in the look of a down puffy with all of the performance characteristics of synthetic. The down-like insulation and 100% nylon shell don't add up to great breathability, but Rab tacked on stretchy underarm panels that are effective at dumping heat. The feature set also includes internal stash pockets and a packable design, both of which we love for activities like climbing and skiing.
At $175, you'd be hard-pressed to find a better value than the Rab Cirrus Flex 2.0, and the non-hooded version is even more affordable at $155. Weather resistance isn't quite on par with that of the DAS Light above—the Pertex Quantum (no "Pro") shell isn't as impermeable to water, and the baffled design means more gusts will penetrate the jacket. But as a midlayer for activities like resort skiing and winter hiking, the Rab offers a lot of warmth for the weight, and we're big fans of the stretchy side panels for active use. Keep in mind that the Cirrus Flex runs fairly small—we recommend trying it on before buying, as you'll likely want to size up. For a step up in warmth, Rab's Cirrus Alpine features a thicker shell fabric (30D) and more insulation but lacks the Flex's stretchy side panels, weighs more at 16 ounces, and costs an additional $25.
See the Rab Cirrus Flex 2.0 Insulated Hoodie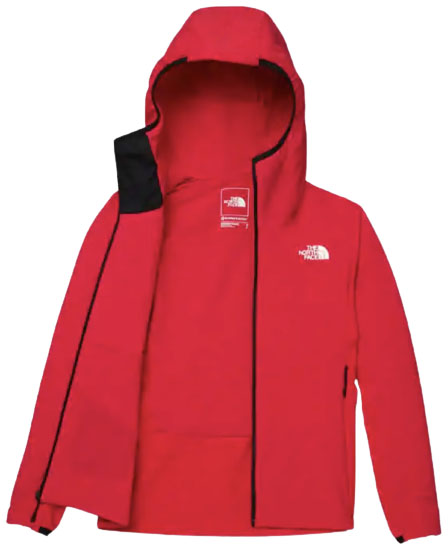 Category: Performance
Weight: 14.8 oz.
Insulation: Ventrix (60g & 40g)
What we like: Best-in-class breathability and backcountry-ready athletic cut.
What we don't: Not as wind-resistant as most jackets here; design doesn't cross over well for casual use.
The North Face's Summit Series is known for high performance gear that serves the needs of some of the world's best athletes, and the Casaval Hybrid is no exception. In the same category as the Arc'teryx Proton above, this active insulator combines 60-gram Ventrix insulation with a sweatshirt-like shell that TNF markets as "high CFM," denoting high breathability and minimal windproofing. The insulation is perforated at the back for additional venting, and stretch-woven (read: uninsulated) fabric at the hem and under the arms adds freedom of movement and comfort when worn with a backpack or harness. Added up, the Casaval Hybrid is a purpose-built jacket for sweat-inducing activities like backcountry skiing, mountaineering, and rock climbing.
Aside from the Casaval Hybrid's chart-topping breathability, one of our favorite features is its fit. The jacket is fairly streamlined, and the stretch-woven fabric at the hem offers a tailored look and feel. What's more, durability is excellent: We've used and abused the Casaval on various alpine climbs, backcountry ski outings, and during a 124-mile traverse of the North Cascades, and its fabric has yet to pill or abrade (it has amassed a few minor holes and stains). The primary downside to the TNF is its lack of warmth and windproofing, although you'll likely appreciate this tradeoff when generating your own heat. For $90 less than the Proton, the Casaval Hybrid is well worth a closer look.
See the The North Face Summit Series Casaval Hybrid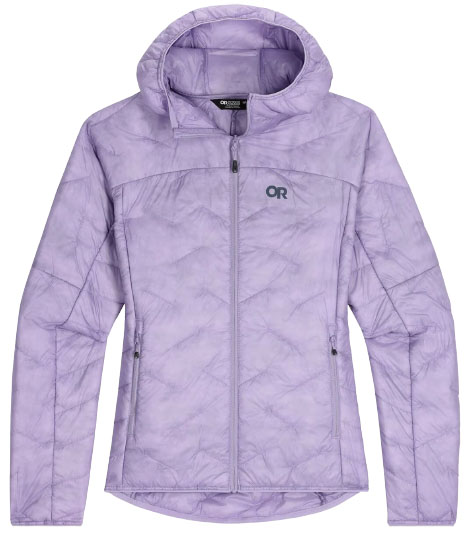 Category: Performance
Weight: 9.6 oz.
Insulation: VerticalX SuperStrand
What we like: A lightweight and packable synthetic for over $100 less than the DAS Light.
What we don't: Not very warm and shell fabric wets out in light moisture.
Outdoor Research is a great one-stop shop for value, with mid-range products that often retail for noticeably less than the competition. The SuperStrand LT is their performance-oriented synthetic, giving lightweight pieces like Patagonia's DAS Light (and similar Micro Puff) a run for their money. We'll start by saying that there is a lot to like about this jacket: The VerticalX SuperStrand insulation does a great job mimicking down and results in a relatively lightweight 9.6-ounce build that packs into its left hand pocket; the nylon shell is noticeably soft and cozy (we find ourselves reaching for the SuperStrand LT more than almost any jacket in our quiver); and the fit is spot on. And importantly, the price is right at just $235—over $100 less than the aforementioned Patagonia offerings. 
You'd be hard-pressed to find a more lightweight and packable synthetic jacket at this price, but the Outdoor Research is not without its compromises. True to the "LT" in its name, the SuperStrand lacks features like a hem or hood adjustment, chest pocket, and internal wind flap behind the front zipper. What's more, it's quick to wet out in a light rainfall, not particularly wind resistant, and we've noticed that the synthetic fill has a tendency to creep out through the seams, resulting in a (forgive the pun) super strandy jacket. Finally, the SuperStrand LT is about the same bulk and weight as the Patagonia DAS Light, and definitely not as warm or weather resistant. But if cost savings is your priority and you plan on taking along a hardshell or rain jacket, the OR is a nice middle ground that won't weigh you down... Read in-depth review
See the Outdoor Research SuperStrand LT Hoodie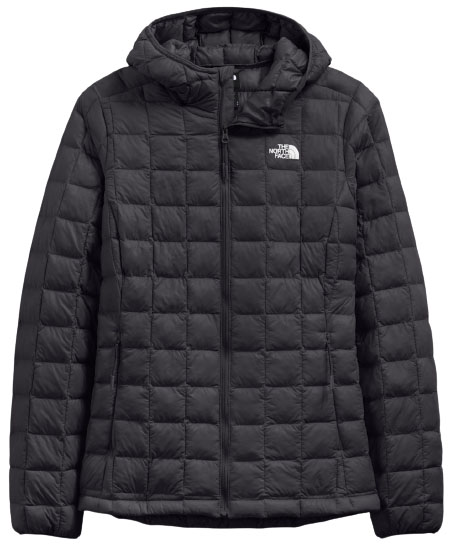 Category: Casual
Weight: 13.7 oz.
Insulation: ThermoBall Eco
What we like: The look and feel of a casual down jacket with the performance of synthetic insulation.
What we don't: Patagonia's Nano Puff wins out in most categories.
Like the Patagonia Nano Puff above, The North Face's popular ThermoBall Eco Hoodie is a synthetic jacket designed to mimic the look and warmth of a down puffy. The jacket uses PrimaLoft's ThermoBall Eco insulation—designed in a collaboration with TNF—which features small round clusters of thermal fibers housed inside 2 by 2-inch baffles. ThermoBall fill certainly doesn't compete with down in terms of warmth for its weight, but it gets the job done for most casual use in shoulder season conditions, and can still play double duty for resort skiing, camping, and short hikes. 
Comparing the ThermoBall Eco 2.0 closely with the Nano Puff, the Patagonia wins out in most categories. Fit is always a subjective choice, but in our experience the Nano Puff has a more fine-tuned, flattering silhouette, while the ThermoBall is a bit too short for our liking. Neither jacket is particularly suitable for dedicated backcountry use—in our testing, the ThermoBall did not stand up well to serious wet or cold—but the Nano Puff is significantly lighter and more packable (both jackets stuff into a pocket), while providing a similar level of warmth. But if price is a factor, the ThermoBall Eco 2.0 is $39 less (the hooded Nano Puff is $279), and will certainly cut the chill on days spent close to home. 
See The North Face ThermoBall Eco Hoodie 2.0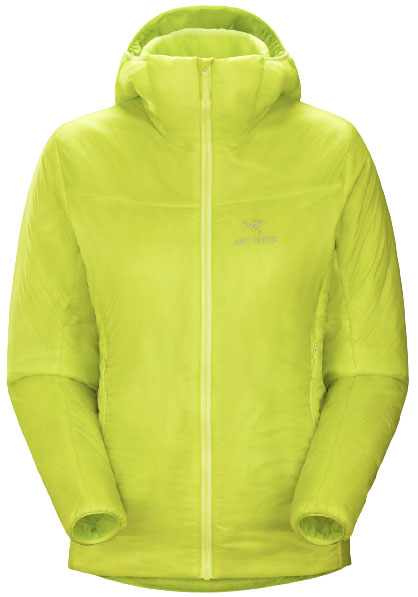 Category: Performance
Weight: 10.1 oz.
Insulation: Coreloft Continuous (65g)
What we like: A similar design as the DAS Light for $49 less.
What we don't: Not as durable or water resistant as the DAS Light.
Arc'teryx is no stranger to synthetic jackets: Their versatile Atom remains an industry standard, while the Proton series is active insulation at its finest. Another pillar of their collection is the Nuclei FL, a lightweight and packable hoody designed for fast-and-light alpine pursuits. Arc'teryx designed the Nuclei FL with a thin (10D) shell fabric, minimal feature set, and Coreloft Continuous insulation, which offers more loft than the Atom's Coreloft Compact. It all adds up to a jacket that is warmer and more packable than both the Atom and Proton, making it particularly ideal for weight- and space-conscious alpine climbers and skiers.
The Nuclei FL takes direct aim at Patagonia's DAS Light, but despite similar intentions, the two jackets have some key differences. First off, both offerings feature windproof, 10-denier shells, but the DAS Light's Pertex Quantum Pro adds a considerable boost in both durability and wet-weather resistance. The Nuclei FL is also slightly heavier and lacks the DAS's chest pocket and two-way zipper, both of which we've found to be particularly helpful. And although it might be a minor issue for some, we much prefer Patagonia's colorway options. But gripes aside, the Nuclei FL will save you $49 over the cost of the DAS Light, and we've yet to be disappointed by Arc'teryx's premium build quality... Read in-depth review
See the Arc'teryx Nuclei FL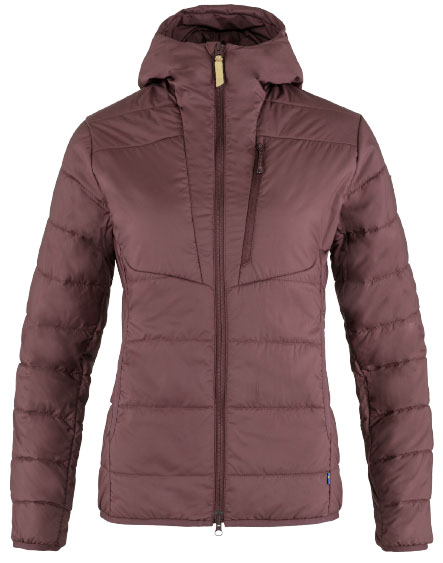 Category: Casual
Weight: 1 lb. 0.2 oz.
Insulation: G-Loft Supreme (60g)
What we like: Classy Fjallraven vibes and premium build quality.
What we don't: Heavy; no zippers on the handwarmer pockets.
Many of the designs on this list have a performance slant, but few can match the casual appeal of the Keb Padded Hoodie. Simply put, this is one of the best looking synthetic jackets on the market with Fjallraven's signature classy aesthetic. On the outside, the Keb features creative baffling that elevates its style from that of a standard puffy, while the 100% polyester shell is available in an assortment of sophisticated colorways. On the inside, G-Loft Supreme insulation features hollow fibers that trap air like down and provide ample warmth for temperatures into the 40s (Fahrenheit). Added up, you get a premium urban jacket that can also play double duty for light fall and winter adventuring. 
Like most Fjallraven apparel, the Keb Padded Hoodie has its limitations for performance use. Without a doubt, you don't get the high-tech insulation of similarly priced jackets from brands like Arc'teryx and Patagonia, which means that breathability and packability aren't as good. What's more, the Keb is one of the heaviest offerings here at over a pound, and the choice to forgo zippers on the hand pockets solidifies it as a casual piece. But everyday users will appreciate the durable shell, and details like hood and hem adjustments, a two-way main zipper, and ample pockets keep things functional. For a more performance-oriented option from Fjallraven, check out the Expedition X-Latt ($190), which has a much lighter build (9.9 oz.) and is more ideal for active pursuits like backpacking and backcountry skiing.
See the Fjallraven Keb Padded Insulated Hoodie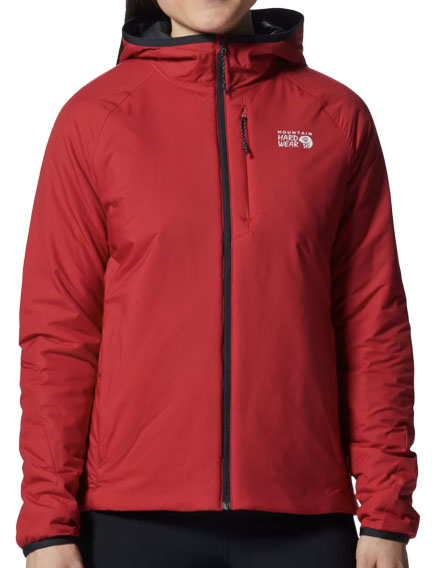 Category: Performance/casual
Weight: 11.2 oz.
Insulation: PrimaLoft Gold Active (60g)
What we like: More affordable than most active insulators.
What we don't: Simple feature set and no additional venting.
If active insulators like the Proton, Casaval, and Nano-Air above have caught your eye, it's also worth taking a look at Mountain Hardwear's Kor Strata. At just $220, the Kor Strata is the most affordable of the bunch and still pulls off a competitive build that places high priority on breathability and mobility. Mountain Hardwear picked out some prime materials for the job: Pertex's Quantum Air (20D) shell is noticeably air permeable, while the PrimaLoft Gold Active insulation features a healthy amount of stretch. Put it all together, and the Kor Strata is an affordable and functional insulator for high-output winter pursuits like running, ski touring, and nordic skiing. 
With a price tag that's $30 to $80 less than the competition, what does the Kor Strata give up? The main compromise comes in terms of features: With no hem or hood adjustment, no internal dump pockets, and a simple construction that forgoes additions like stretch-woven or fleece panels, Mountain Hardwear's jacket is decidedly simple. And as a result of this no-frills (and no vents) design, its breathability falls short. But if you're looking to save or don't mind the extra dose of warmth (particularly for wind-generating activities like biking and nordic skiing), it's hard to find fault with the Kor Strata. It's also worth mentioning Mountain Hardwear's Ghost Shadow Hoody, a down-mimicking synthetic jacket that, at $230, also undercuts much of the competition.
See the Mountain Hardwear Kor Strata Hoody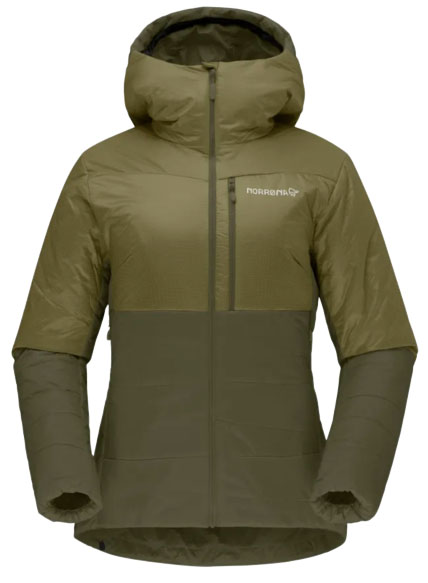 Category: Performance
Weight: 12.5 oz.
Insulation: Thermo60 (60g)
What we like: Performance-oriented warmth at a competitive price.
What we don't: Not as weather resistant, lightweight, or packable as the Patagonia DAS Light.
Norrøna might fly a little under the radar this side of the Atlantic, but the Norwegian outdoor clothing brand gives names like Patagonia and Arc'teryx a run for their money. From their Falketind mountaineering collection, the Thermo60 is a high-quality synthetic jacket that's priced competitively at $289. Like most of Norrøna's offerings, it's primed for use in the mountains, with windproof and water-resistant protection, a drop-tail hem for added coverage, and adjustable helmet-compatible hood. We've found the 20-denier shell fabric to be soft and smooth-moving, and 30-denier reinforcements help boost protection and durability at the shoulders, arms, and hood. 
Thermo60 fill doesn't have the brand cachet of names like PrimaLoft and PlumaFill, but it's nevertheless an impressive insulator. We tested the Thermo60 and DAS Light side by side throughout a fall and winter season, and consistently reached for the Norrøna when we wanted a softer, loftier jacket. On the other hand, the DAS Light's Pertex Quantum Pro shell is noticeably more water resistant, and the Thermo60's bulkier and heavier build means it's far from our first choice for weight-conscious activities like alpine climbing. But for less than the competition, Norrøna's most versatile synthetic jacket has a lot going for it and could be well worth the savings for many.
See the Norrøna Falketind Thermo60 Hood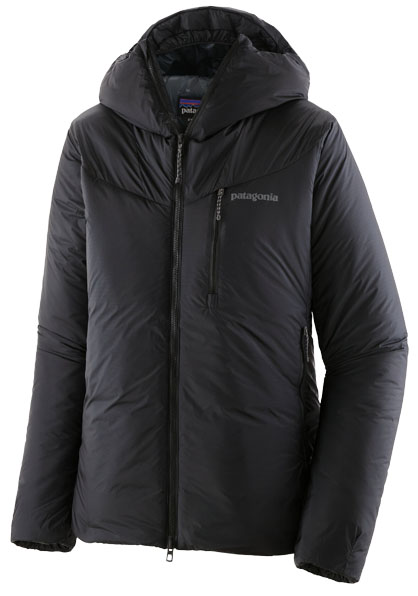 Category: Performance
Weight: 1 lb. 2.4 oz.
Insulation: PrimaLoft Gold Eco (40g & 133g)
What we like: Impressive warmth and weather protection for cold and wet conditions.
What we don't: Overkill for most uses.
Since its debut literally decades ago, the DAS Parka has been a go-to synthetic jacket for winter climbers due to its impressive warmth and weather protection in a lightweight build. The latest model is even lighter and more compressible and takes the cake as the warmest synthetic jacket in Patagonia's lineup. And with ultra-warm 133-gram PrimaLoft Gold Eco throughout and an extra layer of 40-gram fill in the core, it's the most insulative option on this list too. In fact, the DAS Parka is so warm that you won't want to keep it on during any sort of movement, but it's an ideal choice for cold belays, breaks while skiing, and other low-output activities.
The DAS Parka features the same Pertex Quantum Pro shell (10D) as the DAS Light above, which is also topped with an additional coating for abrasion resistance. The jacket is certainly made to take a beating, and throughout our testing, it has held up very well to wear and tear. What's more, it has all the trimmings for performance use, including an adjustable helmet-compatible hood, two-way front zipper, large internal dump pockets (great for storing gloves, climbing shoes, or skins), and internal elastic cuffs for additional warmth and security. With a price tag nearing $500 and a weight north of a pound, you'll have to ask yourself if you really need the next-level warmth of the DAS Parka, but for chilly conditions when you still need the wet-weather performance of synthetic, it's tough to beat... Read in-depth review
See the Patagonia DAS Parka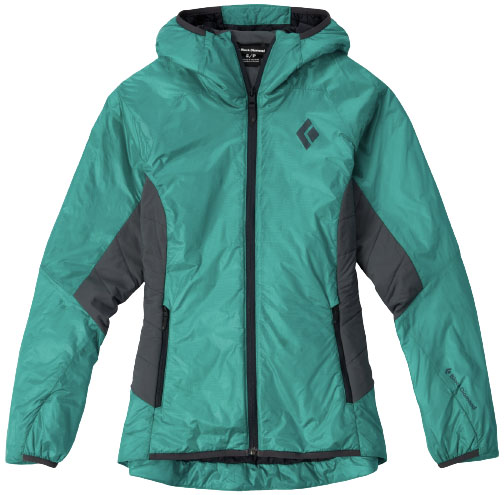 Category: Performance
Insulation: PrimaLoft Gold w/ Cross Core (60g)
What we like: Active insulation that's also lightweight, warm, and weather-resistant.
What we don't: Technical appearance isn't particularly versatile for casual use.
Synthetic jackets can easily be broken down into two distinct categories: down-mimicking and active insulation. Down-mimicking synthetics prioritize warmth and weather resistance alongside a low weight and streamlined packed size; on the other hand, active insulation pieces feature air-permeable, stretch-infused shells and place a premium on mobility, comfort, and breathability (often at the cost of weight and bulk). The vast majority of synthetic jackets are one or the other—but the Black Diamond Vision Hybrid Hoody merges the two designs for a best-of-both-worlds insulator that's ideal for serious mountain pursuits.
Here's how it works: At the Vision Hybrid's front and high-exposure areas like the shoulders, hood, arms, and lower back, you get a durable nylon shell that's lightweight and decently weather protective. Under the arms and at the upper back, BD patterns a stretchy and breathable woven nylon shell that dumps heat and keeps movement high for active pursuits. And inside, PrimaLoft Gold insulation with Cross Core technology (which includes Aerogel—a lightweight insulator developed by NASA) offers a better warmth-to-weight ratio than most synthetic fills. The Vision is decidedly technical-looking—with a trim silhouette and noticeably drop-tail hem, it might not be the kind of jacket you want to wear around town—but for lightweight and packable warmth that's both breathable and weather-resistant, it's an impressively high performance piece.
See the Black Diamond Vision Hybrid Hoody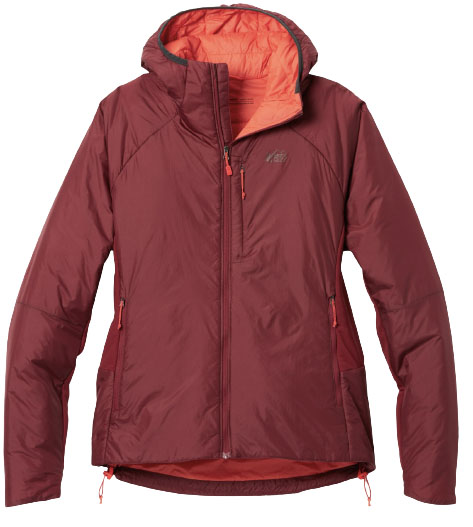 Category: Performance
Weight: 12.7 oz.
Insulation: PrimaLoft Silver Eco (60g)
What we like: Well priced and a number of performance-ready features.
What we don't: Pricier than the Cotopaxi and Rab above and doesn't stand out in any way.
REI's in-house synthetic jackets have been hit or miss throughout the years, but we're excited by their most recent offering. Joining their "Flash" lineup of fast-and-light inspired hiking products (including the Flash tents and packs), the Flash Insulated Hybrid is a synthetic jacket built for performance use. The baffled design prioritizes warmth without bulk and stuffs away into its left hand pocket when not in use, and the latest version adds stretchy side panels for greater mobility and breathability. Moreover, it's windproof and decently water-resistant, which translates to versatility as both a midlayer and outer layer.
But as with most of the Co-op's products, the Flash Insulated Hybrid doesn't quite measure up to competition from brands like Arc'teryx and Patagonia. You can expect fairly average warmth and breathability—PrimaLoft's Silver is a step down in performance from their Gold—and the fit is rather unremarkable, albeit less boxy than you might expect for the price. Finally, at $179, the Flash is more expensive than both the Cotopaxi and Rab above, which outpace it in terms of style and performance (respectively). But the REI nevertheless is a solid budget piece for light performance use, including cool-weather hikes and camping trips.
See the REI Co-op Flash Insulated Hybrid Hoodie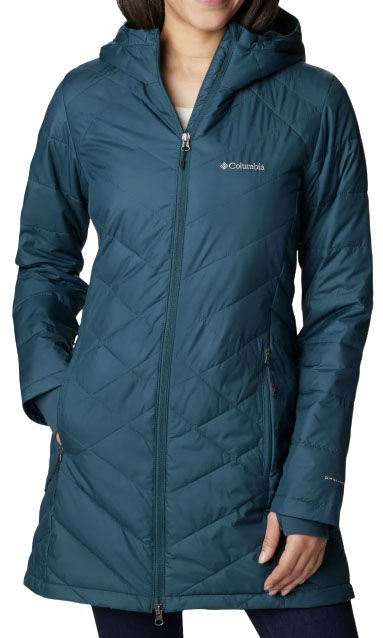 Category: Casual
Insulation: Omni-Heat Reflective
What we like: Classy mid-thigh length for a great price.
What we don't: Not as warm as most jackets here.
If you're in the market for a casual insulated jacket for everyday use, give the Columbia Heavenly Long a closer look. The Heavenly's mid-thigh length offers a sophisticated look that you won't get from more backcountry-ready jackets, and the extra coverage translates to more warmth below the waist, too. It's true that Columbia's Omni-Heat Reflective insulation can't match the loft or performance of higher-end offerings like PlumaFill, PrimaLoft, or Coreloft, but it's enough to cut the chill on shoulder season days around town, and is easy on your wallet too.
Many women will opt for a loftier down parka for everyday winter use, but synthetic jackets certainly have their place. We especially like the Heavenly Long for milder and wetter climates like the Pacific Northwest, where temperatures rarely drop below freezing and moisture hangs in the air all winter. What's more, the jacket's svelte silhouette means it can layer well under a rain shell, such as the thigh-length Outdoor Research Aspire Trench. And if you prefer a more versatile hip-length jacket, Columbia also offers the Heavenly with a 27-inch center back length (compared to the Long's 34-in.), which comes in both hooded and non-hooded varieties.
See the Columbia Heavenly Long Hooded Jacket
Women's Synthetic Insulated Jacket Comparison Table

Women's Synthetic Insulated Jacket Buying Advice

Categories: Performance vs. Casual
On our list above, we break synthetic jackets into two main categories: performance and casual. Performance-oriented synthetic jackets are our first choice for activities like backpacking, ski touring, nordic skiing, alpine climbing, and other backcountry endeavors. Depending on whether they're down-mimicking or active insulators (more on this below), they'll have different priorities: either a lightweight and packable build (and sometimes weather resistance) on one hand—or mobility, comfort, and breathability on the other. Either way, you get premium shell materials, high-end insulation, and features like helmet-compatible hoods, internal dump pockets, and intelligent patterning that maximizes ventilation. Performance jackets are often fairly trim-fitting (great for layering under a hardshell or rain jacket) and forgo any unnecessary style features in the name of weight-savings.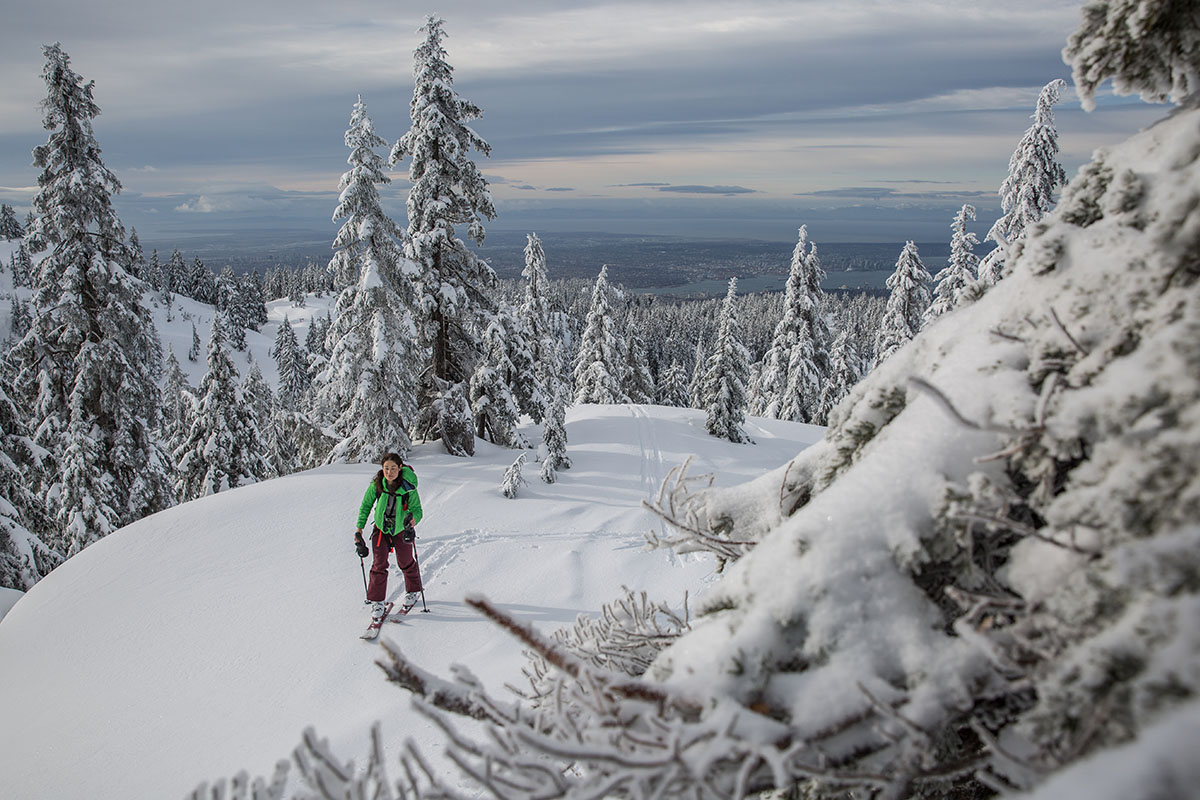 On the other hand, jackets within the casual category are our top picks for daily use, whether you're commuting to work, running errands around town, or even logging a few laps at the ski resort. These jackets function well as outer layers, with roomier dimensions, decorative baffling (the Fjallraven Keb Padded) or reversible designs (Cotopaxi's Teca Cálido), and durable shells. And more than performance-oriented jackets, casual pieces offer the choice between hooded and non-hooded versions. For cutting the chill on shoulder season days around town, it really doesn't get much better than a synthetic jacket—and they're generally more durable and weather resistant than down insulators, too.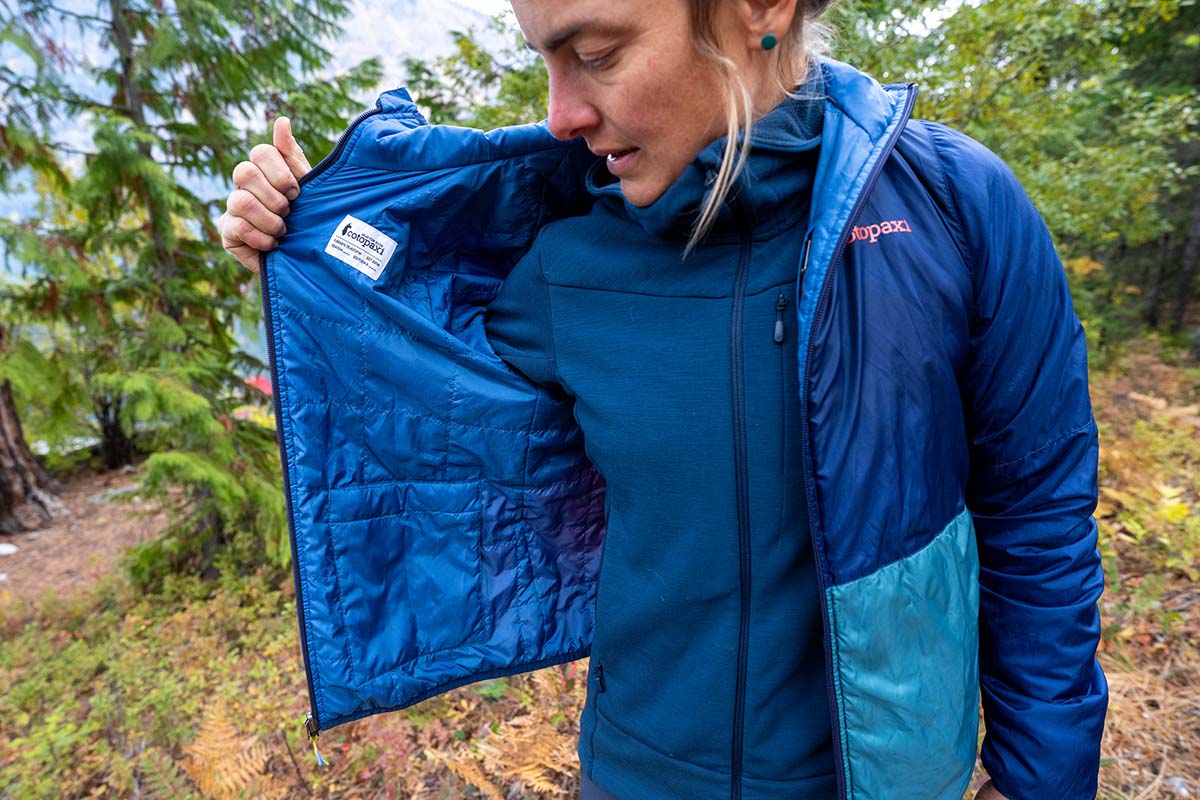 Down-Mimicking vs. Active Insulation
In general, we see two main styles of synthetic insulated jackets: those that aim for maximum warmth at a minimum weight and packed size (similar to a down jacket) and breathable offerings intended primarily for active use. Between these two categories, the key differences include the style of synthetic fill and the weight and makeup of the shell fabric. When considering which synthetic insulated jacket is best for you, choosing between these two categories is a great place to start. 
Down-Mimicking Insulation
Synthetic insulated jackets that mimic the style and function of down jackets are great for those concerned primarily with maximizing warmth and minimizing weight and bulk. These jackets pair thin, 100% nylon shells with synthetic filaments and fibers that look and act much like down (Patagonia's PlumaFill and The North Face's ThermoBall are two of the biggest names). Like down puffies, jackets in this category aren't particularly good breathers; on the other hand, they're decently weather resistant—especially those with Pertex Quantum Pro shells (like the DAS Light Hoody). Added up, down-mimicking synthetic insulators are great options for low-output endeavors or activities that prioritize weight-savings. Some of our favorite jackets in this category include the Patagonia Nano Puff and DAS Light Hoody, Outdoor Research SuperStrand LT, and Arc'teryx Nuclei FL.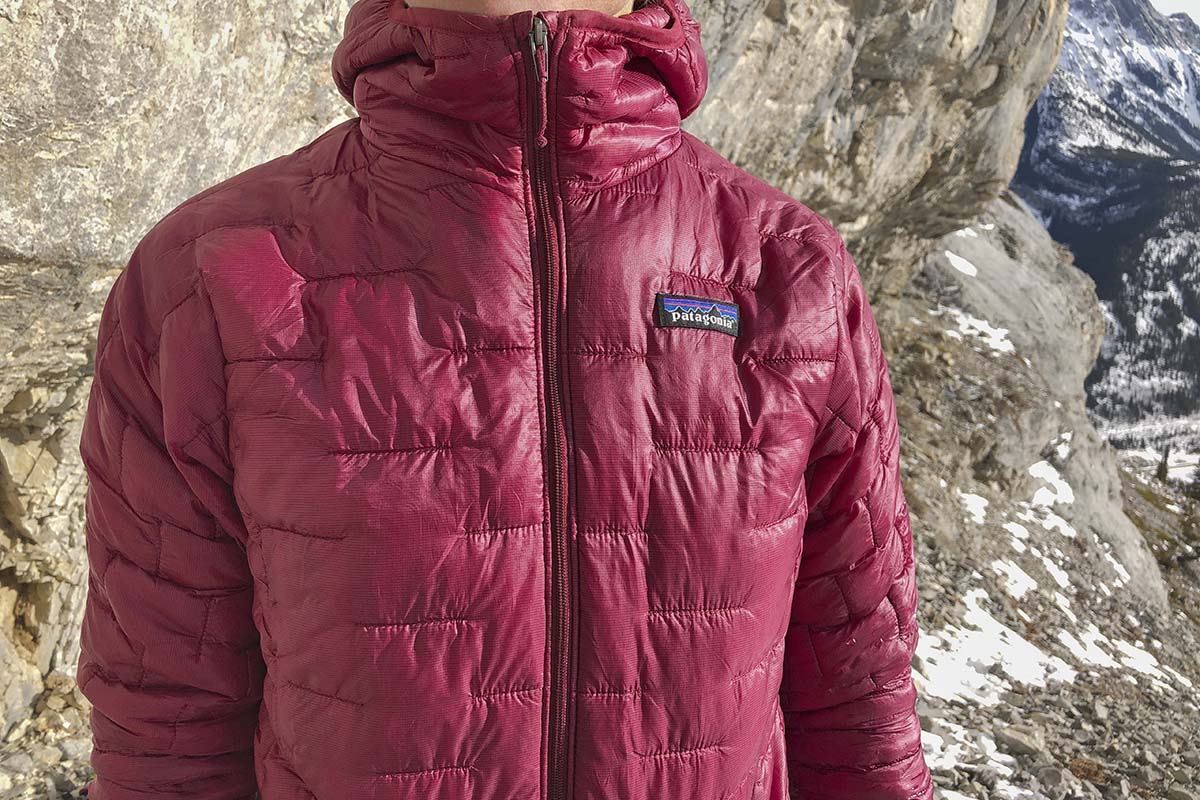 Active Insulation
For high-output activities like backcountry skiing and hiking, we look to synthetic jackets in the active insulation category. These jackets feature soft and stretchy shell materials and sheets of synthetic insulation that don't require baffles to keep them in place (common names include Coreloft and FullRange). While this style of insulation doesn't mimic down plumage, it still does a great job trapping heat—albeit with more bulk and weight. Due to their more sweatshirt-like material, active insulation pieces move and breathe remarkably well but are less wind and water resistant than the all-nylon shells mentioned above. We love jackets in this category for all-day wear and active use when comfort and mobility matter more than weight. Some of our favorite active insulation jackets include the Arc'teryx Proton Hoody, TNF Summit Series Casaval, and Patagonia Nano-Air Light Hybrid Hoody.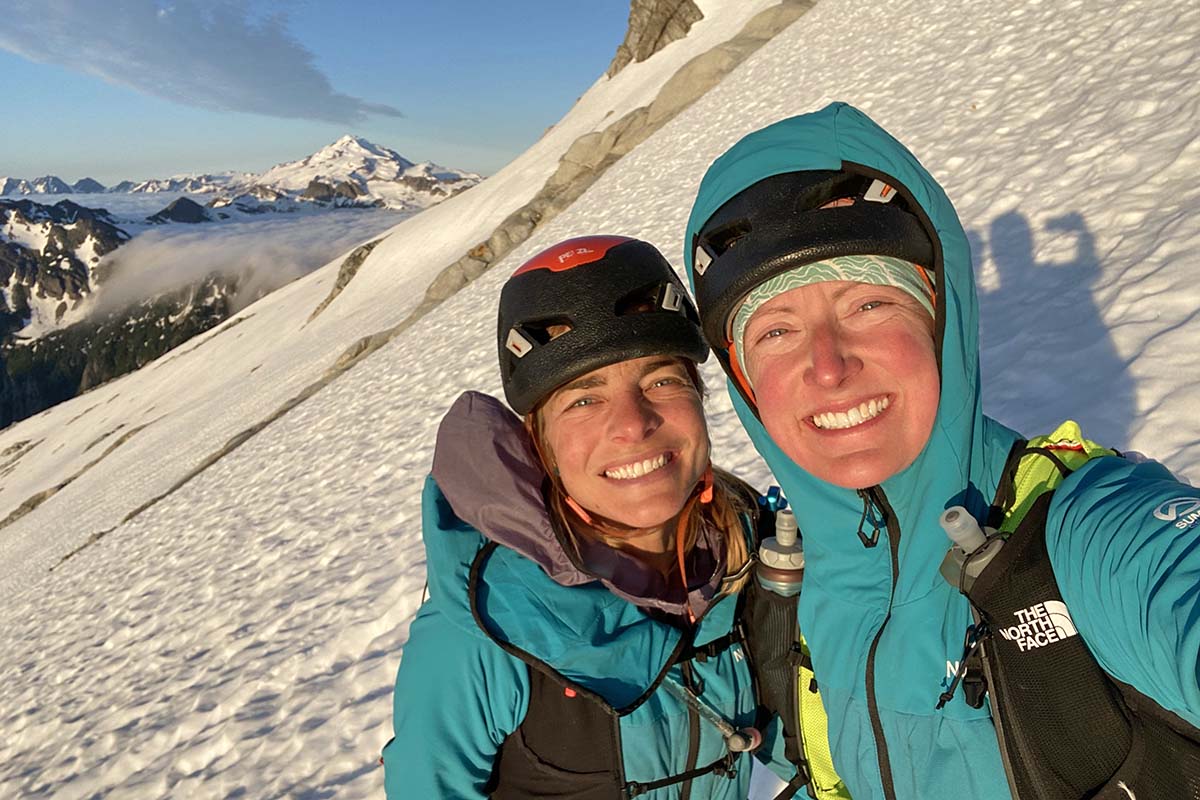 Water Resistance
The single biggest selling point of synthetic fill over down fill is that it retains its ability to insulate when wet. With a down jacket, prolonged exposure to rain or snow will eventually lead to soaked feathers, causing them to lose their loft and warmth-creating potential. Even hydrophobic down technologies eventually give in to sustained moisture. A wet down jacket is heavy, won't keep you warm, and takes much longer to dry out than a synthetic one. By contrast, synthetic insulation resists moisture—instead of being absorbed, water sits between the fibers, allowing the fibers to retain their shape, continue to insulate, and dry more quickly. The degree to which synthetic insulation resists water varies by type, but all synthetics repel moisture much better than down.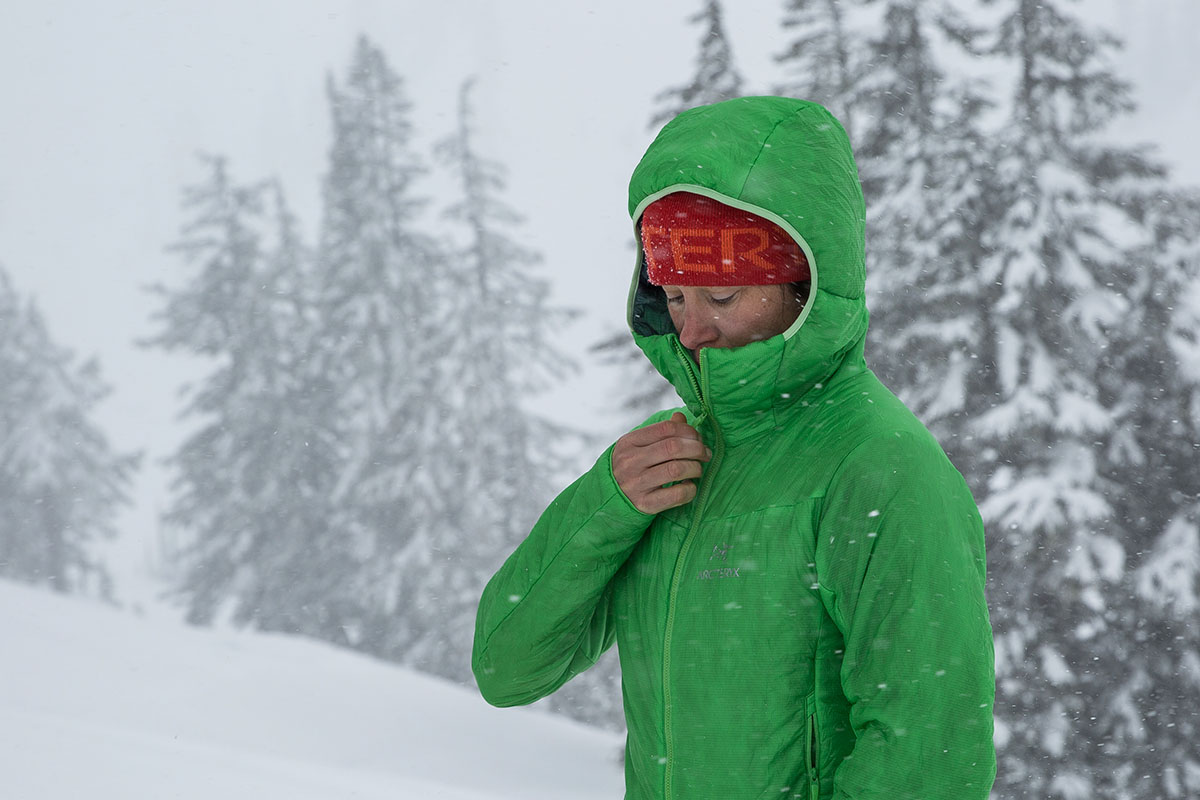 The other factor in a jacket's water resistance is the shell material. We see quite the range here, with 100% nylon shells (particularly high-end designs like the Patagonia DAS's Pertex Quantum Pro) doing a great job keeping moisture at bay, while stretch-woven shells are more permeable to wind and rain. On both sides of the aisle, shell materials feature a DWR (durable water repellent) treatment, which causes water to bead off the shell instead of collecting and eventually soaking through to the jacket's interior. DWR treatments do a pretty good job at repelling light to moderate precipitation, but by no means waterproof the jacket. All told, synthetic jackets do a much better job than down in wet conditions, but for prolonged exposure you'll certainly want to bring along a rain jacket, hardshell, or ski jacket.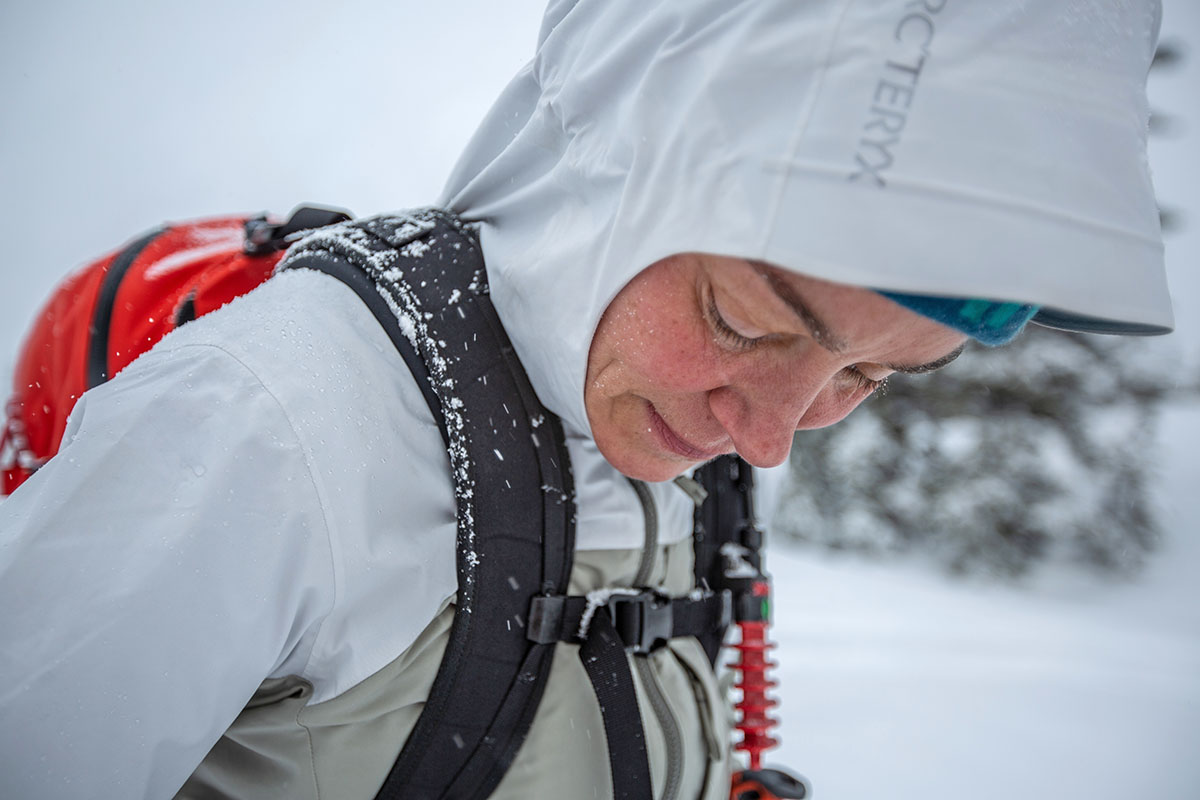 Warmth
Without actually trying on a synthetic jacket, it can be difficult to discern the level of warmth it will provide. The warmth of synthetic fill is measured in terms of the weight of a 1-meter by 1-meter piece: For example, 60-gram FullRange clocks in at 60 grams for the 1-meter-squared piece of insulation. The majority of insulations are around 60 to 65-gram, but on our list they drop to as low as 40-gram (the Patagonia Nano-Air Light Hybrid) and are as heavy as 133-gram (Patagonia's DAS Parka). In most cases a larger number indicates a warmer insulation, but what this number doesn't tell you is how much of the insulation is stuffed in the jacket—which can make a sizable difference in warmth. Here, the weight of the jacket becomes our best clue.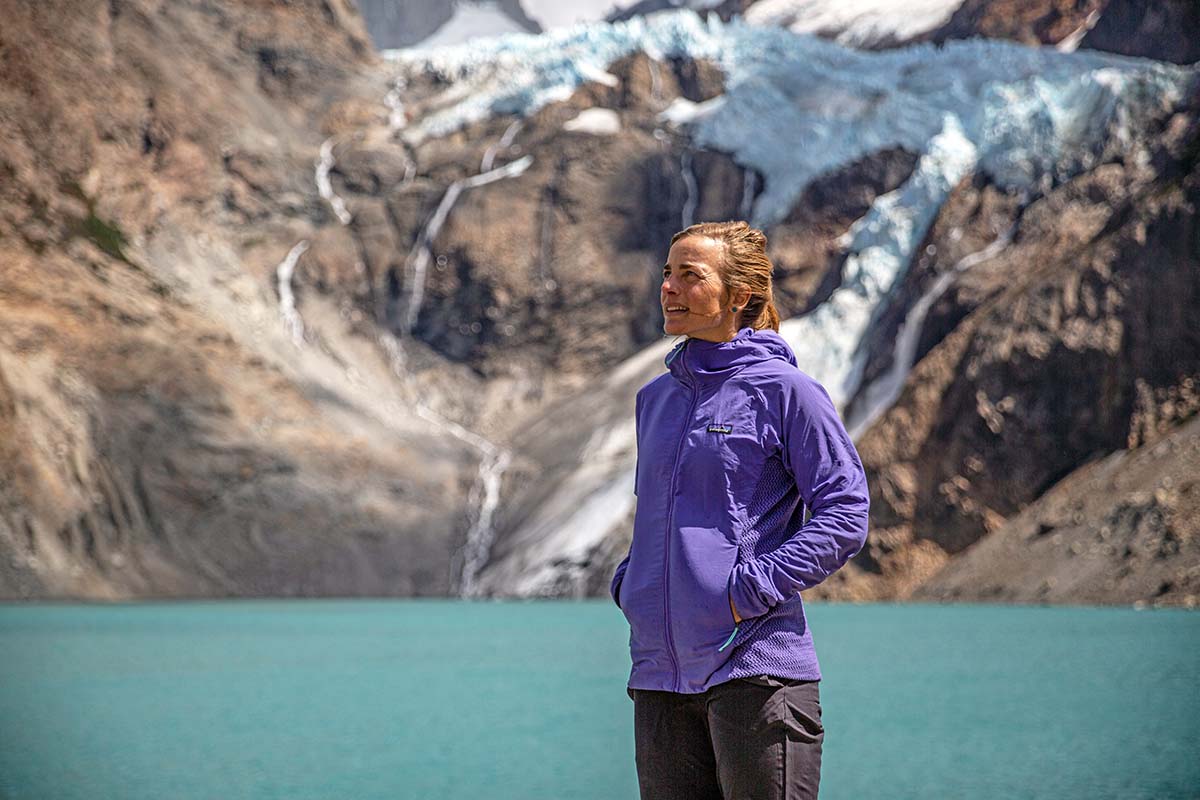 Most of our picks above check in around 10 to 12 ounces and provide a similar level of warmth, ideal for cool-weather fall and spring use. For freezing winter conditions, parkas like Patagonia's DAS (1 lb. 2.4 oz.) are true winter-weight synthetic jackets. But weight isn't a perfect guideline: Heavier jackets like the Fjallraven Keb Padded aren't necessarily warmer than the competition—they just feature thicker shell materials. And compared to down, synthetic insulation creates less warmth for its weight. For example, you can expect that a 12-ounce down jacket will be noticeably warmer than a 12-ounce synthetic jacket. However, down-mimicking synthetics in particular do a pretty respectable job in this department and are only getting better.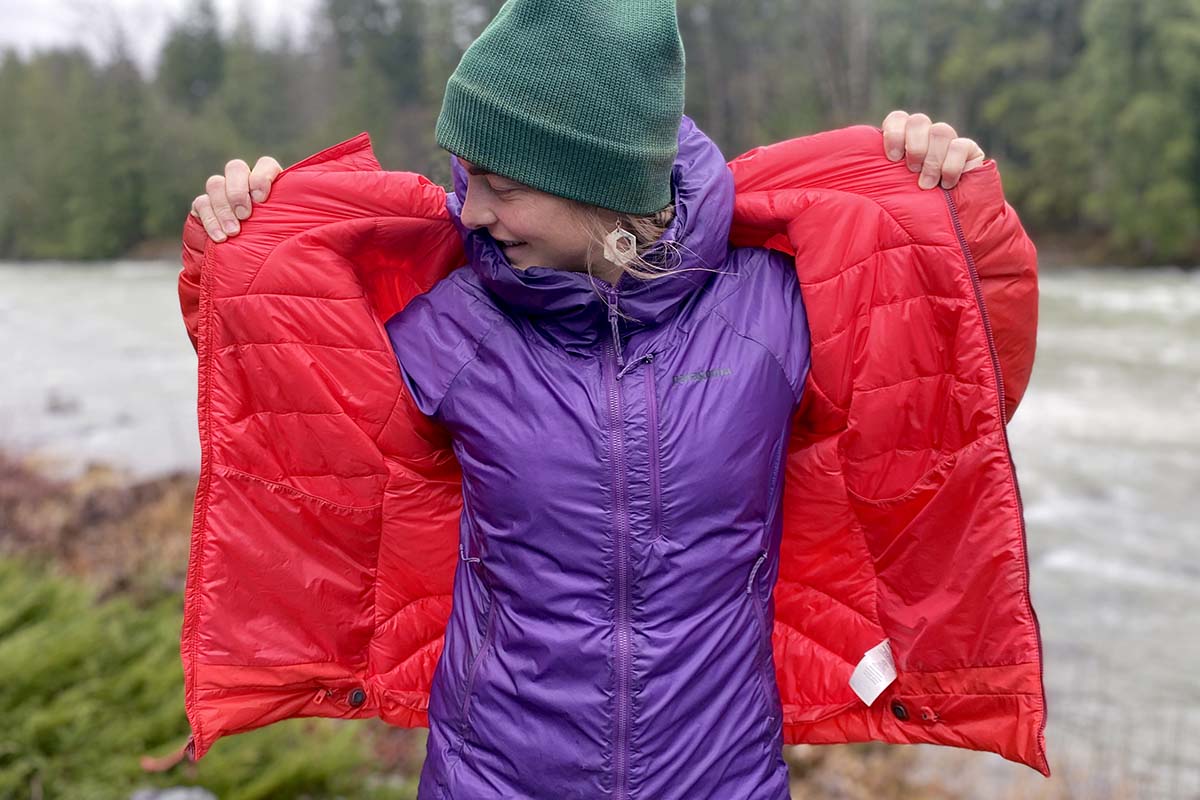 Breathability
The breathability of a synthetic jacket comes down to two main factors: the type of fill and the style of shell and lining materials used. Fills that mimic down tend to breathe the least, while active insulations like Coreloft and FullRange do a great job regulating heat. In terms of the shell materials, jackets with stretch-infused or sweatshirt-like fabrics are particularly good at moisture wicking and breathability, while all-nylon shells perform the worst.
If the purpose for your jacket involves movement (like backcountry touring, cross-country skiing, or snowshoeing), active insulation pieces like the Arc'teryx Proton Hoody and Patagonia Nano-Air Light Hybrid are great choices. These jackets deftly balance warmth and temperature regulation, and their soft shells keep mobility high. But it should come as no surprise that they are by nature more air permeable, meaning they don't trap heat as well as down or down-mimicking synthetic jackets. On the other hand, if you're aiming for all-out warmth (like the heavyweight Patagonia DAS Parka), expect breathability to suffer.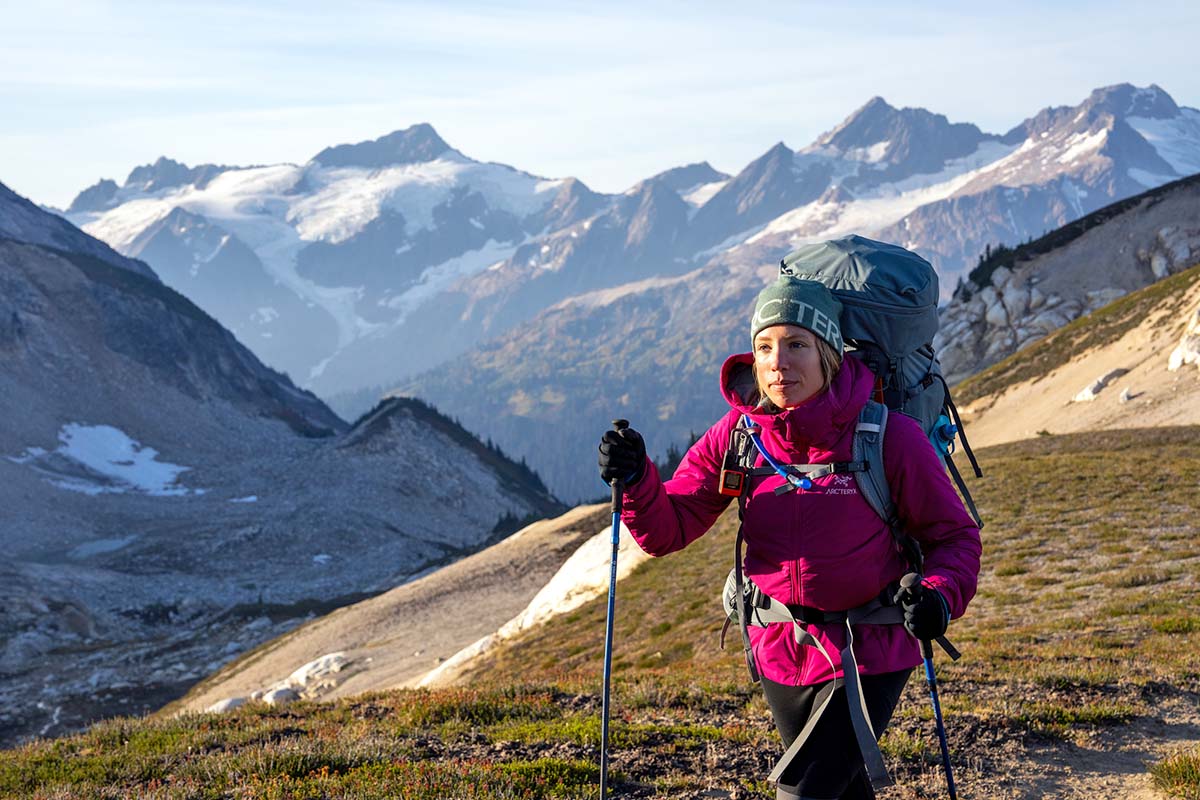 Packability
Synthetic insulation doesn't compress quite as tightly as down, but recent improvements make it more impressive than ever. In general, down-mimicking jackets like the Patagonia DAS Light and Micro Puff have smaller packed sizes than active pieces like the Arc'teryx Proton, due to the makeup of both the insulation and shell fabrics. Regardless of their packed size, most of the synthetic jackets on this list either pack down into a pocket or come with an included stuff sack. If packability is your highest priority, we still recommend a down jacket, but for casual use and adventuring when space isn't at an absolute premium, synthetics aren't far behind.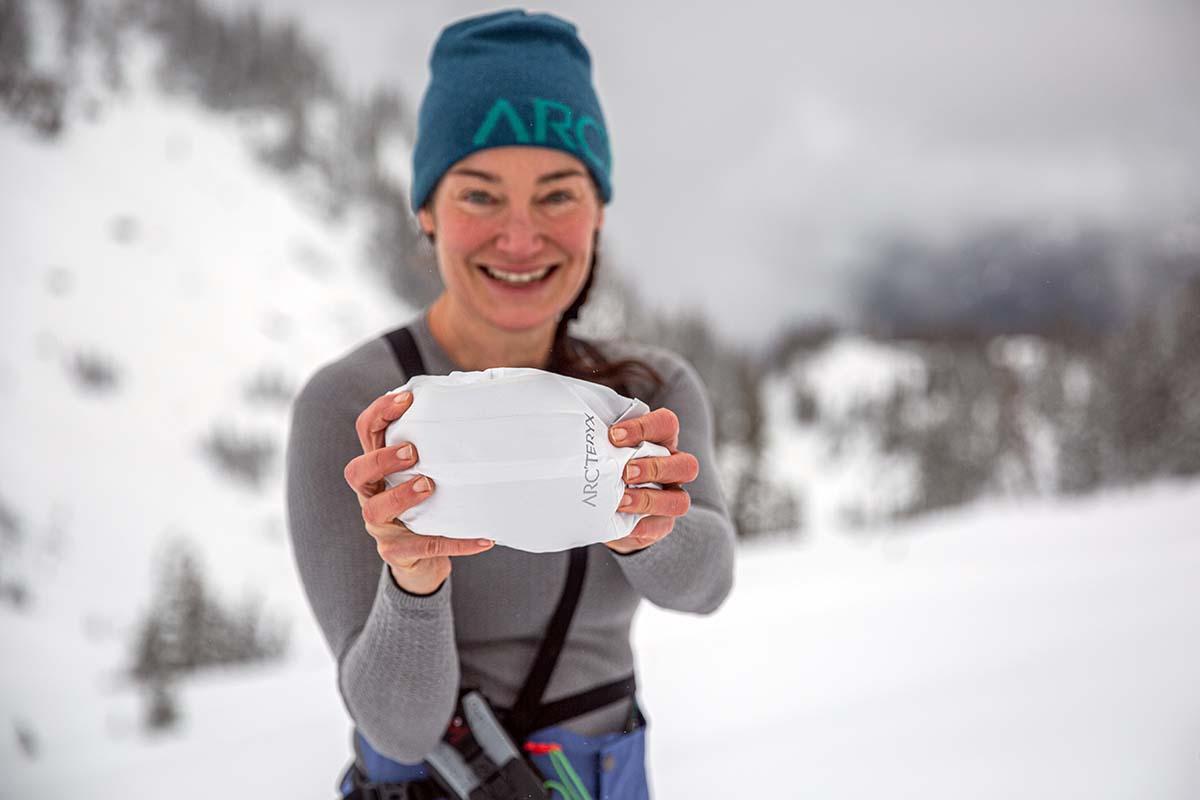 Comfort
Synthetic jackets might not offer the sleeping-bag loft of down jackets, but they still have a lot going for them in terms of comfort. First is their ability to effectively regulate body temperature: Synthetic fill is decently breathable (a lot more so than down), which means it can adapt well to various environments. We can walk the dog in 45-degree weather, then move indoors to the office without missing a beat. What's more, many synthetic jackets (like the Arc'teryx Atom or Patagonia Nano-Air) feature soft, sweatshirt-like shells that feel like your favorite hoody or fleece jacket. In contrast to a comparable down jacket like the Arc'teryx Cerium, they're less bulky, quieter, and easier to move around in. It's certainly hard to beat down in terms of coziness, but synthetic jackets are by far our preferred choice for all-day wear.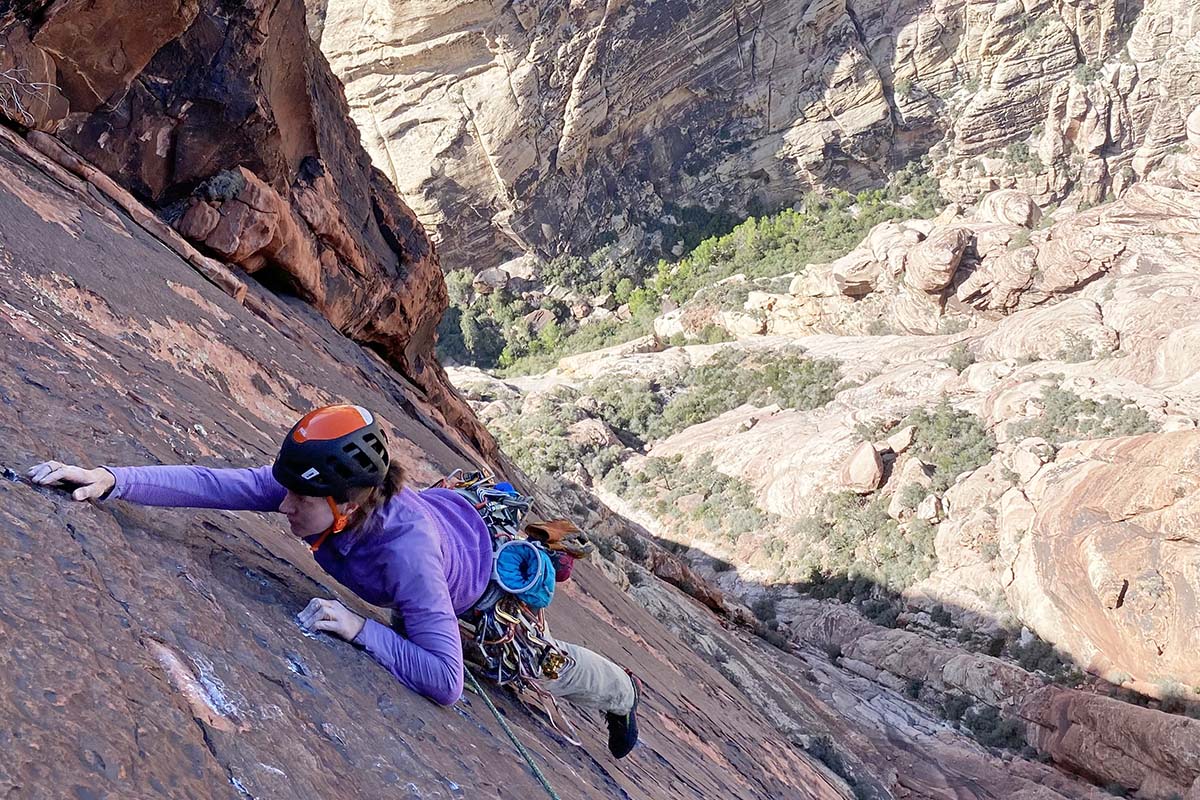 Fit and Sizing
Women's synthetic jackets range widely in terms of fit. Most performance pieces are built to wear overtop a baselayer or thin midlayer and easily layer underneath a rain jacket, hardshell, or ski jacket. However, some performance pieces, like the Patagonia Nano-Air Light Hybrid, have a particularly trim cut that removes excess fabric for added mobility, efficient ventilation, and easy layering. On the other hand, heavyweight jackets like the DAS Parka are noticeably roomy. If you're in search of a jacket adept at both, an option like the Arc'teryx Atom may be the ideal choice, with enough room to be comfortable but not so loose as to be useless in the backcountry. Or, you can size up: We wear the Patagonia Nano-Air Light Hybrid in a size medium rather than our standard size small, which adds versatility for a variety of uses.
Hood or No Hood?
Many of our top-ranked synthetic jackets are offered in either a hooded or non-hooded style, and what's best for you will come down to use. We reach for an insulated vest or non-hooded jacket as a midlayer while skiing or around town, and the hoody is great as an outer layer or if it's really cold. It's also worth considering what other layers you plan to wear with your synthetic jacket, and whether or not they have hoods—pairing three mid- and outer-layer jackets with hoods can result in quite the pileup. Expect to pay $20 to $50 extra for the hoody version of the same piece. A down jacket purchase shares many of the same considerations, and we've covered this question in greater detail in the article: Does Your Down Jacket Need a Hood?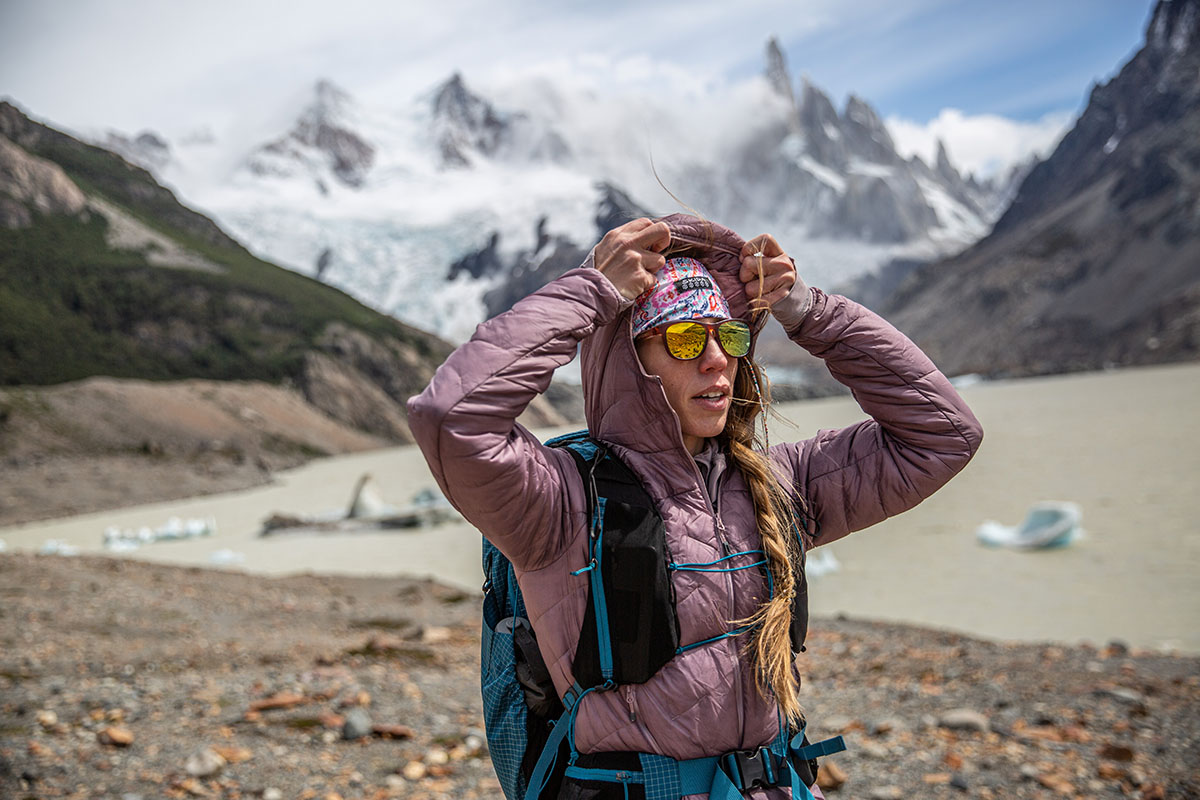 Durability and Care
One big selling point of synthetic jackets is that they are easier to care for than down jackets. First, you don't have to worry as much about moisture and they don't lose feathers, meaning that you don't have to be as vigilant about keeping a close eye on your jacket. Second, many synthetic jackets have relatively thick shells with some built-in stretch (including designs like the Patagonia Nano-Air and Arc'teryx Atom Hoody), which lends great durability for everyday wear. And finally, most synthetic jackets are machine washable and don't require special supplies and care for cleaning. 
However, it's important to note that synthetic insulation will break down over time, causing it to lose its loft and ability to trap heat. In this respect, it's a much less durable product—we have down jackets passed down from our parents that are arguably just as warm today as they were 40 years ago. On the other hand, synthetic jackets certainly have a shorter lifespan and their insulating capabilities will not last throughout generations.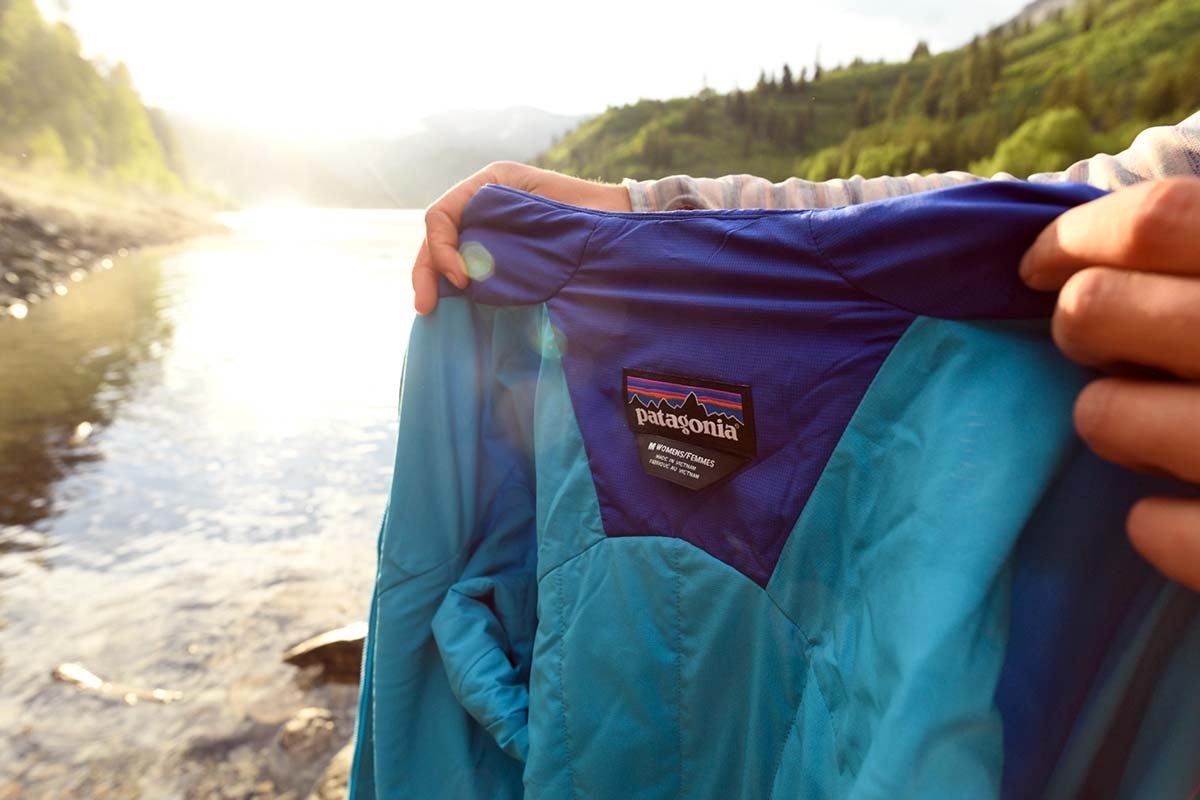 Sustainability
Synthetics have been less scrutinized than down—particularly by animal rights activists—but they have their own set of issues. For one, most are petroleum based, which results in greenhouse gas emissions and potentially unsafe work environments. Many manufacturers have attempted to make their production more sustainable by using recycled materials, which is a great start (most jackets here are built primarily with recycled shell materials and fill). To add to the debate, some synthetic fills release micro pieces of plastic into the water during each wash, an issue that is becoming more and more of a global problem—a wash bag (like this one from Guppyfriend) can help keep your wastewater plastic-free. In the end, the most sustainable solution is to buy nothing at all and do what you can to extend the life of what you already own. And if you do make a purchase, we encourage you to be a responsible consumer and choose products made with a sustainable ethos.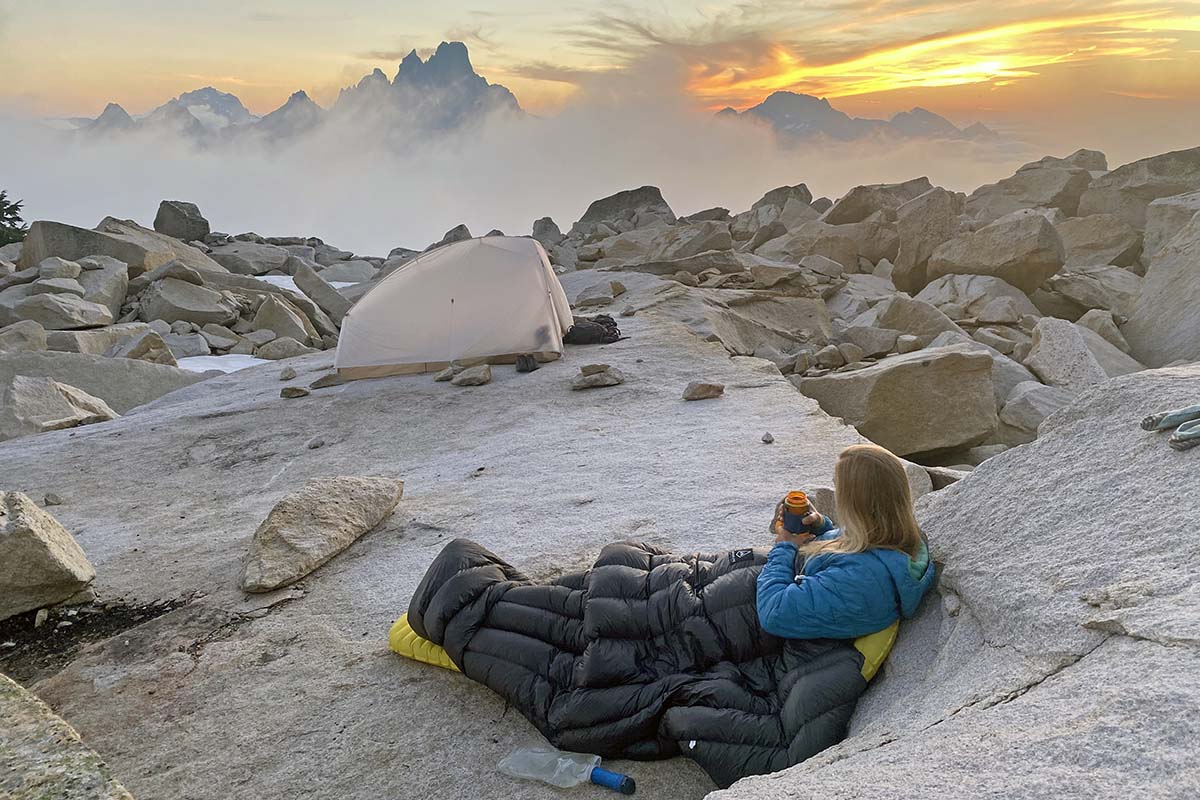 Synthetic vs. Down Insulation
If you're looking for a warm yet lightweight jacket, your choice will be between down or synthetic fill. Thankfully, the two materials have fairly different attributes that can help ease the decision. As we've touched on above, synthetic's primary strength is its water resistance—even when wet, synthetic fill maintains its loft, and thus can continue to insulate. Certain varieties of synthetic fill are also relatively breathable, especially those used in active insulation, and their sweatshirt-like shells can be a lot more comfortable for all-day use. Finally, due to the sheet-like nature of synthetic fill, you don't have to baby your jacket as much as down. Thus, if we're anticipating inclement weather, plan to build heat in cold conditions, or know we'll be wearing our insulation as an outer layer while rock climbing, we'll take along a synthetic jacket.
Down, on the other hand, excels in two primary metrics: warmth-to-weight ratio and compressibility. Materials engineers are getting closer and closer to creating a synthetic fill that's as lofty as down (Patagonia's PlumaFill is an impressive impersonation), but there's still no substitute for the real thing. As a result, down jackets are able to offer more warmth for a lower weight and packed size, which is especially important for fast-and-light activities like mountaineering, backcountry skiing, and fastpacking. They're also arguably more cozy—akin to wearing a sleeping bag—and unlike synthetic jackets, will not pack out over time. The choice can be a difficult one, but if we anticipate dry conditions, know we'll only be wearing our insulation at rest, and need to prioritize a minimal weight and bulk, we'll turn to down. For a more detailed explanation of this topic, see our article on down vs. synthetic insulation.
Back to Our Top Synthetic Jacket Picks  Back to Our Synthetic Jacket Comparison Table
Read More From Switchback Travel