Years ago, Patagonia's Nano-Air helped to define the active insulation market, debuting the new category with a fun "put it on, leave it on" campaign. With soft and breathable materials, the synthetic jacket is designed to be worn all day through a variety of conditions and activities. We sampled the latest version of the women's hoody while backpacking, rock climbing, and hanging out around town and the crag, and the time-tested recipe remains: The jacket provides warmth at rest, skillfully dumps heat during activity, and is as comfortable as your favorite sweatshirt. Below are our experiences with the Nano-Air Hoody. To see how it stacks up to the competition, see our articles on the best synthetic jackets, best women's synthetic jackets, and best midlayers.
 
---
Table of Contents
---

Performance
Comfort
We don't normally headline a jacket review with a section on comfort, but the Patagonia Nano-Air Hoody is a particular stand-out in this category. The polyester shell is soft and supple, ever-so-slightly stretchy, and just as easy to wear as a cotton sweatshirt—except with a much cozier and pillowy feel. As we'll touch on below, it's also nicely air-permeable and moisture-wicking; in other words, it won't grow clammy like other insulated jackets might (especially down or down-mimicking jackets with slippery nylon shells). As a result, we find ourselves wearing the Nano-Air over t-shirts, during light exercise, and even inside while working on the computer. In sum, if we had to choose just one jacket to wear on a daily basis and for outdoor activities, the Nano-Air would be near the top of our list.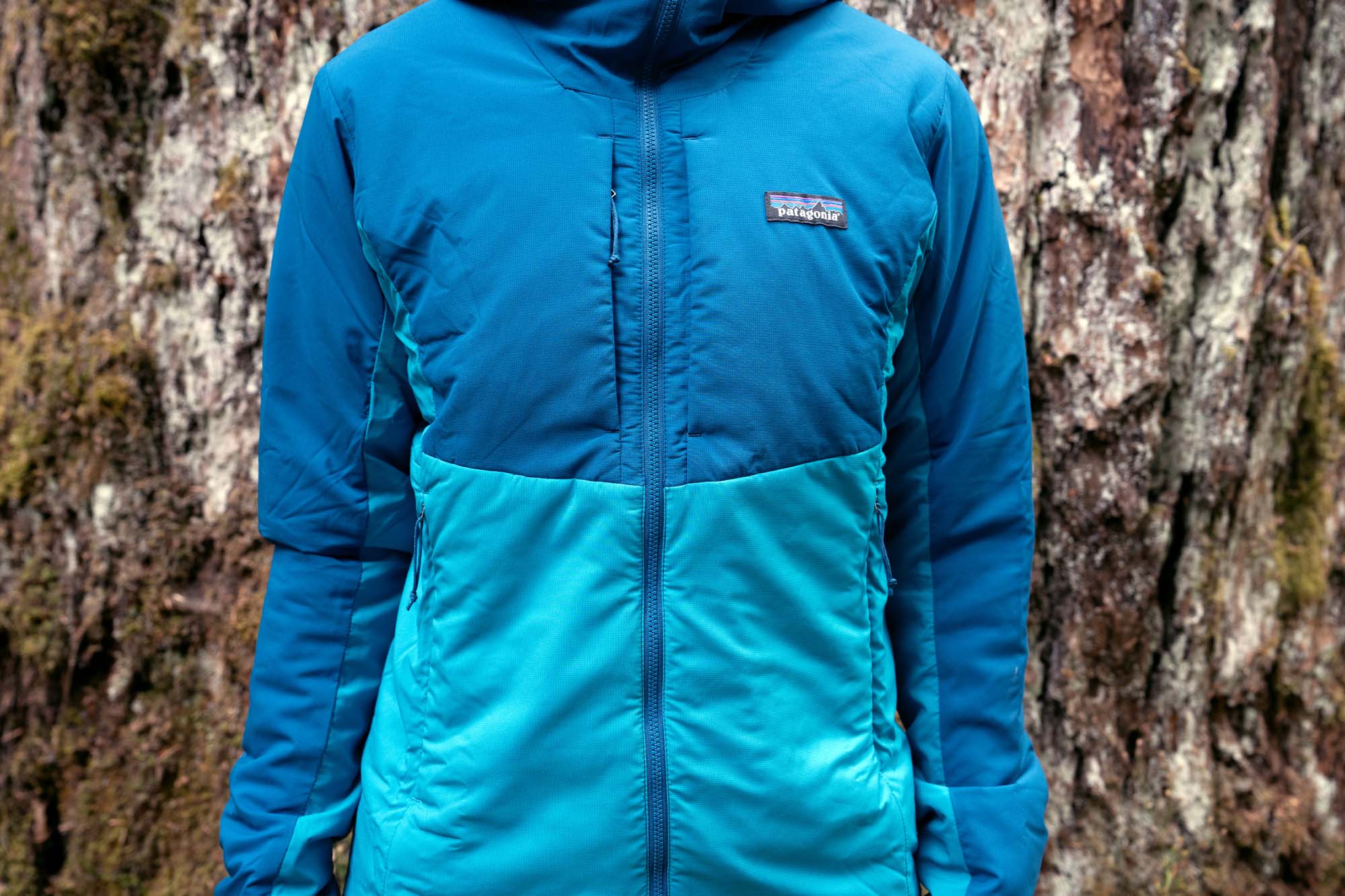 Warmth
The Nano-Air Hoody features Patagonia's 60-gram FullRange synthetic insulation, which provides moderate warmth and an impressive comfort range. At rest, we've found it to be an ideal insulator for temperatures into the 40s (depending on your layers and how cold you run, of course). It also makes for a really cozy midlayer for less intensive activities like downhill skiing and camping. But the Nano-Air's bread-and-butter is keeping you warm (but not too warm) during activity. We've found the hoody to be sufficient for cool-weather hiking down to around freezing and, even better yet, high-output winter running and cross-country skiing in single-digit temperatures.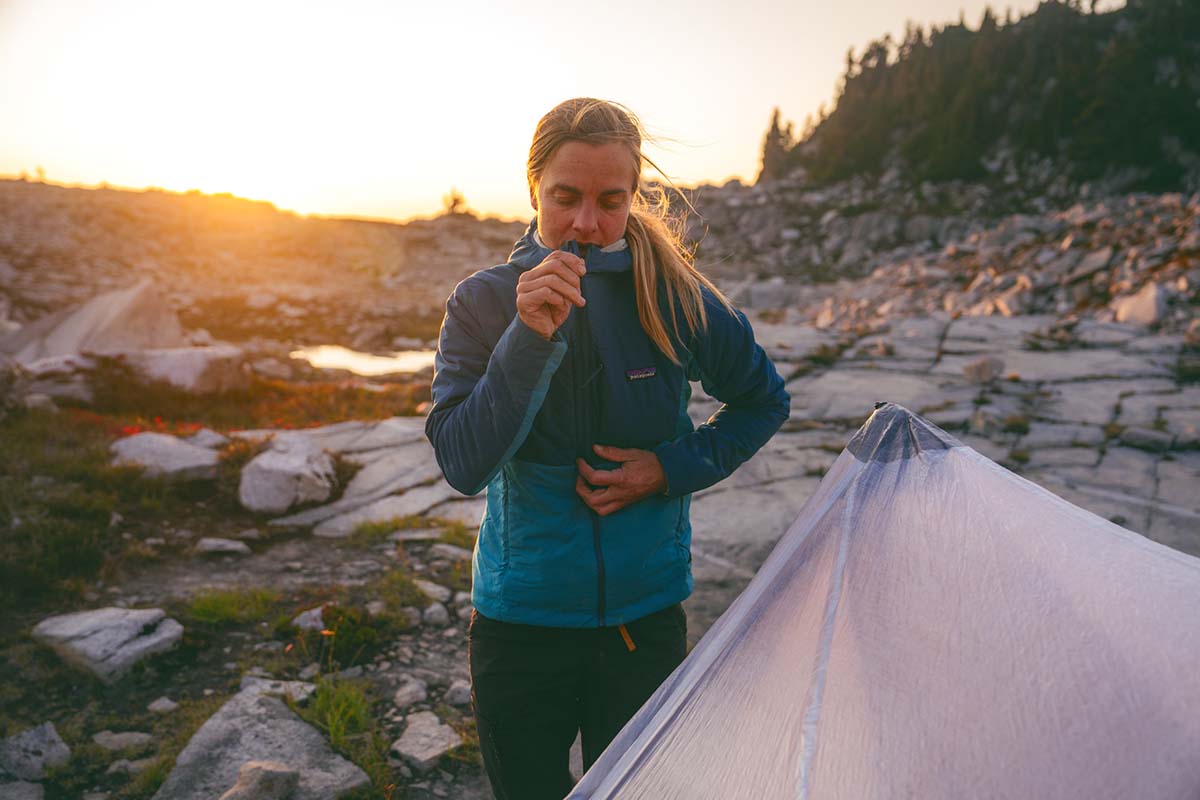 Down-mimicking insulation (as seen in jackets like the Patagonia Micro Puff and The North Face ThermoBall Eco) is lofty, packable, and excels in terms of warmth for the weight. On the other hand, active insulators (like the Nano-Air Hoody here) feature sheets of insulation, most often sandwiched in between soft, air-permeable shells. Active insulation can't match down-mimicking insulation in terms of warmth or windproofing (even when comparing insulations of similar weight, such as 60g FullRange and 60g PlumaFill), but it certainly offers the best balance of protection and breathability for all-day use.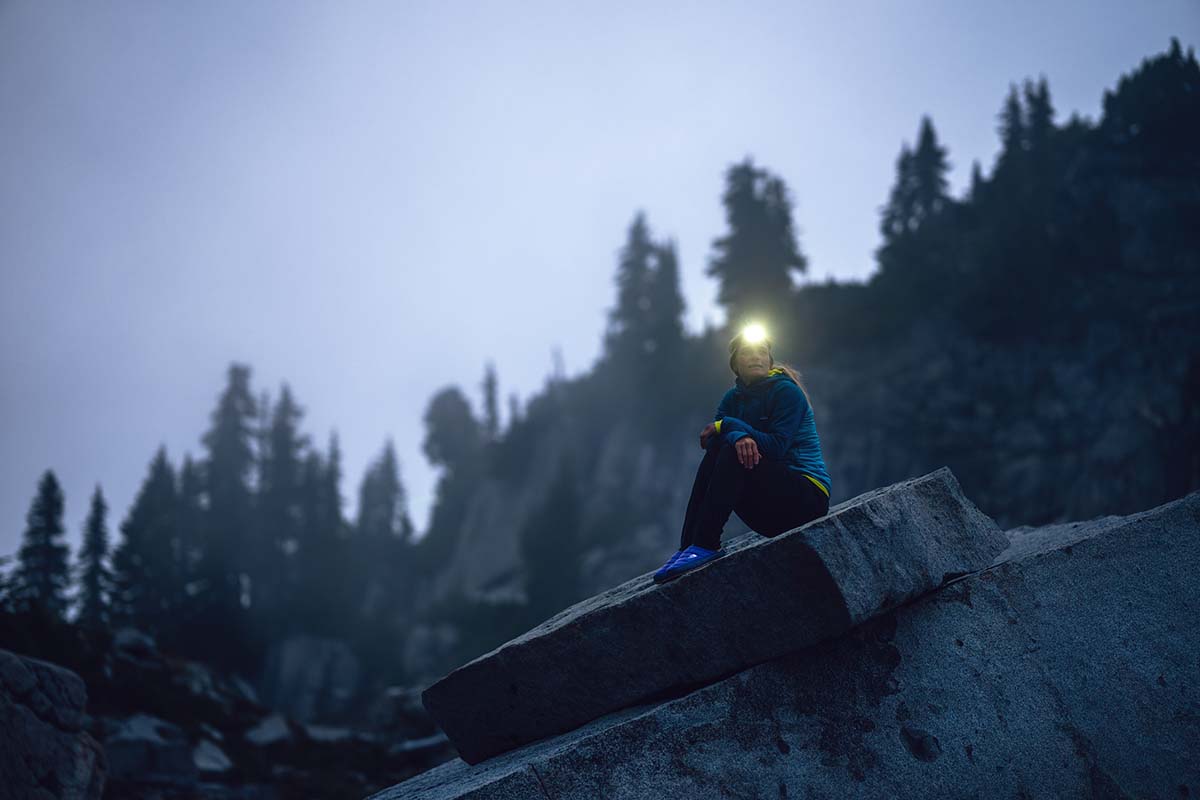 Breathability
As we've touched on many times above, one of the Nano-Air's main strengths is its breathability. With a soft, air-permeable polyester shell and liner, the jacket deftly dumps heat and wicks moisture away from the body. In fact, it's so soft next-to-skin that we wouldn't hesitate to wear it over a t-shirt. This design is especially helpful for stop-and-go activities like fall hiking and spring ski touring—it keeps air flowing when you start to sweat yet provides ample insulation when at rest. We've also been impressed by the Nano-Air's performance during truly high-output activities in sub-freezing conditions, such as cross-country skiing, winter running, and skinning.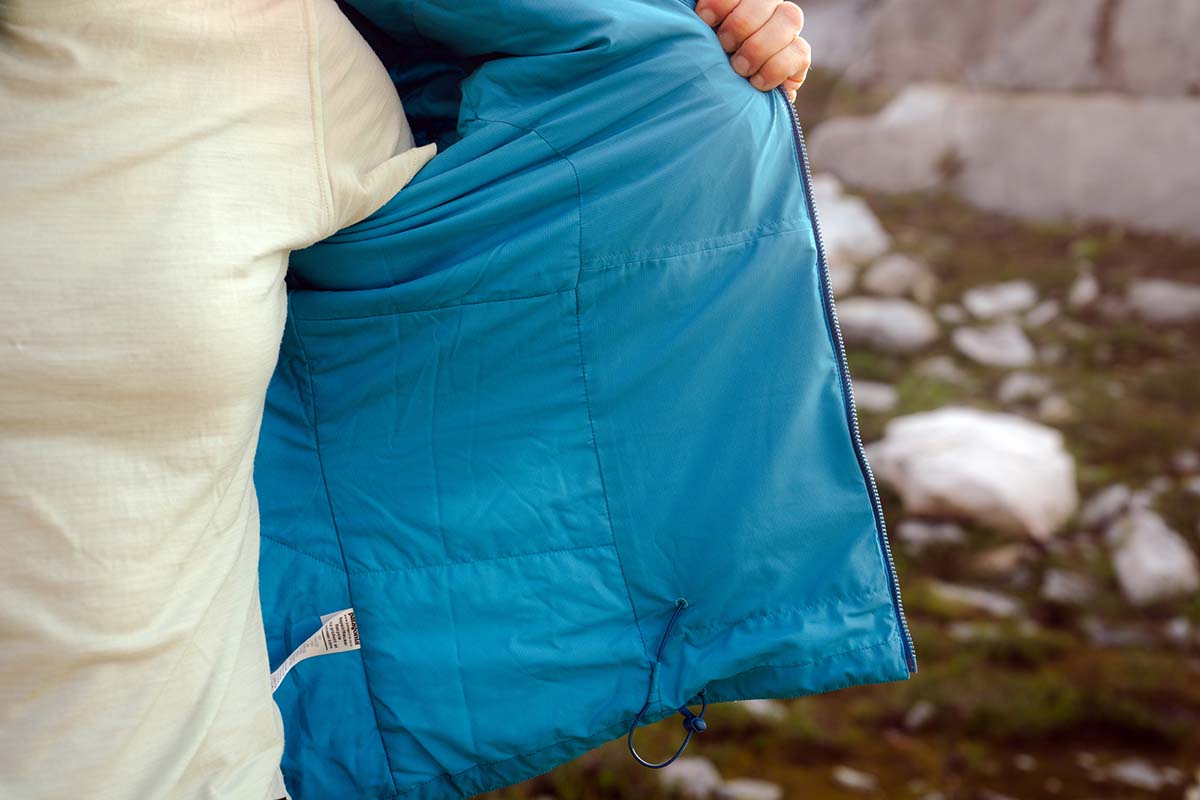 The Nano-Air helped to define the active insulation category almost 10 years ago, but it's no longer the most breathable and performance-oriented option. The North Face's Casaval Hybrid, for example, offers more air permeability with perforated insulation and stretch-woven underarm panels, and its trimmer fit is a better match for serious use. There's also a complete class of lighter-weight jackets to consider, especially if you're prone to running warm or often venture out in mild conditions. Patagonia's Nano-Air Light Hybrid is one of our favorite offerings in this category—it takes the framework of the Nano-Air here but shaves down the insulation with thinner 40-gram FullRange and a fleece back for better venting.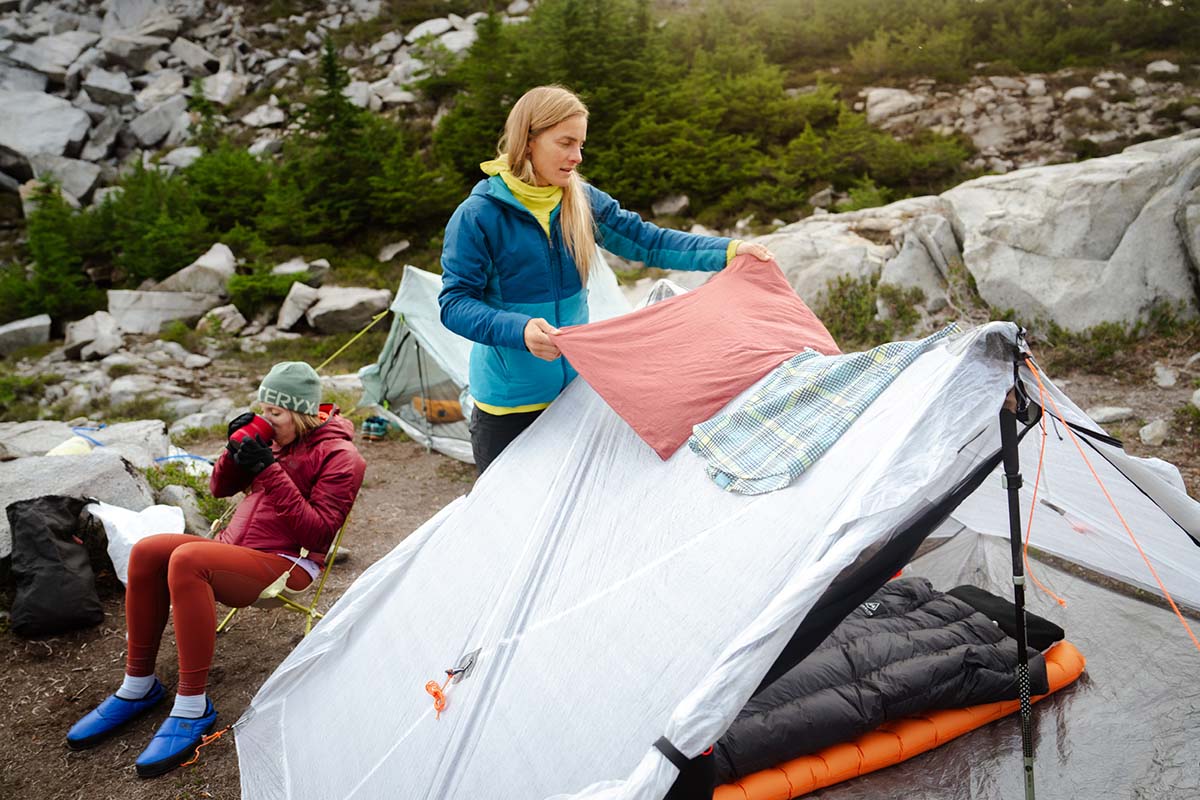 Weather Protection
In addition to breathability, one of the main reasons we reach for synthetic insulation over down is its ability to insulate when wet. The Nano-Air won't keep you dry in a downpour (i.e. it's no substitute for a rain jacket), but it will keep you warm—and both the shell and insulation dry out quickly, too. Patagonia also tacked on a durable water repellent (DWR) finish, which causes water to bead up and roll off the shell fabric rather than soaking through (keep in mind that this technology does require maintenance to keep in top form—when you start to notice that water is penetrating the shell, it's time to wash your jacket with a product like Nikwax's Tech Wash).  Added up, the Nano-Air's reliability in wet weather makes it a great choice for use around snow or when moisture is in the forecast.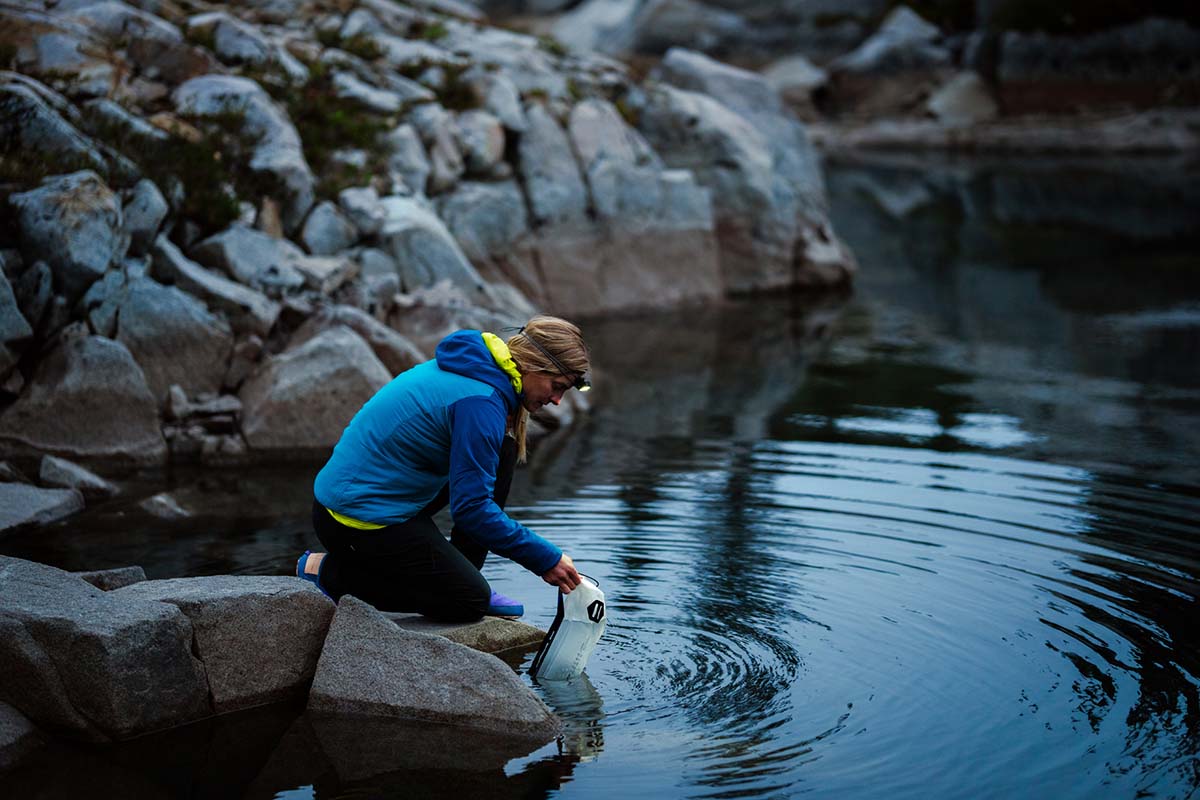 However, a downside of the Nano-Air's highly breathable fabric is that it's also quite permeable to wind. We've found that the jacket feels noticeably drafty in blustery conditions—we've even experienced this effect while biking or skiing at a fast pace. Layering a warm baselayer underneath helps a good deal; for extended breaks in the wind, we also recommend pairing the Nano-Air with a hardshell or wind breaker. And if you don't need the added breathability benefits, it's worth considering a less air-permeable (read: more wind-resistant) jacket, such as the Patagonia DAS Light Hoody or Arc'teryx Atom Hoody.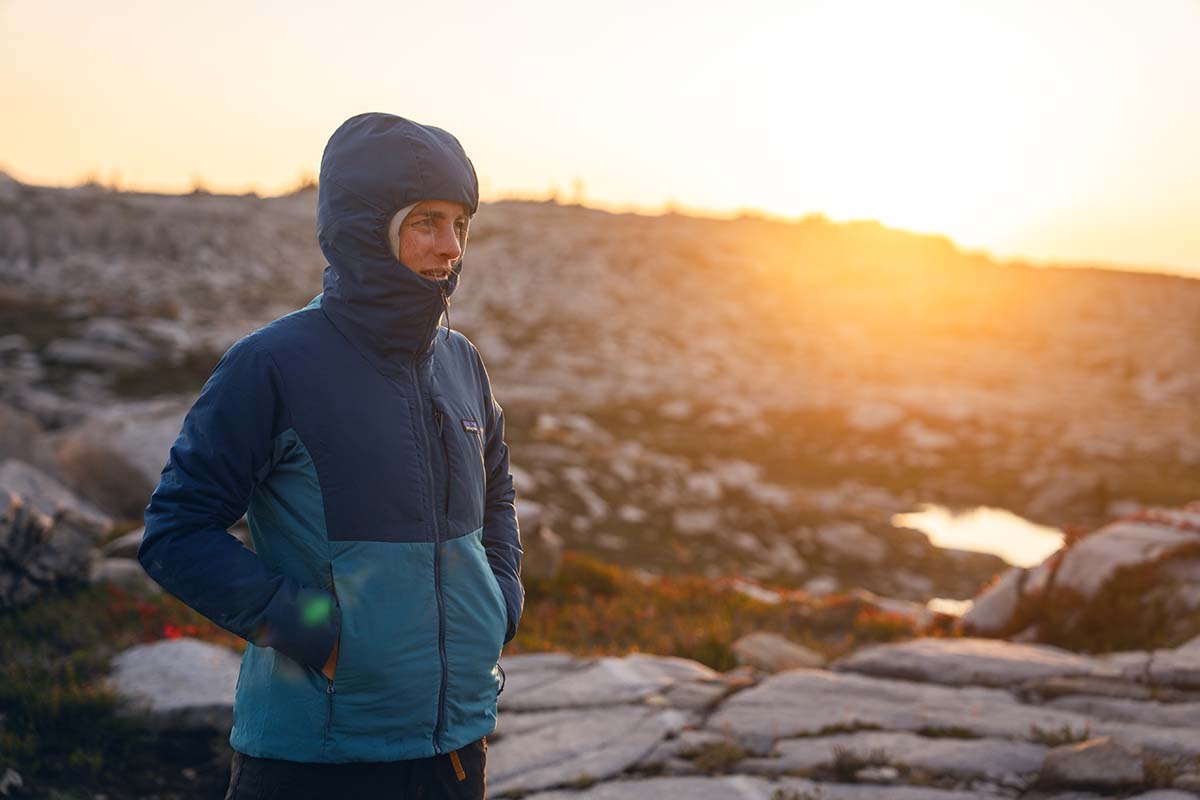 Weight and Packability
The women's Nano-Air Hoody checks in at 12.4 ounces, which is heavier than average for a synthetic jacket. It also self-stuffs into its left-chest pocket, and includes a carabiner loop for attaching to a harness or backpack. Active insulators aren't known for streamlined builds—after all, they're meant to be worn all day, not stuffed in your pack—but we've found the Nano-Air's weight and size to be perfectly acceptable for taking along on backcountry missions. For comparison's sake, the popular Arc'teryx Atom Hoody checks in at a bit lighter at 10.9 ounces and packs down to a similar size, but does not include a stuff pocket. If cutting down on weight or space is particularly important to you (for ultralight backpacking or climbing missions, for example), it's worth considering a down-mimicking synthetic jacket like Patagonia's Micro Puff Hoody (8.9 oz.) or DAS Light Hoody (9.7 oz.), or the Arc'teryx Nuclei FL Hoody (10.1 oz).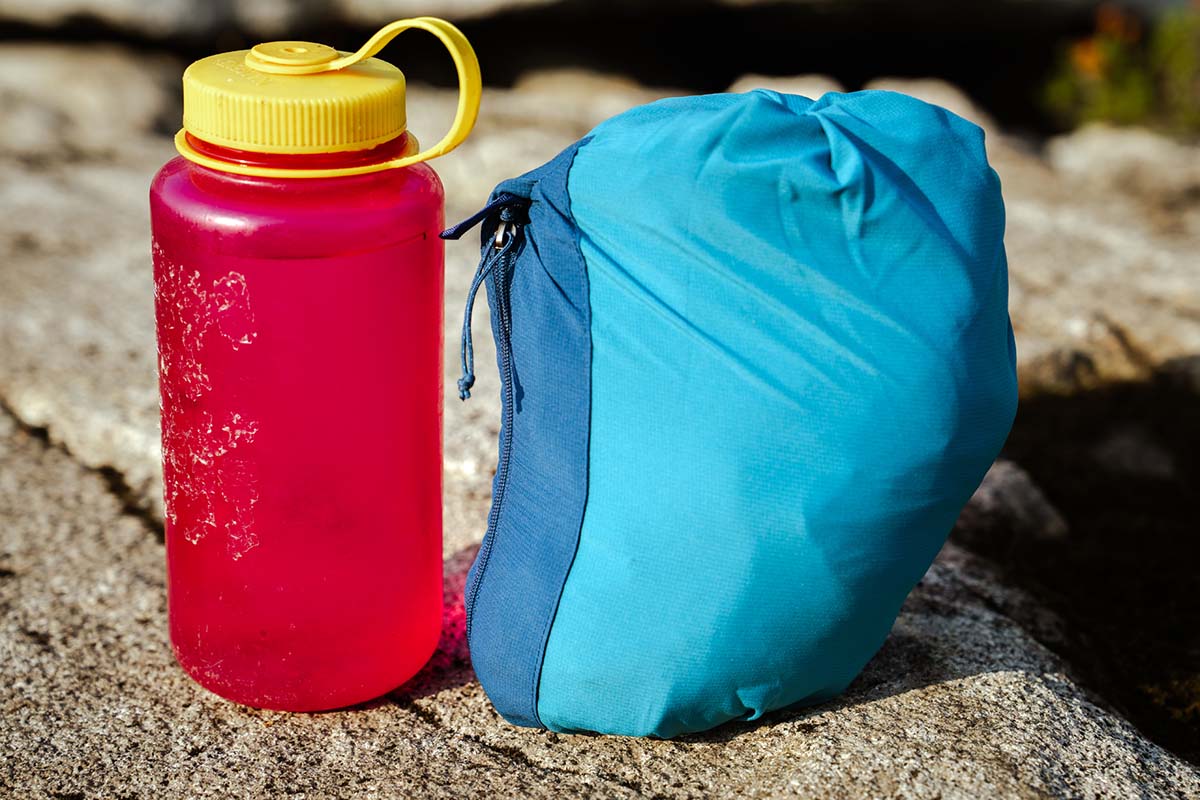 Durability
The Nano-Air Hoody features a 30-denier polyester shell fabric with a slight bit of mechanical stretch, which has proved impressively durable throughout a season of consistent use. Compared to the paper-thin shells of ultralight down and synthetic jackets (like the Micro Puff's 10D nylon), the Nano-Air requires little-to-no babying: We wear our hoody with confidence around campfires, sharp ski equipment, and grainy granite. And unlike previous versions of the Nano-Air, the shell fabric seems to better resist pilling and stains. Finally, it's easily machine washable and requires no special detergent (unless you're hoping to revive its durable water repellent finish—in that case, it's a good idea to use a solution like Nikwax's Tech Wash).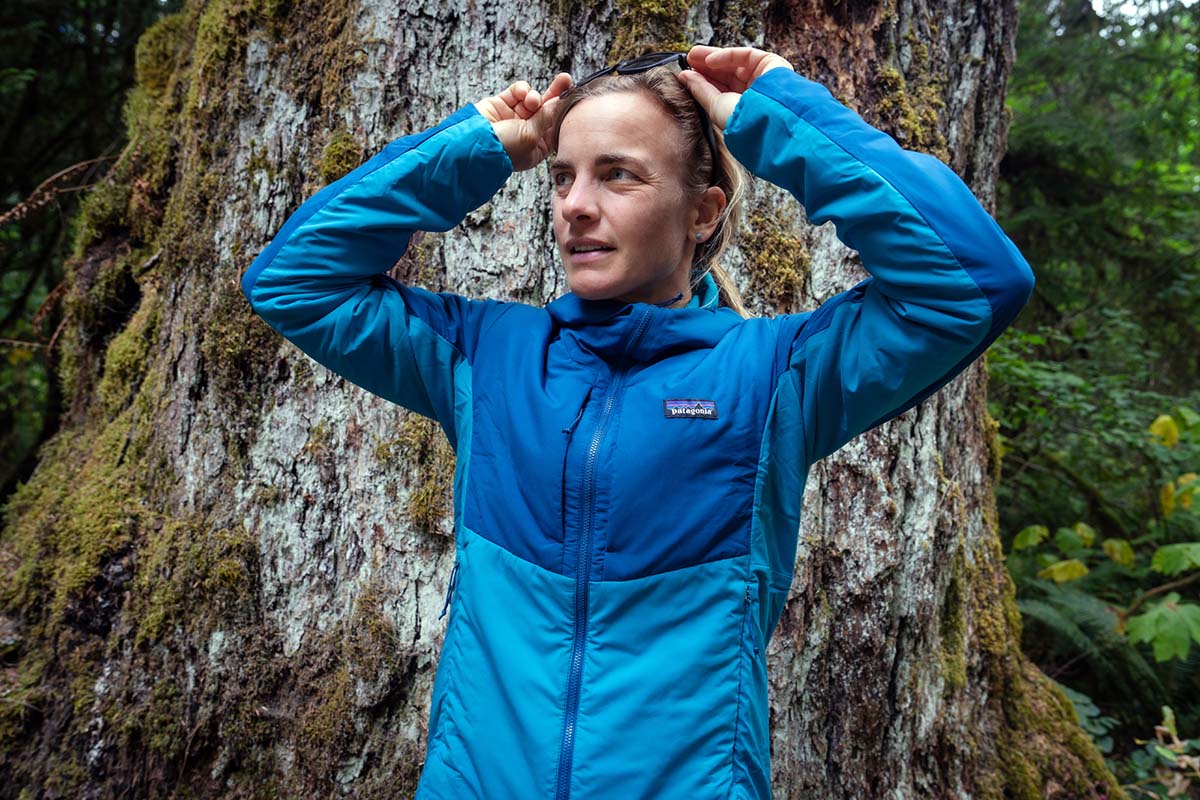 Key Features
The latest version of the Nano-Air Hoody comes with four pockets: two handwarmer pockets and two external chest pockets, all of which are generously sized. These pockets are undeniably functional, and we like that we can store our phone securely in a chest pocket while still being able to use the handwarmer pockets for keeping our digits toasty. However, we are curious why Patagonia added the second chest pocket in the most recent update—it adds unnecessary bulk and isn't our favorite look (although that's purely subjective). Given that the Nano-Air is intended for use during activity or as a midlayer, we'd prefer to see it prioritize a more streamlined design.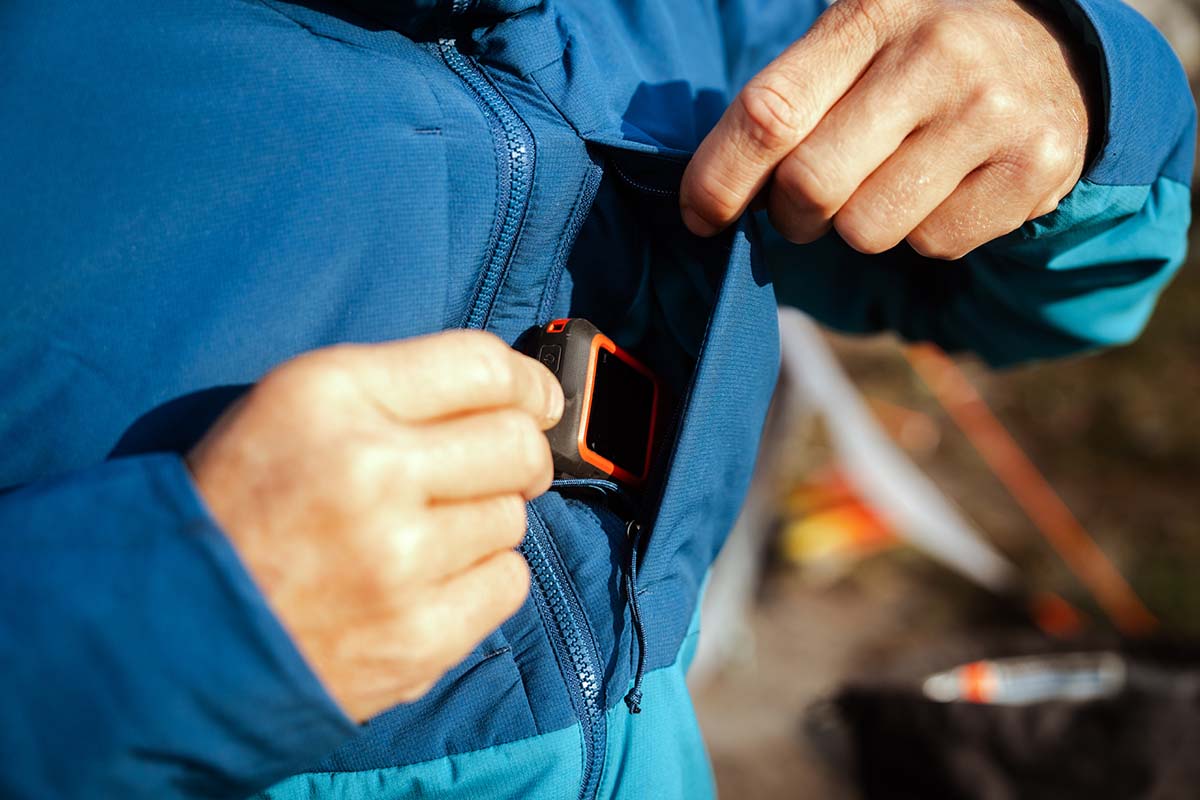 In terms of other features, the Nano-Air Hoody tacks on a stretchy, non-adjustable hood, low-profile cuffs, and a drawcord hem with adjustments at both hips. We've found the hood to be ever so slightly oversized for wearing over a bare head, but a little adjustment every so often keeps it from slipping over our brow. We are able to pull it on and off without lowering the center-front zipper, which comes in handy. On the other hand, it's a tight squeeze over a climbing helmet, and limits our ability to look side to side and up and down (especially with the zipper fully closed). We were surprised to see this design—Patagonia generally prioritizes functionality for climbers—but it's certainly a boon for those who want to wear the hood sans helmet. Overall, we like the non-adjustable design for most casual and high-output use.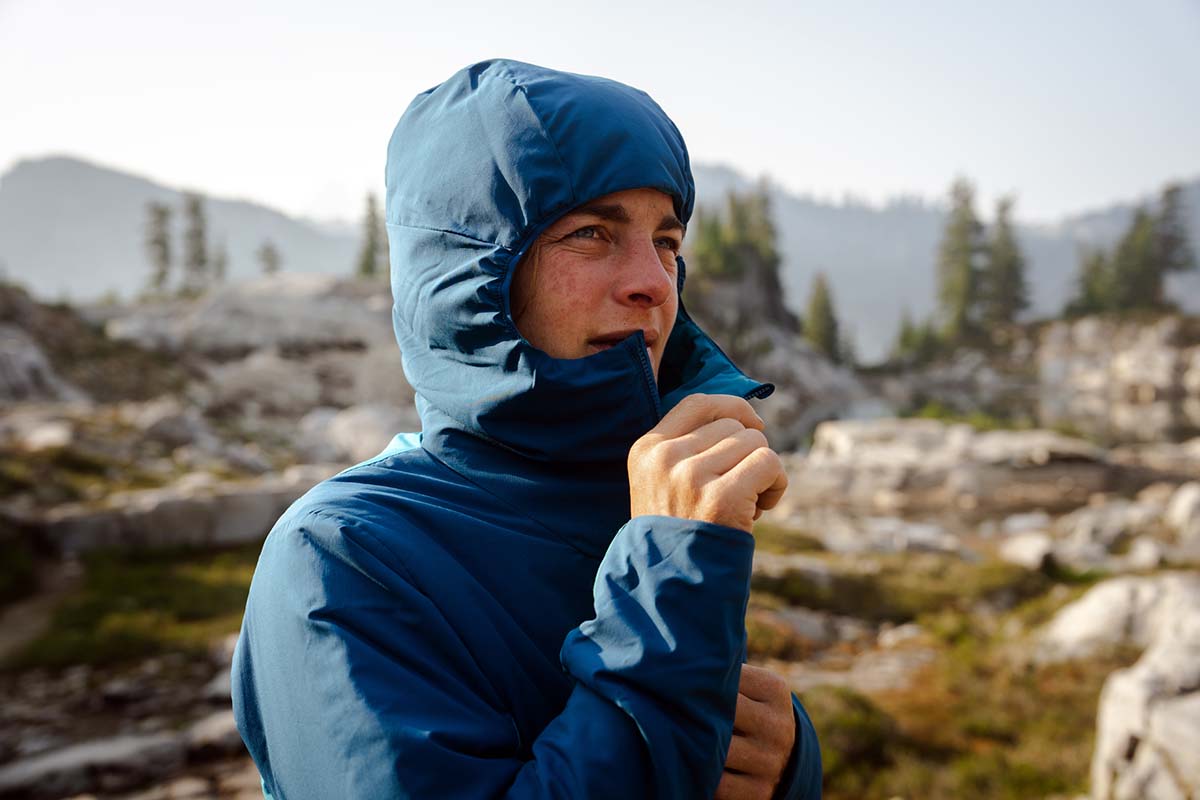 Fit and Sizing
Previous versions of the Nano-Air have been designated as slim fitting, but the most recent version appeals to a casual audience with a regular fit. The roomy dimensions are nice for layering (we can easily fit a fleece underneath) and strike a nice balance for most users, but they fall short for true active use. For high-output activities and technical climbing, we'd prefer a trimmer fit that offers better freedom of movement with less material in the way. For a more performance-oriented design, check out Patagonia's trim-fitting Nano-Air Light Hybrid—for comparison's sake, our size-medium Nano-Air Light Hybrid Hoody is arguably snugger than our size-small Nano-Air Hoody.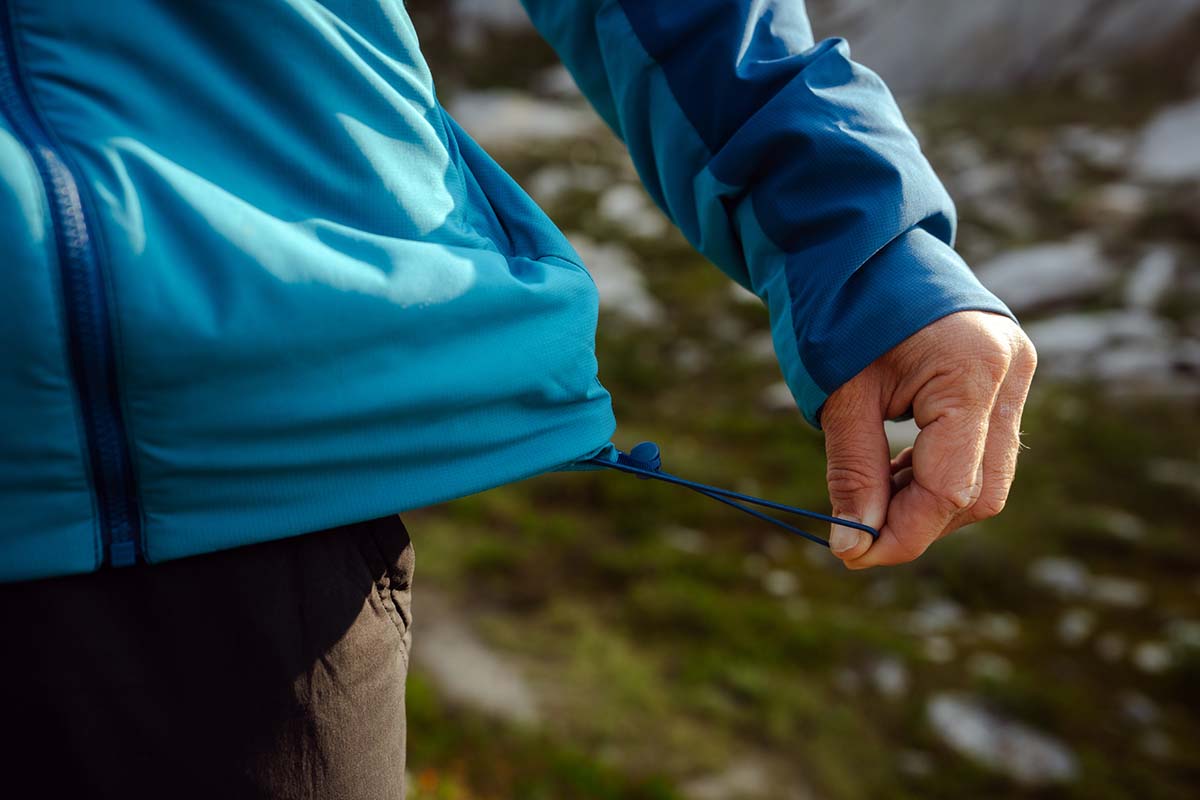 Sustainability
The Nano-Air Hoody embodies Patagonia's ever-growing focus on sustainability with a 100% recycled shell and lining and 93% recycled insulation. The jacket also features a PFC-free durable water repellent finish, which cuts down on some of the harmful chemicals used in the manufacturing process. And finally, the Nano-Air collection is Fair Trade Certified sewn, meaning Patagonia put extra money into production to ensure workers are compensated fairly and to fund community programs, invest in healthcare initiatives, and more. The Nano-Air Hoody is undeniably pricey at $329, but we think these added sustainability measures do help justify the cost.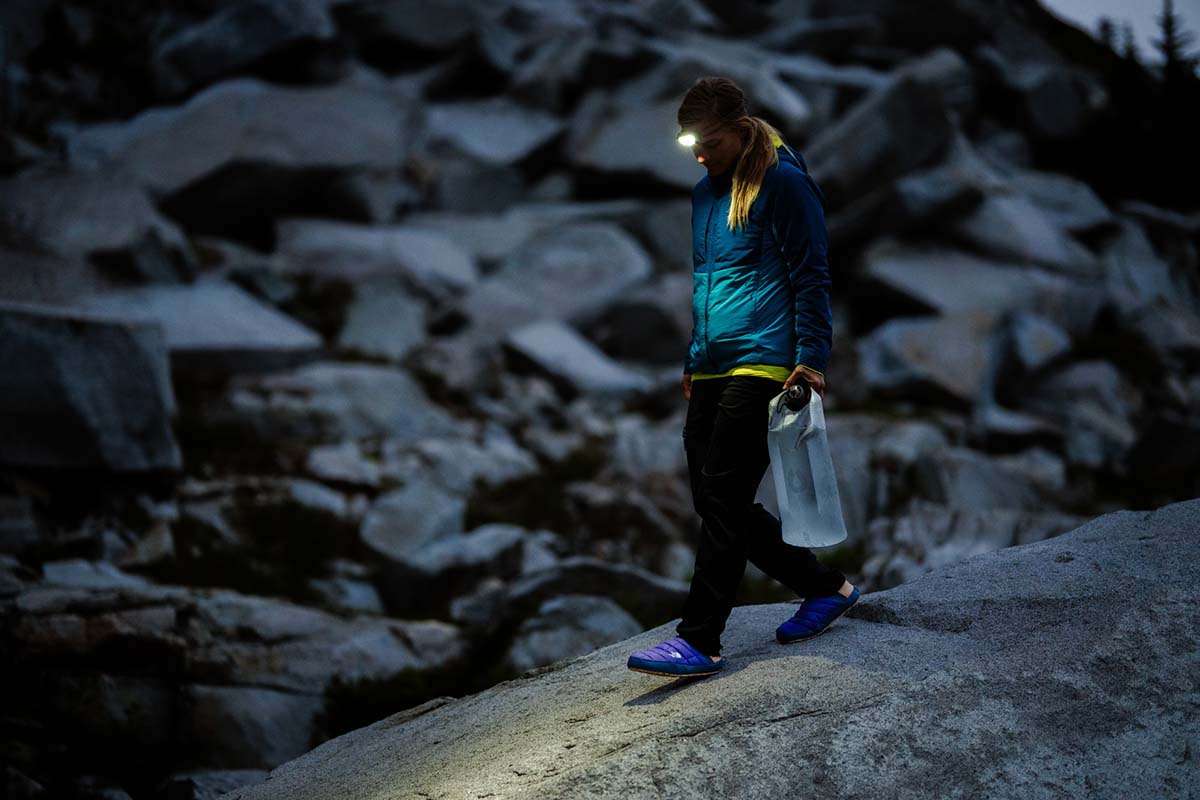 Other Versions of the Patagonia Nano-Air
We tested the women's Nano-Air Hoody, and the same design is also offered in a non-hooded version and a vest. All three of these offerings are also available in men's versions—compared to the women's model, the men's Nano-Air Hoody costs the same at $329 but weighs slightly more at 14.1 ounces and is offered in different colorways. Patagonia also now offers the Nano-Air Light Hybrid (available in hooded and non-hooded versions), which is purpose-built for serious active use with a trim fit, thinner 40-gram FullRange insulation, and a fleece back.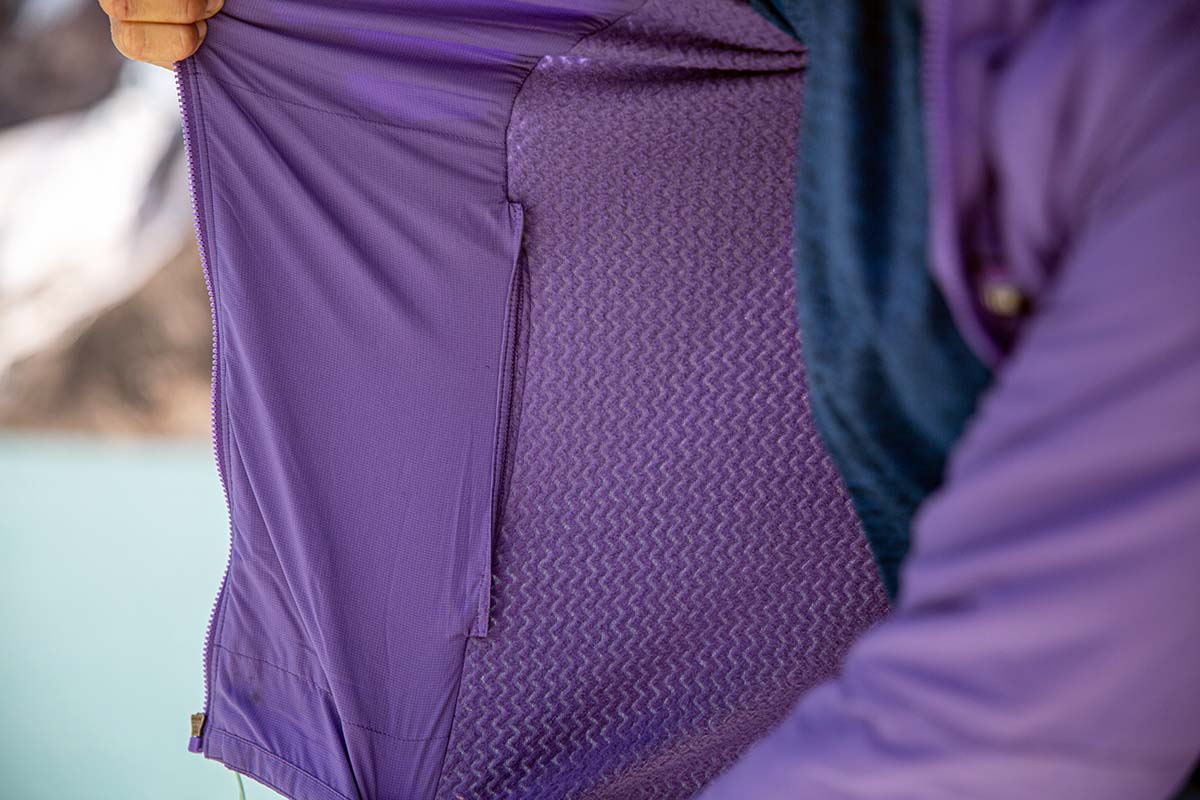 What We Like
Super soft and comfortable fabric for wearing all day long.
Impressive breathability and moisture-wicking for cold-weather aerobic activities such as ski touring, winter running, and cross-country skiing.
The 30-denier polyester shell is durable and resists pilling (unlike previous versions); it's also incredibly easy to launder.
In addition to its technical strengths, the Nano-Air is an ideal daily driver thanks to its comfortable and breathable fabric, durability, functional four-pocket layout, and roomy fit (great for layering).
 
What We Don't
Doesn't block wind well, requiring an extra layer when conditions take a turn.
Not as warm for the weight as down-mimicking insulators like the Patagonia Micro Puff and DAS Light Hoody.
We prefer a trimmer fitting and more minimalist design for technical climbing and serious high-output activity.
Expensive.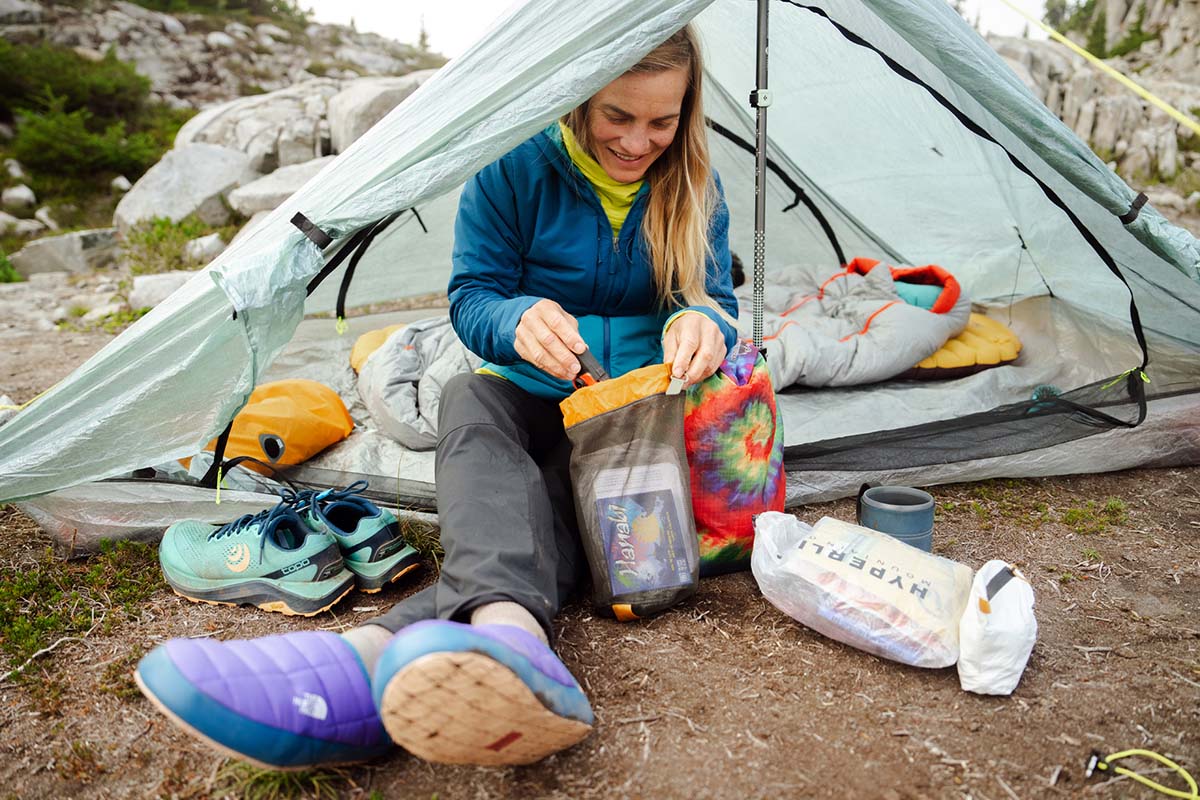 Comparison Table
The Competition
For years, Patagonia's Nano-Air has remained one of our favorite synthetic jackets for its top-notch comfort and breathability. Among active insulation designs, another well-rounded option to consider is Arc'teryx's Proton Hoody. For insulation, the Proton uses a mix of 80-gram Coreloft Compact in the body and 60-gram in the hood, which we found to be impressively breathable and packable for a synthetic. However, the Proton is noticeably warmer than the Nano-Air, and is too much jacket while working hard in temperatures above freezing. All in all, we consider it a great match for high-output use in cold weather, but it lacks the everyday appeal of the Nano-Air and is limited to truly frigid temperatures. Of note: Arc'teryx also offers the Proton Hybrid Hoody ($350), which tacks on a windproof, 2-layer Gore-Tex Infinium shell and thicker face fabric with 60g synthetic fill throughout.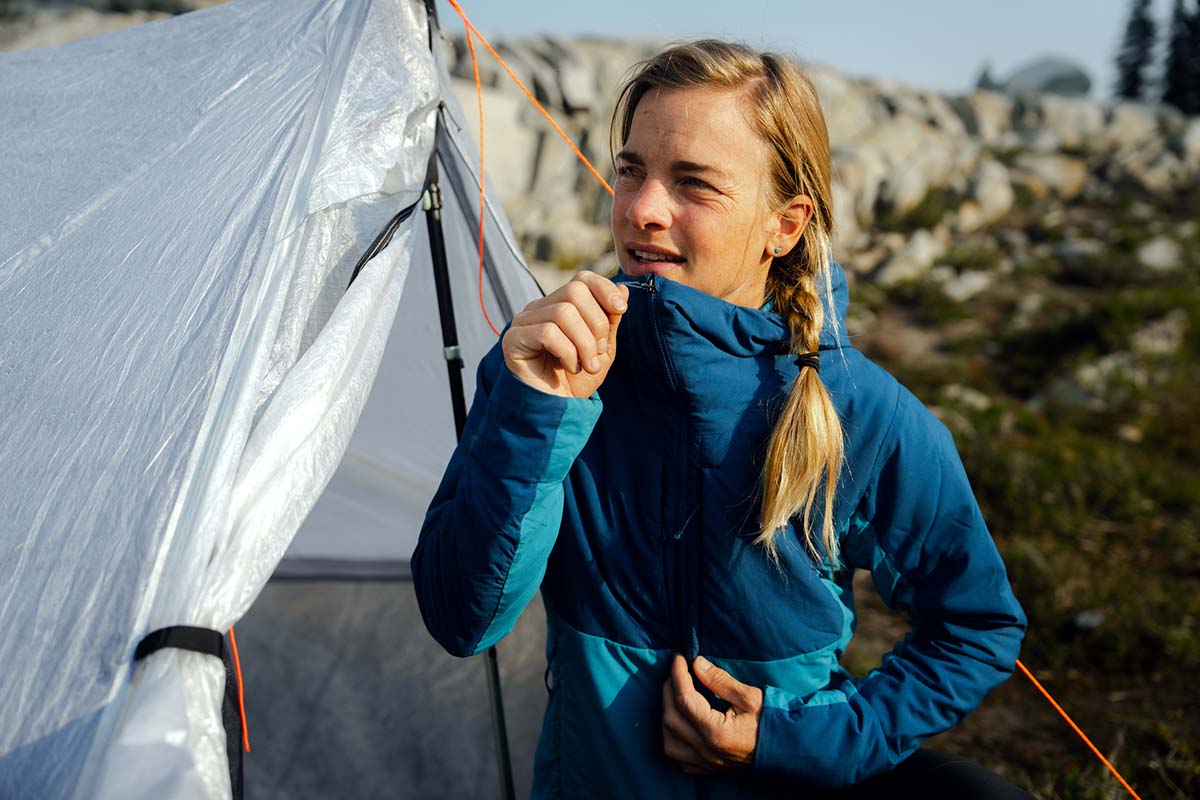 We get a lot of questions about synthetic jackets, and some of the most common are about comparing the Nano-Air to the Arc'teryx Atom. Both are ultra-popular lightweight synthetic jackets that can nicely toe the line between performance and casual use. But the Atom is built differently: The front, back, and shoulders are made with Coreloft insulation and a thin, wind-resistant shell, while the sides and underarms are stretchy fleece. As a result, the Arc'teryx offers better weather protection than the Nano-Air as an outer layer, but the insulation and fleece panels can't keep up in terms of breathability. From our collective experiences, we think both jackets are extremely comfortable and offer similar warmth, but we give the slight nod to the Atom for everyday use (you can read our in-depth review of the Atom here). On the flip side, those who use their jacket for highly aerobic outdoor activities like ski touring will like the Nano-Air better, and its pillowy feel truly is hard to beat.
When it comes to active insulation, The North Face's Casaval Hybrid Hoodie is one of the most technically savvy jackets we've worn. Like the Nano-Air, it features 60-gram insulation (Ventrix) and a stretchy, air-permeable shell, but goes the extra mile with a few more performance-oriented features. TNF patterned stretch-woven fabric under the arms and at the hem so the jacket better sits in place during active use, and added perforations in the back insulation for venting. The Casaval Hybrid also features a helmet-compatible hood with sleek rear adjustment, and its standard fit is a big snugger than the Nano-Air's roomy dimensions. We wore a version of the Casaval while on a seven-day traverse of the North Cascades and found it to be the ideal wear-all-day insulator for serious activity: it fits like a glove, provides moderate warmth, and skillfully dumps heat. We'll stick with the Nano-Air for casual, everyday wear, but there's a lot to like about the Casaval Hybrid for performance use.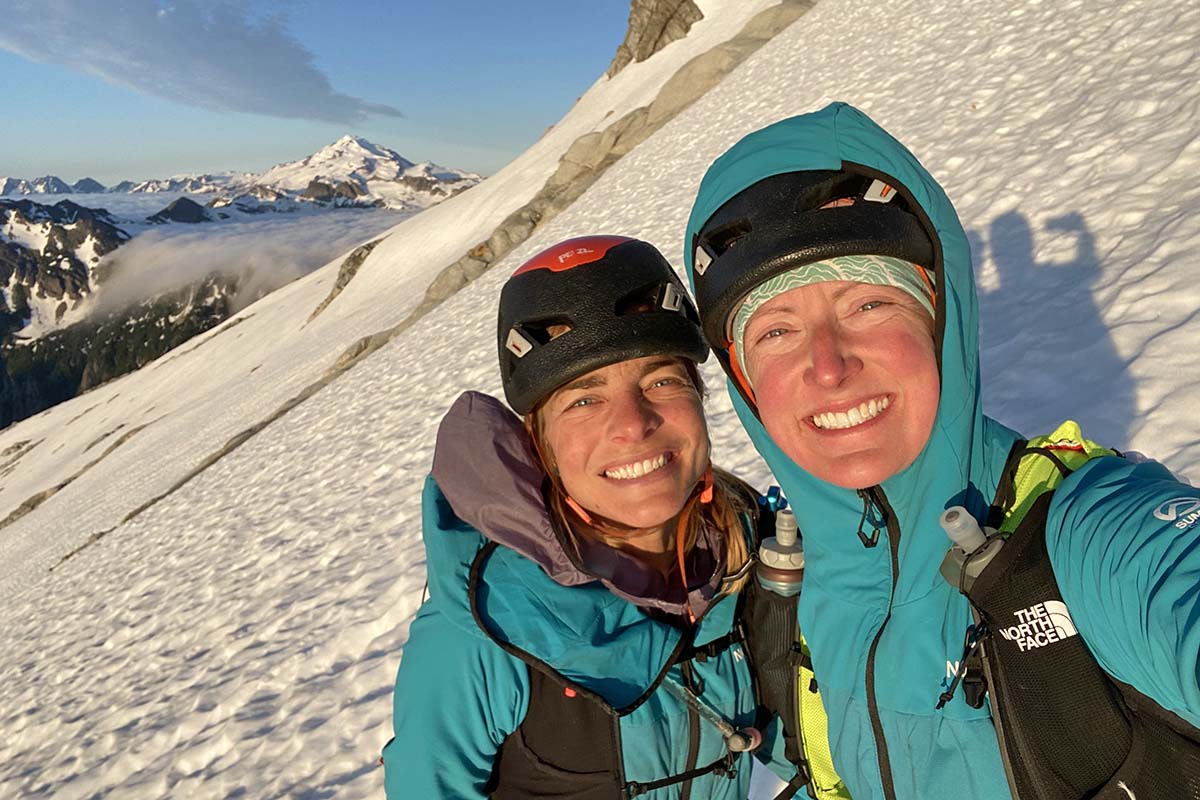 If you're serious about cold-weather exercise, it's worth considering a lighter jacket like the Nano-Air Light Hybrid Hoody. The Hybrid offers a high-performance spin on the Nano-Air design: It's trim-fitting, features thinner (40g) FullRange insulation, and swaps in a breathable fleece backpanel for increased breathability. We reach for this fine-tuned active insulator for hiking in mild conditions and rock climbing, and it's become our go-to jacket for cold-weather cross-country skiing—the polyester fabric at the front deftly wicks away the moisture of falling snow, while the fleece back keeps sweat at bay. The Nano-Air Light Hybrid doesn't have the same casual appeal of the Nano-Air (you won't be able to layer much more than a thin baselayer underneath), but it's a nice alternative for high-performance use. 
From within Patagonia's own lineup, a final option to consider is their Nano Puff Hoody. Unlike the Nano-Air, the Nano Puff is decidedly casual and not designed for sweat-inducing activities. Rather than FullRange insulation, the Nano Puff uses PrimaLoft Gold Eco (also 60g), which is less breathable but slightly warmer. The Nano-Air gets the edge in comfort with a softer face fabric, but the Nano Puff comes in a hair lighter (10.8 oz.), is cheaper at $289, and features classy box baffles. In the end, we consider it a nice option for wearing around town, light outdoor use, and even as a midlayer for downhill skiing. However, for those who work hard in the mountains or prioritize comfort above all else, the Nano-Air is the clear winner.
If you're thinking about buying gear that we've reviewed on Switchback Travel, you can help support us in the process. Just click on any of the seller links above, and if you make a purchase, we receive a small percentage of the transaction. The cost of the product is the same to you but this helps us continue to test and write about outdoor gear. Thanks and we appreciate your support!
Depending on the seller, most products ship free in the United States on orders of $50 or more. International shipping availability and rates vary by seller. The pricing information on this page is updated hourly but we are not responsible for inaccuracies.
Read More From Switchback Travel