Any piece of climbing gear has the potential to become a cherished relic, but perhaps none carries as many good memories as a trusty old rope. It's your lifeline on everything from beginning top ropes to full-on alpine epics. A rope is your strongest piece of equipment, and in some ways, your most vulnerable. When you decide to buy a climbing rope, whether it's your first or fifteenth, it's worth considering how you plan to use the rope, what technologies are available, and what companies are at your disposal. Below are the best climbing ropes of 2020, and for more background information, see our detailed comparison table and buying advice below the picks.
 
Best Overall Climbing Rope
Best uses: Cragging, multi-pitch
Diameter: 9.5mm
Weight: 59 g/m
What we like: Great size, performance, and durability.
What we don't: Doesn't have the silkiest sheath.
Had Goldilocks been a climber, she might have lamented about ropes, "this one's too thin, this one's too fat." But when she came to the Mammut Infinity Dry, she would have snuggled up beside it and said, "this one's just right." Indeed, there's almost nothing not to like about one of the best rope manufacturer's best ropes. At 9.5mm, it hits that sweet spot between too heavy and too flimsy. It'll last a lot longer than skinnier ropes at one end of the spectrum, but it won't drag you down on tough clips high off the deck like a 10mm line. And while the same could be said for any 9.5mm rope, the Infinity is not just any 9.5mm rope. It is one of the best.
Mammut ropes are known for their durability and longevity, and the Infinity is no exception. It's not the silkiest rope out there, but the overall feel of this line is one of smoothness and suppleness. Mammut's dry treatment, which meets UIAA standards for water repellency, is also super effective for a surprisingly long time. As the rope that puts it all together best—price, durability, and feel—we give the Mammut Infinity Dry our top spot for 2020... Read in-depth review
See the Mammut Infinity Dry
Best Cragging Workhorse
Best uses: Cragging, top roping
Diameter: 9.8mm
Weight: 62 g/m
What we like: A time-tested workhorse from a great company.
What we don't: There are cheaper 9.8s.
Sterling has been making world-class climbing ropes for decades, and the Evolution line is one of their most successful. For good reason: these ropes just seem to last forever. The Velocity is our favorite rope in the Evolution series, and at 9.8mm, it's a real workhorse. We used to turn to 10mm lines for projecting and everyday cragging abuse, but not anymore. This 9.8 lasts as long as any 10 we've used while never feeling quite as heavy.
The Velocity hits a real sweet spot for most climbers. It's a great buy for beginners who don't necessarily have all the tricks of the trade when it comes to caring for and maintaining a rope. At the same time, it's a solid purchase for the seasoned veteran working his or her 5.13 project. It's not the cheapest rope out there for the diameter, but it lasts a long time. And you have to feel good about supporting one of the only rope companies that manufacture their products here in the U.S.
See the Sterling Evolution Velocity Dry Core
Best Budget Climbing Rope
Best uses: Cragging, gym, top roping
Diameter: 9.8mm
Weight: 62 g/m
What we like: Incredibly affordable; rather durable.
What we don't: No dry treatment.
As much as we might wax poetic here about rope diameter, sheath feel, and core technology, choosing the right rope doesn't always need to be complicated. For beginners and casual climbers, it's really quite simple: you want a reliable rope that you can count on to catch you, time after time. And when you're already breaking the bank to buy shoes, a helmet, quickdraws, the more affordable the rope, the better. Enter the Edelrid Boa Eco. For just $180—significantly less than any other rope on the list—you get a durable, 9.8mm rope that's ideal for everyday cragging from one of the industry's most trusted rope manufacturers. Put simply, this rope is a no-brainer for new climbers.
In addition to the price, one of our favorite things about the Boa Eco is that it's made with leftover yarn from the cutting room floor, so not only are you saving money, you're also supporting resourcefulness and conservation. And it doesn't hurt that we've actually found Edelrid ropes to last a fair bit longer than some of the more expensive competitors. Keep in mind that like any budget rope, you can expect the Boa to get soft and squishy, the sheath to get fuzzy, and the light color to turn black from running through carabiners and belay devices. But cosmetics aside, the Boa Eco is a solid value for any climber looking for a durable workhorse.
See the Edelrid Boa Eco
Best Ultralight Climbing Rope

Best uses: Alpine climbing, redpointing
Diameter: 8.5mm
Weight: 48 g/m
What we like: The lightest, thinnest single rope on the market.
What we don't: Lacks durability; very stretchy.
If you just did a double take when you read the diameter spec, we don't blame you. The Beal Opera is the skinniest single rope to ever hit the market. In fact, at 8.5mm, it's the same size as many half ropes. And although we weren't keen on the Opera right off the bat, after a season of putting it to the test in the Chaltén range of Patagonia, our concerns were laid to rest. It is, quite simply, the best rope for weight-conscious alpine climbers. At 48 grams per meter, no other rope comes close. Plus, the added assurance of Beal's Unicore technology means this line is stronger than its diameter might suggest.
All that said, the Beal Opera certainly isn't for everyone. In fact, unless you've got a big reason to be shaving ounces from your pack, it really is overkill. And even with Unicore technology, there's no denying the innate compromises of a skinny rope. Notably, the Opera will stretch more than any other rope on our list, and it's not compatible with older versions of Petzl's popular Grigri (the newest Grigri can handle ropes as skinny as 8.5mm). But for alpine climbing—and not much else, including redpointing—these are downsides we are willing to put up with for the extreme weight-savings provided by the Opera.
See the Beal Opera Unicore Golden Dry
Best Redpoint Climbing Rope
Best uses: Alpine climbing, redpointing
Diameter: 8.9mm
Weight: 52 g/m
What we like: Super lightweight, durable, and trustworthy.
What we don't: Not everyone needs such a skinny rope.
The first thing you'll notice about the Edelrid Swift is its diameter: at 8.9mm, it's one of the skinniest single ropes on the market. But the Swift isn't just a single rope—it can also be used as a half or twin line (for more on this, see the buying advice below). This "triple rating" provides an amazing amount of versatility for advanced climbers using one rope in a variety of environments. Take the Swift to the crag as a lightweight redpointing line or pair it with a second for ice climbing or multi-pitch routes with a party of three. In just about every scenario, it's an ideal fit.
The Swift, however, isn't totally unique in its versatility. On this list alone, Beal's Joker and Opera and the Sterling Nano also fit the bill as triple-rated ropes. But we think the Swift hits the best middle ground in terms of durability, elongation, and weight. Dynamic elongation—how much the rope stretches in the event of a lead fall—is an important number to look at when it comes to skinny ropes (typically, the skinnier the rope, the greater the stretch), and the Swift's 30 percent is significantly lower than the 8.5mm Opera's 40 percent. Furthermore, in our testing, it has proved to be noticeably more durable and easier to handle than the Nano. A skinny single rope isn't for everyone, but for advanced climbers looking for a lightweight and versatile rig, the Swift is our current favorite.
See the Edelrid Swift Pro Dry
Best of the Rest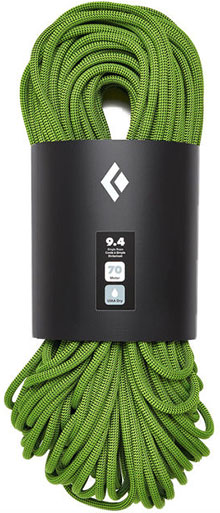 Best uses: Cragging, multi-pitch
Diameter: 9.4mm
Weight: 58 g/m
What we like: Durable and a good price.
What we don't: Rated to fewer UIAA falls than the Mammut Infinity.
Black Diamond has long been an industry leader for climbing protection and hardware, and now they've added ropes to their lineup. While we didn't find their first run of production to be standout, the current offerings have seen a notable bump in performance. Priced reasonably, Black Diamond's ropes are highly durable, supple and smooth right out of the box, and come in a minimalist selection of colors and sizes that make decision-making a breeze.
The 9.4 Dry is up against some stiff competition, including not only our #1 Mammut Infinity, but also the Beal Stinger and Petzl Arial below. All four of these ropes sport an ultra-versatile mid-9mm diameter, are rated for 7 UIAA falls, and clock in at similar weights. But the Black Diamond rope ties with the Petzl as being the least expensive of the bunch ($260 compared to the Mammut's $300), and unlike the Arial, has a dry treatment that meets UIAA requirements. And it's impressively durable too: the 9.4 has been our go-to crag cragging rope for over a year now, and even after logging over 300 pitches, it has yet to grow fuzzy or lose its supple feel in-hand.
See the Black Diamond 9.4 Dry

Best uses: Cragging, top roping, gym
Diameter: 10mm
Weight: 61 g/m
What we like: Acts like a 10mm, feels like a 9.7mm.
What we don't: You might be paying for features you don't need.
We won't try and hide it: we love Beal ropes, and we're not alone. In fact, we have yet to meet anyone who isn't psyched on their Beal line, whether it's a 9.1 Joker or the 10mm Tiger. And although 10mm ropes quickly are going out of style, the Tiger still is relevant. Why? It simply feels skinnier than it is, has a staggeringly low impact force for its diameter, and doesn't grow fat and fuzzy with age. In fact, at 61 g/m, the Tiger is as light as the 9.7mm BlueWater Lightning.
Sure, you could save some hard-earned money and opt for a rope like the Edelrid Boa above, which would be a great choice if you only climb every now and then. But for the extra cash, the Tiger offers the added strength of Unicore technology and a bump in durability from Beal's Dry Cover treatment. Add it all up and the Tiger is a one-size-fits-all workhorse that will serve you well from crag to big wall.
See the Beal Tiger Unicore Dry Cover
Best uses: Cragging, top roping
Diameter: 9.7mm
Weight: 61 g/m
What we like: Super supple, 8 UIAA falls, affordable.
What we don't: Can get floppy; no middle mark on non-bi-pattern model.
It's something of a shame to throw the BlueWater Lightning Pro this far down on the list. In some ways, it is every bit as good as our #2 choice, the Sterling Evolution Velocity. It handles well, it's a great diameter and super strong (at 8 UIAA falls, it's more durable than most options above), and it's got a pretty durable sheath. Moreover, it's comparable in cost, and about the same in weight and diameter. So why does the BlueWater fall down to the #8 spot?
The Lightning Pro does last, insofar as the sheath doesn't wear out and the core stays springy. However, what happens in a very short time is that it starts to get floppy. This can translate into a few things: tougher clipping, more wear and tear on sharp edges and in any sort of toothed traction device, and quicker wearing at the ends of the rope where the knot gets tied (not to mention tougher knots to untie). Now, all of that is pretty esoteric and not problematic enough to kick it off the list. But in the end, we've found slightly more rigid ropes like the Velocity to be preferable over time.
See the BlueWater Ropes Lightning Pro

Best uses: Cragging, top roping, gym
Diameter: 9.8mm
Weight: 61 g/m
What we like: Quality at a low cost.
What we don't: Not a high-performance rope.
Before we say anything else, check out the price tag and fall ratings on this rope (8-9). That's right: for $200, you can get a line made by one of the best manufacturers in the game with one of the highest fall ratings on our list. Sure, the Eternity Classic is not dry-treated, nor is it exceptionally lightweight. But for just $200, it's a well-made and supple line that will take a beating climb after climb.
It's important to note that dry treatment doesn't just keep water out, it protects the rope from dirt and dust as well. To have a long life, a rope without dry treatment requires a bit of extra care and attention, meaning a rope bag or tarp and routine washings. If gear maintenance and money savings are your cup of tea, the Mammut Eternity Classic is a superb choice. But if you know you won't give it the care it needs, you'll be retiring this rope before you know it. Do the math, and two Eternity Classics will cost you far more than the price of one premium dry-treated line.
See the Mammut Eternity Classic
Best uses: Cragging, top roping, gym
Diameter: 10.1mm
Weight: 63 g/m
What we like: Fat and strong.
What we don't: Heavy.
There had to be at least one heavy-duty fat rope to make the list, and this had to be the one. The Sterling Marathon Pro is unapologetic about what it is. It's a rope. It's a fat one. It will catch your falls over and over and over again. You can mistreat it, use it, abuse it, even probably confuse it with a static line and jug on it. And it will last.
That said, when it comes to sending, or doing a multi-pitch, or going anywhere with a long approach, you'll definitely be turning to your partner and saying, "hey, let's use your rope today since mine is so heavy." And while that may be a good trick to make your rope last longer, it's probably not a great way to keep climbing partners. All snarkiness aside, 10mm lines and fatter still have a place. That place may be shrinking as technology improves and skinnier lines get more and more durable; but if you really want a beefy workhorse and weight is not a concern, this is your rope.
See the Sterling Marathon Pro

Best uses: Cragging, multi-pitch
Diameter: 9.4mm
Weight: 59 g/m
What we like: One of our favorite all-around ropes.
What we don't: Grows fuzzy over time.
The Beal Stinger Unicore falls in the same category as the Mammut Infinity Dry and Black Diamond 9.4 above, and the Petzl Arial below. In fact, these four ropes all are so similar that their differences can be tough to decipher. With a respectable weight, a sweet-spot diameter, dry treatment that meets UIAA specifications, and Beal's Unicore technology, the Stinger is a premium all-rounder and a nice size for those wanting a one-rope quiver.
The Stinger used to be our lightweight cragging rope, ideal for top-roping projects and redpoint burns alike. That said, over a year ago we began testing the Black Diamond 9.4 and noticed huge leaps in terms of performance. For $30 cheaper, the BD is a noticeably more durable, smooth-handling rope—and each Stinger we've owned has grown fat and fuzzy with use. There's certainly no denying the strength and trustworthiness of Beal's Unicore technology, and the Stinger might be especially worth it if you're climbing over sharp rocks or spending time in the mountains. But for a mid-9mm rope that stands the test of time, we think the Black Diamond is the better option.
See the Beal Stinger Unicore Golden Dry

Best uses: Alpine climbing, redpointing
Diameter: 9.1mm
Weight: 53 g/m
What we like: Unicore technology; 7 UIAA fall rating.
What we don't: Heavier than the Opera, less durable than the Stinger.
The Beal Joker used to be our go-to climbing rope for light-and-fast alpine rock missions, until the advent of the Opera above. For those prioritizing weight savings, it's a no-brainer when choosing between 48 and 53 grams per meter, especially given that both ropes have Beal's impressive and confidence-inspiring Unicore technology. But we know many climbers who still are hesitant to trust their lives to an 8.5mm single rope, and for these folks, the Joker is a logical compromise. 
Compared to the 8.9 Edelrid Swift and 9.0 Sterling Nano, the Joker has a bit more stretch, which is surprising given its larger diameter and heavier build. For this reason, it wouldn't be our first choice for situations where falling is likely, such as redpointing or cragging. But given the Joker's 7 UIAA fall rating (compared to the Swift's 5 and the Nano's 6), combined with our confidence in Beal's Unicore, it beats out the other two lines in terms of durability and a robust build. For the Joker's 9.4 counterpart, check out the Beal Stinger above.
See the Beal Joker Golden Dry

Best uses: Cragging, multi-pitch
Diameter: 9.5mm
Weight: 58 g/m
What we like: Impressive combination of durability and lightweight performance.
What we don't: Dry treatment does not meet UIAA standards.
If you're an experienced climber looking for a one-size-fits-all kind of rope, the Petzl Arial is worth a look. This rope hits the sweet spot between durability and lightweight performance, all with the nice feel Petzl seems to nail every time. And when we say durable, we mean it: the UltraSonic Finish (Petzl's version of Unicore) and Duratec Dry treatment add up to make the Arial an absolute workhorse of a 9.5 (sounds a bit like a paradox, doesn't it?).
True to form, the Arial only is available in two different shades of Petzl orange, and is known for showing dirt and losing its middle mark over time. And unlike the Mammut Infinity and Beal Stinger, the Arial is not UIAA rated for water repellency. In addition, the slick sheath slips easily through a Grigri, making us hesitant to recommend this rope for beginners. But for intermediate rock climbers who don't need top-of-the-line dry treatment, the Arial holds steady with the competition in every other way and comes at a slightly lower price point. 
See the Petzl Arial Dry

Best use: Gym climbing
Diameter: 9.9mm
Weight: 64 g/m
What we like: A no-frills gym rope for $100.
What we don't: You won't be using this rope outside.
For some of us, getting outside to climb simply is not a reality. Thankfully, climbing gyms are popping up like wildfire across the country, offering a fun and community-oriented vertical getaway right in the city. If this is your scene, it's the perfect place to safely learn to lead climb. And for that, many gyms require you to bring your own rope.
Enter the Black Diamond Gym Climbing rope. What differentiates this rope from the rest on our list? The obvious answer is length. Because most gyms don't exceed 15 meters in height, bringing a 70-meter rope indoors is a bit excessive (not to mention more expensive). On that note, this rope keeps the price down by being everything you need for the indoor environment and nothing you don't: no dry treatment, no focus on weight savings, and no Unicore technology. But it's supple and durable, and BD even included the middle marker for good measure.
See the Black Diamond 9.9 Gym

Best uses: Cragging, top roping
Diameter: 9.8mm
Weight: 61 g/m
What we like: 9 UIAA falls; affordable bi-pattern rope.
What we don't: Expensive for no dry treatment.
At first glance, it seems like the Edelweiss Curve Arc should be a candidate for a higher ranking on our list. It catches more UIAA falls than any other rope (9), has a low impact force for its diameter, features Unicore technology, and even has a bi-pattern sheath design so you know where the middle is all the time. What's not to like about this rope?
To start, the Curve Arc has a high price tag for lacking any sort of dry treatment. For just $10 more, you might as well opt for the much lighter and sleeker Black Diamond 9.4 with UIAA-standard water repellency. But our real reason for putting the Edelweiss Curve Arc all the way down here is this: this rope simply does not age well. And from our experience, most Edelweiss ropes don't. They might keep their strength, but you'll be left with a fuzzy and fat rope that feeds laboriously through your Grigri. If it were $100 less, we'd be singing a different tune. But for $250, a number of superior ropes are available above.
See the Edelweiss Curve Arc Unicore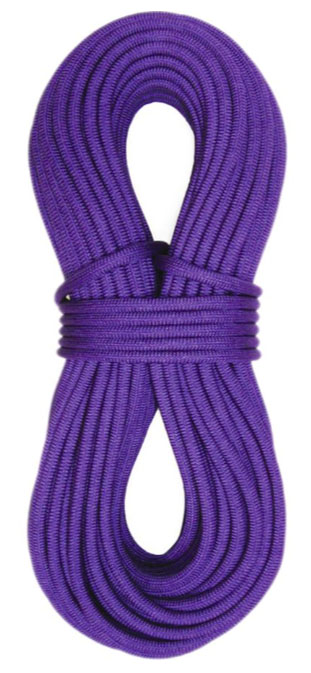 Best uses: Redpointing, alpine climbing
Diameter: 9.0mm
Weight: 52 g/m
What we like: Light as a feather.
What we don't: Does not age well.
Many climbers will be surprised to see the Sterling Fusion Nano all the way down toward the bottom of this list. We know plenty of folks who swear by this rope, use it for everything, and are quite happy with it. At 9.0mm, it's remarkably strong and surprisingly durable. Further, Sterling products generally are high in quality and this rope should be no exception.
That said, we have been unimpressed with the Nano, and have spoken to many others that feel similarly. Ours frayed and became fuzzy all too quickly, eventually forming a core shot through what we felt was pretty normal wear and tear. And when the alternative is the similarly priced and extremely impressive Beal Joker—with Unicore technology to boot—it's hard to justify gambling on the Sterling.
See the Sterling Fusion Nano IX DryXP
Climbing Rope Comparison Table
| Rope | Price | Diameter | Weight | UIAA Falls | Lengths | Bipattern Available |
| --- | --- | --- | --- | --- | --- | --- |
| Mammut Infinity Dry | $300 | 9.5mm | 59 g/m | 8-9 | 60, 70, 80m | Yes |
| Sterling Evolution Velocity | $235 | 9.8mm | 62 g/m | 6 | 35, 40, 50, 60, 70, 80m | Yes |
| Edelrid Boa Eco | $180 | 9.8mm | 62 g/m | 7 | 40, 60, 70m | No |
| Beal Opera Unicore Golden Dry | $300 | 8.5mm | 48 g/m | 5 | 50, 60, 70, 80m | No |
| Edelrid Swift Pro Dry | $310 | 8.9mm | 52 g/m | 5 | 60, 70, 80m | No |
| Black Diamond 9.4 Dry | $260 | 9.4mm | 58 g/m | 7 | 60, 70, 80m | No |
| Beal Tiger Unicore Dry Cover | $250 | 10mm | 61 g/m | 7-8 | 50, 60, 70, 80m | No |
| BlueWater Ropes Lightning Pro | $225 | 9.7mm | 61 g/m | 8 | 60, 70, 80m | Yes |
| Mammut Eternity Classic | $200 | 9.8mm | 61 g/m | 8-9 | 40, 50, 60, 70, 80m | Yes |
| Sterling Marathon Pro | $240 | 10.1mm | 63 g/m | 6 | 50, 60, 70, 80m | Yes |
| Beal Stinger Unicore Golden Dry | $290 | 9.4mm | 59 g/m | 7 | 50, 60, 70m | No |
| Beal Joker Golden Dry | $290 | 9.1mm | 53 g/m | 5-6 | 50, 60, 70, 80m | No |
| Petzl Arial Dry | $260 | 9.5mm | 58 g/m | 7 | 60, 70, 80m | No |
| Black Diamond 9.9 Gym | $100 | 9.9mm | 64 g/m | 6 | 35, 40m | No |
| Edelweiss Curve Arc Unicore | $250 | 9.8mm | 61 g/m | 9 | 60, 70m | Yes |
| Sterling Fusion Nano IX DryXP | $275 | 9.0mm | 52 g/m | 6 | 30, 40, 50, 60, 70, 80m | Yes |
Climbing Rope Buying Advice
Types of Climbing Ropes
Single Ropes
Single ropes are the most common type of dynamic rope and the only style we include in our picks above. They usually fall between 8.5 and 11 millimeters in diameter, typically measure between 50 to 80 meters in length, and are designed to catch lead falls without the use of a second rope (the other element in catching a fall is your harness, and you can see our top climbing harness picks here). For any sort of single pitch climbing, and for the vast majority of multi-pitch, a single rope is what you'll be using.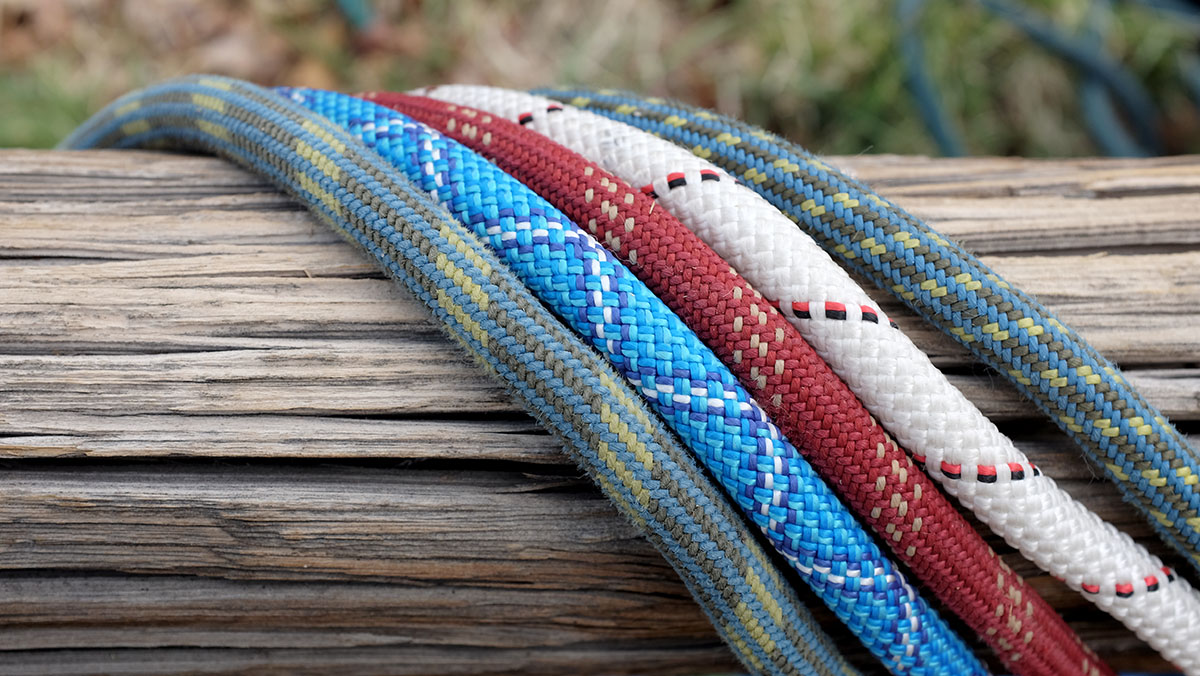 Half Ropes
Half ropes are a set of two thin ropes, usually both in the 8mm range. They tend to be used most commonly in the alpine, where routes might meander, bad rock is a concern, or two ropes might be needed for rappelling a full 60 meters. Interestingly, double ropes are used more often than single ropes in the U.K., where routes are wander-y and protection is sub-optimal (half ropes exert a much lower impact force than single ropes). Half ropes are used together and generally clipped to every other piece, or one is used on the right side of the route and the other on the left to avoid rope drag. They are tested separately and each has its own fall rating. Climbing with half ropes involves an extra amount of rope management, so we'll always opt for a single unless doubles are absolutely necessary. If you're climbing in a party of three though, half ropes are the way to go. There are a number of single ropes in this article that are also rated as half ropes, such as the Edelrid Swift Pro and the Beal Opera.

Twin Ropes
Twin ropes are roughly a millimeter thinner than half ropes, and simpler to use as well. In short, the climber treats the two ropes as one, clipping both into each piece of gear. Twin ropes are sometimes used for alpine climbing when climbing as a party of two (to allow for long rappels) or ice climbing, when you want to mitigate the amount of impact force on a screw—a skinnier rope means more stretch and thus less force. Twin ropes are rated as a pair (not tested individually) and thus are always meant to be used together. And like we mentioned above for half ropes, there are a few ropes that play triple duty, with the ability to be used in single, half, and twin configurations.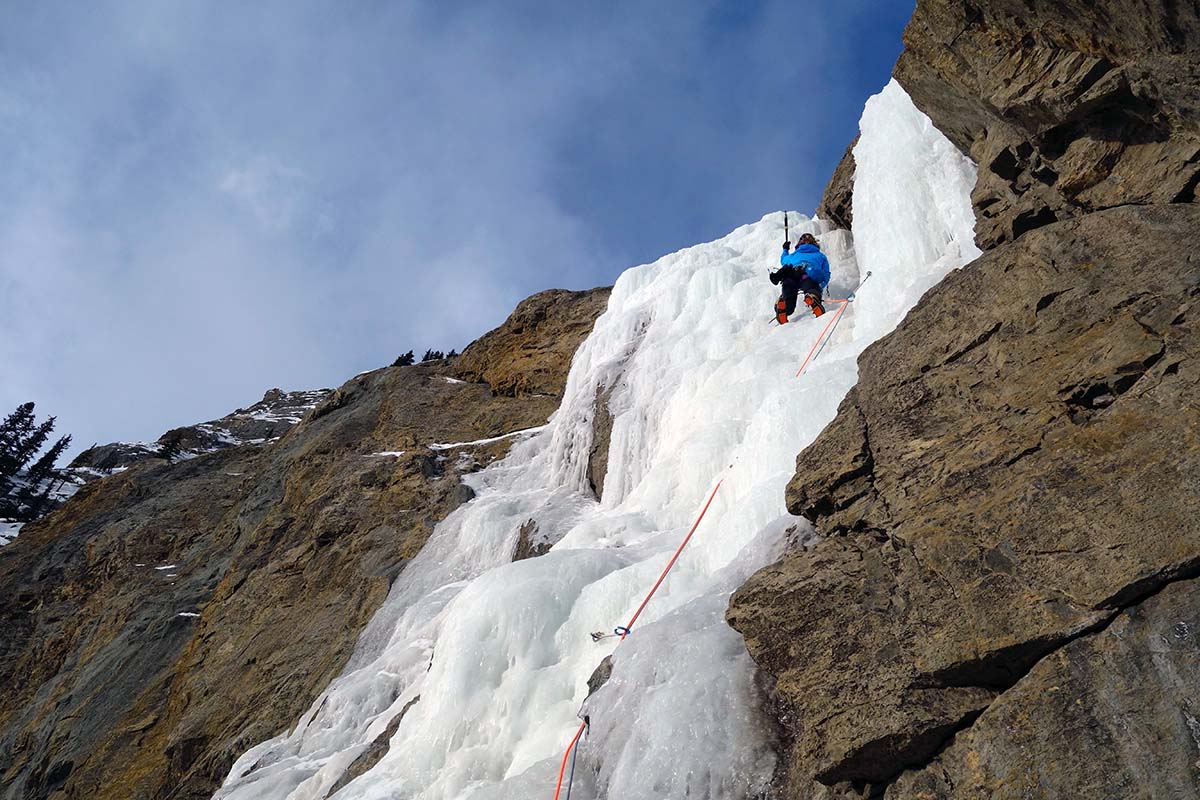 Both half and twin ropes often are referred to as "double ropes." Some double ropes are rated as both half and twin, but when they are not, it's important to understand what your ropes can used for safely. Two commonly-made errors go against manufacturer recommendation. First, climbers often clip two half ropes to one piece of gear. A fall in this situation would be less dynamic than ideal, and thus exert extra force on the gear (a big deal when you're falling on an ice screw or marginal gear). The second is climbing as a party of three on a set of twin ropes. Twin ropes are rated as a pair and are thus always meant to be used as a pair, not split up between two followers. While neither of these mistakes is likely to result in a fatality, it's important to remember that user error is the most common reason for climbing accidents. Always use your gear per manufacturer recommendations.
 
Climbing Rope Diameter and Best Uses
Choosing the right diameter rope for any given climb can be tricky. Many climbers have a quiver of ropes for different needs: a short gym rope, a thick workhorse for top roping, a thinner rope for projecting routes, an even thinner rope for redpointing. And for some, an even thinner rope for fast-and-light alpine missions. In the past few years, the climbing industry has seen a huge leap in rope technology—the thinnest single rope on our list used to be 9.0, and now it's the sleek Beal Opera at 8.5. Ropes even thinner are rated for lead falls (think about what we learned about half ropes above), but the skinnier a rope is, the more vulnerable it is to being cut. Thus, for now, ropes thinner than 8.5mm are generally only used as double ropes, tag lines, or employed for glacier travel or ski mountaineering.
8.5mm – 9.1mm (Alpine climbing, redpointing, multi-pitch)
Ropes in this category—often referred to as "skinny ropes"—are the lightest of the bunch, the least durable, and the most dynamic. Because of these properties and their high price tag, skinny ropes are niche pieces geared mostly toward experienced climbers pushing their limits. When you're climbing 3,000 feet in a day, hiking 20 miles to approach a route, or pulling the crux on your project, a few grams per meter can make all the difference. In the past, ropes of this diameter were thought of as dangerous or liable to sever on sharp rock. But now, with "Unicore" and similar technologies being employed by most major rope manufactures, skinny ropes are stronger than ever. But do take care: assisted-braking belay devices—most notably, older versions of the Petzl Grigri—are often not recommended for ropes 8.9mm and under (for more, see our article on belay devices). For two of our top skinny ropes, check out the Beal Opera and Edelrid Swift Pro.

9.2mm – 9.8mm (Multi-pitch, cragging, top roping)
Medium diameter ropes are the most versatile and popular of all climbing ropes. If you tend to crag or sport climb in areas with short approaches, you don't need the weight savings of a super skinny line. Plus, with a thicker rope you get greater durability and better handling (pulling a skinny rope after a rappel is hard work!). If you want one rope that can do it all—cragging, multi-pitch, and top roping—a dynamic line with a medium diameter is the way to go. There are so many to choose from, but the Mammut Infinity and Black Diamond 9.4 are two of our favorite mid-range diameter ropes.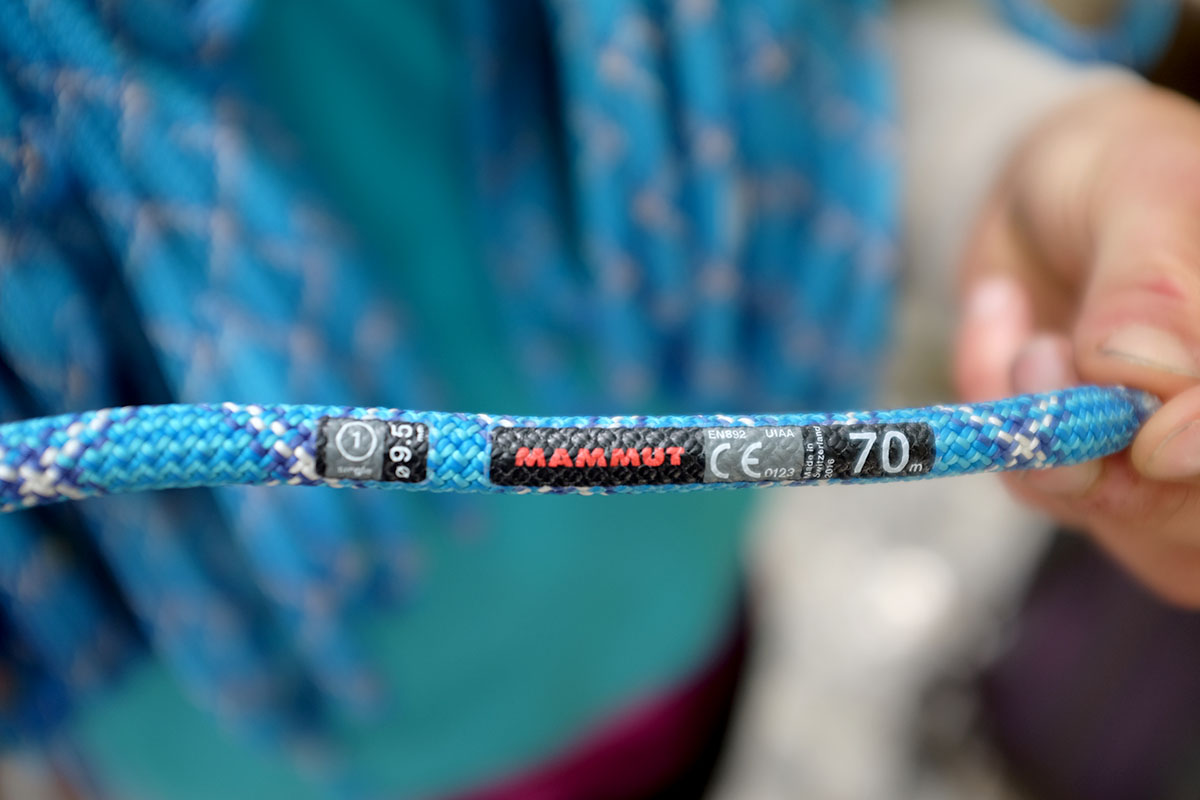 9.9mm – 10.2mm (Cragging, top roping, gym climbing)
Although ropes in the 9.9mm range and above are becoming increasingly unpopular, they still have their place. Maybe you're just getting into climbing and want a rope that will serve you well for the first few years. Maybe your home crag has exceptionally sharp rock. Maybe you're on a budget and are looking for the least expensive, most durable option. They might be heavy and bulky, but one thing is for certain: 10mm ropes will last a very long time. Even so, 10.2mm is probably about as fat as you would ever want to go—anything bigger is more than you need and not worth the extra weight. And buyer beware: some of the ropes in this category are made with more of a focus on budget than quality. For solid performance, climb after climb, check out the Beal Tiger and Sterling Marathon Pro.
 
Climbing Rope Length
As you can see in the comparison table above, most ropes come in a number of different lengths. Unless you have a certain route or purpose in mind, your best bet most of the time is going to be a 70-meter rope. There certainly are select crags where you'll want an 80-meter rope, but if you climb at one of those you probably already know that. For the rest of us, you may be tempted to go with a 60-meter rope, but we recommend against that for two reasons. First, it's a huge bummer when you look up at that beautiful 35-meter pitch that gets more stars than anything else at the crag, and you can't do it because your rope is too short. 30 to 35-meter pitches are becoming more and more common, and you don't want your rope to hold you back. Second, even if you don't ever climb a pitch longer than 30 meters, you're likely to eventually wear out the ends of your rope and need to chop one or both of them. If you do that to a 70, you end up with a 60. Do it to a 60, and you're stuck with a 50.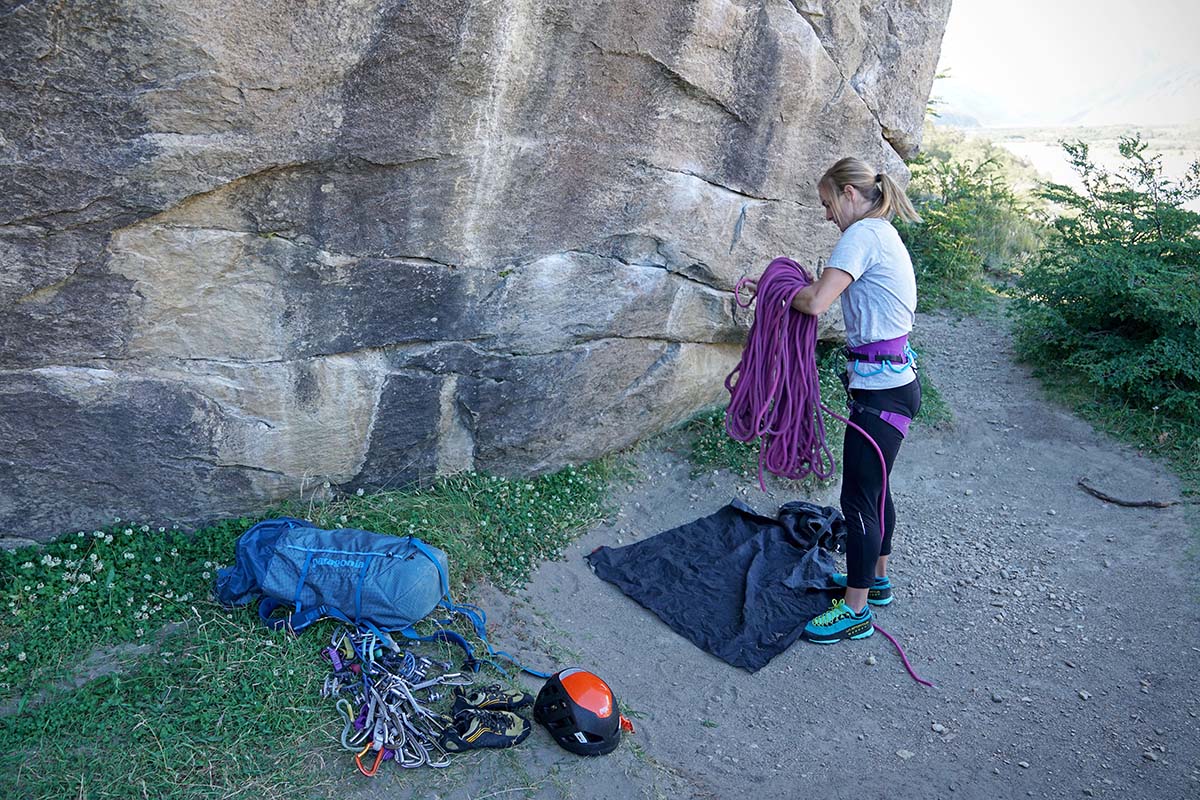 The one exception we would make is if you tend to climb mostly alpine or multi-pitch trad routes that have walk-offs instead of rappels. In that case, 60 meters probably is the length you are looking for. Hauling the extra 10 meters around all day is a pain, not to mention pulling it all up at the end of each pitch that originally was established on a shorter rope. And of course, if you're looking for a rope for indoor climbing, 40 meters likely will be more than sufficient. Many rope manufacturers make ropes in this length specifically for the gym, such as the 9.9 Gym from Black Diamond. But that said, you can also get away with buying a budget 70 or 80-meter rope with a friend, cutting it in half, and voilà: two ropes for the gym.
 
Dry Treatment
Many climbing companies now design a selection of their ropes with a dry treatment that repels water and moisture. Dry-treated ropes have a number of benefits: first, they do not grow heavy with water weight when wet. Second, they have a longer life span, as falling on a wet rope causes the rope to age quicker than falling on a dry one. Third, dry treatments do a pretty good job (while they last) of keeping out dirt and other grime. Lastly, rope manufacturers have conducted tests showing that ropes with dry treatment resist abrasion more than ropes without dry treatment.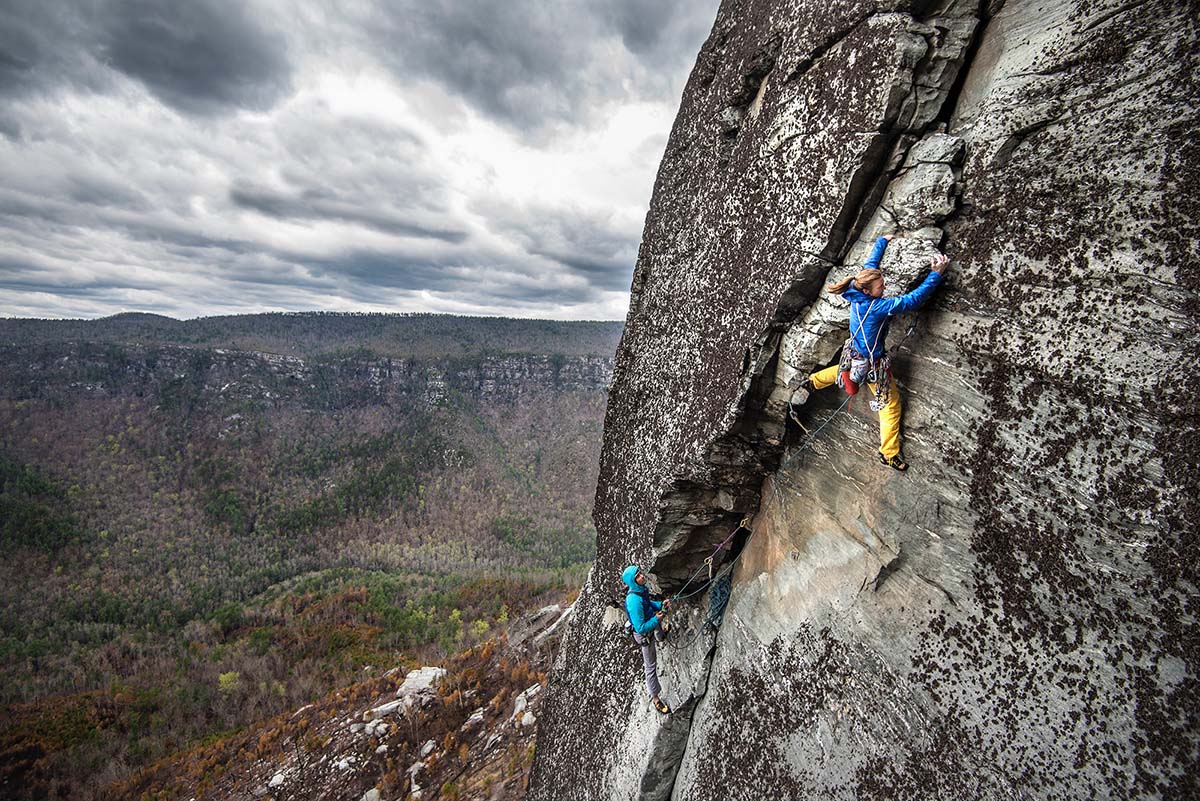 On some ropes, just the sheath is dry treated, and on others, it's the core and the sheath (herein lies the difference between Beal's Dry Cover and Golden Dry treatments). In the latter case, the rope often is referred to as "double dry." Here's a little more information about double dry: In 2014, the UIAA (the international governing body that develops and maintains safety standards for climbing equipment) created a water repellency certification for ropes. To meet this standard, a rope must absorb less than 5 percent of its weight in water when fully soaked. Interestingly, the UIAA found that many ropes labeled as "dry coated" actually absorb 20 to 40 percent of their weight. Thus, if you're looking for a true water repellant rope, pay attention to the UIAA rating. Most double dry ropes should meet this standard.
The question remains: do you need a dry-treated rope? Maybe not, but it certainly won't hurt having the extra durability. If you normally climb in dry conditions and are just looking for a long-lasting rope that won't grow fuzzy with abrasion, a rope with a dry-treated sheath will do the trick, like the Petzl Arial Dry. But if you are an alpine climber, ice climber, or mountaineer, you'll likely be looking for a double dry rope, and one certified as water repellent by the UIAA. Some of our favorite dry-treated ropes are the Mammut Infinity Dry and the Edelrid Swift Pro Dry.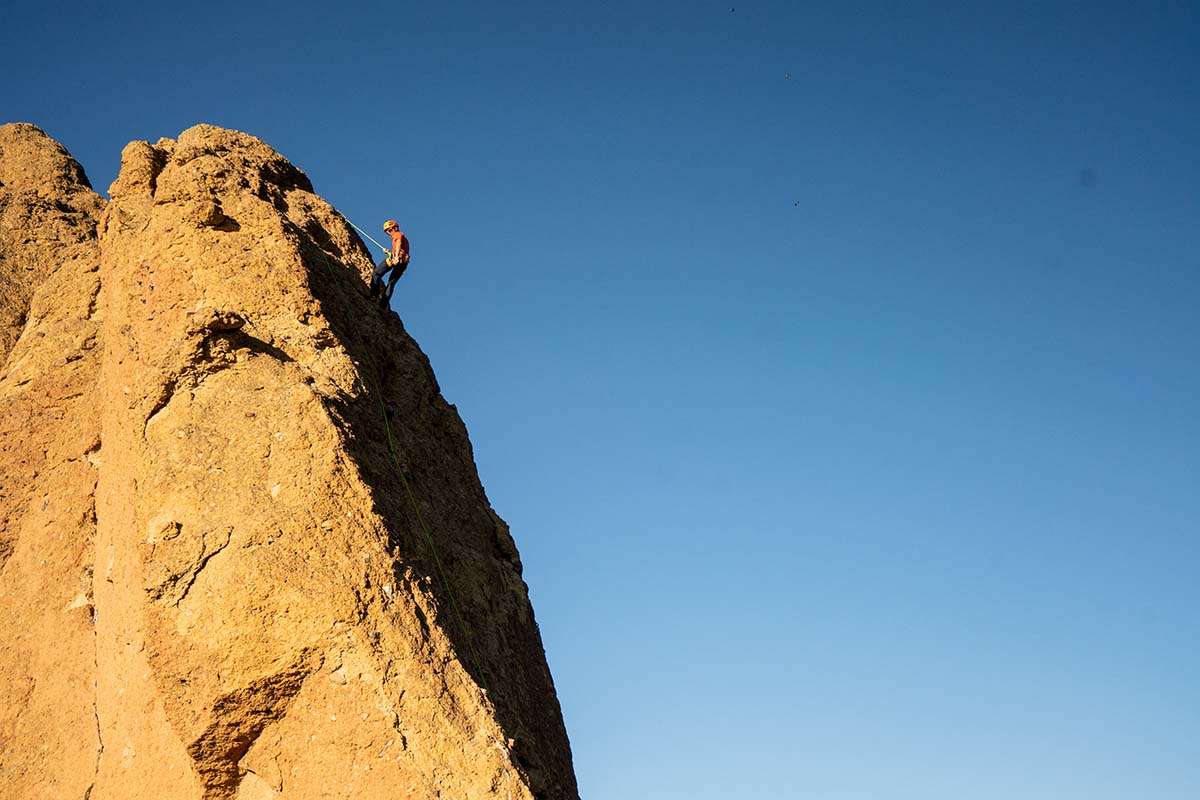 What are the downsides to dry-treated ropes? The obvious answer is that they generally are $50 to $100 more expensive than their non-treated counterparts. Additionally, most of the time they have a more slippery feel (especially initially) than other ropes. For climbers who get their start in the gym on fat, fuzzy ropes, the transition to belaying on a dry-treated line merits a bit of caution. Furthermore, contrary to popular belief, treated ropes still can become quite dirty (the dirt does not penetrate the rope, but rather sticks to the treatment). All things considered, we think ropes with dry treatment generally are superior and consider the extra upfront investment worth it for a much longer lasting and more abrasion-resistant rope.
 
Weight
It's pretty simple when it comes to ropes: weight is a function of length and diameter. The thinner and shorter a rope, the lighter it will be. There are a few minor exceptions: the Beal Tiger, for example, is exceptionally lightweight for its diameter, and Black Diamond ropes tend to be heavy for their size. But overall, the lightest ropes are the skinniest, and vice versa. 
For the vast majority of climbers who crag close to the car, rope weight is a non-issue. But for alpine climbers with long approaches, multi-pitchers who are pulling hundreds of meters of rope in a day, or the redpoint sport climber, every ounce counts. In these scenarios, a skinnier rope is a sendy-er rope. Opting for a short rope (60m, or even 50m) can be an excellent way for multi-pitch climbers to shed weight as well.
 
Sheath vs. Core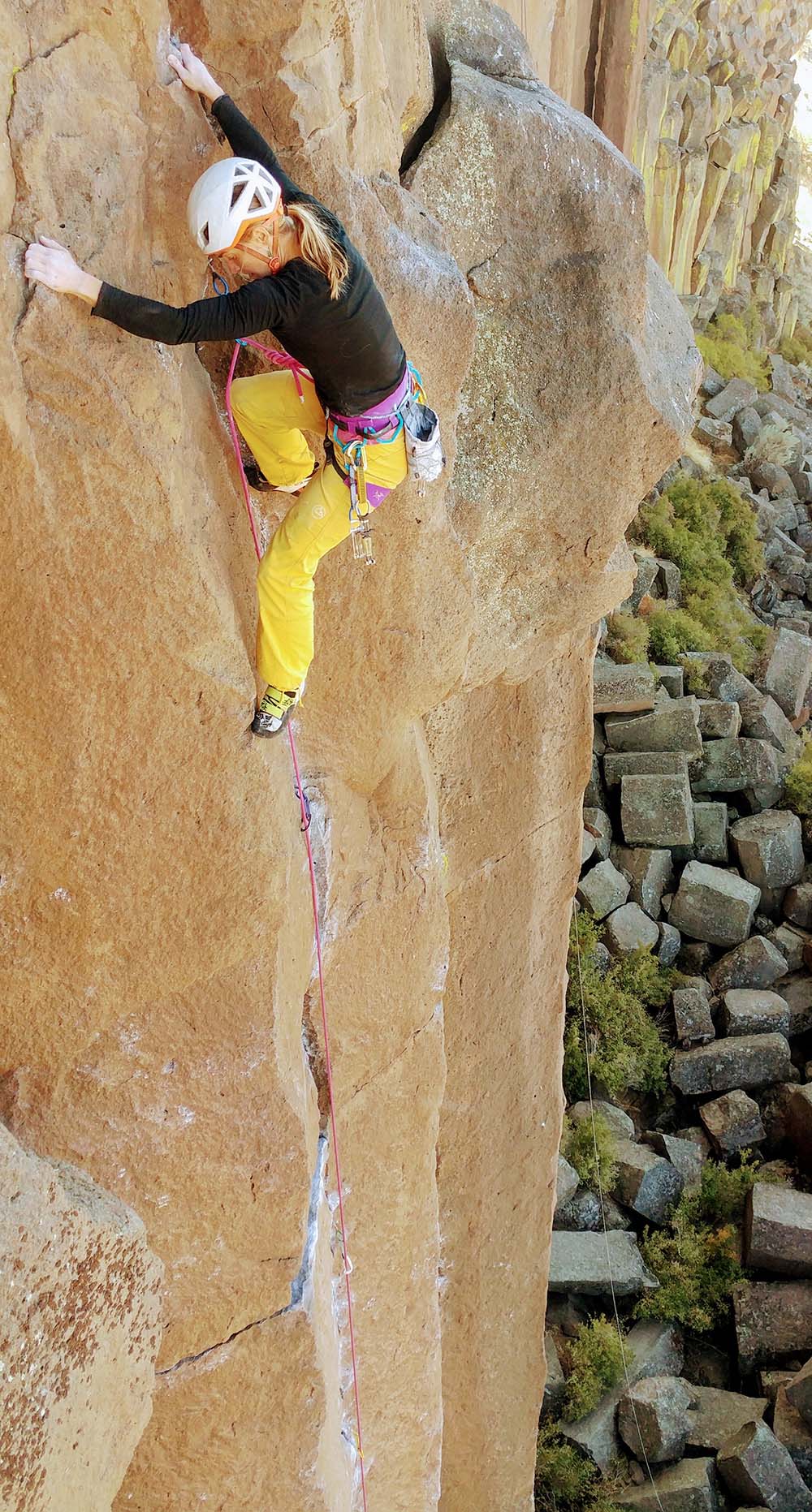 The sheath of a rope is the outer weave that is visible to the naked eye, and generally accounts for 1/10th or less of the rope's diameter and weight. The core is where all the rope's strength is. You want your sheath to handle smoothly and resist abrasions, and a core that can catch a lot of falls while still maintaining its elasticity.
It's worth noting that not all sheaths and cores are created equally, or along the same guidelines. Some ropes have more bulk in the sheath to resist abrasion, so if your local crag features particularly rough rock, look for a rope with a higher sheath proportion. Some have more bulk in the core to withstand repeated falls over time, which should be a priority if you're taking lead falls consistently. In addition, different companies use different weaves and designs on the sheath, which can lead to remarkably different feels in the handling of the rope.
One thing worth noting is the development of Unicore technology, which for the first time has managed to unite the sheath and core of ropes. Although Beal was the innovator, similar concepts are now being adopted by most major rope manufactures: Edelrid has their LinkTec and Maxim their Platinum, for example. In our opinion, this technology offers game-changing resilience to coreshots and sharp edges, and provides an extra level of assurance especially for single lines (check out this convincing video if you need proof). We've been really impressed by Unicore, and it's no coincidence it's featured in a number of our top ropes, including the Beal Opera.
 
Bi-Pattern / Middle Mark
Middle marks are super valuable. They give you a good reference of how far the leader has climbed, tell you if you can lower the climber safely to the ground, and show you the point at which both ends are even when rappelling with a single rope. All ropes should come with some sort of a marking to let you know where the middle is—generally a black patch or sewn-in threads—but if yours didn't, it's not too difficult to make one. You can mark the middle with a permanent marker (some companies explicitly warn against this, while others have never identified a problem with ink), or sew a few pieces of colored thread (shallowly) into the rope's sheath.
Bi-pattern or bi-color weave is another technique that rope manufacturers use to distinguish the middle of the rope—many ropes are available in both standard weaves (with middle markers) and bi-patterns. On bi-pattern ropes like the BlueWater Lightning Pro, the pattern of the weave changes halfway, meaning one half of the rope has one pattern, and the other half has another. All things being equal, we'd opt for a bi-pattern rope over one with a simple middle mark for the ease of knowing where we're at without having to find a small middle mark. But unfortunately, bi-pattern ropes can be significantly more expensive than their single-pattern counterparts, and for many, it's not really worth the money. Plus, if you end up chopping one of your rope ends due to wear or a core shot, your bi-pattern middle mark will be off forever.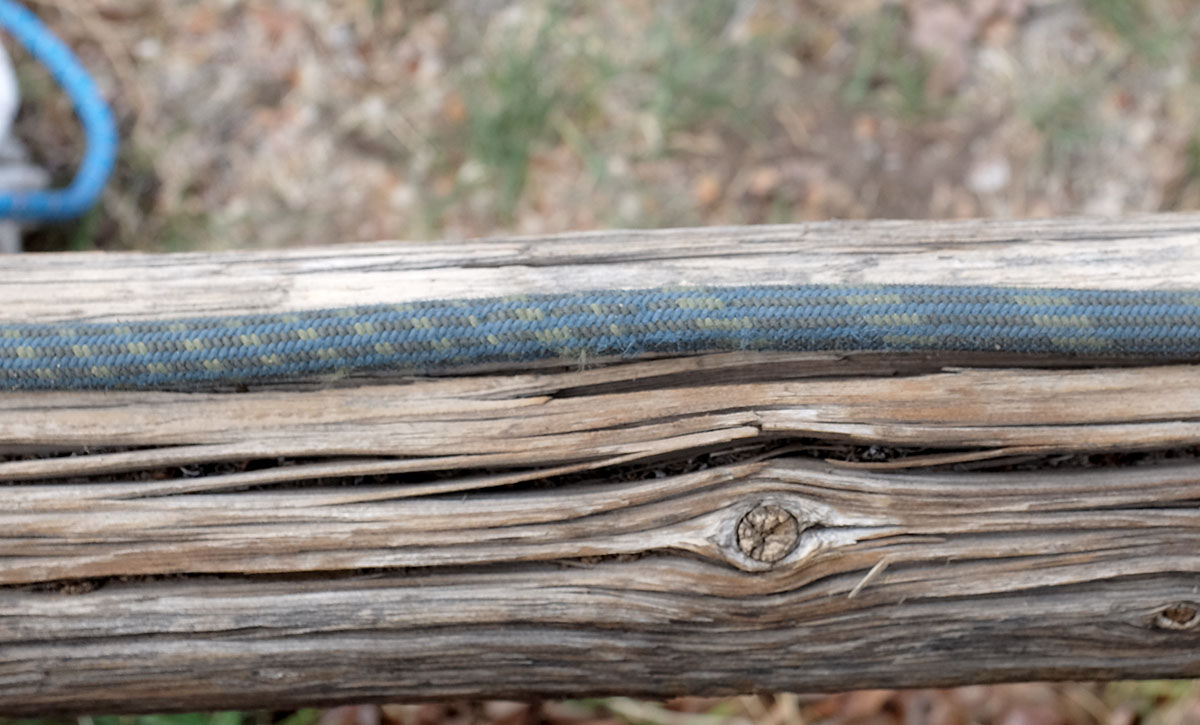 Static vs. Dynamic
If you're brand new to climbing, the terms static and dynamic may have you a little confused. A static rope is one that only stretches minimally (less than 5 percent elongation), and a dynamic rope is one that stretches a good bit more (about 5 to 10percent elongation). For any sort of lead climbing, it's imperative to use a dynamic line. No exceptions. Taking a lead fall on a static line can have disastrous consequences, especially in the spine, cervical spine, and internal organs. Static lines can be useful for rigging top-ropes, and sometimes for top-roping itself: most gyms will use a semi-static rope for top-roping, which is right around 5 percent elongation. Finally, a static line can be useful as a tag line or pull cord used only for rappelling or hauling gear.
 
In terms of dynamic ropes, there are two elongation figures that climbers should look at: the dynamic elongation and the static elongation. Static elongation is the amount (in a percentage) a rope stretches with 80 kilograms of static weight on one end. This is an important statistic for cragging: generally, a lower number here (less stretch) is better for top roping or hang-dogging purposes. On the other hand, dynamic elongation is the distance a rope stretches during a lead fall. Less dynamic stretch can keep the climber off a ledge or the ground, but more stretch reduces impact force on both the climber and the gear. In general, cragging workhorses will have less elongation (both static and dynamic), and redpointing (when you want a soft catch) or alpine climbing lines (when you want a lower impact force on marginal gear) will have more. To illustrate, the Sterling Evolution Velocity has a 26.4-percent dynamic elongation, while the Beal Opera's is 37 percent.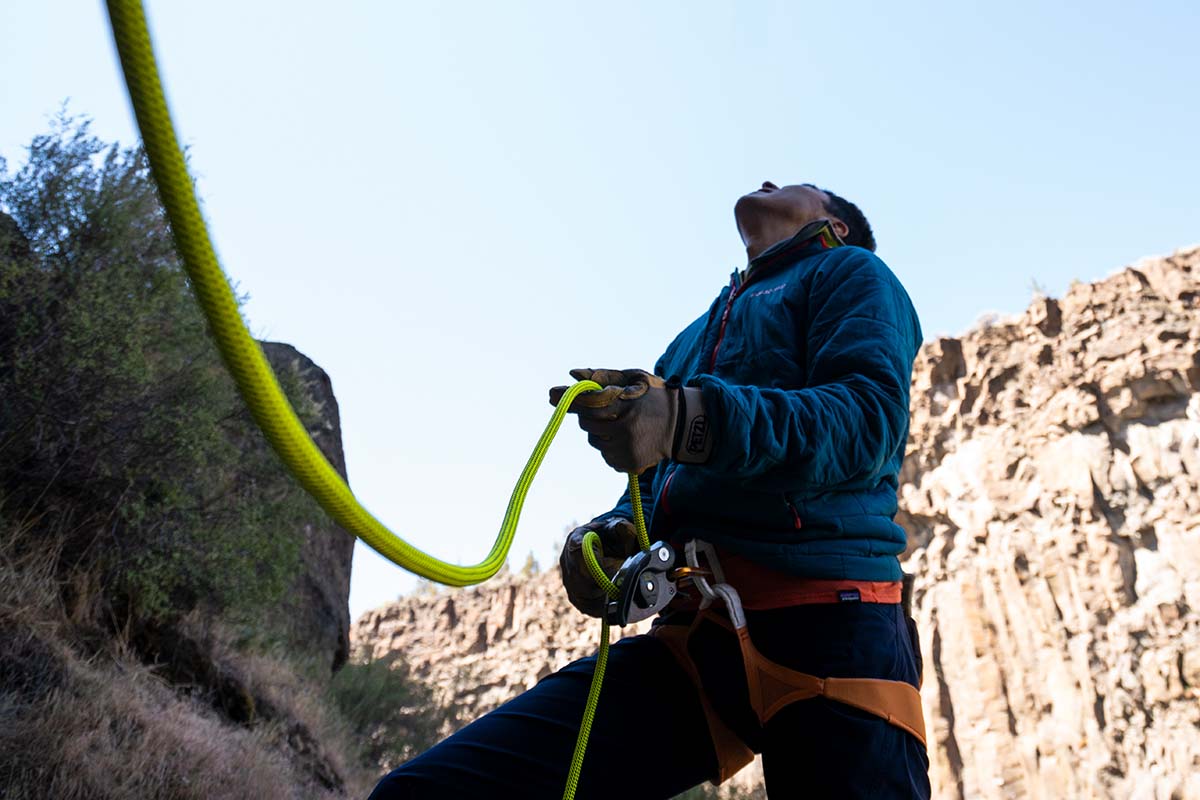 UIAA Falls
UIAA stands for Union Internationale des Associations d'Alpinisme and is the lead certifying body for climbing ropes. Most ropes are rated to a certain number of UIAA falls. 6 to 8 is a pretty good number for most single ropes, and 8 to 10 is exceptional (but you'll be paying the price in weight—these ropes are generally thicker). And keep in mind, if a rope is rated to 6 UIAA falls, it does not mean you need to retire it after your fifth whipper. A UIAA fall is very different from a climbing fall and entails forces of a different magnitude. That said, you should frequently check your rope for coreshots, soft spots, and abrasions. Just know that the higher the UIAA fall number, the more resilient the rope will be when subjected to normal wear and tear.
 
Extending the Life of Your Climbing Rope
A climbing rope is no small investment, and there are a number of steps you can take to ensure it stays in the game for as long as possible. First off, make sure to alternate which end you climb on. This will spread out the wear and tear of the tie-in point, and ensure that fall impacts are distributed throughout the length of the rope. Second, we recommend purchasing a rope bag or tarp to protect your rope at the crag (one of our favorites is the Black Diamond Burrito Bag, although you can improvise with an Ikea bag or a Tyvek ground tarp). Having a barrier between the ground and your rope will keep small rocks and sand from working their way into the sheath and abrading the strands over time.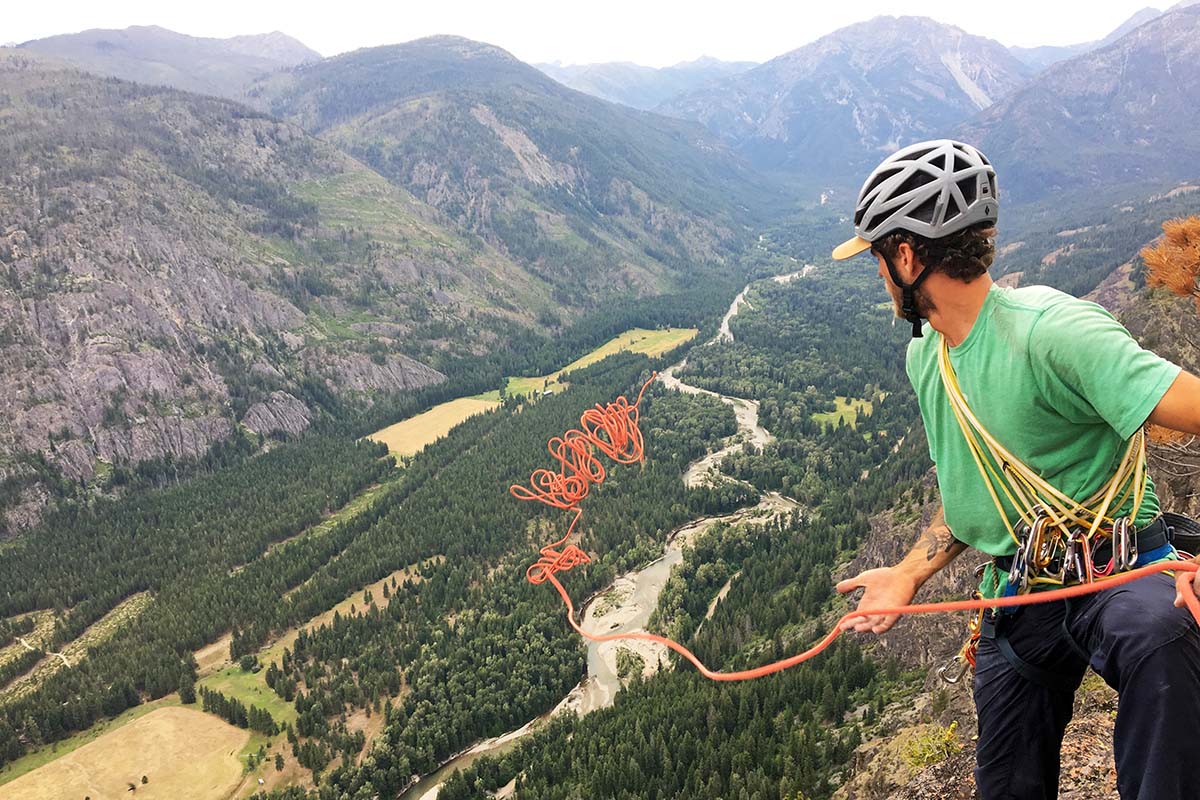 Finally, it's a good practice to wash your rope from time to time. This doesn't have to be complicated: just throw it in your washing machine (top loader or front loader, it doesn't matter) on the gentlest cycle with cold water. If you don't have a washing machine, the bathtub will do. You don't need to add soap—although for a particularly dirty rope, a mild soap or a rope-specific soap (such as Edelweiss' Rope Wash) is your best bet. Hang your rope to dry in the shade (exposure to sun will degrade the sheath), making sure it's completely dry before putting it away. Finally, store your rope coiled or flaked in a cool, dry place.

When to Retire Your Climbing Rope
We often harp on redundancy in climbing: use two to three pieces in your anchor, tie your rope through both points of your harness, double back your knot, etc. Yet when it comes to the rope—arguably your most important lifeline—there's no redundancy to speak of: it's standard practice to rely on just the one, single strand. And while it's difficult to overstate the strength of a climbing rope, it is paramount that the rope is in good shape in order to safely hold a fall. So when is it time to retire your rope? Here are a few things to consider.
First, climbing ropes all have a finite lifespan. Even if you've never used your rope, manufacturers still recommend that you retire it after 10 years. Further, a used rope might not show any signs of wear but still be ready for retirement. The British Mountaineering Council recommends that with regular, once or twice a week use, you should retire your rope after about three years. In the meantime, it's important to check your rope often, looking for fuzzy areas, stiff or soft spots, discoloration, or cuts—these abnormalities are signs that its integrity is compromised. The good news is, you'll often notice these weaknesses near the ends, in which case you can cut them off and still have a workable rope (just remember that your 70m is now a 62m).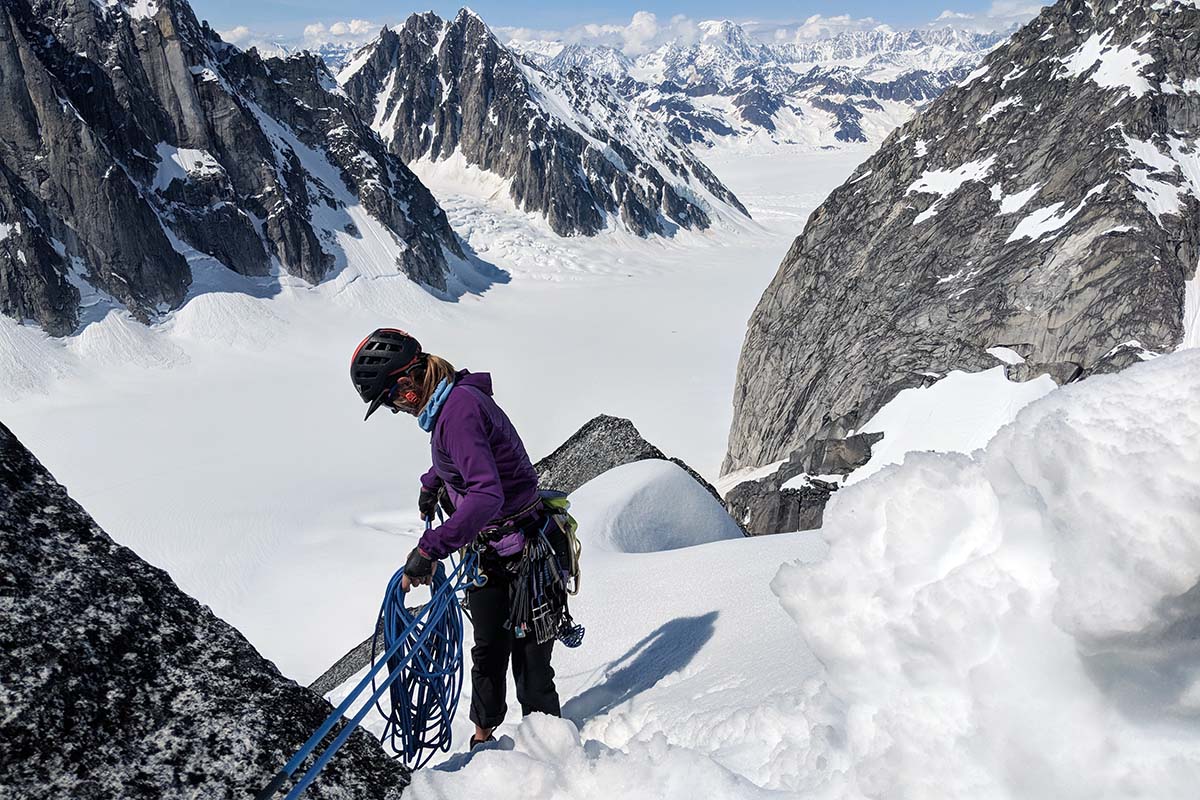 Most importantly, it's important to err on the side of caution. When we're undecided about whether or not to continue using a rope (or any piece of gear), we always ask ourselves, "Is it worth it?" In almost every case, a few hundred dollars is a small price to pay for peace of mind and safety on the rock.
Back to Our Top Climbing Rope Picks  Back to Our Climbing Rope Comparison Table
Learn More About Climbing