Mountain biking can take on many forms, from hot laps on the backyard trail to long, winding singletrack through the alpine. Regardless of the riding style you gravitate toward, nearly every trip out requires you to carry water, snacks, tools, and other gear. The most common carry method is a mountain bike backpack, and below we break down our top picks for 2023. Designs vary pretty widely, and important considerations include carrying comfort, interior volume, water-hauling capacity, and pockets and organization. For more background information, see our comparison table and buying advice below the picks. 
 
---
Our Team's Mountain Bike Backpack Picks
---

Best Overall Mountain Bike Pack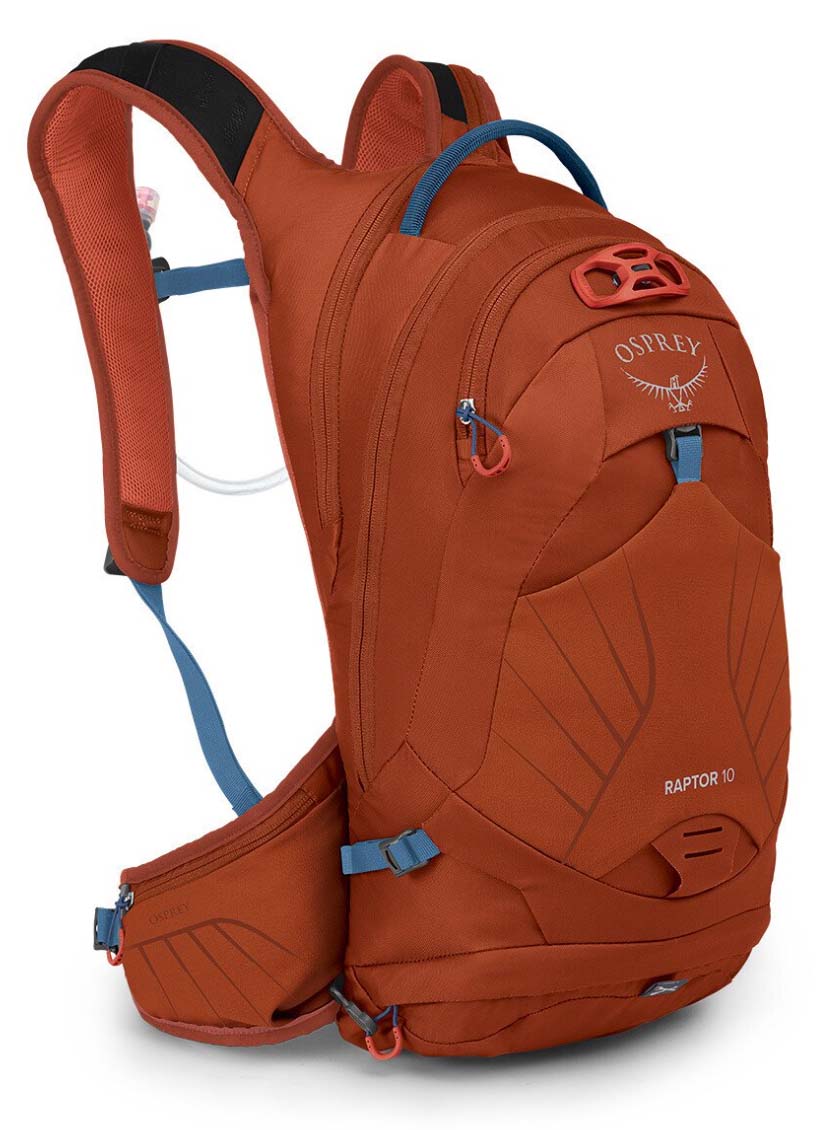 Capacities: 10, 14L
Weight: 1 lb. 9.4 oz. 
Reservoir included: Yes (2.5L)
What we like: Comfortable and versatile with top-notch organizational features.
What we don't: Pretty pricey; we'd prefer a stronger magnetic attachment for the bite valve.
With a versatile, do-everything design and plenty of practical features, Osprey's Raptor 10 and women's-specific Raven 10 earn our top spot for 2023. We've tested multiple variations of the pack over the years, and its all-rounder nature and premium build continue to impress: The Raptor's 10-liter capacity is spacious enough to fit extra layers, lunch, pads, and a small bike pump for longer rides, but it's equally easy to compress it for quick lunch laps. For organizing gear, the pocket layout is extremely well sorted with a grand total of 10 zippered and stretch pockets, including a dedicated space for tools with a built-in roll pouch at the base. Carrying comfort is another highlight, and in the techy stuff and during all-day efforts, the wide shoulder straps—Osprey dubs them their "winged" harness—nicely distribute weight and give it a well-balanced feel. Tack on a quality 2.5-liter Hydraulics LT reservoir, best-in-class helmet carry, and burly 210-denier nylon construction, and the Osprey was our runaway favorite.
No pack is perfect, however, and we did have a few quibbles with the Raptor and Raven during testing. Specifically, we wish the hydration hose had a stronger magnet where it attaches to your sternum. The bite valve pops off fairly easily, and we've found it dangling on a couple occasions mid-descent (one tip: feeding the hose through the stretchy fabric on the sternum strap will keep it close to you if it happens to pop off). Additionally, the hipbelt pockets are set back a little far and can be slightly hard to access, although they're a nice size for storing small items like snacks or lip balm. Finally, the Raven and Raptor are a healthy investment at $165 for the latest versions. You can save a little with an alternative the CamelBak Mule 12 ($130), but no pack puts it all together as well as the Osprey. And if you need a little extra room, both the Raptor and Raven are offered in a 14-liter version for $175.
See the Osprey Raptor 10  See the Women's Osprey Raven 10
Best Budget Mountain Bike Pack
Capacities: 10, 15L
Reservoir included: Yes (2L)
Weight: 1 lb. 6 oz. 
What we like: Nicely appointed and spacious for the price.
What we don't: Subpar water bladder design.
You can often rely on REI for quality gear at a good discount, but most of their know-how is in the hike and camp spaces. That said, we were pleasantly surprised with their budget-minded bike pack, the Link 15 L. Organization is often compromised among cheap designs—a complaint we had with the $90 Osprey Katari below—but the Link has a large main compartment, designated pouches for your wallet and bike tools, and an included 2-liter water bladder (there's also nice routing for the tube to snake up and out of the pack). Plus, there's no shortage of outside pockets, where it's easy to stow a muddy layer and kneepads mid-ride. It's true you can't snug it down as nicely as premium alternatives, and 15 liters is likely overkill for some, but the Link is pretty well balanced thanks to the moderately wide and cushioned hipbelt (most entry-level packs use more basic and less comfortable webbing designs).
What do you give up for the REI Co-op Link's lower price? Overall refinement is a step down from pricier alternatives, and the water bladder design in particular could use improvement. Specifically, we wish it were easier to re-insert after filling—a quick-disconnect tube would certainly help—and despite being positioned on your lumbar spine to keep the center of gravity low, we occasionally felt unwanted pressure on our lower back. Compounding this, the back padding tends to crease and rub around the lumbar, which isn't ideal for hours-long rides. For these reasons, the Osprey Raptor/Raven 10 above and other premium alternatives like the CamelBak Mule and Evoc Trail Pro below outshine the Link 15 L when it comes to overall comfort and performance. But for new or occasional riders, there's a whole lot to like.
See the REI Co-op Link 15 L
Best High-Capacity Mountain Bike Pack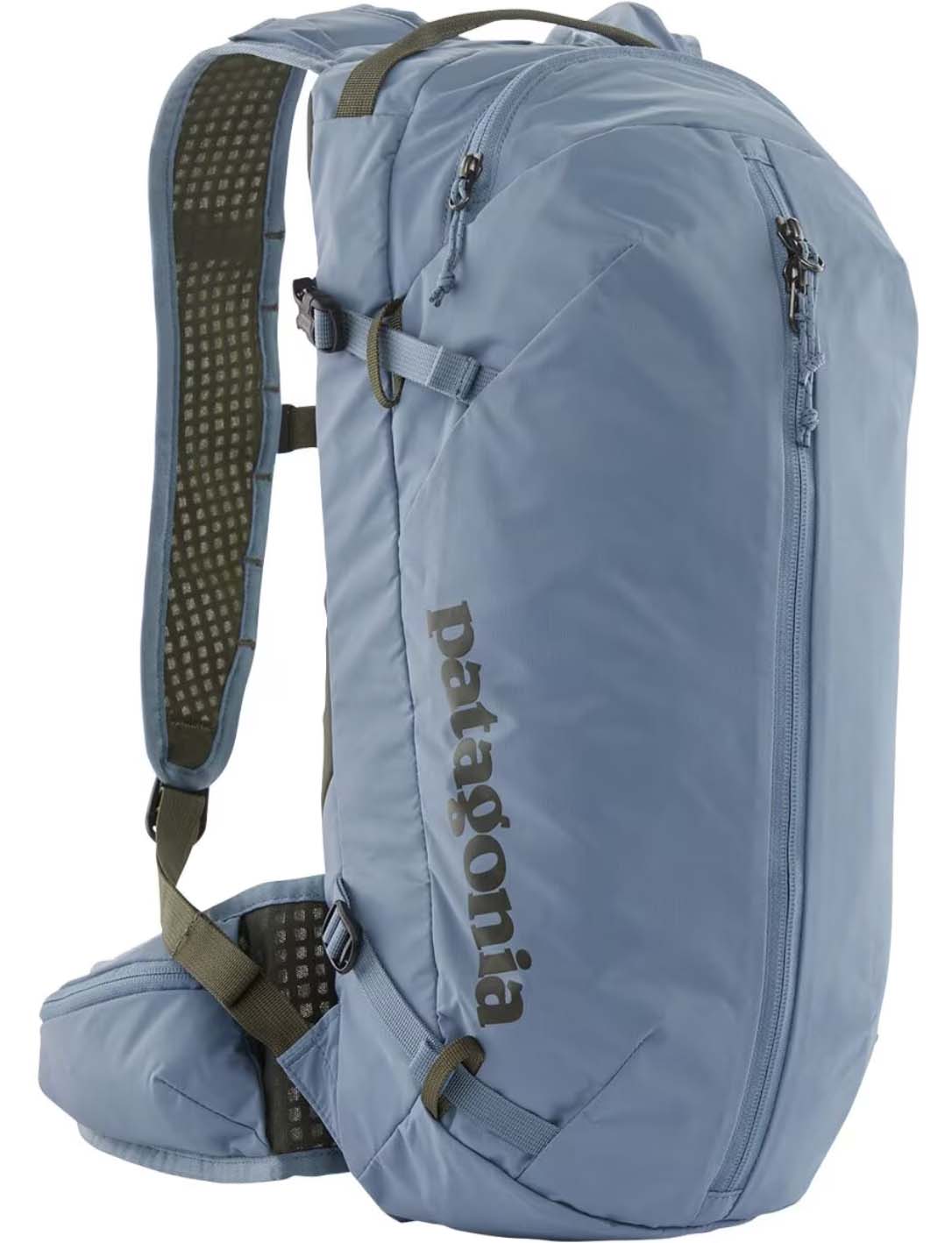 Capacity: 20L
Reservoir included: Yes (2L)
Weight: 1 lb. 8 oz. (S/M)
What we like: A comfortable and light high-volume pack for longer rides.
What we don't: Poor back ventilation.
Patagonia entered the mountain bike gear arena with their flagship Dirt Roamer series (jackets, pants, etc.), but hydration packs are new to the stage. The Dirt Roamer 20L here stands out as a high-volume pack that sticks to Patagonia's ethos with a sustainable and streamlined design. The pack has a generous main compartment that's accessed with vertically oriented zippers (we appreciate that it has two zippers for opening small sections at a time) and a separate side-access sleeve for the water reservoir. And although the design is relatively simplistic, it doesn't skimp on organization with internal elastic loops and small pockets for separating gear. Whether you're headed out on an all-day ride or shuttling in camera gear for the perfect photo op, the Dirt Roamer is well equipped for the job.
Sweaty backs are part of the mountain bike experience, but we found that the Patagonia fell short of alternatives like the Dakine Drafter and CamelBak Mule Pro below in terms of ventilation. Even though it boasts a mesh backpanel, we were quick to heat up and often found salt deposits from sweat on the rear of the pack. Additionally, we noticed more movement and bounce than expected off jumps and drops despite the four-compression-strap layout. To be fair, some level of movement is to be expected given the capacity, and the wide, oversized waistbelt helped with stabilization. In the end, the Dirt Roamer 20 is too much pack for many riders, but its high-capacity shape and creative zipper design make it a quality option for gear-intensive adventures.
See the Patagonia Dirt Roamer 20L
Best Bike Pack with Integrated Back Protection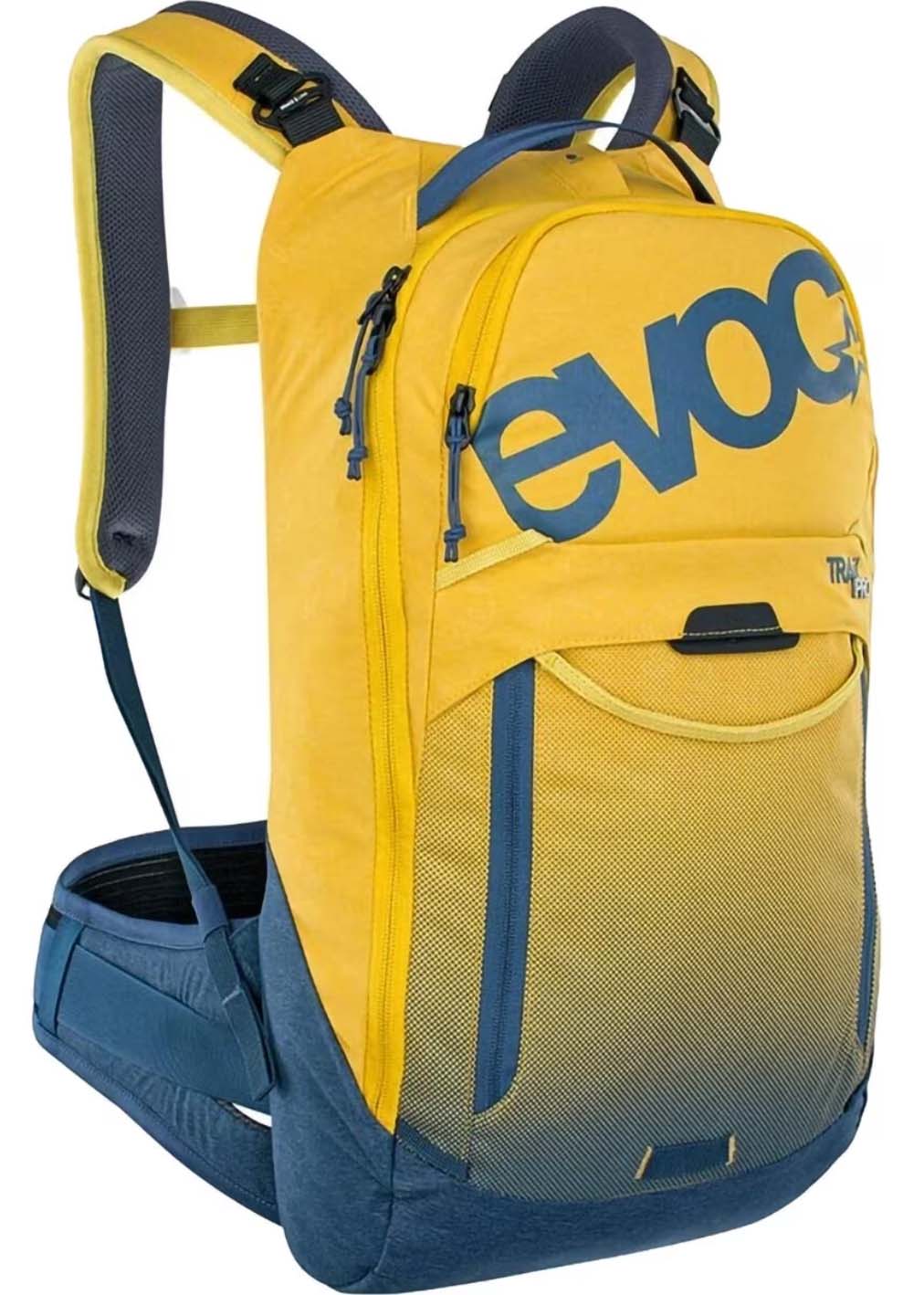 Capacities: 10, 16, 26L
Weight: 1 lb. 15.7 oz. (size S/M) 
Reservoir included: No
What we like: A high-quality and comfortable pack with built-in spine protection.
What we don't: Expensive and doesn't come with a water reservoir.
If you gravitate toward steep and rugged descents or have a propensity for gap jumps, exposed skinnies, and other features that push the risk-reward ratio, a pack with integrated spine protection is worth considering. Within this category, we love the Evoc Trail Pro, which is snug and balanced on the roughest trails and boasts the brand's Liteshield Plus back protector—a built-in pad engineered to absorb shock and prevent the spine from overextending in the event of a crash. On top of the helpful safety feature, the Trail Pro boasts the best hipbelt of any pack we tried: It's supremely comfortable even when pulled snug, and stretchy Velcro straps that sit under the buckle reduce pressure and friction around the navel. And unlike many options here, the Trail Pro's hipbelt pockets are large and easily accessible—great for on-the-go snacking and keeping your phone handy. A final bonus: The Trail Pro is offered in two sizes for dialing in a more precise fit, which is a rarity in the market.
We strongly considered the Evoc Trail Pro 10 as our top all-around pick—it's that good. However, at $75 more than the next-most-expensive pack here (the top-ranked Osprey Raptor), it's a hard sell for many riders, especially considering you'll have to purchase a water bladder separately. In addition, those who aren't pushing the limits in terms of terrain, air time, and/or speed will likely find the back protection superfluous. Another small complaint we had is that the spine protector negatively impacts breathability, so the Evoc lands on the warmer end of the spectrum (it's noticeably hotter than standard designs like the Osprey Raptor or CamelBak Mule, although the panel can be removed). For a boost in breathability, Osprey's Raptor Pro also includes built-in spine protection and features a slightly more ventilated backpanel design. That said, the Osprey is pricier at $280 and only available in an 18-liter capacity, while you can get the Trail Pro in 10, 16, and 26-liter versions.
See the Evoc Trail Pro 10
Best Minimalist Mountain Bike Pack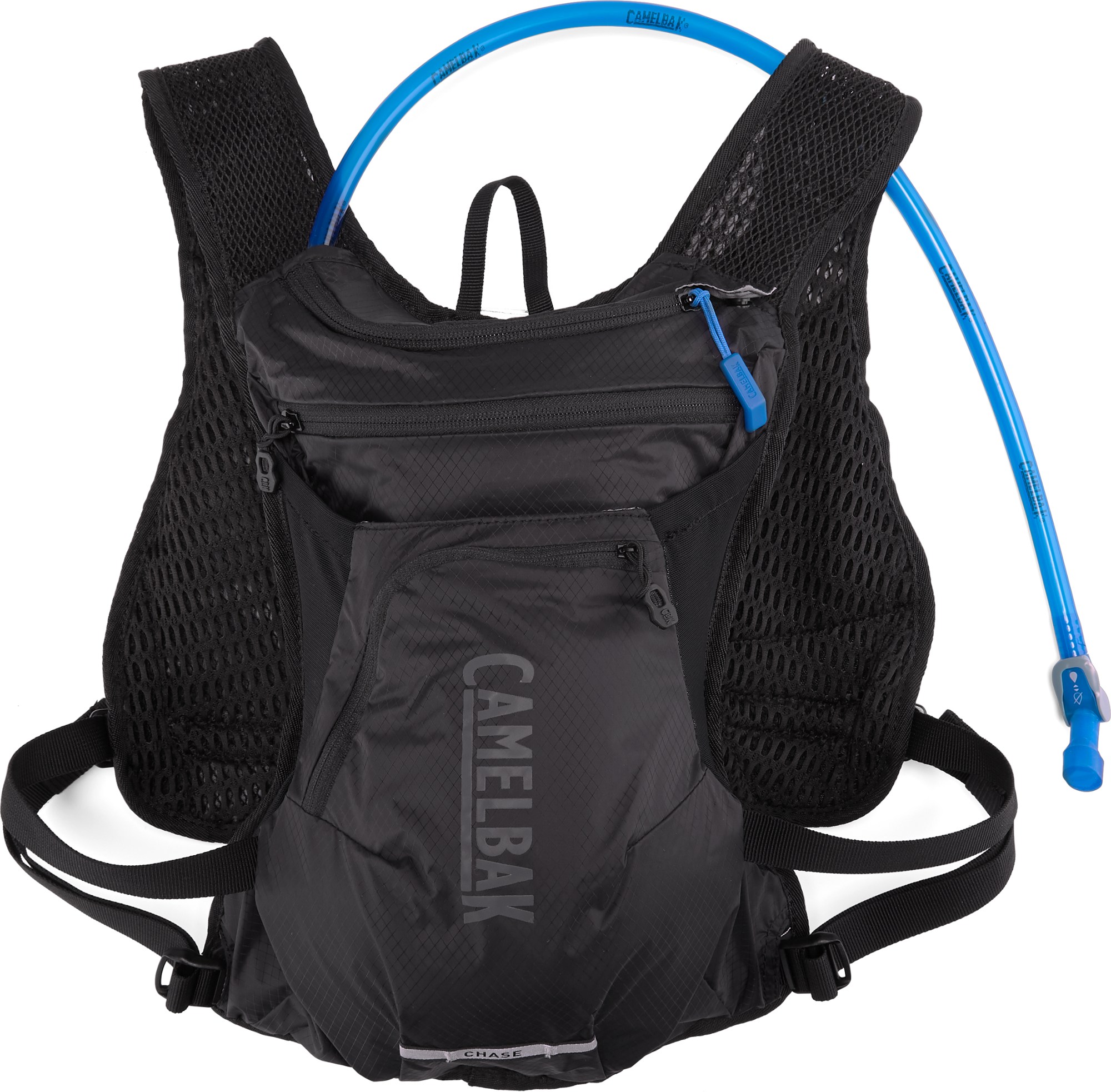 Capacities: 2.5, 6.5L
Reservoir included: Yes (1.5L)
Weight: 10 oz. 
What we like: Running vest-like comfort with unmatched access to snacks and other necessities.
What we don't: Runs a bit warm; minimalist support makes the water reservoir feel heavy.
CamelBak is one of the original manufacturers of hydration packs, and their products are tried and true. The Chase Vest is no exception, featuring a thoughtful blend of running vest-like carrying comfort and organization with a cycling-specific feature set. One major draw of the vest style is its stability: The Chase is comfortable and doesn't bounce or shift around, even on rugged trails or when catching air. The practical pocket layout is also praise-worthy, especially given the pack's relatively low volume—the shoulder strap pocket even fits an iPhone, which has been particularly handy for checking our location on unfamiliar trails. In fact, we'd go so far as to say that the Chase Vest offers the easiest access of any design here.
One tradeoff to the Chase Vest's snug, well-balanced fit is breathability. The nature of the vest style is that it covers more of your body—thereby making it feel warmer and more restrictive to airflow on midsummer rides. Another issue we ran into was that the CamelBak reservoir was hard to fill and felt heavy in the vest (there's less pack to handle the bladder's weight and bulk when it's full of water). Instead, we think of the Chase Vest as a great alternative to a hip pack: It has a larger capacity than most waist designs, includes a water reservoir and a nice array of pockets, and carries a load better thanks to the snug fit around the back—all at a very reasonable price point to boot.
See the CamelBak Chase Vest  See the Women's CamelBak Chase Vest
Best of the Rest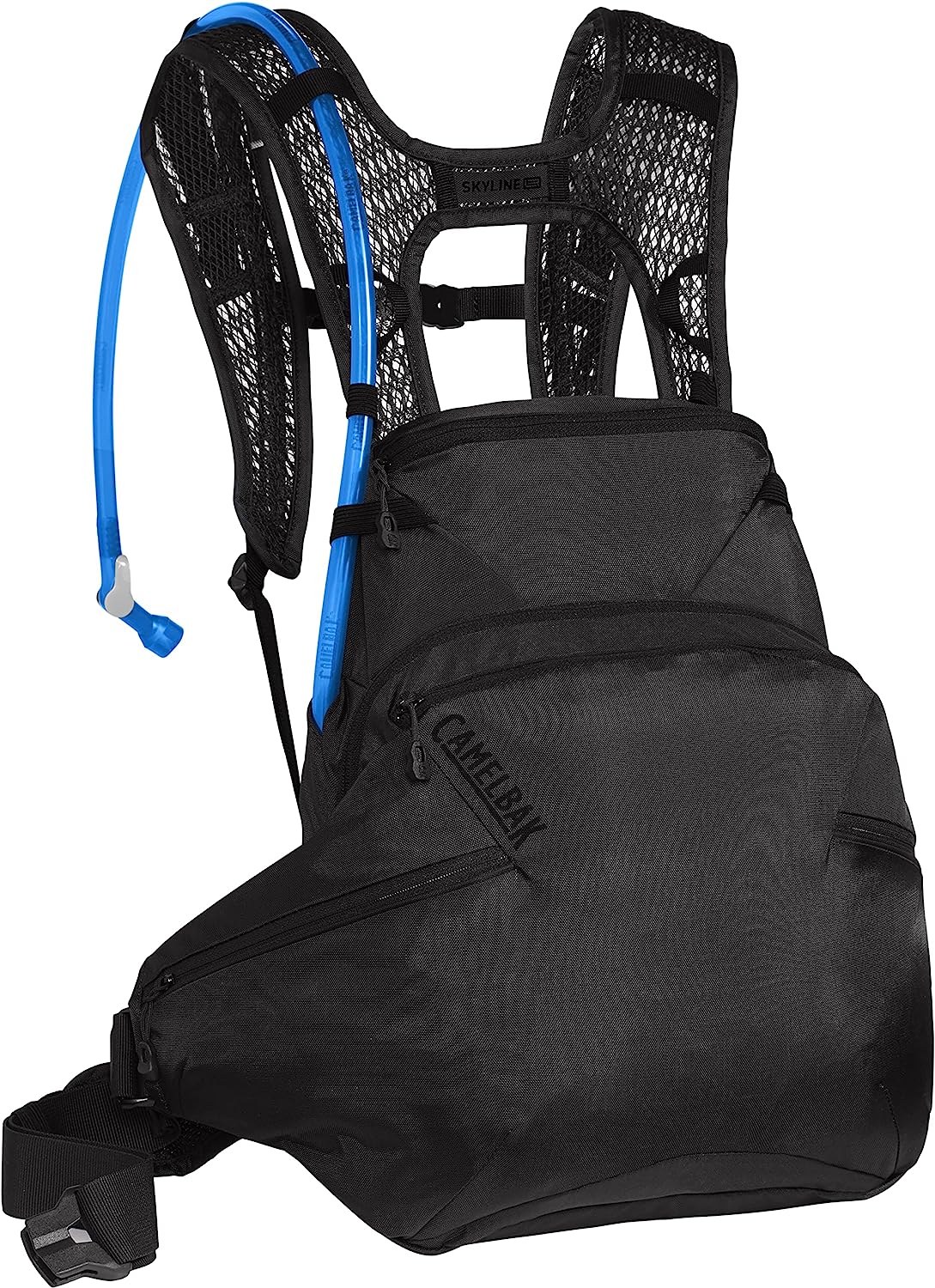 Capacity: 7L
Reservoir included: Yes (3L) 
Weight: 1 lb. 7 oz. 
What we like: Low-riding design offers great all-day comfort with minimal bounce.
What we don't: Polarizing looks and hard-to-reach hipbelt pockets. 
On the heels of CamelBak's Chase Vest above is their Skyline LR (short for "low rider"), which is designed to maximize support along the lumbar region. How it works: By positioning the water reservoir and main compartment along the lumbar spine, the pack effectively focuses weight at the lower back and hips to keep your center of gravity low. We wore the Skyline LR on the Whole Enchilada in Moab—a trail with no shortage of drops, technical pedals, and chundery rock fields—and found it offered a supremely comfortable ride with minimal movement or shifting. We were also very pleased with the magnetic drinking hose attachment: It locks into place once attached, which keeps the hose from releasing and flopping around while riding (an issue we experienced with the Osprey Raptor above). And the tube easily disconnects from the bladder, which eliminates the hassle of having to re-route the hose after refills.
With its somewhat goofy shape, the Skyline LR 10 pack won't be winning any fashion awards. But a positive of the layout is that the pack is a great breather, making it a solid mid-capacity option for riders who prefer the unrestrictive feel of a low-riding hip pack. Pocket access was another nitpick—a common theme with many of the packs here—as the side-wing pockets sit pretty far away from your hips and are tricky to reach without twisting your body. But if you prioritize function over looks (which many mountain bikers do), the Skyline LR 10 excels as a versatile and comfortable pack for when the going get rough. Note: There's limited stock of both the Skyline and women's Solstice at the time of publishing, but the packs are available at a hefty discount (around $70 on Amazon currently) while supplies last.
See the CamelBak Skyline LR 10  See the Women's Solstice LR 10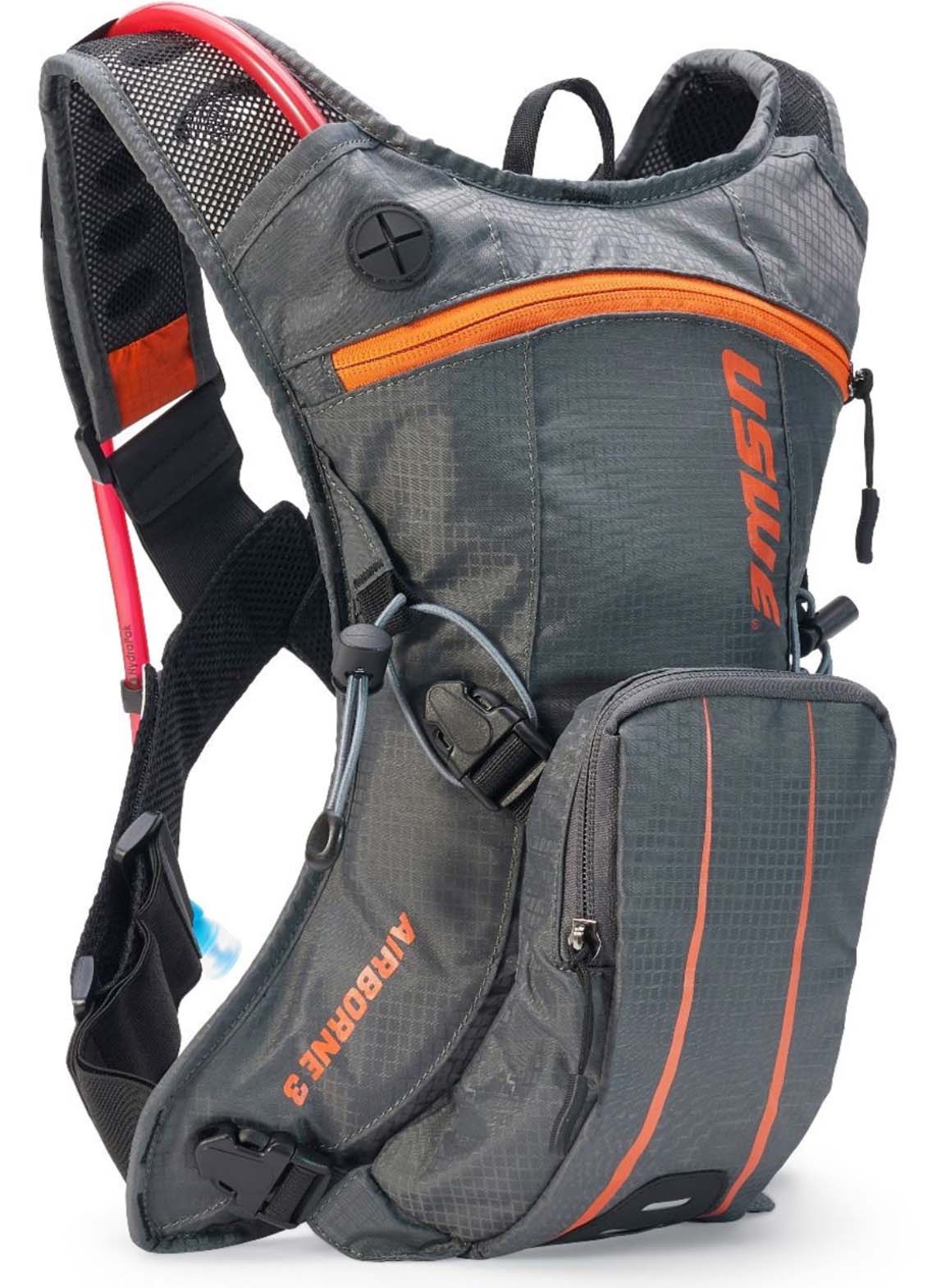 Capacities: 3, 9, 15L
Reservoir included: Yes (2L)
Weight: 14.6 oz.
What we like: Innovative harness system offers a secure, snug fit.
What we don't: The smallest design on our list; lacks accessible pockets for layers and on-the-go snacking.
USWE (pronounced "you-swii") is a Swedish brand with origins in dirt biking, and they brought that expertise into the MTB space with a unique—and eye-catching—harness design. The trademarked "No Dancing Monkey" system offers a secure, adjustable, non-restrictive fit that attaches to your chest with a single buckle (i.e., no sternum strap). The elastic straps stretch to accommodate heavy breathing but also manage to stay taut and snug enough for when your heart rate lowers. We were admittedly skeptical of the cumbersome-looking setup, but we found the harness effectively prevents major bouncing even with the 2-liter water reservoir filled. Storage is limited at just 3 liters (there are 9 and 15L capacities available), but we appreciate that USWE included a detachable 1-liter pocket, and you can purchase add-ons like a waterproof phone pocket and camera harness to boost organization.
The Airborne 3 is most similar to the CamelBak Chase Vest above, and we found that their fit and overall level of comfort were quite close. What pushes the Airborne down our rankings? For one, it lacks stretchy dump pockets for easily stowing layers, and without shoulder strap pockets, access to snacks and tools is slightly less convenient. It's also worth noting that the design/location of the harness strap could be uncomfortable for women with larger chests. All that said, this pack has gained a lot of traction in the professional riding and racing community and for good reason—its figure-hugging, no-bounce harness works really well.
See the USWE Airborne 3L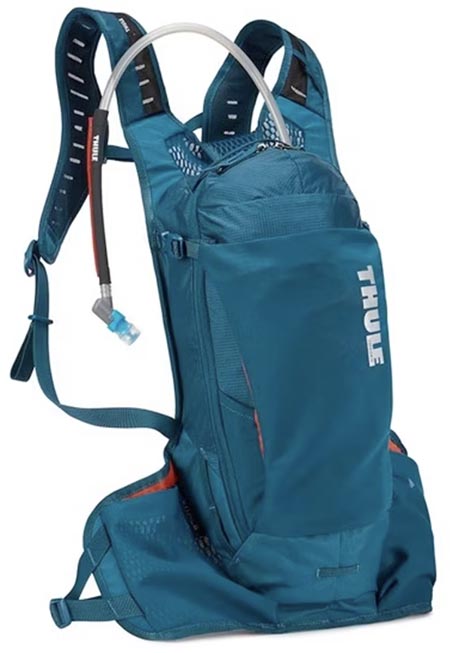 Capacities: 3, 6, 8L
Reservoir included: Yes (2.5L)
Weight: 1 lb. 3.4 oz.
What we like: Slick magnetic hose attachment system and nice pocket layout.
What we don't: No helmet carry option; we'd prefer a higher-capacity model.
Thule likely isn't the first brand that comes to mind for backpacks, but we've been impressed with the quality of their hiking, travel, and MTB collections. The Vital 8L here stands out in one key way: its secure and extremely practical hose attachment system. Rather than the button-sized magnets or plastic hooks used on other designs, Thule utilizes a strip of magnets (about 5 in. in length) along the right-hand shoulder strap to keep the hose in place while riding. You simply pull the nozzle as usual to drink and then release, and the hose reconnects to the strap automatically. It's an elegant and very secure solution that we found works flawlessly.
For the rest of the pack, the Vital stacks up pretty well to big hitters from Osprey, CamelBak, and Dakine. Organization is good overall—we especially liked the mesh pockets right at the hips that are well sized for snacks and easy to access without having to remove the pack. And the Vital carries weight relatively low, which keeps it solidly in place even during steep and technical descents. At 8 liters for the biggest size, the Thule likely won't do the trick for most full-day efforts or times of year when you need extra layers. Additionally, they omitted a helmet carry, which could be a dealbreaker for some. Overall, it's not a home run and is a little less of an all-rounder than our top picks, but the smart hose solution and excellent all-around build quality make it a good offering nonetheless... Read in-depth review
See the Thule Vital 8L  See the Women's Thule Vital 8L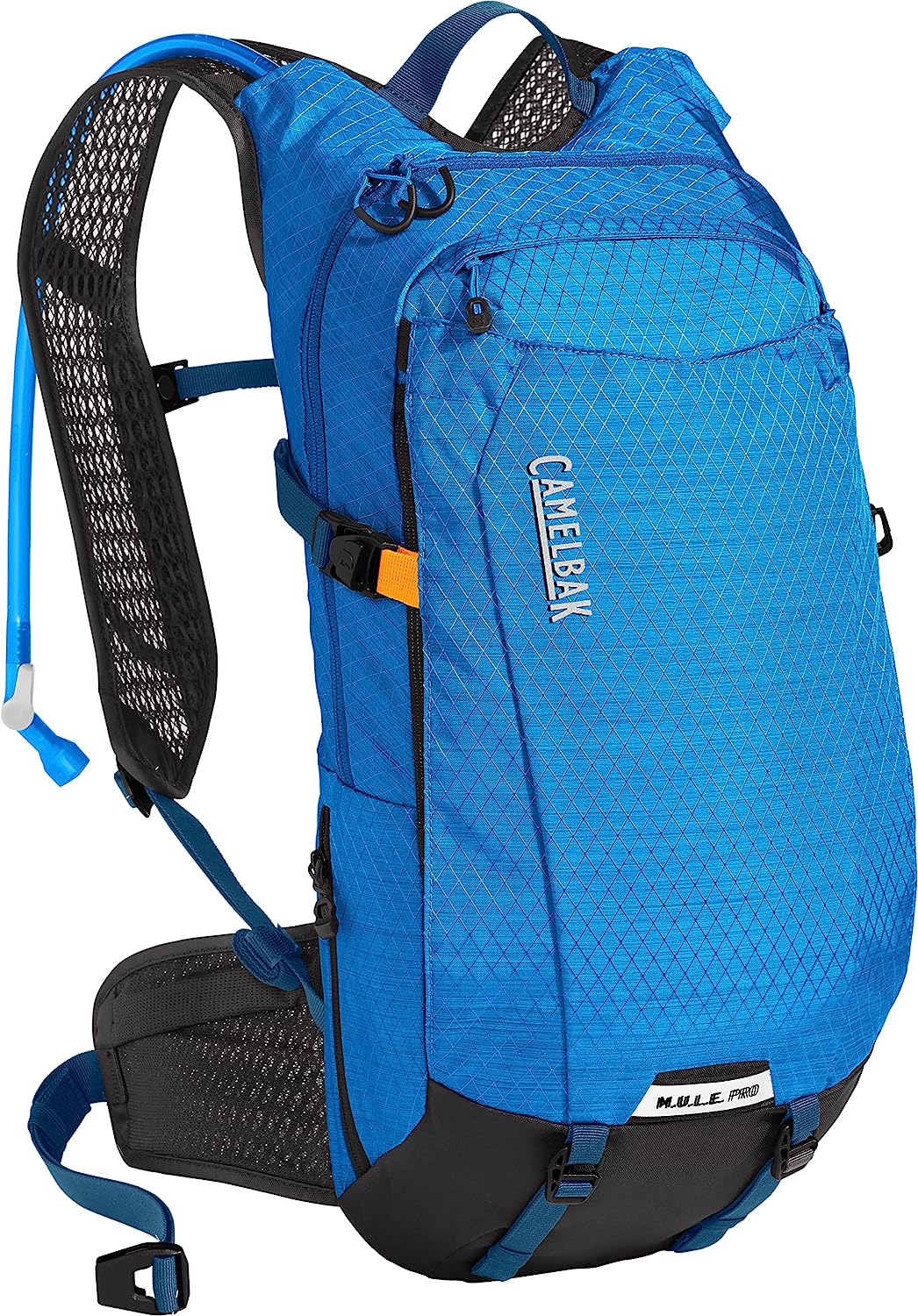 Capacity: 11L
Reservoir included: Yes (3L)
Weight: 1 lb. 14 oz. 
What we like: Big water reservoir, excellent ventilation, and optional impact protection available for another $55.
What we don't: Not a standout in comfort; sculpted backpanel eats into usable interior space.
If it's not readily apparent, CamelBak leads the charge in mountain bike pack offerings, and their top-end design is the Mule Pro 14—a souped-up version of their bestselling Mule hydration pack. In terms of best uses, the pack's larger capacity (the standard Mule is 9.5L), 3-liter water bladder, easy-to-use helmet carry, and highly breathable layout make it a great choice for long rides (the extra space also comes in handy if you haul kiddos around on a Mac Ride or Shotgun seat). For staying cool, there's extensive use of open-weave mesh on the shoulder straps, and the sculpted backpanel has suspended mesh to keep air flowing. And injury-conscious riders will appreciate that CamelBak offers a compatible impact protection panel for an additional $55—at $215 all in, the setup handily undercuts the $240 Evoc Trail Pro above.
Why is the Mule Pro ranked here? While it has a lot of great features, including a second battery sleeve for e-bikes, it lacks the refinement of our top picks. The contoured shape impacts comfort—the base is pretty firm, and we had some complaints about rubbing along our lower back. Usable interior space is also impacted by the backpanel, and we found it difficult to truly leverage the higher capacity with bulkier items like pads. Finally, in contrast to the brand's Skyline LR 10 above, the Mule's hose magnet (which sits on the sternum strap) doesn't hold well and pops off easily while riding. These complaints are enough to push the Mule Pro below alternatives like the Evoc Trail Pro (if you want back protection) and Osprey Raptor (for a traditional pack), but it remains a solid do-everything option. 
See the CamelBak Mule Pro 14  See the Women's CamelBak Mule Pro 14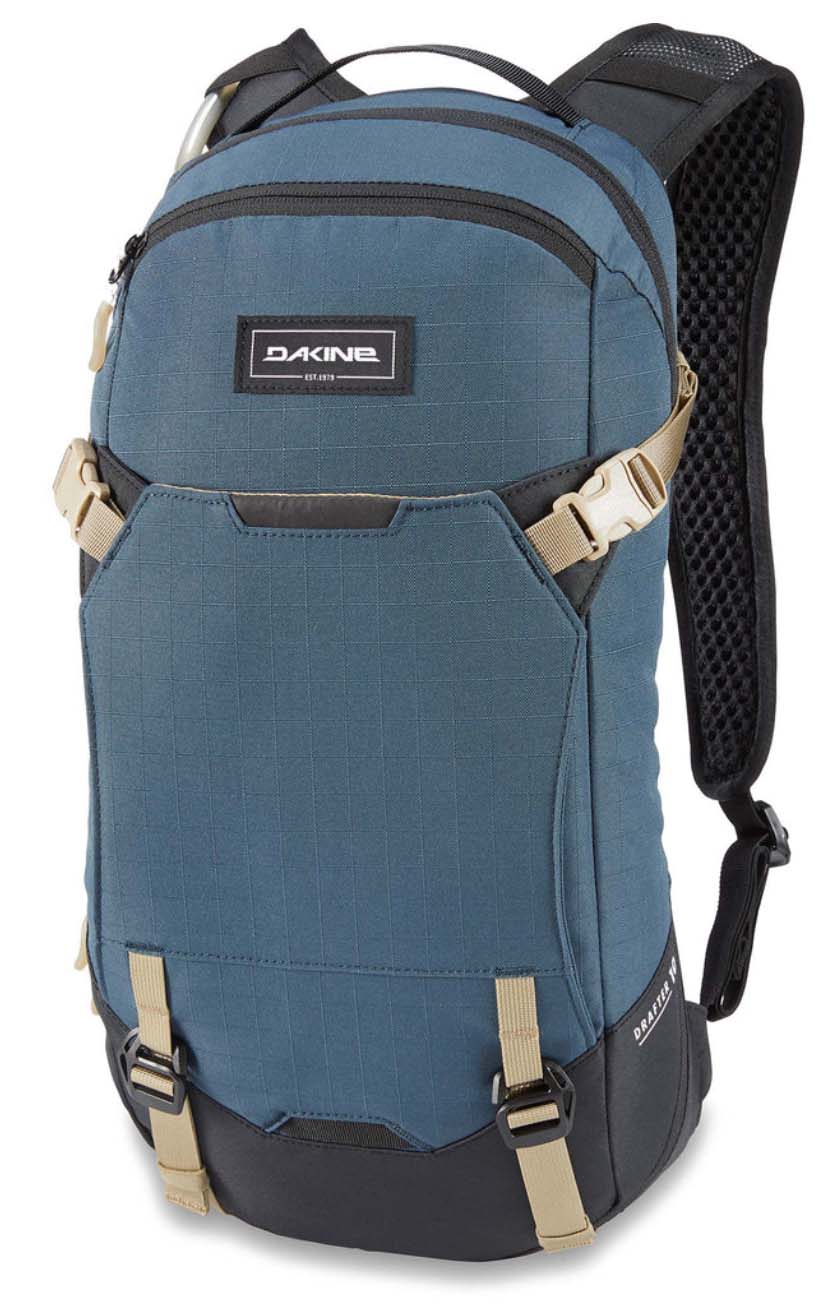 Capacities: 10, 14L
Reservoir included: Yes (3L)
Weight: 2 lb.
What we like: A well-made pack with a handful of unique features.
What we don't: Less comfortable and heavier than the Osprey Raptor 10 above.
Dakine first made its name in the surfing and windsurfing market in the 1980s, and the brand has more recently zeroed in on the winter sports and mountain biking spaces. The Drafter 10 here meets many of our pack needs: It has a versatile 10-liter capacity, durable construction, and very breathable backpanel design (it rose to the top in this category, alongside the Mule Pro 14 above). It has some thoughtful features, too, including compatibility with the brand's DK Impact Spine Protector (a $50 add-on), e-bike battery storage in the main compartment, and exterior straps that nicely accommodate knee pads. On paper—and on the trail—it checks many of the boxes for the average rider.
How does the Dakine Drafter 10 compare with Osprey's Raptor 10 above? The option for spine protection is unique to the Drafter, and we prefer its hydration hose design, which can be fed and secured along either shoulder strap rather than the across the body. They also differ in reservoir placement—the Dakine's is along the lumbar, while the Osprey's is vertically oriented. In this case, we think it's a wash: The lumbar location keeps weight concentrated lower, but the Osprey's is more evenly distributed and closer to your back. What pushes the Raptor ahead for us, however, is its very comfortable carry. We struggled getting a good fit with the Dakine, and the flared shoulder straps put extra pressure on the inside of the strap, which led to rubbing. Along with a minimalist waistbelt and the fact that it weighs an extra half-pound (something both our testers noticed), the Dakine can't match the standout carry-ability of the Osprey. 
See the Dakine Drafter 10L  See the Women's Dakine Drafter 10L
Capacities: 1.5, 3, 7L
Reservoir included: Yes (2.5L)
Weight: 12.5 oz.
What we like: An affordable pack that fits the essentials.
What we don't: Lack of structure concentrates weight on the shoulders rather than the hips.
The Osprey Katari 7 rounds out our list with a sleek build and sub-$100 price tag. Like with the REI Link 15 above, it's not all cost-cutting here: Even with its no-frills, essentials-only design, the Katari can carry a bunch of water (it comes with the same 2.5L Hydraulics LT reservoir as our top pick), is offered in three capacities (1.5, 3, and 7L), and features functional stretch side pockets for small items you want easy access to. For riders who need a lot of water but not much else—think multi-hour rides in hot or desert-like regions—the concept makes a whole lot of sense.
Unfortunately, the Katari has a few notable faults. Most significantly, all our testers complained that the pack puts essentially all the weight on your shoulders. Combined with a minimalist backpanel that priorities ventilation over structure, the pack felt floppy and bounced around far more than expected for such a lightweight design. And while we like the concept of the vertical main compartment zipper (similar to that of the Patagonia Dirt Roamer above), the Osprey only has one zipper, so you can't strategically open certain portions of the pack and will need to be mindful to prevent items from spilling out. In the end, it misses the mark for us, and we think the $10-cheaper REI Link is the more complete and well-executed budget design. But if simplicity wins out for you—the REI is admittedly pretty big with its 15-liter capacity—the Katari is a worth having on your radar.
See the Osprey Katari 7  See the Women's Osprey Kitsuma 7
Mountain Bike Backpack Comparison Table
| Mountain Bike Pack | Price | Weight | Capacities | Reservoir | Fabric | Helmet? |
| --- | --- | --- | --- | --- | --- | --- |
| Osprey Raptor 10 | $165 | 1 lb. 9.4 oz. | 10, 14L | 2.5L | 210D & 600D | Yes |
| REI Co-op Link 15 L | $80 | 1 lb. 6 oz.  | 10, 15L | 2L | Unavail. | Yes |
| Patagonia Dirt Roamer 20L | $159 | 1 lb. 8 oz. | 20L | 2L | 210D | Yes |
| Evoc Trail Pro 10 | $240 | 1 lb. 15.7 oz. | 10, 16, 26L | None | 200D | No |
| CamelBak Chase Vest 50 oz. | $105 | 10 oz. | 2.5, 6.5L | 1.5L | 40D & 135D | No |
| CamelBak Skyline LR 10 | $135 | 1 lb. 7 oz. | 7L | 3L | 70D & 210D | Yes |
| USWE Airborne 3L | $120 | 14.6 oz. | 3, 9, 15L | 2L | Unavail. | Yes |
| Thule Vital 8L | $160 | 1 lb. 3.4 oz. | 3, 6, 8L | 2.5L | Unavail. | No |
| CamelBak Mule Pro 14 | $160 | 1 lb. 14 oz. | 11L | 3L | 200D x 290D | Yes |
| Dakine Drafter 10L | $160 | 2 lb. | 10, 14L | 3L | 450D | Yes |
| Osprey Katari 7 | $90 | 12.5 oz. | 1.5, 3, 7L | 2.5L | 100D & 600D | No |
Mountain Bike Backpack Buying Advice
Mountain Bike Backpack Capacities
Like backpacks designed for other activities, mountain bike packs are available in a variety of capacities depending on your gear needs and the length of your typical ride. On our list above, designs range from the small and minimalist USWE Airborne 3L to the super spacious Patagonia Dirt Roamer 20L. For all-day and remote outings that require substantial water intake and a full workshop of tools, a bigger option like the Dirt Roamer or CamelBak Mule Pro 14 makes a lot of sense. If after-work hot laps are more your style, a smaller model like the Airborne or 2.5-liter CamelBak Chase Vest might be sufficient. And the sweet spot for many will be somewhere in between (including our top-rated Osprey Raptor 10). Below we break down the various pack volume ranges by category and best use(s).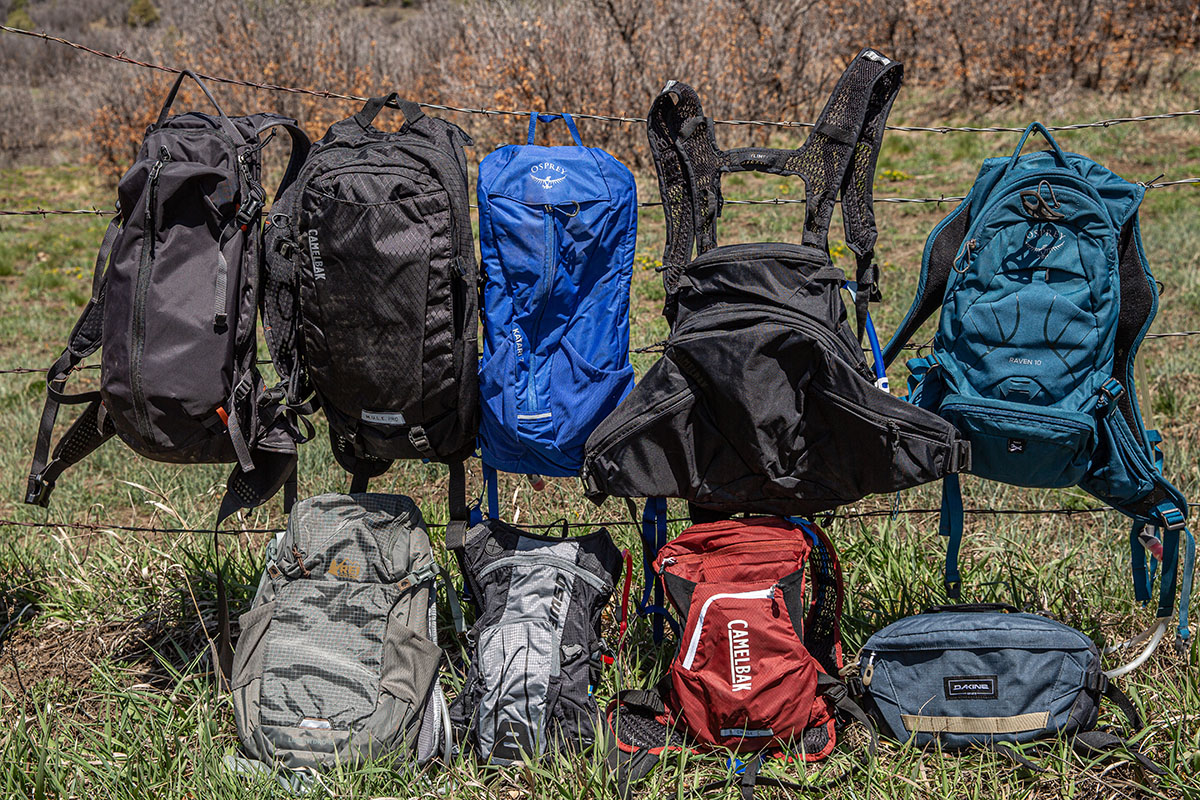 5 Liters and Under: Just the Essentials/Quick Rips
Packs with 5 liters or fewer of carrying capacity, like the USWE Airborne 3L and CamelBak Chase Vest, are best suited for quick rides that require minimal gear and water. That said, 5 liters can fit a surprising number of essentials: keys, a bike tools, a phone, a thin jacket (like the Patagonia Houdini), and a bar. This volume can also suffice if you have additional organization on your bike in the form of an under-seat tool bag or a storage compartment on (or in) your frame. And finally, small packs are a nice option for races when you're able to refill water and resupply at aid stations.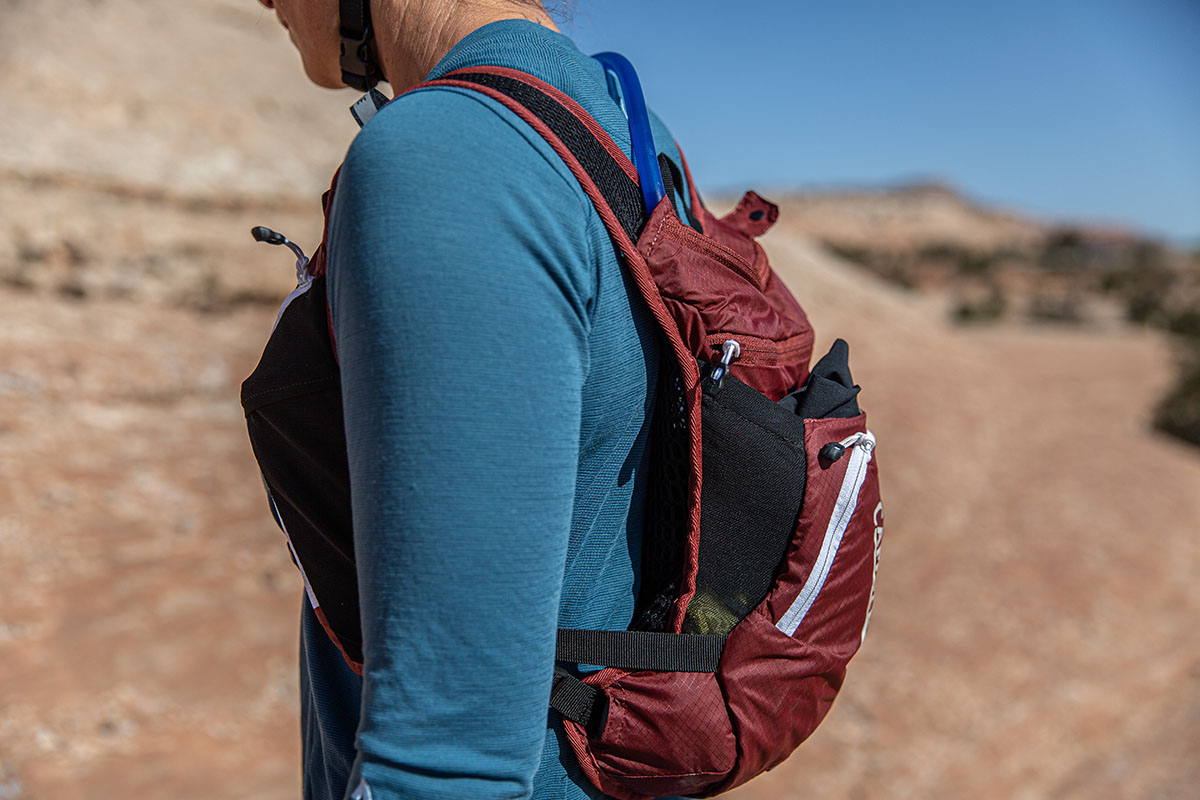 6-9 Liters: The Essentials "Plus"
If you're venturing out on a longer ride, you probably need space for the essentials and then some. With 6 to 10 liters, you can fit a more protective rain shell, additional water, and a heftier first aid kit. However, this capacity is a bit of a tweener size, in our opinion: slightly larger than minimalist designs (like the USWE Airborne and CamelBak Chase mentioned above) but not quite big enough to keep you comfortable and hydrated during all-day outings. In our experience, packs in the 6- to 9-liter range (like the Osprey Katari 7) are best for rides that don't last more than a few hours.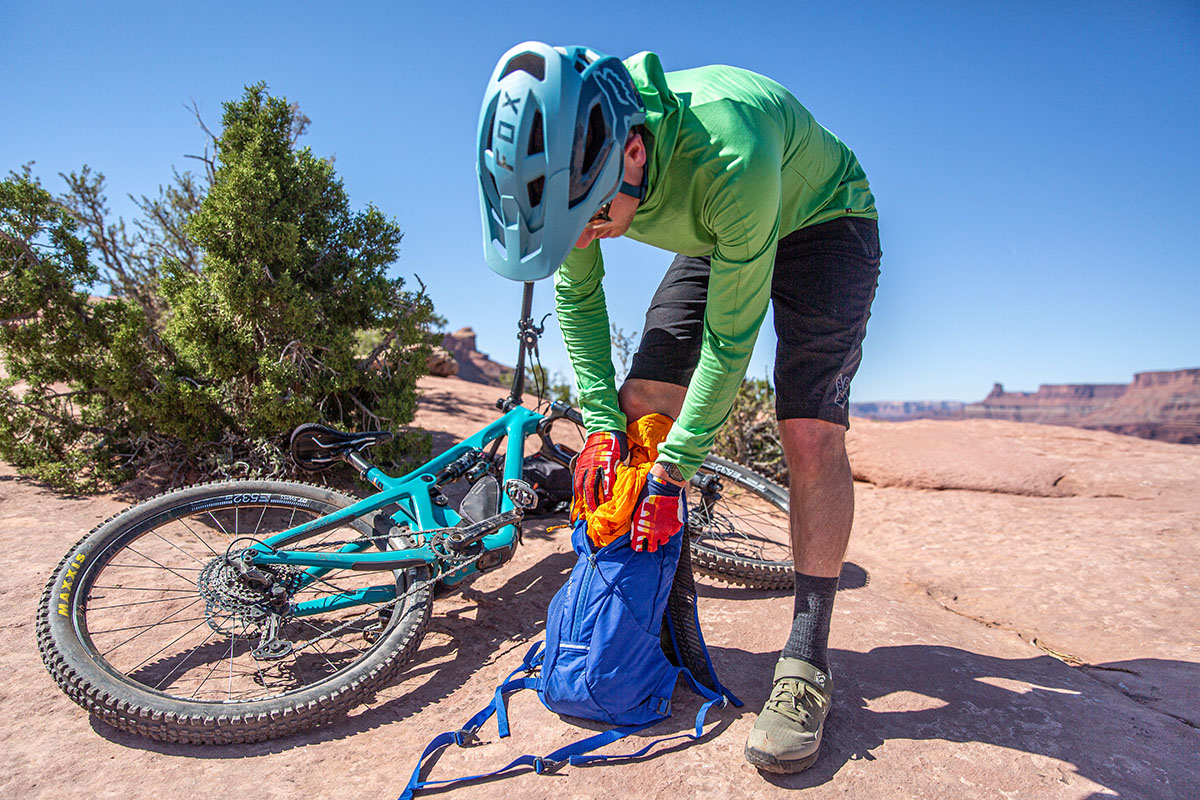 10-15 Liters: The All-rounder Capacity
The 10- to 15-liter volume is the goldilocks capacity for us and the range we'd go with if we had to choose just one pack. The versatility is hard to beat: You can use compression straps to reduce unwanted space during hot laps but then expand it into a voluminous pack for longer or more gear-intensive rides. At this volume, there's enough space to carry a couple liters of water, and you won't have to make as many compromises when packing (no need to decide between the brownie or the warm hat—bring them both!). We tested packs of this size on the Whole Enchilada in Moab—a classic big ride with 7,000 feet of descending —and had plenty of room to fill our reservoirs to the brim, stow additional layers for the cold morning, and bring an array of snacks and gels.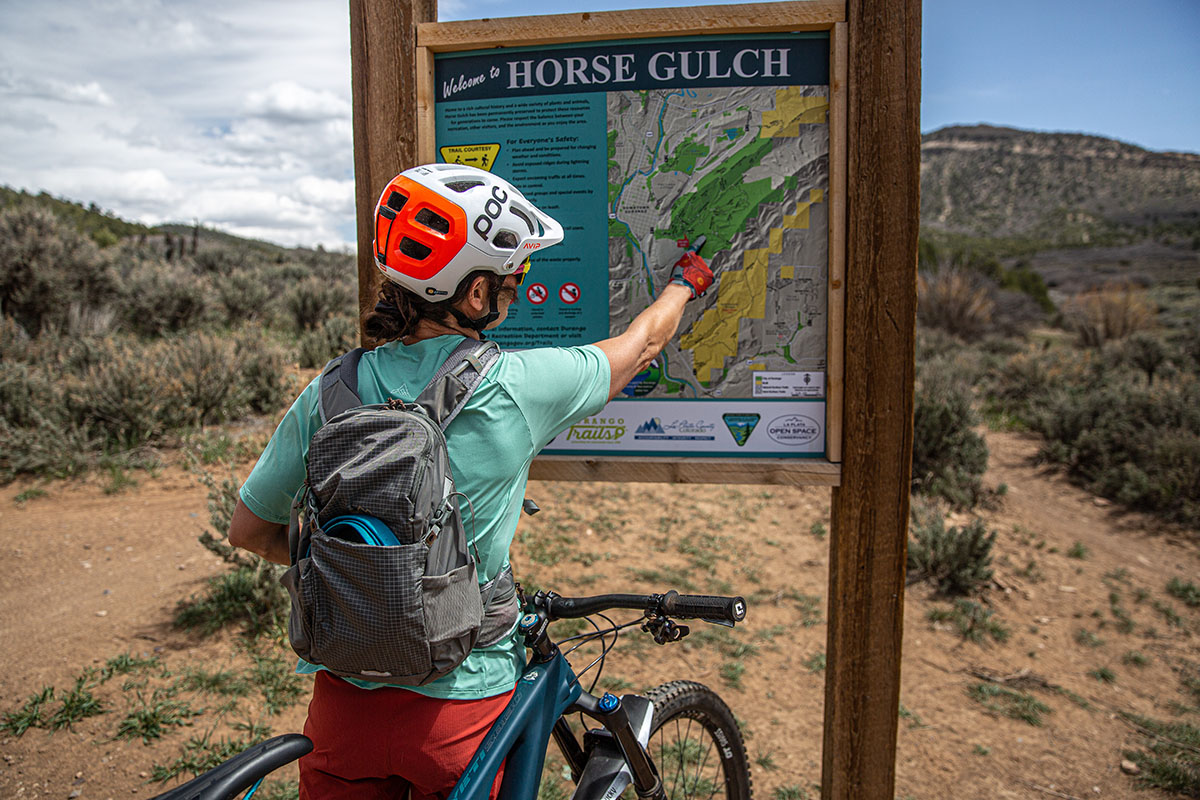 16L+: Long Epics and Gear-Intensive Days
If you're an adventurous rider who gravitates toward big, epic days like Gifford-Pinchot traverses and backcountry trips to the Chicoltins, a larger pack is likely your best bet. Packs in the greater-than-16-liter category, like the Patagonia Dirt Roamer 20L and Evoc Trail Pro 26L, provide ample space for multiple layers (even a puffy jacket) to accommodate unpredictable mountain weather. They have no problem fitting items like a water filter, robust repair kit, navigational gadgets, and even more specialized equipment like an SLR camera kit or trail work tools. Keep in mind that packs this big are more likely to feel unwieldy when stuffed full—you'll want to be cognizant of weight distribution when packing—and are decidedly overkill for the average ride, but they have their place for lengthy and gear-heavy outings.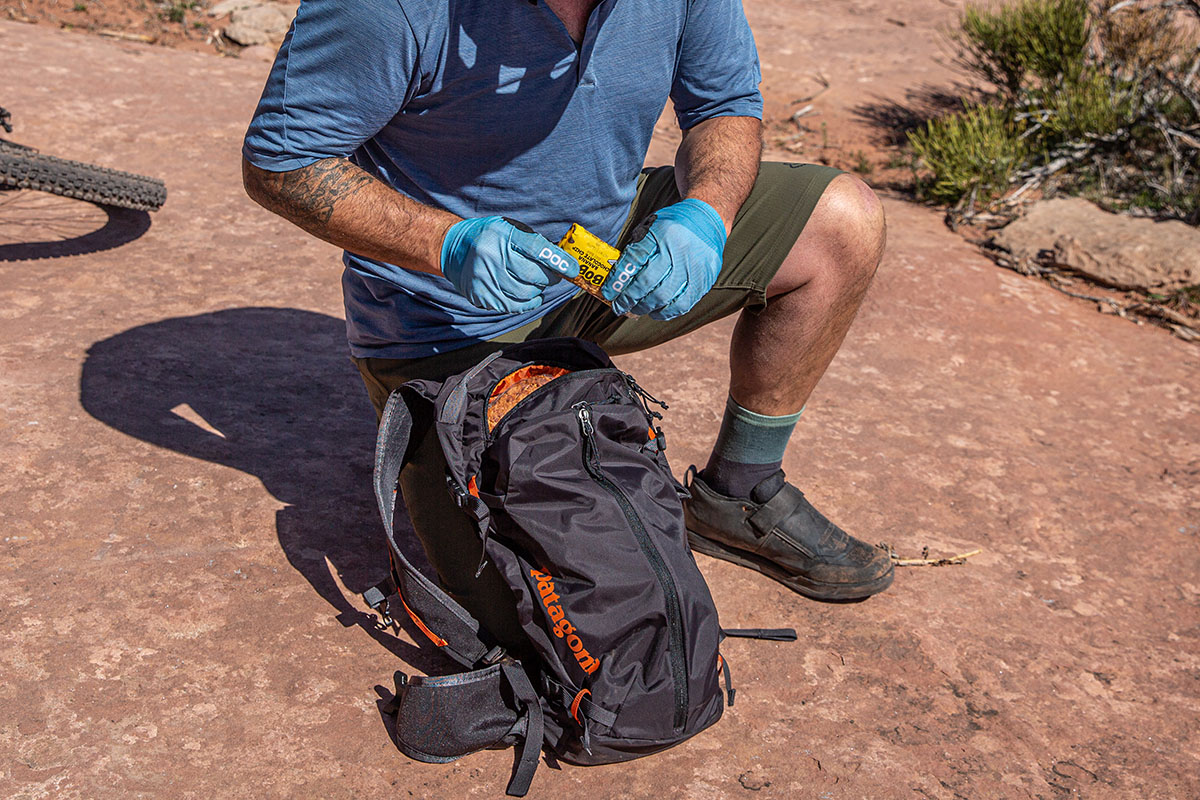 Carrying Comfort: Shoulder Straps and Hipbelts
Reading the product descriptions above, you'll see we make numerous references to pack comfort. A lot of factors come into play for a comfy-riding design, including fit and sizing (detailed below), but first and foremost are the shoulder straps and hipbelts. Starting with the former, we prefer light padding that offers enough cushioning for hauling a laden-down pack—a full water reservoir can weigh a surprising amount—but isn't so bulky that it feels like it's too far off your body. Additionally, shoulder strap shape is important, and you'll see a number of the best options have an opened-up, winged layout to reduce restriction and potential pressure points as you reach forward to the handlebars. In general, you get nicer padding and more thoughtful shoulder strap designs as price goes up, including on packs like the Osprey Raptor 10, CamelBak Chase Vest, and Evoc Trail Pro.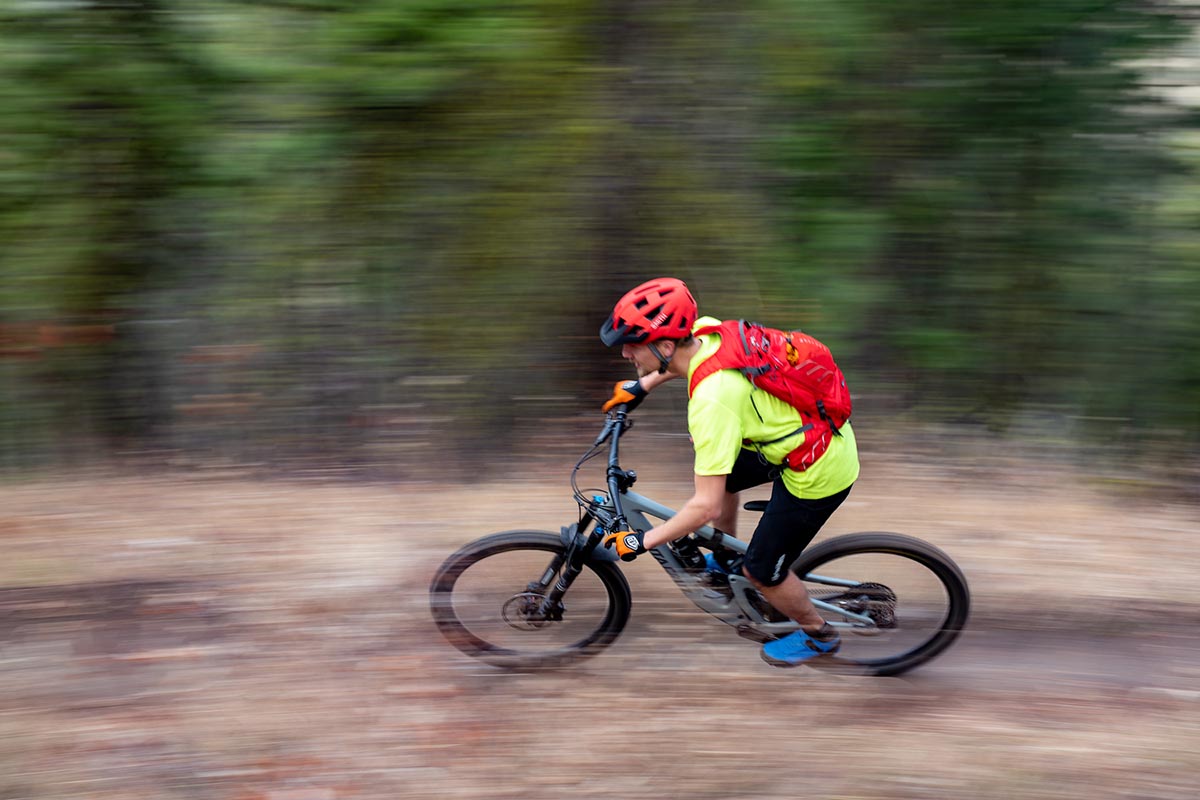 Hipbelts fall into two basic camps: webbing-only or wider shapes that feature a mesh lining. If you're wanting only the basics and don't plan to haul much weight or water at a time, a webbing-only belt like what's found on the Osprey Katari can do the trick. But there's a reason that pack is ranked at the bottom of our list—it's just not that comfortable. The webbing strap feels restrictive when you pull it snug, is unable to distribute much weight to take it off your shoulders, and doesn't do as good of a job keeping the pack from bouncing around through technical sections. As a result, if you're getting a standard backpack (i.e., not a vest-style design like the CamelBak Chase), we think it's worth opting for a wider belt. Most are very lightly padded and have a wider shape at the hips that keeps the pack close to you for better support, and some include pockets for small items like snacks.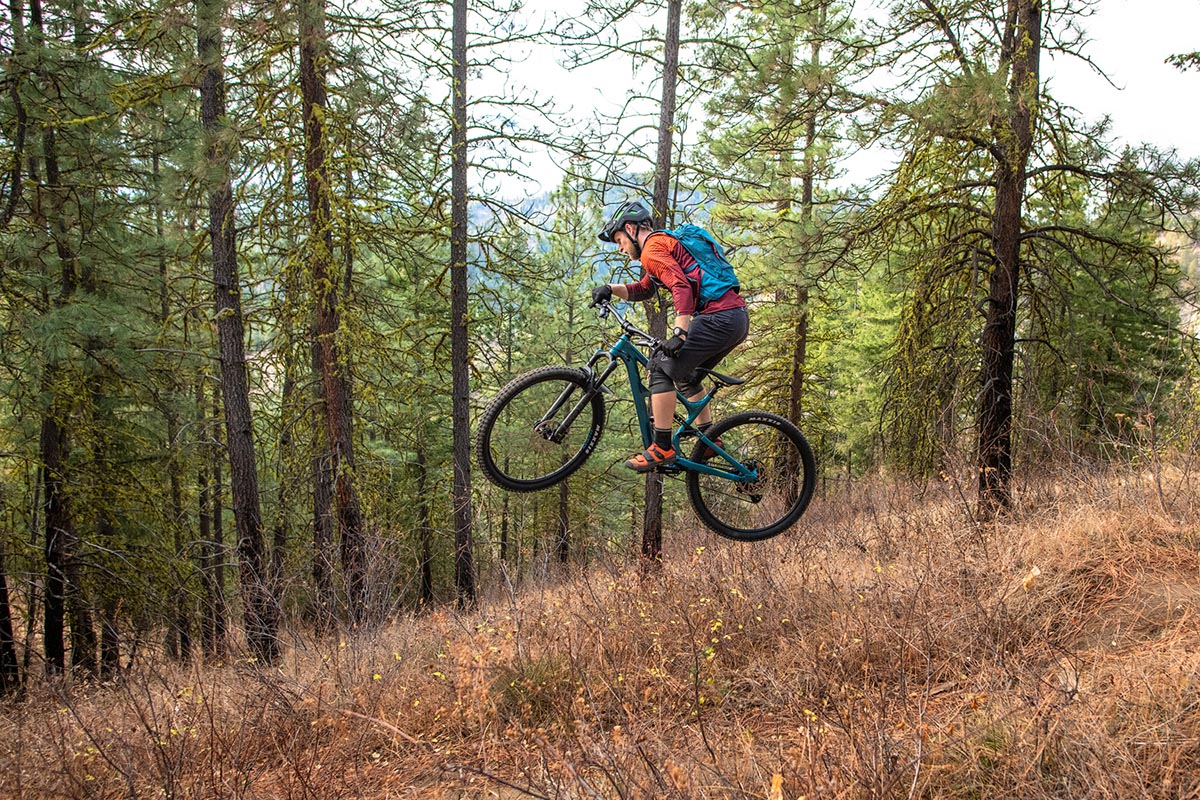 Pockets and Organization
It's hard to capture your friend sending a rock-roll with a cracked phone, and no one likes a soggy, squished granola bar. For these reasons (and many more), well-designed pockets and compartments are an important consideration when choosing a pack. Some riders prefer the simplicity of a single large pocket (like what you get with the Patagonia Dirt Roamer), while others will appreciate a wider assortment of smaller spots for keys, a wallet, a phone, and bike tools. It's also nice to have a separate space or external straps to stash a wet or muddy layer without dirtying or soaking your other gear. Final organizational features to consider include a dedicated tool kit pouch, a helmet attachment (like Osprey's LidLock mechanism), an e-bike battery pocket, a water bladder sleeve (which we cover more in depth below) and a blinker light attachment—just to name a few.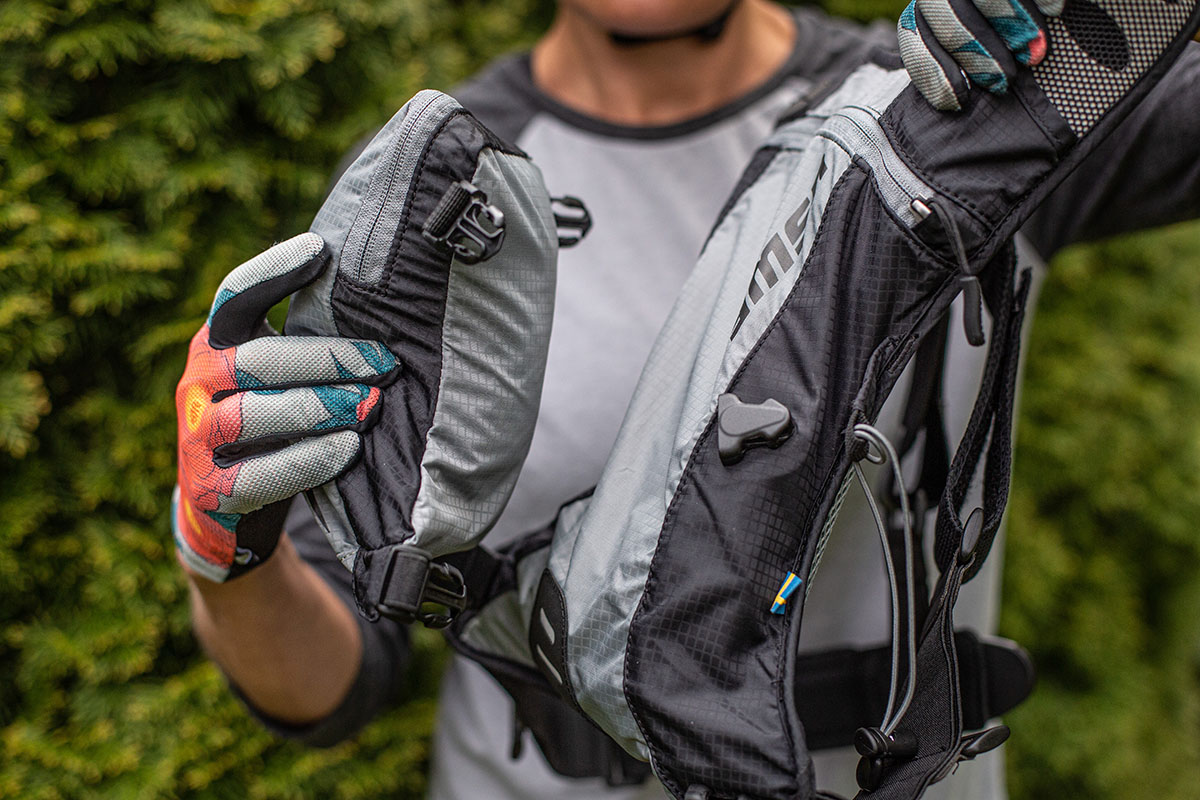 In general, we've found that most mountain bike packs don't prioritize pocket accessibility—perhaps as a way to discourage fumbling with gear while riding. That said, we appreciate the ability to quickly retrieve items like a snack or our phone, because stopping and taking off a backpack just to grab a bite of a granola bar can be a real annoyance. A few designs above are better equipped for the job than most. The CamelBak Chase Vest, for instance, has handy pockets on the shoulder straps (one major draw to the vest style), while the Evoc Trail Pro boasts large hipbelt pockets that are easy to access while riding.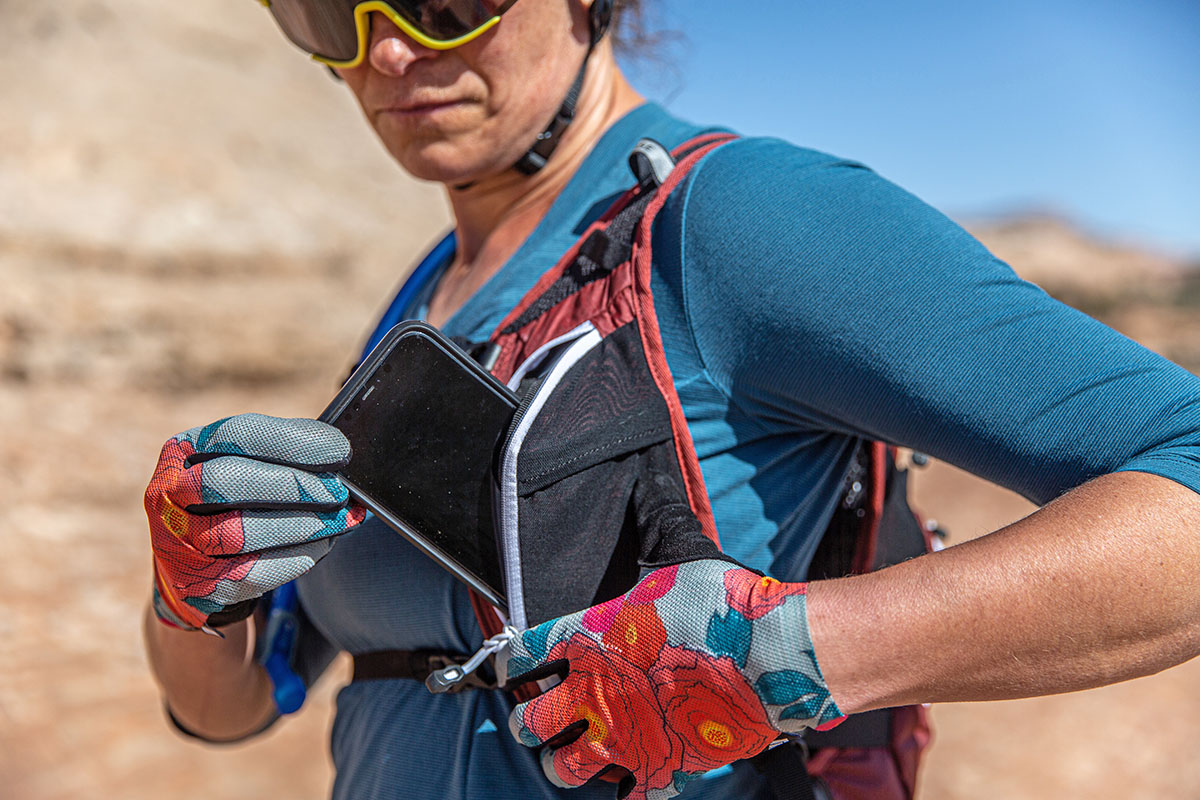 Hydration Reservoirs
Most mountain bike packs come with a hydration reservoir (also commonly referred to as a bladder), but some brands, like Evoc, require that you purchase one separately. On our list, Osprey, REI, Dakine, Patagonia and USWE all use HydraPak-brand reservoirs (though they might add their own design features), while CamelBak uses their own line of bladders. Below we break down important design considerations between the various sizes and styles.

Reservoir Capacities
Hydration-equipped mountain bike packs generally come with a reservoir in the 1- to 3-liter range—and most of the time, this decision is made for you when you purchase your pack. For example, the REI Co-op Link 15 L features a 2-liter reservoir, while the CamelBak LR 10 comes with a 3-liter bladder. That said, it's often possible to mix and match reservoirs. If you're biking in particularly warm weather or know you'll be out for a long time without the ability to refill, bumping up to a larger model can be a good idea—just make sure it fits inside your pack. And while it's also possible to swap in a smaller-capacity reservoir, the easier solution is to just fill your existing bladder halfway. Pro tip: If you go this route, invert the reservoir after filling and suction out air through the hose to mitigate sloshing.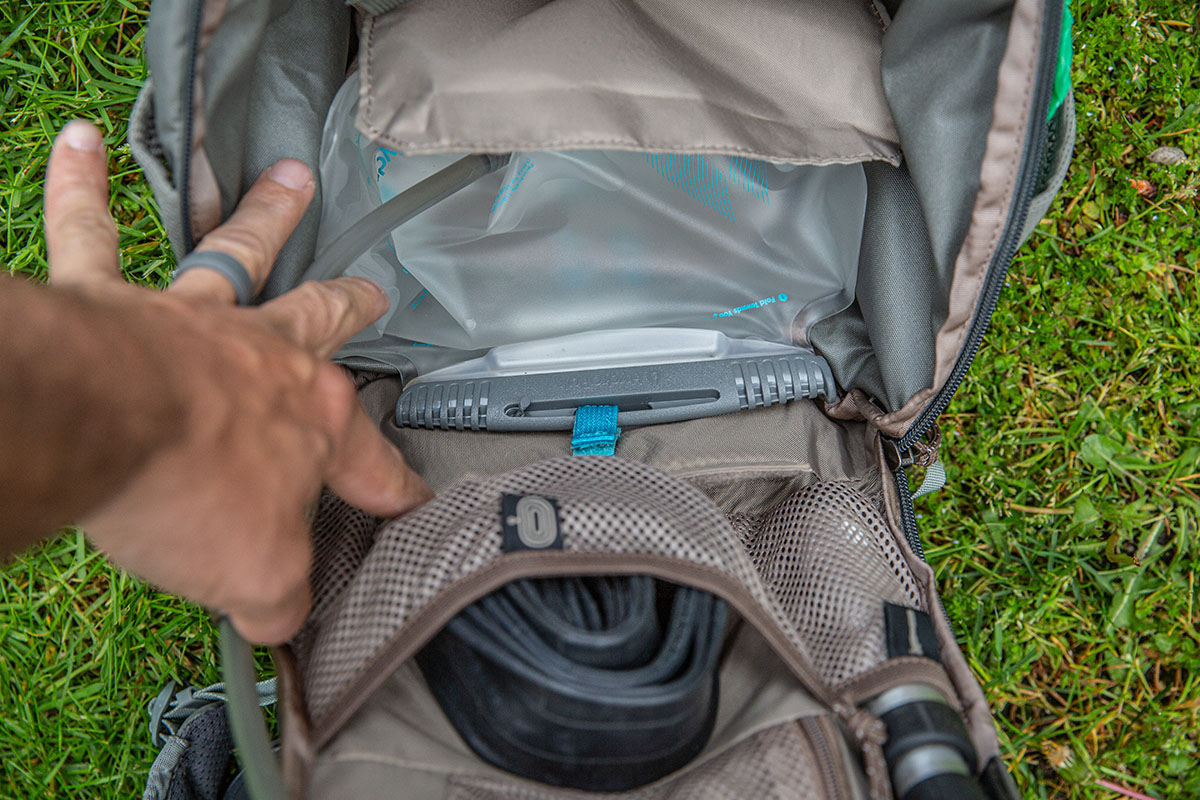 Openings Styles: Slider vs. Twist Cap
Reservoirs generally feature one of two primary opening mechanisms: a top opening that folds and seals with a slider (like those from HydraPak) or a large, threaded opening with a twist-off cap (like those from CamelBak). The slider on a HydraPak bladder is arguably easier to fill solo thanks to the bigger opening. We've also found the lid on many CamelBak designs to be a bit finicky—we've soaked our packs after failing to line up the threads precisely or tightly enough on several occasions. This is largely a matter of personal preference, however, and the opening style on your bladder may or may not be an important consideration for you.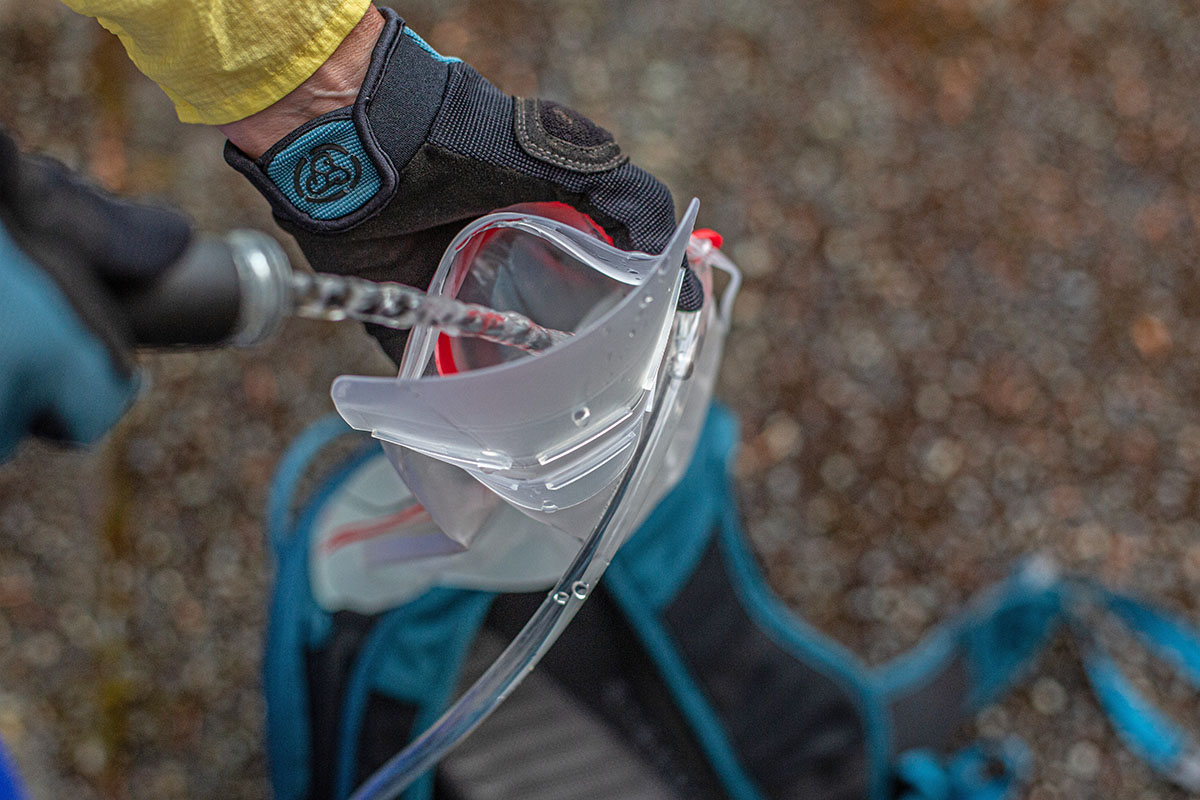 Bite Valves
Bite valves are a convenient way to hydrate while pedaling, and the mechanism is very simple: Gently compress the valve by biting down, and water will begin flowing through the hose as you suck. The primary difference between valves is the on/off mechanism: CamelBak's and Osprey's feature a lever, while most HydraPak designs twist open and closed. We've found the majority of bite valves are fairly easy to use and leak-free, although we've found that CamelBak's require less suction, which is certainly a bonus (they claim their Crux reservoirs offer 20% more water per sip, which lines up with our experiences). Bite valves are imperfect and occasionally fall off—we've already lost one on our Patagonia Dirt Roamer—but fortunately, it's an easy and cheap (typically under $10) replacement.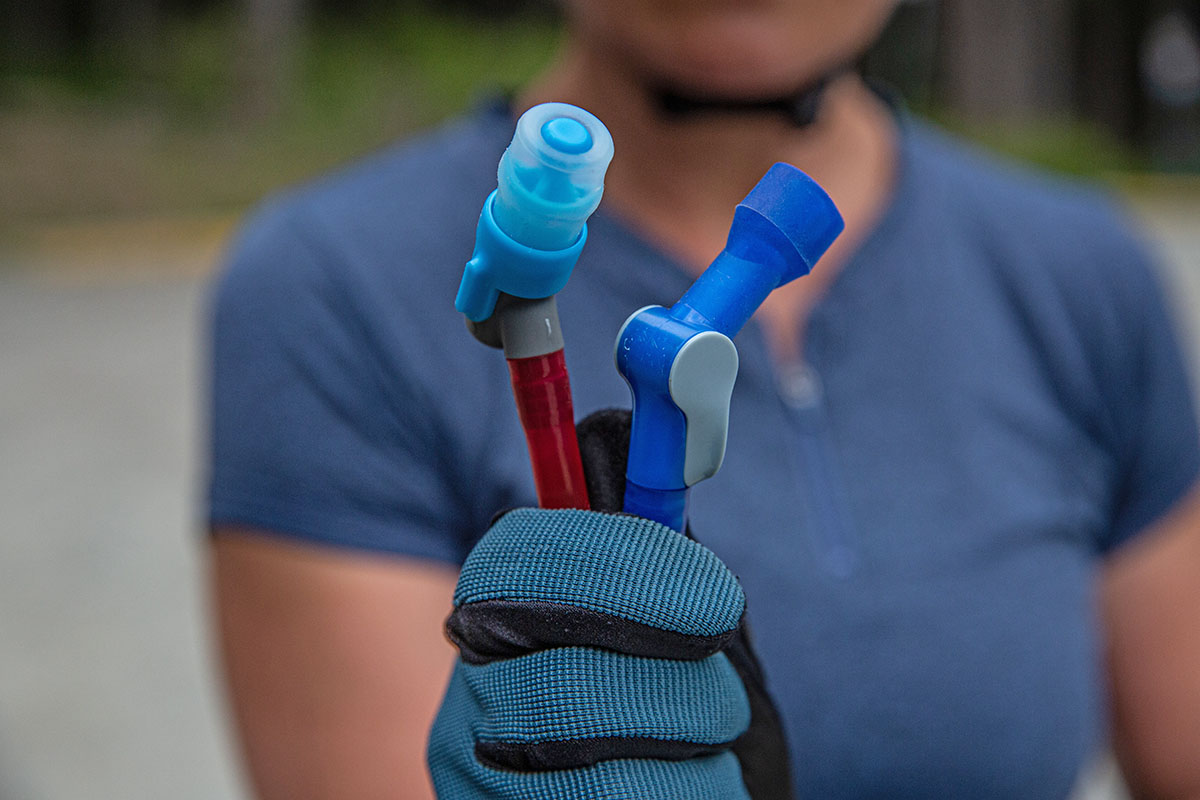 Hose Attachment: Magnet or Clip
When you're pumping corners and scaling rooty trails, your hands aren't free to reach to resecure your bladder hose as they might be when you're running or hiking. With that in mind, we really value an easily accessible hose attachment, and especially one that doesn't flop around while riding. Most hoses are held in place by a quick-release magnet or clip. The majority of packs above use the former, which makes attaching and unattaching very easy—place the magnets close to each other and let physics do the rest. The magnet is located either across the body on the sternum strap (common on Osprey packs but also found on the CamelBak Mule Pro) or on the same side as the hose (like the Dakine Drafter and Thule Vital).
Of note: We've found that the hose occasionally squiggles out of place with the across-the-body design. To combat this, Patagonia, REI, and most CamelBak packs have a clip to keep the hose in place, which involves unclipping it in order to sip—a somewhat tedious step to execute while riding, but arguably worth the effort for the added security.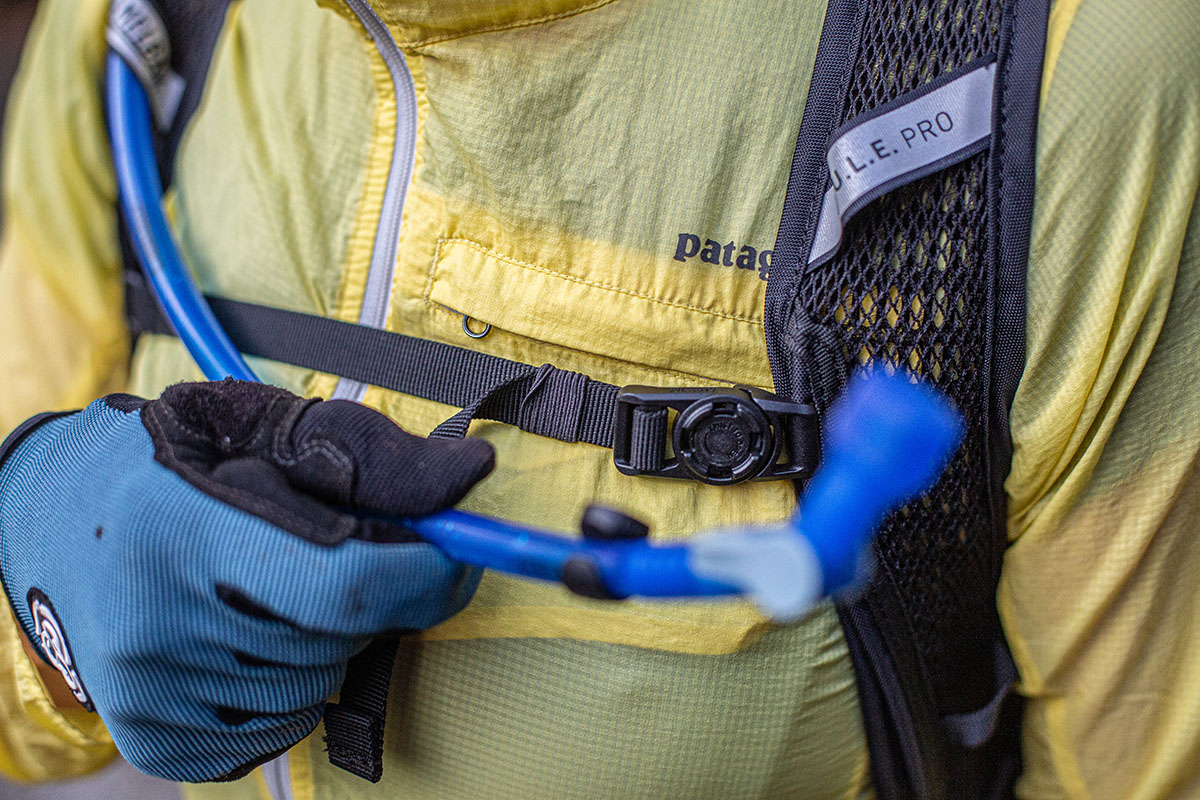 Reservoir Shape and Placement
Water is heavy and prone to leaking, so the location of your reservoir is a detail that shouldn't be overlooked. Some packs, like the Patagonia Dirt Roamer, house the reservoir in a separate compartment to ensure it's protected from sharp equipment (and to help keep your gear dry if it leaks). Others have a sleeve inside the main compartment with a clip for suspending the reservoir to keep it from slipping downward as it empties.
There are also differences in bladder positioning: Some packs have vertically oriented pockets, so the reservoir lays flush against your back, while others (like the CamelBak Skyline LR 10 and REI Link 15) position the bladder low on the lumbar spine. This will largely come down to what feels most comfortable for you, but we've found the low reservoir placement to be great in terms of overall stability. Finally, it's important to note that some bladders—including those that come with the LowRider and Dakine Drafter—are specifically designed to fit in their respective pockets, meaning they can't be transferred between packs.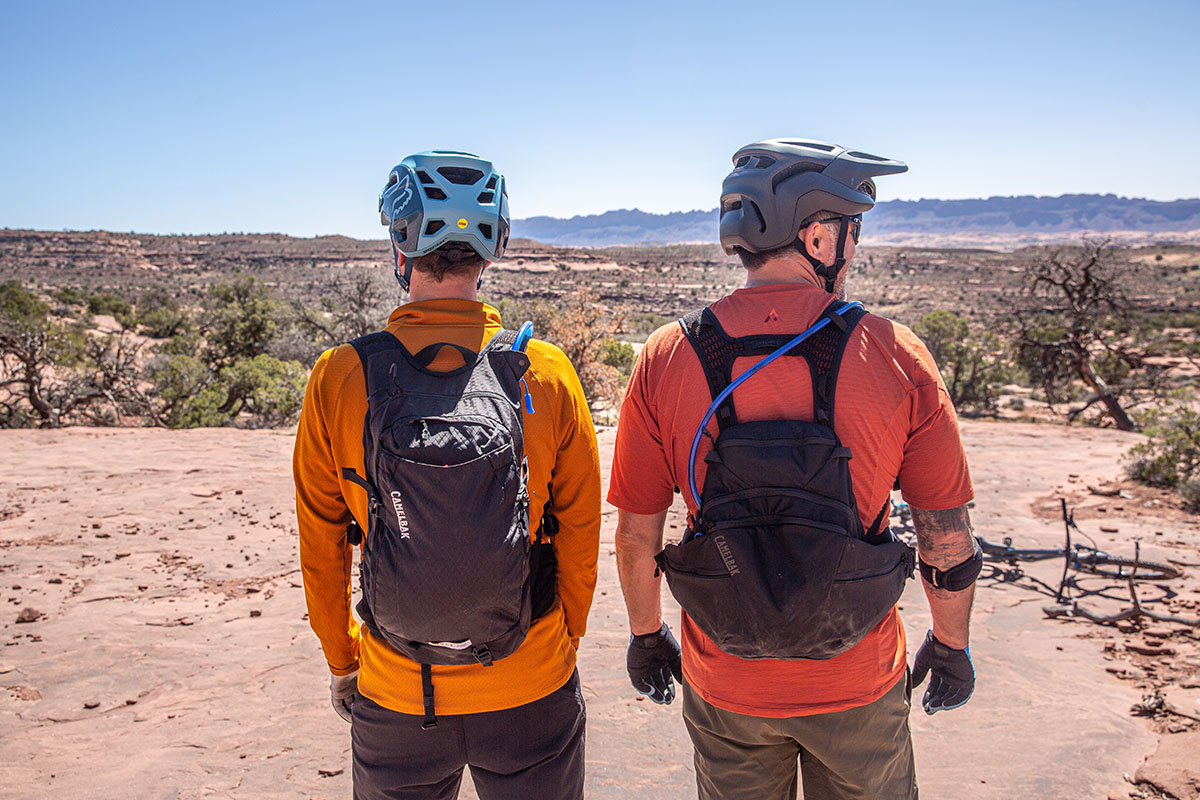 Additional Mountain Bike Pack Features
Helmet Attachment
A dedicated helmet attachment system is nice if you're looking to stow your lid during an uphill car shuttle, on a hike-a-bike section of trail, or grabbing a bite après-ride. Some riders also carry their bike helmet on their pack during long climbs on forest service roads, particularly in hot conditions. Depending on your use of the feature, this could be an important consideration or inconsequential (we land on the former). But few things scream "gaper" more than a helmet dangling by its chin strap, bouncing and clanking around as you walk into the brewery after your ride. If you anticipate using a helmet carrying system, designs range from quite simple (like the compression straps on the REI Link 15) to fairly sophisticated (like the chin strap slot on the CamelBak Mule Pro). Our favorite is Osprey's LidLock system, which is essentially a well-laced bungee strap with a rigid plastic plate to secure the helmet in place.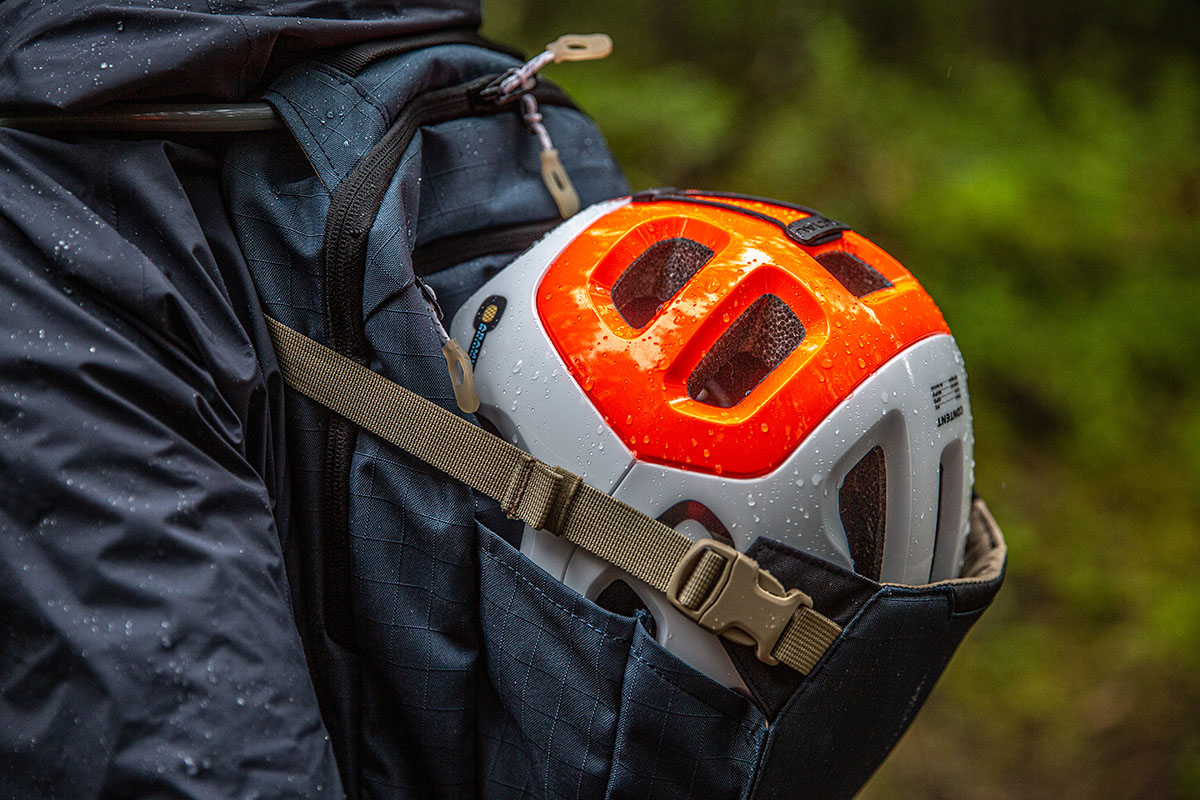 Integrated Back Protection
Riders pushing their limits and learning new tricks may benefit from a pack that incorporates back protection, like the Evoc Trail Pro. How it works: An impact-absorbing panel at the back safeguards your spine against rocks and other sharp objects that could cause damage during an unintentional spill while also preventing it from overextending. Importantly, there are two levels of protection available, and both the Evoc Trail Pro and CamelBak Mule Pro (with the $55 Impact Protector Panel add-on) boast level 2 protection (EN 1621-2), which meets the highest standard for impact absorption in the event of a crash.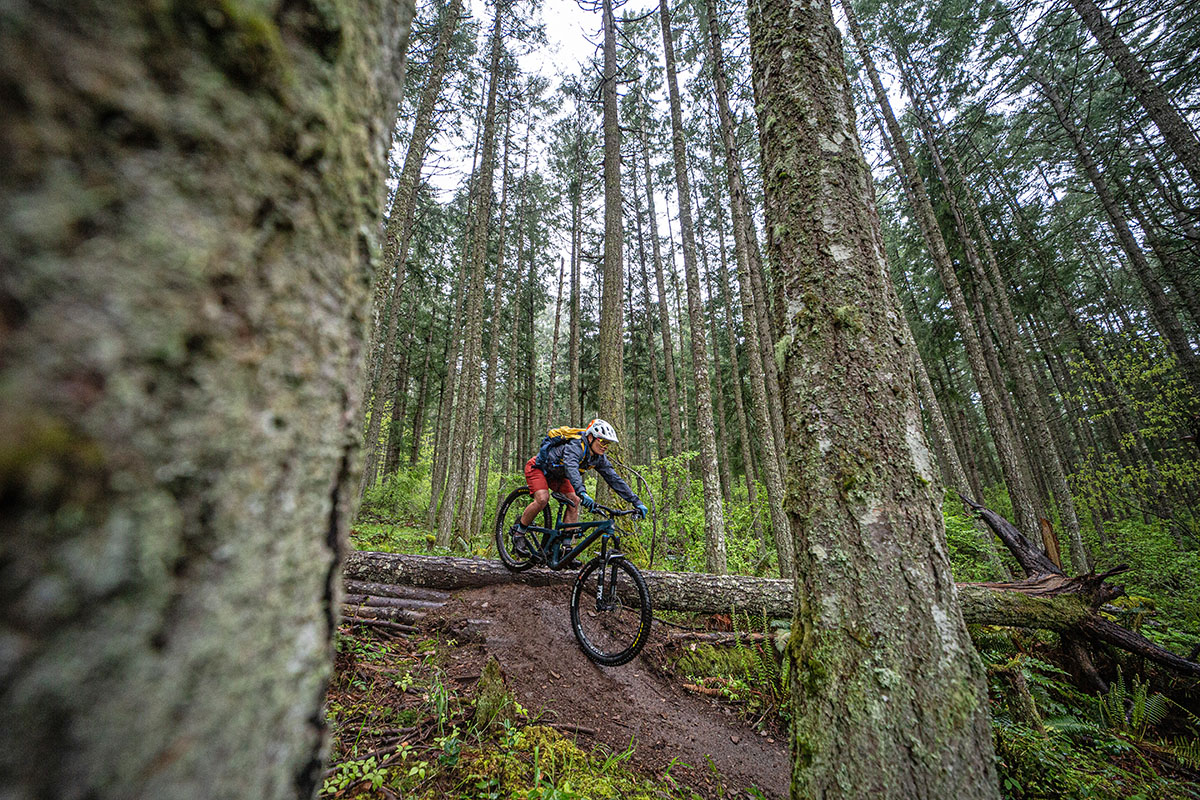 In terms of downsides, protector panels inevitably add weight and bulk, but the good news is that they're removable for less demanding rides. This also means they're easy to replace—like a mountain bike helmet, a back protector's integrity is compromised once impacted, and we highly recommend purchasing a new panel after a crash. Of note: Evoc will evaluate any of their protectors' integrity and send a replacement for free if it's been damaged.

Fit and Sizing
Friction points are inevitable during long days in the saddle, and it's essential that you find a pack that fits. In addition to being more comfortable, a well-fitting pack will also feel more stable while riding. Most designs are only offered in a single size (the Evoc Trail Pro and Patagonia Dirt Roamer are two exceptions), but the good news is that adjustable sternum, waist, and shoulder straps are nearly universal. With the ability to move and adjust the straps, we've had no issues sharing a pack among riders of multiple sizes. No two bodies are the same, however, and we highly recommend trying packs on before you buy to ensure you can get a snug (but not restrictive) and comfortable all-around fit.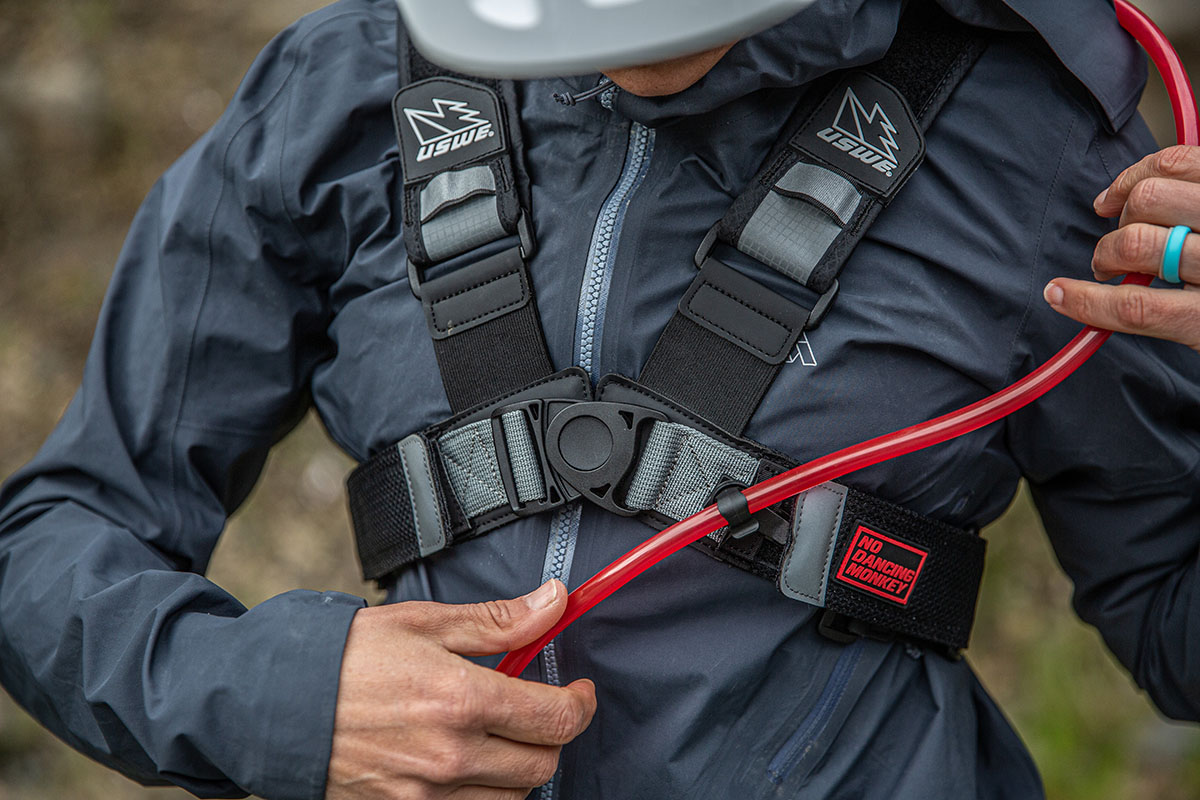 Women's-Specific Mountain Bike Packs
While most of the packs on our list (and on the market) are one-size-fits-all, many do come in a women's-specific version. However, the differences between men's and women's designs are relatively minor. In the case of the Osprey Raptor (men's version) and Raven (women's), the Raven has a slightly shorter torso length and comes in different colorways. For the Mule Pro, CamelBak states that the women's model has a different fit and shape than the men's version, including a more contoured shoulder harness. In the end, we recommend going with whichever model fits and feels best—regardless of the labeling.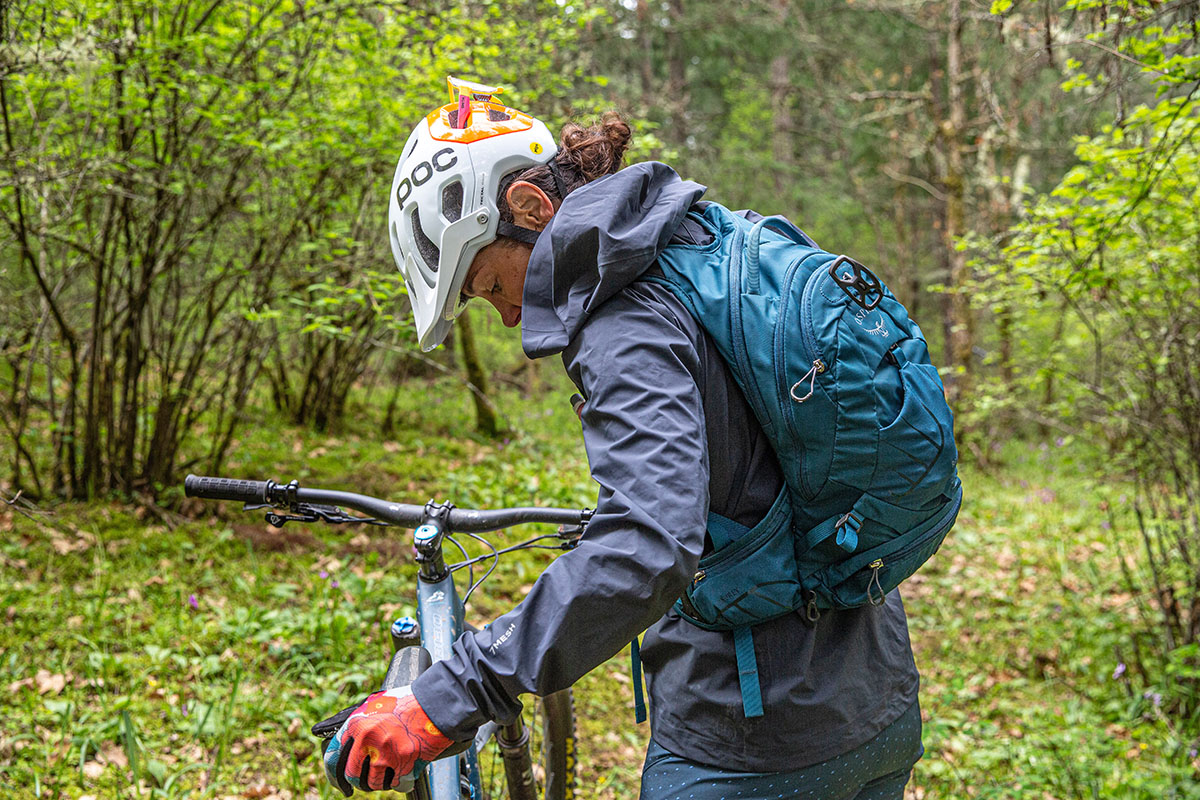 Breathability and Ventilation
Since mountain biking is a highly aerobic and often sweaty sport, breathability is a top consideration for many riders. And while many of the packs we tested advertise ventilated backpanels and sweat-wicking technology, overall performance varies quite a bit—striking a good balance between a snug fit and maximum airflow is no small feat. The Patagonia Dirt Roamer and CamelBak Chase Vest, for example, sit close to the back and don't rank highly in terms of overall ventilation. Conversely, the mesh backpanels on the CamelBak Mule Pro, Dakine Drafter, and Osprey Raptor/Raven are positioned farther away from the body (or have offsetting to padding to create some space), allowing air to flow between your back and the pack. We called out any notable outliers—on both sides of the spectrum—in the write-ups above, but if you tend to run warm or prefer long, hard days in the saddle, you'll likely want to opt for a suspended mesh design over a close-fitting backpanel.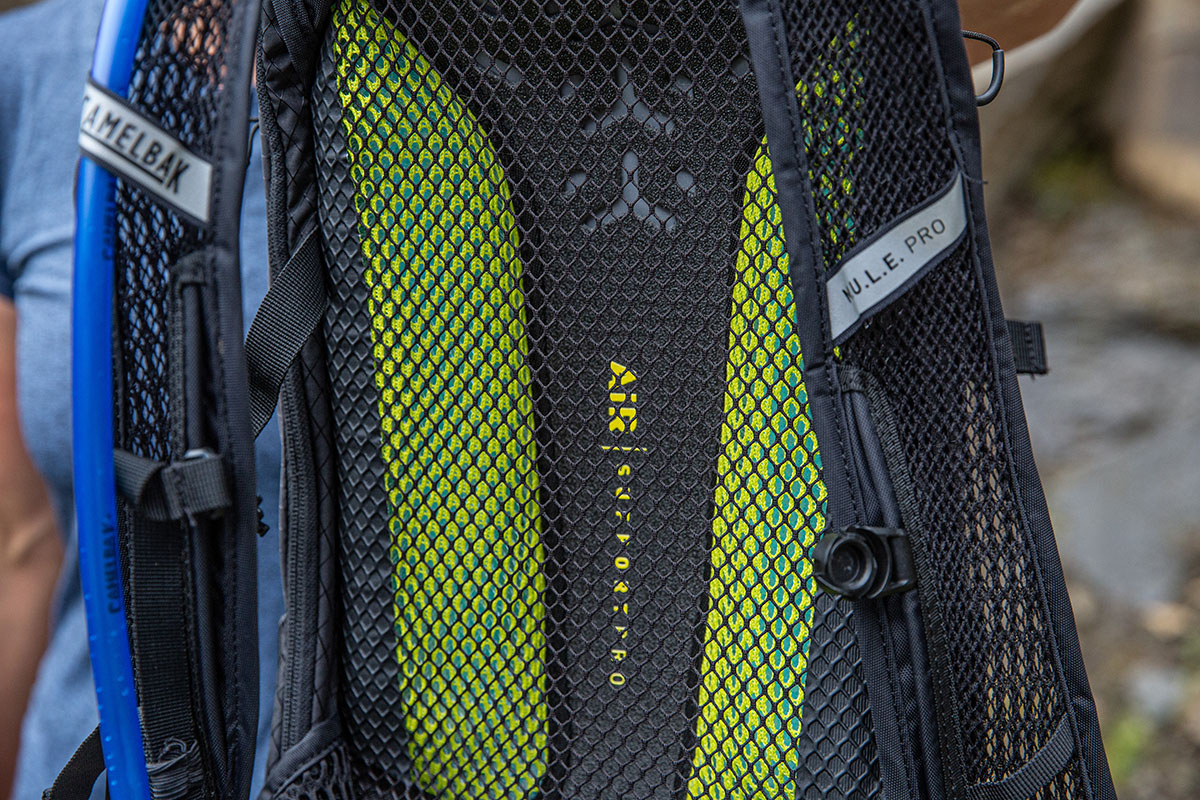 Pack Weight
Pack weight is dependent on multiple factors, including capacity, fabric thickness, and number of features—among others. On our list above, the lightest option is the CamelBak Chase Vest at a scant 10 ounces, while the heaviest is Dakine Drafter 10L at 2 pounds even. While that's a relatively small range, it's important to consider what you're getting for the added heft. In the case of the Dakine Drafter, that means thick fabrics that hold up well to long-term use, dedicated e-bike battery storage (among myriad other pockets), and exterior straps for accommodating bulky items like knee pads. By contrast, the Chase Vest is decidedly minimalist with its streamlined coverage, flimsier build, and limited feature set.
A final consideration is the weight of your typical load—stuffing the lightweight Chase Vest with an SLR camera and extensive toolkit would likely make for a bouncy, unwieldy ride. If you're partial to long days in the saddle that require a lot of gear, we'd recommend going with a burlier (i.e., heavier) pack. From our experience, the most balanced designs land in the 1- to 2-pound range.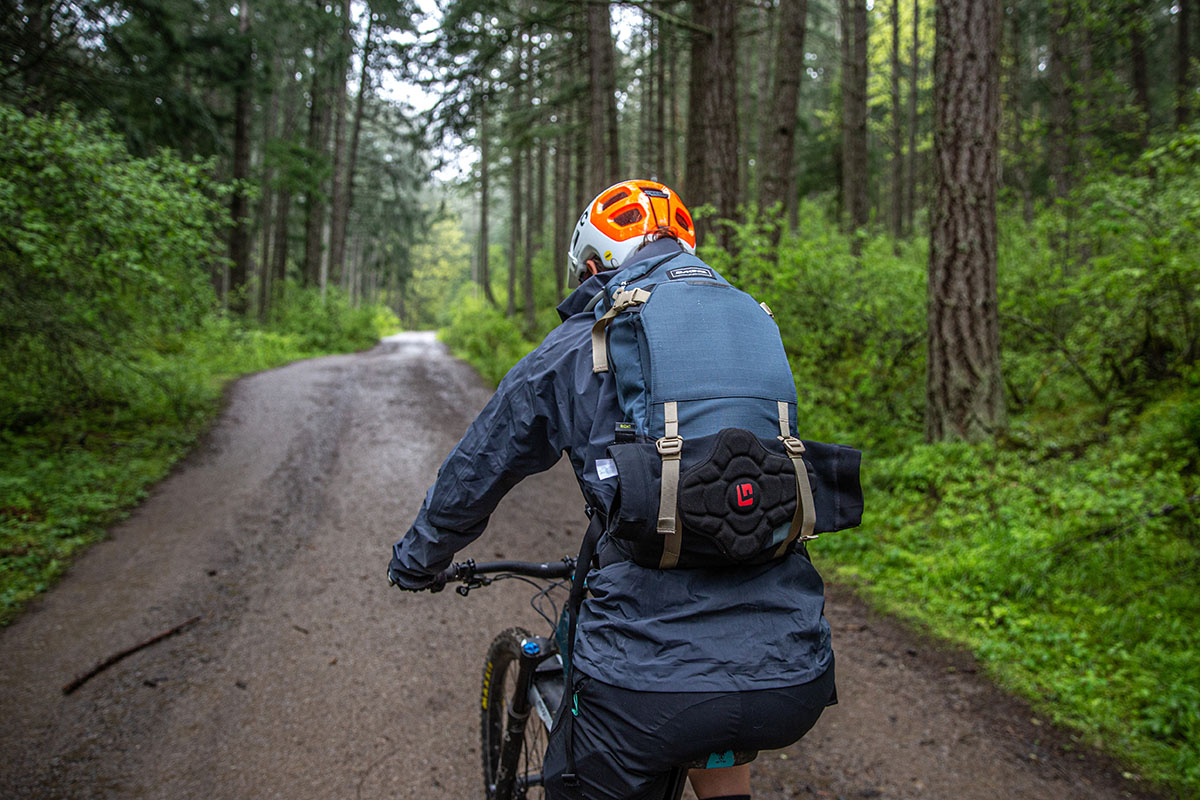 Build Quality and Durability
Given the inherently rough nature of mountain biking, the packs above are all designed to withstand considerable use and abuse. However, some are better equipped for the job than others. Fabric denier is a common measurement of fabric thickness, and we've included the listings for the pack body when available in the table above. Materials like heavy-duty nylon (often 200 denier and up) as well as strong, waterproof zippers are good indicators of overall durability. While none of the packs above threatened to unravel at the seams during testing, there were a few that stood out in terms of all-out toughness and build quality, including the Evoc Trail Pro and Dakine Drafter—the two heaviest designs on our list, which is no coincidence.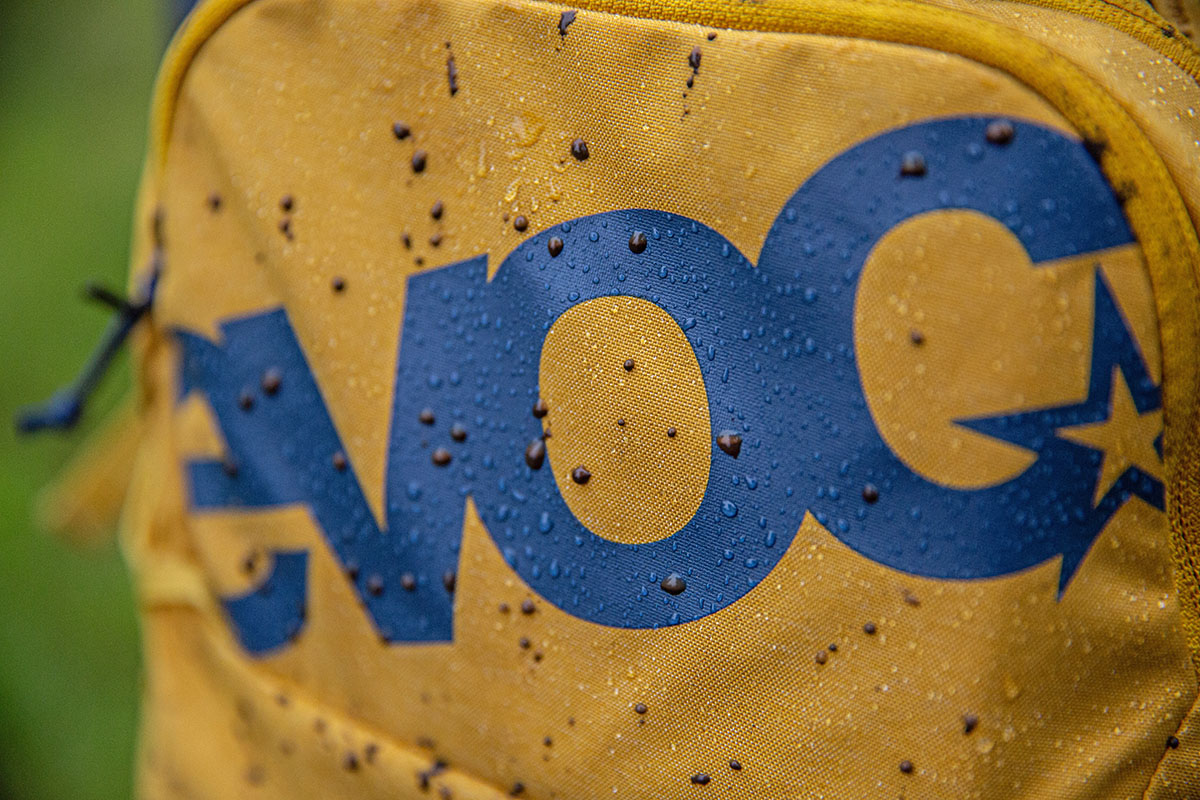 Mountain Bike Backpacks vs. Waist Packs
Out on the singletrack, you'll likely encounter folks who are adamant wearers of waist packs (also known as hip packs or fanny packs) and others who are proponents of traditional backpacks. At the end of the day, a decision between the two designs largely boils down to your intended use(s) and personal preference. By nature, backpacks tend to have more volume (7-25L), which translates to more water-carrying capacity and additional space for a windbreaker, snacks, and tools—a great fit for longer days out. Waist packs, on the other hand, are lower-volume (typically 1-5L) and better suited for shorter rides or days at the bike park. Most waist packs fit just the essential items (e.g., a granola bar, tool, and phone), and some offer detachable holsters for securing a water bottle.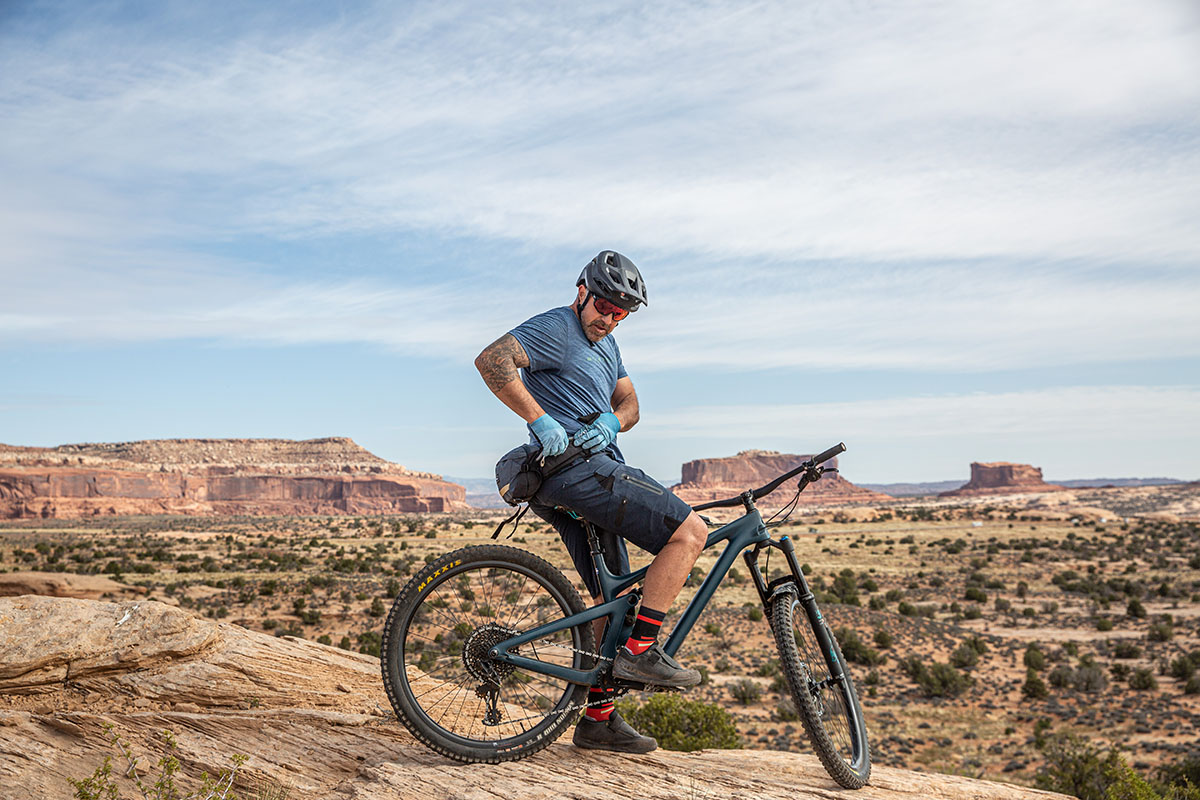 One consideration to keep in mind is that overloaded waist packs can feel unstable and bouncy, while backpacks distribute weight more evenly and keep the load closer to your back. However, with more coverage comes less breathability. Waist packs are generally cooler on hot summer days, but don't be fooled—your lower back produces a lot of sweat, and the thickness and construction of the hipbelt can have a sizable impact on ventilation. Some riders also like the added assurance of having full coverage along their back in the event of a fall—although for the utmost in protection, you'll want to go with a dedicated protector pack like the Evoc Trail Pro. In the end, both have their places and we find ourselves rotating between designs depending on the adventure of the day. For our favorite waist packs, we currently swap between the simple Dakine Hot Laps 1L and feature-rich Patagonia Dirt Roamer 3L.
Back to Our Top Mountain Bike Pack Picks  Back to Our Mountain Bike Pack Comparison Table
Read More From Switchback Travel