Gone are the days when backpacking consisted of strapping on a huge external frame and lumbering through the forest with an aching body. Trends in backpacks these days err towards minimalism and thoughtful, ergonomic design. Below are our favorite backpacking backpacks for the 2021 season, from ultralight bags for minimalists and thru-hikers to comfort-oriented options for weekend warriors and extended trips. For background information, see our backpack comparison table and buying advice below the picks.
 
Best Overall Backpacking Backpack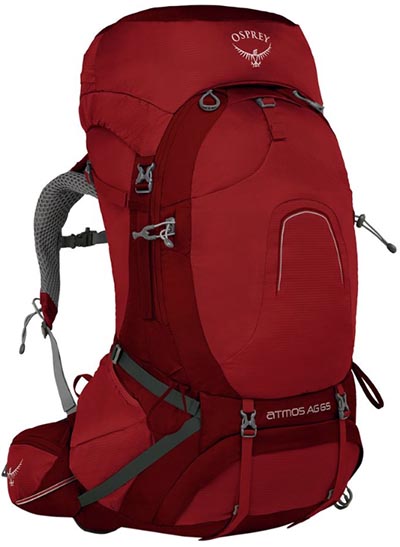 Weight: 4 lbs. 9 oz.
Fabric: Nylon (100D x 630D)
Capacities: 50, 65L
What we like: Close fit and fantastic back ventilation.
What we don't: Fairly heavy at over 4 pounds.
The Atmos AG is our top backpacking backpack for 2021 by deftly balancing comfort, organization, and durability. The attention grabber is the suspended "Anti-Gravity" backpanel, but we like the Atmos because it's a lot more than just an advancement in pack ventilation. We've found it easy to dial in a good fit, the pocket design is thoughtfully laid out with plenty of options to divvy up gear, and the materials are all top-notch and hold up well to rough treatment. Overall, the Atmos is an extremely well-rounded build that works great for anything from quick overnight trips to extended jaunts into the backcountry.
As mentioned above, the most prominent feature on the Atmos AG is its mesh backpanel. Bucking the trend of protruding foam that contacts your back in certain areas—back, lumbar, and hips—the Atmos AG has a single large ventilated panel that covers the entire back and hipbelt. The result is best-in-class ventilation, and the flexible mesh conforms to your back and waist very well. Impressively, the design manages to carry heavy gear comfortably—we've had it loaded with over 45 pounds on more than one occasion. Those looking to shave weight certainly can do so with one of the lighter models below, but it's tough to beat the feature set and build quality of the Atmos AG... Read in-depth review
See the Osprey Atmos AG 65  See the Women's Osprey Aura AG 65
Best Ultralight Backpacking Backpack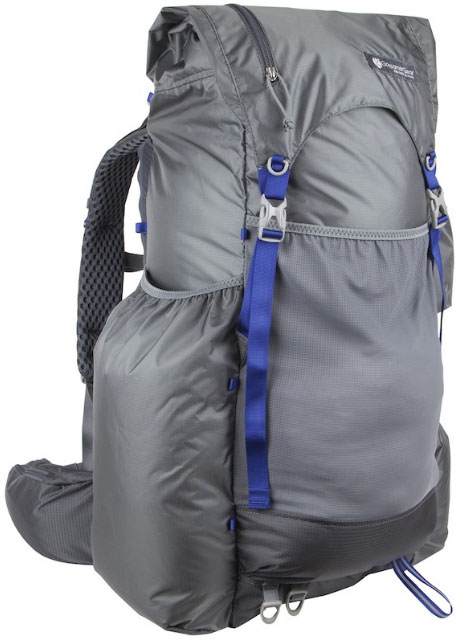 Weight: 2 lbs. 0.7 oz.
Fabric: Robic nylon (100D & 200D)
Capacity: 60L
What we like: Ultralight without being overly compromised.
What we don't: Foam backpanel bunches up.
A number of ultralight packs are designed for thru-hikers and minimalists, but our top pick is the Gossamer Gear Mariposa 60. What sets it apart is how few tradeoffs there are in using this 2-pound 3-ounce bag (ours has a large frame and medium hipbelt). While brands like Hyperlite and Zpacks use Dyneema fabric (formerly cuben fiber) to cut weight, Gossamer Gear uses a light yet tough Robic nylon. This helps keep cost in check, and unlike our Dyneema packs, we've had no issues with punctures or wear from the Mariposa. It's still smart to take extra care when bushwhacking or setting the pack down on rocks, but so far it's the least compromised ultralight pack we've tested.
Organization on the Mariposa is excellent. In addition to the large main compartment, the pack has a total of 7 external pockets of varying sizes, making it easy to distribute your gear. Comfort-wise, we've found the Mariposa has sufficient padding and plenty of support right up to its 35-pound maximum rating. If we were to change one thing, it would be the backpanel: the removable foam padding is prone to bunching and we prefer to leave it behind. Otherwise, the Mariposa stands out as the most complete ultralight pack on the market and a great option for backpackers looking to cut weight... Read in-depth review
See the Gossamer Gear Mariposa 60
 

Most Comfortable Pack for Heavy Loads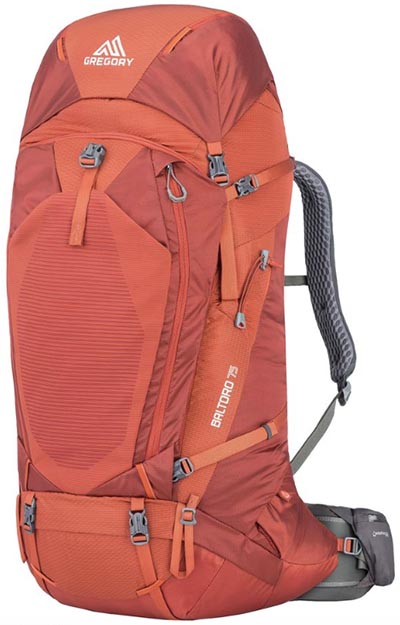 Weight: 4 lbs. 15.4 oz.
Fabric: Nylon (210D)
Capacities: 65, 75, 85, 95L
What we like: Heavy hauling comfort with a great feature set.
What we don't: Pretty heavy and overkill for minimalists.
Gregory has earned a reputation for comfort over the years, and their flagship men's Baltoro and women's Deva packs carry on the tradition. These bags are intended to haul heavy loads, with strong suspensions, firm but supportive padding, and excellent organization. You get great ventilation via a mesh-covered backpanel (an improvement over previous iterations), and pivoting shoulder strap and hipbelt connections keep the pack stable when hiking over uneven terrain. We especially appreciate the range of storage for multi-day loads, which includes 10 exterior pockets, U-shaped front access to the main compartment, and an integrated "Sidekick" daypack that doubles as a hydration sleeve.
The Baltoro is among the most comfortable and feature-rich designs out there, but it comes at a weight penalty. The 75-liter model clocks in around 5 pounds, which certainly alludes to Gregory's "everything but the kitchen sink" intentions. In short, if you aim to keep things light and simple on a backpacking trip, this probably isn't the pack for you. But if you plan to carry 50 pounds or more, the Baltoro will shoulder the load better than most (and chances are you won't notice the extra pound or two). Finally, many backpackers will appreciate extras like the stowable water bottle holder, attachment points for a solar panel, integrated rainfly, and water-resistant hipbelt pocket... Read in-depth review
See the Gregory Baltoro 75  See the Women's Gregory Deva 70
Best Budget Backpacking Backpack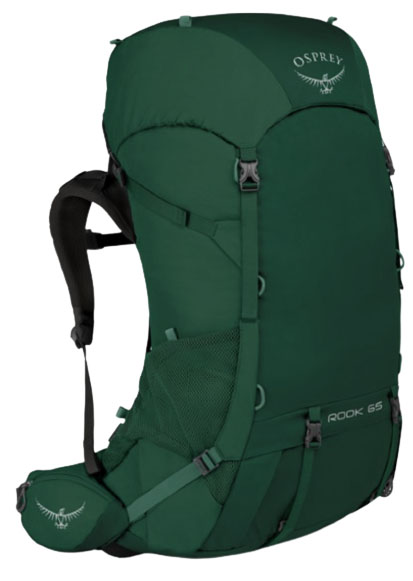 Weight: 3 lbs. 8.3 oz.
Fabric: Nylon (600D and 1000D)
Capacities: 50, 65L
What we like: Cheap, well-built, and reasonably light.
What we don't: Lacking in comfort when weighed down; limited organization.
The vast majority of quality backpacking packs cost upwards of $200 or more, but if you're willing to sacrifice some in terms of comfort and features, you can save with a design like the Osprey Rook. At $165, the Rook is the most affordable model on the list and happens to be made by the industry's leading backpack manufacturer, which is quite a combination. In addition, it has a basic suspended backpanel for ventilation, is well-built, and is extremely tough: the 600D and 1000D materials are by far the thickest we've tested, even beating out the 6-plus-pound Mystery Ranch Glacier below. Last but not least, the Rook manages to weigh in at a reasonable 3 pounds 8.3 ounces. On paper, it's one heckuva deal.
What are the shortcomings of the Osprey Rook? When shouldering a heavy load, carrying comfort takes a big hit. We wore the Rook down into the Grand Canyon on a multi-day backpacking trip and always were quite happy to take if off when arriving at camp (that's often the case with packs, but even more so with this one). On the flipside, if you can manage to keep it light (in the 25-pound range or less), the basic padding and suspension system can do the trick. Other concerns are that the pack has minimal organization, lacks a front shove-it pocket, and is only made in one size (with four levels of torso adjustability). Despite these complaints, the Rook is thoughtfully designed and built to last, making it a great option for budget shoppers or first-time backpackers carrying relatively light loads... Read in-depth review
See the Osprey Rook 65  See the Women's Osprey Renn 65
Best of the Rest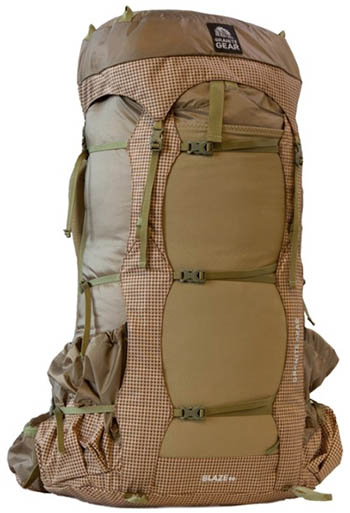 Weight: 3 lbs. 0 oz.
Fabric: Robic nylon (100D & 210D)
Capacity: 60L
What we like: Excellent mix of carrying comfort, organization, and weight.
What we don't: Durability and back ventilation can't match the Atmos AG above.
The Blaze 60 is Granite Gear's flagship piece, combining heavy-hauling credentials and functional organization at a 3-pound weight. We took the latest model on a difficult trek through the Grand Canyon and were pleased with its overall performance. The pack's sturdy frame sheet and substantial padding on the hipbelt and shoulder straps carried a full load extremely well (it's rated for 50 pounds), and the zippered opening to the main compartment made it easy to access our gear. Further, the oversized front and side exterior pockets are extremely functional (you can fit two standard water bottles in one side pocket). Most impressively, the Blaze pulls this off while undercutting most of the competition by 1 pound or more.
What's not to like with the latest Blaze 60? The padded backpanel favors comfort and support over breathability, and we found it to be stiffer and warmer than a mesh-heavy design like the Atmos above. Moreover, it takes some practice (and patience) to get the shoulder straps and hipbelt adjusted. In particular, reaching behind the frame sheet to remove and reinsert the shoulder strap clips was a pain. But these are small nitpicks, and the Blaze's well-rounded build makes it one of our favorite packs on the market... Read in-depth review
See the Granite Gear Blaze 60  See the Women's Granite Gear Blaze 60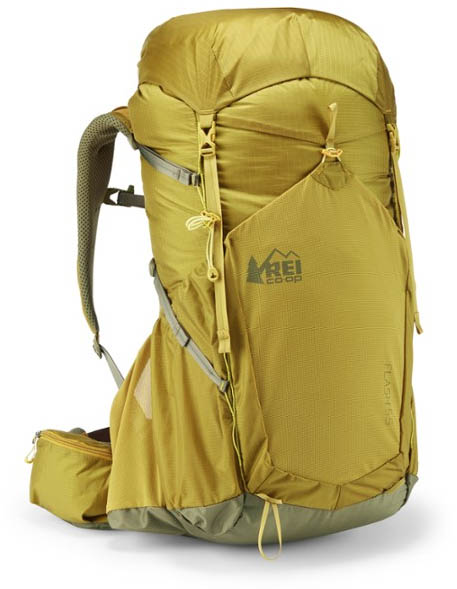 Weight: 2 lbs. 10 oz.
Fabric: Nylon (100D & 420D)
Capacities: 45, 55L
What we like: Light, comfortable, and a great value.
What we don't: Limited adjustability for the hipbelt and shoulder straps.
Billed as REI's ultralight pack, past generations of the Flash 55 were a good value but lacked the true UL chops of designs like Granite Gear's Crown2 60 or Osprey's Exos 58. But, as we learned on an ambitious winter backpacking trip in the Grand Canyon, the current version has undergone a significant revamp. It's now competitively light at 2 pounds 10 ounces (4 ounces more than the Crown2 60 and 1 ounce less than the Exos 58), and REI included thoughtful touches like four large side pockets, seam taping on the lid for water protection, and a convenient roll-top closure. Importantly, comfort wasn't compromised: we exceeded the recommended 30-pound maximum load by about 5 pounds on our trip (due to a hefty rope), and the suspension and padding handled it with ease.
What truly pushes the Flash line into the ultralight realm, however, is its adaptability. The pack includes a range of removable features—REI calls them "Packmod" accessories—including compression straps, two hipbelt pockets, a shoulder strap pocket, and the aforementioned water-resistant top lid. Depending on the trip, you can throw them on for additional organization or leave them behind and trim 7 ounces off of the pack's weight. One area where we wish REI hadn't compromised was fit adjustments: both the hipbelt and shoulder straps are fixed in place and offer limited customization. That said, the Flash lives up to its name and is now a bona fide option for serious ultralight backpackers... Read in-depth review
See the REI Co-op Flash 55  See the Women's REI Co-op Flash 55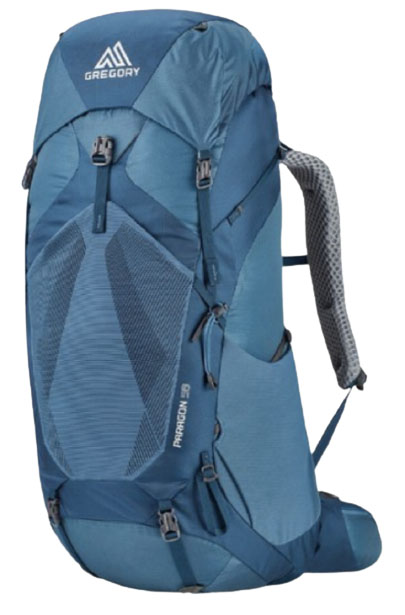 Weight: 3 lbs. 9.3 oz.
Fabric: Nylon (100D, 210D, & 420D)
Capacities: 48, 58, 68L
What we like: Well-balanced design with a useful feature set.
What we don't: Heavier but no more comfortable than the Blaze above.
It doesn't get much more premium than Gregory's Baltoro above, but a strong case can be made for a more affordable and lightweight design like the Paragon. At 3 pounds 9 ounces and a reasonable $230, the Paragon 58 is a great option for smaller loads (it comes in 48, 58, and 68-liter versions) and those looking to save. You don't get the same level of padding or organization as the Baltoro, but the pack offers easy fit adjustments, plenty of mesh along the backpanel to help you stay cool, and a quality feel overall with sturdy zippers and supportive foam. And the Paragon doesn't skimp on useful extras either, with features like a rain cover, large mesh front pocket, and a bear canister-friendly wide shape.
With an all-rounder design that finds a nice middle ground between stripped-down UL models and heavy comfort-first haulers, the Paragon goes head-to-head with a pack like the Osprey Atmos above. But while the Gregory gets the edge in weight (it's almost 1 pound less) and price, the Osprey is the better pack when it comes to comfort, exterior storage, and ventilation. Further, the Atmos has a higher end feel and more durable construction with thicker body fabrics (100 & 630D vs. the Paragon's 100 & 420D). But we do appreciate the Paragon's full-length side zip, which offers better access to the main compartment. Finally, it's also worth checking out Gregory's Zulu 65 ($230), which offers top-notch ventilation but (in our experience) comes up short in terms of carrying comfort... Read in-depth review
See the Gregory Paragon 58  See the Women's Gregory Maven 55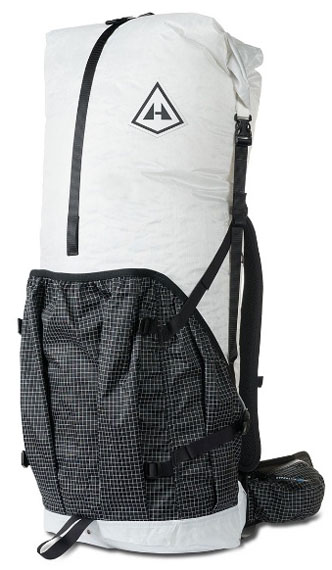 Weight: 2 lbs. 0.6 oz.
Fabric: Dyneema (50D & 150D)
Capacities: 40, 55, 70L
What we like: Incredibly light but can carry a full load.
What we don't: Minimal organization.
Dyneema Composite Fabrics—formerly Cuben Fiber—has arrived on the ultralight backpacking scene in a major way. This unique fabric is among the strongest in the world in terms of strength-to-weight ratio, resists moisture to an impressive degree, and is super lightweight. In outdoor gear, you'll see Dyneema in ultralight backpacks and shelters with Maine-based Hyperlite Mountain Gear leading the charge. The company makes a number of backpack options depending on conditions and sizing, and we think the 3400 Southwest is their best all-rounder.
At 55 liters, the 3400 (for 3400 cubic inches) has the capacity to take on seriously long trips and has become a go-to pack for thru-hikers. In our hands, it has seen duty as an overnight and multiday backpacking pack as well as a packrafting dry bag. What stands out as most impressive is its ability to haul weight comfortably. Whereas most minimalist models are unable to handle a load, the aluminum stays and firm foam padding provide plenty of structure and support. To be clear, the design is undeniably basic, with only the main compartment and 3 exterior pockets for organization (notably, the hipbelt pockets are now larger and phone-friendly). But for those looking for a pack that can haul serious weight at only 2 pounds, the 3400 Southwest is top of the heap... Read in-depth review
See the Hyperlite 3400 Southwest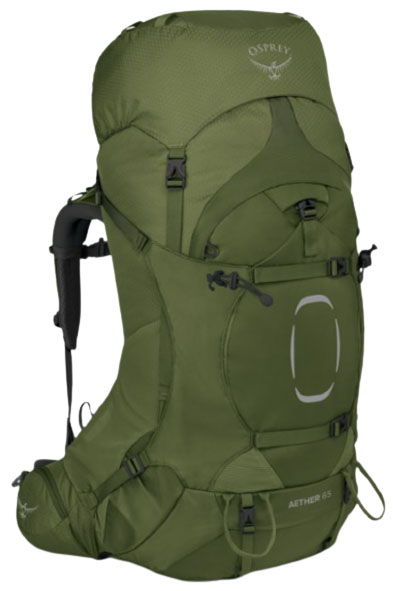 Weight: 4 lbs. 15 oz.
Fabric: Nylon (210D & 420D)
Capacities: 55, 65L
What we like: Great adjustability and a very comfortable pack for hauling heavy loads.
What we don't: Most backpackers still are better off with the Atmos.
The Atmos AG above is Osprey's leading backpacking pack, but for heavy hauling and light mountaineering, the Aether offers even more in the way of comfort and features. Updated last fall, the pack dropped the AntiGravity (AG) suspension system for a new AirScape backpanel, which is less elaborate but still has breathable foam and mesh to help keep you cool. And you get all kinds of adjustability, including a rip-and-stick system that easily tailors the fit of the shoulder straps and hipbelt, along with ample compression straps and attachment points for ice axes, tent poles, and more. Last but not least, the large J-shaped zipper at the front provides easy access to the main compartment.
The primary downside of the Aether 65 is its weight, which squeezes in just under 5 pounds. On top of that, organization is middling: you only get 5 external pockets (7 if you're counting water bottle holders) and the hipbelt stashes are oddly placed and difficult-to-reach. For the majority of backpackers, we think the Atmos is the more practical all-around design for $10 (and 6 ounces) less, and the Gregory Baltoro 75 above gets you more capacity at the same weight (albeit for $50 more). But in terms of premium haulers the Aether has a lot to offer, and those lugging heavy loads will appreciate the durable, sturdy build. Keep in mind that Osprey also makes the beefed-up Aether Plus and stripped-down Aether Pro, which could be great alternatives depending on your needs. 
See the Osprey Aether 65  See the Women's Osprey Ariel 65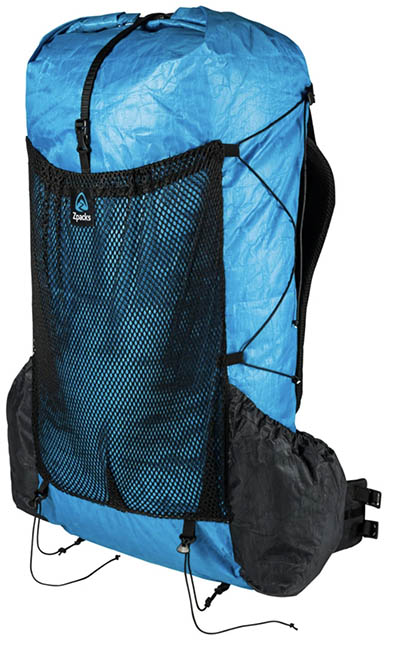 Weight: 1 lb. 4.1 oz.
Fabric: Dyneema Composite (2.92 oz/sqyd)
Capacity: 55L
What we like: Incredibly lightweight; very water resistant.
What we don't: Not very durable.
Weighing at least half a pound less than the next lightest pack on our list, the Zpacks Arc Blast takes the ultralight crown. The 55-liter model we tested comes in at an amazing 1 pound 8 ounces including optional extras like two hipbelt pockets. In terms of construction, the Arc Blast uses a similar water-resistant Dyneema (previously called Cuben Hybrid) construction as the Hyperlite above but in an even more streamlined form. This accounts for the low weight but we've found it less durable for rough treatment and off-trail scrambling (we got a small puncture in the bottom of our Arc Blast putting it down on a rocky section of trail).
The "Arc" in the name comes from its unique tensioning system that pulls the middle of the bag away from your back, encouraging airflow and alleviating the need for a foam backpanel. Combined with a carbon fiber frame, the pack has a solid structure and provides good support for loads up to about 30 pounds. We wouldn't recommend carrying much more, however, as the padding is pretty minimal. All in all, the Arc Blast may not be durable or comfortable enough for regular weekend backpackers, but if you treat it with care, it's an excellent option for serious thru-hikers and minimalist trekkers.
See the Zpacks Arc Blast 55L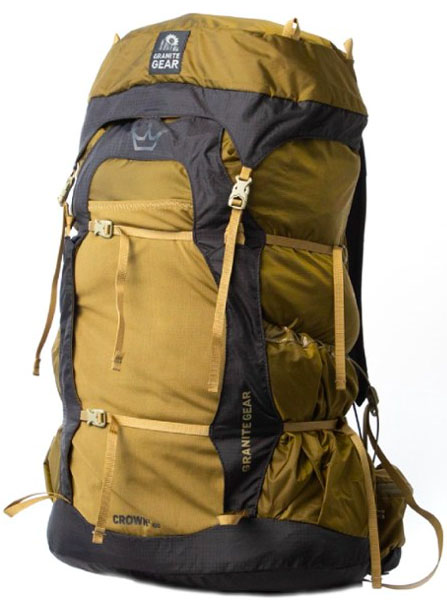 Weight: 2 lbs. 6 oz.
Fabric: Nylon (100D & 210D)
Capacities: 38, 60L
What we like: Versatile lightweight build.
What we don't: Becomes less comfortable as you push the 35-pound limit.
More than any other model, the 60-liter Crown has put Granite Gear solidly on the ultralight map. Now in its second iteration—third if you include the old Vapor Trail—the Crown2 is one of the most complete and versatile options available. To start, you get plenty of functional features: Granite Gear's signature (and elaborate) compression straps, plenty of mesh pockets along the front and sides, and a roll-top closure for securing the load. Further, we love the fit system on the hipbelt, which can be adjusted to your exact waist measurement with a simple but precise Velcro system. As long as you keep your pack weight under the recommended 35 pounds, the Crown2 is a winner.
If you'll be pushing the Crown2's weight limit on occasion, however, it may be worth choosing a more comfort-oriented design. Compared to Granite Gear's Blaze above (rated to 50 pounds), the Crown2's polypropylene frame sheet and thin padding are much less capable under a heavy load. Further, while the Crown2 has a fixed torso length (offered in two sizes for women and three for men) the Blaze features an adjustable design so you can really dial in your fit. But for 10 ounces less, the Crown2 is undeniably an excellent ultralight build and one of the better values on the market at $200. And a final note for true ULers: you can remove the backpanel and top lid to trim weight even further... Read in-depth review
See the Granite Gear Crown2 60  See the Women's Granite Gear Crown2 60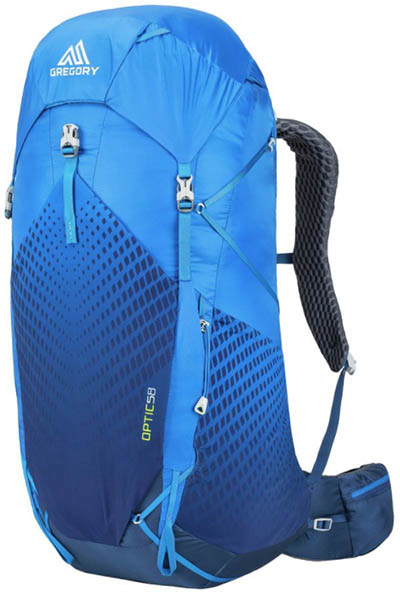 Weight: 2 lbs. 8.3 oz.
Fabric: Nylon (100D & 210D)
Capacities: 48, 58L
What we like: Excellent carrying comfort for the weight.
What we don't: Limited organization; buckles are small and one broke during testing.
Gregory's Optic combines the brand's comfort-first ethos in an ultralight package. Nothing truly jumps out with this pack—it doesn't have any space-age materials or in-your-face features—but its metal frame and surprisingly supportive padding on the hipbelt and shoulder straps carry a load impressively well. We tested the 58-liter version while backpacking in Patagonia and had zero comfort-related issues while hauling up to about 35 pounds. In addition, the mesh backpanel gave it a nice, close feel, and we appreciated the included rain cover and hipbelt pockets, which are features not found on all ultralight models.
The long-standing favorite in this category has been Osprey's Exos, but we've found the Optic to be the superior option in most ways. Coming in $10 and about 2 ounces less (depending on the torso size), the Gregory carries a load more comfortably thanks to its thicker padding and improved lumbar cushioning and support. In addition, the Exos lacks hipbelt pockets, which we find to be an extremely useful feature. It's true the Osprey gets the slight edge in build quality—in particular, the buckles on the Optic feel fairly cheap and one broke during our testing—but we think the Gregory wins out in the end... Read in-depth review
See the Gregory Optic 58  See the Women's Gregory Octal 55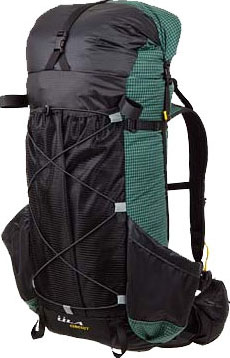 Weight: 2 lbs. 9 oz.
Fabric: Robic nylon (210D)
Capacity: 68L
What we like: Large capacity and fairly durable for the weight.
What we don't: Weighs more than the ultralight options above.
Utah-based ULA Equipment has gone from a relative unknown to a darling of the PCT and AT in only a few short years. Leading the charge is their Circuit 68-liter pack, which offers an excellent compromise of weight, durability, and functionality for the thru-hiking crowd. The design is streamlined but retains good organization with a very large front mesh pocket and zippered hipbelt compartments. The Circuit is similarly comfortable as the Gossamer Gear Mariposa 60 above, but as with the Mariposa it is recommended that you keep your pack weight under 35 pounds.
The ULA Circuit is differentiated from the other ultralight packs on this list by its durable build. The 210-denier Robic nylon is abrasion resistant and less prone to punctures than the Dyneema Hyperlite and Zpacks designs above. The Mariposa 60 also uses Robic nylon, but it's a lower denier and as a result a little less tough. That being said, we've found the Mariposa to be plenty durable and it gets the edge over the Circuit due to the significant 8-ounce weight savings. But if you're willing to compromise a little on weight, the Circuit is an impressive high-capacity, sub-3-pound backpack option. 
See the ULA Circuit 68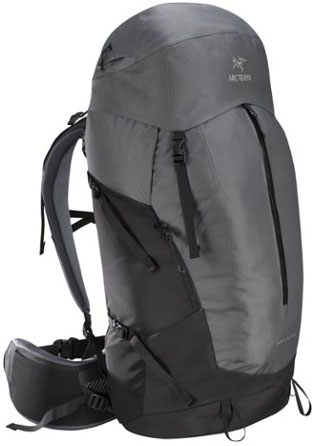 Weight: 5 lbs. 0 oz.
Fabric: Nylon (420D & 630D)
Capacities: 50, 63L
What we like: Innovative pivoting hipbelt design.
What we don't: Very, very expensive.
Arc'teryx is known for innovation in outdoor gear, and they recently turned their attention from ski boots to backpacking packs. Building on the excellent rotating hipbelt design of their Altra pack, the Bora AR offers even more mobility and comfort. The RotoGlide, as Arc'teryx calls it, places the hipbelt along a track in the backpanel that allows it to move up and down as you lean forward on a climb. Simply put, nothing else on the market can match this level of customization. In addition, Arc'teryx uses a durable waterproof fabric along the top and front of the bag for fantastic weather resistance. For year-round backpacking in tough conditions and on very rough trails, you won't find a better option.
As expected from Arc'teryx, the biggest obstacle with the Bora AR is price. Our top-rated pack, the Osprey Atmos AG, is less than half the cost of the Bora and plenty comfortable for most backpacking trips. Further, at 5 pounds for the 63-liter version, the Bora is surprisingly heavy (Arc'teryx usually excels in the lightweight department). But all gripes aside, this is a durable, well-built pack—our original Bora is 13 years old and still going strong—and an especially great choice for hikers and mountaineers tackling challenging terrain in inclement weather. And a final note: at the time of publishing the Bora AR 63 (and women's 61) is listed on REI's website for $360, which is a massive savings... Read in-depth review
See the Arc'teryx Bora AR 63  See the Women's Arc'teryx Bora AR 61
Weight: 2 lbs. 11.5 oz.
Fabric: Nylon (100D & 210D)
Capacities: 38, 48, 58L
What we like: A long-time favorite ultralight design and now with a women's-specific version.
What we don't: Thin fabrics and no hipbelt pockets.
Osprey is a backpack powerhouse known for quality builds, excellent organization, and comfort. The Exos 58 was Osprey's original take on an ultralight pack (also offered in 38- and 48-liter capacities) and is still one of our favorites in this category. Since its debut, the design has been fine-tuned with a more supportive suspension system and hipbelt, and importantly, Osprey also released a women's-specific Eja version. Both models offer good carrying comfort and features for ounce counters and thru-hikers at well under 3 pounds.
What do you compromise by going with the Exos? Durability is the most significant—we've gotten multiple small tears in the 100-denier pack body, albeit from the granite and rough rocks of Washington's Cascade Range. We're also a little disappointed that Osprey got rid of the hipbelt pockets on the redesign, which we consistently find to be handy for storing small items like a phone or snacks. There are, however, sufficient lash points and mesh pockets on the body of the pack to keep most minimalists happy. It's worth noting Osprey offers an even lighter alternative for thru-hikers and ultralight backcountry explorers in the sub-2-pound Levity. This pack surprised us with its build quality and storage, but its limited carrying capacity (we wouldn't recommend exceeding 30 pounds), thin 30D silnylon fabric on the pack body, and $50 steeper price make the Exos the more well-rounded UL choice... Read in-depth review
See the Osprey Exos 58  See the Women's Osprey Eja 58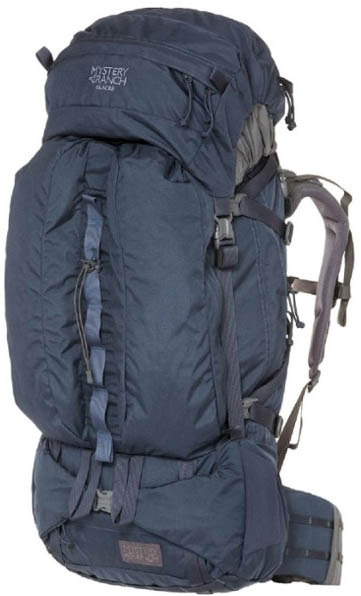 Weight: 6 lbs. 6 oz.
Fabric: Nylon (500D)
Capacity: 70L
What we like: Premium build quality, super tough, and fantastic carrying comfort.
What we don't: Extremely heavy and no included hipbelt pockets.
Mystery Ranch is relatively new to the backpacking scene, but the brand can trace the roots of its founder, Dana Gleason, to the legendary Dana Designs packs of the 1990s. From the current lineup, we prefer the heavy-hauling Glacier, which is built to handle rough, expedition-level use and comes loaded with creative design touches. In particular, the floating lid is one of our favorites with its two massive pockets and easy conversion into a functional daypack. And we love the Glacier's build quality overall—everything from the foam to the zippers has a premium, long-lasting feel.
One of the Glacier's main competitors is the Osprey Aether above. Both packs offer excellent carrying comfort, durability, and most of the bells and whistles you could want in a deluxe hauler. However, two useful items missing on the Glacier are hipbelt pockets and a large mesh shove-it pocket on the back. The Aether also has better back ventilation, although it can't match the material quality or toughness of the Glacier. Finally, given its impressive hauling abilities, we'd like to see a larger-capacity version from Mystery Ranch. But if those nitpicks aren't deal breakers for you, the Glacier is a wonderfully built pack that's made to last.
See the Mystery Ranch Glacier  See the Women's Mystery Ranch Glacier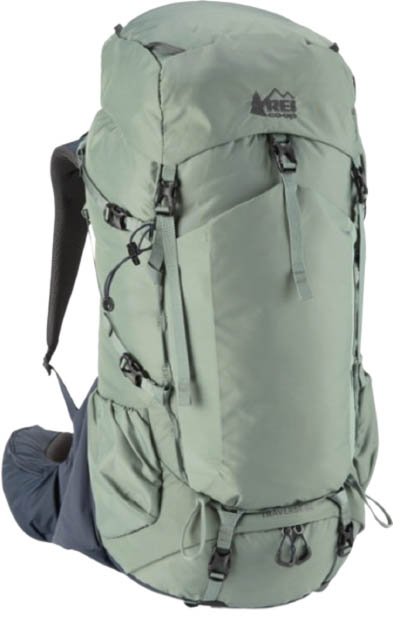 Weight: 4 lbs. 4 oz.
Fabric: Nylon (300D)
Capacities: 32, 60L
What we like: Durable materials and a lid that converts into a day pack.
What we don't: Cheap padding and limited access to the main compartment. 
For 2021, REI gave their large-capacity Traverse pack a complete revamp. The latest version has a number of thoughtful features, including a top lid that converts into a day pack (it disconnects from the main bag extremely quickly), large and easy-to-access zippered hipbelt pockets, and an included rain cover. REI's Packmod compression straps and daisy chain system allow you to customize your external organization, and the pack also includes dedicated attachments for trekking poles and ice axes. Finally, the Traverse 60 drops 10 ounces off the previous 70-liter version but retains great durability, with burly 300-denier recycled ripstop nylon throughout.
But unfortunately, that's all the praise we have for the new Traverse, which feels like a step back from the previous generation. Despite REI's move to sustainable, bluesign-approved materials, the pack has a surprisingly budget feel: there's no front access to the main compartment (the older model had a large, J-shaped zipper), and the raised foam padding on the backpanel feels like a true throwback to packs of yesteryear. The result is less ventilation than more modern designs and compromised carrying comfort (unlike the Baltoro or Aether above, this is not the kind of pack you want to overload). Added up, the 2021 Traverse 60 is a fairly disappointing update to a much-loved pack, and for $229 we don't think it's worth the savings.
See the REI Co-op Traverse 60  See the Women's REI Co-op Traverse 60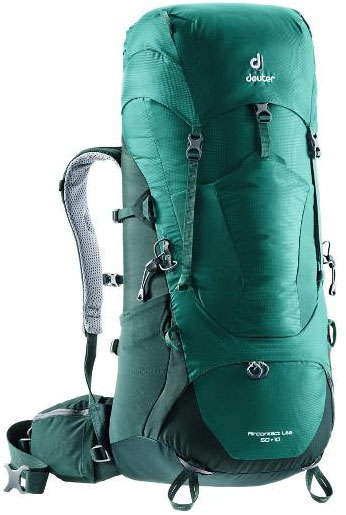 Weight: 3 lbs. 14 oz.
Fabric: Nylon (210D)
Capacities: 60, 75L
What we like: A good price and weight.
What we don't: Lacking in comfort and only comes in one size.
The Aircontact Lite (previously the ACT Lite) is an entry-level offering from German pack manufacturer Deuter. We'll start with the positives: it's priced well at $200 and reasonably lightweight at 3 pounds 14 ounces. In terms of capacity, the "+ 10" in the name refers to the expandable top portion of the main compartment. This allows you to compress the load if you're packing light and only need 50 liters, or you can extend it to store a typical multi-day trip's worth of gear. Throw in the Aircontact's streamlined but functional organization and quality materials, and you have a compelling backpack design.
However, we recently took the Deuter Aircontact Lite out in Utah and came away unimpressed. Most notably, the backpanel was not very comfortable, and in particular the hard Vari Quick adjustment centerpiece pressed into our back while hiking. Further, the tall and thin design didn't do the trick for us. It was more difficult to pack and access gear than other models we've used and didn't make the Aircontact perform better on the trail. Finally, the pack only comes in one size with the aforementioned torso height adjustability. This made it feel small—we usually wear a medium or large—and we prefer at least two size options. But we do like the price and weight, which are why the Deuter makes this list.
See the Deuter Aircontact Lite 50+10  See the Women's Deuter Aircontact Lite 45+10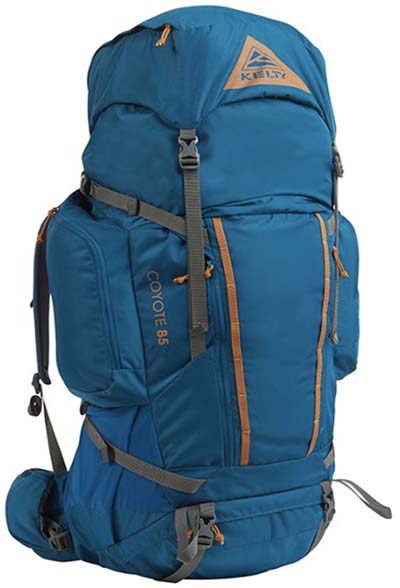 Weight: 4 lbs. 14 oz.
Fabric: Polyester (420D)
Capacities: 65, 85, 105L
What we like: Affordable and family-friendly high-capacity design.
What we don't: Only offered in one size, so it's hard to dial in the fit.
Kelty generally targets the entry-level end of the camping and backpacking spectrum, but we appreciate the reasonable prices and sturdy builds. The Coyote is their long-running multi-day offering, available in capacities ranging from 65 all the way up to 105 liters. The middle-tier 85-liter model is a great option for family trips or times when you need to haul bulky gear. Organization is a strong suit with lots of exterior pockets—the large zippered storage along the sides is reminiscent of an external frame design—and it's plenty tough with a 420-denier polyester pack body. At $180, the Kelty easily undercuts high-capacity alternatives like Gregory's Baltoro 85 ($350).
For short treks into the backcountry with kids in tow, the Coyote is well-equipped, but it can't match the carrying comfort and build quality of a more premium option. Most notably, the pack is only made in a single size, which makes it hard to dial in a close and comfortable fit. Combined with cheaper foam in the hipbelt and shoulder straps, and the Coyote falls short on extended and high-mileage trips. These compromises push it to the bottom of our rankings, but the Kelty fills an important niche for those looking to maximize capacity and value.
See the Kelty Coyote 85
Backpacking Backpack Comparison Table
| Pack | Price | Weight | Fabric | Capacities | Access | Pockets |
| --- | --- | --- | --- | --- | --- | --- |
| Osprey Atmos AG 65 | $270 | 4 lb. 9 oz. | Nylon (100D x 630D) | 50, 65L | Top | 8 exterior |
| Gossamer Gear Mariposa 60 | $270 | 2 lb. 0.7 oz. | Nylon (100D & 200D) | 60L | Top | 7 exterior |
| Gregory Baltoro 75 | $330 | 4 lb. 15.4 oz. | Nylon (210D) | 65, 75, 85, 95L | Top, front | 10 exterior |
| Osprey Rook 65 | $165 | 3 lb. 8.3 oz. | Nylon (600D & 1000D) | 50, 65L | Top | 5 exterior |
| Granite Gear Blaze 60 | $270 | 3 lb. 0 oz. | Nylon (100D & 210D) | 60L | Top, front | 6 exterior |
| REI Co-op Flash 55 | $199 | 2 lb. 10 oz. | Nylon (100D & 420D) | 45, 55L | Top | 9 exterior |
| Gregory Paragon 58 | $230 | 3 lb. 9.3 oz. | Nylon (100D & 210D) | 48, 58, 68L | Top, side | 6 exterior |
| Hyperlite 3400 Southwest | $355 | 2 lb. 0.6 oz. | Dyneema (50D & 150D) | 40, 55, 70L | Top | 3 exterior |
| Osprey Aether 65 | $280 | 4 lb. 15 oz. | Nylon (210D & 420D) | 55, 65L | Top, front | 7 exterior |
| Zpacks Arc Blast 55L | $349 | 1 lb. 4.1 oz. | Dyneema (2.92 oz/sqyd) | 55L | Top | 3 exterior |
| Granite Gear Crown2 60 | $200 | 2 lb. 6 oz. | Nylon (100D & 210D) | 38, 60L | Top | 6 exterior |
| Gregory Optic 58 | $210 | 2 lb. 8.3 oz. | Nylon (100D & 210D) | 48, 58L | Top | 5 exterior |
| ULA Circuit 68 | $255 | 2 lb. 9 oz. | Nylon (210D) | 68L | Top | 5 exterior |
| Arc'teryx Bora AR 63 | $549 | 5 lb. 0 oz. | Nylon (420D & 630D) | 50, 63L | Top, side | 6 exterior |
| Osprey Exos 58 | $220 | 2 lb. 11.5 oz. | Nylon (100D & 210D) | 38, 48, 58L | Top | 5 exterior |
| Mystery Ranch Glacier | $350 | 6 lb. 6 oz. | Nylon (500D) | 70L | Top, side | 4 exterior |
| REI Co-op Traverse 60 | $229 | 4 lb. 4 oz. | Nylon (300D) | 32, 60L | Top | 10 exterior |
| Deuter Aircontact Lite 50+10 | $200 | 3 lb. 14 oz. | Nylon (210D) | 60, 75L | Top | 4 exterior |
| Kelty Coyote 85 | $180 | 4 lb. 14 oz. | Polyester (420D)  | 65, 85, 105L | Top, front | 7 exterior |
Backpacking Backpack Buying Advice

Recommended Capacity
Rules about how big of a pack you need are not hard and fast. Multiple factors come in to play such as how many nights your trip is and what time of year you are backpacking (bulkier gear is needed for cold weather). One point should stand out, however. Make sure to match your pack's capacity to your type of gear you'll be bringing. Do you have dated gear that doesn't compress well, or do you like to bring along a few extras? Then make sure to get a correspondingly cavernous pack. Sizing down to a lightweight modern tent and down sleeping bag will allow for more flexibility in size options.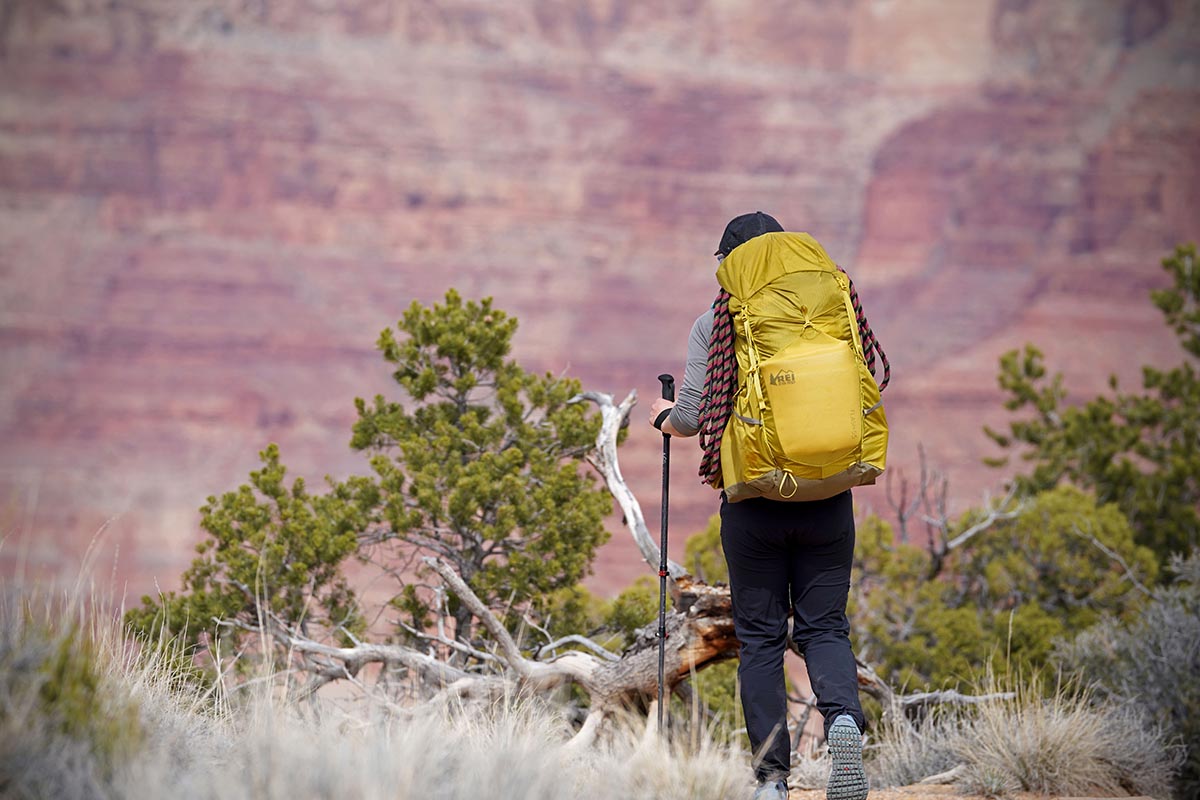 The majority of backpackers take short trips, usually in the 1-3 day range, and for those uses, a pack in the 50-70 liter range is most popular. With a pack like the Osprey Atmos AG 50, you'll need to keep your packed weight low, stick to the essentials, and be sure to use the aforementioned compressible gear. While at 60 liters and more, you have enough space to take on a few additional items—great for parents with kids in tow. Within each of the ranges we have listed below, you can follow those general guidelines: minimalist to bulky (or a lot of) gear.
Overnight: 35-55 liters
Weekend (2-3 nights): 45-70 liters
Extended trips (over 3 days): 60+ liters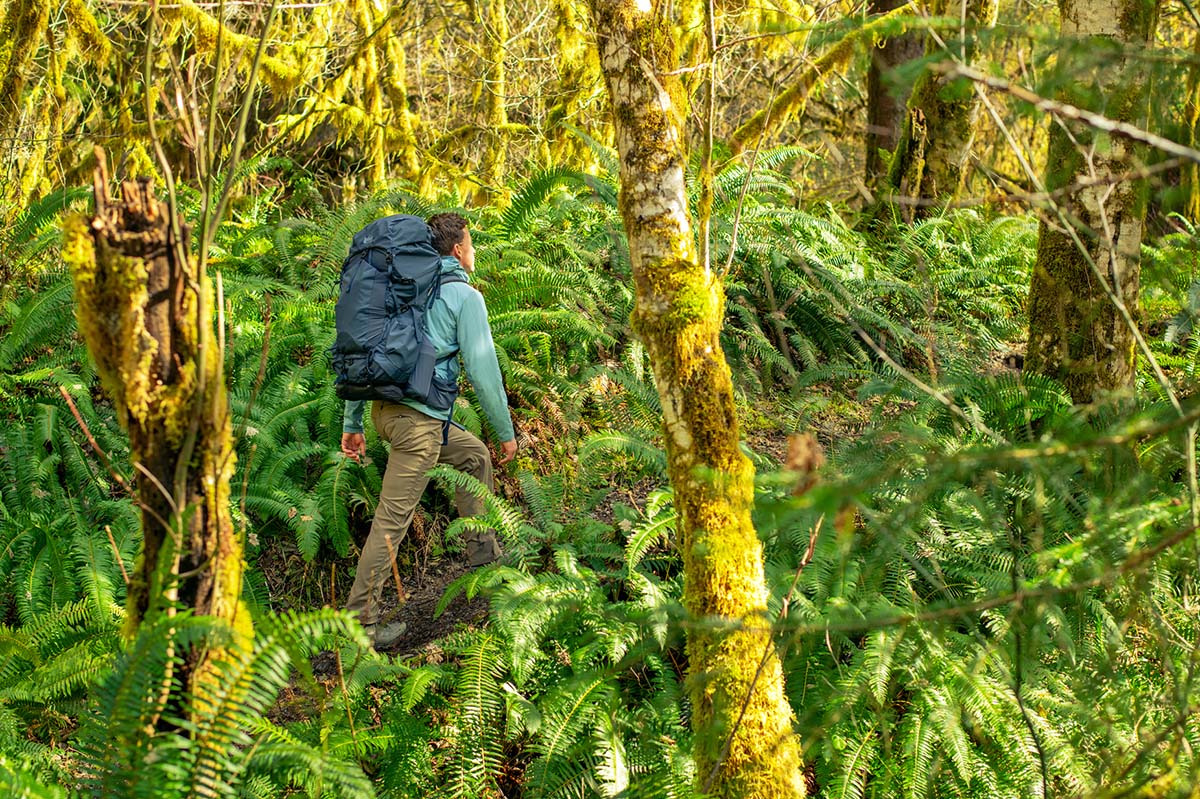 Backpack Weight and Load Range
Looking beyond how much space your gear takes up in a pack, it's also important to ballpark the total weight. If your gear is older or you prefer a comfort-oriented (read: heavier) setup, it's a good idea to get a pack that can handle the extra weight. Alternatively, if you're into minimalism and ultralight gear, you can get away with a corresponding lightweight pack. In looking at backpacks, relevant considerations for hauling ability are the pack's frame, suspension and padding. One quick reference point is the pack's empty weight, which is provided for nearly every model sold.
A heavier pack is logically most often capable of hauling more weight. It will have a beefy frame, tough fabrics and thick padding. There are some exceptions, and backpacks overall are becoming lighter—take for example the Gregory Baltoro 75, which dropped a lot of weight between models (about 9 oz. to get down to 5 lbs.), but is still adept at comfortably handling a heavy load. Below is a basic guideline in matching pack weight and hauling ability. Note, some manufacturers also provide load ratings for their packs, which is another helpful reference point.
2-3 lb. pack weight = 15-35 pounds of gear
3-5 lb. pack weight = 30-50 pounds of gear
5+ lb. pack weight = 40-70 pounds of gear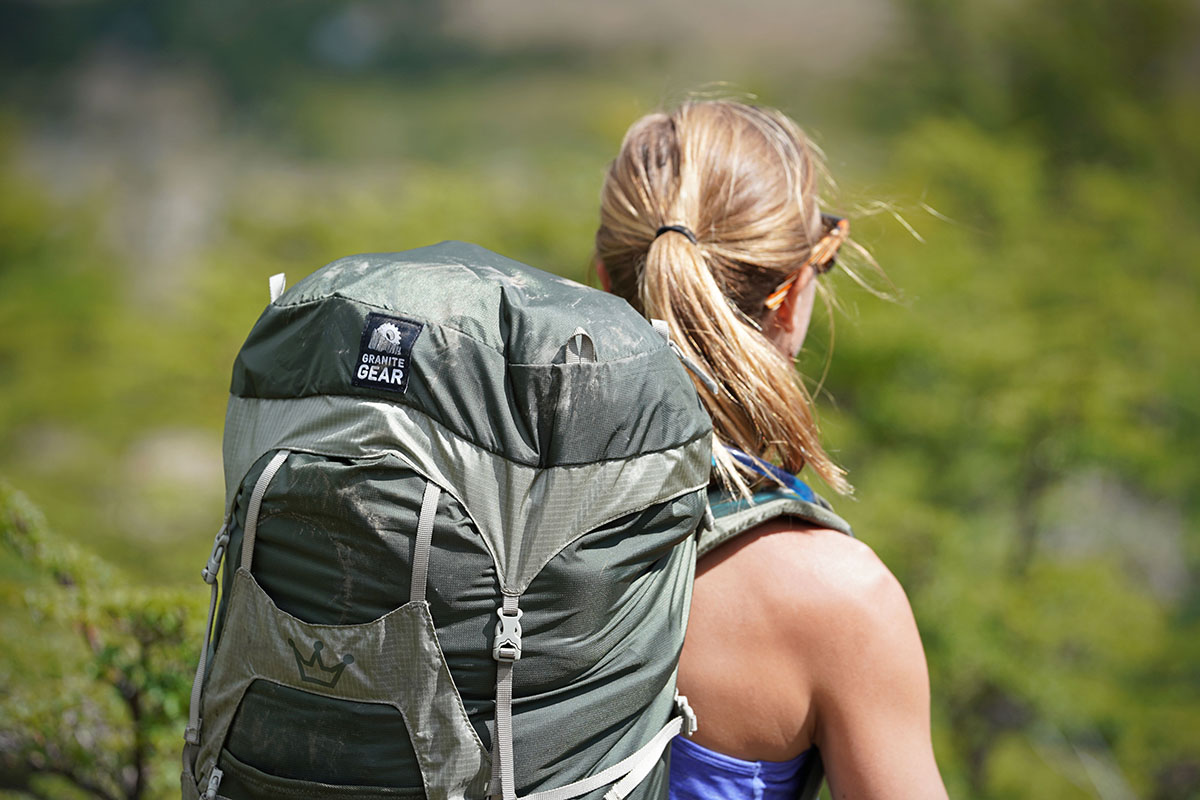 Padding and Support
The thickness and quality of the padding found in the backpanel, and particularly the shoulder straps and hipbelts, is an important consideration in choosing a pack. A properly set up pack will place most of the weight on your hips, with the shoulder straps taking a light amount of weight and keeping the pack tucked in close to your back. The foam and the fabric that covers it do add weight, so manufacturers are always trying to find the right balance weight and comfort. All non-ultralight overnight, weekend and extended travel packs feature foam padding to increase comfort. We prefer foam that errs towards firm support rather than being soft and compressible. Excessively soft padding might feel great when first trying on a pack, but it doesn't offer the long-term support needed for hauling heavier loads. Packs like the Gregory Baltoro and Arc'teryx Bora AR are great examples of effective use of this type of high quality, firm padding.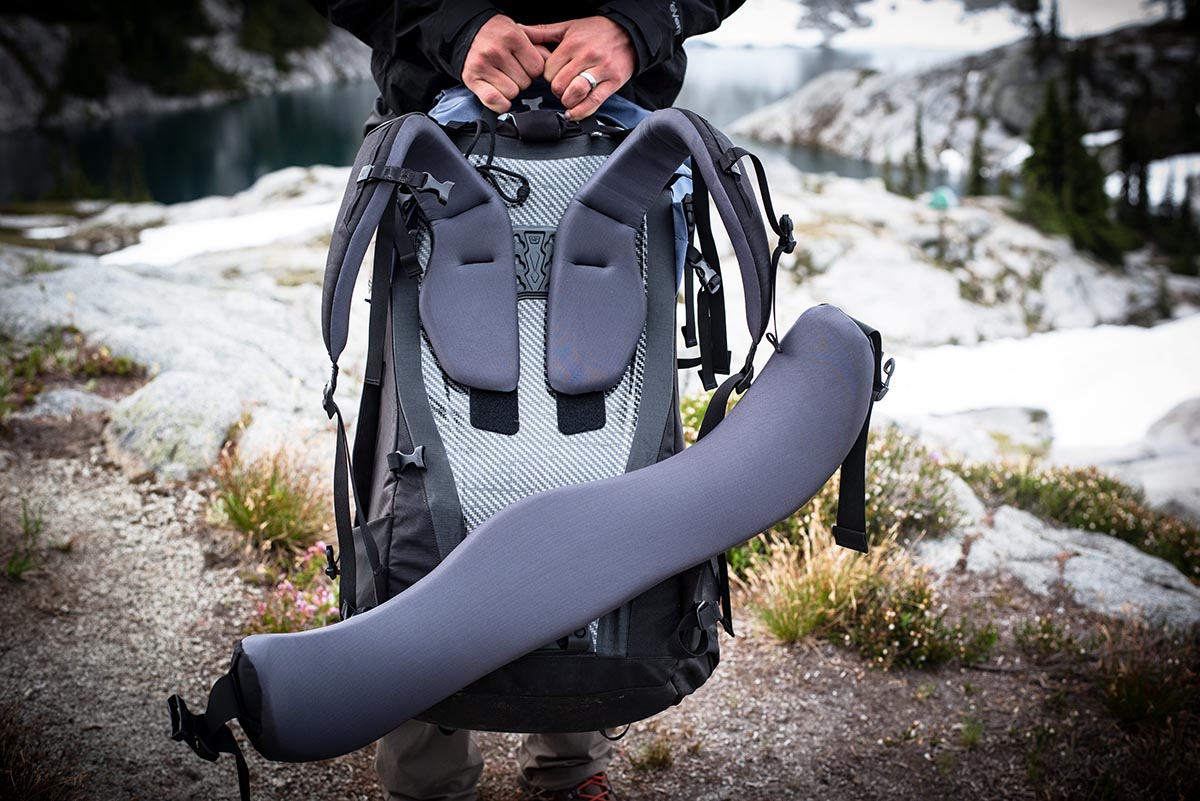 Very lightweight gear sometimes goes without even a whiff of foam in the hipbelt and/or shoulder straps, so it's an absolute necessity to keep your loaded weight to a minimum. Some ultralight packs do a decent job of balancing these needs, including the Osprey Exos 58, which uses a creative mesh design surrounding thin foam for a good balance of weight and support. Nevertheless, we don't recommend packing much more than 30 pounds in an ultralight pack—and it's often better to keep it closer to 25.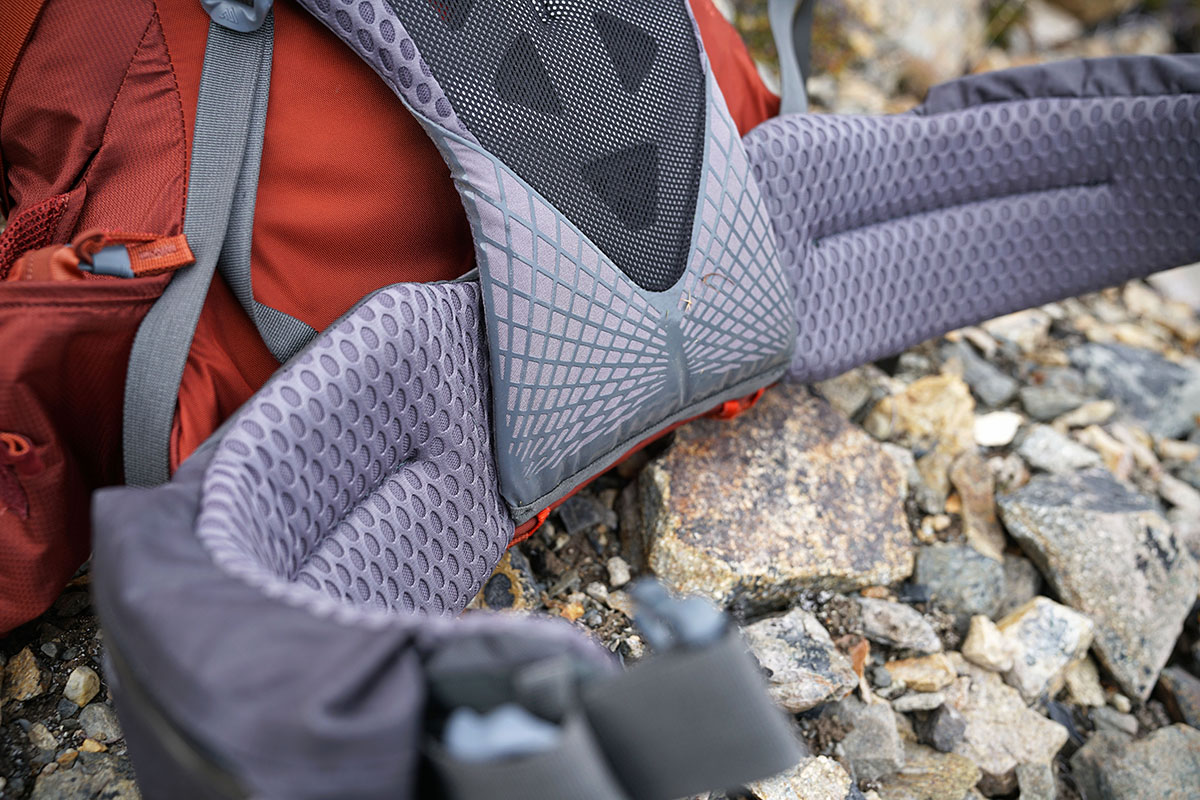 Backpack Organizational Features
When you're playing the part of a moving van, carrying all your possessions in one place, organization is of utmost importance. This is where the old external framed packs had a distinct advantage – pockets and organization galore. It's not to say internal framed packs aren't improving, however, with numerous access points and creative packaging.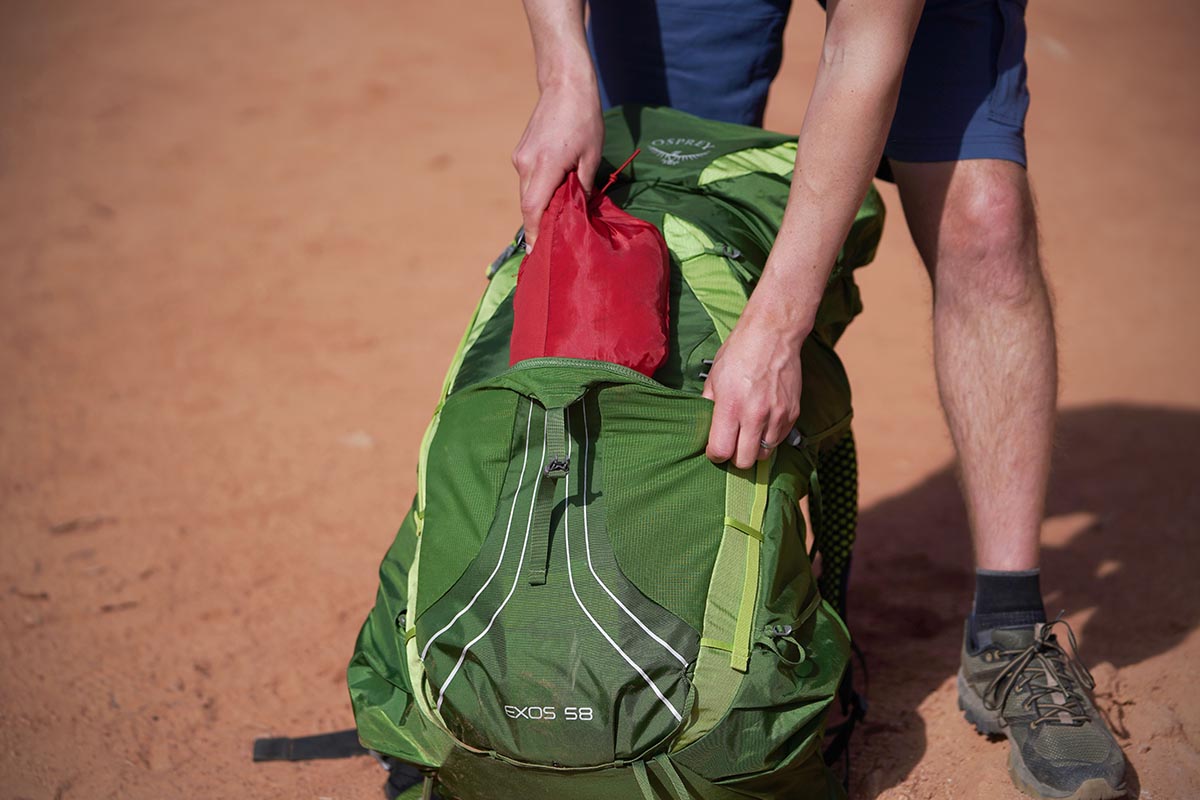 Main Compartment Access
Nearly every backpacking pack out there will have an opening at the top that is secured in a cinch cord or roll-top manner, referred to as a top-loader. Additional access to the bottom or middle of the pack via a u-shaped zipper can be a big help, keeping you from having to shovel through a once-meticulously organized pack to find some elusive item. These extra zippers add a little weight, but are often worth it. In cases like the Gregory Baltoro or Osprey Aether, the u-shaped opening is so wide that you can pack and remove items much like a travel suitcase.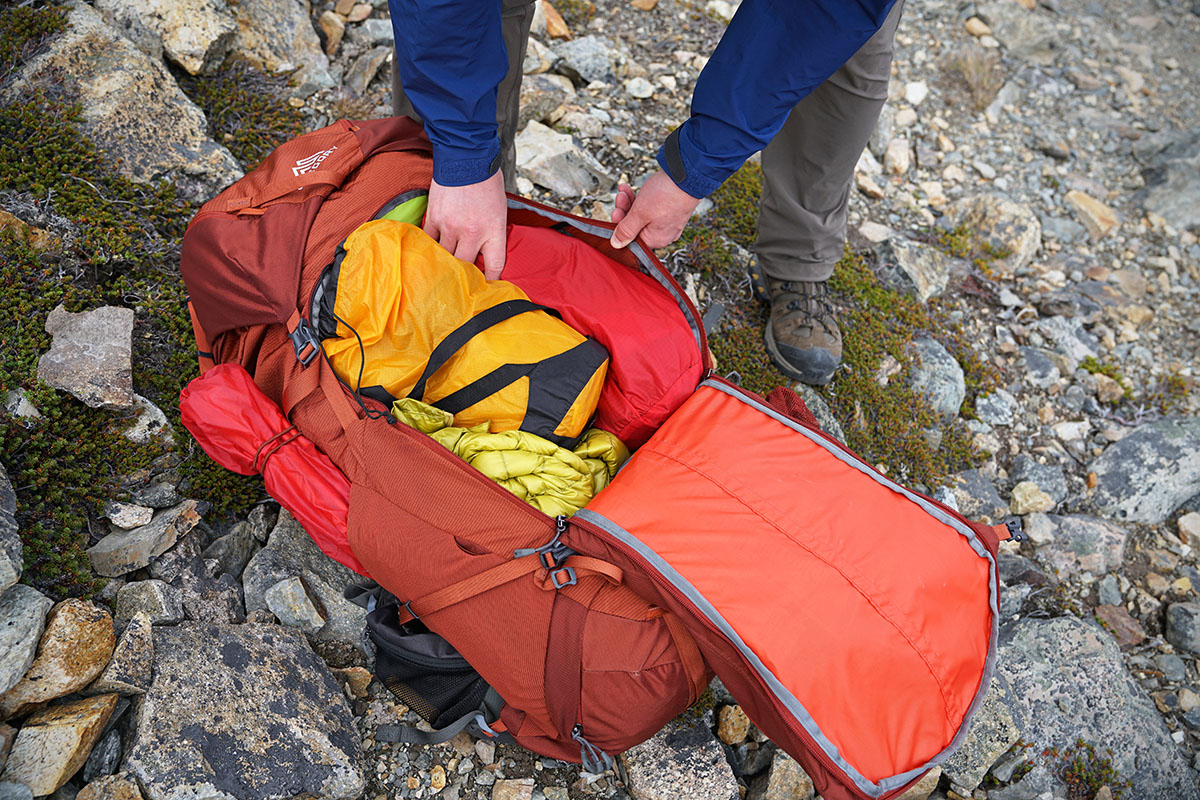 Exterior Pockets
A top lid with zippered pockets is a great spot for some lighter weight items that you might need on quick notice, like a headlamp. External floating pockets are becoming popular to stuff gear like a rain jacket or insulated midlayer. Hipbelt pockets are another recent adoption for putting quick access items like lip balm, a camera or lifesavers (an excellent energy booster on the trail). And finally, don't forget about exterior attachment points or loops for an ice axe or trekking pole.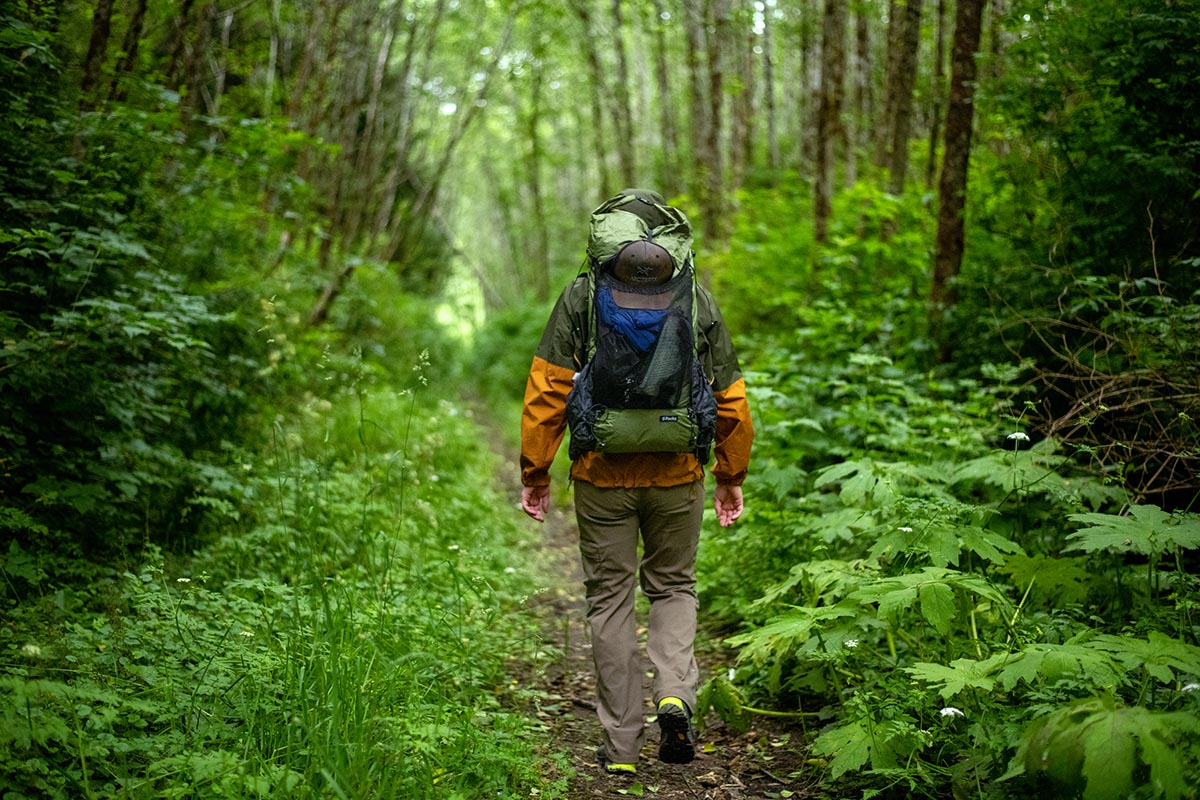 Compression Straps
Compression straps tighten a pack from front to back and pull the load close to your body, helping to keep you balanced on the trail. Make sure the pack you're looking at has these side compression straps at both the top and bottom to aid in load stability, and give them a good cinch each time you put your pack on. These straps are also useful for storing taller items (such as tent poles) along the side of your pack. When used for this purpose we especially like a system like REI's Packmod—seen on the Traverse 60 and Flash 55 packs—which allows you to move the straps to your preferred height via a series of daisy chains (or remove them altogether). And while some compression straps secure tight with a simple plastic cinch, we prefer those with buckles for their ease of use, especially when attaching larger items like a sleeping pad.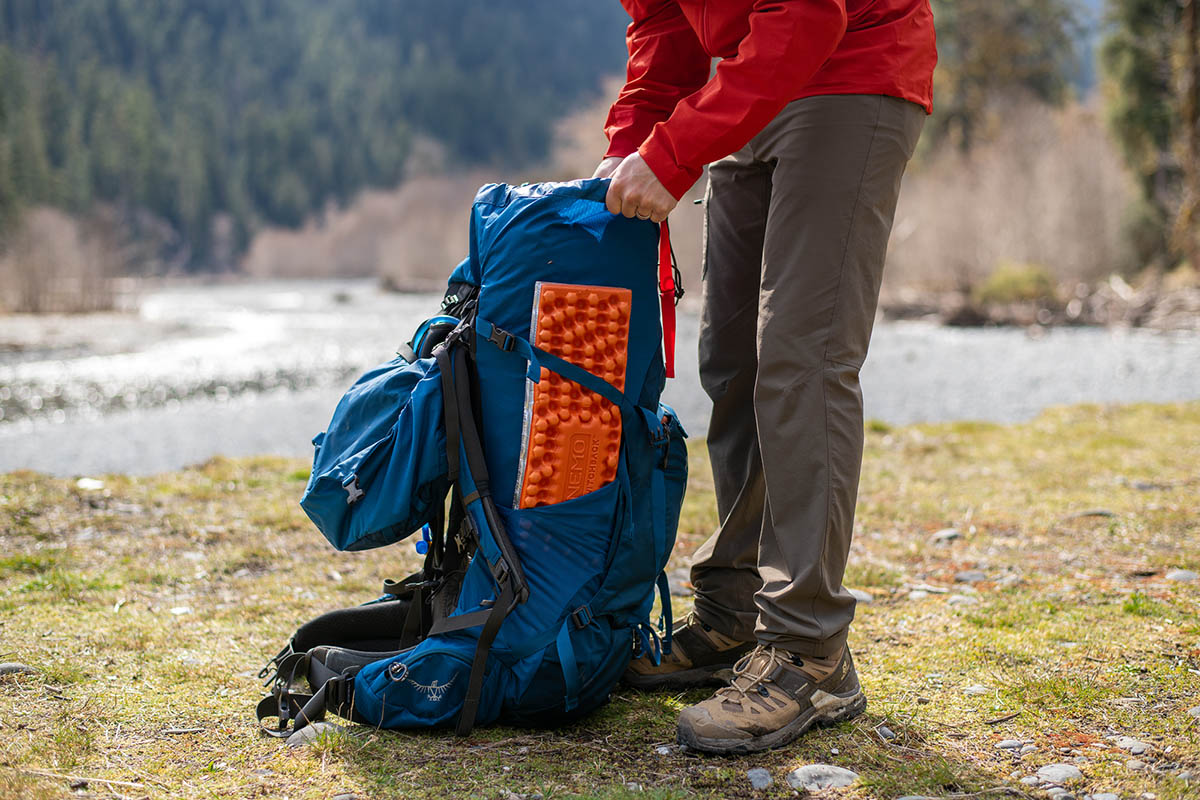 Ventilation
Backpanel and hipbelt ventilation is a biggie for some, especially if you tend to run warm or plan on hiking in the heat of the summer. But finding an internal framed pack that breathes well can be a challenge, primarily because the point of a pack is to hug and conform to your body, moving with you as you walk. Most packs have offsetting foam and mesh panels that do a passible job encouraging airflow, but you'll likely still get sweat art on your back that traces where the foam panels contact your body. On the other hand, designs such as Osprey's Anti-Gravity (seen on the Atmos) or Gregory's FreeFloat (on the Zulu, for example) feature a fully suspended mesh backpanel and hipbelt that cradle the body while still allowing for great airflow. For the most part we love this design and recommend it for those who want to prioritize ventilation, but it does cut a bit into the main compartment's capacity and won't hold up to especially heavy loads.
Water Protection
Many items that we store in our backpacks are vulnerable to moisture—including a camera, phone, and down sleeping bag—so we place a high priority on water protection. The good news is that most backpacks offer decent water resistance with hard-face nylon and a durable water repellant (DWR) coating, although expect sustained rainfall to penetrate the fabric. There are also a number of waterproof backpacks on the market, including those made with Dyneema. In fact, we've used the 100% Dyneema Hyperlite Windrider as a dry bag (see our in-depth review) and it didn't let us down. Among nylon and polyester designs, Arc'teryx uses a waterproof material for a good portion of their Bora AR backpack, although it's not fully waterproof (i.e submergible) like a roll-top Dyneema bag.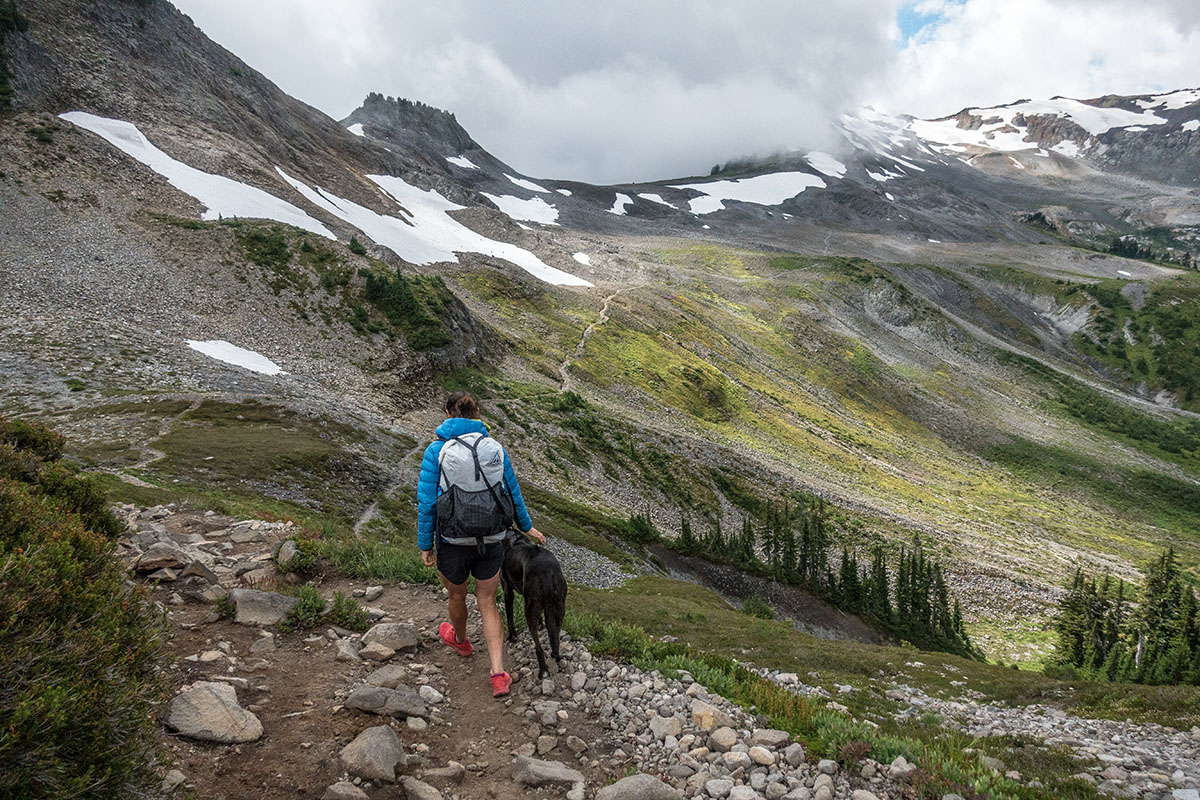 If you don't have a waterproof backpack (chances are you won't), it's a good idea take a few extra precautions to make sure your gear stays dry. Some packs include a built-in waterproof cover that stows away inside the pack (the Gregory Baltoro 65, REI Traverse 60, and Gregory Paragon 58, for example). You can also purchase one separately—we like Osprey's 3-ounce UltraLight Raincover best—but keep in mind that they aren't foolproof and can be hard to trust in windy conditions. Another strategy is to protect items from the inside, either by lining the entire pack body with a waterproof bag or using an assortment waterproof stuff sacks or dry bags. You can even make do with garbage bags: when guiding in British Columbia's wet costal range, we used a trash compactor bag to line our backpack and always had dry gear.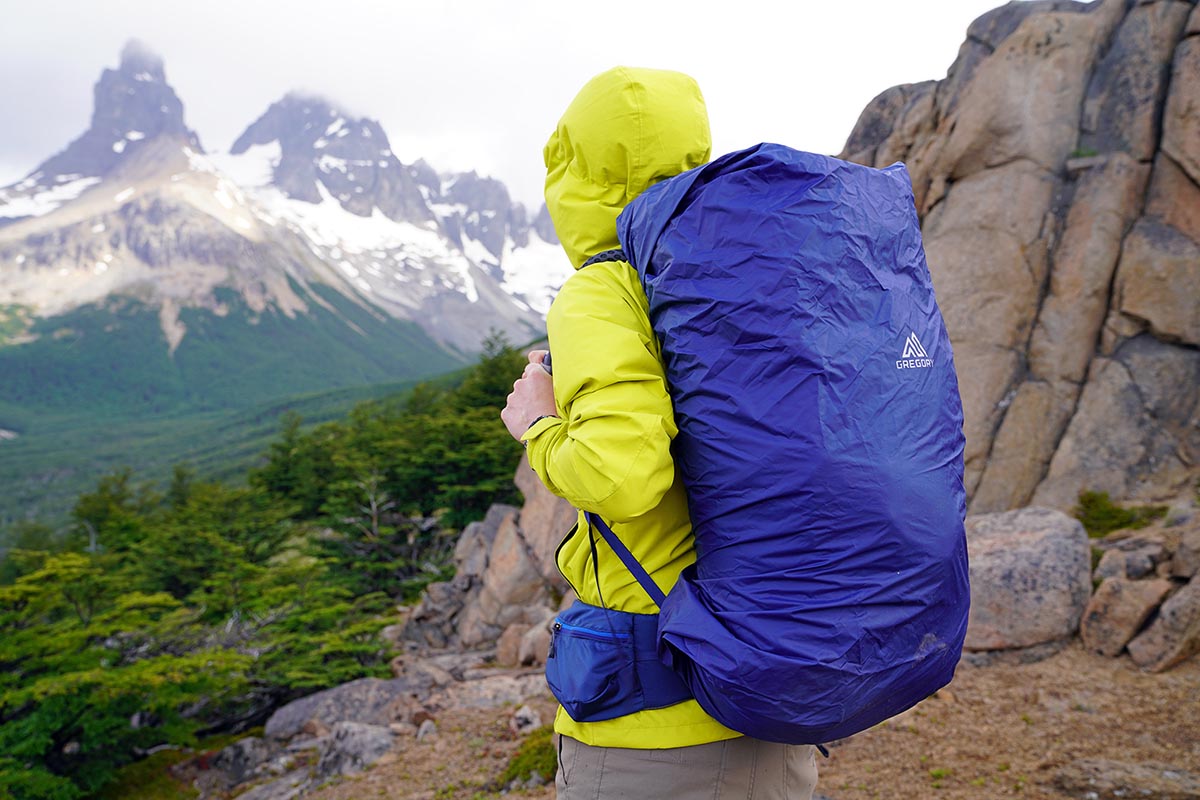 Ultralight Backpacking Packs
While it sounds well and good—reducing weight to move easier and faster—going to an ultralight pack is not without compromise. First off, know that you are forgoing most luxury items. You'll see simplified organization, reduced padding, and a more basic frame—some even go without metal stays (metal rods that give the pack a rigid structure) completely. The pack's fabric will also be thinner in the quest to cut weight (you'll see this referenced as a lower "denier" or "D" in our comparison table), making it more vulnerable to tearing when cutting through brush or squeezing between rocks. And because it's the piece of gear that will be hauling the rest of your stuff, commit to moving your entire setup to ultralight status. If not, the extra weight will overwhelm the pack's suspension, making for some miserable trekking.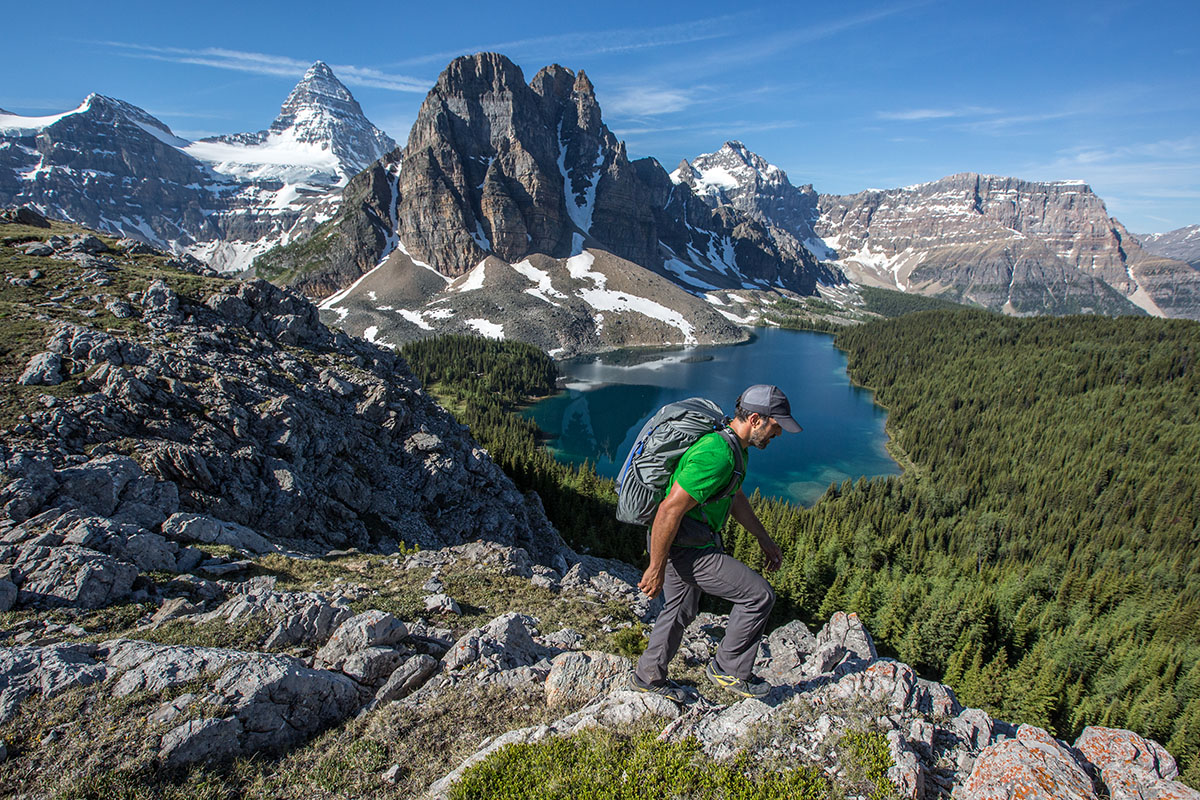 If you're getting a negative impression from our thoughts on ultralight packs, don't! They've become a mainstay for thru-hikers and lightweight backpackers, and have numerous tangible benefits. Most importantly, there's reduced stress on all your joints by hauling less weight, so you can cover more miles with less effort (and less pain). And improvements in pack materials and suspensions are making many of the compromises above a non-issue.
Standout ultralight packs that made our list include the Gossamer Gear Mariposa 60, Zpacks Arc Blast 55L, Hyperlite 3400 Southwest, and ULA Circuit 68. The Zpacks and Hyperlite are made with Dyneema Composite Fabrics (previously known as Cuben Fiber), which is an extremely lightweight but strong fabric—it resists tears far better than an ultralight nylon. Moreover, smart use of padding and support makes the Zpacks and particularly the Hyperlite handle weight surprisingly well. The final benefit is that the Dyneema fabric is highly resistant to water, which means you don't have to worry about bringing a rain cover. Done right, an ultralight pack is a deserved replacement to your old faithful traditional pack.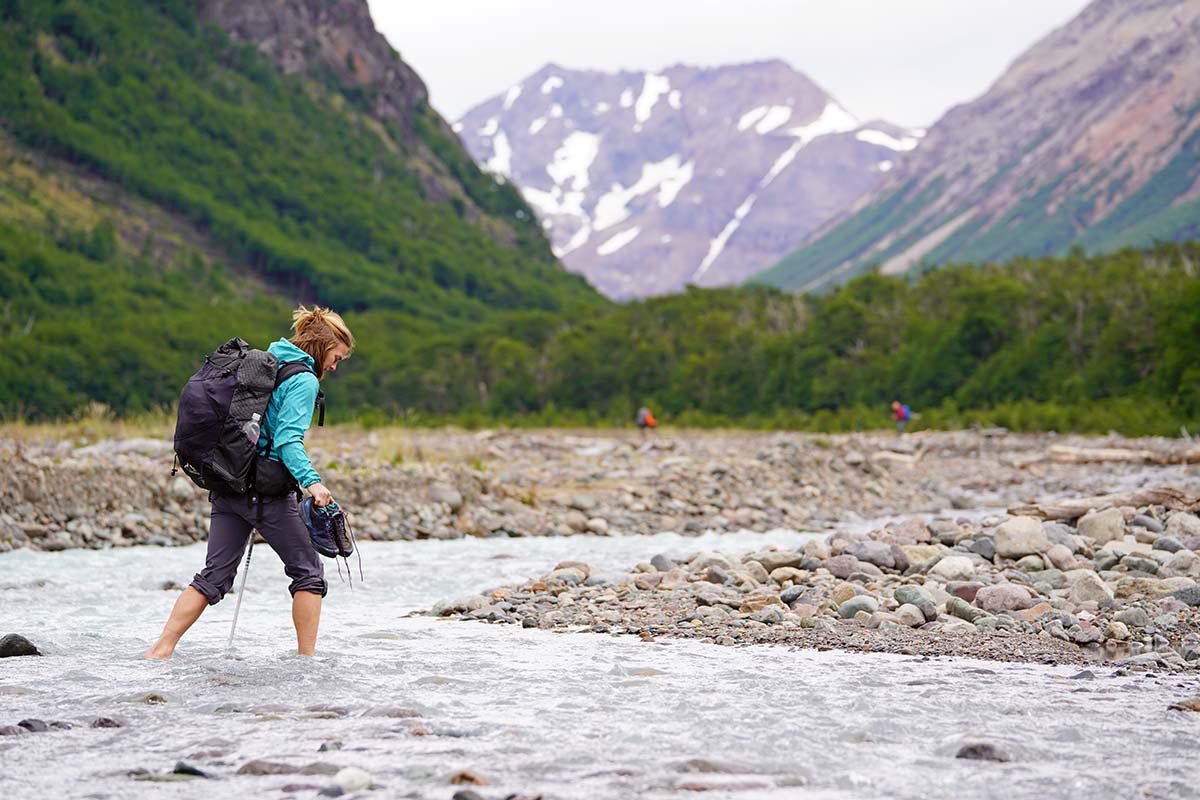 Pack Sizing: Know Your Torso Measurement
The number one factor in sizing a backpack is your torso measurement. No matter the adjustability of a pack, if you get one that doesn't fit your torso, you'll find yourself perpetually adjusting and tweaking a pack that will never fit. Trust us, spend the 10 seconds and get yourself measured.

What you need: A flexible cloth tape measure and another human. Please don't try to get the measurement yourself. Even if you have Cirque du Soleil levels of flexibility, you won't get your size right.

What to do: Start by putting your chin to your chest and have your helper locate the C7 vertebrae near the base of the neck. It's the largest vertebrae in the neck and sticks out the most, so it should easy to find. Next, rest your hands on the top of your hips in the same way your parents used to do when you failed to clean your room – with your thumbs along your back. That top part of your hips is your iliac crest, the ideal place for a hipbelt to rest and do its job of carrying most of the pack's weight. Have your new friend then measure from the C7 vertebrae to the spot on your spine where your thumbs would meet. Voila, you have your torso measurement. If you're more of a visual learner, REI put together an informative video and article on how to get your torso and hip size.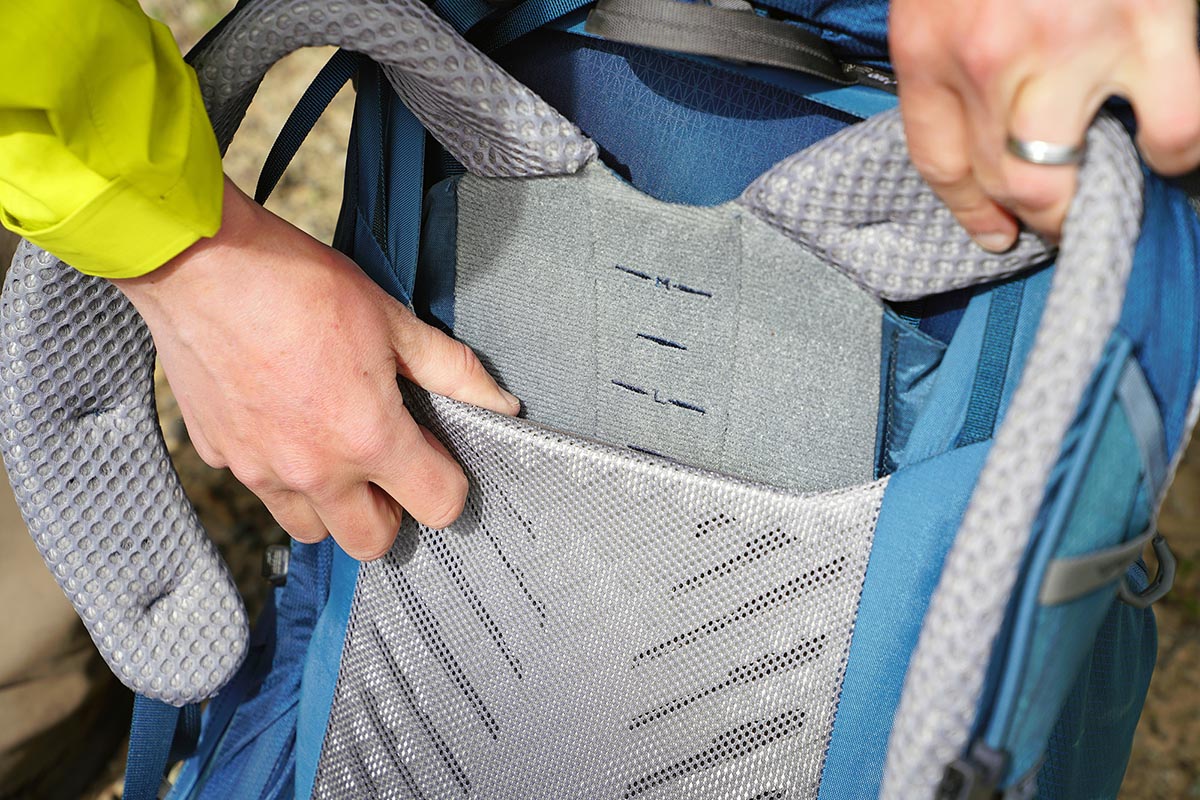 If you're having trouble finding a pack that fits both your torso and waist measurements, pick one with replaceable hipbelts. You can then choose the size of pack you need based on your torso measurement and swap out the hipbelts. A number of the packs we recommend have these replaceable pieces (including the Arc'teryx Bora and Gregory Baltoro). Alternatively, some packs offer precise adjustments for both the torso and hipbelt to really dial in the fit.
Back to Our Top Backpacking Pack Picks  Back to Our Backpacking Pack Comparison Table
Learn More About Outdoor Gear