Granite Gear Crown3 60
Price: $220
Weight: 2 lbs. 9.3 oz. (size regular)
Capacities: 60L
What we like: A comfortable, customizable, and relatively hardwearing pack for a competitive weight.
What we don't: Lacks a premium fit and finish; does not use recycled materials or PFC-free DWR.
See the Women's Granite Gear Crown3  See the Unisex Granite Gear Crown3
Though not quite a household name like backpack giants Osprey or Gregory, Granite Gear has quietly established itself on the ultralight scene as a brand to trust. Featuring relatively simple yet highly customizable designs that maximize bang for buck, their lineup ranges from the frameless Virga 2—a favorite among weight-conscious fastpackers—to the fully featured Blaze 60 and all-rounder Crown3 60 here. We took the Crown3 on a 40-plus-mile trek through Washington's colorful Cascades and came away with mixed feelings: The pack's organization is well thought out, but its fit and finish leave much to be desired. Below we break down our experiences with the Granite Gear Crown3. To see how it stacks up, see our articles on the best backpacking packs, women's backpacking packs, and ultralight backpacks.
 
---
Table of Contents
---

Performance
Carrying Comfort
I tested the Granite Gear Crown3 on a 43-mile loop through Washington's stunning Cascade range, carrying an overnight load of around 30 pounds. I found the pack to be overall very comfortable, with a few main caveats. I used the Crown3 as it arrived out of the box, with the frame sheet but no stay (in this configuration, Granite Gear lists a load limit of 35 lbs.), and it distributed the heft of my gear decently well. Moreover, the molded foam backpanel, hipbelt, and shoulder straps caused zero pressure points and conformed well to my body with no break-in period. It's worth noting that with an aluminum stay (sold separately), Granite Gear claims the pack can comfortably carry 43 pounds; conversely, if you choose to remove the frame sheet, its load limit is 25 pounds.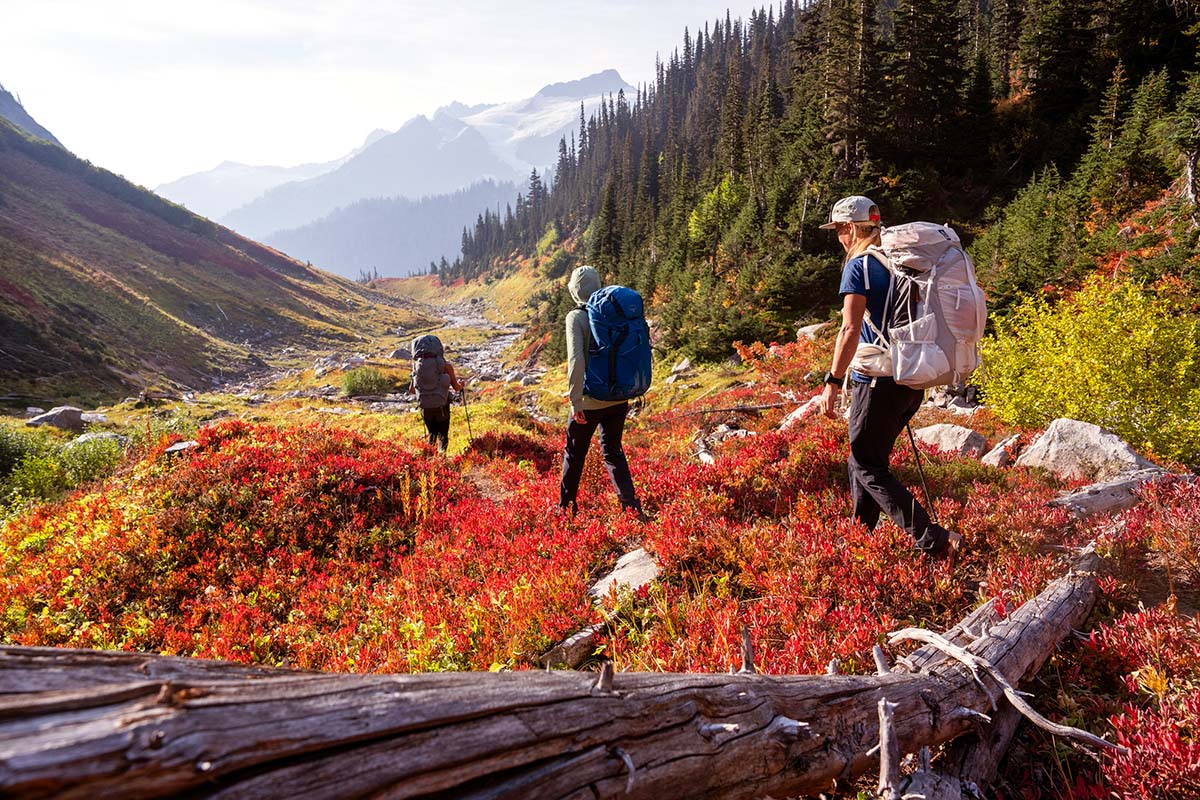 While undiscerning users might have little to complain about (as I did when I tested the Crown2 back in 2018), I have a few small nitpicks with the Crown3's comfort. Throughout the past four years, I've had the opportunity to experience a number of other backpacks—the Osprey Aura and Eja, the Gregory Facet, and the ULA Equipment Circuit, to name a few—and it's safe to say my standards have been raised. With this in mind, the Crown3 felt particularly squirrely on my back—it wanted to bounce and shift side-to-side more than I'm used to—which I attribute to the lack of metal stay (sold separately) and omission of straps connecting the waist belt to the pack body. In my opinion, the latter is a major oversight: Adding a stabilizer strap on each side would create a key attachment point between the removable hipbelt and the pack, helping them to better operate as one unit. A few other quirks also contributed to my discomfort: The pack's shape is rather short and stout, which made the squirrely feeling even worse, and the long and bulky bungees from the side water bottle holders often found their way between my back and the backpanel.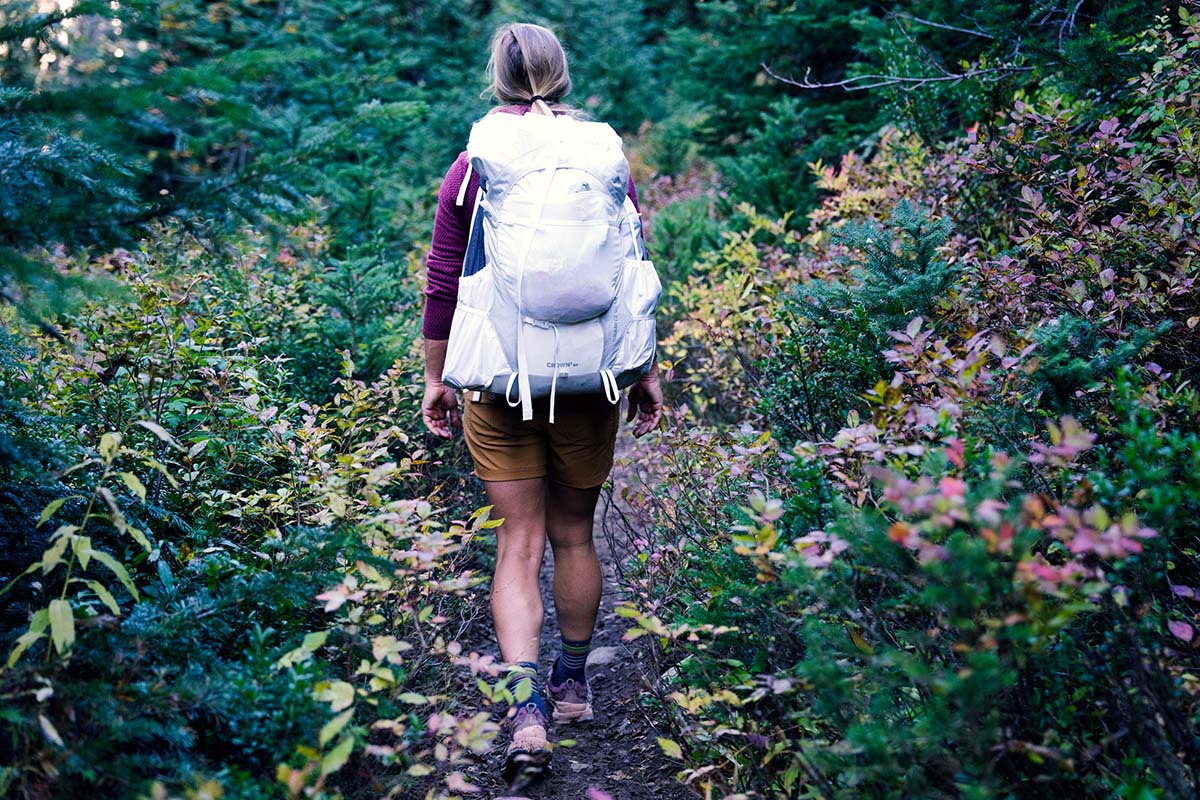 Weight
In the women's size regular that I tested, the Granite Gear Crown3 checks in at 2 pounds 9.3 ounces, making it competitive with popular lightweight models like the Osprey Eja 58 (2 lbs. 11.5 oz. in the women's XS/S) and Gregory Facet 55 (2 lbs. 8.8 oz. for the women's small). You can go lighter with true ultralight packs like the Osprey Lumina 60 (1 lb. 14 oz. for the women's small) and Hyperlite Southwest 3400 (1 lb. 15.7 oz.), but be prepared to make sacrifices in terms of durability, organization, comfort, and ventilation. In the end, the Crown3 hits a nice middle ground of weight and performance, and you can drop even more ounces by removing the lid (2.9 oz.), framesheet (6.1 oz.), hipbelt (7 oz.), and other small straps and bungees.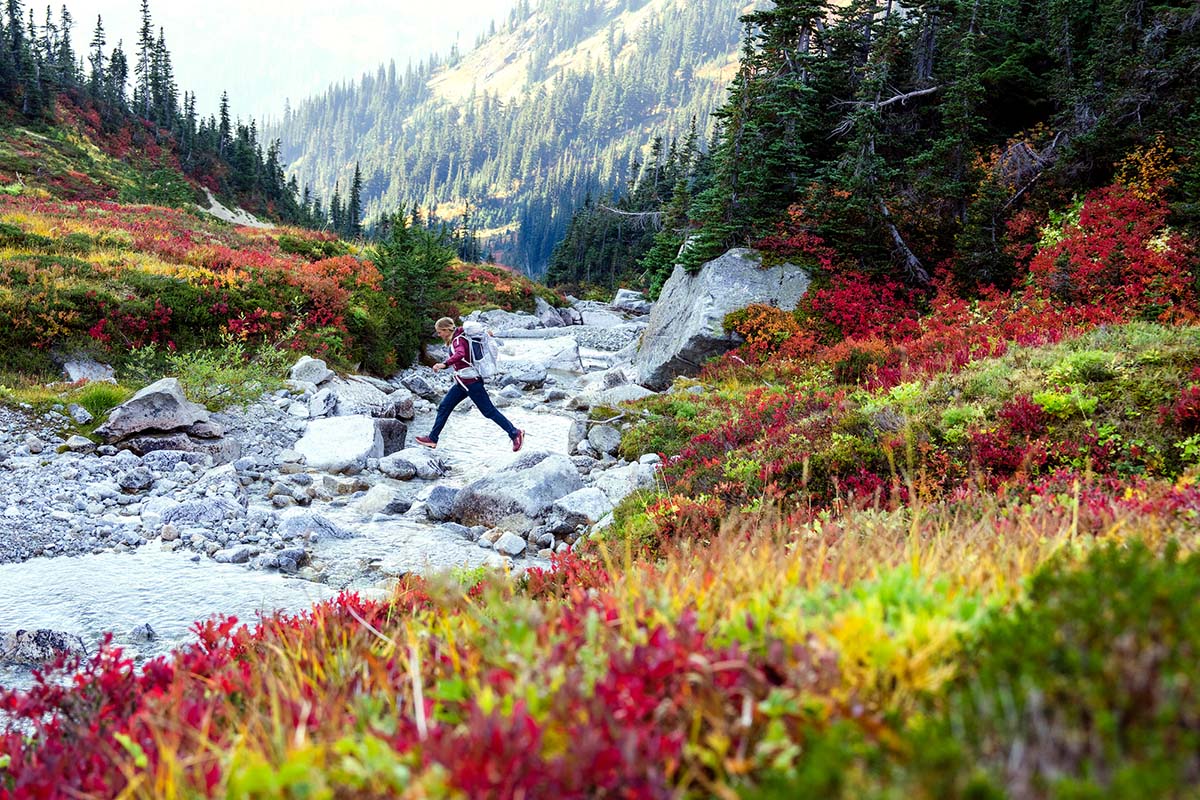 Organization
Many ultralight backpacking packs have a very similar organizational layout, and the Granite Gear Crown3 is no exception. You get a cavernous main compartment with a roll-top closure, a generous and stretchy dump pocket on the front (great for stashing extra or wet layers), two large side pockets that cinch closed with an elastic bungee, two hipbelt pockets, and a removable 5-liter lid. Unlike heavier and more featured designs, the Crown3 does not include any secondary access to the main compartment (a lot of packs have sleeping bag compartments or side-access zips), which is not a big deal for me—the generously sized exterior pockets do a great job storing whatever I might need for a day on the trail.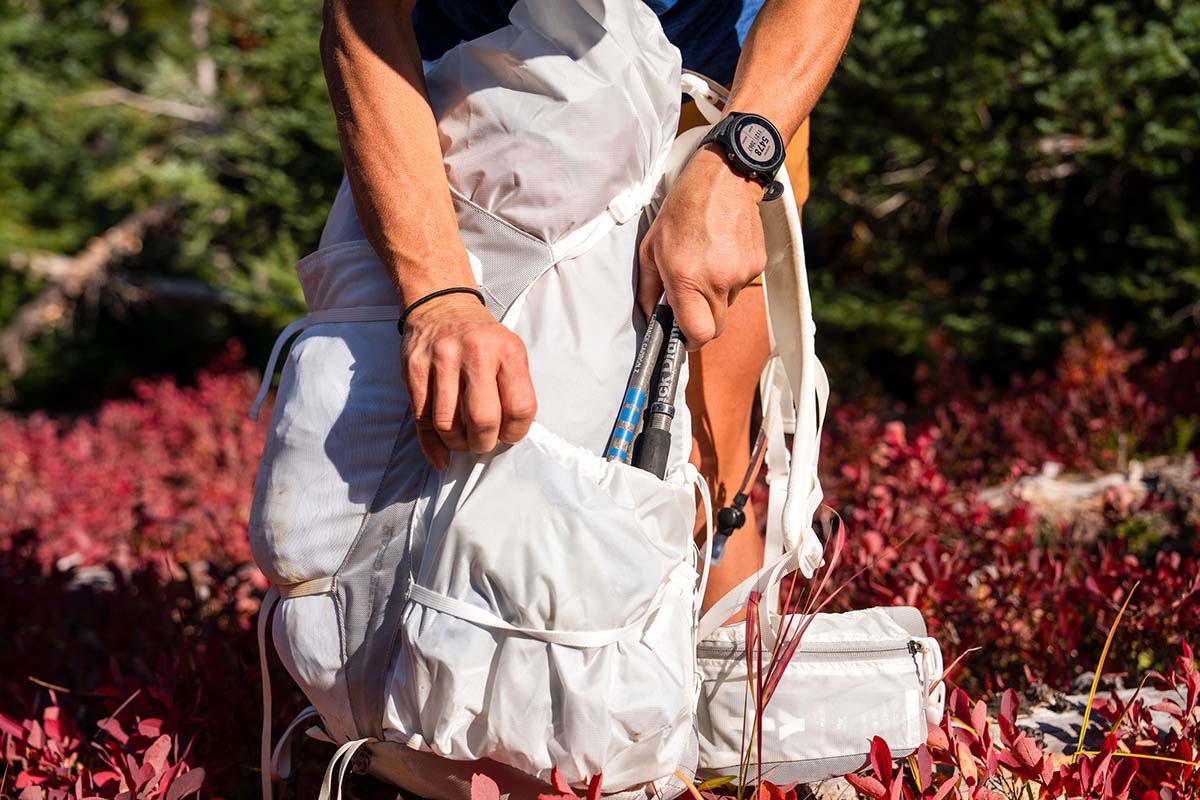 There are a few shortcomings and particularities also worth mentioning. First off, while the hipbelt pockets do accommodate my iPhone 11 (in a lifeproof case), it's a bit of a squeeze and annoying to get in and out. As a result, I ended up just storing my phone in my pocket while hiking. Second, Granite Gear included two bungees on each shoulder strap to cinch around a water bottle, but they struck me as unruly and cluttered—I use a hydration reservoir during long hikes, so I removed these before I hit the trail. And on the plus side, the Crown3 features attachment points at the bottom for an accessory cord if you like to externally carry a foam sleeping pad or tent, and the lid is removable and can double as a fanny pack (when attached to the hipbelt) or on-the-go chest storage. I also appreciated the ability to easily remove the lid for toting essentials (mug, inReach Mini 2, toothbrush, headlamp, etc.) around camp.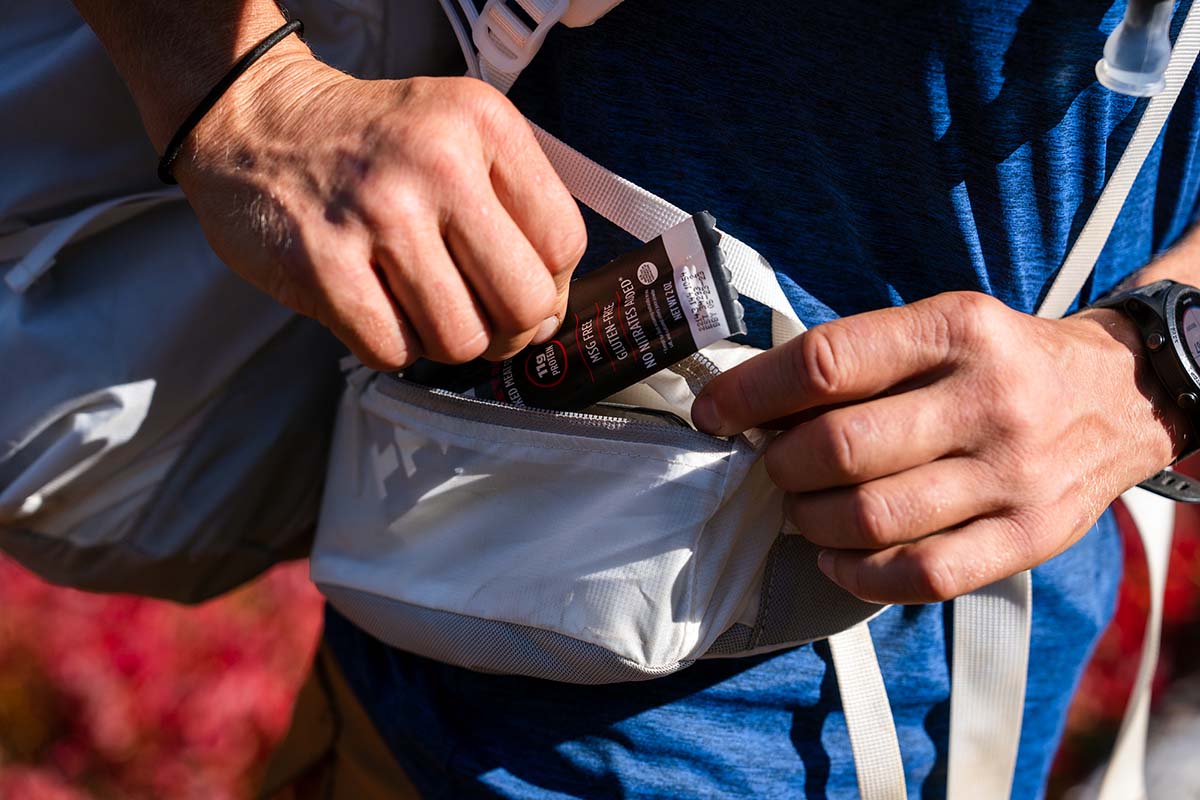 Ventilation
It was an unseasonably warm October when I tested the Granite Gear pack, which means that I sweated my way up many mountain passes throughout our backpacking trip. And while the Crown3 isn't an industry leader in terms of ventilation, it's no slouch either. The pack features a molded foam backpanel that's patterned with channels to help body heat escape. By no means does this mean that the back of my t-shirt wasn't drenched in sweat (you'd need a suspended mesh backpanel—and likely cooler temperatures—to achieve that feat), but the Crown3 nevertheless did a decent job wicking away any excessive moisture build up. Those who tend to sweat a lot or hike in particularly warm climates might want to consider a pack that places higher prioritization on ventilation, such as the Osprey Aura or Eja, or the Gregory Facet.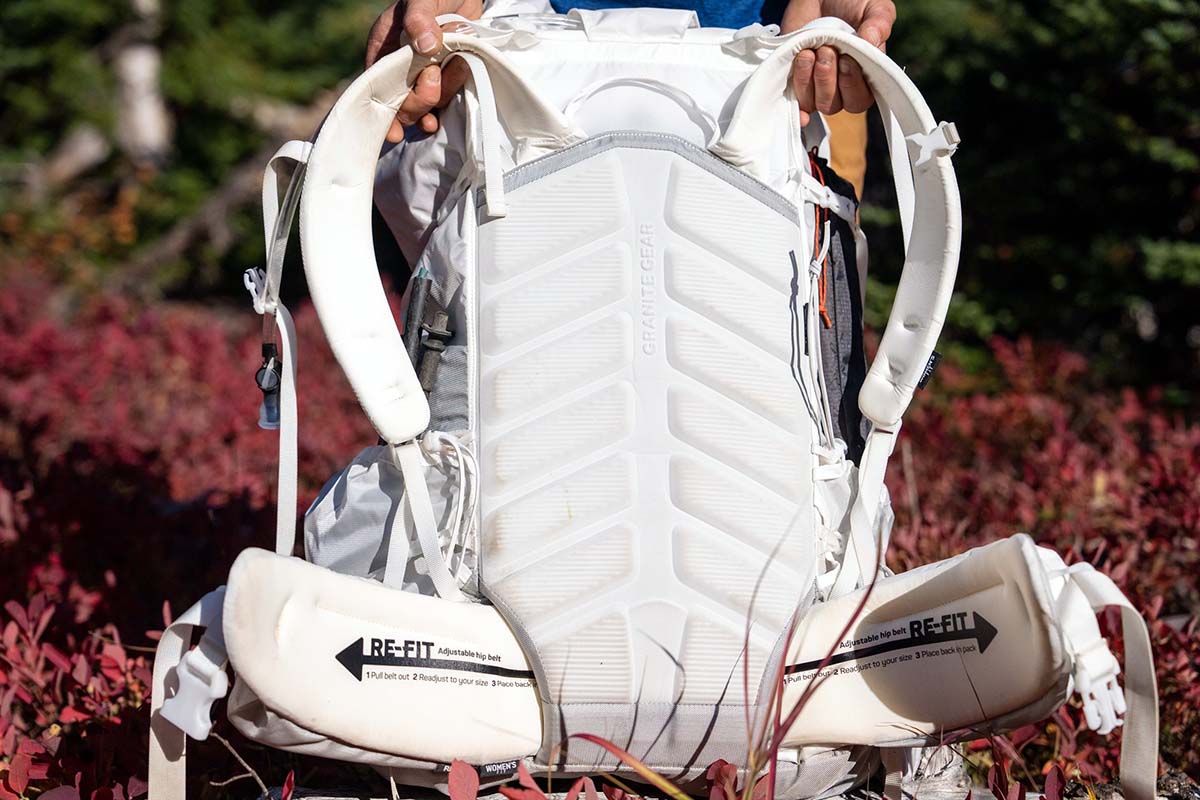 Weather Protection
The Granite Gear Crown3 is built to keep light moisture at bay, with a durable water repellent finish that causes water to bead up and roll off rather than soak through. It also features water-resistant zippers on the lid and hipbelt pockets and uses a roll-top closure to keep rain from seeping into the main compartment. But despite the water-resistant features, the Crown3 won't keep your gear protected in much more than a light rain. If you plan on hiking in wet conditions, you'll want to add a pack cover—our favorite is the UltraLight Pack Raincover from Osprey, which checks in at just 2.8 ounces and $37 for the size medium. Alternatively, you can line your pack with a durable trash compactor bag or use waterproof stuff sacks to protect your gear individually. For full waterproof protection without the additional weight and bulk of a rain cover, you can also bump up to a Dyneema design like the Hyperlite Southwest 3400.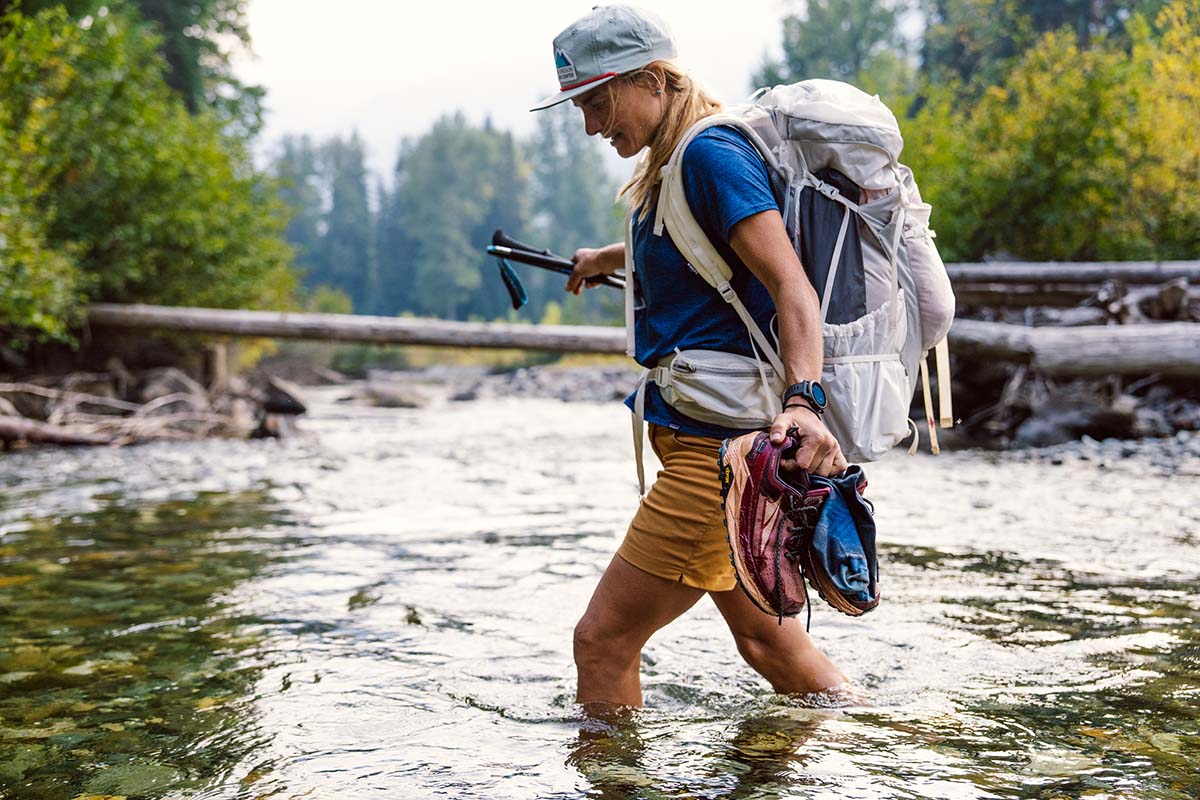 Build Quality and Durability
With 100-denier high-tenacity nylon in the body and 210-denier at the base, the Crown3 is on the thin side for a backpacking pack. For comparison's sake, a heavier design like the Gregory Deva 60 (4 lbs. 10.2 oz.) uses 210-denier and 420-denier nylon in the body and 630-denier nylon at the bottom. But despite the Crown3's thin materials, my pack suffered no abrasions throughout three days on the trail, nor did I feel like I needed to baby it. Time will tell how the design holds up, but in general, I've had very positive experiences with lightweight pack fabrics (the aforementioned Gregory Facet and Osprey Eja are similarly thin). If you foresee a lot of bushwhacking in your future or are particularly hard on your gear, we do recommend a tougher design. Within the ultralight category, you'll have to spend up for a Dyneema model like the Hyperlite Southwest ($379) or Zpacks Arc Blast ($375); if you want to keep prices low, expect a heavier pack.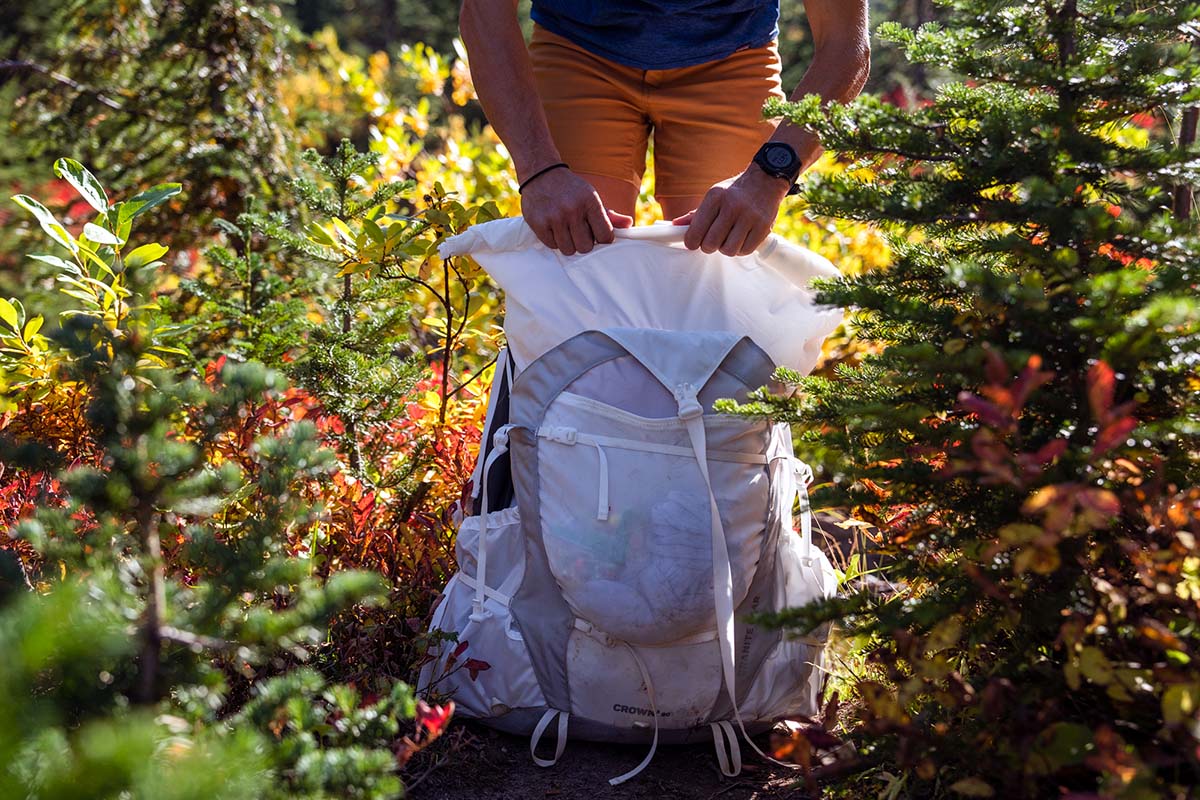 Aside from the fabrics, I have mixed feelings on the Crown3's build quality. Put simply, the pack lacked the premium fit and finish of models from brands like Gregory, Osprey, and Hyperlite. The feature set is undeniably thoughtful and well-intended, but the result was a strap- and bungee-laden pack that I immediately wanted to strip down after purchasing (including the second sternum strap and front water bottle holders). What's more, the Crown3's short and squat shape was a far cry from the sleeker packs of my hiking partners, and while I generally like white packs (I've tested a number of Dyneema designs), the nylon Granite Gear misses the mark with its see-through and fragile-feeling (albeit not actually fragile) undyed model. But in the end, these are all matters of appearance and personal preferences; to be fair, the Crown3 is a capable and durable design and I have yet to experience any durability issues or malfunction.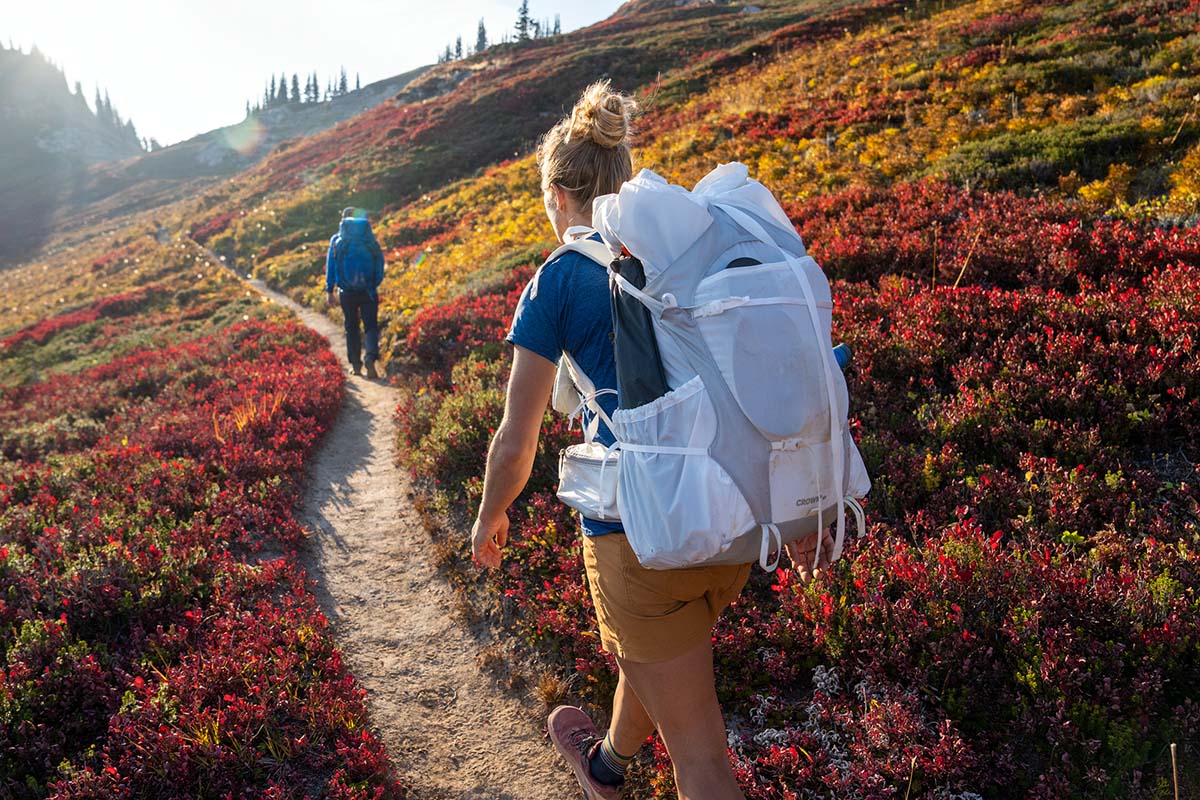 Sustainability
Sustainability is a big buzzword in 2022, with pack manufactures like Osprey and Gregory turning towards recycled materials and durable water repellent finishes that are free of harmful chemicals (otherwise known as PFC/PFAS-free DWR). Unfortunately, as of yet, Granite Gear packs do not feature any of these innovative materials or treatments. Their one selling point is the undyed version of their Crown3, which they claim reduces water waste by 55% compared to other colorways. We hope to see more efforts from Granite Gear in the upcoming years. And of course, the best thing you can do for the planet is limit your consumption (do you really need another backpack?) or buy used.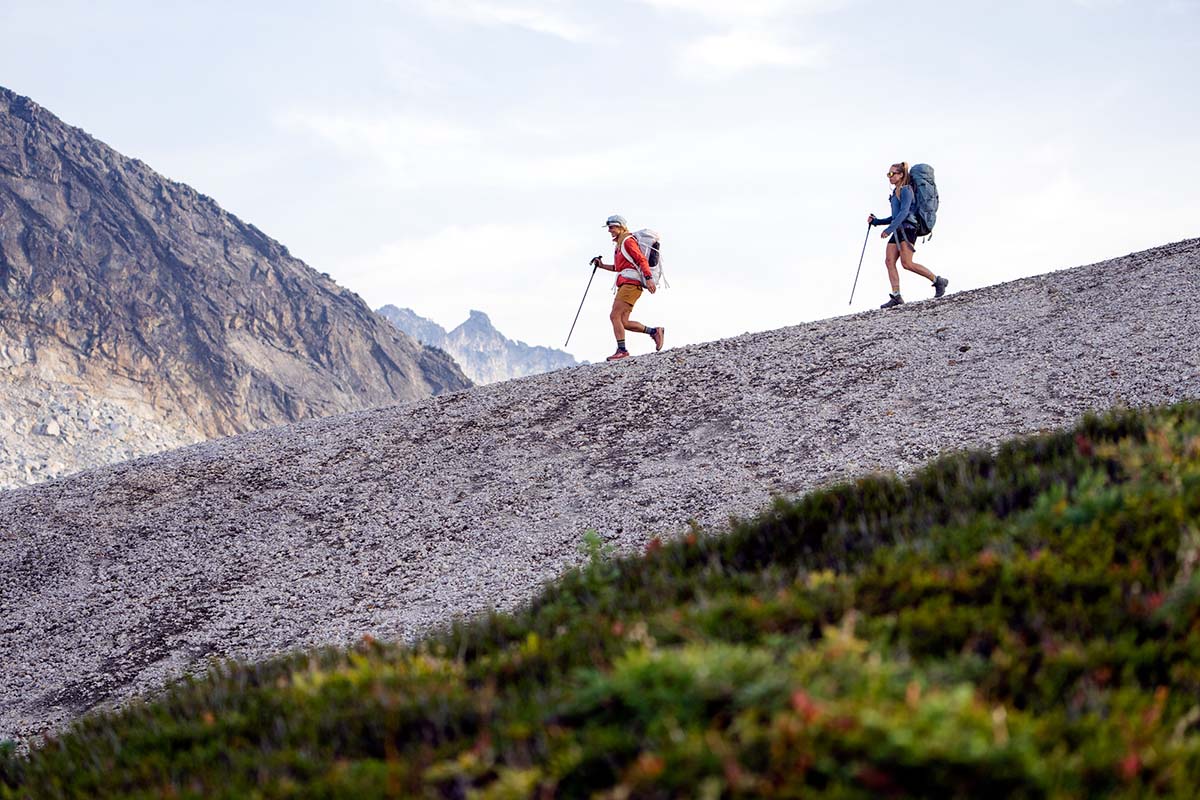 Fit and Sizing
The Crown3 is offered in two sizes for women—"short" (for torsos 15-18 in. long) and "regular" (18-21 in.). At just shy of 5'6", I'm right on the cusp between these sizes, so I opted for the "regular." In the end, the pack was a bit too long for me, and the "short" size would have been a better fit. Unfortunately, the Crown3's sizing is unforgiving: Unlike a pack like the Osprey Eja 58 (which has 4 in. of adjustment in the torso), the Granite Gear has a fixed torso. Short of tightening and loosening the hipbelt and shoulder straps, there was little I could do to get a better fit. On the other hand, the Crown3's Re-Fit hipbelt is fully adjustable: Simply remove it from the pack body (you'll have to work the hook-and-loop closures loose) and use the marked measurements to extend it anywhere between 24 to 40 inches in length.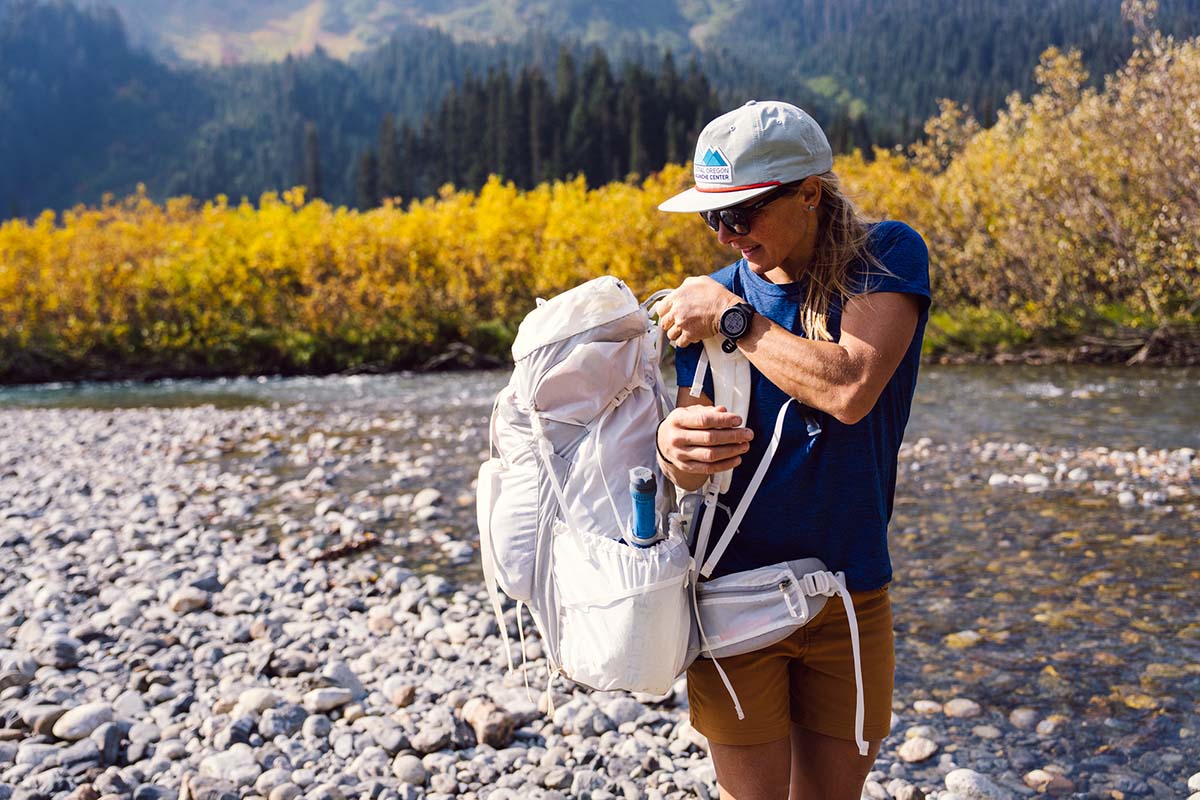 If your body is on the particularly short or tall end of the spectrum, it's worth noting that there are more accommodating packs on the market. While the Crown3 fits torso lengths from 15 to 21 inches, the Osprey Eja 58 has two sizes that range from 13 to 19 inches at the torso, while the Osprey Ariel AG 65 has four sizes that range from 14 to 22 inches (you can also customize your hipbelt and torso length independently of each other at purchase). As mentioned with the Osprey Eja above, it can also be nice to have an adjustable torso, especially if you're not trying the pack on before you buy. We're being a bit nitpicky here and the Crown3 should get the job down for most, but those who are finicky about fit might be better off going with a pack with a wider size range or more adjustable design.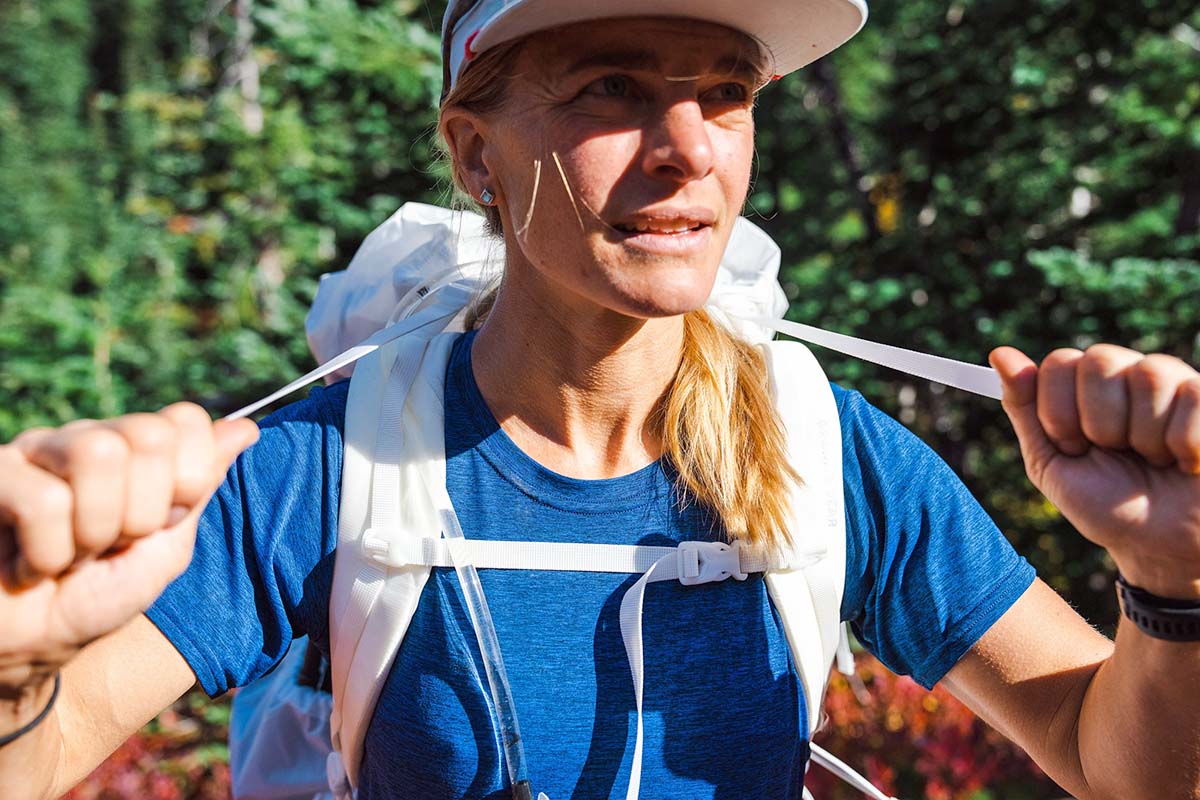 Granite Gear Crown2 vs. Crown3
Released in the fall of 2022, the Granite Gear Crown3 is the successor to the Crown2, which we tested on a 2018 trip to Patagonia. The packs are very similar with just a few key changes in the Crown3. Granite Gear revamped the frame sheet in the latest version, which now includes the option of adding an aluminum stay to increase the pack's load limit (up to 43 lbs.). The third iteration also features a more customizable lid, which can convert into a chest pack (when wearing the backpack) or doubles as a fanny pack when attached to the removable hipbelt. As a result of these changes, the new Crown3 is a bit heavier (by about 3.5 oz.), and it's also $40 more at $240 (note: both REI and Backcountry have the Crown3 listed for $220). The new pack is also available in an undyed version, which reduces water waste by 55% compared to other colorways.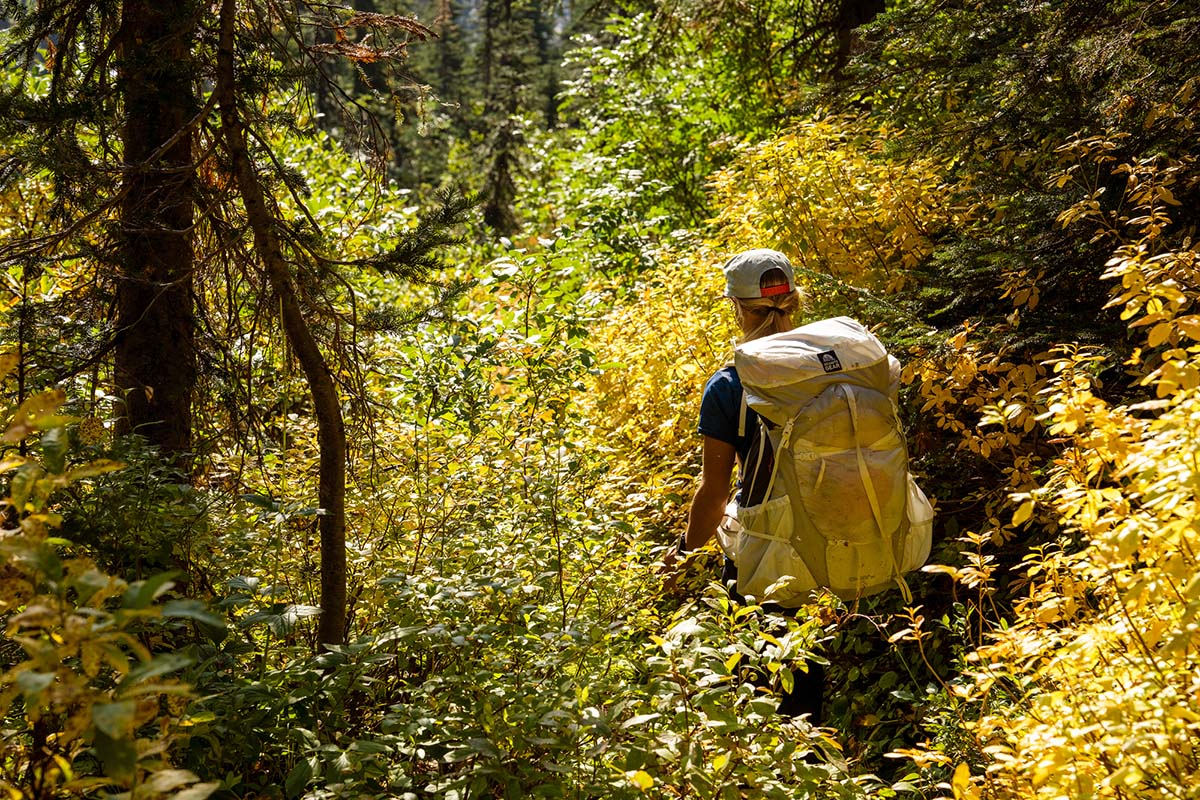 Unisex Granite Gear Crown3
For this review, we tested the women's Crown3, but Granite Gear also offers a similar unisex design. Both models are priced at $240 (or $220 through REI and Backcountry) and check in at the same weight, and the unisex version tacks on a "long" size for those with torsos that measure 21 to 24 inches. The key differences between the two packs are colorways (both come in the undyed white color, but the unisex pack is available in a brown/black design rather than the women's green/black) and Re-Fit hipbelt: On the women's version, it adjusts between 24 and 40 inches; on the unisex pack, it adjusts between 26 and 42 inches. Of course, there are no rules regarding what color you can or should get—just make sure you size your torso length and hipbelt correctly.​​​​​​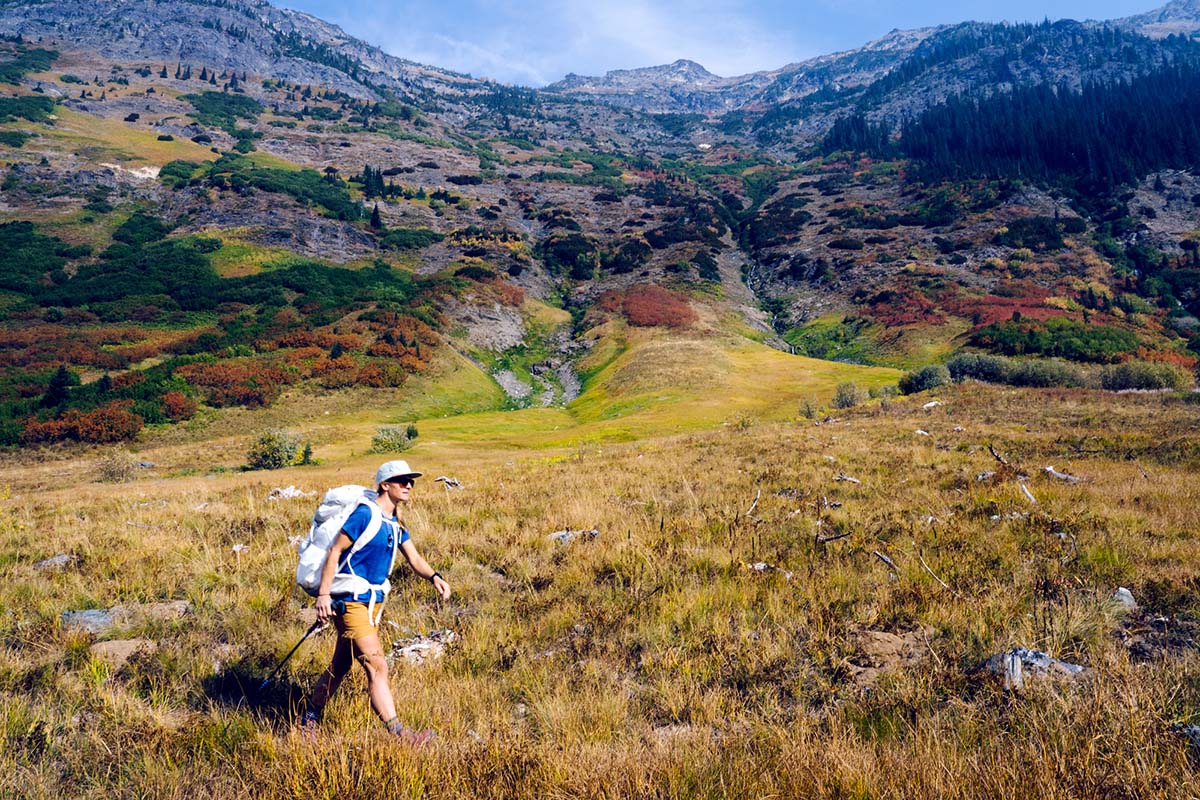 What We Like
Comfortable, customizable, and relatively hardwearing pack for a competitive weight.
The Re-Fit hipbelt adjusts between 24 and 40 inches to fit most body sizes.
With the new Vapor Current Mark 3 frame sheet, you can add a lightweight aluminum stay to increase the pack's load limit to 43 pounds.
Great organizational feature set including large external pockets, water-resistant zippers on the lid and hipbelt pockets, and a removable lid that doubles as a chest or fanny pack.
Builds off the design of a reliable and time-tested pack (the Crown2).

What We Don't
Short and squat build, no metal stay, and lack of stabilizer straps results in a fairly squirrely ride.
The women's version has a relatively small size range (torso sizes 15 to 21) and offers no adjustment at the torso.
Lacks the build quality and premium finishes of packs from brands like Osprey, Gregory, and Hyperlite.
Unlike much of the competition, Granite Gear does not use recycled fabrics or PFC-free DWR.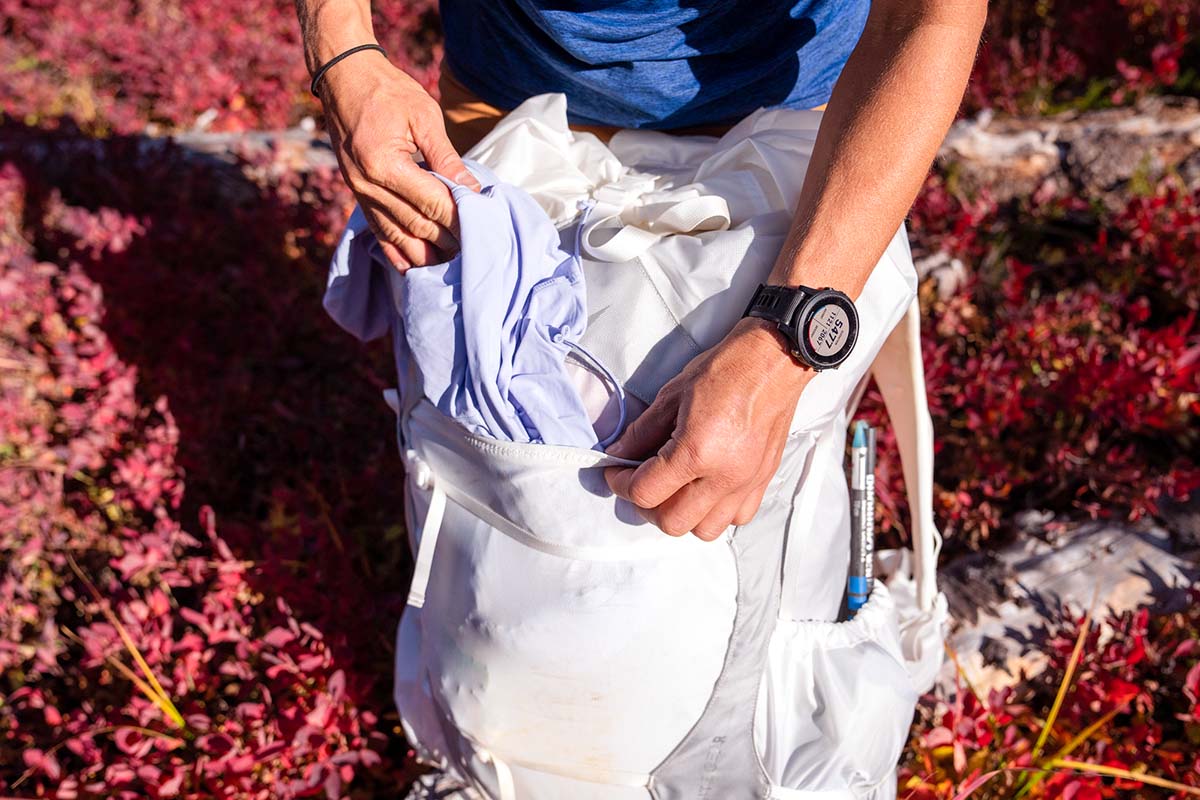 Comparison Table

The Competition
The ultralight backpack market is stacked with options, and the Granite Gear Crown3 60 is up against some stiff competition. Our current favorite is the Gregory Facet 55 (and men's Focal 58), which puts it all together with a relatively low weight (2 lbs. 8.8 oz.), well-ventilated backpanel, class-leading comfort, and thoughtful organization. Among light-to-ultra lightweight backpacks, we think the Facet (which is also offered in a 45L version) hits a really nice sweet spot: The design feels neither overbuilt nor overly simplified, and the build quality and finishes are top notch (including the ComfortGrip molded zipper pulls). That said, those who like to customize their packs might be better served with the Crown3—the Facet lacks the chest and fanny pack configurations you get with the Granite Gear, and its aluminum frame and fiberglass cross-stay are fixed in place. But for just $20 more, the Facet is by far the more premium and comfortable design.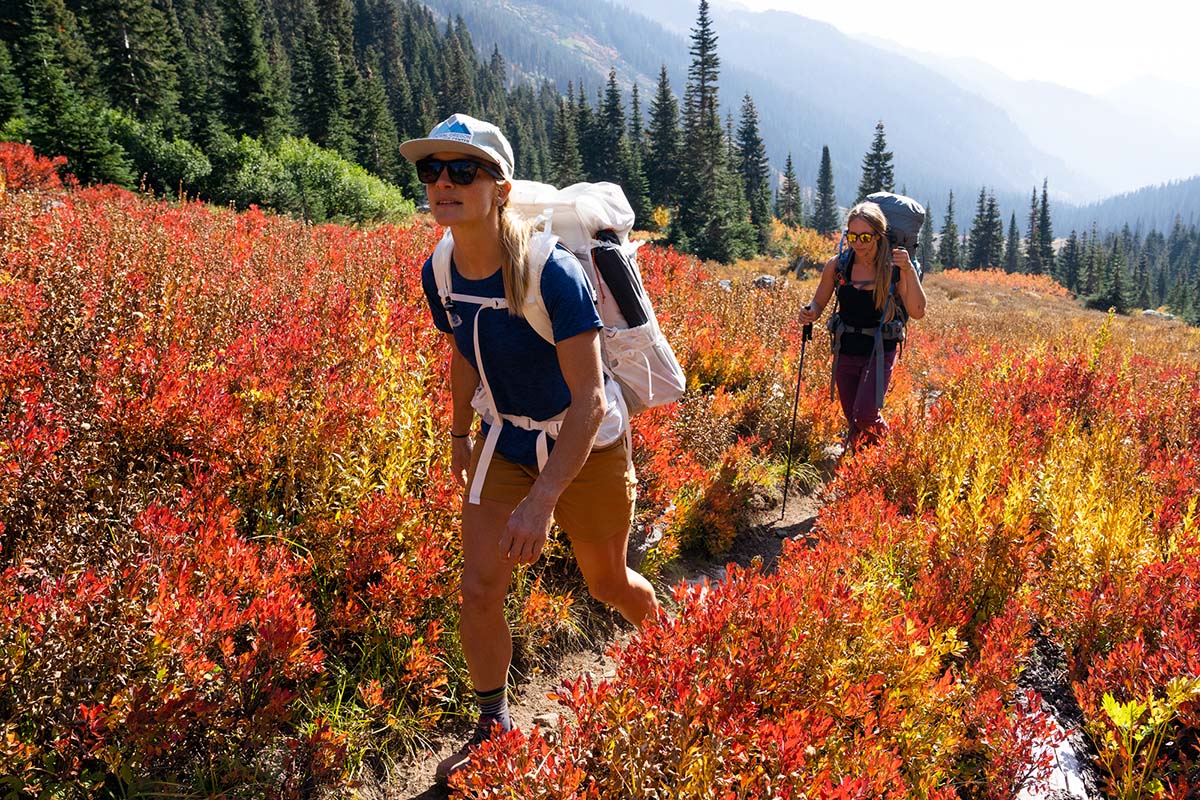 Similar to Gregory's Facet is the Osprey Eja 58 (and men's Exos 58), which checks in a few ounces heavier than the Crown3 and is $40 more at $260. The Eja places a high priority on comfort, featuring a well-padded backpanel (particularly at the lower back) and 4 inches of adjustment at the torso. If you tend to be super particular about pack fit (and especially if you don't have a chance to try on before you buy), this adjustability makes the Eja a really nice option. Like the Facet, the Eja offers fewer options for customization than the Crown3, and not all ultralight enthusiasts will love the heavily cushioned backpanel. But for traditional backpackers looking to switch things up with a more streamlined hauler, it's a good middle ground that offers the feel of a pack twice its weight. And for less gear intensive excursions, the Eja is also available in 38 and 48-liter versions.
The Crown3 might be Granite Gear's most popular pack, but the Blaze 60 is arguably a better design. At 3 pounds 2.7 ounces it lands well outside the ultralight category, but nevertheless has a lot to offer for recreational backpackers who don't want to step all the way up to a 4-plus-pound pack. With a boost in features over the Crown3, the Blaze tacks on an adjustable torso length, vertical zipper for secondary access to the main compartment, and more durable 210-denier Robic nylon on the base. It's also built to carry up to 50 pounds, thanks to Granite Gear's Air Current frame. But for a simpler and lighter design that can be used sans frame sheet or stay, it's best to stick with the Crown3.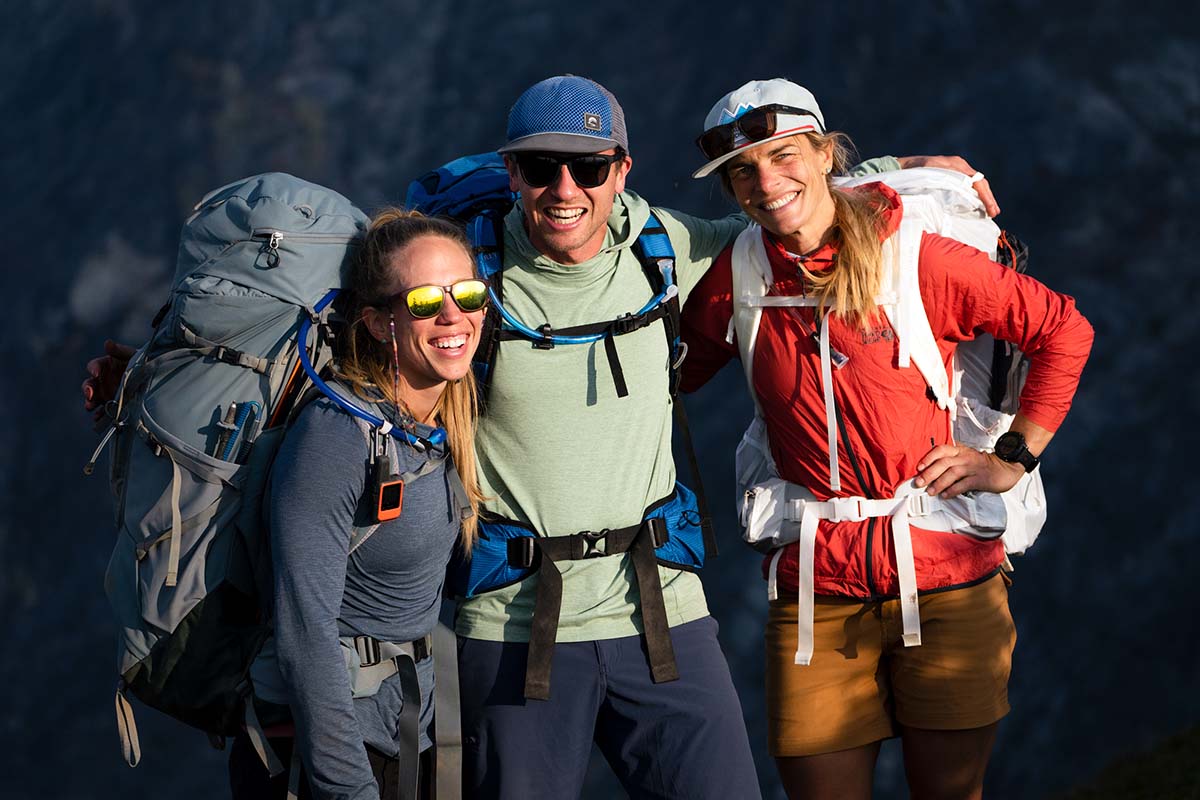 The Granite Gear Crown used to be one of our favorite budget packs (the Crown2 had an MSRP of $200), but with the third-gen version selling for $220 (Granite Gear's official MSRP is $240), it's no longer competitive in that category. Picking up the slack is the $199 REI Co-op Flash 55, which checks in just slightly heavier than the Crown3 (2 lbs. 10 oz.) and features a similarly customizable design. The Flash has a load limit of 30 pounds, which—unlike the Crown3—can't be increased with an added stay, limiting its use to short weekend trips or very lightweight loads. And similar to the Crown3, it features a molded foam backpanel, which doesn't offer the same level of ventilation you'll get from airy mesh designs like the Osprey Eja and Gregory Facet. But if you're looking for an ultralight design that won't break the bank, the Flash 55 is well deserving of a spot near the top of your list.
In any discussion on ultralight backpacks, we'd be remiss not to mention the Hyperlite Southwest 3400. The headlining feature here is the Southwest's Dyneema pack body, which offers incredible durability and water resistance for a low weight. As a result, the 3400-cubic-inch (55L) pack weighs just 2 pounds, and you won't need to pack an extra waterproof cover in wet conditions. Hyperlite designs also shave weight through pared-down feature sets: The Southwest does not have a lid, and ventilation suffers with no mesh or foam channels in the backpanel. But for those who prioritize weight-savings above all else—and don't mind paying for it (the Southwest is pricey at $379)—the Hyperlite is well worth a closer look.
If you're thinking about buying gear that we've reviewed on Switchback Travel, you can help support us in the process. Just click on any of the seller links above, and if you make a purchase, we receive a small percentage of the transaction. The cost of the product is the same to you but this helps us continue to test and write about outdoor gear. Thanks and we appreciate your support!
Depending on the seller, most products ship free in the United States on orders of $50 or more. International shipping availability and rates vary by seller. The pricing information on this page is updated hourly but we are not responsible for inaccuracies.
Read More From Switchback Travel