A key piece of any gear closet is a go-to daypack. It's what you grab for nearly any type of outdoor adventure, whether it's a hike, bike ride, or day on the slopes. Generally, what most people look for in a good daypack is the ability to carry enough water and food for a full day out, an extra layering piece or two, a first-aid kit, a headlamp, and a few other accessories. Price of daypacks will correspond with technical features and hauling abilities. Cheaper ones are great for carrying the light stuff, and more expensive options have more complex suspensions for a better fit and support. For more information, see our daypack comparison table and buying advice below the picks. For overnight trips, see our article on the best backpacking packs.
 
Best Overall Daypack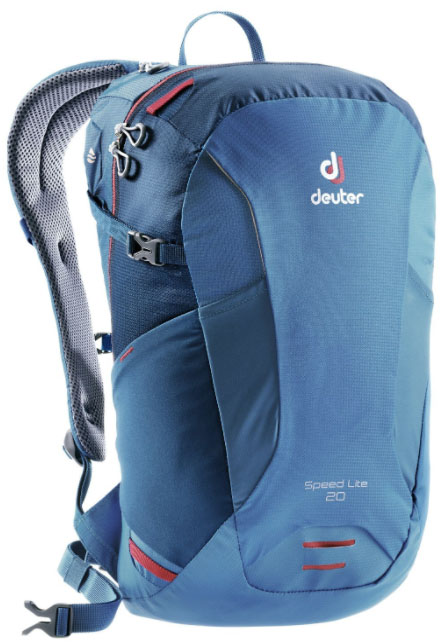 Weight: 1 lb. 1 oz.
Capacities: 12, 16, 20, 24, 32L
Hipbelt: Webbing
What we like: Lightweight, versatile, and a great value.
What we don't: No padding on the hipbelt.
The Deuter Speed Lite doesn't get quite as much attention as the Osprey Talon or Stratos below, but we think it's the best all-around daypack on the market in 2019. Here's why: it's comfortable, ventilates effectively in the heat, is among the lightest daypacks on this list at just 1 pound 1 ounce, and still manages to include features like a hydration reservoir sleeve and exit port. And what tipped the scales for us is the very reasonable price of $75, which is well below the Talon ($110) and Stratos ($130). You simply won't find a more versatile or well-built daypack for the price.
Our biggest concern with the Deuter Speed Lite is the lack of padding on the removable hipbelt. You'll miss the extra cushioning on long days and when carrying serious weight, but given the Speed Lite's 20-liter capacity, most day hikers should be just fine. In addition, the pack is only made in one size, but we've found it easy to get a snug and comfortable fit. Those who want more padding and storage can step up to the 24-liter version, which makes a jump in weight and price (1 pound 12 ounces and $110, respectively), but includes a more substantial hipbelt and back padding, dual compression straps, and daisy chain attachment points.
See the Deuter Speed Lite 20
A Close Second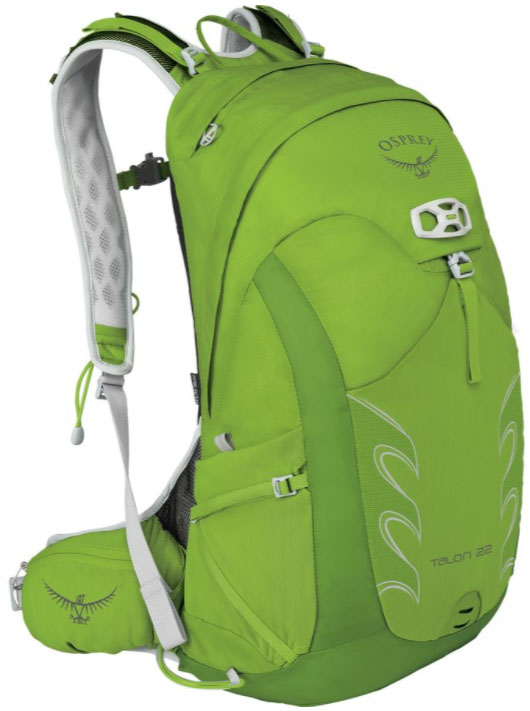 Weight: 1 lb. 11 oz.
Capacities: 11, 18, 22, 33L
Hipbelt: Cushioned
What we like: Lots of pockets and comes in two sizes.
What we don't: Limited support.
The Talon 22 from Osprey is the quintessential daypack and checks all the boxes for casual hikes. What makes it a perennial best seller? It's a great size for a summer day on the trail, has ample storage, a nice strechiness to it, and comes in two sizes to help dial in fit (as well as men's and women's-specific designs). The pack also has a real hipbelt with light cushioning, which is more comfortable than the simple webbing that you get with the Speed Lite above. For short hikes, travel, and everyday use, the Talon 22 is a solid choice.
For longer day hikes or carrying a heavier load, we prefer the Osprey Stratos 24 below to the Talon 22, which has a more substantial hipbelt and suspended mesh back panel for increased support. The upside is the Talon is quite a bit lighter, but its thin back panel means that you'll often feel the contents of your bag on your back, particularly if it's loaded down. For more serious excursions, the Stratos gets the edge, but there's a lot to like with the $20-cheaper Talon... Read in-depth review
See the Osprey Talon 22  See the Women's Osprey Tempest 20
Best Budget/Summit Pack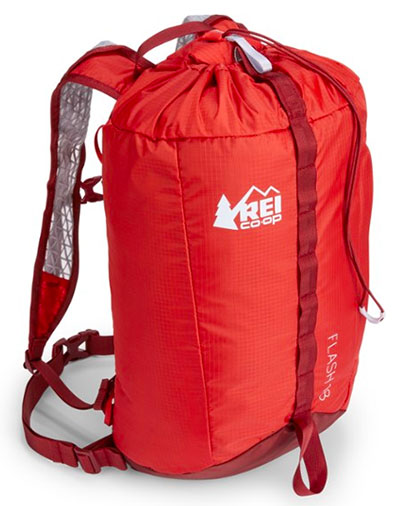 Weight: 9 oz.
Capacities: 18, 22L
Hipbelt: Webbing
What we like: So packable and stuffable that you will bring it everywhere.
What we don't: Can't handle much weight, low on features.
About as functional as a little pack can get, the REI Co-op Flash 18 deserves a place in the gear closet of just about every hiker, traveler, climber, or peak bagger. Updated for 2019, the frameless bag weighs a feathery 9 ounces (1 ounce less than the prior model) and features light revisions to the shoulder strap padding and overall shape (it's a little wider at the top to improve access to the main compartment). What hasn't changed is its class-leading versatility: the 18-liter capacity is ideal for done-in-a-day adventures, its thin back panel is removable and doubles as a sit pad, and you can turn the Flash inside out to use as a stuff bag inside a backpack or suitcase.
Features are limited to the basics with the Flash 18, so those that like a lot of organization or want a water bottle stretch pocket should probably opt for the Flash 22 or Marmot Kompressor below. You still do get a hydration sleeve, hipbelt, and sternum straps, as well as a daisy chain and ice axe loop for use as a summit pack. All told, the Flash 18's adaptable design and affordable $40 price makes it one of our favorites for 2019.
See the REI Co-op Flash 18
Most Comfortable Daypack for Heavy Loads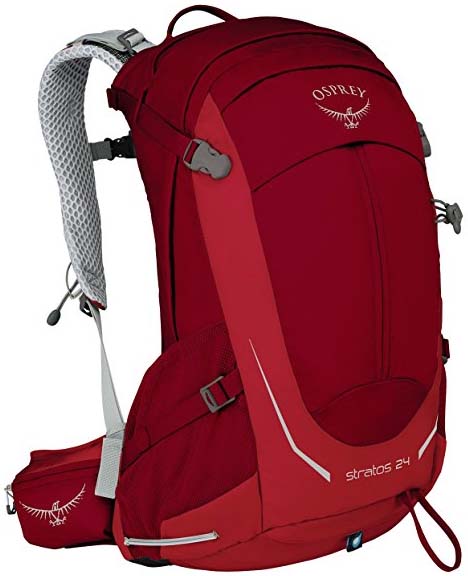 Weight: 2 lbs. 12 oz.
Capacities: 24, 34, 36, 50L
Hipbelt: Cushioned
What we like: Extremely comfortable and loaded with features.
What we don't: Heavy for its capacity.
If you prioritize comfort or plan on hauling a heavy load, the Osprey Stratos 24 is the most feature-rich daypack on this list. Its full metal frame and substantial hipbelt put the weight comfortably on your hips, and a large mesh panel ventilates extremely well and conforms nicely to your back. In addition, organization is excellent—we particularly like the two hipbelt pockets and large zippered access to the main compartment. Add a built-in rain cover, and the Stratos checks off everything you'll need in a daypack.
The primary downsides of the Stratos are weight and price. The sturdy construction pushes the pack to nearly 3 pounds (many backpacking packs weigh less), and the Osprey can't stuff down like a frameless bag. It's also fairly expensive at $130 considering the relatively modest 24-liter capacity. Those wanting a premium, luxurious pack will appreciate the Stratos' support and build quality, but for something simpler and more packable from Osprey, see the equally popular Talon above... Read in-depth review
See the Osprey Stratos 24  See the Women's Osprey Sirrus 24
Best Ultralight Daypack with Overnight Potential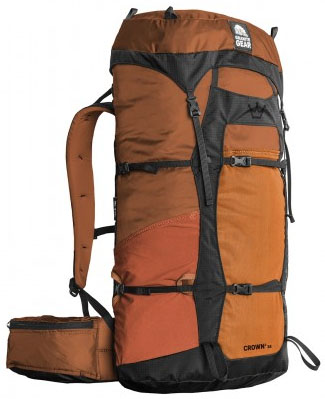 Weight: 2 lbs. 4 oz.
Capacities: 38, 60L
Hipbelt: Cushioned
What we like: Great option for long day hikes and ultralight backpacking.
What we don't: Expensive and overkill for casual day hikers.
Granite Gear's Crown2 60 pack is a favorite among thru-hikers and minimalist backpackers, and last year the Minnesota-based company released a smaller capacity 38-liter model. We took the bag to Patagonia and came away impressed: it's very light, comfortable even with a full load, and a standout in terms of organization. If you want a high-capacity daypack that can pull double duty for ultralight overnight trips, the Crown2 38 is the best design we've seen.
What sets the Crown2 apart is Granite Gear's ability to balance weight and functionality. The pack is lighter than the Stratos 24 above despite holding 14 additional liters, but doesn't compromise in comfort with supportive cushioning along the back panel, hipbelt, and shoulder straps. Further, the Granite Gear has excellent organization with a roll-top closure for the main compartment, zippered hipbelt pockets, and three large mesh pockets along the body of the pack. Unfortunately, they don't make the Crown2 any smaller than 38 liters, which is overkill for short day hikes. But if you need the capacity, the Crown2 38 is a top-notch pack. For another solid ultralight option, see the Gossamer Gear Kumo 36 below. 
See the Granite Gear Crown2 38
Best of the Rest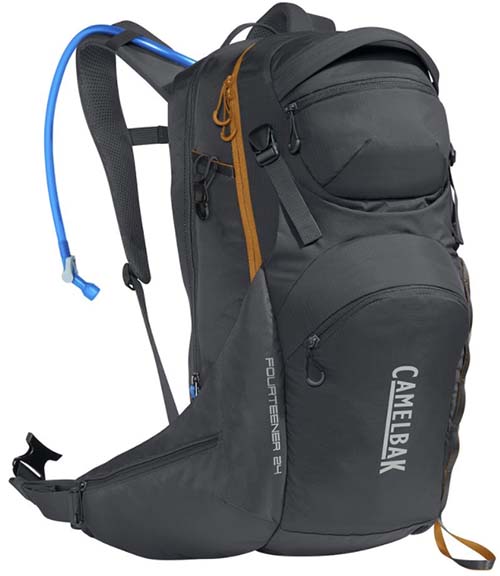 Weight: 2 lbs. 9 oz.
Capacities: 20, 24L
Hipbelt: Cushioned
What we like: Great back panel and storage; includes a hydration system.
What we don't: Not as comfortable as the Stratos.
Best known for hydration systems and water bottles, CamelBak has put together an impressive lineup of daypacks as well. The Fourteener 24 is their top-end model and comes with CamelBak's newest 3-liter reservoir and drink tube. Overall, we think the Fourteener is a quality pack and strong competition to the Stratos 24 above for long days on the trail. We particularly like the articulating foam panels along the back that keeps the pack snug to your back without compromising on ventilation. And considering that a $35 hydration system is included, the Fourteener is a better value than the Osprey.
However, we do have a few nitpicks with the Fourterneer 24 that keep it from ranking higher. Considering its weight of 2 pounds 9 ounces not including the hydration system, we would prefer a little more padding on the hipbelt. As a result, the Stratos gets the edge as the better option for hauling a full day's worth of gear. The other downside is that you cannot purchase the Fourteener—or any CamelBak bag—without a hydration system. But if you're due for an upgrade or don't already have a reservoir, the Fourteener 24 is a great solution for done-in-a-day adventures. And for cheaper hydration pack options, for 2019 REI has released its new Trail Hydro line in 20 and 30-liter versions.
See the CamelBak Fourteener 24
Weight: 1 lb. 4 oz.
Capacities: 13, 20L
Hipbelt: Webbing
What we like: Osprey quality and 20 liters of capacity at a good price. 
What we don't: The side pockets have trouble holding a water bottle. 
Osprey's Talon and Stratos above get the lion's share of the attention, but the Daylite Plus is another viable option from this leading brand that comes in significantly cheaper. This simple daypack weighs just 1 pound 4 ounces, has a respectable 20-liter capacity and good padding for carrying lighter loads, and boasts a quality build that Osprey in known for. We find that the Daylite Plus is best for short to moderate days on the trail or as a companion pack for travel—it's designed to attach to the outside of a number of Osprey's larger travel bags.
Why is the Osprey Daylite Plus ranked here? At this capacity, we prefer to spend the extra $10 for the more capable Deuter Speed Lite 20 above, our top pick. And if you're looking for a low-capacity pack like the 13-liter Daylite (no "Plus"), we'd reach for the cheaper and lighter REI Flash instead. Those types of loads rarely require much in the way of support, and the 18-liter Flash offers more capacity for just $40. Finally, the Daylite has a curious design flaw: the two side pockets are wide and not very taut, making them incapable of holding a water bottle properly in place. The pack is compatible with a reservoir or you can always store your bottle inside, but those side pockets are of questionable utility nevertheless and hopefully will be addressed in a future update.
See the Osprey Daylite Plus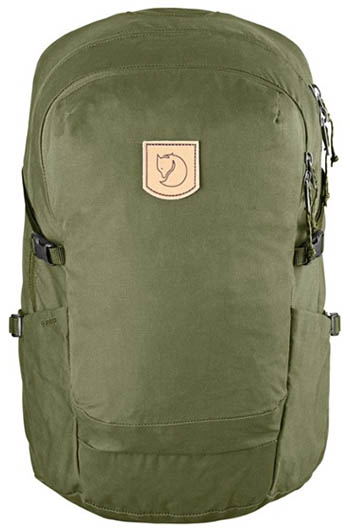 Weight: 2 lbs. 9 oz.
Capacities: 20, 26L
Hipbelt: Webbing
What we like: Urban looks but still plenty functional on the trail.
What we don't: Not designed for carrying a heavy load.
Sweden-based Fjallraven used to be on the fringes of the U.S. market, but they're quickly becoming a household name with a range of smart-looking and functional apparel and outdoor gear. Their colorful Kanken backpack is an everyday favorite for casual use, and they've adapted that design into a crossover hiking piece in the High Coast 26L. As with most Fjallraven products, the High Coast uses their signature G-1000 polyester/cotton fabric, which is super durable and includes a wax coating for water resistance (you also get a rain cover). Storage wise, the pack is fairly simple with a large main compartment and dual-use hydration sleeve/laptop holder, a separate zippered pocket along the front, and two stretch water bottle pockets.
What are the downsides of the High Coast 26L? We love the tough construction, but it is on the heavy side at 2.5 pounds given that the thin webbing and hipbelt aren't built to haul a lot of weight. It's also only made in one size, so it won't be as easy to dial in fit as many of the more technical options above. But with sleek looks, a wide range of color options, and a long-lasting build, the High Coast is a stylish choice for everyday use and hiking.  
See the Fjallraven High Coast Trail 26L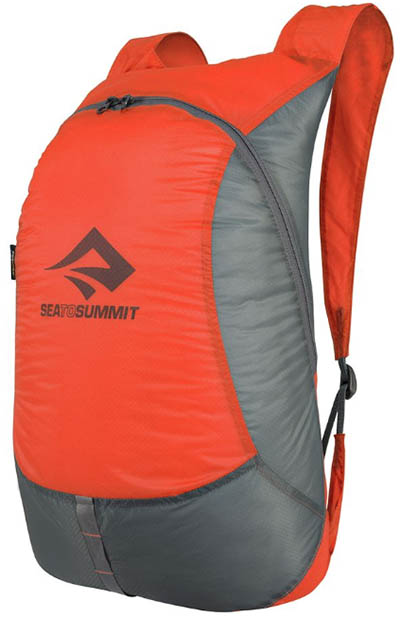 Weight: 2.5 oz.
Capacity: 20L
Hipbelt: None
What we like: Incredibly light and packs down really small.
What we don't: Not very comfortable and limited feature set.
For those that prioritize weight and packability, it's hard to beat Sea to Summit's Ultra-Sil daypack. The standout features are its impressive weight—at 2.5 ounces, it's the lightest on our list by over 6 ounces—and a stuffed size that's small enough to attach to a set of keys. There aren't any pockets or extra features here, but with a total capacity of 20 liters, it has a slightly larger main compartment than the popular REI Flash 18 above.
Understandably, the Ultra-Sil's minimalist design does come with a number of compromises. With very thin, non-padded shoulder straps and no hipbelt, the pack isn't comfortable with more than a few pounds worth of clothing or food inside. Further, the lack of any exterior loops makes it less useful as a summit pack like the Flash 18. For travel or short hikes when you don't need the padding, however, the Ultra-Sil is an incredibly useful little pack.
See the Sea to Summit Ultra-Sil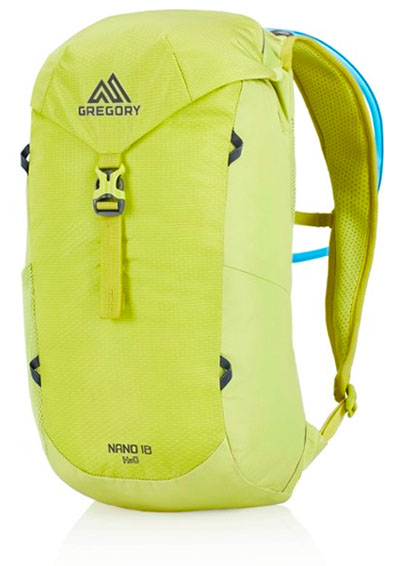 Weight: 1 lb. 2.4 oz.
Capacities: 18, 22L
Hipbelt: Webbing
What we like: A great value for a solid all-around hydration pack. 
What we don't: Less comfortable than the CamelBak above.
Gregory has been in the pack business for over 40 years, and we're consistently impressed with the build quality and comfort of their products. Released earlier this spring, the Nano H2O hydration pack has a hiking-focused build that comes with Gregory's in-house 3D Hydro reservoir system. There's a lot to like here: the Nano is lightweight, sleek, and very competitively priced at just $70 (the included reservoir costs $35 alone). You can spend up for Gregory's Inertia 20 hydration pack, which comes with nice touches like a lightly padded hipbelt, compression straps, and a stretchy mesh pocket along the front, but we love the value of the Nano.
Compared with the CamelBak Fourteener above, the Gregory Nano H2O also includes a 3-liter reservoir, has a slightly smaller overall capacity, and costs a significant $80 less. Where the CamelBak gets the clear edge is carrying abilities with a more supportive and stiffer framesheet. It also has padding and pockets on the hipbelt along with a more form-fitting design. But for carrying lighter loads and casual use, the Nano H2O is a nice alternative that will save you some money in the process.
See the Gregory Nano 18 H2O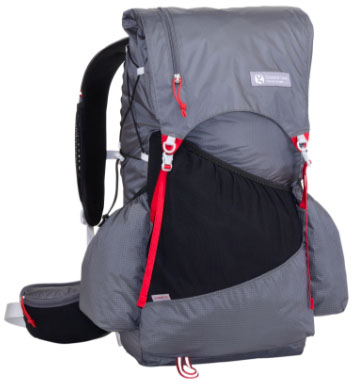 Weight: 1 lb. 7.7 oz.
Capacity: 36L
Hipbelt: Lightly cushioned
What we like: Light with generous storage.
What we don't: Frameless design limits its carry capacity.
Gossamer Gear is one of our favorite cottage industry brands, with a strong lineup targeted at minimalist adventurers and thru-hikers. For done-in-a-day trips, travel, or true ultralight backpacking, the Kumo 36 is an intriguing design. Weighing just under 1.5 pounds, the pack has generous storage with a large 28-liter main compartment and thoughtfully-distributed pockets along the sides, hipbelt, and front. The flexible foam back panel doesn't offer much structure and the padding undoubtedly is thin, but the Kumo is well made and surprisingly durable with its high-quality Robic nylon construction.
Among high-capacity and lightweight options, the Granite Gear Crown2 above is a strong competitor to the Kumo. Both offer similar levels of storage and convenience, but the Gossamer Gear has the clear advantage in terms of weight, undercutting the Crown by more than 12 ounces. However, the Granite Gear's plastic framesheet and thicker cushioning give it a much higher weight capacity (35 pounds compared to the Kumo's 20-25 pounds), making the Crown2 a more versatile one-quiver pack.
See the Gossamer Gear Kumo 36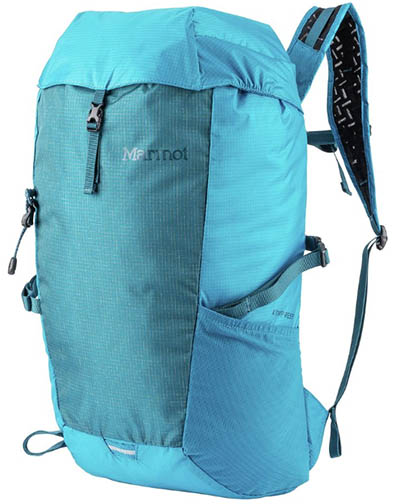 Weight: 10.3 oz.
Capacities: 18, 20L
Hipbelt: None
What we like: A Flash 18 with more features and organization and minimal weight penalty.
What we don't: No hipbelt and not a good back breather.
If you love the idea of an ultralight and stuffable daypack but want a few features tossed in, the Marmot Kompressor 18 is worth a look. In contrast to the REI Flash 18 above, the Kompressor adds a top lid with a zippered pocket—perfect for small items. You also get compression straps along the side to better manage a bulky load. These extra features and organization are noticeable for day hikes, bike commuting, and urban wandering. And the entire pack can be stuffed into its own lid pocket, so it's great for travel.
One issue with the Kompressor's lightweight design is that the back panel is very basic and doesn't breathe very well (the Flash 18 above has the same issue). When you're working hard, you can expect to get a very sweaty back. Further, the Kompressor is $15 more than the REI bag yet doesn't include a hipbelt, which is a downside for stability while hiking. This drops it to a mid-pack finish, but the 10-ounce Kompressor is still a solid minimalist option.
See the Marmot Kompressor 20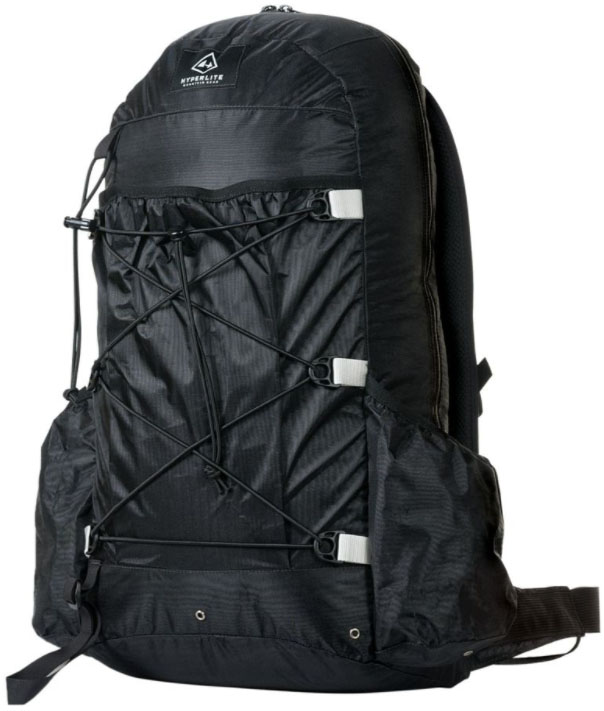 Weight: 1 lb. 3 oz.
Capacity: 17L
Hipbelt: Cushioned
What we like: Waterproof and fully featured design.
What we don't: Expensive; small capacity in the main compartment.
Maine-based Hyperlite Mountain Gear makes some of our favorite ultralight backpacking packs. Their top daypack, the Daybreak, shares the same core ingredients: Dyneema Composite Fabric that is weather-resistant and incredibly strong for its weight, simple yet functional organization, and a clean design that looks great. On paper, the 17-liter capacity in the main compartment seems small, but the large front pocket and two side pockets add a significant amount of functional storage. For serious day hikes and rough conditions, the Daybreak is hard to beat.
Cost is the biggest obstacle in choosing the Daybreak. At $230, it's the most expensive bag on our list despite only having a moderate capacity. The extra money gets you a premium item that is handmade in the U.S., excellent weather protection, and we love the trickle-down features from Hyperlite's backpacking packs. But for hiking alone, it's hard to justify over a quality option like the Osprey Talon above. It is worth noting that many people use the Daybreak for daily use, and we've found ourselves doing the same for travel and carrying our computer or camera. If you're able to pull double duty, it's easier to swallow the high price.
See the Hyperlite Mountain Gear Daybreak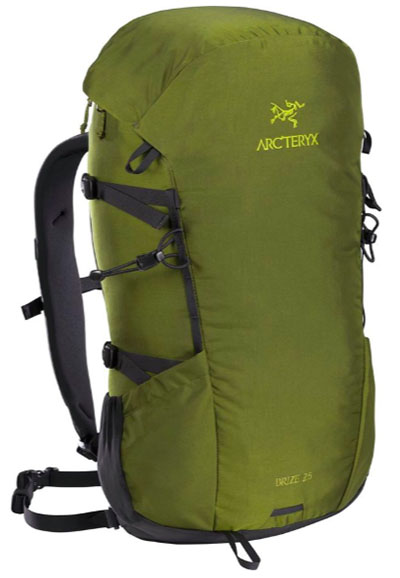 Weight: 2 lbs. 0 oz.
Capacities: 25, 32L
Hipbelt: Webbing
What we like: Well-made crossover hiking/everyday pack.
What we don't: Expensive and non-padded hipbelt.
Arc'teryx typically designs gear for hardcore adventurers, but their line of Brize packs aims for the everyday hiker and urban explorer. We like the simple but functional design: the main compartment has a wide opening for easy access, and there are enough interior and exterior pockets and lash points for water bottles or a reservoir, small items like keys or a headlamp, and trekking poles or an ice axe. As we've come to expect from Arc'teryx, the quality is also top notch with fabrics that balance weight and strength as well as great attention to detail.
Why has the Brize 25 landed in the middle of our rankings? To start, we prefer a padded hipbelt with a pack of this capacity and carrying ability (you do get a real hipbelt when stepping up to the 32-liter Brize, however). Moreover, it's hard to justify the $159 price tag when our top-rated Stratos 24 has superior organization and comfort for nearly $30 less. But for those that like Arc'teryx's sleek styling and beautiful construction, the extra expense may be worth it.
See the Arc'teryx Brize 25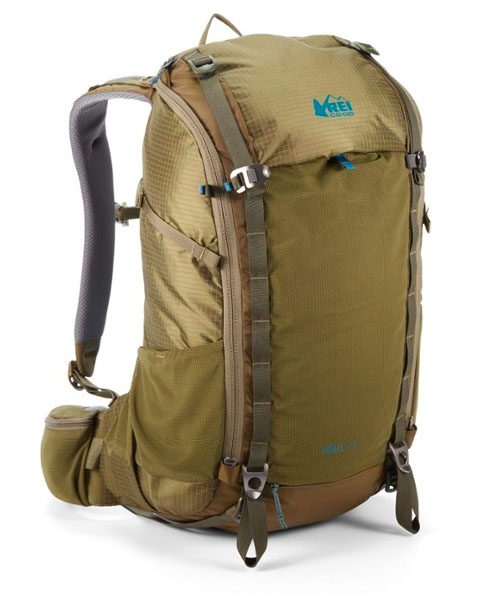 Weight: 3 lbs. 0 oz.
Capacities: 25, 40L
Hipbelt: Cushioned
What we like: Excellent organization; included rain cover.
What we don't: Relatively basic back panel design.
We've used a number of REI daypacks over the years, and consider them a solid value for their feature set. The Trail 40 is an excellent example: for $119 you get outstanding organization, great touches like trekking pole attachments and rain cover, and specific men's and women's designs. The pack is also solidly built with durable materials and plush cushioning along the back panel and hipbelt.
We particularly like the U-shaped zippers along the sides of the Trail 40, which access the bottom of the main compartment without having to pull out everything on top. Overall, the back panel isn't as comfortable or breathable as the Stratos above, but everything else is in-line with the more expensive Osprey. Tack on REI's excellent 100% satisfaction guarantee and the Trail 40 becomes an even better deal.
See the REI Co-op Trail 40  See the Women's REI Co-op Trail 40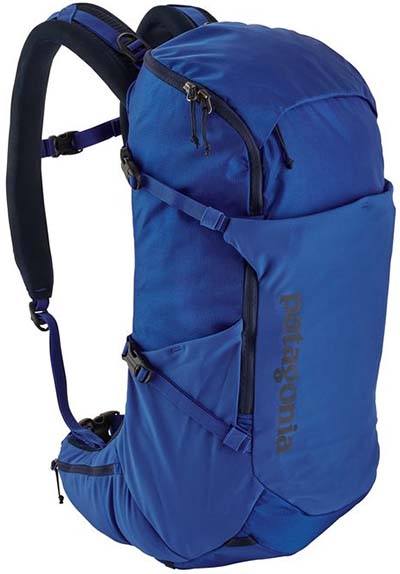 Weight: 2 lbs. 3.3 oz.
Capacities: 14, 20, 28, 36L
Hipbelt: Cushioned
What we like: Patagonia build quality and design.
What we don't: Way too expensive.
Patagonia has been surprisingly quiet in the hiking daypack market (their Ascensionist pack is for climbers, and the Black Hole below is best for traveling), but their Nine Trails line fixes that. You can immediately tell they did their homework: the 28-liter model is lightweight but tough with Cordura ripstop nylon, and we love the large stretch pockets along the front and wide zippered opening to the main compartment. It's also a good performer in hot weather with a ventilated back panel and breathable fabrics on the shoulder straps and hipbelt. All told, Patagonia checked off all the basics (and more) with the Nine Trails.
Why isn't the Nine Trails 28 ranked higher on our list? The pack is well made, fits great, and should last a long time, but it's hardly a good value for $159. At $20 to $40 more than its competition, we'd like to see a rain cover included and/or some unique feature to make it stand out. Again, the Nine Trails is a solid pack, but one that we hesitate to recommend more heartily due to its high price tag.
See the Patagonia Nine Trails 28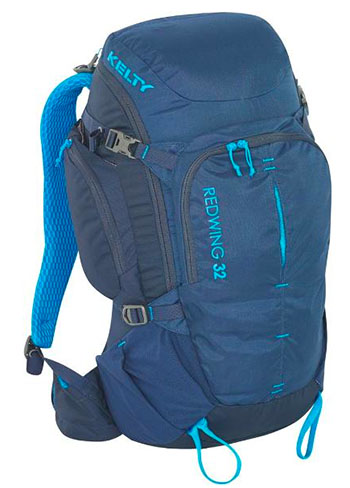 Weight: 2 lbs. 0 oz.
Capacities: 32, 44, 50L
Hipbelt: Cushioned
What we like: Great multi-use bag for hiking, commuting, and travel.
What we don't: Not a technical pack.
Kelty doesn't aim for the high end of the outdoor gear spectrum, but we appreciate their functional designs and value-oriented pricing. Their Redwing 32 is built for travel, daily use, and hiking: it has a large main compartment with a wide U-shaped opening, plenty of exterior pockets, and durable materials that will stand up well to hard use. The foam along the shoulder straps and hipbelt are a step down in quality compared with the packs above, but few packs of this capacity can match the $100 price.
If you're looking solely for a hiking-specific daypack for putting in serious miles, we think there are better options than the Redwing 32. It can feel unwieldy on the trail and lacks the close fit and high level of back ventilation of our top-rated packs above. In addition, the pocket design is optimized for travel and commuting rather than hiking gear. These complaints aside, the Redwing is priced right and a versatile all-in-one daypack solution.
See the Kelty Redwing 32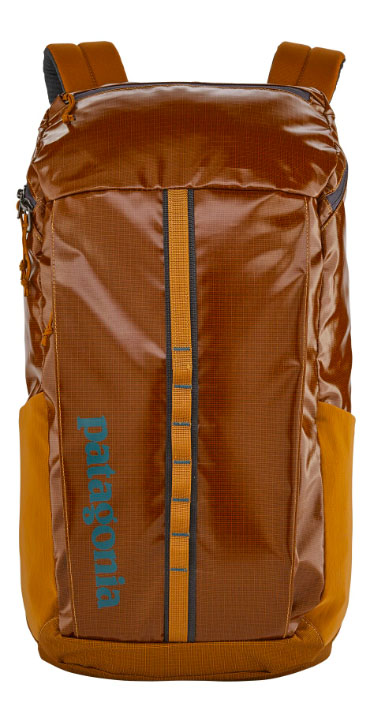 Weight: 1 lb. 6.9 oz.
Capacities: 25, 32L
Hipbelt: None
What we like: Includes the tough, water-resistant material from their legendary duffels.
What we don't: Designed primarily for travel and doesn't include a hipbelt.
From travel to climbing expeditions, Patagonia's Black Hole bags are synonymous with toughness and reliability. The daypack version takes the line's signature water-resistant fabric and adds useful features like a daisy chain along the front, stretch water bottle pockets on the sides, and two zippered exterior pockets to keep small items close at hand. We'd prefer coated zippers to increase waterproofing, but the Black Hole still is one of the most weather-resistant daypacks on the market.
Where the Black Hole 25L comes up short is its travel-focused design. You don't get important hiking-specific components like a hipbelt for stabilizing a load, although Patagonia did address one of our biggest concerns by adding a more breathable mesh back panel for 2019 (the previous version used foam). While it's clearly not our first choice for day hikes, the Black Hole is appealing as a durable carry-on that will do the trick for hiking while abroad.
See the Patagonia Black Hole 25L
Daypack Comparison Table
| Daypack | Price | Weight | Capacities | Hipbelt | Frame | Pockets |
| --- | --- | --- | --- | --- | --- | --- |
| Deuter Speed Lite 20 | $75 | 1 lb. 1 oz. | 12, 16, 20, 24L | Webbing | U-frame | 4 exterior |
| Osprey Talon 22 | $110 | 1 lb. 11 oz. | 11, 18, 22, 33L | Cushioned | Back panel | 4 exterior |
| REI Co-op Flash 18 | $40 | 9 oz. | 18, 22L | Webbing | None | 1 exterior |
| Osprey Stratos 24 | $130 | 2 lb. 12 oz. | 24, 34, 36, 50L | Cushioned | Alloy frame | 5 exterior |
| Granite Gear Crown2 38 | $185 | 2 lb. 4 oz. | 38, 60L | Cushioned | Framesheet | 6 exterior |
| CamelBak Fourteener 24 | $150 | 2 lb. 9 oz. | 20, 24L | Cushioned | Framesheet | 6 exterior |
| Osprey Daylite Plus | $65 | 1 lb. 4 oz. | 13, 20L | Webbing | None | 3 exterior |
| Fjallraven High Coast Trail 26 | $125 | 2 lb. 9 oz. | 20, 26L | Webbing | Framesheet | 3 exterior |
| Sea to Summit Ultra-Sil | $35 | 2.5 oz. | 20L | None | None | 0 exterior |
| Gregory Nano 18 H2O | $70 | 1 lb. 2 oz. | 18, 22L | Webbing | Back panel | 3 exterior |
| Gossamer Gear Kumo 36 | $165 | 1 lb. 8 oz. | 36L | Cushioned | None | 8 exterior |
| Marmot Kompressor | $55 | 10.3 oz. | 18, 20L | None | None | 1 exterior |
| Hyperlite Mountain Gear Daybreak | $230 | 1 lb. 3 oz. | 17L | Cushioned | Back panel | 3 exterior |
| Arc'teryx Brize 25 | $159 | 2 lb. 0 oz. | 25, 32L | Webbing | Back panel | 3 exterior |
| REI Co-op Trail 40 | $119 | 3 lb. 0 oz. | 25, 40L | Cushioned | Steel frame | 6 exterior |
| Patagonia Nine Trails 28 | $159 | 2 lb. 3 oz. | 14, 20, 28, 36L | Cushioned | Framesheet | 6 exterior |
| Kelty Redwing 32 | $100 | 2 lb. 0 oz. | 32, 44, 50L | Cushioned | Framesheet | 6 exterior |
| Patagonia Black Hole 25 | $129 | 1 lb. 7 oz. | 25, 32L | None | Back panel | 4 exterior |
Daypack Buying Advice
Types of Daypacks
With hundreds of daypacks on the market, choosing the right one is largely dependent on what you intend to use it for. Do you need a daypack to approach an alpine climbing zone, or to explore an urban area on vacation? Do you need to strap on crampons or an ice axe, or do you just want a comfortable way to haul water and some extra layers?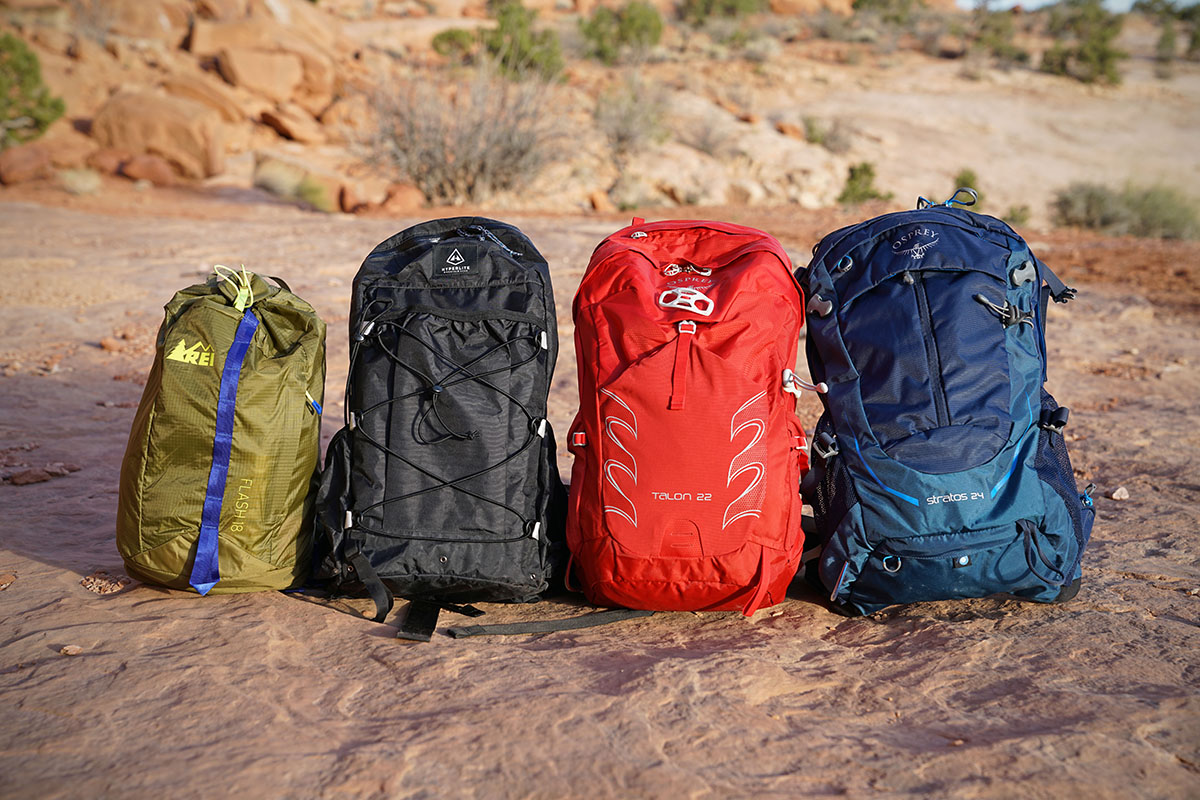 For the casual user that doesn't need much support for hauling a heavy load, the more affordable options on this list will do just fine. Budget-friendly packs have a more basic suspension design (or none at all) and a less customizable fit, but do great for heading to class or a quick hike in the woods. If you're planning on putting on some serious miles or need to carry a decent load, you'll appreciate the added structure and padded back panel, hipbelt, and shoulder straps found in the options starting around $100 (we cover this in more detail in the Carrying Comfort section below). Finally, many of today's top daypacks can pull double duty for casual use. A popular crossover option is the Kelty Redwing 32, which is built for travel and commuting to work or school, but performs well when you want to get away from it all.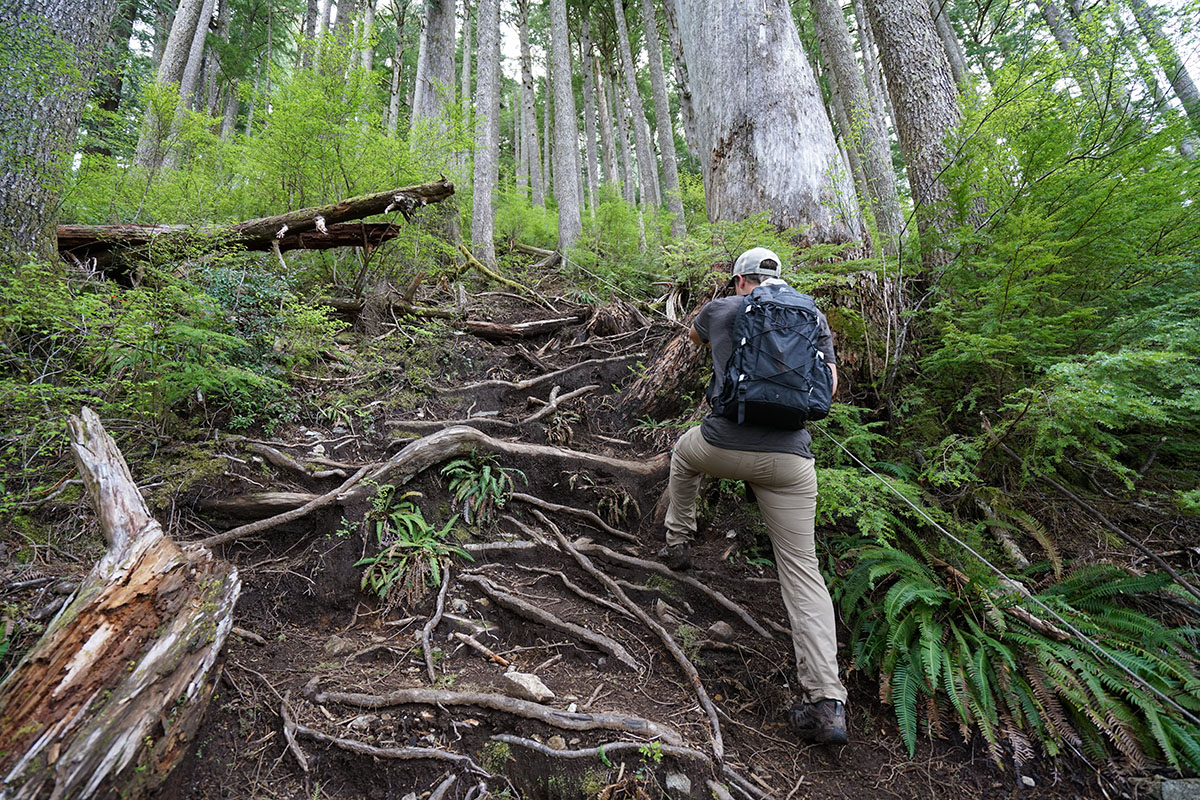 What's the Ideal Size (Capacity)?
Capacities for daypacks vary widely. You'll see them offered anywhere from as small as 5 liters all the way up to 40 plus. For those that only need to fit a compressible rain jacket and a lunch, you can get away with one of those small packs—even smaller than the REI Co-op Flash 18 on this list. But most of us need a bit more space to throw in a few more essentials. The options on this list range from 13 to 40 liters, with the largest ones being better served for commuters or for ultralight overnights. We've found that approximately 25 liters is a real sweet spot for an all-around daypack that can handle anything from local summits to full-day hikes. At that size, organization also improves from more basic models, with a variety of zippered pockets to divvy up your gear. Below are some basic guidelines for capacity:
Short day hikes: 10-20 liters
Summit packs: 18-24 liters
Average day hikes and everyday use: 20-30 liters
Long day hikes and ultralight overnights: 30-40 liters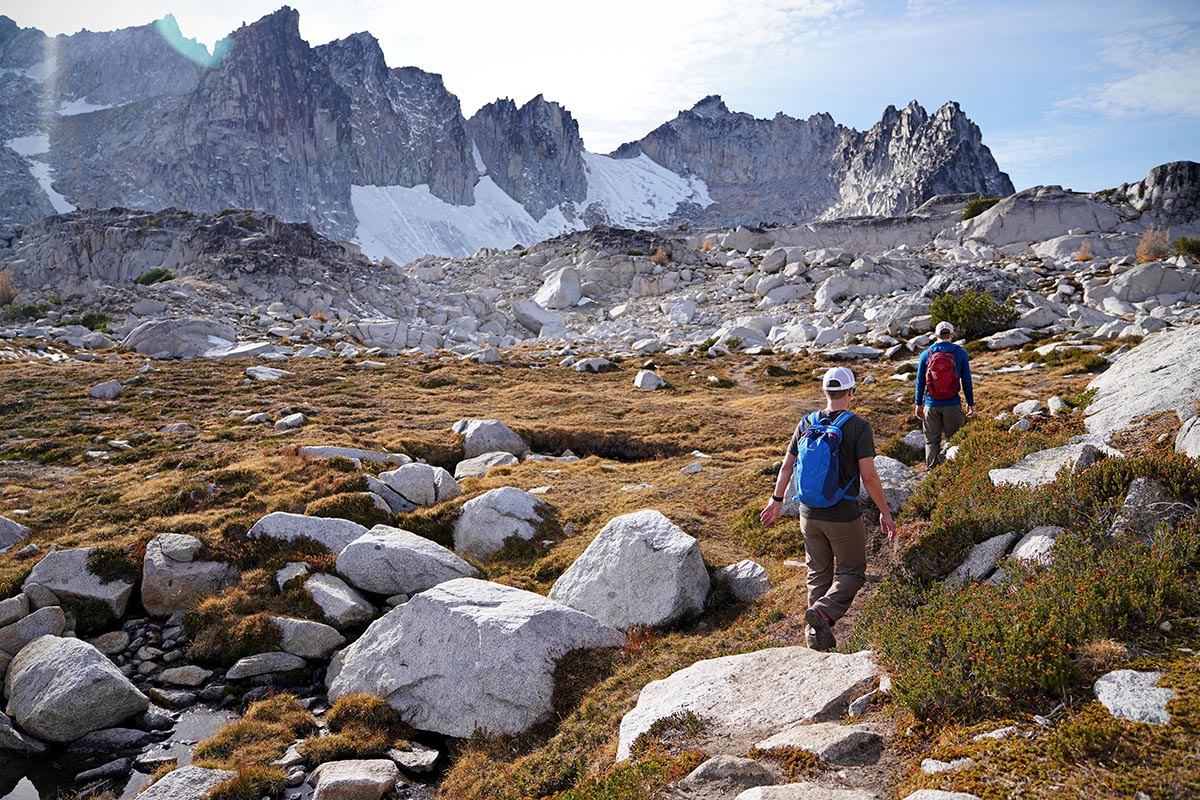 Weight: Fully Featured vs. Minimalist
A quick look at our comparison table above reveals a wide range of pack weight from 10 ounces to nearly 3 pounds. On the heavy end is the fully featured Osprey Stratos 24, which comes with lots of zippered pockets and a suspension and hipbelt to rival a backpacking pack. At the other end of the spectrum, the REI Flash 18, Marmot Kompressor, Osprey Daylite, and Hyperlite Mountain Gear Daybreak are minimalist packs with much less in the way of structure or features but weigh about 1 pound or less.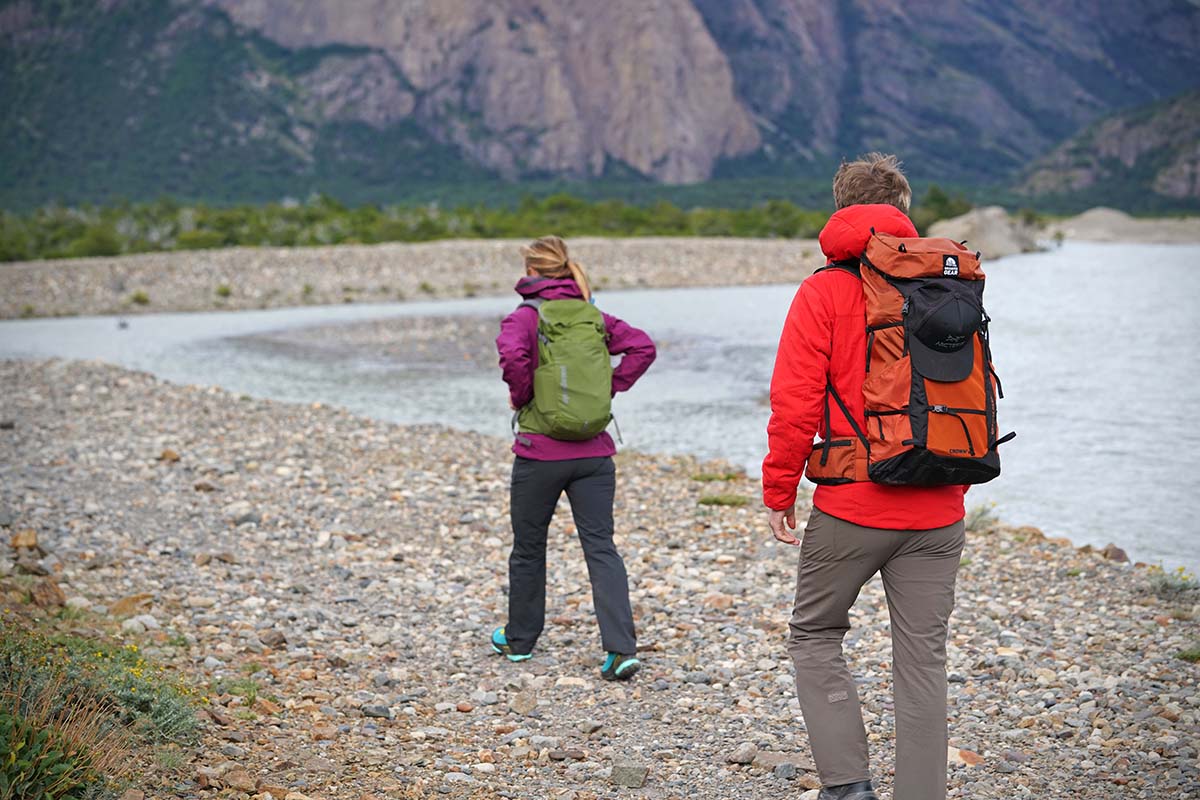 When evaluating pack weight, keep comfort and storage in mind. A fully featured pack will include padding on your back and real straps on your shoulders and waist to help distribute weight. If you'll be carrying a lot, this will be your most comfortable option. But if you don't mind feeling some of your gear on your back or won't be hauling a heavy load (it is only a daypack after all), the minimalist options on this list usually are cheaper and far more packable.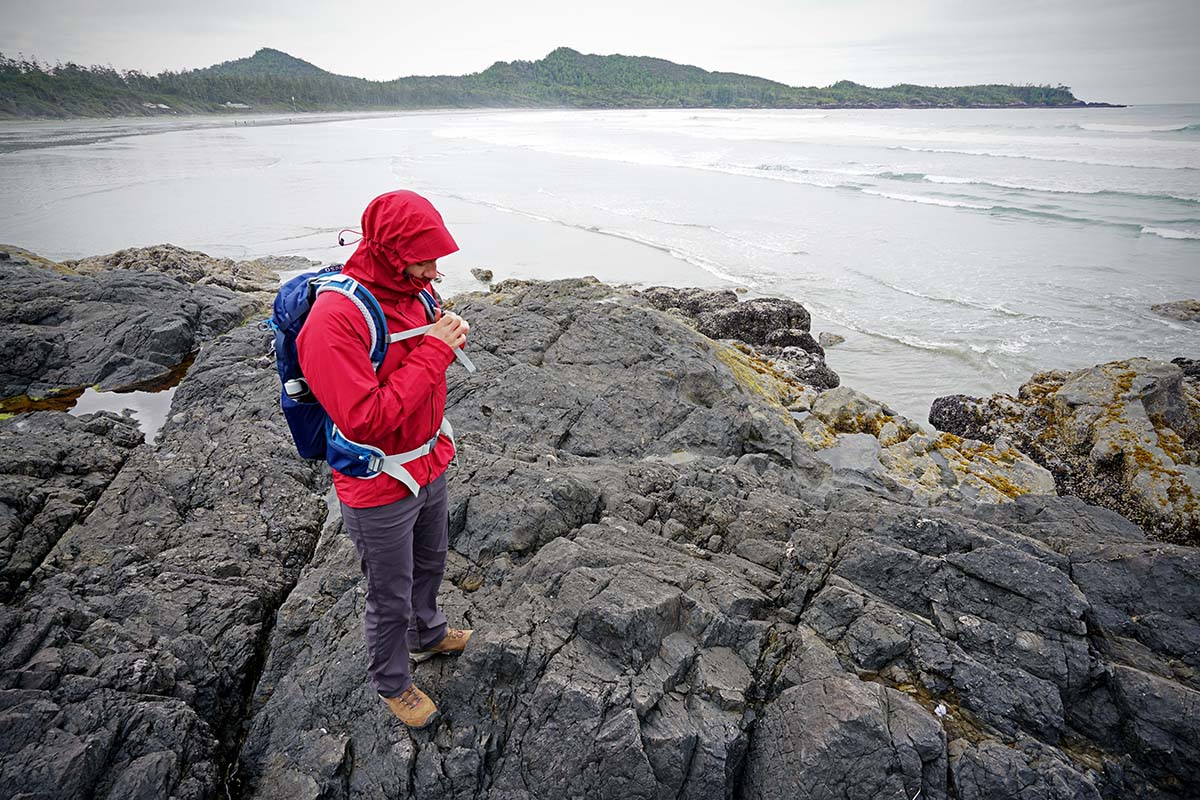 Carrying Comfort: Hipbelt and Shoulder Straps
The amount of padding in the hipbelt and shoulder straps are a great indicator of a pack's maximum comfort levels. Nearly all daypacks for hiking have a hipbelt, but they vary from thin webbing (like the REI Flash 18 or Deuter Speed Lite 20) to cushioned and supportive (Granite Gear Crown2 or Osprey Stratos). If all you need is a pack for short day hikes and don't plan on carrying more than 10 or so pounds, the thinner webbing is sufficient. If, however, comfort reigns supreme or you plan to haul a lot of weight, we highly recommend a pack with a real hipbelt.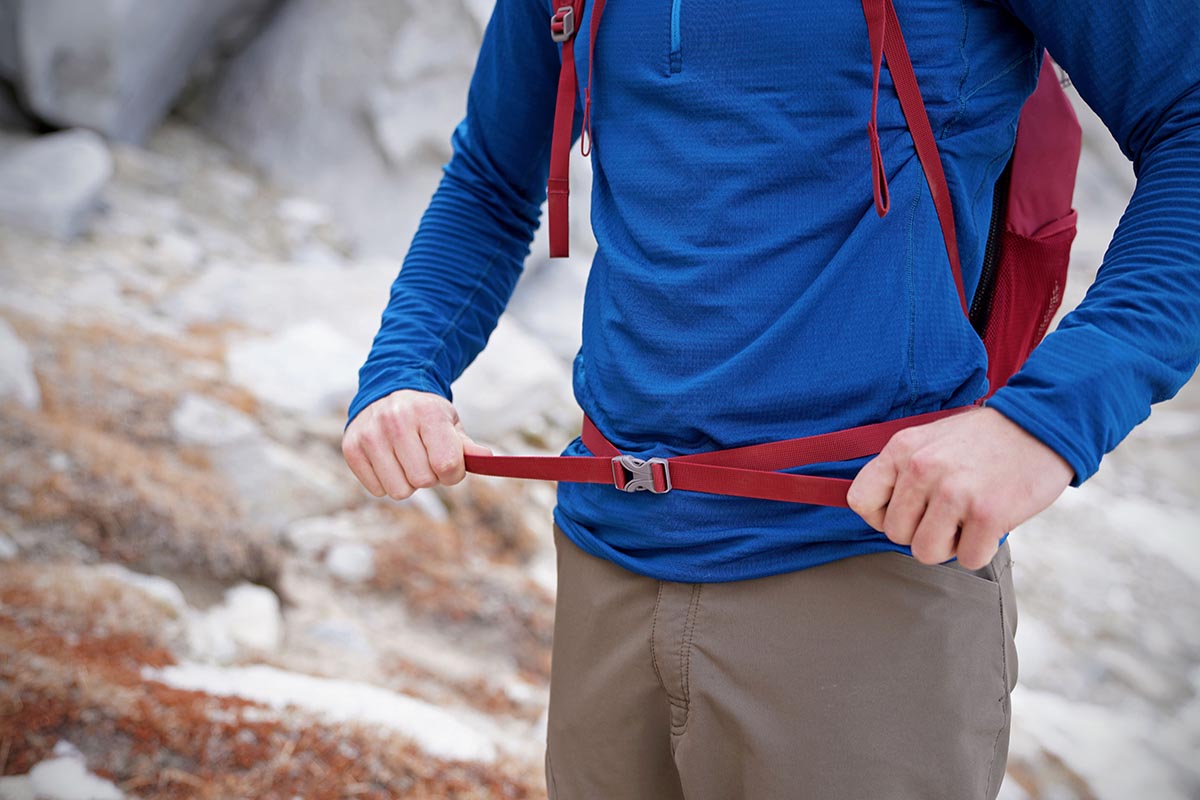 Keep in mind, the thicker designs don't compress very well and do add some extra weight. And for those planning to use their pack for both the backcountry and casually, it may be beneficial to have a removable hipbelt. We have ours on for hiking and leave it behind when heading to town or carrying on a flight.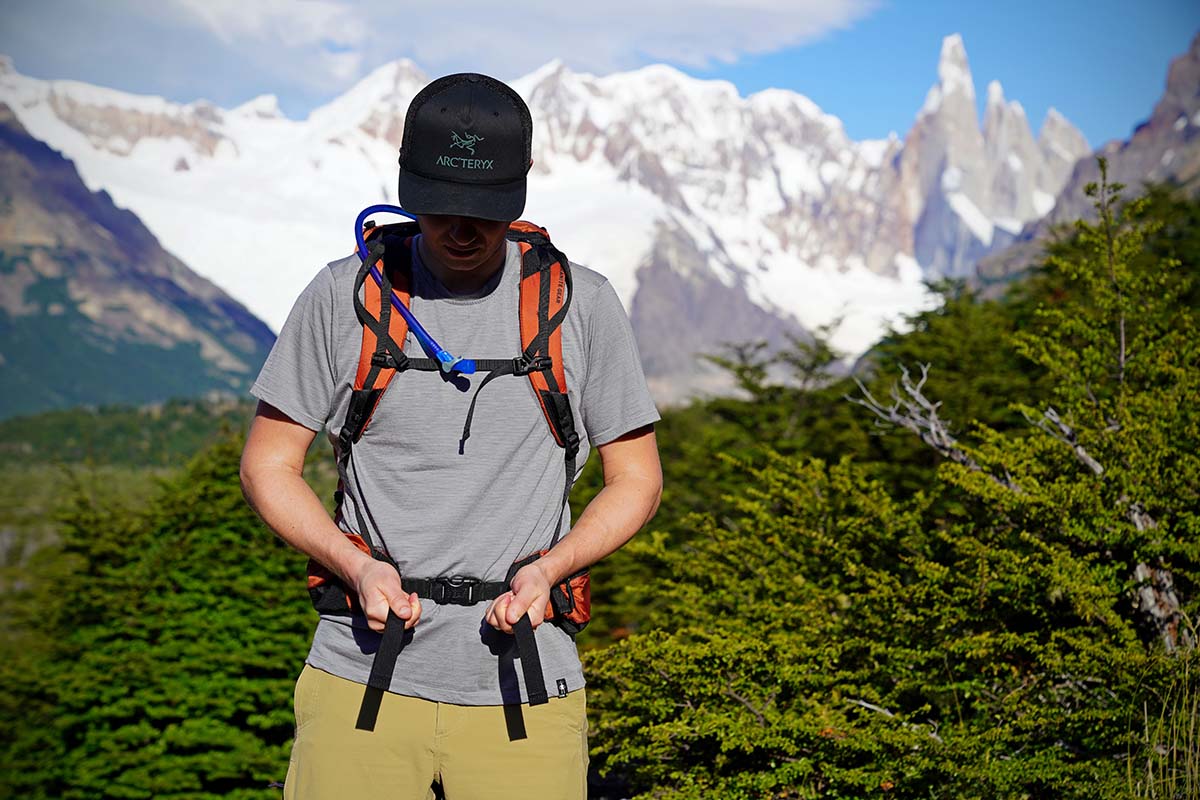 Daypack Frames Types
Much like their larger cousins, full-on backpacking packs, higher capacity daypacks feature a metal or plastic frame. The frame creates a rigid or semi-rigid structure that doesn't sag under weight (including items that you strap to the outside of the pack), which is great for those that carry extra gear on their all-day excursions. Frame designs vary, but are often a u-shaped, hoop style or a plastic framesheet, both of which define the perimeter of the pack and give it a stiff, rectangular shape.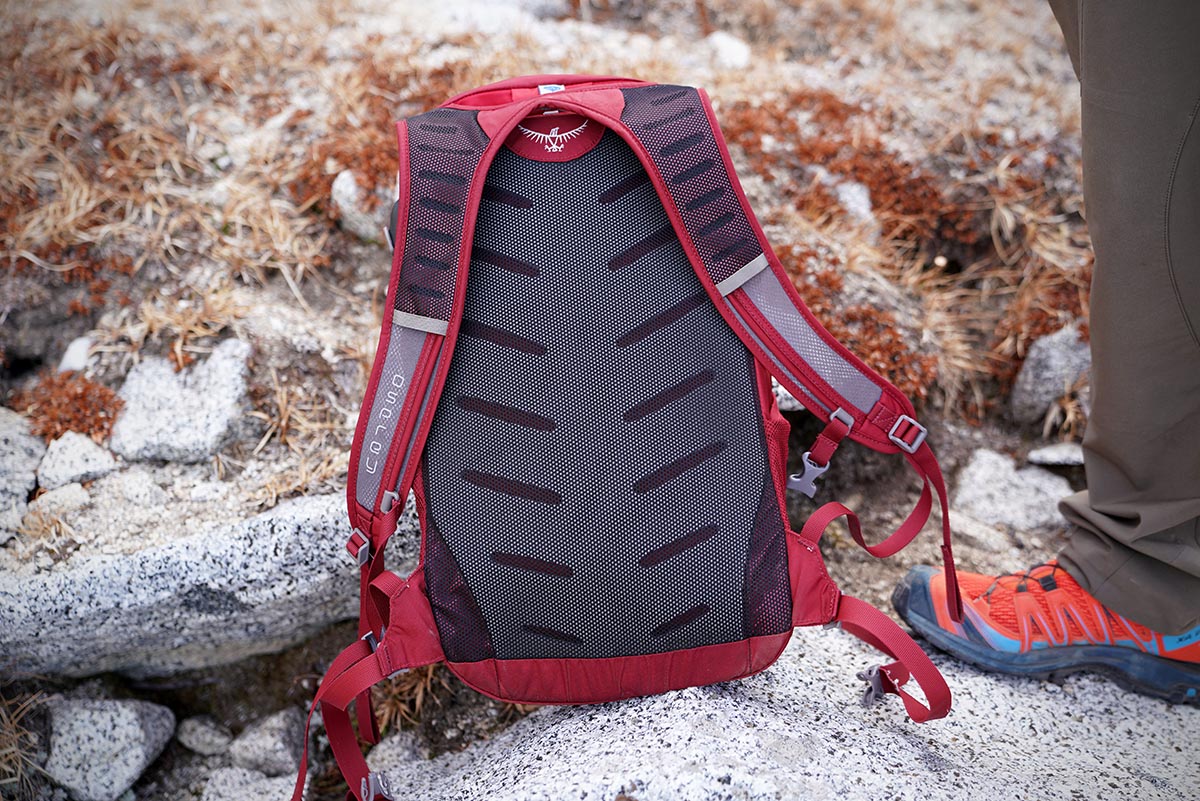 Having a frame isn't always necessary, and very lightweight or small capacity backpacks like the REI Flash 18 oftentimes go without. For the right person, this isn't a sacrifice at all. A frame adds weight and complexity, and when you're not hauling anything more than 10-15 pounds, a frame doesn't benefit you very much. In addition, a padded back panel can accomplish a similar goal of isolating you from the contents you're carrying and defining the shape of the pack. We recommend getting a pack with a frame if you need the extra support or like the defined shape, but again, there are plenty of reasons to avoid one altogether.
 
Back Panel and Ventilation
Typical daypacks will have some foam or mesh built into the back panel (the area of the pack that comes into contact with your back) and a semi-rigid frame sheet providing structure. Ultralight packs will have either a flexible frame sheet and fabric back panel (Flash 18 and Marmot Kompressor) for a little structure or no padding at all (Sea to Summit Ultra-Sil). The downside of these designs is that the pack can sag and doesn't protect you as well from bulky items in your pack. On the other hand, ultralight packs compress quite small and can be stowed in a travel bag or backpacking pack for day use.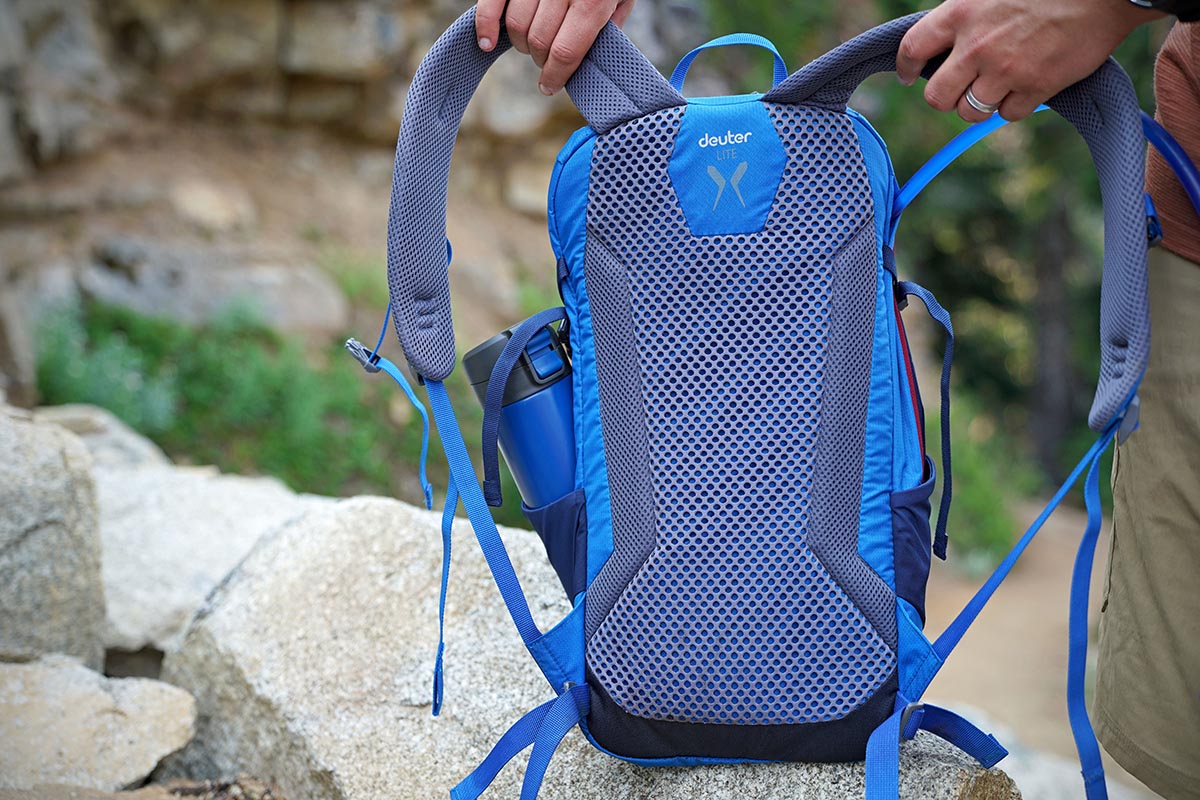 A third style is the fully ventilated back panel. As opposed to either nylon or foam coming into contact with your back, ventilated back panels are full-length mesh and your best defense against a sweaty back. Osprey has been a leader in ventilated packs, and we particularly like the design of the Stratos. The suspended mesh that contacts the length of your torso encourages airflow without pulling the weight of the pack too far away from your back, which was a problem with some early models. Ventilated designs do eat into the size and dimensions of the main compartment and are more expensive, but it's worth it for some to keep the back of their shirt dry.
 
Water Resistance
It's common for our daypacks to be filled with items like a phone, camera, or down jacket that won't do well in rain. As such, we put a high priority on water protection. The good news is that most daypacks are relatively water resistant and can shed light to moderate moisture, but the fabrics and seams will start to give way in a downpour. Some packs come with a built-in rain cover that stows inside the bag (from our list, the Osprey Stratos, Fjallraven High Coast, and REI Co-op Trail have this feature). Alternatively, you can purchase a separate waterproof cover. REI's Duck's Back is a good budget option, although it does have a generic fit that won't be completely secure in windy conditions. For a more premium design, try an Ultra-Sil cover from Sea to Summit.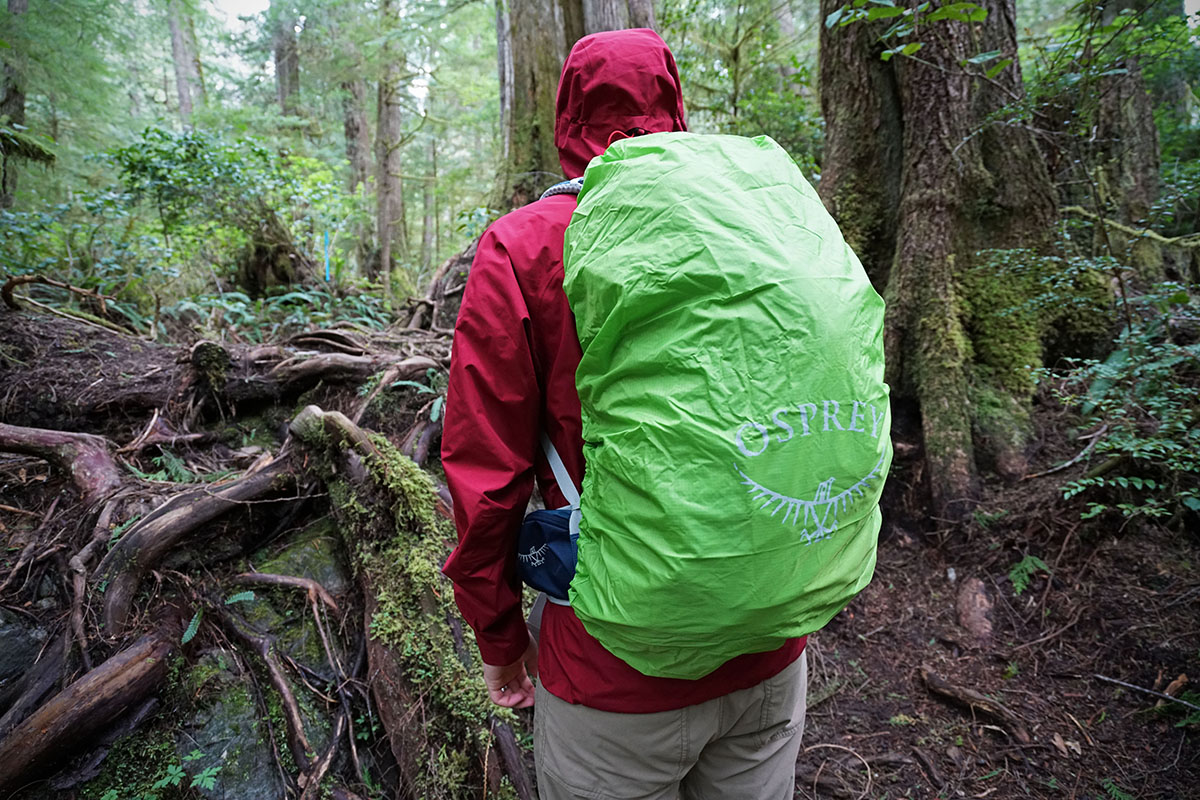 There are a small number of daypacks on the market made with waterproof materials. From our list, this includes the Hyperlite Daybreak and Patagonia Black Hole (although it isn't truly waterproof). The Daybreak uses Dyneema fabrics, which are naturally water resistant, while other packs use a waterproof nylon and seam sealing along the interior to keep out moisture. What most waterproof packs have in common is a price in excess of $200. This high cost of entry is what keeps waterproof packs in limited numbers, but it may be worth it if you need the protection and want something more reliable than a rain cover.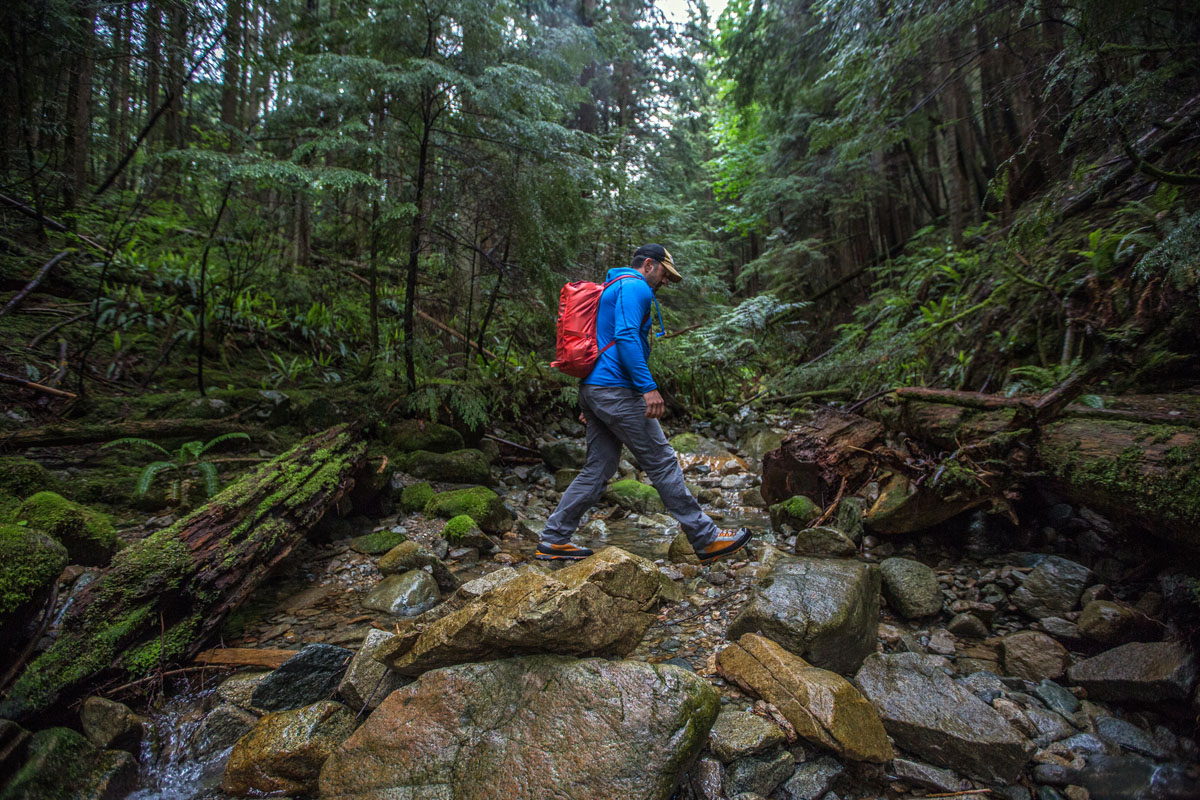 Hydration Compatibility
A hydration compatible pack is defined as having some way to store a hydration reservoir, including popular models like the CamelBak Crux or Platypus Big Zip. Most traditional daypacks, like the Osprey Stratos, Granite Gear Crown2, and REI Trail 40, have a clip along the top of the interior of the bag and enough space to accommodate a 3-liter reservoir. Smaller packs like the Flash 18 are best suited for a smaller capacity reservoir (up to 2 liters), not only for space reasons but also total weight. In the case of the ultralight Sea to Summit Ultra-Sil, a hook is not included and the pack isn't strong enough to support a full reservoir, so it's best to only carry a water bottle.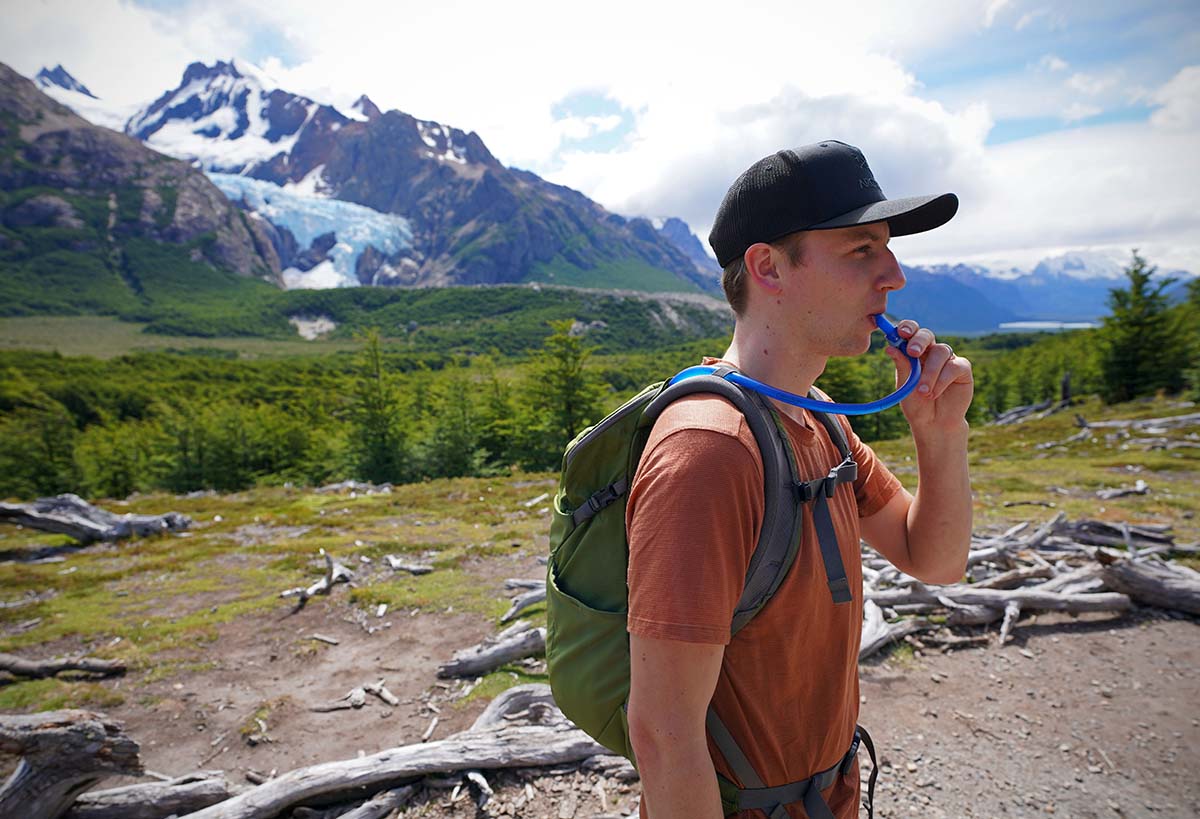 With the exception of ultralight options, most hydration-compatible packs have a sleeve to slide in and hold the hydration reservoirs. It's a simple process: attach the bladder to the top clip and insert into the sleeve. The hose can then be routed through an opening in the top of the pack. And if you don't already own a reservoir, choosing a hydration daypack like the CamelBak Fourteener 24 gets you a solid bag as well as CamelBak's reputable 3L Crux system.
 
Pockets and Organization
If you like to have a defined space for and easy access to smaller items, look for a pack with a number of interior and exterior pockets. We like hipbelt pockets for things you want close at hand, an exterior pocket along the top lid for small items like a headlamp or multi-tool, and a large, open main compartment for our gear. For school or daily use, additional exterior pockets with a key clip are always handy.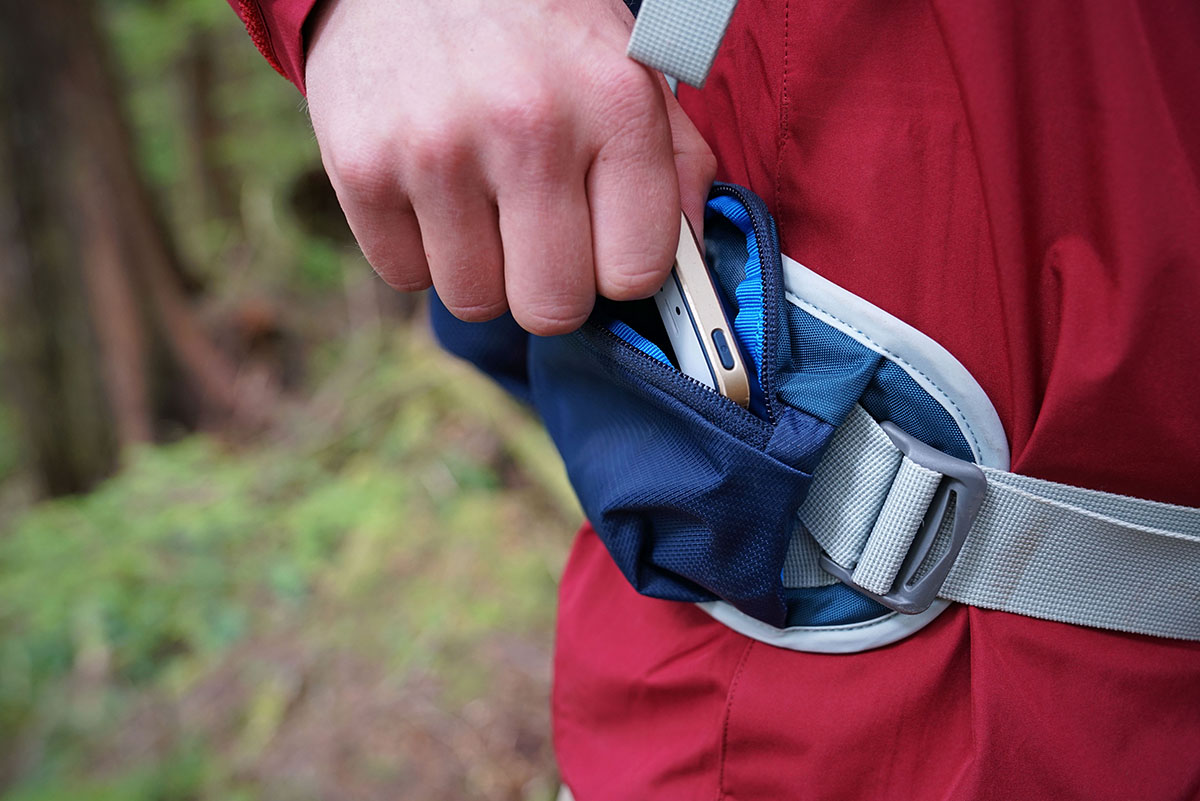 One of our favorite pack features is a large exterior mesh pocket along the front of the pack known as a "shove-it" pocket. This expandable space is great for items you may need quick access to like a rain jacket or snack. In addition, you can throw in wet items into this outer pocket to avoid ruining the contents of your main compartment. Minimalist designs omit many organization features—sometimes including the shove-it pocket—so keep an eye out for the number of internal and external pockets if those are important to you.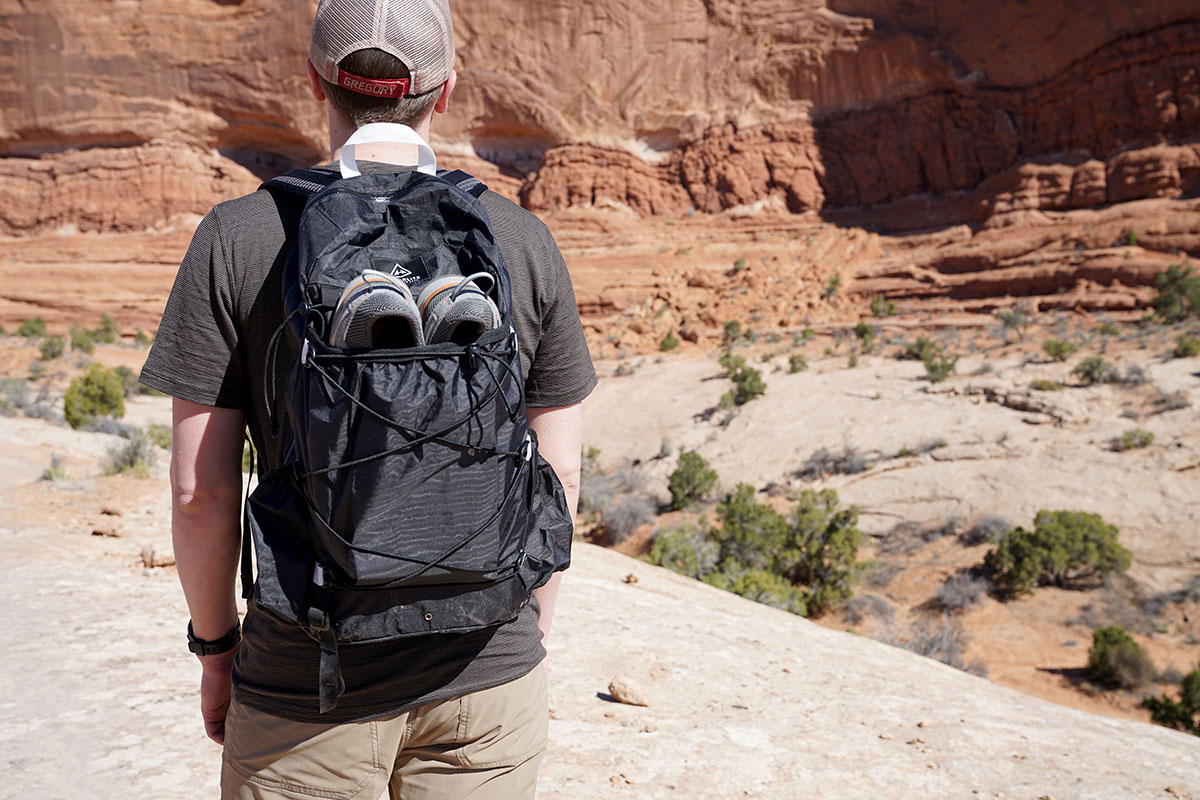 Closure Systems and Access
All daypacks that made our list have access to the main compartment through the top of the pack, but the closure systems vary. Rolltop lids and drawcord systems are popular on minimalist packs, while fully featured bags typically use zippers. Rolltop lids and zippers are the most secure for protecting what's inside your pack, but a well-made drawcord system like the REI Co-op Flash 18 is simple, lightweight, and very easy to use. One advantage that a rolltop pack has over the other options is compressibility: you can change the interior volume of the pack with the number of times you fold the lid.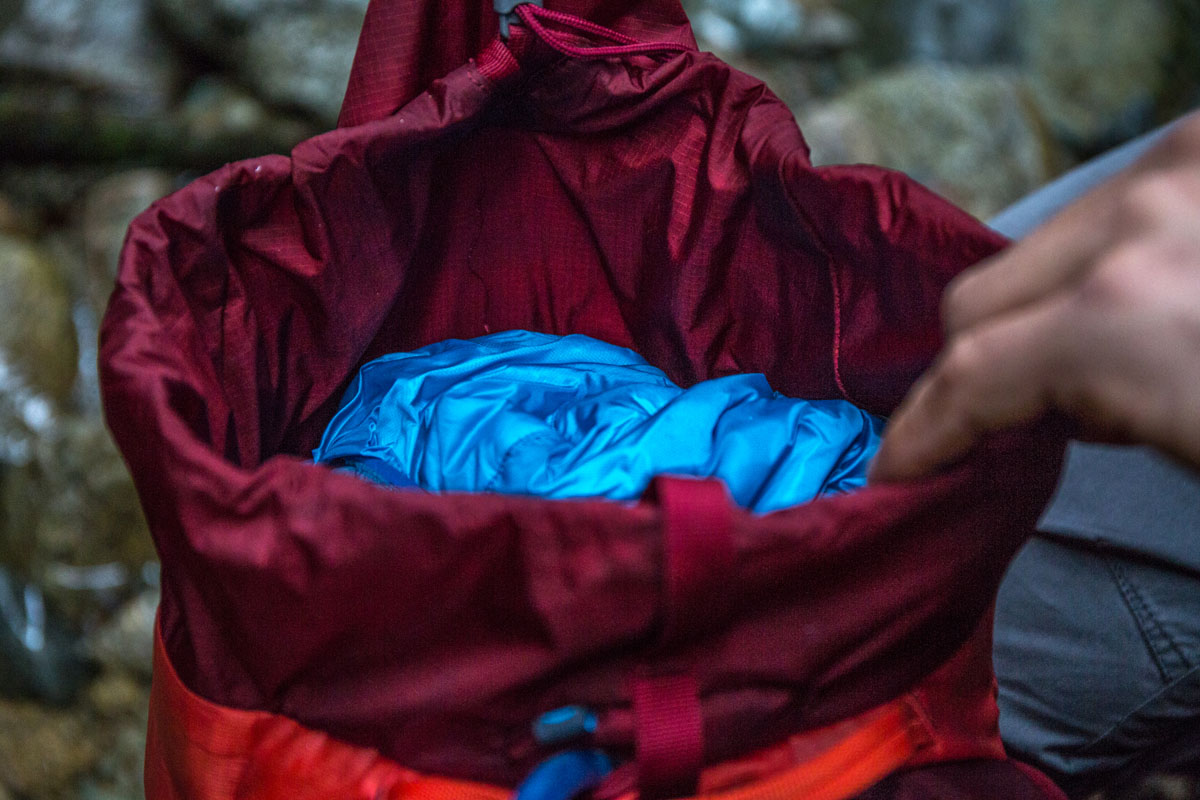 All three closure systems above are associated with a top-loading pack, which as the name would indicate, opens at the top of the bag. In addition, there are a few packs that made our list that are considered panel loaders. That means that the lid to the main compartment can be zipped open and pulled back like a suitcase, which allows for easy access to contents at both the top and bottom of the bag. The downside is extra weight and expense, but a number of our favorite medium to large capacity packs have this feature, including the Kelty Redwing 32 and REI Trail 40.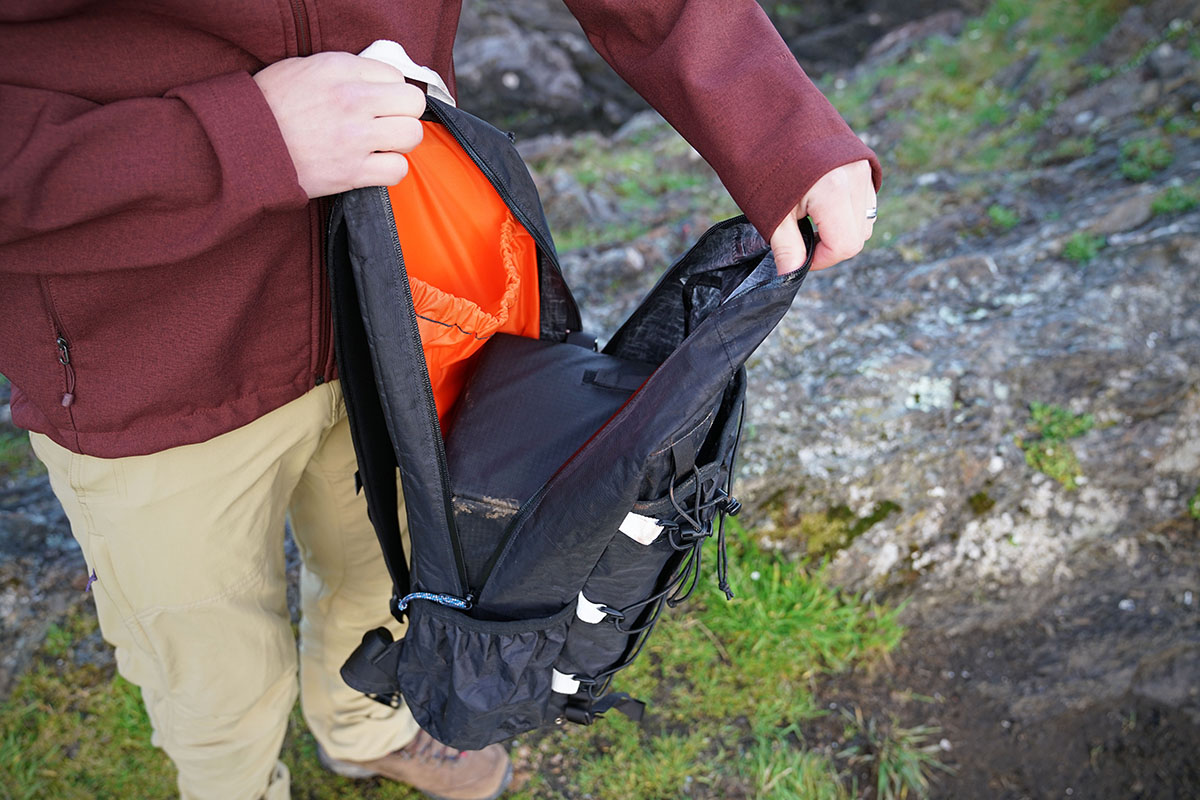 Benefits of Choosing a Women's-Specific Daypack
Women's daypacks are not, as they may appear, just a colorful version of a men's or unisex pack. There are real design differences with tangible benefits that deserve mentioning. The advantages include a torso fit that is often a better size than the sometimes large and bulky unisex models, and shoulder straps and hipbelts have been designed specifically for women. Men with shorter torsos often get a better fit with a women's-specific model as well.
Typically, if you'll be using the pack for pretty serious day hikes, it's well worth opting for a high-end women's model, like the Osprey Sirrus 24, Osprey Tempest 20, and REI Trail 40 we've listed above. The more tuned fit makes for a more comfortable carrying experience. For casual use, such as travel or when you're packing light, it's not as big a deal. Something like the unisex REI Flash 18 should work just fine.
Back to Our Top Daypack Picks  Back to Our Daypack Comparison Table
Learn More About Hiking Gear