Osprey Daylite Plus
Price: $70
Weight: 1 lb. 4.6 oz.
Capacities: 13, 20L
What we like: A durable, comfortable, and affordable daypack from one of the best brands in the business.
What we don't: Simple webbing hipbelt suffers under heavier loads; only offered in one size.
See the Osprey Daylite Plus
Osprey is a leader in the daypack market, and the Daylite is their entry-level collection. We put the 20-liter "Plus" model to the test and found that it offers a good amount of storage and capacity, has a healthy number of features, and is very well-built overall—all for only $70. We reach for Osprey's beefed-up Talon or Stratos for shuttling heavier loads or on longer missions, but the Daylite Plus has become our go-to choice for shorter outings around the Pacific Northwest and Rocky Mountains. Below we outline our experiences with the Daylite Plus. To see how it stacks up to the competition, see our article on the best daypacks.
Editor's note: Osprey has updated the Daylite collection since our test, and the Daylite Plus now weighs slightly more than its predecessor, costs an additional $5 (the previous version was $65), uses PFC-free DWR and beefier fabrics that are recycled and bluesign-approved, and boasts a lightly retooled front panel with a vertical (rather than horizonal) zipper. We've noted these changes where applicable in text below.
 
---
Table of Contents
---

Performance
Carrying Comfort
Osprey is a leader in carrying comfort, and even the budget-friendly Daylite Plus lives up to that billing. Their pricier Talon 22 has a much more substantial hipbelt that's better at handling heavier loads and longer days on the trail—the Daylite Plus has a simple webbing waist belt that doesn't offer much support—but the rest of the design is very well-executed. The shoulder straps are surprisingly comfortable and nicely padded (similar to the Talon), and the mesh backpanel is a good breather and keeps the load close. Comfort does start to suffer if you weigh it down with heavy items and lots of water, but we found the Daylite Plus to be a great match for shorter day hikes with less gear (including a jacket, some food, and a normal amount of water).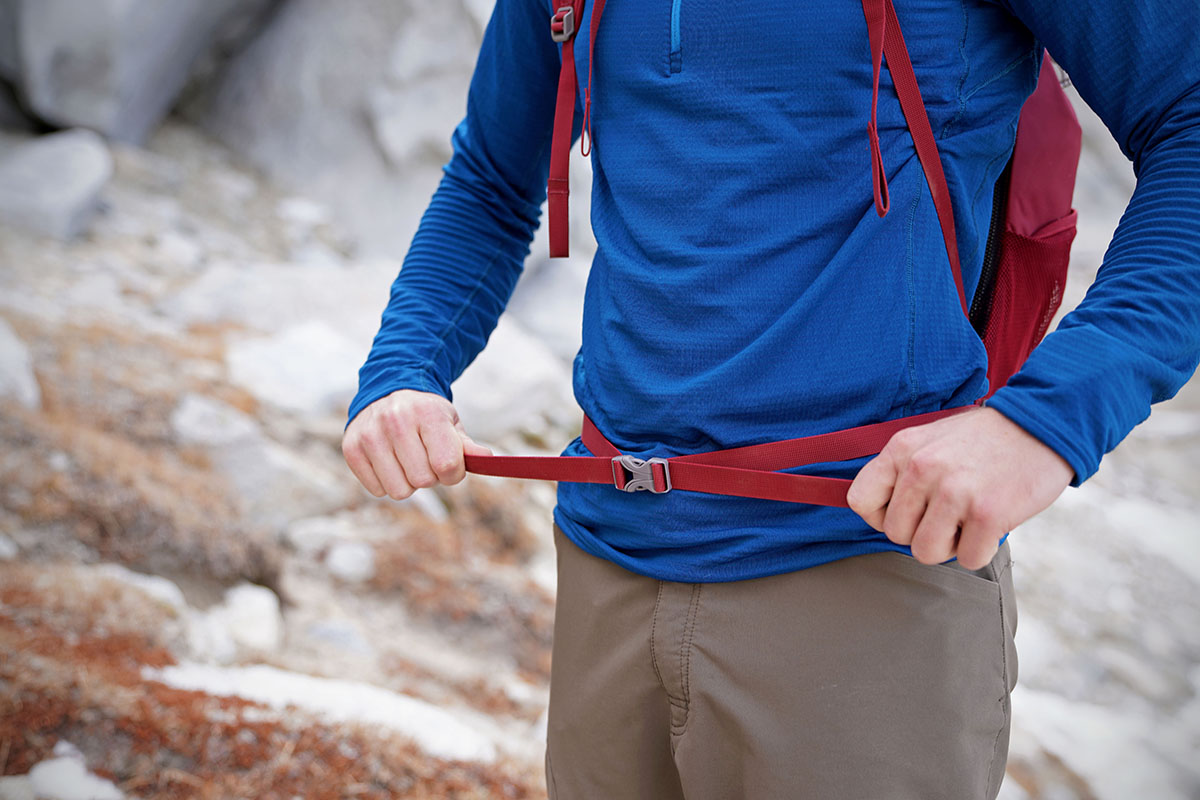 Weight
In addition to its budget-friendly $70 price tag, another big upside of the Osprey Daylite Plus is its reasonable weight. At 1 pound 4.6 ounces, it's significantly lighter than the aforementioned Talon 22 (2 lbs. 1 oz. for the S/M size) and just slightly heavier than the similarly built Deuter Speed Lite 20 (1 lb. 1.3 oz.). Some of this weight savings is a result of opting for the simple webbing hipbelt mentioned above and lack of an internal frame, but the Daylite Plus still is well-built and comfortable overall. You can go lighter with an even more trimmed-down design like the REI Co-op Flash 18 (9 oz.) or Flash 22 (13 oz.), but these packs compromise big time in terms of structure and durability. In the end, we have little to complain about with the design choices that Osprey made here.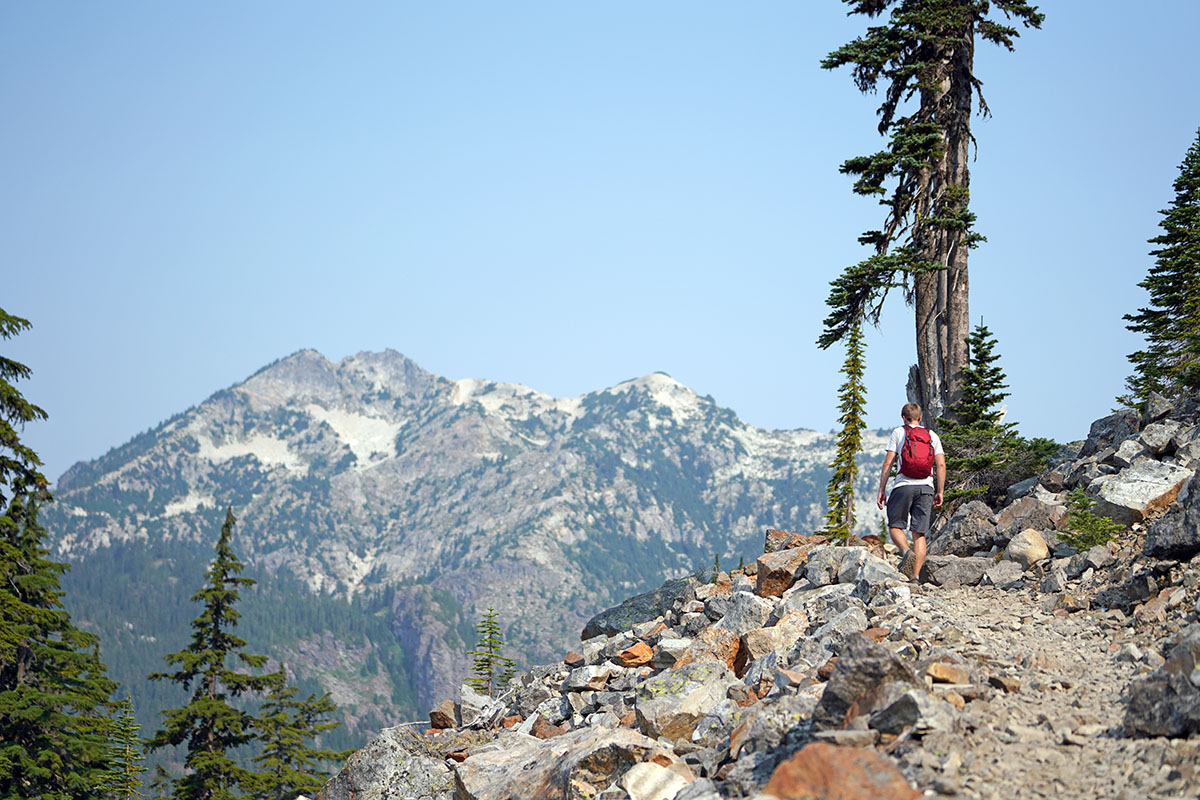 Ventilation
As we touched on above, the Daylite Plus is a great breather overall. For the design, Osprey chose a slotted foam back covered in mesh, which allows room for air to flow and kept me reasonably cool on short to moderate day hikes in the harsh Colorado sun. Osprey's own Stratos offers a major boost in ventilation with a suspended backpanel (similar to a backpacking pack) that provides more separation between your body and the pack, but that model is much heavier and pricier at $140. In our opinion, the Daylite Plus is plenty for most day hikes and outperforms most similarly priced daypacks.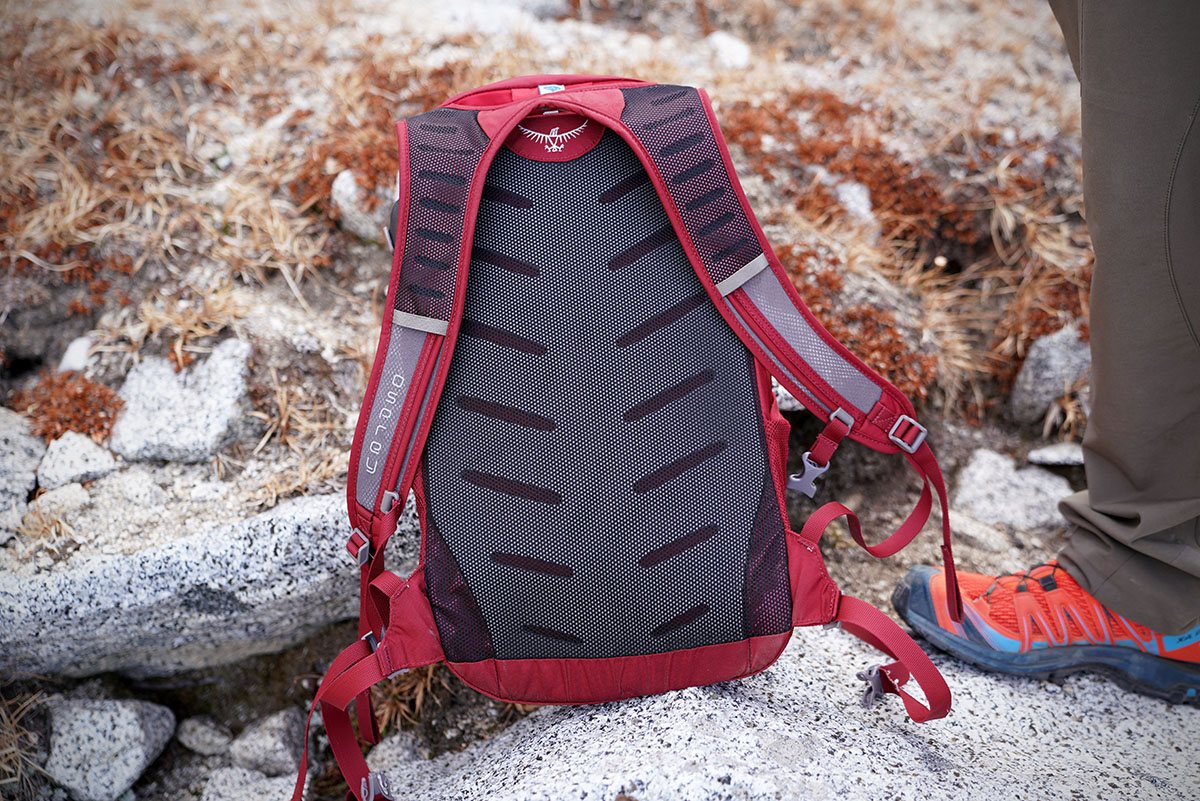 Pockets and Organization
For such a lightweight and inexpensive pack, organization is impressive on the Osprey Daylite Plus. You get an internal sleeve for carrying a water bladder (not included) or small laptop/tablet (up to 15 in.), side mesh water bottle pockets, a generous main compartment, and two zippered pockets on the outside. In practice, we've found the bottom one perfect for stowing a phone and/or wallet, and the top outside pocket is comprised of smaller mesh sleeves including a key clip for additional organization. Finally, there's a large shove-it pocket on the front of the pack, which is a feature that we love (the regular Daylite forgoes this). I use this space for just about everything, including quick access to snacks and a windbreaker jacket or rain shell.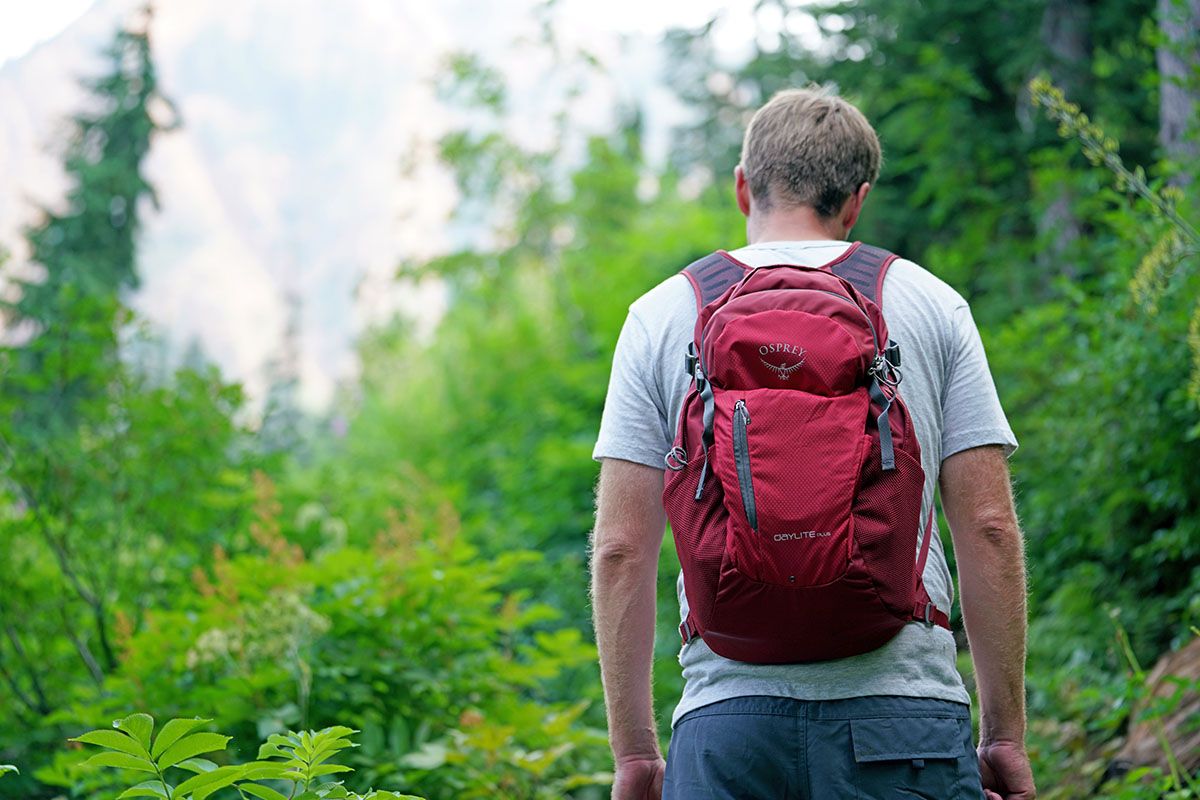 Additional Features
Unlike the pricier Talon, the Daylite Plus doesn't have Osprey's LidLock bike helmet attachment system, nor do you get a spot to stash trekking poles or carry an ice axe. That said, the pack does connect to the front of a variety of Osprey's larger models via attachment points at the waist and shoulders, including the backpacking-specific Aether/Aerial and travel options like the Farpoint/Fairview bags and wheeled packs. This provides a great deal of versatility for air travel (you can connect your checked bag and carry-on for easier portability). Those who need the multi-sport features mentioned above should consider spending up for the Talon, but for the price and intended uses, the Daylite Plus is a well-appointed pack.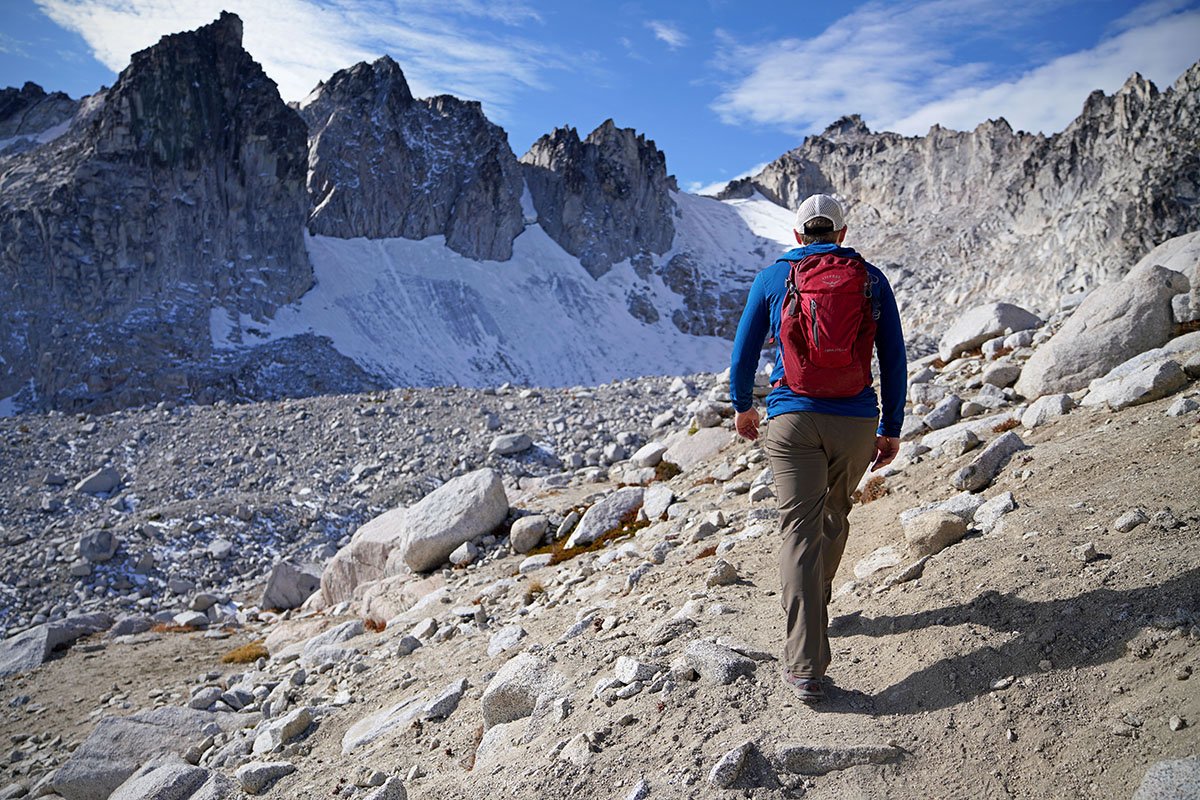 Build Quality and Durability
Another area where the Osprey Daylite Plus stands out from its lightweight and budget-oriented competition is its robust build. The bottom and sides are made with a tough, 600-denier (D) nylon (the previous version used 400D), and the main portion of the body is a hardwearing 300D (the original was 210D). I threw the original pack around on rocks, tossed it in my gear room haphazardly, and generally put it through the wringer on the trail, and it was no worse for wear. Given the latest version's beefier fabrics—plus the fact that Osprey is one of the best pack makers in the business—I have no qualms about long-term durability.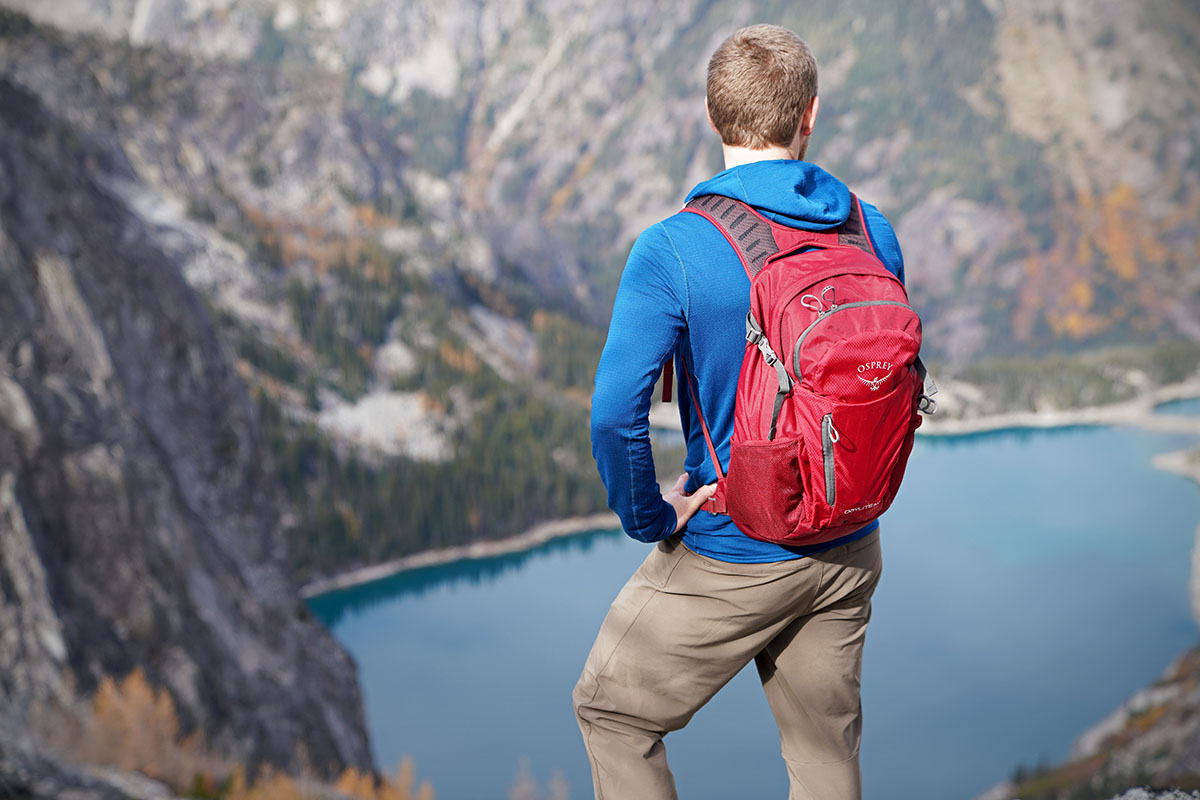 Fit and Sizing
One notable downside in choosing a budget daypack like the Daylite Plus is that they typically come in only one size. Stepping up to a more premium model like the Talon ($130) will get you the option of choosing between two sizes (small/medium and large/extra-large), which accommodate a wider variety of body sizes. But with the Daylite, you get a single one-size-fits-all and unisex option (which fits 15- to 22-in. torso lengths and 25- to 50-in. waists). That said, given its casual day hiking slant and that fact that you likely won't be loading it down or depending too heavily on the hipbelt, this isn't a deal breaker for us. Even our taller tester (over 6 feet) who prefers buying medium/large daypacks thought the Daylite Plus provided enough comfort for its intended purpose.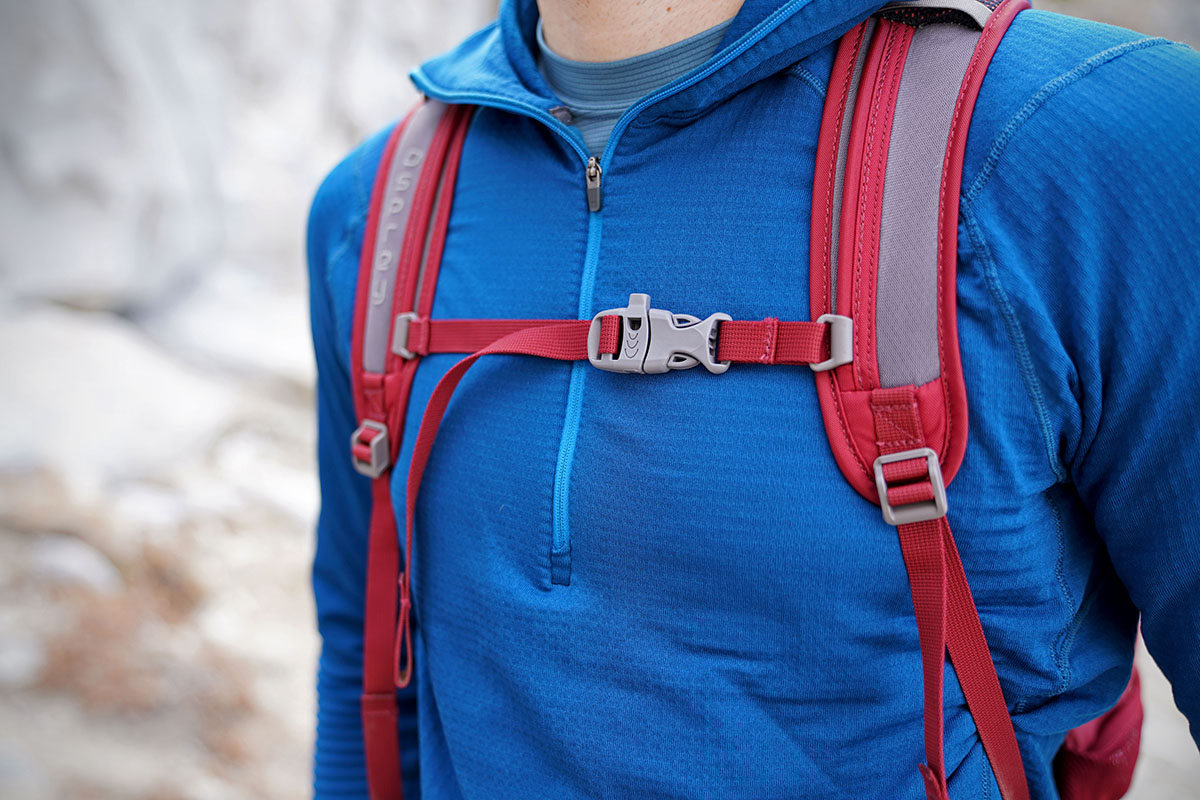 Sustainability
With the latest update to the Daylite series, Osprey began incorporating a few key sustainability measures. Namely, the packs now use PFC-free DWR coatings (perfluorocarbons are known to be harmful for the environment), as well as recycled materials. The fabrics are also bluesign-approved, which means they are safe for the environment, workers, and consumers. All in all, we appreciate the brand's ongoing efforts to improve their lineup, and we see these additions as being worth the slight increase in cost (the latest Daylite Plus costs $5 more than its predecessor).

Other Versions of the Osprey Daylite
We tested the 20-liter "Plus" version of the Daylite, and Osprey offers a number of other variations in the Daylite lineup. The most similar is the standard Daylite daypack, which costs $60, has 13 liters of capacity, weighs 1 pound 1.4 ounces, and forgoes the front stash pocket found on the Plus model. We think of the 13-liter Daylite as a good option for travel, but its utility for hiking is limited due to the smaller capacity and lack of storage. The Daylite collection also includes a sling and waist pack, dedicated kids' design, tote, duffels (in 30, 45, and 60L capacities), and new 15-liter pack with a top-loading cinch closure and daisy chain attachment points. Importantly, none of the Daylite designs are available in women's-specific versions, but we found the fit of the Daylite Plus to be reasonably accommodating.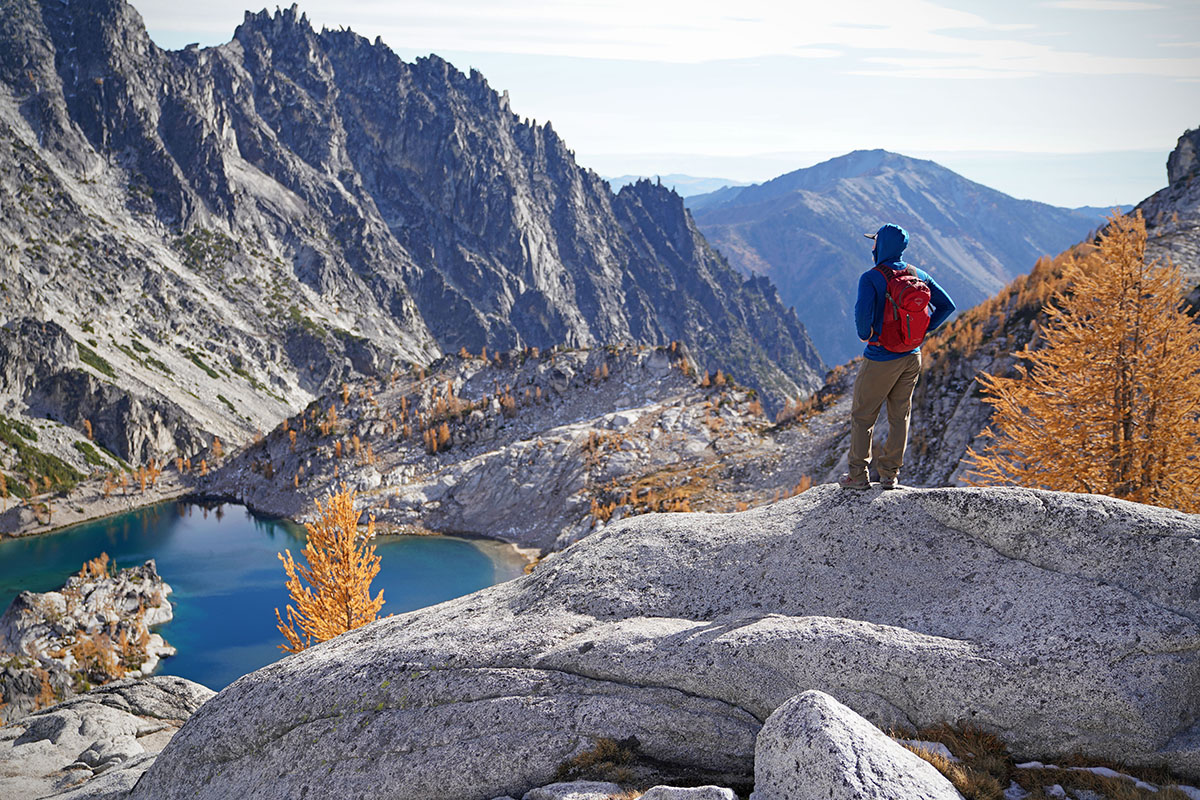 What We Like
At $70, the Daylite Plus is a great value for an Osprey daypack with 20 liters of capacity. 
Surprisingly comfortable for short to moderate day hikes without a super heavy load. 
Excellent organization and build quality—you'd be hard-pressed to find a more fully featured pack in this price range. 

What We Don't
The simple webbing hipbelt is not ideal when carrying a weighted-down pack or covering longer distances. 
Only comes in one size, meaning that the pack isn't as comfortable for those outside a normal height range.
You can go lighter and cheaper at this capacity with a streamlined pack like the REI Flash, but that comes with compromises in carrying comfort and durability. 

Comparison Table
| Daypack | Price | Weight | Capacities | Hipbelt | Frame | Pockets |
| --- | --- | --- | --- | --- | --- | --- |
| Osprey Daylite Plus | $70 | 1 lb. 4.6 oz. | 13, 20L | Webbing | None | 4 exterior |
| Deuter Speed Lite 20 | $75 | 1 lb. 1.3 oz. | 12, 16, 20, 24, 32L | Webbing | U-frame | 4 exterior |
| Gregory Nano 20 | $70 | 1 lb. 1.6 oz. | 14, 16, 18, 20L | Webbing | None | 6 exterior |
| Osprey Talon 22 | $130 | 2 lbs. 1 oz. | 11, 22, 26, 33, 36, 44L | Cushioned | Backpanel | 7 exterior |
| REI Co-op Flash 22 | $55 | 13 oz. | 18, 22L | Webbing | None | 3 exterior |
| Osprey Daylite | $60 | 1 lb. 1.4 oz. | 13, 20L | Webbing | None | 2 exterior |

The Competition
We consider the Daylite Plus to be one of the best values on the market for its levels of comfort, durability, and storage options. But one of the Osprey's closest competitors is the Deuter Speed Lite 20. In parsing out the differences, the Deuter offers the same capacity but is 3.3 ounces lighter at 1 pound 1.3 ounces total, is slightly less robust with a 210- and 420-denier build (the Daylite uses 300 and 600D fabrics), and costs an additional $5. Both use simple webbing hipbelts rather than padded designs, are only sold in one size, and have similar organization options including compatibility with 3-liter reservoirs (sold separately). It's a tough call between these two well-built and affordably priced daypacks, but we've found the Deuter to be slightly more capable when shuttling a day's worth of gear.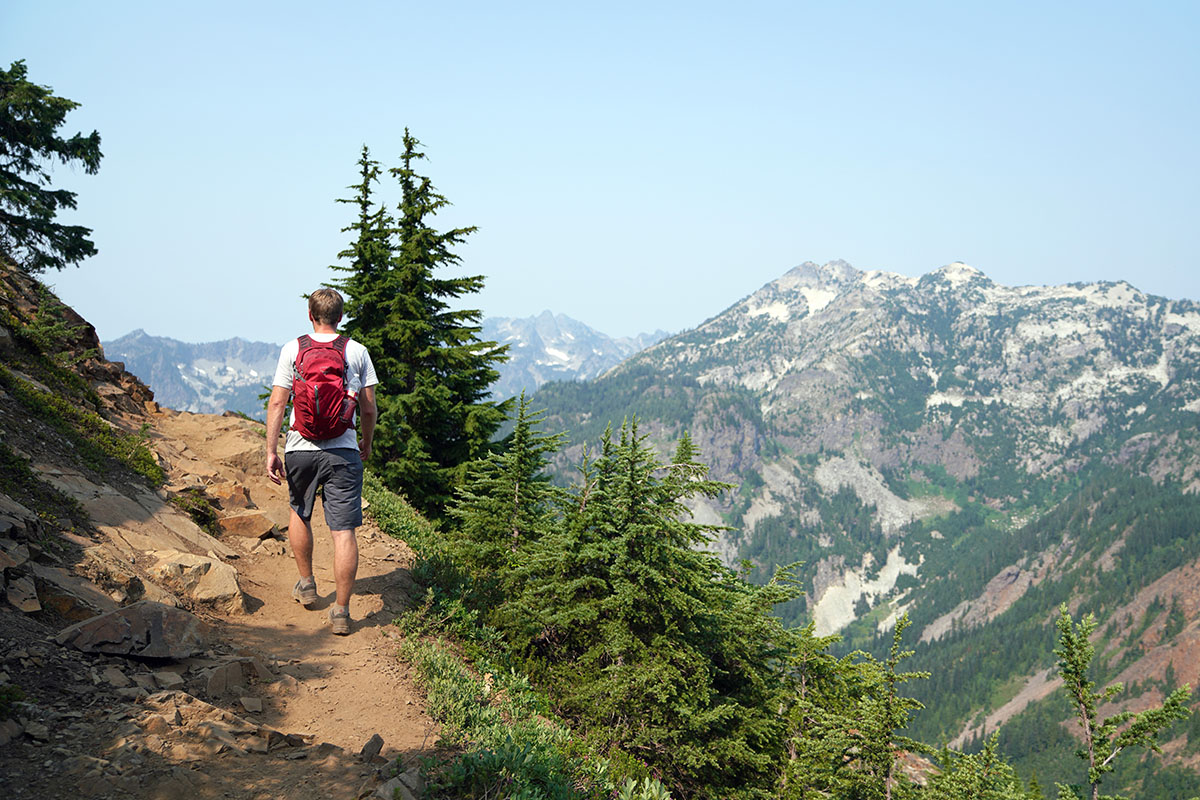 Gregory is another leader in the pack world, and their Nano 20 is very similar to the Daylite Plus in design and all-around intentions. Both packs cost $70, are offered in a single size, have webbing hipbelts that aren't great for long-distance comfort, and boast similar storage layouts (the Nano has six exterior pockets). The Osprey wins out in durability (the Nano uses less hardwearing 210 and 420D fabrics), although the tradeoff is a slight weight penalty. Given their similarities, you really can't go wrong with easier design, but we do like the fact that the Daylite is compatible with Osprey's larger-capacity backpacks for air travel.
As we mentioned above, the Talon 22 is a more performance-oriented option from within Osprey's own lineup. For an additional $60 and 12.4 ounces, you get a more substantial, lightly padded mesh hipbelt for carrying heavier loads and traveling longer distances, as well as technical features like a bike helmet carry system, ice axe loop, and trekking pole attachment points. Additionally, the Talon is made in two sizes as well as a women's-specific version called the Tempest. In the end, the Talon is our favorite daypack and worth the added cost for those who regularly spend longer days on the trail, or who plan to use the multi-sport features.
Another intriguing alternative to the Daylite Plus is the REI Co-op Flash 22. Stacked up against the Daylite Plus, the REI is even more pared-down with minimally padded shoulder straps and a similar webbing hipbelt, a lighter-weight build (13 oz.), and a more streamlined feature set including fewer pockets and less ventilation along the backpanel. The Daylite Plus also gets the edge in durability—we found the Flash's foam backpanel insert and nylon shell to be relatively thin (REI doesn't list the exact thickness), especially when stacked up against the Osprey's burly fabrics. All in all, the Flash is a nice summit pack, but the Daylite provides more structure and support for only $15 more.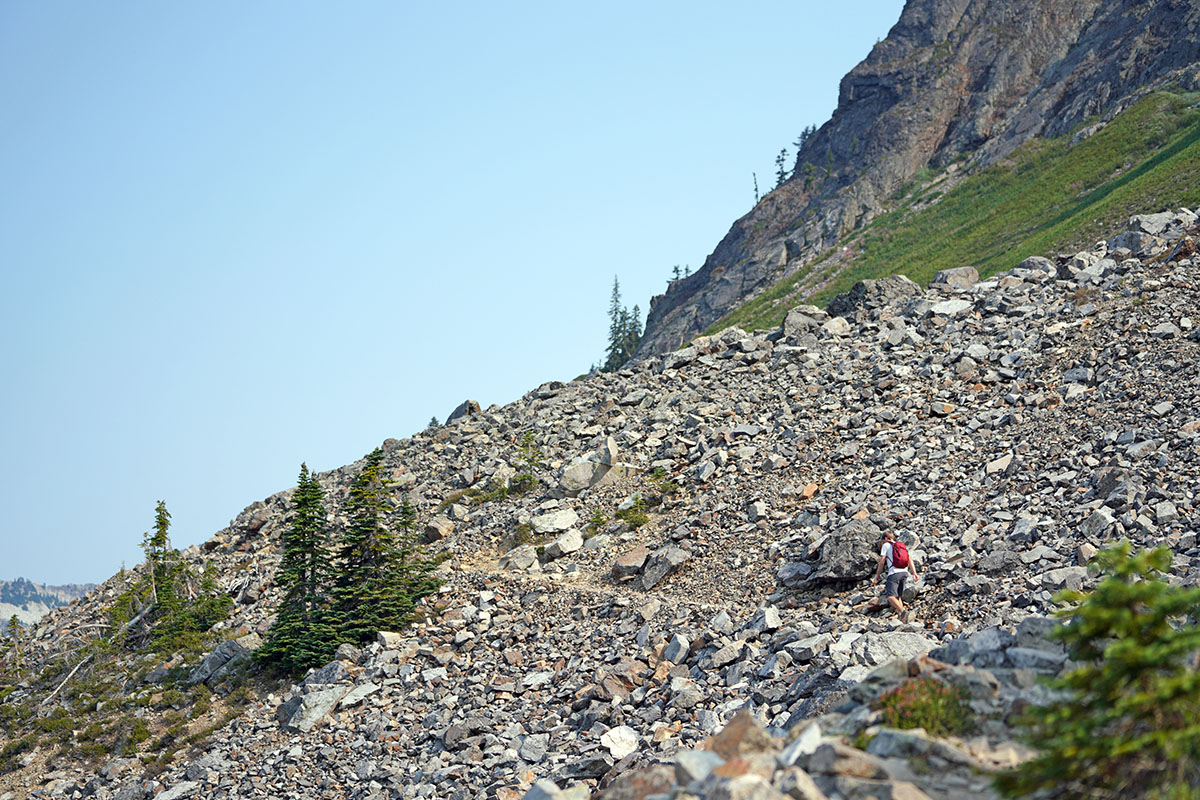 Osprey's regular Daylite (no "Plus") is a final option worth considering. As we touched on above, the Daylite offers less capacity at 13 liters, comes in $10 cheaper at $60, weighs a few ounces less at 1 pound 1.4 ounces, and forgoes the front shove-it pocket that we love on the Plus model. You also get one less zippered pocket, although the 13-liter Daylite still can accommodate a hydration reservoir or laptop (up to 13 in.). Like the Plus, the standard Daylite is compatible with Osprey's larger-capacity packs, and it's similarly durable with the same 300- and 600-denier fabrics. Overall, we like the Daylite for travel and everyday use, but most hikers will appreciate stepping up to the larger and more fully featured Plus version.
If you're thinking about buying gear that we've reviewed on Switchback Travel, you can help support us in the process. Just click on any of the seller links above, and if you make a purchase, we receive a small percentage of the transaction. The cost of the product is the same to you but this helps us continue to test and write about outdoor gear. Thanks and we appreciate your support!
Depending on the seller, most products ship free in the United States on orders of $50 or more. International shipping availability and rates vary by seller. The pricing information on this page is updated hourly but we are not responsible for inaccuracies.
Read More From Switchback Travel