First and foremost, the East Coast has great skiing, from Stowe in Vermont, to Sugarloaf in Maine, all the way up to Tremblant in Quebec. But the reality is that the conditions vary considerably from places like Colorado and Utah: you get fewer powder days, more hardpack, and those unfortunate icy stretches between snowfalls. Below we detail seven great ski models for East Coast riding for men and women. In terms of width, it's best to stick to the narrower end of the spectrum, and we feel the ideal East Coast all-mountain ski is between 80 and 95 millimeters at the waist. For more information on choosing the right design, see our comparison table and buying advice below the picks.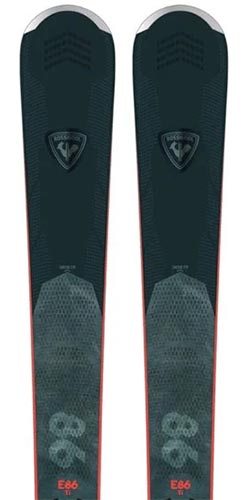 Dimensions: 132-86-120mm
Ability level: Advanced to expert
What we like: Fast, powerful carver, and extremely smooth.
What we don't: You'll likely want a little more float on powder days.
Rossignol really hit it out of the park with the latest Experience 86 Ti, which has a near-ideal build for most East Coast conditions. First, it's a great 86-millimeter-width carving ski, with easy turn initiation and a precise feel as you get it on edge. Second, it's extremely smooth and confidence-inspiring in a wide range of conditions: from ice to crud, the ski stays planted and you quickly learn to trust it. Credit goes to the low but relatively long rockered tip and moderately stiff construction, which help it remain chatter-free at speed and damp and smooth when slicing through bad snow. For days spent primarily on the frontside of the resort, the latest Experience 86 Ti is hard to beat (a mid-range Basalt 86 is also offered, which is a little softer and lighter while saving you $200).
Whereas the prior-generation Experience was a little more adept in powder, the current 86 feels pretty out of sorts in deeper pockets. Its construction leans heavily to firm conditions, although its low swing weight and predictable performance do translate decently well for dipping in and out of the trees. Our only true hesitation is for intermediates or skiers that put a premium on playfulness over power, dampness, and precision. If you fall in the former group, you'll likely want a little more versatility, such as Atomic's more all-mountain-focused Maverick below or Icelantic's light and nimble Pioneer 86... Read in-depth review
See the Rossignol Experience 86 Ti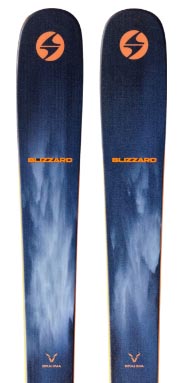 Dimensions: 121-82-105mm
Ability level: Advanced to expert
What we like: The best overall groomer ski on this list.
What we don't: Pretty demanding and not all that nimble at slower speeds.
Sharing a lot in common with Blizzard's popular Bonafide 97 in a trimmed-down and more East Coast-friendly width is their Brahma 82. Two layers of Titanal and their proprietary Flipcore Technology keep the ski stable and rock solid, and the ski's lightweight carbon tip and tail and tight turn radius make it a wonderful carver. And as we've come to expect from Blizzard, the Brahma is quite comfortable at high speeds and is an all-around smooth operator on anything from ice to plowing through chop.
What type of terrain does the Brahma 82 handle best? Steep groomers and hardpack are its specialties, but performance isn't quite as impressive in the trees and through soft snow (the wider Brahma 88 does slightly better here, although it's still an on-trail focused beast). The stiff construction also requires a confident pilot at the helm to get the best from these planks (it'll bite back some if you let off the gas). It all adds up to a high-performance option for advanced or expert skiers who prefer to stay on-piste and don't need a ton of playfulness for dodging trees and attacking zipper lines.
See the Blizzard Brahma 82  See the Women's Blizzard Black Pearl 82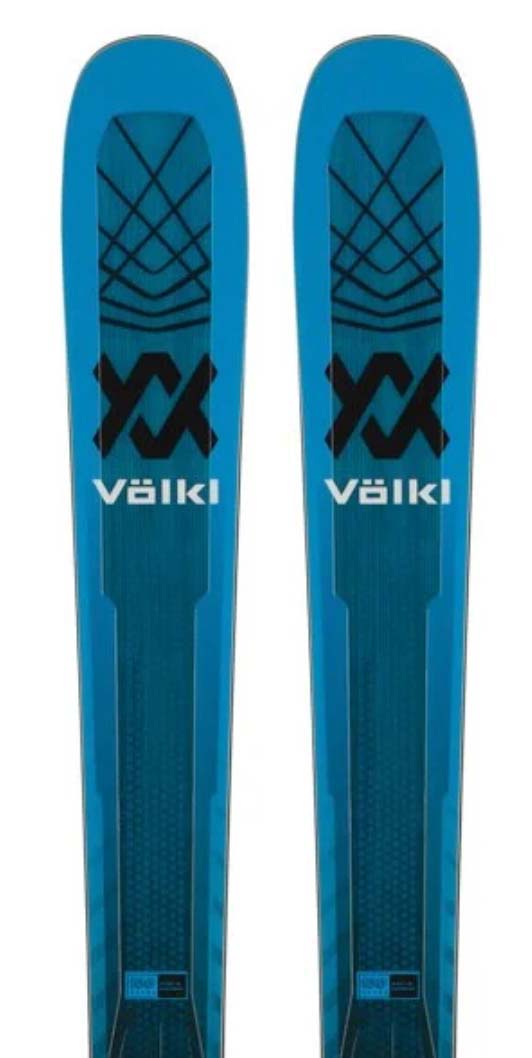 Dimensions: 129-88-111mm
Ability level: Intermediate to expert
What we like: Great mix of precise and smooth carving with all-mountain versatility.
What we don't: Not very playful.
A long-time favorite of ours, Volkl's Kendo is one of the most well-rounded designs on the market. On a fresh groomer, it's smooth, precise, and agile, but the Kendo is also surprisingly well suited for soft snow considering its moderate 88-millimeter width. Past versions of the Kendo have been criticized for being too stiff for intermediate riders, but Volkl has loosened things up by utilizing their Titanal Frame construction, which incorporates metal only along the perimeter of the skis. And the brand's signature 3D Turn Radius is featured in the design, which lends a natural feel for everything from tight, short turns to wide and high-speed sweepers.
If you live in Vermont near some of the snow-heavy East Coast resorts or put in a ton of days each year, the Kendo or Enforcer 94 below are some of the best skis for taking you all over the mountain. If you want something more playful, however, the buttoned-down feel makes the Kendo a little less enjoyable in tight spaces (Volkl's lighter Blaze is better here). Finally, true on-trail specialists and ex-racers may want to check out Volkl's Deacon 84, which offers incredible edge grip and power—at the sacrifice of off-trail maneuverability.
See the Volkl Kendo 88  See the Women's Volkl Kenja 88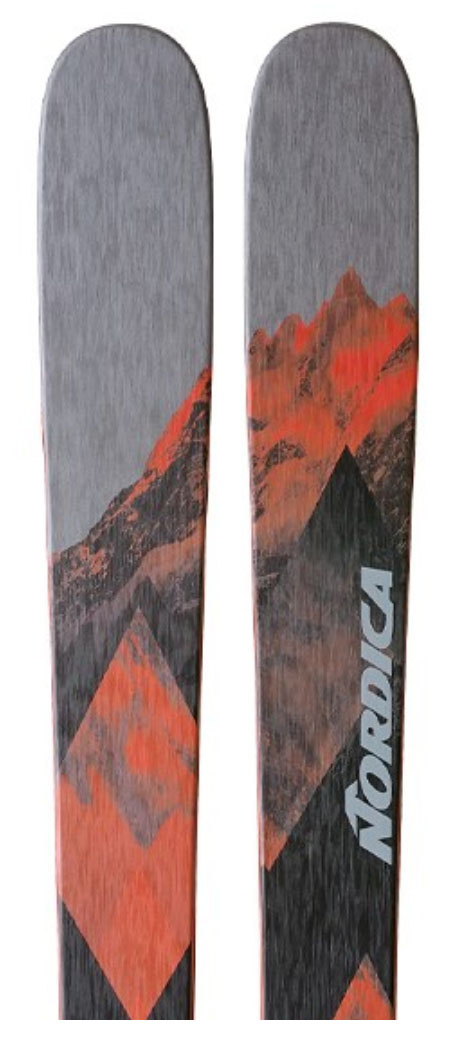 Dimensions: 127-94-115.5mm
Ability level: Intermediate to expert
What we like: True high-performance all-mountain appeal.
What we don't: A little wide for frontside use.
At 94 millimeters underfoot, Nordica's Enforcer is the widest ski to make our 2023-2024 list. But despite its dimensions, the Enforcer remains a standout performer on hardpack. What immediately jumps out is its natural feel: The ski has lots of energy and pops nicely between turns, is very easy to trust in a range of conditions, and the solid base and two sheets of Titanal in the construction give it a stable and planted ride. And as expected, it's the most capable here once you head off trail, with decent flotation in soft snow and a nimble feel in general.
The Enforcer and women's Santa Ana are our favorite all-mountain skis for this year, but they do have their limitations on this groomer-focused list. The narrower Experience above is quicker edge to edge and more capable if you spend the majority of your time on trail. And both the Brahma 82 and Experience make a lot of sense as high-speed carvers. But for true all-mountain appeal, and especially in regions that get a few serious storm cycles each season, the Enforcer 94 is a real winner... Read in-depth review
See the Nordica Enforcer 94  See the Women's Nordica Santa Ana 93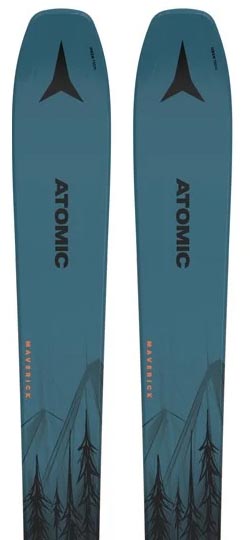 Dimensions: 124.5-88-109.5mm
Ability level: Intermediate
What we like: Light and maneuverable; a solid value.
What we don't: You may grow out of the Maverick.
Moving back down in waist width, the Maverick 86 from Atomic is a first-rate all-mountain ski in its price range that excels in East Coast conditions. With no metal in the construction but a full-length carbon fiber "backbone," the Atomic is light, energetic, and easy to handle, which translates to smooth turn initiation and reliable edge hold for those still learning the tricks of the trade. Perhaps what we like most is the Maverick's 86 C's price point, which is $100 to $300 cheaper than the top picks above but still a serviceable pick for casual weekend warriors.
As expected, the lower cost comes with some compromises in performance. The Maverick lacks stiffness for connecting fast-paced GS turns, and the lightweight build isn't particularly damp and can be knocked around in rough snow. On the other hand, it will perform well cruising groomed runs and even provides decent float in fresh powder (at least for the width). In the end, intermediate riders will find a lot to like with the Atomic, but we recommend upgrading to one of the picks above if you're more of a hard charger.
See the Atomic Maverick 86 C  See the Women's Atomic Maven 86 C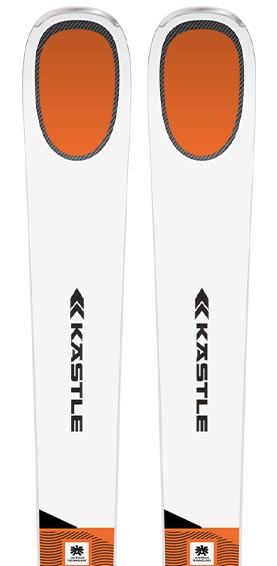 Dimensions: 126-83-112mm
Ability level: Expert
What we like: Fast, smooth, and incredibly capable.
What we don't: Non-experts need not apply.
For ex-racers and people who only buy the best, the Kästle MX88 is one of the finest all-mountain hardpack skis on the market. With a wood core, two layers of Titanal, two layers of fiberglass, and a mostly straight camber profile—with just a whiff of tip rocker—the MX88 is built for carving at fast speeds. In many ways, it takes a number of the positive characteristics of a racing ski but at a versatile 88-millimeter waist width. In terms of powder, you can take the MX83 off piste and it will greatly outperform its relatively narrow specs, but its stiff construction requires a strong pilot.
Why isn't the MX88 higher on this list? The price is simply too far out of reach for most people, and some question whether it's actually twice as good as the competition to merit being double the price. We agree that it's hard to justify the expense, but for top-of-the-line performance, there's just nothing better. It's worth noting Kästle also offers the DX frontside series, which is a slightly softer and more forgiving alternative (thanks to one less layer of metal) to the very powerful MX.
See the Kästle MX88
East Coast Ski Comparison Table
East Coast Ski Buying Advice
What Makes a Ski Ideal for the East Coast?
An Overview of East Coast Conditions
The East Coast has good snow but isn't blessed with dry air and seemingly endless powder days like the Rocky Mountains. Below is a comparative breakdown of popular East Coast resorts along with a smattering of others around North America:
Stowe, VT: 314 inches per year
Smuggler's Notch, VT: 322 inches per year
Sugarloaf, ME: 200 inches per year
Holiday, Valley, NY: 180 inches per year
Bretton Woods, NH: 200 inches per year
Tremblant, Quebec: 163 inches per year
Vail, CO: 354 inches per year
Alta, UT: 538 inches per year
Mt. Baker, WA: 663 inches per year
Whistler, B.C.: 448 inches per year
Aleyska, AK: 643 inches per year
As you can see, Vermont has snowfall that actually is competitive with Colorado but less than Utah or the Pacific Northwest. Maine, New Hampshire, and New York lag behind in snowfall but still are respectable at around 200 inches. However, all snow is not created equal. The humidity and lack of sunshine on the East Coast lead to more hardpack and fewer true powder days. The resorts also have less vertical rise and the mountains don't offer as much alpine terrain, meaning that you will be skiing groomed runs and off-piste skiing is more rare.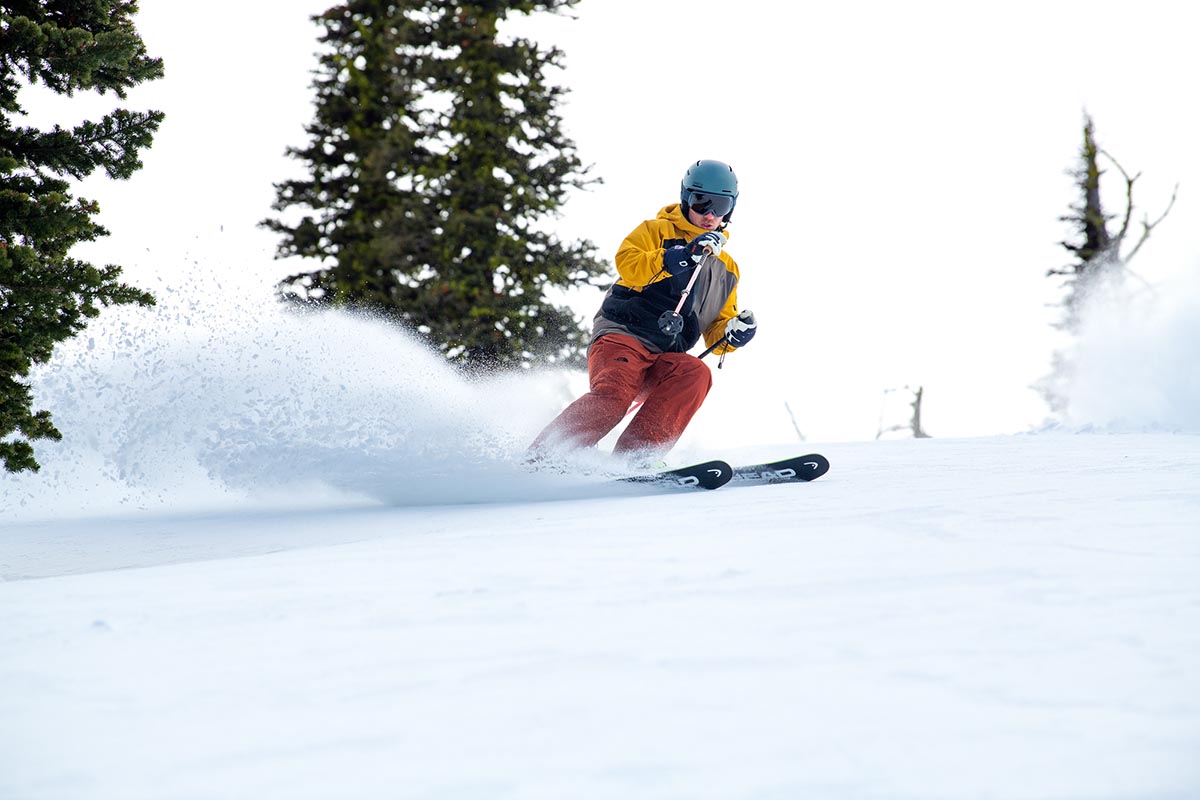 Recommended Waist Width: 80mm to 95mm
Downhill skis have three common points of measurement: at the tip (the shovel or most often the widest part of the ski), the middle (waist), and the bottom (tail). Ski dimensions are measured in millimeters and often include three numbers in the following format: 132-86-120 (tip-waist-tail) for the Rossignol Experience 86 Ti. The most important number for the majority of skiers is the middle number, also referred to as waist or width underfoot, and this what many people use to analyze ski width.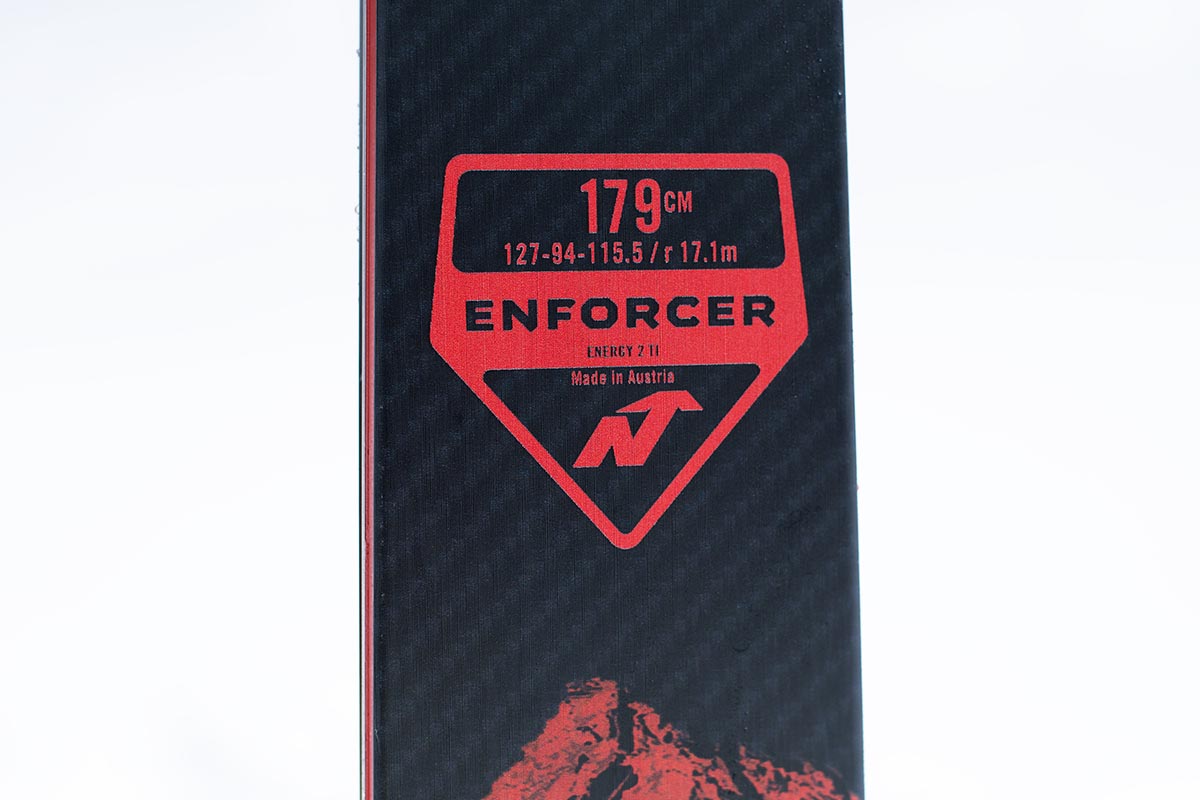 Skis have gotten progressively wider over the years as industry technology has evolved. An East Coast skier 10 or 15 years ago may have been looking at a 70-millimeter ski, but the ideal range is now comfortably at 80 millimeters or more. In terms of waist width, the optimal East Coast ski is between 80 and 95 millimeters, which should provide stability and good carving on groomed runs and decent flotation in deeper snow. Beginners and true intermediates can look toward the lower part of the range (as well as experienced skiers that stick to groomers), and more advanced riders that plan to explore the whole mountain will appreciate the added width with a 90- or 95-millimeter ski.
Below is an overview of general ski width categories:
Race and GS Skis: 60mm to 70mm
Beginner Skis: 70mm to 80mm
Groomer/East Coast Skis: 80mm to 90mm
Ideal All-Mountain East Coaster: 80mm to 95mm
Heart of the All-Mountain Range: 88mm to 100mm
Ideal All-Mountain Rocky Mountains/West Coaster: 90mm to 105mm
Powder/Big Mountain Skis: 105mm+

Carving Ability
Carving is the name of the game on the East Coast, so you need a ski that can initiate turns, hold its edges, and is stable. The good news is that it's actually simpler for East Coasters to choose a ski than it is for West Coasters, who need a ski that can both carve and float in powder.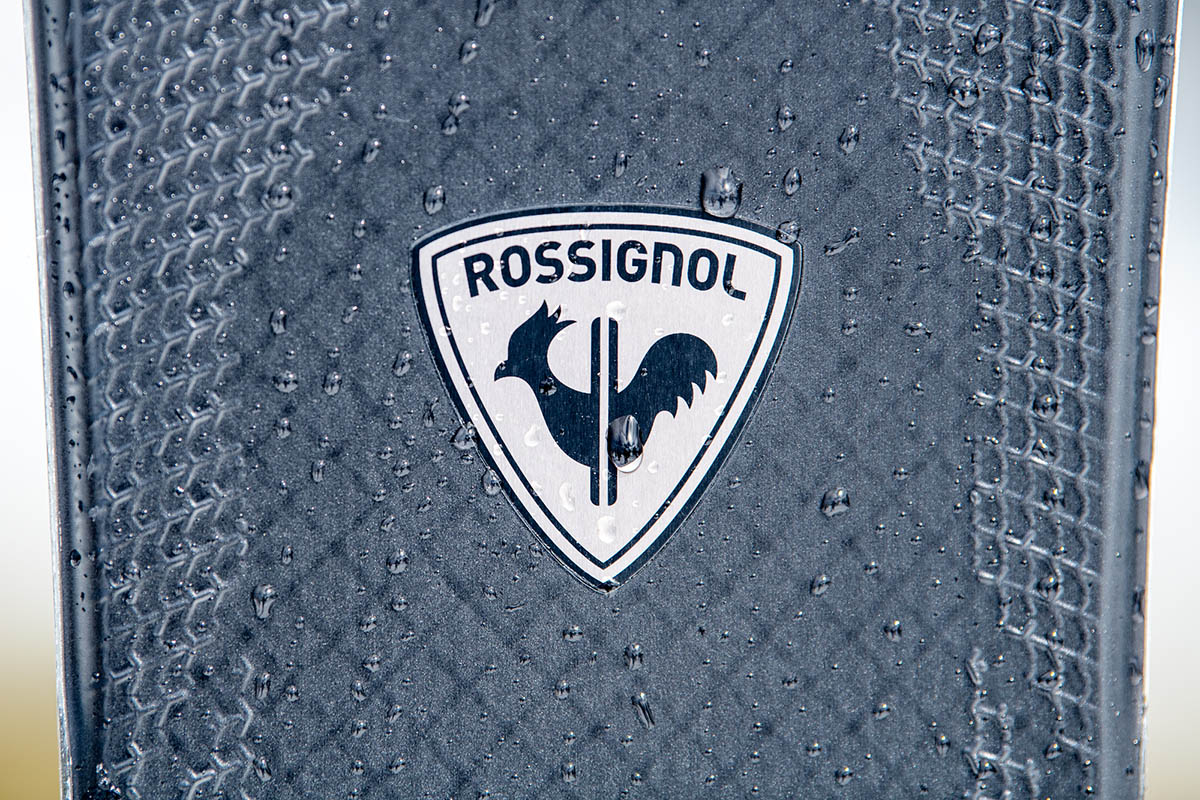 Choosing the right waist width is the place to start, which helps to ensure that you won't end up with a ski that is too heavy and arduous to turn. The evolution in ski profiles, and specifically the jump from simple camber to today's rocker/camber hybrid, has allowed fatter skis to carve more easily on groomed runs and reduced their tendency to catch edges. Most manufacturers have proprietary technologies of different names for the cores and edge systems of their skis, but all of the 80- to 90-millimeter skis on this list are tuned for carving and turn initiation primarily on hardpack. Skis that fall in the 100-millimeter width range and above will have more powder-centric tendencies, and their performance on groomers will be compromised.
 
Icy Conditions and Chatter
One of the major differences between beginner skis and intermediate/advanced skis is the complexity and materials of the core. Simply put, cheaper skis are designed for those traveling at slower speeds as they learn the ropes, but their comfort level deteriorates as the pace picks up. This is in part due to a lighter overall weight and softer flexing core that errs on the side of being forgiving rather than all-out performance. Chatter is a common term in the ski world, which occurs when you are not maintaining a sufficient edge or hold on the snow or the tips and tails start vibrating at speed. When you move too quickly with a beginner ski, the chatter kicks up significantly and you lose connectedness to the snow surface.
The Kästle MX88 at the bottom of this list is built specifically for skiing fast on hardpack with high-end materials and a relatively complex core construction designed to maintain edge control and minimize chatter. The top three skis on this list—the Rossignol Experience 88 Ti, Blizzard Brahma, and Volkl Kendo—also excel in this category. One shortcoming of choosing the cheaper Atomic Maverick 86 is that you will notice more chatter and a looser feel at high speeds (although not nearly as much as a true beginner ski). The good news is that all seven of the skis above are designed for hardpack and will perform admirably on ice for their price range.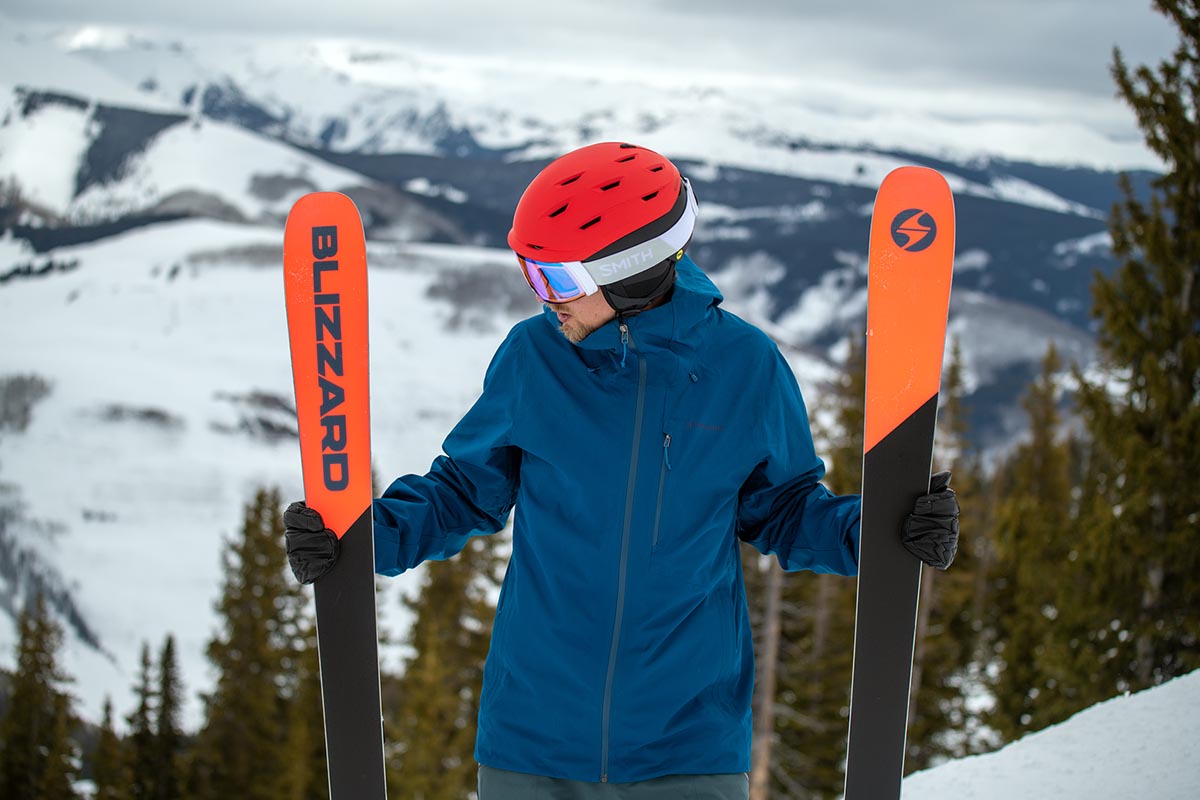 Mogul Skiing
The East Coast has some fantastic mogul skiing, from Vermont's Killington to Wildcat Mountain in New Hampshire. For skiers that plan to spend some of their time in the bumps, there are a few key design characteristics to look for. The first is a fairly soft and light shovel, which will help absorb some of the impacts and limit the harshness of an overly stiff design. In addition, a medium to slim waist width and shorter turn radius will make it easier to pop between turns, and a firmer tail provides both power and stability. For sizing, it's best to avoid going too long, and those just starting out will want to err on the shorter side to maximize control. Some of our favorite mogul-friendly skis include the Icelantic Pioneer 86 and Atomic Maverick 86 C.
 
Expanding Your Ski Quiver
One upside of being an East Coaster is that if you advance your skills and start traveling to ski, building your quiver is a very logical process. If you start with one of the East Coast skis above, then you've already got yourself a great ski for groomed runs and hardpack. If you end up heading out to Colorado or Utah for a ski trip, you can add a more powder-oriented ski in the 105-millimeter waist range for when the conditions are right.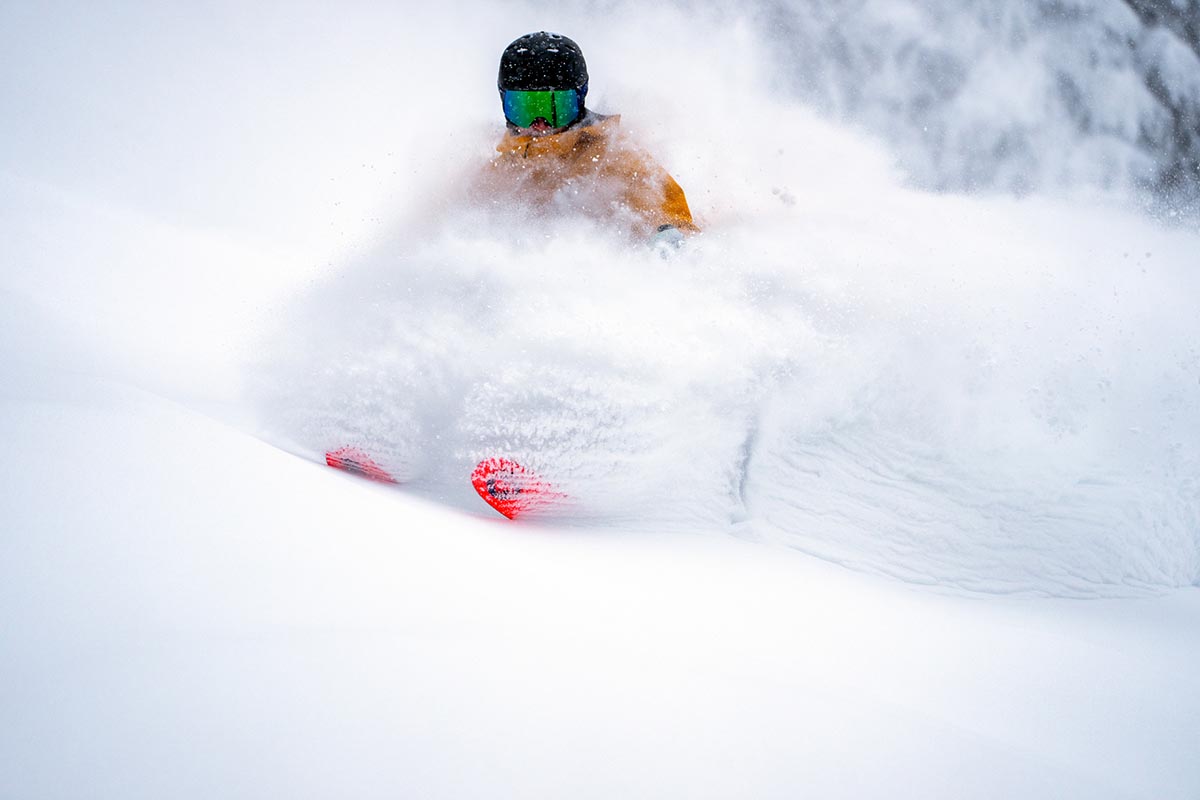 West Coast skiers, on the other hand, often are searching for that elusive quiver-of-one ski that is extremely difficult to pin down (we cover a number of good options in our all-mountain ski article). They can buy a 100-millimeter ski, for example, that performs well in the sidecountry and backside of the hill but won't handle groomers nearly as well as your 88- or 90-millimeter ski. And their 100-millimeter model won't ski powder as well as your soft snow-focused 105-millimeter or more ski either. The lesson is that although the East Coast may not have the best conditions in North America, the more predictable terrain and snow type make it easier to choose your ideal ski.
Back to Our Top East Coast Ski Picks  Back to Our East Coast Ski Comparison Table
Learn More About Outdoor Gear