As snowboarding season kicks into high gear, it's time to take stock of the equipment that will help make your winter that much better. Below we break down the top all-mountain snowboards of the 2023 season, from highly versatile models to those that excel at freestyling in the park or taking on fresh powder. On this list you'll find everything from leading budget and beginning options to high-end boards built for experts and hard chargers. For more background information, see our all-mountain snowboard comparison table and buying advice below the picks. 
 
---
Our Team's All-Mountain Snowboard Picks
---

Best Overall All-Mountain Snowboard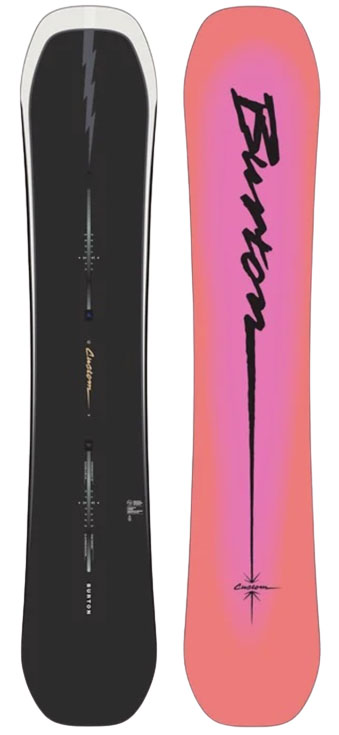 Category: All-mountain
Ability level: Beginner to advanced
Flex: Medium
Shape: Directional twin 
What we like: A super versatile board that is both playful and powerful. 
What we don't: Not a great carver. 
If you're in the market for the quintessential all-mountain board, you'll be hard-pressed to find a better option than the Burton Custom Flying V. First and foremost, it's easy to ride with a mostly rocker profile (Burton added a zone of camber under each foot, but the board feels more rocker in nature). Add in a medium flex and poppy wood core with a layer of carbon, and you get a responsive and playful ride that's still powerful when you need it to be. From beginners who want their first board to last to intermediate and even advanced all-mountain riders, the Custom Flying V is a super versatile option.
What are the shortcomings of the Custom Flying V? With a softer feel, it's more forgiving than many of Burton's expert-level boards, but it's not an amazing carver at speed on hardpack and ice. This means that we wouldn't recommend the Custom for aggressive East Coast riders and hard chargers for whom maintaining a reliable edge is a necessity (if this sounds like you, see a board like the Lib Tech T.Rice Orca below). It's also not a true powder hound—the Nitro Squash a few spots down is better for that. But for one board that can handle a wide variety of all-mountain conditions both front and back, the Burton is an excellent choice. 
See the Burton Custom Flying V  See the Women's Burton Feelgood Flying V
Best All-Mountain Snowboard for Beginners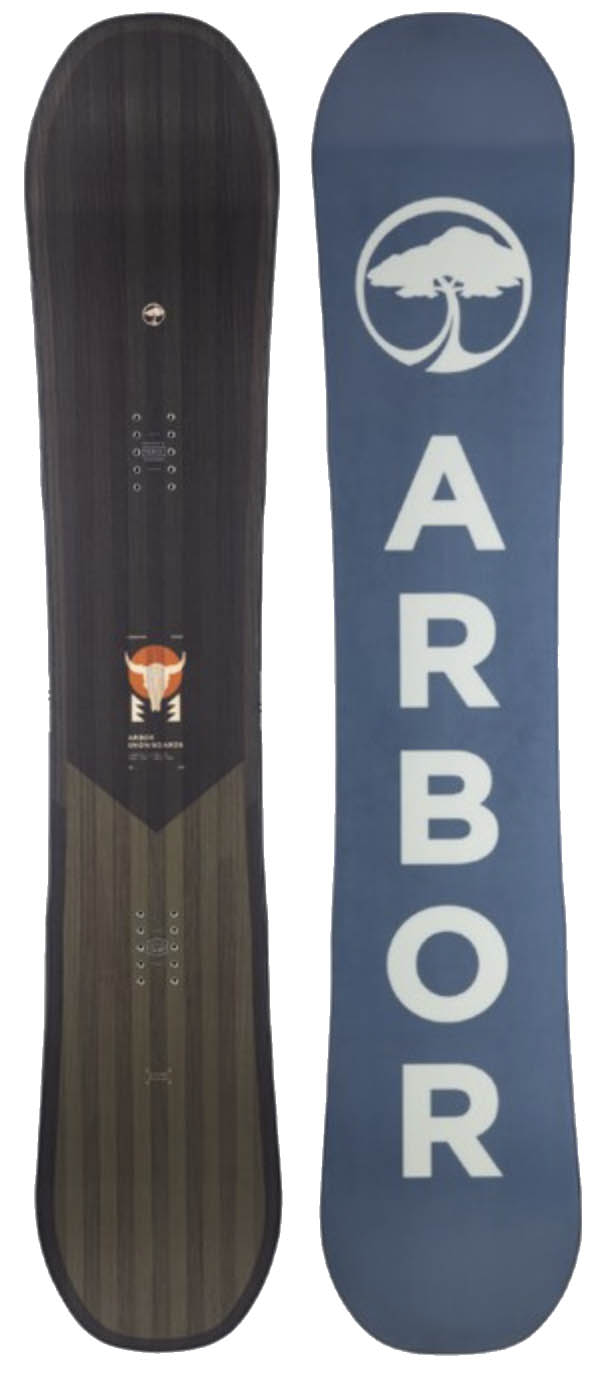 Category: All-mountain
Ability level: Beginner to intermediate 
Flex: Soft
Shape: Directional twin 
What we like: Stable, easy to maneuver, and cheap. 
What we don't: Not built for speed or challenging terrain. 
Many snowboards run $600 and up, but for new riders, it's tough to beat the Arbor Foundation. For just $400, you get a flexy, soft, and beautifully designed board that turns like a champ. Perhaps more so than any other model on this list, the Foundation is relatively easy to ride and maneuver regardless of your ability level, and the rocker profile is both forgiving and responsive across a variety of all-mountain terrain. This isn't exactly your speed demon—far from it, in fact—but the Arbor is a quality board and a great value. 
Keep in mind that the simplistic build and soft flex of the Arbor Foundation are ideal for beginners, but the chatter can build up quickly with speed. Take this board down steep runs or over tracked-out, rough terrain, and it's bound to get quite jittery. But that's not why most people buy the Foundation, and for mellow journeys and newbies learning the ropes, it's a terrific option. We also appreciate that the Foundation is offered in a handful of packages with bindings and even boots, which makes the buying process even simpler. 
See the Arbor Foundation  See the Women's Arbor Ethos
Best Snowboard for Hard Chargers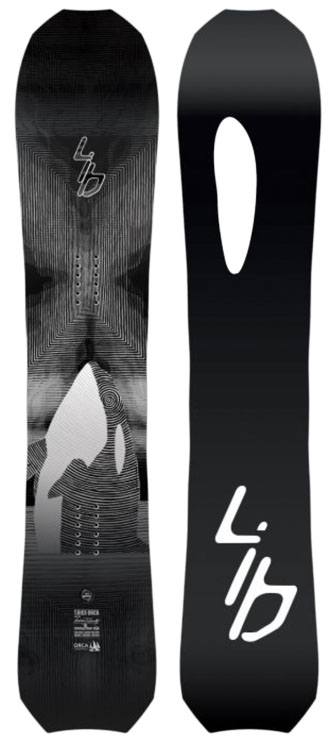 Category: All-mountain/powder
Ability level: Advanced to expert
Flex: Stiff
Shape: Directional
What we like: Super powerful and capable in soft snow.
What we don't: Takes some work to initiate a turn.
The boards above excel mostly at hardpack and taking on the front side of the mountain, but the Lib Tech T.Rice Orca has a whole different personality. For powerful all-mountain snowboarders who like speed and the deep stuff, it's one of the top sticks on the market—period. Following the fat and short trend, the volume-shifted Orca features a set-back stance and short radius that allows it to float extremely well, turn on a dime, and dominate in the right conditions. All in all, it's a terrific board for big-time lines and hard chargers who like to take a straight route down the mountain (or close to it). 
Keep in the mind that the Lib Tech T.Rice Orca may be too much board for some riders and uses. Its stiff, directional build means that it's not playful enough for frequent jumps or jibbing in the park, and although the Orca is a skilled carver, it takes a fairly powerful rider to pilot this beast. And zooming out a bit, the Lib Tech's volume-shifted design is fairly non-traditional for a big-mountain board—some hard-chargers will prefer to go with a standard directional freeride board like the Capita Black Snowboard of Death or the Jones Ultra Flagship. But for those who like to go fast without compromising float in powder, the Orca is one of the most sought-after boards of the 2023 season. 
See the Lib Tech T.Rice Orca
Best All-Mountain Snowboard for the Park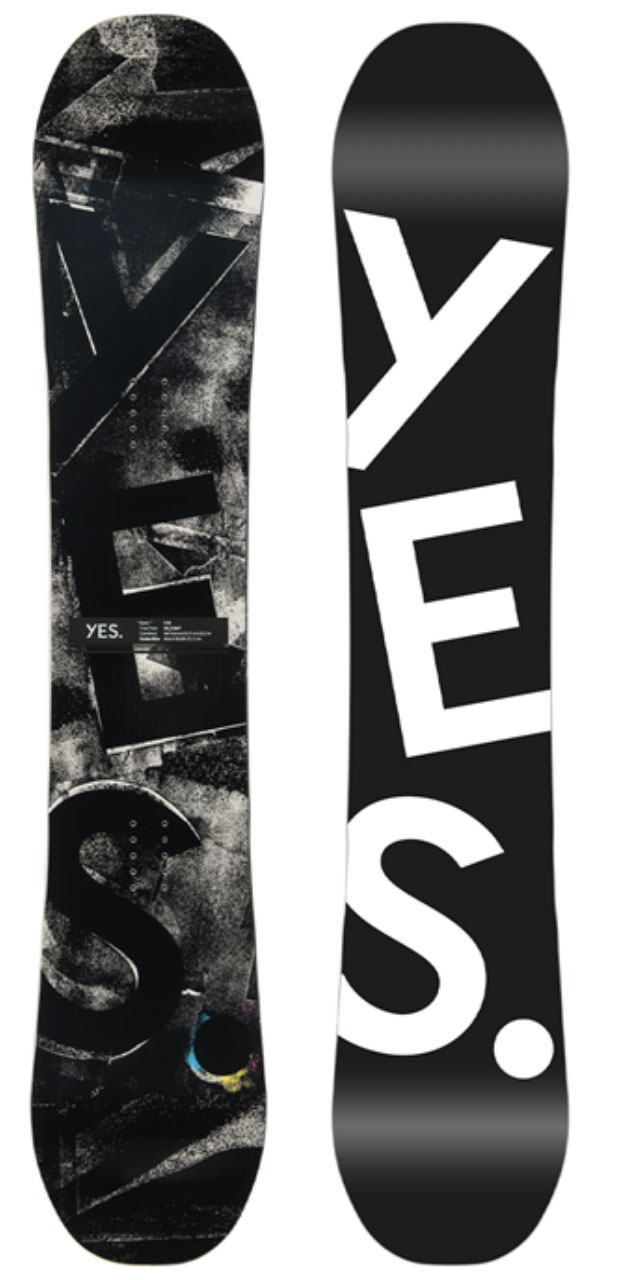 Category: All-mountain/freestyle
Ability level: Beginner to advanced 
Flex: Soft/medium
Shape: True twin
What we like: Very fun at the park yet still can tackle some tough snow/ice conditions. 
What we don't: Can get chattery and unstable at speed.
If you're looking for an inexpensive board for ripping groomers and the park, the Yes. Basic is a great option. With a CamRock profile (rocker in the tip and tail and camber underfoot) and medium flex, the Basic is fun, trustworthy, edges and butters extremely well, and can handle hardpack and even ice with relative ease. The true twin shape means that this board really excels in the park and should satisfy even advanced riders there, but its responsiveness works well for the rest of the resort too. And at $430, the Yes. Basic is one heckuva value. 
If there was one big knock on the Basic, it would be that it's good at a lot of things but perhaps not great at anything. As we mentioned above, it's totally adept at taking on a variety of all-mountain snow conditions, but it's not a board that we would frequently want to take up to higher speeds. And while the park performance is really solid overall, there are more advanced designs like the Yes. Greats UnInc or Lib Tech Box Knife for taking it to the next level. That said, we really like the combination of price and performance, which is why the Basic has remained so popular year after year. 
See the Yes. Basic  See the Women's Yes. Basic
Best All-Mountain Snowboard for Powder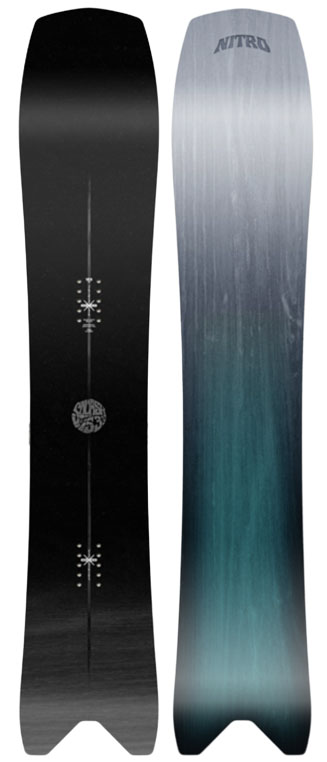 Category: All-mountain/powder
Ability level: Intermediate to advanced
Flex: Medium/stiff
Shape: Directional
What we like: Fun and floaty in powder yet capable in all terrain and conditions.
What we don't: There are better true all-rounders.
If you live in a high-tide region like the Pacific Northwest or BC, fresh powder days are a dime a dozen. And while some riders might have a dedicated board for these conditions, there are a number of all-mountain models that also excel in the deep stuff. The Nitro Squash is one of our favorites: Defining Nitro's "PowGroomer" category, the Squash manages to do it all, from carving through crud to catching air in the park and—of course—floating in the white room. 
Like many powder boards, the Squash features a swallowtail with a long shovel nose, ideal for staying on top of deep powder. But under the hood is a more traditional all-mountain design, including a true camber and progressive sidecut that add a lot of edge hold, stability, and snap to your turns. Of course, with its fishtail shape, the Squash isn't ideal for riding switch, and there are better all-rounder boards for drier areas like Colorado and the East Coast. But for pow chasers looking for a one-quiver ride, it's a great place to start. And for a more dedicated powder option, check out Nitro's The Quiver POW.
See the Nitro Squash  See the Women's Nitro Squash
Best of the Rest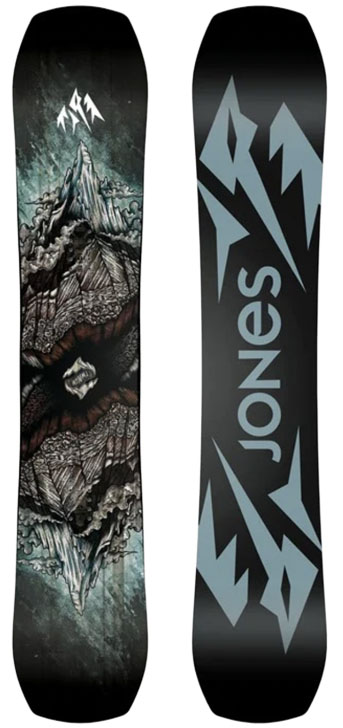 Category: All-mountain/freestyle
Ability level: Advanced to expert
Flex: Medium/stiff
Shape: Directional twin
What we like: Another super versatile board for experienced riders. 
What we don't: The Lib Tech above is better in powder. 
Jones makes a variety of quality board shapes for different types of terrain, and the Mountain Twin is one of their best and most versatile. It has a well-rounded CamRock profile— camber between the feet and rocker at the tip and tail for power and snap—along with Jones' proprietary Traction Tech 3.0 edges for taking on hardpack and ice. The result is an all-mountain ripper that is damp over tough terrain yet can handle sessions at the park. Keep in mind that the stiff build means that it's not for newbies and is most at home at higher speeds and tackling bigger hits. 
If this version of the Mountain Twin isn't enough for you, Jones added a sibling board a few years back called the Ultra Mountain Twin, which is the better match for hardcore freeriders and those with a propensity for speed. Notable differences include the addition of carbon fiber in the base for less weight and more top-end stability, along with a higher price tag of $650. For expert riders who treat the whole mountain like a terrain park, the Ultra Mountain Twin is a capable freestyle companion with incredible all-mountain chops. But at the end of the day, the softer, more playful Mountain Twin here is the more versatile option for most recreational shredders.
See the Jones Mountain Twin  See the Women's Jones Twin Sister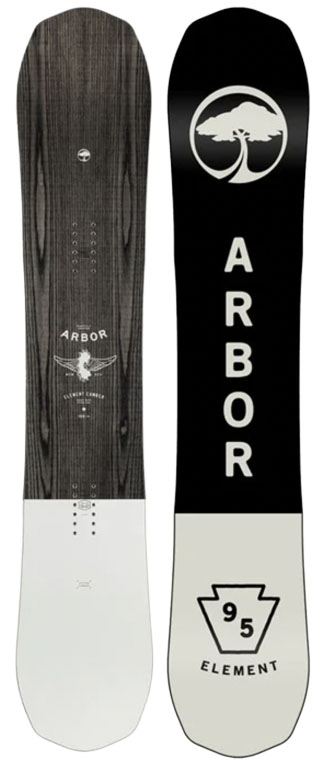 Category: All-mountain
Ability level: Beginner to advanced
Flex: Medium
Shape: Directional twin
What we like: Poppy and fun to ride. 
What we don't: Not built for going fast or surfing the pow.
For another solid value from Arbor, check out the Element. We'll start off by saying that this snowboard is far from the fastest or surfiest model on this list, but it is one of the most playful and fun. With a directional twin shape, medium flex, and poppy feel, the Element is designed for those who like to make their way down the mountain in style. If you like to hit the jumps, butter, and jib, the ride here is just about as enjoyable as it gets. Throw in surprisingly good edging and carving abilities, and the Arbor is another solid all-mountain steed. 
As we mentioned above, the Arbor Element's cambered profile and relatively soft feel lead to disappointing performance at speed, and it's not meant for effortlessly floating on powder. But for mellow terrain or those who just like to get out, have fun, and focus more on features, the Element is a better board than the beginner-centric Foundation above. And it's worth noting that the Element also is offered in a Rocker model, which trades some the Camber version's energetic feel and hardpack performance for better surf in soft snow.
See the Arbor Element Camber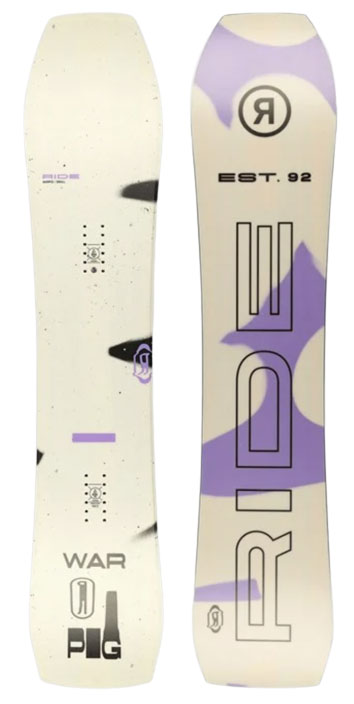 Category: All-mountain/powder 
Ability level: Advanced to expert
Flex: Medium
Shape: Directional
What we like: Short and fat can be both surfy and surprisingly agile. 
What we don't: A challenging design for beginning and even intermediate riders. 
Here we go again with the short and fat boards, but this shape has made a big splash in the market and for good reason. The Ride Warpig helped pioneer this category (also referred to as "volume shifted"), and this year's version continues the trend. Its wide shape feels both floaty and stable, plus the board's shorter-than-usual length makes it easier to maneuver than you might think. What's more, it features Ride's new Slim Wall technology, which freshens things up with a lighter weight and better energy transfer between board and snow. Added up, you get a board that's surprisingly adept at carving and taking on groomers but really excels at surfing the pow. For experienced riders, it's a viable all-mountain quiver of one (or a super fun backup). 
For those who haven't tried a stout board shape like the Ride Warpig, your intuition might be that you simply need more length to feel comfortable. And traditional design thinking may lean in the same direction, but the numbers are stacking up of satisfied customers who feel that short and wide can be both surfy and good at carving and holding an edge, which is quite a unique combination. We do think that this type of board requires the right type of rider—and an advanced, powerful one at that—but the Warpig is a popular and modern option that certainly is worth a look. 
See the Ride Warpig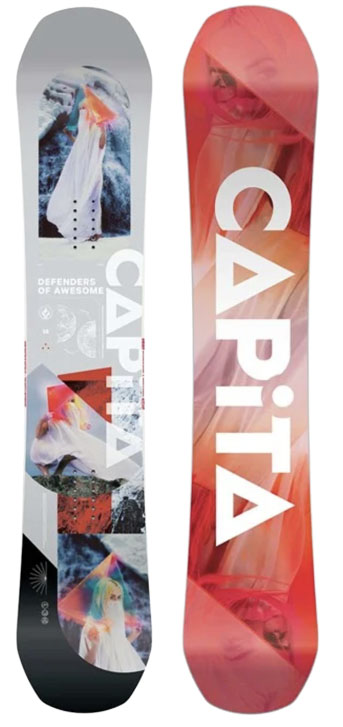 Category: All-mountain/freestyle
Ability level: Intermediate to advanced
Flex: Medium
Shape: True twin
What we like: Loves air time.
What we don't: Doesn't excel at powder or hitting smaller features. 
Racking up awards year after year, the CAPiTA Defenders of Awesome is a super fun freestyle board at a good price. More than anything, you get excellent pop and jumping ability, along with an aggressive ride that experienced riders will really appreciate. With carbon in the build and a super-light poplar and paulownia wood core, it can handle bigger hits and higher speeds than many park boards and is known for being great at sticking the landings. All in all, the Defenders of Awesome is much less about jibbing and buttering than the Lib Tech Skate Banana below, but for serious air, it's tough to beat. 
Despite having a hybrid camber construction that goes camber between the bindings, flat underfoot, and rocker on the tips, the board has a ride that feels more like traditional camber. As a result, it makes you work harder to stay afloat in powder compared with more rocker-heavy designs. Its medium flex is also not ideal for charging hard in variable snow—within CAPiTA's lineup, the Mercury is a better freeride design. But for the all-mountain/freestyle market, the Defenders of Awesome's power for the price is nearly unmatched, which is why we include it here.
See the CAPiTA Defenders of Awesome  See the Women's CAPiTA Birds of a Feather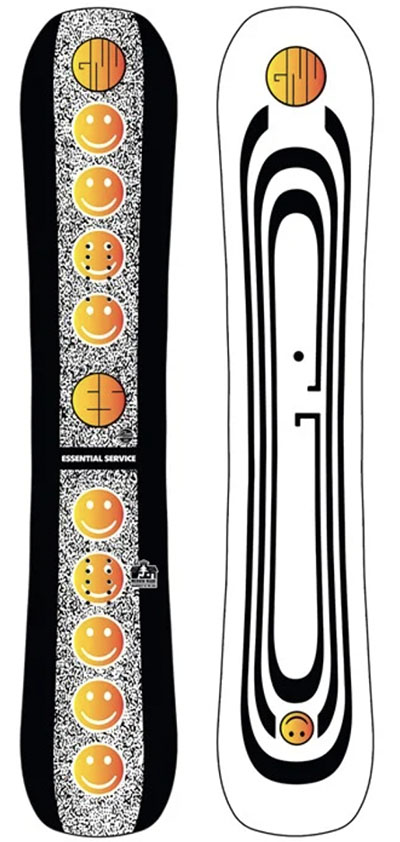 Category: All-mountain
Ability level: Advanced to expert
Flex: Medium/stiff
Shape: Directional
What we like: One of the best carvers on this list and a truly powerful board. 
What we don't: For deep snow, you may want to look elsewhere. 
It's a bit tough to properly categorize the GNU Essential Service: it can shred challenging runs and hardpack with ease yet can take on powder days just fine too. But the defining feature has to be its incredible turn-ability: this plank can carve with the best of them—even at high speeds—and the Magne-Traction helps to hold even the sketchiest of edges. For hard chargers who love to get after it all over the mountain, the Essential Service is a great option. 
The big difference between the GNU Essential Service and more powder-centric boards like the Ride Warpig and Lib Tech T.Rice Orca above is float. Yes, the GNU can handle fresh snow and is totally capable in powder, and particularly on those light to moderate dustings. But for the deepest of days, the best characteristics of this board are not going to shine. This issue aside, we love the GNU for powerful, experienced riders who love velocity and don't mind throwing in a eurocarve from time to time. For these purposes, the Essential Service should be on your short list.
See the GNU Essential Service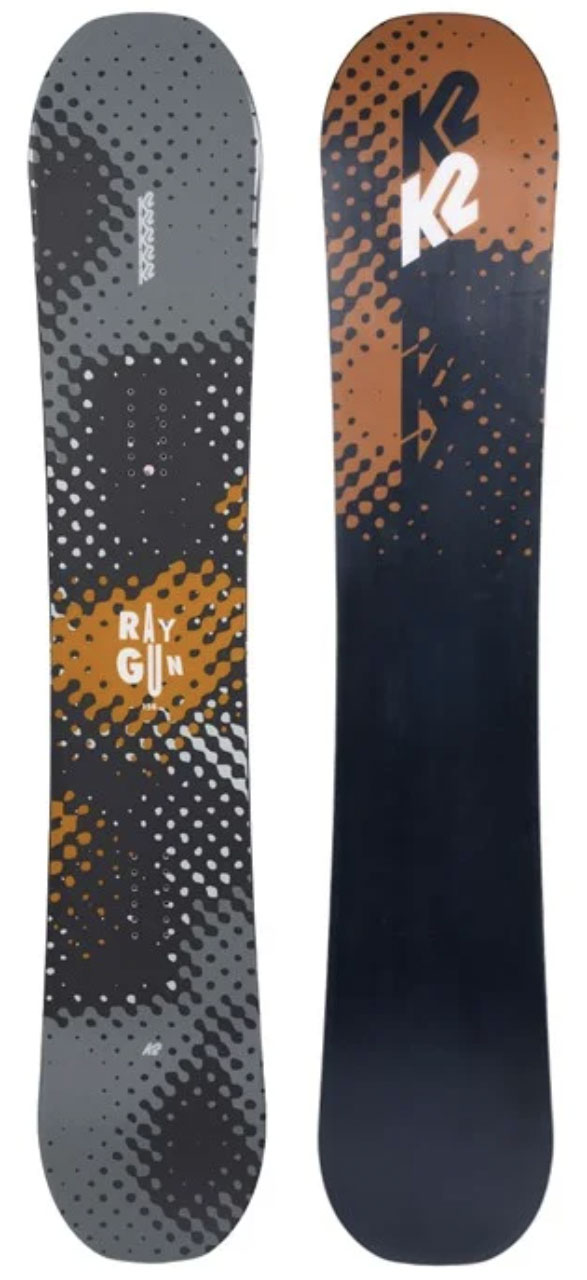 Category: All-mountain
Ability level: Beginner to advanced
Flex: Soft/medium
Shape: Directional twin
What we like: A true do-everything snowboard. 
What we don't: Doesn't excel in any particular category. 
All things considered, there's an argument that the K2 Raygun could be the most versatile all-rounder on this list. The soft/medium flex and directional twin shape mean that it's easy to maneuver, take down groomers, and even hit some features along the way. Yet the board remains decently damp and has the capability to take on choppy snow and mixed conditions—most intermediate and even advanced riders should be mostly happy with its all-mountain performance. Last but not least, the Raygun allows you to shift to a set-back stance on powder days. It's never going to be a true powder board, but we appreciate the flexibility.
To borrow a phrase from the Yes. Basic description above, the main downside of the K2 Raygun is that it's good at a lot of things but not necessarily great at anything. It can carve, take on speed, jib, jump, and butter fairly well, and the variety of conditions you can ride the Raygun in are impressive. But in each of these specific categories, there are more specialized options above that will outperform the K2 (including the Raygun POP, which adds camber in between the feet for more—you guessed it—pop). That said, it's hard to knock the do-everything nature of the Raygun, and combined with the $430 price and variety of lengths and widths, it is a strong all-mountain contender.
See the K2 Raygun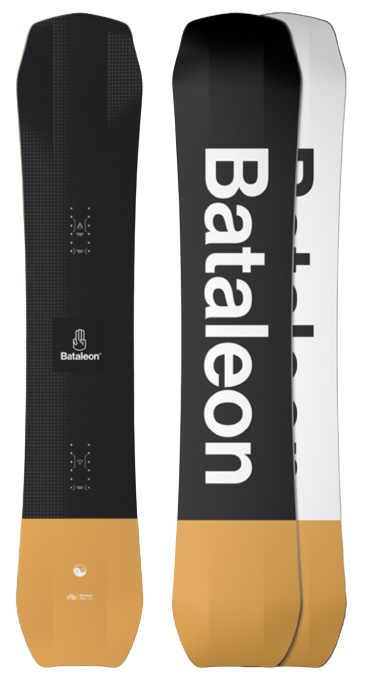 Category: All-mountain/freestyle
Ability level: Beginner to advanced
Flex: Medium
Shape: Directional twin
What we like: Directional shape and true-twin contact surface offer a lot of versatility.
What we don't: Too soft to be powerful at speed.
For those dynamic resort days that warrant a true do-it-all companion, the Bataleon Whatever is an impressively versatile and well-rounded design. As its name suggests, the Bataleon is a suitable ride for whatever you throw at it, whether you're tossing ollies in the park, slaying pow in the slackcountry, or carving on corduroy. While many boards claim to be capable all-rounders, the Whatever truly embodies it, pairing a directional shape with a true-twin contact surface. Tack on a positive camber and Bataleon's Triple Base Technology (3BT)—which promotes great carving abilities and pop while still allowing you to stay afloat in the deep stuff—and the result is a medium-flex board that be ridden just about anywhere, by just about anyone.
The Whatever is a great board for the playful rider who likes to jib, butter, and spin their way down the mountain, but it begins to show its weakness at speed and on particularly hardpacked terrain. If you're a powerful or heavier rider, you'll likely be better served with a stiffer directional twin like the Jones Mountain Twin above or the new BYND MDLS version of the Whatever (for a $40 price jump). But for beginner to intermediate shredders looking for a maneuverable ride that doesn't give up too much performance while bombing groomers or floating through powder, the Bataleon is a skillfully balanced choice.
See the Bataleon Whatever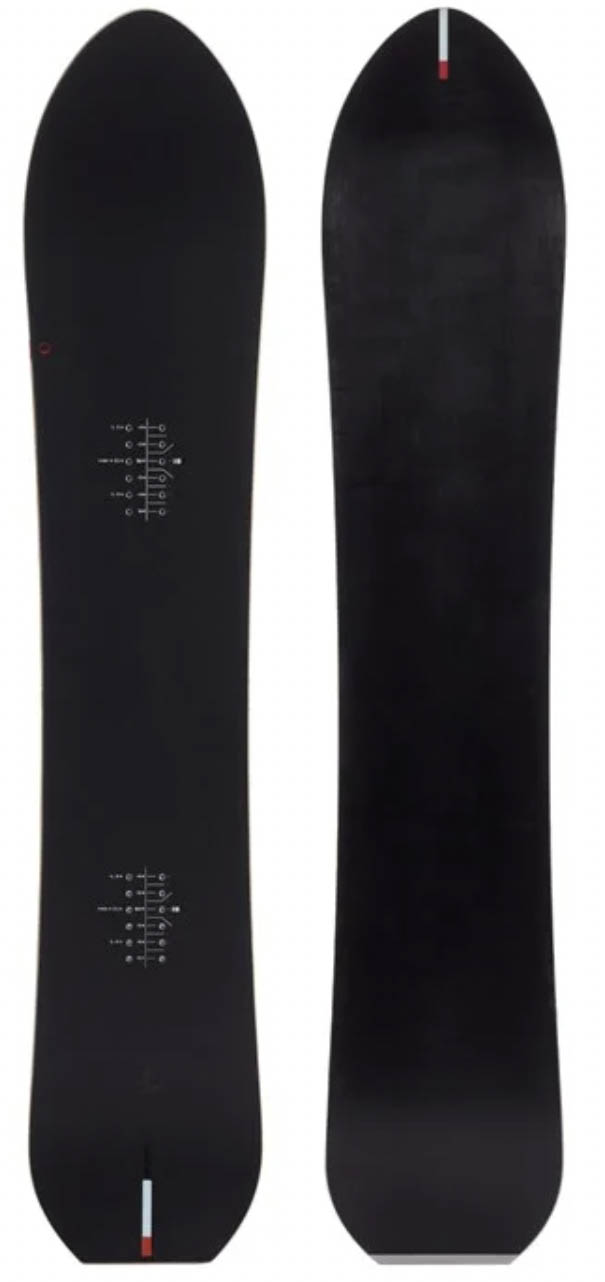 Category: All-mountain/freeride
Ability level: Advanced to expert
Flex: Medium
Shape: Directional twin
What we like: A versatile and durable board; free annual waxing and tunings.
What we don't: Some riders won't love the simply black aesthetic.
A relative newcomer to the snowboard scene, PNW-based Season is already in the business of turning heads. While most manufacturers have large quivers that are updated every couple years—practices that encourage needless consumerism—Season bucks the trend with a sustainability first, profit second ethos. Their small lineup includes just four unisex snowboards and one splitboard, each of which features a fully black topsheet and base that prioritize durability and eliminate the need for an annual freshen-up. And true to their commitment to longevity, all of Season's products also come with a lifetime maintenance plan through Evo for yearly waxing and tuning.
Season's offerings are the distillation of decades of riding and product design, each prioritizing versatility so you can get everything you need in one board—not three. The Nexus here is their premium all-mountain model, and a capable companion for everything from resort hardpack to sidecountry pow. For a more playful all-mountain design, check out their true-twin Kin. Whichever way you slice it, Season boards are high-performance, quality-built, and offer a strong bang for your buck, especially over time. Finally, keep in mind that you'll need to live near an Evo store to benefit from the annual maintenance plan—their locations include Denver, Portland, Seattle, Whistler, and Salt Lake City.
See the Season Nexus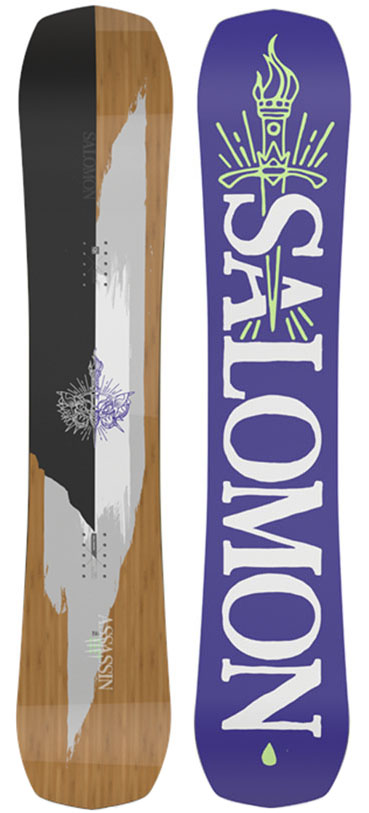 Category: All-mountain/freestyle
Ability level: Intermediate to expert
Flex: Medium
Shape: Directional twin 
What we like: An all-mountain board that is freestyle/jib-focused.
What we don't: Center-set stance isn't great for powder.
Salomon crossed their freeride and freestyle boards to produce the all-mountain Assassin. The result is a playful board that is great for butters, ollies, slashes, switch landings and take offs—it's pretty much your good old-fashioned jib-around-the-mountain directional twin. The feel comes from their Rock Out Camber, which is flat between the bindings, camber underfoot, and a bit of rocker under the tip and tail. We think this is a great shape for intermediate and advanced riders: the camber gives the grunt and the rocker allows for good park and light pow play, and the Assassin comes in at a reasonable price point to boot. 
Compared to options like the Lib Tech T.Rice Orca and Nitro Squash above, the Salomon Assassin is markedly less of a powder hound. The board is stable, can turn well, and is capable of holding an edge, but you are centered on the board for the most part and less set back than models built more for surfing. On the other hand, the Assassin is quite versatile for taking on a variety of all-mountain terrain, making it a nice option for riders who like both groomers and the park.
See the Salomon Assassin  See the Women's Salomon Rumble Fish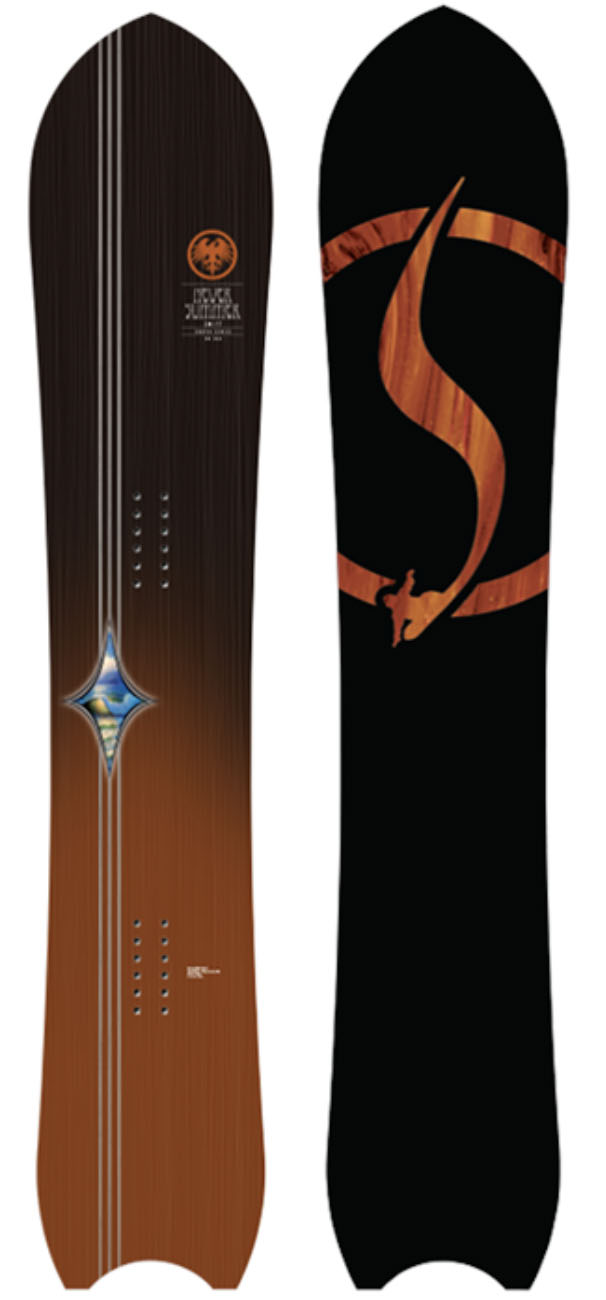 Category: All-mountain/powder 
Ability level: Advanced to expert
Flex: Medium/stiff
Shape: Directional
What we like: A powder machine yet surprisingly versatile. 
What we don't: If most of your days are spent on hardpack, there are far better options on this list. 
If it wasn't obvious by the large nose, directional shape, and set-back inserts, the Never Summer Swift is a board that excels in powder. Perhaps even more so than the other all-mountain/powder options included above, the Swift is extremely floaty and borderline dreamy on deep days. In addition, the reverse camber profile helps in initiating turns decently well, which all adds up to a versatile board that doesn't fit neatly into one box. 
Why is the powder-centric Never Summer Swift included on this all-mountain list? The truth is that it transitions surprisingly well to the resort. It's a good carver for a board of this type and fairly stable across a variety of terrain. For those who live or ride in places like British Columbia, Utah, or Colorado, and get a lot of powder days but don't want to change planks for sessions on mixed snow or hardpack, the Swift is a viable one-board quiver. 
See the Never Summer Swift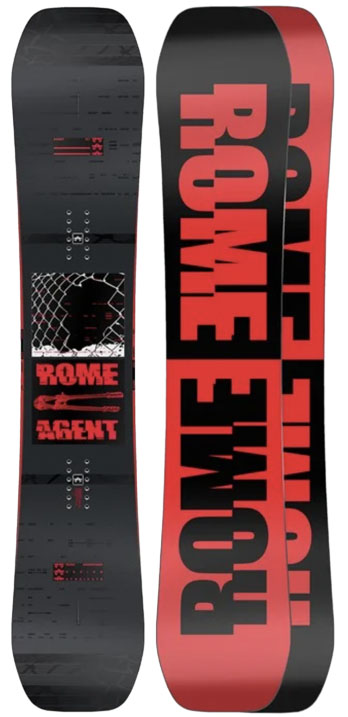 Category: All-mountain/freestyle
Ability level: Intermediate to advanced
Flex: Medium
Shape: True twin
What we like: A freestyle board that holds its own in all-mountain terrain.
What we don't: True twin design isn't ideal for navigating through powder.
Founded in Waterbury, Vermont, during the early aughts, Rome Snowboard Design Syndicate (aka Rome SDS) offers a wide selection of designs for resort snowboarders. The all-around Agent here is a longstanding staple in their lineup, combining a playful true-twin shape with a fusion camber that progressively stiffens toward the center—in other words, you get pop between your feet and a buttery, relaxed feel at the tip and tail. The result is a board that loves to carve and is impressively stable over chundery terrain, but finds its true sense of self while catching airs and jibbing in the park. If you're hoping to add style to your resort riding or want a freestyle board that can still keep up with your all-mountain friends, the Rome Agent is a great pick.
Looking at the competition, the Agent is most similar to the Whatever above: both are medium-flex twin boards that beg to ride switch and hang with the park rats. But unlike most freestyle designs, they're also impressive performers in the pow and on the corduroy. If you're based in an area that gets consistently deep snow (like the PNW), the Whatever's directional profile makes it a better choice for floating through pow. On the other hand, the Agent features a stiffer construction (thanks to carbon-wrapped bamboo near the nose and tail) that offers more snap on firm snow. Either way you slice it, the Rome Agent is a playful workhorse that makes a great quiver-of-one board, and the price is decent at $500.
See the Rome Agent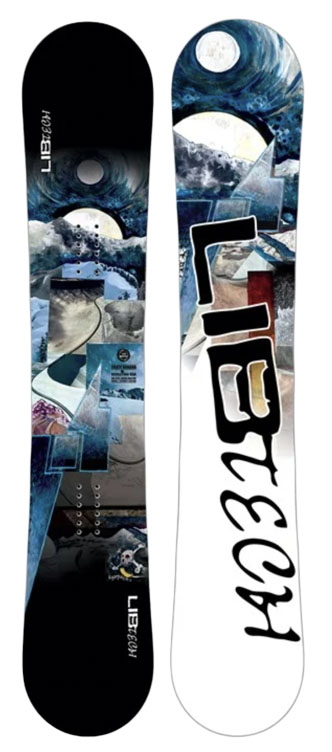 Category: All-mountain/freestyle
Ability level: Beginner to advanced
Flex: Soft/medium
Shape: True twin
What we like: A super fun board, especially in the park.
What we don't: Pretty soft flex; chattery at speed. 
The Skate Banana has become a staple of Lib Tech's snowboard lineup, with a reputation of being a quality stick to learn and progress on. Granted, it's not the cheapest way to expand your repertoire of tricks and skills, but it has the right build to take you there. The profile is primarily reverse camber—with raised contact points—which makes it less prone to catching an edge on turns, and some minimal camber under the feet adds stability and pop. We also like the Magne-Traction edges that increase hold on hardpacked snow, which is good for shredding groomers or cruising through surprise ice patches. Last but not least, the board comes in a wide range of sizes and widths, meaning that there's something for just about everyone.
What are the shortcomings of the Lib Tech Skate Banana? It's one of the softest boards on this list (especially for the price), and at the end of the day, could be categorized more as a park board than an all-mountain ripper. Yes, you can take it down groomers, and particularly at lower speeds, but it's most at home when buttering, jibbing, and riding switch. But hey, we still think such a legendary and longstanding model deserved to be included in this round-up, and particularly given how forgiving and fun it is all over the hill.
See the Lib Tech Skate Banana BTX  See the Women's Lib Tech Glider BTX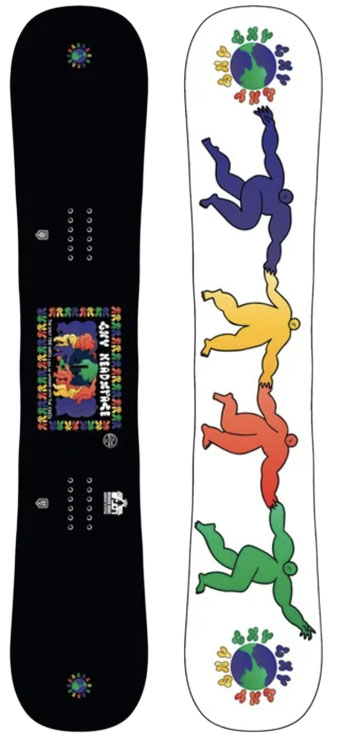 Category: All-mountain/freestyle
Ability level: Advanced to expert
Flex: Medium
Shape: Asymmetrical twin
What we like: Lots of pop yet holds well in the bends. 
What we don't: Doesn't excel in powder and will chatter a bit at high speed.
In addition to the short and wide concept, another growing trend in snowboards is the asymmetrical layout. Simply put, this means the heel side has a more pronounced and shorter sidecut compared with the toe side, which can help with balance and ease of getting your board on edge. Among the various options, the GNU Head Space Asym stands out in the all-mountain/freestyle market. Its moderately soft build, mostly camber profile, and Magne-Traction edges combine rock-solid hold when carving with a whole lot of pop and fun in the park. All in all, it's a very playful board that butters well and encourages you to hit both natural and man-made features.
If you've never tried out an asymmetrical board before, there can be a learning curve, but it's worth the effort if you like a strong turner (particularly on the heel side). Specific to the Head Space, the main drawback to the design is powder performance, where it lacks the flotation and surf-ability of the more balanced options above. Further, the softer flex does create some chatter in the tip and tail at high speed. This limited versatility hurts it on our all-mountain-specific list, but the Head Space still is a great groomer and park board to have in your quiver.
See the GNU FB Head Space Asym C3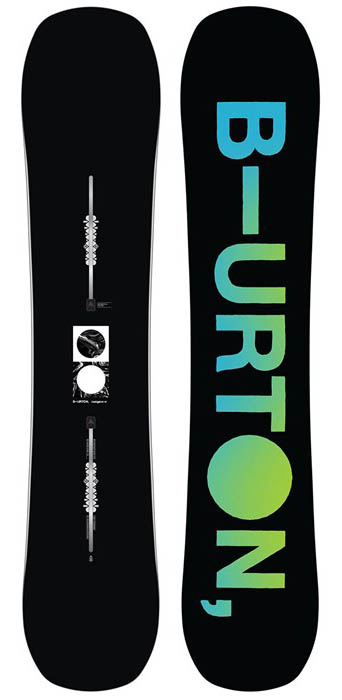 Category: All-mountain
Ability level: Beginner to intermediate
Flex: Soft/medium
Shape: Directional twin
What we like: Forgiving but won't disappoint an intermediate rider.
What we don't: Big jump in price compared with the Arbor Foundation above.
Burton's Ripcord is their leading true beginner option, but we prefer the Instigator for the fast learner or those looking for a longer-term investment. With a forgiving flex that isn't overly noodly and a directional twin shape, the Instigator is perfectly capable for cruising at a moderate pace on hardpack. And its flat profile with a rockered tip and tail lines up nicely for those still learning the ropes: the board isn't prone to catching an edge and turns in easily even at slow speeds. Finally, the Instigator also is surprisingly versatile as it holds its own floating and surfing in powder.
Burton boards rarely offer the best bang for your buck, and the Instigator is no exception. Along with the Ripcord ($420), Burton's two entry-level models come in a bit pricier than the $400 Arbor Foundation above. The extra money does get you nice touches like a convex base at the front of the Instigator to ease turn-in, plus it is a small step up in stiffness compared with the Foundation. Those that want a board that'll last them well into intermediate status may prefer the Instigator, but its higher price point pushes it down our rankings in the end.
See the Burton Instigator  See the Women's Burton Hideaway
All-Mountain Snowboard Comparison Table
| Snowboard | Price | Category | Ability Level | Flex | Shape |
| --- | --- | --- | --- | --- | --- |
| Burton Custom Flying V | $660 | All-mountain | Beginner to advanced | Medium | Directional twin |
| Arbor Foundation | $400 | All-mountain | Beginner to intermediate | Soft | Directional twin |
| Lib Tech T.Rice Orca | $700 | All-mountain/powder | Advanced to expert | Stiff | Directional |
| Yes. Basic | $430 | All-mountain/freestyle | Beginner to advanced | Soft/medium | True twin |
| Nitro Squash | $570 | All-mountain/powder | Intermediate to advanced | Medium/stiff | Directional |
| Jones Mountain Twin | $550 | All-mountain/freestyle | Advanced to expert | Medium/stiff | Directional twin |
| Arbor Element Camber | $500 | All-mountain | Beginner to advanced | Medium | Directional twin |
| Ride Warpig | $530 | All-mountain/powder | Advanced to expert | Medium | Directional |
| CAPiTA DOA | $500 | All-mountain/freestyle | Intermediate to advanced | Medium | True twin |
| GNU Essential Service | $500 | All-mountain | Advanced to expert | Medium/stiff | Directional |
| K2 Raygun | $430 | All-mountain | Beginner to advanced | Soft/medium | Directional twin |
| Bataleon Whatever | $500 | All-mountain/freestyle | Beginner to advanced | Medium | Directional twin |
| Season Nexus | $549 | All-mountain | Advanced to expert | Medium | Directional twin |
| Salomon Assassin | $550 | All-mountain/freestyle | Intermediate to expert | Medium | Directional twin |
| Never Summer Swift | $685 | All-mountain/powder | Advanced to expert | Medium/stiff | Directional |
| Rome Agent | $500 | All-mountain/freestyle | Intermediate to advanced | Medium | True twin |
| Lib Tech Skate Banana | $560 | All-mountain/freestyle | Beginner to advanced | Soft/medium | True twin |
| GNU Head Space Asym | $560 | All-mountain/freestyle | Advanced to expert | Medium | Asym twin |
| Burton Instigator | $440 | All-mountain | Beginner to intermediate | Soft/medium | Directional twin |
All-Mountain Snowboard Buying Advice

All-Mountain Snowboard Categories
All-Mountain
As their name suggests, all-mountain boards are built to handle any part of the resort, from groomers to the sidecountry, and even a few laps at the terrain park. Common features of this extremely popular category include a medium to stiff flex, extra dampening, and directional or directional twin shape. These planks come up a little short on deep powder days and lack the poppy nature of the freestyle models covered below, but their well-rounded personalities make them the type most riders turn to. Some of our favorite all-mountain designs include the Burton Custom Flying V, GNU Essential Service, and K2 Raygun.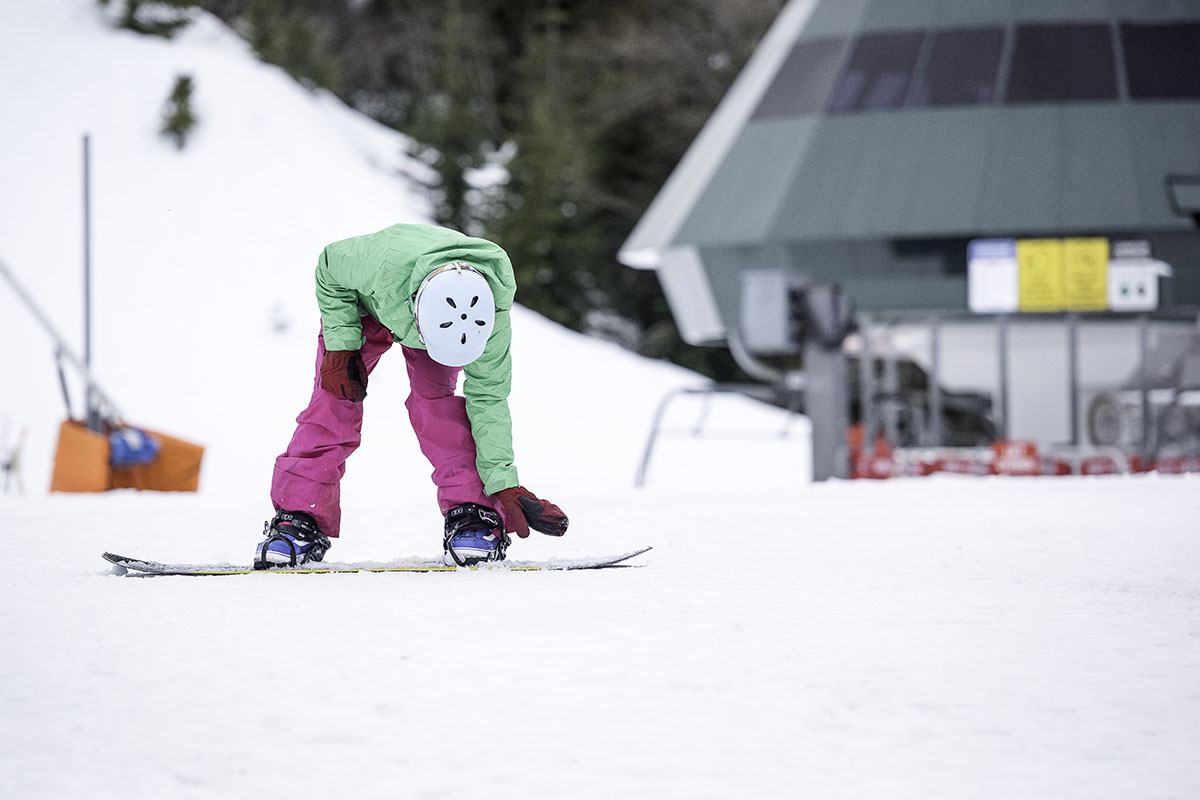 All-Mountain/Freestyle
For hitting features—both natural and manmade—models in the all-mountain/freestyle category shine. These boards' soft to medium-stiff flex, twin or directional-twin shape, and responsive feel allow you to carve, spin, or gap most terrain you come across. In essence, they combine the versatility of the all-mountain boards described above with the playfulness of dedicated park models. Where they'll come up short is bombing the mountain at speed due to the flex pattern that prioritizes pop over stability. As a result, options like the Yes. Basic are more prone to chatter than a true all-mountain design but are nevertheless an extremely fun way of spending a day on the hill.
All-Mountain/Powder
For those who frequently board out West and spend a lot of time off trail, fresh snow is common and you'll want a design with plenty of float. All-mountain/powder boards like the Nitro Squas, Ride Warpig, and Never Summer Swift have characteristics like wide builds, rocker profiles, large noses, and set-back stances that give them a surfy feel in deep snow. Like the freestyle crossover boards above, they do compromise a bit in hardpack and typically aren't as maneuverable or comfortable in variable snow and ice as a standard all-mountain offering. That said, all-mountain/powder options are still perfectly suitable for keeping you entertained on those light snow days in between storms.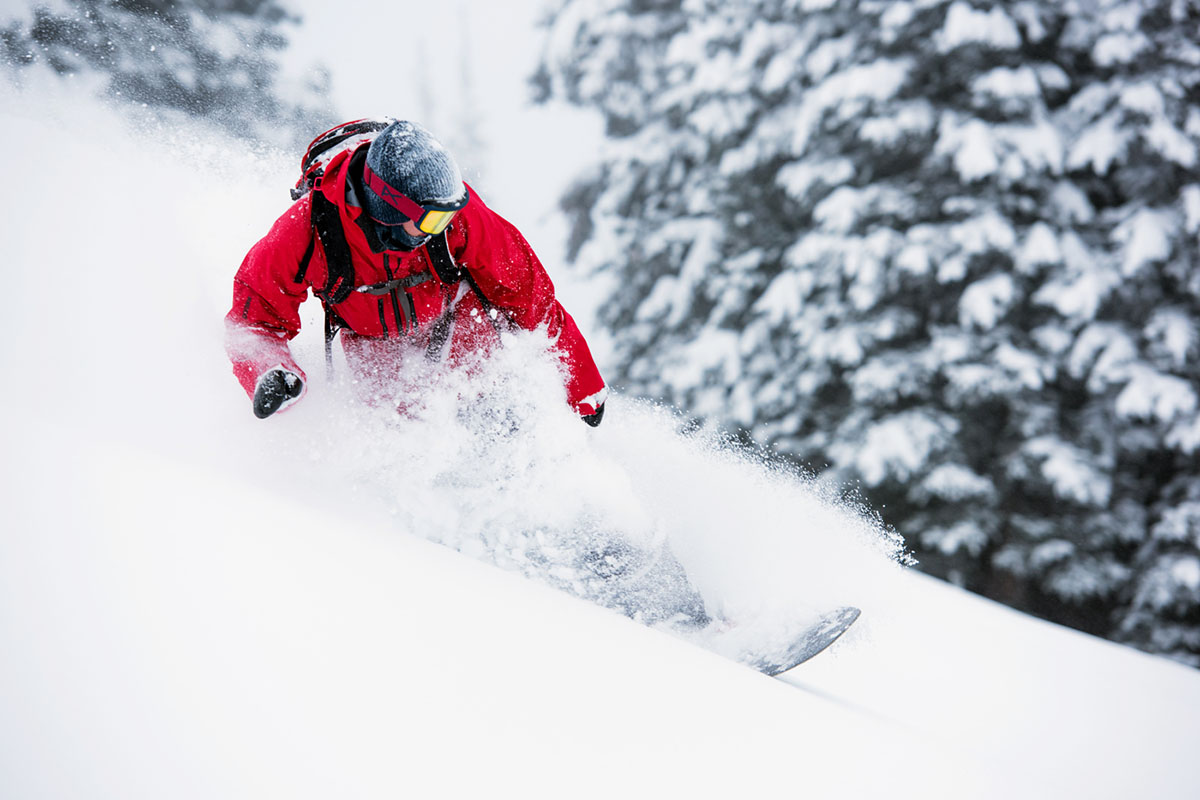 Snowboard Flex
One of the most defining features of a snowboard is its flex, or how much the board bends both longitudinally (along the board's length) and torsionally (across its width). Most snowboards are either assigned a flex rating on a scale from 1-10 from softest to stiffest or are simply designated as soft, medium, or stiff (and sometimes a mix). It's important to note, however, that ratings are not standardized across the industry and can vary significantly from one brand or board to another. That said, boards generally fall into one of three categories:
Soft Flex
Starting with soft boards, these are typically tuned for beginners or lightweight riders. Like the Arbor Foundation above, they are easier to control and require less muscle to maneuver and turn. In addition, a softer-flexing design excels in the park and for freestyle riding. They're a lot of fun to press, butter, and maneuver, although this comes at the sacrifice of stability. Hard chargers and those in the intermediate riding level and up will most likely want to steer clear of this flex type. Soft boards are prone to chattering and being overly loose and uncomfortable at speed. 
Medium Flex
The sweet spot of the all-mountain category is medium flex: a quality board with this stiffness will provide good stability for railing hardpack or dipping into the trees, while still retaining enough pop for hitting jumps in and out of the park. It does require more energy to handle and turn than a soft board, but the upside is a big increase in all-around performance. All-mountain, powder, and freestyle riders in everything from intermediate to expert ability levels can be happy with a board of this type.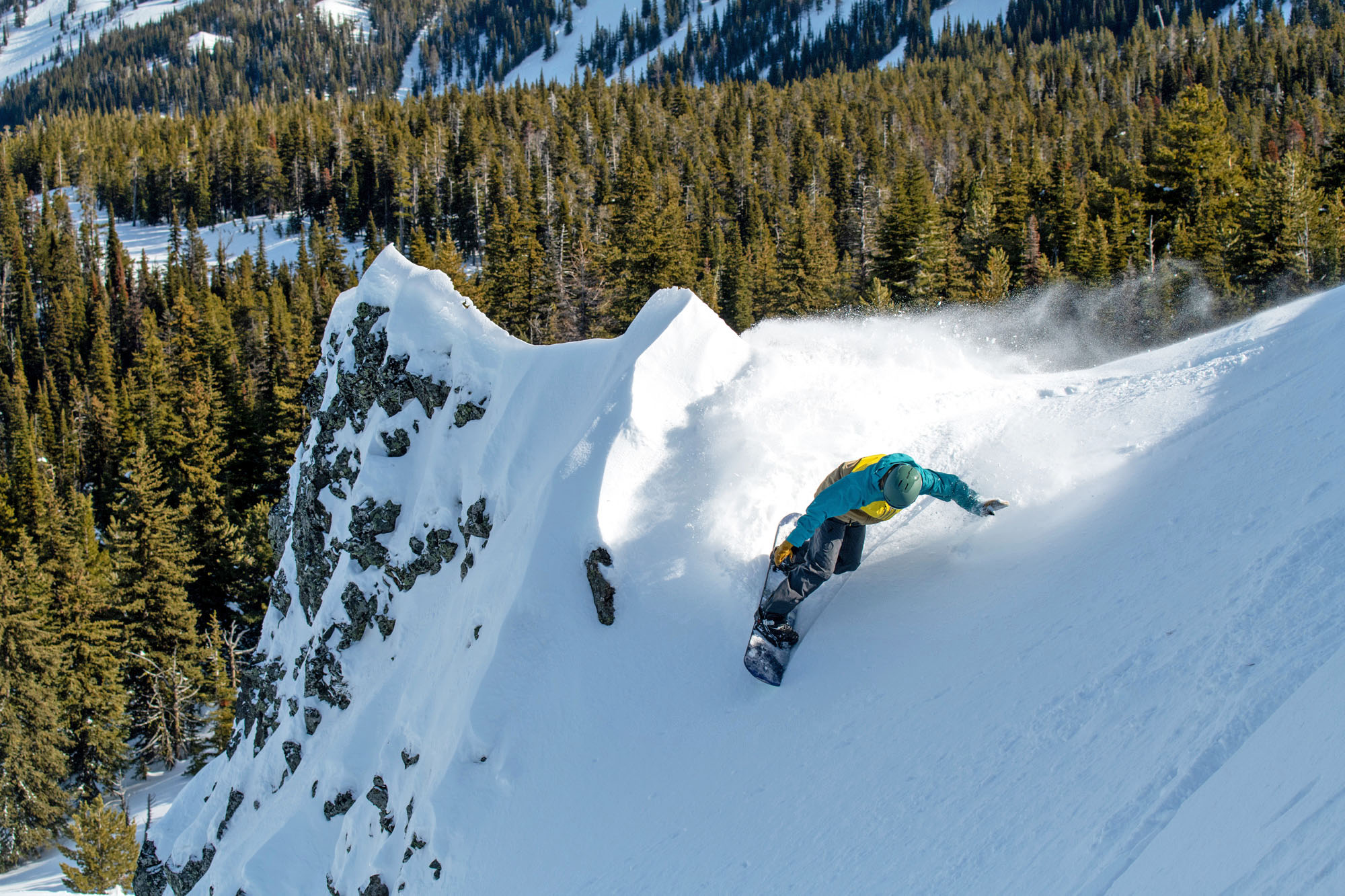 Stiff Flex
The final style is the most serious: stiff-flexing boards. These require a lot of energy to maneuver but hold an edge and are super stable and damp at speed. They don't get bounced around as much in variable snow and can be trusted hitting big lines. Unsurprisingly, they're also way too much board for the beginners or even intermediates among us, and really require a capable and confident pilot. But in the right hands, a stiff board like the Lib Tech T.Rice Orca is an absolute crusher. 

Snowboard Profile
Another major part of a snowboard's character comes from its profile, or how the base curves. To get a good visual, just lay a snowboard down flat on a table or bench and take a close look at the side at eye level. All-mountain boards fall into four main types of profiles: camber, rocker (or reverse camber), flat, and hybrid. Each is defined by a different type of riding style, which we break down below.
Camber
A traditional camber profile arches up between the nose and tail, giving the board energy as the base is pressed flat. Because of how they flex, camber boards are responsive, poppy, and can hold an edge through tight or wide curves. However, since the contact points are flexing into the snow, they can also be quite unforgiving if you don't direct the board with some muscle in variable conditions. In general, you'll find camber on more jump- and pipe-oriented models, as well as many all-mountain/freestyle and all-mountain boards that aren't geared toward soft snow. And while some beginner designs also feature camber, the lack of forgiveness means they're best suited for intermediate to advanced riders who are looking for additional power and stability.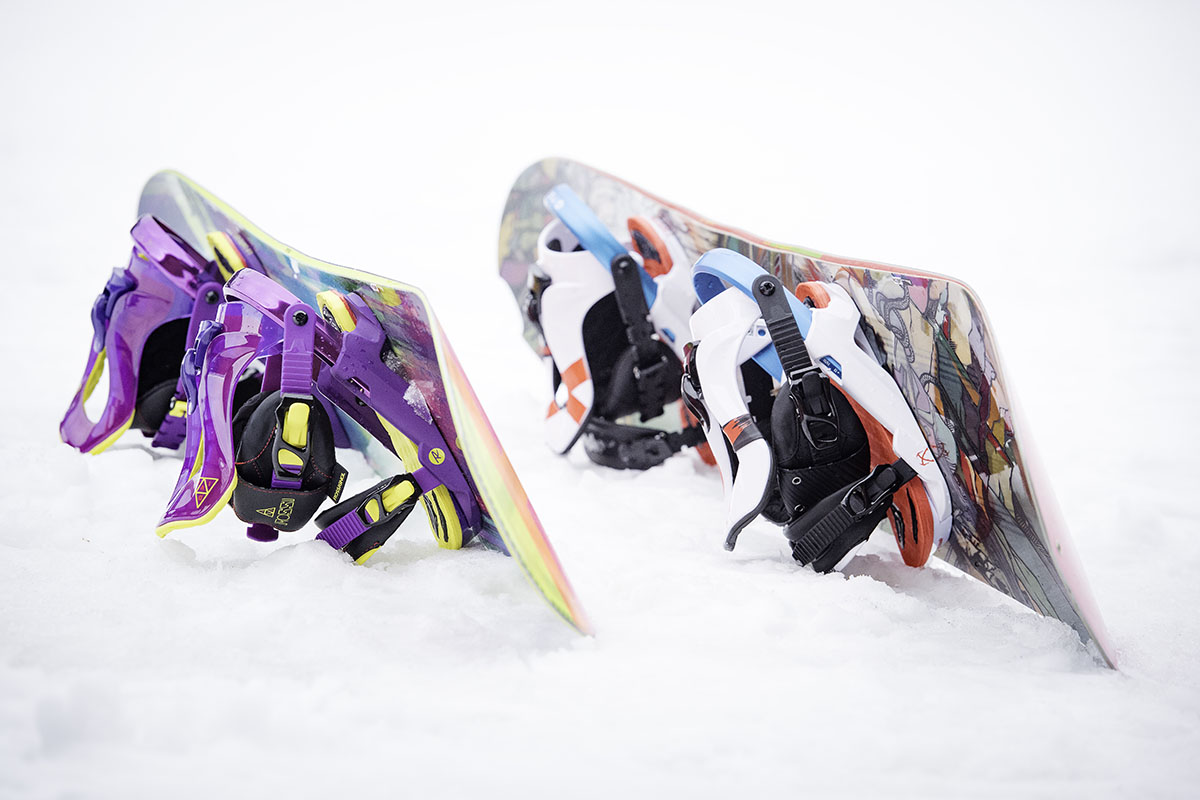 Rocker (Reverse Camber)
Rocker or reverse camber boards are shaped like a banana, with a lifted tip and tail. Rocker boards, like the Never Summer Swift, are generally more forgiving than camber boards due to their resistance to catch an edge and ease of initiating turns, making them a popular choice among beginners. They are also easy to press and butter, which is great for jibbing and hitting smaller features. But perhaps most notably, these boards shine in deep, soft snow (at the sacrifice of liveliness and a strong edge hold). Overall, if you prefer a looser feel or want a board that's adept at surfing, a rocker profile is a nice match.
Flat
As their name implies, flat profiles feature a primarily flat section at the middle of the board that typically raises at the tips and tails. This shape offers a good deal of versatility: flat boards maintain some of the poppy nature of camber shapes but will keep you better afloat in powder. To be sure, however, truly flat boards are far from perfect: they're less responsive and energetic than camber profiles, can be prone to catching edges, and offer less overall maneuverability. Caught a little in between categories, a fully flat board is a pretty rare sight. That said, manufacturers will utilize strategic flat sections to boost performance either in soft snow or at the park.
Hybrid Rocker/Camber
Hybrid boards dominate the all-mountain market and use both rocker and camber in different areas to harness the benefits of the various profiles. Depending on where and how much is used, these boards can have very different personalities. For example, camber between the feet and rocker outside makes a board responsive with the "pop" of a camber profile, but it's still ultimately catchier than a full-on rocker board. Because of the wide range of designs, hybrids can be found in all three categories of boards depending on the intended terrain. But in general, this profile is good for intermediate to expert riders looking for the most versatility.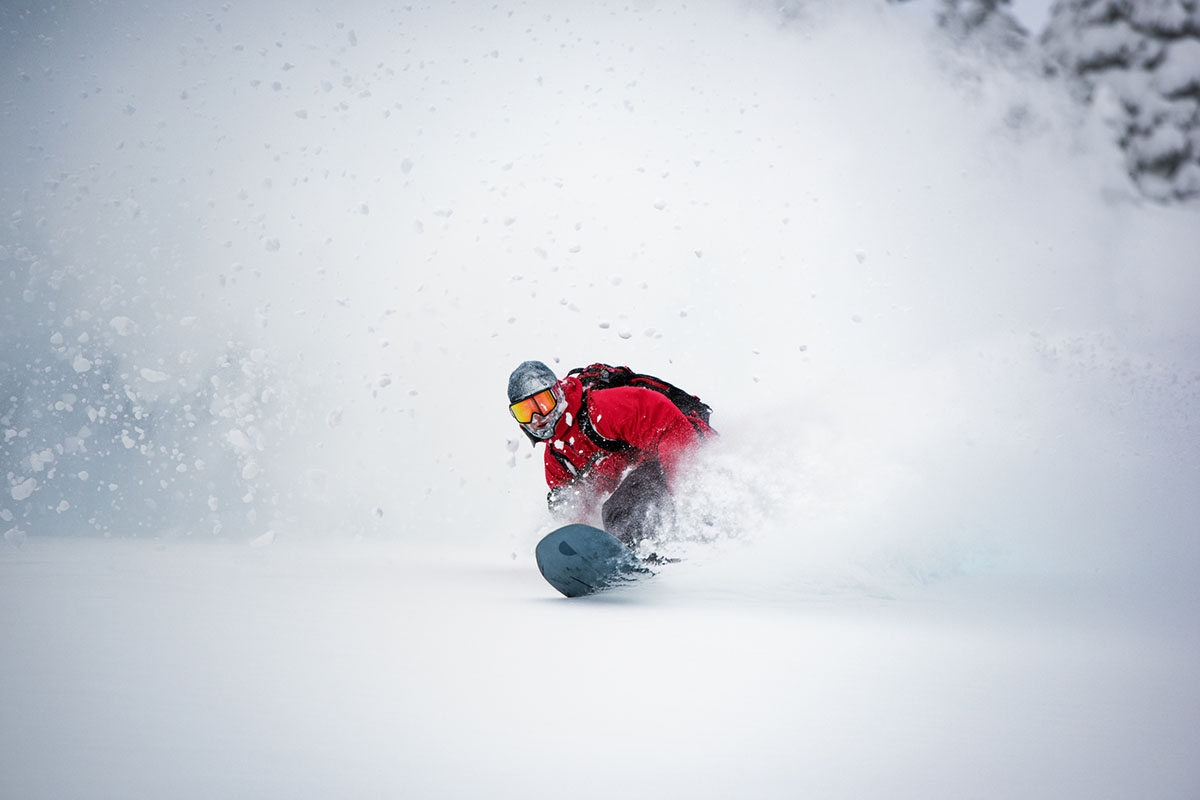 Shape
A snowboard's shape refers to the symmetry of the board between its nose and tail. This dictates where you should take a board and what type(s) of conditions it's built to handle, so it's crucial to make sure a board's shape suits your riding style before buying. As with profile and flex, shape can be broken down into a few key categories: directional, true twin, and directional twin.
Directional
It likely won't come as a surprise that directional boards are designed to be ridden in one direction. With some set back in the bolts (more than semi-twins covered below), a large damp nose, and a stiff tail, these boards are meant to absorb chatter and provide float in front while offering a solid base in back. Some powder-specific models will also have a cutout tail and a slightly softer flex for a floatier, surfy feel in soft snow, but in general these boards—like the GNU Essential Service—are stiff and purpose-built for stability and carving at speed. As such, they are tailored to more aggressive and advanced riders who are looking for a fast all-mountain board.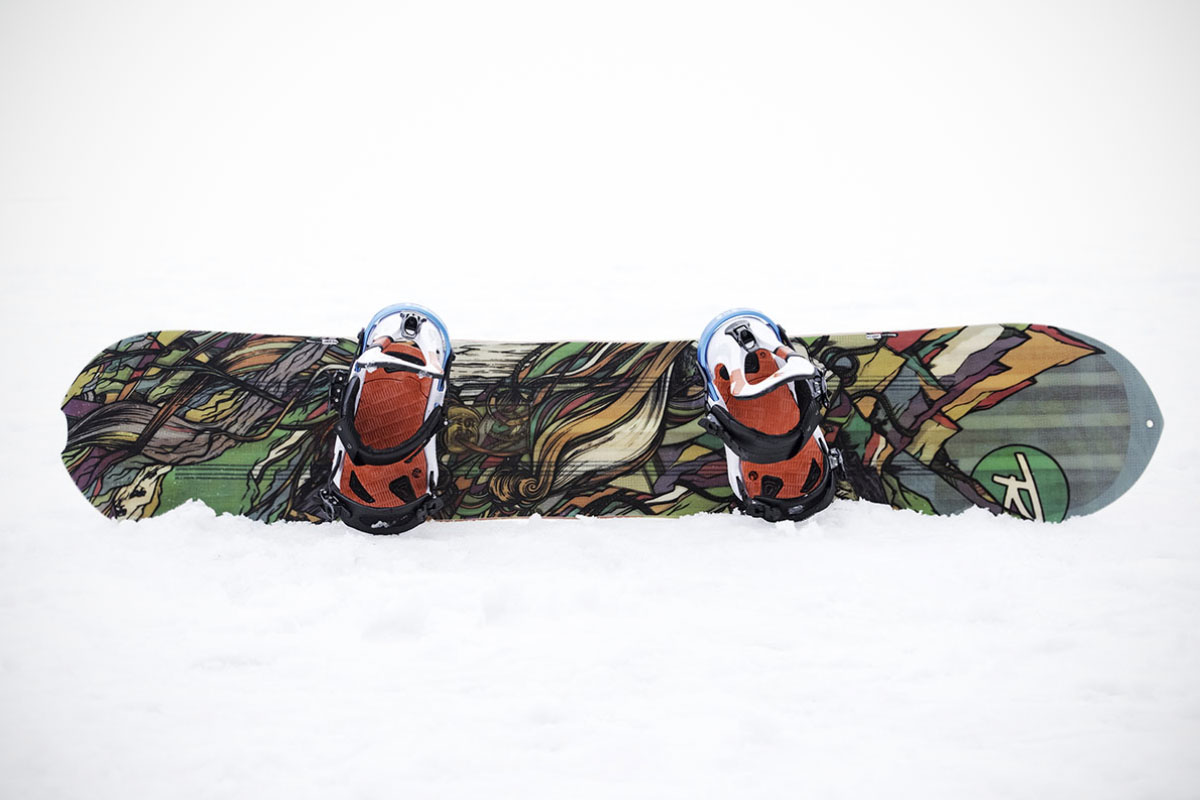 True Twin
True to the name, twin snowboards are symmetrical at the nose and tail. And while they can be found all over the mountain, twins shine in the park and on pipes, as they offer the same performance whether riding forward or switch (with your non-dominant foot in front). In general, they are the least aggressive compared to the other shapes—you can't put the power down like a board with a directional layout—and are usually only found in park and all-mountain/freestyle designs.
Directional Twin (Semi-Twin)
Combining the two categories above, semi-twin/directional twin boards are almost (but not entirely) symmetrical. They often have a slight set back of the bolts and include moderate differences between the nose and tail. Commonly, the front end on semi-twins is longer, which helps add float in powder or dampen choppy snow. They also excel in the park and for freestyle use as long as you don't ride or land switch a lot. This well-rounded nature makes directional twins the most common shape type in the all-mountain category. You'll find it on everything from our top-rated Burton Custom Flying V to the jib-ready Salomon Assassin and Jones' popular Mountain Twin.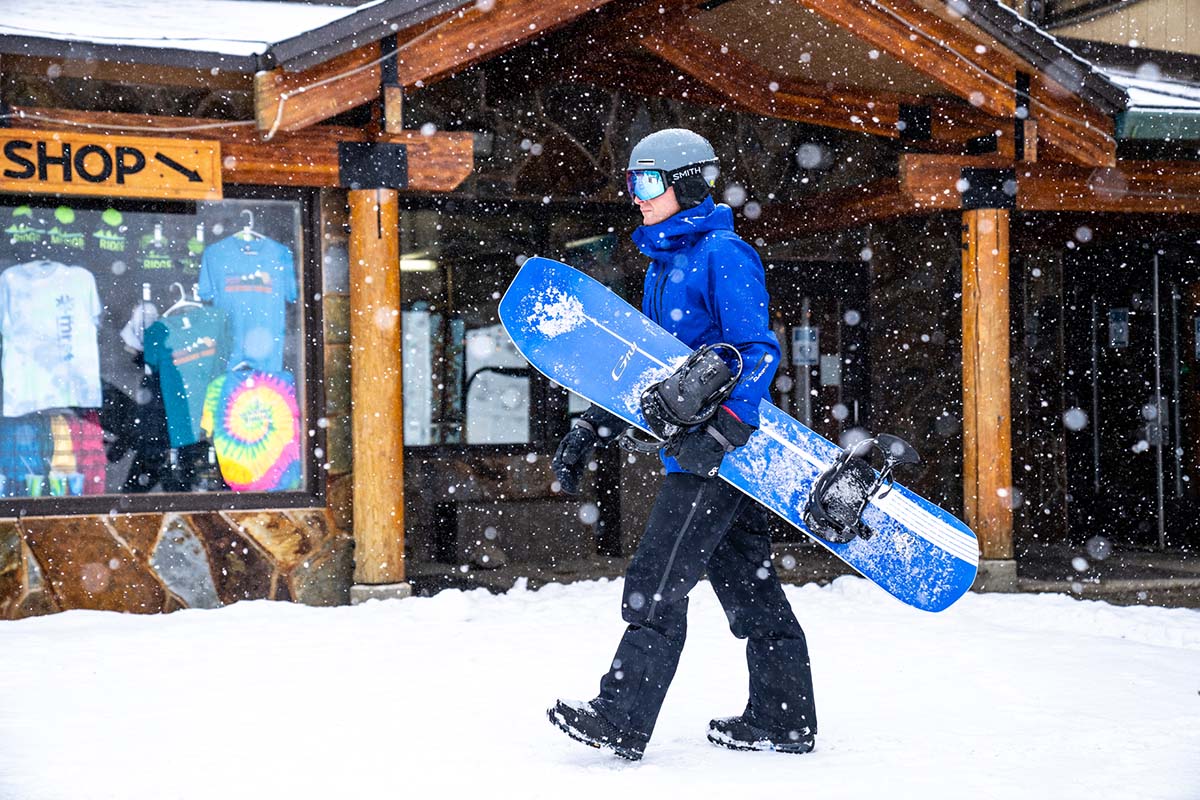 What Are Asymmetrical Snowboards?
A relatively new board shape that is gaining some momentum is the asymmetrical design. In short, what this means is that the heel side has a sharper and shorter sidecut than the toe side (the vast majority of boards have two identical sidecuts)—we see this in the GNU FB Head Space Asym C3 above. This makes it easier and a bit more natural for some riders to roll into and hold heel-side turns, which can be a benefit to new boarders or those that take pride in precisely carving on groomers or firm snow. Whether or not it's a worthwhile piece of tech is very much personal preference, but there are some tangible ride differences that some boarders will be happy with. Finally, it's worth mentioning that most asymmetrical boards are considered "twins," since the rest of the design is identical front to back. This allows manufacturers to make a single layout for both goofy- and regular-footed riders.

Snowboard Sizing
The length of a snowboard doesn't vary dramatically (we're talking a difference of 5-10 centimeters within a whole line oftentimes), but finding the right size for your weight and riding style nevertheless is crucial for maximizing performance. In general, aggressive and fast downhill riders will typically want a longer board, while beginners or those who prefer easy maneuverability will want a lighter and shorter option. Manufacturers and retailers will usually provide a recommended size chart for each specific model or model line. But for more general information, we've found this article and corresponding video from snowsports retailer Evo to be a helpful resource. 
In addition to length, width is equally important to nail down when purchasing a snowboard. When sized correctly, your boots should hang over the edges of the board slightly, but should not touch the snow when you get on edge (this can cause your toes to drag and lead to a fall). If you have larger feet, we recommend looking for a wide board, which is often indicated with a "W" right after the length (for example, 154W). Manufacturers often publish helpful info on when to size up to a wide board, which is commonly around a size 11 or 12 for men and 9 for women (and those with very large feet should check out a short and fat board, which we cover below). Finally, women who need a wider model should also consider looking at regular-waisted men's versions.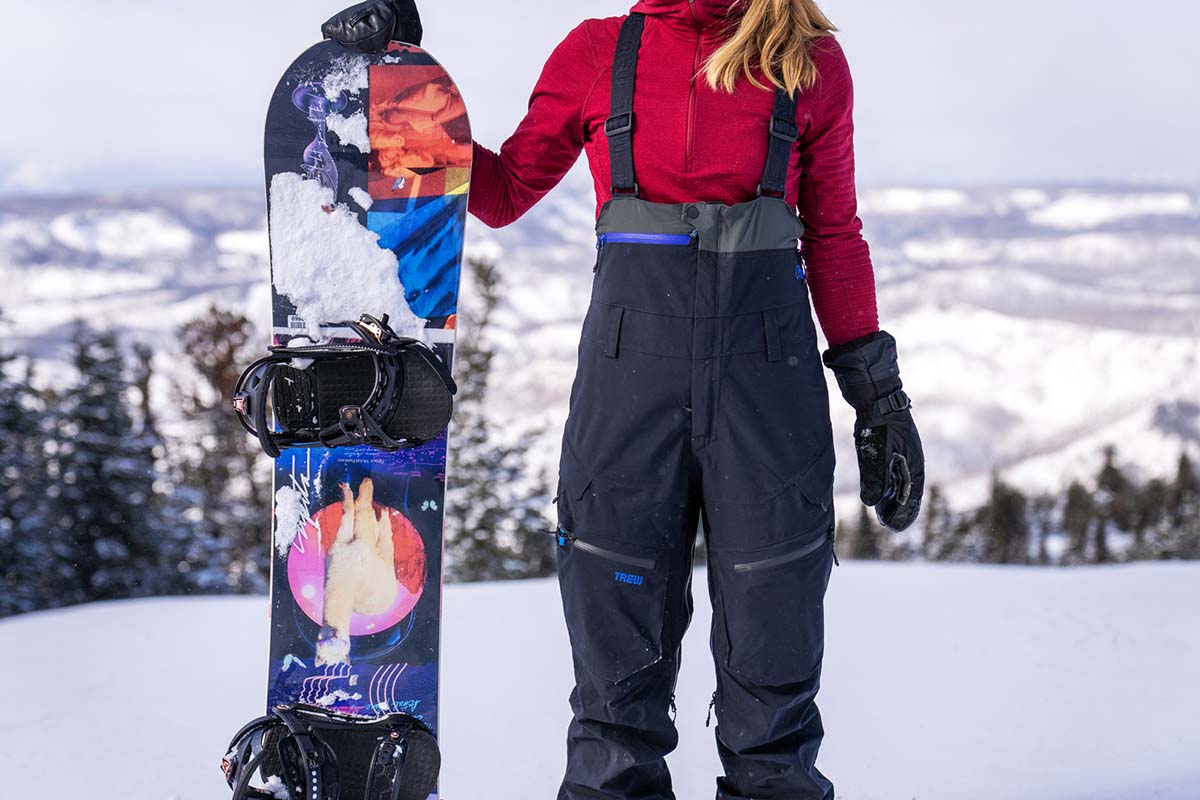 Sidecut Radius
Put simply, sidecut radius is an indication of how tightly or widely a snowboard turns. It's a measurement of what size circle (usually in meters) would result from the arc created by the board's edge. Generally, a snowboard with a narrow waist compared to its tip and tail will have a shorter sidecut radius (which equals a narrower turn), while a wide-waisted board will have a longer sidecut radius (which translates to a wider, arcing turn).
We won't get too deep into the nitty-gritty—sidecut is actually a very nuanced and detailed topic—but there are three important considerations that ultimately affect your ride. First and foremost, sidecut interacts with your board's flex, profile, shape, and effective edge to make turns wider, narrower, faster, slower, smoother, or more energetic. Second, the sidecut radius on the same board in different sizes will vary, which can be helpful in making a decision if you're between lengths. Finally, beginners will generally prefer a smaller sidecut, which allows for quicker and more easily initiated turns.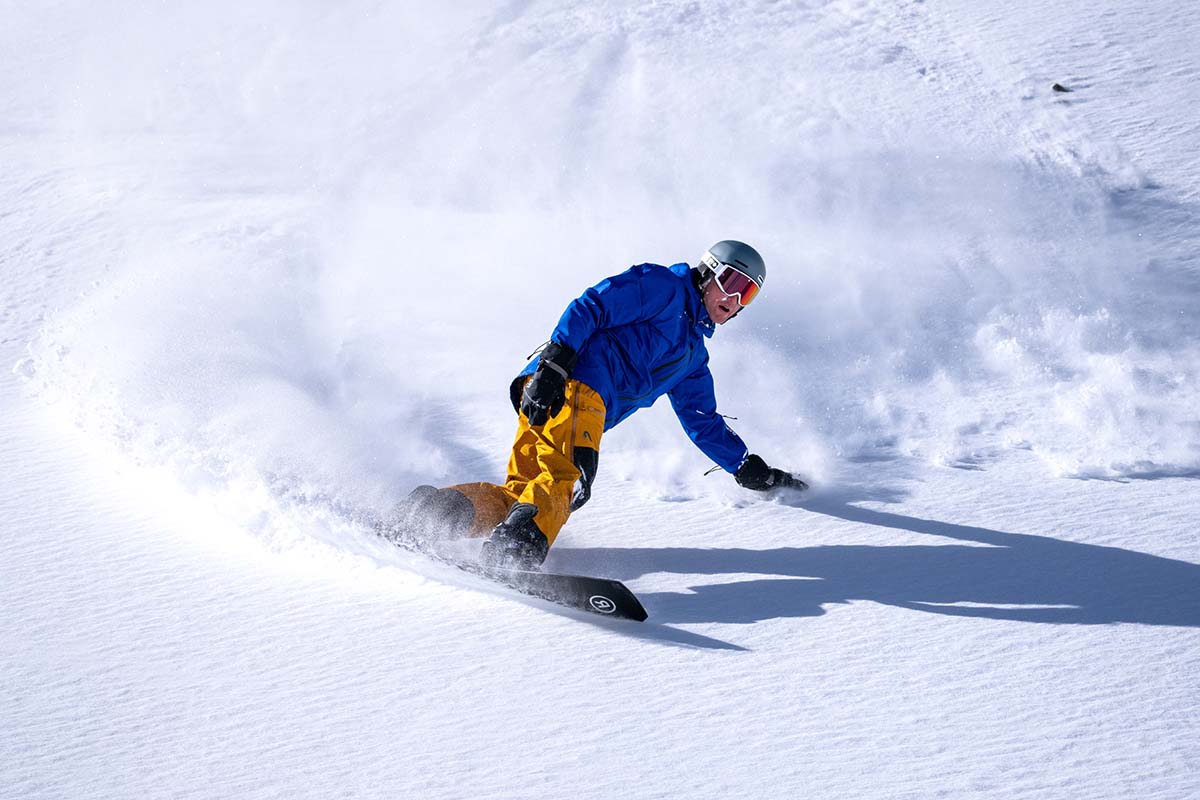 Effective Edge
A snowboard's effective edge (commonly measured in millimeters) is the part that actually touches the snow while the board is on edge. Importantly, this isn't the actual length of the board or the entire metal edge, but only the section that comes into contact with the ground. So what's the point of checking on this number? The spec can be useful when comparing similar boards: a longer effective edge bites into the ground better, which translates to greater stability and hold through a turn (especially useful in icy conditions or at high speeds). On the other hand, a shorter effective edge is a plus for beginners or freestyle riders as it makes it a bit easier and less catchy to turn and slide. The good news is that this piece of information is commonly listed by the manufacturers. And a final note: like the sidecut radius, the effective edge obviously changes as you switch between lengths.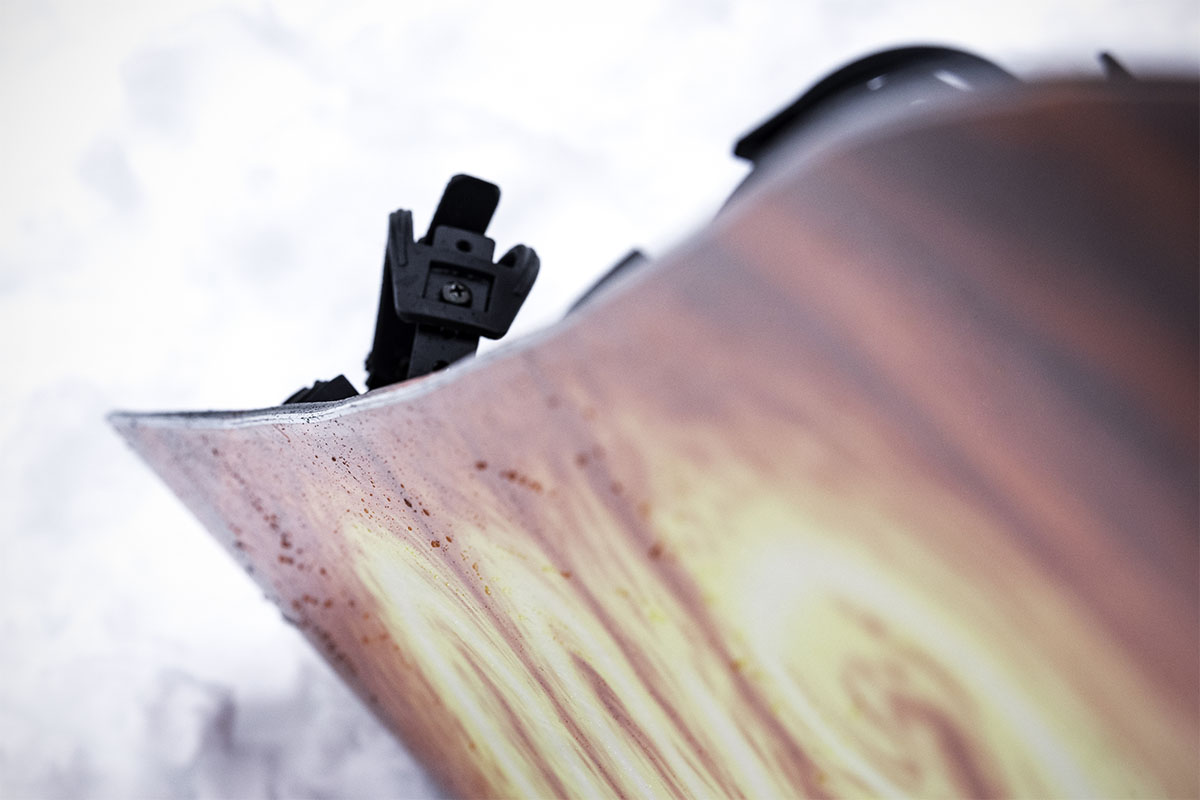 Construction and Core Materials
Along with flex, profile, and shape, the core is an integral component of a board's overall character. This is essentially the part that gives each board its unique pop, flex, dampening, durability, and responsiveness. It's also often where you'll find the most discernible differences between budget-friendly and high-end models. Most cores are made of wood strips—like poplar, birch, aspen, or bamboo—laid out from nose to tail and edge to edge and pressed into plywood, giving them strength and flex both longitudinally and torsionally. As a general guideline, materials like carbon, basalt, and bamboo are flexy and snappy, while urethane, cork, and Kevlar add extra dampening and are softer to better absorb impacts. All of the boards that made our list for 2023 are well-made and use quality materials, although as price goes up, the use of premium touches like carbon fiber deliver tangible performance benefits like less weight and more power and stability.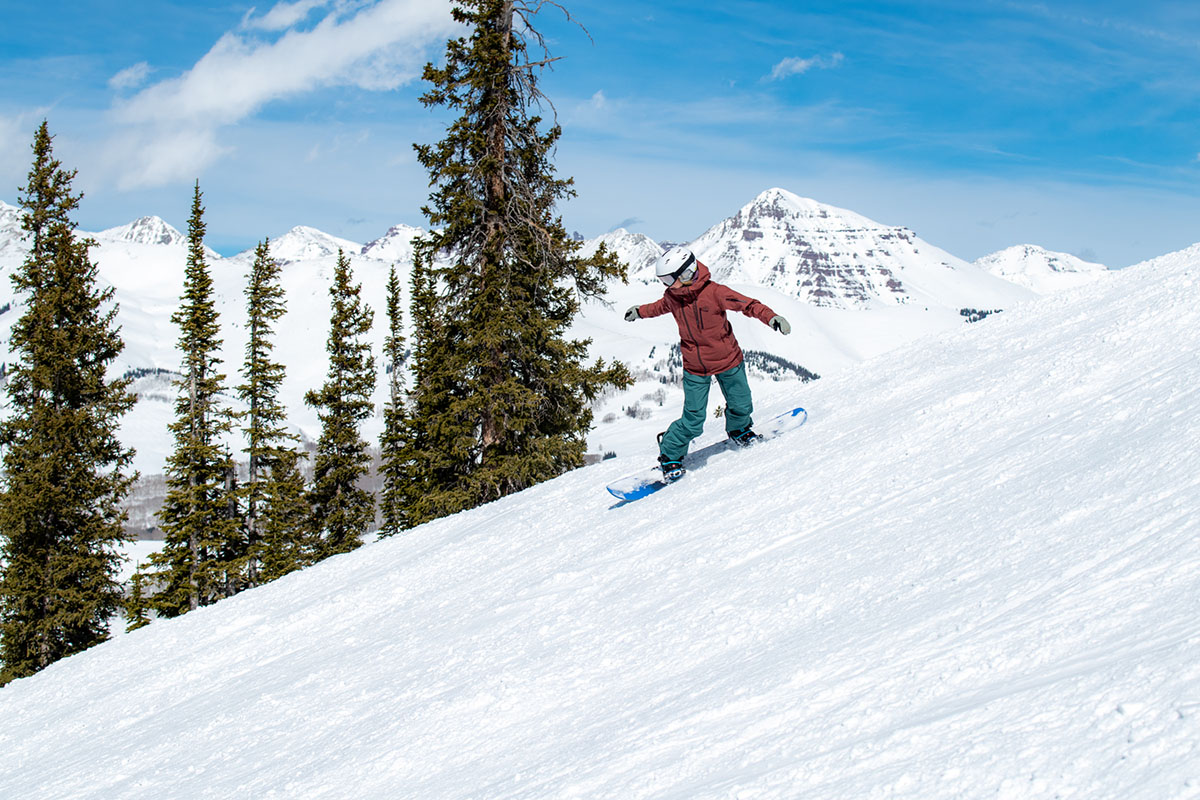 Bases: Sintered vs. Extruded
The job of a snowboard's polyethylene (PE) base is to repel moisture, keep you sliding downhill, and protect the core. There are two types used in snowboard bases: sintered and extruded. Sintered bases are made by compressing small bits of plastic together at a high pressure to create a porous but solid material. Because of these microscopic pores, sintered bases absorb waxes better, making them faster and more adaptable to different snow conditions. Unfortunately, they can be more difficult to repair if damaged by rocks, hard stumps, or rails. Plus, they require more maintenance to keep the wax fresh. That said, most boards—including all-mountain freestyle and all-mountain boards—have sintered bases due to the speed benefits, and are best for intermediate to advanced riders.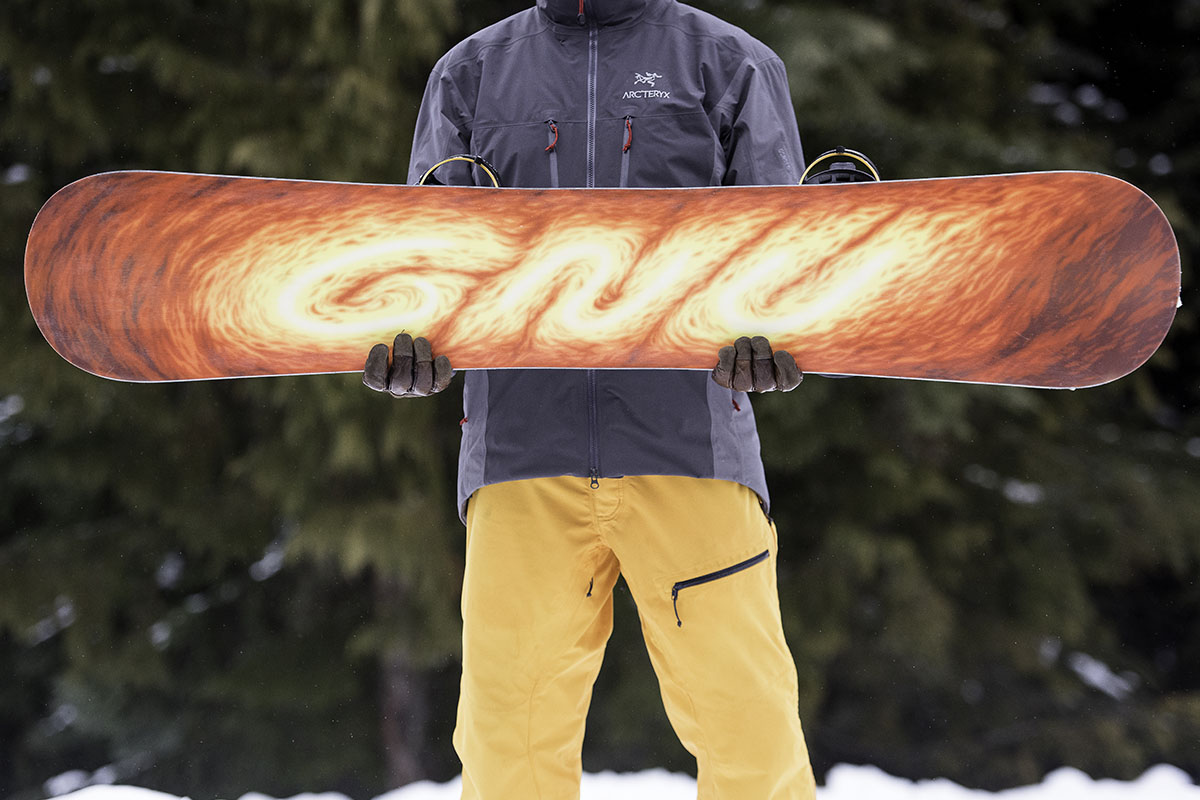 Extruded bases, on the other hand, are created by melting polyethylene pellets together, which creates a foundation with very few pores. The main benefits are that they are less expensive, cheaper and simpler to repair, and low-maintenance (they don't need to be waxed as often). Extruded bases do tend to be slower than their sintered counterparts, but this can be a plus for those who primarily use their board for jibbing and park features. Having a rock board with an extruded base for early-season riding when damage is more likely to occur also makes a lot of sense. Finally, the ease of use is good news for beginners, who typically don't need the added speed but will benefit from the more basic construction. As an example, Arbor's value-oriented Foundation ($400) uses this type of base. 

Short and Fat Boards: An Emerging Trend
Also known as volume-shifted boards, these models trim off a surprising amount of length (sometimes 10cm or more) from a standard design while increasing the width. Quality options from the list above include the Lib Tech T.Rice Orca and Ride Warpig. Both boards have excellent stability and float, and the shorter length also helps maneuverability in tight spots. In addition, the extra width makes them a nice match for those with large feet that have issues with their toes hanging off the edges. Downsides are they aren't going to be as rock-solid as longer boards for wide and fast sweepers, and they can be harder to manage for beginners. In the end, like the asymmetrical trend touched on above, there's a time and place for short and fat boards—and arguably they offer greater performance benefits—but it does come down to personal preference if it's the type of ride you're looking for. 

Women's-Specific Snowboards
Many of the boards above come in women's-specific versions, which are generally softer-flexing and available in smaller sizes, and usually feature different design aesthetics (we've link to both above when available). However, some companies have begun taking a more wholistic approach to their lineups, doing away with gendered boards and instead offering unisex models in various sizes and flexes. When looking at the list above, we invite you to shop based less on your gender and more on what you know about yourself as a rider, including your body type, riding style, and desired board experience. And if a certain model appeals to you, it's often the case that the company makes a similar board with a slightly softer or stiffer flex. Finally, it's worth noting that there are a few female-specific snowboard manufacturers, including Coalition and Pallas.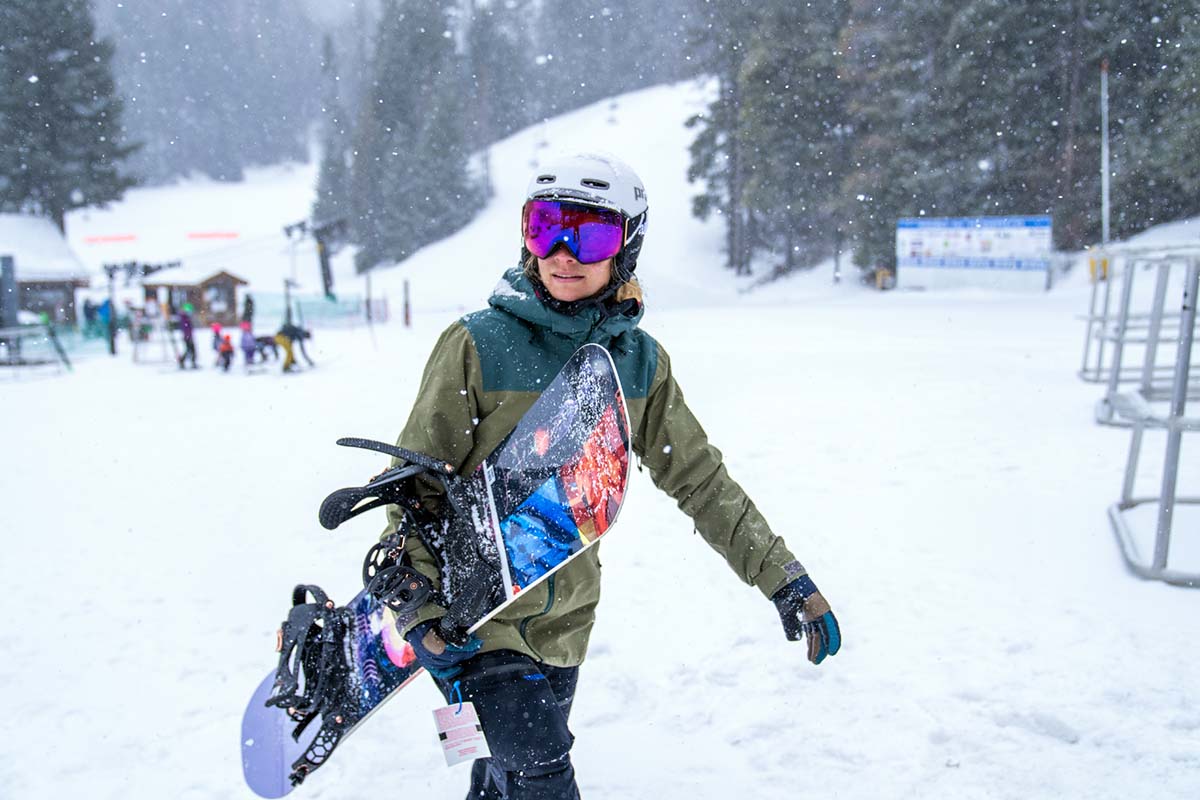 Completing Your Setup: Boots and Bindings
A board might be the biggest part of your snowboarding setup, but it's only one piece of the puzzle. Boots and bindings are equally important and should align with your style of riding and your board's level of support. Starting with boots, the most crucial factor is stiffness, which is indicated by a flex rating. In general, a stiffer boot will offer better stability and is best suited to more aggressive all-mountain freeride and all-mountain boards. Alternatively, a softer boot will allow more flex and forgiveness, which can be helpful in pressing jibs and tweaking grabs on a park or softer all-mountain/freestyle board. A softer flex will also be more comfortable for beginners and require less break-in time. Boot flex ratings aren't entirely standardized and can vary from brand to brand, but many manufacturers will rate a boot's stiffness on a scale of 1-10 (soft to stiff).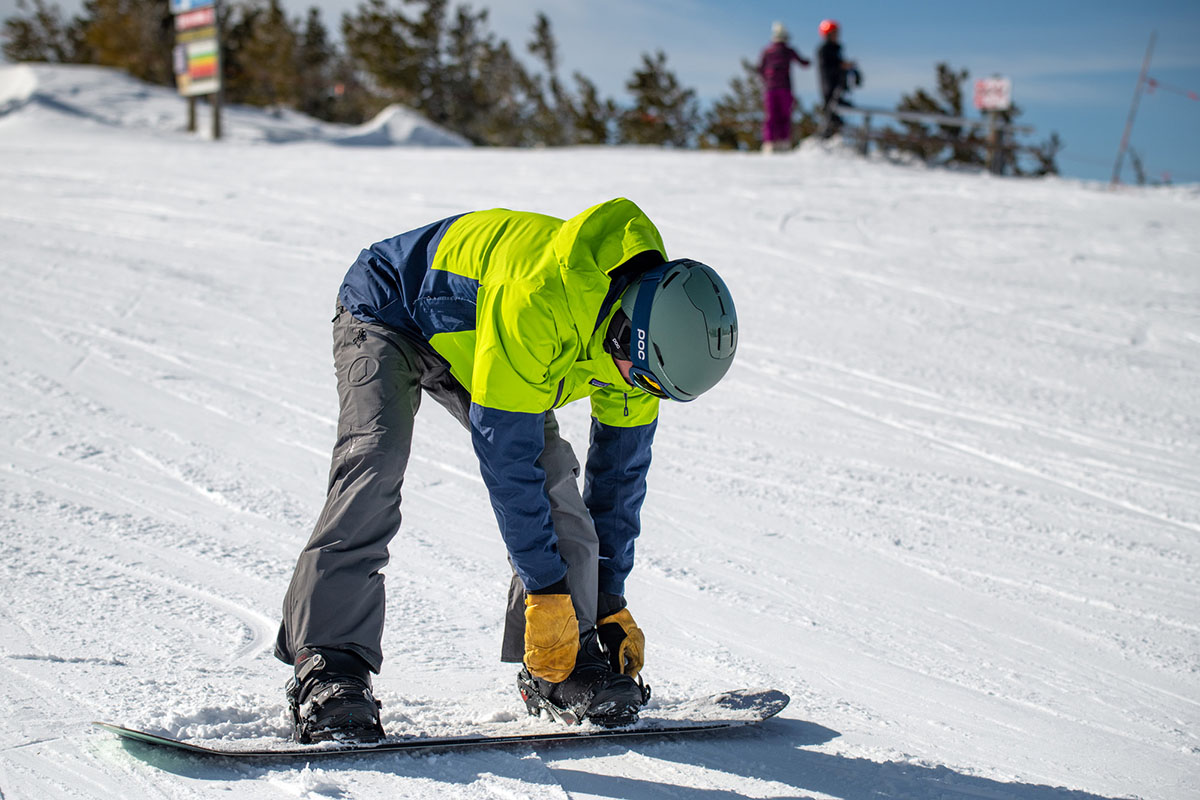 Bindings are similar to boots in that they vary from soft to stiff (again, usually on a scale of 1-10) and should match your overall riding style and preferences. Like boots and boards, softer bindings allow more flex for beginners and park goers while stiff bindings are more responsive and stable. Finally, it's important to make sure that your bindings match the connection on your board, whether it's 4x4 bolts, 2x4 bolts, or a system like Burton's EST sliders. If you need assistance determining the right type of binding to match your board, we recommend reaching out to your local snowsports shop (we've assembled our favorite online retailers here).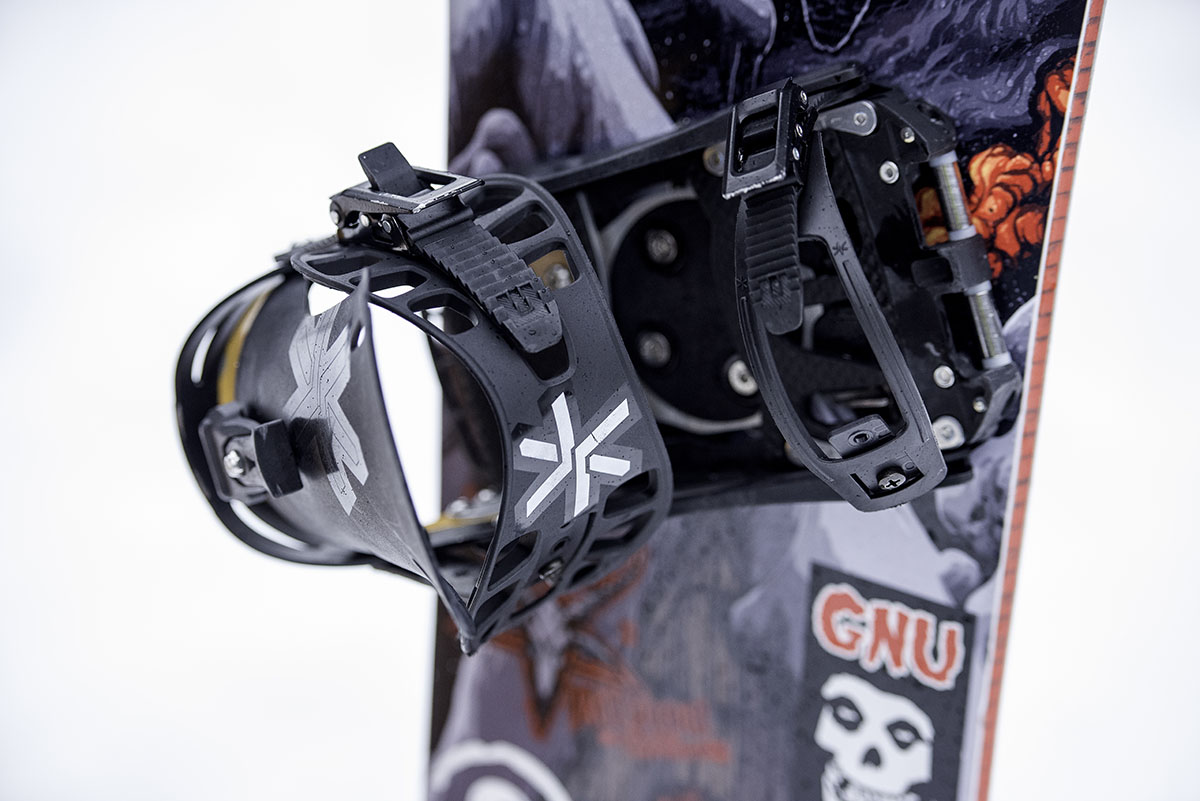 What About Splitboards?
The boards above are built for resort terrain, but for those who like to explore out of bounds, a splitboard makes a lot of sense. These backcountry-specific designs are essentially a snowboard that's cut in half from nose to tail with edges along the cut. On the uphill, you climb with the two pieces separated, and you reconnect them for the descent. Specialty bindings also are required, which are able to switch from a parallel setup with a free heel for touring to a perpendicular orientation for locking in on the downhill.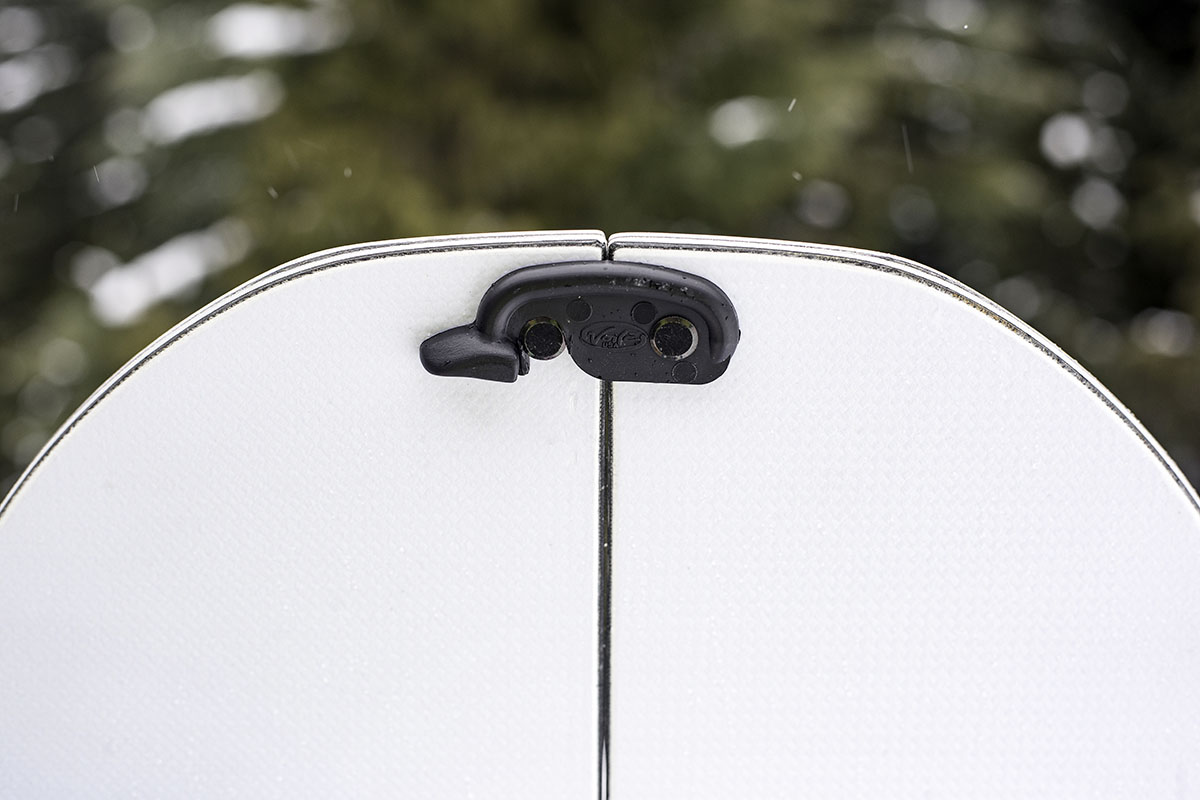 What do you compromise by going with a splitboard? First and foremost, they're significantly more expensive than traditional downhill offerings—it's a good idea to make sure you want to put in the uphill work before taking the plunge. In addition, the split nature of the construction impacts their performance and natural feel and flex, making them not all that versatile for lapping the resort (you certainly won't want to use one as your one-quiver setup). And most importantly, before you get excited about the gear, we recommend taking an AIARE Level 1 course or equivalent to learn how to properly and safely travel in the backcountry.
Back to Our Top All-Mountain Snowboard Picks  Back to Our Snowboard Comparison Table
Read More From Switchback Travel