From backcountry ski tours to mountaineering in some of the most brutal weather on Earth, a 4-season tent is the last line of defense between you and the elements. Accordingly, these tents are much stronger than their 3-season counterparts with less mesh, more substantial canopies and rainflies, tougher pole structures, and a whole host of features designed for winter use. Below are our picks for the best 4-season tents of 2023-2024. Given the range of possible uses, we've categorized the different models under mountaineering, basecamp, and treeline. For more background, see our 4-season tent comparison table and buying advice below the picks.
 
---
Our Team's 4-Season Tent Picks
---

Best Overall 4-Season Tent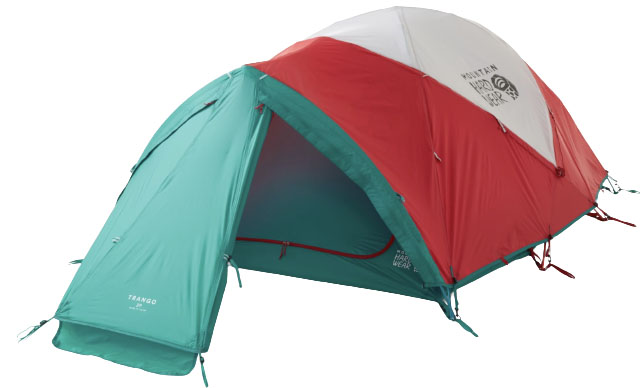 Category: Basecamp
Packaged weight: 9 lb. 10.2 oz.
Floor area: 40 sq. ft.
Wall(s): Double
What we like: Tough build, great livability, and comes in multiple sizes.
What we don't: Heavy and expensive.
Mountain Hardwear's Trango has been trusted for years in the most inhospitable regions of the planet. And although it's one of the heavier tents on our list, you'll be thankful for all 9 pounds 10.2 ounces when you're weathering out tough conditions in basecamp. Holding back nothing in the name of protection, the Trango 2 features a double-wall design, 40 square feet of living space (considerably more than most 2-person tents), and two doors and vestibules for easy access and convenient storage. And for added security in high winds, Mountain Hardwear designed the tent fly to connect to both the poles and the body of the tent, forming one solid structure that can withstand some of the world's worth weather.
At high-altitude basecamps around the world, you're bound to see two tents more than almost any other: The North Face's VE 25 (below) and the Mountain Hardwear Trango here. The Trango does fall short of the VE 25 in a few categories: It's more expensive (the comparable 3-person version of the Trango will cost you an extra $250) and forgoes the TNF's pole sleeves, which provide a very stable structure in high winds (our tester had the opportunity for a side-by-side comparison while guiding on Denali). But the Trango features a more durable fly (70D vs. the VE 25's 40D), and comes in two, three ($1,000), and four-person varieties ($1,200). All told, whether you're winter adventuring in the Lower 48 or waiting out weather in the greater ranges, it's one of the most well-built and reliable shelters available.
See the Mountain Hardwear Trango 2
Best Single-Wall Mountaineering Tent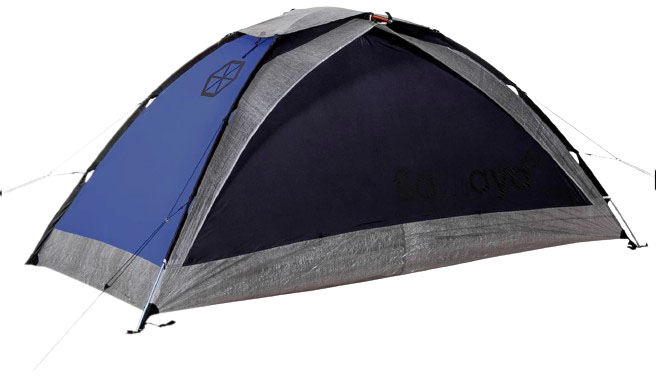 Category: Mountaineering
Packaged weight: 3 lb. 5 oz.
Floor area: 26.9 sq. ft.
Wall(s): Single
What we like: Lightweight and compact; incredible build quality and attention to detail.
What we don't: Expensive.
Based in the French Alps, Samaya is taking the 4-season tent world by storm with exquisitely high-end offerings that hold nothing back. Their price points are undeniably steep, but you get what you pay for, including innovative R&D, premium materials, and a meticulous attention to detail. The Samaya 2.0 (which also comes in a 2.5) is their best all-rounder, combining top-notch waterproofing and breathability with an impressively low weight. Black Diamond's Eldorado used to be our category pick, but the Samaya 2.0 boosts breathability with 3-layer Nanovent walls (in addition to a removable mesh door), uses a durable and waterproof Dyneema floor and "fly," and still manages to undercut the BD's weight by almost 2 pounds. We just can't get enough of this tent, which also features a large vent with 2-way zipper, huge side pocket and removable hanging pocket, headroom-increasing ridge pole, and equalized guylines that come pre-rigged. 
The decision between the Sayama 2.0 and a double-wall tent like the Trango above comes down to the scope of your trip. If you plan to set up shop in one place, the extra pounds of a basecamp tent are worth the added space and breathability; on the other hand, summit pushes and fast-and-light missions will require a lighter shelter. Keep in mind there are some downsides to the minimalist design: The Samaya 2.0 is a tight squeeze for two, only features one door, and you'll have to pay extra for a vestibule (available both in nylon and Dyneema). But these tradeoffs are par for the course for alpinists, and Samaya's offerings are truly in a league of their own. Those looking to save even more weight should check out their Assaut2 Ultra (2 lb. 5 oz.), which features an all-Dyneema build, carbon poles, and a built in "lifeline" for staying secure on small ledges (but at $1,760, cost might be prohibitive).
See the Samaya 2.0
Best All-Season Tent for Treeline Adventures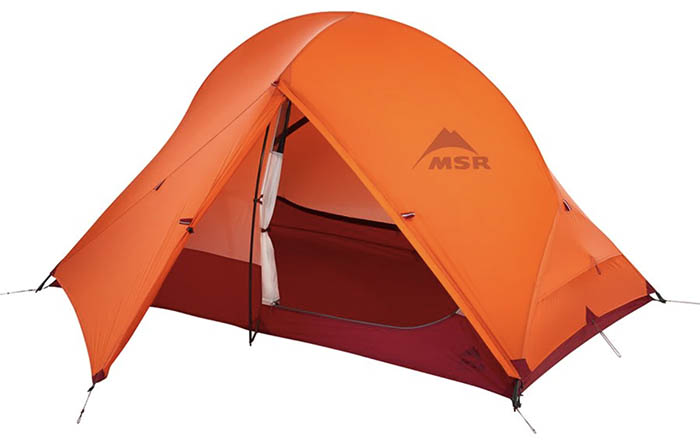 Category: Treeline
Trail weight: 4 lb. 1 oz.
Floor area: 29 sq. ft.
Wall(s): Double
What we like: Ultralight for a double-wall tent yet decently protective.
What we don't: Expensive; solid walls impact breathability in mild conditions.
Many 4-season tents are overkill for mild winter conditions, when you could be getting away with a lighter and more breathable design. Enter the "treeline" category, and our top pick MSR Access 2. The double-wall Access toes the line between the 3- and 4-season categories, with more bombproof protection than a standard backpacking tent in a streamlined and packable 4-pound-1-ounce design. And importantly, you still get two doors, two vestibules, and 29 square feet of floor area (our testers jumped up to the three-person version for extra space with a canine). For backcountry ski trips or spring mountaineering when the weather is fairly good or you won't be fully exposed, the Access is well worth a closer look.
The MSR Access's "treeline" designation is a bit tricky. The last thing you want is to be in over your head in a winter storm, and the 4-pound weight is awfully light. What's more, breathability will suffer in mild conditions (unlike 3-season tents, the Access does not feature any mesh in its walls), and the fly doesn't fully extend to the ground, so you'll want to create a snow wall if you anticipate drafts and drifts. But the Access is nevertheless a great fit for shoulder-season conditions: It's been our go-to choice for spring touring in British Columbia and trekking the Cordillera Huayhuash in Peru. Within this category, it's also worth checking out Nemo's Kunai ($550), which features solid walls that zip off to reveal mesh panels for better airflow in mild conditions (on the other hand, it has a tapered floor plan and only one door)… Read in-depth review
See the MSR Access 2
Best Ultralight 4-Season Shelter
Category: Basecamp/treeline
Weight: 2 lb. 13 oz.
Floor area: 50.7 sq. ft.
Wall(s): Single
What we like: Incredible versatility for snow camping.
What we don't: Floorless design means you're more exposed to the elements.
You'll likely want a fully featured tent for sleeping in the snow, but as a dining shelter, gear storage, or simply a change of scenery when cabin fever sets in, the Black Diamond Mega Light is a total basecamp luxury. And we use the word "luxury" lightly—with single-wall construction and no floor, it's far from the most protective tent here. But the value of this shelter really comes into full view while camping on snow: The center pole prop serves as a table, while the outer edges can be dug out to create seating for up to six. In addition, the Mega Light tacks on a roof vent (this is one shelter we encourage you to cook in!) and mid panel guy-out points for great security in high winds. And the versatility doesn't stop there—it can also double as a lightweight sleeping shelter in a pinch.
But calling the Mega Light a 4-season tent is a bit of a stretch. Its tough 30-denier canopy has withstood winds up to 50 miles per hour throughout our testing (and the polyester build is very resistant to sagging when wet), but it just doesn't compare to burlier tents like the Hilleberg Nammatj 2 GT below or even the single-walled Samaya 2.0 above. In essence, the Mega Light is a glorified tarp with no floor: In truly cold or windy conditions, it's prone to flapping around and will feel quite drafty. Black Diamond also makes the Mega Snow (out of stock at the time of publishing), which features more venting options and a 70-denier skirt for complete weatherproofing... Read in-depth review
See the Black Diamond Mega Light
Best of the Rest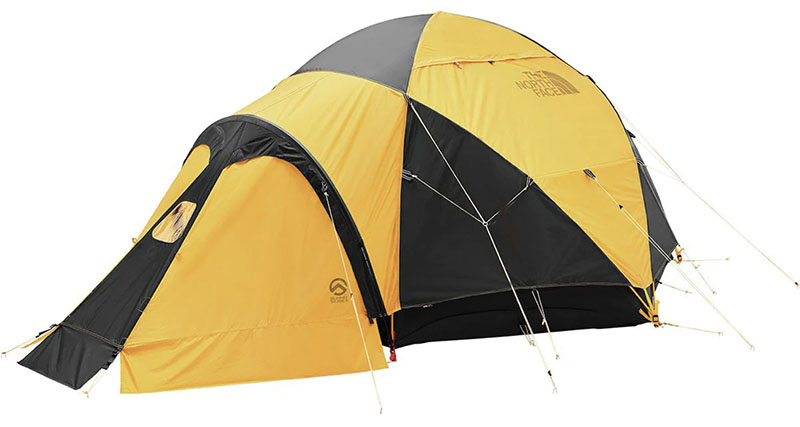 Category: Basecamp
Packaged weight: 10 lb. 5 oz.
Floor area: 48 sq. ft.
Wall(s): Double
What we like: A great value for a time-tested and sturdy basecamp design.
What we don't: Only sold in a three-person capacity.
The VE 25 is one of expedition mountaineering's most popular tents, and for good reason.  Similar to the Trango above, the three-person VE 25 features a burly double-wall build, stout poles, and time-tested fabrics that thrive in tough conditions. Two doors and vestibules provide multiple entry points and ample storage space, and you get eight internal pockets and an assortment of hanger loops to organize and dry out your gear. And for those tent-bound days (or weeks) in basecamp, the VE 25 ventilates well and provides ample space for two or three with a 48-square-foot floor plan and peak height of 48 inches (3 in. taller than the three-person Trango).
Our main gripe with the VE 25 is that it can be tricky to find—at the time of publishing, it's not carried by any online retailers. But if you can get your hands on one, it's a stellar tent: The combination of pole sleeves and clips results in noticeably more structural integrity in high wind than the Trango, and it's a full $250 cheaper (compared to the Trango 3). Of course, weight is a factor with any basecamp design—if you're opting for a tent like the VE 25 or Trango, it's likely you're flying or portering into the mountains—and one downside of the TNF is that it only comes in one size (the Mountain Hardwear is available in two, three, and four-person varieties). But for a great combination of value, protection, and livability for waiting out storms at basecamp, the VE 25 is tough to beat.
See The North Face VE 25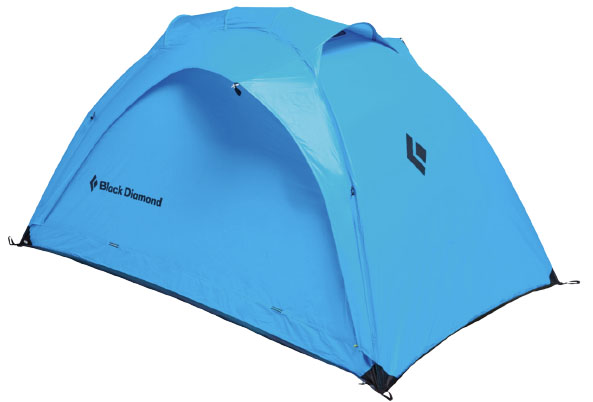 Category: Mountaineering
Packaged weight: 3 lb. 15 oz.
Floor area: 27.3 sq. ft.
Wall(s): Single
What we like: A decently breathable single-wall tent for fair-weather climbing.
What we don't: Not as lightweight or weather protective as the Samaya above.
If you're reading this article, you're probably familiar with the Firstlight, Black Diamond's ubiquitous lime-green tent that's known for its low weight, affordability, and, tragically non-waterproof design. To the chagrin of some (and the delight of others), the Firstlight is no longer available; stepping in to take its place is the subtly refined HiLight 2P. Like the Firstlight, the HiLight 2P is not completely waterproof—its 30-denier polyester (treated with a combination of silicone and polyurethane) can fend off light precipitation but will likely wet out in sustained moisture. On the bright side, the HiLight does come with fully taped seams (untaped seams were one of the Firstlight's primary downfalls) and increases venting by way of multiple roof vents.
Similar to its predecessor, the HiLight is ideal for the right objectives and a poor choice for just about everything else. Under clear skies or in sub-freezing temperatures, it provides a stable, windproof shelter at a decently low weight and price, and offers better breathability than much of the single-walled competition (the mesh door is a big plus). But we still don't recommend the Black Diamond for truly wet weather, and its cramped size and single side door is not ideal for basecamp environments (that said, it does offer 8.5 in. more headroom than the Rab Latok Summit below). The Samaya 2.0 above is obviously a massive step up with complete waterproofing, impressive breathability, and durable Dyneema fabrics for 10 ounces less; but for a fair-weather bivy just $500, the HiLight still has a lot to offer. 
See the Black Diamond HiLight 2P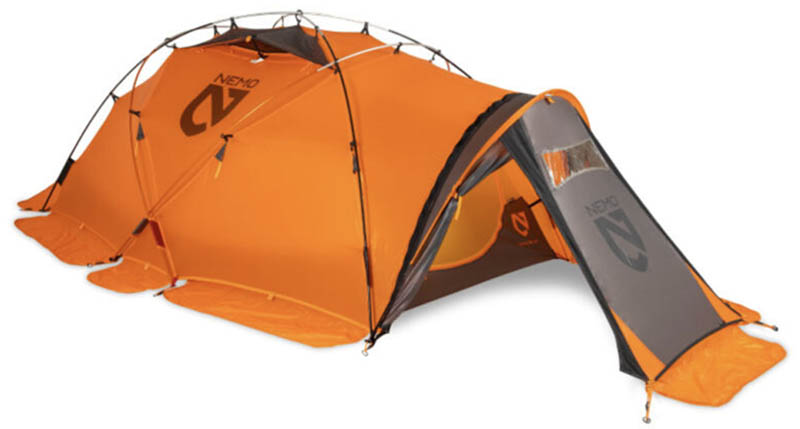 Category: Basecamp/mountaineering
Packaged weight: 7 lb. 11 oz.
Floor area: 36.3 sq. ft.
Wall(s): Double
What we like: External pole structure sets up fast and reduces weight.
What we don't: Low peak height and thin fly fabric.
Taking direct aim at the popular Trango and VE 25 tents above is the Nemo Chogori 2. The big news with this tent is its combined double-wall construction and external pole structure, which makes it faster and easier to pitch in inclement weather (the Trango and VE 25 require that you set up the body and rainfly separately, which takes more time and can lead to moisture getting inside the tent). Nemo didn't skimp on quality either with strong DAC poles and silicone-treated nylon on the fly for added durability and weatherproofing, plus the addition of a wrap-around snow skirt on the newest version. And at 7 pounds 11 ounces, the Chogori is among the lighter basecamp-ready tents on this list.
What are the downsides of the Nemo Chogori? With 36.3 square feet of interior space, it's fairly roomy for a two-person design, but its 39-inch peak height means less head room than most basecamp tents (on the other hand, this is great for keeping a low profile in heavy winds). Further, the fly fabric is relatively thin at just 30-denier, compared to the 70- or 75-denier of many basecamp tents here. And at $750, you won't save anything over the VE 25 (also $750), nor does the Nemo come with the TNF's long track record in extreme conditions. But taken together, the Chogori's simple and quick set-up, strong pole structure, and reasonable weight makes it an attractive and versatile option for mountaineering and other winter backcountry adventures. 
See the Nemo Chogori 2

Category: Basecamp
Packaged weight: 8 lb. 3 oz.
Floor area: 30.1 sq. ft.
Wall(s): Double
What we like: Super roomy vestibule and unique aerodynamic structure.
What we don't: Only one door and peak height is low for a basecamping tent.
Based in Sweden, Hilleberg specializes in tents, with a strong lineup of designs for everything from solo fastpacking to high-altitude mountaineering and polar expeditions. Each model features ultra-premium materials and focuses on small details like no other brand, making Hilleberg some of the most reliable—and expensive—tents on the market. Their Nammatj GT is a very popular option for extreme mountain conditions, featuring strong Kerlon fabric and a tunnel-shaped design for remarkable stability and protection. You also get a whopping 25.8 square feet of vestibule space, which is a convenient design for cooking in inclement weather. All told, considering the all-in weight of 8 pounds 3 ounces, you'll be hard-pressed to find a 4-season tent that does more while weighing less (and the standard Nammatj is only 6 lb. 10 oz.).
A nice alternative to many of the dome tents here, the Nammatj GT's unique tunnel shape is aerodynamic in strong winds and easily sheds snow. This design makes it one of our top picks for the harsh conditions of high-altitude basecamps and polar exploration, but you do give up a bit of livability with only one door and a lower peak height (37 in. compared to the TNF VE's 48 in.). It's also worth noting that many guide services on Denali pitch the Nammatj (or four-person Keron 4 GT) using two sets of poles, as the poles has been known to bow and snap when the wind hits the tent just right. Finally, like everything from Hilleberg, the Nammatj GT will cost you a pretty penny at $1,115. But if you're considering tents like the Trango or VE 25 above and have the added budget, the Nammatj is well deserving of a spot on your short list.
See the Hilleberg Nammatj 2 GT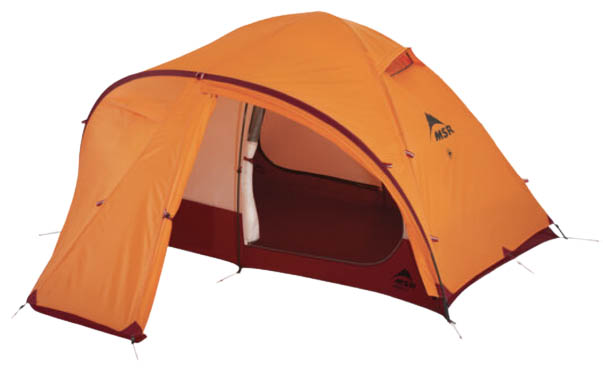 Category: Mountaineering/basecamp
Packaged weight: 7 lb. 2 oz.
Floor area: 33 sq. ft.
Wall(s): Double
What we like: Light enough for summit pushes yet comfortable for waiting out a storm.
What we don't: Not as roomy as most basecamp options.
MSR's Access above is built for spring conditions or winter camping below treeline, but we turn to their more substantial Remote for full-on mountaineering objectives. With a sturdy frame, bombproof Easton Syclone poles, and solid walls with zippered vents on each door, the Remote is ready for whatever Mother Nature throws its way. And while the storm is raging outside, the inside is nicely tuned for comfort, including excellent livability at 33 square feet for the two-person version (noticeably more than single-wall tents like the Samaya 2.0 and HiLight), near-vertical walls, and a large main vestibule. If you're on the hunt for a sturdy double-walled tent that offers more protection than a treeline or mountaineering design without the heft or price tag of a true basecamp model, the MSR Remote is a really nice middle ground.
We've taken the Remote on ski mountaineering trips along Canada's Icefields Parkway and up Mount Rainier and found it to be a very capable companion in heavy wind and snow. That said, we did have some issues with condensation buildup: the thick rainfly material has a tendency to trap warm air, with the only vents being the mesh panels on the doors (there are no dedicated vents at the top of the tent). And similar to the MSR Access, the Remote lacks storm flaps at each end, and the rainfly can hover as far as 5 inches off the ground when taut (the tall bathtub floor should keep most of the elements at bay). Within this 'tweener category, we give the slight edge to the Chogori for its spacious floor plan and quick set-up, but the Remote uses slightly more durable fabrics (40D) and will save you over a half-pound… Read in-depth review
See the MSR Remote 2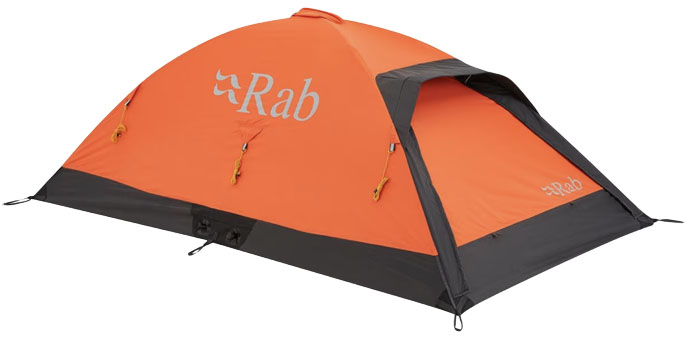 Category: Mountaineering
Packaged weight: 3 lb. 7.7 oz.
Floor area: 28.4 sq. ft.
Wall(s): Single
What we like: Better waterproofing and lighter weight than the HiLight above.
What we don't: Painfully low peak height.
Within the popular 2-person mountaineering category, Samaya knocks it out of the park in terms of performance, while a tent like the Black Diamond HiLight strikes a nice balance of price and protection for everyday climbers. Somewhere in the middle is the Rab Latok Summit, which is engineered for serious alpinists but checks in at a reasonable $700. Like the Samaya, the Latok Summit is fully waterproof with a 3-layer canopy (15D Pertex Shield Air), translating to significantly more moisture protection than most single-wall shelters. And although it's not Dyneema, the 70-denier nylon bathtub floor offers confidence-inspiring durability and protection, and won't have you wishing for a footprint like the HiLight's thin floor might. Tack on a weight just shy of 3.5 pounds (only 2.7 oz. heavier than the Samaya), and there's a lot to like about Rab's high-value mountaineering design.
But the Latok Summit does make some clear compromises in its quest for high performance at a low price. Rab kept weight low with a 31.5-inch peak height (the HiLight's is 40 in.) and a single door at one end, both of which don't bode well for livability. In fact, most adults will be hard-pressed to even sit up in the Latok Summit, which is terrible news during stormy weather. It's also worth noting that the tent forgoes a mesh door—a noteworthy omission for expeditions that pass through mosquito (or fly) territory. But for sleeping away the darkness on serious summit pushes, the Rab's compromises might be worth it; and as a bonus, its low profile is great in high winds. It's also worth checking out the Rab Latok Mountain ($800), which features a similar design with a more livable 43.3-inch peak height.
See the Rab Latok Summit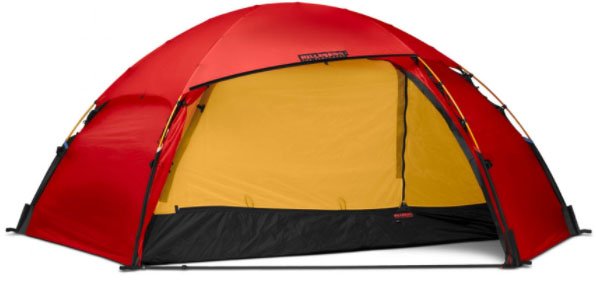 Category: Treeline/basecamp
Packaged weight: 7 lb. 4 oz.
Floor area: 31.2 sq. ft.
Wall(s): Double
What we like: Premium materials and construction, versatile for all-season use.
What we don't: Expensive and heavy for a treeline tent.
The Nammatj GT above is a premium basecamp tent from Hilleberg, but for shoulder-season conditions, their Allak is a very popular option. Like designs like the Access above, the Allak features a lightweight yet sturdy dome structure that's protective in a storm yet breathable enough for summer heat. In short, it's among the most versatile all-season designs available, and with two doors and vestibules the Allak's 7-pound 4-ounce weight is considerably lighter than true basecamp models like the Trango above. 
The Allak walks the line between our "treeline" and "basecamp" categories, and Hilleberg's Red Label (one step below their legendary Black Label) alludes to a similar classification. In other words, it's a step up from a tent like the Access, but not quite on par with the Trango or VE 25 above in terms of protection. But in our experience, the Allak is strong enough to handle the gusty winds and heavy precipitation of true winter weather, making it a just-right option for winter camping in the Lower 48. Within Hilleberg's lineup, you can also bump up to the Staika for a similar yet more protective build (8 lb. 13 oz.)... Read in-depth review
See the Hilleberg Allak 2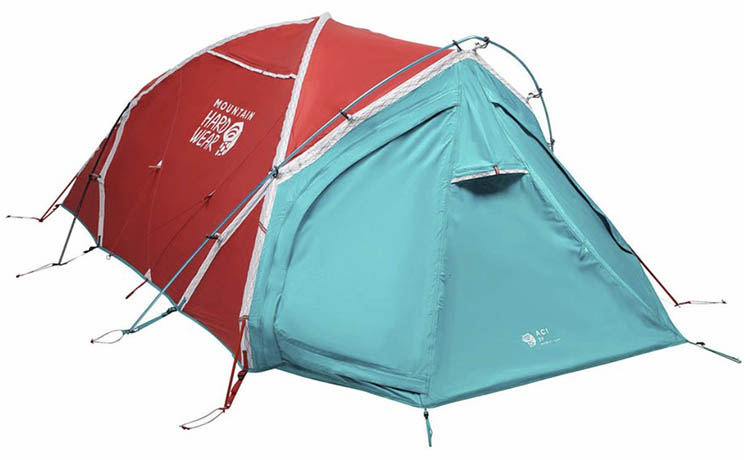 Category: Mountaineering 
Packaged weight: 8 lb. 1.1 oz.
Floor area: 45.8 sq. ft.
Wall(s): Single
What we like: Lightweight and strong; features a vestibule (unlike most single-wall tents). 
What we don't: You can save weight with a more streamlined design like the Samaya 2.0.
Mountain Hardwear's Trango 2 above is a perennial favorite for those who want maximum basecamp protection, but if you're looking to shave some weight for summit pushes, the ACI 3 is a great tent to have in your pack. Built for expeditions on the world's highest peaks, the ACI features burly single-wall construction and a reinforced sleeved-pole design that sets up in a flash and is stable and quiet in high winds. And despite its streamlined design, the Mountain Hardwear tacks on a number of useful features, including a vestibule and interior snow port, which unzips so that you can sweep out accumulated snow, rope up to an outside anchor, or even relieve yourself when you're tent-bound on a snow day. 
At only 8 pounds 1.1 ounces for 45.8 square feet of livable space (the three-person Trango is 48 sq. ft. and clocks in at 11 lb. 5.1 oz.), the ACI 3 is fairly competitive in terms of weight and fits three sleepers better than most mountaineering tents here (the attached vestibule is nice, too). And for two people and their gear, it's certainly a more comfortable choice than a tent like our top-ranked Samaya 2.0 (3 lb. 5 oz.), but the weight penalty is significant. Finally, like most single-wall tents, ventilation isn't the ACI's strongest suit, but you do get four zippered vents and a full mesh door to encourage airflow. All told, you can't go wrong with Mountain Headwear's mountaineering tent collection (we also love their minimalist AC 2), and the ACI 3 is provides a nice balance of protection, minimalism, and livability. 
See the Mountain Hardwear ACI 3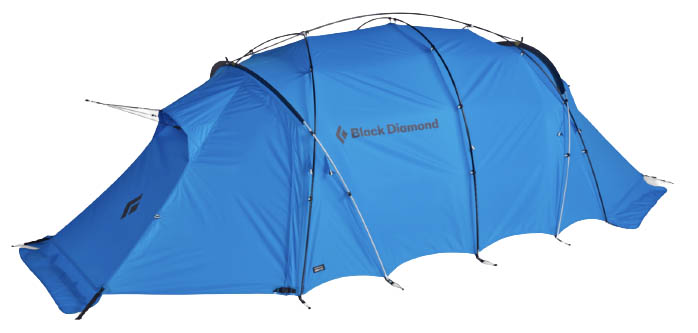 Category: Basecamp
Packaged weight: 8 lb. 12 oz.
Floor area: 33 sq. ft.
Wall(s): Double
What we like: Incredible wind resistance and sets up quickly in bad weather.
What we don't: Expensive and low on interior space compared to the competition.
The majority of Black Diamond's 4-season tents are holdovers from their Bibler acquisition, including the single-walled Eldorado mentioned above. But released in the spring of 2021, the Mission is a Black Diamond original. Like the Nemo Chogori, it's a double-wall tent with an external frame, which is ideal for getting a fast pitch in bad conditions (you don't have to expose the inside of the tent to the elements). Further, the unique tunnel shape offers best-in-class stability (similar to the Nammatj above), and BD ups the ante with center hubs and crisscrossing poles for even better assurance in crosswinds. Tack on two generous vestibules, and you get a highly capable basecamp design that goes head to head with the likes of the Trango and VE 25 above. It's for good reason that the Mission has now become a staple in high-altitude basecamp environments in the Alaska Range.
What are the downsides to Black Diamond's new design? Unlike most of the double-wall tents here, the Mission's fly does not separate from the tent body, which limits ventilation and makes the tent a no-go for mild conditions or particularly sunny days on snow. And while it's slightly lighter than much of the competition, the floor area takes a hit—both the two-person Trango and ACI 3 above offer a bump in interior space with 40 and 45.8 square feet respectively. A final downside is the fairly steep $900 price tag, although the Mission is still significantly cheaper than the Hilleberg Nammatj. But it's a solid basecamp entry from Black Diamond, and particularly easy to pitch in high winds. Keep in mind that Black Diamond also offers the tent in three- and four-person models, the latter of which comes with an extended front vestibule for added versatility at basecamp.
See the Black Diamond Mission 2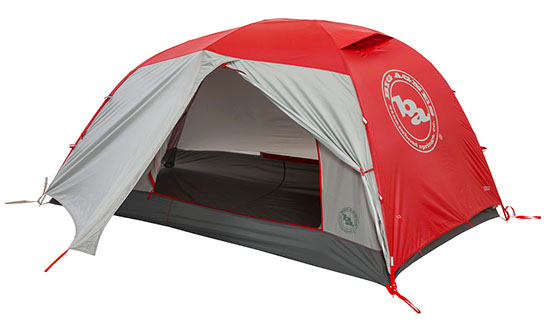 Category: Treeline/basecamp
Packaged weight: 6 lb. 3 oz.
Floor area: 41 sq. ft.
Wall(s): Double
What we like: Very spacious but still lightweight.
What we don't: Not as bombproof as heavier options.
With the Copper Spur HV3 Expedition, Big Agnes took their wildly popular backpacking tent and added a host of 4-season features to make an intriguing winter camping and mountaineering design. We've include the three-person model here, which is far roomier than any of the two-person options on our list, yet has a packaged weight of just over 6 pounds. Compared to the three-person MSR Access (5 lb. 1 oz.), the Copper Spur weighs over a pound more but easily surpasses it in livability with near-vertical walls. Tack on beefy, large-diameter poles, glove-compatible zipper pulls, and multiple tie-down options that are large enough to be staked out with skis, and the Copper Spur Expedition is a proper, winter-ready structure.
Despite its great space-to-weight ratio, the Copper Spur Expedition strikes us as an in-between design that doesn't excel at anything. With thin fabrics and a hubbed, three-pole structure, it just can't match the protection provided by tents like the Trango above, which boasts a four-pole build and burly (albeit heavy) 40D nylon walls. And true ounce counters will probably sacrifice a bit of comfort for the weight savings of a single-walled tent. But if you're looking for a middle ground that prioritizes both space and weight, the Big Agnes is an intriguing alternative. For a more traditional basecamp-style design from Big Agnes for mountaineering or serious winter objectives, check out their Battle Mountain line.
See the Big Agnes Copper Spur HV3 Expedition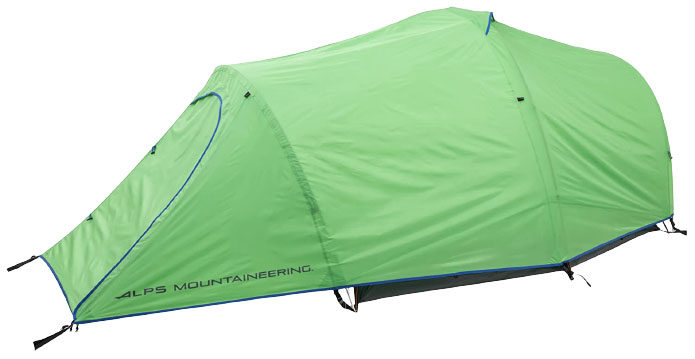 Category: Treeline
Packaged weight: 7 lb. 15 oz.
Floor area: 34.5 sq. ft.
Wall(s): Double
What we like: A great value and roomy.
What we don't: Heavy, bulky, and limited performance capabilities.
We'll start by saying that we've had positive experiences overall with Alps products, although they are budget in nature and definitely not among our top performers. But you can't argue with the value, which is why the Alps Tasmanian made this list. At only $300 full MSRP ($210 on Amazon at the time of publishing), you get a fairly protective tent that will do the trick for most casual winter campers. We particularly like the roominess of this tent, which at 34.5 square feet is one of the biggest two-person models. Plus, the large mesh vent at the top does a fairly good job at promoting airflow and preventing condensation from building up.
It's important to have reasonable expectations for a 4-season tent in this price range. First, the Alps Tasmanian is heavy at 7 pounds 15 ounces, not to mention it's bulky and somewhat difficult to stuff into the included sack (although you'll likely end up separating the tent body and poles to make it easier to fit in a pack). Second, we don't recommend putting this tent to the limit in terms of tough winter weather. It should perform fine in the cold and light to moderate wind, but the tents above use higher-quality materials and much more complex designs. Finally, durability always is a concern with products that undercut the rest of the market in price. Alps does cover manufacturing defects under their warranty but not anything related to normal wear and tear.
See the Alps Mountaineering Tasmanian 2
4-Season Tent Comparison Table
4-Season Tent Buying Advice
4-Season Tent Types
The term 4-season tent is a catch-all for any shelter that is made to withstand inclement, winter weather. However, there's still a fair amount of variation within the category, which includes bulletproof, spacious, and heavy tents (great for basecamping), lightweight single-wall builds (great for alpine pushes), and everything in between. Below, we break down our three main categories of 4-season tents: mountaineering, basecamp, and treeline.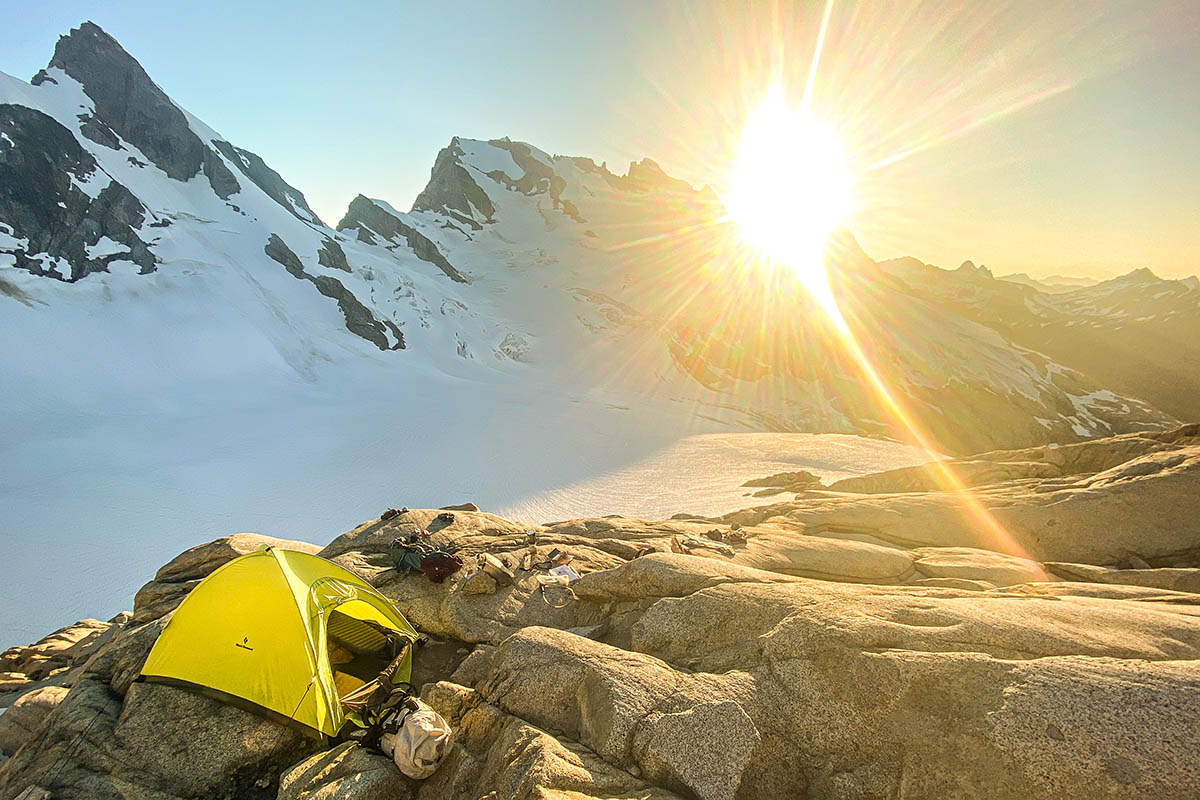 Mountaineering
Mountaineering tents are built for high-alpine environments with weight as a primary consideration. Many of these tents are of the single-wall variety (more on that below) and make few compromises in terms of wind and weather protection. Square footage tends to be lower than basecamping and treeline tents, and the same goes for peak height. Almost all mountaineering tents are waterproof (or easily seam-sealed), with one exception being the lightweight Black Diamond HiLight 2P.
Basecamp
4-season tents of the basecamping variety are more comfortable and heavier than their mountaineering siblings above. To start, you may not have to carry your tent as far or as high, and therefore you can get away with packing more weight (and getting more tent in return). In addition, it's highly likely that you'll end up spending more time in a basecamp-style tent. Mountaineering tents are designed for fast and light adventures and summit pushes, but basecamping can be done in a variety of circumstances and conditions. Many of these tents have a double-wall design, which helps with ventilation, condensation prevention, and space, all at the expense of weight. The Mountain Hardwear Trango 2, TNF VE 25, and Hilleberg Nammatj 2 GT are three of our favorite designs.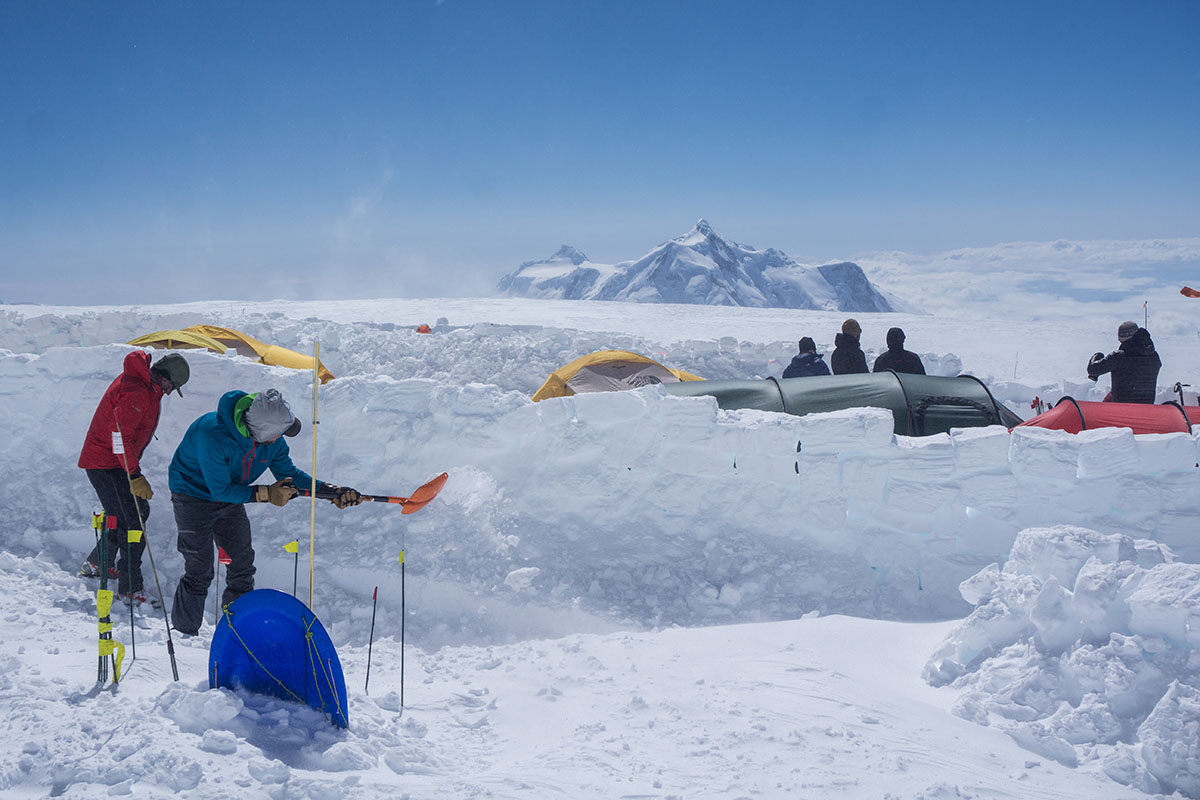 Treeline
Treeline tents are the most trimmed-down 4-season models on the market. As the name implies, tents like the MSR Access and Hilleberg Allak are designed for winter camping but not necessarily for heavy exposure in the high mountains. Compared to a 3-season version, a treeline tent will have a more substantial bathtub floor, less mesh, and heavier canopy and rainfly fabrics. But these tents fall short of basecamp and mountaineering models in terms of their toughness and durability, and it's best not to put them to the test. They are, however, a nice option for light winter adventuring and serious 3-season backpacking in unpredictable weather.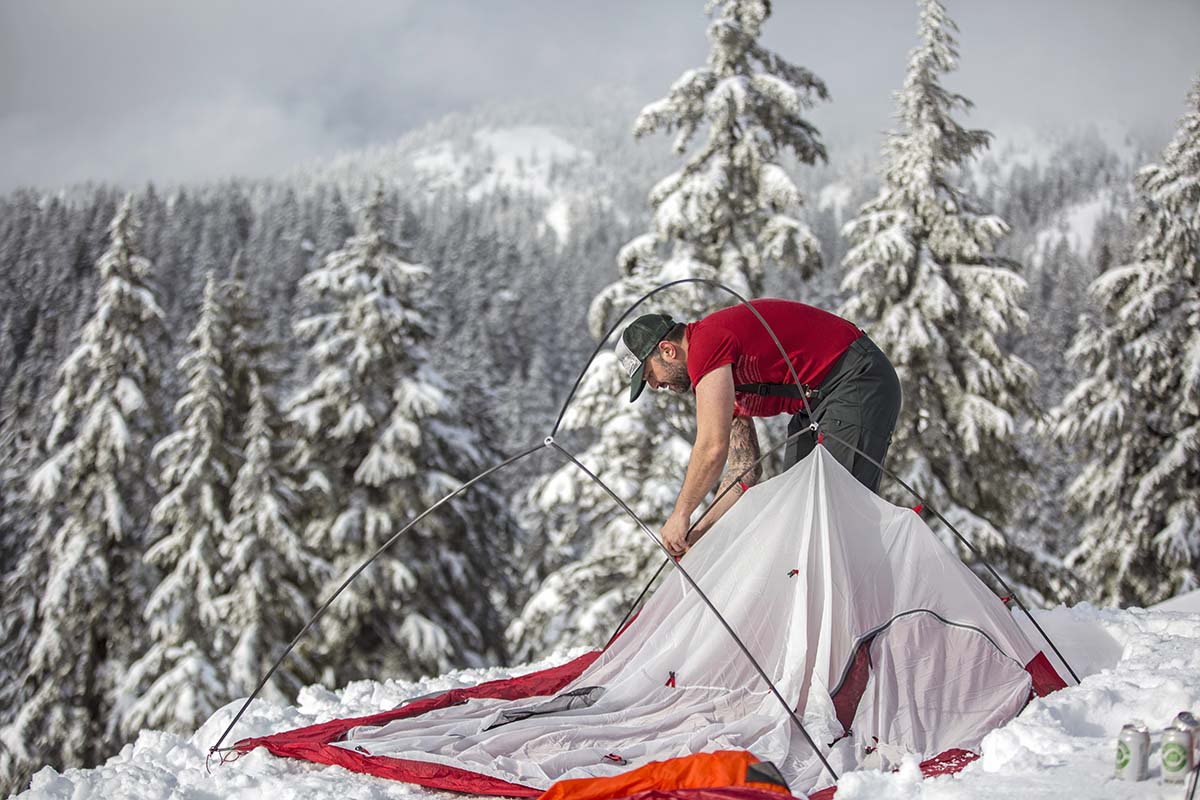 Weight and Packed Size
Four-season tents weigh more than their 3-season counterparts due to heavier and more durable fabrics, stronger poles, and beefier zippers. On the light end of the spectrum, the minimalist Samaya 2.0 has a feathery packaged weight of just 3 pounds 5 ounces, while a heavy-duty model like The North Face's VE 25 is over 10 pounds. Even if you look at the trail weight instead of the packaged weight (which doesn't factor in stuff sacks, stakes, and guylines), you'll still be close to 9 pounds for a number of tents on this list for the two-person version (the three- and four-person models weigh even more).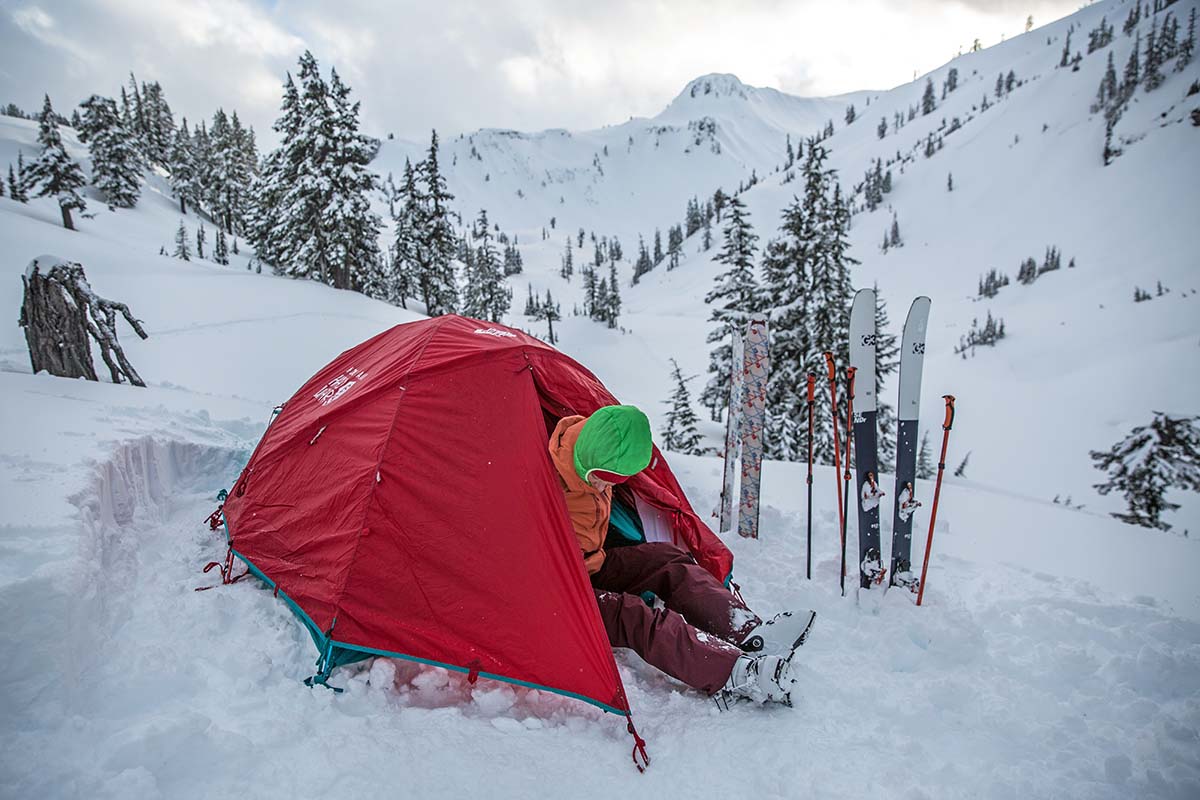 As with almost all types of outdoor gear, going up in weight has its advantages. Heavier 4-season tents generally are tougher and more weather resistant, ventilate better, and have more features. You're getting a whole lot more tent, which may end up being worthwhile. We've been tent-bound in a HiLight for three days on end, and even in with the rose-colored tint of nostalgia, the experience still remains a dismal one. We surely would have traded a few pounds of peanut M&Ms for the comfort and weather protection of a heavier tent like the Mountain Hardwear Trango 2.
Weight and packed size generally go hand in hand and there is a strong correlation between the two variables. In many cases, two or more climbing partners can split up the components on the tent to less the burden for each. It's worth noting that this process can be more difficult for single-wall tents than the double-wall variety—with no rainfly, the tent body is the vast majority of the weight and bulk. But with most double-wall tents, the canopy and rainfly often can be split up fairly evenly.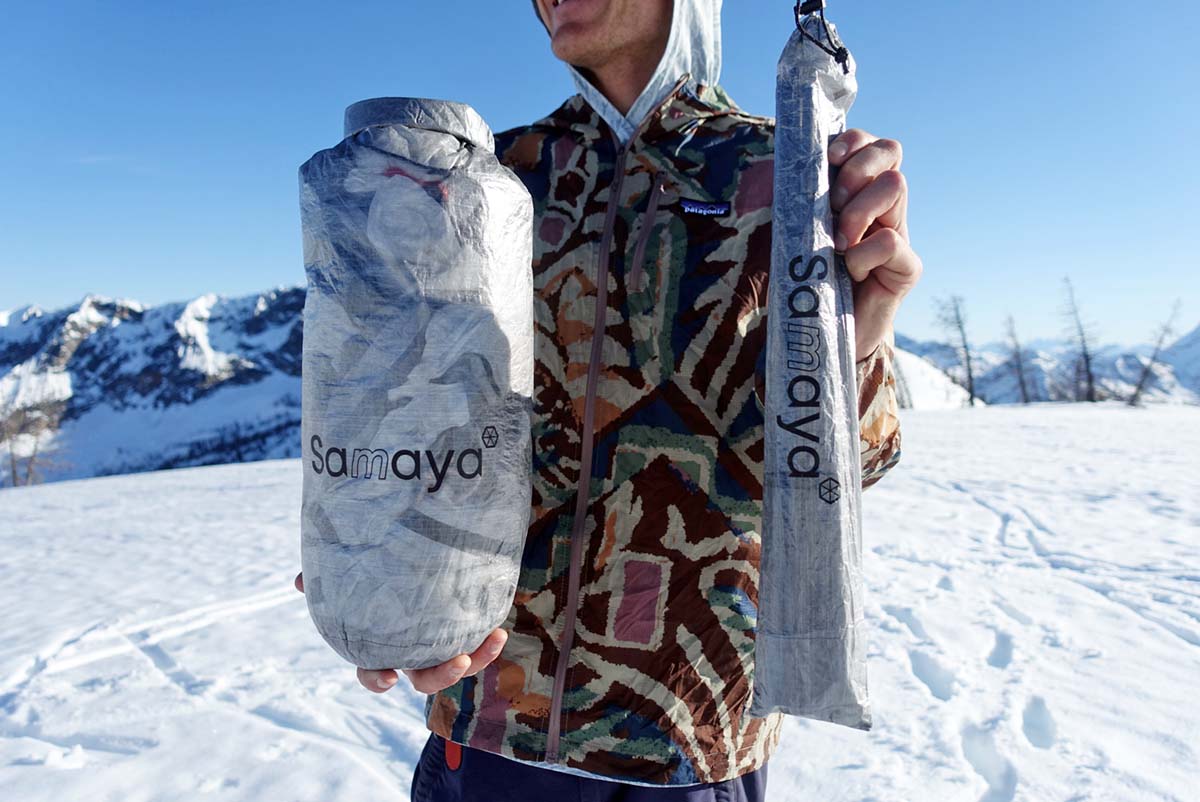 Double-Wall vs. Single-Wall Tents
A critical distinction among 4-season tents is between double and single-wall designs. Simply put, a double-wall tent is composed of two separate layers: the inner tent canopy and an outer rainfly (this is a similar design to most backpacking tents). Single-wall tents, on the other hand, have one layer of fabric to protect you from the outside elements. Single-wall tents are considerably lighter than double-wall models and still can be tough as nails, but at the cost of comfort, weather protection, and—most significantly—ventilation.
Which type of 4-season tent design should you choose? Unless weight and packed size are your top priorities, a double-wall is a more comfortable place to be. With two layers of fabric between you and the elements, you get more robust and reliable weather protection. And most significantly, double-wall tents are far and away the more breathable option, as air can flow freely between the tent body and waterproof layer. But there are times when you simply can't carry the weight of a double-wall tent, such as during light-and-fast traverses or summit pushes (the good news is, these are fair-weather outings in general). If weight isn't a huge issue and you know you'll be waiting out bad weather, go for a double-wall tent; if you're counting ounces or climbing technical terrain with your pack on, that's a clear sign you need a single-wall design.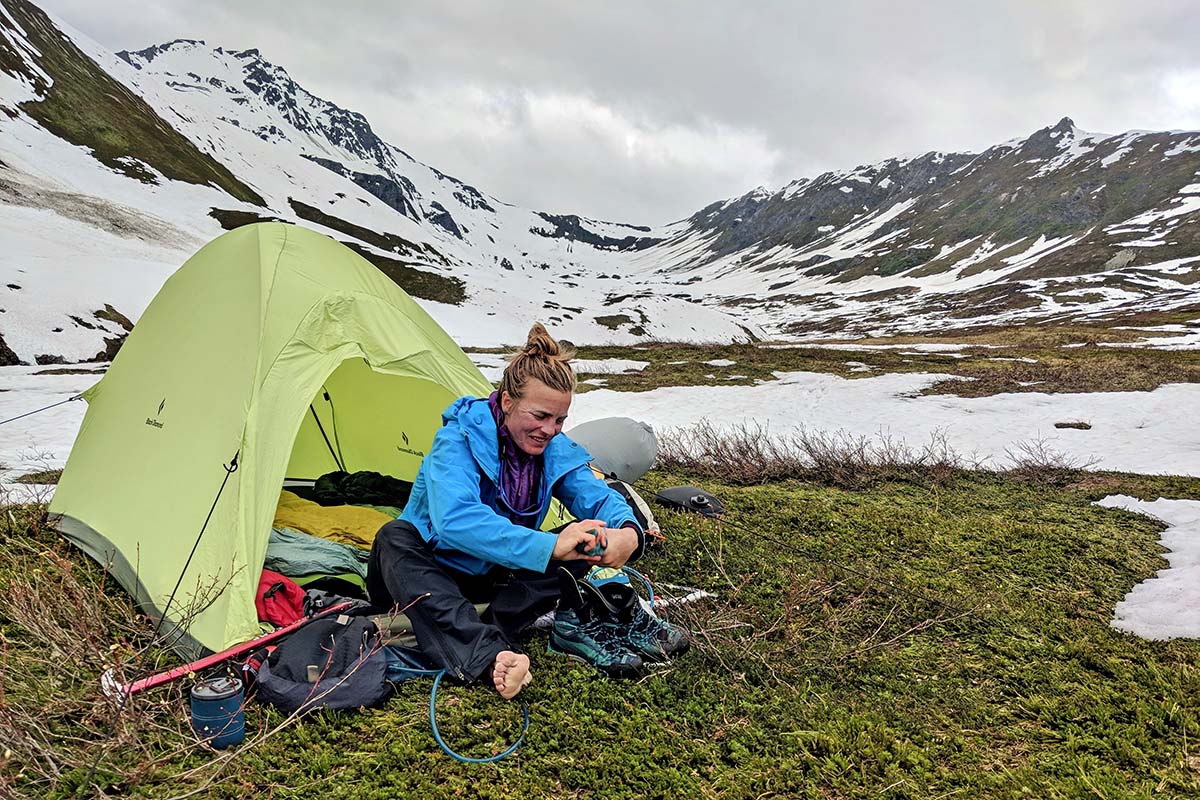 Size: Floor Area and Peak Height
The interior space of a tent is most commonly measured by the floor area, which we've provided in square feet in our product specs and comparison table. Compared to normal backpacking tents, 4-season tents range from minimalist to roomy, depending on their intended use. For example, a mountaineering tent like the Samaya 2.0 is just 26.9 square feet, while the Mountain Hardwear Trango 2 measures 40 square feet. Two climbers crammed into the Samaya will be cramped like sardines whereas the Trango has a lot more room to sprawl. The moral of the story: if you're looking for space, tents of the basecamp and treeline variety win out.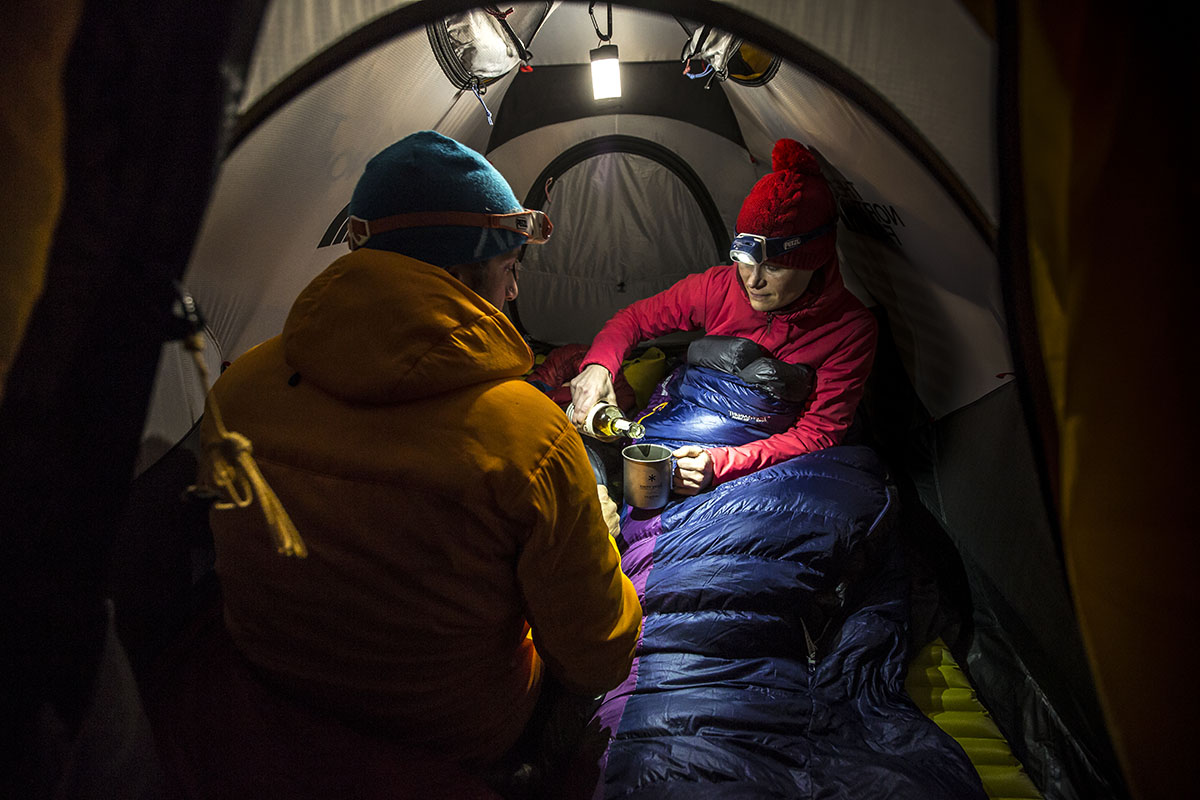 But square footage doesn't tell the entire story as it only represents the floor: you also have the peak height and slope of the walls. A high peak height makes it easy to sit up and move around the tent, while heavily sloped walls have a tendency to make everything feel much smaller. We've provided the peak heights in our comparison table above, and the slope of the wall is best gauged by carefully studying the shape of the tent (or better yet, getting inside and seeing for yourself). Many tents now feature a ridge pole across the top, which provides lateral stability against wind and snow loads while also offering more headroom (think of a cube as opposed to a pyramid). More headroom can make those tent-bound days more bearable.
Last but not least: Make sure to find a tent that is a few inches longer than you are. Otherwise, you will have to sleep at an angle or in the fetal position, neither of which is optimal. Most 4-season tents can accommodate people over 6-feet tall, but Hilleberg seems to be the favorite brand for those who tower over the rest.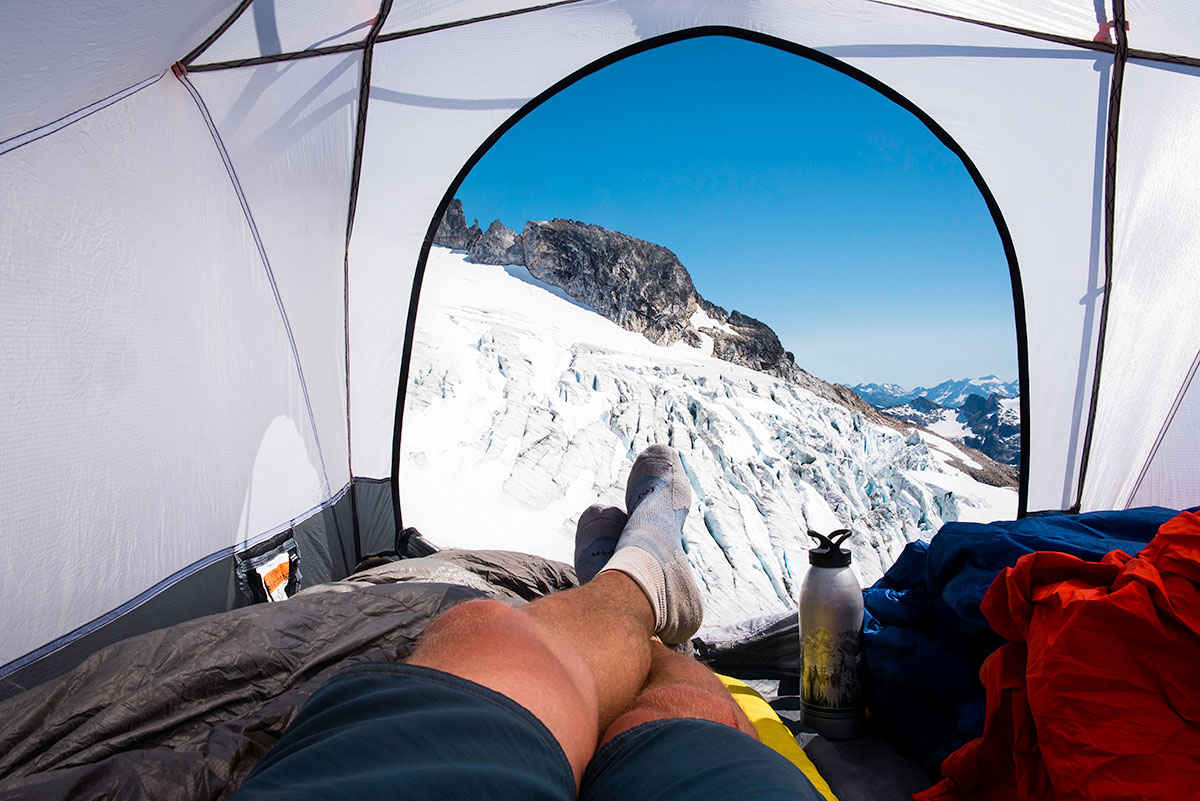 Ventilation and Condensation
By nature, 4-season tents are warmer than 3-season tents—they have less mesh, are designed to protect you from the elements, and therefore hold in more heat. Yet it's important to keep fresh air flowing both to stay dry and to save you from the funk of your climbing partner's socks. Over time, your breath will condense on the inner walls of the tent. In warmer weather, it will turn into beads of water on the ceiling and walls. In colder weather, it will turn to frost feathers. Both can fall on your face while you sleep and get your sleeping bag and other gear wet. And sleeping in a fully enclosed tent can make you feel groggy as you continually breathe stale air.
Proper ventilation will help to alleviate many of these issues. It's important to remember that even the best 4-season tents are prone to some type of condensation, but some fare better than others. Double-wall designs tend to breathe better than single-wall tents, and the more vents the better. For comparison's sake, take a look at the Black Diamond HiLight and Rab Latok Summit: the former has a mesh door and three roof vents, while the latter has just one small vent at the foot end. If drafts don't make you uncomfortable, leaving doors and any available vents open can help mitigate condensation. In the product descriptions above we've tried to describe which tents in particular are strong or poor in terms of breathability, which certainly can be an important factor to your comfort.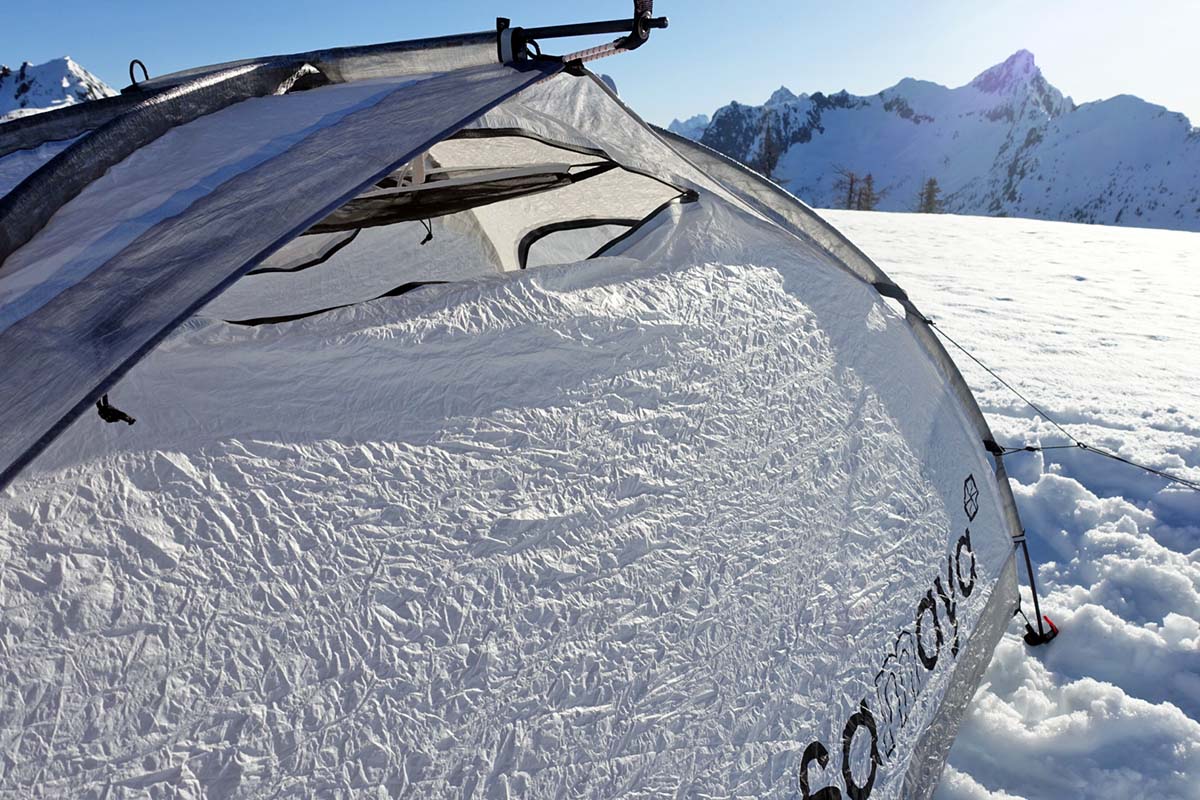 Materials and Durability
Materials: Polyester, Nylon, and Dyneema
The majority of 4-season tents are built with nylon and polyester. At the time of writing, nylon is still the most popular material: It's relatively strong (even the thin varieties), resists tears and punctures, and has a fairly minimal weight and packed size. However, nylon's big flaw is that it's hydrophilic, meaning it absorbs water. As a result, it both gets weaker and expands when wet (which explains why your tent fly sags after the rain) and is slow to dry. But when used alongside the proper waterproof coating (more on this below), it's hard to beat. Notably, Hilleberg's high-end Kerlon fabrics are nylon, and we also see it used in top-ranked tents like the Mountain Hardwear Trango 2, MSR Access, and The North Face VE 25.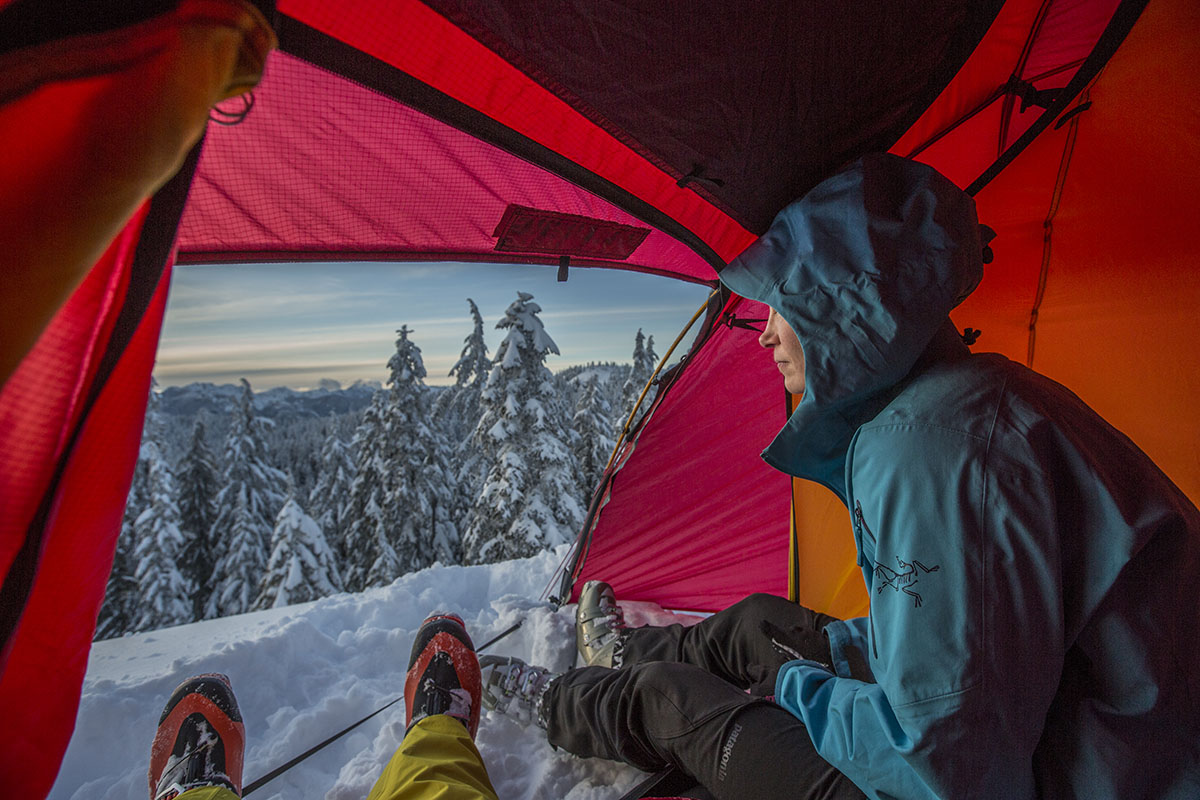 Polyester has traditionally received a bad rap for being cheap, heavy, and not as strong as nylon. However, the last few years have seen a lot of advancements in lightweight polyester, and it's now used in a few 4-season tents (including Black Diamond's Mega Light and Mission, the MSR Remote, and Big Agnes Copper Spur Expedition). Unlike nylon, polyester is not hydrophilic, meaning it does not absorb water, dries quickly, and remains taut when wet. What's more, it won't degrade as quickly when exposed to sunlight for long periods of time, which is great news for those headed to high altitude. It's true that its tear and puncture resistance isn't quite as high as nylon in dry conditions, but this equation reverses in wet conditions, which is arguably when you need the most performance out of your tent. 
Finally, there's Dyneema Composite Fabric—often referred to as simply Dyneema, or DCF—a fabric known for its low weight, high tensile strength, and inherent water resistance. But despite its strong suits, Dyneema hasn't made too big of a splash in the 4-season tent market. For one, it's incredibly expensive, and most tents (except for those in our mountaineering category) aren't particularly focused on weight-savings at all cost. Further, it tends to puncture quite easily, and doesn't compress down super small (despite its low weight). And finally, it falls short in the breathability department, which isn't ideal when you're tent-bound in a storm for days on end. As a result, we see Dyneema used—and only partially so—on just one tent here, the premium and ultralight Samaya 2.0.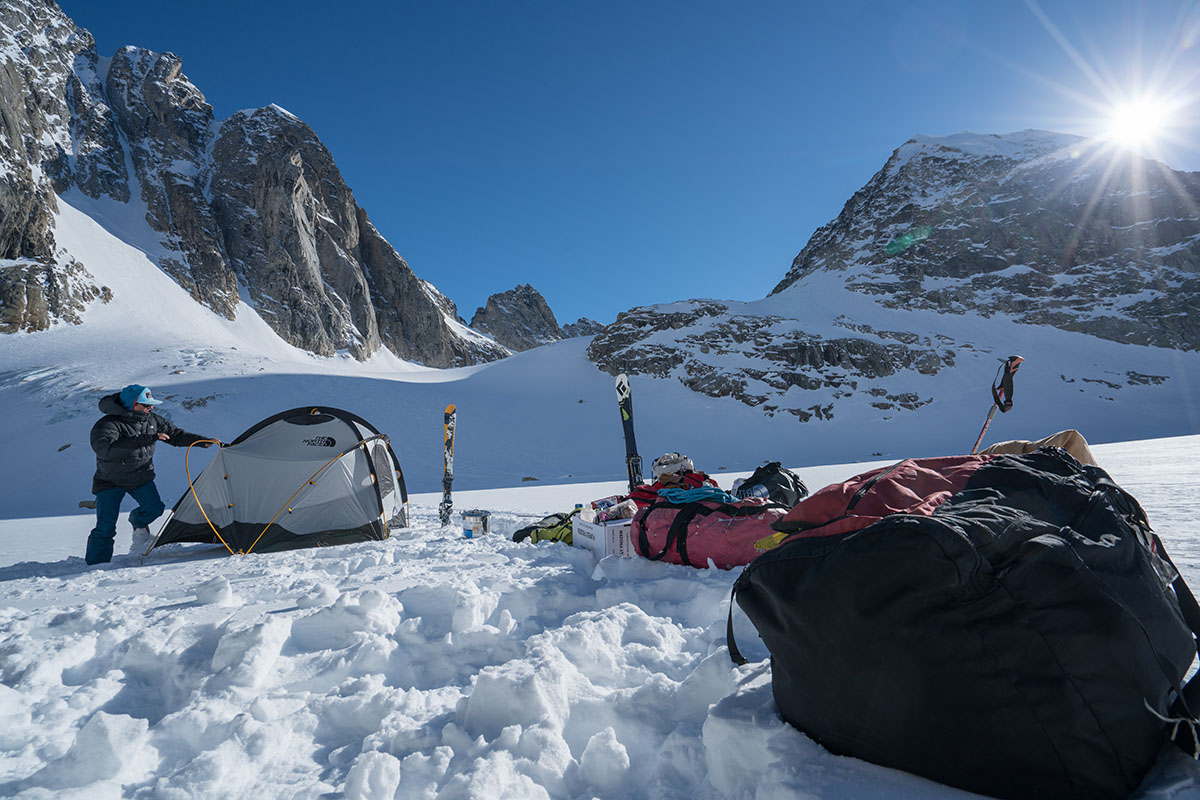 Denier (Thickness)
You can't talk about fabrics without also discussing their thickness. Nylon and polyester are measured in terms of denier (technically speaking, the weight of the yarn), while Dyneema is measured in terms of ounce per square yard (oz/sqyd). The 4-season tents in our basecamp category will most often use thick 70-denier materials—ideal for heavy use, strong winds, and UV resistance—while those in our treeline or mountaineering categories will save weight with thinner materials (the MSR Access 2 uses a 20D nylon fly and 30D nylon floor). This is clearly displayed in Hilleberg's color labels: Blue Label tents use 70-denier nylon on the fly, while their lightest Yellow Label designs are 20 denier. As a result, you'll need to exercise more caution with these lighter tents, and—unlike basecamp tents—they're not made to stay pitched throughout an entire season.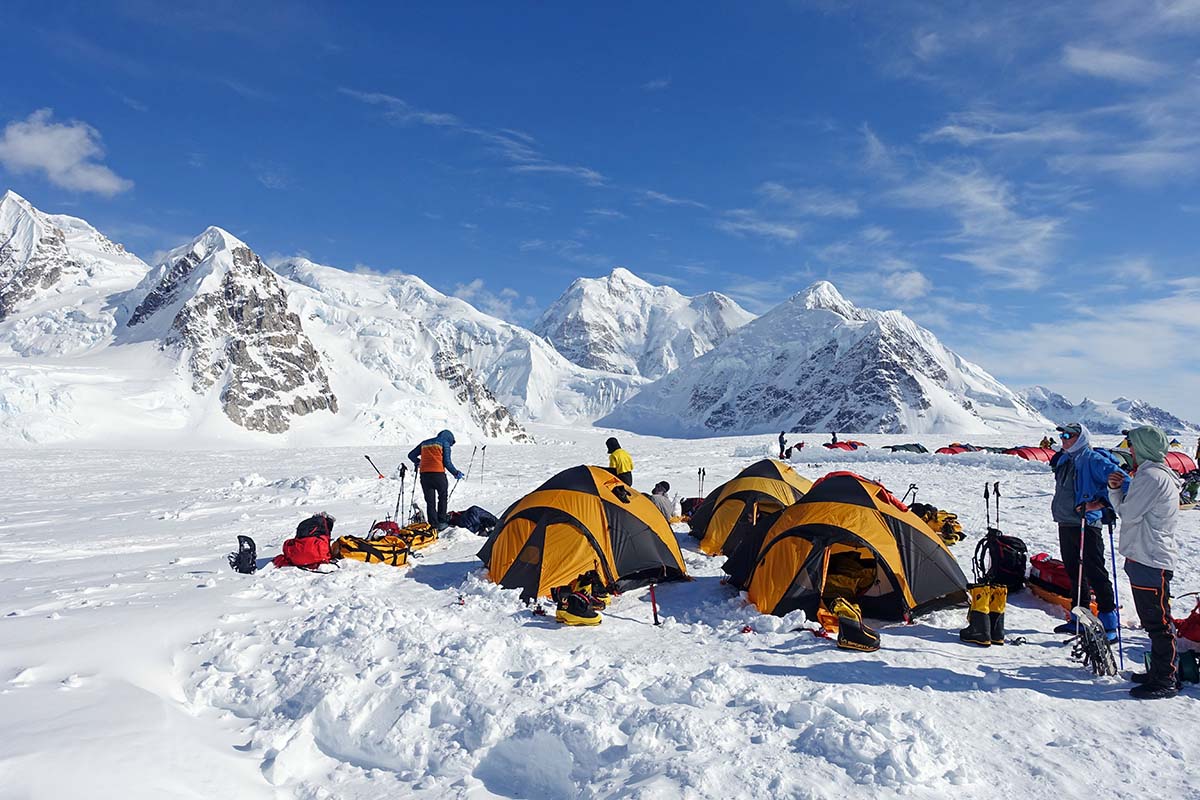 Waterproof Coatings: Silicone and Polyurethane
Nylon and polyester aren't inherently waterproof—for this reason, they must be treated with a coating to keep moisture at bay. Traditionally, the most common treatment has been PU (polyester urethane, or polyurethane), which is relatively inexpensive and highly waterproof. What's more, it can be laid on thick for extra puncture resistance, is easy to seam tape, and is far less slippery than silicone—which is helpful on a tent floor to keep you from sliding around. But PU actually absorbs water (leading to mold and mildew growth) and eventually degrades over time; in fact, low quality PU is prone to delaminating. Despite its downsides, polyurethane is still the most popular coating for tent floors, even on high-end designs.
Without question, the best waterproof coating is silicone. Silicone is fully waterproof (when's the last time you saw your silicone kitchen tool absorb water?), strengthens rather than weakens fabric, and doesn't degrade over time. Silicone treatment also makes fabric less prone to stretching, meaning your fly will stay more taut in the rain. Because of its strengths, we see silicone (often referred to as silpoly or silnylon) used in most high-end tents, especially on the fly. For example, all of Hilleberg's tents use flies that are triple-coated with silicone on each side.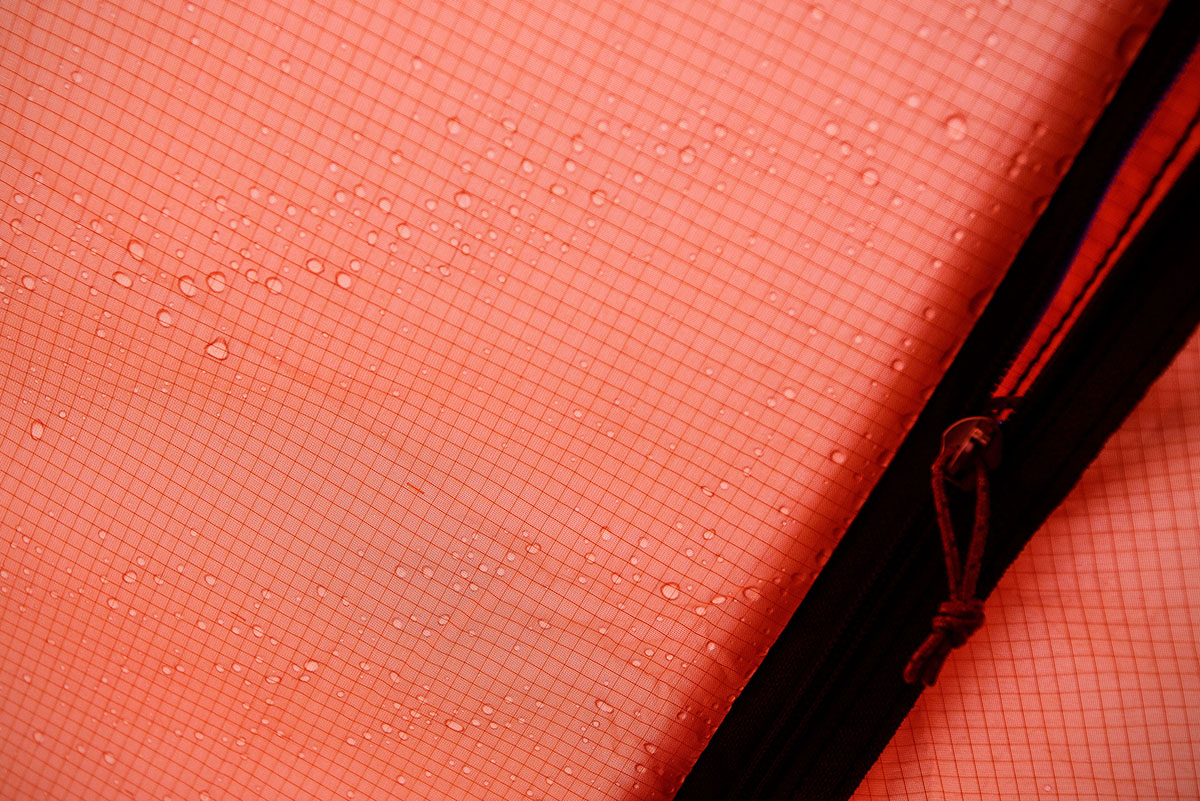 But silicone can't adhere to seam tape or fire retardant, and it's not the most comfortable application for a tent floor. For this reason, it's common to see sil/PU combinations, which denote that the fabric has been treated on one side (usually the inside) with PU, and the other side with silicone—the TNF VE 25's fly, for example, is 40-denier nylon PU/silicone. Of course these materials aren't as strong, stretch-resistant, long-lasting, or mold-resistant as pure silicone (often referred to as sil/sil), but they're nevertheless a good compromise.
 
Storage: Vestibules and Interior Pockets
On an extended trip where inclement weather is likely, having ample space to store and dry your gear is an absolute necessity. Tents like the Mountain Hardwear Trango 2 and the Big Agnes Copper Spur Expedition are lined with pockets upon pockets. And yet it never ceases to amaze us how easily we fill those pockets with food, gear, and electronics once our packs are emptied. This storage is especially important considering that keeping your gear organized and separate from your partner's is essential on any long trip (you wouldn't want him or her to start eating your snacks!). Most tents also feature small loops meant to string guy line across the ceiling, which is useful to dry wet gear after a long day in bad weather.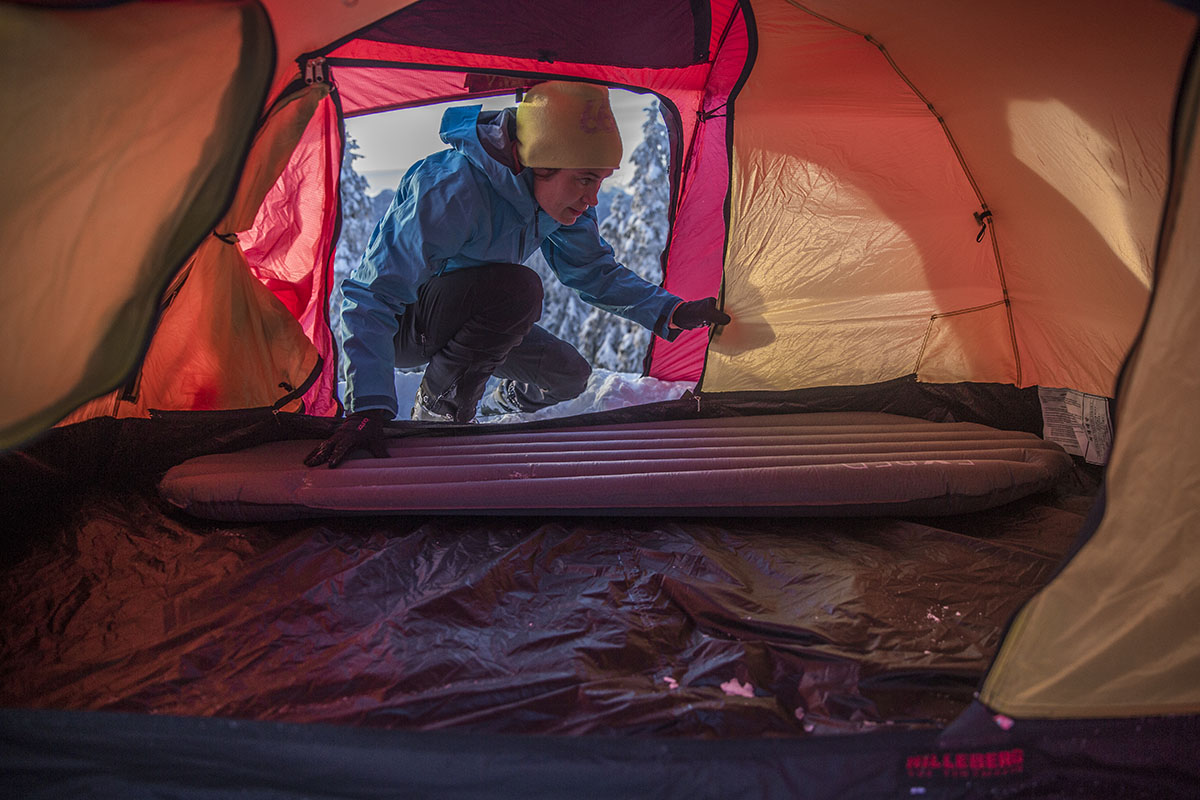 Perhaps nothing on a 4-season tent is more important to comfort than the vestibule. A tent's vestibule acts as a separate room that separates the dry, snow and rain-free interior of the tent from the harsh outside elements. Nothing will aggravate your partner more than soaking their dry down sleeping bag with your wet Gore-Tex and snow-ridden boots. The vestibule is where you seal yourself off from the majority of the outside weather and prepare to enter the tent dry, just like you would take your muddy shoes off outside before walking on someone's carpet. Many tents have a smaller rear vestibule that can hold a few backpacks, but isn't optimal for cooking or using as the main door. And keep in mind that many mountaineering tents forgo vestibules to shave weight, so be sure to choose accordingly if it's an important feature to you.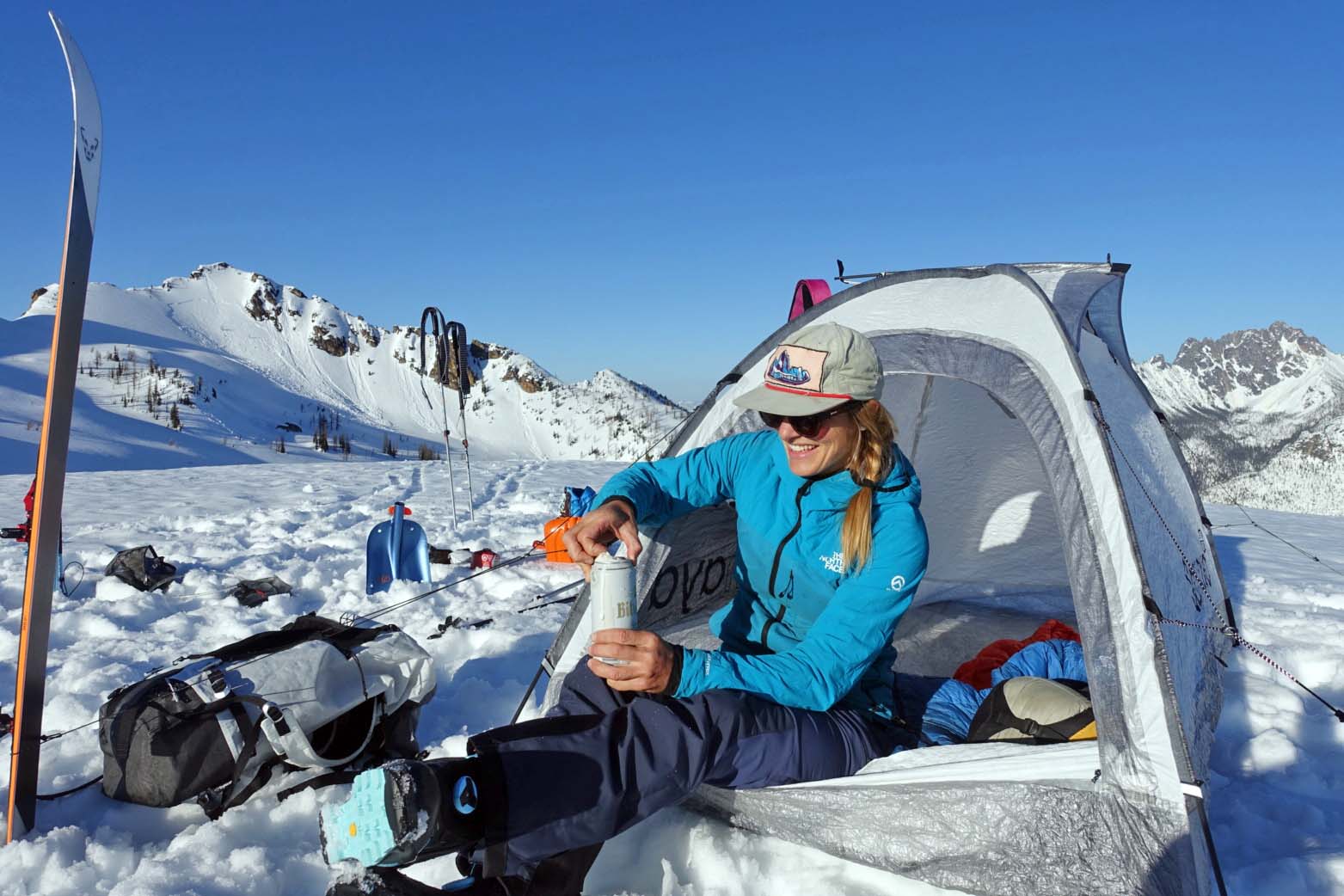 Doors
Everyone who has backpacked knows that the number of doors a tent has matters a lot. Nothing is more frustrating than having to crawl blindly over your partner at 2 a.m. to answer nature's call, and they would probably say the same. In general, lightweight mountaineering tents are most likely to have one door—it's an easy way to cut weight and keep the footprint of the tent small (and the hope is that you're not spending a lot of time in the tent anyway). Basecamping and treeline tents are likely to have two doors, which allows each person to enter and exit as they please. And one final consideration in relation to doors: a second door often means a second vestibule, which greatly enhances the storage opportunities and comfort.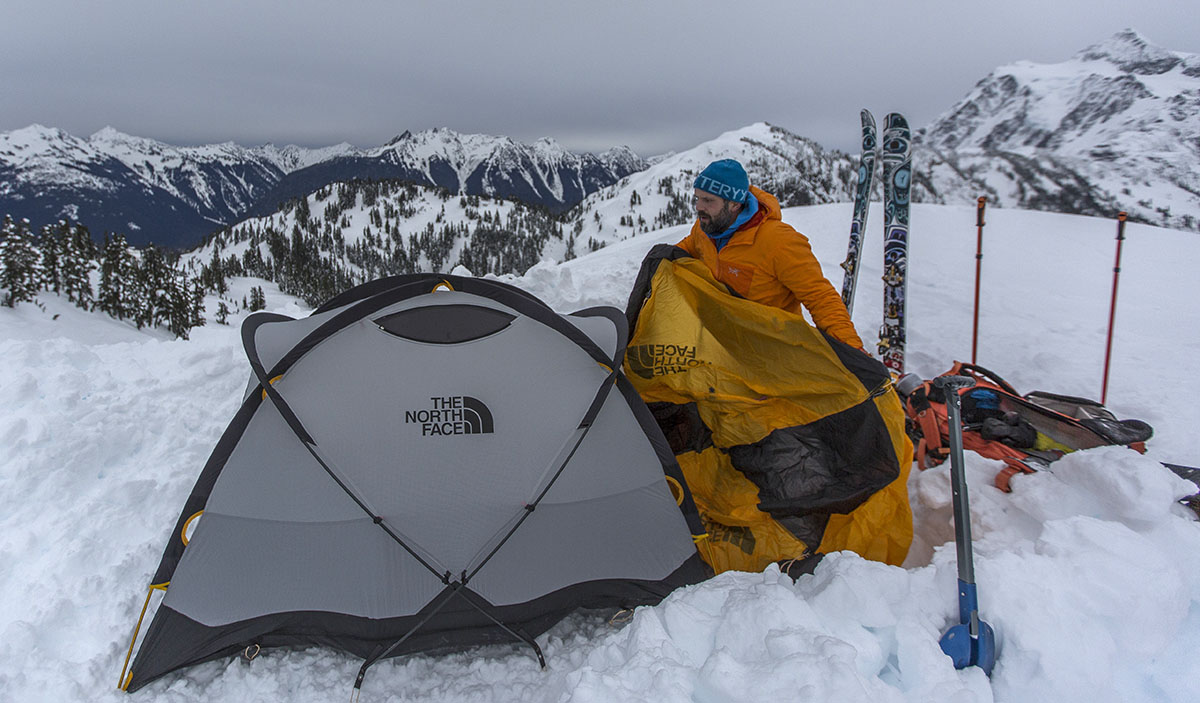 Tent Pole Quality
In terms of tent pole quality, 4-season tents will have stronger (and heavier) poles that can withstand big gusts of wind. In cold weather, tent fabric shrinks and plastics and metals get brittle. Snapping a tent pole in a storm easily could result in a shredded tent, but stout metal poles (Easton, DAC, etc.) with long connector joints will provide torsional strength. And beware of any tent pole with a plastic tip (the end part of the pole that connects into the grommet of the tent). One year on Denali, one of our gear testers saw over a dozen of the same poles shear off at the tip when a company switched from metal to plastic.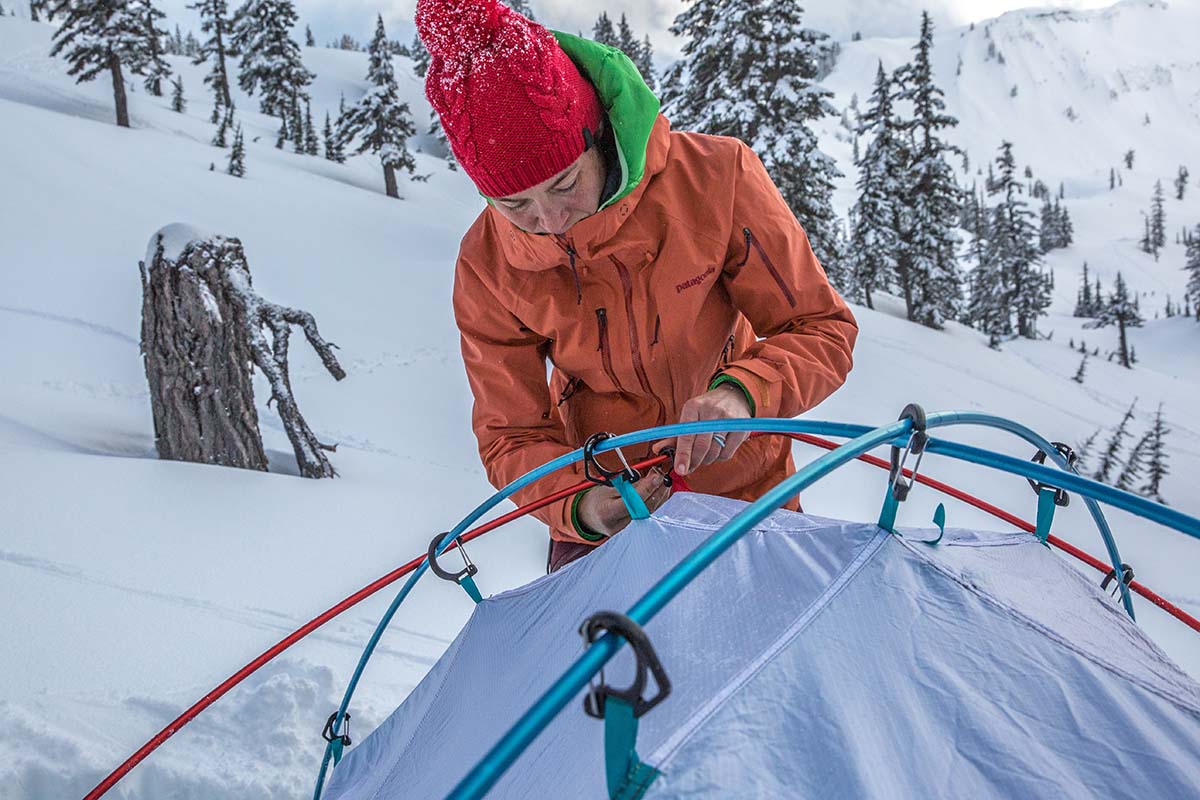 Stakes and Snow Anchors
In environments with unpredictable weather, it's imperative to make your tent bombproof against wind and storms. Once while returning to Camp Muir after summiting Mount Rainier, one of our testers watched a tent roll down the Cowlitz Glacier and fall into a crevasse (true story). He later found out that the team had "anchored" their tent down with basic 6-inch stakes meant to hold a standard tent backpacking in the dirt. 
When using a 4-season tent in an alpine environment, it is not uncommon to use backcountry skis, ice axes, pickets, ski poles, bamboo wands, or anything else that can be securely buried and not bend or break under high loads. On big mountains like Denali, it's advisable to dig down two feet or more and fill around your "stake" with very compact snow. If you don't have long skis or poles at your disposal, you can make a "deadman" anchor with any spare pieces of gear lying around. Simply wrap a stick, rock, tent stake—even a stuff sack filled with snow—with a guyline and bury it deep into the snow. What's most important here is that you cover the deadman with heavy, compact snow so it does not become unanchored.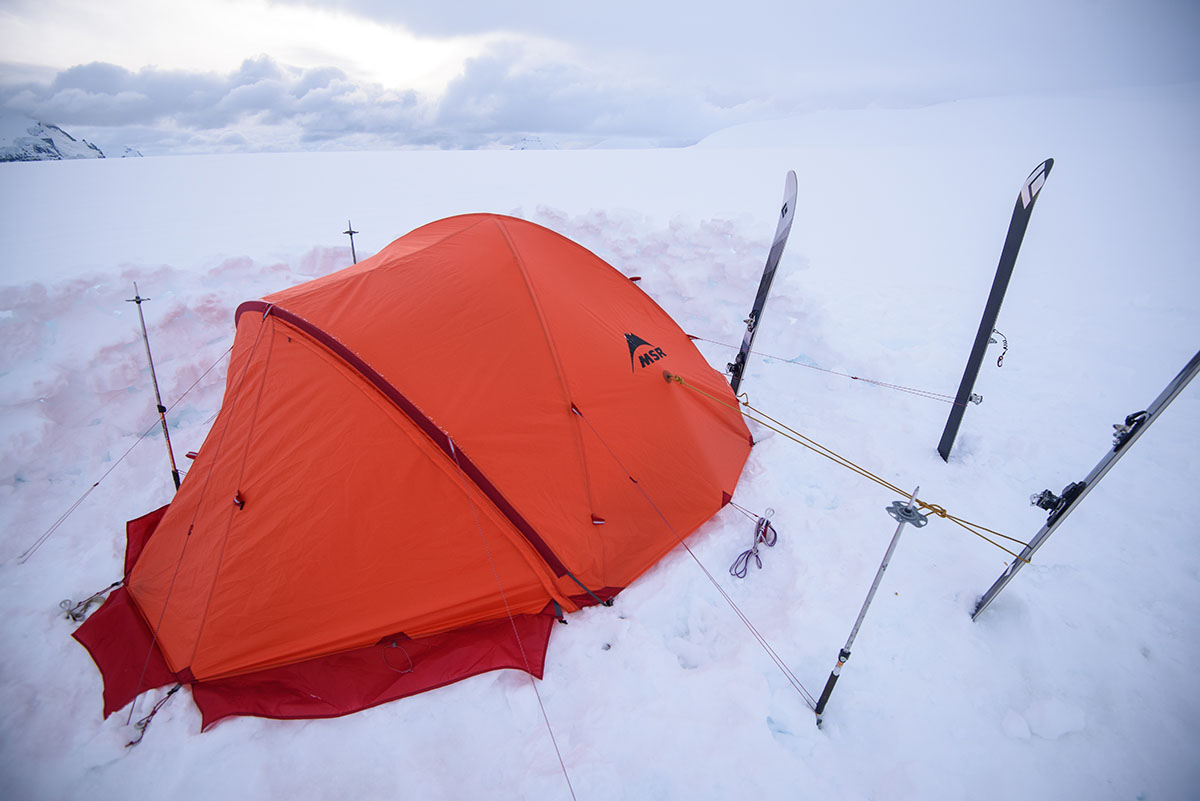 When Waterproofing Matters 
You might be wondering why on earth we would recommend a non-waterproof tent like the Black Diamond HiLight here. After all, isn't the whole purpose of a tent—especially a 4-season tent—to keep you dry? Yes—and no. Here is our reasoning: In truly wintery conditions when temperatures stay well below freezing, the chance of snow melting and seeping through the walls of a tent like the HiLight is slim to none (and if it does, the DWR coating puts up a fairly solid defense). If there ever was a time to skimp on waterproofing, deep winter is it. On the other hand, in warmer temperatures there's a good chance you'll be using your tent as more of a shelter from wind than rain (think summer in Patagonia). In this case, a windproof tent is all you need.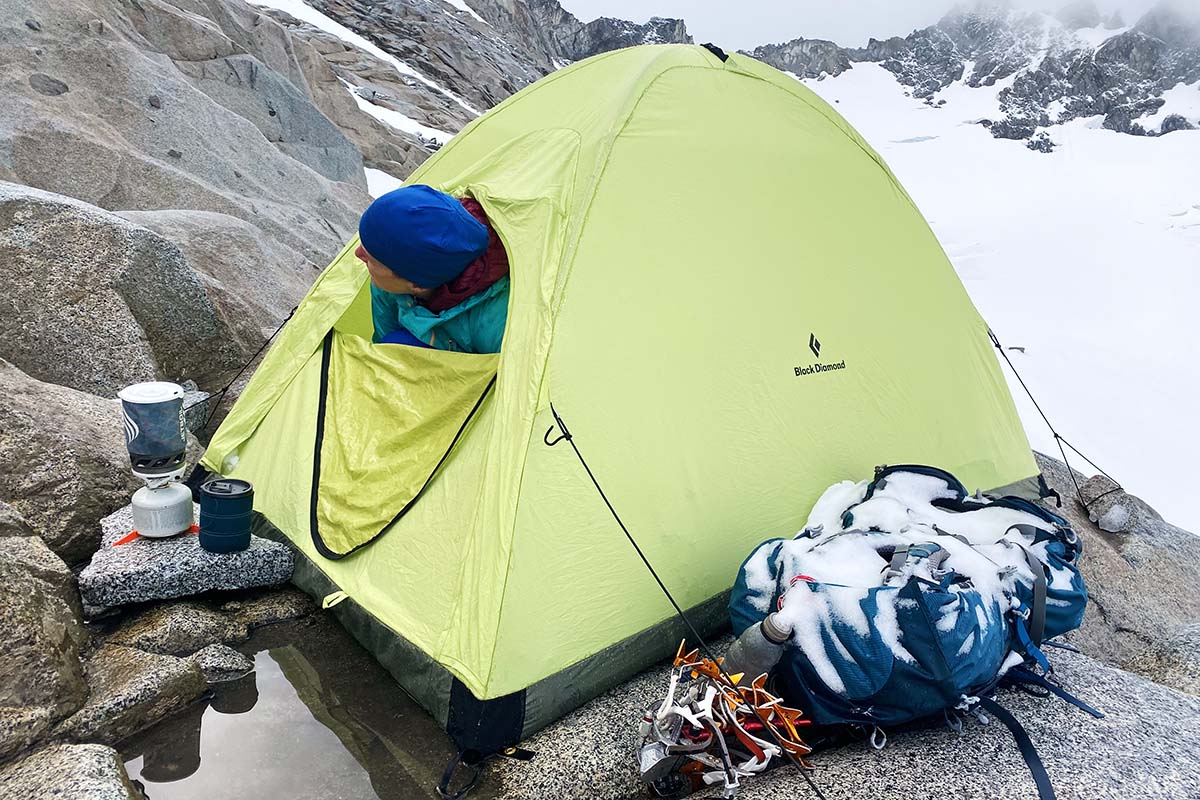 There are a couple clear benefits to forgoing waterproof material in a tent. First, waterproof fabrics and seam taping increase weight and price—at 3 pounds 15 ounces and reasonable $500, the Black Diamond HiLight is an ultralight, affordable option. In addition, waterproofing generally detracts from breathability—especially in a single-walled tent—which means that the other waterproof models trap noticeably more condensation than the HiLight. But these benefits come with some responsibility. First, when you're not sure of what the weather might do, leave your HiLight at home and bring a truly waterproof structure. If you do find yourself caught in inclement weather, routinely give your tent a shake when it's snowing so that there is no opportunity for the snow to warm and turn to water. And finally, if your tent starts to absorb moisture rather than it beading up and rolling off, you can apply an aftermarket spray (like Nikwax's Tent and Gear Solarproof) to revive the fabric's waterproofing.

4-Season vs. 3-Season Tents
Four-season tents are the "take anywhere, do anything" tent, and they are designed to withstand the harshest environments in the world. We've watched entire vacations go by from the inside of a 4-season tent as inches of snow and rain fall outside, staying dry and comfortable inside (albeit stir crazy and disappointed). Like the old adage says: "don't bring a knife to a gunfight." Likewise, don't bring a tent designed for the Pacific Crest Trail to the stormy realms of the Cascade volcanoes, Denali, or Patagonia's Torre Valley.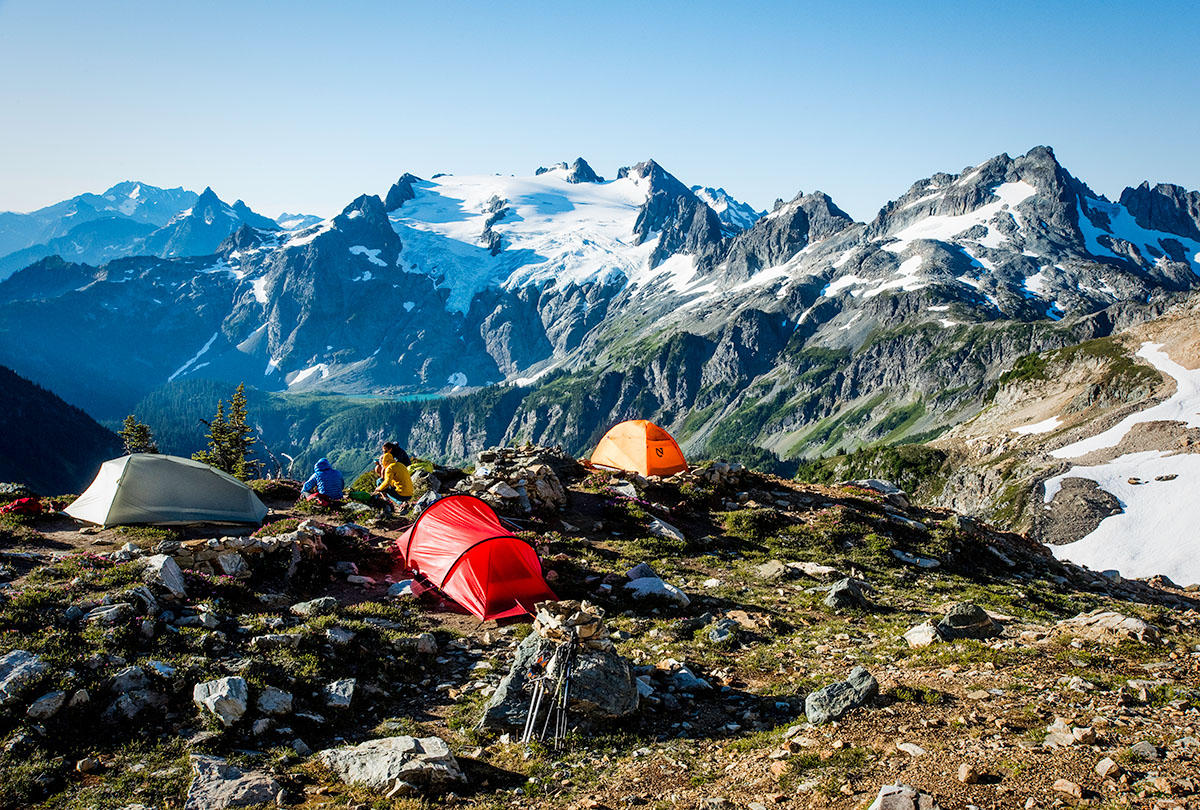 When you are using a 4-season tent, odds are you will be in a climate prone to inhospitable weather. 4-season tents are more robust, heavier, and more durable than standard backpacking tents, and designed to withstand heavy wind, rain and snow. They're also packed with features, including flies that extend farther down the main body of the tent (and some models feature snow skirts—flaps that are meant to be buried in snow), high bathtubs on the main body to prevent rain and snow from leeching into the tent, and large vestibules that provide ample room for storage and cooking. It's not uncommon on big mountain expeditions in Alaska to see intricate kitchens where teams have dug pits in the snow and can comfortably stand, cook, and socialize in the enclosed space of their vestibule.
 
A Note on 4-Season Shelters
Most of the tents above feature a pole-supported design that provides 360-degree security from wind, rain, snow, and bugs. But for those who value weight-savings above all else, a 4-season shelter offers weather protection almost on par with a treeline model at half the weight or less. To maximize their strength-to-weight ratios, popular 4-season shelters like the Black Diamond Mega Light above and Hyperlite Mountain Gear Ultamid 2 are floorless, non-freestanding, and utilize a center pole (often two attached trekking poles or ski poles) to create a taught, pyramid shape. When properly set up, these tents can hold strong in moderate wind and shed driving rain and snowfall.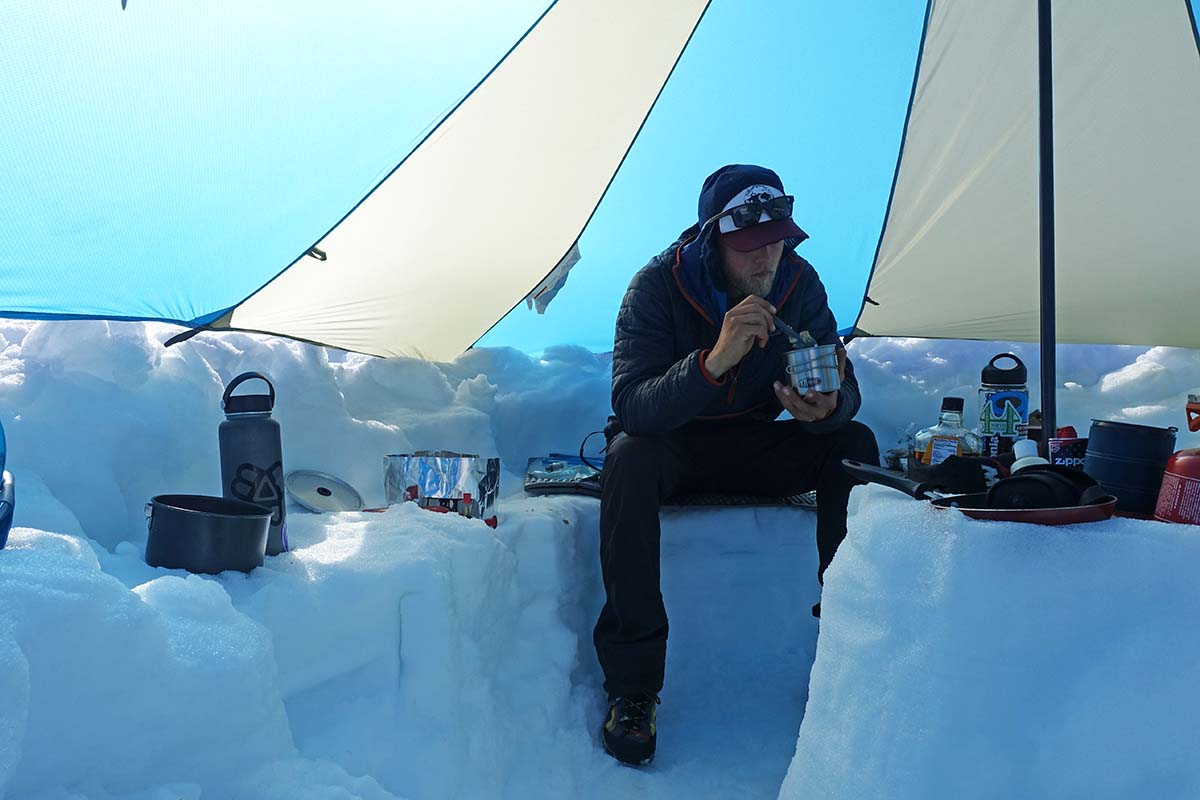 Our favorite use for a 4-season shelter is as an additional living space while basecamping on snow. By digging out the base, you can create a sitting and standing area for four (or more!) that offers a great change of pace from tent life. Then, when you need a true respite from bugs, wet ground, or seeping rain, you always can escape to the security of your tent. The most intrepid of adventurers might opt for a 4-season shelter as their dedicated sleeping area, but we only recommend this for trips when the weather is mild or when weight really wins out: long ski traverses, fast-and-light climbs, and backcountry treks that cover a lot of distance and require a very light pack.
Back to Our Top 4-Season Tent Picks  Back to Our 4-Season Tent Comparison Table
Learn More About Outdoor Gear