An ideal backpacking tent is lightweight, packs down small, and is tough enough to handle inclement weather. The good news is that tent technology has come a long way even over the past few years, and weights are dropping as thinner yet strong fabrics and lighter poles are employed. Below are our picks for the best backpacking tents of 2017—all are 2-person, double-wall designs with tent poles, which means that we have not included ultralight shelters or tarps. Also, note that many of the tents that made our list are offered in 1, 3, and 4-person versions. For more background information, see our tent comparison table and buying advice below the picks. To complete your kit, we've also tested and written about backpacking packs and sleeping bags.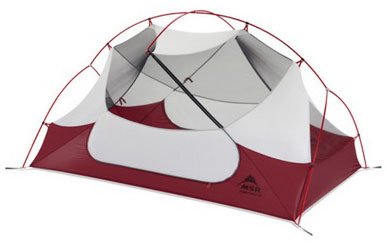 Minimum weight: 3 lbs. 7 oz.
Floor denier: 30D
Doors: 2
Floor area: 29 sq. ft.
What we like: The right balance of space, weight, and strength.
What we don't: Expensive for the weekend backpacker.
For serious backpackers, those covering long distances, and those with the cash, we think the MSR Hubba Hubba NX is the best all-around tent on the market. Yes, you can go lighter, but the Hubba Hubba hits that happy medium between weight savings and practicality with its 2 doors and vestibules, comfortable interior, easy setup and takedown, and quality build.
In its latest update, MSR trimmed the weight down to a very competitive 3 pounds 7 ounces. Despite the feathery feel, the fabrics are pretty strong, and you won't need to be filing your nails down out of fear of tearing something. The tent also is thoughtfully made, with nice touches like a built-in rain gutter on the fly to keep water from dripping when you use the zipper. Sure, they probably could've made this tent even lighter (and did with the FreeLite below), but we like the Hubba Hubba just how it is... Read in-depth review
See the MSR Hubba Hubba NX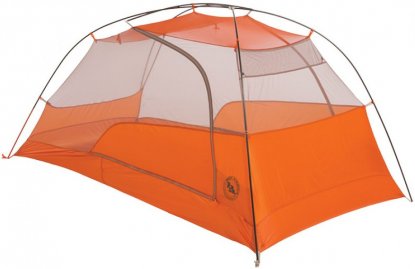 Minimum weight: 2 lbs. 12 oz.
Floor denier: 20D
Doors: 2
Floor area: 29 sq. ft.
What we like: Versatile and lightweight.
What we don't: Thin materials.
The Copper Spur UL from Big Agnes has long been a big hit, bringing two-door convenience to a package that weighs less than 3 pounds. For 2017, they've made minor changes to the design to open up the interior (hence the "HV" or "high volume" in the name), but kept the features that make it a backpacking favorite. Most significant is its 11-ounce weight savings over the Hubba Hubba NX above, while retaining a 2 door and vestibule design and near vertical walls. This combination of space and weight makes it a standout option for minimalist trekkers.
What you give up with the Copper Spur's ultralight package is durability. The tent body and rainfly fabrics are very thin and require extra care. In particular, the 20-denier floor fabric has us concerned about the potential lifespan of this new model (the Hubba Hubba above uses 30 denier). It's not out of place in a minimalist shelter, but the materials are noticeably less strong than a tent like the Hubba Hubba. This drop in durability is the reason it lands at number 2 on our list, but the Copper Spur remains a fantastic and livable ultralight option... Read in-depth review
See the Big Agnes Copper Spur HV UL2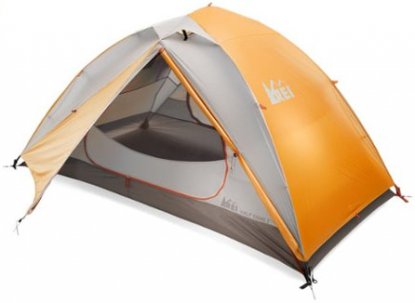 Minimum weight: 4 lbs. 9 oz.
Floor denier: 70D
Doors: 2
Floor area: 31.8 sq. ft.
What we like: Great value, spacious, and 4 rainfly colors to choose from.
What we don't: Quite a bit heavier than the options above.
At half the price (or less) than the options above, the REI Half Dome represents a tremendous value in a backpacking tent. The materials are quality, the sleeping area is roomy, the tent is relatively light, and it comes with REI's great return policy. For these reasons, the Half Dome is our favorite budget backpacking tent and a steal at around $200. For most backpackers and conditions (save for the true ounce counters), you can stop reading here because this is your tent.
With a weight exceeding 4.5 pounds, it's true that the Half Dome is quite a bit heavier than the lightweight shelters above. But what you get for the extra ounces is an interior that is even roomier than the Hubba Hubba and a durable 70-denier floor. Being at the budget end of the spectrum, the Half Dome won't stand up as well to howling wind or pounding rain as some of the pricier tents on this list. But we've gotten years of service out of our Half Domes, and the current model brings the same quality feel and construction that we've come to expect... Read in-depth review
See the REI Co-op Half Dome 2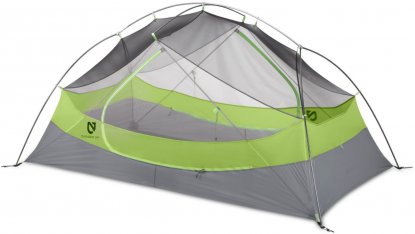 Minimum weight: 3 lbs. 5 oz.
Floor denier: 30D
Doors: 2
Floor area: 31 sq. ft.
What we like: Well made and roomy for the weight.
What we don't: Single wall sections on the ends can collect moisture.
Nemo's Dagger flies a little under the radar, but checks off just about everything you want in a backpacking tent: it's lightweight, reasonably durable, offers good weather resistance, and has a very livable interior. The tent features 2 vestibules for storing gear, and its large footprint is great for tall backpackers or those who prefer a wide sleeping pad. More, the floor of the Dagger is symmetrical as opposed to tapered toward the feet like many in its weight class, which makes it possible for two people to sleep in opposite directions (head to toe) for more shoulder room.
The Dagger goes head-to-head surprisingly well with our top-rated MSR Hubba Hubba NX. Both hit a nice balance of weight and space without compromising on weather worthiness or strength, and both cost $400. In parsing out the differences, the Dagger is longer and a little taller, but doesn't have complete rainfly protection at the head and foot ends. We also prefer the Hubba Hubba's venting system—the openings in the fly do a better job at managing moisture at the head and feet (the Dagger vents out the top of the doors, which also is pretty effective). But these are very minor complaints about an otherwise fantastic tent. We think the Dagger is the whole package as a truly livable and lightweight 2-person design... Read in-depth review
See the Nemo Dagger 2P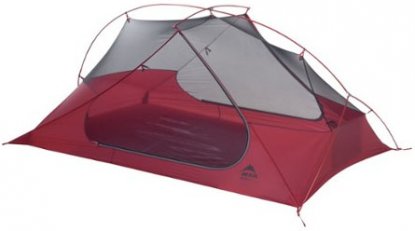 Minimum weight: 2 lbs. 7 oz.
Floor denier: 15D
Doors: 2
Floor area: 29 sq. ft.
What we like: Symmetrical interior and full coverage rainfly at a low weight.
What we don't: Semi-freestanding; very thin fabrics.
Sharing a silhouette with our top-ranked Hubba Hubba but in a pared-down form, the MSR FreeLite is a fully-featured ultralight tent. Despite a minimum weight of only 2 pounds 7 ounces, the FreeLite doesn't compromise on the interior with 2 side doors and vestibules and a rectangular floor. A full-coverage rainfly and hubbed pole design proved strong enough to wait out a few rough storms in the Canadian Rockies, although it falls well short of the Hilleberg below in weather-worthiness (but so does every other tent on this list). And with liberal applications of mesh on the tent body, we've found it ventilates very well in warm and humid conditions.
The main downsides—and reason the FreeLite drops to 5th on our list—are the very thin fabrics and semi-freestanding build. It's always a balancing act of durability and convenience, but the 15-denier floors are extremely thin and one end of the tent needs to be staked out, which can be a challenge for setting up in some areas. That being said, if you're willing to take extra care, the FreeLite is lighter than the Copper Spur above and nearly as roomy inside... Read in-depth review
See the MSR FreeLite 2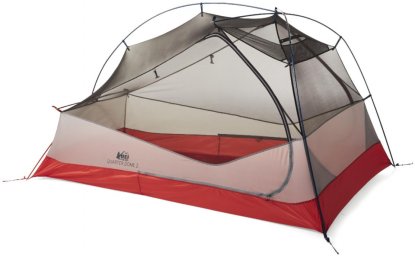 Minimum weight: 3 lbs. 5 oz.
Floor denier: 20D
Doors: 2
Floor area: 28.7 sq. ft.
What we like: Lightweight, not claustrophobic, and reasonably priced.
What we don't: Falls just short of the Copper Spur in weight and convenience.
The Quarter Dome from REI is their take on a premium ultralight tent with vertical walls, but it comes at a significant discount compared to models like the Big Agnes Copper Spur. For $349, you get a 2-person tent that weighs only 3 pounds 5 ounces and is surprisingly spacious inside. The Quarter Dome's 2 door and vestibule design is convenient, the tent ventilates very well in warm weather, and the build quality stacks up to the best from MSR, Big Agnes, and Nemo, while undercutting them in price.
The Quarter Dome was updated for 2017, and the focus was on increasing livable space without adding too much weight. The big change was a 60% increase in vestibule space and a redesigned hubbed pole system that stretches the walls up and out. The first change addresses our biggest complaint with the prior model, but we also value the increased room inside, which makes it easier for 2 people to sit up and move around in the tent. The Quarter Dome shares an uncanny resemblance to the Copper Spur above. As super lightweight but decently spacious tents, they're both excellent. We still prefer the Copper Spur overall for its weight savings of 9 ounces, but with a $100 price difference, it's a tough choice... Read in-depth review
See the REI Co-op Quarter Dome 2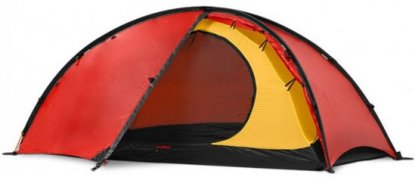 Minimum weight: 3 lbs. 5 oz.
Floor denier: 50D
Doors: 1
Floor area: 28 sq. ft.
What we like: Hilleberg's lightest 2-person tent.
What we don't: The side door design is less convenient for 2 sleepers than the Anjan.
The new Niak is Hilleberg's lightest 2-person tent to date, coming in at 3 pounds 5 ounces minimum weight. If you haven't used a Hillberg before, this Swedish company makes extraordinarily tough tents built to withstand harsh climates, and they are known for their high quality build. Once you've slept in a Hilleberg, it's hard to go back to other brands. Keep in mind, however, that Hillebergs are among the most expensive backpacking tents on the market and aren't known as great ventilators. They are terrific for wind and rain but overkill for mild summer conditions.
In the 3-season, 2-person tent category, the two main choices from Hilleberg are the Niak and Anjan (3 pounds 8 ounces minimum weight). Our editors here at Switchback Travel debated extensively about which to include on this list. The Anjan has one door at the end of the tent, meaning that sleeping two doesn't require one person to crawling over the other to get out (the Niak has one large door on the side). And the Anjan has a slightly larger floor area at 30.1 square feet instead of 28. Both are top tier tents, but we like the Niak's 3 ounces of weight savings and lack of tapering at the feet. And don't let people tell you the Niak is a 1.5-person tent as originally billed: it's not huge but we've slept two adult men comfortably with a dog under the vestibule... Read in-depth review
See the Hilleberg Niak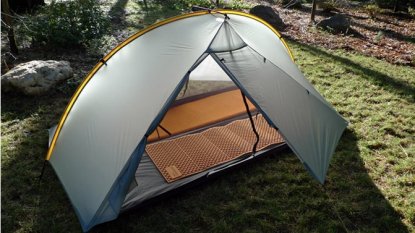 Weight: 2 lbs. 9 oz.
Floor denier: 30D
Doors: 2
Floor area: 30.5 sq. ft.
What we like: Inexpensive for an ultralight tent, roomy interior, and can handle stormy weather.
What we don't: Tendency to collect moisture on the interior.
California-based Tarptent isn't a household name, but the company offers an inspiring ultralight lineup at reasonable price points. The Double Rainbow is our favorite: it's fully bug proof, decently roomy, and weighs a scant 2 pounds 9 ounces. Surprisingly durable and weather worthy, this tent will outperform much of the competition in its price range in tough conditions.
In contrast to the traditional way of erecting a tent (tent body first then rain fly), setting up the Double Rainbow is quite simple. Thread the main pole through a sleeve in the rainfly and stake everything out. The "tent body" is made of mesh and hangs from the bottom of the rainfly. One of the challenges of Tarptent products is availability: you can only buy directly from their site and sometimes demand exceeds supply. This isn't a common issue, however, and the Double Rainbow remains a fantastic value for an ultralight tent.
See the Tarptent Double Rainbow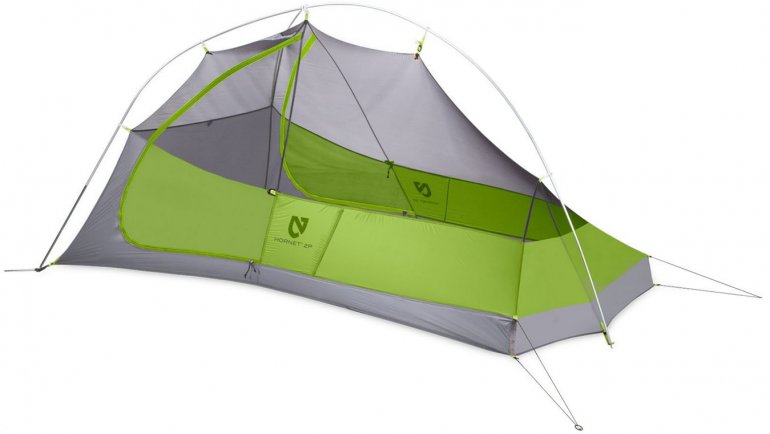 Minimum weight: 2 lbs. 0 oz.
Floor denier: 15D
Doors: 2
Floor area: 28 sq. ft.
What we like: About as light as the Fly Creek but has 2 doors/vestibules.
What we don't: Tight quarters inside.
For minimalists that still want a tent pole supported and bug-proof shelter, we highly recommend the Nemo Hornet. The standard bearer in this 2-pound category has long been the Fly Creek from Big Agnes, but we think the Hornet beats it in nearly every way. Most importantly, we love the Hornet's 2-door and 2-vestibule design (the Fly Creek only has a single door at the head-end of the tent). As a tent for thru-hiking or ultralight backpacking, it's the more livable option of the two, although you still need to take great care of the thin fabric and mesh.
In terms of size, the Hornet is a very snug place to be and it wouldn't be our first choice for waiting out a long storm with a friend. In fact, its best use arguably is for a single backpacker, perhaps with a well-mannered dog, that wants something as light as a bivy but with extra space. And if you're teetering between the 1-person and 2-person Hornet models, we think the extra 5 ounces of weight is well worth the added breathing room... Read in-depth review
See the Nemo Hornet 2P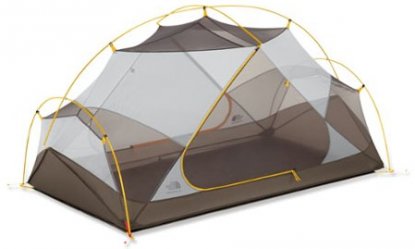 Minimum weight: 3 lbs. 6 oz.
Floor denier: 70D
Doors: 2
Floor area: 29.2 sq. ft.
What we like: Strong pole design, good weight for 2.
What we don't: Small vestibules, and a lot of mesh low to the ground.
The North Face is known for their Summit Series mountaineering tents, but their 3-season backpacking models tend to fall short. One notable exception is the Triarch 2, which stands up well in a highly competitive lightweight field. We particularly like the pole design, which maximizes usable space by pulling the walls on either end away from the tent body (not just vertical, but actually away). Along with a tall peak height of 43 inches (most lightweight designs are 42 inches or less), the tent doesn't feel claustrophobic with 2 people inside. More, considering that a footprint and gear loft are included, the Triarch is a solid value at $350.
One area where the Triarch 2 compromises is the size of the vestibules. While we appreciate having 2 doors and 2 vestibules, the 14 total square feet of the latter is small for 2 hikers. For reference, a tent like the Quarter Dome above has 21 square feet of vestibule space, which makes a real difference when storing packs and shoes. Another potential issue is that the mesh on the tent body extends low to the ground at the doors and near the corners of the tent, which can be a problem in dusty and windy conditions. But all that mesh keeps you cool in warmer temperatures and overall weight in check, which makes the Triarch a great option for summer backpacking trips in good weather.
See the North Face Triarch 2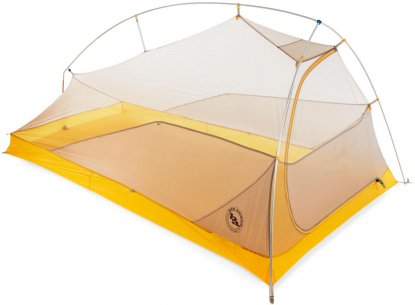 Minimum weight: 1 lb. 15 oz.
Floor denier: 20D
Doors: 1
Floor area: 28 sq. ft.
What we like: A real tent that weighs as much as a bivy.
What we don't: Not everyone loves the single door and thin fabrics.
Fast and light hikers love the Big Agnes Fly Creek UL—the 2-person version weighs in at a measly 1 pounds 15 ounces, which is comparable to a decent bivy sack or hammock. This feathery lightweight is accomplished with a single door at the head end, an interior that tapers towards your feet, and a hubbed pole that runs the length of the tent in a spine-like shape. The tent and rainfly fabrics are also impressively strong despite being so thin they're semi see-through.
For last year, the pole system received a minor but really important redesign by tilting the hub, which increases the interior space from cramped to more livable. It's important to be aware that the Fly Creek won't offer the same protection from the elements as a sturdier tent like the MSR Hubba Hubba above, particularly in heavy rain when the rainfly is prone to sagging onto the tent body (guying it out properly will alleviate this issue). More, we think the Nemo Hornet is the better all-around choice with its 2 door and vestibule design. But the newfound openness in the interior should make the Fly Creek a continued favorite for thru hikers and ultralight backpackers.
See the Big Agnes Fly Creek HV UL2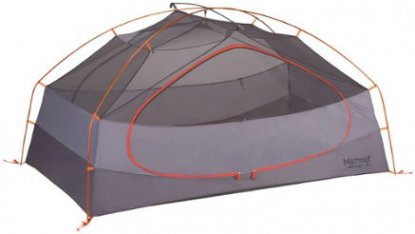 Minimum weight: 5 lbs. 2 oz.
Floor denier: 68D
Doors: 2
Floor area: 33 sq. ft.
What we like: Very roomy and a quality construction.
What we don't: Heavy for backpacking.
For those that prioritize space over weight, the Limelight is a great choice. Along with the REI Half Dome above, the Limelight trades a focus on ounce counting for an open interior and durable fabrics at a reasonable price. And if you have dogs or kids in tow or just like a roomier feel, this is a welcome change. Compared with the REI, the Limelight gets the edge in interior space with a 33 square foot footprint and tall 43-inch peak height (the Half Dome is 31.8 square feet and 40 inches, respectively).
As we touched on above, the primary downside of the Limelight is its weight. At 5 pounds 2 ounces, it's heavy by today's standards (this wouldn't have been true a few years ago but it is now). All things considered, we still give the edge to the 9-ounce lighter Half Dome for backpacking. But the Limelight is the most accommodating option here in terms of space, and at $249 including a footprint, it's a fantastic value for a dual backpacking and car camping design.
See the Marmot Limelight 2P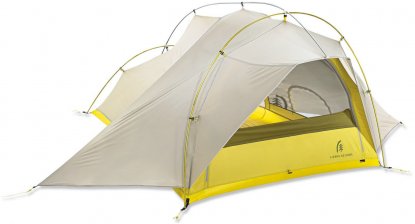 Minimum weight: 2 lbs. 14 oz.
Floor denier: 30D
Doors: 1
Floor area: 30.5 sq. ft.
What we like: Creative gear storage, good livable space.
What we don't: Condensation can accumulate on the single-wall panels.
Sierra Designs has earned a reputation for out-of-the-box designs, and one of its best products to date is the Lightning FL 2 tent. Two features differentiate the Lightning from the rest of the lightweight competition: gear storage is on the sides and totally separate from door access, and it has a hybrid single and double-wall design. In addition, this tent is nicely appointed, reasonably spacious inside, and weighs just under 3 pounds.
Elaborating on storage, Sierra Designs replaced the traditional vestibule with an awning-style design, simplifying the entry and exit processes. No more awkward ducking in, dodging your backpacks, and opening 2 separate zippers. Unless the rain is really coming at you sideways, we think this is an innovative solution. We are less excited about the single-wall sections of the tent, however. Condensation is prone to collect along those panels, and we like the added weather protection you get with a full coverage tent. True, you can set up the Lightning FL quickly and without getting rain inside because the tent and rainfly sections are connected, but we prefer a double-wall build for most uses.
See the Sierra Designs Lightning 2 FL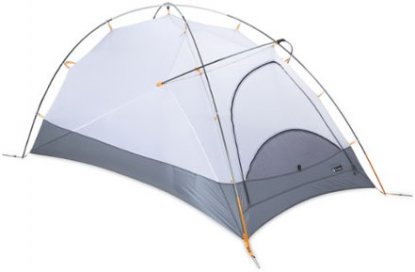 Minimum weight: 4 lbs. 0 oz.
Floor denier: 30D
Doors: 1
Floor area: 27 sq. ft.
What we like: A 4-season backpacking model.
What we don't: Doesn't ventilate as well in the heat.
Every other tent on this list is built for 3-season use, but the Nemo Kunai is a true 4-season model that can withstand winter conditions. Its double-wall design resembles a regular backpacking tent, but a strong pole structure, guyline system, and low-profile design allows it to handle alpine-worthy winds and snowfall. And Nemo kept the weight impressively low check at 4 pounds for this 2-person model, so it's truly viable for long hauls year-round.
Understandably, the Kunai's balance of a backpacking-friendly weight and 4-season sturdiness creates a few challenges. First is ventilation in the summer. Without a lot of mesh in the design, the tent can be stuffy in hot weather (a roof vent does help move some air, however). And as a mountaineering tent, the Kunai falls on the light end of the spectrum with relatively thin fabrics and tent poles and a snug interior. But for the right backpacker that gets out all season long, the Kunai is a bomber option.
See the Nemo Kunai 2P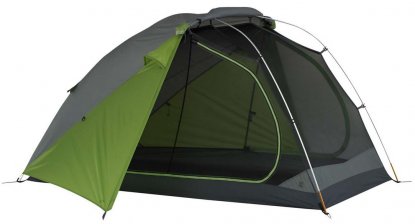 Minimum weight: 4 lbs. 4 oz.
Floor denier: 70D
Doors: 2
Floor area: 27.5 sq. ft.
What we like: Creative fly design for unobstructed views.
What we don't: Mesh goes too low for dusty weather.
Much like REI, Kelty targets the value end of the gear spectrum and does a great job balancing price and quality. Released a couple years ago, the TraiLogic TN2 has been heralded for its innovative design and spacious interior. In particular, the "Stargazing" tent/rainfly design offers full mesh coverage for a completely open view of the night sky when the rainfly is off (other tents like the Half Dome offer only partial viewing with some mesh and some nylon). When the fly is on, it can be rolled up halfway and easily rolled back down should the weather turn nasty.
We took the TN2 out for a spin and really like the open views. For clear summer nights, this tent is a winner. However, it's tough to compete with the REI Half Dome above, which is about $50 cheaper and arguably a better all-around tent for a variety of conditions. We also have concerns about dust: in the quest to drop weight and further improve 360-degree viewing, Kelty extended the mesh on the tent body all the way down to the waterproof tub floor. This leaves you somewhat exposed in windy and dusty conditions, although again, it's a very cool tent in good weather.
See the Kelty TraiLogic TN2
Minimum weight: 4 lbs. 7 oz.
Floor denier: 70D
Doors: 1
Floor area: 30.1 sq. ft.
What we like: An absolute tank in high winds.
What we don't: Expensive, heavy, and overkill for mild conditions.
The majority of the tents in this article are of the 3-season variety, and we've also included options like the Hilleberg Niak and Nemo Kunai that can handle tougher conditions. But none are up to the standards of the Nallo 2, which Hilleberg aptly describes as "all-season" (and they don't use those designations lightly). With a tunnel-like design as opposed to a traditional dome shape, the Nallo excels in strong winds and heavy precipitation. Just face either end of the tent in the direction of the wind, batten down the hatches with the many guylines, and sleep in relative peace. We've used the Nallo in some brutal weather above the Arctic Circle and came away extremely impressed with its toughness.
The Achilles Heel of the Nallo is breathability. If you're backpacking in warm conditions, it struggles to ventilate and can build up serious condensation on the inner walls. This means that the Nallo is built for backpacking in some of the world's toughest places—think Scandinavia, Alaska, and Patagonia—but it's definitely overkill for summer in the Lower 48. Other downsides include its price and weight, which may be heavy for this list but less so considering the level of protection. All in all, the Nallo remains a niche backpacking tent, albeit an awesome one.
See the Hilleberg Nallo 2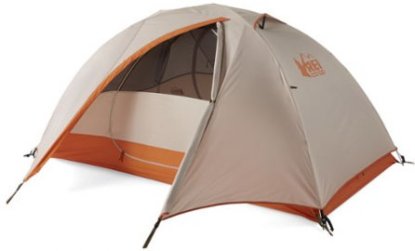 Minimum weight: 4 lbs. 13 oz.
Floor denier: 75D
Doors: 2
Floor area: 31.1 sq. ft.
What we like: Spacious, good price, and easy to set up.
What we don't: Heavy.
The Half Dome is the typical headline grabber for REI, but the tried-and-true Passage remains one of their best sellers. It has all the ingredients necessary for weekend backpacking trips: 2 doors and a full coverage rainfly, tough but reasonably light materials, and a roomy interior. REI lightly updated the tent for 2017 with more mesh in the tent body and greater interior volume thanks to a slight change to the pole design. Both the Passage and Grand Mesa below are good options for backpackers on a sub-$200 budget, but we prefer the more spacious and modern Passage.
An important thing to consider is that the Passage is only $40 cheaper than the Half Dome, the number 3 tent on our list. For that relatively small savings, you're giving up some interior space as the Passage (and Grand Mesa) forego a center ridge pole, and it lacks the fancy hubbed pole system and lighter weight fabrics. An upside is that the simple two-piece, x-shaped pole design is super easy to set up and take down. We prefer the Half Dome for anyone who plans on covering distance or is getting a decent amount of use out of their tent, but the Passage is still a solid option for casual backpacking and camping.
See the REI Co-op Passage 2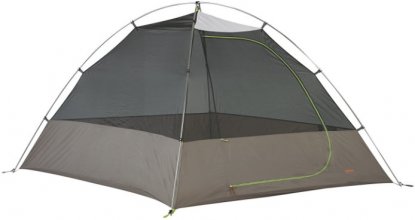 Minimum weight: 4 lbs. 1 oz.
Floor denier: 68D
Doors: 1
Floor area: 30 sq. ft.
What we like: Excellent price and decent quality.
What we don't: Single door and small vestibule.
Consistently on sale for about $100, the Kelty Grand Mesa 2 is arguably the best cheap backpacking tent on the market. For the price, you get all the basics: a dome-style construction with decent interior space, durable materials, and a competitive 4-pound weight. Those that spend a lot of time in the backcountry will be left wanting, but the Grand Mesa is a great starter backpacking tent or for casual summer use.
What you give up in the Grand Mesa 2 is most of the modern touches of the more expensive options above. The x-shaped pole design doesn't create as spacious of an interior as the Half Dome or Limelight, and the single door and small vestibule make it difficult to both get in and out of the tent and protect your gear. And some of the details like zipper quality and interior organization also fall a little short of the competition. But the Grand Mesa has proven over the years to be pretty darn reliable, so we have little hesitation in including it among this year's best backpacking tents at the budget end of the spectrum.
See the Kelty Grand Mesa 2
Backpacking Tent Comparison Table
Backpacking Tent Buying Advice​​​
Tent Weight and Types
In many ways, the weight of a backpacking tent is its defining feature. You can get down to around 2 pounds without moving into tarp or shelter territory, but as weight goes down, there are compromises in space and durability. Finding the right balance of weight, performance, and comfort was one of our primary considerations when putting together this list, and below are the categories we created in doing so. For a full breakdown on this topic, see our detailed backpacking tent weight comparison chart.

Ultralight (3-Season) Tents
There aren't hard-and-fast rules for what defines an "ultralight" or "lightweight" tent, but from our experience, around 3 pounds and under for a 2-person setup is where you start seeing significant shifts in design. These ultralight options push the limits on durability for the all-out goal of trimming weight wherever reasonably possible. You'll see thin fabrics and tent poles, less interior space, a smaller packed size, and increased cost. Ultralight tents are perfect for serious, ounce-counting backpackers who take good care of their gear.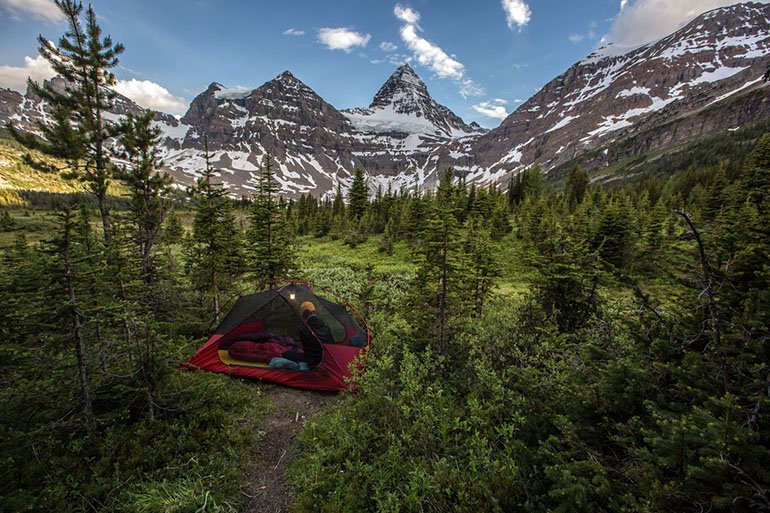 For the purposes of this article, all of our tent picks have poles and are of the double-wall variety (or hybrid single and double wall in the case of the Sierra Designs Lightning FL 2). There is, however, a whole other world of backpacking shelters and trekking pole supported tarps that make our ultralight models look downright heavy (some weigh as little as 7 ounces not including trekking poles). Typically produced by small, cottage brands like ZPacks, Six Moon Designs and Mountain Laurel Designs, they can be awesome for dedicated minimalists and thru hikers but require a higher level of expertise in getting a proper pitch. We hope to have a full article on ultralight shelters up in the near future.

Lightweight (3-Season) Tents
Weight is a moving target in the tent industry—consistently trending downward—and lightweight 2-person tents now range from 3 to 5 pounds. Compared to the ultralight options, lightweight tents have thicker fabrics (thus greater tear resistance), more interior space, and often greater wind and wet weather protection. A properly designed lightweight tent should be well ventilated and comfortable in summer weather, yet capable enough to handle all but the worst 3-season conditions: wind, rain and some light snow. Because of these important characteristics, lightweight tents are what we recommended most (including our top pick the MSR Hubba Hubba NX).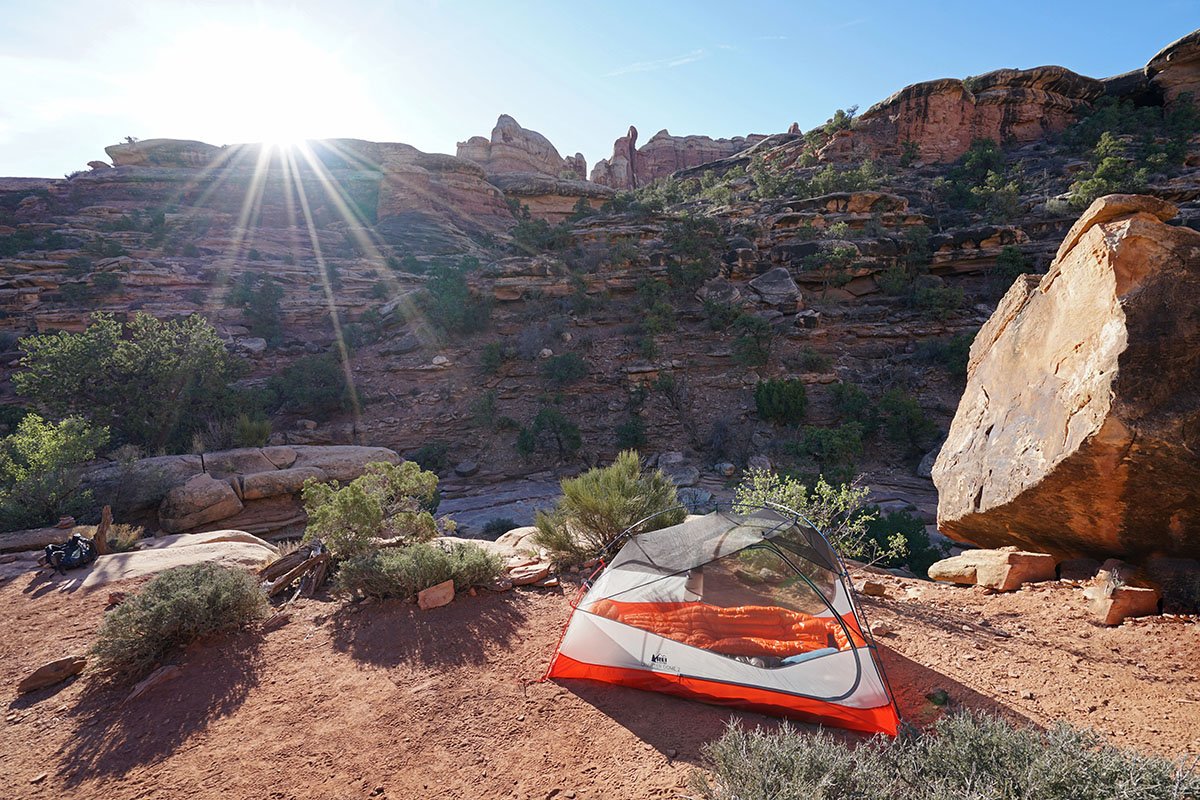 4-Season Tents
The majority of backpackers head out in the summer months, but a small subgroup venture out in the shoulder seasons and even winter. For these folks a 4-season tent is best, which amounts to either a beefed up backpacking tent (like the Hilleberg Nallo or Nemo Kunai) or mountaineering tent (like the The North Face Mountain 25). In rough conditions the sturdier pole design and structure are critical. We've used these tents in remote places like Norway and Nepal and have been blown away with their abilities to sustain heavy winds and rain. But there's a reason we don't cover them extensively on this list: the lack of mesh and increased weight are not good for warm weather trips.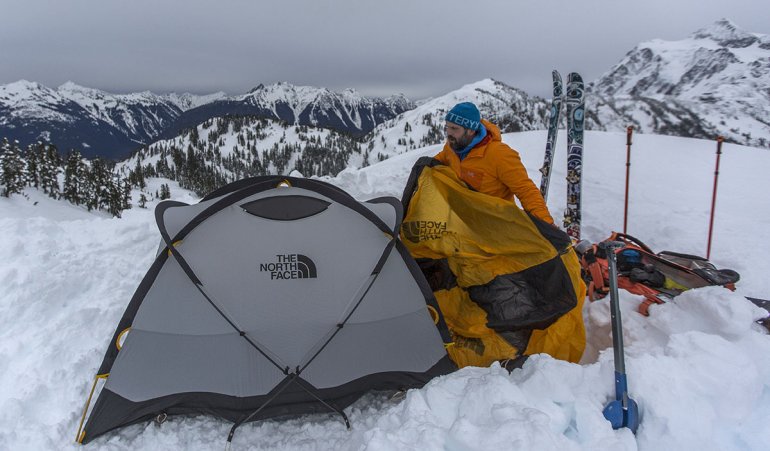 Durability (Denier)
In terms of tent durability, you'll often see manufacturers list the "denier" rating of their fabrics, which is a measurement of the fabric yarn's weight. While there are variables such as quality and construction type, a lower denier generally indicates a thinner and less durable fabric. Most tents list the denier of the tent floor, canopy, and rain fly. The area most vulnerable to punctures or tears is the floor, so we have listed that number for each tent in the specs and comparison table above.
Logically, denier lines up with the total weight of the tent: Nemo's 2-pound Hornet has a very thin 15D floor, while the sturdy 4.5-pound REI Half Dome is 70D. Ultralight gear certainly requires an extra level of care—we highly recommend using a footprint with all lightweight tents and checking your campsite for sharp sticks or rocks—but it's a sacrifice many are willing to accept to reduce their pack weight. We prefer a tent that balances weight and durability, which is one of the reasons why the MSR Hubba Hubba NX (and its 30D floor) gets our top spot.

Doors
This article covers 2-person backpacking models, and a quick look at our top picks above shows our clear preference for tents with 2 doors. These designs are far more convenient for getting in and out of the tent, and most include a vestibule outside of each door for extra storage space. Not all 1-door designs should be treated equally, however. A single door at the head end of the tent, like what you get with the Big Agnes Fly Creek and Hilleberg Nallo, is easier to access than 1 side door, which requires crawling over your tent mate to get outside (not a fun thing to do in the middle of the night). On the other hand, a 2-door design makes life around camp that much easier, and in the cases of the Nemo Hornet and Big Agnes Copper Spur, has little impact on total weight.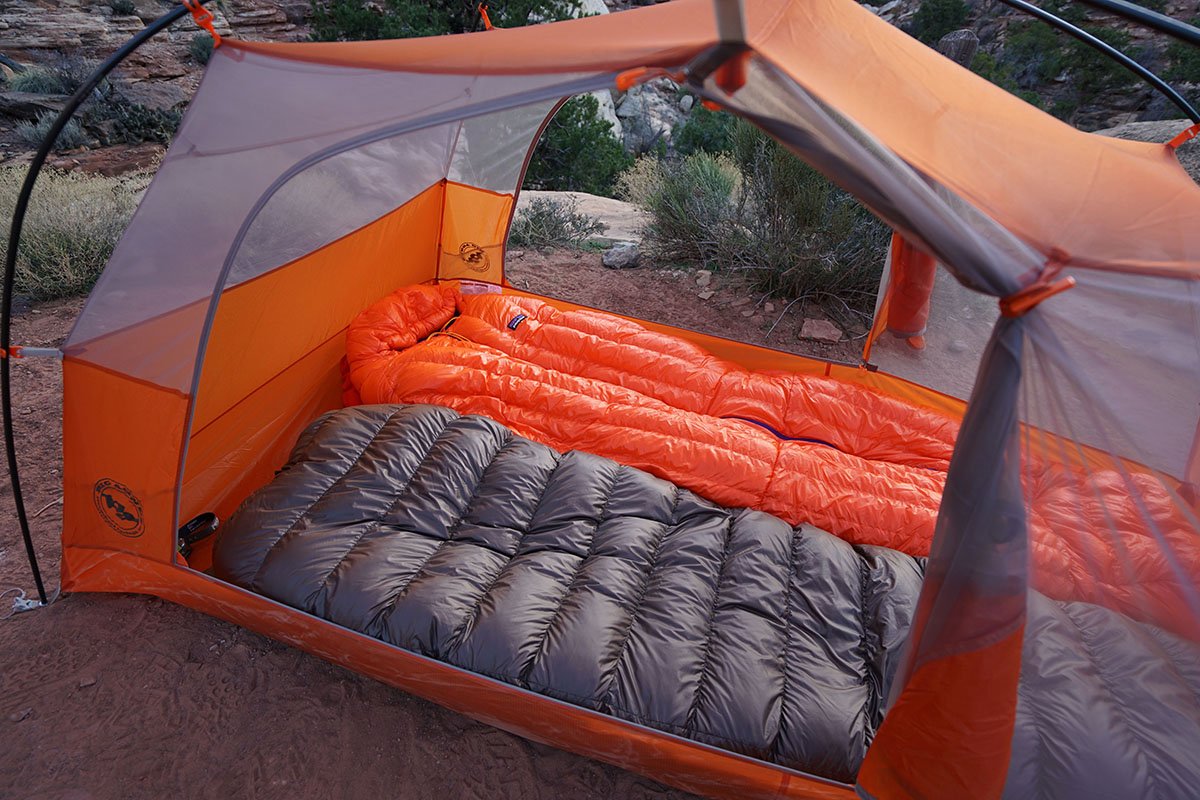 Size: Floor Area and Peak Height
In parsing out how roomy a given tent is, there are a couple important specs to look for. First are the floor dimensions (L x W), or floor area (listed in square feet), and we list the latter in our table above. The numbers range from a snug 27 square feet in the Nemo Kunai to the spacious 33 square foot Marmot Limelight. This number will give you a general idea of interior space for comparing tents and whether or not you will be able to fit 2 wide or long sleeping pads side-by-side. The second spec is the peak height of the tent, the tallest point of the interior.
Both measurements are important in determining the interior comfort of a tent, but they do not tell the entire story. For one, the floor area is based off of measurements taken right at floor level. Depending on the slope of the walls, the actual usable space inside may be substantially different. More, the peak height only is taken at the tallest point in the tent and doesn't account for how much of the ceiling is that tall. The good news is that the recent trend in tent design is toward vertical walls and large, open spaces overhead, so even ultralight tents are becoming more livable (including the recently updated Big Agnes Copper Spur HV). We think checking these specs are still important, but make sure to look at the tent shape to get a good idea of the actual space inside.

Finally, keep an eye on the shape of the tent and whether or not it slopes toward one end. For example, the Nemo Hornet slopes heavily toward the feet end of the tent and therefore you can only sit up in one area (and can't sleep two in opposite directions). But the Nemo Dagger is much roomier with a dome shape that is consistent on both ends of the tent. The Dagger weighs considerably more than the Hornet, but the latter sacrifices livable space in a big way. What you prioritize is up to you.

What a "_" Person Tent Means
If you're purchasing a 2-person tent for 2 people and are expecting extra space to spread out or accommodate a pooch, think again. That 2-person tent will fit a pair of regular sleeping pads side by side but that's about it. It's all in the quest to keep weight as low as possible. If you want additional room, there are "plus" versions of some tents, which add extra inches in length and width. We suggest checking out the REI Half Dome 2 Plus, which is 4 inches wider and 10 inches longer than the standard model.
The alternative is going to the next size up. It's not uncommon to have 1 person in a 2-person tent or 2 folks and their dog in a 3-person model. Some of the ultralight tents, such as the Big Agnes Fly Creek and Nemo Hornet, take the biggest compromise in sizing up—added weight—out of the equation. Each 2-person model weighs 2 pounds, yet both have enough space to feel reasonably roomy when by yourself, which is great for solo thru-hikers or other long-distance trekkers. You also get the added benefit of being able to store your pack fully inside the tent as opposed to leaving it under a vestibule that is more exposed to the elements.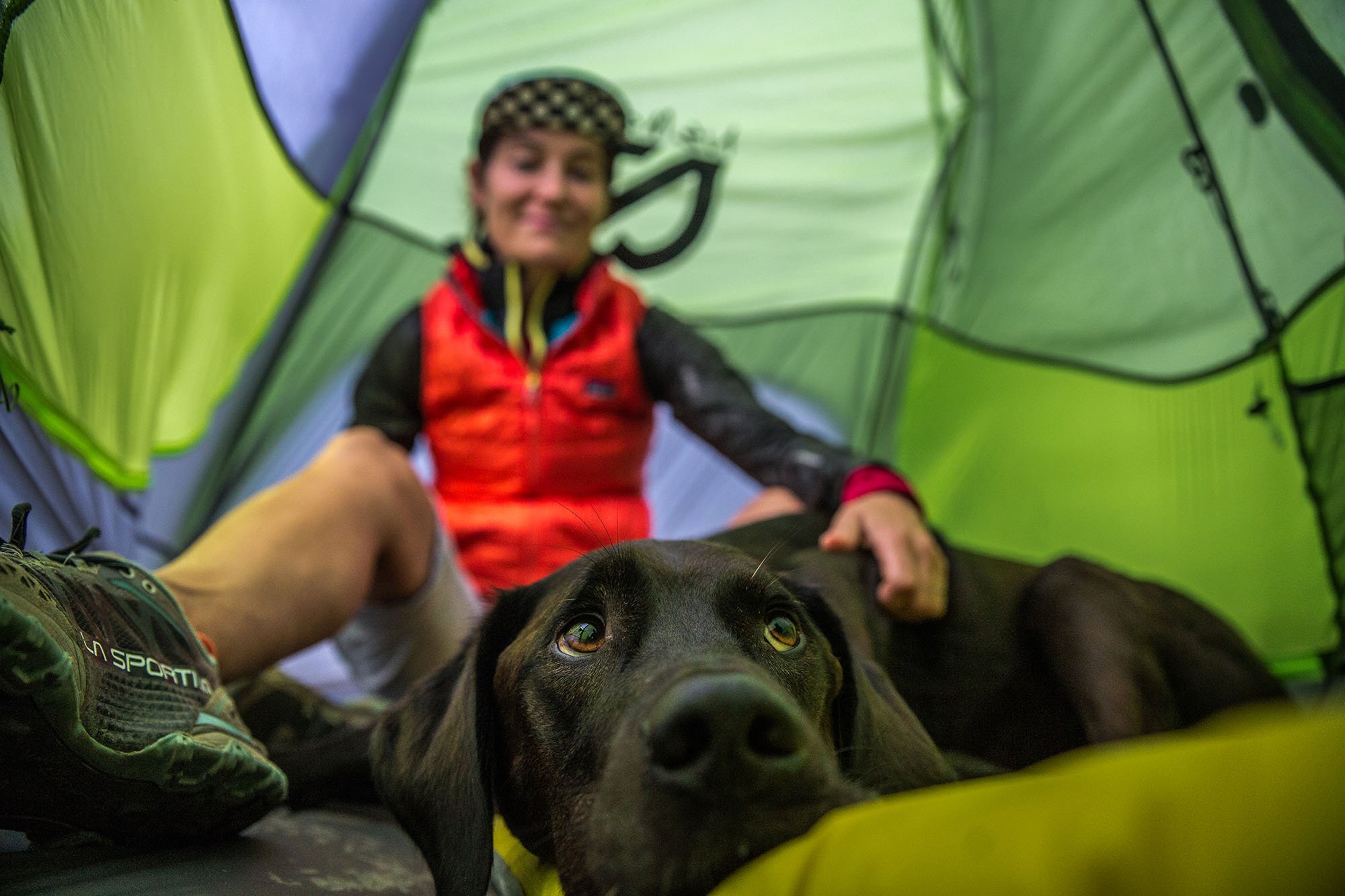 Storage: Vestibules and Interior Pockets
Tent storage can be broken into two categories: vestibules and gear closets outside the tent, and pockets inside the tent body for small items you need close at hand. A traditional vestibule covers the entry door to the tent with enough space for a couple backpacking packs and footwear. Without it, your options are bringing the wet and grimy gear inside the tent or letting it soak outside. Needless to say, we put a priority on some sort of outside gear storage. Sierra Designs and their distinctive Lightning tent doesn't have a traditional vestibule, but the rainfly design does include 2 gear closets on either side, which accomplish the same thing.
A tent with excellent interior organization isn't a top priority, that is, until you get into the tent for the first time and look for a spot to store your headlamp, handheld GPS, or other small items. We've found the most helpful area for a pocket is near your head, and a simple mesh drop-in pocket or two is sufficient. Some tents have pockets along the interior of the roof, which make for an easy place to squeeze in a headlamp to light up a game of cards. Should the tent not include pockets along the roof, look to see if it has hang loops instead for securing a light. These extra little details can make your backcountry camping experience all the more enjoyable.

Ventilation
How well a tent ventilates depends on a couple of factors. First, look at the amount of mesh on the tent itself. A double-wall tent (the tent body and rainfly being two independent pieces) with liberal amounts of mesh should breathe well in mild weather. Leave the rainfly off and the tent will be even more comfortable in hot temperatures so long as the sun isn't hitting you directly. With the rainfly on, things get a little trickier. A standard rainfly has a waterproof coating to help protect the interior from getting wet, which also means the rainfly doesn't ventilate very well, and moisture from your breath is trapped inside, creating a dewy interior.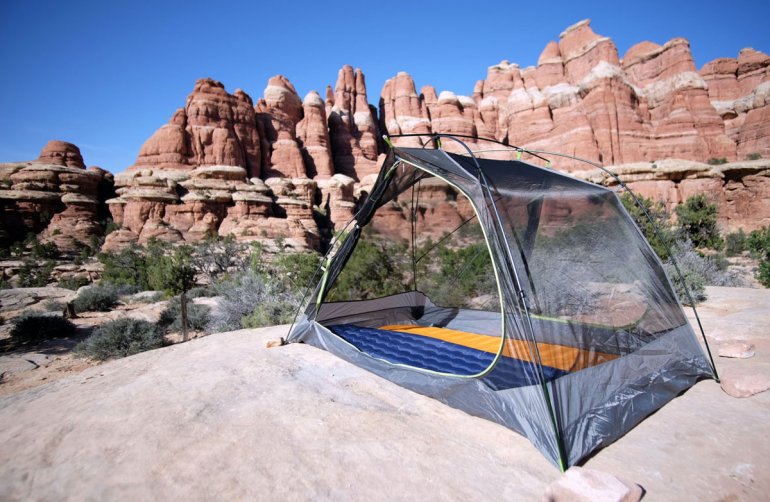 So what can you do? Tent manufacturers combat these problems by installing roof vents towards the top of the rainfly that can be deployed even in the rain. The vents are covered from the top by the rainfly fabric, so only in a strong storm with rain coming sideways will there be an issue with raindrops reaching the interior. By creating good airflow out the top of the tent, problems with moisture collecting on the interior of the tent can be greatly reduced. And some tents like the Kelty TN2 and REI Half Dome have convertible-like rainfly designs that roll back fairly easily. You can leave half of the rainfly open for ventilation and star gazing, but if you feel a couple of rain drops during the night, it only takes a few seconds to roll the rainfly back down.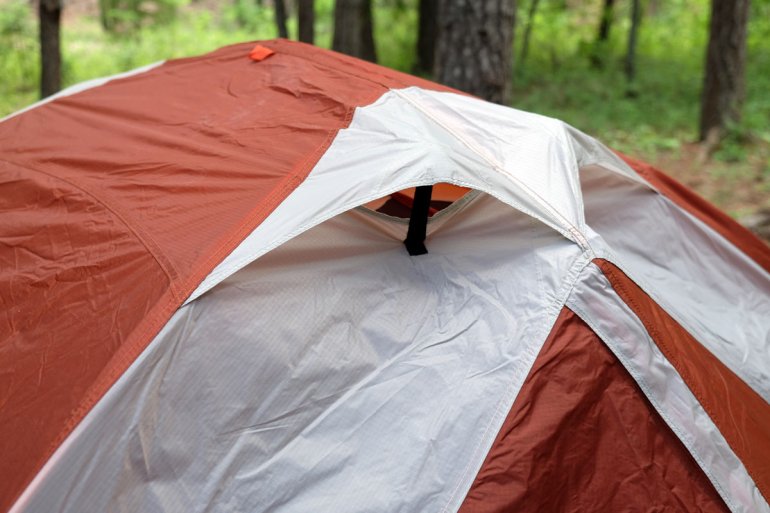 Weather Protection
Your first line of defense in bad weather is the rainfly. As the name indicates, the rainfly covers the exposed tent body for increased resistance from precipitation, wind and cold. Even ultralight designs have a waterproof coating, are seam taped, and can withstand hours of downpour without leaking, provided they cover the entire tent body (we've found that most leakage actually comes from the ground around the bottom of the tent). We almost always recommend a full coverage rainfly, although the awning over the door of the Sierra Designs Lightning FL can work well in less than extreme conditions.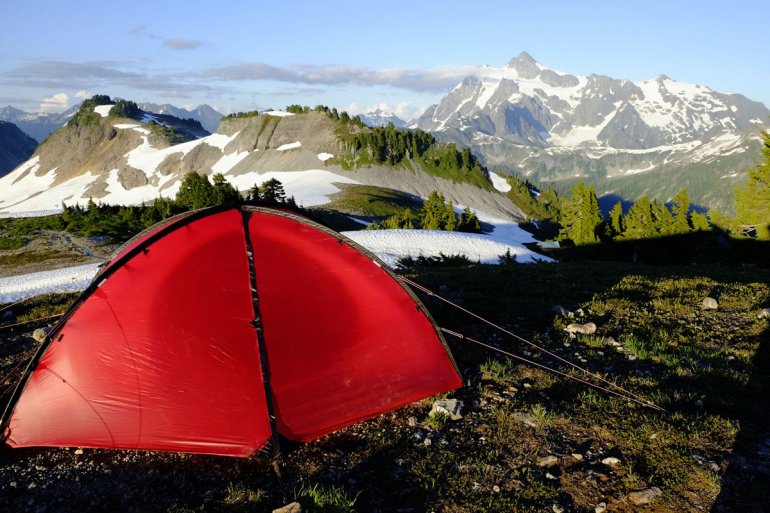 The next factor in weather resistance is the tent structure. In general, more expensive tents offer increased weather resistance (some ultralight models are exceptions). The poles and pole systems on budget tents are likely to bow during strong winds, while high-end tents like those from Hilleberg have stronger poles and tons of exterior ties to anchor yourself down during a storm.
A healthy percentage of people get up to the mountains a few weekends a year during the summer months, and encounter moderate conditions in terms of temperature, wind and precipitation. If you fall into this category, all on our list should perform admirably. We once slept in an older version of the REI Half Dome for six consecutive weeks in Patagonia with only a couple of uncomfortable nights during big storms. That being said, subsequent trips in a Hilleberg did make us appreciate the quality and bombproof feeling you get in a high-end tent.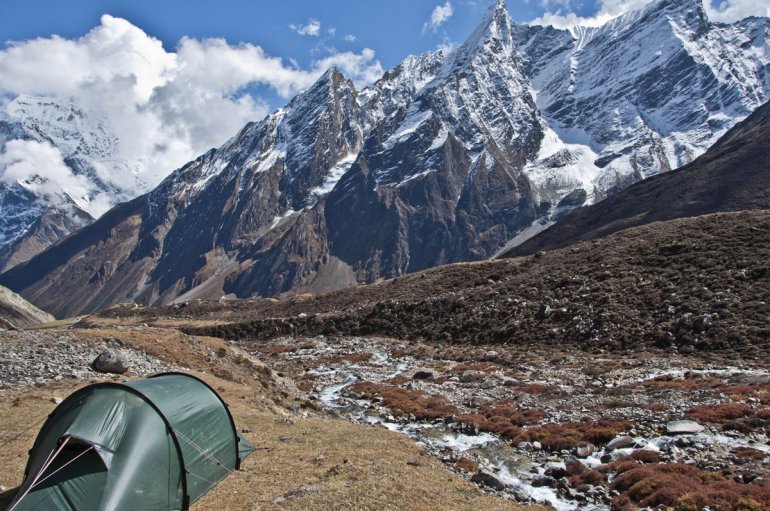 Intended Use: Serious vs. Casual Backpacking
Ask yourself these fairly simple questions: How often do you plan on getting out backpacking? Where are you headed? Do you plan on covering a lot of miles each day? If the answers are, "a lot" and "everywhere," it may be worth purchasing an expensive tent. As we've touched on in the sections above, spending more yields tangible benefits. Trail weight and packed size goes down, and higher quality fabrics and pole designs stand up better to foul weather.
On average, most casual backpackers are happiest with a spacious, proven design and aren't obsessed with trimming every possible ounce. It's more about being comfortable and staying on a budget. These considerations are what make the $159 REI Co-op Passage 2 and $140 Kelty Grand Mesa 2 such popular choices: they're easy to set up, are made with fabrics that are thick enough for bringing kids or dogs, and offer maybe three quarters the performance of an expensive model at half the price. If the weather isn't going to get nasty and the 1-2 extra pounds don't matter much to you, a lightweight tent is a great option.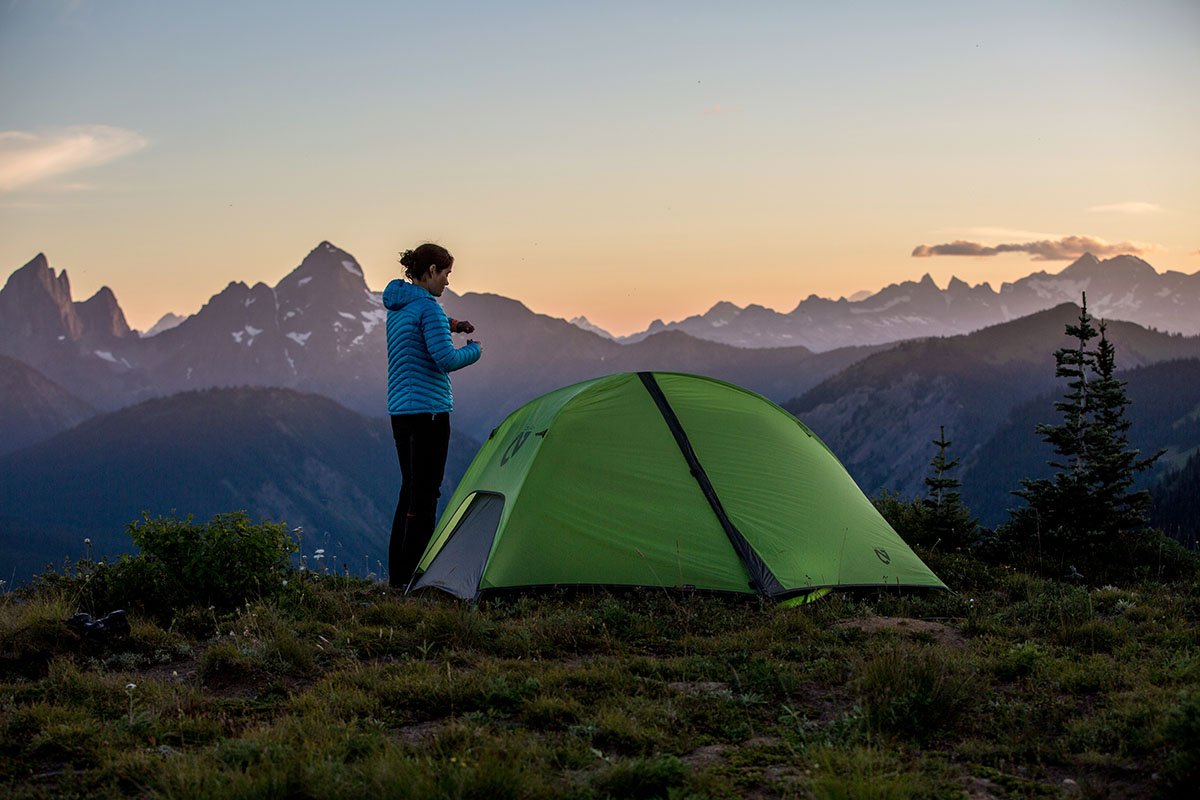 Tent Poles and Stakes
You're getting to the nitty gritty with tent pole and stake research, but there are some important details to cover. Regarding tent poles, nearly every quality backpacking tent uses aluminum poles (the carbon fiber MSR Carbon Reflex is one notable exception). The material is relatively affordable, lightweight, and will flex quite a bit prior to failing. Name brand poles like Easton or DAC are easier to trust, but that's not to say there aren't some quality generic aluminum poles offered. Hubbed pole designs are growing in popularity for their rigidity—a single pole unit holds the tent together tautly—and as a result are found on a number of our favorite tents.

No matter the tent style or manufacturer, stakes are an integral part of setting up a tent. Most 2-person tents will include 6: one for each corner and one for each side of the vestibule. That's all fine and good for setup for mild conditions, but it's insufficient for bad weather when you want to use guylines. Thus, you may want to purchase some extra stakes, and it may be worth replacing your stock ones as well. Cheaper hook-style aluminum stakes come with most tents and can be a pain to use because they're too thick and round to easily sink into the ground, and have a tendency to bend when being hammered in. Thankfully, upgrading isn't very expensive. We really like the MSR Groundhogs: they are light, tough and easy to put in the ground. And the DAC stakes that come with the Hilleberg Niak are the best we've used.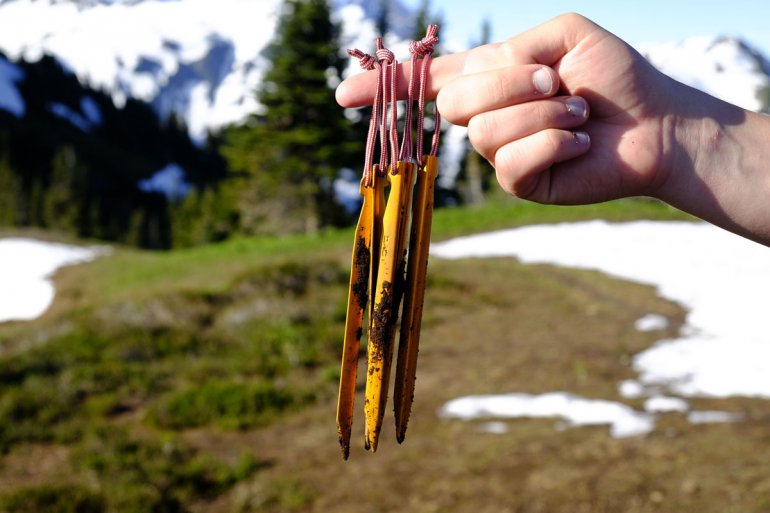 What Does Freestanding Mean?
The term freestanding means that by attaching poles to the tent body, it has a solid structure and can stand completely on its own. Non-freestanding or semi-freestanding tents need to be staked out in some (or all) of the corners to create a rigid frame. The benefit of a freestanding tent is a simple setup that is far easier to move from one area of your campsite to another. As a result, most mainstream tents on the market are freestanding. Non-freestanding tents require fewer pole sections, which reduces weight, and are a popular choice for backcountry enthusiasts that are well versed in choosing a good campsite and erecting a tent.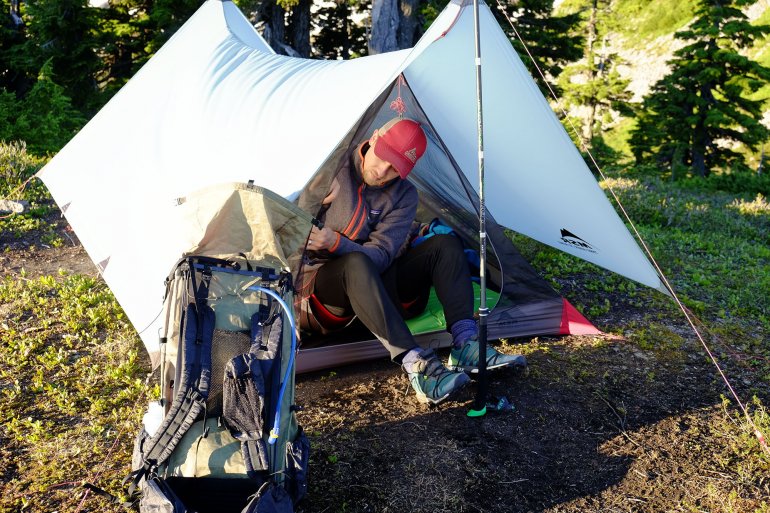 Footprints and Tent Care
A footprint might feel like an easy item to leave behind on a backpacking trip, but trust us, it is well worth the additional ounces. The extra layer protects the tent floor, and it's a lot easier to buy and carry a $40 footprint than replace a damaged $400 tent.
You'll often find footprints specifically designed for your tent, precut to the proper dimensions, and the grommets will attach to the tent poles directly. It's an integrated system that you don't need to worry about, and if your tent has a fast-pitch option, you can use just a footprint, rainfly and tent poles to set up an ultralight shelter. Cost is the primary reason to look elsewhere.
A popular choice for making a generic ground cloth is to pick up bulk Tyvek from a hardware store. This relatively thin and packable material is cheap and offers sufficient waterproof protection. Or you can purchase an emergency blanket, like the Space All-Weather Blanket, and trim it to fit. Place the silver side up, and you get the added benefit of your heat reflecting back up to you. No matter what route you choose, using a footprint is the easiest way to extend the life of your tent.
Back to Our Top Backpacking Tent Picks Back to Our Backpacking Tent Comparison Table
Learn More About Outdoor Gear