In choosing the right backpacking tent, you have a wide range of options from minimalist ultralight shelters to inexpensive and heavier entry-level models. But uses and budgets vary, and the ideal tent for beginners and those taking shorter trips differs significantly from thru-hikers counting every ounce. After extensive testing and many nights sleeping under the stars, below we break down the best backpacking tents of 2021. For ease of comparison, we've listed two-person models here with other available capacities in the specs. For more background information, see our backpacking tent comparison table and buying advice below the picks.
 
Best Overall Backpacking Tent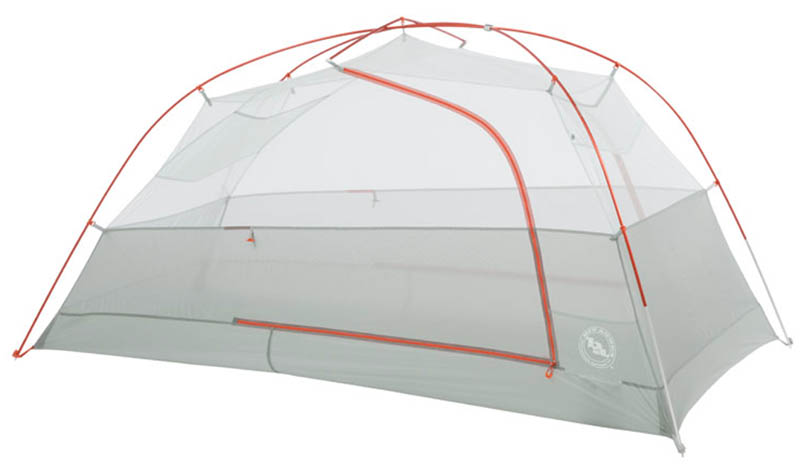 Packaged weight: 3 lbs. 2 oz.
Floor dimensions: 88 x 52/42 in.
Floor denier: 15D x 20D
Capacities: 1P, 2P, 3P, 4P
What we like: Best-in-class combination of low weight, generous interior space, and ease of setup.
What we don't: Pricey and thin materials require extra care.
For a backpacking tent that deftly balances weight, interior space, and features, look no further than Big Agnes's Copper Spur. This tent helped define the ultralight category and still is going strong many renditions later. In the latest 2-person version, you get a healthy 29 square feet of floor space, solid headroom with pre-bent poles and steep walls, and two doors and vestibules—all at just 3 pounds 2 ounces. It's much lighter than competitors like the Nemo Dagger and MSR Hubba Hubba below but has few compromises with a spacious and freestanding design. We've tested various iterations of the Copper Spur everywhere from Patagonia to Mongolia, and it's performed flawlessly in conditions ranging from warm nights to heavy rain and wind. 
At $450, the Copper Spur HV UL2 is one of the pricier tents in its class, and you'll want to be careful with the delicate materials (its 15- x 20-denier floor in particular is quite thin and won't hold up to wear and tear as well as heavier models below). In addition, while the low weight is worth it for those who get out a lot, recreational backpackers may be better off with a heavier yet more durable design. Nevertheless, the Copper Spur's quality is impeccable, with substantial zippers, thoughtful interior storage, color-coded grommets, and easy adjustments to really dial in your setup. And for bikers, Big Agnes now makes the Copper Spur HV Bikepack in 1, 2, and 3-person versions, which feature shortened poles and rugged compression sacks that attach to a bike frame in multiple configurations... Read in-depth review
See the Big Agnes Copper Spur HV UL2
Best Value in a Backpacking Tent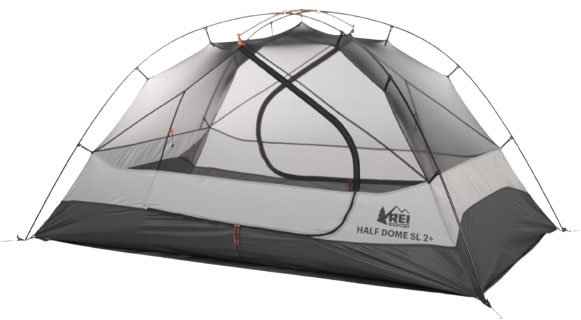 Packaged weight: 4 lbs. 13.5 oz.
Floor dimensions: 92 x 56 in.
Floor denier: 40D
Capacities: 2+, 3+
What we like: A well-built tent with tons of room at a good price.
What we don't: Relatively heavy and only comes in "plus" sizes.
If you're looking for the right combination of performance and price, it's hard to beat REI's iconic Half Dome. This tent has gone through multiple iterations over the years, and the most recent SL ("superlight") is one of the most balanced offerings yet. For $279, the SL is well-built, easy to set up and take down, relatively durable with a 40-denier floor, and has ample mesh for stargazing and ventilation. Yes, you can save with the cheaper REI Passage below, but there are real compromises in terms of interior space, weight, and packed size. All told, we think the Half Dome is a great value for what you get and should keep many backpackers happy—it's the tent we recommend most to family and friends.
For over $170 less than the top-rated Copper Spur, the Half Dome SL offers a bump in durability, and its generous dimensions (4 in. longer and wider than the Big Agnes) make it a very roomy tent for two. But you can't have it all, and in the case of the SL the big compromise comes in terms of weight and bulk. At over a pound and a half heavier than the Copper Spur, "superlight" is a bit of a misnomer, although you can drop about 8 ounces by leaving the included footprint behind (the Big Agnes does not come with a footprint). Despite the nitpicks, we think the Half Dome SL is in a class of its own among value options, and we fully expect the latest model to be a best seller... Read in-depth review
See the REI Co-op Half Dome SL 2+
Best Ultralight Tent for Thru-Hiking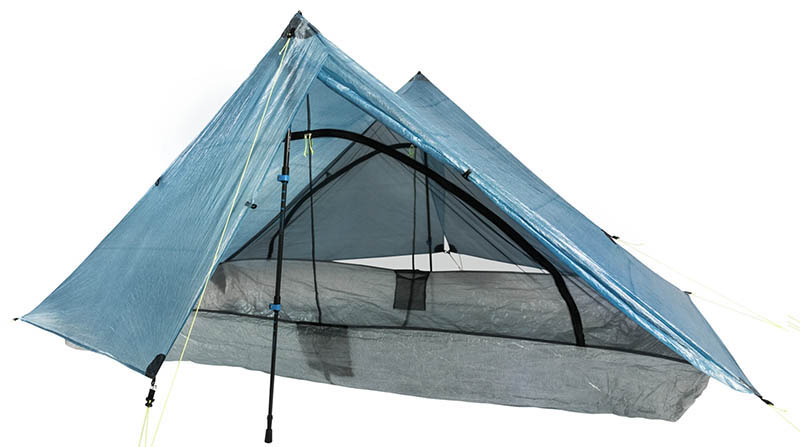 Packaged weight: 1 lb. 3.4 oz. (trekking pole-supported)
Floor dimensions: 90 x 45 in.
Floor denier: 1 oz/sqyd
Capacities: 1P, 2P, 3P
What we like: Extraordinarily light and surprisingly good wet-weather protection.
What we don't: Expensive, drafty, and setup can be challenging.
A number of leading ultralight tents are built with Dyneema—the high-tech fabric commonly used in boat sails and praised for its strength-to-weight ratio—and the Zpacks Duplex is best in class. With an incredibly low all-in weight of just 1 pounds 5 ounces (counting stakes and using two trekking poles for support), it's by far the lightest tent here, yet still sleeps two and includes a bathtub floor for protection from the elements. In use, we found the Zpacks to feel decently roomy for its weight with a 48-inch peak height, and you can adjust the dimensions fairly easily depending on the campsite and conditions. In the end, no ultralight tent is perfect, but the Duplex is a high-quality option that has been relied upon by serious thru-hikers for years. 
What are the shortcomings of the Zpacks Duplex? We've had no issues with water entering the tent—even while camping in snow—but the open sides and thin materials definitely can make it feel drafty in certain conditions. Second, with a trekking pole design you don't get the steep walls of tents like the Copper Spur above, making the Zpacks a feasible but cramped option for two backpackers. And third, setting up the tent is more complicated than with a freestanding design, so we recommend practicing before heading out to make sure you know how to get a taut, even pitch. Last but not least, $649 is a big investment for a small tent, but for the right person the weight-savings are well worth it... Read in-depth review
See the Zpacks Duplex
Livability and Durability Under 4 Pounds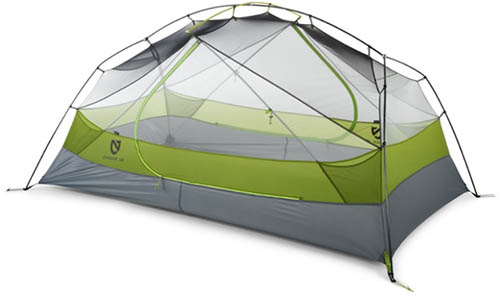 Packaged weight: 3 lbs. 14 oz.
Floor dimensions: 90 x 50 in.
Floor denier: 30D
Capacities: 2P, 3P
What we like: Roomy, relatively light, and easy to set up.
What we don't: Wet weather protection could be a little better.
For weight-conscious backpackers who don't want to compromise on livability and durability, the Nemo Dagger is a great option. At just 3 pounds 14 ounces for the two-person version, this tent is roomy, light, and packed with features. You get two large doors, two spacious vestibules for storing gear, and a roomy interior that saw a 10-percent boost in space with the most recent update, thanks to the addition of pre-bent poles. Additionally, the floor of the Dagger is symmetrical as opposed to tapered toward the feet like some in its weight class (the Copper Spur above, for example), making it possible for two people to sleep in opposite directions (head to toe) for more shoulder room.
What's not to like with the Nemo Dagger? As we touch on in the Hubba Hubba NX write-up below, the Dagger gets the edge in interior space and price but comes up a little short in wet-weather protection. Specifically, the rainfly is raised at each end of the tent, which leaves sections of the tent body vulnerable to blowing rain. And while the fabric is technically waterproof, you can feel the wetness if you bump your head, hands, or feet up against the walls (granted this was in pretty rough conditions, but it's something we didn't experience with the Hubba Hubba on the same trip). Both are well-rounded tent designs with few compromises... Read in-depth review
See the Nemo Dagger 2P
Best Budget Backpacking Tent Under $200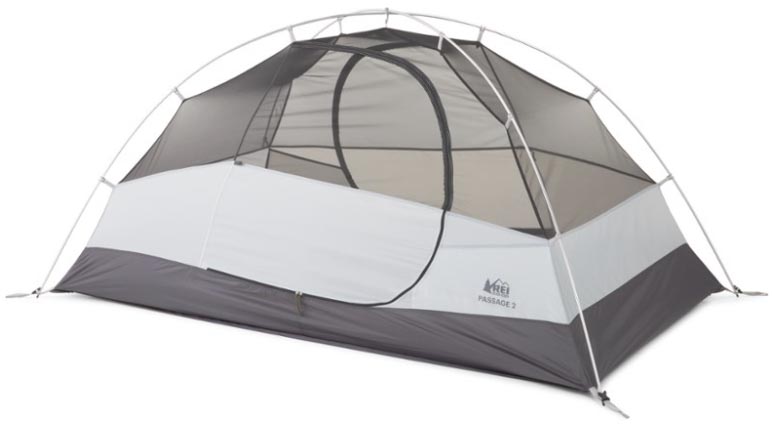 Packaged weight: 5 lbs. 10 oz.
Floor dimensions: 88 x 52 in.
Floor denier: 75D
Capacities: 1P, 2P
What we like: Inexpensive, tough, and easy to set up.
What we don't: Not as modern-feeling or spacious as the Half Dome above.
Let's be real: many people are new to backpacking or perhaps can only get out for a weekend or two each summer. For the value crowd, we turn again to REI Co-op and their tried-and-true Passage. For just $159, you get a reasonable weight of 5 pounds 10 ounces (note: this includes the footprint), a door and vestibule on each side, a full-coverage rainfly, and durable materials that don't require nearly as much care as the lighter-weight options on this list. It's a winning formula that adds up to our favorite offering in the sub-$200 category, year after year.
What do you sacrifice by going with the REI Passage? At almost 6 pounds, it will add significant weight and bulk to your pack, which is not ideal for those covering long distances over multiple days in the backcountry. Second, with a simple X-shaped pole structure (no ridge pole), the Passage doesn't feel nearly as modern or spacious as its more expensive sibling, the Half Dome SL above. In addition, you get standard aluminum rather than DAC poles, which are generally less premium. But we can't help but love the low price of REI's budget model, which makes it a great pick for shorter trips and most casual backpackers... Read in-depth review
See the REI Co-op Passage 2
Best All-Season Backpacking Tent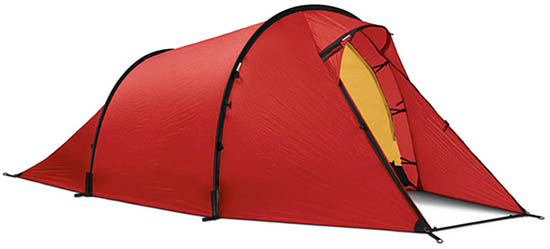 Packaged weight: 5 lbs. 5 oz.
Floor dimensions: 86 x 43 in.
Floor denier: 70D
Capacities: 2P, 3P, 4P
What we like: An absolute tank in high winds.
What we don't: Expensive and overkill for mild conditions.
The majority of the tents in this article are of the lightweight, 3-season variety, but if you anticipate backpacking in tougher conditions, you may want to step up in protection. Slotting just below a full-on winter-ready design is Hilleberg's fantastic Nallo (Hilleberg describes it as "all-season" and they don't use that designation lightly). With a tunnel-like shape as opposed to a traditional dome layout, the Nallo excels in strong gusts and heavy precipitation. Just face either end of the tent in the direction of the wind, batten down the hatches with the many guylines, and sleep in relative peace. We used the Nallo in some brutal weather above the Arctic Circle and came away extremely impressed with its toughness.
The Achilles' heel of the Nallo is breathability. If you're backpacking in warm conditions, it struggles to ventilate and can build up serious condensation on the inner walls. This means that the Nallo is built for backpacking in some of the world's toughest places—think Scandinavia, Alaska, or Patagonia—but it's definitely overkill for summer in the Lower 48. Other downsides include its price and weight, which is heavy for this list but certainly manageable considering the level of protection. All things considered, the Nallo remains a niche backpacking tent, albeit an awesome one.
See the Hilleberg Nallo 2
Best of the Rest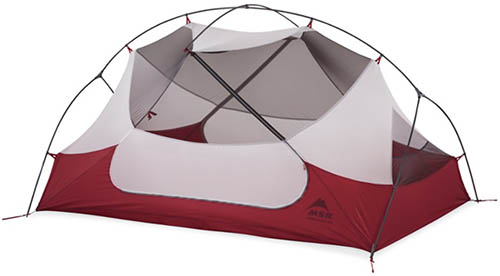 Packaged weight: 3 lbs. 14 oz.
Floor dimensions: 84 x 50 in.
Floor denier: 30D
Capacities: 1P, 2P, 3P, 4P
What we like: All-around quality build with excellent weather protection.
What we don't: A bit pricier and less roomy than competitors like the Nemo Dagger.
MSR's Hubba Hubba NX has never been the absolute lightest on the market nor the most spacious, but it checks just about all of the boxes we look for a backpacking tent. It's lightweight at 3 pounds 14 ounces, yet unlike many true ultralight models, offers good livability with two doors and vestibules and near-vertical walls. In addition, compared to the Big Agnes Copper Spur above, you get a relatively strong 30-denier floor that can take more use and abuse. Last but not least, weather resistance is excellent, and the recent additions of a hubbed pole design and longer-lasting waterproof coating on the fly improves performance in wet and windy conditions.
It was a really close call between the Hubba Hubba NX and Nemo Dagger above. To get down to the nitty gritty, the Nemo weighs the same but is slightly roomier with more width a higher peak height, and it costs $20 less. On the other hand, the Hubba Hubba has superior ventilation for summer backpacking (the Dagger only vents out the doors) and more complete rainfly coverage (the Nemo leaves small portions of the ends slightly exposed, which can result in some wetness along the interior in heavy moisture). But the MSR is very well-built and readily available throughout backpacking season, which is something Nemo has struggled with in prior years... Read in-depth review
See the MSR Hubba Hubba NX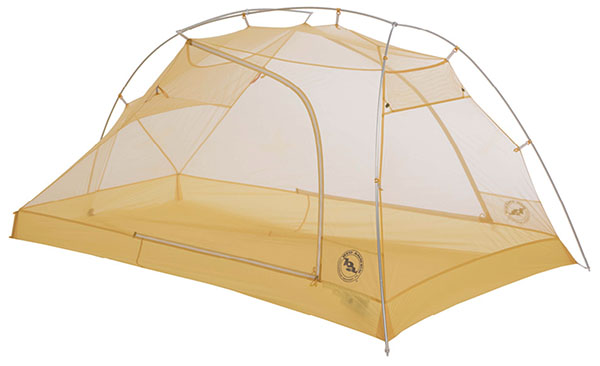 Packaged weight: 2 lbs. 8 oz.
Floor dimensions: 86 x 52/42 in.
Floor denier: 15D
Capacities: 1P, 2P, 3P
What we like: More spacious than the Nemo Hornet and a more viable option for two backpackers.
What we don't: 2 ounces heavier and $30 pricier than the Hornet. 
Big Agnes has a knack for mixing and matching exiting designs to create a new product, which is exactly what they did with the Tiger Wall UL2. This creative ultralight tent brings together the two-door-and-vestibule concept of the popular Copper Spur above, with the semi-freestanding layout of the ultralight Fly Creek below. The net result is a shelter with convenient access and gear storage for two people, while remaining extremely light at just 2 pounds 8 ounces. Not surprisingly, the price for the Tiger Wall UL2 also splits the Copper Spur ($450) and Fly Creek ($370) at $400.
The Tiger Wall's large ridge pole across the center of the tent makes it more spacious than the Nemo Hornet, but a semi-freestanding design isn't for everyone. We've found it particularly difficult to get a taut pitch when camping on rock, and the Tiger Wall simply isn't as weather-worthy or roomy as the Copper Spur. In terms of materials, the silicone-coated nylon is impressively strong (although it's still thin and requires gentle treatment), and we like that Big Agnes has turned to fade-resistant solution-dyed fabrics in order to reduce their footprint. Keep in mind that you can shave even more weight by opting for the Tiger Wall 2 Platinum ($550, 2 lbs. 4 oz.) or Carbon ($1,000, 1 lb. 11 oz.) which feature the same design but with even lighter materials, albeit at a cost... Read in-depth review
See the Big Agnes Tiger Wall UL2 Solution Dye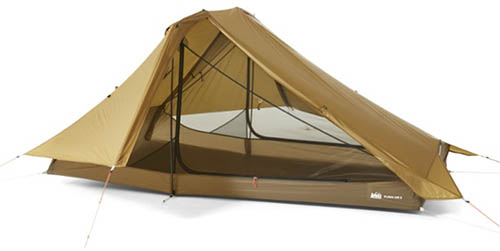 Packaged weight: 2 lbs. 8 oz.
Floor dimensions: 88 x 52/42 in.
Floor denier: 15D
Capacities: 1P, 2P
What we like: Legitimately ultralight yet easy to set up and use; less than half the price of the Zpacks Duplex. 
What we don't: Foot-end pole can be difficult to insert and remove. 
REI has dabbled in ultralight tents in the past with models like the discontinued Dash, but they've gone all-in with the Flash Air 2. Sporting a non-freestanding design, thin 15-denier fabrics, and a simplistic pole structure, the tent is a legitimate contender to cottage-industry favorites like the Tarptent Double Rainbow and Gossamer Gear The Two. For the construction, REI opted for a hybrid single/double-wall build, which helps trim weight but provides plenty of ventilation with lots of mesh along the side walls and portions of the roof (there also are two roof vents to further help with air flow). Aggressively priced at $299 and made with quality materials throughout, the Flash Air 2 is a UL tent for the every man or woman looking to shave weight without breaking the bank.
With a packaged weight of 2 pounds 8 ounces (you can save 3 ounces by swapping out the vertical side poles for trekking poles), the Flash Air unquestionably is light and packable, but you can save even more weight with options like the sub-2-pound Zpacks Duplex above. But what sets the Flash Air apart are its price and ease of use: they've made the setup process very logical and we got a nice, even pitch the very first time (a rarity among non-freestanding models). In addition, interior space is excellent for the weight and the tent kept us fully protected in rain and wind without issue. We have minor nitpicks like the foot-end pole being too tight and difficult to insert and remove at first, but overall, we think REI knocked it out of the park with the Flash Air... Read in-depth review
See the REI Co-op Flash Air 2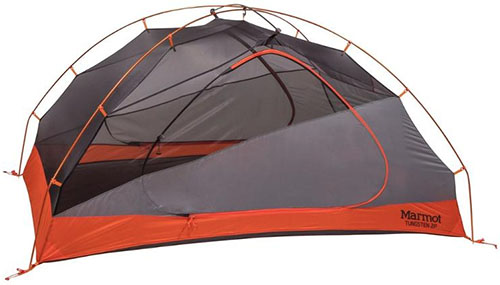 Packaged weight: 5 lbs. 4 oz.
Floor dimensions: 88 x 54/46 in.
Floor denier: 68D
Capacities: 1P, 2P, 3P, 4P
What we like: A nice hybrid backpacking/car-camping option with a footprint included.
What we don't: Heavier and less spacious than the Half Dome SL above.
REI's Half Dome and Passage above aren't the only good values on the market. At a budget-friendly price of $214, the Marmot Tungsten has a similar 3-season build with durable fabrics and all the features that most weekend backpackers need. The tent has two doors and vestibules, weighs in at a respectable 5 pounds 4 ounces, and offers a roomy 32 square feet of floor space. We also like the mix of solid nylon and mesh on the tent body, which provides both good ventilation and privacy. And whereas the Half Dome SL above has a 40-denier floor and 30-denier fly, the Tungsten ups the ante with 70- and 68-denier fabrics in the floor and fly, respectively.
All things considered, we like the Marmot Tungsten and it makes a nice hybrid backpacking and car camping option. One downside is the tent's packed size, which is large enough to make it difficult to squeeze into a backpack (it's much easier to divide up the load between two people). And although it's a bit more expensive at $279, the REI Half Dome SL 2+ weighs over 6 ounces less than the Tungsten yet offers considerably more floor area and vestibule space. But the Marmot is nevertheless a solid option for penny pinchers. Marmot also offers the 2-person tent in a lightweight version (the Tungsten UL), which uses substantially thinner materials to trim away about 1.5 pounds from the standard model.
See the Marmot Tungsten 2P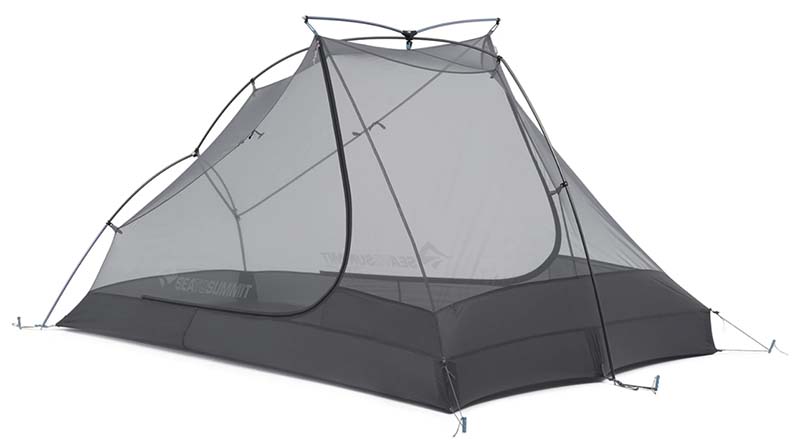 Packaged weight: 2 lbs. 15.3 oz.
Floor dimensions: 84.5 x 53/38 in.
Floor denier: 15D
Capacities: 1P, 2P
What we like: Tension Ridge design maximizes livable space and ventilation.
What we don't: Heavier and more expensive than the Tiger Wall above.
Australia-based Sea to Summit is a reliable go-to for outdoor gear, but 2021 marks their first foray into backpacking tents. And they've entered the competitive market with a bang, unveiling two models: the freestanding Telos TR and lighter-weight, semi-freestanding Alto TR featured here. The headliner is the unique Tension Ridge, which gently bends the ridge pole upward at each end rather than the more common downward-sloping design (concave vs. convex). It's a small tweak in construction with a significant effect, resulting in taller doors, increased livable space, and better airflow (the vent naturally remains agape at the apex rather than drooping closed). Tack on a number of creative extras—including a snap-on "Lightbar" headlamp diffuser and a versatile fly that sets up in multiple configurations—and it's safe to say that Sea to Summit has made one heckuva debut.
The Alto TR 2 goes head-to-head with the Tiger Wall UL2 above: both are semi-freestanding tents that feature thin fabrics, tapered footprints, and two doors and vestibules. But while the Alto wins out in ventilation and livable space—thanks to its ridge-pole design and peak height of 42.5 inches (vs. the Big Agnes' 39 in.)—it falls short of the time-tested Tiger Wall in a few ways. In fact, its greatest strength is also its greatest weakness: during our testing, rain pooled in the concavities of the fly, dripping into the tent through the vent opening. And it doesn't win the numbers game either: the Alto is almost a half-pound heavier and $49 more than the Tiger Wall (for just $1 and 3 oz. more, you could level up to the roomier and more durable Copper Spur). But most tents need to go through a few iterations before reaching perfection, and we really like the direction the Alto is headed... Read in-depth review
See the Sea to Summit Alto TR 2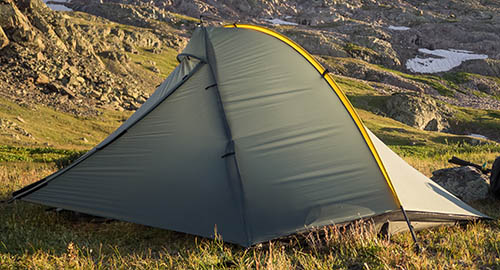 Packaged weight: 2 lbs. 10 oz.
Floor dimensions: 88 x 50 in.
Floor denier: 30D
Capacities: 1P, 2P
What we like: Inexpensive for a lightweight tent, roomy interior, and can handle stormy weather.
What we don't: Prone to moisture build-up; seam sealing costs extra.
California-based cottage brand Tarptent isn't a household name yet, but the company offers an inspiring ultralight lineup at reasonable price points. The Double Rainbow is our favorite model: it weighs a scant 2 pounds 10 ounces, is reasonably tough with 30-denier fabric and silicone coating, and is fully bug-proof. Updated last year, Tarptent addressed one of our complaints with the prior version with a longer center ridge pole and 2-inch-wider floor that makes it easier to sleep side-by-side. Importantly, they kept all of the Double Rainbow's signature features including two doors and vestibules, a small packed size, and solid all-around weather protection.
In contrast to the traditional way of erecting a tent (tent body first then rainfly), setting up the Double Rainbow is quite simple. Thread the main pole through a sleeve in the rainfly and stake everything out. The "tent body" is made of mesh and hangs from the bottom of the rainfly. One thing to keep in mind is that the Double Rainbow does not come seam-sealed. But it's a fairly simple process to do yourself, or Tarpent will do it before shipping for $35. Even with the seam sealing and optional clip-in liner for reducing moisture build-up, the Double Rainbow remains one of the best ultralight values on the market... Read in-depth review
See the Tarptent Double Rainbow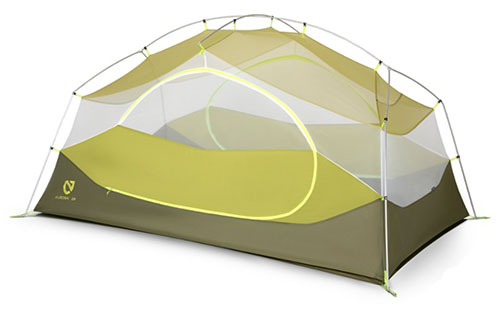 Packaged weight: 5 lbs. 7 oz.
Floor dimensions: 88 x 52 in.
Floor denier: 68D
Capacities: 2P, 3P
What we like: Eye-catching design and steep walls at a good price.
What we don't: Not as roomy or lightweight as the REI Half Dome SL above.
For backpackers who care more about saving money than ounces, Nemo's Aurora is an interesting addition to the market. And it's not all pinching pennies here: the Aurora is impressively livable with two oversized doors, near-vertical walls, and a full-coverage fly with built-in vents. The symmetrical design and Nemo's intuitive hardware make setup easy, and thoughtful internal storage is great for staying organized at camp. All in all, we've found that Nemo tents consistently are high quality and offer a nice balance of thoughtful features, and the Aurora falls right in line.
Priced at just $250 (with an included footprint), the Aurora is a strong budget pick and gives the REI Half Dome SL above a run for its money. You save $29 with the Nemo and get more durable materials (68D vs. 40D for the floor), but the REI is over a half-pound lighter and far more spacious with an additional 4 inches in both the length and the width (although the Aurora's peak height is 2 in. taller). Weight-conscious hikers will likely opt for the Half Dome, but the Aurora is a durable and affordable choice. And for more space, you can bump up to the Aurora 3P (88 x 72 in.) for $300. 
See the Nemo Aurora 2P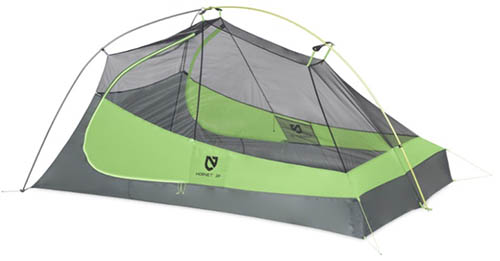 Packaged weight: 2 lbs. 6 oz.
Floor dimensions: 85 x 51/43 in.
Floor denier: 15D
Capacities: 1P, 2P
What we like: As light as the Big Agnes Fly Creek below but with two doors and vestibules.
What we don't: Tight quarters for two backpackers. 
For minimalists that still want a tent pole-supported and bug-proof shelter, we highly recommend the Nemo Hornet. The standard bearer in this 2-pound category has long been the Fly Creek from Big Agnes, but we think the Hornet beats it in nearly every way. Most importantly, we love the Hornet's two-door and two-vestibule design (the Fly Creek only has a single door at the head-end of the tent). As a tent for thru-hiking or ultralight backpacking, it's the more livable option of the two, although you still need to take great care of the thin fabric and mesh.
In terms of size, the Hornet is a very snug place to be. It's less roomy than its competition and certainly wouldn't be our first choice for waiting out a long storm with a friend. That said, Nemo did give it a modest bump in interior space with two "FlyBar" pole clips (essentially two mini ridge poles at the head and foot end of the tent). This makes it a little easier for two people to sit up side-by-side, but we still consider the Hornet 2P ideal for single backpackers. For a step up in livability, the Big Agnes Tiger Wall above offers a bit more headroom with longer center ridge poles, although it's both heavier and expensive. And Nemo released the Dragonfly last year, although we thought it was still tight for two backpackers while weighing quite a bit more than the Hornet at 3 pounds 2 ounces.
See the Nemo Hornet 2P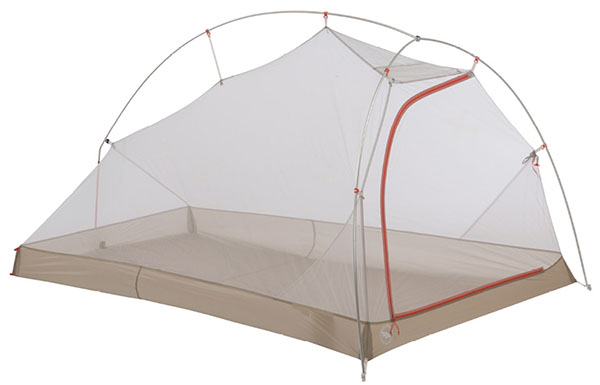 Packaged weight: 2 lbs. 4 oz.
Floor dimensions: 86 x 52/42 in.
Floor denier: 20D
Capacities: 1P, 2P
What we like: A real tent that weighs as much as a bivy.
What we don't: Not everyone loves the single door and thin fabrics.
Fast and light hikers love the Big Agnes Fly Creek UL—the two-person version weighs in at a measly 2 pounds 4 ounces, which is comparable to a decent bivy sack or hammock. This feathery-light weight is accomplished with a single door at the head end, an interior that tapers aggressively towards your feet, and a hubbed pole that runs the length of the tent in a spine-like shape. The tent and rainfly fabrics are also impressively strong despite being so thin they're semi-see-through, and with a recent update are now solution-dyed, which means they're less prone to fading (notably, this process also reduces energy and water waste during manufacturing).
It's important to be aware that the Fly Creek won't offer the same protection from the elements as a sturdier design like the MSR Hubba Hubba above, particularly in heavy rain when the rainfly is prone to sagging onto the tent body (guying it out properly will alleviate this issue). And while the latest "Solution Dye" version increases livability with a larger door and steeper walls, we still think the Tiger Wall and Nemo Hornet are the better all-around choices with their two-door-and-vestibule designs (for just a few ounces more). But if you're interested in cutting even more weight, Big Agnes offers the wild Fly Creek Carbon with Dyneema, which swaps the standard nylon fabrics and aluminum poles for ultra-thin Dyneema and a carbon-fiber hubbed system. The packaged weight: a truly amazing 1 pound 7 ounces... Read in-depth review
See the Big Agnes Fly Creek HV UL2 Solution Dye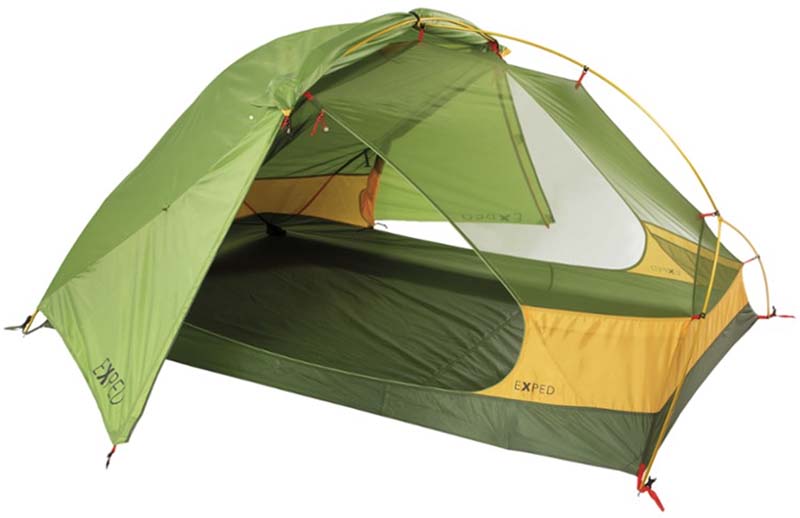 Packaged weight: 4 lbs. 8 oz.
Floor dimensions: 84.6 x 51.2 in.
Floor denier: 68D
Capacities: 2P, 3P
What we like: An airy tent that is great for stargazing. 
What we don't: Not as well-rounded as the Half Dome above.   
Switzerland-based Exped is perhaps best known for its sleeping pads, but we like what they've done with the Lyra II. Updated last year, this backpacking tent has a unique design with a lot of upsides for less than $300. First, it's fairly wide with a listed dimension of 51.2 inches (about an inch wider than popular designs like the Nemo Dagger and MSR Hubba Hubba NX above) and has a reasonably tall peak height at about 43 inches. With a modern pole structure that pulls the walls out, an adaptable rainfly that can be rolled back in mild conditions, and a ton of mesh for easy stargazing, the Lyra is a roomy and fun 2-person option that is ideal for warm-weather backpacking. 
Where did Exped compromise with the 4.5-pound Lyra? REI's Half Dome above costs the same at $279 and offers even more room inside while weighing less (if you leave the REI's included footprint behind). It's true that the Exped uses more durable fabrics in general—its 68D floor and rainfly are noticeably tougher than the 40D and 30D used on the REI. But that's the Exped's only true advantage and the difference in spaciousness is hard to ignore: the Half Dome is wider, its pole structure creates even more vertical walls, and it nearly matches the Lyra in stargazing. All that said, we like the creativity, toughness, and price point of the Lyra II, which is why it's included here.
See the Exped Lyra II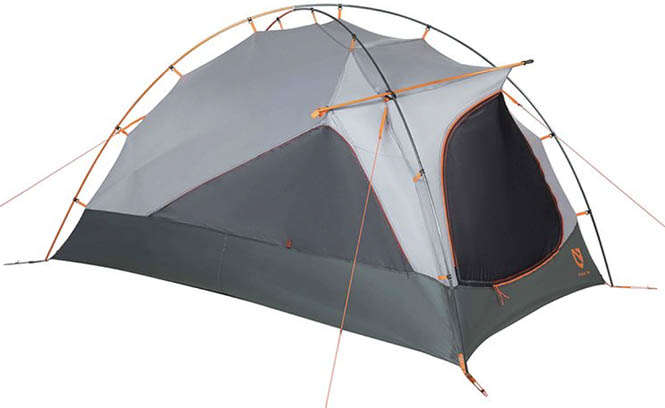 Packaged weight: 4 lbs. 5 oz.
Floor dimensions: 82 x 50/41 in.
Floor denier: 30D
Capacities: 2P, 3P
What we like: Lightweight, warm, and strong. The Kunai is much burlier than a standard 3-season tent. 
What we don't: Expensive and not super roomy. 
For hitting the backcountry in winter or even treks in inhospitable places like Nepal or Peru, you'll most likely want a step up in toughness and warmth from the 3-season tents that dominate this list. Enter the Nemo Kunai, a versatile design that's built for year-round use. With a sturdy pole structure and considerably less mesh than its warmer-weather counterparts, the Kunai is stable and relatively draft-free in high winds. And when the mercury rises, portions of the canopy unzip, revealing mesh windows for great airflow throughout the night. It's not a true 4-season design (Nemo lists "3-4 season"), but the Kunai is ideal for winter camping and ski touring around treeline and all-season backpackers looking for a bit more protection.
For other tents that fit a similar designation, the Hilleberg Nallo above is an impressively tough option that can handle extreme wind with relative ease. We love Hilleberg tents and they are hard to kill (compare the Nallo's 70D floor to the Nemo's 30D), but practically speaking, the Nallo is quite pricey at nearly $800 and overkill for moderate conditions (the Kunai has a lot more options for venting). In addition, Big Agnes makes a beefed-up Expedition version of its popular Copper Spur, we've had good luck the MSR Access over the years (supply is currently limited), and REI offers the Arete ASL for a reasonable $399, although it's heavy at over 6 pounds. These are all worthy tents for intrepid backpackers headed out year-round, but the Kunai meets a particularly nice balance of weight, price, and versatility.
See the Nemo Kunai 2P
Packaged weight: 1 lb. 13 oz. (trekking pole-supported)
Floor dimensions: 84 x 52/45 in. 
Floor denier: 1.3 oz/sqyd
Capacity: 2P
What we like: Great ventilation and can be set up in multiple configurations.
What we don't: Heavier and more expensive than the Zpacks Duplex above.
Hyperlite Mountain Gear specializes in Dyneema products, and their Echo 2 carries the torch with a lightweight yet strong design. At just 1 pound 13 ounces, you get a standalone mesh shelter (the "insert") with a waterproof bathtub floor, and full weather protection with a tarp and vestibule (guylines also are included in the weight). With double-wall construction, the Echo features better versatility and ventilation than the Zpacks Duplex above, and you can save weight by setting it up as a floorless shelter (using just the tarp). Or, in hot and dry weather, simply pitch the insert for maximum airflow and a solid defense against bugs and critters.
What are the shortcomings of the Echo 2? The most obvious is price: at $695, the Echo costs around $50 more than the Zpacks above, and you can get a more traditional nylon and mesh ultralight tent from a brand like Big Agnes for hundreds of dollars less. Second, 24 square feet of floor space makes it one of the smallest tents here, and the tapered ceiling results in much less headroom, too (we recommend it as a roomy tent for solo hikers). Finally, non-freestanding tents can't be pitched in tight spaces (you need room to extend the guylines) and are not ideal for camping on rocks. But for ultralight enthusiasts, the Echo is another solid option to consider.
See the Hyperlite Mountain Gear Echo 2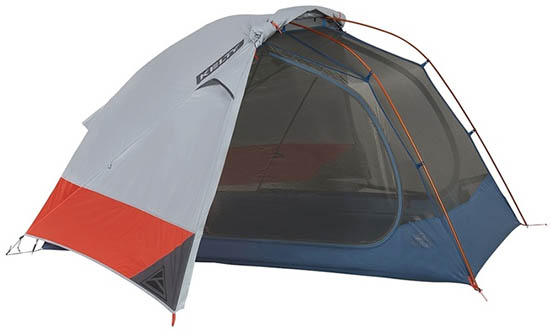 Packaged weight: 4 lbs. 13 oz.
Floor dimensions: 84 x 50 in.
Floor denier: 70D
Capacities: 2P, 3P, 4P
What we like: Creative fly design for unobstructed views.
What we don't: Mesh goes too low for dusty weather.
Kelty targets the value end of the gear spectrum and does a nice job at balancing price and quality. Near the top of their backpacking line is the Dirt Motel 2, which features near-vertical walls, a competitive $260 price tag, and a number of innovative touches. In particular, we like the "Stargazing" tent/rainfly design that offers full mesh coverage for a completely open view of the night sky when the rainfly is off (other tents like the Nemo Aurora above only offer partial viewing with some mesh and some nylon)…
We appreciate the Dirt Motel's durable materials and general ease of use, but for just $19 more, it's tough to beat the Half Dome SL above in terms of value. The REI provides over 6 square feet more interior space for the same weight, has roomier vestibules, and the hubbed pole design is more stable and easier to pitch. We also have concerns about dust with the Dirt Motel (an unfortunate coincidence given the "Dirt" in the name): in the quest to drop weight and further improve 360-degree viewing, Kelty extended the mesh on the tent body all the way down to the waterproof tub floor. This can leave you exposed in windy and dusty conditions, but breathability is great and we love the airy feel in good weather.
See the Kelty Dirt Motel 2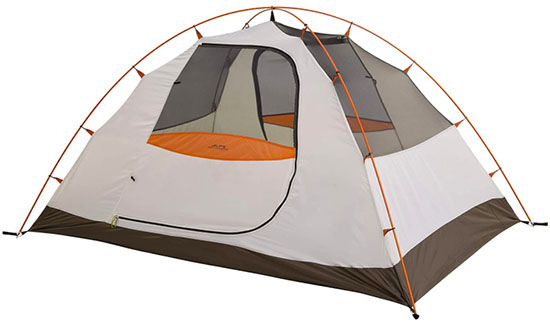 Packaged weight: 5 lbs. 15 oz.
Floor dimensions: 90 x 60 in.
Floor denier: 75D
Capacities: 1P, 2P, 3P, 4P
What we like: Incredibly cheap and good feature set.
What we don't: Heavy; budget build quality.
Alps Mountaineering does not make the lightest tents or use premium materials, but they certainly win out in price. For just $150 at full retail price (the best deal usually can be found on Alps Mountaineering's website), the Lynx 2 is an awesome value in a two-person backpacking tent. All the intangibles are there: the Lynx is roomy, offers good weather protection and sufficient ventilation with two vents up top, and has two large doors and vestibules for storing your gear at night. In terms of durability, the Lynx uses a burly 75-denier floor and substantial zippers, which are great for those who are hard on their gear. All in all, that's a lot of bang for your buck.
What are the downsides of the Alps Mountaineering Lynx 2? With a packaged weight of 5 pounds 15 ounces, it's the heaviest two-person tent on this list, although most others are literally hundreds of dollars more expensive. And given the low cost, the fabrics and poles feel cheaper than mid-range and premium models. But we keep circling back to price, which is why Alps has carved out a loyal following among beginning backpackers and those on a tight budget. In terms of larger versions, the Lynx also is offered in three- and four-person varieties.
See the Alps Mountaineering Lynx 2
Backpacking Tent Comparison Table
| Tent | Price | Weight | Floor Dimensions | Peak Height | Denier | Capacities | Free-standing |
| --- | --- | --- | --- | --- | --- | --- | --- |
| Big Agnes Copper Spur | $450 | 3 lb. 2 oz. | 88 x 52/42 in. | 40 in. | 15Dx20D | 1P, 2P, 3P, 4P | Yes |
| REI Half Dome SL 2+ | $279 | 4 lb. 14 oz. | 92 x 56 in. | 42 in. | 40D | 2+P, 3+P | Yes |
| Zpacks Duplex | $649 | 1 lb. 3.4 oz. | 90 x 45 in. | 48 in. | 1 oz/sqyd | 1P, 2P, 3P | No (available) |
| Nemo Dagger 2P | $430 | 3 lb. 14 oz. | 90 x 50 in. | 42 in. | 30D | 2P, 3P | Yes |
| REI Co-op Passage 2 | $159 | 5 lb. 10 oz. | 88 x 52 in. | 40 in. | 75D | 1P, 2P | Yes |
| Hilleberg Nallo 2 | $815 | 5 lb. 5 oz. | 86 x 43 in. | 39 in. | 70D | 2P, 3P, 4P | No |
| MSR Hubba Hubba NX | $450 | 3 lb. 14 oz. | 84 x 50 in. | 39 in. | 30D | 1P, 2P, 3P, 4P | Yes |
| Big Agnes Tiger Wall UL2 | $400 | 2 lb. 8 oz. | 86 x 52/42 in. | 39 in. | 15D | 1P, 2P, 3P | No (semi) |
| REI Co-op Flash Air 2 | $299 | 2 lb. 8 oz. | 88 x 52/42 in. | 42 in. | 15D | 1P, 2P | No |
| Marmot Tungsten 2P | $214 | 5 lb. 4 oz. | 88 x 54/46 in. | 42 in. | 68D | 1P, 2P, 3P, 4P | Yes |
| Sea to Summit Alto TR 2 | $449 | 2 lb. 15 oz. | 85 x 53/38 in. | 42.5 in. | 15D | 1P, 2P | No (semi) |
| Tarptent Double Rainbow | $299 | 2 lb. 10 oz. | 88 x 50 in. | 40 in. | 30D | 1P, 2P | No (available) |
| Nemo Aurora 2P | $250 | 5 lb. 7 oz. | 88 x 52 in. | 44 in. | 68D | 2P, 3P | Yes |
| Nemo Hornet 2P | $370 | 2 lb. 6 oz. | 85 x 51/43 in. | 39 in. | 15D | 1P, 2P | No (semi) |
| Big Agnes Fly Creek UL2 | $370 | 2 lb. 4 oz. | 86 x 52/42 in. | 42 in. | 20D | 1P, 2P | No (semi) |
| Exped Lyra II | $279 | 4 lb. 8 oz. | 84.6 x 51.2 in. | 43 in. | 68D | 2P, 3P | Yes |
| Nemo Kunai 2P | $500 | 4 lb. 5 oz. | 82 x 50/41 in. | 44 in. | 30D | 2P, 3P | Yes |
| Hyperlite Echo 2 | $695 | 1 lb. 13 oz. | 84 x 52/45 in. | 41 in. | 1.3 oz/sqyd | 2P | No |
| Kelty Dirt Motel 2 | $260 | 4 lb. 13 oz. | 84 x 50 in. | 42.5 in. | 70D | 2P, 3P, 4P | Yes |
| Alps Lynx 2 | $150 | 5 lb. 15 oz. | 90 x 60 in. | 46 in. | 75D | 1P, 2P, 3P, 4P | Yes |
*Editor's Note: "Weight" refers to the packaged weight of each tent, with the exception of trekking pole-supported models.

Backpacking Tent Buying Advice​​​
Backpacking Tent Weight
A backpacking tent is one of the heaviest and bulkiest items you'll pack for an overnight trip, but the good news is that modern designs are lighter than ever. The 2-person tents on our list range from 1 pound 3.4 ounces for the non-freestanding Zpacks Duplex to 5 pounds 15 ounces for the budget Alps Lynx, with popular models like the Nemo Dagger and MSR Hubba Hubba settling somewhere in the 3-pound range. As is the case with most outdoor gear, shaving weight from a tent design will result in some tradeoff, often in the form of compromised durability, interior space, weather protection, or ventilation (not to mention a higher price tag). Because performance doesn't drop with weight across the board (some tents sacrifice livability, while others give up durability), it helps to be mindful of your priorities when making your tent purchase.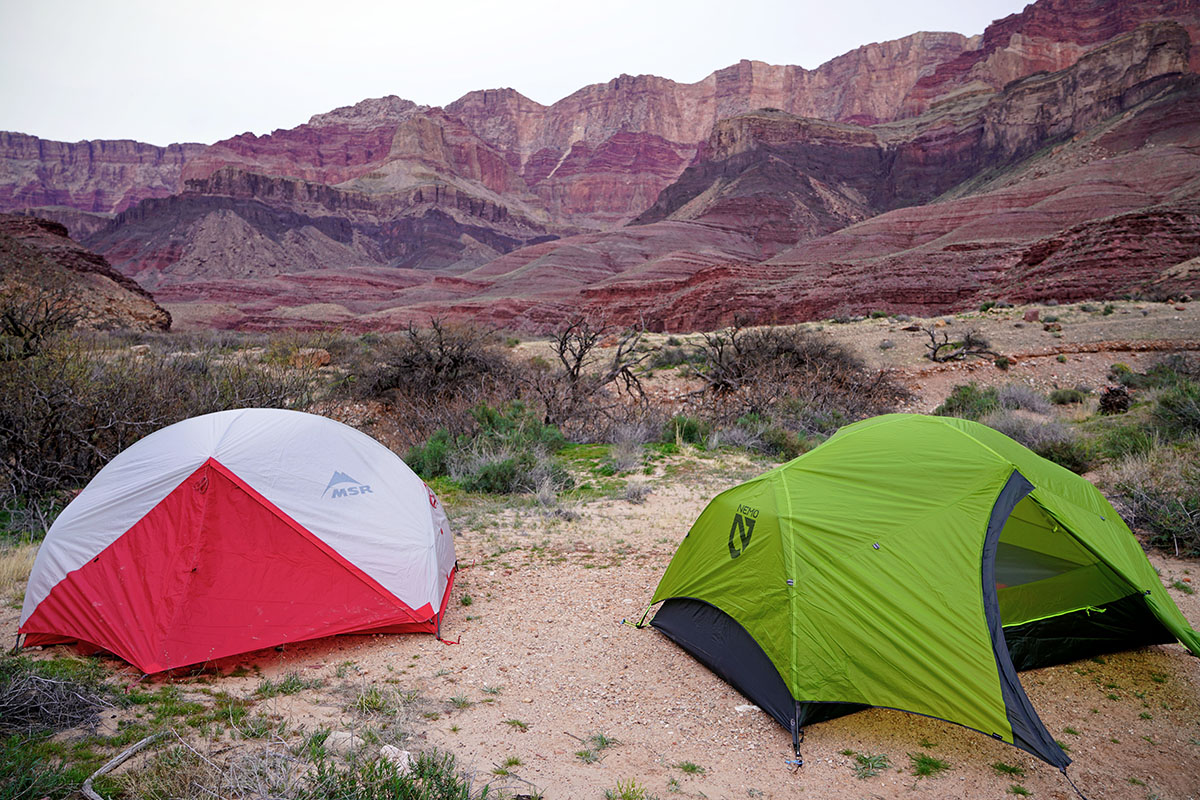 In general, tents around 4.5 pounds and heavier will be the most affordable models as you aren't paying for ultralight materials, and they also tend to be the roomiest and longest lasting. These are our top picks for casual backpackers and they double as great options for car camping too. Dropping down to a tent like the 3-pound 14-ounce MSR Hubba Hubba NX ($450), you get similar features and interior space but with thinner (read: less durable) materials that weigh less and cost more. In our opinion, tents in this 3 to 4.5-pound window offer the best balance for most backpackers. Breaking the 3-pound barrier, you start seeing even lighter fabrics and compromises in interior space, including tapered dimensions, simplified pole structures or semi-freestanding designs, lower peak heights, and smaller vestibules. These tents, like the Big Agnes Fly Creek, are worth the weight-savings for serious backpackers but are too compromised for most. Finally, tents that weigh in at less than 2 pounds are the most expensive here, often feature premium Dyneema fabrics and trekking-pole designs, and are favorites among ounce-counting thru-hikers. 

Packaged Weight vs. Minimum Weight
Tentmakers often list two weights, which can be confusing, so we are happy to explain the differences. Packaged weight, which is what we use for our specs and table above, refers to everything that comes from the manufacturer: the tent body, rainfly, poles, stakes, guylines, and stuff sacks. In cases where the footprint is included with the tent—such as REI's Half Dome SL and Passage—the weight of the ground sheet is included here too (this is an important factor to consider when comparing models, as a footprint can tack on 7 ounces or more to the packaged weight). But you can carry less than the packaged weight: some people ditch the stuff sacks and leave them at home (a very minimal weight savings), others buy ultralight stakes or use rocks to secure their tent, and guylines are optional, although they do help in high winds and we prefer to bring them along on most trips.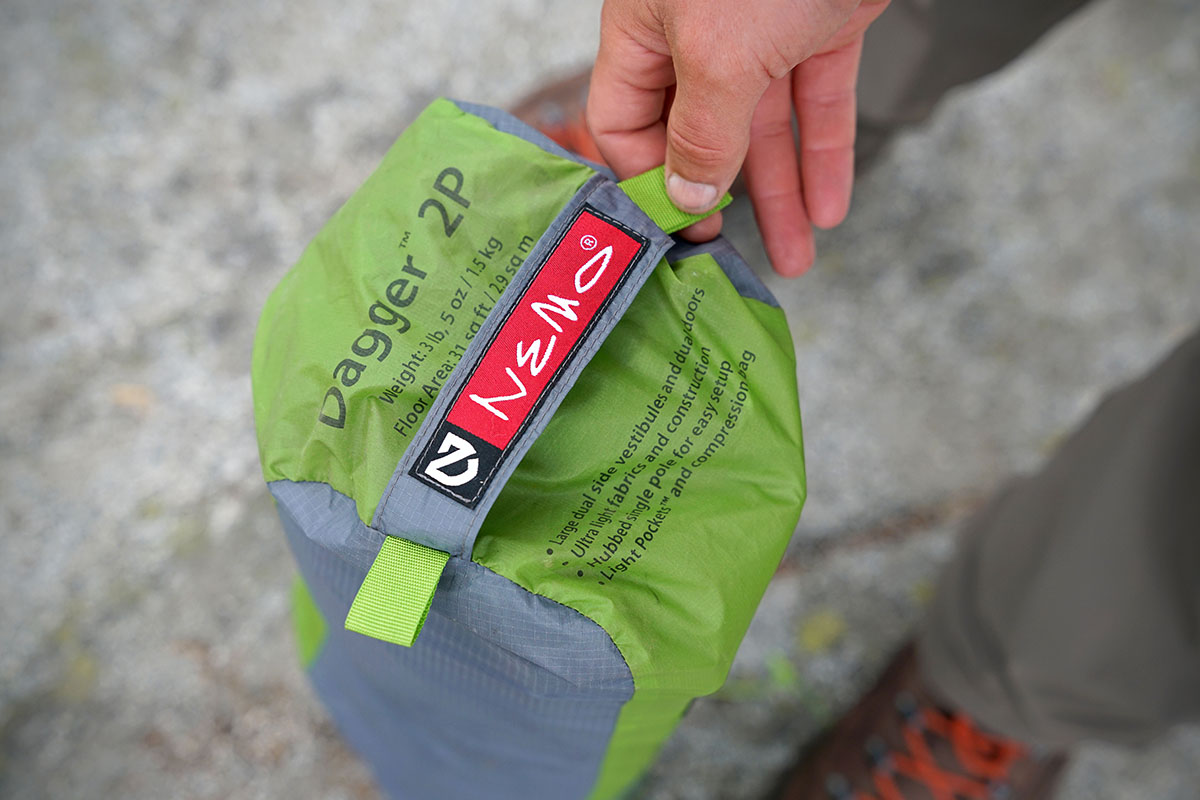 At the opposite end of the spectrum is minimum weight, also referred to as "trail weight." This includes only the tent body, rainfly, and poles (no stakes, guylines, or stuff sacks). Depending on the build of the tent components, the difference between packaged weight and minimum weight can be substantial: anywhere from over a pound for the entry-level REI Passage 2 with its heavy aluminum stakes and included footprint to a 7-ounce difference for the Big Agnes Copper Spur. As mentioned above, we've chosen to list packaged weight as we feel it's the more realistic measure of the two, but you can trim ounces from there—all the way down to the minimum weight if you so desire.

The Ultralight Tent Movement
Weight-conscious thru-hikers have relied on bare-bones shelters for a long time, but only recently has the ultralight craze hit mainstream backpacking. Ultralight tents clock in around 2.5 pounds or less and shave weight by way of thin fabrics, tapered floor areas, heavily sloped ceilings, fewer doors, smaller vestibules, and simplified pole structures (they're often semi-or non-freestanding, meaning that they must be staked out in order to hold their shape). These designs were first brought to the market by cottage industry brands such as Gossamer Gear, Zpacks, and Tarptent, and tent gurus Big Agnes and Nemo also have their fair share of offerings. Even recreational gear giant REI has thrown their hat into the ring with the Flash Air 2, which weighs 2 pounds 8 ounces (or 1 lb. 15 oz. if you use trekking poles in lieu of the included tent poles).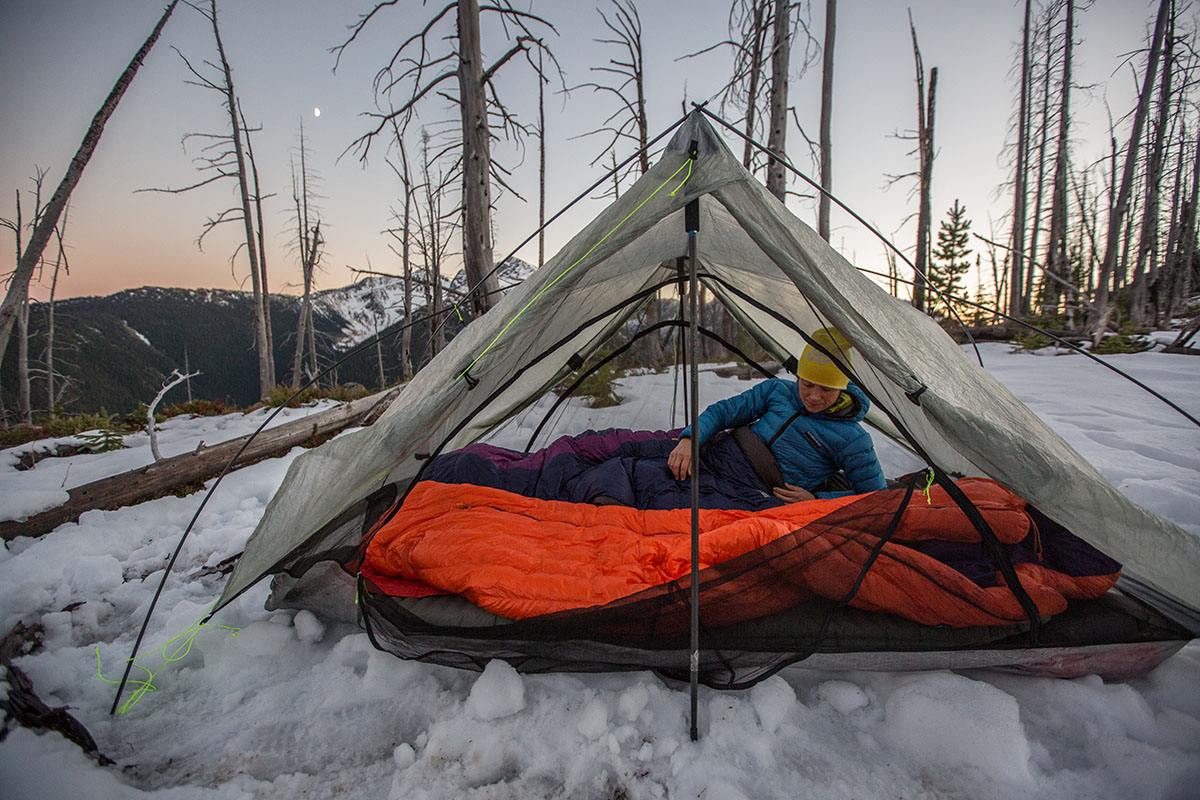 Your mileage may vary, but our take on ultralight tents is mixed. First off, you'll want to be aware of the tradeoffs, which include decreased livability, more complicated set up, compromised ventilation, and less durability. Second, we're big believers that ultralight gear can be taken too far, which is what happens (in our opinion) when tent fabrics drop below 15 denier (as is the case with the Big Agnes Tiger Wall Platinum's 7D floor), or when you wake up with a wet tent wall stuck to your face (a real life experience we had with Six Moon Designs' Lunar Solo). Finding the right balance between weight-savings and function is paramount. And third, because semi and non-freestanding designs require very careful pitches and a lot of space for guylines (for more on this, see "Freestanding vs. Non-Freestanding Tents" below), they're really only practical in areas where you have a lot of room to set up and can be assured to find soft ground for your stakes (predominantly sub-alpine zones). 
In the end, some ultralight tents nail it, and others simply don't. We certainly understand the appeal for thru-hikers and serious backpackers, and in the right environments (fair weather hiking in the forest, for example), the compromises can be minimal. But for most recreational backpackers, the weight-savings probably isn't worth it. Most of the time, you can get a whole lot of comfort and convenience (not to mention, a longer lifespan) by bumping up to a tent that's just one pound heavier (at just over 3 lbs., the Big Agnes Copper Spur is fairly uncompromised). For this reason, we feature a few ultralight tents here and are sure to call out their weaknesses in the write-ups above. For a deeper dive on this topic, see our article: Backpacking Tents: How Light is Too Light?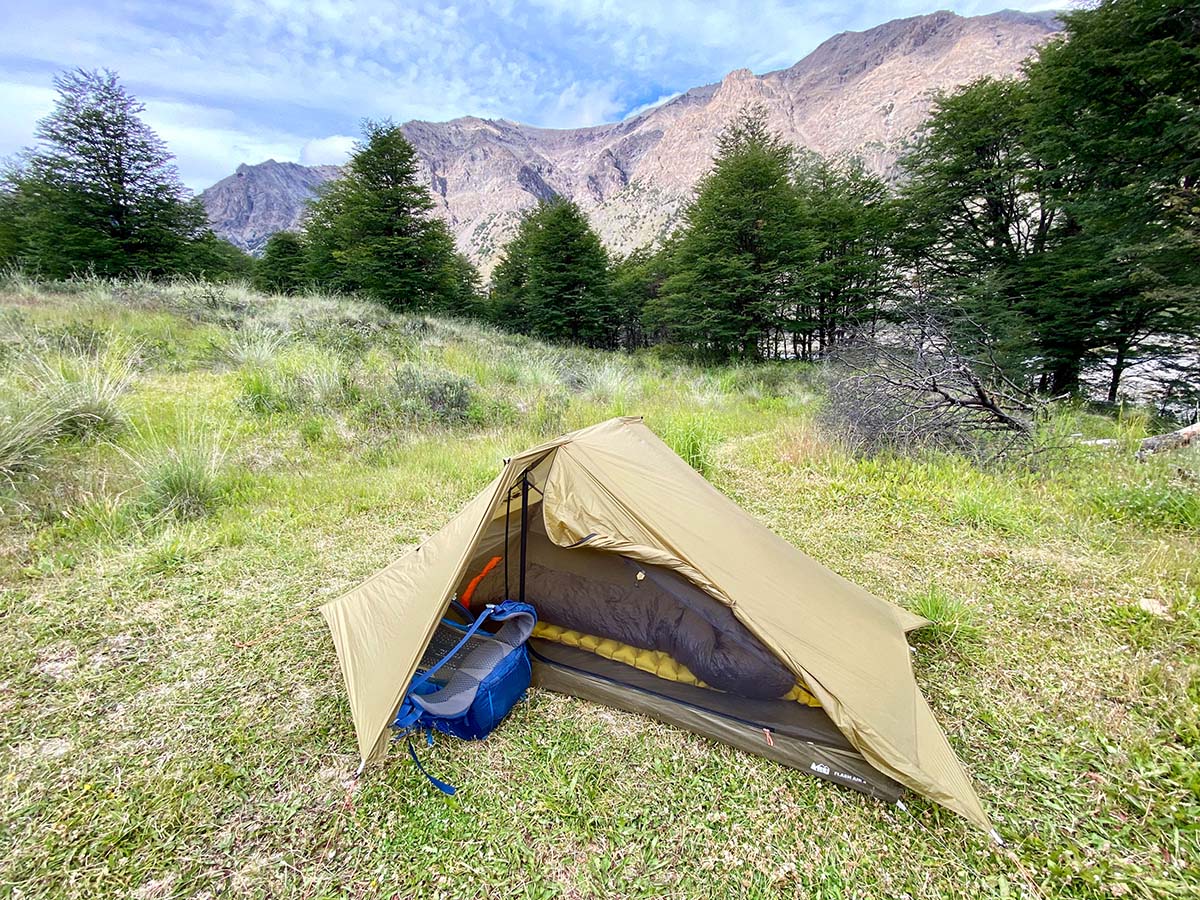 Price and Value
Cost always is a key consideration and a backpacking tent is a big purchase. Here's our take: if you are on a budget, only plan on backpacking once or twice a summer, are covering short to moderate distances, or just don't mind carrying a few extra pounds, we are big fans of entry-level tents like the REI Co-op Passage 2 ($159 with a footprint included) and Half Dome SL 2+ ($279 but a noticeable step up in interior space and features). These tents offer the highest value: build quality is good, they are durable and roomy, setup is easy with simplified pole structures, and they cost considerably less than lighter-weight models. For casual backpackers on shorter trips, there is need to spend more.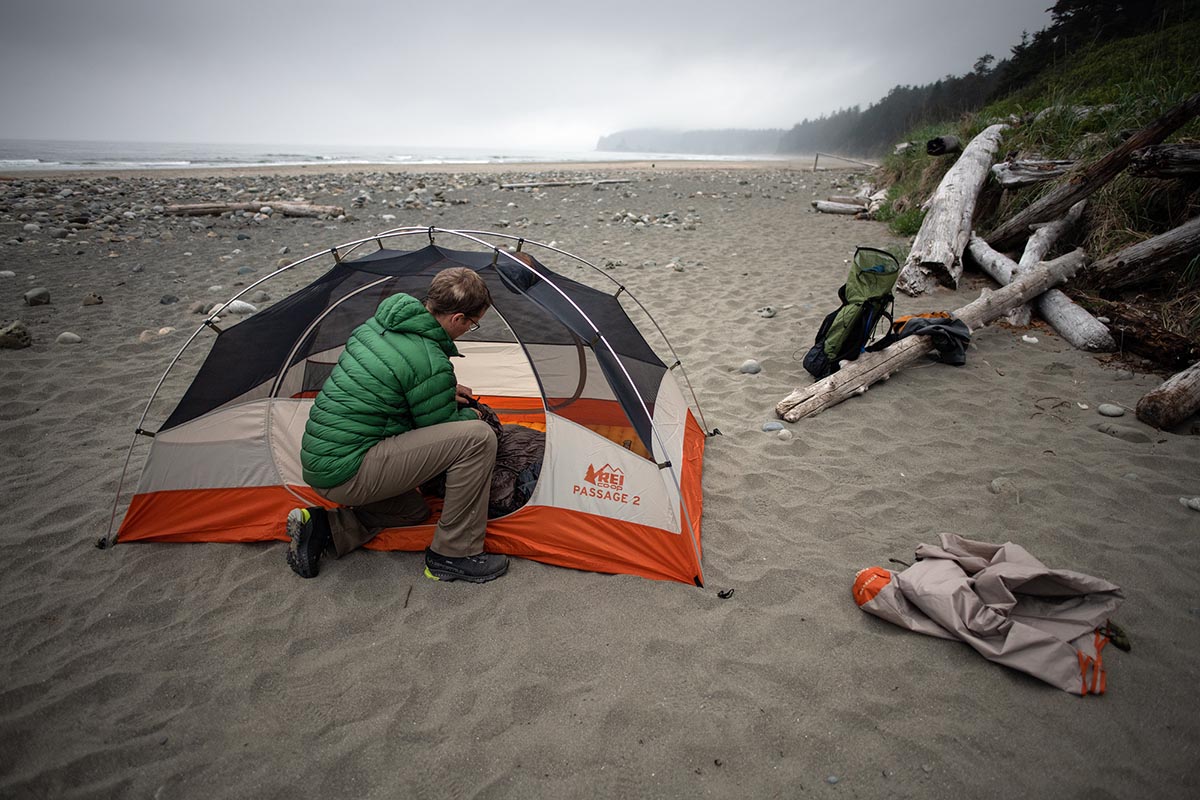 Continuing up the price ladder, the trend is toward lighter and more packable designs. For those who take multi-day backpacking trips, get out a lot, and prioritize a low pack weight, the investment will be well worth it. Tents that are lightweight yet fairly uncompromised will be some of the most expensive (consider the $450 Big Agnes Copper Spur), while semi-freestanding designs with smaller footprints will come in a bit less (the $370 Big Agnes Fly Creek, for example). Most people may not want to consider anything above $500, but this is where you'll find the lightest designs and the most expensive materials, such as Dyneema fabrics and carbon fiber poles. These tents (like the $649 Zpacks Duplex and $550 Big Agnes Tiger Wall Platinum) are a good fit only for extremely weight-conscious backpackers and thru-hikers who spend countless nights outside and need the best tool for the job. However, unless you care a lot about saving weight, they're often not the best value, with fragile materials and compromised livability and features.
Interior Space
Floor Dimensions 
In parsing out how roomy a backpacking tent is, the first thing you'll want to evaluate is the floor dimensions (L x W), which matter quite a bit when you're trying to fit two backpackers with their sleeping pads side-by-side. In general, the floor area of a tent tends to go down as weight goes down, and some two-person tents can get pretty cozy with two adults and gear inside (you always can size up to a "plus" or three-person version for more space). It's also worth mentioning that some tents taper at the foot end, which helps shave weight but also has a negative impact on livability (making it hard to sleep head-to-toe). In these cases, we've provided two measurements for the floor width (86 x 52/42, for example). And a final note on floor dimensions: while they're a good place to start, they certainly don't tell the whole story about a tent's interior space. It's a good rule of thumb to take the tent's peak height and shape into consideration as well, and in particular the slope of the walls (more on this below).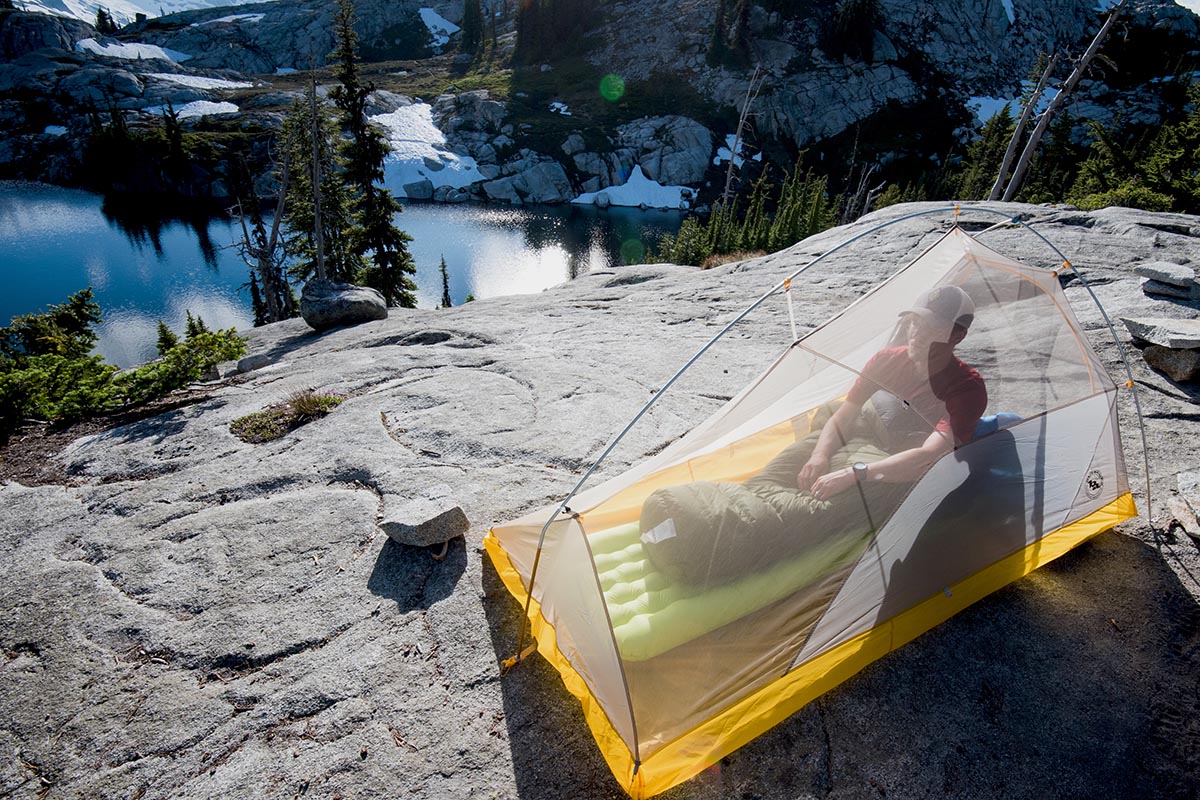 Peak Height and Slope
A tent's "peak height" refers to its tallest point, and among two-person models varies from 39 inches for a design like the Nemo Hornet up to 48 inches for Zpacks' Duplex. But while peak height does make a difference in terms of sitting up and moving around inside your tent, it's important to also consider the slope of the walls in order to get a true picture of a tent's livability. To understand this, just picture the difference between a pyramid-shaped tent (a tall peak height at the apex with sharply sloped walls) and a box-shaped tent, which features the same peak height throughout (headroom is the same at the sides as in the middle). Slope is a trickier subject than peak height and cannot be communicated via a simple measurement, but there are a few tell-tale signs to look for. 
Many of today's most premium designs feature pre-bent poles and a ridge pole, both of which help to stretch the walls outward and make them near-vertical. This can go a long way in extending the peak height both length and widthwise, and is seen in poplar tents like the REI Half Dome SL and Nemo Dagger. On the other hand, many budget and ultralight tents use simplified pole structures (or even trekking pole setups), resulting in a sharper slope and less interior space (the Nemo Hornet, for example). While a tent like the Nemo Dagger is actually fun to hang out in (two people can sit face-to-face), the Hornet can feel a bit like a coffin. Not everyone will need to prioritize a tent with a generous peak height throughout, but it's especially worth it for those who anticipate bad weather or spending a lot of time inside.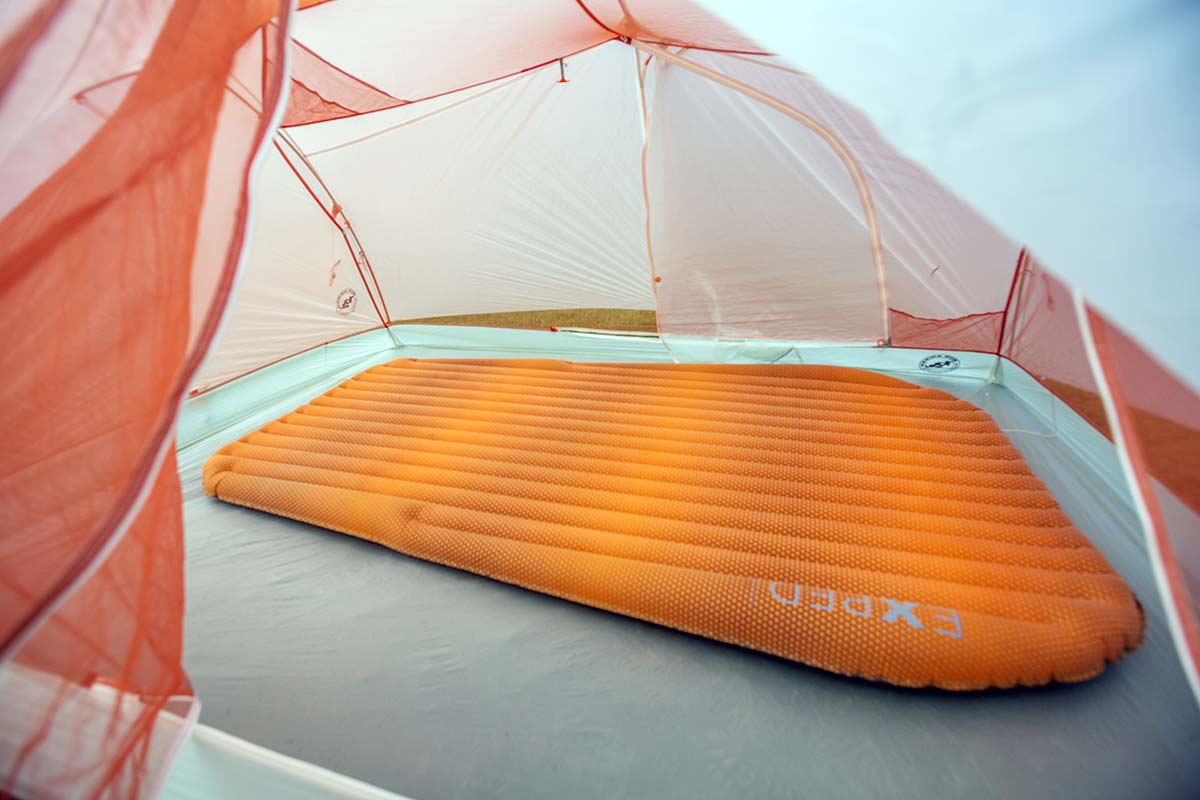 Durability (Denier)
In terms of tent durability, you'll often see manufacturers list the "denier" rating of their fabrics, which is a measurement of the fabric yarn's weight. While there are variables such as quality and construction type, a lower denier generally indicates a thinner and less durable fabric. Most tents list the denier of the tent floor, canopy, and rainfly. The area most vulnerable to punctures or tears is the floor, so we have listed that number for each tent in the specs and comparison table above.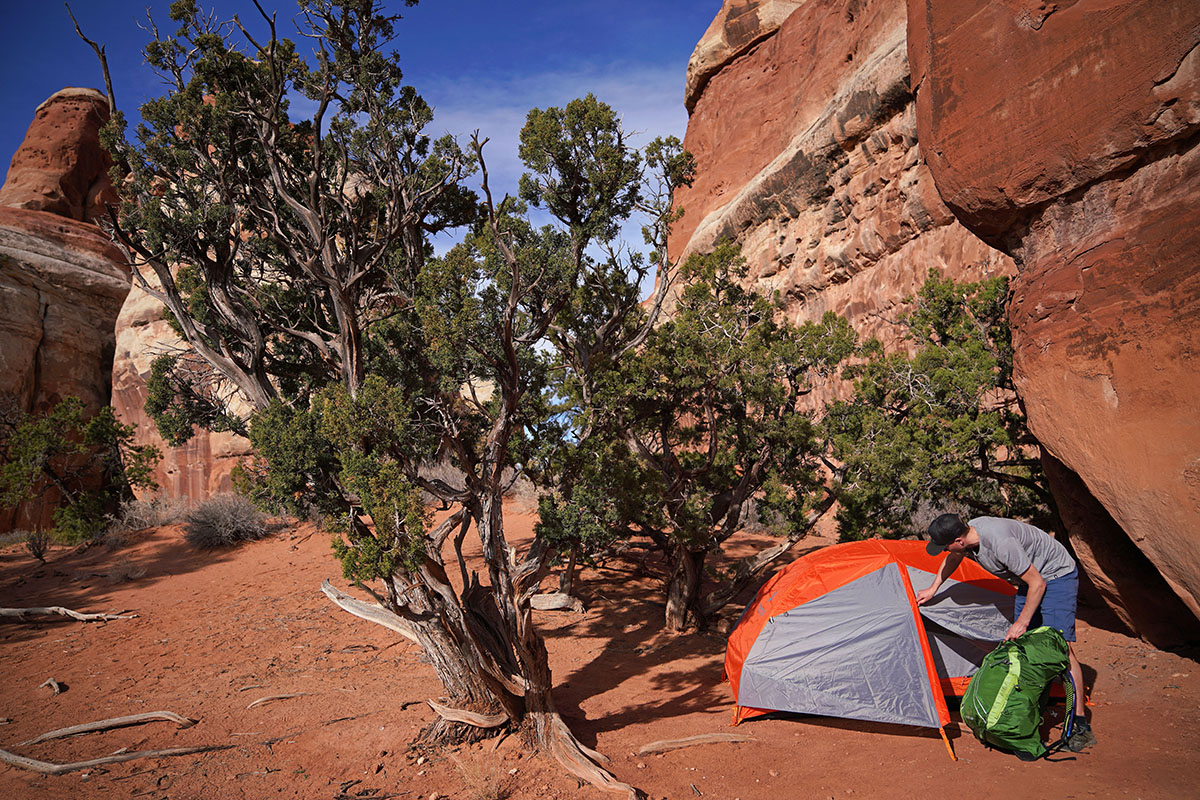 Logically, denier lines up with the total weight of the tent: Nemo's 2-pound Hornet has a very thin 15-denier (D) floor, while the sturdy 5-pound-15-ounce Alps Lynx is 75D. Ultralight gear certainly requires an extra level of care—we typically recommend using a footprint with lightweight tents and checking your campsite for sharp sticks or rocks—but it's a sacrifice many are willing to accept to reduce their packed weight. We prefer a tent that balances weight and durability, which is one of the reasons why the Nemo Dagger and MSR Hubba Hubba NX (and their 30D floor) get some of our top spots.
As we mentioned above, strictly using denier to compare tents isn't a perfect method in determining durability. One way manufacturers increase tear strength and longevity is by adding a silicone coating (also referred to as "silnylon"). High-end tents like the Hilleberg Nallo have 3 layers of silicone on both sides of their ripstop nylon, which gives a significant boost in strength with a minimal weight penalty. This is an expensive process—there's a reason Hilleberg tents are $700 or more—but the payoff is incredible toughness even on a tent like the Nallo that uses otherwise thin 30-denier fabric. You'll also find this technology on some premium designs from tent brands like Big Agnes and MSR (and to varying degrees), although it certainly doesn't filter down to the low end of the market.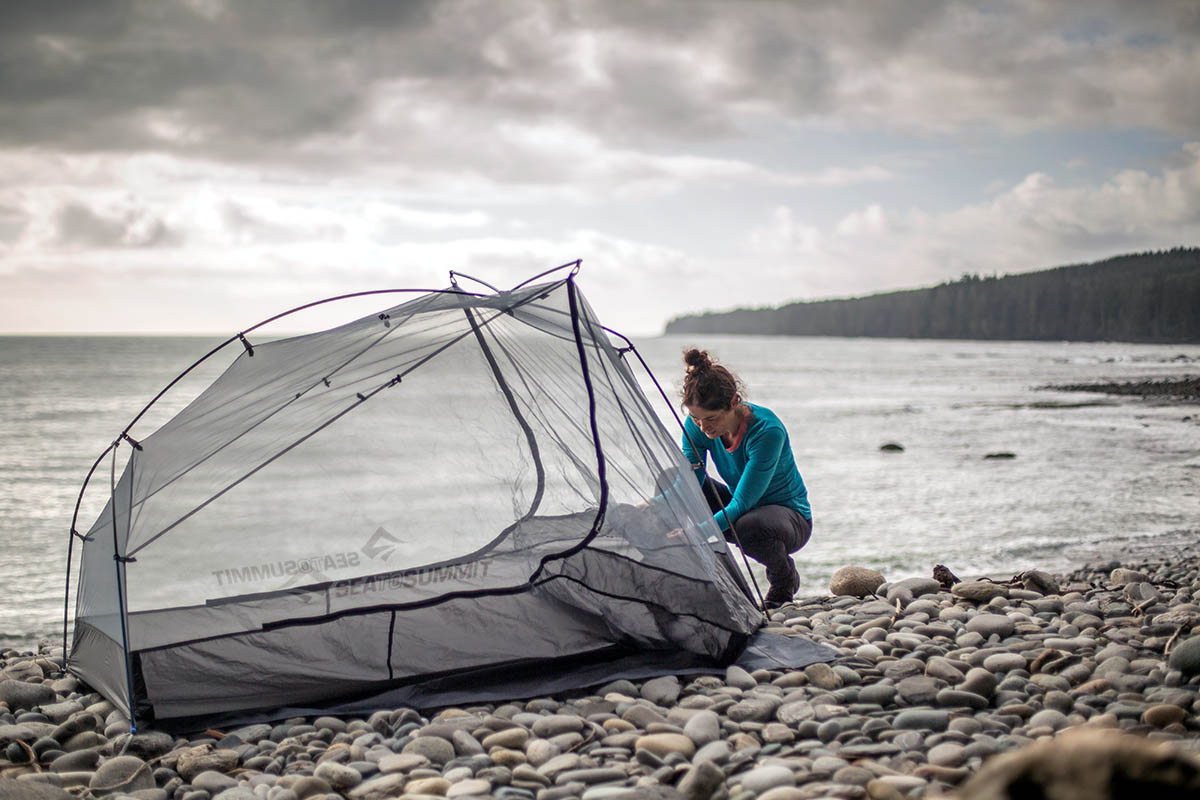 Weather Protection
Your first line of defense in bad weather is the rainfly. As the name indicates, the rainfly covers the exposed tent body for increased resistance from precipitation, wind, and cold. Even ultralight designs have a waterproof coating, are seam-taped (or can be inexpensively), and can withstand hours of downpour without leaking, provided they cover the entire tent body (we've found that most leakage actually comes from the ground around the bottom of the tent). We almost always recommend a full-coverage rainfly, although some tents like the Nemo Hornet have impressive weather resistance even with some sections only protected by the tent body.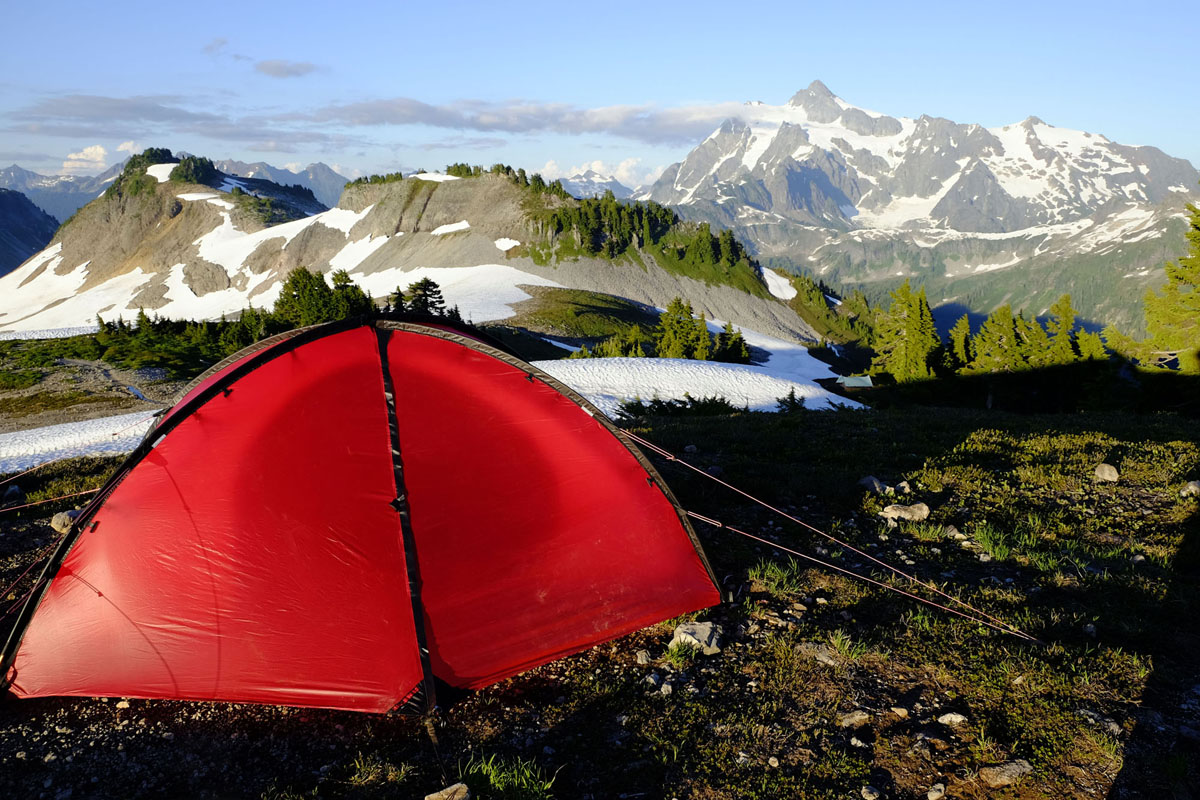 The next factor in weather resistance is the tent structure. In general, more expensive tents offer increased weather resistance (some ultralight models are exceptions). The poles and pole systems on budget tents are likely to bow during strong winds, while high-end tents like those from MSR and Big Agnes and have stronger poles and tons of exterior ties to anchor yourself down during a storm.
A healthy percentage of people get up to the mountains a few weekends a year during the summer months, and encounter moderate conditions in terms of temperature, wind, and precipitation. If you fall into this category, all on our list should perform admirably. We once slept in an older version of the REI Half Dome for six consecutive weeks in Patagonia with only a couple of uncomfortable nights during big storms. That being said, subsequent trips in a Hilleberg did make us appreciate the quality and bombproof feeling you get in a high-end tent.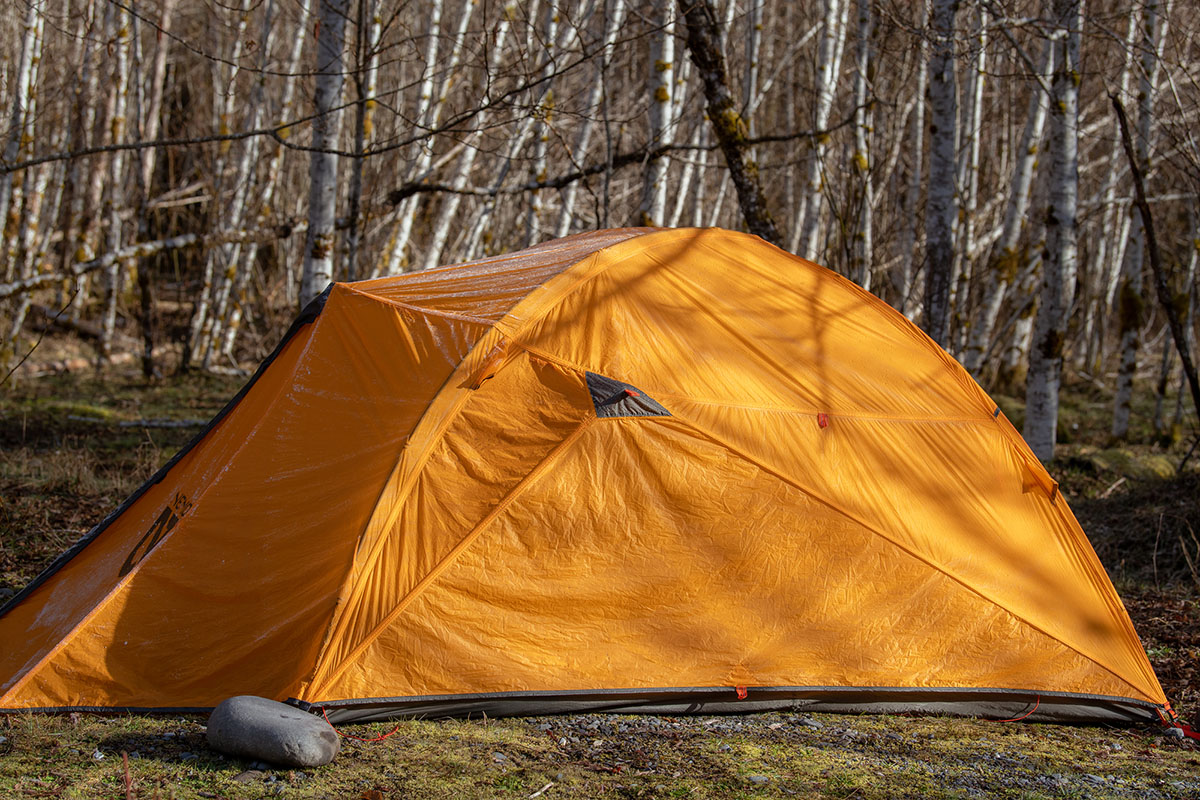 Ventilation
How well a tent ventilates depends on a couple of factors. First, look at the amount of mesh on the tent itself. A double-wall tent (the tent body and rainfly being two independent pieces) with liberal amounts of mesh should breathe well in mild weather. Leave the rainfly off and the tent will be even more comfortable in hot temperatures so long as the sun isn't hitting you directly. With the rainfly on, things get a little trickier. A standard rainfly has a waterproof coating to help protect the interior from getting wet, which also means the rainfly doesn't ventilate very well, and moisture from your breath is trapped inside, creating a dewy interior.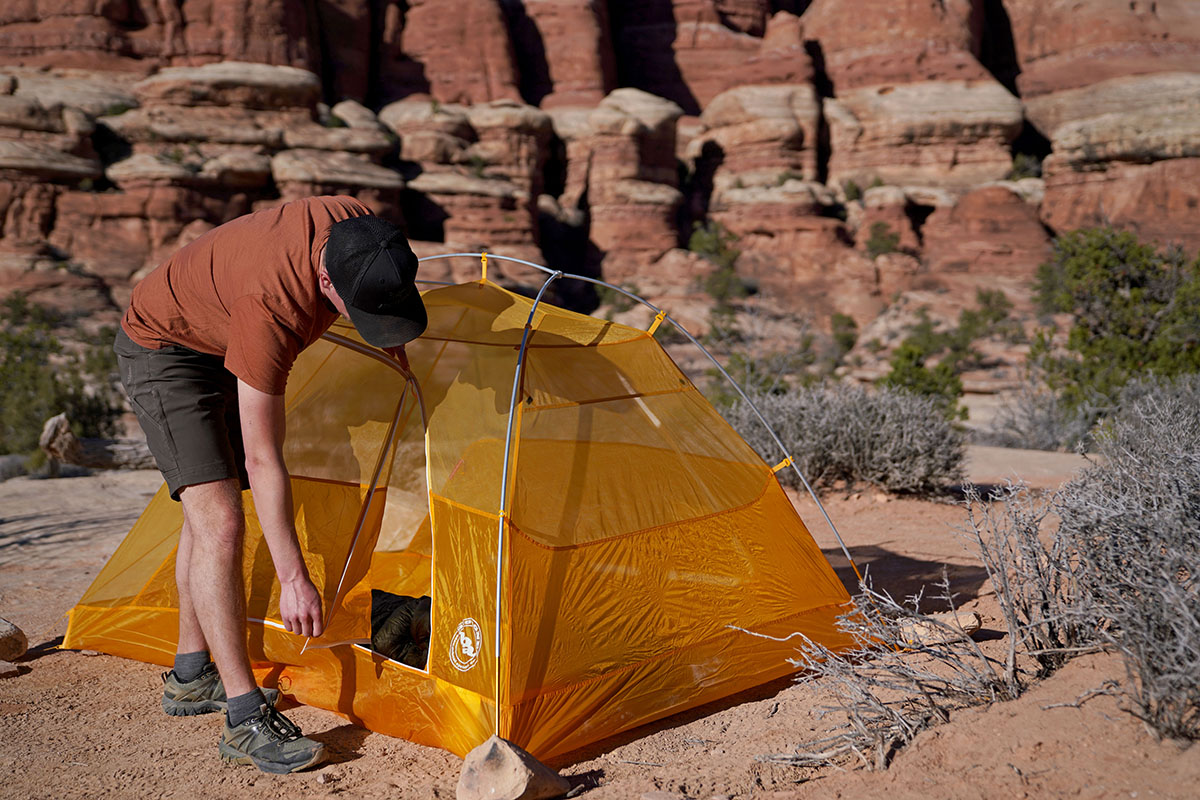 So what can you do? Tent manufacturers combat these problems by installing roof vents towards the top of the rainfly that can be deployed even in the rain. The vents are covered from the top by the rainfly fabric, so only in a strong storm with rain coming sideways will there be an issue with raindrops reaching the interior. By creating good airflow out the top of the tent, along with good spacing between the rainfly and tent body at the bottom, problems with moisture collecting on the interior of the tent can be greatly reduced. And some tents like the Kelty Dirt Motel and Exped Lyra have convertible-like rainfly designs that roll back fairly easily. You can leave half of the rainfly open for ventilation and stargazing, but if you feel a couple of rain drops during the night, it only takes a few seconds to roll the rainfly back down.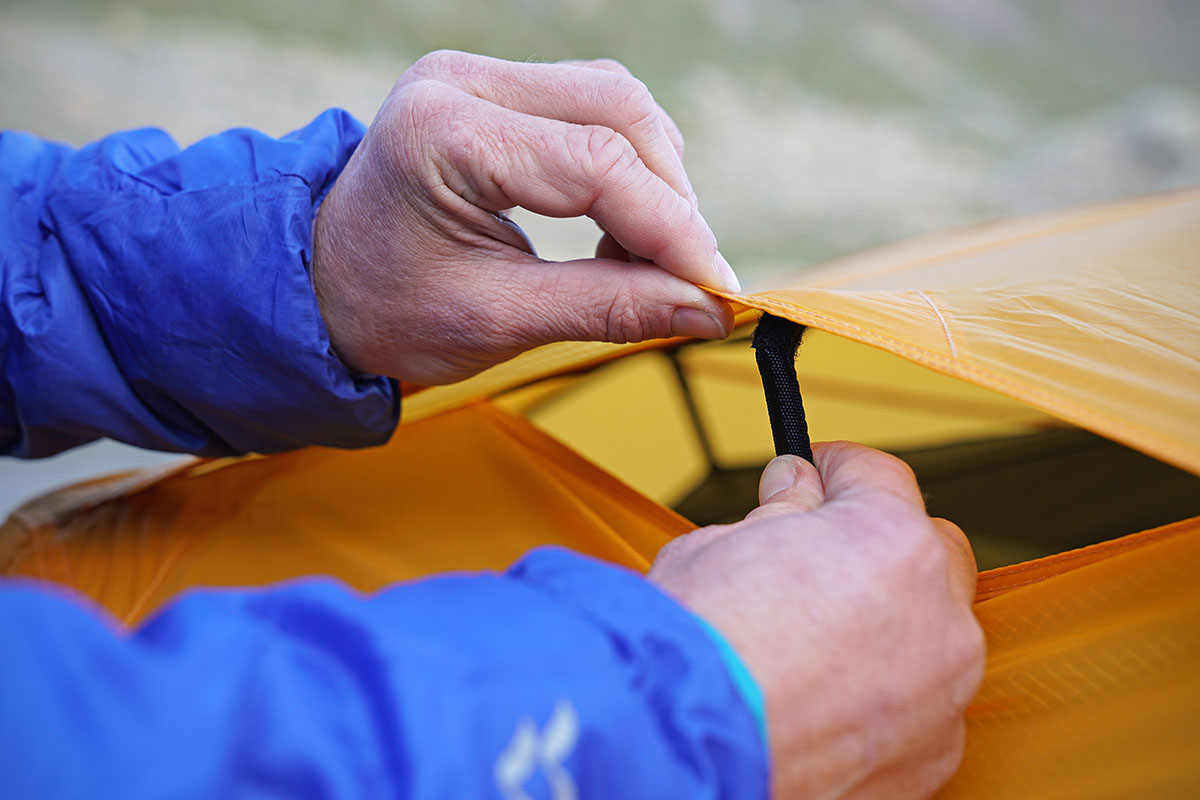 Storage: Vestibules and Interior Pockets
Tent storage can be broken into two categories: vestibules and gear closets outside the tent, and pockets inside the tent body for small items you need close at hand. A traditional vestibule covers the entry door to the tent with enough space for a couple backpacking packs and footwear. Without it, your options are bringing the wet and grimy gear inside the tent or letting it soak outside. Needless to say, we put a priority on some sort of outside gear storage. The amount of vestibule space is measured in square feet and can vary a fair amount. From our top picks above, the smallest vestibules are designs with just one door, like Big Agnes' Fly Creek (8 sq. ft.). On the other end of the spectrum is the REI Half Dome's roomy 22.5 square feet divided between two vestibules. For those camping with a partner, the REI's added space makes staying organized (and sane) much easier.
A tent with excellent interior organization isn't a top priority, that is, until you get into the tent for the first time and look for a spot to store your headlamp, handheld GPS, or other small items. We've found the most helpful area for a pocket is near your head, and a simple mesh drop-in pocket or two is sufficient. Some tents have pockets along the interior of the roof, which make for an easy place to squeeze in a headlamp to light up a game of cards. Should the tent not include pockets along the roof, look to see if it has hang loops instead for securing a light. These extra little details can make your backcountry camping experience all the more enjoyable.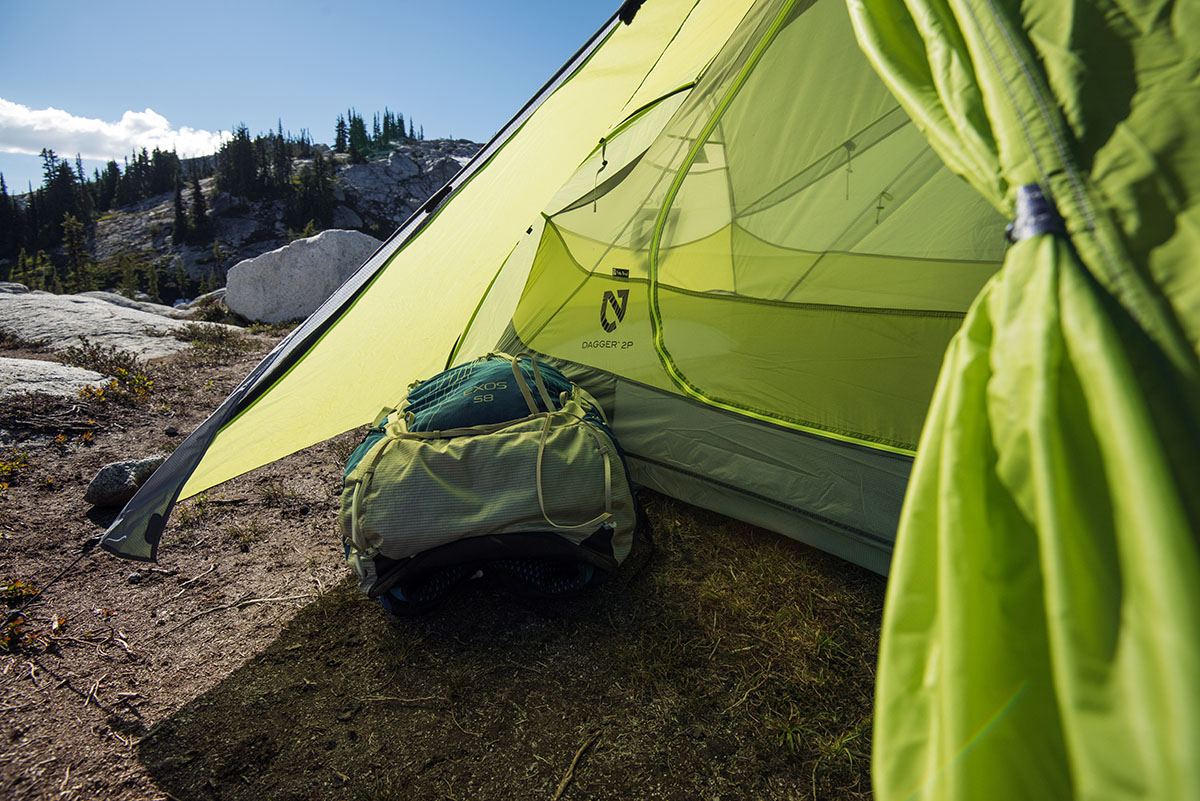 Doors
This article covers mostly two-person backpacking models (the most common capacity), and a quick look at our top picks above shows our clear preference for tents with two doors. These designs are far more convenient for getting in and out of the tent, and most include a vestibule outside of each door for extra storage space. Not all one-door designs should be treated equally, however. A single door at the head end of the tent, like what you get with the Big Agnes Fly Creek, is easier to access than one side door, which requires crawling over your tent mate to get outside (not a fun thing to do in the middle of the night). On the other hand, a two-door design makes life around camp that much easier, and in the cases of the Nemo Hornet and Big Agnes Copper Spur, has little impact on total weight.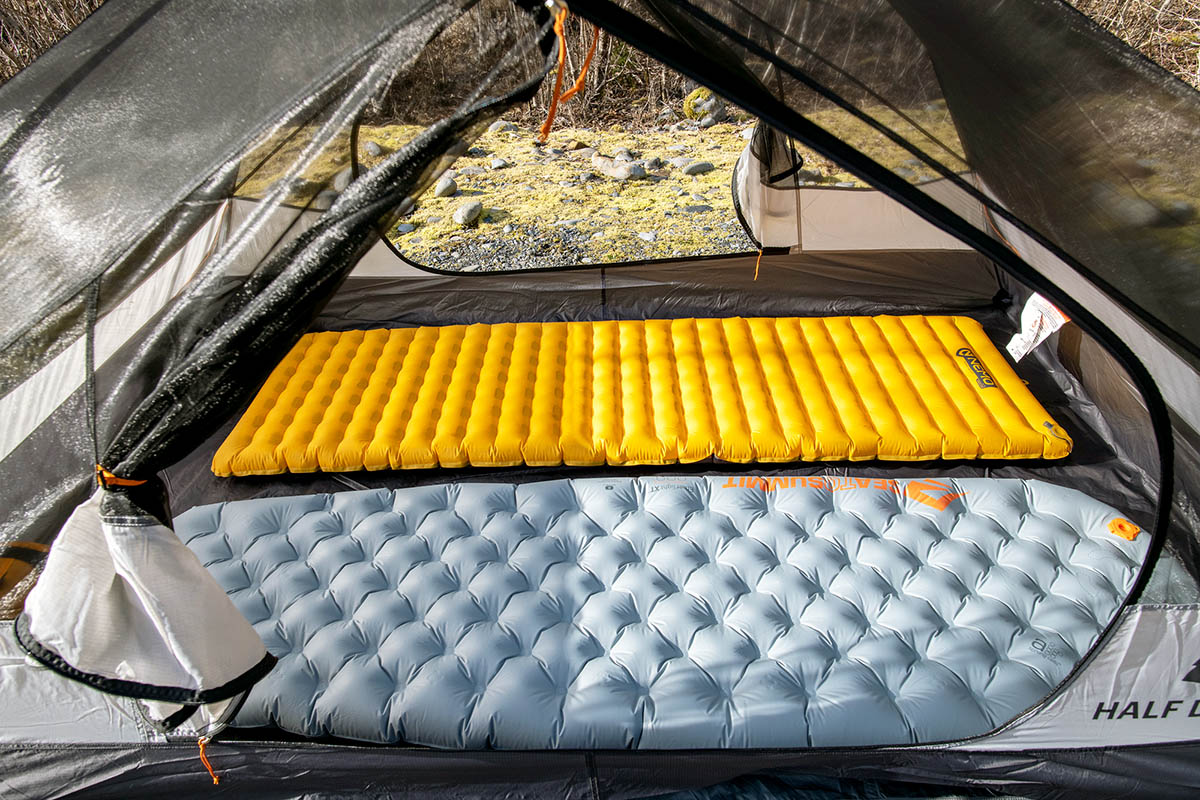 Set up and Take Down
The good news for backpackers is that setting up a modern tent has become surprisingly easy. Many of us remember the fabric sleeves of old that were both time consuming and extremely frustrating, but the majority of tents now use simple clips that take a matter of seconds to attach. In addition, tent poles have become streamlined and come together with ease. To set up most tents, you simply lay out your footprint if you have one, stake out the corners, attach the poles, and clip everything together. From there, the rainfly often can be the trickiest part (we've put ours on inside or backwards more times than we can count), plus you have those small Velcro attachments on the inside. But the whole process usually takes just a few minutes from start to finish, which is fantastic.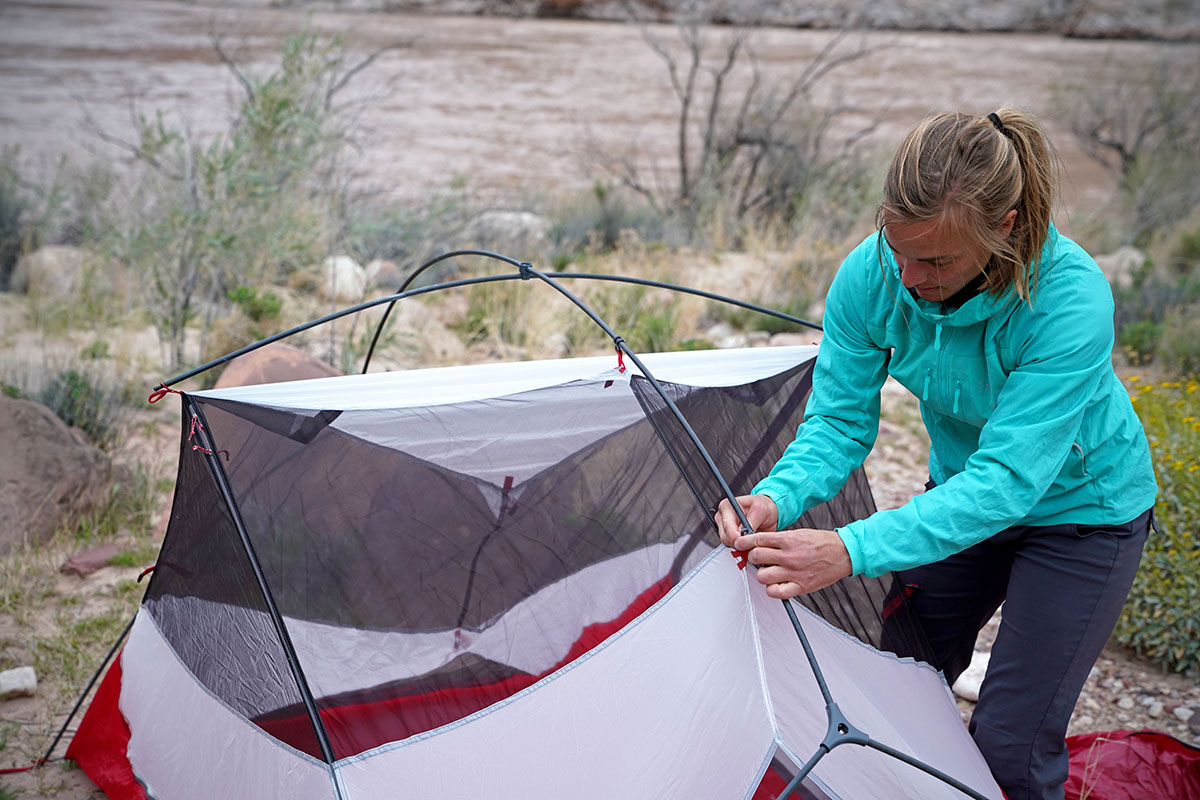 It's worth noting that some ultralight tent systems can be more finicky to set up and definitely require some practice. When using shelters like the Zpacks Duplex, we found ourselves fumbling a bit to get everything taut and in place. And because Hilleberg tents are designed so uniquely, it can take a few tries to get setup speed where you want it to be. Regardless of your tent choice, it's always a good idea to set it up at home first. Not only will this help guarantee that you know what you're doing in the backcountry when the conditions may be more challenging, but it also ensures that you have all of the necessary components.
 
Freestanding vs. Non-Freestanding Tents
The term freestanding means that by attaching poles to the tent body, it has a solid structure and can stand completely on its own. Non-freestanding or semi-freestanding tents need to be staked out in some (or all) of the corners to create a rigid frame. The benefit of a freestanding tent is a simple setup that is far easier to move from one area of your campsite to another (or to use on a rocky surface). As a result, most mainstream tents on the market are freestanding. Non-freestanding tents require fewer pole sections, which reduces weight, and are a popular choice for backcountry enthusiasts that are well versed in choosing a good campsite and erecting a tent. Owing to their design, semi- and non-freestanding tents also tend to have more sloped walls (read: less headroom) and less interior space overall. For a deeper dive into the topic, see our article on freestanding vs. non-freestanding tents.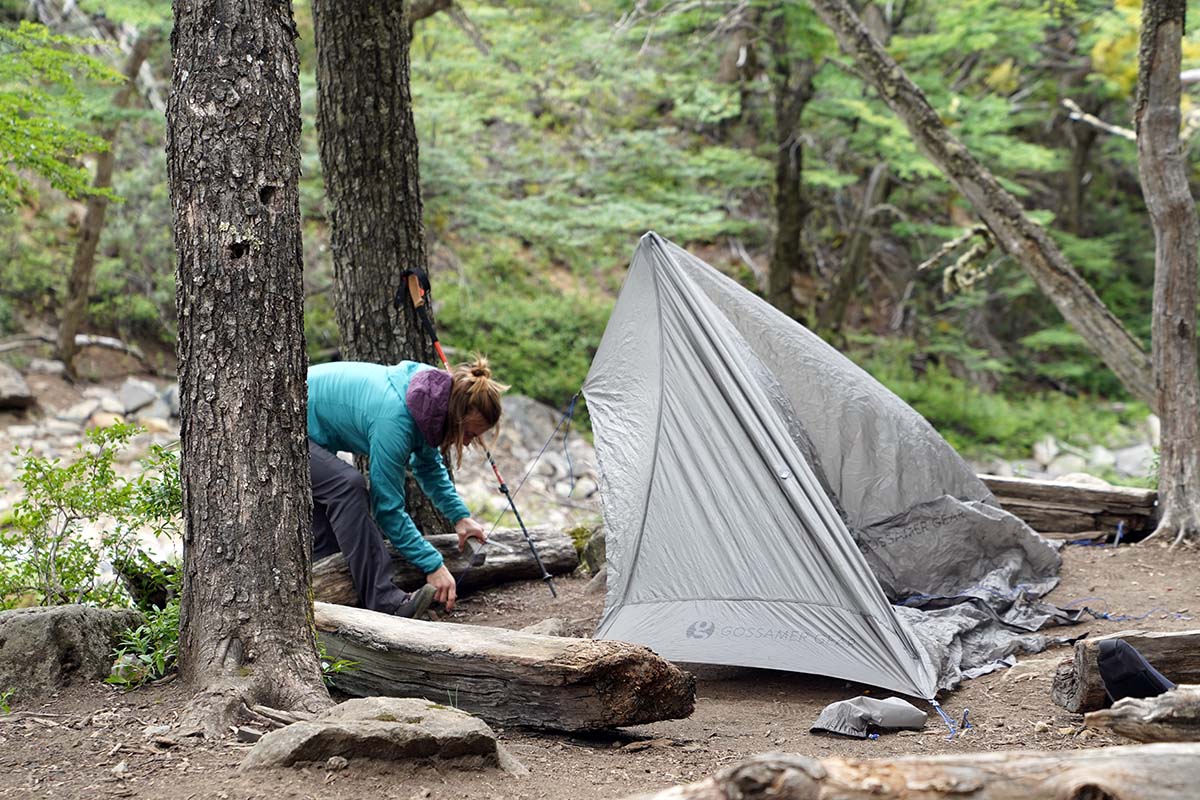 Tent Poles and Stakes
You're getting to the nitty gritty with tent pole and stake research, but there are some important details to cover. Regarding tent poles, nearly every quality backpacking tent uses aluminum poles (the carbon fiber Zpacks Duplex Flex, MSR Carbon Reflex, and Big Agnes Fly Creek Carbon are notable exceptions). The material is relatively affordable, lightweight, and will flex quite a bit prior to failing. Name brand poles like Easton or DAC are easier to trust, but that's not to say there aren't some quality generic aluminum poles offered. Hubbed pole designs are growing in popularity for their rigidity—a single pole unit holds the tent together tautly—and as a result are found on a number of our favorite tents.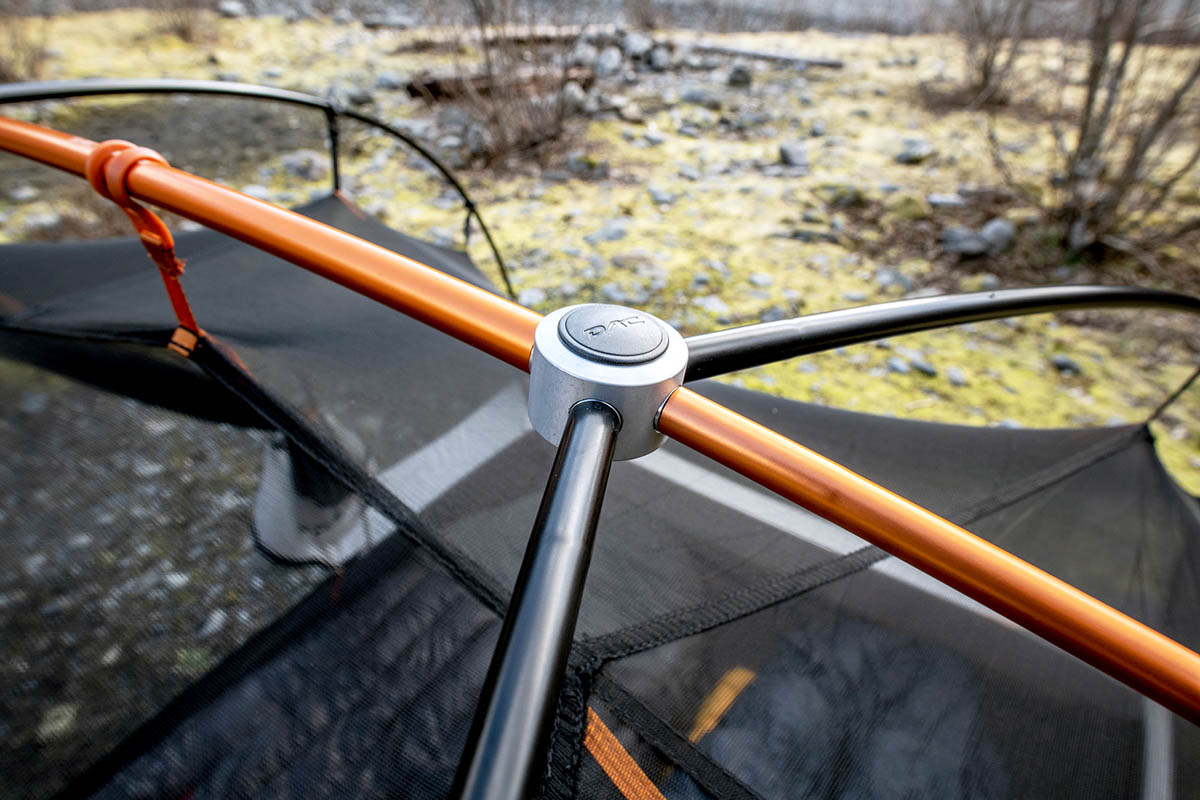 No matter the tent style or manufacturer, stakes are an integral part of setting up a tent. Most two-person tents will include six: one for each corner and one for each side of the vestibule. That's all fine and good for setting up in mild conditions, but it's insufficient for bad weather when you want to use guylines. Thus, you may want to purchase some extra stakes, and it may be worth replacing your stock ones as well. Cheaper hook-style aluminum stakes come with most tents and can be a pain to use because they're too thick and round to easily sink into the ground, and have a tendency to bend when being hammered in. Thankfully, upgrading isn't very expensive. We really like the MSR Groundhogs: they are light, tough and easy to put in the ground. And the DAC stakes that come with the Hilleberg Nallo (and other Hilleberg models) are some of the best we've used.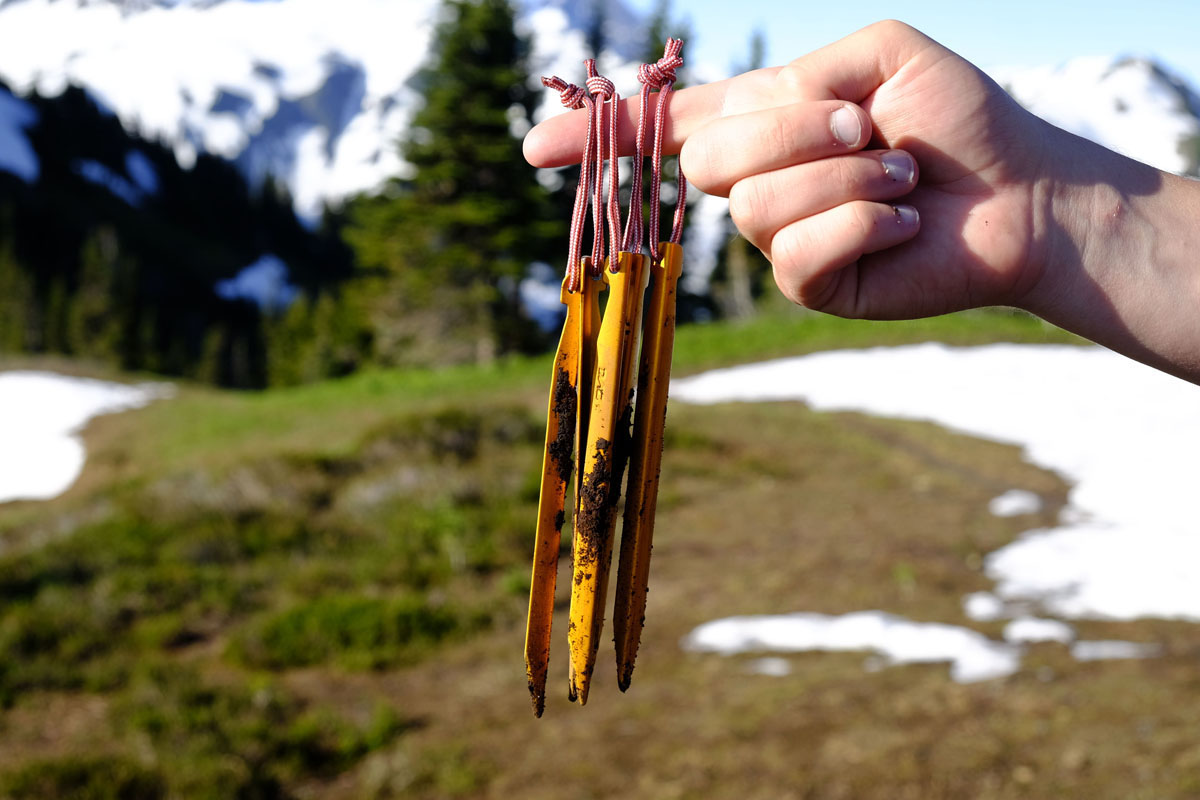 Footprints and Tent Care
We'll start by noting that a footprint is optional. These simple tarps go beneath your tent to provide an extra layer of protection, can help when it's wet (make sure to avoid pooling as that can have the opposite effect), and offer extra piece of mind for your investment. On the other hand, they add additional cost (a $40 footprint would increase the cost of a $200 tent by a whopping 20 percent) and weight to your pack (many footprints are between 5 and 10 ounces). It's not an easy call either way.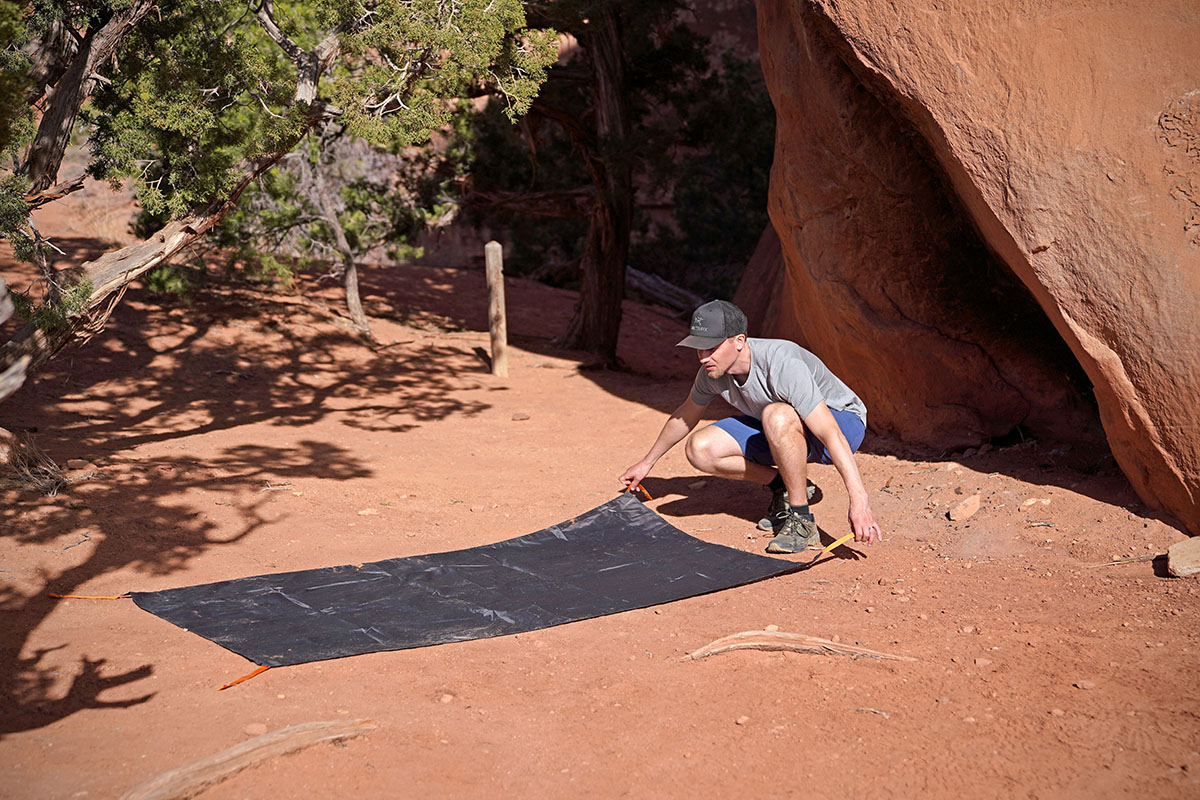 Here's our take: a footprint is a good idea if your tent is thin in terms of denier (see the durability section above), you plan on camping on rough surfaces like granite, you tend to be careless with your gear, or you don't have the risk tolerance for a torn floor, which can be tough to fix. If you have a durable tent and are camping on dirt, it's unlikely that your tent will rip, although certainly not impossible.
When buying a footprint, you can get one specifically designed for your tent, which will be precut to the proper dimensions and the grommets will attach to the tent poles directly. It's an integrated system that you don't need to worry about, and if your tent has a fast-pitch option, you can use just a footprint, rainfly, and tent poles to set up an ultralight shelter. In addition, there are a number of DIY options that are cheaper and lighter including Polycryo and Tyvek. For more information on this topic, see our article: Does Your Backpacking Tent Need a Footprint?
Back to Our Top Backpacking Tent Picks   Back to Our Backpacking Tent Comparison Table
Learn More About Outdoor Gear