Big Agnes Tiger Wall UL2
Price: $400
Packaged weight: 2 lbs. 8 oz.
Floor area: 28 sq. ft.
Capacities: 2P, 3P
What we like: One of the lightest two-door-and-vestibule designs on the market.
What we don't: Semi-freestanding build can be hard to pitch on hard surfaces like rock.
See the Big Agnes Tiger Wall UL2
Big Agnes' Tiger Wall blends two of their best backpacking designs—the popular Copper Spur and Fly Creek—into one intriguing ultralight package. We took the UL2 model backpacking in Utah's Canyon Country and found that the mixture worked: the two-door-and-vestibule layout and hubbed pole system offer decent livability, while the tapered foot end and semi-freestanding build keep weight to a minimum. The tent still is tight inside for two backpackers, but it's one of the least compromised designs on the market relative to its weight. Below we break down our experiences with the Tiger Wall. To see how it stacks up to the competition, see our articles on the best backpacking tents and best ultralight tents.
Editor's note: Since our test, Big Agnes has updated the Tiger Wall. On the 2021 Tiger Wall UL2 Solution Dye, the newest model boasts a solution-dyed fabric that uses less water and energy during manufacturing and is designed to boost UV resistance and fade less over time. In addition, a new pole clip system makes set-up faster and easier, and redesigned aluminum stakes are stronger for the weight. All specs (including weight and price) remain the same, and we've noted the changes where applicable in text below.
 
---
Table of Contents
---

Performance
Weight and Packed Size
Among two-door-and-vestibule designs, the Big Agnes Tiger Wall UL2 is one of the lightest tents on the market. With a packaged weight of 2 pounds 8 ounces, it's an impressive 10 ounces lighter than the Big Agnes Copper Spur HV UL2 and easily undercuts popular options like Nemo's Dagger and MSR's Hubba Hubba NX (both 3 lbs. 14 oz.). It is worth noting that all three of the aforementioned tents are freestanding, whereas the Tiger Wall is only semi-freestanding. In terms of other semi-freestanding designs, you can go lighter with the Nemo Hornet (2 lbs. 6 oz.), but that tent is significantly more cramped inside. All told, the Tiger Wall lands in a desirable spot: it's light enough to please ounce counters but with enough space and features to not feel overly compromised.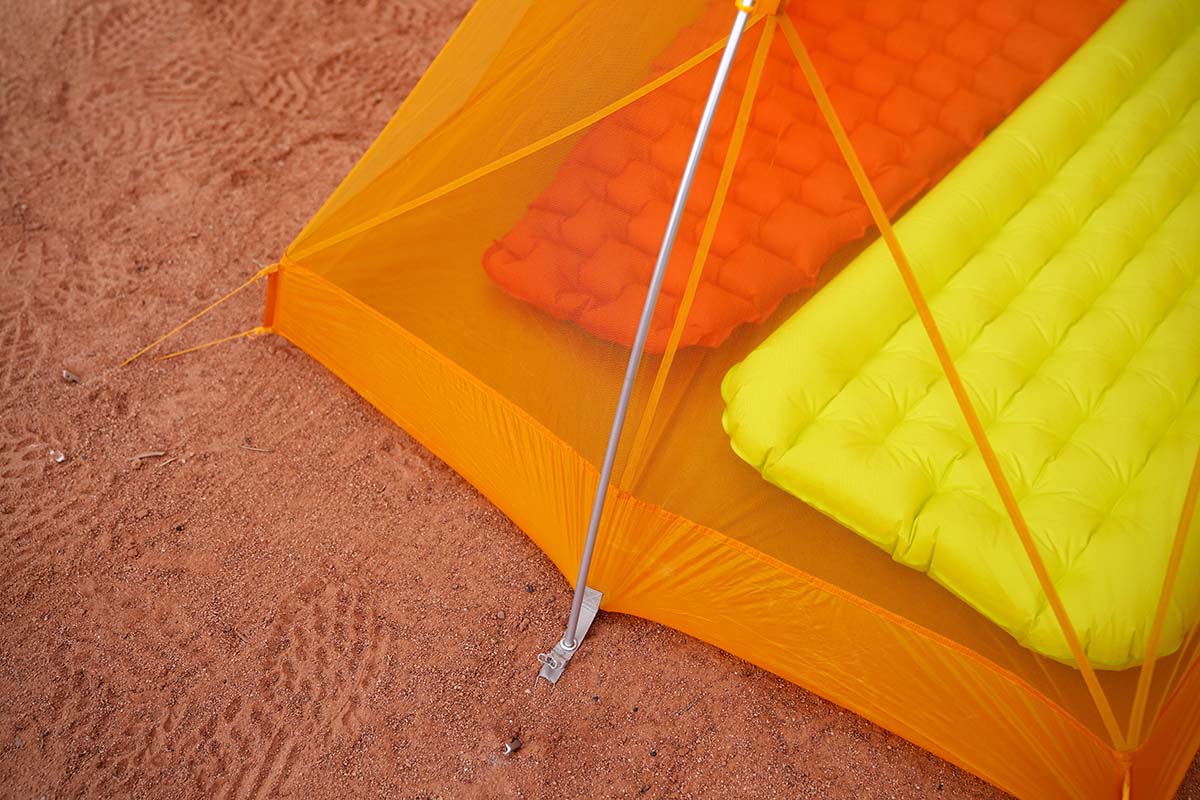 The Tiger Wall's packability is nearly as impressive as its weight. The thin nylon, mesh, and superlight DAC poles with a minimalist hub all compress into the included 5.5 x 18-inch stuff sack. We had no issues finding a space to store the tent in a range of 60, 58, and even 38-liter packs. Moreover, the stuff sack has enough extra space inside to accommodate a poor packing job if you have to break camp quickly in the morning (nothing is worse than stuff stacks that leave no room for error).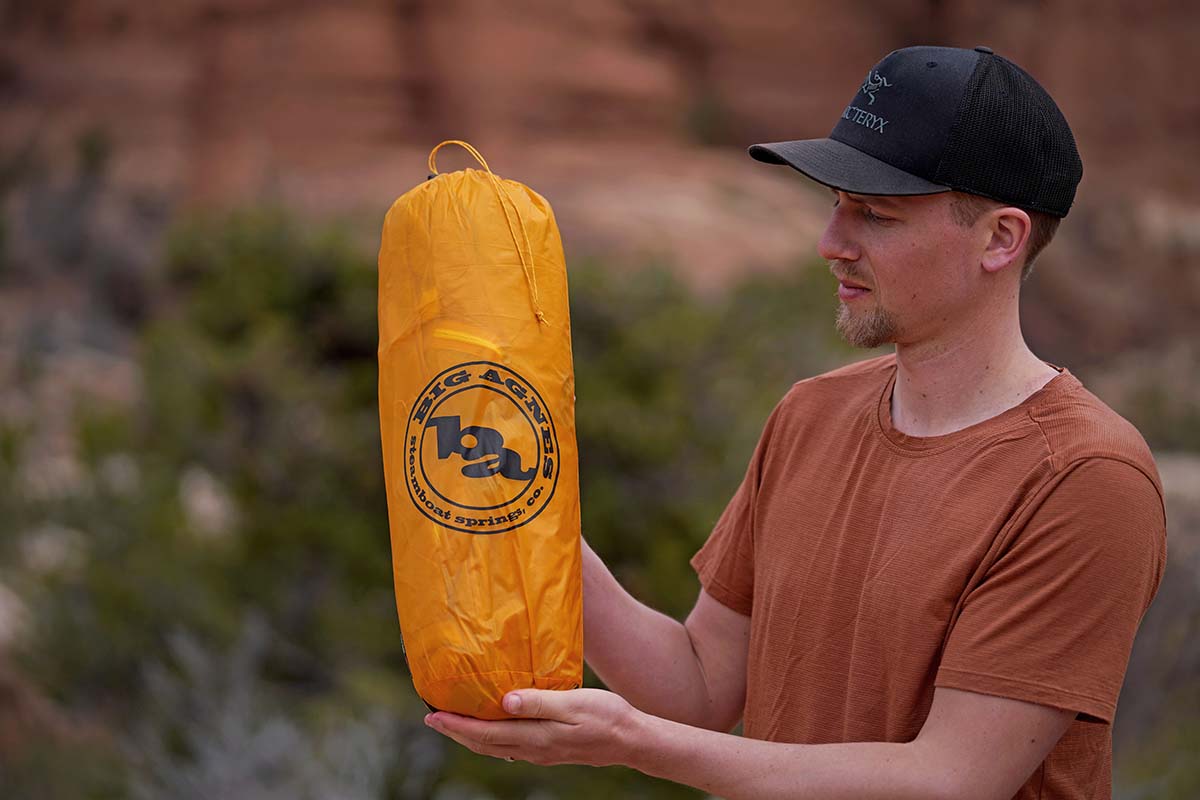 Livability and Interior Space
Ultralight tents almost always sacrifice interior space, but we think Big Agnes did a good job maximizing the small footprint of the Tiger Wall UL2. Taking cues from the Copper Spur, the head end is nearly vertical and opens nicely with the hubbed pole system. Further, the sidewalls are stretched by a center ridgepole. This makes it easier for two people to sit upright when compared with an option like the Nemo Hornet, which only has short, narrow bars across the center rather than a wide ridgepole. The Tiger Wall does taper aggressively downward at the foot end, but Big Agnes squared off the bottom corners to create a box-like area around the feet. All told, the Tiger Wall UL2 is very spacious for one and certainly is workable for two backpackers who prioritize weight above all-out comfort.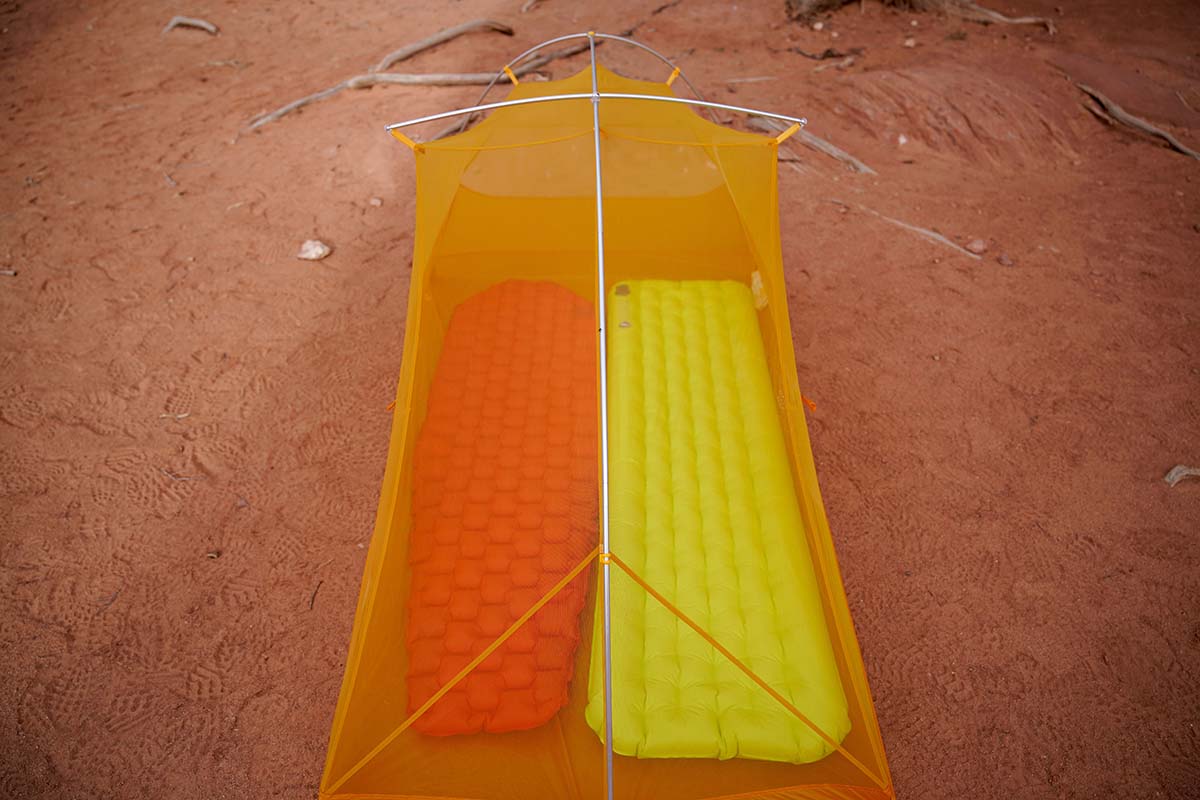 Where the Tiger Wall falls short of a tent like the Big Agnes Copper Spur HV UL2 is in its semi-freestanding design, which means you must stake out the foot end of the tent to give it a solid structure. This wasn't an issue for us on dirt, but it did pose a problem one night in Canyonlands when we set up camp directly on rock. In this situation, the non-freestanding end of the tent was particularly difficult to get taut, which made the foot end of the interior cramped. This won't be an issue for many backpackers, but if you occasionally have to camp on rock, snow, or other challenging ground, it may be worth choosing a freestanding design like the Copper Spur or Nemo Dagger (for a significant weight penalty).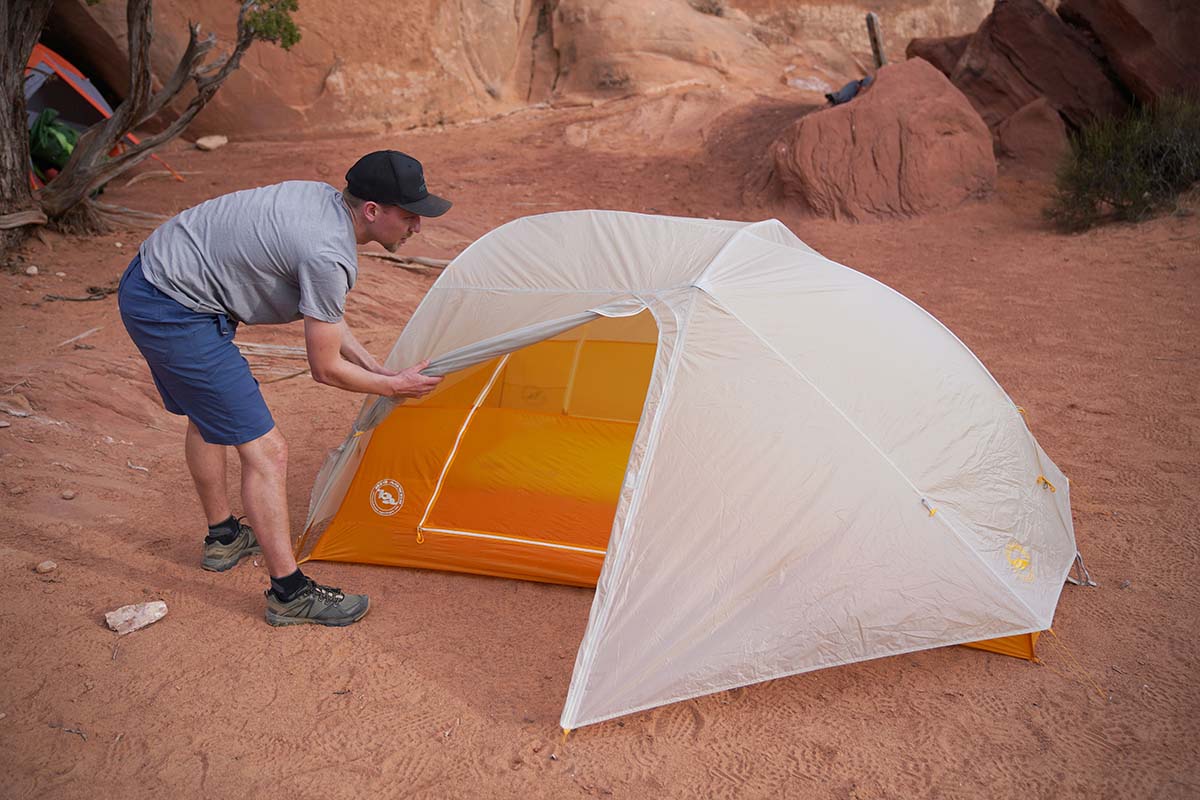 Durability
For a backpacking tent weighing just 2.5 pounds, it shouldn't come as a surprise that you sacrifice on durability. The tent has a 15-denier floor and rainfly, which is extremely thin and should be treated with care—and used with a footprint on most occasions—to extend its lifespan. Big Agnes did increase tear resistance by adding a silicone treatment to the solid fabric, but you can't get around the fact that all materials are so thin they're see-through. If you're used to ultralight gear, this won't be a deterrent (and Big Agnes does have a knack for making their gear last, plus the DAC poles are a proven design). But casual backpackers and those that are hard on their gear may want to steer clear of such an ultralight build.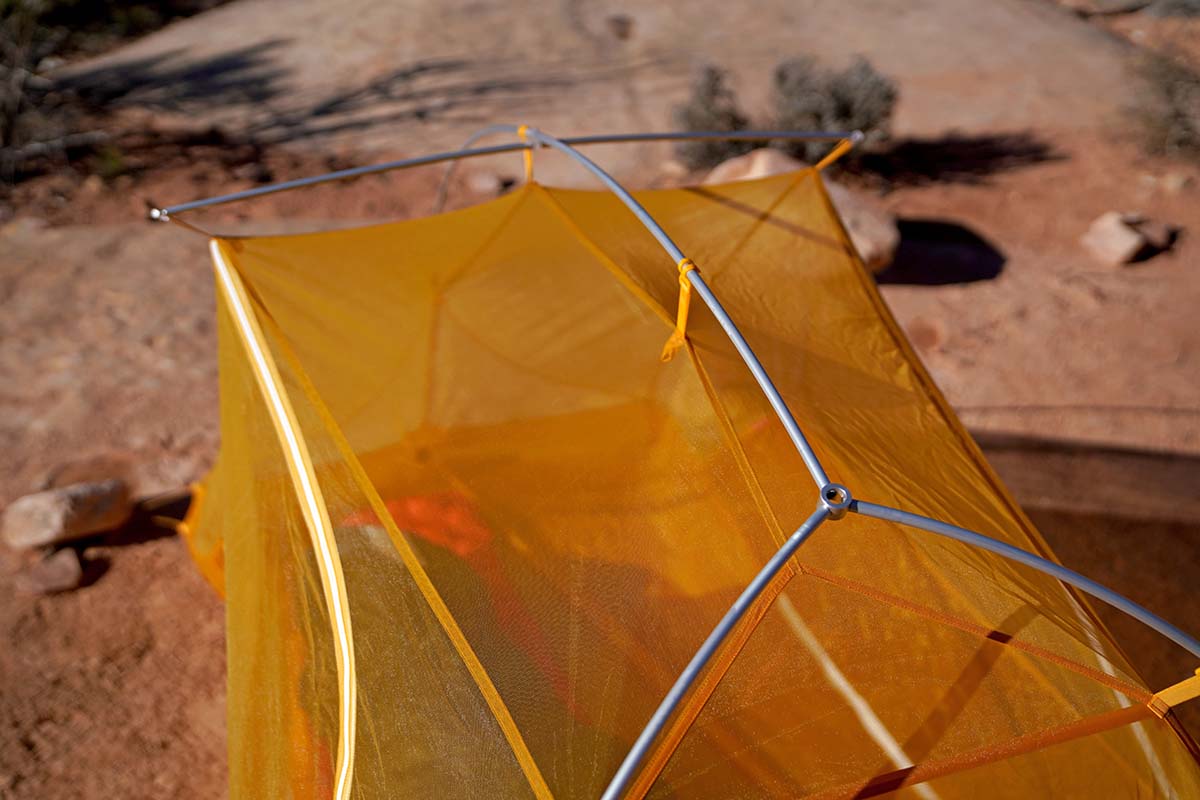 Weather Protection
The Big Agnes Tiger Wall UL2 doesn't have the rigid structure of a freestanding model, but it's been designed to handle most 3-season conditions well. The rainfly offers complete coverage, and we like that Big Agnes attached pre-cut guylines on all sides of the tent (you will need to pack extra stakes to use them). But the semi-freestanding build does have an impact on wind and rain protection. The single pole that runs from the middle of the tent to the bottom of the foot end makes the structure less sturdy and more prone to being pushed around by a strong gust from the side. Further, you'll need to set it up very well with all the guylines to keep it from sagging in the rain. With practice and by fully guying it out, however, the Tiger Wall should offer plenty of protection for most backpackers and thru-hikers.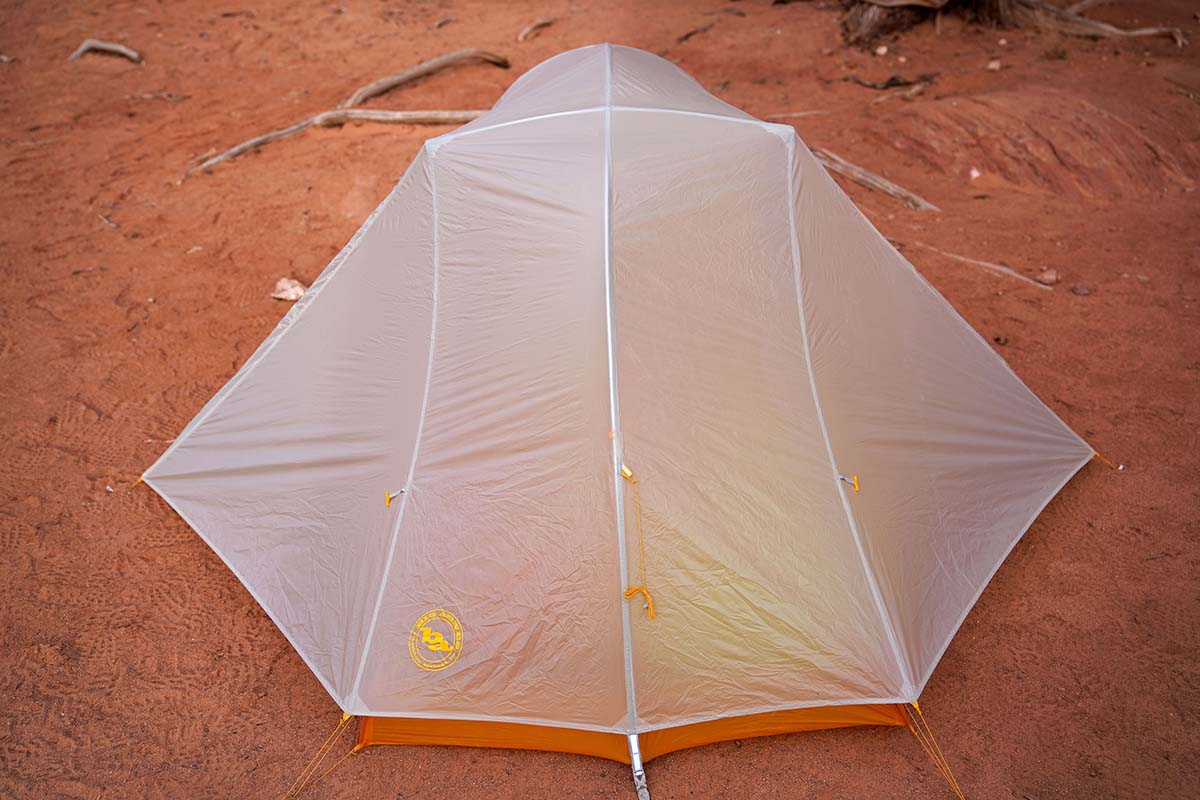 Ventilation
We haven't had to fully test the ventilation capabilities of the Tiger Wall just yet (our Utah trip was cooler than normal), but we don't expect it to be a standout. The tent body has a generous amount of mesh and there's good spacing in the double-wall construction, but the rainfly does lack built-in vents. This means that you'll need to strategically stake out the fly to maximize airflow, and on warm days that aren't rainy, it's a good idea to unzip the top or bottom portion of the vestibule doors to release muggy air. Given the option, we would have preferred a large roof vent like you get with the Big Agnes Copper Spur, although this does add some weight.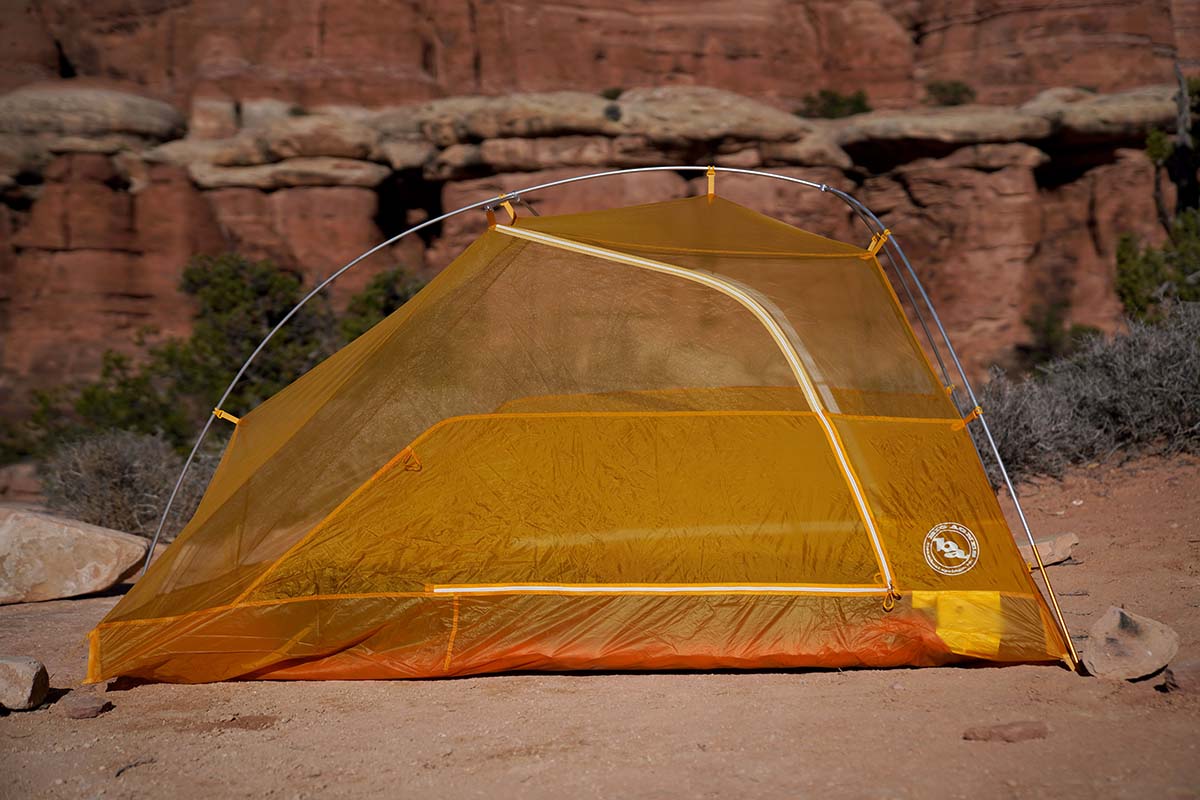 Doors, Vestibules, and Storage
One of our main complaints with the Big Agnes Fly Creek is its single door, which limits storage space for two backpackers and isn't convenient for getting in and out. The Tiger Wall addresses this with two doors and vestibules that provide 16 square feet of usable space, which is a good amount compared to the competition. For reference, this is double the vestibule area of the Big Agnes Fly Creek HV UL2 and surpasses the two-vestibule design of the Nemo Hornet by 1.8 square feet. Heavier and more feature-rich tents do offer quite a bit more space—the Nemo Dagger has a whopping 22.8 square feet, for example—but we think most lightweight backpackers will be happy with the vestibule layout of the Tiger Wall. And on the inside, storage is good considering the minimalist ethos: you get one large pocket along the ceiling with ports for routing headphone cords, as well mesh storage at the foot (a new addition for the Solution Dye model) and two small pockets that can be accessed while lying down.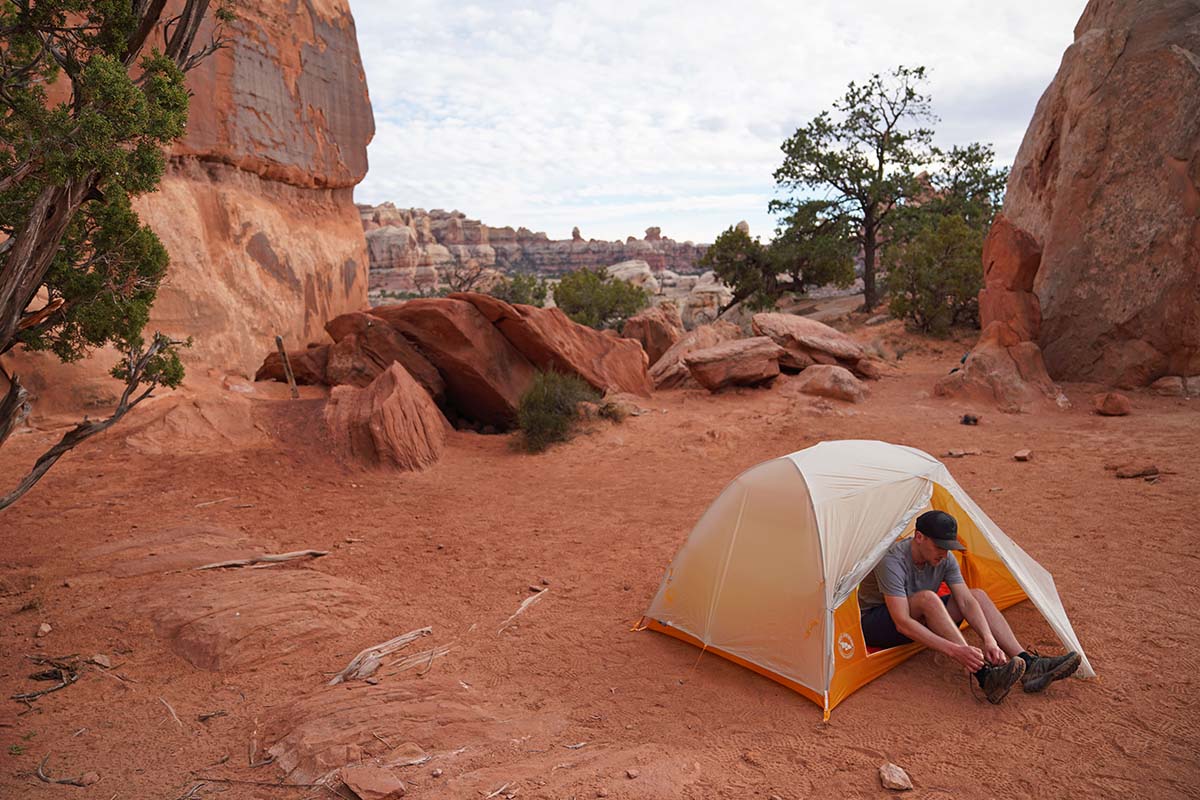 Set up and Take Down
Almost all modern pole-supported backpacking tents are fairly easy to set up, and the Big Agnes Tiger Wall UL2 is no exception. The poles are color-coded with corresponding webbing and grommets on the tent body, making it easy to align the poles and rainfly in the correct direction, and the single-hubbed system is a cinch to snap into place. And it's worth noting that Big Agnes streamlined the design even further for the latest Solution Dye model with a new pole clip system that includes a hinged design with a hole for the pole, buckled rainfly attachment, and dedicated stake-out loop. As touched on above, the only real difficulty comes when setting up the tent on a surface like rock where you can't stake out the foot end. Otherwise, the Tiger Wall goes up easily and is equally simple to tear down and stuff away into the generously sized storage bag.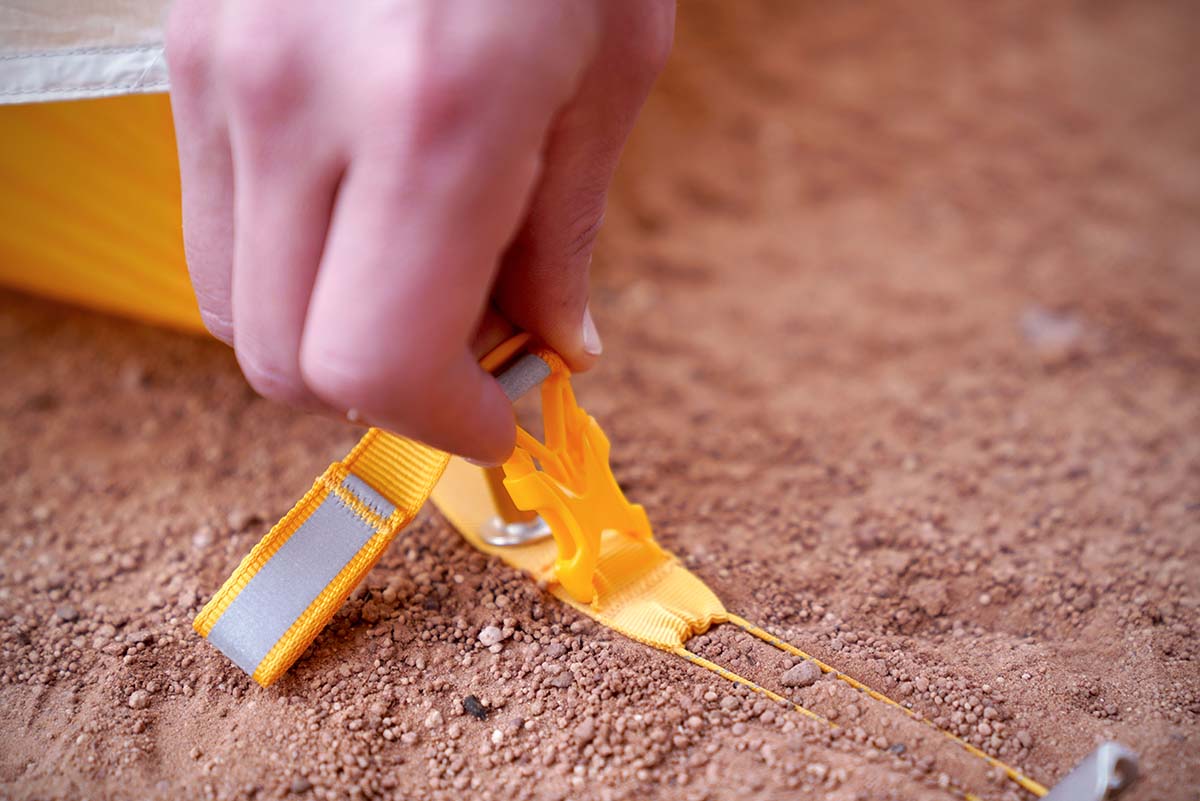 Other Capacities of the Big Agnes Tiger Wall UL
We brought the two-person Tiger Wall into Utah's Canyon Country for this review, and Big Agnes also makes the tent in one- and three-person variations. The UL1 Solution Dye costs $360, weighs 2 pounds 2 ounces all in, and boasts a 19-square-foot interior with 39 inches of headroom. With the UL3, you get a similar semi-freestanding build but 10 more square feet of interior space and an additional 3 inches of headroom (for a weight penalty of 7 oz.). If you'll be consistently using the tent for two campers, it might be worth spending up for the 3P version (2 lbs. 15 oz. and $470). As we mentioned above, the 2P we tested was spacious for one and workable for two, although added space would have been nice (for more, see our Tiger Wall UL3 review).

Platinum and Carbon Versions of the Tiger Wall
Big Agnes also offers the Tiger Wall in both Platinum and Carbon models, which build off of the design reviewed here but with even lighter materials to keep weight astonishingly low. The Tiger Wall 2 Platinum (2 lbs. 4 oz.) uses an ultra-thin 7-denier floor and rainfly to shave ounces, but otherwise retains the same dimensions, packed size, and semi-freestanding layout of the standard version. The Carbon model takes it a step further: the tent uses Easton carbon fiber poles and Dyneema Composite Fabrics for the fly and floor, bringing the trail weight down to just 1 pound 11 ounces. In the process, you sacrifice a square foot of floor space, and its thin Dyneema build—although strong in terms of tear resistance—will require a lot more care in the long run. All told, the much-pricier Tiger Wall Platinum ($550) and Carbon ($1,000) tents have their place among the committed fast-and-light crowd but make significant compromises in durability and cost.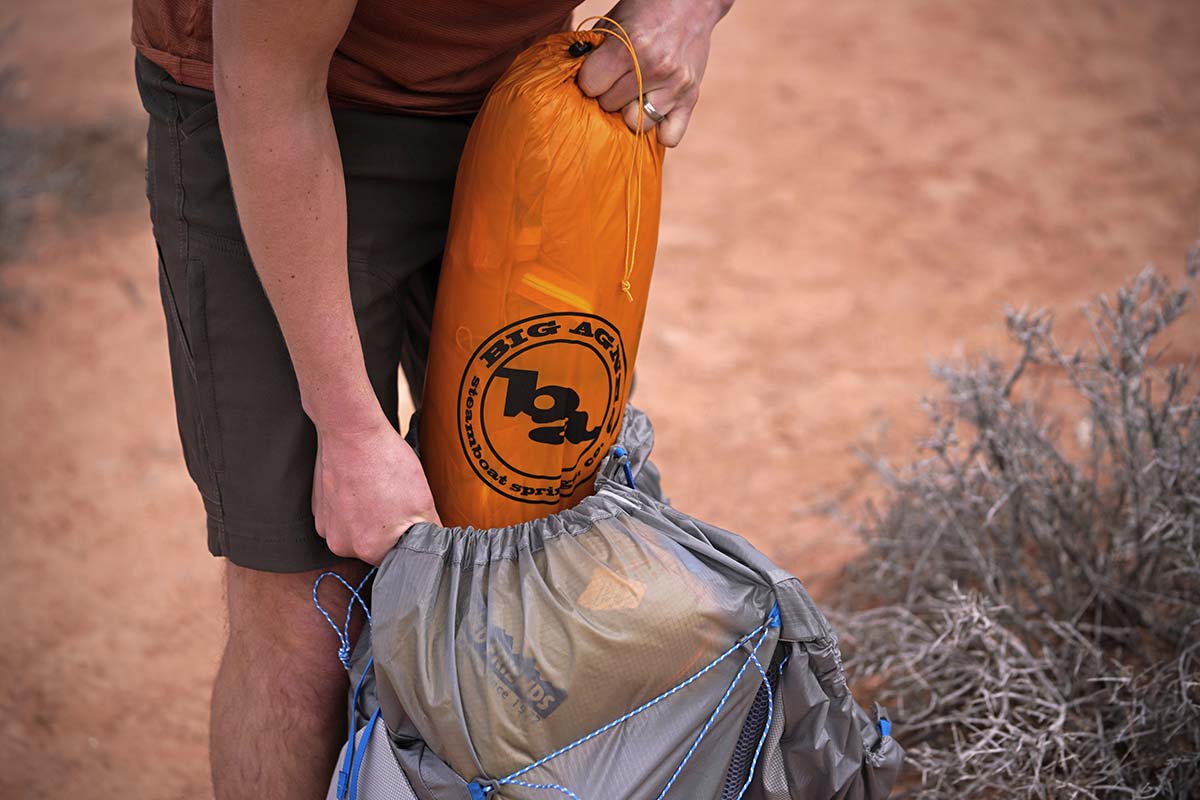 What We Like
Successful mix of the Copper Spur and Fly Creek designs. The Tiger Wall is very lightweight, decently livable, and has a convenient two-door-and-vestibule layout.
The center ridgepole makes the tent more livable inside than a competitor like the Nemo Hornet.
Made with high-quality materials throughout: the silicone-treated nylon increases durability, and the seam taping and DAC poles are top notch.

What We Don't
Pretty snug on the interior for two people. If you prioritize interior space, it may be worth upgrading to the 3P version or the Copper Spur.
Semi-freestanding build is difficult to set up on rock and isn't as weather-worthy as a freestanding design.
As with all ultralight gear, the materials are thin and require extra care for long-term durability.


Comparison Table
| Tent | Price | Weight | Floor | Area | Height | Door(s) | Capacities |
| --- | --- | --- | --- | --- | --- | --- | --- |
| Big Agnes Tiger Wall UL2 | $400 | 2 lbs. 8 oz. | 15D | 28 sq. ft. | 39 in. | 2 | 1P, 2P, 3P |
| Nemo Hornet 2P | $370 | 2 lbs. 6 oz. | 15D | 27.5 sq. ft. | 39 in. | 2 | 1P, 2P |
| Big Agnes Copper Spur | $450 | 3 lbs. 2 oz. | 15 x 20D | 29 sq. ft. | 40 in. | 2 | 1P, 2P, 3P, 4P |
| Big Agnes Fly Creek HV UL2 | $370 | 2 lbs. 4 oz. | 20D | 28 sq. ft. | 42 in. | 1 | 1P, 2P |
| REI Co-op Quarter Dome SL2 | $349 | 2 lbs. 14 oz. | 15D | 28.7 sq. ft. | 38 in. | 2 | 1P, 2P |
| Nemo Dagger 2P | $430 | 3 lbs. 14 oz. | 30D | 31.3 sq. ft. | 42 in. | 2 | 2P, 3P |
| MSR Hubba Hubba NX | $450 | 3 lbs. 14 oz. | 30D | 29 sq. ft. | 39 in. | 2 | 1P, 2P, 3P, 4P |

The Competition
Among two-door-and-vestibule ultralight options, the Tiger Wall's closest competition comes from the Nemo Hornet. The Hornet has the edge in price at $370 vs. $400, weighs a couple ounces less at 2 pounds 6 ounces (vs. 2 lbs. 8 oz. for the Tiger Wall), and has proven to be surprisingly durable despite the thin construction. But we think the Tiger Wall is the better overall tent: the large ridgepole across the middle greatly increases interior space, it has larger vestibules, and the rainfly provides full coverage (the Hornet's rainfly doesn't completely cover the tent body at the head end). Importantly, Nemo did give the Hornet a recent bump in space with two "FlyBar" pole clips that stretch the walls a bit more, but it's still pretty tight for two. All told, both options are popular among the solo backpacking crowd, but the Tiger Wall gets the edge for those that want to occasionally fit a second person.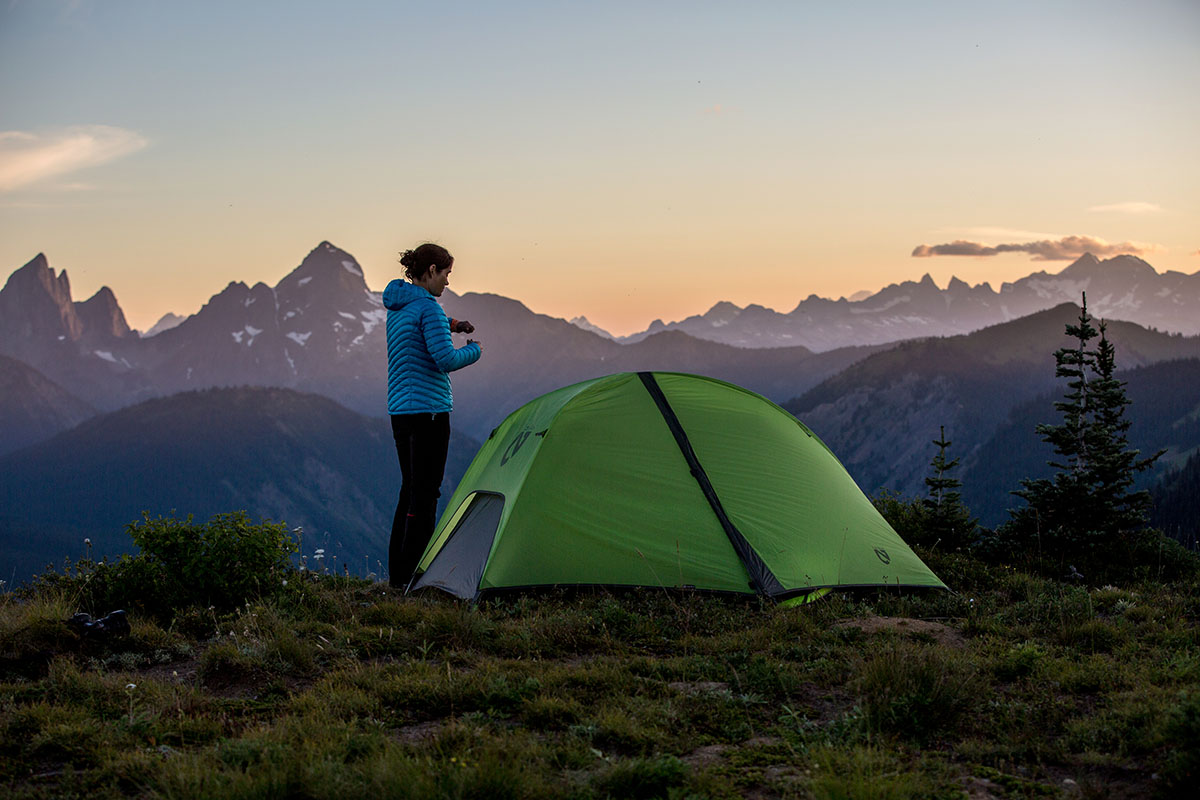 Another alternative to the Tiger Wall is Big Agnes' own uber-popular Copper Spur HV UL2, which was updated last year. This tent is our favorite all-around backpacking design for 2021 by combining true livability at a feathery 3 pounds 2 ounces. The Tiger Wall has the advantage in weight by 10 ounces, but if you'll consistently need the two-person capacity, the Copper Spur is what we'd recommend. The high-volume hub design and center pole open the interior with near-vertical walls, and the freestanding build makes it easy to get a taut set-up just about anywhere. Both tents require care with the ultralight fabrics, but unless you are a true ounce counter, we think the Copper Spur is the better all-around tent.
As we touched on above, we prefer the Tiger Wall's layout to Big Agnes' Fly Creek HV UL2, which only has one door and vestibule but clocks in at a feathery 2 pound 4 ounces. The two tents share the same semi-freestanding design and now use Big Agnes' new solution-dyed fabric. And impressively, the Fly Creek has the same floor area at 28 square feet along with 3 inches more headroom (for more, see our in-depth Fly Creek review). All that said, for $30 and 4 ounces more, we prefer the two-door-and-vestibule design of the Tiger Wall, which gives it a lot more versatility, storage space, and overall comfort—especially for two backpackers.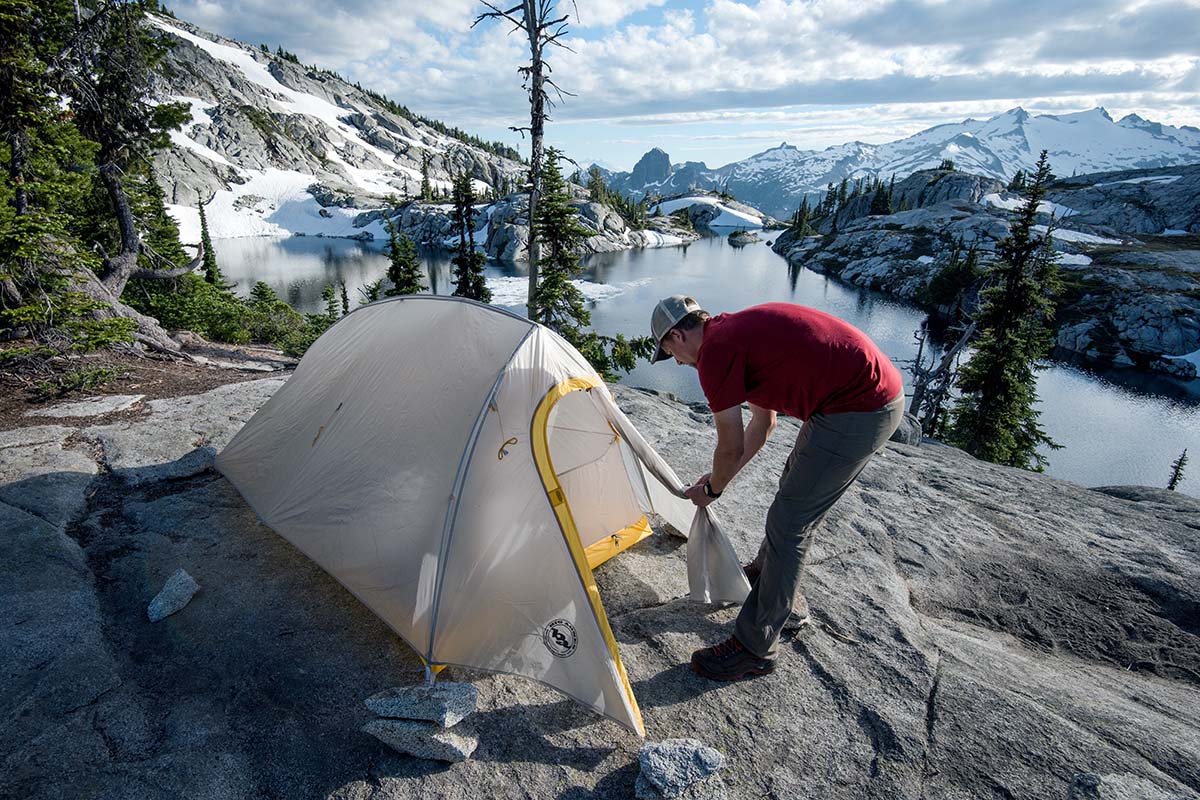 REI offers an intriguing alternative to the Tiger Wall in their Quarter Dome SL 2. Both tents are semi-freestanding, taper at the foot end, feature two doors and two vestibules, and use thin materials including 15-denier floors. In parsing out the differences, the REI is slightly roomier with 28.7 square feet of floor area, has larger vestibules, and is cheaper at $349. However, the Tiger Wall gets the edge in weight at 6 ounces lighter than the Quarter Dome. Both are leading ultralight tents that nicely balance weight and space, but we give the slight nod to the Tiger Wall for its similar livability in a lighter package.
Last but not least, it's worth mentioning two of our top-rated backpacking tents over the past few years: the Nemo Dagger and MSR Hubba Hubba NX. The Tiger Wall has the clear edge in weight over these designs, undercutting both the Dagger and Hubba Hubba by 1 pound 6 ounces. But it can't compete in terms of interior space and durability, not to mention these tents are in the same price range (the Dagger is $430 and the Hubba Hubba is $450). Ultralighters will prefer the Tiger Wall, but for most backpackers, the more balanced Nemo and MSR designs are the better choice.
If you're thinking about buying gear that we've reviewed on Switchback Travel, you can help support us in the process. Just click on any of the seller links above, and if you make a purchase, we receive a small percentage of the transaction. The cost of the product is the same to you but this helps us continue to test and write about outdoor gear. Thanks and we appreciate your support!
Depending on the seller, most products ship free in the United States on orders of $50 or more. International shipping availability and rates vary by seller. The pricing information on this page is updated hourly but we are not responsible for inaccuracies.
Learn More About Outdoor Gear