Whether you're traveling across the globe or headed out on a quick weekend getaway, a thoughtfully designed travel pack can help you stay comfortable and organized while on the move. Key considerations include carry-on compatibility for air travel, enough capacity to stash your belongings, pack weight, and preferences on storage and organizational layouts. Below we break down the best travel backpacks of 2023, ranging from minimalist options for a couple nights away to larger bags with removable daypacks for extended trips. For more background information, see our detailed comparison table and buying advice below the picks.
 
---
Our Team's Top Travel Backpack Picks
---

Best Overall Travel Backpack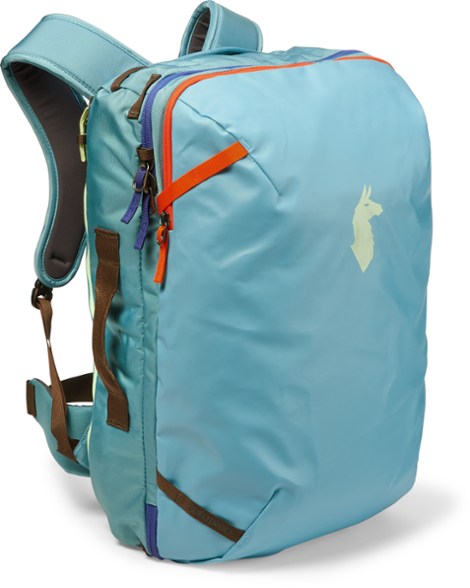 Capacity: 35L
Dimensions: 20 x 12 x 8 in.
Weight: 3 lbs. 8 oz.
Other sizes: 28, 42L
What we like: Very tough, well-executed organization, and fun styling.
What we don't: No load lifters, water bottle storage, or exterior compression straps.
When compiling our list of the best travel packs, we prioritized functional organization, easy on-the-go access, durable materials, and carry-on compatibility. Cotopaxi's Allpa 35L Travel Pack checks all those boxes emphatically, earning it our top spot for 2023. Along with the vibrant styling and multi-colored patterning that the brand is known for, the Allpa is exceptionally durable with a mix of 1,000-denier, TPU-coated polyester and panels of 840-denier ballistic nylon. In use, we found the Allpa to be remarkably tough and highly water-resistant, and the pack also comes with a stowable rain cover for truly inclement weather. We also love the dual access to the main compartment, including a full wraparound zipper and secondary side zip next to the backpanel for easily retrieving items while on the move. And the electronics sleeve is big enough to handle both a laptop and tablet at the same time, which isn't often the case. Overall, the Allpa is well made, stylish, and very nicely appointed for travel.
What's not to like with the Cotopaxi Allpa? While the 35-liter variation here is nicely sized for long weekend trips or shorter getaways abroad, it's smaller than competitors like the Peak Design Travel Backpack, Osprey Porter 46, and many other carry-on-friendly designs below (Cotopaxi does sell a larger 42L version for $220 that still meets most airline requirements). Further, while overall carrying comfort is good, there are no load-lifter straps to bring the pack closer to your body. Additionally, the interior pockets are a little awkwardly sized, and the lack of external compression straps makes it hard to secure bulkier loads. A final omission is water bottle storage, although it's not a critical feature for most and does little to dampen our enthusiasm for an otherwise well-rounded and great-looking bag.
See the Cotopaxi Allpa 35L
A Close Second (That's Great for Carrying Electronics)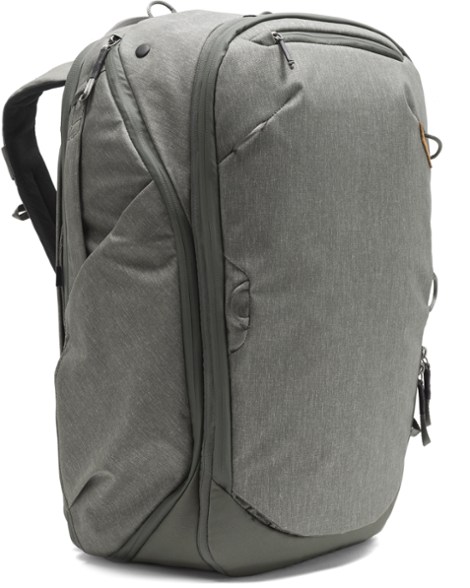 Capacity: 45L
Dimensions: 22 x 13 x 9.5 in.
Weight: 4 lbs. 8 oz.
Other size: 30L
What we like: Easy to access, expandable design, and thoughtful feature set.
What we don't: Expensive, a little heavy, and too techy for some.
Peak Design's Travel Backpack may look relatively unassuming on the outside, but don't be fooled: This bag is packed with thoughtful travel-ready features. First is the expandable design, which allows you to alternate between 35 and 45 liters by simply zipping or unzipping the frontmost zipper. Access is another highlight, including entry points at the top, side, front, and rear for easily retrieving items pretty much anywhere in the pack. Storage is also excellent with padded laptop and tablet sleeves, a divisible main compartment, large and stretchy dual side pockets (not common on travel packs), and multiple interior pockets. And it's all wrapped up in a thick nylon canvas shell that's durable, streamlined, and very modern.
What complaints do we have about the Peak Design Travel Backpack? Price is the most glaring downside: At $300, it's one of the most expensive designs on our list (along with the $300 Nomatic Travel Pack and $349 Tortuga Travel Backpack 40L below). And while the bag is undeniably sleek, it's pretty utilitarian-looking and less everyday-friendly than more vibrant options like the Cotopaxi Allpa above and Topo Designs Global Travel Bag below. It's also tied for the heaviest option on our list at 4 pounds 8 ounces (along with the Tortuga), which isn't unreasonable but does add considerable heft compared to many competitors. Finally, the Travel Backpack is technically not carry-on compliant when expanded, measuring 22 x 13 x 11 inches (the standard U.S. domestic carry-on limit is 22 x 14 x 9 in.). But it works at the compressed 35-liter size (or smaller 30L option), and photographers in particular will love the shape, which nicely accommodates multiple camera cubes, lenses, and other accessories.
See the Peak Design Travel Backpack
Excellent Carrying Comfort for Gear-Intensive Trips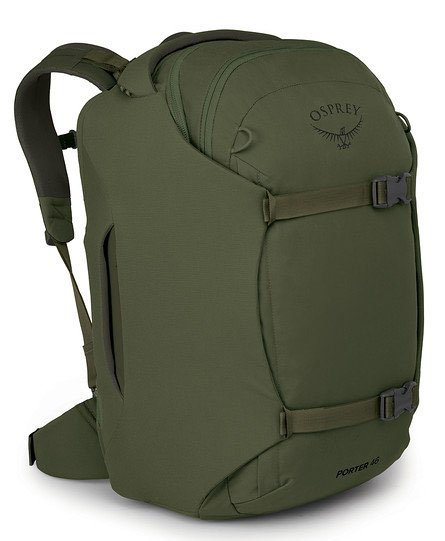 Capacity: 46L
Dimensions: 21.5 x 14 x 9 in.
Weight: 3 lbs. 4.2 oz.
Other sizes: 30, 65L
What we like: Practical, generous storage, and purpose-built for adventure travel.
What we don't: We wish there was a women's-specific variation.
Osprey is a leader in the backpacking pack market, and much of that technology and expertise has trickled down nicely into their travel pack collection. The Porter 46 is case in point, combining the impressive carrying comfort that the brand is known for with a practical, carry-on-friendly build and feature set for travel. Starting at the outside, you get a solid framesheet with well-cushioned shoulder and hipbelt straps that feel reminiscent of Osprey's backpacking designs, a handy compression system to effectively cinch things down, lockable zippers for the main compartment and laptop sleeve, and a padded handle at the side that doubles as a pass-through point for stacking onto a rolling suitcase. The inside is a similar story with ample pockets of varying sizes, compressions traps to keep clothes tidy, and padded sidewalls to help protect valuables during travel.
Despite offering 11 more liters of capacity than our top-ranked Cotopaxi Allpa 35L (for $15 less), the Porter 46 is still carry-on compliant, making it the largest option here that still meets most domestic and international airline restrictions. It's also impressively sturdy and durable and includes reinforced cord loops to attach to Osprey's well-built Daylight daypack (sold separately). Some women may find the shoulder straps to be a little stiff and under-supportive for comfortably carrying a full load, but the unisex sizing is standard in the travel market (Osprey's own Farpoint/Fairview below is one of the few designs to come in a separate women's model). In the end, if it fits you well, the Porter offers a hard-to-beat mix of capacity, features, and comfort for the price, making it our favorite option for longer, gear-intensive adventures.
See the Osprey Porter 46
Best Weekend Travel Backpack
Capacity: 30L
Dimensions: 20 x 12.5 x 7 in.
Weight: 2 lbs. 10 oz.
Other size: 40L
What we like: Seemingly limitless organization, stylish, and very thick materials in a weekend-friendly capacity.
What we don't: Complex build and straps could be a little more cushioned.
Topo Designs flies a little under the radar compared to well-known brands like Cotopaxi and Osprey, but don't let that deter you: This company makes exceptionally built and good-looking packs for everything from commuting and travel to more technical pursuits like biking and climbing. Their Global Travel Bag 30L here is a shining example and our favorite weekend-ready design of the year. What immediately stood out about this pack was the sheer number of pockets and attachment points, from the vertical daisy chain webbing on the front to the expandable side water bottle pockets, ample zippered storage inside and out, a laptop sleeve along the backpanel, and several interior mesh pockets. Like the Cotopaxi Allpa above, the Global Travel Bag is also well equipped for rough use, including a mix of 1,000- and 1,680-denier ballistic nylon that gives the pack a noticeably burly, confidence-inspiring feel—at a very manageable 2 pounds 10 ounces to boot.
That said, the extensive feature set does add some complexity when it comes to organization. We like the big clamshell opening to the main compartment, but we had to reorganize to make everything fit into the various compartments (they're optimized for Topo Designs' modular PackFast accessories, which are smaller than our standard packing cubes). The tall and slim shape is also best suited for clothing rather than bulky gear, which may be limiting for outdoor adventures that involve camping or backpacking. We also wished there were a little more padding along the shoulder straps and hipbelt while walking through airports with the pack stuffed full, but it distributed the load pretty well (and the hipbelt can be tucked away when not in use). In the end, no pack is perfect, but the Global Travel Bag 30L is a well-built, durable, and stylish option for overnights, short weekend getaways, and even minimalist adventures abroad. For those embarking on longer trips, it's also sold in a larger 40-liter variation for $229.
See the Topo Designs Travel Bag 30L
Best Budget Travel Backpack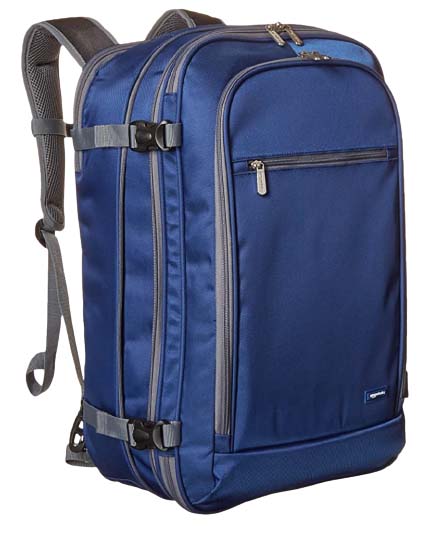 Capacity: 45L
Dimensions: 21.5 x 15.75 x 8.25 in.
Weight: 3 lbs. 10.2 oz.
Other sizes: None
What we like: Good capacity and organization for far less than the competition.
What we don't: Lacking in padding and support for shuttling heavy loads; no lockable zippers.
Travel packs are an expensive bunch, but Amazon makes an affordable but still surprisingly capable option in their Carry-On Travel Backpack. We'll start with the good news: As its name implies, the bag is carry-on compliant, and it comes with most of the standard features we look for in a practical travel pack. These include a zippered laptop sleeve, internal and external compression straps, easy-access pockets for travel documents, and good organization in the main compartment. Like the Peak Design Travel Backpack above, the Amazon Basics can also be expanded to boost packing space while still meeting carry-on restrictions. And at just around $50 at the time of publishing (colorways vary on Amazon), the 45-liter Carry-On Travel Backpack is a great value for what you get, undercutting most similarly sized models on this list by $100 or more.
Now for the bad news: This Amazon Basics pack is far less capable than many of the picks here for shuttling a full load. The shoulder straps are lightly padded, while the hipbelt is a thin and basic webbing design that won't feel comfortable under the weight of a full pack. The rest of the design has a cheaper feel, too, including a shiny and dated-looking exterior, a lot of plastic (read: breakable) components, and standard, non-lockable zippers. You don't get dedicated water bottle storage either, which isn't a necessary feature but certainly is nice to have. But if you're an occasional traveler and aren't yet ready to make a more sizable investment, the Amazon Basics pack is a perfectly serviceable entry-level option at a great price. For another capable budget design that comes with packing cubes, we also like Asenlin's 40L Travel Backpack.
See the Amazon Basics Carry-On Travel Backpack
Best High-Capacity Travel Pack for Long Trips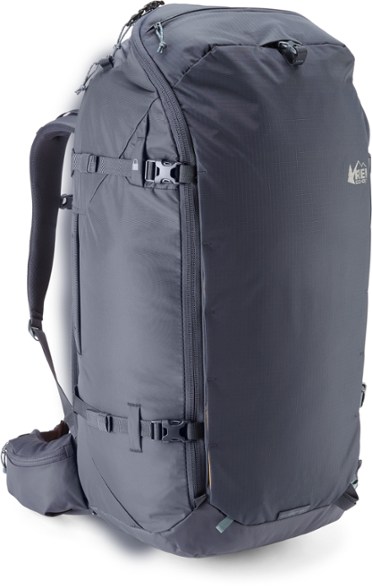 Capacity: 80L
Dimensions: 27 x 14 x 9 in.
Weight: 4 lbs. 1 oz.
Other sizes: 18, 28, 40L
What we like: Massive capacity with a removable and functional 20-liter daypack.
What we don't: Doesn't meet carry-on size requirements.
The packs above are great for vacationers and travelers headed out for a week or two, but those embarking on longer trips abroad will almost certainly need more storage and capacity. Enter REI Co-op's Ruckpack 60+. The "+" designation refers to the included 20-liter daypack, which can be attached to the front of the main pack for a whopping 80 liters of storage or used separately for around-town adventures once you reach your destination. Importantly, both come well appointed: The daypack boasts a dedicated tablet/hydration sleeve and water bottle pockets, while the main pack has great cushioning along the straps and backpanel, a functional compression and daisy chain system, easy access via the zippered back or side panels, water bladder storage, and even trekking pole attachments and a stowable rain cover. It's all wrapped up in a thoughtful and sustainable package, including recycled and bluesign-approved fabrics.
All that said, there's one glaring downside to opting for a larger-capacity design like the REI Ruckpack 60+: It doesn't meet most carry-on size requirements. For reference, the standard domestic carry-on limit within the U.S. is 22 x 14 x 9 inches, while the REI measures 27 x 14 x 9. Another notable complaint is that the daypack obscures the pack's main compartment zipper when attached, making it tedious to access your belongings. Even so, you'd be hard-pressed to find a better-appointed travel pack for less, making the Ruckpack our favorite high-capacity pick of the year. Of note, it's also offered in a smaller 40-liter option for $50 less, although only the 18- and 22-liter variations meet carry-on restrictions.
See the REI Co-op Ruckpack 60+  See the Women's REI Ruckpack 60+
Best of the Rest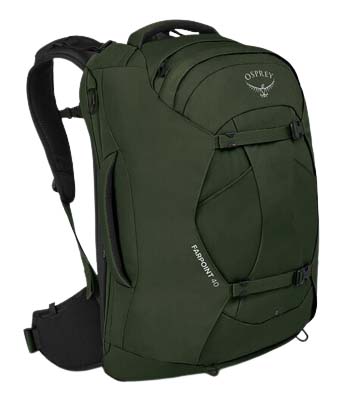 Capacity: 40L
Dimensions: 22 x 14 x 9 in.
Weight: 3 lbs. 7.8 oz.
Other sizes: 55, 70, 80L
What we like: Great carrying comfort and streamlined design at a good price.
What we don't: Smaller, heavier, and less durable than the Porter above.
We covered Osprey's Porter above, and their Farpoint is another highly comfortable and well-built design at a good price. On a trip to Patagonia last year, our tester was particularly impressed by the Farpoint's accommodating but streamlined shape, which managed to swallow all of his camera equipment in addition to clothing and other accessories while still fitting into the overhead compartment during air travel (the external compression straps helped a lot). With a recent update, Osprey also boosted durability considerably (the latest pack uses 450D fabrics, while the prior model was relatively thin at 210D), which is good news for those who are rough on their gear. And unlike most of the competition (including Osprey's own Porter collection), the Farpoint is sold in a dedicated women's model called the Fairview with more contoured shoulder straps and a curved hipbelt. It's also available in larger, crossover "Trek" models that can pull double duty for backpacking.
In addition to thicker fabrics, the latest Farpoint 40 trades the narrow mesh pockets at the front for a large shove-it sleeve that makes it easier to stash bulky items like jackets or towels. The pack no longer comes in multiple sizes, although the shoulder straps are now adjustable for dialing in fit. Osprey also repositioned the laptop sleeve from the front to the back for better weight distribution, improved access to the main compartment with a longer zipper, and tacked on a small mesh pocket on the hipbelt. The newer model doesn't come with a strap for over-the-shoulder carry, although the backpack and suitcase-style options should suffice for most. That said, the latest Farpoint 40 is around 5 ounces heavier than the prior model and over 3 ounces more than Osprey's own Porter 46 above, which is also larger (by 6L) and more durable with a 500-denier body. To be fair, it's still reasonably light and streamlined for long walks through airport terminals and around town, but the Porter wins out from a value perspective. 
See the Osprey Farpoint 40  See the Women's Osprey Fairview 40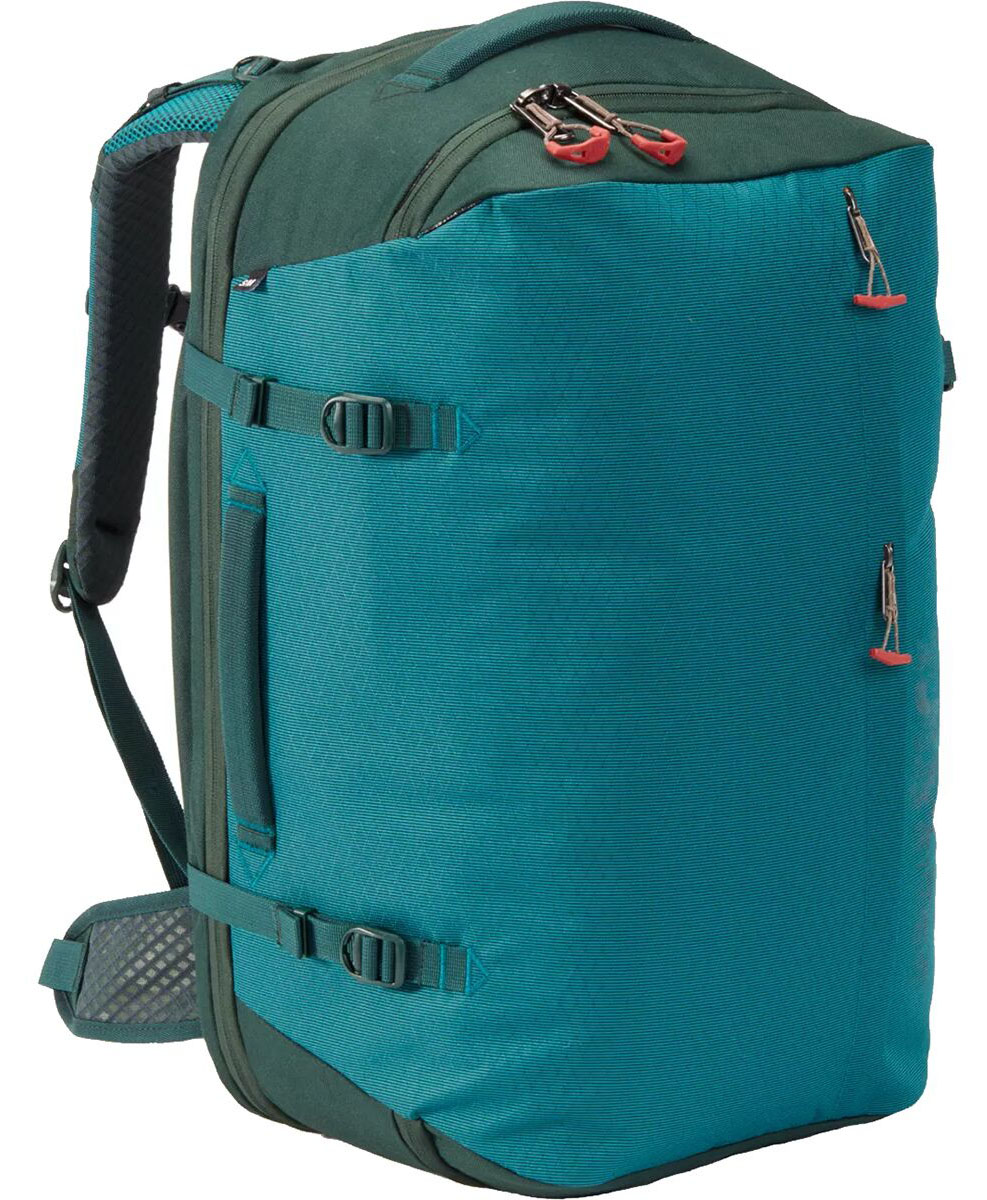 Capacity: 40L
Dimensions: 20.5 x 13.13 x 8.75 in.
Weight: 2 lbs. 8 oz.
Other size: 55L
What we like: Functional organization inside and out; offered in two sizes.
What we don't: New and unproven compared to many time-tested options here.
Eagle Creek first started making packs in the mid 1970s, and their Tour 40L travel pack clearly reflects that longstanding history in the market. Upon packing the Tour for the first time, we were immediately impressed by its highly practical design. The bag has great exterior storage, including a stretchy side water bottle pocket and expansion zipper for 5 liters of additional capacity in the main compartment. Additionally, the book-style opening provides quick access to the contents of the bag, and interior and exterior compression straps make it easy to snug things down. We also appreciate that it comes in two torso sizes (S/M and M/L) for maximizing fit, which is uncommon in the travel pack market and a really nice surprise at this price point.
Other notable features on the Eagle Creek Tour 40L include side and top grab handles for easy loading and carrying, an integrated rain cover that stows away at the bottom and doubles as a backpanel cover if you check the bag, puncture-resistant and lockable zippers that are easy to operate even with gloves, and good overall carrying comfort. It's not the toughest design out there—the water bottle pocket started to fray on our pack after just one trip—but uses durable 600-denier polyester elsewhere and is reasonably hardwearing overall. Other than being relatively new and unproven compared to the other options here, the Tour strikes us as a fantastic and well-rounded travel pack and may very well see a jump in rankings during a future update.
See the Eagle Creek Tour 40L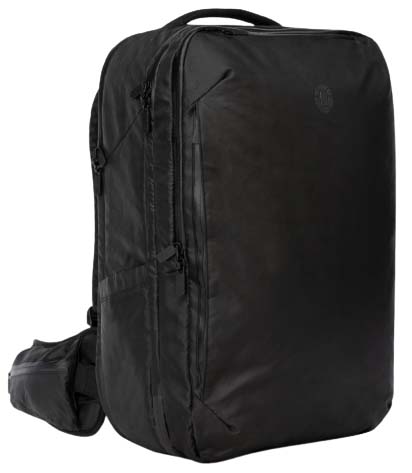 Capacity: 40L
Dimensions: 21.7 x 13.8 x 7.9 in.
Weight: 4 lbs. 8 oz.
Other size: 30L
What we like: All the features we look for in a quality, well-rounded travel pack.
What we don't: The most expensive design here and also tied for the heaviest.
Travel packs are a dime a dozen in 2023, but Tortuga's Travel Backpack 40L—which replaces their Outbreaker 35L for 2023—stands out as one of the most well-appointed and thoughtfully built options on the market. Organization is a clear highlight, including a large front pocket with several sleeves for divvying up small valuables and documents, a convenient clamshell-style opening with zippered compartments for separating clothes and shoes, and padded laptop and tablet sleeves with zippered mesh pockets at the other side for storing cords and accessories. Rounding out the feature set are easy-to-access water bottle pockets that can fit most standard-mouth bottles (our wide-mouth Hydro Flask was too big), zippered hipbelt storage that can accommodate a smartphone and passport, and lockable, water-resistant zippers. Finally, the design is well padded with thick cushioning along the backpanel, shoulder straps, and hipbelt, which is fairly uncommon among travel-specific brands. 
It's worth noting that the Tortuga Travel Backpack has a slightly more streamlined storage layout compared to the outgoing Outbreaker that it replaces, although you do get an additional 5 liters of capacity and a bump in usable space, especially in the main compartment. That said, at 4 pounds 8 ounces, the Tortuga is tied for the heaviest option on our list (along with the Peak Design Travel Backpack above), which is a notable downside for long treks through the airport and around town. It's also the priciest at $349, coming in around $50 more than the Peak Design and Nomatic Travel Pack below. On the bright side, Tortuga does offer a lifetime warranty against defects, and they will repair/replace the pack or refund your money if a replacement isn't available. All told, it's a nice dose of added assurance and helps justify the steep price, but the hefty build and lack of value push the Tortuga slightly down in our rankings.
See the Tortuga Travel Backpack 40L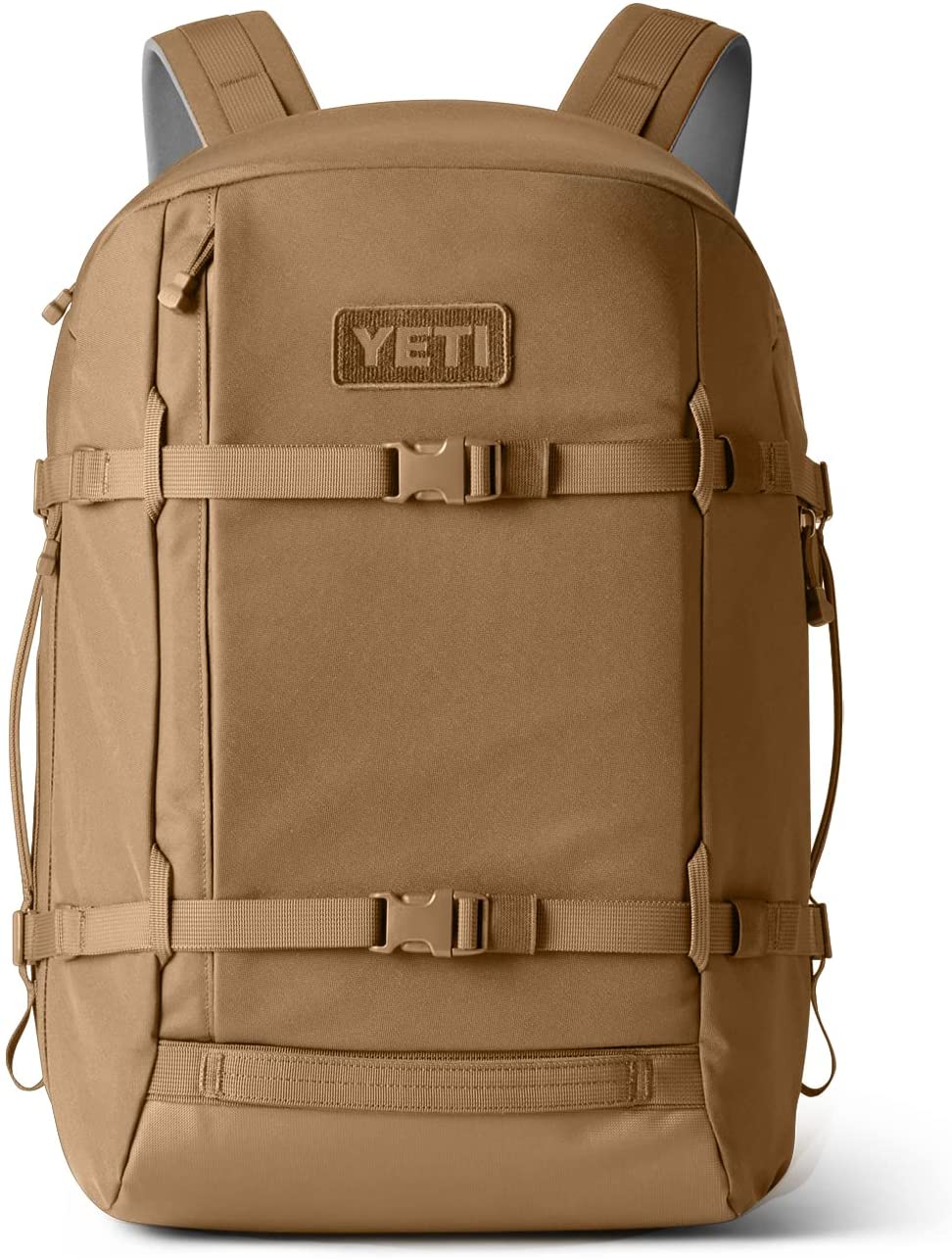 Capacity: 35L
Dimensions: 20 x 13 x 8 in.
Weight: 3 lbs. 14.4 oz.
Other sizes: 22, 27L
What we like: High-end YETI construction and top-notch durability.
What we don't: Expensive and heavy for the capacity; webbing hipbelt detracts from overall comfort.
YETI's coolers and insulated drinkware are their bread and butter, but the focus on premium craftsmanship doesn't end there. On the travel side, their Crossroads 35L Backpack is exactly what we've come to expect from the brand: excellent durability and functionality in a modern package. The body of the pack is made with YETI's tough and confidence-inspiring TuffSkin nylon (which was inspired by motorcycle gear), while the PU-coated base adds a nice dose of assurance when setting it down. All of the other components have an equally durable and supportive feel, from the foam-heavy shoulder straps to the thick, protective backpanel. It's all wrapped up in a sleek and streamlined design that's offered in a nice selection of colorways, from bright Nordic Purple to subdued Alpine Brown (shown in the photo here).
YETI clearly put a lot of thought into the outside of the Crossroads, but the interior is well executed, too. The clamshell opening folds back to reveal a pocket-equipped mesh panel and generous main compartment that still can be accessed when wearing the pack. You also get dedicated storage for a water bottle and laptop, as well as a pass-through sleeve for securing to a roller bag. Our biggest gripe is the lack of padding: The detachable hipbelt is made of thin webbing and doesn't offer much support, and the shoulder straps and backpanel have a noticeably thick and rigid feel, which is great for durability but detracts from overall comfort. And as with most YETI products, the pack isn't particularly cheap or light at $250 and nearly 4 pounds. Finally, the 35-liter Crossroads is on the smaller side and will require precise packing to fit more than about three to five days' worth of belongings. But again, build quality is top-notch, and minimalists used to packing light may not mind the small sacrifices in comfort and storage.
See the YETI Crossroads 35L Backpack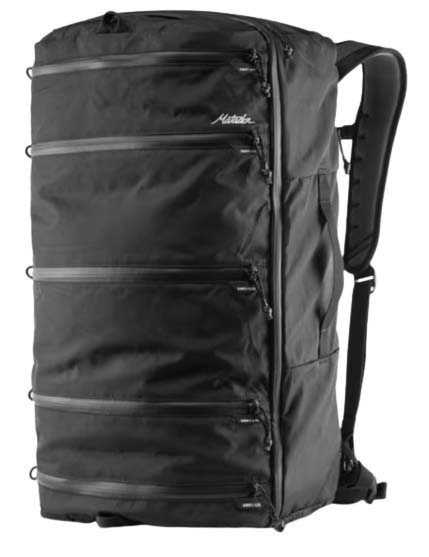 Capacity: 45L
Dimensions: 22 x 13.4 x 10.25 in.
Weight: 2 lbs. 8 oz.
Other size: 28L
What we like: Segmented layout makes it easy to customize organization; the lightest pack here.
What we don't: Minimalist build lacks structure and support; you'll need to be strategic about packing.
Matador may lack the name recognition of brands like Osprey, Cotopaxi, and REI, but don't let that fool you: This Boulder-based upstart is growing quickly thanks to their outside-the-box thinking. From their travel collection, the SEG45 Travel Pack (formerly the SEG42) stands out for its unique segmented design that allows you to customize organization by day or activity. When unzipped, the five compartments at the front of the pack reveal independent (and stowable) storage cube-like areas for clothes and other soft items, while the main compartment below provides added space for dirty clothes, shoes, and other bulkier gear. The rest of the feature set lines up well, too, including multiple grab handles; a stretchy, zippered water bottle pocket that's very secure; backpack straps that stow away neatly when not in use; and durable materials with reinforcements in high-wear areas.
In addition to being one of the most intriguing designs on our list, the SEG45 is also the lightest at 2 pounds 8 ounces. That said, Matador did have to make some concessions to achieve the feathery build, the biggest of which are carrying comfort and structure. We recently brought the SEG45 on a domestic trip and could really feel the heft on our shoulders while navigating through airports. The thin webbing hipbelt is partially to blame, and the pack's light and flexible build gives it a noticeably floppy feel, especially without a laptop in the back sleeve. The 45-liter capacity is also pushing carry-on limits, and you'll need to be strategic with packing—the pocket-heavy exterior made it hard for us to remember where we put certain items and detracts from the amount of usable space inside the main compartment. In the end, the SEG45 won't be for everyone, but the low weight and customizable storage are enticing for methodical travelers who pack light and like to divvy things up. 
See the Matador SEG45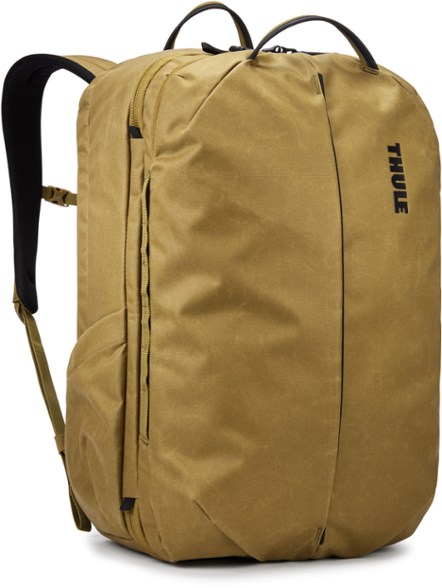 Capacity: 40L
Dimensions: 20.5 x 13 x 9.1 in.
Weight: 3 lbs. 3 oz.
Other size: 28L
What we like: Premium build quality; removable rolltop bag is handy for dirty clothes.
What we don't: Hipbelt sold separately; another unproven design.
Swedish brand Thule is best known for their bike and roof racks, but they make sneaky-good packs too. Our favorite in their collection this year is the 40-liter Aion, which combines the premium build quality that Thule is known for with a nice assortment of travel-ready features. One unique—but very functional—addition is the removable TPU rolltop bag for stashing dirty laundry, which prevents odors and dirt from making their way to the rest of your belongings. The rest of the design is nicely appointed, including dedicated water bottle storage, an easy-to-access clamshell opening, plenty of zippered spaces for electronics and valuables (including a padded laptop/tablet sleeve), internal compressions straps to keep items secure and tidy, lockable zippers, and carry-on-compliant dimensions. 
What pushes the Thule Aion down to a mid-pack finish? At this price point and capacity, we're surprised to see that the bag doesn't come with a hipbelt. You can purchase Thule's compatible Aion sling bag separately, which can pull double-duty for around-town use, but it's a fairly expensive addition at $50 (and a feature we consider critical for a pack of this size). To be fair, the rest of the build is very well executed, including a noticeably thick and robust 600-denier waxed canvas shell and PFC-free DWR coating for fending off moisture. If you don't mind the added investment for the waist belt/sling bag, it's a promising design with competitive specs to match. Of note, if you're looking for something a little different for travel, the Aion collection also includes a roller bag and a 35-liter duffel.
See the Thule Aion Travel Pack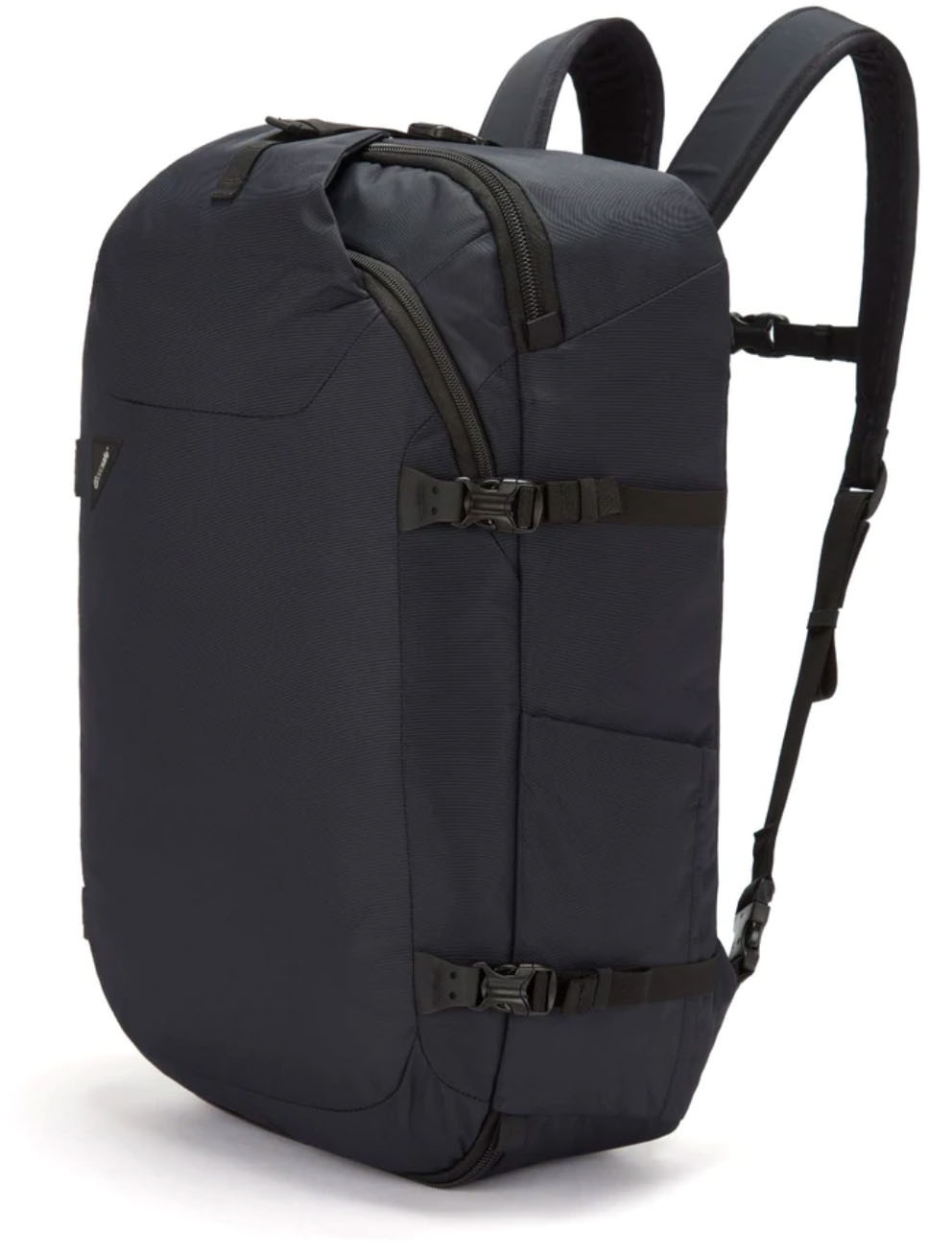 Capacity: 45L
Dimensions: 21.7 x 13 x 7.9 in.
Weight: 4 lbs. 4.8 oz.
Other sizes: 35L
What we like: Anti-theft technology and cut-resistant fabrics add a nice dose of assurance.
What we don't: Pricey and prioritizes safety features over carrying comfort.
Travel can be an exhausting endeavor, especially if you're constantly worried about your luggage or valuables getting stolen. That's why anti-theft designs like Pacsafe's Venturesafe EXP45 are becoming increasingly common, particularly for international trips. Like most of Pacsafe's offerings, the Venturesafe EXP45 is packed with protective features, from cut-resistant materials to lockable and puncture-resistant double zippers and built-in stainless steel cable locks. Importantly, these are nicely integrated and don't detract too heavily from the Venturesafe's functionality as a travel pack—it's still well organized with ample interior and exterior pockets and compression straps, offers multiple carry options, and is carry-on compliant.
All that said, the Pacsafe Venturesafe EXP45 is a pretty niche design that prioritizes safety over things like carrying comfort and access. The pack is on the heavier end at over 4 pounds due to all of the protective features, the handles are underbuilt for carrying as a suitcase, the padding along the shoulder straps and hipbelt is noticeably firm (albeit decently thick), and there are no load-lifter straps to pull the pack closer to your body while on the move. Another downside is that the laptop sleeve is positioned at the front of the bag—we prefer when heavier items are situated close to the back for better weight distribution—and accessing items here can be difficult due to the half-length zipper design (we wish it had a clamshell opening like the main compartment). In other words, comfort- and convenience-focused travelers will likely want to look elsewhere, but the Pacsafe has its place for those who prioritize safety and security.
See the Pacsafe Venturesafe EXP45
Capacity: 45L
Dimensions: 22 x 14.5 x 7.6 in.
Weight: 3 lbs. 10 oz.
Other size: 30L
What we like: Highly durable and looks good.
What we don't: Lacking in structure and carrying comfort; no exterior pocket for valuables.
Patagonia's Black Hole is legendary in the world of duffel bags, and the MLC 45L travel pack variation shares that bag's excellent durability and good looks in a more organized and carry-on-friendly design. Like the duffels, the Black Hole Pack is made of strong (and recycled) polyester ripstop that's highly tear-resistant with a TPU film on the exterior for fending off precipitation. It also boasts the signature daisy chain webbing along the sides for securing extra gear. Importantly, however, the travel focus is clear: You get three carrying options (backpack, over-the-shoulder, or briefcase-style), compatibility with a roller bag, and a convenient clamshell opening with three separate chambers for customizing organization.
Why do we rank the Patagonia Black Hole MLC 45L here? The most glaring downsides are the lack of exterior storage and structure: The pack omits an outside pocket to stash important items like a passport and wallet (a big oversight, in our opinion) and doesn't have a particularly rigid structure, which gives it a noticeably bulky and cumbersome feel when stuffed full. In our opinion, the 30-liter Mini version is a little better executed, including a more manageable capacity and a small exterior pocket at the top for quick access to valuables and documents. We also love the backpanel design (shared with the 45L version), which comprises sleeves at one side for a laptop and tablet with zippered and drop-in pockets at the other for divvying up cords and accessories. Stock is very low at the time of publishing, but if you can track one down, the Mini MLC 30L is an excellent pick for commutes, daily use, and as a secondary bag for travel.
See the Patagonia Black Hole MLC 45L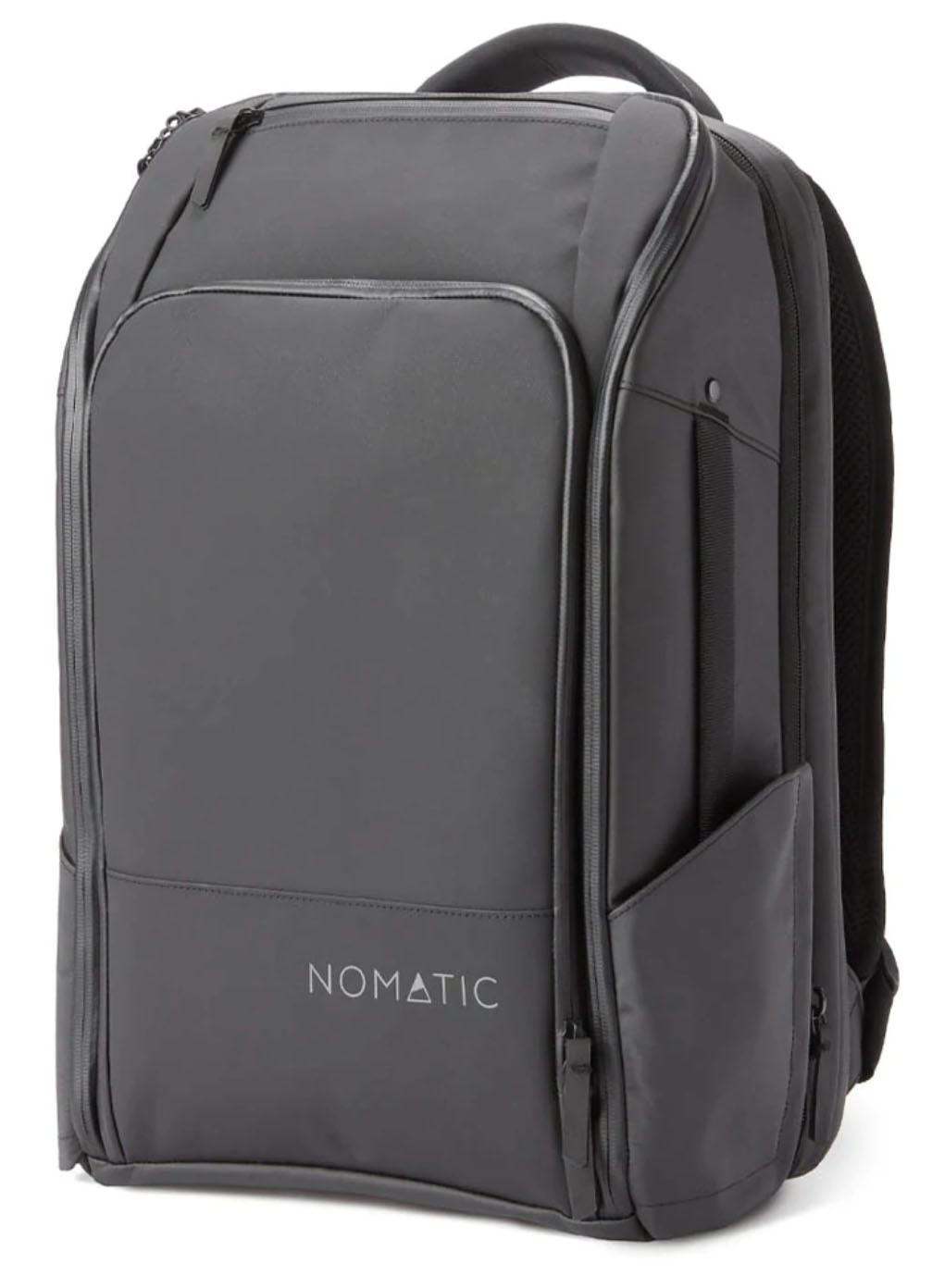 Capacity: 30L
Dimensions: 18.5 x 12 x 9.5 in.
Weight: 4 lbs. 2.6 oz.
Other sizes: None
What we like: Almost all the features we look for in a thoughtfully built travel pack.
What we don't: Very pricey for the capacity; hipbelt sold separately.
Many of the picks above are built by reputable backpacking manufacturers, but Nomatic is a travel company first. Their flagship Travel Pack embodies that focus, combining thoughtful organization and storage with easy access in a sleek and minimalist package. Feature highlights include an expandable design that allows you to alternate between 20 and 30 liters of capacity, a nicely divided accessory compartment at the front, functional cord pass-through points for charging electronics, a lockable RFID pocket for passports and other scannable documents, and a hidden compartment for valuables at the backpanel. We also love the TSA-ready flap for a laptop and other electronics, which easily separates from the main compartment for getting through security quicker.
What's not to like about the Nomatic Travel Pack? First is the smaller 30-liter maximum capacity, which Nomatic estimates is sufficient for trips of just one to three days. Second is the $300 price tag, which is identical to the 15-liter-larger Peak Design Travel Pack above and one of the most expensive options here (especially for the capacity). Finally, the Travel Pack doesn't come with a waist strap, which is a notable downside for support and carrying comfort. Nomatic does sell one separately for $30, but we consider it a requisite feature (it's no coincidence that almost every other pack here comes with a hipbelt). If you're mainly a weekend traveler and willing to make the investment, however, the Nomatic stands out for its intentional organizational layout and travel-ready feature set, earning it a spot on our list.
See the Nomatic Travel Pack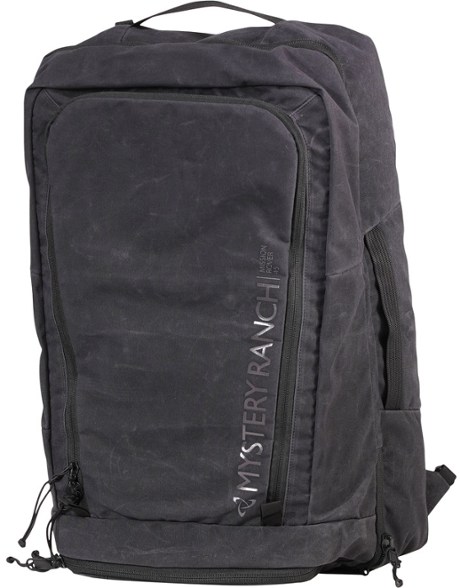 Capacity: 45L
Dimensions: 21 x 13 x 12 in.
Weight: 4 lbs. 4.8 oz.
Other sizes: 30, 60+L
What we like: Robust fabrics, multiple carry options, and nicely divided interior.
What we don't: A little heavy and pricey for what you get.
Along with Osprey's Porter 46 above, Mystery Ranch's Mission Rover 45 is a great option for those of us who aren't particularly adept at packing light. Touted as a "workhorse gear hauler," the Mission Rover offers three functional carry options (as a suitcase, shoulder bag, or standard backpack), has a well-organized main compartment with zippered dividers and a wraparound clamshell opening, and even includes separate areas for shoes and dirty laundry. As expected at this price point, you also get most of the standard travel-ready features that we look for, including a stowable hipbelt, lockable zippers, a sleeve to secure to a rolling suitcase, and a padded laptop space that can accommodate computers up to 15 inches wide. Finally, like many of Mystery Ranch's backpacking offerings, the Mission Rover has a premium feel with a thick nylon exterior and water-resistant YKK zippers.
However, as with the Pacsafe Venturesafe above, the Mission Rover's laptop sleeve is situated at the front of the pack, which detracts from carrying comfort and convenience. The Mystery Ranch is also on the heavier and pricier end of the spectrum at 4 pounds 4.8 ounces and $249, although the 45-liter capacity is undeniably generous (and the pack is still compliant with most carry-on size restrictions). Finally, the bag is relatively dated-looking and lacking in modern appeal compared to offerings from Topo Designs, Peak Design, Cotopaxi, and others above. In other words, the Mission Rover doesn't stand out in any one area (hence our ranking), but it's another durable travel pack with a nicely executed feature set.
See the Mystery Ranch Mission Rover 45
Travel Backpack Comparison Table
*Editor's Note: "Carry-on" refers to whether or not each pack meets standard domestic and international air travel restrictions, which must be under 22 x 14 x 9 or 45 linear inches when adding L+W+H.
Travel Backpack Buying Advice

Size and Capacity
The first question to answer when choosing a travel pack is how much capacity you anticipate needing. For reference, the options above range from 30 liters on the small end (the Topo Designs Global Travel Bag and Nomatic Travel Pack) all the way up to 80 liters for the REI Co-op Ruckpack (with the 20L daypack attached). Most travelers will land on something in the middle, with the sweet spot for many being in the 40- to 45-liter range—it's no coincidence that well over half of the models above fall into this grouping, which is largely due to their carry-on-compliant dimensions.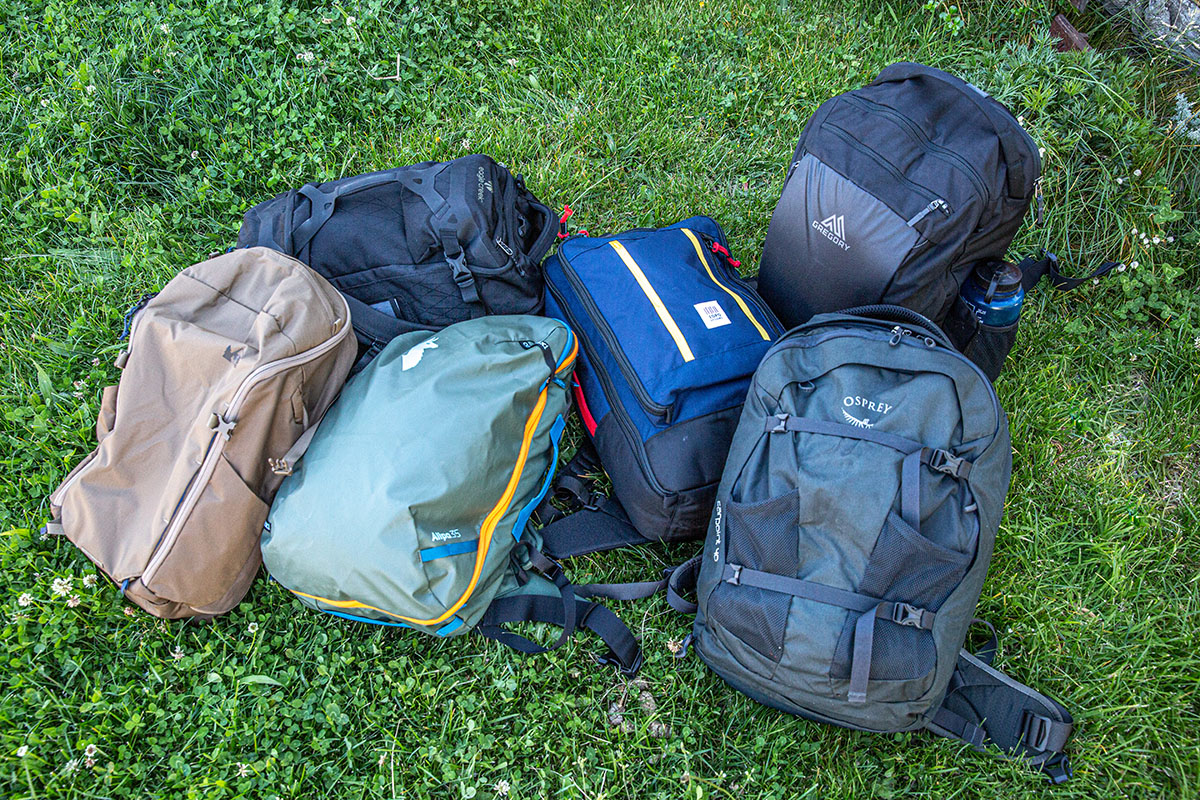 In general, we've found that packs of this size can easily accommodate a week or two of clothing, toiletries, and other travel accessories (and even more if you pack light). For reference, we had no issues fitting 14 days' worth of belongings into the 40-liter version of Topo Designs' Global Travel Bag on a recent trip to Patagonia. If you stick to weekend adventures, you can keep things lighter and more compact (and save some cash in the process) by opting for the smaller, 30-liter variation. On the flip side, those embarking on longer expeditions abroad might need to step up to a larger design like the REI Ruckpack (at the sacrifice of carry-on compatibility).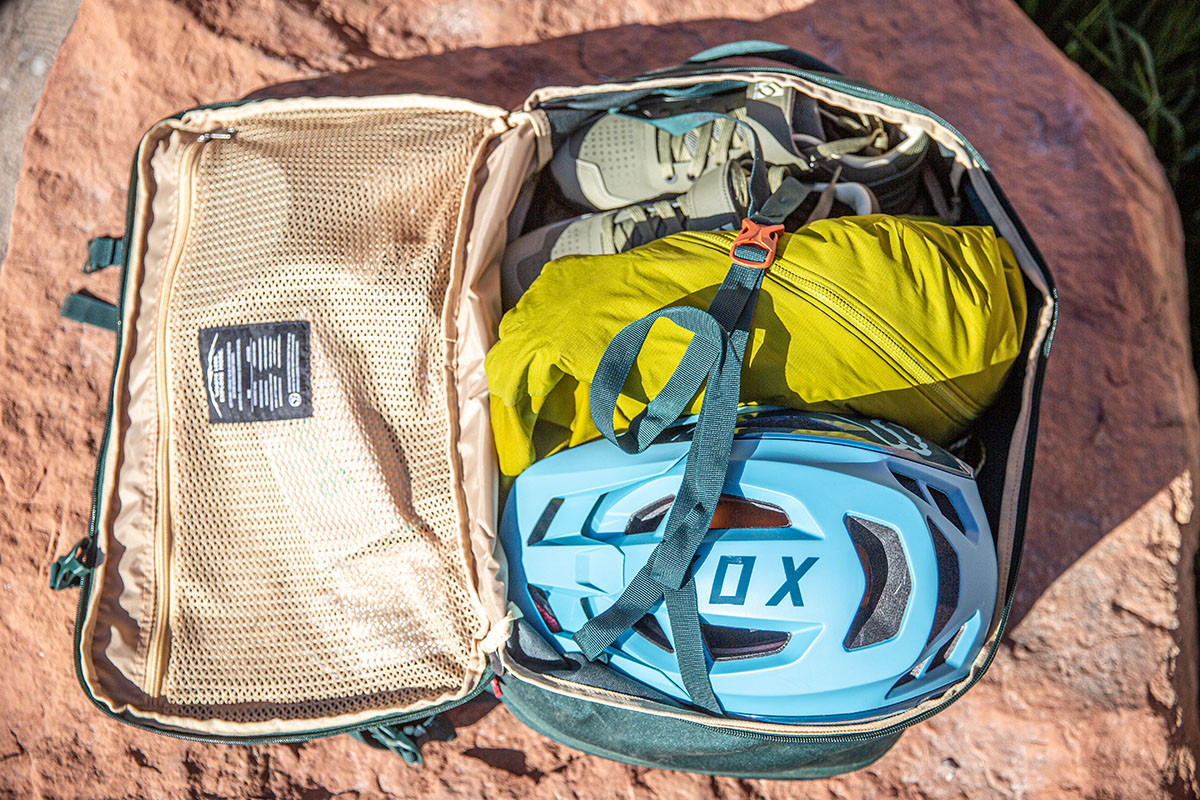 Travel Backpack Dimensions
Dimensions are a crucial consideration for most travelers, and especially those headed abroad. With that in mind, we've listed the length, width, and height measurements for each travel pack above both in the write-ups and in our comparison table. As you may notice, similarly sized travel packs don't vary too considerably in terms of dimensions. This is mainly due to carry-on size restrictions, which we break down more in depth below.

Carry-on Size Restrictions
Right off the bat, we'll note that there is technically no standardized size requirement for carry-on luggage domestically or abroad. That said, the universally accepted dimensions within the U.S. are 22 x 14 x 9 inches or 45 linear inches when adding L+W+H. We've indicated whether each travel pack above meets these requirements in our comparison table, and REI Co-op does the same on each of their product pages. The only exception above is the REI Ruckpack 60+, which measures 27 x 14 x 9 inches.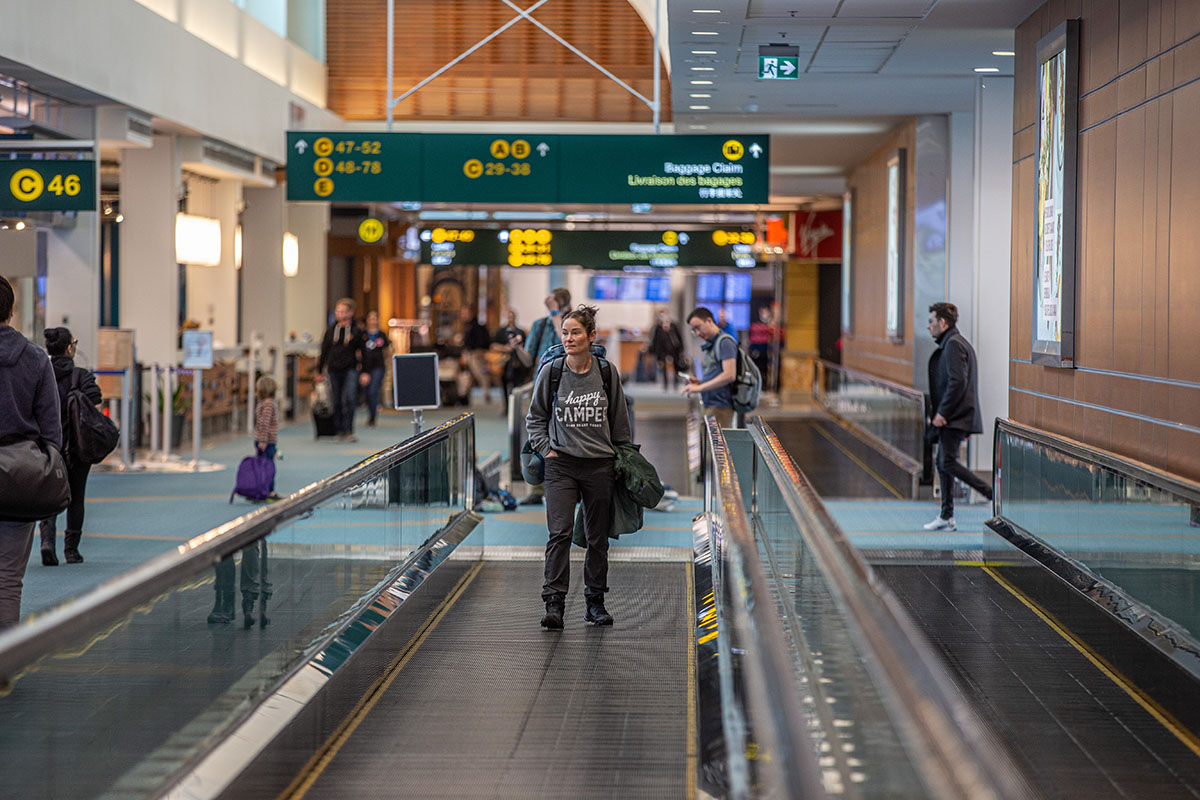 It's also important to call out expandable models here like the Peak Design Travel Backpack, which is carry-on compliant when compressed to 35 liters (22 x 13 x 9.5 in.) but not when expanded to its maximum 45-liter capacity (22 x 13 x 11 in.). You may be able to get away with carrying these bags onboard, but don't count on it, especially if you're traveling during peak season to a popular destination. When in doubt, you can always check with your airline ahead of time.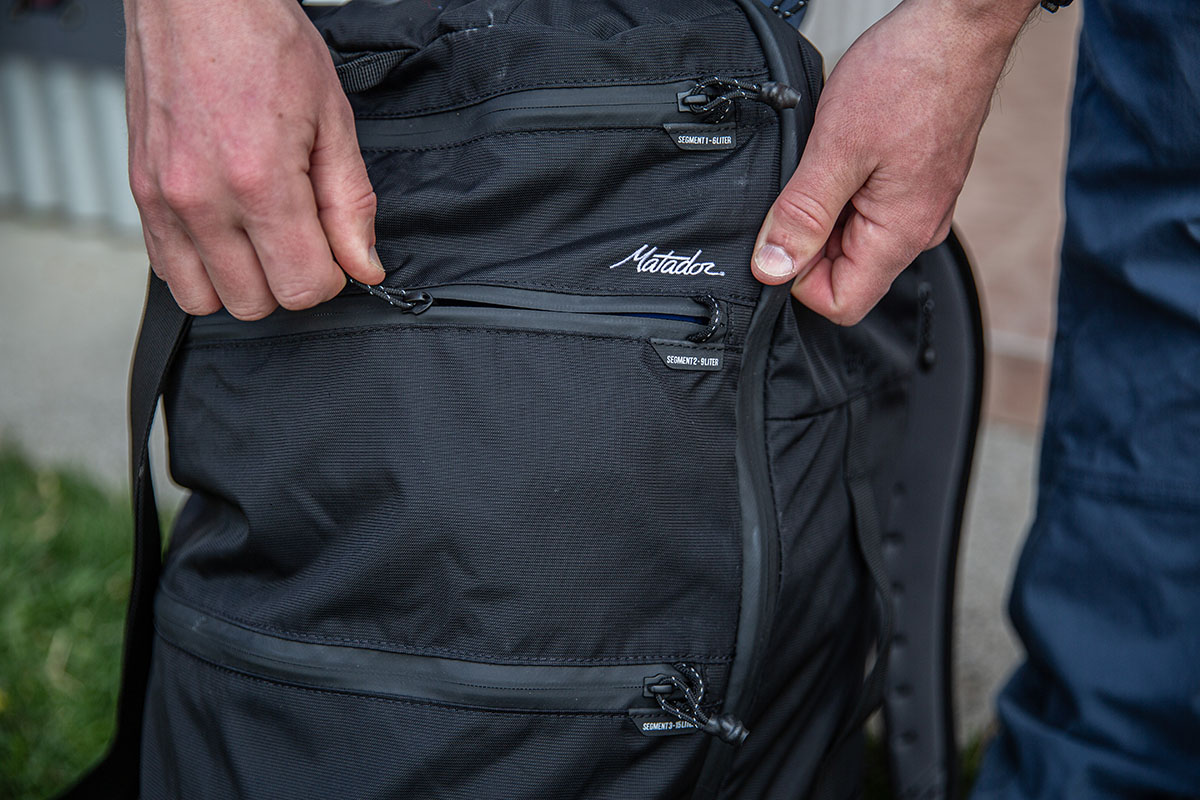 Organization: Pockets and Main Compartment Access
All of the packs above are purpose-built for travel with extensive organizational layouts and thoughtfully placed pockets for separating valuables, electronics, and other accessories. That said, some layouts are more functional than others, and a final decision will largely come down to your intended use and what works best for the items that you plan to bring along. For instance, sleek options like the Peak Design Travel Backpack and Nomatic Travel Pack are great for digital nomads and remote workers who need to organize a lot of electronics, while backpacking-inspired options like the Osprey Farpoint 40 and Porter 46 have fewer tech-focused features but work great for adventure travel. We break down some of the key organizational components below, from laptop and tablet sleeves to water bottle storage and pack opening styles.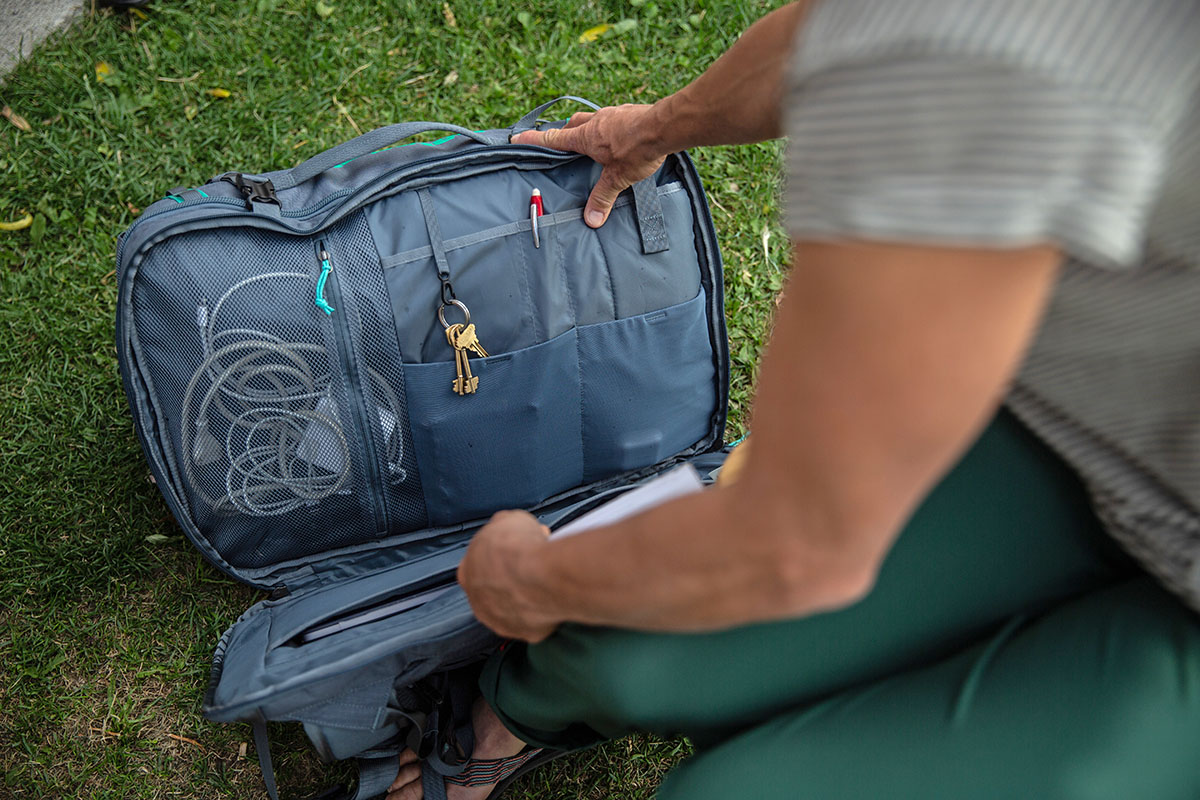 Laptop and Tablet Sleeves
Laptop storage is a requisite feature in a travel pack, and all of the picks above come with a dedicated spot to stash larger electronics. In terms of dimensions, most sleeves can accommodate up to a 15-inch laptop, and many come with separate smaller compartments in the same space for a tablet too. This area is typically well padded to protect electronics and positioned along the backpanel for the best access and weight distribution (keeping heavier items closest to your back will help maximize comfort and balance). A couple exceptions to this rule are the Pacsafe Venturesafe EXP45 and Mystery Ranch Mission Rover 45, both of which have the laptop sleeve at the front of the pack and can feel a little less well balanced with heavier electronics situated farther away from your body.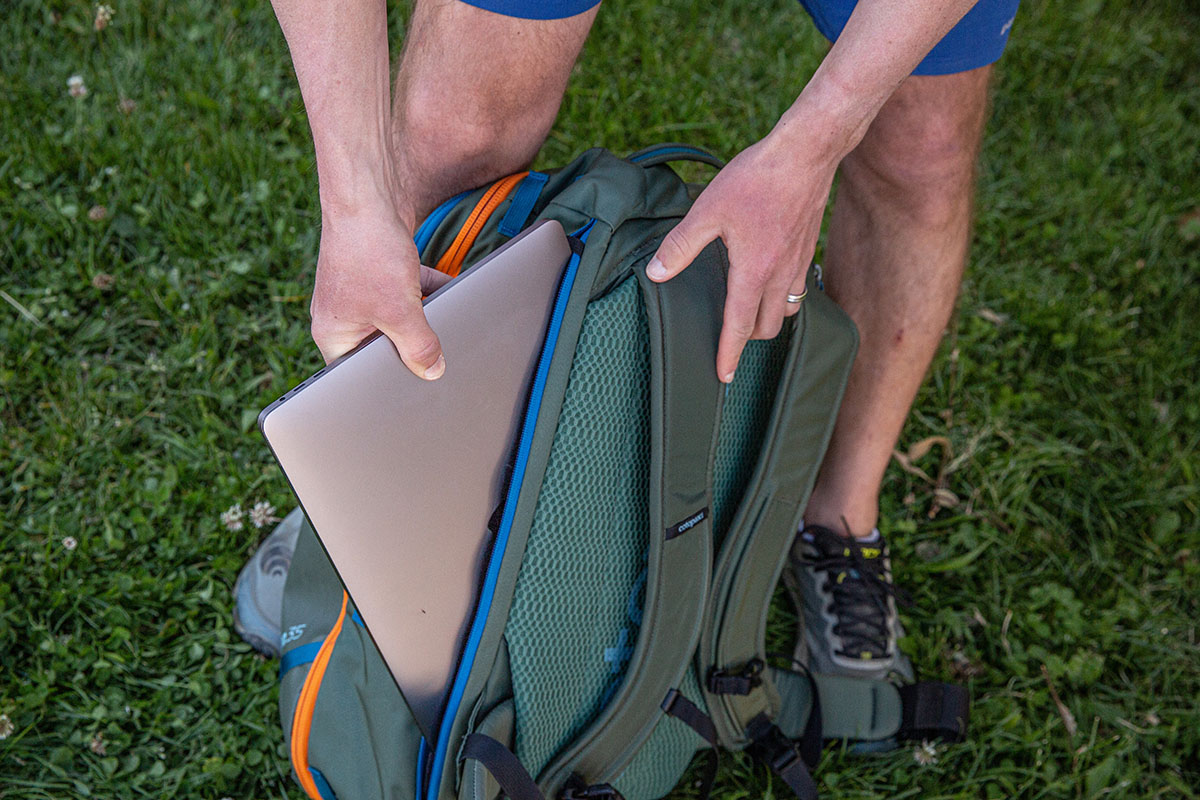 Water Bottle Pockets
Unlike laptop sleeves, side water bottle pockets aren't a standard feature on travel packs. Some models that include them are the Topo Designs Global Travel Pack, Peak Design Travel Backpack, REI Ruckpack (on its removable daypack), Eagle Creek Tour, and Thule Aion, while the Cotopaxi Allpa and Osprey Farpoint leave them out. It's also worth noting here that some packs (like the REI Ruckpack) are compatible with a hydration reservoir, including a dedicated sleeve and access port for a tube. However, this area on the Ruckpack doubles as the laptop sleeve, which most travelers will use more frequently.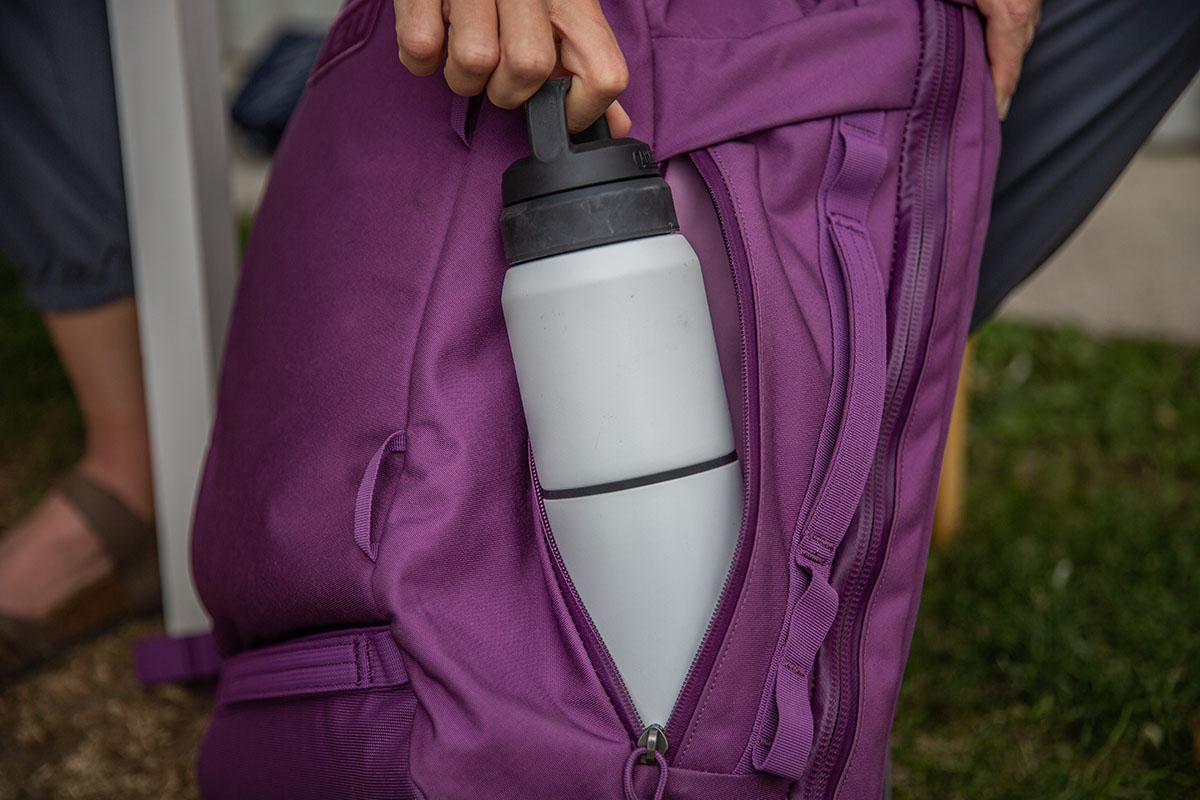 Opening Styles and Access
Easy access is a hallmark of a good travel backpack. The clamshell-style opening is far and away the most popular design and for good reason: With the pack laid flat, you can easily see and access the entirety of the main compartment. Some backpack-inspired designs like the REI Ruckpack and Osprey Porter 46 utilize generous U-zip designs instead, which are pretty functional but make it a little harder to reach contents at the very bottom of the bags. Others, like Osprey's Farpoint 40, have large zippered front panels that fold back to reveal the interior, although these are typically a little less convenient and more restrictive than clamshells. Finally, it's important to note that some bags come with multiple access points: The Cotopaxi Allpa 35L, for instance, includes both a full wraparound zipper and "shortcut" side zip next to the backpanel for easily retrieving items while on the move.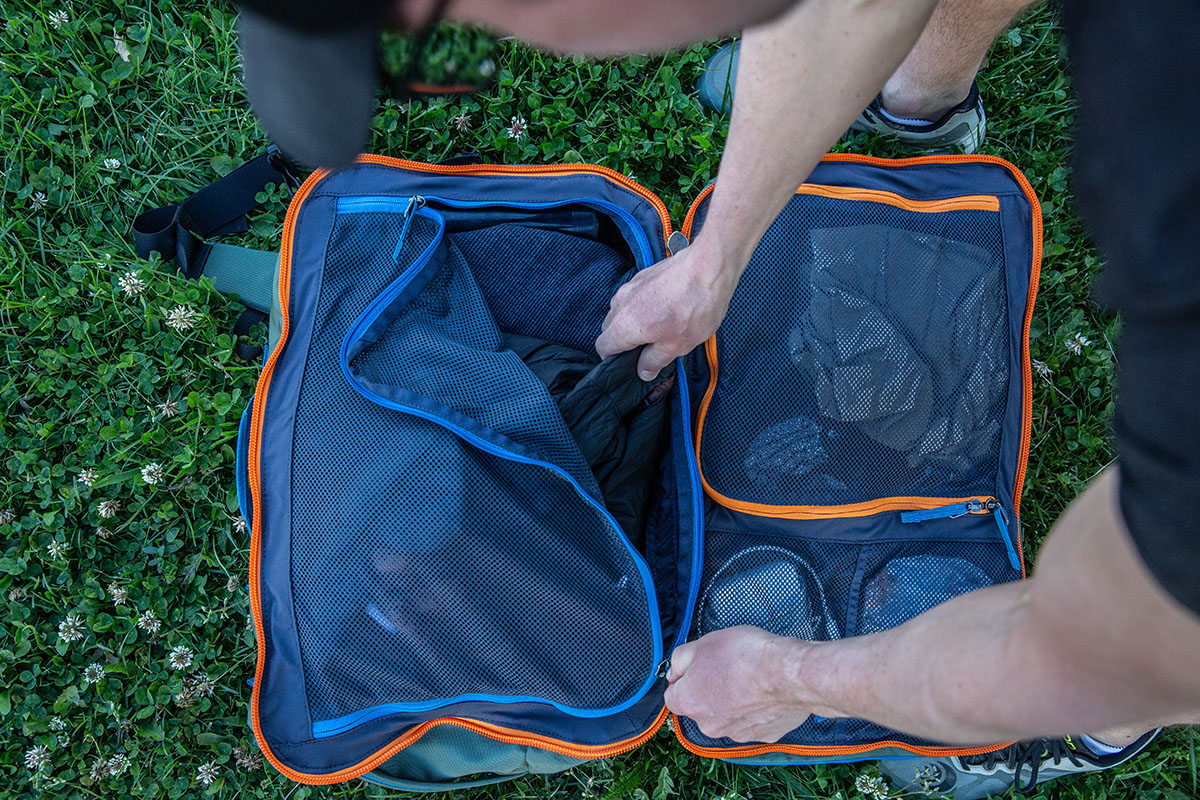 Carrying Comfort
Comfort can be somewhat subjective, but a few features help certain travel packs stand out from the rest of the market. Typically, the most comfortable designs boast shoulder straps and hipbelts with thick padding and good adjustability for dialing in fit. Sternum and load-lifter straps can also be very helpful in effectively distributing a heavy load. One brand that stands out in this area is Osprey, which makes sense given their expertise in the backpacking pack market. One of our favorite options for shuttling heavy loads over long distances is Osprey's Porter 46, which features thick cushioning and good adjustability at the shoulders and waist belt and comes with load lifters for bringing the weight closer to your back.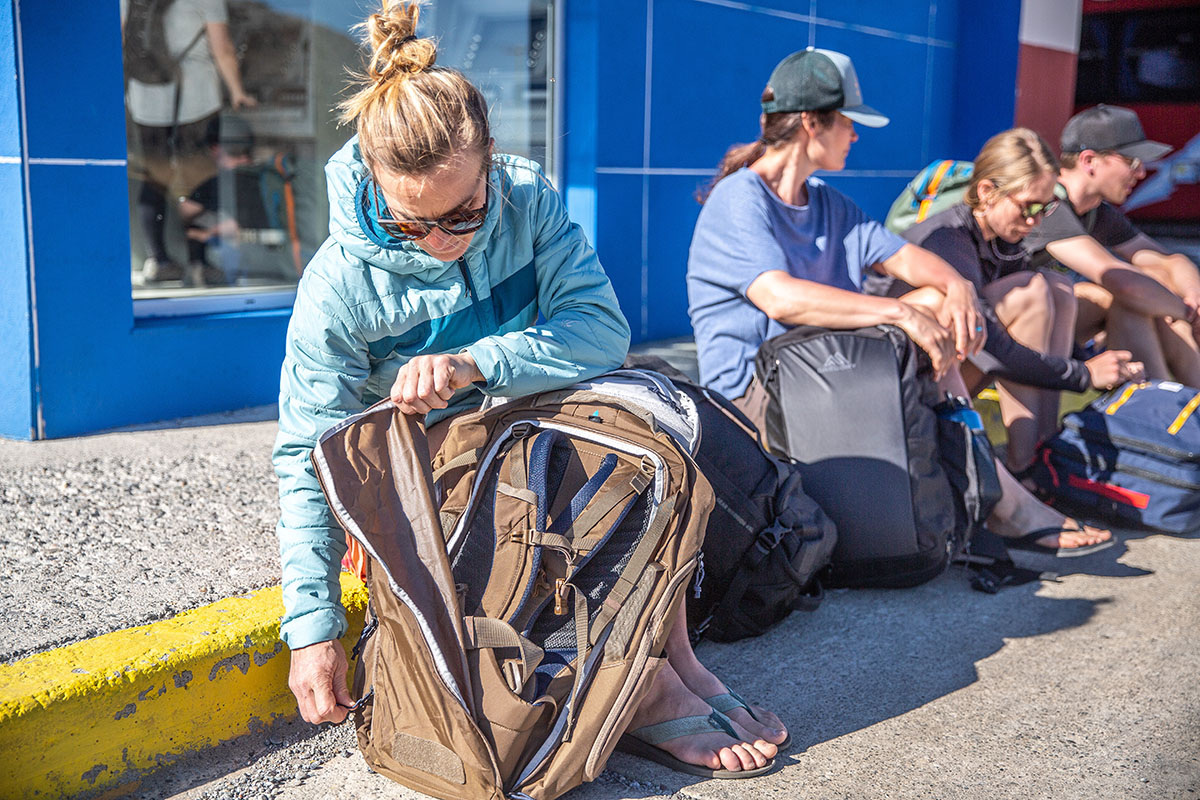 On the flip side, models without hipbelts are generally the least comfortable, especially when wearing them for extended stretches. From the list above, only the Nomatic Travel Pack and Thule Aoin don't come with one, although you can purchase them separately for both packs. Thin webbing designs—like what you get with the Amazon Basics Carry-On, YETI Crossroads, and Matador SEG45—aren't much better, providing very little support and structure for keeping the weight of the pack on your hips (rather than your back). If you plan to be walking long distances with your pack through airports or city streets, we consider a well-padded waist belt a critical feature and worth the added investment.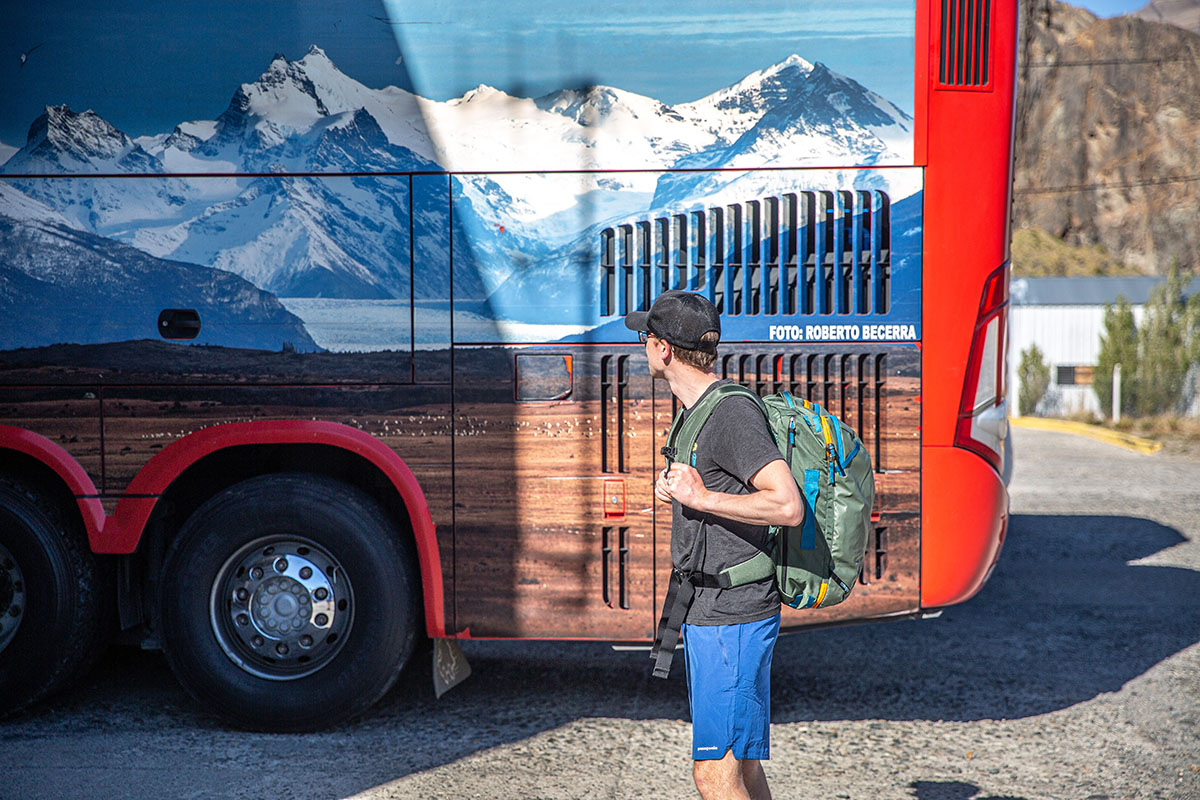 Grab Handles and Alternate Carry Methods
The models above are designed to be worn on your back as backpacks, but many travelers appreciate the ability to carry their pack suitcase-style or over the shoulder. These options are especially helpful when standing in line to check in at the airport or retrieve travel documents. For instance, the Peak Design Travel Backpack boasts 360-degree grab handles that make it quick and easy to take the pack off and carry it one-handed through security checkpoints or narrow airplane aisles. Designs like the Topo Designs Global Travel Bag 30L also come with detachable straps for shoulder carry, which can be helpful when you need to access items inside but want to keep the pack off the ground and remain hands-free. Finally, many of the offerings here can be secured to a roller bag via pass-through sleeves, which we cover more below.
Other Travel Pack Features
In addition to pockets and electronics sleeves, there are a few other features specific to travel packs that are worth having on your radar. Lockable zippers are fairly standard at the mid to upper end of the market (budget designs like the Amazon Basics Carry-On Travel Backpack forgo them), as are removable and/or stowable straps and compression straps or dividers to keep things tidy in the main compartment. As is common with backpacking models, some travel packs also come with built-in rain covers that stow away when not in use, including REI Co-op's Ruckpack 60+, Cotopaxi's Allpa 35L, and Eagle Creek's Tour 40L. Finally, many will appreciate the ability to attach their travel pack directly to a rolling suitcase via a pass-through handle or sleeve (like what you get with Osprey's Porter 46 and many others above).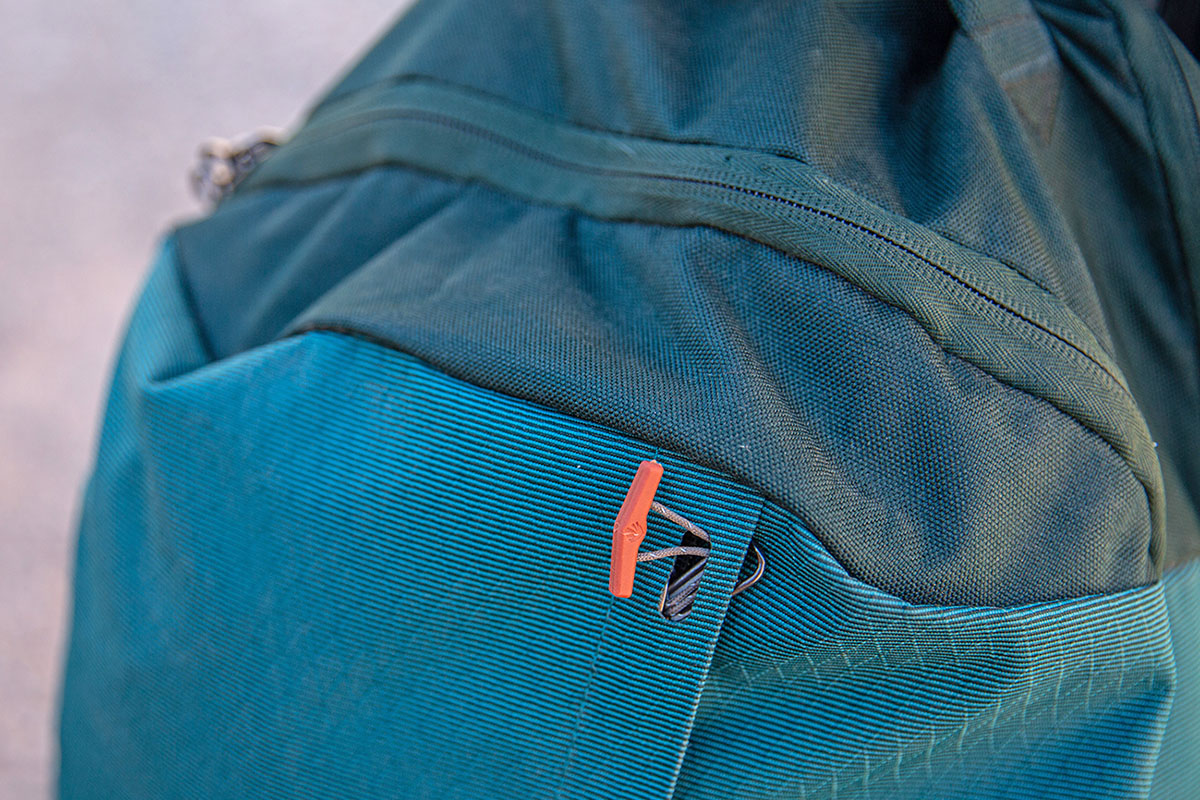 Construction and Durability
Given the inherently rough nature of travel, all of the packs above are well built and hardwearing enough to withstand frequent use. That said, some are certainly more durable than others, and looking at denier (a measurement of fabric thickness) can help differentiate between models. For instance, the Osprey Porter 46 is pretty average with a mix of 420- and 500-denier (D) materials, while the Cotopaxi Allpa 35L is one of the thickest and most abrasion-resistant options on our list with a combination of 1,000D polyester and 840D ballistic nylon (Topo Designs' Global Travel Bag uses a similar combo but with 1,000D nylon and 1,680D ballistic nylon). Pacsafe's Venturesafe EXP45 is another standout, with stainless steel wire mesh built into the 400D nylon body to guard against theft. At the thinner end, Matador's SEG45 uses a mix of mostly 100 and 420D fabrics to keep weight low, although the nylon body is coated with a PU laminate to boost weather and abrasion resistance, and Matador included reinforcements in high-wear areas.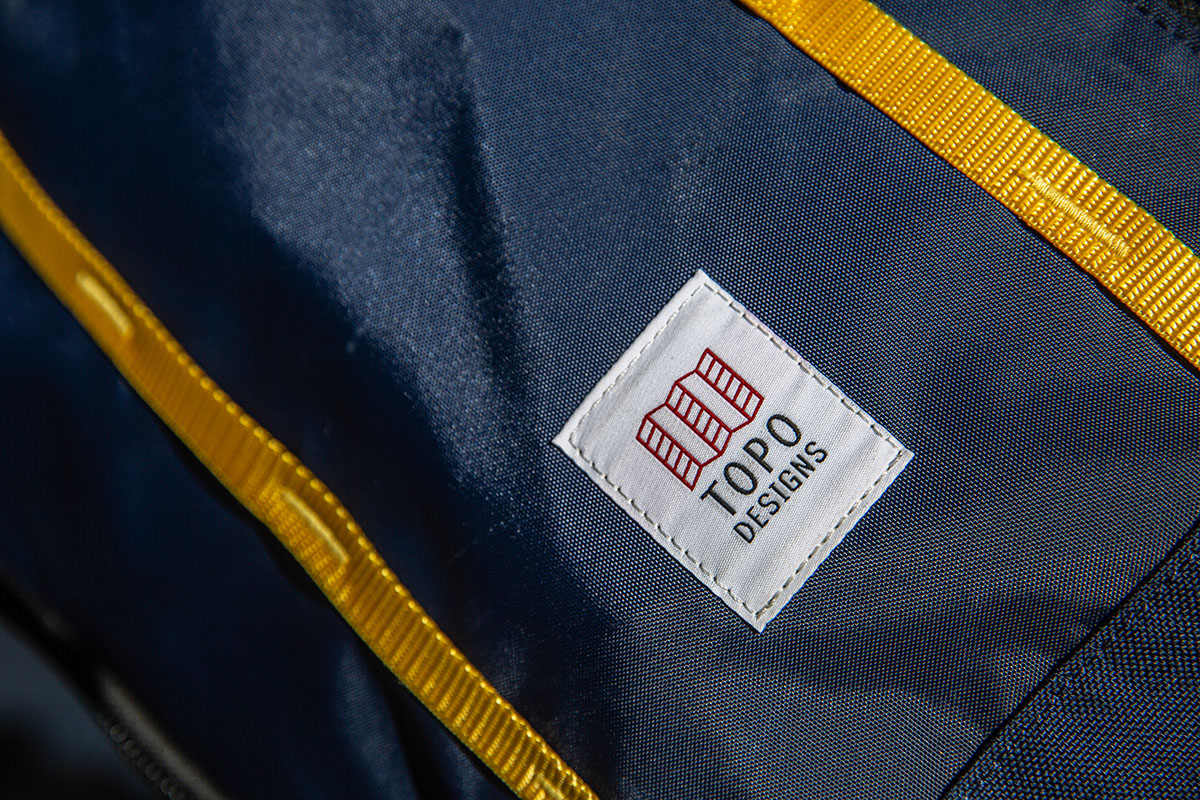 Other durability-related additions to keep an eye out for are thick padding along the interior to promote structure and protect your belongings, weather-resistant details like YKK zippers and DWR coatings on the outside to fend off precipitation, and thicker materials at the base to help protect the pack when you set it down. And we should note here that cost often correlates pretty closely with overall quality. In other words, a budget pack like the Amazon Basics Carry-On Travel Backpack feels noticeably cheaper than most other options above and will likely wear down far more quickly. If you're a frequent traveler, it's almost certainly worth investing in a pricier and more premium option that will last.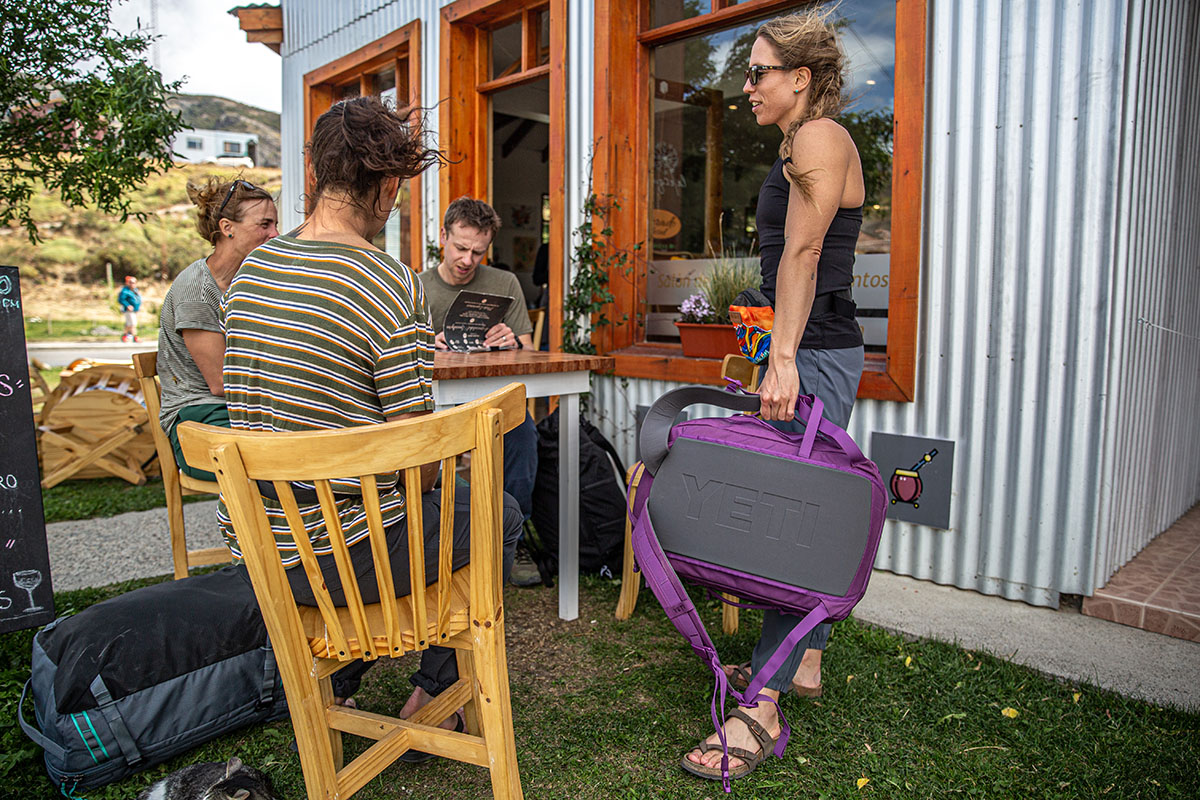 Weight
The weight spread isn't huge among travel pack designs, but even a 1-pound difference may still be noticeable during long treks across town or the airport. For reference, the lightest design on our list is Matador's SEG45 at 2 pounds 8 ounces, while the Peak Design Travel Backpack and Tortuga Travel Backpack 40L are tied for the heaviest at 4 pounds 8 ounces. Most models fall somewhere in the middle, with the majority of 40- to 45-liter designs hovering somewhere between 2.5 and 3.5 pounds. In the end, weight won't be a primary consideration for many travelers, but those backpacking through Europe or expecting to cover serious ground will probably want to shop toward the lighter end.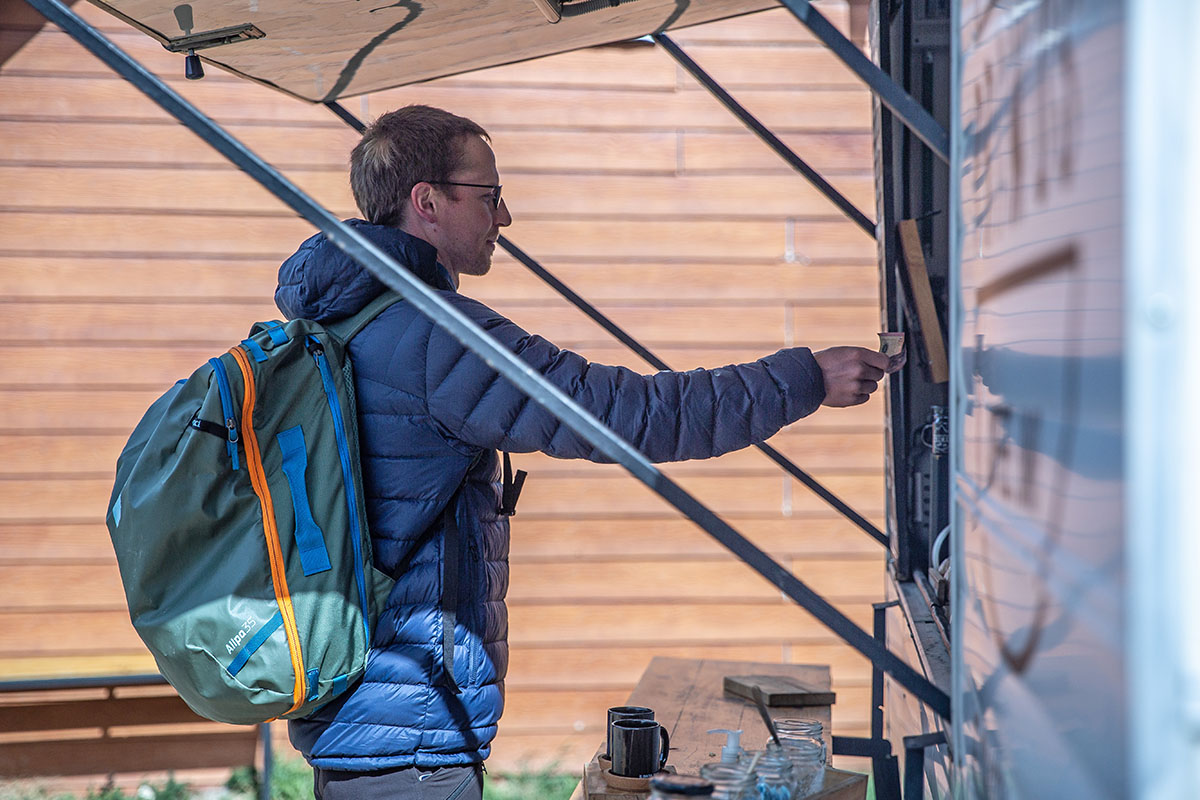 Fit and Sizing
Unlike their backpacking pack counterparts, travel packs are most often only offered in a single unisex option. This can make it difficult to dial in fit, especially for those with particularly narrow or broad builds. One exception above is the Eagle Creek Tour 40L, which is offered in both S/M and M/L torso sizes, while a couple others (which we cover below) are sold in dedicated women's models for better customizing fit. Regardless of which option you choose, we always recommend trying on multiple packs before buying to see which fits you best (or at least purchasing from a reputable manufacturer with a generous return policy). You'll want to be sure that you can adjust the shoulder straps and waist belt to be snug around your torso and waist. Sternum straps and load lifters can also be helpful for bringing the load closer to your back to maximize comfort and weight distribution.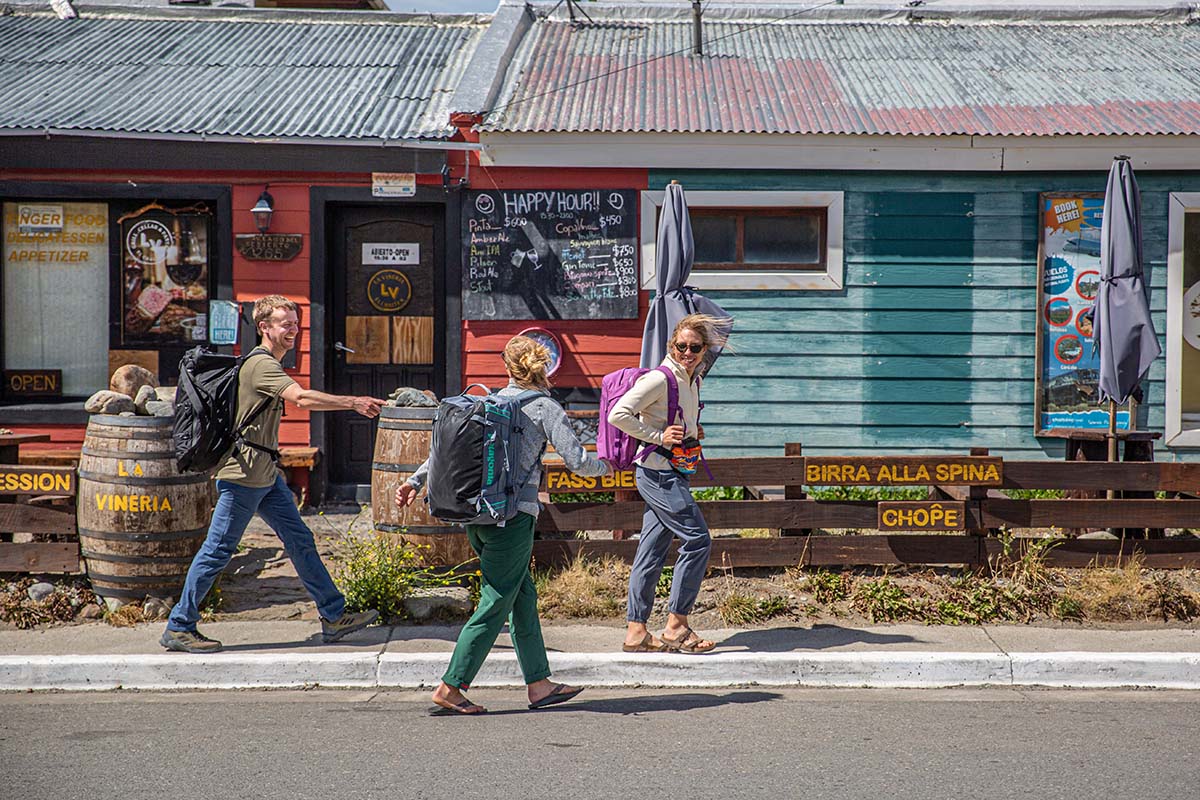 Women's-Specific Travel Backpacks
As we mentioned above, most travel packs are unisex by design, but a couple of the picks above are offered in dedicated women's-specific versions, including the Osprey Fairview (the Farpoint's counterpart) and REI Co-op Ruckpack. Key differences include varying colorways, minor weight variations, and slightly smaller torso and waist measurements. For example, the unisex Ruckpack can accommodate torsos between 17 and 21 inches and waists between 30 and 53 inches, while the women's variation fits 15- to 19-inch torsos and 28- to 45-inch waists. The Fairview also has more contoured shoulder straps and a curved hipbelt to better conform to narrower torsos/shoulders and larger hips. Regardless of designation, we always recommend choosing the pack that fits you best (and importantly, all features on these packs are the same as the unisex versions).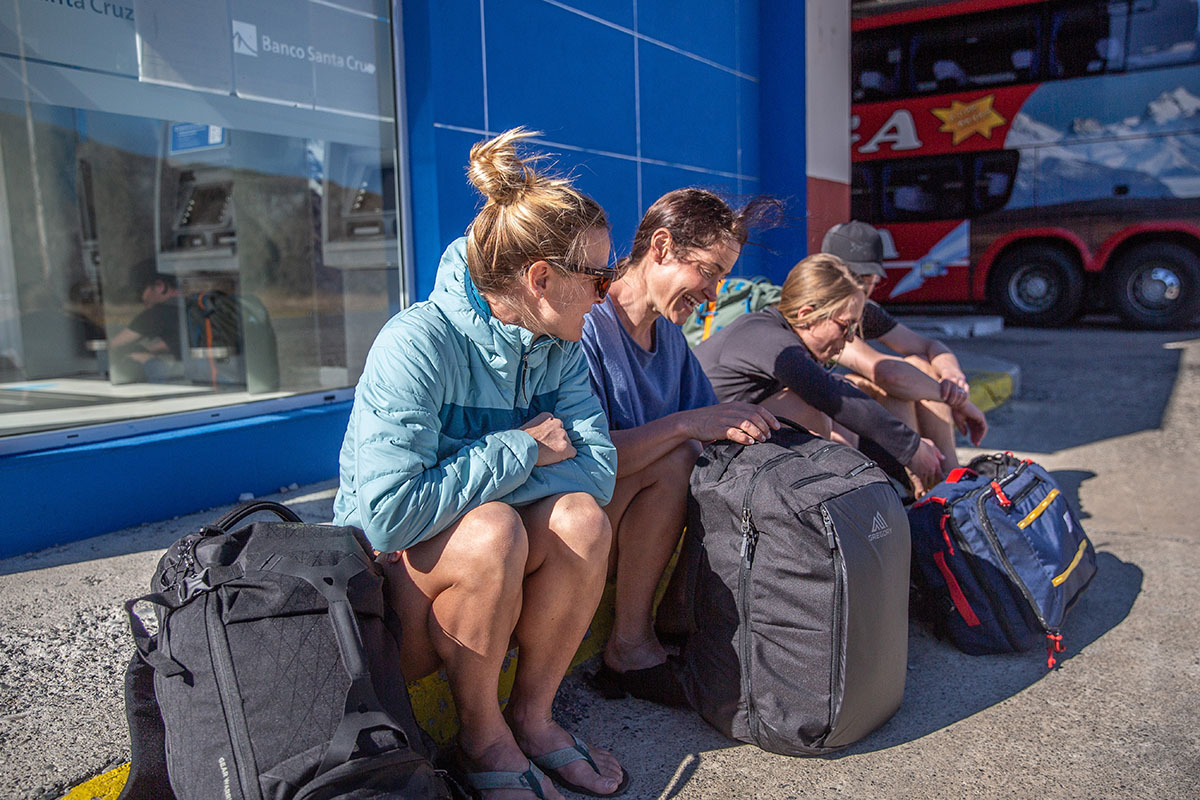 Sustainability
In 2023, it's pretty common to see pack manufacturers incorporating eco-friendly practices into production, including measures like recycled and bluesign-approved fabrics and PFC-free DWR coatings. A couple examples include Pacsafe's Venturesafe EXP45, which uses polyester that's made from recycled water bottles and other plastics, and Patagonia's Black Hole MLC 45L, which uses recycled and bluesign-approved (i.e., environmentally safe) polyester and is certified to the Fair Trade standard. A final feature to look out for is a PFC-free DWR coating found on models like Thule's Aion Travel Pack, which forgoes the use of harmful perfluorocarbons. If you're curious how a certain pack is made, most brands are decently transparent about sustainability initiatives and publish them on their product pages, but most of the picks above incorporate at least one of these measures.

Packing Cubes and Other Accessories
Packing your travel pack can often feel like playing a hard game of Tetris, especially for those of us who aren't great at traveling light (this author included). To help, many of the brands above offer compatible accessories for their packs, from packing cubes to protective hard cases for electronics and more. Importantly, these add-ons are often modular and fit neatly into the main compartment of a compatible backpack. Some of our favorites include Topo Designs' PackFast Pack Bags and Dopp Kits, Peak Design's Packing Cubes and Tech Pouches, and Eagle Creek's Pack-It compression cubes. In the end, these accessories aren't a necessary purchase for many travelers (and you certainly don't need to buy them from the same manufacturer as your pack), but they can go a long way toward maximizing organization and space and streamlining your load.

Do You Need a Travel Backpack?
The packs above make it easy and comfortable to shuttle your belongings across the globe, but not everyone needs a specialized design for travel. Duffel bags are another popular way to fly with a lot of clothing and gear, and many modern designs come with deployable backpack straps for more easily hauling through airports and around urban areas. However, duffels lack the impressive assortment of dedicated storage compartments and pockets for items like keys, passports, and electronics, are generally less comfortable to carry over long distances, and often don't meet carry-on size requirements.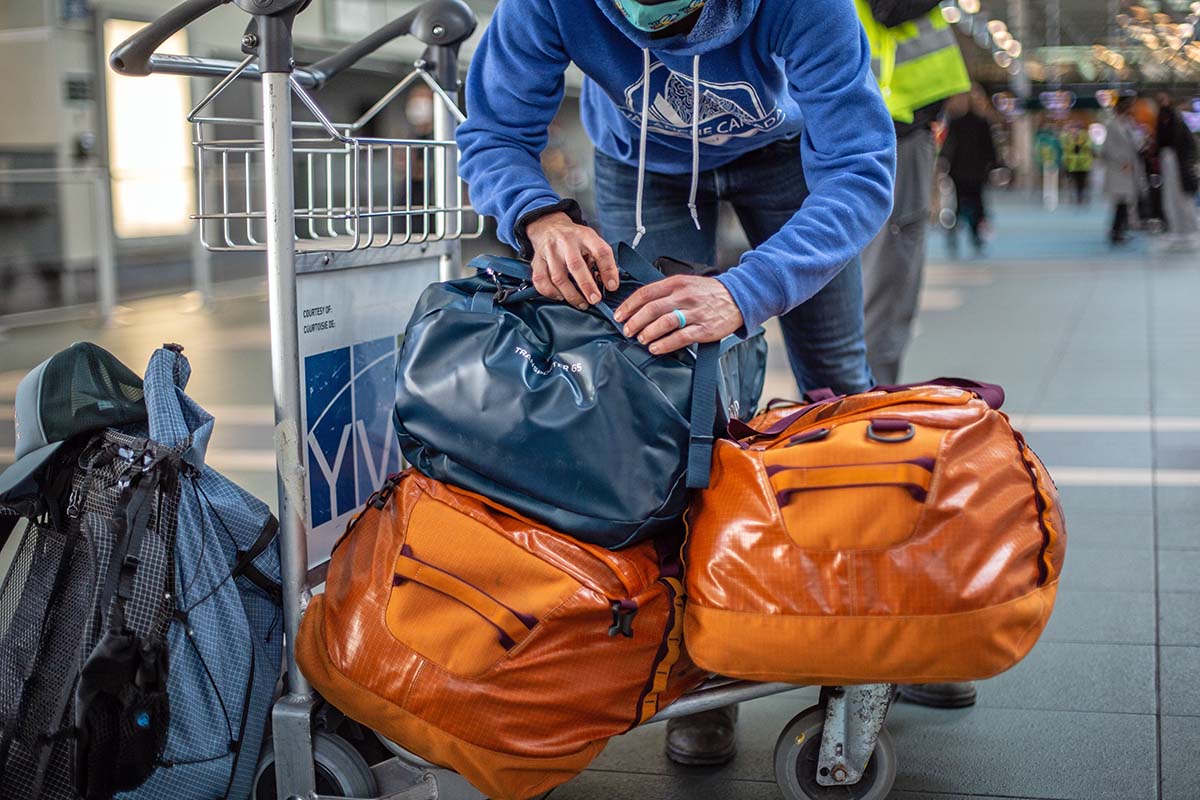 Alternatively, some travelers may opt to use a standard backpacking pack. This can make a lot of sense when you're traveling to hike, backpack, or embark on other adventures and plan to use your pack both for travel and for outdoor use when you arrive. Again, however, the lack of travel-specific features and organization options can make it harder to effectively divvy up your belongings. In the end, if you plan to fly domestically or abroad with any regularity (more than a couple times a year), we think most will find the investment in a dedicated travel pack worth it.
Back to Our Top Travel Backpack Picks  Back to Our Travel Pack Comparison Table
Read More From Switchback Travel