Let's get right to the point: we love windbreaker jackets. In our opinion, a good windbreaker is the most versatile outdoor jacket money can buy. These small but mighty outer layers pack a punch, offering serious protection from the elements for hikers, mountain bikers, climbers, and backcountry skiers alike. And more good news: today's designs are increasingly breathable and comfortable. Below we break down our favorite windbreaker jackets of 2023, including models for hiking, alpine use, and running. For more background information, see our comparison table and buying advice below the picks.
 
---
Our Team's Windbreaker Jacket Picks
---

Best Overall Windbreaker Jacket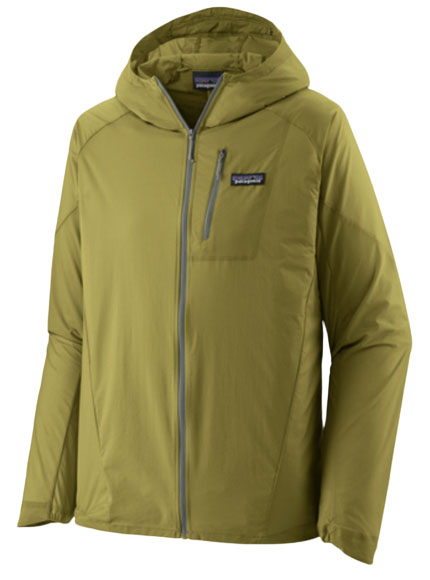 Category: Alpine/running
Weight: 4.1 oz.
Materials: 90% nylon, 10% polyester
What we like: Impressive comfort and breathability in a tiny package.
What we don't: Expensive and not as protective as some of the options below.
It's not always this easy to narrow down competing models and make a top pick, but among windbreaker jackets, the Patagonia Houdini Air is head and shoulders above the rest. Building off the beloved Houdini below, the Air takes the old formula but adds a ton of breathability and comfort to the mix. The jacket pairs a double-weave liner with a standard nylon shell, offering great wind protection and a softer feel than any other design in its weight class. In many ways, the Houdini Air is the Swiss Army Knife of windbreaker jackets and makes a great option for hiking, running, mountain biking, and a wide variety of other outdoor uses.
Keep in mind that with such a thin shell and air-permeable weave, you do give up some of the bombproof protection of a 100% nylon jacket like the original Houdini. That said, we've worn the the Air in 60mph, knock-you-over gusts in Patagonia, and felt sufficiently sheltered from the storm. And although the jacket's DWR coating is impressive, a thicker shell fabric (like that of the Black Diamond Alpine Start below) will offer better wet-weather protection. That said, no other design can match the minimalist build and performance chops and of the Houdini Air, making it our top windbreaker of 2023... Read in-depth review
See the Men's Patagonia Houdini Air  See the Women's Patagonia Houdini Air
Best Mountain-Ready Windbreaker Jacket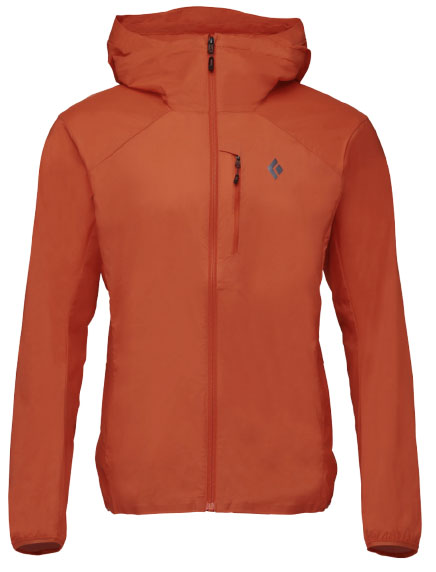 Category: Alpine/hiking
Weight: 7.3 oz.
Materials: 93% nylon, 7% elastane
What we like: Softshell-like fabric is breathable, stretchy, and very protective.
What we don't: Not super lightweight or packable; updated version leaves off hem adjustment.
Ah, the Black Diamond Alpine Start: where do we begin? This jacket has become our layer of choice for everything from windy hikes to daily runs, multi-pitch climbing, and even ski touring. What makes the Alpine Start stand out is its stretchy, softshell-like fabric, which offers great range of motion, impressive breathability, and serious durability. The jacket also features a relatively roomy fit and helmet-compatible hood that are great for colder days in the mountains. And perhaps most significantly, the shell's robust nature, in addition to Schoeller's Eco-Repel Bio DWR finish, means you get exceptional protection in wet weather. We've worn the Alpine Start in all-day drizzles and blowing snow and never once wished for more jacket.
The Black Diamond Alpine Start was recently updated, with changes to the fit, better executed elastic at the cuffs and hem, and PFC-free DWR finish (it's also now available in seven sizes for men and women). Unlike the version pictured on Black Diamond's website, our women's jacket has a flap over the chest pocket—not a feature we love—and it also lacks a drawcord adjustment at the hem (which the previous version had). But the rest of the jacket sticks close to the original formula, and except for weight and packed size, tops the Patagonia Houdini Air above in most categories (including comfort, breathability, and weather resistance). We can wax poetic for days, but we'll leave you with this: Since we discovered the Alpine Start, our softshell, hardshell, and rain jacket have barely left the closet. Now that's saying something.
See the Men's BD Alpine Start  See the Women's BD Alpine Start
Best Budget Windbreaker Jacket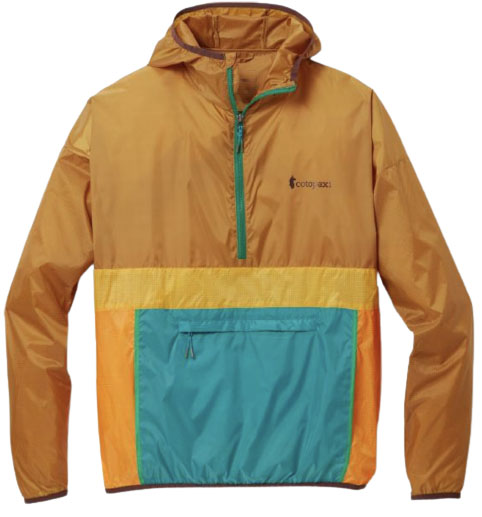 Category: Hiking
Weight: 8 oz.
Materials: 100% polyester taffeta
What we like: Affordable, stylish, and functional jacket for hiking and casual use.
What we don't: Not super breathable and doesn't pack down small.
If your idea of a good time looks more like a casual hike than a fast-paced trail run or slog up the skin track, you probably won't need a top-of-the-line windbreaker—and you shouldn't have to pay for one either. Enter Cotopaxi's Teca Windbreaker. We always know a Cotopaxi product when we see it, defined by colorful panels and stylish designs, and the Teca is no exception. Built with 100% remnant fabric, this jacket is far from the most technical offering here, but it certainly is the most eye-catching (and one of the most environmentally friendly). With a large kangaroo pocket, relaxed fit, and the addition of a DWR finish, the Teca is a great choice for casual hikes in the mountains, windy days at the beach, and everything in between.
The Teca offers a roomy fit and the convenience of both handwarmer pockets and a kangaroo zip, which make it a better choice for everyday use than the more minimalist jackets here. But if you're on the hunt for a high-performance design, we encourage you to look elsewhere. The jacket clocks in at a relatively heavy 8 ounces and has a packed size that's about three times as big as the Houdini Air above. Plus, its swampy polyester build just can't match our top picks in terms of breathability (Cotopaxi does tack on a rear vent to keep air flowing). For a more technically savvy budget design, check out the Rab Vital, which is on sale at the time of publishing for $85. But it's all about priorities, and the Teca is a nice value for casual adventures and daily use. 
See the Men's Cotopaxi Teca Half-Zip  See the Women's Cotopaxi Teca Half-Zip
Best Windbreaker Jacket for Running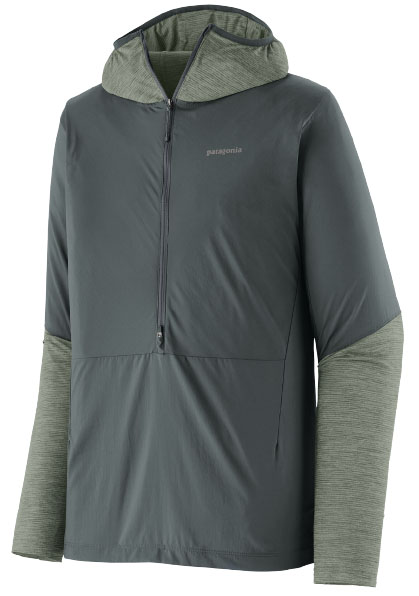 Category: Running
Weight: 4 oz.
Materials: 100% stretch nylon w/ knit arms & hood
What we like: Super breathable and great running-specific features. 
What we don't: Not as protective in wind and rain as most windbreaker jackets.
Designed to sweat, Patagonia's Airshed Pro is built for great temperature regulation during high-output pursuits. Soft and stretchy nylon in the body keeps wind and rain out, while lightly insulating Capilene Cool knit (Patagonia's thin baselayer fabric) on the hood and sleeves wicks sweat and offers a great next-to-skin feel. A number of running-specific features round out the build, including a two-way front zipper that lets you vent your core while still keeping your neck warm, and sleeves that comfortably push up (and stay up). All in all, it's an extremely breathable windbreaker jacket that's fine-tuned for movement.
With such a thin nylon body and minimal weather resistance in the knit hood and sleeves, the Airshed Pro is not as protective (or durable) as jackets like the Patagonia Houdini below. As a result, we find ourselves reaching for it on those in-between days—when it's not windy or cold enough to warrant a full windbreaker jacket, but we still want a little something to cut the chill. Finally, keep in mind that the Airshed Pro is very trim-fitting and designed to be worn over a thin baselayer and not much more. All that said, it's our favorite windbreaker for fair-weather running and can handle a sweat better than most jackets here. 
See the Men's Patagonia Airshed Pro  See the Women's Patagonia Airshed Pro
Best Ultralight Windbreaker Jacket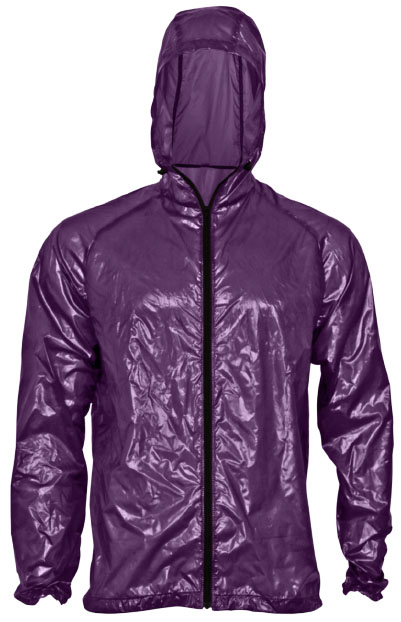 Category: Hiking/running
Weight: 2.3 oz.
Materials: 100% nylon
What we like: So lightweight and small you'll bring it every time.
What we don't: Doesn't come with a stuff pocket or stuff sack; very, very shiny.
It might seem strange to have a "best ultralight" superlative in a category that's inherently ultralight, but the Copperfield is a true standout. This jacket is so small you can stuff it in a pant pocket, the lid of your backpack, the waistband of your running shorts—wherever—and forget about it until the need arises. And when inclement weather does arise, the Copperfield feels like more than just an emergency layer, offering surprisingly good performance thanks to the 100% nylon shell (which is offered in 7, 10, and 20D varieties) and cinches at both the hood and hem. Tack on an excellent build quality (far superior to that of the Zpacks Ventum, a top UL competitor), and a weight of 2.3 ounces (for a men's medium), and the Copperfield is a really impressive layer.
We love that two of our favorite windbreakers are named after famous magicians (the Houdini and the Copperfield) because we really think these little jackets are magic. But the Copperfield is the true disappearing act of the two. Enlightened Equipment also offers the option of almost 20 colors, which range in terms of thickness, and 14 sizes (note: they run large). Keep in mind that the Copperfield doesn't come with a stuff sack or stuff pocket—a weight-shaving tactic to be sure—and not everyone will love the uber-shiny sheen. But for full-on function without an ounce (literally) of extraneous detail, the Copperfield is our top ultralight windbreaker of the year. Enlightened Equipment custom-makes the Copperfield with each order (which they say takes 2-4 weeks), but if you want your jacket to ship in 1-3 business days, check out their in-stock selection.
See the Men's Enlightened Equipment Copperfield  See the Women's EE Copperfield
Best of the Rest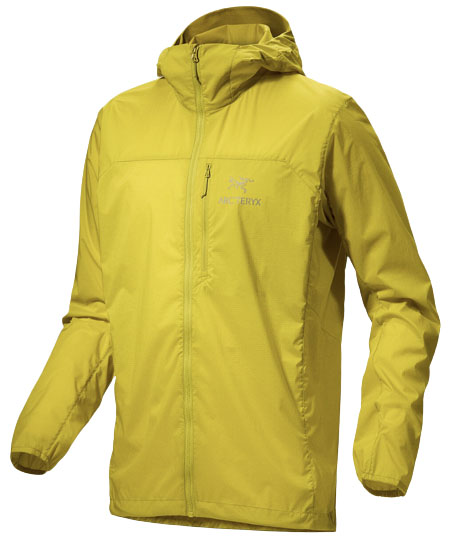 Category: Alpine/hiking
Weight: 4.9 oz.
Materials: 100% stretch nylon
What we like: A great all-around windbreaker in a lightweight package.
What we don't: Not as breathable as the Patagonia Houdini Air and less protective than the BD Alpine Start.
For years, the Patagonia Houdini (below) was our go-to wind jacket for multi-pitch climbing—and then we discovered the Arc'teryx Squamish Hoody. At 4.9 ounces, the Squamish is a bit heavier and bulkier than the 3.7-ounce Houdini, but the increased performance is well worth the extra burden. The main event here is the Squamish's nylon shell, which is slightly thicker than the Houdini at 30-denier (Patagonia measures theirs at 1.2-oz.) and features mechanical stretch. The end result is noticeably better freedom of movement and breathability with the Arc'teryx, in addition to a boost in durability. 
Arc'teryx's Squamish Hoody is a nice option for those looking for something in between the minimalist Houdini Air and burly Alpine Start jackets above. You can go lighter with the Patagonia and get an even more breathable jacket, but the Squamish's hood is better suited for use over a helmet, and its thicker fabric is more durable around sharp rocks. On the other end of the spectrum, the Alpine Start is a better jacket for true mountain weather, but you'll pay for it in weight and bulk. All told, it's hard to argue with Arc'teryx's high level of quality, and the Squamish holds its own as a stretchy and lightweight wind jacket for alpine adventures. 
See the Men's Arc'teryx Squamish  See the Women's Arc'teryx Squamish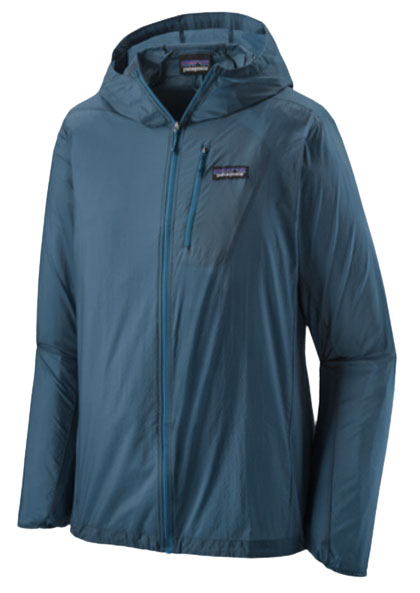 Category: Hiking/alpine
Weight: 3.7 oz.
Materials: 100% ripstop nylon
What we like: Great wind protection in a lightweight and affordable build.
What we don't: Not very breathable and no stretchy materials.
Patagonia's Houdini is synonymous with the term windbreaker jacket and for good reason. For years, we've trusted this jacket to do one thing and do it well: keep wind out. Is the Houdini breathable? Not particularly. Is it water-resistant? Moderately. Does it insulate? Heck no. But does it disappear in our pack or on our harness and get the job done when we need it? Absolutely. For $109, the Patagonia Houdini is all the wind protection that most climbers, hikers, and mountain bikers need.
This paper-thin Patagonia Houdini (you literally can see through it) is a perfect example of how much warmth you can retain just by blocking airflow. We've worn the jacket in some serious mountain squalls and been fully sheltered from the wind. But the Houdini Air, our top pick, wins out in breathability and comfort by a wide margin; with more stretchy models on the market, the Houdini has slowly lost its edge. But when weight matters or you don't anticipate working up a sweat, the Houdini still is a reliable windbreaker from one of the top brands in the business... Read in-depth review
See the Men's Patagonia Houdini  See the Women's Patagonia Houdini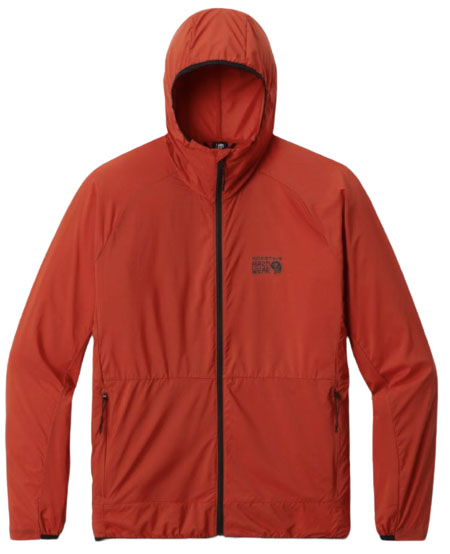 Category: Alpine/hiking
Weight: 5.1 oz.
Materials: 100% stretch nylon 
What we like: Great performance at a low weight; more affordable than the competition.
What we don't: Thinner and less streamlined than the Squamish Hoody above.
The Mountain Hardwear Kor AirShell Hoody fits into a similar mold as the Arc'teryx Squamish Hoody above, with noticeable stretch built into its 100% nylon fabric. This means that the jacket moves and breathes with you better than a no-stretch build, which is great news for everyone from hikers and climbers to backcountry skiers. The Kor AirShell's Pertex Quantum Air design is impressively windproof and water-resistant as well, resulting in a windbreaker that checks all the boxes for high-performance use. And at 5.1 ounces, its weight is competitive with the likes of the Squamish Hoody and Houdini Air.
We rank the Kor AirShell lower than the Squamish for a few reasons. First, the Kor uses a thinner fabric (20D vs. the Arc'teryx's 30D), which translates to a slight decrease in weather protection and durability (that said, Quantum Air is very tough). Second, the jacket omits a hem adjustment and ours fit loose around the waist, which is a bad combo in particularly blustery conditions. Finally, the Mountain Hardwear has two handwarmer pockets rather than the standard single chest pocket found on most windbreakers, which add bulk and can be difficult to access underneath a harness or hipbelt. But these could be a bonus depending on your priorities, and there's no denying that they boost the Kor AirShell's appeal as a functional around-town jacket.
See the Men's Mountain Hardwear Kor AirShell  See the Women's MH Kor AirShell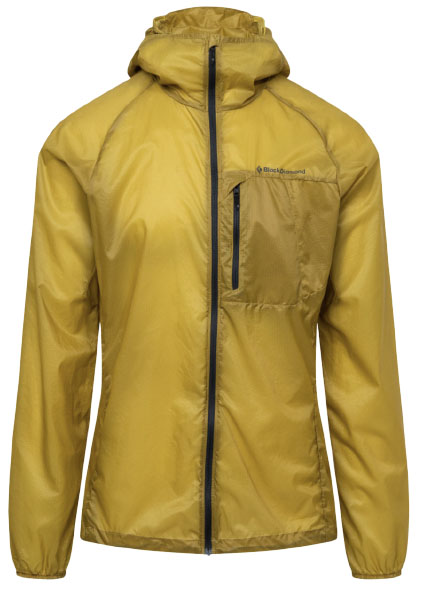 Category: Hiking/alpine
Weight: 3.4 oz.
Materials: 100% ripstop nylon 
What we like: PFC-free DWR is environmentally friendly and durable.
What we don't: Not as breathable or comfortable as higher-end options.
On the surface, Black Diamond's Distance is your quintessential windbreaker jacket. Like the Patagonia Houdini above, it's made with 100% ripstop nylon (read: no stretch), has a trim fit and minimal feature set, and clocks in at a low sub-4-ounce weight and very small packed size. Added up, it's a lightweight jacket that can hold its own in inclement mountain weather, although breathability won't measure up to heavier or pricier models like the Patagonia Houdini Air and BD Alpine Start above.
The Black Diamond Distance was one of the first windbreaker jackets to use a PFC-free DWR treatment, which eliminates harmful chemicals from the manufacturing process, your body, and the environment. Now, many designs have followed suit, including the Alpine Start and Patagonia models above. Compared to the Houdini, the Distance is slightly lighter and tacks on a helmet-compatible hood, which will be worth it for many climbers. But Black Diamond's classic windbreaker doesn't stand out in any other way, and most users will prefer the Houdini's less slippery grid-style fabric (for $31 less).
See the Men's Black Diamond Distance  See the Women's Black Diamond Distance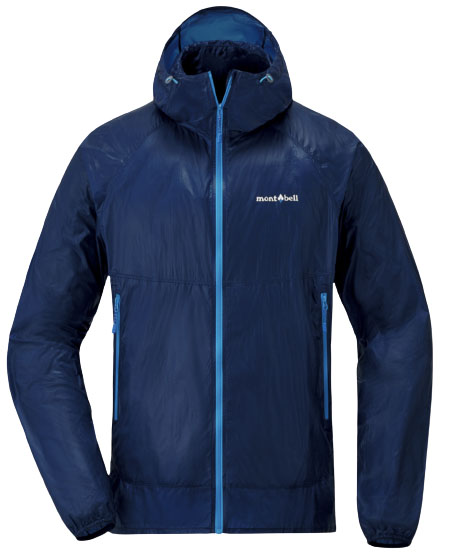 Category: Hiking/running
Weight: 2.5 oz.
Materials: 100% ripstop nylon
What we like: A fully featured windbreaker for a very low weight.
What we don't: Very trim fit; 7D fabric means it's not our first choice for rock climbers.
Japan-based Montbell is known for making quality, high-performance products that often undercut the competition in terms of weight. Their Tachyon is no exception: This windbreaker features remarkably thin 7-denier ripstop nylon and checks in at just 2.5 ounces—half the heft of a jacket like the Arc'teryx Squamish above. And unlike other ultralight windbreakers that shave weight with minimalist feature sets, the Tachyon manages to include two zippered hand pockets, a stow pocket with Velcro closure, an adjustable hood and elastic waist, and small underarm vents. It all adds up to a streamlined wind jacket that easily fits into the corner of your pack, the waistbelt of your running shorts, or the palm of your hand.
Our most noteworthy gripe about the Tachyon is its fit—we opted for our standard size small and can barely zip the jacket up. The fabric also has a shiny finish, fairly similar to the Enlightened Equipment Copperfield above. That said, it's surprisingly supple and breathable—moreso than a jacket like the Houdini—and lacks the swishy feel you'd expect from the glossy face. Of course, the thin fabric and streamlined fit means it's not our first choice for rock climbing or alpine environments. But for weight- and space-conscious hikers and runners, the Tachyon is a great compromise between the stretchy softshell-like windbreakers and standard nylon varieties here.
See the Men's Montbell Tachyon Hooded  See the Women's Montbell Tachyon Hooded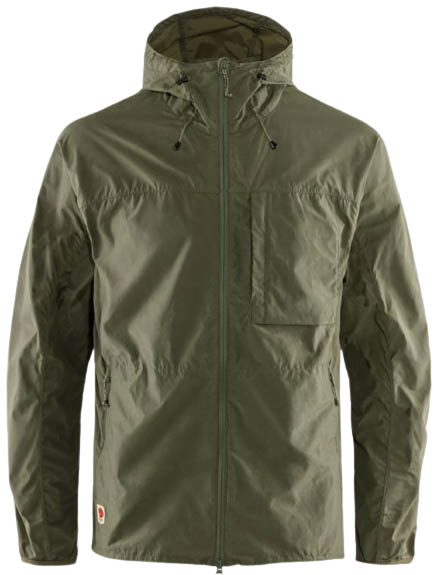 Category: Hiking
Weight: 12.2 oz.
Materials: 54% nylon, 46% cotton
What we like: Thick and good-looking.
What we don't: Heavy and expensive.
Fjallraven does things a little differently than most brands on this list, overlooking factors like weight and packed size in favor of toughness, build quality, and good looks. But don't be fooled: for certain uses and conditions, we've been very impressed with what Fjallraven has to offer. The High Coast Wind Jacket is the heaviest model on this list at 12.2 ounces, uses a combination of polyamide and cotton instead of polyester or nylon, and comes with ample storage including two hand pockets and a zippered chest pocket. Clearly this isn't your typical wind jacket.
In practice, we've found that Fjallraven gear performs best in cool to cold conditions, which makes sense given the company's Swedish roots. And given the weight, this jacket is ideal for short day hikes or other excursions where you're not worrying about shaving ounces. That said, the heft does have its upsides: The High Coast probably is the thickest jacket on this list, which bodes well for wind resistance and toughness. It's also extremely well-built, more durable than most, and even downright stylish. At the end of the day, it's one of the best windbreakers here for transitioning from trail to around-town use.
See the Men's Fjallraven High Coast  See the Women's Fjallraven High Coast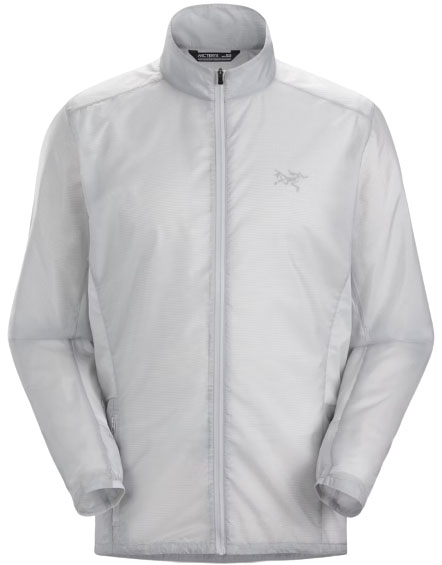 Category: Running
Weight: 3.2 oz.
Materials: 100% nylon (100% polyester side panels)
What we like: Mix of fabrics offers great breathability alongside weather protection.
What we don't: Very minimalist, with just one zippered pocket and no hood.
Given that running is such a high-output activity, most runners need a windbreaker that can resist the elements but still keep air flowing, which is a tall order. The Arc'teryx Norvan Windshell delivers on both fronts with wind- and water-resistant nylon in the core and arms, along with air-permeable polyester on the sides. A single hip pocket (which converts to a stuff sack), low-profile elastic cuffs, and an adjustable hem round out the hoodless build, making the Norvan Windshell a streamlined piece for both road and trail running.
The Norvan is decidedly trim-fitting and minimalist, and had us wishing we had sized up from our standard small. If you're looking for a bit more versatility, Arc'teryx's Incendo Airshell Hoody (3.7 oz.) uses more durable and comfortable double-weave nylon and features both a hood and handwarmer pockets. For full-on waterproof protection, check out their impressive Norvan Shell ($400), which features 3-layer Gore-Tex construction, a thin (13D) face fabric, and checks in at just 6.7 ounces. At the time of publishing, stock is limited on both the Norvan and Incendo windbreakers, but if you can track 'em own, both are high-end designs that breathe better than much of the competition. 
See the Men's Arc'teryx Norvan Windshell  See the Women's Arc'teryx Norvan Windshell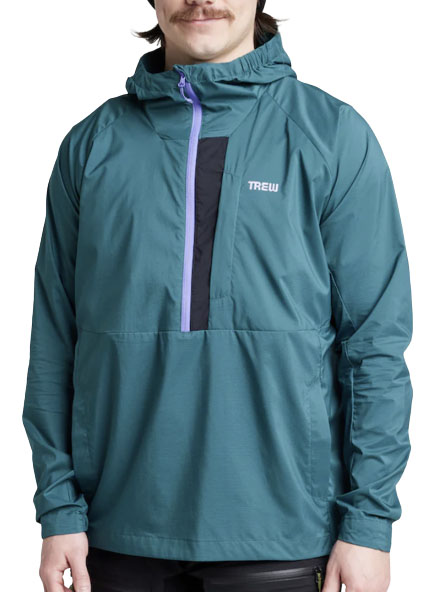 Category: Alpine
Weight: 6.7 oz.
Materials: 100% nylon
What we like: Ski and snowboard-specific styling; 30-denier nylon shell is durable and weather protective.
What we don't: Not as technically savvy as the Alpine Start; limitations to the pullover design.
TREW Gear is a ski and snowboard apparel company based out of the Pacific Northwest, known for merging freeride style with great performance. The Up Jack is their unisex windbreaker jacket for the up track (say that five times fast), featuring "air-textured" nylon (34D) that keeps wind out while still maintaining breathability and comfort. With its snowsport focus, the relatively thick shell offers generous room for layering, and the anorak design features a half zip for venting, helmet-compatible hood, and burly elastic at the wrists. All told, its substantial face fabric and feature set make the Up Jack a fun competitor to a jacket like the Black Diamond Alpine Start above.
Backcountry skiers often swap out their hardshell for a windbreaker on the up track, but there are very few jackets purpose-built for the job. We (and our ski partners) find ourselves most often reaching for stretchy, softshell-esque pieces like the aforementioned Alpine Start or the Rab Borealis, which do an excellent job merging weather protection with breathability. We have yet to test the Up Track (and we'll be sure to update this when we do), but given its 100% nylon (read: no elastane) build, we're wary about its uphill prowess. But there's nevertheless a lot to like about the Up Jack's stylish, weather protective, and packable design, making it a fun choice for skiers and snowboarders looking for a dedicated wind shell.
See the TREW Gear Up Jack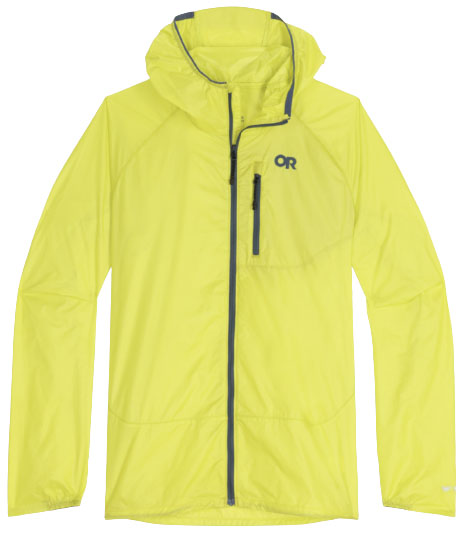 Category: Hiking
Weight: 5.3 oz.
Materials: 100% nylon 
What we like: Highly durable fabric, attractive styling in the women's version.
What we don't: No stretch and lacks breathability.
We've been waiting for Outdoor Research to return with a replacement to their discontinued Tantrum windbreaker, and it finally came in the form of the Helium Wind Hoodie. Using the same abrasion-resistant Diamond Shield fabric seen throughout the rest of their Helium collection, the Helium Wind prioritizes durability and weight-savings in this fully nylon jacket. It all adds up to a relatively lightweight and packable workhorse that is built to withstand season after season of use and abuse. And to help keep air moving, the men's jacket adds ventilation via perforations under the arms, while the women's model uses a hidden vent around the lower torso to dump heat.
The women's version of the Helium Wind (now discontinued) particularly caught our attention, with its stylish patterning of nylon and stretch woven fabric and functional assortment of pockets for securing snacks, keys, or a phone (storage is usually scarce among windbreakers). But after taking it on a few cold-weather trail runs, we were disappointed with the jacket's lack of breathability. It's true that the Helium Wind is tough, but for high-intensity pursuits you can dump heat a lot better with thinner or stretchier models like the Houdini Air or Arc'teryx Squamish. On the other hand, if you're looking for a durable windbreaker for casual use or activities like hiking and biking, the Helium Wind is an attractive choice.
See the Men's Outdoor Research Helium Wind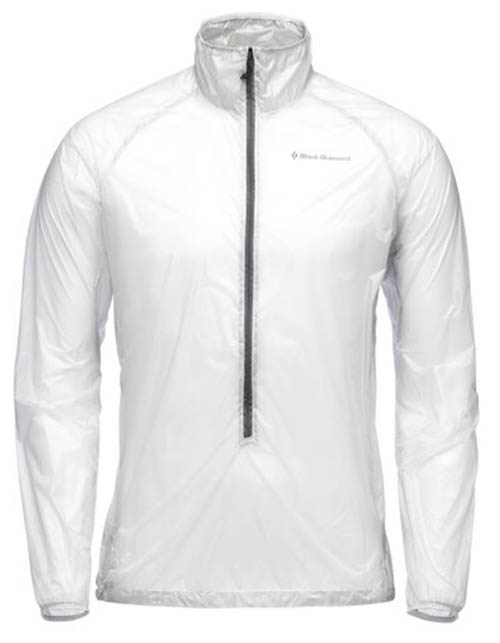 Category: Running
Weight: 1.7 oz.
Materials: 100% ripstop nylon
What we like: Crazylight yet surprisingly wind-resistant.
What we don't: Too expensive and niche for most people.
We'll start this off with a caveat: if you've never counted ounces past the decimal point, cut tags off your gear, or sawed the end off your toothbrush, you can stop right here. The Deploy is not for you. At 1.7 ounces, this jacket is by far the lightest here (almost half the weight of the next in line) and one of the lightest wind shells on the market (along with the likes of the Enlightened Equipment Copperfield above). With such a bare-bones build, you get paper-thin 5-denier ripstop nylon (one of jacket's colorways is actually transparent), no hood or chest pocket (the Deploy stuffs into a pouch on its collar), and a partial-length, "Super Lightweight" YKK zipper.
Who, then, is the Deploy for? Honestly, not many people (it doesn't even come in a women's version). At $180, it's expensive for what you get and doesn't come close to matching the comfort, breathability, or weather protection of the competition. And unlike the Copperfield, it does not feature a hood or full-length zip. But as an emergency layer for fastpackers (specifically those trying to achieve a low base weight) or mountain runners—and we stress emergency—it does offer a significant barrier from the wind for barely any weight. But our concerns are high regarding durability (thin zippers especially give us pause), and the Deploy should be kept on the shelf for all but the most weight-conscious of missions.
See the Black Diamond Deploy Wind Shell
 
Windbreaker Jackets Comparison Table

Windbreaker Jackets Buying Advice
What is a Windbreaker Jacket?
A windbreaker, often referred to as a wind jacket, wind shell, or a windshirt, serves as a barrier between your body and wind and light precipitation. These jackets are small but mighty—you don't get full waterproofing or insulation like you might find with a rain jacket or softshell, but the simple act of blocking the wind has a noticeable impact on your body's ability to hold its warmth. Plus, in addition to a nylon, polyester, or sometimes wool shell material, most have a DWR coating that helps water bead off instead of soaking in. Due to their minimalist build, windbreaker jackets keep weight and bulk to a minimum (many weigh less than 5 ounces and pack up into their own chest pocket) and generally are more affordable than other styles of jackets.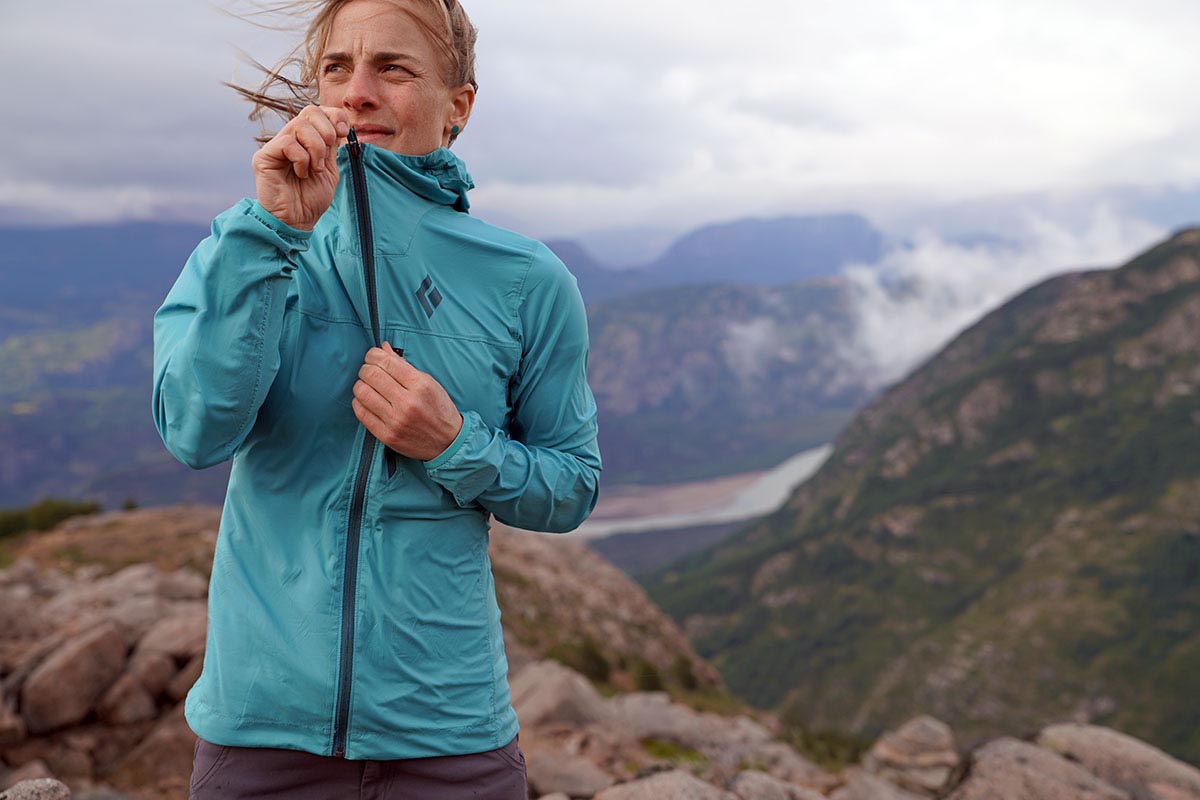 In our opinion, windbreakers are the most versatile piece of outdoor clothing available. For one, they're so small that there's always enough room to bring one along, whether it's stuffed into your hiking pack or clipped to your climbing harness. Second, if you're anything like us, chances are that most of the time you head outside in mild temperatures and under dry skies. In these conditions, a windbreaker jacket is fully sufficient to keep you warm when a breeze picks up or the sun goes behind a cloud. And with a DWR finish for added water resistance, they are a great option for a lightweight and breathable emergency layer.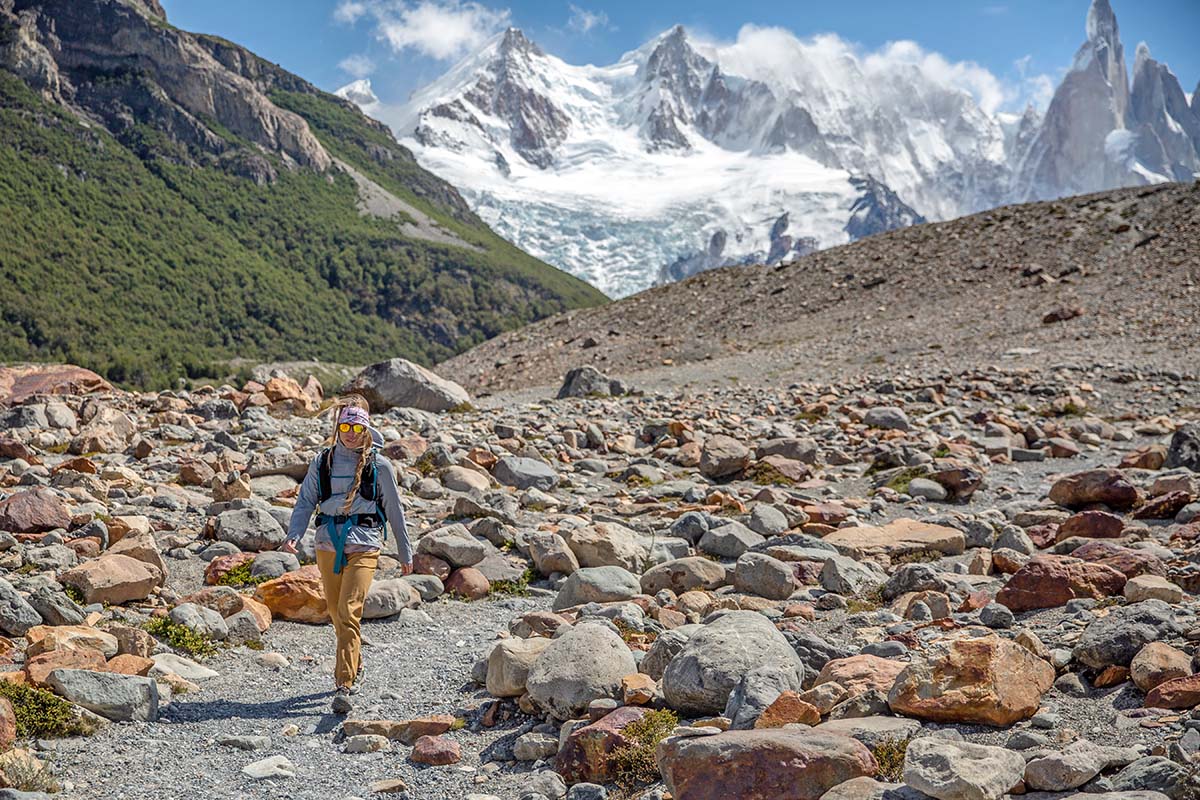 Windbreaker Jacket Categories
All windbreaker jackets share the common intent of keeping wind at bay but differ in terms of features, weight and packability, weather protection, and more. While some are clearly intended for casual use, others offer great performance where it counts. To help you choose, we've separated windbreaker jackets into three general categories: hiking, alpine, and running.

Hiking
Windbreakers in our alpine and running categories below are designed to offer the best in weather protection and breathability for high-performance activities, but not everyone's idea of fun looks like a high-intensity run or mountain scramble. For lower-output activities when you don't anticipate generating much of a sweat—think hiking, downhill mountain biking, or traveling in a particularly windy region like Patagonia—there are a variety of windbreakers that can get the job done. Jackets in our hiking category often keep prices low by using thicker and less technical fabrics (you usually don't see stretch weaves here) which also sacrifice a bit of breathability. In general, these jackets have roomier fits and often feature handwarmer pockets, which are great for everyday use. A few of the most popular windbreakers for hiking (and other low-output activities) are the Patagonia Houdini, Enlightened Equipment Copperfield, and Cotopaxi Teca Half-Zip.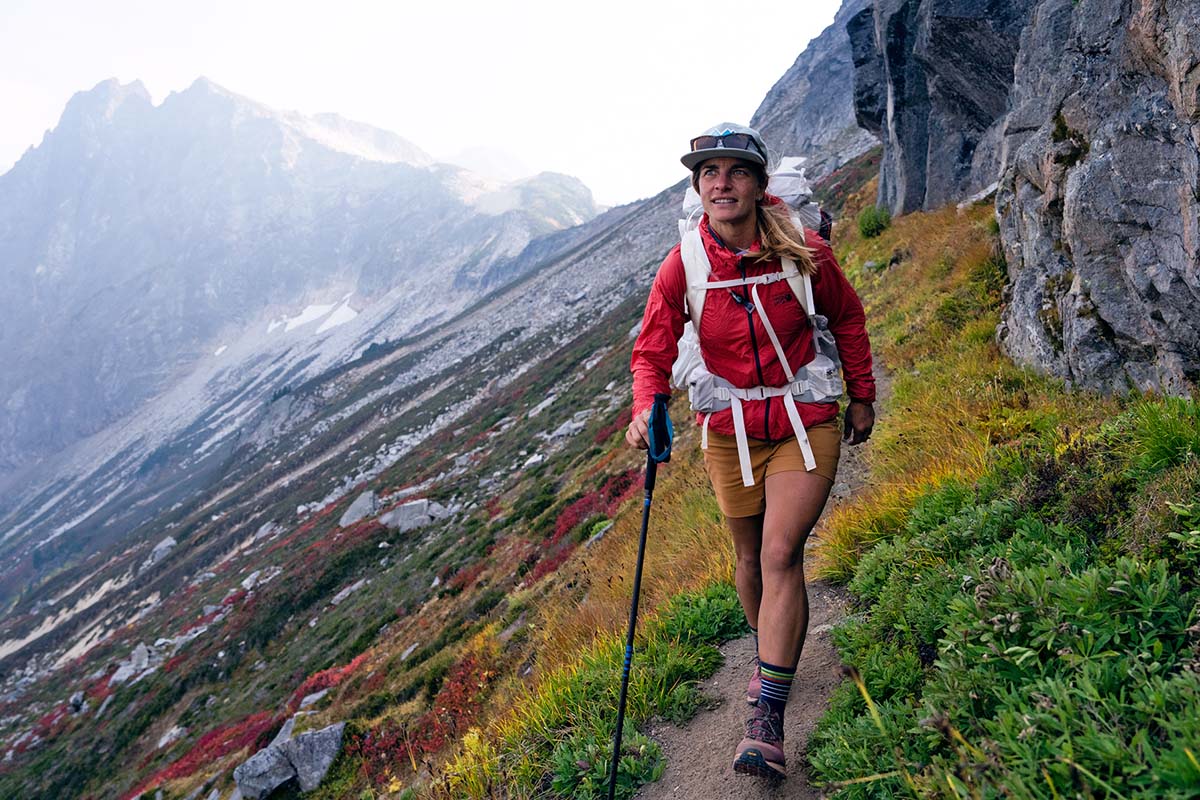 Alpine
Whether we're embarking on a multi-pitch climb, backcountry ski, or cross-country bike ride, we won't leave home without a windbreaker. For sports that require a high degree of mobility and breathability, alpine-specific windbreakers often feature stretch in their design, and some are even sized more generously to allow for layering. Here you'll also see helmet-compatible hoods (often with a simple cinch), packable builds (great for carrying on a harness), and water-resistant finishes. Due to their increased performance, mountain-ready windbreakers can be slightly heavier than the competition, often clocking in above 4 ounces and sometimes as heavy as 7.3 ounces. Our favorite all-around jacket for alpine environments is the Black Diamond Alpine Start Hoody, and the Patagonia Houdini Air makes an excellent lightweight and packable choice, albeit with a little less protection from the elements.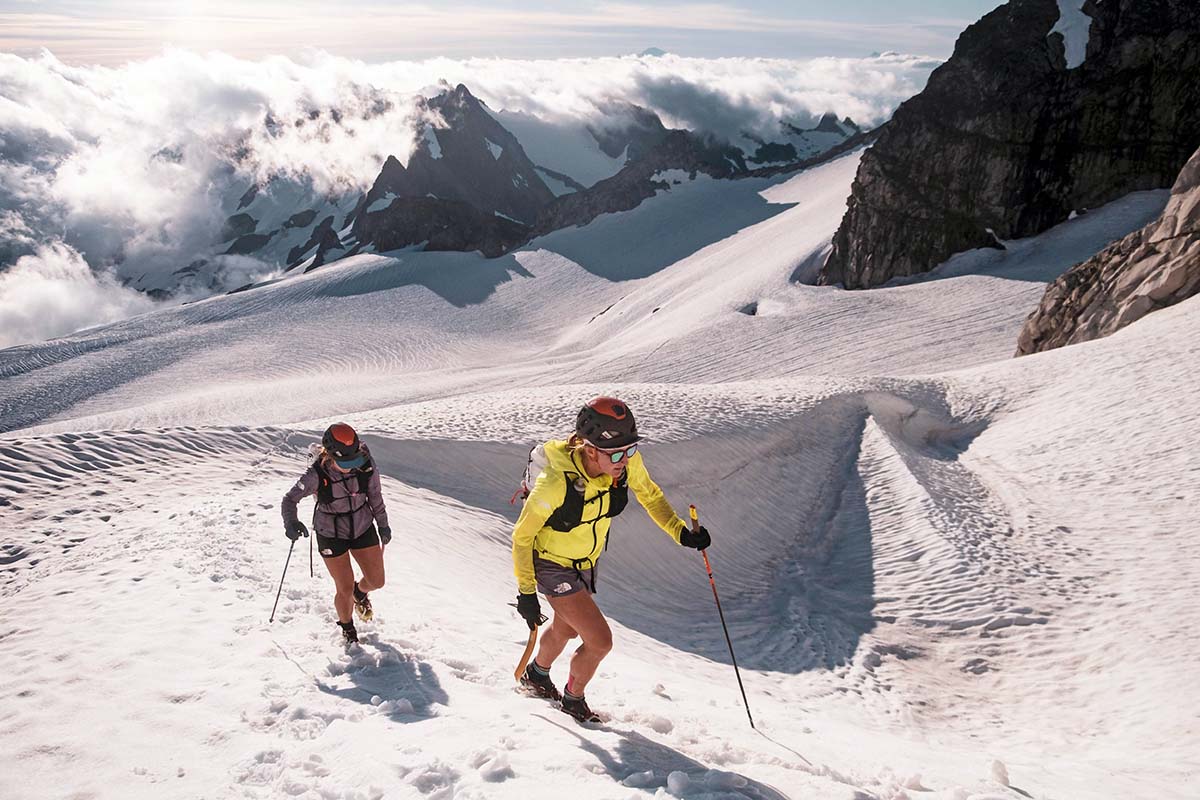 Running
Running-specific windbreakers are designed to keep you protected from the wind without weighing you down or causing you to overheat. Jackets in this category are characterized by trim-fitting builds, minimalist hoods (or no hood at all), low weights (3 to 4 oz. is common), and thin fabrics that offer the height of breathability. Because a jacket's ability to dump heat is the main priority when you're constantly building up a sweat (even in cold weather), many running windbreakers incorporate vents or mesh panels into their design as well, which can result in compromised wind and water resistance. In this category we also see reflective strips for road running and built-in carrying features. Some of our favorite running windbreakers include the Patagonia Airshed Pro and Arc'teryx Norvan.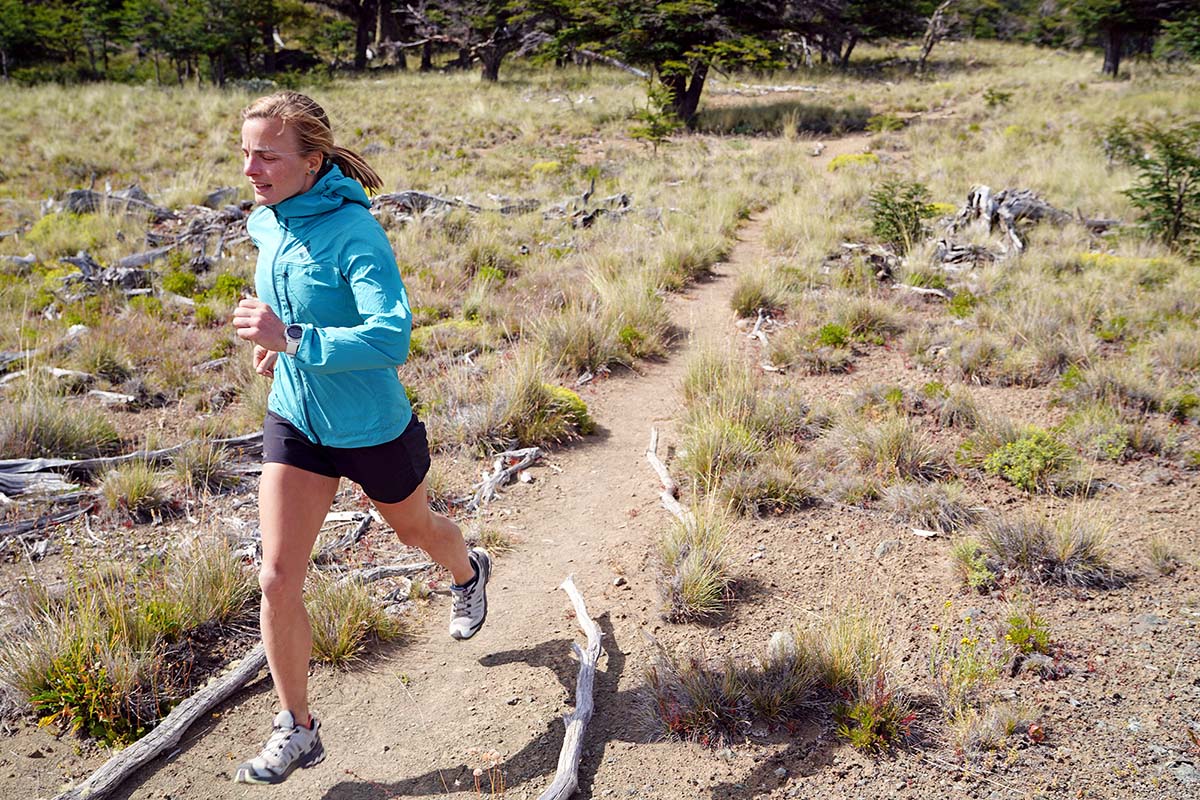 Wind Resistance
Similar to waterproofness, trying to quantify wind resistance can be a bit tricky. From a technical perspective, manufacturers measure a fabric's wind resistance in terms of CFM, or cubic feet per minute per square meter. A 0-CFM rated fabric will not allow air to pass at all, and the higher the CFM rating, the more air permeable the fabric. Luckily, brands have found that there's a certain range at which you can experience a significant increase in breathability without a big difference in wind protection. Thus, each jacket finds a sweet-spot CFM depending on its intentions. Some will forgo a little breathability for wind resistance (the Patagonia Houdini is a great example), and others will increase breathability for the tradeoff of a bit of protection (that you might not even feel). 
In practice, we've found these jackets to be quite impressive in blocking out wind despite their low weight and feathery feel. On a recent testing trip to Chilean Patagonia and its legendarily strong gusts that never seem to stop, all four of us basically lived in our respective windbreakers. On one particularly windy trek in the Cerro Castillo region, we literally were blown to the ground on multiple occasions to the point where we had to lay down to avoid getting toppled down the mountain. At some point that type of situation evolves into hardshell territory where you want maximum thickness and material, but throughout the trip, our wind jackets punched well above their weight and were a true staple.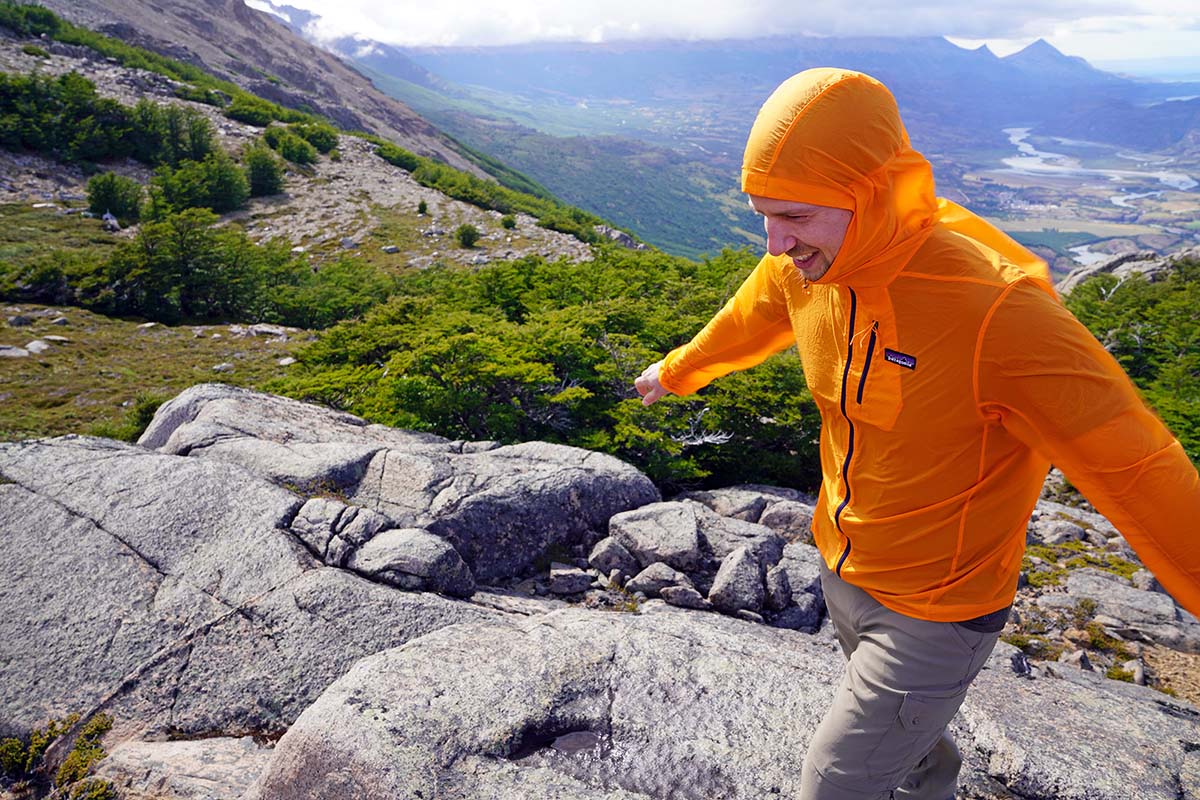 Breathability
Ah, the great debate. Would you rather have a jacket that blocks air completely (windproof) or one that allows air to move freely from one side to the other (breathable)? As you can imagine, it's no small task for a fabric to do both. But for those who want to have their cake and eat it too, it's a good thing you live in 2023. This category is evolving quickly and many of the windbreaker jacket models included in this article are fairly competent at both, including our top pick, the Patagonia Houdini Air. 
Before you go looking for the most breathable jacket money can buy, it's important to consider your end use. If you just plan on using your windbreaker for lower-intensity activities like casual hiking or travel, a less air-permeable jacket will do the trick. Look for 100% nylon or polyester builds here (many of the models in our "hiking" category fit this bill), and the good news is that these models generally come with lower price tags. For high-output activities like running, climbing, backcountry skiing—even rigorous hiking and backpacking—we recommend a more breathable windbreaker. These jackets often are made with stretch-woven fabrics or more complex blends, incorporate features like vents or mesh panels, and are more expensive. To help you navigate these complexities, keep an eye on our category designations—hiking, alpine, and running—to find the best fit for you.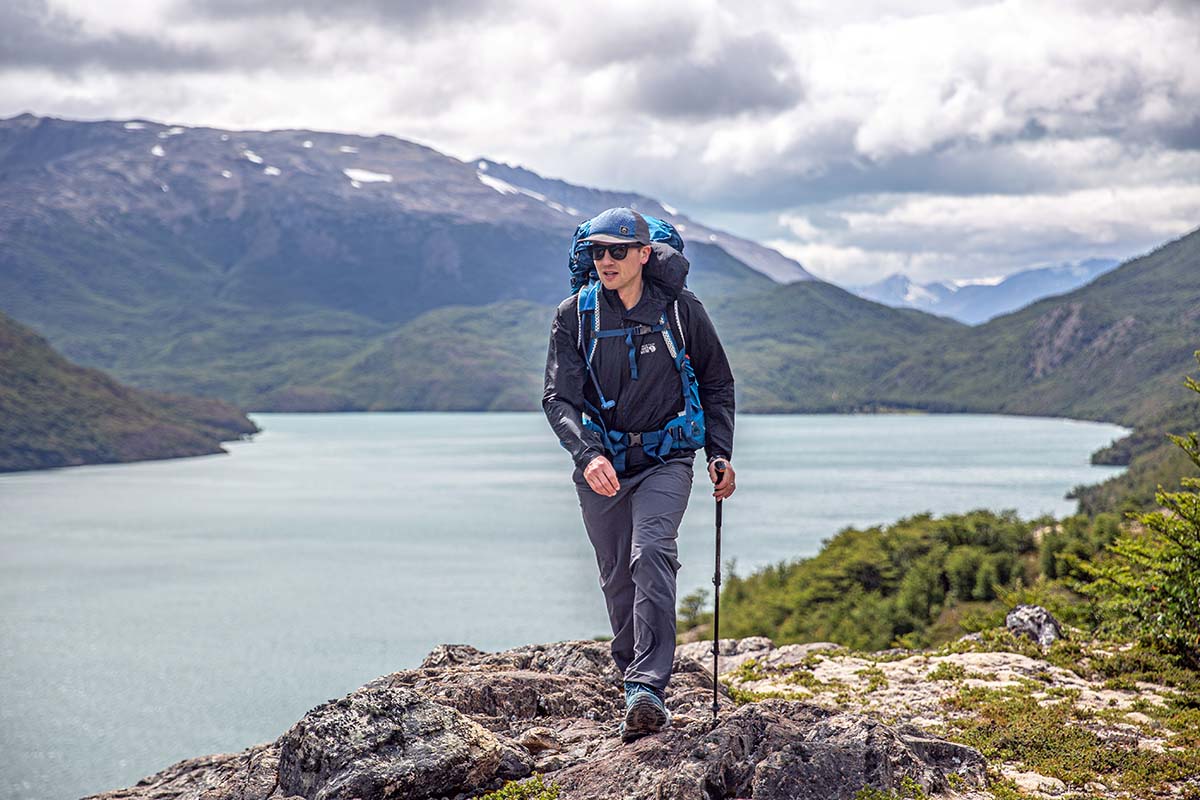 Water Resistance
By definition, a windbreaker is not waterproof, but many of the jackets here are impressively water-resistant. Whereas rain jackets or hardshells use a waterproof membrane to keep moisture at bay, windbreakers keep it simple with a durable water repellant (DWR) finish on their outer shell fabric, which causes water to bead up and roll off rather than soak through. It's important to note that DWR will wear off over time, resulting in diminished water resistance, but it can be reapplied with a spray like Nikwax's TX.Direct or revived by washing and drying your jacket. And importantly, be on the lookout for jackets with PFC-free DWR, which eliminates harmful chemicals from the manufacturing process, your body, and the environment.
Not every windbreaker will offer added water protection aside from the added barrier of the shell material, so make sure to be on the lookout for a mention of DWR. In the end, we think the water resistance of these windbreakers is good enough for the majority of outings in light precipitation, especially considering that most of us venture outside when the conditions are good. Our experience of late has been very positive: We've worn the Black Diamond Alpine Start in everything from all-day drizzles to wet snow and never once felt the need to pull out our shell. Of course, in a sustained downpour, nothing can offer the water protection of a dedicated rain layer. For true backcountry trips, we always bring a waterproof rain jacket or hardshell.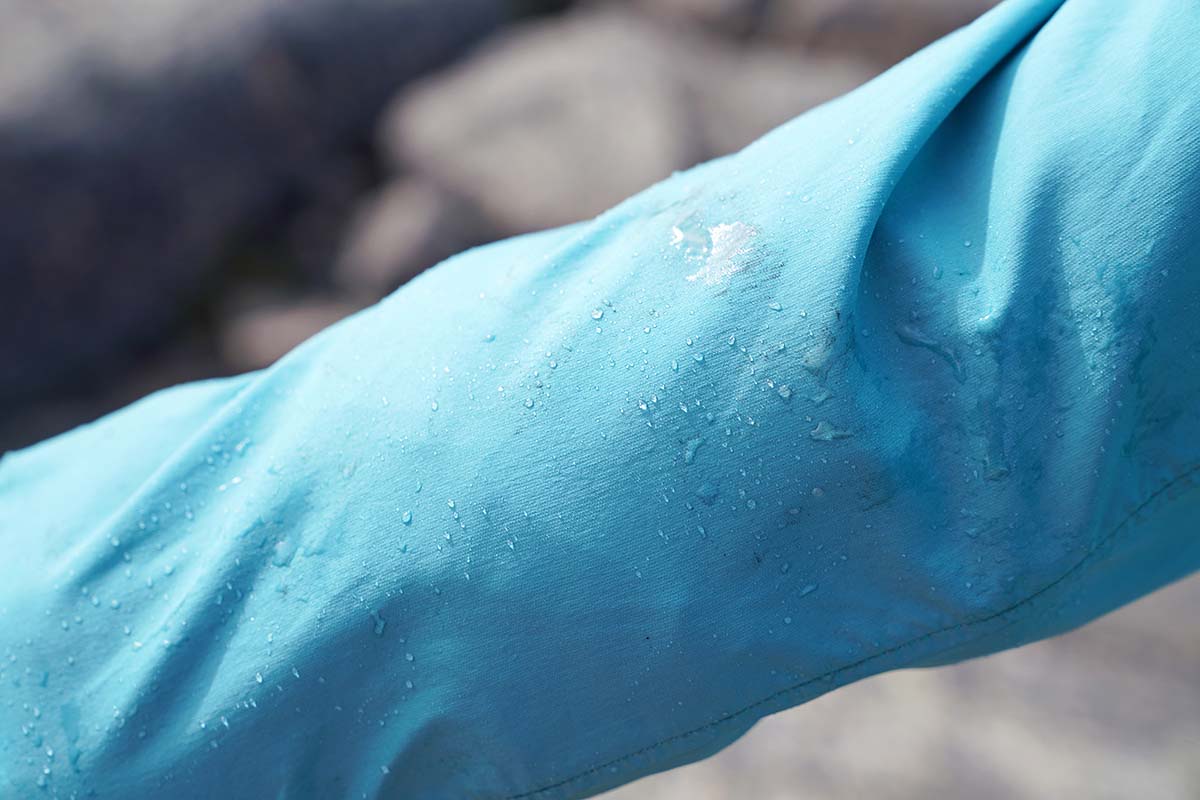 Weight and Packed Size
Windbreakers are lightweight and packable by nature, which is one of the main reasons they are such a functional type of jacket. Some designs prioritize minimalism more than others—the ultralight, 1.7-ounce Black Diamond Deploy, for example, miraculously packs down to the size of a pudgy Clif Bar. But unless you're a fastpacker or mountain runner with militant weight guidelines, we encourage you to first think about your intended use. Here's our reasoning: for many people and outdoor activities, the weight difference between a 3.7-ounce jacket like the Patagonia Houdini and a 4.9-ounce jacket like the Arc'teryx Squamish Hoody is barely perceptible. But here's what is perceptible—the Houdini is $50 less and just as windproof, while the Squamish offers much more mobility and breathability.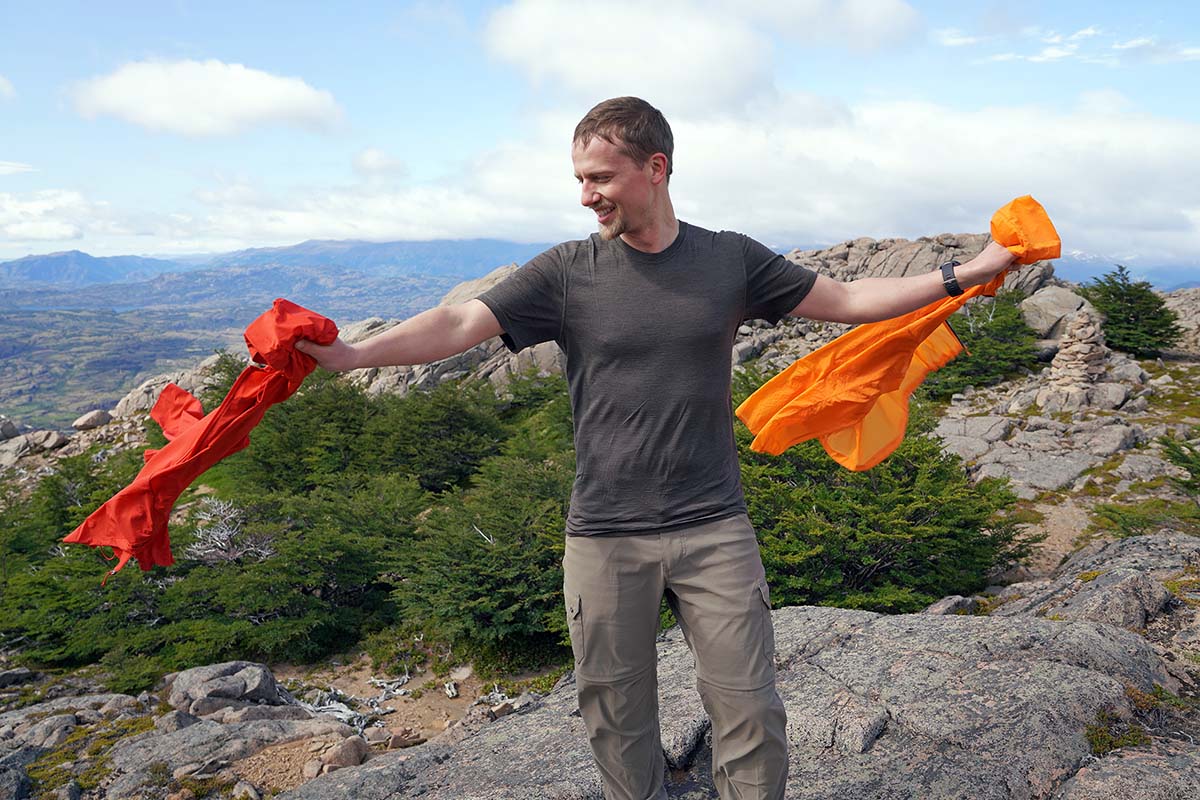 That said, there are a few things you can expect with lighter jackets. Most of the time, these are 100% nylon builds (read: no stretch), and can feel akin to wearing a plastic garbage bag during high-intensity activity (unless they have built-in vents or mesh). Lightweight jackets often feature just one chest pocket or no pocket at all, and we see hoodless or pullover styles here too. Often, lighter jackets are very trim fitting. But not all performance drops with weight. For example, running jackets typically are among the lightest windbreakers, but their thin fabric and generous venting is more suitable for high-output activities than a thicker build. Further, lightweight jackets are not necessarily less wind resistant than heavier options. In short, weight only tells part of the story when it comes to windbreakers. In the end, we encourage you to first determine your end use (do you prioritize a highly breathable jacket, weather protection, a hood, etc.) and then use the weight spec to help you whittle down your choice. 
In terms of packability, the majority of windbreaker jackets are designed to stuff into their own chest or hip pocket, which usually includes a carabiner loop on the inside. For on-the-go activities such as climbing, this feature is invaluable: you can clip your jacket to your harness with a carabiner and eliminate the need for a backpack (which can be very burdensome when climbing). You'll want to consider the bulk of the packed jacket as well, as some will be more onerous for harness or hand carry than others (the Black Diamond Deploy, for example, fits in the palm of your hand, while the Cotopaxi Teca is as big as a fanny pack). Usually weight, features, and fabrics (100% nylon is the most packable and stretch-woven fabrics will be the least packable) are a good indicator of bulk. To help guide your decision, we've included a column in our comparison table above to indicate which models come with integrated stuff pockets.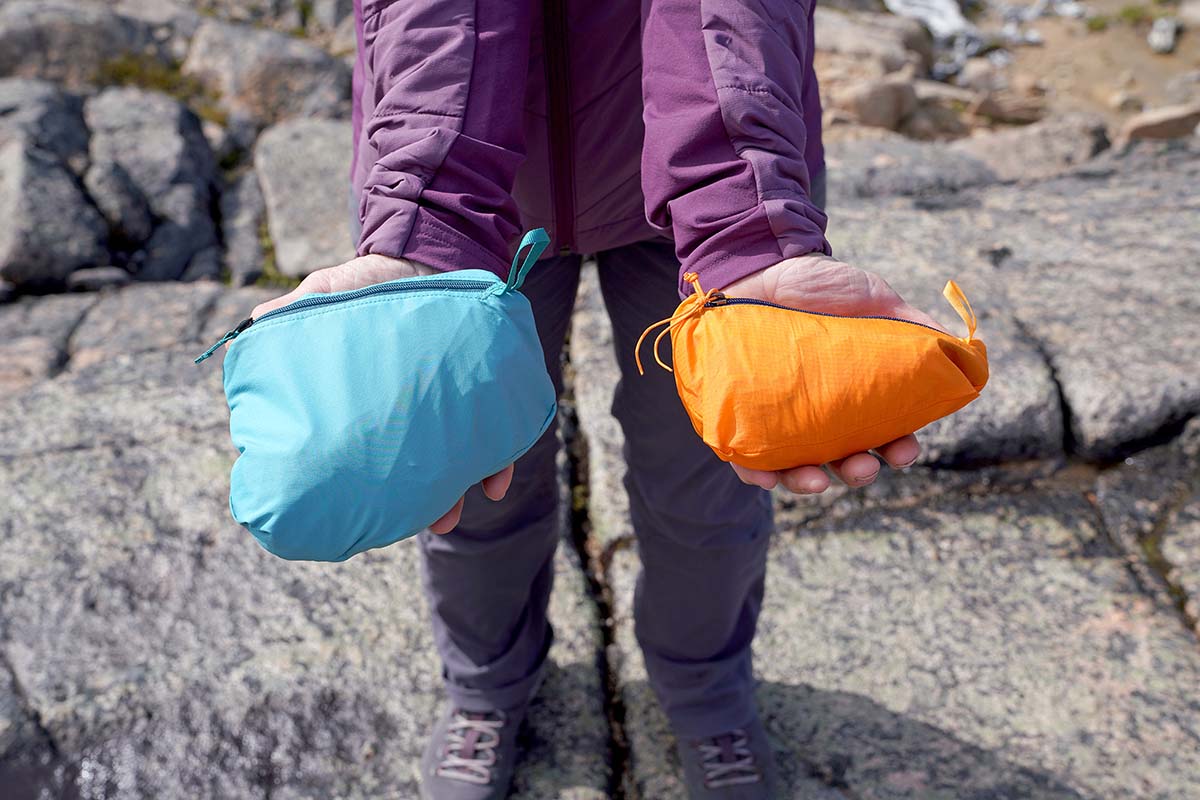 Stretch vs. No Stretch
The majority of windbreaker jackets are made with 100% nylon or polyester. With just a few exceptions, these simple weaves have little to no stretch, meaning they don't offer great freedom of movement. Further, 100% nylon or polyester jackets often suffer in terms of breathability, with tight weaves that aren't particularly air permeable. But these jackets still have a lot going for them: they are the lightest and most packable designs (particularly nylon) and often the most affordable (particularly polyester). Additionally, with features like gusseted underarms and drop tail hems, many are able to add ample mobility. We wore the 100% nylon Patagonia Houdini for years as our climbing windbreaker of choice, benefitting from its lightweight wind protection while embracing its compromises as simply part of the package.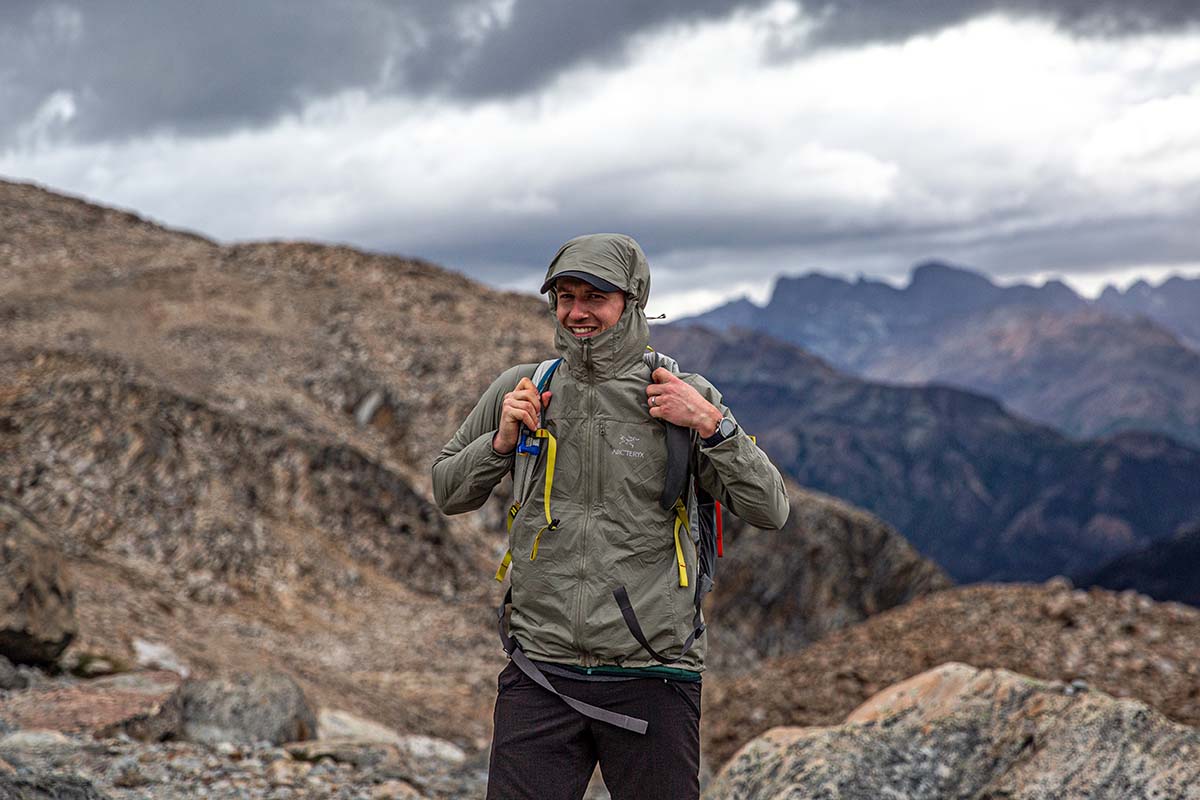 However, in 2023, more and more designs incorporate stretch into their fabric, either by way of their weave (like we see in the Patagonia Houdini Air) or by adding a small amount of elastane (as with the Black Diamond Alpine Start). No matter how it's accomplished, the result of added stretch is better mobility, increased breathability, and a softer next-to-skin feel. In other words, these are your premium windbreakers. Of course, top-notch performance comes with tradeoffs: most of the time, stretch woven fabric is heavier and bulkier than straight nylon or polyester, and it's often more expensive too. Further, as we learned above, increased breathability (read: air permeability) inherently impacts wind resistance—although in our experience not to a noticeable extent. In the end, the proof is in the pudding: since stretchy options started appearing on the market, our Houdini has stayed in the closet in lieu of jackets like the Black Diamond Alpine Start and Houdini Air.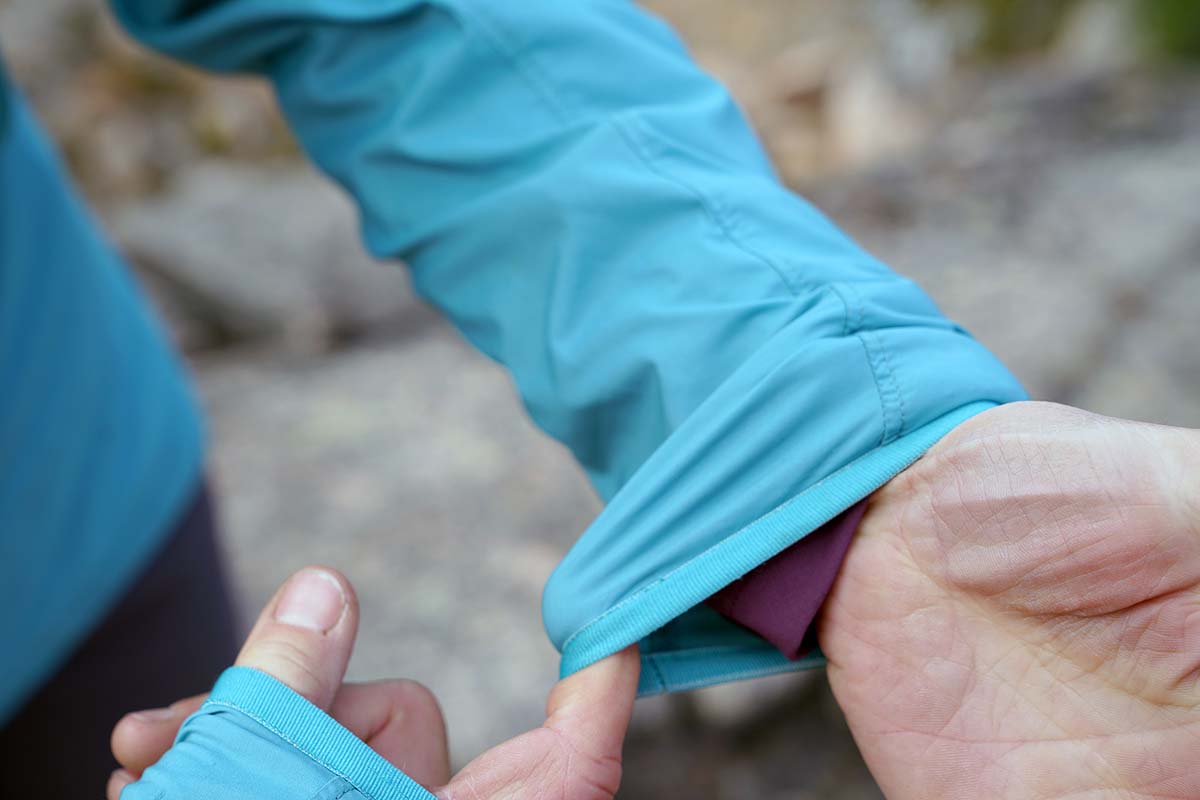 Fit and Sizing
Given that windbreaker jackets are minimalist in nature, most are designed with a trim fit. In addition to shedding ounces and bulk off the build, this also means you won't have any excess material getting in the way, which is great for activities like running and climbing. For this reason, we see the most streamlined fits in our ultralight running models (like the Patagonia Airshed Pro) and some ultralight alpine designs (the Patagonia Houdini, for example), both of which can accommodate a thin shirt or baselayer underneath—but not much more. On the other hand, some of the styles in our hiking category (the Cotopaxi Teca, for example) and a few mountain-specific designs have a roomier fit that can be layered over an insulated jacket. 
In our experience, the trim fit of windbreakers makes sense for most uses. If you're running, working hard on the skin track, or climbing on the sharp end, you'll likely be building enough heat to only need a light baselayer underneath. At the belay or during a transition, you can always throw your insulated jacket on over top. For some, however—especially those who run cold, need the extra freedom of movement, or plan to use their windbreaker in the cold—it can be a good idea to size up to accommodate more layers underneath (we've appreciated the extra room in the Black Diamond Alpine Start for ski touring this winter). Many of our product descriptions above include comments on fit.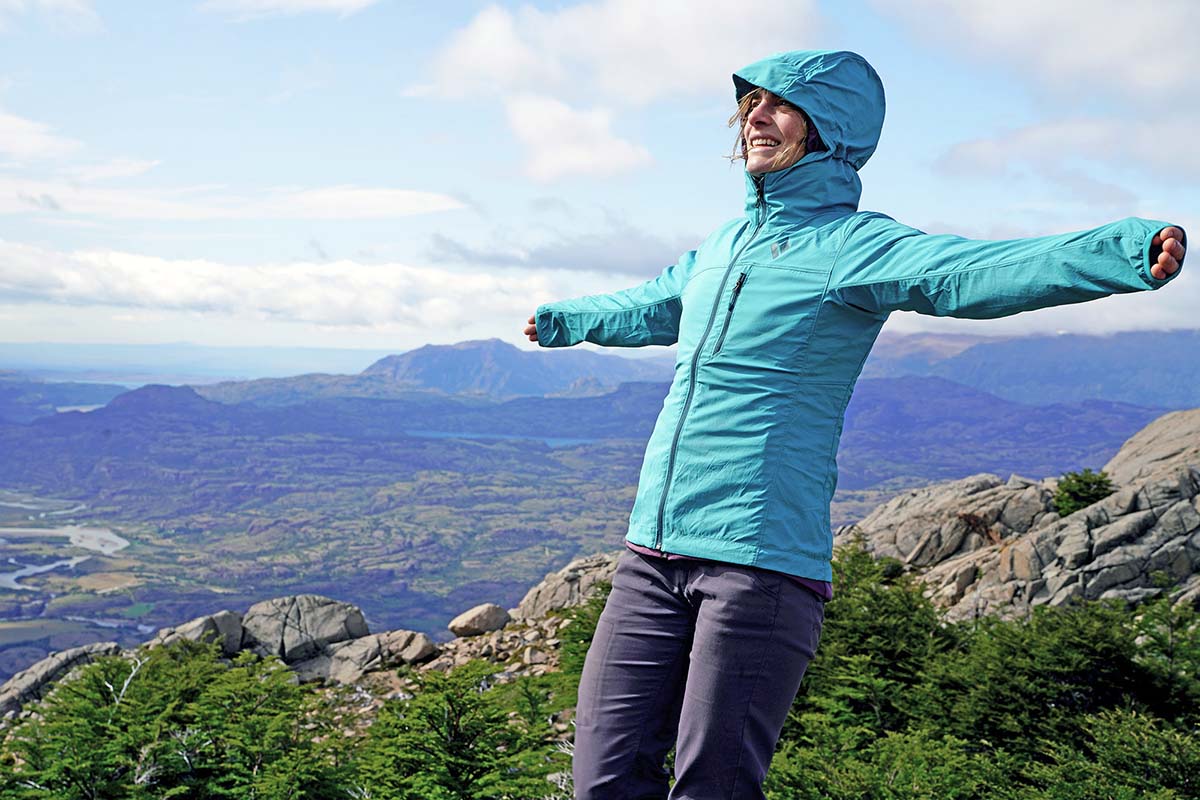 Windbreaker Jacket Features
In general, windbreakers have stripped-down feature sets that place a priority on weight-savings and packability. Most jackets have a single chest pocket that doubles as a stuff sack, a simple hood adjustment, and a hem cinch. Some models, particularly those in our alpine category, will have larger helmet-compatible hoods, while other designs will cut weight by removing the hood completely. In terms of the zipper, most jackets have a full-length zipper, although some ultralight models cut weight with a pullover design (like the Patagonia Airshed Pro or Black Diamond Deploy). If you're looking for a step up in features, our hiking category is a good place to start. With less of an emphasis on ounce-counting, many of these jackets offer a larger range of adjustment and more pockets.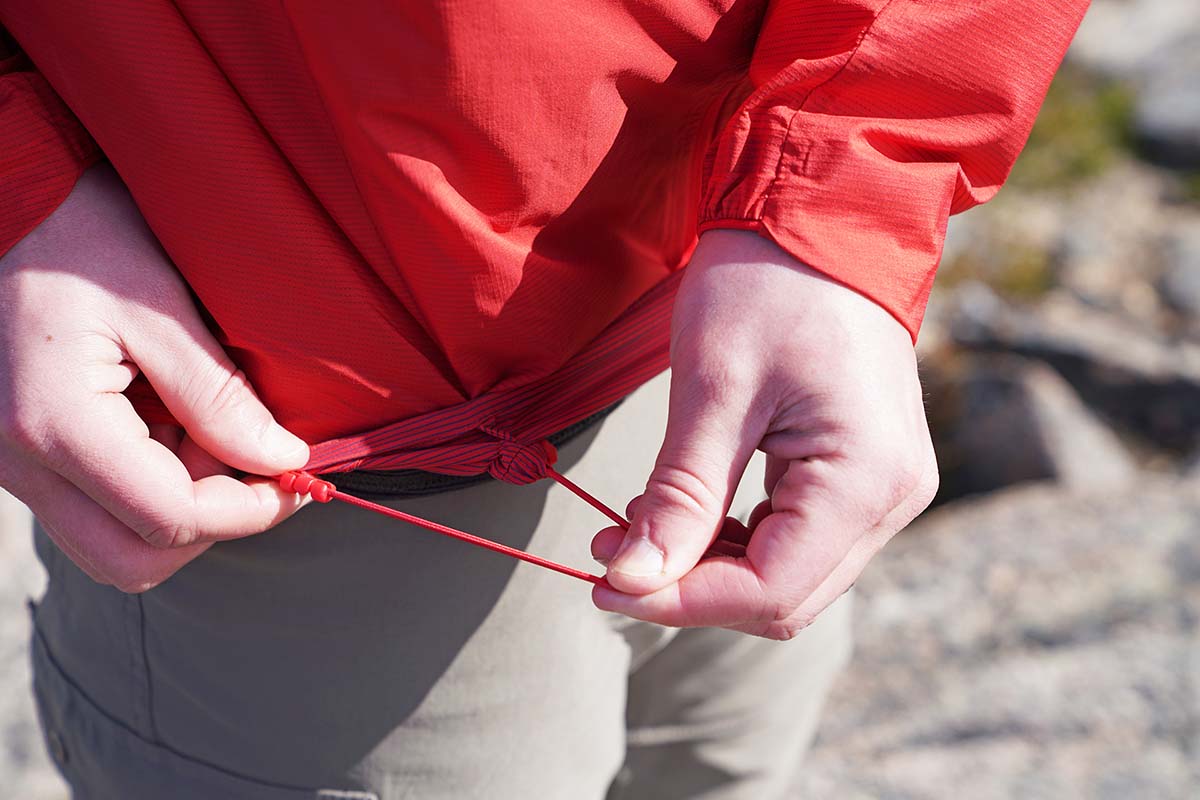 Durability
Ultralight and thin by design, you aren't out to lunch if you are worried about the durability of windbreaker jackets. To stack the odds in your favor, it's a good idea to look for ripstop fabrics (like the Black Diamond Distance) or stretch-woven material that gives under pressure rather than rips (like on the Mountain Hardwear Kor AirShell Hoody). Thicker shells—indicated with higher denier ratings, grams per square meter (gsm), or ounces per square yard (oz./yd)—will be more durable than thinner varieties, but you'll pay a price in weight and packability. Additionally, keep in mind that a DWR coating does more than just protect against rain—it also keeps dirt and oils from soaking into the shell, preserving the life of the fabric. Finally, the small zipper is a key failure point on windbreakers, but few are designed with more robust options. Your best bet is to treat it with extra care and buy from a manufacturer with a great repair policy.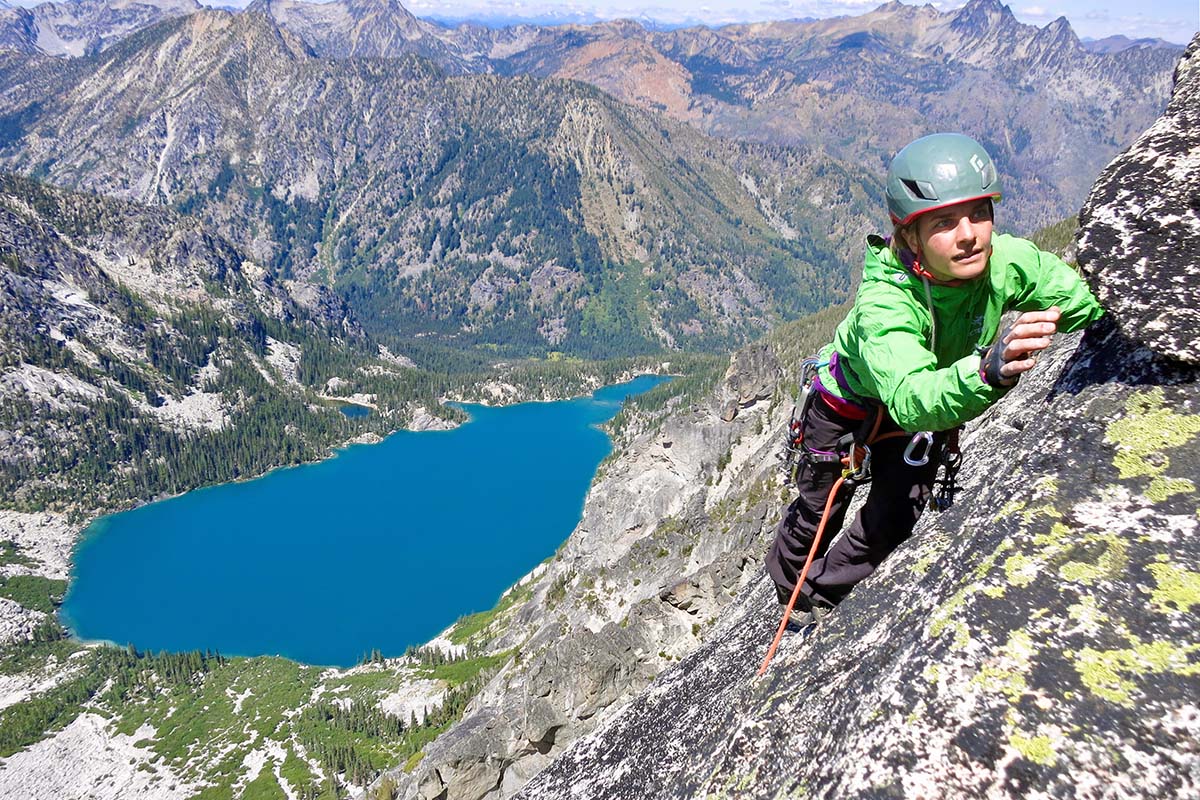 All that said, we've been incredibly impressed with the lifespan of most windbreakers that we've tested. They're nowhere near as durable as hardshell jackets, but over the years, our collective windbreakers have endured excessive groveling in chimneys while climbing, being stuffed into packs beside crampons and sticky skins, and day in and day out use. In the end, we can recall a few durability issues, including one rip (which took place while alpine rock climbing) and one busted zipper (that Patagonia dutifully repaired). All in all, the impressive durability of windbreakers is just one more feather in the cap of these small but mighty jackets.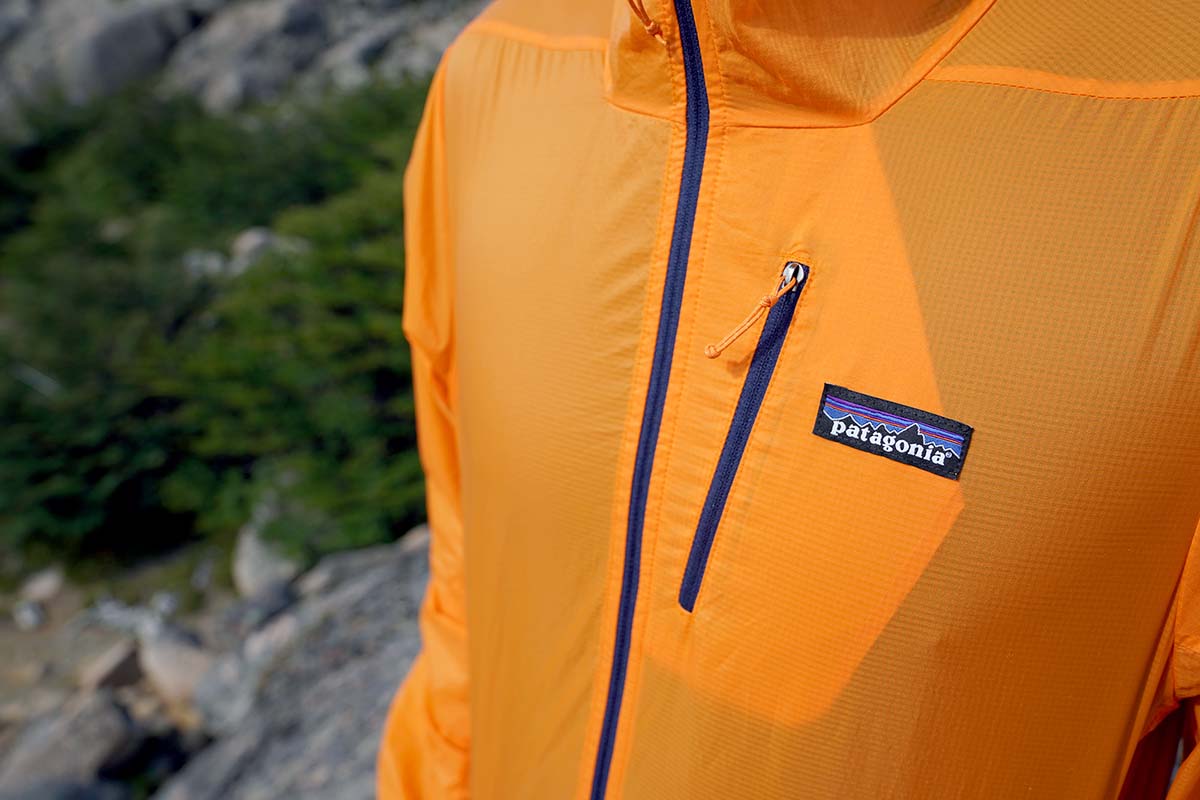 Windbreaker Jacket Care
Windbreakers are fairly low-maintenance, but there's a few steps you can take toward increasing the life of your jacket. First, we never recommend storing a jacket stuffed in its pocket. Like a sleeping bag, your windbreaker needs to breathe and should be hung alongside your other jackets when not in use. Second, it's best to follow the manufacturer instructions for washing and drying, which usually entail machine washing with cold water and tumble drying (take note that your windbreaker will dry much more quickly than the rest of your laundry). It might seem counterintuitive, but a regular laundering is actually vital to maintaining the water-repellant finish. And if your DWR begins to lose its effectiveness, it's fairly simple to reapply with a product like Nikwax's TX.Direct.
 
Sustainability
In 2023, one of the primary ways we see manufacturers innovating is through the use of more sustainable materials. In terms of windbreaker jackets, this means recycled fabrics, more responsible production practices (including the elimination of some harmful "forever chemicals" from water repellent finishes), and an emphasis on the ethical treatment of workers. Many companies also utilize the bluesign system for sourcing materials responsibly. Patagonia is a huge leader in this movement (their Houdini is built with 100% recycled nylon with a PFC-free DWR), but windbreakers from brands like Cotopaxi and Black Diamond also feature impressive sustainability measures. And while we encourage you to shop responsibly, we're also big advocates of lowering consumption by reusing old gear. Many brands offer repair programs and used marketplaces for their offerings, and gear consignment stores can be treasure troves for like-new items.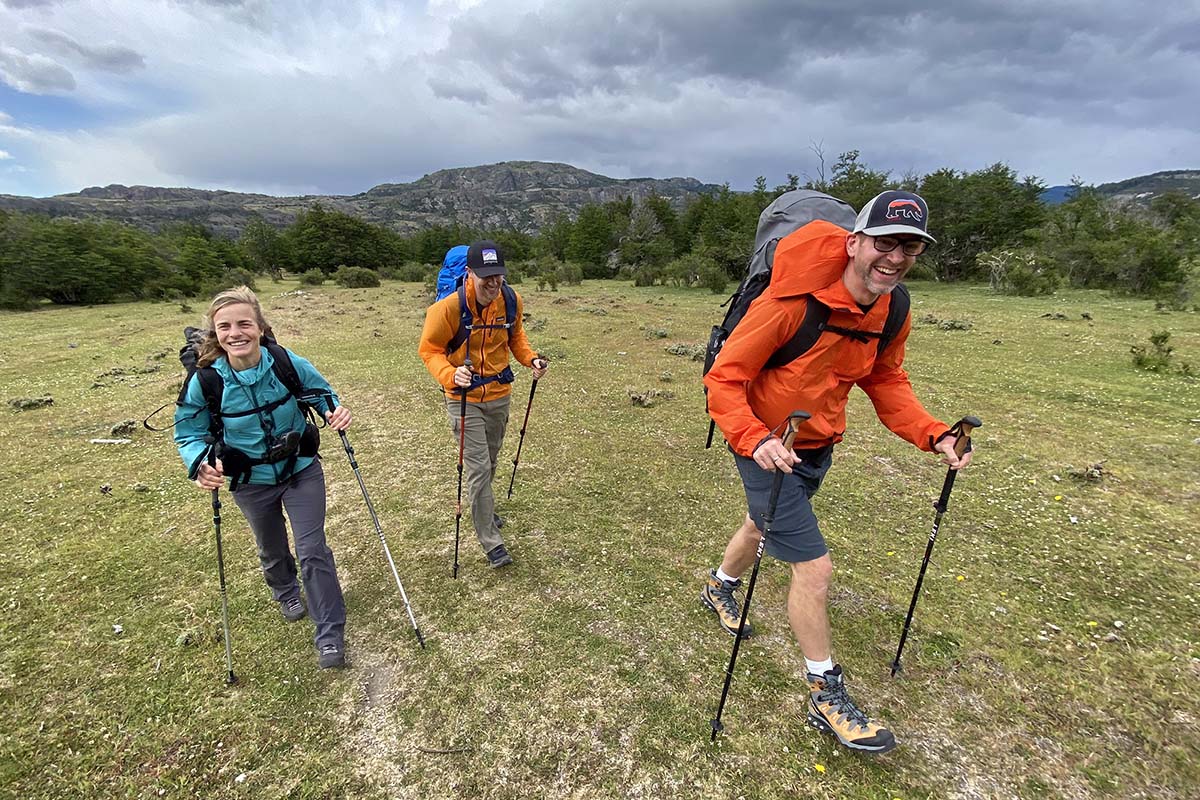 Windbreakers vs. Softshells and Rain Jackets
When it comes to choosing your outer shell, you have a few options, including a windbreaker, softshell, rain jacket, or hardshell. Especially given the increasing amount of crossover between categories, it can bTe difficult to determine what style is best for your needs. In general, a softshell jacket is an ideal layer for active pursuits when you want a bit of wind and water protection but don't want to give up breathability and freedom of movement. On the other hand, a rain jacket (or burlier hardshell) will provide full protection from the elements, but often at the expense of breathability, comfort, and mobility. For active pursuits when the conditions aren't nasty, we think that windbreakers offer a nice alternative to both full-on waterproof jackets and softshells, and here's why.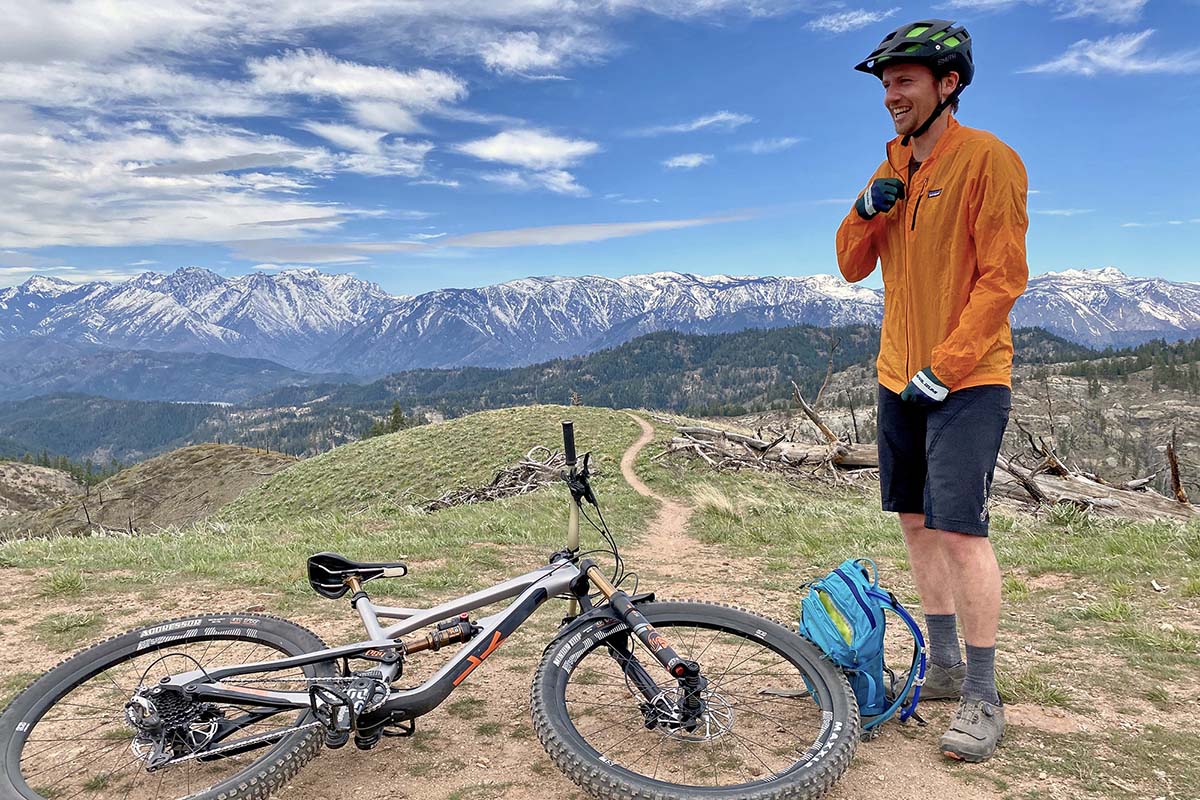 Unless you live in the rainforest of British Columbia or are particularly inclined towards sufferfests, we're guessing that the majority of your outdoor activities take place during fair weather (at worst, a light drizzle, wet snow, or sustained wind). We're also guessing that you're moving during these activities, which means you're generating body heat. You could bring a rain jacket along, but chances are it doesn't breathe very well and will be overkill for most weather (our rain jacket spends most of its life at the bottom of our pack). On the other hand, a softshell will give you all the protection you need, along with great breathability and freedom of movement, but most are prohibitively heavy and bulky.
Enter the windbreaker jacket. Windbreakers are lightweight and packable and easily stay stuffed away until you need them. They're capable of cutting a serious wind (most of the time, this will be enough to keep you warm), and most are fairly impressive at keeping out a light rain (all but a few in our round-up feature a DWR finish). In 2023, many windbreakers are highly breathable too, and we've begun to see more and more with built-in stretch for better freedom of movement. If you're keeping score, this means you get all the benefits of a softshell jacket in a more streamlined package. In the end, we're not shy in our opinion that a high-performance windbreaker (the Patagonia Houdini Air and Black Diamond Alpine Start, for example) is the most versatile style of jacket on the market, and the best outer layer for the majority of active pursuits.
Back to Our Top Windbreaker Picks  Back to Our Windbreaker Comparison Table
Read More From Switchback Travel