In February of 2022, the Switchback Travel team convened in the town of El Chaltén, located within the Southern Andes' Los Glaciares National Park. Known as the trekking capital of Argentina, "Chaltén" has become one of our favorite travel destinations, thanks to the incredible scenery and terrain, easy accessibility to trails, and lively, vibrant town. As far as hiking destinations go, it doesn't get much better—as long as you're willing to brave a little wind. Below, we'll share details of our trip, including where we hiked, travel logistics, and our favorite places to stay and eat. For detailed information on the trails, see our articles on the best hikes in El Chaltén and our guide to the Huemul Circuit.
 
---
Table of Contents
---

What We Did
Flying from Washington State, Colorado, and British Columbia, the Switchback Travel team convened in El Chaltén, Argentina, in early February, 2022. We were six: David (Founder), John (Editor-in-Chief), and Jenny and Sarah (Editors), along with our two long-time gear testers Brian and Sasha. David, John, and Jenny (the narrator—hi!) had already visited Patagonia together a few times, trekking the Huemul Circuit in 2018 and visiting Chile's Parque Patagonia in 2020. This time around, we had double the team members, which meant double the fun—and double the gear to test.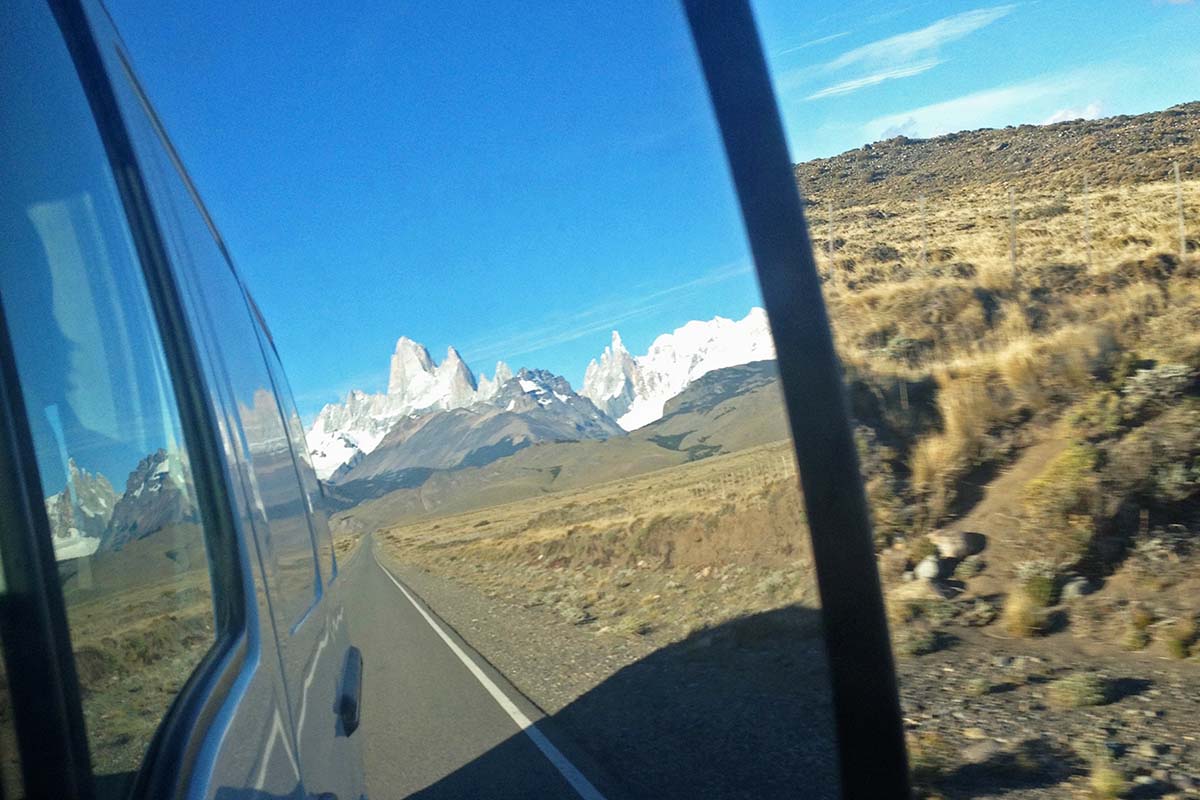 It took a solid two days of travel to get from North America to El Chaltén, including an overnight flight to Buenos Aires, a connecting leg to El Calafate, and a three-hour taxi through the windswept steppe of Southern Patagonia. Once on the road outside of El Calafate, the remoteness of the area was palpable: Desert shrubs dotted the landscape as far as the eye could see; the odd grazing guanaco offered a sense of scale. It's not a scene in which you'd expect to find some of the world's most spectacular mountains, but Patagonia is, after all, a land of extremes. At 9 p.m., with the evening sun lingering lazily above the horizon, the taxi rounded a bend and we caught our first glimpse of the Chaltén massif, rising straight out of the plains. Our adventure had begun.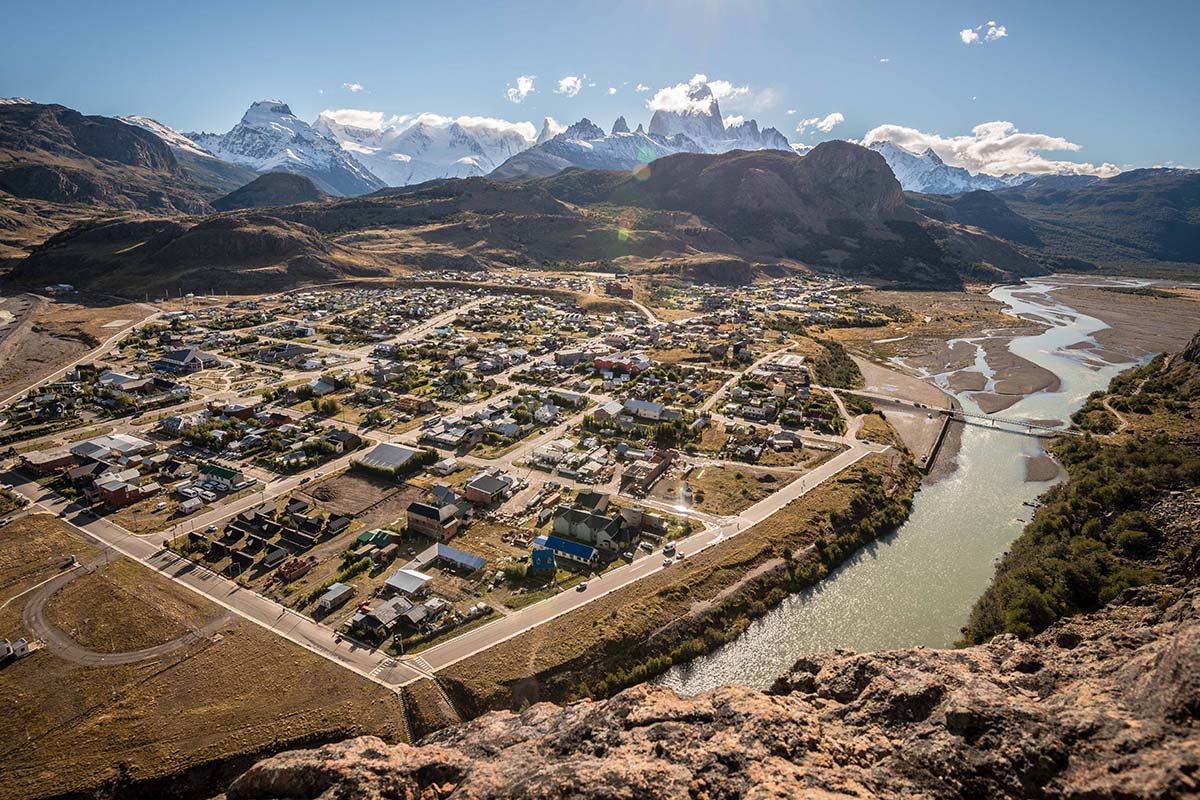 Day Hiking in El Chaltén
We had been worried about the consistent rain forecasted for the initial few days of our trip, but awoke the next morning to partly cloudy skies and relatively low winds. For our first hike, we ventured up Sendero Fitz Roy (sendero is Spanish for "trail") to Laguna de los Tres, arguably the most popular day hike in the area. At a trailside mirador, we were treated to a picture-perfect view of the entire skyline, from Aguja de l'S on the left to Aguja Guillaumet on the right. A good number of the peaks in this range have French titles—Guillaumet in particular was named by members of a 1952 French expedition, during which the cartographer Louis Lliboutry accomplished the first comprehensive mapping of the range (PATAclimb.com, 2019). Importantly, many also have titles that predate European exploration: Fitz Roy's original name is Cerro Chaltén, a word belonging to the Tehuelche people (the original inhabitants of the area) that means "smoking mountain."
Just over 13 miles round-trip, the route to Laguna de los Tres starts out with a short climb, hits a long mellow section, and ends with a sharp 1,400-foot ascent to an overlook above the lake. Having left El Chaltén around 8 a.m., we were grateful to have the trail and lake mostly to ourselves. Clouds had gradually begun to roll in, turning the granite peaks into the smoking mountains of folklore, lending a moody vibe to the day and a gentle reminder of the power of weather in Patagonia. Not long ago, climbers basecamped high on glaciers, ready to strike when a clear day arrived; now, they stay in the comfortable town below, sipping cappuccinos and IPAs ("ee-pas") as they wait for a favorable forecast to arrive.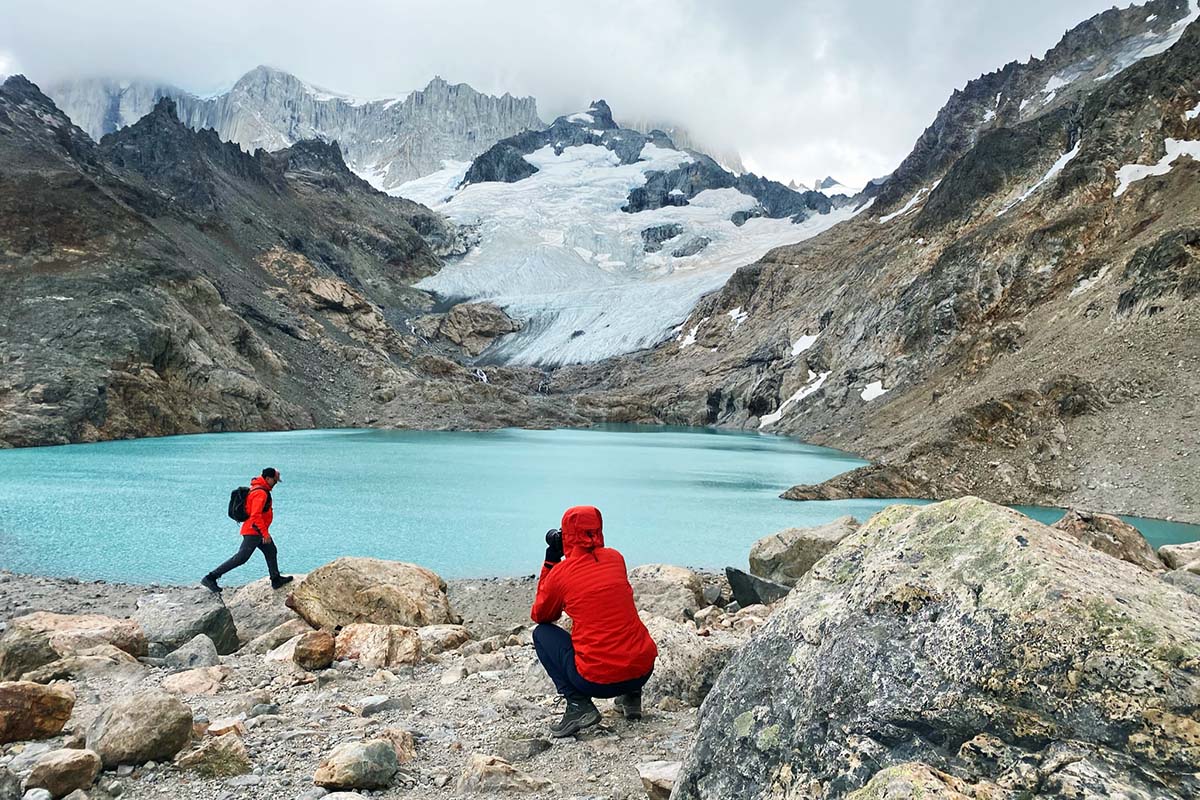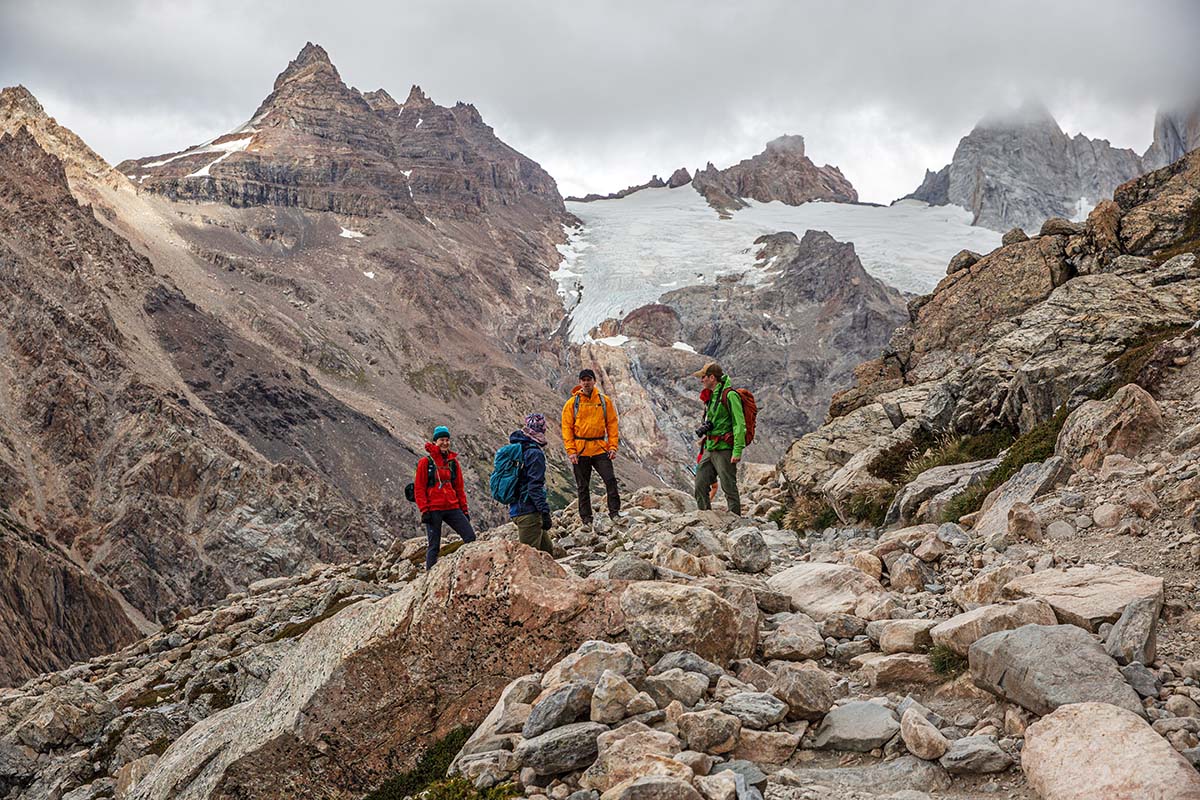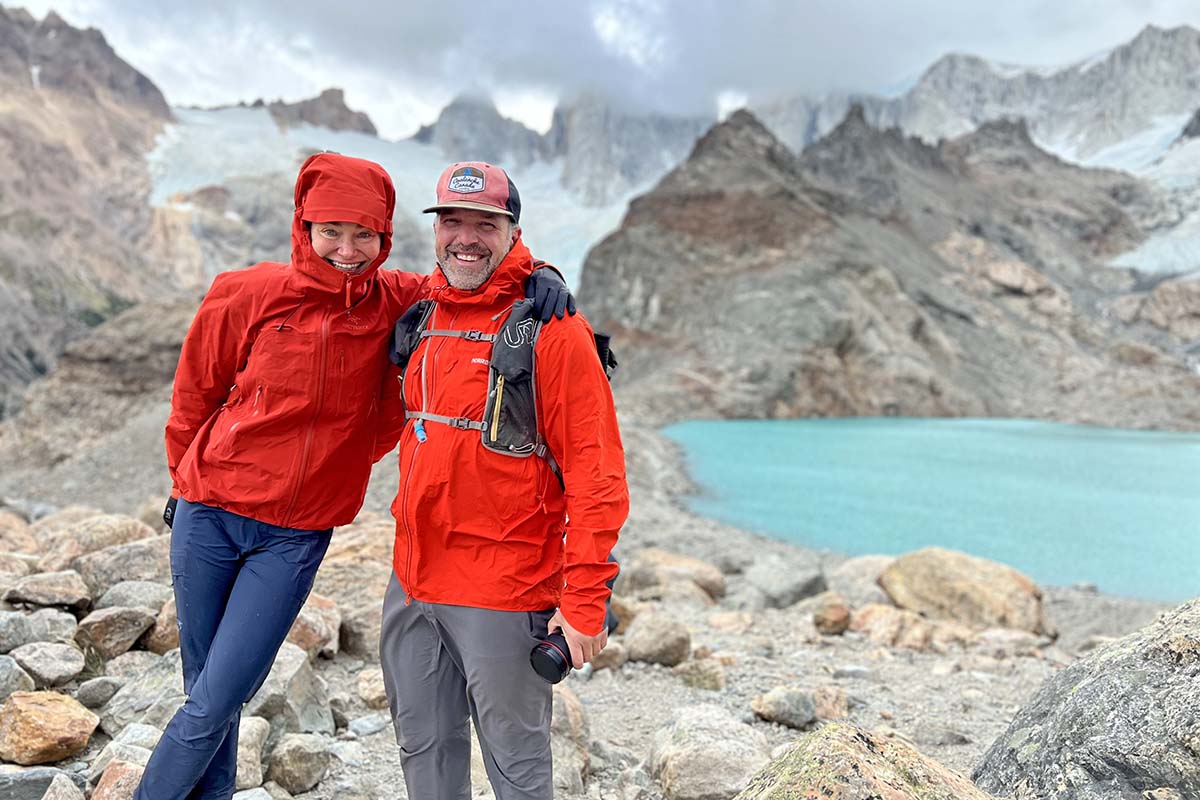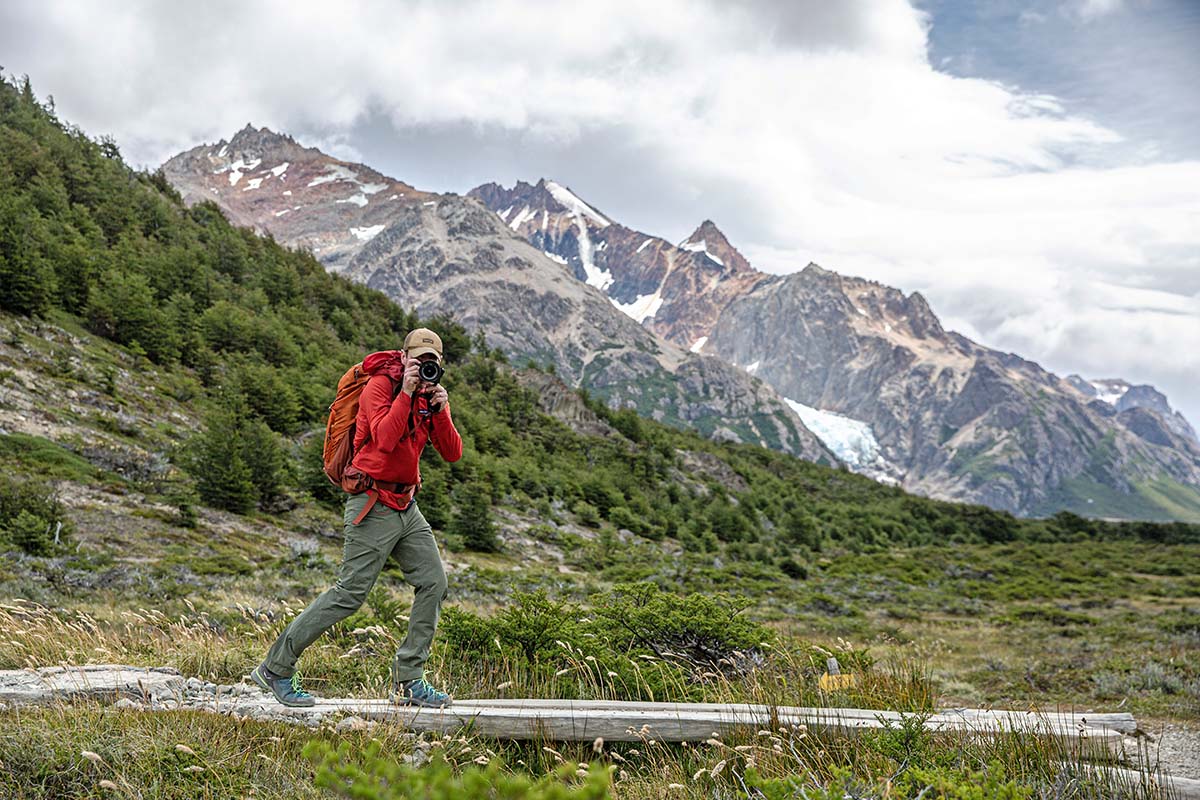 But as it turns out, bad weather for climbers doesn't always translate to bad weather for trekkers: While clouds and wind whip around the higher peaks, the lower-lying hills are often sunny and calm (or at least, calmer). It makes for a fairly comfortable existence in El Chaltén—a surprisingly arid area despite its proximity to big mountains—and decent consistency for visiting hikers. Thus, while climbers might come to Chaltén for a few months and have just a few chances to attempt larger ascents, trekkers can venture out almost daily. Of course, a sense of adventure is still required: As the wind began to rage around our high point at Laguna de los Tres, we donned our hardshells, beanies, and gloves, and began the steep descent back to town.
The following morning, our small group fueled up on coffee with leche caliente (a team favorite), picked up some chipas (Argentine cheese bread) at the panadería, and walked across town to the Laguna Torre trailhead. One of the highlights of hiking in El Chaltén is the ability to access big mountains straight from town, without the need for a car. Hikers, trail runners, and climbers all share this trail to Laguna Torre, each of the nine kilometers marked by trailside signs. For some, it's a day's work to get to the lake; for others, it's just the first step in a long journey to a Patagonian summit. Graciously, the mountains offer something for everyone.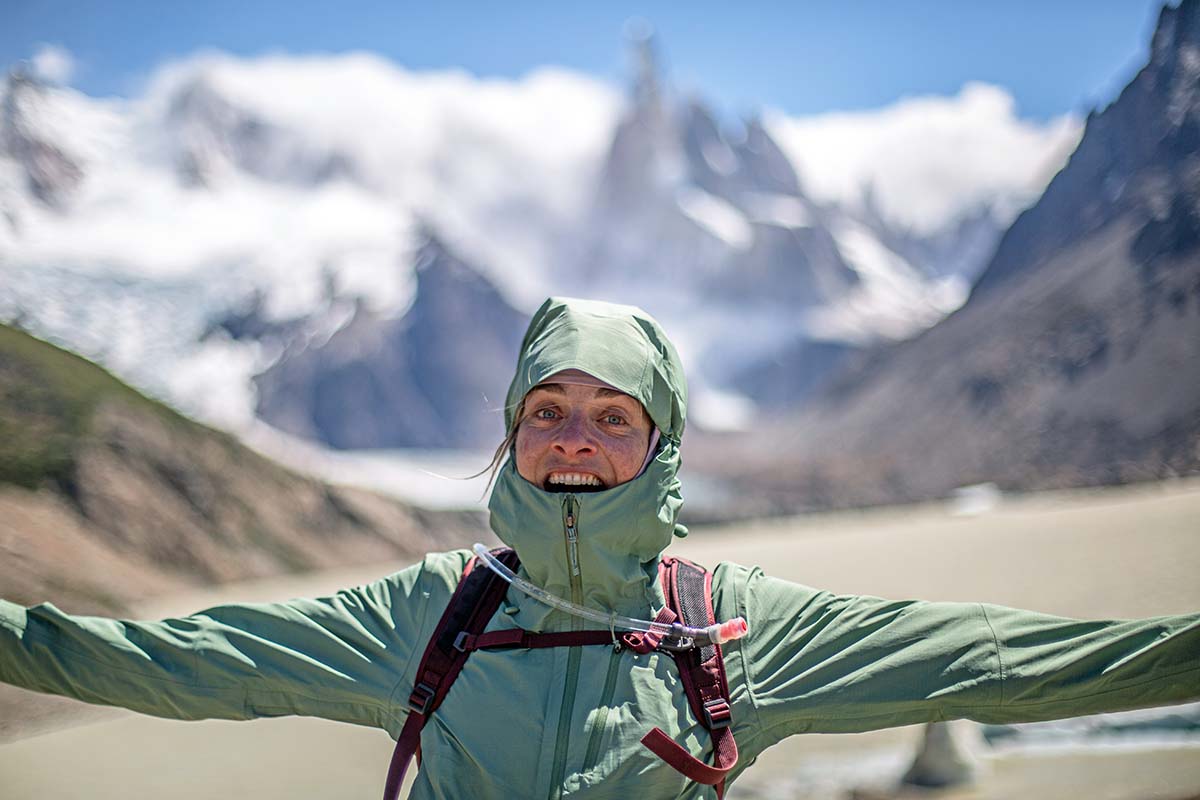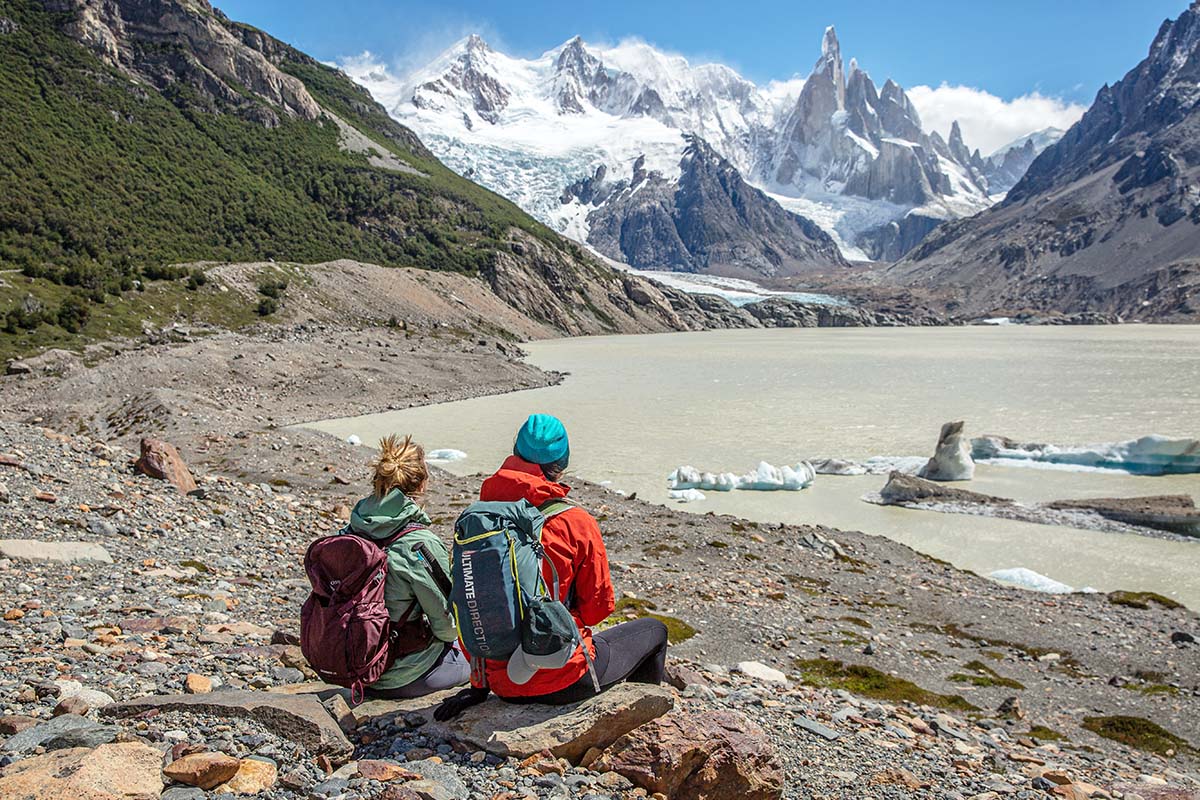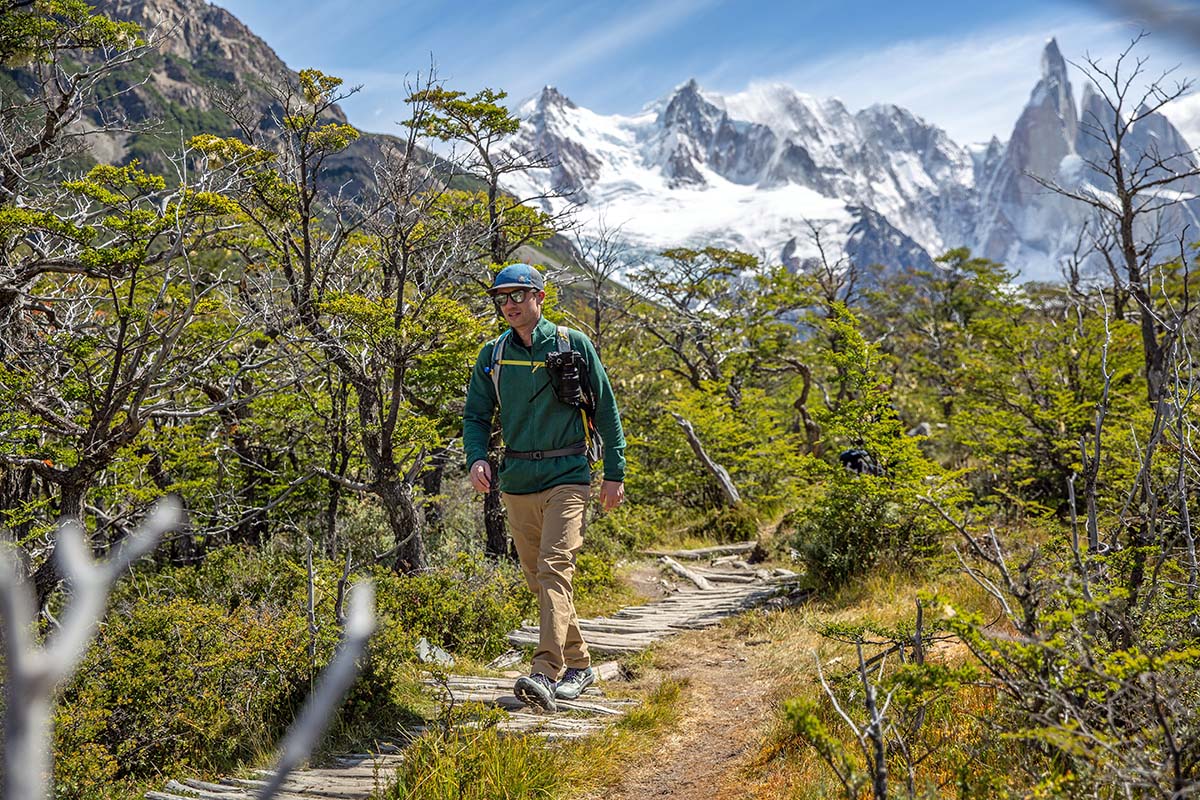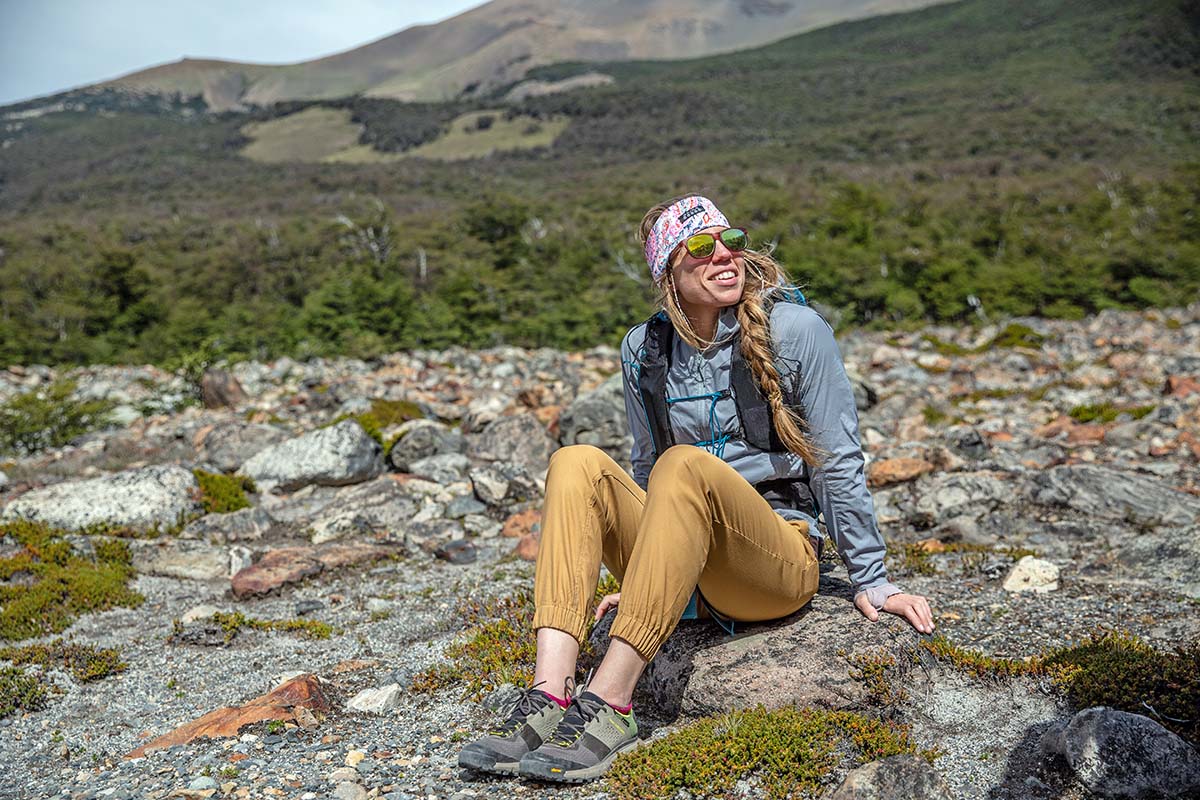 Refugio Puesto Cagliero
With two day hikes in the rearview mirror, it was time to leave the comfort of town for an extended stay in the hills. We gathered supplies at the grocery stores in town (Puentes Amarillos became a quick favorite for its great produce and natural food selection) and took a taxi about 30 minutes up the road (Ruta 41) to Estancia Los Huemules, a private natural reserve that comprises about 5,800 hectares of land just north of Los Glaciares National Park. The Estancia Los Huemules ostensibly exists to preserve the natural landscape: Over 95 percent of the area is designated reserve (including about 25 kilometers of trail), while the remaining area is in the process of being developed for residential (92 home lots) and tourist use (1 hotel).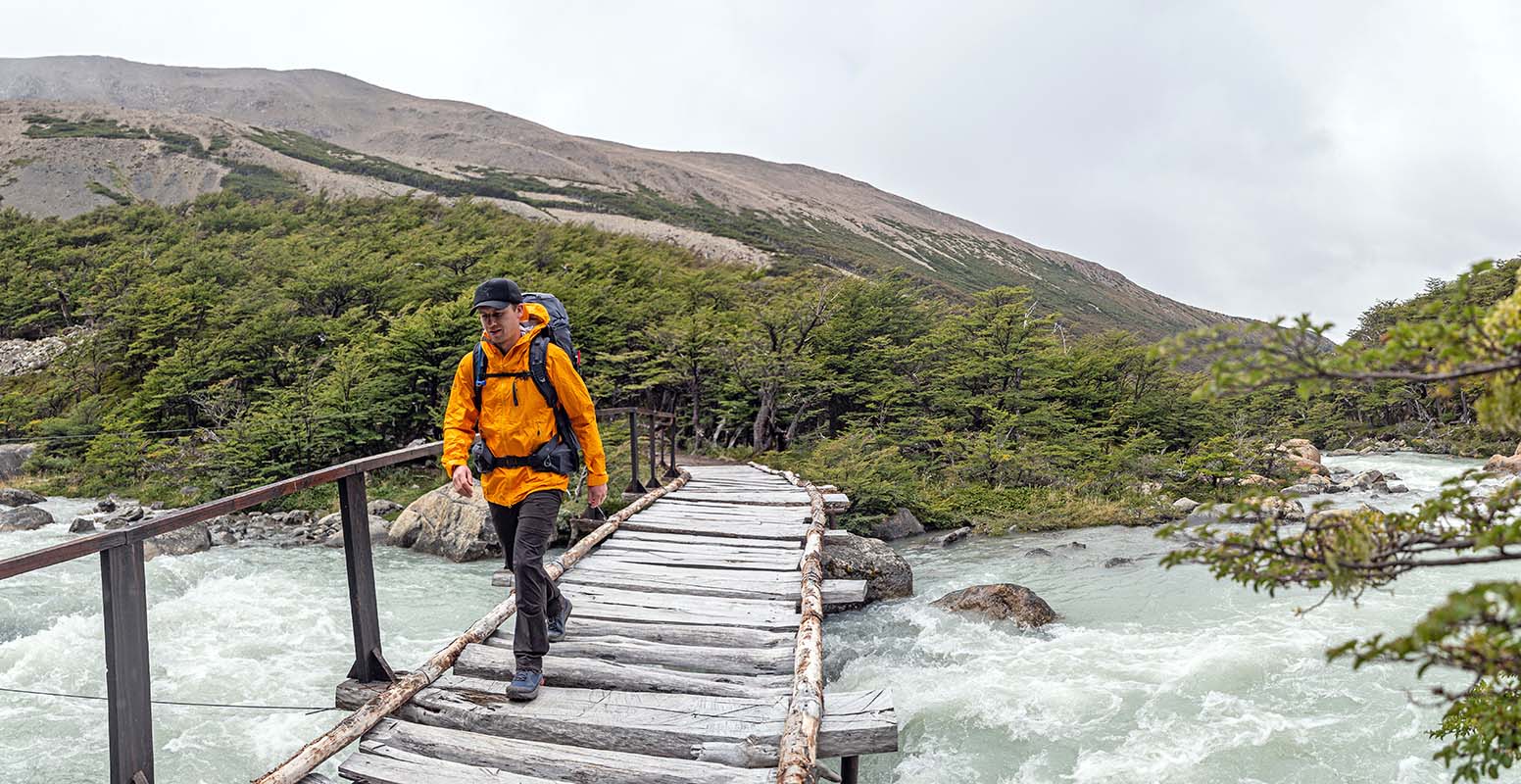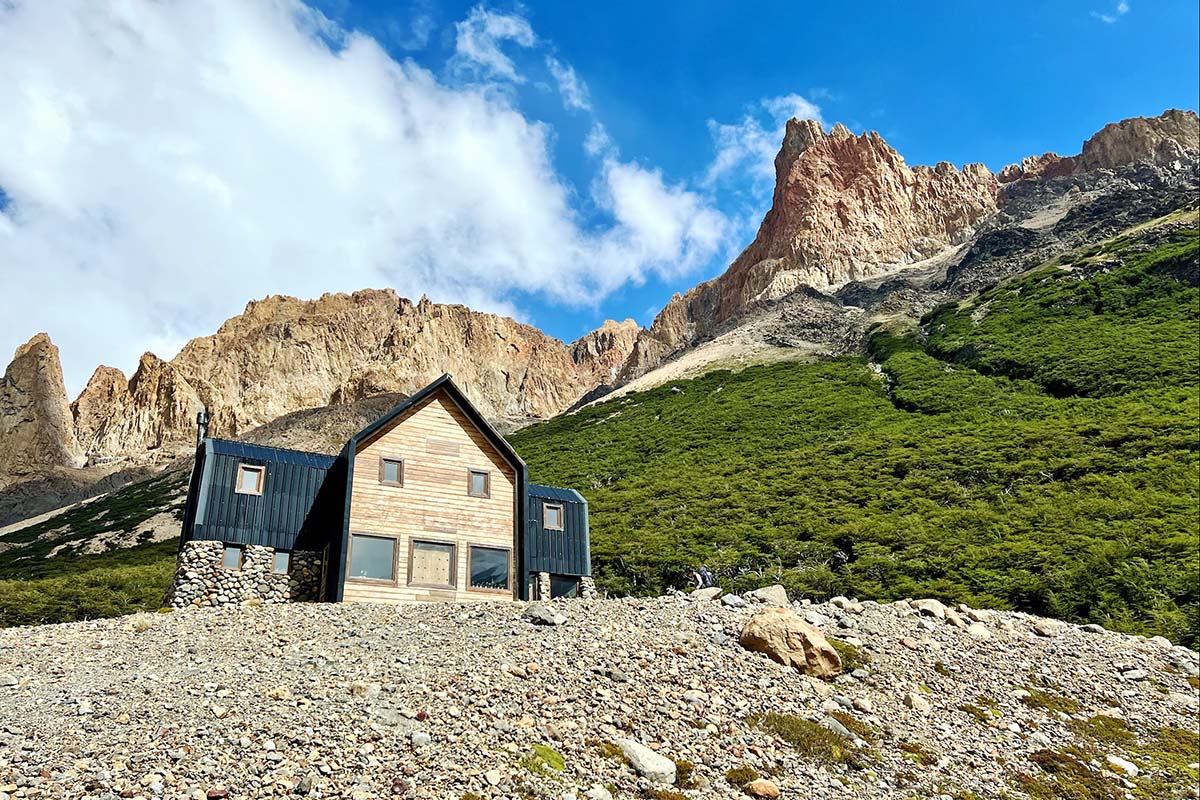 Most of Los Huemules' development is in the valley below Laguna Azul, but it also includes a refugio at Laguna Diablo. The Refugio Puesto Cagliero would be our home for the night, set in a high mountain valley overlooking the Cagliero Glacier and accessed via trail (about four miles). While most campgrounds in Patagonia are strategically nestled in the forest, the Refugio Puesto Cagliero sits proudly on top of a hill, as if in defiance to the wind. The moody weather offered a perfect setting for an afternoon and evening at the mountain hut, where we explored the environs, played card games next to the wood stove, chatted with fellow travelers, and enjoyed a bottle of wine together.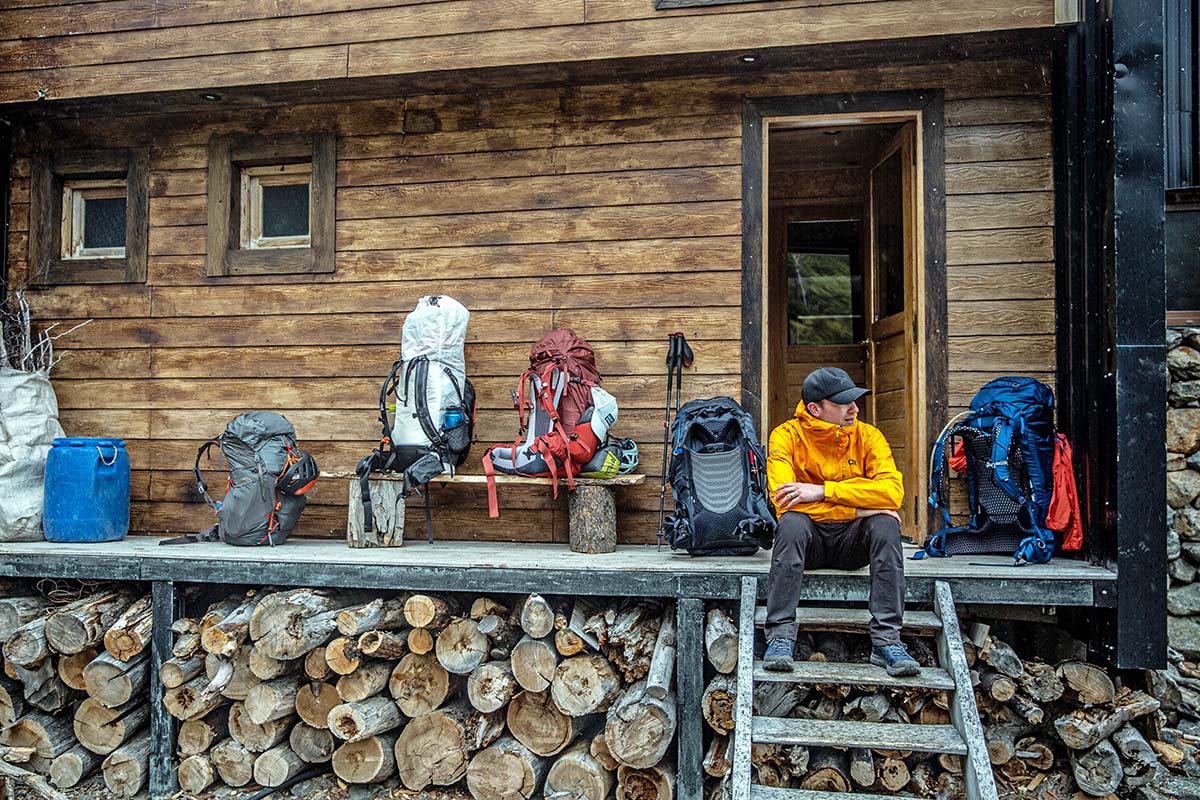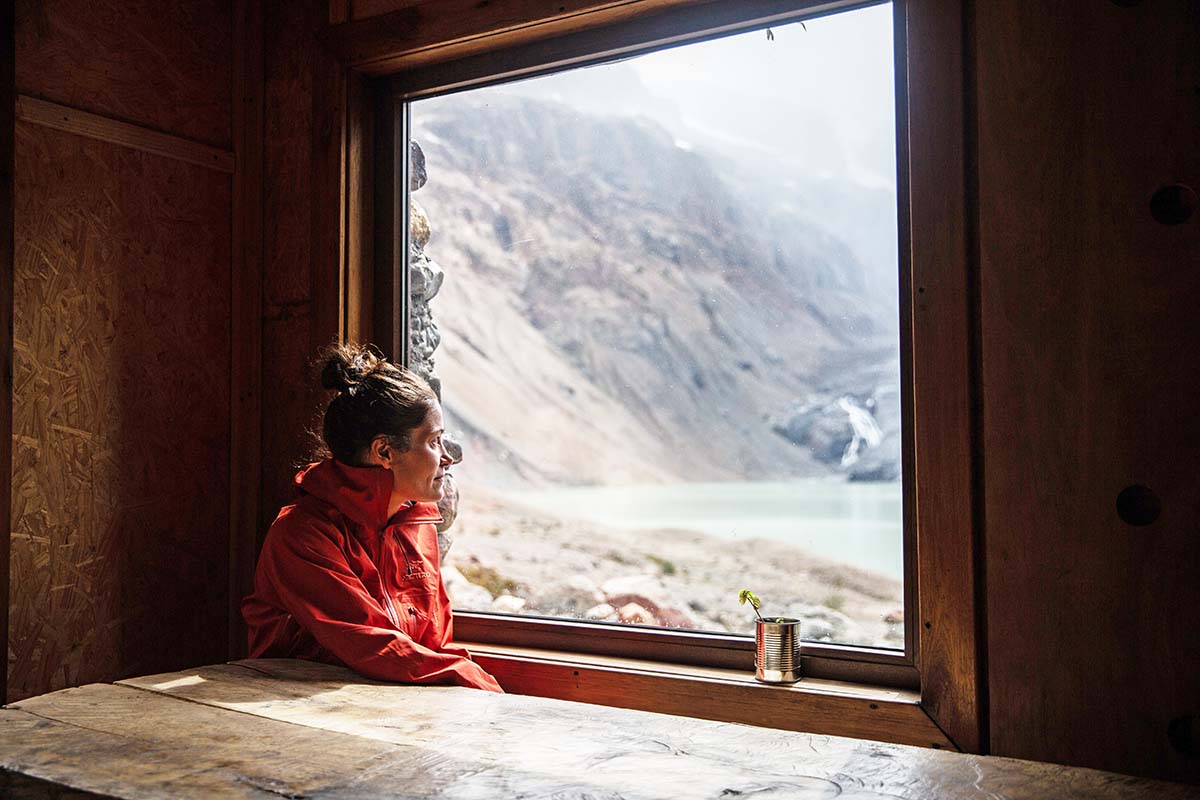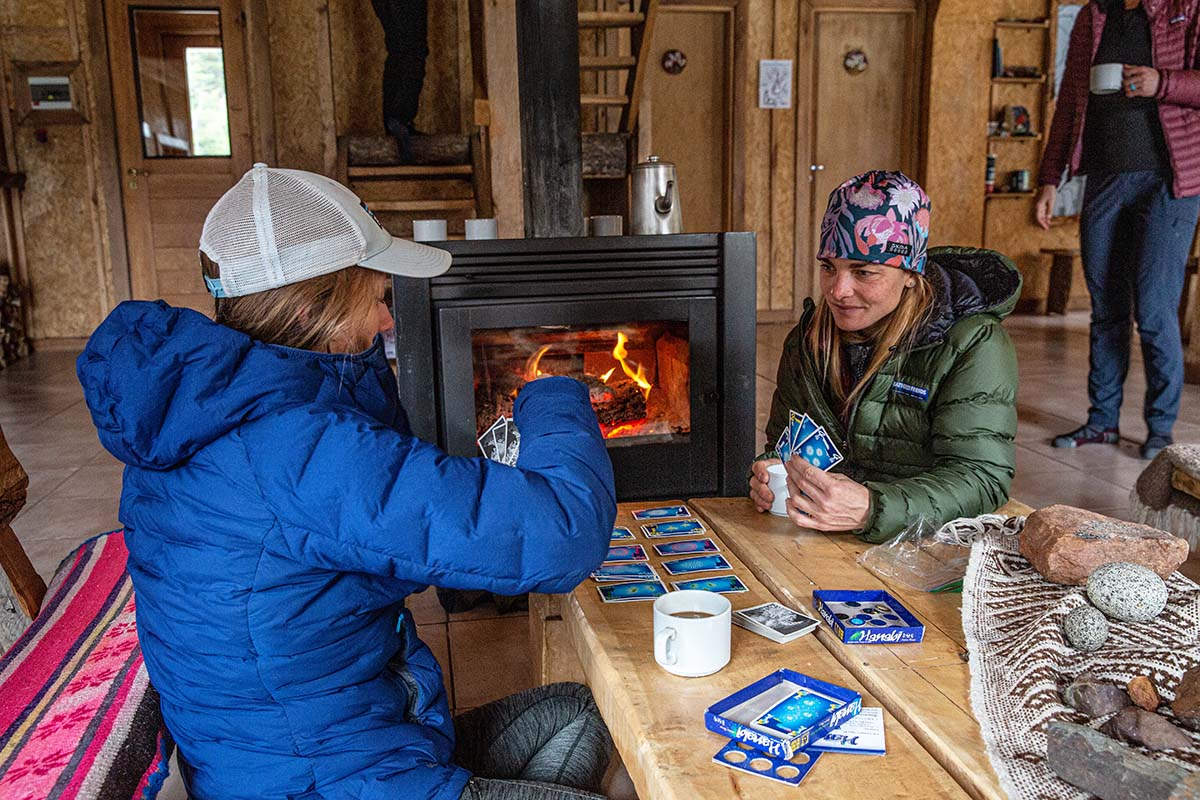 Trekking in the Río Eléctrico Valley
Wind battered the refugio all night, gusts slamming violently against the thinly paned windows and waking a few of us in our sleep. After a breakfast of toast and muesli (and, of course, coffee with leche caliente), we donned our packs and headed out the way we came, glimpsing the same landscape from a renewed perspective. At the turnoff for Laguna Azul we took a right, heading into uncharted territory and catching our first look of Fitz Roy from this angle. "Take photos now," I remember saying to the group, "It will only look smaller the closer we get." It's as if the brain cannot compute the size of a mountain when standing beneath it, needing to compress thousands of vertical feet into a more digestible form.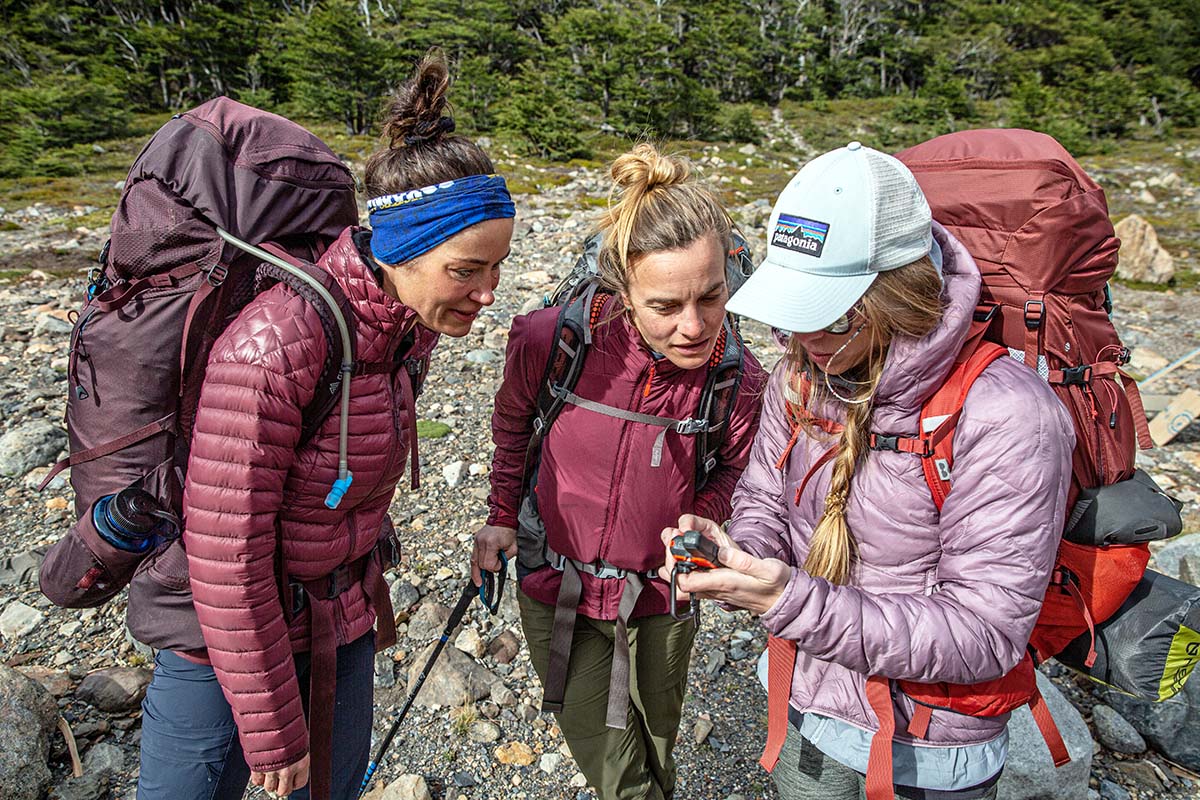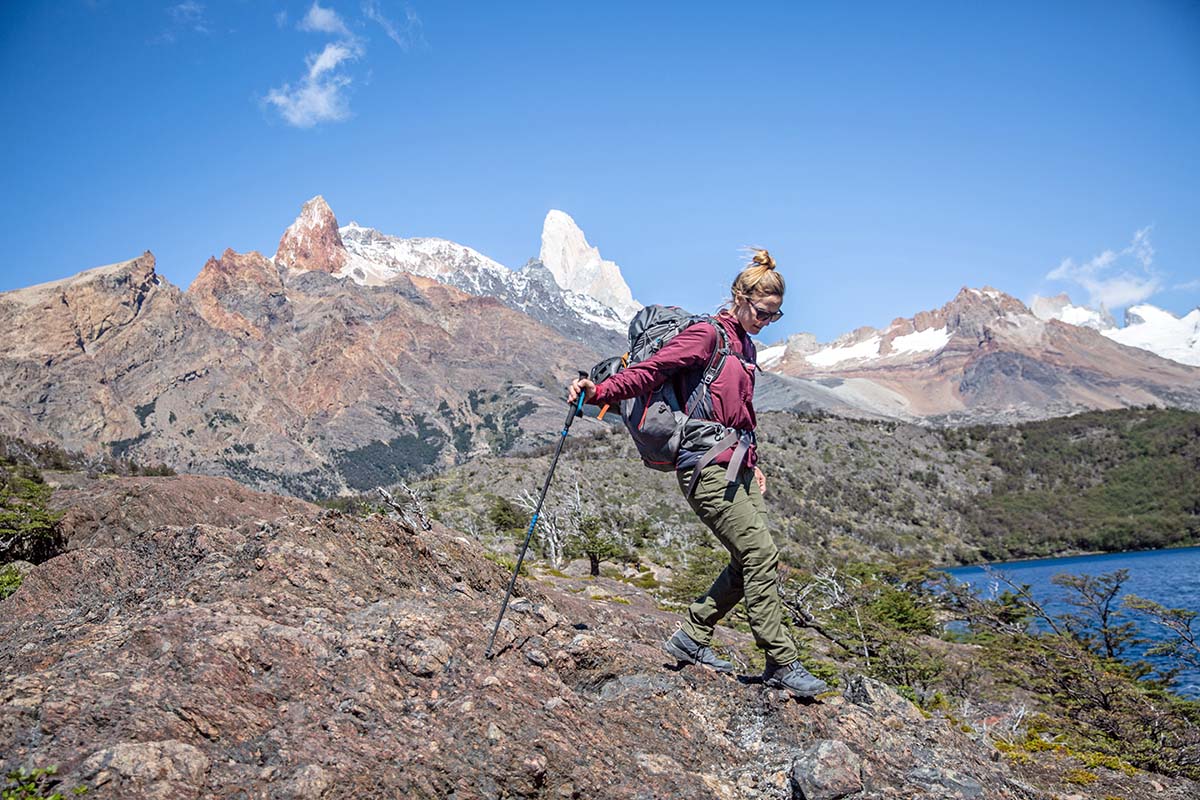 The rest of our day took us down to the valley, out of Estancia Los Huemules, and back into Los Glaciares National Park, where we clung to the left side of Río Eléctrico and followed it to the head of the valley. We were only one ridgeline over from our previous day's location, but the landscape felt much grander: a wide braided river, the looming presence of Fitz Roy, glimpses of the Cerro Marconi group. A few miles on the map felt like dozens underfoot as the trail navigated up and over cliff bands, in and out of small valleys, and across boulder fields along the flank of Lago Eléctrico.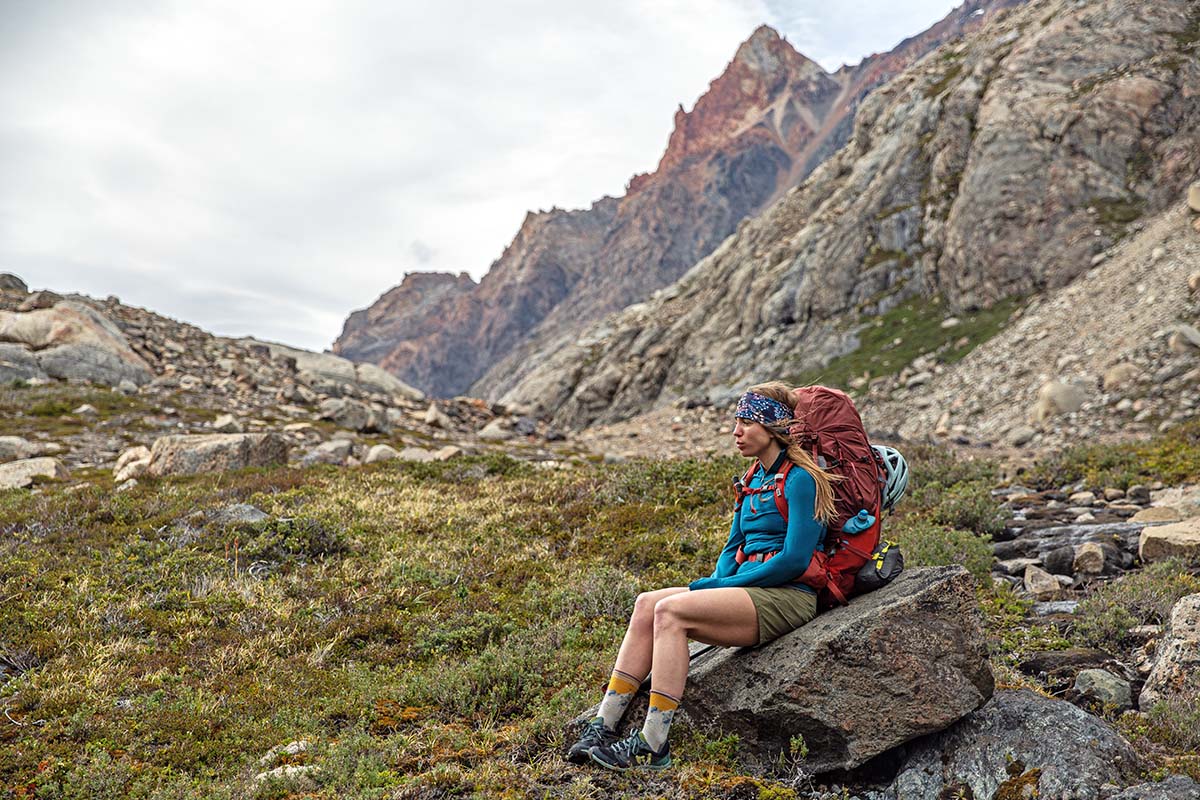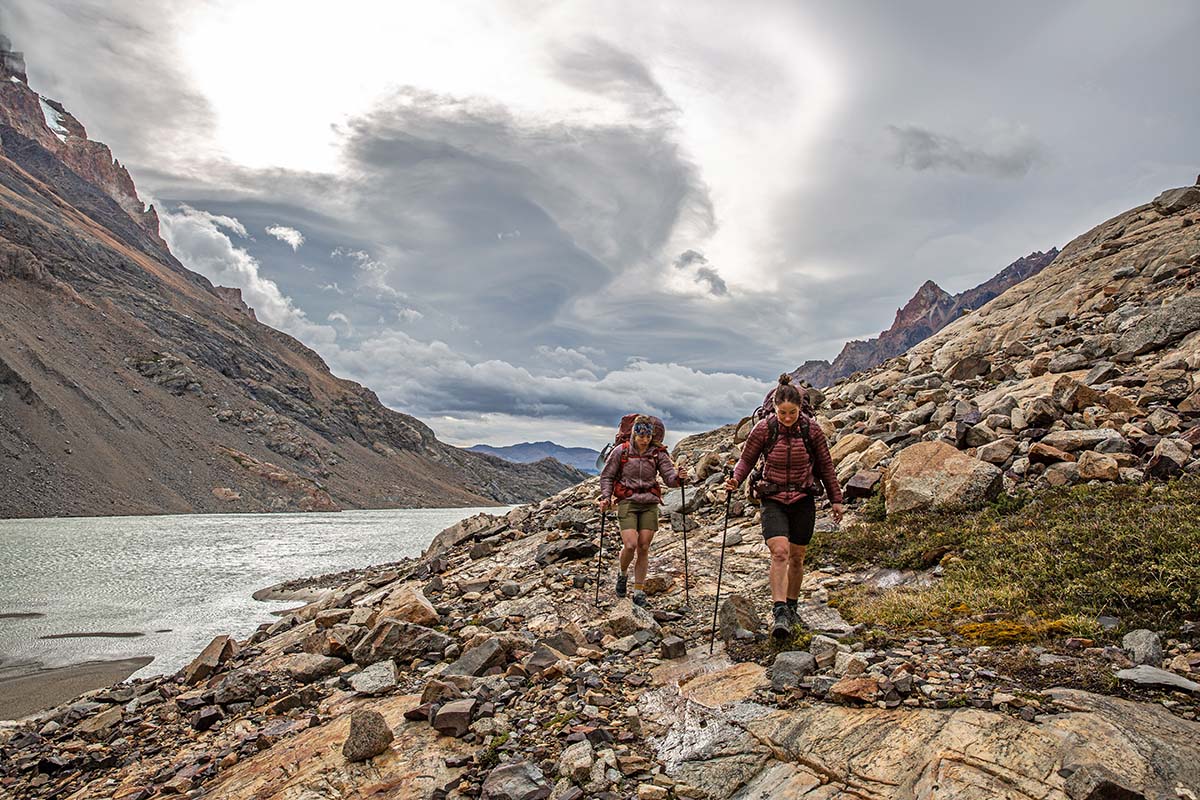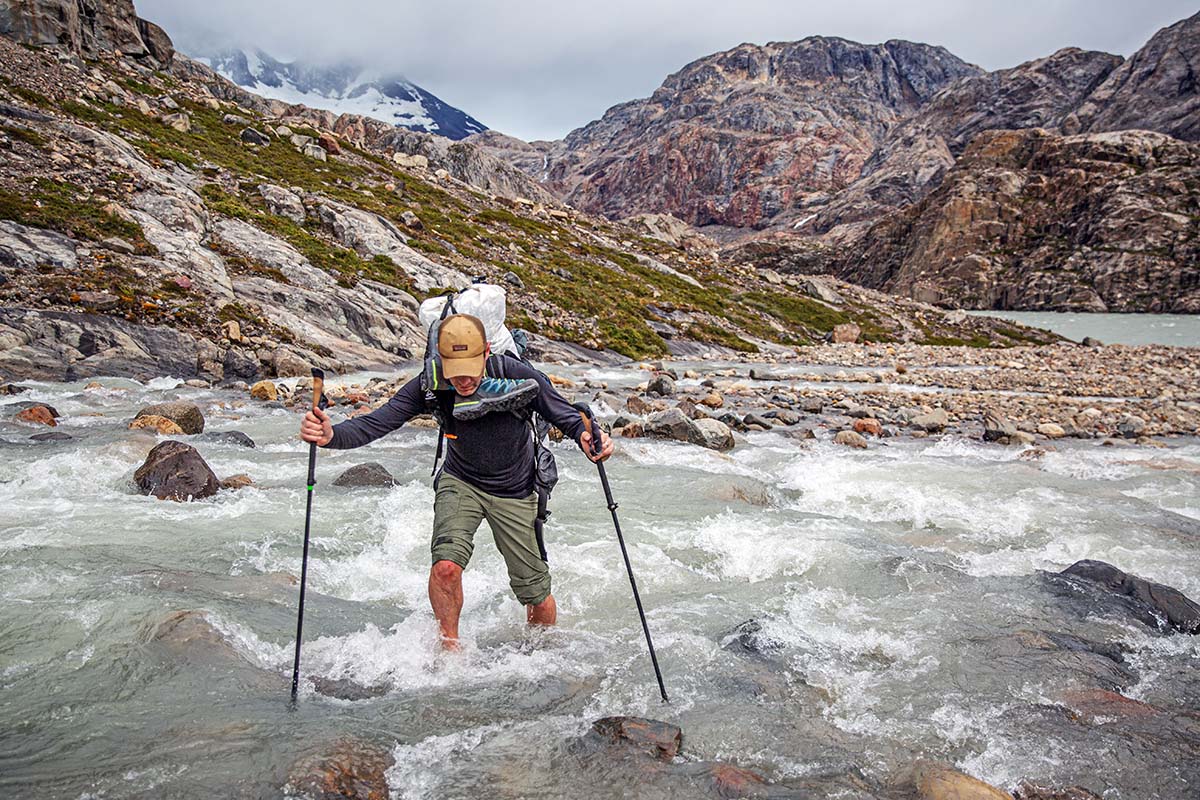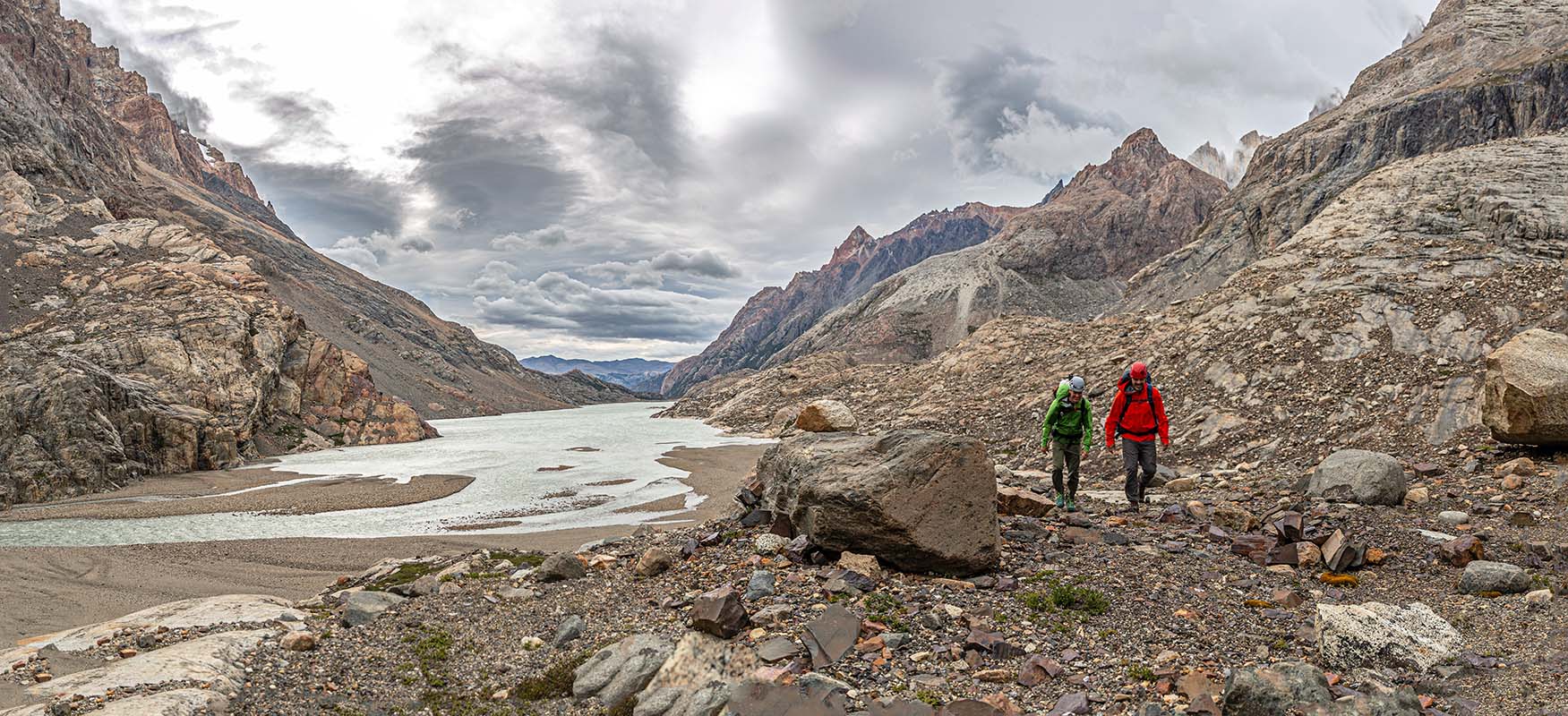 Finally, we reached La Playita, the exposed campsite at the head of the lake. Circles of piled rocks awaited us and our tents, which threatened to become kites in the raging wind. A perfect pitch is made for this sort of weather, and each of us devoted time to securely guying out our shelters, bowlines and taut-line hitches our best defense against 60-mph gusts. That night, we were treated to a spectacular sunset—a mesmerizing display of orange and pink clouds swirling across the sky, followed by the calm of deep blue. A long dusk was the grand finale, as the sun slowly meandered deeper and deeper below the horizon, bringing a new day to the other side of the world.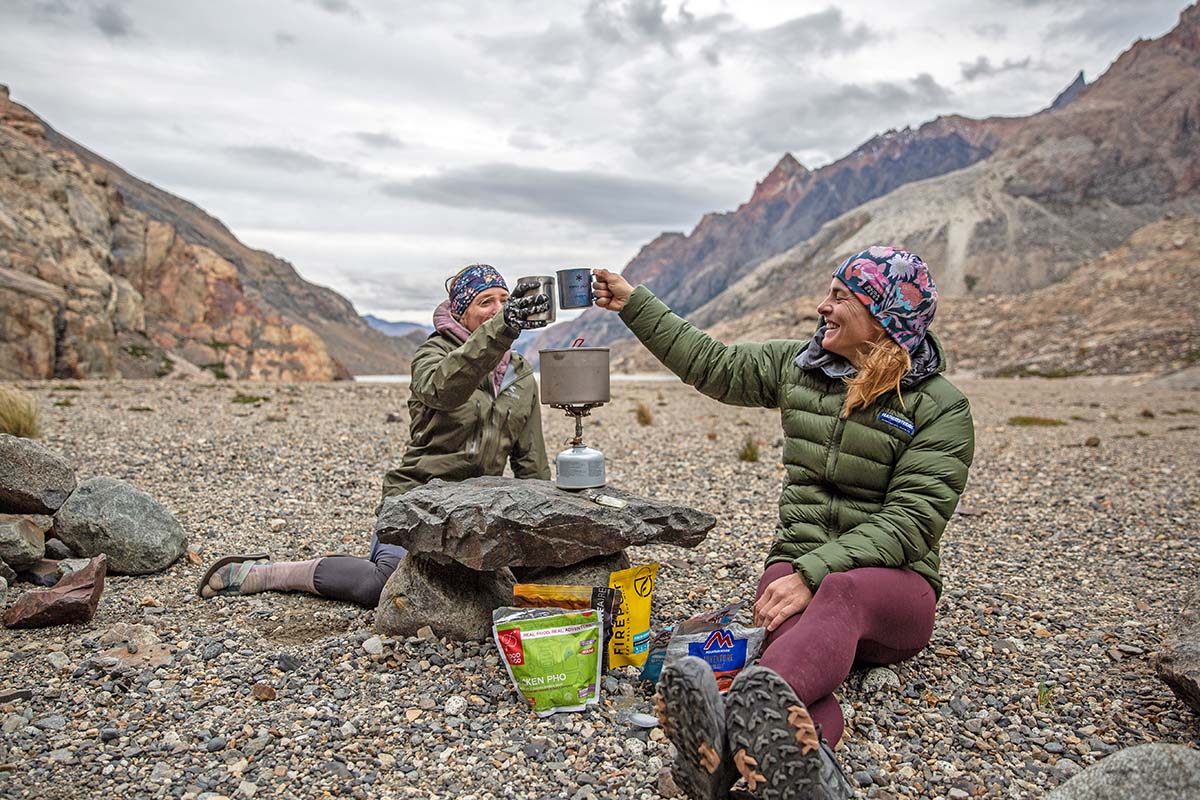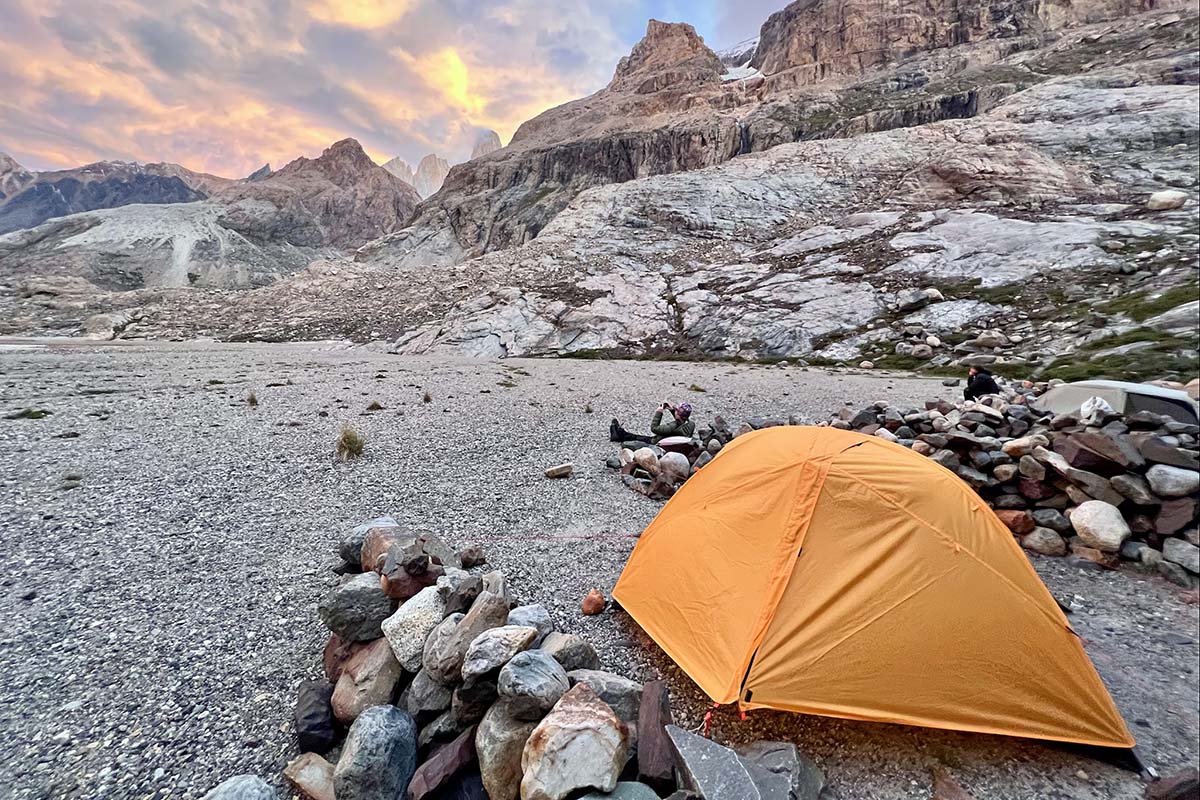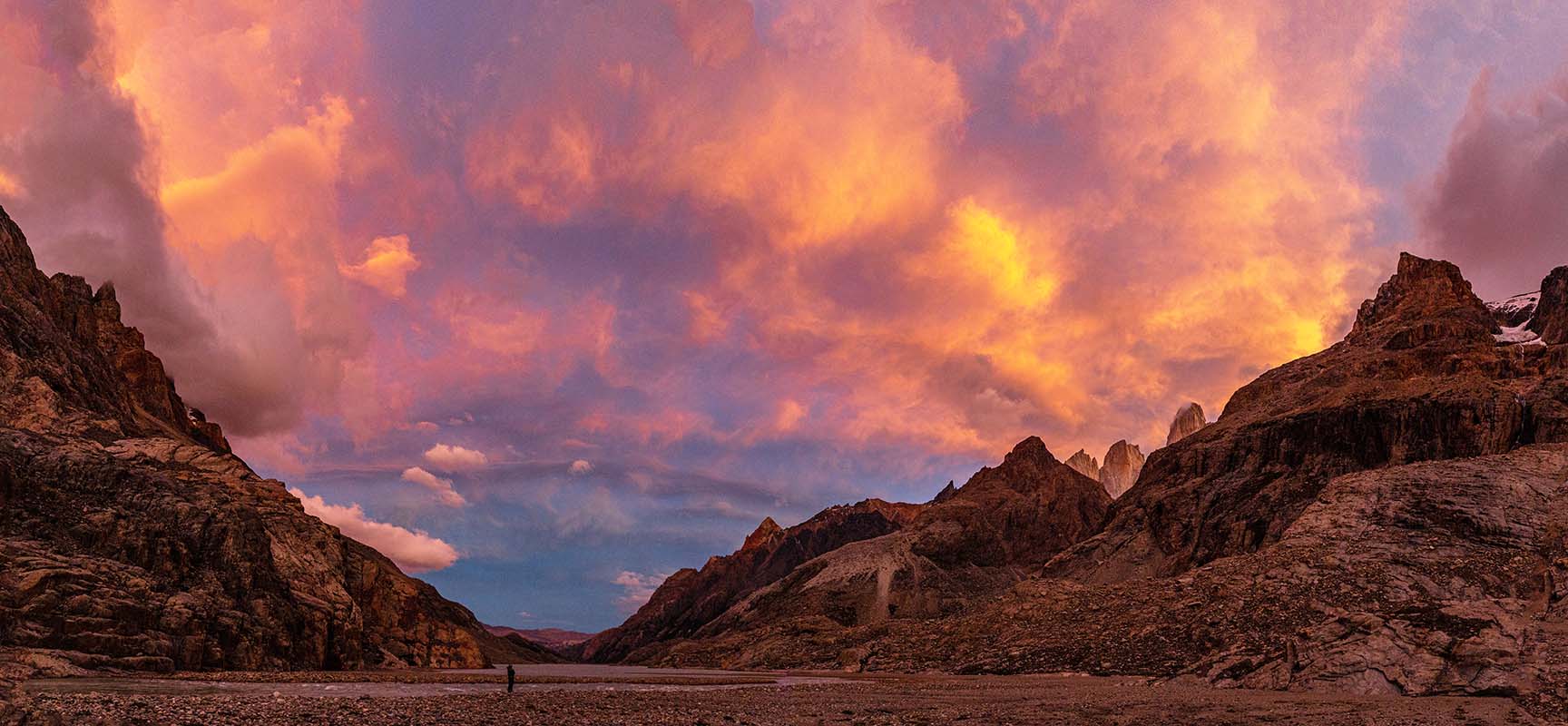 Of course, no backpacking trip would be complete without spirited discussions of what food will be consumed upon return to civilization. And when you're hiking back to El Chaltén, this conversation is well deserved. Will it be beer at Fresco—the de facto climber bar that serves up some of the best IPA in town—or chocolate amargo and nocciolato at Domo Blanco? Pizza at the newly minted Laborum, empanadas at El Roti, or carne asada tacos at B&B? As we retreated from the Eléctrico Valley, past Piedra del Fraile and closer and closer to El Pilar, the plan was solidified: We'd treat ourselves to ice cream at Domo, go back to the hotel to shower, rendezvous for beers at la Cervecería, and at 8 p.m.—embarrassingly early for Argentina but far too late for many of us—enjoy a parilla dinner at one of the many steakhouses in town. Life doesn't get much better.

Post-Trip Adventures
With the Switchback Travel work trip in our rearview mirror, five of us stayed in El Chaltén for our own personal explorations. During this time, Sarah trekked the Huemul Circuit over the course of three days, getting the full Patagonia experience with two Tyrolean traverses, a bit of glacier travel, and no shortage of wind and rain. Brian and Sasha spent a clear, windless night at Campo Poincenot, and were treated to yet another breathtaking sunset and unimpeded views of the Chaltén massif. Finally, John and Jenny took advantage of a decently calm day to run the Huemul Circuit, finishing the 43-mile loop in just short of 12 hours, with just enough energy to run into town for a celebratory quarter kilo at Domo Blanco.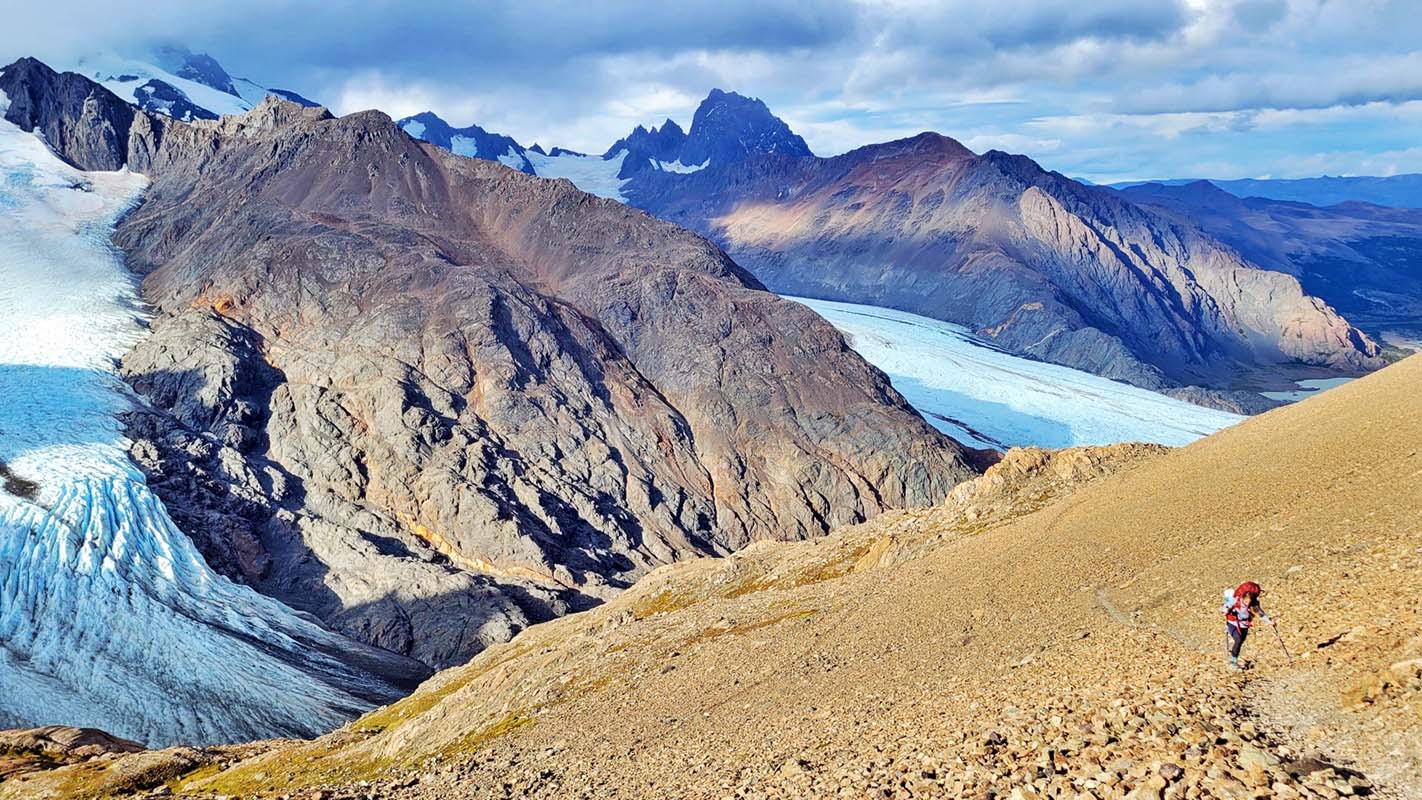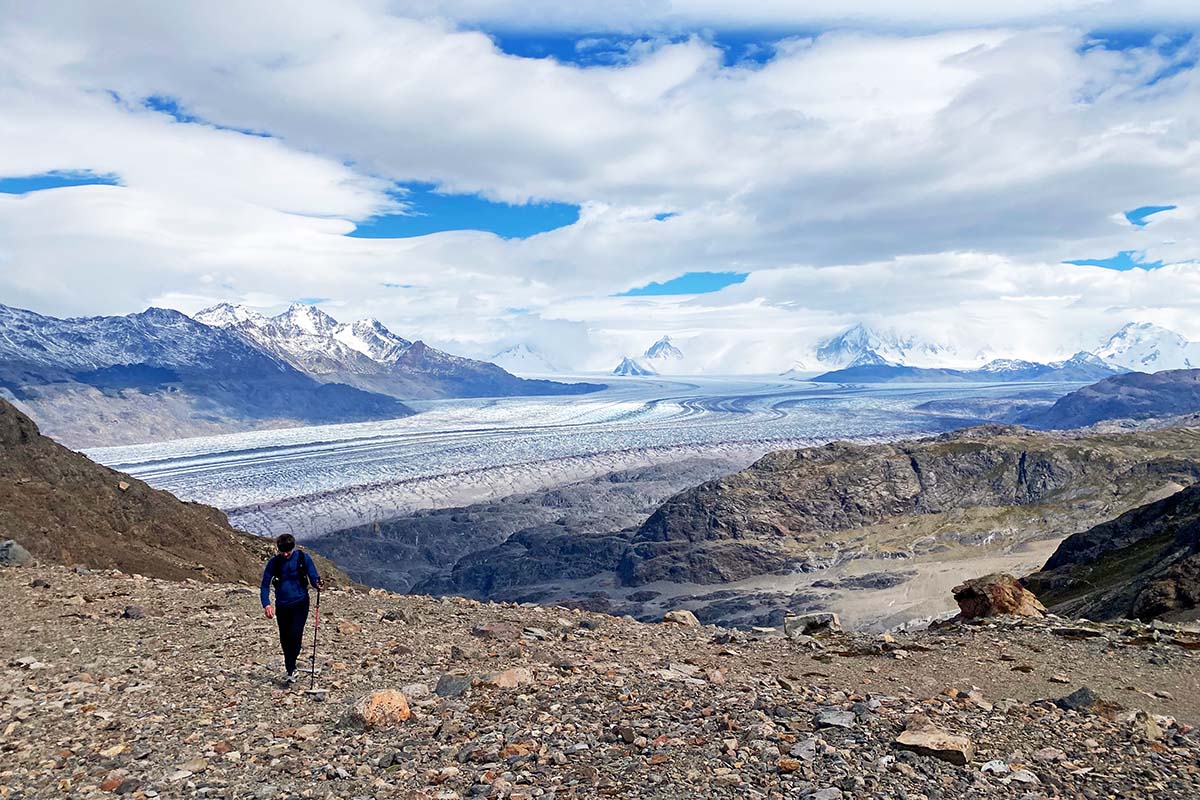 The last Switchbacker standing in El Chaltén, Jenny stayed long enough to enjoy a full-on weather window, during which she circumnavigated the entire range in a day. The loop, named La Vuelta al Hielo, is a popular expedition route traditionally completed over the course of six or seven days. With a running vest, trail running shoes, and a set of borrowed microspikes, Jenny started from her front door, ran on trails all the way to Lago Eléctrico, up to and over Paso Marconi, along the Southern Patagonia Ice Field (El Hielo Continental), up and over Paso de Viento, and back to town. All told, the day was 56 miles and over 10,000 feet of elevation gain, with more than a quarter of the journey on a glacier (by her report, she jumped over 200 crevasses). Jenny is the first woman to have completed the closed loop, the only person to do the route solo and unsupported, and at 15:29:58, the fastest known time, male or female.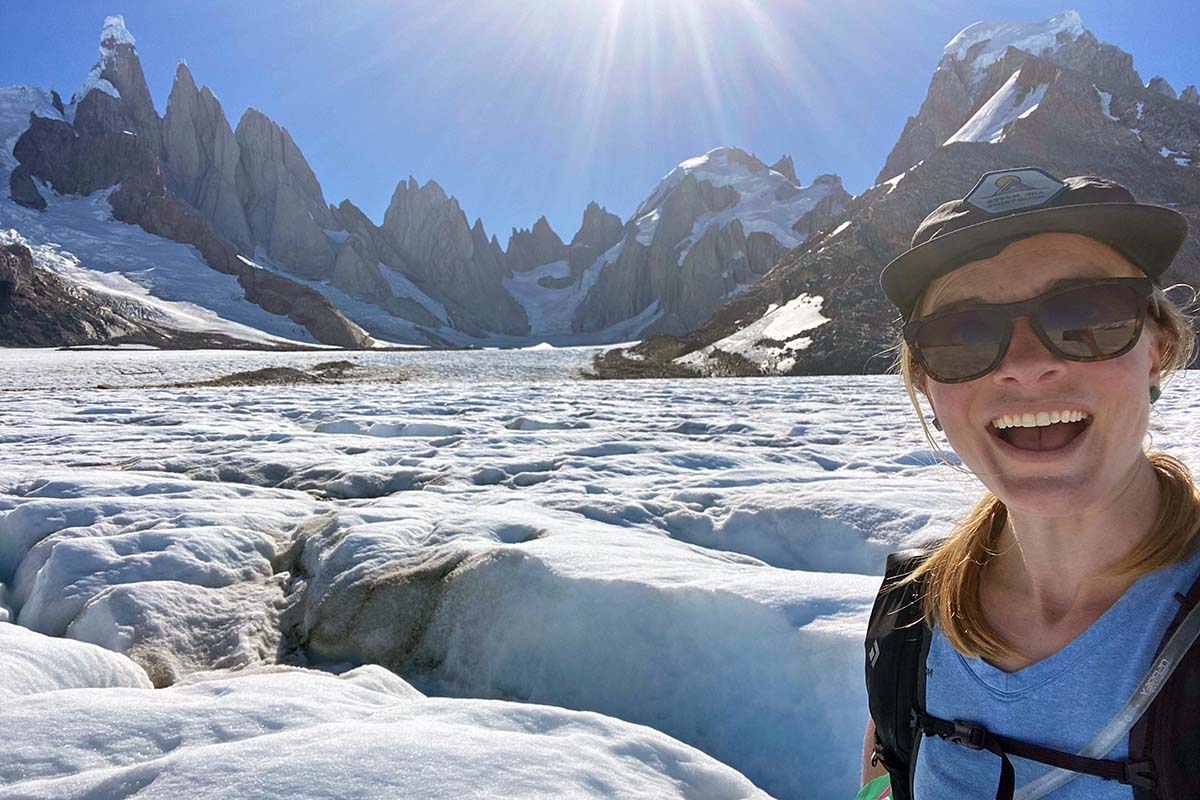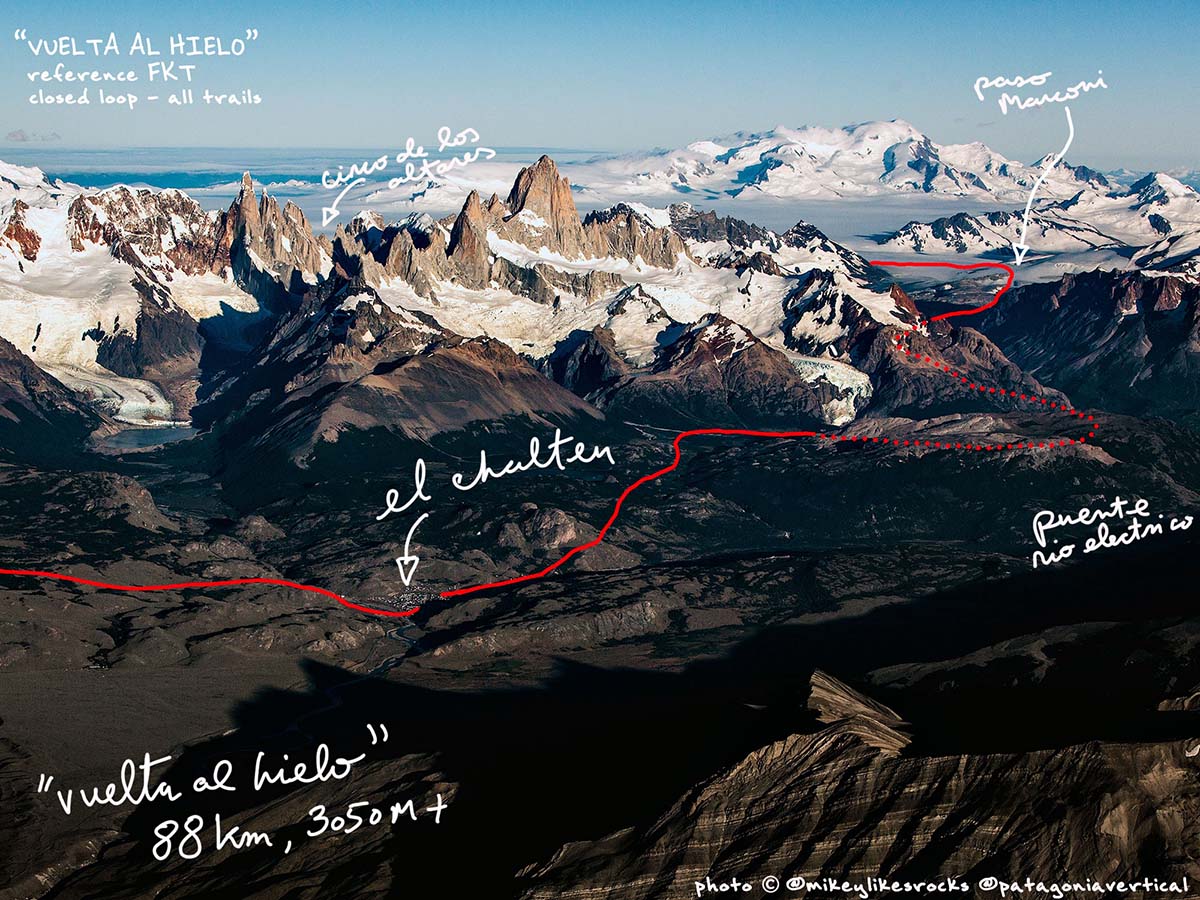 Gear Testing
Of course, what would a Switchback Travel trip be without a little (or a lot of) gear? With no shortage of mountain weather and difficult terrain, Southern Patagonia is one of the best testing grounds we know. We brought along a variety of backpacking gear (including tents, sleeping bags, sleeping pads, stoves, water filters, dehydrated meals, and backpacks), daypacks, footwear, outerwear, and more. Below is a comprehensive list, including links to in-depth reviews when applicable.
 
REI Co-op Quarter Dome SL
Therm-a-Rest Parsec 20
Big Agnes Lost Ranger UL 3N1 15
Mountain Hardwear Bishop Pass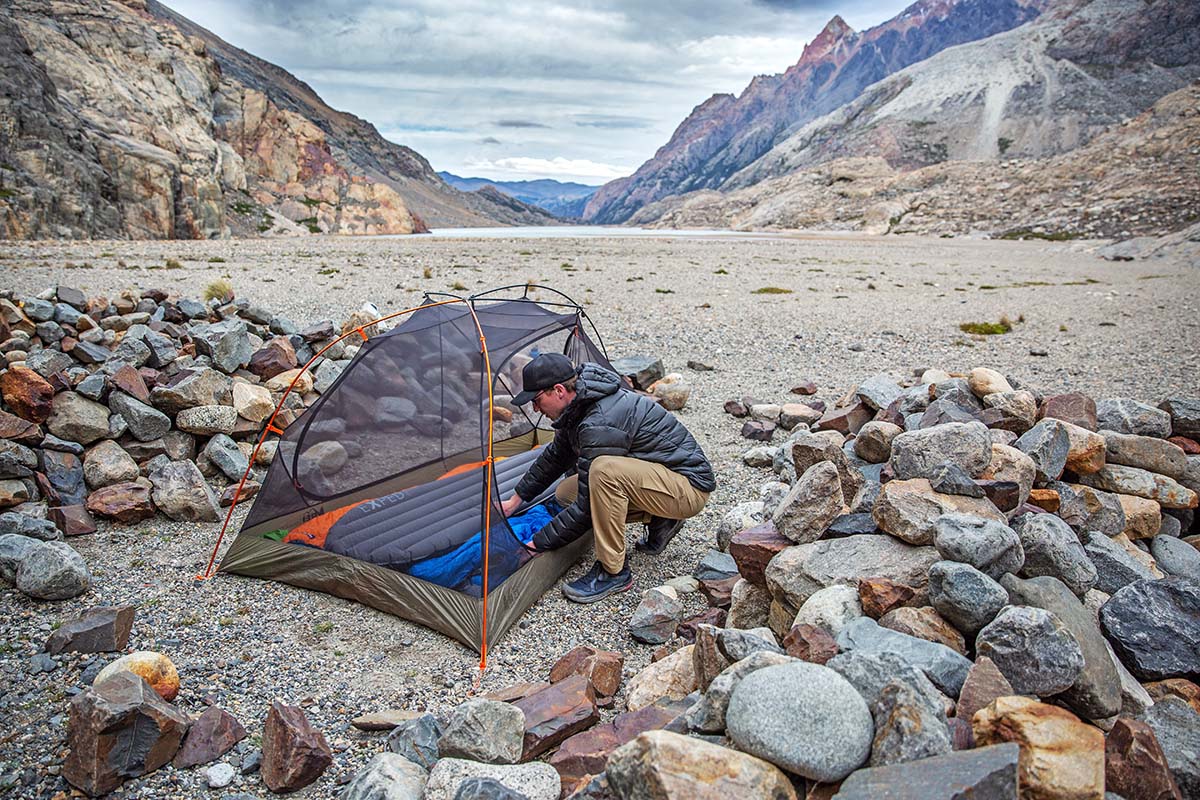 Nemo Astro
Therm-a-Rest Prolite Plus
Therm-a-Rest NeoAir XLite
 
MSR Reactor
Soto Windmaster
Jetboil Stash
 
Lifestraw Flex Gravity
Platypus QuickDraw
MSR Guardian
 
Deuter Futura Air Trek 45+10
Hyperlite Mountain Gear Junction 3400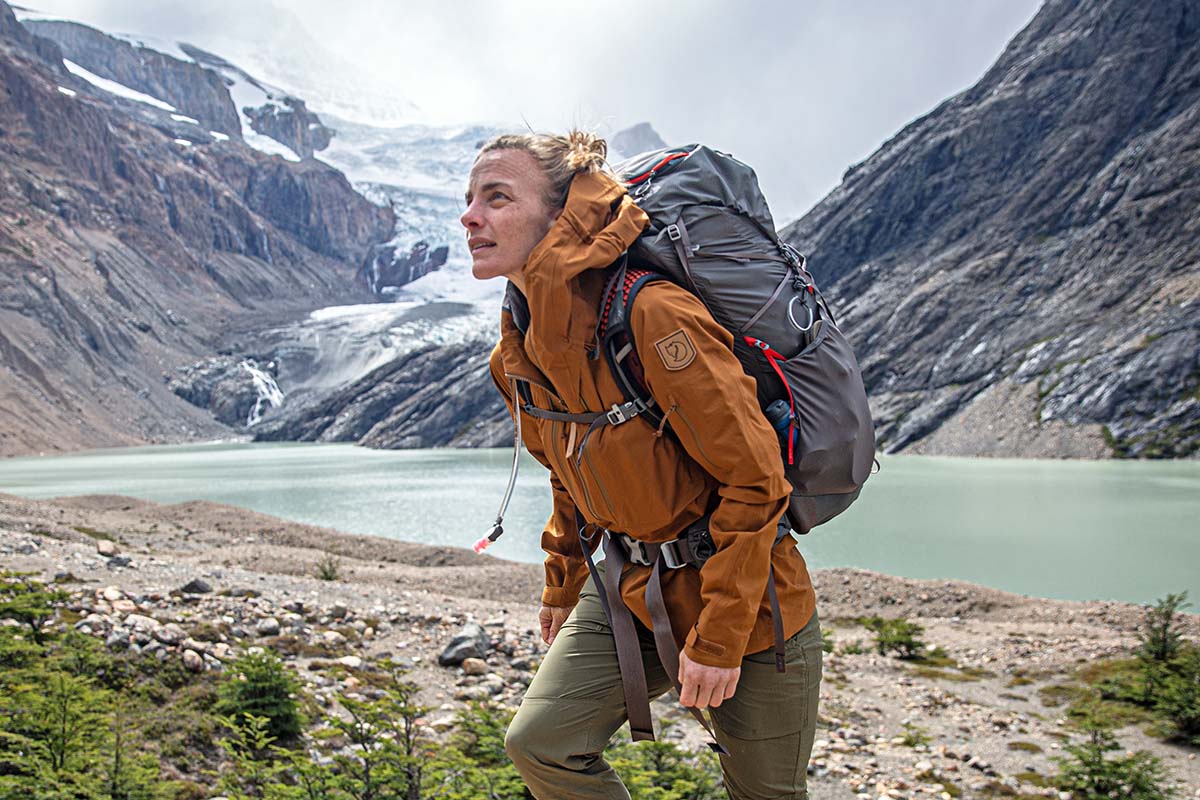 Arc'teryx Aerios 30
Osprey Skimmer 20
Patagonia Altvia 22
REI Co-op Traverse 32
Big Agnes Prospector 25
 
Oboz Sapphire Mid
Keen Terradora II Mid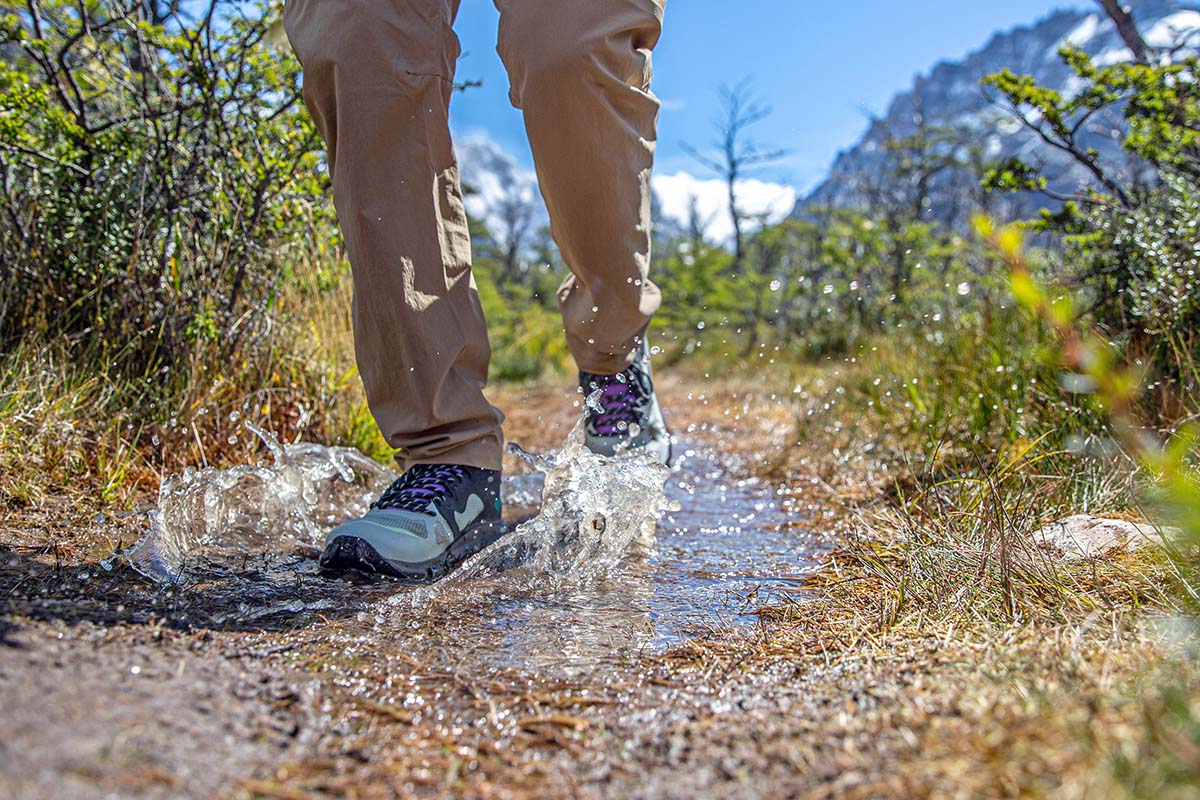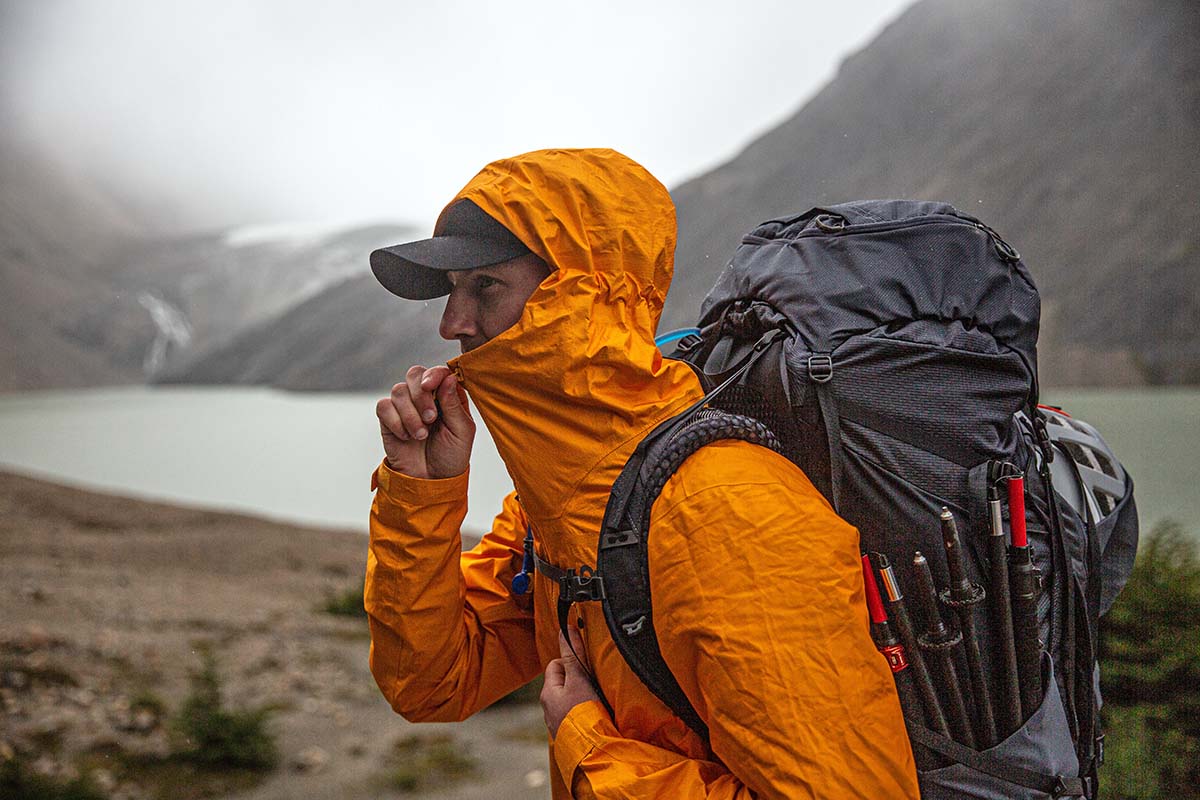 Outdoor Research Helium Ascentshell
Patagonia Granite Crest
Black Diamond Treeline
Arc'teryx Agrium Hoody
Mountain Hardwear Stretchdown Hoody
Rab Xenair Light
Arc'teryx Nuclei SV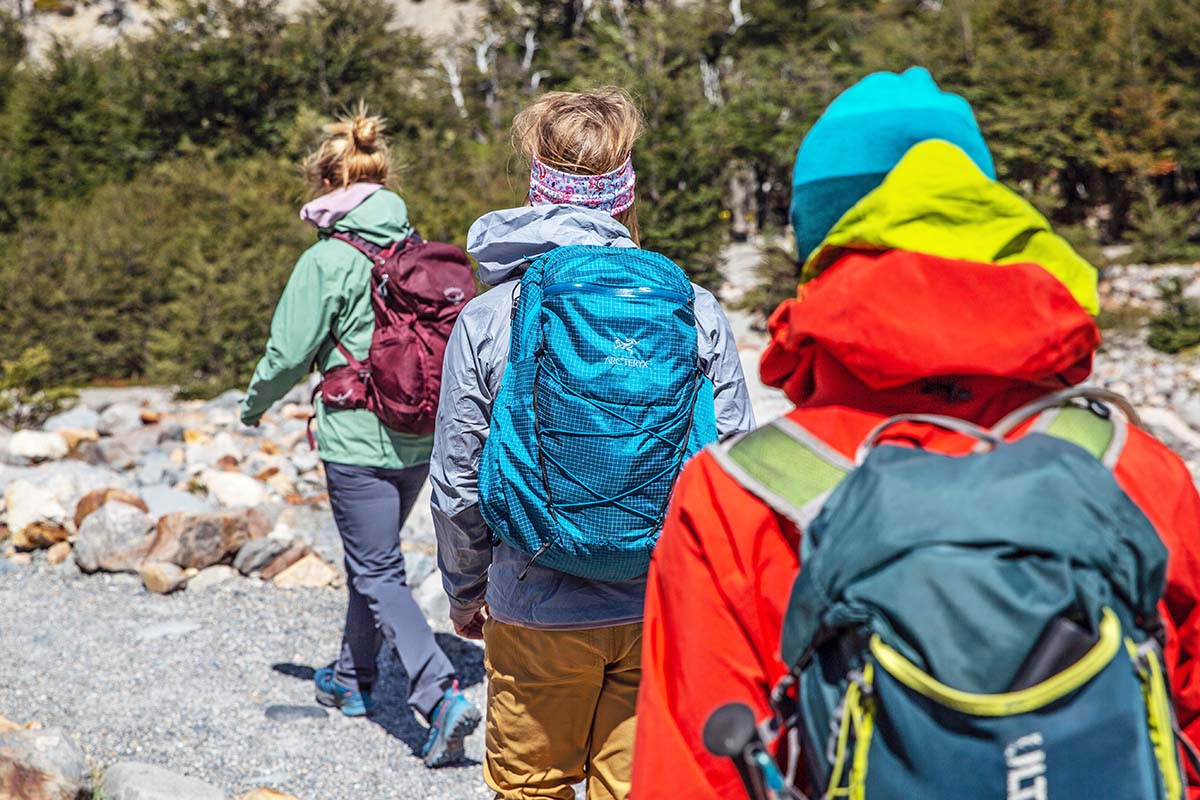 REI Co-op Savanna Trails Pants
Patagonia Pack Out Hike Tights
Patagonia Peak Point Trail Pants
Arc'teryx Gamma Light Pant
Arc'teryx Sabria Pant
prAna Alana Pant

Where We Stayed
For the nights spent in El Chaltén, we stayed at Hostería Senderos, a quaint yet classy hotel near the bus station. We had stayed at Hostería Senderos on our 2018 trip to El Chaltén and were impressed enough to return. The hotel was just as we remembered it: The staff were very communicative in the planning stages of our trip, the receptionists helped us with everything from booking shuttles to making restaurant reservations, the breakfast was varied and well-presented, and our rooms were kept clean and well stocked. They were even willing to store our extra gear during our backpacking trip.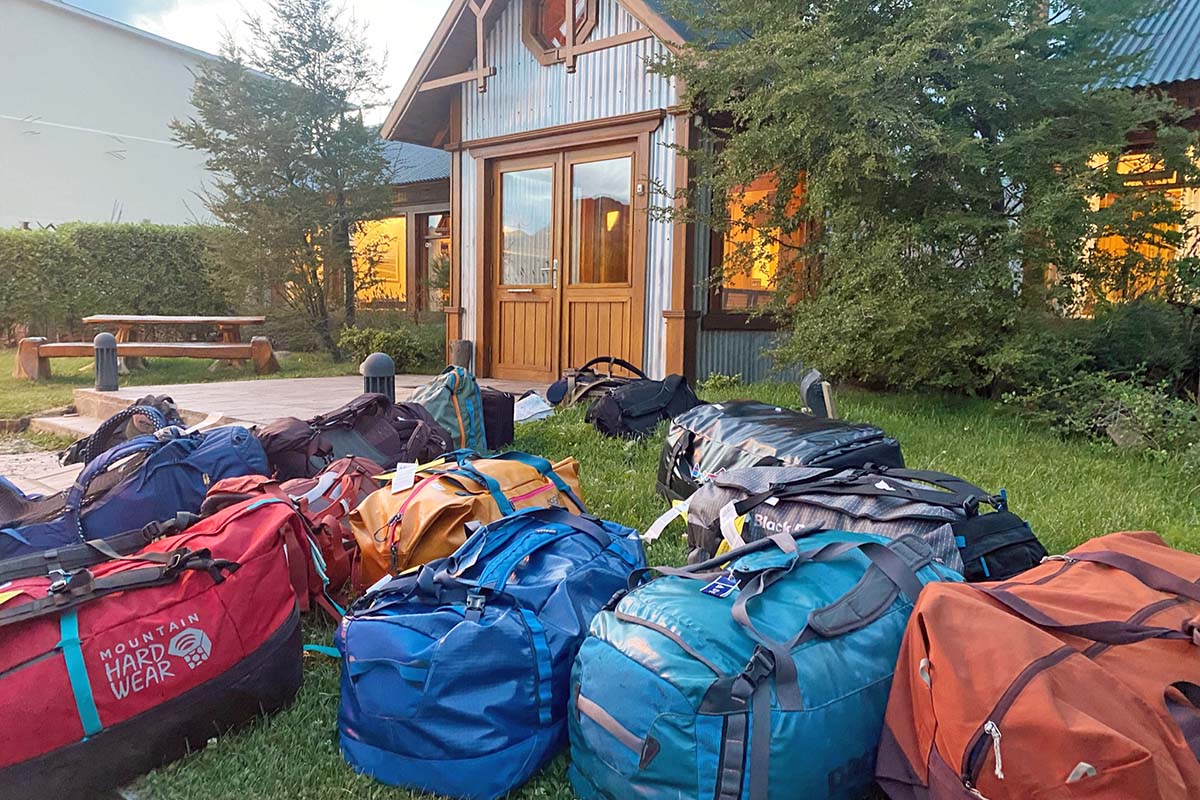 Whether you prefer a campground, hostel, Airbnb, or fancy hotel, there's no shortage of lodging in El Chaltén. Because their schedule shifted a lot with the weather, our friends Brian and Sasha moved between five different accommodations during their stay, all reserved via Booking.com. These included Lago Viedma B&B, El Chaltén Aparts, Hostería El Paraiso, Destino Sur, and Kalenshen. By far their favorite was Lago Viedma B&B, which had a very welcoming feel with only four rooms, a kind and attentive owner, and a nice breakfast.

Where We Ate
Ah, the restaurants of El Chaltén. We could write an entire article on the vast array of options. Not only is the cuisine generally excellent, but the prices are ridiculously low. In 2022, we arrived to an exchange rate of 200 pesos to 1 USD, which rose to 215 pesos during our time in town. (Note: No matter where you're from, it's a good idea to travel to Chaltén with cash in the form of USD—$100 bills are best. Paying with a credit card will get you a much lower exchange rate.) This translated to huge cuts of steak for $10, happy hour beers for 75 cents, and full meals for six people with a bill for less than $50. We ate like kings and queens.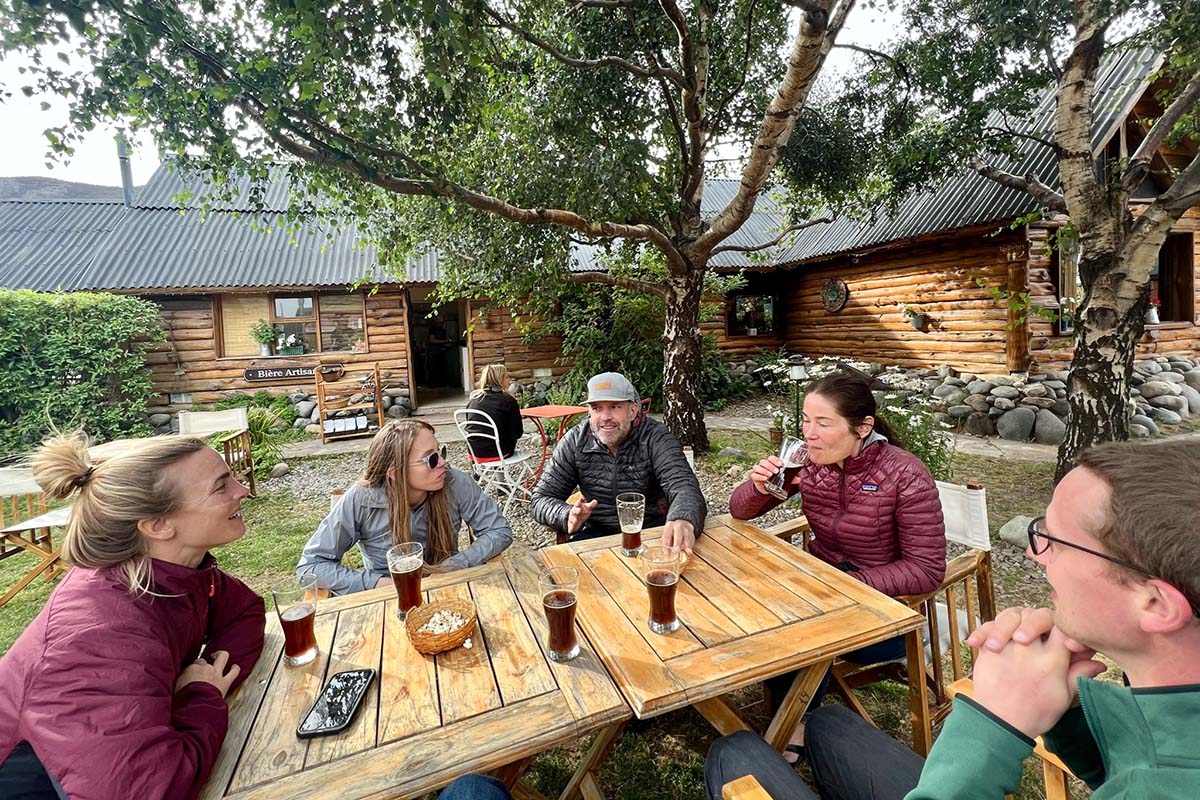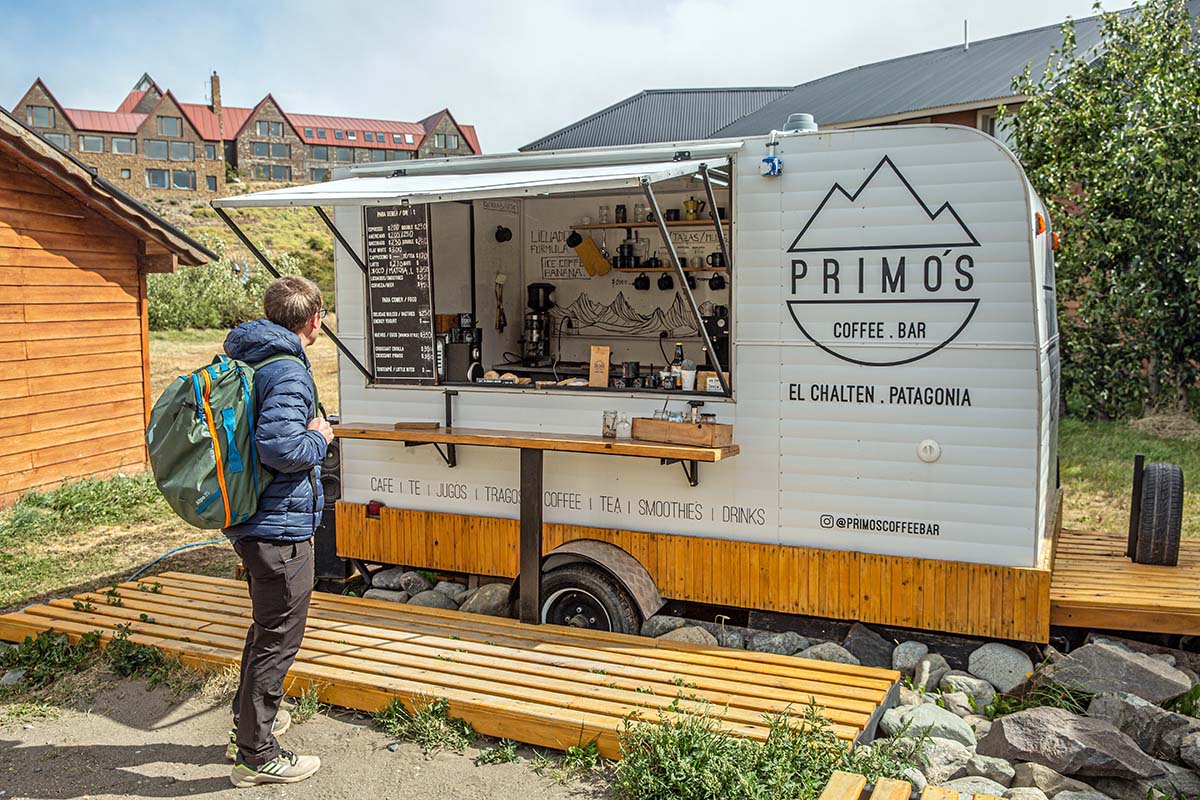 The establishments we returned to time after time included Domo Blanco (ice cream), La Cervecería (beer with a nice outdoor setting), and B&B tacos y burritos (carne asado tacos). We also greatly enjoyed meals at Fuegia Bistro, Laborum, La Viñeria, La Brecha, La Oveja Negra, Patagonicus, Cúrcuma, Maffia, and La Senyera. But don't let our omission of any restaurant here dissuade you—if our experience tells us anything, it's that you really can't go wrong. Lastly, no visit to Chaltén would be complete without a stop at La Chocolateria, where you can get a taste of local climbing history along with your chocolate treats.
Read More From Switchback Travel