Gregory is well-known for their comfort-oriented and feature-rich packs, and the latest Deva 70 carries the torch. Recently updated with a revamped suspension system and environmentally friendly materials, the Deva stands out for its heavy-hauling capabilities with firm but supportive padding and a body-hugging shape, excellent organization for divvying up gear, and great ventilation with a full mesh backpanel. The feature-heavy design does come in noticeably hefty at well over 4 pounds and wouldn't be our first choice for fast-and-light objectives. But for hauling a sizable load over long distances, the Deva is one of the most well-equipped packs for the job. Below I break down my experiences with the revamped Deva 70. To see how it stacks up to the competition, see our articles on the best backpacking backpacks and best women's backpacking packs.
 
---
Table of Contents
---

Performance
Carrying Comfort
Gregory's Deva 70 is a feature-rich pack designed for shuttling a full load over longer distances, and it's undeniably well-built for the job. On our multi-day adventure along the Río Eléctrico in Patagonia, I stuffed the Deva with two days' worth of food for me and my partner, as well as an additional pair of footwear for river crossings (my La Sportiva Bushido II trail runners), microspikes, a climbing helmet, and multiple layers to fend off cold temperatures and inclement weather. Though the pack ended up being close to 1/3 of my body weight, it distributed the load very well and remained highly comfortable on the trail. By adjusting the load lifter straps, I was able to keep the weight close to my body and never felt any pulling at my shoulders or pressure on my hips.
One comfort-related highlight is the Deva's new FreeFloat A3 suspension system, which has an auto-rotating design that allows the hipbelt and shoulder harness to move and flex while hiking. I've found that some other backpacking packs tend to throw me slightly off-balance when the load pivots on the hipbelt, but the Deva managed to keep weight evenly distributed with minimal sway. The padding at the waist is thick and supportive for hauling a sizable load, and the straps extend from a secondary belt (used to adjust the sizing), which adds another layer of cushion between the attachment buckles and your hips. It also has a curved shape to better conform to the female contours. It's a similar story at the shoulder straps, which are nicely cushioned and can be easily adjusted to accommodate varying frames (I have a decidedly narrow build, but they worked well for me).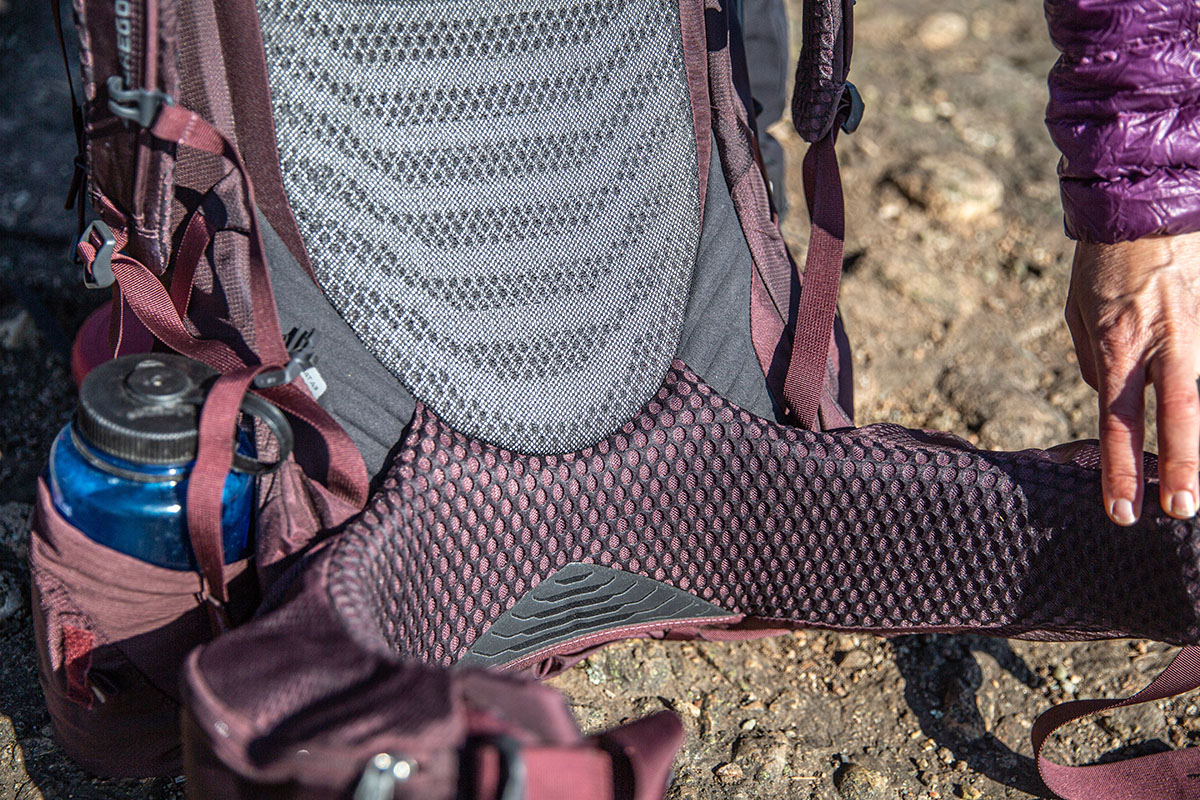 Weight
At 4 pounds 11.2 ounces for a women's small (the past version was ever-so-slightly heavier at 4 lbs. 11.5 oz.), the Gregory Deva 70 is a far cry from an ultralight design. I've been testing a lot of UL gear lately, so the Deva 70 was quite a divergence from my norm. For reference, it slots in between Osprey's premium and feature-rich Aura AG 65 (4 lbs. 5.4 oz.) and heavy hauler Ariel 65 (4 lbs. 13.6 oz.). You can certainly go much lighter in this category with simpler and more streamlined options like Hyperlite Mountain Gear's UL-focused 3400 Southwest (1 lb. 15.7 oz.) or Granite Gear's Blaze 60 (2 lbs. 14.4 oz.), both of which boast impressive carrying comfort for their weight. In the end, the Deva is undeniably one of the heavier packs on the market, but the well-padded feel and extensive assortment of storage options do help justify the heft.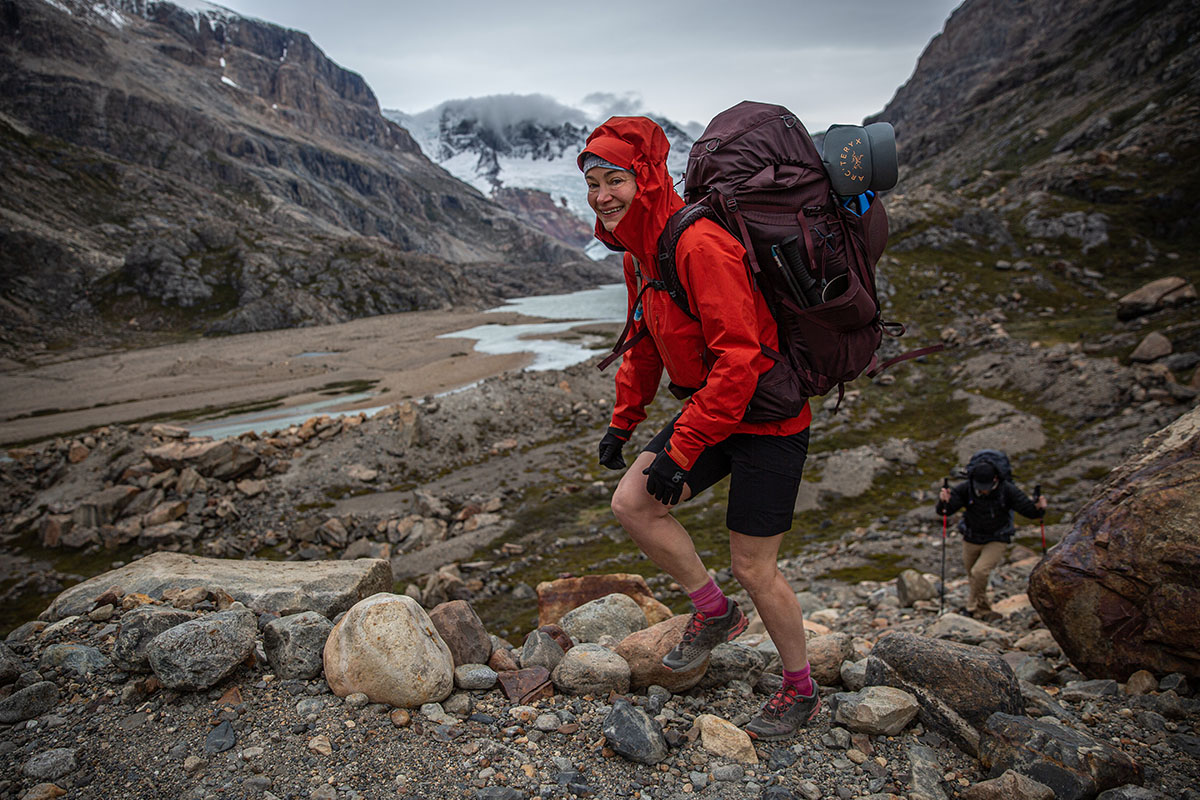 Organization
Access
Along with carrying comfort, the Gregory Deva 70 also stands out for its functional and generous storage layout. Starting with the main compartment, you get both top and zippered access via a U-shaped zipper along the front, which makes it very easy to organize and retrieve gear. For reference, I tend to drop larger and bulkier items like my bear canister in from the top, and then I use the zippered front panel to complete packing by stuffing other gear around it. All told, it's incredibly convenient to have both options, and I love when packs include an alternate way to access the main compartment.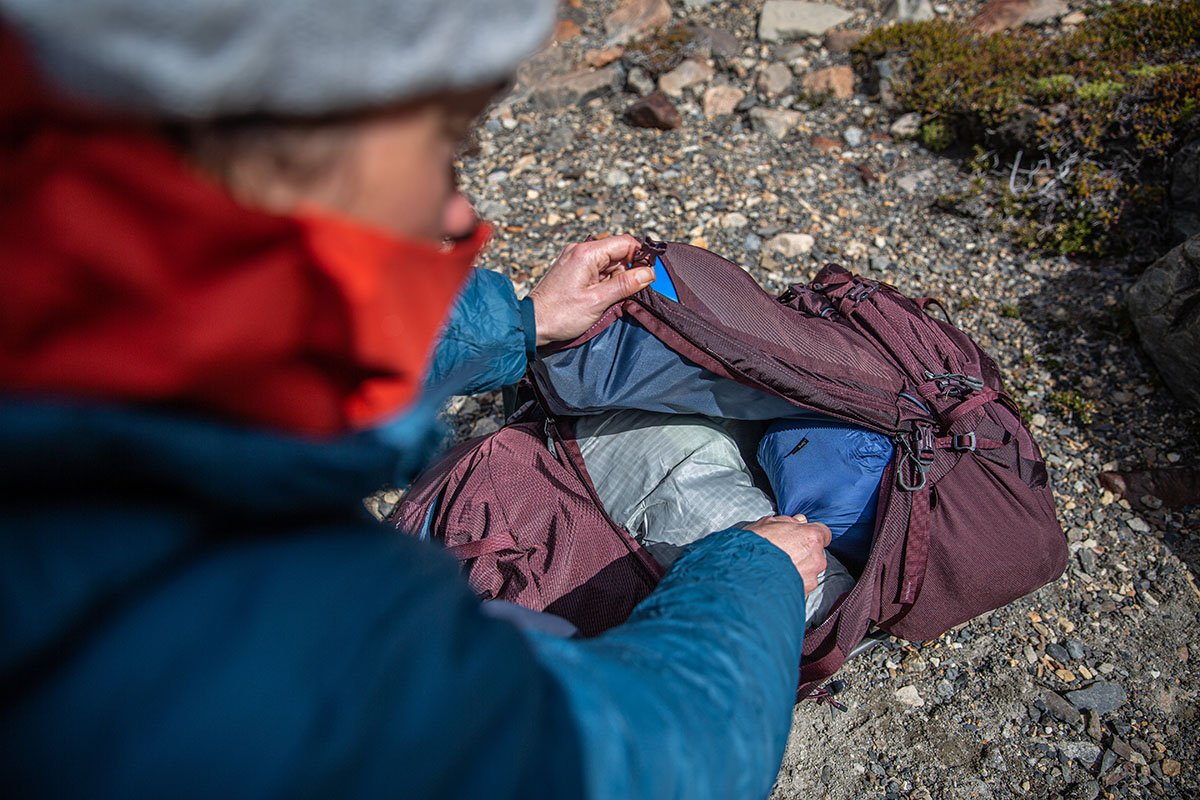 Pockets
Like the past-generation Deva, the latest model has a whopping nine external pockets. Starting at the top, the lid boasts three pockets of varying sizes, including an underside pocket with a key clip that I love. You also get dual front zippered pockets with a divider, although these are pancaked between the front mesh panel and body of the bag and therefore hard to access with a full load. I did manage to squeeze thin gloves into one and a beanie and buff into the other, but there was little room for much else. Other exterior storage options include the front mesh pocket that secures with a buckle—perfect for stashing my climbing helmet and lunches—and one side mesh pocket on the left with straps for securing poles or my camera tripod. An open pocket at the other side can be tucked away or used to hold a water bottle, and two the hipbelt pockets are large enough to swallow an iPhone or Garmin inReach and snacks. Due to the curvature of the belt, I did find it a little hard access my phone, but that's not a knock on size.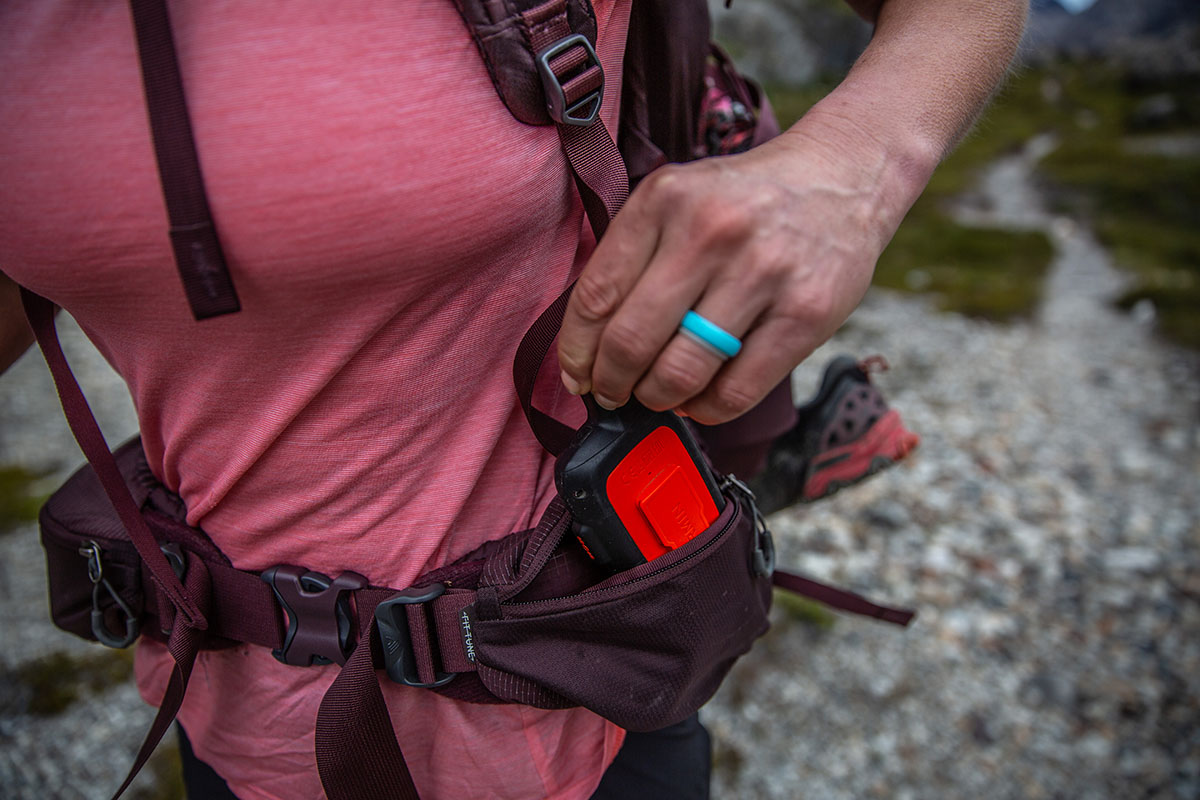 Moving to the inside of the pack, the Deva has a standard hydration reservoir sleeve with a solid clip for hanging a bladder. You can attach the hose to the right shoulder strap, while the left one has an attachment point for stashing sunglasses. Unlike the past-generation Deva, the latest model no longer comes with an integrated SideKick daypack (which previously doubled as the hydration sleeve). That said, we rarely used this feature, and the interior toggles on the new Deva allow it to connect to their Nano 14 daypack (sold separately). In the end, the sheer number of pockets are both a blessing and a curse. They're great for staying organized when carrying a lot of gear, but I often had trouble remembering where I stashed certain items (and they certainly add to the pack's hefty feel).

Ventilation
Taking a quick look at the Deva's backpanel, it's immediately obvious that Gregory put a high priority on ventilation. The entire back is covered in mesh (it's aptly named the "AirCushion") with hanging mesh at the lower portion, and the padding is laid out in a honeycomb-like structure with critical gaps for airflow. Gregory states that the backpanel is comprised of more than 90 percent air, and I'm inclined to agree with that estimate. During our hike out of the Río Eléctrico Valley in Patagonia, we transitioned from glaciers to a flat, dry valley and soon felt the hot sun beating down. But despite the heat and exposure, I never once experienced any sweatiness or warmth along my back.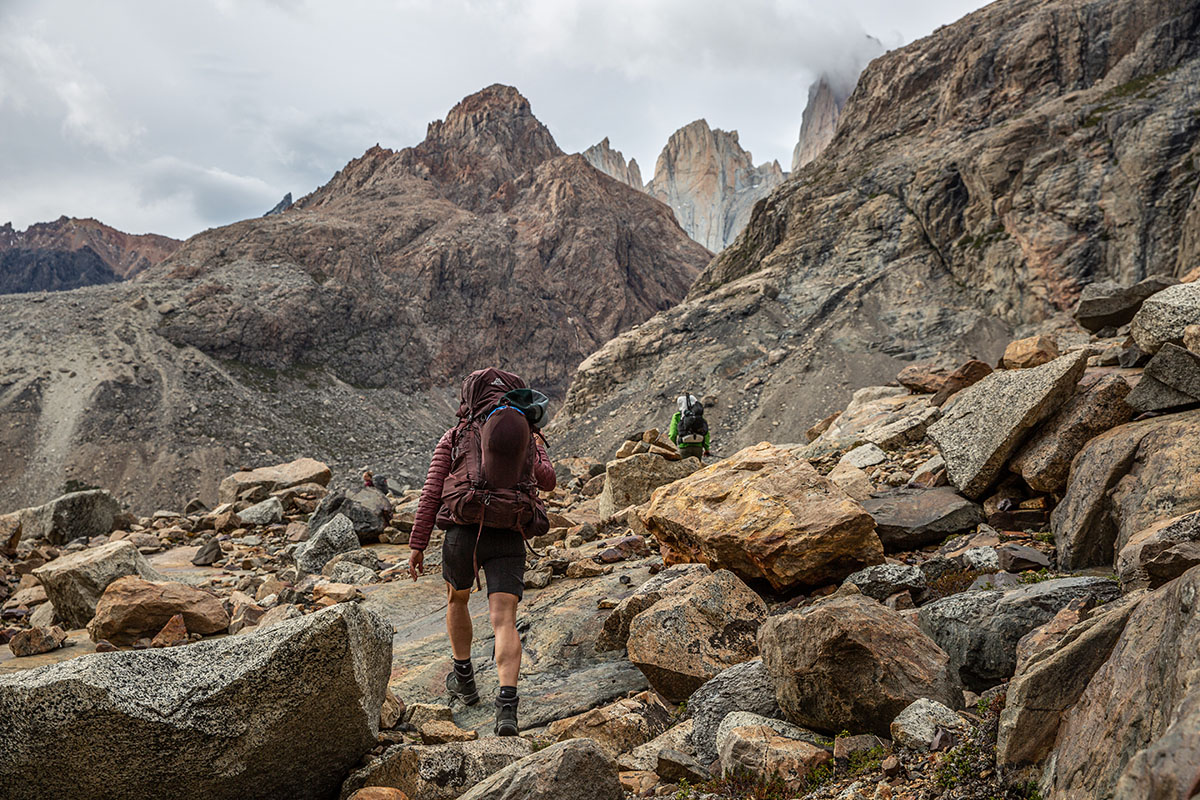 Weather Protection
The outgoing Deva 70 came with an integrated rain cover and weather-resistant hipbelt pockets with YKK zippers, but Gregory did away with those features on the latest version of the pack. That said, I still found overall water resistance to be quite good from the standard durable water repellent (DWR) coating. I unexpectedly ended up waist-deep during one river crossing in Patagonia with my Garmin inReach in one of the hipbelt pockets and my iPhone in the other, but both devices emerged perfectly dry. Given the lack of waterproofing measures, I'd highly recommend purchasing a rain cover separately or waterproofing your gear with dry bags if you anticipate particularly wet conditions. But for hiking in light to moderate rain and brief exposure to water, the Deva 70 is perfectly serviceable.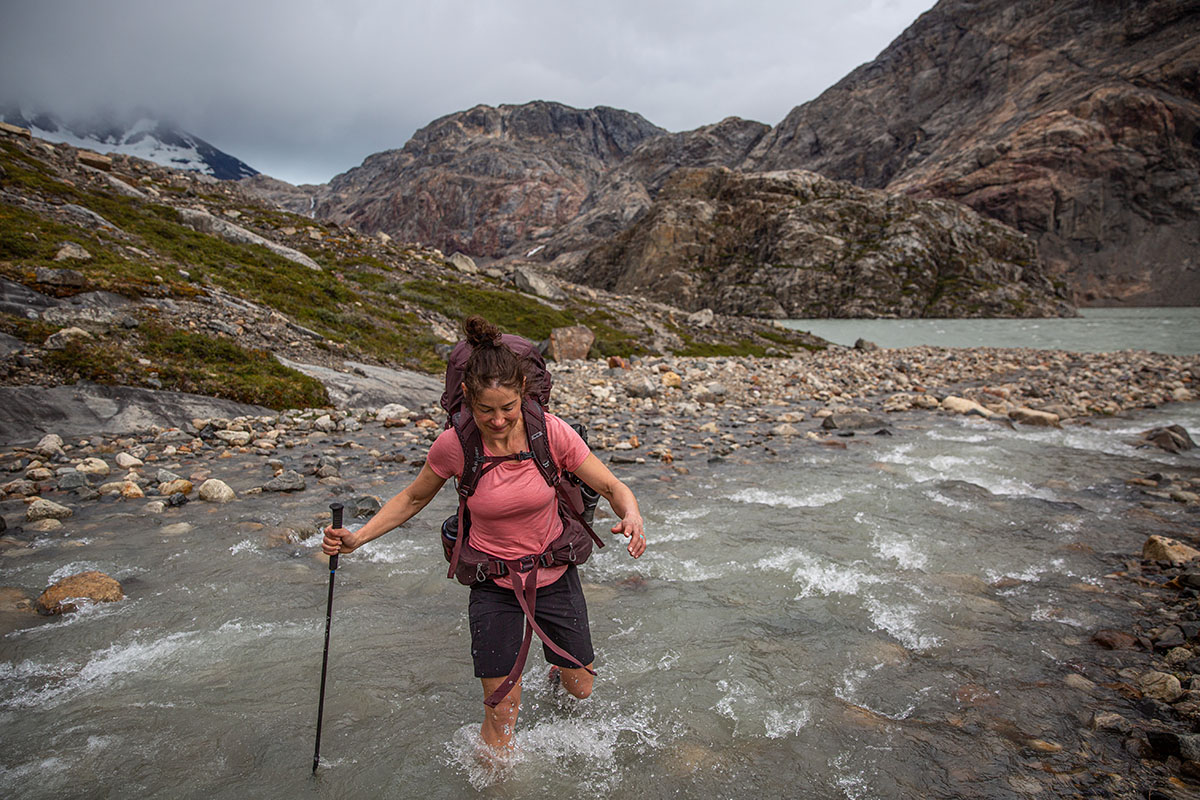 Build Quality and Durability
Gregory boosted durability slightly with the latest iteration of the Deva 70 by adding thick reinforcements to the pack body. For reference, the prior-generation model used mostly 210-denier (D) materials with a 630D bottom, while the newest variation is a mix of 210D and 420D along the body and 630D at the base. I'm not easy on my packs and tend to drop them on the ground frequently (especially when they're heavy like the Deva is), but I've had no durability concerns to date. Despite bumping the pack against rock walls, dragging it over rocks and sand, and throwing it onto countless planes and busses, the pack still looks like new. The zippers are all smooth and functioning flawlessly, there are no rips or tears to report, and all of the details are well-sorted and holding up well. Again, the Deva is undeniably hefty at well over 4 pounds, but I certainly appreciate the pack's highly robust and hardwearing feel.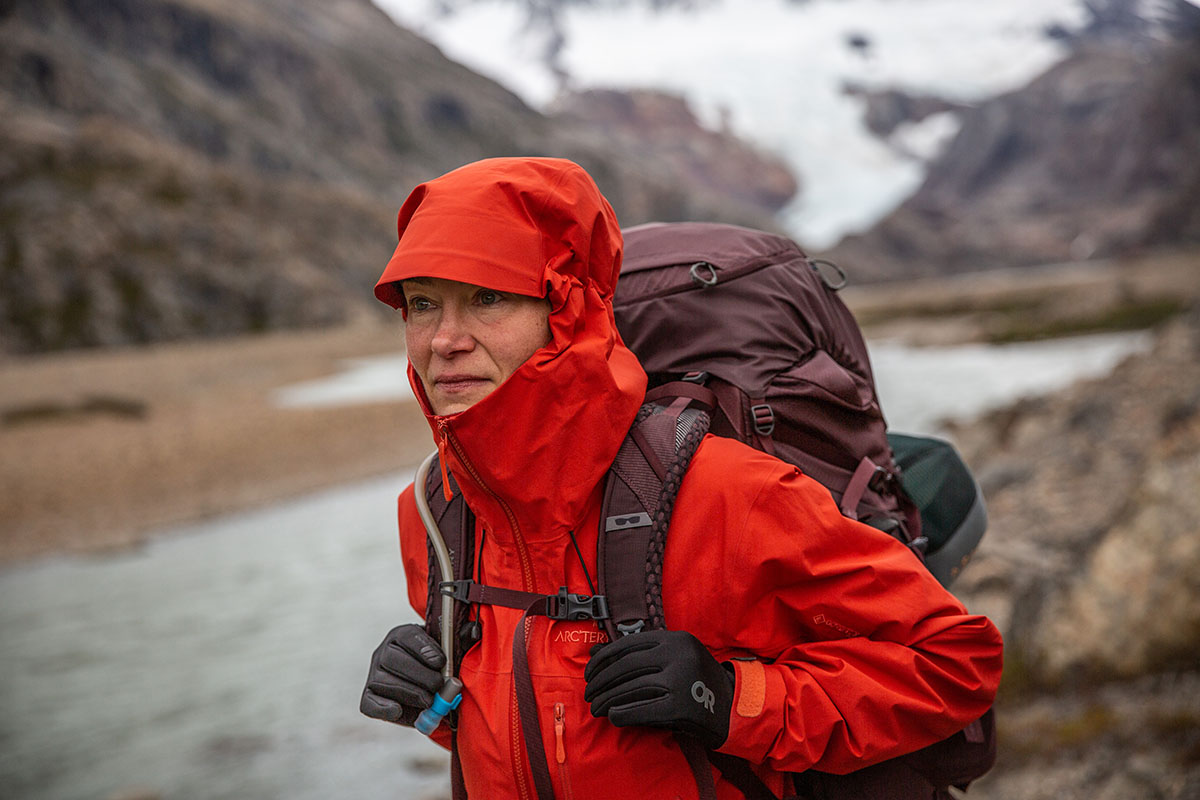 Fit and Sizing
At 5'8" with a fairly narrow build, I opted for a size small in the Gregory Deva 70 and found it to be a good all-around fit. Adjustability is excellent too. The shoulder straps are attached to the backpanel with strong Velcro and can be shifted up or down to tailor the torso length (the default position worked well for me). It's a similar story at the hipbelt, with ample adjustability and a Velcro connection for dialing in fit. The hipbelt straps are noticeably long for me (they hang below my knees when the belt is cinched tightly around my waist), but it can accommodate waists from 26 all the way up to 48 inches. The sternum strap is also fully adjustable, and while it did ride up a bit while backpacking, it was minor and easily remedied on the trail (by contrast, my partner's strap on his Gregory Katmai 65 rode up much more frequently and required many more adjustments).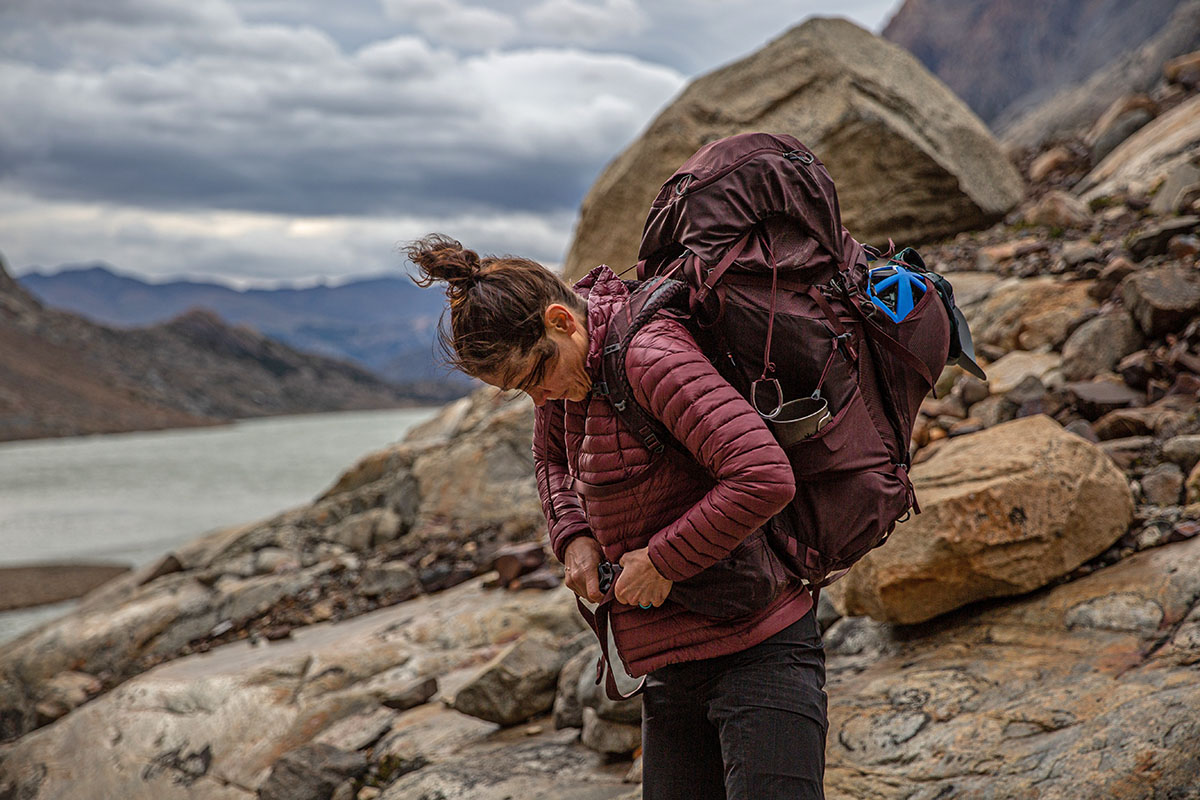 Sustainability
As I mentioned above, Gregory's updates to the latest Deva 70 (as well as the larger Deva and Baltoro collections) included the use of more environmentally materials. Specifically, the pack now utilizes recycled nylon along the body (40-45% recycled nylon) and lining (40% post-consumer recycled polyester). They also opted for a PFC-free DWR coating that foregoes perfluorocarbons, which are known to be harmful to the environment. Added up, the changes only add to the pack's all-around appeal, and we applaud Gregory for integrating some key sustainability measures into the line.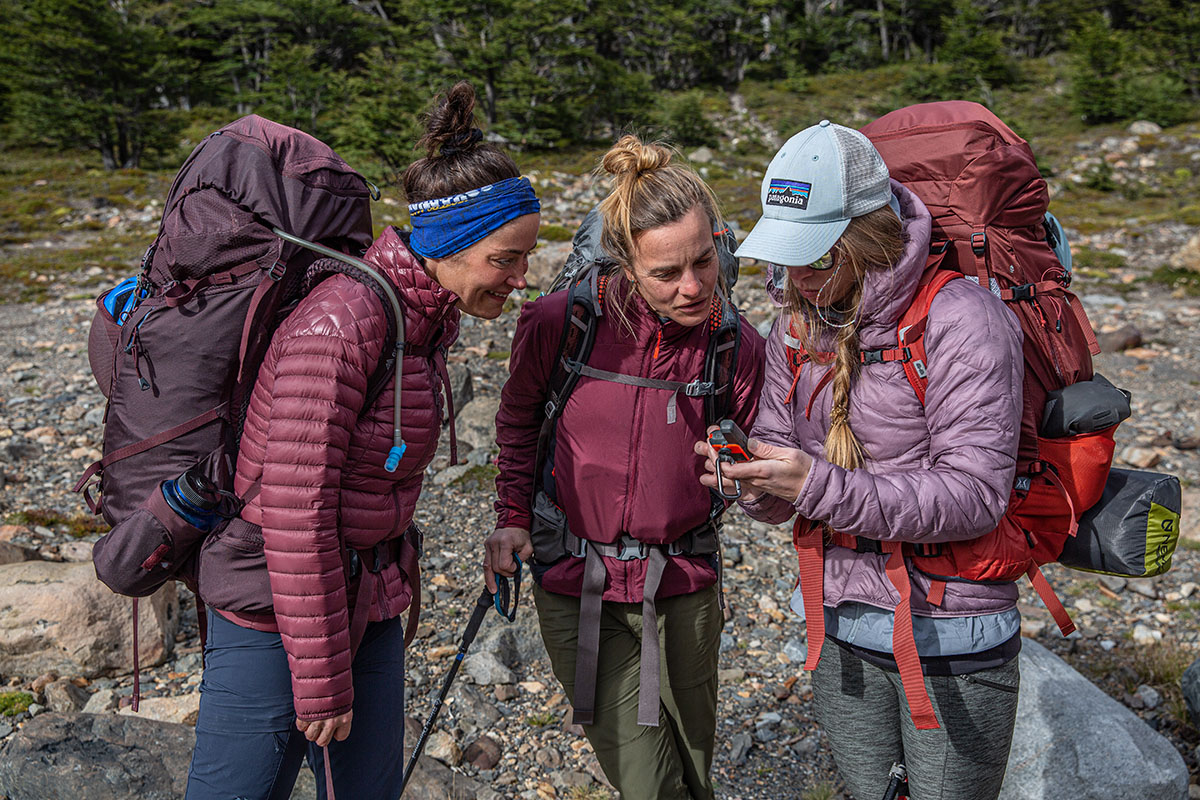 Other Capacities and Men's Gregory Baltoro
I tested the 70-liter version of the latest Deva, and it's also sold in a smaller 60-liter capacity that retails for $320 and checks in at 4 pounds 10.2 ounces for a women's small. On the men's side, the Baltoro collection is the Deva's counterpart and sold in 65- and 75-liter capacities. For comparison, the men's Baltoro 75 costs the same as the Deva 70 here at $350 and boasts a largely identical build and feature set (including the same changes to the latest model). The only notable differences are in fit, weight (4 lbs. 15.7 oz. for a size medium), and colorway options, but it's similarly well-equipped for backpacking with a full load.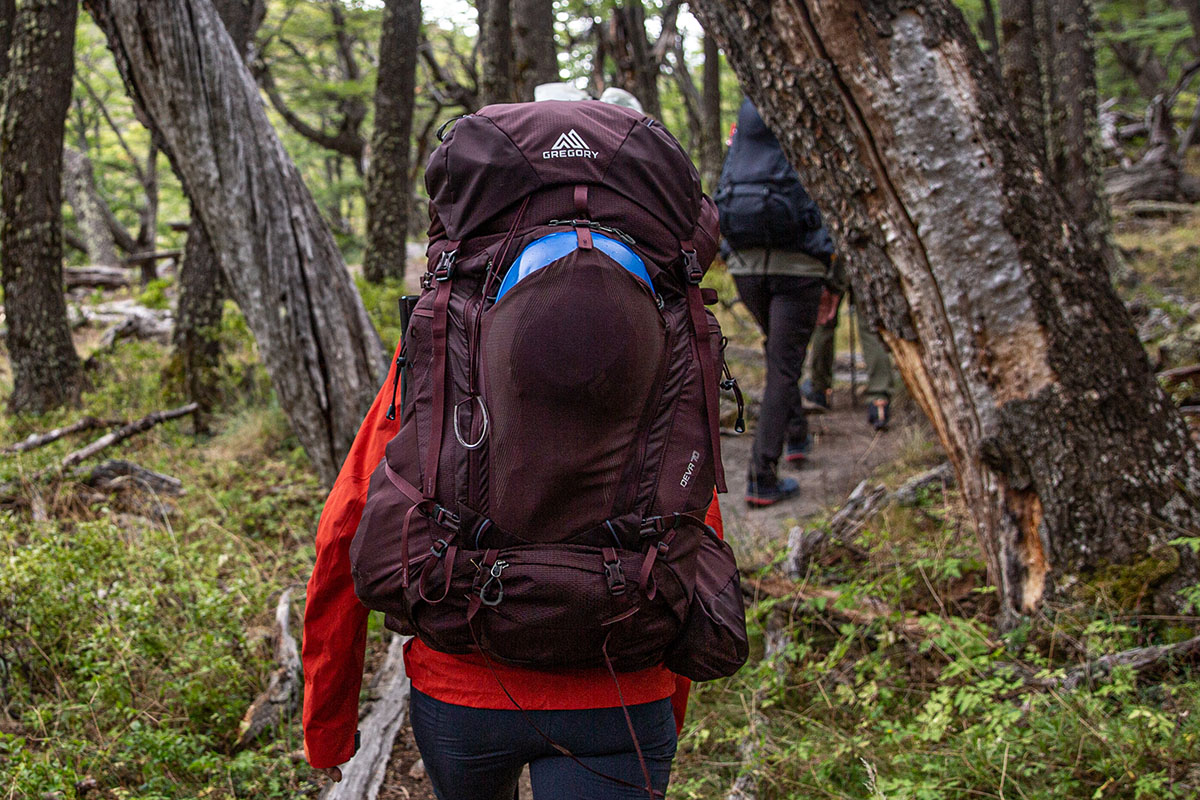 What We Like
FreeFloat A3 suspension system and well-padded build translate to excellent carrying comfort and support when hauling a heavy load over longer distances. 
Secondary U-zip access to the main compartment is incredibly helpful for staying organized.
Highly durable with hardwearing materials throughout and thick reinforcements along the pack body.
Generous adjustability at the torso, hipbelt, and sternum strap make it quick and easy to dial in fit.
Ample organization both inside and out for divvying up gear.

What We Don't
Decidedly heavy at 4 pounds 11.2 ounces for a women's size small.
Around $70-$80 pricier than the competition at $350.
Organization is excellent, but I found that the sheer number of pockets made it hard to remember where I stashed certain items and add to the pack's hefty feel.
Lack of rain cover and weatherproofing measures mean you'll likely want to waterproof your gear in inclement conditions. 


Comparison Table
| Pack | Price | Weight | Fabric | Capacities | Access | Pockets |
| --- | --- | --- | --- | --- | --- | --- |
| Gregory Deva 70 | $350 | 4 lbs. 11.2 oz. | Nylon (210D & 420D) | 60, 70L | Top, front | 9 exterior |
| Gregory Maven 65 | $270 | 3 lbs. 8.2 oz. | Nylon (100D & 210D) | 45, 55, 65L | Top, side | 6 exterior |
| Osprey Aura AG 65 | $270 | 4 lbs. 5.4 oz. | Nylon (100D x 630D) | 50, 65L | Top | 8 exterior |
| Osprey Ariel 65 | $290 | 4 lbs. 13.6 oz. | Nylon (210D & 420D) | 55, 65L | Top, front | 7 exterior |
| REI Co-op Traverse 60 | $229 | 4 lbs. 3 oz. | Nylon (300D) | 32, 60L | Top | 10 exterior |
| Granite Gear Blaze 60 | $270 | 2 lbs. 14.4 oz. | Nylon (100D & 210D) | 60L | Top, front | 6 exterior |

The Competition
Gregory's Deva 70 (and men's Baltoro 75) is our top-rated backpacking pack for comfortably carrying heavy loads, but you can go lighter and cheaper with their Maven 65 (the men's version is the Paragon). For reference, the Maven costs a considerable $80 less than the Deva at $270, checks in over a pound lighter at 3 pounds 8.2 ounces for a size small/medium, and is a great option for those carrying less weight. The Deva wins out in padding, durability, and organization, but the Maven stacks up favorably in terms of fit adjustments, breathability, and overall quality. Like the Deva, the Maven offers secondary access to the main compartment in the form of a full-length side zipper, and the FreeFloat Hybrid suspension system (while a step down in support from the A3 version on the Deva) is very effective at distributing a full load evenly. In the end, unless you're carrying a lot of gear, the Maven is a perfectly serviceable alternative to the Deva at a lower weight and cost.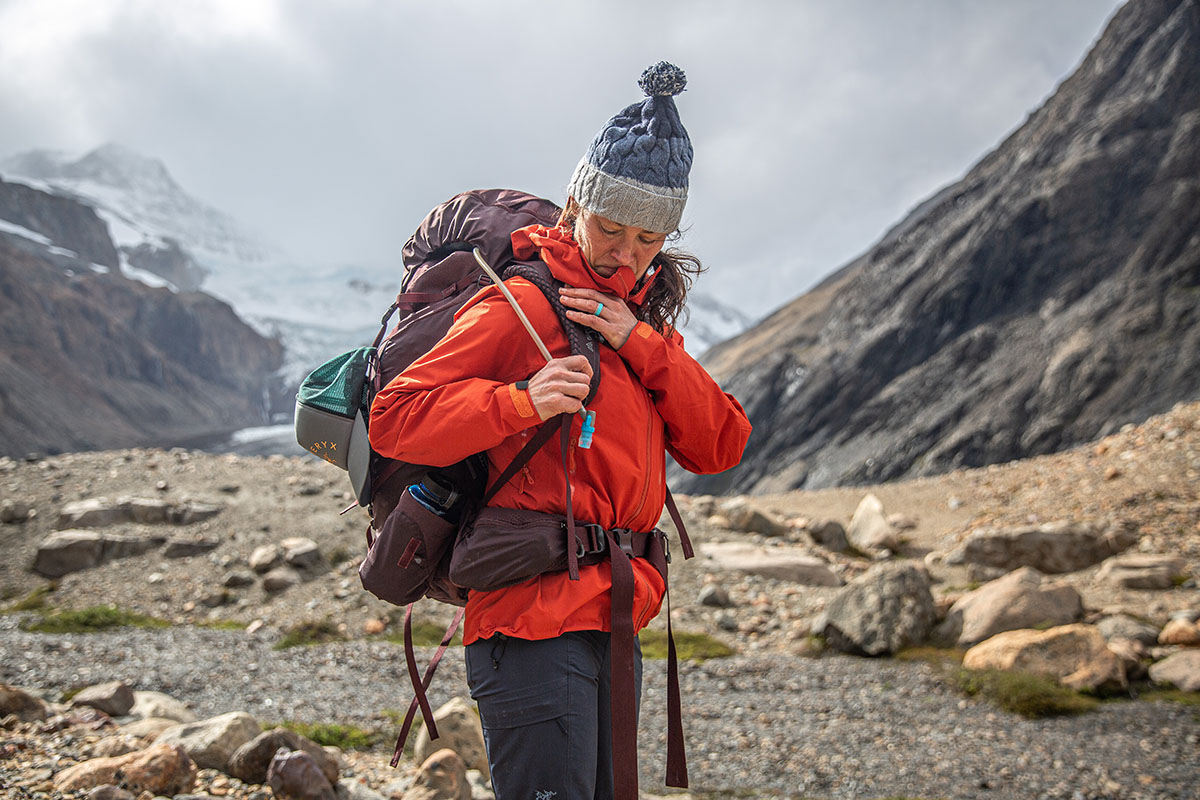 Osprey is another leading pack manufacturer and well known for their focus on comfort. From their lineup, the Aura AG 65 (and men's Atmos) has been our favorite overall design for multiple years running for its hard-to-beat combination of carrying comfort, organization, and durability. One highlight is the suspended Anti-Gravity backpanel, which provides class-leading ventilation and a snug, back-hugging fit. All of the other features line up well too, including great adjustability, durable materials that stand up well to rough use, and ample organization both inside and out (although you don't get secondary access to the main compartment). Finally, the Aura is a little lighter than the Deva at 4 pounds 5.4 ounces (albeit with slightly less capacity). All told, we consider it the more competitive and well-rounded design at a significant $80 savings.
For a step up in heavy-hauling credentials, Osprey's Ariel 65 offers slightly more comfort and features than the Aura. It no longer shares the Anti-Gravity suspension system that we love about the Aura, but the AirScape backpanel does an admirable job of maximizing airflow and ventilation, even on hot summer days. We also love the rip-and-stick adjustment system to easily tailor the shoulder straps and hipbelt, and the generous compression strap layout is great for strapping extra gear to the outside of the pack. Like the Deva, the Ariel also comes with secondary access to the main compartment in the form of a large, J-shaped front zipper. Downsides include a heavier weight (4 lbs. 13.6 oz.) and less organization (five external pockets not including the water bottle holsters). But at $290, it will save you $60 over the Deva without many major concessions (for more, see our Ariel 65 review).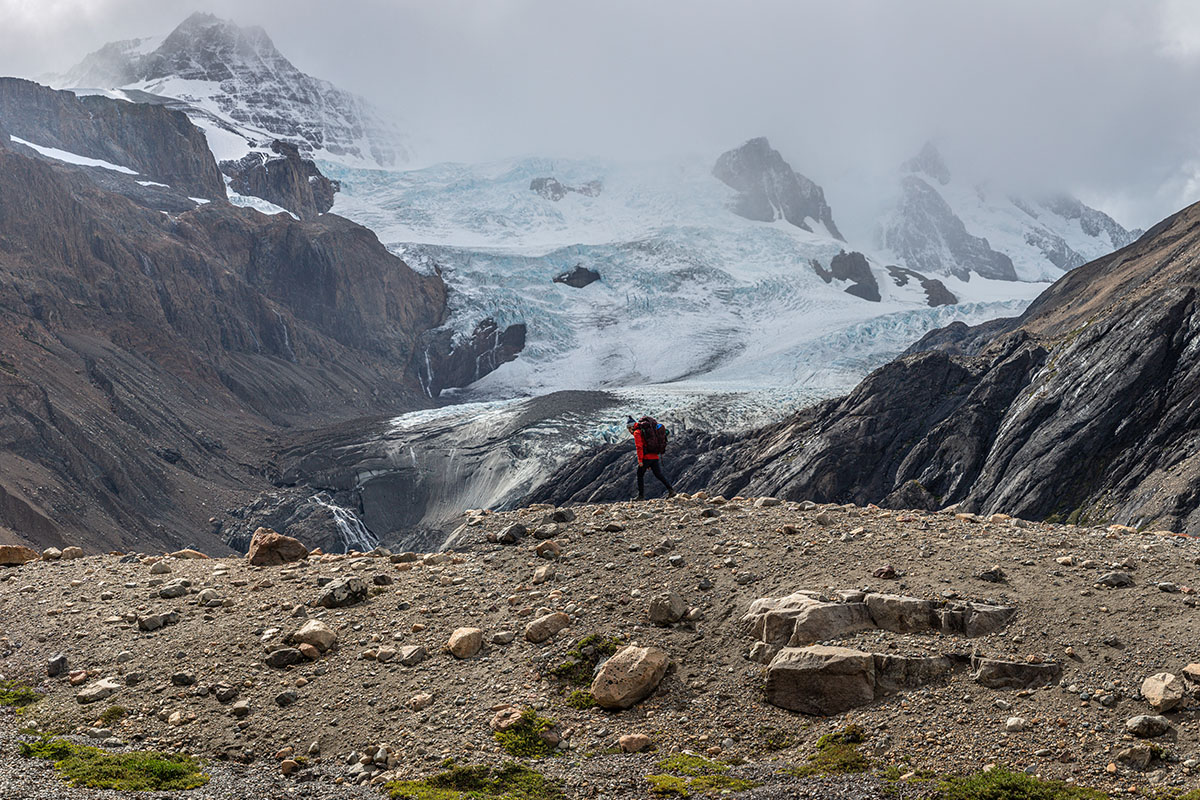 Next up is an even more budget-friendly alternative to the Deva 70: REI Co-op's Traverse 60. At $229, the Traverse costs over $120 less than the Gregory while offering a competitive mix of weight (4 lbs. 3 oz.), storage, and durability. Namely, the top lid disconnects from the main bag to quickly convert into a daypack, the hipbelt pockets are large and easy to access, and you also get an included rain cover (something the Gregory lacks). Many will also like the Packmod system, which allows you to customize the compression strap layout or trim features to shave weight. However, in testing the Traverse, we were disappointed by the lack of front access to the main compartment and relatively basic foam padding on the backpanel, which translated to less ventilation and carrying comfort than the Deva. Unless you're on a strict budget, we think most backpackers will be happier with the more modern-feeling and well-cushioned Gregory. 
A final competitor to consider is Granite Gear's Blaze 60. Despite the Blaze's all-in weight of just 2 pounds 14.4 ounces, carrying comfort and organization stack up very well to the much heavier Deva. Throughout testing, we were very impressed by the pack's sturdy frame sheet and substantial padding on the hipbelt and shoulder straps—it's rated for up to 50 pounds and carries a heavy load incredibly well. Further, the zippered opening to the main compartment makes it easy to retrieve gear, and the oversized front and side pockets are highly functional. Our only complaints have to do with ventilation and fit adjustments: The padded backpanel prioritizes comfort and support over breathability, and it takes some practice and patience to dial in fit at the shoulder straps and hipbelt. But these are small gripes for an otherwise very well-rounded pack, and the Blaze manages to retain similar carrying comfort at much lower weight, which is no easy feat.
If you're thinking about buying gear that we've reviewed on Switchback Travel, you can help support us in the process. Just click on any of the seller links above, and if you make a purchase, we receive a small percentage of the transaction. The cost of the product is the same to you but this helps us continue to test and write about outdoor gear. Thanks and we appreciate your support!
Depending on the seller, most products ship free in the United States on orders of $50 or more. International shipping availability and rates vary by seller. The pricing information on this page is updated hourly but we are not responsible for inaccuracies.
Learn More About Backpacking Gear