Osprey Aura AG 65
Price: $270
Weight: 4 lbs. 5.4 oz. (women's small)
Fabric: Nylon (100D x 630D)
Capacities: 50, 65L
What we like: Excellent ventilation and support, great organization, and highly durable.
What we don't: Hipbelt can cause discomfort and no zippered access to the main compartment.
See the Women's Osprey Aura AG 65  See the Men's Osprey Atmos AG 65
Osprey's proven lineup of backpacking packs runs the gamut from simple entry-level haulers and ultralight builds to premium, feature-rich models. The Aura AG—and its men's counterpart, the Atmos AG—falls right in the middle, deftly balancing weight, features, durability, and comfort. We put the 65-liter model to the test on a four-day backpacking trip along the Grand Canyon's Escalante Route and were especially impressed by its hauling abilities and ventilation, even on hot days. Below we break down the Aura AG's overall performance. To see how it stacks up to the competition, see our article on the best backpacking packs.
 
---
Table of Contents
---

Performance
Carrying Comfort
Despite being loaded down with four days' worth of food and gear and a few liters of water, I was immediately blown away by the Osprey Aura AG's comfort. Simply put, it offers a more secure-feeling fit than any other pack I've worn. Most of the credit for this goes to Osprey's Anti-Gravity backpanel (hence the "AG"): a tensioned mesh sheet that connects the back and hipbelt. While this creates a bit of space between my body and the pack, the flexible mesh actually brought the Aura noticeably closer to my body than other packs I've used and kept my back from weakening under the load. As seasoned backpackers know, a pack's weight can be especially strenuous on the lower back, and the Aura's added support and tensioning here were welcome additions. The well-padded shoulder straps have a similar body-hugging shape that's both comfortable and offers a nice, snug fit (although you almost have to pry them open to get them on).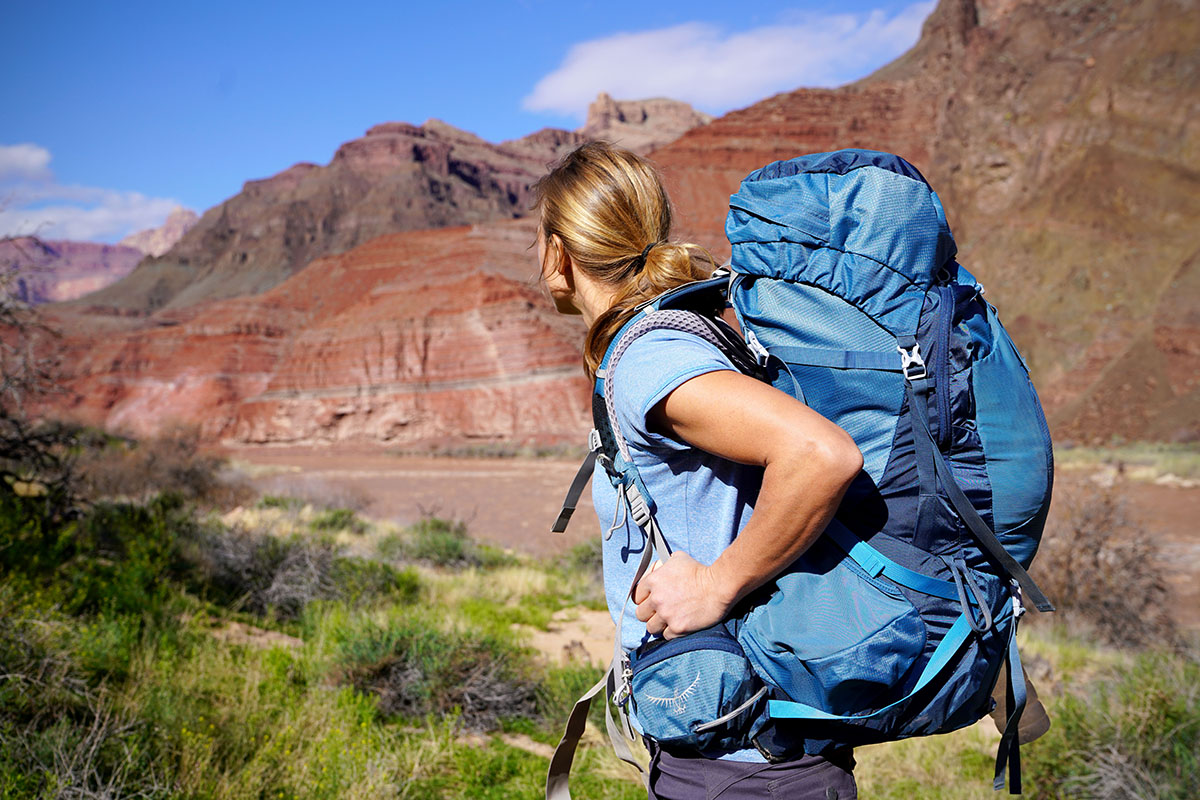 Although the Aura's back and shoulder straps were extremely comfortable, I did develop pressure points at the front of the hipbelt after some use. While some areas are generously cushioned, the hipbelt is surprisingly rigid and relatively unpadded along the top. I made a fair number of adjustments throughout the trip, trying to find the sweet spot where the torso length and hipbelt placement lined up perfectly with my body. However, I was never able to fully nail the fit and the belt continued digging into my skin. It's worth mentioning that another member of my group who was wearing the men's Atmos AG experienced similar issues on the lower portion of his waist belt. All told, I wish Osprey had added a bit more padding here. But with so much adjustability, I bet I could have found a more optimal fit if I continued to tinker with the straps (more in "Fit and Sizing" below).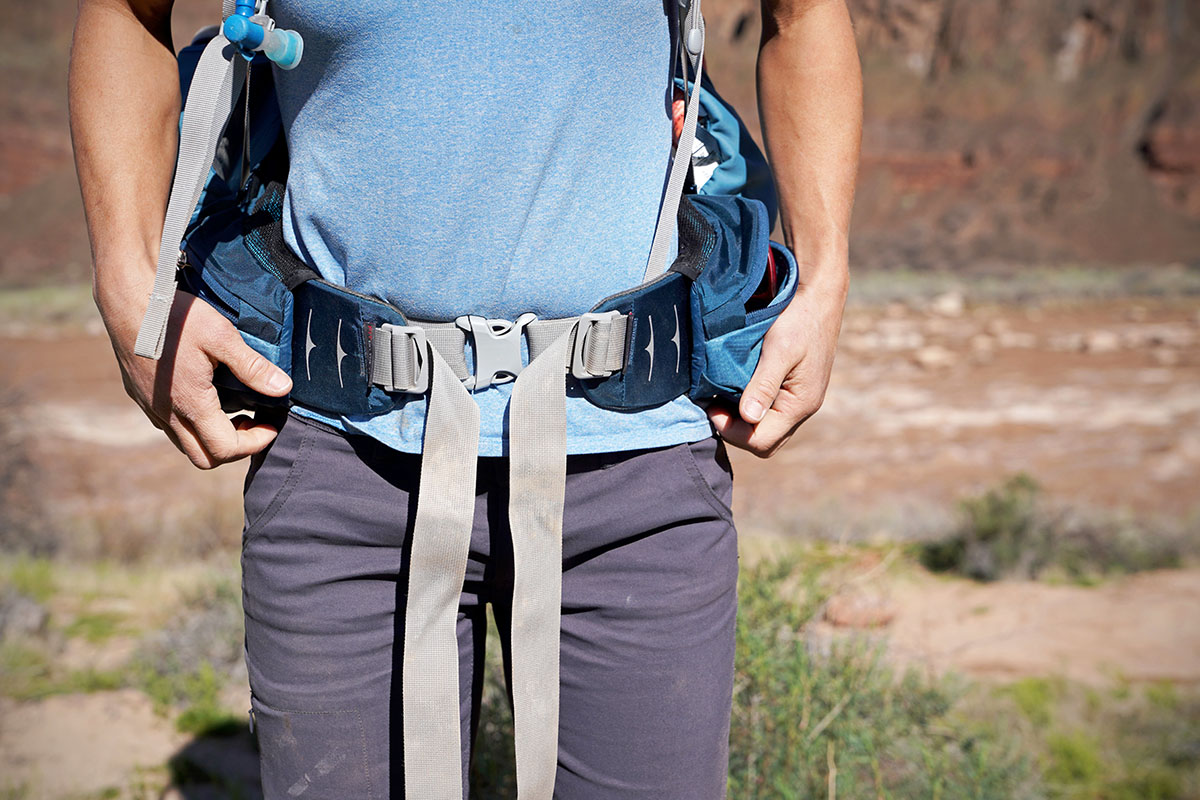 Weight
My size small Aura weighs 4 pounds 5.4 ounces for a 62-liter capacity, which is fairly competitive for a pack that offers such high levels of comfort, durability, and ventilation. In comparison, the REI Co-op Traverse 65 and Gregory Deva 70 clock in at 4 pounds 11 ounces and 4 pounds 11.5 ounces respectively. Like the Aura, these models fall definitively on the full-featured end of backpacking packs and are noticeably heavier than a more streamlined design like the Granite Gear Blaze 60 (3 pounds). If you want to shave weight, the Aura's 6.7-ounce top lid is removable—the incorporated "FlapJacket" covers the top drawstring in its absence—which brings the pack under 4 pounds.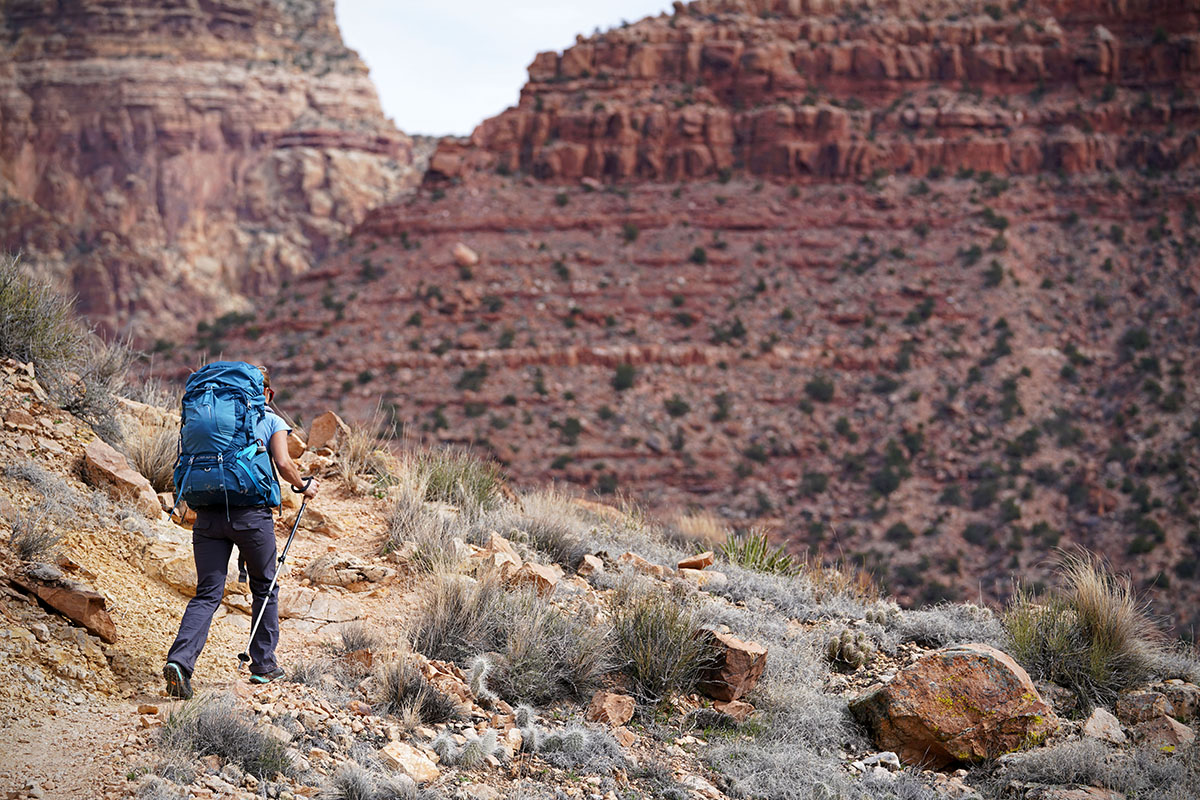 Organization
The Aura AG's organization is fairly standard for a premium backpacking pack: two external pockets on the top lid, two hipbelt pockets, and two mesh side pockets. Additionally, along the front, you get a large mesh stuff-it pocket that is flanked by two vertically-aligned zippered pockets. The hipbelt pockets are big enough to fit my large point-and-shoot camera (Sony RX100), although I struggled routinely with zipping them open and shut. On the outside of the pack, gear loops allow you to securely attach trekking poles or an ice tool, while multiple lash points add versatility for toting other items. Finally, the cavernous main compartment contains a hydration sleeve and removable flap that separates the main area from the sleeping bag section below (which is also accessible via an external zip).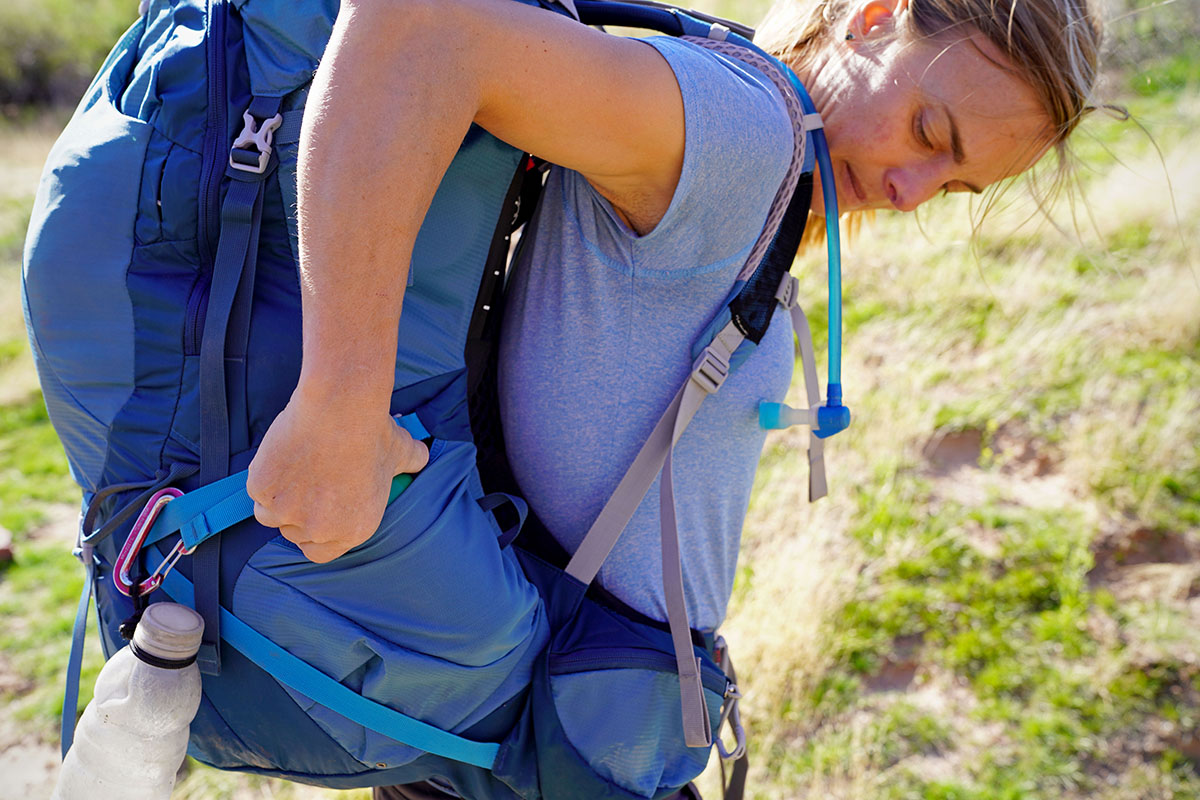 The ability to quickly access items on the trail is a main selling point of premium-level packs, and the Osprey Aura AG is average in this respect. The main compartment only has one access point at the top, compared to a pack like the REI Traverse 65 that features a generous front J-zip for more convenient entry. That said, I found the Aura's large mesh dump pocket and external zip pockets on the hip, lid (two), and front (two) to be plenty. I stashed an extra layer in the mesh pocket and employed the zip pockets on either side for trash and my bathroom kit. And every evening at camp, I removed the easy-to-detach top lid and used it to tote around personal items. All told, most backpackers should find the Aura's organizational options to be plenty.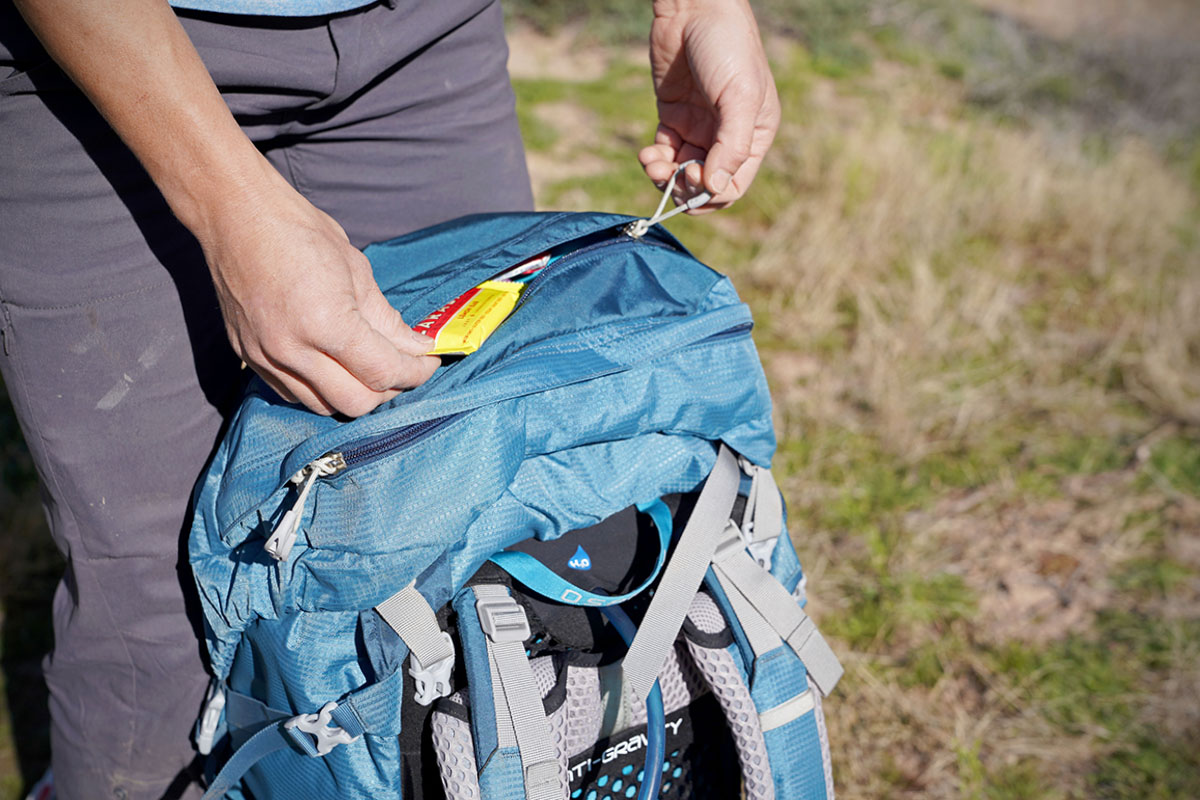 Ventilation
As I touched on above, the Osprey Aura AG's claim to fame is its Anti-Gravity mesh backpanel, which promotes best-in-class ventilation. Rather than using sweat-prone foam found on packs like the Gregory Deva and REI Co-op Traverse, Osprey utilizes this suspended mesh across the entire back and hipbelt, which effectively separates the load of the pack from your back and allows air to flow between. In fact, we think the Aura AG (and men's Atmos AG) offers the best ventilation of any pack currently on the market. If you're mainly a summer backpacker or are prone to sweating out of your pack, the Aura AG should be at the top of your list.

Build Quality and Durability
The Osprey Aura AG is a robust pack made to handle trail wear and tear with ease. Its robust 100 x 630-denier nylon body and 420-denier bottom put it on the high end of the durability spectrum. In terms of build quality, the Aura is equally impressive: the supportive, tensioned frame carries a heavy load well, and small details like low-profile trekking pole attachments and easily removable lid are functional additions. And perhaps most notably, the Aura's Anti-Gravity mesh design doesn't detract from the pack's performance, features, or comfort in any way. All things considered, the Aura is yet another well-made backpacking pack from Osprey.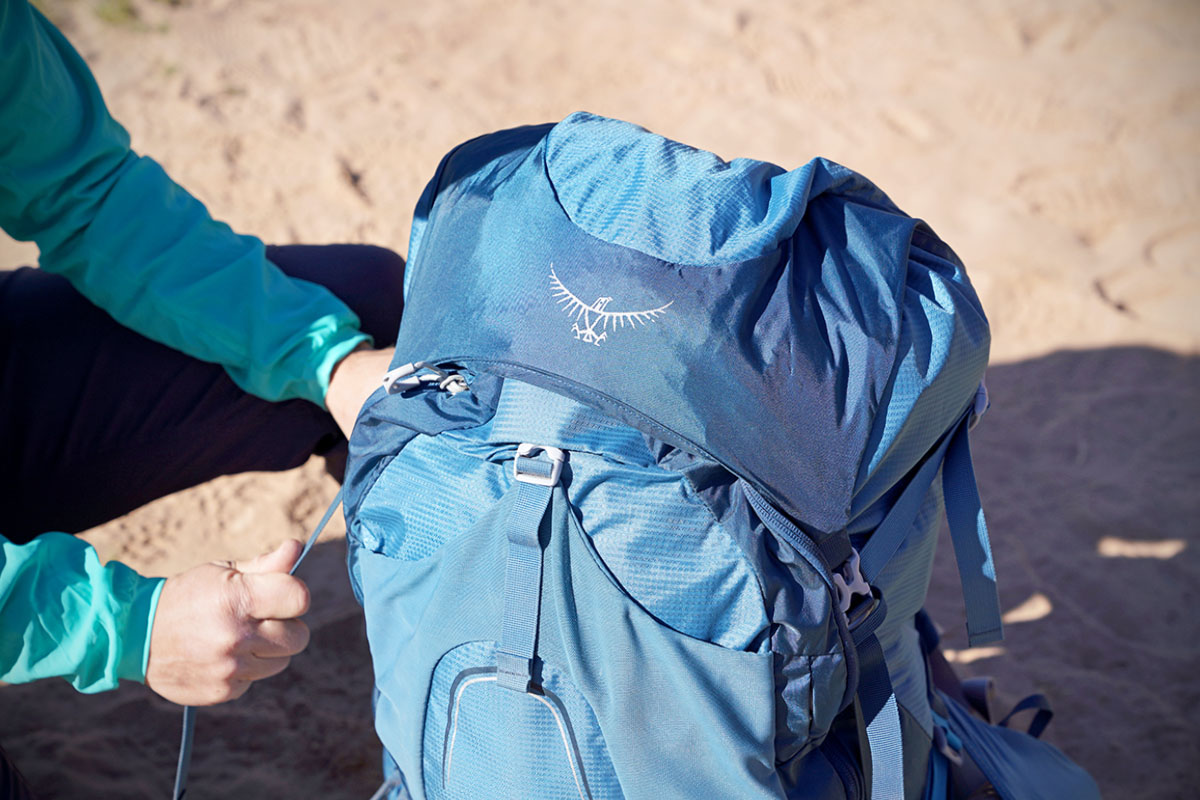 Fit and Sizing
Osprey claims that the Aura AG (and Atmos AG) is their "best-fitting" pack, and we have to agree. Its adjustable harness and hipbelt are standard, but the suspended mesh backpanel is truly what makes this pack so comfortable. Working in concert with the rest of the suspension, the tensioned mesh hugs your body and supports it under heavy loads. Because of this, the Osprey Aura AG—which is available in sizes from extra-small to medium—strikes us as a design that can mold to just about any body shape. That said, it's important to note that you can't choose the hipbelt and shoulder straps separately, and we found the adjustments in both areas to be a little difficult to toggle. But after some practice, we were able to adjust the pack easily and efficiently, although we still experienced slight pressure points along the front of the hipbelt.

Men's Osprey Atmos AG
The Aura AG reviewed here is a women's pack, but Osprey makes the same design in a men's-specific fit, the Atmos AG. The 62-liter (size small) Atmos weighs about two ounces heavier at 4 pounds 7.7 ounces (4 pounds 9 ounces for the 65-liter medium) but shares the same Anti-Gravity system and key features including pocket layout, fabrics, and attachment points for trekking poles and an ice axe. It's worth noting that both the men's and women's versions of the pack are offered in smaller, 50-liter capacities as well.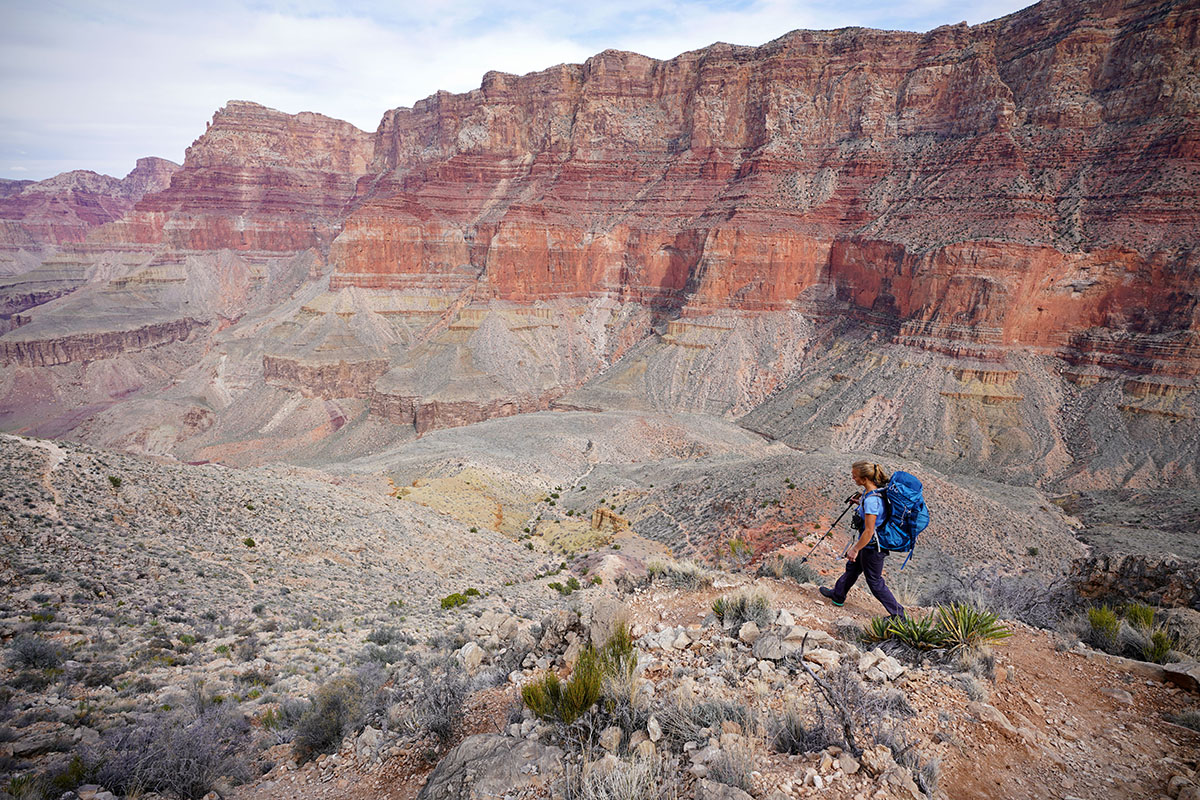 What We Like
The suspended mesh Anti-Gravity backpanel provides class-leading ventilation and great lower-back support.
Ample pockets and organization for on-trail convenience without having to access the main compartment.
Build quality is superb, and the Aura is made with very durable fabrics while keeping weight in check.
 
What We Don't
The hipbelt feels rigid and lacks padding along the top and bottom, which resulted in discomfort both for me and another member of my group (who was wearing the Atmos AG).
Main compartment can only be accessed from the top—a zipper around the front like that found on the REI Co-op Traverse is more convenient for quick entry.
Because of the suspended mesh backpanel, you shouldn't overload the Aura with more than its recommended weight (50 pounds).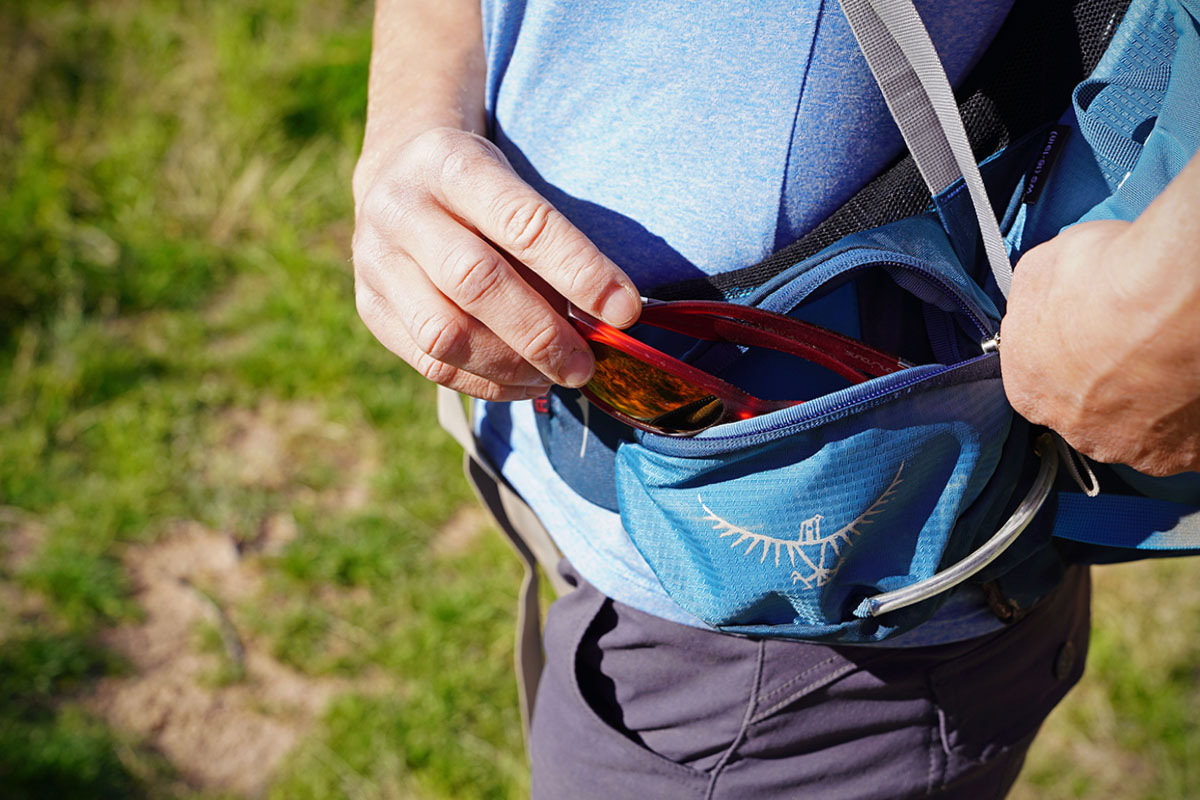 Comparison Table
| Pack | Price | Weight | Fabric | Capacities | Access | Pockets |
| --- | --- | --- | --- | --- | --- | --- |
| Osprey Aura AG 65 | $270 | 4 lbs. 5.4 oz. | Nylon (100D x 630D) | 50, 65L | Top | 8 exterior |
| REI Co-op Traverse 65 | $249 | 4 lbs. 11 oz. | Nylon (200D & 420D) | 35, 65L | Top, front | 11 exterior |
| Gregory Deva 70 | $330 | 4 lbs. 11.5 oz. | Nylon (210D & 630D) | 60, 70, 80L | Top, front | 9 exterior |
| Granite Gear Blaze 60 | $270 | 3 lbs. | Nylon (100 & 210D) | 60L | Top | 6 exterior |
| Osprey Ariel 65 | $280 | 4 lbs. 13.6 oz. | Nylon (210D & 420D) | 55, 65L | Top, front | 7 exterior |
| Osprey Renn 65 | $165 | 3 lbs. 7 oz. | Nylon (600D & 1000D) | 50, 65L | Top | 5 exterior |

The Competition
In choosing a backpacking pack, there are always inherent sacrifices: a lighter-weight pack will be less supportive and durable, while a more full-featured pack will likely add weight and cost. Overall, we think the well-rounded Aura AG has the fewest compromises of any pack currently on the market. That said, REI Co-op's Traverse 65 is a strong competitor, coming in at $21 cheaper than the Aura and around 6 ounces heavier. As we mentioned above, the Traverse is designed with a more traditional foam backpanel and uses a unique compression system to pull the pack closer to your back. While this boosts its weight-carrying capacity, it also results in slightly less comfort and ventilation. However, the Traverse's J-zip along the front provides easy on-the-go access to the main compartment—something we found ourselves wishing for with the Aura. But while the REI is undoubtedly a solid value for what you get, we give the nod to the Aura for its class-leading ventilation and comfort at a lighter weight.
Another one of our favorite models this season is the Gregory Deva 70 (and men's Baltoro 75). At $330 and 4 pounds 11.5 ounces for the women's small, the Deva 70 is without question a luxury, well-appointed pack. Notable features include a very sturdy aluminum frame, QuickStow system on the shoulder harness for sunglasses, hydration sleeve that doubles as a removable daypack, and rain cover. Additionally, a full U-shaped zipper allows you to easily access the main compartment without reaching in from above. We also love the hipbelt and shoulder straps on the Deva, which rotate independently from the rest of the pack so you can nail fit (or swap components if needed). In the end, the Gregory pack is a great option for those shouldering serious weight or who want a truly feature-rich design, but we prefer the $60-cheaper and 6-ounce-lighter Aura for most backpacking endeavors.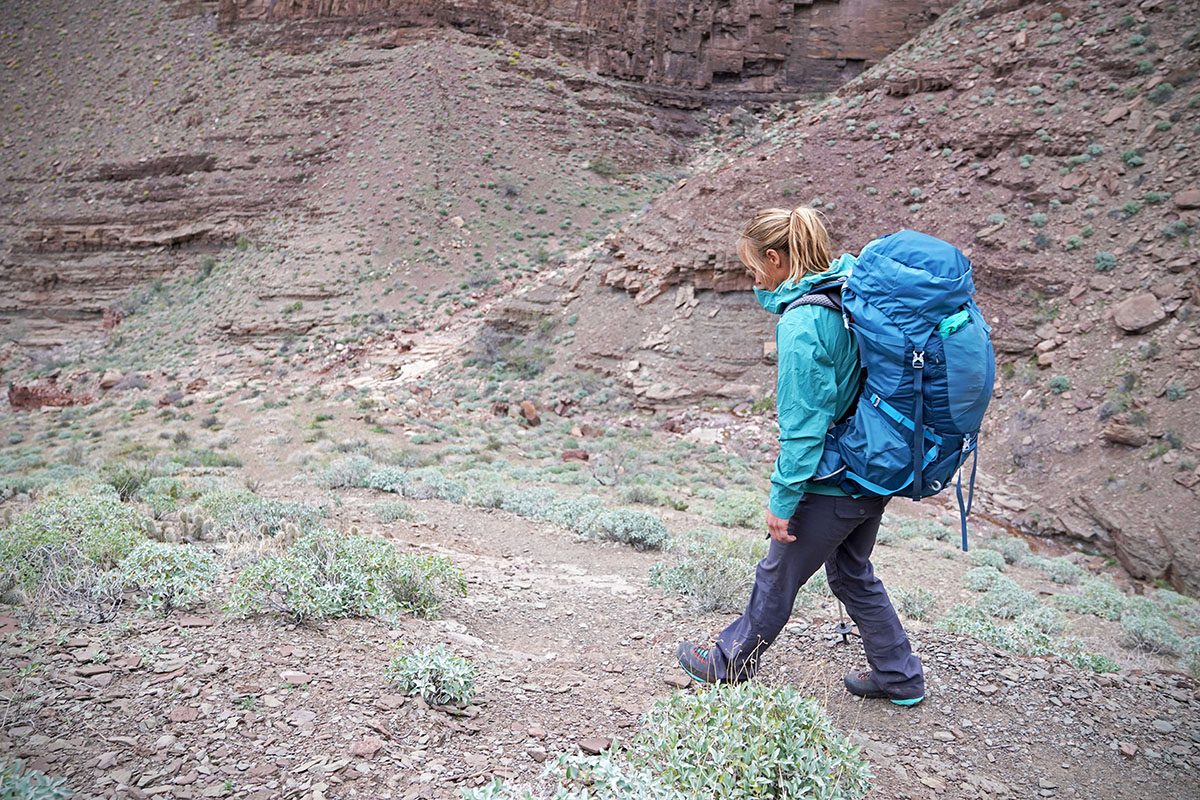 Granite Gear's Blaze 60 is an intriguing option for those willing to sacrifice a bit of convenience and durability to save weight. On the cusp of being an ultralight pack at 3 pounds (for the real deal in ultralight, check out the Gossamer Gear Mariposa), you get a streamlined design that surprisingly don't sacrifice much in the way of comfort. Whereas a true ultralight pack can't carry much more than 35 pounds comfortably, the Blaze 60 is rated up to 50 pounds and hauls weight extremely well. We also think the Granite Gear balances features well with a convenient front panel opening, hipbelt pockets, removable lid, and extra-large side pockets (for more, see our in-depth Blaze 60 review). However, you don't get nearly as much ventilation when compared to the Aura (we worked up a sweat quite easily), and the Blaze is noticeably less durable. If weight is a top priority, the Blaze is well worth a look, but we think the Aura is the slightly better all-rounder.
From within Osprey's own lineup, their Ariel 65 (and men's Aether 65) is designed for heavy hauling and light mountaineering and offers a step up from the Aura in overall performance. Most notably, you get a boost in weight capacity up to 60 pounds (the Aura is rated up to 50), a large, J-shaped zipper for easily accessing the main compartment, and ample adjustability at the shoulder straps, torso, and hipbelt. However, these additions come with a weight penalty (the Ariel checks in at 4 lbs. 13.6 oz. for a women's size XS/S), and it also costs $10 more than the Aura. All in all, the Ariel is a competitive option for those hauling serious weight, but the lighter and cheaper Aura will get the job done for most backpackers. 
Osprey offers a final alternative to the Aura in their budget-friendly budget-friendly Renn 65 (and men's Rook 65). For just $165 (over $100 less than the Aura), the Renn features a fairly breathable and supportive AirSpeed backpanel, upper and lower compression straps, zippered sleeping bag compartment, and an integrated rain cover—all at an impressively light 3 pounds 7 ounces. It's also the more durable option with a 600-denier polyester body and 1,000-denier nylon base. However, in testing, we found that this line offered far less comfort (particularly when weighed down) and organization than the Aura, which are major considerations for most backpackers. Given these experiences, for most people we recommend spending up for the more generously cushioned and feature-rich Aura.
If you're thinking about buying gear that we've reviewed on Switchback Travel, you can help support us in the process. Just click on any of the seller links above, and if you make a purchase, we receive a small percentage of the transaction. The cost of the product is the same to you but this helps us continue to test and write about outdoor gear. Thanks and we appreciate your support!
Depending on the seller, most products ship free in the United States on orders of $50 or more. International shipping availability and rates vary by seller. The pricing information on this page is updated hourly but we are not responsible for inaccuracies.
Read More From Switchback Travel