Bouldering is climbing's most popular and accessible discipline. All you need is a pair of shoes and a chalk bag—until the lure of real rock brings you outside, that is. For outdoor bouldering, a crash pad (or multiple pads) is vital to climbing safely. And there are more options now than ever before, from stylish custom pieces from Organic to popular designs from heavy hitters like Metolius and Black Diamond. Below are the best crash pads of 2023, from supplemental to oversized and every size in between. For more background information, see our comparison table and buying advice after the picks.  
 
---
Our Team's Bouldering Crash Pad Picks
---

Best Overall Crash Pad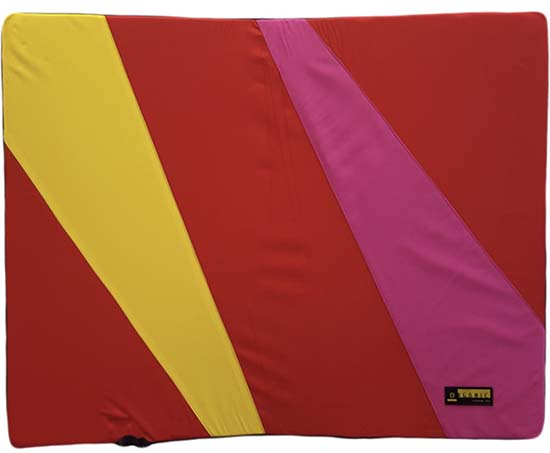 Category: Full
Open dimensions: 46 x 58 in.
Thickness: 4 in. (5 in. available)
What we like: Nothing beats Organic foam.
What we don't: Heavy and poor traction on uneven surfaces.
Organic Climbing's 4" Thick Big Pad gets our top spot for 2023, boasting what is widely accepted as the best foam in the game. What sets it apart is the three-layer design consisting of memory foam, closed-cell foam, and open-cell foam, which strikes an impressive balance of cushioning and longevity. In particular, we think the memory foam topper is a brilliant material—it compresses well while still holding its loft and does not wear out as quickly as the open-cell foam that you find on most competitors. And Organic makes each of their pads to order, so you can personalize your Big Pad with unique colors (and even request certain patterns or shapes). Further, the same pad is available in a 5-inch thickness, aptly named—you guessed it—the 5" Thick Big Pad.
What are the shortcomings of the Big Pad? Some find Organic foam to be on the stiffer side, and a break-in period certainly is required before it really feels cushioned. Furthermore, the Big Pad is heavy and simpler than most crash pads—those who prefer extra pockets or organizational features won't find them here. Lastly, on uneven landing surfaces the traction of the Organic is poor. Used on the same terrain, our Black Diamond Mondo stayed put under impact while the Big Pad noticeably slid around. But it nails the most important part of the equation: foam quality. And as a bonus, the company sells replacement foam so you can minimize waste and reuse your beloved pad cover.
See the Organic Climbing 4" Thick Big Pad
Best Budget Crash Pad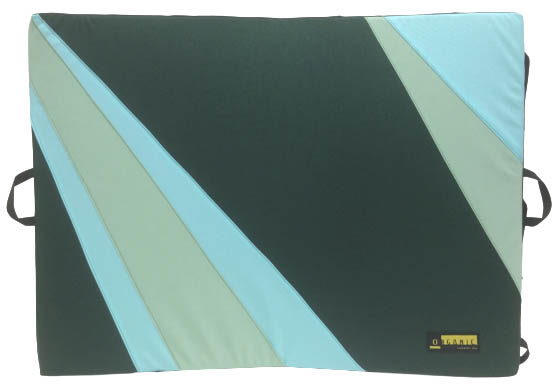 Category: Regular
Open dimensions: 36 x 48 in.
Thickness: 4 in. 
What we like: An affordable, regular-sized option from the top pad maker in the game.
What we don't: Serious boulderers will probably want a bigger pad.
Organic's Big Pad above is an unbeatable option for those wanting maximum ground protection, but the Simple is an affordable alternative as a secondary pad or for those just starting out. At $189, it retails for less than the competition, and you can save another $10 by opting for the quick-ship option (these are sold out at the time of publishing). In our opinion, this price is a total steal considering you still get Organic's high-quality foam and all the design aspects that make their Big Pad above our top pick. Further, the Simple has an identical 1050-denier ballistic nylon shell and 1200-denier Cordura landing zone and the same metal buckle closures, hybrid hinge, and robust suspension system. With minimal bells and whistles, it's made to last—and so is Organic's foam.
Similar to the Big Pad, Organic offers a number of customizations for the Simple, including your choice of background and accent colors. You can also add their Load Flap for an extra $35, which allows you to carry two (or three) pads at once. And if you plan on schlepping heavy loads, it might also be worth tacking on the Deluxe Hip Belt ($29), too. Finally, Organic also makes the Super Simple Pad ($169)—the same construction as the Simple here but with no backpack straps—along with the Full Pad ($199), which adds a pocket flap for better gear carry. All told, you won't find a higher quality or more customizable pad at this price point, making the Organic Simple far and away our favorite budget pick of the year.
See the Organic Simple Pad
Best Oversized Crash Pad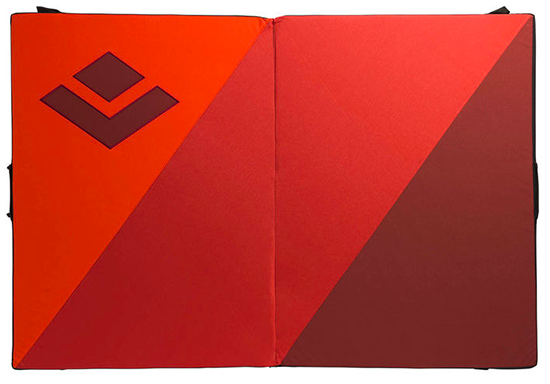 Category: Oversized
Open dimensions: 44 x 65 in.
Thickness: 5 in.
What we like: Confidence-inspiring size; stays put on uneven terrain.
What we don't: Too large to fit in some cars.
Black Diamond's Mondo is an undisputed favorite and for good reason: almost 20 square feet of 5-inch foam makes this an incredibly confidence-inspiring pad to have below you. And in its most recent iteration, the Mondo features squared-off corners so you can combine pads to create a landing surface with no gaps. The Mondo stays put on uneven ground noticeably better than our top pick, the Organic Big Pad—the bottom is coated with rubber for better grip, and the base layer of open-cell foam conforms well to the ground. It's simple too—something we love in a pad—with easy-to-clip, durable buckles and few added frills. 
What are the pitfalls of the Black Diamond Mondo? First, the large size means it's not for everyone and may not even fit in your vehicle. And considering its 20-pound heft, the Mondo can be a bear to carry for long distances—it helps that shoulder straps and hipbelt are both adjustable, but we wish there were a sternum strap for added support. Last but not least, durability is a concern. The cushy, open-cell foam on the bottom will wear away faster than closed-cell foam, and reports of fabric ripping at strap attachment points give us pause. But for many, these drawbacks are worth the solid confidence boost of the large and burly Mondo.
See the Black Diamond Mondo
Great Carrying Comfort and Capability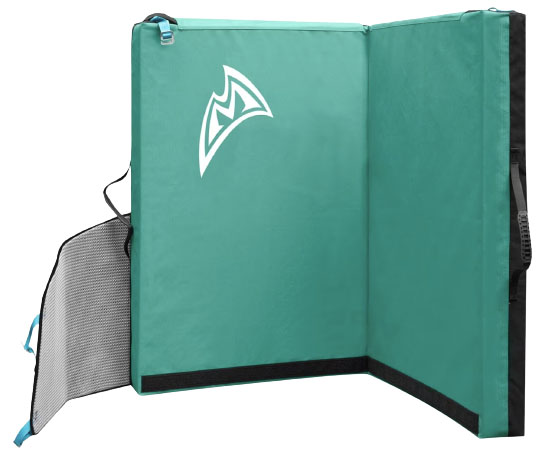 Category: Full
Open dimensions: 42 x 56 in.
Thickness: 5 in.
What we like: Flap design allows you to carry two pads securely.
What we don't: Foam is not particularly high-quality; excessive straps and fabric get in the way once unpacked.
Carrying two crash pads can be cumbersome, and sometimes the setup is so insecure it's hard not to drop one halfway through the approach. But with a simple flap that extends over a second pad of any size, the Mad Rock Duo makes carrying multiple pads a non-issue. It's a small feature, but enough to make the Mad Rock one of our favorites—and it doesn't hurt that the Duo is well cushioned with a beefy and adjustable suspension and weather-resistant fabric. And like most Mad Rock designs, it's a thick 5 inches and has Velcro strips to connect to other pads for continuous flooring.
The Duo's strong suit also creates one of its downsides, though. Once unpacked, a mess of straps and flaps hang off the pad. In addition, the padding is cushier than the Organic Big Four or Black Diamond Mondo above and has a tendency to grow softer over time—this is great news out of the box, but in time the Duo becomes more prone to bottoming out. And finally, the nylon face fabric is much less durable than the competition's. But we love the generous 5-inch dose of foam, and there's no denying the convenience of the built-in carrying flap for toting multiple pads to the boulders. It's worth noting that Organic offers another solution with their Load Flap for $35, which can bundle up to three pads (but do you really want to carry three pads?!). 
See the Mad Rock Duo
Best Supplemental Pad to Complete Your Kit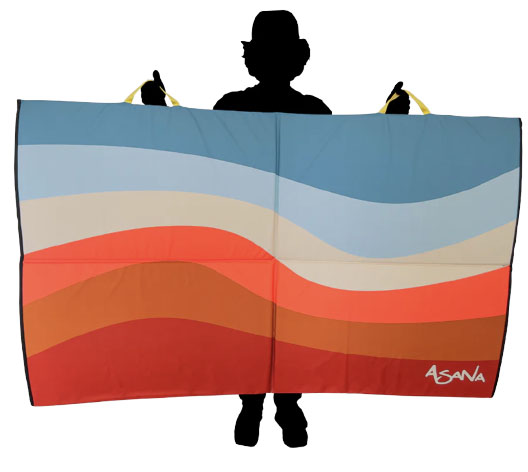 Category: Supplemental
Open dimensions: 44 x 74 in.
Thickness: 0.75 in.
What we like: Extremely versatile supplemental pad.
What we don't: Not always necessary for small boulders or flat landings.
The Asana Pro Spotter is a supplemental pad that packs an impressive number of functions into a compact size. At 3 inches thick when folded up—effectively the size of the unpacked Organic Briefcase pad below—it makes a great sit start pad or can give your full pad a boost by sliding it underneath. Unfold it and you get just over 22 square feet of 3/4-inch closed-cell foam to pile on top of your other pads and cover gaps, folds, and irregularities. To top it off, the Pro Spotter is long and wide enough to be used as a camping sleeping pad.
If you find yourself requiring multiple pads or boulder in areas with uneven landings, the Asana Pro Spotter is worth considering. Sure, it can't replace a full-sized second pad in terms of protection, but a supplemental pad like the Pro Spotter will add versatility to any boulderer's quiver. And with the most recent batch, you can choose between three eye-catching, nature-inspired graphics that run the full length of the pad when open. When you're done, simply fold it up and tote it using the integrated carry handles, or place it under the flap of your larger pad for easy transport. Within this category, it's also worth checking out Metolius' Shortstop, which is a lot smaller (36 x 23 in.) but cheaper at just $50.
See the Asana Pro Spotter Pad
Best of the Rest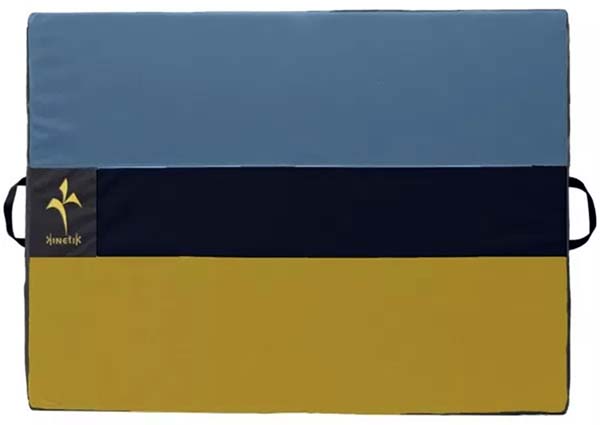 Category: Regular
Open dimensions: 36 x 48 in.
Thickness: 4 in.
What we like: A durable pad at a budget price; waterproof flap protects harness when in use.
What we don't: Small size means you'll likely want a second pad. 
KinetiK's Newton is the tank of crash pads, with utility and durability emphasized above all else. The exterior is made of heavy-duty 1680-denier nylon—tying with the Mad Rock R3 for the most durable shell fabric on our list. Further, the flap cover uses an extremely strong vinyl and flips around to cover the harness when unpacked, creating a sleek, waterproof base that protects against mud and moisture. And similar to other hybrid-hinge designs like the Black Diamond Mondo above, a 1-inch continuous layer of closed-cell foam covers the Newton's hinge, eliminating the gutter and dispersing the force of a fall. 
In the Newton's most recent update, KinetiK eliminated the industrial-grade Velcro flap (our main gripe with the 3.0) and replaced the closure with easier-to-use buckles instead. Significantly, this flap closure also allows you to carry a second pad with no additional straps. Further, unlike many popular pads, the Newton's suspension system is fully adjustable, allowing impressive carrying comfort for a variety of body sizes. Given the small dimensions of the KinetiK, we think its use is a bit limited to lowball problems or those wanting to add a second pad to their quiver. But for only $220, the Newton 4.0 is a nice investment that—more so than the Black Diamond Circuit above or Metolius Session II below—should stand the test of time. 
See the KinetiK Newton 4.0 Pad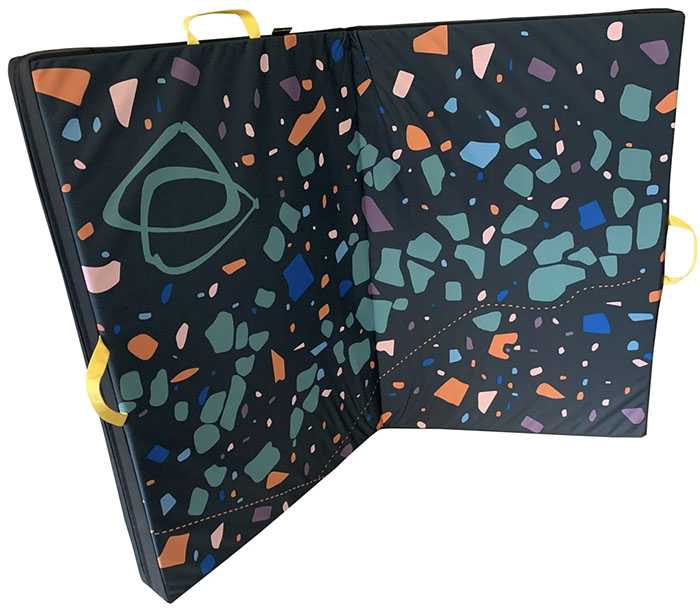 Category: Full
Open dimensions: 40 x 57 in.
Thickness: 4 in.
What we like: Simple and functional.
What we don't: Expensive and nothing particularly stands out.
Asana pads are the old standbys of the bouldering world. Nothing on the SuperHero is advanced: Asana still uses old-school cam straps for the closure system, a simple hinge fold, and standard sandwiched foam. But with 1000-denier ballistic nylon, sturdy buckles (the top BYOBuckle even comes with an integrated bottle opener), and padded shoulder straps, the SuperHero gets the job done. Further, a flap closure allows you to securely carry gear or attach another pad without too many shenanigans. All in all, Asana is one of the only brands out there truly dedicated to bouldering, and their expertise shines through.
The SuperHero covers the basics so well it leaves us with little to complain about. Sure, the foam isn't as revolutionary as Organic's, and yes, the flap closure is neither as convenient as the Mondo's simple buckles nor as secure as the Petzl Alto's (below) zipper closure. But the pad comes with a well-built suspension system with a great range of adjustment for easier carrying, and the new designs are quirky and fun (our favorite is the "Daytrip" graphic in the photo above). And in an era when most companies are raising their costs, the SuperHero is relatively affordable at $275. For boulderers who appreciate a simple, eye-catching pad that will stand the test of time, the Asana shouldn't disappoint. 
See the Asana SuperHero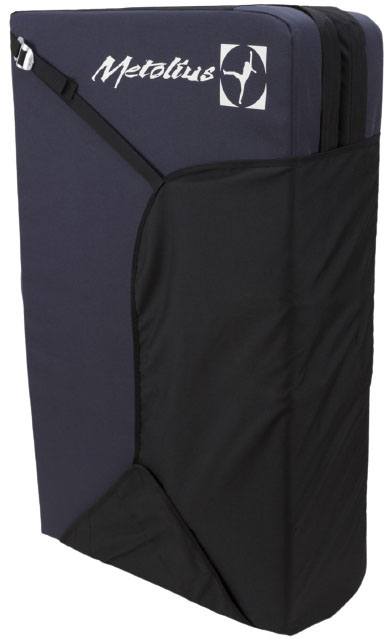 Category: Regular
Open dimensions: 36 x 48 in.
Thickness: 4 in.
What we like: A quality crash pad for a low cost; built-in carpet for cleaning shoes.
What we don't: Foam is softer than most and the fabric isn't particularly durable. 
The Metolius Session has long been one of our favorite crash pads, offering a great combination of affordability and quality. For just $200, it has more to offer than your standard, run-of-the-mill pad, with a variety of thoughtful features and design notes. We especially like the angled fold with Velcro reinforcement—unique to Metolius pads—that has all the benefits of a hinge design but diminishes the possibility of hitting the "gutter" during a fall, even on uneven terrain. Webbing handles make the pad easier to drag when unfolded, and the bottom and side flaps secure easily with just one buckle and reverse to protect the shoulder straps while bouldering. And like all Metolius pads, the Session II has a handy carpet patch to clean your shoes off before climbing.
Keep in mind that Metolius' foam definitely is softer than most (including the Organic Simple above), making this pad best suited for small falls. You'll risk bottoming out if you fall from high, but its small 36 x 48-inch footprint is meant for shorter problems anyway. Furthermore, the Session isn't a standout in durability with a 900-denier shell fabric (the Simple is 1000D & 1050D), and it only comes in a few fairly drab colorways, compared to Organic's fun and customizable offerings. But we do love the Session's carpet patch and angled hinge, which the Simple lacks. It can't quite measure up to the Organic, but the Metolius is nevertheless a high-quality pad and a great value at $200.
See the Metolius Session II
Category: Full
Open dimensions: 41 x 48 in.
Thickness: 3.5 in.
What we like: Lightweight; can drape over boulders and wrap around trees. 
What we don't: Not a great standalone pad.
The Drop Zone fills a gap in most pad collections, providing a lightweight, hinge-less addition to standard ground protection. At only 9.5 pounds, it makes toting a second pad a bit less arduous and is a great option if you're with kids who want to help with the carrying process. Further, the elastic mesh flap can secure a lot of gear inside the cavernous taco fold. And like its big brother, the Mondo above, the Drop Zone has a rubber-coated bottom for solid grip on uneven terrain and a polyurethane-coated top for durability and weather protection.
The Drop Zone got a similar upgrade as the Mondo last year, with improved buckles, a padded suspension, and square corners for better multi-pad coverage. But with the same taco-style fold, you do give up a bit of convenience. It does not lay flat when first opened, and you'll want to store it open so as not to damage the foam. And at only 3.5 inches thick, we wouldn't recommend the Drop Zone as a standalone pad unless you're staying low to the ground. Finally, less foam to absorb each fall means it's bound to wear out quicker than most. But as a top layer to cover gaps and a hinge-less option that you can drape over sharp rocks or wrap around trees, the Drop Zone is a nice addition to any boulderer's quiver.
See the Black Diamond Drop Zone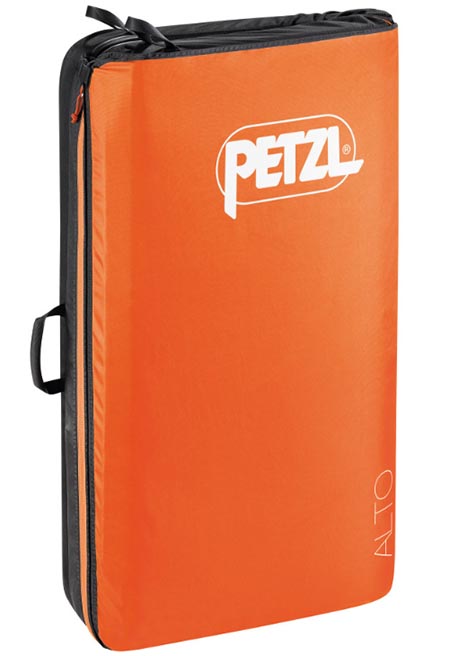 Category: Regular
Open dimensions: 39 x 49 in.
Thickness: 3.9 in.
What we like: Feature-rich and carries gear easily.
What we don't: Overbuilt for a crash pad and zipper might break.
True to form, Petzl designed an innovative crash pad with the utmost attention to detail. The Alto answers just about every gripe boulderers have about their pads: "my gear falls out the bottom," "the hinge creates a weak spot," "the shoulder straps catch when I'm trying to drag my pad." Not so on the Alto. The unique zipper design allows you to securely carry your gear and compresses the taco fold better than most. Once at the boulders, a flap zips around the suspension system to create a sleek, gutterless pad that can be flipped over and used on either side. 
All that, and we're still not convinced the Alto is a standout. In short, it's too complicated. The pad is arduous to set up relative to other pads and can be difficult to drag. Plus, we worry about the durability of the zipper closure—we've seen a Cirro (the largest Petzl pad) with a broken zipper that rendered the pad nearly impossible to transport. What's more, the Velcro suspension doesn't adjust to fit various body sizes. The Alto certainly is well-made, but at nearly twice the cost of the Black Diamond Circuit above, we have a hard time recommending it to all but the techiest of boulderers.
See the Petzl Alto Pad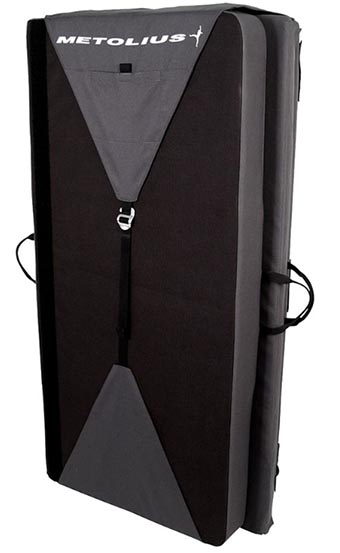 Category: Full
Open dimensions: 42 x 60 in.
Thickness: 4 in.
What we like: Small packed size and its angled hinges nearly eliminate gutters.
What we don't: Does not carry gear well.
If space is at a premium in your life, a tri-fold design like the Metolius Recon makes a lot of sense. For a full pad, the Recon's 22-inch folded width is impressive (compare that to the Organic Big Pad, which has a slightly larger footprint but has a packed width of 29 in.). And with Velcro that effectively seals up the two angled hinge folds, the gutter problem is nearly eliminated as well. All told, the Recon's accordion design is easy to pack and unpack, and the closure flaps invert to keep the suspension system clean while bouldering.
The Recon's tri-fold design does come with a few compromises. For one, it does not pack gear well—you'll barely be able to fit a pair of shoes and chalk bag within the folds. Second, the Velcro-sealed hinges make for a rigid surface with minimal grip that does not stick well to uneven ground (we usually prefer a taco design to cover complicated landings). That said, if you keep the hinges unsealed, on the right terrain the narrow panels conform to boulders where many standard pads (like the Mondo) would extend over air. For the same style in an oversized version, check out the Metolius Magnum ($400), which measures 47 x 70 inches and packs down to a 25-inch width.
See the Metolius Recon Pad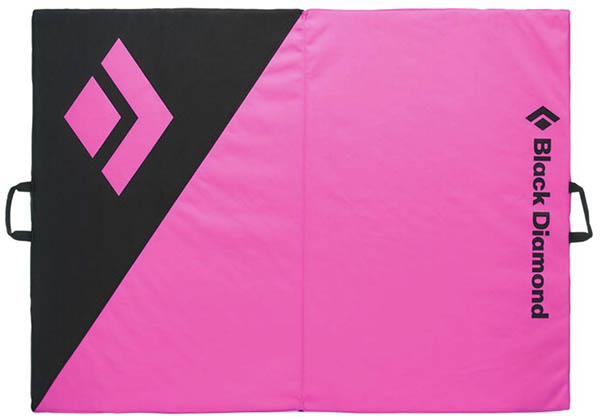 Category: Regular
Open dimensions: 35 x 47 in.
Thickness: 3.9 in.
What we like: A simple and inexpensive pad.
What we don't: Doesn't measure up to the Organic Simple and Metolius Recon II.
We'll cut straight to the chase: Black Diamond's Circuit isn't a very remarkable pad. It's fairly small, not even 4 inches thick, and not particularly durable. There's nothing special about the foam, and it doesn't have any of the noteworthy carry or organizational features of the more premium pads here. But the Black Diamond is a standout in one critical area: price. For the entry-level boulderer or gym rat who's thinking about making the transition to real rock, the Circuit is a respectable option from a trusted manufacturer that won't break the bank.
Compared to the other budget pads here, the Circuit falls a bit short. For $11 less, the Organic Simple really ups the ante, with more durable materials (1050D & 1200D vs. the Circuit's 900D), a hybrid hinge for added fall protection, and Organic's high-quality foam. On the other hand, the Metolius Session II features an angled hinge, carpet patch for cleaning shoes, and bottom and side flaps that reverse to protect the shoulder straps while bouldering. Added up, there are better options available at the $200 price point. But if you're a Black Diamond devotee or can find the pad on sale, it's a viable choice for beginners, circuits, or as a capable pad to supplement your quiver. And for a step up in size, check out Black Diamond's Impact (45 x 39 in.), which is also affordable at $250.
See the Black Diamond Circuit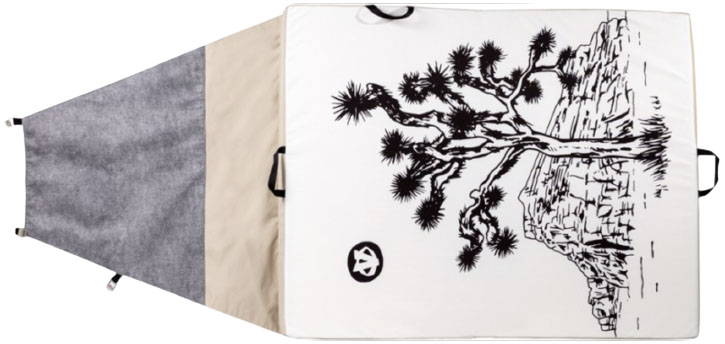 Category: Oversized
Open dimensions: 48 x 60 in.
Thickness: 5 in. 
What we like: Five inches of foam and a durable, fully-featured design.
What we don't: Pricier than the SuperHero above.
Evolv is a well-established brand in bouldering and climbing, but their new crash pad lineup is sure to turn some heads. Last year they debuted four unique offerings: the entry-level Cap Pad, the regular-sized Drop Pad, the oversized Home Pad, and the Launch Pad here. Each of these pads features 5 inches of three-layer foam (open cell sandwiched between closed cell), along with a top layer of 900-denier fabric. The Launch Pad tacks on a generously sized carpet patch, robust 1000-denier polyester base, durable cam straps, and an adjustable suspension system. It all adds up to a high-quality, fully-featured pad for boulderers who get out a lot and want a capable one-quiver tool for the job.
The Launch Pad shares a lot of common traits with the Asana SuperHero above, including heavy-duty straps and buckles, a convenient flap closure (great for carrying extra gear or schlepping two pads at once), and a nice assortment of handles for dragging the pad around when open. But unlike the Asana, the Evolv features a handy carpet patch and gets the edge in terms of protection, with a noticeably larger landing zone and size and extra inch of thickness. However, it'll cost you about $75 more, and the Launch Pad's two graphic options might be polarizing (the white pad will certainly show dirt). And finally, we'd hesitate to recommend Evolv's foam over Asana's, which is well loved among the bouldering community. But the Launch Pad is nevertheless a great new option for boulderers, with the added benefit of a one-year warranty if you purchase it through REI.
See the Evolv Launch Pad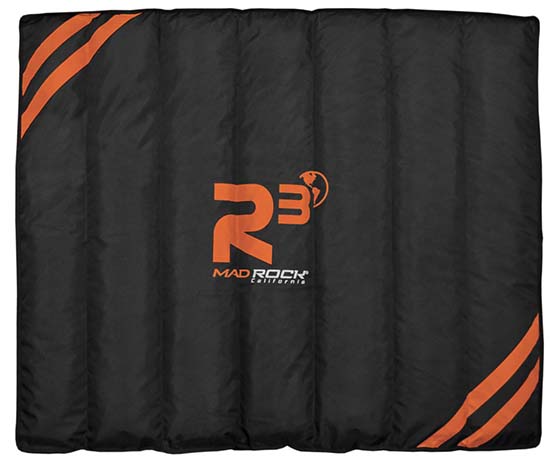 Category: Full/supplemental
Open dimensions: 35 x 55 in.
Thickness: 4 in.
What we like: Durable and can conform to uneven surfaces.
What we don't: Not a great standalone pad.
Mad Rock's R3 is a specialty option that straddles the line between standalone and supplemental pads. Instead of the standard layered open- and closed-cell foam we're used to, the R3 is constructed with seven separate baffles filled with shredded closed-cell foam—think Michelin Man or a down jacket. The benefit of this design is the R3's ability to conform to uneven surfaces while still providing a cushioned landing zone. Layer it over a jagged boulder, over gaps in pads, or fold it to fill in underneath. And given its flexibility, the R3 also is able to expand to carry gear better than most other pads.
However, we hesitate to recommend the R3 as a standalone pad for anything but the shortest problems. The lack of a continuous layer of closed-cell foam means you're more likely to bottom out, and the lumpy baffles make for an uneven landing surface even on flat terrain. In addition, while each seam between the baffling contains a small layer of foam, in essence there are six small gutters on the R3 rather than one large gutter. And at almost 20 pounds, it has a poor weight-to-size ratio (almost twice the weight of the similarly sized Drop Zone). But, the heavy-duty 1680-denier polyester cover and replaceable foam mean the R3 will keep going long after your other Mad Rock pads have been retired.
See the Mad Rock R3 Pad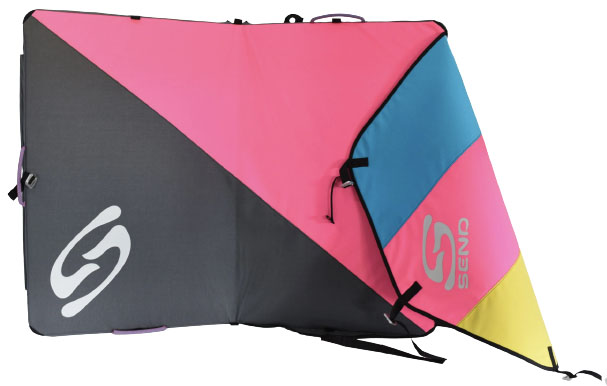 Category: Regular
Open dimensions: 36 x 48 in.
Thickness: 3.8 in. 
What we like: Innovative plastic sheet distributes impacts and makes for more stable carrying.
What we don't: Expensive.
Based outside of legendary bouldering area Hueco Tanks in El Paso, Texas, Send Climbing is best known for their kneebar pads, but their lineup of fully customizable crash pads is well worth a look. The most standout feature is Send's proprietary DistribuFrame, which sandwiches a plastic framesheet between closed-cell foam on the top and open-cell foam below. This distributes the impact of a fall, keeping the climber from bottoming out and simultaneously extending the life of the foam (it also provides an anchor for the pad's suspension, making it easier and more stable to carry).
The 3x4 Pro is Send's regular-sized offering, and it comes with all the bells and whistles you'd expect in a premium pad. For starters, you get heavy-duty, 1,000-denier fabric and a hybrid fold that eliminates the gutter, along with a padded flap that doubles as a starter mat (including a patch of carpet) and handles made of reclaimed climbing rope. We also like Send's easy-to-use Add-a-Pad system, which uses Velcro patches to secure a 2 by 3-foot pad (purchased separately) to the 3x4 Pro. But you do pay a premium at $399, and most boulderers will be just as happy with some of the better value options above. Cost aside, the 3x4 is a truly innovative and top-shelf pad that will last for many seasons.
See the Send Climbing 3x4 Pro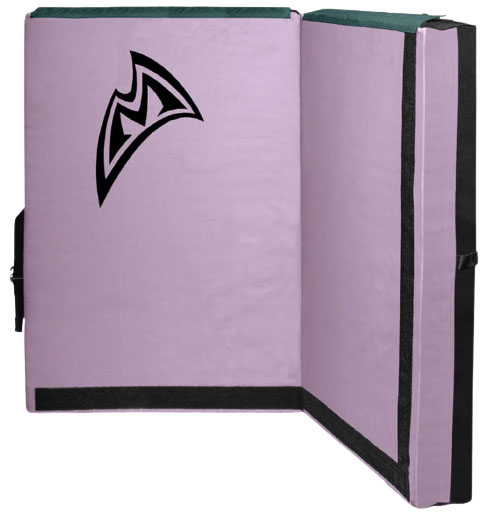 Category: Regular
Open dimensions: 37 x 50 in.
Thickness: 5 in.
What we like: Thicker and slightly larger than the Black Diamond Circuit.
What we don't: Mad Rock foam is not super durable.
Similar to the Black Diamond Circuit and Metolius Session II above, the Mad Rock Mad Pad is great for new boulderers or those looking for an affordable second pad. It has a slightly larger footprint than the Session and is made with Mad Rock's standard 5-inch sandwiched foam (rather than the 4-in. thickness of the Metolius). And like all other Mad Rock pads, it features Velcro for continuous flooring and can be converted into a couch. 
But at $219, the Mad Pad can't compete with pads like the BD Circuit, Organic Simple, and Metolius Session II above. The shoulder straps aren't adjustable and the fabric is the least durable of any pad here. Further, you don't get any special features like an angled or hybrid hinge, gear flap, or carpet patch. And finally, Mad Rock's foam is known to start out nice and cushioned, but unfortunately does not stand the test of time. With 5 inches of foam and a wide array of colorways, the Mad Pad does have a few things going for it, but it's far from the best value here.
See the Mad Rock Mad Pad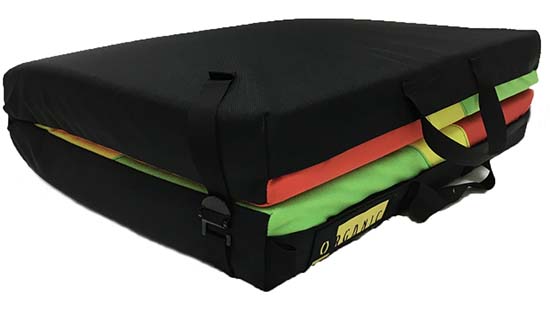 Category: Supplemental
Open dimensions: 24 x 36 in.
Thickness: 3 in.
What we like: Small and lightweight but still serves a variety of uses.
What we don't: The Pro Spotter above is more versatile.
The Briefcase from Organic is a small and easy-to-transport crash pad option with a variety of uses. Throw it down as a supplemental pad for extra protection while circuiting, or place it at a start so your feet and clothing stay clean. Fold it to fill in gaps underneath other pads, or drape it over boulders in your landing zone. It's small enough to fly with and slim enough to slide between the folds of most standard-sized pads.
With just 3 inches of foam and a small 24 by 36-inch surface area, we wouldn't recommend the Briefcase to be used alone. Additionally, among supplemental pads, the Asana Pro Spotter above is more versatile. But many will appreciate the simplicity and continuous padding of the Briefcase. It might seem like a luxury piece at first, but we think a quality supplemental pad makes a good staple for every pebble wrestler.
See the Organic Briefcase Pad
Bouldering Crash Pad Comparison Table 
Bouldering Crash Pad Buying Advice
Crash Pad Categories
Many factors contribute to the amount of protection a crash pad provides, with size being the most obvious. Simply put, the larger the footprint of a pad, the more ground it covers. For short problems or easy circuits where a fall is small or unlikely, many boulderers find one regular-sized pad to be sufficient. When it comes to highball bouldering, full and oversized pads (and often more than one of them) are favored above the rest. We've broken down crash pad size into four categories: supplemental, regular, full, and oversized. Keep in mind that most companies make pads in a handful of different sizes, so you'll likely be able to size up or down with similar features and quality.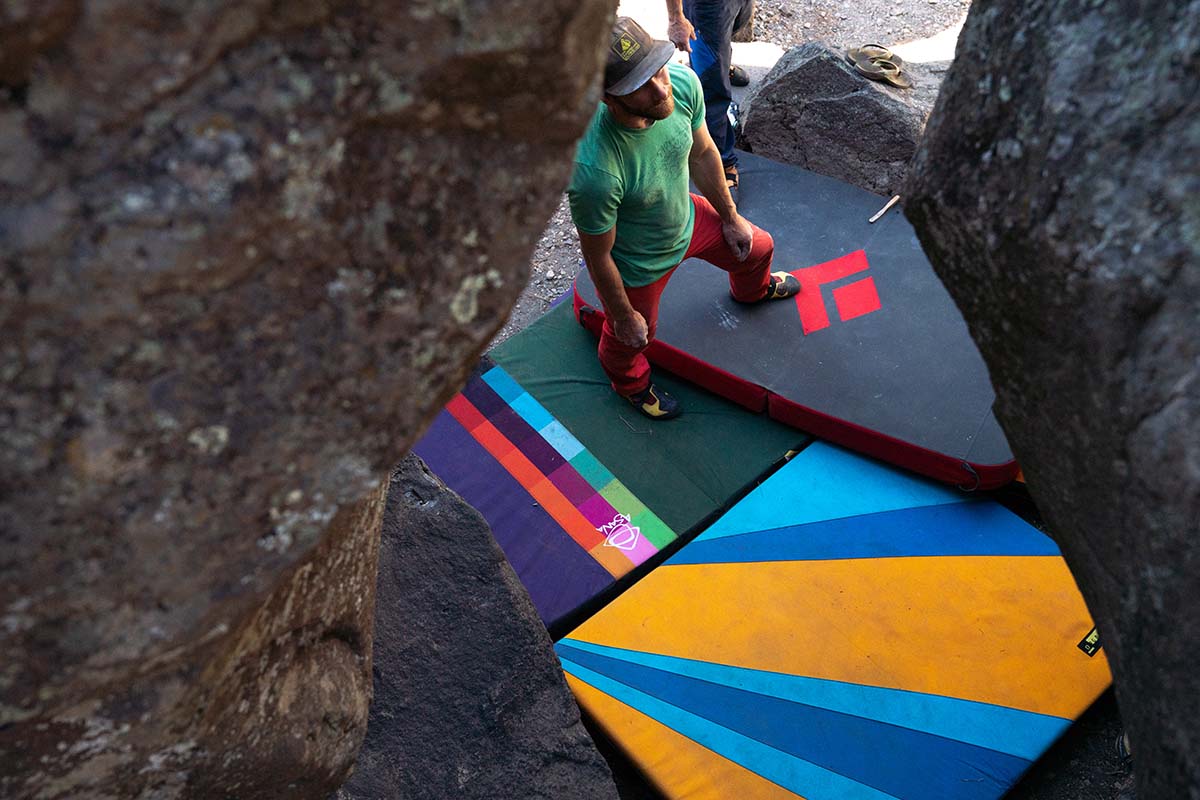 Regular
Regular pads are your standard, entry-level designs. They average roughly 36 by 48 inches (3 x 4 ft.) when unfolded and come in the same thicknesses as oversized pads (4 to 5 in.). Those new to bouldering or on a budget will find this size to be perfectly sufficient for protecting most problems, and expert boulderers will take them along as a valuable second pad. When you have to carry two pads, regular pads are ideal for strapping onto the back of an oversized pad. Additionally, they are a great size for circuits or bouldering alone on non-committing or easy (for you) problems. For the purpose of specificity, our regular category includes pads up to 13 square feet in surface area.
Full
If you're looking to size up from the regular category above but don't want something too massive, full pads provide a happy medium. We think of these as the standard, all-rounder designs of the bouldering world. Lay out a bunch of full pads under a problem and you're bound to feel safe. Full pads often have more features than their regular counterparts, including carry straps or tri-fold designs. If you've been bouldering for years on other people's pads and feel it's time to get your own, this is the size we'd point you to first. In this article, we've given the "full" designation to pads between roughly 13 and 20 square feet of surface area.

Oversized
With names such as Mondo and Highball, oversized pads can't hide the fact that they're the giants of the crash pad world. If you'll be high off the deck and relying on a pad to protect you, it's best to err on the side of a very big pad. Regular and full pads—especially linked together (as with the Mad Rock pads) or covered with a supplemental pad—can do the trick, but there's nothing as reassuring as seeing a 5-inch oversized mattress below you (most but not all oversized pads are 5 in. thick). Oversized pads generally are about 48 by 60 inches (20 sqft or more), with outliers like Metolius' Magnum extending a full 70 inches.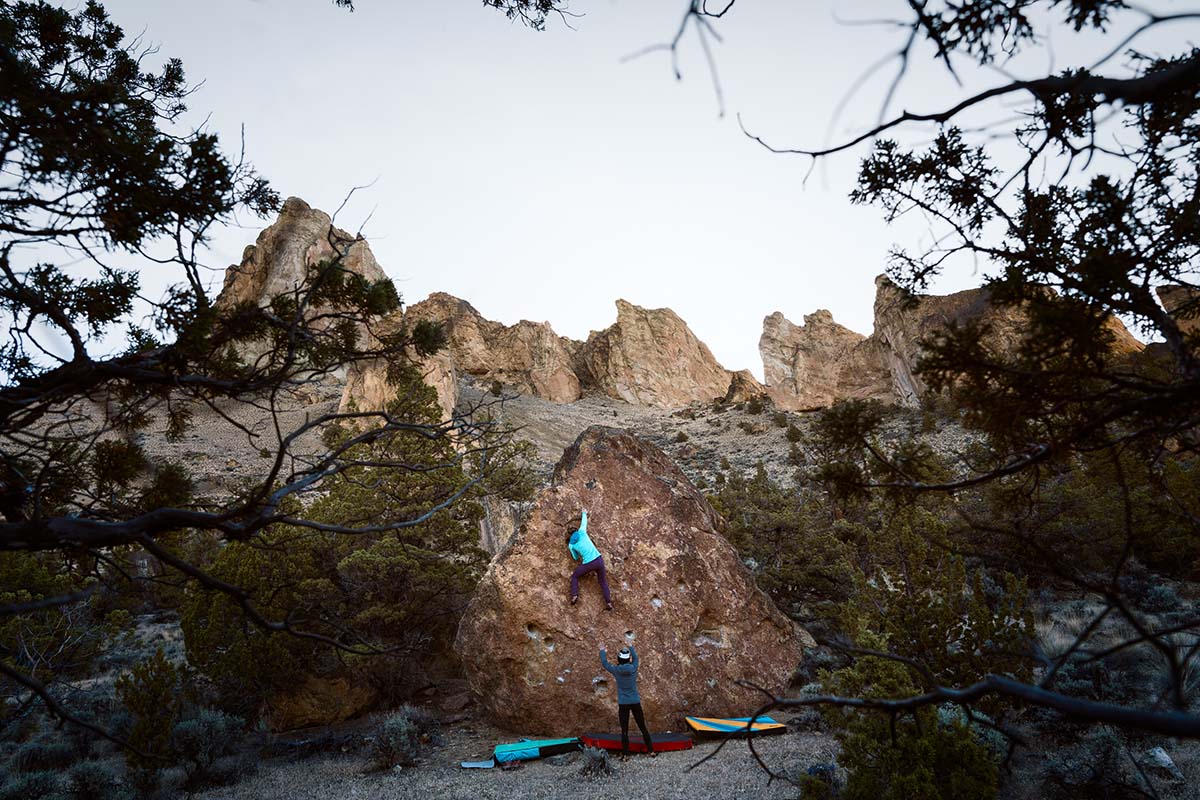 You might be thinking, "Why would I even consider a regular or full pad when I could have an oversized pad?" Oversized pads are expensive and heavy, often pushing 20 pounds. For simple lowball bouldering and circuits, they're more hassle than they're worth. Furthermore, oversized pads take up space. More than anything else, the size of your car might determine the pad you purchase. A regular sedan will probably max out with two full pads, and that's with no passengers in the backseat. Some of the larger pads (the Black Diamond Mondo, for example) might not even fit. If price, space, size, and weight don't matter, sure, pad your problem like you're in the gym. But most consumers will want to weigh the pros and cons of the various pad sizes. 

Supplemental
We use the term "supplemental" as a catchall category for pads that are not designed for standalone use. These pads generally have small footprints and are 3 inches or less in thickness. For example, the Organic Briefcase Pad measures 24 by 36 by 3 inches, while the Asana Pro Spotter is larger at 44 by 74 inches but is only 0.75 inch thick. Supplemental pads often are used for sit starts, doubled over to level out a landing zone, or unfolded to cover cracks between multiple pads. We also like these pads for keeping feet clean and dry when bouldering in the mud or snow. Though not to be used alone, supplemental pads can be invaluable when paired with larger pads.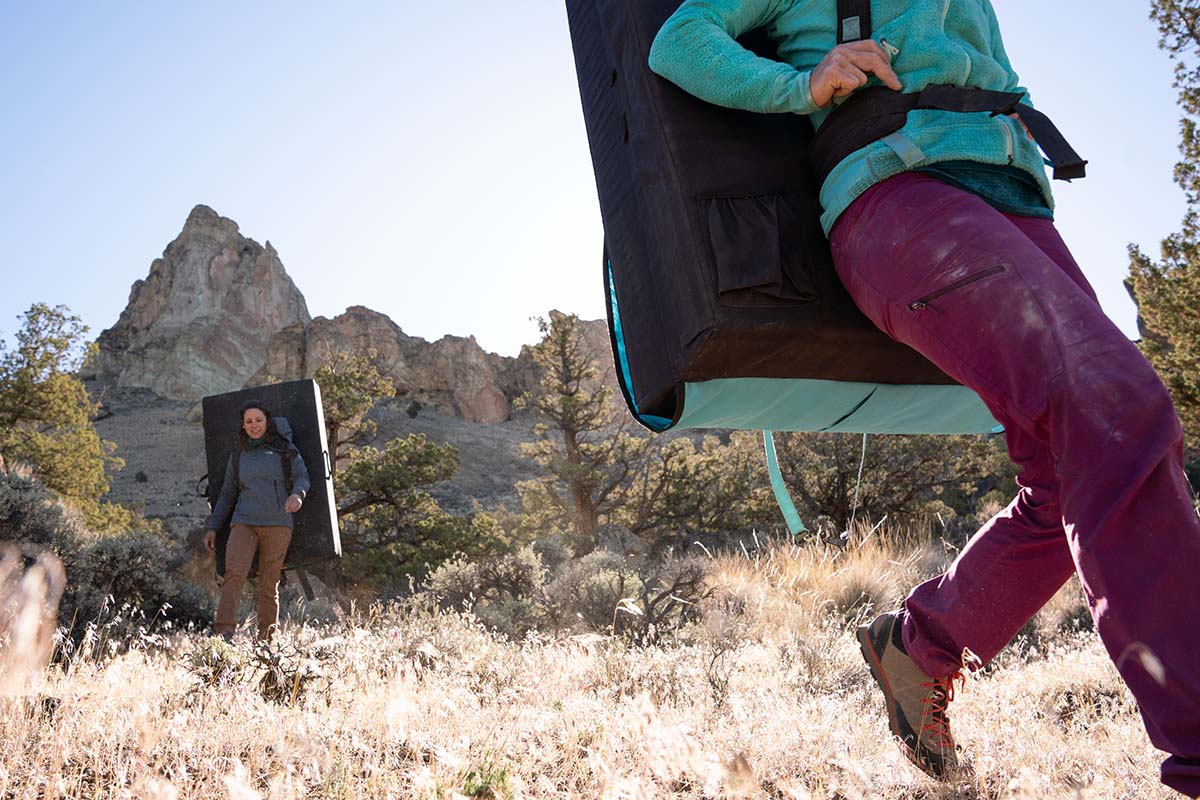 Foam Types
When it comes to padding, there are two main elements at play: the types of foam used and the way in which they're layered. Starting with types, foam can be broken down into two categories: open- and closed-cell. As the name states, each "cell" of closed-cell foam is sealed off to the air, making it rigid, firm, and unable to compress much under impact. Open-cell foam, on the other hand, is soft and springy, with cells that allow air to enter and exit. In the absence of pressure, open-cell foam fills with air. When force is applied, these cells release air and provide cushion.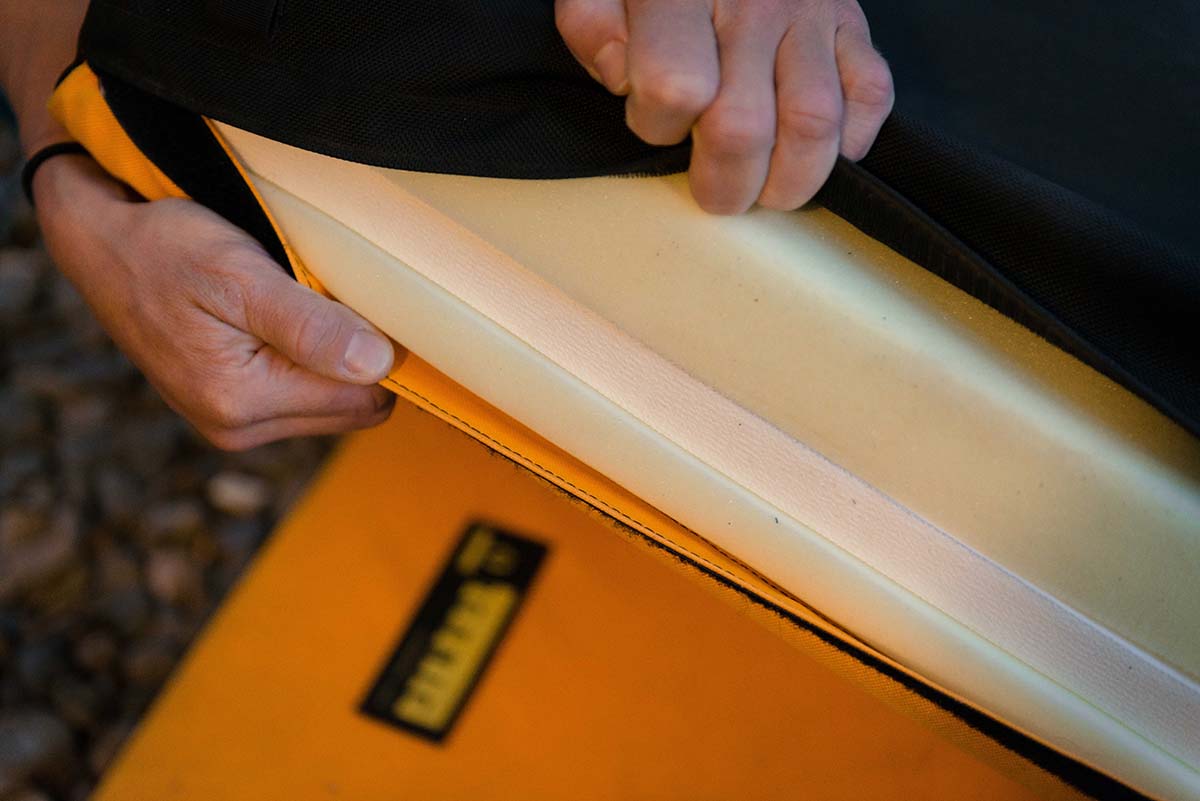 While most crash pads are made with a combination of open- and closed-cell foam, there are a few outliers, including the Mad Rock R3 and Send Climbing 3x4 Pro. Unlike your standard crash pad design, the R3 features a series of baffles filled with recycled and shredded closed-cell foam. This pad applies the science of open-cell foam to create a cushioned closed-cell foam—pockets of air in between the small pieces allow the firm foam to provide soft and springy ground protection. On the other hand, Send Climbing's 3x4 Pro inserts a plastic framesheet (nicknamed the DistribuFrame) in between layers of closed-cell and open-cell foam. When a climber falls, the DistribuFrame spreads the load out across the entire pad, preserving the lifespan of the foam and limiting the chances of bottoming out. And lastly, Organic pads incorporate a continuous layer of durable, comfortable memory foam for premium protection.
 
Foam Layering
When you fall onto the pad, you're hoping for two things: to not bottom out (feel the ground), and to have a cushioned catch. Most crash pads are able to pull this off by combining layers of open- and closed-cell foam. Ideally, the top layer of firm foam (closed-cell) takes the force and spreads it out onto the center layer of softer foam (open-cell), which lets out air to provide cushioning. In short, closed-cell foam dissipates the force and open-cell foam absorbs it. Most pads also have another layer of closed-cell foam on the base to further prevent bottoming out and to protect the open-cell foam from moisture and rough ground (closed-cell foam does not absorb water).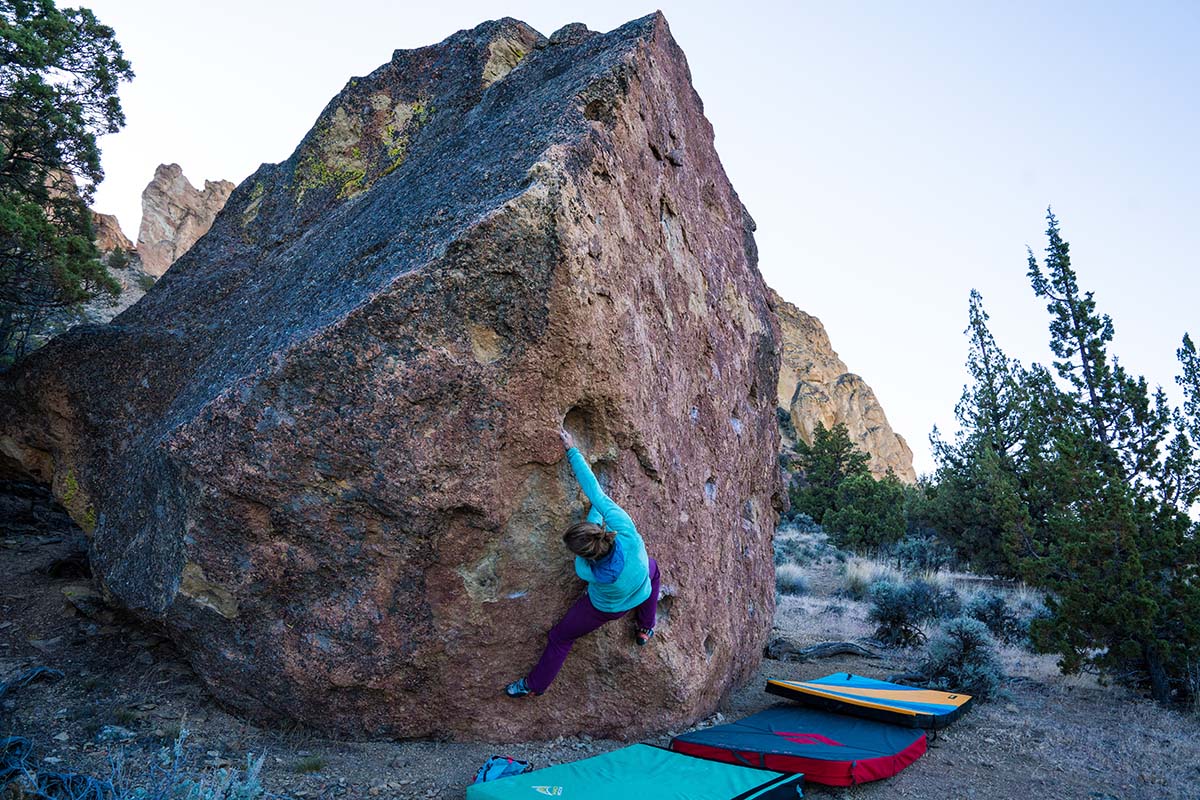 Pad Thickness
All of the standard pads on this list are between 3.5 to 5 inches thick. For the most part, the thicker the pad, the bigger the barrier it provides between you and the ground. Pads like the 3.5-inch Black Diamond Drop Zone would not be confidence-inspiring (or safe) under a highball problem, whereas you'll love seeing the 5-inch Mondo waiting for your fall. As a general rule, the bigger the falls you plan to take, the thicker the pad you should purchase. Keep in mind that pads can be stacked on top of each other for even more protection.
 
Fold Types
Bouldering pads are designed to fold into a more compact shape for easier transport. While this packability is absolutely essential, it also creates a weak link in the foam. Manufacturers have played with all manner of designs in order to address this issue, and each has its pros and cons. Below we break down the four main types of folds: hinge, angled hinge, hybrid hinge, and taco.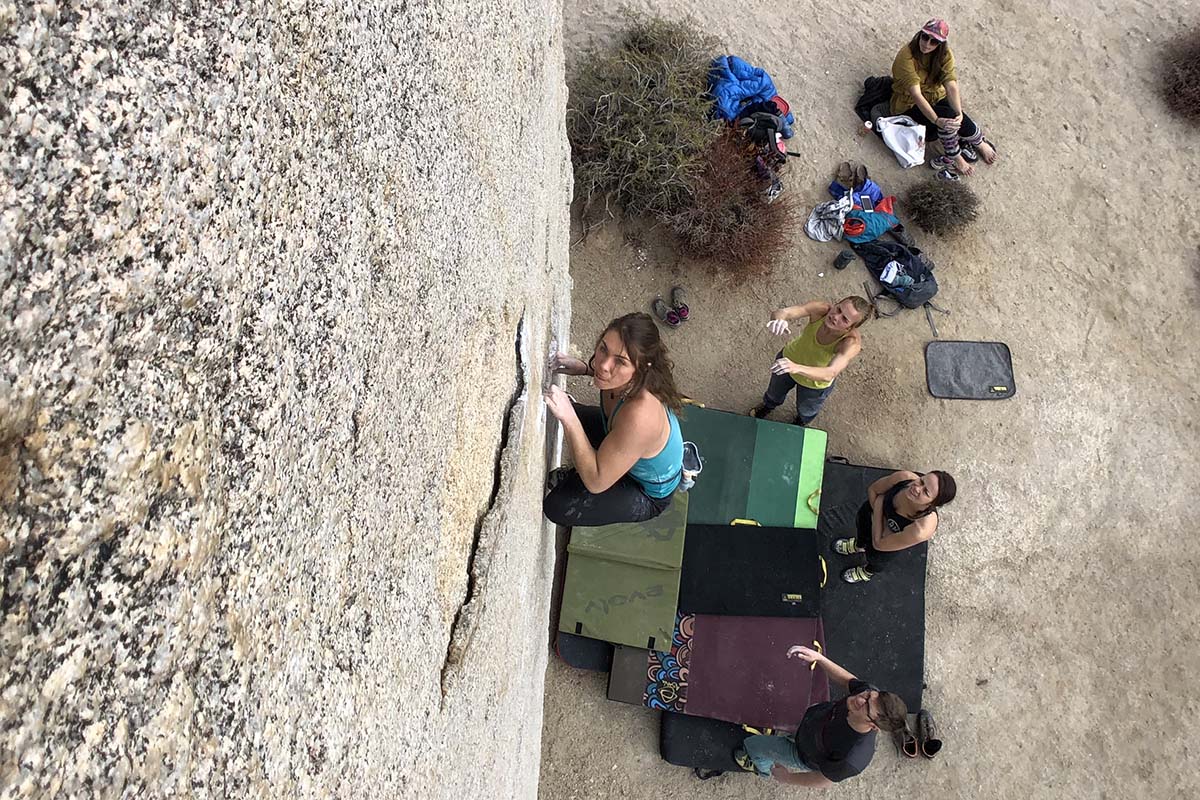 Hinge
A hinge is the most common type of fold on a crash pad. A hinged pad is made up of two completely separate compartments of layered foam connected with a nylon cover, forming a single crease of fabric at the folding point. The benefit of a hinge closure is that no foam is being compressed time and time again in the fold. This preserves the longevity of the pad and allows you to store it folded shut without worrying about weakening foam along the crease. Furthermore, this design allows the pad to fold completely shut, making it one of the most compact of the four systems. 
The downside, however, of a hinged pad is that a "gutter" can form between the two pieces of foam, especially on uneven terrain. Rolled ankles are probably the most common bouldering injury and gutters often are the culprits. Some hinged pads, like Mad Rock's pads and the Black Diamond Mondo, are designed with Velcro straps on the bottom to pull this gap together—a good, but not perfect, solution. If your landing zones are rugged, we'd recommend against a simple hinge pad. But for flat ground, this design does the trick. Your chance of hitting the gutter are slim, and in this environment, the benefits outweigh the drawbacks.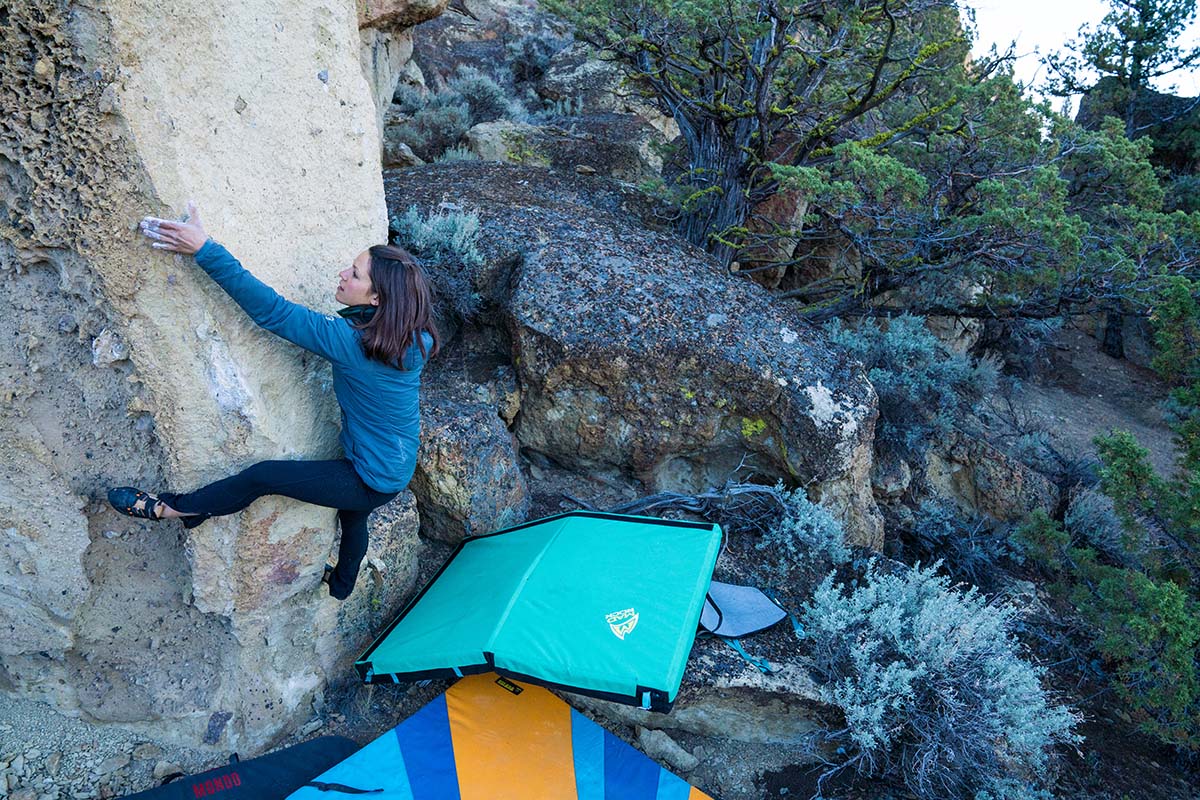 Angled Hinge
Metolius is the only company that makes their pads with an angled hinge, but we think they've got a good thing going. It resembles a standard hinge with two pieces of foam, but both pieces are cut at angles along one side. This means that when the pad folds out, the top piece of foam extends over the bottom, while the bottom extends under the top. Metolius places Velcro patches on these hinges so that the pad can be sealed flat. This is a smart solution to the hinge problem—again, not perfect (especially on uneven ground)—but close. Metolius pads are still compact when closed and can be stored folded without shortening the foam's lifespan.

Hybrid Hinge
Pads with a hybrid hinge take the design of a hinged pad and add a thin, continuous layer of foam over the entire top. While 3 to 4 inches of the pad still fold separately, 1 inch of foam covers the hinge's gap. These pads strike a nice middle ground: they don't close quite as compact as simple hinge pads, but do so better than taco-style pads. They eliminate the gap of hinge pads, yet not as completely as taco pads. But with foam that is routinely folded, durability becomes an issue (it is best to store these pads open). Strategically, Organic uses memory foam on their pads—the same material we know and love from pillows and mattress toppers—as the continuous top sheet. Memory foam has the ability to compress without losing loft and we think it's a brilliant material for a hybrid-hinged pad. 

Taco
A taco-style pad is made with continuous open- and closed-cell foam that folds in half for transport. As you would expect, taking 4 to 5 inches of foam and folding it is not an easy task, and these pads often require a full body effort to clasp the buckles. The significant benefit of taco pads is that they do not have a gutter, providing one continuous, safe surface to protect falls. If you boulder consistently in areas with jagged landing zones, a taco pad is especially handy for draping over sharp rocks and mitigating gaps. Plus, because taco pads inherently have a space between the two sides when folded (picture a real taco), they are able to carry a daypack inside better than most.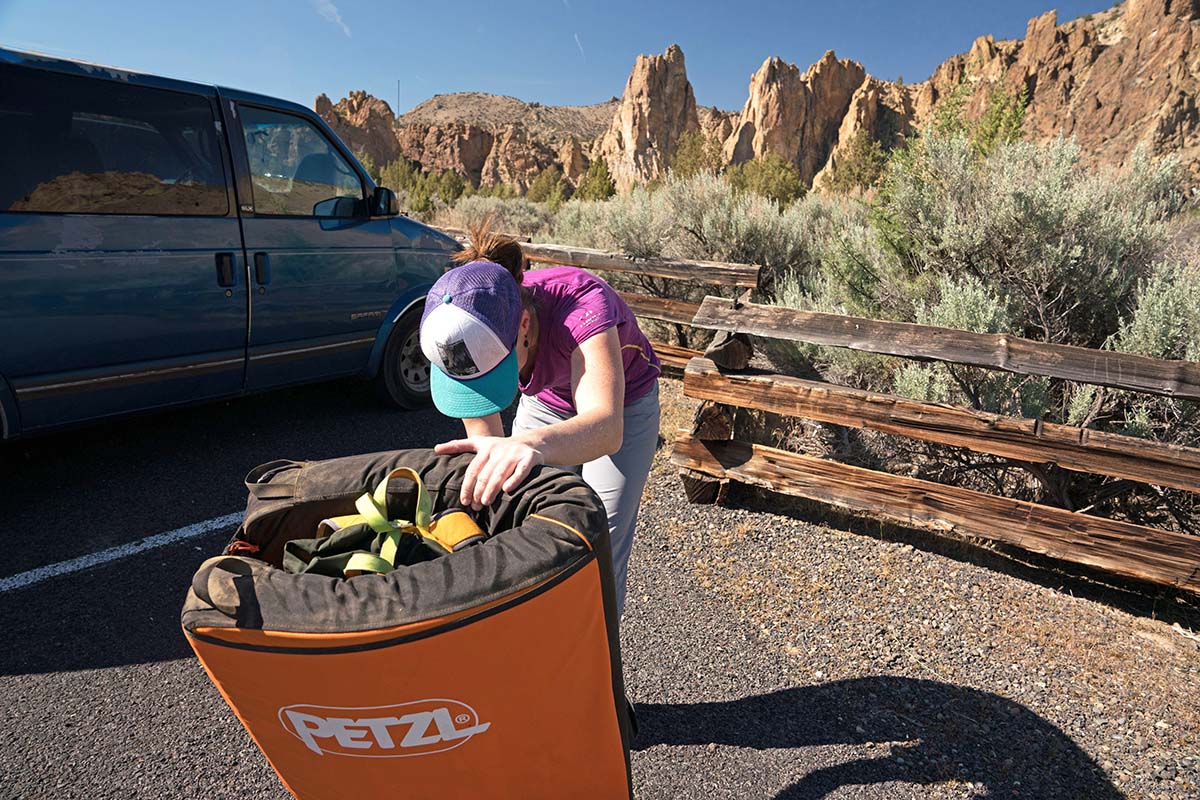 But these advantages come with a list of setbacks. Most taco-style pads do not lay flat when opened—they might need to be flipped upside down or given a few minutes for the compressed foam to expand. Second, they're usually made of a softer variety of foam than hinge-style pads and are less than confidence inspiring when falling from high. Furthermore, the area of foam that is compressed in the fold will eventually lose its loft, putting the lifespan of a taco pad in question (these pads also should be stored open whenever possible). And lastly, because of the nature of the cumbersome fold, taco-style pads carry slightly off-kilter on your back. 
 
Closure Systems
Buckle
Each pad in this round-up has a slightly different design that allows it to stay folded and closed for transport. The most common closure is comprised of a series of buckles along the side (and sometimes the bottom and top too), which you'll find on pads like the Organic 4" Thick Big Pad and Black Diamond Mondo. Keep in mind that some buckles are easier to use than others. Asana's cam straps, for example, are super durable but not as convenient as the hooking buckles on the Mondo. Buckle closures are easy to secure for transport but do not provide a particularly safe compartment to carry smaller items. Some of these pads, like Mad Rock's Mad Pad, have a strip of Velcro at the base to keep items from falling out.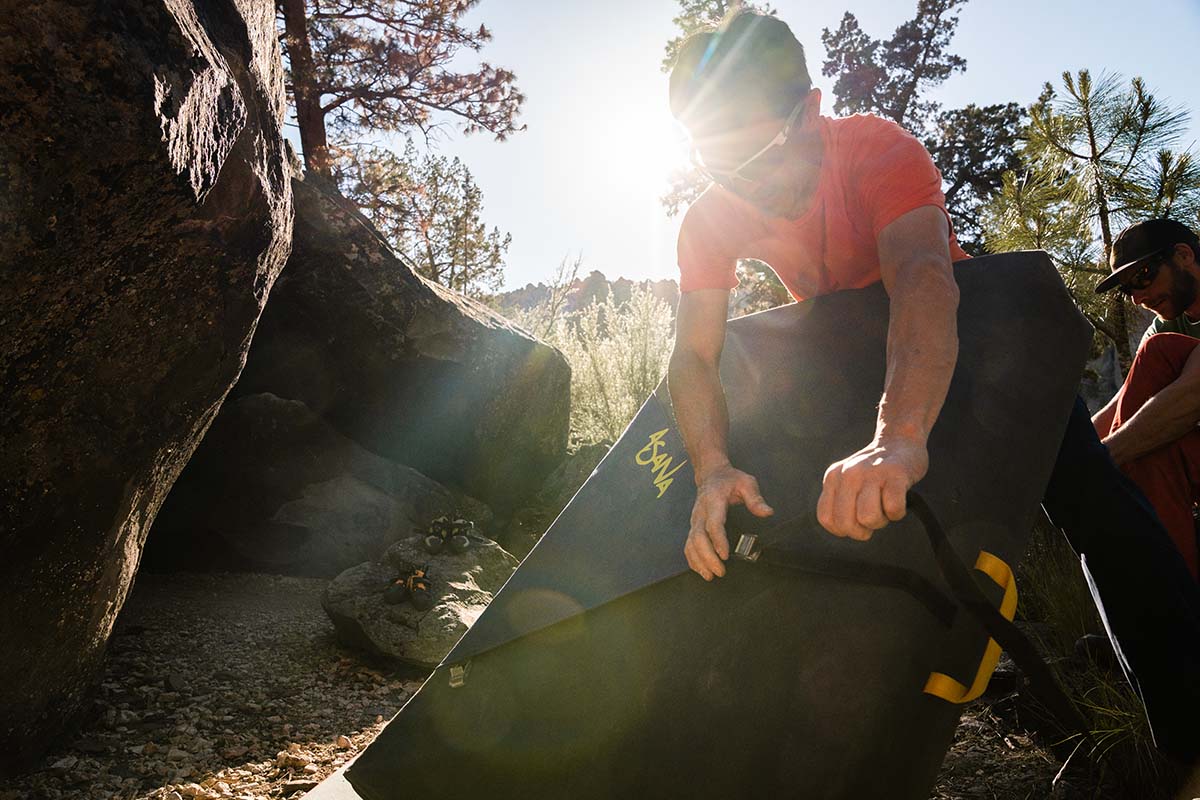 Flap
Another common system is the flap closure, employed on the Mad Rock Duo, Kinetik Newton, Metolius Session II, and others. These flaps most often cover the bottom and side of the closed pad, and sometimes the top, and usually are secured with buckles. The benefits of a flap closure are that items can ride inside the closed pad without the threat of falling out, and the flap can be used to piggyback a second pad. Oftentimes, it also folds out to become a doormat for wiping feet or wraps all the way around the pad to protect the suspension system from the ground, allowing you to drag the pad to keep it under the climber without the straps getting caught on rocks and roots. Because of all of these benefits, flap closures are our preferred closure design. 

Zipper
The final closure system to cover is a zipper, and Petzl's innovative Alto is the only pad on the list above with this unique design. The benefits of the zipper closure are clear: it creates an ideal carrying compartment for loose and small gear with no threat of items falling out. Moreover, the flap unzips and flips around the pad to protect the suspension system from the ground and create a smooth surface that doesn't grab on rocks when dragged (similar to, but more effective than, the design of a simple flap closure). This allows the Alto to be used upside down without the suspension system getting in the way if you fall. 
Durability is the main downside of a zipper closure. Zippers are a common point of failure, and we've personally used an old Petzl pad on which the fabric had separated from the zipper, rendering it almost impossible to carry. It can be a bear to close as well, but once shut, the zipper compresses a taco pad better than any other closure system.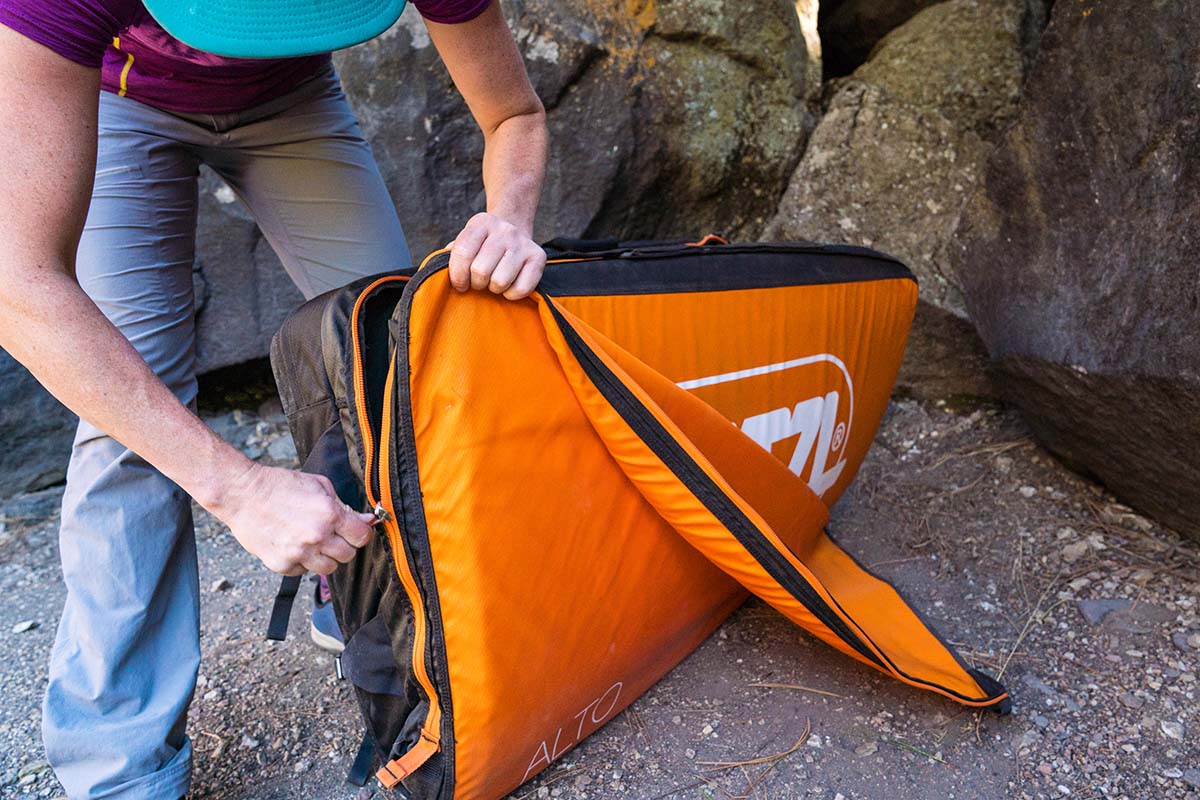 Portability: Suspension System and Carry Straps
A suspension system might not be the first feature you think about when buying a crash pad—it's made to lay on the ground and protect your fall, after all. That said, these pads are large and can weigh up to 24 pounds. With gear and water packed inside, you might be looking at a very unruly, 30-pound pack. Even if you're just walking 5 minutes to the boulder field, that's a fairly significant load.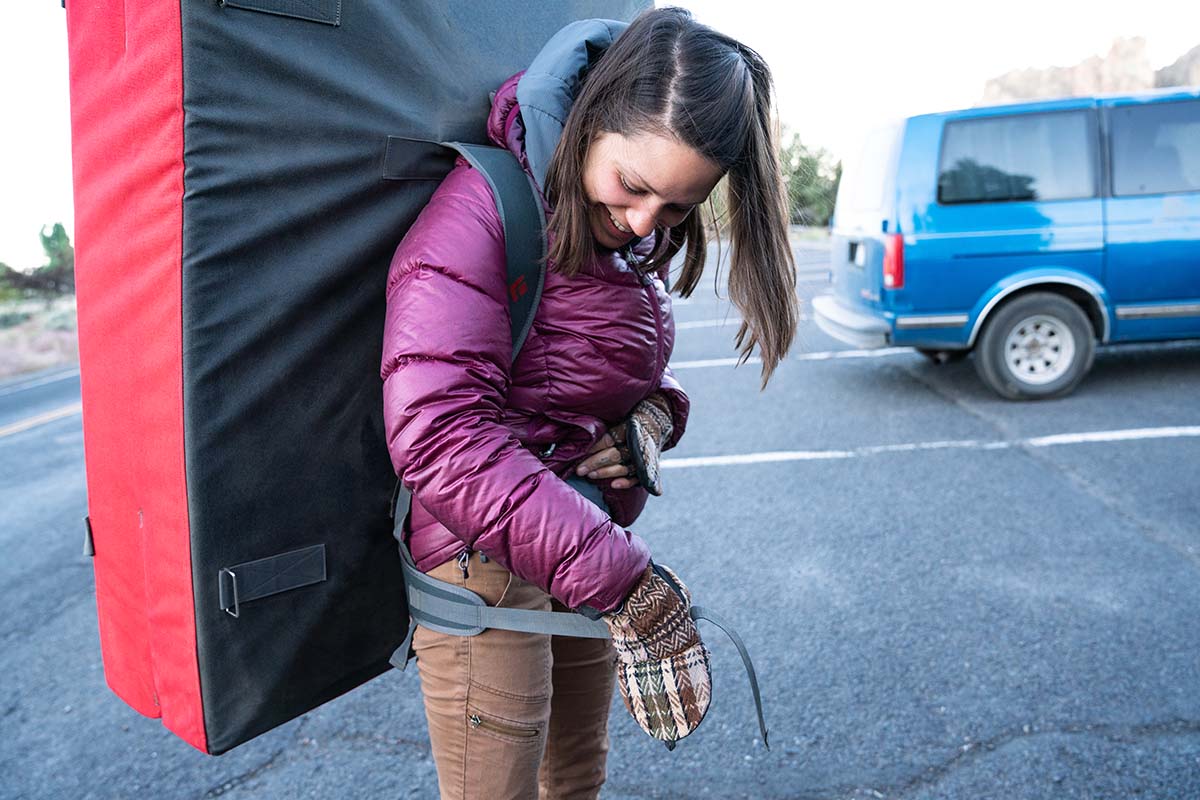 For this reason, it's important to evaluate a pad's shoulder straps and hipbelt before purchasing. The bigger the pad, the more support you'll want. Additionally, some allow you to adjust the height of the shoulder straps to get a snug fit, while others are fixed. On the extreme end, Organic partnered with Mystery Ranch Backpacks to make a crash pad that carries comfortably enough to take deep into alpine bouldering zones.
Once you've carried your pad into the boulders, it's likely you'll still be moving it short distances under climbers or between problems. Here, pads come with varying degrees of convenience. Some have side shoulder straps, while other have a carry handle at the fold for easy one-handed pickup. Grab handles on the sides or corners also are useful for dragging the pad. We think the Black Diamond Mondo is especially well made for transport, with large over-the-shoulder handles that pack away and four grab handles near the corners.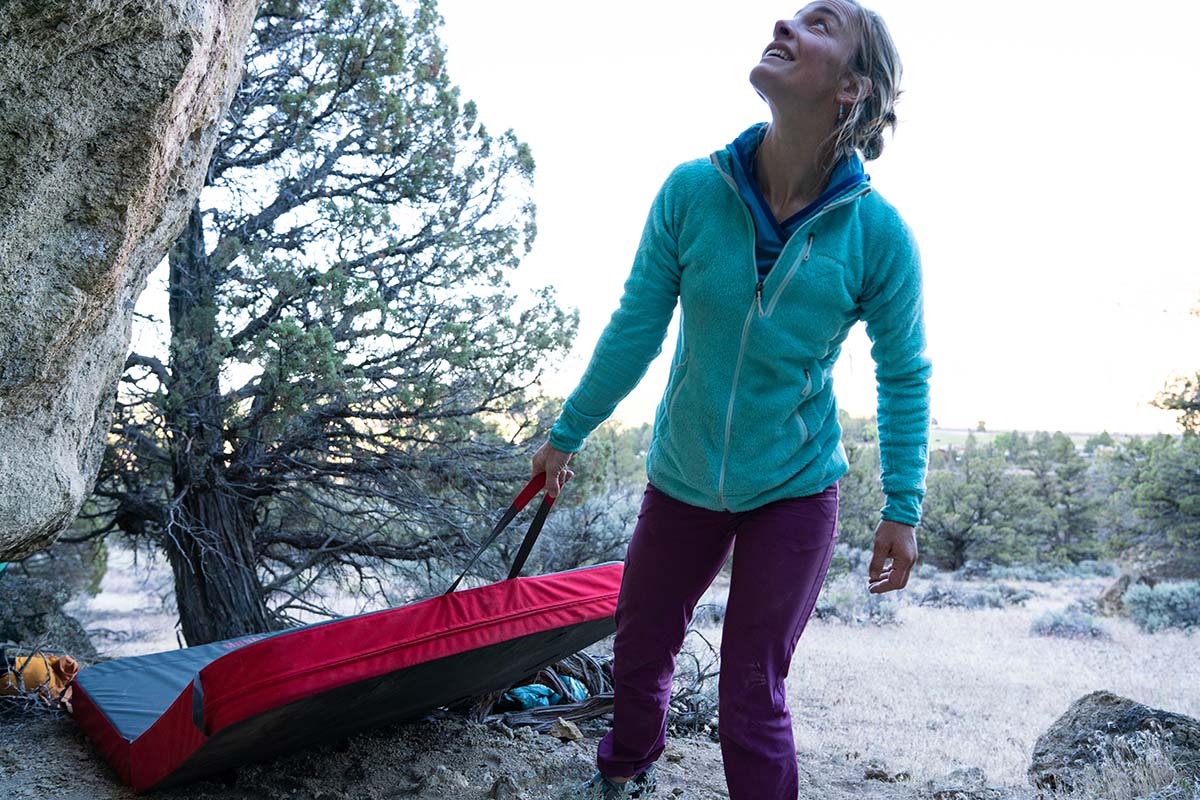 Weight
The majority of crash pads weigh between 10 and 20 pounds, depending on size, foam thickness, and features. In general, the weight of a crash pad will not be one the most important specs when deciding on which model to purchase. If your climbing style demands an oversized pad, you'll be content carrying the hefty 20-pound load for the tradeoff in safety. If, however, weight is a major consideration for you, a pad like the Black Diamond Drop Zone is impressively light for its size at 9 pounds 8 ounces, but does compromise some with a thinner 3.5-inch construction.
 
Organization
When you have to carry layers, water, rock climbing shoes, and chalk in addition to the huge pad on your back, organization is worth thinking about. Most pads make it possible to stuff miscellaneous items between the fold, with taco pads being the roomiest and triple fold pads the most difficult to pack. You'll find too that worn in or softer pads accommodate gear better than new and stiff pads. Of course, pads with flaps, zippers, or Velcro on the bottom or sides provide the most secure transport for all your goods. The Petzl Alto even zips closed, so you can throw items of any reasonable size into the pad without worrying about them falling out.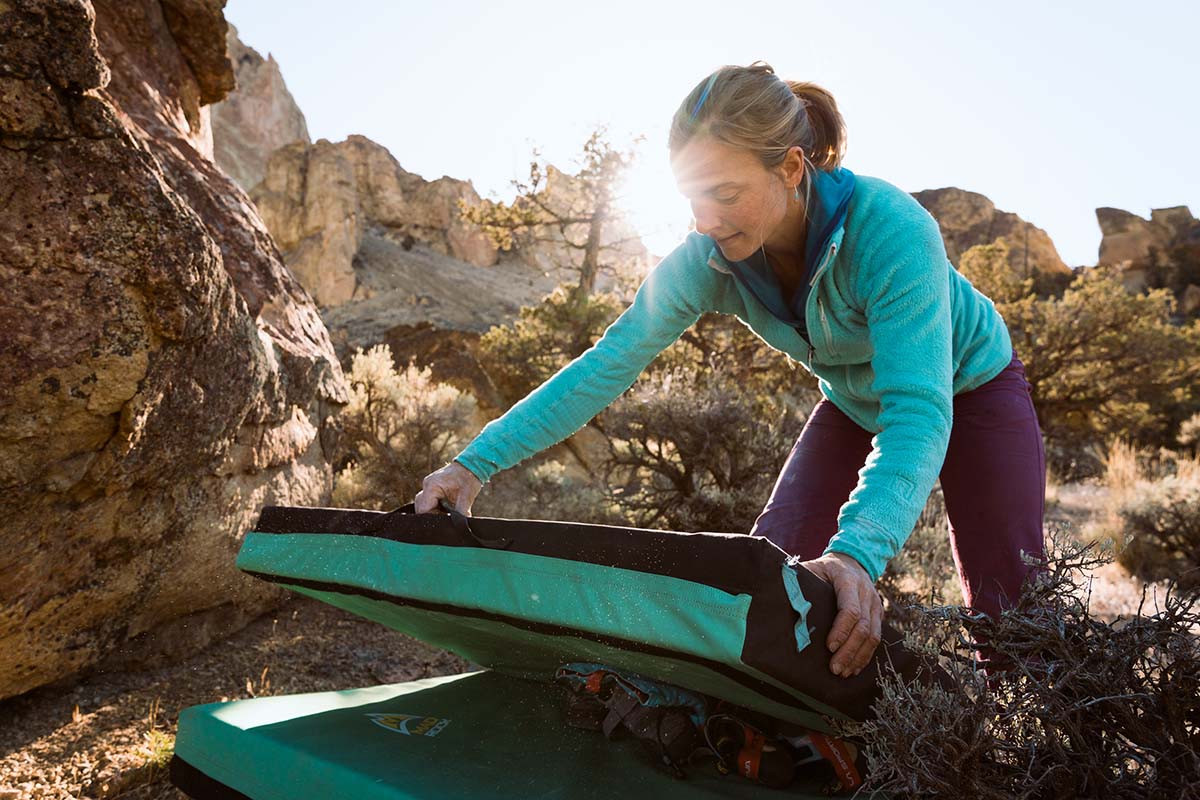 Some pads are more fully featured than others in this regard. Common extras include daisy chains or other lash points to hang your gear, water bottle holders, or a pocket for keys, as we see on the Metolius Recon. We find that some of these features lend convenience while others are simply overkill. As with most things, it's a tradeoff. We love the having an extra carry flap for the approach, for example, but once at the boulders it can become unruly and cumbersome.
 
Durability 
Crash pads are durable pieces of gear, designed to be thrown, dragged, stood on, and of course, take falls big and small. All are constructed with a cover that surrounds the foam, and most of these covers are made of nylon. In general, the higher the denier count of the nylon (a measurement of fabric thickness), the tougher it will be. Additionally, pads might feature beefed-up fabric for added protection, like the waterproof coating on Black Diamond's pads or the reinforced corners of the Flashed Hueco (not featured here). Kinetik's Newton, marketed as an all-season pad, is one of the most durable of the bunch, with a robust 1680-denier heavy duty ballistic nylon cover.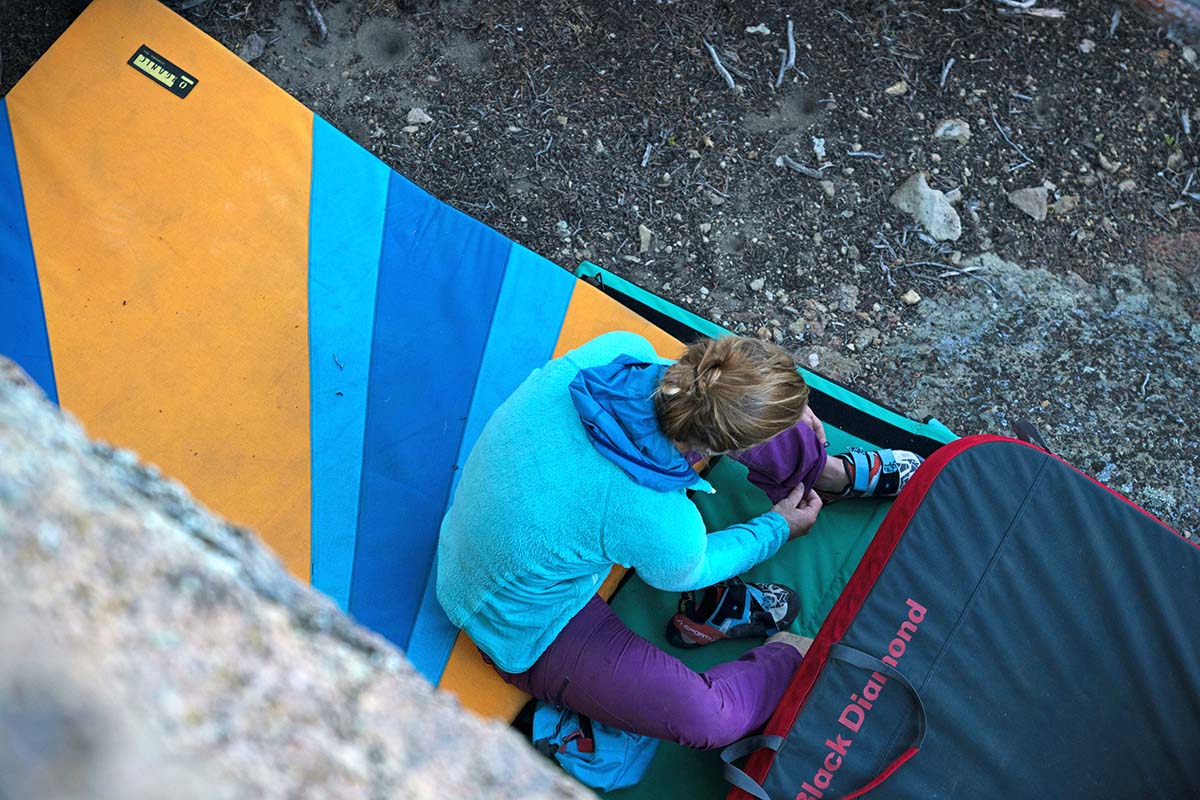 But it's not all about the burly cover. In fact, a pad's foam likely will be the first thing to degrade. Over time and with extended use, foam has a tendency to grow soft and lumpy. If you have a taco or hybrid hinge pad, it's imperative that you store it unfolded to lengthen the life of the foam. The good news is that a crash pad will let you know when it's aging. Pads inevitably grow softer during the break-in period until they reach their optimal level of cushion, and then begin to head downhill into the "too soft" realm. When you start to feel the ground through the pad, it's probably time to give it a second life as a dog bed or van mattress. Alternatively, Organic sells replacement foam for their pads, and Mad Rock does as well for their R3 model. 
 
Crash Pads and Air Travel
Flying with crash pads is one of the greatest cruxes of traveling as a boulderer. In general, regulation size for a checked bag is 62 linear inches (length + width + height), which dictates that your 4-inch pad be less than 24 by 36 inches. That's too small to be of much use, so unless you're willing to pay expensive oversized baggage fees, forget flying with your pads. However, it's worth noting that some airlines (like Alaska Airlines) allow you to check oversized sporting goods for no additional fees. And in 2023, many popular bouldering areas have stores or rental outfits nearby with loaner pads available, which eliminates the travel hassle altogether.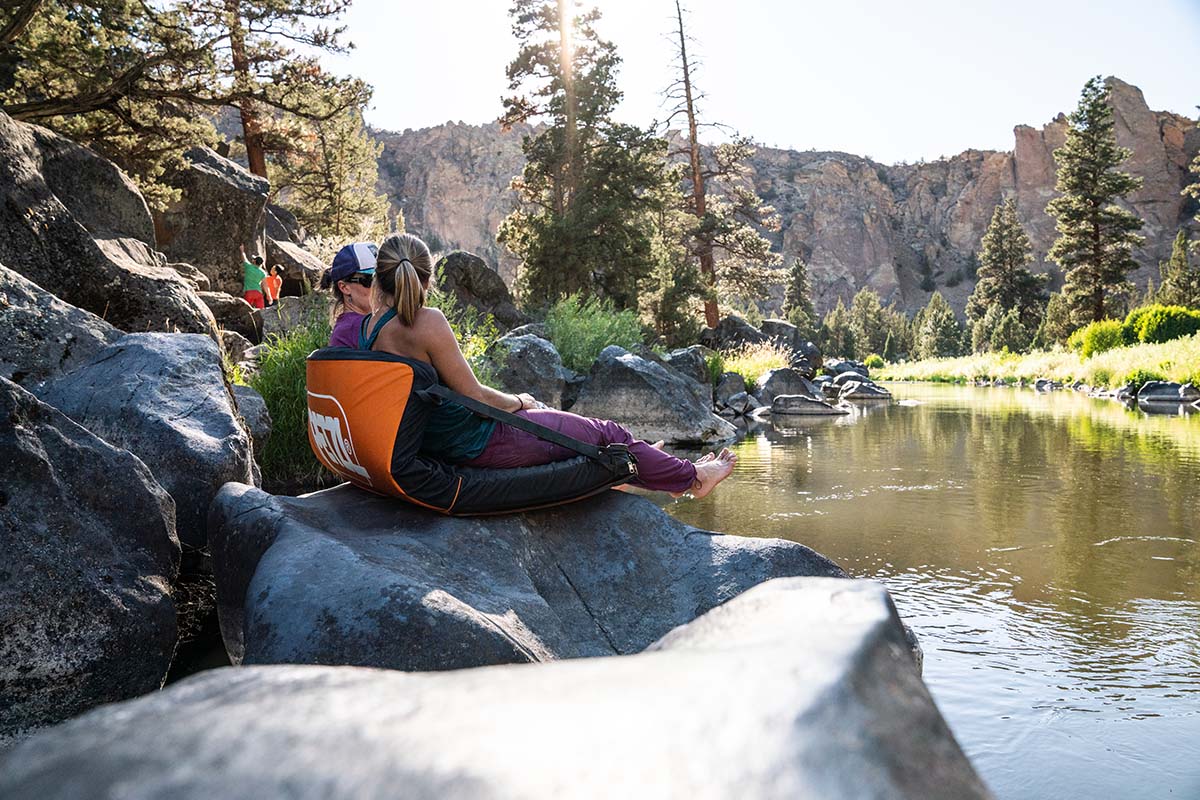 Buying a Crash Pad Online 
It's no secret that crash pads are heavy and bulky, so buying online can pose a bit of an issue when it comes to shipping. Cost varies significantly across the board, with many retailers charging an arm and a leg to ship their pads, even domestically. We typically advise shopping online through Backcountry, which offers free shipping on orders over $50. On the other hand, REI charges an additional $30 for shipping on oversized items (including crash pads), but you can also head into their brick-and-mortar stores to check at the pads in person. In the end, it's important to pay attention to shipping charges, as they can add up quickly. And this is as good a plug as any for your local gear shop: if you can try a pad out before buying and avoid shipping costs at the same time, all the better.
Back to Our Top Crash Pad Picks  Back to Our Crash Pad Comparison Table