Whether you're traveling by air, driving up to a cabin for the weekend, or venturing across the world on an expedition, you'll likely be using a duffel bag to get your gear from one place to the next. Duffels are popular among all kinds of travelers for good reason: they're easy to load and carry, and many are built to take a beating. Below we break down the best duffels of 2023, including top travel, outdoor, and waterproof bags of both the standard and rolling varieties. For more background information, see our duffel bag comparison table and buying advice below the picks.
 
---
Our Team's Duffel Bag Picks
---

Best Overall Duffel Bag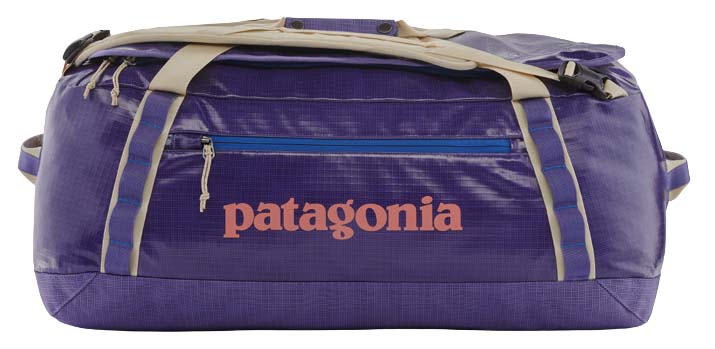 Category: Outdoor/travel
Weight: 2 lb. 9.1 oz.
Capacities: 40, 55, 70, 100L
What we like: Durable, comfortable as a backpack, and looks great.
What we don't: A little pricey.
Patagonia's Black Hole line helped made duffels cool, and we think the 55-liter version is the best all-around bag on the market. In 2023, all Black Holes are made with 100%-recycled materials, along with the premium build quality and trendy colorways that Patagonia is known for. This bag is beautifully constructed from end to end, and you get multiple color options from simple black to bright red. And the Black Hole is tough: The fabric is burly 900-denier ripstop nylon with a DWR finish to fend off moisture. This duffel is not waterproof like the Yeti and SealLine models below, but it should keep your gear dry in light to moderate moisture just fine.
We've been using the same Black Hole Duffel for almost ten years now and it's still going strong, despite being packed with sharp climbing gear and shlepped to all corners of the world (by plane, train, horse, and snowmobile). In terms of features and carrying comfort, you get a multitude of ways to grab and carry the duffel: The removable backpack straps are more comfortable and functional than most, and the bag comes with reinforced haul handles and webbing loops for carrying by hand. Keep in mind that this duffel does not have a particularly rigid structure (only the base is lightly padded), so it doesn't offer a ton in the way of protection for your fragile items. Finally, Patagonia's Black Hole line also includes a variety of versions (we love the 70L for expedition use and the 40L as a carry-on), including smaller travel packs and wheeled duffels.
See the Patagonia Black Hole 55
Best Budget Duffel Bag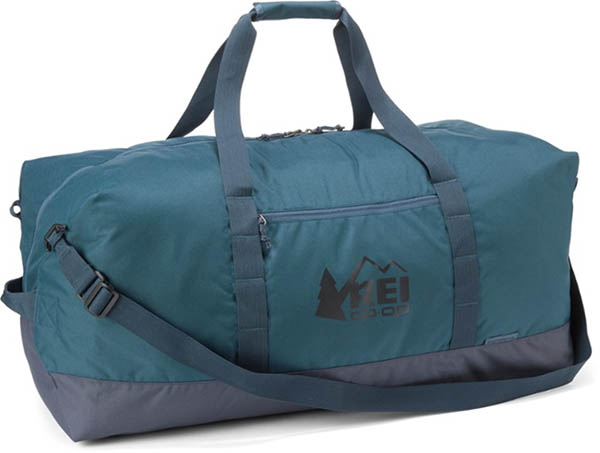 Category: Travel
Weight: 1 lb. 6 oz.
Capacities: 40, 60, 100, 140L
What we like: A simple duffel at a great price.
What we don't: No backpack straps or internal storage.
If you're in the market for basic storage and protection for your gear, the REI Co-op Roadtripper is one of the best values on this list. At just $65, this bag is made from burly recycled polyester and sports a large detachable shoulder strap and handles (no backpack-style straps here, which is notable for those who plan on carrying their bag long distances). We also love the minimal weight, which at just 1 pound 6 ounces is one of the lightest duffels here.
Who is the REI Roadtripper Duffel best for? It makes a great gear hauler for those who need space and protection without the bells and whistles. We've used the 100-liter version on a number of big trips including all the way down to Patagonia (four flights) and came away impressed. The bag is well-built, functional, and has withstood quite bit of use and abuse. At the same time, it's not waterproof (or even highly water-resistant) and definitely not a fully featured bag for travel. If you want more protection and conveniences like internal storage, side compartments, and backpack straps, we'd recommend the Patagonia Black Hole above instead.
See the REI Co-op Roadtripper 100L
Best Carry-On Duffel Bag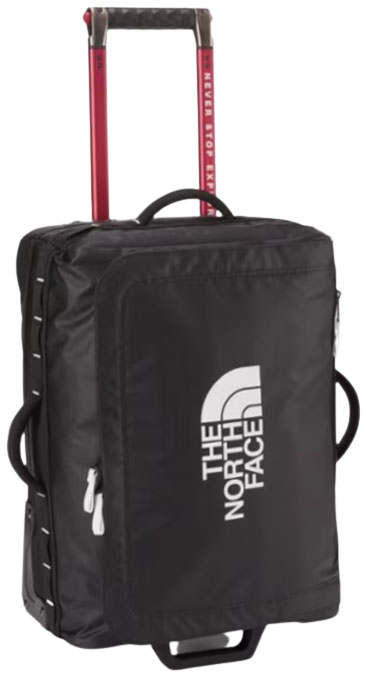 Category: Travel
Weight: 6 lb. 13 oz.
Capacities: 40 (21"), 94L (29")
What we like: A tough carry-on duffel with wheels. 
What we don't: Somewhat lacking in internal organization.
For frequent travelers, there is a lot to be said for the convenience of a wheeled duffel, especially one that can be used as a carry-on. At 40 liters and with dimensions that meet size restrictions for most airlines, the TNF Base Camp Voyager Roller is a great option for air travelers who don't pack the kitchen sink. The wheels are large yet smooth and functional over a variety of surfaces, and equally at home on the dirt roads of a far-flung village as in the airport. What's more, the rigid internal frame and strong plastic handles (one telescoping) are durable enough to take a beating, whether you're lifting the duffel, rolling it over cobblestones, or tossing it into the back of a truck. And with a PFC-free DWR finish, the Base Camp Voyager will keep your gear dry in the process.
What the Base Camp Voyager Roller is not, however, is a fully featured piece of luggage for business travelers. It lacks the sleek look and organizational compartments of more typical roller bags, with only one internal mesh pocket, a laptop sleeve, and a small external zip pocket. And at $240, you'll pay a premium for the durable construction and wheeled design. For $40 less, the Osprey Daylite Carry-On 40 offers better organization, but its sophisticated appearance might not appeal to those looking for a true duffel design. In the end, the Base Camp Voyager Roller is a great combination of durability, functionality, and outdoor style. For those who want more space, TNF also makes a 29-inch version that can accommodate more than 90 liters' worth of gear.
See The North Face Base Camp Voyager Roller 21"
Best Weekender Duffel Bag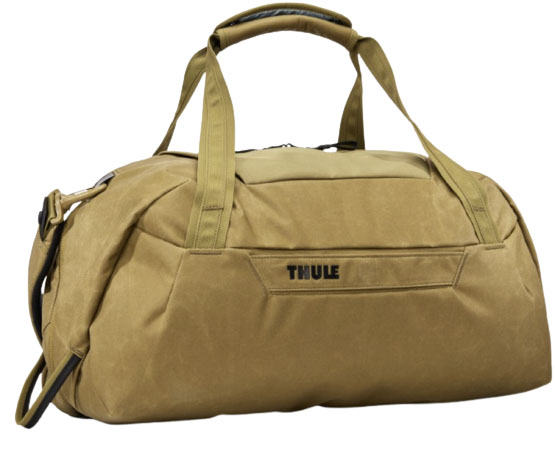 Category: Travel
Weight: 2 lb. 6.4 oz.
Capacity: 35L
What we like: Great size, organization, and aesthetic for weekend use.
What we don't: Expensive for the capacity.
Many of the duffels here are designed for expedition use or toting a week's worth of gear (or more), but the reality is that most travels take place over the weekend. A good weekender bag can hold around 35 liters' worth of clothing and personal supplies, meets carry-on requirements, and features a range of internal and external pockets to help you stay organized. Within this category, the Thule Aion is our top pick and gets high marks for style too, with a classy aesthetic that looks the part in both urban and outdoor environments. The 35-liter bag is also decently durable, with a waxed 600-denier polyester canvas outer that's abrasion-resistant and can fend off light moisture.
In addition to its good looks and build quality, the Thule Aion is high on organization with two separate internal compartments (great for separating clean and dirty clothes), a laptop sleeve and internal zippered pocket, and external stretch and zippered stashes beside the front zip. Portability is also good with two carry handles, a padded (and removable) shoulder strap, and a pass-through sleeve for securing to a roller bag. Added up, the Aion offers similar functionality as a travel backpack but in duffel bag form, which is great for those looking for a cleaner, more streamlined look. At $190, it's more expensive than most bags here of similar size, but the added features and sleek appearance do help justify the added cost. For a slightly more affordable option, check out the Peak Design Travel Duffel ($140).
See the Thule Aion Duffel Bag
Best High-Capacity Wheeled Duffel
Category: Travel
Weight: 8 lb. 9.6 oz.
Capacities: 45, 100, 130L
What we like: Premium build quality, sturdy design, and convenient organization.
What we don't: Bulky, heavy, and shows wear quicker than we'd like.
For travelers torn between a standard duffel and traditional wheeled luggage, the recently updated Osprey Sojourn Shuttle (previously just the "Shuttle") may be exactly what you're looking for. This high-end duffel is extremely roomy, durable, and comes with tons of organization. Time and time again, we've loaded an entire vacation's worth of clothing and gear into the Osprey with ease. Unlike cheaper wheeled duffels that have a tendency to fall over when full and upright, it maintains its stability nicely, and the larger-than-average wheels get the job done on uneven surfaces like cobblestones and gravel roads. And all of the other features are there, from external compression straps to tighten down your load to a separate lower compartment for wet gear.
The major shortcomings of the Osprey Sojourn Shuttle are simply trade-offs inherent to the roller design. First, you won't be throwing this duffel over your shoulder and strolling through the airport or walking through a major city. It's heavy at over 8 pounds empty and must be transported almost exclusively on wheels. In addition, when packed to the brim, you may find yourself pushing the standard 50-pound checked baggage limit—particularly if you go with the 130-liter version (we've cut it close with the 100L on occasion). Finally, at $395, the Sojourn is pricey—even within Osprey's lineup, you can save with the simplified Daylite Wheeled Duffel 85 ($240) and more durable Transporter Wheeled Duffel 90 ($340). But for a premium roller duffel from a brand known for its high-quality, durable offerings, look no further than the Sojourn Shuttle.
See the Osprey Sojourn Shuttle 100L
Best Ultralight/Packable Duffel Bag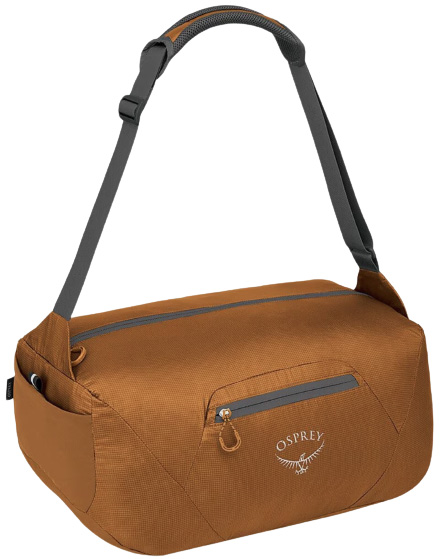 Category: Travel
Weight: 7.1 oz.
Capacity: 30L
What we like: Lightweight and packable build offers a lot of versatility.
What we don't: Small capacity and not super durable.
Not everyone needs their duffel bag to pack down small, but in certain situations, it can be a really nice feature to have. Perhaps you're low on storage space, headed out on an expedition where every inch and ounce count, or simply need to bring along an extra duffel for the souvenirs you plan to pick up during your travels. Regardless of the reason, it's hard to beat the utility of an ultra-packable design, and Osprey's 30-liter Ultralight Stuff Duffel is one of our favorite options. Clocking in at just 7.1 ounces and packing down smaller than a 1-liter water bottle in its integrated pocket, the aptly named Ultralight Stuff is far and away the most streamlined option here. For just $45, it's almost a no-brainer whether you're using it as your primary bag or a backup.
We love the versatility of the Osprey for space- and weight-conscious situations, but keep in mind that this isn't your standard travel duffel. With a thin nylon construction and small 30-liter capacity, it won't hold up to long-term abuse, keep your gear dry, or shuttle much more than a well-organized overnight kit. But it's fully functional for the right application with a padded shoulder strap, accessory pocket, and smooth-running zippers. 
See the Osprey Ultralight Stuff Duffel
Best Waterproof Duffel Bag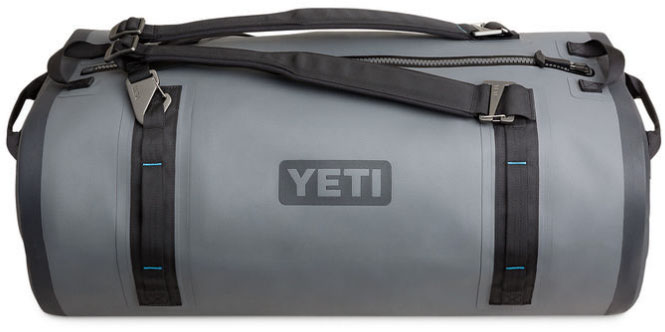 Category: Waterproof/outdoor
Weight: 6 lb. 2 oz.
Capacities: 50, 75, 100L
What we like: A fully waterproof duffel for rafting and other outdoor uses.
What we don't: Very expensive and thick.
If you know coolers, chances are you know the Yeti brand. And it's no surprise that the company entered the duffel market with a splash. Many models on this list are water-resistant—they can withstand wet ground and the occasional rain shower—but the Panga is fully waterproof. You'll often spot this thick and submergible duffel on rafts, fishing boats, and pretty much anywhere people want the ultimate level of protection for their gear. Made with laminated high-density nylon that feels like rubber, a burly EVA bottom, and a waterproof zipper that locks firmly into place, this duffel is as water-ready and air-tight as you'll find.
Keep in mind that the Yeti Panga is overkill for non-outdoor use, and serious use at that. The bag is pricey at $350, heavy at over 6 pounds for the 75-liter version, and has a thick, rubbery feel. In addition, Yeti branding is strong with logos on each side and a very prominent imprint that runs the length of the bottom of the bag. All in all, this isn't the optimal duffel for travel or light outdoor adventures, but it's worth its weight in gold when you need real waterproof protection for your gear. For a few cheaper waterproof options, check out the NRS High Roll Duffel Dry Bag and the SealLine WideMouth (below).
See the Yeti Panga 75
Best of the Rest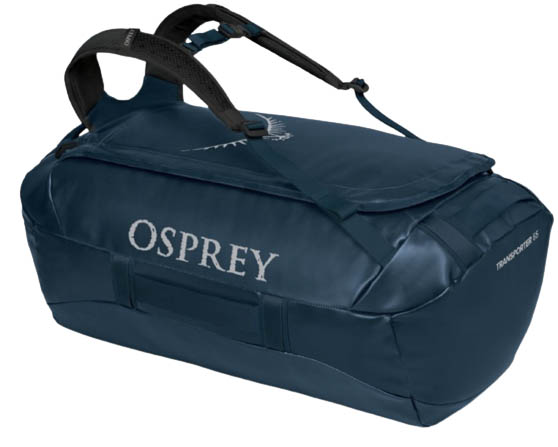 Category: Travel/outdoor
Weight: 3 lb.
Capacities: 40, 65, 95L
What we like: The carrying comfort of a backpack with the packing convenience of a duffel.
What we don't: No over-the-shoulder strap and some might not like the non-traditional duffel style.
Osprey is an industry leader in backpacking packs, so it should come as no surprise that their Transporter toes the line between backpack and duffel better than most. With padded straps and an adjustable sternum strap designed with carrying comfort in mind, the Transporter is a great option for travelers who need to cover distance with their duffel. In terms of features, a zippered pocket at one end is great for storing important items like travel documents and charging cables, and you get a wide U-shaped opening along with an interior mesh pocket, deployable rain flap, and straps to keep items in place as you walk. Added up, the Transporter is one of our favorite duffels for trips that start at the airport and take you to seriously adventurous locales.
Coming in at $180 for the 65-liter version, the Osprey Transporter is a similar bang for your buck as the Patagonia Black Hole above and a touch more expensive than The North Face's Base Camp below. Durability-wise, its 900-denier recycled polyester is on par with that of the Black Hole (the TNF is a bit more robust at 1000D), and our duffel shows no real signs of wear after being thrown around on a month-long trip to Nepal. The lack of an over-the-shoulder strap is a bit of an inconvenience, but you do get a functional carry handle along with Osprey's best-in-class backpack carry. All told, if you're looking for the carrying comfort of a premium pack alongside the convenience of a duffel, the Transporter should be near the top of your list. And for those who spend a lot of time around water, Osprey also makes the Transporter Waterproof Duffel, which is available in 40-, 70-, and 100-liter capacities and offers an impressive IPX7 rating.
See the Osprey Transporter 65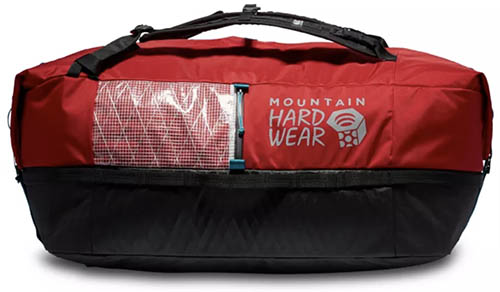 Category: Outdoor
Weight: 4 lb. 5.7 oz.
Capacities: 75, 100, 140L
What we like: Durable materials and huge opening that's great for basecamp organization.
What we don't: Overkill for casual travel.
For climbers embarking on long journeys into the greater ranges, it doesn't get much better than the Mountain Hardwear Expedition. This duffel is purpose built for hard work, with water-resistant 840-denier ballistic nylon in the body and a burly 1000-denier base lined with foam for both structure and protection. A wrap-around daisy chain allows you to lash it down in endless configurations, whether you're headed to basecamp with the help of a mule, truck, or boat. And the Expedition's most unique element is its massive D-zip opening, which extends via wings on each end and even folds all the way open for great basecamp organization (complete with internal tote bag-style handles). 
For such a utilitarian duffel, the Expedition packs in a surprising number of organizational features. You get a handy internal compression system that can secure all or some of your load, along with four small zip pockets (two internal, two external). And because we're all familiar with wrestling the zipper closed on an over-full duffel, many will appreciate the integrated top compression strap that cinches the sides together and reduces zipper strain. Finally, like most designs here, the Expedition includes backpack straps, which also serve as a carry handle by way of integrated Velcro patches. The technical style, oversized capacities, and price tag will turn away most casual users, but for demanding expeditions, the Expedition is a great tool for the job.
See the Mountain Hardwear Expedition Duffel 100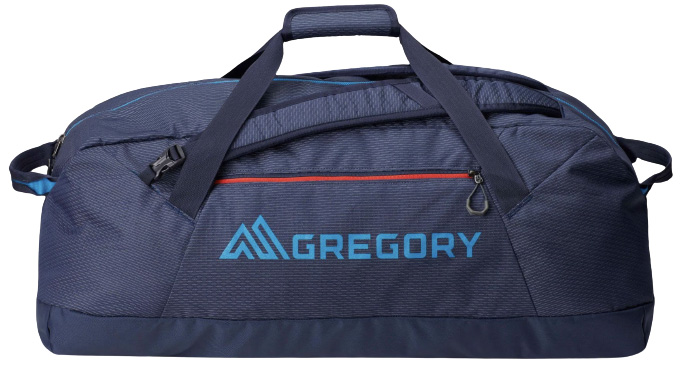 Category: Outdoor/travel
Weight: 1 lb. 14.7 oz.
Capacities: 40, 65, 90, 115L
What we like: Durable, functional, and inexpensive.
What we don't: Limited organization, no U-shaped zip, and lacks a space for dirty laundry.
We really like what Gregory has done with their Supply Duffel. Updated for 2023, this bag simply screams "function," with a durable 600-denier polyester body and base, burly #10 YKK zipper and oversized T-Grip pull, and a price tag that beats out most duffels here. In fact, at just $120 for the 90-liter version, the Supply is still considerably cheaper than many 60-liter models on our list. For travel and outdoor applications like camping, ski trips, and even expeditions, this is a durable and high-capacity duffel that checks most of the boxes. 
But with its function-first attitude, the Gregory Supply isn't for everyone. While you do get tuckaway backpack straps and one external pocket, it lacks the bells and whistles we see in much of the competition, including a U-shaped top zip and dirty-laundry compartment. We've come to value the large top access of a model like the Black Hole when we're living out of a duffel, but the simple entry of the Gregory is sufficient for most uses. In the end, as long as you're aware of the trade-offs, the Supply is a really nice option to have that will save you some money without making many compromises in terms of durability.
See the Gregory Supply 90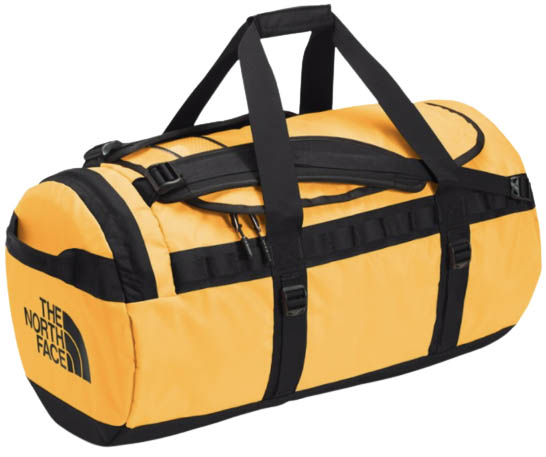 Category: Outdoor/travel
Weight: 3 lb. 8 oz.
Capacities: 31 (XS), 50 (S), 71 (M), 95 (L), 132 (XL), 150L (XXL)
What we like: Durable and water-resistant, plethora of color and size options.
What we don't: Falls a little short of the Black Hole in a few areas.
First released in 1986, the Base Camp is a classic offering from The North Face and a direct competitor to our top-ranked Patagonia Black Hole above. It's similarly tough and water-resistant, offers easy access to the inside, and can be carried as a backpack, which we love. Both bags offer comparable organization pockets, but the Base Camp's medium and large models add an exterior compartment on one end that allows you to separate dirty clothes and shoes. The Base Camp comes in more colors and designs than we can count, and is available in capacities ranging from 31 liters (XS) to a whopping 150 liters (XXL). For everything from a carry-on to an expedition workhorse, this is one of the most popular duffels on the market year after year.
Although we do like the Base Camp line and have used them for years, we prefer the Black Hole for a few reasons. First, the outer fabric on The North Face shows scuff marks more easily than its Patagonia counterpart. Second, at 3 pounds 8 ounces, the TNF is nearly a pound heavier. Finally, we found the backpack straps on the Base Camp to be slightly more difficult to detach than those on the Black Hole, making your airport check-in a bit more frantic. But for a reliable all-around duffel and more versatility in terms of size and colors, the Base Camp is a solid choice. And TNF also offers the Base Camp Voyager (in 32, 42, and 62L versions), which features a more sustainable design (including recycled materials and non-PFC DWR), lighter materials, and improved organization. 
See the North Face Base Camp Medium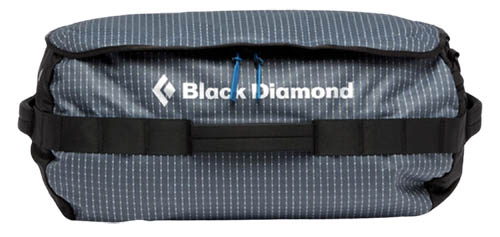 Category: Outdoor
Weight: 2 lb. 12 oz.
Capacities: 45, 60, 90, 120L
What we like: Added performance with closed-cell foam and burly haul loop. 
What we don't: Expensive and overkill for most.
Relatively new to the scene is Black Diamond's Stonehauler, which offers a climber's take on the classic outdoor duffel. Building off popular designs like the Patagonia Black Hole and TNF Basecamp, Black Diamond placed 5-millimeter closed cell foam into the Stonehauler's walls to guard against sharp gear like ice tools and climbing cams (a nice touch, as our cams have dug a hole in the base of our Black Hole). They also added on a 2-kilonewton haul loop for extra assurance when securing your gear to a mule or truck (heck, you could even haul the duffel up El Cap). Tack on a rugged 600- by 1500-denier body fabric and reinforced ends, and the Stonehauler is impressively durable and ready for all the rigors of your next expedition.
We're impressed with Black Diamond's design and think the Stonehauler makes a great fit for climbing, but the duffel risks being overkill for the majority of people and uses. Most travelers don't need a haul loop or padded side walls, especially when the added tech results in a higher price (the 60L Stonehauler is $41 more than the 71-L TNF Base Camp, for example). Further, we're a bit miffed by the design, which places more durable fabric on the ends of the bag but not on the base. But BD does add some nice travel features with three zippered pockets, an internal laundry bag and compression straps, and removable shoulder straps. And you can upgrade to their Pro models (30 and 45L), which feature a padded laptop sleeve.
See the Black Diamond Stonehauler 60L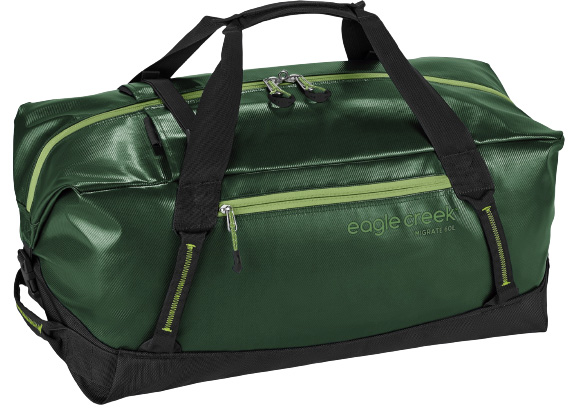 Category: Travel/outdoor
Weight: 2 lb. 8 oz.
Capacities: 40, 60, 90, 110, 130L
What we like: Great value and durable, water-repellent fabrics.
What we don't: Straight-zip closure offers less access than a U-shaped lid.
The Eagle Creek Migrate 60L is a nice option for travelers looking for a durable hauler with an assortment of carry options. It's one of the more affordable duffels on the market at just $129 for the 60-liter version, and offers no shortage of bells and whistles with both tote and haul handles, glove-friendly zipper pulls, lockable main zips, an external zip pocket, and the option for both over-the-shoulder and backpack carry. What's more, the main fabric is fairly robust (900D) and dirt-resistant, while the seamless bathtub base (1680D) will keep your gear dry even on wet ground. It all adds up to one of the best values out there and a great duffel from a respected travel luggage company.
All that said, the Migrate falls short of the more premium options above in one main way: access. Eagle Creek opted for a straight zip instead of the U-shaped lid of many duffels here (like the Black Hole above), meaning the Migrate is a lot harder to live out of and keep organized. But on the bright side, the simplified build does result in a lower price tag, and you get 5 extra liters of space if you leave the side buckles undone. And we've gotta give props to Eagle Creek for their efforts toward sustainability: The Migrate is made with bluesign-approved materials and recycled plastics. In addition to the standard version here, it also comes as a wheeled duffel in 110- and 130-liter capacities.
See the Eagle Creek Migrate 60L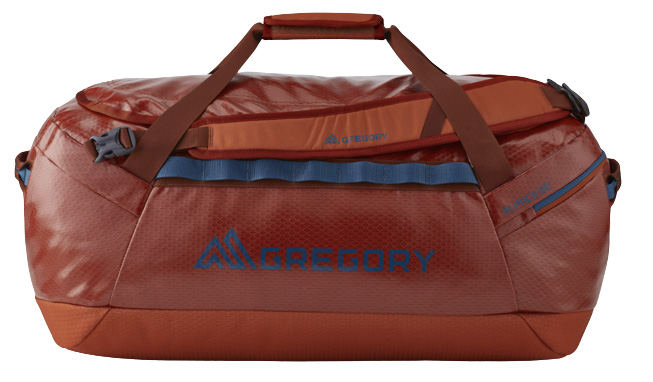 Category: Outdoor/travel
Weight: 3 lb. 6.1 oz.
Capacities: 40, 60, 80, 100L
What we like: More affordable than the Black Hole, with an included packing cube and large end pocket.
What we don't: Only comes in three colors.
Recently updated for 2023, the Gregory Alpaca is a durable and water-resistant duffel that checks all the boxes for rigorous outdoor use. Like the Black Hole above, it has a large U-shaped opening, boasts padded and removable backpack straps, and is made with a durable 900-denier ripstop polyester with a TPU coating for water resistance. Throw in storm flaps over the top zipper, an expandable end pocket for dirty laundry, internal mesh pockets, and an included packing cube that pulls double duty as a stuff sack, and the Alpaca strikes us as another thoughtfully built and well-equipped outdoor/travel duffel.
The Alpaca is a direct competitor to the Black Hole, and there's certainly a lot to like about the design. The 60-liter version is around $10 cheaper than Patagonia's 55-liter duffel, the packing cube is a nice addition (similar designs will run you $20 to $30), and the oversized end pocket has a lot of utility compared to the Black Hole's smaller side pocket. But Gregory can't quite match the brand cachet of Patagonia, and you only get a choice between three colors (compared to the Black Hole's seven). In the end, both are high-quality outdoor duffels from trusted brands—built to withstand air travel, far-flung expeditions, and everything in between.
See the Gregory Alpaca 60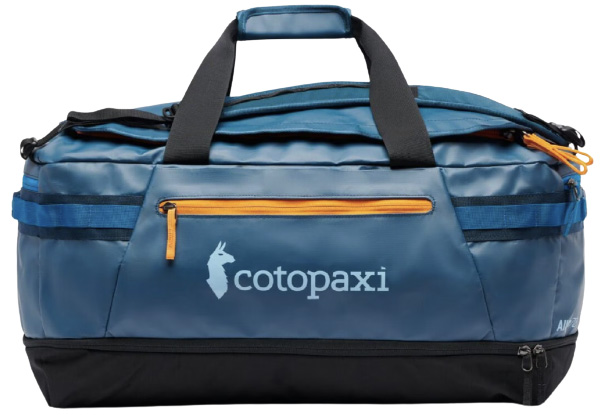 Category: Travel/outdoor
Weight: 2 lb. 13 oz.
Capacities: 50, 70L
What we like: A durable duffel with a unique aesthetic and feature set.
What we don't: Backpack straps are a pain to remove.
Cotopaxi has carved out a corner of the market with their spunky outdoor and travel gear, epitomized by fun colorblocking and sustainably sourced materials. The Allpa 70L here is their largest and most functional duffel, great for international flights and road trips alike. Similar to the Patagonia Black Hole, the Allpa features durable materials and a large U-shaped access to the main compartment. But it tacks on a few more features, including a separate laundry compartment with mesh pocket (we've found this incredibly useful) and three zippered accessory pockets on the exterior (the Black Hole has just one). We also appreciate the Cotopaxi's convenient carry-handle stash pockets, which get them out of the way when not in use.
At $160 for the 70-liter version, the Allpa is $40 cheaper than the Black Hole 70, and offers an extra dose of convenience with its additional features. But we do have one major gripe with the Cotopaxi's design: Unlike the Patagonia, it does not include buckles on the backpack straps, meaning you'll have to unthread the webbing for unhindered access to the main compartment. But there's still a lot to like about the duffel, especially for fans of Cotopaxi's design aesthetic. It's worth noting that the Allpa duffel also comes in a 50-liter version, and the Allpa collection also features a full lineup of travel packs, hip packs, and gear hauler totes. 
See the Cotopaxi Allpa 70L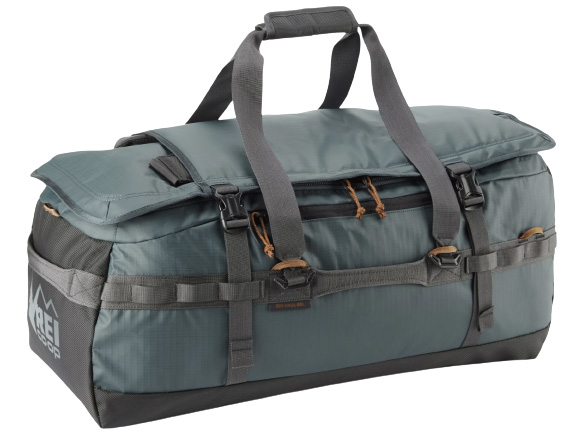 Category: Outdoor/travel
Weight: 2 lb. 9 oz.
Capacities: 28, 40, 60, 90, 120L
What we like: Lots of features at a good price and made out of recycled materials. 
What we don't: Build quality and design are a step below Patagonia.
We know the competition is stiff in this category, including popular and proven bags like the Patagonia Black Hole and The North Face Base Camp above. But the second REI duffel to make our list wins out in one important category: price. For $129, the Big Haul 60 is another tough and versatile option with a healthy array of bells and whistles. You get solid weather resistance, comfortable backpack straps, a number of handles for easy grabbing, and decent organization on the inside in the form of mesh pockets. The 60-liter duffel included here likely can be used as a carry-on provided it's not stuffed to the gills, or you can play it safe and opt for the 40-liter version for $109. 
Given that the REI Co-op Big Haul 60 is a strong value, why is it included toward the bottom of this list? From our experience, the build quality isn't quite up to Patagonia standards, and the REI doesn't have that sleek, high-end look either. On the other hand, the Big Haul has a thicker (1680D) fabric around the bottom to prevent wear and tear (and a thinner 400D nylon around the top), many of the same features, and should get the job done for most people and uses. What's more, it's now made with recycled fabric, which is a big win for everyone. All in all, it's another quality product from REI's in-house line at an attractive price point. And the Co-op also makes the Big Haul Recycled in a rolling version, which comes in both 30 and 34-inch sizes ($269 and $289, respectively).
See the REI Co-op Big Haul 60 Recycled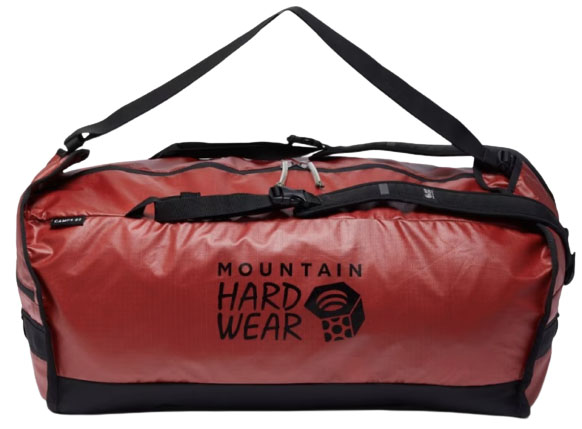 Category: Outdoor
Weight: 2 lb. 9.5 oz.
Capacities: 45, 65, 95, 135L
What we like: Cool climber vibes in a functional and lightweight duffel.
What we don't: Not as durable as the Black Diamond Stonehauler.
Mountain Hardwear offers some of the most serious outdoor duffels on the market, from the high-capacity Expedition above to the Camp 4 here. Riffing off the design of a haul bag, the Camp 4 has a cylindrical shape that lies on its side when open but can stand up on its own when full. In our opinion this is more of a stylistic feature than anything (climbers will love the vibe), but it might come in handy while staging duffels for transport—and we do love the large external zip pocket at the top for staying organized. Finally, one large grab handle on each side are great for the duffel shuffle, and the backpack straps remove when not in use.
But despite its haul-bag aesthetic, the Camp 4 is not particularly robust compared to most duffels here. The relatively thin 420-denier nylon will hold up to a lot of abuse, but we don't recommend actually trying to haul the bag up an abrasive rock face (the similarly minded Black Diamond Stonehauler above features a much thicker 600Dx1500D shell). On the other hand, we do appreciate the Camp 4's generous reinforcements around the edges, which is where duffels tend to collect wear, and its relatively compact packed size will come in handy for some. In the end, the Mountain Hardwear is a great combination of style and function for $50 less than the Stonehauler 60, making it another nice option for those packing for their next adventure.
See the Mountain Hardwear Camp 4 65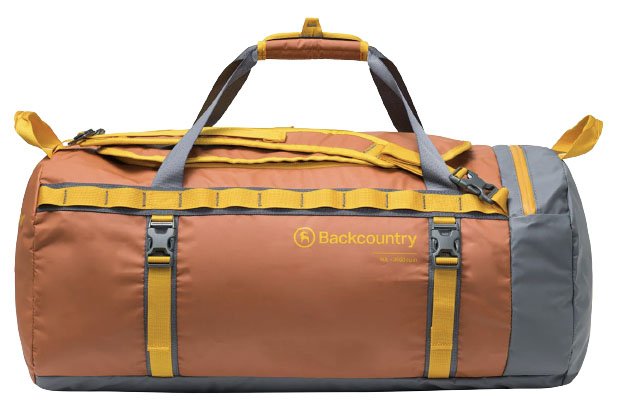 Category: Travel
Weight: 3 lb. 4 oz.
Capacities: 40, 60, 105L 
What we like: Great features at a relatively low price point.
What we don't: Not as durable as the Black Hole or Base Camp.
The All Around is Backcountry's addition to the outdoor duffel market and a continuation of their growing line of in-house gear. Similar to the Patagonia Black Hole and The North Face Base Camp above, it boasts a U-shaped zipper opening, several pockets for organization, and the option of being worn as a backpack. And like the Base Camp, an external zipper on one end opens to a large secondary compartment, great for separating dirty laundry or shoes. And with a recent redesign, the All Around now includes a padded base for added structure and protection.
Backcountry didn't necessarily do anything new in the All Around, but they did make a quality bag at a respectable price point. Stacked up against our top-ranked Black Hole, it lags behind in durability (300D vs. 900D polyester) and capacity options, and you'll either love or hate the bold goat logo on one end. And while some of Patagonia's colorways are more subtle or sophisticated (call it what you will), Backcountry has taken a page out of Cotopaxi's book with their loud, colorblocked designs. The All Around will save you $30 compared to the Black Hole 55 (and give you 5L more space), but we recommend that consistent travelers stick with the tried-and-true Patagonia.
See the Backcountry All Around 60L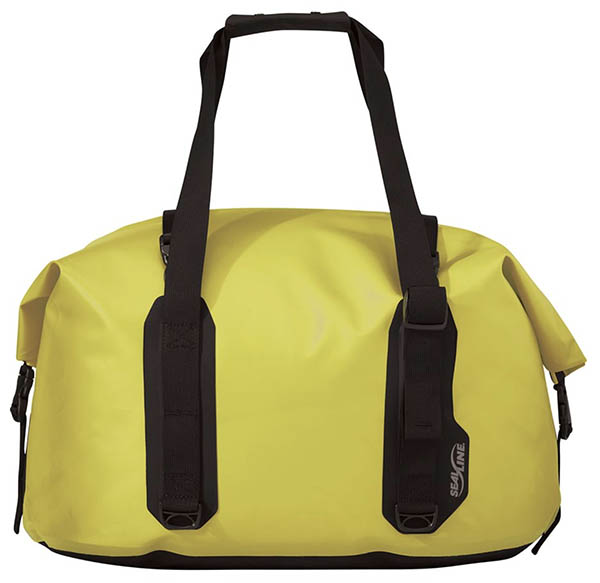 Category: Waterproof
Weight: 2 lb. 6 oz.
Capacities: 25, 40, 70L
What we like: A waterproof duffel at a much lower price than the Yeti Panga.
What we don't: No backpack straps and the roll-top closure is prone to user error.
Along with the Yeti Panga, SealLine's WideMouth is the only other fully waterproof duffel on this list. These two bags are quite different, however: With a much thinner nylon build, the SealLine has a significantly lower weight and profile than the Yeti, which is great when space is at a premium. Further, it features a roll-top design instead of the Panga's burly waterproof zipper, which doesn't offer quite the same level of protection, but it does pack down nicely. Perhaps most importantly, the WideMouth is roughly one-third the price of the Panga and more than enough duffel for most people. 
Why do we have the SealLine ranked here? The Yeti has more structure and is much easier to pack, not to mention the fully waterproof zipper system offers more assurance (and less room for user error) than the WideMouth's roll-top seal. Moreover, the Yeti has backpack straps and therefore is easier to carry. The cherry on top: The extra thickness of the Yeti means that it's much more durable and abrasion resistant in the long term. But for those looking for a waterproof duffel without breaking the bank, the WideMouth is a nice option. And SealLine also makes the Pro Zip Duffel, which features a waterproof main zipper and retails for $315 for the 70-liter capacity.
See the SealLine WideMouth Duffel
Duffel Bag Comparison Table
| Duffel | Price | Weight | Backpack | Denier | Capacities | Roller |
| --- | --- | --- | --- | --- | --- | --- |
| Patagonia Black Hole 55 | $169 | 2 lb. 9.1 oz. | Yes | 900D | 40, 55, 70, 100L | No (avail.) |
| REI Co-op Roadtripper 100L | $65 | 1 lb. 6 oz. | No | Unavail. | 40, 60, 100, 140L | No |
| TNF Base Camp Roller 21" | $240 | 6 lb. 13 oz. | No | Unavail. | 40, 94L | Yes |
| Thule Aion Duffel Bag | $190 | 2 lb. 6.4 oz. | No | 600D | 35L | No |
| Osprey Sojourn Shuttle 100L | $395 | 8 lb. 9.6 oz. | No | 460D | 45, 100, 130L | Yes |
| Osprey Ultralight Stuff Duffel | $45 | 7.1 oz. | No | 40D | 30L | No |
| Yeti Panga 75 | $350 | 6 lb. 2 oz. | Yes | 1680D | 50, 75, 100L | No |
| Osprey Transporter 65 | $180 | 3 lb. | Yes | 900D | 40, 65, 95L | No (avail.) |
| MH Expedition Duffel 100 | $280 | 4 lb. 5.7 oz. | Yes | 840D | 75, 100, 140L | No |
| Gregory Supply 90 | $120 | 1 lb. 14.7 oz. | Yes | 600D | 40, 65, 90, 115L | No |
| The North Face Base Camp | $149 | 3 lb. 8 oz. | Yes | 1000D | 31, 50, 71, 95, 132, 150L | No (avail.) |
| BD Stonehauler 60 | $190 | 2 lb. 12 oz. | Yes | 600x1500D | 45, 60, 90, 120L | No |
| Eagle Creek Migrate 60L | $129 | 2 lb. 8 oz. | Yes | 900D | 40, 60, 90, 110, 130L | No (avail.) |
| Gregory Alpaca 60 | $160 | 3 lb. 6.1 oz. | Yes | 900D | 40, 60, 80, 100L | No |
| Cotopaxi Allpa 70L | $160 | 2 lb. 13 oz. | Yes | 1000D | 50, 70L | No |
| REI Co-op Big Haul 60 | $129 | 2 lb. 9 oz. | Yes | 400D | 28, 40, 60, 90, 120L | No (avail.) |
| Mtn Hardwear Camp 4 65 | $140 | 2 lb. 9.5 oz. | Yes | 420D | 45, 65, 95, 135L | No |
| Backcountry All Around 60L | $139 | 3 lb. 13 oz. | Yes | 300D | 40, 60, 105L  | No |
| SealLine WideMouth 70L | $165 | 2 lb. 6 oz. | No | 600D | 25, 40, 70L | No |
Duffel Bag Buying Advice
Duffel Bag Categories: Travel, Outdoor, Waterproof
Travel Duffels
Whether you're packing for a weekend getaway, flying home for the holidays, or going to the gym, travel duffels offer a durable way to transport items from Point A to B. These bags range from minimally featured duffels—often just sporting hand carry straps and shoulder straps for short commutes—to roller bags (like the Osprey Sojourn Shuttle 100L) that are great for carting around heavy loads. Robust fabrics and rugged wheels set the travel bags in this article apart from the standard suitcases and rollers you often see at the airport. That said, these bags lack the focus on water-resistance that we see in outdoor duffels, usually forgoing storm flaps over the zippers and DWR coating. But for travelers who don't plan on subjecting their bags to the elements, travel duffels are a nice mix of durability, convenience, and simplicity.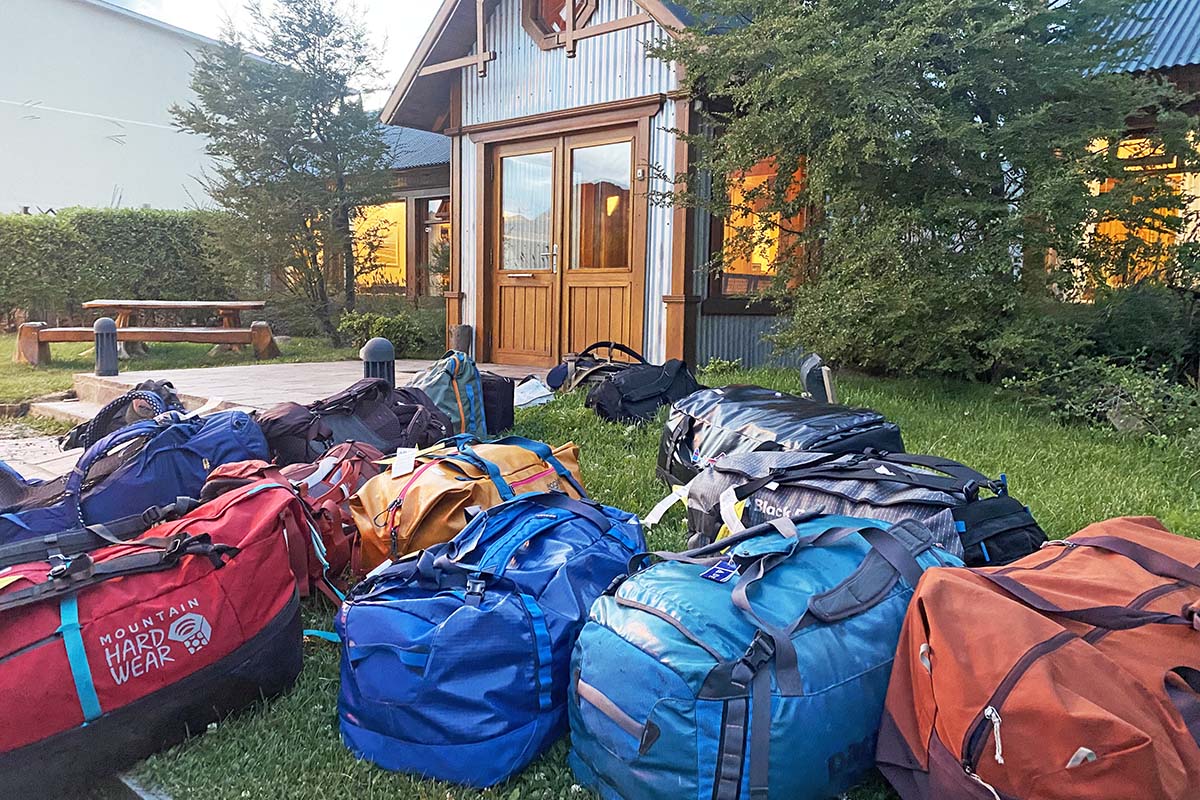 Outdoor Duffels
Many duffels on this list are made by big outdoor brands like Patagonia, The North Face, Osprey, and Black Diamond. Outdoor use can vary substantially, from throwing your bag in the back of a truck to hardcore expeditions. In this category, look for robust fabrics with DWR coating, water-resistant zippers or storm-flaps, comfortable backpack carrying straps, lash points, and handles for grabbing the bag from multiple angles. And versatility is a notable upside of outdoor duffels: We'll often use them for basic travel purposes as well, especially those with multiple carrying options and convenient organizational features like U-shaped openings and multiple pockets or compartments. For example, the Patagonia Black Hole, our top pick, can be used from anything from serious outdoor exploration to standard air travel (and it looks the part for both).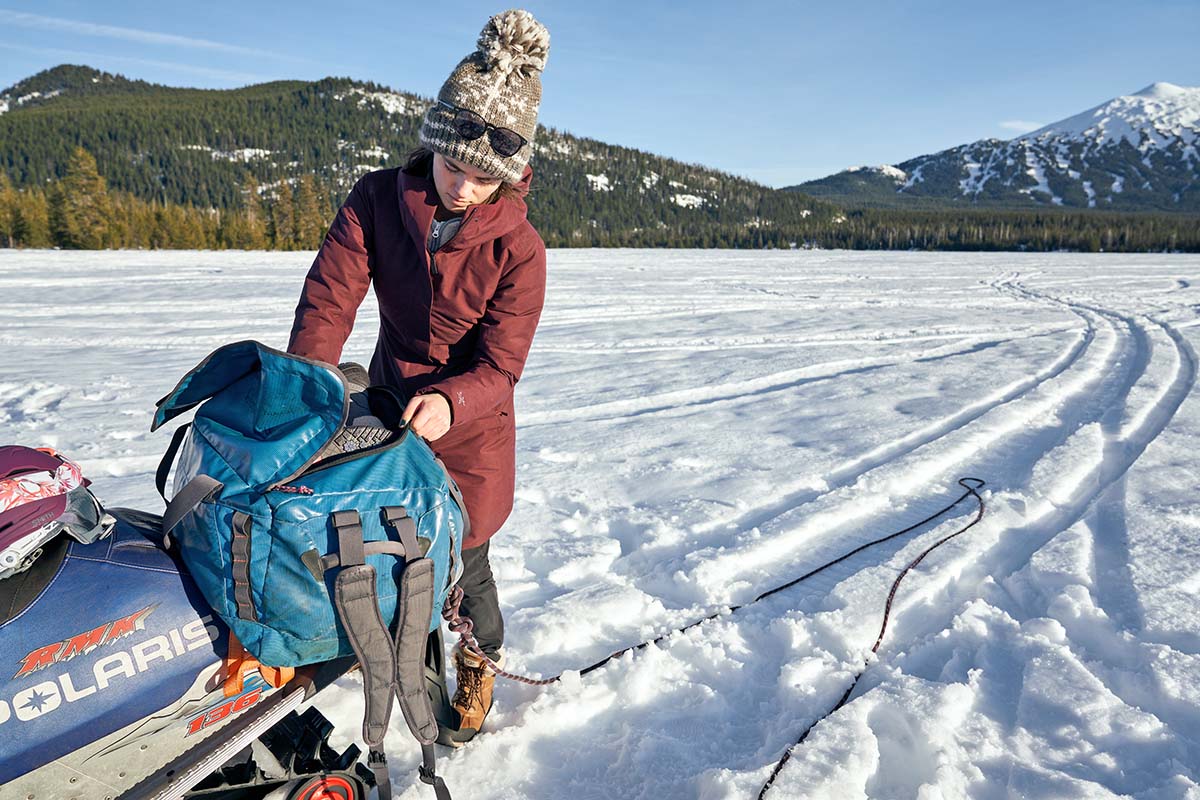 Waterproof Duffels
Most duffels here are highly water-resistant, meaning they're able to keep out light to moderate rain and snow. But a small percentage of users, including rafters, fishermen and women, and winter adventurers, need a fully waterproof duffel. The market is limited, but there are a few bags that offer a high level of waterproofing, including the Yeti Panga, SealLine WideMouth, Osprey Transporter Waterproof, and NRS High Roll Duffel Dry Bag. With the help of thick waterproof fabrics, watertight zippers, and roll tops, these bags are designed to keep your gear dry on wet boat decks, in inclement weather, and during quick dunks in the water (the Osprey even has an IPX7 rating, meaning it'll keep water out when submerged in 1 meter of water for 30 minutes). Given their overbuilt nature, we wouldn't want a waterproof duffel for anything but the harshest and wettest of environments: They're simply too heavy, expensive, and technically oriented (minimal organization and straps) for everyday use.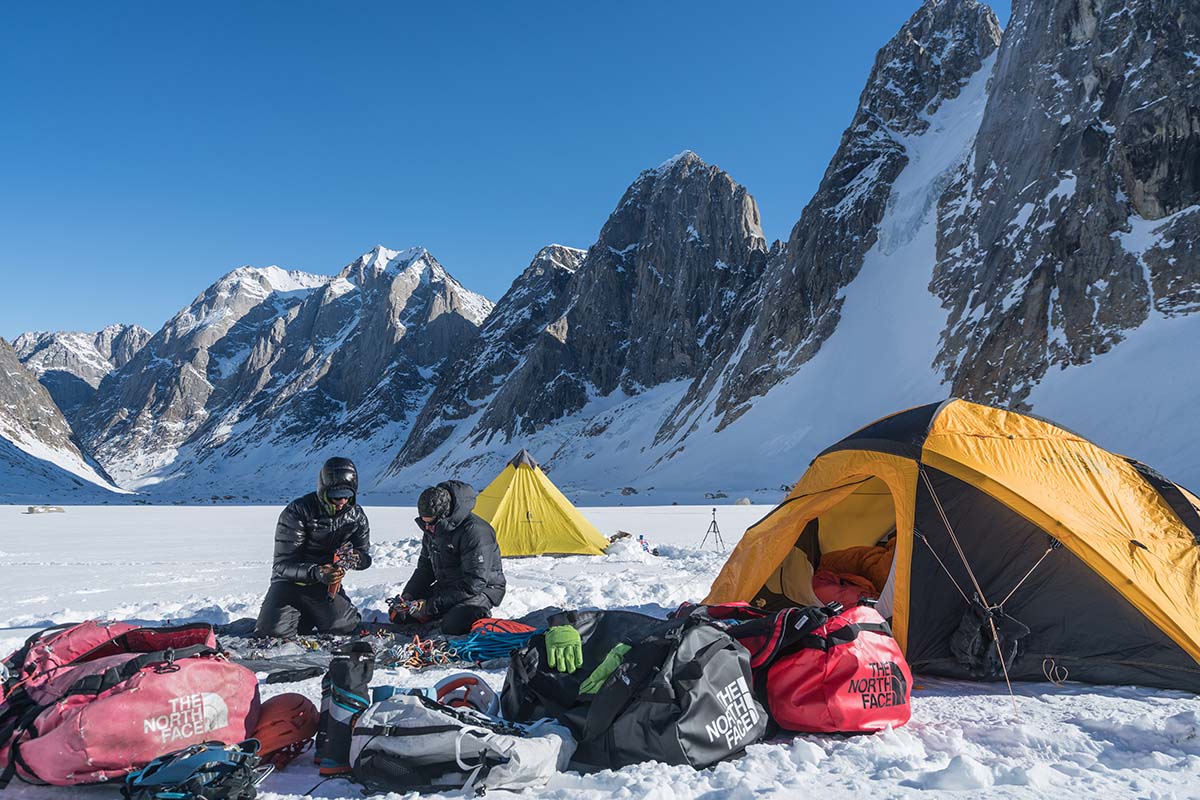 Duffel Bag Capacity
Small: 25 to 50 liters
In terms of capacity, the duffels on this list range from 25 liters to a whopping 150 liters, so there's a bag to match every activity and intended use. For solo travelers on overnight and weekend trips where you won't be bringing a bunch of gear, a smaller duffel in the 25 to 40-liter range should do the trick. A good number of these models are carry-on compatible, saving you the time and the potential cost of checking a bag. For U.S. airlines, there isn't a universal carry-on size, but 22 by 14 by 9 inches is quite common (at the time of publication, these are the maximum dimensions for Delta, United, JetBlue, and others). It's worth noting that almost all carry-on compatible bags will advertise themselves as such, but the general cut-off is right around 40 liters.

Medium: 50 to 75 liters
For most travel where you will be checking a bag but won't be bringing bulky outdoor gear, a medium duffel in the 50 to 75-liter range is a good match. For this reason, the 60-liter version often is the best seller of all: It's perfect for most trips ranging from short weekend excursions to one week or more. Of course, the right choice also depends on how much stuff you like to bring, but we find ourselves reaching for our 55-liter Patagonia Black Hole more than any other duffel in our closet.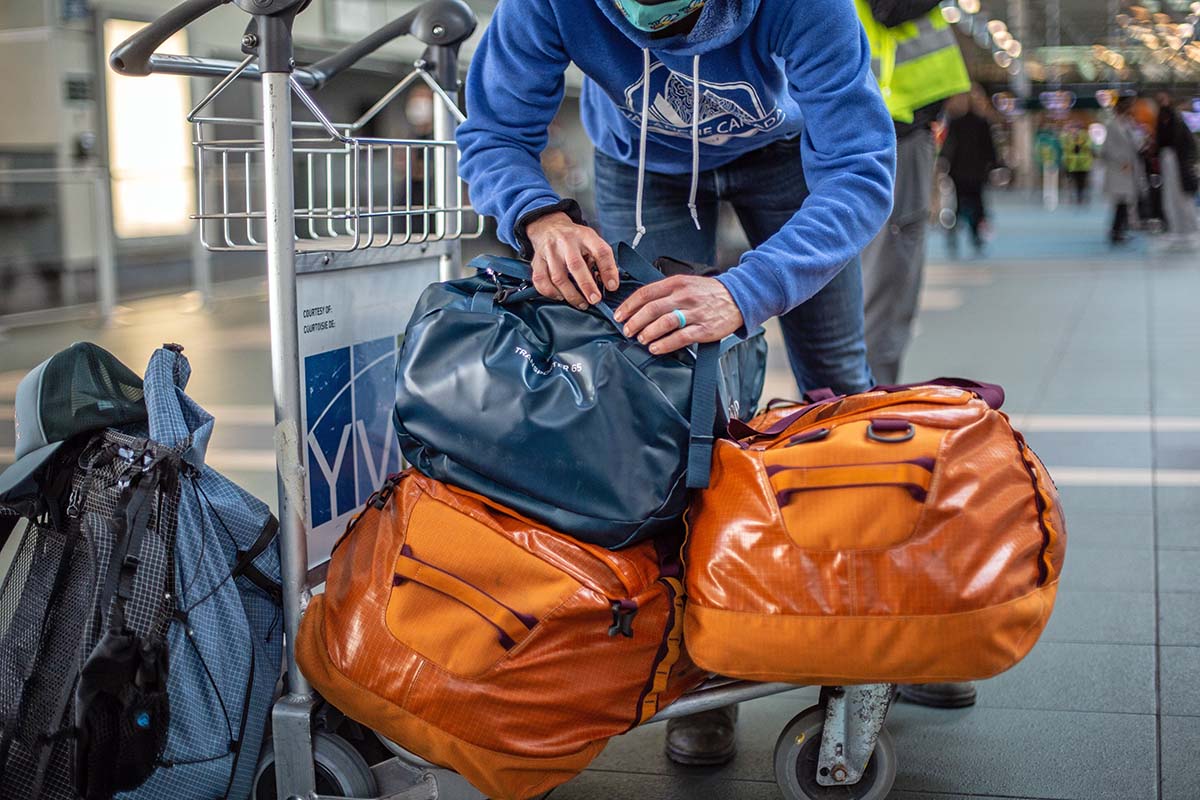 Large: 75+ liters
Duffels that are 75 liters or larger are heavy haulers for longer trips, multiple people, and outdoor equipment (boots, backpacks, tents, etc.). When we fly to go backpacking, we love our 100-liter REI Co-op Roadtripper Duffel: It can fit multiple empty backpacks, bulky footwear, and all of our extras. It's worth noting that these bags can get heavy fast depending on what you stow inside of them, so keep an eye out for total weight as you're packing. Clothing and most regular items should keep you below the 50-pound checked bag limit, but if you're packing anything particularly heavy, it can be an issue. And for serious outdoor and expedition use, duffels like The North Face Base Camp are made all the way up to 150 liters.

Roller Duffel Bags
The roller duffel is one of those "have your cake and eat it too" scenarios for travelers wanting the ease of wheeling their bag with the packing convenience of a duffel. We'll start by noting that roller duffels are quite popular, and particularly for air travel. You simply take the bag out of your car, wheel it to check-in (or your gate if it's a carry-on), and you're off. Roller duffels are ideal for those who don't want to carry their bag on their back or shoulder, and some of the smaller versions (in the 40-liter range and under) are carry-on compatible.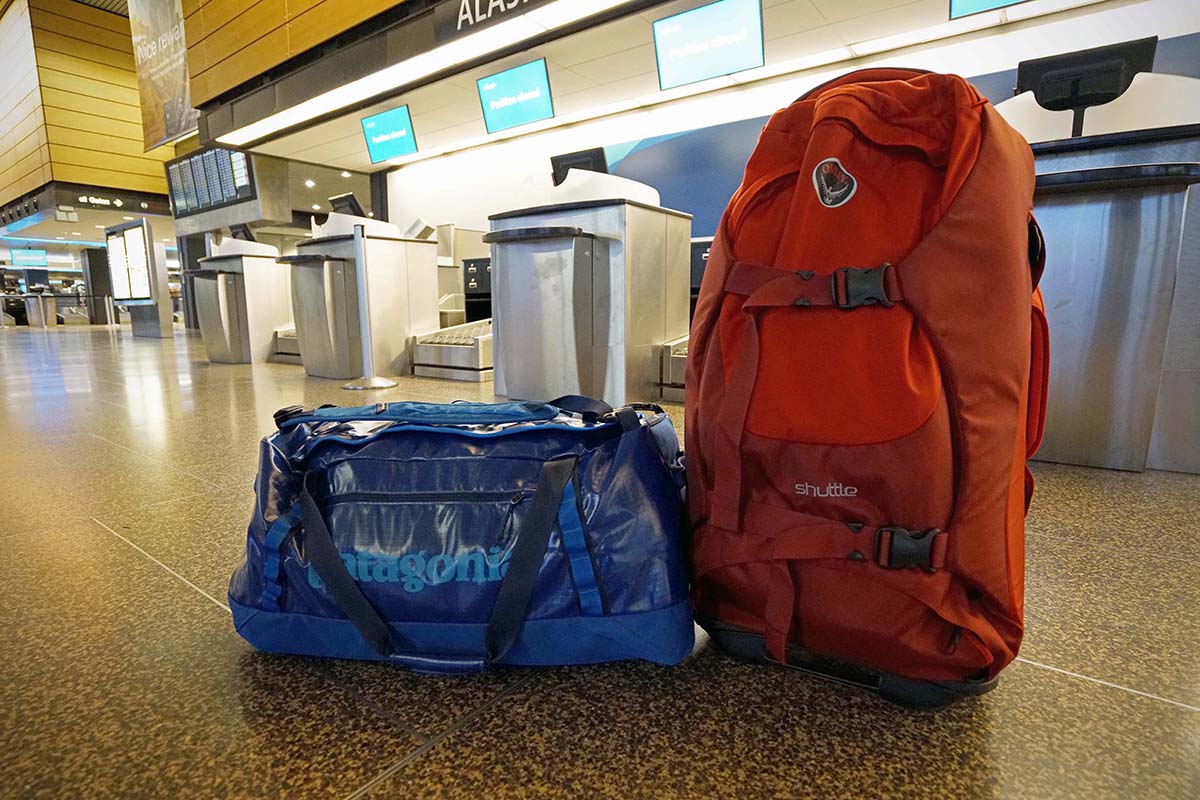 But roller duffels do have their limitations. First, rarely do roller duffels come with anything more than carry handles (read: no backpack straps), making them difficult to transport in areas without sufficient rolling surfaces. Second, cheaper or ultralight duffels have a tendency to fall over when full, which is something to be aware of when making a purchase (heavier models like the Osprey Sojourn Shuttle do not fall over, which makes them worth the extra cost in our opinion). Finally, roller duffels inherently have more breakable parts. Some duffels have replaceable wheels but many don't, which is a quick way to lose all of that easy transport functionality.
For travel scenarios where you'll be moving around a lot—think backpacking through Europe—we prefer non-roller duffels. They're easy to grab and throw on your back, and you don't have to worry about the surface (if you've ever tried taking a roller duffel down a cobblestone street, you know what we're talking about). If you're primarily an air traveler and moving your bag long distances by vehicle, a roller duffel is a fine option, and you do get the added benefit of one hard side for protecting your belongings. For the purposes of this article and the picks above, we've included a handful of our favorite roller models, and some of the standard designs have wheeled versions available.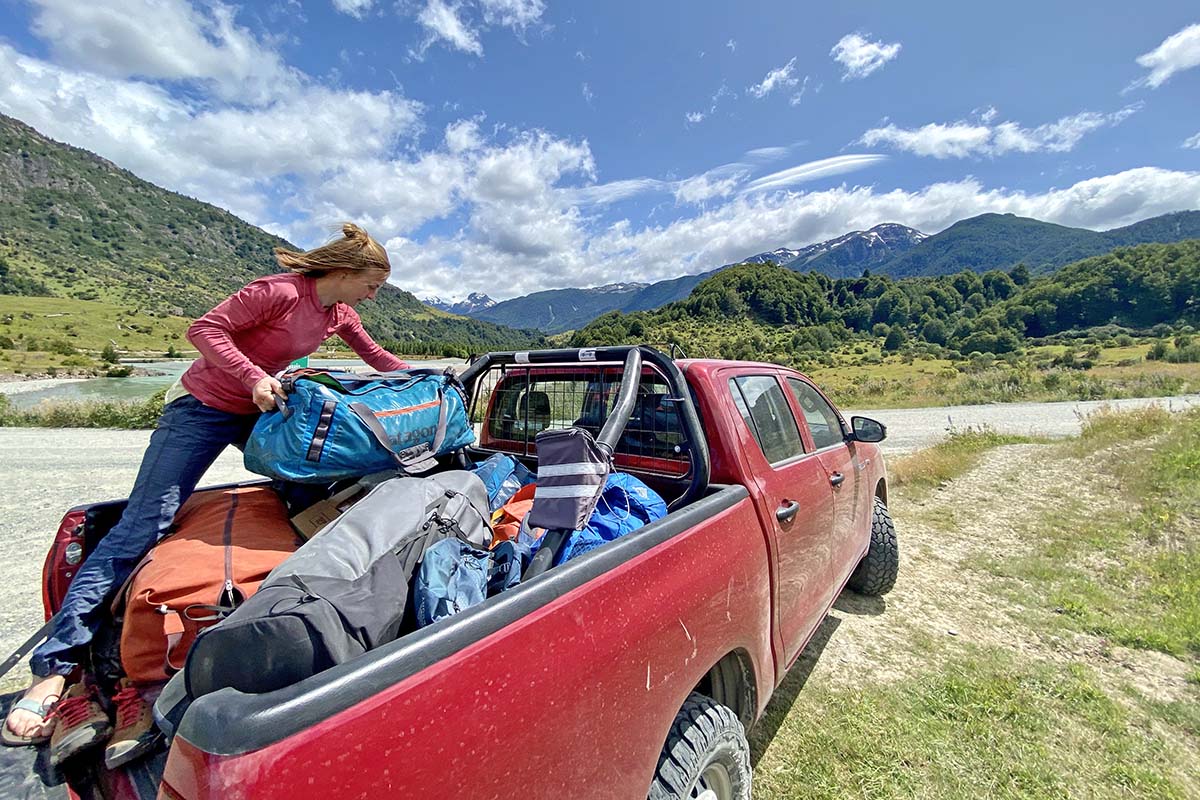 Pockets and Organization
Main Compartment
Hands down, the easiest duffels to pack, unpack, and rummage around in are those with a large, U-shaped opening. Duffels such as the Osprey Transporter 65 feature this design: A zippered flap extends around three of the four sides of the top of the duffel and opens to reveal most of the contents. These bags provide easy access whether in a hotel, tent, or on the road. Other bags open in a more traditional style, with one zipper that extends across the top of the bag. With a smaller opening, access to the contents is more limited, and especially when full (this means more rummaging and disorganization). If you're looking to prioritize convenience above all else, large roller duffels like the Osprey Sojourn Shuttle offer the most rigid structure and largest opening for packing and unpacking.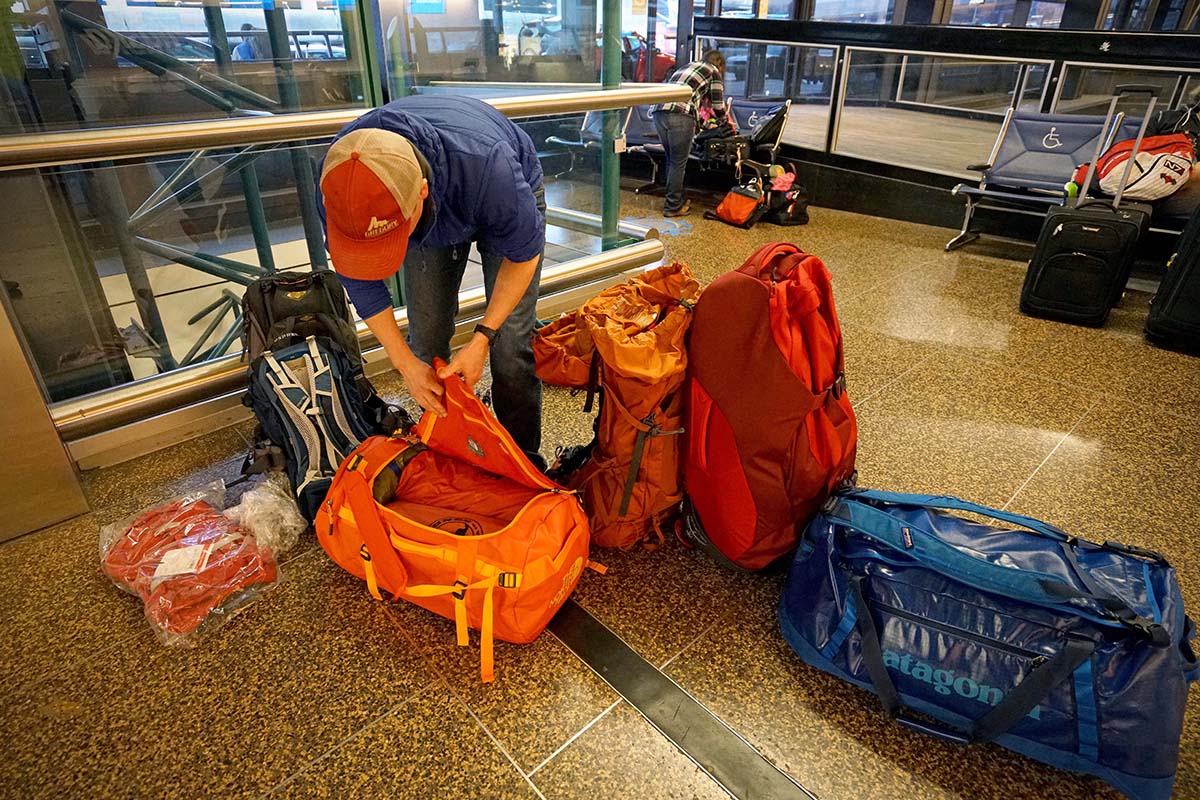 External Pockets
When choosing a duffel, consider how much you'll want access to your belongings as you travel. The most streamlined models feature one large compartment with no internal organization (the REI Co-op Roadtripper, for example), while more fully featured designs include handy external pockets for small items or padded compartments for a tablet or computer. Some duffel bags are even made with specific gear organization in mind, such as the Thule Bike Gear Locker Duffel (with dedicated pockets for shoes and a helmet) and the Thule RoundTrip Snowsports Duffel, which features a fleece-lined goggle pocket and boot compartments on each end. For travelers, we think that at least one external pocket is nice to separate out your smaller essentials.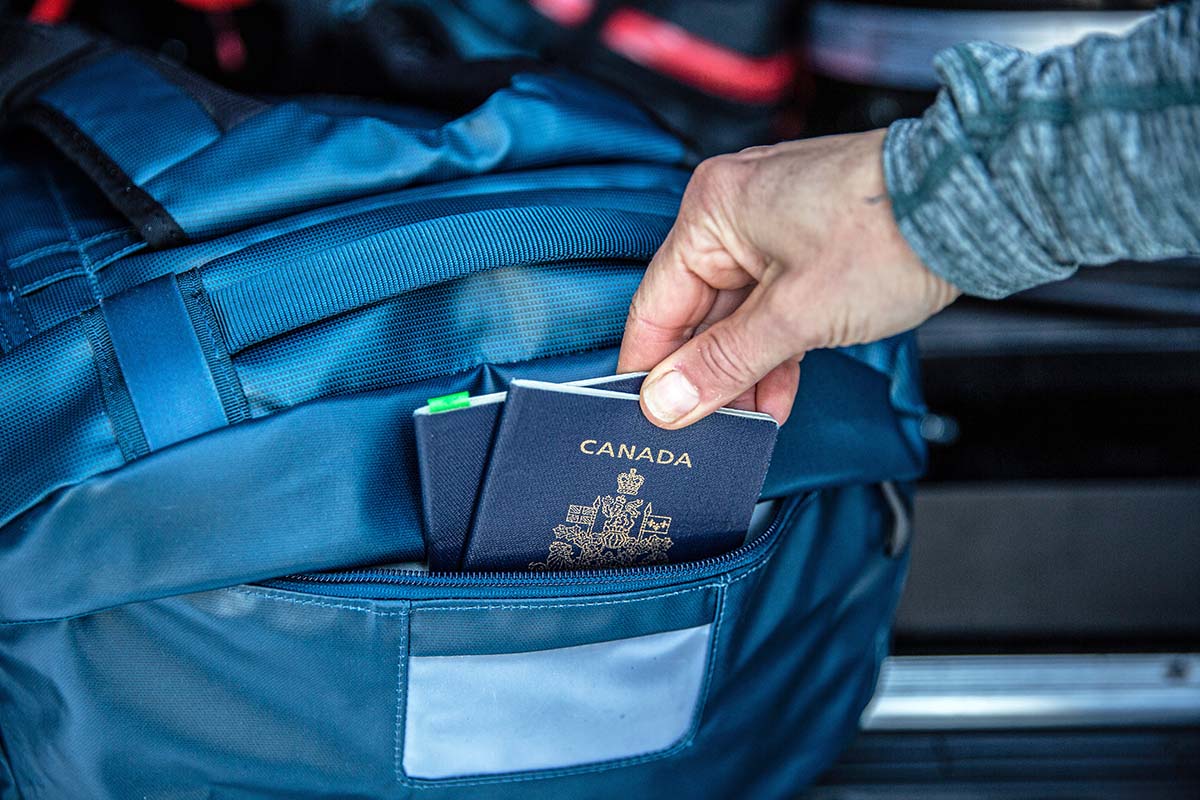 Compression Straps
Compression straps, both internal and external, can help make a duffel's load more compact. Internal straps remove strain from the zipper and compress your gear inside the duffel to keep it from shifting during transit. We see these on models like the Patagonia Black Hole and Mountain Hardwear Expedition Duffel. External compression straps can be on the ends or sides (such as with The North Face Base Camp) and tighten the duffel after the zipper has been shut. External straps are especially useful on large duffels that might not be stuffed to capacity, and they help make your bag less unruly for travel. Additionally, if you plan on frequently carrying your duffel as a backpack, we encourage you to consider a model with compression straps—it makes the whole operation a lot more comfortable.
Daisy Chains (Lash Points)
If you're using your duffel primarily to transport your belongings via plane, train, or automobile, you're probably wondering why you might need the daisy chains lining the exterior. However, put your pack in a raft, saddle it to a mule, or strap it to the roof of your van, and you'll wonder how you ever got by without them. Not all duffels come with daisy chains (a.k.a. lash points) and some have more than others. If you know that you'll need to secure your duffel for a wild ride, definitely be on the lookout for a bag that sports plenty of reinforced lash points. The most outdoorsy the bag, the more likely it is to be lined with daisy chains.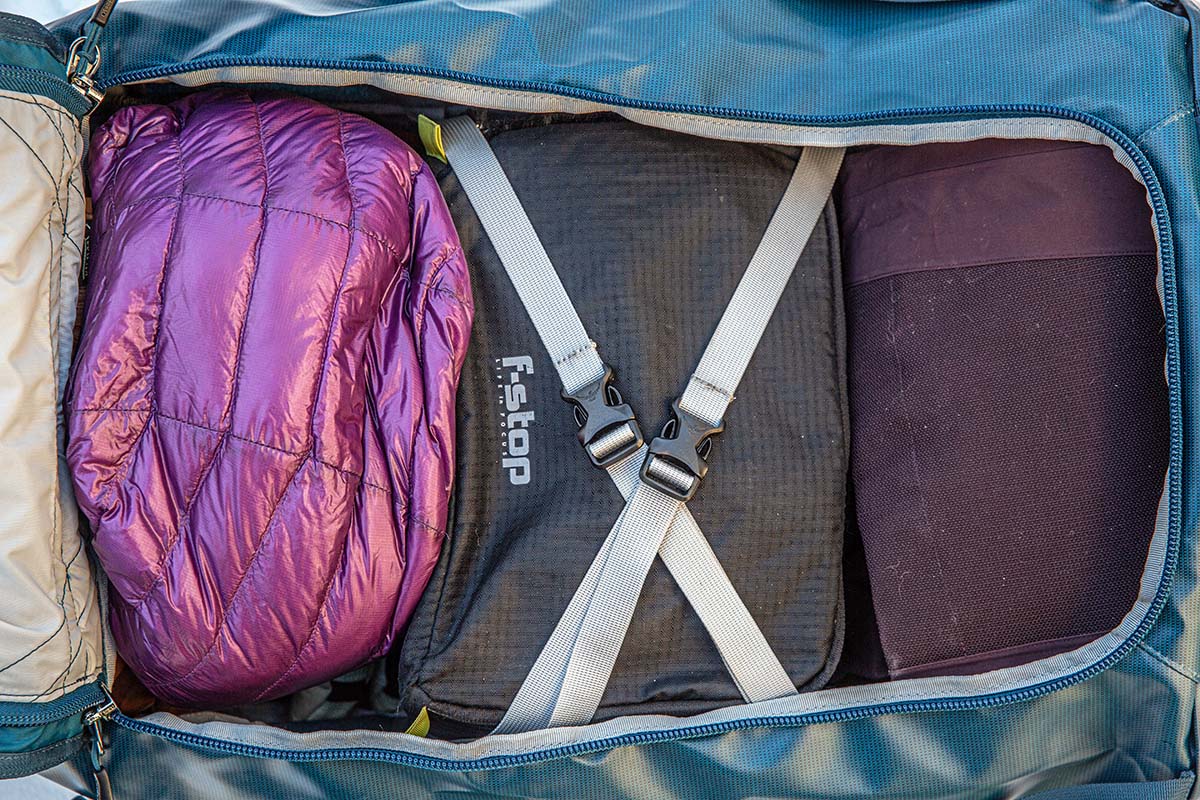 Carrying Options: Backpack Straps, Shoulder Straps, Handles
We've all been there: clumsily dragging our bag across the airport lobby and cursing ourselves for not purchasing something with wheels (or a travel backpack). And if you're looking for a bag in the 60-liter range or larger, know that when it gets full, it's going to be heavy. The good news is that duffel manufacturers have gotten creative with designing bags that can be carried in a multitude of ways. Below are the main carrying options, and some fully featured bags offer all four.

Backpack Straps
For those who are able to throw their bag over their back and walk with it, backpack straps are our preferred carrying method. Many of the high-end bags on this list have backpack straps that are lightly padded and often removable. One duffel in particular, the Osprey Transporter, has many similarities to an actual backpack and is great for those planning to cover longer distances. Keep in mind that carrying comfort does vary, which is one reason why some bags are ranked higher than others. When not in use, many backpack straps simply detach for storage in the main compartment (this keeps them out of airport conveyor belts). Sometimes, simply tightening down the straps flush to the bag can be enough.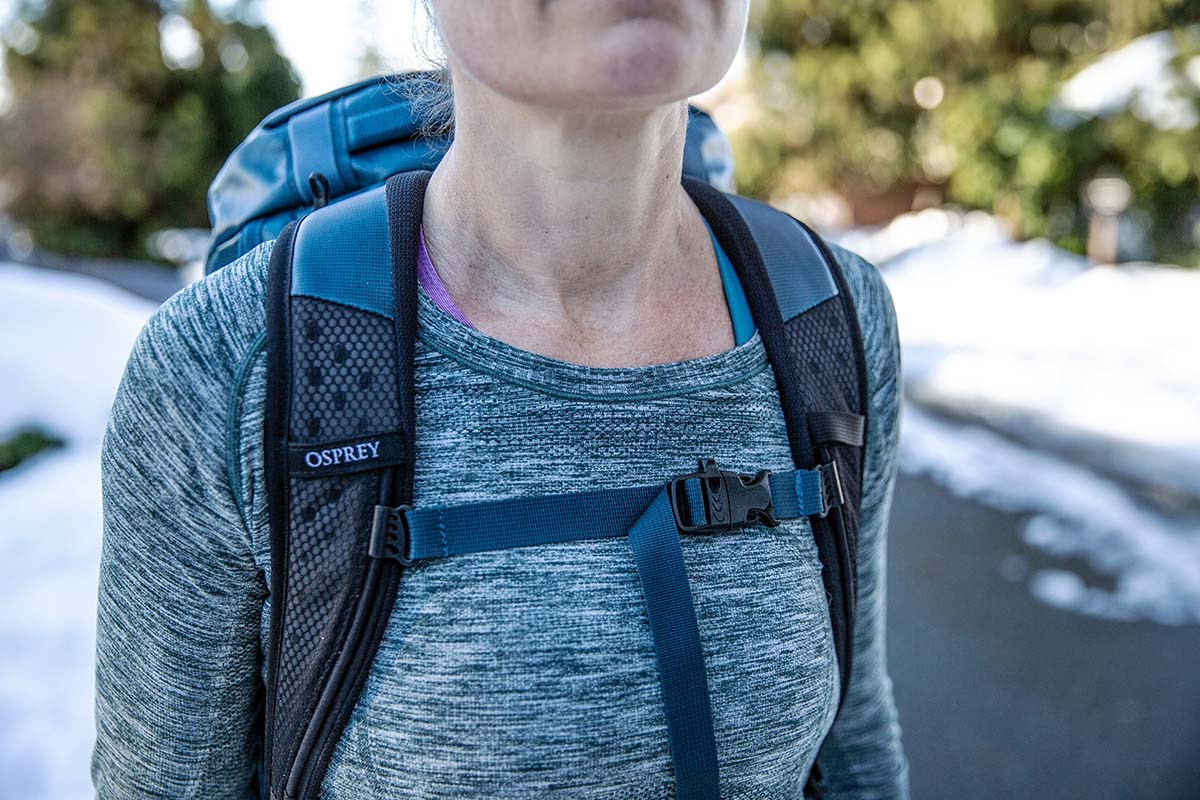 Shoulder Straps
Though less comfortable than backpack straps over extended periods, a single shoulder strap is a quick way to carry your duffel short distances. In particular, we like shoulder straps on smaller duffels that don't weigh a ton (they can start to get uncomfortable around the popular 60-liter range). Not all duffel bags come with shoulder straps, but we see them frequently on smaller capacity, travel-specific bags. Shoulder straps usually are removable, allowing you to streamline your duffel for transport.

Carry Handles
Most duffels have carry handles of some sort, whether they're dedicated straps or a simple padded handle connecting the backpack straps to each other. Carry handles are useful for picking up a bag and moving it a short distance, and they're great for carrying small capacity bags in one hand. Some duffels like the Osprey Transporter omit carry handles altogether­ in favor of shoulder and backpack straps. This can make sense for big, heavy bags, but we still prefer having the option.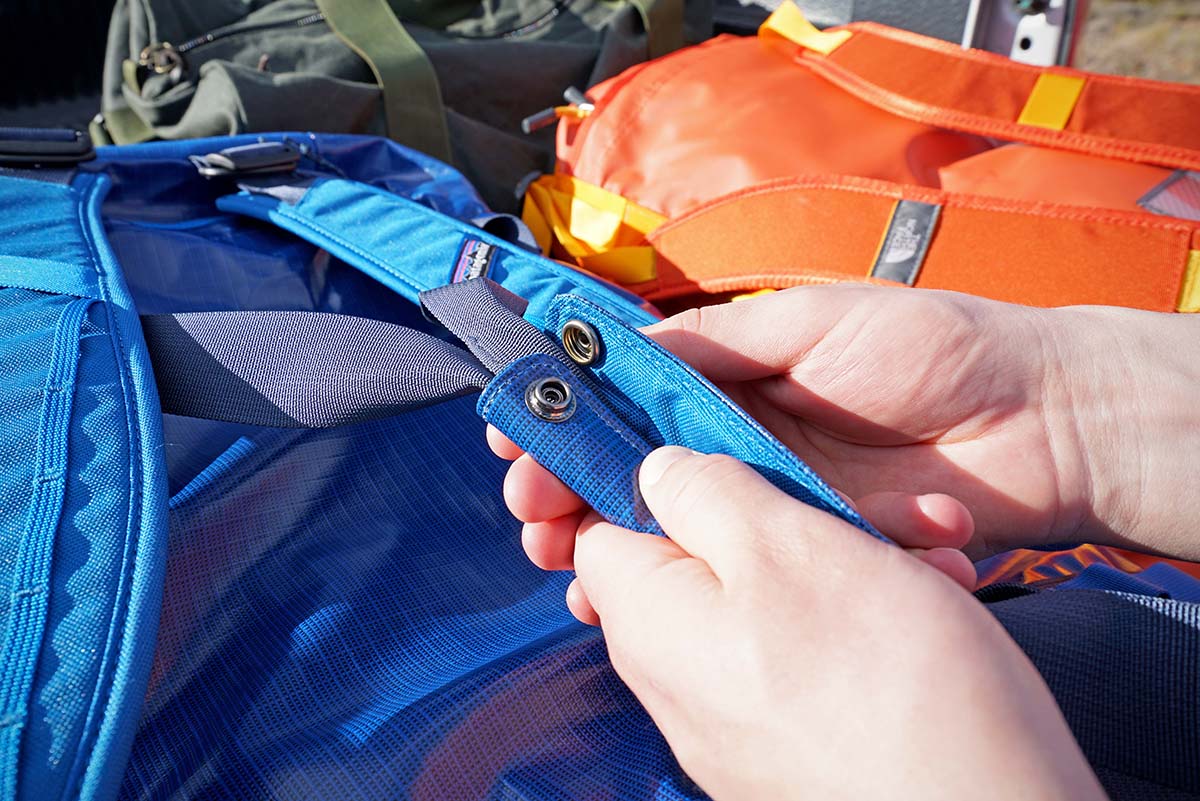 Grab Handles
Grab handles often are located on the ends or sides of a bag and sit close to the surface. Similar to carry handles, they are used to quickly lift or slide a duffel. Having a grab handle on each side is convenient when moving the bag around (think about grabbing it from the overhead bin of an airplane or the storage compartment on the bottom of a bus). We love grab handles: They are one the reasons that duffels are so versatile and easy to move around.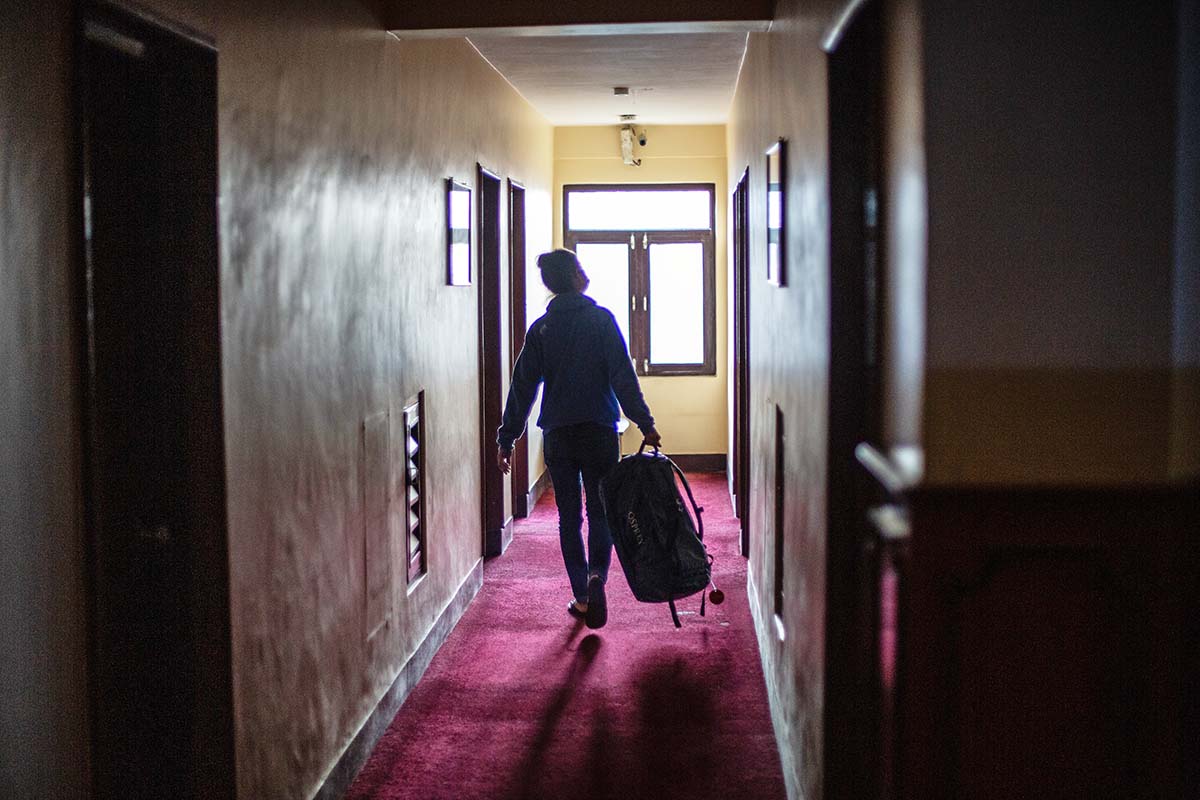 Durability (Denier)
We reference durability frequently in this article—everyone wants their investment to last. The most common way of measuring fabric strength is denier (D), and the higher the rating, the tougher the fabric will be. All deniers are not created equal, but this gives you a general idea of how two duffels stack up to each other in terms of toughness. When available, we've included the denier rating of each bag in our handy comparison table above, which range from 1000-denier for a bag like The North Face Base Camp down to 300-denier for the Backcountry All Around. It's worth noting that the manufacturers sometimes provide two numbers, which refer to the different panels (usually the highest number is the bottom of the bag that is exposed to the ground, whereas the lower number are the sides and top). This number may not be the definitive factor in your buying decision, but it certainly can help tip the scales when choosing between two close competitors.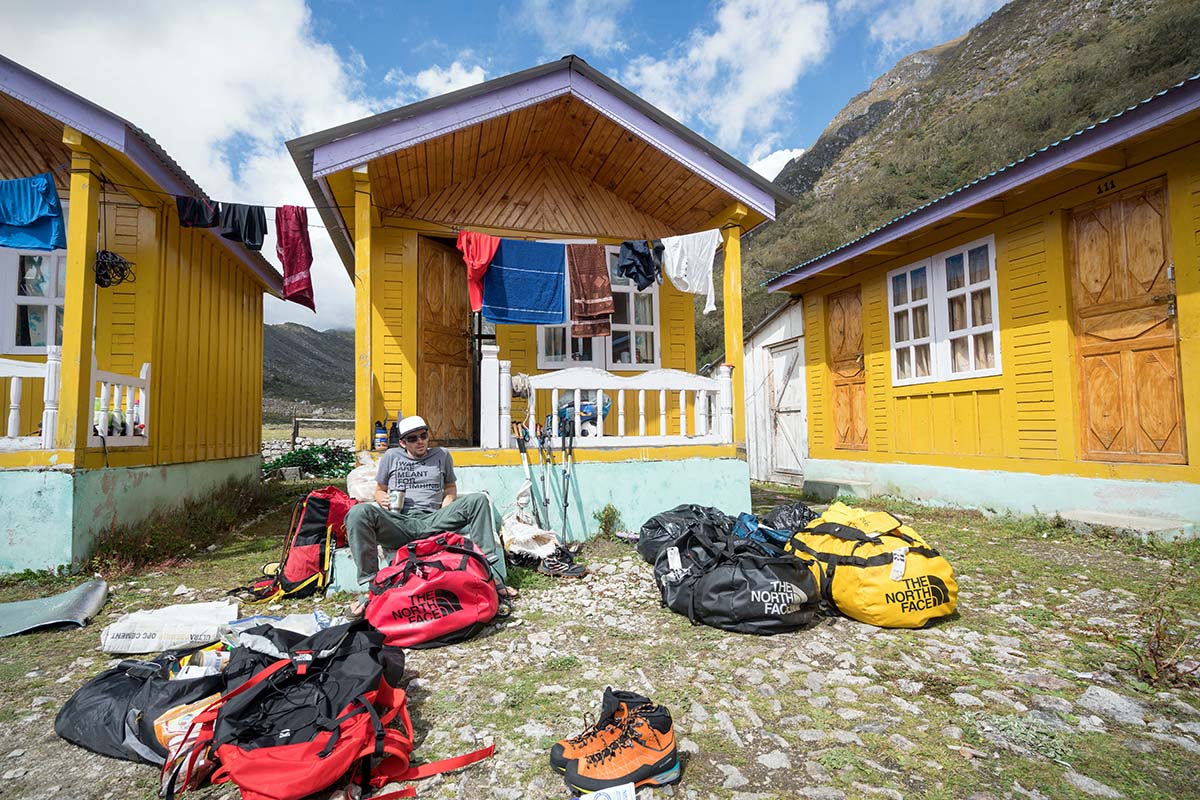 Water Resistance
Duffels advertised as "water-resistant" are designed to keep your belongings protected from light rain and soggy ground. These models often cover their durable ripstop fabric with a laminate that keeps moisture from soaking in (often a DWR treatment or something similar). A DWR treatment certainly is a nice feature for everyone using a duffel: The weather is unpredictable when traveling, you never know when your duffel might be sitting on the tarmac for a few extra minutes, and it's super helpful for outdoor use. In addition, some bags have flaps covering the zippers, which can be a point of weakness. Water-resistant gear does have limitations: It should work well in light-to-moderate precipitation but eventually will soak through.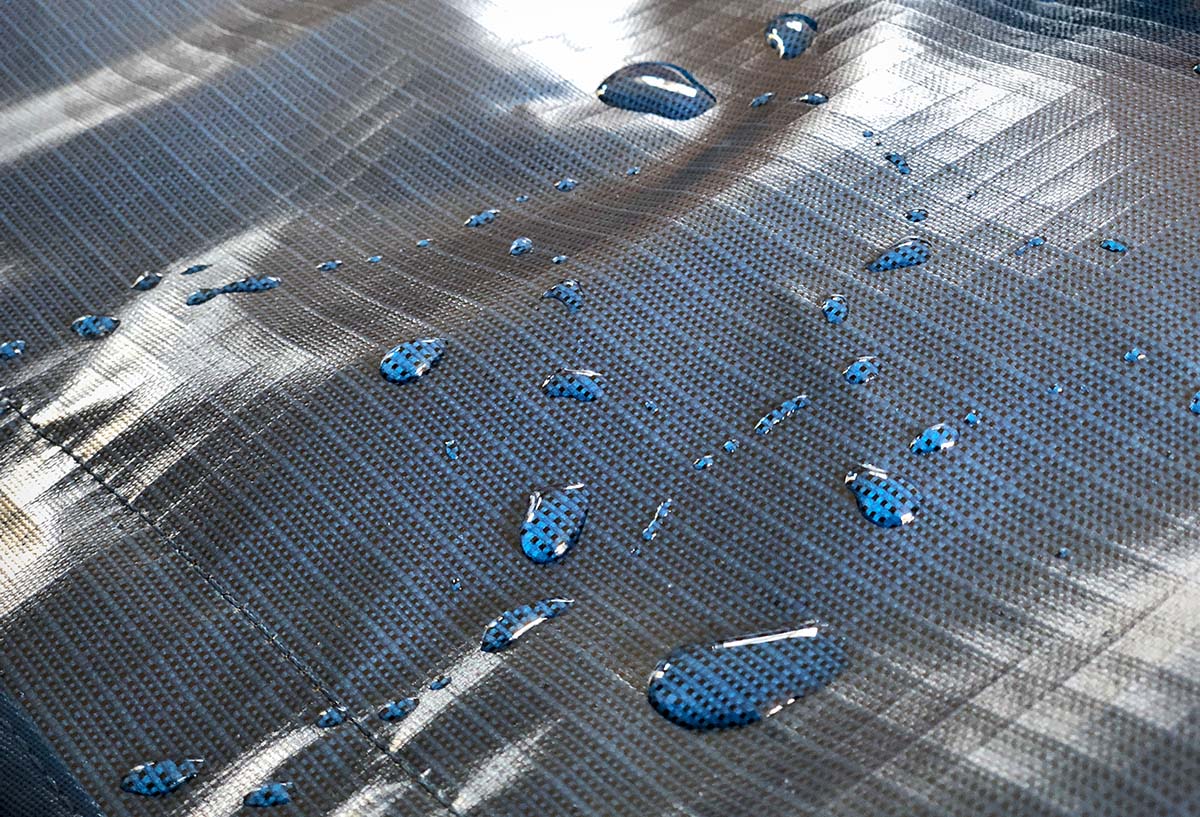 As mentioned above, a few duffels on this list take it a step further. The Yeti Panga and SealLine WideMouth are both built with waterproof fabrics. With a fully waterproof zippered seal, the Yeti can even be submerged, and the SealLine's roll-top does a decent job as well (no guarantees, but your stuff should stay dry). On the other hand, most duffels with vinyl or laminate finishes (such as the Patagonia Black Hole) will keep your gear dry in a rainstorm, but their zippers and seams might leak with sustained exposure to moisture. All things considered, a waterproof duffel is essential for water sports but overkill for travelers who stick to land.
 
Weight
Some travelers may not care about the weight of their duffel, but for others it's a factor, and particularly with heavier rolling models. Most non-wheeled duffels weigh just a few pounds or less, which makes them easy to carry, throw in your car, and store when not in use. Rolling duffels, on the other hand, tend to get a bit heavy. For example, The North Face Base Camp Voyager Roller weighs 9 pounds 7 ounces empty for the 94-liter version, which already accounts for almost 20% of the standard 50-pound limit for checked bags. And the Osprey Sojourn Shuttle 100L weighs 8 pounds 9.6 ounces but has a larger capacity at 100 liters (and comes in a massive 130-liter version). We can tell you that a loaded Sojourn Shuttle with things like shoes can get awfully close to the 50 pounds—we've been in the high 40s on a number of occasions. It's also worth noting that a 45-pound bag isn't the easiest to get in and out of your car or up a flight of stairs.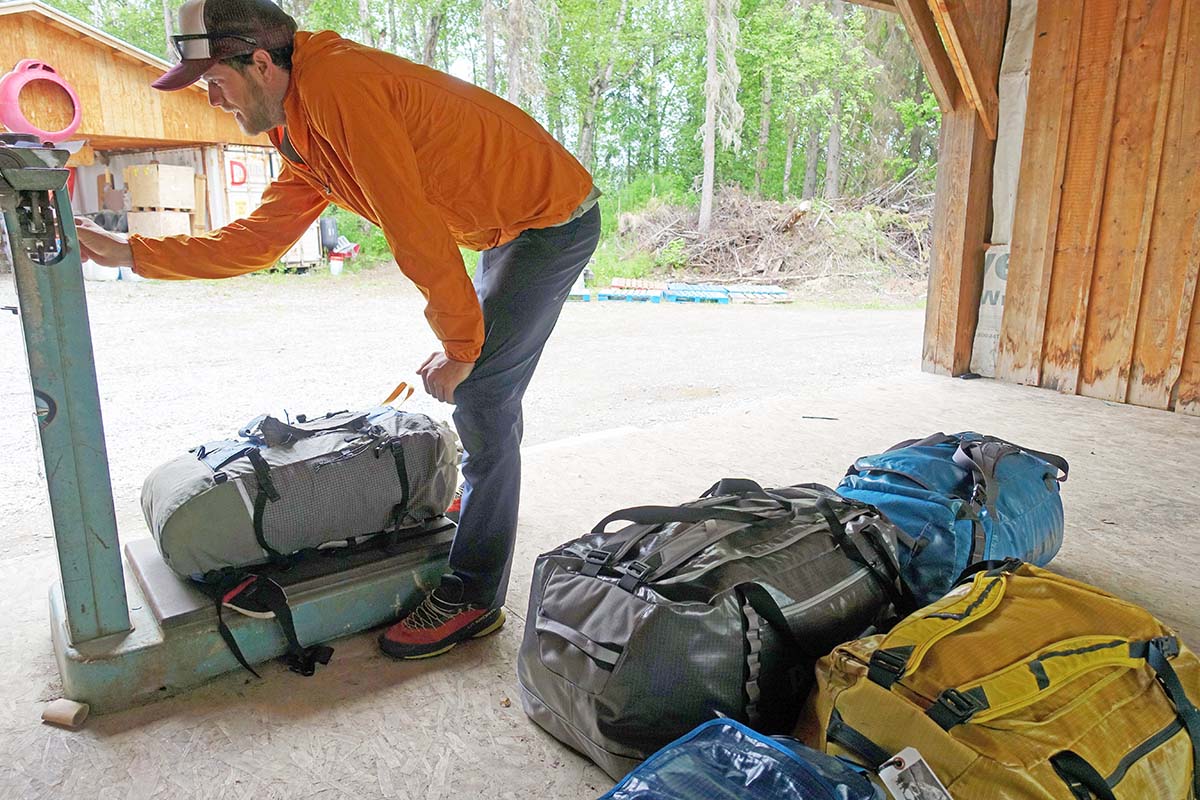 Packability
Packability won't be high on the priority list for most travelers, but there are a few instances in which a streamlined duffel can come in handy. For those who anticipate coming home with more than they started—or vice versa—being able to stow an empty duffel in another bag is a great way to consolidate your load. A few of the picks above pack into a stuff pocket or included packing cube, including the REI Co-op Roadtripper 100 and Patagonia Black Hole 55. However, it's worth noting that these options are still quite bulky—if you need a more minimalist design, check out a model like the Osprey Ultralight Stuff Duffel. Ultra-packable duffels do come with their fair share of tradeoffs—including less durable fabrics, a floppy structure, and typically small capacities—so we only recommend them for those who specifically need the more streamlined design.
Back to Our Top Duffel Bag Picks  Back to Our Duffel Bag Comparison Table
Read More From Switchback Travel