We love rock climbing shoes, and we bet you do too. The good news for climbers is that there are more styles and quality designs to choose from than ever before. Whether you're looking for an aggressively downturned shoe for hooking your way up boulder problems, a precise edging model for long limestone sport routes, or a comfortable kick for all-day granite ascents, we've got you covered. Below we break down the best rock climbing shoes of 2023. For more information, see our comparison table and buying advice below. And if you're just getting into the sport, check out our list of the best rock climbing shoes for beginners.
 
---
Our Team's Climbing Shoe Picks
---

Best All-Around Climbing Shoe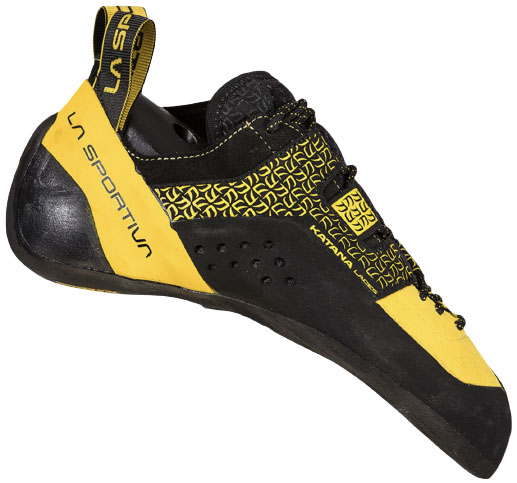 Best uses: Sport, trad, gym
Downturn: Moderate
Upper: Leather
What we like: Versatile yet high-performance; available in two versions.
What we don't: Expensive; most boulderers will want a softer shoe.
Of all the shoes in our quiver, the Katana Lace is the one we reach for most, whether we're sport climbing at Smith Rock, multi-pitch climbing in Red Rock's canyons, or ascending finger cracks at the Creek. What stands out most about the Katana is its ability to do almost everything well—crack climbing, smearing, technical face, slab, pockets, you name it. Sized up and worn in, you get a comfortable all-day shoe with much more precision than a flat design like the TC Pro (a liner at both the heel and toe boosts comfort and breathability, too). Worn tightly, the Katana's edging prowess is on par with the likes of the Otaki below. And unlike many sport climbing and bouldering shoes, the Katana's moderate downturn and wide toe box are a great match for wide feet or climbers who aren't sold on a more aggressive design.
The Katana Lace was updated last year, with the big news being the release of two models: a yellow version and a white version. The yellow Katana is similar to the outgoing design, featuring a full last and stiff yet sticky Vibram XS Edge rubber that work together to provide a powerful edging platform. On the other hand, the white version was built with a split last and softer XS Grip 2 rubber, resulting in a more sensitive and flexible feel. Both models feature an updated heel for better hooking performance, which really boosts the Katana's all-rounder prowess (although neither is ideal for dedicated boulderers). The updates are accompanied by an eye-catching price tag—at $219, the Katana is one of the priciest shoes here—but it's hard to argue with this much versatility and performance, both for new and seasoned climbers alike.
See the Men's La Sportiva Katana Lace  See the Women's La Sportiva Katana Lace
Best Budget/Beginner Climbing Shoe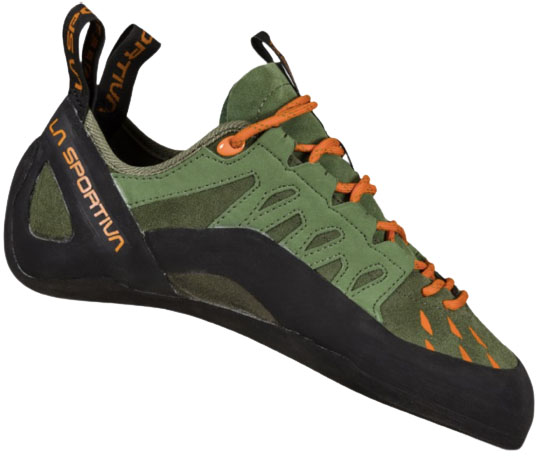 Best uses: Beginner
Downturn: Flat
Upper: Leather
What we like: A durable and comfortable shoe for just $89.
What we don't: Not a high-performance shoe.
Whether you're a new climber or looking for an inexpensive shoe to thrash in the gym, it doesn't get any better than the La Sportiva Tarantulace. We won't beat around the bush—our favorite thing about this shoe is price: In an era when climbing shoes have risen to over $200 a pop, the Tarantulace has kept costs low with its $89 MSRP. But it still checks all the boxes for most casual climbers, with an unlined leather upper that will conform to your feet over time, a flat last and roomy toe box for excellent comfort, and a sticky yet durable FriXion RS rubber sole. In short, it's for good reason that we see the Tarantulace at the gym and the crag more than almost any other shoe.
Most beginner climbers won't yet be too picky about their climbing shoes, prioritizing factors like durability and comfort over performance. That said, if you're a quick learner, a strong athlete, or primarily interested in bouldering, it might be worth starting with a more purpose-built design. In our experience, we've found the Tarantulace to be fairly stiff and insensitive—along with its roomy build, this makes it a great shoe for all-day comfort (think moderate multi-pitch routes or long gym sessions) but not ideal for steep or particularly technical climbing. All gripes aside, those looking within the budget category simply won't find a better deal (La Sportiva also makes the velcro Tarantula, which retails for $99). For a more comprehensive list of recommendations, check out our article on the best climbing shoes for beginners.
See the Men's La Sportiva Tarantulace  See the Women's La Sportiva Tarantulace
Best Bouldering Shoe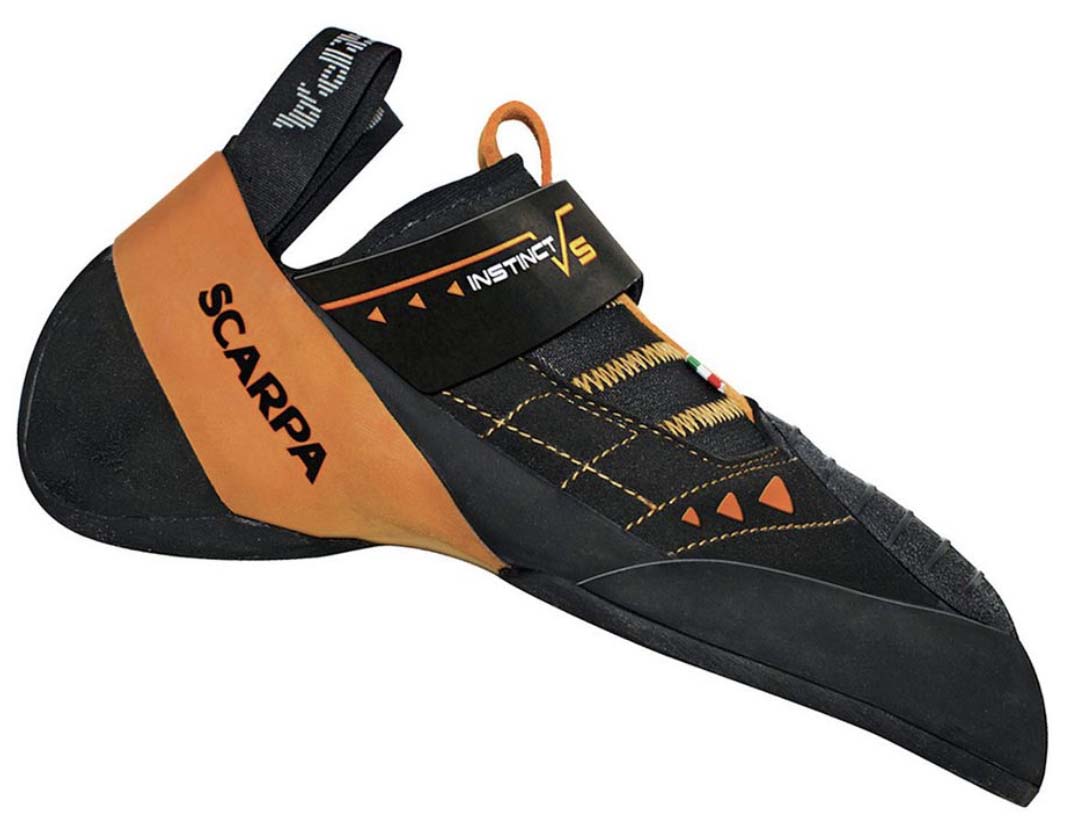 Best uses: Bouldering, sport, gym
Downturn: Moderate
Upper: Synthetic
What we like: A bouldering slipper that provides amazing support.
What we don't: Some will want a softer shoe.
The Instinct VS is a relatively new shoe from Scarpa that quickly has grown in popularity. It established itself as a versatile choice for sport climbing and bouldering, but it's also a common pick for indoor and competition climbing (most notably, 11-time American Bouldering Series champion Alex Puccio cites the Instinct VS as her favorite shoe). The rubber-shrouded toe and heel are excellent on steep rock, and the medium-stiff rand offers more edging power than we're used to seeing in a bouldering shoe.
Made with synthetic microsuede, the Scarpa will stretch less than a leather shoe, but an elastic patch on the top of the foot gives it a close fit. The stiff feel and moderate downturn set it apart from most shoes made for high-performance sport climbing and bouldering, but a thinner 3.5mm sole adds sensitivity and flex (note that the XS Edge rubber on the men's version is replaced with XS Grip 2 on the women's model for an even softer, grippier shoe). Scarpa also offers the same design in a softer version with a 2mm sole (the VSR), which is ideal for lighter climbers or those who prefer a more sensitive feel. And the impressive Instinct family is rounded out by a high-performance lace model and a slipper (S), each of which are quality, standout shoes in their own right... Read in-depth review
See the Men's Scarpa Instinct VS  See the Women's Scarpa Instinct VS
Best Shoe for Granite and Crack Climbing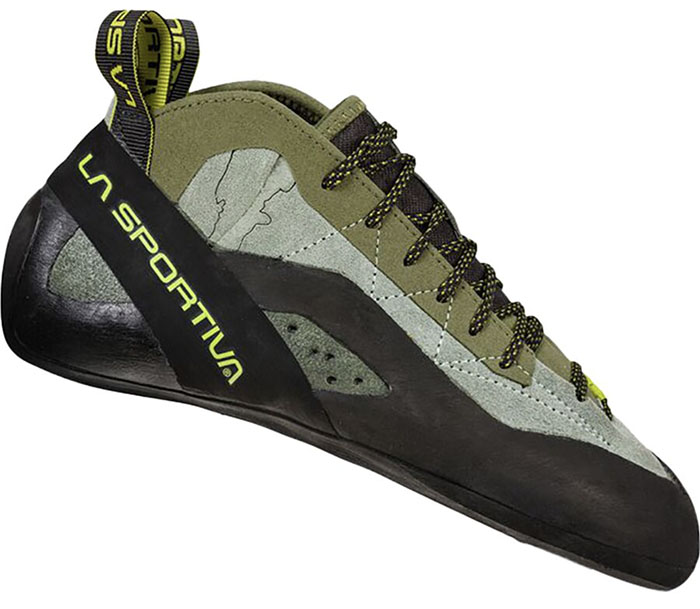 Best uses: Trad
Downturn: Flat
Upper: Leather
What we like: The best granite and crack climbing shoe on the market, hands down.
What we don't: Expensive and very specific.
If you're reading this, there's a good chance you know who Tommy Caldwell is. He climbed this little thing called the Dawn Wall in Yosemite in 2015, and this is the shoe that TC designed for the job. As a result, the TC Pro is an absolute climbing machine for vertical to less-than-vertical terrain, and specifically granite. While we often correlate a flat shoe with a beginner shoe, this is a notable exception: The stiff makeup and sticky XS Edge rubber make it an ultra-high-performance edger and slabber. But why most climbers love the TC Pro is its stellar performance in cracks. With padding at the tongue and ankles and a mid-height upper, it provides game-changing protection for everything from thin foot jams to burly offwidths.
Some of the biggest news in the climbing shoe world last year was the release of a revised TC Pro—the first update since the shoe's debut in 2008. We were admittedly nervous to see our beloved TC Pro get an overhaul, but the changes are all positive. Without impacting the overall feel of the shoe, Sportiva attended to the first iteration's weaknesses, including the rolling tongue, rand delamination, and durability around the laces (importantly, we needed to size up a half size). All told, just like the outgoing model, the second-gen TC Pro is a do-all shoe for everything from 5.14 granite test pieces to moderate multi-pitch routes, providing the support, protection, and durability that trad climbers need. Boulderers, gym climbers, and most sport climbers—look elsewhere... Read in-depth review
See the La Sportiva TC Pro
Best Competition Climbing Shoe
Best use: Gym, bouldering, sport
Downturn: Aggressive
Upper: Leather/synthetic
What we like: A purpose-built comp shoe at a good value; comes in regular and low volume sizes.
What we don't: Lacking in versatility.
As competition climbing booms and setters get more creative with volumes, slabs, and the odd circus trick, there's a growing demand for purpose-built shoes. Comp climbing designs are characterized by ultra-soft builds (including little to no midsole), soft and sticky rubber, and a rounded toe for better smearing performance on volumes. Within this category, the Scarpa Drago has risen to the top thanks to its fantastic fit and build quality, generous rubber patches, and decent edging abilities despite its soft makeup. The Drago also comes in standard and low-volume sizes, so chances are high you can find a good fit (you'll want to size your comp shoe fairly tight).
Many other companies have thrown their hat into the ring—a fairly logical progression following climbing's recent Olympic debut—so there's no shortage of competition for the Drago. La Sportiva has their Solution Comp (a more supple version of the Solution below), and they've also added the Theory, an even softer shoe with No-Edge technology. Within Butora's lineup, the Acro Comp and Gomi are intriguing choices. At this level, most climbers will have a pretty good idea of their preferences when it comes to shoes, but for aspiring competition climbers, the Drago offers a hard-to-beat mix of price and performance. 
See the Scarpa Drago  See the Scarpa Drago LV
Best of the Rest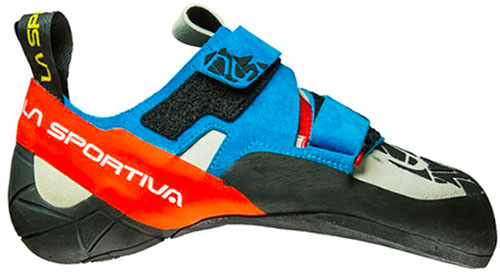 Best uses: Sport, trad
Downturn: Moderate
Upper: Leather/synthetic
What we like: A versatile, comfortable shoe that's especially great for technical edging.
What we don't: Not ideal for crack climbing; some will find the wide toe box to be too sloppy.
The Otaki is a relatively recent innovation from La Sportiva, combining an approachable fit with a high level of performance for both sport and trad climbing. We've worn this shoe on everything from vertical dime edges and steep pocketed limestone to hard finger cracks (it was our shoe of choice for free climbing Moonlight Buttress) and have been super impressed with its performance. In many ways, it's a velcro alternative to the Katana Lace above, but with a more aggressive downturn (a PD 75 last vs. the Katana's PD 55) and S-Heel technology that provide some extra oomph on steep terrain (we'll note that because of the velcro closure and more downturned shape, the Otaki is not a great fit for most crack climbs). 
We used to rank Sportiva's classic Miura VS high on this list, but the Otaki has become the more popular choice thanks to its more approachable fit (the Miura VS has a unique toe box that works for some, but not for many). It's snug heel cup is great for those with low-volume feet, and the wide toe box adds comfort and versatility for a range of foot shapes. And unlike the Katana, the Otaki's heel cup is unlined, which results in a less plush and breathable feel, but a lot more precision—especially for heel hooking. By this point, it's hopefully becoming clear how to prioritize the two shoes: The Katana is still our pick for all-day performance and crack climbing, but the Otaki offers a slight level up for steeper or more challenging terrain. And because it's a shoe that you'll likely want to remove between pitches (even on a multipitch), the convenient two-strap Velcro closure makes a lot of sense.
See the Men's La Sportiva Otaki  See the Women's La Sportiva Otaki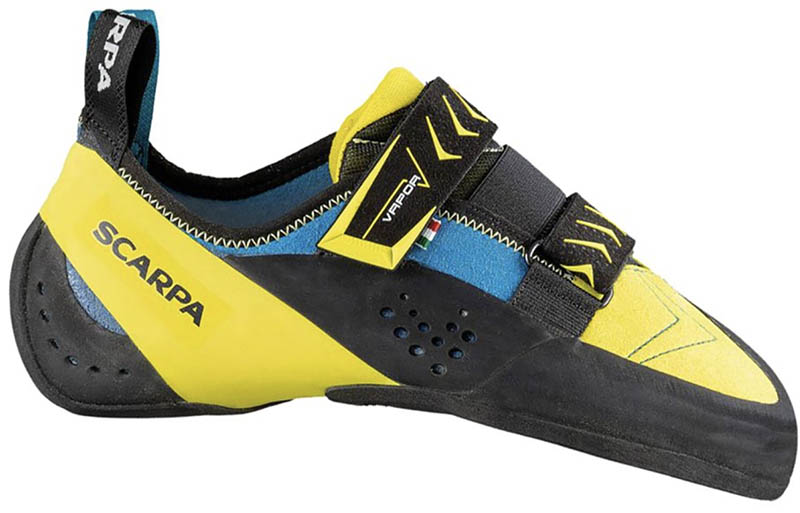 Best uses: Trad, sport, beginner
Downturn: Moderate
Upper: Leather
What we like: A comfortable quiver-of-one shoe for intermediate climbers.
What we don't: Not great for bouldering.
The Scarpa Vapor V is a textbook all-rounder, designed to balance both comfort and performance on a variety of terrain. Whether you're looking for a step up from your beginner shoes or are on the hunt for a versatile design that can handle the variability of multi-pitch climbing, the Vapor V could be your answer. Similar to the La Sportiva Katana Lace above, the Scarpa features a moderately downturned last, soft suede upper and mesh-gusseted tongue, and edging platform that excels on techy, vertical rock. The wide toe box keeps comfort high, and you can play with size depending on your goals: a relatively loose fit is great for all-day wear on multi-pitch routes (and better on slabs and cracks), while we prefer a tighter feel for redpoint burns at the sport crag.
All that said, the Scarpa Vapor V isn't right for every climber. First, with only 3.5 millimeters of XS Edge rubber, this shoe is known for wearing out quicker than most (for comparison, the yellow Katana has 4mm). Second, not everyone will love the Velcro closure—we typically prefer a lace-up shoe when we expect to encounter cracks on a multi-pitch climb. And finally, while the Vapor V balances conflicting priorities better than most, it doesn't cross over very well to steep climbing or bouldering, although a nice patch of rubber at the toe makes it a bit more versatile than the Katana. But for a shoe that can handle most disciplines while still being comfortable, Scarpa's best-selling Vapor V is worth having on your radar.
See the Men's Scarpa Vapor V  See the Women's Scarpa Vapor V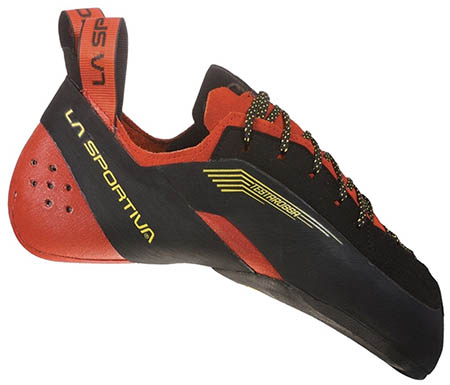 Best uses: Sport
Downturn: Aggressive
Upper: Leather/synthetic
What we like: Snug fit and sensitive build results in a complete edging machine.
What we don't: Soft build lacks support; thin rubber outsole will wear out more quickly than most.
Known for its sleek looks and premium performance, the La Sportiva Testarossa is essentially the Maserati of climbing kicks. Don't be fooled by the laces: this is a wildly aggressive sport climbing shoe, designed for precision edging on vertical to overhanging terrain. It wraps wide and narrow feet alike in a very snug fit, and the leather and synthetic upper quickly molds to your foot without stretching out prematurely. Tack on a supple build, soft Vibram XS Grip 2 rubber that bites into holds, and a powerful downturn (it uses Sportiva's PD 85 last), and the Testarossa is one heckuva a shoe for fancy footwork on technical edges and pockets.
Aside from the steep price tag, the Testarossa's sensitivity and grip also come at the cost of support and durability. While we love the connected feel on most terrain, the soft build can cause fatigue quickly on long, vertical pitches (and because you'll want to size the shoe fairly snug for performance, it certainly won't be the most comfortable option in your quiver). What's more, the Testarossa will wear down faster than most, due to its soft XS Grip 2 rubber and thin construction (3.5mm instead of the more standard 4mm). As a result of all of these factors, we'll often project in the Katana or Otaki and bring out the Testarossa for redpoint burns. When it's time to execute, it's hard to beat the shoe's precision and grip on small holds.
See the La Sportiva Testarossa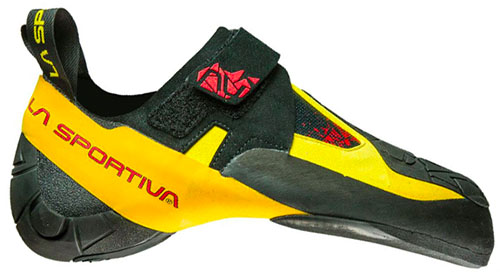 Best uses: Bouldering, sport, gym
Downturn: Aggressive
Upper: Leather/synthetic
What we like: A sensitive, aggressive shoe that's also very comfortable.
What we don't: Too soft to be a great edger; lacks support for long, vertical pitches.
One of La Sportiva's newer innovations, the Skwama is a performance climbing slipper, comparable to the Drago above in terms of its highly aggressive and sensitive build. With a thin midsole and supple Vibram XS Grip 2 rubber, the Skwama moves as an extension of your foot and lets you feel every contour in the rock. What's more, Sportiva's well-loved P3 midsole means the shoe retains its downturn over time. The benefits to this construction come on steep terrain: The slipper provides incredible precision for heel and toe hooks (aided by the generous heel and toe rubber and snug S-Heel design) and puts your foot in an aggressive position that allows it to perch on steep edges and nubs.
One of the highlights of the Skwama is its high degree of comfort, thanks to the roomy toe box, soft build, and fairly gentle downturn (it's built on a PD 75 last, while more aggressive shoes like the Testarossa use the PD 85 last). The most glaring downside of this soft construction is the lack of support underfoot, which makes the Skwama a poor choice for long pitches (especially when you're standing on your feet) and does not inspire confidence on vertical edges. Those used to a stiffer shoe will find that their feet grow noticeably sore in the Skwama. But for steep sport climbing and bouldering, it's quickly become a go-to option for many. Finally, the Skwama is also made in a vegan design for the same price, which won't stretch as much as the leather design (and will also keep your conscience clean)... Read in-depth review
See the Men's La Sportiva Skwama  See the Women's La Sportiva Skwama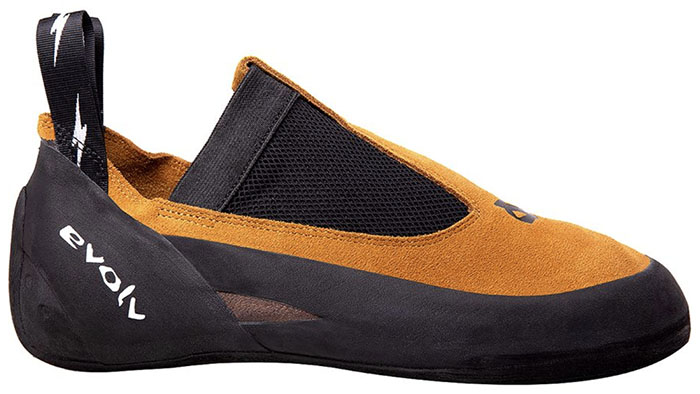 Best uses: Trad, gym
Downturn: Flat
Upper: Leather
What we like: A great all-around slipper that's particularly good for thin cracks.
What we don't: Unlined and you can't customize the fit.
Most modern climbing slippers (like the Drago and Skwama above) are designed for bolt-clipping and bouldering on steep terrain: they're super soft, relatively aggressive, and fit snugly with a Velcro closure near the ankle. But the Evolv Rave goes old-school with a fully slip-on construction, flat last, and all-rounder intentions. These are Steph Davis' shoe of choice for Indian Creek splitters (they have a very narrow toe box, which great for thin cracks). And at just $129, they're also a solid option for those just starting out (whether outdoors or indoors). To top it off, the Rave is exceptionally comfortable, quick to get on and off, and will conform to your foot like a glove.
Compared to Five Ten's popular Moccasym, Evolv's slipper is stiffer (read: more support for long routes), and the snug heel offers a more secure fit overall. And you'll certainly notice the difference between the Rave's leather upper and the Moccasym's synthetic: leather tends to provide a more secure fit as the shoe forms to your foot's contours over time. But not everyone is a fan of slippers—you can't customize the fit like you can with a Velcro or lace closure, and some climbers (especially those just getting into crack climbing) will appreciate a bit more padding. But for the right user, the Rave is a comfortable, affordable, and versatile choice. And if you like the idea of a slipper but want something more aggressive, it's worth checking out the Scarpa Instinct S or La Sportiva Mantra.
See the Evolv Rave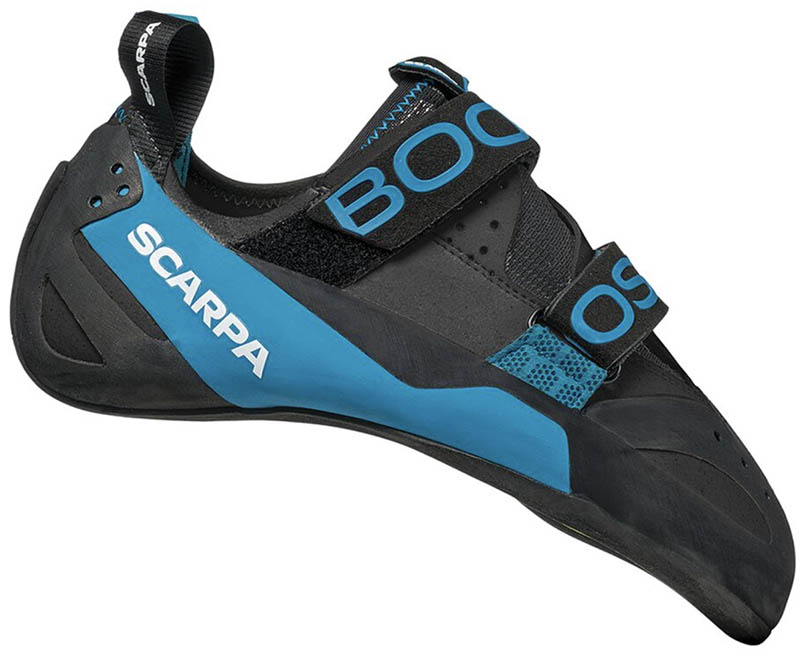 Best uses: Sport, bouldering, gym
Downturn: Aggressive
Upper: Leather/synthetic
What we like: Very precise and sensitive yet still supportive.
What we don't: Expensive; thin rubber means frequent resoling.
The Boostic has long been one of Scarpa's premier climbing shoes, and it received a significant revamp last year. Originally created by the visionary designer Hans Mariacher, the Boostic is simply superb for elite-level climbers, excelling on everything from overhanging terrain to steep pockets and technical edging on thin foot chips. It's precise, it's powerful, and the latest iteration is more competitive than ever. Most significantly, Scarpa trimmed some weight and bulk with thinner yet equally strong materials, both in the upper and underfoot (including replacing the previous version's 4mm rubber with 3.5). The result is even more sensitivity without compromising support (although it will need to be resoled more often), which makes the Boostic an exceptional shoe for long and techy ascents, whether on single pitches or all-day missions.
The Boostic can be thought of as the Vapor V's more performance-focused sibling: both are highly versatile, supportive, and comfortable, but the Boostic offers a more dialed construction and fit, which is in large part due to the innovative closure system. Correspondingly, many climbers have a variety of Boostics in their quiver (sized up for longer routes or alpine ascents and sized down for sport pitches). And importantly, with the updated version, Scarpa recommends dropping a half size from your normal Boostic, as the thinner materials result in a roomier shape and less of a break-in period. Finally, while it can pass for bouldering (with generous rubber patches for toe and heel hooking), dedicated pebble wrestlers and indoor climbers will likely want something a bit softer and less supportive.
See the Scarpa Boostic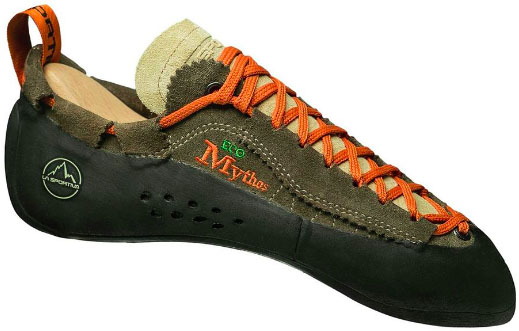 Best uses: Beginner, trad
Downturn: Flat
Upper: Leather
What we like: A time-tested classic made with 95%-recycled materials. 
What we don't: At the end of the day, it's not very performance-oriented.
The Mythos is one of the most iconic shoes on the market. And for new climbers venturing outside, this is an incredibly comfortable and durable choice. It has a flat last and leather upper that allow it to be worn all day, and the quality Eco rubber on the sole means you get top-notch performance too. For beginning climbers and intermediates alike, it's a great choice.
While the Mythos is great for beginner climbers or those looking for all-day comfort, it is not an incredibly versatile shoe. It's not made for cranking through long overhanging sport climbs, nor for heel- and toe-hooking your way through roofs. Even among the beginner shoes on the market, it isn't the best option for smearing or edging. Heck, we don't even recommend the Mythos for gym climbing—it's overkill and expensive for what you need. But it's certainly among the most durable and best-fitting of the bunch, making it a nice option for beginning trad climbers. And it certainly doesn't hurt that the Mythos Eco is made using 95%-recycled materials from the Sportiva cutting-room floor.
See the Men's La Sportiva Mythos Eco  See the Women's La Sportiva Mythos Eco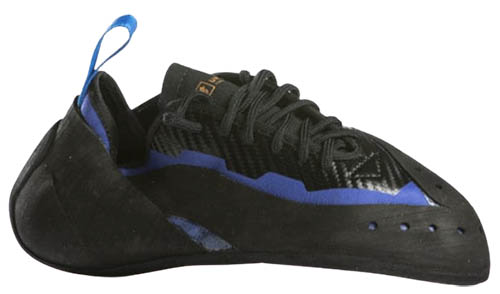 Best uses: Sport, bouldering
Downturn: Aggressive
Upper: Synthetic
What we like: More affordable than the competition and made in the U.S.A.
What we don't: Difficult to find in stores.
If you haven't yet heard of Unparallel, here's an introduction. After Five Ten was bought out by Adidas in 2011, their production moved overseas, leaving their SoCal factories and many former employees idle. Before long, Unparallel was born, taking over Five Ten's abandoned spaces with a resolve to carry the U.S.-made torch. Now, this grassroots company makes a full line-up of climbing, mountain biking, and commuter shoes, with a focus on high-quality materials and construction.
Unparallel's Sirius Lace is one of their most popular shoes, rivaling the Testarossa above in terms of precision for vertical and overhanging terrain. The Sirius is a bit stiffer than La Sportiva's popular lace-up, lending slightly more support and power on technical edges. And for better toe-hooking performance on steep routes and boulders, it also tacks on offset lacing and a rubber patch on the toe. That said, you do sacrifice the Testarossa's glove-like fit with a synthetic upper, and we've found it hard to track down these shoes to try on in person. All in all, Unparallel might not get the same recognition as brands like La Sportiva and Scarpa, but they're a rising star and it certainly doesn't hurt that their shoes are priced at $20 to $50 less than the competition. 
See the Unparallel Sirius Lace  See the Unparallel Sirius Lace LV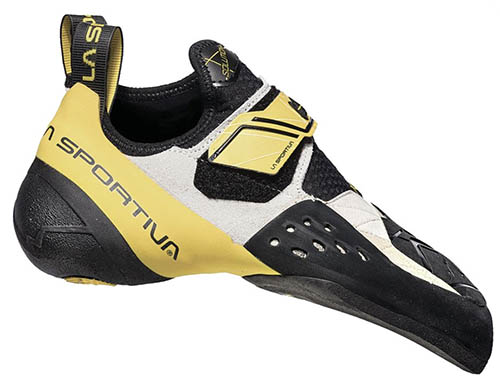 Best uses: Sport, bouldering, gym
Downturn: Aggressive
Upper: Leather/synthetic
What we like: A classic shoe for sport climbing and bouldering.
What we don't: It doesn't quite measure up in an increasingly competitive field.
The Solution is an excellent shoe, hands down. It's been the choice of some of the world's best climbers for years now, performs equally well indoors and outdoors, and dominates steep boulders and sport climbs alike. Like the Testarossa above, it edges like a dream on tiny foot chips, features sticky and sensitive Vibram XS Grip 2 on both the women's and men's offerings, and you get a hefty dose of heel and toe rubber for all sorts of performance on overhanging terrain. Climbers have long lauded the Solution's pointy toe for pocketed limestone in particular, and like most of Sportiva's downturned kicks, a P3 platform holds the shape of the shoe over time.
With all that praise, what is the Solution so low on our list? In short, the climbing shoe competition has become fierce. Back in 2007 when the Solution was first released, it was a cutting-edge design and offered top performance for hard climbing. Now, aggressive and precision-oriented slippers are a dime a dozen. What's more, the Solution isn't exceptionally durable and many find the heel cup to be ill-fitting and clunky, while many newer shoes are closer to perfection (for the same price). If you're a Solution diehard, by all means, stay true to your shoe (or level up to the softer and snugger-fitting Solution Comp). But if you're on the hunt for your first aggressive slipper for bouldering or sport climbing, we'd encourage you to look higher on the list. 
See the Men's La Sportiva Solution  See the Women's La Sportiva Solution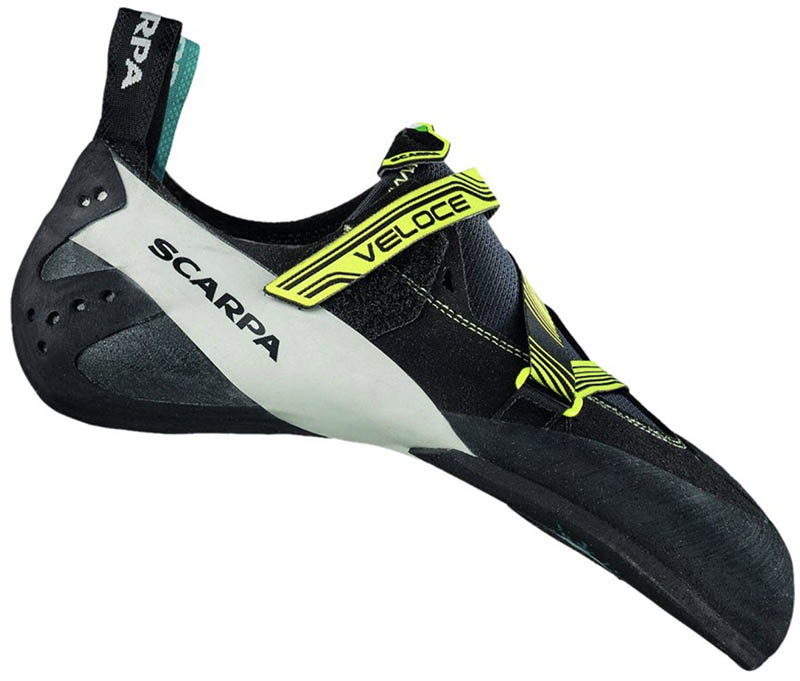 Best uses: Gym, beginner
Downturn: Moderate 
Upper: Synthetic
What we like: Better gym performance than most beginner models.
What we don't: Expensive for an entry-level shoe and sole is not particularly durable. 
In years past, beginners typically cut their teeth on low-angle slabs outside, where flat and stiff shoes like the Tarantulace and Mythos above shine. But with more and more climbers getting their first taste of the sport on indoor walls (read: steeper routes with bigger holds), there's a new demand for softer and more downturned entry-level kicks. The Veloce is Scarpa's answer, merging gym climbing sensitivity with a comfort-focused shape and relatively affordable price tag that undercuts much of the more aggressive competition. $175 might seem like a sizeable investment for newcomers, but it's still considerably cheaper than most other options on this list.
As a new climber, you have a lot of options when it comes to shoes, including all-rounders like the Tarantulace and outdoor-specific models like the Mythos. But if you're getting your start inside and don't expect to venture outdoors for a while, the Veloce is an excellent choice. We do wish the shoe had slightly more durable rubber, as beginners with poor footwork will blow through the sticky S-72 outsole in very little time (remember, you can always get a resole). But for those with good technique or intermediate climbers who have already learned their way around plastic holds, the Veloce is a great 'tweener shoe that won't hold you back as you move up the grades.  
See the Men's Scarpa Veloce  See the Women's Scarpa Veloce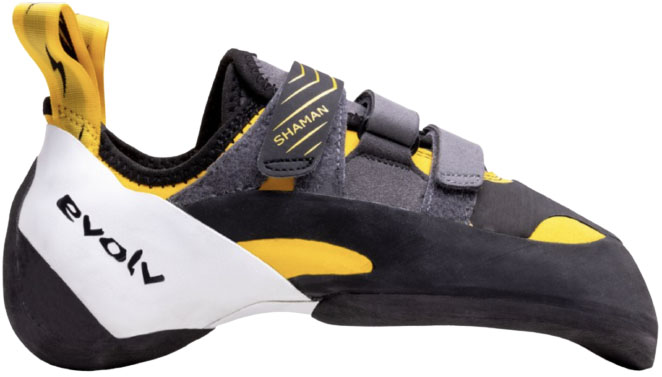 Best uses: Sport, bouldering, gym
Downturn: Aggressive
Upper: Synthetic
What we like: A powerful shoe for steep climbing.
What we don't: Some sport climbers and boulderers will want a softer shoe.
Designed in part by Chris Sharma, the Shaman is best suited to the kind of climbing Sharma enjoys most: steep, endurance limestone sport routes. They perform incredibly well on this terrain, dominating small pockets, toeing in on positive crimps, toe hooking on tufa-like features, and heeling on small edges. The Trax SAS rubber is super sticky and features a Variable Thickness Rand, designed to pattern durability and flexibility throughout the sole. Meanwhile, the synthetic upper maintains a tight fit over time, and the three Velcro straps are thin enough to give ample room for toe rubber.
The Shaman was updated last year, and now comes in four separate models: a lace-up (available in high- and low-volume fits) and the velcro version here (also available in two volumes). Like the outgoing design, all four Shamans still feature Evolv's unique "Knuckle Box" and "Love Bump" technologies, which keep the foot in a powerful yet comfortable position. And unlike your average velcro shoe, the Evolv is relatively stiff, akin to the Instinct VS above (that said, the split sole does offer more flexibility than a design like the Katana). Modern boulderers and gym climbers might want a softer design, but the Shaman nevertheless offers top-notch power and precision for edging and hooking up steep climbs... Read in-depth review
See the Evolv Shaman  See the Evolv Shaman LV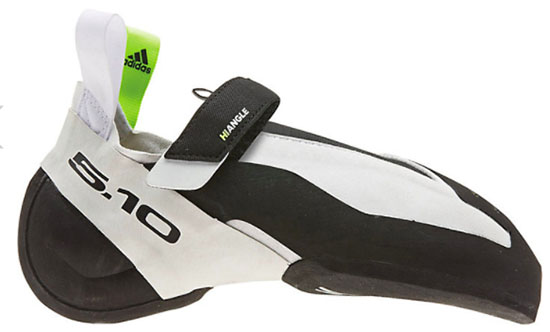 Best uses: Bouldering, sport, gym
Downturn: Aggressive
Upper: Synthetic
What we like: Best toe hooker in the business; very comfortable.
What we don't: Lacks the close fit and comfort of leather; hard to find.
Similar to the Scarpa Instinct VS and La Sportiva Skwama above, you're likely to see the Five Ten Hiangle on the foot of many a pro boulderer or sport climber. With a huge pad of sticky toe rubber, an aggressive downturned shape with lots of sensitivity, and a Velcro strap to keep the shoe from sliding off on heel hooks, this shoe screams steep climbing. And perhaps the most standout feature is the price: While most of the competition slides in between $190 and $220, Five Ten (aka Adidas) has managed to keep the Hiangle relatively affordable at just $150.
The previous Hiangle had a tendency to stretch out of shape and become floppy over time, but the current version replaces the leather upper with an unlined synthetic microfiber. While the result is a snugger fit throughout the shoe's lifespan, some climbers will still prefer the close fit and comfort of leather (if you can relate, take a look at a partially leather shoe like the Skwama). But the rest of the updated Hiangle is virtually unchanged, and it's still a high-performance offering for serious sport climbers and boulderers—that is, if you can find it. At the time of publishing, stock is very low (which seems to be a recent trend with Five Ten models). Five Ten also makes the Hiangle Pro, which adds a wraparound sole at the instep, eliminating the edge and maximizing contact on plastic holds.
See the Men's Five Ten Hiangle  See the Women's Five Ten Hiangle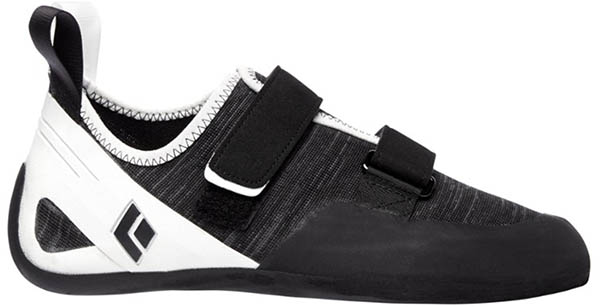 Best uses: Beginner
Downturn: Flat
Upper: Synthetic
What we like: Checks off a lot of boxes for beginner climbers.
What we don't: Too narrow for some; not a high-performance shoe.
Black Diamond's Momentum is purpose-built for new climbers looking for a comfortable shoe that doesn't break the bank. In fact, it's one of just a small number of designs still available for $100 or less. With the Momentum, you get a unique stretchy knit upper for ventilation and all-day comfort and high-quality Neo Fuse rubber underfoot. And Black Diamond continues to improve on the quality of the shoe, with the most recent update featuring a softer lining and toe rand, improved midsole for better edging, and retooled fit with more tension from toe to heel. All in all, it's a solid and very affordable choice for entry-level climbers or those looking for a gym workhorse. 
Keep in mind, however, that you get what you pay for here: the tongue flaps on our pair of Momentums have a tendency to bunch up under the Velcro closure, and we've found the toe box to be quite narrow. Further, the knit upper does give up a lot in the way of durability and fit, which is especially important if you're climbing outside. If the Momentum doesn't seem like the shoe for you, it's worth checking out Black Diamond's more performance-oriented offerings. In particular, their trad-focused Aspect and aggressive Shadow have become fairly popular throughout their short lifespans. And it's worth noting that all of BD's shoes use Butora's Neo Fuse rubber, which is impressively sticky and durable. But brand allegiance can be strong, and we've found little reason to switch over from our beloved Italian-made shoes… Read in-depth review
See the Men's Black Diamond Momentum  See the Women's Black Diamond Momentum
Rock Climbing Shoe Comparison Table
| Climbing Shoe | Price | Downturn | Upper | Rubber | Best Uses |
| --- | --- | --- | --- | --- | --- |
| La Sportiva Katana Lace | $219 | Moderate | Leather | Vibram XS Edge/Grip 2 | Sport, trad, gym |
| La Sportiva Tarantulace | $89 | Flat | Leather | FriXion RS | Beginner |
| Scarpa Instinct VS | $209 | Moderate | Synthetic | Vibram XS Edge/Grip 2 | Bouldering, sport, gym |
| La Sportiva TC Pro | $219 | Flat | Leather | Vibram XS Edge | Trad |
| Scarpa Drago | $219 | Aggressive | Leather/synthetic | Vibram XS Grip 2 | Gym, bouldering, sport |
| La Sportiva Otaki | $209 | Moderate | Leather/synthetic | Vibram XS Edge/Grip 2 | Sport, trad |
| Scarpa Vapor V | $199 | Moderate | Leather | Vibram XS Edge/Grip 2 | Trad, sport, beginner |
| La Sportiva Testarossa | $219 | Aggressive | Leather/synthetic | Vibram XS Grip 2 | Sport |
| La Sportiva Skwama | $199 | Aggressive | Leather/synthetic | Vibram XS Grip 2 | Bouldering, sport, gym |
| Evolv Rave | $129 | Flat | Leather | Trax SAS | Trad, gym |
| Scarpa Boostic | $219 | Aggressive | Leather/synthetic | Vibram XS Edge | Sport, bouldering, gym |
| La Sportiva Mythos Eco | $159 | Flat | Leather | Vibram XS Edge | Beginner, trad |
| Unparallel Sirius Lace | $166 | Aggressive | Synthetic | Unparallel RS | Sport, bouldering |
| La Sportiva Solution | $199 | Aggressive | Leather/synthetic | Vibram XS Grip 2 | Sport, bouldering, gym |
| Scarpa Veloce | $175 | Moderate | Synthetic | S-72 | Gym, beginner |
| Evolv Shaman | $190 | Aggressive | Synthetic | Trax SAS | Sport, bouldering, gym |
| Five Ten Hiangle | $150 | Aggressive | Synthetic | Stealth C4 | Bouldering, sport, gym |
| BD Momentum | $100 | Flat | Synthetic | Neo Fuse | Beginner |
Rock Climbing Shoe Buying Advice

Types of Climbing Shoes: Trad, Sport, Bouldering, Gym
There are as many styles of climbing shoes as there are rocks, and for best performance, these two factors should be matched appropriately. Sport climbing, bouldering, trad climbing tend to be as similar as apples, oranges, and bananas—which is to say, rather dissimilar. A shoe designed for overhanging boulders would be painful and less-than-functional in a hand crack. In the same vein, a stiff, flat shoe perfect for slab climbing would be clunky and useless when trying to toe hook on steep terrain. That said, whether you're on a boulder, placing gear, or clipping bolts, the rock will dictate your style of shoe more than the discipline. Granite climbs differently than sandstone, which climbs differently than limestone, and quartzite, and basalt, and so on and so forth. Obviously, there's no perfect categorization, and a good understanding of the terrain helps to round out these delineations.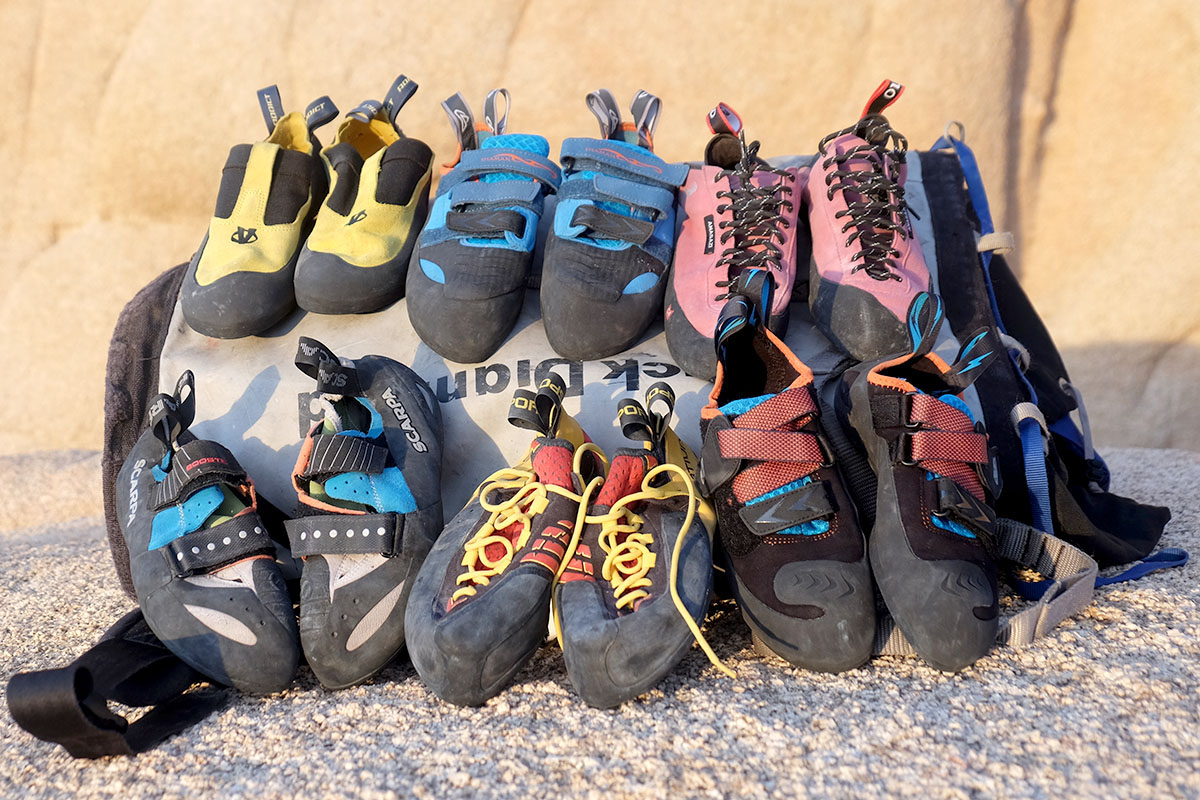 Trad
Trad climbing typically takes place on slabby to just-vertical terrain, and often involves a great deal of jamming in cracks. For this, flat climbing shoes—also thought of as all-around shoes or non-aggressive shoes—are the top-performing models. These shoes are often more comfortable than their more aggressive counterparts, but comfort need not compromise performance. Certain flat shoes offer the best performance for slabs, techy face climbing, and cracks (the La Sportiva TC Pro, for example). Look for very slight or no downturn at all, a stiff midsole, relaxed fit, minimal heel/toe rubber, solid ankle protection, and most often, laces. That said, the more technical and steep the trad route (think 5.12 finger cracks or thin 5.11 edging on Index granite), the more you might prefer a shoe with a moderate or aggressive downturn. For vertical faces and thin finger cracks, a model like the La Sportiva Katana Lace will perform far better than the clunky TC Pro.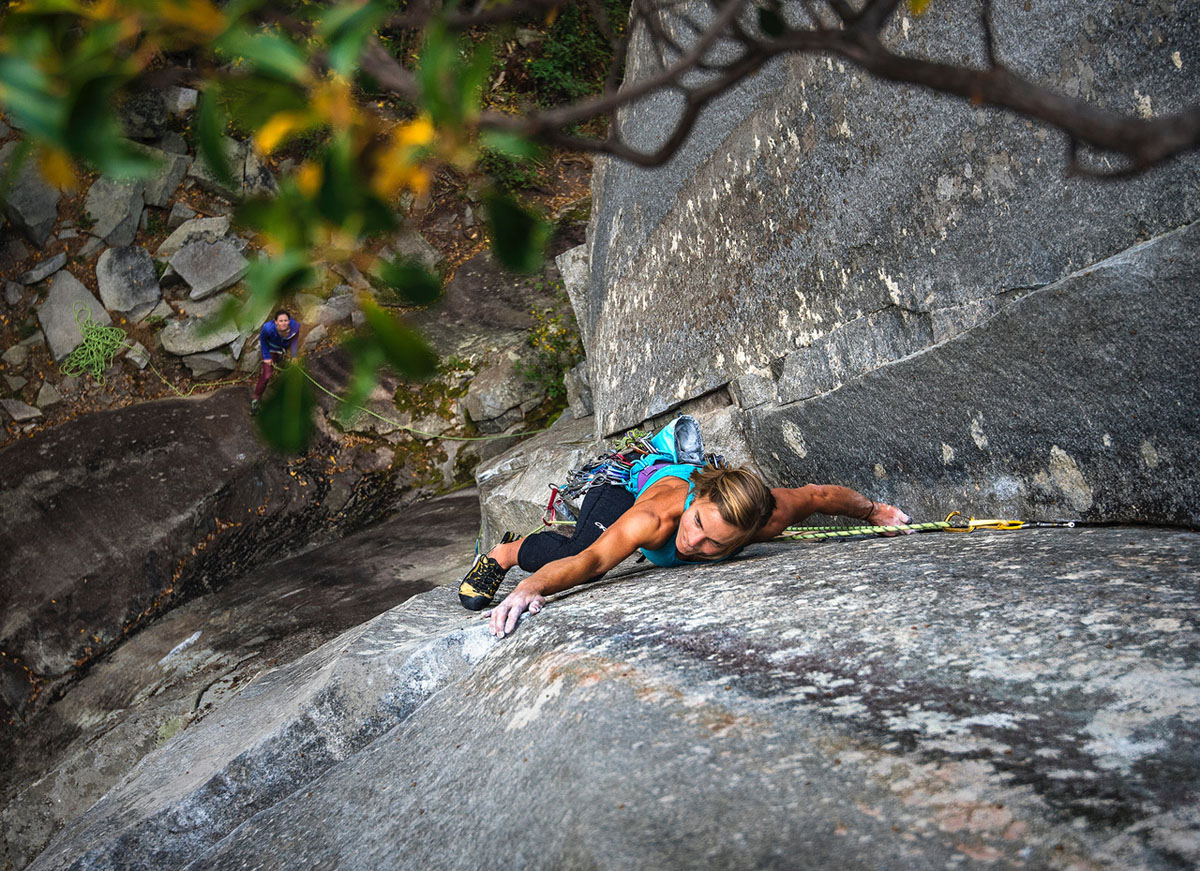 Sport
For sport climbing on vertical to slightly less-than-vertical terrain—imagine Smith Rock or the New River Gorge—you can get away with a relatively stiff shoe with a moderate downturn. These models absolutely shine on face climbs where precision edging is paramount. They're characterized by a solid edging platform, tight heel cup with a slingshot-style rand, stiff midsole, and laces or a Velcro closure. Our favorites include the La Sportiva Otaki, La Sportiva Testarossa, and Scarpa Boostic. For steeper sport climbing (such as that found in Kalymnos, the Red, or even in the gym), we'd look to a softer and more aggressive shoe like those described in the bouldering section below. The La Sportiva Skwama is a great example: it's a soft slipper with Velcro closure, aggressively downturned, and sports a whole lot of rubber on the toe and heel.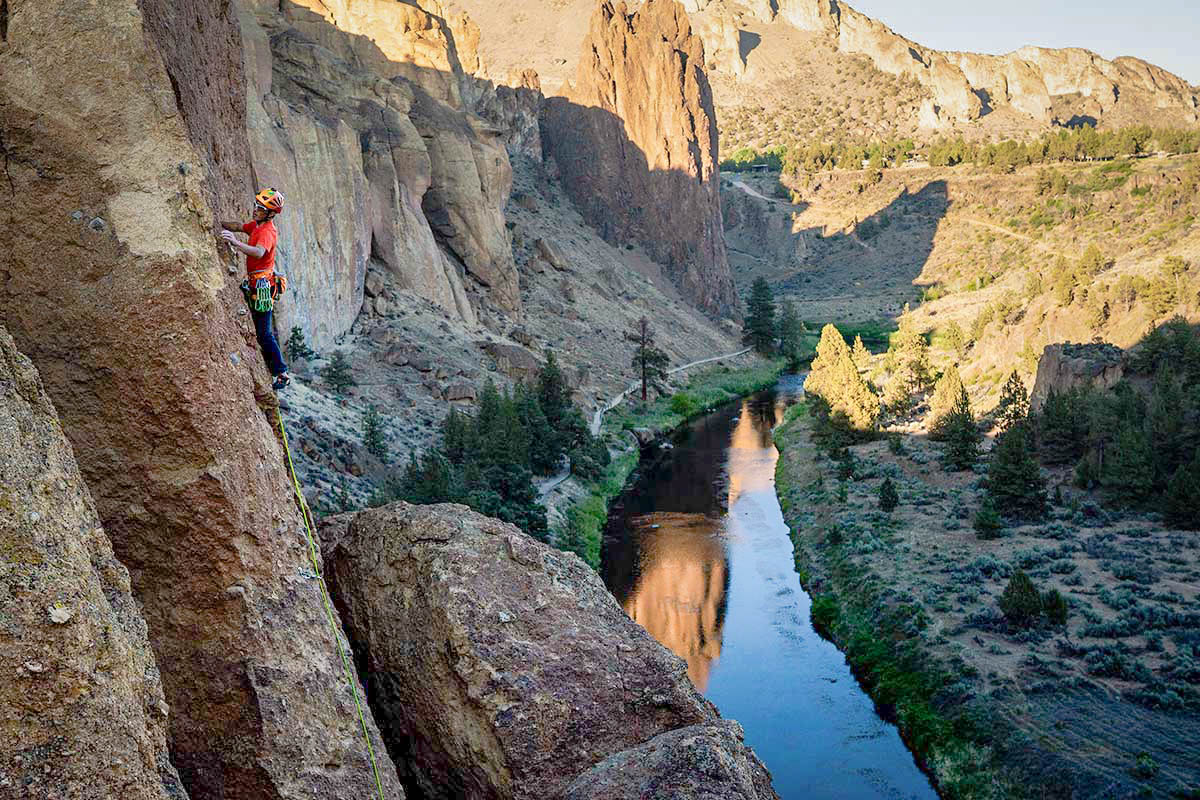 Bouldering
Bouldering shoes—indoor and outdoor—are characterized by an aggressive downturn, generous patch of toe rubber, floppiness for sensitivity, rounded heel cups covered in rubber, and a hybrid closure (often an elastic slipper with a single Velcro strap). These shoes—the Scarpa Instinct VS, for example—shine on steep terrain, when toe hooking, heel hooking, and sticking to tiny incuts on overhanging walls. They usually are sized snug and probably aren't comfortable to wear for more than a minute or two. 
If you're a new boulderer—especially indoors—we recommend that you save your money and foot ligaments and start with a stiffer and less aggressive shoe like the Scarpa Vapor V or La Sportiva Tarantulace. You can graduate to something softer and more aggressive once your technique improves and your feet get stronger, but for V2 and under (even up to V4 in the gym) an entry-level shoe is more than sufficient (for more on soft vs. stiff shoes, see below).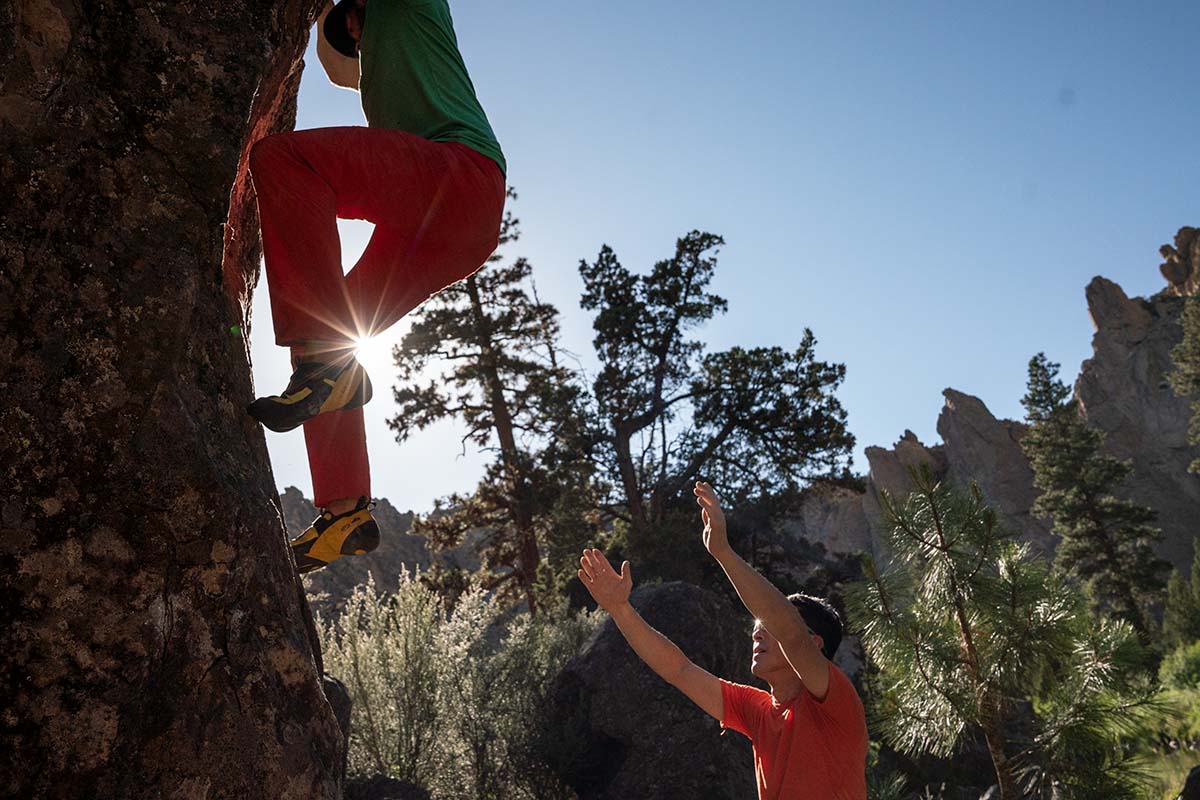 Gym
If you're just getting started in the gym, the best piece of advice we can offer is to make sure your shoes are comfortable. If your feet aren't happy, chances are you won't have an enjoyable introduction to climbing. Our second recommendation is to save your money and opt for an entry-level (or even used) shoe until you're sure you're committed to the sport (we have a full list of options in our round-up of the best climbing shoes for beginners). Finally, you'll probably appreciate a Velcro closure for the gym, where you'll likely take your shoes off between boulder problems or while belaying. Models like the Black Diamond Momentum and La Sportiva Tarantulace above are great places to start. For more tips on getting started in the gym, check out our Indoor Climbing 101 article.
On the other hand, if you're really pushing the grade indoors (particularly on boulders), you'll want to be wearing an aggressive, bouldering-specific shoe. Look for soft rubber (Vibram XS Grip 2 is one our favorites), an aggressive, slipper-like build, and a flexible rand—and be sure to size your shoe relatively tight. Models like the La Sportiva Skwama and Five Ten Hiangle are great gym options. Further, because of the rise in popularity of indoor comp climbing, climbing shoe companies are now offering even softer versions of their most aggressive shoes—like the La Sportiva Solution Comp and the Butora Acro Comp—designed specifically for indoor climbing. In the end, whether you're new to climbing or projecting double-digit V-grades in the gym, check out the "Best Uses" column of our comparison table above to see which shoes we recommend for indoor climbing.
Downturn: Flat, Moderate, or Aggressive
We have used the term "downturn" many times above—it's of the most notable features of a climbing shoe. Essentially, downturn defines the amount of curve in the sole of a shoe, from banana shaped (aggressive) to flat. The more aggressive the downturn, the more power your toes have to pull and perch on small edges, but the less your feet are able to rest in their natural position. In general, aggressive shoes perform well on steep rock, and flat shoes shine on vertical to less-than-vertical terrain. Just picture the banana shape of a shoe like the La Sportiva Solution, and envision toeing in on overhanging holds with the power to pull your body towards them. Then tilt the rock back to slab, and you'll understand that you want a flat shoe (like the La Sportiva Mythos or TC Pro) that allows you to stand on the ball of your foot.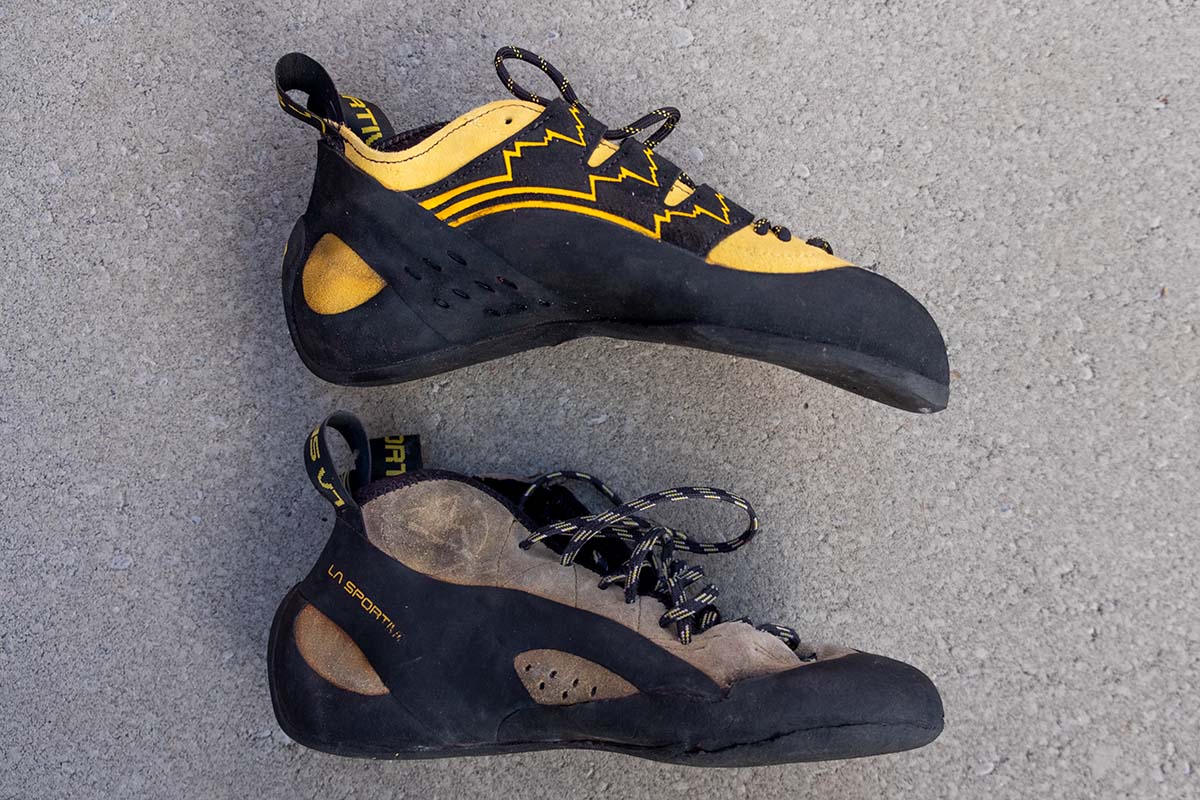 Soft vs. Stiff 
Stiffness is another way that shoes differ from each other, but here it's tough to make blanket statements. So much of this depends on preference. While many boulderers prefer ultra-soft shoes like the La Sportiva Solution or even Solution Comp, others prefer stiffer models like the Butora Acro or Scarpa Instinct VS. Same goes for trad climbers—the TC Pro is wildly popular, but so are slippers like the Evolv Rave. One thing that we can say definitively is that a stiff shoe offers more support for the foot—if you're just getting into the sport, you'll definitely want to start with a stiff to medium-stiff shoe until your feet grow stronger. Soft shoes are far more sensitive and flexible, and your feet will have to do much of the work to support themselves.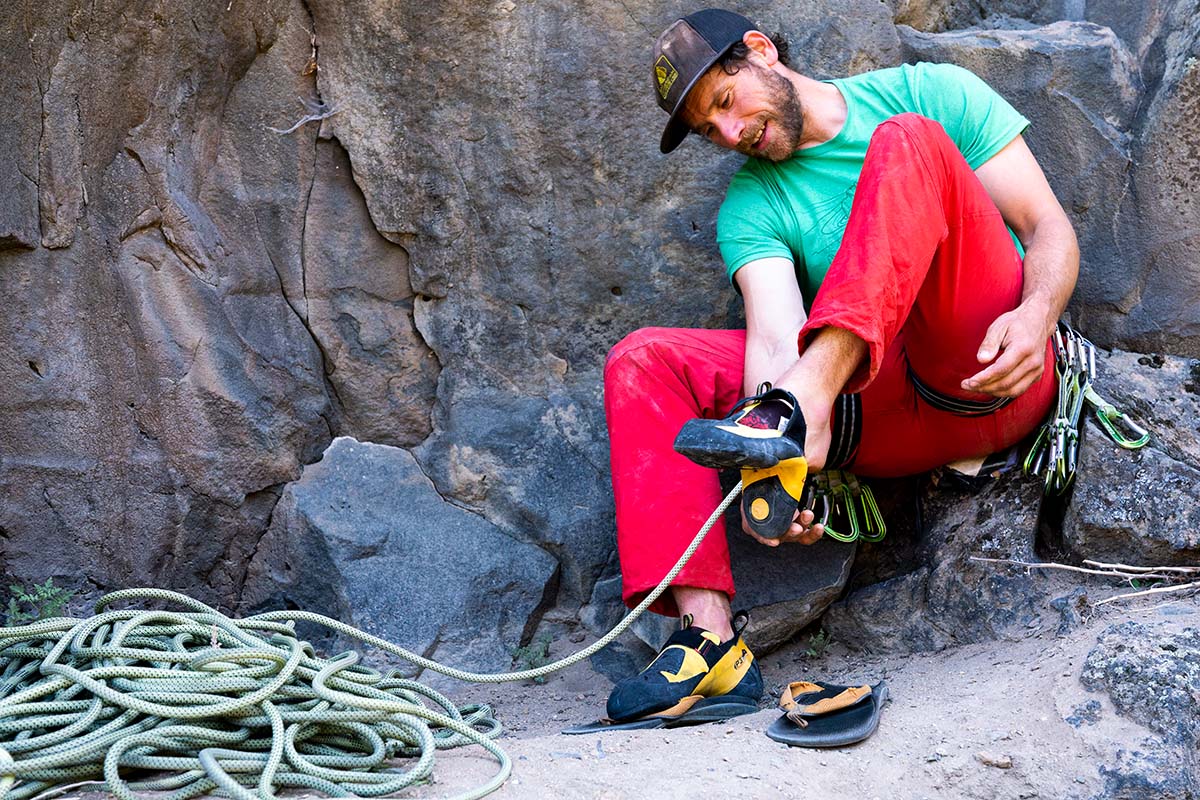 A stiff shoe will also offer more edging power, as it provides a solid platform for your foot to stand on tiny edges. For this reason, we like a stiffer shoe for vertical face and slab. Soft shoes, on the other hand, do not provide the stability needed for precise edging, but enable you to toe in better on steep routes. Plus, you'll be able to feel the holds more underfoot, which many climbers like. Soft shoes are also more comfortable to downsize, so you can really hone in a tight, snug fit. Finally, keep in mind that the thinner the sole, the softer the shoe will be. For example, the Scarpa Instinct VSR's 2-millimeter sole helps to make it a much softer shoe than its sibling, the Instinct VS (with 3.5mm sole).

Closure: Laces, Velcro, or Slipper
Closure systems should not be overlooked, and in fact they can be a deciding factor in what shoe is the best match for you. There are not hard-and-fast rules about which is better than the other, and each has their strengths and weaknesses for various forms of climbing. The three main closures are laces, Velcro, and slipper, and more and more we're seeing Velcro and slippers combined for a best-of-both-worlds closure.
Laces
Laces are a favorite of trad climbers who put their shoes on and keep them on. They're much better suited in cracks than Velcro, which tends to come undone after repetitive jamming. Laces also allow you to dial in an incredibly precise fit. Whether your feet are wide or narrow, you get more versatility with a lace shoe like the La Sportiva Testarossa than any other kind. That said, laces can be a pain if you are putting on and taking off your shoes a lot, and keep in mind that if you often find yourself jamming your feet in cracks, they're likely to wear out over time.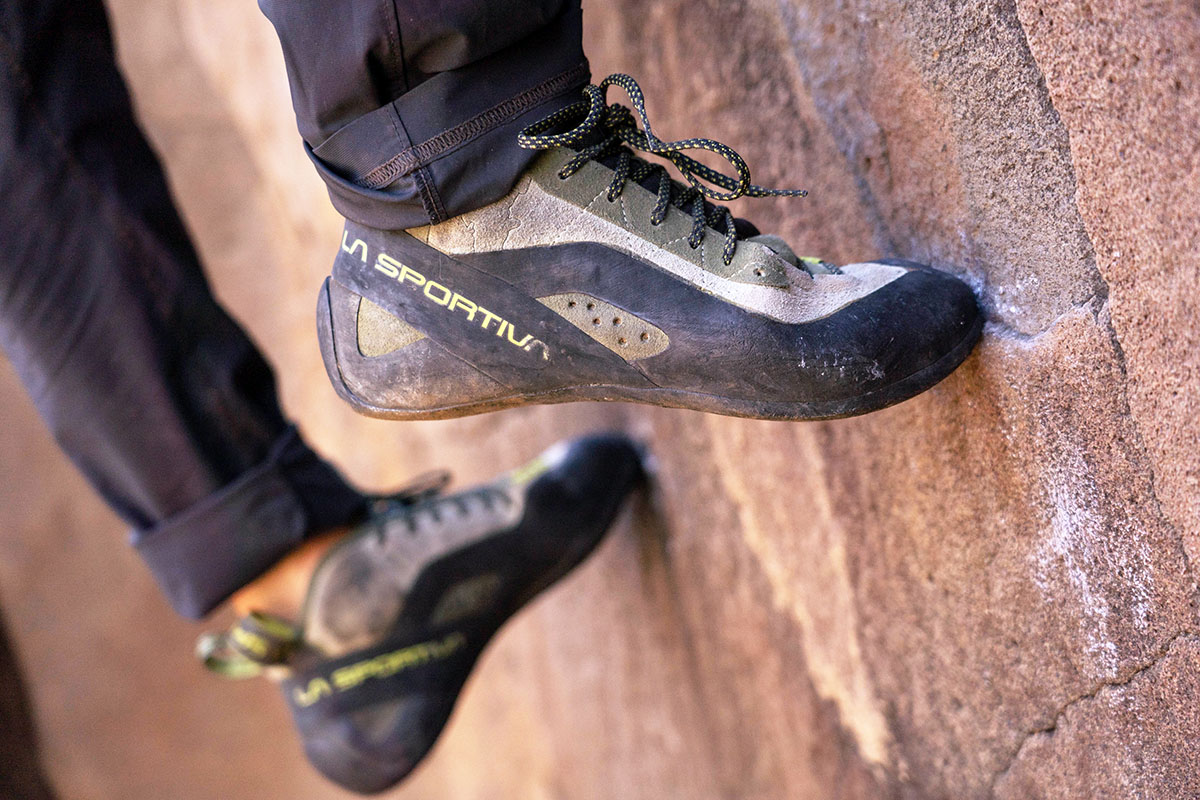 Velcro
Many climbers prefer Velcro closures because they are easy to put on and take off. They're great for indoor climbing, bouldering, and sport climbing, when you're often relieving your feet in between problems or pitches. A Velcro closure, however, can get in the way of toe hooking—for steep bouldering, we'd rather have a large patch of rubber on top of our toe than a bulky strap. Furthermore, Velcro can easily come undone during repetitive jamming in cracks. Velcro shoes can also be somewhat limiting in how well they fit and tend to fail quicker than laces.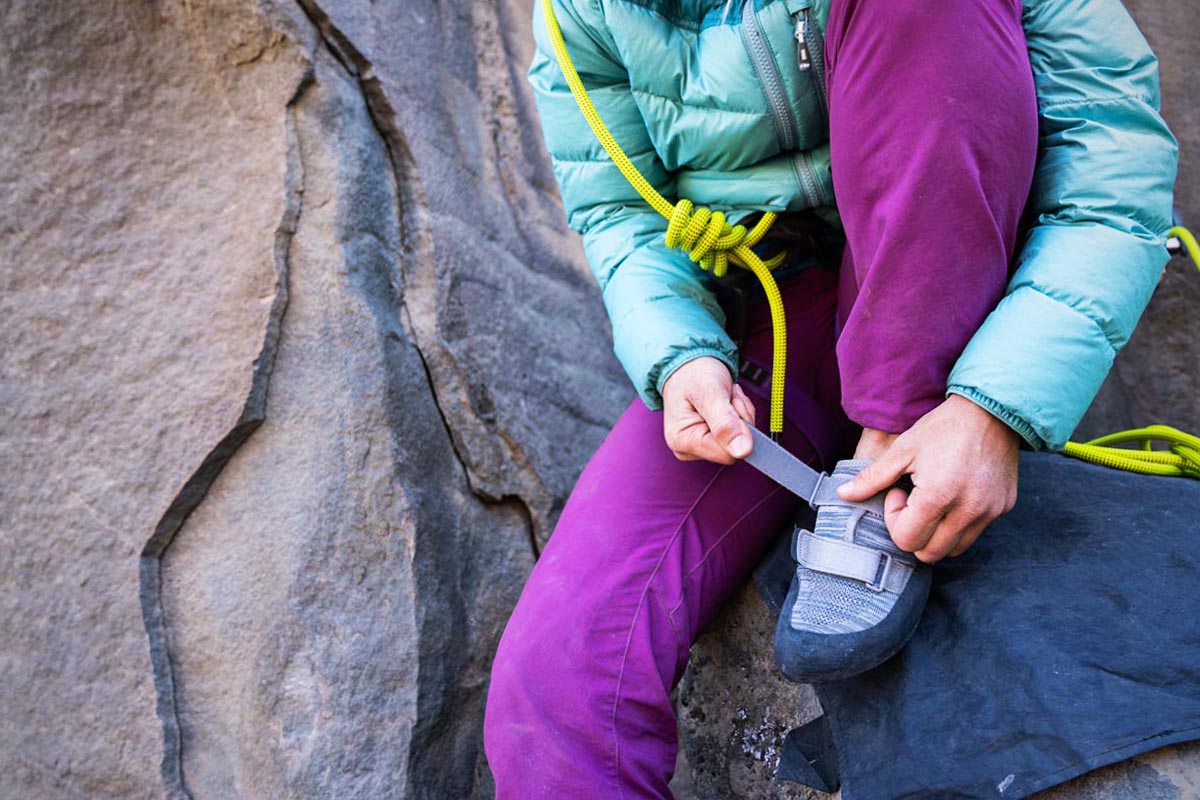 Slipper
Slippers provide one of the most comfortable, convenient types of closure, and they generally correlate with soft shoes that excel on friction slabs and in cracks. But slippers can stretch over time, and when that happens, there's no way to tighten them up. Interestingly, the work-around to this problem has resulted in a popular and aggressive design for steep climbing and bouldering. Modern slippers like the La Sportiva Skwama and Scarpa Instinct VS add a single Velcro strap near the ankle of the slipper, which offers a very comfortable and secure fit and a large space on the toe for a large rubber patch. Standard slippers are a bit of a dying breed (the updated Evolv Rave is the only one on our list), but this combination of slipper and Velcro will only grow in popularity.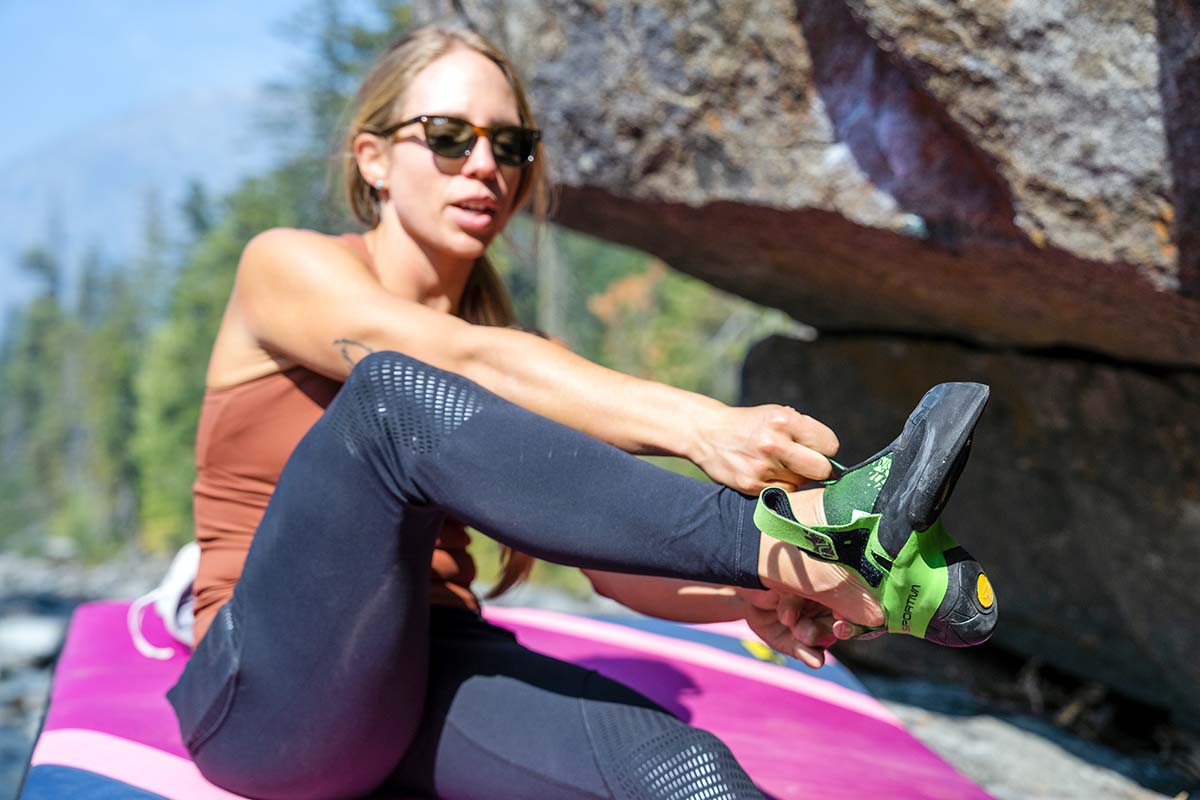 Upper: Leather vs. Synthetic
The upper is the part of the shoe that rests along the top and sides of your foot. In most climbing shoes, it's made out of leather or a synthetic leather substitute. The key difference to note between the two materials is that leather stretches, while synthetic materials generally do not. Thus, to help maintain their structure, many leather shoes also feature synthetic microfiber overlays and/or a liner at the heel or toe (which also boosts comfort and breathability). If a leather shoe lacks either of these features (as is the case with many highly sensitive shoes, like La Sportiva's Theory and Cobra), expect it to stretch up to a whole size. Thus, its important to pay attention to the materials when you size your shoe: No shoe should feel particularly comfortable when you first try it on, but all-leather, unlined shoes shoes should fit especially tight.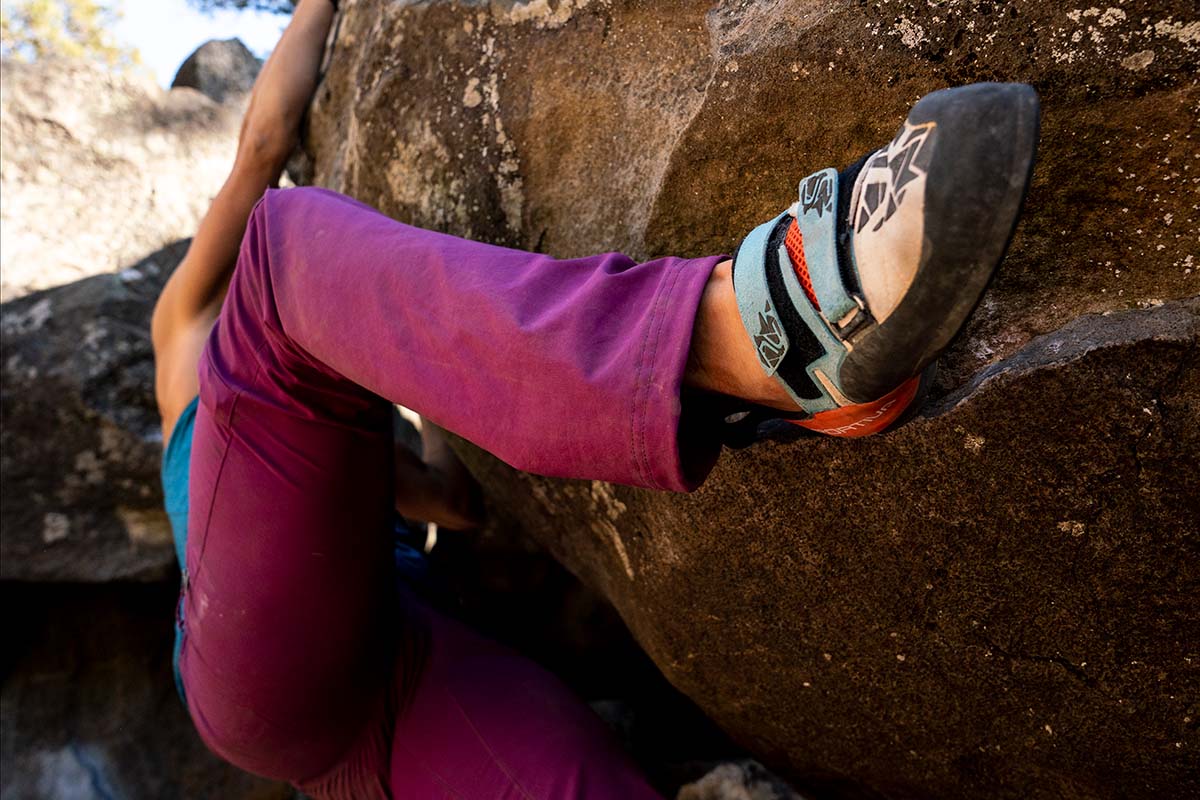 Rubber
Climbing shoe rubber is an esoteric subject. Should you buy Vibram XS Edge or XS Grip? Stealth HF or Stealth C4? What about proprietary blends like Trax and Science Friction? The rubber is what will actually stick to the rock, so this is incredibly important, right? Yes, but maybe not as important as you think. All rubbers try to find some balance on the sticky-durable continuum. Some, like Science Friction, go hard to the sticky side, while others, like Sportiva's proprietary FriXion RS, gravitate to the more durable side. Either way can make sense depending on your priorities. In fact, we know many a male climber who wears the women's version of their favorite Sportiva shoe (such as the Otaki or Miura VS), as most are made with a stickier rubber (XS Grip 2) than the men's version (XS Edge). Just understand that there is a tradeoff: the grippier your rubber, the shorter it will last. The longer it lasts, the less sticky it will be.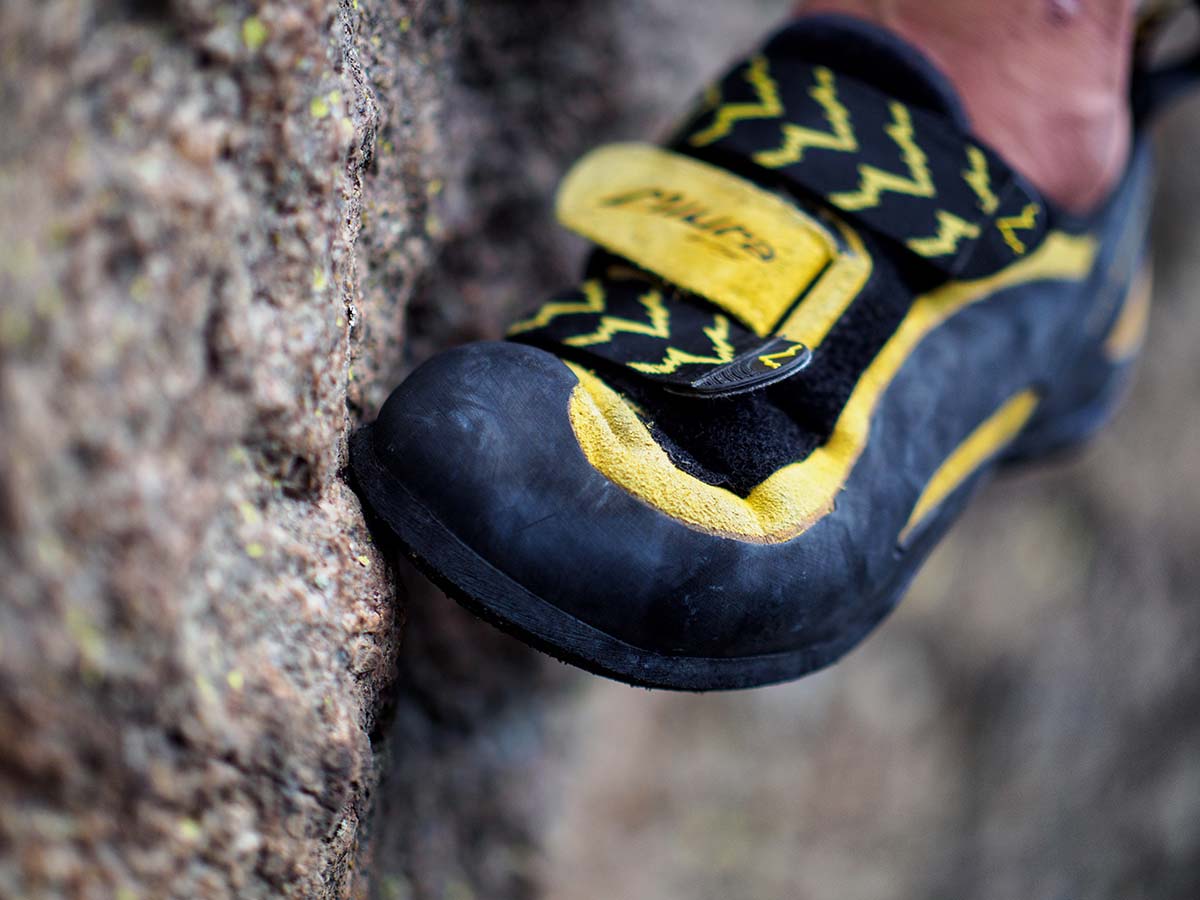 But because you asked (you did, right?), we do have our preferred brands and models of rubber. A quick check of the comparison table above is a dead giveaway: Vibram and Stealth are our clear favorites. We especially like the consistent performance of the XS Edge and XS Grip from Vibram, along with Five Ten's Stealth C4. Butora's Neo Fuse is quickly earning our allegiance as well. And, of course, when you bust through the rubber, it doesn't mean you have to retire your shoe. Resolers aren't difficult to find these days—Rock and Resole in Boulder, CO is one of the most widely known—and most even give you the option to change the kind of rubber that's on your shoe.

Fit and Sizing
We could give you a bunch of rules about how to size your shoe, but in the end, sizing is so specific, so unique, and so particular to each shoe and each foot. Some shoes will be too wide or too narrow for your feet. Some will stretch a full size, while others won't at all. Some are sized on track with street shoes (Black Diamond's lineup, for example), while others will have you dropping down a handful of sizes. As a result, your best bet is to: a) do some research on what other people have to say about the shoe's fit, and; b) always try the shoe on before buying. If you're ordering online, you can roll the dice or buy a couple of pairs from a reputable retailer and return one.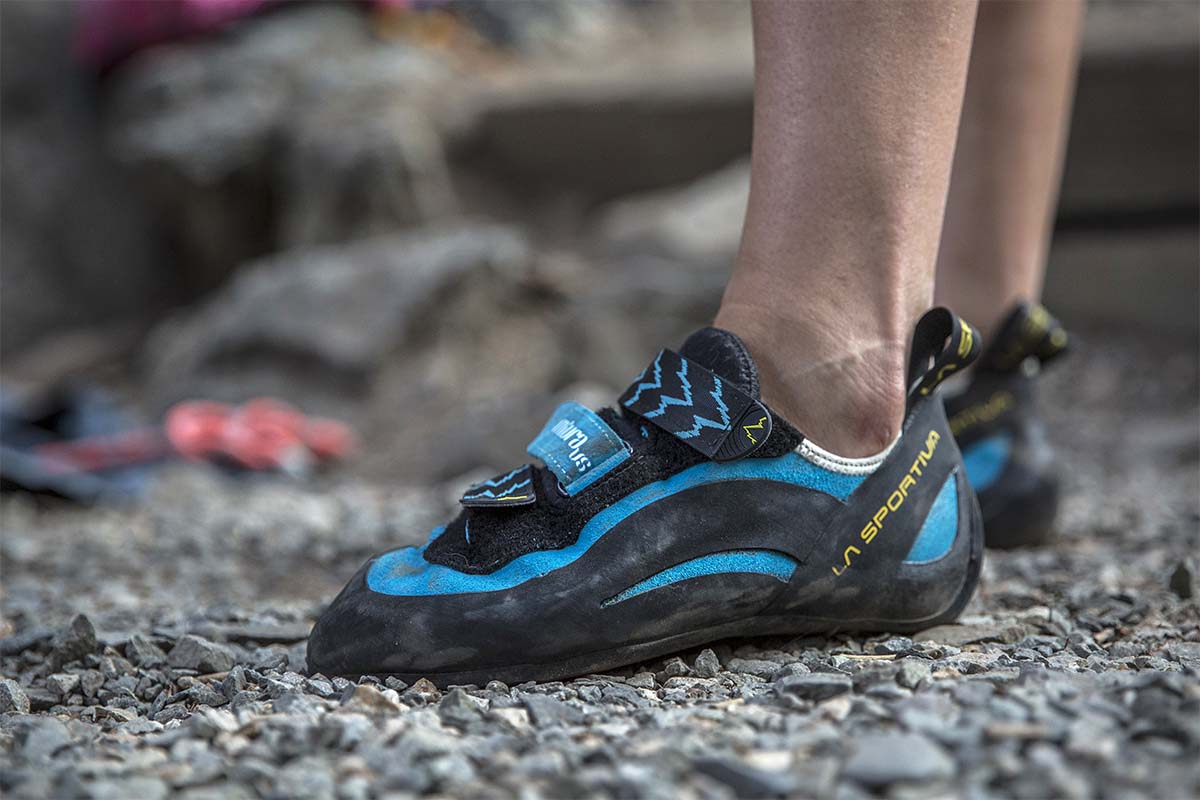 That said, a few generalizations apply. First of all, you want your climbing shoes to feel tighter than your street shoes. Second, tighter does not mean cutting off circulation. If you're swimming in your shoe, it's probably too loose. But if putting it on takes you a minute of serious tugging only to result in a number 8 on the pain scale, they're too tight. Be honest with yourself: how tight can you go without letting discomfort get in the way of the joy of climbing? Many people will sacrifice pain for the extra performance it brings to their climbing game, while others think that a tight shoe adds very little performance. It all depends on the terrain, the shoe, and the climber. Third, understand that leather stretches and synthetic fabrics tend not to. Finally, it's worth noting that most people have one foot that's slightly bigger than the other, so try on both shoes before you make a purchase. And if your feet are egregiously different sizes, go with Evolv: you can buy the right foot shoe in one size, and the left in another. 

Men's and Women's Versions
Most climbing shoes are available in both men's and women's versions, with the main differences coming in terms of fit and rubber. In general, men's shoes have a higher volume fit, while women's shoes are slimmer in both the toebox and heel and designed for lower-volume feet. Second, it's common to see stiffer (and more durable) rubber like Vibram XS Edge on men's shoes and softer (and sticker) Vibram XS Grip 2 on women's shoes. As we mentioned above, stiffer rubber is great for edging and slab climbing, while many sport climbers and boulderers prefer softer compounds for better grip and sensitivity.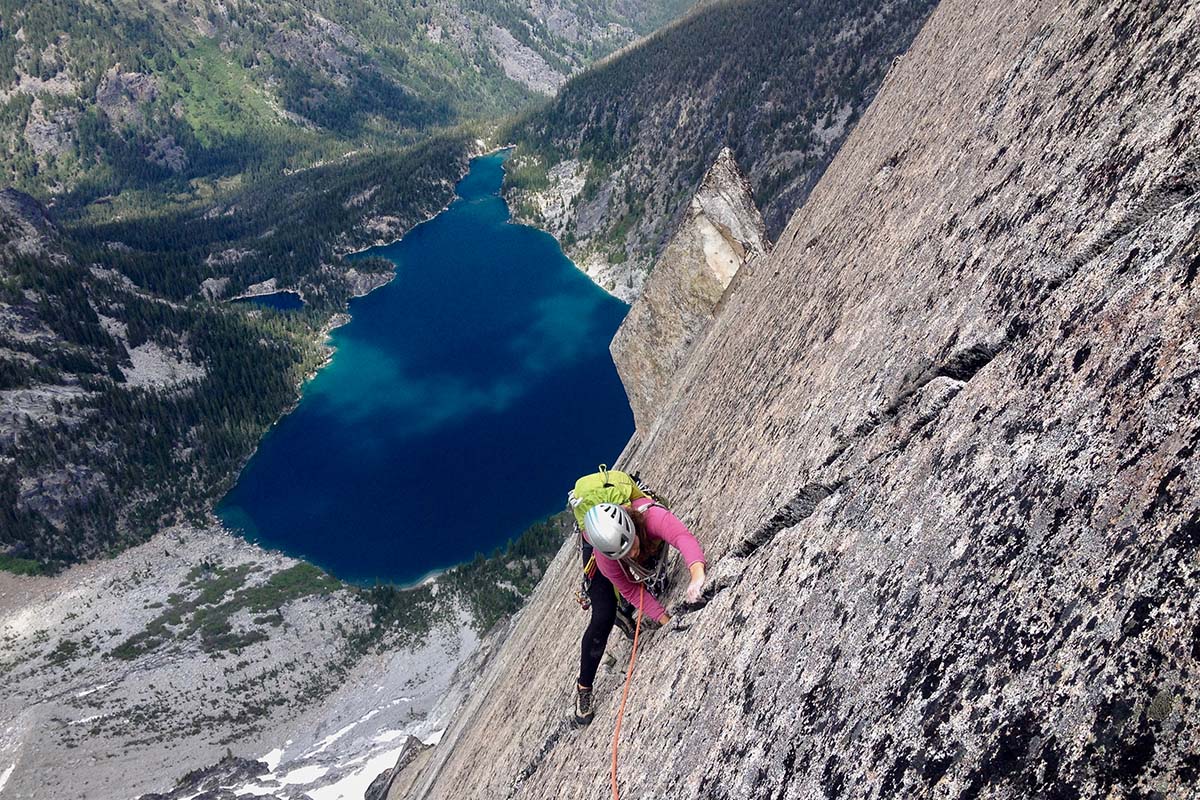 Climbers can be especially picky about their rubber choices, so it's very common to see men wearing women's shoes, and visa versa. In the end, we like to think of a shoe's two models as being Option A and Option B rather than assigning them genders. Butora offers their shoes in "wide" and "tight" rather than in men's and women's versions, and it's also common to see "high-volume" and "low-volume" designations. Finally, keep in mind that some unisex models (like the popular La Sportiva TC Pro) aren't made in varying widths. If your foot is wider or narrower than most, it's likely that these shoes won't work for you. 

Climbing Shoe Advice for Beginners
Our list features some of the best all-around climbing shoes on the market, and many of the models above are used by professional climbers pushing the limits of the sport. The TC Pro was worn by Tommy Caldwell on his free ascent of the Dawn Wall, Alex Puccio regularly boulders in the Scarpa Instinct VS, and Margo Hayes became the first woman to climb 5.15a while wearing the La Sportiva Solution. But they're not only for the elite: these shoes are ideal models for anyone pushing their own personal limits (just make sure you get the right style for your preferred discipline).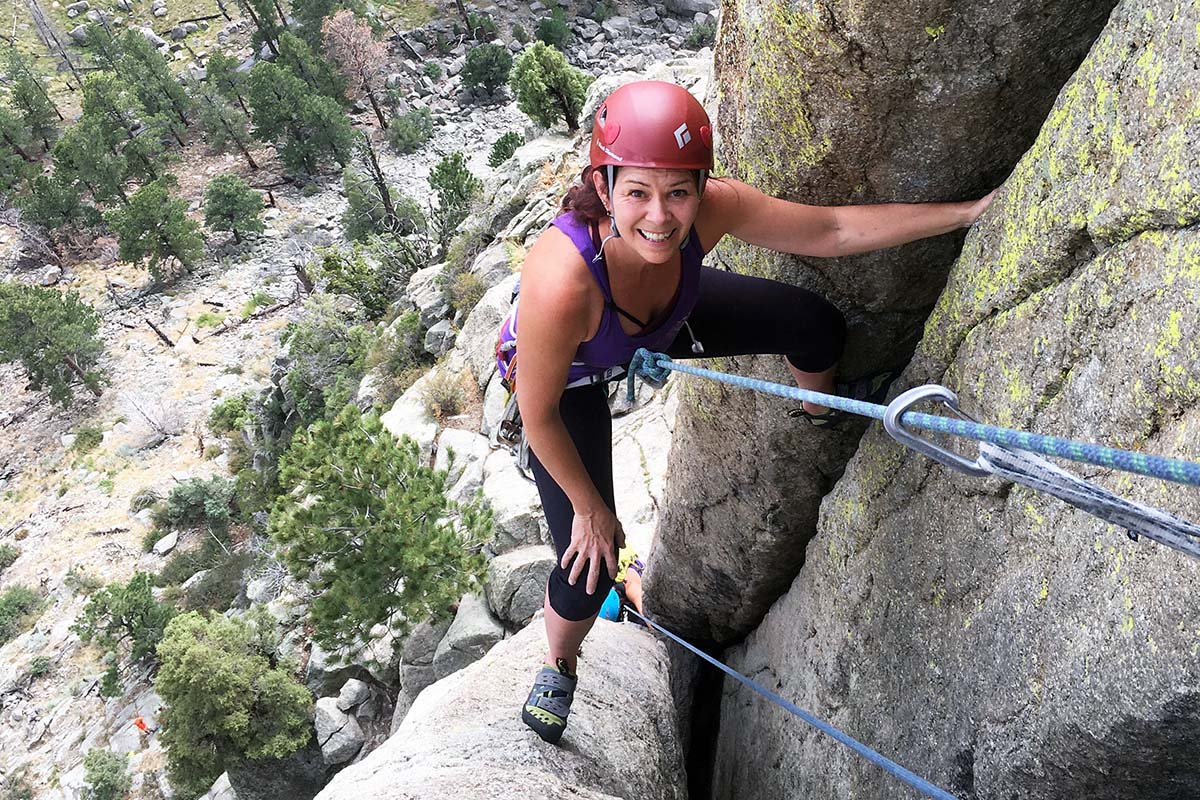 However, for brand new climbers just starting out, there's a number of reasons why it's a good idea to opt for a beginner shoe. For one, you don't even know if you love climbing, so there's no use spending $200 on shoes when you can get a pair on sale for $50. Second, it's likely that you're not yet sure what style of climbing you're going to gravitate towards, be it gym climbing, bouldering, trad, or sport. And third, all the high tech and premium materials that go into most of the shoes above will be wasted on poor footwork. In short, most beginner climbers won't be able to tell the difference between a budget shoe and a high-level model, so it's your best bet to opt for the cheaper of the two. To help you make your purchase, we've compiled a list of the best climbing shoes for beginners here, including some of the best models for those who plan to progress quickly. 
Back to Our Top Climbing Shoe Picks  Back to Our Climbing Shoe Comparison Table
Learn More About Climbing