We love rock climbing shoes, and we bet you do too. The good news for climbers is that there are more quality products and styles to choose from than ever before. Impressive new models like the reinvigorated Scarpa Instinct, time-tested classics like the Anasazi, and up-and-coming companies like Butora are all represented in this rundown of our favorite climbing shoes of 2017. From indoor to trad big wall, there's something for every climber in this article. To help hone in your selection, be sure to check out our comparison table and buying advice below the picks. For those looking for a starter shoe, check out our article on climbing shoes for beginners.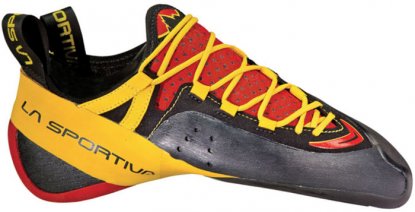 Shape: Aggressive
Upper: Leather/synthetic
Closure: Lace
Rubber: Vibram XS Grip 2 (3mm)
What we like: The No-Edge technology is, as the name implies, genius.
What we don't: About as expensive as climbing shoes get.
La Sportiva released the Genius a couple years ago and it has received rave reviews (including from us). From top climbers to novices, everyone seems to love these shoes. When I heard this shoe touted as a hybrid of the Solution (an incredible shoe) and the Futura (groundbreaking performance technology), I knew that I had to try it for myself. The only thing that stayed my hand was the price tag. And there's not much more you can say about that—these shoes are really expensive.
But in the end, they're probably worth the extra pennies (more like Hamiltons). The No-Edge technology is the best invention in climbing shoes since sticky rubber. It actually changes the way climbing shoes stick to slabs and small footholds. With No-Edge rubber, the shoe conforms to a larger surface area of the hold rather than seeking out a single edge or irregularity of a hold to stand upon. The result is greater sensitivity and stickiness on tough feet than maybe any shoe before—and that's worth a lot, maybe even $195. The difference between the Genius and Sportiva's first shoe to sport No-Edge technology—the Futura—is basically the closure system. The Futura uses Velcro, while the Genius uses laces, which gives much more versatility when it comes to fit... Read in-depth review
See the La Sportiva Genius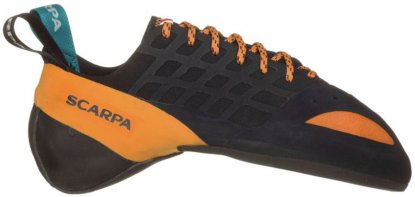 Shape: Moderate
Upper: Synthetic (old models are suede)
Closure: Lace (Velcro and Slipper also available)
Rubber: Vibram XS Edge (4mm)
What we like: These shoes perform well at almost every discipline.
What we don't: Do not fit narrow feet.
The Scarpa Instinct Lace has undergone recent changes, and multiplied to welcome a Velcro shoe, indoors-specific Velcro shoe, and a slipper into the family. Every model is worth trying, with the lace being the least aggressive of the bunch and the most all-around in nature. We included it on this list as a high-performance budget shoe (with the new model out, the old leather red Instincts are now on sale almost everywhere for less than $100).
The Instinct Lace, with a moderately aggressive downturn yet relatively stiff sole, truly is an all-around shoe. The fully-randed toe box is good for jamming and the half-lasted nature of the shoes allow for easy twisting into cracks. When the rock steepens and the climbing moves onto faces, the Instincts are edging machines and the half last allows the aggressive shoe to still smear with ease. Additionally, the new Instinct lace has the Velcro shoe's heel, making it an effective shoe for steep boulder problems as well.
See the Scarpa Instinct Lace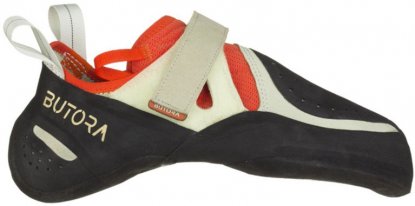 Shape: Aggressive
Upper: Synthetic/leather mix
Closure: Velcro/slipper
Rubber: Butyl Butora F5
What we like: Custom heat mold that binds the finished sole rubber and rand, which reduces delamination issues.
What we don't: Haven't been around long enough to be truly time-tested.
This year, we've taken the tried and true La Sportiva Solution off of our list and replaced it with the Butora Acro—Butora's solution to…the Solution. These shoes, named by Rock and Ice as "The Best New Climbing Shoe of 2016," are also our top pick for new and upcoming aggressive climbers. If you're a La Sportiva diehard and the Solutions fit you well, by all means stick with them. However, if you've struggled with their fit and are looking for something slightly more comfortable, less bulky, and super form-fitting, it might be time to try out the Acros.
Nam Hee Do, a Korean shoe designer who worked for 30 years with climbing shoe companies—and notably helped Chris Sharma design the Shaman— started Butora in 2014. And in 2015, Butora USA was born. Their shoe lineup is ever expanding but the Acro is the clear standout. It has a full-length 3D ABS midsole, which in non-technical speak simply means that the Acro is highly durable and retains its downturned shape throughout time. Additionally, the heel is slightly less bulky than other aggressive shoes, allowing for more precise heel hooking. And lastly, users seem to be blown away by the fit of the Acros. Lately, we've been seeing more and more of them in the boulder fields and at the crag, and it might be time for you to give them a shot as well.
See the Men's Butora Acro See the Women's Butora Acro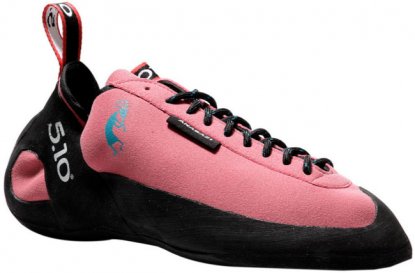 Shape: Moderate
Upper: Synthetic
Closure: Lace (Velcro also available)
Rubber: Stealth C4 (2mm)
What we like: Best shoe for technical face climbing.
What we don't: Painful in hand or wide cracks, thin soled.
I got my first pair of tan Anasazi Velcro shoes way back in 2001. Since that time, there has always been some iteration of the Anasazi in my quiver of shoes. I went from the Tan Velcros, to the Verde lace-up, to the Blanco lace-up, back to the Tan Velcro, and now I've finally settled happily on the Pink. Among my laughably-large collection of shoes to choose from, I constantly find myself reaching for the Pink. They just feel right for almost all the climbing I do.
The Pink's powerful toeing precision actually comes from the back of the shoe. The uniquely-rounded heel cup is tailored to cup your foot comfortably, and drive the toes into the toe-box. It sounds painful, but if you size appropriately the feeling is more like that of a glove than a vice. The asymmetrical toe gives you a very precise frontpoint to stand on tiny nubbins, while the laces extending from the bottom to the top of the shoe allow you to pull the entire shoe tight around your foot, providing an incredible edging platform. These shoes turn cryptic face sequences into child's play, but they also perform surprisingly well on steep terrain.
Our only real qualm with the Pink is the 2mm sole. At first, it will have you crowing about the incredible sensitivity and precision it provides. But when it wears out twice as fast as the TC Pro or the Miura, you'll be singing a different tune. Finally, be careful with sizing. My street shoe is a men's 8.5, and I've worn everything from 7.5 to 8.5 in the Anasazi line. I've settled in at 8.5 with the Pink, but sometimes 8 is a better choice for single-pitch routes at my limit... Read in-depth review
See the Five Ten Anasazi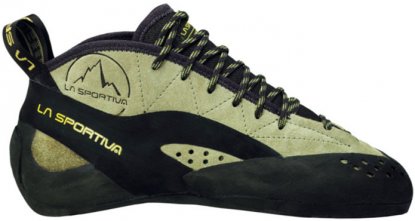 Shape: Flat
Upper: Leather
Closure: Lace
Rubber: Vibram XS Edge (4mm)
What we like: Incredible all-around performer for virtually every type of terrain.
What we don't: Expensive and slightly more specific than other top models.
If you're reading this article, there's a good chance you know who Tommy Caldwell is. That's because he climbed this little thing called the Dawn Wall in Yosemite a few years ago, which became some of the biggest climbing news ever. This is the shoe that TC designed to climb that wall.
If you're not convinced by Tommy, take it from me: this shoe is an absolute climbing machine. The fit is comfortable yet precise, and the leather upper does not stretch much, maintaining true sizing over time. The edging platform is as good as any other in the business, and the 4mm Vibram XS Edge sole takes a lot longer than I expected to blow out. These shoes are designed for vertical granite, so I knew they would be great at edging, smearing, and crack climbing. What I never saw coming was how well they would perform in a gym on bouldering problems and steep sport climbs, although not as well some of the more specific shoes on this list. They heel and toe hook incredibly well for a shoe designed for trad climbing (where you don't typically do those things). For sizing help, I wear a men's 8.5 street shoe, and went down to a 40 (7.5) in these. The 40 felt comfortable from the start, and stretched little to none over time.
See the La Sportiva TC Pro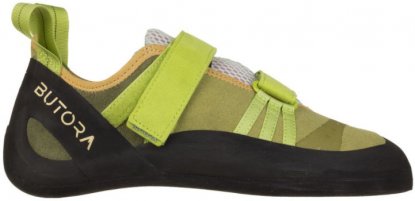 Shape: Flat
Upper: Leather/synthetic
Closure: Velcro
Rubber: Butyl Butora F5
What we like: Amazing price for a well-thought out and quality constructed shoe.
What we don't: Not a super specific shoe.
The Endeavor is the second Butora shoe that made it into our 2017 round-up, and for good reason. In fact, go ahead and check out Butora's entire line-up of shoes—this company focuses on design and quality of materials, and their new Endeavor certainly is one to watch. This is a high quality intro-level shoe at a great price point that excels among the competition. I'm about to list just a sampling of those features that will blow your mind. Ready…go:
The Velcro straps on the Endeavor are designed to provide a super snug fit, zig-zagging through the shoe so that when one strap is pulled, the shoe tightens down all through the foot. The Velcro also has various attachment points, so that you can snug the ankle tighter for heel hooking, or looser for comfort. The inner layer of the tongue is made of memory foam for comfort, and the top layer of open-cell foam for breathability. The front of the upper is made with synthetic fabric to prevent stretching, and the back with leather for breathability and comfort. The shoes are fully lined with 100% organic hemp to minimize stretch and odor, and they sport a 3D, injection-molded, full length polyurethane midsole for torsion rigidity and precision edging. Phew! Quality! Have I convinced you yet? If you're looking for an inexpensive all-rounder that's impeccably made, this just might be your new shoe.
See the Men's Butora Endeavor See the Women's Butora Endeavor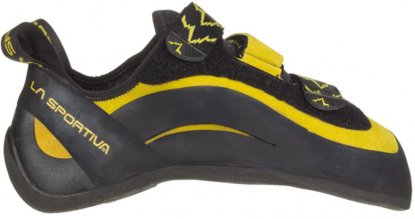 Shape: Aggressive
Upper: Leather
Closure: Velcro (Lace also available)
Rubber: Vibram XS Edge (4mm)
What we like: The shoe that, quite simply, does it all.
What we don't: Wide feet will not fit well in the Miura.
It's hard not to be wowed by La Sportiva's legacy model, the Miura. It really speaks to La Sportiva's quality craftsmanship that this shoe was at the top of the pack ten years ago and still is so today. You've heard the expression, "If it isn't broken, don't fix it," right? Consider the Miura the embodiment of that thought. It's just that good. The Miura edges on a dime, it climbs steep terrain as well as vertical, it toes in on small pockets as well as any shoe in the business, heel-hooks like a champ, and it's 4mm sole lasts longer than the Anasazi Pink.
In this year's round-up, we're highlighting the Miura VS, the Velcro version of the shoe. This model has become far more ubiquitous than the lace up in recent years, and for good reason. The VS is a more aggressive shoe, and unlike the Lace, is constructed with the P3 midsole, a feature that helps keep the shoe stiff and downturned throughout its lifetime. Many folks have complained about the Miura stretching significantly; the Velcro model, though it stretches, is able to hold its aggressive shape throughout the years. For sizing help, I wear a 39 in Katanas (below) and a 37.5 in Miuras. The sizing is slightly different, and the Miuras operate best with a tighter fit.
See the Men's La Sportiva Miura VS See the Women's La Sportiva Miura VS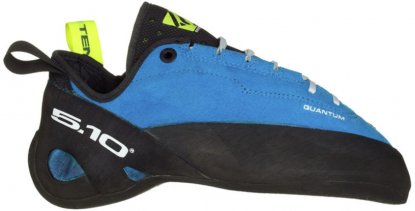 Shape: Flat
Upper: Synthetic
Closure: Lace
Rubber: C4 Stealth (4.2mm)
What we like: The TC Pro meets C4 Stealth rubber.
What we don't: Not the best shoe for a narrow foot.
Designed by big-wall legends Alex and Thomas Huber, the Quantum essentially is Five Ten's answer to the TC Pro (above). The Huber brothers wanted a shoe that they could wear all day, yet one that didn't compromise performance for comfort (and constructed with their favorite C4 Stealth rubber). With the Quantum, they got what they wanted. This shoe has a stiff midsole for steep edging yet still smears well and excels at cracks. With just a slight downturn, wide last, breathable tongue and lined interior, the Quantum is comfortable enough to wear all day.
Unlike the TC Pros, the Quantums are made of synthetic materials, meaning that they shouldn't stretch quite as much. As it is, they come out of the box a tad more flexible than the TC Pros. Rumor has it that this shoe has a line of stitching that falls over the toe box, and some climbers have complained that this results in discomfort. In sum, it's hard to imagine a better shoe than the TC Pro, but for Five Ten devotees and lovers of C4 Stealth rubber, the Quantum is worth a shot.
See the Five Ten Quantum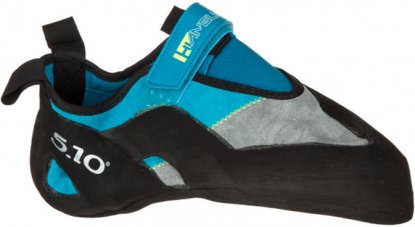 Shape: Aggressive
Upper: Leather
Closure: Velcro/slipper
Rubber: Stealth C4 (4mm)
What we like: Best toe-hooker in the business, very comfortable.
What we don't: Becomes floppy over time.
My relationship with the Hiangle could best be described as love at first sight. My eye passed over the shoe, pausing at each of the fine features: premium leather, a huge pad of sticky toe-rubber, an aggressive downturned shape, and a Velcro strap to keep the shoe from sliding off on heel hooks. What I saw was very similar to the 5.10 Team, but with a leather upper instead of synthetic. Some quick math in my head said: more stretch, more comfort, and loss of performance over time.
I may not be a mathematician, but in this case, my calculation proved to be right. The Hiangle is an incredible shoe for any kind of steep terrain. The toe-hooking is magical—I found myself resting in places I was falling before. Sure enough, the Velcro strap keeps the shoe securely fastened to my foot even on the most aggressive of heel hooks. And the downturn shape sticks to tiny incuts on overhanging walls. But of course, the leather stretches over time (as I expected), and the shoe takes on a slightly floppier fit than you might get with the Genius or the Acro above. In the end, this is my favorite shoe for the majority of the climbing I do in steep terrain. But on the occasional burn on a particularly techy project, I find myself turning to a more rigid shoe.
See the Men's Five Ten Hiangle See the Women's Five Ten Hiangle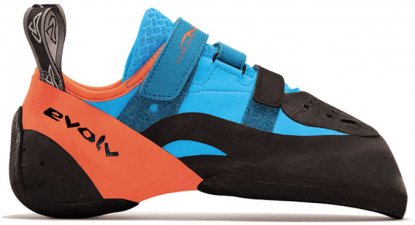 Shape: Aggressive
Upper: Synthetic
Closure: Velcro
Rubber: Trax (4.2mm)
What we like: An excellent redesign of an already great shoe.
What we don't: The "knuckle box" and "love bump" are features you'll either love or hate.
The Shaman was a good shoe to begin with. The 2016 model, though, is an excellent redesign and makes this a much better shoe. Designed in part by Chris Sharma, the Shamans are best suited to the kind of climbing Sharma enjoys most: steep, endurance sport routes on limestone. They perform incredibly well on that kind of terrain, dominating small pockets, toeing in on positive crimps, toe hooking on tufa-like features, and heeling on small edges. The Trax rubber is not my favorite, but it is super sticky and performs well once you get used to it. Meanwhile, the synthetic upper of the remodel maintains a tighter fit over time than the old leather, and the Velcro straps were thinned out to give more room for toe rubber.
There's not much bad to say about the Shaman. It's a really good shoe at a very competitive price. That said, the "knuckle box" and the "love bump" are a little tough to pin down. The knuckle box creates an obtuse angle on the toe, which sort of conforms to the shape of your foot better but changes the feeling of toe-hooking, especially on a blunt surface like an arête. The love bump, meanwhile, is a physical bump in the midsole that sits under the ball of the foot. The intention is to help support your toes by filling in the dead space underneath them. If the fit is right (as it is for me), it does accomplish that goal. But if the fit is not right, it's really wrong. We would definitely recommend trying these on before buying them, or choose an online retailer with a good return policy... Read in-depth review
See the Evolv Shaman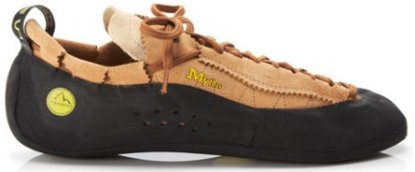 Shape: Flat
Upper: Leather
Closure: Lace
Rubber: Vibram XS Edge (4mm)
What we like: This shoe is a time-tested, durable, all-around performer.
What we don't: That said, it is more expensive than other beginner shoes.
La Sportiva's claim that the Mythos "does everything, and fits everyone" is bold, but we think the Mythos lives up to the hype. I've used this shoe on and off for years and recommended it to countless friends and acquaintances. It's taken me up multi-pitch trad routes, on 5.12 sport climbs, up splitter cracks in the desert, and through months and months of gym (ab)use. The XS Edge sole is sticky enough for most terrain, and slower to wear out than other rubber types, while the leather upper is nearly bombproof. The fit is glove-like, especially once the leather has stretched and conformed to your fit. Unlike many indoor shoes, this is a pair you can put on cold right when you get to the gym, and not take off until the end of your workout—and the same goes for outdoor use. They're actually that comfortable.
The Mythos is not made for cranking through long overhanging sport climbs or heel and toe hooking your way through roofs. Yet they perform in that terrain well enough up to 5.12 and V5. The laces at the bottom part of the shoe wear through easily when used on cracks, but that problem is easily remedied with a few pieces of athletic tape. Although the Mythos does not smear or face climb as well as the other beginner shoe on this list, the Addict below, it is a more durable shoe overall. If you are a beginner looking for a good all-around climbing shoe, you can't go wrong with the Mythos.
See the Men's La Sportiva Mythos See the Women's La Sportiva Mythos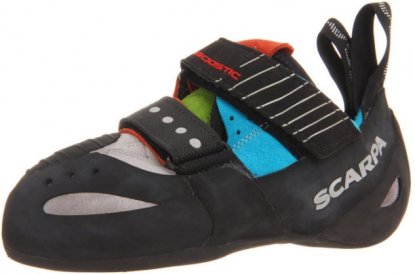 Shape: Aggressive
Upper: Synthetic
Closure: Velcro
Rubber: Vibram XS Edge (4mm)
What we like: Performs almost as well as the Team 5.10, but with an easier on/off.
What we don't: Pretty expensive, and doesn't toe hook as well as comparable Five Ten and La Sportiva shoes.
The Boostic is one of Scarpa's premier climbing shoes, built similarly to Five Ten's Team Black above, but with a more acute edging platform and slightly less aggressive toe. Created by the visionary designer, Hans Mariacher, this shoe caught my attention immediately. No other shoe as aggressive as the Boostic was as easy for me to put on the first time or as comfortable from the outset. The closure system is ingenious: complimentary flaps of leather connected by thin mesh, and tightened down with two opposing Velcro straps. I was very excited about the Boostic from the moment I put it on.
There are, however, a few problems with this shoe. The Velcro straps are a bit long, so when you tighten them down all the way they can end up catching on holds and gym carpeting. Also, they used a different kind of rubber on the toe, which made for less secure toe hooking than in similar models (the Hiangle and Team Black above). The Boostic's greatest strength is toeing in on small, positive crimps on dramatic overhangs, and for sticking small pockets. I gravitate towards compression problems with heel and toe hooks, so that has a bit to do with why I prefer other models. Still, the Boostic performs incredibly well on gently overhanging sport climbs, and if you want a shoe for both indoor and outdoor sport climbing, this would be a great choice—especially if climbing on limestone, or pocketed conglomerate rock... Read in-depth review
See the Scarpa Boostic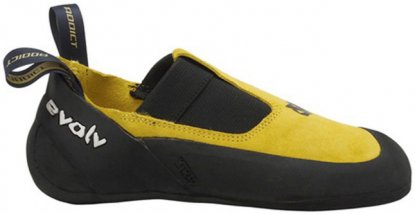 Shape: Flat
Upper: Leather
Closure: Slipper
Rubber: Trax (4.2mm)
What we like: A solid value.
What we don't: Not as versatile as some other shoes on this list.
As they say, imitation is the sincerest form of flattery. Evolv is being awfully flattering with their Addict—it's nearly a carbon copy of Five Ten's Moccasym. Both shoes feature leather uppers, a flat sole, a semi-rigid midsole, an elasticized slipper closure, and pull tabs on the front and back of the shoe. From a design standpoint, the biggest difference is that the pull tab on the front of the Moccasym is nylon, while the one on the Addict is leather. Oh yeah, did we mention that the Addict has twice as much rubber on the sole, and costs less too?
Ok, the cat's out of the bag. The reason the Addict makes this list and the Moccasym doesn't is because the Addict is a more affordable and more durable shoe. Evolv did what Five Ten should have done years ago: improved on a classic model. The leather pull tab actually does make a difference as it's easier to get the shoe on. The 4.2mm sole actually does last longer than the 2mm sole. It may not be as sensitive at first, sure, but you get a whole 2.2mm of rubber to break in your shoe and get used to it before it takes on that magical depth of 2mm that the Moccasym starts at. If you absolutely need performance right out of the box, the Moccasym may be a better choice. But in the end, we think the Addict is at least as good a shoe at almost 20% less MSRP... Read in-depth review
See the Evolv Addict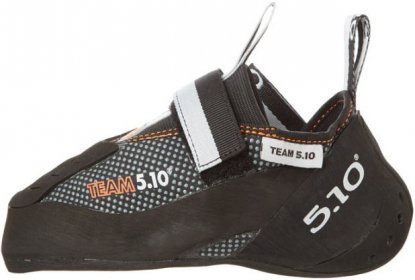 Shape: Aggressive
Upper: Synthetic
Closure: Velcro/slipper
Rubber: Stealth HF (2.5mm)
What We Like: Excellent toe hooking and heel hooking, good edging.
What We Don't: Compared to the Hiangle, it is significantly less comfortable.
You can't put in a session at a climbing gym without seeing a pair of the Five Ten Team Black. They are one of the most popular models for steep bouldering and sport climbing and with good reason. Like the Hiangle above—the leather version of the same shoe—the super sticky stealth rubber goes high up the toe, with a sleek and slim profile. Meanwhile, the downturned shape of the shoe and the tight heel cup drives power into the toe, allowing you to stick to small incut footholds on steep terrain. All the elements of a top performing aggressive climbing shoe are there.
That said, the Hiangle blew my mind in a way the Team Black didn't. I found the Team Black's fit to be persnickety, while the synthetic materials of the upper never sat comfortably on my foot. They don't breathe as well as the Hiangle, nor do they feel as good. The good news for the Team Black is that it will maintain its high functionality on small foot chips longer than the Hiangle. I also had my concerns about the HF rubber, which is super soft compared to the Hiangle's C4. Soft means higher friction but also less durability over time. Unless you are desperately seeking performance (e.g., you are pushing into V10 and 5.13), you'll probably find the Hiangle to perform as well as the Team Black, without sacrificing on comfort.
See the Five Ten Team 5.10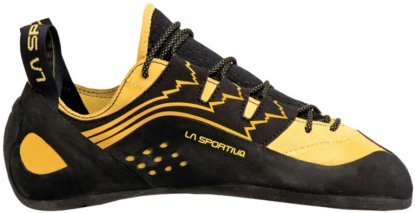 Shape: Moderate
Upper: Leather/Lorica (synthetic leather)
Closure: Lace (Velcro also available)
Rubber: Vibram XS Edge (4mm)
What we like: One of the best comfort-to-performance ratios in the business.
What we don't: The shoes are so all-around that for every type of climbing, there's almost always a better option.
The Katana Lace has long been my shoe of choice for traditional multi-pitch climbs, when I want a shoe that is comfortable to keep on for multiple pitches, but aggressive and sensitive enough to edge on steep faces and jam into small cracks. La Sportiva touts the Katana Lace as "the ideal shoe for every type of climbing;" obviously this is an impossible feat, but the Katana comes close to being almost ideal for almost everything. However, the Katana is absolutely ideal for at least one thing: climbing straight in cracks. The toe box has a low enough profile and is soft enough that the shoe fits in finger and off-finger cracks better than almost any shoe out there.
The Katana Lace, similar to the Miura VS above, and unlike the Katana VS and the Miura Lace, has a P3 midsole that helps preserve the downturn of the shoe over time. It's built on the same last as the TC Pro (less aggressive than the Miura VS's last), a level of downturn that gives the shoe a bit of precision but preserves comfort. We've placed the Katana in the moderate category instead of alongside the TC pro in the flat category, however, because it is not nearly as stiff as the TC Pros, allowing for a more sensitive experience and certainly more of an aggressive feel.
See the La Sportiva Katana Lace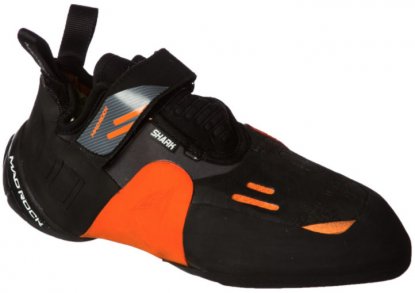 Shape: Aggressive
Upper: Synthetic
Closure: Velcro/slipper
Rubber: Science Friction 3.0 (3.8mm)
What we like: This is our most affordable shoe in the aggressive category, and it is worth every penny.
What we don't: The Sharks are extremely difficult to get on and off.
Mad Rock might often get a bad rap in the world of rock climbing shoes, but the redesigned Shark 2.0 is destined to change this reputation. In a world where most aggressive climbing shoes run close to $200, the Mad Rock Sharks stand out as an option that's easy on your wallet without sacrificing much in the way of performance.
The Sharks boast Mad Rock's Arch Flex system, a design that is stiff around the sides and soft in the center, allowing for both effective smearing and edging. However, your feet better already be pretty strong to survive the lack of arch support. That said, people rave about the snug fit of the Sharks, and report that it doesn't change much throughout use. As far as the upper is concerned, it's composed almost exclusively of 2.2mm R2 rand rubber, resulting in a toe-hooking and scumming machine. The form fitting heel cup and a sticky rubber textured heel cap make for an excellent heel-hooking shoe as well. On the downside, this mostly rubber upper design is known to stifle feet. Furthermore, MadRock's Science Friction rubber never was, and still isn't, anything to write home about: it's hard and clunky, and has a slippery feel that does not invite confidence.
See the Mad Rock Shark 2.0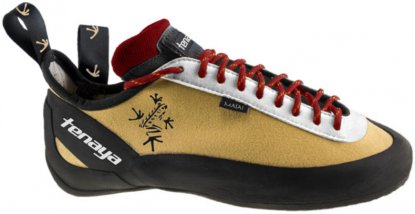 Shape: Moderate
Upper: Synthetic
Closure: Lace
Rubber: Vibram XS Grip (4mm)
What we like: Finally a shoe from a company other than Five Ten or La Sportiva that can compete on vertical terrain.
What we don't: Less comfortable with wide feet.
At first glance, the Tenaya Masai looks almost identical in design to Five Ten's Anasazi Pink above. Well played, Tenaya. You can't blame them for this decision: the Anasazi line is one of the best performing shoe models ever. Tenaya's claims that the Masai "is designed to climb everything, and to climb it well" are well-founded. The supportive midsole, solid edging platform, tight synthetic upper and lacing that runs the whole length of the shoe all ensure a comfortable fit and excellent performance on vertical terrain and small edges. The Masai is narrower in the heel and a better fit for narrow feet than the Pink—something you'll either love or hate. Meanwhile, the 4mm sole is twice as thick as the Pink, meaning twice as long before you'll need a resole. You may lose a bit of sensitivity, but overall, we think it's a good trade.
All that said, Tenaya has a long way to go before they can truly stand on the same echelon as La Sportiva and Five Ten. I'll be interested to see how it holds up over multiple resoles, and how the model (and the brand) evolves. But the Masai makes a promising statement that Tenaya is the real deal.
See the Tenaya Masai
Rock Climbing Shoe Comparison Table
Shoe
Price
Shape
Upper
Closure
Rubber
Best Uses
La Sportiva Genius
$195
Aggressive
Leather/ synthetic
Lace
Vibram XS Grip 2 (3mm)
Sport, long steep boulder problems, outdoor climbing
Scarpa Instinct Lace
$170
Moderate
Synthetic
Lace
Vibram XS Edge (4mm)
Thin cracks, hard multi-pitch trad, sport, bouldering
Butora Acro
$154
Aggressive
Synthetic/ leather
Velcro/ slipper
Butyl Butora F5
Steep bouldering, powerful sport, indoors, outdoors
Five Ten Anasazi Pink
$165
Moderate
Synthetic
Lace
Stealth C4
(2mm)
Vertical to gentle overhang, thin cracks, sport, trad
La Sportiva TC Pro
$185
Flat
Leather
Lace
Vibram XS Edge (4mm)
Trad, vertical face, cracks
Butora Endeavor
$98
Flat
Leather/ synthetic
Velcro
Butyl Butora F5
Trad, vertical face, edging, pockets
La Sportiva Miura VS
$175
Aggressive
Leather
Velcro
Vibram XS Edge (4mm)
Thin cracks, hard trad, edging, sport, pockets
Five Ten Quantum
$185
Flat
Leather
Lace
C4 Stealth
(4.2mm)
Trad, vertical face, cracks, edging
Five Ten Hiangle
$165
Aggressive
Leather
Velcro/ slipper
Stealth C4
(4mm)
Steep sport climbing, roof boulders
Evolv Shaman
$160
Aggressive
Synthetic
Velcro
Trax
(4.2mm)
Sport, indoors, outdoors, pockets
La Sportiva Mythos
$145
Flat
Leather
Lace
Vibram XS Edge (4mm)
Vertical, crack, indoors, outdoors
Scarpa Boostic
$180
Aggressive
Synthetic
Velcro
Vibram XS Edge (4mm)
Sport climbing, indoors, outdoors
Evolv Addict
$99
Flat
Leather
Slipper
Trax
(4.2mm)
Cracks, slabs, beginners, outdoors
Five Ten Team 5.10
$175
Aggressive
Synthetic
Velcro/ slipper
Stealth HF
(2.5mm)
Indoor, steep bouldering, sport climbing
La Sportiva Katana
$185
Moderate
Leather/ synthetic
Lace
Vibram XS Edge (4mm)
Thin cracks, multi-pitch trad, sport, edging, smearing
Mad Rock Shark 2.0
$119
Aggressive
Synthetic
Velcro/ slipper
Science Friction 3.0 (3.8mm)
Gym bouldering, super-steep and short sport climbs
Tenaya Masai
$140
Moderate
Synthetic
Lace
Vibram XS Grip (4mm)
Vertical face, techy trad, thin cracks, gentle overhangs
Rock Climbing Shoe Buying Advice
From Flat to Aggressive: Styles of Climbing Shoes
There are as many styles of climbing shoes as there are rocks, and for best performance, these two factors should be matched appropriately. Sport climbing, bouldering, and trad climbing tend to be as similar as apples, oranges, and bananas—which is to say rather dissimilar. A shoe designed for overhanging boulders would be painful and less-than-functional in a hand crack; in the same vein, a stiff, flat shoe perfect for slab climbing would be clunky and useless when trying to toe hook on steep terrain.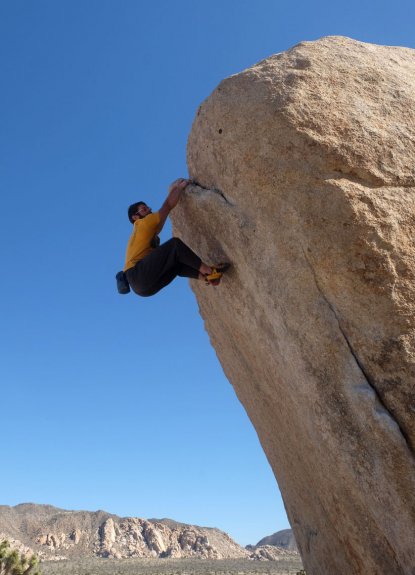 We've chosen to categorize our picks based on their level of aggressiveness: flat, moderate, and aggressive. You could almost take each of the disciplines of climbing—bouldering, sport, and trad—and assign a blanket rule for the most functional shoe for each one: trad climbing garnering a less aggressive shoe, bouldering the most aggressive. Almost. Because this breakdown isn't always accurate, take a look below to learn which style of shoe might fit your specific needs.

Flat
Flat climbing shoes, also thought of as all-around shoes or non-aggressive shoes, are generally good for slabby-to-vertical trad climbing. These shoes are often more comfortable than their more aggressive counterparts, but comfort need not compromise performance. Certain high-performance flat shoes offer the best performance for slabs, techy face climbing, and especially cracks. The TC Pro is one of these—this flat shoe has climbed the most difficult granite face climb in the world, the Dawn Wall. Here's what to look for in a flat shoe: very slight or no downturn at all, stiff midsole, more relaxed fit, less heel/toe rubber, ankle protection, laces, Velcro, or slipper.

Moderate
Moderate, or semi-aggressive, climbing shoes are the most versatile of the bunch—I have seen a shoe like the La Sportiva Miura worn on 5.12 crack climbs, 5.13 sport routes, and V10 boulders. They might not be the best for crack or slab climbing, or for heel hooking on boulder problems, but they certainly work: these are the best style of shoe to invest in if you want one pair to perform on all types of terrain. Moderate shoes, however, absolutely shine on steep face climbs where precision edging is paramount. These shoes are characterized by a solid edging platform, gentle to serious downturn, tight heel cup with a slingshot-style rand, stiff midsole, and sport laces or Velcro closure.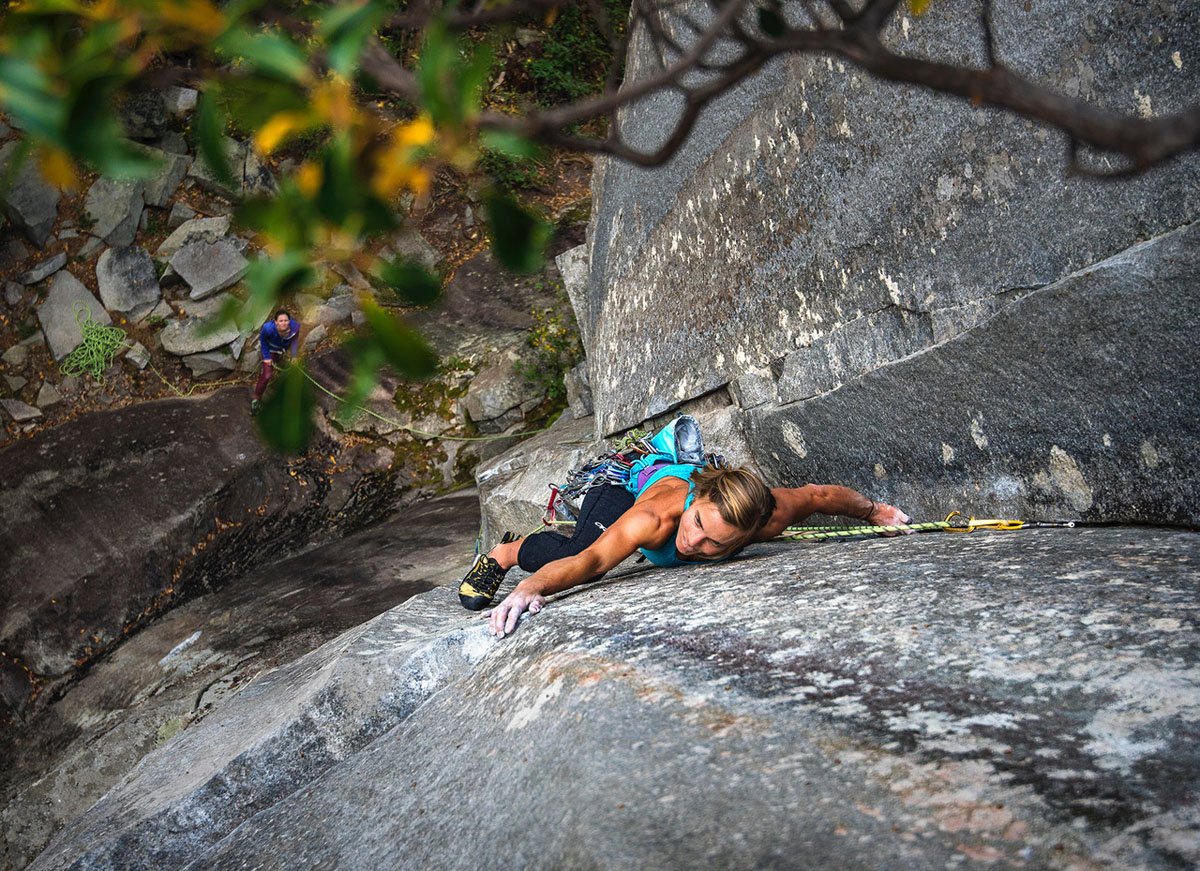 Aggressive
Aggressive shoes are characterized by an aggressive (duh) downturn (think banana shape), ample toe rubber patch, floppiness for sensitivity, rounded heel cups covered in rubber, and a hybrid closure (half-sock elastic slipper with a single Velcro strap or laces). These shoes shine on steep sport climbs and boulders, when toe hooking, heel hooking and sticking to tiny incuts on overhanging walls. They are usually sized snug and probably aren't comfortable to wear for more than a pitch (or boulder problem) or two.

Knowing Your Skill Level
It's important to be honest with yourself about your skill level when picking out shoes—many of these shoes perform best on a certain type of terrain. Let's say you're a V10 climber. That means you'll probably be spending tons of time on roofs and steep overhangs, using toe hooks and heel hooks to power through devious and desperate sequences. You'll want a heavily downturned shoe with a toe rubber patch and a rounded, rubberized heel cup. Maybe you're a 5.11 sport climber, and you climb mostly vertical or slabby rock. Then you'll really want a highly asymmetric toe, good edging platform, a solid midsole, and a tight rand that pushes power into the front of the shoe. What if you tend to hover around V2 and 5.9? Well, most of the time, you'll be able to get away with more comfortable, more durable, less aggressive footwear, because your priority is still learning technique (see our article on the best rock climbing shoes for beginners).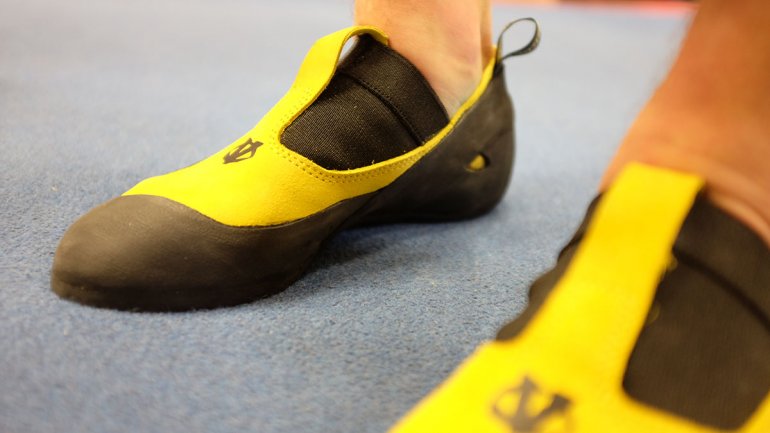 Be careful as well about using your shoes as a crutch for your performance, or as an excuse for the lack thereof. Maybe you're a V4 climber and you want to step up your game. You decide to buy a pair of Solutions because they will help you heel hook. Before you do that, though, how much have your practiced heel hooking with your current shoes? Can you heel hook through a steep V2 with ease? The truth is, a shoe designed for steep bouldering will help your heel hooking, but it won't teach you to heel hook. It's better to focus first on developing technique or strength before turning to more money and more gear to solve your problems.

Uppers: Leather or Synthetic
The upper is the part of the climbing shoe that rests along the top and sides of your foot. In most climbing shoes, the upper is a leather or a synthetic leather substitute. There's not really a rubric to determine which is better for you. Some will prefer leather, and some synthetic. Both have their pros and cons, and there are representatives of both types on this list. The biggest difference is that leather stretches, and synthetic uppers generally don't. And this has a variety of consequences.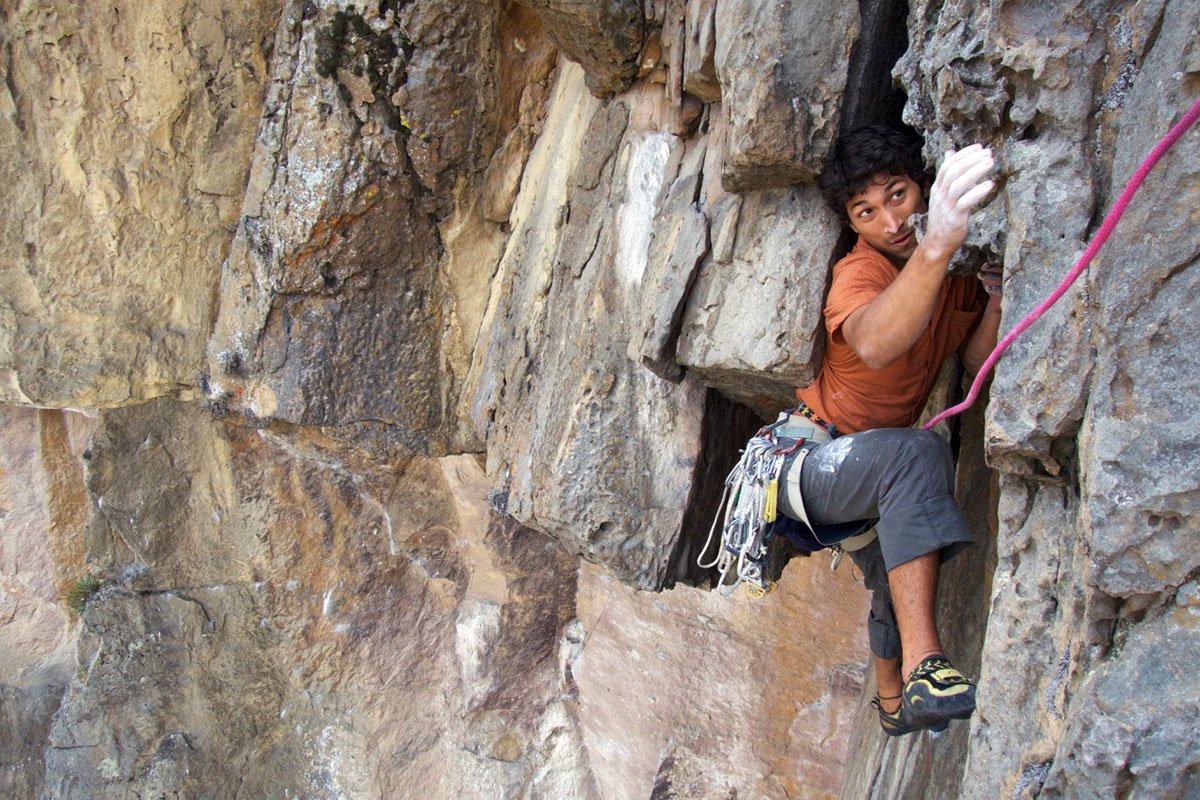 Because leather stretches, it is able to conform to your foot. Over time, it takes on a glove-like shape and the result is increased comfort. Comparing the Miura to the Pink, for example, the Miura will stretch up to a whole size, or possibly even a size and a half. The Five Ten Pink, however, will barely stretch at all because it is synthetic. This means one of two things: One, if you want the Miura to have the same functionality as the Pink a year after the fact, you have to start with a smaller size. Or two, if you want the Pink to be as comfortable as the Miura in a year, you have to start with a bigger size. Whether or not you prefer your shoe to become more comfortable over time, or you want it to retain its original dimensions should play a big role in choosing the shoe you buy.

Closures: Laces, Velcro, or Elastic
Closure systems should not be overlooked, and in fact they can be a deciding factor in whether or not we recommend a shoe. There are not hard-and-fast rules about which is better than the other, however, we often prefer a shoe with laces (it's no coincidence 4 of our top 5 picks use them). But just like the material of the uppers, different closures will have different pros and cons.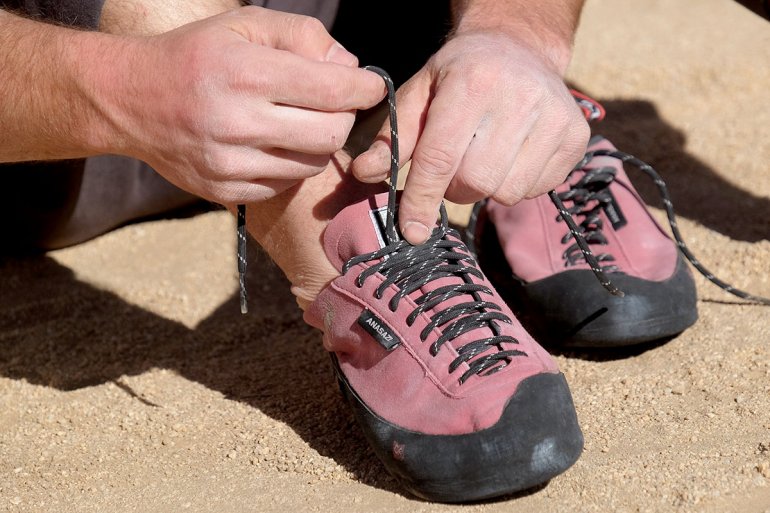 We are a big fan of laces because they really allow you to dial in an incredibly precise fit. You get more versatility in the fit with a lace shoe than any other kind. That said, laces can be a pain in the butt if you are putting on and taking off the shoes all the time. Velcro is nice because it is easy on and off, but it can be somewhat limiting in how well it fits, and Velcro tends to fail quicker than laces too. I like Velcro for indoor climbing because I am constantly putting the shoe on and taking it off between routes or problems.
I do the same on/off dance a lot less climbing outdoors, especially in trad climbing, so I prefer laces there. Slippers provide one of the most comfortable types of closure, and they generally excel the best on friction slabs and cracks. That said, they stretch over time, and if you use them for heel hooking, often the heel can pop off. Many top bouldering shoes have fixed this problem by adding a single Velcro strap to a pair of slippers, which I actually find to be my preferred type of bouldering and steep sport climbing shoe closure.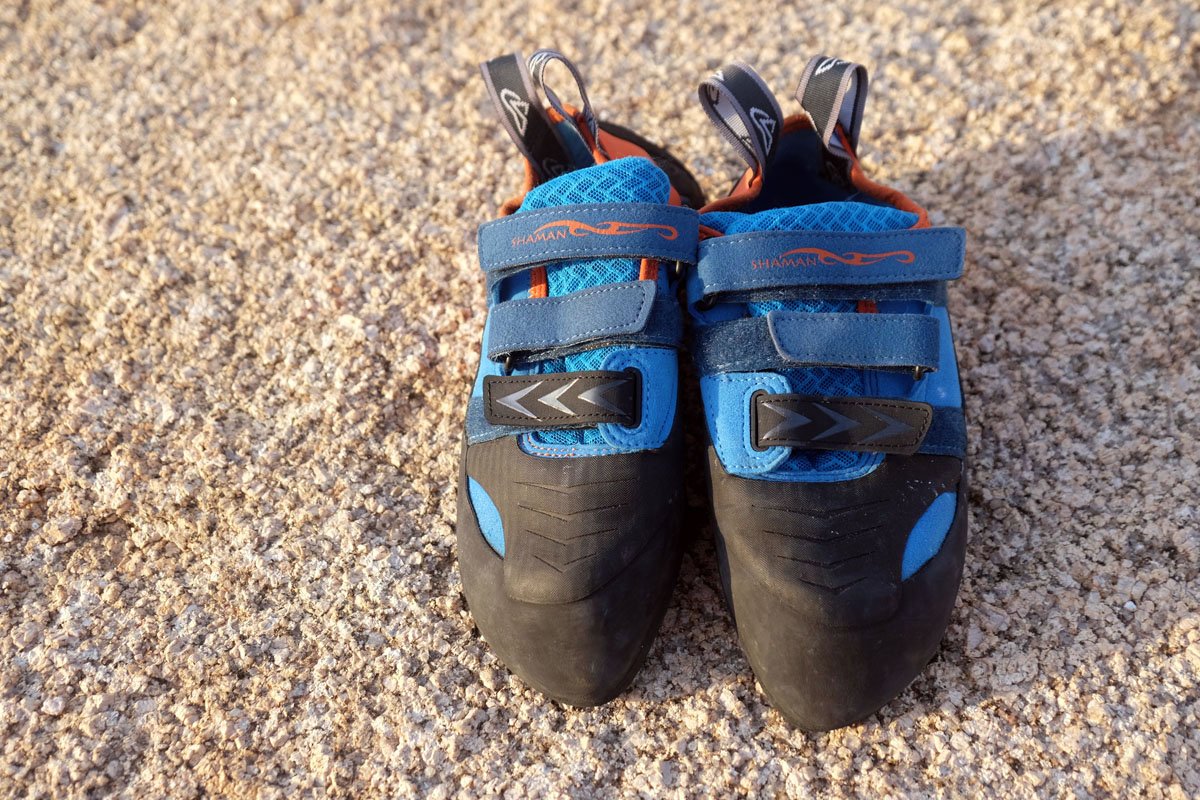 Rubber
Climbing shoe rubber is an esoteric subject. Should you buy Vibram XS Edge or XS Grip? Stealth HF or Stealth C4? What about proprietary blends like Trax and Science Friction? The rubber is what will actually stick to the rock, so this is incredibly important, right? Yes, but maybe not as important as you think. All rubbers try to find some balance on the sticky-durable continuum. Some, like Science Friction, go hard to the sticky side, while others like Sportiva's proprietary FriXion RS gravitate to the durable side. Either way can make sense depending on your priorities. Just understand that there is a tradeoff: the grippier your rubber, the shorter it will last. The longer it lasts, the less sticky it will be.
But because you asked (you did, right?), we do have our preferred brands and models of rubber. A quick check of the comparison table above is a dead giveaway: Vibram and Stealth are our clear favorites. We especially like the consistent performance of the XS Edge and XS Grip from Vibram, along with Five Ten's CF, HF, and Mi6.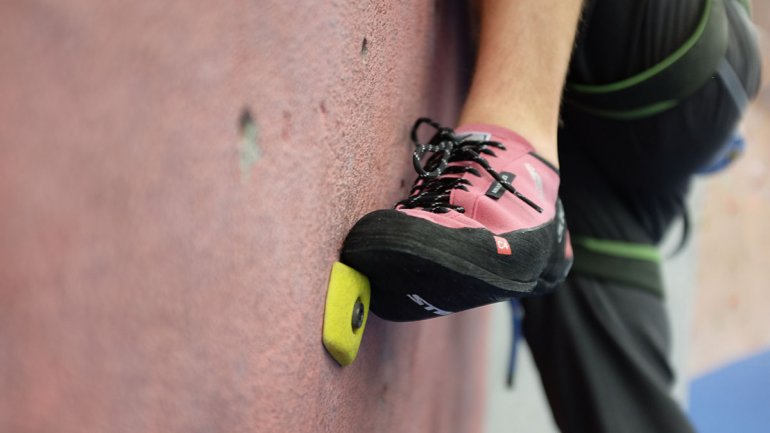 Don't forget that it's not just the type of rubber that matters, but how much of it there is. On each of these shoes we've included the thickness of the rubber in the sole, and there is a similar tradeoff here between sensitivity and durability. Five Ten's Pink has a 2mm sole, which makes it money on small footholds right out of the box. That said, the Miura's 4mm sole will just be starting to come into its own when your Pinks need a trip to the resole shop. So take the width of the rubber into consideration as well. And, of course, just because you bust through the rubber doesn't mean you have to toss the shoe. Rock and Resole in Boulder, CO, is a top-notch resoler, and they even give you the option to change the kind of rubber that's on your shoe!

Fit and Sizing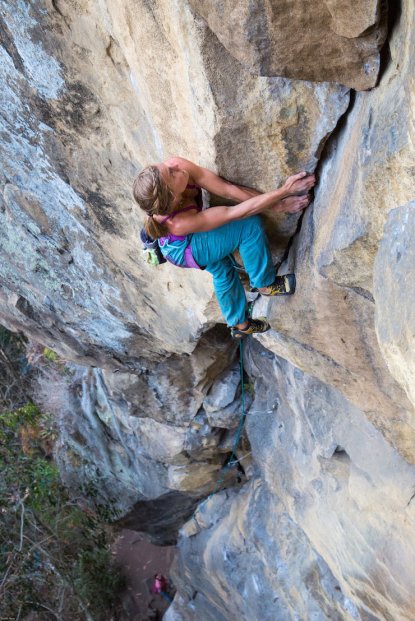 I could give you a bunch of rules about how to size your shoe. I could say "go down half a size from your street shoes" or "go with your street shoe size for synthetic uppers, but size down for leather ones." I could tell you what size to get for Sportiva, for Five Ten, for Scarpa, etc. However, I'm not going to because I'd probably be wrong. In the end, sizing is so specific, so unique, and so particular to each shoe and each foot, that your best bet is always to try the shoe on before buying. If you're ordering online, you can roll the dice or buy a couple of pairs from a reputable retailer and return one.
That said, a few generalizations apply. First of all, you want your climbing shoes to feel tighter than your street shoes. They can be the same number, but they should feel tighter. Second, tighter does not mean cutting off circulation. If you can put on your climbing shoe without using both hands on the pull tabs, it's probably too loose. But if it takes you ten minutes of serious tugging, they're too tight. Be honest with yourself: how tight can you go without letting the discomfort get in the way of the joy of climbing? Many people will sacrifice pain for the extra performance it brings to their climbing game (that extra performance in turn increases the amount of joy they get out of climbing). Third, understand that leather stretches and synthetic fabrics tend not to. And, finally, it's worth noting that most people have one foot slightly bigger than the other. So try on both shoes before you make a purchase.

Indoor Shoes vs. Outdoor Shoes
It is a bit of a stretch to even make this distinction, as many of the top models work well for both indoor and outdoor climbing. There are, however, some shoes that we rate better for indoors (Five Ten Team 5.10), while others shine in outdoor use (La Sportiva TC Pro). The differences are not dramatic, but if you'll be sticking primarily to one or the other, there are some important considerations to keep in mind.
First, steep terrain is more accessible indoors, so a wider range of skill levels will have a need and desire for an aggressive shoe. At my local gym, there are V0s on a 45-degree overhang and 5.10s out a huge roof, which are rare to find outside. Accordingly, beginners may actually want to choose a more aggressive shoe for indoor climbing than they would if starting outdoors.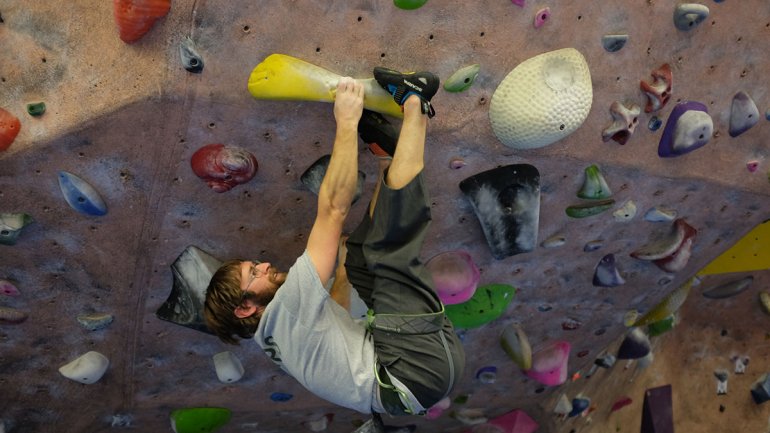 Second, there are variations in how you want the shoes to fit. For roped climbing, I prioritize comfort a little more than indoor or bouldering, where I instead go with a snugger fit. I've spent as much as an hour on a single pitch of trad climbing, fiddling with gear, but you'll never do that in the gym. You also have the luxury of benches and big comfortable mats to sit on while taking your shoes on and off, making it easier to deal with a tighter shoe.
Finally, you'll likely end up getting a lot more mileage while climbing indoors than you would outdoors. It's just really easy to walk from route to route and climb a ton without spending much time on rope management or gear cleanup or any of the other tasks that accompany outdoor climbing. So it's worth considering a pair of shoes that will be a bit more durable.

Male vs. Female Shoes
I have a big, fat, wide, hobbit foot. I also happen to be a man. Some men don't have big fat wide hobbit feet. Some women do have big fat wide hobbit feet. But, by and large, at least in climbing shoe land, the rule is as follows: men's shoes are for wide feet, women's shoes are for narrow feet. As with any gender stereotype, there are always huge numbers of people that don't fit into the norm, the model, the rule.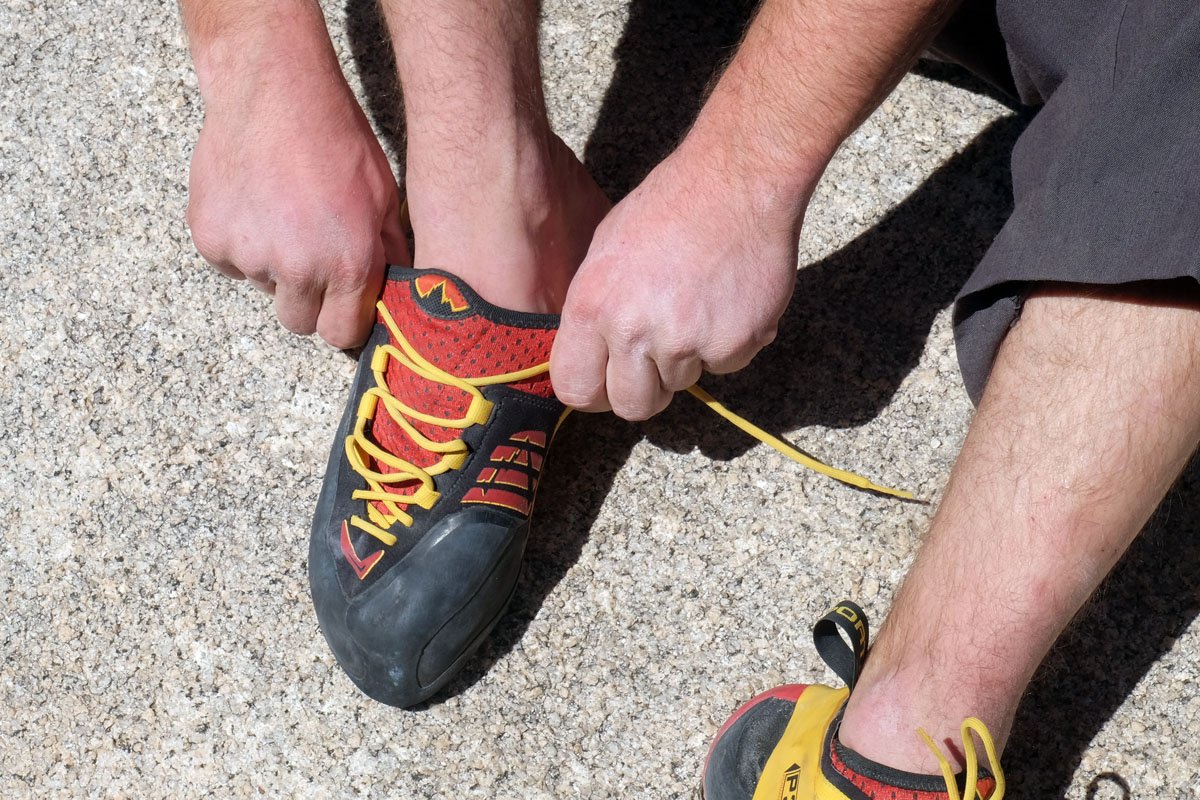 You can toss this "rule" out the window along with all the other hetero-normatives, but you can also use it as a guide to help you pick out a shoe. Maybe you're a man with a narrow foot. That might mean you should consider a women's style. Or you can be a woman in men's shoes. Or anything between. You won't care what gender your footwear is when you're cruxing out on your project, and neither will your belayer or anyone else. As for comparing men's and women's sizes, use this helpful chart from La Sportiva.

Legacy Models vs. New Styles
You may see us use the term "legacy model" to describe some of the shoes in this or other articles. A legacy model is a shoe model that a company has kept around for years and years because it's such a good shoe. La Sportiva's Mythos, Solution, and Miura are all legacy models. Five Ten's Moccasym and Anasazi are legacy models. Mad Rock's Flash, Scarpa's Helix, Evolv's Shaman: all legacy models. If these companies have tried and true models, why do they keep making new ones?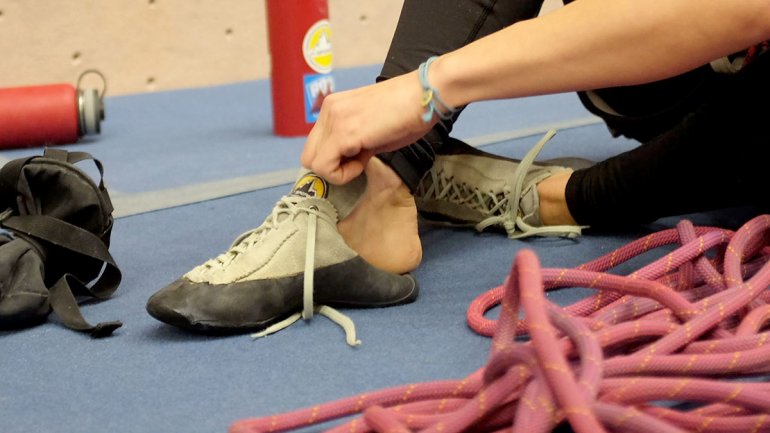 For starters, innovation is part of how any company that sells products continues to thrive; but we won't get into a discussion about planned obsolescence and capitalism. Climbing changes, climbers change, the focus of the mainstream changes, and technology changes. Everything is always changing, so it makes sense to make new shoes. At the same time, tried-and-true legacy models are so good, no sane company would just up and cut them.
What it means for you, the consumer, is to know which kind of shoe you are getting, and what that means you can expect. If you're going from the Solution to the Genius, you should expect a break-in period for your brain as you learn how to use No Edge technology. If you upgrade from the Anasazi Blanco to the Pink, expect a different fit, less stiffness, and more sensitivity. You can expect new styles to be different and somewhat experimental. If you stick to the old, you won't have any surprises. Trying a new style could be a huge success, but just remember, all legacy models got their start as a new style before they made the big time.
Back to Our Top Climbing Shoe Picks Back to Our Climbing Shoe Comparison Table
Learn More About Climbing