La Sportiva TC Pro
Price: $190
Downturn: Flat
Upper: Leather
Rubber: Vibram XS Edge (4mm)
What we like: Versatile, high-performance shoe for crack and face climbs, slabs, and edging.
What we don't: Break-in takes time, and some find it too stiff and clunky.
See the La Sportiva TC Pro
While working through his free ascent of the Dawn Wall in Yosemite, pro climber Tommy Caldwell paired up with La Sportiva to design a shoe that balanced the comfort and precision needed for big wall objectives. Enter the TC Pro. We've tested the shoe extensively—in Patagonia, Yosemite, the Bugaboos, the Black Canyon of the Gunnison, Indian Creek, and even Smith Rock—and have developed a deep appreciation for its versatility. In short, it's one of the best options on the market for vertical edging, crack climbing, and all-day support and comfort. Below we break down the TC Pro's performance, sensitivity and shape, comfort, durability and construction, fit and sizing, and more. To see how it stacks up, see our article on the best rock climbing shoes.
 
Performance
Climbing in the TC Pro
Put simply, the La Sportiva TC Pro is one of the best-performing all-around trad shoes on the market. It has the rare combination of support and comfort for all-day climbing yet is still plenty capable of handling the precise footwork necessary for technical terrain. The shoe excels most on low-angle to vertical faces, edges, and cracks when most of your weight is on your feet the majority of time. However, it's important to note that the TC Pro is not designed for especially steep climbing, toe and heel hooking, or pockets. In these cases, wearing the stiff and insensitive TC Pro can feel akin to strapping bricks to your feet.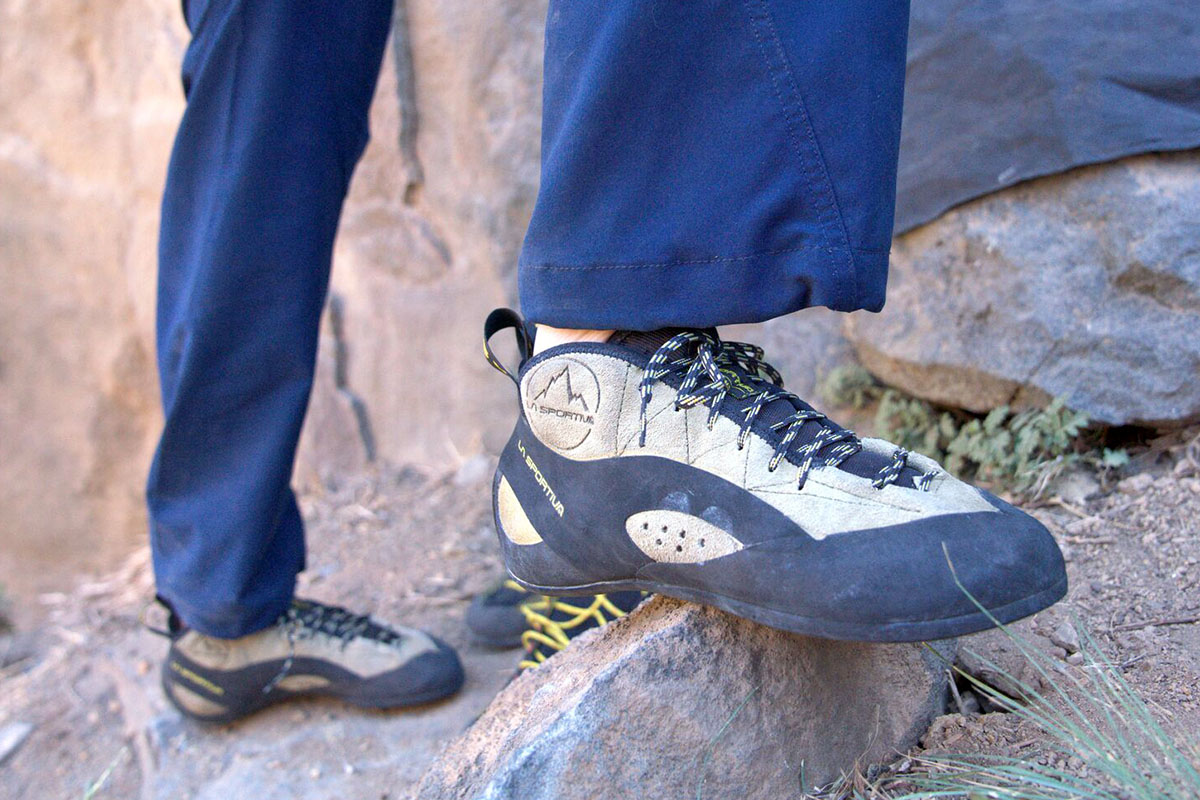 We recently wore the TC Pro in the Lower Gorge of Smith Rock in Oregon, where basalt columns offer a variety of vertical to near-vertical crack climbs mixed with fun, featured faces. The shoe performed extremely well on the majority of crack jamming, and its stiff design helped to reduce the intense calf burn associated with sustained stemming. It smeared surprisingly well—though not as skillfully as a softer shoe like the La Sportiva Skwama—and offered a stable platform on the slabby waves of basalt. On long pitches rife with small edges, the TC Pro's stiff build staved off foot fatigue, and its mid-ankle height offered full protection from the abrasive rock in wide cracks.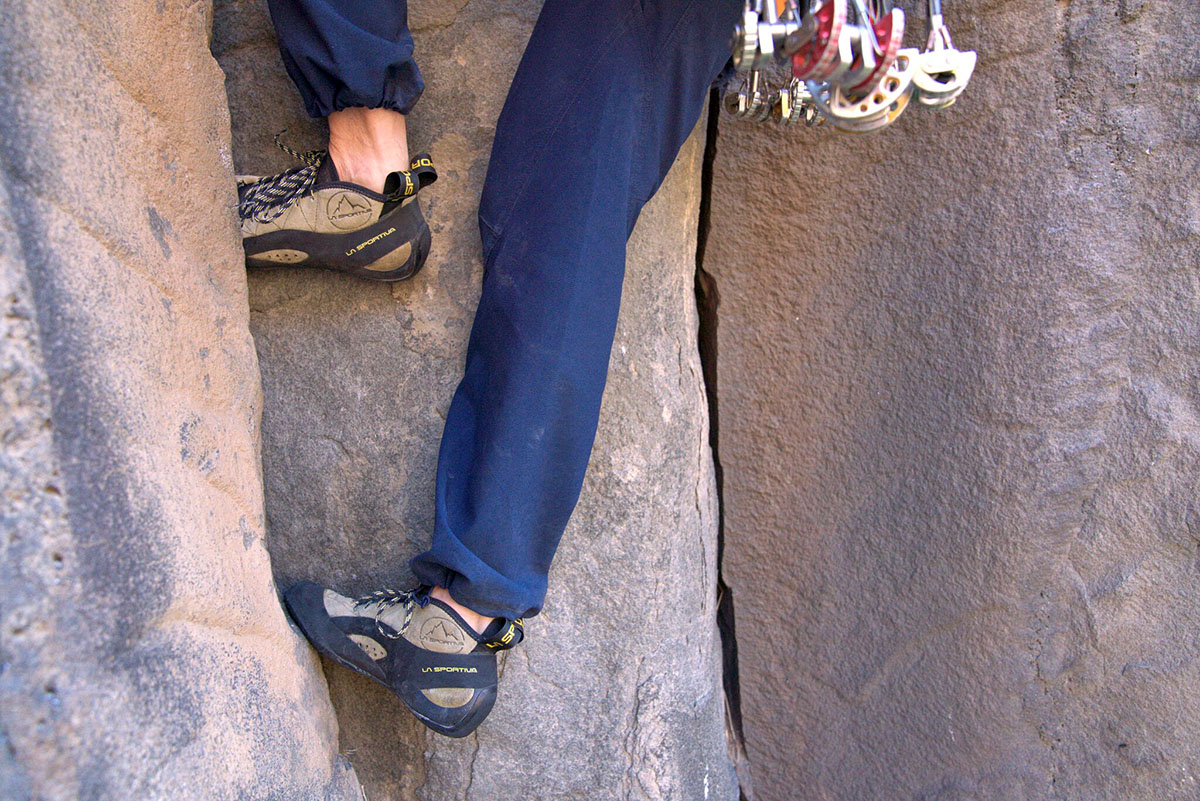 All that said, the La Sportiva TC Pro does have its limits. In thinner, finger-sized cracks, it is as capable as any other flat model, but a lower-profile, slightly more downturned and asymmetric shoe will allow your toes to fit better into the crack (here, we prefer a shoe like the La Sportiva Katana). One of our testers even tried the TC Pro on the small nubbins and pockets of Smith Rock's tuff after hearing that it was a local's shoe of choice. However, while the shoe is a superb edger, our tester found that its beefy toe box and flat sole detracted from overall precision. For this degree of technical footwork, we prefer a more precise, downturned edge and sensitive feel like you get with the Miura VS (see our in-depth review here) or Scarpa's Instinct VS.

Sensitivity and Shape
The La Sportiva TC Pro is a relatively flat, stiff shoe that allows the foot to lie in its natural position. Classified as "Tech" fit by La Sportiva, it's slightly downturned with a flat toe box and medium asymmetry. This allows you to jam cracks comfortably without sacrificing much in the way of power and precision for edging. For better performance on terrain steeper than vertical, check out models with a more aggressive "Performance" fit like La Sportiva's Miura VS or Solution.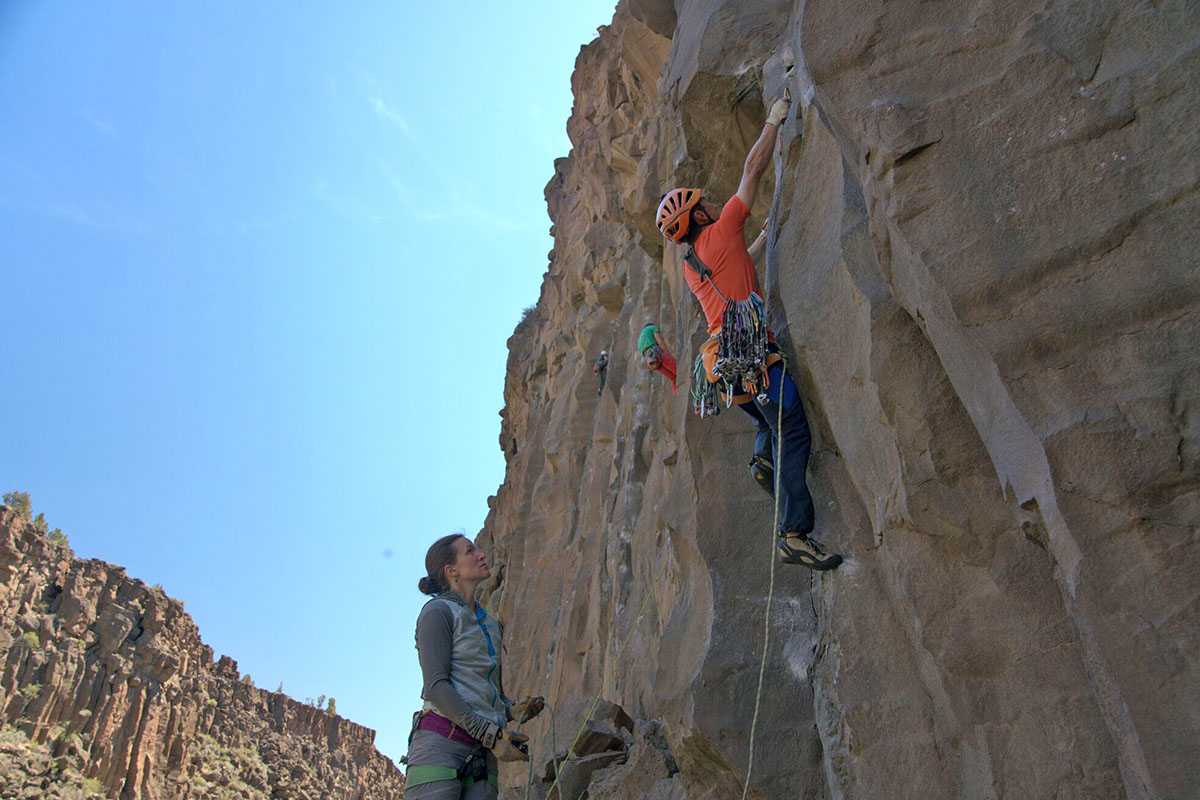 As we mentioned above, the TC Pro is stiffer than most rock climbing shoes, but this lends itself to power on small edges and provides support for all-day climbing. You're not going to feel the subtle micro-landscape of the rock surface beneath your feet, but you'll learn to trust the shoe's platform, especially as it softens with use. All that said, unless sized very loosely, the shoe is notably uncomfortable during the break-in stage. Even once broken in, some still find it to be too stiff, and for those climbers we recommend a softer shoe like the Scarpa Maestro Mid Eco or La Sportiva Katana. Although the leather upper will stretch and soften after use, La Sportiva's proprietary P3 midsole ensures that the TC Pro will remain relatively stiff and keep its shape long into its life.

Rubber
The La Sportiva TC Pro is equipped with 4mm of Vibram XS Edge rubber from heel to toe. Interestingly, this compound was a collaboration between La Sportiva and Vibram designed specifically for this shoe. In comparison to Vibram's other popular rubber blend, XS Grip 2, XS Edge is both stiffer and more durable, and what it sacrifices in sensitivity, it makes up for in stability and power. We think this is a perfect compromise for a supportive, all-day edging machine. For reference, La Sportiva uses the same XS Edge rubber on almost all of their men's models (except for a few aggressive shoes and their No Edge shoes) and XS Grip 2 on the majority of their high-end women's models.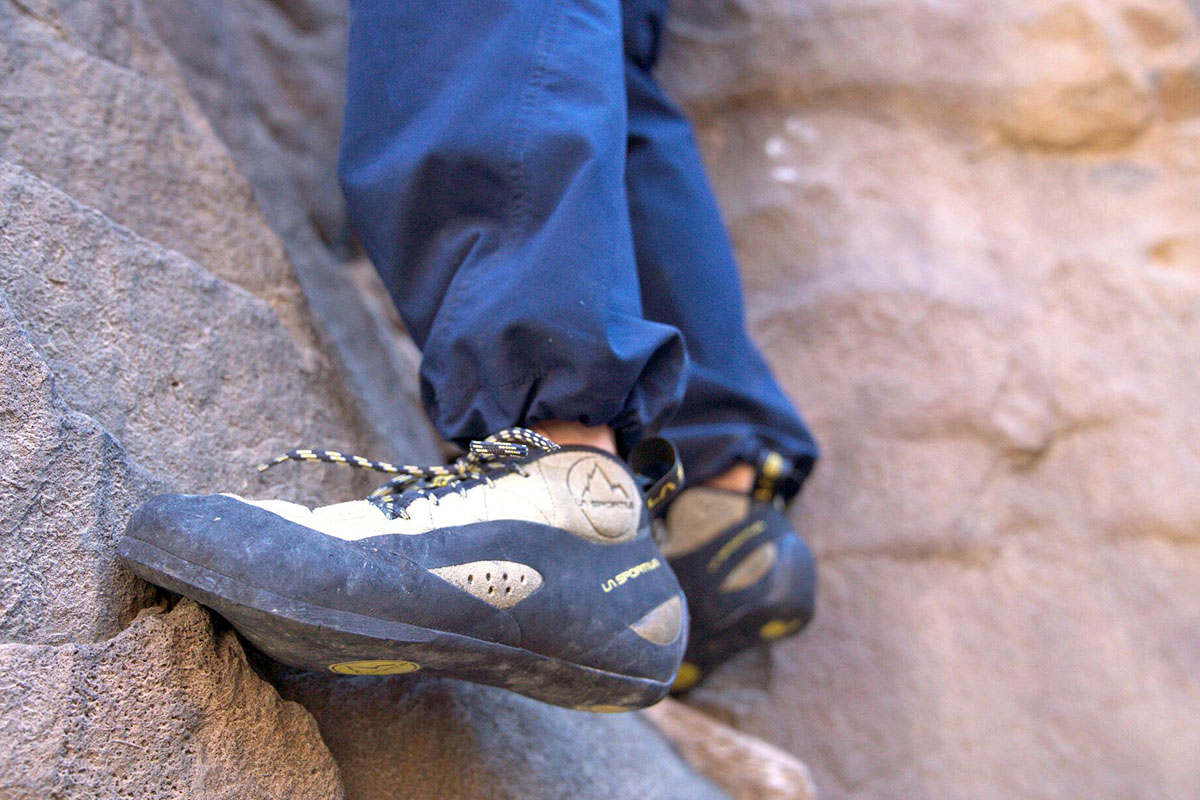 All told, we've found that Vibram XS Edge does not feel as grippy as XS Grip 2, but the tradeoffs are increased durability and less deformation when micro-edging. Ultimately, your choice of rubber should come down how you prioritize stickiness, stiffness and stability, and durability. More than anything, you're likely to climb best in whichever rubber you're most accustomed to. However, if you're used to a softer blend and don't like the feel of the XS Edge on the TC Pro at first, we recommend pushing through the initial discomfort and awkwardness before making a final judgment.
 
Comfort
Once broken in, the TC Pro is an exceptionally comfortable shoe that's clearly built for all-day use. We'd need more fingers to count all the times we've worn it while scrambling 3rd-class terrain, plunge-stepping down snowfields, and walking back to our approach shoes after a rappel. In fact, the TC Pro is one of the most comfortable shoes we've worn for both climbing and (when necessary) scrambling or descending. The flat last allows your toes to sit comfortably without having to curl, a lined, breathable upper adds a soft feel, and padding around the toe, ankle, and tongue lends extra protection while jamming in cracks. Further, the stiff build fends off foot fatigue throughout the day, which is common in softer shoes. And finally, the TC Pro's mid-ankle coverage not only protects from abrasions while climbing, but the laces that extend above your foot also provide added support in both cracks and on faces.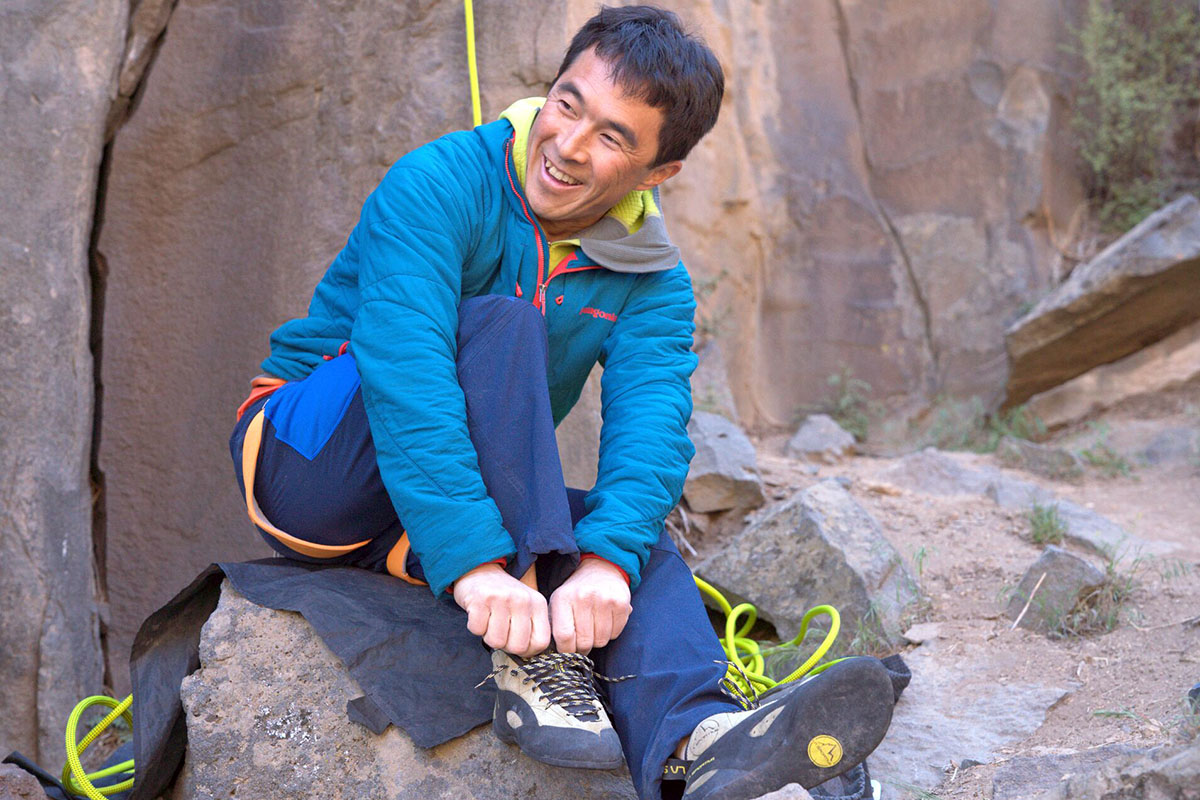 Durability and Construction
Like all of La Sportiva's high-end climbing shoes, the TC Pro is well-built and exudes their typical Italian craftsmanship and attention to detail. Built to withstand the rigors of crack climbing, the shoe features a thick, durable leather upper, 4mm Vibram XS Edge sole, and P3 midsole for long-term stiffness and shape. As we touched on above, the burly upper takes time to stretch, so expect a considerable break-in period but a long lifespan thereafter. On that note, the TC Pro can handle multiple resoles, but be sure to use a competent shop. One of our testers has had three pairs of shoes delaminate between the P3 midsole and the inner fabric during resoles, resulting in a bulge under the ball of the foot.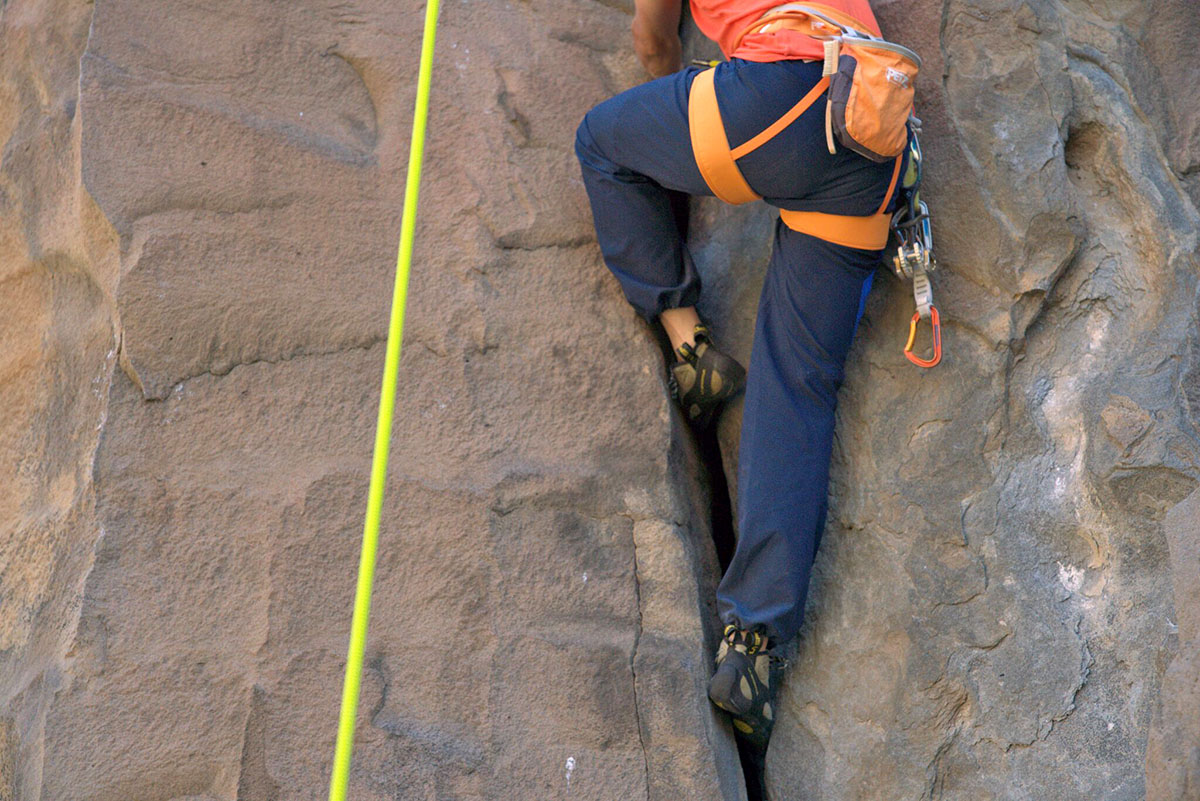 Despite La Sportiva's quality construction, we do have a few nitpicks with the TC Pro's design. First, the tongue is bulky and known to fold when putting the shoe on, creating uncomfortable bunching at the top of the foot. Second, the laces are exposed and prone to breaking, especially after repeated jamming in cracks. Here, we prefer a design like the Scarpa Maestro Mid, which hides the hinge points of the laces with leather panels. And finally, we've had notable durability issues with the TC Pro's rubber rand that extends from the toe to the heel at both sides of the shoe. If you're engaging in repetitive crack climbing, it's almost a given that at some point the rand will detach from the leather upper. The shoe will still be functional—albeit unsightly and less form-fitting—and we've mitigated this issue by applying seam sealant, both out of the box and sporadically throughout the lifespan of the shoe.
 
Fit and Sizing
In general, the shape and volume of the TC Pro are fairly accommodating. In the La Sportiva lineup, it falls mid-pack in terms of volume. In other words, those with extremely low-volume feet might find it too roomy, while those with wide feet will likely face a difficult break-in period. But the good news is that the leather will stretch to accommodate most foot shapes, even particularly wide ones. However, it's important to keep in mind that the TC Pro only comes in one unisex model, and thus offers less of a refined fit than others offered in both men's and women's (or wide and narrow) like the Scarpa Maestro Mid Eco or Butora Altura.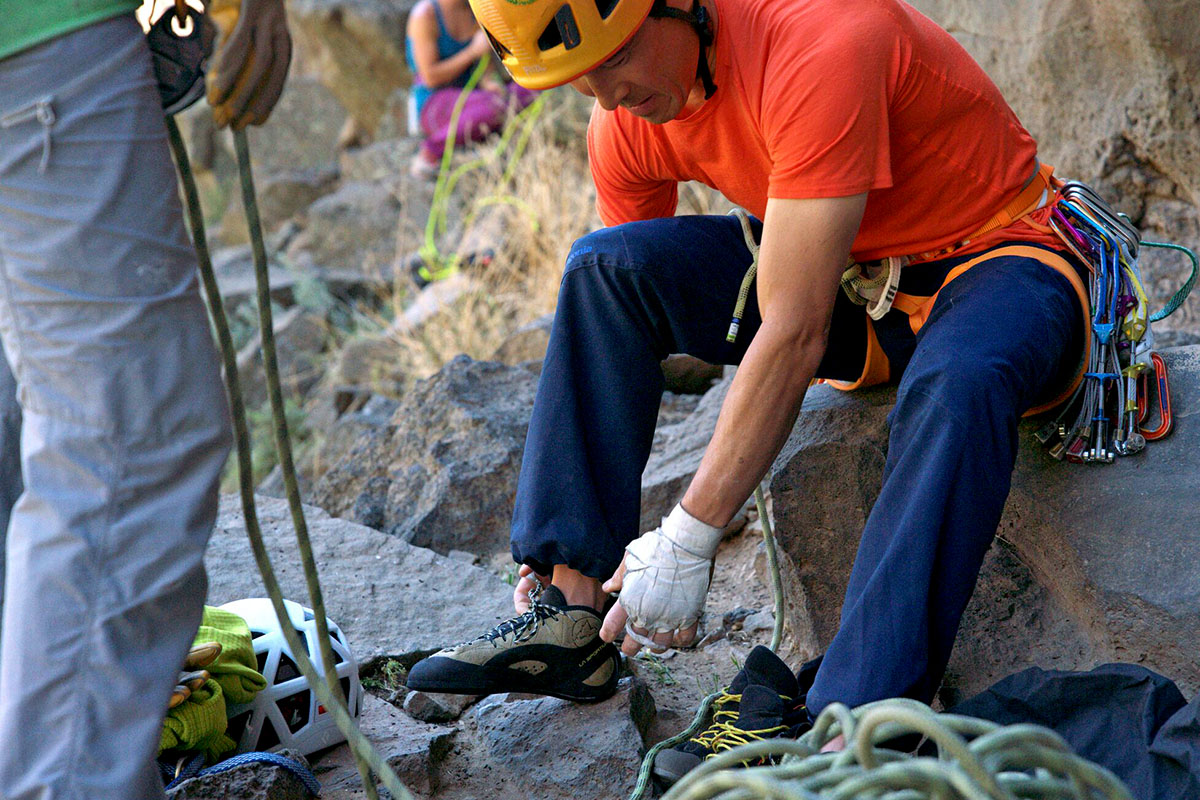 The sizing of the TC Pro is comparable to other La Sportiva shoes. For example, one of our testers wears a size 37.5 in the Katana, Miura VS, Testarossa, and TC Pro, while the same tester wears a 38.5 in the Scarpa Instinct VS. And interestingly, many climbers have a quiver of TC Pros: sized tightly, it makes for a powerful and precise edging shoe; sized loosely—and even worn with a sock—it's an all-day shoe that doesn't sacrifice much performance. Because the TC Pro's heel rand is not as strong as that of other La Sportiva "Performance" fit shoes (like the Solution and the Miura VS), be sure to size them as snug as your aggressive models if you're planning on using them for dime-edge tiptoeing. For all-day use, we recommend sizing up a half or full size.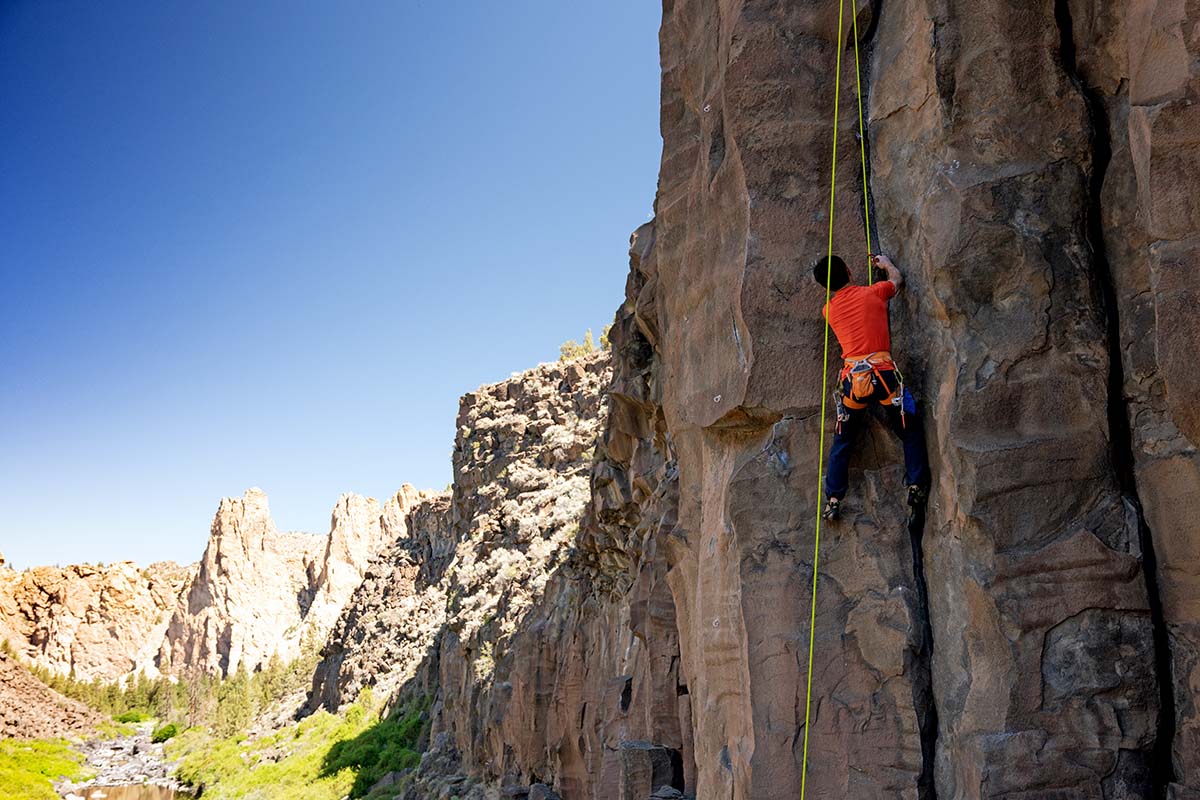 What We Like
A top all-around performer for the variety of climbing found on multi-pitch routes: crack, face, friction slab, technical edging, and even gut-wrenching offwidths.
Hard to beat the superb comfort, ankle-height protection, and overall performance in hand-sized cracks and wider.
Stable and powerful on small edges and extremely solid on slab.
 
What We Don't 
Requires a significant break-in period. Before this point, the shoe can feel overly stiff, insensitive, and frictionless.
Loose, thick tongue creates uncomfortable bunching at the top of the foot, and the exposed laces are prone to breaking.
We've had the rand detach from the leather upper on multiple occasions (although applying seam sealant has helped mitigate the issue).
Only comes in one unisex model, which means that those with particularly low- or high-volume feet might have issues with fit.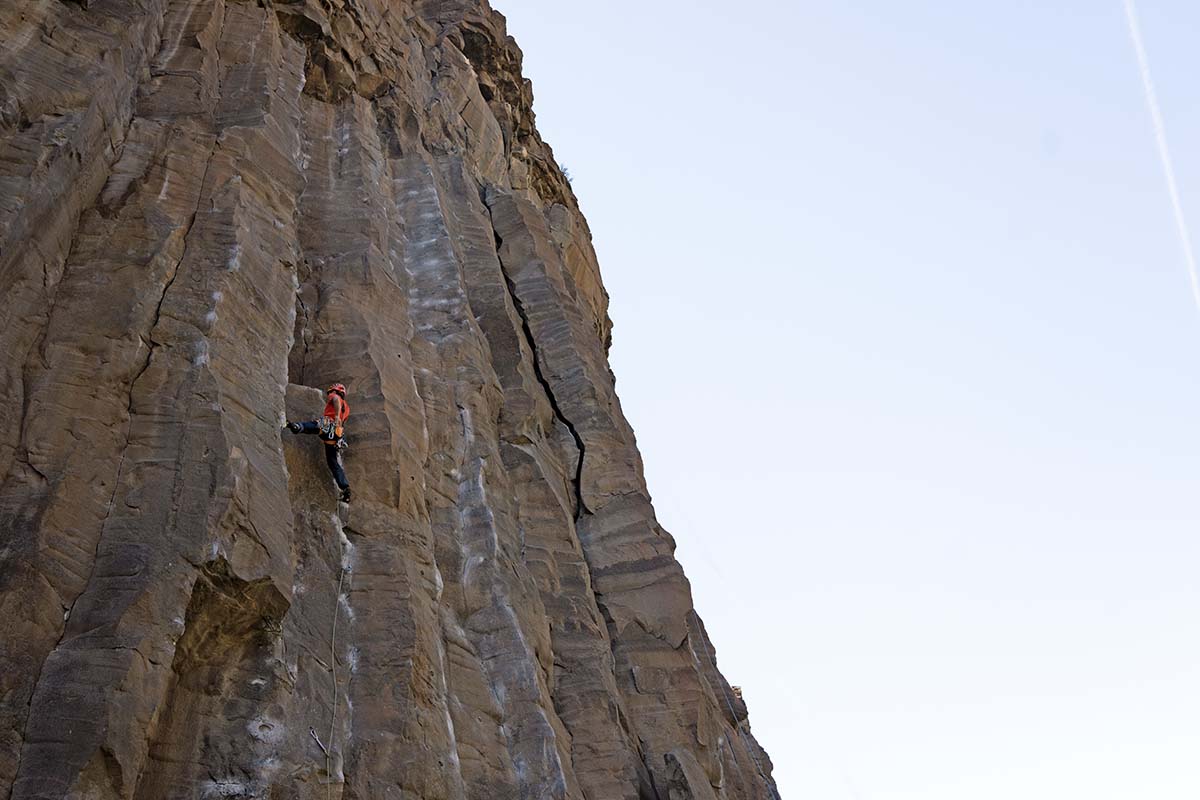 Comparison Table
| Climbing Shoe | Price | Shape | Upper | Rubber | Best Uses |
| --- | --- | --- | --- | --- | --- |
| La Sportiva TC Pro | $190 | Flat | Leather | Vibram XS Edge | Cracks, slab, edging, all-day |
| La Sportiva Katana | $195 | Moderate | Leather | Vibram XS Edge | Thin cracks, edging |
| La Sportiva Miura | $165 | Moderate | Leather | Vibram XS Edge (men's)/ XS Grip 2 (women's) | Thin cracks, edging, all-day |
| Scarpa Maestro Mid Eco | $199 | Flat | Leather | Vibram XS Edge | Cracks, slab, all-day |
| Butora Altura | $160 | Flat | Leather | NEO Fuse | Cracks, edging, all-day |
| Five Ten Anasazi Lace | $150 | Moderate | Synthetic | Stealth C4 | Edging |

The Competition
The La Sportiva TC Pro is an incredibly versatile, high-performing shoe that's comfortable for all-day use without making major sacrifices for edging or crack climbing. In short, there's a reason that Tommy Caldwell and Alex Honnold—two of the world's top climbers—wore it while climbing Yosemite's Dawn Wall and free soloing Freerider respectively. However, some climbers simply don't like the TC Pro's stiffness and unisex fit. If these are your gripes, La Sportiva's own Miura and Katana lace-ups are softer substitutes that rival the TC Pro's performance for both crack and face climbing. The Katana is ideal for wider feet, while the Miura is better suited to narrow feet (and the latter comes in both men's and women's versions). When sized appropriately, they are both excellent crack climbing and edging shoes, and their downturned and chiseled toes out-perform the TC Pro on thin cracks. However, when it comes to jamming, the TC Pro wins out for its flat toe profile, mid-ankle height, and extra padding.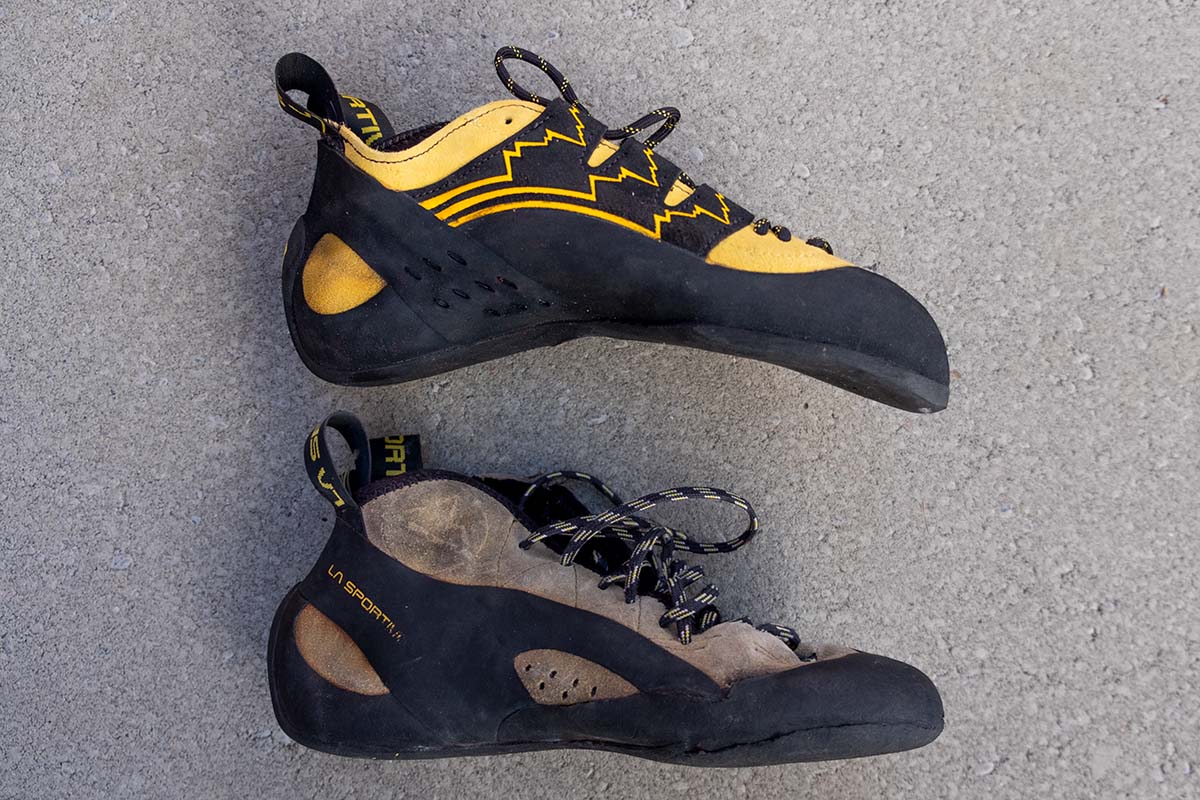 If you like the protection and height of the La Sportiva TC Pro, both the Scarpa Maestro Mid Eco and the Butora Altura are nice alternatives. Unlike the TC Pro, both are available in narrow (or women's) and wide (men's) fits. The Maestro is softer than the TC Pro and far more comfortable out of the box, although its high-volume toe box sacrifices some performance. On the other hand, the Altura is just as stiff as the TC Pro and made with even thicker Neo Fuse rubber on the sole. We have yet to test the Altura, but Butora's premium construction and attention to detail have blown us away on other models (including the aggressive Acro). Not to mention, it's one of the most affordable performance-oriented options on the market at $160 (the TC Pro costs $190 and the Scarpa Maestro is $199). In the end, it's hard to beat the TC Pro's impressive all-around performance, but a final decision might come down to fit and cost.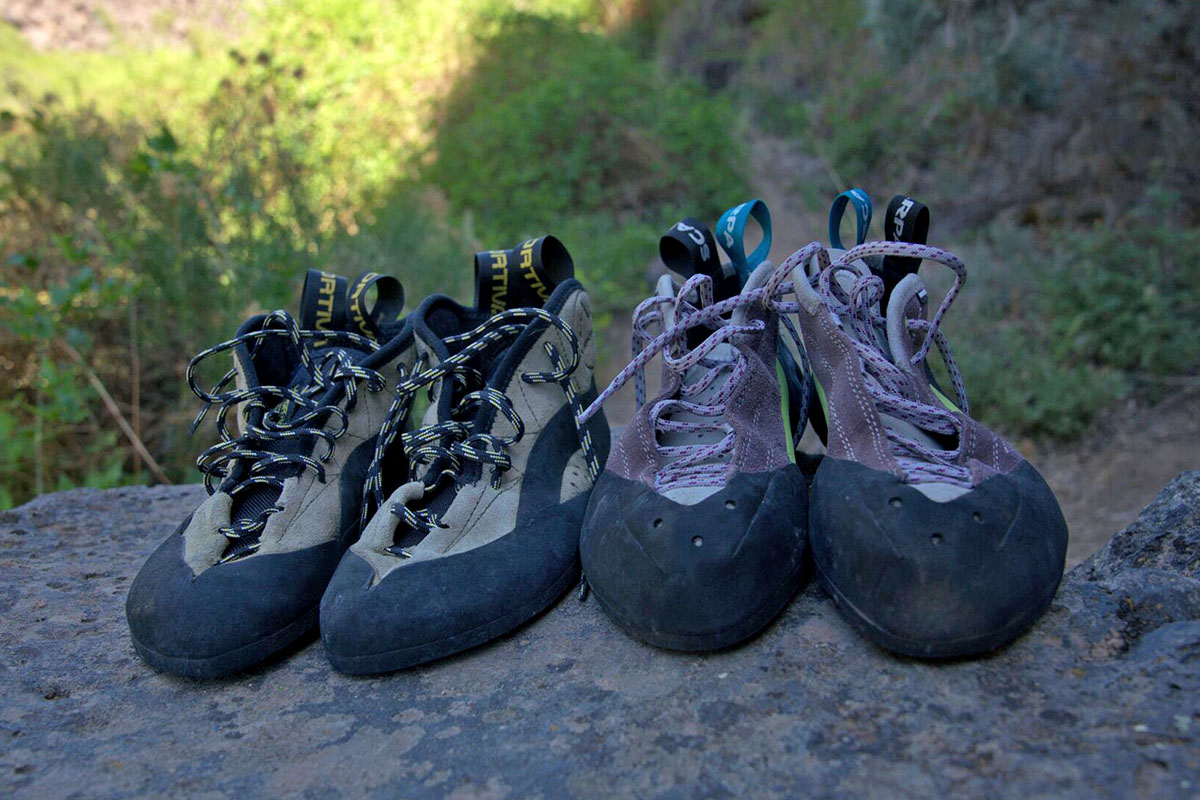 Last but not least, we'd be remiss not to mention the Five Ten Anasazi Lace (aka the Pink). Like the TC Pro, many climbers use the Pink as an all-day shoe. Its slight downturn gives it more precision on edges and comparable comfort in cracks, and with both a softer midsole and rubber, the Pink is more sensitive and flexible than the TC Pro. In other words, if you don't like the stiffness of the La Sportiva, the Pink is worth a serious look (although keep in mind that it will provide less support during long climbs). Finally, it's worth mentioning that climbers either love or hate the fit of the Anasazi, so make sure you try it on before you buy. We give the overall edge to the TC Pro for all-day comfort, protection in cracks, and versatility, but for $40 less and if the shoe fits, the Pink is a great and much more affordable pick (for more, see our in-depth review here).
If you're thinking about buying gear that we've reviewed on Switchback Travel, you can help support us in the process. Just click on any of the seller links above, and if you make a purchase, we receive a small percentage of the transaction. The cost of the product is the same to you but this helps us continue to test and write about outdoor gear. Thanks and we appreciate your support!
Depending on the seller, most products ship free in the United States on orders of $50 or more. International shipping availability and rates vary by seller. The pricing information on this page is updated hourly but we are not responsible for inaccuracies.
Learn More About Rock Climbing