La Sportiva TC Pro
Price: $199
Downturn: Flat
Upper: Leather
Rubber: Vibram XS Edge (4mm)
What we like: An incredible redesign of an already incredible climbing shoe.
What we don't: New ECO leather seems to hold stink and might stretch more than the outgoing version.
See the La Sportiva TC Pro
Have you ever noticed that updates and redesigns often make a product worse? I sure have. Apparently, so has Tommy Caldwell: Referencing the redesign of La Sportiva's legacy shoe, the TC Pro, Caldwell offered, "This was an aspect of the project that every single one of us involved agreed upon—no changes for the sake of change. A modification had to be an improvement that didn't change the original fit/feel for the worse."
Of course, I didn't know this when I committed to reviewing the redesigned TC Pro. Let's just say I signed up for the assignment as a healthy skeptic. Sure, I was hoping the new version of the old classic—my favorite climbing shoe ever, and go-to for many years now—would be even better than the original. But I wasn't holding my breath.
Spoiler alert: The redesigned TC Pro not only lived up to my hopes, it exceeded them. At this point, I can't imagine buying a different pair of climbing shoes in the foreseeable future. But enough gushing. Here's a breakdown of everything you need to know to decide whether or not the new TC Pro is the right shoe for you—including an interview with its namesake, the one and only Tommy Caldwell.
 
---
Table of Contents
---

La Sportiva TC Pro Review
New And Improved
There weren't many problems with the original TC Pro, but there were a couple big ones. First, the shoe had a major delamination issue near the front on both sides where the toe rand and slingshot rand met. The rubber would start peeling almost immediately upon use. I always reinforced this area with Seam Grip right out of the box, and while that helped, it was a pain and an added expense. The new La Sportiva TC Pro has fixed this problem by turning two pieces of rubber into a single piece, and slightly changing the shape of that piece. Six months into wearing, I don't have a hint of delamination. That's a total game changer.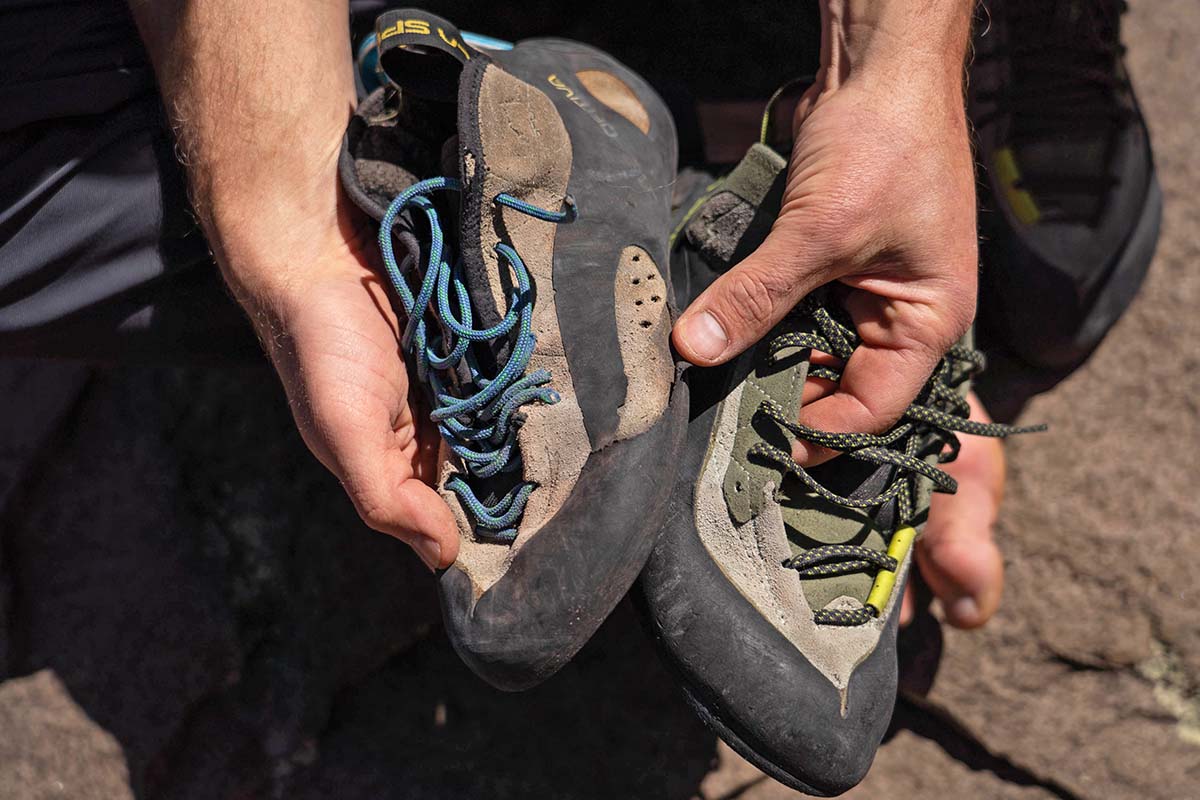 The other big issue with the first generation TC Pro was the lower part of the tongue. It always seemed to roll over on itself when you put your shoes on, which was super uncomfortable and a real hassle. This time around, La Sportiva added a microfiber insert toward the toe that keeps the tongue from rolling. I have heard other climbers express to me that the rolling still happens sometimes, but personally, I've never experienced it with the new version of the shoe.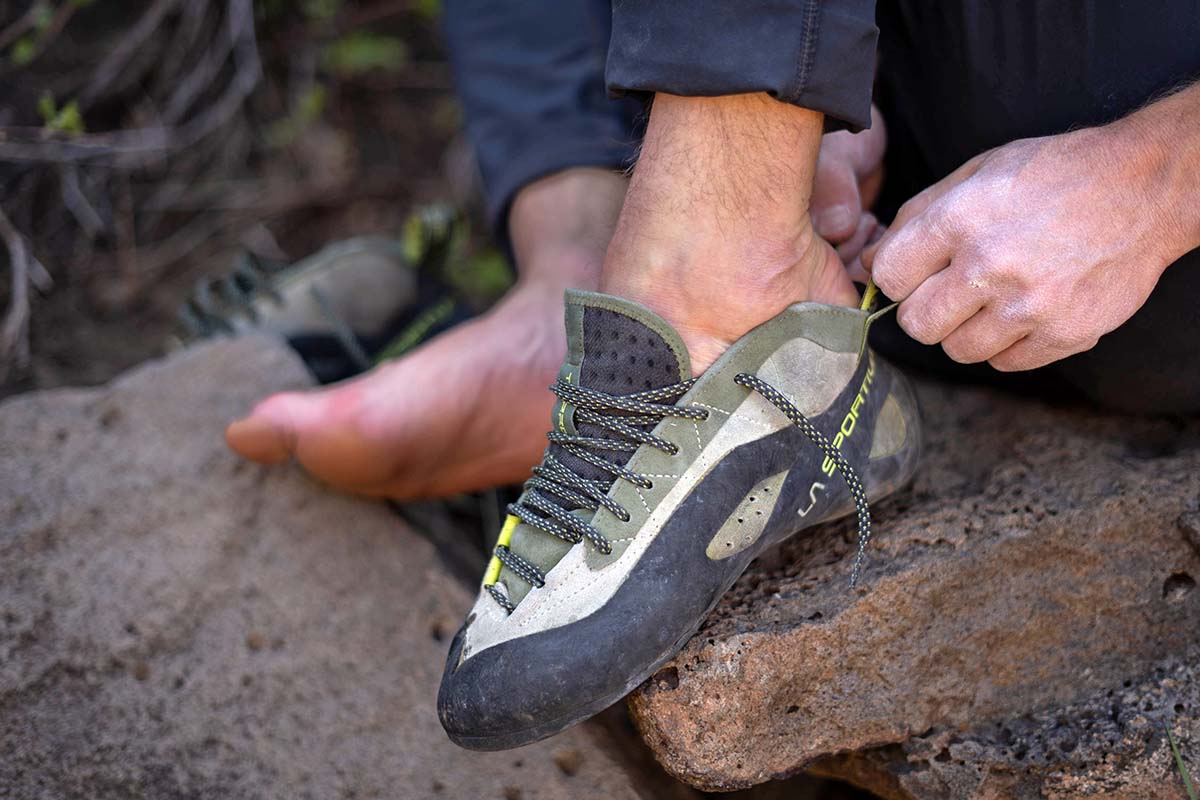 All-Around Performance
 What makes the La Sportiva TC Pro such a unicorn is the way it so effectively achieves seemingly opposite goals that usually tend to have very little overlap in the world of climbing shoes. It's the middle of the Venn diagram—in other words, the best of both worlds. It is both a technical thin face climber and a crack climbing assassin; a comfortable all-day shoe for long multipitches, and a go-to for single pitch projects. It's expensive, but durable enough that I would actually argue it saves you money in the long run. In a nutshell, the TC Pro is the best all around climbing shoe in the world. It excels at bouldering, sport climbing, crack climbing, big walls, and alpine climbing, just like its namesake, Tommy Caldwell.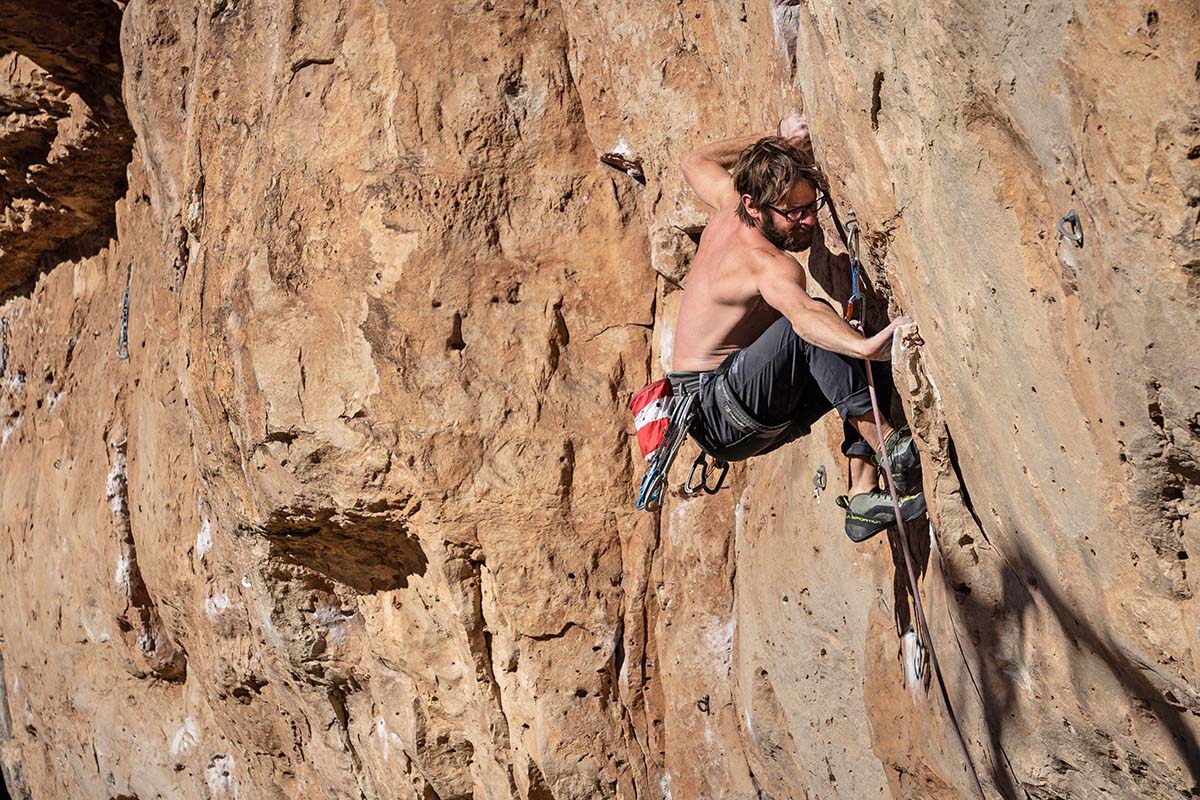 Like the original, the second-gen TC Pro is a leather, hi-top, flat-lasted (PD 55 last) climbing shoe. That means it is built mostly with vertical and slabby terrain in mind. The ECO leather upper (tanned without the use of heavy metals), will stretch and mold to your foot, so it is important to size appropriately (it's good if the shoe is tight at first). The 4-millimeter Vibram XS Edge sole is not made for sensitivity (you won't likely feel the small pebbles you're standing on), but what it lacks there it more than makes up for in edging ability. Remember: Just because you can't feel the foothold doesn't mean you can't stand on it. In fact, sometimes not feeling it can be an advantage, because you don't have reason to doubt the foot to hold! 
Because this is a shoe built for all-day use, the TC Pro is comfortable even when fit tight (particularly with the new and improved microfiber tongue reinforcement). And in order to maintain that precision fit, La Sportiva's P3 System with 1.1-millimeter LaspoFlex and slingshot rand work together to keep the heel tight and the toes snug in the toe box. At approximately 8.7 ounces, it's not a very lightweight shoe (or small when packed). But compared to the three other pairs of climbing shoes you would need to do everything the TC Pro does, it's light as a feather.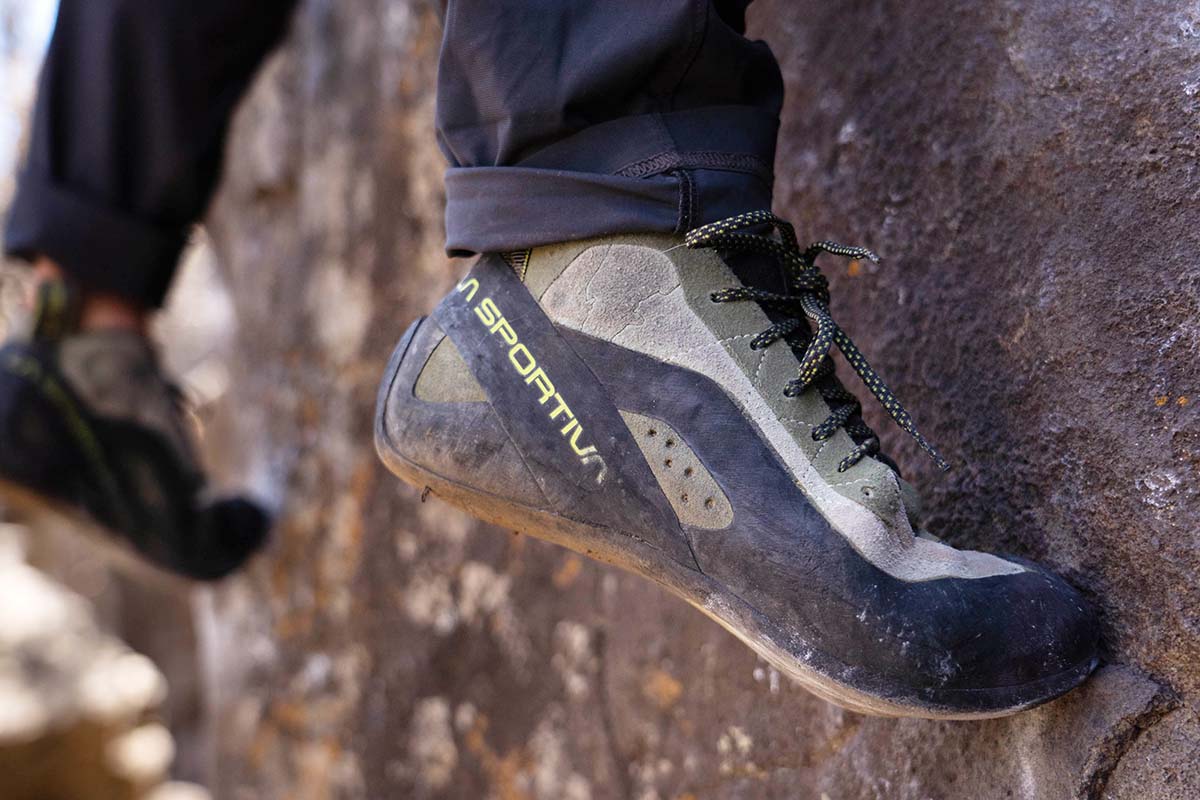 "Not for Bouldering or Sport Climbing"
This is one of the chief complaints I have heard about the TC Pro. It's kind of an asinine critique, in my opinion, since the shoe wasn't exactly made for bouldering or sport climbing—like complaining that your Honda minivan doesn't have the acceleration of a Porsche. That said, at this point in my climbing, I have stopped wearing other shoes entirely. And even though I think of myself as a trad climber, I actually boulder more than anything else. True, the TC Pro is not ideal for 45-degree walls and bouldering caves full of toe and heel hooks, but that's actually a very niche kind of bouldering. For vertical and gently overhung bouldering terrain, I love the TC Pros. And for what it's worth, they didn't seem to be holding me back on the horizontal limestone roofs of Priest Draw close to home. In general, the TC Pro has surprised me in its performance on steep terrain, especially with heel hooking (toe hooking, of course, leaves a little to be desired).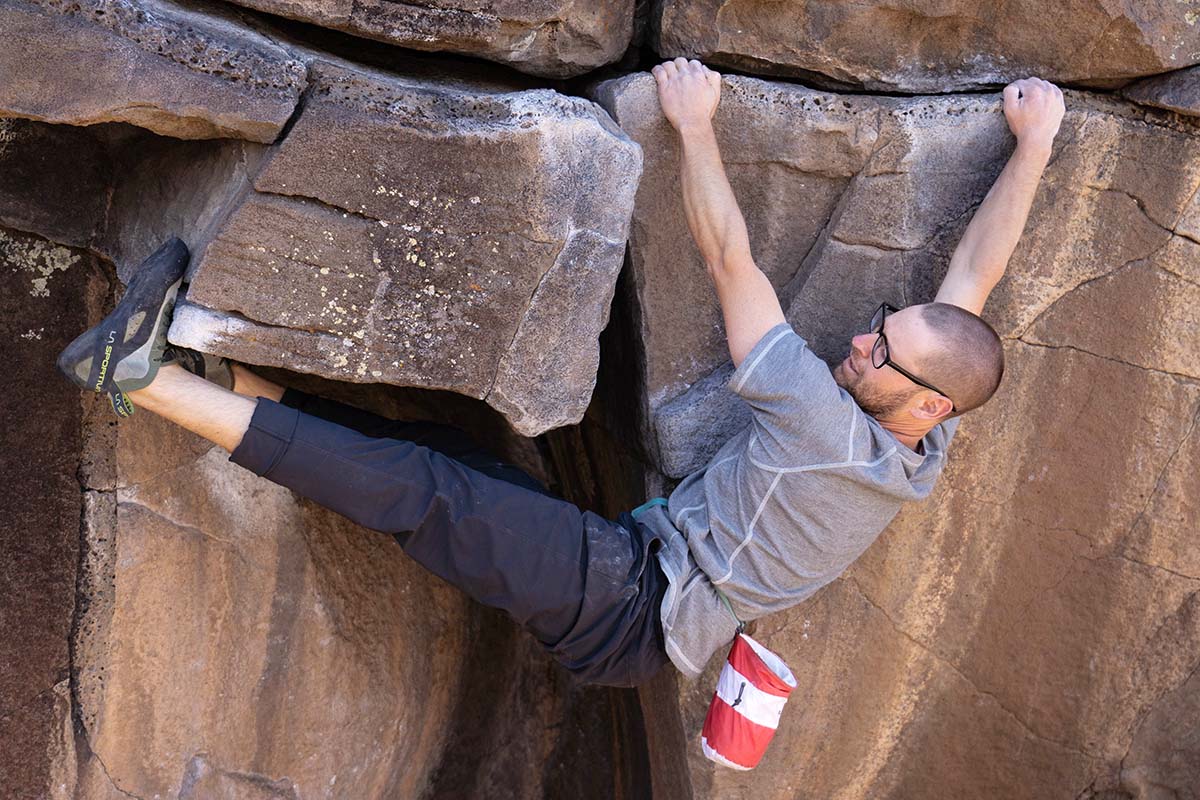 Minor Nitpicks
If I'm being petty, there are a few things I could complain about in the redesigned TC Pro. First, I think the new ECO leather upper might be a little more prone to holding stink. Not to say I've ever owned a pair of shoes that didn't stink, but these ones seemed to be a little worse in the smell department compared to the outgoing model (this anecdotal data is not based on any actual science).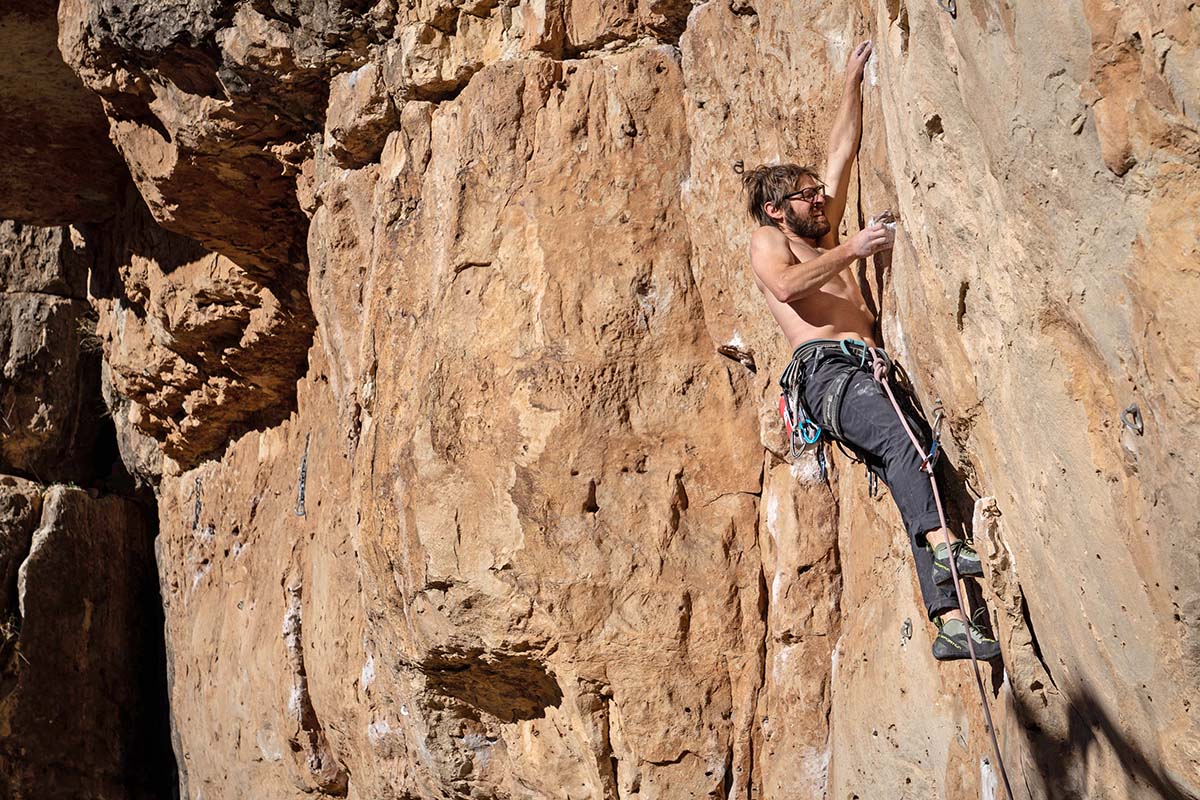 I've also chatted a lot with other climbers wearing these shoes over the past six months, and one common opinion is that the new TC Pro stretches more than the old one. Personally, I have not found that to be the case, but I've heard it enough to be suspicious. It may be that part of why I haven't experienced this is because I have been testing a size that was fairly comfortable on my foot to begin with. After 21 years of climbing, I've simply found that I climb better (especially on hair-raising technical trad above miniature gear) when I'm comfortable. I can only think of a couple of footholds where sizing down another half or full size would have made a difference. Even in comfortably sized TC Pros, I feel I can stand on dime edges.
Finally—and this is fairly picky: I think the new thin green leather sleeve protecting the lower eyelets should be on the other side of the shoe. Tommy Caldwell claims otherwise, but I've already got the abrasion on the outside edge of the shoe to back up my opinion. Not that this has made any difference at all in my climbing… it's simply the fact that having it on what feels like the wrong side seems gimmicky. But maybe TC and I just have different pain points when it comes to hand crack climbing.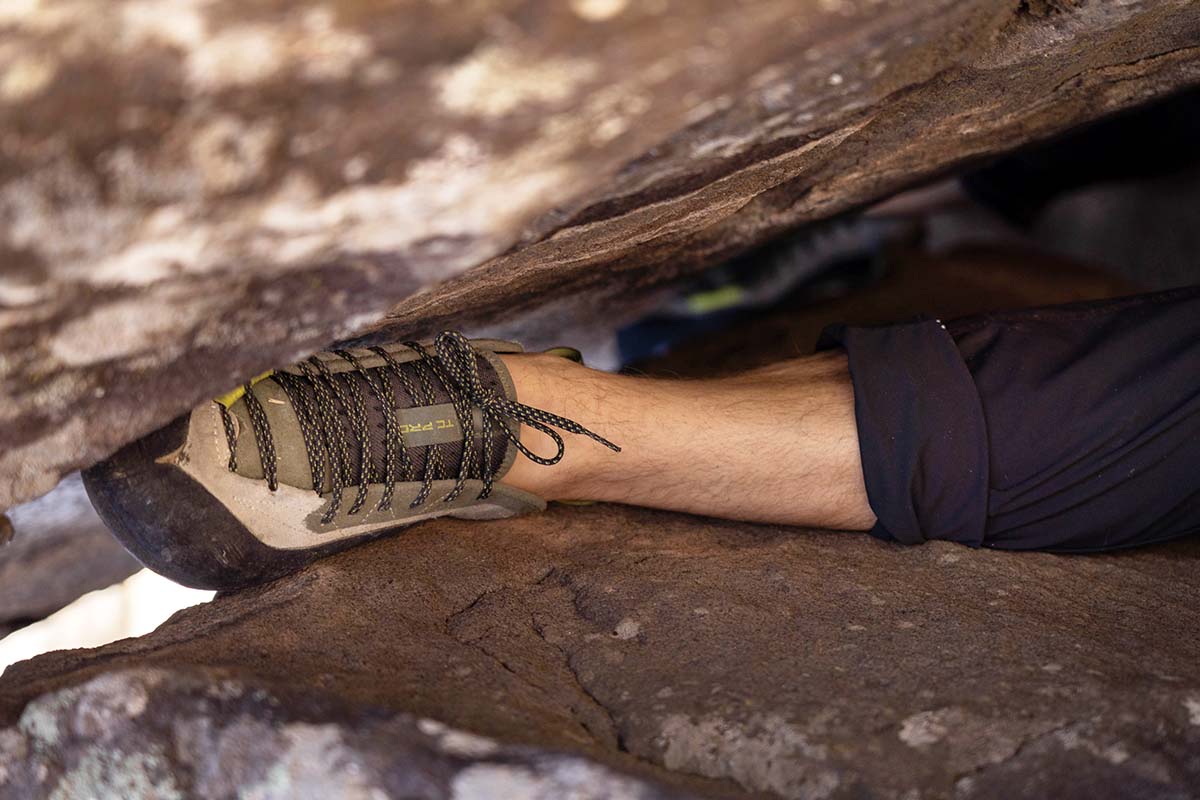 How We Tested the TC Pro
One of the great things about living in Flagstaff, Arizona, is how many different kinds of climbing and types of rock we have available within a stone's throw. I wore the new TC Pros in the following scenarios and environments:
Bouldering: limestone, basalt, dacite (similar to welded tuff), granite, and indoor. Up to V7. Every angle from slab to roof.
Sport: limestone, sandstone (thin techy face), basalt, dacite, granite, and indoor. Up to 5.13b. Mostly on gently overhung or vertical terrain, with a few small roofs peppered in.
Trad: sandstone (techy face and splitters), granite (face, friction slabs and splitters), basalt (edgy face and splitters). Mostly vertical.
Testing Locations: Cochise Stronghold, Joshua Tree National Park, Indian Creek, numerous areas around northern Arizona.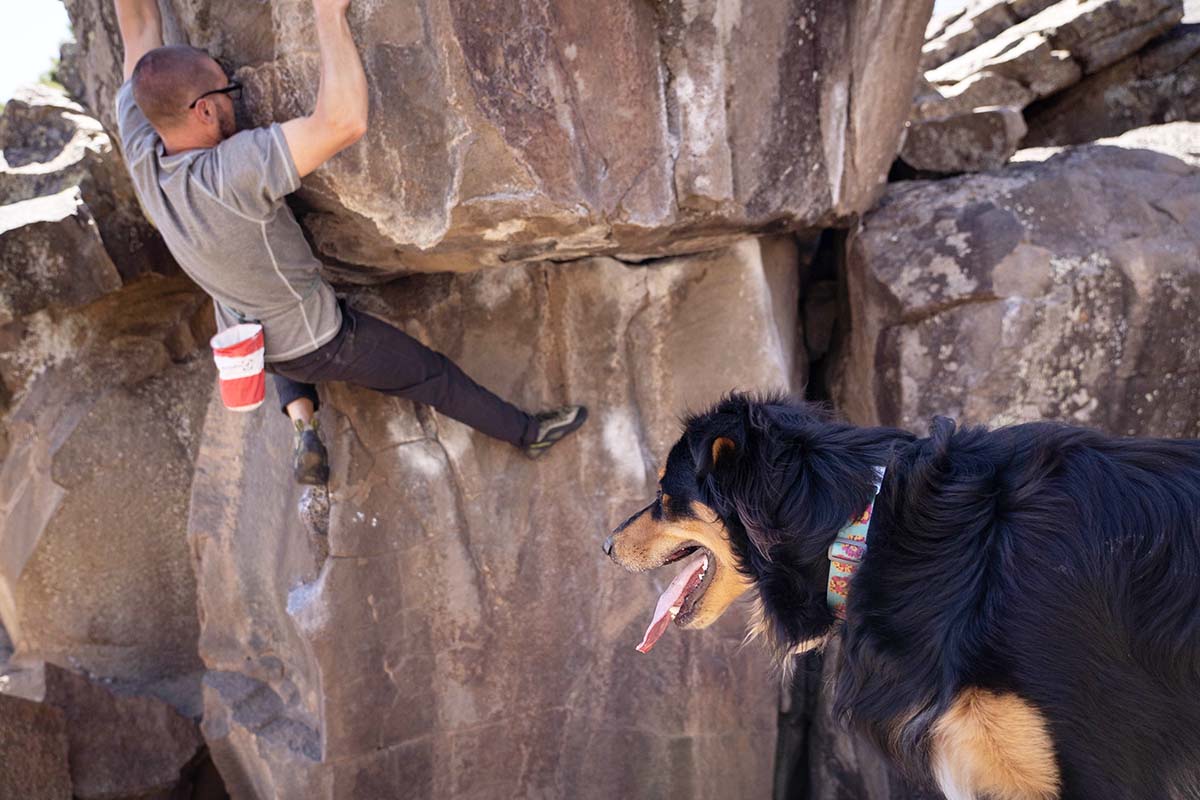 A Q&A with Tommy Caldwell
In the process of researching the redesigned TC Pros, I decided to go straight to the source and pose some questions to Tommy Caldwell, himself. Tommy was kind enough to reply with some in-depth answers and additional helpful context about the process behind the redesign (and the original TC Pro). Rather than chop up his thoughts into short quotes, we decided to provide a full transcript of our brief Q&A for your reading pleasure. Check it out!
Switchback Travel: My only real criticism of the old TC Pro is that the rand used to delaminate around the sides of the shoe. The new TC Pro seems to have fixed that problem. How did you all do that?

Tommy Caldwell: At the beginning of the TC Pro redesign I had identified a few areas of the shoe where I had experienced issues after extended use that I felt could be improved upon. One of those areas as you mentioned was the medial and lateral sides of the shoe where the toe rand came into contact with the slingshot rand (rand that tensions the heel). With the original TC Pro, the toe rand covered the slingshot rand. In the new design the system was reversed and now the slingshot rand covers the toe rand which has a new shape and pattern. In my own use I have already seen a big increase in the shoes durability with this one minor change.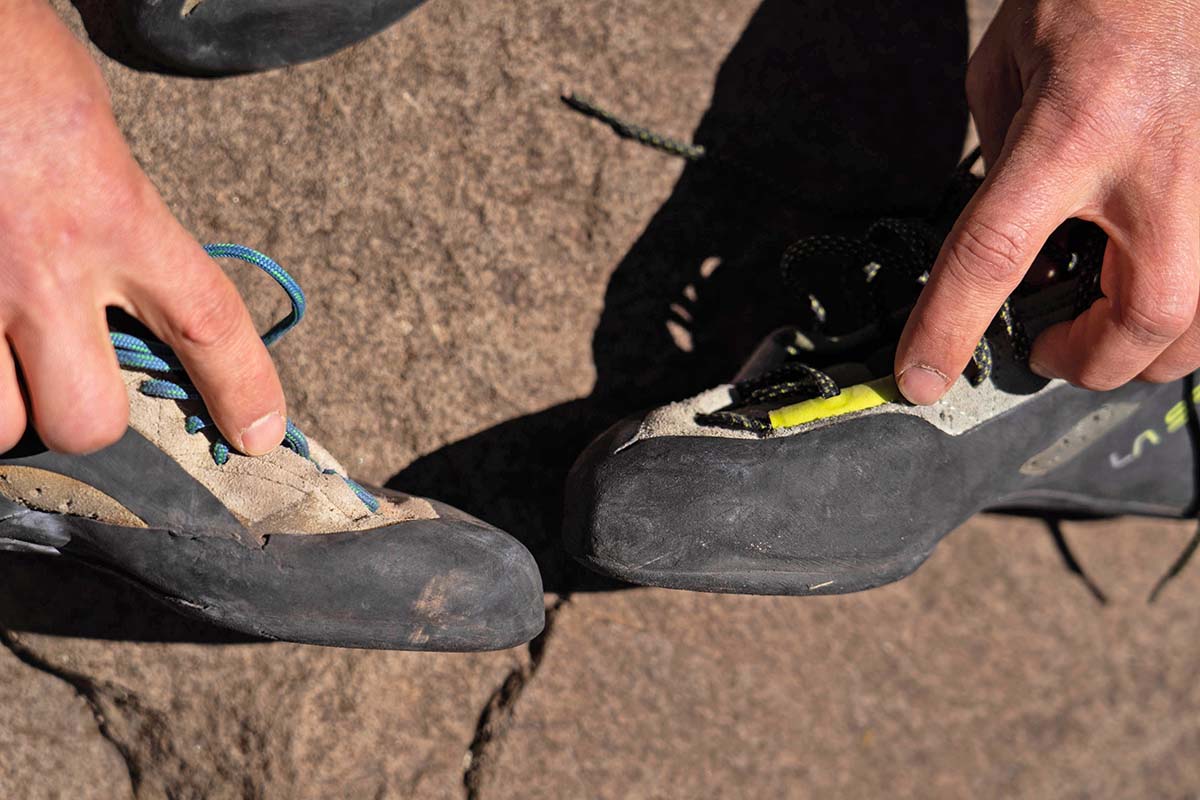 SBT: How involved are / were you in the design process on both the original and the redesign?
TC: For the original TC Pro, with the support of La Sportiva North America, I was put into contact with the R&D team in Italy. We met once via Skype and then went through three rounds of prototypes where I provided feedback and potential improvements. After the third prototype we launched the TC Pro globally and brought it to market in 2010 where it remained unchanged until 2021. At the time it was a completely new idea for a climbing shoe since all other mid-height shoes were board-lasted and very stiff. 
For the redesign, I was just as involved as for the original launch. It was really exciting for me to be able to go back to the drawing board with the chance to rethink aspects of the shoe that I had 10+ years of intimate experience with. I met with individuals from La Sportiva North America and Italy at Outdoor Retailer in July of 2018 with the hopes to re-launch in Spring 2021. Due to Covid starting we had to postpone the launch to Fall/Winter '21 and we were able to keep that launch date. From the onset of the project I helped to identify the key areas of improvement and from there we started to test out modifications via rapid prototyping from La Sportiva Italy's R&D facility. There were 10+ prototypes where myself, Alex Honnold, and a few other North American individuals rigorously tested the shoe alongside the original. La Sportiva did not want to make any changes without the testers' stamp of approval.

SBT: One thing I'm confused about is the green thin leather sleeve protecting the lower eyelets. Why on the inside of the shoe and not the outside? Seems to me the outside would get more abrasion in cracks (particularly hand size) and such.
TC: I think this is an area of the shoe that does have a lot of people confused. It looks like it was a design solution to solely increase the durability (like you are saying) but it was actually a solution to an issue that I experienced when I was using the shoe in a hand crack. The laces design on the original TC Pro made that area of the foot a little bulky and foot jams sometimes became painful. The solution was to change the lacing harness design and utilize a lower profile (and coated) leather which reduces pressure and the new material also increases abrasion resistance in crack climbing scenarios. 

SBT: Generally updates to tried and true gear ruin them. How involved were you in making sure that didn't happen this time? And how did you prevent it from happening?
TC: This was an aspect of the project that every single one of us involved agreed upon - no changes for the sake of change. A modification had to be an improvement that didn't change the original fit/feel for the worse. I liked to say if you had your eyes closed and put the original on and the new one you wouldn't be able to tell a difference in the fit. It was one of the reasons that 10+ prototypes were necessary. Instead of all the changes happening at once we took our time testing out changes and then adding in more and making adjustments. All the testers did a lot of testing where they would have the original TC Pro on one foot and the new TC Pro on another - to make sure they were as good as the original. When I would receive a prototype I would immediately test it on the most technical slab I could find. Then try and beat it up on cracks.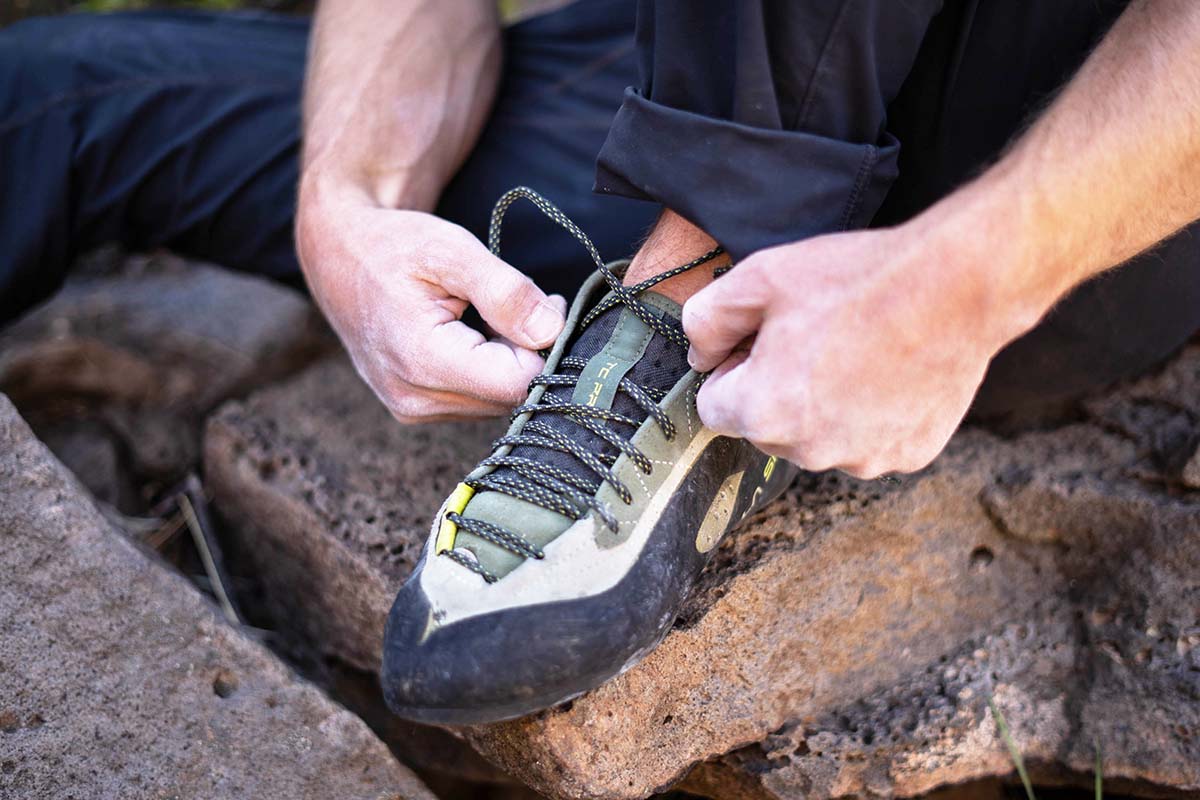 SBT: Any other cool new technology or design features that went into the redesigned TC Pro that you want to highlight?
TC: I can't only highlight one! The biggest changes to the shoe were:
The overall aesthetics were updated while trying to maintain as much of the original TC Pro inspiration as possible. One cool thing the R&D team did on the update (which I did not ask for) was on the lateral side of the shoe. Where the La Sportiva debossed logo used to be, they added in a microfiber patch which is the outline of El Capitan and then debossed the routes of Dawn Wall and Freerider.
Updated toe rand construction for increased durability.
Lace construction (to reduce the volume/potential pressure point).
Medial rubber rand pattern with increased rubber coverage at the toe which improves durability and performance.
Improved tongue design where a microfiber insert was added towards the toe which adds structure to keep the tongue from rolling while putting the shoe on and while climbing. If this was the only change that happened I think a lot of people would have been excited!
If you're thinking about buying gear that we've reviewed on Switchback Travel, you can help support us in the process. Just click on any of the seller links above, and if you make a purchase, we receive a small percentage of the transaction. The cost of the product is the same to you but this helps us continue to test and write about outdoor gear. Thanks and we appreciate your support!
Depending on the seller, most products ship free in the United States on orders of $50 or more. International shipping availability and rates vary by seller. The pricing information on this page is updated hourly but we are not responsible for inaccuracies.
Learn More About Rock Climbing